When it comes to 5 star hotels in Ireland you can't get much better than Sheen Falls Lodge cradled in the heart of Kenmare Bay. Traveling to Ireland, especially to the kingdom of Kerry is a magical experience that can only be topped off by staying in a luxurious 5 star hotel like Sheen Falls. 5 star hotels in Ireland are the best of the best when it comes to luxury, hospitality and quality and they offer an experience that you won't easily forget. Sheen Falls Lodge in Kenmare takes Irish hospitality to the next level and it should be experienced whether you are on an Irish staycation or whether you are simply visiting the emerald isle for the first time.
Nicknamed the Emerald Isle, Ireland boasts verdant mountains and valleys, heaths, lakes, cliffs, and a dramatic coastline battered by the surrounding seas. From Downpatrick Head to Kilkee Cliffs, Ireland is a land celebrating hospitality and sharing, raised on the literature of James Joyce. Guinness gushes from the taps of Temple Bar on Saint Patrick's Day and there is nothing quite like the Irish craic – Ireland has all this to offer and more. From its small towns to its country villages, from the Giant's Causeway on the Antrim coast to the hikes of Connemara, Ireland has a magnificent selection of the best nature has to offer.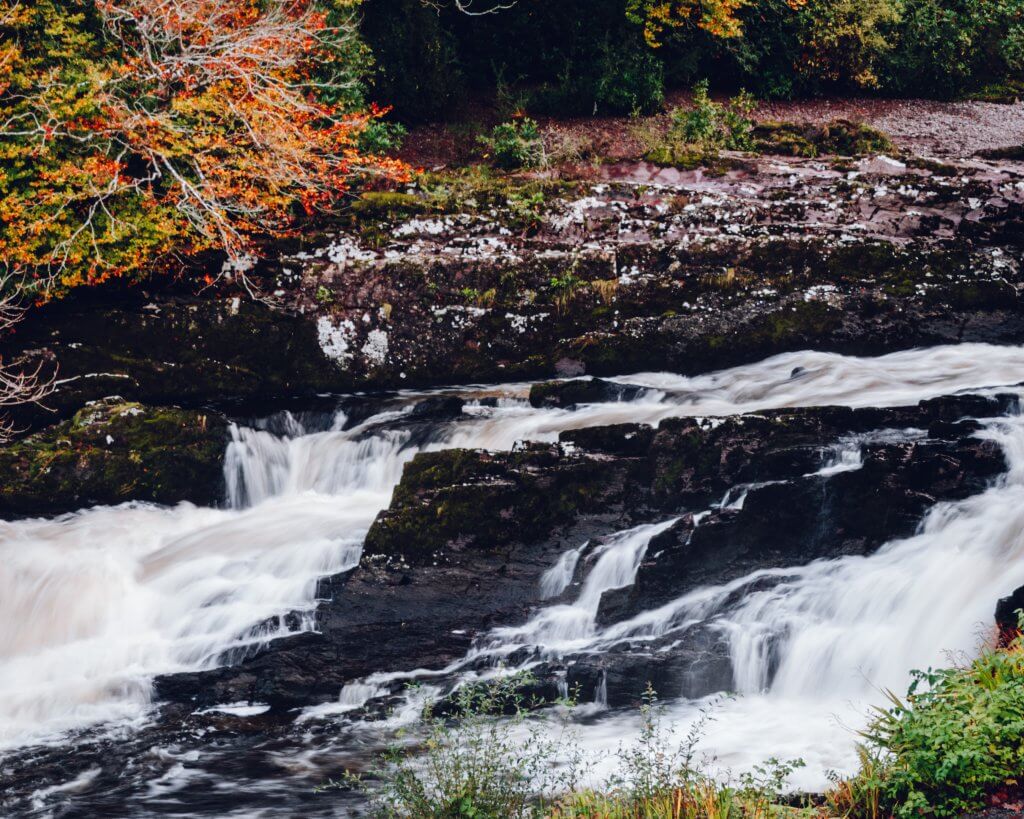 5 star hotels in Ireland
Every corner of Ireland has its own castle or stately manor, many of which have been turned into luxurious 5 star hotels. I have been lucky enough to have stayed in some of the best 5 star hotels in Ireland including the majestic Ashford Castle so I know what to look for when it comes to 5 star quality in Ireland. Sheen Falls Lodge is a Relais & Châteaux hotel that has 5 star luxury but so much more! When we arrived for our stay in what has to have been the heaviest rainfall I have seen in Ireland in a long time (and that is saying a lot about Irish weather!) Scott the hotel manager was on hand to welcome us in to roaring open fires and a homely cosy atmosphere. The hotel receptionist even walked us personally to our room.
I don't know about you but I don't like 5 star hotels that feel snobby and stuffy. When it comes to 5 star luxury in Ireland I look for an authentic and genuine feeling from the moment I arrive. There is a reason why Sheen Falls Lodge was voted No.1 Hotel Resort in Europe by Conde Nast Traveler.
Where is Sheen Falls Lodge
Sheen Falls Lodge is located near the colourful village of Kenmare in County Kerry. Kenmare is the gateway to The Beara Peninsula, The Ring of Kerry, The Kilarney Lakes and the southern part of The Wild Atlantic Way. Magical breathtaking scenery is everywhere. Surrounded by purple heather-covered mountains, Kenmare is one of the spots in Ireland that the Irish themselves like best. It just epitomises Irish charm.
Kenmare is known for its piano-jazz ambience, trad sessions in the pub, its collection of old Irish whiskeys, and the dishes prepared with the salmon caught in the nearby river. There are unrivalled views of Kenmare Bay, the McGuillicuddy Reeks and cascading Sheen waterfalls. All of this, combined with outstanding Irish hospitality and Celtic legends, creates a pervading sense of magic.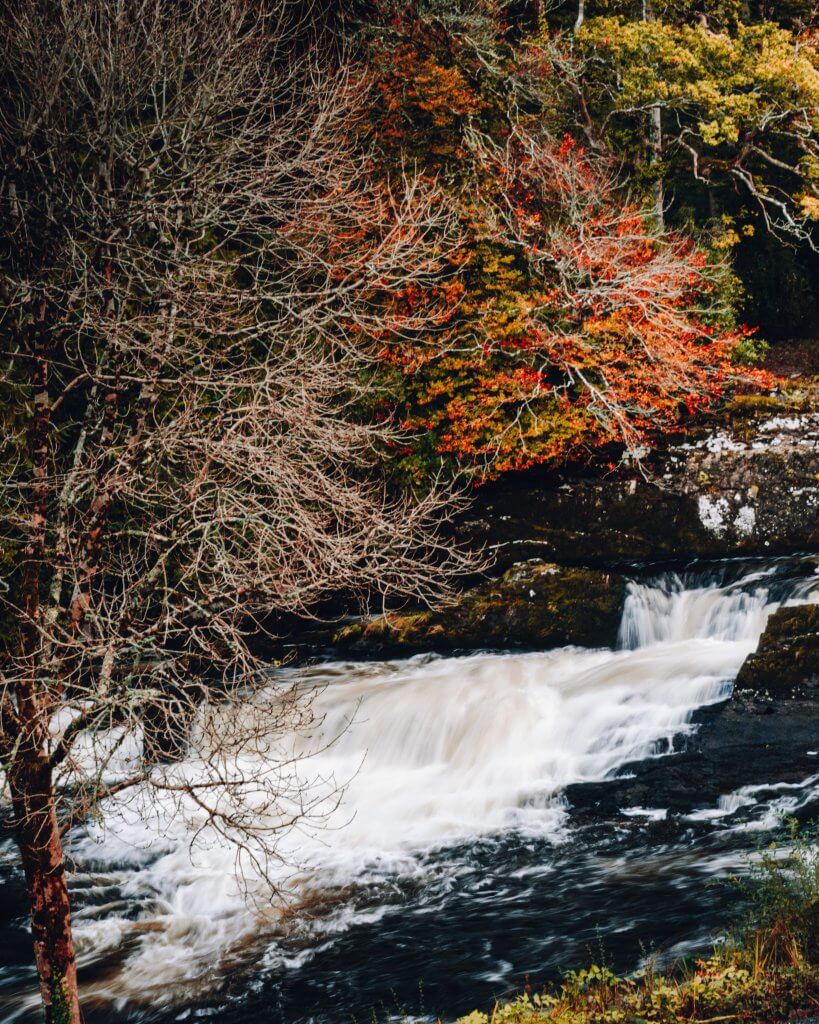 Kenmare is known in Irish as "Neidin" (the little nest) because the town "nestles" amongst the surrounding mountains which are such a prominent feature of the landscape. The town also benefits from being a coastal town positioned on the estuary of Kenmare Bay. It is an award- winning heritage town, a serene, pretty place that bustles at an Irish pace. Its reputation for warm and welcoming hospitality is renowned.
Cradled in the heart of Kenmare Bay, Sheen Falls Lodge is the perfect springboard for discovering the rugid beauty of the south west of Ireland. It is the perfect place to create everlasting memories.
A country retreat
The Sheen Falls Lodge Estate and its history had always been connected to Salmon Fishing and Deer Hunting and the 300-acre estate is often visited by wandering deer. A cottage on the grounds became the base for the First Earl of Kerry for the pursuit of fishing and hunting. In 1988 the property was sold to a Danish Family who took on the task of developing the then guest house into a 5 star luxury hotel. It opened its doors to guests in April 1991 and has been a member of Relais & Châteaux since then.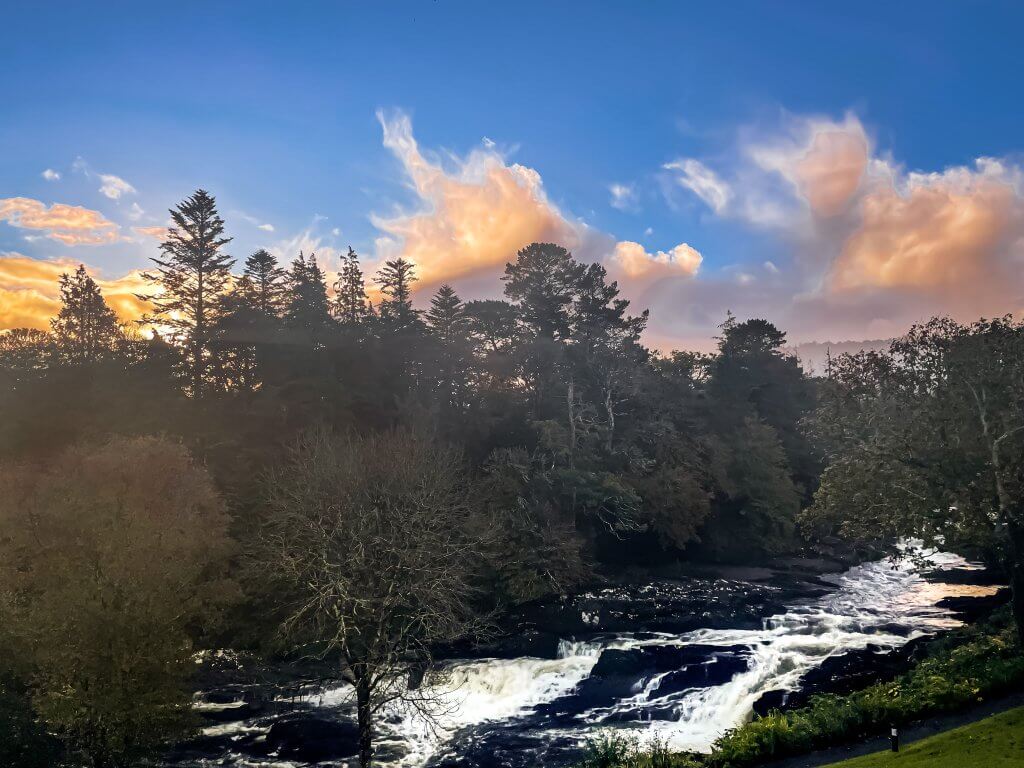 The hotel has undergone a fairly recent transformation to recreate the original purpose of the hunting lodge and make it a decadent home away from home. When you first enter the hotel you are greeted by an open roaring fire with a prominent Stag head hanging above it adding to that country hunting lodge atmosphere. There are little design touches everywhere that add to the feeling of being in a hunting lodge. Antler chandeliers hang over the a beautiful marble entrance and creative artwork by local artist Christine Bowen.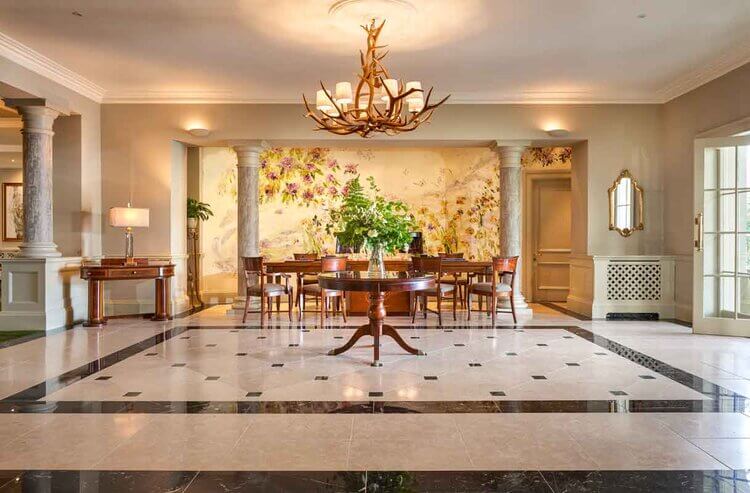 Bowen's iconic mural adorns the hotel reception wall as well as a fabulous botanical mural in The Falls restaurant. Drawing on Kenmare for inspiration, you'll find Bowen's paintings hanging in multitudes throughout the hotel. Hues of green, peach and cream create a homely yet decadent relaxing atmosphere and quality traditional furnishings add to that country home vibe. The hotel feels comfortable and luxurious but not showy!
5 star hotels in Ireland – Bedrooms at Sheen Falls Lodge
Sheen Falls Lodge has 72 rooms to choose from and every room is a room with a view. There are 60 rooms, 12 incredible suites and 5 private cottages so there is a suitable style of accomodation to suit everyone. You can choose between luxurious rooms and sensational suites, each unique, and beautifully understated in palettes that reflect the seasons. Riverside, you'll enjoy the gentle babble of the cascading Sheen Falls by your window, while bayside you'll find sweeping views over Kenmare Bay, with the constantly changing seascape for company.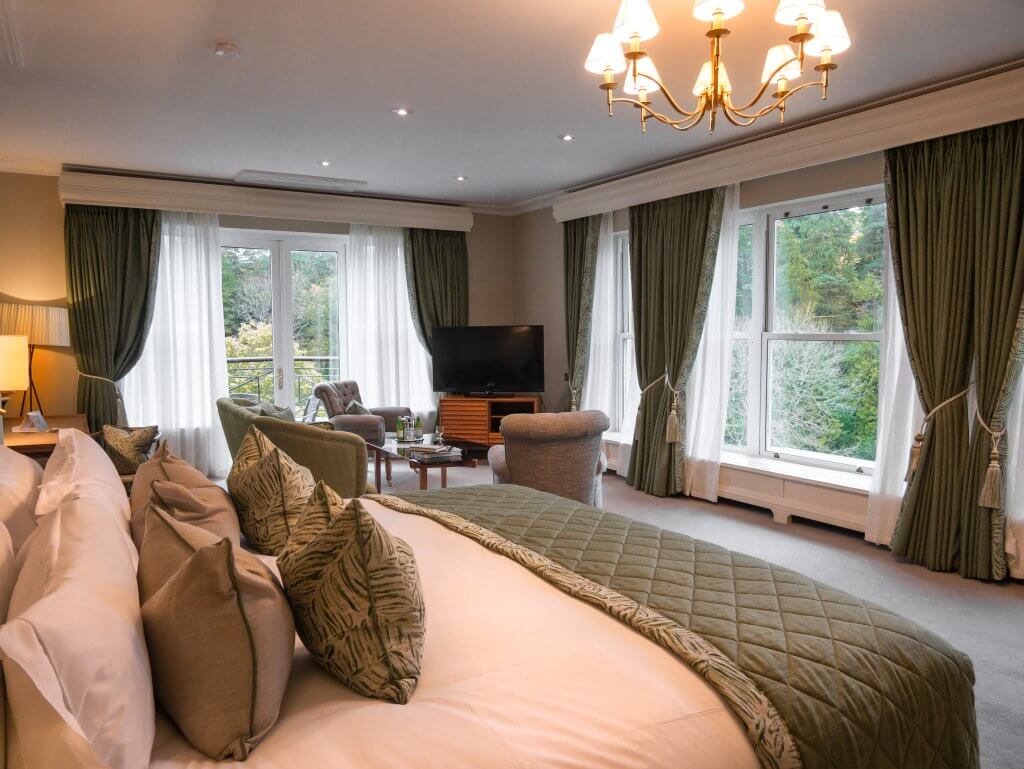 Myself and Mister Lavin stayed in room 209, one of the hotel's luxurious Signature Suites. Our room was breathtaking! A chic and cosy haven that was spacious, stylish and beautifully furnished. The star of the show was a wrap around wall of windows facing the waterfall. I don't think I have ever seen anything quite as beautiful. Double doors opened out to a spacious balcony overlooking the River Sheen. Our room was sumptuous and relaxing with neutral tones and soothing shades of green. I still can't believe that we got to go to sleep and wake up to the sound of the cascading waterfall.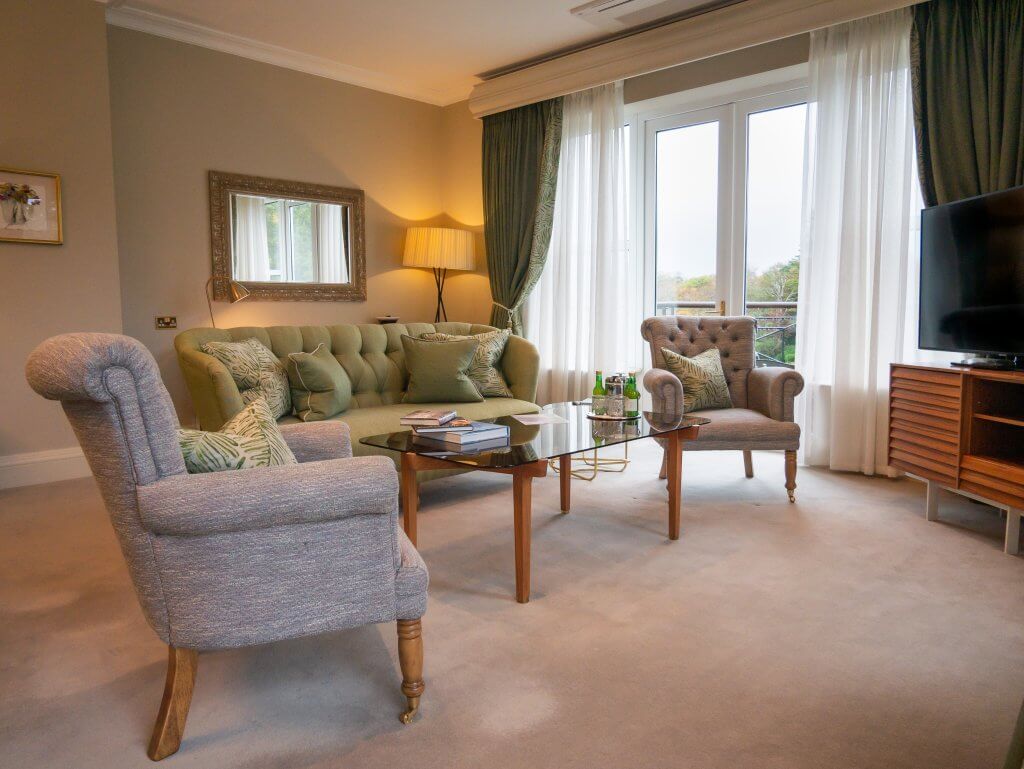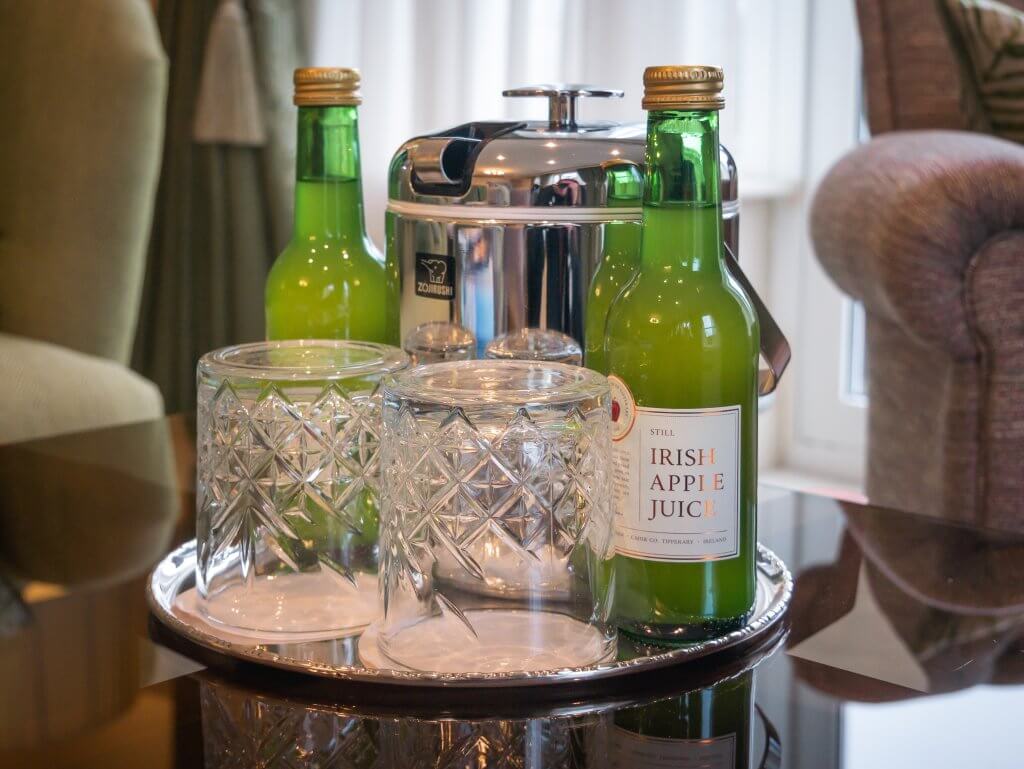 We had a separate seating area to relax and watch TV (if you could take your eyes off the scenery framed by the windows!) and a large marble bathroom with his/hers sinks, Elemis products and the fluffiest towels to just wrap yourself up in.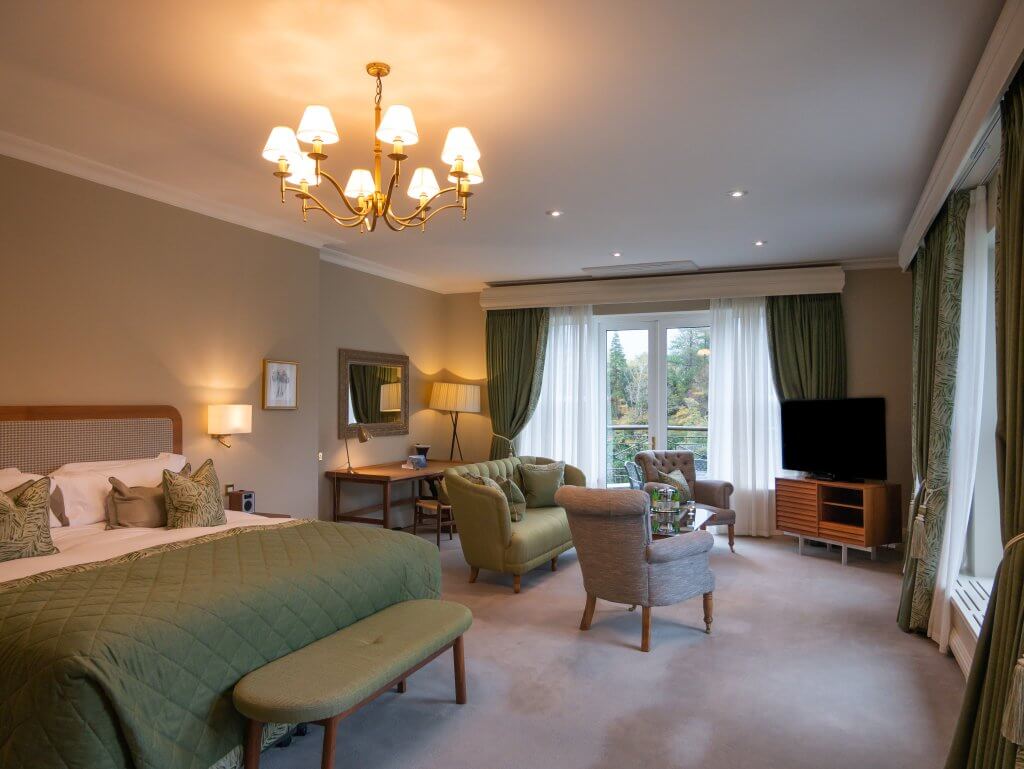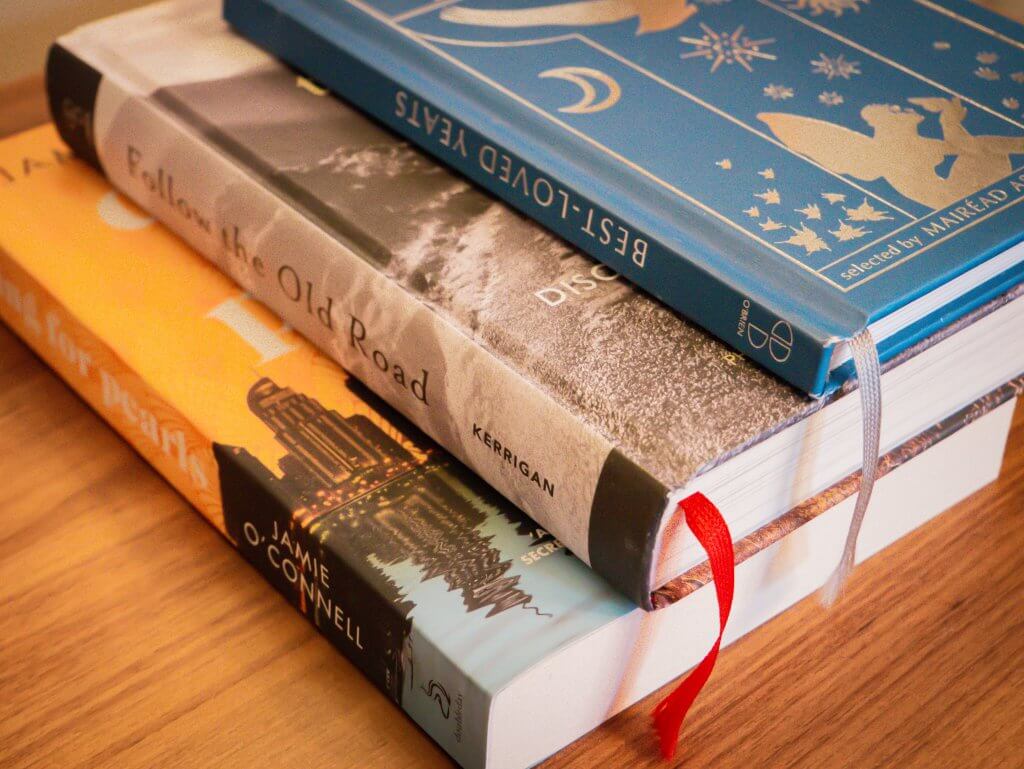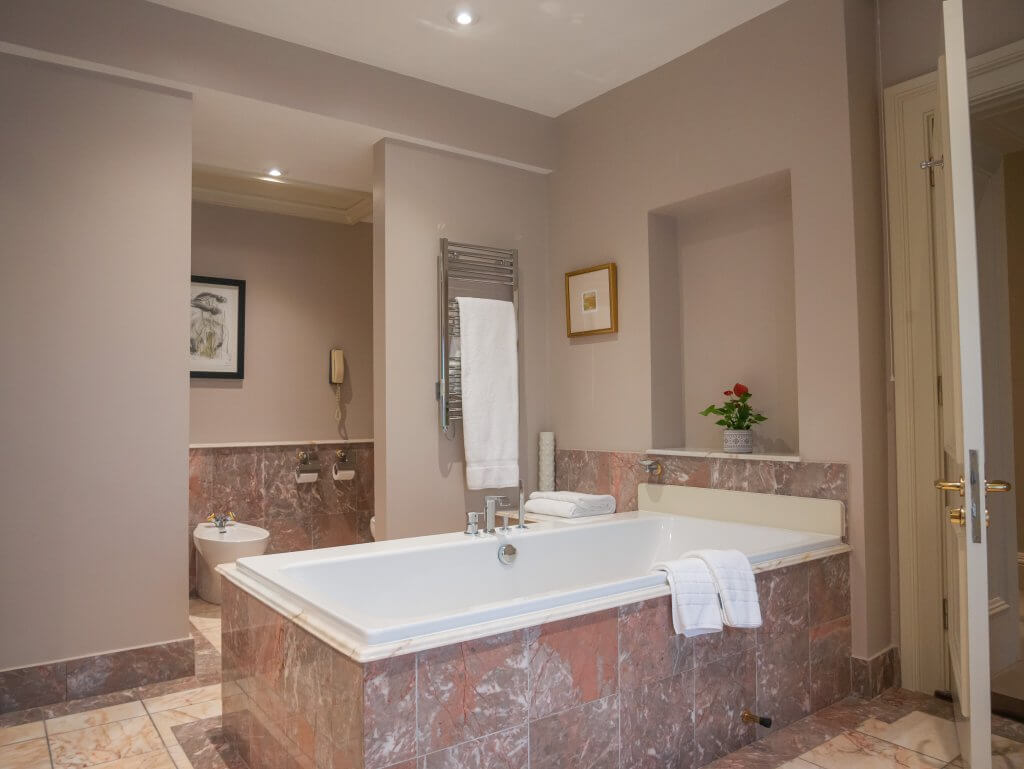 Food and drink at Sheen Falls Lodge
The hotel prides itself on its exquisite dining options, from the elegant Falls Restaurant to the more intimate Sheen Lounge/Bistro. The Falls Restaurant serves guests innovative cuisine with a unique twist on traditional Irish fare. Seasonal menus reflect the richness of Kerry's bounty: estate-smoked salmon, mountain lamb, vension, organic vegetables, and micro herbs grown locally. The team sources the finest from beyond the county too – farmhouse cheese, Atlantic seafood, and Hereford beef, to create gorgeous seasonal dishes.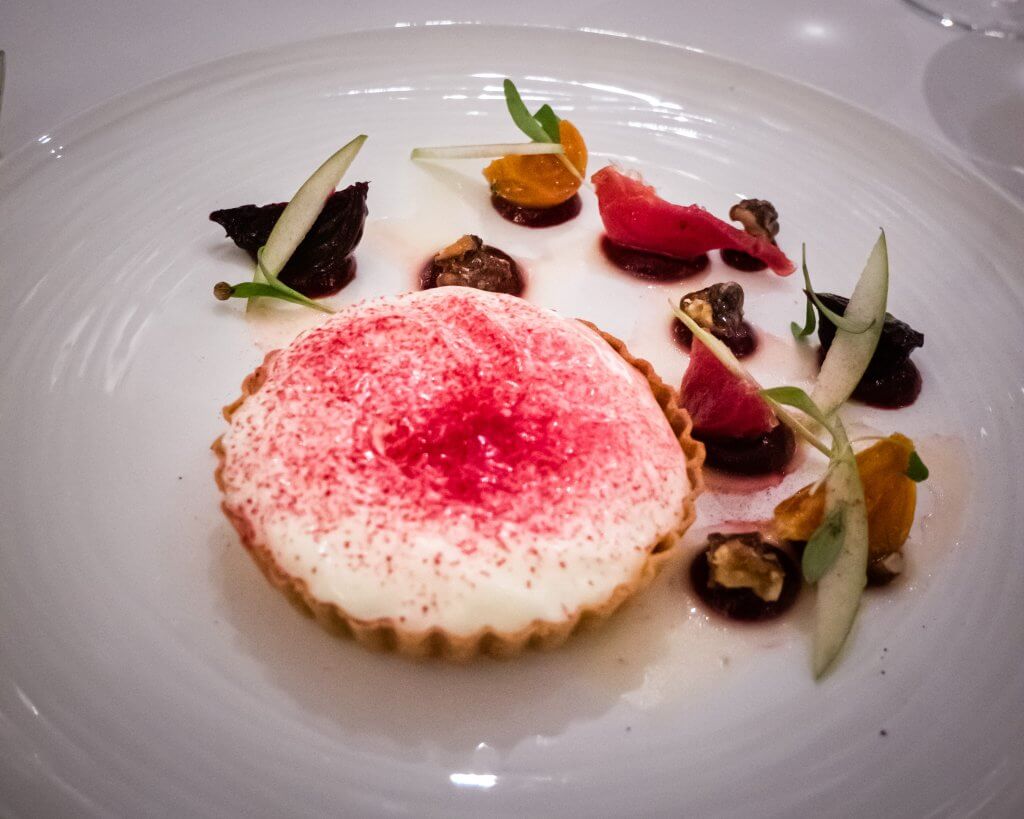 The ambiance in the restaurant is so romantic. Dulcet tones from the piano player in the corner add to the phenomenal views of the tumbling falls outside. The Falls restaurant is the ultimate in fine dining, they have earned two AA Rosettes for cooking and they plan to impress you which they most certainly do. Dining staff are incredibly knowledable and will recommend pre-dinner cocktails and wine to go with every course. They also describe exactly what is on your plate as they bring it to you adding to the whole dining experience.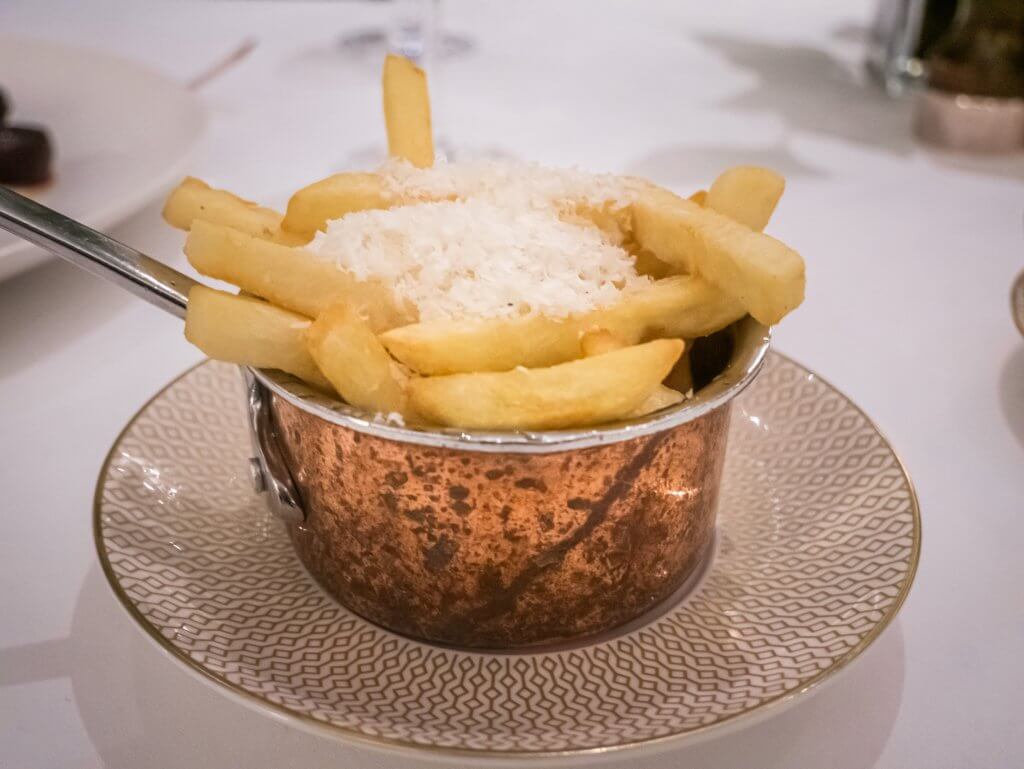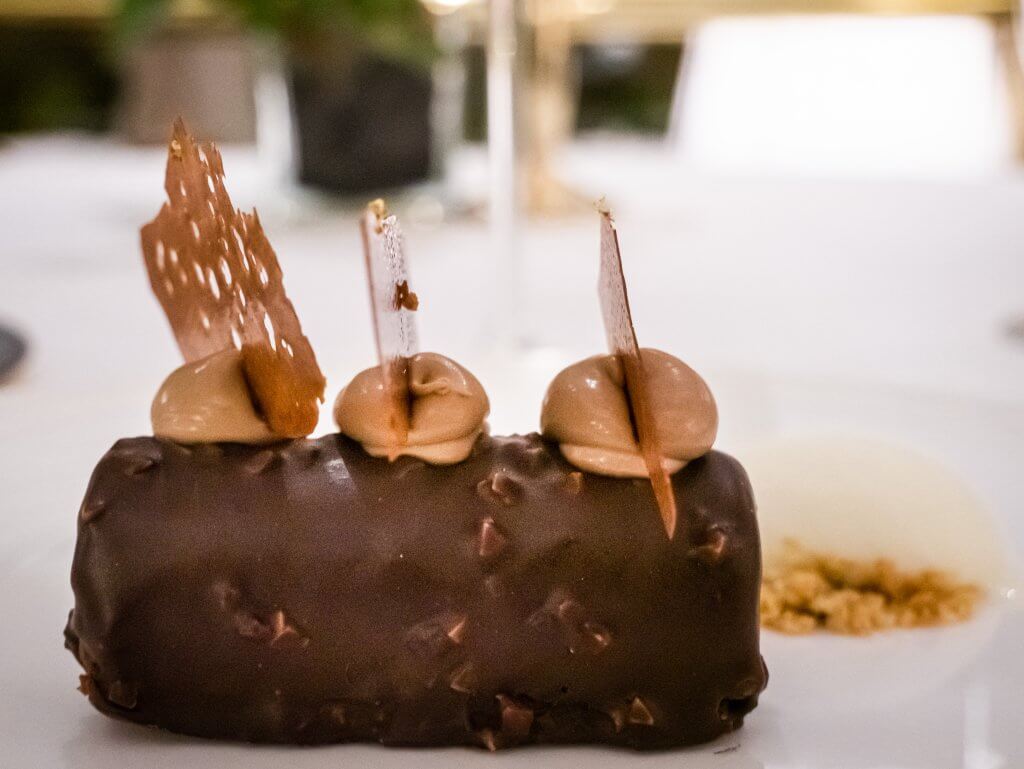 Myself and Mister Lavin were so impressed that it definitely made it into our top five dining experiences ever!
Dress code is smart/casual so be sure to dress appropriately.
The Sheen Lounge is the perfect spot for Afternoon Tea or lunch, while later in the day it makes an ideal spot for bistro style dining. You'll find deep-filed sofas, luxurious armchairs and a roaring log fire to curl up in front of. Sink into a leather armchair in the old-school authentic Sheen Bar and try a Signature cocktail before dinner.
Diners can also select from an impressive wine collection. Hidden beneath Sheen Falls Lodge, secret stairs lead to a legendary cellar, one of the largest in Ireland. Celebrated the world over, their impressive wine collection houses more than 10,000 bottles, sourced from 18 different countries. You can request a tour of this vaulted cavern and select your own wine from more than 800 labels. You can also host a private dinner party, arrange an intimate table for two, or experience a private whiskey, gin or port tasting deep beneath the lodge. Don't miss the opportunity to experience this very special space.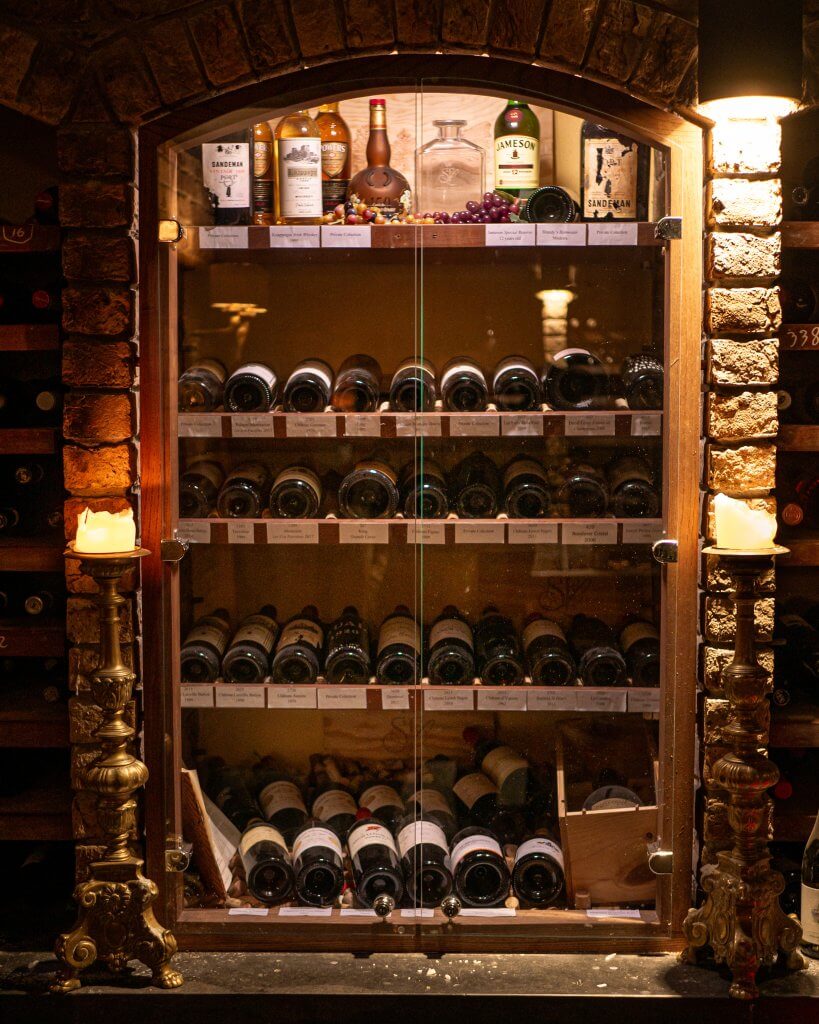 Things to do at Sheen Falls Lodge
Facilities available at Sheen Falls Lodge include:
Indoor heated pool
Sauna
Steam room
Jacuzzi
5 Treatment rooms including a couples' suite, wet room and 2 single treatment rooms
Manicure and pedicure suite
Hair and makeup salon
A vast array of beauty and holistic therapies at Easanna Spa
Relaxation room serving complimentary herbal teas when taking a treatment
Fitness Suite with state of the art equipment
Personal training with Body by Finn
One-to-one yoga sessions
Complimentary Guest Bicycles
Due to Covid we had to pre-book both our slot in the gym and the pool so be sure to book ahead of time.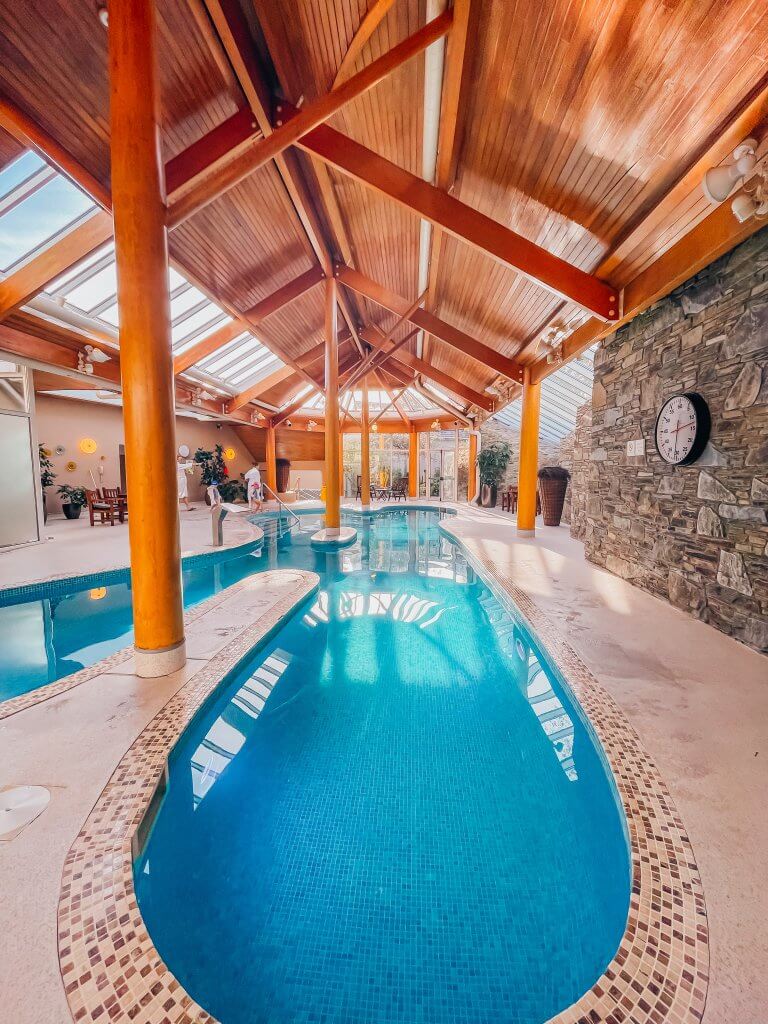 Sheen Falls Lodge has so many other amenities for you to enjoy during your time there. The hotel owns exclusive fishing rights over the River Sheen so guests can try their hand at fishing with their resident ghillie, Brendan. I think you know by now just how much a fan of birds of prey Mister Lavin is, having tried it at both Mount Falcon and The Lyrath Estate in Kilkenny, so he was very excited to see that you can try falconry and hawk walks in this 5 star hotel. Witness the unique relationship the hawks have with their falconer, while learning how to handle and fly these magnificent birds for yourself.
Why not saddle up and try horse-riding at Sheen Falls Lodge. It is a fun and relaxing way to spend the morning or afternoon cantering through beautiful country lanes, along leafy riverside trails and through forested mountain paths. Or enjoy the ultimate country pursuit with clay-pigeon shooting. You can also try your hand at archery, kayaking or paddleboarding or relax and enjoy a trip back in time with a romantic horse and carriage ride around the estate.
If golf is your vibe you can tee off in golfer's paradise. The southwest of Ireland is heaven for golfers, Kerry's countryside is dotted with beautiful scenic courses that rank as some of Europe's finest. Closest to this amazing 5 star hotel in Ireland are the 18-hole Kenmare Golf Club and The Ring of Kerry Golf & Country Club. Designed by Ireland's foremost designer, Eddie Hackett, both are courses of particular exception.
Or simply do as we did and take your camera on a walk of the beautiful grounds and enjoy practicing your nature photography. If you feel like you need some help sign up for a photography excursion with the hotel's seasoned photographer and learn how to get the very best from the majestic and dramatic countryside beyond the estate. Make sure to check out the vintage 1936 Buick they have parked at the entrance to the hotel.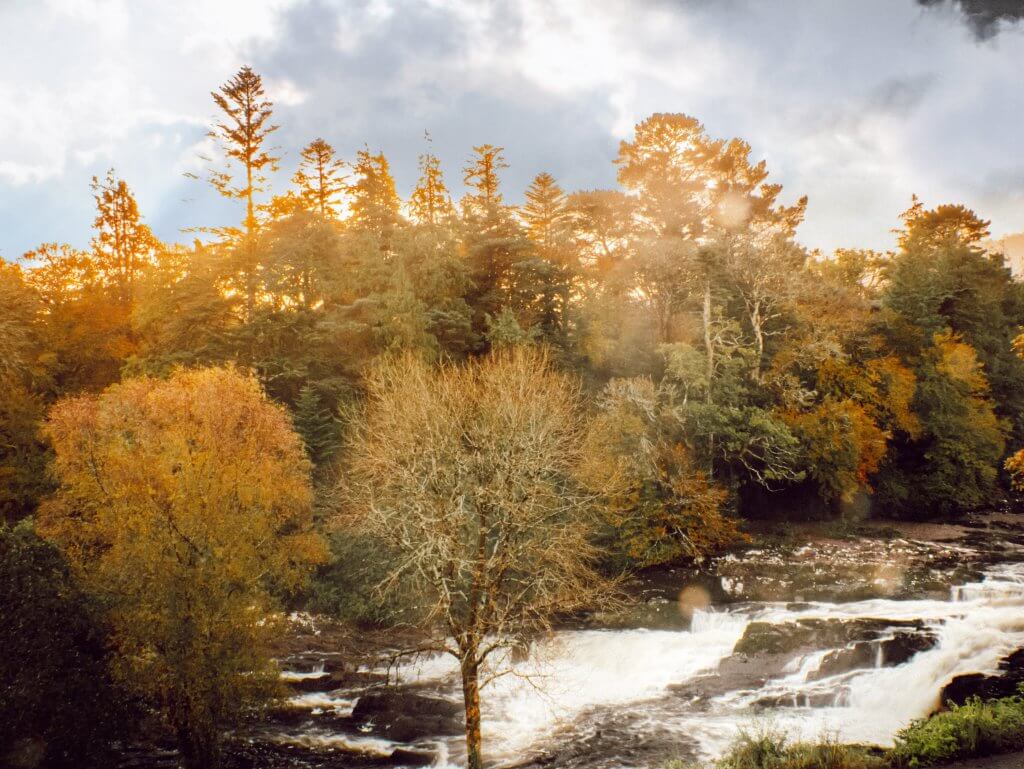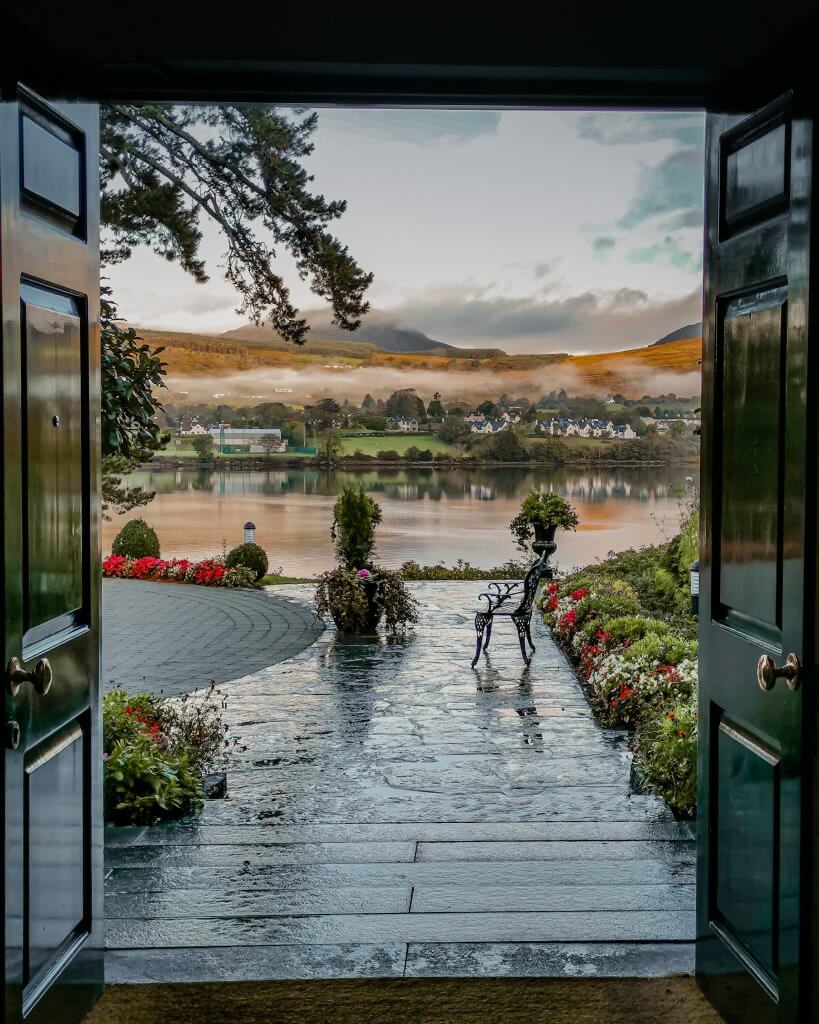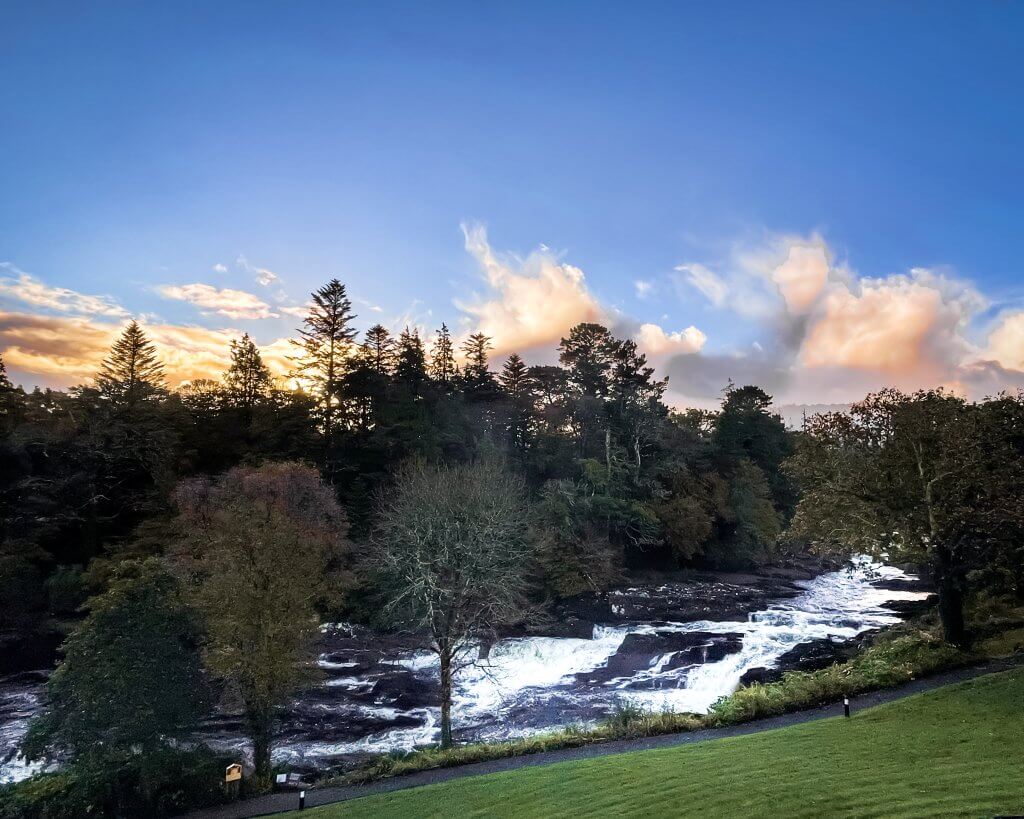 What to see in Kerry
What not to see, more like. This is Kenmare, after all. You could wander around the charming, colourful village of Kenmare, grab a meal in Packie's, or head off on the 110-mile Ring of Kerry.
Another scenic drive worth taking is The Ring of Beara which leaves Kenmare on the N71 towards Glengarriff by crossing the suspension bridge. Make sure to stop and visit Lorge Chocolatier. Benoit Lorge, creates luxury, hand-made, high end confectionery using top quality ingredients. The range includes truffles, bars, boxes, hot chocolate, chocolate spreads, nougat, marshmallows, jams and chutneys. Grab a bag of mixed chocolates to nibble as you continue your drive!
Bonane Heritage Park has an abundance of well preserved multi-period archaeological sites from the Stone, Bronze and Iron Age right up to pre-famine times while Molly Gallivans Cottage and Traditional Farm gives insight into what life was like in rural Ireland.
You could tip over to Killarney or you could drive to Glengariff over the Caha Pass. The tunnels of the Caha Pass were cleaved from the rocks and form the border with County Cork. You can enjoy spectacular views of Bantry Bay. Or you could simply do as we did and just do nothing. The hotel is so relaxing and luxurious that you will struggle to want to leave it.
We really hope you enjoyed our review of one of the most beautiful 5 star hotels in Ireland. Sheen Falls Lodge is everything that you would expect from a 5 star country retreat and much more.
*DISCLAIMER: We were invited to stay and review Sheen Falls Lodge meaning our stay and one evening dinner in The Falls restaurant were complimentary. However all opinions are our own and we are never obliged to write a blog post. We do it because we genuinely loved our time in one of the most beautiful 5 star hotels in Ireland we would be more than happy to pay for this stay ourselves. Working with hotels has allowed us to create content you love and build a strong reputation in the travel industry. Trust is the most important thing to us and we want you to LOVE every hotel we recommend to you.
Are you new here? Join thousands of other happy readers and subscribe to All About RosaLilla blog via email or Bloglovin'. The good news is that by signing up via email you will get my EXACT email template that I use to successfully pitch hotels for collaborations.
If you liked this you might also like:
Relax and unwind in Galgorm Spa & Golf Resort
Until next time you crazy kids!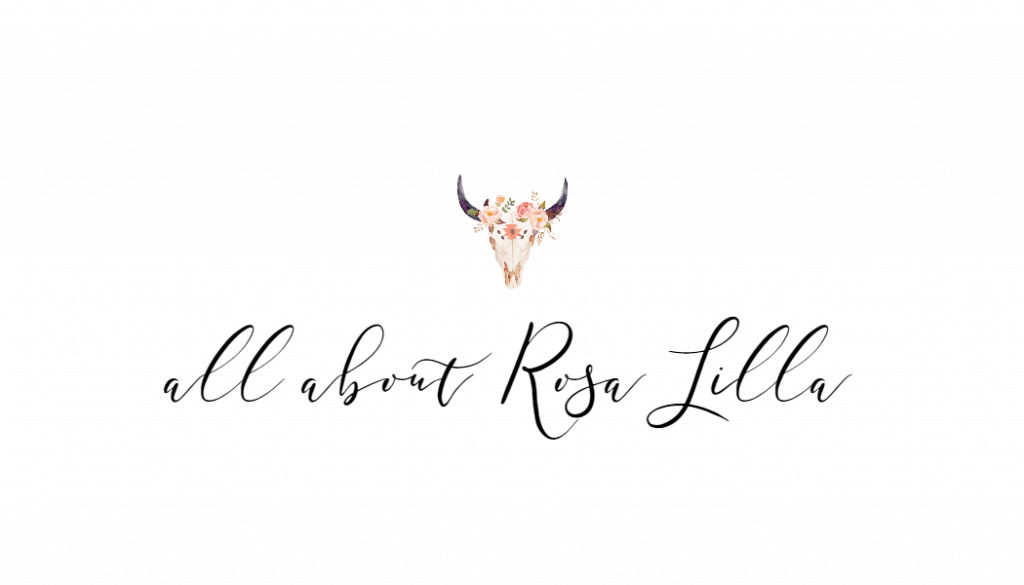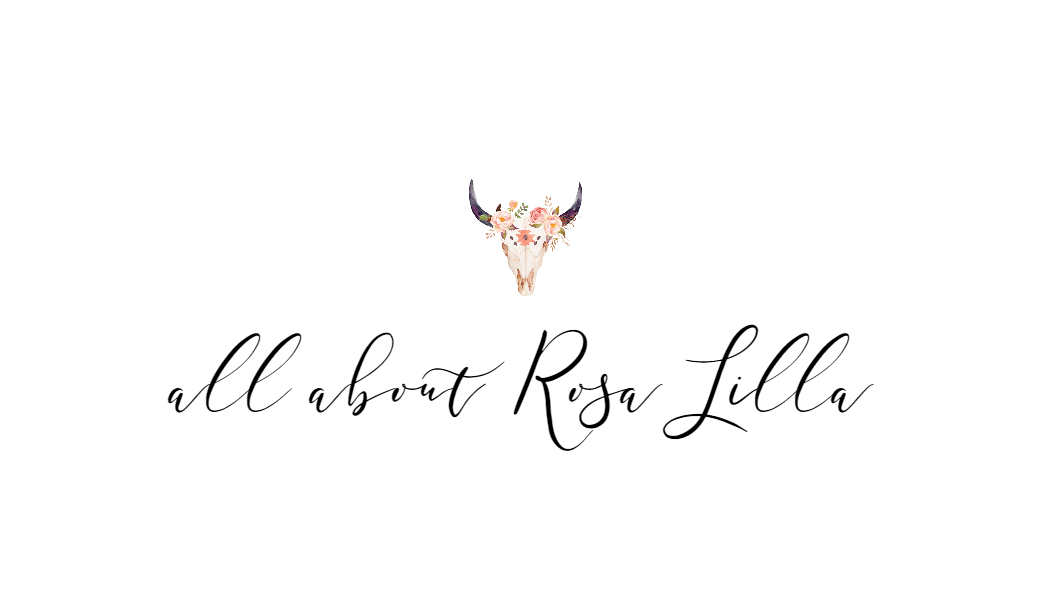 Sharing is sexy!