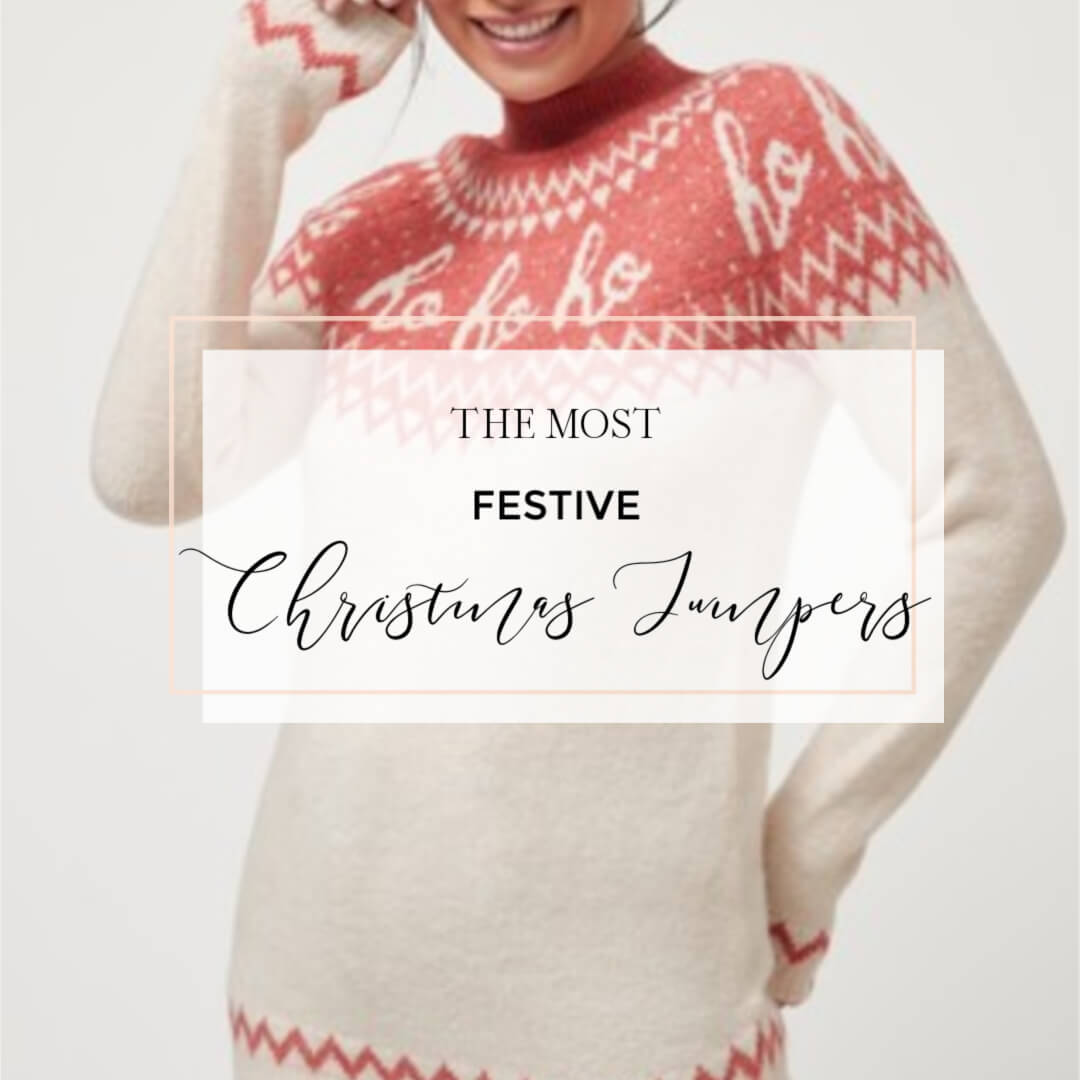 Festive Christmas Jumpers
Did you cringe at Colin Firth's obnoxious reindeer jumper in Bridget Jones' Diary or immediately Google where you could get one for yourself? Christmas jumpers are a bit like bikinis, they sell out really fast, but the good news is that they are easier to find with more and more high street stores wanting to help you look as festive as possible this season.
All Christmas jumpers don't have to be obnoxious and tacky, although I am prone to a tacky Christmas jumper. Some are really stylish. I am a sucker for stylish sequin knits and Fairisle patterns and I have a few of my favourites for today's #TuesdayTen that won't blow the budget. Just remember to tag me on Instagram so I can see how fabulous you look!
Whether you have been naughty or nice you will need a new Christmas Jumper to celebrate the festive season. So without further ado here are ten of my favourite Chistmas Jumpers.
1. H&M Conscious range Knitted Turtleneck jumper €27.99
This Christmas jumper comes in a soft jacquard knit containing some wool with a ribbed turtle neck, long raglan sleeves and ribbing at the cuffs and hem. The polyester content of the jumper is recycled. Available in size XS-XL.
2. Boohoo Fairisle Reindeer Christmas Jumper €16.80
Wrap up warm in this beautiful woodland warmer with its nod to peppered marl and chunky fairisle knits. It is from Boohoo and comes in size S/M, M/L
3. Next Pink/Cream Christmas Jumper €37.50
This Christmas jumper from Next is one of my favourites for getting into the Christmas Spirit. I just love this pink and cream colour and the HO HO HO detail is just adorable. They have a really good range of sizes from size 6-22 so that no-one is left out.
4. Zara Shimmery Velvet Body Suit €29.95
A great alternative to the traditional Christmas Jumper is this gorgeous shimmery velvet bodysuit from Zara with this fabulous beaded shoulder embellishment. It is a great price at only €29.95 and comes in size S, M & L.
5.H&M Sequin-motif jumper €19.99
This one was first on my shopping list and one that you will no doubt see me wearing on Instagram over the Christmas season. It is a cosy jumper in a soft, fine knit containing some some wool with a gorgeous candy cane sequin motif and it is only €19.99. I ordered a size XL but it is a wide fit so you can definitely order a size down. Here is the link for this gorgeous sequin motif jumper.
6. ASOS DESIGN Metallic Jumper €38.71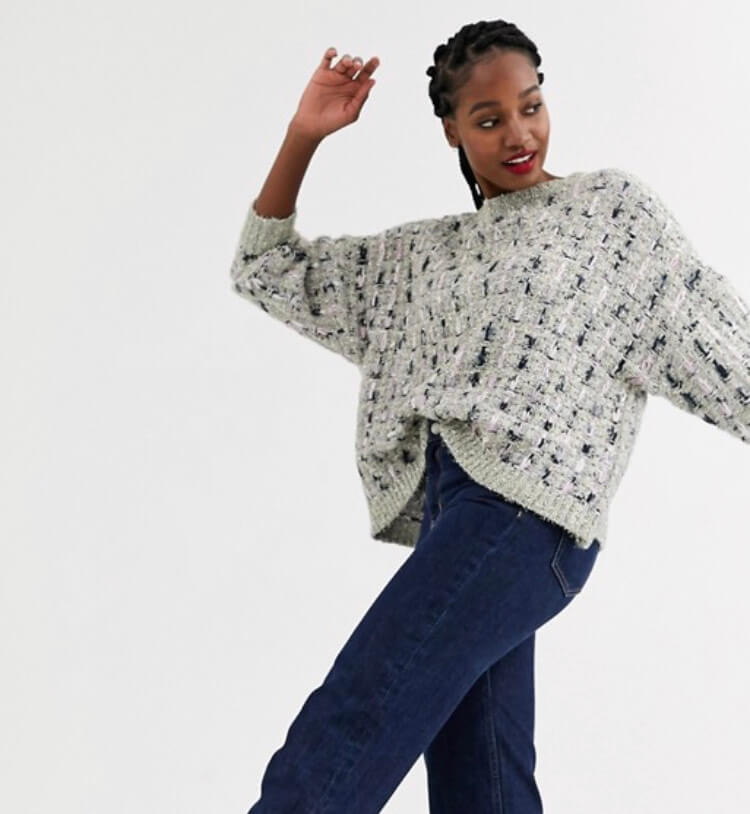 Not all Christmas jumpers have to have to come emblazoned with images of Santa or "Merry Christmas ya Filthy Animal". Some have a more subtle approach.
The thing I love about this ASOS DESIGN metallic check jumper in tinsel yarn is that it reminds me of wrapping tinsel around my own Christmas Tree while still maintaining a certain chicness. Chic and tinsel are not words that you often hear put together but ASOS pulls it off with this design. I wanted to include a few jumpers that will last longer than the Christmas season and this one does just that……and who doesn't love a volume sleeve!
7. Boohoo Christmas Feather Tinsel Jumper €28.50
You can't go wrong with a classic Christmas jumper and this one has Christmas written all over it. This one is a little kitsch and I love it! This is the one that I want to put on while decorating the Christmas tree and pouring myself a glass of Baileys. It comes in S,M and L and is available in red or blue and there is currently 25% off on the Boohoo website.
8. Next Light up Grey Deer Christmas Jumper €40
Can we just take a second to notice that this one lights up! It may be a little more expensive than the others on the list but IT LIGHTS UP! This cute little reindeer jumper from Next is the perfect way to get into the holiday spirit.
9. Next Charcoal Sparkle Tree Christmas Jumper €35
This merry design is made from a soft fabric and comes in a beautiful charcoal colour with sparkle Christmas Tree detail. This one is super stylish and will get you through all of those family celebrations in style. It is available from Next and comes in sizes XS-XL
10. ASOS DESIGN Charity Christmas Tree Jumper for ASOS foundation €38.71
This gorgeous Christmas Tree Jumper is the perfect Christmas Jumper and it comes in petit, curve and tall too. It will look so pretty paired casually with jeans or dressed up with a skirt over the holiday season but buy it fast as stocks are limited.
Stay tuned for next week's #TuesdayTen. In the meantime if you want to shop my looks and follow me on Like To Know It App I would love that!
Are you new here? Join thousands of other happy readers and subscribe to All about RosaLilla blog via email or Bloglovin'.
I also share everything about myself on Instagram with nothing held back so be sure to follow along there.
** Discalimer: Some links are affiliate links meaning that if you purchase through my link I will get a very small commission at no extra cost to you **

If you would like to know more about me you can read My Lyme Story.
Sharing is sexy!