Malvern Hills UK
Have you ever heard of Malvern? To be completely honest I hadn't either before I was invited to visit here, but Malvern Hills in the UK is one of the most famous towns that you have never heard of. In this guide of Malvern I will tell you just why this area of England is so famous along with tips on Malvern accommodation, where to stay and what to do in Malvern, Worcestershire.
Where is Malvern
Malvern, like Bath, is a spa-town and civil parish in Worcestershire, England. It lies at the foot of the Malvern Hills, which are offically designated an Area of Outstanding Natural Beauty, and are a famous beauty spot with scenic views over both English counties of Herefordshire and Worcestershire. The hills run north/south for about 13km and overlook the River Severn valley to the East, with The Cotswolds beyond.
The centre of Malvern, Great Malvern, is a historic conservation area, which grew dramatically in Victorian times due to the natural mineral water springs in the vicinity. The hills are best known for their natural mineral springs and wells and were responsible for Great Malvern becoming a spa town as early as the 19th Century.
There are six places with the Malvern name, Great Malvern, Little Malvern, West Malvern, Malvern Link, North Malvern and Malvern Wells.
History of Malvern
The town of Great Malvern and the surrounding area of The Malvern Hills have enjoyed a long and colourful history. It is likely that ancient Britains were responsible for naming Malvern, or Moel-Bryn meaning "The Bare Hill" and there is evidence of Bronze Age settlements on the hills and a motte-and-bailey fortress was built on top of the Iron Age fortress at British Camp.
The area itself is most known for two things, the natural spring water that has suggested healing powers and the gas lamps that were said to have inspired C.S. Lewis' vision of Narnia, but we will talk more about that later.
Malvern Spring Water
Malvern Spring Water flows freely from a number of sprouts and fountains in the Malvern area. The water became famous for containing "nothing at all". It was the reason that Malvern became a spa town and has formed a part of both local and national culture since Queen Elizabeth I of England publically drank it in the 16th century and Queen Victoria would not travel without it. It was also the bottled water of choice for Her Majesty Queen Elizabeth II.
During the Victorian Era, the town prospered significantly when, in 1842, Doctors James Wilson and Gully set up their water cure establishments in Belle Vue at the centre of town enabling visitors to 'take the waters'. The waters became known for having healing properties and in 1849 Charles Darwin visited Malvern to convalesce. In fact, Charles Darwin's daughter Anne is buried at Great Malvern Priory.
Malvern was also a favourite of Charles Dickens who often visited the town to taste the water and in 1857 Florence Nightingale went to Malvern after the Crimean War to get 'the water cure'.
Millions of litres of Malvern Spring water were bottled each year by Coca-Cola Enterprises under the Schweppes brand. In 1851 J. Schweppe & Co presented a bottle of Malvern Spring Water to Queen Victoria at The Great Exhibition. They bottled and sold the water until 2010 when the plant was closed due to a lack of profitibility. Malvern water however, is still being bottled from the original source by a family run business called Holywell Spring Water. It is available for sale at cafes, restaurants and shops in the town; alternatively you can sample it free of charge at any of the 70 or so natural springs in the area. You can find the names and locations of the natural Malvern springs at Malvern Trail.
Did C.S.Lewis find Narnia in Malvern?
Malvern's gaslamps are an important part of the town's Victorian heritage. There are 104 dotted around the area, many still working today. C.S. Lewis attended Malvern College and The Unicorn Pub was the meeting place of both himself and J.R.R. Tolkien. Can you imagine being a fly on that wall?
The story goes that, on a snowy evening, just after he left The Unicorn, Lewis saw a gas lamp twinkling through the snow and it inspired his land of Narnia, when Lucy walks through the wardrobe in The Lion, The Witch and The Wardrobe to encounter a single gas lamppost standing alone amid the gathering snow.
Lewis was walking through Malvern with Tolkien and another friend of his George Sayer when he saw the lone gas lamppost in the snow and he remarked that it would make for a wonderful scene in a book. The men also walked the Malvern Hills together and it is plausible that the views from the peaks did help to shape Lewis' vision of Narnia.
The Malverns certainly inspired Tolkien. He recorded excerpts from The Hobbit and The Lord of the Rings in Malvern in 1952, at the home of George Sayer. These were later issued for purchase, as "J.R.R Tolkien Reads and Sings his The Hobbit & The Fellowship of the Rings". Sayer provided the sleeve notes, and said that the Malvern Hills reminded Tolkien of "The White Mountains of Gondor", from the Lord of the Rings. In fact, the hotel The Cottage in the Wood, where I based my stay in Malvern was part of the Blackmore Park Estate, owned by Thomas Charles Hornyold and John Vincent Gandolphi.
You might ask, why that name sounds so familiar? J.R.R. Tolkien drew a lot of inspiration from Malvern and he allegedly invented the name Gandalf after hearing the name Gandolphi.
Malvern Accommodation
Where to stay in Malvern
**Disclaimer: My stay at The Cottage in the Wood was complimentary, as was Mister Lavin's birthday meal but I only ever work with hotels that I am happy to recommend to you guys and this is the perfect base for a stay in the Malvern Hills. All opinions are my own**
If you are looking for the perfect place to base yourself for exploring the Malvern Hills then I highly recommend The Cottage in the Wood. This is a place with so much history dating back to 1791 when it was a part of the Blackmore Park Estate.
Driving through the area of Malvern we first spied the majestic haven that is The Cottage in the Wood high up on the Malvern Hills overlooking the most beautiful countryside. We made our way up winding roads until we reached a sharp hairpin turn which culminated in the hotel carpark and breathtaking views over the Cotswolds.
The main attraction was the exquisite white building of The Cottage in The Woods, nestled amoung the tress, overlooking this incredible view, from its perfect elevated location . The hotel itself consists of three individual buildings where all of the 30 guest bedrooms are located. You can choose to stay in either the Main House, Beech Cottage or the Coach House all with their own unique sense of style and charm.
In the Main House, discover luxurious rooms with exquisite gestures to the property's Georgian heritage, combined with contemporary elegance. In the Beech Cottage, rooms have a quirky design with splashes of colour while the Coach House rooms are spacious and stylish. There are dog-friendly rooms with private terraces, too.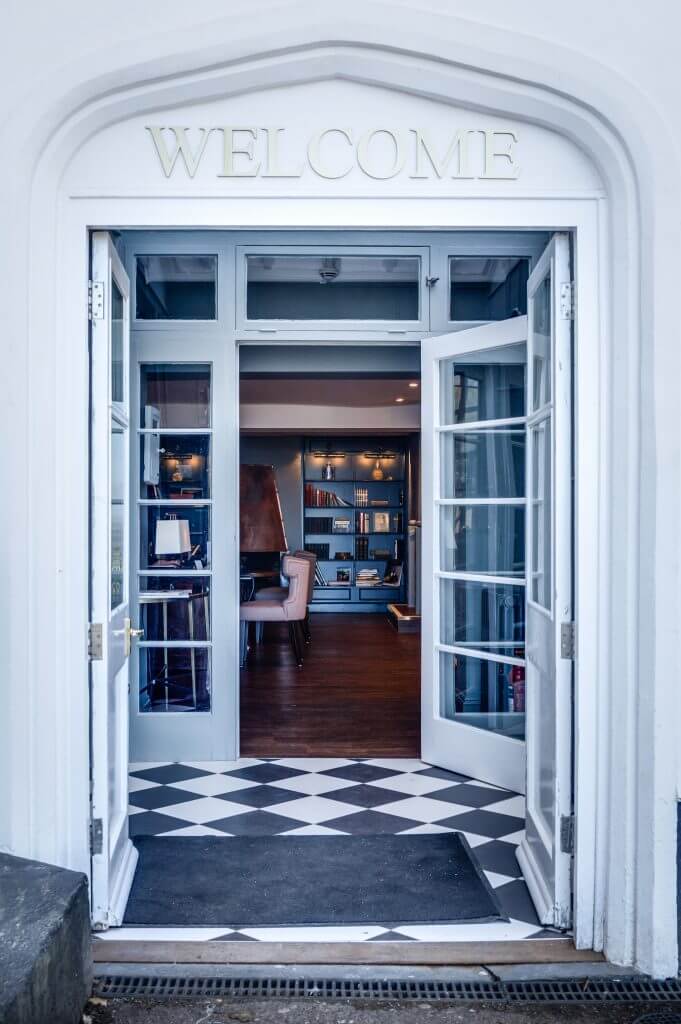 The Cottage in The Wood is a boutique Hotel in the blissful, tranquil surroundings of the Malvern Hills. Situated high in the Malvern Hills, it offers epic and unforgettable views of the Cotswolds, Vale of Evesham and Severn Valley. The hotel has been welcoming guests for 100 years this year and esteemed guests such as composer Edward Elgar and Margaret Thatcher regularly stayed there. In fact Margaret Thatcher's favourite room was Room 35.
Nick and Julia Davies bought The Cottage in the Wood in July 2015. Nick, a former management consultant, and Julia, a market insight manager in the pharmaceuticals industry, had lived in Shoreditch for 20 years. They decided they wanted to dedicate themselves to a project of their own that would make use of their strategic and marketing skills, and satisfy their appetites for travel and hotels and so a major refurbishment of the hotel began.
The beautiful views can also be experienced from inside, with stunning floor to ceiling windows. Our room was ready when we arrived at the hotel and we were excited to head upstairs to inspect our room. As we made our way through the Main House I couldn't help but notice just how stylishly the hotel was decorated. From the outside the building looked like it has so much history, but inside the decor was fresh and modern and it really impressed me.
There are five different room categories, from compact Cosy Doubles up to the spacious Best rooms which have panoramic views of the Severn valley and king-sized or four-poster beds. Mine was beautifully decorated in a muted palette of greys and neutrals and came with a large en-suite bathroom with a roll-top bath and separate shower. Rooms have recently been refurbished and include vintage furniture and artworks. Hypnos mattresses and luxurious bedding promised us an extremely comfortable night's sleep.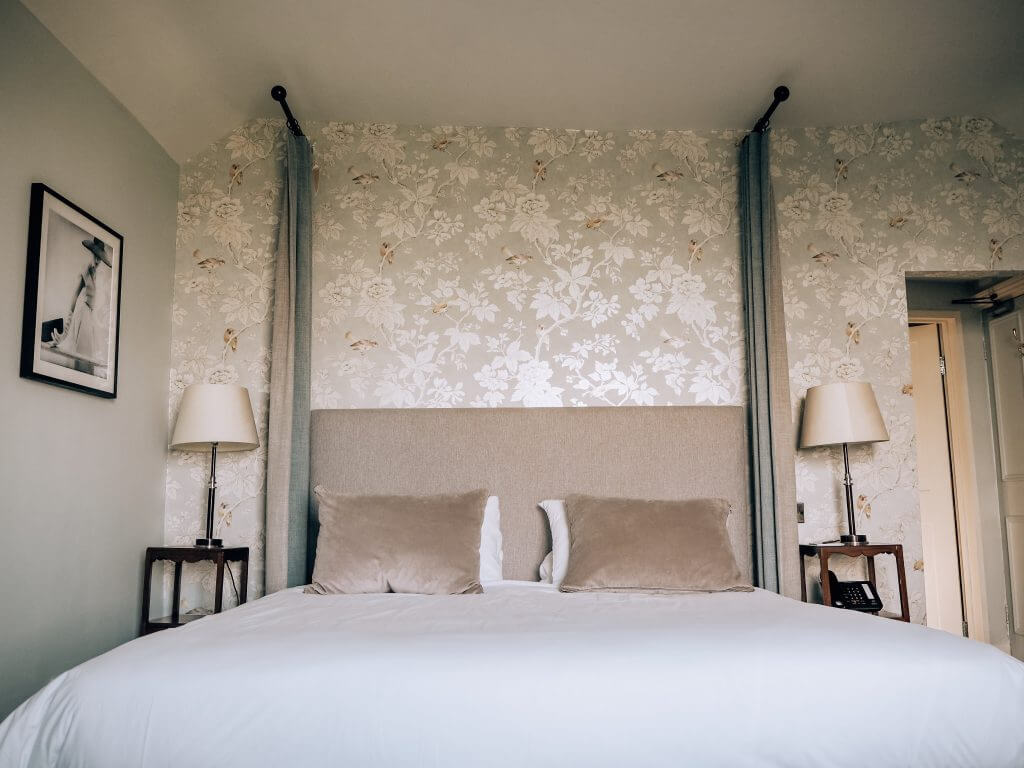 The hotel doesn't really have a hotel feel about it. It feels more homely and like you are staying in an elegant country house. As it was Mister Lavin's birthday we decided to head to the bar to toast the occasion with a birthday drink. The bar was striking, decorated in the most beautiful jewel tones.
It was punchy with retro style wall art and had a fantastic array of Gins and Whiskey. Cigar lovers among you (yes Mister Lavin I am looking at you) will appreciate the humidor behind the bar. The cocktail list was incredible and the bar staff was excellent at suggesting the best complementary tonic for your Gin.
Where to eat
Dinner was included in our stay and we were excited to celebrate Mister Lavin's birthday over a romantic meal at the hotel's 1919 Restaurant in The Main House. The restaurant is named 1919 after the year that the hotel first opened its doors as a tea room. The restaurant was awarded two AA Rosettes so we had a feeling that the food would be good.
The restaurant has a stylish contempary design with bespoke nature-themed wallpaper and tones of baby pink, soft grey and woodland green. We were given a table at the window with the most spectacular view.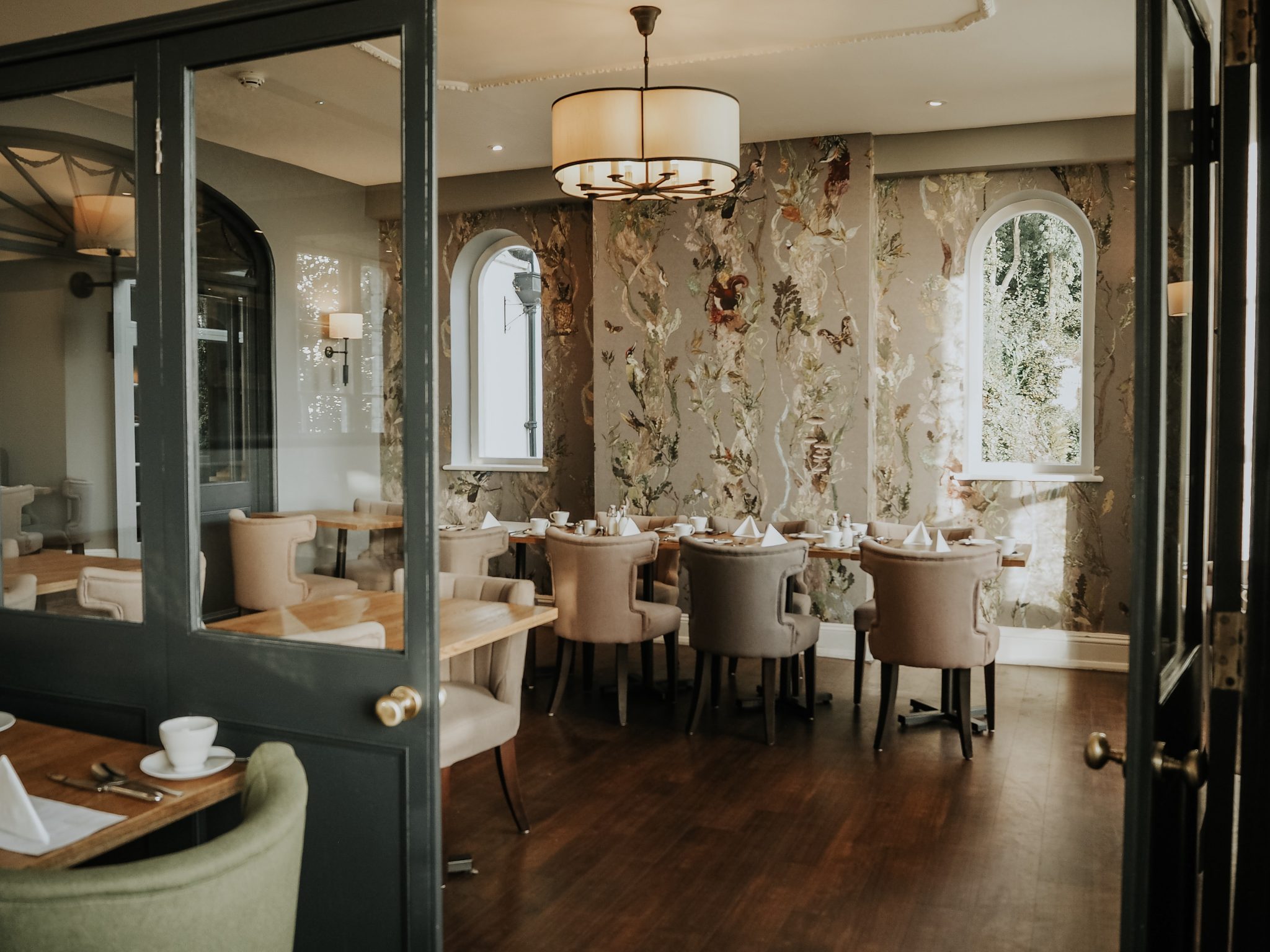 Head Chef Mark Redwood prepares innovative and beautiful dishes, bursting with fresh and local flavours. For starter I had Soy glazed pigeon breast, date and plum sake puree, puffed pearl barley, shimeji mushrooms, fennel, pickled walnut, soy and chicken dressing. I can't begin to explain how delicious it was. Main course was a 10oz Hereford rib-eye steak triple cooked chips, mushroom ketchup, slow roast tomatoes with Bearnaise sauce. The flavours were so amazing.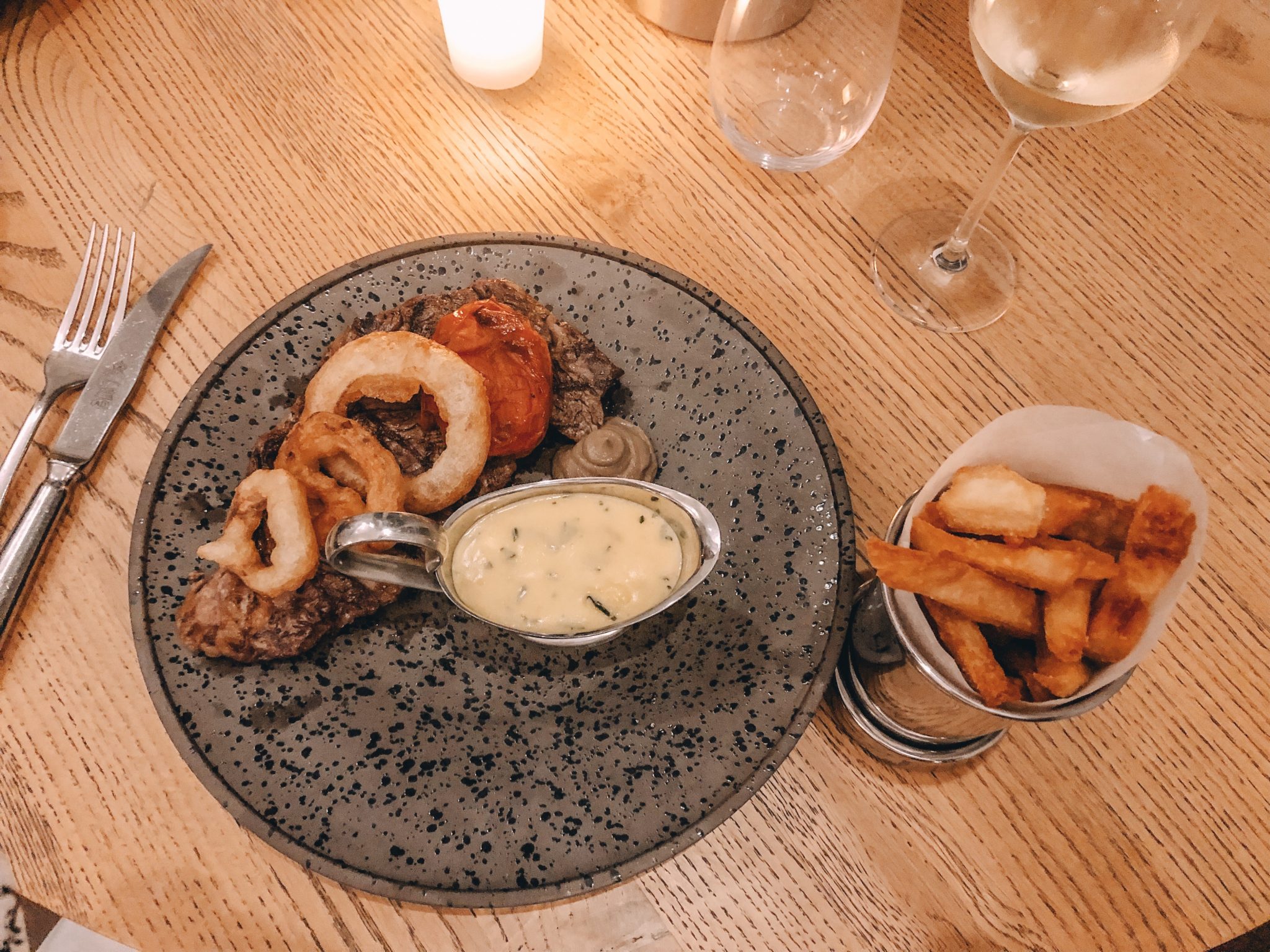 For dessert I had pre-organised with the hotel to bring Mister Lavin's with a candle as it was his birthday that day and it is a tradition for us to always blow out a candle and make a wish on our birthday. A birthday is not the same without blowing out a candle, right?
It was that important to me that I told the hotel if they were unable to provide one I would bring my own, but they assured me that they would look after it. When dessert came and there was no candle my heart just sank. It was my surprise for my husband for his birthday and I had been looking forward to seeing his face all day. It was little moments like this throughout our stay where I felt that the attention to detail and guest satisfaction was lacking compared to most hotels we stay at.
Breakfast at The Cottage in The Wood
After an incredible night's sleep, breakfast was served in the restaurant. There's a continental selection with homemade granola, yoghurt and fruit, plus cooked options like avocado and poached egg or wild mushrooms on toast, as well as the usual Full English.
Accessibility for those traveling with disability or chronic illness
1919 Restaurant, reception and toilet facilities are fully accessible. There is one step to the bar and access is easily arranged with a removable ramp always on hand. The Cottage in the Wood has one dedicated accessible room with designated parking and roll-in shower. Ground floor rooms are accessible without stairs for those of you that may have energy limitations.
Things to do in Malvern
The tempation is huge to just cosy-in, never leave the hotel and just relax but there are many things to do in the Malvern Area.
Besides the obvious choice of simply wandering around the town of Great Malvern you can explore the Malvern Hills, visit local museums, theatre or national trust properties or potter through the charming local towns and villages.
Upton-upon-Severn
On our drive to the hotel we passed a town called Upton-upon-Severn and we instantly knew we wanted to go back and explore. At first glance, Upton upon Severn looks like a fairytale town with crooked Tudor buildings and fairylight adorned windows.
Upton upon Severn used to be a port, as well as being the only river crossing for many miles. For centuries before modern transport, it was alive with river craft carrying goods from and to the rich agricultural areas around it. Today, there is a flourishing marina on the east bank, and Upton's historic prosperity can be seen in its variety of delightful old buildings, including pleasant places to eat and drink.
Upton is a town with a spirit out of all proportion to its size. Its attractive shops, its delightful inns and a variety of events each year, such as the Jazz, Folk, Blues and Sunshine Festivals draw crowds in their thousands. I highly recommend a visit on your trip to the Malverns.
Worcester
Can somebody please help me pronunce this city? It looks easy but don't be deceived, it does not sound how it looks. Say it after me "Wu-stuh".
Regardless of the fun we had on our drive trying to get me to master this tongue twister, Worcester is well worth a visit. The city is best known for its magnificent Cathedral but is also famous for the world renowned Worcester Porcelain, the zesty Worcestershire Sauce and the most picturesque cricket ground in the country.
This town is everything I expected Stratford-upon-Avon to be but wasn't. The modern high street blends seamlessly with streets of Tudor houses and Worcester is home to the historical Tudor House Museum. Tudor House is a beautiful early 16th century building full of unique features and fascinating stories, situated in Worcester's oldest (and prettiest) street, where you can take a trip back in time to discover the people who lived here, their lives and experiences.
Myself and Mister Lavin had such an incredible trip exploring Malvern and Cornwall this October. It has asserted my desire to explore my neighbouring country more and appreciate it's culture and history. There is no denying that tensions between Ireland and England have a history of being strained and we often overlook our neighbours as a tourist destination. However, as neighbours we have such similiarities and this can make for a more familiar travel experience while still getting to appreciate our unique differences.
Book your stay in the Malvern Hills with Booking.com.
Are you new here? Join thousands of other happy readers and subscribe to All about RosaLilla blog via email or Bloglovin'. The good news is that by signing up via email you will get my EXACT email template that I use to successfully pitch hotels for collaborations.
I also share everything about myself on Instagram with nothing held back so be sure to follow along there.
If you liked this you may also like:
No. 15 Great Pulteney, is this Bath's Most Unique Hotel?
A walking tour of Notting Hill
Until next time you crazy kids!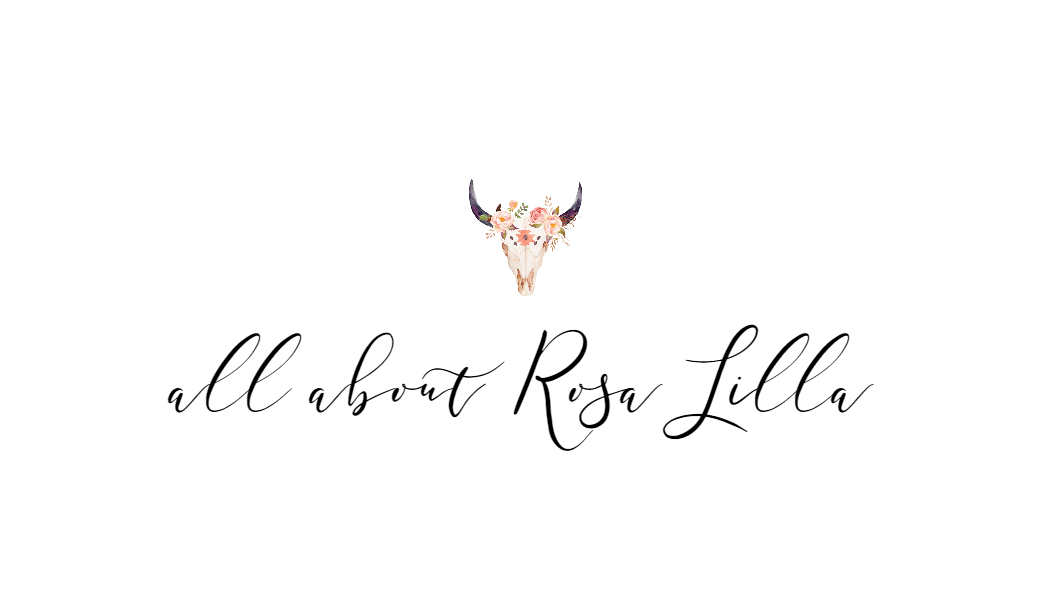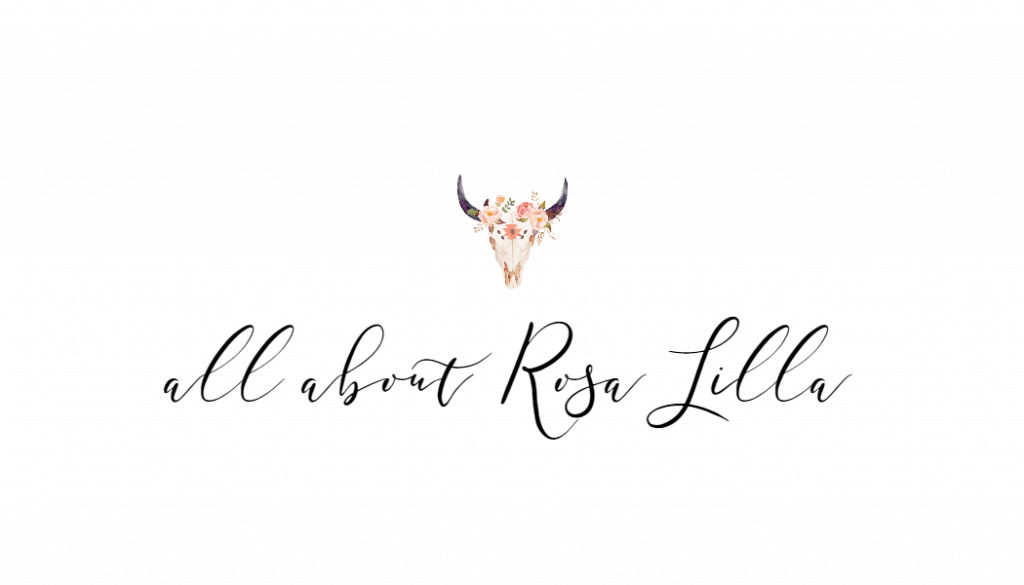 Sharing is sexy!