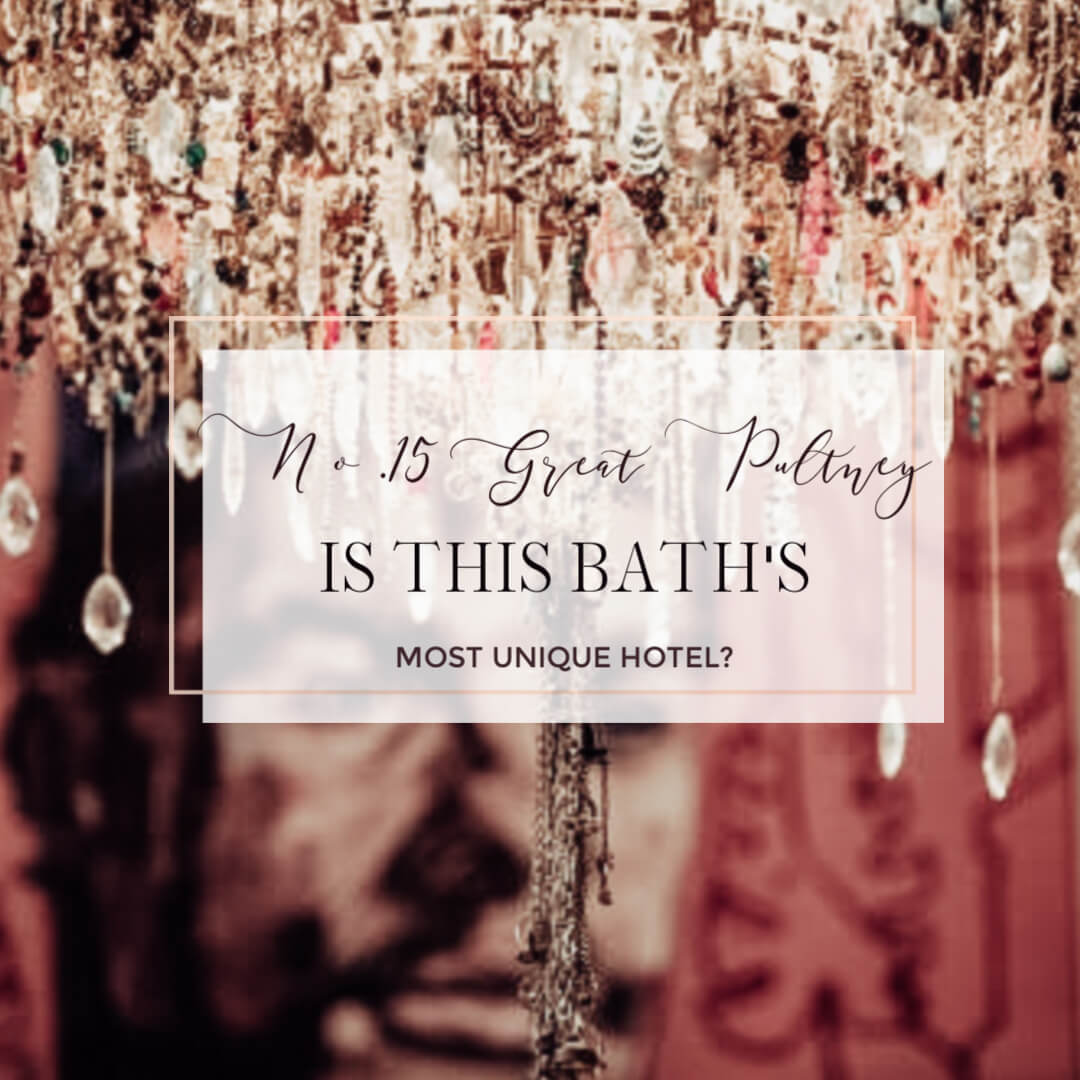 No.15 Great Pulteney: is this Bath's most unique hotel?
There are so many beautiful places to stay in the city of Bath but No.15 Great Pulteney is in a class of its own. Not only is it a luxury boutique hotel in the heart of the city, but it is one of the most unique hotels I've stayed in.
No.15 Great Pulteney. Location, location, location.
No.15 Great Pulteney is perfectly located for a stay in Bath. Positioned on the most magnificently-terraced Pulteney Street and backing on to Henrietta Park, No.15 is just a short walk from the hub of Bath city centre. What more can you ask for?
But there's lots more besides. No.15 Great Pulteney is a unique, luxurious hotel located on the grandest street in Bath. If fact, the biggest dilemma you will face is being in the perfect location to explore the city but being so perfectly cocooned in comfort that you really don't want to leave.
At one end of the street you will find the exquisite Robert Adam-designed Pulteney Bridge and weir and at the other stands the majestic Holburne Museum, a stunning Georgian Mansion that featured in movies such as Vanity Fair and The Duchess.
If you are in town to catch a rugby match then No.15 Great Pulteney is the perfect choice as it is located within hailing distance of The Rec, the atmospheric home of Bath Rugby.
Christmas in Bath is also a magical time to visit as the city lights up with twinkly lights and the bustling stalls of Bath Christmas Market.
No.15 Great Pulteney has it all!
Winner of 'Outstanding New Hotel' at the Independent Hotel Show Awards 2017, No.15 Great Pulteney is an elegant new hotel that has it all.
Imagine a place where you can indulge in all the best things in life, from the very finest artisan food to relaxing spa treatments and carefully-curated cocktails (we will talk more about those later!). Enjoy wonderfully unique, restful spaces with a real sense of the history of Bath. This really does make for the most unique hotel experience that I have had to date.
The history of the hotel.
Ian and Christa Taylor bought the three townhouses that make up No.15 Great Pulteney in 2016. They were previously owned by both the Carfax Hotel (in the 1920's) and the Salvation Army, which ran a hotel here to raise funds. The Taylors hired the best interior designers to put a unique and individual stamp on the hotel and the result is just breath-taking. What they have achieved is a luxurious boutique hotel befitting its location on the widest, most impressive, street in Bath.
On the outside No.15 Great Pulteney discreetly fits into its surroundings. The Georgian façade instantly brings you back to the time of Jane Austen and, indeed, remains virtually unchanged since that time.
The Wow factor!
Stepping inside No.15 Great Pulteney is another matter. You are immediately greeted with a cacophony of colours, textiles and decor details that shouldn't work but really do! Your eyes won't know what to take in first, be it a kaleidoscope display on your right as you enter, the giant doll's house that houses the keys behind reception, Big Ben just casually sitting in the corner or the most magnificent chandelier made out of junk jewellery.
The first thing you want to do is explore. Every inch of this unique hotel is full of quirky, eccentric and creative touches from the artworks by students at Bath Spa University to hand-blown glass lights, chandeliers made out of earrings and collections of musical instruments, ducks, tennis racquets and army uniforms. Sounds like it shouldn't work right? But this mish-mash of patterns and modern art both heighten the senses and create the most relaxing environment that you will struggle to leave.
The Rooms at No.15 Great Pulteney
There are 40 rooms at No.15 Great Pulteney, eight of which are in the charming coach house with its mock Gothic façade just to the back of the hotel by the garden. This a boutique hotel so each room is individually designed. Unfortunately, I didn't get to peak at the other rooms in No.15 Great Pulteney so, I can only speak of my own which was just perfect.
We were greeted with the most sumptuous decor and with big fluffy robes and top quality hotel-branded flip flops waiting for us on our bed. The bed was a Hypno bed and there was a pillow menu to ensure that you will get the best night's sleep.
Luxurious touches of detail in the room included a TV in the bath, a Nespresso machine, a Dyson hairdryer (hello heaven!) and an enormous HD television with Sky Movies (can you see why you will never want to leave?).
In fact the TV had such an impact on me that it had me phoning Mr. Lavin immediately trying to source one. Forget it! Too expensive for me, but it goes to show the quality that goes into each room to ensure that you will have the ultimate luxury experience. Before I knew it I was whipping off my clothes, getting cosy in my robe and quite contently watching Goodbye Christopher Robin on the best TV ever.
We had a wonderful view of the rear garden and parking area, overlooking the gorgeous coach houses. A statue of a Beefeater stood guard outside our bedroom window to epitomise the quirkiness of this unique hotel.
The Larder.
At check-in we were told that we could find the larder on the top floor if we needed anything such as milk for our coffee. We looked at each other immediately. Did she just say a larder?
As soon as we were shown our room and had settled our bags, we were running up the stairs in search of the larder. We were greeted by a room containing a red Smeg fridge stocked with glass bottles of milk and local ice cream. Glass jars contained an assortment of sweets. There was a fridge fully stocked with a large array of drinks and popcorn and Maltesers for the perfect movie night. See! They really don't want you to leave.
Cocktails at No.15 Great Pulteney
We reluctantly dressed for a pre-dinner cocktail, after 'stocking up' at the larder.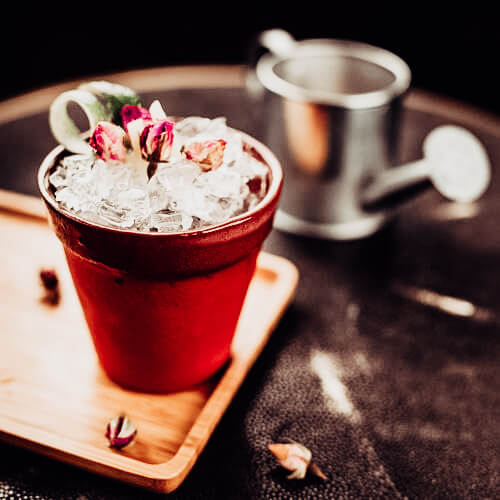 The cocktails, like everything here, are presented with imagination. Each one is described on a playing card and if you really can't decide the wonderfully-skilled barmen will point you in the right direction. I had one especially made for me that involved gin, lavender and honey and was quite possibly the most delicious cocktail I have ever had. It tasted like velvet.
Dining at No.15 Great Pulteney
There are a few dining options in No.15 Great Pulteney but we chose to dine with our cocktails in Bar 15. I enjoyed my steak with the most wonderful views of the street through lavenders sitting on the windowsill. This was certainly more than just bar food.
There is also a restaurant that serves breakfast and lunch at Cafe 15, a charming basement room with antique apothecary cabinets on one wall and more striking art. Breakfast, lunch and dinner are offered and include dishes such as potted ham hock, apple and dandelion salad, mint and quinoa soup, braised ox cheek and courgette fritters.
Don't miss the Afternoon tea either.
The Spa at No.15 Great Pulteney
No trip to Bath is complete without fully immersing yourself in the relaxation of a Spa. The Spa at No.15 is set in stone vaults below the hotel and is the perfect place to unwind. You will immediately be hit with the smell of ceder wood from the large cedar hot tub, barrel-shaped sauna and steam room.
Take your pick of holistic treatments (all use ila and Natura Bissé unguents) that include facials, classic massage and body scrubs. Or simply do as we did and simply unwind in the thermal suite with a glass of Prosecco. It is an experience not to miss and a haven of relaxation.
What to see and do in Bath
I have a full blog on 10 reasons to travel to Bath which you can read here.
There are so many things to see in Bath that are worth getting out of bed for, although I know you will struggle with wanting to leave this hotel. Best known for its hot springs and 18th-century Georgian architecture, honey-hued Bath has long been a destination for socialites, artists and people-to-know.
Head straight to the Roman Baths or take in the Georgian Architecture of The Royal Crescent and King's Circus. Relive all things Jane Austen at the Jane Austen museum or eat your weight in cake at Sally Lunn's tea rooms. There are also many gardens and parks to explore, not to mention the beauty of the Pulteney Bridge and Bath Abbey.
Review of No.15 Great Pulteney
I strongly recommend staying in No.15 Great Pulteney, whatever your reason for visiting Bath. It is child-friendly although this may be one of those places to enjoy the luxury child-free but if you do come as a family there are cots and even teddy bears available for your little ones. This hotel is also pet-friendly and provides free WiFi. You really will find all the comforts here.
There are an array of rooms ranging from £240 for a standard room to £720 per night for a luxury suite with spa bath. As I mentioned in a previous blog there is a time to save and a time to splurge and I feel that a trip to Bath is a time to really treat yourself and live like royalty.
Until next time you crazy kids!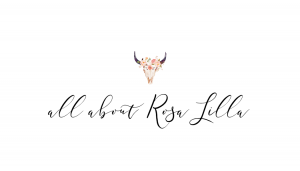 *FULL DISCLOSURE: My visit to No.15 Great Pulteney was complementary but as always I will not recommend something that I wouldn't pay for and love myself and I know for sure I will be going back to visit this hotel at my own expense.
If you liked this you may also like:
Escape your every day at the Country Living Hotel Bath
Things to do near Frankfurt. A day trip to Michelstadt and Erbach, two fairytale German villages.