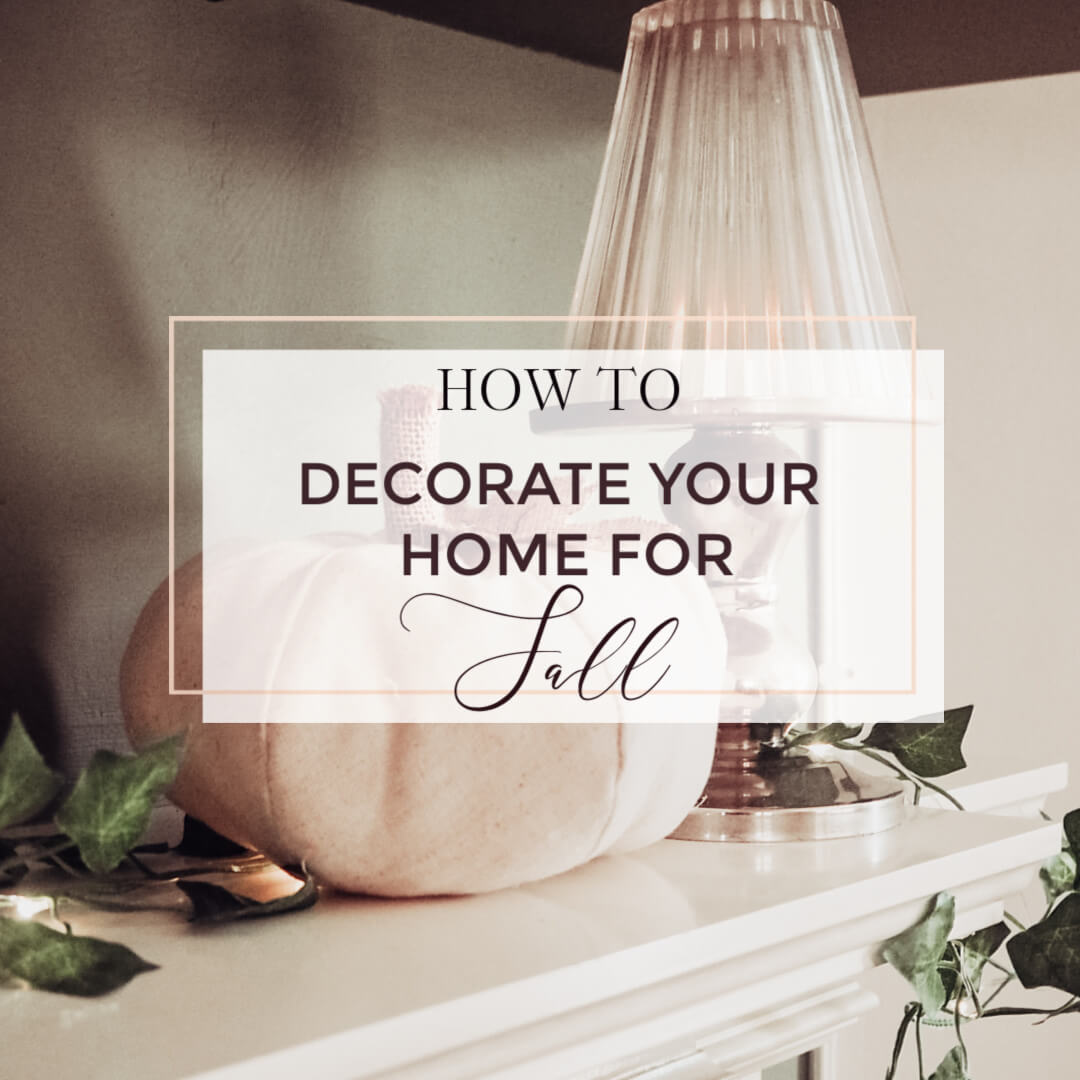 There are so many ways to decorate your home in a fun and festive way for Fall. I personally love bringing some warmth and cosiness to my home at this time of year.  Temperatures dip during the Autumn months so it is the perfect time to add warmth to your home with your Fall decor. I want to show you how I have decorated my home with my guide on how to decorate your home for Fall.
My guide on how to decorate your home for Fall
This time of year is perfect for family nights in and inviting guests around for a hearty meal or glass of wine. By adding some simple textiles and colours you can immediately make your home more inviting.
How to decorate your home for Fall.
As an Etsy seller myself I know how much a sale means to a small business. Rather than heading to the big department stores with mass-produced home decor, I prefer to shop on Etsy. Here you will find a large selection of unique, individual and often handmade products.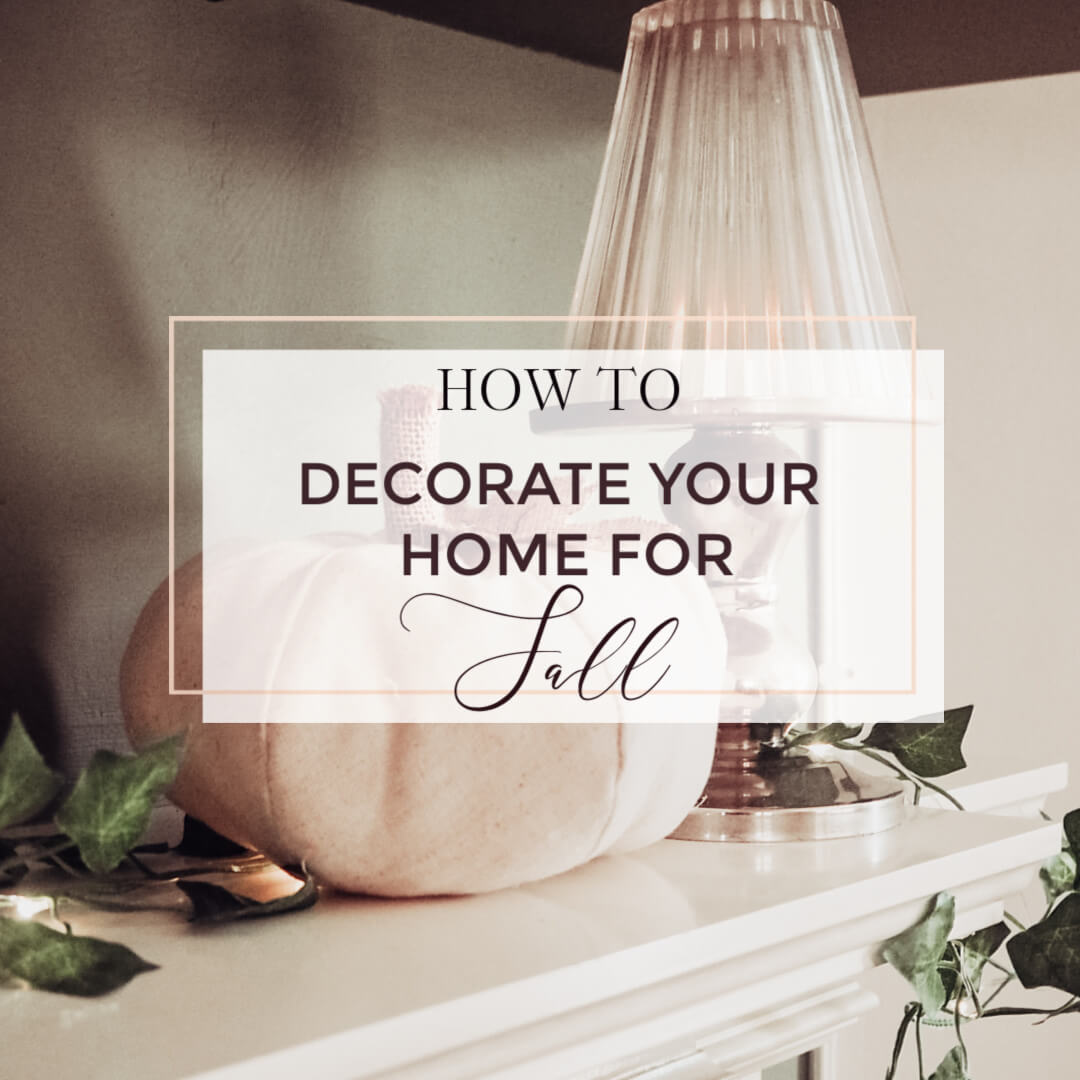 I have never had a bad Etsy shopping experience. I look for a shop with good reviews and many sales before making a purchase. I also judge a shop by how quickly they are to respond to messages. I know the importance of good customer service. Often Etsy sellers will go above and beyond to make sure that your shopping experience is a unique one. Some of the best packaged goods I have received have come from an Etsy shop.
So I began my search for some cute Fall decor on Etsy. My style is rustic, farmhouse and cottage style. I know that everyone has their own style but I tend to choose things based on texture and colour. Maybe it is the Taurian in me, we are known to be sensual and very tactile.
How I decorate my home for Fall
Pumpkins
Nothing says Fall quicker than a pumpkin and, I'm not going to lie, pumpkins have been multiplying at the rate of Gremlins in my house. Pumpkins, gourds, fall foliage and pinecones are a handful of popular themes that can serve as inspiration. These can be displayed as a table centerpiece, on your mantel or staggered artfully down your staircase.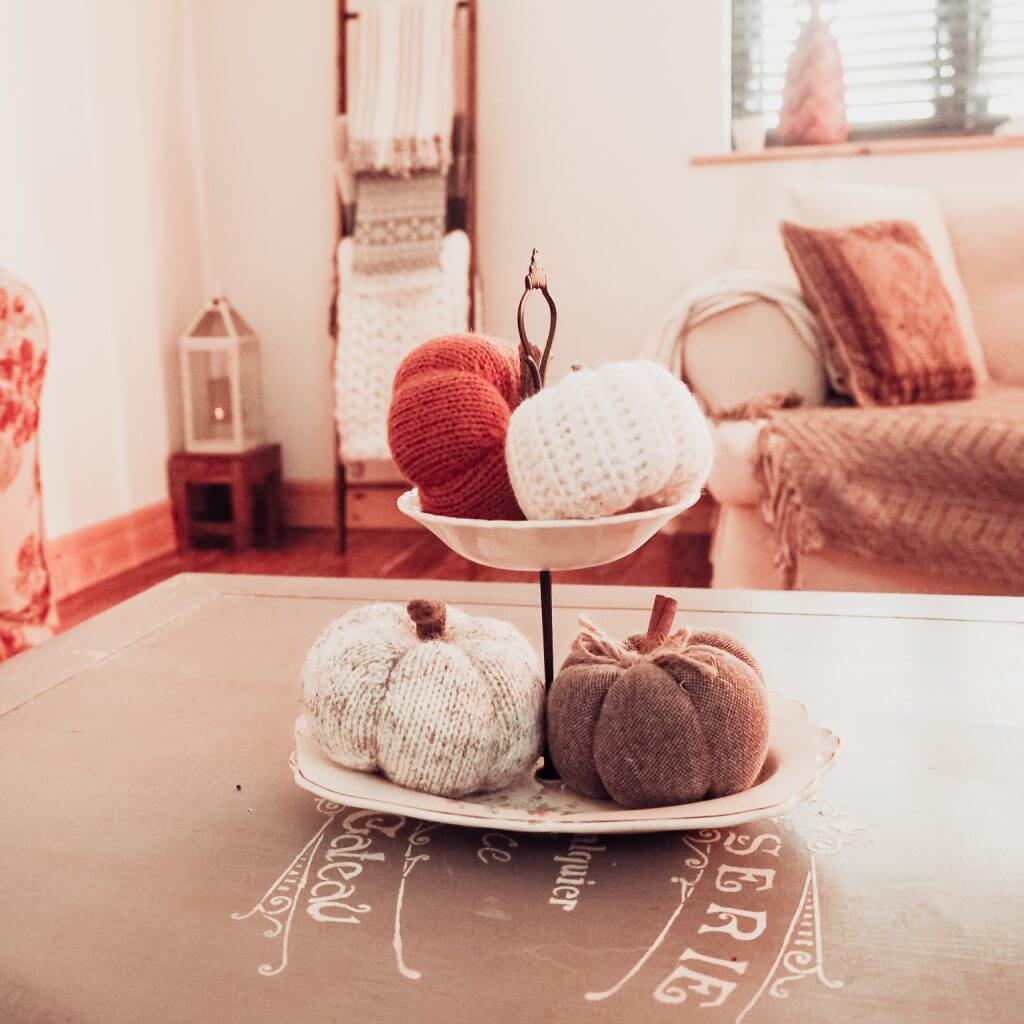 My pick of the patch.
This year I selected pumpkins based on texture. I decided to go for plush velvet and hand knitted pumpkins to add some texture and warmth to my home. These can then easily be arranged in little clusters or scattered down your staircase. I chose a selection of different colours and sizes to add variety. Even a miniature pumpkin can add some punch to your fall decor. Here are my favourite pumpkins to decorate your house for Fall.
Handmade from natural osnaburg linen with a burlap stalk and leaf, this pumpkin is perfect for adding a touch of warmth and texture to your home. I placed mine on my fireplace mantel.
Without a doubt this Etsy shop has the best packaging I have ever seen, there may have even been a Ferrero Rocher and beautiful Autumn foliage. I ordered a set of 10 hand-knitted pumpkins that come in a variety of colours and sizes. A one of a kind set of 5 or 10 orange, rusty-brown, oatmeal, white and blue pumpkins are perfect for brightening up any space during Fall.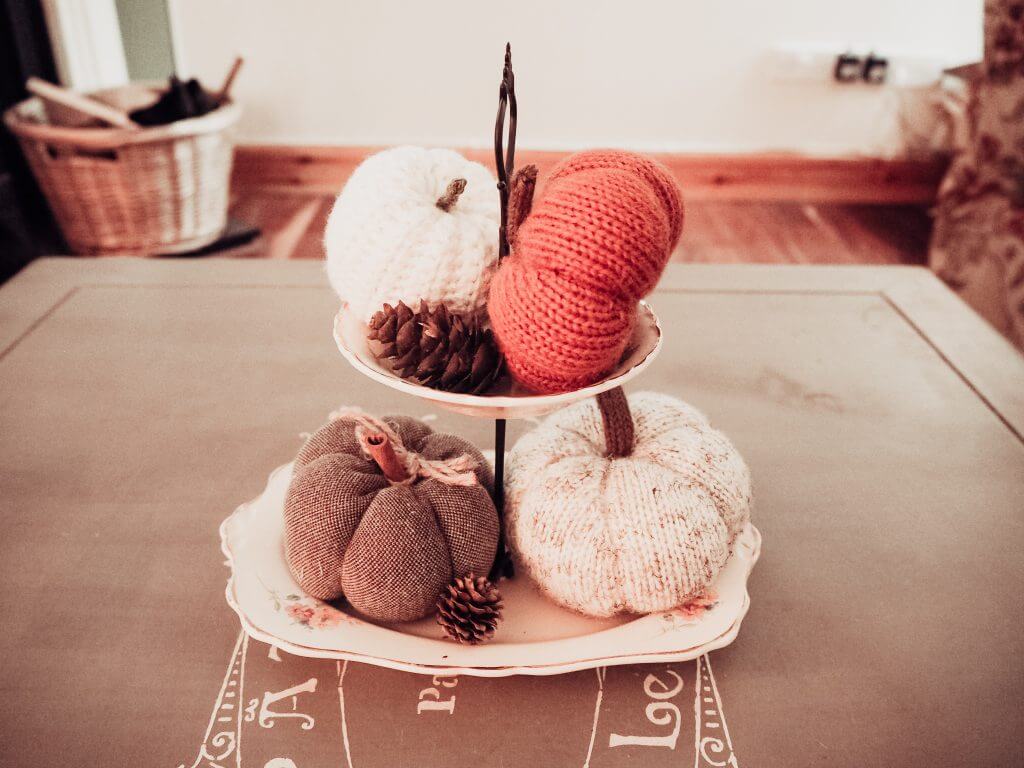 This plush velvet pumpkin is made from the softest velvet. I ordered a medium size in olive-green to add some warmth to my home decor. This lovely soft, plush velvet pumpkin might make it that bit easier to say goodbye to Summer. Each pumpkin is handmade with its own individual stalk, meaning that, no two pumpkins are the same.
I just can't get enough of velvet pumpkins. The colours of this set from The Decor Dreamer are just so, well, dreamy! They come with real stalks so are very authentic and they add a gorgeous touch of warmth to your fall decor.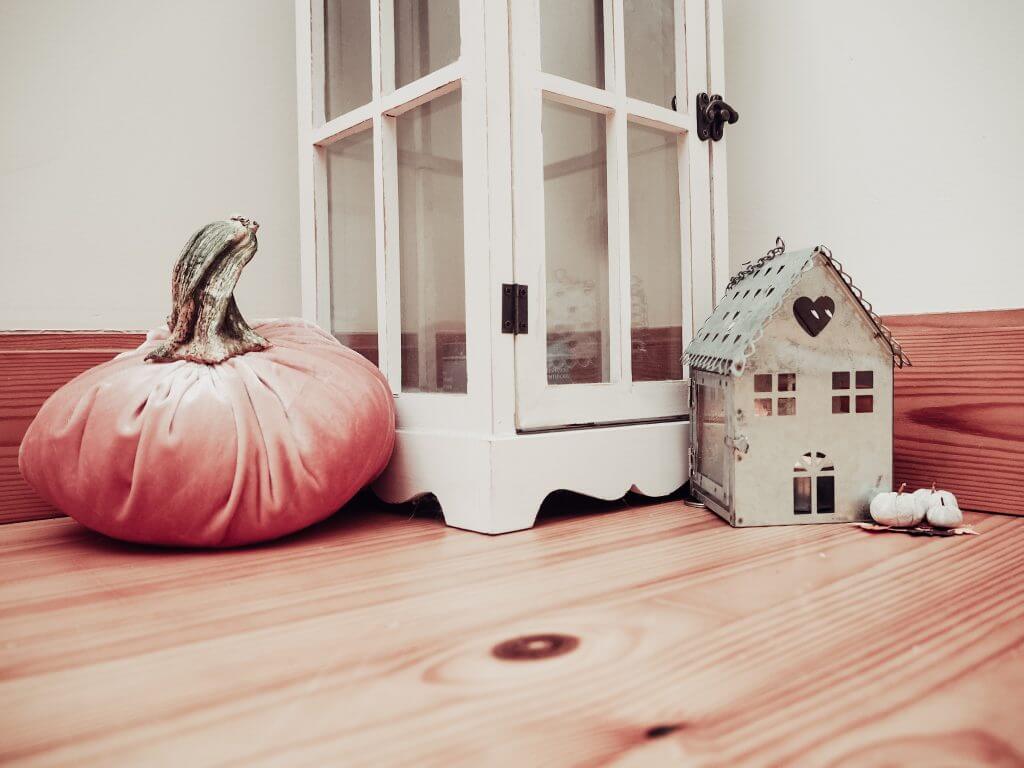 Vicki has the most amazing selection of both hand-stiched and hand-knitted pumpkins all topped off with a cinnamon stick stalk. This gives such a gorgeous fragrance to your home. I chose to stagger them down my staircase which makes for the most welcoming sight when arriving home.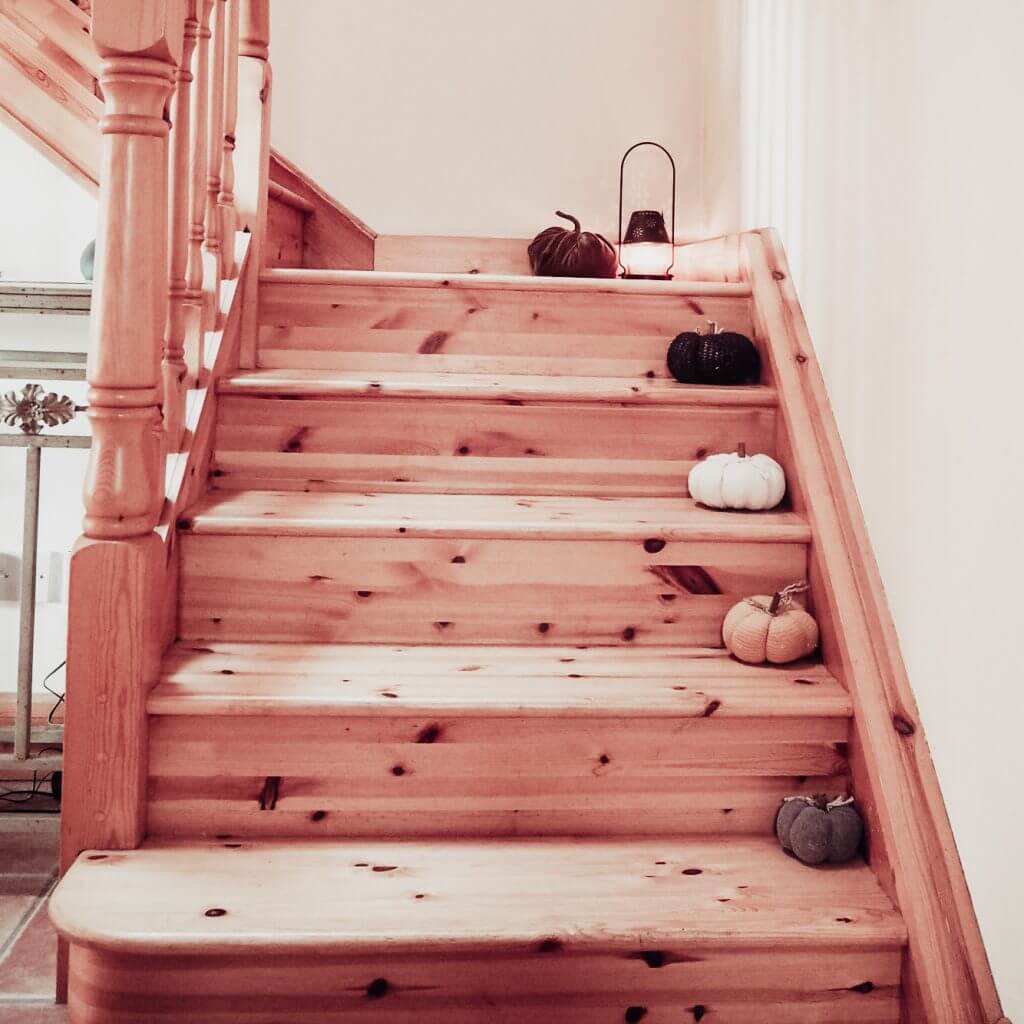 You can shop prints at RosalillaPrints here.
Knitted pumpkins add such a texture and warmth to a room and can be easily added on a table, shelf or mantle to decorate your room right through October and November. Knitted pumpkins don't come much better than the ones at Paper Knit Studio.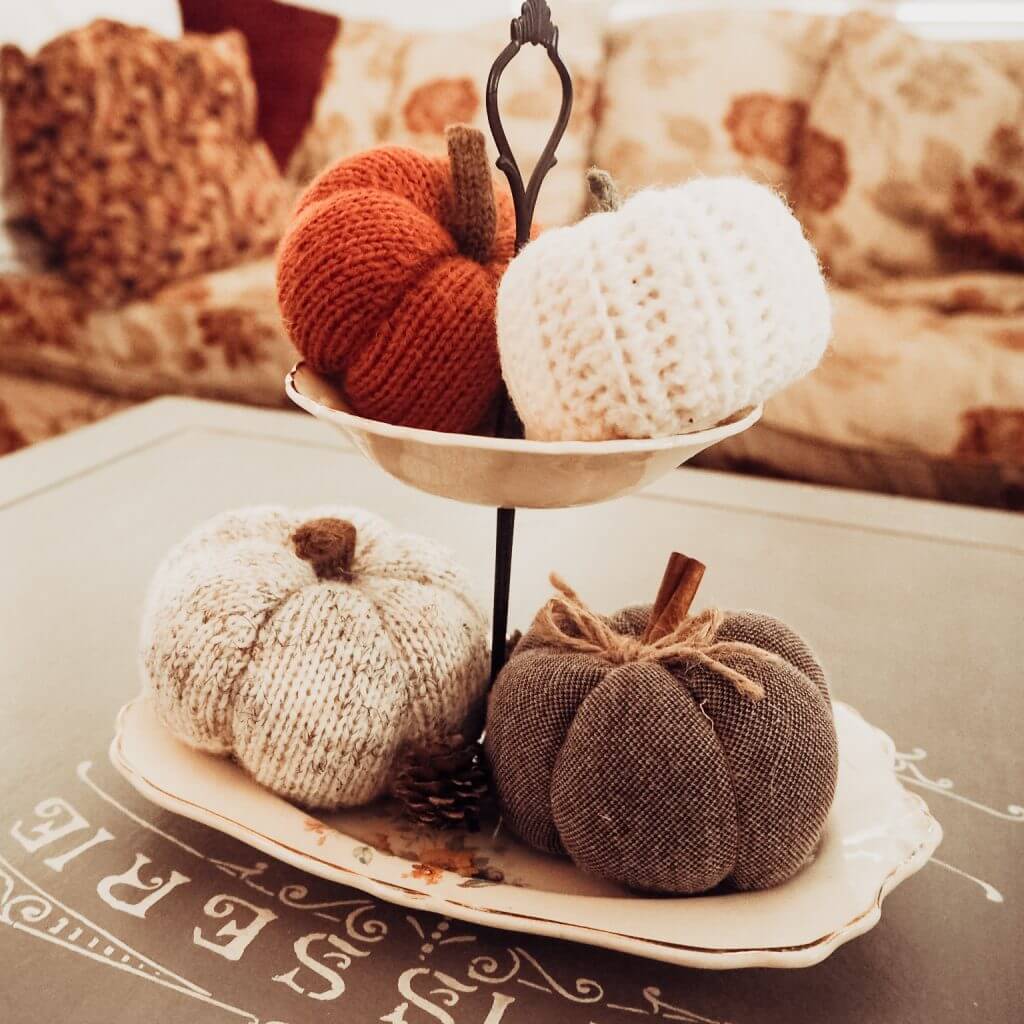 Not all pumpkins need to be large. These cute little clay pumpkins from Tiny Town Miniatures lie on a bed of fall leaves to create a little point of interest on your landing or staircase.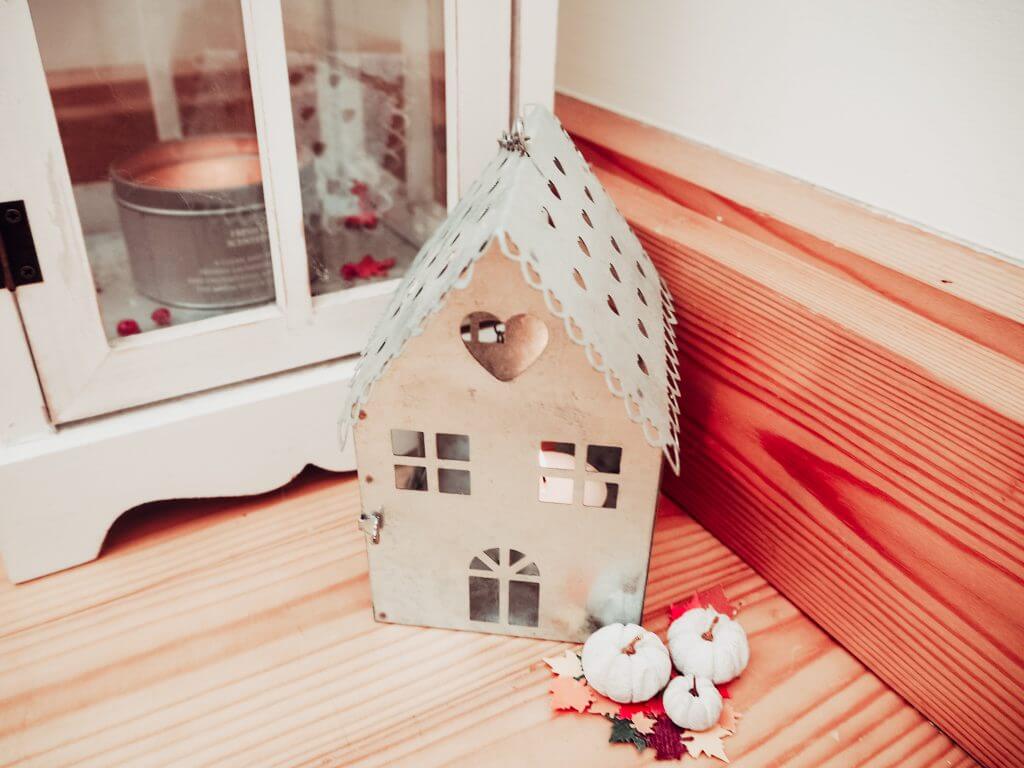 So if it is not obvious by now, I love pumpkins. You can never have enough pumpkins can you? This velvet pumpkin from prism silk fabric is sent as a kit that you have to make yourself. At first I was a little daunted by the instructions but once I started it was really easy. It is something that I will have forever and it gave me such a great sense of achievement. It will definitely take pride of place as part of my home Fall decor for years to come.
Fall Lighting
One sure way to set a Fall ambience in your home is with some soft lighting. Those of you that know me, know that I am a sucker for fairy lights. They just easily add a warm, cosy effect to your home. These are two of my favourite sets of Fall lighting.
I selected a lovely ivy leaf garland with warm LED lights to decorate my mantle. It really adds a beautiful atmospheric feel to my living room and the perfect ambience and bit of magic to this room.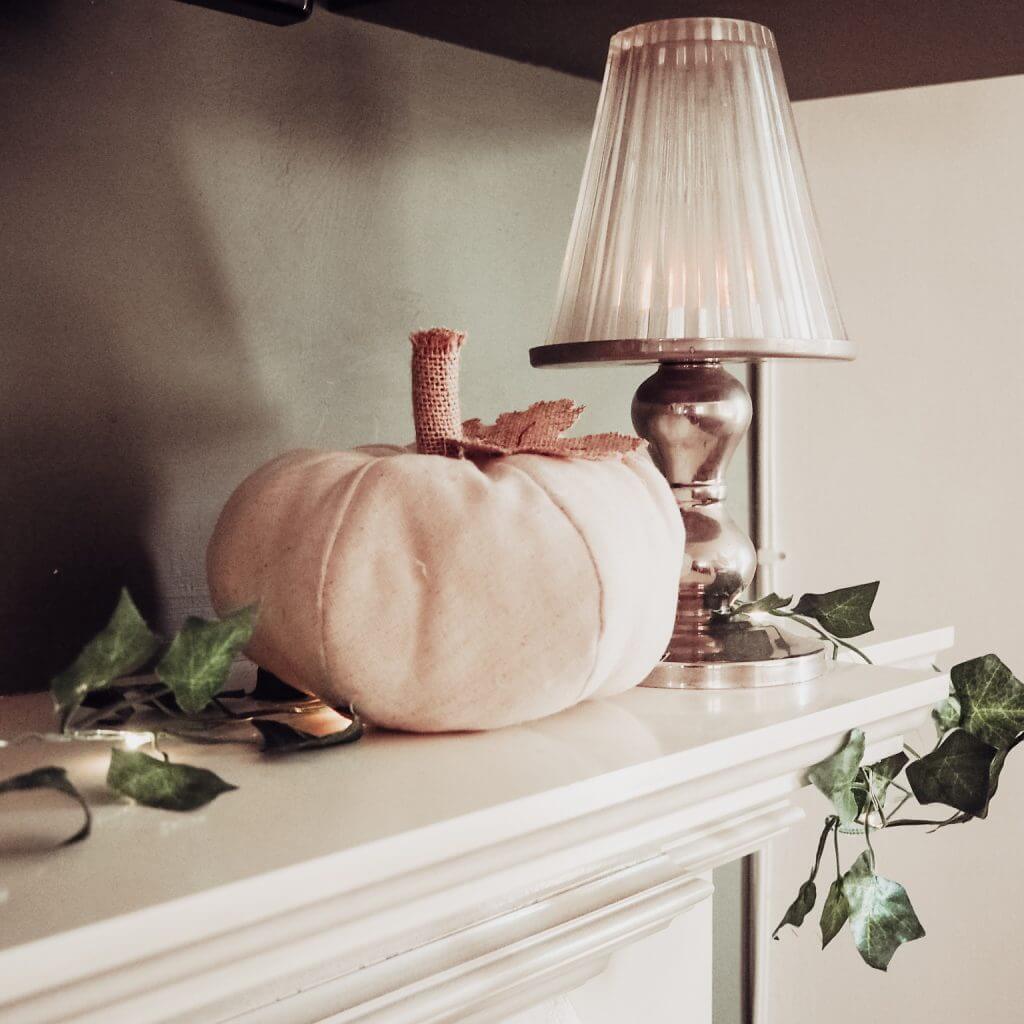 Adding fairy lights are such an easy way to create a mood in your home. There is something so magical about them. I chose these gorgeous cotton ball lights in cream, hazel, cedar and seal brown to add some warmth to my Laura Ashley day bed for Fall.
The cotton balls  are made by hand from cotton thread and Living Pastels have a whole range of dreamy colours in their shop. It is such an affordable way to add some warmth and a welcoming environment to a room.
Add texture
One of the best ways to simply add some Fall decor to your home is by adding some texture with soft furnishings. Think chunky wool blankets, ethnic patterned throws and textured pillow covers. My favourite way to display my blankets for Fall is with a blanket ladder. I have scoured the internet and found the best one here at NewAndNostalgicCo
I chose a 5ft rustic farmhouse style blanket ladder in special walnut. It is the perfect way to organise and display your Fall blankets, even Fletcher gives it his approval! I will keep this up all year round and change the colours and textures of the blankets depending on the season.
As for blankets I found a great selection at MissCottonStore who specialises in Peshtemal throws produced in Turkey by artisans. I just love the colours and patterns of these throws and Miss Cotton Store has a large selection to choose from. Every single Peshtemal is woven in traditional looms by craft people and are made from 100% cotton. They are an affordable and easy way to decorate your home for fall and again add that all important texture and warmth to a room.
Bedding
For bedding, for all seasons, my absolute favourite is George at Asda. They have the most beautiful range of bedding suitable for every season . Seasonal bedding can often be tacky but the range at George have gorgeous vintage vibes that add to your bedroom rather than clash with it. I chose this set for my Autumn bedding but I have already stocked up for Christmas! What? Did I just mention the C word?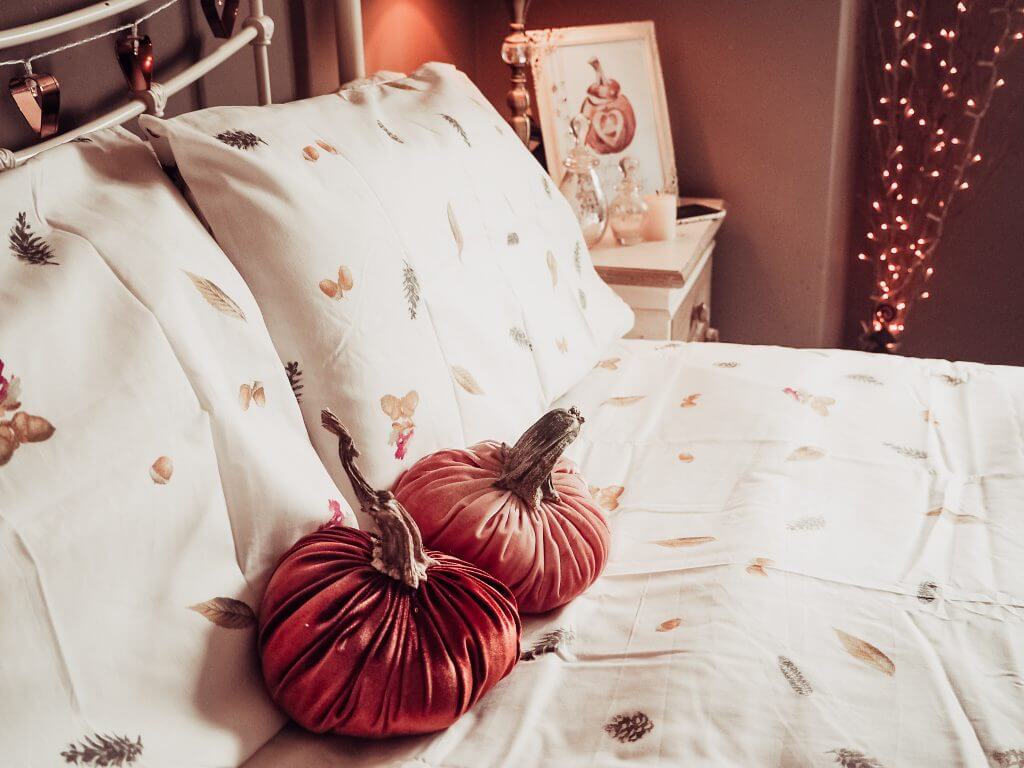 Fall Doormat
Nothing says Fall better than a Hey There Pumpkin Doormat to welcome guests to your home. Three of my favourites are from NCDandCO, DevenicksGean Design Company and Blue Sparrows Designs Co.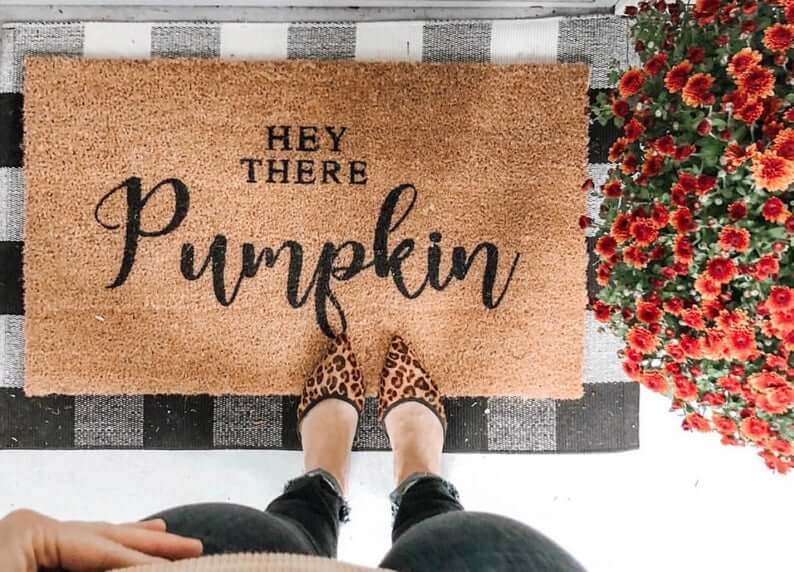 So my plan for Autumn is to light a fire every evening and stay cosy. All of the decor that I have chosen add such warmth and ambience to my home and my family can't wait to return to the cosiness of home each evening after work and school. The items I have chosen can also be carefully packaged away and used year after year without going out of fashion. I hope you have learned some tips on how to decorate your home for fall and you can enjoy your own cosiness at home this year.
Until next time you crazy kids!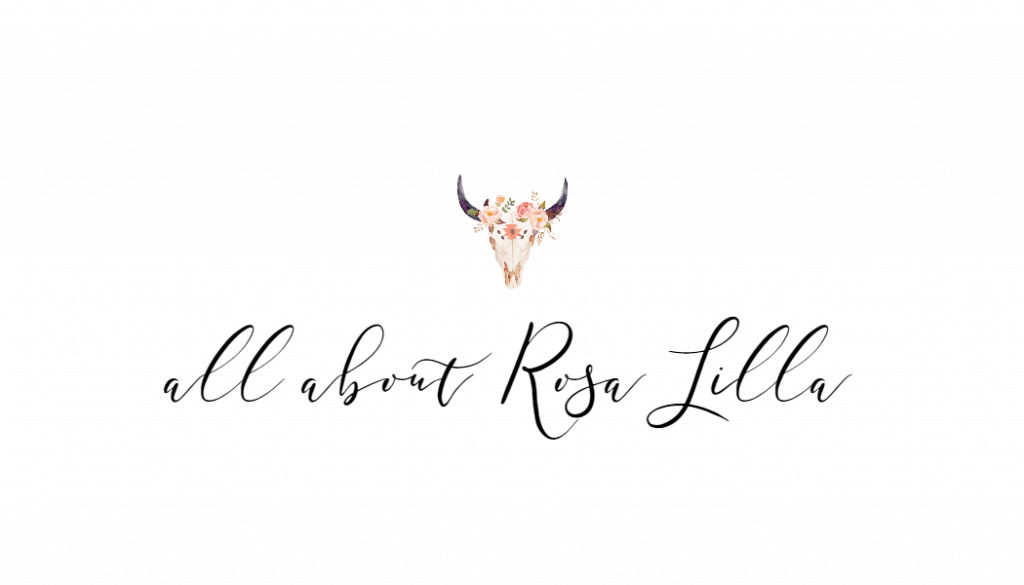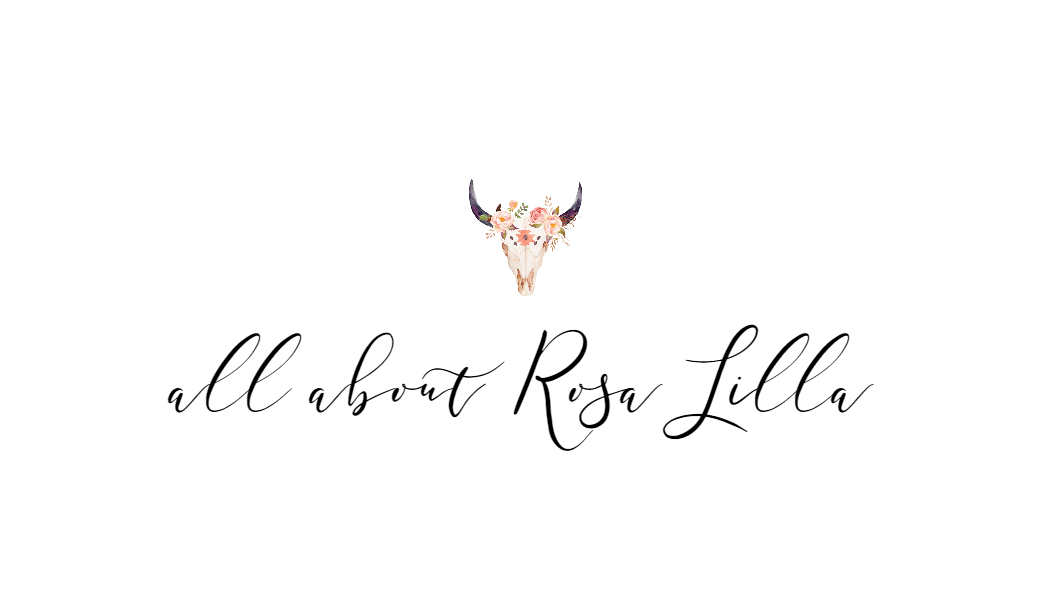 Are you new here? Join thousands of other happy readers and subscribe to All about RosaLilla blog via email or Bloglovin'. If you like my style you can also find out exactly what I am shopping on the LikeToKnowIt App.
I also share everything about myself on Instagram with nothing held back so be sure to follow along there.
Sharing is sexy!