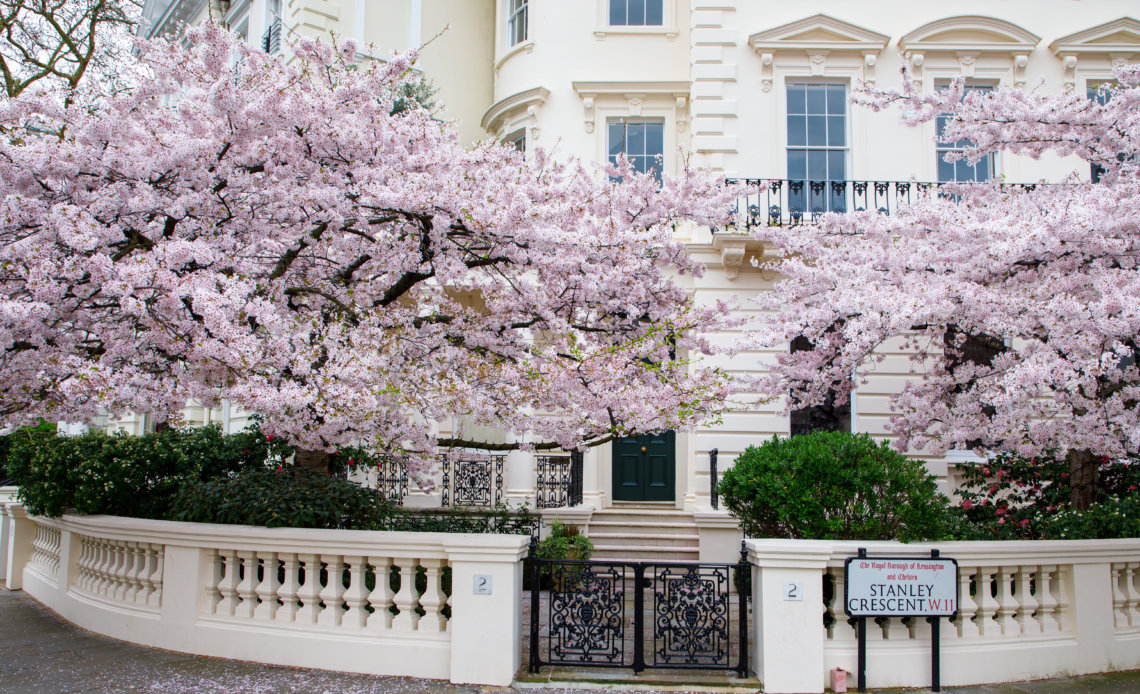 Walking tour of Notting Hill London
I have to admit I did unleash my inner Anna Scott while wandering around the pastel hued houses of Notting Hill London whispering the immortal lines "I'm just a girl standing in front of a pastel hued house, asking it when I can move in?". It genuinely is one of my favourite neighbourhoods of London to explore. Notting Hill was already made famous by "that movie" and you can see why it is fast becoming one of the most instagrammable spots in London. Notting Hill captivates visitors with it's unique charm.
Discover the pastel coloured houses on a Notting Hill walking tour
It is one of London's most desirable areas with pastel coloured houses and a thriving market. Chic and hip pubs and restaurants are plentiful and it is a wonderful place to stay when visiting London. Let me take you on a self-guided Notting Hill walking tour including a map of the most instagrammable spots. Who knows! You might even meet a famous actor in a travel book store!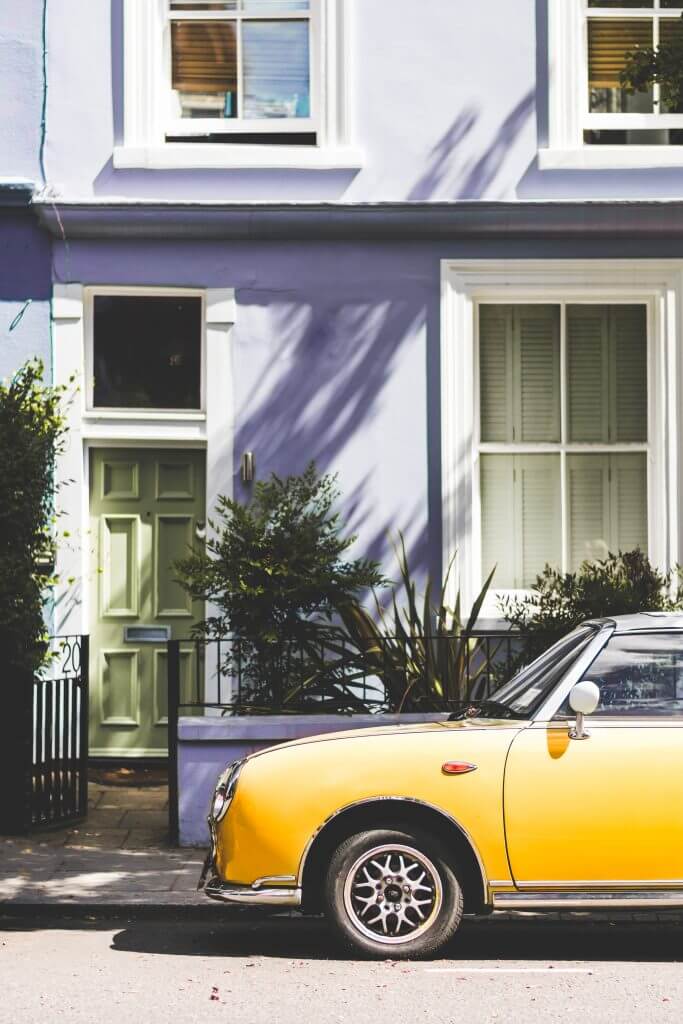 What is Notting Hill famous for?
The Notting Hill area of London is a now affluent district in the Royal Borough of Kensington and Chelsea, Greater London. It is located north of Kensington, and is known for being a cosmopolitan neighbourhood, hosting the annual Notting Hill Carnival.
Best Instagram spots in Notting Hill
If you don't want to wander around the Notting Hill area aimlessly looking for the right photograph opportunities then this post is for you. This guide will direct you to all the best Instagam spots in Notting Hill to make your Instagram pop!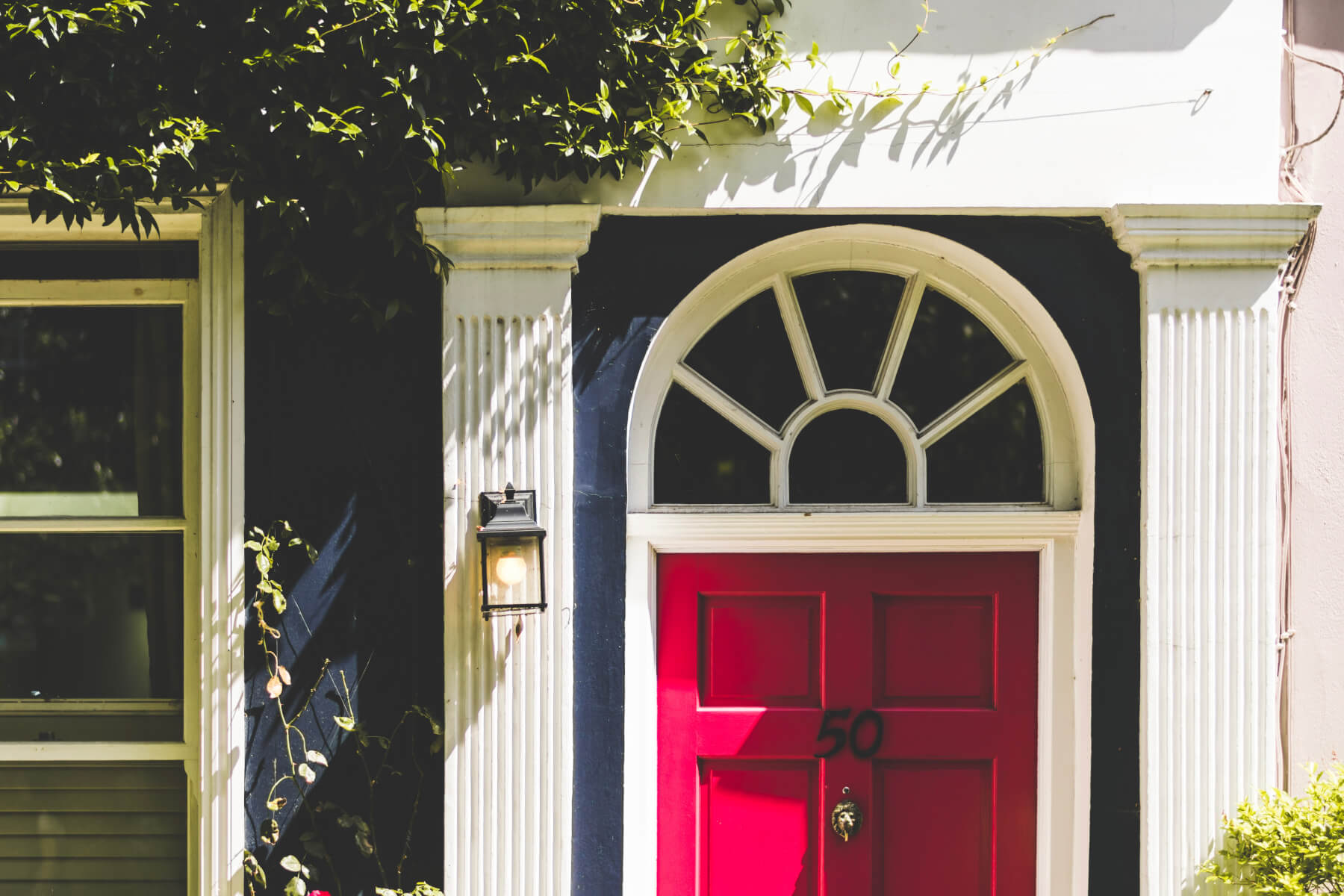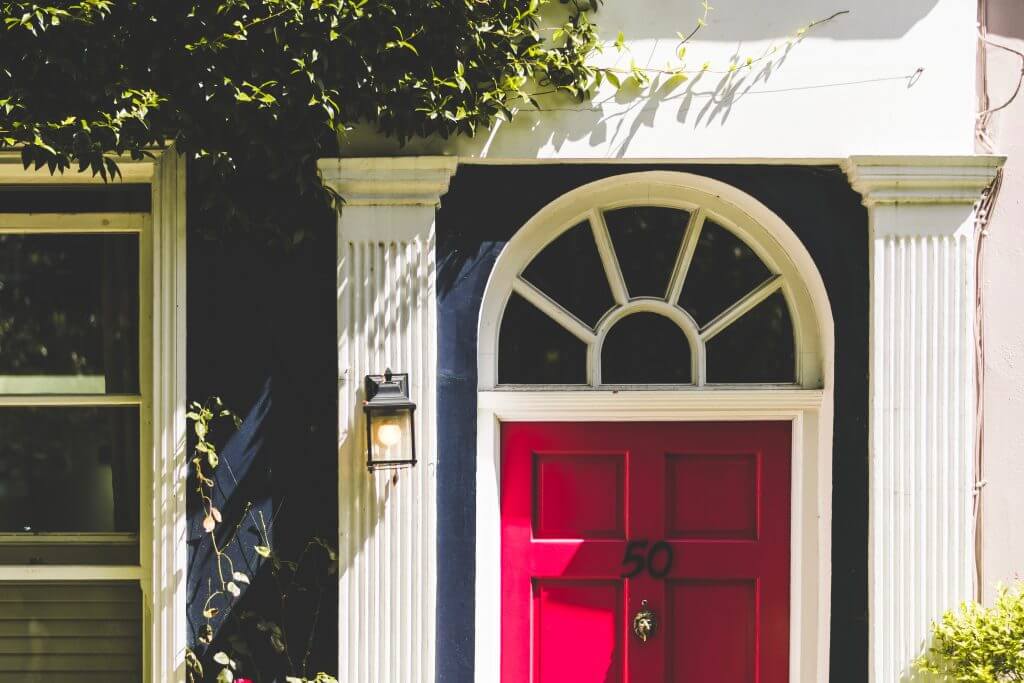 It should take you about 1.5-2 hours to complete the walking tour of the Notting Hill area depending on how many cute cafes you stop at along the way. And I won't blame you, there are so many cute places that are just too hard to resist. Below you will find a map with all of the best Instagram spots marked. The walking tour that I am giving you is the one I recommend but please feel free to mix it up and do whatever suits yourself.
*Top Tip: The best time to get the Notting Hill streets to yourself is early in the morning on a weekday. Notting Hill is one of the most visited areas of London and for good reason. You can thank me for this one later!
Notting Hill Streets and Mews
This self-guided walk around the Notting Hill streets will take you through the best of this neighbourhood's hidden streets and mews. As I mentioned above there are lots of cafes, pubs, and restaurants along the way, so feel free to stop and absorb the area's colours and charm if you need a break.
Notting Hill is one of the prettiest areas in London. Despite being heavily gentrified, Notting Hill is still very charming. Bursting with colour, this cute pastel neighborhood has so many Insta-worthy backdrops. In this article, I've compiled all of the prettiest places and hidden gems in Notting Hill for your Instagram photos. At the end of this post, I will even share with you a map where you can find the locations of each Instagrammable spot in Notting Hill!
Do you want to know where the best Instagram spots are in Notting Hill? This walking tour of Notting Hill will show you the best photo spots. Get my FREE MAP at the end of this guide.
In a hurry? Pin this post for later!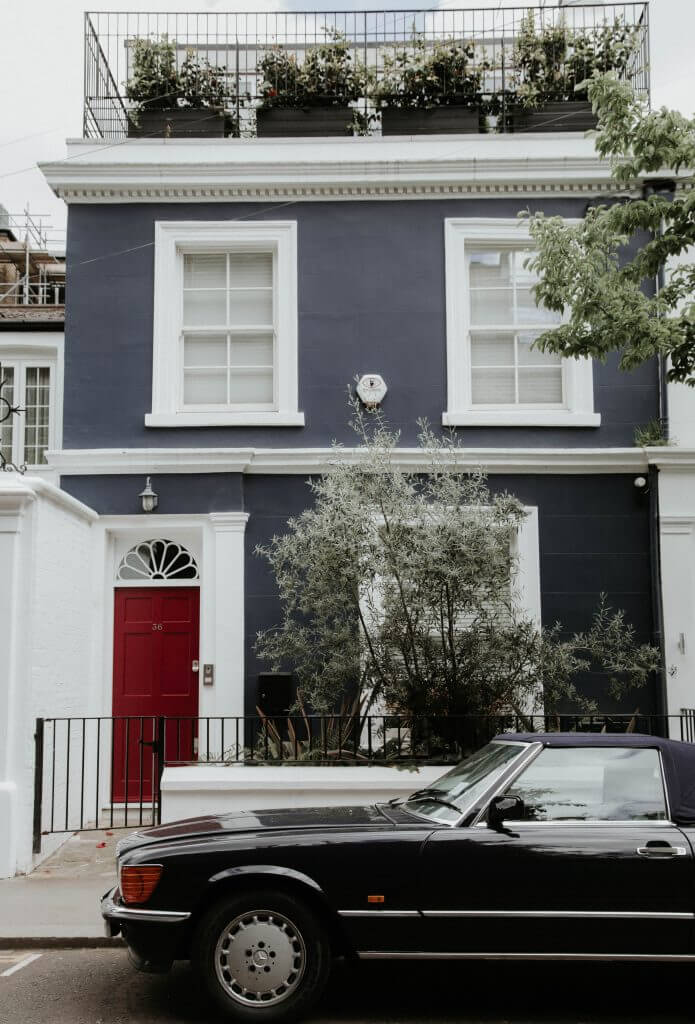 Why is Notting Hill so colourful?
Wandering around the colourful streets of Notting Hill might make you feel like a crayon box has just exploded or that you have entered some kind of unicorn universe. It might even feel like you have just stepped inside a rainbow! The phenonemon occurs in many areas of London, but it is most prevalent in Notting Hill and why Notting Hill photos look so good on Instagram.
It is an Instagrammer's dream but why are the houses in Notting Hill so colourful? Apparently Judith Peak is the person who started it all by painting her house a bold turquoise colour. Her neighbours soon followed suit leading to the beautiful rainbow streets that we have seen all over social media.
My walking tour will also take you past some of the cutest Notting Hill houses. But be warned, if you don't have serious house envy after this there is something up! Guided tours of Notting Hill are available if you prefer being shown around by a local expert. I recommend this one by Get Your Guide which will cost about €17 for 100 minutes. I also like this guided tour of Notting Hill and Portobello Market.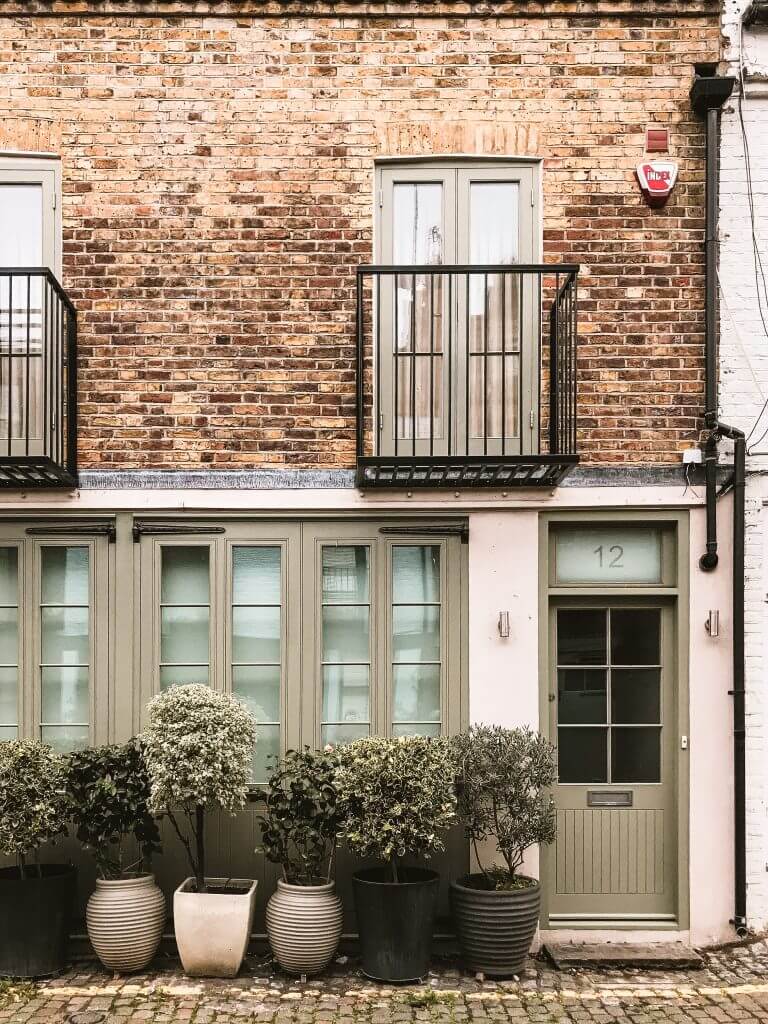 So get your walking shoes ready and let's begin our walking tour of Notting Hill!
The best place to start is at Notting Hill Gate Tube Station (click the link to get a map of the London Underground). Exit the station on the north side of Notting Hill Gate to avoid the crowds. Just steps from the tube station is the first stop for a photograph at the entrance of the beautiful Laslett Hotel. Do hotel entrances get much prettier than this?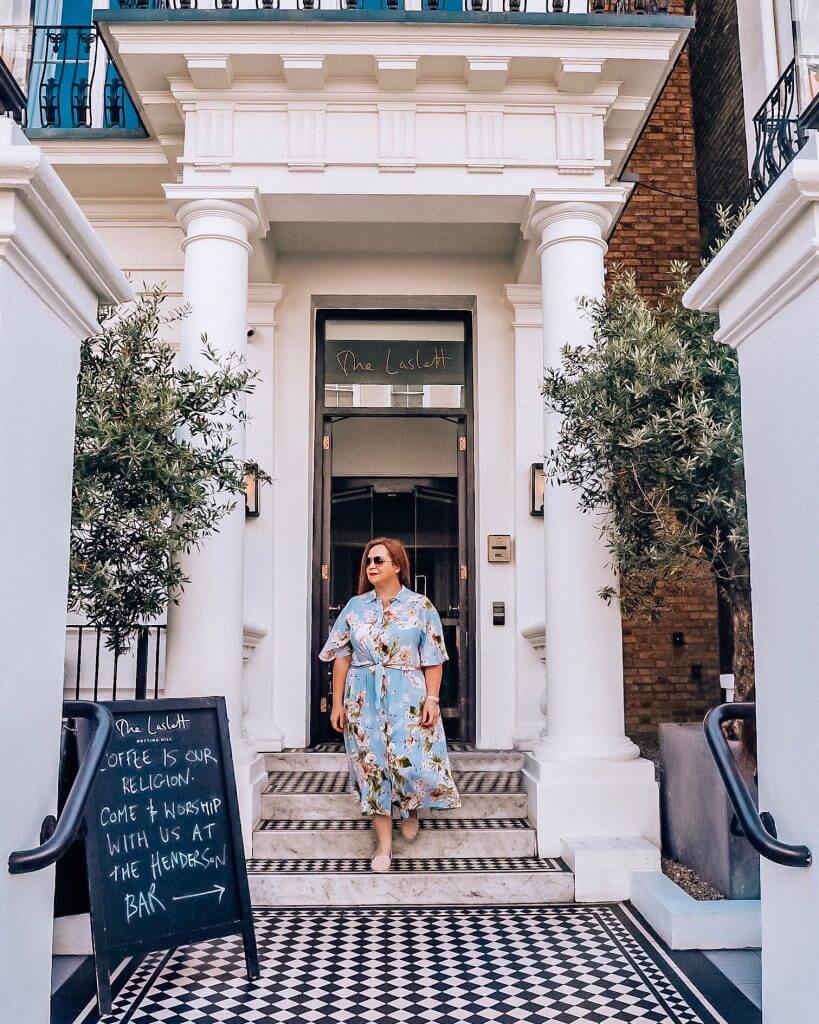 Next walk up Pembridge Gardens. This is a beautiful area to take in the classic architecture as you pass. At Pembridge Square veer left onto Pembridge Road. Turn left, cross the street, and turn right on Portobello Road. This stretch of the street has lots of pastel houses and is just how you expect Notting Hill to look.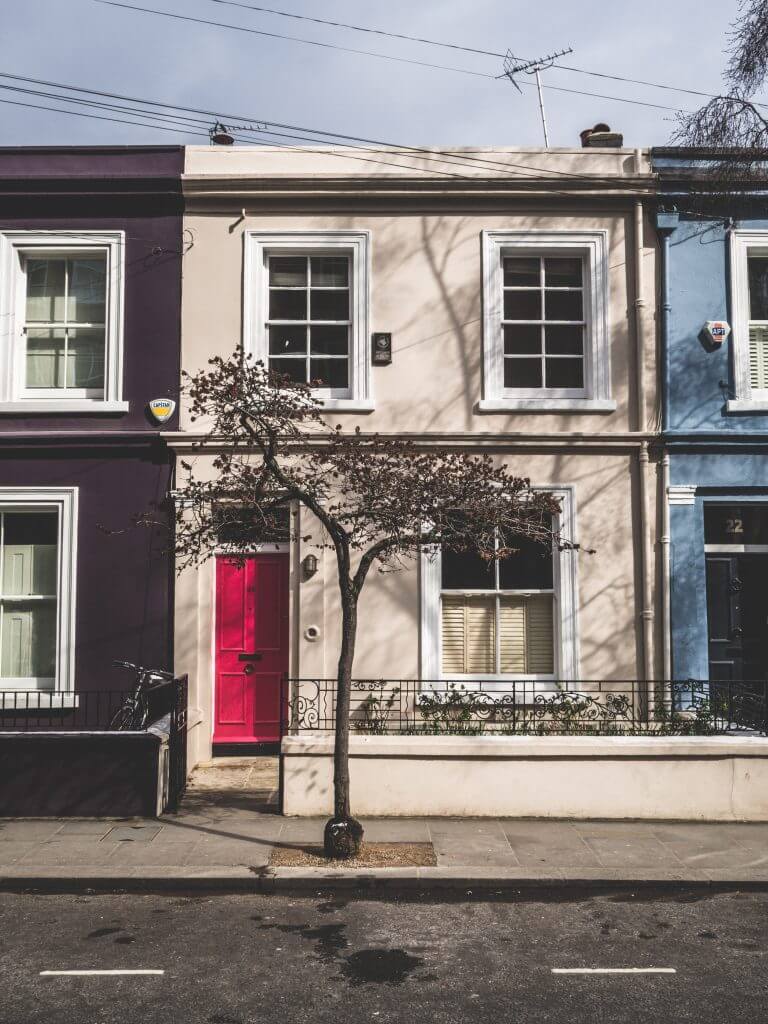 Stop at Number 54 to add some pink to your Instagram feed.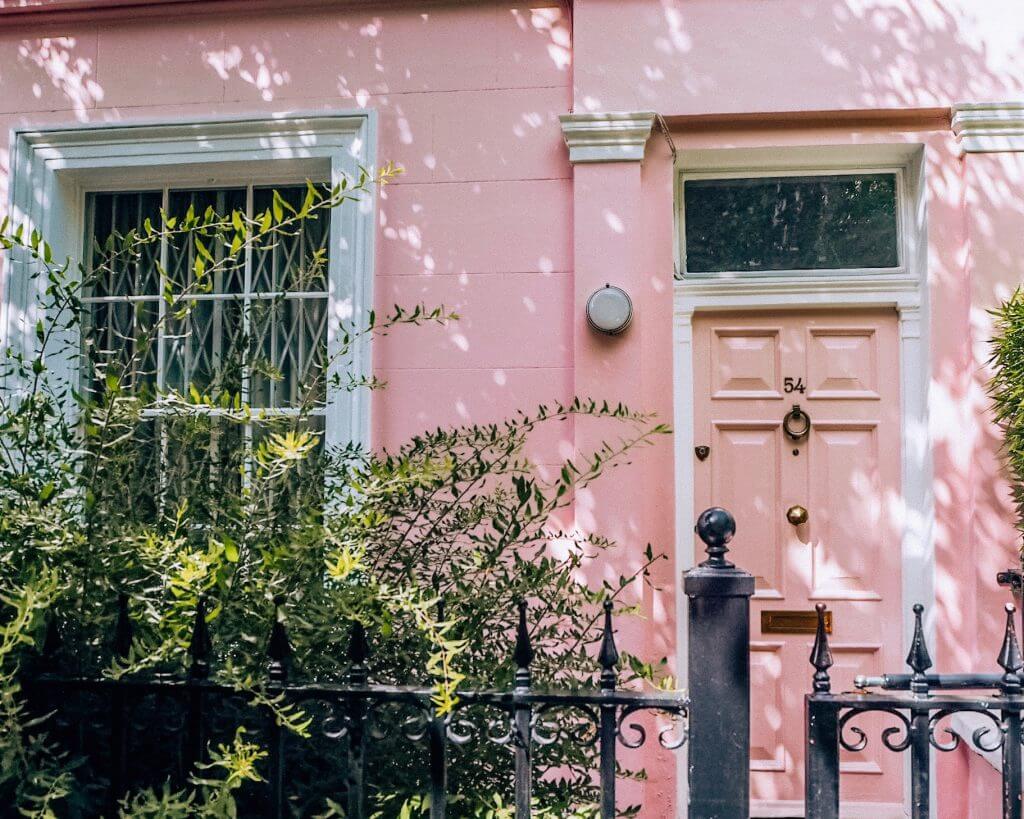 You will find no shortage of beautiful and colourful doorways to photograph on this street but as always, please remember to be respectful. Bear in mind that these houses are somebody's home and are not your personal photo props. As long as you are respectful of people living in the area there is no issue taking beautiful pictures.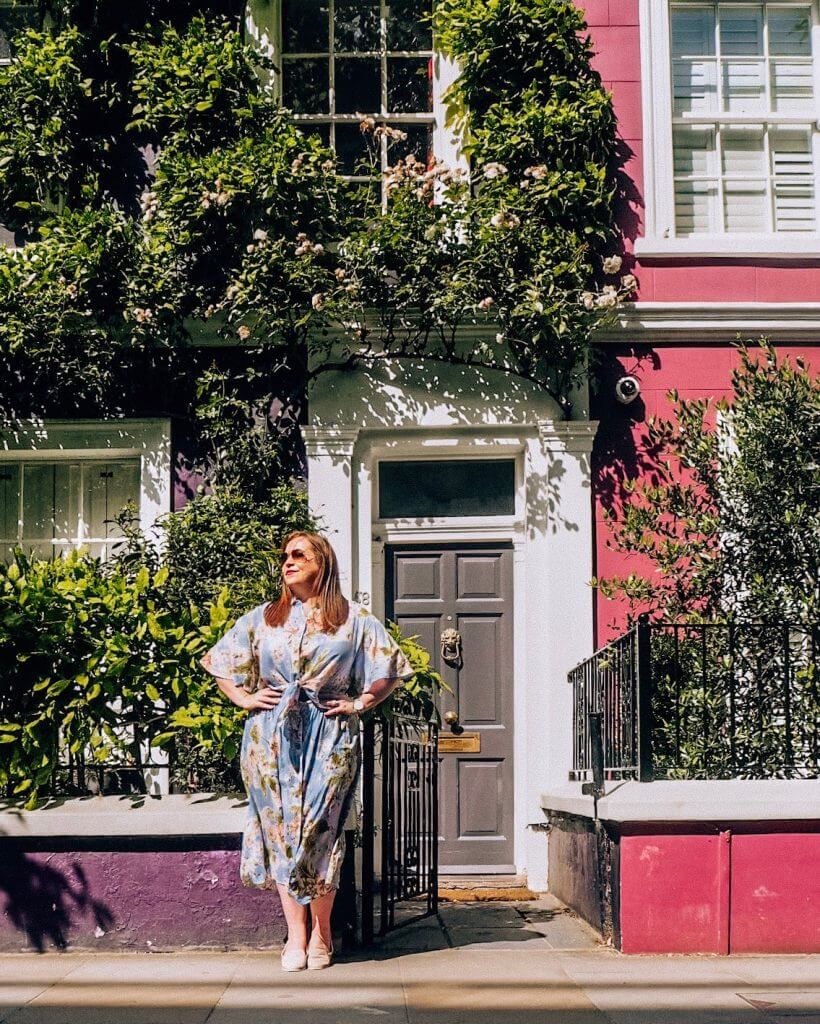 Hidden Instagram spot in Notting Hill
A little further along Portobello Road you will find the hidden Simon Close. This secret street is the quaintest spot full of colourful houses. My favourite is this one painted blue with a red climbing rose adding some of that quintessential English charm.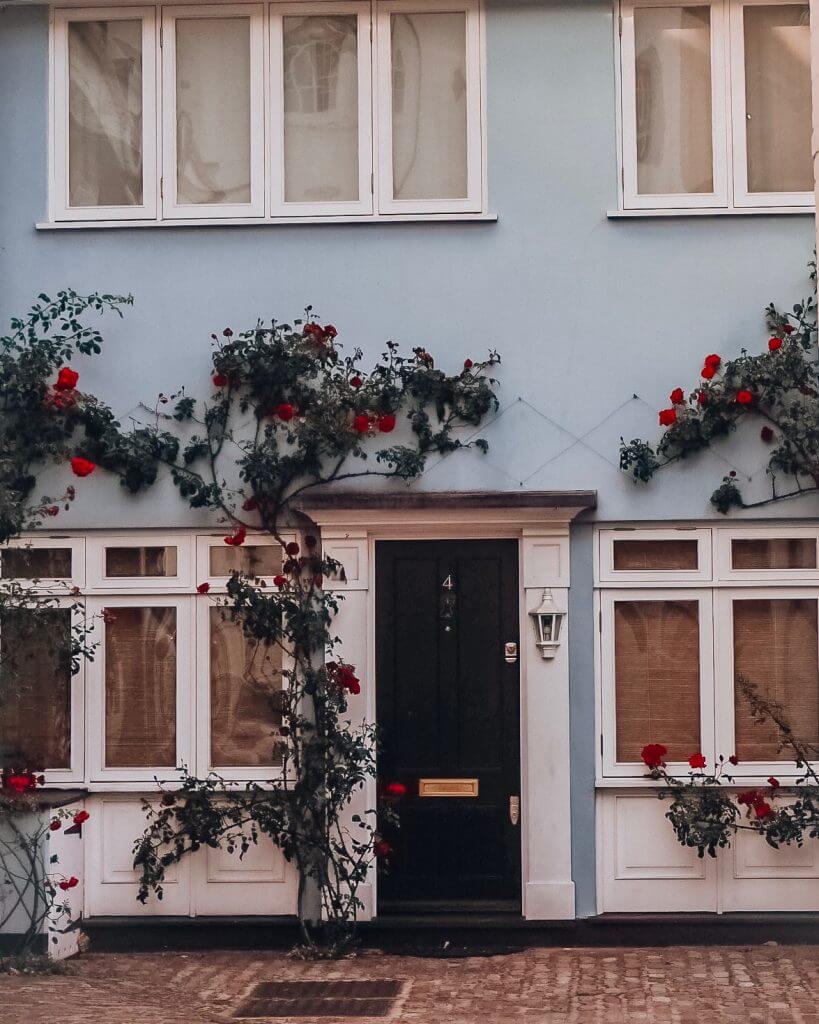 Once you are back out on Portobello Road, turn right and continue down the street towards the Portobello market. The market boasts over 1,500 dealers selling everything from antique items, vintage clothes, jewellery, artwork and furniture. This is where you might get led astray as there are so many gorgeous shops, pubs, restaurants and cafes to lure you away from your walking tour so stay focused people. Only joking! Please be sure to soak up the atmosphere of this place entirely and enjoy a coffee/drink.
After your pitstop continue towards the market. Don't forget to take a sneak peak down the gorgeous Denbigh Close. Take a right onto Denbigh Terrace where you will be greeted by more pink and blue houses.
Once you reach Denbigh Road turn left and walk towards Colville Road. At No. 6 Colville Rd you will find a boutique hotel called The Main House. This may not be one of those pastel coloured buildings that you most associate with Notting Hill but the dramatic all black with hints of gold makes for a spectacular photograph.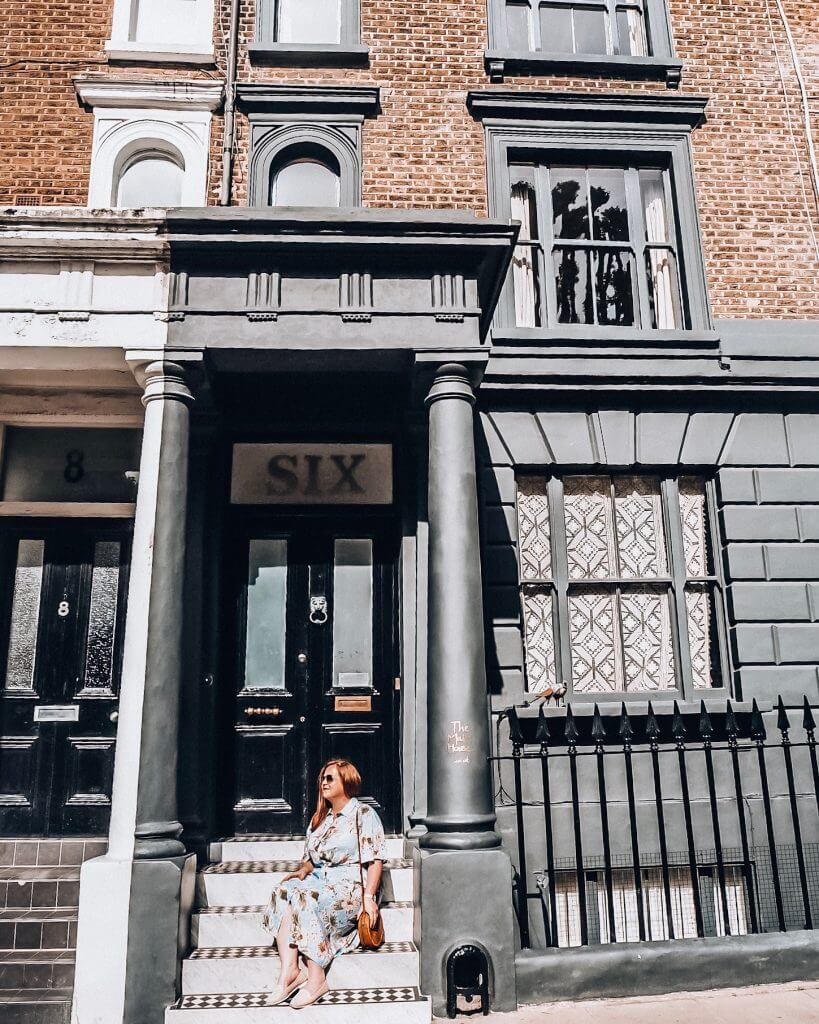 Walk straight until you reach Lonsdale Rd. and then turn right. Mid way down the road, on the left hand side, you will find Colville Mews. A quaint little place to explore, with colourful houses and shops lining it as it curves around to meet Lonsdale Road again.
At the next junction turn left onto Ledbury Road. Stroll down Ledbury Road until you come to Westbourne Park Road. Cross the road to the right hand side and continue until you come to All Saints Road turning right onto it. Take the next right on to St Luke's Mews and prepare yourself to soak in some of the cutest houses you will ever see.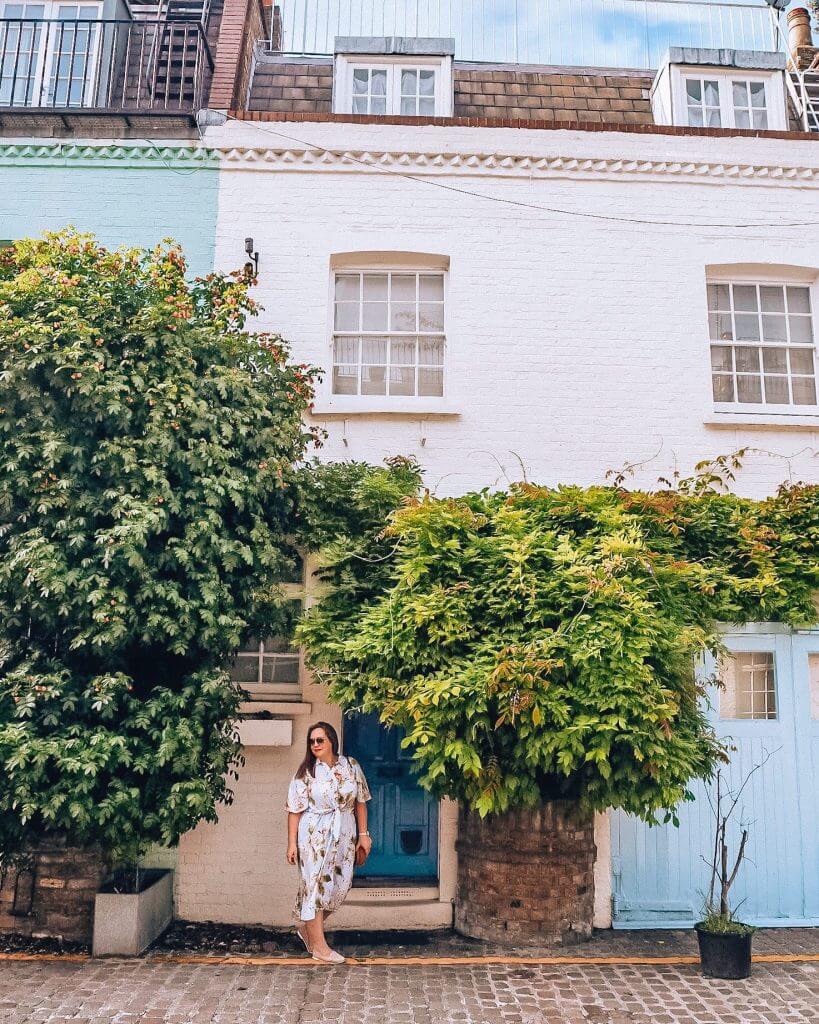 St Luke's Mews is probably one of the prettiest streets in London. It has the perfect recipe of pastel coloured houses, cobbled stone streets, english roses and vintage bicycles. At No 27 you will find the adorable house made famous by the movie Love Actually. This pink pastel house is where Kiera Knightley gets that memorable and silent declaration of love with cue cards. Who didn't swoon at that scene?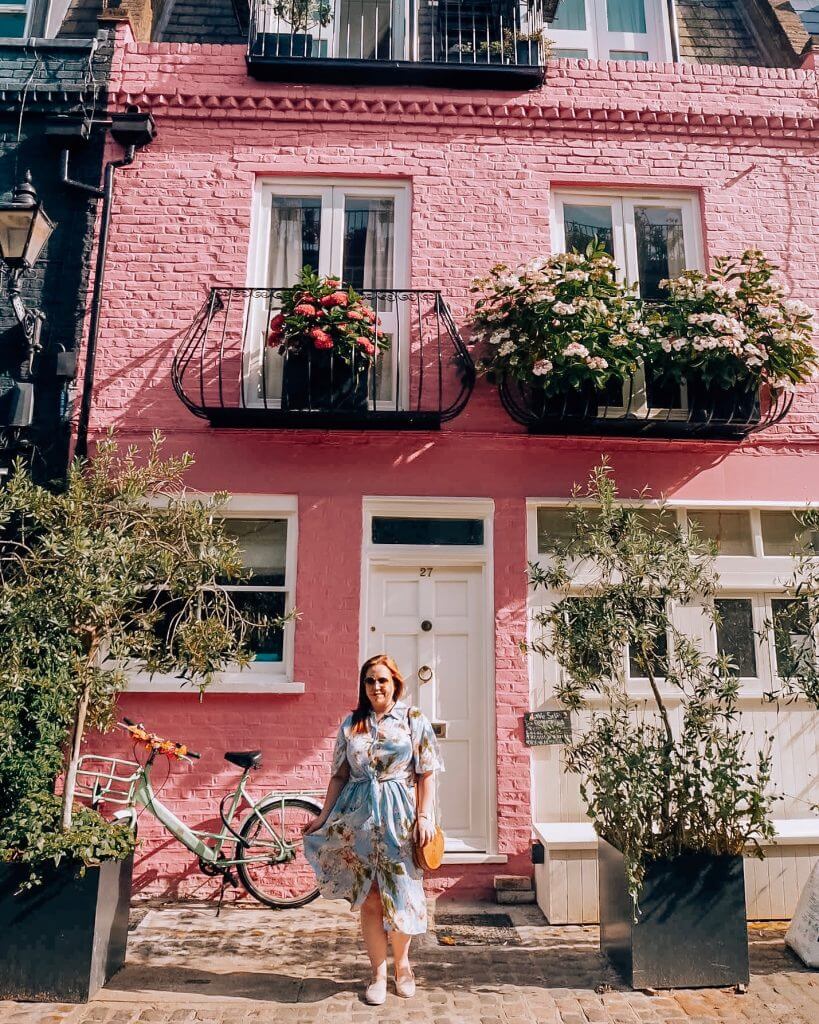 Due to the popularity of that movie you can imagine just how coveted a photograph outside of this spot is. The owners don't seem to mind as long as you are respectful but they do encourage you to donate £1 per selfie to go towards those homeless on the London streets. I think that this is an amazing idea and I was more than happy to donate.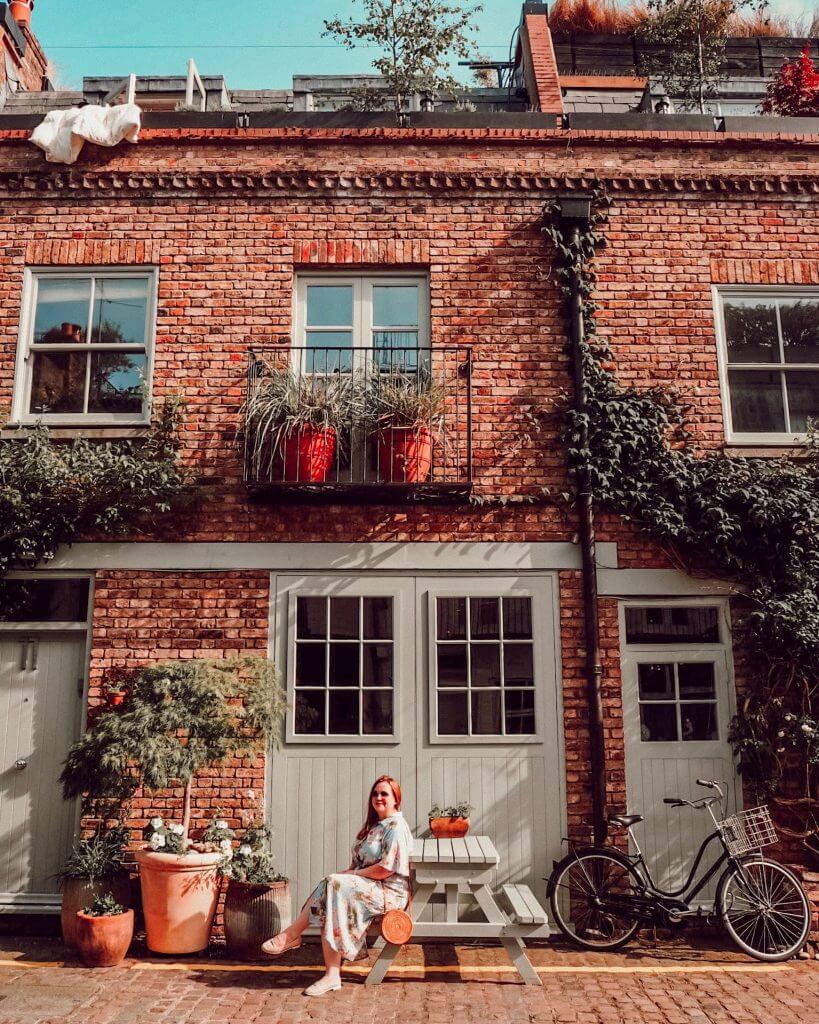 Make you way back out onto All Saints Road to head to the final stop of my Notting Hill walking tour. Turn left to get back out on to Westbourne Park Road and turn right on to it. Turn right again back onto Portabello Road and left onto Lancaster Road. Walk along Lancaster Road to enjoy a street full of rainbow coloured houses.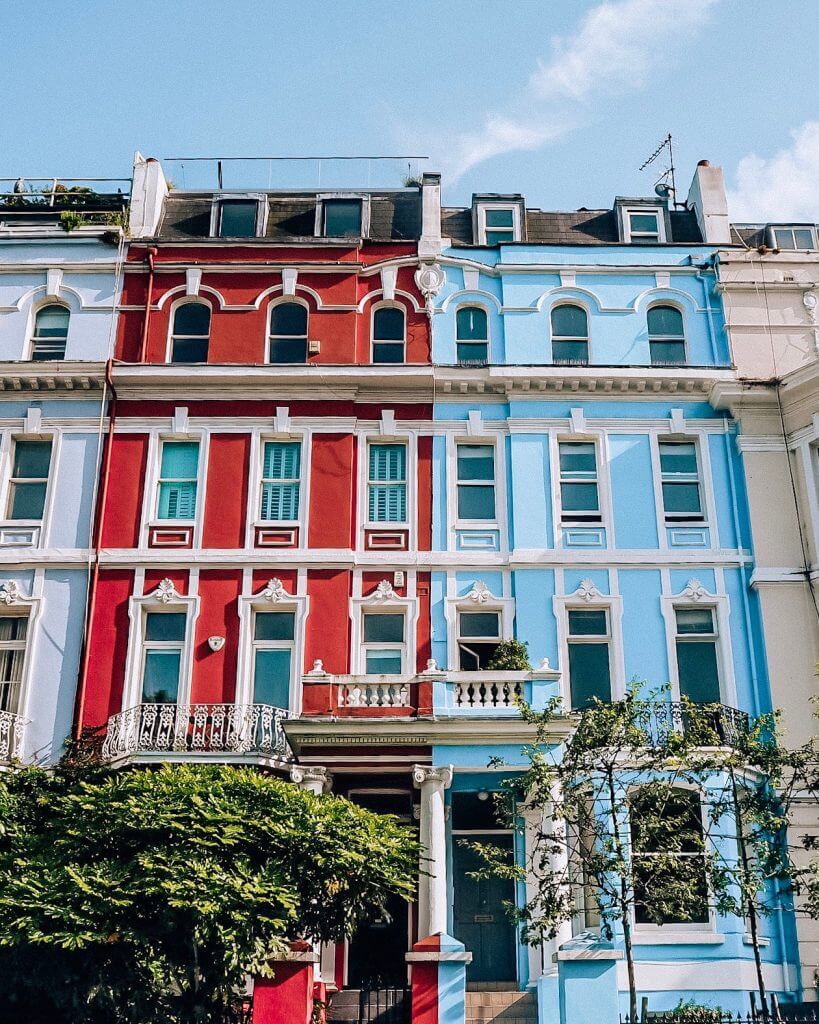 Map of Notting Hill walking tour
You can also download your map of Notting Hill
Where to stay in Notting Hill
I hoped you enjoyed my self-guided walk around Notting Hill. If, like me, you just don't want to leave then I have the perfect place for you to stay. If you're looking for something really special, I can't imagine anything more authentic than staying in the Mews. Portobello Mews House will make you feel like you're in Love Actually!
Recommended places to stay in Notting Hill
Charming Boho Flat with Terrace
Portobello chic by electric cinema
Things to do in Notting Hill
If you still have energy to burn after your walk around Notting Hill here is a list of some things to try during your time there.
climb Primrose Hill at sunset and enjoy the views over London
shop for vintage clothing at Portobello Market
watch a theatre performance at The Gate Theatre
drink cocktails and listen to some live music at The Tabernacle
watch a classic film at one of the oldest cinemas in the UK The Electric Cinema
have a picnic at Ladbroke Square
go ghost hunting at the Coronet Cinema.
If you have more time to explore England then check out this perfect two week England itinerary or explore some of the Cotswold's best villages.
Are you new here? Join thousands of other happy readers and subscribe to All about RosaLilla blog via email. The good news is that by signing up via email you will get exclusive travel deals straight to your inbox. The only other place that we publish these deals is on Instagram stories, so be sure to signup to get the heads up on amazing travel deals to save you money when booking.
I also share everything about myself on Instagram with nothing held back so be sure to follow along there.
If you liked this you might also like:
The best Instagram spots in Warsaw
The most Instagrammable places in New York
The best travel hashtags for killer reach
Follow me on Like to know it to shop my daily looks

Until next time you crazy kids!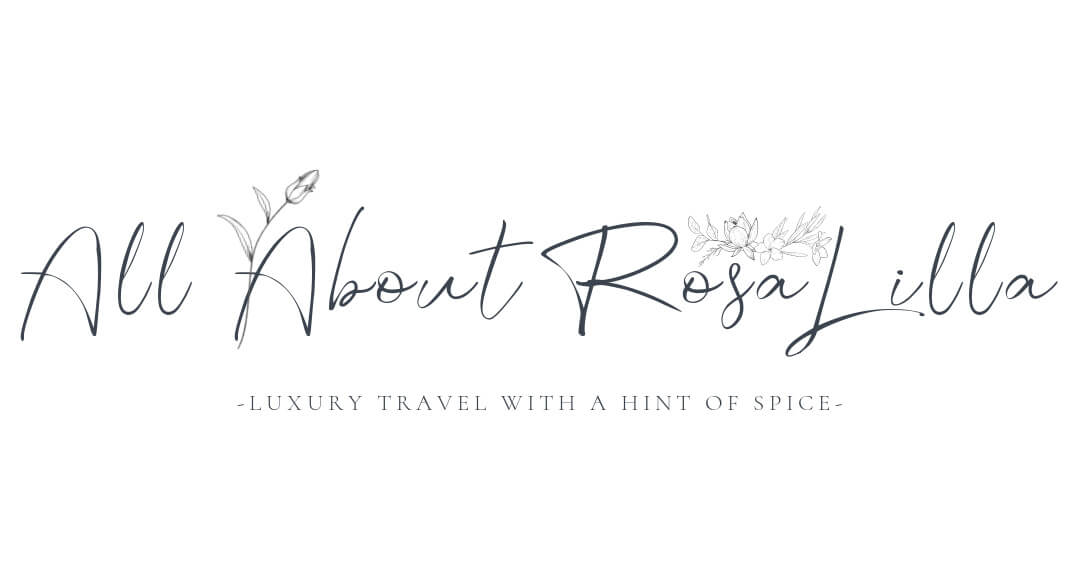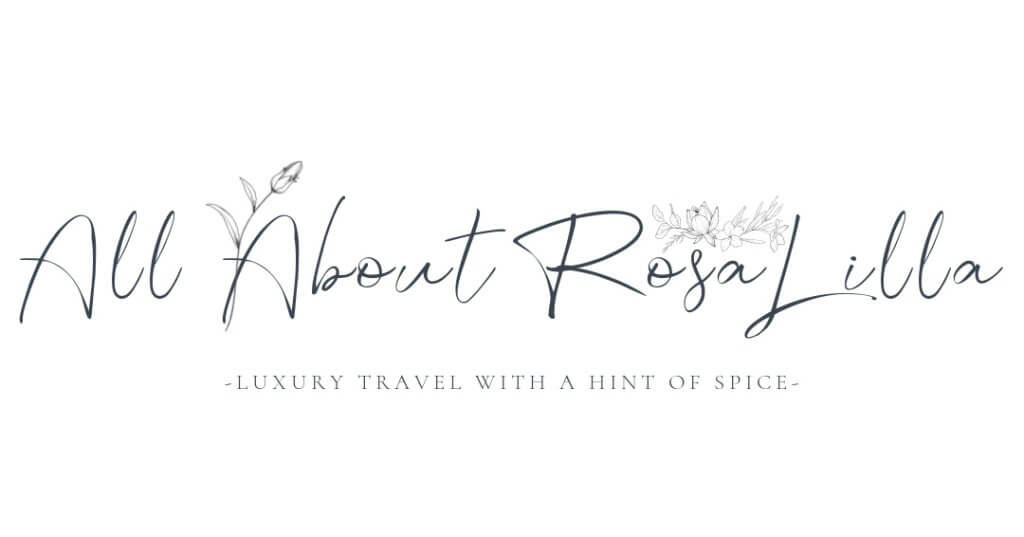 Sharing is sexy!
Follow my blog with Bloglovin