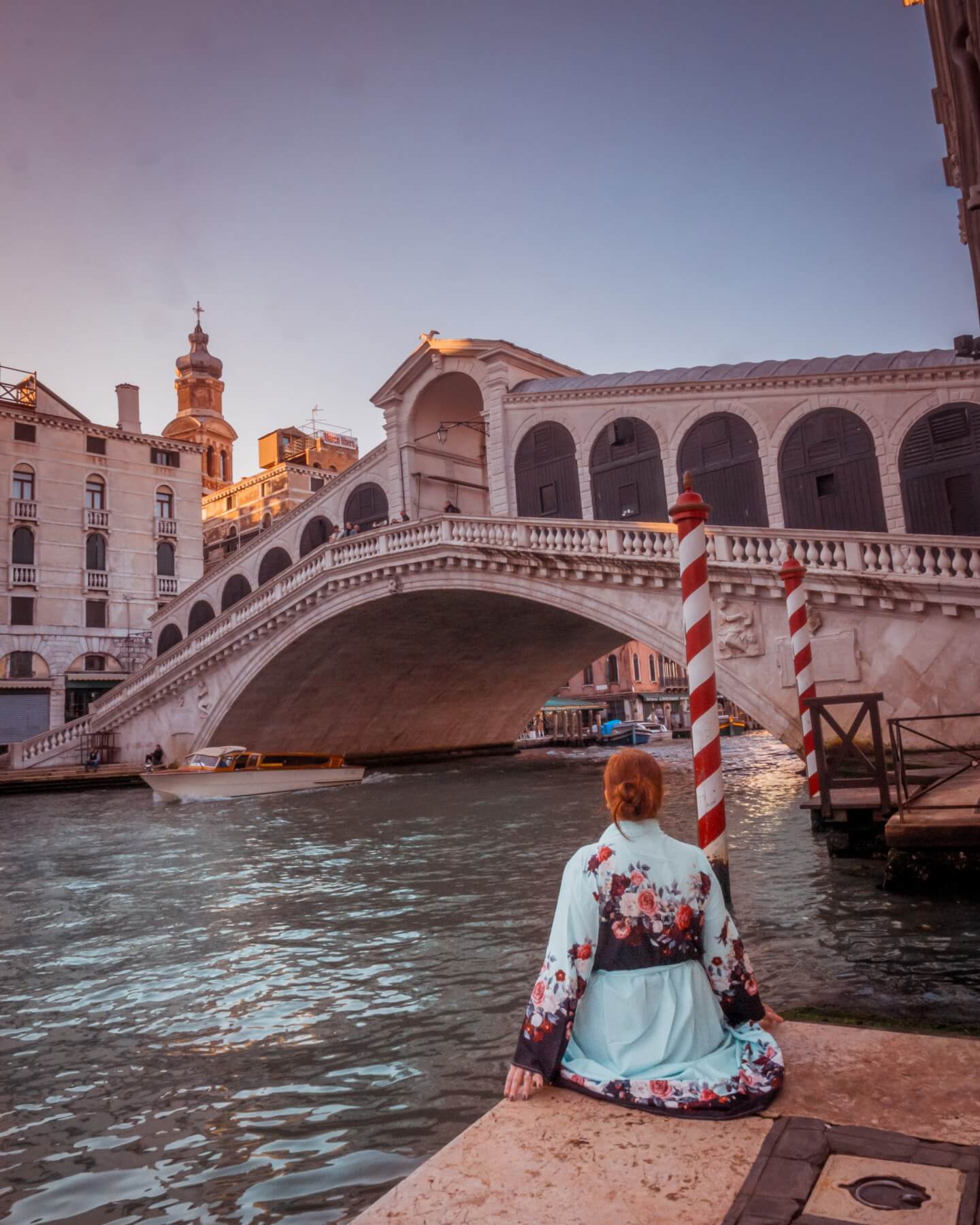 Venice Instagram spots are not hard to come by. In fact, point your camera at any building or canal and you will have an Instagram worthy shot. But, what if I told you that there were some hidden Instagram spots in Venice to really make your feed stand out from the crowd. Would you believe me? There is no denying that Venice is one of the most crowded cities when it comes to tourists 365 days of the year. But there are places where you can sneak off to, like Cannaregio Venice , where you and your camera can be all by yourself, and I am going to show you them.
Why you must visit Venice!
Venice is a photographer's dream come true! From the rustic coloured houses to the beautiful canals. You can't turn a corner in this city without bumping into a hidden gem or a beautiful and Instagrammable place. Without some guidance it can be hard to get these beautiful places tourist free. Don't worry! I am here to help and guide you. I have been to Venice 5 times now. At first I fell into all of the tourist traps but once I began wandering outside of the obvious attractions I began to see Venice for what it really was. There is a magic and romance about Venice that very few cities have in combination. There are too many reasons to visit Venice than I can mention here. There is just something so special about this city that keeps calling me back and makes me want to improve my photography skills each time I come. After spending so much time in this mystical city I feel like I have found all the hidden gems that it has to offer.
Best Venice Instagram Spots
In this post I am going to show you some of the best Intstagram spots in Venice, as well as some secret places that you may not have heard about until this post! I will provide you with a map at the bottom of all of Venice's best Instagram locations to help guide you and make your time in Venice as relaxed as possible. There is nothing worse than stressing about whether or not you can get "the shot".
The Bridge of Sighs
Ok let's get the obvious out of the way. The Bridge of Sighs is iconic Venice, but have you ever seen it shot at these angles before? The viewing bridge next to the Grand Canal is NEVER free of tourists. In fact even at 7am it is still busy here. Instead of scrambling and fighting tourists with their selfie sticks, let me show you how to get this prime location all to yourself.
Best time to photograph: As this is one of the most popular tourist spots you are going to want to get here early, preferably sunrise to make sure that you can take your shot comfortably. I don't know about you but I turn into a rabbit caught in headlights once the camera is pointed at me and I feel that people are watching! So avoid the stiff poses and come early in the morning to grab your shots.
Best location to take your photos: If you make it to the bridge for sunrise don't head straight to the main viewing platform Ponte della Paglia. Instead go two bridges back looking towards the Grand Canal. Set up your camera on a small bridge Ponte Larga S. Marco and position the subject of your photo on Ponte de la Canonica, a beautiful ornate bridge looking back towards the Bridge of Sighs. Another alternative shooting location that can work, especially if you arrive too late for sunrise and find that the area is already busy with tourists, is to step off the Ponte della Paglia and go to the little platform underneath. If it is busy you may have to wait your turn but you will get unobscured views of the Bridge of Sighs.
Google Maps co-ordinates: 45.43541, 12.34041 Ponte Larga S.Marco, 45.43525, 12.34045 Ponte de la Canonica, 45.43363, 12.34101 Ponte della Paglia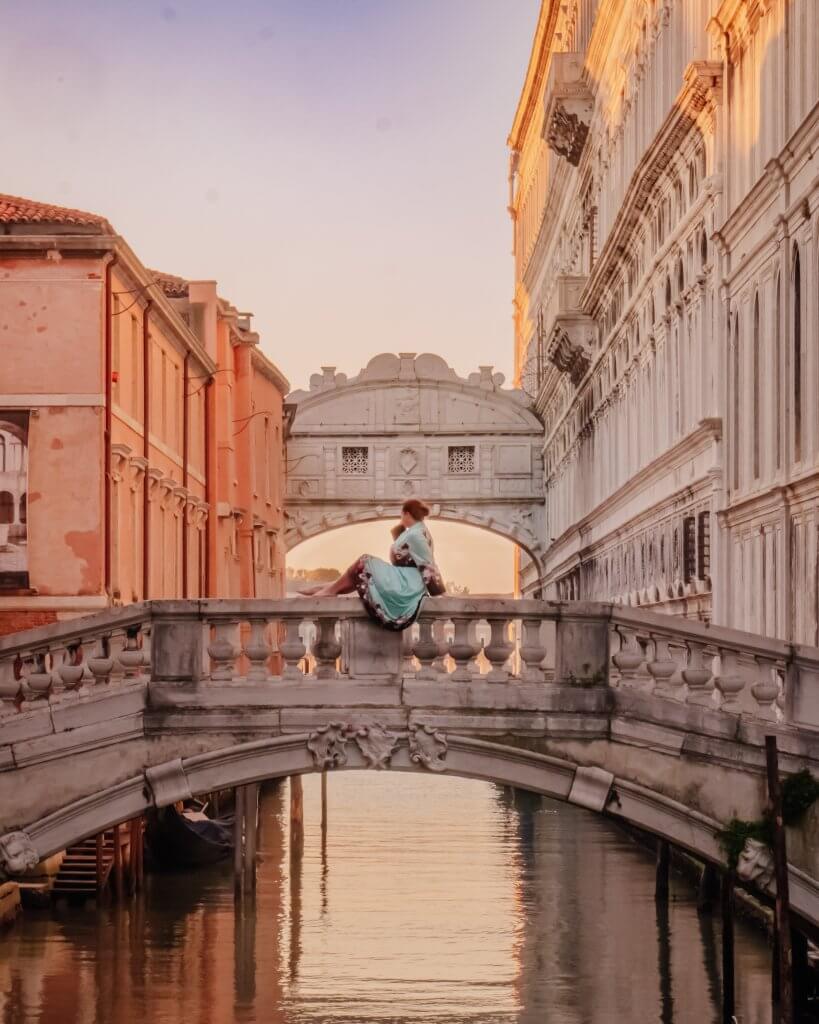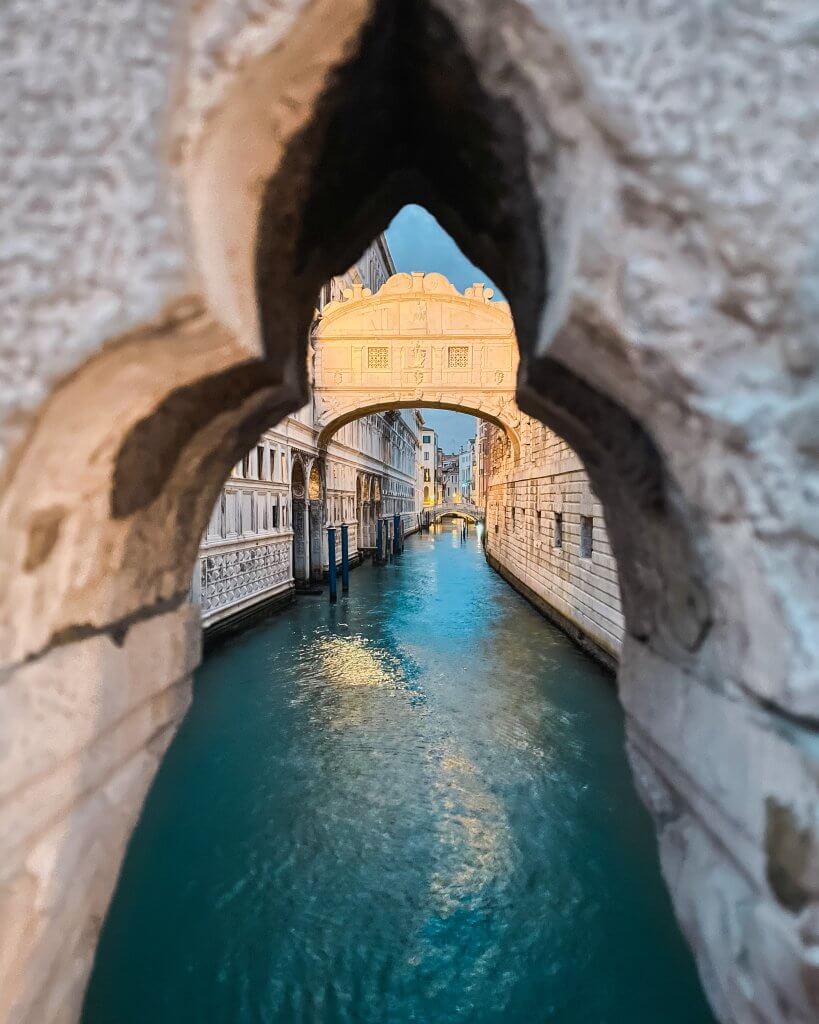 Scala Contarini del Bovolo
One of the first hidden gems that I want to show you and one of the most unique Instagrammable places in Venice is Scala Contarini del Bovolo. This graceful spiral staircase known as "bovolo" (Venetian meaning snail) is a jewel piece of architecture in Venice. The palazzo is located in a small, less-frequented street near Campo Manin, about half-way between Campo San Bartolo, at the foot of the Rialto Bridge, and Campo San Stefano. The staircase leads to a viewing platform offering an impressive perspective of the city. This place is so secret that many tourists pass nearby without even knowing that it exists.
How to get there: You can find this hidden location in Venice on a little side street next to Campo Manin. Look out for a small sign on the wall that will bring you right there.
Best time to photograph: You can go and photograph from here almost any time of the day. There is a small entrance fee to climb to the top of the tower and only small groups are allowed at one time so with a little patience you will be able to get a "people free" shot. But, as with most places in Venice, early morning is best to avoid crowds.
Google Maps co-ordinates: 45.43485, 12.33453
Top Tip: Hang out of the windows of the tower (carefully of course! No Instagram shot is ever worth risking your life over) and take your photo towards the beautiful views of San Marco Basilica.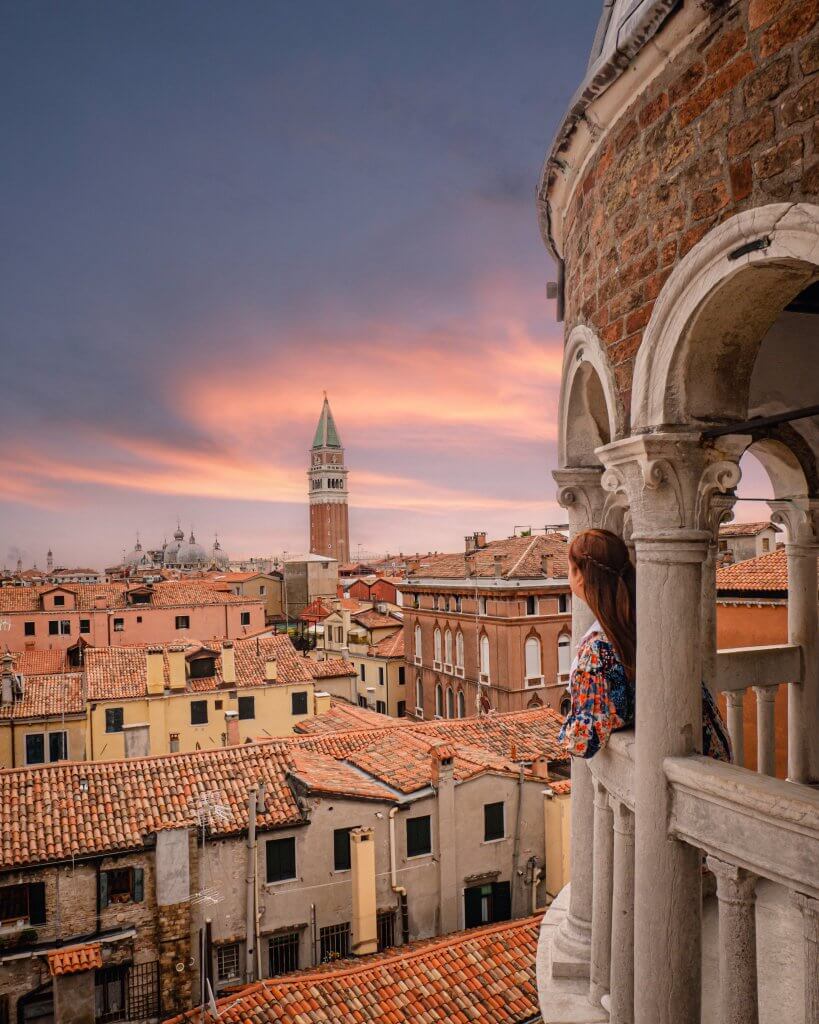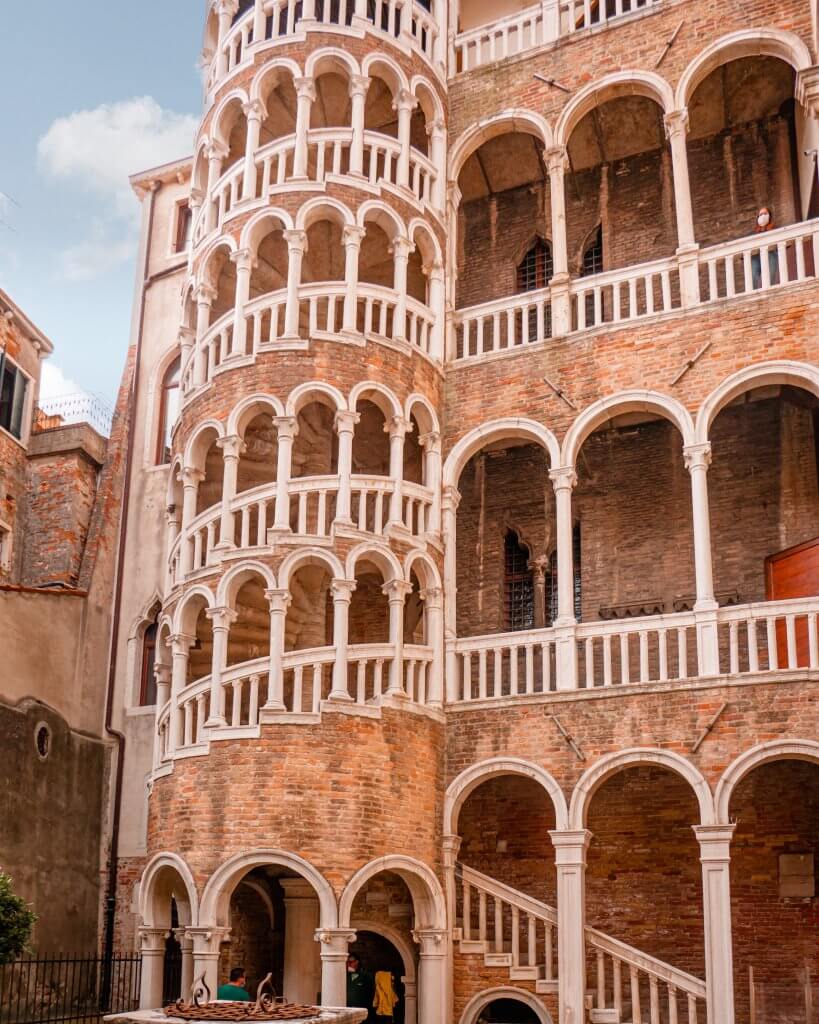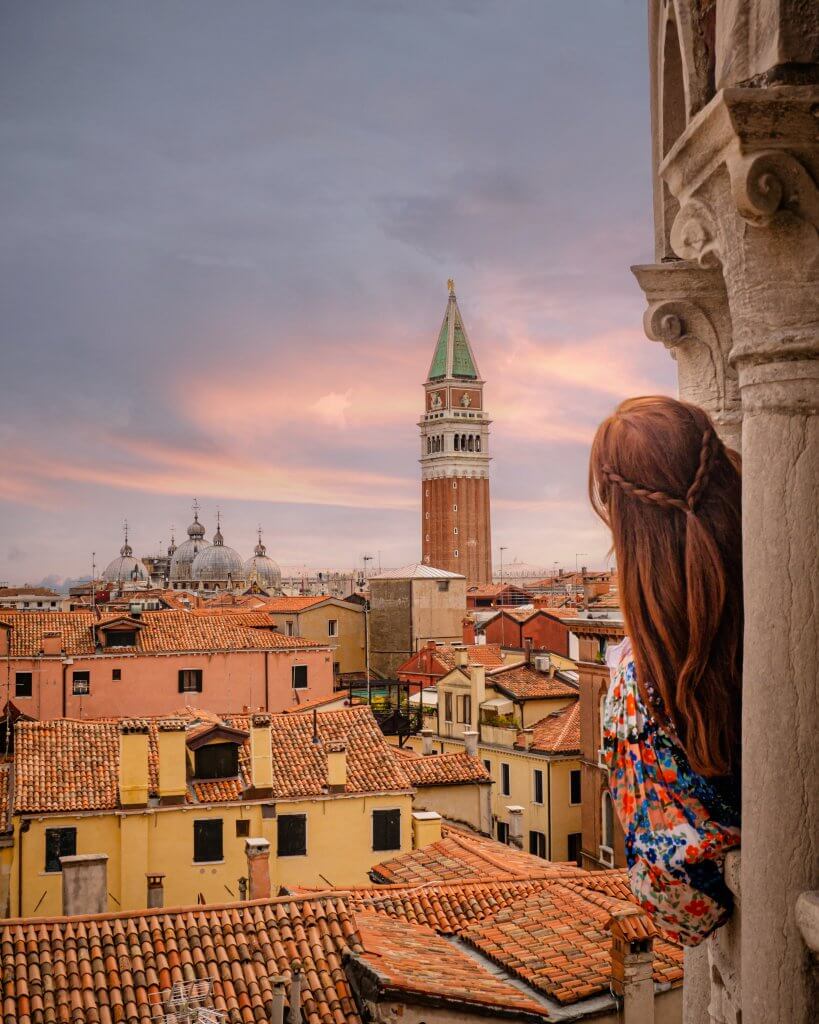 St. Mark's Square
What?!? I hear you screaming…."I thought you said get away from the crowds!" and yes you are right this is Venice's most visited square but for good reason. It is stunningly beautiful and there are some great Instagram opportunities to be had here too. If are up in time for a sunrise shoot you will find some lovely corners of the square to yourself early in the morning. There are also many angles that you can take photographs from for a unique look to your Venice Instagram photos.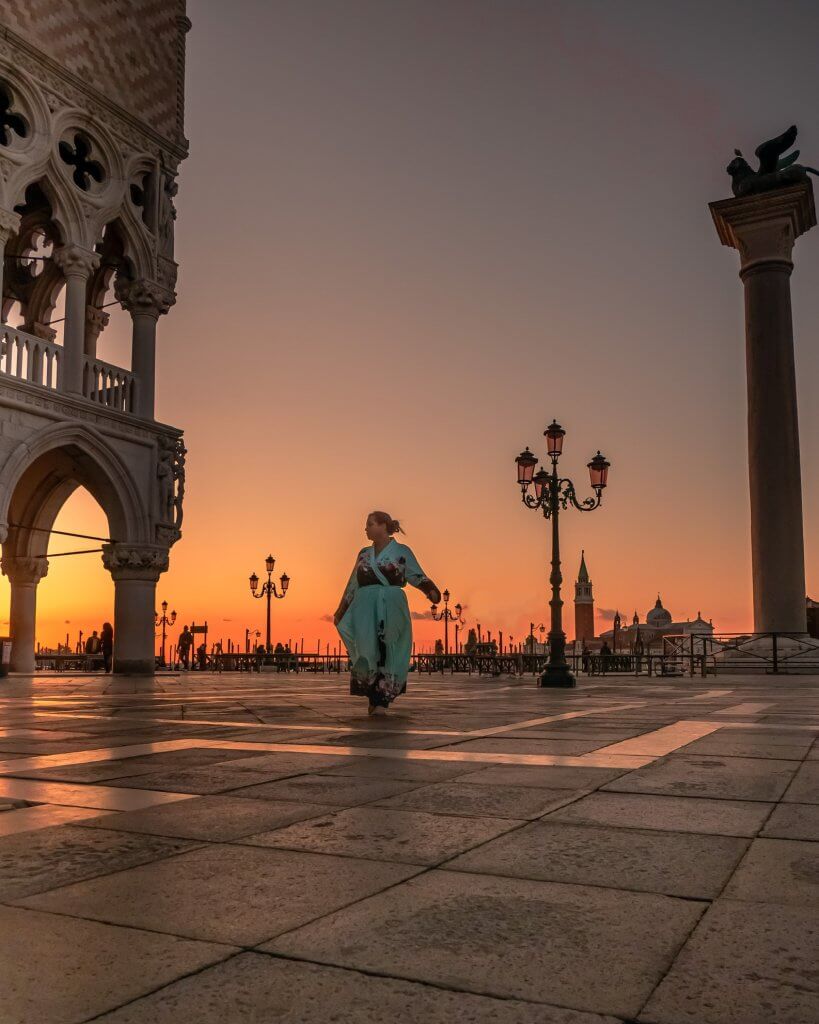 I went to Venice wanting to recreate this perfect corner of St. Mark's Square that I had seen on my friend Taylor's Instagram feed. She has the travel blog Brown Eyed Flower Child and you simply must check out her 2 days in Venice itinerary if you are planning your trip here.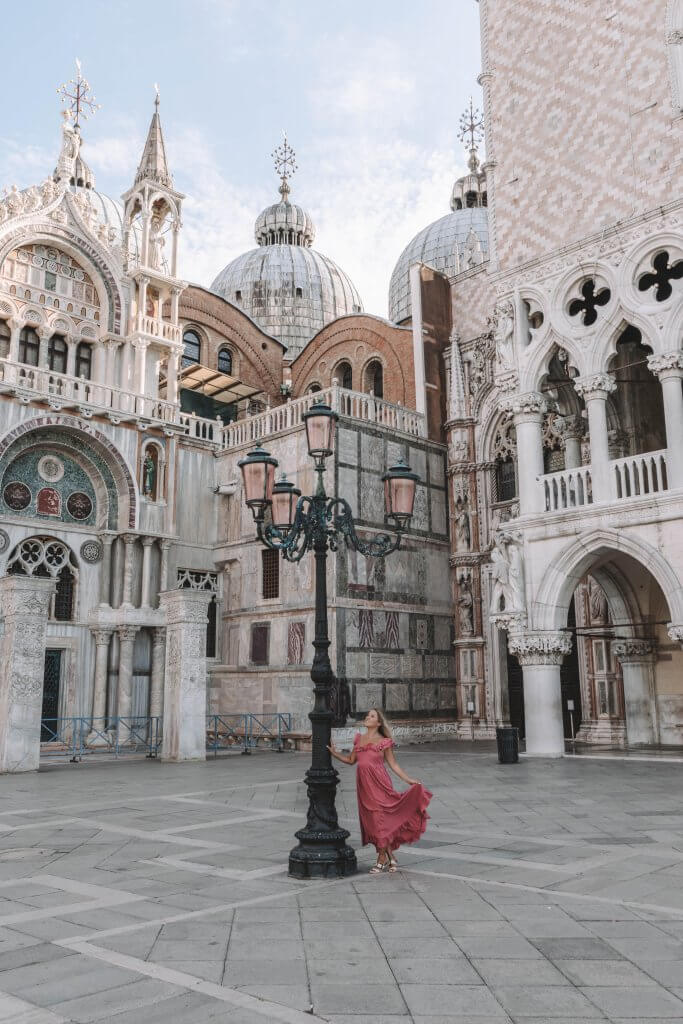 Anyway, when I arrived I was very disappointed to discover renovation work going on and this whole area covered in scaffolding with no chance of getting the shot I wanted. But one thing that I have realised as a travel blogger and photographer is that no matter how much planning you do there will always be something that can happen out of your control so be prepared to pivot and look for new angles. Mister Lavin suggested this angle when he saw my disappointment and you know what? I LOVE how it turned out and that it was our unique take on St. Mark's Square and one that you won't see over and over again on Instagram.
Best time to photograph: Be prepared to be up early to photograph St Mark's Square. Bear in mind that it is not just pigeons that flock here, it is tourists too, so this one requires a sunrise shoot to get it to yourself.
Google Maps co-ordinates: Not that you will need them but here you go! 45.43416, 12.33847
Caffè Florian
While you are in St. Mark's Square head to Venice's most famous cafe. Caffè Florian has been a cafe since 1720 and has had some remarkable clientele through the ages such as Goldoni, Ernest Hemingway, Charles Dickens and Lord Byron. Even Cassanova frequented here as his "hunting ground".
Best time to photograph: That all depends on what style of photograph you want to get here. I took this photo late in the evening as the cafe was emptying. If you want to look like you are having a coffee you will have to wait until they open at 10am. Be prepared to pay top dollar for your coffee but if you ask me it is worth the expense to drink in such an iconic spot. Others might not agree. However you decide to take your photo here, always be respectful to staff and make sure to ask permission to take your photo.
Google Maps co-ordinates: 45.4336, 12.33822
Ponte Chiodo in Cannaregio
Ponte Chiodo is another one of Venice's hidden gems. You can find it in one of my favourite neighbourhoods in Venice, Cannaregio. It is a very ancient bridge, that is characterized, like all of the first bridges in Venice, by the absence of a parapet. It is the last bridge of its kind in Venice and if that doesn't make it instaworthy I don't know what will!
Best time to photograph: You will be happy to hear that you can get this bridge to yourself almost any time of the day. This is one of the many reasons that I love exploring Cannaregio. Here you will get a feel for the real and authentic Venice, one that isn't overrun with tourists!
Google Maps co-ordinates: 45.44283, 12.33471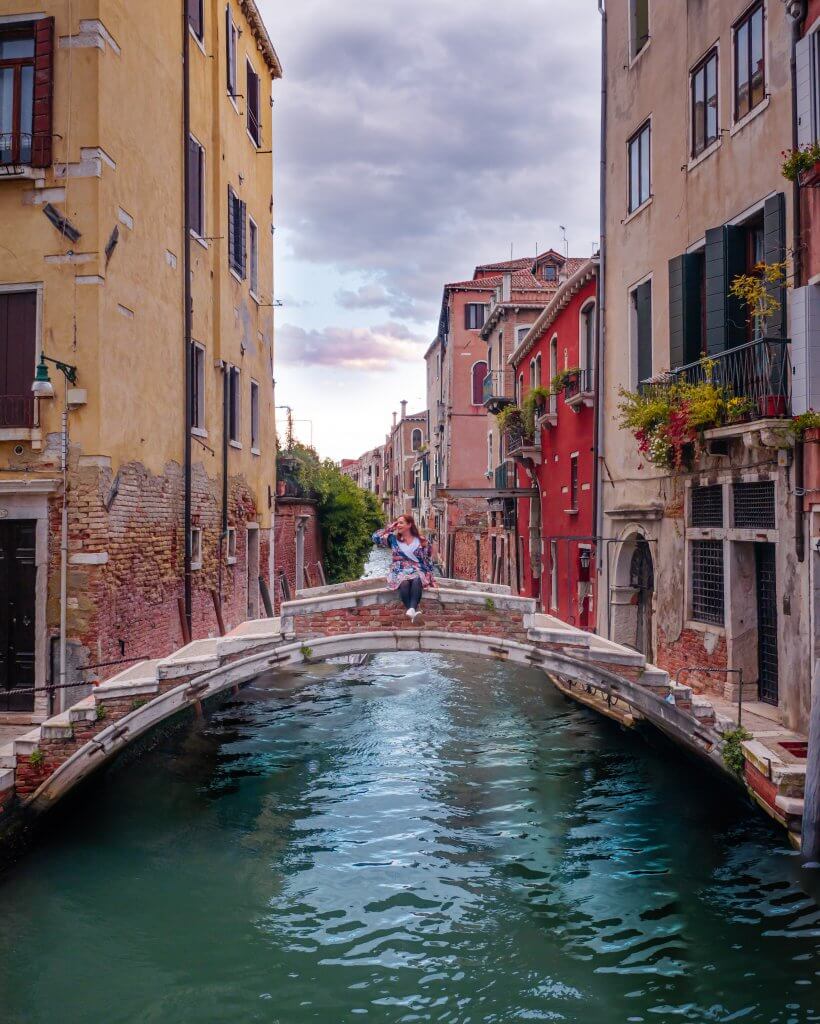 Madonna dell'Orto
Madonna dell'Orto is one of my favourite churches in the whole of Venice. It also happens to be where the famous Venetian Renaissance artist Tintoretto is buried. You can find it in the Cannaregio neighbourhood in Venice. This beautiful church certainly deserves a spot on your Instagram feed and looks good with or without a subject in the shot.
Best time to photograph: Any time of day works here
Google Maps co-ordinates: Head to this bridge to get this view of the church 45.44554, 12.33153
Top Tip: Explore the area around the church. Not only will you find Tintoretto's home nearby, this whole area is unexplored on Instagram so you will get some great shots for your feed here.
Palazzo Tetta
Palazzo Tetta is a beautiful building that is the perfect hidden Instagram spot because it is located smack bang in the middle of two canals, almost like a ship's bow cutting through the water. It is unique in the fact that it is surrounded on three sides by water. Most people in fact simply walk past it without realising that it is there because they are concentrating on their steps crossing the bridge and not looking up. Legend has it that this building is part of the old red light district in the Castello region of Venice. The truth probably comes from the fact that Tetta, the name of the noble family that once lived in this building, means "breast" in Italian. Who knows what is most accurate but it is fascinating either way!
Best time to photograph: This is another gem in Venice because you can come at any time of day to get it to yourself. Although the building probably looks best when photographed in moody lighting and not during the midday sun. Head to Ponte dei Conzafelzi to get this view.
Google Maps co-ordinates: 45.4383, 12.34231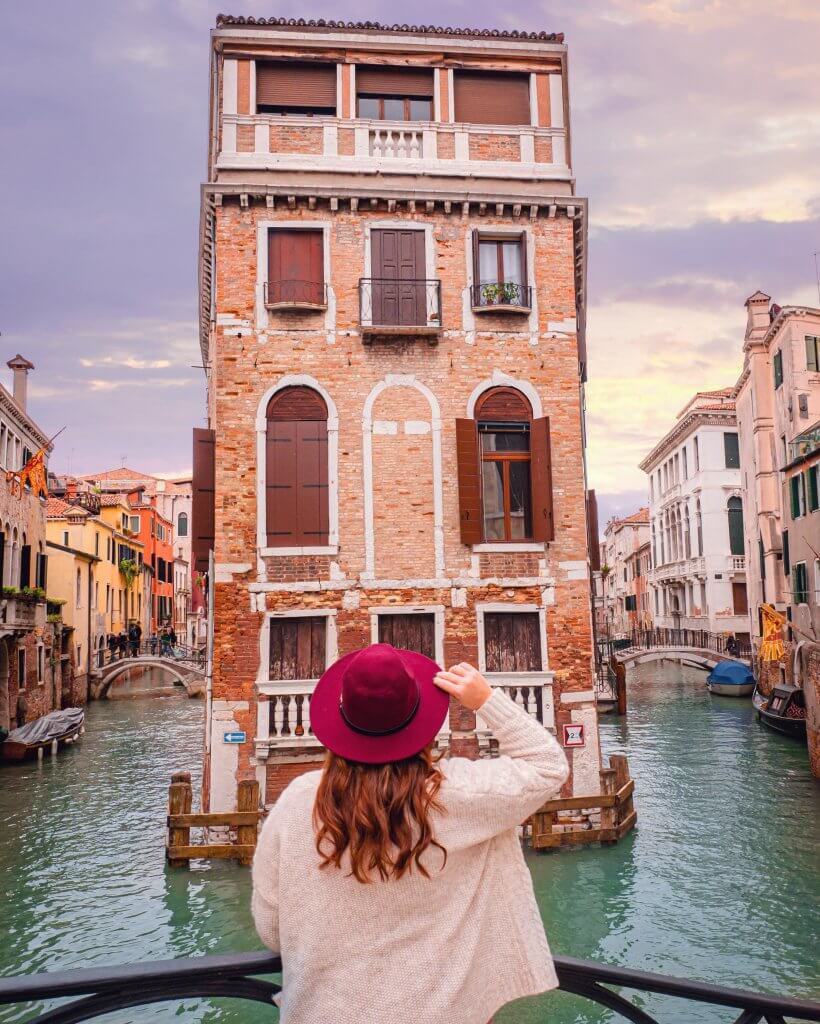 Ospedale SS. Giovanni e Paolo
Ospedale SS. Giovanni e Paolo may get thousands of visitors every year but you very rarely see it on Instagram's feed. I am not sure why because it is one of the most stunning buildings in all of Venice and is the main hospital in the city. My day job is as a medical scientist in the hospital of my hometown in Galway, Ireland. I can only imagine getting to go to work in a building as beautiful and historic as this. On a sidenote I always find the day to day functionalities of living on the water in Venice so fascinating. Can you imagine speeding through narrow waterways and arriving to the Emergency Room by boat?
Best time to photograph: This is another place that you can come at any time of the day. While it does get a large amount of tourists it is not as popular as the main tourist attractions in Venice. You might still have some people around but with a little patience you will get the shot you want. I personally don't feel that every shot has to be people free as long as you are still the main subject and not lost in the composition. Having other people in a shot sometimes adds character to a photo and gives a true reflection of what it is like in a place.
Google Maps co-ordinates: 45.43922, 12.34127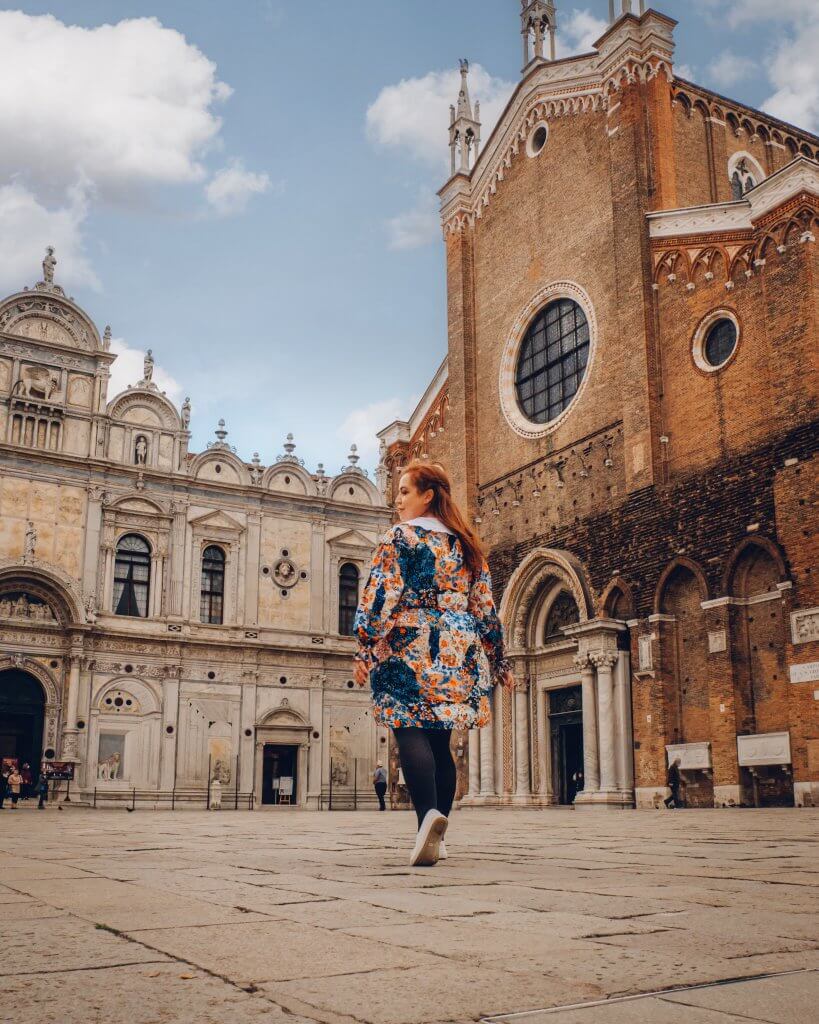 Libreria Acqua Alta
While you are in the area be sure to stop in at Libreria Acqua Alta. While Instagram has made this bookstore more popular it is still worth stopping in for a photo. This isn't like your typical book shop. It is unique and quirky and you can see why its popularity grew on Instagram. The books, strange furnishings, cats and of course, high water ("Acqua Alta"), found in his bookstore are all symbols of Venice. To protect the many books from the water that gradually enters the shop, the owner uses gondolas, canoes, boats and barrels instead of shelves to keep the books safe.
Best time to photograph: Even though this has become a popular spot among the Instagram community you don't have to be here as soon as the shop opens to nab your photo. Most people wait in line for their turn to take their photo. You may even bump into another popular Instagrammer here.
Top Tip: Don't just come here for the photo and that's it! This is a business after all. So stay for a browse of the books, you won't be sorry and may even come away with a souvenir as well as a gorgeous photo. Also be sure to actually check out the view over the staircase of books at the back of the store. I promise it's worth it.
Google Maps co-ordinates: 45.43797, 12.34229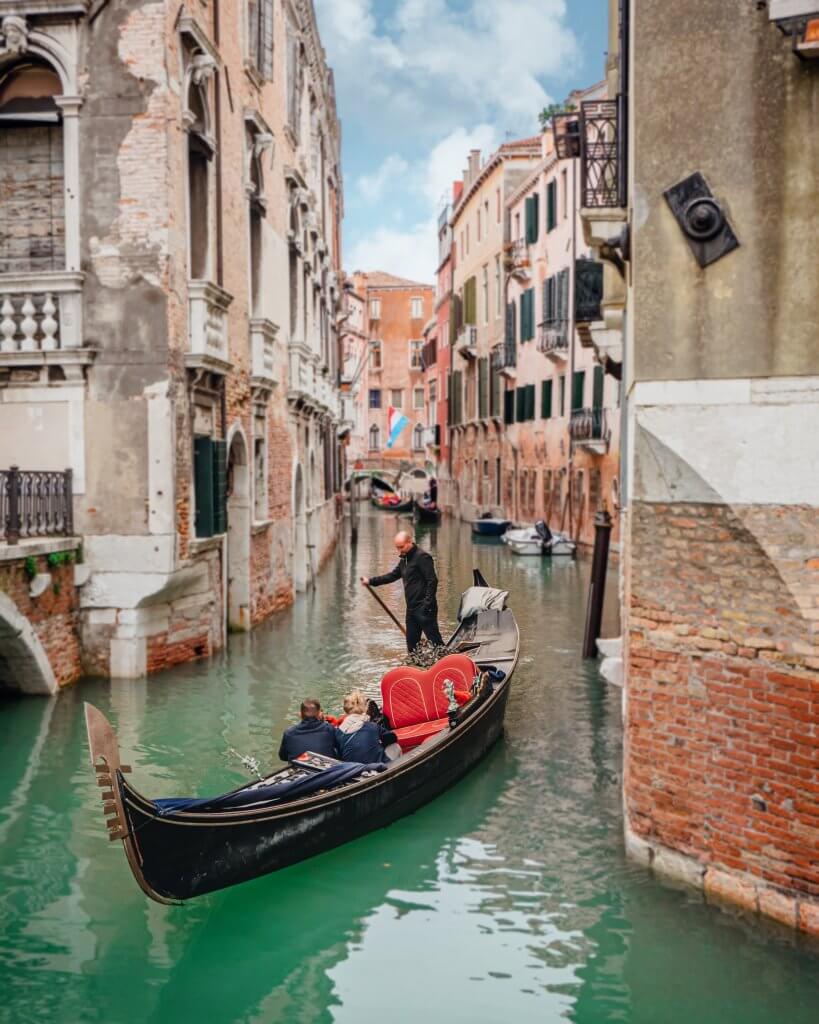 Rialto Bridge
This is one of Venice's most popular and most photographed attractions. It is certainly a popular Instagram spot but if you go early in the morning it is possible to take a beautiful shot here without the throngs of tourists. There are two quieter areas where you can get a good photograph of the bridge and I will show you both. The terrace at the San Marco neighborhood side is a popular spot for photos but on the other side (the San Polo side) it's much quieter and, in my opinion, way more beautiful! Immediately after you descend the Rialto Bridge, turn right and follow around the buildings until you come to this dock with this view of the Rialto Bridge.
Best time to photograph: As this is another popular tourist spot it is best to come early in the morning before the city wakes up and comes to life. However, I will admit that I captured the photo at the terrace on the San Marco side at midday because we stumbled upon it by accident. The lighting is a little harsh but you can still see how it is possible to get a beautiful photo even with all the tourists in it.
Google Maps co-ordinates: 45.43769, 12.33501 San Marco side, 45.43781, 12.33602 San Polo side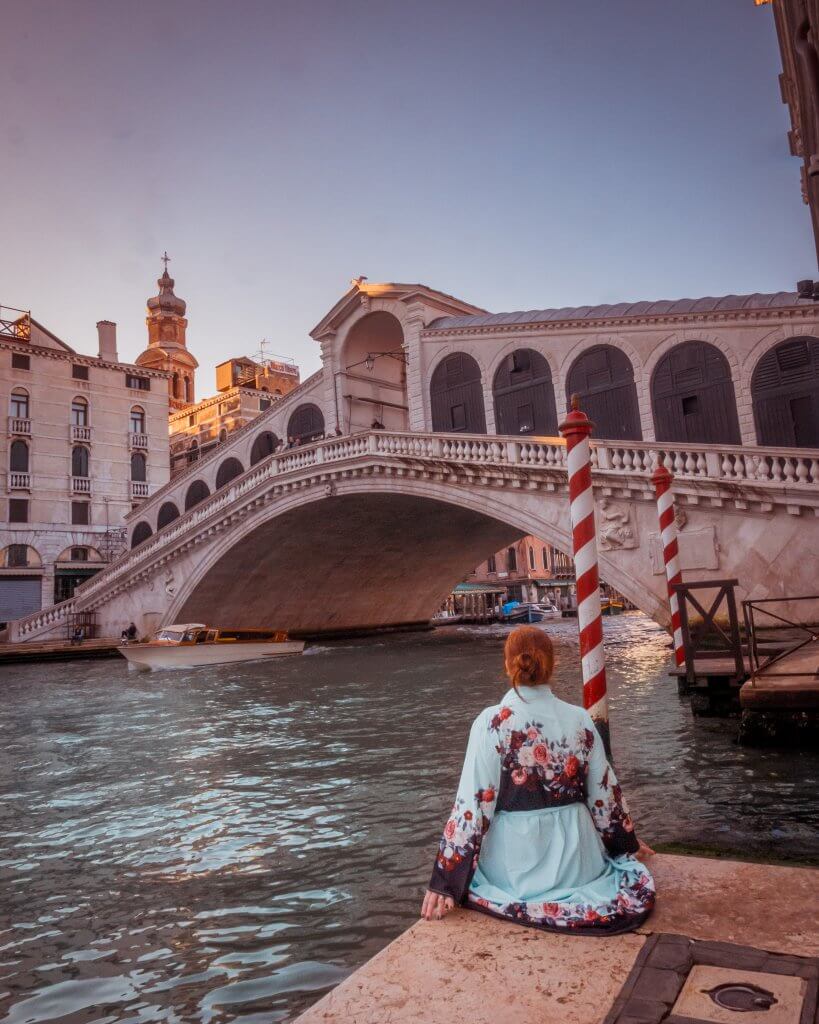 Hidden Pier behind San Moise Hotel
This was another hidden gem in Venice that has gained instant popularity on Instagram so it is no longer as secret as it used to be. Most tourists aren't even aware that it exists but if you are serious about Instagram you will have seen this hidden dock pop up on your feed a few times already. Still it makes for a beautiful photo and it is a nice place to step away from the crowds and lose yourself in the magic of Venice for a moment.
Best time to photograph: We came just after our sunrise shoot at the Bridge of Sighs and St. Mark's Square and we were delighted to have this spot to ourselves. However we were too early! This shot works best when you can capture a gondola going by and all of the gondoliers were still having their morning wake-up coffee when we arrived. We had to sit patiently for about 45 minutes until the gondola service began operating. I recommend coming at about 9-10am to catch the beautiful morning light and a gondola passing. You may have to queue and wait your turn if there is another Instagrammer here but I always find it nice to see another Instagrammer at work and maybe even make a personal connection. This place also works later in the evening to avoid any harsh shadows on your face from the midday sun. While this area is relatively tourist free, the bridges in the background are not, so quieter times like earlier in the morning or later in the evening work best.
Google Maps co-ordinates: There is a reason that this remained a hidden gem for as long as it did before people started sharing its location on Instagram. Tucked in behind the San Moise hotel this pier really is off the beaten path and without directions is not obvious to find. The adress is Piscina S. Moise, 2036 and the co-ordinates are 45.43345, 12.3349
Top Tip: If you are looking for a nice and affordable place to stay in Venice then I can recommend the San Moise Hotel. It is a 3 star hotel so it is not super luxurious but the rooms have an old world charm about them with many of them opening up to views of this quiet canal behind the hotel. I stayed here on my first trip to Venice with my sister when Aaron was only 4. The location is incredible! Just 300m from the popular St Mark's Square and with a beautiful and romantic courtyard in the centre of the hotel.
Bauer Hotel
The terrace of the Bauer Hotel is one of the best Instagram spots in Venice and isn't saturated on Instagram yet so it is the perfect place to go for a photo. Stay for a drink and watch the happenings on the water. I could have stayed here all day listening to gondoliers serenading their guests with beautiful Italian songs. I don't know about you but I could people watch all day and this was the perfect spot to watch the daily activities on the Grand Canal while enjoying a glass of wine. Staying for a while will also allow you to slow down and get creative while grabbing some photos of life on the water. We hope you love how ours turned out.
Best time to photograph: Early in the afternoon when activity on the water is at its busiest. To get this shot you simply need a seat on the water edge so if you are prepared to grab a table on the terrace and stay for a drink it won't take long for the opportunity to present itself. I just love the flurry of activity in these photos but if you prefer a quieter background it is best to come early or late as the sun is setting.
Google Maps co-ordinates: 45.43221, 12.33624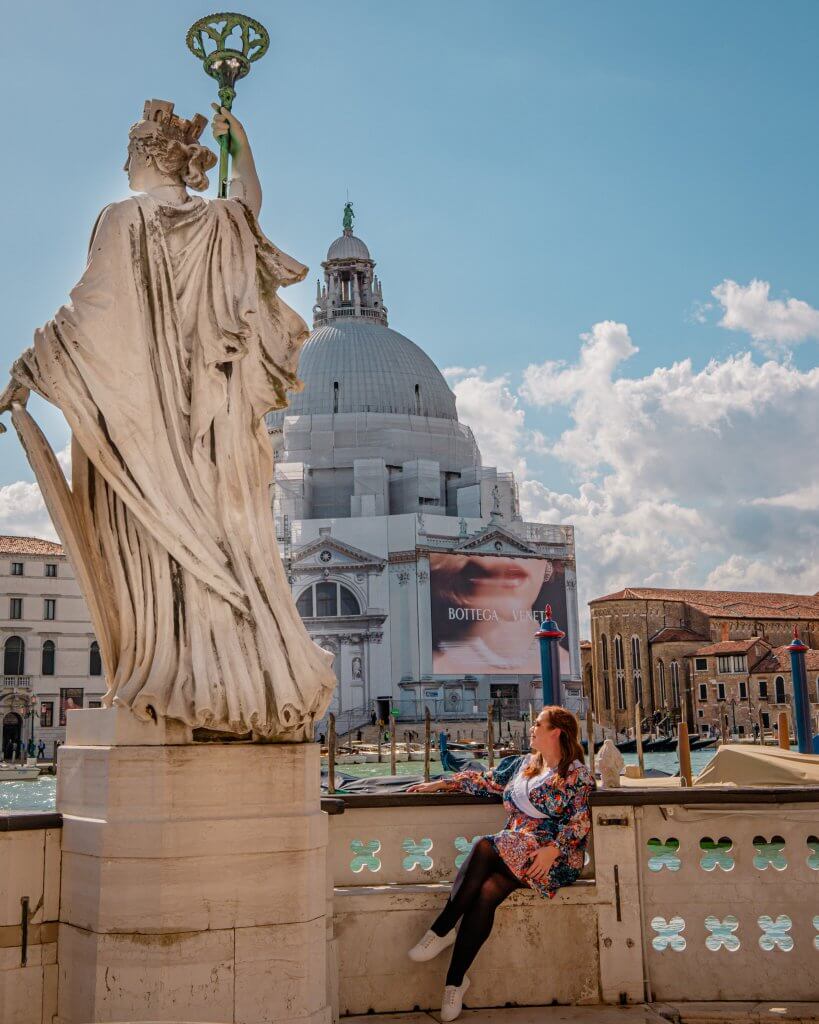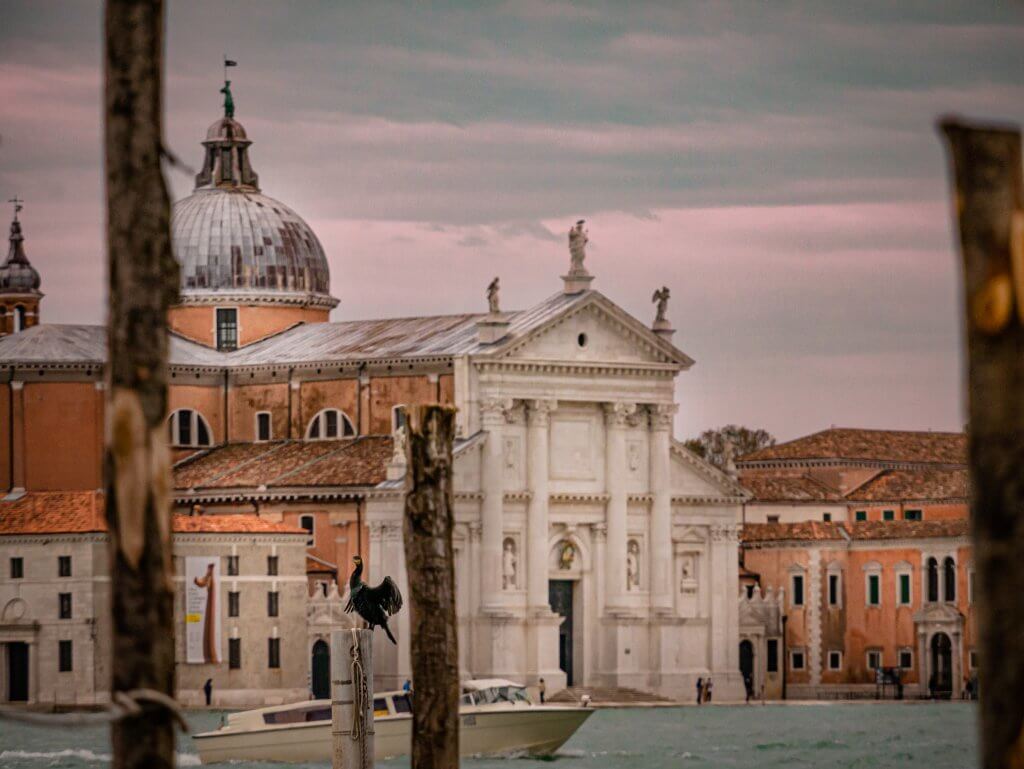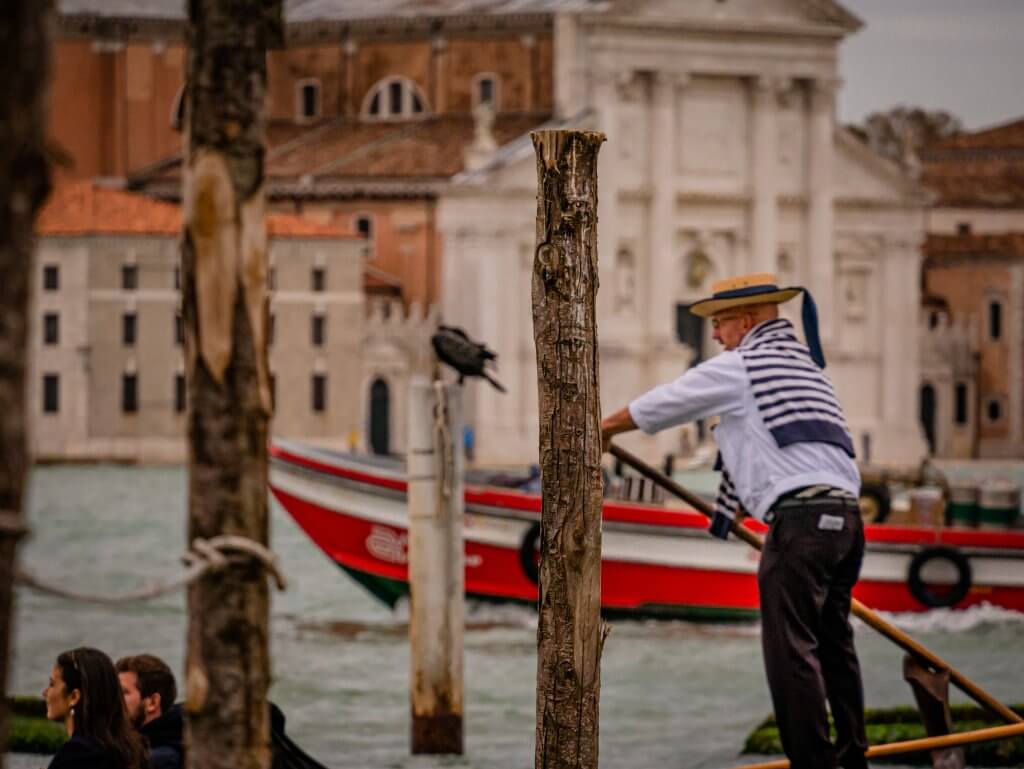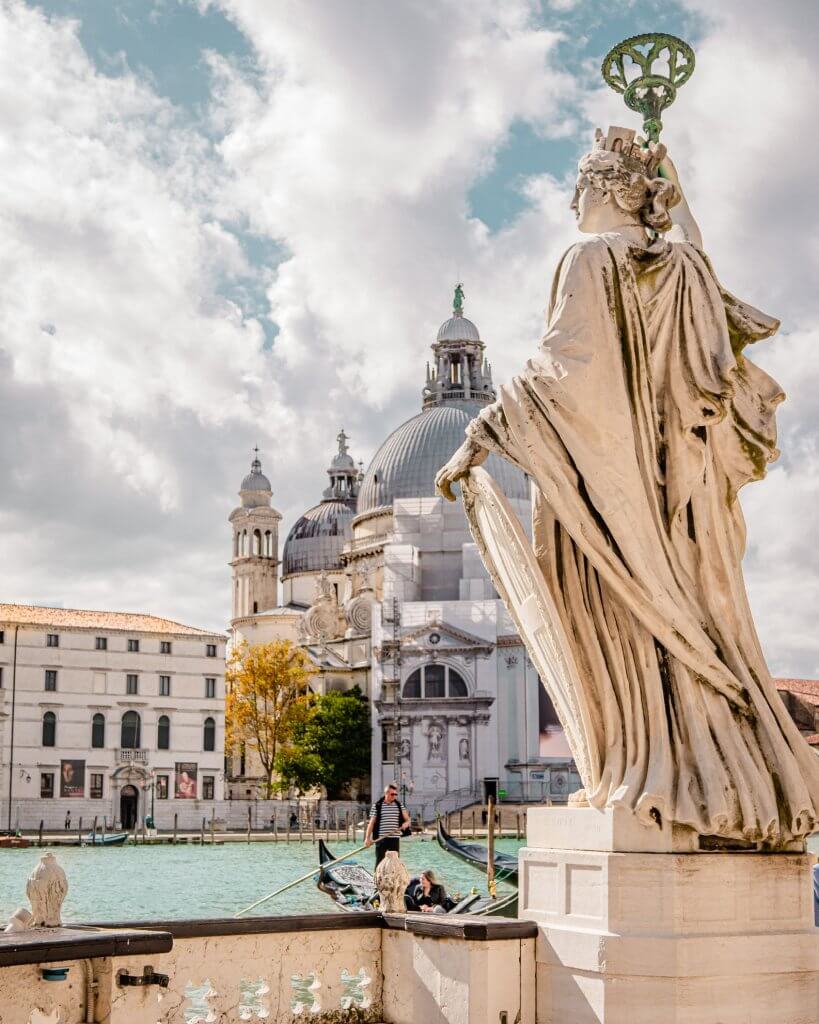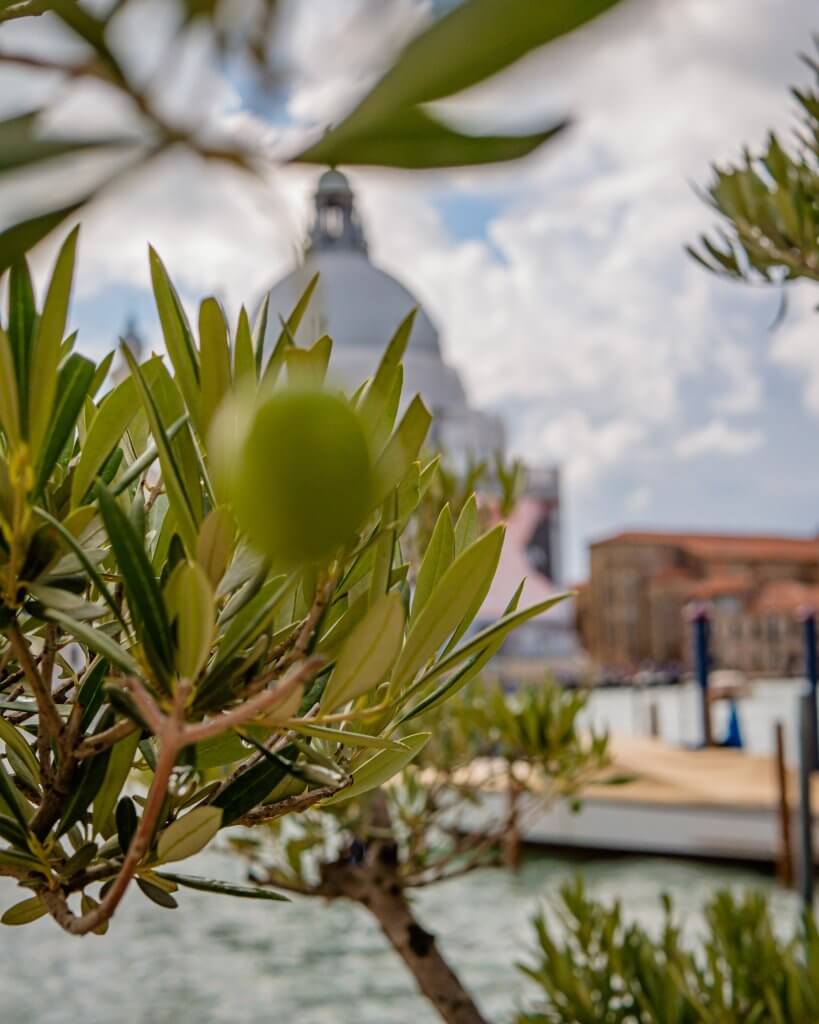 Gondolas at San Marco Waterfront
Let's be honest! You can take a picture of a gondola pretty much anywhere in Venice and it will be Instaworthy but this area at the San Marco waterfront or Riva degli Schiavoni as it is called in Italian is one of my favourites. The backdrop of the buildings on the islands across the lagoon are what makes this spot so special. The signage for the area to get a gondola is also extra pretty in this area.
Best time to photograph: We came here twice. once in the middle of the day to get the shot with the waves crashing on the waterfront and once at sunrise to get the empty gondola sign without anyone queueing. The photo at the waterfront can be taken at any time of day as the camera will be facing out on to the Grand Canal and the islands across the lagoon. This is a typical "tourist shot" in Venice so there will be other people there but you can get creative with angles to crop them out. Always remember to shoot portrait in size 4×5 for Instagram and don't be afraid to get creative with movement in this photo.
Google Maps co-ordinates: 45.43399, 12.34386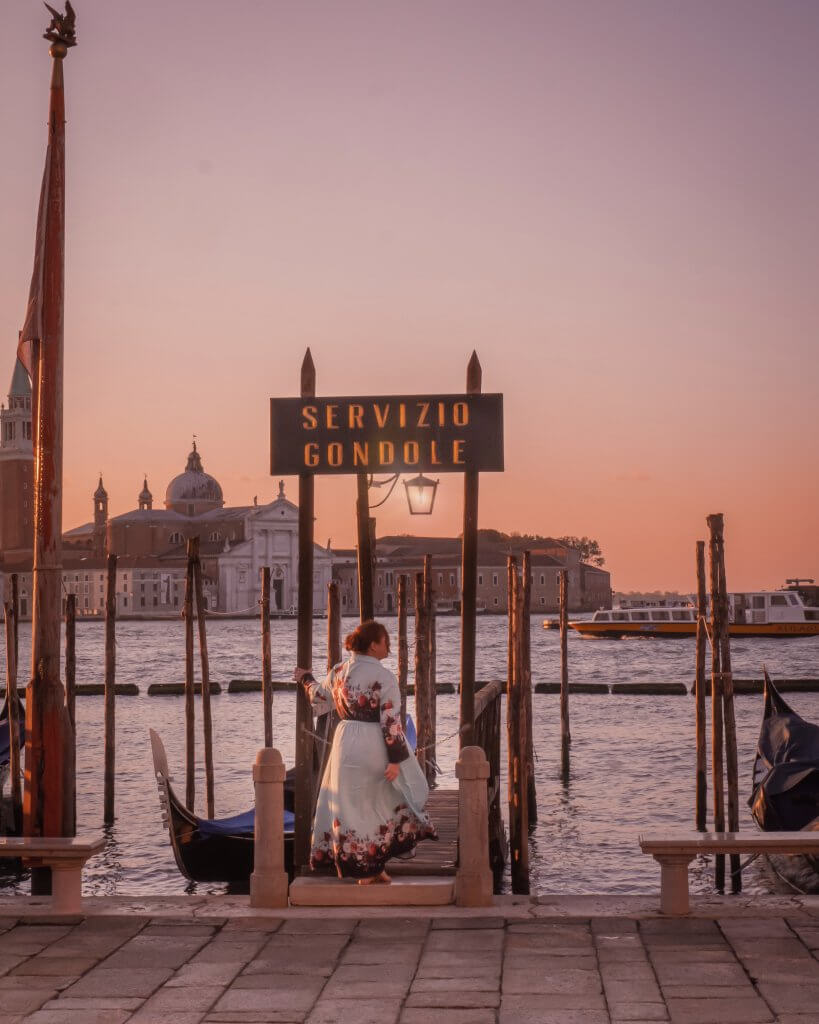 Giardini Reali
Despite it being just a stones throw from St. Mark's Square, most people walk past the Royal Gardens in Venice without actually going in. This landscaped area on the Grand Canal features walkways and park benches. It is the perfect oasis of calm and there are many pretty photographs to be taken here. The gardens must be magical in the summertime but we visited at the end of October and were happy to find flowers still in bloom. Most people are so keen to photograph the Venetian canals, gondolas and waterways that this perspective of Venice is still relatively new to Instagram.
Best time to photograph: The gardens are peaceful and quiet any time of day. Summer may be busier.
Google Maps co-ordinates: 45.43298, 12.33829
Skyline Rooftop Bar, Hilton Hotel Venice
One of the best places to watch sunset in Venice is from the Skyline rooftop bar on the island of Giudecca. Belonging to the Hilton Hotel group you can enjoy a cocktail and sunset views while relaxing in this bar on the eighth floor of the hotel.
Best time to photograph: Rooftop views of Venice are best enjoyed as the sun is setting.
Google Maps co-ordinates: 45.42755, 12.3199
Top Tip: Not many tourists make it across to the island of Giudecca instead prefering to stay close to the Grand Canal. Giudecca deserves to be explored so stay for dinner on one of the many wonderful restaurants along the waterfront here. It is also the perfect area to base yourself in for your time in Venice to get away from the crowds.
Recommeded restaurant in Giudecca: Osteria Ae Botti
Recommended accommodation in Giudecca: Al Redentore di Venezia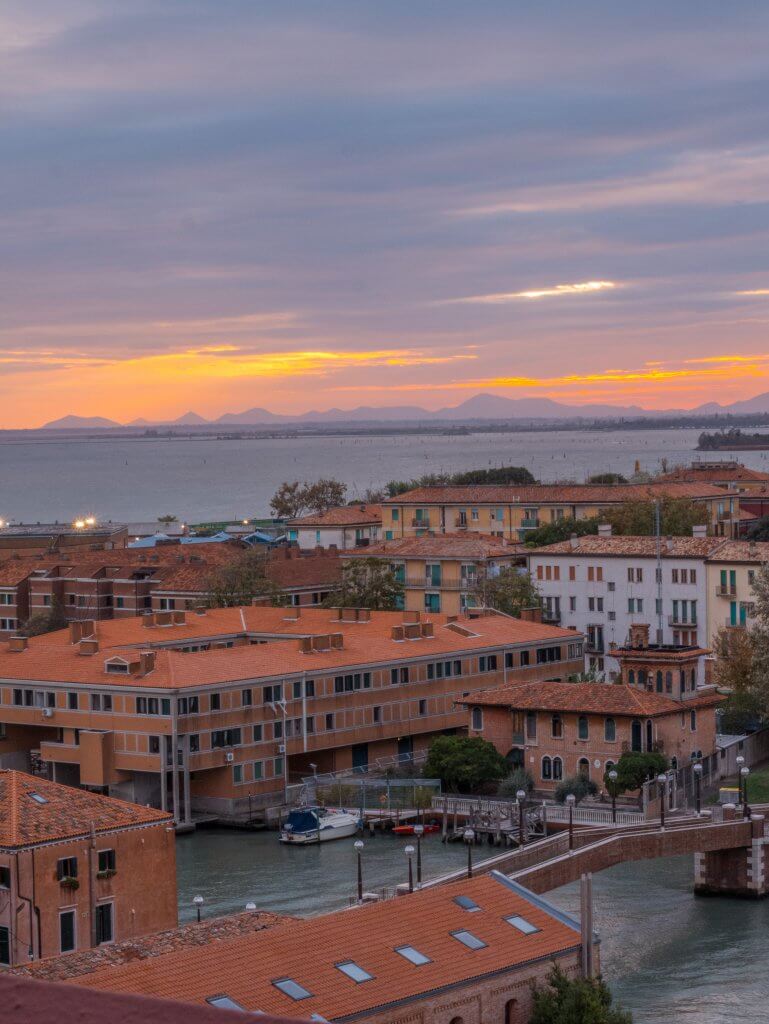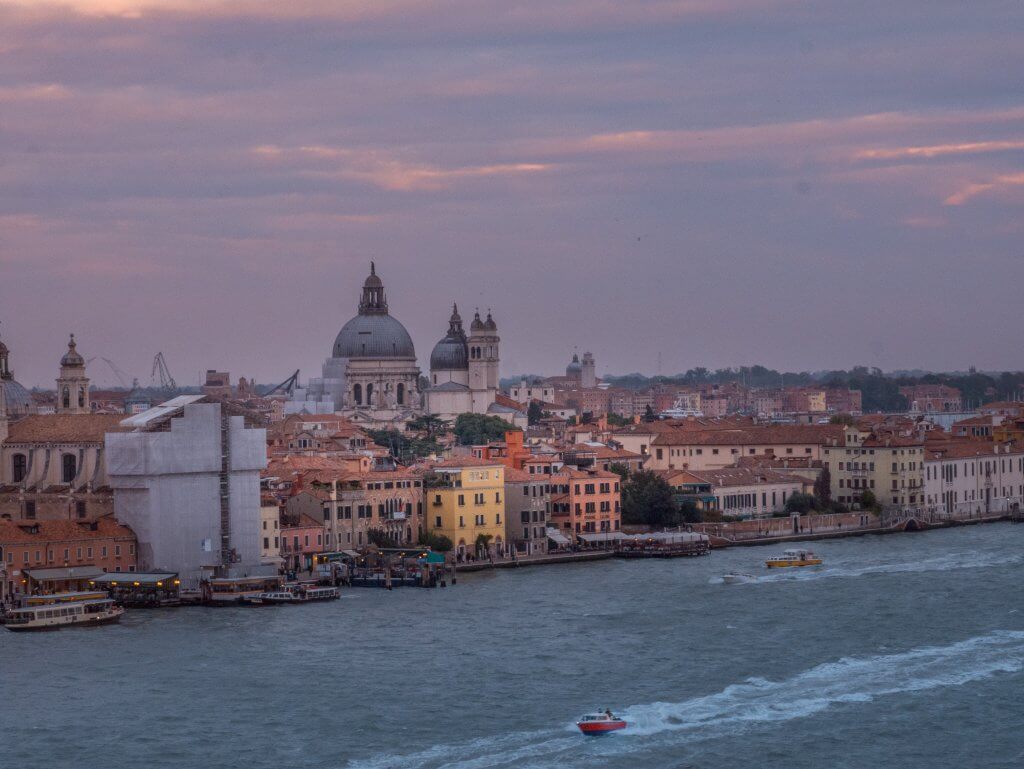 Ponte dell 'Accademia
I prefer finding hidden Instagram spots when I visit a city. I always get excited when I find somewhere new to share or a unique take on a popular spot. But, sometimes you can't leave a city without at least visiting one of its most Instagrammable locations. There is a reason that images from this spot make it to the travel brochures of Venice and it is probably the first image that you will conjure up when you think about this wonderful city.
Best time to photograph: Just go anytime and make the most of it. This spot will be crowded whenever you visit.
Google Maps co-ordinates: 45.43165, 12.3289
San Pietro Island
Few people make the effort to wander the whole length of Venice and cross the wooden bridge out to San Pietro Island in the Castello region of Venice. There is a whole different vibe here away from the hustle and bustle of the centre of Venice. Here the world almost feels relaxed and lazy, like you have just stepped into a sleepy fishing village. Small boats line canals criss-crossed by laundry. This whole part of Venice feels unspoilt and you will get some lovely photos here.
Best time to photograph: Leave your watch at home and simply wander. This area is so laid back and relaxed that it can be photographed at any time of day.
Google Maps co-ordinates: 45.43292, 12.3589
Top Tip: There is not one specific Instagram spot here. Simply wander with your camera for a unique take on Venice. Make your way back along the waterfront at Giardini della Biennale (45.4283, 12.35697) for a special view of Venice.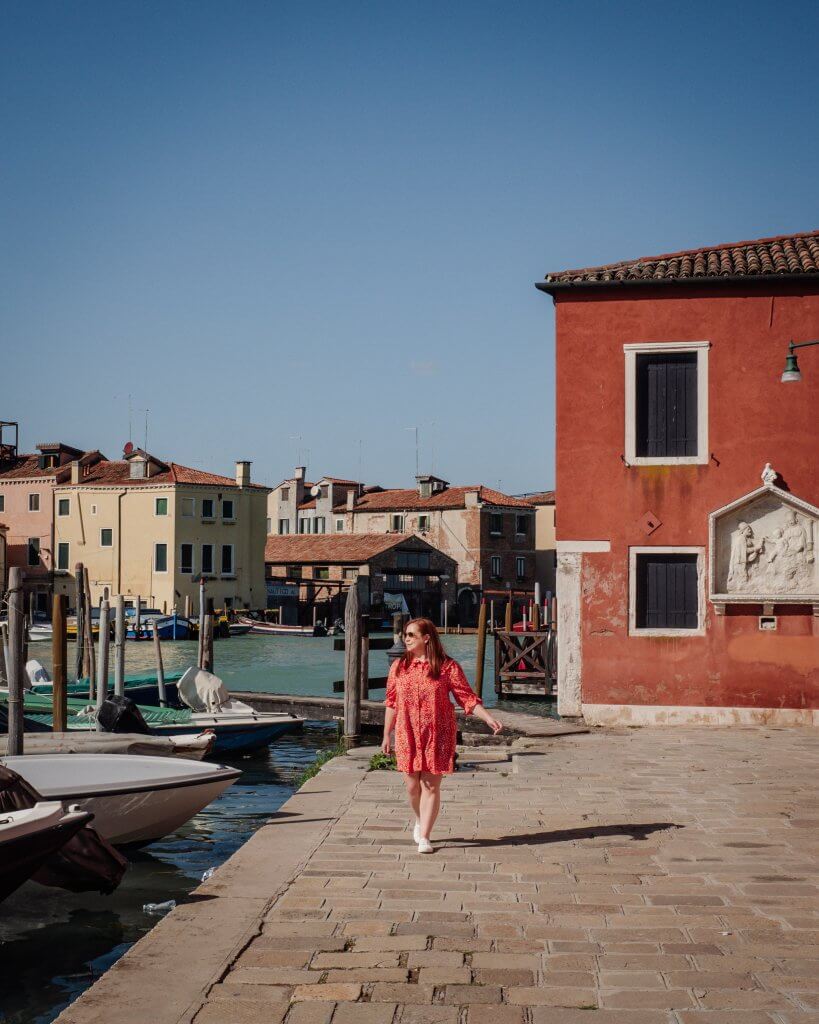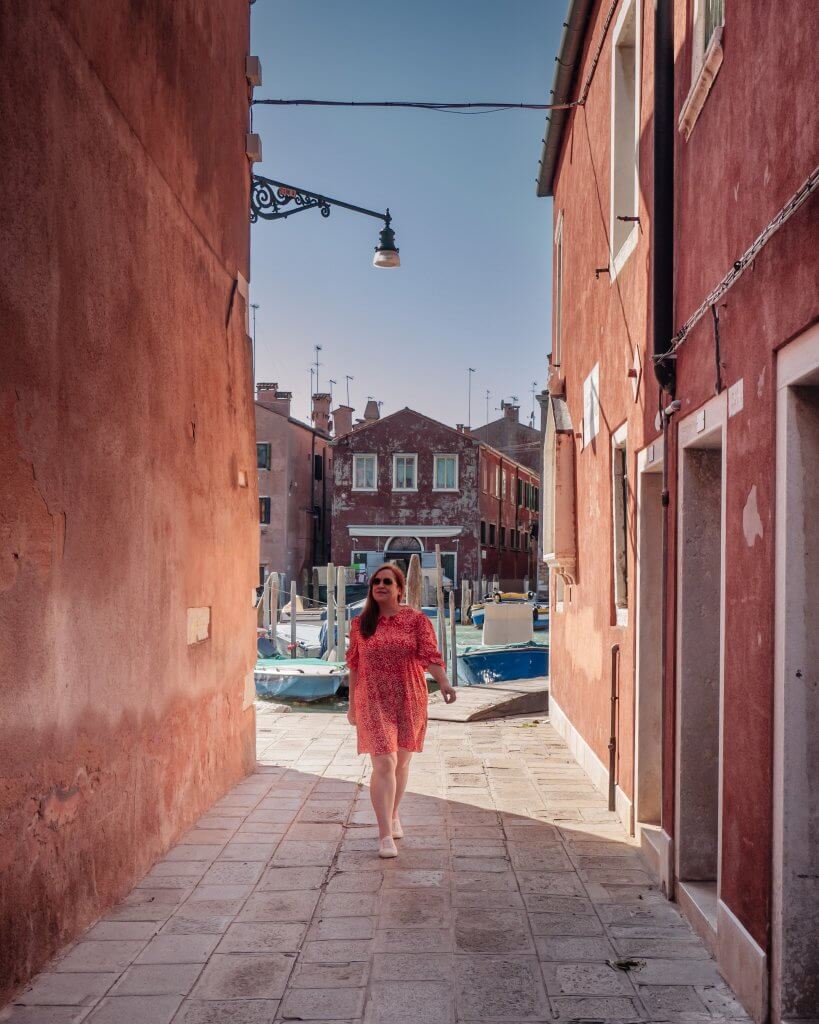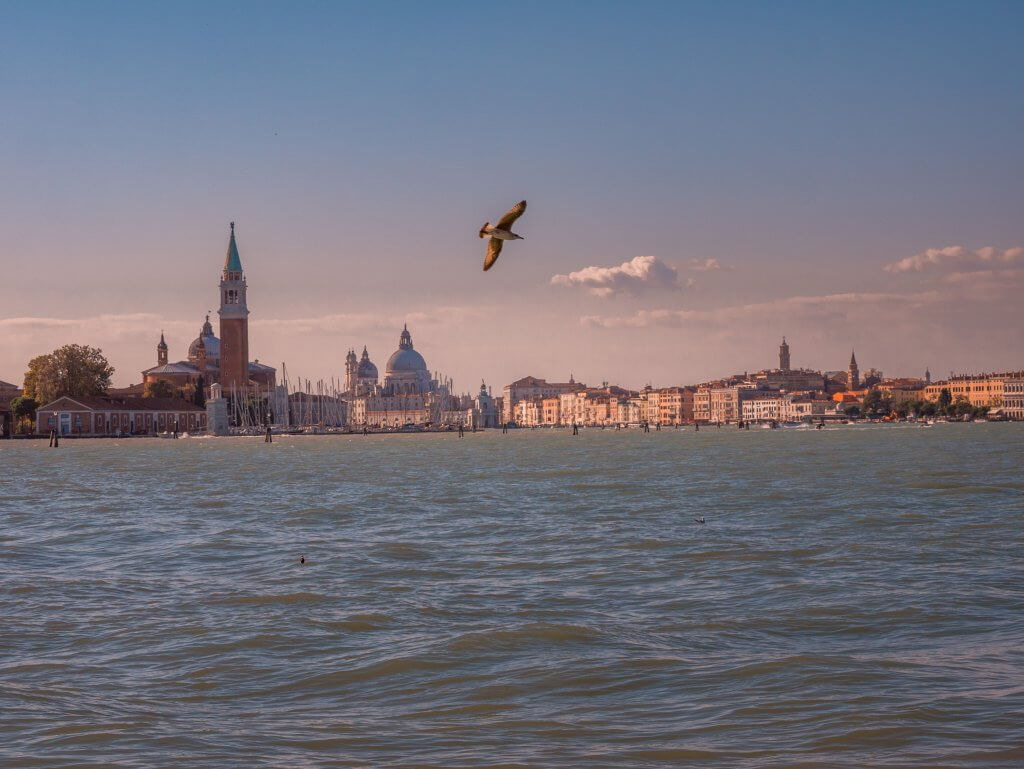 Burano
Burano Island is about 40 minutes away from Venice by water bus. You will find the stop for Burano and the other lagoon islands at Fondamente Nove vaporetto station. Burano is a fishing village, famous for its lace-making industry and rainbow coloured houses that will look so good on your Instagram feed.
Best time to photograph: The best time of the day to photograph Burano is during the day when the sun is at its highest or close to sunset as the village lights start to come on.
Google Maps co-ordinates: The best spot for photographs on Burano can be found here 45.48617, 12.41599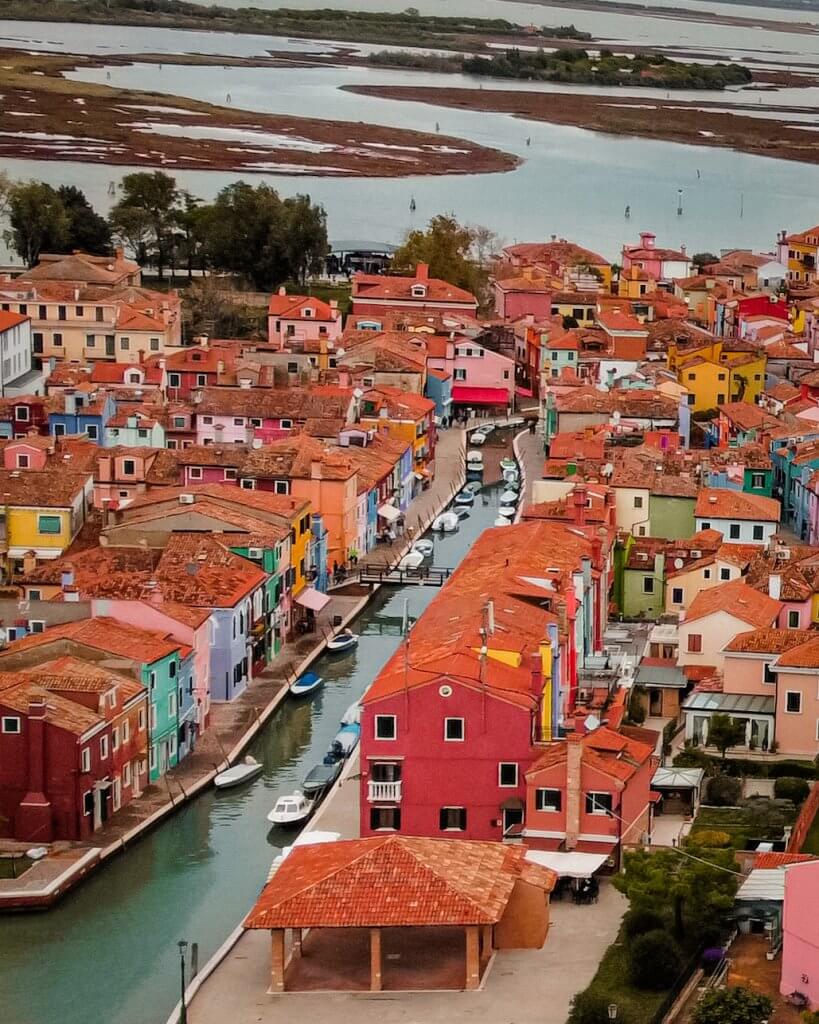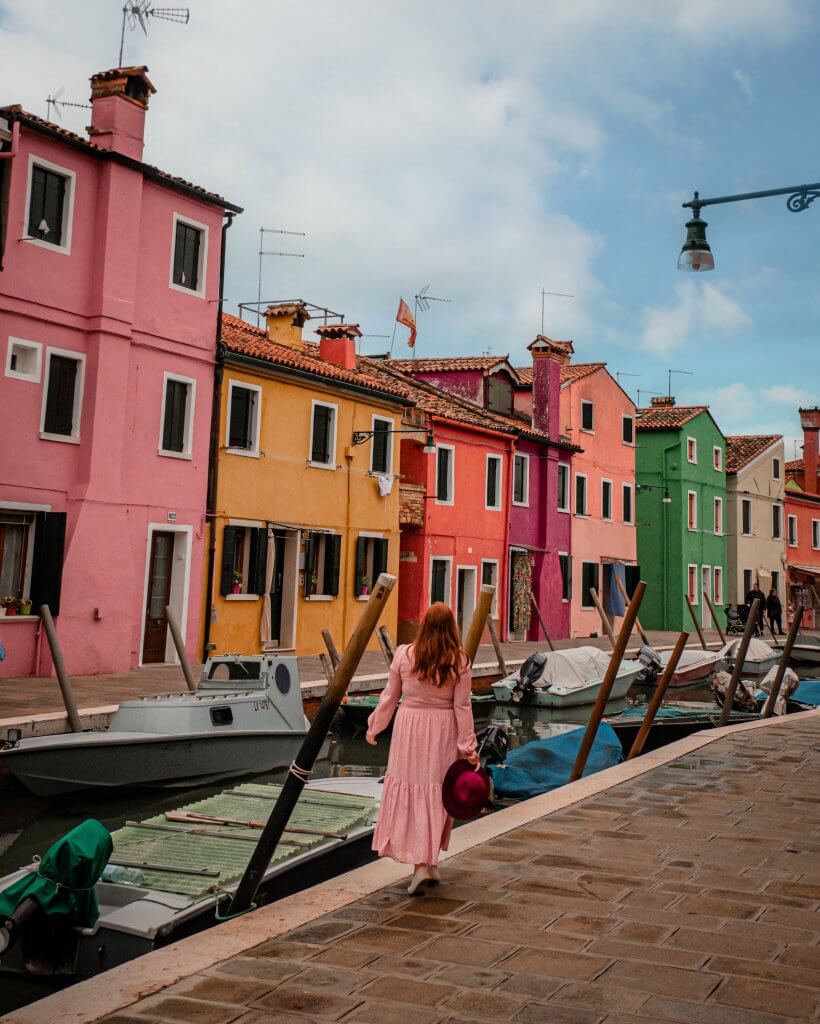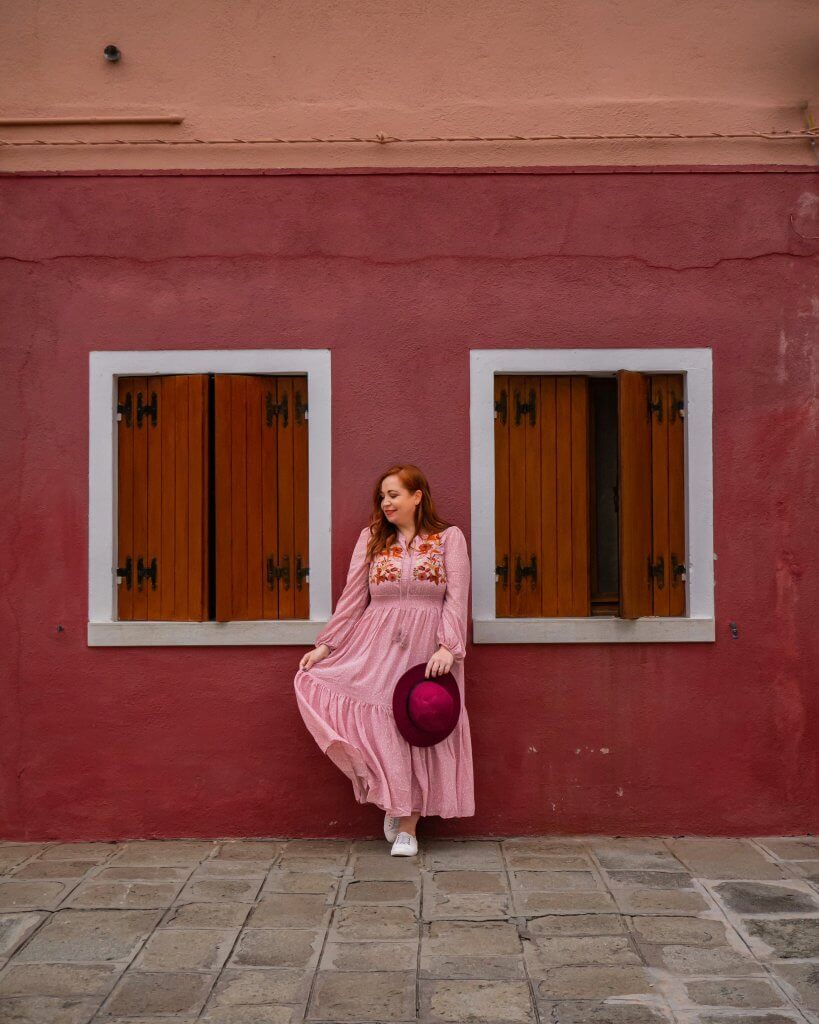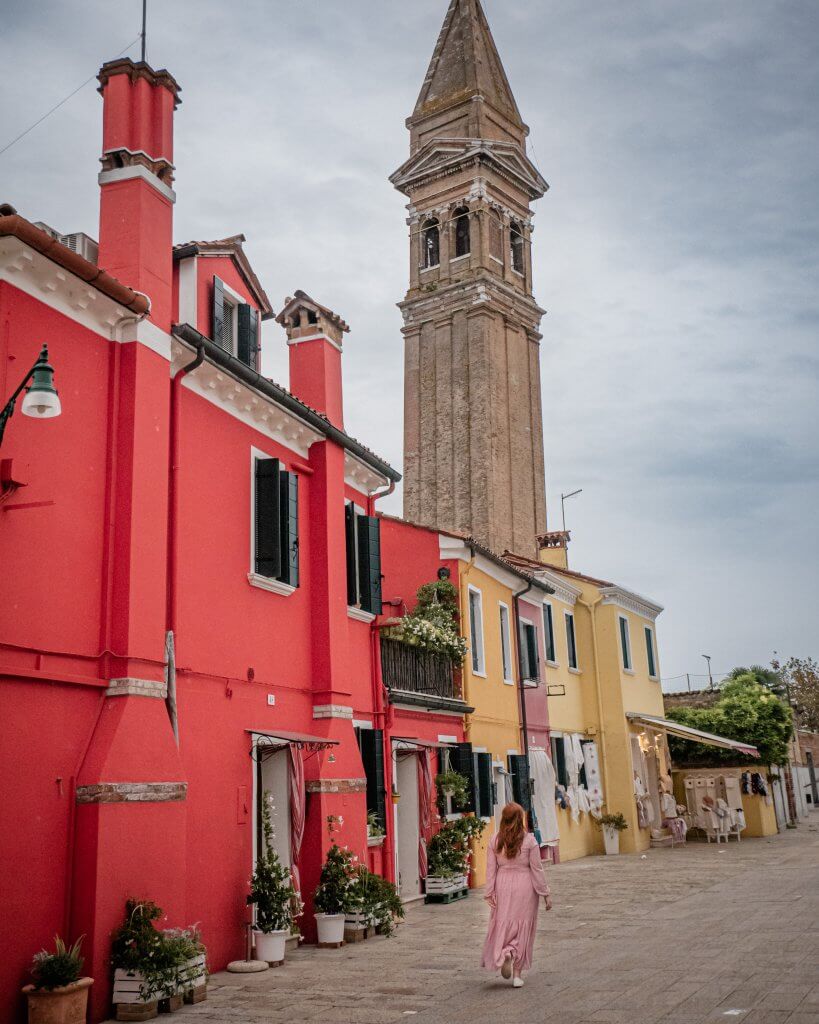 Map of Venice Instagram Spots
To make it easier for you I have included a map of the best Venice Instagram spots.
Hopefully this guide will help you spend less time wondering where to go in Venice and spend more time enjoying the city and taking memorable photographs along the way.
*Disclaimer: This post contains affiliate links meaning that if you purchase through one of our links we will receive a small commission at no extra cost to you. This helps us to support our blog and create travel blogs to help you plan your travels.
Are you new here? Join thousands of other happy readers and subscribe to All about RosaLilla blog via email. The good news is that by signing up via email you will get exclusive travel deals straight to your inbox. The only other place that we publish these deals is on Instagram stories, so be sure to signup to get the heads up on amazing travel deals to save you money when booking.
I also share everything on Instagram so be sure to follow along there.
If you liked this you may also like:
The best two day Bordeaux itinerary and Instagram spots
Best Instagram spots in Belfast
Walking tour of Notting Hill with Instagram spots
Most instagrammable places in New York City
Shop the look!

Sharing is sexy!