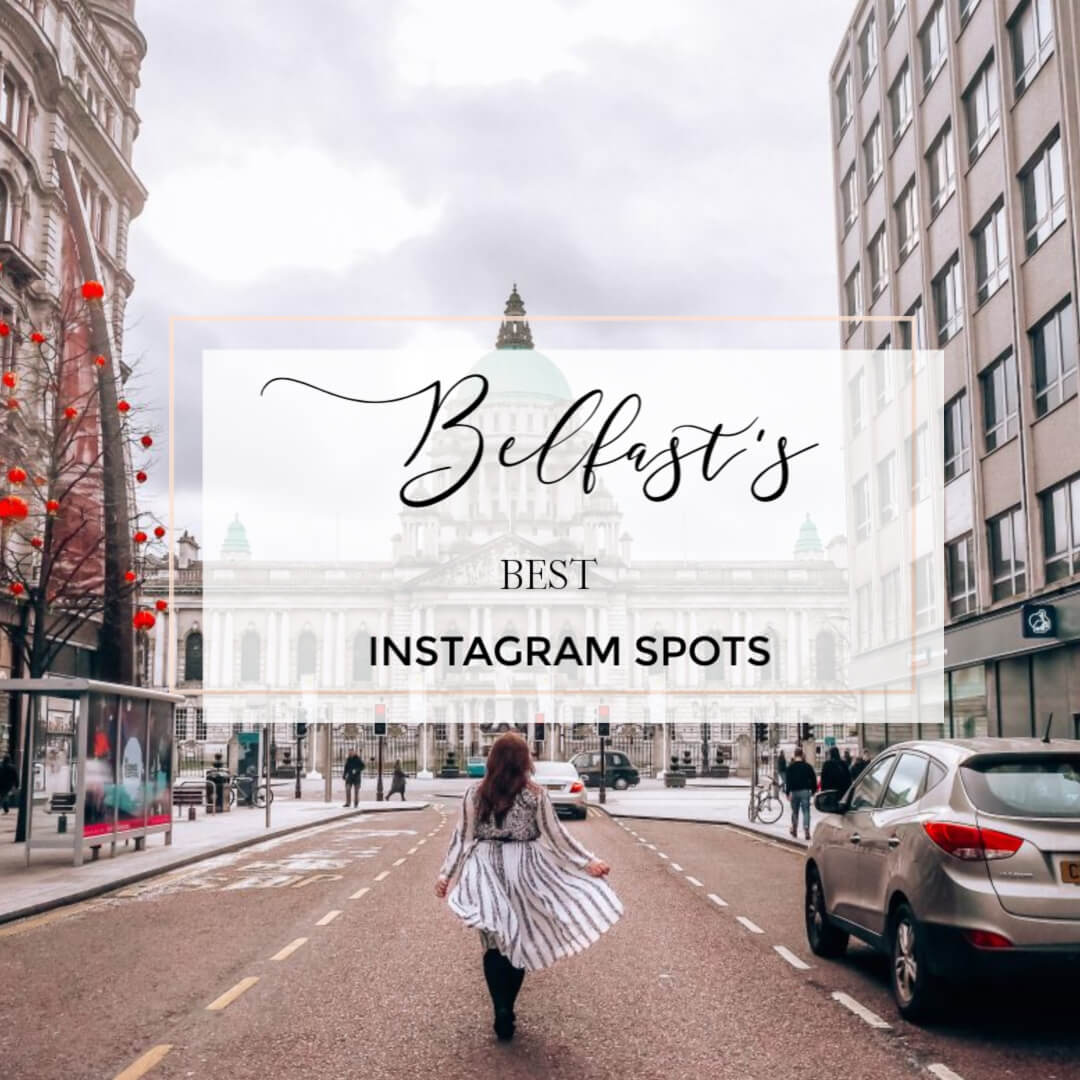 Myself and Mister Lavin were recently invited up to explore Belfast with The Hastings Hotel Group and stay in the fabulous Grand Central Hotel Belfast. We were so grateful for the invitation as Belfast is an amazing city to explore with so many great photograph opportunities. In this guide I want to show you the best Instagram spots Belfast has to offer and highlight why Grand Central Hotel in Belfast is the perfect place to base yourself in the city. Whether you're visiting the Northern Irish capital or you're a Belfast local, why not head out on a sunny day with my guide on the best Instagram places and capture the best of Belfast on camera?
Belfast is one of Northern Ireland's best cities. Steeped in Victorian history and experiencing an ever-evolving cultural scene, Belfast is a treasure trove of historic sites, architecture and buildings from both the past and present. Northern Ireland's capital city is a wonderful place to take photographs. With an eclectic mix of new and old architecture, a vibrant street scene and plenty of characters to point your lens at, you should find plenty to shoot. Belfast is easy enough to explore on foot so without further ado here are my favourite Instagram spots in Belfast.
The Crown Bar, Belfast
First stop is The Crown Bar on 46 Great Victoria Street. The Crown Liquor Saloon is one of Belfast's most iconic pubs and famous landmarks. Built in 1826 it is a true Victorian gem, and having been beautifully restored is now owned by the National Trust. Once upon it a time it was a mighty Victorian gin palace and flourished in industrial Belfast. Today it is as popular with locals as it is with tourists.
Both the aesthetic exterior and rich décor inside make for some perfect Insta snaps. It is so unbelievably rich in colour and design and you will continue to find little design details that you hadn't spotted before. One of the great and unique secrets of this pub is that it still has the original wooden drinking booths, lettered from A to J. In these snugs you'll find gunmetal plates for striking matches, and an antique bell system, very common in Victorian houses, where servants were employed, which alerts bar staff to your liquid needs.
Belfast City Hall
Next on my list of best Instagram spots is Belfast City Hall. It is located in Donegall Square and it is completely free to go inside and the interiors are just as incredible as the exterior with a beautiful exhibition of the history of the city inside.
It is one of the most photographed buildings in Belfast and for good reason. The Baroque Revival structure was built in 1906 from Portland stone and the beautiful green domes are proud symbols of the capital. The interior is particularly opulent with a stunning grand staircase, marble features and a ballroom. The beautiful stained glass windows located throughout the building are a highlight. It is also magical to photograph all lit up at night.
Top tip: Cross the street to Donegall Place shopping street to get a great shot of Belfast City Hall from the front framed by the other buildings.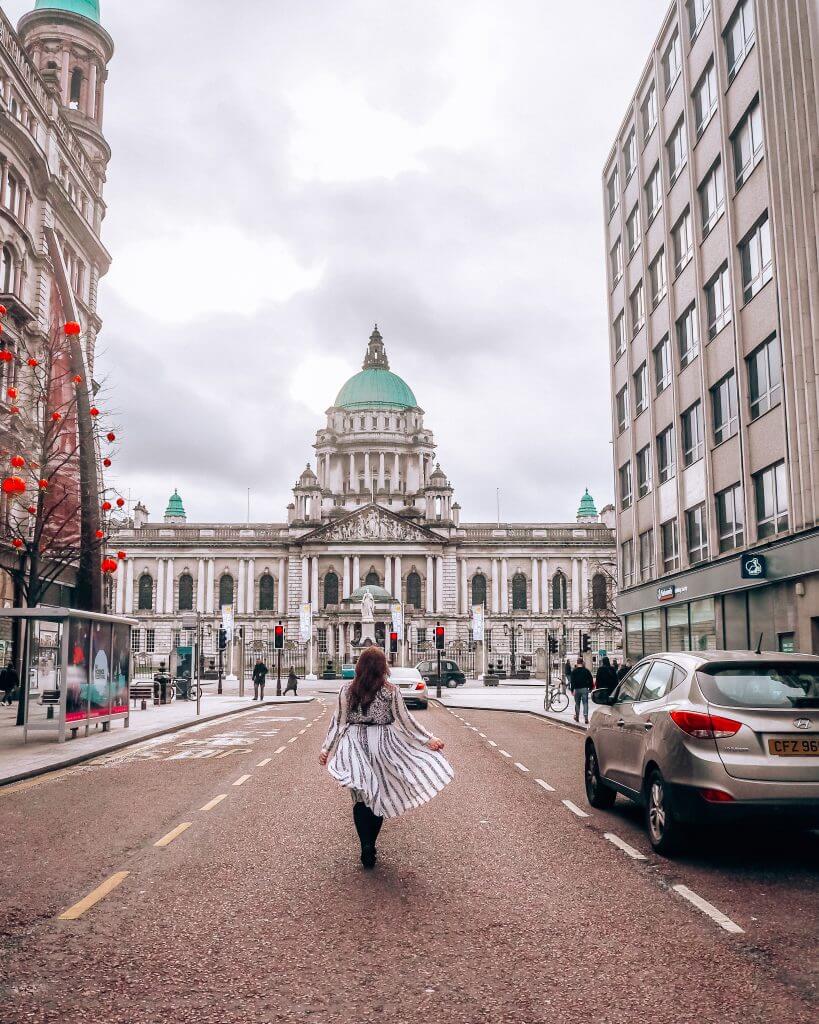 The Courtyard at Bullitt Hotel
The Courtyard at Bullitt Bar and Hotel should be your next stop for some very instaworthy pictures. Here you will find an incredible sculpture made out of Jameson barrels and some picturesque murals lining the entryway.
The bar at Bullitt is one of the coolest places to hang out in the city.
Bittles Bar
Next walk to the iconic Bittles Bar and try not to get distracted by the shopping on the way. Bittles Bar is Belfast's answer to the Flatiron building that is iconic to Manhattan. It was built in 1868 and was originally called the Shakespeare, reflecting its theatrical clientele. Be sure to also checkout my guide on the best Instagram spots in New York if you are visiting.
Today, besides its shape, it is noted for its eclectic range of artwork adorning the triangular lounge. Here you will find portraits celebrating Ireland's literary and sporting heroes including Beckett, Joyce, Yeats, Wilde, Best, Higgins and McGuigan, plus some of Northern Ireland's most famous politicians.
Bittles Bar is located on Musgrave Channel Road near Victoria Square Shopping Centre.
The Chef, Smug One
Finding cool and unusual street art in a city has become one of my favourite things to do and Belfast has some of the best. This astonishing piece of artwork is a giant wall mural in High Street Court in Belfast. It was created by a very talented artist, Smug One, and I can highly recommend a visit to his Instagram.
It is located directly opposite the leaning Albert Memorial Clock tower with the impressive Harland and Wolff cranes just peaking out from behind. This makes for another wonderful photograph opportunity.
Deep Love on Dunbar Street
It is hard to find much history on this mural but it makes for a great Instagram photo. There is something so romantic about this image of a beautiful mermaid in the arms of a deep sea diver. You can find this mural on Dunbar Street near The Cathedral Quarter.
The Cathedral Quarter
The upbeat and hip Cathedral Quarter in Belfast is a cultural area around St. Anne's Cathedral known for its amazing nightlife. St. Annes Cathedral is a Romanesque Church known for its organ recitals and its intriguing spire, which locals hilariously refer to as 'The Rod to God'. Here is where you will find that renowned Irish Craic, atmosphere, bustling bars and contemporary restaurants.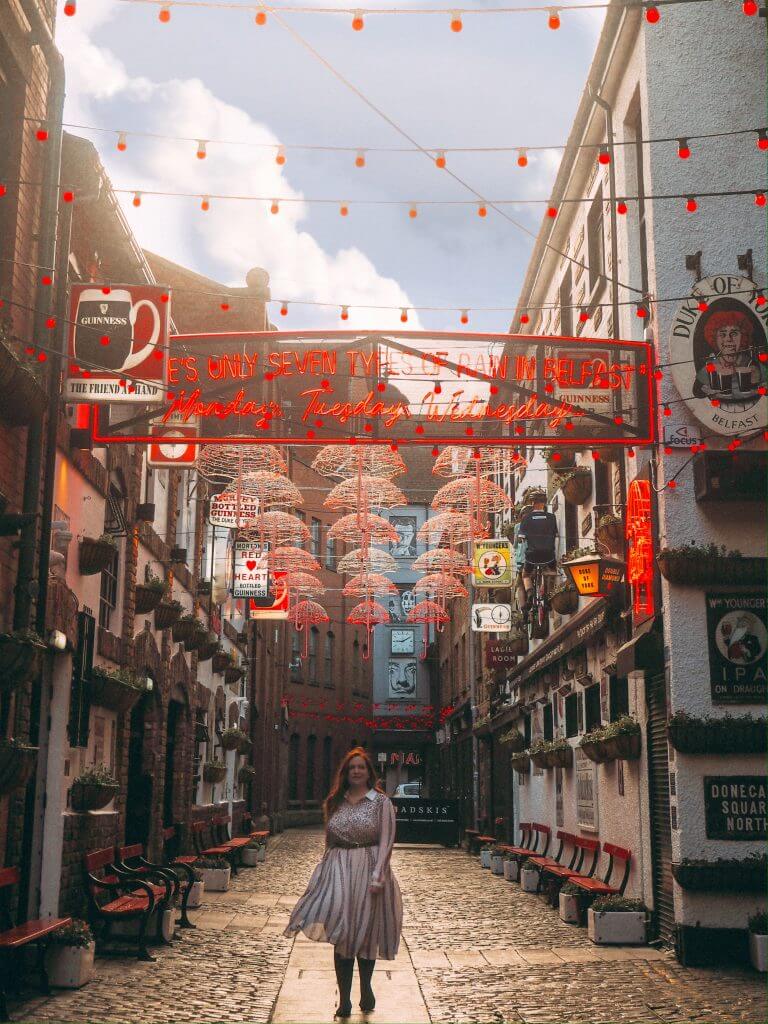 The narrow cobbled streets are a joy to wander and explore and this is without doubt my favourite part of the city. Two of the most popular pubs in the Cathedral Quarter, The Duke of York and Dark Horse face each other down a cobbled alleyway at Commercial Court. It is here that you will find some of the best Instagram spots Belfast has to offer.
To enter this courtyard with the most hilarious and vibrant street art and umbrella sky you will have to buy a drink in the Dark Horse and enter through the rear of the pub but it is totally worth the price of a drink. It's also a good opportunity to rest and take a pit stop.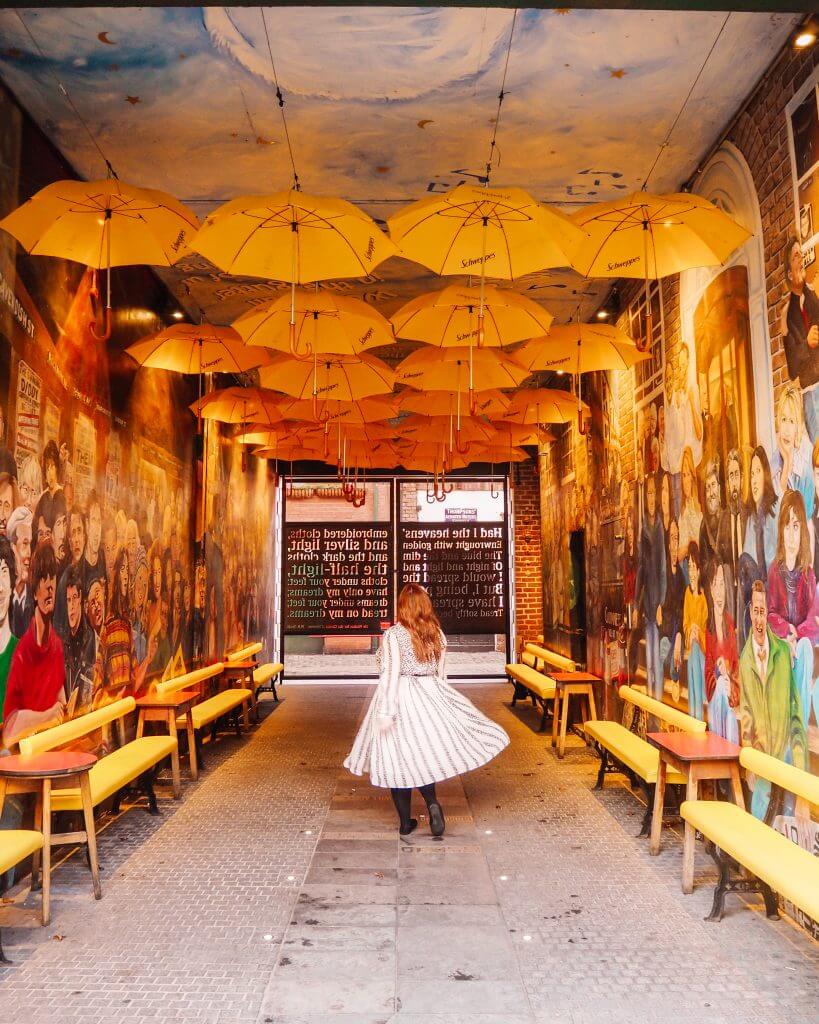 Top Tip: In The Dark Horse Pub you will find one of the Game Of Thrones Doors.
Where to stay in Belfast
Myself and Mister Lavin stayed in The Grand Central Hotel in Belfast's Linen Quarter during our weekend in Belfast and I highly recommend that you base yourself here for your time exploring Belfast.
Standing tall on Bedford Street, this impressive jewel fuses glamour and grandeur with a uniquely Belfast spirit. Driving into the city centre The Grand Central Hotel was a beacon of light with its large Seahorse motif guiding us into the city.
The history of the hotel goes back to 1893 when the original Grand Central Hotel opened on Royal Avenue. It was the brainchild of Downpatrick man John Robb who had intended to build a large central railway terminal similar to Grand Central Station in New York (and perhap's where the hotel's name came from) but who couldn't get permission from the town council. Instead he turned the building into a magnificent hotel with over 200 rooms and suites over five floors.
In 1912 the Grand Central Hotel hosted the launch party of the ill-fated RMS Titanic. It became the social hub of Belfast and was often frequented by a host of statesmen and famous musicians. It soon garnered a reputation as being one of the most impressive hotels in Ireland. The Robb family had to reluctantly give over the hotel during the First World War and it was sadly turned into an army barracks.
After the war the Robb family were faced with the expense of refubishing the hotel and instead chose to sell it to Scotch Whiskey Distiller, John Grant, who refubished the hotel to its former glory and reopened its doors in 1927. It was once again 'the' place to stay in Belfast with many celebrities gracing its doors until the troubles of 1969 finally forced it to close its doors.
In 2018, the legend of The Grand Central Hotel was reborn in a new location with dizzying heights in Belfast's city centre. Located on Bedford Street it is one of Ireland's tallest hotels with 23 floors and 300 tastefully designed bedrooms. First impressions are that it is grand and glam and you will be made to feel like a VIP once you enter its threshold. From concierge valet car parking from the front door to cocktails in the Observatory Bar it is far more than just your average 4 star hotel experience. Here it is 5 star treatment for every guest.
The Grand Central is the seventh hotel in the Hastings Hotels Collection. This new city centre hotel joins the esteemed ranks alongside its neighbour, the legendary Europa Hotel, the magnificent five star Culloden Estate and Spa in Holywood and the contemporary Stormont Hotel in the east of the city. Beyond Belfast, there is the stunning Slieve Donard Resort and Spa, nestled at the foot of the epic Mourne Mountains, next to the world famous Royal County Down Golf Course. Not to mention the luxurious Everglades Hotel in Derry/Londonderry, Northern Ireland's second city. The Ballygally Castle sits proudly on the spectacular Antrim Coast, a historic wonder and the perfect base for a Game of Thrones Tour.
We were staying on the 18th floor with epic views over Belfast city. The room was decorated so stylishly and was the perfect oasis of calm. The bed was a super king-size Cloud Bed, designed by a Northern Irish company and was one of the most comfortable beds I have ever slept in. It really was like sleeping on a cloud.
The bathroom was exquistite! A freestanding feature bath with views over Belfast city and a little Seahorse Rubber Duck greeted us. Bathrooms were supplied with a range of ESPA toiletries. Such simple little touches made us feel so welcome.
As for Instagram spots there are plenty to find in the hotel itself. From the opulent Grand Foyer to dazzling and elegant Grand Café there are plenty of photo opportunities. There are nods to art-deco throughout the hotel that only add to the luxurious feel and that will only benefit your Instagram feed.
The Seahorse Restaurant
Food at The Seahorse Restaurant was simply delicious. The restaurant itself is tastefully designed with a neutral colour palette and hints of art -deco throughout. The high ceilings and sense of space add a sense of drama. It is clear that the chef here is passionate about food and they have entwined the use of locally sourced and seasonal foods perfectly.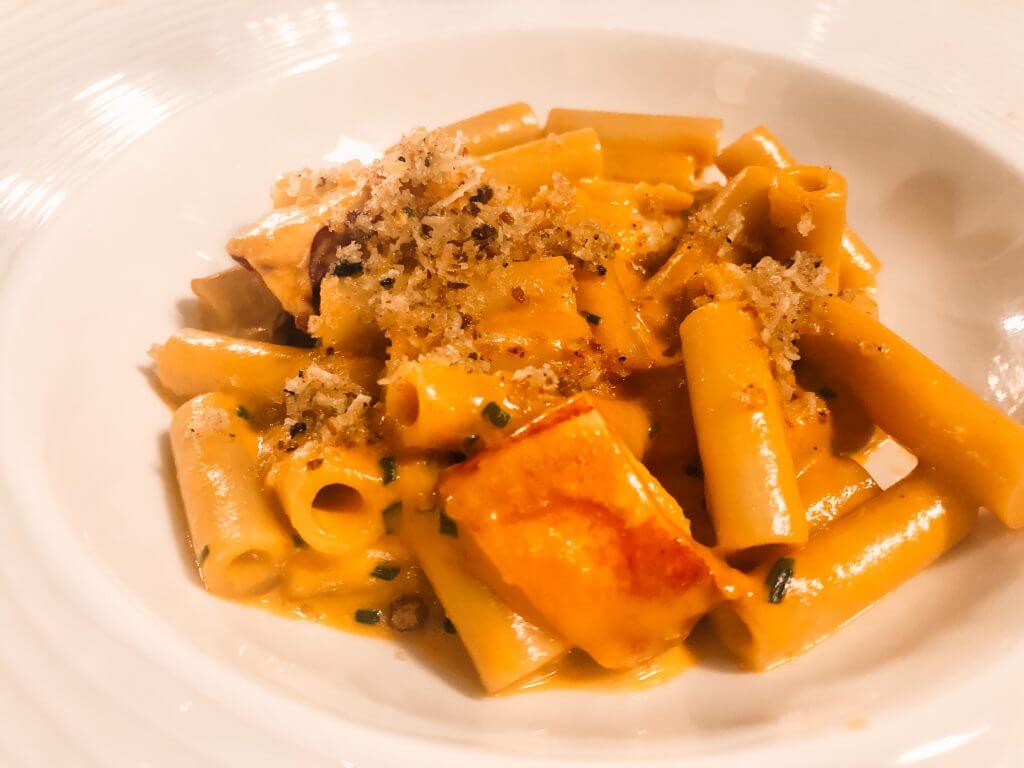 The Observatory
We decided to enjoy an after dinner cocktail in The Observatory on the 23rd floor of the hotel with panoramic views over Belfast City. This really was living the High Life! It is the highest bar in all of Ireland and the decadent decor and relaxing music coming from the piano player made it the most incredible place to relax. Where else in the world can you sit and enjoy the most delicious cocktails with views over the dockyard where The Titanic was built?
Belfast is such a vibrant city with a lively food, drink, art and music scene and I highly recommend that you check it out for yourself!
Map of Best Instagram Spots Belfast
**Disclaimer: Our stay and dinner in Grand Central Hotel was complimentary, but I only ever work with hotels that I am happy to recommend to you guys and Grand Central Hotel is a wonderful and extremely relaxing place to enjoy a weekend break. Staying complimentary allows me to fully experience a resort and create content for you guys to enjoy. All opinions are my own**
Are you new here? Join thousands of other happy readers and subscribe to All about RosaLilla blog via email or Bloglovin'. The good news is that by signing up via email you will get my EXACT email template that I use to successfully pitch hotels for collaborations so that we can work together for mutual benefit.
I also share everything about myself on Instagram with nothing held back so be sure to follow along there.
If you are looking for more Fashion ideas you can follow me on Like To Know It and be sure to check out my #tuesdayten on Instagram and other blog posts here:
Best Instagram spots in Warsaw
How to protect your Instagram account
The best travel hashtags for killer reach
Until next time you crazy kids!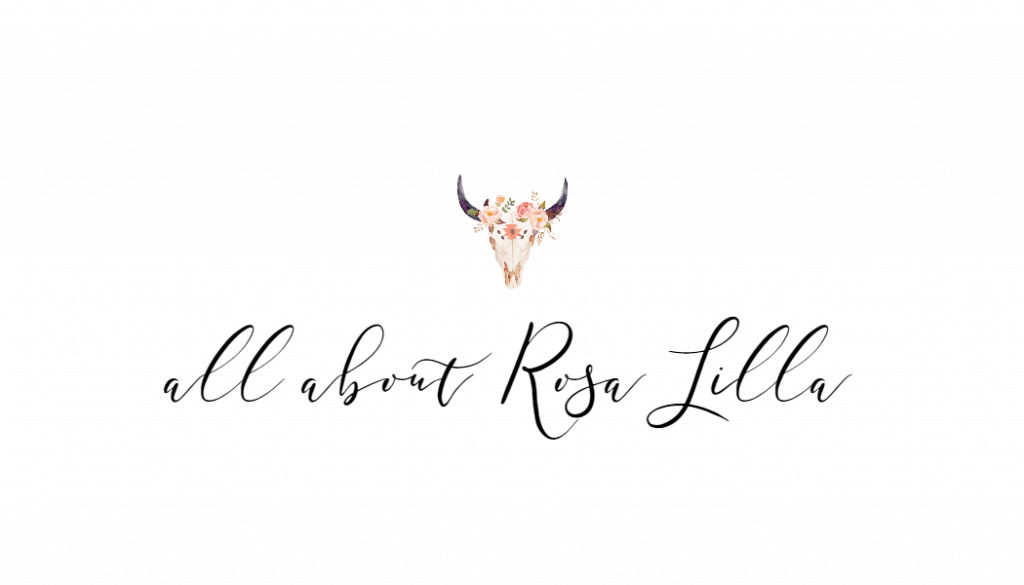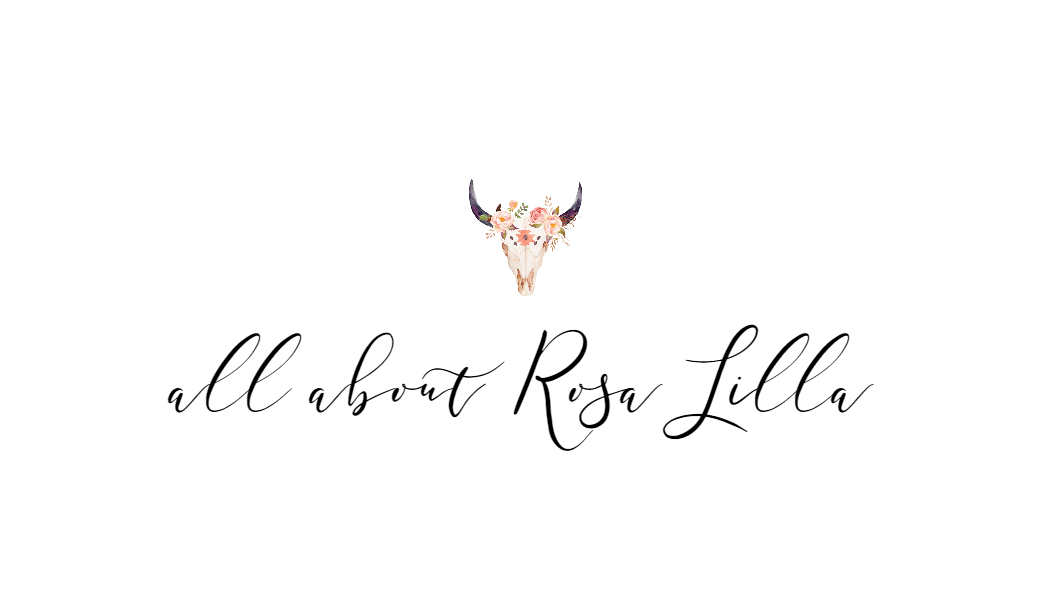 Sharing is sexy!