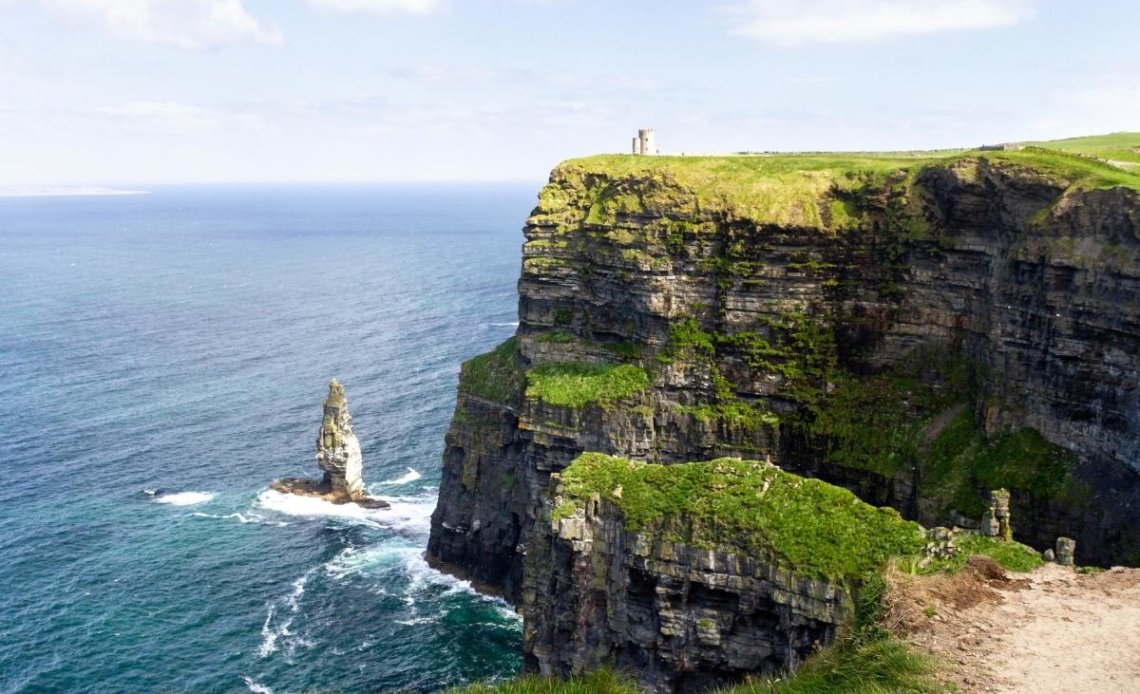 Visit County Clare, Kilkee Cliffs and the Wild Atlantic Way in Ireland
Clare is a county on the west coast of Ireland located along the Wild Atlantic Way coastal route. With a varied terrain ranging from the rolling countryside to the craggy Atlantic coastline and cliffs that would take your breath away, no trip to Ireland is complete without experiencing County Clare. Also known as the Banner County, there are numerous things to see and do in County Clare. The iconic Cliffs of Moher are nearby as are the far more impressive (in my opinion) Kilkee Cliffs and the UNESCO geopark The Burren so you will not be short of things to do in County Clare in Ireland.
From impressive movie screen locations to captivating natural landscapes, County Clare is an oasis of character and charm in the heart of Ireland. I truly think that if you want to feel like you have stepped back in time and experience the real Ireland then Clare is the place. Almost every representation of Ireland as we have seen on screen will have been from County Clare. With iconic towering cliffs, an ancient limestone landscape in the form of The Burren and quaint Irish towns full of character, Clare is a coastal county brimming with charm along the breathtaking Wild Atlantic Way.
What is County Clare famous for?
Kilkee Cliffs
Where are the Kilkee Cliffs?
So we have all heard of the famous and majestic Cliffs of Moher but in my opinion you should skip the €8 entry fee and instead visit Ireland's best kept secret of Kilkee Cliffs. During our weekend in County Clare, myself and Mister Lavin were staying at the stunning Armada Spanish Point Hotel, and it was the very friendly hotel staff there that advised us to visit Kilkee.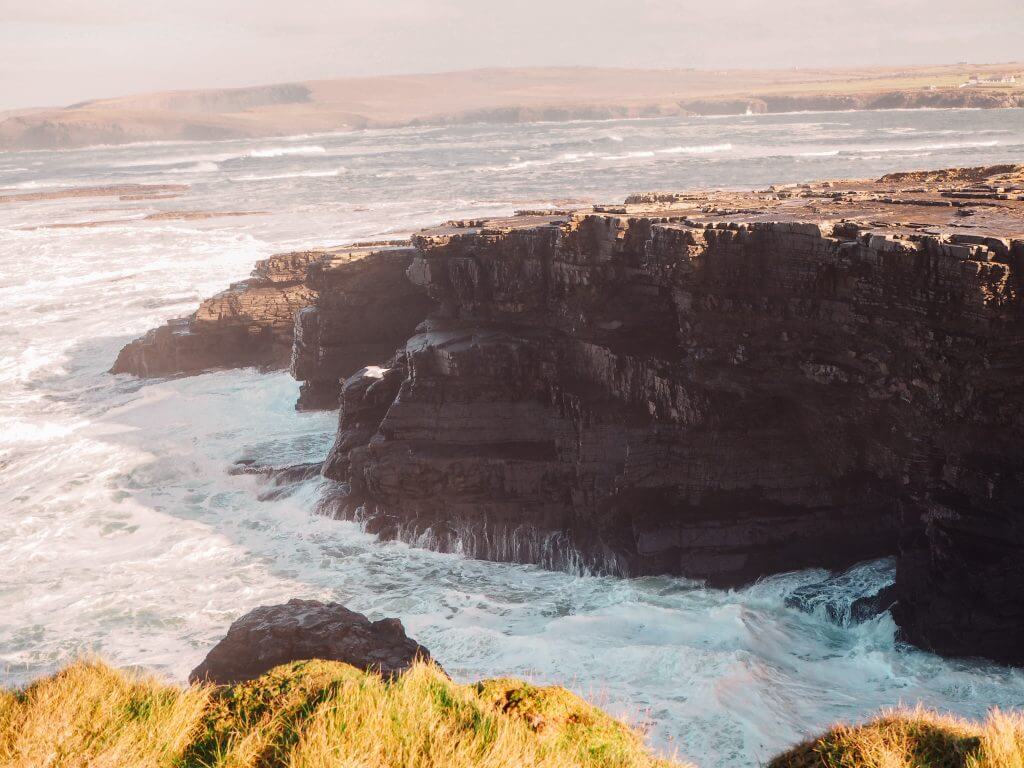 As Instagram has highlighted the many beautiful places in this world to see, it is becoming harder and harder to find unheard of or tourist free destinations with dramatic landscapes that will leave you in awe. Being from Ireland I am so suprised that I had never heard of this place. I too, got sucked into the tourist trap of The Cliffs of Moher being the most impressive cliffs in Ireland and failed to look beyond that to see what else the Irish coastline had to offer.
I had no expectations going to Kilkee Cliffs. I think that I stupidly assumed that if it wasn't drawing a crowd then it couldn't be that great, right? Instead, myself and Mister Lavin stumbled across one of Ireland's best kept secrets and one that I want to tell you all about.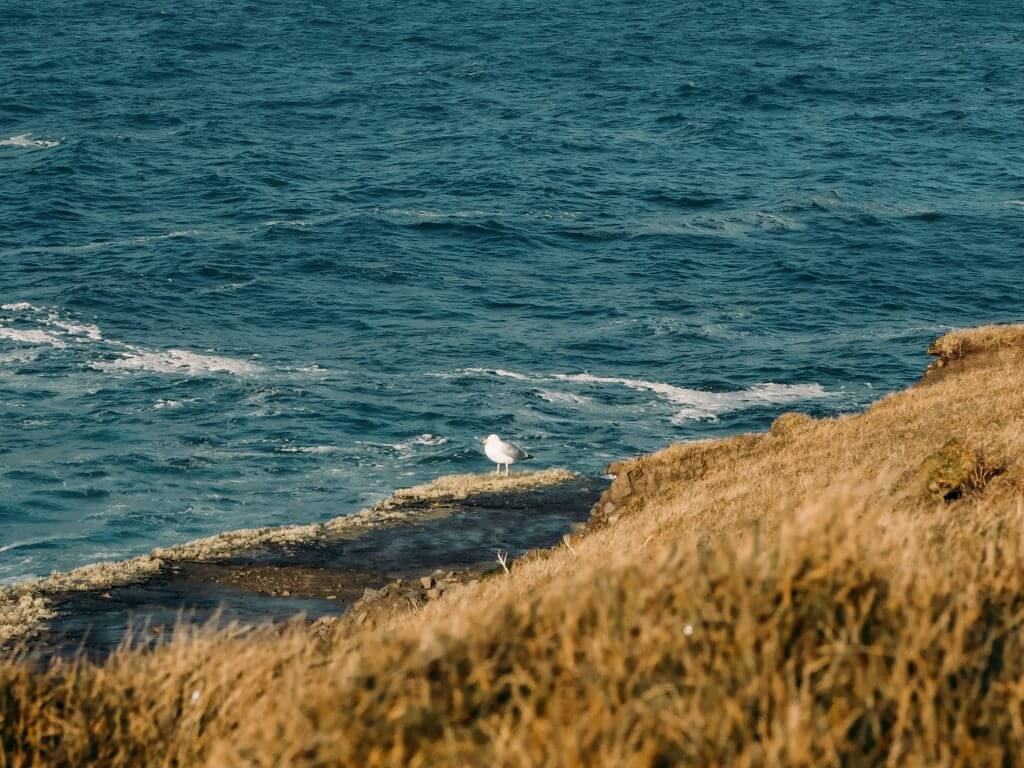 What is Kilkee famous for?
Kilkee town has a small population and the cliffs are a protected environment so that no development can take place along this beautiful coastline. You will find Kilkee on Moore Bay, a beautiful horse-shoe shaped bay, the entrance of which is protected by a stunning reef known as Duggerna Rocks. Since the Victorian era, Kilkee has been a popular tourist destination. The wealthy were drawn to the town's unique climate, natural amenities and coveted bathing areas so it became a popular seaside resort.
Kilkee cliffs give the Cliffs of Moher a run for their money but without the crowds! Standing on the terrifyingly beautiful and dramatic cliff edge as the waves of the wild Atlantic Ocean crashed in was one of the most invigorating experiences of my life.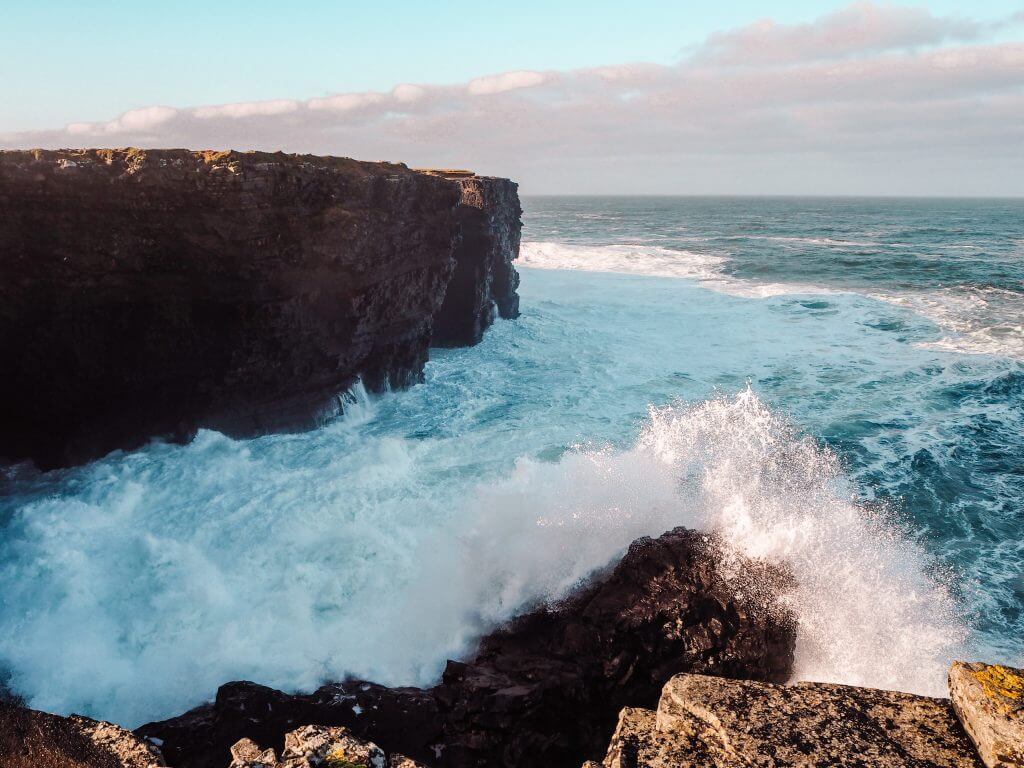 How long is the Kilkee Cliff walk?
The Kilkee Cliff walk is a scenic 2 to 3 hour (8km) moderate loop walk along the Kilkee Cliffs. There are no guard rails or walls like there are at The Cliffs of Moher so you can go as close to the edge as you feel safe. The cliff edge is made of rock so is sturdy but please be safe! No Instagram photo is ever worth risking your life for. There is a parking area at The Diamond Rock Cafe, where the Kilkee Cliff loop walk begins, so put this in your Sat Nav or Google Maps to bring you there. A path or cliff walk runs parrallel to the cliffs and you really don't need to leave this to get the most amazing views. The only people that we met here were locals who regularly do this walk for exercise. If this was my gym I would be there EVERY day!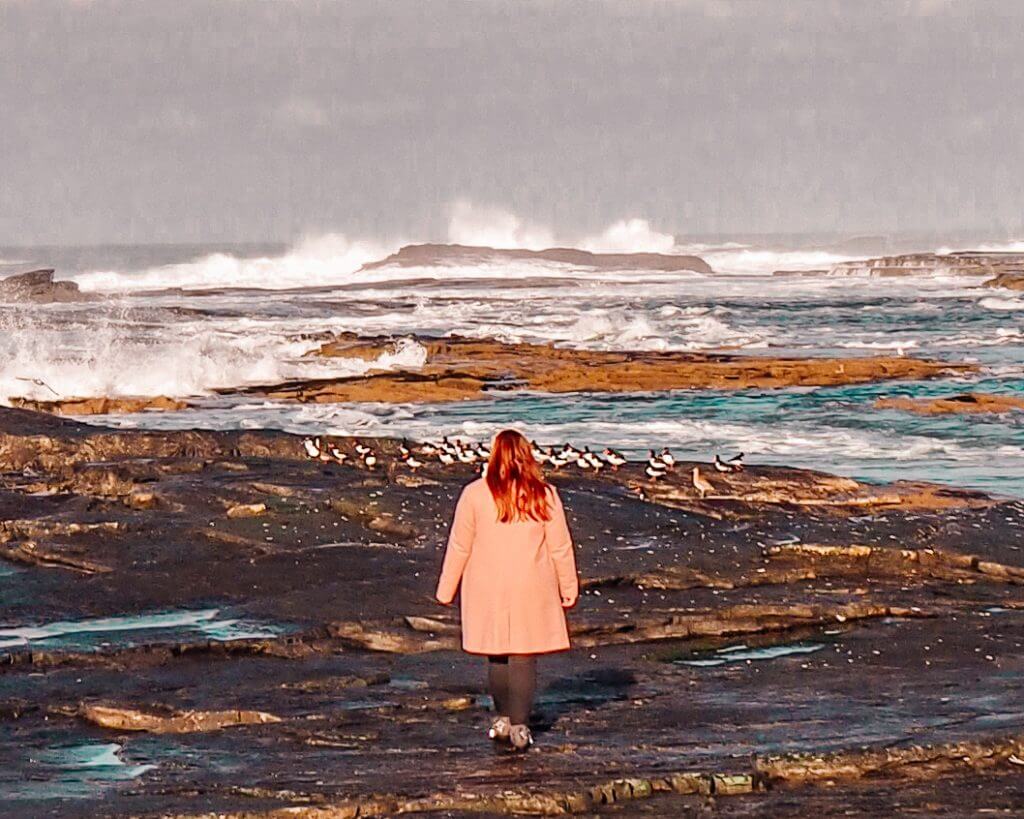 The Burren County Clare
What is the Burren and how was it formed?
You will not visit anywhere more fascinating than The Burren in County Clare Ireland. The landscape of The Burren has been shaped by geological forces for hundreds of millions of years. Ireland is known for its forty shades of green and nowhere is this more evident than the limestone landscape of County Clare.
It is a ruggedly beautiful place with a famously lunar landscape, with cracked grey stone peaking and throughing for acres upon acres. My advice is not to just drive through The Burren but to get out and actually hike the terrain. The landscape is obviously uneven so please make sure that you are wearing appropriate footwear.
With all of that rock you would imagine that it would be a boring place to visit but that couldn't be further from the truth. The Burren is like a large outdoor museum with over 80 tombs, such as the impressive Poulnabrone Dolmen, scattered over the vast terrain. These tombs date from the Mesolithic era right through the Iron Age and there is a fascinating history to be learned from them.
What is the Burren famous for?
There are many historic structures to also visit throughout The Burren such as Tower Houses and over nineteen Christian churches. Tower Houses were strongholds of ruling families in The Burren, namely the 'O'Briens' and the 'O'Loughlins' in the 15th and 16th centuries. There are several great stone forts that functioned as tribal centres of 'túatha' or petty kingdoms to also explore.
One of the most impressive things about the Burren is the unique flora and fauna there, which is why it is a great idea to return to visit The Burren at different seasons. The Burren is home to about 1100 plant species, about three quaters of the total flora of 1400 plant species found in the whole of Ireland.
Best places to visit in County Clare Ireland
The Burren Perfumery
The Burren Perfumery is tucked away in the most picturesque setting. It is a gem of a place tucked away in the depths of The Burren. It is probably best visitied in the Summertime when it is in full bloom. It is a family run business and it is Ireland's first ever perfumery. All scents are inspired by local landscapes. We didn't have time but you can even take a tour to see how the perfumes, candles and lotions are made.
There is also the most beautiful rose-coloured tea room on site where you can enjoy a delicious selection of cakes and tea and the most refreshing Elderflower cordial that you will ever have!
Doonagore Castle
I am a firm believer that you can never see too many castles in your lifetime. Doonagore Castle is a round 16th-century tower house with a small walled enclosure located about 1 km south of the coastal village of Doolin in County Clare, Ireland. Its name may be derived from Dún na Gabhair, meaning "the fort of the rounded hills" or the "fort of the goats". Doonagore Castle is at present a private holiday home, inaccessible to the public but it can be easily photographed from the road.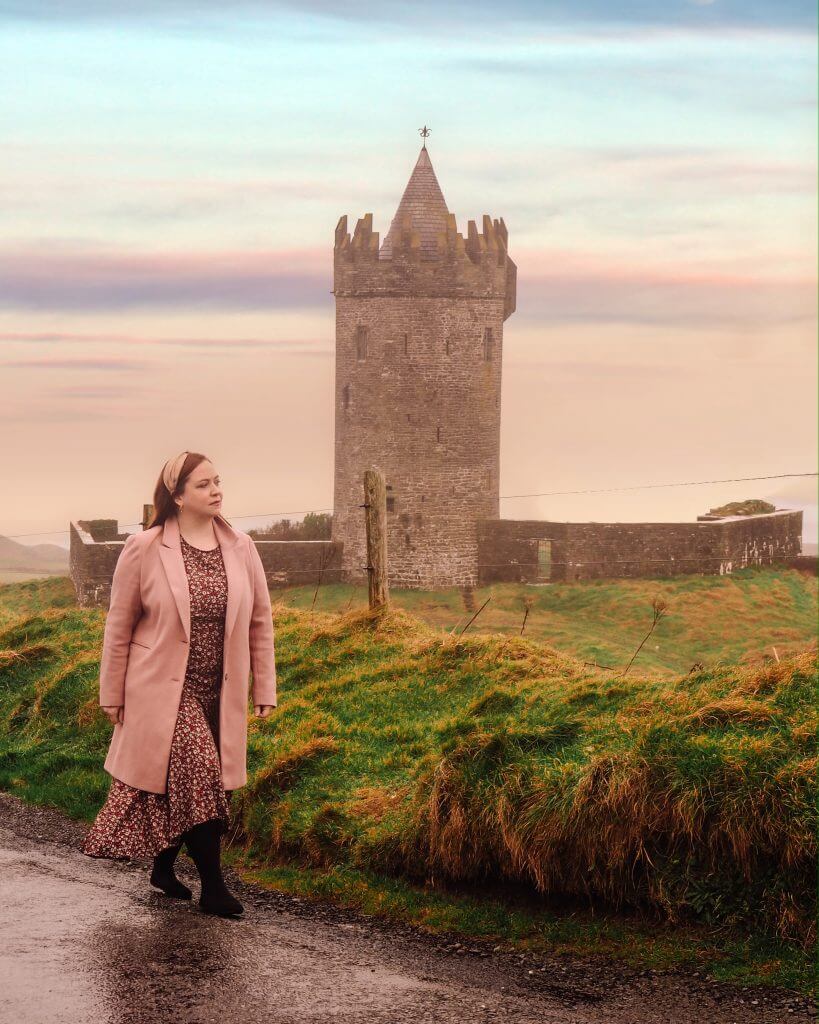 Doolin County Clare
Doolin is quite possibly one of the cutest little villages in Ireland. Doolin is a place of natural and breathtaking beauty. Once a fishing village, it is an excellent base for exploring the Cliffs of Moher, Doolin Cave as well as the Burren and its Atlantic coastline. Doolin is also popular as the departure point for the Aran Islands Ferry, and Cliffs of Moher Cruises. Perhaps most exciting of all is that Doolin represents the heart and soul of Irish traditional music. Indeed, this tiny village is internationally renowned as a centre of live Irish music, played in its many great pubs.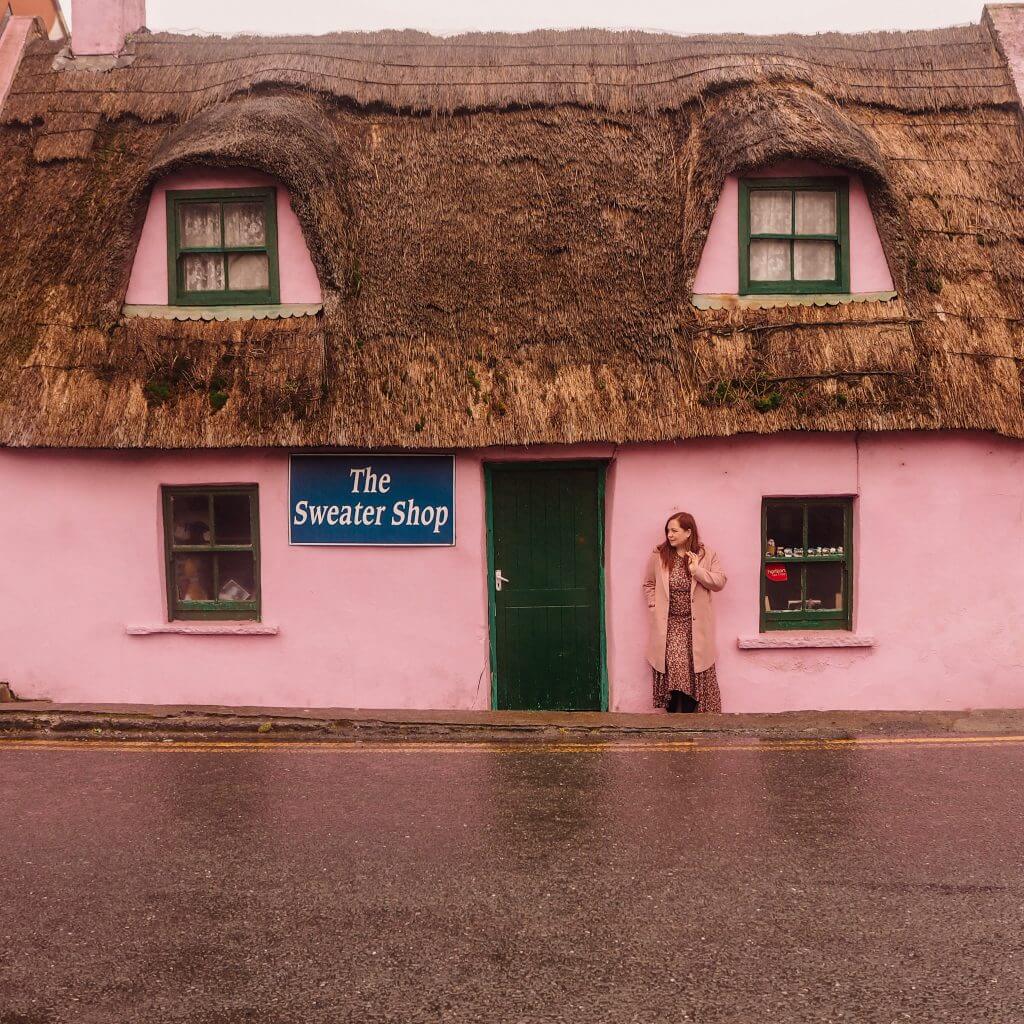 Cliffs of Moher County Clare
Do you have to pay to see the Cliffs of Moher?
It is actually free to visit the Cliffs of Moher in County Clare but you do have to pay for parking which also entitles you to entry into the visitor centre. Prices vary throughout the day, €7 in the early morning, €10 during peak hours and €8 for an evening visit. Although I said to skip the entry fee into the Cliffs of Moher visitor centre for Kilkee Cliffs, if you get a chance to do both, they are still worth a visit.
It is one of Ireland's most popular tourist attractions for a reason, attracting over one million visitors each year. The Cliffs of Moher are approximately 14 km long, and they rise to 214 meters (just above 700ft) at their highest point, just north of O'Brien's Tower. They are an essential part of the Irish landscape.
Was Harry Potter filmed at the Cliffs of Moher?
As the dramatic backdrop for many movies, TV series, music videos and adverts, The Cliffs of Moher have become a recognisable landmark on the big screen. Some of the bigger and more recent movies filmed at the Cliffs of Moher include Harry Potter and the Half-Blood Prince, The Princess Bride, The Yank, Into the West and The Mackintosh Man.
O'Brien's tower, just south of today's visitor centre, was built in 1835 by the local landowner, Cornelius O'Brien. The entrepreneur in him built the tower in response to a visibly growing tourism market. The thinking behind it was that it might benefit the local economy and help to release people from poverty. The idea behind its build was to charge visitors for the even better viewpoint from the top of the tower. However, the sight from the bottom is really just as good, especially on a clear day. But it still adds a nice touch to the area.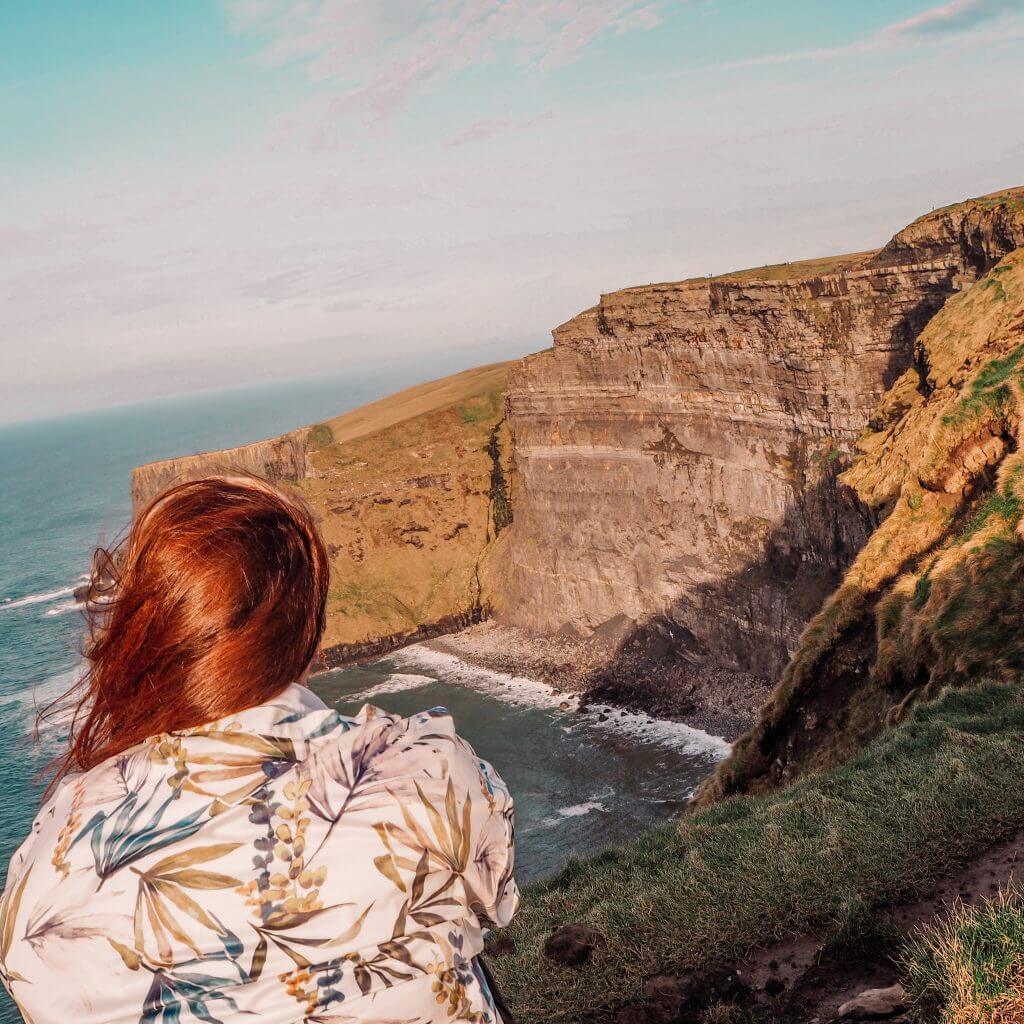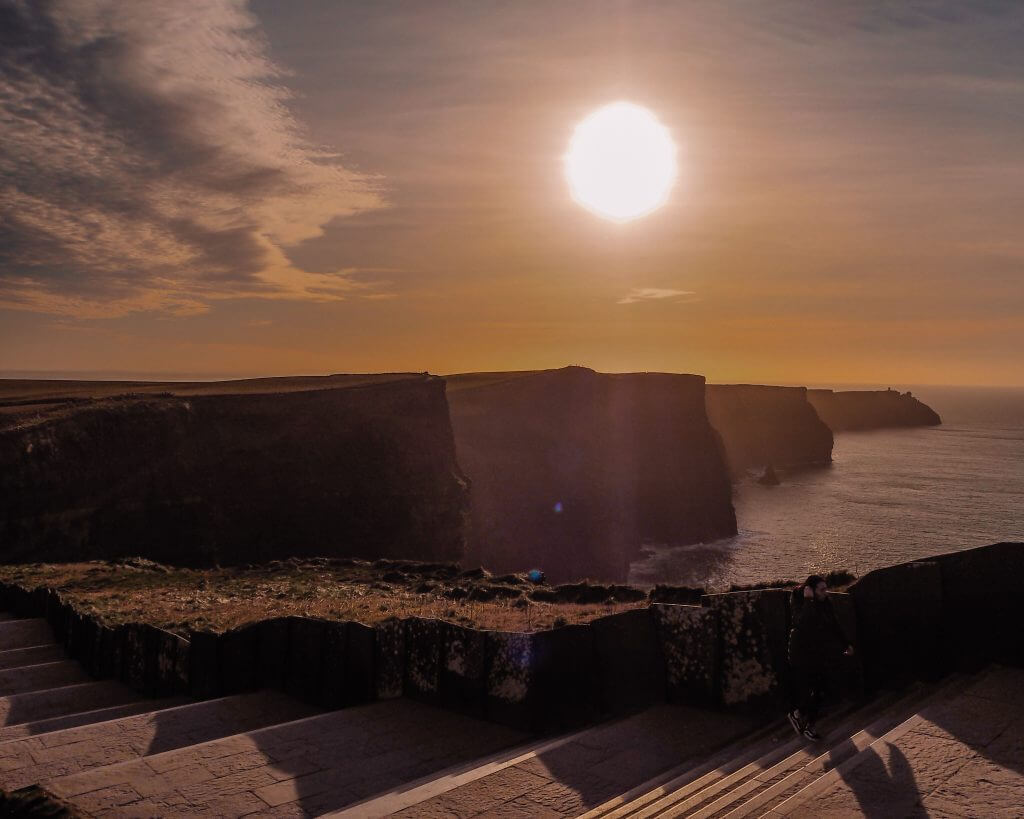 Where to stay in County Clare
Armada Spanish Point Hotel
The Armada Hotel at Spanish Point County Clare is a family run hotel on the West Coast of Ireland and it is the perfect place for experiencing the breathtaking Wild Atlantic Way. Spanish Point epitomises what the Wild Atlantic Way is all about, vast skies over breathtaking Atlantic views and salt breezes whipping up an appetite. You will have everything from dramatic coastlines to rolling countryside and cosy pubs all on your doorstep.
The sense of family here is strong. In 1968 the current owner's father, Johnny bought an old shebeen on a site that had the remnants of a spa resort built in 1808 for the British gentry. He was determined to make it into a family run hotel some day. Things progressed over the years with his son John J. Burke studying hotel management and taking over running of the hotel in 2001. So much money was invested into refurbishing the hotel and the transformation is amazing with many more things, such as a spa, to come.
We were made so welcome at this hotel and there was a real homely feel here. The interiors of the hotel are just gorgeous with a fresh beachy, seaside vibe. There is just an overwhelming sense of relaxation here and it is the perfect place to snuggle up in after a day exploring what County Clare has to offer. Their interiors have been chosen to bring the outside in, reflecting the colours and energy of the hotel's natural surroundings, from the Abigail Edward's seascape wallpaper, the Irish handwoven tweed blankets draped over each guest bed, specially commissioned pieces of Kevin Lowery art featuring some of the most popular surfing waves, to handpicked locally harvested seaweeds used in their beautiful Handmade Soap Company products supplied in every guest room.
We were lucky enough to be staying in one of the hotel's amazing suites. If you ever get the chance I highly recommend booking one of their Seascape Suites with floor to ceiling 180 degree panoramic views of the Atlantic Ocean. I cannot even begin to tell you how good this place is for the soul. After spending only five minutes looking out over the rolling waves as the sun was setting I could feel my batteries instantly recharging.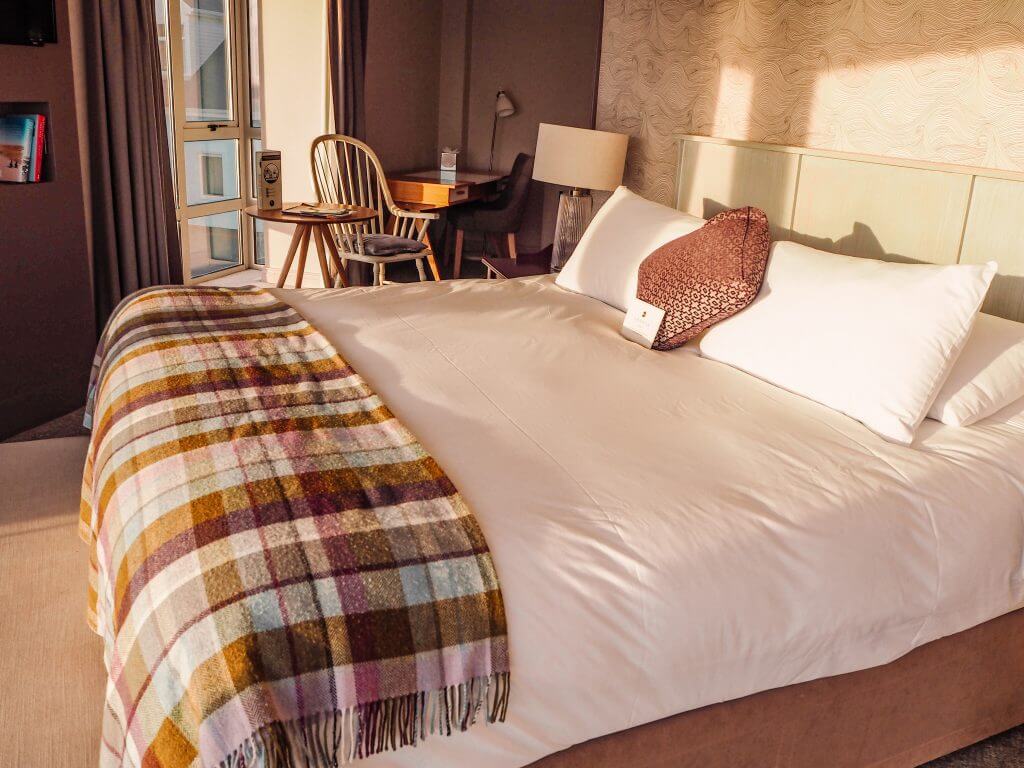 There is a feature roll top bath in the room to enjoy your very own seaweed bath (everything is provided), as well as a retro record player and your very own in-room library. The bed is a very comfortable Super King Respa Bed and getting to lie there just watching the crashing waves was magical. The bathroom is stocked with luxurious Handmade Soap Company toiletries.
You don't even need to leave the comfort of your hotel to enjoy the quintessential charm of an old man's pub as Johnny Burke's pub has it all. Johnny Burke's is as snug and cosy as it gets and where the hotel's origins began all those years ago. If only walls could talk! It is the perfect place to relax after exploring the blustery Kilkee Cliffs by having a fireside drink to warm up. Be sure to try the tasty chicken wings or Seafood Chowder and some of their very own Doolin Beer or the delicious Mist & Moss Gin that they produce themselves.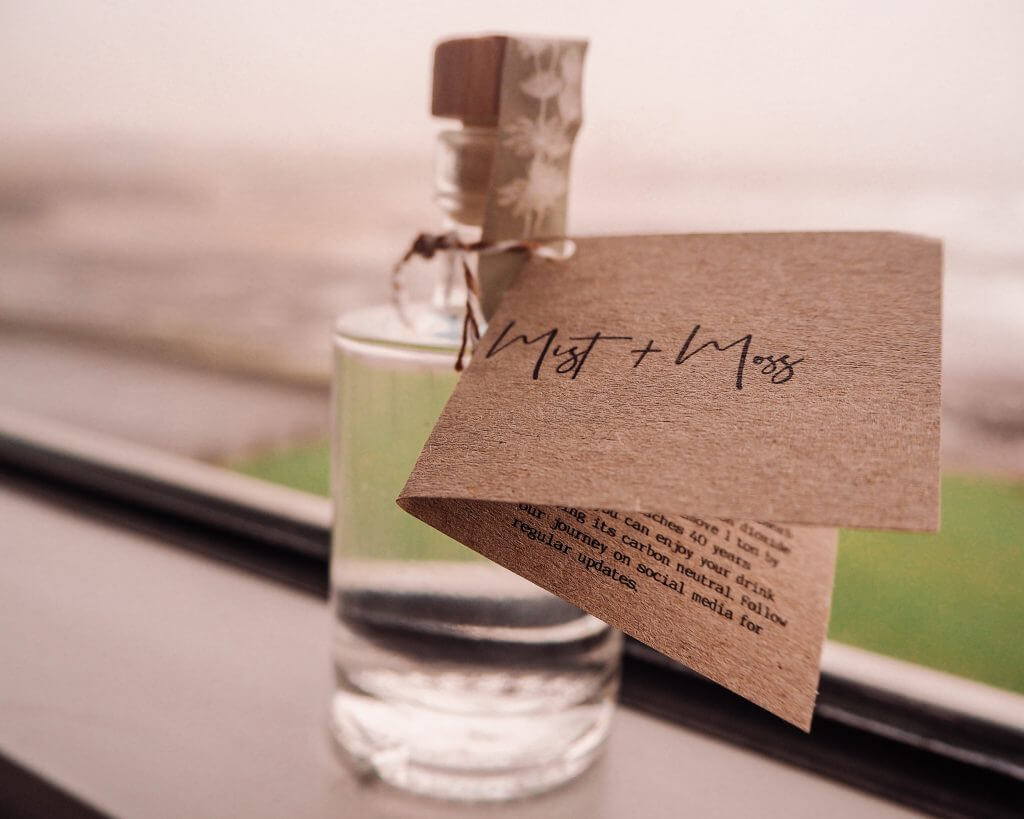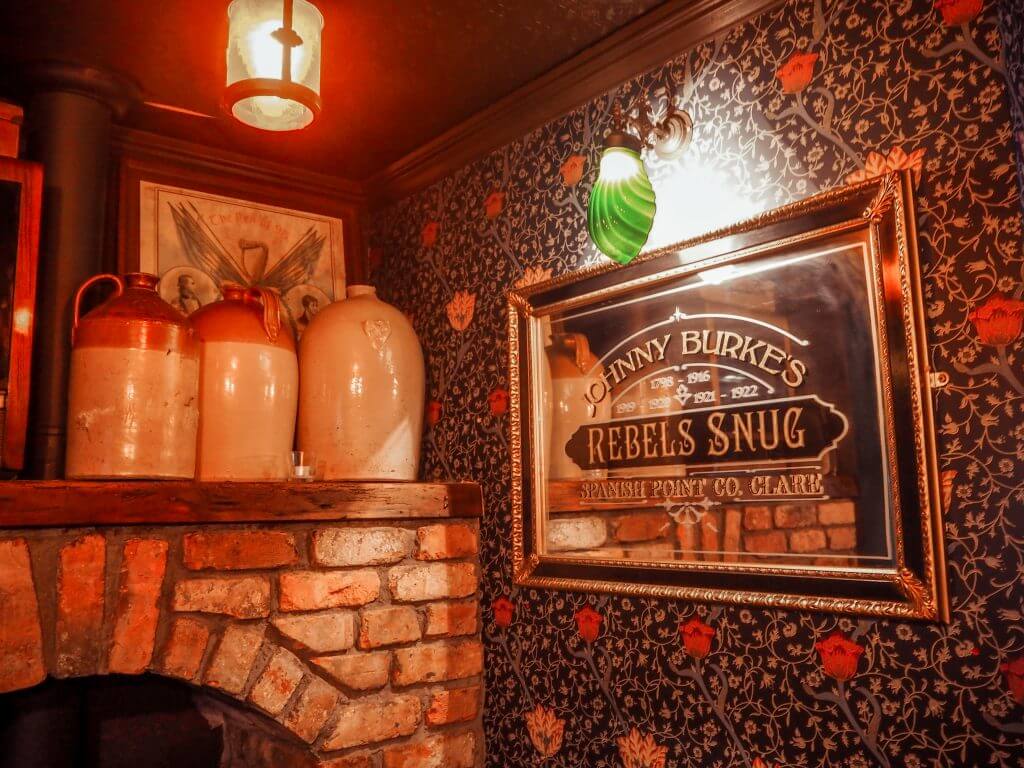 Food at The Armada is delicious and you can choose from the more formal setting of Pearl Restaurant with seaside views, the slightly less formal and beautifully designed Ocean Bar & Bistro with it's very own Ice-cream counter or stay cosy and order food at Johnny Burke's Pub. With locally sourced produce and even their own Armada Farm you will be spoilt for choice.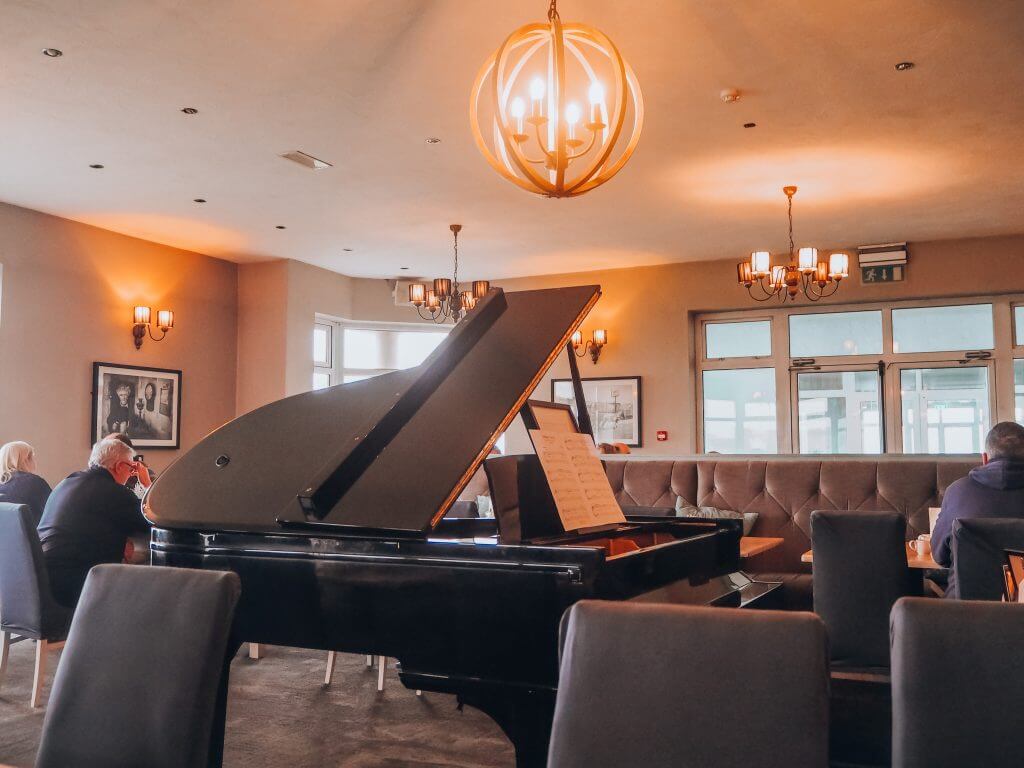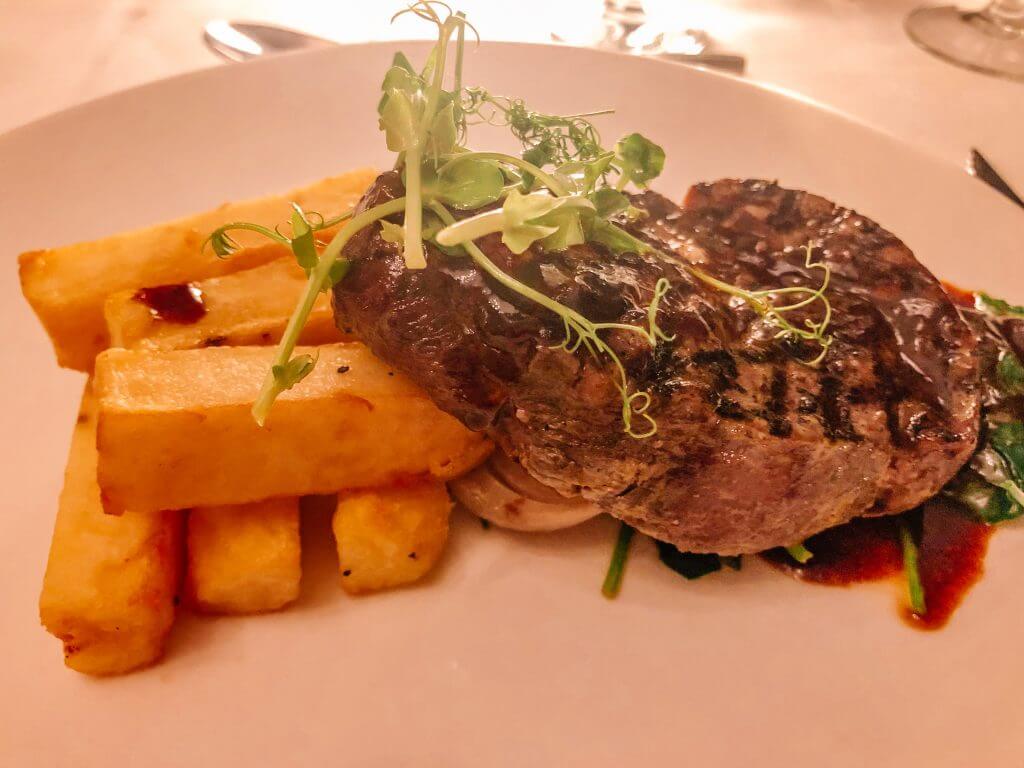 Insider Tip: Head straight to Reception and say the word Surprise for a special treat.
We had such a wonderful stay at Armada Spanish Point Hotel and left feeling like we had completely recharged our batteries. It is so important for me after finally recovering from my Lyme Disease to take time to just be present in the moment and be grateful for how far I have come and this was the perfect place for reflection. The location is just spectactular and it is impossible not to feel totally rejuvented by spending some time near the ocean.
**Disclaimer: My stay and dinner in Armada Spanish Point Hotel was complimentary, but I only ever work with hotels that I am happy to recommend to you guys and Armada is a wonderful and extremely relaxing place to enjoy a weekend break. Staying complimentary allows me to fully experience a resort and create content for you guys to enjoy. All opinions are my own**
Are you new here? Join thousands of other happy readers and subscribe to All about RosaLilla blog via email. The good news is that by signing up via email you will get exclusive travel deals straight to your inbox. The only other place that we publish these deals is on Instagram stories, so be sure to signup to get the heads up on amazing travel deals to save you money when booking.
I also share everything about myself on Instagram with nothing held back so be sure to follow along there.
If you are looking for more Fashion ideas you can follow me on Like To Know It and be sure to check out my #tuesdayten on Instagram and other blog posts here:
Kilkenny. A perfect weekend getaway in Ireland.
Spending a weekend at Lough Erne Resort, Northern Ireland.
Why Vilnius should be your next city break
Until next time you crazy kids!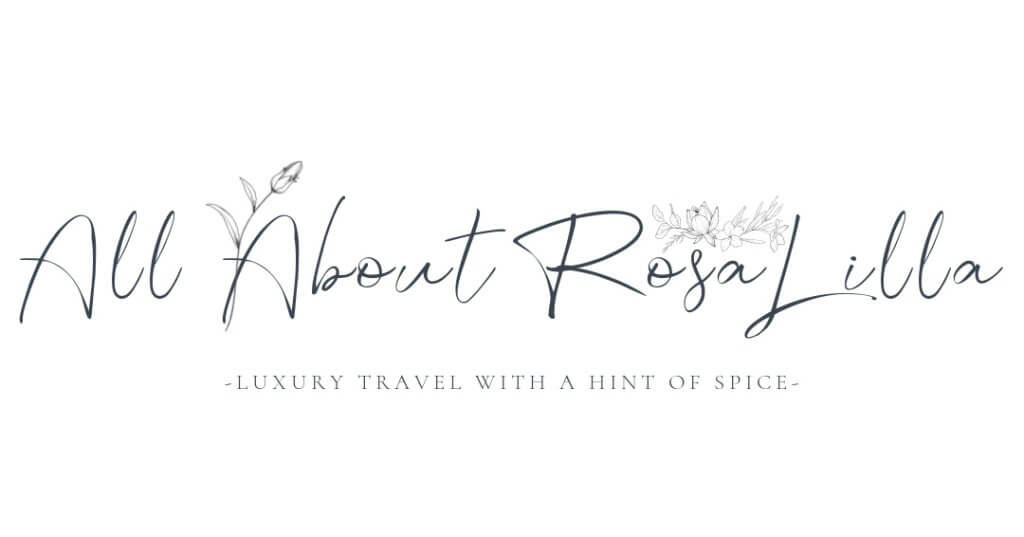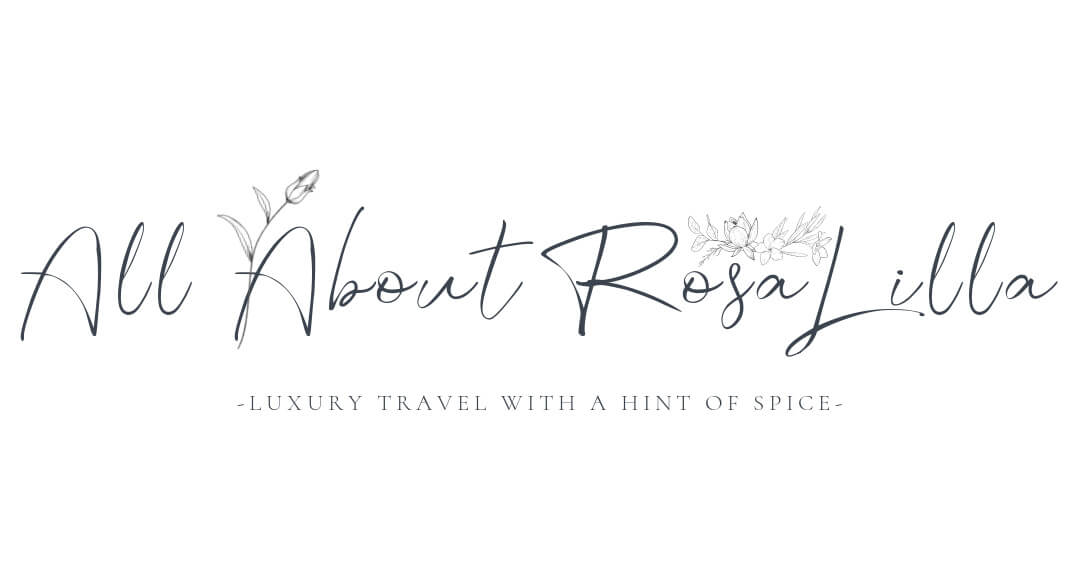 Sharing is sexy!