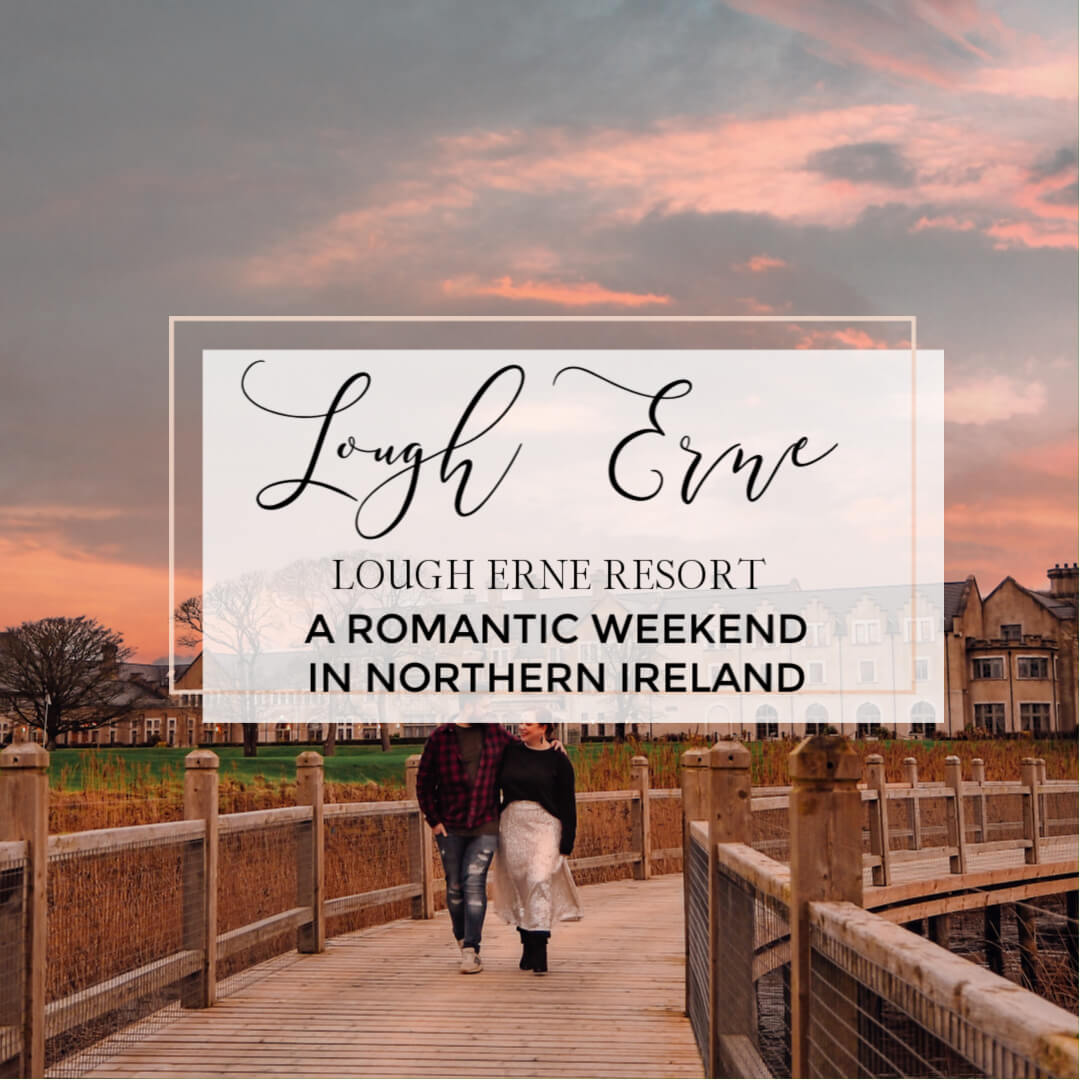 Lough Erne Resort Fermanagh
Lough Erne Golf Resort is truly one of those places that just takes your breath away. Lough Erne Resort is a luxurious 5-Star hotel in Enniskillen, the gateway to North West Ireland. Nestled on a 600 acre peninsula with stunning views of the Fermanagh lakelands, and the spectacular Faldo Golf Course, it is clear to see why Lough Erne Resort is renowned as one of the finest 5-Star hotels in Northern Ireland. It is evident why it won Hotel of the Year award in 2017 Northern Ireland Tourism Awards and it truly deserves this accolade.
The inspiration for Lough Erne Golf Resort in Fermanagh originated from a trip by the original owner and his wife to Loch Lomond in Scotland, where the beautiful setting reminded them of the equally beautiful setting around Lough Erne. It was the perfect location for this luxurious resort.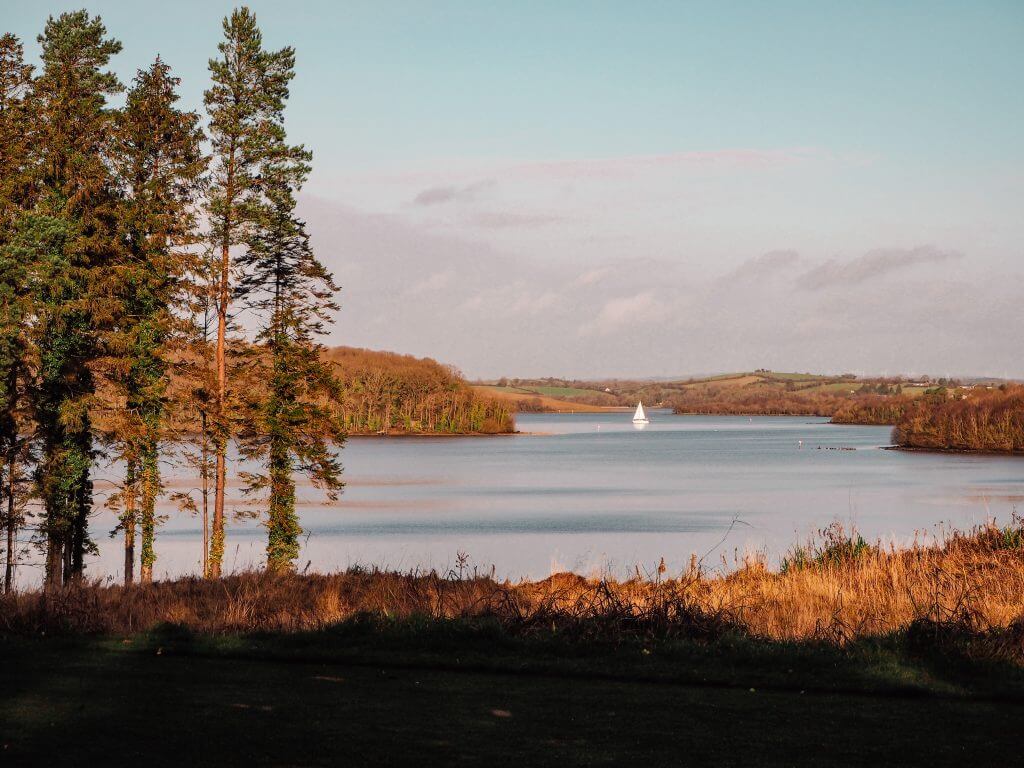 Myself and Mister Lavin were invited to stay at Lough Erne Resort and enjoy a round of golf there. I don't need to tell you twice how happy Mister Lavin was about this. The golf course at Lough Erne Resort is renowned as being one of the best and it was designed by Nick Faldo. I had never been to Fermanagh before and I had heard amazing things about the resort so I was excited to explore.
Arriving at Lough Erne Resort
The drive up to Lough Erne Resort is spectacular. You get the feeling that you are driving onto your own personal island as you pass not one but two golf courses. The magnificent lodges of the Golf Village line the road as you drive past and overlooking the resort from a hill is a beautiful Dove Cote.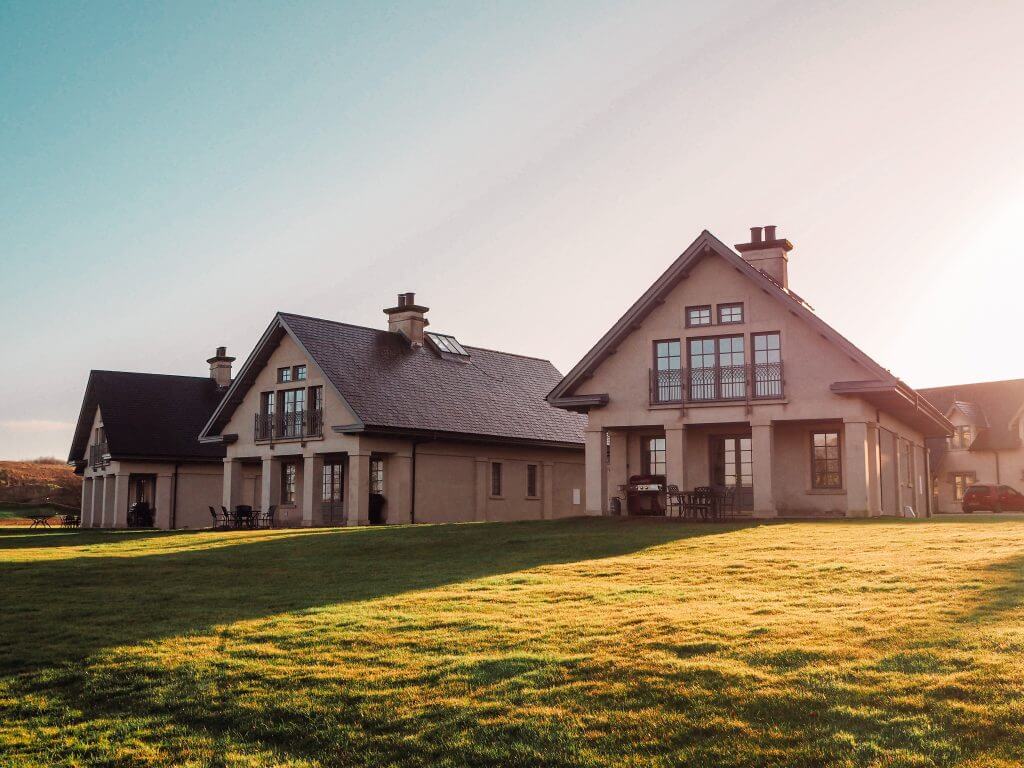 We were greeted at the doorway of the hotel with a warm welcome from the hotel staff and guided towards reception for check-in. Check-in was a breeze and the reception staff were so friendly. I even overheard them upgrade the young family checking in before us to a suite so that they would have more room for their children. You don't often get such consideration from a hotel.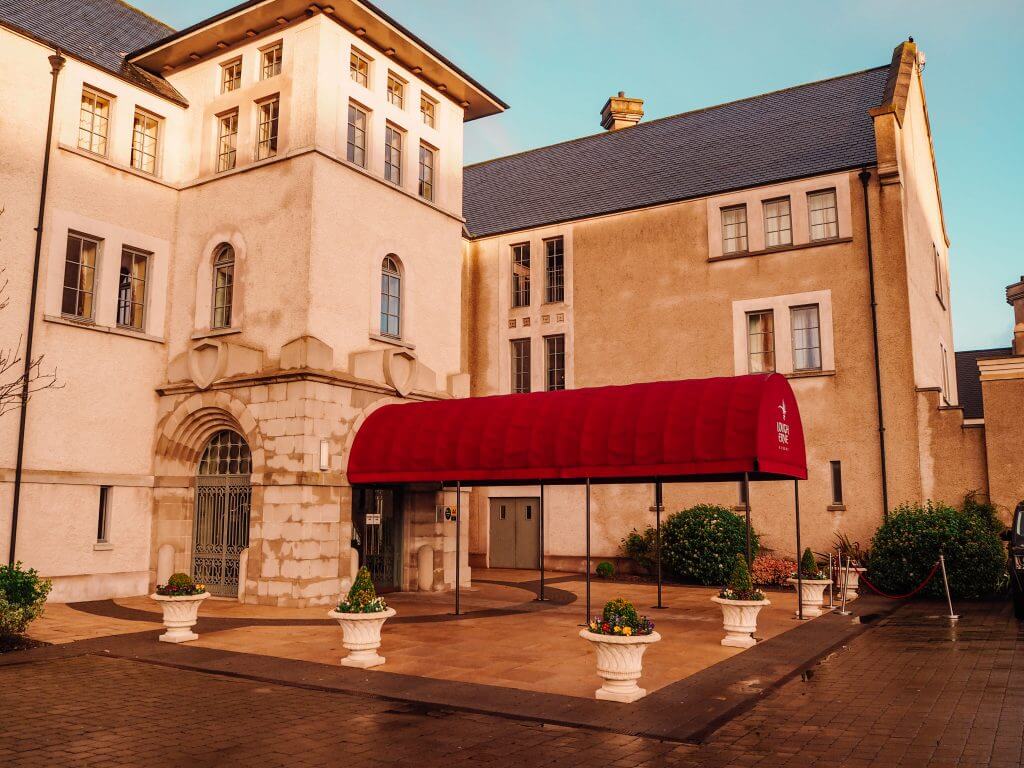 We were delighted to be told that our room was The Dovecote Suite with panoramic views of the lake. The concierge helped us to our room with our bags. First impressions of the hotel was that is was like a large country manor house with open roaring fires warming up a very cold and blustery January Day. There was an emphasis on texture and warmth amongst the soft furnishings to invite an atmosphere of relaxation and luxury for the guests to enjoy.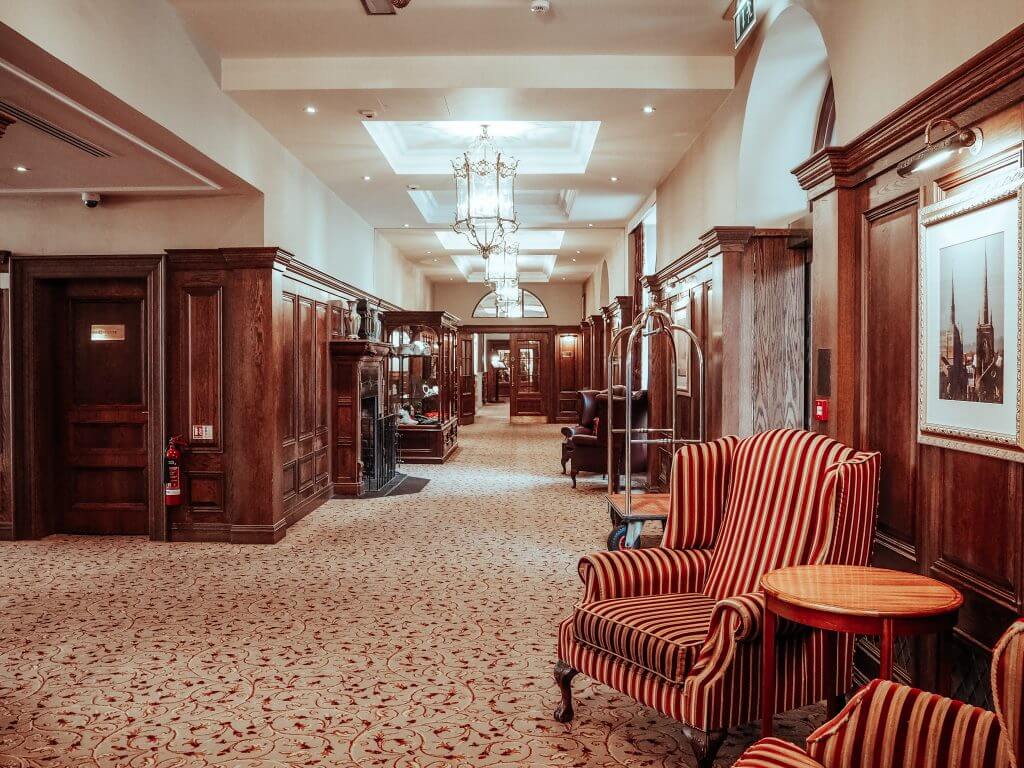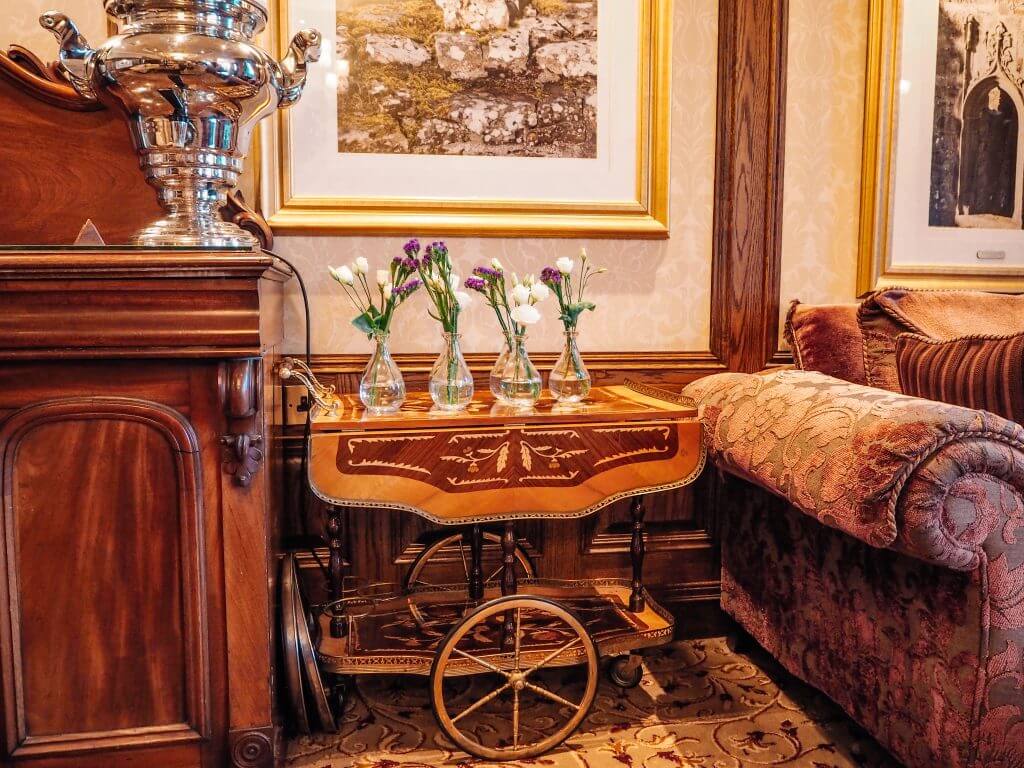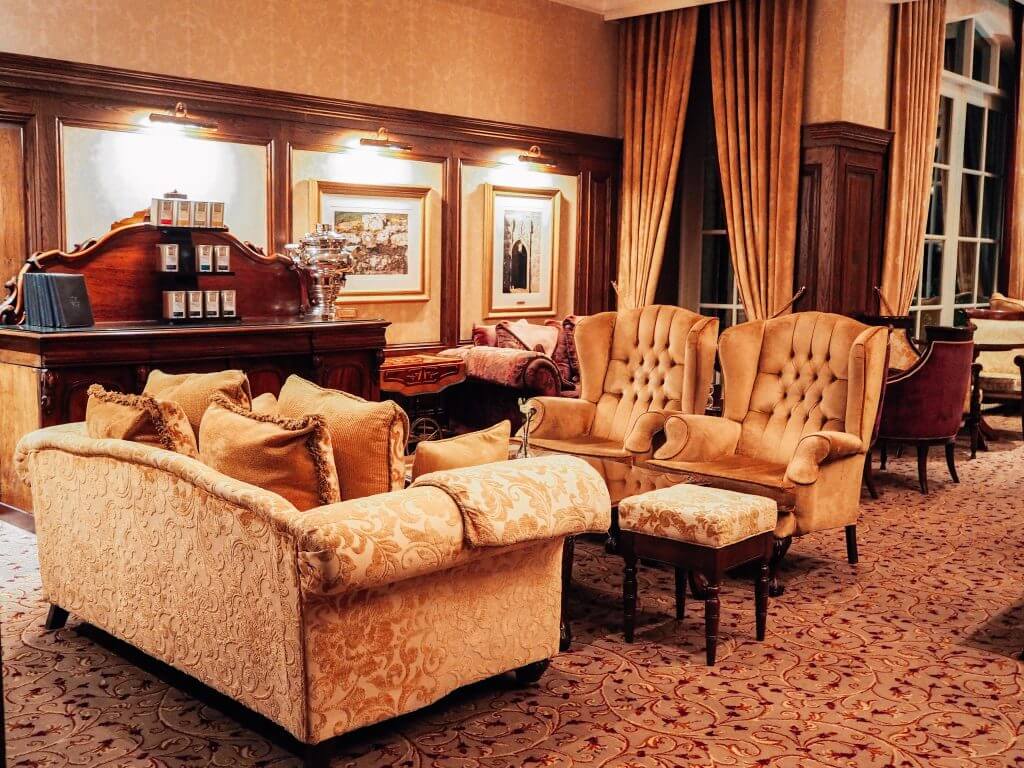 In addition to the Hotel accommodation there are 25 Turret style lodges surrounding the area of the main hotel. These lodges are individually named after islands on lower Lough Erne and I can only imagine how tranquil it would be to stay in one of them with the added privacy of being separate to the main hotel building. They would make the ideal accommodation for a family trip and something I hope to experience with my own extended family someday.
The Dovecote Suite at Lough Erne Resort
So on to our room. As I previously mentioned, at check-in we learned that we were staying in The Dovecote Suite but I was not fully prepared for just how luxurious this room was. The room was so romantic with breathtaking views over Castle Hume Lough, The Faldo Course and the Fermanagh countryside.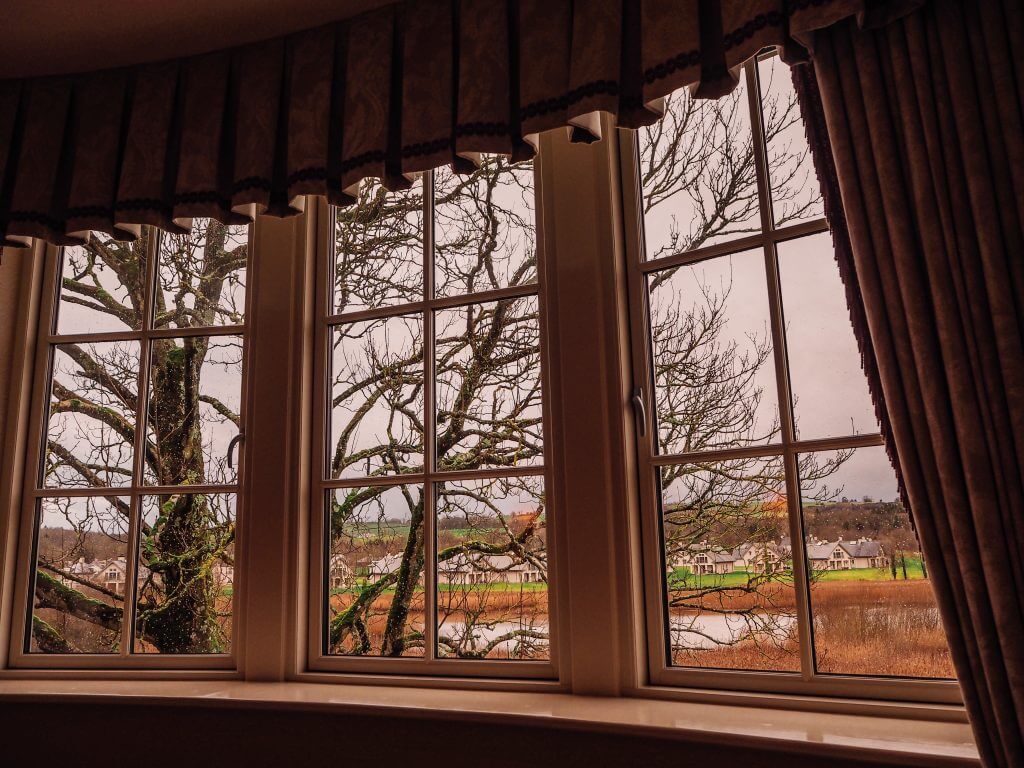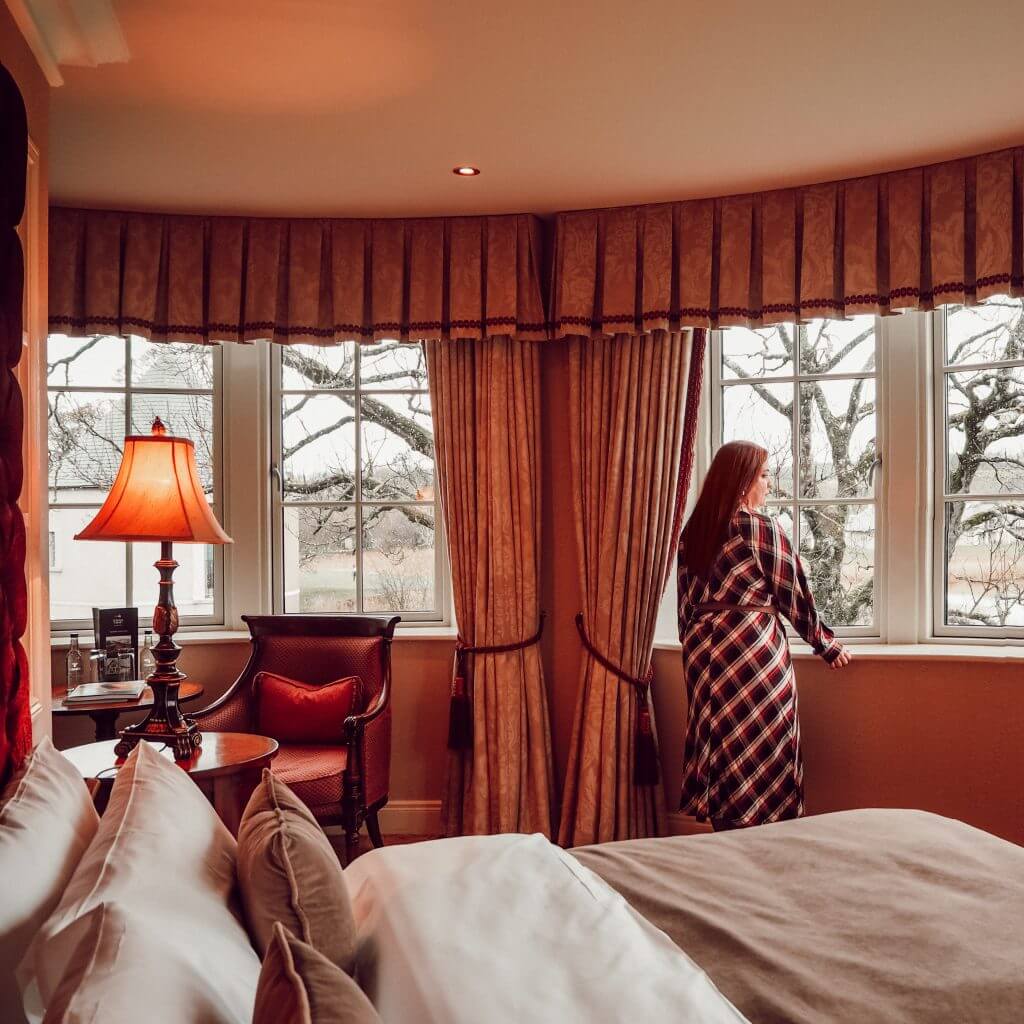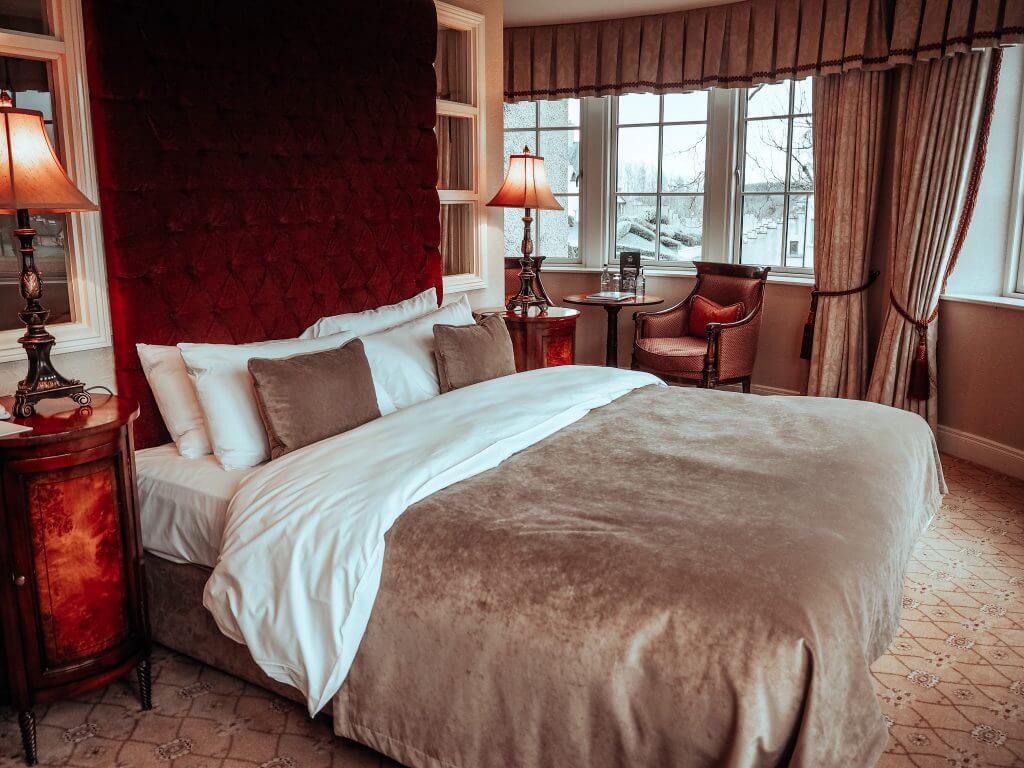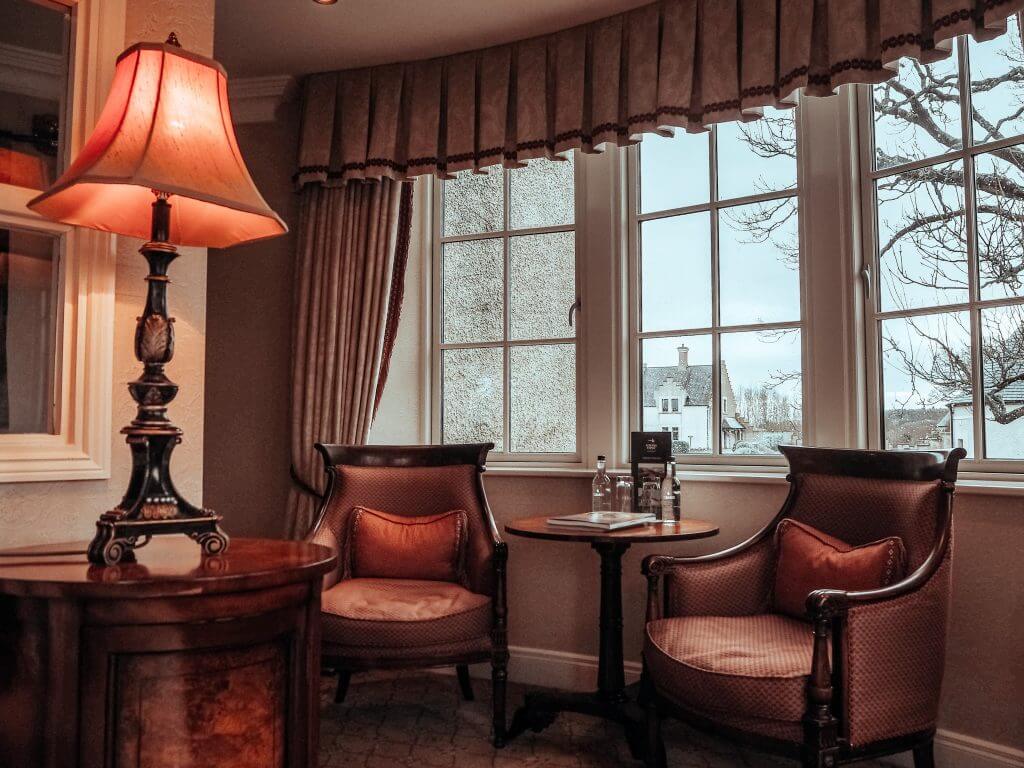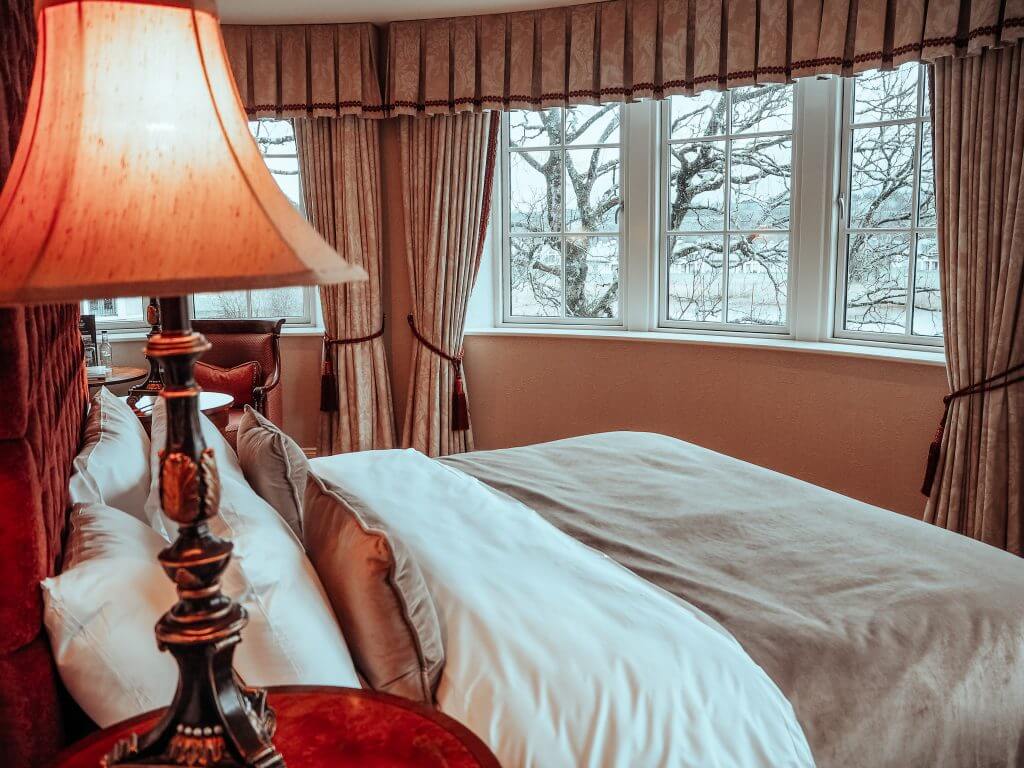 The room was incredibly spacious and was designed with warm and sumptuous colours and fabrics. It felt luxurious with a separate seating area to watch television and a very large bathroom that boasted a double Jacuzzi. A unique feature of the room was that it was circular in shape which meant that you had panoramic views to enjoy from the comfort of your large double bed, dressed with, luxury Egyptian cotton bed linen.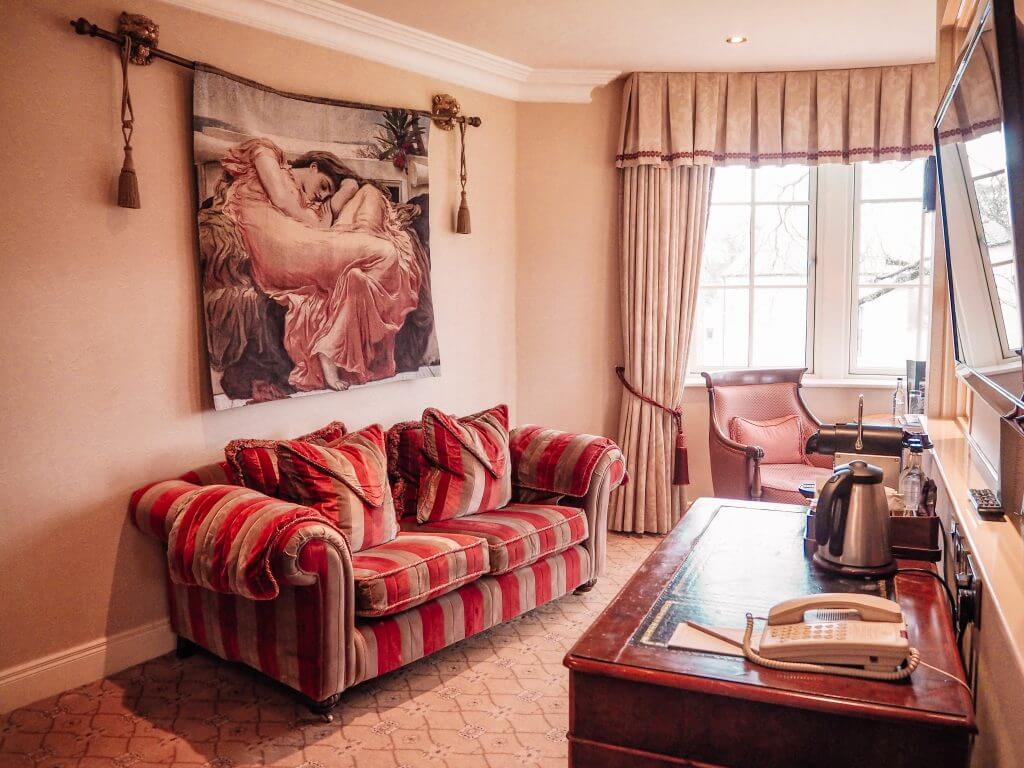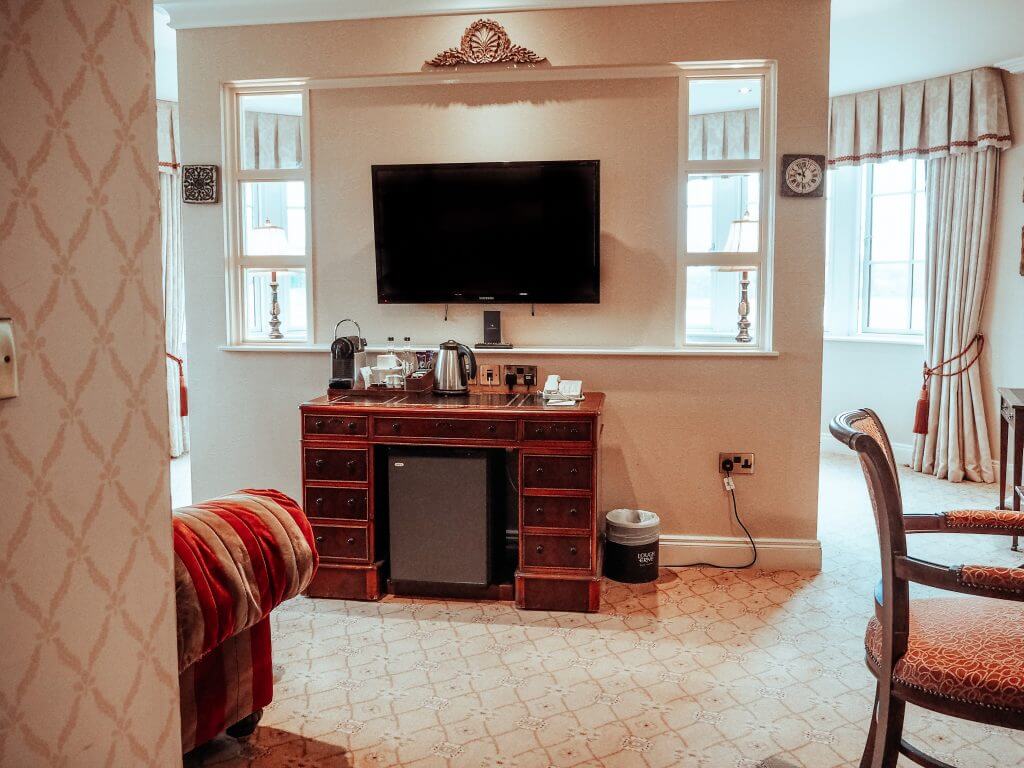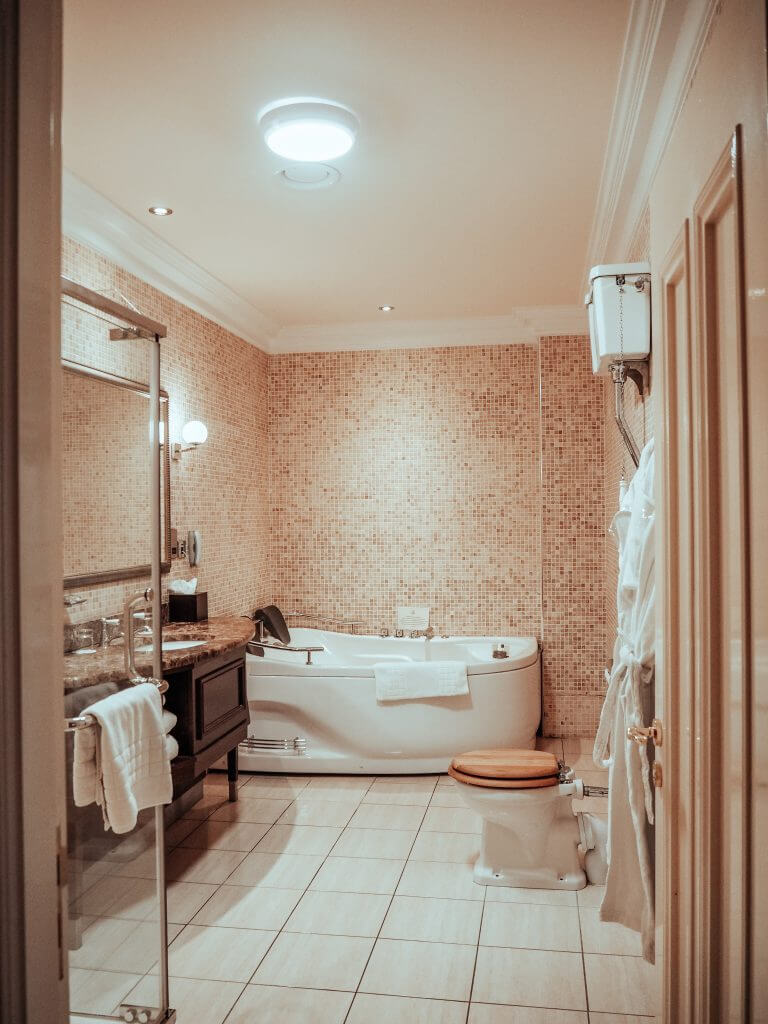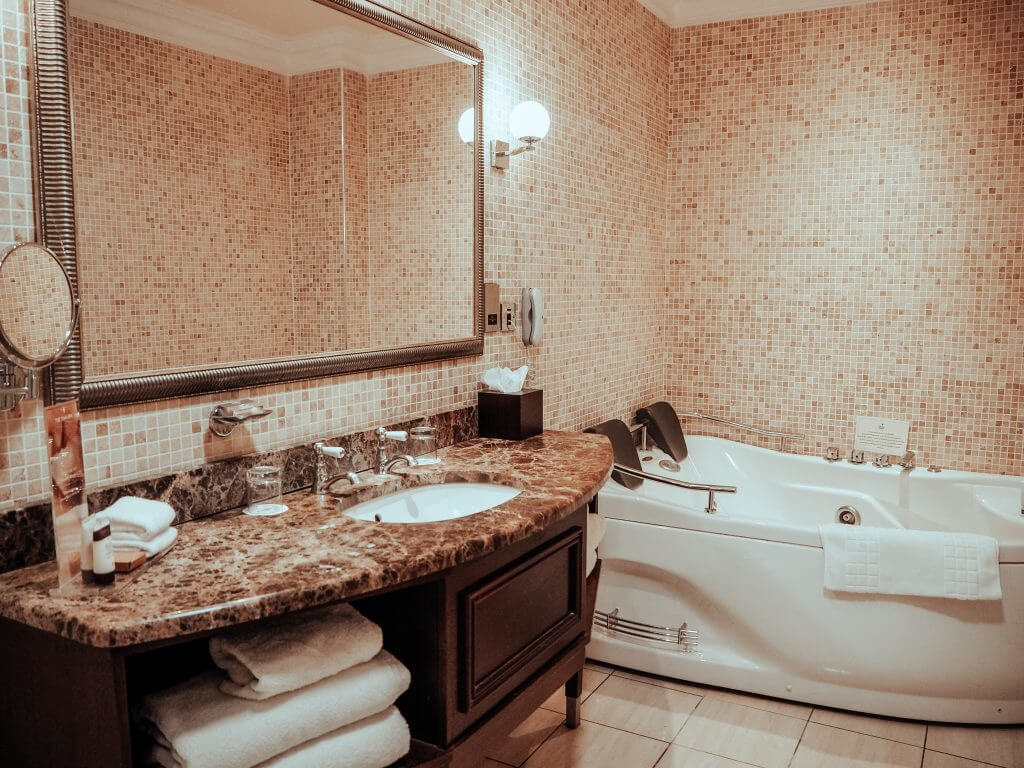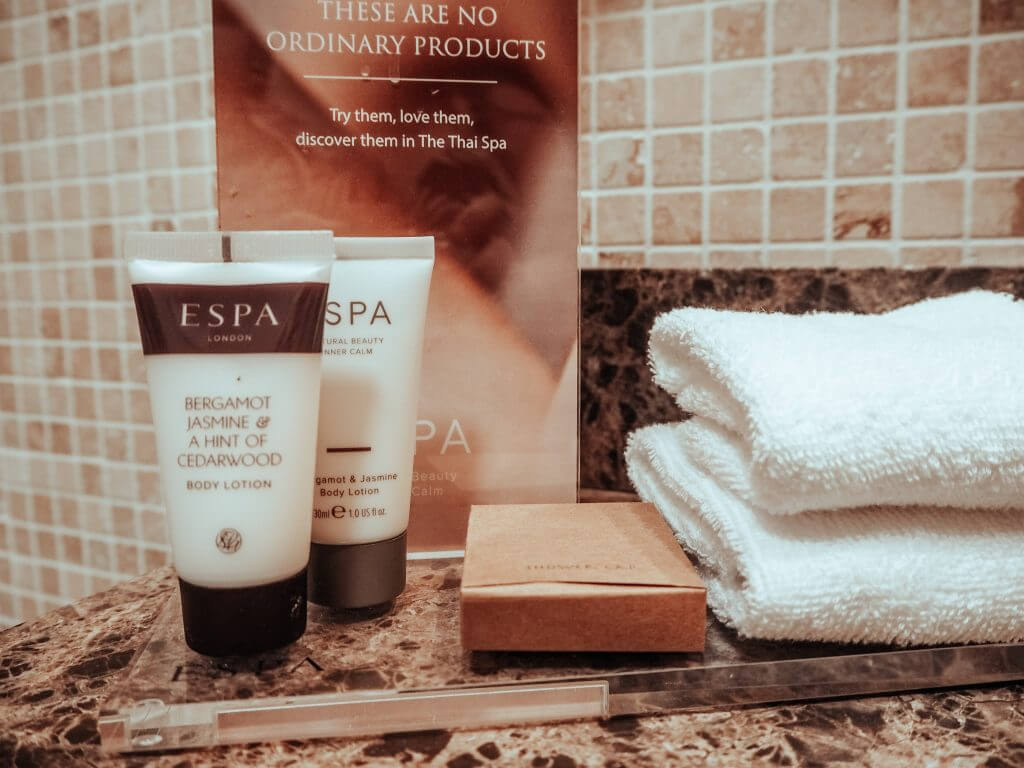 In the seating area there was a complimentary mini bar stocked with beer, water and soft drinks. There was also additional bottled water beside the bed. Within your bathroom awaits luxury ESPA toiletries (is it just me that judges a hotel based on the toiletries they provide?) and super soft, luxury monogrammed robe and slippers.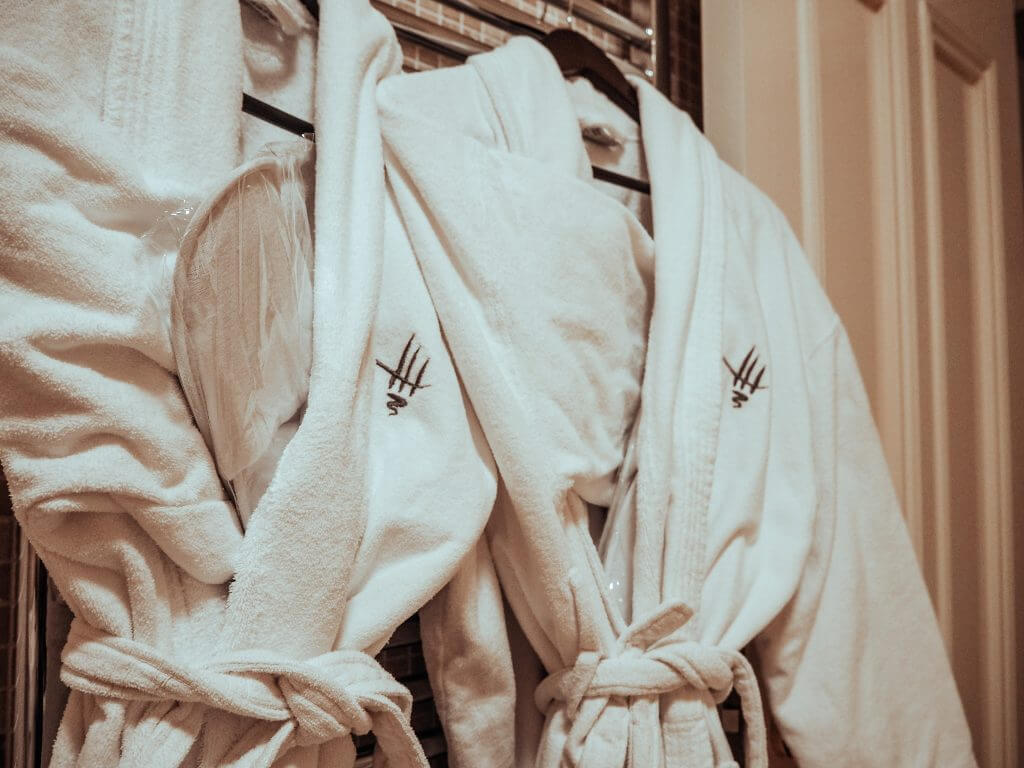 So you guys know me by now! First thing I do when I go to any hotel is put on the fuffy robe and slippers. It also meant that myself and Mister Lavin could head straight to the spa where I was booked in for a 60 minute Thai massage.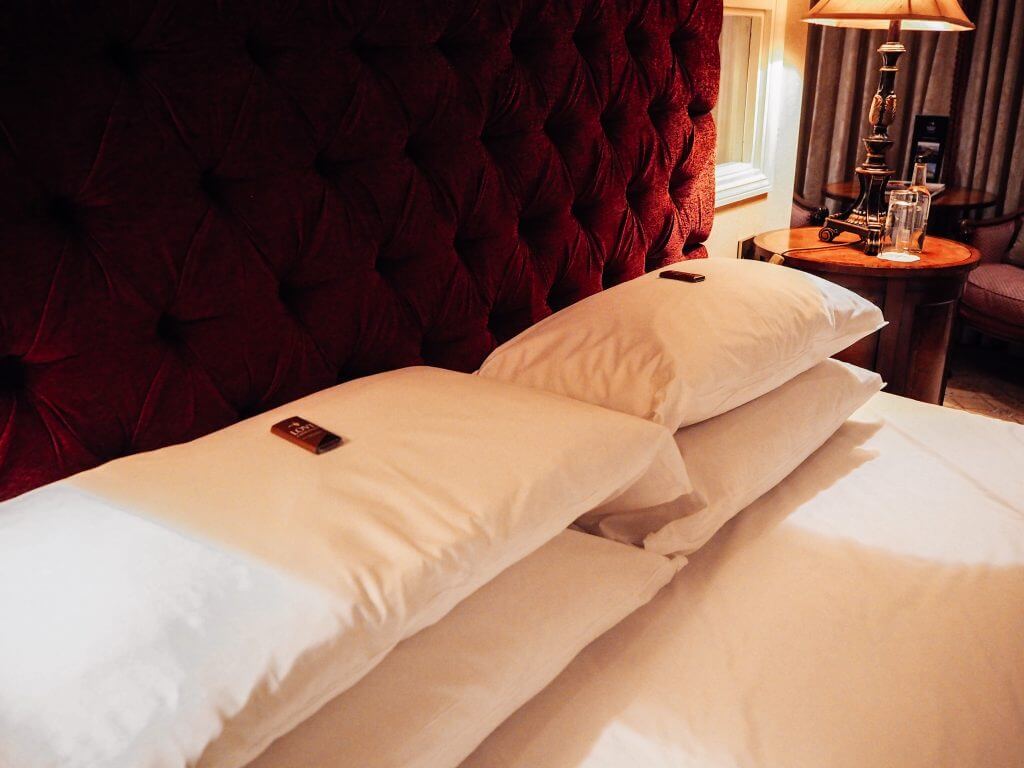 The Thai Spa at Lough Erne Resort
Guests at Lough Erne Golf Resort and Spa have access to the indoor pool and thermal suite facilities at The Thai Spa, so be sure to head there to relax and unwind. Facilities include The Infinity Pool, The Light Therapy Sauna, The Crystal Aroma Steam Room and a Jacuzzi. You will be transported on a journey east to Thailand, a country known for prioritising wellness and wellbeing.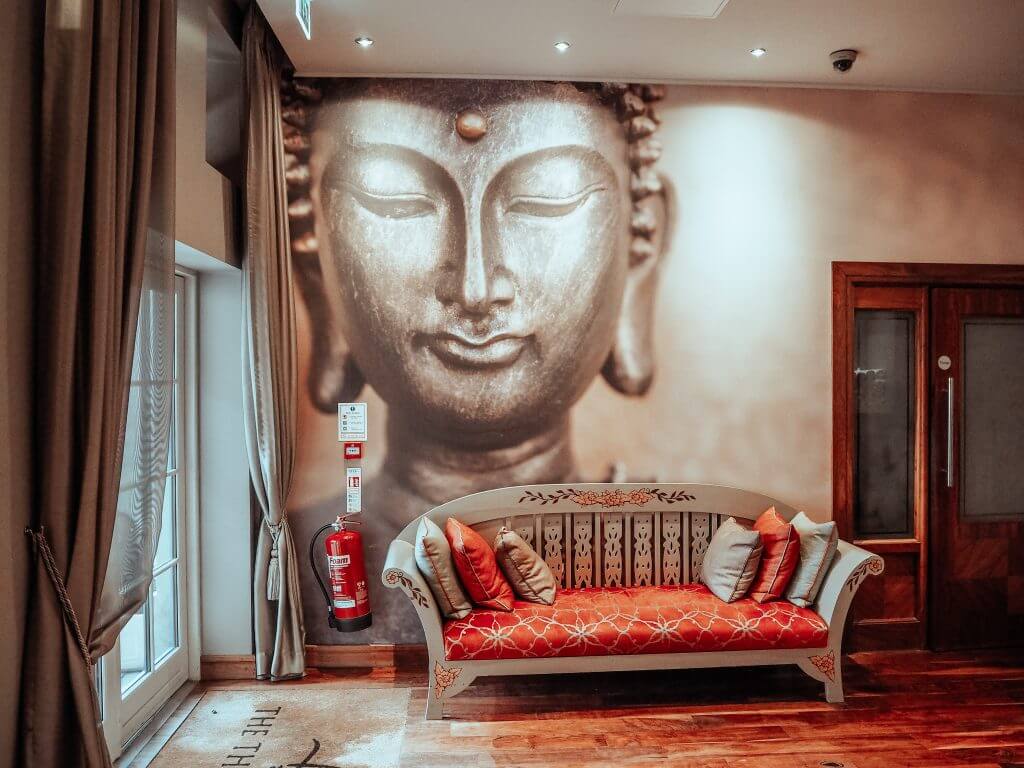 A team of expertly trained Thai and European Therapists, use award winning spa products to deliver the luxurious spa treatment menu, providing guests with a truly world-class spa experience; signature treatments including the Traditional Thai Massage and Golfers Tonic.
I was booked in for a Traditional Thai Massage while Mister Lavin picked up a Golf magazine and went to relax poolside. I had never had a Thai massage before and I am not sure that I was fully prepared for just how physical this treatment was. Exotic and unique it is the ultimate sublime body workout. Using techniques passed down though generations, this treatment is a blend of deep tissue massage using pressure points and stretching techniques.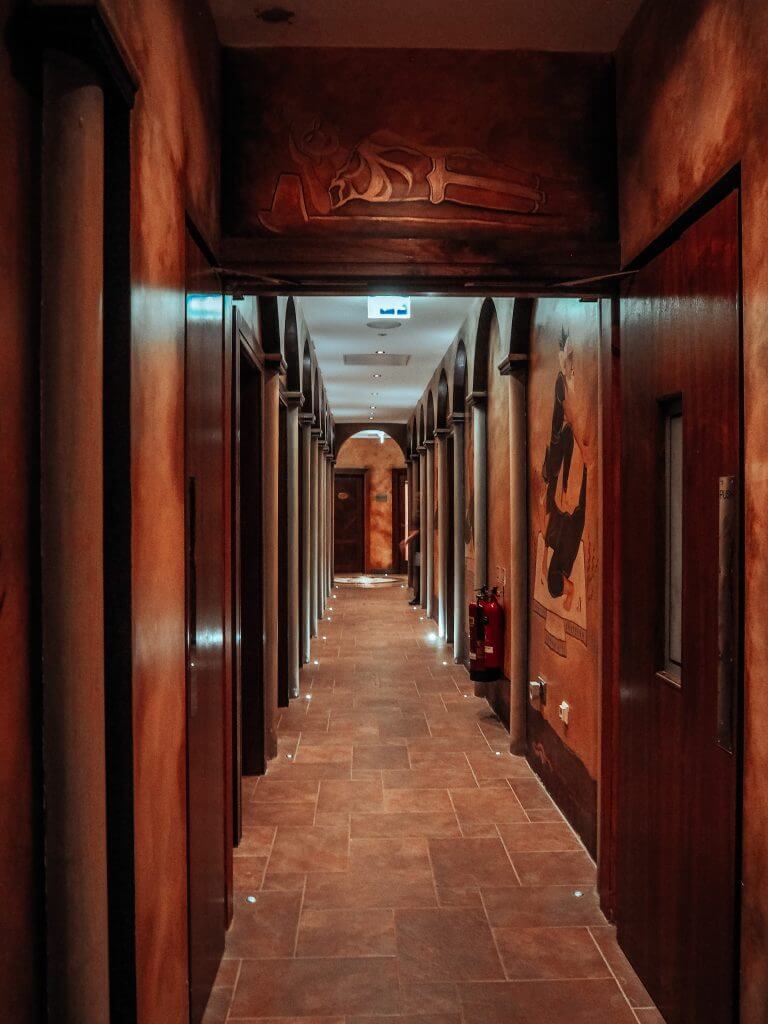 Traditional Thai Massage releases tension, increases vitality and flexibility and synchronizes the mind, body and spirit. But be prepared, it will involve your therapist kneeling on you, pulling and stretching your arms into positions that you never knew were possible and very deep muscle massage with elbows. It is definitely not a treatment for the faint-hearted but I felt amazing afterwards and I am not going to lie, also a little sore!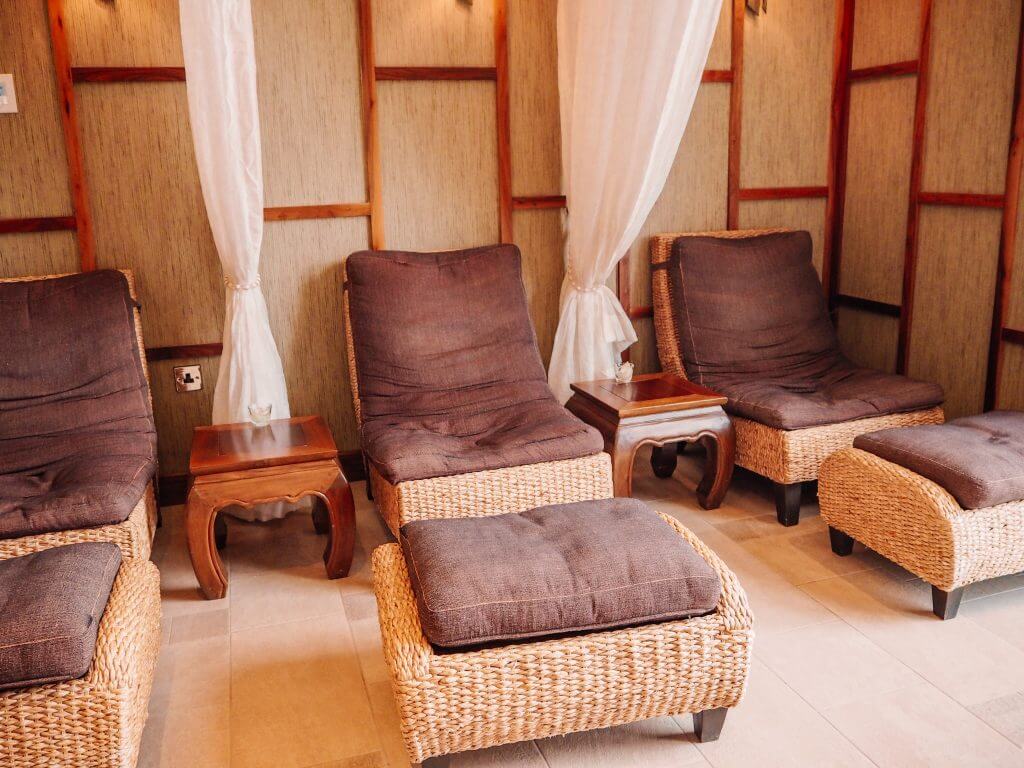 After the treatment I was brought to the Sabai Sabai Room (meaning Health and Happiness) to relax. I was brought fresh fruit and a herbal tea and I just soaked up the tranquility of such a beautiful setting. After I had some time to relax I went to find Mister Lavin to enjoy some time relaxing in the sauna and then we cooled off together in the infinity pool.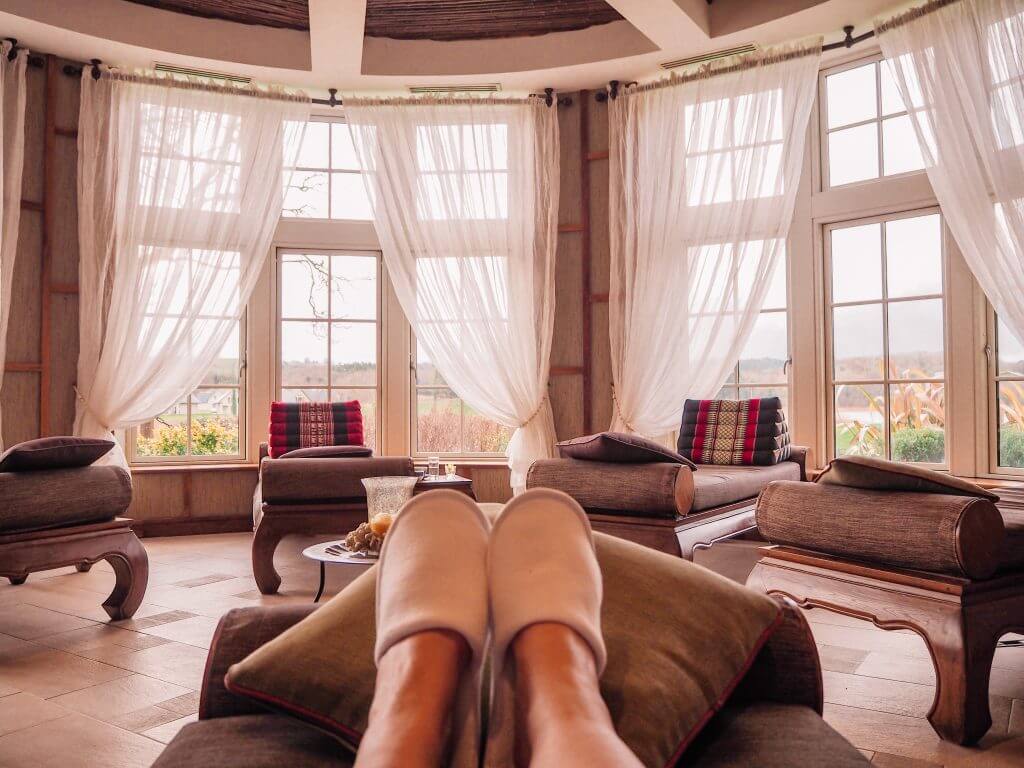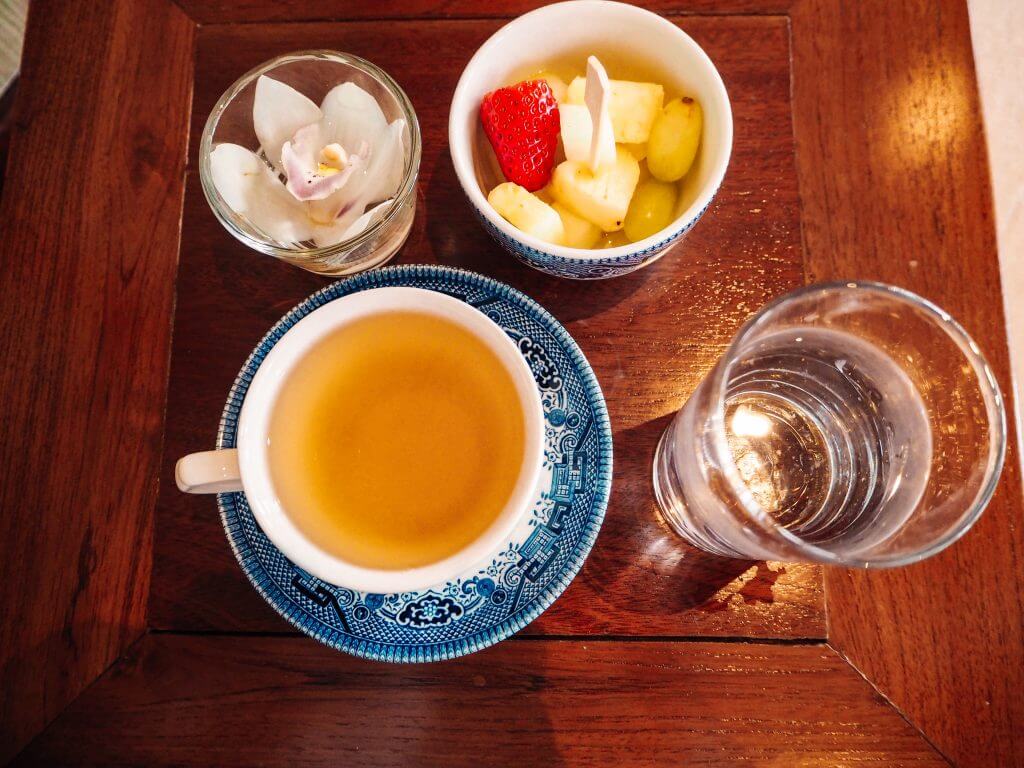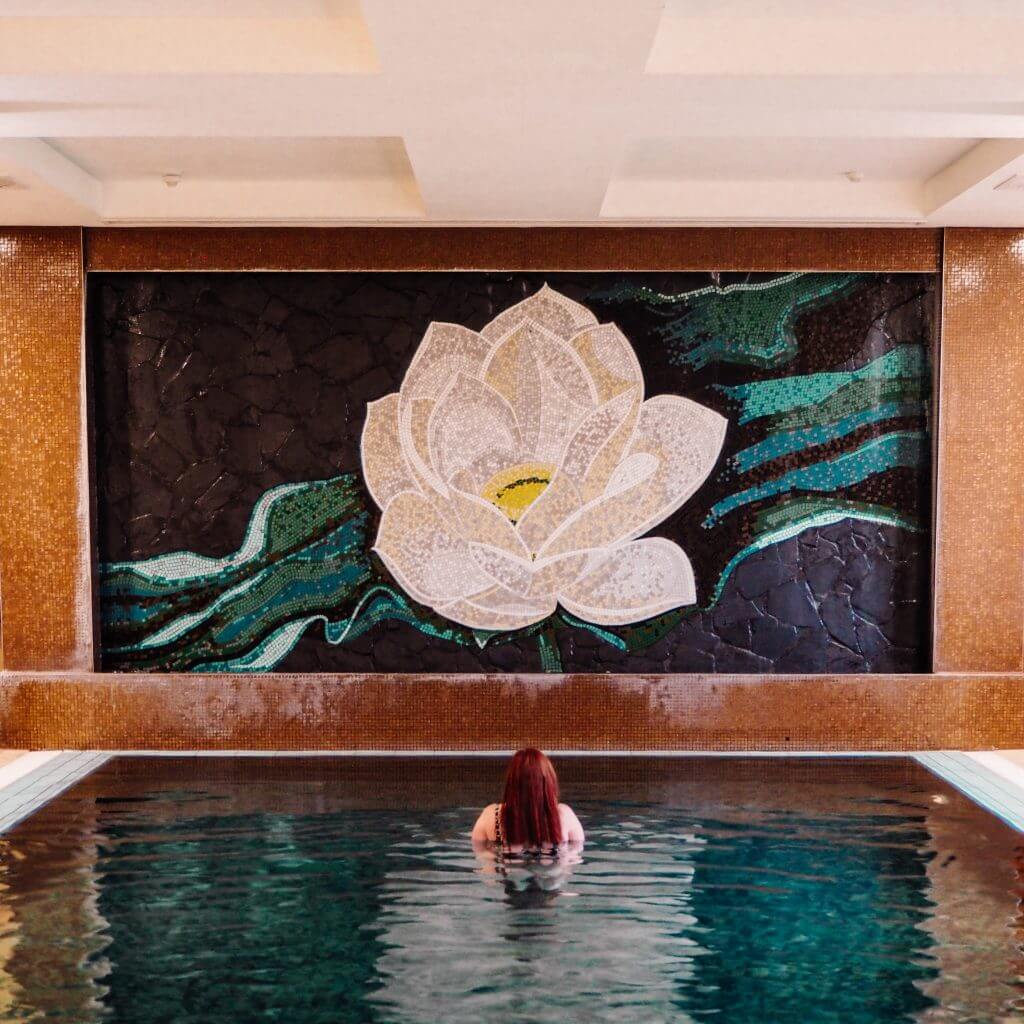 Walkways at Lough Erne
After such a relaxing afternoon we decided to get dressed and explore the grounds and walkways of the resort. There is a pathway around The Faldo Course that will take you about 40 minutes to walk around but it is a must do as far as I am concerned because the views are so breathtaking. There are also a few bridges and jettys to enjoy the views of the magificent resort from.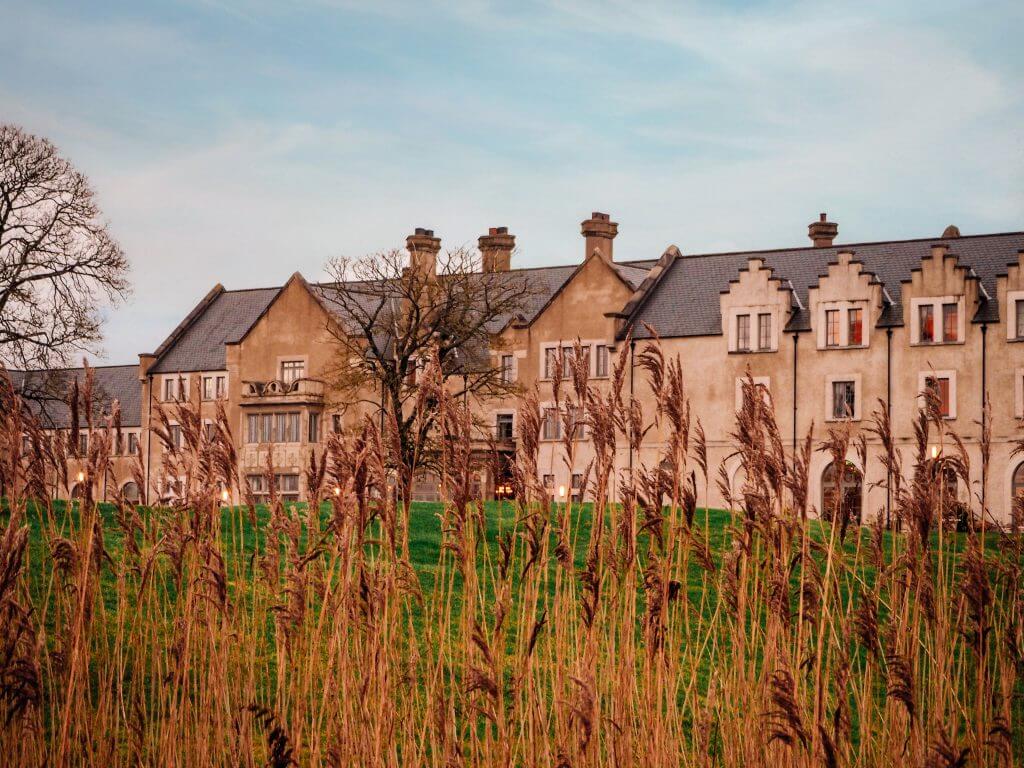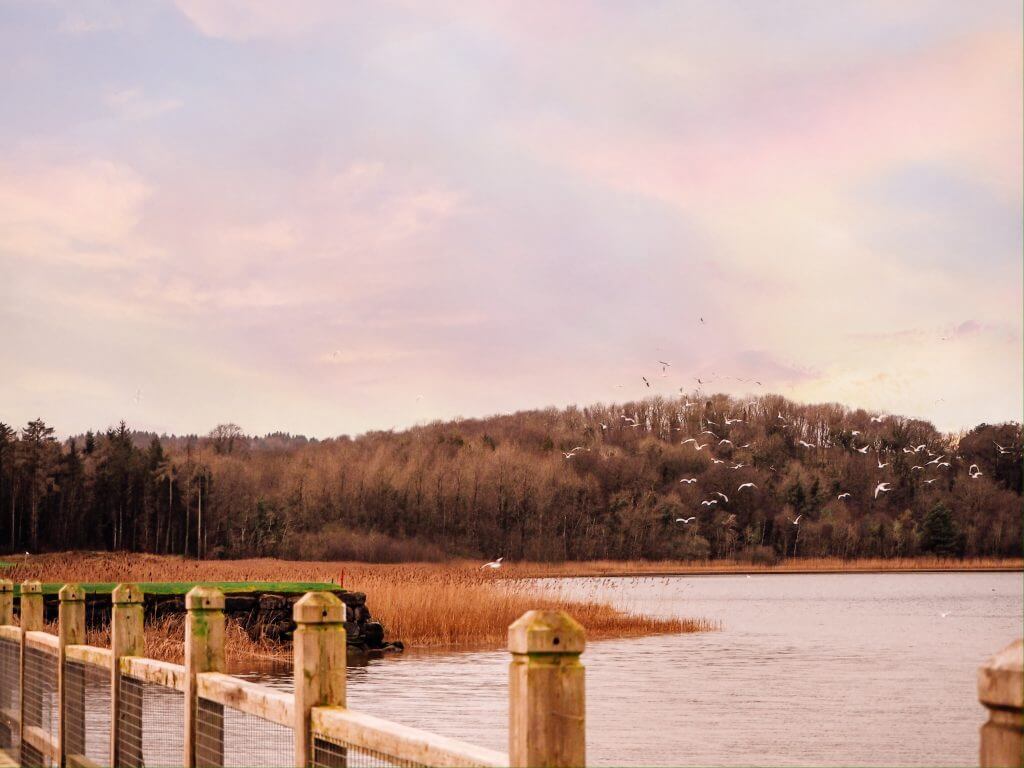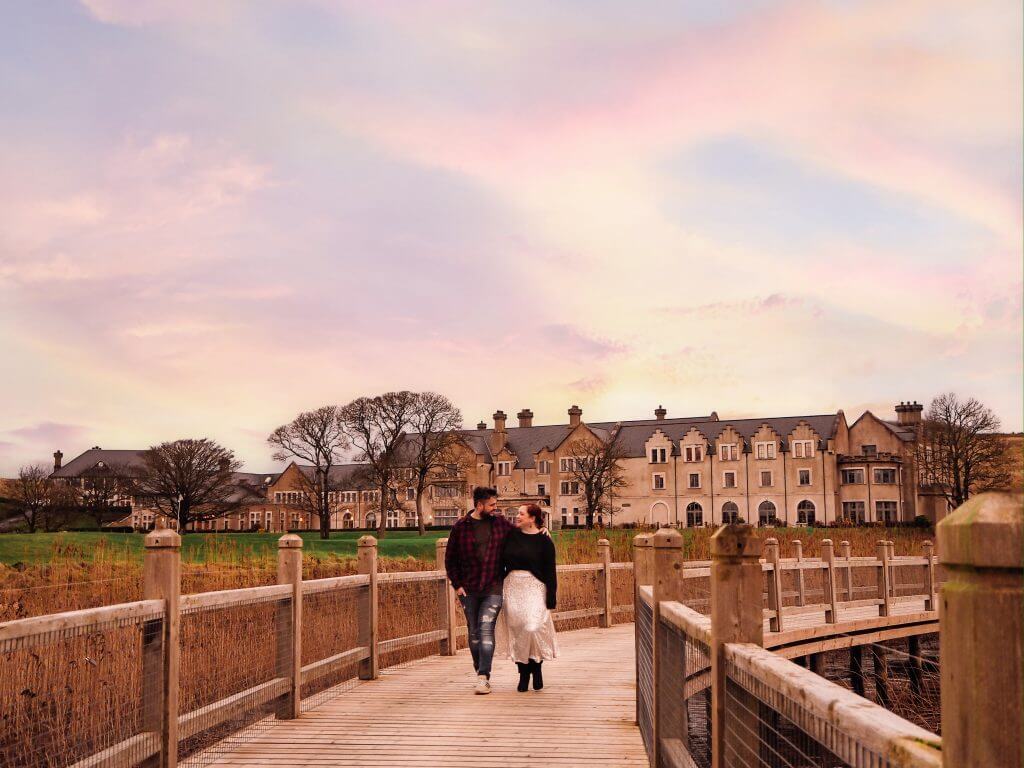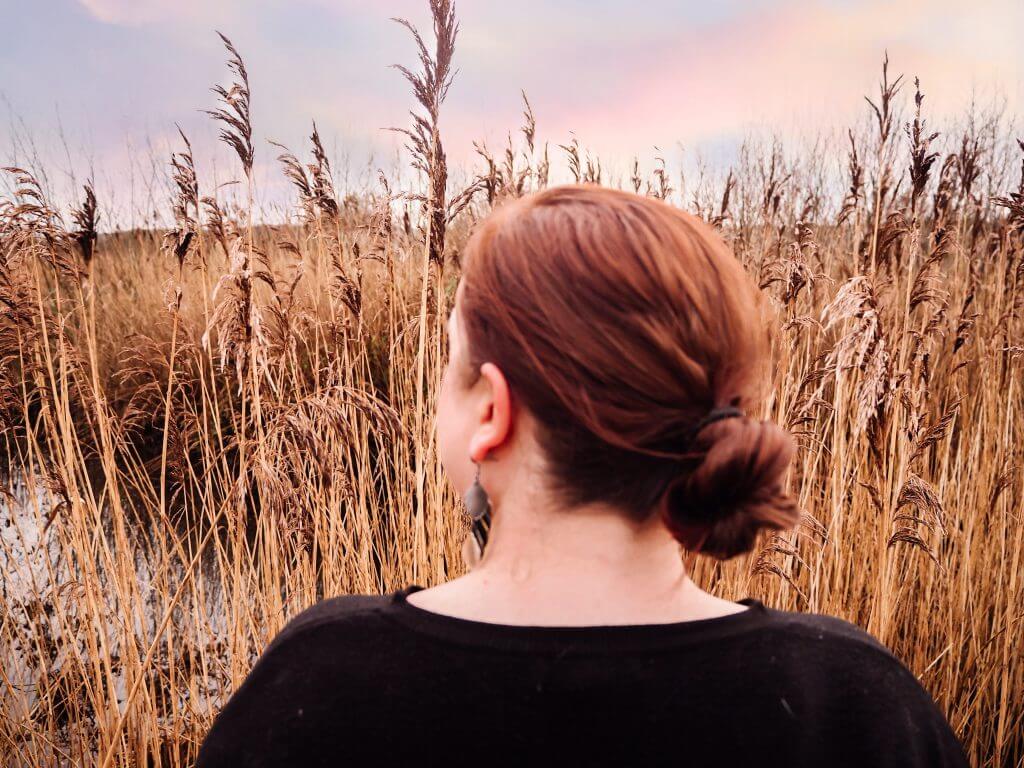 I really can't begin to tell you how romantic it was to see the backdrop of the resort against the most spectacular setting sun. Swans waddled up from the lake to enjoy the sunset with us and it was one of those magical moments that made me seriously appreciate life after recovering from an 18 year battle with Lyme Disease. Mister Lavin and I just had to take a second to fully appreciate just how lucky we were.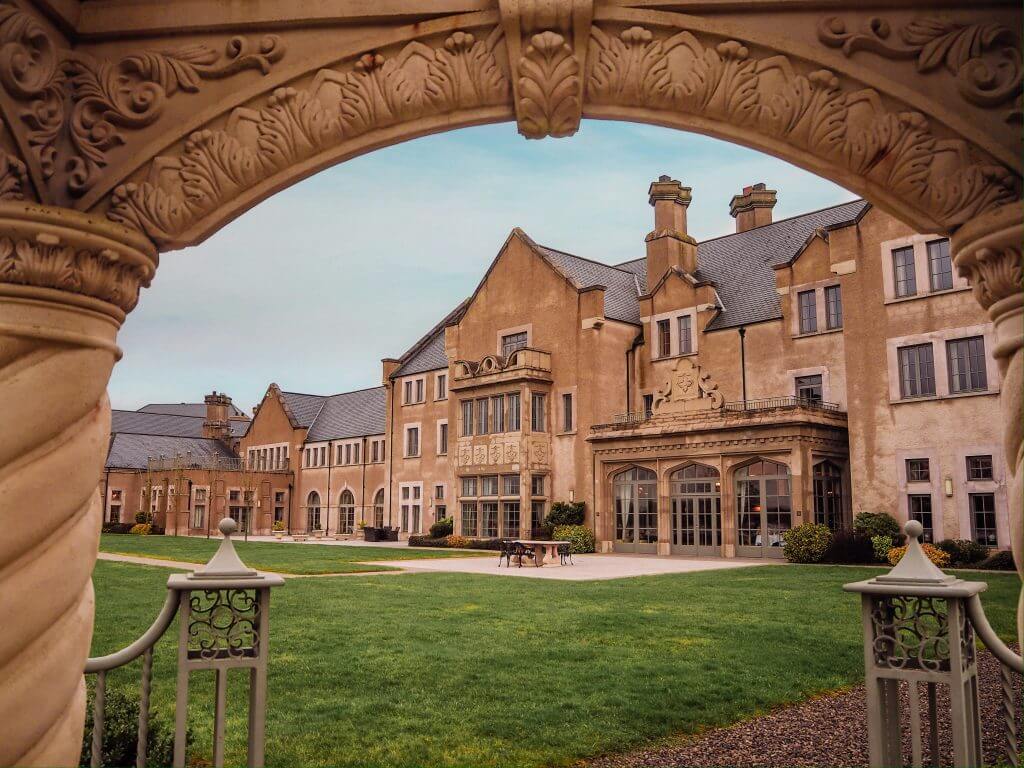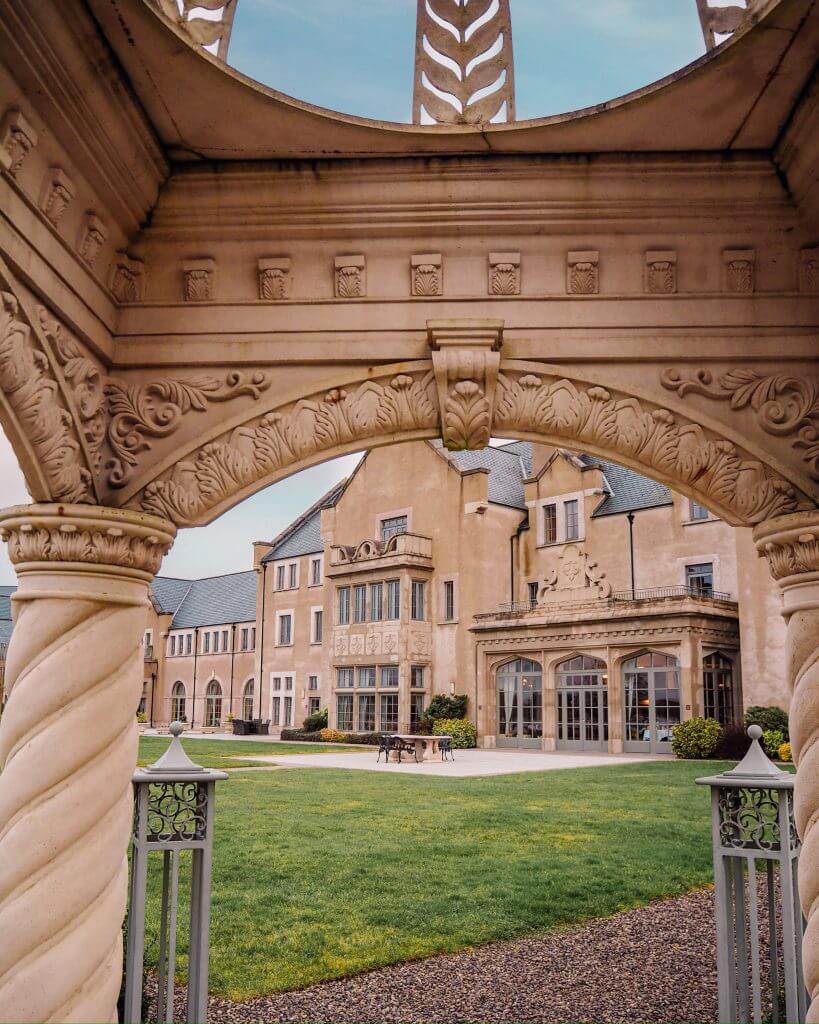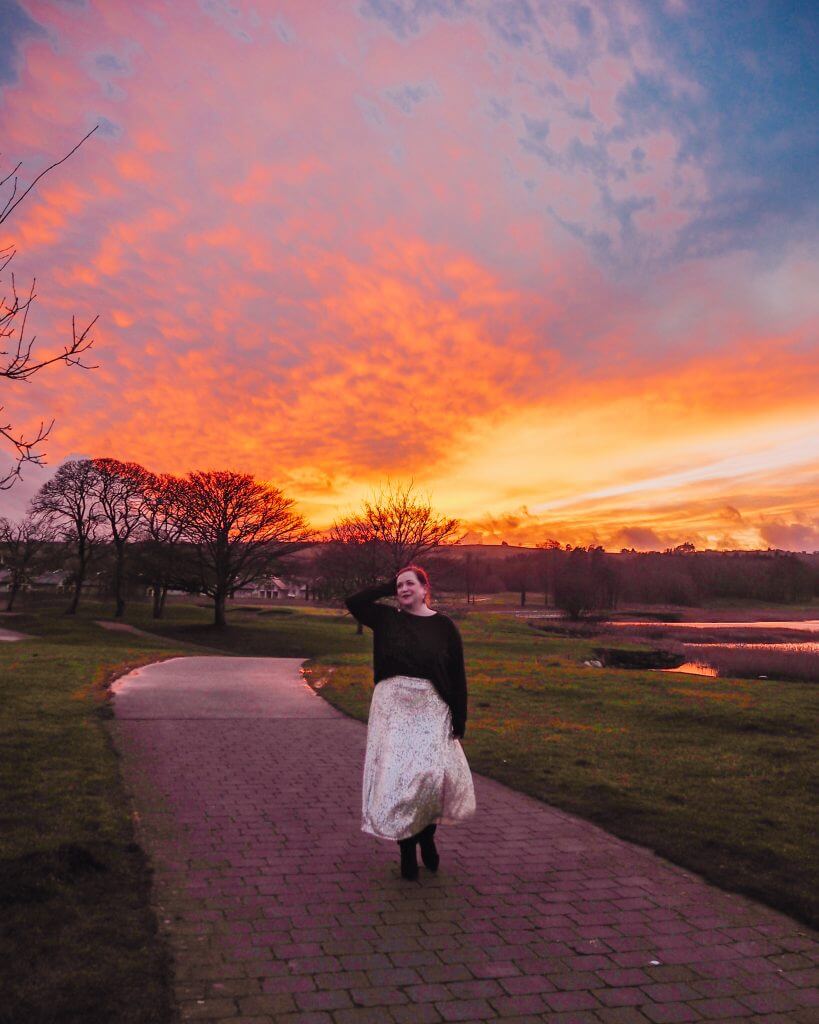 We still had a few hours until dinner so we decided to go for a drink at The Loughside Bar and Grill. On our way there we bumped into Ted a member of the golf course for years. We had a lovely conversation and Ted told us a little history about the area and how Lough Erne had become the most beautiful runway in the world for the seaplanes of American soldiers during World War II. In fact, the resturant where we would be enjoying dinner was called The Catalina after one of these seaplanes and that there were photographs from this time scattered around the restaurant.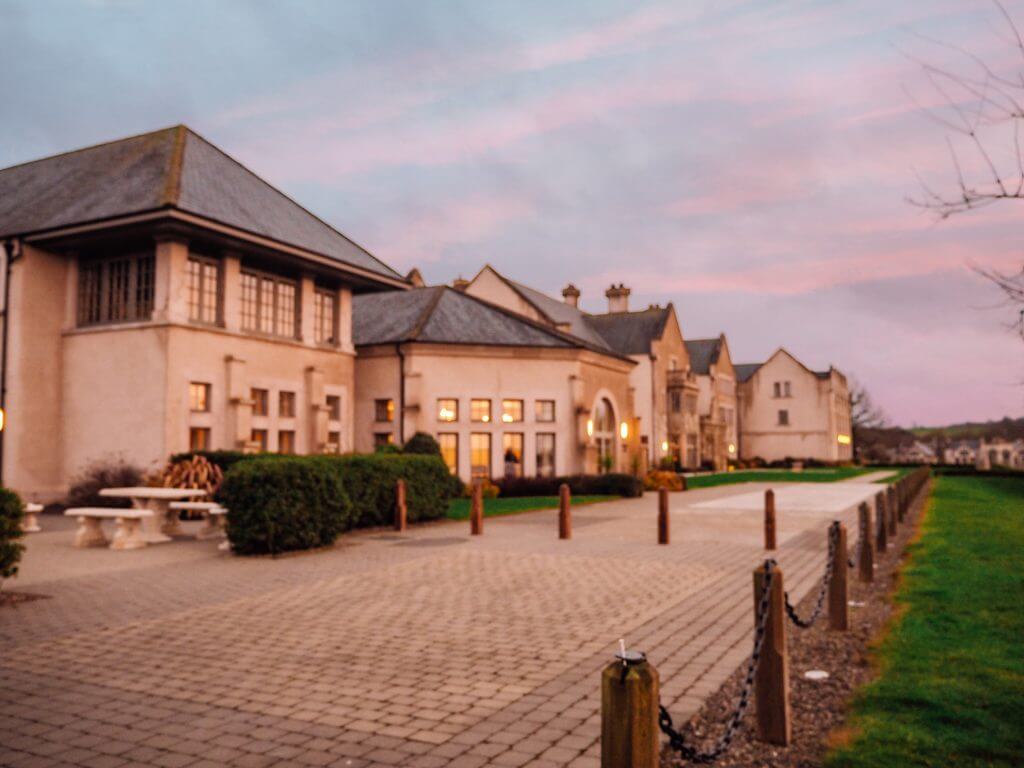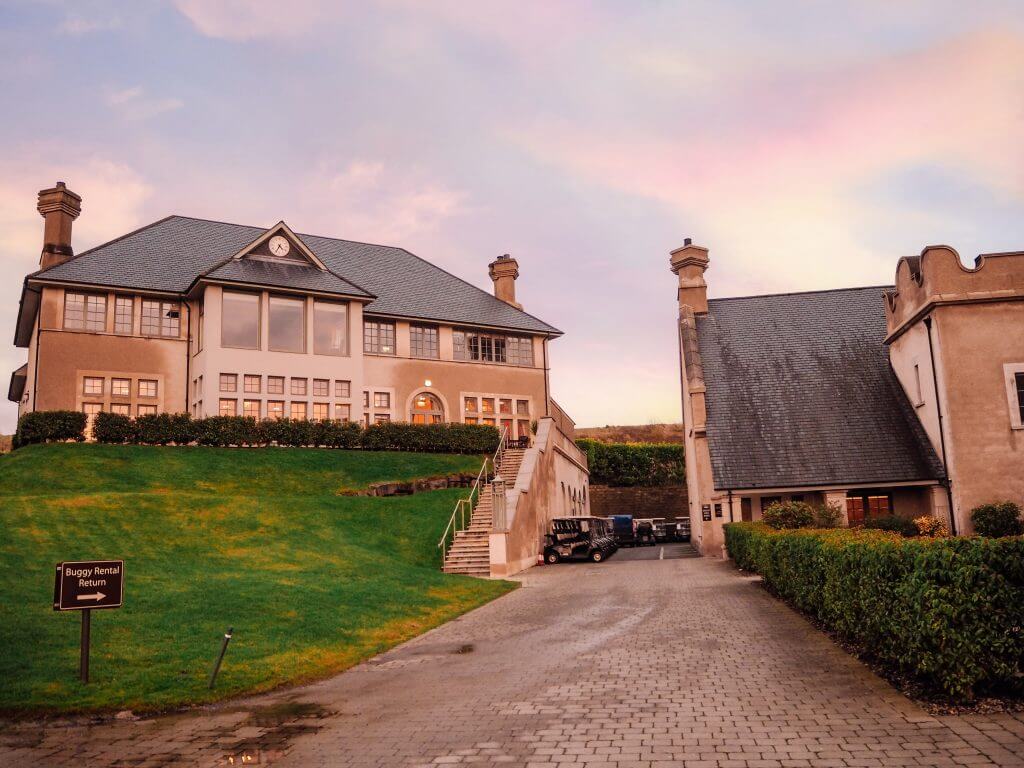 Mister Lavin was keen to get some course tips for his golfing session the following day so we invited Ted to join us for a pre-dinner drink. The hospitality , warmth and friendliness of the people of Fermanagh was truly remarkable and we left feeling like we were old friends. The Northern Irish accents of the staff also reminded me so much of my Mum that I miss dearly. She was from nearby Armagh and it was nice hearing a brogue that had once been so familiar to me.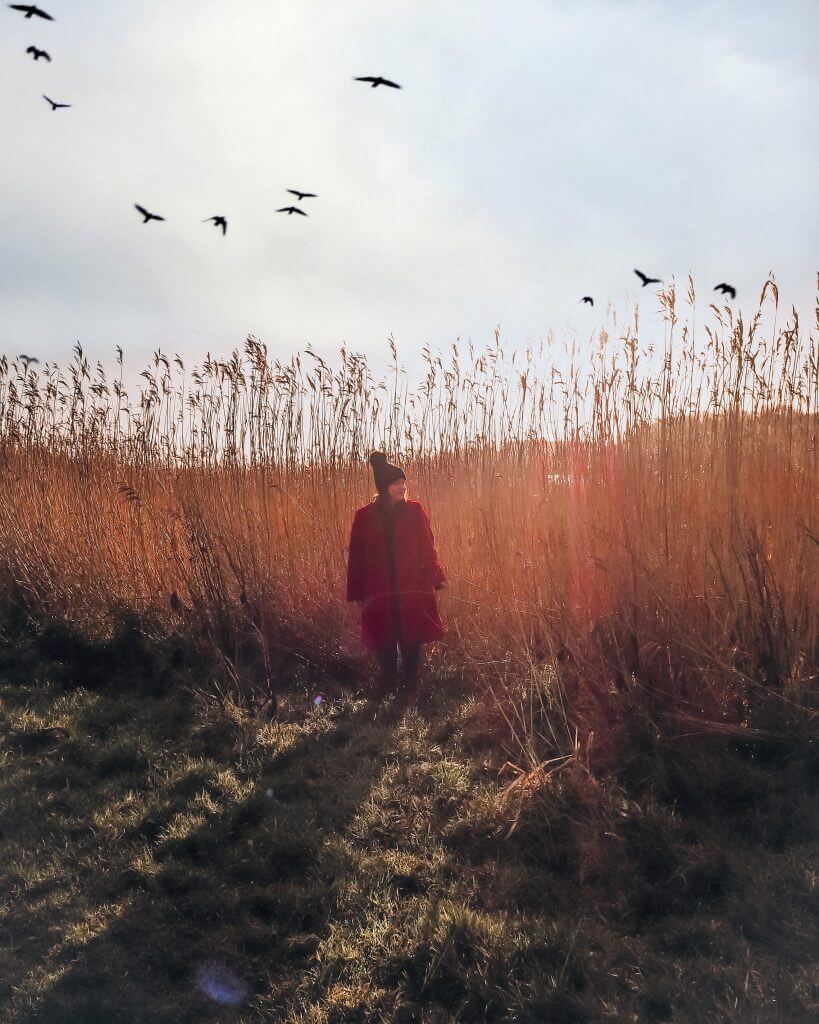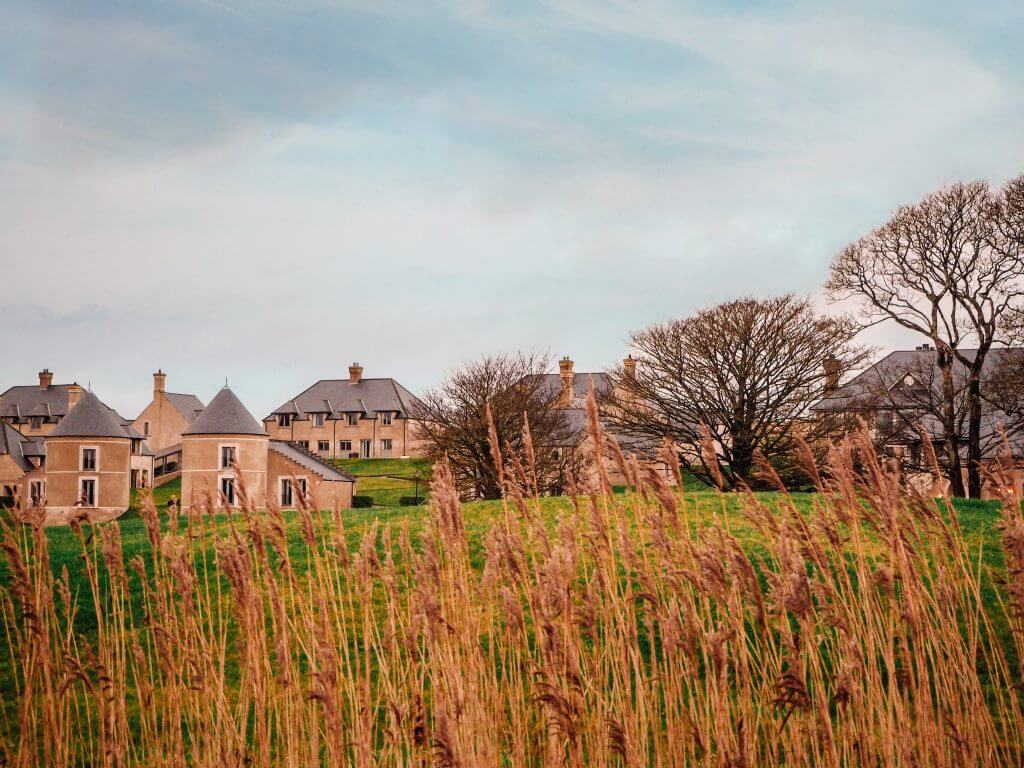 Dinner at Catalina Restaurant
We were so cosy sipping on wine in front of The Loughside Bar and Grill that we almost didn't want to leave to get ready for dinner. We got ready in record time. I showered, washed, dried, straightened my hair, dressed and put on make-up all in 20 minutes leaving Mister Lavin wondering why I couldn't do that all the time!
The Catalina Restaurant is Northern Ireland's first 3 AA Rosette hotel restaurant and it is the epitome of sumptuous dining. Menus change according to the season and executive chef Noel McMeel and his culinary team present exclusive menus with dishes created using the very best seasonal ingredients which are both locally sourced and traceable.
One thing we need to talk about is the bread because it is simply divine! You can choose between soda, curry or treacle bread or simply sample all three. The treacle bread was my favourite and it is no suprise that Mister Lavin devoured the curry one. The bread is served with Limavady Broighter Gold Rapeseed Oil, Abernathy Butter and a sprinkling of sea salt. The combination was just delicious.
For Starter I had Smoked Lough Neagh Eel with Comber Potato Puree, Armagh Bramley Apple and Seared Irish Scallop. Mister Lavin had Chicken Liver Parfait with Brioche. Of course I had to have a little taste of his and both were delicious.
Main course for me was seared Irish fillet of Halibut which was cooked to perfection and Mister Lavin had Lisdergan fillet of Beef, but the piece de resistance was the dessert. We both had the Chocolate Delice with Raspberry Sorbet and it was just heavenly. We both agreed that after our wedding dinner and the food we had at The Cornwall it was some of the best food that we had ever eaten.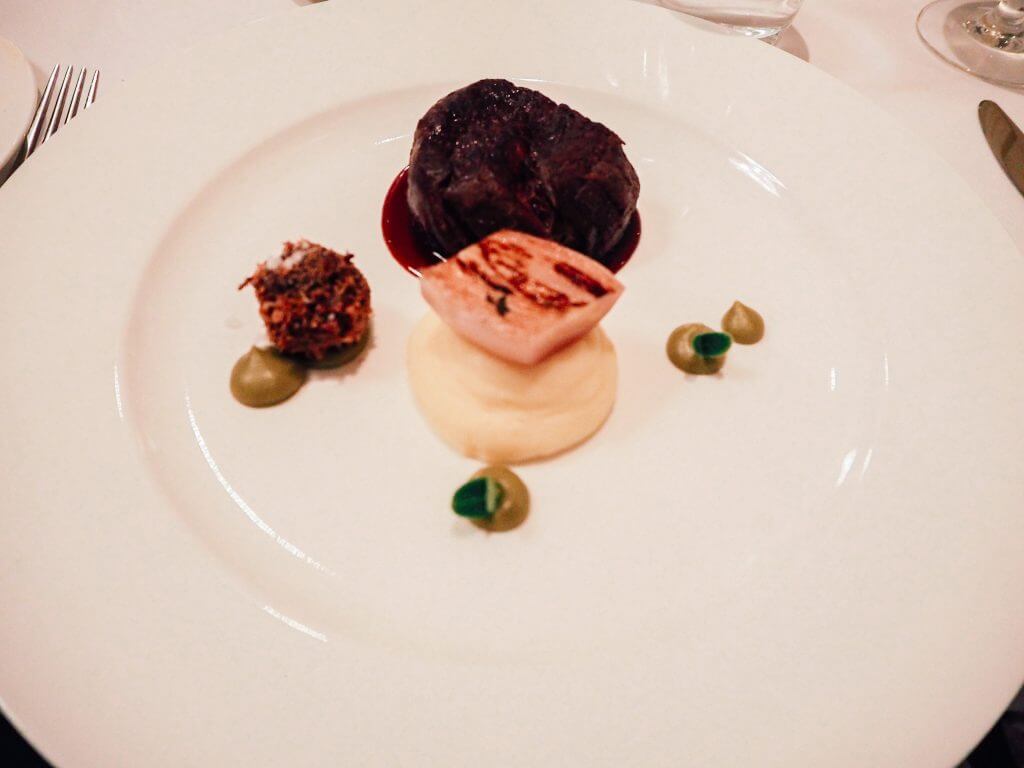 After dinner we were so full and tired after a wonderful day that we decided to have an early night so that Mister Lavin could really enjoy his round of golf in the morning.
Breakfast at Lough Erne
Mister Lavin was booked in for an early round of golf so we were up early for breakfast. Breakfast was served in The Catalina restaurant and did not disappoint with both a buffet choice and table service if you order off menu. There is a lot to choose from, from porridge, fresh fruit smoothie, cold meat buffet to a traditional full Irish so you will not go hungry.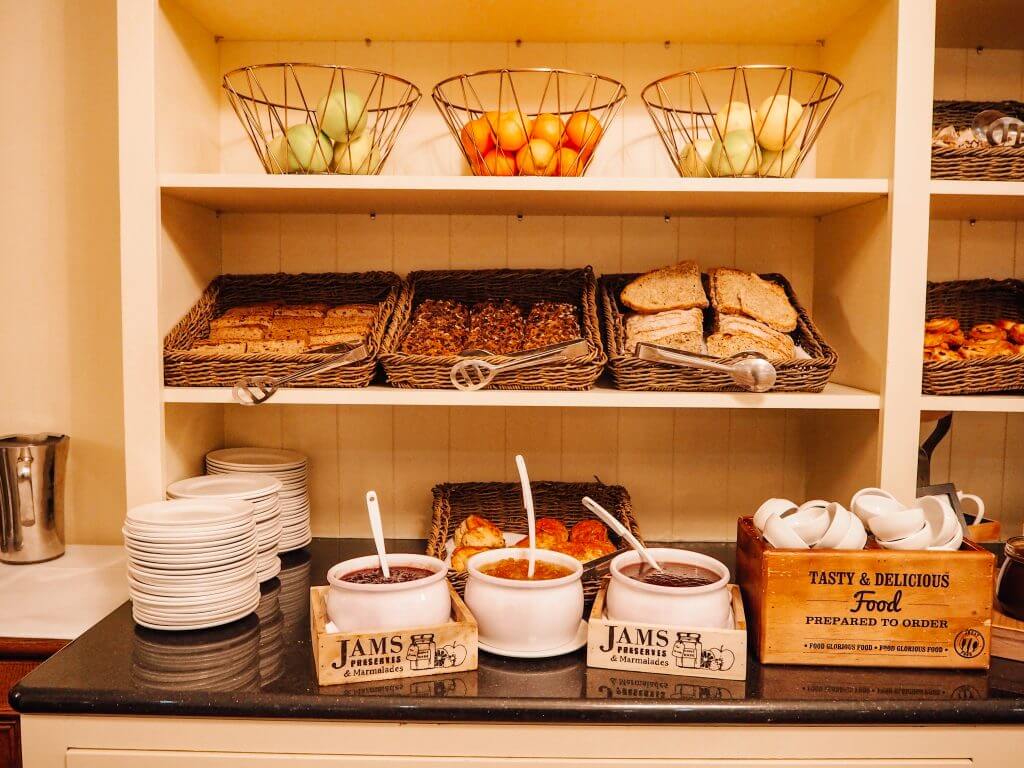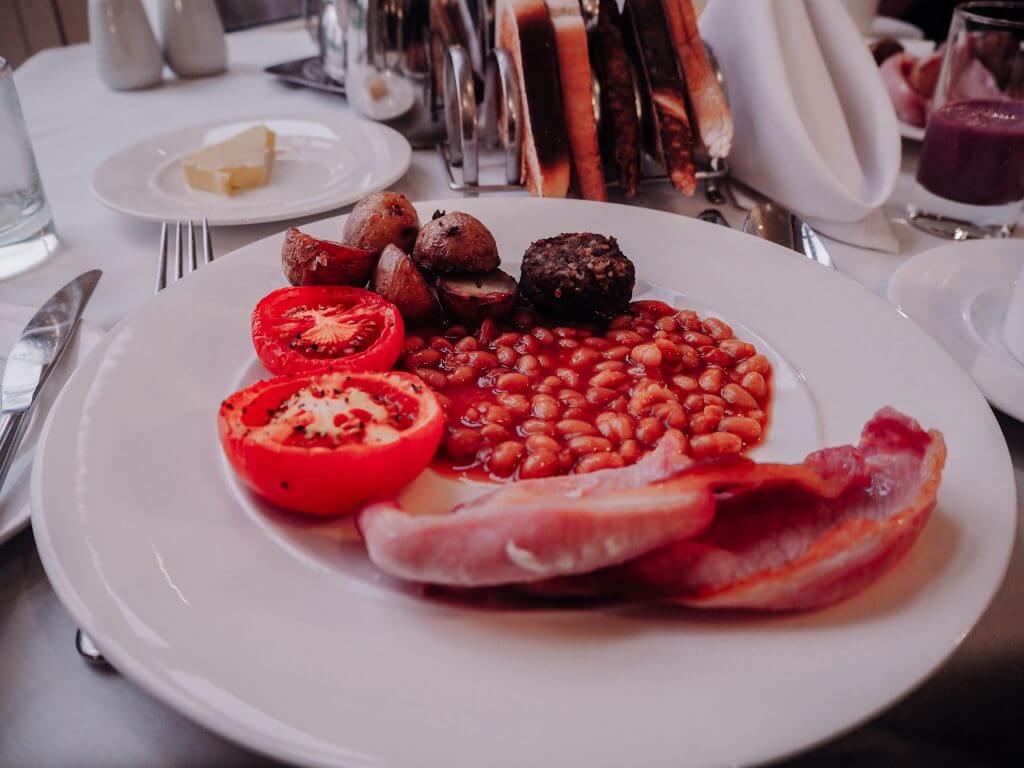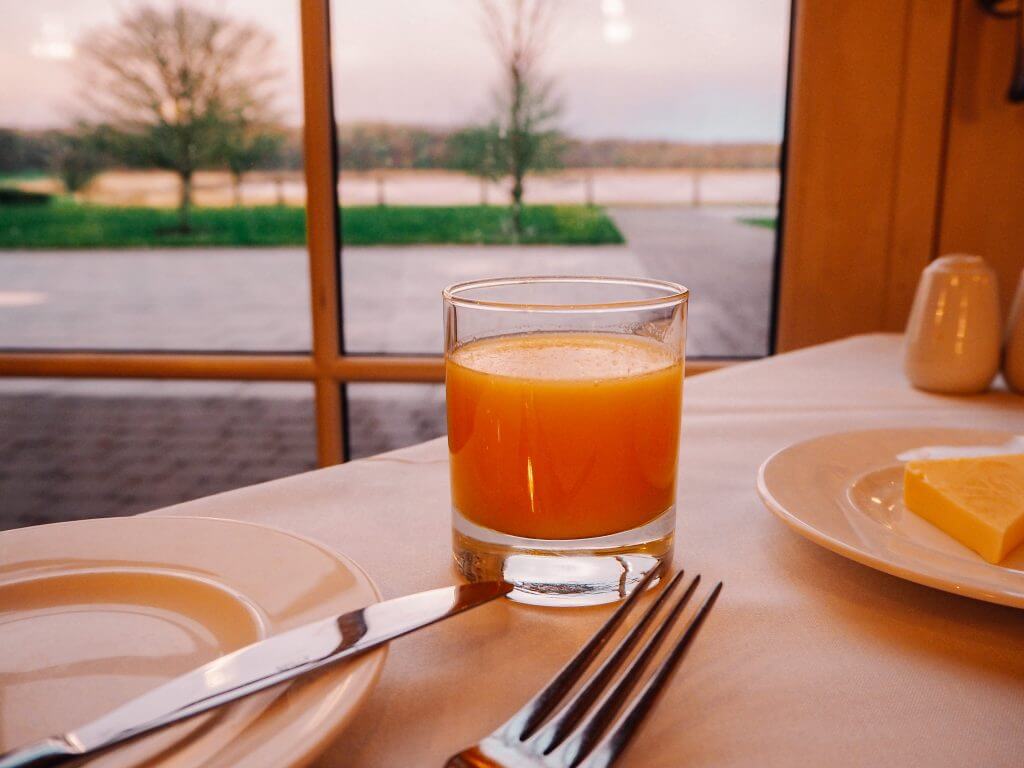 We ate our breakfast with the most amazing views over Castle Hume Lough with the anticipation of a great day playing golf. That morning we had both rainbows and a full moon to enjoy.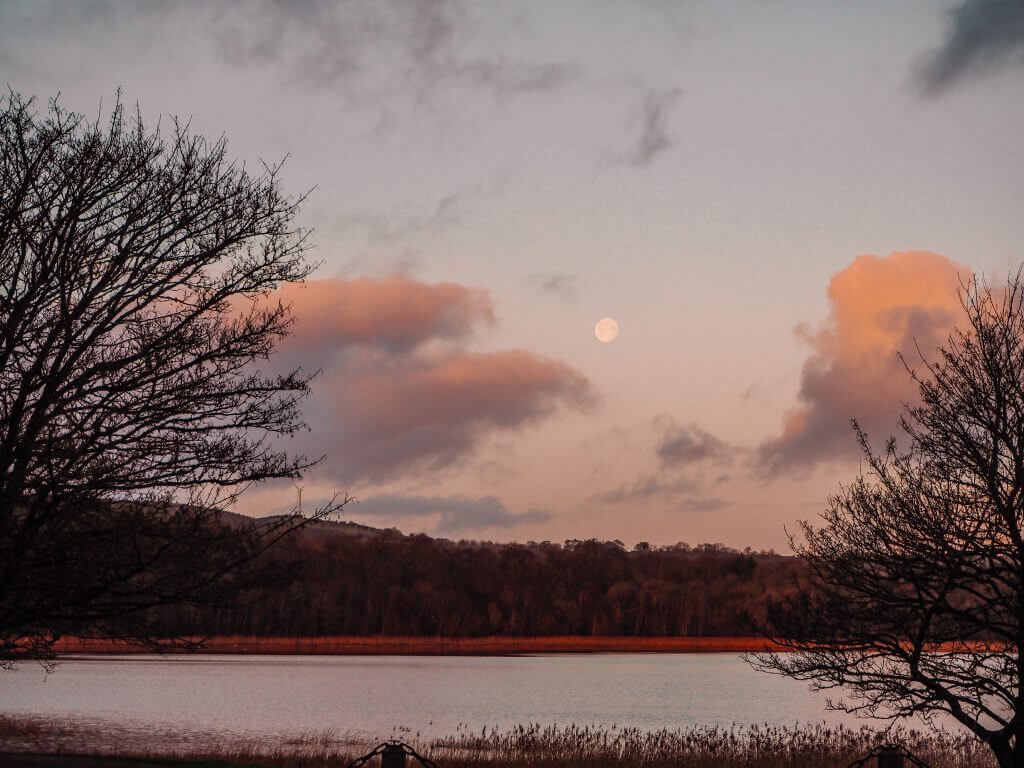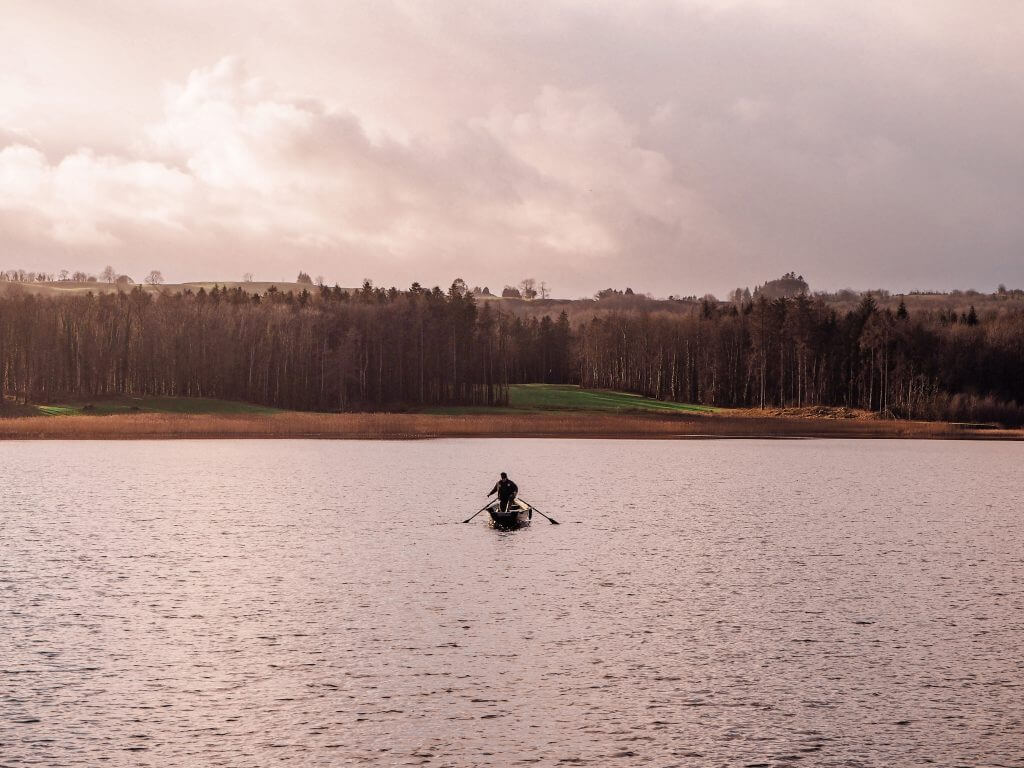 Golf at Lough Erne Resort
So guys, I am not even going to pretend that I know one iota about golf. I do know that it is a spectacular course and I thoroughly enjoyed every second of being out on the golf course. However I am married to a Golf fanatic so it would be a shame not to use Mister Lavin's expertise in this area. So without further ado I bring you my very first guest writing post on my blog. Go easy on him!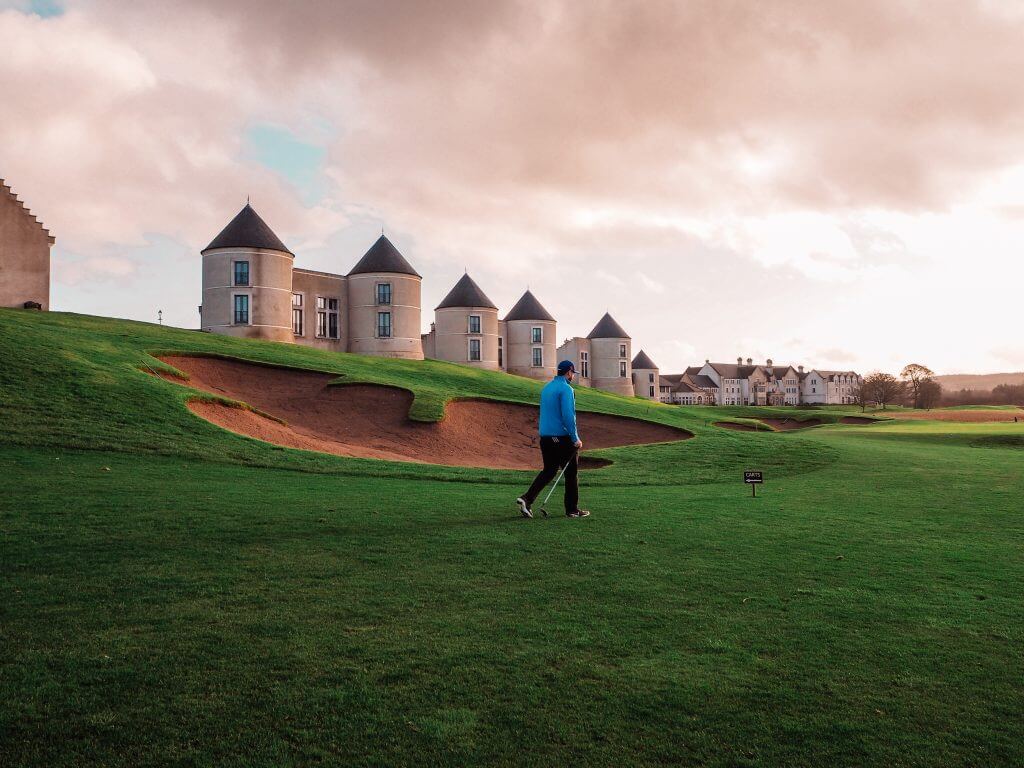 Golfing Experience by Mister Lavin
Hi everyone! So as Mrs. Lavin has alluded to, and, I am sure that you have seen her Instagram story rants about me when I am at the course, I am a bit of a golf nut.
I started playing about 3 years ago, and fell in love/became obsessed with the game since. When Nicola told me we would be going to Lough Erne and that I would be playing the famous Nick Faldo designed course my jaw dropped. Since I started playing golf I have played some excellent courses but this is easily the best course I have played.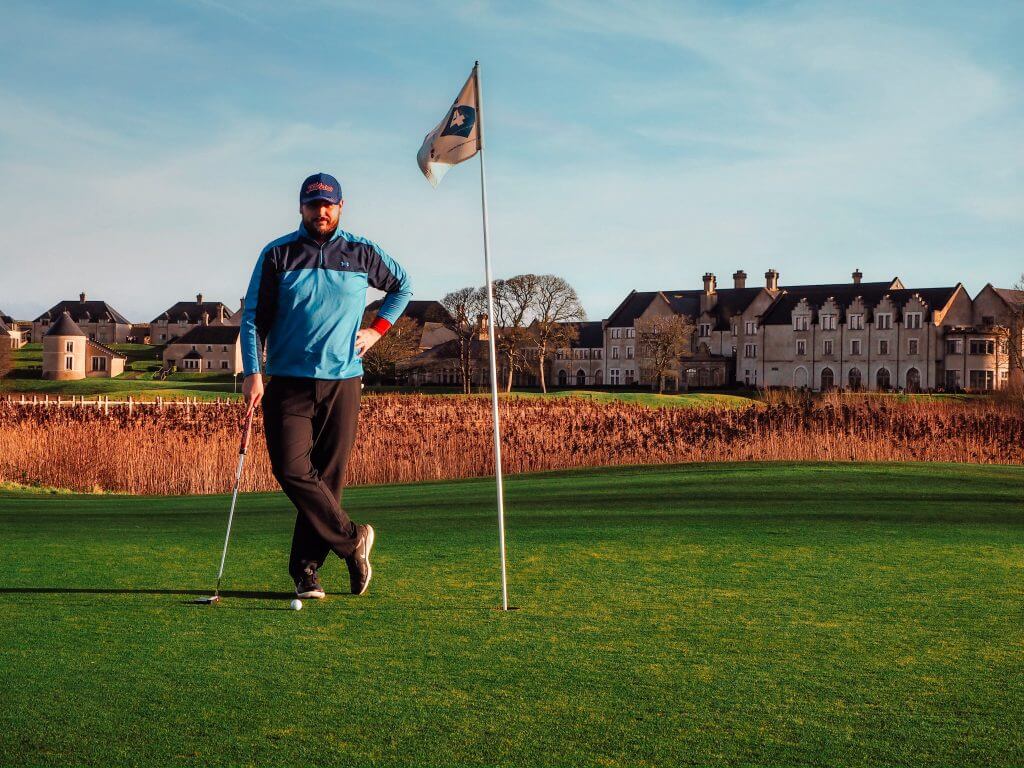 The course is ranked in the top 100 golf courses in the UK and Ireland and it is easy to see why. The golf course at Lough Erne measures a whopping 7072 yards and takes a while to get around but it is absolutlely worth every minute. The weather leading up to my game of golf was extremely wet to say the least, but the course held up unbelievably and the ball actually ran on the fairway. I mean, I thought for sure the ball was going to plug but no chance!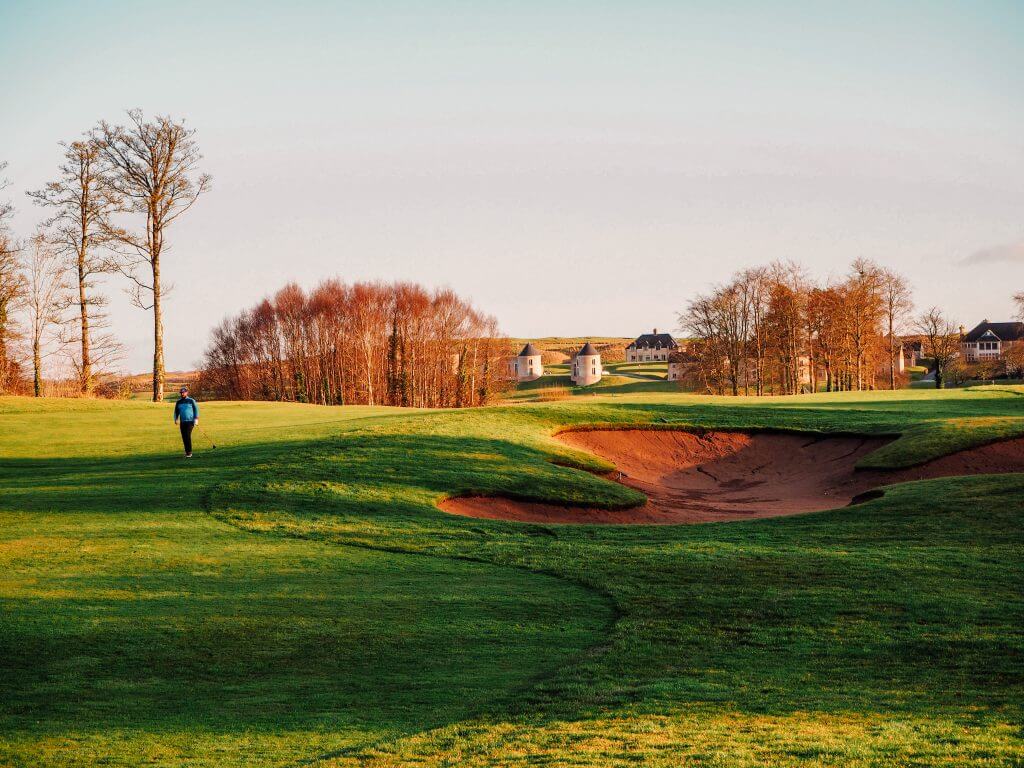 The greens are pristine but challenging (when I say challenging I mean the course record is 68 and that record was set by Rory McIlroy). 14 of the holes have water in play so driving the ball straight is a must, Needless to say I lost few on my way around.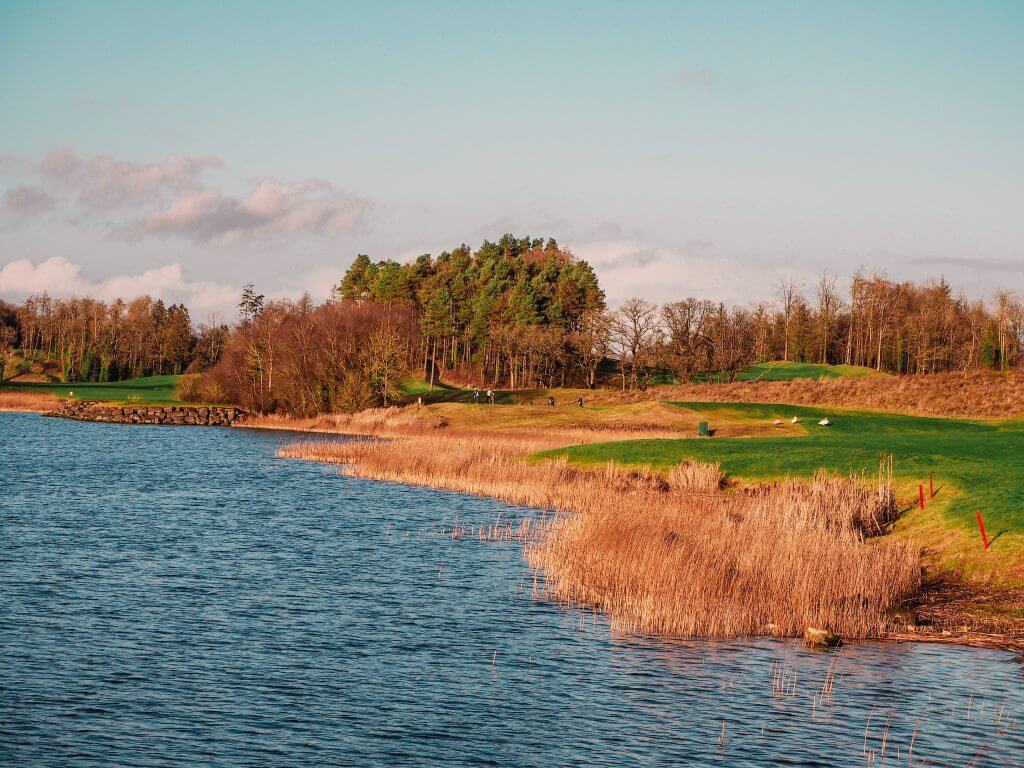 The first hole begins by walking over The Reeds Bridge, which is stunning as you will see seagulls taking flight from the bridge as you walk over and on the lake you will see beautiful swans swimming by. Every hole on this course is beautiful in its own right however there are a few that stand out.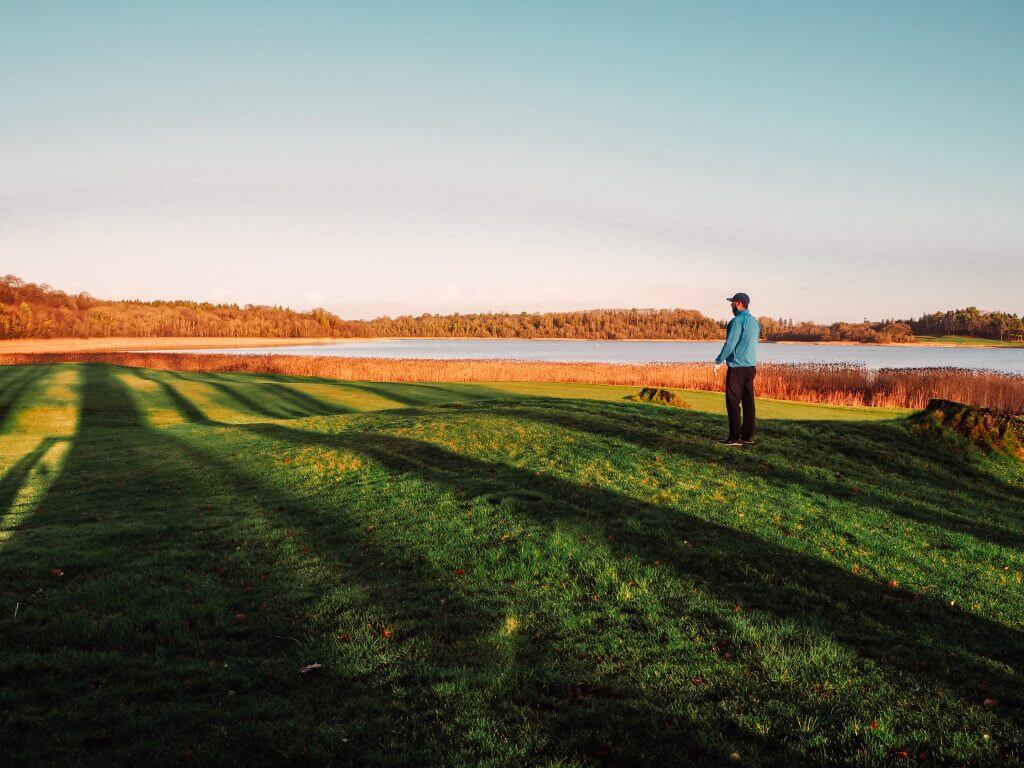 Firstly the par3 5th which is 197 yards. You are playing over water until you reach the green (if you reach it) and did I mention the green is virtually blind as there are very tall reeds coming out of the water. Better to be long than short on this one.
As you finish the 5th you make your way across to the other side of the hotel to get to the 6th. From the 6th you will be above the hotel and the views to your left are unbelievable! Take a moment to let it settle in.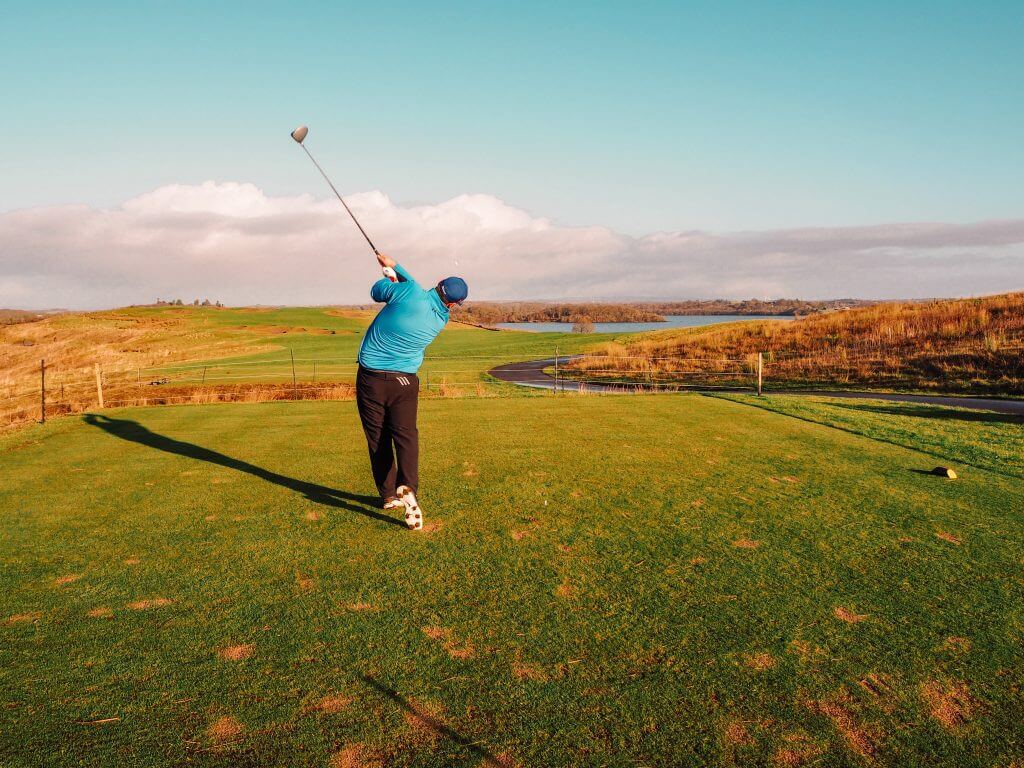 The 7th hole also has stunning views of Lough Erne Lake as you will be teeing off on a well elevated tee (Rory McIlroy once drove the green here some 380 yards and players take it as a challenge to see if they can accomplish this feat). After you finish the front 9 you can take a well earned break in the half way house.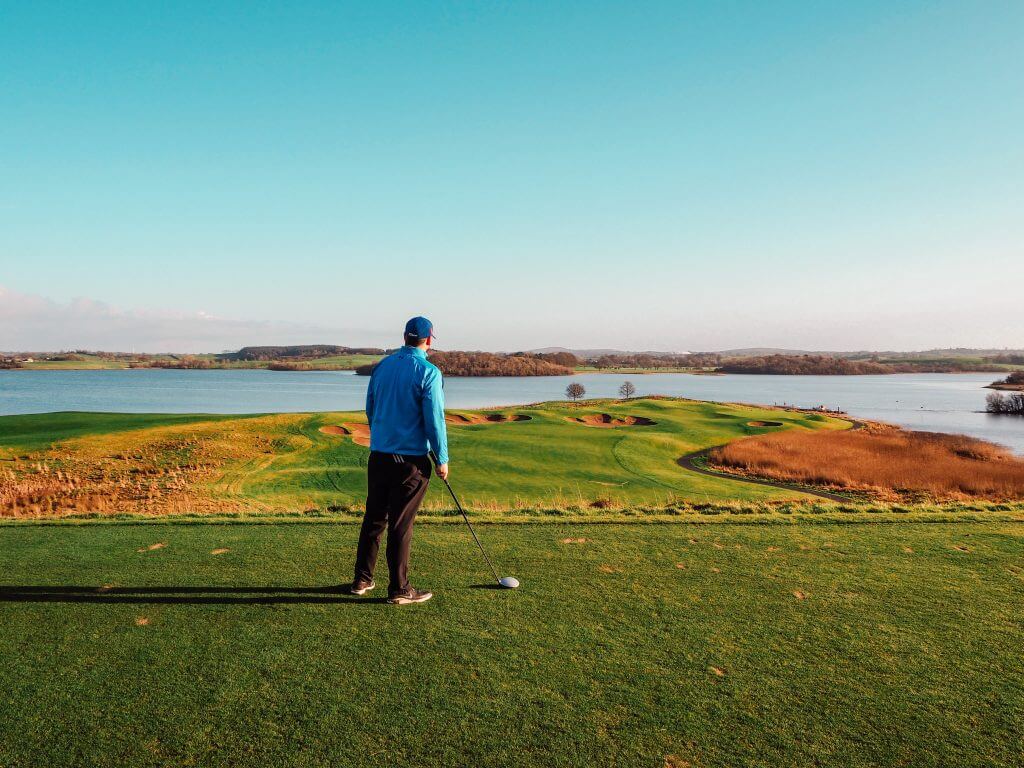 The next hole, the 10th, is the signature hole (The Emerald Isle). It is almost impossible to put into words how stunning this hole is. A short par 4 but fairway needs to be hit here as your second shot will be very difficult otherwise. You will be playing into a green almost completely surrounded by water. But the views here are just WOW! I have never seen a golf hole so beautiful.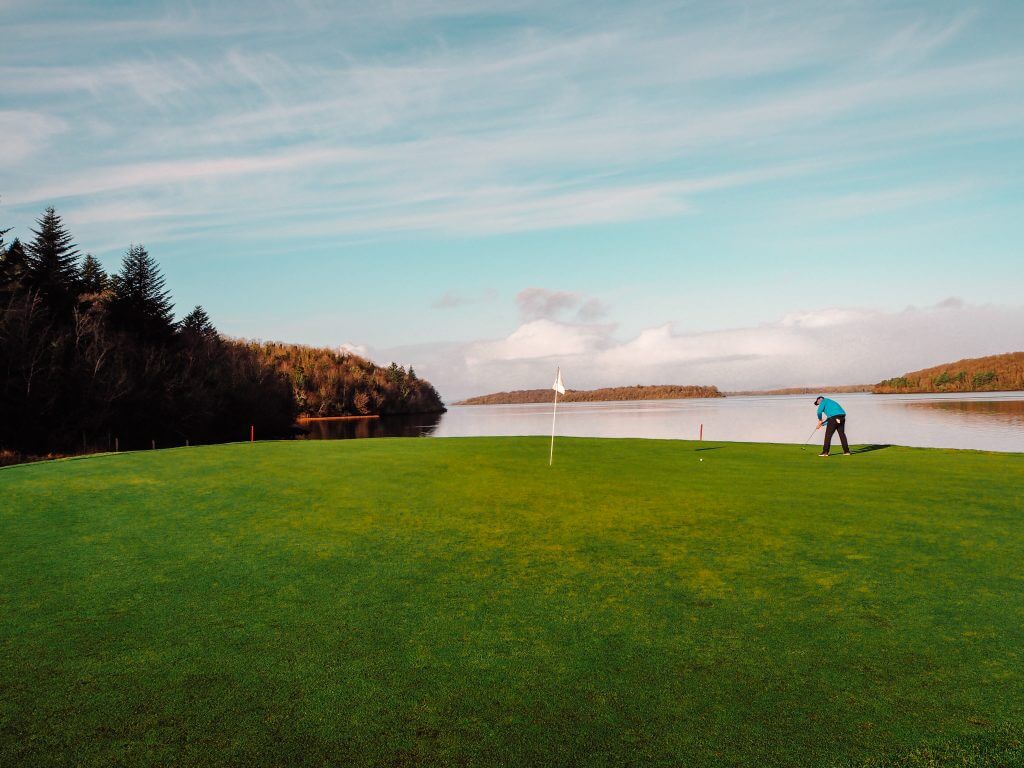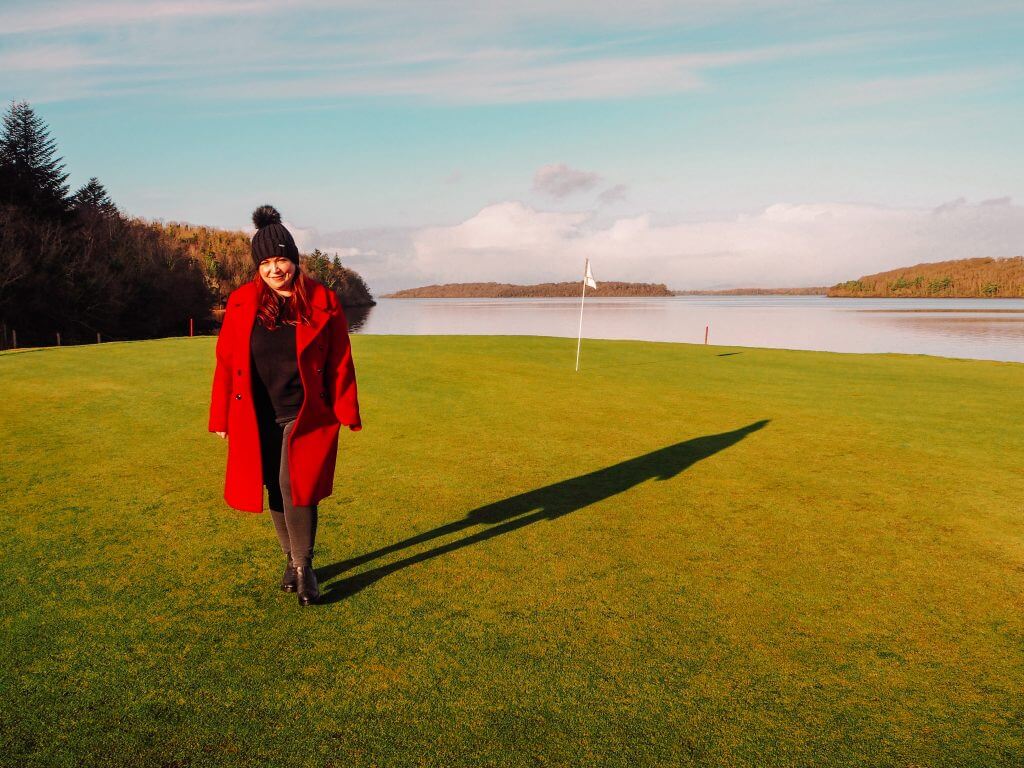 The home straight (16th – 18th) again is just stunning specifically Faldos Turn. It is a long par 5 with water in front of an elevated tee and Castle Hume Lough all down the right so aim your drive to the left of the fairway. The second shot will have a raised bunker in front of you (provided you find the left of the fairway) so have a look where the green is before you take your next shot. You may also be lucky enough to spot an otter in the right of the fairway.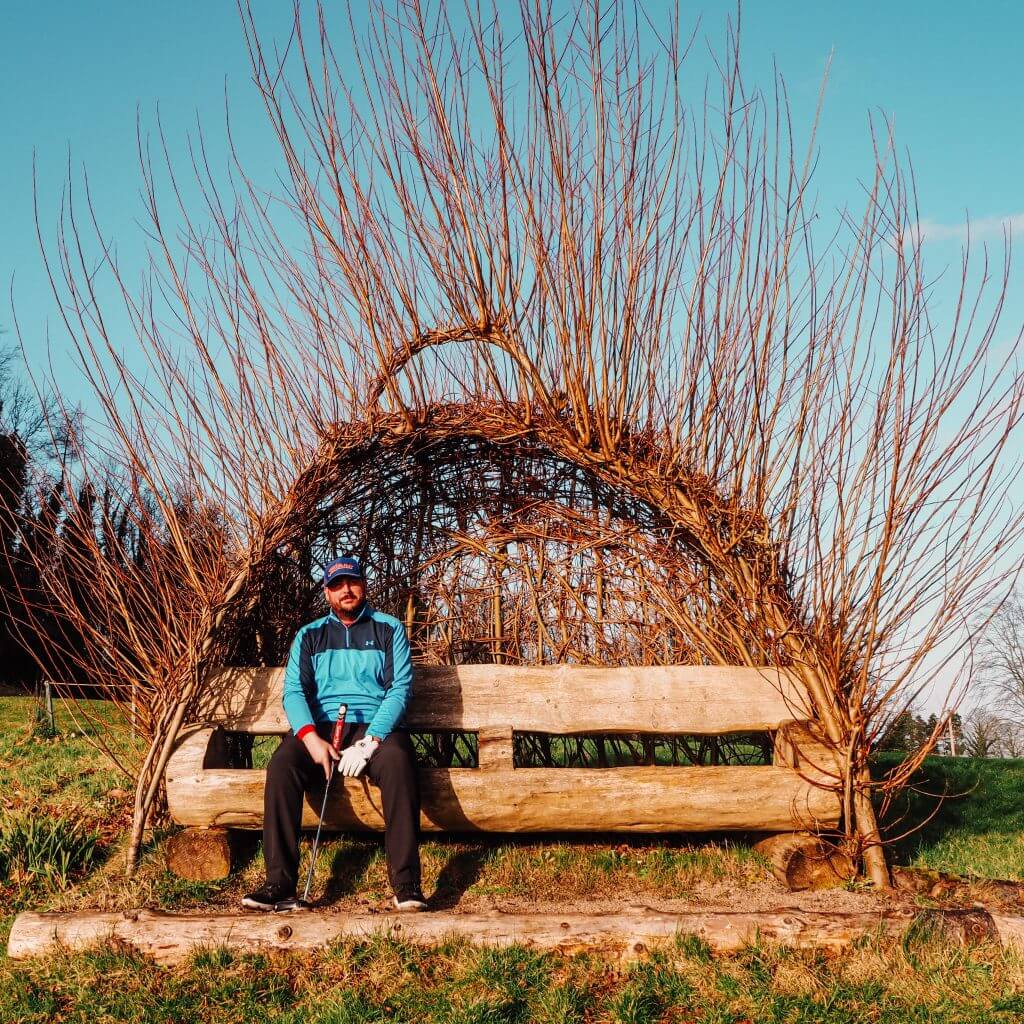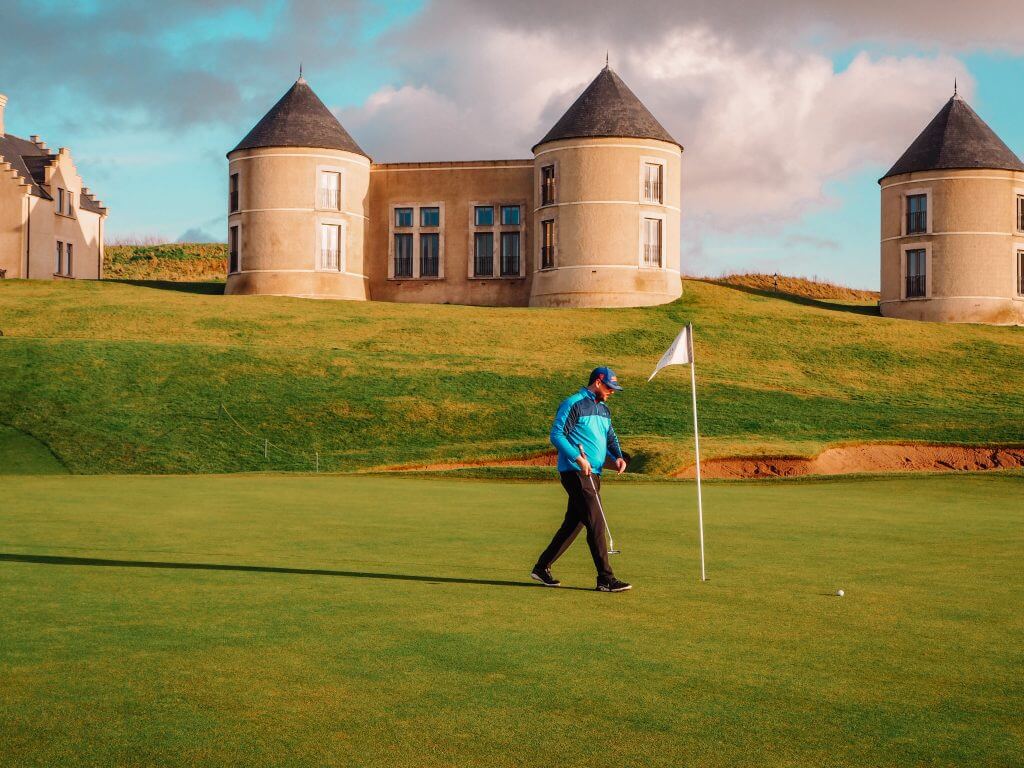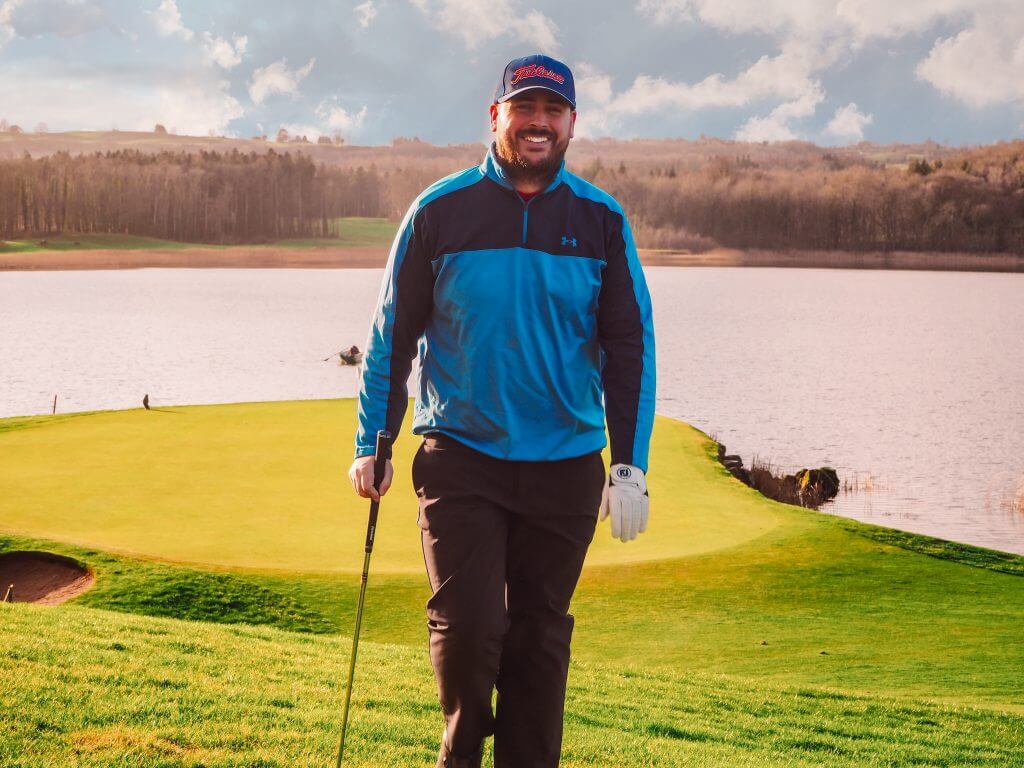 I thoroughly enjoyed my experience at Lough Erne not just for golf but the food, the service and hospitality too. I would absolutely recommend experiencing the resort. But for golf nuts like me it simply has to be experienced.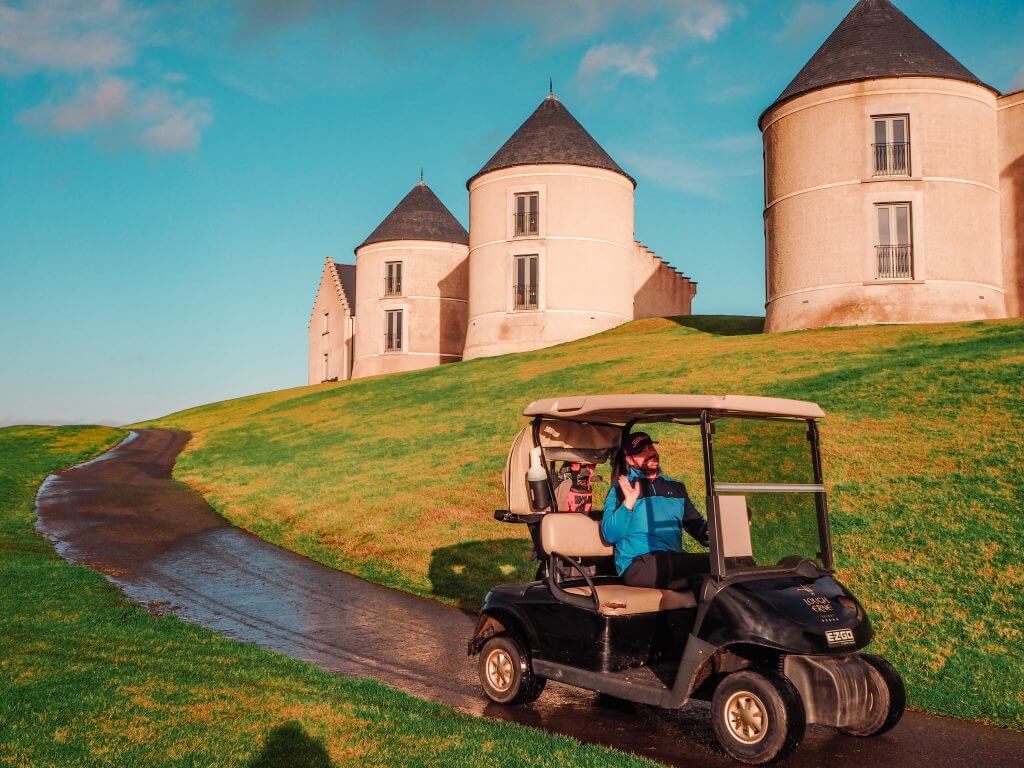 If you are wondering what Mrs. Lavin got up to, besides being a great caddy….let's just say she had fun driving the golf cart and making friends with the sheep along the course.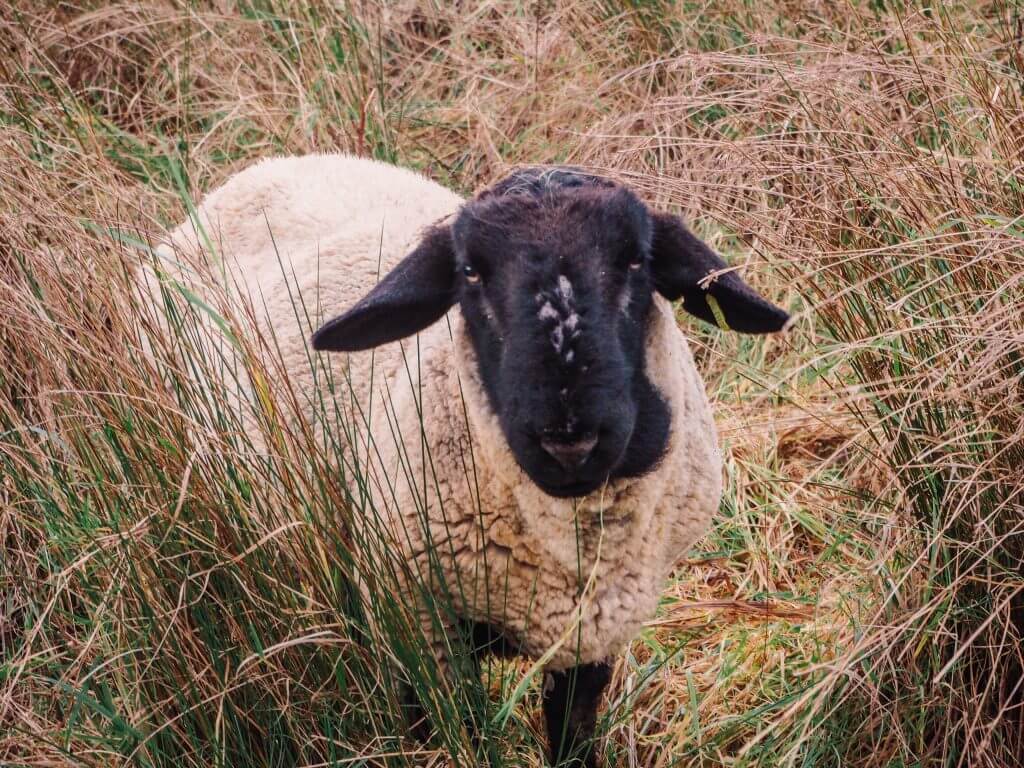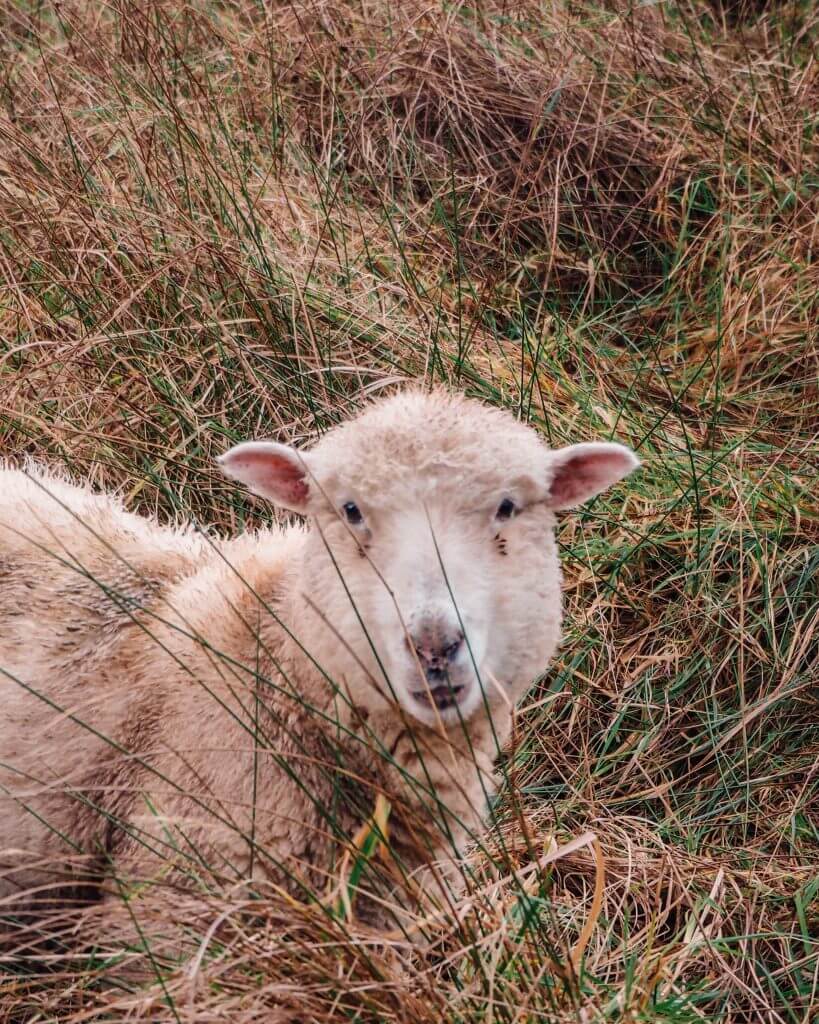 So guys! What do you think? Not bad for his first attempt. As you guys know I spent many years struggling with a chronic illness and while I still have things to consider during my travels I am in a much better place than I was and have almost normal functionality now. I still like to cover a section on travelling with disability for those of you that need to take this into consideration when planning a trip away.
Travelling with illness or disability
Accessible Rooms for those traveling with illness or disability are available so just contact the hotel staff at the time of booking to secure one. Pathways and walkways around the resort are fully wheelchair friendly and staff can take you around to explore the views with a golf buggy/cart if you have reduced mobility or if you struggle with energy. The hill up to Hole 6 in front of the hotel is a little steep so bear this in mind. I took the golf cart around myself to reserve energy when Mister Lavin was playing golf as it is quite a long walk around the entire resort. There are also quiet areas of the hotel like the secluded library to unwind if noise sensitivity is an issue.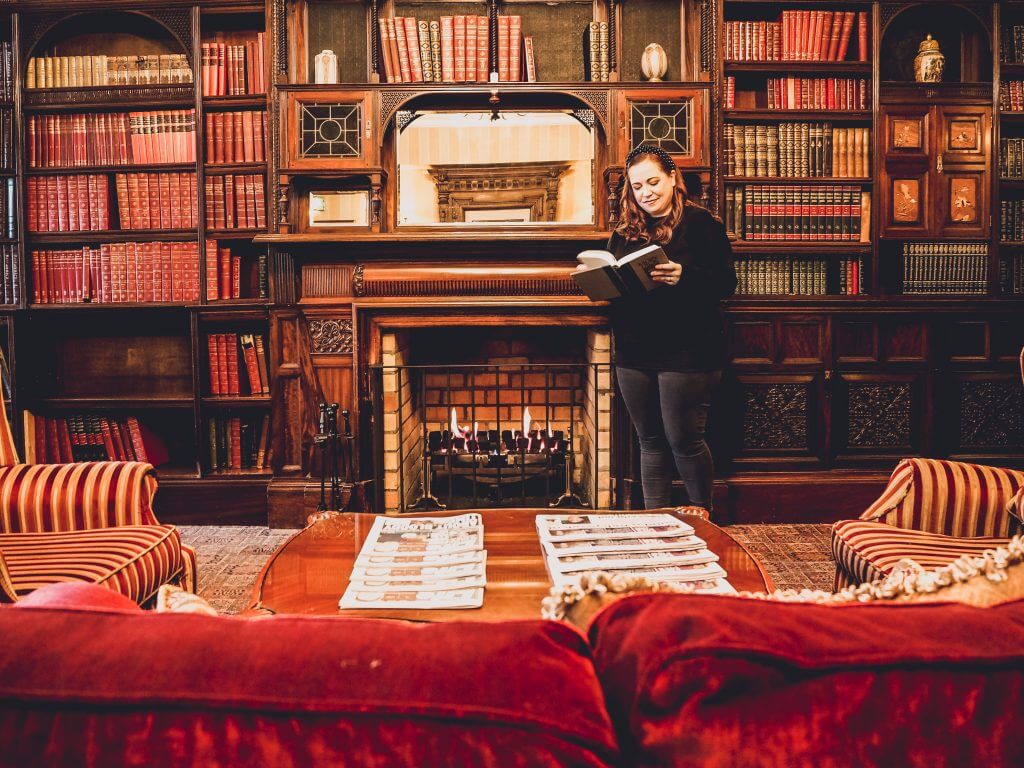 Nearby attractions
There were so many things to enjoy at the hotel that we didn't spend much time exploring but there is plenty to see and do in the area such as Marble Arch Caves, Enniskillen Castle or climbing the 'Stairway to Heaven' at Cuilcagh mountain. On our drive back to Galway we stopped in to visit both Florence Court and Glencar Waterfall.
Florence Court
Florence Court is a large 18th century house and gardens located near Enniskillen in County Fermanagh on the foothills of Cuilcagh mountains.
It is one of the most beautiful Georgian houses in Ulster, nestled against the wild mountain backdrop of the nearby mountains. On the grounds there are scenic and restful gardens, a play and picnic area with extensive walks across the demense; and inside enjoy a fascinating upstairs-downstairs tour of the house to uncover the story of the Cole family and their working Irish estate.
The beautiful house and demense, formerly the home of the Earls of Enniskillen (Cole Family) is one of the most important houses of its kind in Ireland, and holds a fascintating collection of Irish Furniture and some of the best Rococo plasterwork in Ireland. You can enjoy glorious walks around the grounds which include a pretty walled garden, holiday rose cottage, sawmill and ice house. House tours run from 11am to 5pm.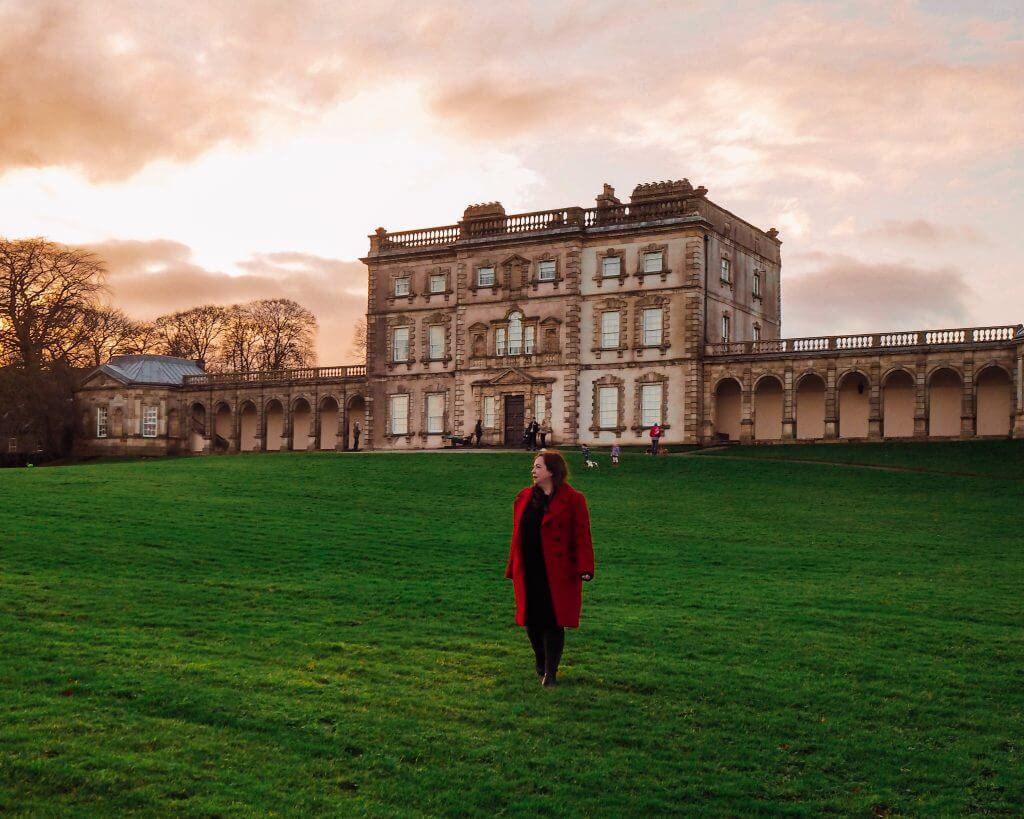 Glencar Waterfall
Glencar Waterfall is a 50ft high waterfall and is situated at Glencar Lough in County Leitrim. It served as an inspiration to the poet William Butler Yeats and features in his poem 'The Stolen Child'
'Where the wandering water gushes
From the hills above Glen-Car,
In pools among the rushes
That scarce could bathe a star,'
You can easily see how the beauty of the gushing water served as his inspiration and it is an extremely romantic place to visit. Even though in Ireland we spend our time wishing away the rain, this waterfall is at its most impressive after a heavy rainfall.
If you decide to visit at dusk like we did, it is lit up and the path is well sign-posted. There is free parking nearby. Whatever time you visit, if you enjoy nature it is magical, as you listen to the sound of the thundering water and you will certainly hear it before you see it. The area is gorgeous with a wonderful wooded walk, the fast flowing rivers, the peacefulness of the lake and the magnificence of the waterfalls. It is the perfect place to recharge.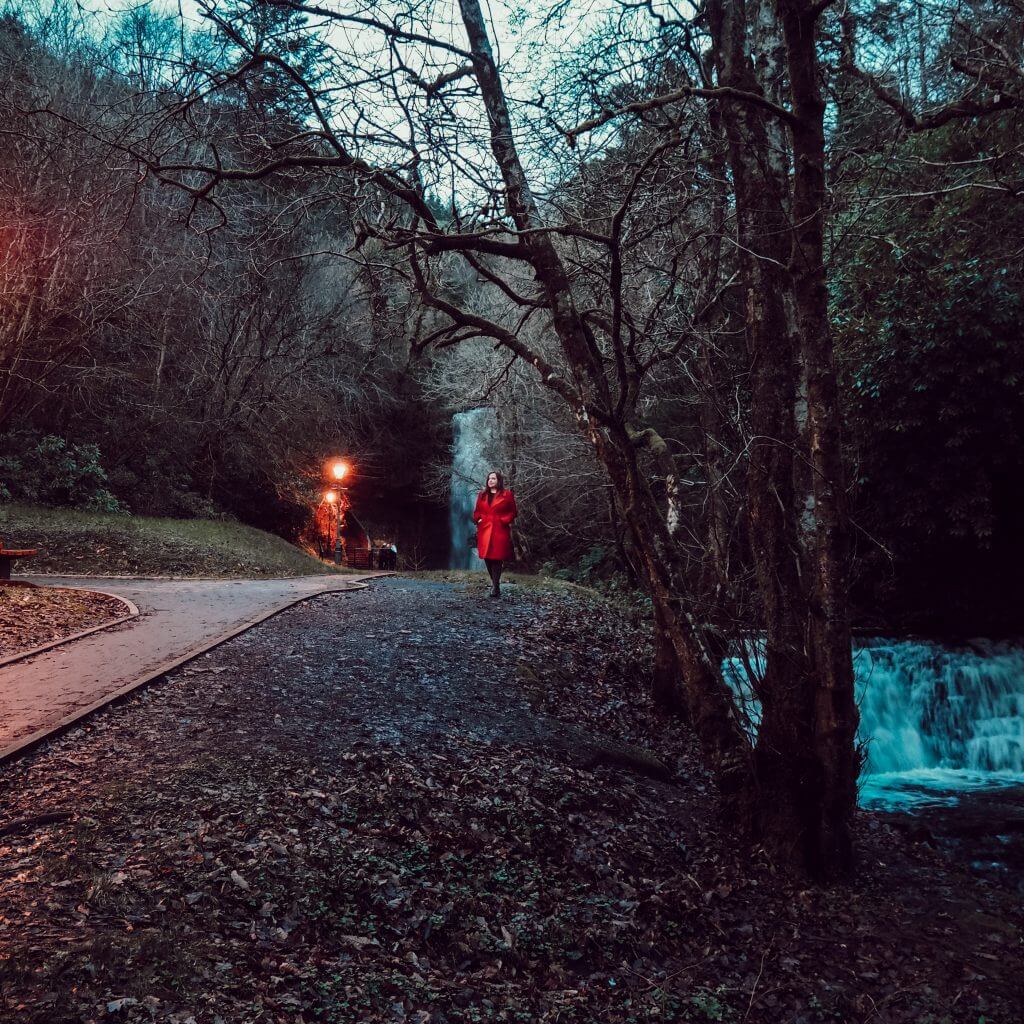 We had the most amazing time during our Northern Ireland roadtrip and staying in Lough Erne resort was the ultimate icing on the cake. I mean if it is good enough for the presidents of the world then it is good enough for The Lavins! Being serious though, we were made to feel so welcome during our weekend in Fermanagh and if you are looking for a romantic place to treat yourself with a sneaky round of golf thrown in then you need to book a stay in Lough Erne Spa and Golf Resort.
**Disclaimer: My stay and dinner in Lough Erne Resort was complimentary, but I only ever work with hotels that I am happy to recommend to you guys and Lough Erne is a wonderful and romantic place to enjoy a weekend break. Staying complimentary allows me to fully experience a resort and create content for you guys to enjoy. All opinions are my own**
Are you new here? Join thousands of other happy readers and subscribe to All about RosaLilla blog via email or Bloglovin'. The good news is that by signing up via email you will get my EXACT email template that I use to successfully pitch hotels for collaborations so that we can work together for mutual benefit.
I also share everything about myself on Instagram with nothing held back so be sure to follow along there.
If you are looking for more Ireland staycation ideas be sure to check out my other posts here:
Unwind at The Galgorm Hotel and Spa
Pembroke Hotel and Spa, Kilkenny. The perfect weekend getaway.
Until next time you crazy kids!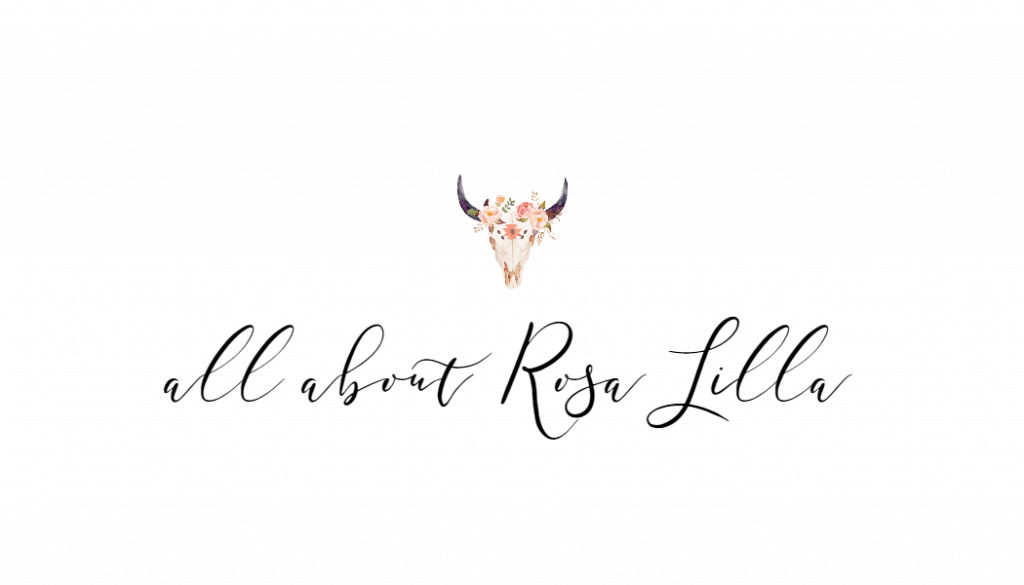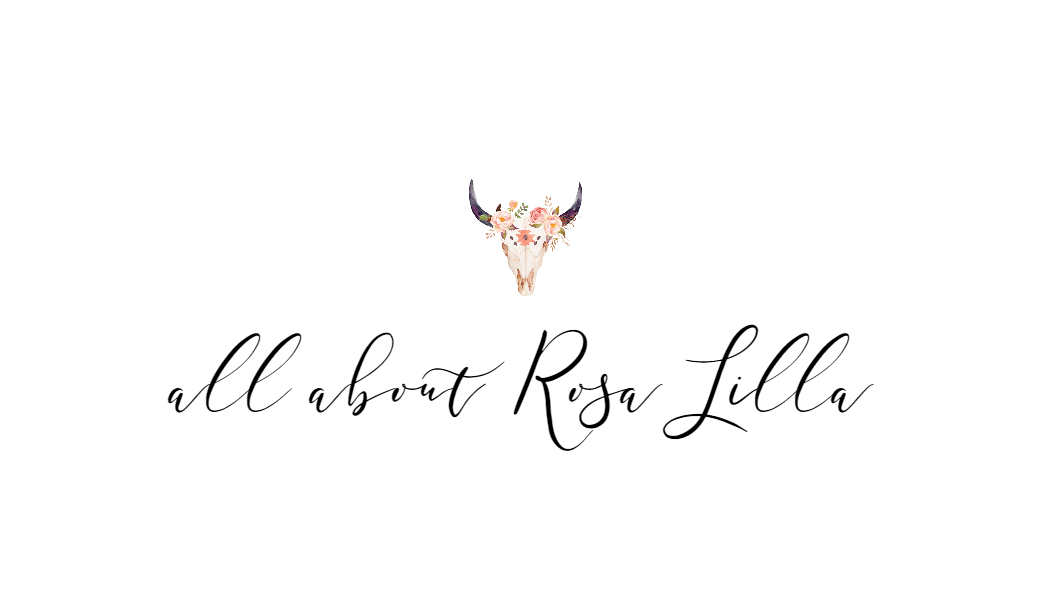 Sharing is Sexy!