A weekend in Hamburg Germany at Hamburg Christmas Markets
I am not going to lie! I had misconceptions about Hamburg before I travelled there. I thought it would be industial, dirty and with a seedy red light district, so it wasn't very high up on my bucket list of cities to visit. Boy was I wrong. Hamburg Germany is modern, glamourous, vibrant and the ultimate trendsetter. If you have misconceptions about Hamburg too, I am going to change your mind and show you how to enjoy a weekend in Hamburg Christmas Markets. My guide will include why you must visit Hamburg Germany, things to do in Hamburg, where to stay in Hamburg and a comprehensive guide on the Hamburg Christmas Markets.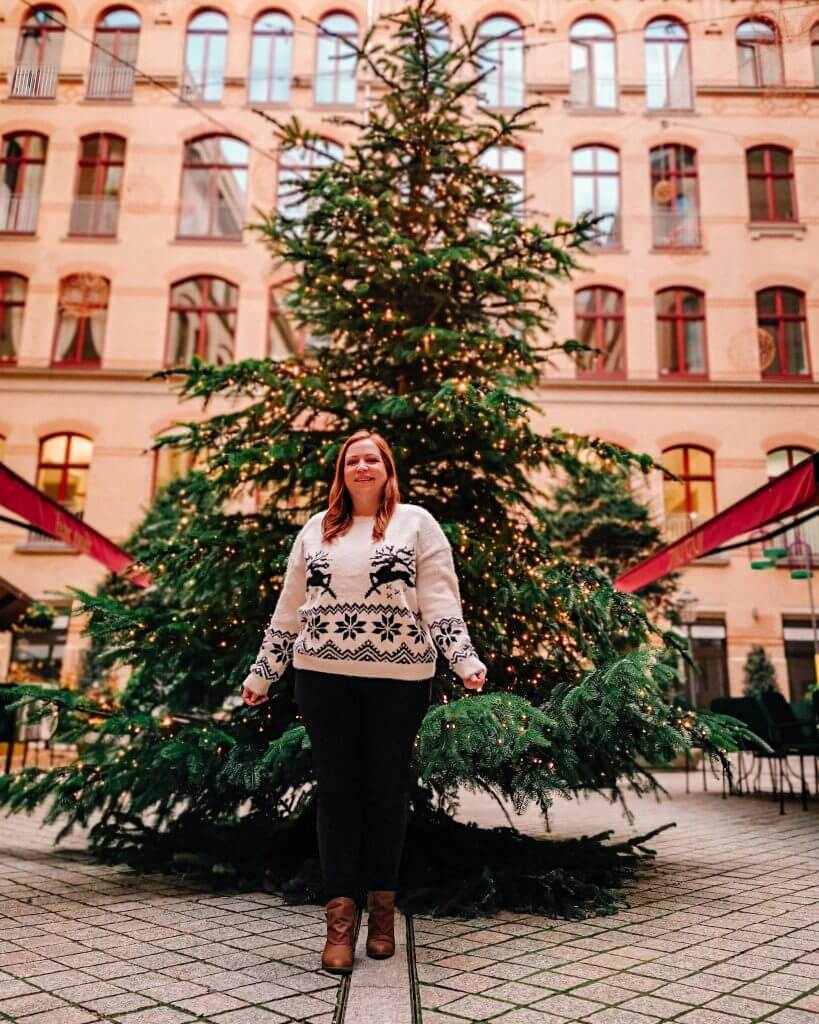 Why you should visit Hamburg
Hamburg proudly claims to be the 'gateway to the world'. Seated on the River Elbe between the North and Baltic seas, Hamburg is proud of its medieval history as a Free City and a key member of the Hanseatic League. It's trade routes still stretch across the globe and Hamburg was an important port of depature for immigrants to the New World.
As a result Hamburg is seeped in this wonderful maritime heritage. From its magnificent harbour, to its UNESCO old redbrick shipping warehouses, circling seagulls and network of canals that rival even Venice, there are lots of things to see and do in Hamburg. Did you know that there are more bridges in Hamburg than Venice, Amsterdam and London combined?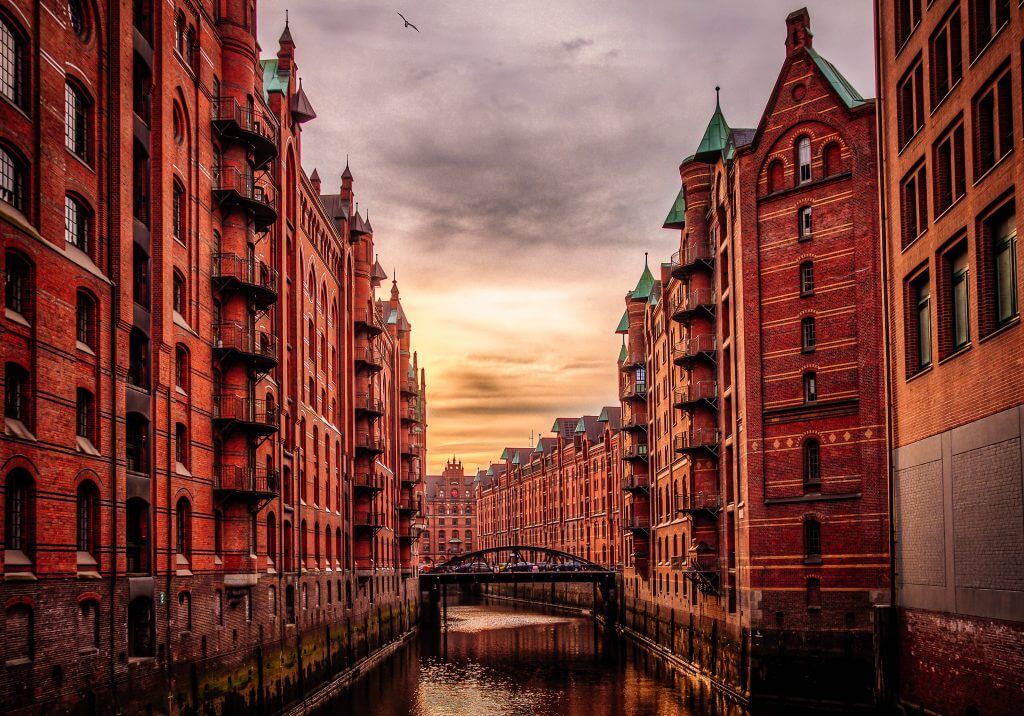 Added to that, it is a bit of a hipster's paradise and there is a real sense of acceptance in the city for whatever way you choose to live your life. The atmosphere in the city is far from the stereotypical regimented German sense of order. Here anything goes! In fact one of the city's main football clubs St. Pauli has a chairman who is also transvestite and the people of the city adore a drag queen called Olivia Jones. As for that seedy red light district, yes it exists, but the people of Hamburg seem far more open and casual in talking about sex and it is not the dirty taboo subject that it is in many other European cities. In fact, the nightlife on the famous Reeperbahn is something not to be missed, and many famous entertainers had some of their first gigs in this area. But let's talk a little more about that later.
Getting to Hamburg
Getting to Hamburg is easy. Hamburg airport serves as a hub for Eurowings, Condor, Ryanair and TUI fly Deutschland. Our flights from Dublin were €58 for two people return in early December. As a side note, did you know that Hamburg is also home to an Airbus factory?
Once you arrive at the airport, getting to the city centre couldn't be easier. There are two terminals in Hamburg airport T1 and T2. In the middle between the two terminals you will find the area for trains and buses. I recommend getting the S-Bahn as it is cheap, fast and direct.
Follow the green 'S' signs for the S-Bahn and purchase your ticket at the vending machine. It will cost you €3.30 for adults and €1.20 for children but if you are going to be spending a weekend in Hamburg my recommendation is to purchase a Hamburg Card.
The Hamburg Card gives you free travel on HVV services and attractive discounts to other attractions in the city. It is a cheap, convenient and flexible way to explore Hamburg and the surrounding area – alone or as a group. You can also download Hamburg Card app which allows you easy access to your ticket and also handy tips on discounts and must see attractions. You do not need to validate your ticket on Hamburg's trains or buses but you must have it for inspection if you are asked.
A Single Ticket is valid for 1 adult and up to 3 children (aged 6-14), a Group Ticket for 5 persons of any age (Validity expires at 6 am on the morning following the last day it is valid for). The cards are valid for 2nd class travel on all HVV services. This includes the upgrade for Express bus. A three day ticket for up to 5 people will cost €45.50 and €26.50 for a single ticket. It is the best and cheapest way to see the city and there is no surprise that the trains and buses throughtout the city run like clockwork.
Things to do in Hamburg
Wander around the city centre
Surrounded by the beautiful Lake Alster, Hamburg's city centre is home to countless architectural gems and a vibrant shopping scene combined. Here you can wander aimlessly through the beautiful and ornate shopping arcades, admire the glorious Rathaus (city hall), or enjoy coffee and cake with a view. You can also take a canal boat tour to admire some of the lavish villas along the Alster's shore.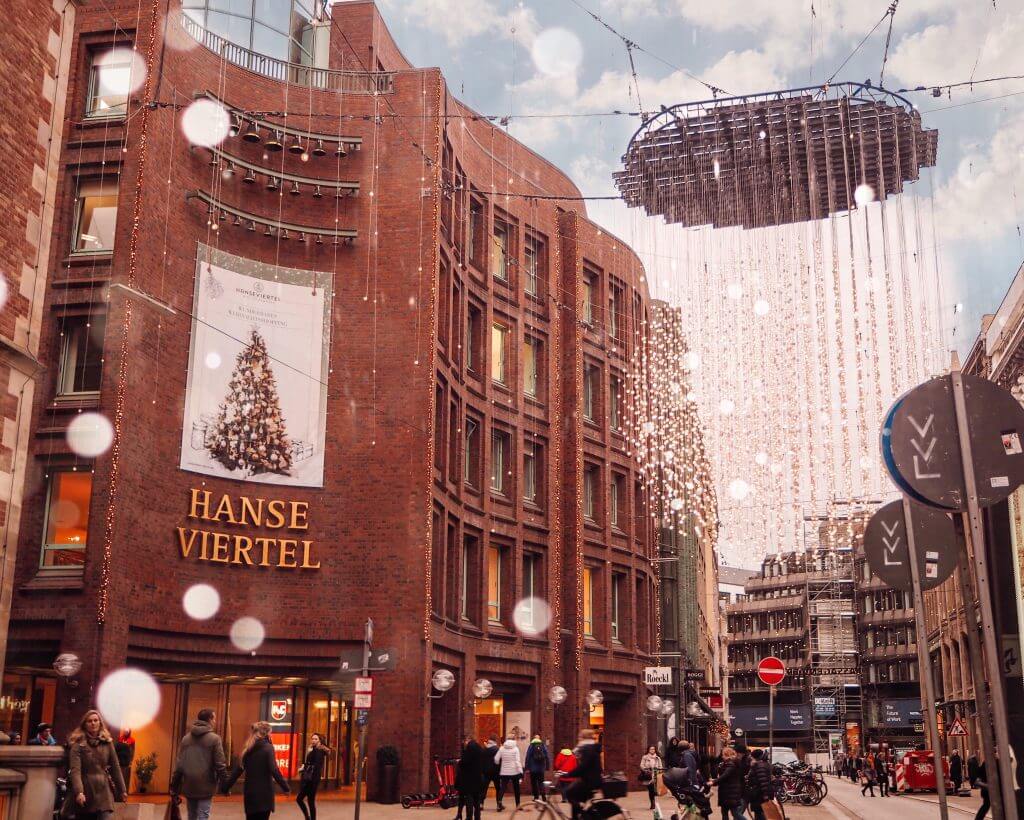 Hamburg is also a shopper's paradise. It is one of Germany's wealthiest cities and speaking to some locals they made it clear that, unlike their Berlin friends, they like to spend their money in the city too. From opulent shopping centres to small handicraft stores, luxury brands to flea markets, in Hamburg you will find something for every taste and budget.
Soak up some culture at The Elbphilharmonie
The Elbphilharmonie has a prominent place in the city's skyline. The building was created in a way to optimise acoustics so catching a performance here would be a wonderful way to spend an evening. The building also has an amazing panoramic viewing platform of the city and is entirely free for visitors to Hamburg. You have to however queue for a ticket to gain entry. The futuristic escalator journey to the top, is worth it in itself.
Once you reach the top and venture outside you will be greeted with a 360° view of the city. Walking along the balcony you will feel like you are strolling along the deck of a ship with the curved glass of the building reminiscent of lapping waves. Bear in mind that it gets rather windy up there so wrap up warm.
Explore the past in Deichstraße.
So you guys know me! The most important part of any city for me is the Old Town and it is usually the first place I go explore on any trip. Hamburg, however doesn't have a typical old town per say. It does have one street known as Deichstraße which boasts some of the last remaining historic buildings inside Hamburg's old town. Situated next to the Nikolaifleet and close to Hamburg Harbour these narrow buildings each own a direct access to the water on the back and street access at the front. Today Deichstraße invites tourists to experience the flair of "old Hamburg" with cute little shops, cafés and restaurants.
Admire the architecture of Speicherstadt and the Kontorhaus District with Chilehaus
Speicherstadt and the adjacent Kontorhaus district are two densely built urban areas in the city centre of the port of Hamburg. Speicherstadt, originally developed on a group of narrow islands in the Elbe River between 1885 and 1927. It was partly rebuilt from 1949 to 1967 and today is a UNESCO site. It is one of the largest coherent historic ensembles of port warehouses in the world and the architecture there is just beautiful. Fifteen very large warehouse blocks, as well as six ancillary buildings are linked together by bridges over a network of canals. This area is a photographer's dream.
Adjacent to the modern and striking Chilehaus office building you will find the Kontorhaus district. It features six large office complexes built from the 1920's to the 1940's to house port related business.
Take a guided tour of the cool Schanzenviertel & Karolinenviertel neighbourhoods
Schanzenviertel (Sconce Quarter) is a quirky neighbourhood in Hamburg, and is located Southwest of Schanzenpark. The name refers to the fortifications just outside of Hamburg that protected the city from the advances of Danish troops in the late 17th century, with many of these fortifications still being visible today.
This part of Hamburg lies in the Altona region, which from 1640-1864 belonged to the Danish monarchy. You can still find flagstones dotted along the pavement that indicate where the border between Germany and Denmark used to lie.
In recent times this area has undergone gentrification with many buildings being restored but it remains the cool, hip side of Hamburg. This area is really popular amoung young locals who flock to the independent record shops, unique boutiques, cosy cafés, lively pubs and bars around the Schulterblatt street.
You simply have to experience the quirky design and delicious food at Bullerei restaurant located at Lagerstraße 34b, 20357 Hamburg.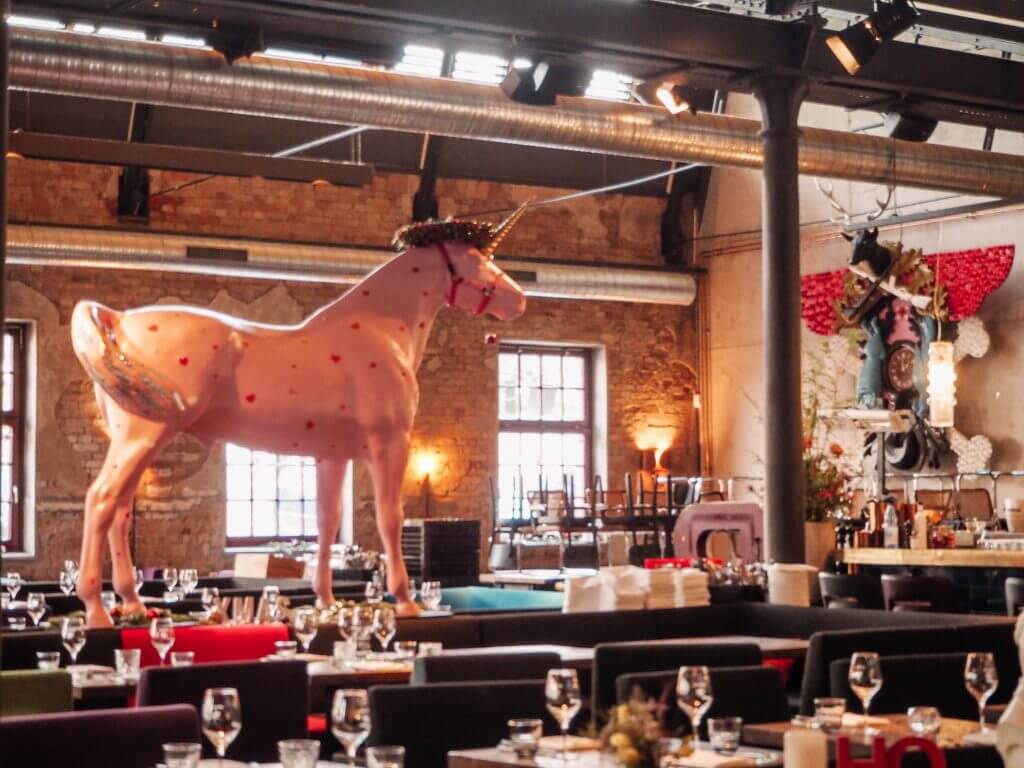 Rote Flora, a former theatre turned autonomous youth centre and squat since 1989, still functions as a symbol of the area's strong alternative scene and is now known for its wide array of political and cultural events.
If you are looking for budget accomodation then I recommend the hip and cool Superbude Hostel. Meaning 'super digs' it has a great location. You are in the heart of everything. The hostel is located close to the Reeperbahn, Schanzenviertel and Karoviertel districts.
The Schanzenpark is a green oasis in the city. On top of the hill in the park's centre is the most gorgeous water tower Schanzenturm that has now been converted into the a beautiful Mövenpick hotel. The escalator into the hotel is another experience and walking through the hotel you will hear the sound of water dropping as a tribute to its original use as a water tower. The hotel has been stylishly designed to make the most of its original structure, which makes for a very unique hotel experience.
Just a short walk from Schanzenviertel you will come across Karolinviertel, a cosy neighbourhood with hip cafes and both designer and vintage fashion shops. This quarter is very similar to its neigbouring Schanzenviertel with only the former abbatoir separating the two areas. This former meat district now houses a local brewery and I highly recommend stopping for lunch in Altes Mädchen where you can enjoy craft beer and delicious food.
Our tour guide was Tomas Kaiser who is very passionate about the city he calls home. He took us on a walking tour of the Schanzenviertel and Karolinenviertel and we enjoyed exploring this area from a local's perspective. I highly recommend booking a personal tour with Tomas during your time in Hamburg.
The Beatles Connection
Forget Liverpool, Hamburg is where The Beatles became really good! George Harrison himself said "Hamburg was like our apprenticeship, learning how to play in front of people." Back in the day the original line up of The Beatles John Lennon, Paul McCartney, George Harrison, Stuart Sutcliffe and Pete Best, performed at different clubs throughout Hamburg during the period from August 1960 to December 1962, honing their skills as musicians.
On August 12th 1960 The Beatles were booked in to the Indra club in Hamburg for a series of gigs. The Indra club was a seedy strip joint complete with a neon elephant beckoning passers by. They lived in a squalid apartment above a theatre and played music for five to six hours per night at clubs around the neighborhood. It was in Hamburg that they came together as musicians, where they first played with Ringo Starr (who would join the band two years later), where they made their first recording, and where they developed their signature style, including their famous moptop haircuts, which came courtesy of Stuart Sutcliffe's girlfriend.
For a guided Beatles tour , complete with ukulele renditions of some of the band's best songs, join Beatles enthusiast Stefanie Hempel for a Beatles tour of St. Pauli. On the tour, Hempel guides fans to sites like the Kaiserkeller, the Indra Club, and the Star Club, sharing fascinating anecdotes about the band along the way.
The legacy of The Beatles will be celebrated in 2020 in Hamburg at the Come Together Festival that will take place in the city from March 27th-29th.
Enjoy the Night life in the Reeperbahn/St. Pauli District
Hamburg's nightlife is possibly the best in Europe. Underground and above ground, on the rooftops and on the water Hamburg's nightlife takes you to the best parts of the city and guarantees an evening you won't forget.
Unlike cities in the UK, there is no binge culture in Hamburg as bars and restaurants stay open to the early hours of the morning.
It is the famous red-light and party district of St. Pauli that is the heart of Hamburg's nightlife. In the middle of the century Hamburg was full of sailors, dockworkers and shipbuilders. The St. Pauli region was not far from the port and it became the region where everyone went to party.
While this particular area is especially known for its strip clubs, cabarets, and red-light district, it's also a popular area for locals and tourists alike to go out for drinks. I expected to be shocked but I wasn't. I was more interested in the food and music scene here then windows offering sex. Here you can find elegant cocktail lounges and an underground music scene where many, now famous, budding musicians gained recognition.
Some of the hottest spots on the Reeperbahn include:
Clouds, the highest restaurant and bar in Hamburg, providing patrons with stunning views of the entire city. During the summer you can move out onto the rooftop terrace to enjoy your drinks with views over the city.
Glanz & Gloria is a glamorous cocktail bar with a 1920s themed interior. Live music and an outdoor terrace only add to the ambiance of this bar.
Hans-Albers-Eck is a favorite of the neighborhood for it's laidback and German hipster atmosphere. The bar is also made from the bow of a Hamburg tugboat. How cool is that!
Molotow is one of Hamburg's most famous underground clubs, and has hosted several world-famous bands back before anyone knew who they were, such as The White Stripes, The Killers, and The Hives.
As it was Christmas market season during our weekend in Hamburg we decided to check out the "naughty" Christmas market in Santa Pauli. This Christmas market was more lively than the traditional Christmas markets, with live music and a party vibe, and it was equal parts kitsch and cool. Overall we found it a fun experience and giggled our way to the bar to enjoy some live music and mulled wine
Hamburg Christmas Markets
Just ask Mister Lavin what I am like when I am surrounded by twinkly lights! Christmas is my favourite time of the year. I just find everything so magical and there was no better place to enjoy the build up than the Hamburg Christmas Markets. Let's face it! When it comes to Christmas markets Germans do them best.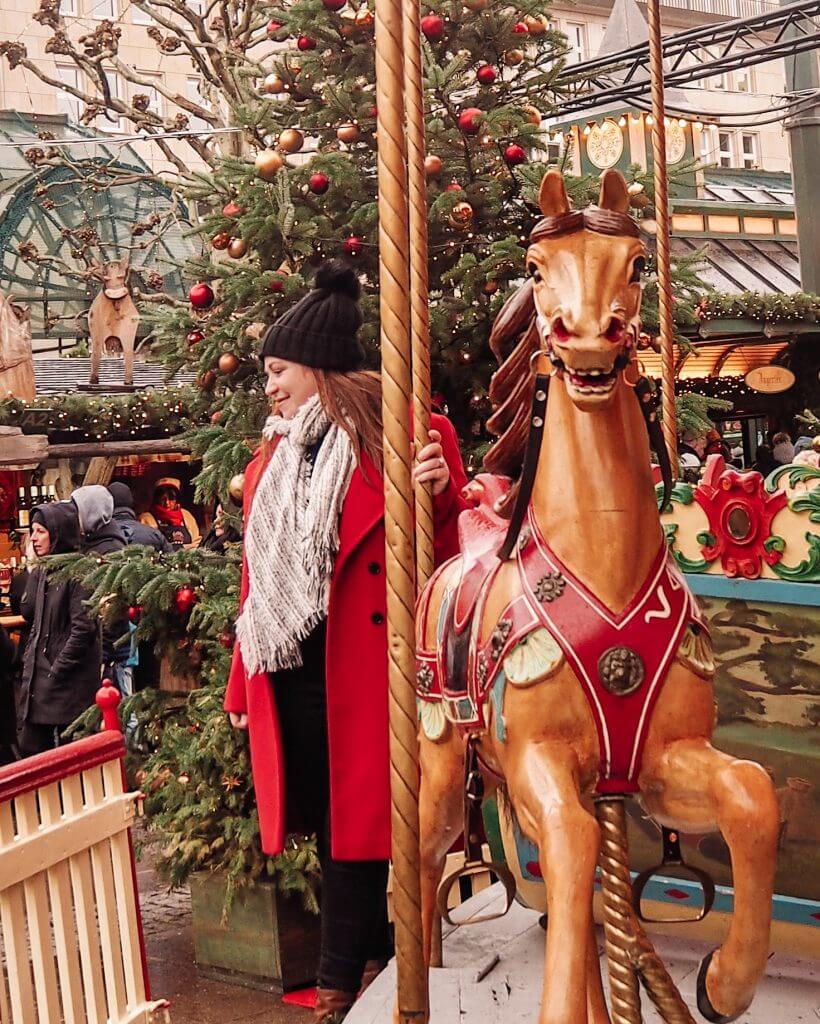 During the Advent season Hamburg wraps itself up in twinkly lights and the best decorations, with plenty of opportunities to buy gifts, snack on delicious food and enjoy one (or two!!) Glühwein. Christmas markets in Germany are a time-honoured tradition with traditional wooden stalls selling trinkets and the tastiest food. Christmas in Hamburg is a truely magical experience. With fairy lights twinkling on the Alster, the smell of roasted chestnuts in the air and a gigantic Christmas tree floating on the water, Hamburg at Christmas will have you under its spell.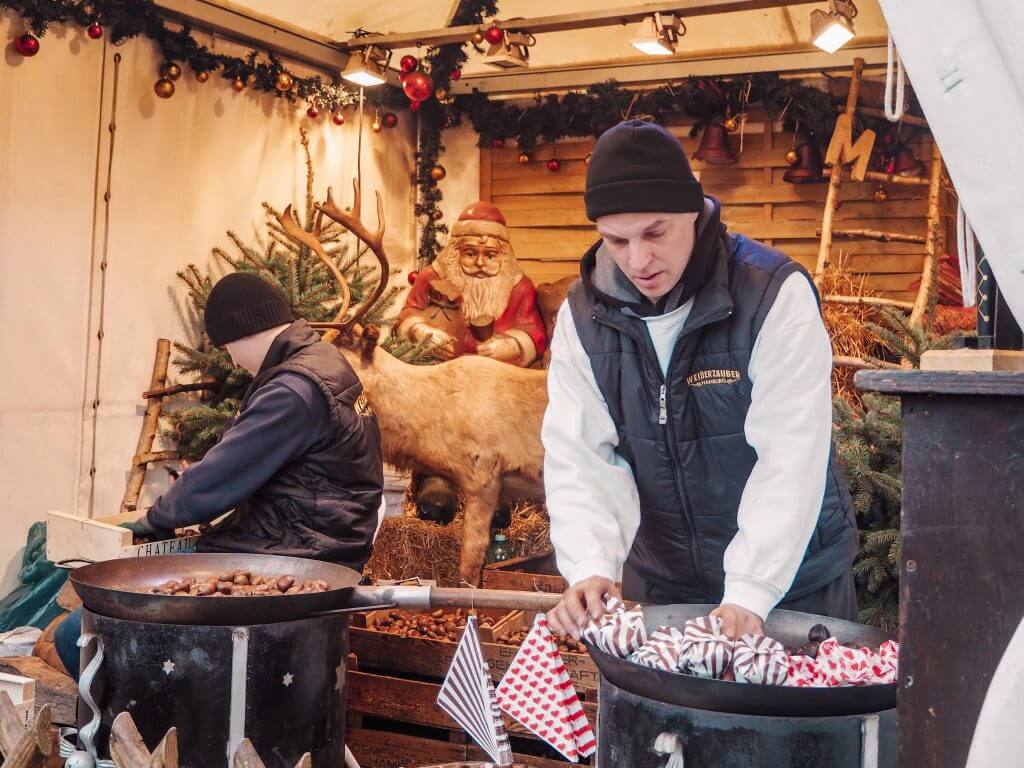 In Hamburg you will be treated to one of the most creative markets in the whole of Germany. Designed by the famous Roncalli Circus ringmaster it features historical attractions from the Roncalli including a traditional carousel for children. The flying Santa Claus visits the market every day at 4 pm, 6 pm and 8 pm (although this year I was extremely disappointed to find out Santa was on a break).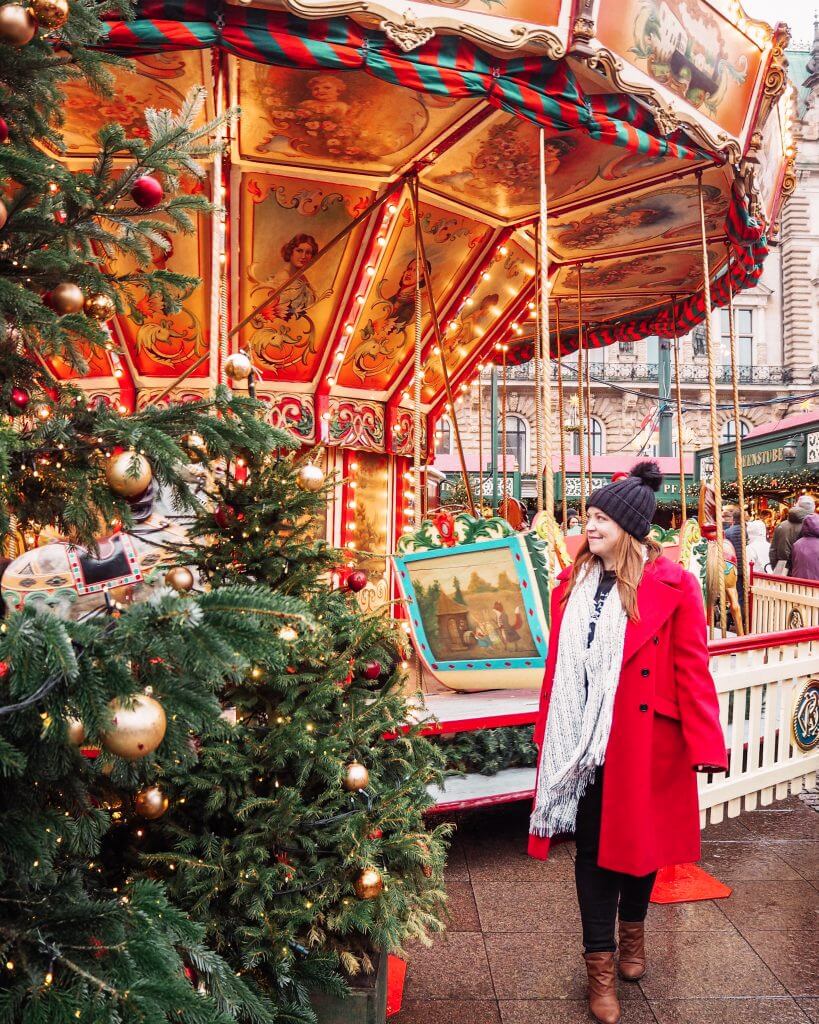 One of the highlights of the Hamburg Christmas market is the traditional Christmas parade. It is held every Saturday during Advent. A colourful procession featuring decorated floats, reindeer, Christmas elves and Santa Clauses parades through the city center three times a day.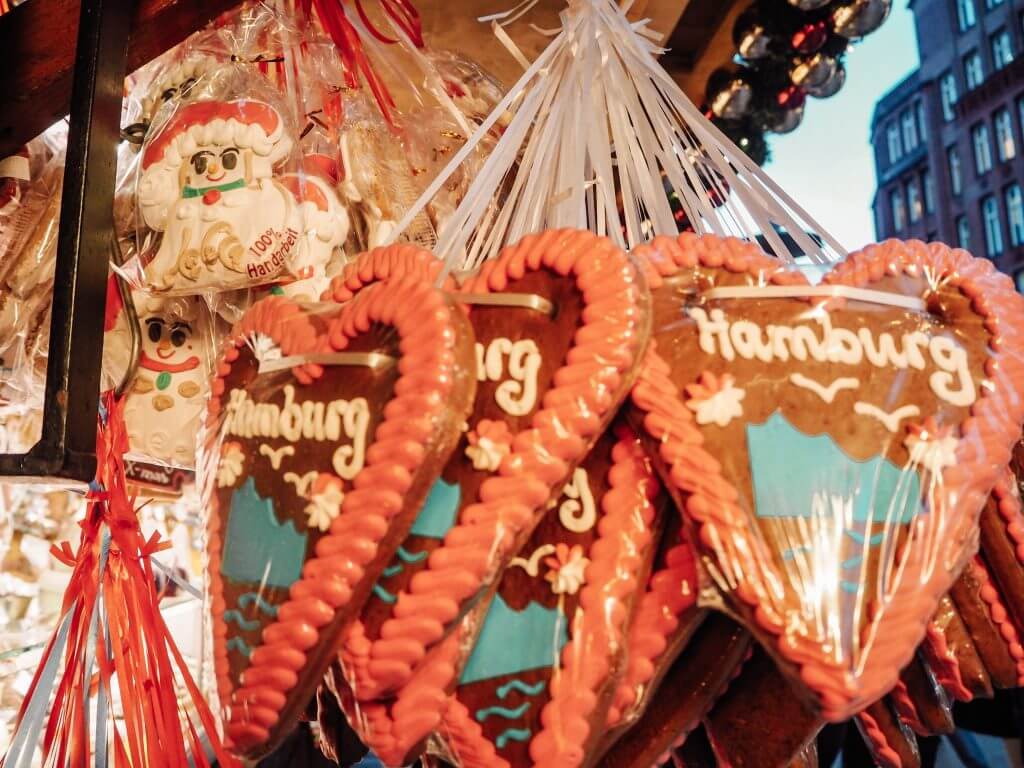 There are numerous Christmas markets throughout the city but these are a few of my favourites.
List of the Best Hamburg Christmas Markets
Rathausmarkt
This is one of the most traditional and magical Christmas markets that I have been too. It is located in the biggest town square of the city at the feet of the city's Rathaus (city hall). Besides the usual attractions of the handmade arts and crafts and the delicious German Christmas treats you can find a whole toy street with a miniature toy train that makes its rounds right above your head! Not to mention the flying Santa three times a day.
The family run Käthe Wohlfahrt Weihnachtswelt is a definite must-see when it comes to getting the greatest gifts. It has been selling the finest Christmas decorations and ornaments for decades and probably hosts the largest collections of Christmas decorations around the world! Be sure to pick up a traditional smoking man there.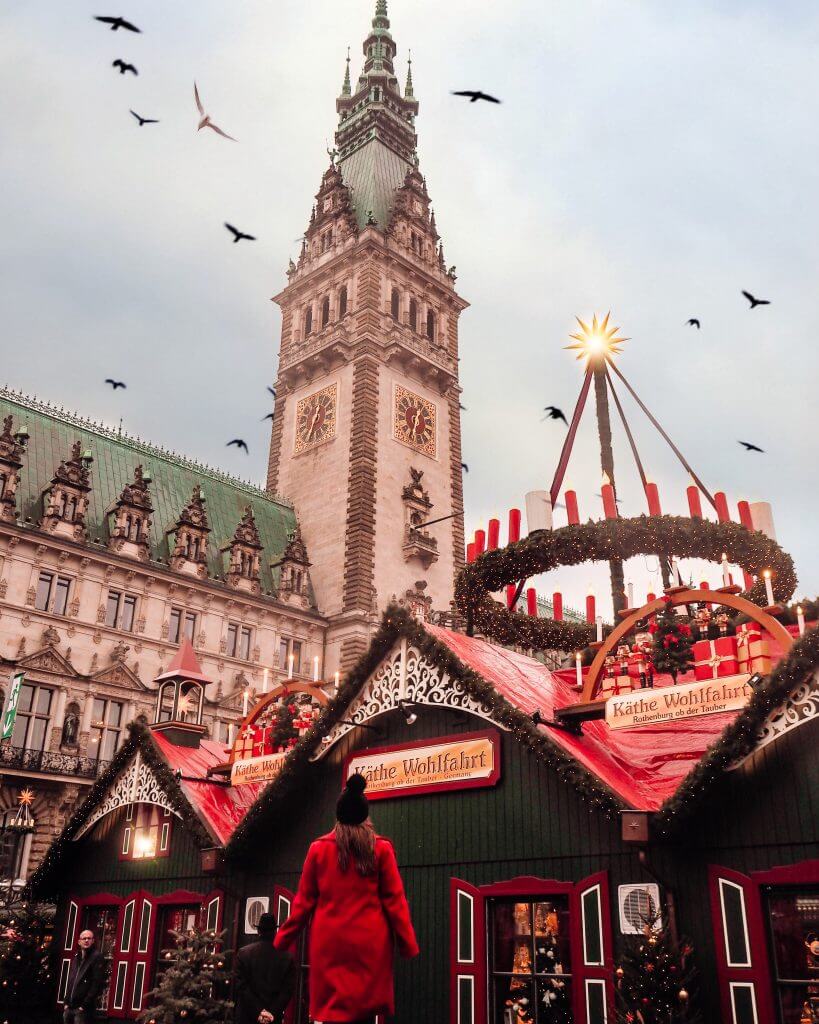 White magic by the Jungfernstieg
Not far from the Rathausmarkt you will be greeted by rows of white pagoda tents adjorned by stars. They run alongside the river, with a gigantic Christmas tree overlooking everything from the water. You will be enchanted in no time at all. Here you will find more modern gifts like jewellery, porcelain and art pieces.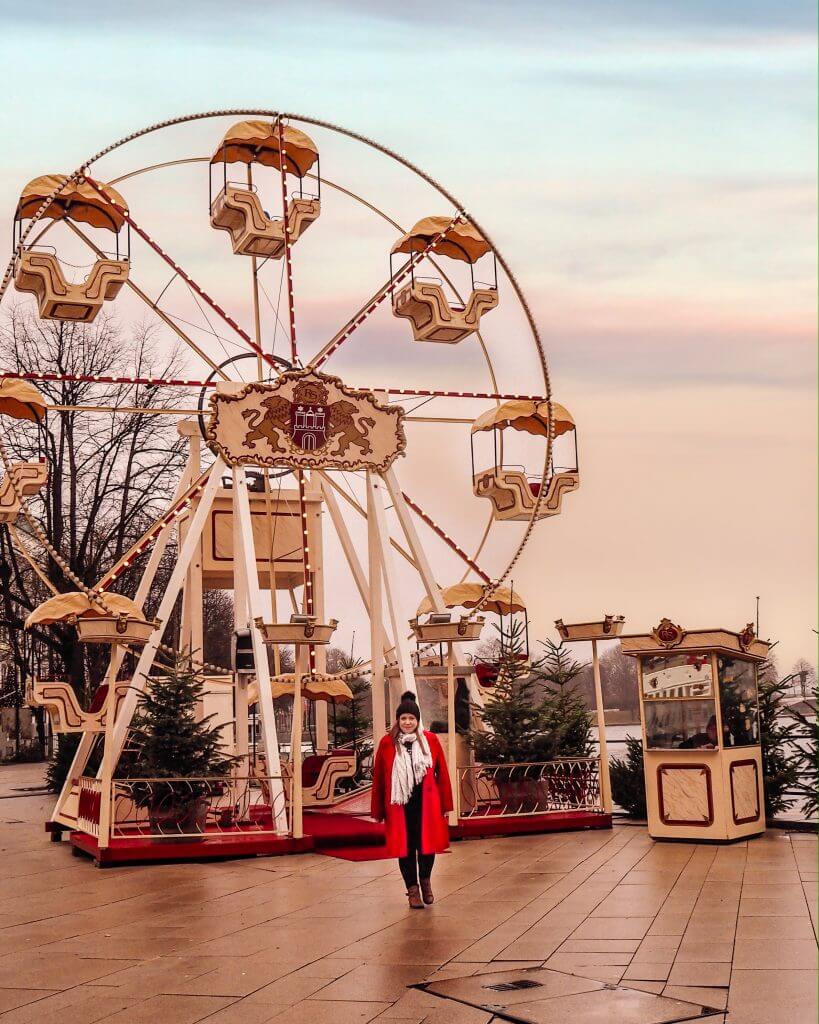 Top tip: Skip the mulled wine here and try a traditional Feuerzangenbowle an alcoholic drink for which a rum-soaked sugarloaf is set on fire and drips into mulled wine. It is often part of a Christmas or New Year's Eve tradition. The name translates literally as fire-tongs punch.
Winterwald
This one was close to our hotel and loacted right in the heart of the shopping streets in Hamburg. The concept of the small market is to mimic a winter forest right in the city centre. With rustic wooden stalls and tall pine trees it has more of a laid back feel than the Rathausmarkt. It is also less busy. Be sure to try the Flammlachs, the most delicious smoked salmon roasted over an open fire.
Christmas Market at the Church of St Petri
The Christmas market at the church of St Petri promises to be an experience for the whole family. During the pre-Christmas period, the area around Hamburg's oldest, still existing church is transformed into a Christmas fir forest. The smell of roasted almonds fill the air and I dare you not to be tempted by the traditional soup. It will really warm you up.
Over 200 real fir trees decorate the Christmas market at St Petri church at Christmas time. It's easy to forget that you're in the middle of Hamburg's biggest shopping mile and not in the middle of an enchanted forest with Scandinavian-Nordic Christmas huts and illuminated fir trees.
Where to stay in Hamburg
Your time in Hamburg would not be complete without staying at the luxurious Tortue Hotel. The hotel is located in the Stadthöfe district in the city centre within walking distance of all of the main sites. This area is surrounded by grand boulevards, historic courtyards and landmark buildings from the 1800's. Not to mention hot new restaurants, exclusive shops and bars. It really is the ideal location for exploring Hamburg.
With a wonderful mix of modern, historical, and French-influenced design, Tortue Hamburg presents the stylized excellence of multiple well-known interior designers. It is part of the Design Hotels group and it is evident that much thought went into its design. The building was once home to the Ministry for Urban Development and its stately historical facade and architectural features have been retained.
The 126 rooms and suites range from 23 to 60 square meters, and all feature a double bed, a balcony, and a very large shower. I was pleasantly surprised to find underfloor heating in the bathroom and a complimentary mini bar in the room that gets restocked daily. The bed was so comfortable that I didn't want to leave and the room was a real haven for relaxing in after a long day exploring the city.
Breakfast was also a treat. Served in a romantic candlelight setting as Christmas trees twinkled outside, the interior was warm, sultry and seductive. The menu was huge and for €35 you could order as many things as your heart, or tummy, desired. A small double room will cost approximately €130-€150 per night depending on if you want to include breakfast.
The idea of Tortue (french for turtle) is to thoroughly relax and unwind, in other words to live your life at the pace of the Turtle. There are many places to relax in Tortue, from the stylish Bar Noir to the fantastic Asian Jin Gui restaurant. Tortue makes the experience so relaxing that it is incredibly difficult to want to leave your hotel to explore. That is the sign of a great hotel for me and I highly recommend treating yourself to a stay here during your Hamburg weekend.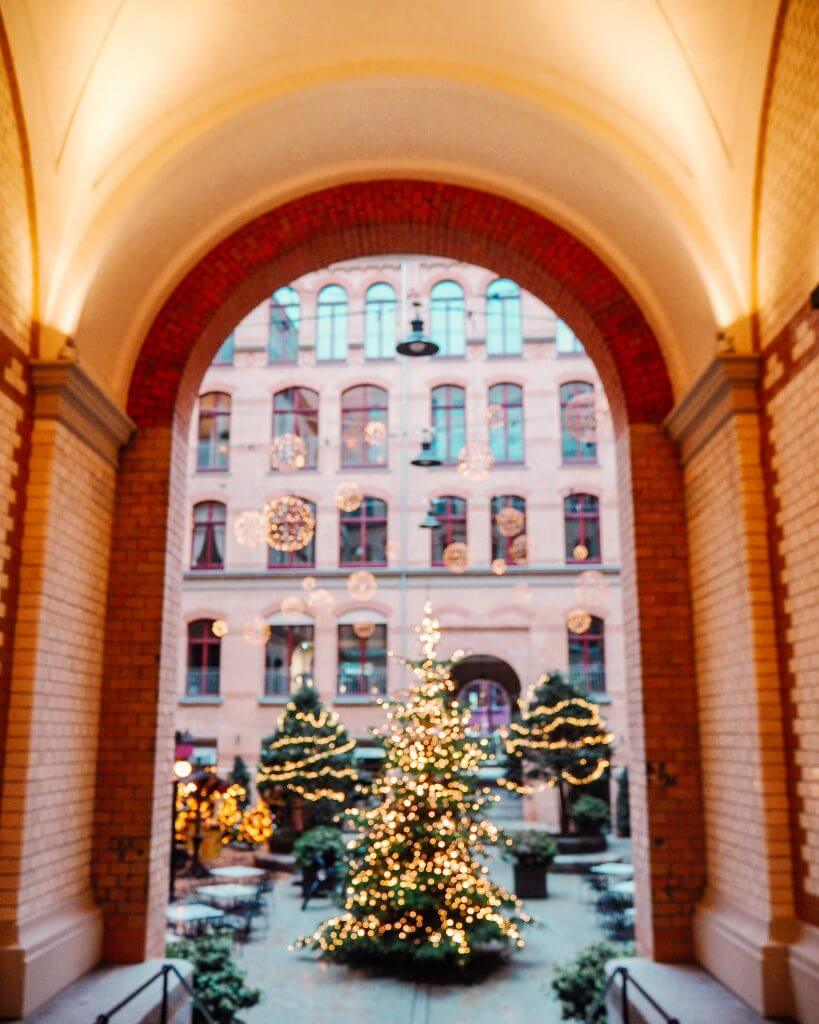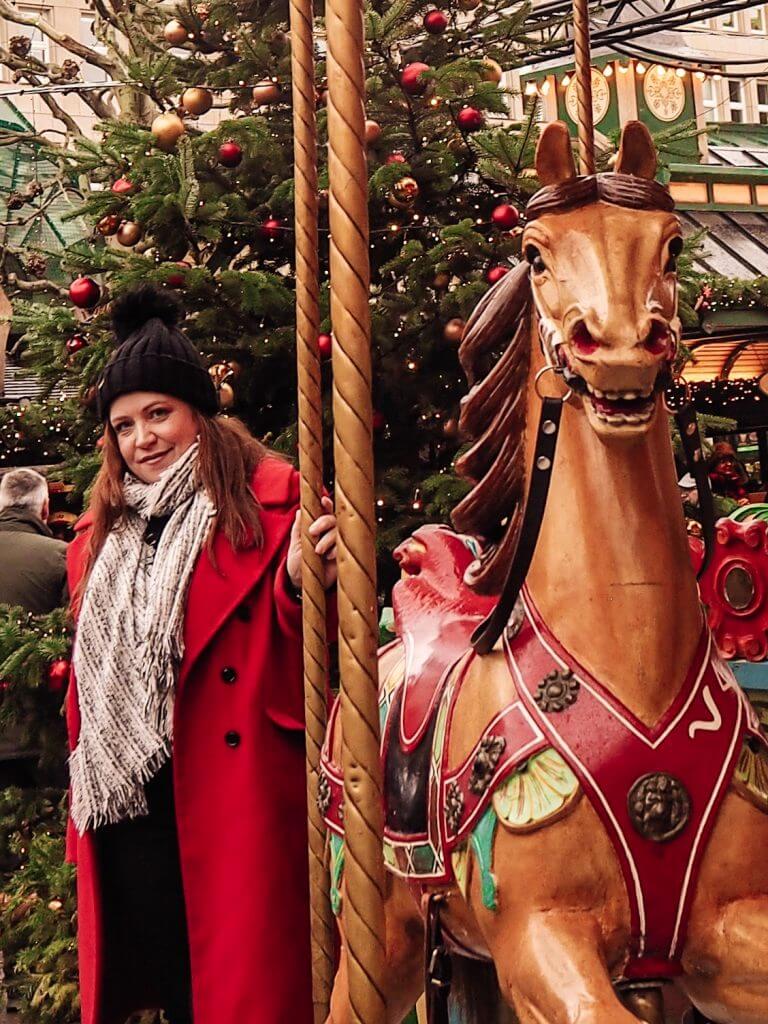 **Disclaimer: My stay in Hamburg and Tortue Hotel was provided by Hamburg Tourism and Tortue Hotel, but I only ever work with hotels and tourism boards that I am happy to recommend to you guys and Hamburg is a wonderful city to enjoy a winter break. All opinions are my own**
Are you new here? Join thousands of other happy readers and subscribe to All about RosaLilla blog via email or Bloglovin'. The good news is that by signing up via email you will get my EXACT email template that I use to successfully pitch hotels for collaborations.
I also share everything about myself on Instagram with nothing held back so be sure to follow along there.
If you are looking for more Christmas market ideas be sure to check out my other posts here:
The Magic of Colmar Christmas Market
10 reasons why Vilnius should be your next city break
Until next time you crazy kids!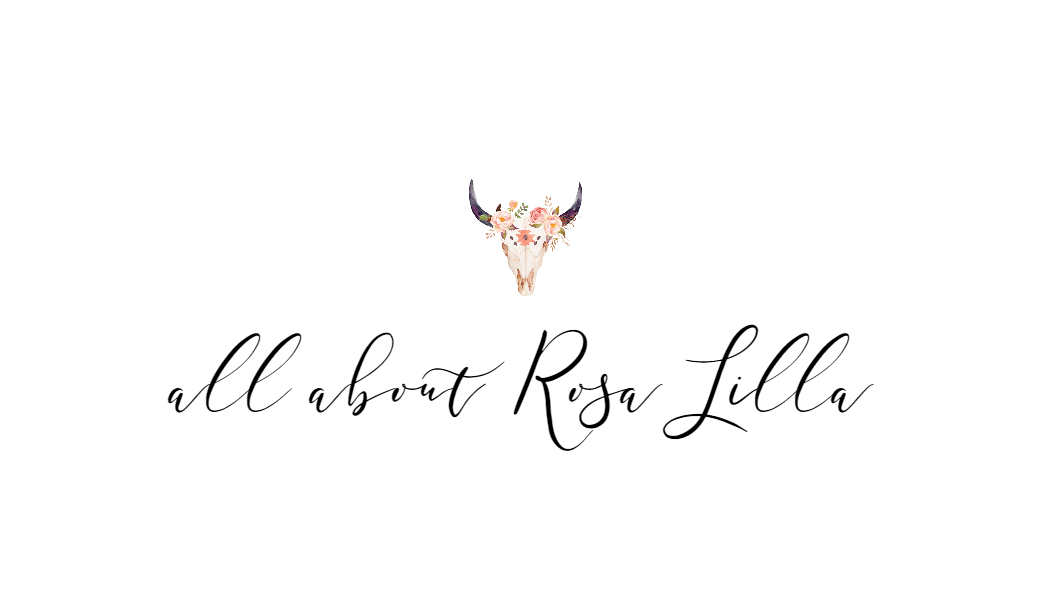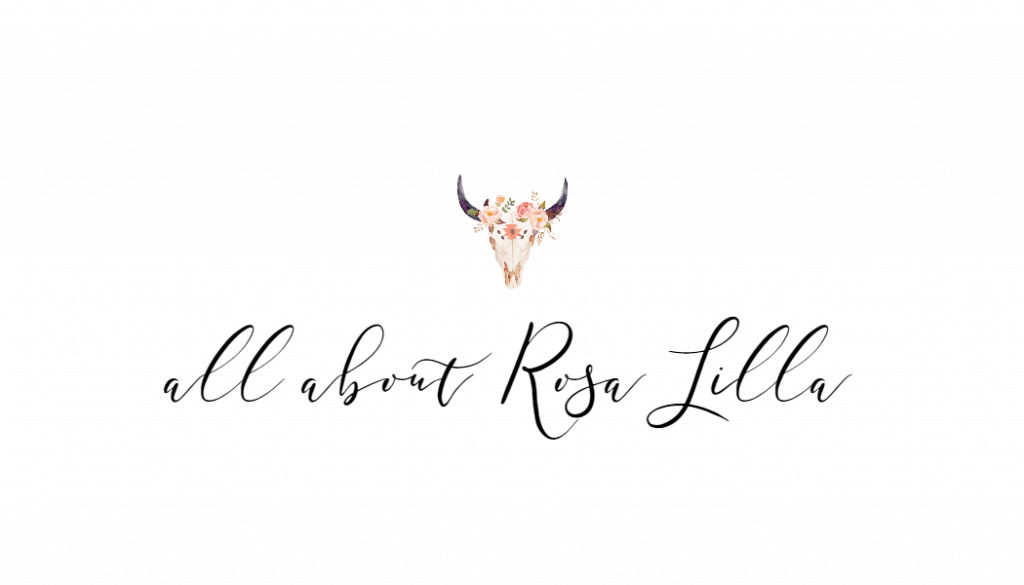 Sharing is sexy!