Colmar Christmas Market
Let me tell you about the magic of Christmas in Colmar. If there was ever a place where you would find Sleeping Beauty, Cinderella, Belle and Snow White all hanging out together then Colmar, Alsace would be the place. Colmar is so fairytale that you almost expect sweet singing blue birds to magically appear to put on your coat for you. The cobble-stone streets make you feel like you have just stepped into an actual storybook and you can see how places, like this magical village, would have inspired many of the fairytales that we grew up loving. Add to this the magic of Christmas and you will be in heaven. So let me show you around the Colmar Christmas Market.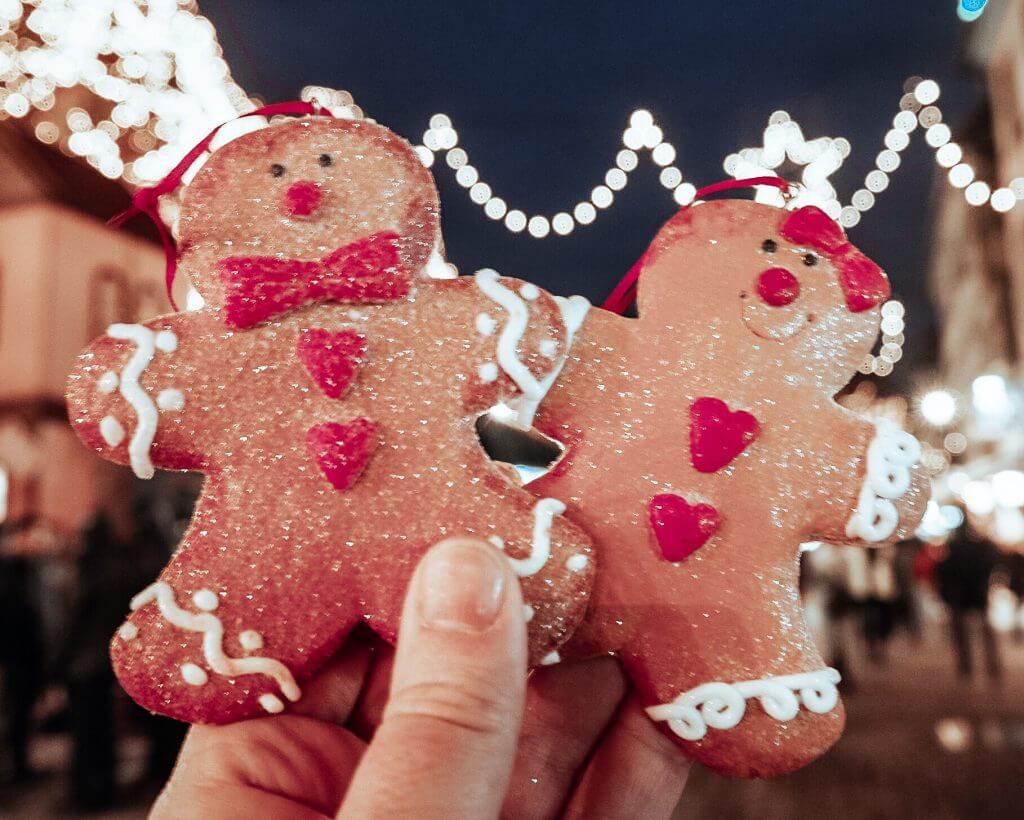 How to get to Colmar
The great thing about Europe is how accessible it is. There are a few airports which are close to Colmar. You can choose between Basel, Strasbourg, Baden, Stuttgart or Zurich. To be fair you could even fly to airports such as Frankfurt and get the train or rent a car.
We chose to fly into the Euroairport at Basel (which is not actually in Switzerland but is in fact in France) and the journey to Colmar will take about 45 minutes. There are a number of low-cost airlines, such as Ryanair that fly into Basel. We managed to get our flights with Ryanair for €30 return so how can you say no! I had further Lyme treatment booked in Frankfurt so we went there first by train before returning to Colmar a few days later.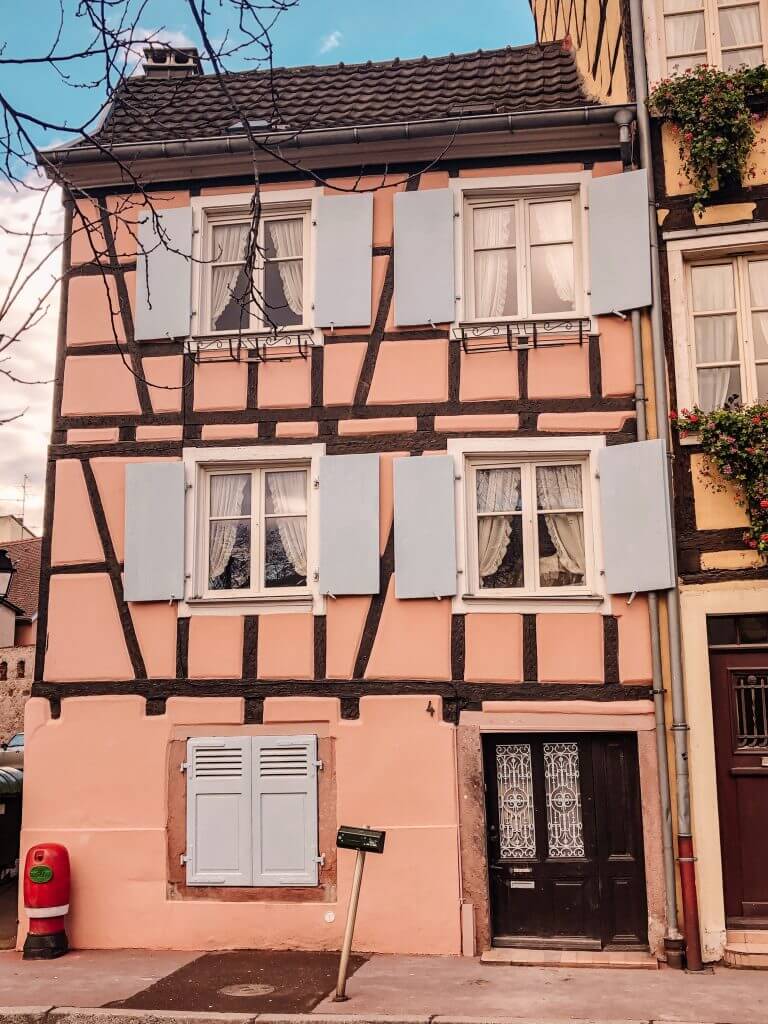 Getting to Colmar from Basel airport
There is not a lot of information at the airport on how to get to Colmar from Basel airport but with a bit of research before you leave it is super easy. Initially it seems confusing as there are three ways to exit the airport, the French side, the German side and the Swiss side.
You can exit the Swiss side, go directly to Basel and get the train from there but that involves changing currency and this is completely unnecessary.
The easiest way is to exit the airport from the French side and find the Flixbus going to Saint Louis directly outside. It will cost €2.50 to get to Saint Louis train station. Inside you can purchase your ticket to Colmar. The train services Mulhouse, Colmar and Strasbourg and costs €13.60. Don't forget to validate your ticket in the yellow machine before boarding the train.
Christmas in Colmar
If you frequently read my blog you will know that I am a big fan of Christmas….like HUGE! I go all gooey eyed as soon as I see twinkly fairy lights. I had been so jealous of the beautiful pictures of this fairytale place taking over my Instagram last year. As soon as I knew I had to go back to Frankfurt for top ups on my Lyme treatment I knew I couldn't get this close to all this Christmas magic and not go. So I planned my trip around my treatment and extended my stay.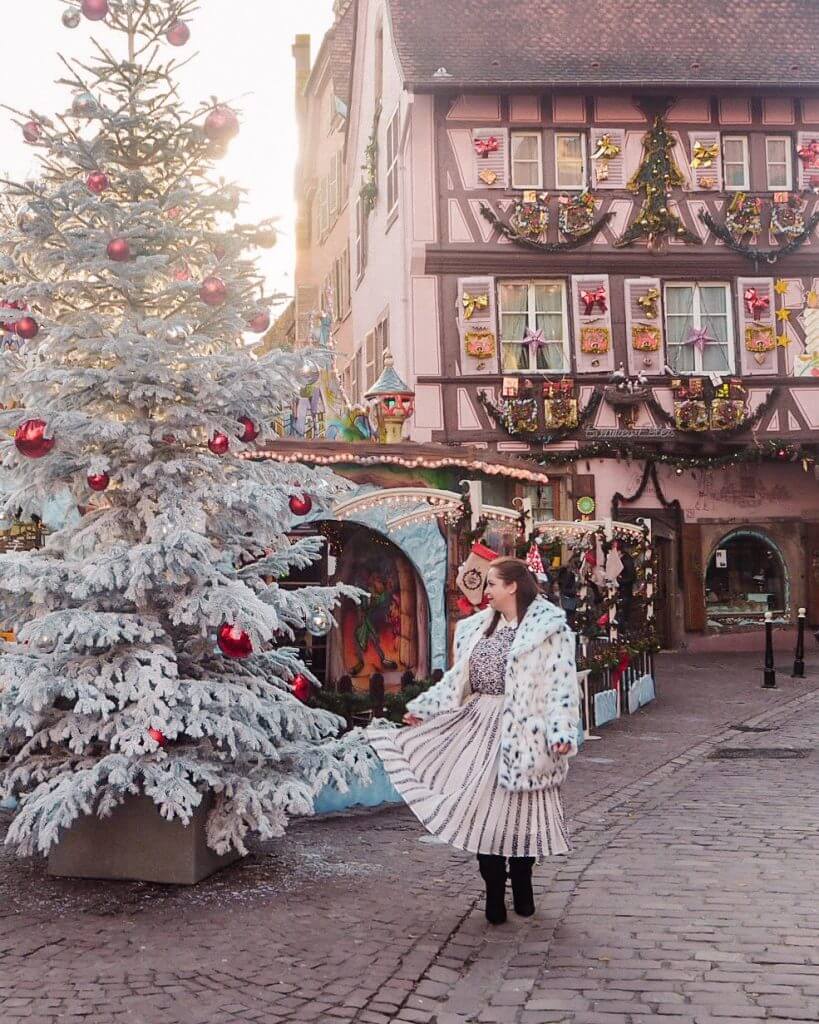 Christmas Markets in Europe
Have you ever experienced a Christmas market in Europe? If not, you are seriously missing out! Even the Grinch would be full of festive cheer here. The atmosphere is just infectious. It really is the most magical time of the year and it is just full of possibilities.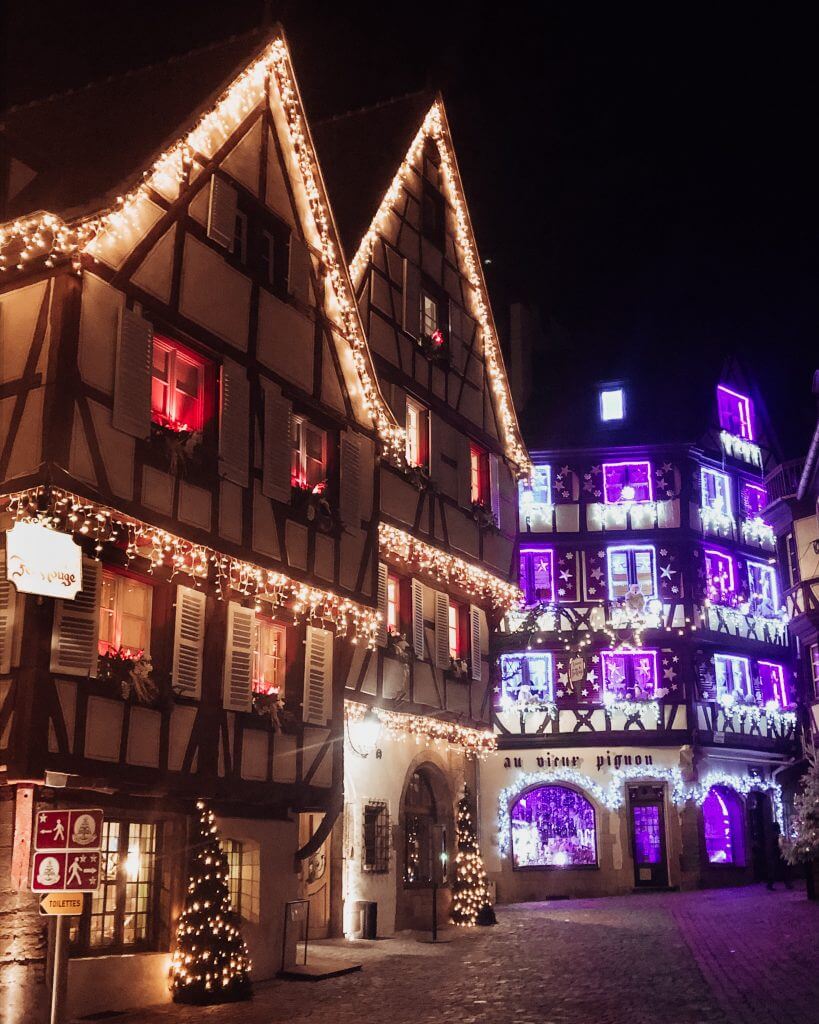 Christmas markets in Europe are a time-honoured tradition and both young and old come every year to enjoy them. There are of course the big ones that you surely have heard about but nearly every city in Europe has their own.
Traditional decorations and my favourite twinkly lights adorn every city and town. Rustic wooden stalls are set up selling everything from Christmas decorations, trinkets and crafts to the most delicious wine and food. So grab yourself a glass of Glühwein or Vin Chaud to keep warm and explore the magic of Christmas in Colmar.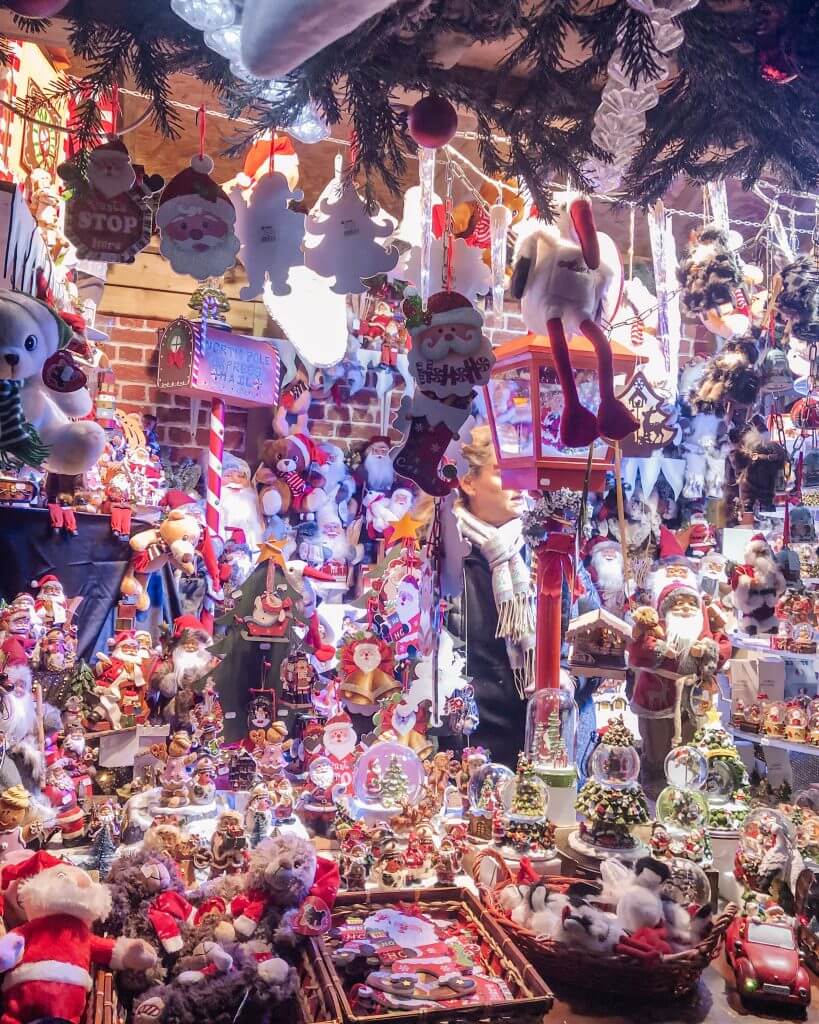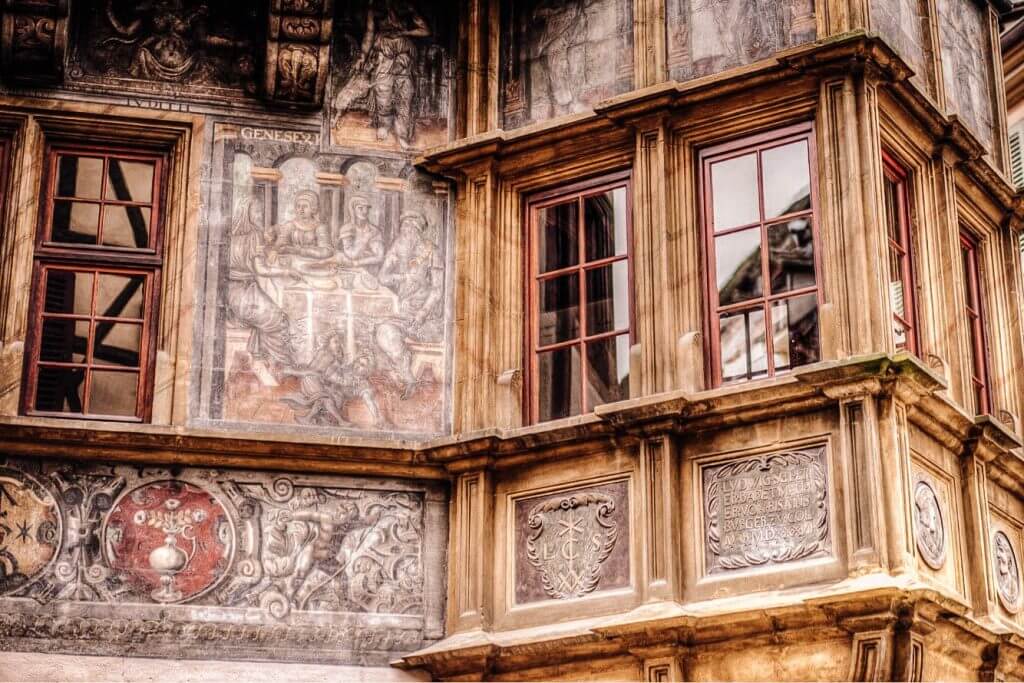 Christmas Markets in Colmar
I have been to quite a few Christmas markets in Europe, it really is my favourite time of year to visit, but Colmar is one of the most magical that I've been to.
Walking the streets of Colmar is like watching all of your childhood fairy stories come to life. Streets are lined with colourful gingerbread houses that even Hansel and Gretel would love to sink their teeth into. There is a wooden turret that you can just imagine Rapunzel letting down her hair from and tiny timber-framed cottages that you could see the seven dwarves living in.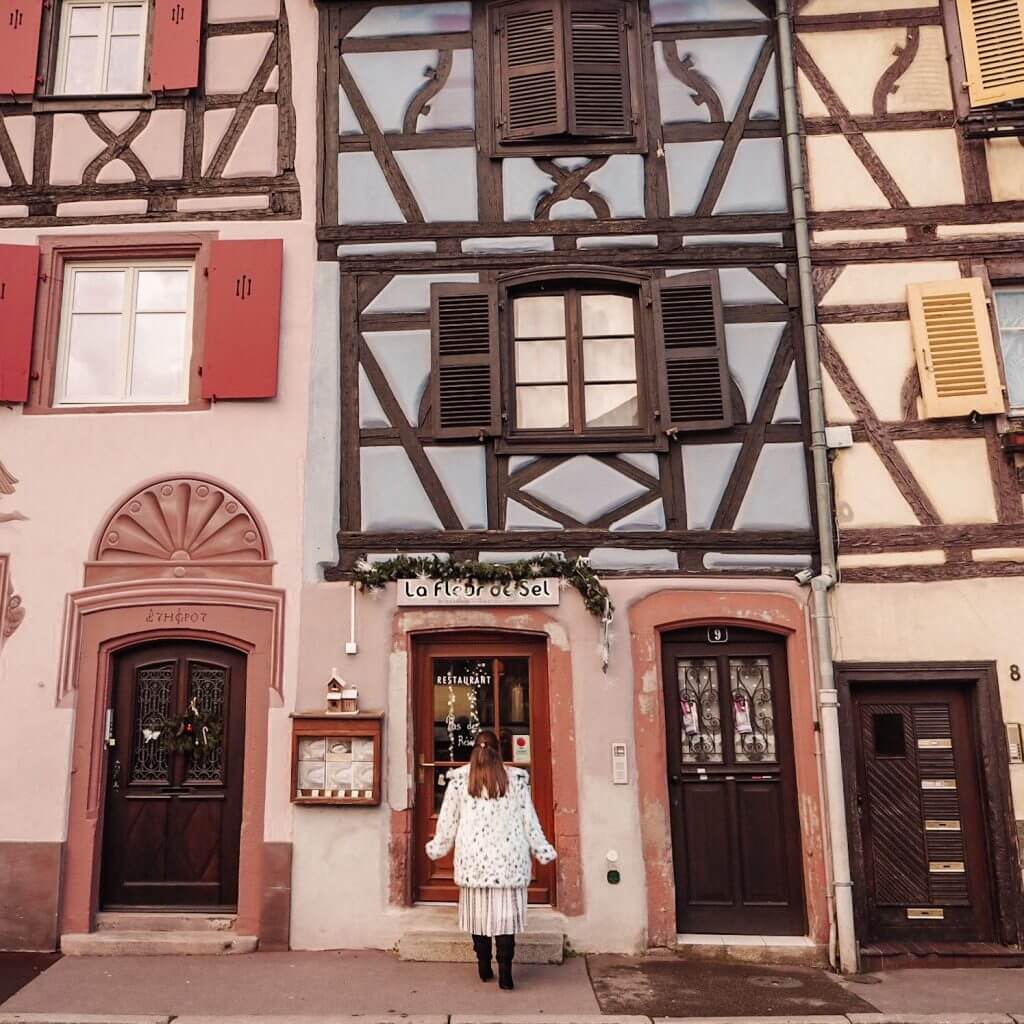 Alsace
The Alsace region of France is unique in that, it is so close to the German border, both cultures mix to create this fairytale land. The Alsace region has been passed back and forth between France and Germany over the years.
Colmar was conquered by France in 1673 but was again annexed by Germany from 1871 to 1919 and again during World War II. It was the last town in France to be liberated at the end of the war and has belonged to France since but there is no denying the German influence still evident in this town.
Colmar is a much smaller city than Strasbourg but what it lacks in size it makes up for with oodles of Christmas charm. Colmar simply outdoes everyone at Christmas! There may not be a huge list of attractions in Colmar but this is made up for by the amount of scenic spots in this fairytale town.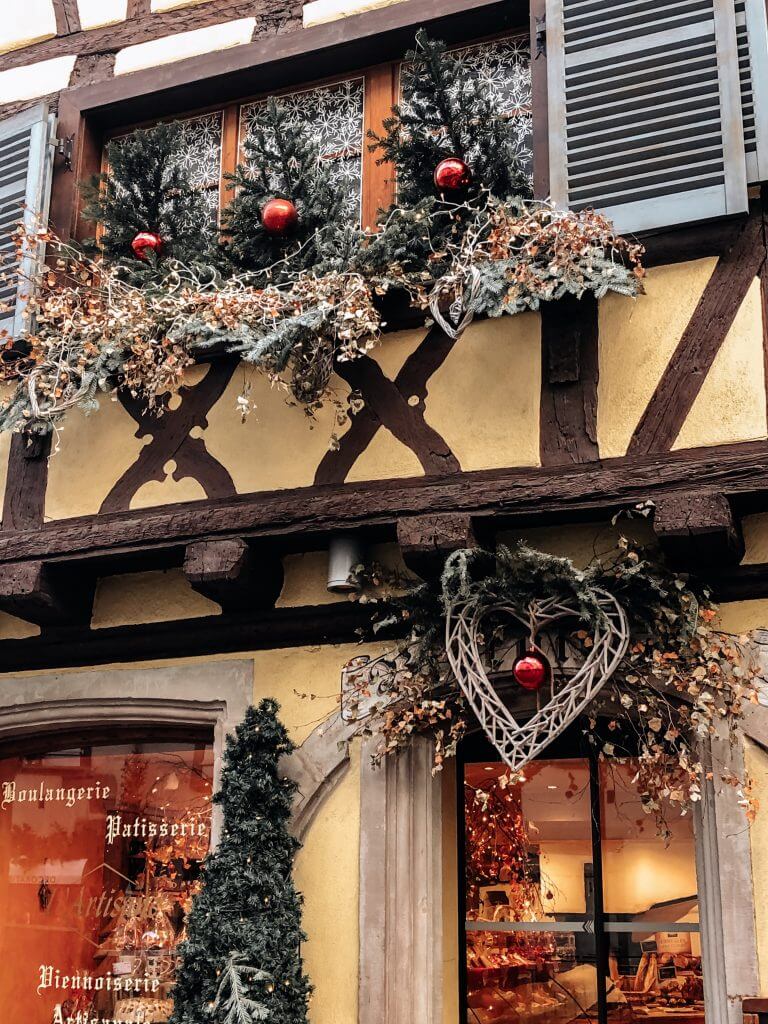 Things to do in Colmar
As I mentioned there is not a huge list of attractions but here is a small list of things to do in Colmar in the unlikely scenario that you do get bored wandering these picturesque streets.
Museum Unterlinden
The Unterlinden museum is housed in a building that originally was a 13th century Dominican convent that later became a public baths in 1906. Today it houses the Isenheim Altarpiece by Matthias Grünewald and features a large collection of local and international artworks and manufactured artifacts from prehistorical to contemporary times. The museum bears the quality label Musée de France and is one of the most visited in France outside of the Île-de-France.
Bartholdi Museum
Wandering the streets of Colmar I kept seeing little arrows on the ground with pictures of the statue of liberty. The statue of liberty again popped up when I was browsing postcards in the beautiful shops of Colmar. It turns out that Colmar is the home of Auguste Bartholdi who is the sculptor of the Statue of Liberty. His birthplace has been turned into a museum which houses more of his astonishing sculptures.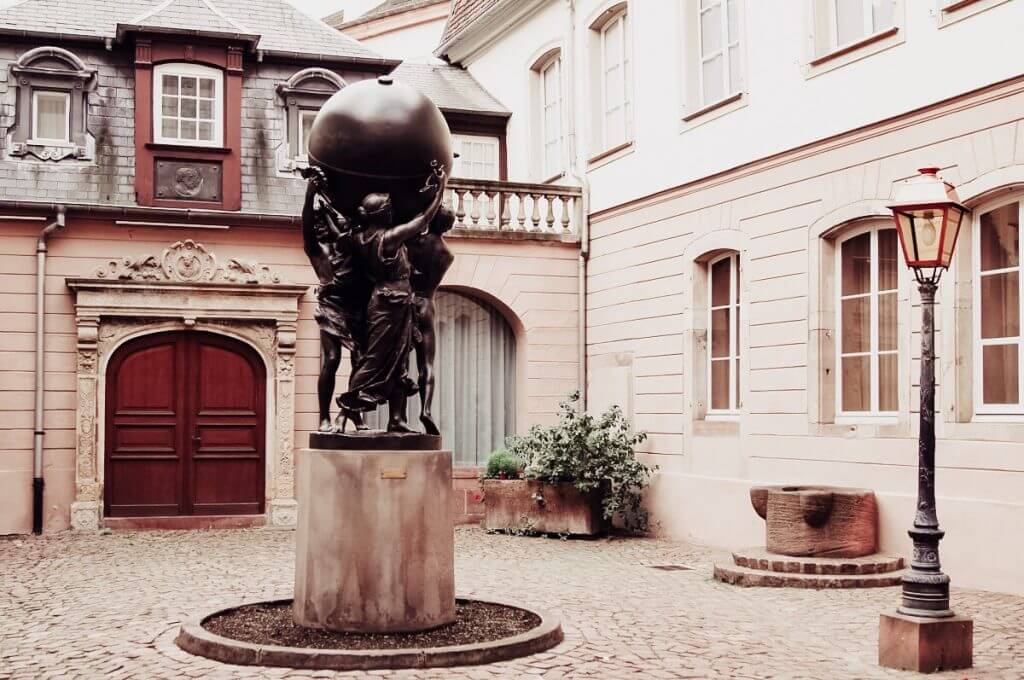 Little Venice
Perhaps the most romantic and picturesque area in Colmar is the region known as Little Venice. The canals, lined with colourful gingerbread houses, are decorated at Christmas with cute little mini-holiday scenes to really add to the magic of Christmas in Colmar. There is also an indoor food market here which is certainly worth a visit.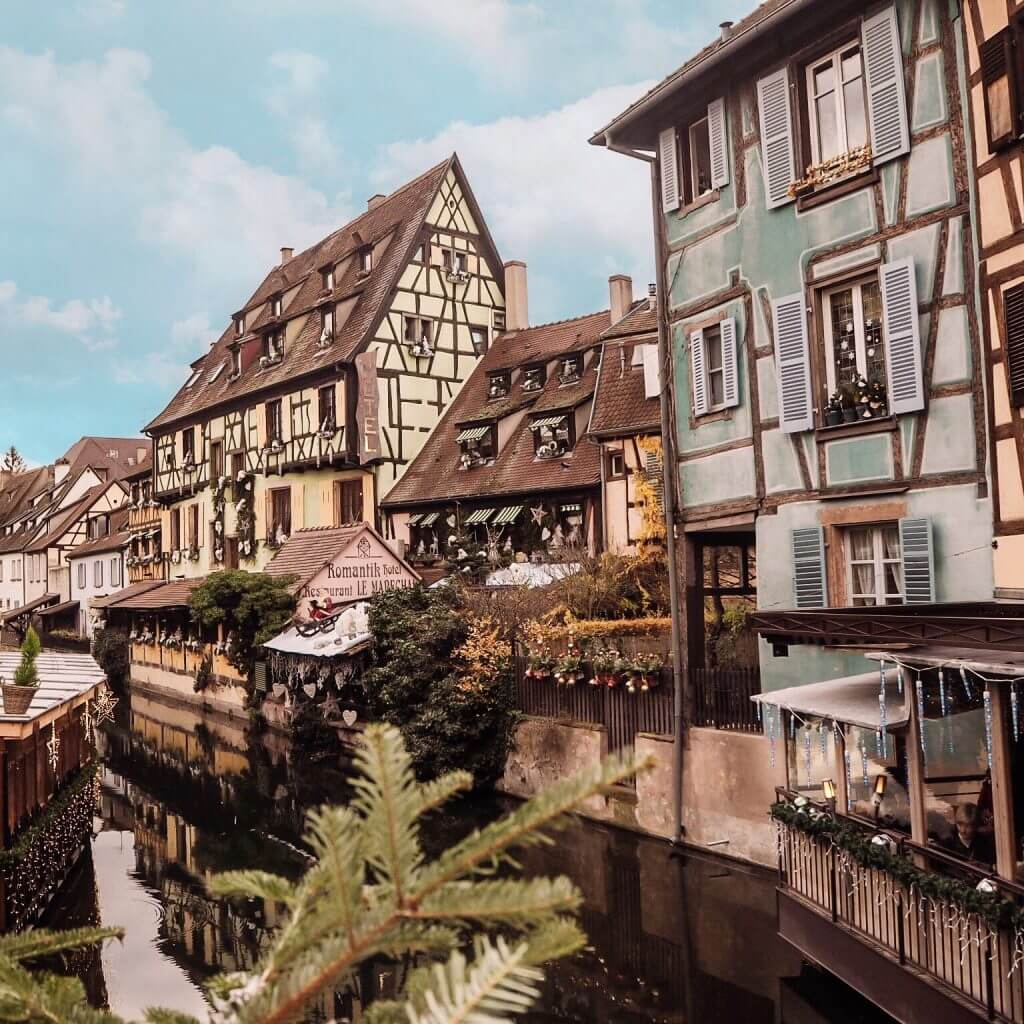 Toy Museum
Relive your childhood in the Musee du Jouet which is housed in a former cinema. The museum presents a collection of toys from the 19th century to the present day, showing the way society has changed over the years. On three floors, visitors can discover antique toys or characters from cartoons; from vintage teddy bears to, my personal favourite, the first Barbie dolls.
You will also find video games, Playmobil, scale models, robots and a pretty impressive miniature train set. The toys and games exhibited here come from all around the world and belonged to different generations of children.
Explore Colmar's Churches
There is no shortage of beautiful churches to explore in Colmar. I am not particularly religious but I do find such beauty in these churches and I also have a tradition of lighting a candle for my mum, who passed away, in every city that I visit.
Whatever your reason you will not be disappointed by the beautiful churches in Colmar. They are even more magical at Christmas as you will find beautifully decorated Christmas trees and festive nativity scenes inside.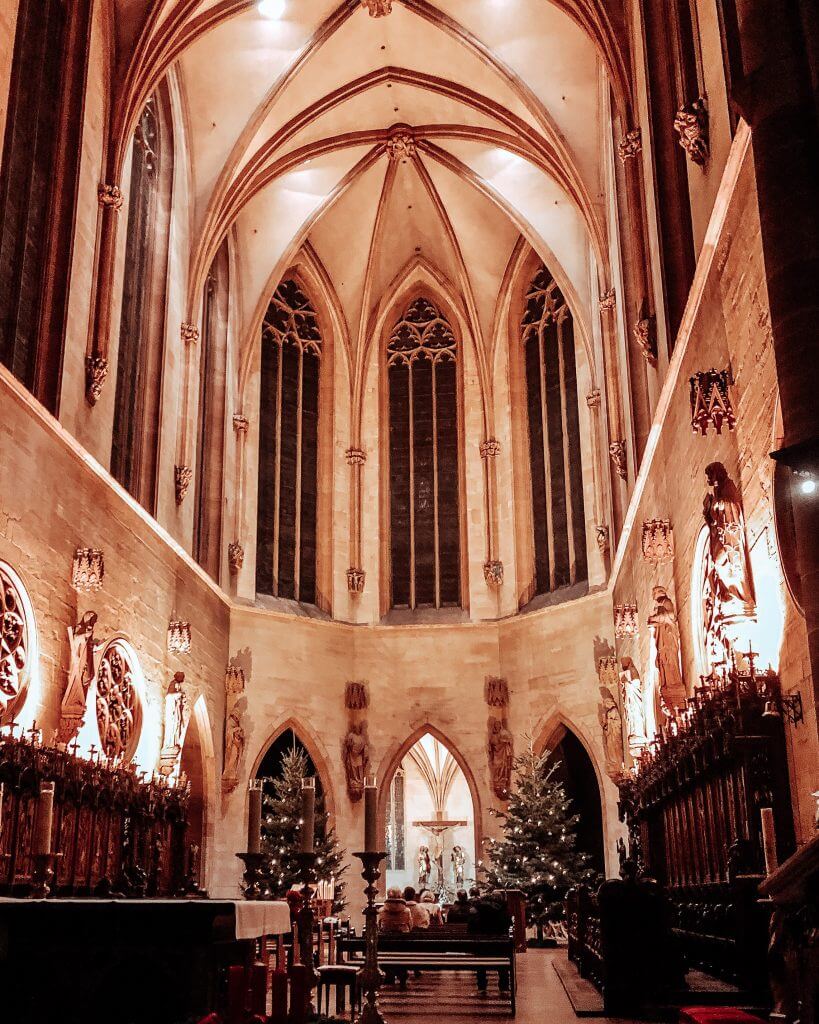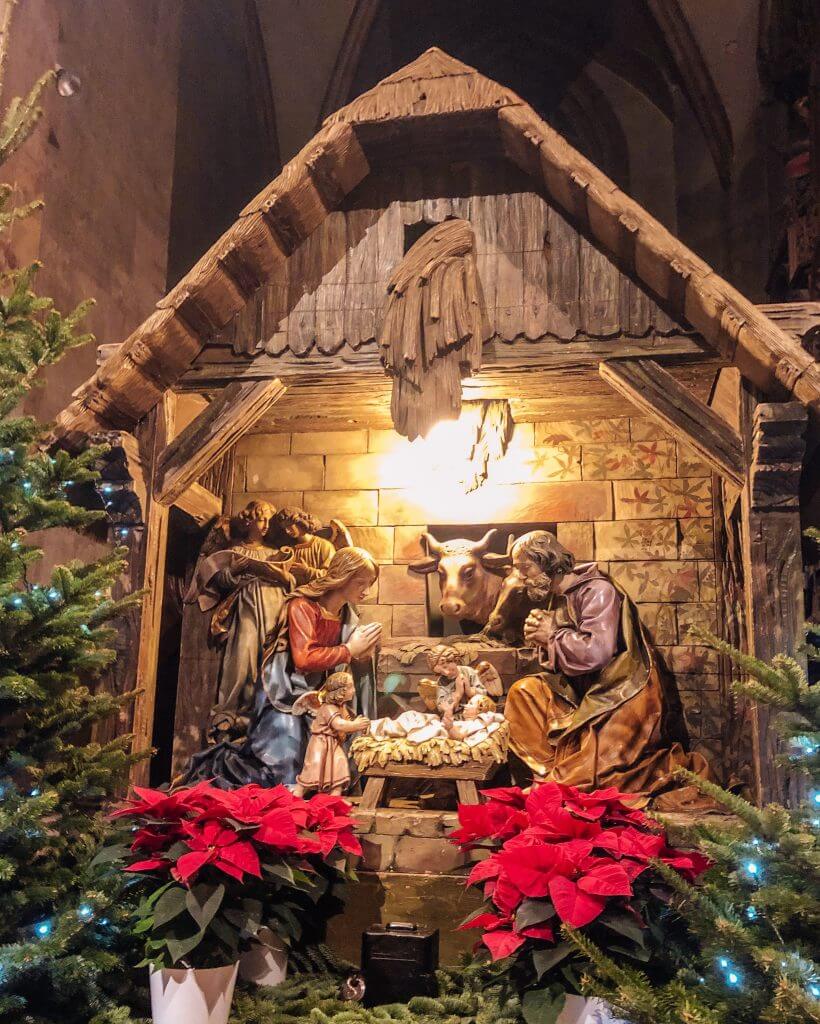 Go Vintage and Antique Shopping in Colmar
You will find a vast array of both vintage and antique shops here in Colmar all selling a selection of both quality and authentic goods.
Explore the nearby villages of Eguisheim and Riquewihr
Near Colmar are many other beautiful small fairytale villages in France, including half-timbered, picturesque Eguisheim and fortified town Riquewihr. There is also the beautiful medieval castle of Haut Koenigsbourg in the region so grab a local bus and get exploring!
Book a tour of Strasbourg and all of the villages of the Alsace region worth seeing.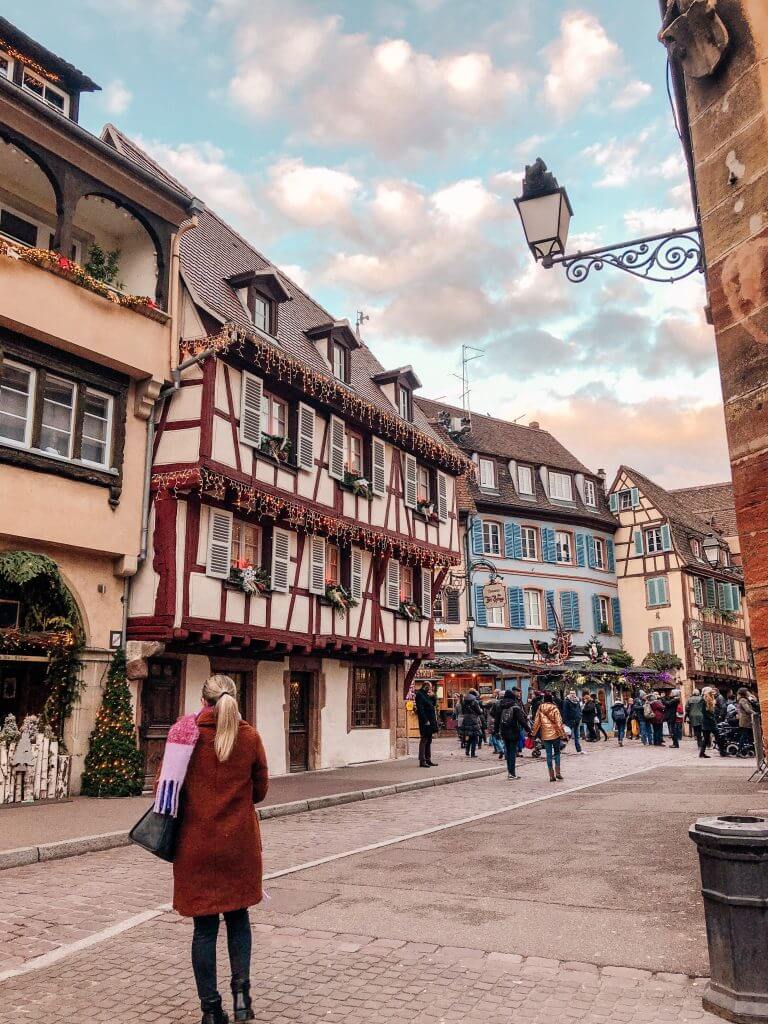 Go Rainbow hunting
Not literally! But did you know that the colour of each house signified the family's occupation. For example, blue for fishermen, yellow for bakers, green for farmers, red for butchers, pink for brothels and white or tan for tanners. Apparently even further back in time houses were painted either white or red to indicate which faith you belonged to.
In another cute tradition, hearts on the doors meant that the woman inside was getting married so no heart meant you were available. Who needs Tinder!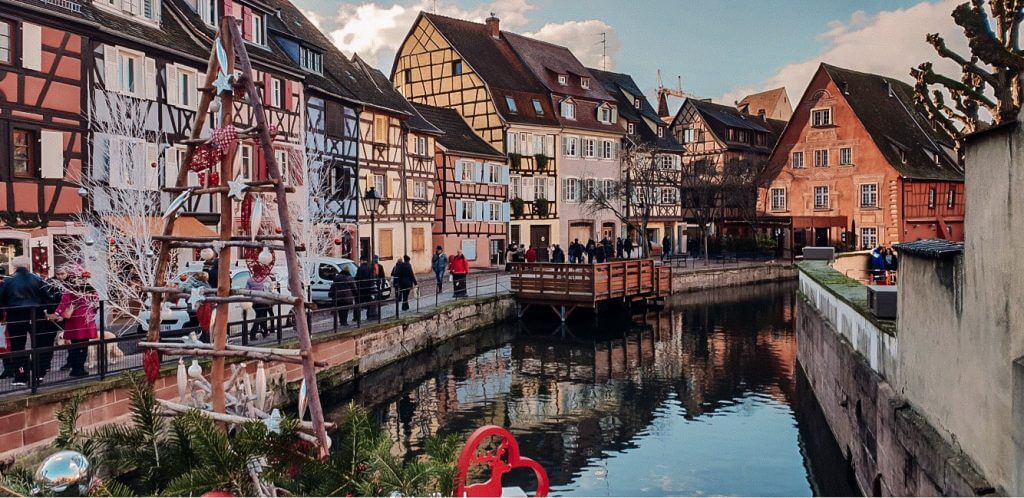 Where to say in Colmar
There is no denying how busy this region is at Christmas time so it is best to book in advance. I always use booking.com to book my accommodation and I can personally recommend the apartments Le Trois Rois, owned by the extremely helpful Philippe and Catherine with the most central location that you can ask for. This apartment is suitable for two people but there is a whole range of wonderful accommodation on booking.com
So what are you waiting for? It is time to put on your best Christmas jumper and go explore the magic of Christmas in Colmar.
Are you new here? Join thousands of other happy readers and subscribe to All about RosaLilla blog via email or Bloglovin'. The good news is that by signing up via email you will get my EXACT email template that I use to successfully pitch hotels for collaborations.
I also share everything about myself on Instagram with nothing held back so be sure to follow along there.
If you loved this you may also like:
Things to do near Frankfurt. A day trip to Michelstadt and Erbach, two fairytale German villages
10 reasons to travel to Bath England
10 reasons why Vilnius should be your next city break.
Until next time you crazy kids!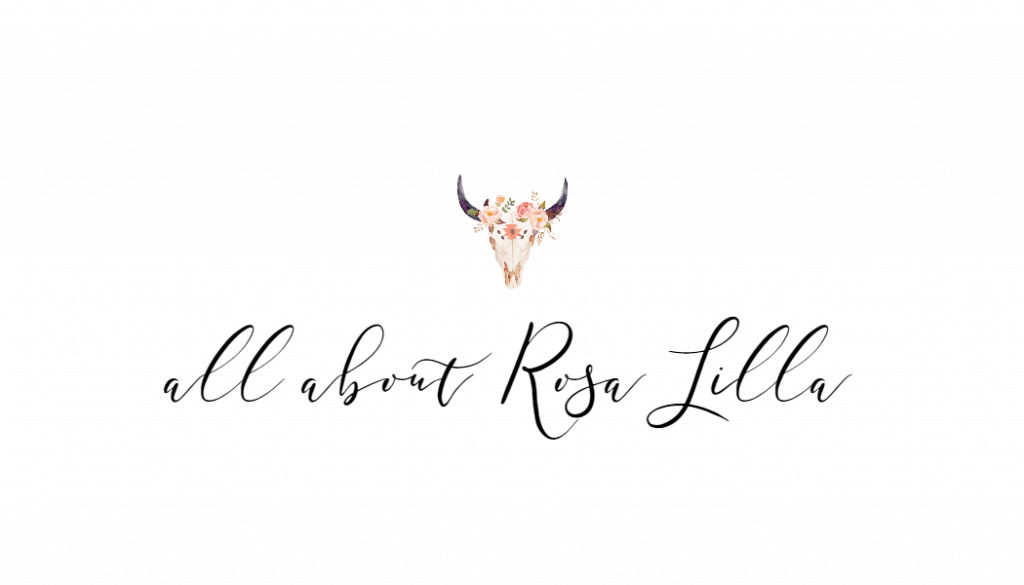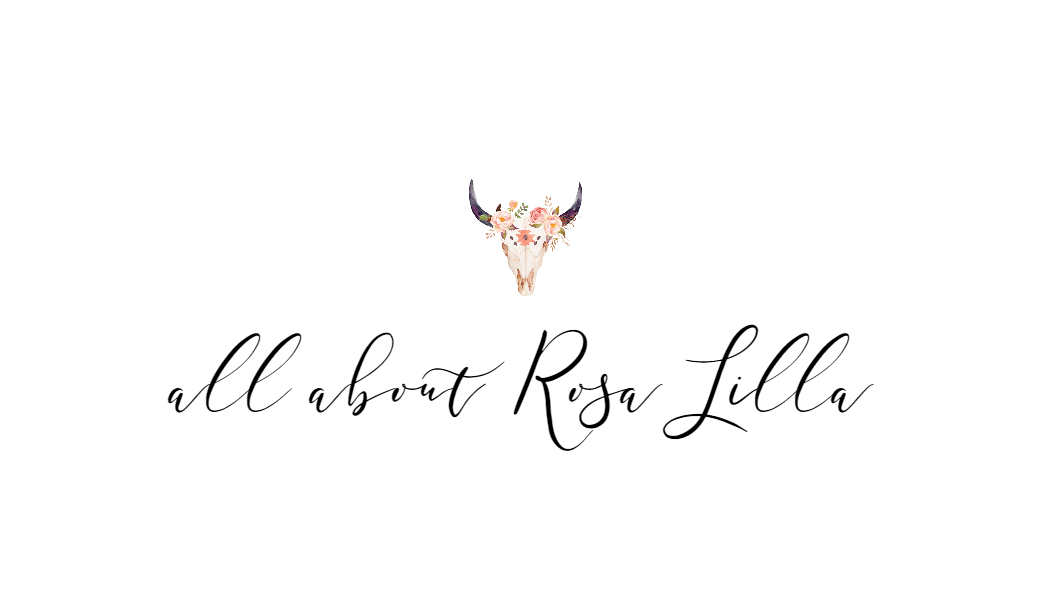 Sharing is sexy!