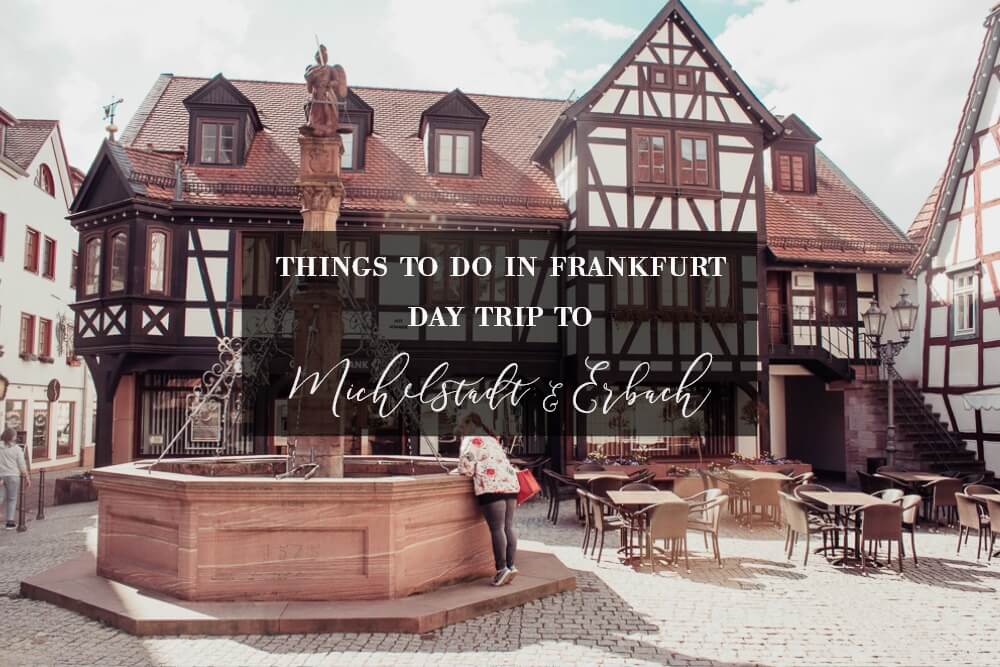 Day trips from Frankfurt. Michelstadt Odenwald
Michelstadt, Erbach and Breuberg Castle. German Fairytale Cities
If you have been to Frankfurt before and are looking for some things to do outside of the city, I have the perfect day trip for you. There are so many wonderful things to do near Frankfurt. The area of Odenwald, Hesse is filled with the most picturesque fairytale German villages that will make both you and your camera extremely happy. Two of these German fairytale villages are Erbach and Michelstadt Odenwald.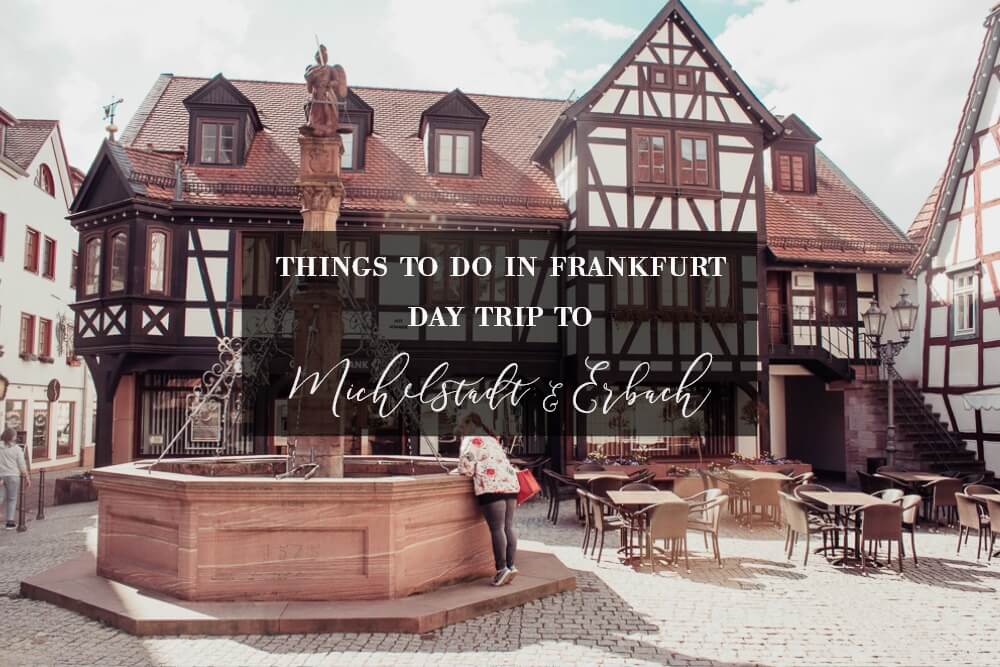 Michelstadt Odenwald – A fairytale village in Germany
While on a recent trip to Frankfurt, for treatment for my Lyme disease, I was lucky enough to come across Michelstadt. About 45 minutes outside of Frankfurt, Michelstadt is a town so chocolate box perfect it almost doesn't seem real. Michelstadt is one of the oldest settlements in inner Odenwald. Walking into the main square of Michelstadt is like stepping back in time. With adorable cobbled streets, water fountains straight from a storybook and gorgeous half-timbered houses, you would be forgiven for thinking that you were in an actual fairytale!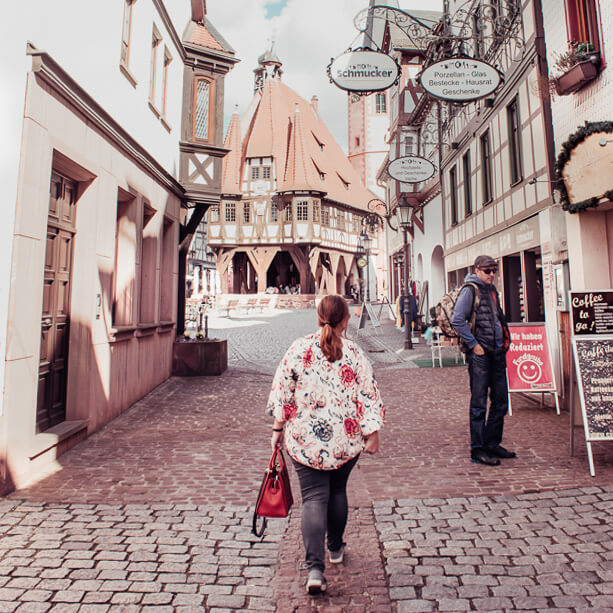 In the middle stands the most picturesque Rathaus I have ever seen that dates back to 1484 and is still standing with its original timber facade. It is surrounded by historic half timbered houses and in front is a fountain straight out of a fairytale. I'm not going to lie I had a real Belle from Beauty and the Beast moment here!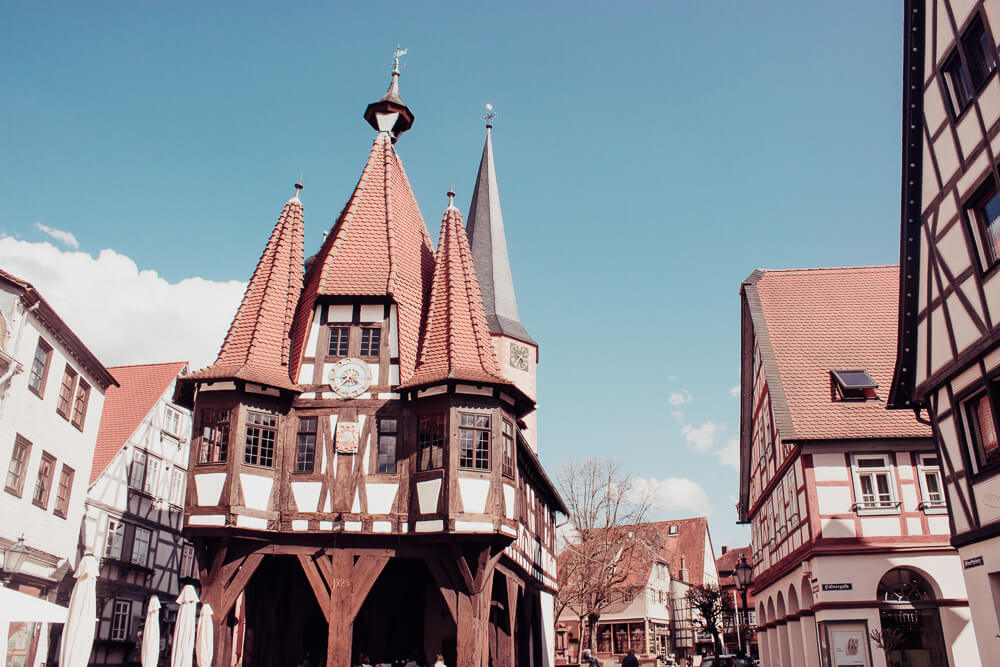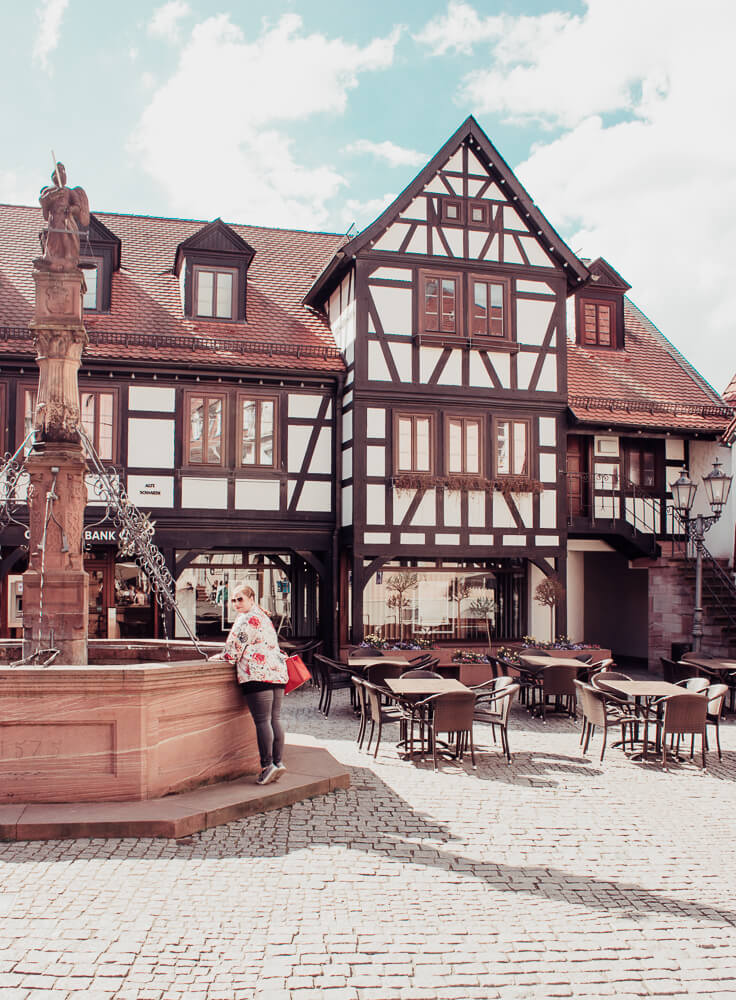 If you are a fan of all things fairytale you simply need to visit this town. As the town is located within an hours drive from Frankfurt, it is the perfect day trip or overnighter from one of Germanys largest cities and tourist hubs. Michelstadt is also a great starting point to explore some of Germanys most adorable and romantic little towns.
The ornate Marktbrunnen (market fountain) was erected in 1575 and a statue of the archangel Michael stands on a column above the fountain. The image of the Rathaus of Michelstadt was used on the Deutsche Post stamp and you can see why, it is one of the prettiest, most fairytale like, buildings I've ever seen.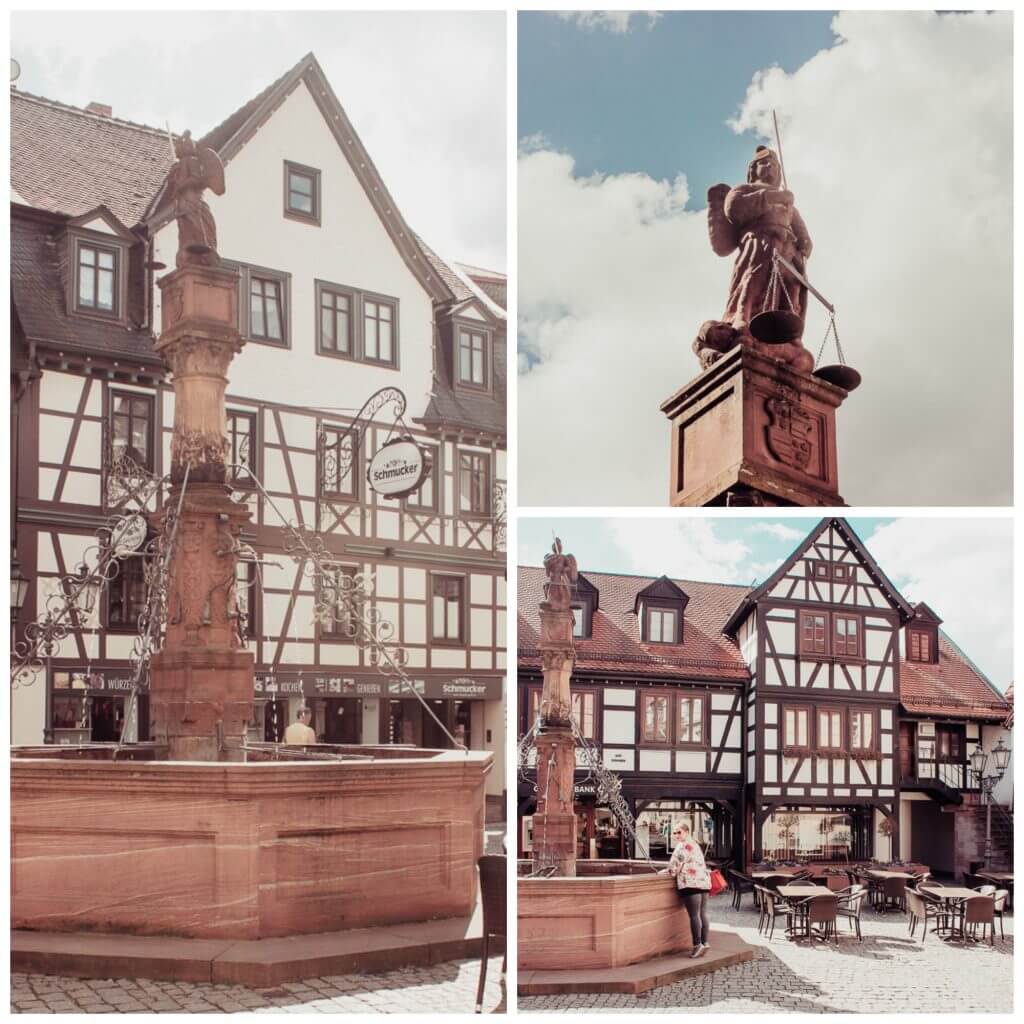 The town centre of Michelstadt is easily explored by foot. Scattered around this iconic Rathaus are restaurants and cafes which are the ideallic place to take a long lunch and just sit and soak in this magic atmosphere.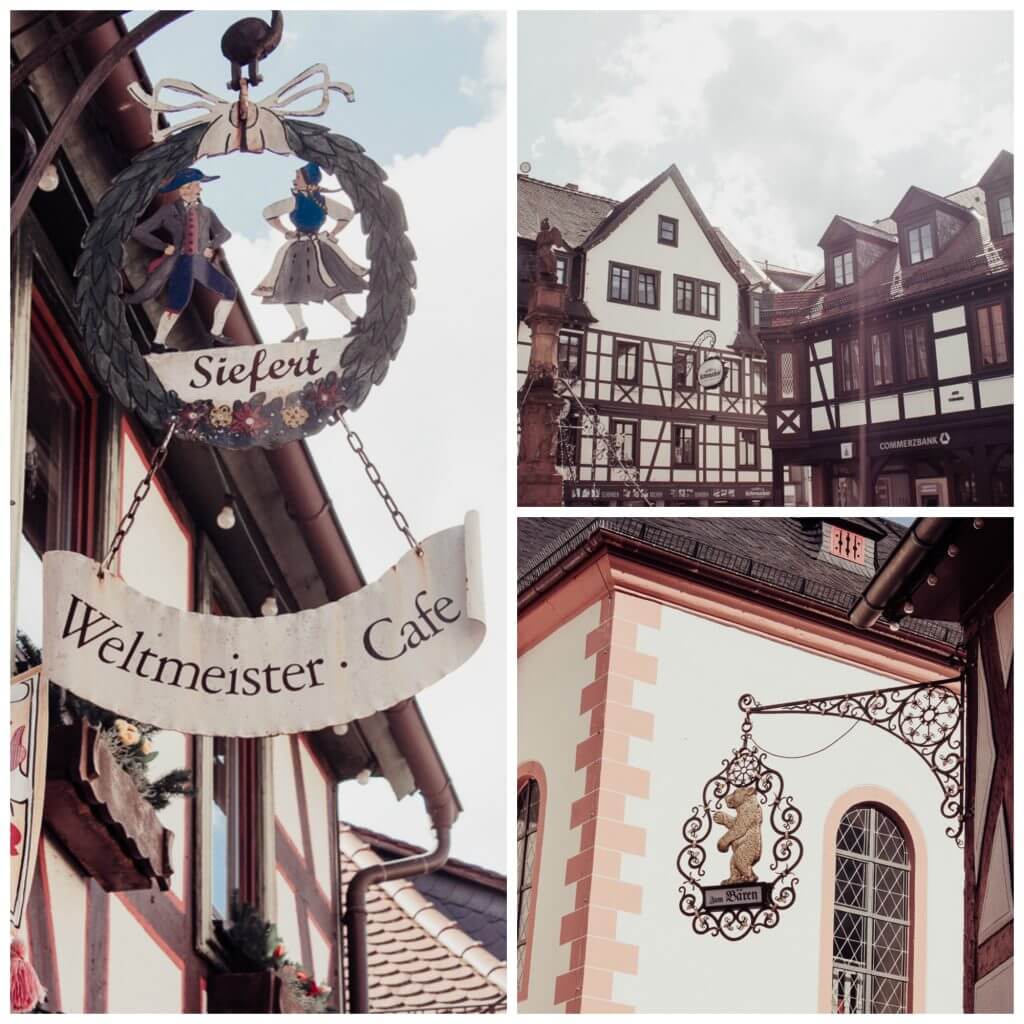 While this village is pretty small it is filled with quaint shops and your choice of the most gorgeous cafes to sit and while away a few hours. The town also has its own brewery and a hotel where the famous German actress Jessica Schwarz grew up. There is plenty to do and if I had more time here I would certainly be signing up for some cooking lessons at the Labsal cooking school.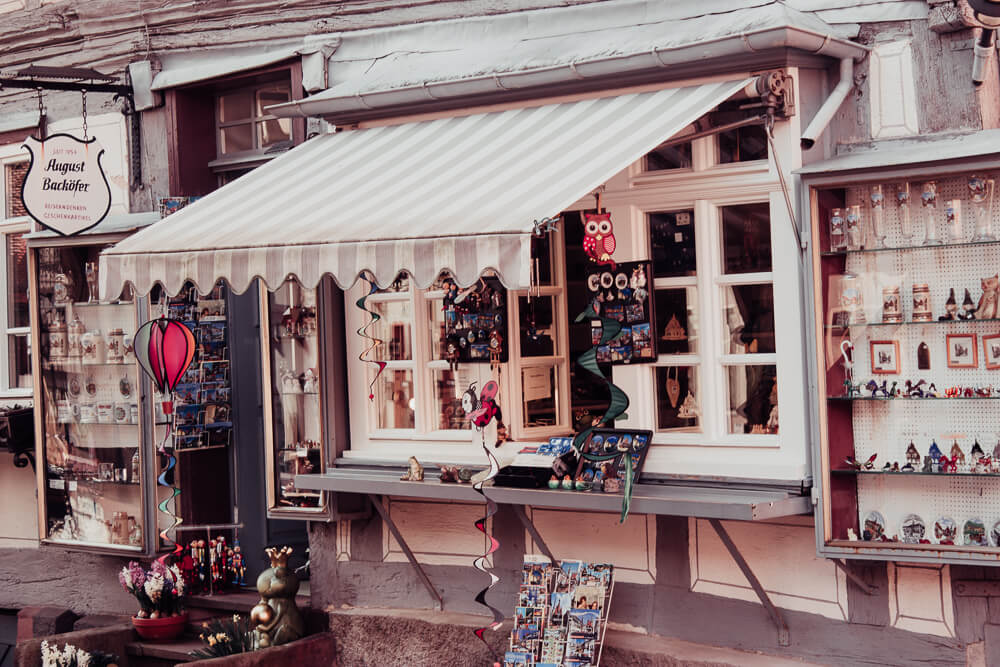 Other buildings worth visiting are the Alte Hof-Apotheke, the old apothecary which is a half-timbered structure built in 1557. The ground floor of this building is made out of red sandstone. The town also boasts a synagogue and a late Gothic church or Stadtkirche that is so beautiful inside.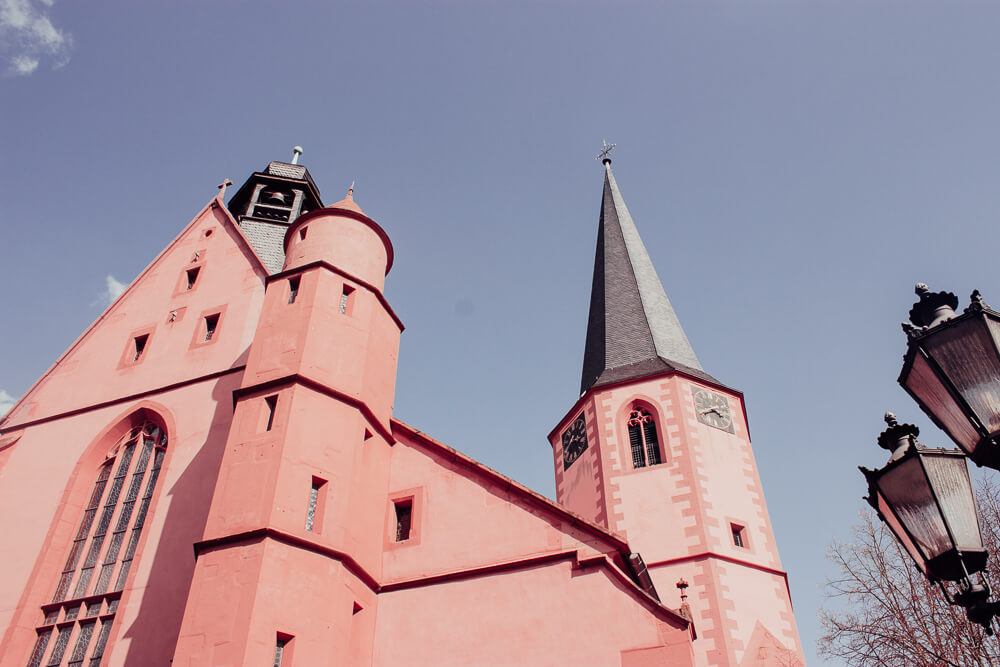 From the car park, before entering the Altstadt or old town, the remains of the old city wall with a gate and a defensive tower are visible. These are best seen from a park between Braunstraße and Kellereibergstraße.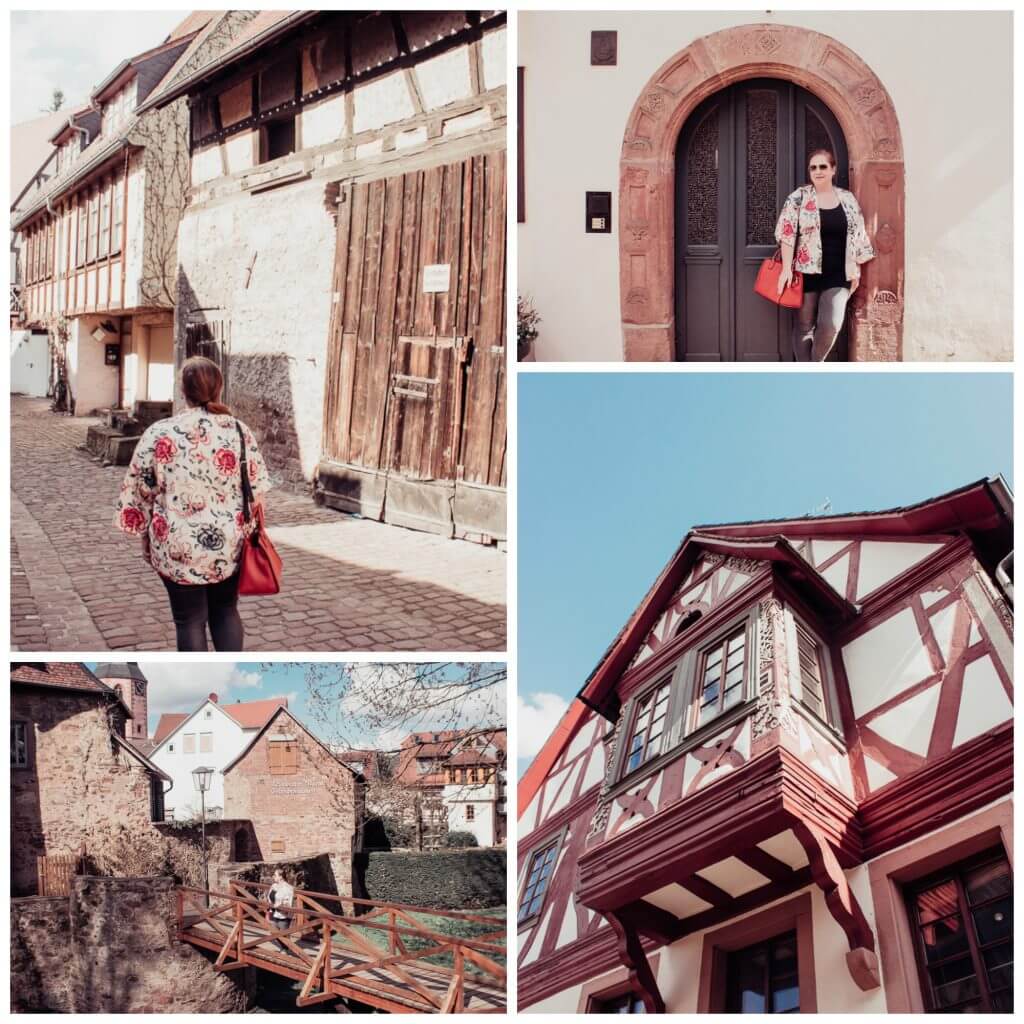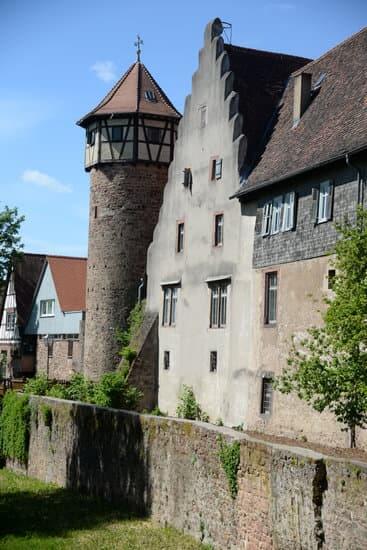 Michelstadt is one of the oldest settlements in the inner Oldenwald. The castle grew out of a Frankish baronial estate which was then built into a refugee for the local inhabitants. Michelstadt is a town, housed within city walls, that still stand to this day. In the 17th century, the first houses were built outside the protective walls and a large farming community was established. The completion of a railway to Darmstadt brought a strong economic boom for Michelstadt but still this town has never lost its original charm.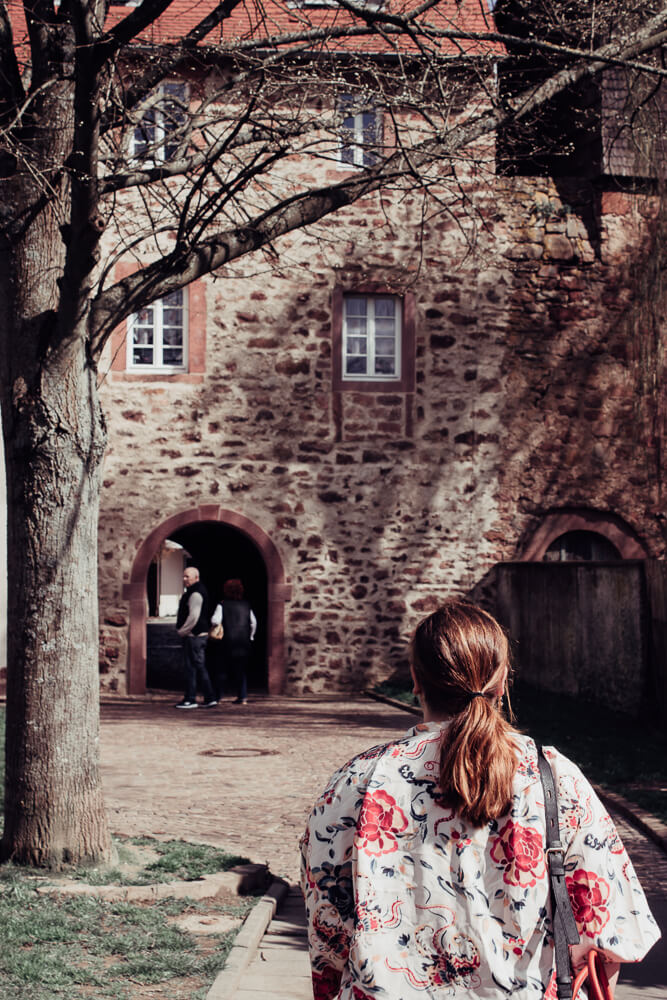 Best times to visit Michelstadt Germany
Bienenmarkt
Directly translated into bee market, this festival happens at Whitsun in May. It was started by former mayor Hasenzahl in 1954 and is the perfect summer festival. Here you will be able to release your inner child, eating candy floss as you make your way through the many fairgrounds that are brought into this area during this time.
Christmas in Michelstadt
Like any German village, Christmas is when they truly come alive.  The historic half-timber facades of the houses and Rathaus are the worthy setting for more than 100 wooden market stalls glistening with fairy lights. The magical nativity scene with life-sized figures, the 7m high Christmas pyramid, a group of angels and the big colourful wooden musical box conjure up a festival atmosphere.
Father Christmas comes regularly to visit the children. In the castle's wine tasting hall, sculptors, wood carvers and carpenters demonstrate their craft. Even the toy museum opens its doors wide, to the joy of both adult and child visitors alike. Advent music, Christmas concerts and the sound of trumpets lend everything a reflective, festive note. This is certainly the most magical time of year to visit.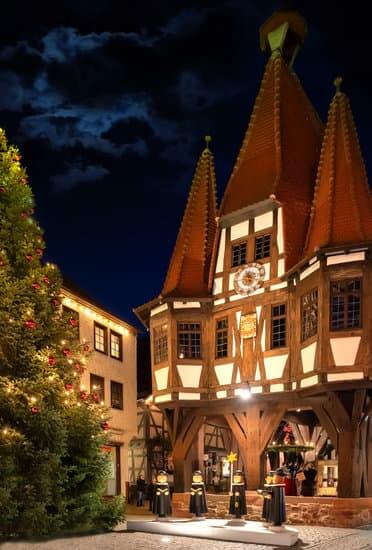 If you would like to read more on the German Christmas Markets I have a complete guide on the Christmas Markets of Hamburg.
How to get to Michelstadt
The best way to get to Michelstadt is either by car or by train. You can get there easily from both Frankfurt or Darmstadt, with trains running roughly every hour from the Darmstadt Hauptbahnhof. The trip takes roughly 45mins to 1 hour. Michelstadt, like Darmstadt, is within the public transportation network of the Rhein-Main-Vekehrsverbund (RMV). If travelling in a group of 2-5 people it will be more economical to buy a group day ticket (Gruppentageskarte) than buying a single trip.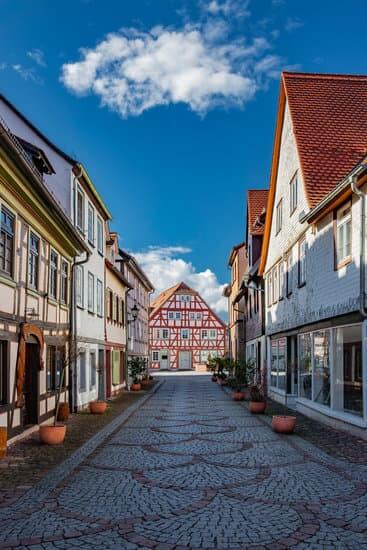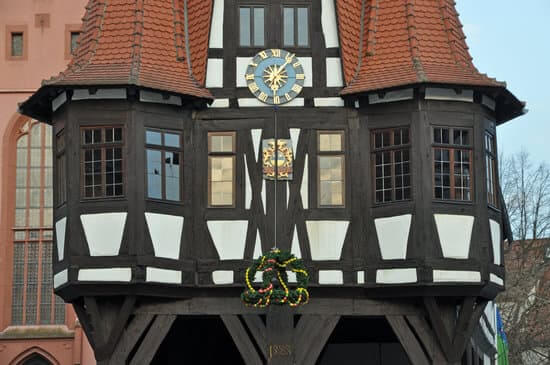 The fairytale village of Erbach
Erbach borders the town of Michelstadt so you would be forgiven for thinking of them as one town. In fact a merger of both towns was suggested but was blocked in November 2007 by a referendum. Erbach itself is over 900 years old.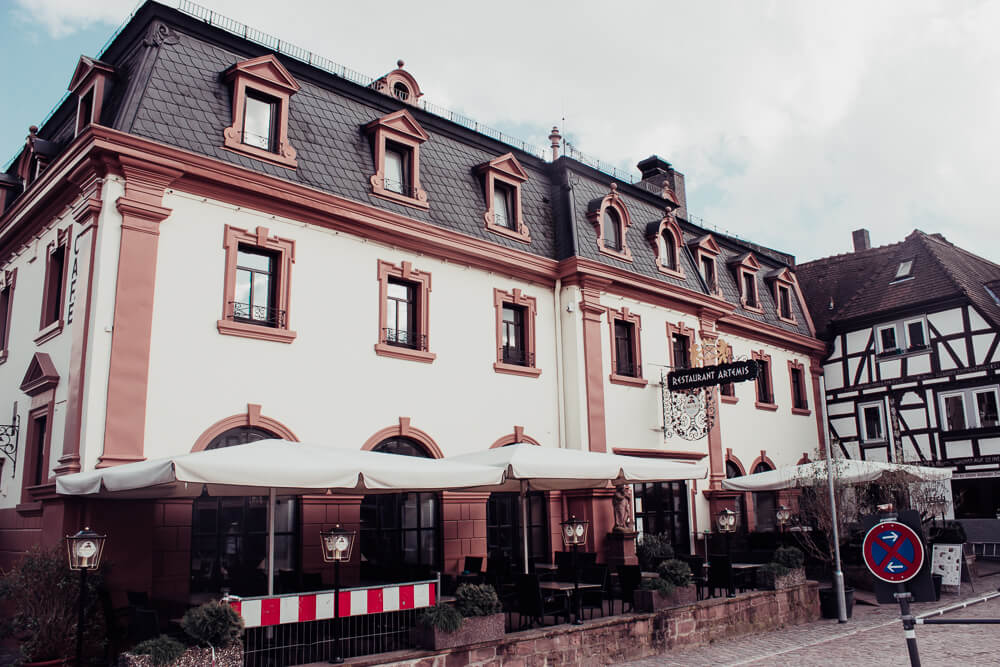 The most notable building in Erbach is the Castle of the Counts of Erbach, which is still inhabited by the count of Erbach today. The antique collections at the castle have remained almost unchanged since Count Franz I's time (1754–1823) and a memorial to Count Franz I stands outside the castle.
The Counts' love for hunting is also clearly visible with two large stag sculptures adorning the front grounds of the castle. While I don't think it is possible to go inside the castle, just walking around the orangery and grounds outside make for a lovely afternoon.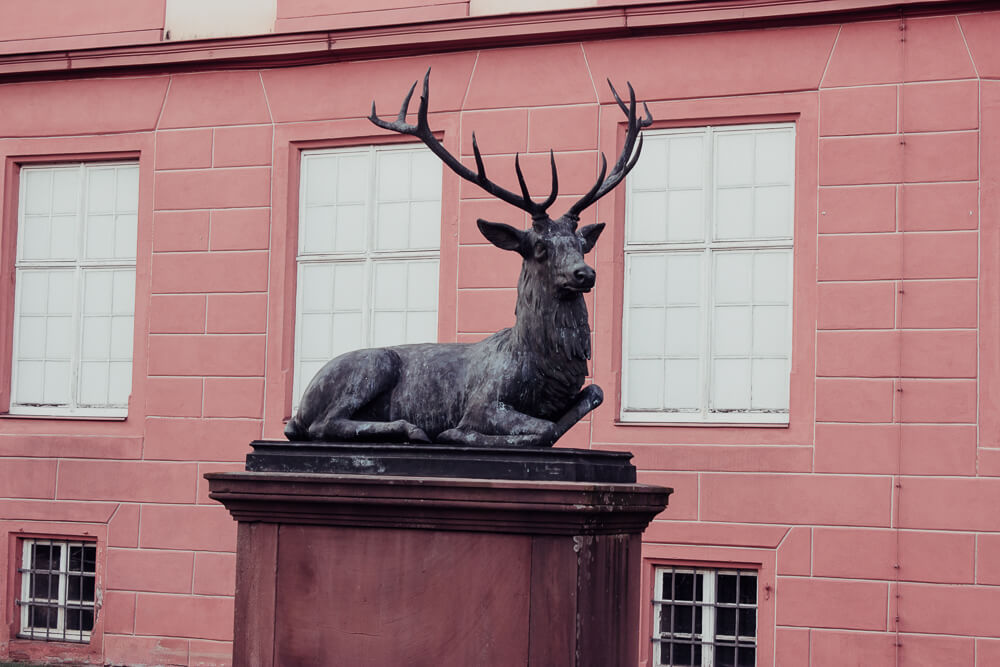 Crossing the bridge of the small river, Mümling, into the medieval cobble streets, leads to some gorgeous gardens and cafes to just sit and take it all in. A central historical garden, Lustgarten is filled with trees and the most beautiful flowers and is the perfect place to relax. The walk along the river with its beautiful timber framed houses is a lovely way to just get out of the bigger cities and unwind.
Erbach Ivory
Erbach was probably most famous for ivory carving. While real ivory is no longer used it is still a huge craft in this area with many ivory carvers still living here. They also are proud to have the German Ivory Museum. In early 2006, the museum was modernised and extended. Other ivory museums in this region are the privately owned Ivory Museum Michelstadt and the church-owned Ivory Museum Walldürn.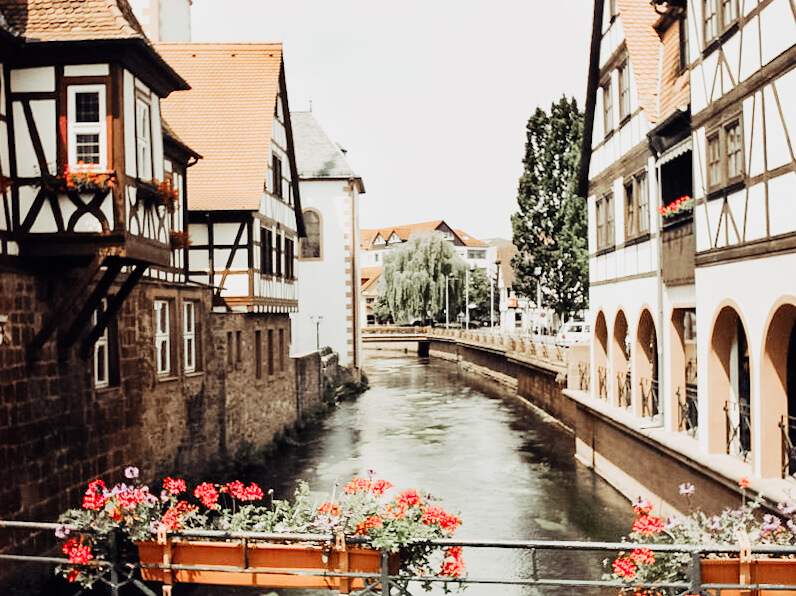 Breuberg Castle
If you can tear yourself away from the Frankenstein Castle in nearby Mühltal, I highly recommend that you visit Breuberg castle in the town that bears it's name. Breuberg is only about 15 – 20 minutes away from Michelstadt so these can all be visited on the same day.
Overlooking the town from its magnificent hilltop perch, Breuberg castle is one of Germany's best perserved castles. From the 14th century, the castle was expanded many times, making it a journey through the building styles of the last 850 years.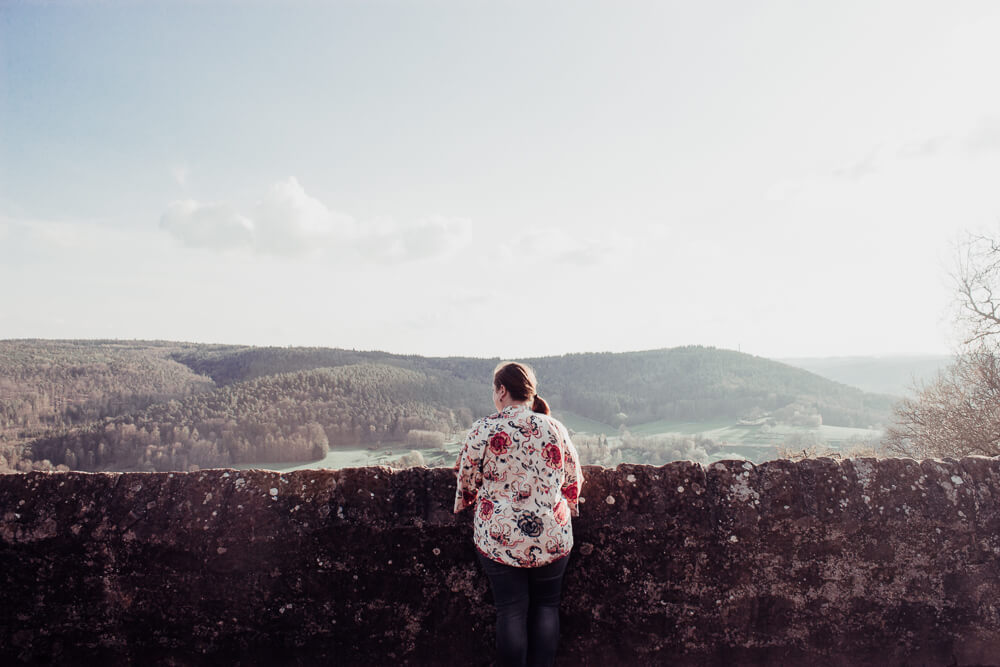 There is a beautiful courtyard restauant and museum. The current owner, The Count of Hesse, has also transformed the castle into a youth hostel so it is so wonderful to see the groups of kids using the castle as their playground. Imagine getting to wake up in this beautiful castle with your friends and spend the day exploring all for the basic hostel price.
So you can see if you are looking for something different to do during your visit to Frankfurt, this is the perfect way to spend a day. If these pictures of timber framed houses and cobble stoned streets don't entice you I don't know what will. I certainly spent the day squealing in fairytale heaven as every corner I turned was prettier than the last.
If you are looking for more fairytale villages to visit in Germany check out Postcards from Tina's blog.
Are you new here? Join thousands of other happy readers and subscribe to All about RosaLilla blog via email or Bloglovin'. The good news is that by signing up via email you will get my EXACT email template that I use to successfully pitch hotels for collaborations so that we can work together for mutual benefit.
I also share everything about myself on Instagram with nothing held back so be sure to follow along there.
If you are looking for more Fashion ideas you can follow me on Like To Know It and be sure to check out my #tuesdayten on Instagram and other blog posts here:
If you liked this, then you may also like:
The fairytale city of Heidelberg
Ten reasons why Vilnius should be your next city break
Until next time you crazy kids!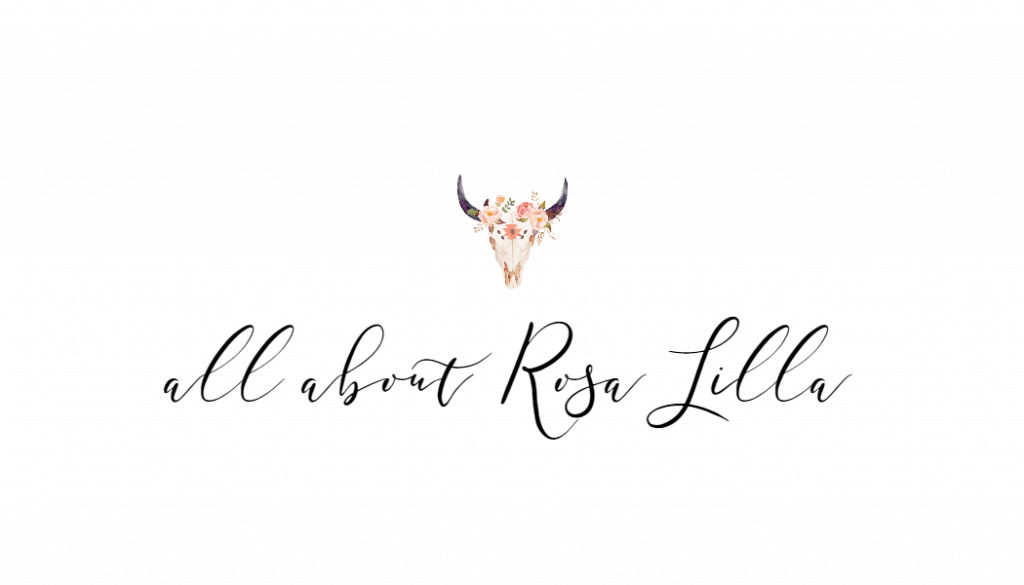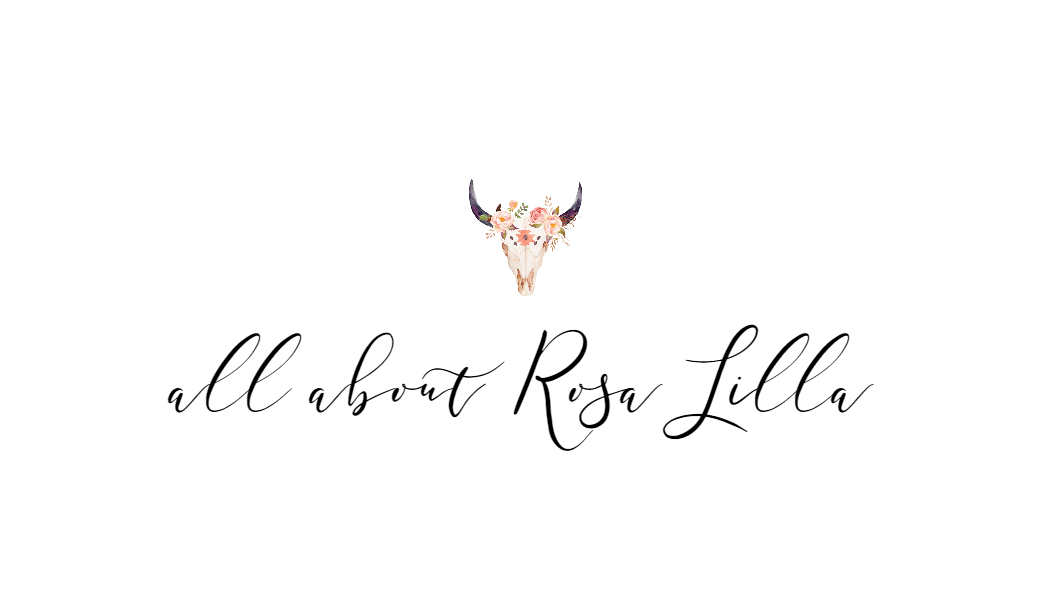 Sharing is sexy!