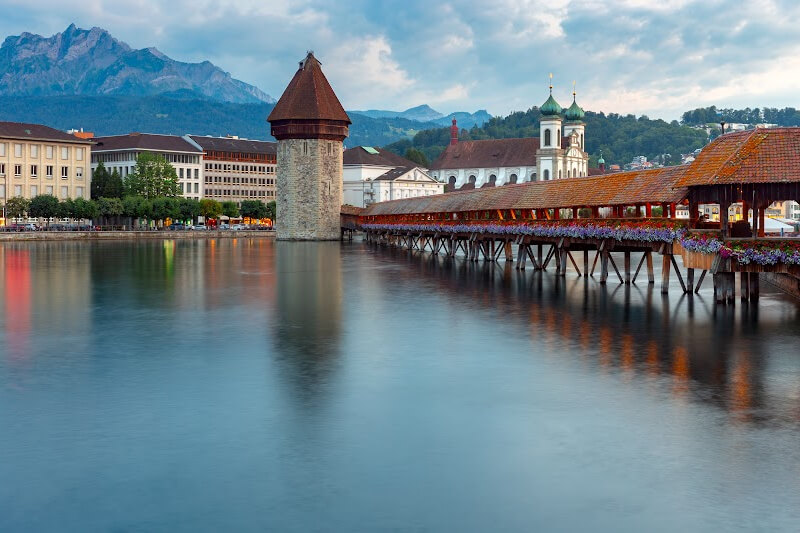 Delve into the beauty and allure of Lucerne as we unveil the wonders that await you in this beautiful Swiss city. Whether you're captivated by its stunning architecture or longing for a boat ride on Lake Lucerne, this article will guide you through an extraordinary day in this captivating destination.
One Day in Lucerne: Unraveling the Charms of Switzerland's Hidden Gem!
Imagine stepping into a world where time stands still, where cobblestone streets wind their way through historic wonders, and where snow-capped mountains mirror their beauty in crystal clear waters. Welcome to Lucerne, a hidden gem nestled in the heart of Switzerland that holds within its embrace a magic unlike any other. In just one day, prepare to unravel the enchanting secrets of this picturesque city – from architectural marvels to culinary delights, cultural treasures to breathtaking natural beauty. Join us on this journey through the mesmerizing wonders that await you, and let Lucerne cast its indelible spell upon your heart.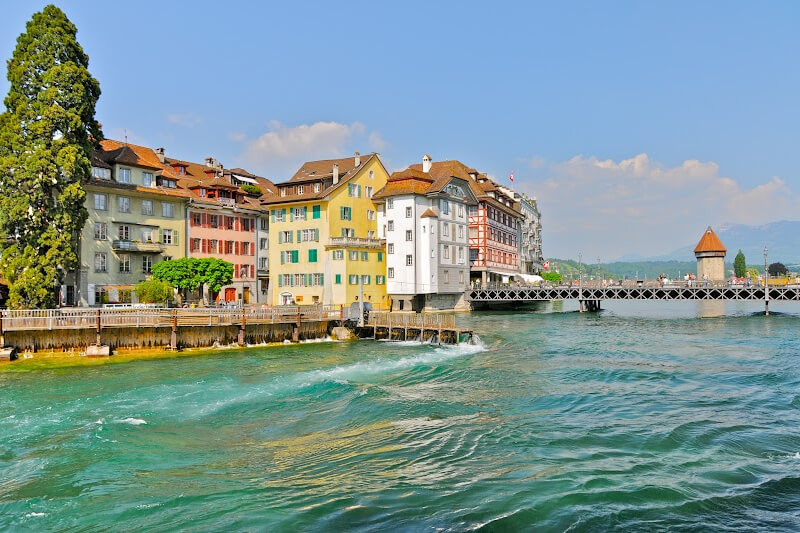 What to do in Lucerne in 24 hours
It is quite possible to discover the major sights in Lucerne in 24 hours. The main attractions in Lucerne are all within walking distance of one another so you would be amazed at just how much you can see in one day. The city's history began in the 8th century, when it grew out of a Benedictine monastery, but it wasn't until the 12th century that a city was chartered. From then on Lucerne grew to be an important trade centre throughout the next few centuries, and today it stands as one of the most visited cities in Switzerland.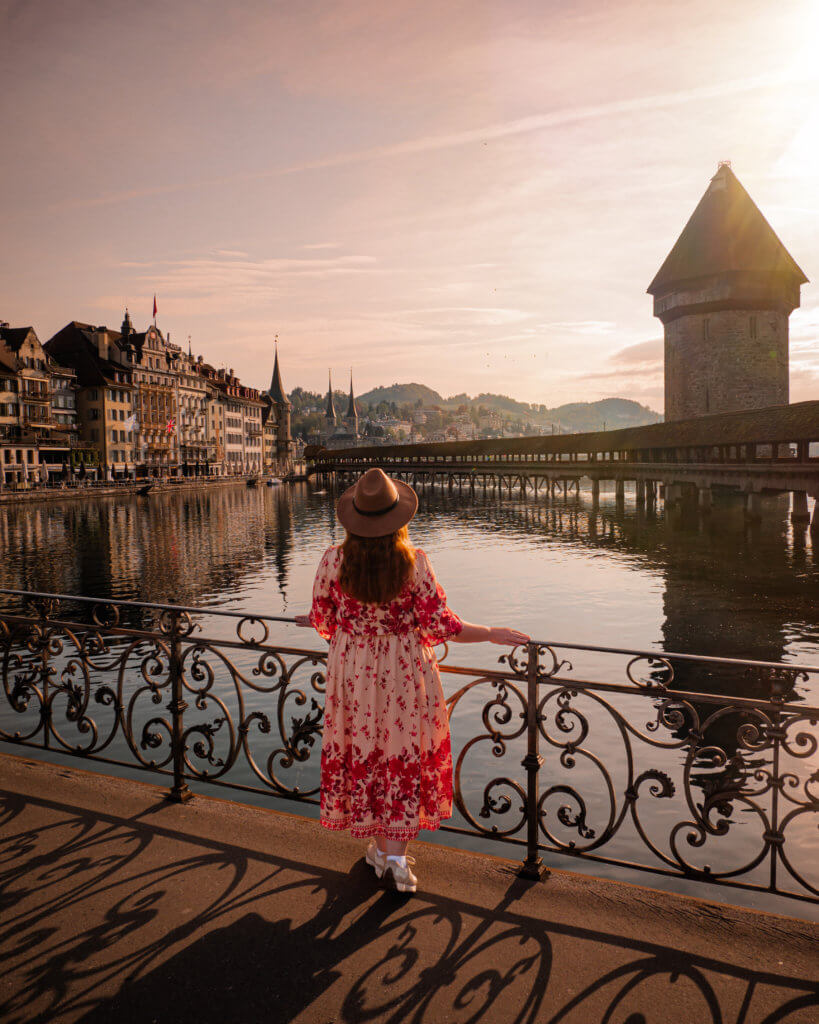 The best things to see if you only have 24 hours in Lucerne are:
Chapel Bridge
Jesuit Church
Spreuer Bridge
Needle Dam
Musegg Wall
Lake Lucerne by steamboat
Weinmarkt
Kornmarkt
Hirschenplatz
Enjoy the culinary delights of Lucerne
Are you ready to visit Lucerne?
Best time to visit Lucerne
In many other destinations, meticulous planning is necessary for a one-day visit, but there is virtually no bad time to travel to Lucerne since it is a year-round destination. Of course, when you go to Lucerne will depend on your goals for the trip.
The peak travel season for Lucerne, like many other well-liked locations, is from June through August. Even though it's the busiest and most expensive time of year to travel, summer is the best season for outdoor activities. These Alpine cities have temperate summers, so sightseeing and trekking won't be ruined by the heat.
Many people travel to Lucerne in winter because it makes a good base for winter activities. The city is relatively calm during the day as people swarm to the ski slopes, but hotels are still pricey from November through March. The slow period occurs in April, May, and September, which is shoulder season. Although these are the months with the lowest hotel rates, many accommodations (like cable cars) are frequently closed so bear this in mind when planning your trip.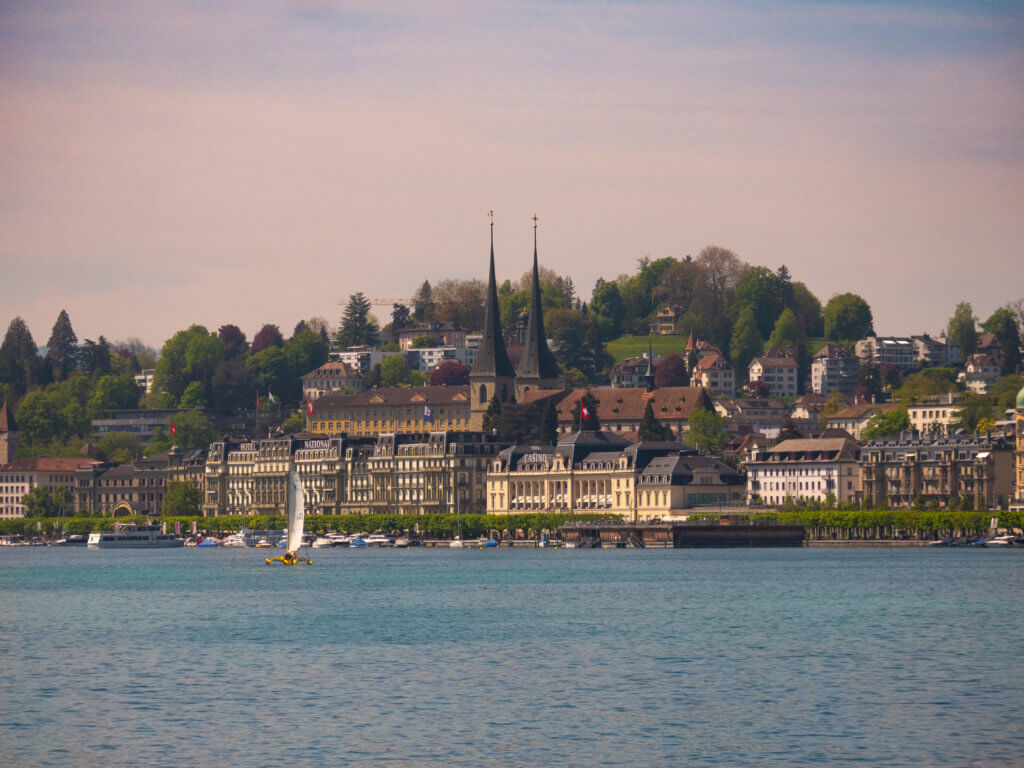 The Perfect One Day Lucerne Itinerary
Not every place can be explored in a one day, but Lucerne is the ideal size for this kind of quick trip. You won't have any trouble seeing the finest of Lucerne in your limited time there, if, you use our Lucerne travel plan as your road map. The best things to do in Lucerne explore a variety of the city's aspects, providing you a brief but comprehensive knowledge of what makes it a favourite vacation spot.
Top Tip: Learn about Lucerne's history from a local guide and consider booking a walking tour of Lucerne. Stroll through the city and discover many other sights including the modern Culture and Congress Centre, the beautiful squares, and the historical building facades in the Old Town. As you stroll through the narrow streets of the Old Town with your tour guide, you will discover humorous and interesting facts about Lucerne's history, churches, bridges, balconies, streets, towers, and squares.
Immerse Yourself in Lucerne's Architectural Marvels
As you navigate the labyrinthine streets of Lucerne, prepare to be transported back in time as you encounter the city's architectural marvels. Each building tells a story of centuries past, with their intricate facades and timeless charm. Lucerne's historic centre, an immaculately preserved treasure trove, is a testament to the city's rich cultural heritage and will leave architectural enthusiasts awe-inspired.
One Day in Lucerne: Chapel Bridge
Begin your architectural journey in the heart of the city at the Kapellbrücke, or Chapel Bridge, an iconic symbol of Lucerne. This centuries-old wooden bridge elegantly spans the Reuss River, adorned with a series of triangular roof panels and vibrant paintings depicting historical events. Dating back to the 14th century, it's also the oldest covered wooden bridge in Europe. As you stroll across this enchanting landmark, take a moment to absorb the beauty of the surrounding medieval buildings and the breathtaking views of the lake.
Jesuit Church
From the Kapellbrücke, make your way to the charming old town, where you'll find an array of architectural wonders. Marvel at the majestic Jesuit Church, a baroque masterpiece with its ornate interior and awe-inspiring frescoes. Lose yourself in its ambiance as you soak in the intricate details that showcase the craftsmanship of a bygone era.
Spreuer Bridge
Next you will come across another intricate wooden bridge, Spreuer Bridge. Three bridges similar to the Chapel Bridge with paintings lining their interiors originally stood in Lucerne. One of these bridges no longer exists but Spreuer Bridge is well worth a visit. This 16th-century bridge, which is typically overshadowed by the Chapel Bridge, is nonetheless rewarding to cross. The paintings, which feature skeletons in situations in the Danse Macabre aesthetic, are pretty fascinating. This art movement's overarching goal was to serve as a cheery reminder of the unavoidable nature of death.
Lion Monument
Continue your exploration, and you'll discover the impressive Lion Monument, a poignant sculpture that pays homage to the Swiss Guards who perished during the French Revolution. Carved directly into the rock face, this giant lion evokes a sense of both strength and vulnerability, illustrating the power of art and its ability to convey emotion through stone.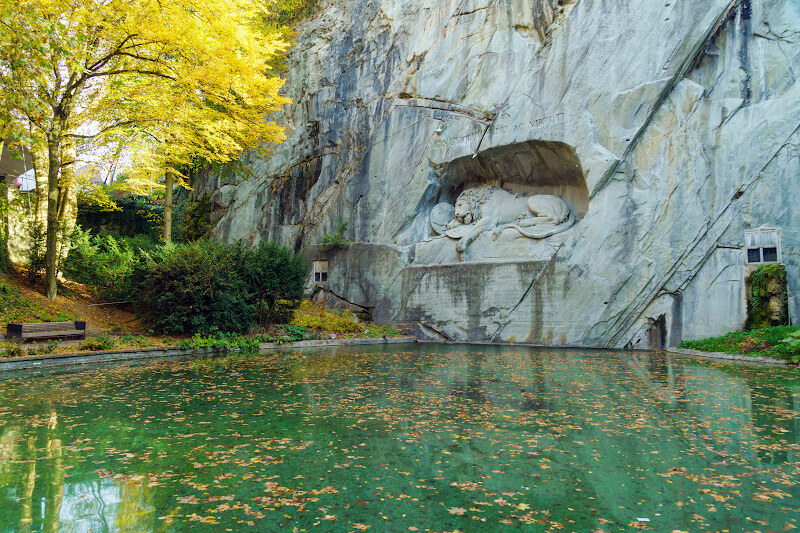 Swiss Museum of Transport
For a glimpse into Lucerne's modern architectural scene, visit the Swiss Museum of Transport. This striking structure seamlessly blends contemporary design with functionality, housing an extensive collection of historical transport artifacts. Take your time to appreciate the innovative architecture and delve into the captivating exhibitions that highlight Switzerland's pioneering spirit in transportation.
One Day in Lucerne: Musegg Wall and its nine towers
The town's defenses included the Musegg Wall and the nine Musegg Towers, and today, both tourists and residents can stroll along large stretches of the walls. The Chapel Bridge and the Musegg wall, which has nine towers, are both components of the ramparts that were erected in the fourteenth century to defend the town of Lucerne. Standing atop one of the towers, you can envision the plans and concerns of the locals at that time because of how astonishingly well the wall has been preserved. During the warmer months of the year, visitors can visit the wall and four of the towers.
The wall starts at the so-called Nölli tower, which is located above the Geissmatt bridge in the west, and it finishes at Museggstrasse 7, which is located at the eastern edge of the old town. The accessible towers include the Wacht tower, the Zyt tower with its clock dating from 1535, the Schirmer tower, and the Männli tower, which is decorated with a military figure known as "the little man" or "Männli."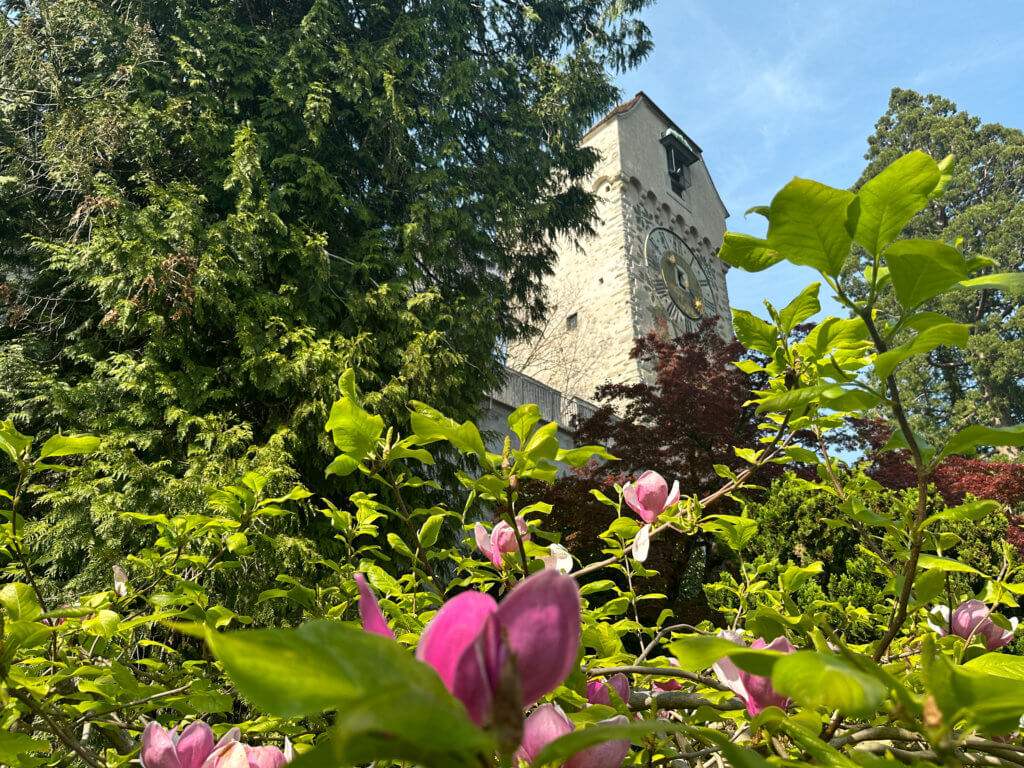 Jackdaws, common swifts, and bats are just a few of the creatures and endangered flora that call the old natural stone walls home. Guided walking tours that include the history of the walls are available.
The Hinter Musegg Farm, which has a farm shop, restaurant, and animals, is located directly behind the wall and offers an opportunity to experience rural life in the middle of the city. The farm is organic, and children and families have the opportunity to help on the farm while also getting to observe alpacas, Highland cows, tiny pigs, hens, and goats. Follow the educational trail, finish the quiz, and you'll learn intriguing things about the animals that live here.
As you indulge in Lucerne's architectural wonders, don't forget to look up and marvel at the backdrop of snow-capped mountains that frame the city's skyline. The juxtaposition of man-made marvels against the natural beauty of the surrounding landscape creates a harmonious symphony, reminding us of the enchanting essence that Lucerne exudes.
So, prepare to immerse yourself in Lucerne's architectural treasures and be captivated by the stories they tell. From ancient bridges to grand churches, each structure contributes to the tapestry of Lucerne's unique identity. As you continue your journey through this hidden gem, let the city's architectural wonders impress you, forever reminding you of the charm and beauty that await you around every corner.
In our opinion you can't spend one day in Lucerne without experiencing the city views from the lake. The best way to enjoy Lucerne is to see the city's splendor from a different perspective by taking a scenic boat ride on Lake Lucerne.
Embark on a Scenic Boat Ride on Lake Lucerne
Take a scenic boat ride on Lake Lucerne and witness the city's splendour from a different perspective. As you glide across the crystal-clear waters, surrounded by towering mountains and picturesque landscapes, you'll understand why Lucerne is often referred to as Switzerland's hidden gem. Lucerne is postcard perfect and you can't help falling in love with the magic of this city. The boat ride provides a unique opportunity to take in the city's architectural wonders from a whole new vantage point, allowing you to appreciate their grandeur and intricate details from a distance.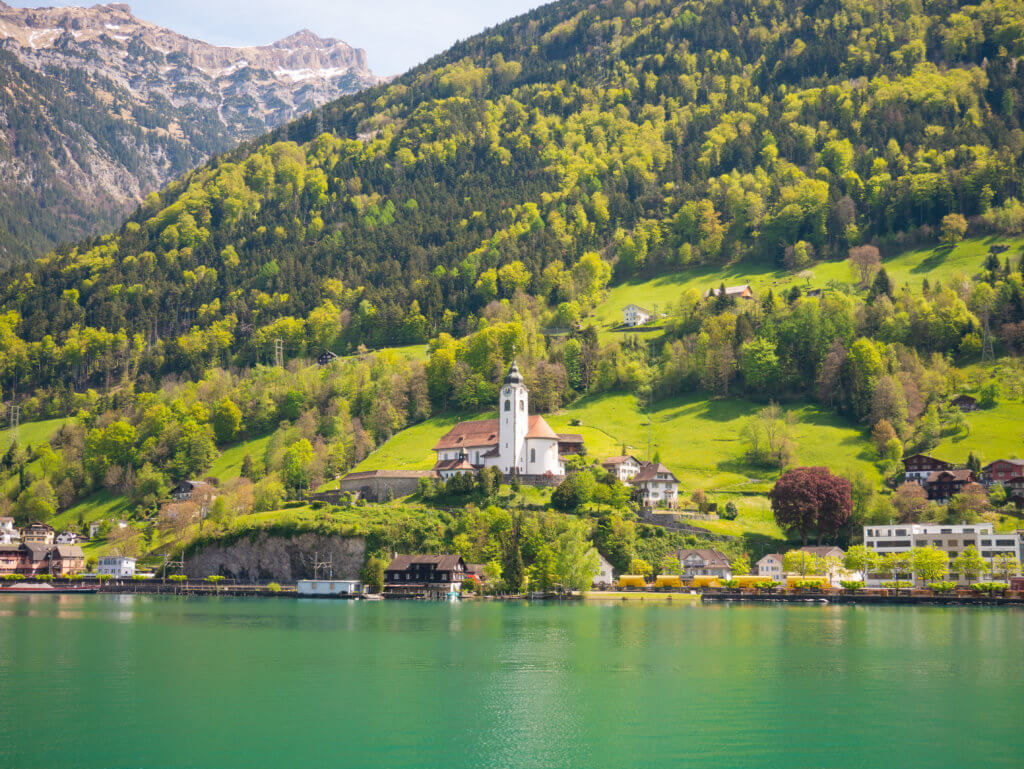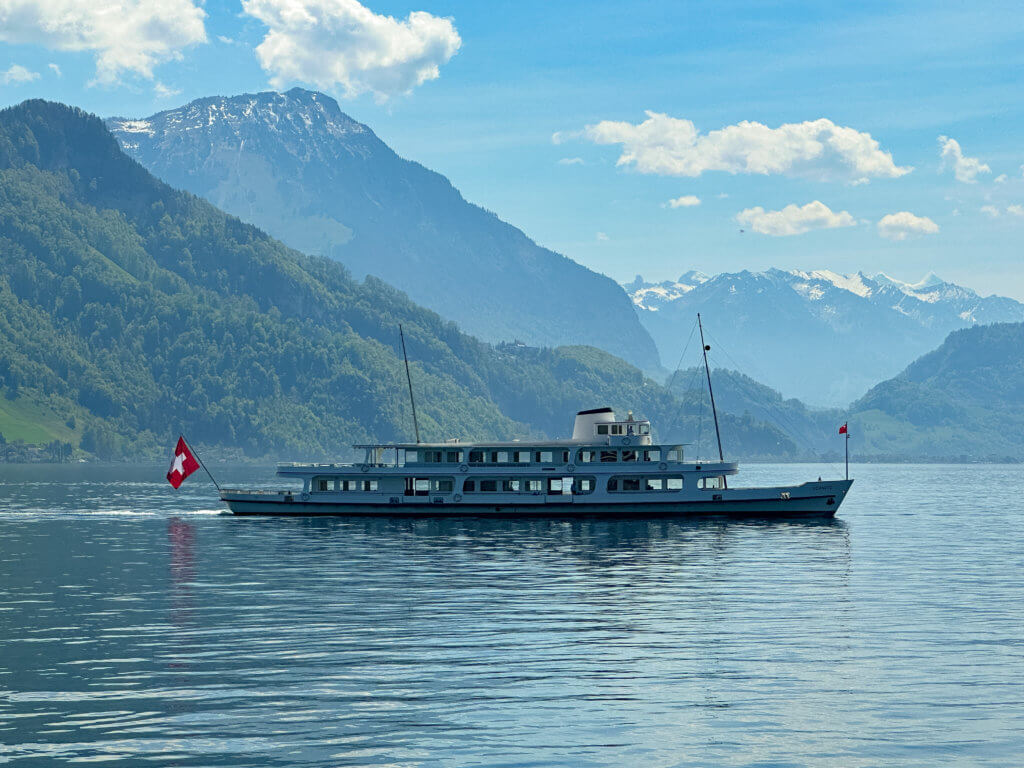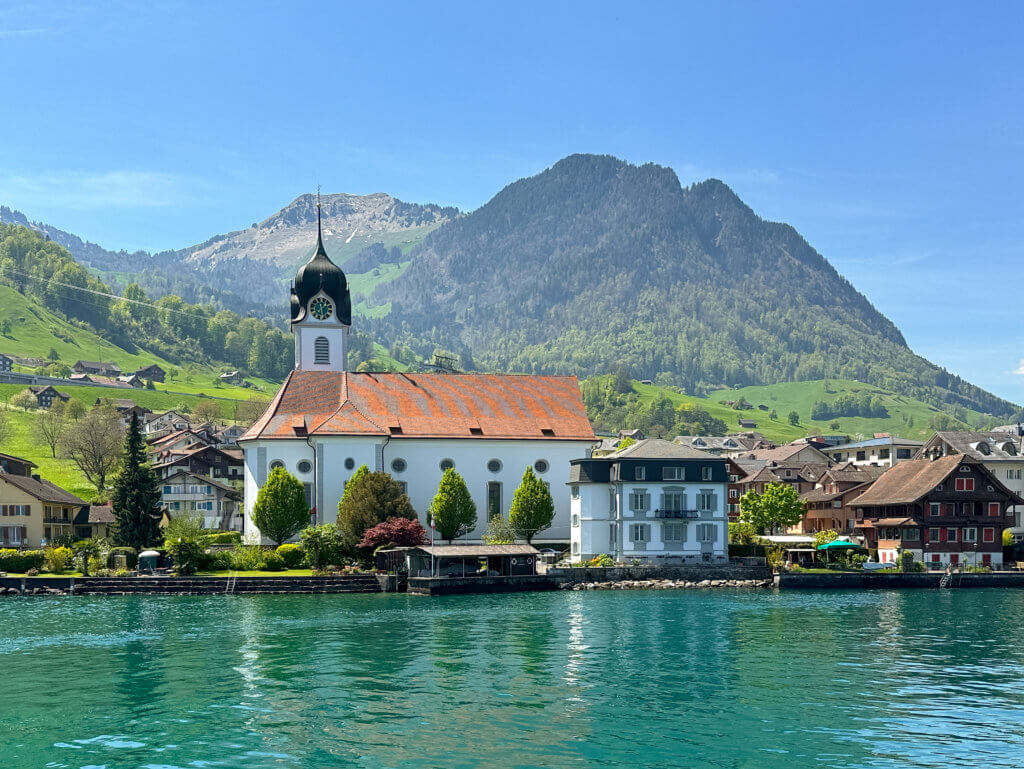 From the comfort of the boat, you'll be treated to panoramic views of Lucerne's iconic landmarks, such as the famous Chapel Bridge and the impressive Jesuit Church. As these magnificent structures come into view, they will take your breath away. The boat ride offers the perfect opportunity to capture stunning photographs that will forever remind you of the beauty that awaits you in Lucerne.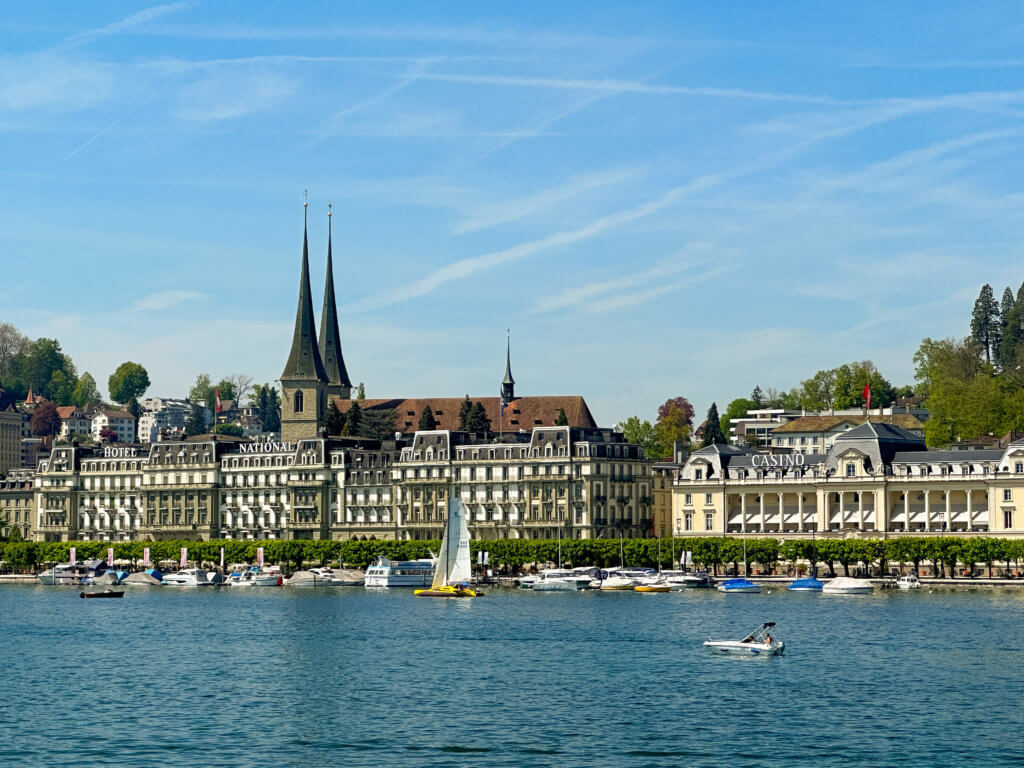 Beyond the architectural treasures, the boat ride also allows you to soak in the natural beauty that surrounds Lake Lucerne. As the boat glides effortlessly through the water, you'll be mesmerized by the serene atmosphere and the reflection of the mountains on the glassy surface. The shores of the lake are dotted with charming villages and lush greenery, creating a postcard-perfect setting that will leave you breathless.
If you have more than one day in Lucerne or you want to go and explore the delights of Lugano then we recommend that you take the incredible Gotthard Panorama Express using your Swiss Travel Pass. The Gotthard Panorama Express is a panoramic train which connects Lucerne to Lugano, crossing the Swiss Alps from North to South through the Gotthard crest tunnel. It combines boat and train journeys on the route between Central Switzerland and Ticino and it is a truly unique experience so make sure to book it if you have time.
As you revel in the tranquil experience of the boat ride, it sets the stage for the next adventure that awaits you in Lucerne: indulging in the city's culinary delights. After immersing yourself in the city's architectural wonders, what better way to continue your journey than by treating your taste buds to a symphony of flavours and aromas? Lucerne's vibrant food scene is as captivating as its architectural gems, and promises to be a feast for all your senses.
Get ready to savour the rich culinary traditions and discover the unique gastronomic experiences that Lucerne has to offer. From traditional Swiss dishes to international cuisine, the city's restaurants and cafes will be sure to leave a lasting impression.
Indulge in Lucerne's Culinary Delights
After immersing yourself in the city's architectural wonders, what better way to continue your journey than by treating your taste buds to a symphony of delicious flavours and aromas? Lucerne's vibrant food scene is as captivating as its architectural gems, and promises to be a feast for all your senses.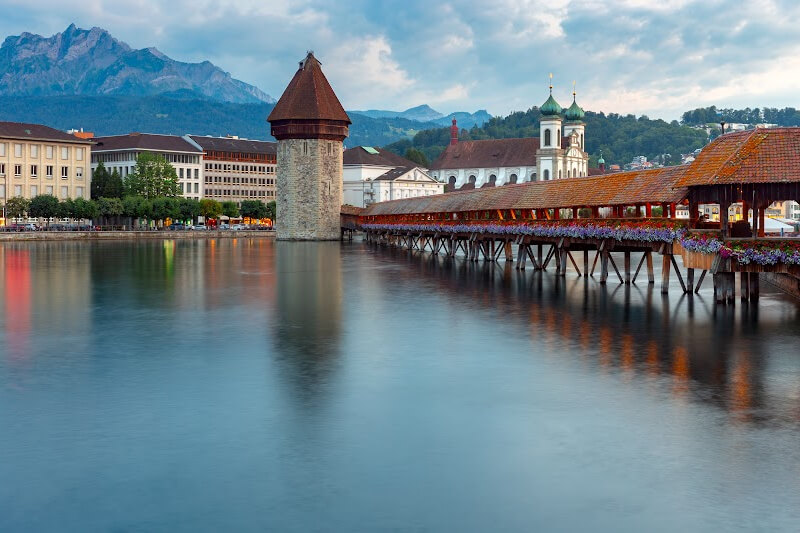 Whether you're craving hearty Swiss cheese fondue, savory raclette, or delicate Swiss chocolate, you'll find an abundance of choices that will make you happy. Take a walk through Lucerne's charming streets and you'll be met with a delightful blend of cosy cafes, Michelin-starred restaurants, and local eateries. The city's culinary experts take pride in sourcing the finest local ingredients and creating dishes that showcase the very essence of Swiss cuisine. Indulge in creamy mountain cheeses, fresh alpine herbs, tender meats, and delectable desserts that will transport you to a world of gastronomic bliss.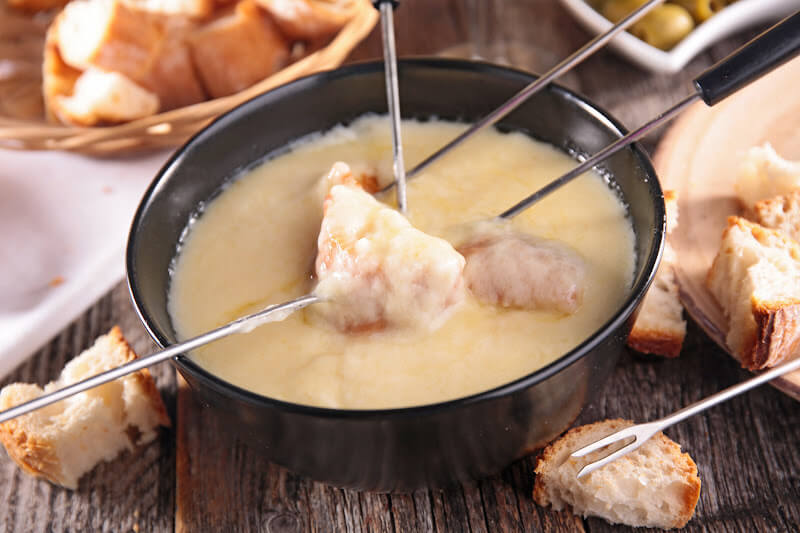 There is a seamless fusion of tradition and innovation when it comes to food in Lucerne. The city seamlessly combines timeless Swiss recipes with modern twists, resulting in dishes that are both comforting and avant-garde.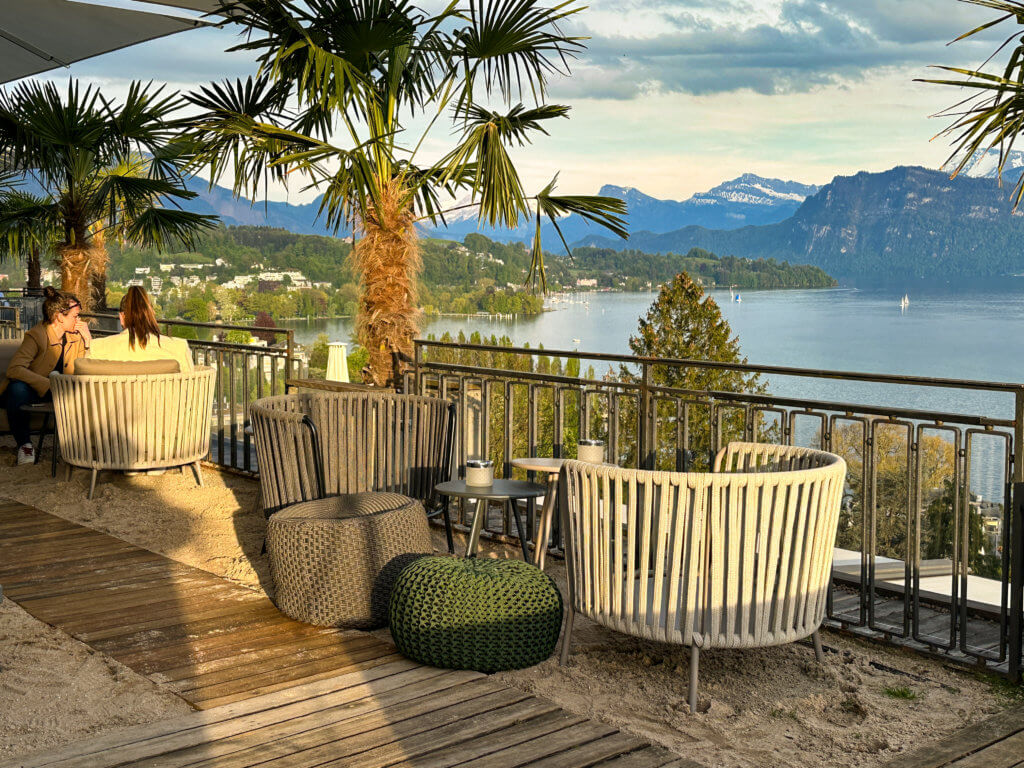 If you are there in the Summer make sure to check out Montana Beach Club. Sun, sand and palm trees make you feel like you are in the Mediterranean. The lounges and seating areas, as well as the shady parasols, invite you to linger. Enjoy the breathtaking view over Lake Lucerne and the mountains of Central Switzerland! It's the perfect place to relax and enjoy a cockail.
Explore the Cultural Treasures of the Old Town
The cultural treasures of Lucerne's Old Town beckon, offering a captivating journey through history and tradition. As you wander the narrow cobblestone streets, you can't help but be transported back in time. The beautifully preserved medieval architecture whispers stories of the past, creating a sense of awe and wonder.
One of the highlights of the Old Town is the iconic Chapel Bridge. This wooden bridge, adorned with vibrant flowers, stands as a symbol of Lucerne's rich heritage. As you stroll across its length, take a moment to admire the stunning paintings housed within its covered walkway. These historical artworks provide a glimpse into Lucerne's artistic legacy and offer a unique perspective on the city's cultural evolution.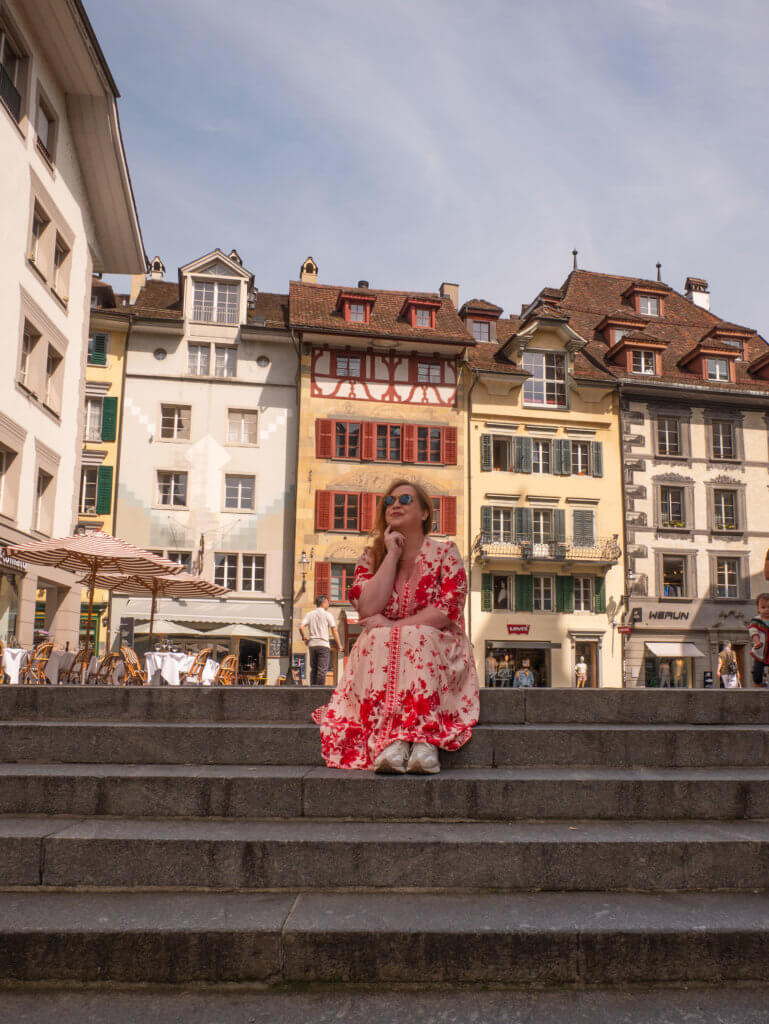 Continuing your exploration, you'll come across the charming squares and picturesque alleyways that dot the Old Town. Places like Weinmarkt and Kornmarkt exude a quaint ambiance, inviting you to sit down at a cosy café and soak in the atmosphere. Immerse yourself in the local culture by savouring a cup of rich Swiss coffee or indulging in a delectable slice of traditional Swiss cake.
For history enthusiasts, the Musegg Wall is a must-visit. This well-preserved medieval rampart offers panoramic views of the city and its surroundings. As you traverse its towers and battlements, you'll gain insight into Lucerne's strategic importance throughout the ages.
The Old Town also hosts a variety of museums and galleries that showcase Lucerne's artistic and cultural heritage. From the Swiss Museum of Transport, which explores the nation's fascination with all things locomotion, to the Richard Wagner Museum, dedicated to the famed composer who once resided in Lucerne, there is something to captivate every curious mind. Built inside a 15th-century villa, the Richard Wagner museum displays the complete life and works of the renowned artist. You can witness everything from his letters, clothing, paintings, and musical instruments during the guided tour through the museum.
With each step you take in Lucerne's Old Town, you unravel the layers of history and culture that have shaped this hidden gem. Be prepared to be transported through time as you delve into the captivating stories and historic events that shaped this city.
We know that you will be already packing a lot in your one day in Lucerne so you may want to pick and choose among individual attractions in this Lucerne 1-day itinerary. However, if you still have time (and energy) after immersing yourself in the cultural wonders of the Old Town, we highly recommend that you don't leave Lucerne without unwinding in the natural splendour of Mount Pilatus, where breathtaking landscapes and awe-inspiring vistas await.
Unwind in the Natural Splendour of Mount Pilatus
It's time to continue your journey through Lucerne's charms and venture into the natural splendour of Mount Pilatus. As you ascend this majestic mountain, be prepared to leave the busy streets below and instead be enveloped by the serene beauty of nature.
Mount Pilatus offers a sanctuary where you can unwind and reconnect with the earth's natural wonders. The air becomes crisper, the silence more profound, and the views more breathtaking with every step you take. No words can truly capture the sense of awe as you gaze upon the surrounding landscapes and are reminded of how beautiful our world is.
One of the most popular ways to experience Mount Pilatus is by taking the cogwheel railway, a marvel of engineering that has been operating since 1889. Hop aboard this legendary railway, and relax as it gracefully ascends the mountain, revealing hidden vistas along the way. The rhythmic chugging of the cogwheel, combined with the winding tracks, adds a touch of nostalgia to your journey, as if you were transported back in time to an era of exploration and discovery.
For those seeking a more active adventure, hiking trails meander through Mount Pilatus, offering opportunities to immerse yourself in nature at your own pace. As you traverse the well-marked paths, you'll find yourself surrounded by lush forests, delicate alpine flowers, and the melodic songs of birdlife. The invigorating scent of pine fills the air, invigorating your senses and inspiring a deeper connection with the natural world.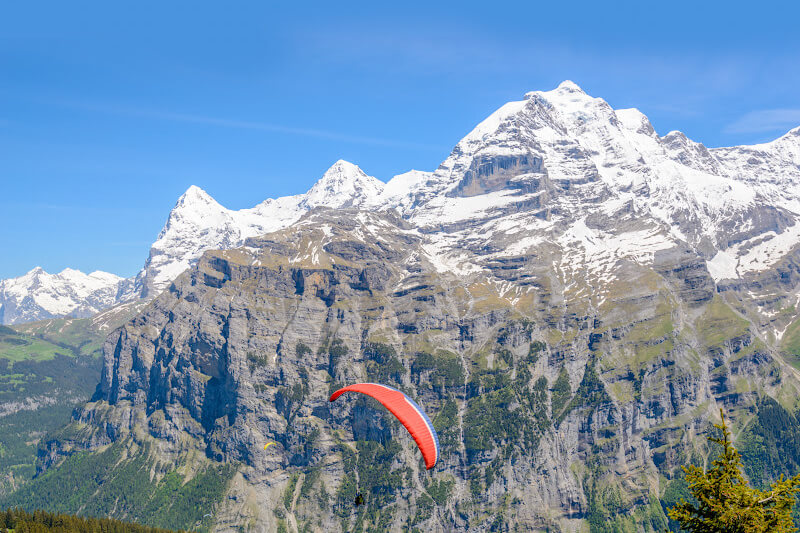 At the summit, an uninterrupted panorama awaits, rewarding your efforts with a sweeping view over Lake Lucerne and the surrounding peaks. On a clear day, you can see for miles, and the contrast of the deep blue lake against the backdrop of snow-capped mountains is truly mesmerizing. Take a moment to breathe in the crisp mountain air, feeling the wind brush against your cheeks as you soak in the splendour of this hidden gem.
As you stand at the summit of Mount Pilatus, taking in the breathtaking view that stretches as far as the eye can see, you can't help but be overwhelmed by the sheer beauty of Lucerne. This hidden gem has unraveled its charms, revealing a world filled with history, culture, and natural wonders.
But Lucerne is not just about the natural beauty that surrounds it. The city itself is steeped in history, with its well-preserved medieval architecture and iconic landmarks. These glimpses into the past allow you to connect with history in a way that few places can offer.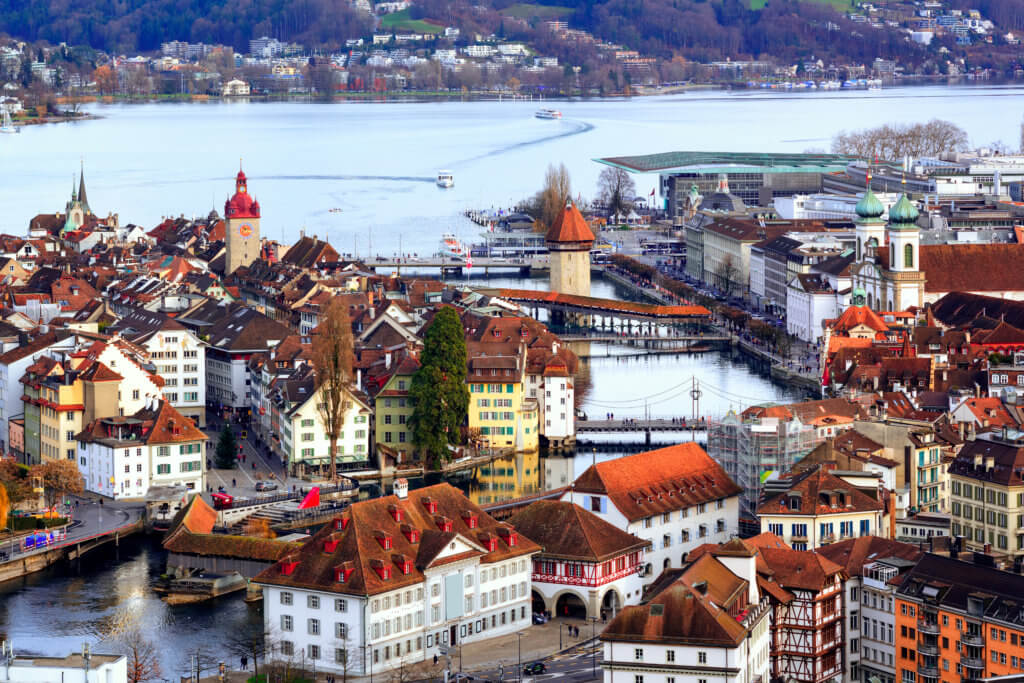 Hopefully, Lucerne is just the beginning of your Swiss escapade, a mere glimpse into the wonders that await. From the picturesque villages nestled in the Swiss Alps to the pristine lakes that mirror the surrounding mountains, Switzerland is a country that captivates and inspires.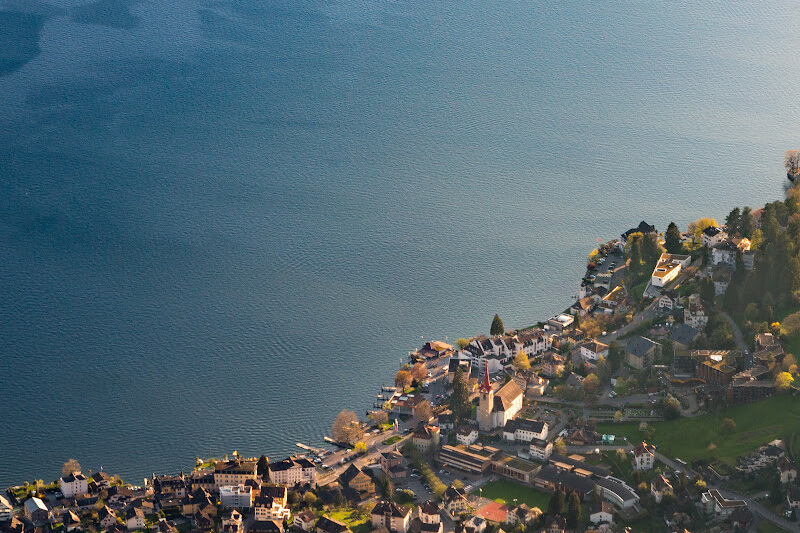 We explored the best of what Switzerland has to offer during a Grand Train Tour of Switzerland and we recommend that you do the same. (Check out our guide on whether we think the Swiss Travel Pass is worth it!) So pack your bags, let the spirit of Lucerne guide you, and embark on a journey that will take you to new heights. The adventure awaits, and the magic of Lucerne will forever be etched in your heart.
Travelling is good for your soul. As you embark on your Lucerne adventure, remember the words of Ralph Waldo Emerson, who said, "Though we travel the world over to find the beautiful, we must carry it with us, or we find it not." Allow Lucerne to ignite your senses and awaken the beauty within you. Embrace the magic of Lucerne and let it shape your own unique story.
Where to stay in Lucerne if you are staying longer than one day
The Lubo is a fully automated boutique hotel located in the heart of Lucerne. It technically is more of a hostel vibe but don't let this put you off booking. Rooms are spacious and private with a cool funky decor. Wrapped in an industrial look, the rooms invite you to live. The beds are super comfortable and we loved the parquet floors.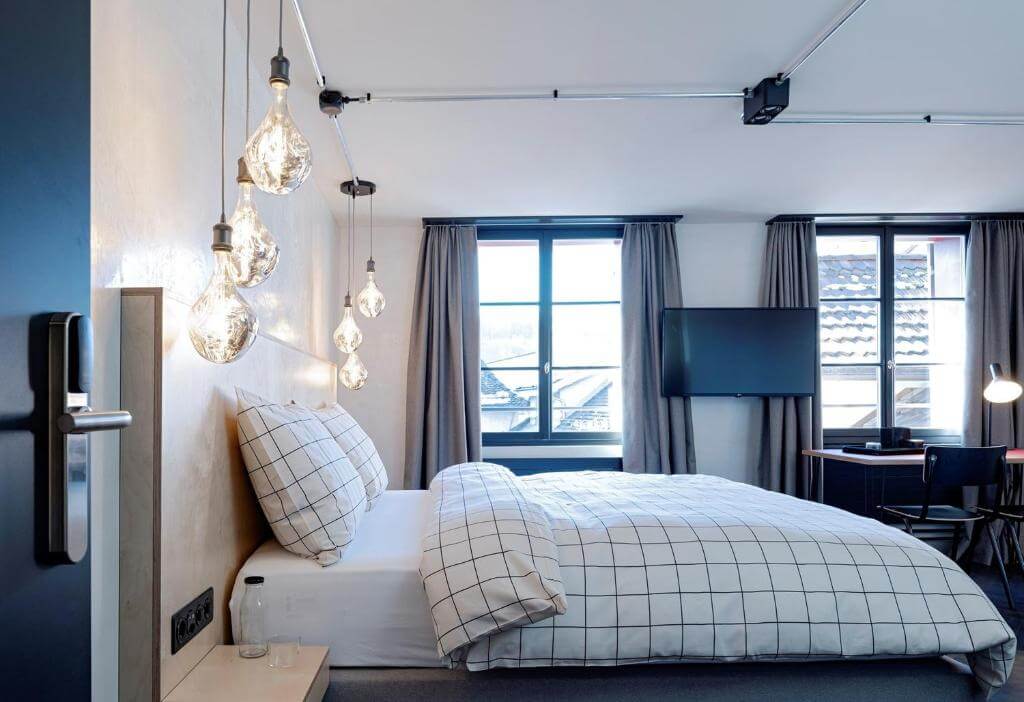 The Lubo's location is hard to beat. Located in the centre of the city of Lucerne in the historic old town and only a 10-minute walk from Lucerne main station. The Lubo celebrates today's digital developments with its minimalist, practical and functional equipment, without forgetting the human touch. The fully automated boutique hostel takes you on a digital journey from stress-free online check-in via flexible room access with a mobile key through to online check-out without waiting.
We are Nicola and Ronan Lavin experts in finding unique accommodation all over the world. Nominated as top 6 travel bloggers in Ireland we are dedicated to helping you find authentic and immersive travel experiences to help you plan your perfect vacation.
**Disclaimer: Our trip to Lucerne was hosted by Swiss Travel System and Lucerne Tourism. We only ever work with brands that we are 100% happy to recommend to you guys and happily pay for ourselves. Complimentary travel passes and hotel stays allowed us to fully experience Switzerland, give honest reviews and create content for you guys to enjoy. All opinions are our own. This post contains affiliate links meaning that if you book through one of our links we will receive a small commission at no extra cost to you. This helps us create the wonderful travel guides that we do**
Are you new here? Join thousands of other happy readers and subscribe to All About RosaLilla blog via email. The good news is that by signing up via email you will get exclusive travel deals straight to your inbox. The only other place that we publish these deals is on Instagram stories, so be sure to signup to get the heads up on amazing travel deals to save you money when booking.
I also share everything about myself on Instagram with nothing held back so be sure to follow along there.
If you liked this then you may also like:
9 things to enjoy on the Gotthard Panorama Express
Is the Swiss Travel Pass really worth it?
Best Things to do in St Gallen Old Town
The Best Prague 2 Day Itinerary
The Ultimate 3 Day Vienna Itinerary
Until next time you crazy kids!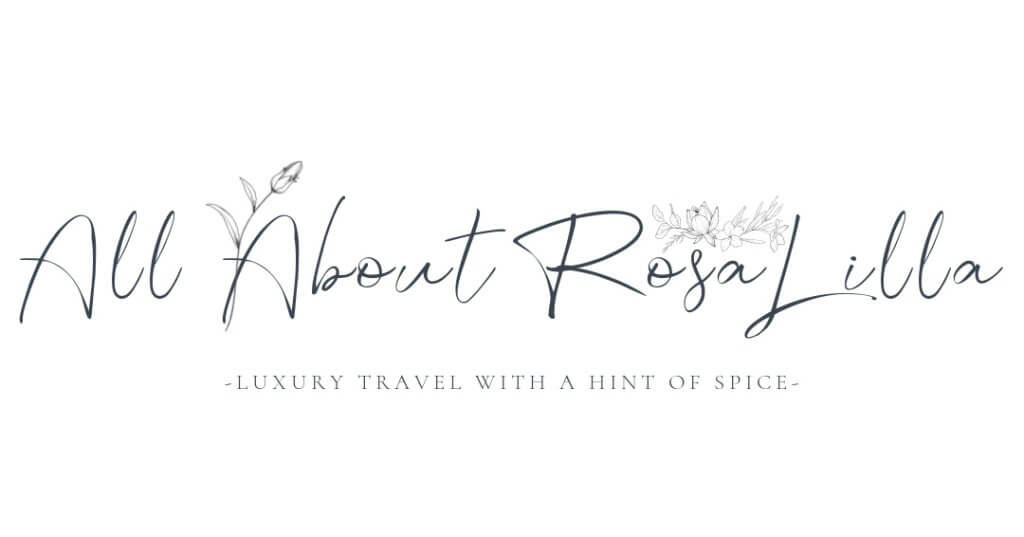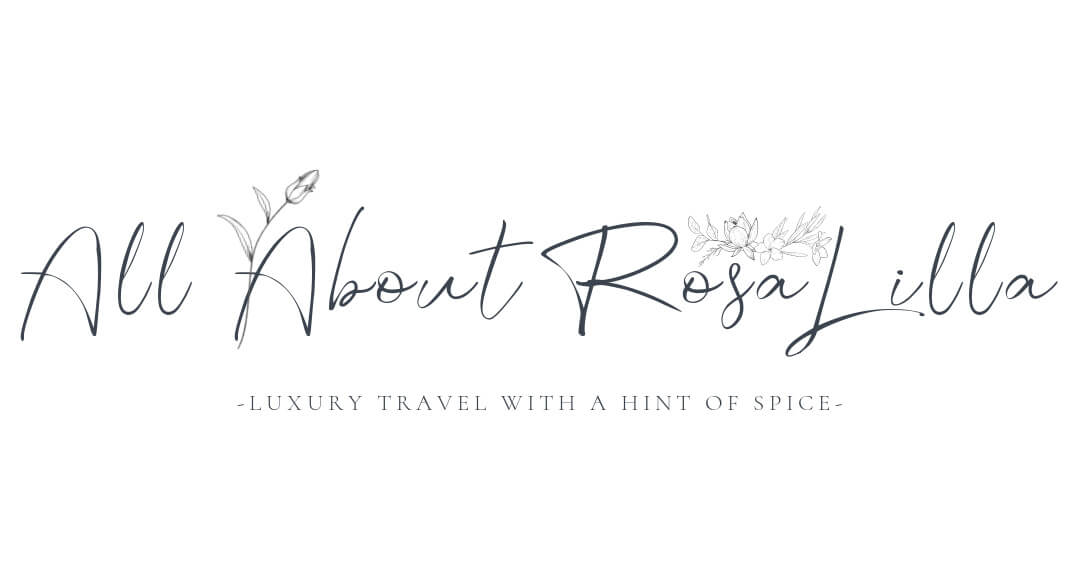 Sharing is sexy!