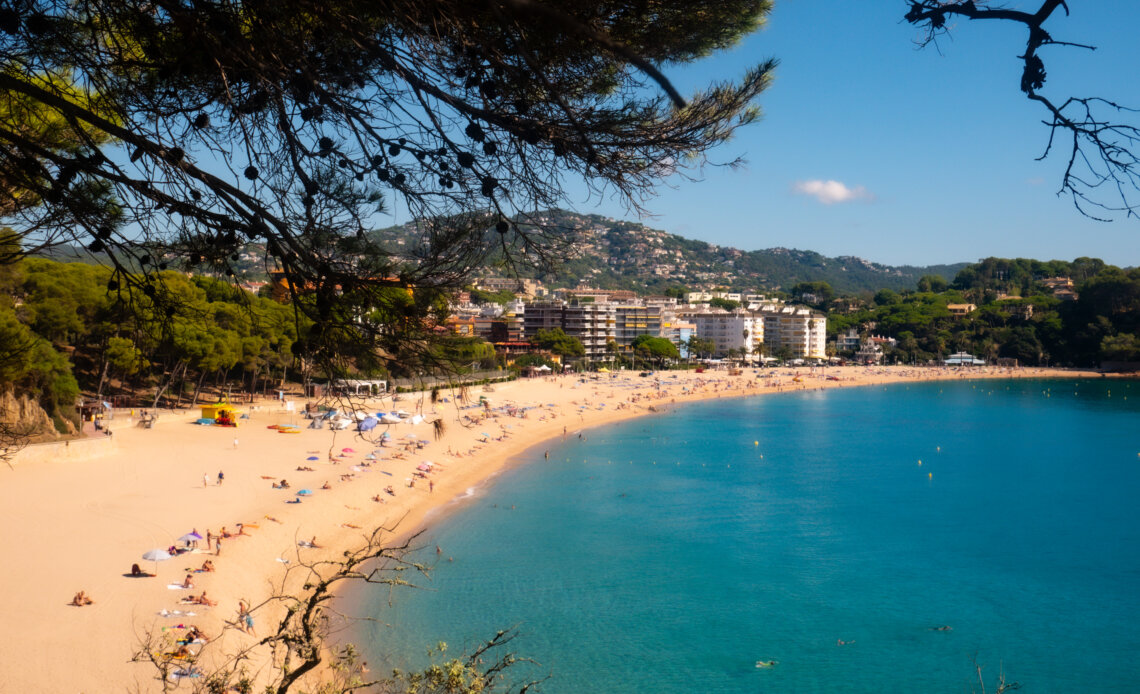 Lloret de Mar is a place to fall in love with. It has an idyllic location situated in the heart of the Costa Brava, surrounded by gorgeous natural scenery, close to the sea, and close to the mountains. Nature, culture, fun, idyllic beaches and hidden coves, festivals, and the best of Mediterranean cuisine are just some of the elements that make Lloret de Mar the chosen destination for beach lovers all year round.
Uncover the lesser-known paradise of Lloret de Mar with its secluded beaches and charming coves. We reveal the best-kept secrets where you can escape the crowds and enjoy the sun, sand, and serenity like never before. Embark on an unforgettable coastal adventure as we uncover the hidden treasures of Lloret de Mar. Dive into crystal-clear waters, bask in the glorious sunshine, and explore the captivating beaches and coves that will make your holiday a really special one. We have done all the hard work to compile a full list of the best Lloret de Mar beaches, so you simply have to unpack your swimming gear and go!
Lloret de Mar boasts nine kilometres of coastline and five beaches, all of which hold the Blue Flag. Beaches such as Lloret, Sa Boadella, Santa Cristina or Canyelles are internationally renowned for their natural beauty.
Are you ready to visit Lloret de Mar?
Lloret de Mar's Beaches and Coves
Due to the exceptional quality of the water and the gorgeous weather for most of the year, Lloret de Mar's beaches are frequently very busy throughout the summer. Families and couples will both enjoy it as a holiday destination. In fact, ask any Irish family where their first holiday abroad was, and most will say this region of Catalonia. All of Lloret de Mar's beaches have a blue flag, making them the ideal place to begin getting to know the community and its tourism hotspots, like the Santa Clotilde Gardens, the Indianos' cultural legacy, and its stunning modern architecture. Lloret de Mar's beaches will be a central hub for your time in this area.
With more than nine kilometres of coastline, beaches, and secluded bays tucked between cliffs and surrounded by pine forests and crystal blue waters, Lloret de Mar has a significant natural heritage. One of the nicest experiences you may have is going to one of the beautiful beaches on the coastline of Costa Brava.
Picture yourself diving into crystal-clear waters, soaking up the glorious sunshine, and exploring the hidden gems of Lloret de Mar's beaches and coves. In this article, we are going to unveil the coastal treasures that make Lloret de Mar a must-visit destination. From the paradise of Fenals Beach to the tranquility of Sa Boadella Cove, the beauty of Santa Cristina Beach, and the secluded haven of Cala Canyelles, we will guide you through the stunning coastal landscapes that will make your holiday a magical one. Whether you're a beach lover, a nature enthusiast, or simply seeking a relaxing getaway, Lloret de Mar's coastal treasures have it all.
Discover the Paradise of Fenals Beach
Tucked away on the captivating coastline of Lloret de Mar lies the breathtaking paradise of Fenals Beach. It is probably one of the most important beaches in Lloret de Mar, only surpassed by the beach of Lloret de Mar or Playa Grande. Fenals Beach is protected from strong winds by a massif below the ruins of the castle of Sant Joan. As you step onto the velvety golden sand, you will instantly feel a sense of tranquility wash over you. The crystal-clear waters beckon, inviting you to take a refreshing dip and escape the heat of the sun.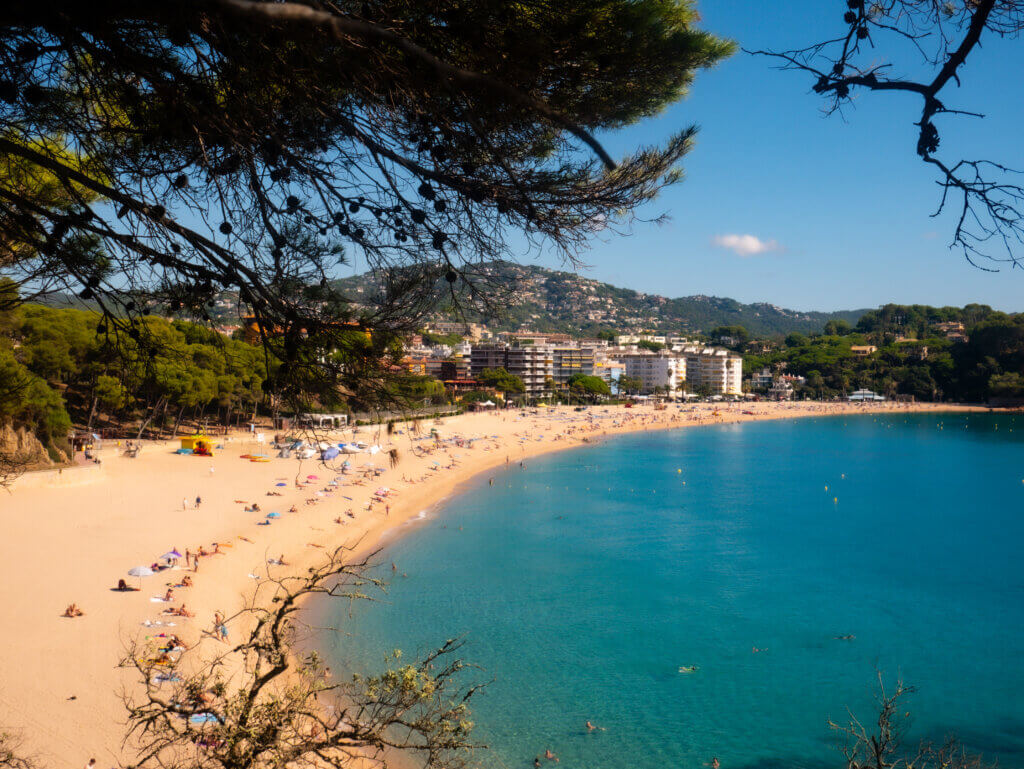 Fenals Beach boasts a mesmerizing beauty that will leave you speechless. Surrounded by lush greenery and swaying palm trees, the beach creates a serene oasis where you can relax and unwind. Grab your favourite book or simply close your eyes, and let the gentle sound of the waves lull you into a state of bliss.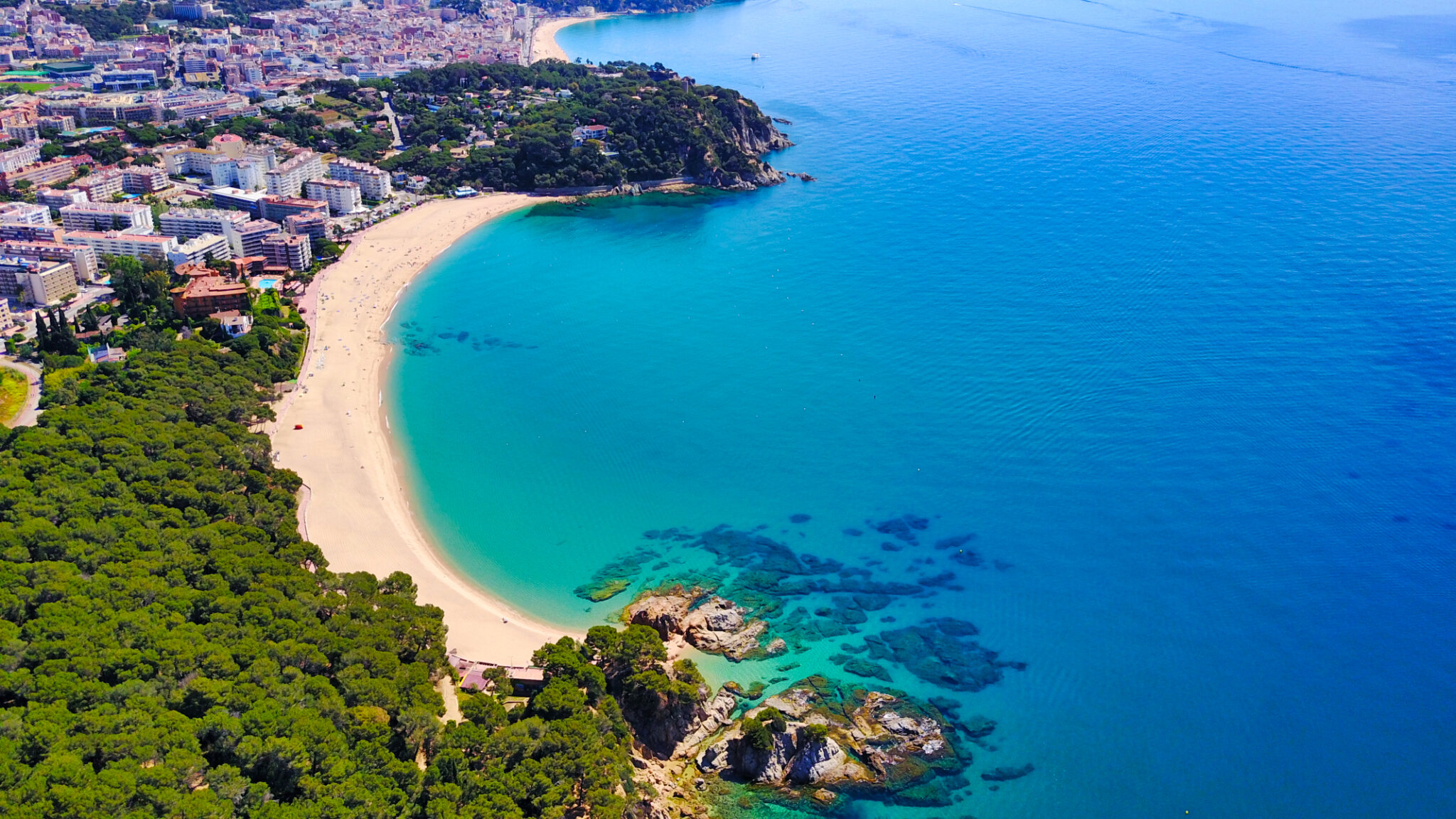 Families are its most frequent visitors, and it is impressive to see that during the summer they have a mini club service where the little ones can enjoy activities like painting, foam parties, games and much more. This is to help families working while the children have finished school and helps ease the pressure of childcare. There is also an area for babies and a beach library. You can enjoy Fenals Beach's tranquil waves and inviting golden sands for a stroll. It also provides a wide range of services and is perfect for anyone with limited mobility.
But Fenals Beach offers more than just a picturesque setting. Adventure seekers can take advantage of the various water sports and activities available. From jet skiing to paddleboarding, there's something for everyone to enjoy. Dive beneath the surface and discover a vibrant underwater world, filled with colourful marine life and hidden wonders. It is also the starting point of a section of the coastal path that runs through the different beaches and coves of Lloret de Mar and its surroundings.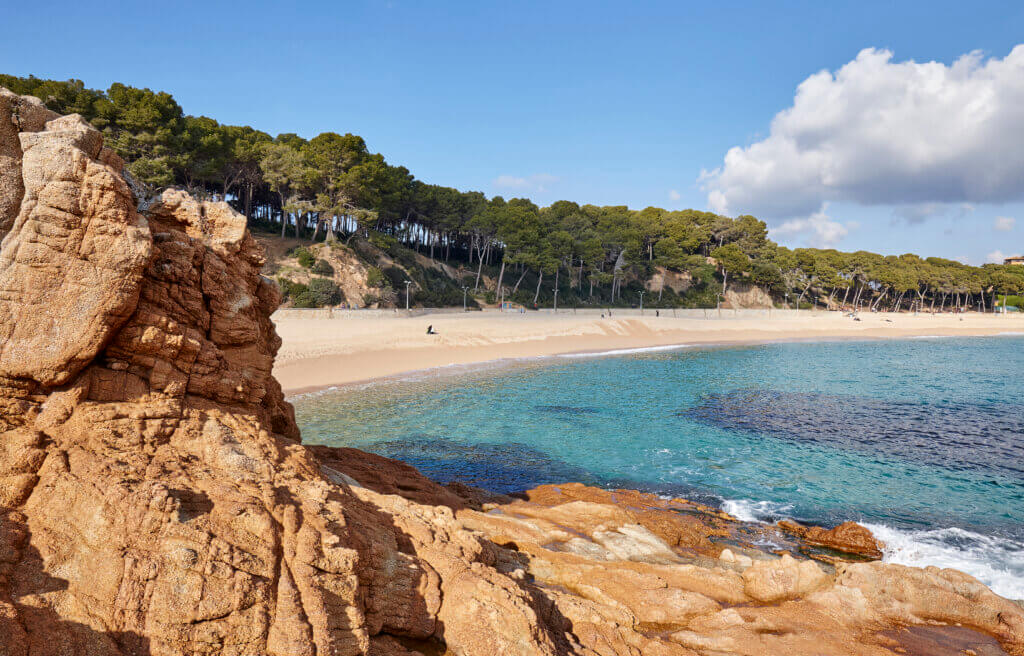 Kayaking at Fenals Beach, Lloret de Mar
In Lloret de Mar, kayak and paddle surf (SUP) tours are a fantastic opportunity to see the Costa Brava's idyllic surroundings from a totally new angle. Since kayaking is a simple and relaxing water activity, you can get some exercise while admiring the breathtaking scenery of the area.
Paddle surfing (SUP) and kayaking are typically learned in less than an hour, and one of their major benefits is that almost anyone may practice them, regardless of age, height, or athletic abilities. It is the perfect activity to perform in scenic locations like Lloret de Mar because you can take in the natural beauty while engaging in this calm activity.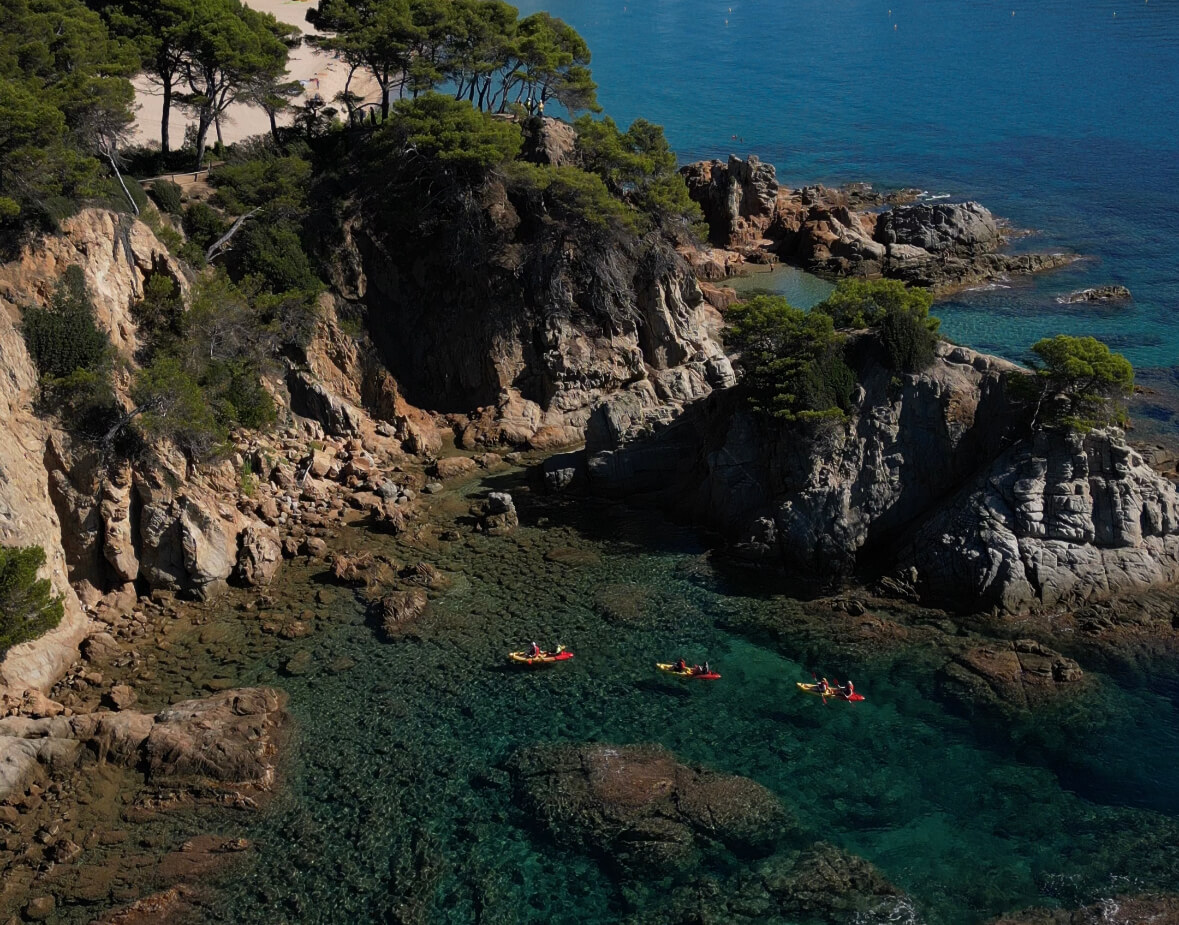 We went on a kayaking tour with Lemon Kayak, and we can't recommend them enough. It cost €35 for a 2-hour guided tour, which is an incredible price for the experience you get, and it is the perfect way to go closer to Costa Brava's most stunning coves.
We book all of our tours through Get Your Guide. We have trusted and used them now for years and they make the holiday activity planning process so easy. We have also found unique tours that have really made a holiday for us and helped us create some incredible memories.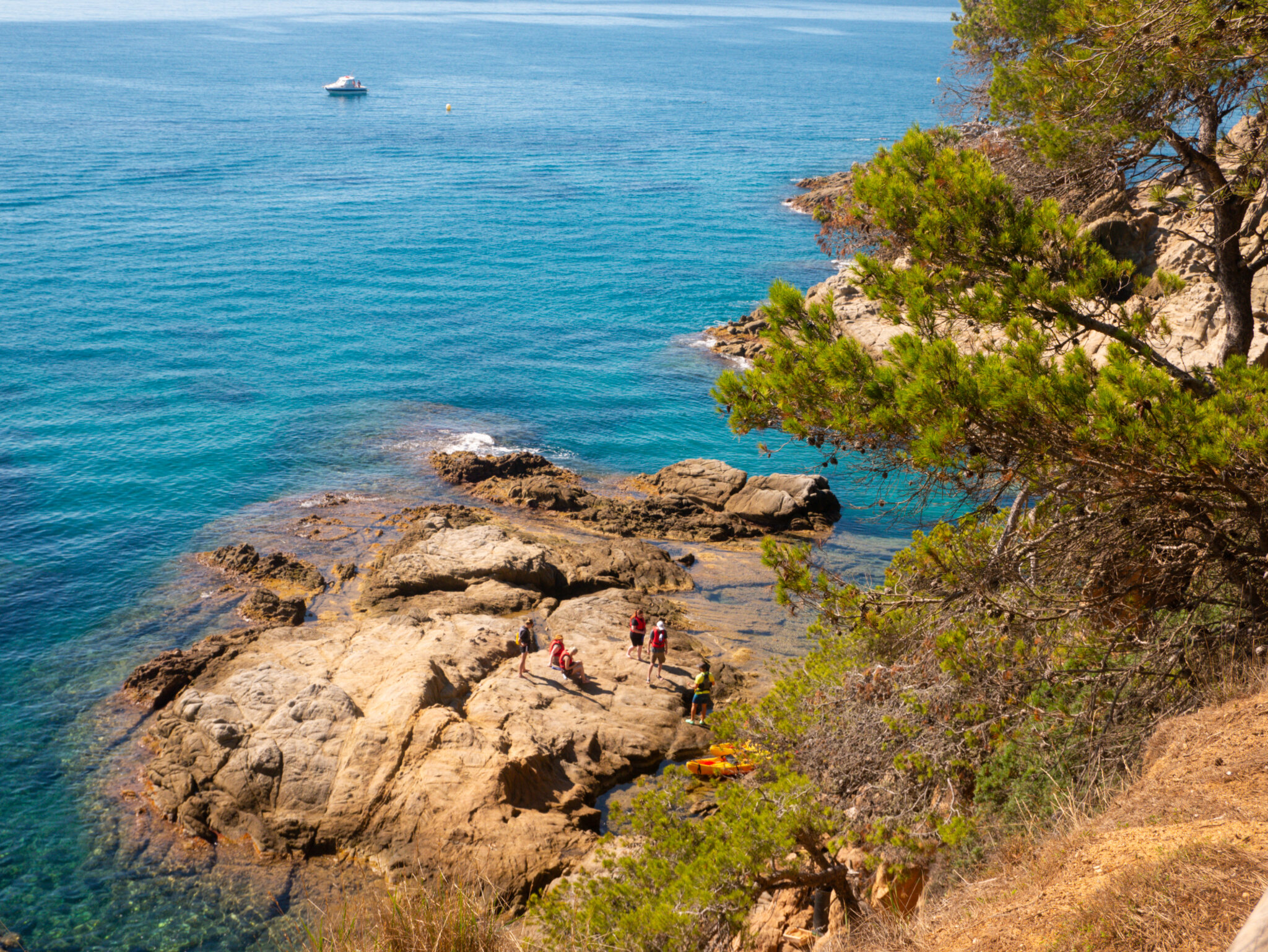 Feeling peckish? Indulge your taste buds at one of the beachfront restaurants or cafes, where you can savour the delicious flavours of the Mediterranean cuisine. Treat yourself to a refreshing cocktail as you watch the sunset paint the sky with hues of purple and orange, creating a truly magical atmosphere.
If you're craving even more exploration, take a stroll along the scenic coastal path that winds its way through the cliffs and offers breathtaking vistas of the sea. Discover hidden coves and secret beaches, each with its own unique charm and allure.
Top Tip: The nearby five-star Rigat Park Hotel is an excellent location for lunch. Their restaurant is located in the open air with fantastic sea views. Their lunch menu is delicious, offering some of the best gastronomy in the area.
Fenals Beach is a haven for those seeking a peaceful and rejuvenating escape. Whether you're seeking solace in nature, basking in the sun's warmth, or embarking on an exciting adventure, this coastal paradise has it all. So, pack your beach bag, slip into your swimsuit, and prepare to immerse yourself in the beauty and serenity of Fenals Beach – a true gem along Lloret de Mar's coastline.
Experience the Tranquility of Sa Boadella Cove
Nestled along the coastline of Lloret de Mar, Sa Boadella Cove beckons visitors with its tranquil beauty and serene atmosphere. This hidden gem is a haven for those seeking a momentary escape from the busy world. You can even practice nudism here if you want to completely feel free and liberated. As you step onto the pristine sands, the rhythmic sound of crashing waves instantly washes away any stress or worries.
Around 200 metres long, the main attraction of this beach is its sense of peace and calm. Sa Boadella is less accessible than other beaches in Lloret de Mar, meaning that visitors can enjoy a practically unspoiled beauty-spot and crystal-clear waters for swimming. To reach Sa Boadella you have to leave your car on the road leading up to Sant Clotilde Gardens and walk along a 200m dirt track that takes you to the beach.
Sa Boadella Cove, like Fenals Beach, offers a respite from the crowds, allowing you to fully immerse yourself in the natural surroundings. Quite strikingly, the beach lies in between two hills, providing a scenic backdrop for a wonderful day out. The coastal path that winds through the cliffs leads you to this secluded haven, and as you make your way, the breathtaking vistas of the sea serve as a constant reminder of the beauty that awaits.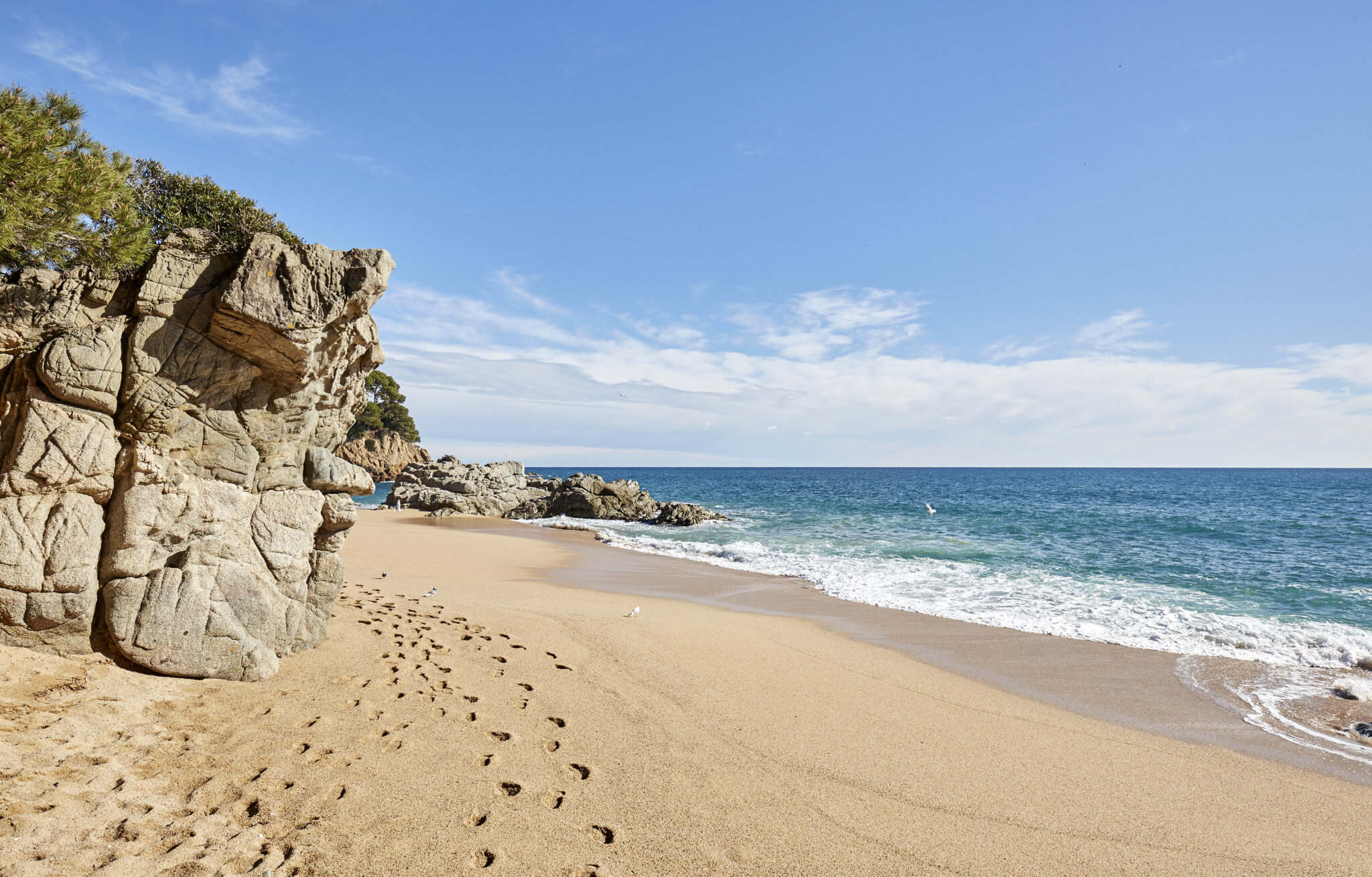 The allure of Sa Boadella Cove lies not only in its untouched charm but also in its ability to transport you to a place of pure tranquility. Here, time seems to stand still, as you find yourself lost in the mesmerizing views and the soothing melody of the ocean. It's the perfect setting to reconnect with nature, to pause and reflect, or simply to let go and absorb the peacefulness that surrounds you.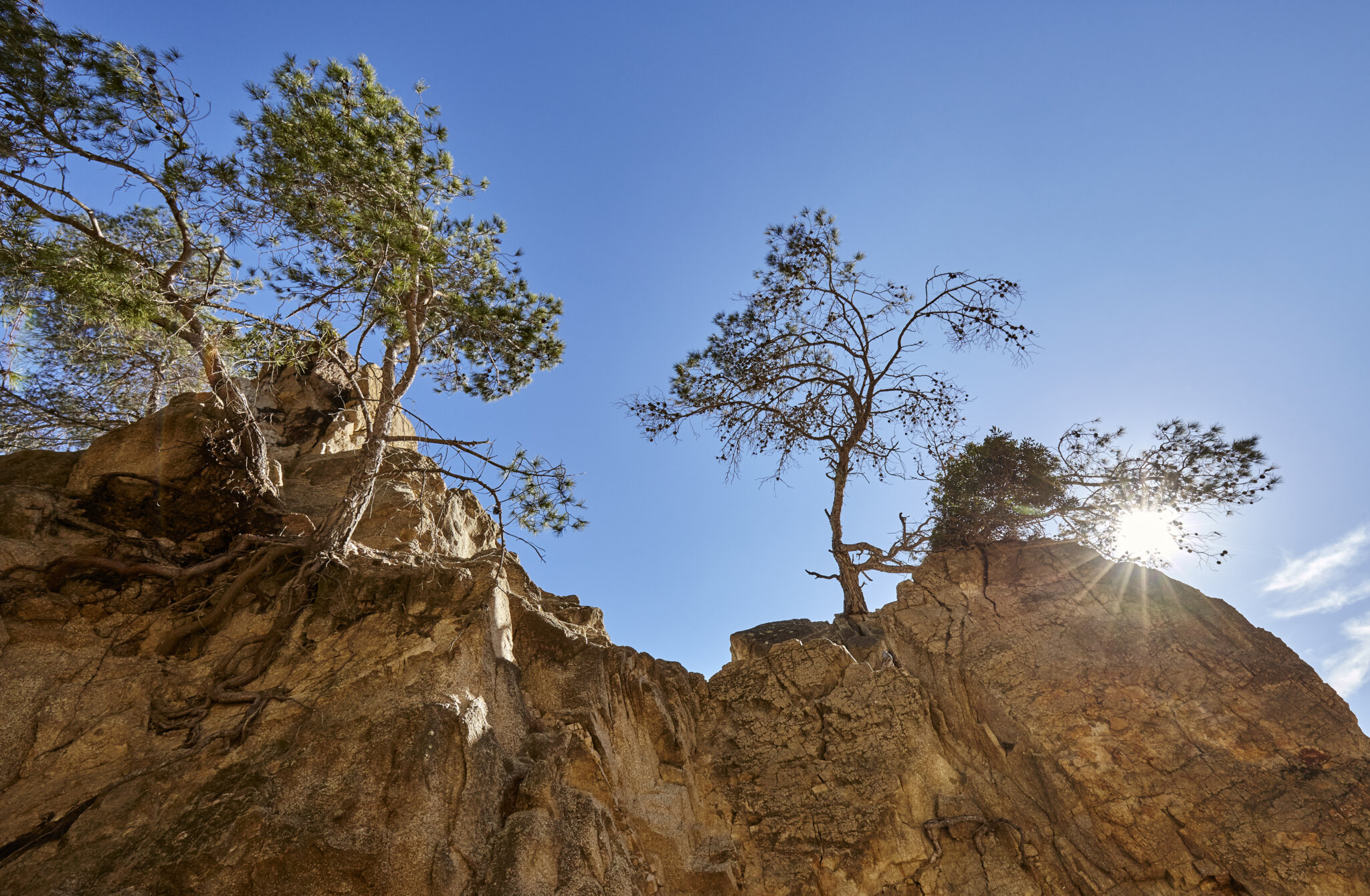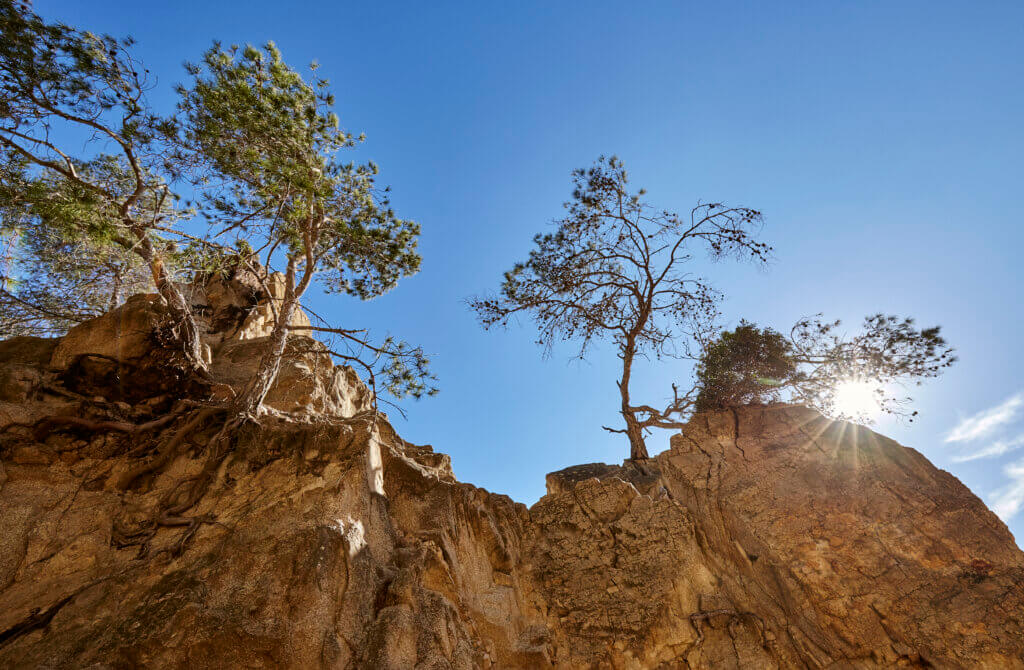 Another big plus of Playa de Sa Boadella is that it's fenced, ensuring families' safety while they make the most of the stunning coastline. Public toilets and showers are readily available to enhance your ease and comfort. There is also a vendor that sells drinks and ice cream. Just be aware, as previously mentioned, this is an authorised nudist beach.
Immerse Yourself in the Beauty of Santa Cristina Beach
Nestled amidst rugged cliffs and lush greenery, Santa Cristina Beach boasts a picturesque setting that truly takes your breath away. The crystal-clear turquoise waters glimmer under the Mediterranean sun, inviting you in for a swim.
Surrounded by the stunning Santa Cristina Hermitage and its verdant gardens, Santa Cristina Beach exudes a sense of serenity and charm. Take a moment to appreciate the natural beauty that surrounds you, as well as the cultural significance of the hermitage, which has stood the test of time.
A maritime parade is held every year on July 24th, Carnival Mayor's Day, to transport the pictures and relics of Santa Cristina, the patron saint of Lloret de Mar, to her hermitage, which is situated in the highest point of this seashore.
Compared to the other beaches in Lloret de Mar, Santa Cristina has a cosier vibe. On the right side, divided by rocks, is the lovely Cala Treumal, which is encircled by flora and feels slightly more wild. It is without a doubt the ideal haven for individuals looking for peace and tranquillity.
Santa Cristina Beach is reached from the chapel after which it is named, close to which there is a car park. The path on the left of the chapel takes you down to the beach. Walk the 400m long sandy path to the beach surrounded by shady pine trees, amid the sounds of the ocean and birdsong.
Whether you're seeking a moment of tranquility or crave some adventure, Santa Cristina Beach has something for everyone. Bask in the warm embrace of the golden sandy shores as you soak up the sun's rays, or take a leisurely stroll along the water's edge, allowing the gentle waves to kiss your feet. For those looking for an adrenaline rush, the beach offers a variety of water sports activities to make the most of your visit.
Top Tip: Buy a day pass for Santa Marta Hotel to really elevate your visit to this beach
To take your day trip to Santa Cristina Beach to the next level we highly recommend buying a day pass to Santa Marta Hotel. Elevated above the sea and surrounded by seven hectares of pine forest is the Hotel Santa Marta.
The advantages a day pass at Santa Marta Hotel include are ideal for spending a beach day with your partner, friends or family, and you can make use of their private parking and access to the beach with a towel and sunbed service. For your comfort, the Hotel Santa Marta also offers the changing rooms in the beach area.
The package presents one of the most luxurious experiences in the area. You can enjoy lunch in the SantaMar restaurant (included in the price), located right on the beach. You can enjoy a meal based on light and healthy products, with a strong marine accent. The menu includes the fundamental features of the gastronomy of the Costa Brava: fish and shellfish from the Blanes fish market, fresh salads and rice 'mar i muntanya', as well as a careful selection of D.O. Empordà, highly appreciated for their kind and genuine character. Of course, the rumble of the waves and the gentle sea breeze will set the perfect soundtrack.
Finally, all those who reserve a table to eat at SantaMar, will be able to enjoy the pool and the bar service, putting the finishing touch to a day that you will surely remember forever.
A dream place, a luxury hotel with a long history, an outstanding restaurant with a suggestive and contemporary menu. Thoroughly enjoy a 100% Costa Brava experience with this 5-star beach day for €120.
The Day Pass includes:
Access to the private parking of the Hotel Santa Marta
Access to the pool area
Hammock and umbrella (subject to availability)
Beach towel for exclusive use at the Beach Club
Changing rooms with lockers
Lunch at the Santa Mar restaurant
Get away from it all Cala Treumal
The two rocks situated to the right of Santa Cristina open up to provide a passageway to Cala Treumal. The paradise cove of Treumal is among the most beautiful spots on earth. The 200 metres of golden sand there are a major draw. The slope of the beach, which intensifies the waves, is the first thing that catches your attention.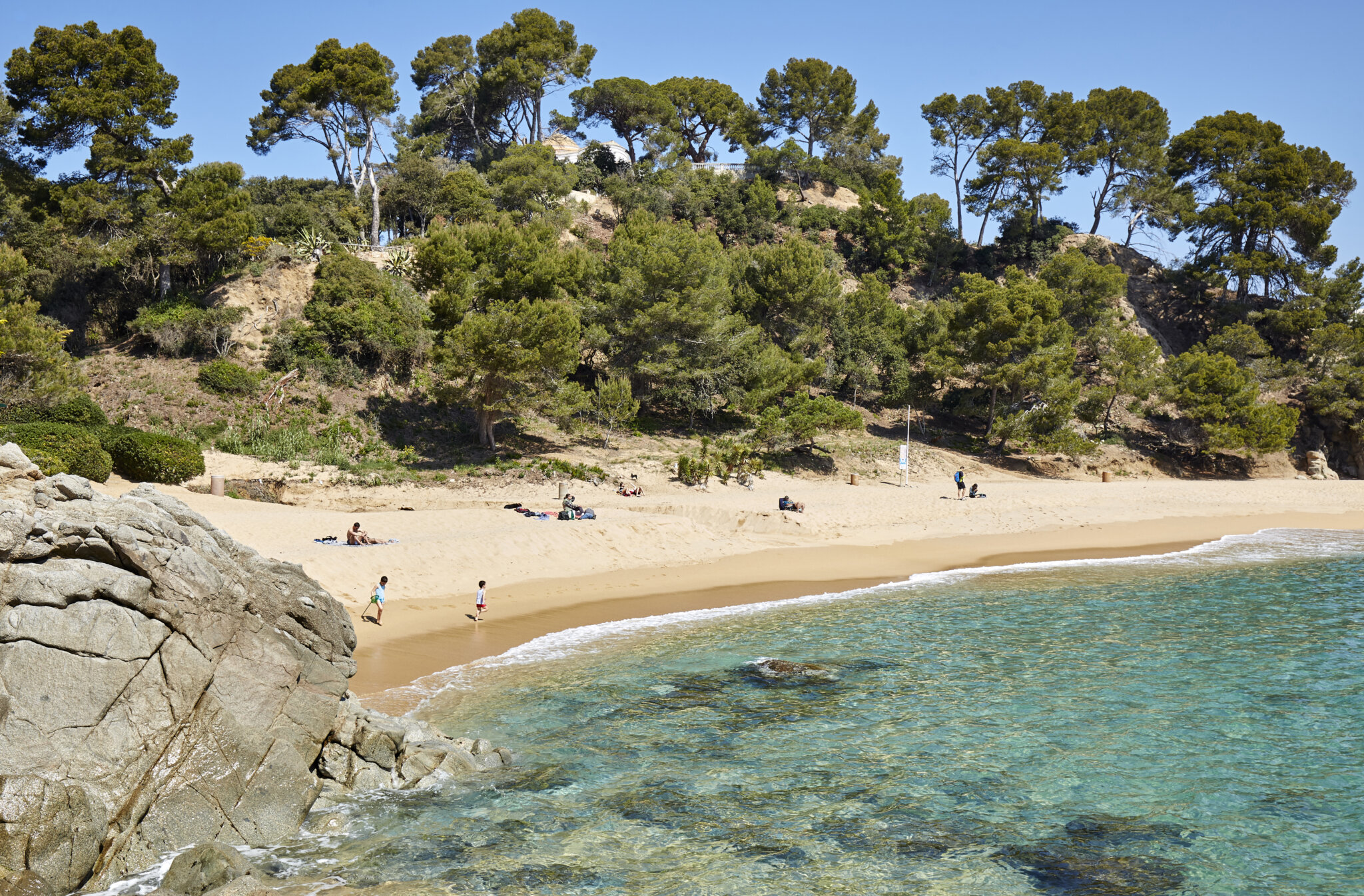 This small cove is surrounded by abundant vegetation that gives it a wild appearance, while its steep gradient means that it withstands bigger waves. Cala Treumal can also be reached from the chapel of Santa Cristina.
In contrast to the other coves in Lloret de Mar, it provides excellent services with showers, hammock and umbrella rentals, and even a summer rescue point. Cala Treumal is split in half by rock formations, which adds to its rugged charm. In addition to relaxing and soaking up the sun in this cove, you can explore the Pinya de Rosa tropical floral garden by strolling along a short trail nearby.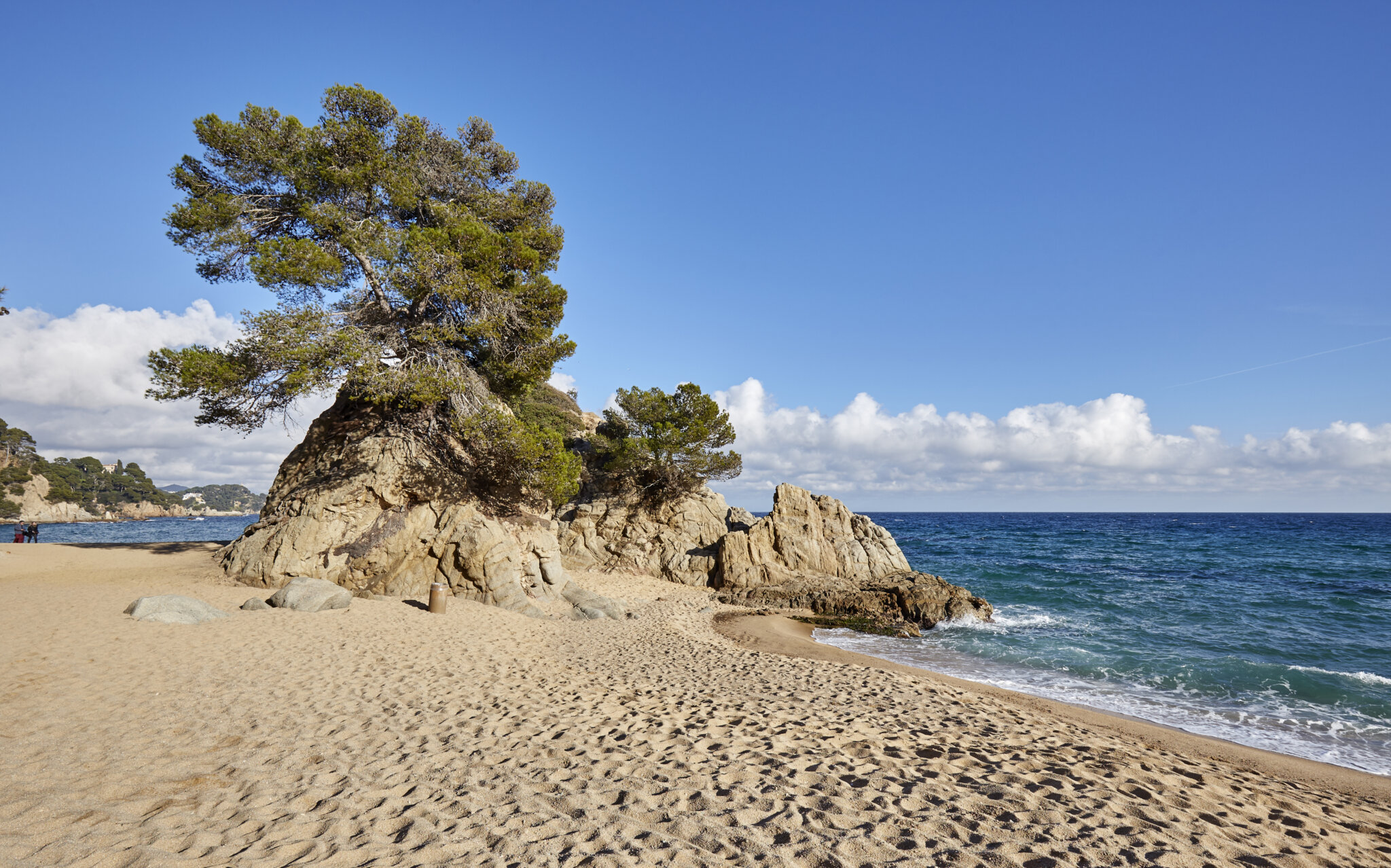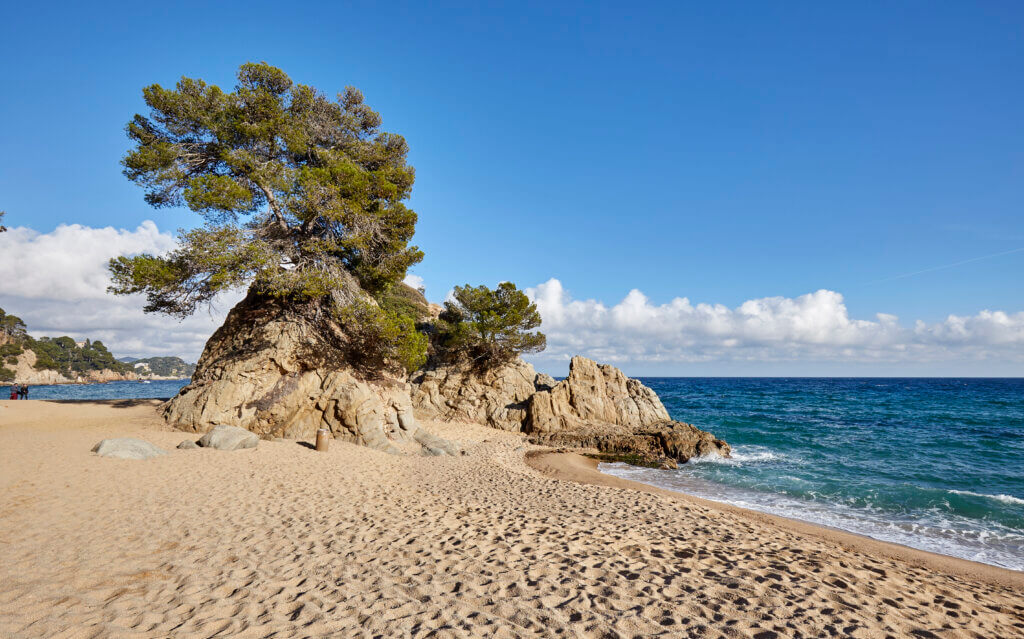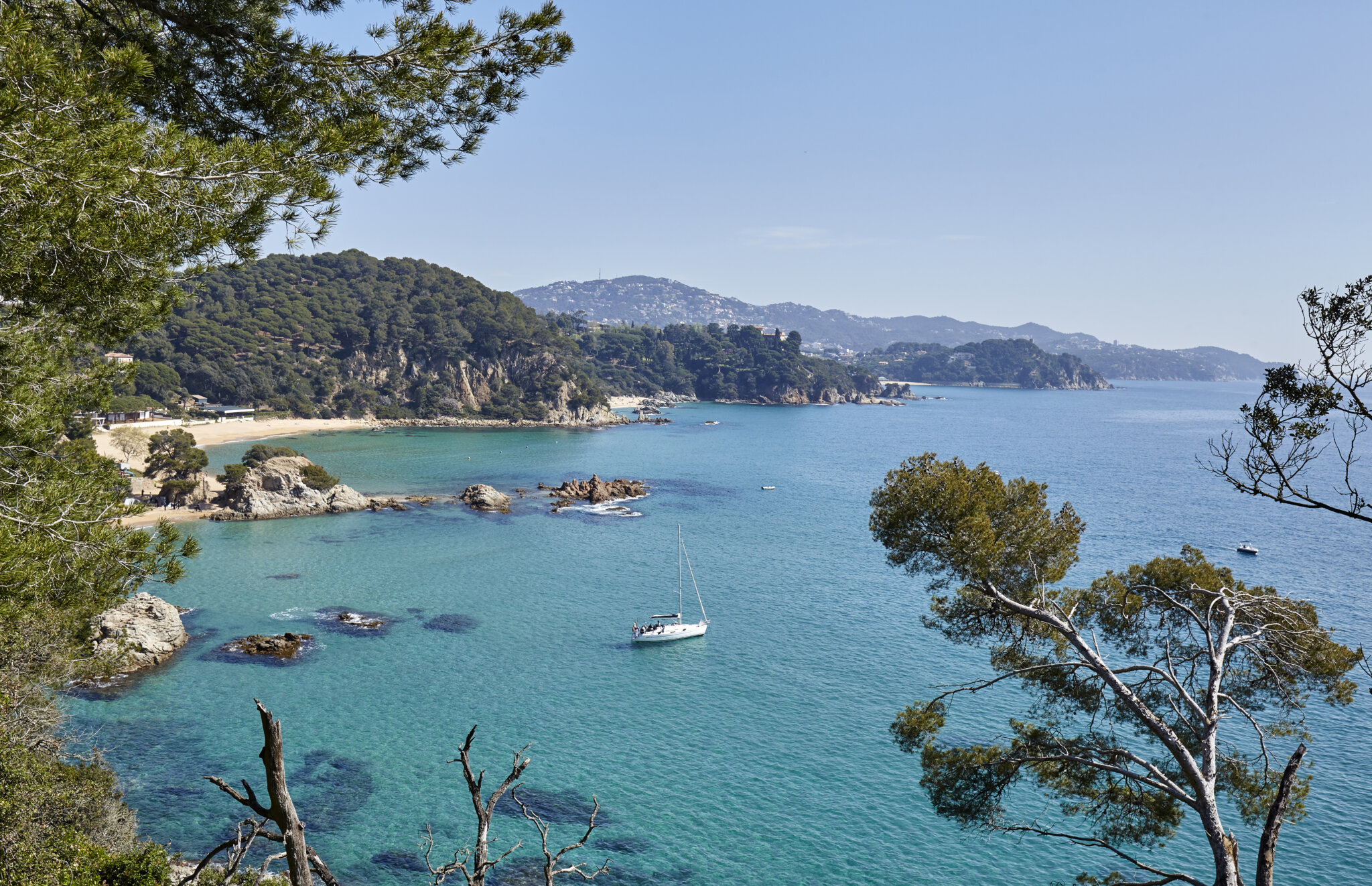 Unwind at the Secluded Cala Canyelles
Nestled within a picturesque bay, Cala Canyelles offers a truly serene and intimate setting for those seeking a peaceful escape. As you arrive, the pristine white sandy beach stretches out before you, gently caressed by the crystal-clear turquoise waters of the Mediterranean Sea. The scenery here is nothing short of spectacular.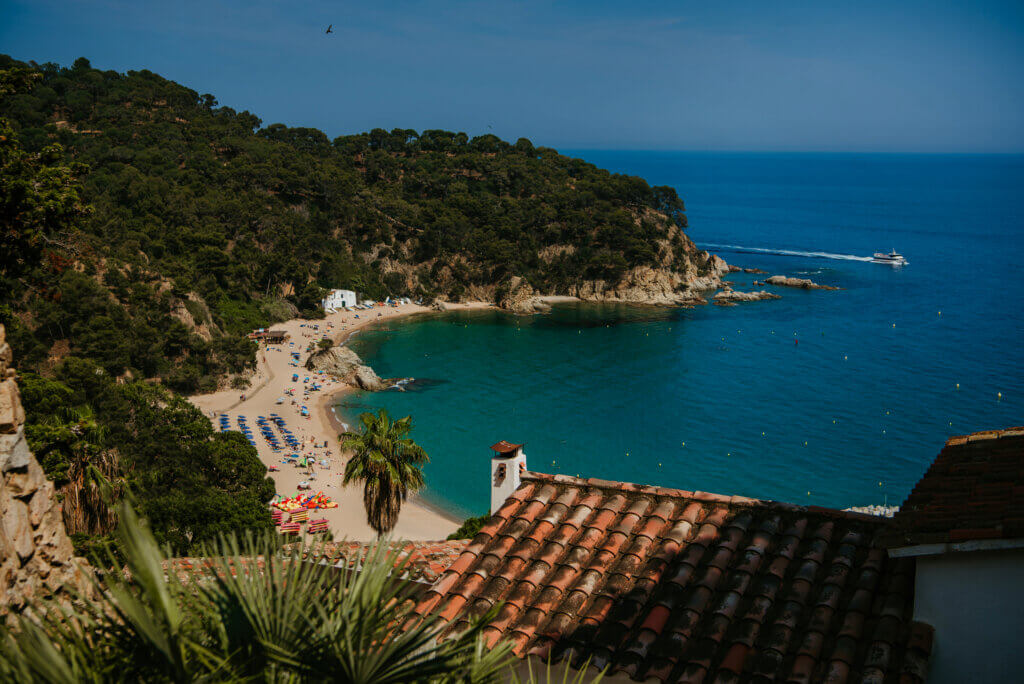 Cala Canyelles is the beach furthest away from the town centre. It can be reached from the road to Tossa de Mar. With a similar length to Santa Cristina beach, Canyelles is notable for having Lloret de Mar's only marina.
It has coarse white sand, like most of the beaches in Lloret and on the Costa Brava as a whole. The surrounding cliffs are populated with pine trees making the landscape so unique.
Whether you choose to bask in the golden sunlight on the beautiful sands or take a leisurely swim in the inviting waters, Cala Canyelles promises a sense of tranquility that will wash over you. The absence of crowds and noise allows for uninterrupted moments of relaxation, making it an ideal spot to unwind and recharge your energy.
While many beaches in Lloret de Mar draw visitors with their vibrant atmosphere and bustling activities, Cala Canyelles provides a refreshing contrast. Its seclusion and natural beauty create an oasis of calm, inviting you to detach from the outside world and embrace the simple pleasures of nature.
As you explore Cala Canyelles, it's hard not to be captivated by the breathtaking vistas that unfold before your eyes. Towering cliffs with lush greenery frame the bay, adding a touch of drama to the already impressive landscape. Take a leisurely stroll along the shore, soaking in the magnificent views, or find a cosy spot where you can sit and admire the scenery in complete tranquility.
The secluded nature of Cala Canyelles also makes it an excellent spot for snorkeling and diving enthusiasts. You can dive beneath the surface and discover a world teeming with colourful marine life, as you explore the hidden treasures of the Mediterranean Sea. With its clear waters and vibrant underwater ecosystem, Cala Canyelles offers an unforgettable experience for those seeking to connect with nature on a deeper level.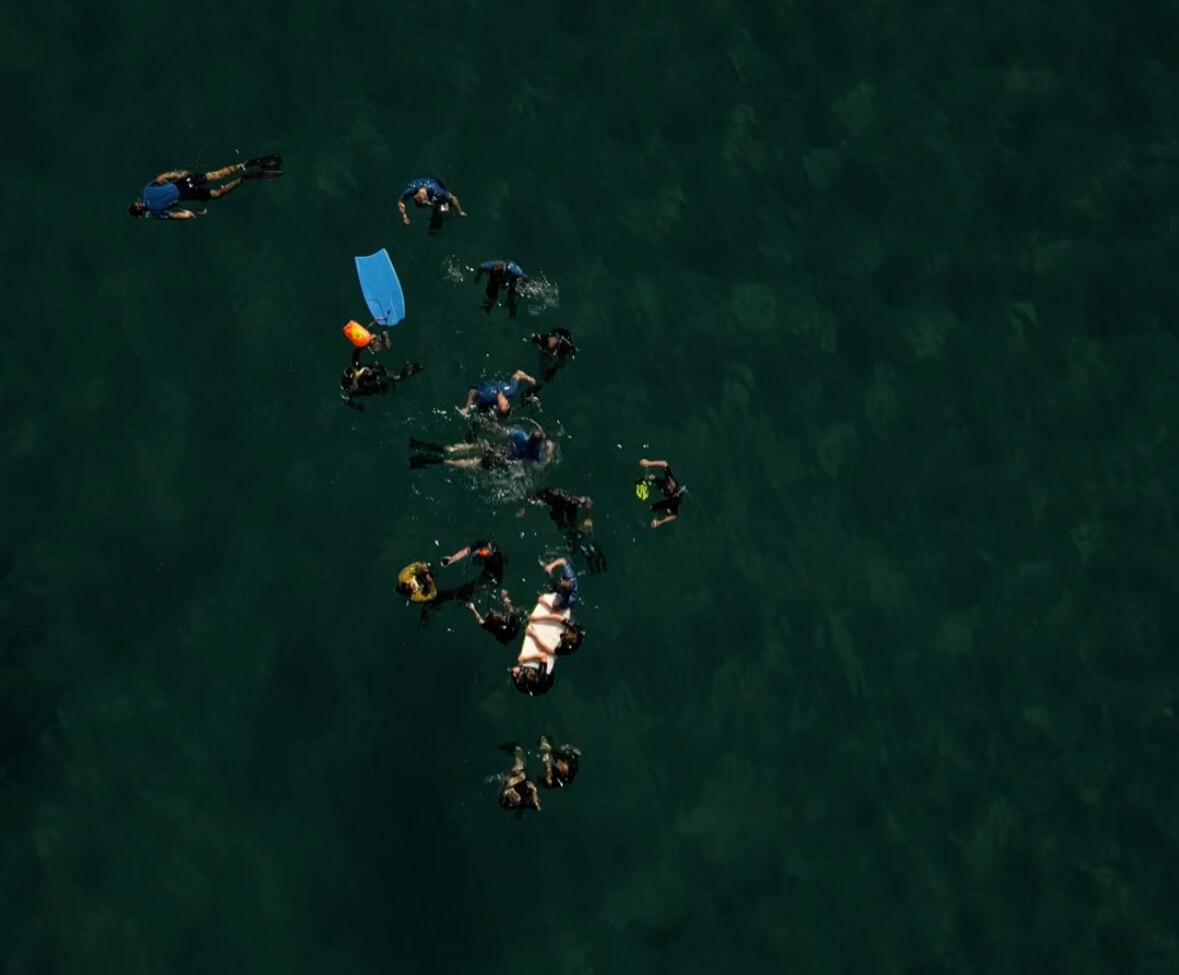 As you unwind at the secluded Cala Canyelles, allow yourself to be swept away by the serenity and beauty that surrounds you. Let the stresses of everyday life melt away as you immerse yourself in this hidden coastal gem.
Top Tip: Spend some time at Gammarus Restaurant and Beach Club
Gammarus will offer you a unique experience, a fusion of restaurant and beach club, right on the seafront. There is a unique style that blends the simplicity of wabi-sabi aesthetics and a Mediterranean feel, creating a warm and laid-back atmosphere where the whisper of the waves replaces the ticking of the clock. Hours can go by and you won't even notice.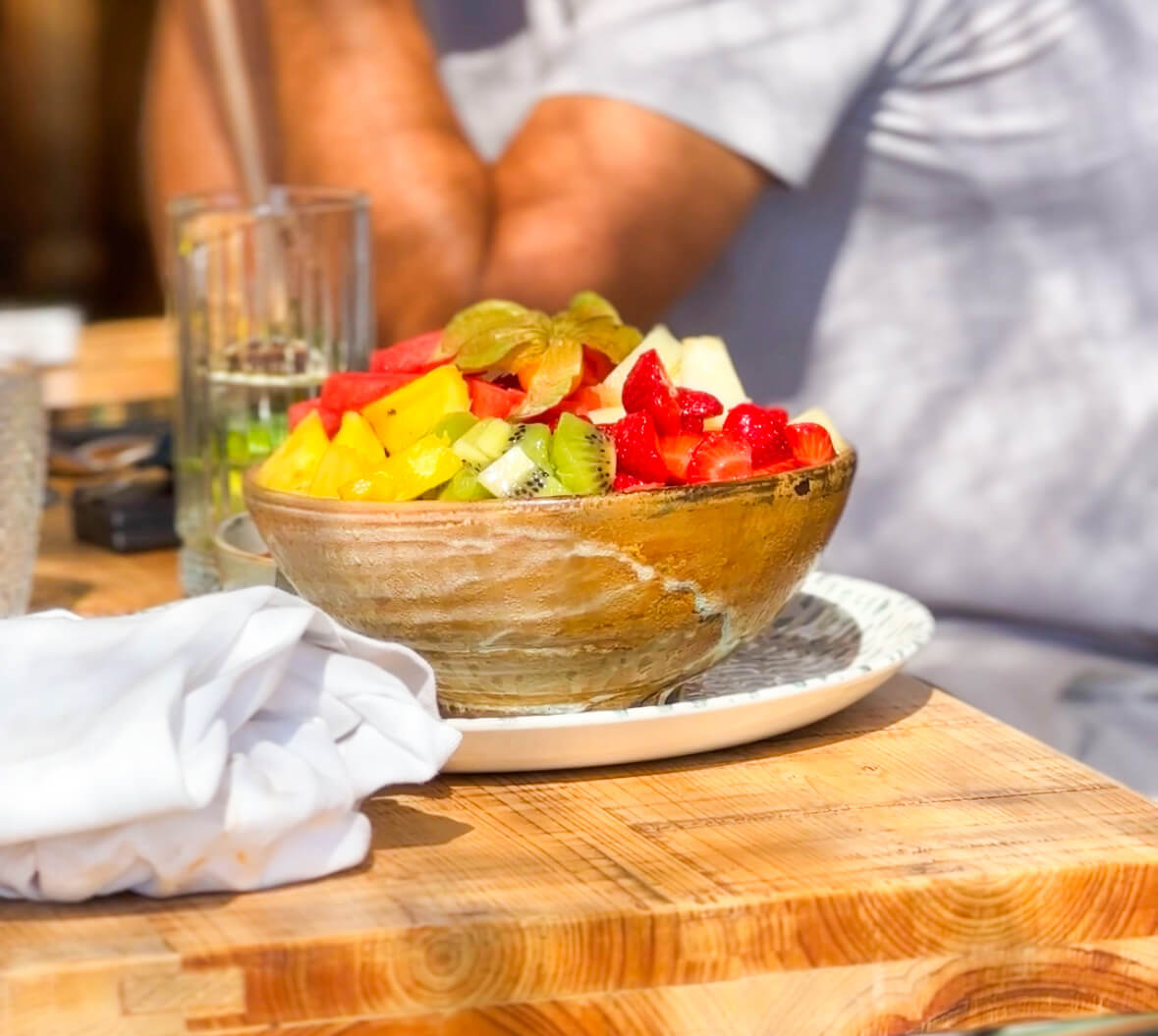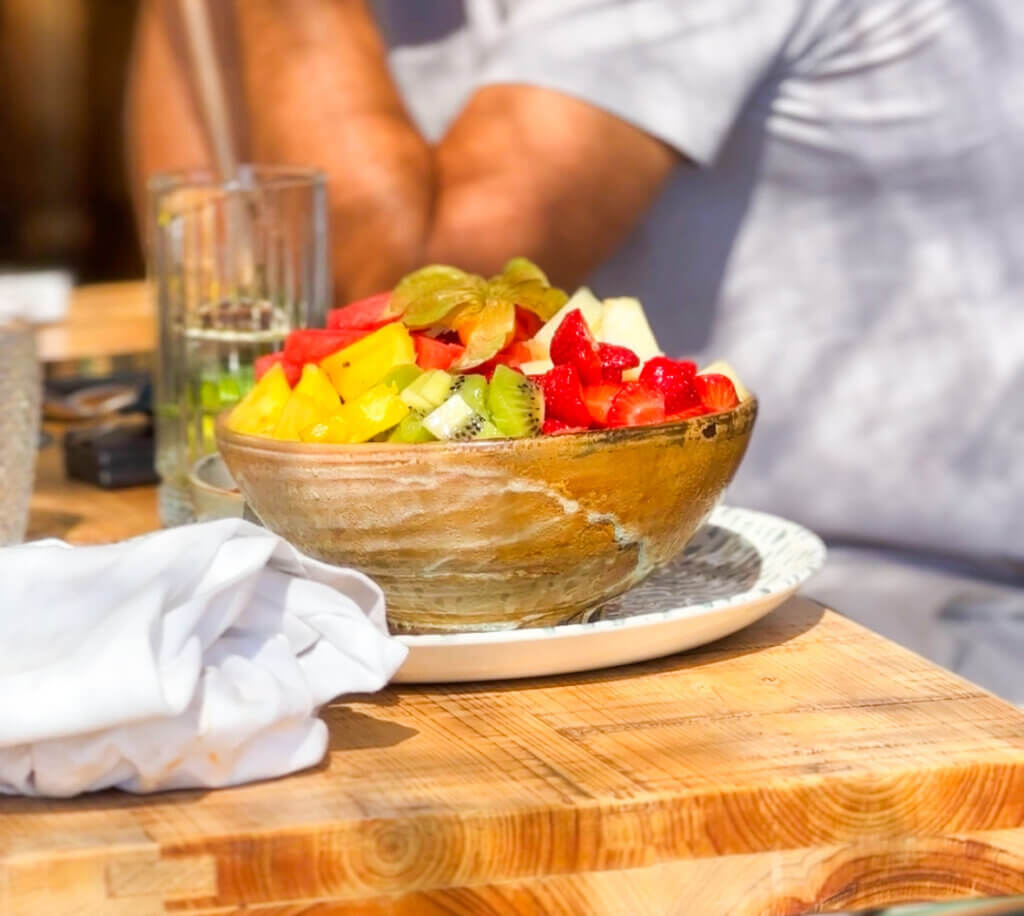 Here you can enjoy marketplace cuisine, exquisite cocktails, or simply celebrate life while you indulge in the sun and the salty breeze!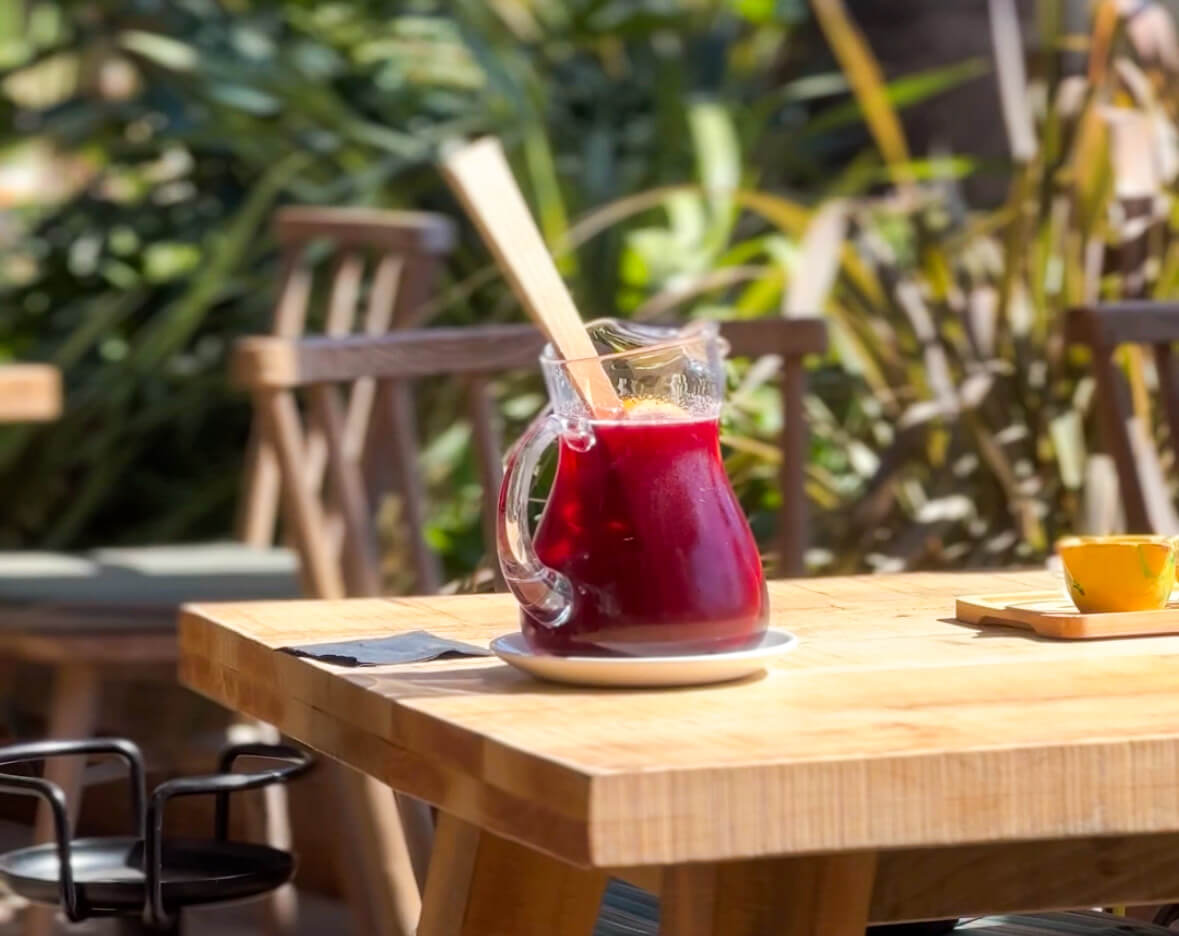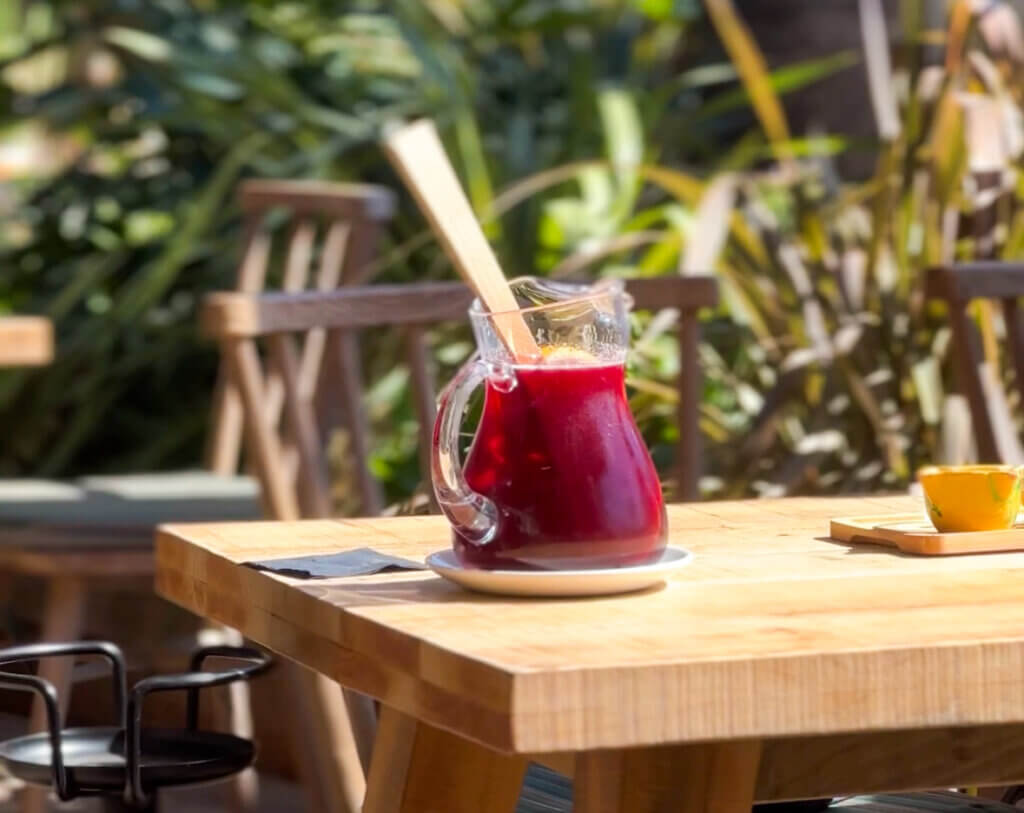 Gammarus is divided in three areas: the Restaurant with its large terrace, La Platgeta with a casual beach vibe, and the Rooftop, a private space with a pool, sunbeds and an exclusive bar. Even the bathrooms here are to die for so be sure to check this place out on your visit to Calla Canyelles.
Enjoy a lazy afternoon at Sa Caleta
Sa Caleta is a fishing cove located right next to Lloret Beach. It stretches below Castell d'en Plaja and enjoys the most spectacular views. Small boats are clustered along the shore. Its sand, like all the beaches in this part of the Costa Brava, is golden and coarse. The seabed is shallow but visually attractive. This makes it the ideal place for the nearby diving centres to carry out diving lessons.
It is usually a very busy place. Its surface is shared by swimmers, beach umbrellas and boats. It has showers and a beach bar. Pedestrian access is easy, and there is a municipal car park just a few metres away.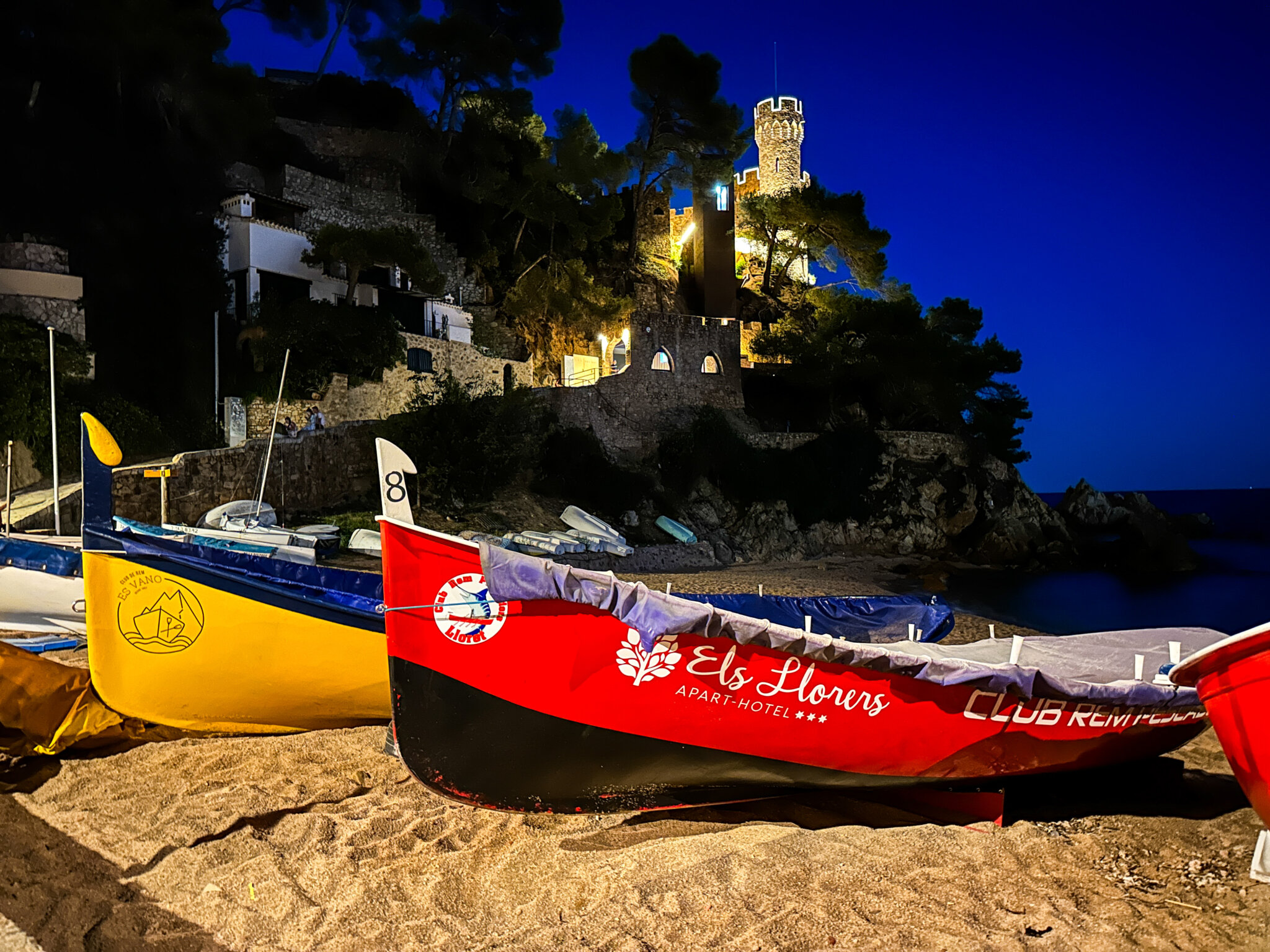 Take a sunset stroll along Lloret Beach
Stretching along almost 1.5km, this is Lloret de Mar's longest beach. It is located in the town centre and there is a car park right next to it. Like Fenals Beach there is also a mini club for children during the summer. The beach is really beautiful but it is our least favourite of Lloret's beaches. Perhaps due to its size and central location it is always busy and doesn't give you the same sense of serenity that some of the other beaches and hidden coves offer. Still, it is great place for a quick swim or to take a sunset stroll along the beautiful promenade.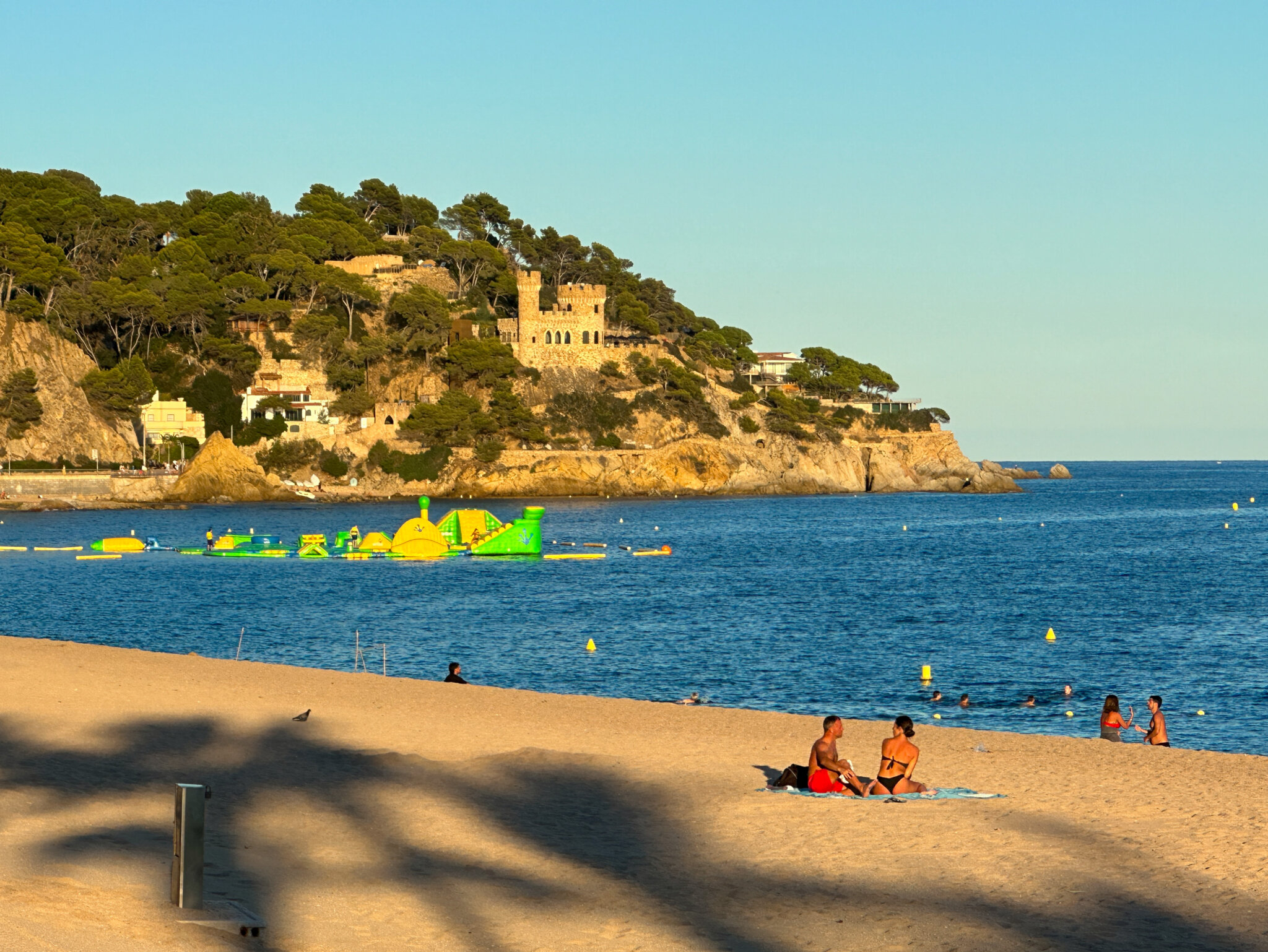 Top Tip: Enjoy sunset with a cocktail on the terrace of Castell de Lloret. A cultural space and immersive experience dedicated to climate change. We cannot recommend this enough!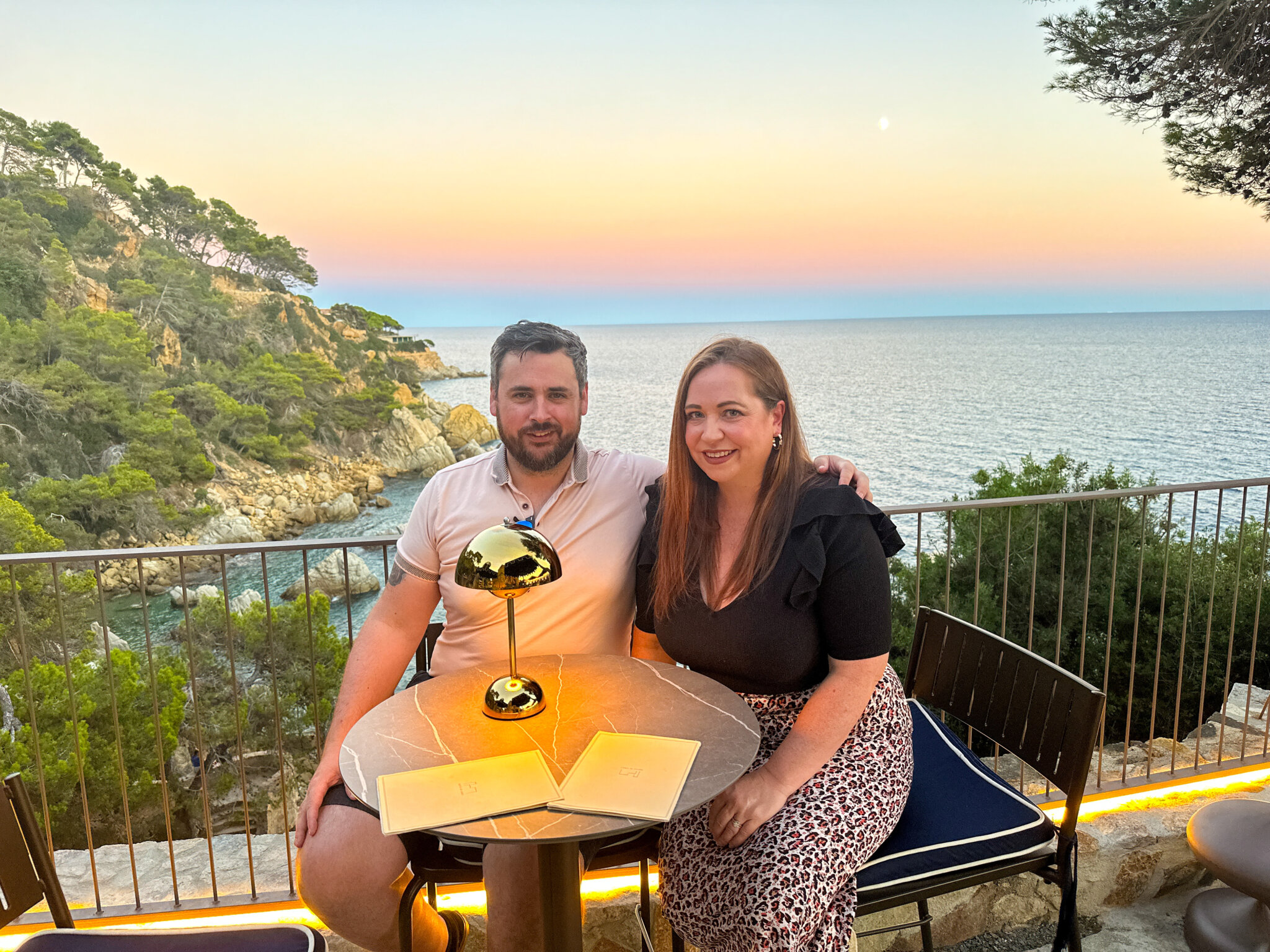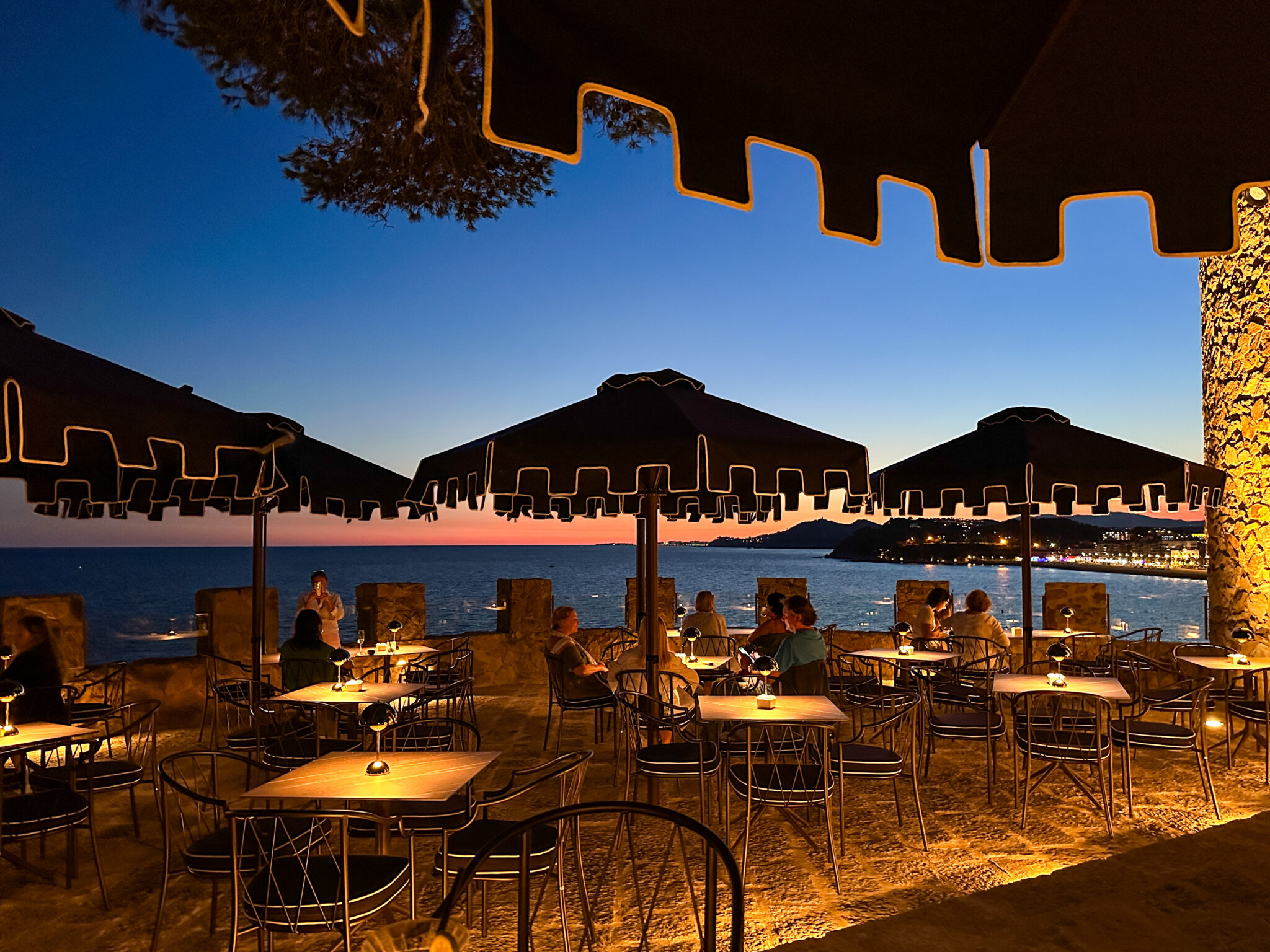 Hidden coves of Lloret de Mar
Like many towns on the Costa Brava, Lloret de Mar possesses small coves and cliffs that form part of its natural heritage and represent its most valuable treasure. We have to admit that we wrongfully assumed that Lloret de Mar would be a party seaside town, and of course there is this element, but the breathtaking beauty of these hidden coves are a million miles away from that.
Most of Lloret de Mar's hidden coves are not easy to get to, which explains why they remain unspoiled and uncrowded, even in the height of summer. Little gems, such as Cala Banys, Caleta d'en Trons, Cala dels Frares or Cala Morisca, where even in the middle of July or August you won't find more than ten other people around you.
Hike along the coastal foothpaths
The best way to soak in the essence of Lloret de Mar is by enjoying the many walking trails that stretch along the coast or that wind their way into shaded forests, revealing all the secrets of the Mediterranean fauna and flora. All along the route, coastal woodland paths — with their abundant white pine trees — alternate with small coves and beaches, offering you the unique possibility to wander the coastal trails (ancient paths used to patrol the coastline to protect against maritime attacks or smugglers) and reach landmark sites among the clifftops.
We engaged in some nordic walking along the coastal footpaths. It was a fun and energetic way to enjoy the coast.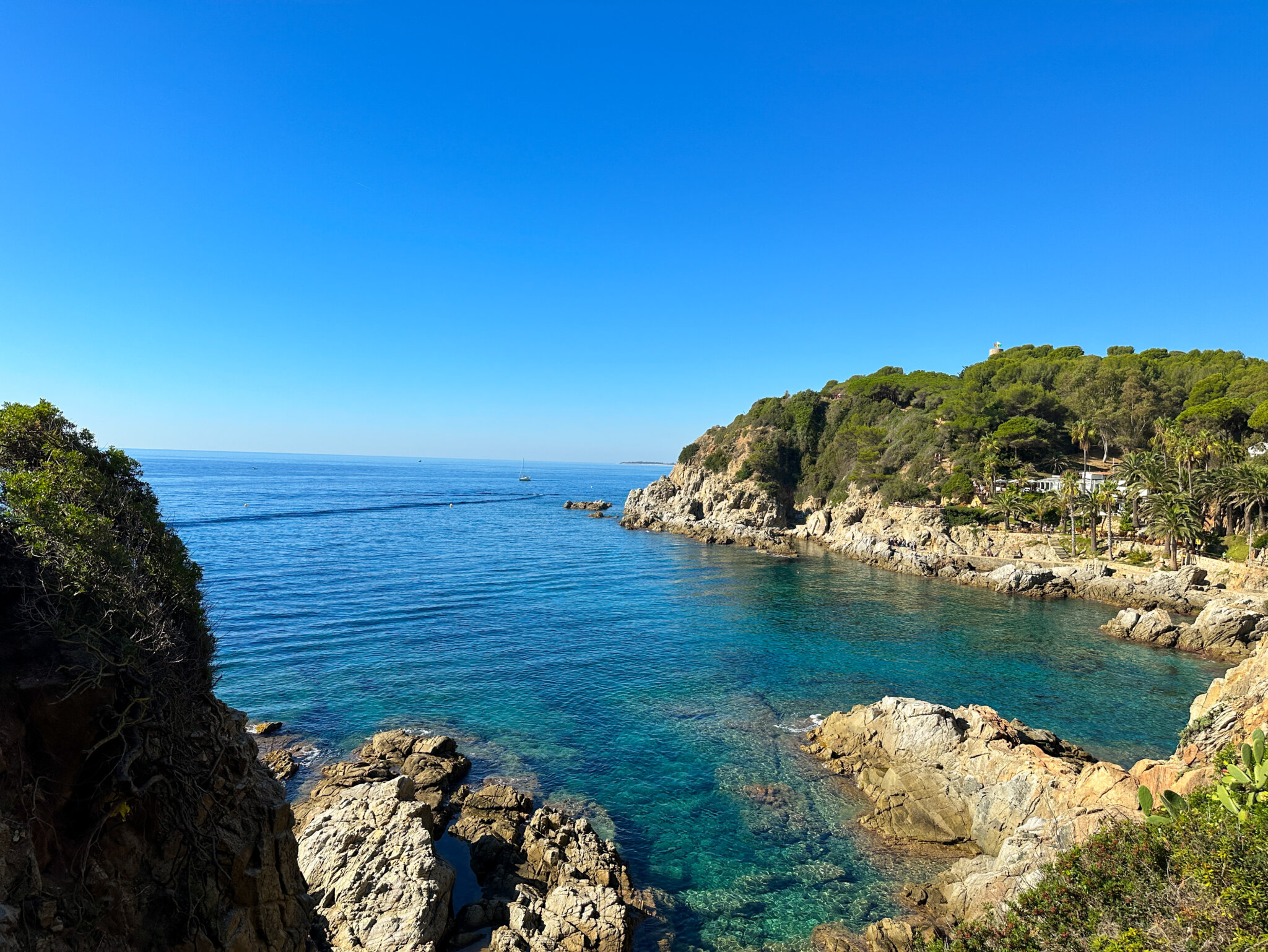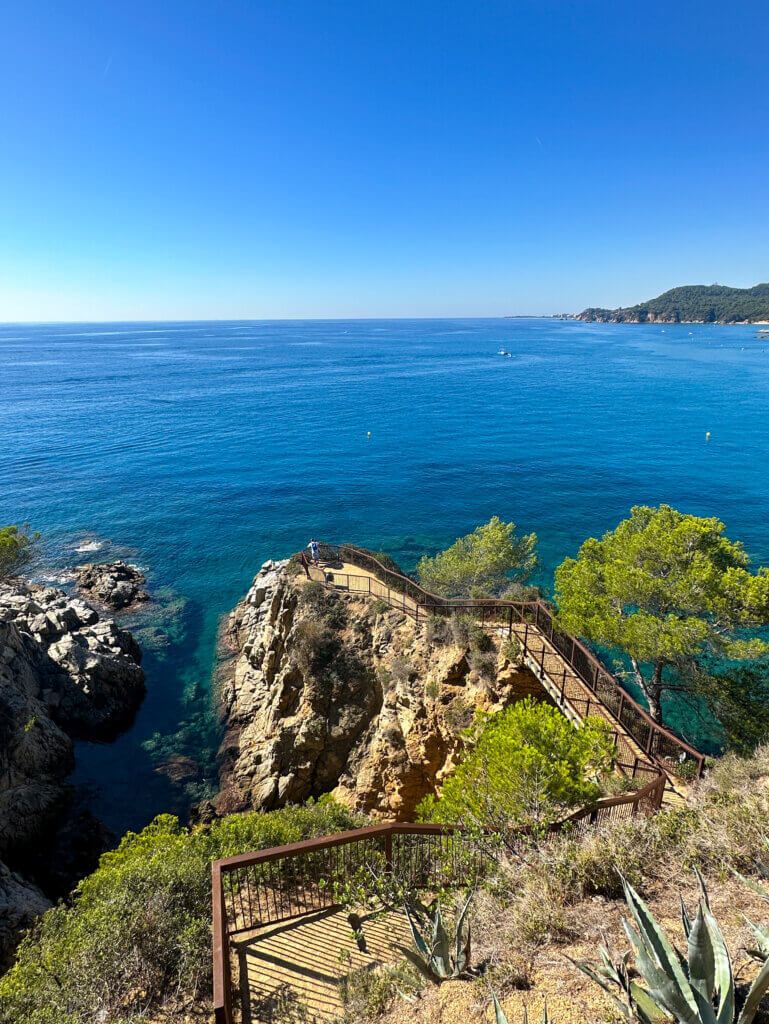 The Beaches Route of Lloret de Mar
As the name suggests, the Beaches Route takes in the beaches and coves of Lloret de Mar, from Santa Cristina beach to Canyelles beach.
The departure point is Santa Cristina beach. From here make your way up to the neoclassical chapel of the same name (dating from 1376), from where you follow the white/red markings of the GR 92 path. Enjoy the coastal landscape with Aleppo pine forests on this part of the route as you head towards Cala Boadella and the highly recommended Santa Clotilde Gardens where HBO's House of the Dragon was filmed.
If you enjoy this type of tourism be sure to check out our post on Game of Thrones filming locations in Northern Ireland.
You will walk along the boundary of the built-up area of Fenals Beach for a few metres but you will soon arrive at a forest trail leading to the beach, which you cross from one side to the other along the seafront promenade. At the end of the beach follow the signs to reach the steps leading up to the 11th century Castle of Sant Joan. The castle is open to visitors and you can even climb the tower for more spectacular views.
From the castle make your way down to the coastal footpath that skirts around Cala Banys. This coastal footpath takes you to Lloret de Mar, passing the monument to the Seafarer's wife. Here you can take in stunning views of Lloret Beach and promenade, along which you head northwards to continue the route. This part of the route incorporates a series of steps and since my (Nicola) Lyme Disease you know how I struggle with those!
Once you leave the seafront promenade you reach Sa Caleta beach. At this point there is a sign indicating the way to the Iberian settlement of Turó Rodó (only 5 minutes away at this point), a complex of archaeological remains. From here you can also observe the privately owned D'en Plaja castle, that is actually more of a house than a castle.
Next, make your way along the coastal footpath around the cliffs, where the views are especially beautiful. Here you can experience the hidden coves of Cala des Frares, Caleta Safareig d'en Sitre, Caleta d'en Trons, Cala Sa Tortuga and Sa Cala Gran as the footpath winds around them.
Once you get beyond this series of hidden coves, the path crosses another built-up area leading you to the steps that take you back down this route, Canyelles beach, where Lloret de Mar's only marina is located.
Remember to calculate how much time you will need to make your way back if you also plan to make the return journey on foot. Also remember to bring drinking water, sunscreen and swimming togs so that you can indulge in a dip in one of those immaculate coves. If you don't want to make the return journey on foot, or if you are travelling with chronic illness, make sure that you check the times for public transport, bus lines or tourist boats.
Vies Braves
Vies Braves is a public network of swimming lanes along the Costa Brava, designed for sports, leisure and instructor-led activities like they kayaking tour that we did. These lanes, which run parallel to the coastal footpaths of the Costa Brava, are marked by signs and buoys. They provide a safe way to swim or explore the coastline from the sea.
Accessible Beaches in Lloret de Mar
Lloret de Mar is a member of the ENAT (European Network for Accessible Tourism), whose goal is to foster accessible tourism throughout Europe. Currently the main beaches in Lloret de Mar and Fenals Beach are equipped with services for persons with reduced mobility.
These include:
Pedestrian crossing with curb ramps cut into the pavement with a gradient of less than 12%
Beach access ramps
Wooden and plastic walkways to reach the showers and sea
Adapted WC, changing rooms and showers
Life lines
Bathing service for people with reduced mobility using an amphibian chair
Reserved shaded area
Accessible beach bars and restaurants
Adapted counters in boat cruise ticket booths
Children's park on Lloret beach with a walkway across the play area
Go Beach Hopping by Ferry
It is always intriguing to visit various coastal locations while you are on holiday on the Costa Brava, especially if you can do it while taking a boat ride through the Mediterranean Sea. From April to October, you can take a ferry to and from Calella, Pineda de Mar, Santa Susanna, Malgrat de Mar, Blanes, Lloret de Mar, and Tossa de Mar (depending on the weather). They also stop at some stunning beaches along the way (yes the boat literally pulls up onto the beach!), including Cala Fenals in Lloret, Santa Cristina in Lloret, Cala Canyelles in Lloret de Mar, Platja Poble Nou in Pineda, and S'Abannel in Blanes.
Where to stay in Lloret de Mar
Santa Marta Hotel
Indulge yourself by staying at this incredible and family run 5 star hotel, Santa Marta Hotel. Around Santa Marta, there are seven hectares of Mediterranean pine forests, which have remained intact for generations. A tempered forest with the salty sea breeze that embrace everything. Meaning that you can choose to have a view of the woods or of the sea from your room.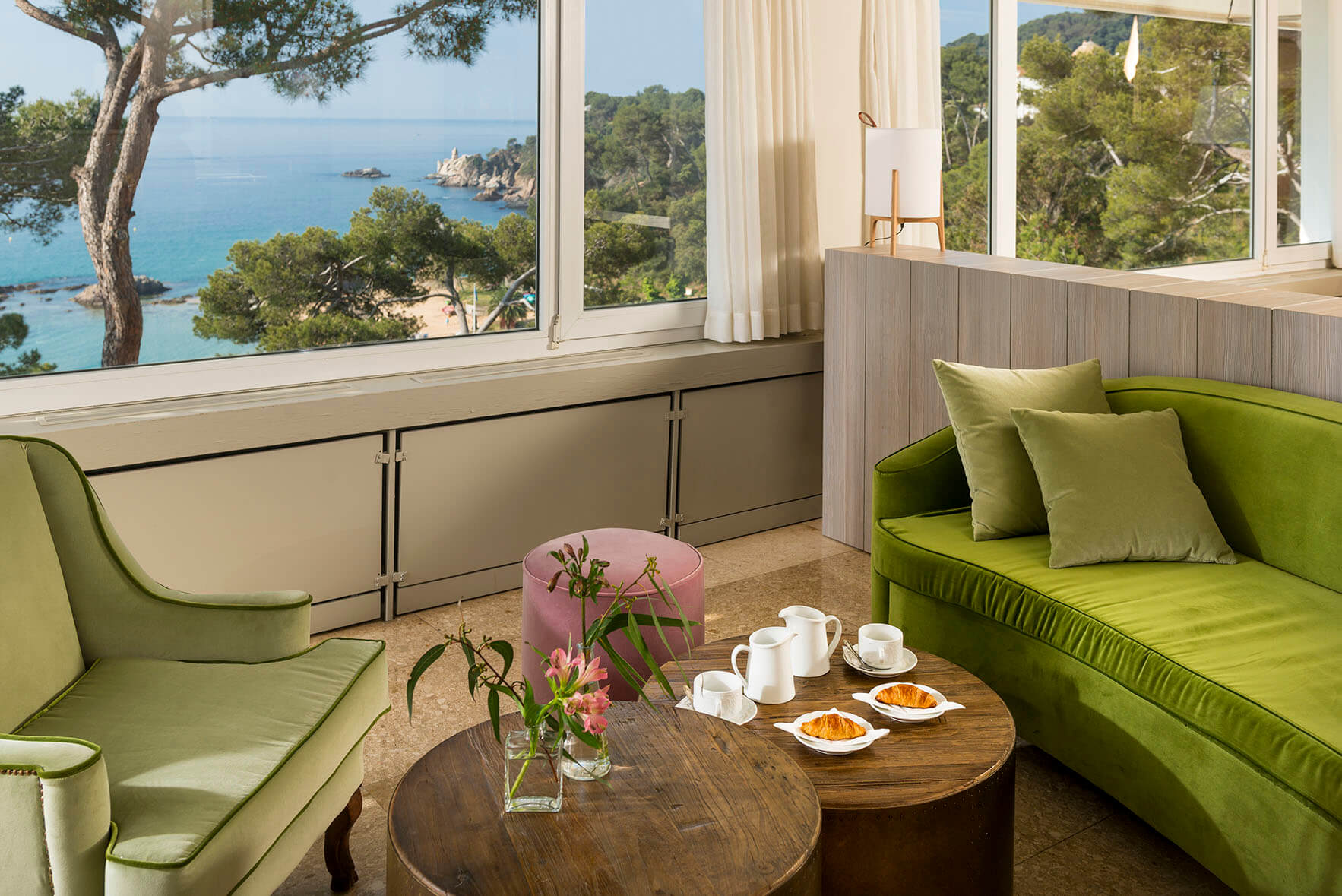 Santa Marta is more than a stay. It is an imposing environment, an oasis in the hustle and bustle of the coast. It is comfort and service. A place where your health and well-being are looked after.
The rooms are quite luxurious, beautifully decorated and comfortable, with dawn pillows and blankets and crisp white bedsheets. They all feature balconies with tables and chairs from which you can admire the gorgeous view of the Santa Cristina beach.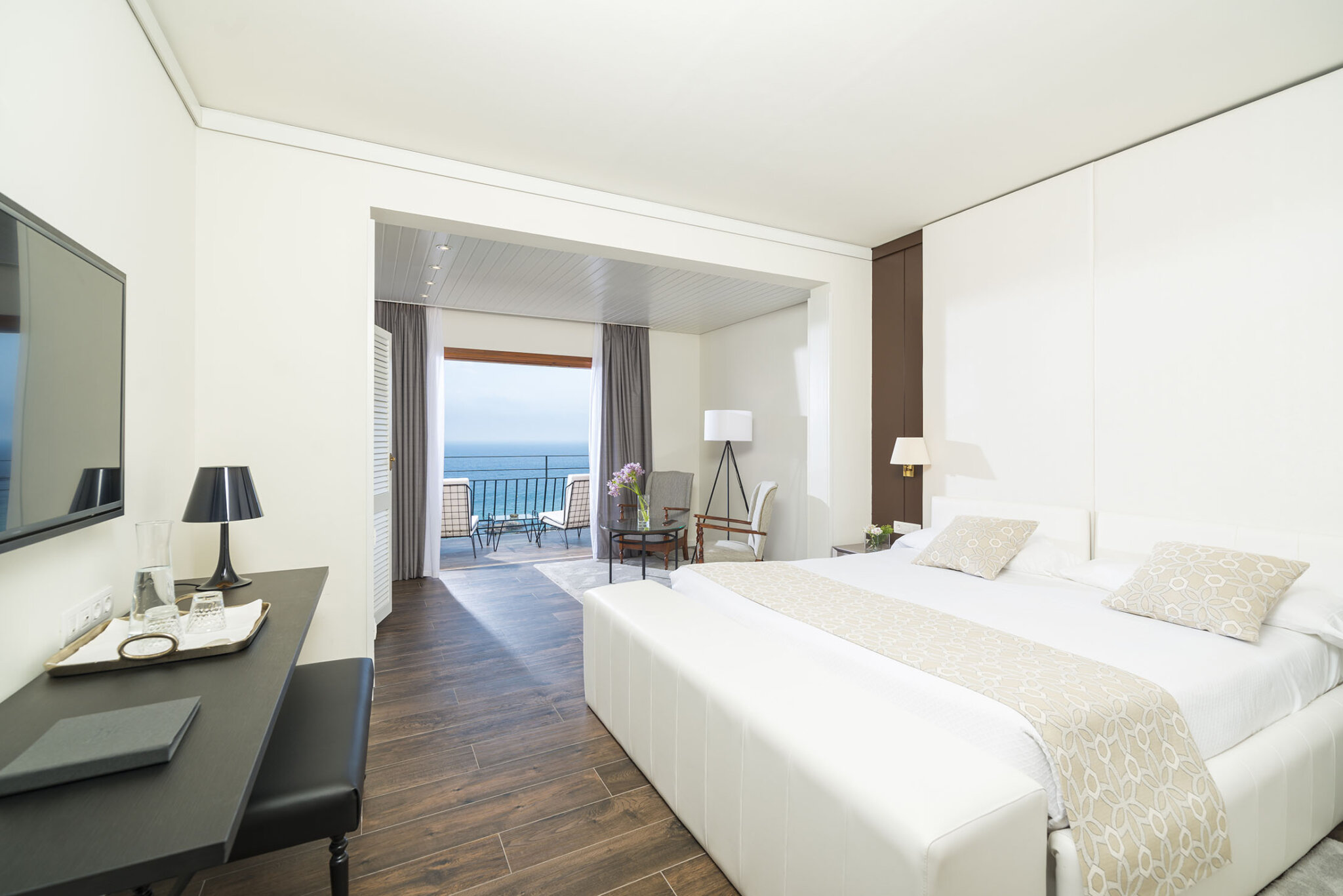 There is an incredible pool here but guests wanted to indulge in that toes-in-the-sand feeling can follow a wooden path directly to the beach. This without doubt the hotel's greatest asset.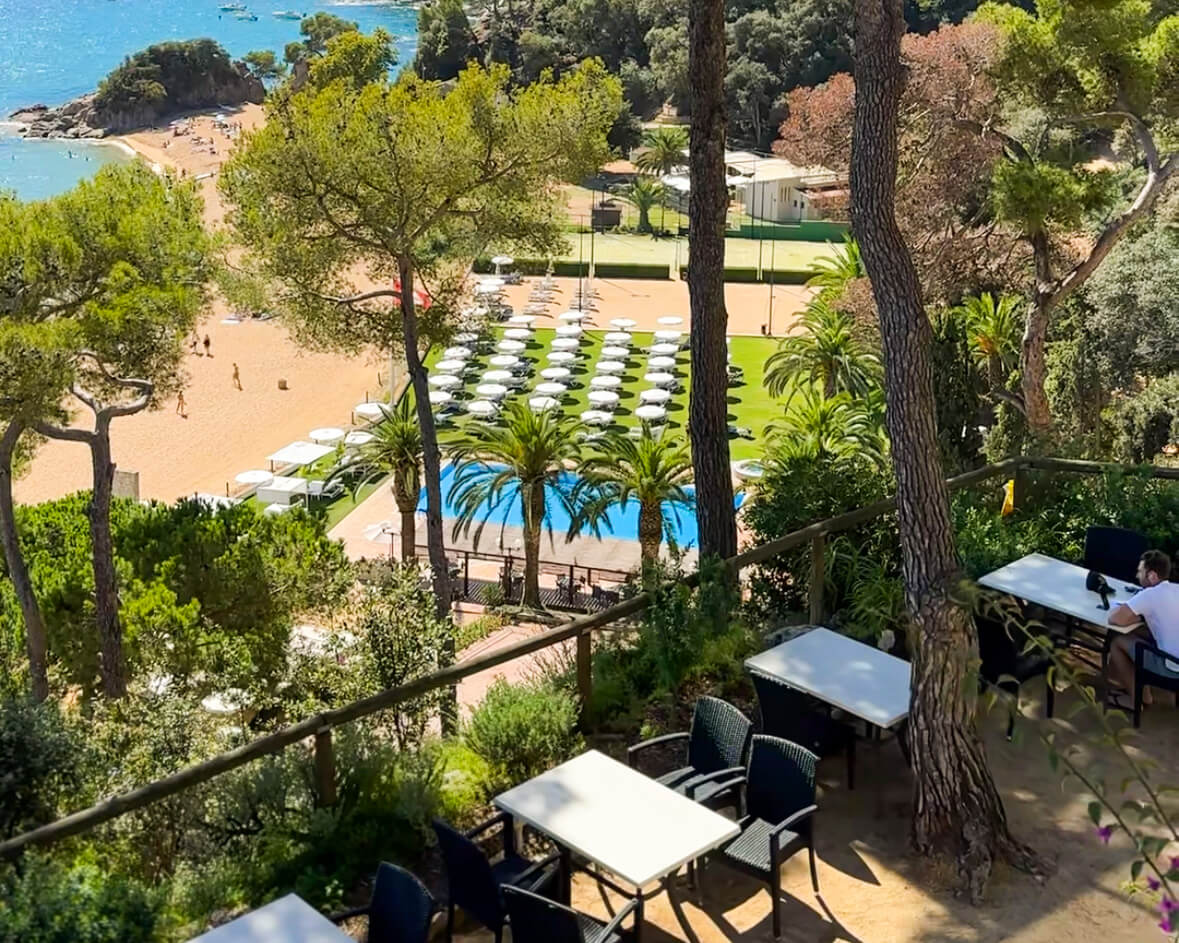 This hotel is great choice for a stay in Lloret de Mar, Hotel Santa Marta features an airport shuttle and a rooftop terrace. Guests can grab a bite to eat at one of the 2 restaurants and visit the spa to be pampered with massages, body wraps or facials. Other highlights at this luxurious hotel include a beach bar, a 24-hour fitness centre and a fitness centre. It is perfect for those looking for a bit of luxury, romantic break, great food or those looking for direct access to the beach.
Located at the sandy Fenals beach, the Rigat Park Hotel offers the most luxurious and exclusive services to make your stay in Lloret de Mar a special one. You can indulge in spa treatments to boost your health and energy, and incredible food in its open air restaurant with amazing sea views.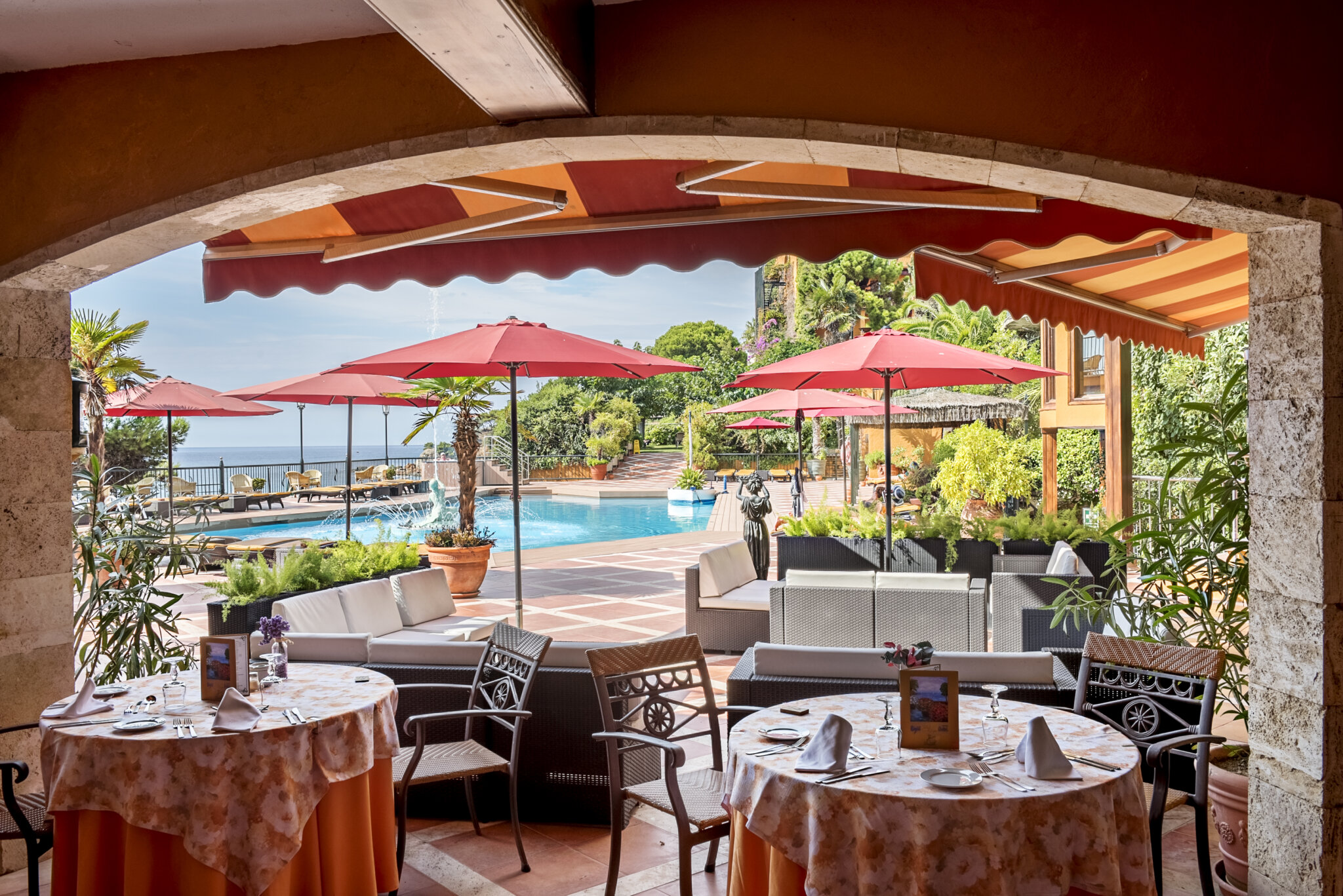 We absolutely loved the styling in this hotel and it gave us Spanish hacienda vibes. The rooms are distributed over three floors, and are decorated in a classic, elegant way, all featuring carefully selected details and offering high comfort and privacy. All rooms are soundproof and overlook the park or the sea, allowing the guests to breath fresh air and feel close to nature at all times.
The Rigat Park Hotel features an outdoor beachfront swimming pool with underwater music and solar heating (opened from 9 am to 7 pm), and an indoor swimming pool with a waterfall. The hotel facilities include a wellness center, hot tub, sauna and Turkish bath to regain strength and get some rest and relaxation during your stay. After an intense day of sightseeing, sports or sunbathing, just let yourself get pampered before enjoying dinner. Some of the services that can be enjoyed in the hotel are body scrubs, jacuzzi at the spa or a massage.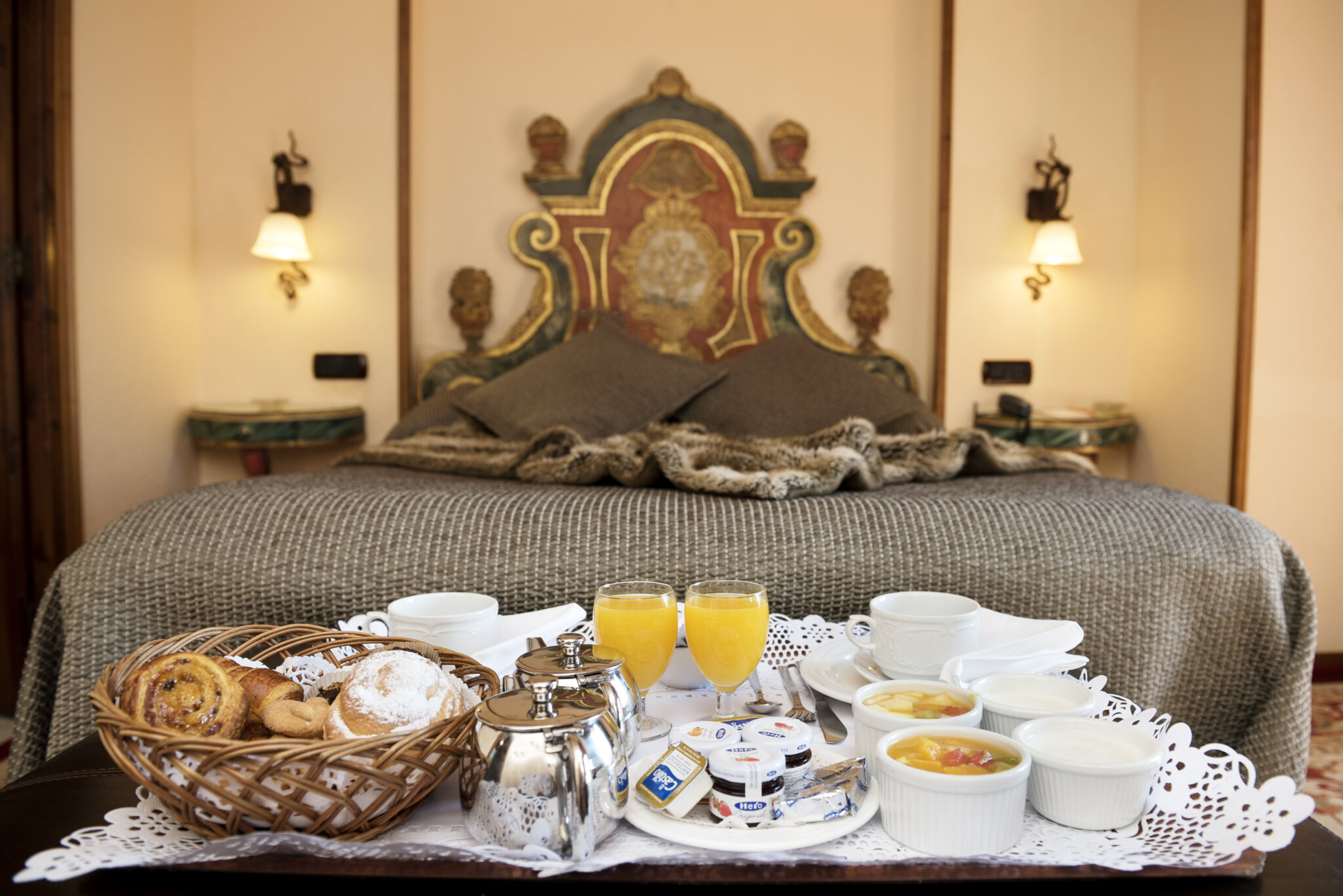 L'Azure is a new 4-star hotel in Costa Brava, a melting pot of cultures and experiences, where everyone fits in and it's all happening. There are 411 rooms to choose from and it is the perfect place to disconnect and enjoy a holiday with the family, with your partner or with friends. It is also one of the most versatile options available among the 4-star hotels on the Costa Brava.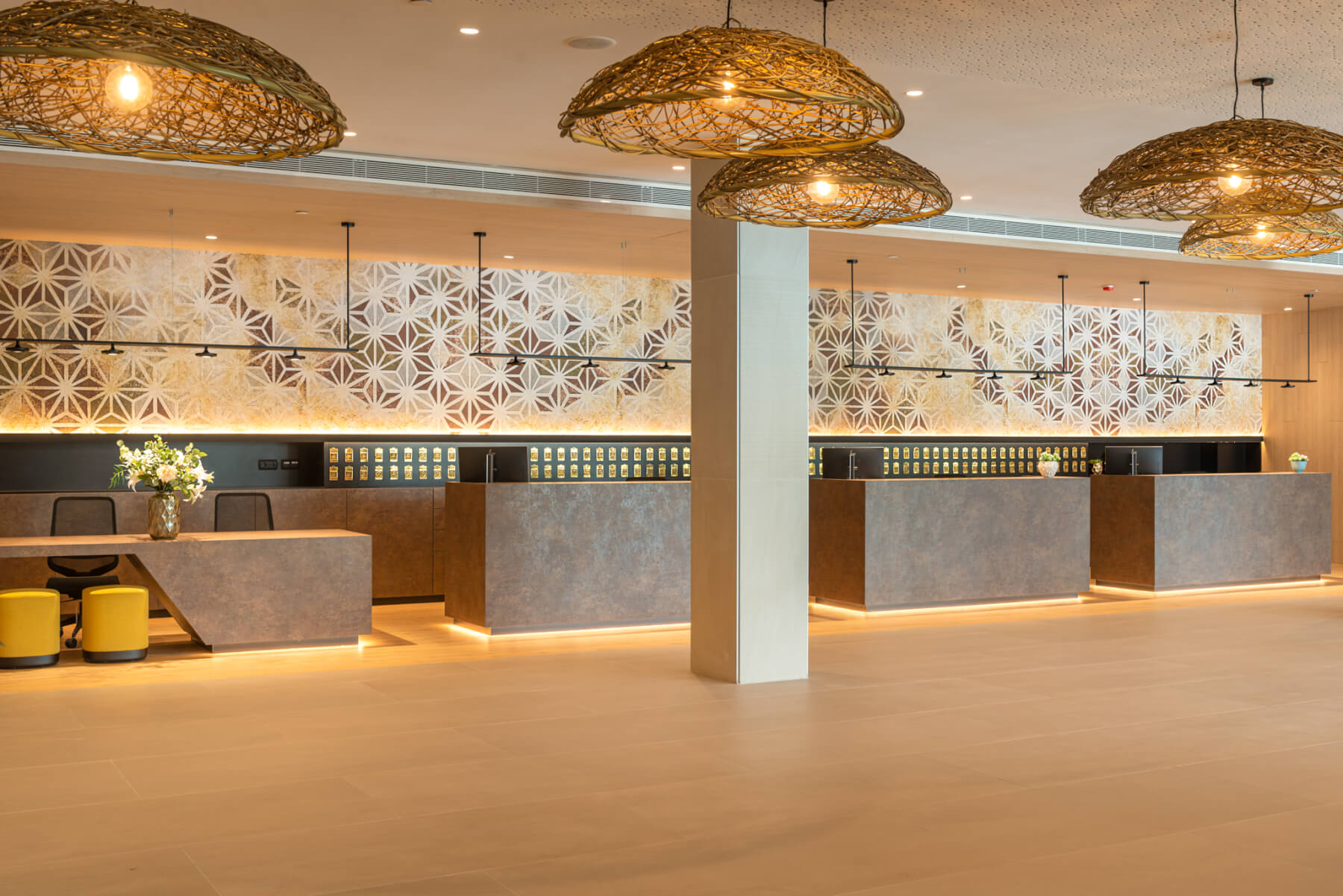 L'Azure offers a wide variety of dining and entertainment alternatives that are influenced by both the local and global cultures. Both young and old will enjoy the various themes and inspirations that the bars and restaurants have to offer.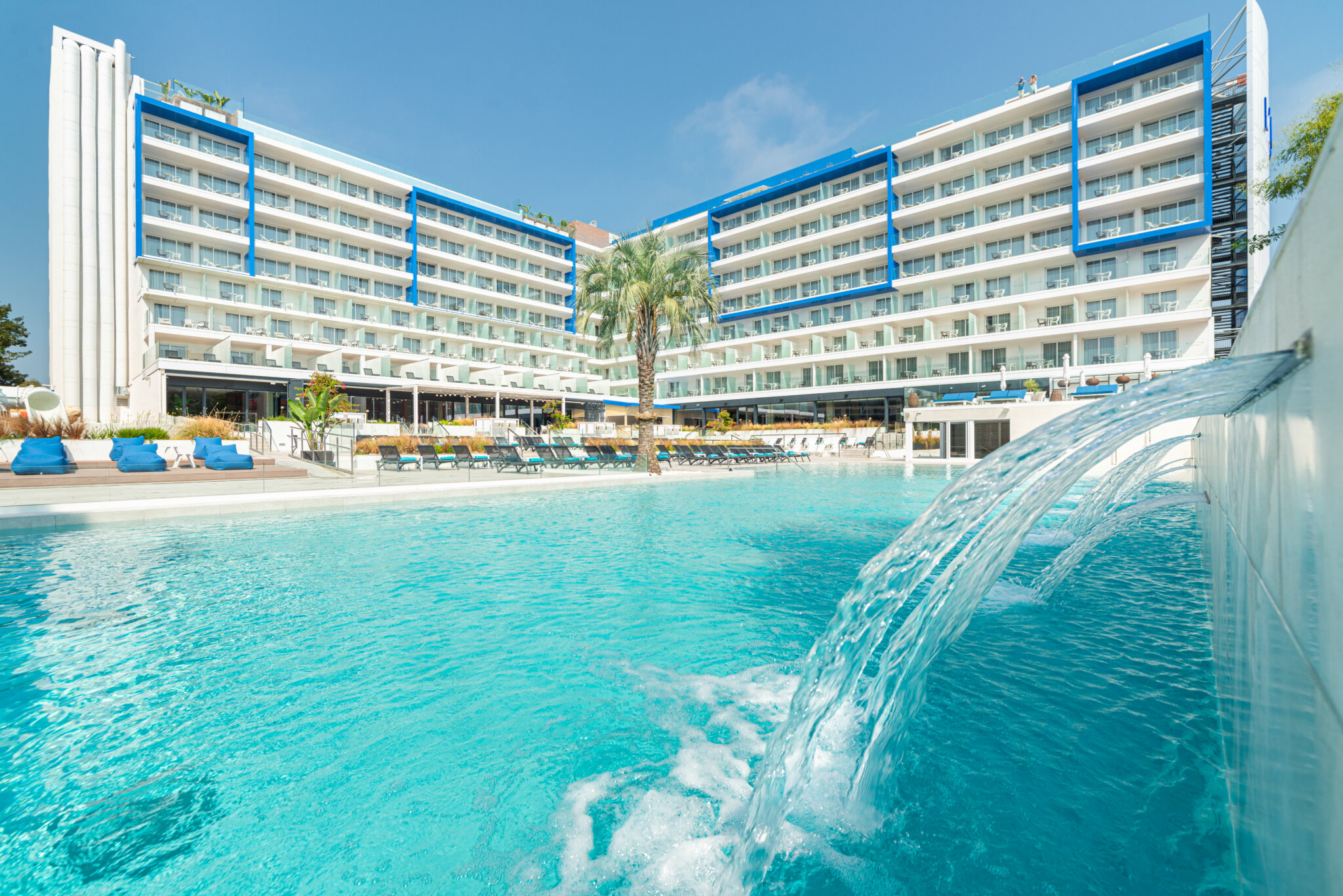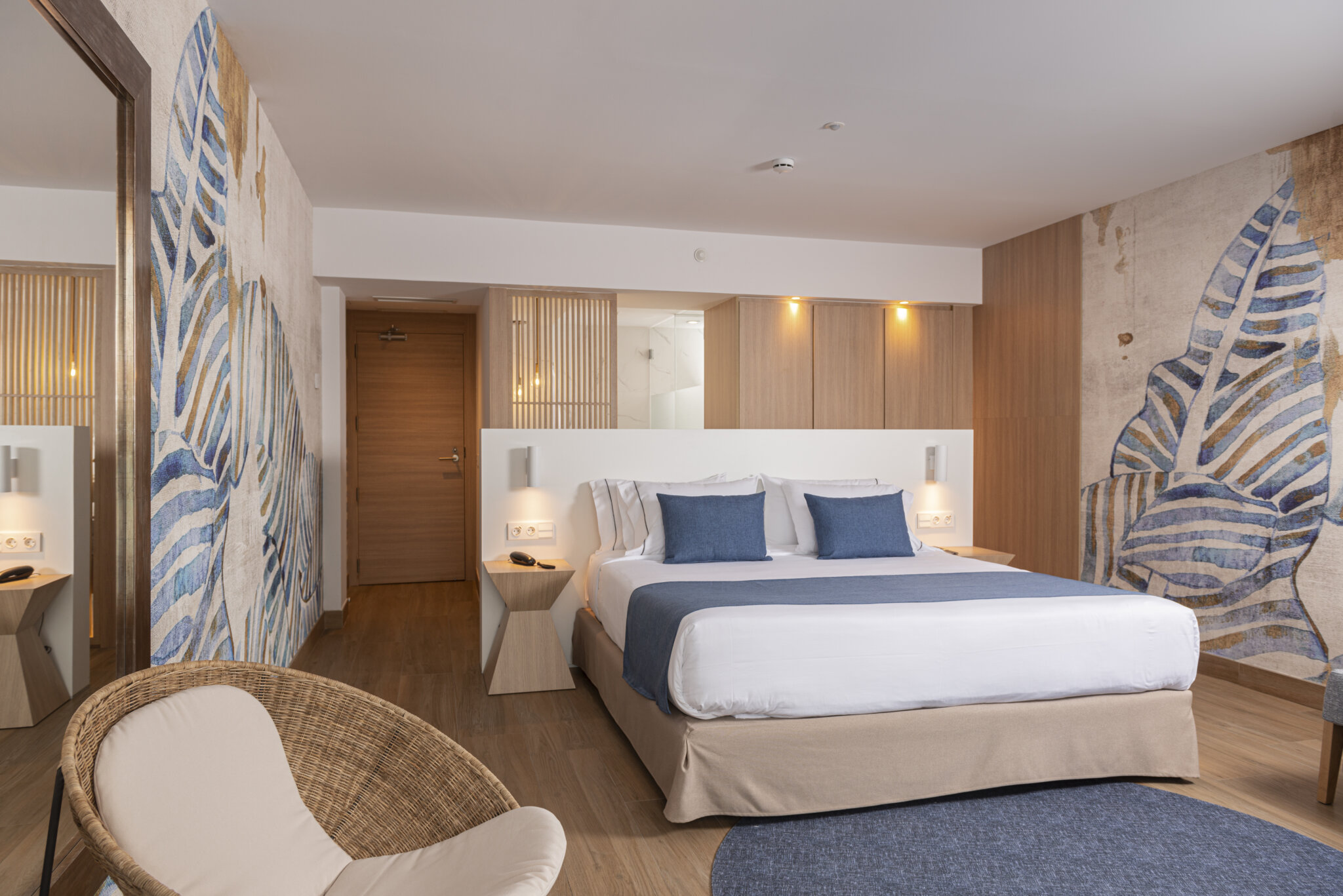 We personally think this hotel is a great choice if you are travelling with family or if you are travelling to this region for work. It does however work also if you are looking for a couple break or if you're looking for a hotel with a spa in Lloret de Mar. The eigth floor is an exclusive area just for adults, with relaxing day beds, an infinity pool and a stylish bar.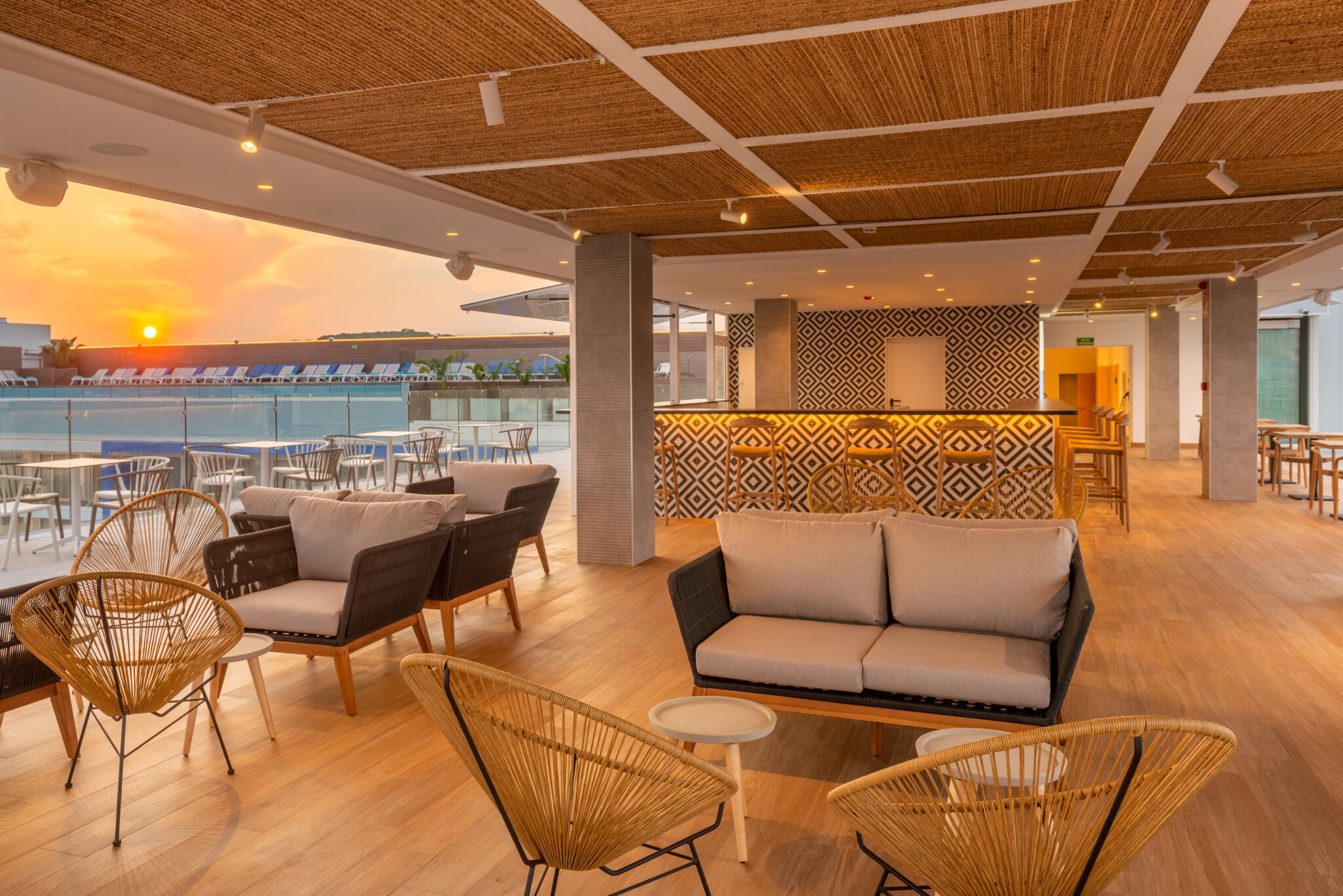 Create memories that will last a lifetime. Take the plunge, bask in the sun, and let the magic of Lloret de Mar's coastal treasures wash over you. Plan your visit to these must-visit beaches and coves that have captured the hearts of many. As you embark on this unforgettable adventure, remember the words of Aristotle: "Adventure is worthwhile." Let Lloret de Mar be your adventure, your escape, and your sanctuary.
We are Nicola and Ronan Lavin experts in finding unique accommodations all over the world. Nominated as top 6 travel bloggers in Ireland we are dedicated to helping you find authentic and immersive travel experiences to help you plan your perfect vacation.
**Disclaimer: Our trip to Lloret de Mar was hosted by and paid by Lloret de Mar Tourism. We only ever work with brands that we are 100% happy to recommend to you guys and happily pay for ourselves. All opinions are our own. This post contains affiliate links, meaning that if you book through one of our links, we will receive a small commission at no extra cost to you. This helps us create the wonderful travel guides that we do.
Are you new here? Join thousands of other happy readers and subscribe to All About RosaLilla blog via email. The good news is that by signing up via email you will get exclusive travel deals straight to your inbox. The only other place that we publish these deals is on Instagram stories, so be sure to sign up to get the heads up on amazing travel deals that will save you money when booking.
We also share everything about ourselves on Instagram, so be sure to follow along there.
If you liked this then you may also like:
Best Places to visit in Basque Country
The Perfect Itinerary for One Day in Bilbao
Best Things to do in Vitoria-Gasteiz, Basque Country
Princess Cruise Tips for First Time Cruisers
Until next time you crazy kids!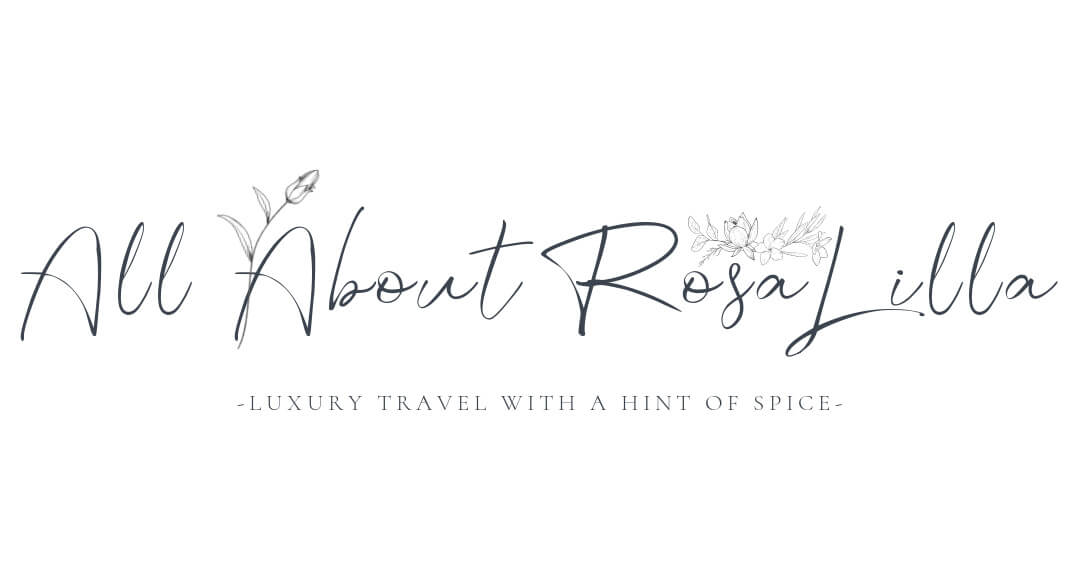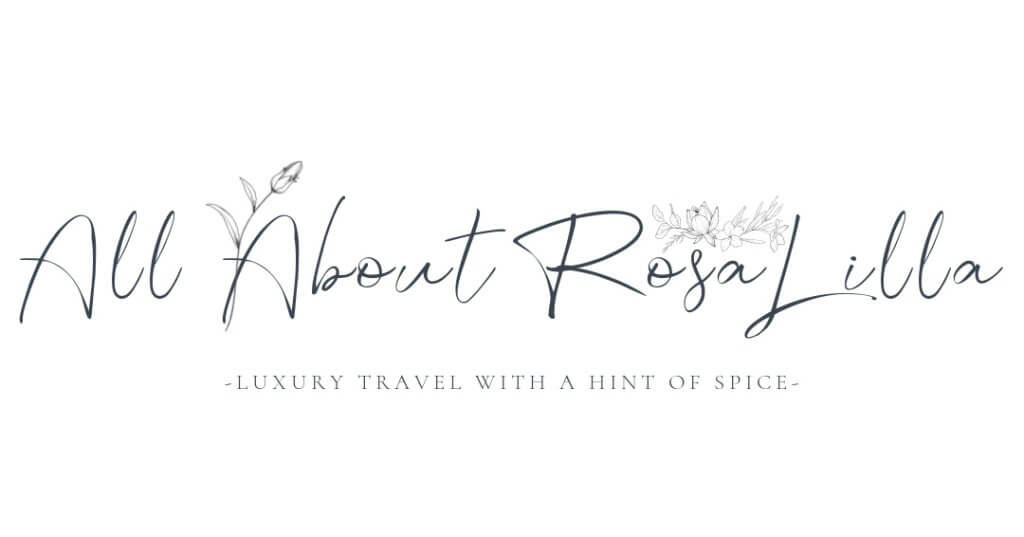 Sharing is sexy!