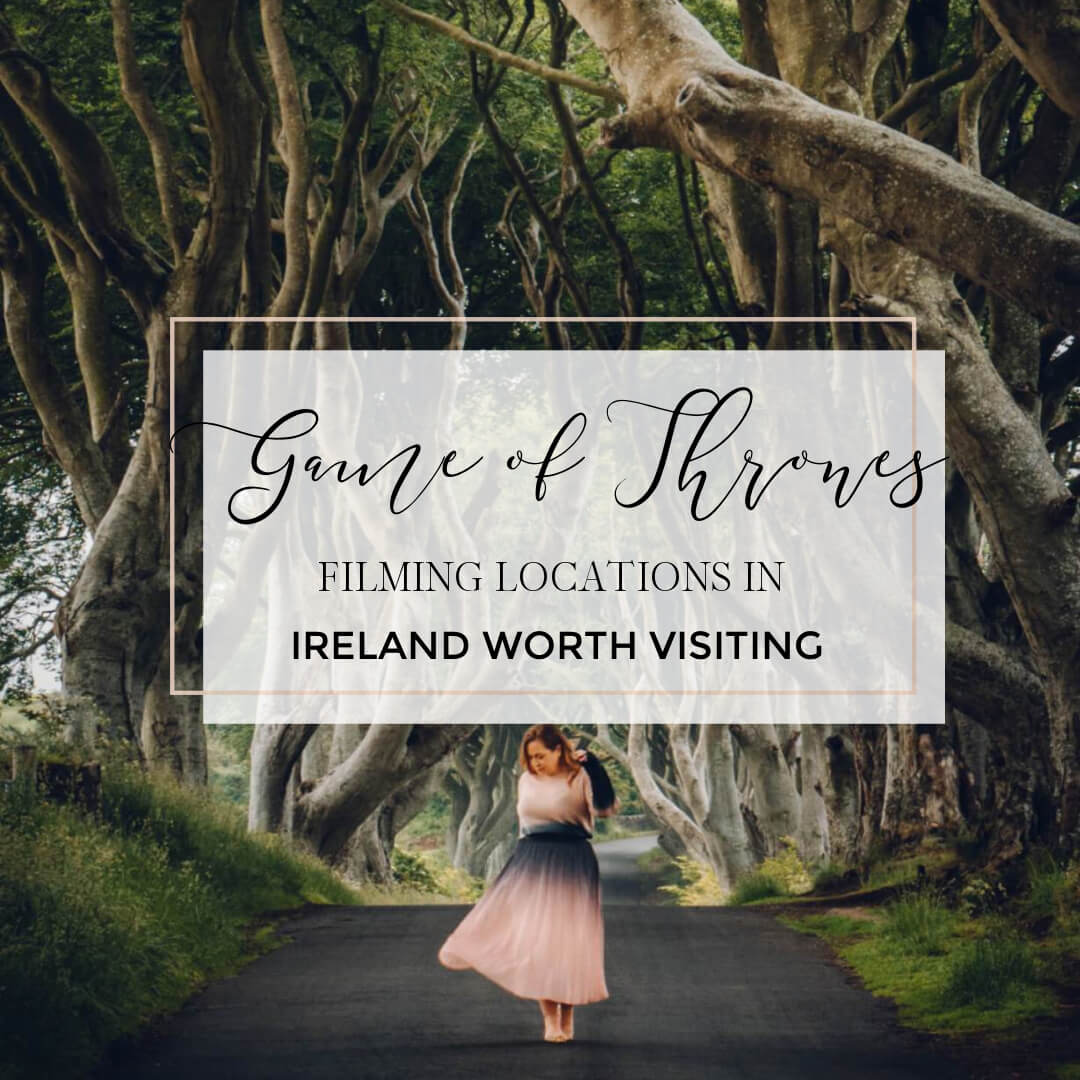 The perfect 3-5 day itinerary of Game of Thrones filming locations in Northern Ireland
Taking a Game of Thrones tour around Northern Ireland is an absolute must for anyone serious about their love for all things Westeros. And even if you are not a massive fan of the show you will still gain so much from a tour of the Game of Thrones filming locations. In this guide I have the perfect 3-5 day itinerary for the ultimate Game of Thrones experience in Northern Ireland.
Northern Ireland, with its extremely beautiful landscapes, castles, cliffs, and dramatic coastlines, has been featured in so many Game of Thrones filming locations. On a Game of Thrones tour you will visit tranquil off the beaten-path locations and places that other tourists simply do not reach.
For the ultimate Game of Thrones experience in Northern Ireland I highly recommend taking a private tour with Flip from Giant Tours. Not only is Flip a local and therefore knows all of the best places to visit on the Antrim coast, but you will also get to hang out with the guy who was a stand-in for both Hodor and The Mountain!
You can hang out with Hodor for a day or take a tour with him for a few days experiencing all of the exact locations where the iconic cast members worked their magic on screen. Flip is an amazing storyteller and will bring each scene to life for you at each location. If you are a big Game of Thrones fan, like me, you will be in your element as Flip takes you through behind the scenes stories from set.
This tour allows visitors to immerse themselves in the stunning places which have made Northern Ireland the ideal filming location by going off the beaten-path. Flip will bring you to places that can't be reached on large coach tours and help you avoid the more crowded tourist hotspots to really help you fall in love with Northern Ireland. It's Flip's authentic experiences which enables him to bring small groups of dedicated Game of Thrones fans to see and stand on the exact locations which most visitors do not get to.
Top tip: Download the official Game of Thrones NI Locations app so you can follow along with exactly which scenes were filmed at each location. The Game Of Thrones Northern Ireland app is FREE to download on both IOS and Android. It is extremely user-friendly and has an interactive map included. If you click on a location to expand it, you will see more information about that filming location. If you are planning a Game Of Thrones trip to Northern Ireland, I highly recommend downloading the app! The best bit is that you don't need the internet to access all the features!
The Best Game of Thrones Filming Locations in Northern Ireland
Of course Game of Thrones was filmed all over the world but it will always have a special connection with Northern Ireland. Northern Ireland was a key filming location for Game of Thrones. The city of Belfast is also home to the Titanic Studios, where much of the show was filmed. The reason why they decided to set up the film headquarters in Belfast was because of the abundance of fantastic landscapes all within two hours of this lively city.
This Game of Thrones itinerary can be done in 3-5 days depending on how many sites you want to see for yourself. It also includes the Journey of Doors Tour, where you can visit all ten of the Game of Thrones Doors and stamp your Journey of Doors Passport along the way.
Follow the Three-Eyed Raven through Northern Ireland, where crumbling castles and ancient landscapes become key Seven Kingdoms filming locations in Game of Thrones.
There are over thirty sites in Ireland where Game of Thrones was filmed. Not all of them are accessible to tourists as some of them are on private land. I will take you through some of the best Game of Thrones filming locations in Northern Ireland.
Where to fly to begin your Game of Thrones Ireland Itinerary
You have two choices of where to begin your Game Of Thrones locations Ireland itinerary. You can either fly into Dublin or Belfast. Depending on where you are coming from, one may be cheaper than the other so make sure to take that into consideration. I recommend checking out Skyscanner to find the best and most affordable flights into Ireland. I use this tool every time I fly to discover the best flights for our trips because you can easily compare rates and find the best and cheapest option. Who doesn't want to save money when they fly?
Game of Thrones Tour of Doors
The idea for the Game of Thrones Doors came about following some storm damage at the iconic Dark Hedges. The trees that were damaged were given to some of Ireland's most accomplished craftspeople to carve and design doors from.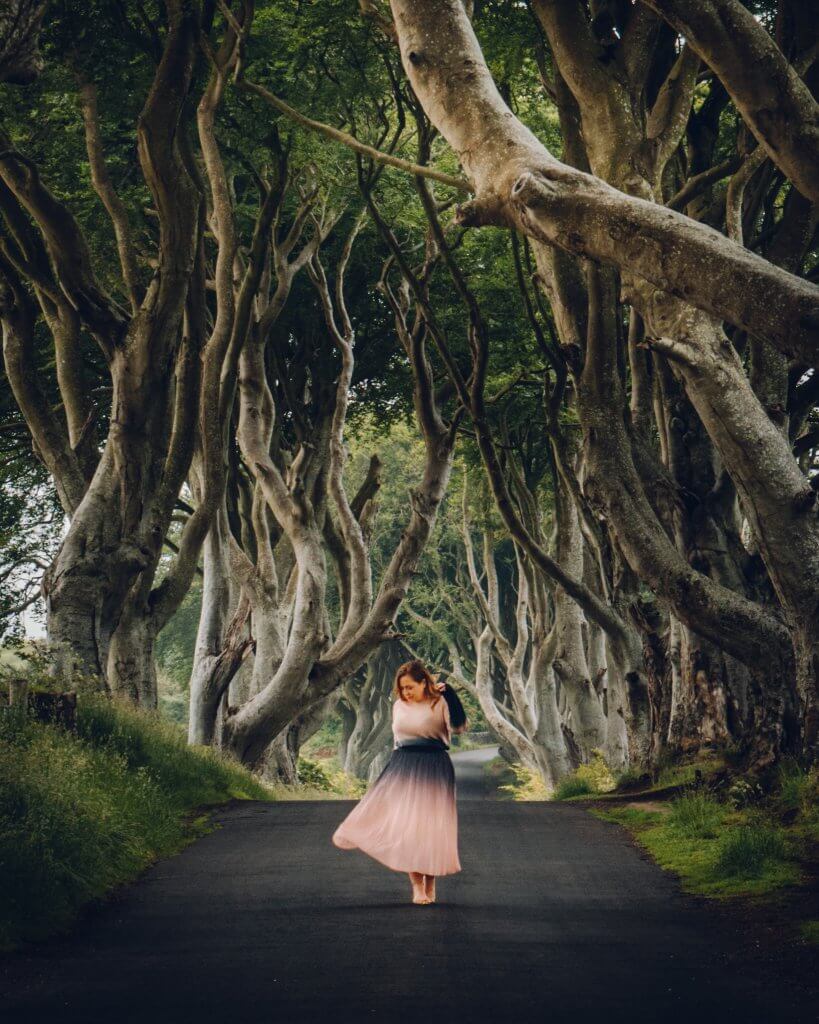 Each of the doors represents a moment in the Game of Thrones saga and after they were finished they were hung in various locations across Northern Ireland. They capture some of the series' most exciting moments, while simultaneously preserving a piece of history from the show's most iconic filming location. Hop in the car and see if you can find them all!
Each door is located near an important filming location , so, if you come across a door you know that you are in Game of Thrones territory.
Game of Thrones Driving Tour Map
While my personal recommendation is to go on a guided tour with Giant Tours Northern Ireland, I understand that some of you will prefer to explore on your own. You can easily jump in the car and take a self-guided tour of these top filming locations. Explore Winterfell and the Riverlands in County Down; or drive along the King's Road and experience more of the Seven Kingdoms in County Antrim.
Game of Thrones Filming Locations that you cannot miss
Day 1 Game of Thrones Ireland locations
Your first day exploring Northern Ireland's Game of Thrones filming locations should be spent at the hub of where Game of Thrones is filmed, Belfast.
Belfast is one of Northern Ireland's best cities. Steeped in Victorian history and experiencing an ever-evolving cultural scene, Belfast is a treasure trove of historic sites, architecture and buildings from both the past and present. For a decade, Game of Thrones had its headquarters at Titanic Studios, in Belfast, Northern Ireland. Most of what wasn't filmed on location was shot in there, and it was the core of the entire production.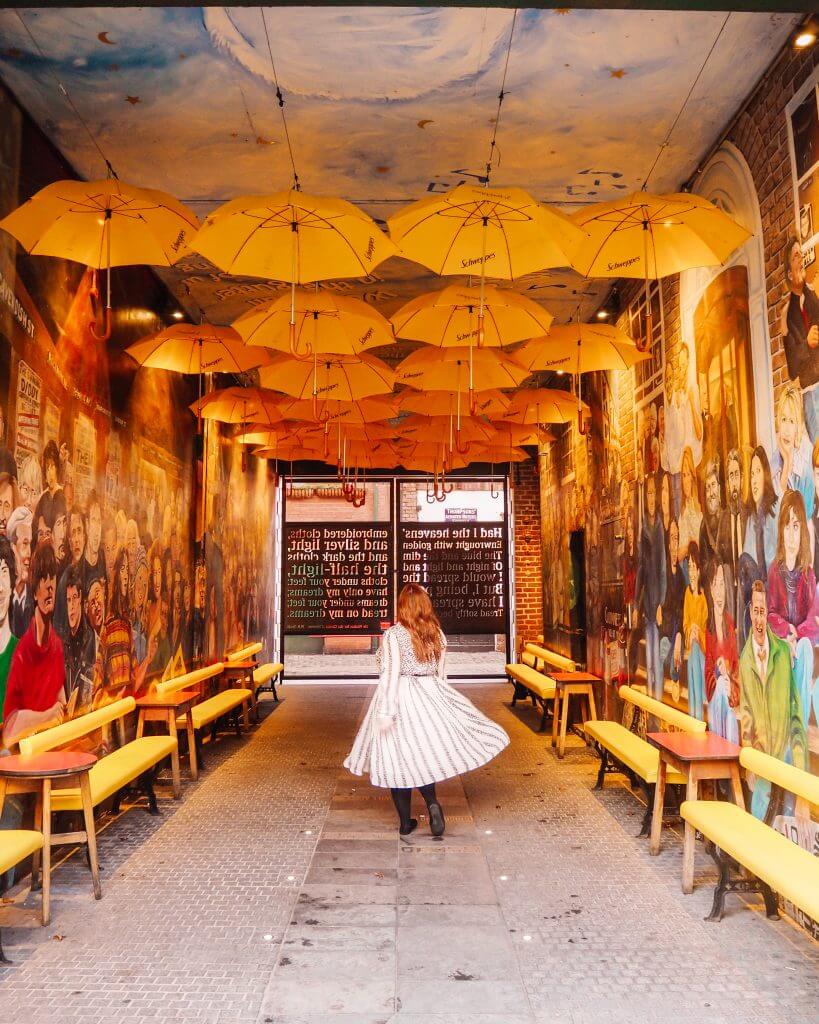 Belfast is the perfect place to begin your Game of Thrones Ireland itinerary. If you have 5 days to spend on this itinerary you can take your time exploring the other sites in Belfast and really enjoying this vibrant city. The Titanic Quarter is a must see! If you are short on time and only have 3 days to complete this Game of Thrones itinerary I suggest combining day 1 and day 2 or skip day 1 entirely.
Make sure to check out the last Game of Thrones Door to be unveiled in The Dark Horse Pub on Hill Street in Belfast city and don't forget to pick up your "Doors of Thrones" passport.
Where to stay in Belfast
For your stay in Belfast I highly recommend Grand Central Hotel Belfast, part of The Hastings hotel group. Myself and Mister Lavin stayed here on a previous trip to check out the best Instagram spots in Belfast and we completely fell in love with this hotel. Standing tall in Bedford Street, this impressive jewel fuses glamour and grandeur with a uniquely Belfast spirit. The location is so central and it has some of the most impressive views of the city. Be sure to grab a drink in the Observatory Bar at sunset and watch the city light up as it gets dark.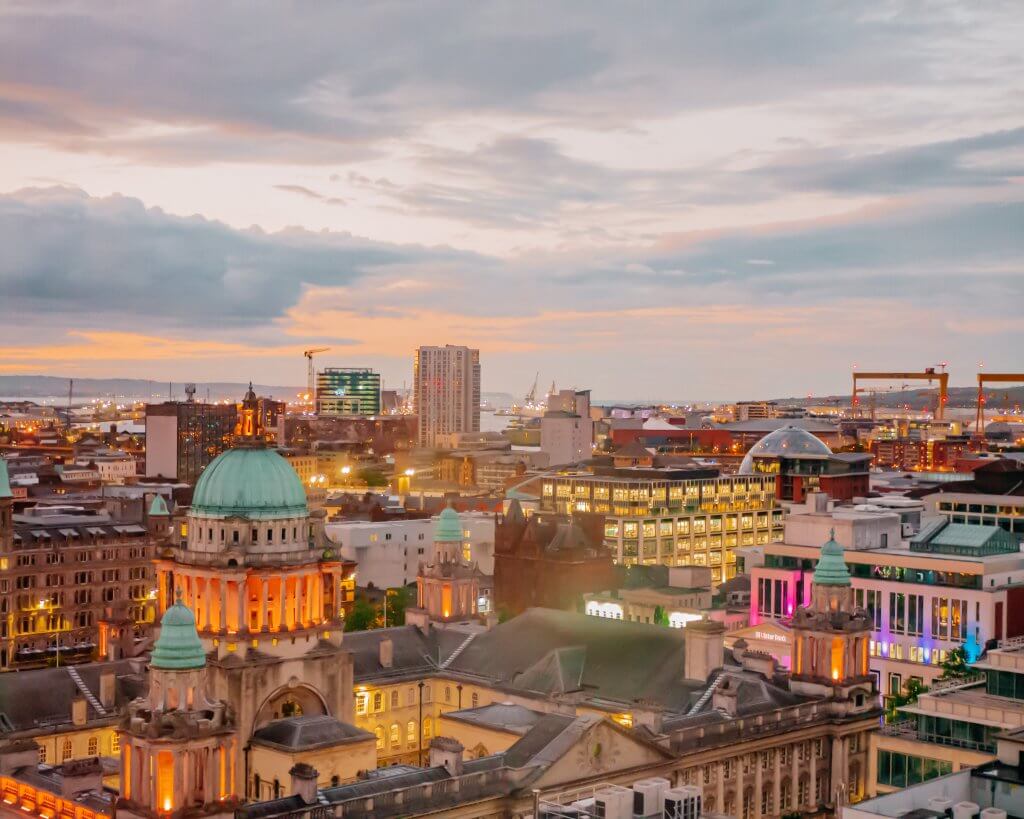 Day 2: Explore Game of Thrones locations in County Down
Castle Ward
Castle Ward is more famously known in Game of Thrones as Winterfell and is a must visit on your Game of Thrones Ireland itinerary. Home of the Stark family walking around the grounds of the real life Winterfell is a surreal experience.
Castle Ward is a National Trust property in Northern Ireland, which offers many Game of Thrones related activities for fans and visitors. You can sign up for archery lessons or even dress up as the Starks and follow in their footsteps around Winterfell. If there are any Game of Thrones locations that you shouldn't miss than Castle Ward is it.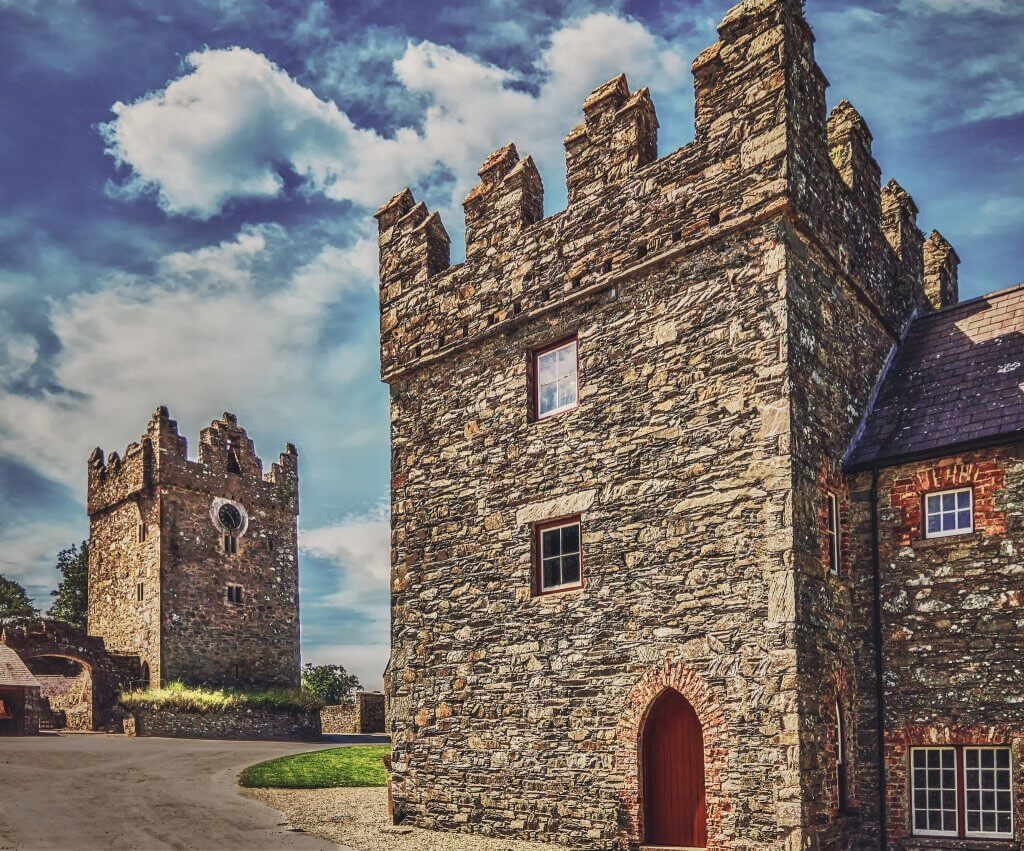 Tollymore Forest
Once you arrive at Tollymore Forest you will be blown away. This place is magical! The entire park is huge and many iconic scenes from the show were filmed here. Most of the locations are spread out so I recommend taking a guided walking tour of all of the exact spots. If you decide to go with Giant Tours, Flip will be happy to take you around.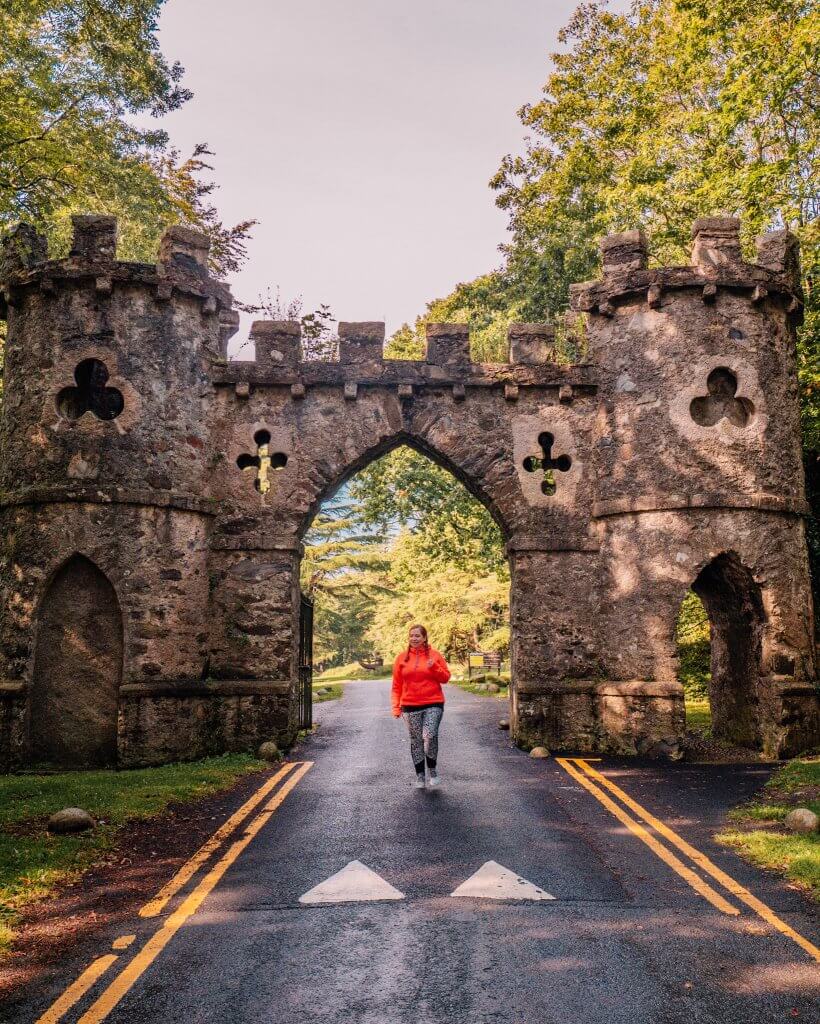 It will take you about 2-3 hours to explore Tollymore Forest so be sure to allow yourself this time. You won't be sorry! This place is enchanted. It made its mark in one of the first scenes of Game of Thrones, as the Haunted Forest, where the White Walkers began their march into the realm of men. These 600 hectares hold ancient redwoods as well as Gothic stone arches, enchanted waterfalls and the remnants of an 18th century estate. Ramsay, the 'bastard of Bolton', hunted Theon here, and it's where the Starks discover the direwolves pups.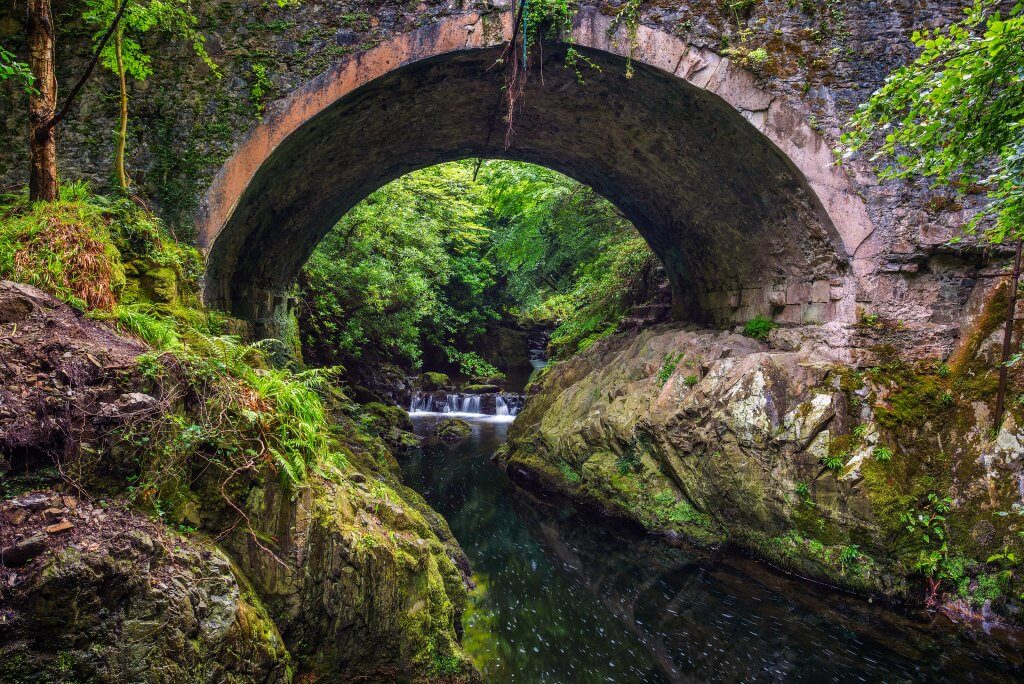 If your memory fails you don't worry. All of the Game Of Thrones locations in Ireland are marked with signs showing the location and the scene that was filmed there. And you can also use your app to show you images of the exact scene to spark your memory.
Inch Abbey
Inch Abbey is located near Tollymore Forest. It is a great place to explore as it is not overrun with tourists. This medieval building was used as the set for the Riverlands scenes, where Robb Stark's army wait at the Trident to cross. Visiting Inch Abbey should only take 15-20 minutes from your itinerary.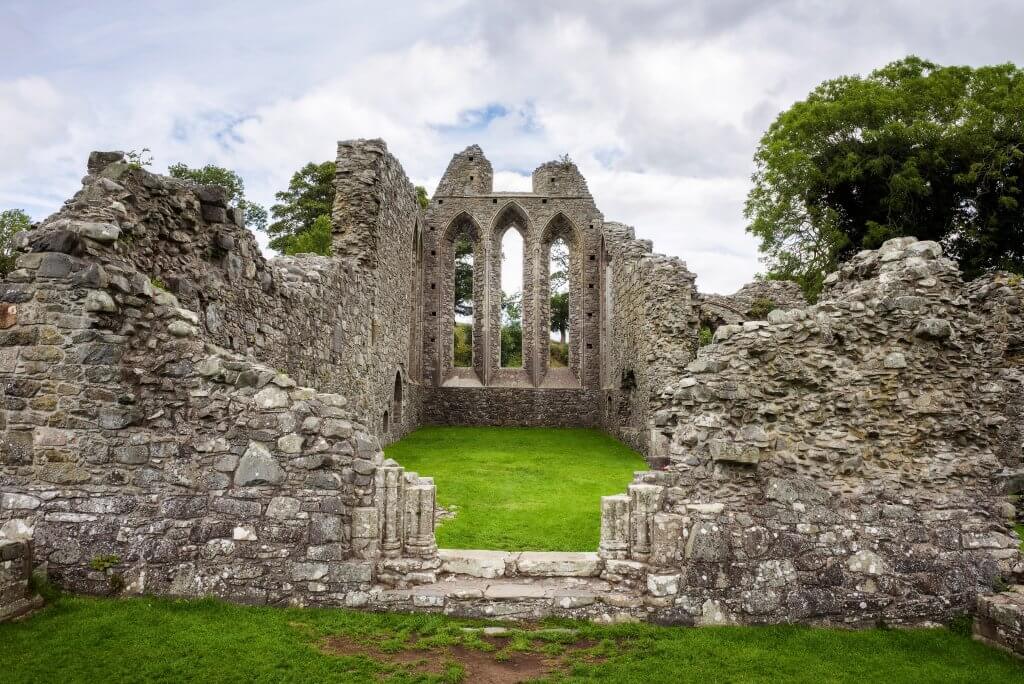 Where to stay Night 2
The Slieve Donard resort and spa is the perfect place to relax after your second day of exploring the iconic Game of Thrones filming locations in Northern Ireland. There is a treat to be found here as it houses one of the intricatly carved Door of Thrones. This Door is number 3 and can be found at the entrance to the Percy French restaurant. This door depicts the demise of Rickon Stark's Direwolf, Shaggydog, the 3 eyed raven and the rise of House Greyjoy's family crest – the Kracken.
Slieve Donard Resort and Spa is the perfect choice for touring and sightseeing. It is located near Tollymore Forest and Castle Ward and The Mourne mountains are also nearby. The spa at Slieve Donard resort is world class and it is the perfect way to relax after a day exploring.
Day 3: Game of Thrones Filming Locations Northern Ireland
Enniskilleen
After a restful night in the Slieve Donard resort, hop in the car and head towards Enniskillen. This will be one of the longest parts of the drive but there will be plenty of beautiful scenery to take in along the way. If there is one thing that Ireland isn't in short supply of it is beautiful scenery!
Enniskillen is a town in County Fermanagh. It is almost exactly at the centre of the county between the Upper and Lower sections of the beautiful Lough Erne. Here you can visit Pollagollum Cave in Belmore Forest which was used to film Beric Dondarrion's hideout in Season 3.
Enniskillen is also where you will find Door 4 on your Door of Thrones quest. This door is hidden away in Blakes of the Hollow in Enniskillen town. Renowned for its traditional Irish heritage, Blakes of the Hollow is one of the most famous and well recognised Victorian pubs in Ireland. It is a must see attraction which has been a highlight in Co. Fermanagh for over 125 years. The door hidden here features several striking designs, immortalising the Targaryens and Arryns.
From there head north towards Derry where you can walk the city walls and hunt for Door 5 in Owens Bar in Limavady. This door is a striking design immortalising the Night's King. It is loacted near your next stop Dragonstone – otherwise known as Downhill strand.
Visit Downhill strand and Mussenden temple
The seven mile coast of Downhill Strand is the location set for Stannis Baratheon and his enchanting mistress, Melisandre, throughout the earlier seasons of the show. Sitting atop the rocky cliffs, overlooking the beach is the majestic Mussenden temple. Mussenden Temple is where Melisandre burnt the effigies of the Seven Gods of Westeros. The Strand is also the home of Dragonstone Temple, belonging to House Baratheon in season one of Game of Thrones. Sunset is the perfect time to visit to capture some dramatic photography.
Soak in the beauty of Binevenagh Mountains
Binevenagh Mountain provides the setting for the Dothraki Grasslands in Game of Thrones. First appearing in Season 5, Daenerys Targaryen flies to this mountaintop on the back of her faithful dragon Drogo after fleeing from the Sons of the Harpy.
Molten lava accumulated to form Binevanagh Mountain around 60 million years ago. As a result, it now looms over the county of Derry/Londonderry, and forms part of the Antrim Plateau. The plateau extends nearly 10 kilometres across the Magilligan peninsula. The mountain's steep rockfaces dominate the skylines of the surrounding villages. Because of these features, this sprawling, rugged landscape made the perfect location to film the Dothraki Grasslands.
Where to stay Night 3
Make your way to the Fullerton Arms nearby in Ballintoy. Not only will you find door number 6 but they also have a special room dedicated to the show, including a custom built throne for you to sit on! The hotel is small but charming and the cast all hung out here in the bar when filming in the surrounding area.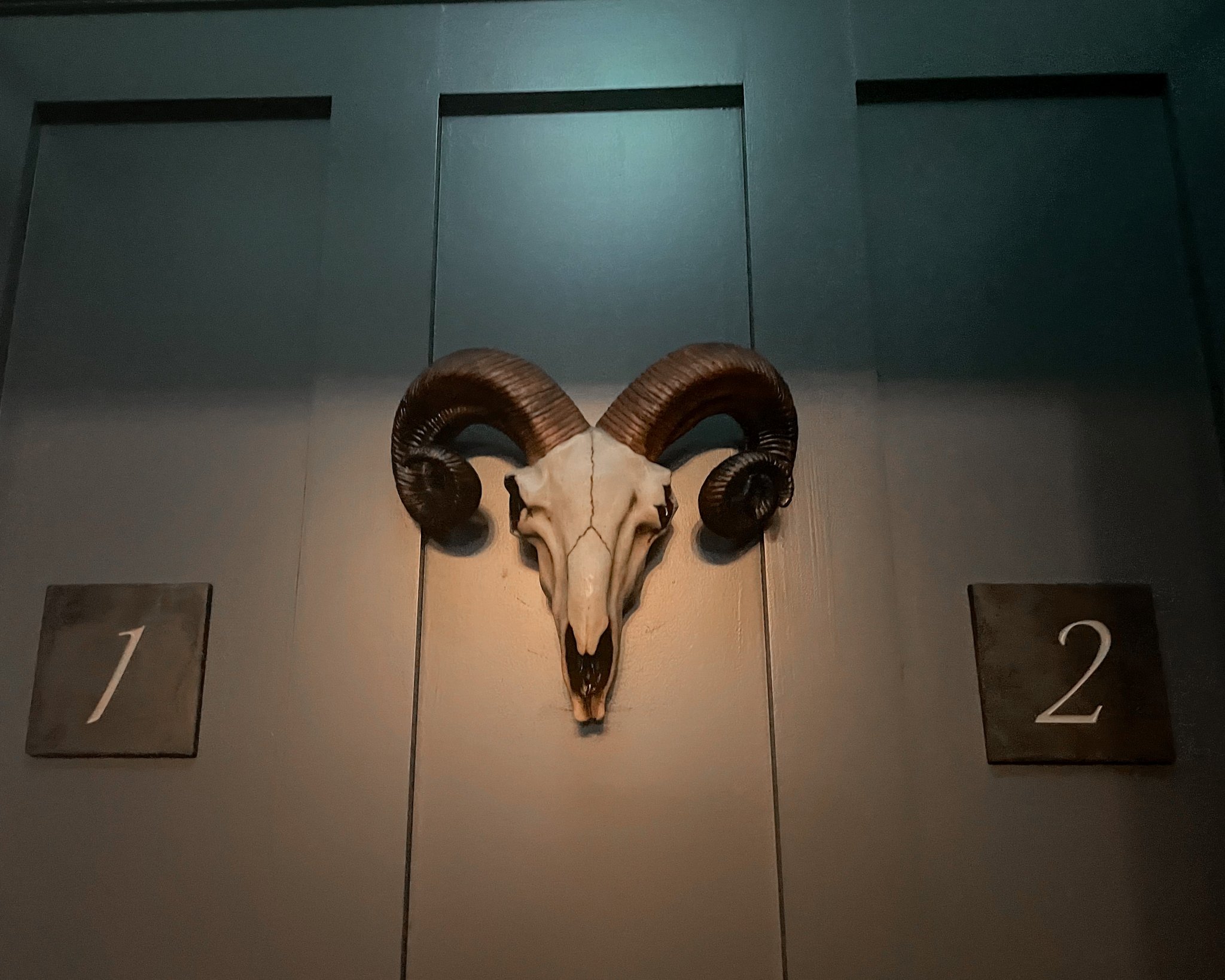 Day 4: Exploring the Antrim Coast and Northern Ireland Game of Thrones Filming Locations
Visit the Iron Islands in Ballintoy Harbour
Day 4 starts early to watch sunrise at Ballintoy Harbour. Ballintoy Harbour is home to the Iron Islands and where Theon Greyjoy arrives when he goes back to the Iron Islands in Game Of Thrones. The harbour is located down a steep hill and is quite beautiful at sunrise. No matter how much time you have on your itinerary, this is a super quick and relevant stop to make.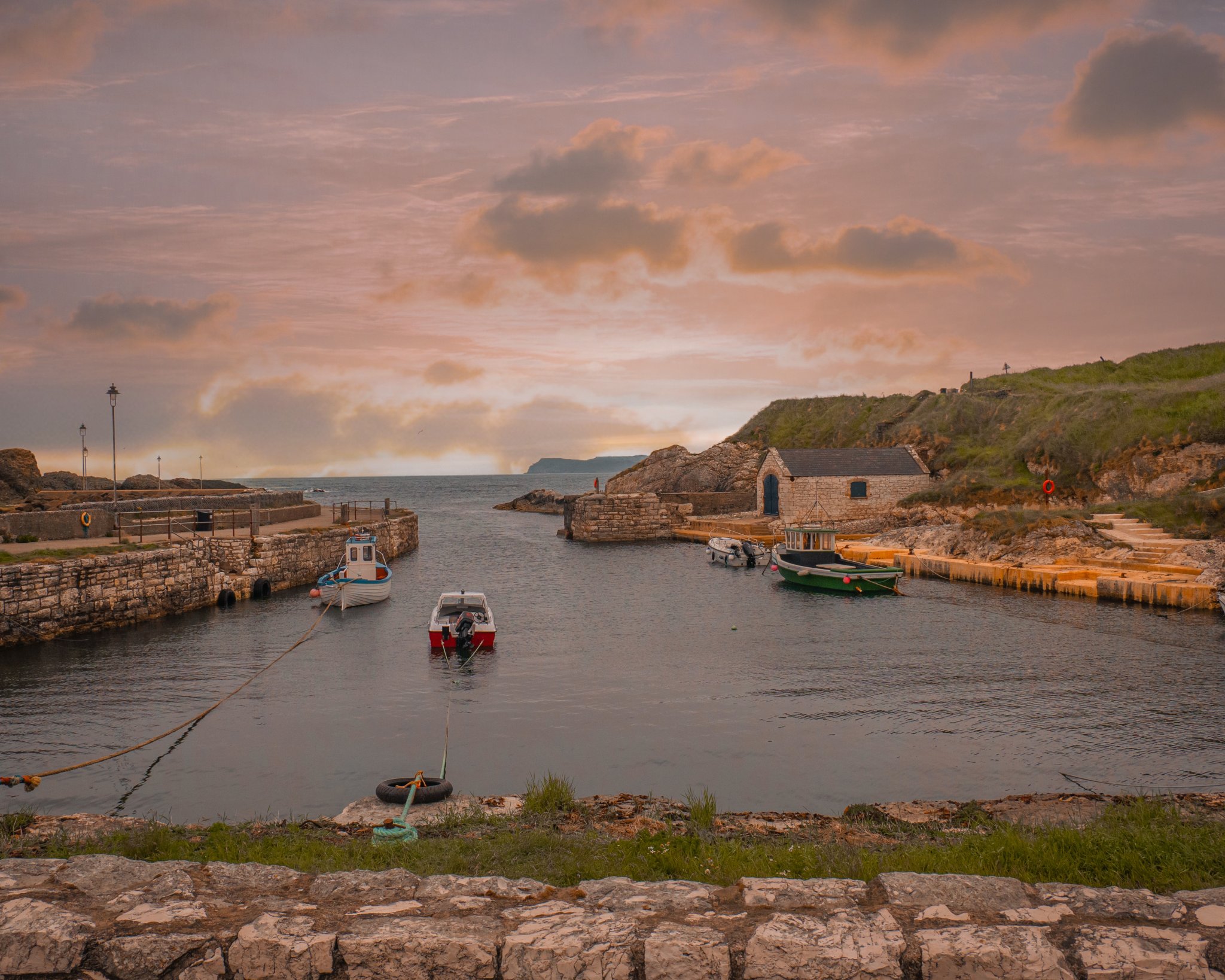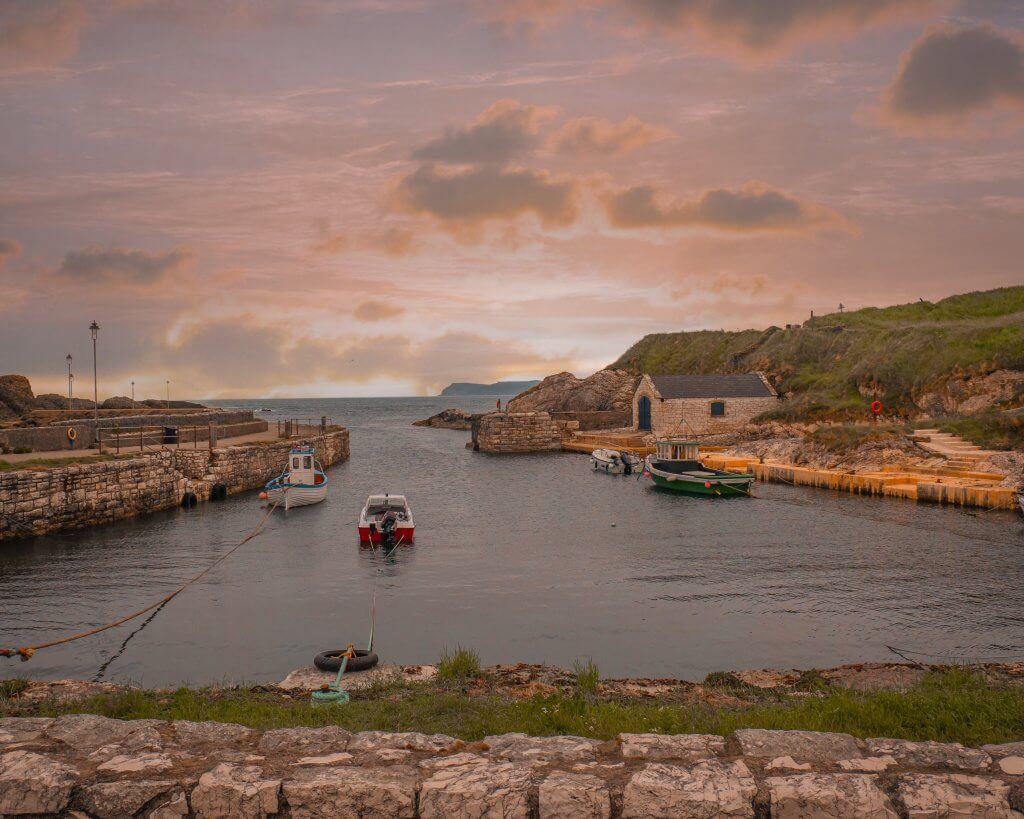 Ballintoy Harbour is built with limestone blocks at the base of Ballintoy town. The crowd of small boats and surrounding rocks make this place so picturesque no matter what the weather is like when you visit. It is a beautiful location on the Northern Irish coast which extends to Ballycastle on one side and the gorgeous Whitepark Bay on the other.
Take some time to look out for Elephant Rock, a rock formation so called because it resembles an elephant. To find it, from Ballintoy Harbour follow the coastal path towards Whitepark Bay. You will need to cross two fences to come across the dramatic rock formations, including Elephant Rock.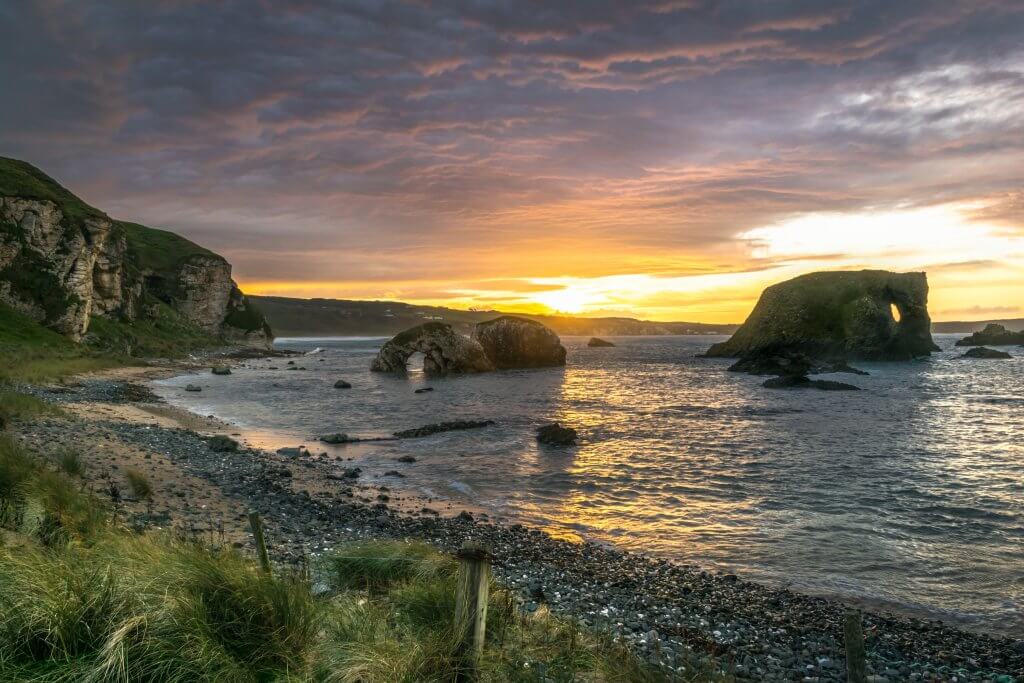 Larrybane Quarry
Next stop on your Game of Thrones itinerary is Larrybane Quarry in Ballycastle. It is currently being used as an overspill car park for the Carrick-a-Rede Rope Bridge and it is easily accessible for exploring. While you are at it, the Carrick-a-Rede Rope Bridge is a must see!
The old chalk quarry of Larrybane was the setting for an important Game of Thrones scene when it was used as Renly Baratheon's camp. It's rocky landscape and coastal features made it a great location to recreate part of The Stormlands, where Renly set up his camp.
Walk along The Kings Road at The Dark Hedges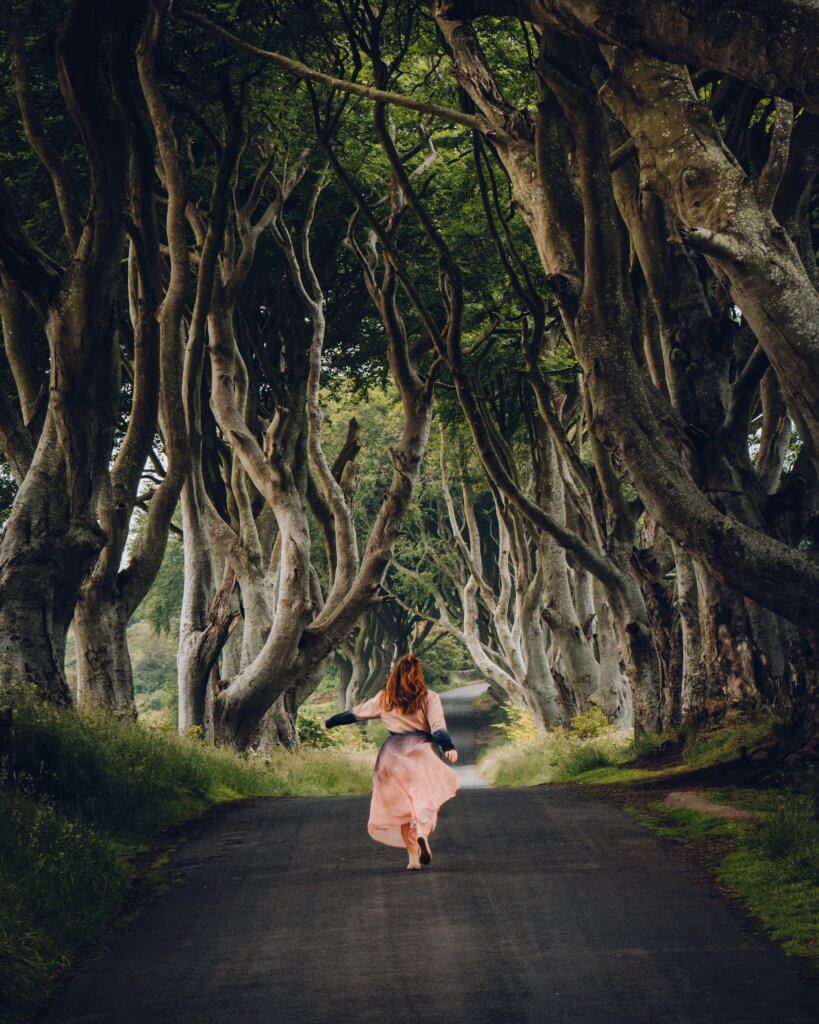 The absolutely stunning Bregagh Road, otherwise known as The Dark Hedges or King's Road to Game of Thrones fans, is two rows of beech trees that were planted about the 18th century by James Stuart. The idea was to create a mystical approach to his home, Gracehill house.
Over the years the avenue has developed and become even more impressive and famous than could ever have been imagined. The Dark Hedges has become one of the most photographed locations anywhere in Ireland with Game of Thrones fans visiting there daily along with travellers eager to capture this magical natural phenomenon. As one of the most popular Game of Thrones filming locations in Northern Ireland don't expect to have the place to yourself!
After exploring this majestic location head across the street to Gracehill House to find another of the Game of Thrones doors. This 7th door features a beautiful direwolf carving so don't miss it.
Murlough Bay: Slavers Bay on Essos
Murlough Bay is a beautiful cove hidden away from the Causeway Coast main road. A small road leads towards the sea, but the last part of the location has to be made on foot. The views across to Rathlin Island as well as the Scottish Islands are simply stunning.
Many of the key scenes of the series were filmed here but maybe one of the most iconic was the setting for Slavers Bay. After surviving an attack by Stonemen on the Old Valyrian Canal, Tyrion Lannister and Ser Jorah Mormont continue their journey towards Mereen on foot. Being deeply immersed in conversation, they are spotted by a passing slave ship and taken prisoner.
The sea vistas and wild headlands here are some of the most impressive views I have seen anywhere in Ireland.
Cushendun Caves
On your way to your next hotel stop for the night, along the Antrim coast, you will find Cushendun Caves. It is a key filming location in the Game of Thrones series and there is something a little bit eerie about it. Maybe it is because it is here that Melisandre gives birth to the shadow assassin, the smokey spectre that travels through the air to find Renly Baratheon, killing him in his tent.
Top Tip: If you are brave enough be sure to drive the Torr Road to Cushendun. Arguably the best 'wee winding road' in the country with magnificent coastal views from a height to arrive at the whitewashed Cornish style village of Cushendun.
The caves also feature again in Episode 8 with the famous battle between Jamie Lannister and Euron Greyjoy. It was amazing to get some behind the scenes filming information from our knowledgeable tour guide, Flip.
While you are in the area be sure to also check out Cushendun village, a small picturesque coastal village in Northern Ireland. It has a stunning sheltered harbour and lies at the mouth of the River Dun and Glendun, and is known as one of the 9 Glens of Antrim. On a clear day you can see across the North Channel to the Mull of Kintyre in Scotland 15 miles away.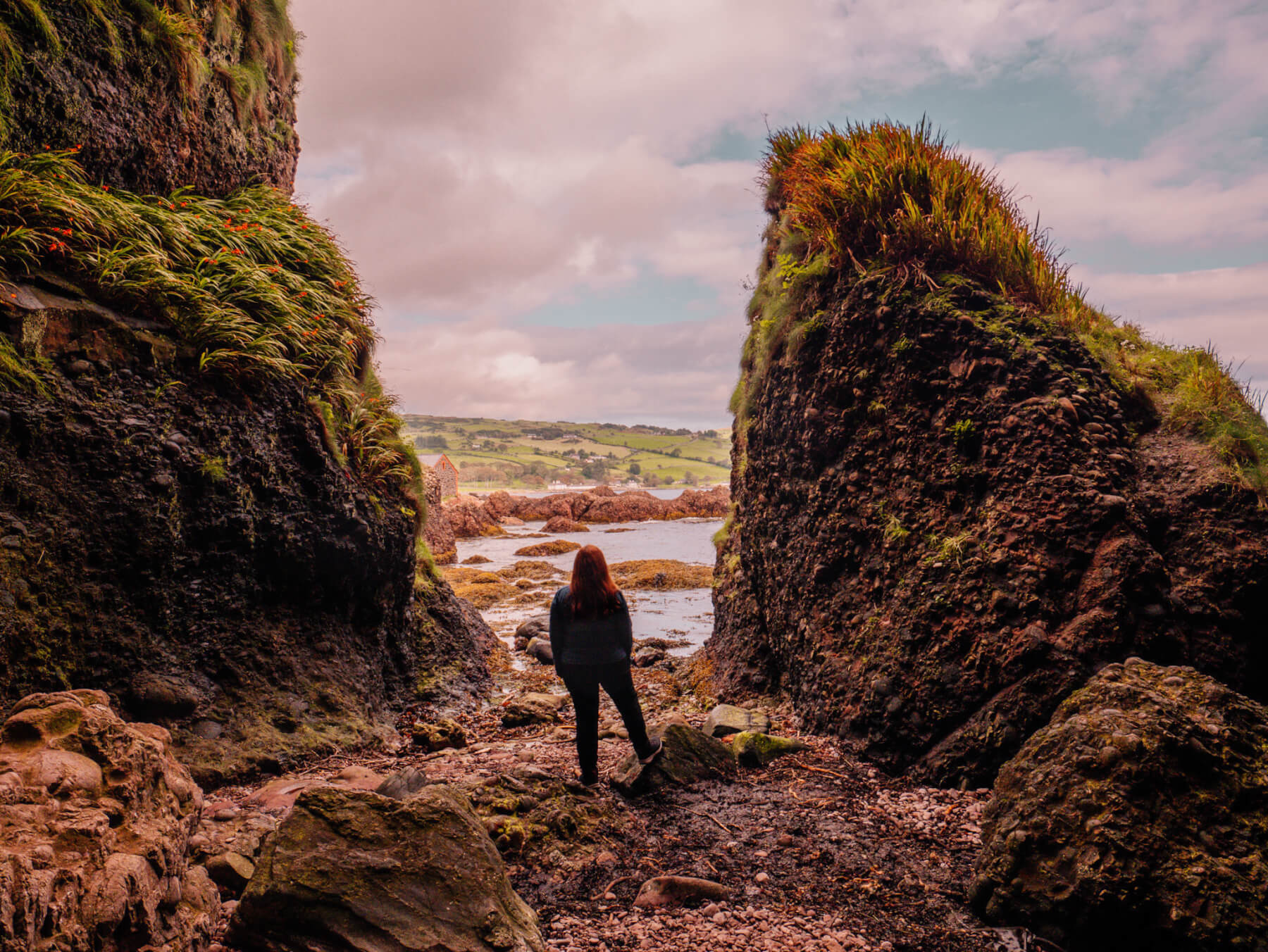 The 8th Door Of Thrones is just a walk away from the Cushendun Caves. Mary McBride's was once the smallest pub in all of Ireland and is still quaint and cute! It is home to the 8th Game Of Thrones door and a quick and easy stop after exploring the caves. You might even have time to get in a sneaky pint.
Where to stay night 4: Ballygally Castle Hotel
Perched on the tip of the famous Causeway Coastal Route, sits Ballygally Castle, a stunning 17th Century Castle which overlooks the golden sands of Ballygally Bay and has uninterrupted views across the Irish Sea. It is the ultimate place to stay for a full Game of Thrones experience.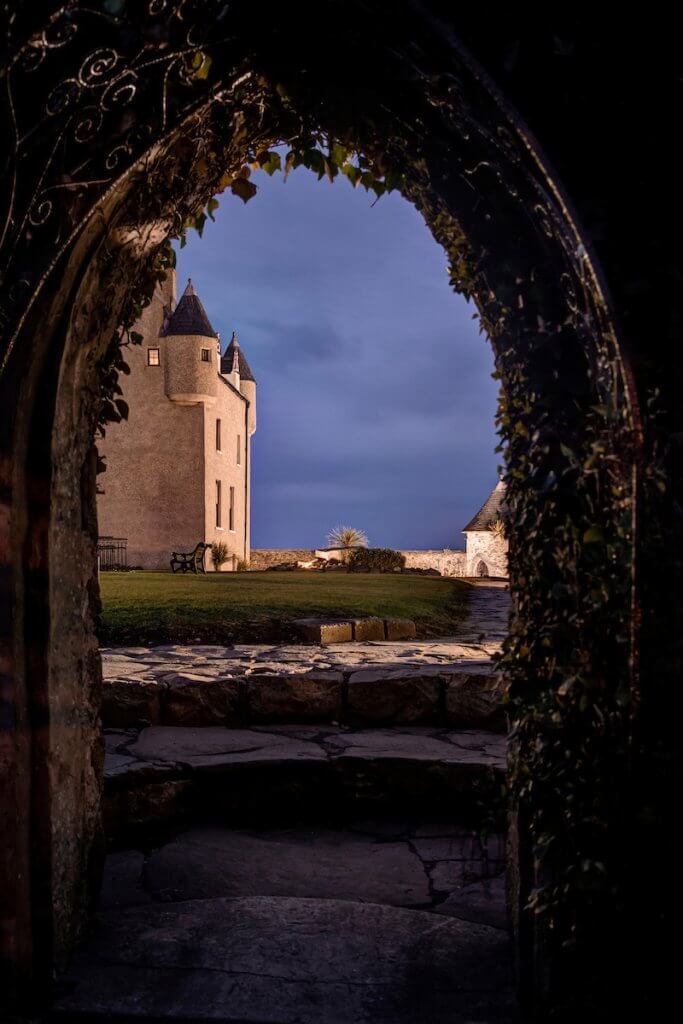 The Castle has 54 tastefully decorated bedrooms, some have beautiful, original beamed ceilings, while others enjoy stunning views of the sea and mountains. From the beautiful Antrim Suite and new Coastal Deluxe Rooms with their spectacular panoramic views to the Garden wing and the original period rooms, uniquely shaped by the imposing architecture, the Castle is bursting with bedrooms full of character and charm.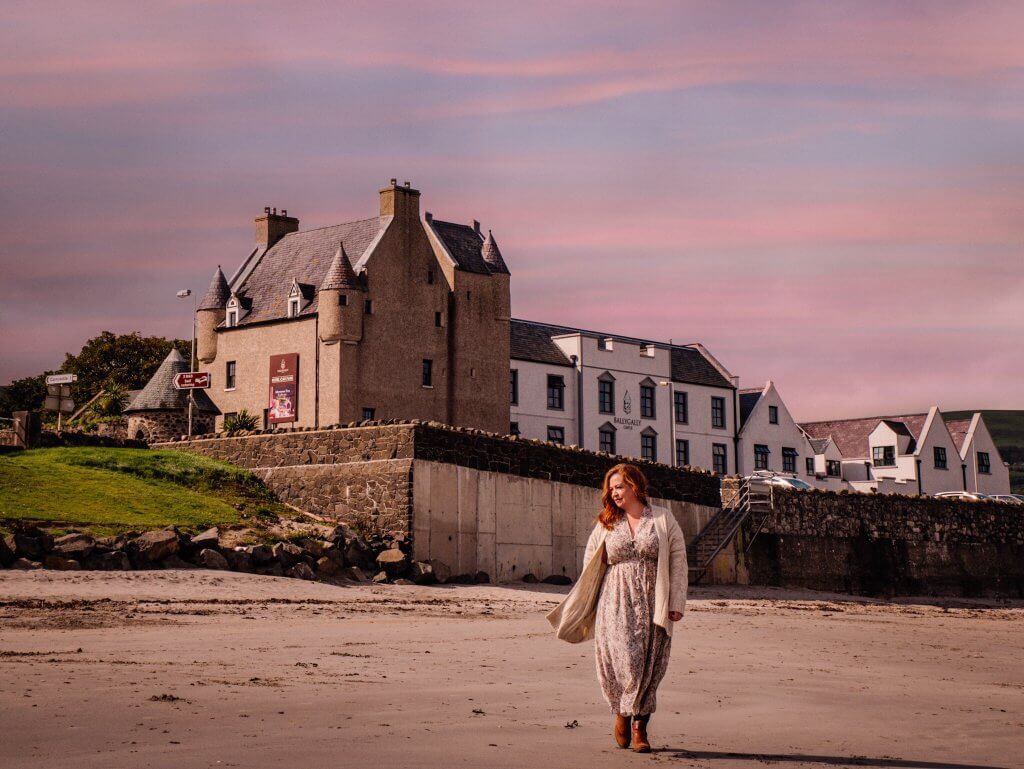 Ballygally Castle has a history steeped in conflicts, intrigues and ghosts. It is rumoured to be one of Ireland's most haunted hotels. The hotel even has its own ghost room which is a little eerie for a scardey cat like me. Mister Lavin had fun making spooky noises and scaring the life out of me, but it was all in fun as I only got good vibes in this hotel. Are you brave enough to venture up the spiral staircase and visit the room of Lady Isabella?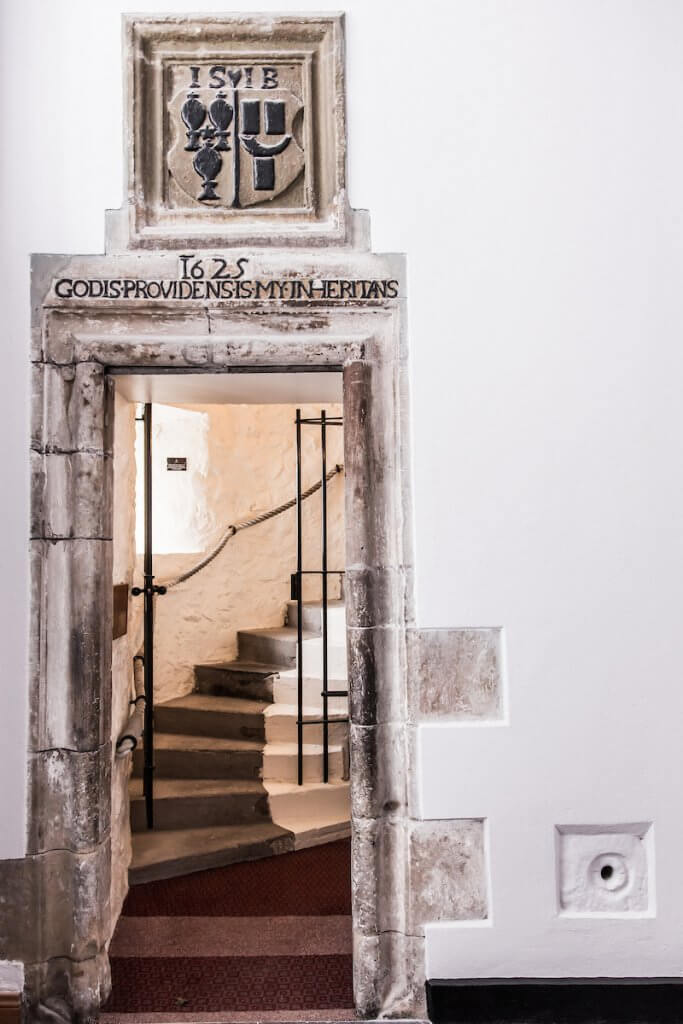 During your stay be sure to spend some time exploring the hotel's beautiful gardens and the stunning beach across the road. It is the perfect spot to blow the cobwebs away after a long day exploring, to build sandcastles with the kids, watch fishermen catch their dinner or even enjoy a quick swim!
Enjoy a Westeros Tomahawk Steak Dinner
Top off the last night of your Game of Thrones Ireland itinerary with a Westeros Tomahawk Steak dinner. Enjoy a 20oz (yes I said 20oz….prepare for some meat sweats!) salt-aged Northern Irish beef steak on the bone, served with causeway chips, portabello mushrooms, provencale beef tomato, rocket garnish and a choice of sauce.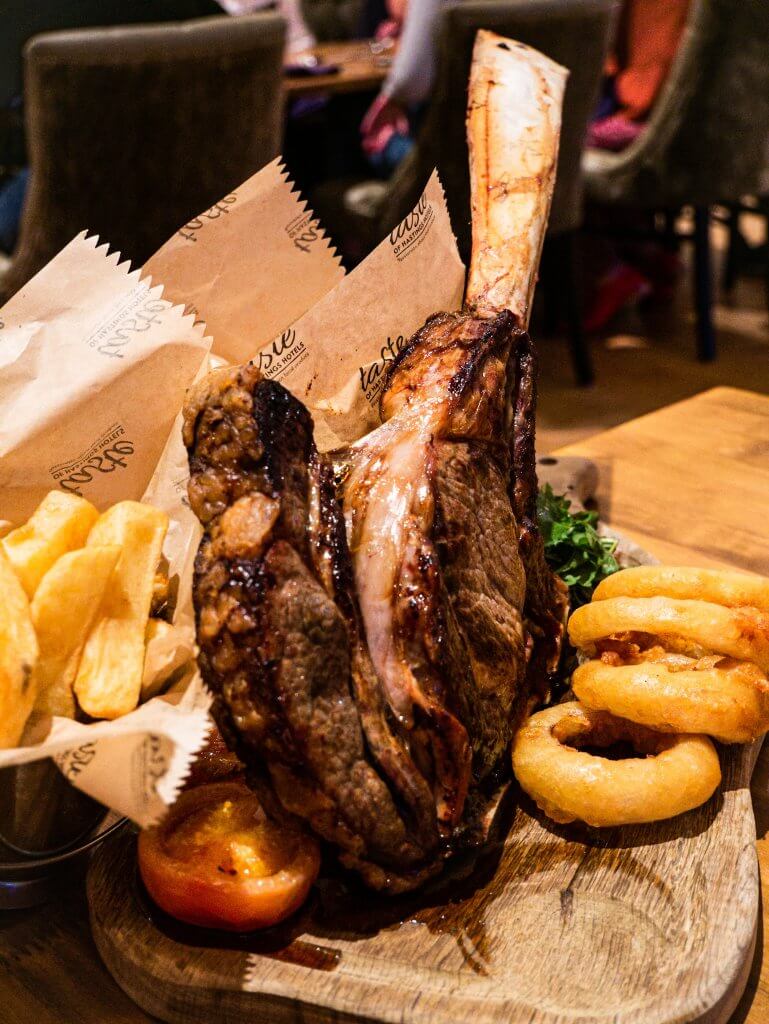 Your feast will come served on a wooden platter with a "Valyrian Steel" inspired carving knife. Valyrian steel is a form of metal that was forged in the days of the mighty Valyrian Freehold. It is exceptionally sharp and tremendously strong!
Day 5: End your Game of Thrones Ireland filming locations itinerary in style
Go souvenir shopping at Steensons jewellery
Steensons jewellery is a family run business. They are established as Northern Ireland's leading independent craft jewellers with a showroom in the nearby charming village of Glenarm. They were selected to work on numerous pieces for the HBO blockbuster production Game of Thrones.
On show you will find pieces like Ellaria Sand's pendant. This gold pendant had a special 'vial' contained within it, which held an antidote to the Sand Snake's poison 'The long farewell'. The pendant's unique feature was screened on two occasions; Bronn had been poisoned by one of Tyrene's spears and she offers him the antidote from the pendant. The second was when we witnessed Ellaria give Marcella Lannister a poisonous kiss before drinking the antidote herself.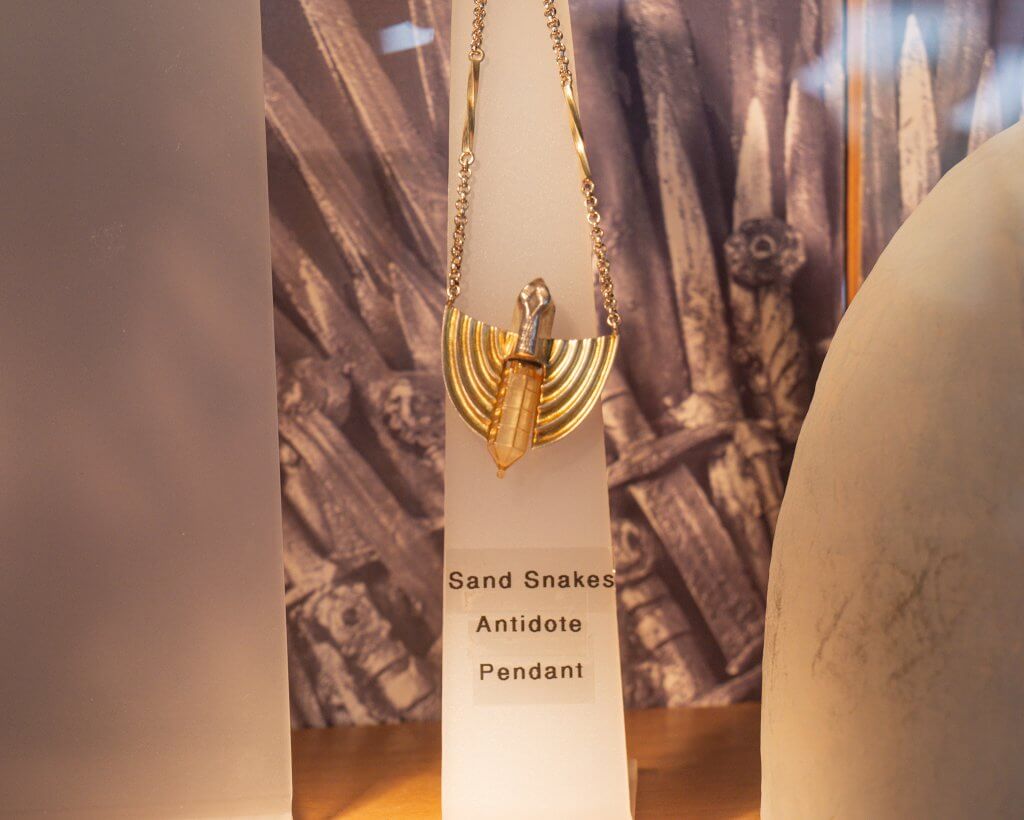 Also on display is The Hand of the King. One of the opening scenes of Game of Thrones series 1 has Lord Arryn's body laid out in state. He wears a Chain of Office for 'The Hand of the King' around his neck. A half metre long bronze chain of interlocking hands, this piece weighs over 200g of solid brass. Constructed by a combination of CAD, hand carving, casting and riveting. It is truly an impressive piece.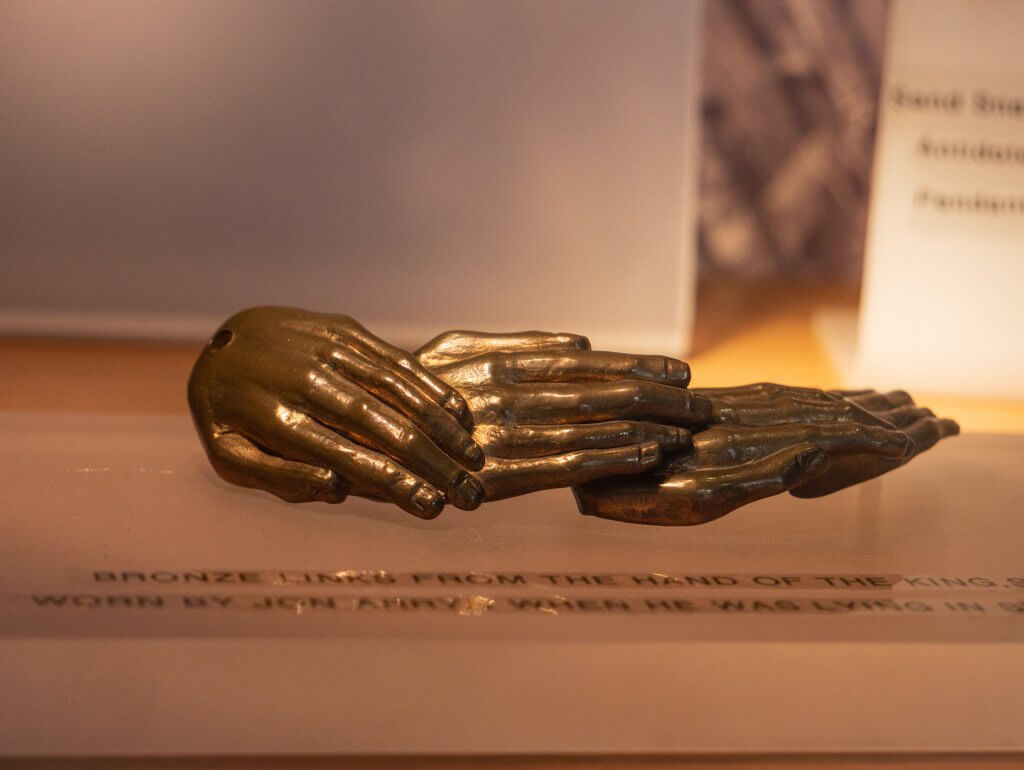 The ultimate piece for any Game of Thrones fan was of course Sansa Stark's crown depicting two direwolves. I am not going to lie I was totally geeking out when Flip arranged with the owner Brona for me to actually try it on!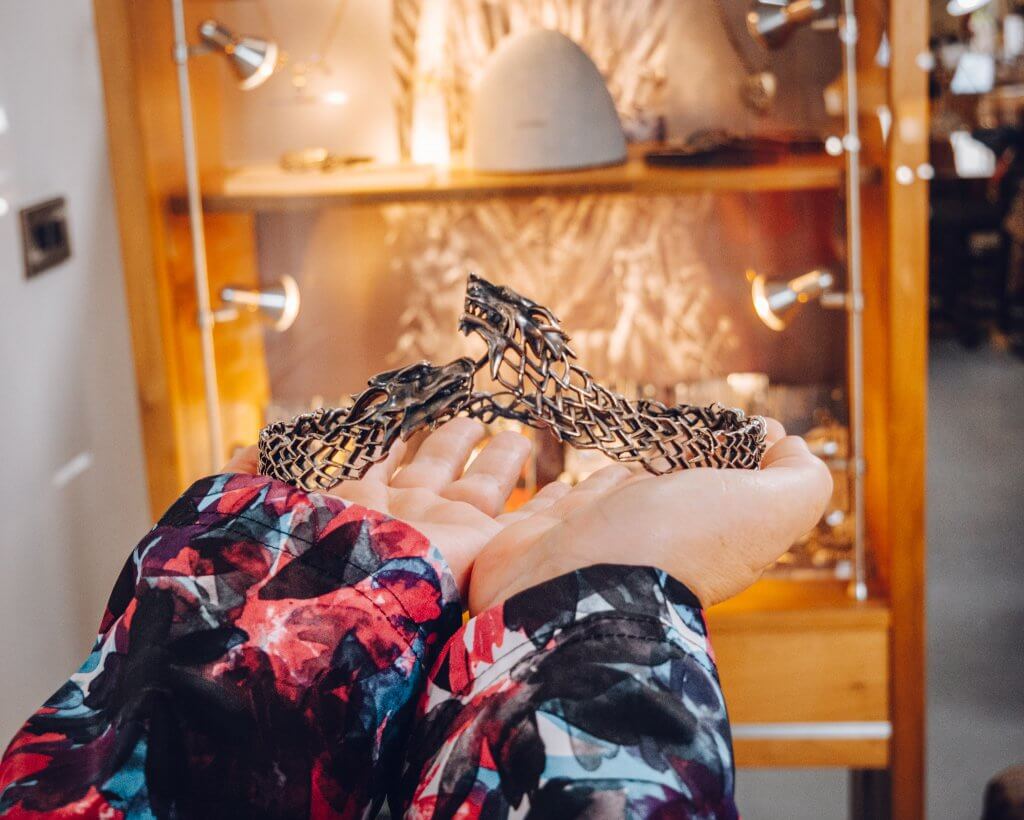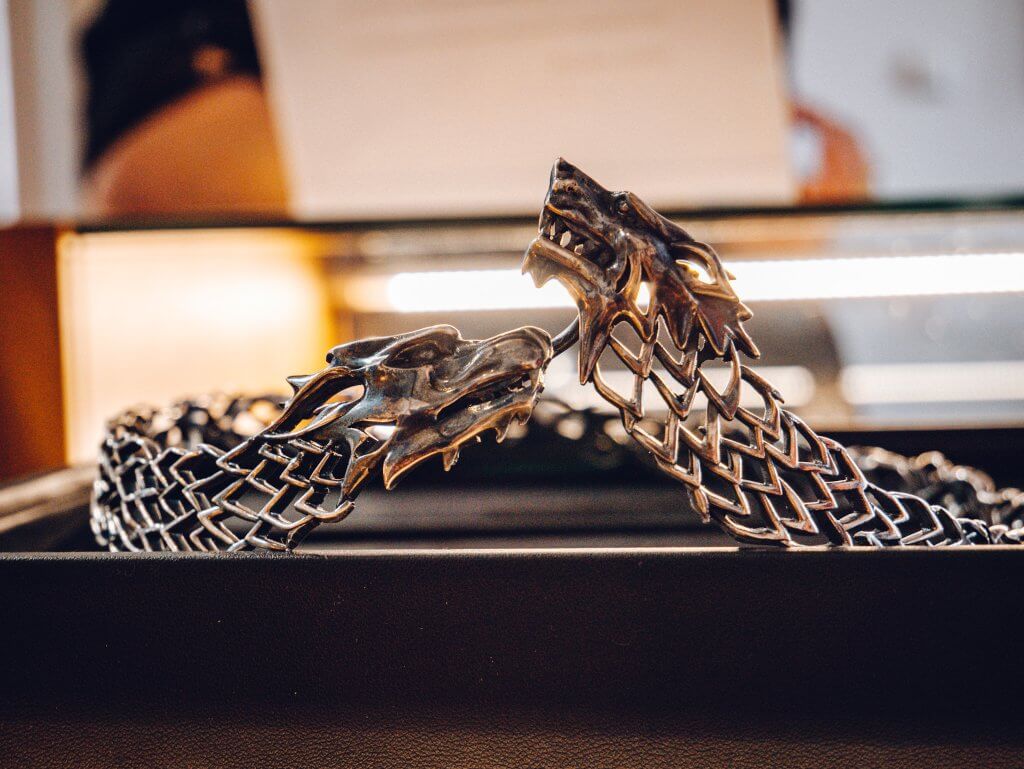 One of the best parts of the Game of Thrones Ireland itinerary was getting to see the actual workshop and meet the jewellers who created these stunning pieces. If you are looking for a unique gift to commemorate your Game Of Thrones Ireland itinerary, this is the perfect thing to take home. This is the only place that you can get Steensons jewellery as they do not sell online. Make sure to check shop opening hours to ensure the shop is open when you arrive.
Visit the sleepy harbour of Carnlough
The sleepy harbour of Carnlough, otherwise known as Braavos in Game of Thrones is nestled on the stunning Antrim coastal road in Northern Ireland. Part of the fictional city Braavos was filmed at the quaint Carnlough Harbour. The background of the episode that it features in, Season 6, episode 7, shows Arya Stark coming to Braavos to find Jaqen H'ghar, and learning how to become a faceless assassin. She very nearly meets her end when the Waif surprises her from the shadows and stabs her and she has to escape quickly to save her life.
The famous scene shows Arya jumping into the harbour to flee the assassination attempt. It is hard to believe that this scene was filmed in two seperate locations in two seperate countries joined seamlessly to make you believe that it is the same place. The filming location changes from Croatia to Northern Ireland when Arya jumps off the bridge away from the Waif, landing in the cold waters of Carnlough Harbour, where she crawls up the steps on to the streets of Braavos where fiming reverts back to Croatia.
While you are there be sure to grab one of the amazing coffees in Twilight Coffee and Bunkhouse across the road from where filming took place.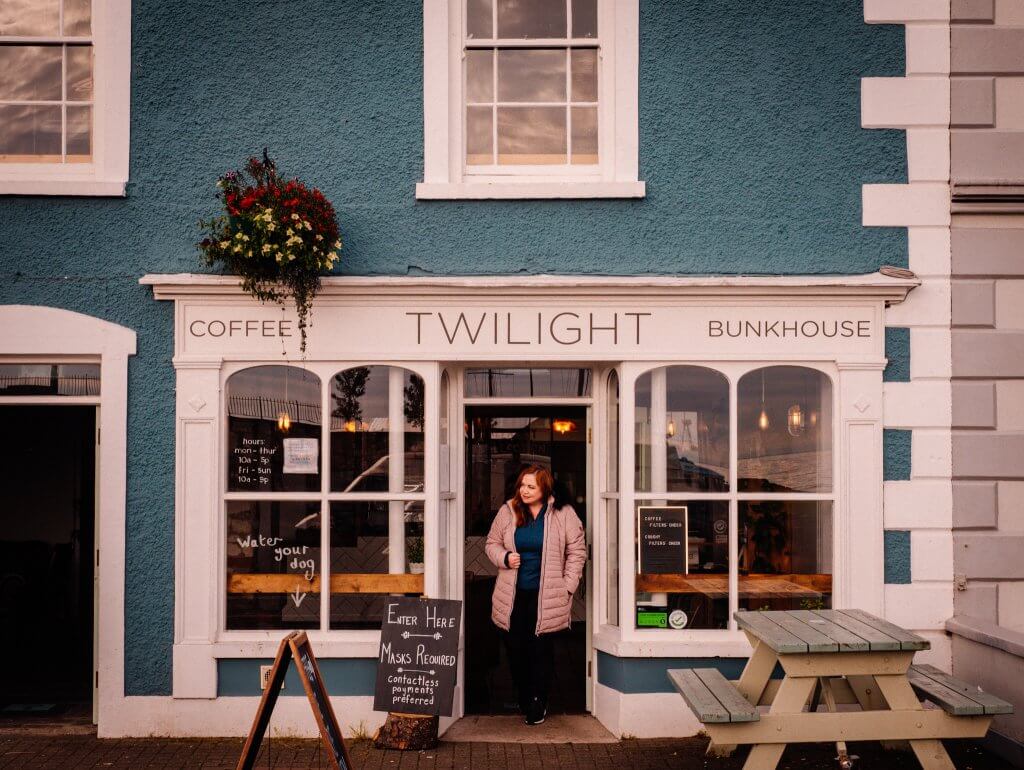 Finish your Game of Thrones Ireland itinerary with the ultimate Game of Thrones experience: a Game of Thrones themed afternoon tea
End your 5 day Game of Thrones Ireland itinerary back at Ballygally Castle hotel with the ultimate Game of Thrones experience, a Game of Thrones themed Afternoon Tea complete with a very special Hastings duck.
Shop the look

Are you new here? Join thousands of other happy readers and subscribe to All about RosaLilla blog via email or Bloglovin'. The good news is that by signing up via email you will get my EXACT email template that I use to successfully pitch hotels for collaborations.
If you liked this you may also like:
The prettiest villages in The Cotswolds
Staying in an Elizabethan Manor in The Cotswolds
I also share everything about myself on Instagram with nothing held back so be sure to follow along there.
Until next time you crazy kids!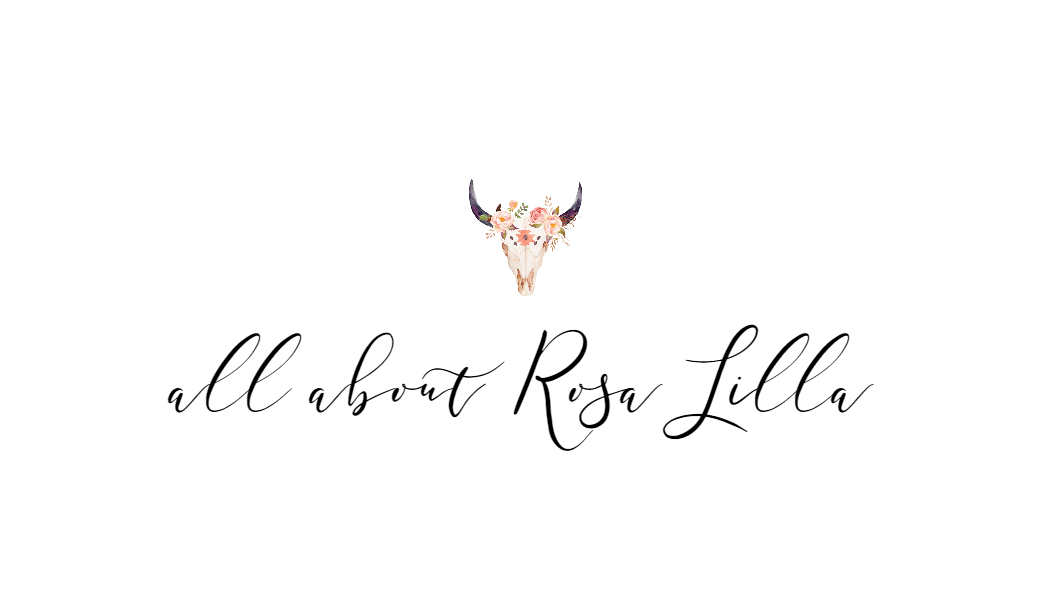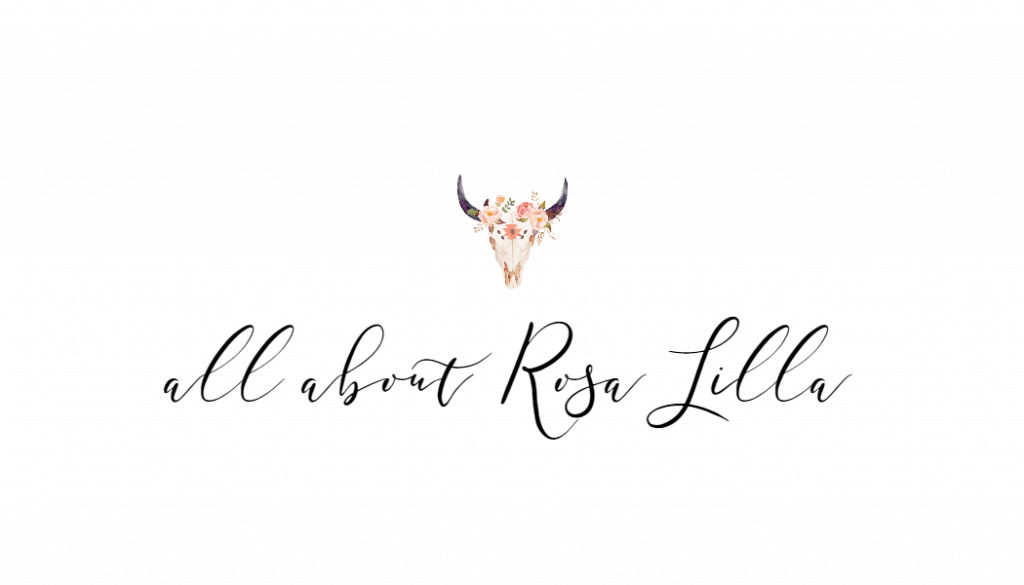 Sharing is sexy!