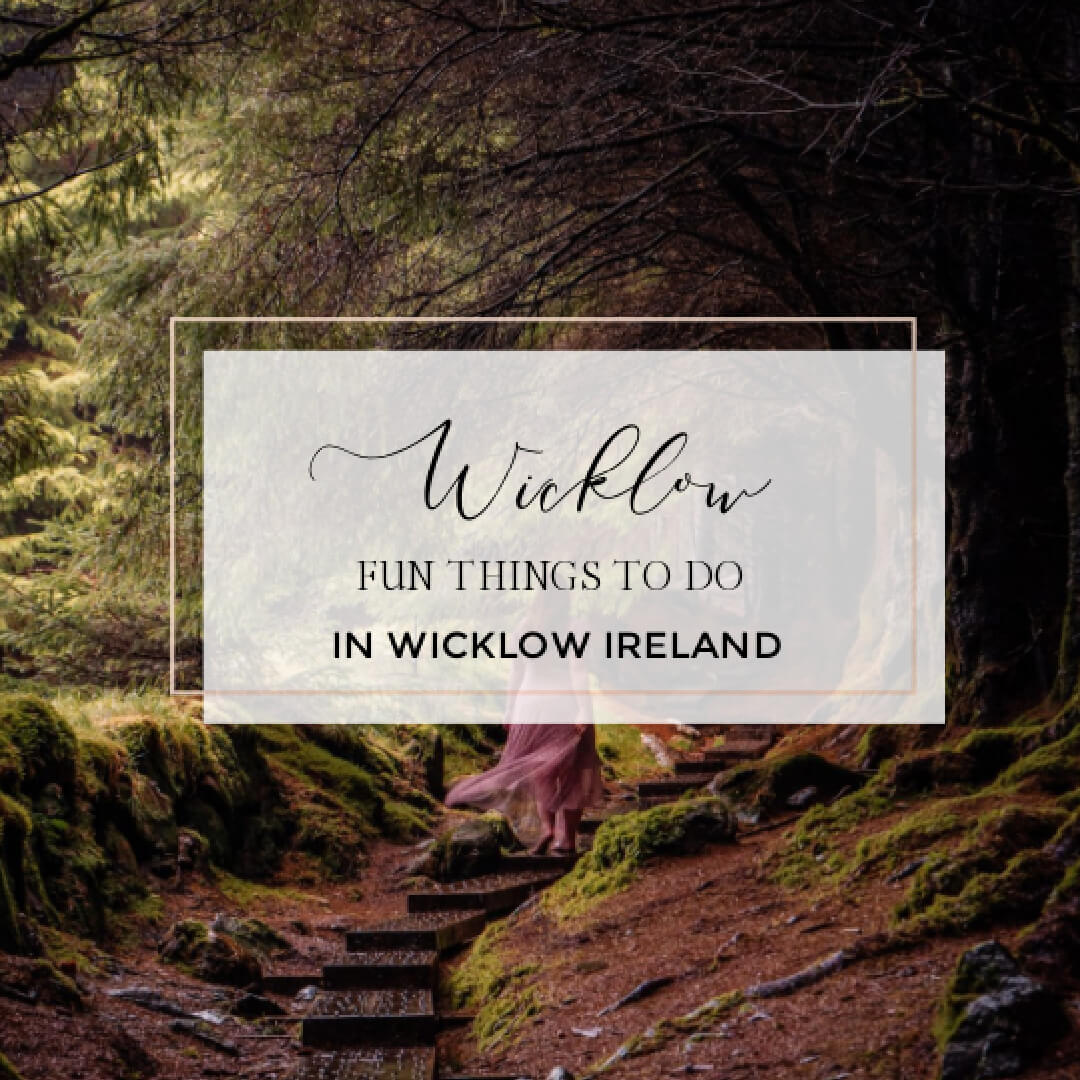 Staycation Wicklow Ireland
There has never been a better time to explore Ireland and enjoy a staycation here. I have been falling in love with Ireland all over again as part of my rediscover Ireland series. It has taken me to Northern Ireland, Donegal, Downpatrick Head in Mayo and Loughcrew Lodge in County Meath. So, when Visit Wicklow got in touch and asked me to stamp my journey through County Wicklow with my very own Wicklow passport I couldn't say no. Especially when there are so many unique and fun things to do in Wicklow and so many wonderful places to eat and stay. Wicklow is my focus in this blog post on my Staycation Ireland series.
Staycation Ireland Ideas
Ideas for your Staycation in Ireland. Top experiences in County Wicklow, the Garden of Ireland that you must not miss and how to make the most of your Ireland staycation. This guide will help you if you are planning a trip to County Wicklow. It will also help on planning a staycation at home in Ireland. Check out my recommendations for the best things to do in Wicklow, including where to stay, where to eat, hidden gems and the best tourist attractions in County Wicklow!
Fun things to do in County Wicklow on your Ireland staycation
Wicklow, often called "The Garden of Ireland" has been popular with tourists for years. It is renowned for beautiful scenery, beaches, hiking trails and not to mention tourist attractions like the monastic ruins of Glendalough, Wicklow Gaol and the impressive Powerscourt. There are so many fun things to do in Wicklow especially for young families. The Wicklow passport is the ideal way to keep track of all of the hidden gems in this gorgeous county. You can order your Wicklow passport for €2 online or pick one up at participating locations.
Before visiting Wicklow I was really only aware of the big tourist spots like Powerscourt and Glendalough and while they are totally worth a visit there are so many other less known about activities that I recommend. I have tried, tested and put together a list of my favourite things to do in County Wicklow on your Ireland staycation.
Railway Walk Tinahely
The Railway Walk at Tinahely was opened in 2007. It runs along part of the original railway track from Woodenbridge to Shillelagh. We arrived after a very hearty breakfast at Brooklodge & Macreddin village. It was the perfect place to start the day and walk off "the feed".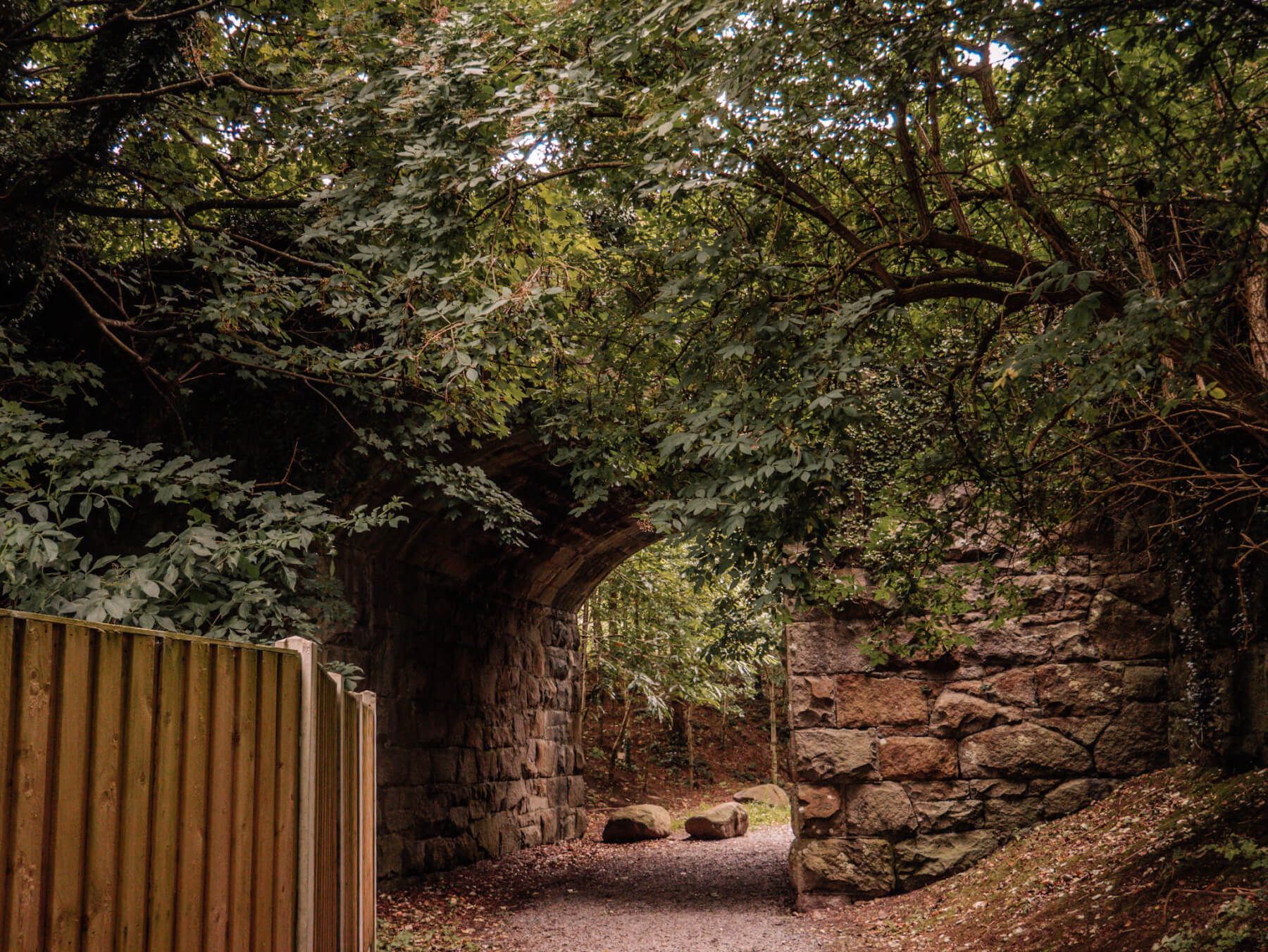 Kids would love it here. From the crops of mushroom, that you can just imagine housing hundreds of fairies, to trees still glittered with Christmas decorations along the way. There are plenty of things to keep them entertained and get some much needed time in nature.
It is a peaceful linear woodland trail and offers wonderful views out into the surrounding fields and farmlands of Tinahely. At one point we were walking beside a crop of corn! It was so beautiful and felt so good to get out in the fresh air. The walk crosses the Derry River over a wooden footbridge not far from Kilcommon Bridge. It then follows its course to the famous oak woods at Tomnafinnogue. Each season offers a unique walking experience; from rich carpets of bluebell in spring to lush green summer vegetation. In autumn it is ripe with blackberry and crab apple which is in stark contrast to the bare silhouettes of winter.
After your walk stop in at Tinahely Farm Shop where you can pick up some fresh vegetables, artisan foods or even some traditional toys, arts and crafts. There is an activity barn for children and a farm with llamas! And if you have walked up an appetite you can try their delicious cheeseboard in the beautiful rustic setting of their restaurant. You can thank me later!
Shillelagh Stick Makers
Our next stop took us to the beautiful village of Shillelagh to meet Liam who expertly hand crafts traditional Irish Shillelaghs. I am ashamed to admit that I knew nothing about this Irish tradition apart from its association with leprechauns.
Liam is passionate about what he does and with each stick taking between 3-5 years to make, undergoing many different processes, you can see why. He explained the history of the Shillelagh stick to us and it was fascinating to learn about this Irish tradition. I won't be able to explain it as eloquently as Liam but I'll try!
In the first millenium A.D., the warrior stick fighters of the Shillelagh area were so famous for their martial art skills that their tribal name became associated with the sticks they used as weapons. They had survived the invasion of the Celts, Vikings, Danes and Normans until their last refuge, the great oak forests of Shillelagh, were finally felled in the 18th century.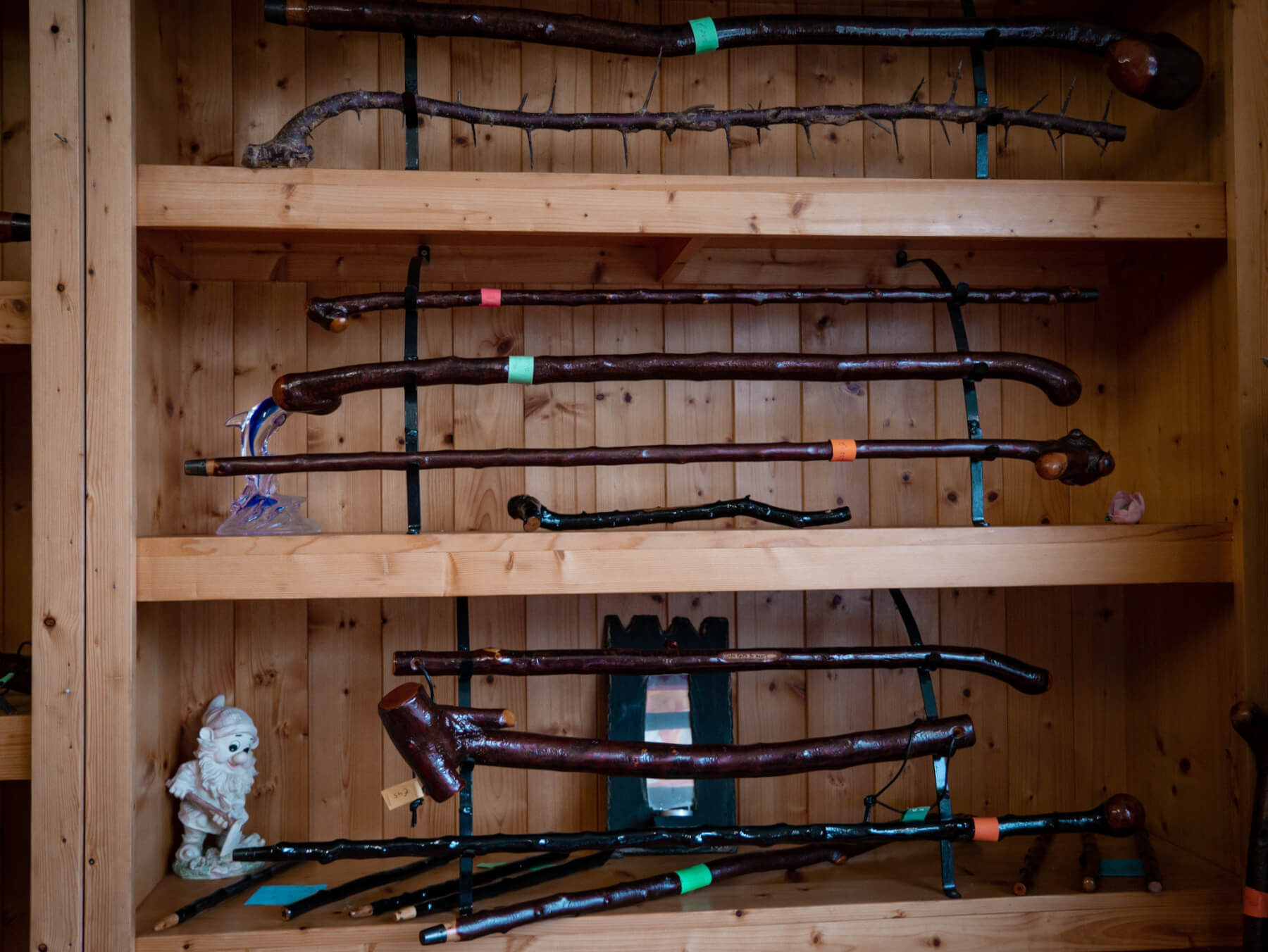 These warriors moved out of the area throughout Ireland and to America on the faminie ships bringing their fearsome weapons with them. Over the generations, the style of the "Shillelagh" changed along with the needs of its users. Battle clubs, walking sticks, cudgels, message sticks (it was a form of communication among gangs) and lucky charms are some of the ways the Shillelagh was used.
They are made exclusively from Blackthorn, due to its unique properties that have the correct blend of lightness and hardness which, following a long process of cutting, seasoning, oiling, straightening and sealing, produce high quality pieces that will last generations. Blackthorn was also sacred in pagan traditions. Its impenetrable thickets led to the belief that the "Little People" resided within and so began the association of Shillelagh sticks with fairies and leprechauns.
Liam is so skilled in his craft and it is so amazing to see old traditions like this kept alive. I highly recommend a visit for yourself when exploring County Wicklow. You may even get to see Dougle, his cute little West Highland Terrier.
Greenan Maze and Farm
When I heard that there were Scottish Highland Cows in Wicklow I just had to find them! Greenan maze is set on a beautiful unspoilt farm in the midst of the Wicklow mountains, only 6km from Rathdrum.
It is the perfect spot to bring the kids, even if you are just looking for some daycation ideas from Dublin. There are a few things to do there. The nature trail is a tranquil walk alongside the Ballinanty Brook through beautiful countryside.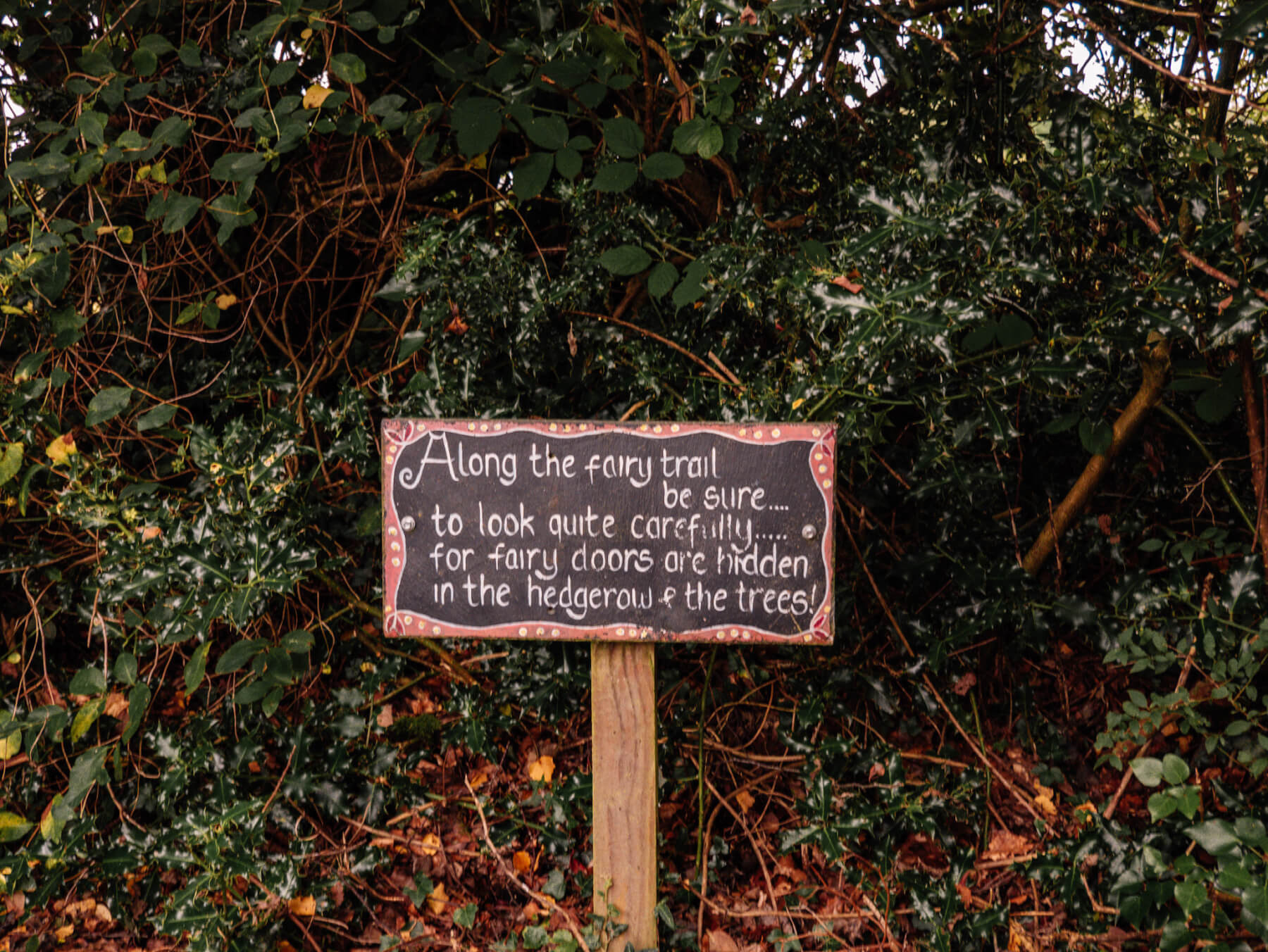 It leads to the Dragonfly Walk where a raised wooden walkway winds through native woodlands and wetlands reaching three peaceful ponds with raised viewing platforms. It is a completely unspoilt area which has a diverse range of wild-life including wild deer, moorhens, frogs and of course, as the name suggests, dragonflies.
As it is also a working farm there is a large selection of farm animals to enjoy. I could have spent hours watching the baby pigs play with each other not to mention the beautiful Highland Cows. I had serious fringe envy!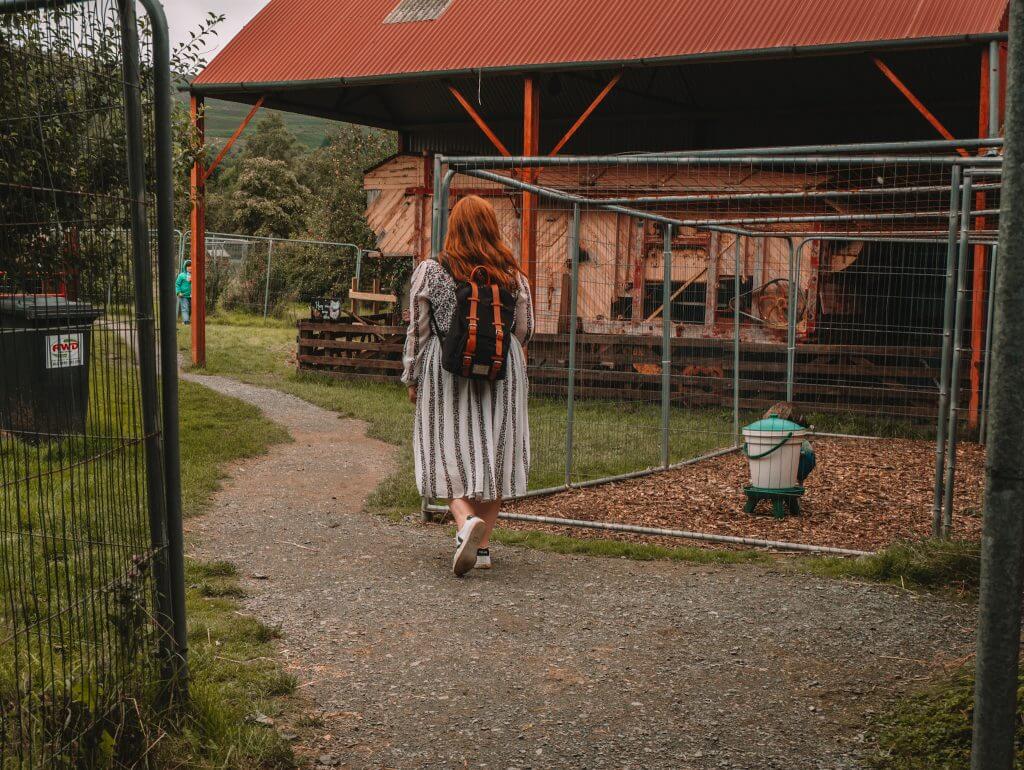 There are also three farm museums on site which exhibit implements and tools spanning 200 years of local farming history.
The highlight is a hidden gem worth finding. The Celtic Maze. The large half acre hedge maze is 7ft tall and is a tricky puzzle to solve. Kids will love it and is definitely is the main attraction at Greenan Farm.
Tickets and Opening times:
Opening Times: 10.00am to 6.00pm. Last admission at 5pm.
April: Open for Easter school holidays and weekends thereafter.
Easter Weekend: CLOSED
May/June: Weekends only and bank holiday Mondays
July/August: OPEN EVERYDAY
Sept: Weekends Only
You can pay admission entry at the Maze upon arrival.
Adults €8
Children €7.50
Children 2 yrs and under are free
Discounted family day ticket €29.00 for 2 adults and 2 children
There is also a lovely coffee shop on site.
Shekina Sculpture Garden
Ever since I was little my Dad instilled in me a love for gardens. He is a keen gardener in his spare time and his passion for his garden is so moving. So I was very excited to discover Shekina Sculpture Garden. It is located in the wild Glenmalure Valley in the centre of Co. Wicklow.
We were warmly greeted by Catherine, the curator of this beautiful garden. The first thing I noticed was the sound of a mountain brook and birdsong filling the air. This place was enchanting!
I can't explain it but there is such a strong sense of spirituality here. Catherine sat us down and explained how to get the most out of our experience visiting the garden. She encouaged us to use all of our five senses of sight, hearing, taste, touch and smell. It reminded me that we can often take these senses for granted and focusing and being aware of each one individually evokes a renewed gratitude for them.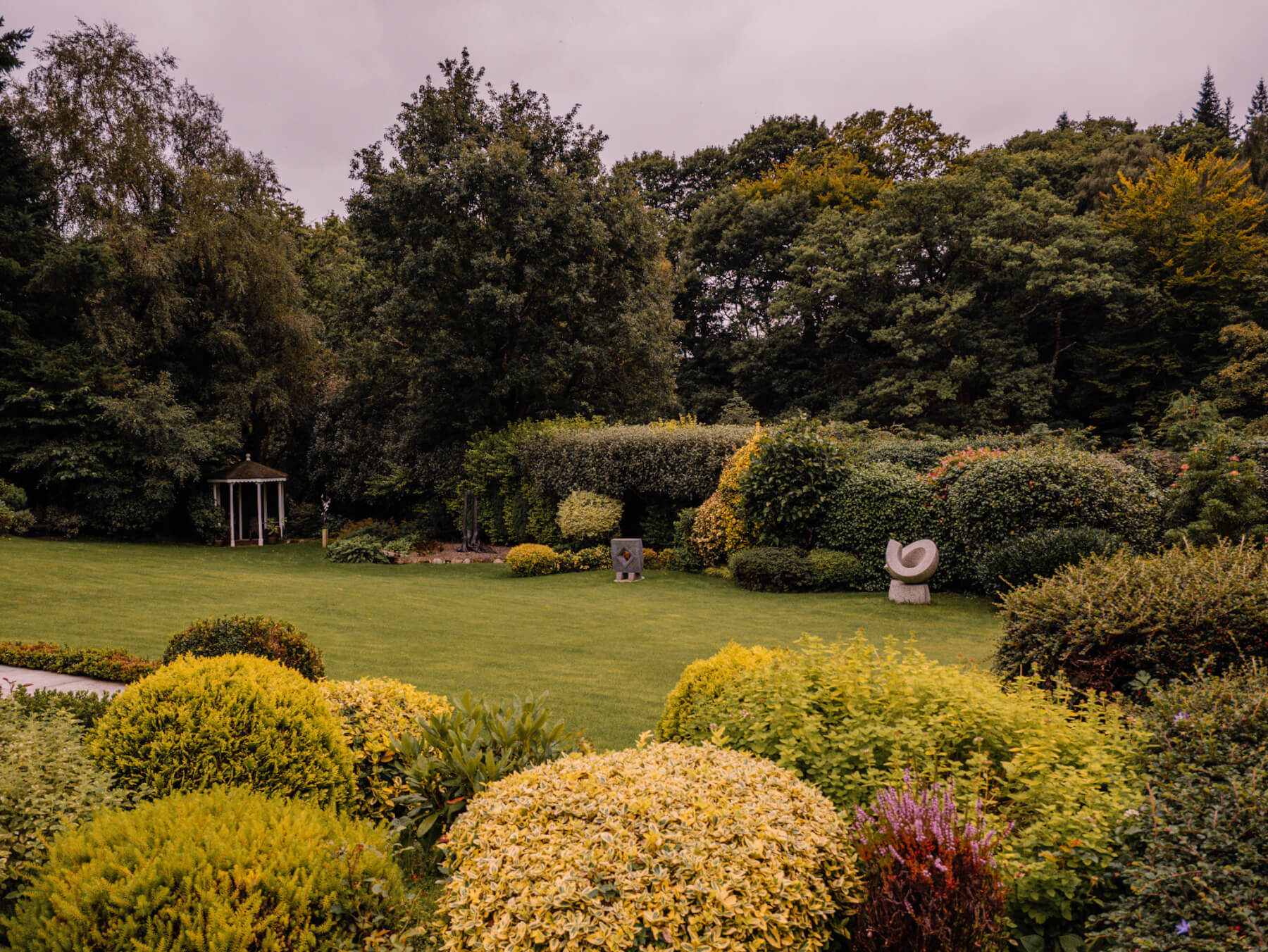 Catherine also suggested that myself and Mister Lavin explore the garden separately so that we could have our own unique experience and not be distracted by each other. There was a moment, when I found myself in the corner of the garden watching a bee getting nectar from a fushia flower that I became acutely aware of how grateful I was for my life that I burst out crying. I had spent many years completely bed bound with Lyme disease unable to experience these things and in this moment I was just so grateful. Maybe it was Catherine's reminder to be aware of all of our senses but I felt completely present in that moment.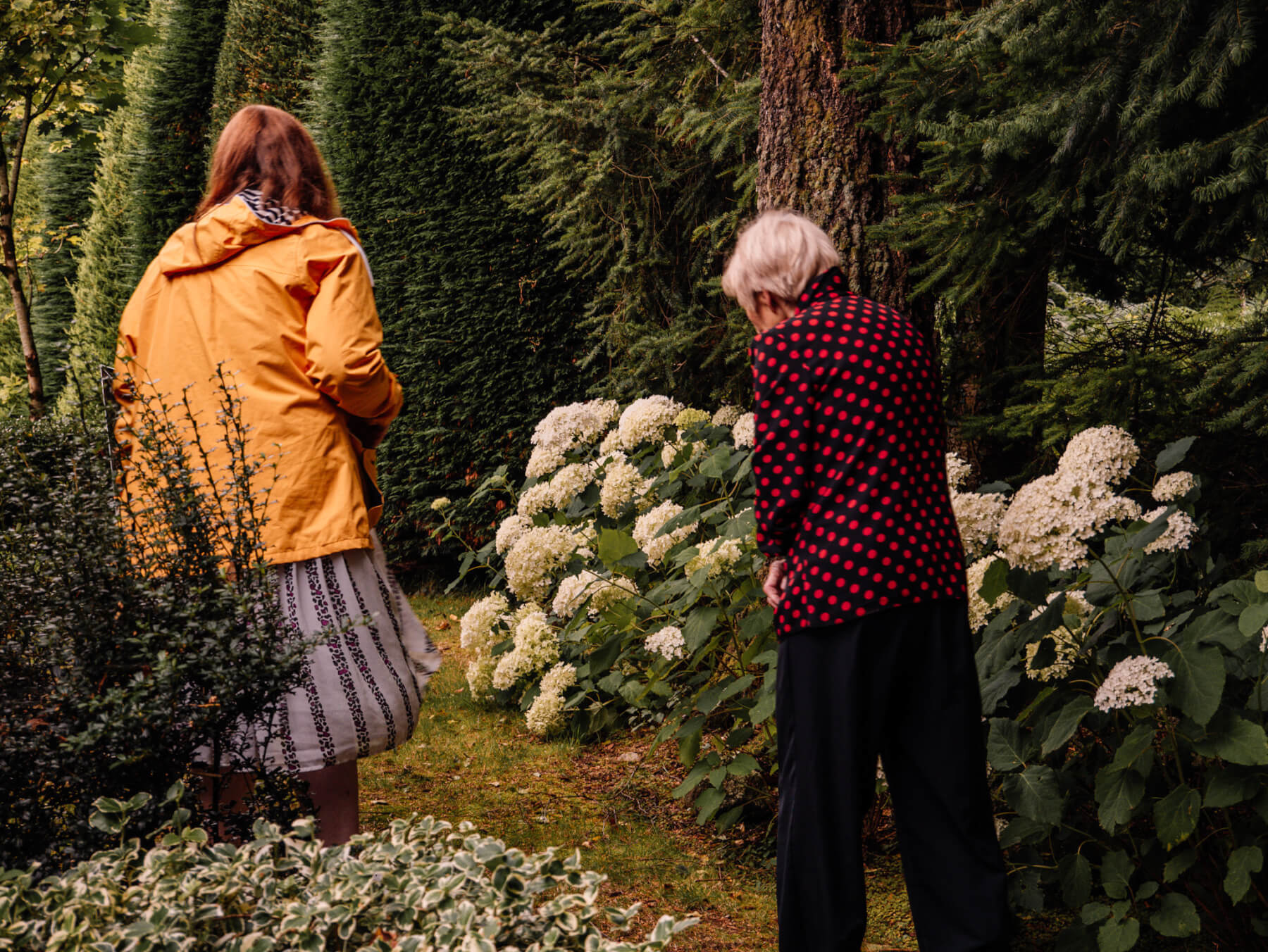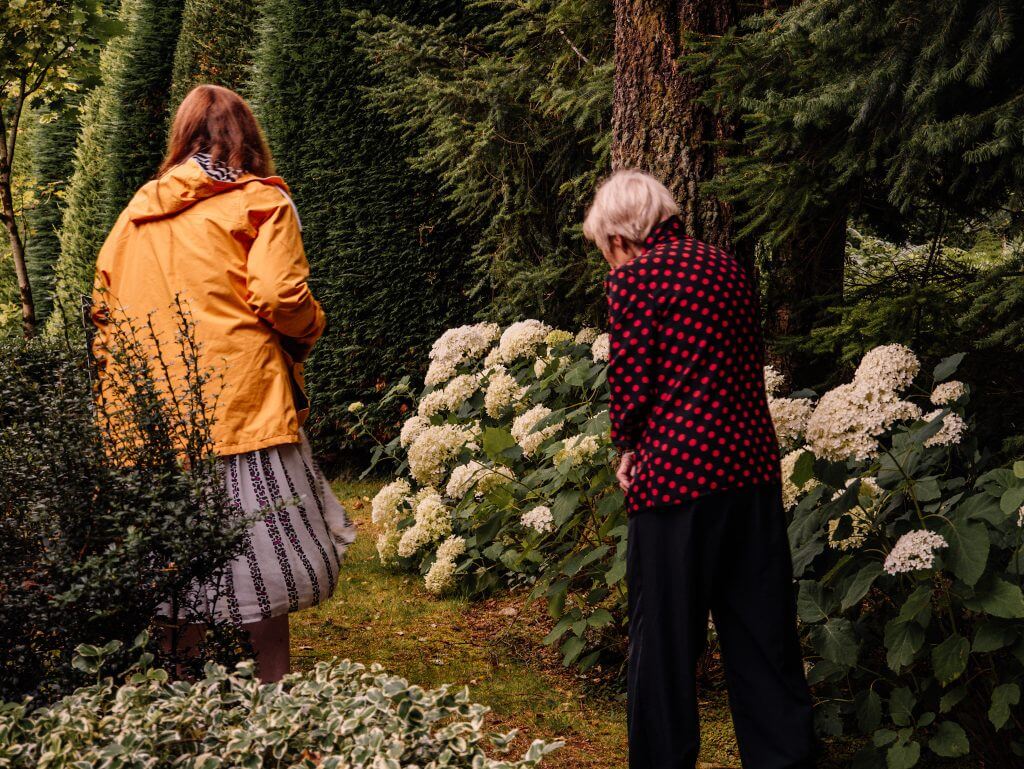 Shekina Sculpture Garden is a labour of love. The 'sculpting' of this one-acre garden began in 1979, with Catherine diverting the stream by hand to create two ponds. The sculpture collection began in 1985 and now contains twenty-one pieces, all by Irish artists. Visitors are encouraged to be tactile and touch the sculptures which are made from different mediums such as stone, bronze, glass, enamel and wood.
The garden is a feast for the senses. There are so many hidden areas to discover. From a mirror capturing the reflection of the babbling brook to secret seating areas, it really is a lesson in mindfullness and being present in the moment. The only way to describe it is that it is like the garden gives you a big hug!
My favourite sculpture in this garden was a bench that looked like it had been split in two called Dreamer's Rest by Noel Scullion. At the end of each piece of the bench you can the face of a mother and her baby just as they fell asleep. The bench depicts the artists wife Brenda and their first born son. It is beautiful and even more poignant now that Brenda has passed on.
Every person's experience in this garden is unique. For me it was an enriching and uplifting one that reminded me just how grateful I was to have a good quality of life again. I think everyone visiting Wicklow should experience it for themselves.
Opening Times and Entrance Fee:
The garden is open from 11am – 5.30pm.
Preferably phone before visit: Tel: 0404 46128 or 086 856 9106.
No entry fee but donations to St. Vincent dePaul are welcomed
Ballinastoe woods
I'm pretty sure every fairytale ever written was set in Ballinastoe woods. It is a truly magical gem in County Wicklow.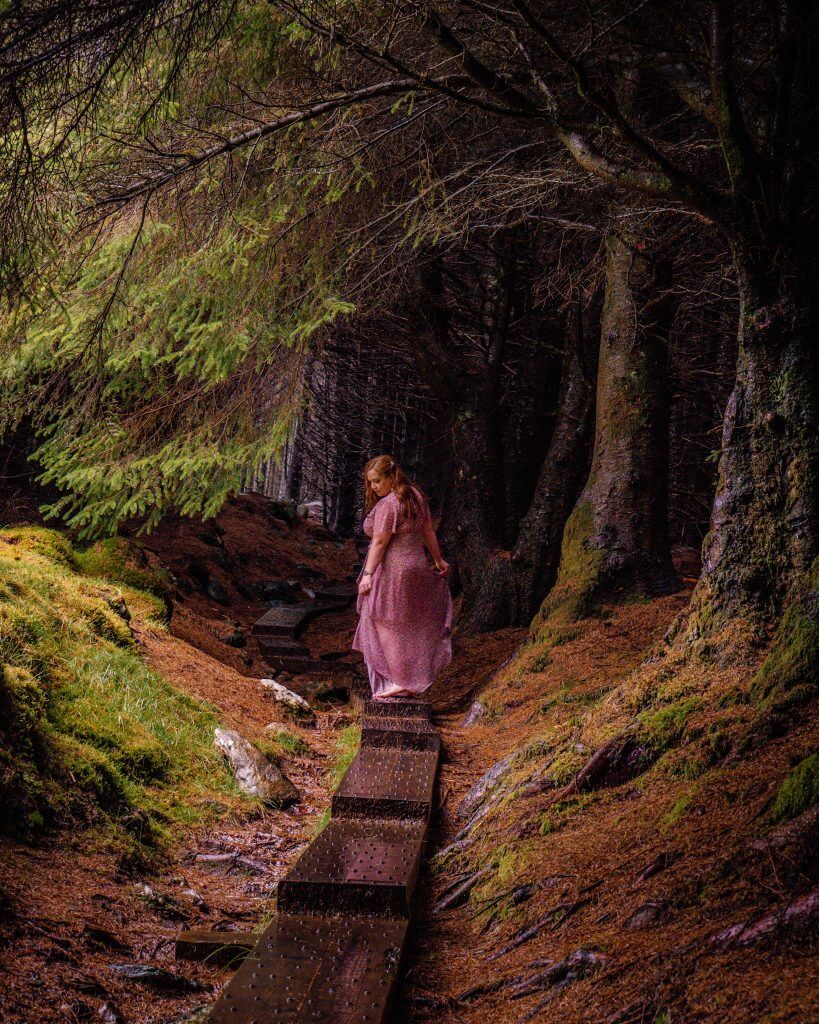 Located about 5km from Roundwood village, Ballinastoe Slí na Sláinte is a 5km, looped walking route. From the car park and picnic area, the route continues uphill along forestry tracks. The forest consists mainly of mixed conifers on the slopes of Djouce Mountain and provides a habitat for fox, badger, red squirrel and sika deer. Many species of birds, including grouse can also be seen. The clear felled areas have opened up stunning views of the Sugarloaf Mountain to the north and the Vartry valley and reservoir to the south.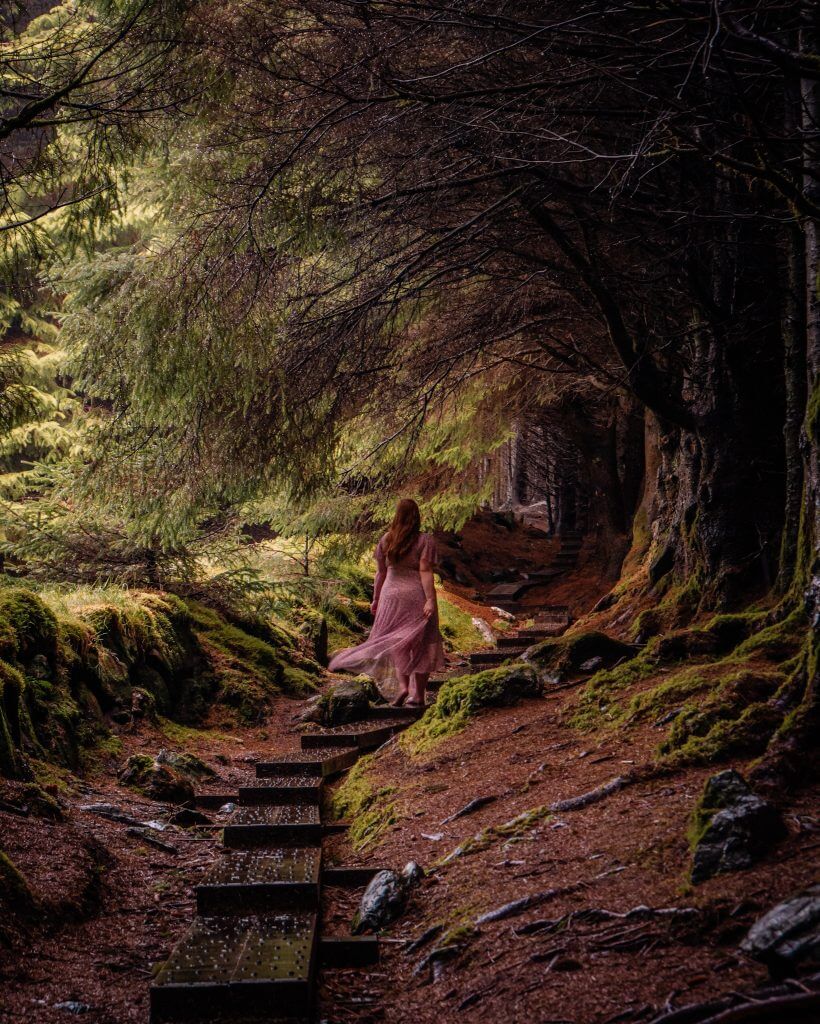 There is also a mountain bike trail in the area which would be fun to try. In fact this is where Google Maps brought us first when we searched Ballinastoe woods but to find this beautiful fairytale like place in the photos you should search instead for J.B. Malone car park instead.
Eat Fish 'n' chips at Wicklow Harbour
After all of that exploring and fresh air on Day 1 of our Wicklow staycation, myself and Mister Lavin had worked up an appetite. When we pulled into Wicklow town and got a view of the working harbour we knew that we were going to skip finding a restaurant and instead grab takeaway fish 'n' chips nearby and just sit and soak it in. It was so nice to take a moment to ourselves to relax and watch the boats coming and going in the harbour with the tastiest food. There are lots of things to do in Wicklow town itself with Wicklow Gaol being the main attraction. We also had a little wander around the ruins of Black Castle beside the harbour.
Visit the Monastic Glendalough
On our last day in Wicklow we wanted to visit Glendalough. It's no surprise that Glendalough is a major draw for tourists visiting Wicklow. With the history of the monastic site and the beauty of the two lakes, tourists flock to see it. Meaning it can get very busy!
When we arrived the weather was just awful. There had been a storm overnight but that still didn't put the tourists off and the car park was already full. However, the sheer size and amount of things to do in this old monastic town meant that it never felt overcrowded.
Glendalough has a rich and captivating history, from the time St. Kevin started living there as a hermit, through the construction of the monastic settlement and up to the modern day. Even though many of the buildings are in ruin on the Glendalough monastic site, the visitor's centre has a model of what the area would've looked like back when it was known for its seven churches. The round tower in Glendalough is iconic, and hard to miss because it is one of the only complete buildings. These towers were built so well because they had to withstand attacks looking to raid the wealthy monasteries. It is just breathtaking looking at this old historic round tower against the backdrop of the Wicklow mountains. I am sure many people visit for this view alone.
Hiking is also popular in the area. There is an upper lake and a lower lake and it is a pretty easy hike, taking about 2-4 hours to do the entire loop. Starting from the Visitor's Centre, just keep the lakes to your left and climb up and around the loop. There are some boggy areas, but railway sleepers have been put down and have good grips on them, so even in the rain, the hike has good footing. Be sure to bring some lunch with you and enjoy it at the top with a stunning view before making your way back down. There is nothing as tasty as sandwiches in the fresh air, and it will bring a whole new meaning to the word "high tea". Make sure to bring plenty of water, as there's no water available until you're back down!
Explore Powerscourt House and Gardens
Powerscourt House in Co. Wicklow has been voted one of the top ten houses and mansions worldwide by the Lonely Planet Guide. Most of the house is not actually open to tourists but there is an amazing cafe and many gift and homeware shops to visit. It is also home to two golf courses and one of the best hotels in Wicklow.
The main attraction has to be the beautiful manicured gardens with stunning views of the Wicklow mountains. They are a magnificent blend of landscaped gardens, sweeping terraces, ornamental lakes, secret hollows, rambling walks and walled enclosures filled with more than 200 types of trees and shrubs, all designed to frame the stunning natural backdrop of the Great Sugarloaf mountain. It is really impressive.
Just a short 6km drive away, on a separate part of the estate you will find the magnificent Powerscourt waterfall. I don't recommend trying to walk from the house as the route lies on narrow roads without footpaths. It's the highest waterfall in Ireland, and at its most impressive after heavy rain, so it was perfect when we visited. Thank you Irish weather!. A nature trail has been laid out around the base of the waterfall, taking you past giant redwoods, ancient oaks, beech, birch and rowan trees.
Where to stay in Wicklow
So on to the most exciting part of this blog post. I can't wait to share with you all my favourite hotel in all of Ireland. Trust me, I have been to numerous amazing hotels in Ireland so I don't give out this accolade easily, but this hotel is just magical.
Brooklodge and Macreddin village
Myself and Mister Lavin first stayed in Brooklodge and Macreddin village three years ago for our wedding anniversary and we had such a phenomenal time there that I was almost afraid to burst the bubble by going back.
The unique and picturesque village of Macreddin welcomed the opening of The BrookLodge Hotel right in the heart of the Village in 1999. Over the years, Macreddin Village has developed and become a Village for all occasions and is now home to:
86 luxurious Bedrooms of various styles
The Strawberry Tree Restaurant – Ireland's first certified Organic Restaurant
The Wild Foods Pantry – a treasure trove of Wild Foods that have been foraged and preserved by The Strawberry Tree Brigade
La Taverna Armento – a Southern Italian style bistro
Actons Country Pub & The Orchard Café
The Waterside Lounge
Macreddin Organic Bakery
Macreddin Smokehouse
The Store Rooms – a food & gift shop,
The Wells Spa – an adult only destination Spa
Macreddin Golf Course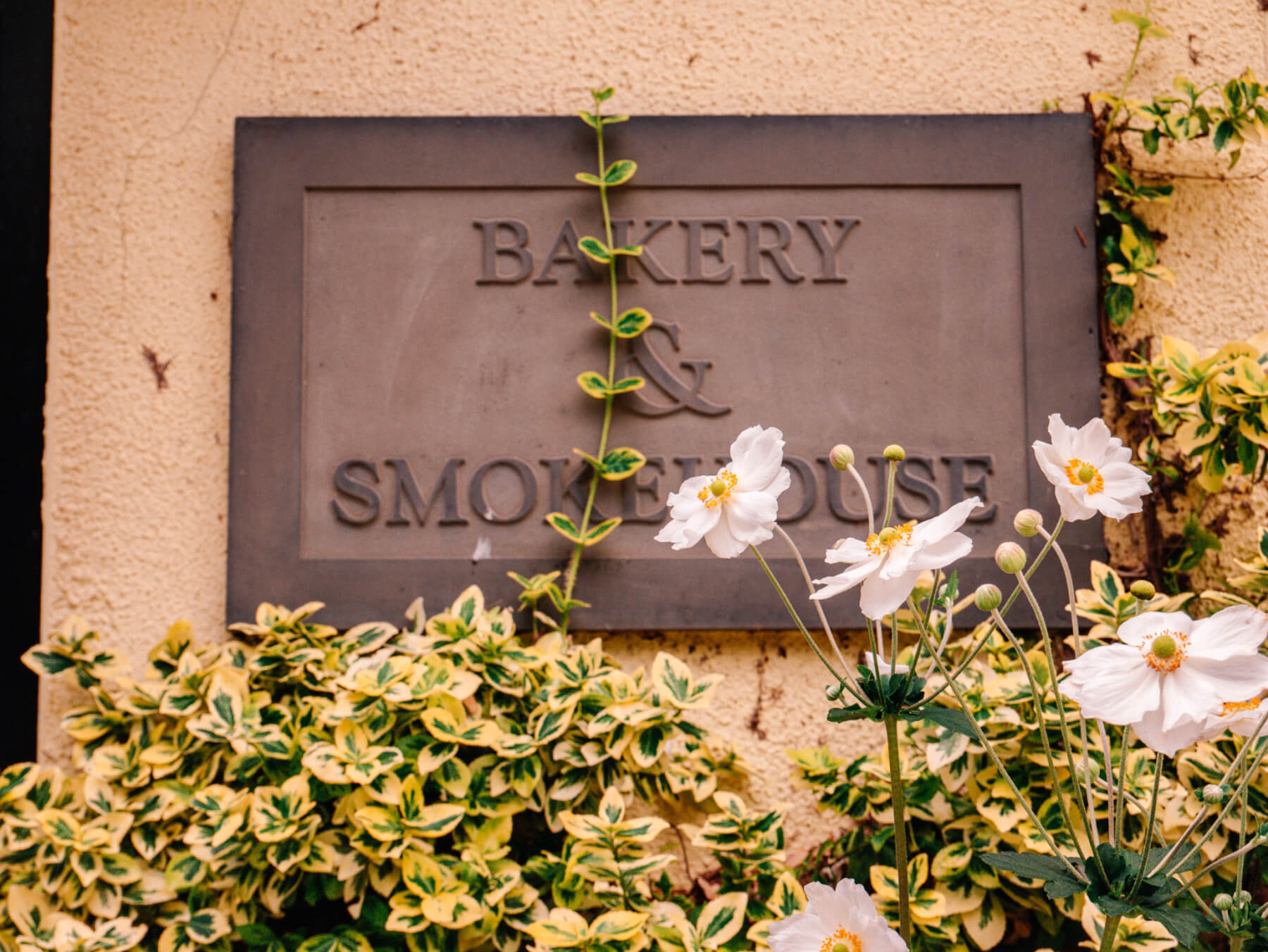 On our first trip here we were blown away by the village feel and just how much there was to do here. And yet is has a real secluded and country house ambiance about it. From the first moment that you enter reception you will find yourself immediately cocooned in a warm and welcoming room with homely textures and soft lighting. You may even find Oscar the golden retriever asleep at the reception desk.
An ivy covered open doorway leads out to a beautiful garden where you will find ducks and chickens making themselves at home among the guests. A beautiful covered boardwalk is the perfect place to relax and enjoy a post check-in glass of wine.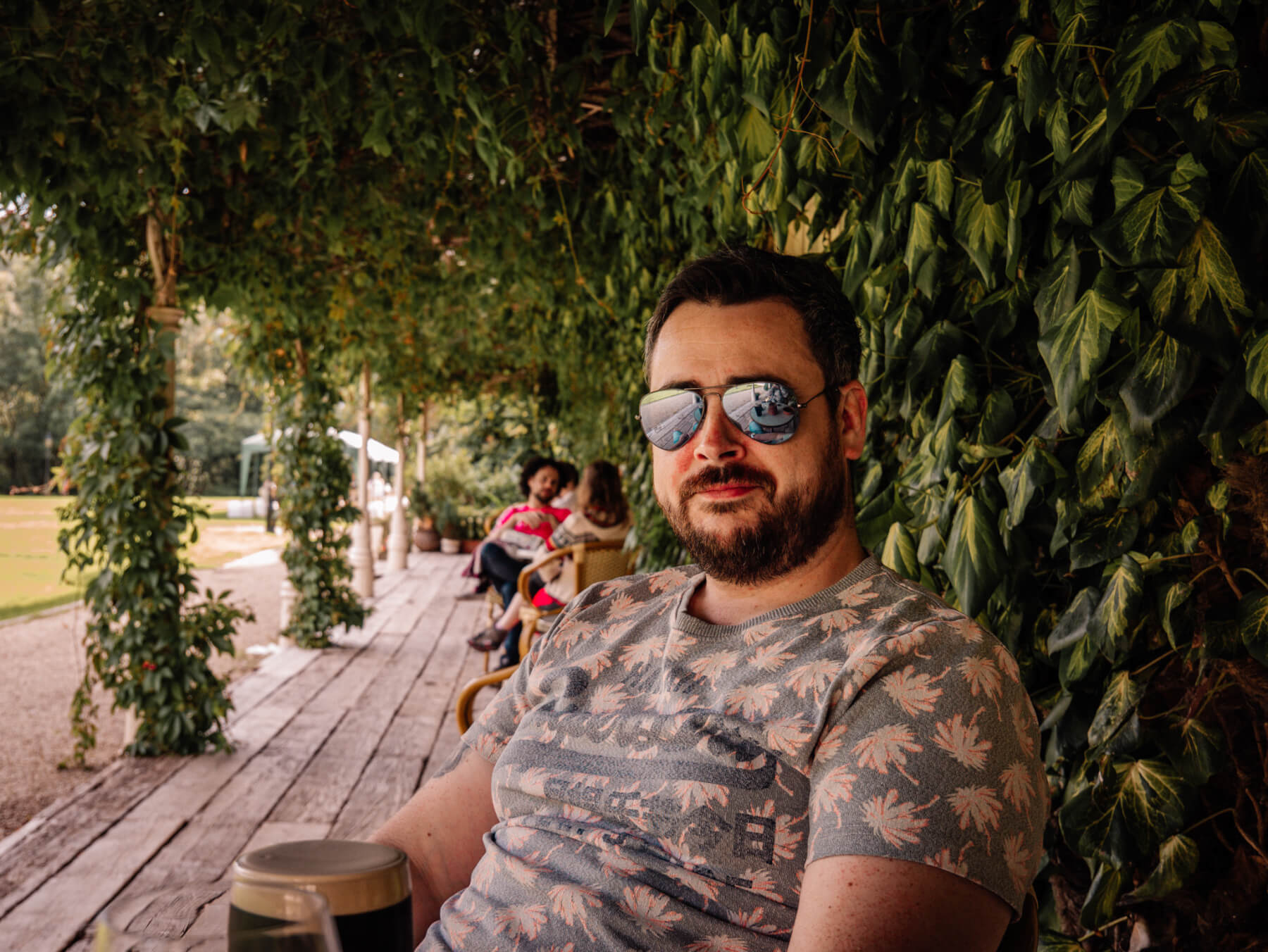 Our room was AMAZING! We were shown to a mezzanine suite that was so enormous it felt like we were staying in our own apartment rather than a hotel room. Downstairs there was a large bathroom, a walk in dressing room (every hotel room should have one of these) and a large seating area with amazing ceiling height and a plasma screen TV over a cosy fireplace.
Upstairs we found one of the largest beds we have ever stayed in and an oldstyle standalone bath in the corner of the bedroom. It was all very glamorous.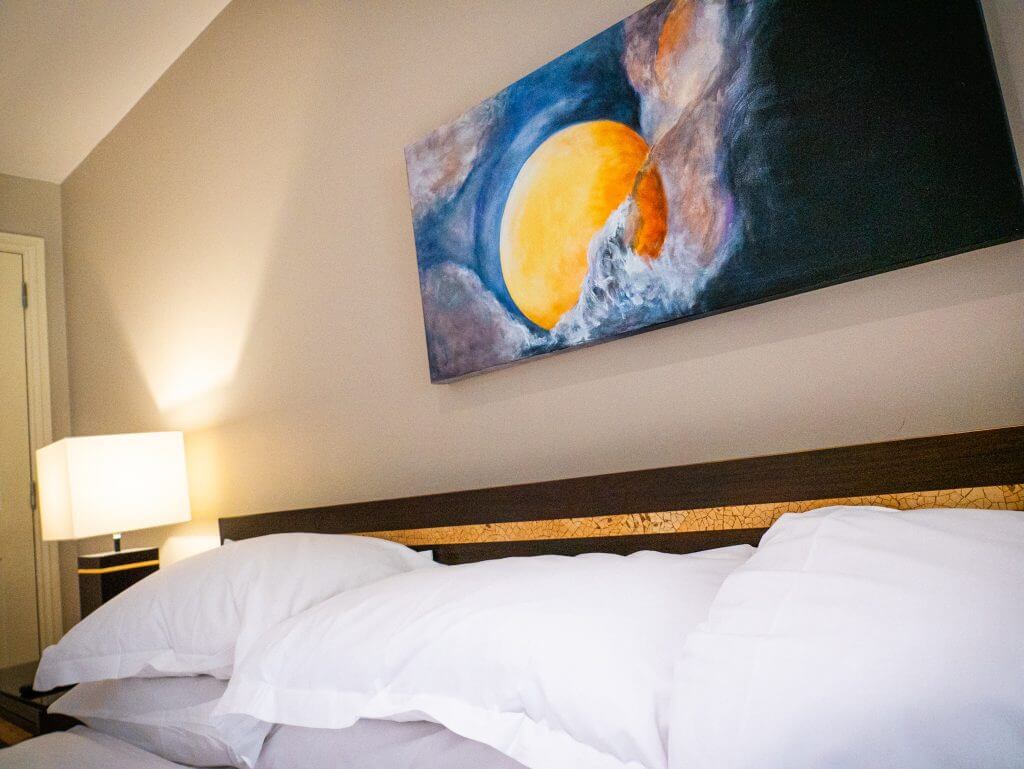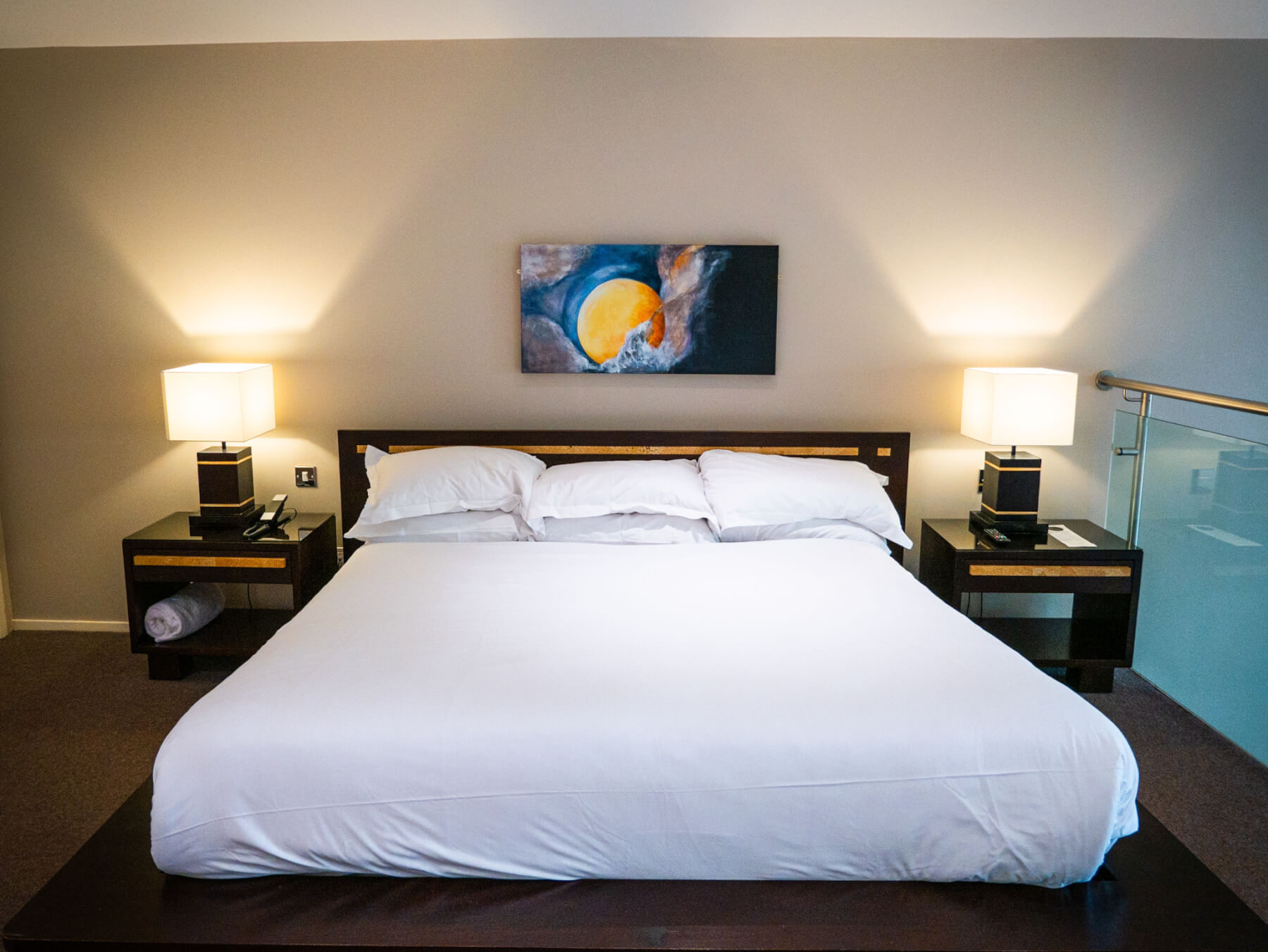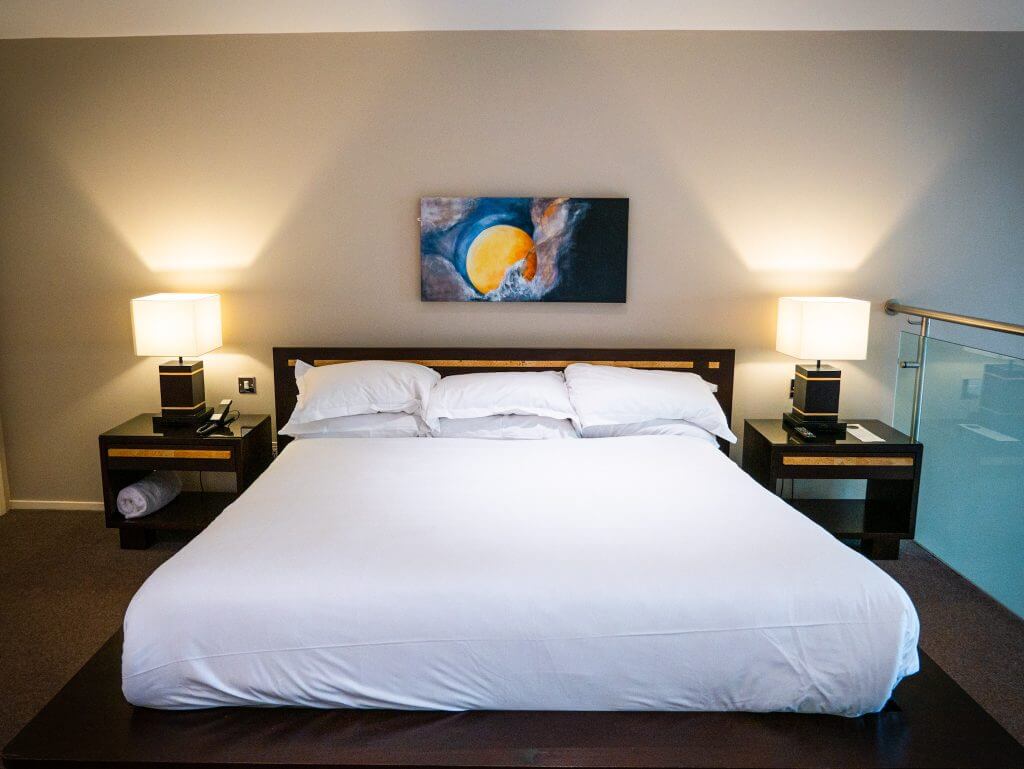 There are different styles of bedrooms on offer at Brooklodge Hotel and if you prefer the more country house traditional style be sure to ask for a village room. Many of them have been upgraded and refurbished during lockdown.
Brooklodge is the most wonderful place to relax. It is the type of place where you could easily bring your favourite novel, find a cosy window seat and just unwind. Or simply spend an hour walking the gardens which are beautiful. You can make friends with the chickens or just have some peace and serenity beside the babbling brook which runs through its grounds.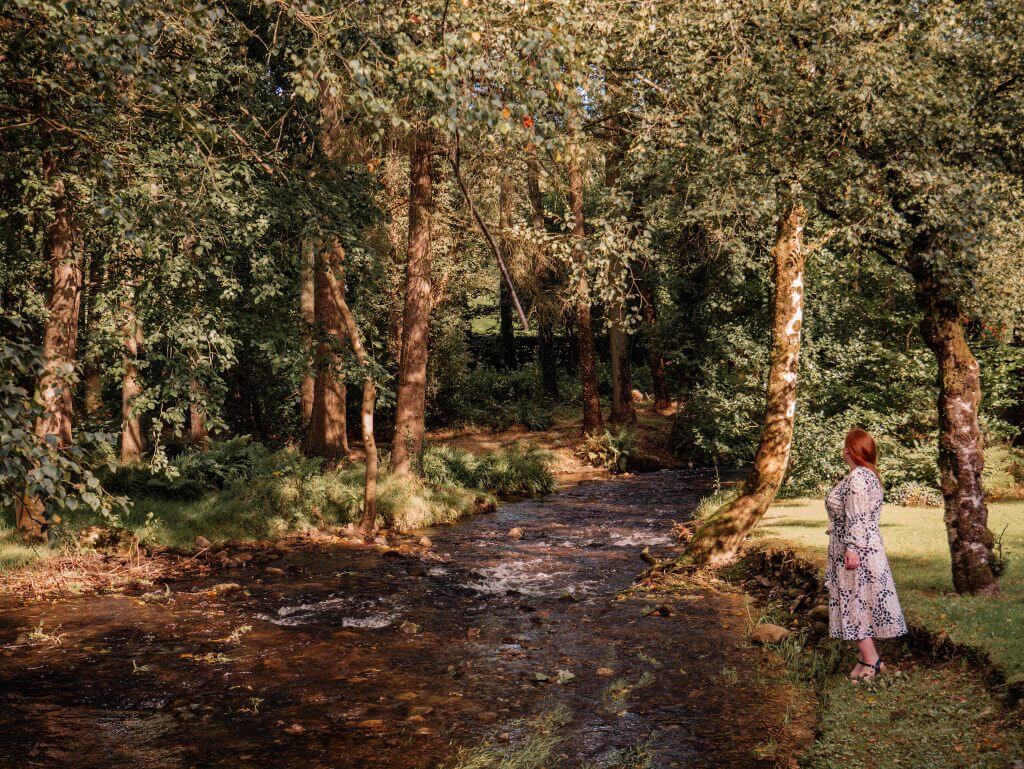 This place is so romantic and it is easy to see why so many couples choose Brooklodge and Macreddin village as their wedding venue. In fact when I mentioned on Instagram how excited I was to be returning here I got so many messages from my followers saying that they had such happy memories of their wedding day here. There is even a small church on site where you can say I do!
The Wells Spa at Brooklodge
Just incase you need to de-stress some more The Wells Spa is an adult only 'Destination Spa', featuring a Hammam massage room, wet and dry flotation rooms, heated relaxation loungers, a serail mud chamber, aroma steam room, sauna, outdoor hot tub & numerous water features. The Wells Spa takes its name from the ancient wells which supply water to the site. Today all the water used on site is sourced and purified from these natural springs. The Wells Spa heating and hot water comes from Ireland's largest hotel geo-thermal heat recovery system.
Myself and Mister Lavin were booked in for a couples treatment in the serail mud chamber. It involved soothing the skin with mineral infused mud and hot steam, a practice that originated in Turkey in ancient times. The chambers themselves are traditionally small rooms lined from floor to ceiling with colourful mosaic tiles.
The treatment is designed to leave skin feeling moisturised and firmed as it absorbs nourishing minerals from the mud. It also has a detoxifying effect on the skin, which is enhanced by the hot steam. We could apply the mud to each other so it was a fun experience.
Residents can enjoy The Thermal Suite at The Wells Spa. It is important that The Wells is an oasis of calm and serenity and therefore there is a limit on the numbers of guests in The Wells at any one time. To facilitate this, a booking system; similar to a restaurant reservation system is in place where you can pre-reserve times for visiting The Wells and chilling out. Treatments and use of the Thermal Suite at The Wells Spa must be pre-booked prior to arrival to avoid disappointment.
Dinner at The Strawberry Tree restaurant
The highlight of your stay in Brooklodge will be having dinner at The Strawberry Tree restaurant. The only certified organic restaurant in Ireland, with a daily changing menu that reflects the seasons, and featuring the freshest organic and wild foods, many grown to order on nearby organic farms, or foraged by Brooklodge's own chefs and full time food forager, on the lanes, fields and woods surrounding Macreddin.
The innovative cuisine is matched by the dramatic surroundings, which includes a walk-in Wild Foods Pantry, featuring much of the produce foraged and prepared by The Strawberry Brigade, as well as a selection of meats, cured in their own Smoke House, and great Irish cheeses.
We have eaten here twice now and both experiences were mind blowing. We still talk about our experience there as our favourite dining experience in Ireland.
Other dining options include the slightly less formal but equally delicious Italian restaurant La Taverna Armento, the Orchard Cafe and The Waterside Lounge.
I can't talk about Brooklodge and Macreddin village without mentioning the staff there. From the moment you check in until the moment you check out you get five star treatment from the staff who go above and beyond to make sure that your stay there will be a memorable one. I know it sounds totally cheesy but Brooklodge really has the X factor, that extra something that you just can't put your finger on that makes your stay there so special.
**Disclaimer: I was invited to explore Wicklow by Visit Wicklow and my stay at Brooklodge and Macreddin village was complimentary, but I only ever work with accommodation that I am happy to recommend to you guys and Brooklodge Hotel is honestly my favourite hotel in Ireland so far. Staying complimentary allows me to fully experience a resort and create content and honest reviews for you guys to enjoy. All opinions are my own**
Are you new here? Join thousands of other happy readers and subscribe to All about RosaLilla blog via email or Bloglovin'. The good news is that by signing up via email you will get my EXACT email template that I use to successfully pitch hotels for collaborations so that we can work together for mutual benefit.
I also share everything about myself on Instagram with nothing held back so be sure to follow along there.
If you are looking for more Fashion ideas you can follow me on Like To Know It and be sure to check out my #tuesdayten on Instagram and other blog posts here:
Kilkenny. A perfect weekend getaway in Ireland.
Spending a weekend at Lough Erne Resort, Northern Ireland.
Exploring County Clare, the Kilkee Cliffs and The Wild Atlantic Way
Killary Harbour Coastal Walk. Connemara Hikes
Until next time you crazy kids!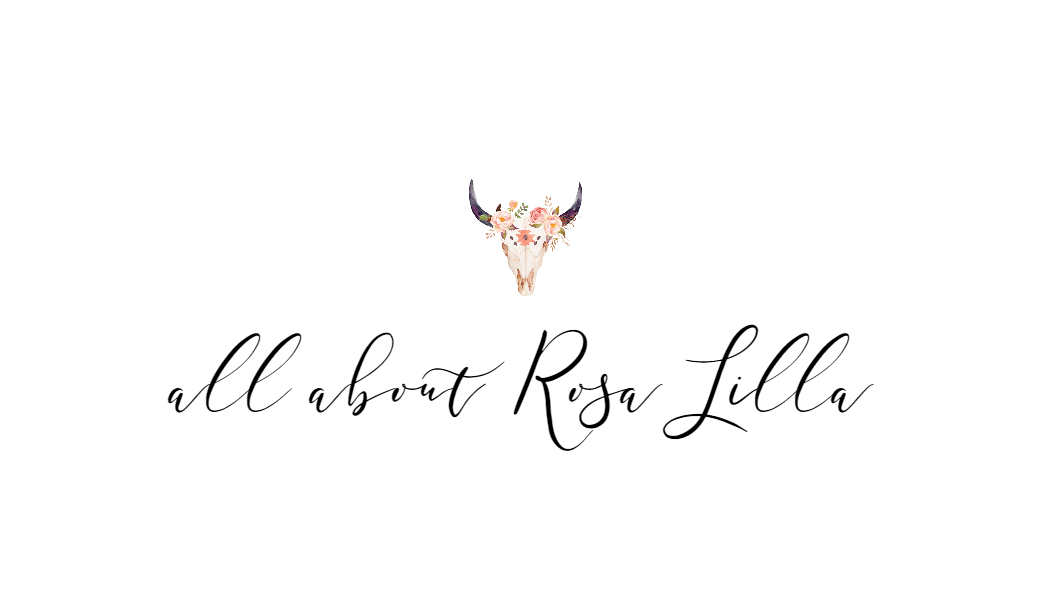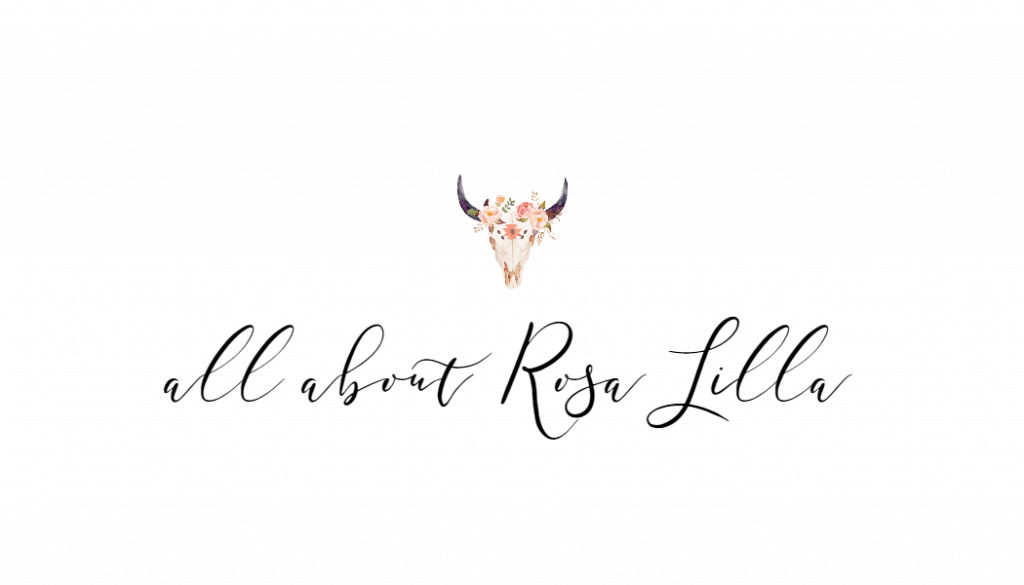 Sharing is sexy!