When it comes to unique places to stay in Ireland you can't get much better than a 200 year old gatehouse called Loughcrew Lodge. Nestled in Oldcastle in the historic Boyne Valley region of County Meath, Loughcrew Lodge is the perfect base for rediscovering this beautiful part of Ireland. If you are looking for a unique Irish staycation as part of my Irish staycation and rediscovering Ireland series then this is it!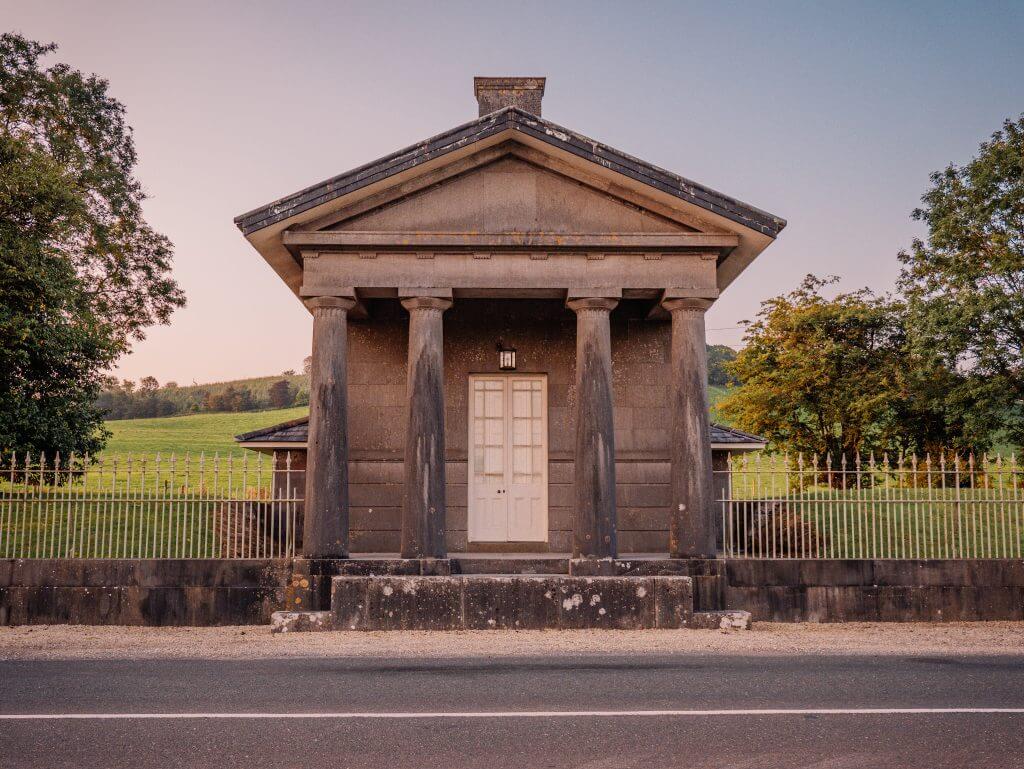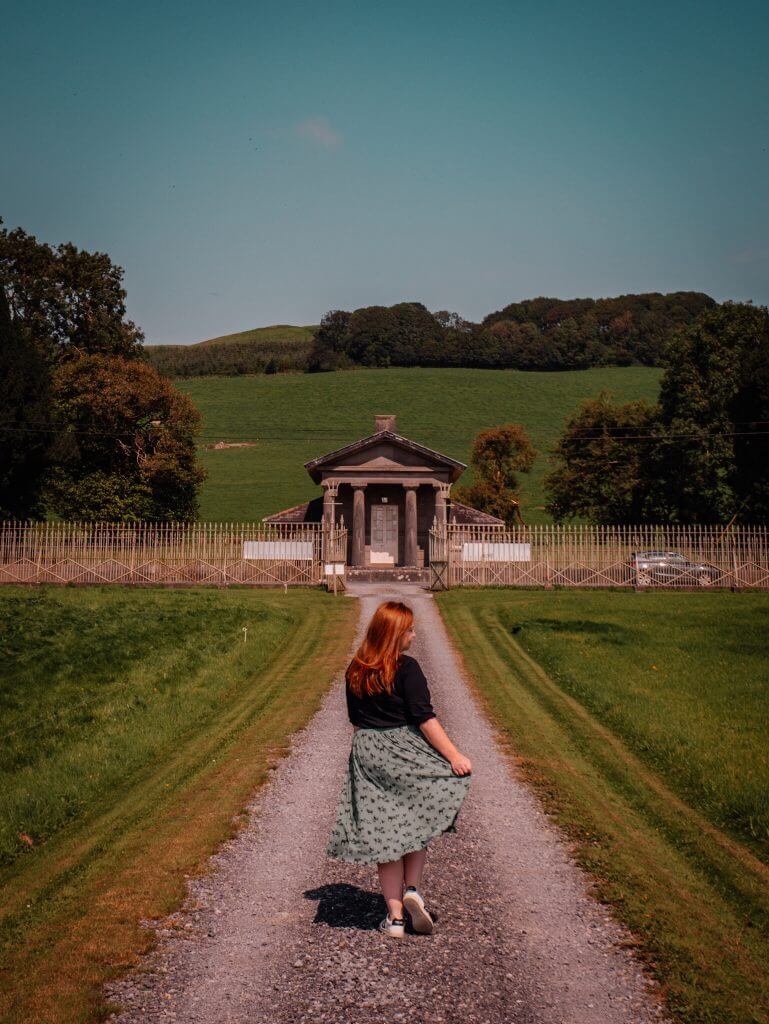 Loughcrew Lodge
We arrived to Loughcrew Lodge just as the sun was going down and I couldn't quite believe my eyes with how beautiful this setting was. It was breathtaking and I just knew that this was going to be one of the most unique places to stay in Ireland and I couldn't wait to experience it!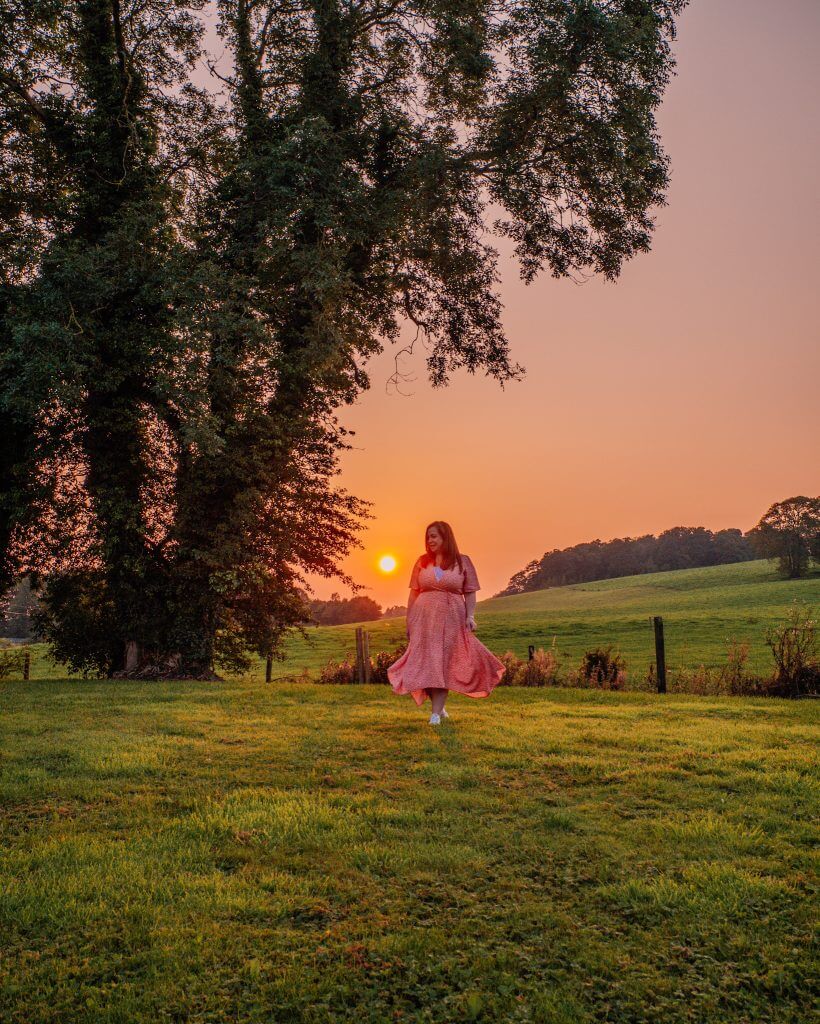 The original architect of Loughcrew Lodge was a master of the Greek revival and Loughcrew was one of his most remarkable creations. This Regency limestone lodge is the only surviving building in Ireland designed by Charles Cockerell, and was originally part of Loughcrew Estate which it faces onto. It lies within a stones throw of where St. Oliver Plunkett was born.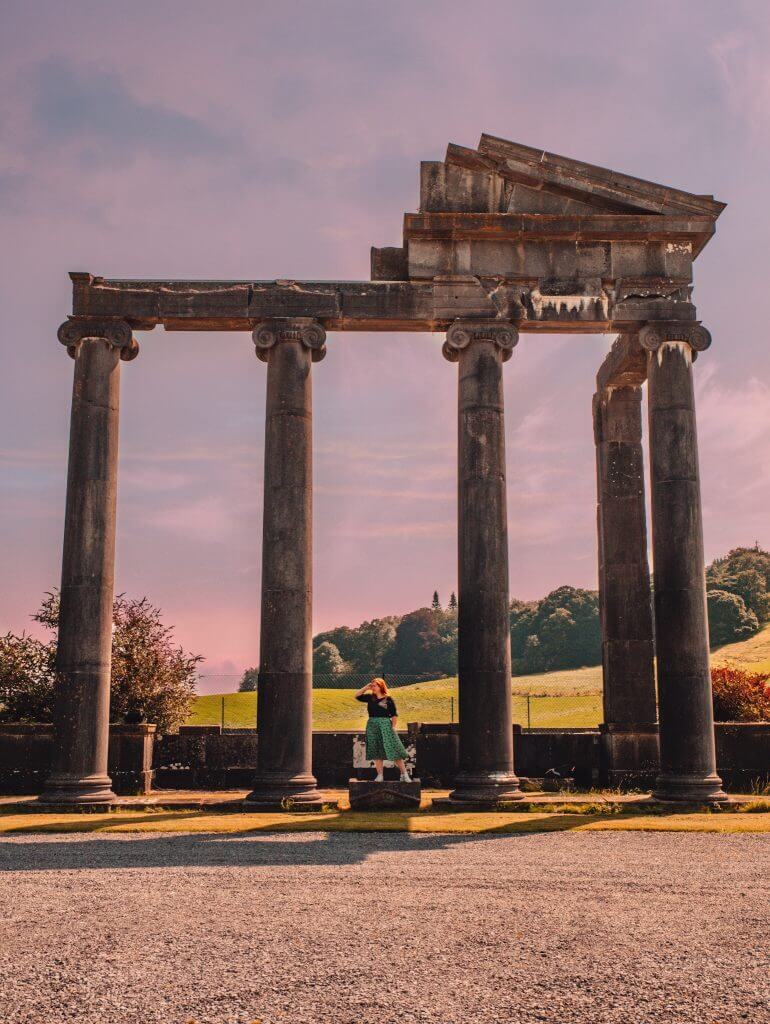 Accommodation at Loughcrew Lodge. Stay in one of Ireland's most unique places.
Loughcrew Lodge is located only an hour away from Dublin. There you will find 5 rooms, 2 of which are double bedrooms, along with a sitting room, kitchen and bathroom. With high ceilings throughout, the lodge is stylishly decorated and furnished with period pieces. There is such a lovely romantic feeling to the lodge with a lace canopy over a king size bed in the main bedroom and a wood burning stove to cosy up to in the sitting room. A quaint outdoor courtyard complements the lodge with wooden tables and chairs so it is the perfect place to cook dinner in the charming kitchen and enjoy eating al fresco with your family as the sun sets.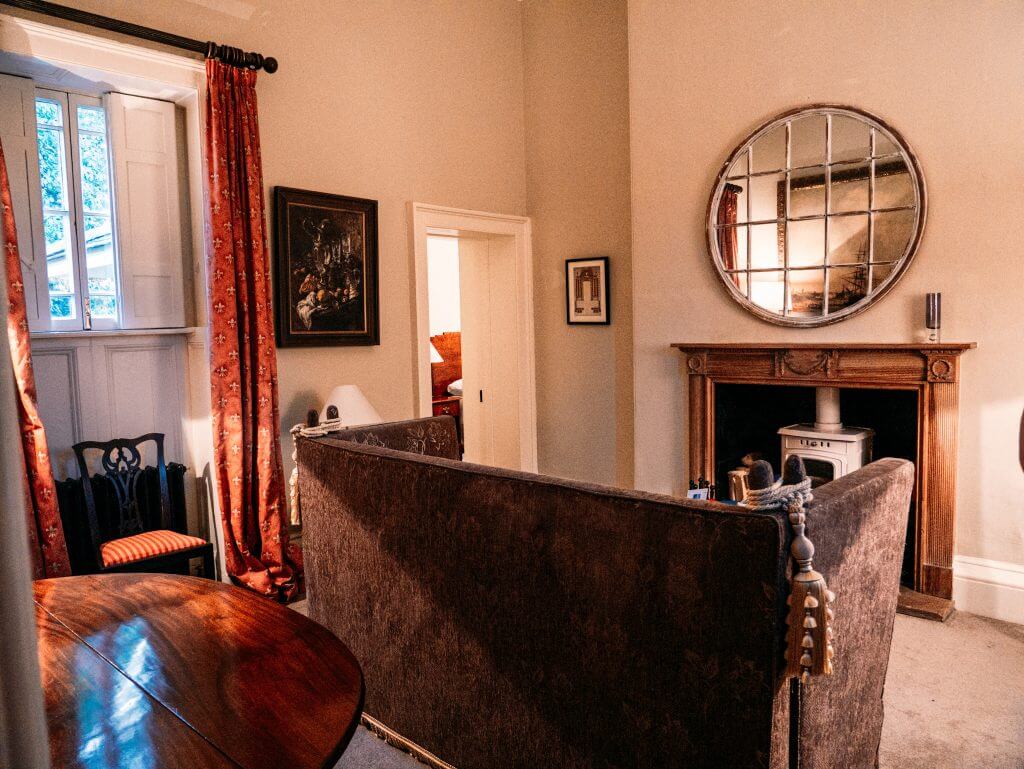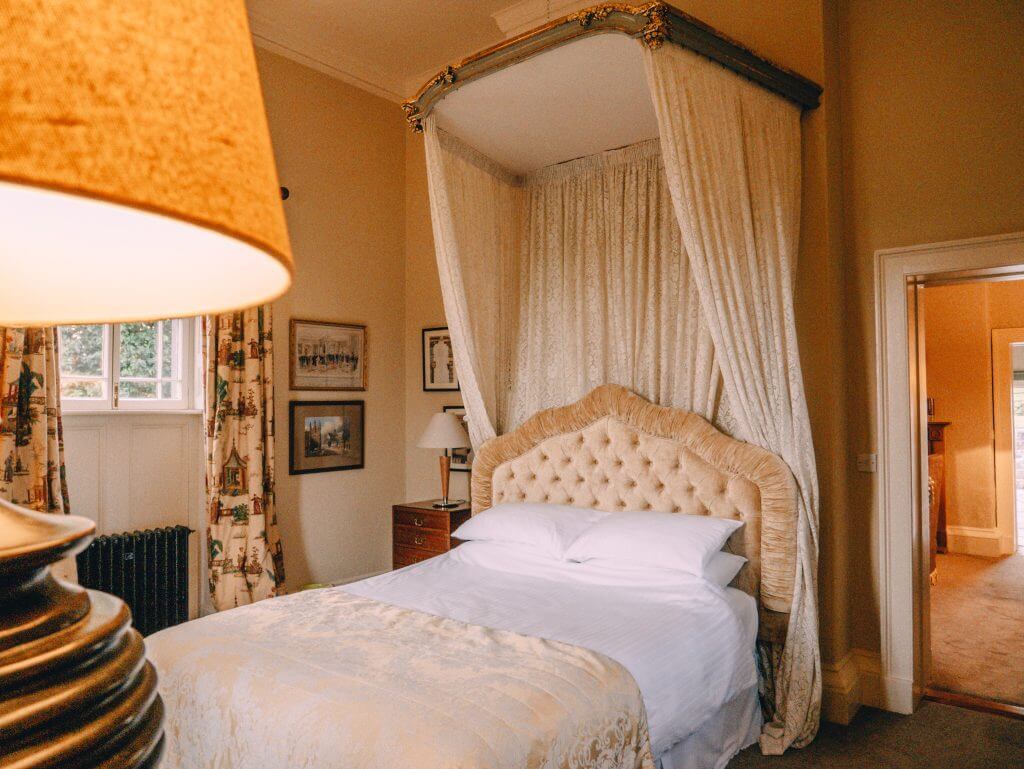 There is free WiFi but the signal is not very strong. It was no harm to just switch off for a few days. You will also be greeted with a welcome pack with the essentials like tea, coffee, milk and water. It really is the most charming place to stay.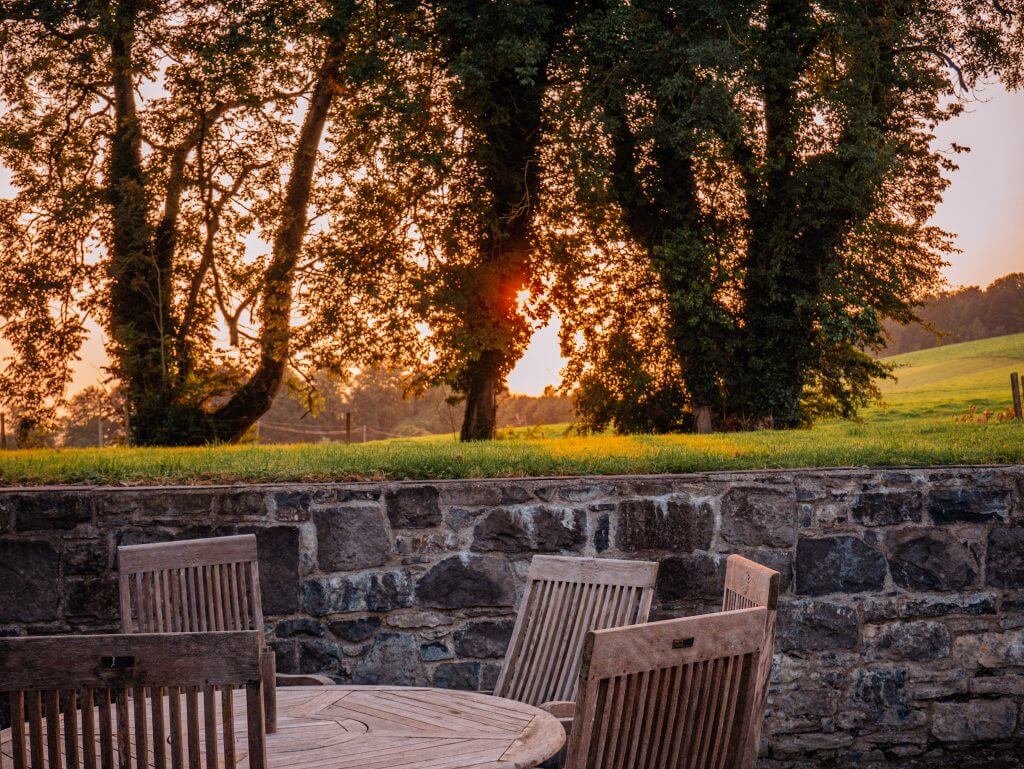 Things to do in County Meath
When considering the best things to do in County Meath, there is a huge selection of choices and options, making it a favourite place for tourists to visit. Located just outside of Dublin, the county is a very popular tourist destination which is steeped in history and beauty, and therefore it is not hard to locate the best things to do in County Meath. However I am going to focus on attractions close to Loughcrew Lodge, one of the most unique stays in Ireland, so that you can make the best of your time there.
Visit Loughcrew Estate & Gardens
As I mentioned earlier Saint Oliver Plunkett was born in a 16th century tower house on the property in 1625. His ancestral home was attached to a church on the grounds of Loughcrew Estate, before the estate was taken over by Oliver Cromwell in 1641. It is easy to see how the peaceful and spiritual nature of Loughcrew must have influenced a young Oliver into priesthood and eventual martyrdom.
The Plunkett's family church can be accessed today when the Naper family, who are the current owners of the Loughcrew Estate, open their gardens to the public. The Naper family, for whom the property was built, continue to reside there to this day, operating Ireland's foremost School of Gilding as well as increasingly well known opera nights and jazz festivals in the summer. The Estate also hosts many weddings and events.
Loughcrew gardens
The gardens themselves are also worth a visit and are just a short stroll from Loughcrew Lodge. You'll find lime and yew avenues, extensive lawns and terraces, a water garden and a magnificent herbaceous border. There is a Fairy Trail for children and a coffee shop too! Not to mention the ruins of that historic church and tower house where Oliver Plunkett was born. It is such a peaceful and tranquil place to explore.
Tickets to visit Loughcrew gardens can be purchased in the coffee shop for €7 per adult with family tickets costing €20.
Loughcrew Cairns
It is no surprise that County Meath is the heritage capital of Ireland and Loughcrew plays a part in giving it this title. The area around Loughcrew boasts one of the most extensive prehistoric settlements in existence. The Loughcrew Hills have 32 passage graves featuring curiously decorated stones and dark tunnels in which the ashes of chieftains, dead for 6,000 years, await the rising sun. The most famous of these is the grave on Slieve na Caillighe ("The Hill of the Witch") where a celebrated hag held court in ancient times.
The cairns are seperated into two groups. Carnbane West, has about 15 cairns, including Cairn L which is roofed and contains superb symbolic carvings. This group is about a 2km walk from the car park on gently sloping ground. Unfortunately there is no longer any public access to this group of cairns due to the landowner disallowing the public to visit. Carnbane East includes Cairn T, also roofed and with excellent engravings, and is a shorter but much steeper walk. The Hag's Chair can also be found here. Local legend states that those sitting on the chair will be granted a single wish.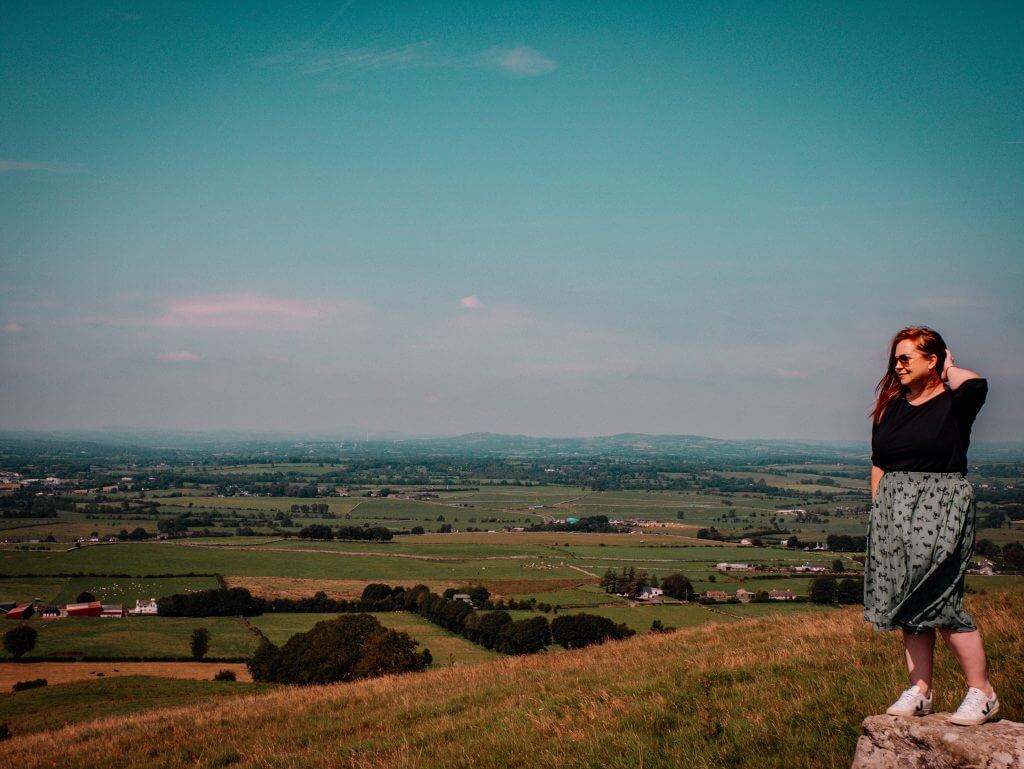 Many of the cairns have interior stone carvings and they sit among other monuments, including stone circles, henges, standing stones, Iron Age forts, and the remains of a cursus (a ceremonial entrance way).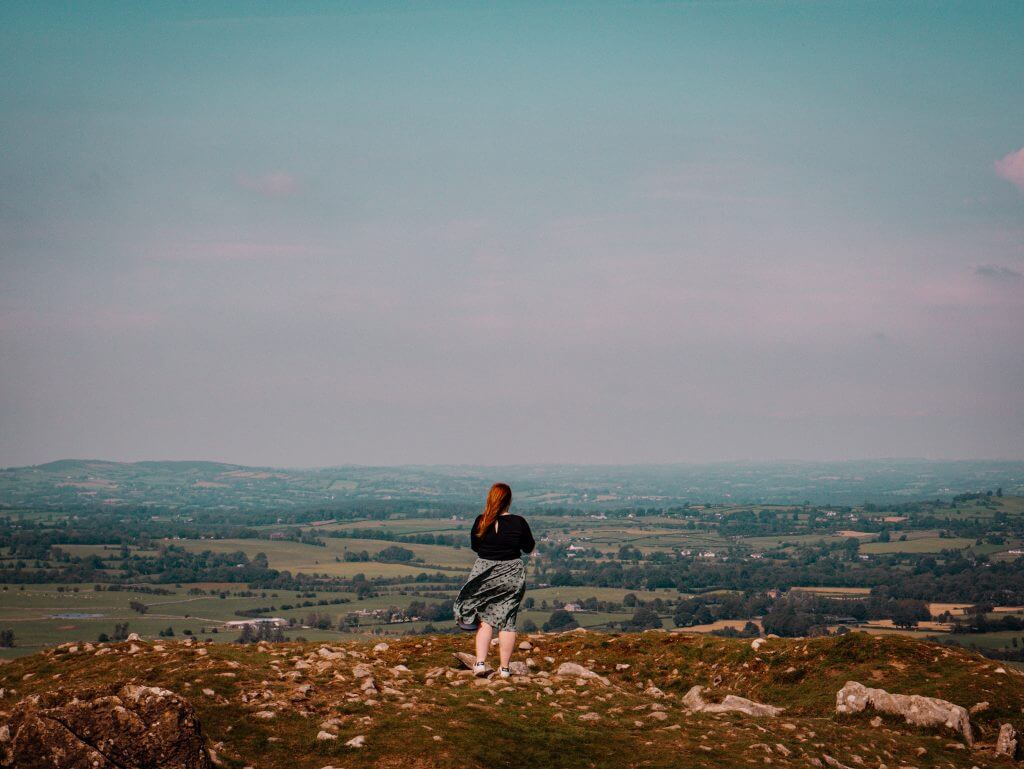 The cairns are a special place to witness the Spring and Autumn Equinoxes and the Summer and Winter Solstices. The back wall carvings of the chamber in Cairn T are illuminated by a beam of light at sunrise on both the Spring and Autumnal Equinoxes. Unfortunately when we were there you couldn't go inside the cairn as it had become unstable but even looking at it from outside was impressive. The chamber, with its lavish display of megalithic art, can be fully explored in this virtual-reality tour of Loughcrew cairns.
It's strange to think St Oliver Plunkett would have visited these very cairns and perhaps wondered about the faith of those who lay within them. It is also nice to stop and take in the breathtaking views of the numerous rolling hills in County Meath.
Visit the Heritage Town of Kells
Kells is a historic but quaint town known for high crosses, a round tower and a "lighthouse". And how can we forget that it was once home to the famed Book of Kells. The town's main claim to fame is, however, ecclesiastical: The monastery at Kells was founded around the year 800 by fugitive monks from Saint Colmcille's monastery on the Scottish island of Iona, who were forced to flee due to Viking invasions.
Many places of interest in Kells are associated with this old monastery. The dramatic round tower of Kells and five high crosses can still be seen today. Four of Kells' high crosses and the round tower of Kells are in the churchyard of St Columba's Church, which was built on the highest point in the town. The church and surroundings are usually free to access during daylight hours and the church itself is also fascinating because it has a medieval tower that is detached from the building. The fifth high cross can be found near the old courthouse.
The famous Book of Kells is, however, kept at Trinity College Dublin and the magnificent Kells Crozier can be found even further away, at the British Museum of London. However an exact copy of the book can be seen at Kells Town Hall.
An unusual inland "lighthouse" can be seen on your approach to Kells. Known locally as the "Tower of Lloyd" it dominates the hilltop at People's Park. It is a memorial and folly from the 18th century, in the shape of a huge Doric column topped by a glazed lantern, built in the memory of Thomas Taylor the 1st Earl of Bective. At 30m high, you can soak in magnificent views of the surrounding countryside as far as the Mourne Mountains in County Down, Northern Ireland on a clear day. The Tower was used to view horse racing and the hunt in the 19th century and it stands on the site of an iron age ring fort. The community park includes the "Paupers Graveyard", in which many, many victims of the mid-19th century famine lie buried.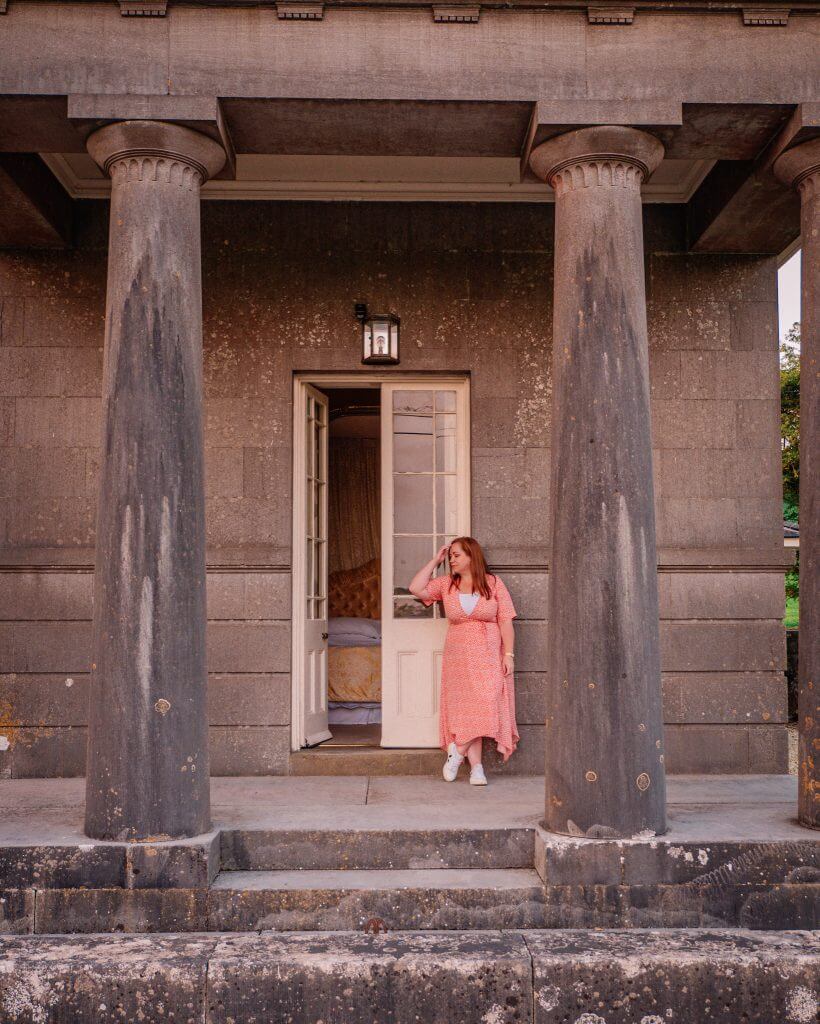 Highly recommended is stopping by The Bective restaurant for a bite to eat. It is a lovely and relaxed atmosphere and the food there is delicious. The menu incorporates the best Irish and Boyne valley produce.
Have a stroll around Oldcastle
Oldcastle is a charming little town in County Meath close to the border of County Cavan. The area, suffered badly during the Great Famine (1845-1849) in comparison with richer, more arable and more progressive areas in the southern part of Co. Meath. The poorest inhabitants lived here where Irish culture was strongest and large numbers were obliterated by starvation and emigration.
Oldcastle has a long established reputation for its true Cead Mile Failte, the people of Oldcastle are warm, welcoming, friendly and helpful. There is a lot of history in this town and it is worth having a little wander around it. Be sure to stop by Caffrey's Bar, a traditional Irish Bar for a well deserved pint.
Go karting at Athboy
A weekend with three boys was never going to be all country houses and afternoon tea and so I found myself on a go karting track in Athboy on a sunny Saturday. It is one of Ireland's largest and fastest karting circuits and I have to admit my heart was in my mouth watching two adrenalin fuelled boys tyre screech their way around the track! With a 950 metre National kart racing circuit, it provides thrills and excitement to both professional and novice karting enthusiasts and the boys had an amazing time. It certainly made for a fun day out.
Book your stay at Loughcrew Lodge here and get ready to explore the beauty of County Meath.
**Disclaimer: My stay at Loughcrew Lodge was complimentary, but I only ever work with accommodation that I am happy to recommend to you guys and Loughcrew Lodge is a wonderful and extremely relaxing place to enjoy a weekend break. Staying complimentary allows me to fully experience a resort and create content for you guys to enjoy. All opinions are my own**
Are you new here? Join thousands of other happy readers and subscribe to All about RosaLilla blog via email or Bloglovin'. The good news is that by signing up via email you will get my EXACT email template that I use to successfully pitch hotels for collaborations so that we can work together for mutual benefit.
I also share everything about myself on Instagram with nothing held back so be sure to follow along there.
If you are looking for more Fashion ideas you can follow me on Like To Know It and be sure to check out my #tuesdayten on Instagram and other blog posts here:
Kilkenny. A perfect weekend getaway in Ireland.
Spending a weekend at Lough Erne Resort, Northern Ireland.
Exploring County Clare, the Kilkee Cliffs and The Wild Atlantic Way
Shop the post

Until next time you crazy kids!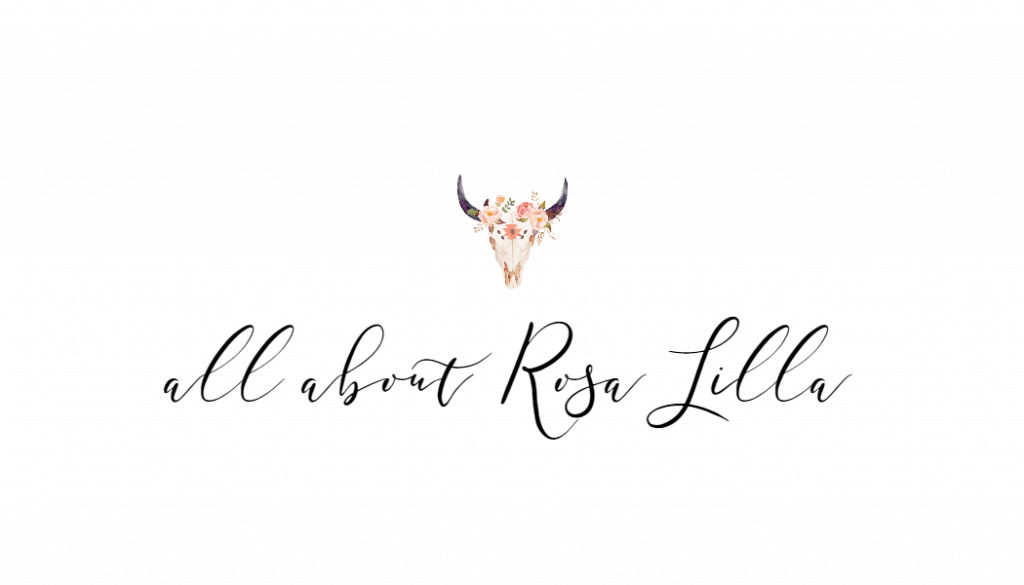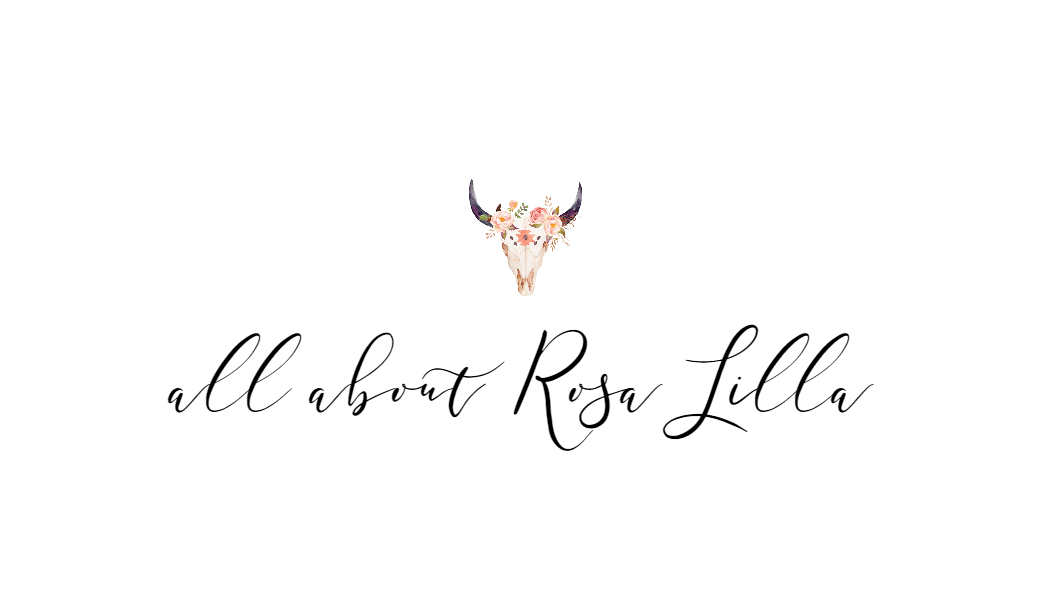 Sharing is sexy!