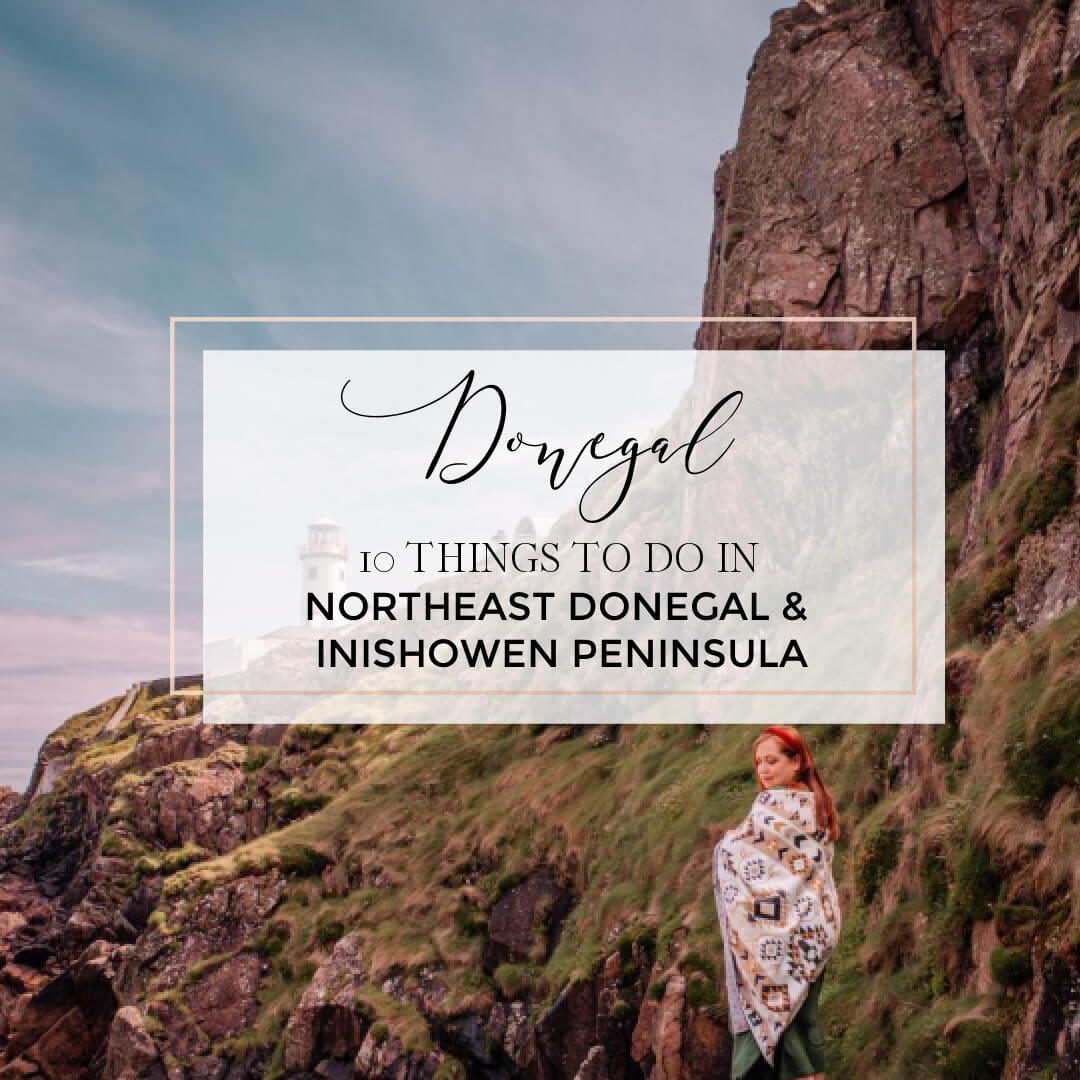 10 of the best things to do in Northeast Donegal on your Ireland Staycation
Ideas for your Staycation in Ireland. Top experiences along the Wild Atlantic Way in Donegal, Ireland that you must not miss and how to make the most of the Wild Atlantic Way route through Northeast Donegal. If you are planning a trip to the northernmost county in Ireland, or planning a staycation at home in Ireland, check out my recommendations for the best things to do in Donegal, including where to stay, where to eat and the best Northeast Donegal tourist attractions including the Inishowen peninsula!
This year myself and Mister Lavin decided to reduce our carbon footprint a little by rediscovering the beauty of our own country, Ireland. When it came to booking a trip for our anniversary in July there was one county that we both knew we wanted to explore on our Irish staycation. Donegal is a must-see when visiting Ireland. The Donegal coastline of the Wild Atlantic Way has everything for the visitor from lighthouses, to cliffs, to impressive Star Wars filming locations. Donegal is a huge county and there are so many things to do in Donegal you could visit for months. It is the perfect place for a staycation in Ireland. In this guide I want to focus on the top ten things to do in Northeast Donegal and the Inishowen peninsula.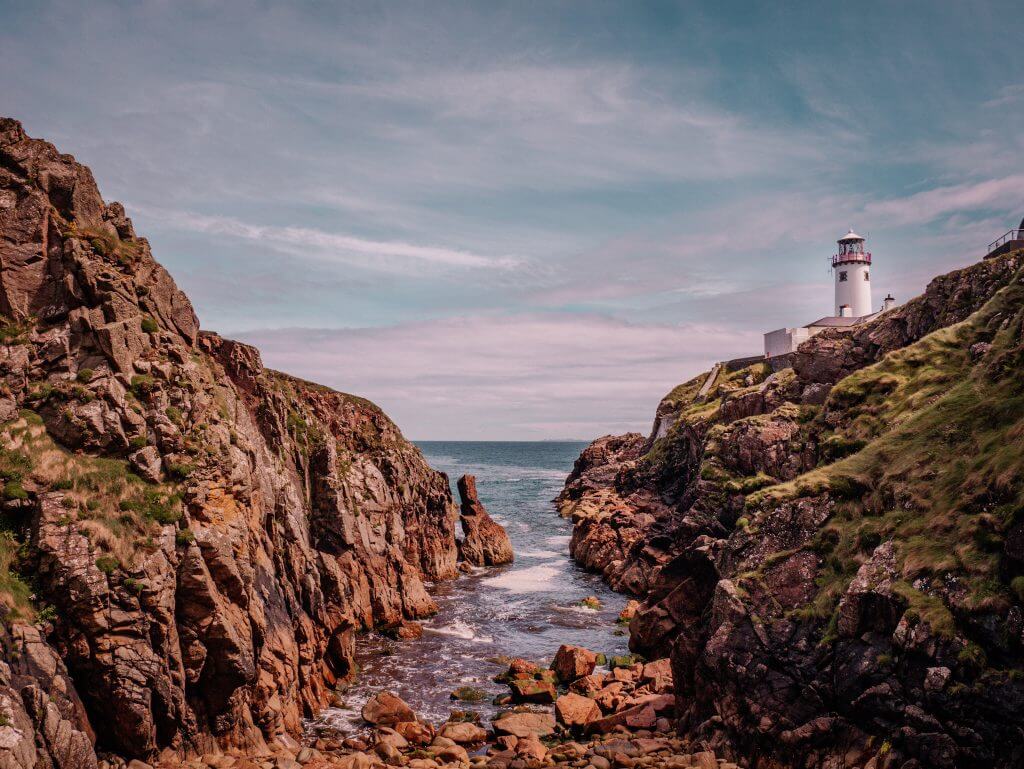 Why choose Donegal for your Ireland staycation?
County Donegal is huge and it is the ideal place to spend your staycation in Ireland. My list of the best things to do in the northeast region of Donegal is just a taste of what Donegal offers. Donegal's evergreen hills, mountains and enchanting islands will certainly make your holiday Instagram worthy. National Geographic voted Donegal one of the coolest places on the planet in 2017 so I am not on my own in wanting to explore it and it really is such a large area to explore. My guide will focus mostly on points of interest along the Wild Atlantic Way and the coastal loop of the Inishowen peninsula. You will see just why Donegal is perfect for a staycation in Ireland.
Getting around Donegal
Donegal is a land that feels undiscovered. The best way to really discover Donegal is to rent a car and drive. Public transport is limited and will not reach the most remote parts of Donegal. The roads are windy and narrow but traffic is generally sparse and it will almost feel like you have the roads to yourself.
The route around the Inishowen peninsula goes full circle so you can start in either direction, left or right. Whatever direction calls out to you, you will likely start in the town of Bridge End, just a bit Northwest of Derry, one of Northern Ireland's largest cities. If you take the right hand route you will first be driving along the shores of Lough Foyle; if you go to the left, you will be going along Lough Swilly. Either way, eventually, at the top of the route you will come to the Atlantic Sea and to Malin Head and Banba's Crown, the northernmost points in Ireland.
Drive the Wild Atlantic Way in Northeast Donegal
Ireland, with so many natural wonders and mystical legends attracts a large number of visitors every year but there are still large parts of the country that are practically unexplored. The county of Donegal is one of those unexplored counties. It is where the Wild Atlantic Way, the longest defined coastal touring route in the world, begins. The Wild Atlantic Way route stretches from the Inishowen peninsula to Kinsale in West Cork and it takes you through one of the world's most beautiful and dramatic landscapes. The rugged coast, the blue flag beaches and the remote offshore islands are some of the gems that the Wild Atlantic Way has to offer.
Nature is the star here, from the sheer granite walls of some of Europe's highest sea cliffs at Slieve League, to Northern Lights dancing in clear winter skies. But there's also warmth and wit to be found among the vibrant, Irish-speaking community here. This is a place that will truly lift your spirit.
Here is my guide on the top ten things to do in northeast Donegal and the Inishowen peninsula.
Staycation Ireland Ideas. Ten things to do in County Donegal
Soak in the views at Lough Salt Lake
We discovered this place completely by accident on our drive towards Murder Hole Beach. We were driving uphill when all of a sudden this most magical view came into sight and we had to pull over to check it out. We were both dumbstruck by the beauty of Donegal.
The name Lough Salt most likely derived from combining the Irish word Alt, meaning high, with the word Loughs.
Its name in Irish, Cnoc an Liatháin translates as 'hill of the little grey one', a reference to the off-white quartzite stone and pebbles in the mountain, which commands panoramic views across the county.
Despite its salty name, Lough Salt, a tarn or mountain lake, is actually the county's deepest freshwater lake and the main source of water for the Letterkenny area. It is a glacial lough and tradition says that it is as deep as the mountain is high.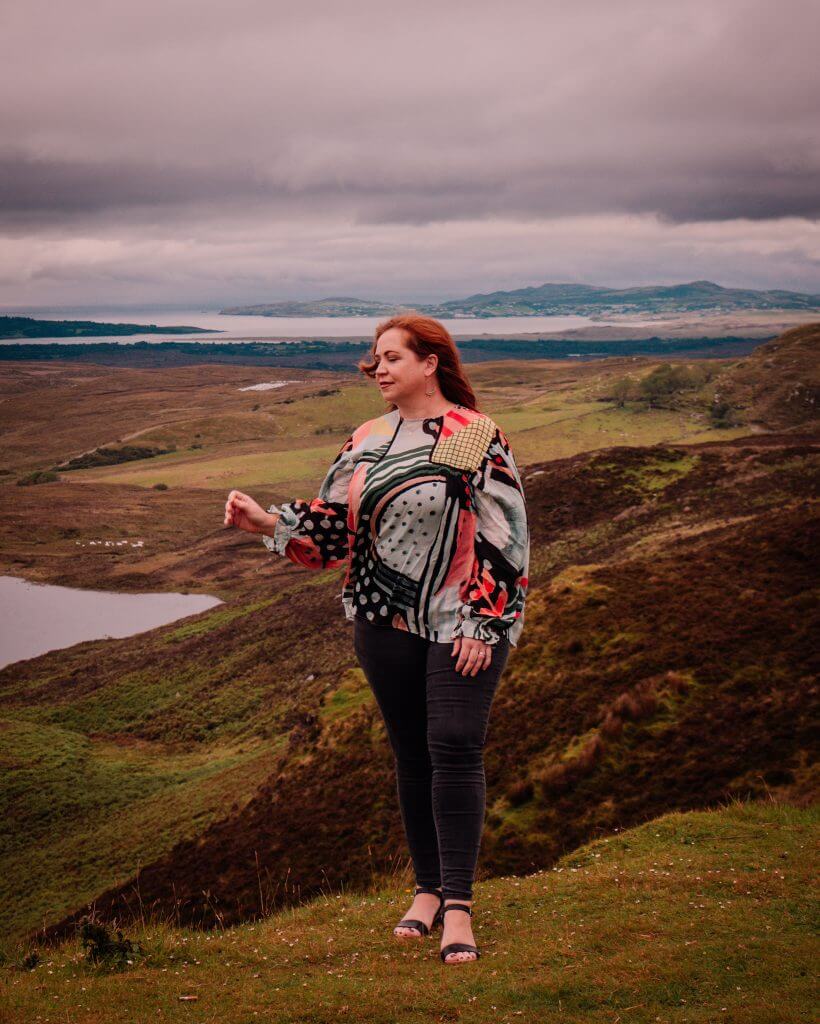 Murder Hole Beach
Boyeether Strand or Bay, commonly known as Murder Hole Beach, is a beach situated on the Melmore Head peninsula beside Downings in County Donegal. With a name like Murder Hole Beach I had expected to arrive and find pirates with their swords drawn and throats cut but this place is so far removed from such a sinister name. It is idyllic!
Once you park your car it is a relatively short trek across some fields to get to the beach. You can park at Melmore Head near the caravan park. The fields are owned by a local farmer and while he doesn't mind people crossing them to get to the beach please be respectful and always close the gate after you. There are signs on the gate indicating that dogs, drones and photography for financial gain are prohibited. Stick to the left of the field as you could easily venture off course. It's worth the short trek but just be mindful of the fact that you are crossing someone's field and respect the countryside code.
Once you climb down the dunes to get on to the beach you will be greeted by the most stunning views. Deep orange sand and turquoise clear blue waters. It really is like paradise. Murder Hole Beach is one long beach that gets divided into two when the tide comes in. You will even find the most beautiful sea caves there to explore. It is the ideal place to bring a picnic to enjoy but maybe leave the swimsuit at home. Murder Hole Beach gets its name from the dangerous currents at the beach which can make swimming there very dangerous.
The water movement here is mesmerizing though and you could stay here for hours just watching the waves ebb and flow. I have seen hundreds of beaches all over the world, with my favourite being on the island of Kefalonia in Greece, but this stunning beach topped even that! How lucky are we to have this in our home country?
Fanad Head and Lighthouse
Fanad Head is a wildly exposed headway on the Wild Atlantic Way. It is also the most northerly point on the Fanad peninsula, known mostly for the iconic Fanad Head Lighthouse as well as incredible scenery and stunning beaches. Fanad Lighthouse is an iconic working lighthouse at the mouth of Lough Swilly. It has been voted one of the most beautiful lighthouses in the world and it's easy to see why. Photographers regularly capture stunning, atmospheric images of this powerful structure and the surrounding wild coastline. It is also one of the signature discovery points along the Wild Atlantic Way.
Fanad Lighthouse has been a working lighthouse since 1817 and became a tourist attraction in 2016 with guided tours of the lighthouse. You can actually stay in one of the Lightkeeper's cottages here and I have added that to my bucket list of things to do in Ireland. Imagine watching the light's beam sweep across the peninsula as darkness falls and getting to wake up to the sound of crashing waves and seabirds.
Watch out for grey seals bobbing in the sea, pretty coves and powerful waves crashing across the rocks and maybe, if you are lucky, even a breaching whale in the distance.
Visit Letterkenny
Letterkenny is nicknamed "The Cathedral Town" and it is the largest town in County Donegal. It acts as an urban gateway to the Ulster Gaeltacht and it is certainly worth having a little wander around the shops there. Letterkenny encompasses the best of Donegal. It's a vibrant town full of history and great nights out. See the intricate architecture of the town's grand cathedral, before popping into pubs for a memorable evening with friends. Visit the nearby incredible natural beauty of Glenveagh National Park, drive along the edge of Lough Swilly or escape to the coast. You can enjoy the perfect mix of nature, culture and buzzing nights out during your Ireland staycation.
*Top Tip: Have bacon and pancakes in The Quiet Moment Tearoom you won't be sorry!*
Stroove Lighthouse & Inishowen Head
Inishowen Head is tucked away in the far Northeast of the Inishowen Peninsula. Close to Stroove there is a small road, which leads to an elevated parking area. On the meadows nearby are old watch houses from the Second World War, which offer incredible panoramic views of the Atlantic Ocean. To the left you will find impressive steep cliffs and to the right the phenomenal coast of Northern Ireland. The best way to explore the wild terrain around Inishowen Head, is by foot and the parking area near Stroove Lighthouse is the perfect base for the 8 kilometres round trip.
Be sure to stop by the small bay at the base of Stroove Lighthouse to really enjoy those views.
Ireland's most northerly point, Malin Head
Known locally as Banba's Crown, Malin Head is the most northernly point in Ireland and the Wild Atlantic Way. It's an area of great scenic beauty with its rugged coast, dramatic cliffs and the wild sea. It is also an important historic, scientific and ecological site.
The Tower, a tall derelict building, was built in 1804 by the Admiralty and it was later used as a Lloyds Signal Station. During World War II, the small huts were built and used by Irish defence forces to keep a look out and protect Ireland's neutrality. The panoramic views are breathtaking, and on a clear day you can even see the Scottish Hills.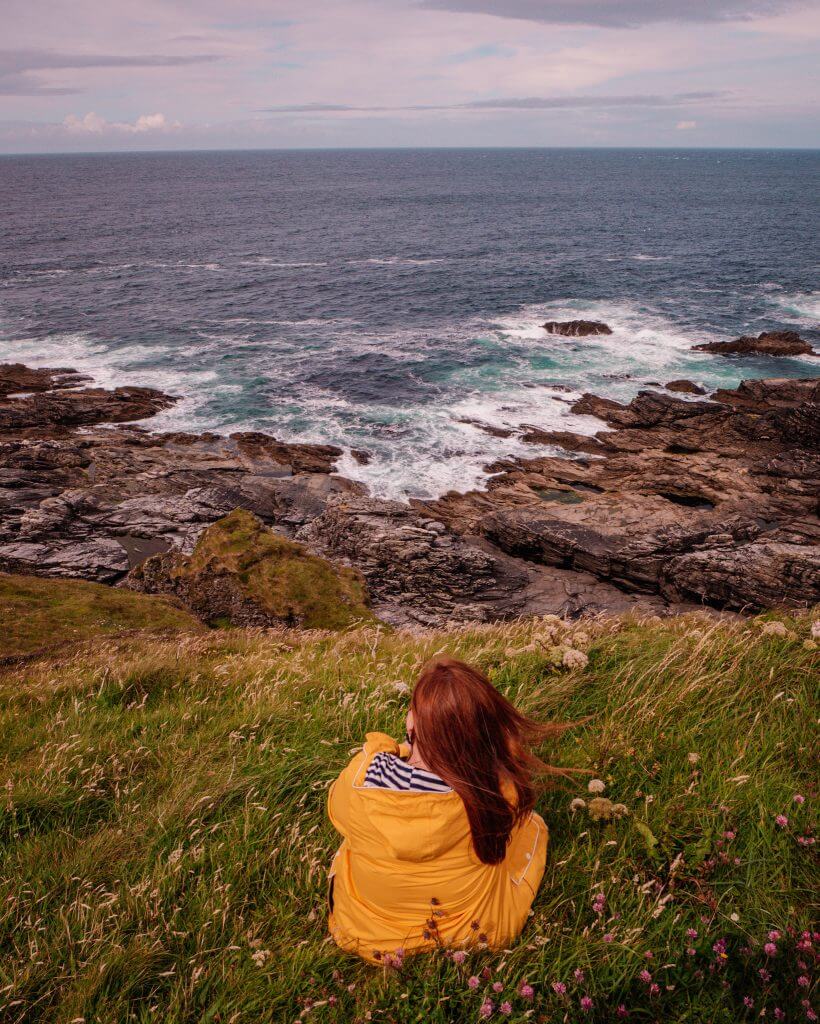 Malin Head is also the filming location of parts of Star Wars Episode VIII and you can see why they chose this dramatic landscape. For Star Wars fans visiting Malin Head it is an absolute must and every May 4th is a big celebration here with lots to keep you entertained.
Have Chowder at Nancy's Barn, Ballyliffin
Ok full disclaimer here. We didn't have the chowder! We had heard from nearly every person in Donegal that we had to go to Nancy's Barn and try their award winning seafood chowder but by the time we arrived we were so hungry from our day's exploring that we were craving something more substantial, so we decided on fish 'n' chips. And it was damn good! Still, all of those people can't be wrong and I know we will come back one day just for that famous chowder.
Nancy's Barn is a quirky and innovative restaurant/bistro housed in an authentic 19th century converted barn. It is located in the lovely town of Ballyliffin which hosted the Dubai Duty Free Irish Open in 2018. There is so much to do in the local area, from strolling the nearby Pollan Bay (Ballyliffin) beach or hiking the gentle hills surrounding the village, to playing golf in the Ballyliffin Golf Club. This Golf Club is widely regarded as one of the finest links complex in Ireland boasting two championship links courses and I know Mister Lavin is just dying to go back there and have a round…….or two!
Explore Fort Dunree
Fort Dunree is located just outside Buncrana on the Inishowen peninsula. Dun Fhraoigh in Irish means, "Fort of the Heather" and indicates that this site has been an important defensive site down through history and you will certainly find heather there in abundance.
Today however, its stunning natural beauty and abundant wildlife are drawing increasing numbers of visitors to one of Inishowen's most beautiful and peaceful locations. Locals in the area use it frequently. Whether it is to host art classes for their kids, have a dig in the communal garden, have a kick around for football training, or just simply for their family Sunday strolls, this area is much loved and appreciated by those living in the area.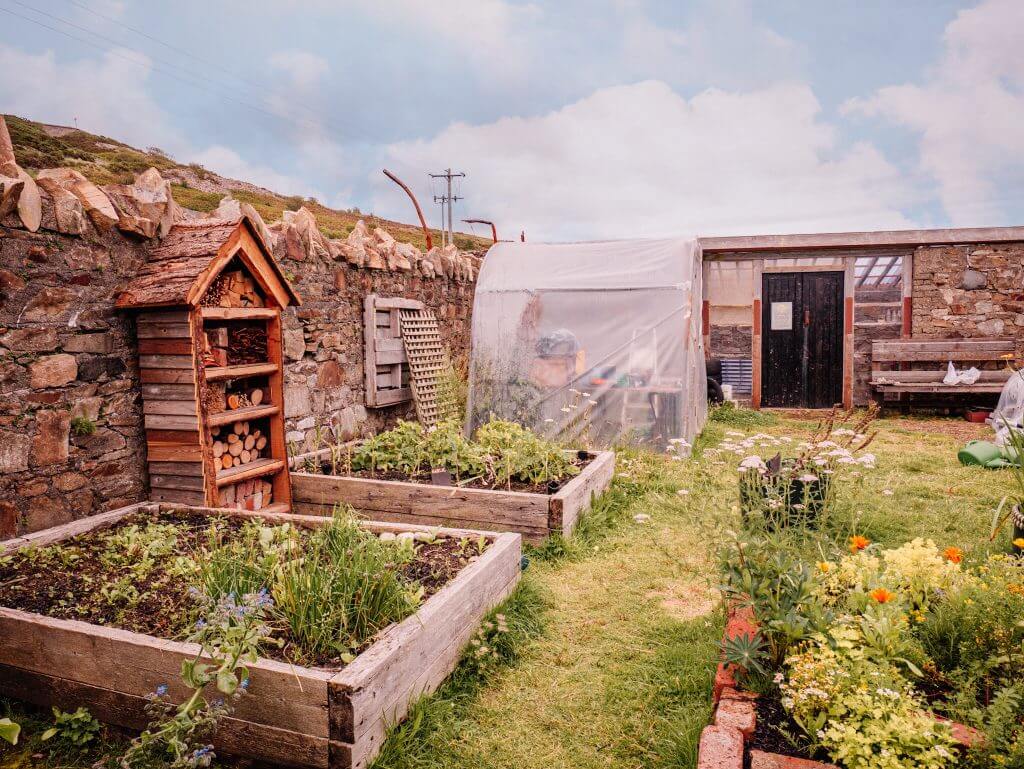 Fort Dunree was first opened to the public in 1986 and has attracted tourists from all over the world ever since. I was lucky enough to have my own personal tour guide as Nicola from Mammyofsix showed me around. She is a local and is an expert on tips for visiting Donegal. Fort Dunree is a must see for every visitor to the Inishowen peninsula and it is honestly a photographer's dream. I think I lost Mister Lavin and his camera among the heather bushes there.
Go glamping and horse riding at Portsalon Beach
Donegal is famously lined with several world-class beaches, and perhaps the most impressive among them all is the Magherawarden/Portsalon Beach, a mile of golden sandy paradise bordering the Atlantic Ocean.
Portsalon Beach is absolutely stunning and certainly one of the top places to see in Northeast Donegal. The beach has been awarded the prestigious Blue Flag and was even awarded the title as the second-best beach in the world by The Observer newspaper.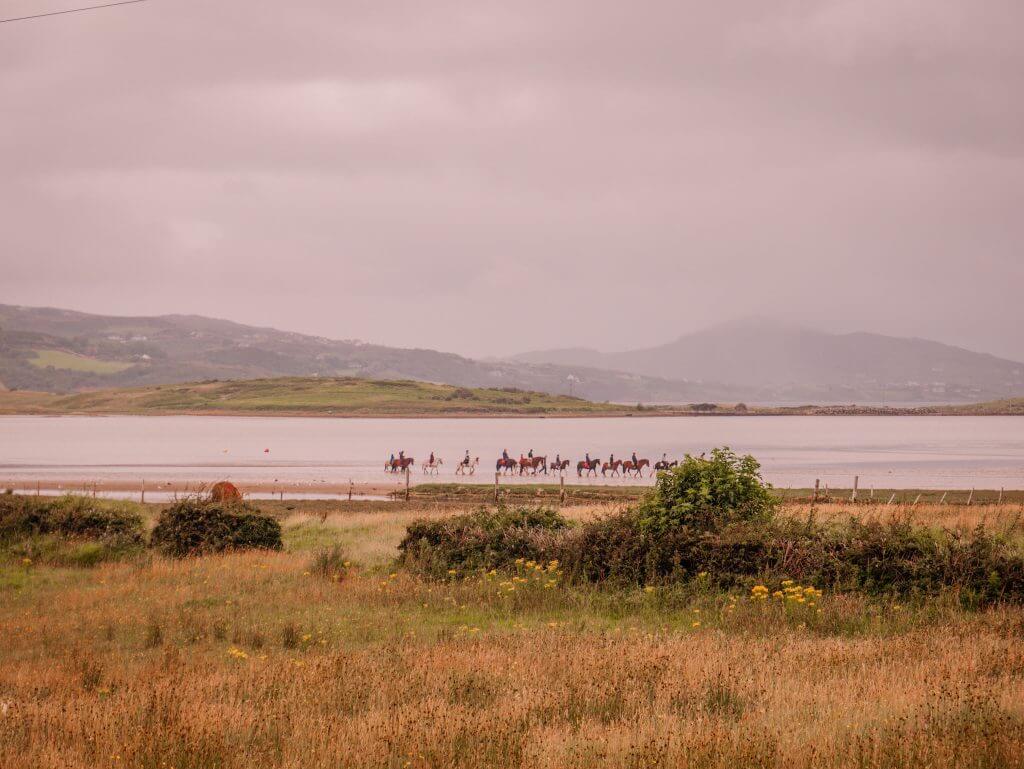 Horse – riding on Donegal's beaches is something you have to try and there are many local stables in the area that you can use. Another fun thing to do is sleep under the stars in one of five yurts at Portsalon Luxury Camping. Kitted out with king-size beds, wood-burning stoves, carpets and lockable front doors, they house four to six people each, and cost as little as €65 a night. Surrounded by mountains and the Atlantic Ocean, they also boast a deck area, fire pit and barbecue. How can you say no!
Horn Head
The Horn Head Peninsula lies in the north of Donegal and is less touristic than its neighbours Fanad and Inishowen Peninsula. Nonetheless this peninsula is a must see, especially the northern cape. Horn Head is definitely worth a visit and surprises visitors with its 180 metre high stone cliffs.
Horn Head is located close to Dunfanaghy and it forms part of Sheephaven Bay. I thoroughly recommend doing the Horn Head Walk. There you can soak in the majestic and dramatic cliff coastline and keep an eye out for Neolithic stone circles, court tombs, passage tombs and lookout towers. Also be sure to check out McSwyne's Gun which is a blow hole on the west side of the peninsula.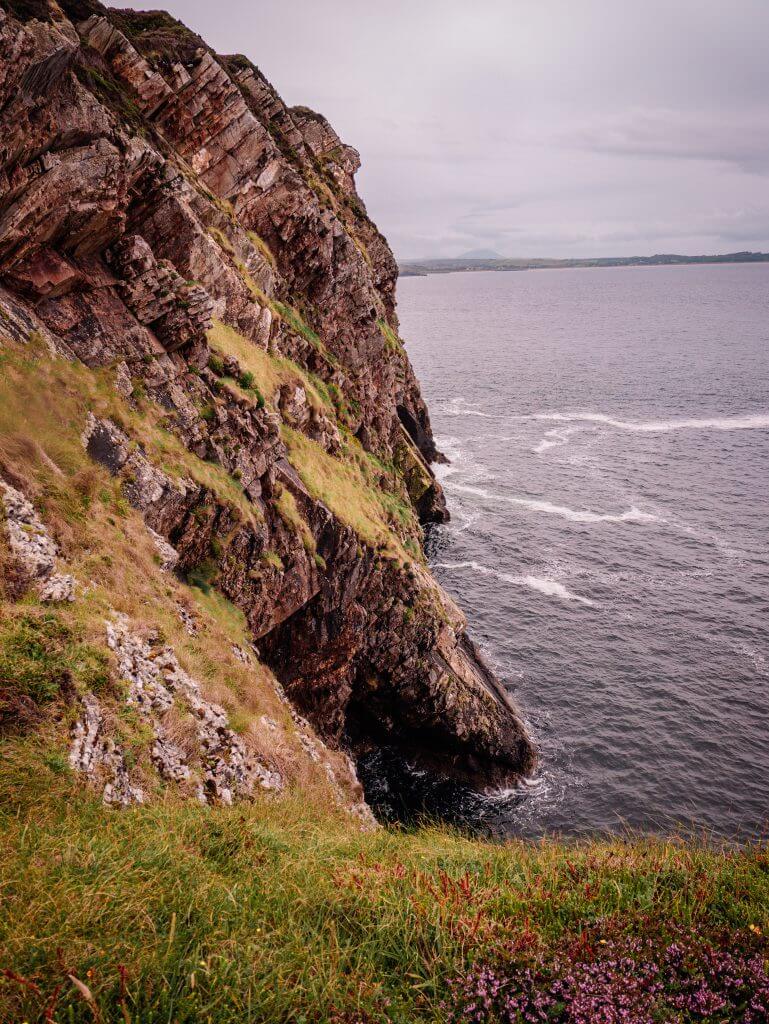 Where to stay in Northeast Donegal
For our anniversary staycation we booked the cutest accommodation on AirBnB. This post isn't sponsored in any way but I wanted to share it with you because it was the perfect base for exploring Northeast Donegal and the Inishowen peninsula. It was also located just outside Derry so it was easy to just cross the border into Northern Ireland to grab a bite to eat. I highly recommend trying the chicken wings at Walled City Brewery. Also if you haven't experienced Halloween in Derry yet you need to add it to your list of things to do in Ireland.
We stayed in beautiful cabins on the grounds of Dunmore House and Gardens located in Carrigans, Donegal just a short drive from Derry. The history of Dunmore house starts with the Ulster Plantations. After the flight of the Earls in 1607, when the O'Neills and the O'Donnells fled, the estates of these great Gaelic lords were confiscated and distributed among planters. Carrigans was a planter town. And it was the Scottish Stewarts and Cunninghams who settled in the area.
A gatepost near the house shows four key dates associated with Dunmore:
1620
1678 DH (David Harvey)
1709 WM (William McClintock)
1742 JM (John McClintock).
Dame Agatha Christie apparently visited Dunmore and enjoyed its gardens on a few occasions as a guest of the McClintocks of Dunmore, to whom she was related through marriage. And I can see why! The gardens are such a magical part of the house to explore and there are so many hidden spots to sit and enjoy the beauty of nature and watch little rabbits happily at play.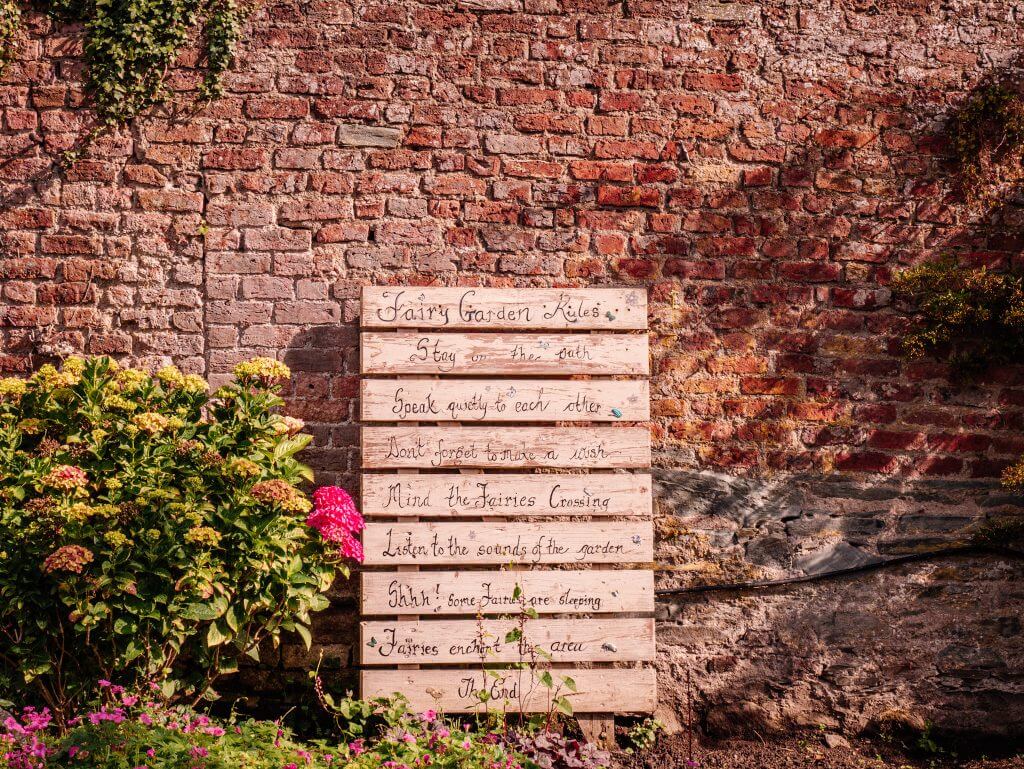 Dunmore House and Gardens is also an exclusive wedding venue and it would be the perfect place to celebrate your big day. It would make the most stunning backdrop for all of your wedding photography and is a unique wedding venue in Ireland.
We had the most wonderful time exploring Donegal and if you are looking for Staycation Ireland ideas then I highly recommend exploring Northeast Donegal, the Inishowen peninsula and driving the Wild Atlantic Way. The Wild Atlantic Way is 2500km of outstanding natural beauty including Downpatrick Head, Killary Harbour Coastal Walk, Kilkee Cliffs and the Cliffs of Moher and some of the most beautiful villages in Ireland so be sure to consider it for your Irish staycation.
Book your Ireland staycation here.
If you are looking for some more Irish inspiration, I have written a blog post on staycations in Northern Ireland cities , fun things to do in Wicklow , exploring county Clare and the Kilkee Cliffs and I highly recommend a weekend getaway in Kilkenny.
Are you new here? Join thousands of other happy readers and subscribe to All about RosaLilla blog via email or Bloglovin'. The good news is that by signing up via email you will get my EXACT email template that I use to successfully pitch hotels for collaborations.
I also share everything about myself on Instagram with nothing held back so be sure to follow along there.
Shop the post

Until next time you crazy kids!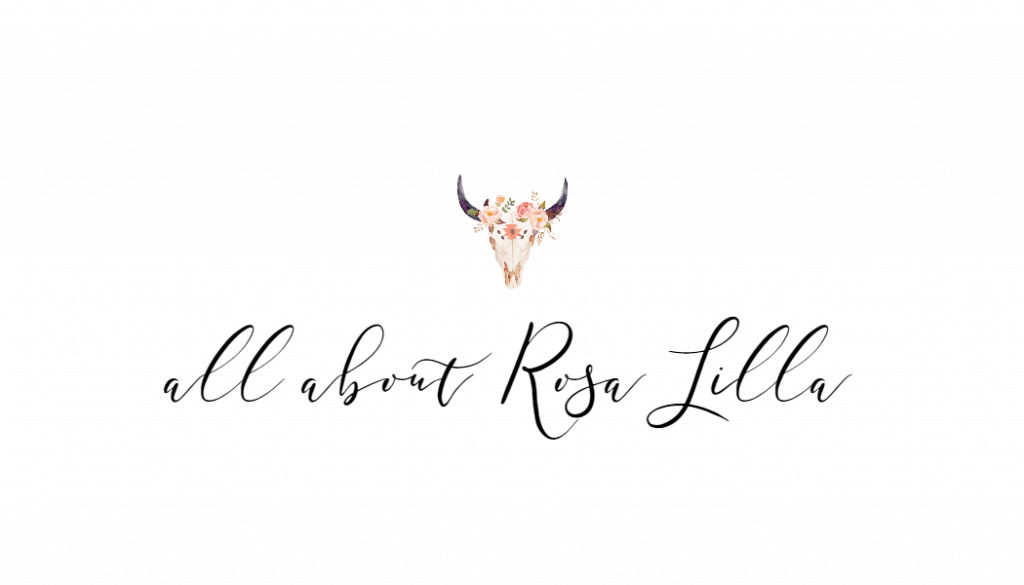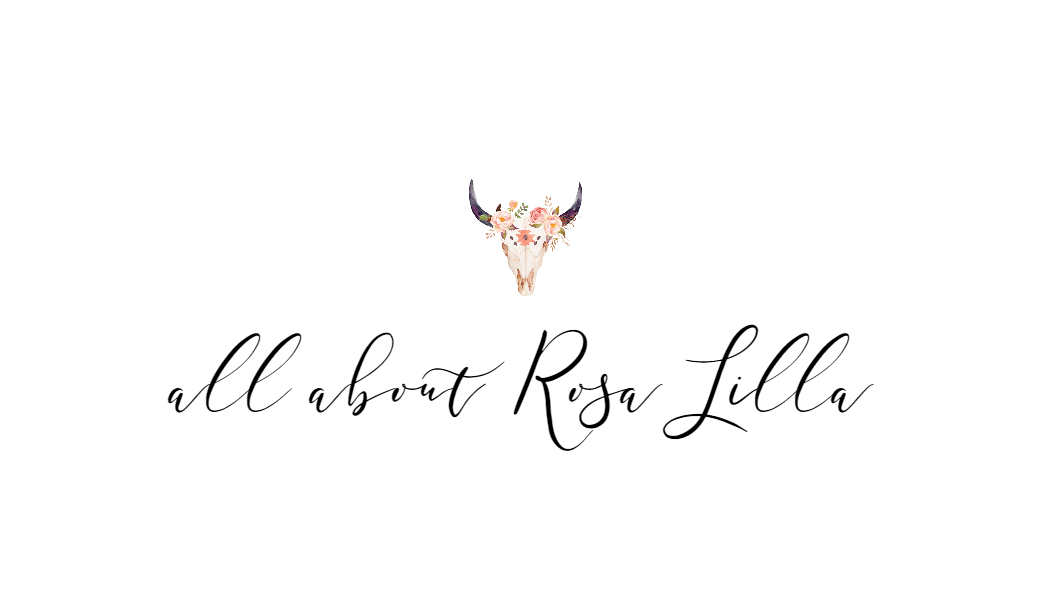 Sharing is sexy!