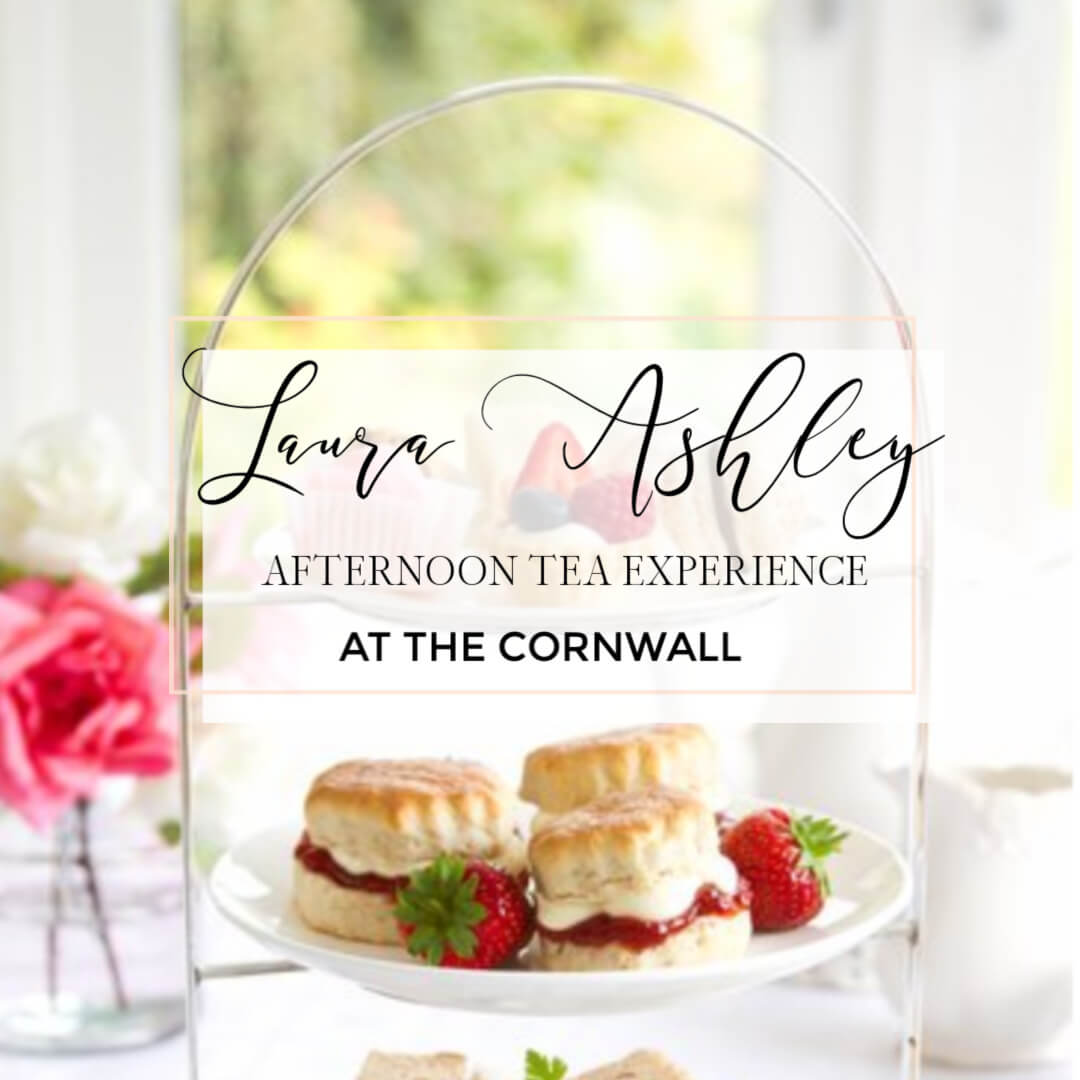 Just a breath away from many of Cornwall's most popular sandy beaches and attractions you will find The Cornwall Hotel and Spa. The Cornwall Hotel and Spa Estate is a stunning 4 star property located in 43 acres of tranquil parkland. It is the perfect country escape for spa breaks, family-friendly breaks or corporate travel with a choice of stylish beautifully designed hotel rooms or self catering woodland lodges. It is also the ideal place to enjoy the Laura Ashley Afternoon Tea Experience in the most beautiful surroundings.
Attractions in Cornwall
The Cornwall Hotel and Spa is ideally located for exploring nearby attractions in Cornwall such as The Eden Project, the Lost Gardens of Heligan and the medieval harbour town of Fowey. The market town of St. Austell is also very close by and is the perfect place to try one of the delectable and traditional Cornish Pasties. The port of St. Austell has been used as a film location for numerous films and television series including Poldark. The seaside towns of Penzance and St.Ives are about an hour drive away and I highly recommend visiting St. Michael's Mount.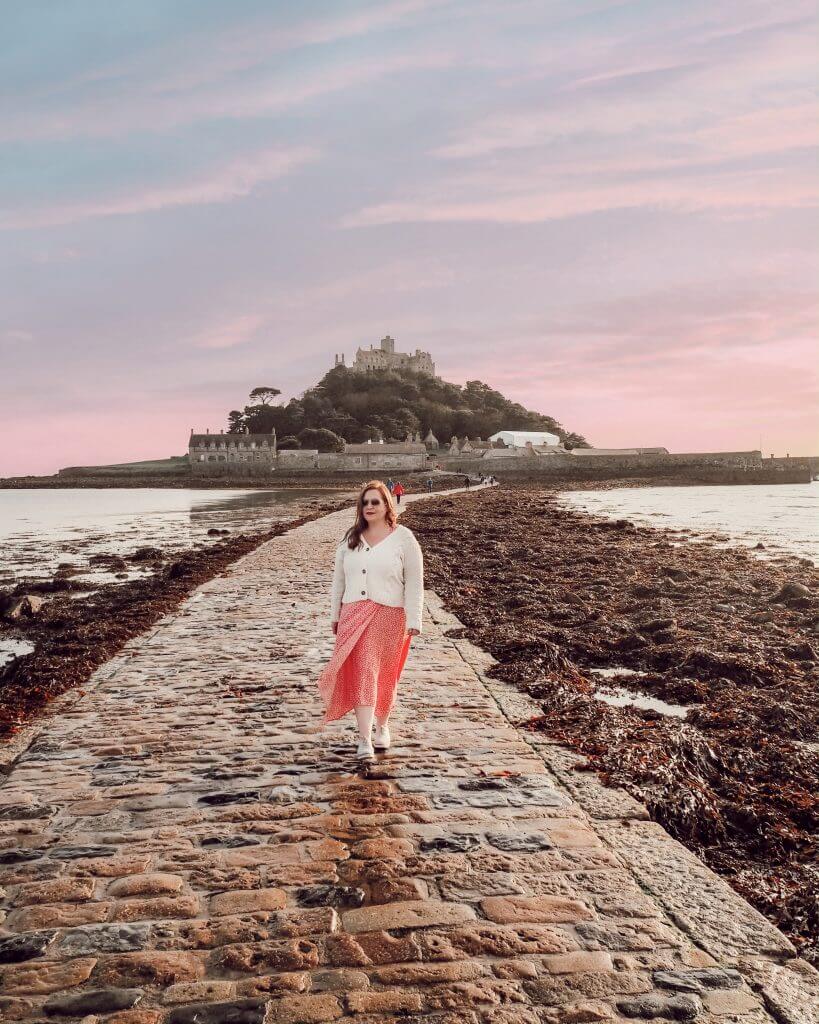 Getting to Cornwall
Cornwall is the stunning county located in the southwest corner of the UK, adjacent to the county of Devon to the North and surrounded on the remaining three sides by the sea. Cornwall is known as The Cornish Riviera, due to the miles of golden sandy beaches and the temperate climate which allows sub tropical plants and trees to flourish.
Closest airports to Cornwall
Newquay is the closest airport to Cornwall. Cornwall Airport Newquay provides scheduled flight services across the UK, Europe, Middle East and the United States. The following airlines operate regular scheduled and charter services to and from Newquay.
Aer Lingus (Dublin, Cork)
Eurowings (Dusseldorf, Stuttgart)
Flybe (Numerous locations throughout the UK)
Isles of Scilly Skybus (St. Mary's)
Loganair (Aberdeen, Newcastle-upon-Tyne, Glasgow and Norwich are being added in April/May 2020)
Ryanair (Alicante, Faro)
Scandinavian Airlines (Copenhagen)
Exeter and Bristol airports are also good choices especially if you are going to rent a car to explore. Coming from Ireland we flew to Bristol Airport for €19.98 return with Ryanair and hired a car at the airport through Auto Europe.
Hiring a Car
Hiring a car in my opinion is the best way to explore the English countryside. Travel by car is straightforward from any UK departure point and English roads are good. We also drive on the left hand side of the road in Ireland so I find it quite easy to drive on English roads but this is worth bearing in mind if you come from a country that typically drives on the right. It does take a little getting used to especially on narrow country roads.
From London the M4 motorway to Bristol joins the M5 motorway to Exeter before reaching the A30 and travelling through Devon to Cornwall. From Bristol and the Midlands the M5 motorway goes directly to the A30. From the north west the M6 motorway joins the M5. From the north east the A1/M1 motorway meets the M42 which then joins the M5. Visitors from South Wales and Ireland should take the M4 motorway, then the M49 motorway across the Severn Bridge and join the M5.
The good thing about hiring a car is that you can explore further afield. London and the Cotswolds are all within driving distance. Who wouldn't love to take the opportunity to spend an afternoon wandering around Notting Hill. We booked our car hire through Auto Europe and found the whole process very easy. A 5 day car hire cost approximately €136 for Economy class but Auto Europe work hard at finding you the best deal among a selection of car rental companies.
**Disclaimer: My car hire with Auto Europe was complimentary but I found this company very easy to deal with and I will be using them again and paying myself for future trips**
Getting around by bus
In the UK , National Express runs a coach service from numerous departure points throughout the UK. There is a service from most major cities terminating in key towns throughout Cornwall. Full information and timetables are available at National Express.
By train
Rail services run right through Cornwall with numerous train stations throughout Cornwall and terminating at Newquay, St. Ives, Penzance, Looe and Falmouth. The train station needed to reach The Cornwall Hotel and Spa is St. Austell. The Trainline will help you find the best price and plan for your journey.
The Cornwall Hotel and Spa
Wherever I stay, I love to learn the history of a property. Learning the story of a building makes it come to life for me. The estate was bought by the Coode family in 1819. The history of the hotel is founded on a mixture of fact and fairytale fiction (the best kind if you ask me). Tales of buried treasure, evil Spriggans and beautiful gardens, inspired by the carvings on the stable walls, where the young heroine Gwendolyn carved her name each year from the age of 10 – 17. The Coode family lived on the estate until they sold it in 2002 where a new chapter began and The Cornwall Hotel, Spa and Estate was founded.
Myself and Mister Lavin visited The Cornwall Hotel and Spa for his birthday in October. The leaves were just changing to hues of gold and red when we drove up the driveway to find a stunning 19th century White House perched on the hillside of a glorious woodland. The setting was so serene. Even the walk from the carpark to reception was idyllic with hidden gems along the way. We stumbled across this carving of a beautiful mermaid in a tree in the undergrowth. It almost felt like being in a fairytale.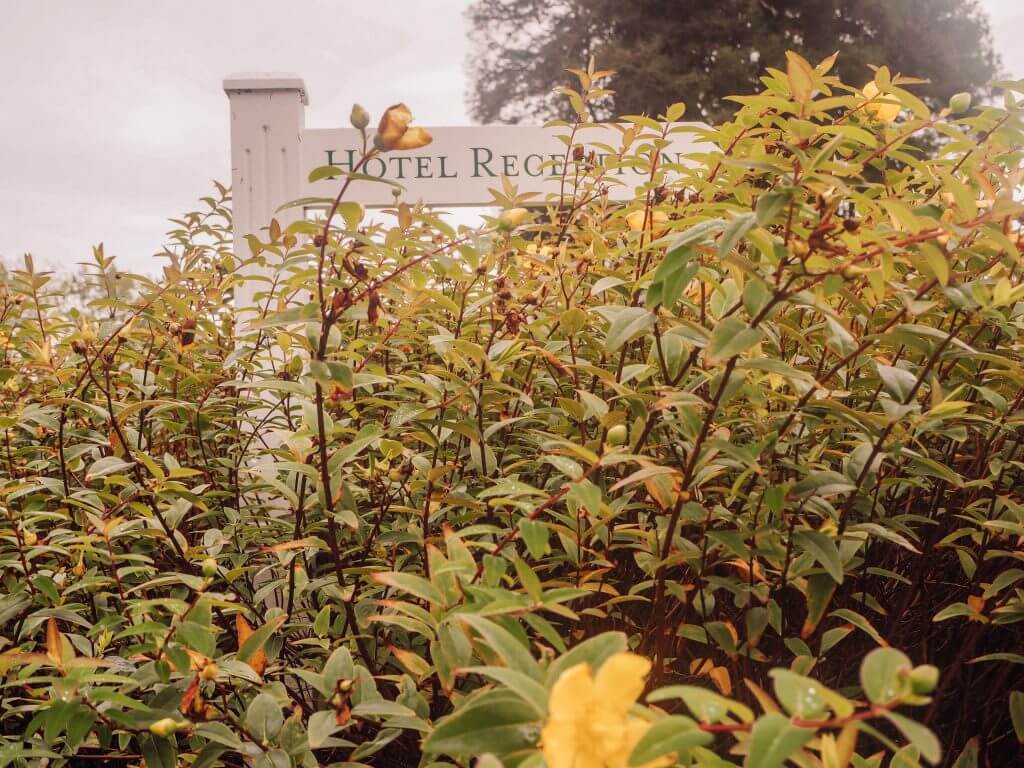 We followed the path to a beautiful seated patio terrace, overlooking the hills ahead. Rabbits were playing in the garden. The Cornwall Hotel and Spa is the perfect getaway to just unwind. You truly do feel like you are escaping everything.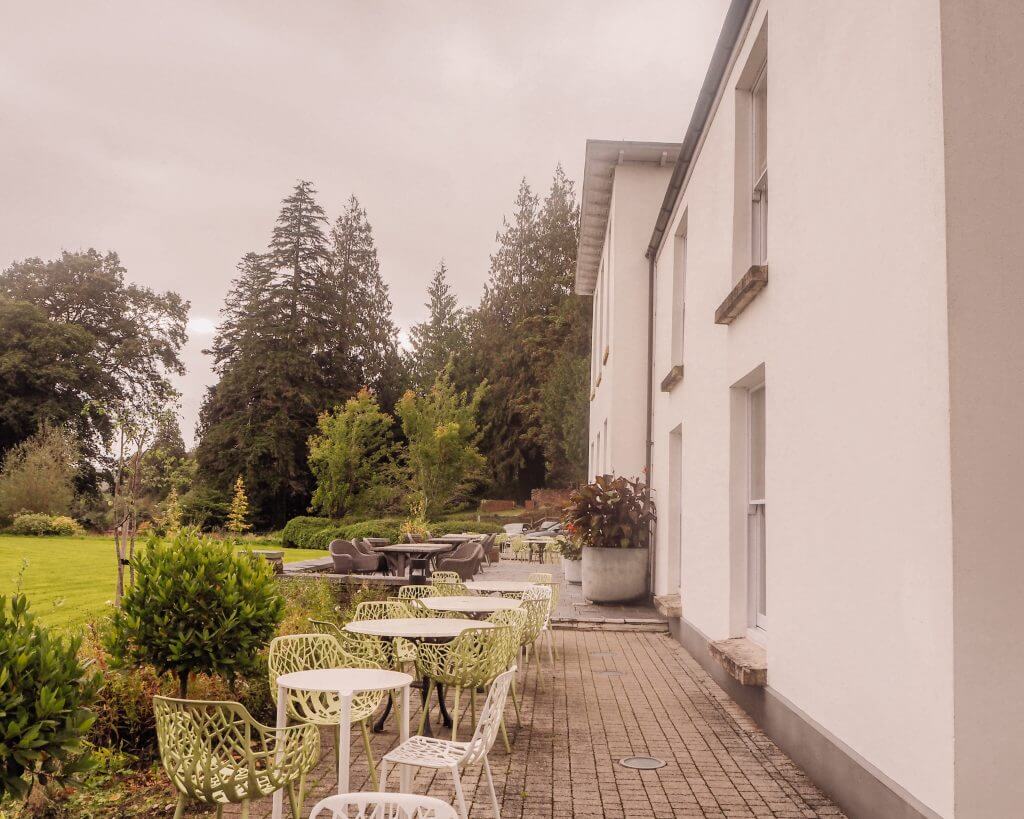 Turning the corner the of the White House we found the entrance to the hotel. At reception we were greeted by the most stunning light installation resembling swan feathers floating in the air. We were guided to our luxury hotel room which was located in a building seperate to the main house but still connected by a corridor.
Our luxury room had a large king size bed and was the perfect place to kick off our shoes and relax. The decor of the room was just striking with bold vibrant colours and the most remarkable wallpaper. Fluffy bathrobes were waiting for us to get cosy and there was a beautiful balcony with seating to just soak in the views.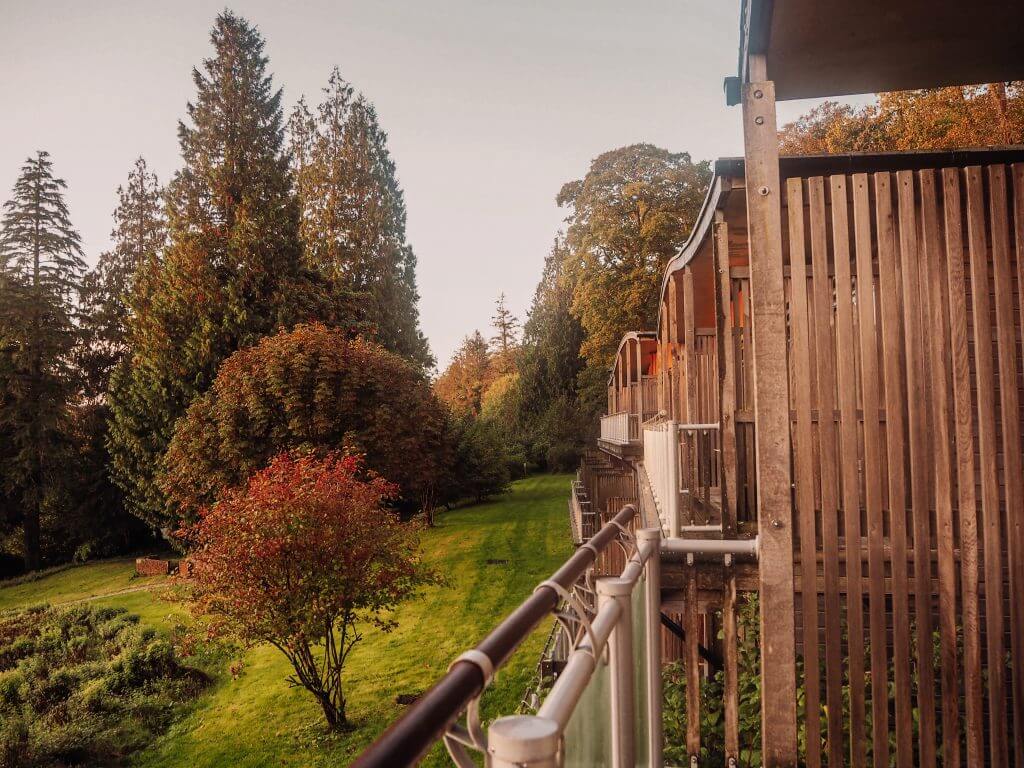 Dining at The Cornwall Hotel & Spa
Food in this hotel is an experience. Myself and Mister Lavin rate everything against our wedding meal at Ballyseede Castle which, most people agree, was the best meal they have had in their lives. The food here topped even that!
The Dining room can be found in the beautiful Victorian Manor House. The menu is exquisite and the staff are excellent at recommending a dish. The chef tries to incorporate seasonal produce and items grown in the hotel's garden into his daily specials. All of the food is locally sourced Cornish food. I am a huge Blur fan and I was delighted to find Alex James' cheese on the menu for dessert. It was delicious!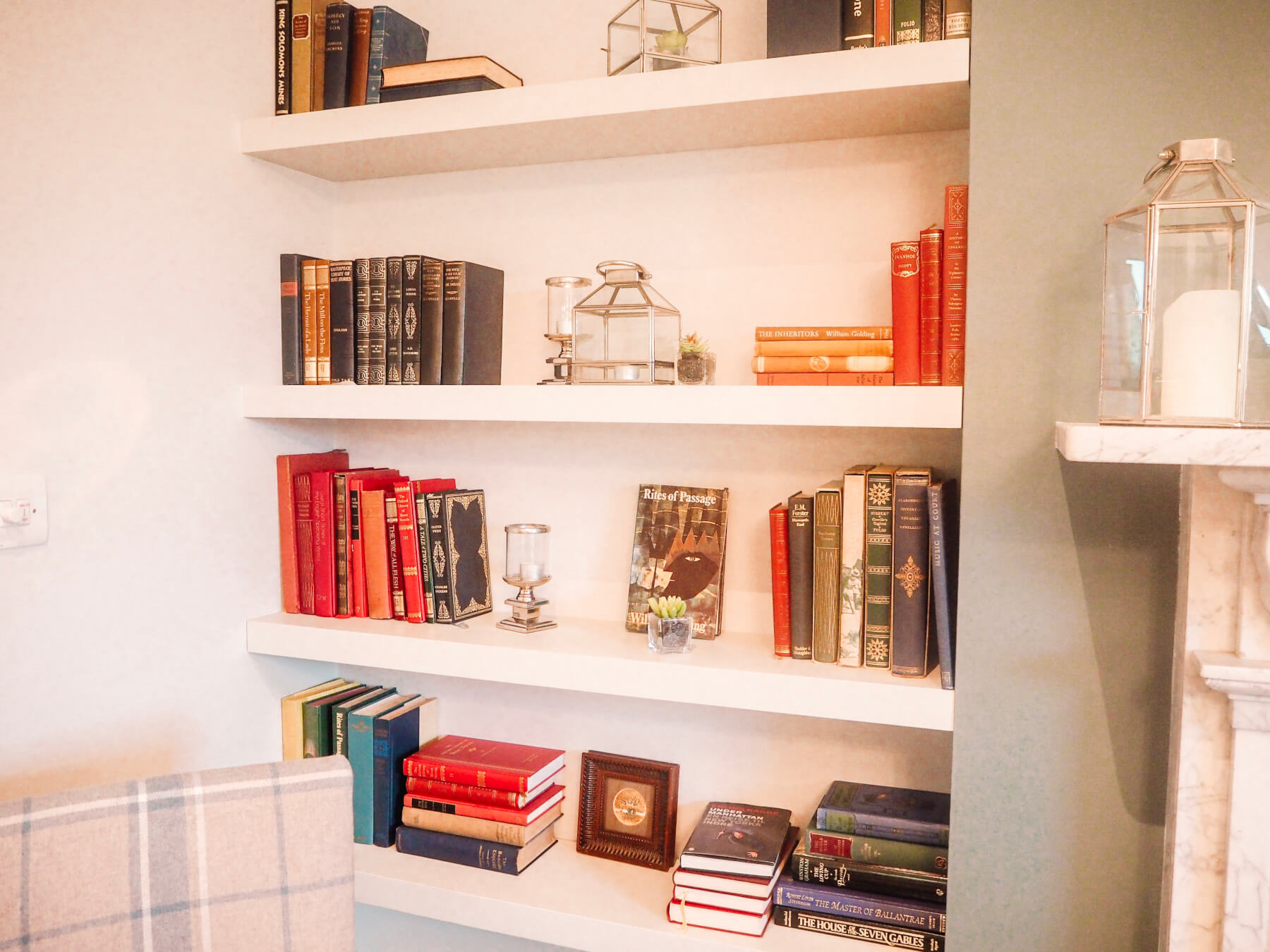 Breakfast was also a treat and if the cosiness of your room is too much to resist there is a wonderful room service menu that I highly recommend. In fact, after a busy second day of exploring, we did just that and ate on our balcony watching the sun go down behind the rolling hills.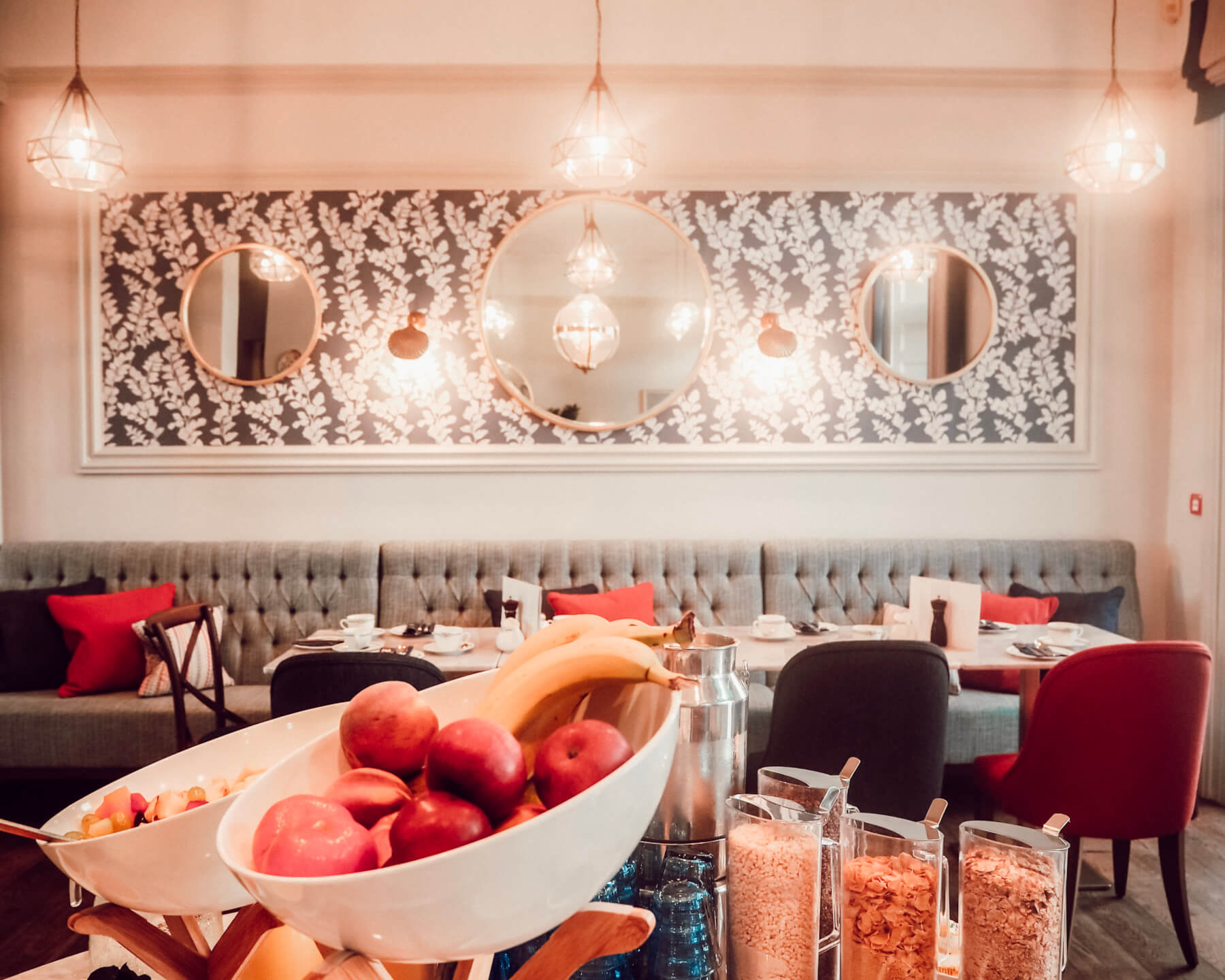 Laura Ashley Afternoon Tea Experience
You certainly won't go hungry at The Cornwall Hotel & Spa with The Laura Ashley Afternoon Tea experience being the piece de resistance. The Laura Ashley Tea Room is the only one of it's kind in Cornwall and it is a right treat. It is beautifully decorated in the signature Laura Ashley style.
There is something so quintessentially British about afternoon tea and this is the perfect environment to experience it in. It is something that you could enjoy with the girls, or soak up the romance of the countryside and enjoy a couple's afternoon tea. To be honest Mister Lavin wasn't entirely sure that it was "his thing" but after spotting a savoury tea option on the menu he was converted.
One Afternoon Tea order is more than enough for two people but as I have already said I am more sweet and Mister Lavin is more savoury so we ordered both.
The Cornwall Afternoon Tea £26
Selection of finger sandwiches and savouries
Homemade sweet treats
Duo of buttermilk scones (plain and golden raisin)
Rodda's clotted cream, Strawberry jam or lemon curd
Pot of Tregothnan Tea
Savoury Afternoon Tea £26
Sausage roll
Cornish pasty
Pork pie, piccalilli and chutney
Savoury Cornish Kern cheese scone, cream cheese and apple chutney
Selection of finger sandwiches
Pot of Tregothnan Tea
There are also vegan, gluten free and children's options available and of course you can upgrade to include some bubbly.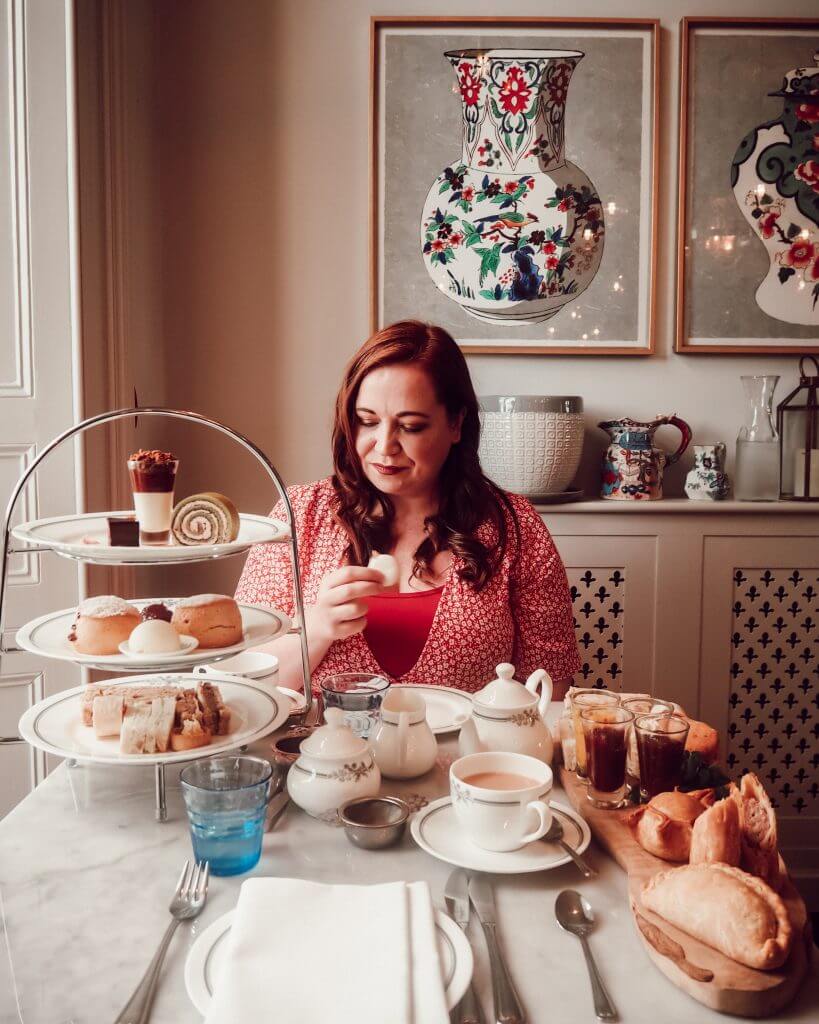 The decor of the Laura Ashley Tea Room still gives me butterflies. It is stunning with fresh blues and floral patterns. I am a huge Laura Ashley fan in general so this was the perfect experience for me. Aaron will tell you that I can't drive by our local Laura Ashley store without stopping to pick up the latest catalogue. I then sit at home, make myself a cup of coffee and circle all of the things I want for my home, making an imaginary (if money was no problem) wish list. So needless to say I was in heaven here!
You guys know I am a coffee girl but, when it is made right, I do love a good cup of tea. There is something so comforting about a cup of tea and after finding out how exactly tea is made in Munnar, Kerala last year I find it fascinating to try different types.
The selection of teas available was impressive but even more wonderful was the story of where our tea came from. Our tea came from a tea plantation right there in Cornwall! I didn't even know tea plantations could grow in England but I was about to be proven wrong.
Tregothnan Tea
Home to the Boscawen family, Tregothnan is a living and working private Cornish estate, with a rich history dating back to 1334. The name Tregothnan translates to 'The House at the Head of the Valley' and it is still a private family home today.
Tregothnan has the largest historic, botanic garden in Cornwall. Eight miles from the coast with the deep sea creek of the Fal Estuary running through the estate, the warm and wet conditions are perfect for growing tea. As a result Tregothnan tea is the most British tea in history.
The tea leaves are hand plucked at dawn ensuring that you get the ultimate Britishness in every cup. As well as growing English tea and a vast range of plants that create delicious herbal infusions, they also produce Cornish Manuka and wildflower honey and a fine, rare Kea plum jam.
Nothing quite beats warm scones with clotted cream and jam and a delicious cup of tea or glass of bubbly. We were surrounded by groups of ladies that seemed to be combining a Laura Ashley Afternoon Tea Experience with a day at The Clearing Spa. Not a bad way to spend the day if you ask me!
Caudalie Spa Treatment at The Clearing Spa
After our Afternoon Tea experience I was off to The Clearing Spa. I was lucky enough to be treated to a Caudalie Facial and I was really looking forward to it.
The spa is located in a pretty courtyard, complete with a gym, garden infinity pool, jacuzzi and steam rooms. The treatment rooms are located upstairs. I somehow had gotten the time for my facial completely wrong and despite thinking I was 20 minutes early I was, in fact, 40 minutes late! The very kind girls in the spa still managed to fit me in.
This treatment begins with cleansing, followed by a purifying massage to free the skin of imperfections, tighten pores and refine skin's texture. With their powerful combination of grape polyphenols, purifying organic essential oils and natural salicylic acid, the Vinopure products bring clarity and freshness to the complexion. This treatment also helps to unclog and tighten pores, clear blemishes, control oil and promote a healthy glow.
Overall it was a very relaxing experience and I left with my skin glowing.
I absolutely loved my time in The Cornwall Hotel & Spa with Mister Lavin. It was one of the most relaxing hotel stays that we have had with certainly the best food. The fact that the location was so idyllic encouraged us to disconnect from our phones and reconnect with each other. We left after two days feeling like we just had a week of relaxation. The Cornwall area is also so beautiful to explore and I can't wait to go back and explore further.
Bookings can be made with Booking.com.
Are you new here? Join thousands of other happy readers and subscribe to All about RosaLilla blog via email or Bloglovin'. The good news is that by signing up via email you will get my EXACT email template that I use to successfully pitch hotels for collaborations.
I also share everything about myself on Instagram with nothing held back so be sure to follow along there.
**Disclaimer: My stay at The Cornwall was complimentary, as was our meal, afternoon tea and facial but I only ever work with hotels that I am happy to recommend to you guys and this is a gem of a hotel in Cornwall. All opinions are my own**
If you loved this you may also like:
A list of Cotswolds Best Villages
Staying in an Elizabethan Manor in The Cotswolds. Billelesley Manor.
Until next time you crazy kids!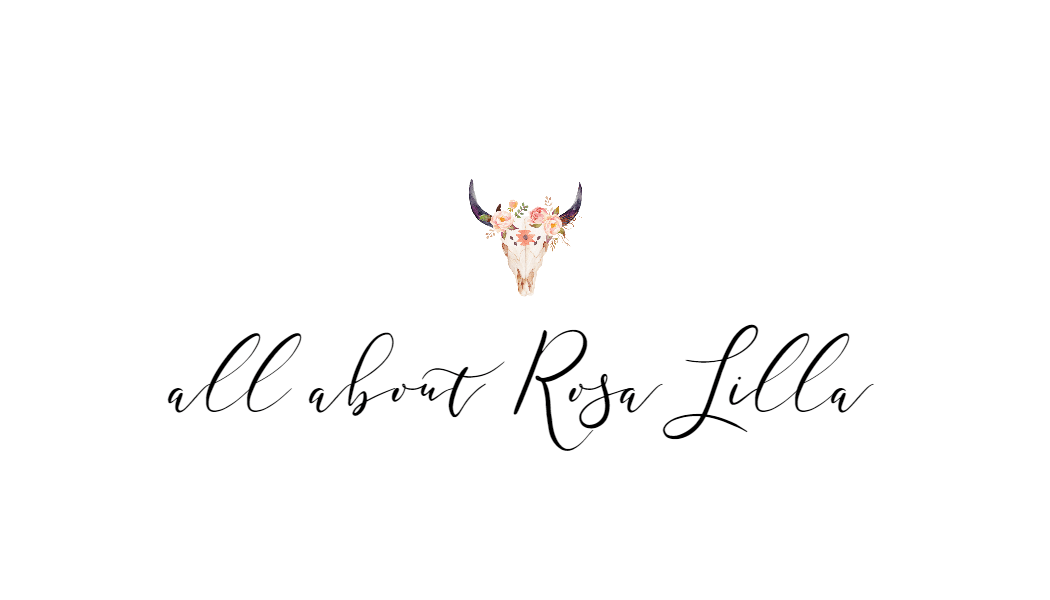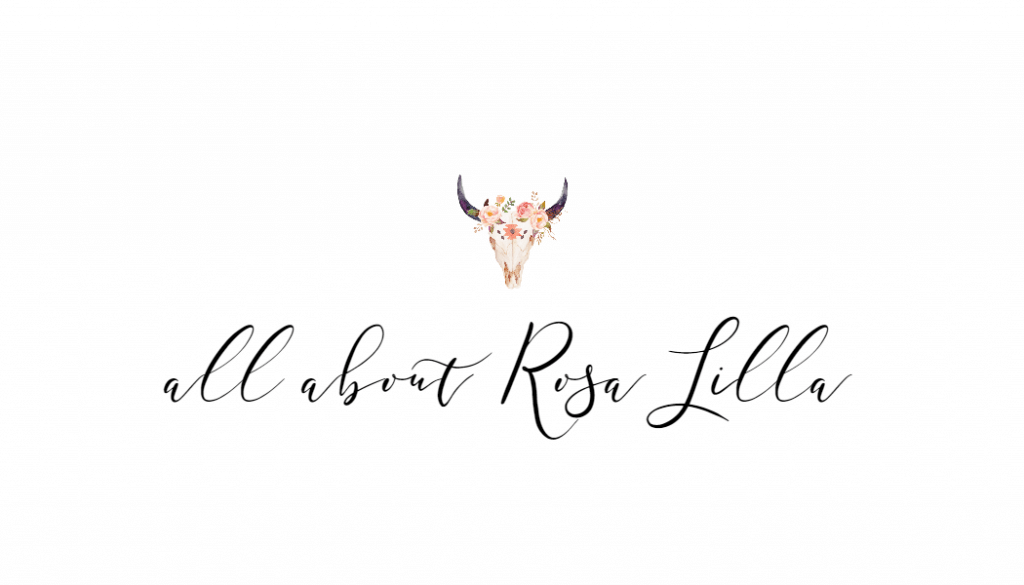 Sharing is sexy!