If you had told me three years ago that I would be doing an 18km Connemara hike along the Killary Harbour Coast I would never have believed you. My Lyme disease meant that exercise was always my enemy. But, I have come a long way, and what better way to exercise than doing this absolutely stunning Killary Harbour Coastal Walk. I want to share some more hiking trails with you in Connemara in my beautiful home county of Galway, so welcome to Part one of this Connemara Hikes series. The Killary Fjord walk is a fairly easy place to start. You can take it at your own pace. Trust me! If I can do it anyone can.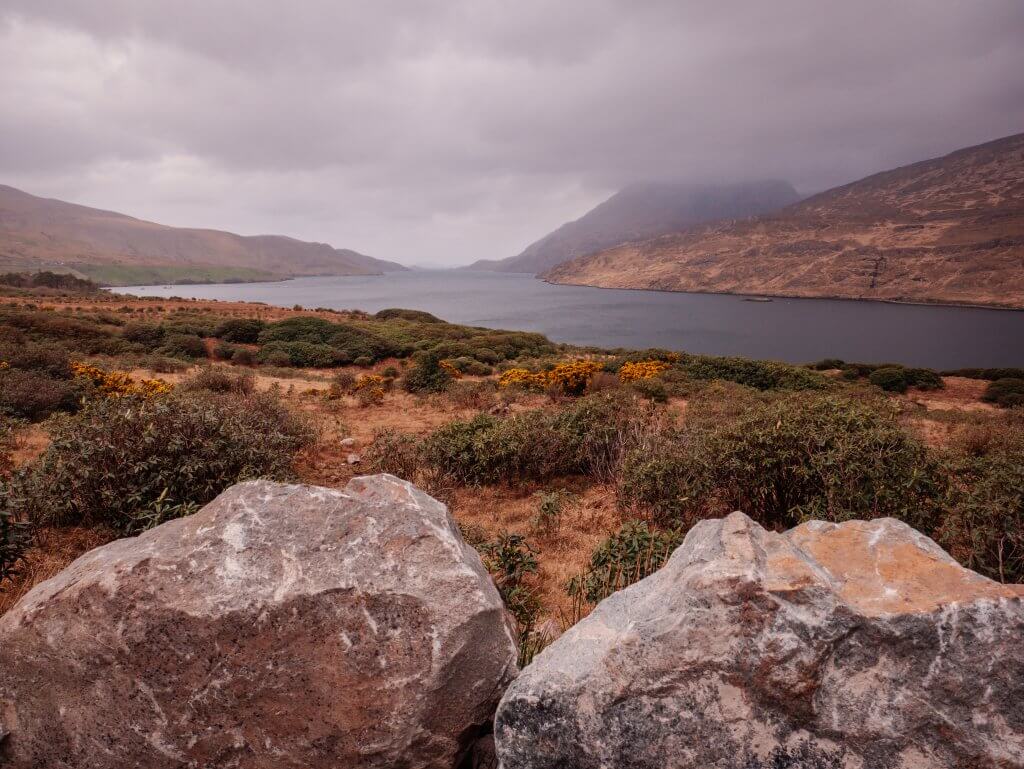 Killary Fjord Walk
Hiking along the Killary fjord walk is one of the most scenic hikes in Connemara. Killary Harbour is Ireland's only true fjord and extends 16km in from the Atlantic to its head at Aasleagh, below Aasleagh Falls. It forms the border between Galway and Mayo and boasts some of the most spectacular scenery in the west of Ireland. Near the head of Killary fjord is Leenane, a small but picturesque village that featured in the classic Irish film, The Field.
Killary Harbour is also extremely deep, over 45m at its centre. This offers a very safe, sheltered setting, because of the depth and the mountains to the south and north. It is a centre for shellfish farming, and strings of ropes used to grow mussels are visible for much of its length adding to its charm. Mussels and clams grown in Killary Harbour are sold at the Westport Country Market every Thursday morning.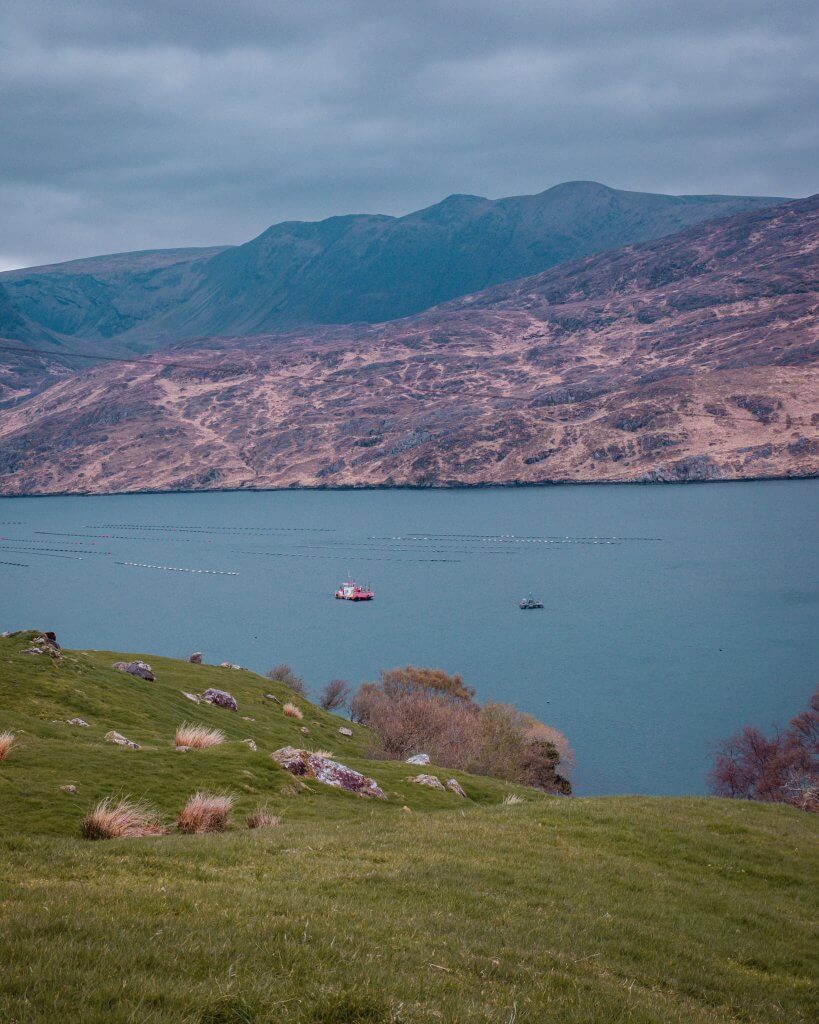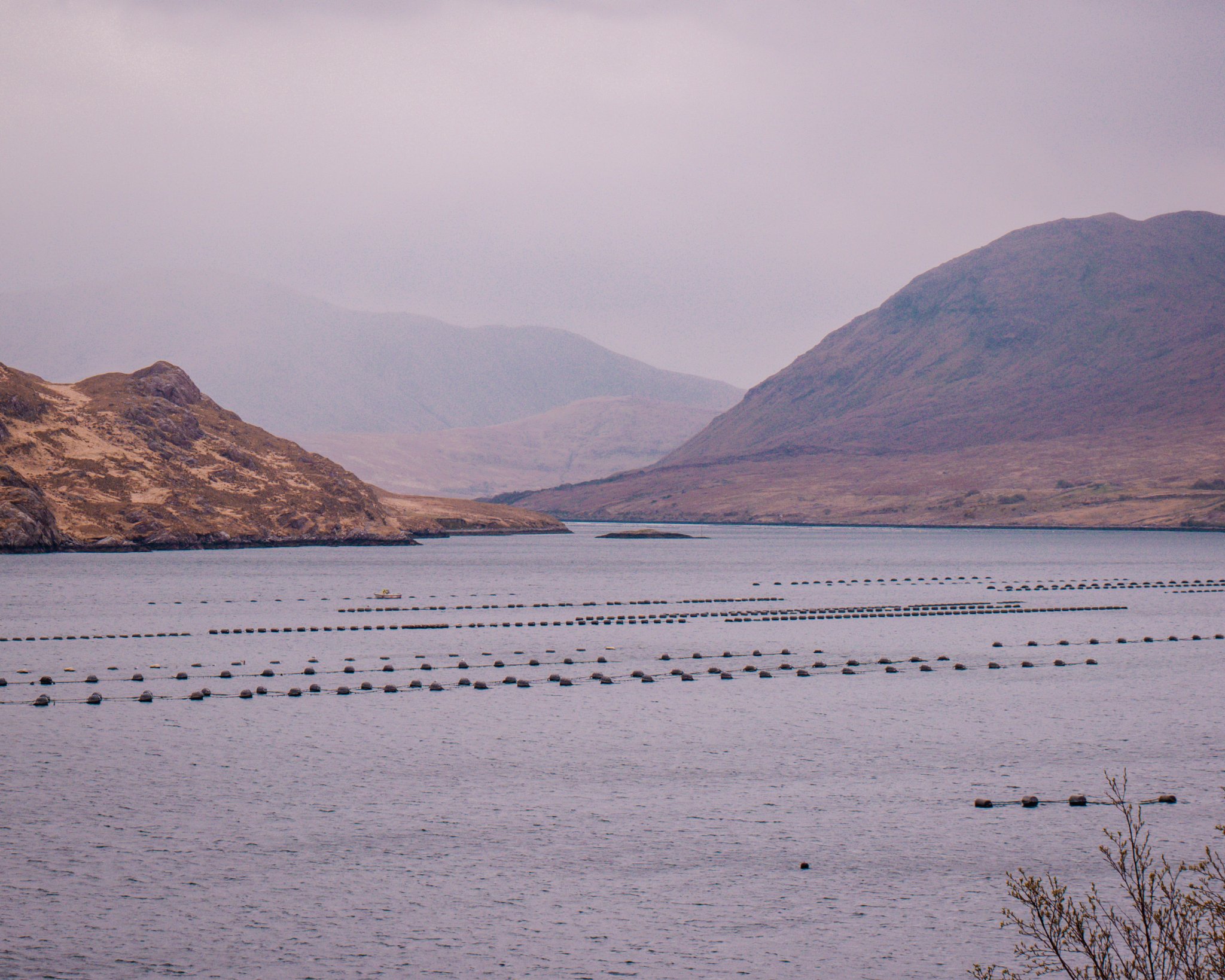 To the north lies Mweelrea, the highest mountain in Connacht and County Mayo. To the south are the Twelve Bens and the Maumturk Mountains of Connemara. Majestic views greet you from all directions. It is honestly breathtaking.
Coffee stop at Misunderstood Heron
But first coffee! If you are about to set off on an 18km Killary Fjord walk you want to be well fueled. I am going to let you in on a little secret. I only came for the coffee. I had heard about the delicious food on offer at Misunderstood Heron and knew that I wanted to try it. As a sidenote I searched walking trails in the area and when this scenic Killary Harbour loop walk popped up it was a match made in heaven.
Misunderstood Heron is a unique Food Truck cafe located along the Wild Atlantic Way and the shores of the majestic Killary Fjord in Connemara Co. Galway. It is a unique place to travel to for creative Irish food and top quality Irish roasted coffee while being immersed amongst Connemara's wild mountains and sea vistas. With quirky & uniquely styled outdoor seating, as well as a focus on environmental sustainability, if you are looking for somewhere to eat along the Wild Atlantic Way in County Galway this is an unrivaled Connemara foodie experience. It opens weekend mornings from 11am, with food from 12pm, but come early as this place is really popular and the queues can get really long. It is hidden along the main road from Leenane across from Killary Harbour Adventure Centre and you can always pop the eircode H91 PY61 into Google Maps to locate it.
We parked here to begin our walk but it added an extra 3km to our hike and I don't recommend it. An 18km walk is more than enough!
Parking for the Killary Harbour Coastal Walk
To begin the walk you need to head from Leenane on the N59, past the Killary Harbour Adventure Centre and towards the bridge at Bunowen river. You will see a road sign marked Bunowen L51022. This is the starting point of the walk. You will find parking on a gravel area off the main road just across from this turn off.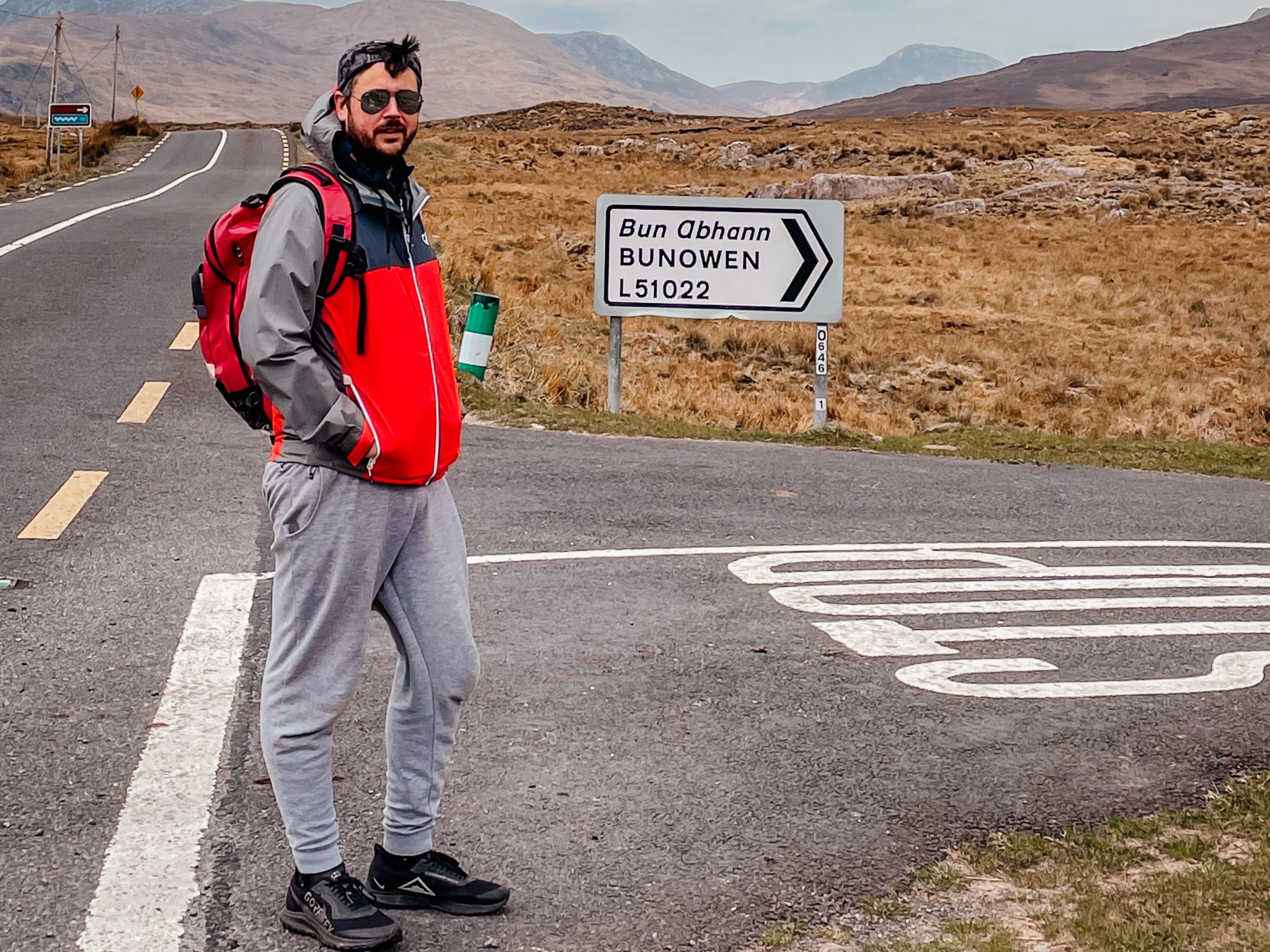 This walk is easy in gradient but it is a long walk and will take at least 3-4 hours to do the full Killary fjord walk. My fitness is poor after my illness and we stopped for lots of photos along the way so it took us 4 hours 40 minutes to walk it at a steady pace but you can totally take it at your own pace and even just walk the coastal route and turn back if you don't want to do the full loop.
If you have chronic illness like me then be sure to check out my tips for travelling with chronic illness.
Killary Harbour Coastal Loop
The begining of the walk will be paved and takes you through the most scenic views. Past little cottages with sheep and lambs happily playing in the fields. Roosters and chickens wander the roads freely (this road is a dead end and is not a main thoroughfare for traffic so it is completely safe to walk). The trail will take you along the edge of the fjord with spectacular views of the ocean. You will see plenty of sheep, goats, rams, birds, colourful fishing boats and it will be hard not to feel completely immersed in nature. Keep an eye out for dolphins playing in the harbour because you just might get lucky enough to see them.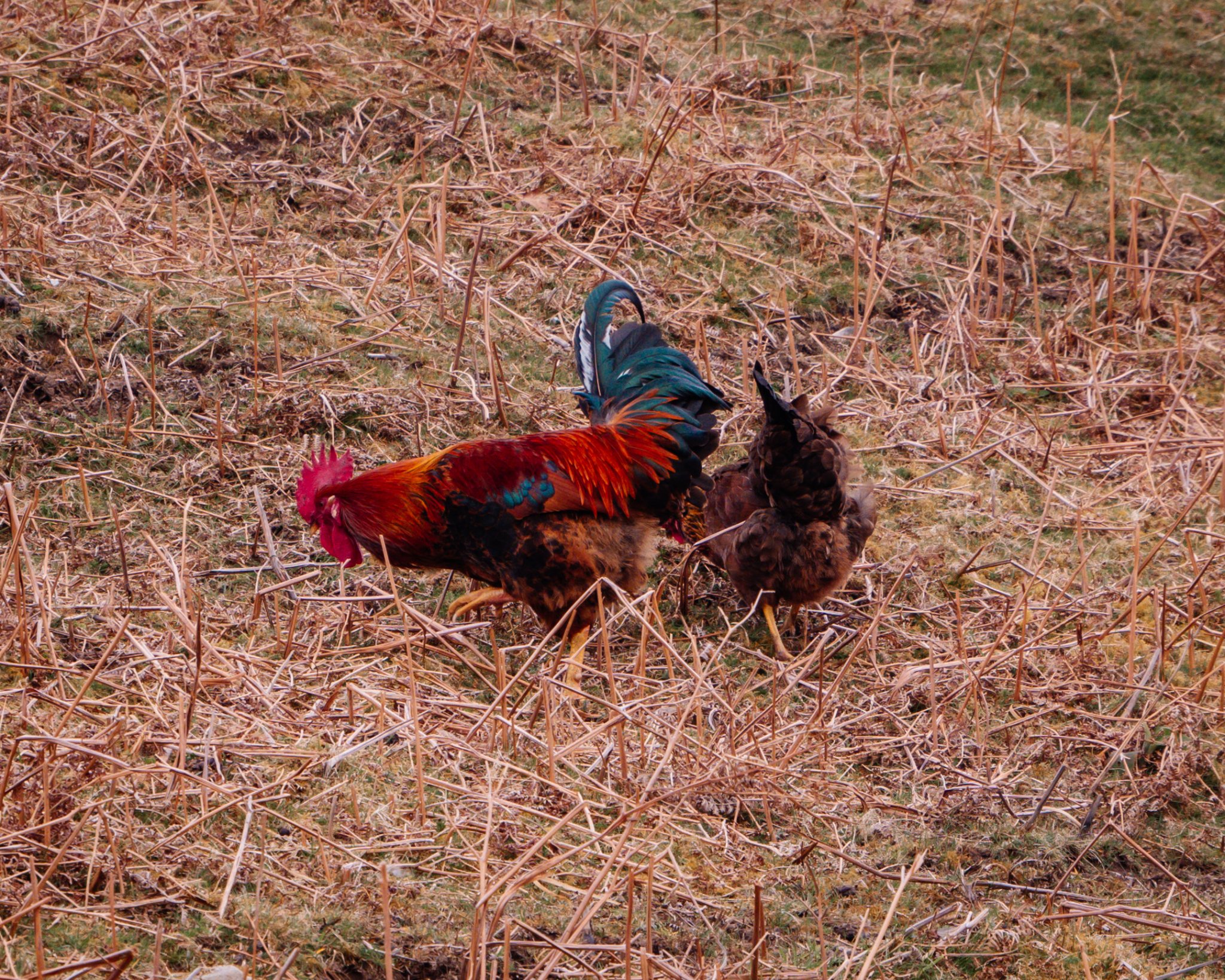 As the trail progresses you will walk past Killary Sheep Farm a traditional working mountain farm with over 200 ewes roaming freely in the mountain overlooking Killary fjord. I highly recommend visiting during Spring and lambing season. We were stopping every few minutes to photograph adorable newborn lambs. It was such a lovely experience to be so close to them.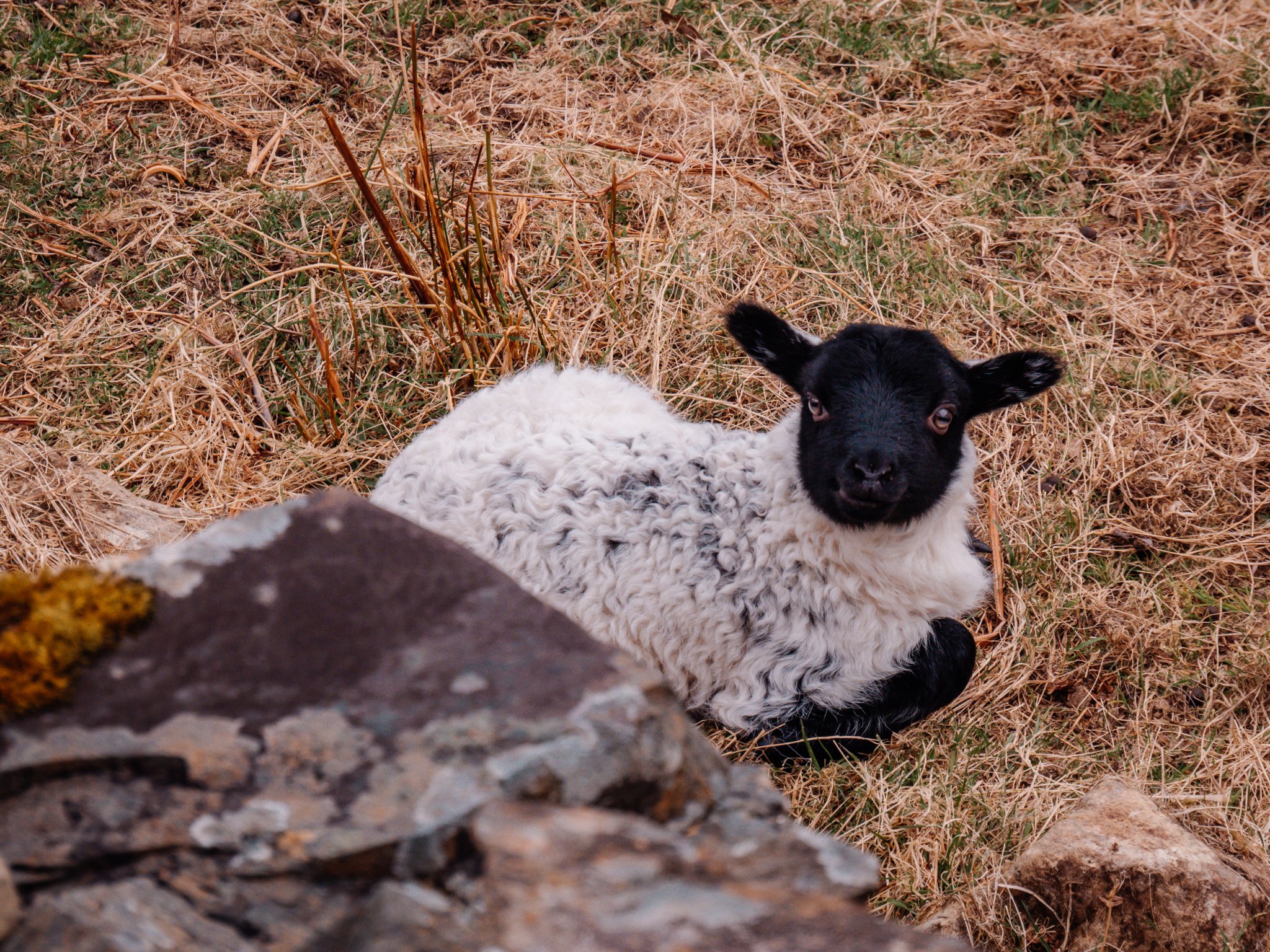 At Killary Sheep Farm visitors can also experience sheep dog demonstrations, sheep shearing and turf cutting demonstrations. It would be a lovely family day out in Connemara.
As you continue along the coast, the trail becomes grassy and quite mucky in places so wear waterproof footwear. At one point we came across a puddle with hundreds of tadpoles. It was really incredible to see them thrusting themselves through the water with their tail fins. I couldn't believe the sheer volume of them…and in a puddle! The trail was also scattered with empty mussel shells from seabirds feasting on them.
On the trail you will pass by abandoned cottages that add charm to this section of the trail. Eventually you will come to a stone wall and what seems to be the end of the hike. This is a good spot to turn around if you are walking with little ones as the next part of the hike contines along the mountain edge on a dirt path with no guard rail and a sheer drop into the fjord. It is not as scary as it sounds, there is a clear path but I certainly wouldn't like to do it with little ones. To continue on simply climb over the gap in the wall and follow the trail along the mountain edge.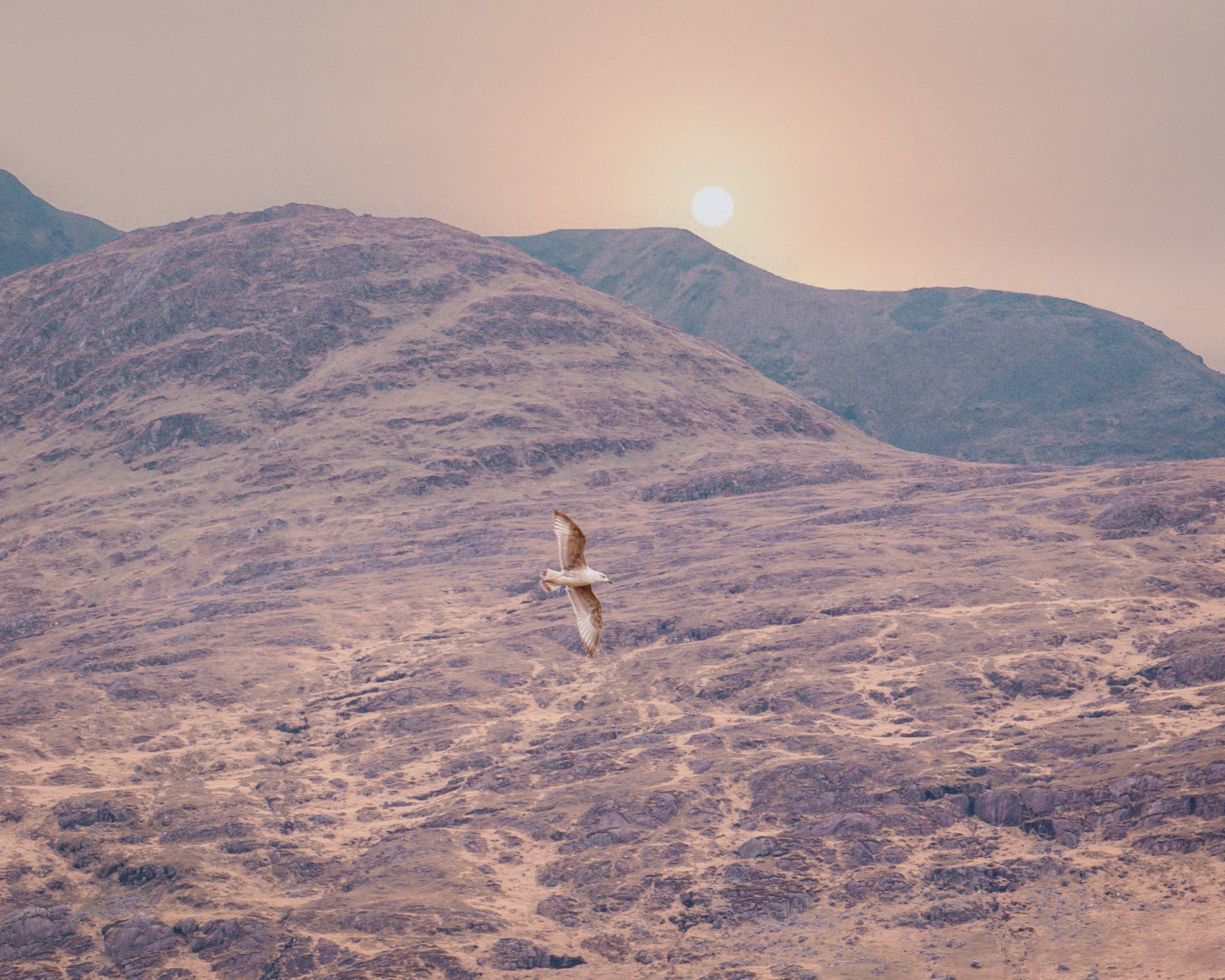 Personally this was the most exhilarating part of the trail for me. The views were simply outstanding and without the sheep fence protecting me from the fjord I really got to feel at one with nature. At this part of the trail I kept saying to Mister Lavin that this was the best day ever! We even had a little snack break with views to die for. Who doesn't bring Tayto's on a hike?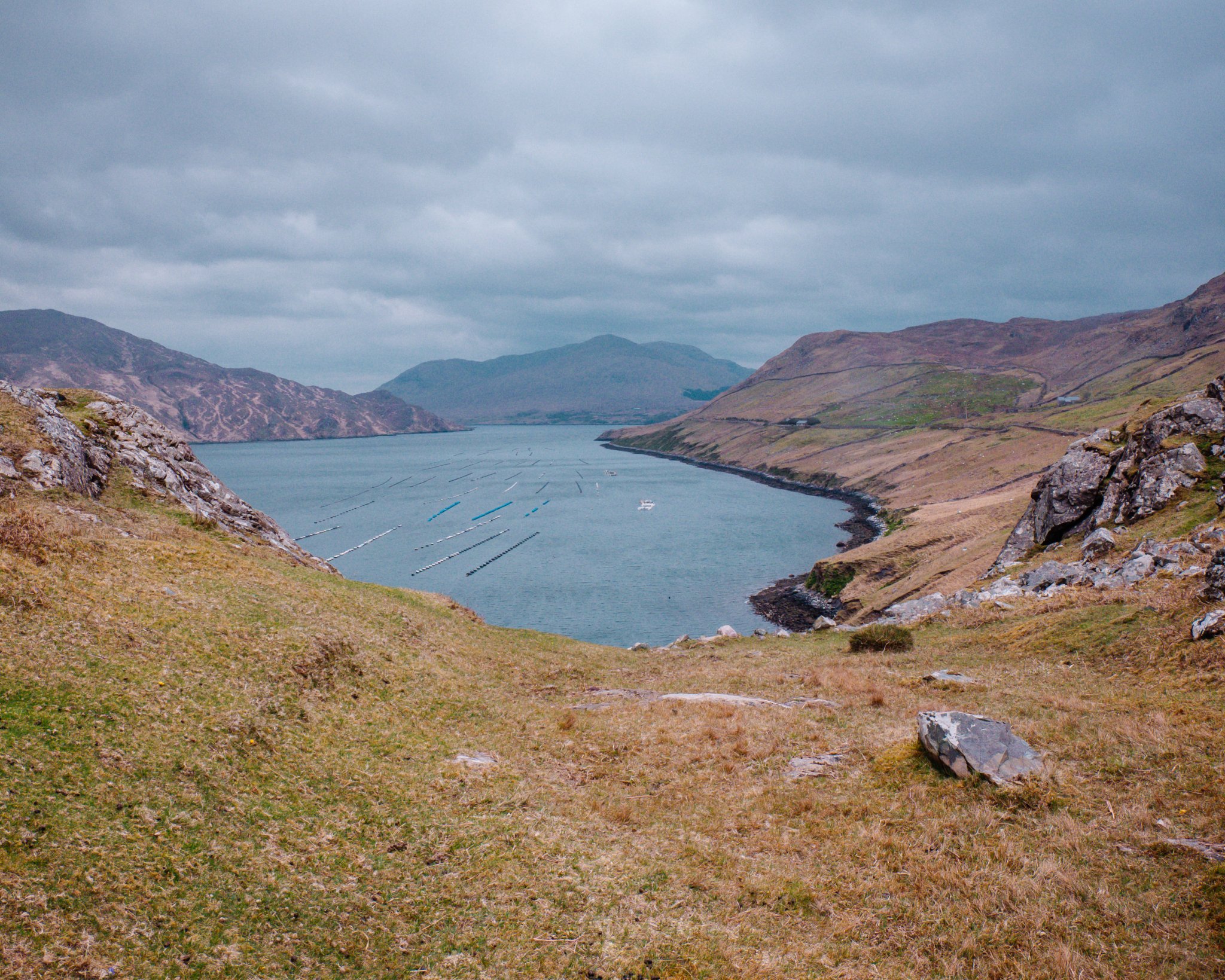 This first part of the walk ends at the quay of Rosroe Harbour a beautiful little fishing village. You will now be at the head of the loop. Rosroe pier is where the coastal path ends and you will join country roads again with traffic. This part of the walk was tough as not only is it the longest part of the walk (approx 10km) there is a short but steep climb uphill which is tough on already weary legs.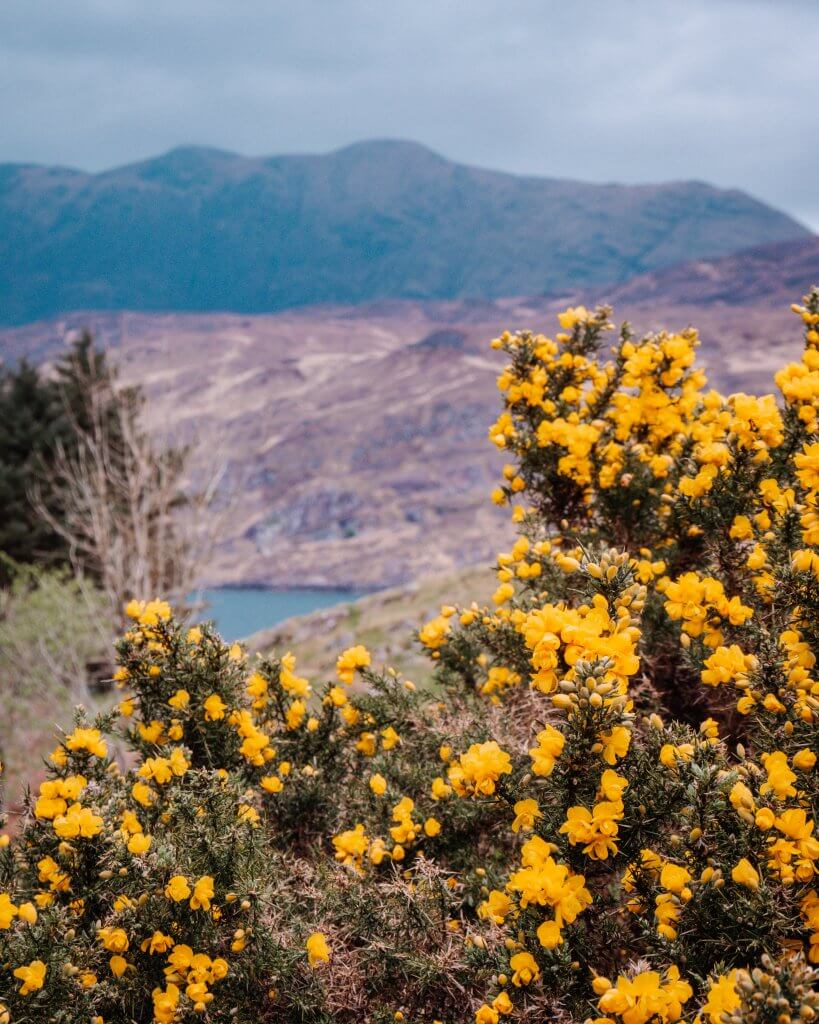 The weather turned bad for us too, really cold and wet so maybe if you are attempting the full Killary Fjord walk check the weather forecast and wait for a dry day. Having multiple layers of clothing and rain-gear in our backpack did help but we really wished that we had brought gloves.
This part of the road will take you past not one but two lakes. The smaller Lough Muck and the larger Lough Fee and you will walk along the length of both of them. My legs were quite sore and tired at this point and I am not going to lie I hit many walls along this part of the journey. I also wished I had brought a second pair of footwear. Waterproof hiking boots for the mucky rough terrain were perfect initially but now on the smooth road surface I was craving my running shoes. Please bear in my that this was a personal challenge for me because after an 18 year battle with disability brought on by Lyme disease and autoimmunity my fitness was on the floor.
But I did it! And I am so proud of myself. I am not going to lie. There were tears when we walked past the place we could have parked and I now had to walk another 2km to reach the car but I am so glad that I did it. I can't wait to do more Connemara Hikes and share my experiences with you and build my fitness again. If you have any particular questions about this hike please feel free to drop me a comment.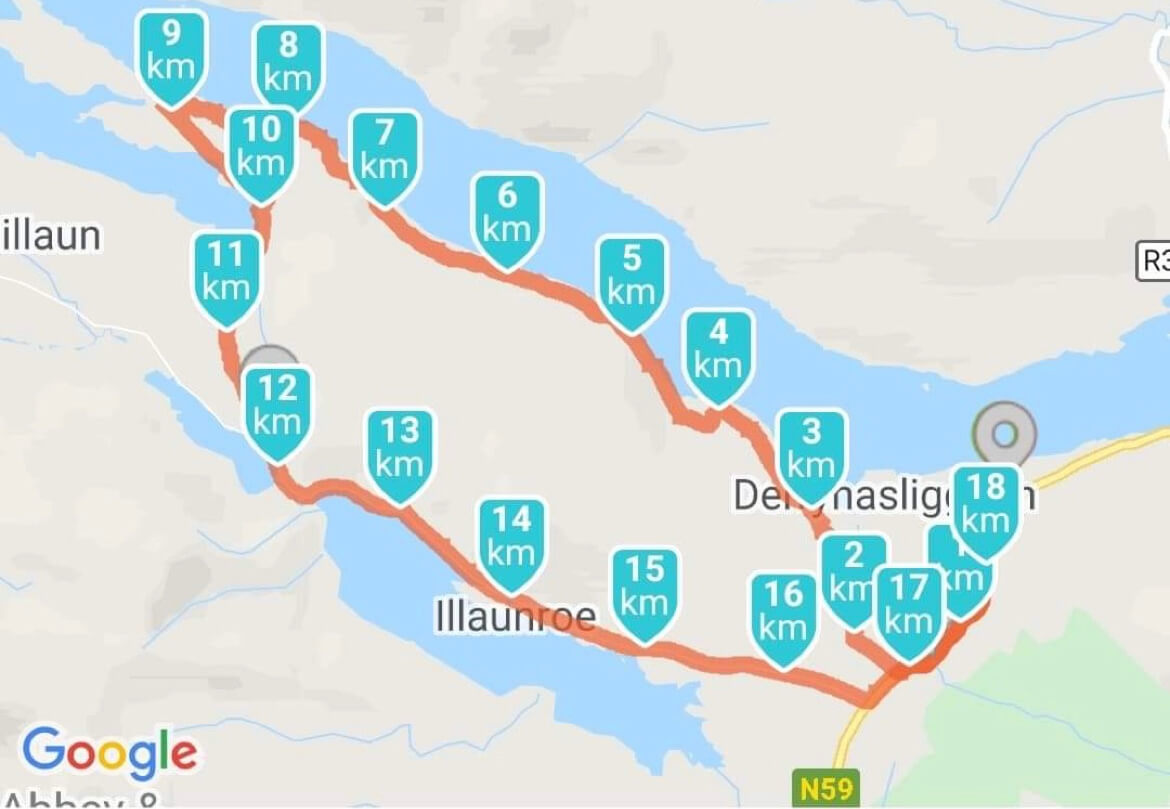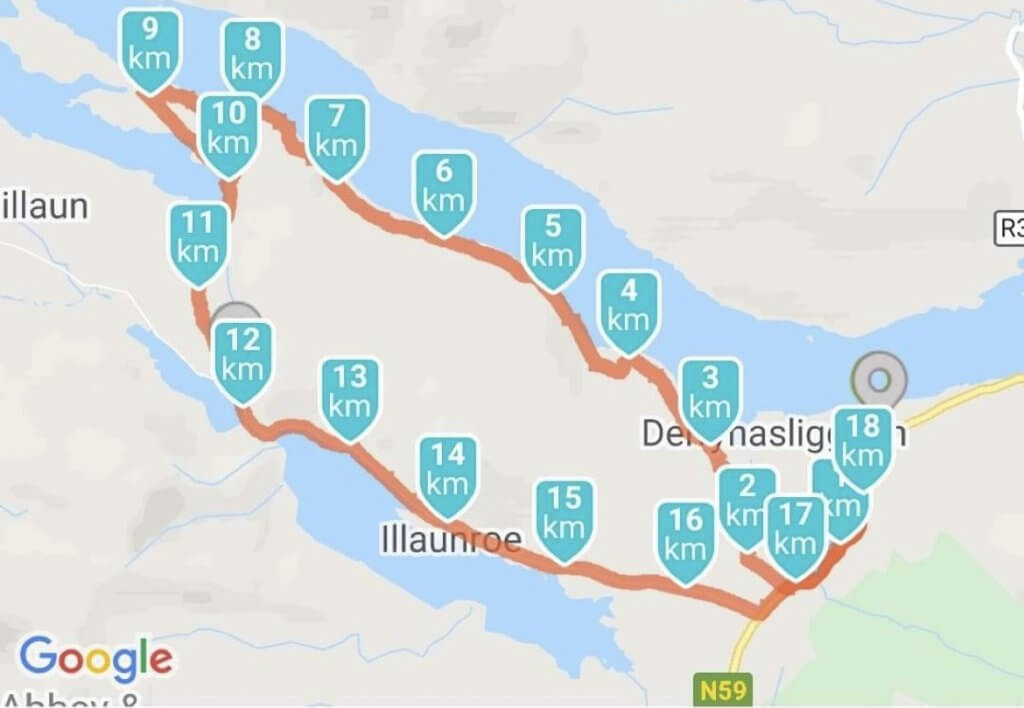 Why not treat yourself and stay at the luxurious Ashford Castle during your time exploring Connemara or unwind at Delphi Mountain Resort & Spa.
Are you new here? Join thousands of other happy readers and subscribe to All about RosaLilla blog via email. The good news is that by signing up via email you will get exclusive travel deals straight to your inbox. The only other place that I publish these deals is on Instagram stories, so be sure to signup to get the heads up on amazing travel deals to save you money when booking.
I also share everything about myself on Instagram with nothing held back so be sure to follow along there.
If you liked this you might also like:
25 Airbnbs for groups and family holidays
How to spend a weekend in Galway. Tips from a local.
Exploring County Clare and The Wild Atlantic Way
Until next time you crazy kids!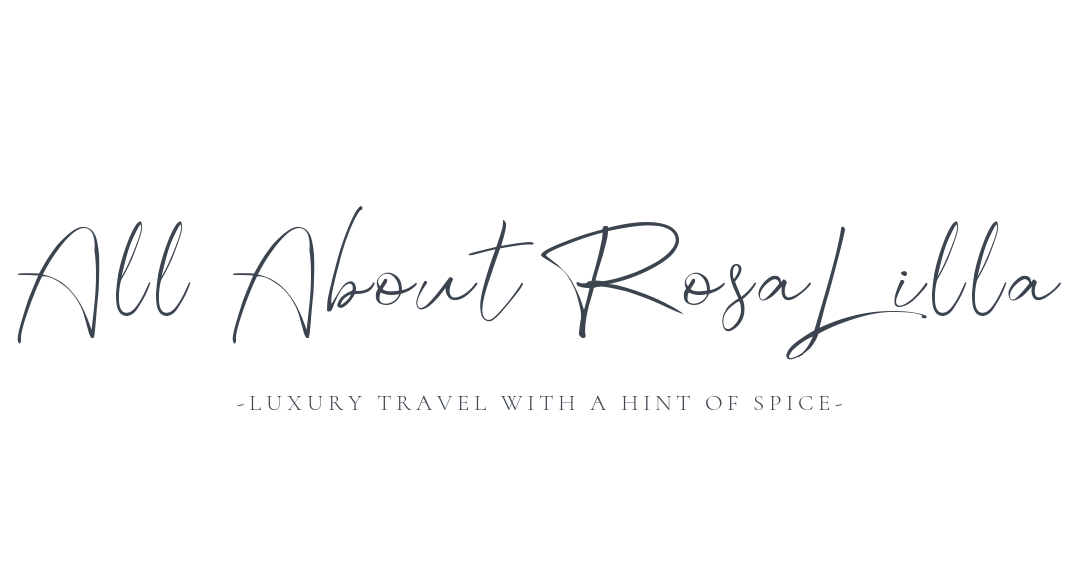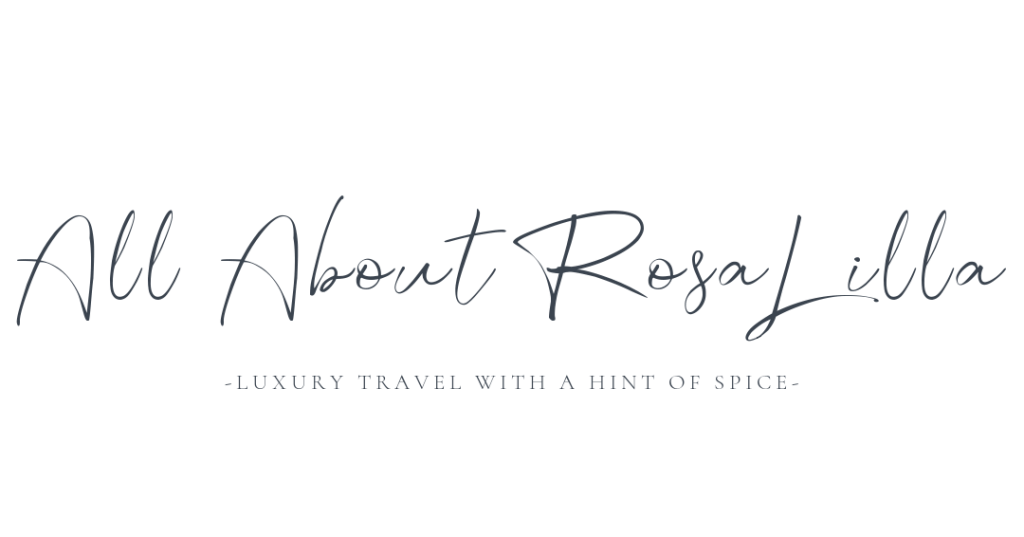 Sharing is sexy!