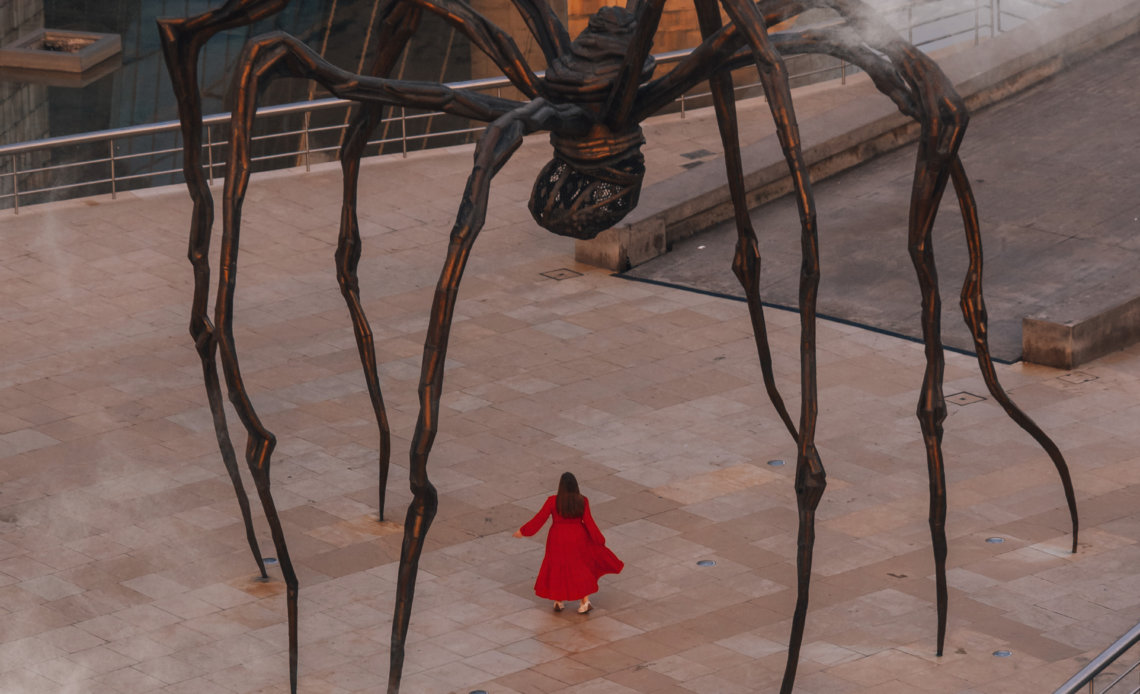 One day in Bilbao itinerary
We recently got to spend one day in Bilbao as part of our Princess Cruise itinerary and again during our visit to Basque Country during Easter. This former industrial city is now uber cool and we have come up with the best one day in Bilbao itinerary for you, so that you can make the most out of 24 hours in this vibrant city. Bilbao is a mecca for art lovers, and you can see some of the world's most renowned works in just one day. Our itinerary will take you to the best museums, galleries, and public art installations in the city.
Along with Vitoria-Gasteiz, Bilbao is an underrated city with lots to offer the discerning tourist. It is a city with a rich history and culture that will leave you captivated. With so much to explore, it can be tough deciding where to begin. But don't worry, we've got you covered. Our expert guide will ensure you make the most of your 24 hours in this beautiful city.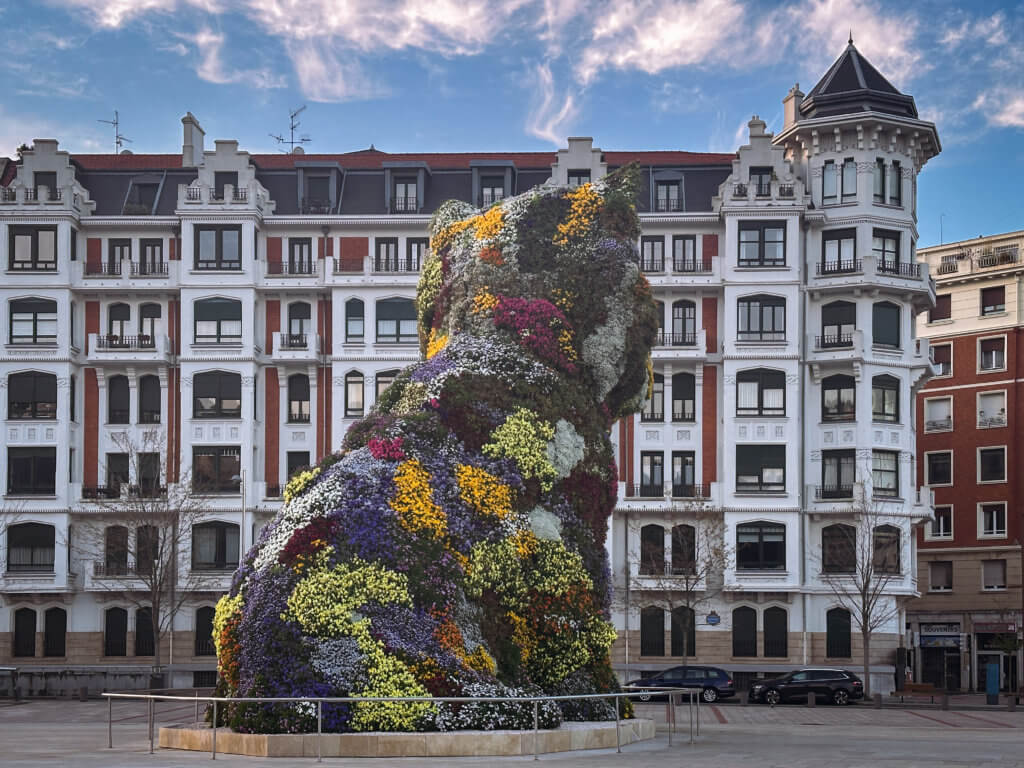 The Guggenheim Museum is a must-see, but Bilbao has so much more to offer. Our guide will show you the city's lesser-known sights, from historic architecture to local neighborhoods, so you can get a true sense of Bilbao's culture and personality.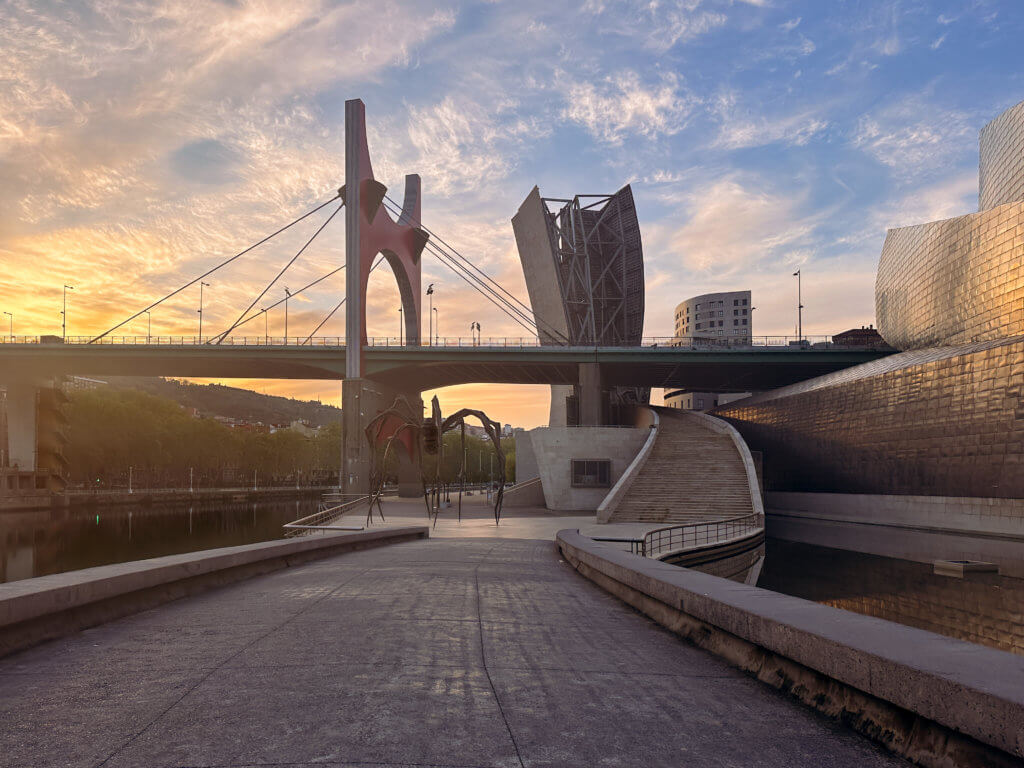 So are you ready for a day of adventure in one of Spain's most vibrant cities? From a traditional breakfast to a pintxo crawl, you certainly wont go hungry as you experience the city's most iconic and delicious sights and flavours. Join us on this whirlwind one day tour of Bilbao – you won't regret it!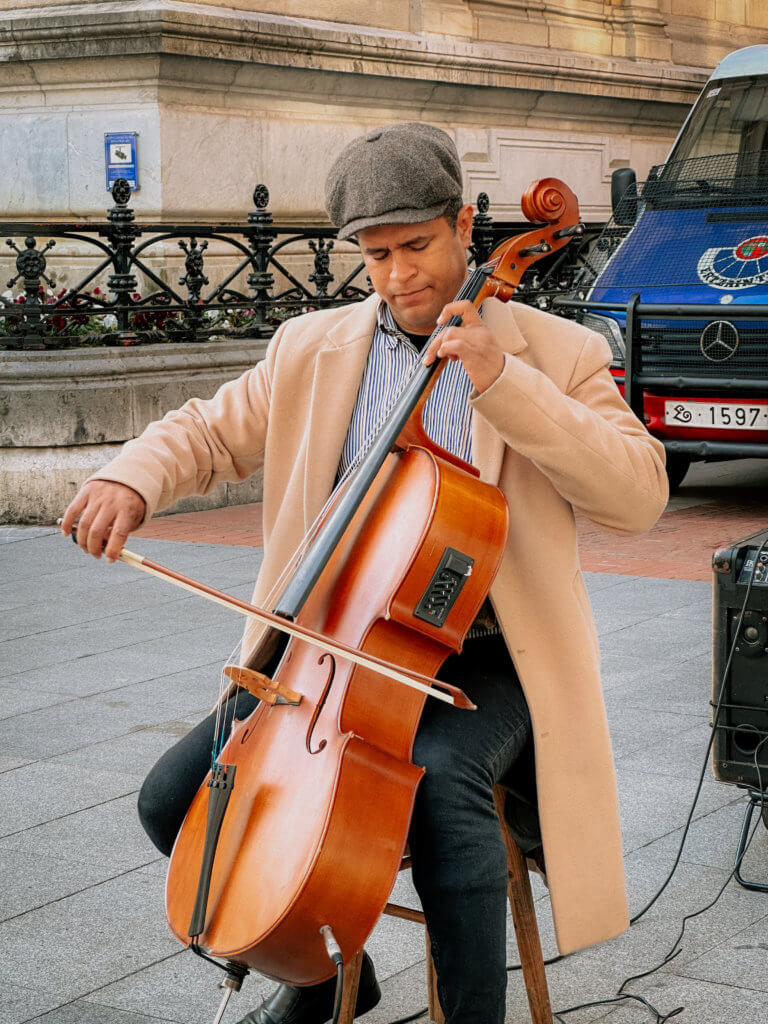 One day in Bilbao itinerary
Bilbao is located on the shores of a very narrow estuary, about 10 miles south of the Bay of Biscay. Bilbao is one of the greatest treasures of Basque Country. Both times spending a day in Bilbao we arrived by boat. Brittany Ferries have a direct crossing from Rosslare to Bilbao which is perfect if you want to bring your car. There is also a major international airport located just 9km from Bilbao.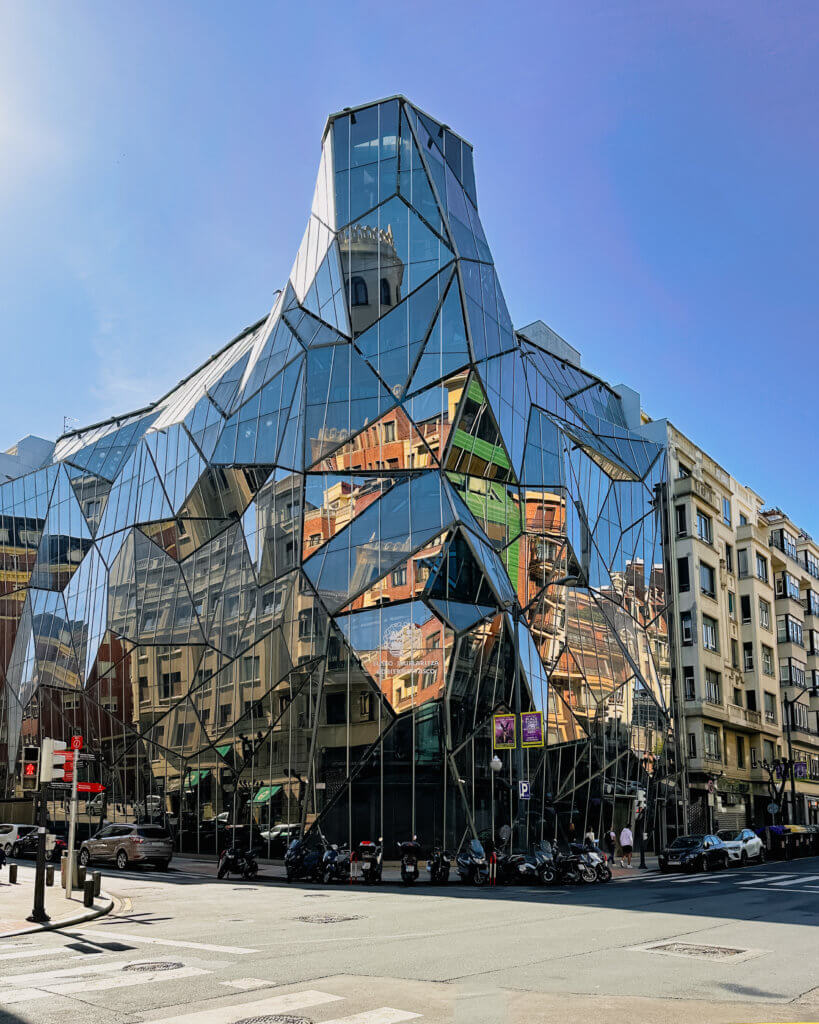 Are you ready to visit Bilbao?
The best things to do in Bilbao in one day
Start your day with a traditional breakfast
To fully embrace Bilbao's culture, start your day with a traditional Basque breakfast. Head to any local cafe or bakery and order a "tostada" with "tomate y aceite" (toast with tomato spread and olive oil) along with a "cafe con leche" (latte). It's the perfect way to start your day in Bilbao and it will give you the energy needed to explore the city's top attractions, including the iconic Guggenheim Museum. Some of our favourite spots for a delicious breakfast or brunch in Bilbao are Cinammon, Sua San, Cafetería Scala and The Beetle Bar.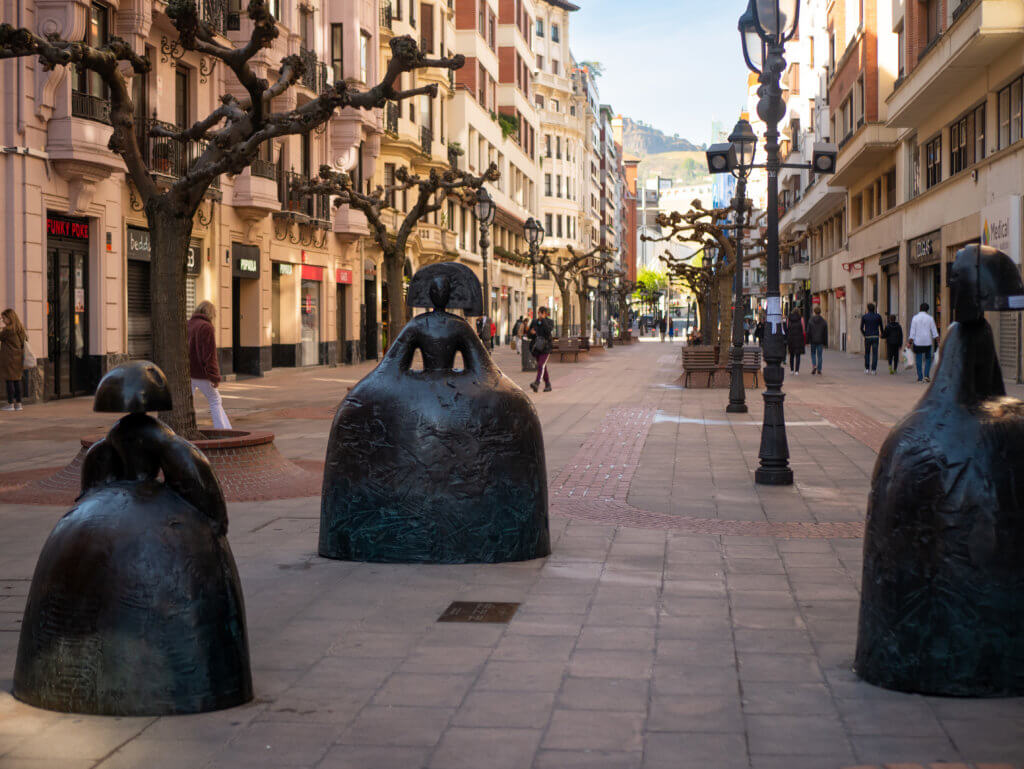 Embrace the art scene at the Guggenheim Museum
As you continue your day of exploring Bilbao, don't miss the chance to immerse yourself in the city's thriving art scene. And what better place to start than the Guggenheim Museum? Ask any person you know what is the first thing that springs to mind when you mention Bilbao, and without doubt they will say the Guggenheim. This iconic structure, designed by Frank Gehry, is a work of art in itself, with its striking titanium curves and impressive size.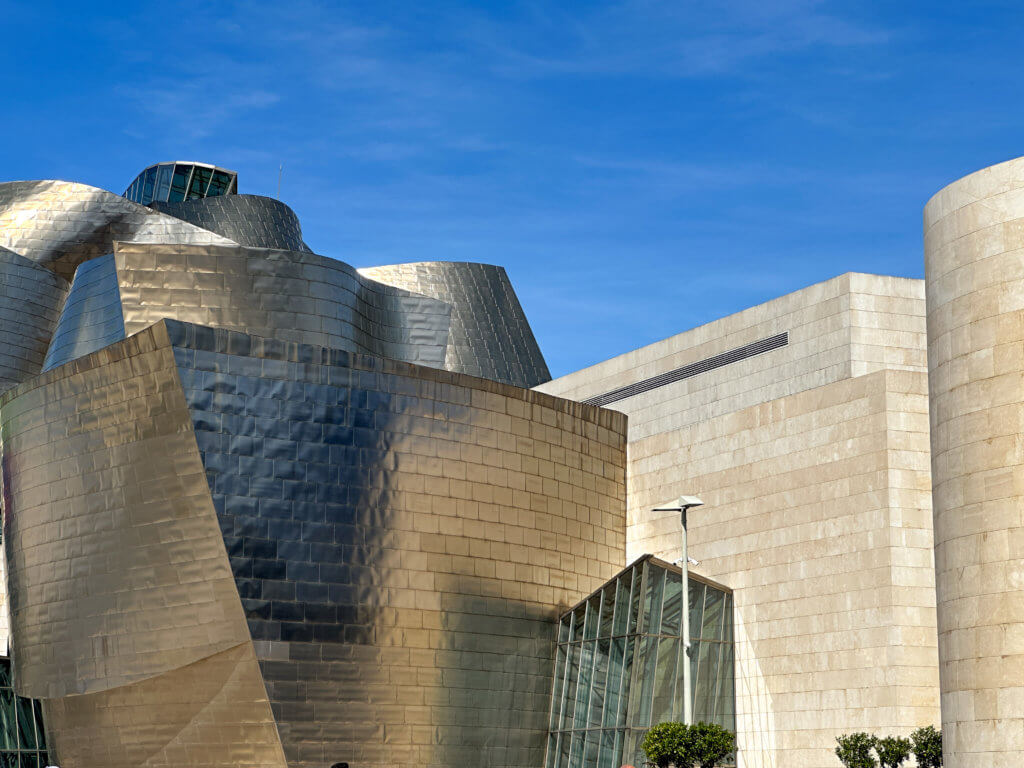 Inside, you'll find an array of exhibitions featuring works from renowned artists like Jeff Koons and Yoko Ono. You will also find popular modern art movements like cubism and surrealism. Whether you're an art aficionado or simply appreciate beauty in all its forms, the Guggenheim is sure to leave a lasting impression.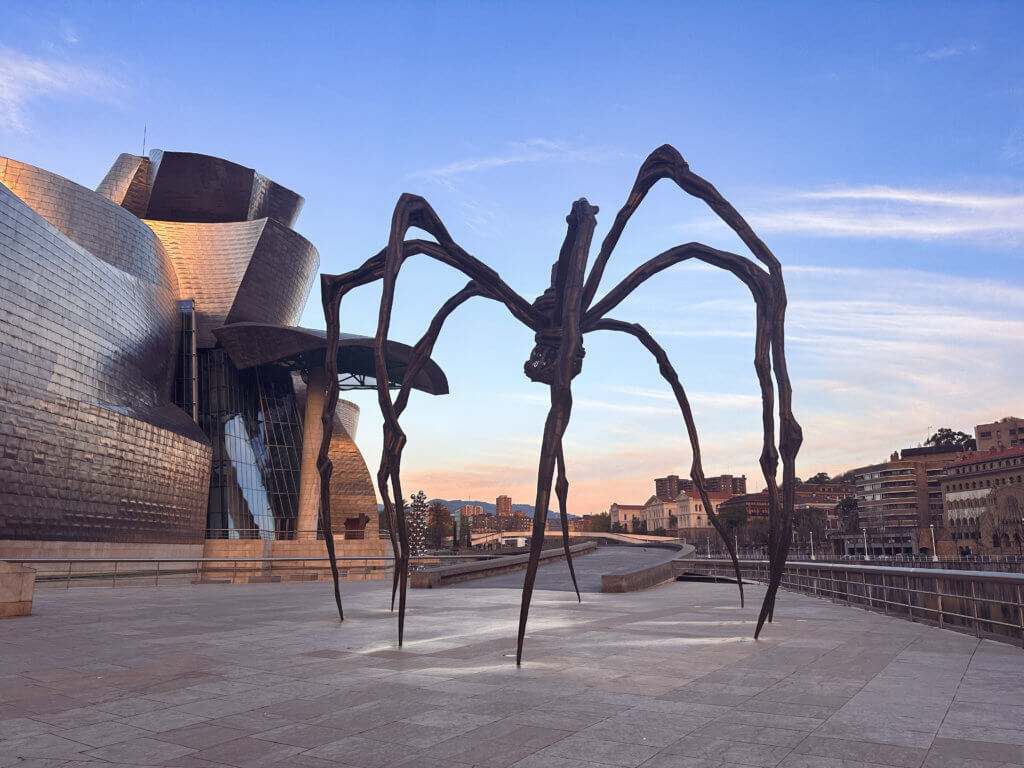 The truth is that you can spend between 3 to 4 hours in this museum. There are many floors and exhibition rooms to explore, and if you opt to listen to the audio guide, you'll definitely spend a big part of your day there. So our advice, if you only have one day in Bilbao, is to go as soon as the museum opens to maximise your time in the city. As it is one of Bilbao's top attractions we recommend getting your tickets in advance to avoid any chance of it being booked out. It can get especially busy with school trips and guided tours so don't miss your chance to visit.
After taking in the exhibits, be sure to stroll through the museum's picturesque outdoor spaces, which offer stunning views of the Nervion River. It's the perfect spot to soak in the city's creative energy and reflect on all you've seen so far. There are some incredible exhibits to see outside too, like Maman, a giant spider! Also, just outside the main entrance is our favourite sculpture, the Puppy by Jeff Koons, the world's largest flower sculpture! It has over 38,000 flowers, so it's definitely impressive to see. Especially if it is in full bloom.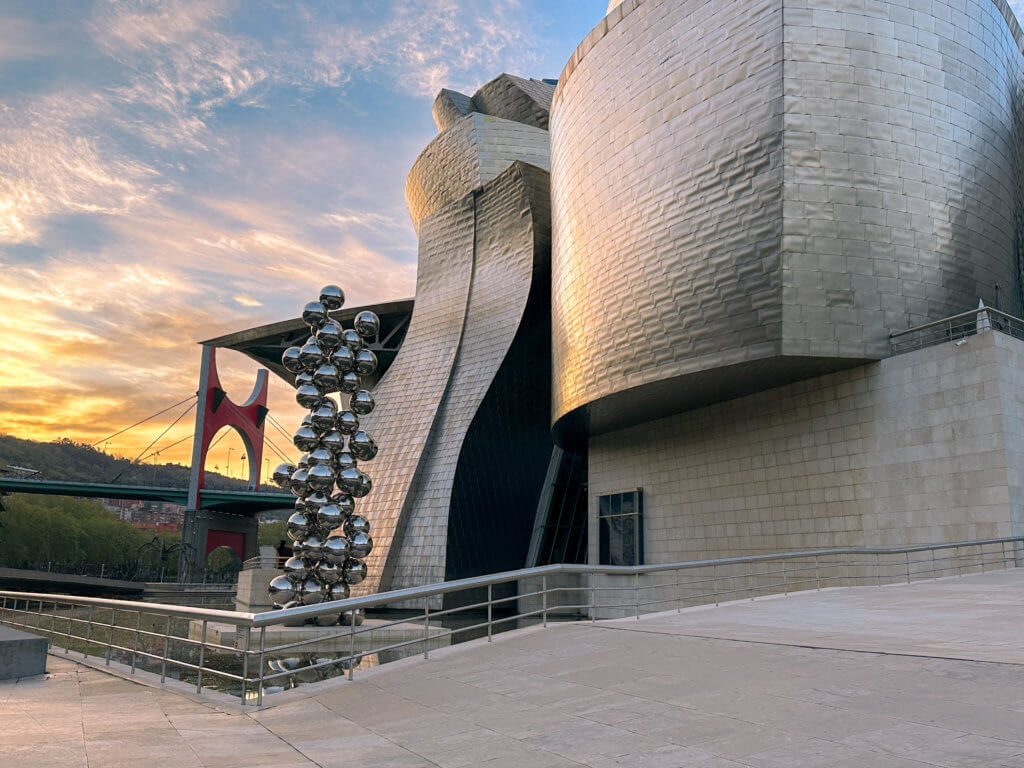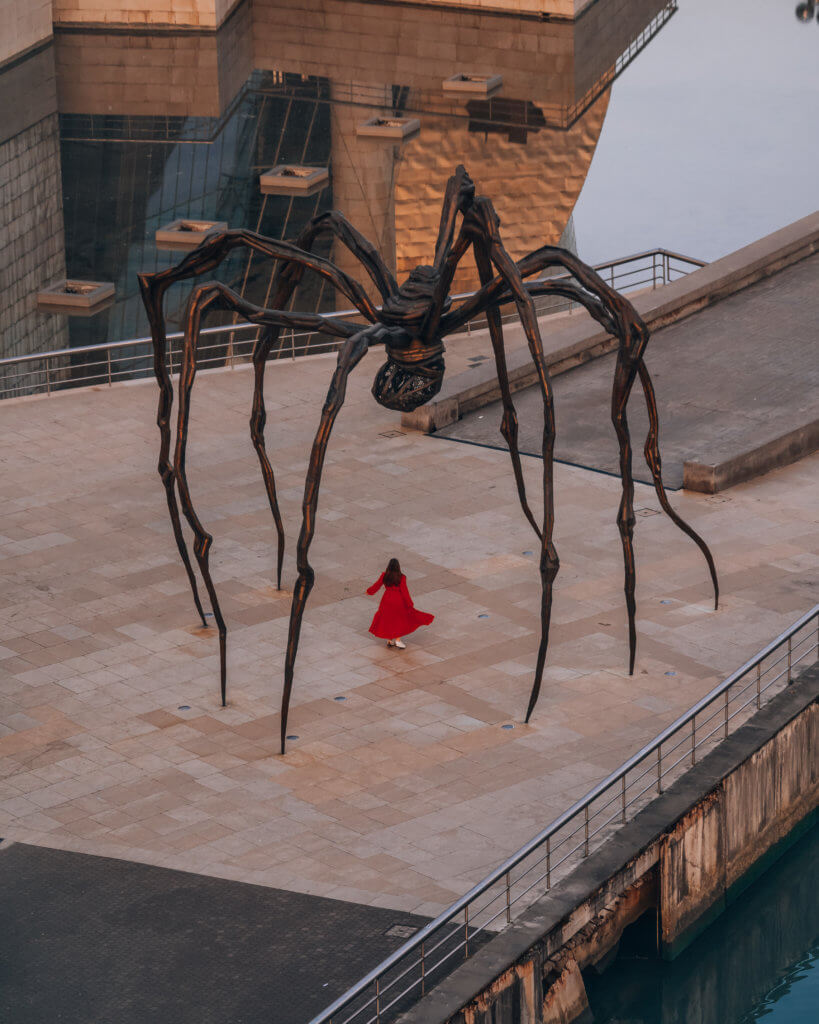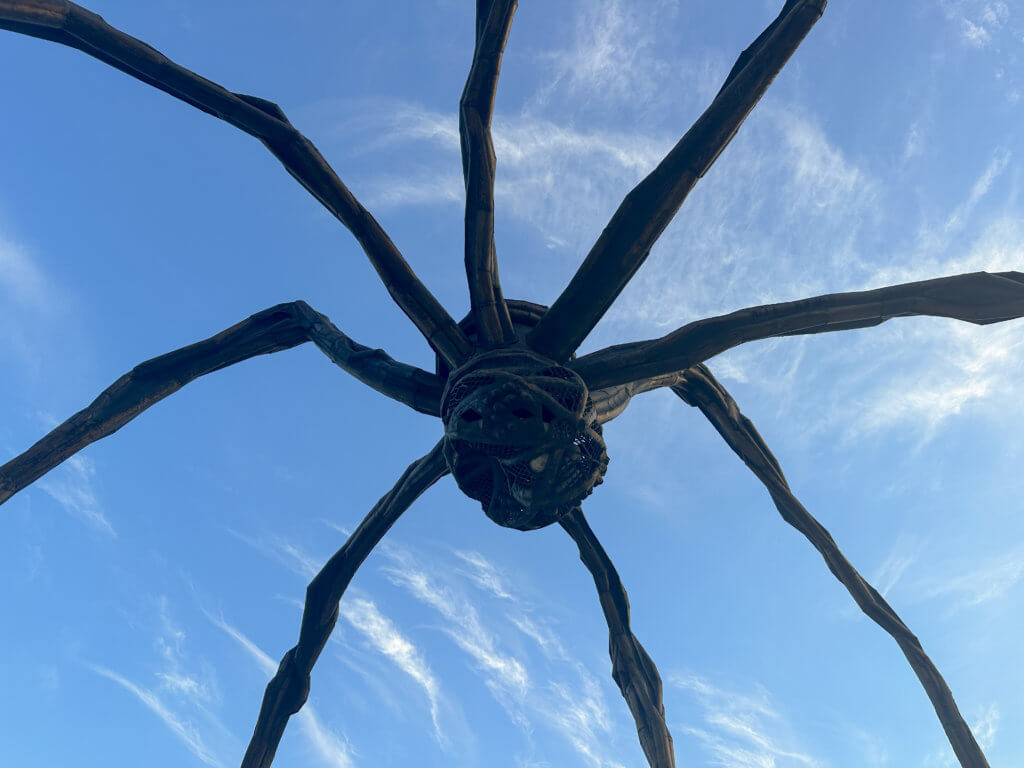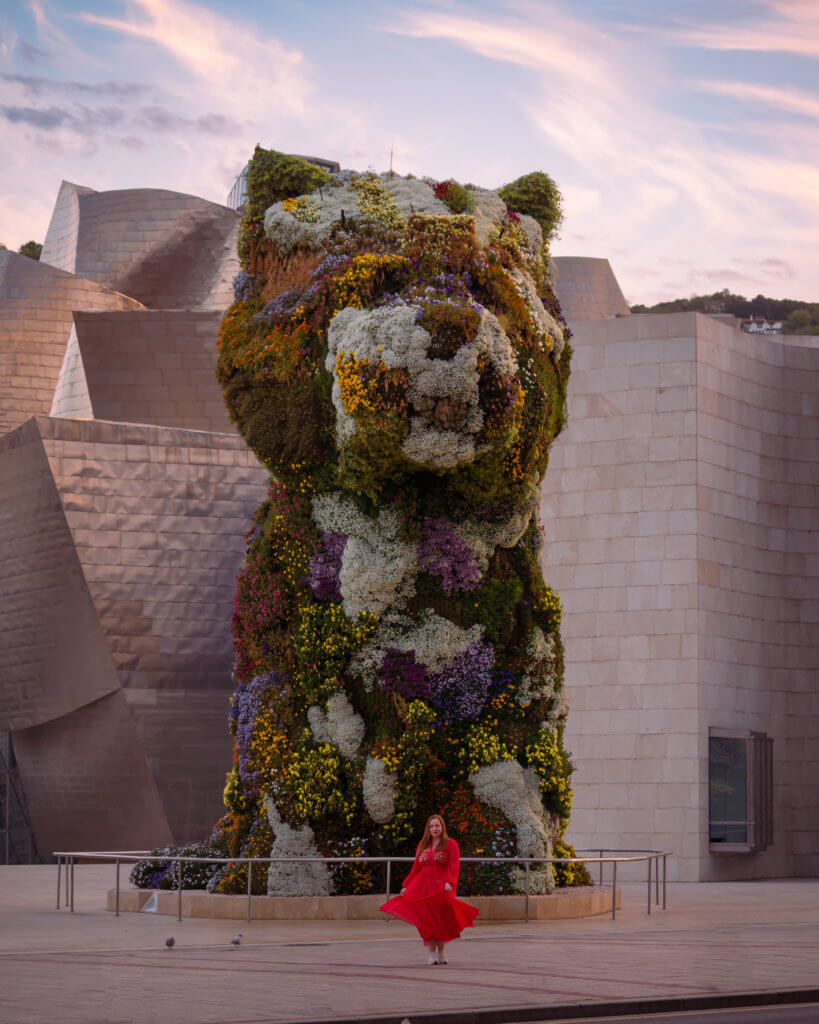 Immerse yourself in local life at Azkuna Zentroa – Alhóndiga
Azkuna Zentroa is a modern contemporary art and leisure centre which has become a cultural cornerstone of Bilbao since its redesign by the French architect Philippe Starck.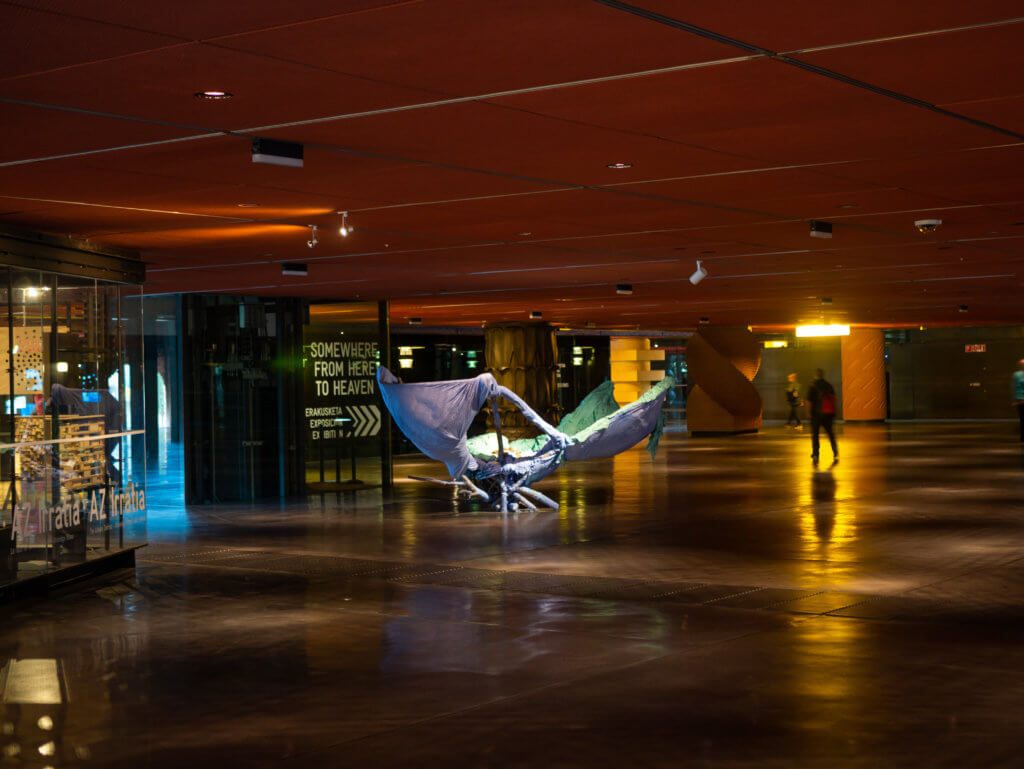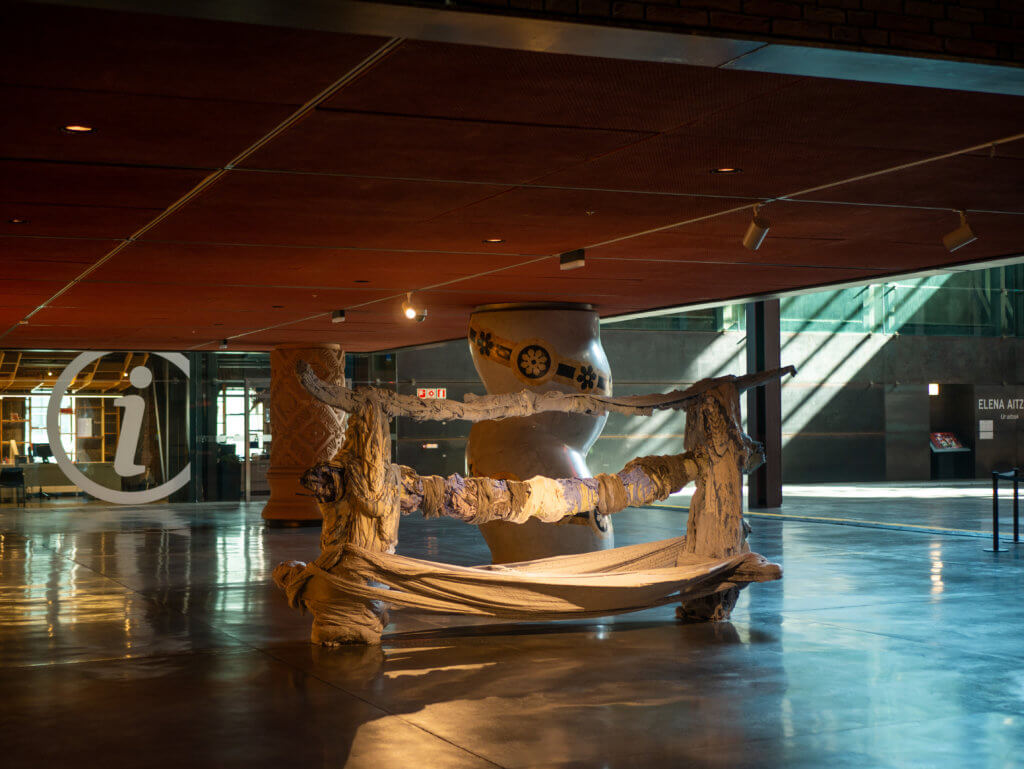 An iconic modernist building initially designed as a wine warehouse forms the core of the Azkuna Zentroa. The three buildings of the new cultural space rest on 43 pillars designed by the Italian set designer Lorenzo Baraldi. The diversity of styles in these columns in the entrance hall represents the infinite cultures, architectures, wars and religions of the history of humanity, and the importance of art in our lives.
Inside you will find an auditorium, galleries, multi-purpose spaces, cinemas, a sports centre with swimming pool, restaurants and a library with over 60,000 titles where locals like to go and sit for hours! A total of 43,000 square metres of public space designed to enhance social unity among the public, as defined by one of its original driving forces, former Mayor Iñaki Azkuna: "a meeting point for culture and a catalyst for peaceful coexistence."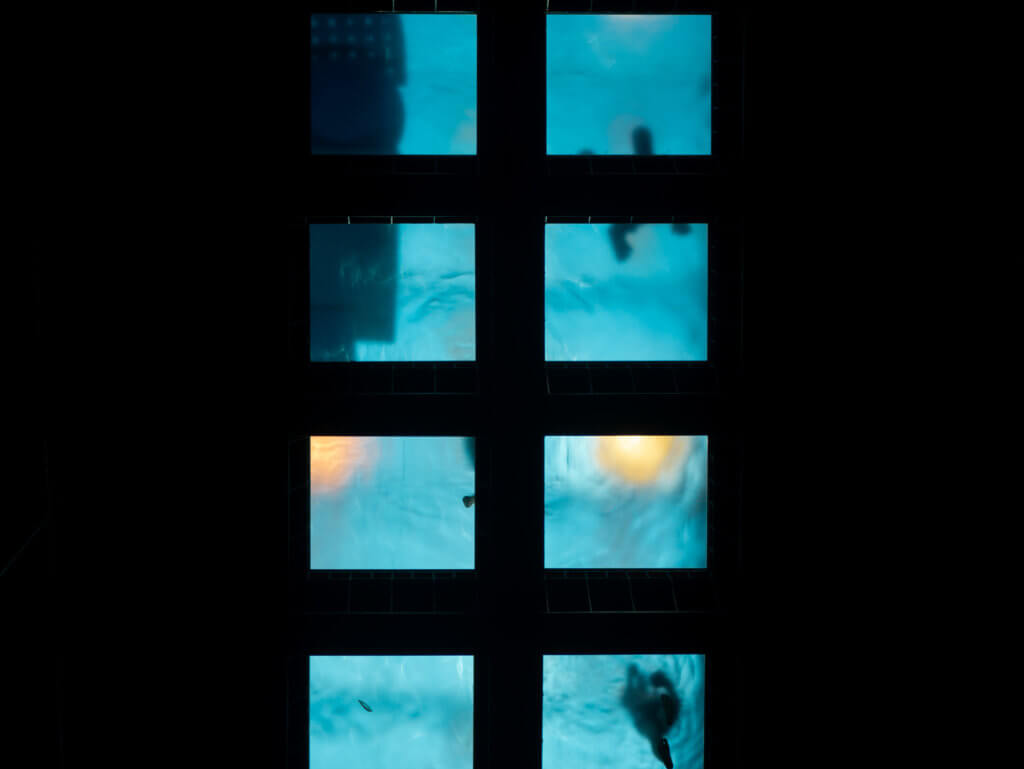 The outdoor areas are cleverly designed to reflect a sense of coming home. Cosy lamps and tables line the streets and as you exit there is a mirror to check yourself before you leave "your house". Entry is completely free and it is the perfect place to enjoy local life in Bilbao.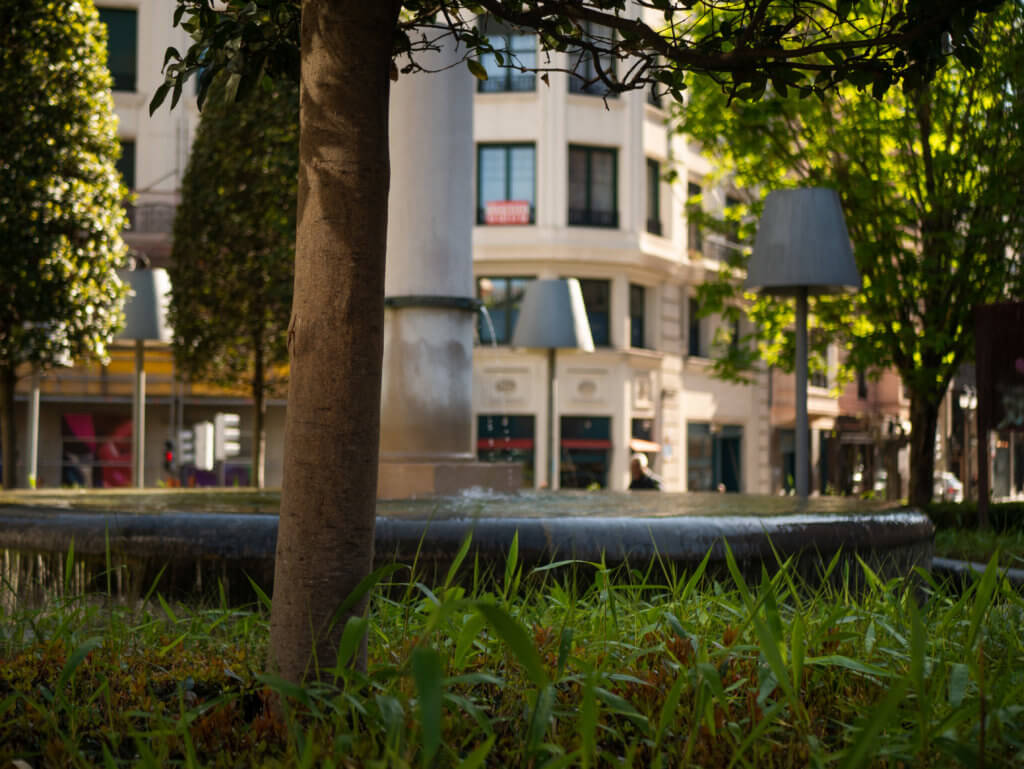 Feeling revitalized and inspired, it's time to continue your exploration of Bilbao's buzzing Casco Viejo.
Stroll through the buzzing Casco Viejo the historic centre of Bilbao
You can't truly experience the essence of Bilbao without taking a stroll through its historic district, the Casco Viejo. Here, the streets buzz with energy as locals and tourists alike enjoy the shops, cafes, and art galleries that line the narrow alleys. The architecture, a fusion of historic and modern styles, is a testament to the city's rich history and ongoing evolution.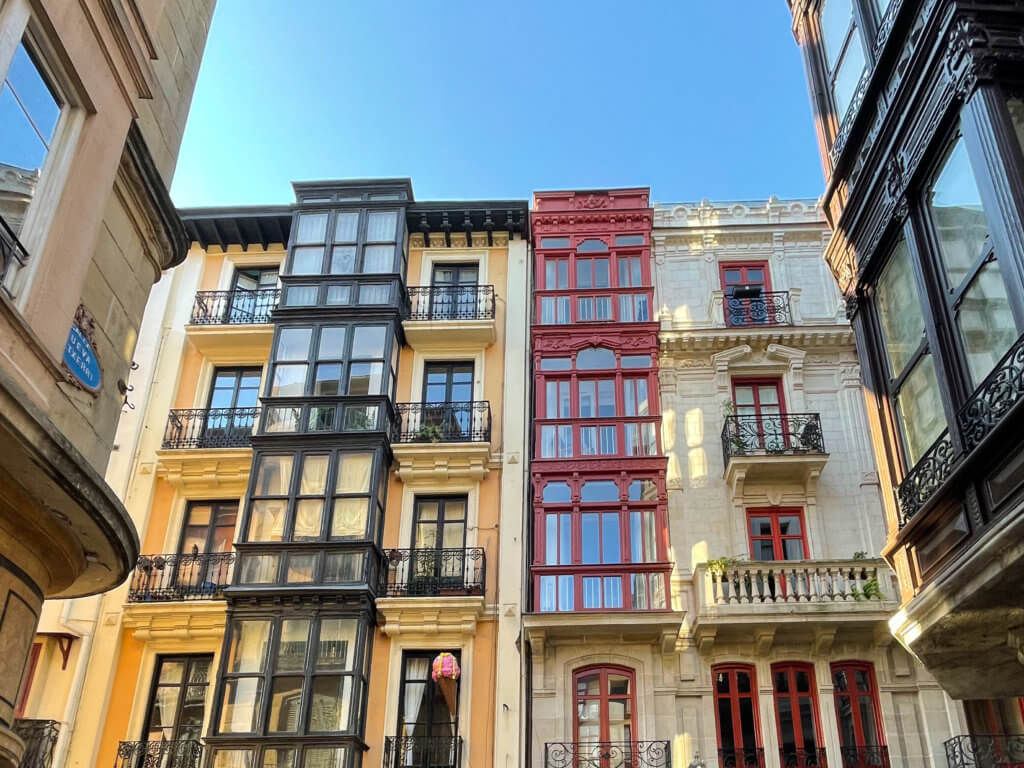 As you walk through Casco Viejo, allow yourself to get lost in the maze of streets and discover hidden gems along the way. Stop by the Plaza Nueva, a bustling square that hosts a weekly market and is popular for its many pintxos bars. Don't be afraid to try some of the local delicacies, such as the bacalao or gilda, which are simply delicious.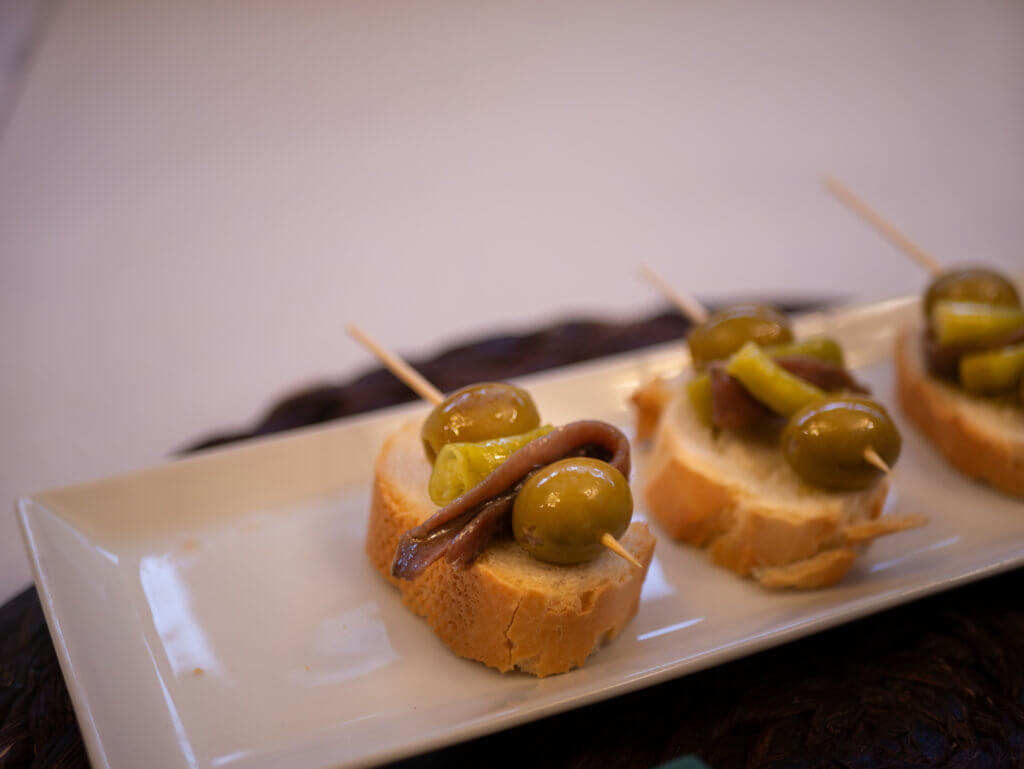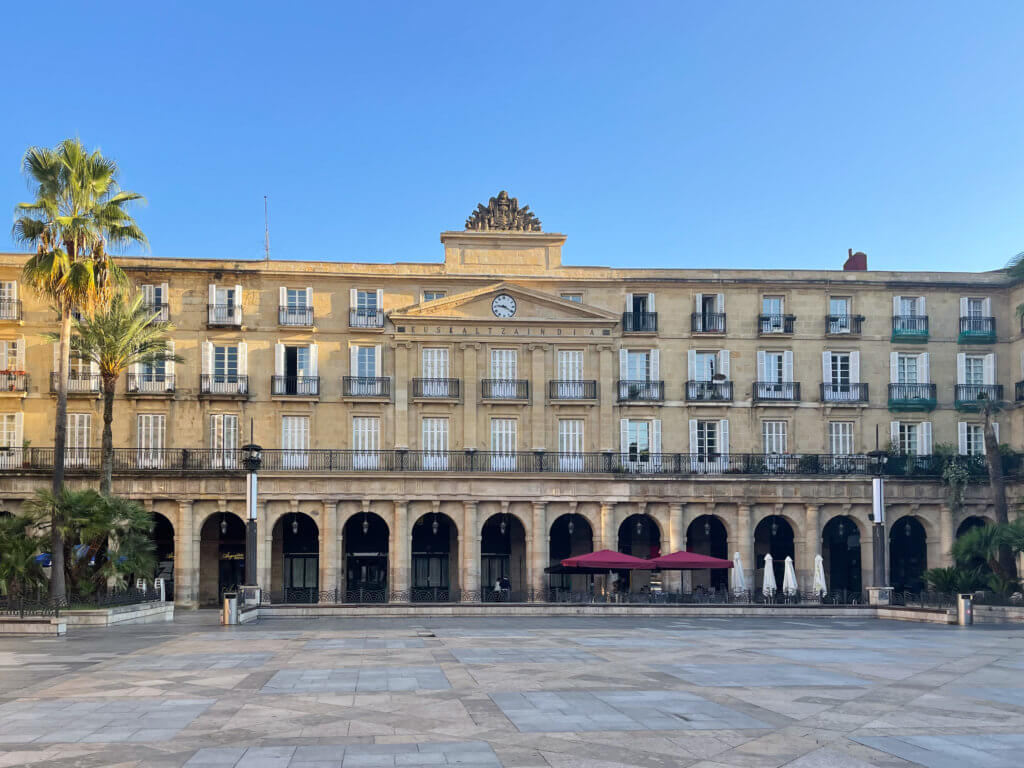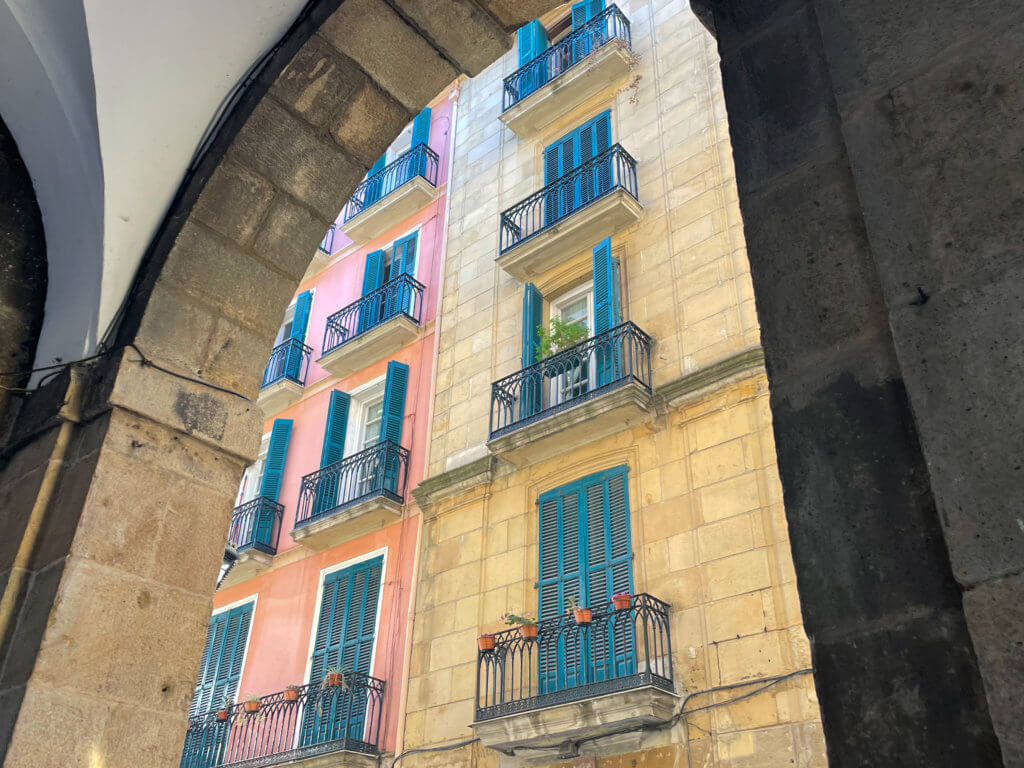 By the time you reach the end of your stroll, you'll be hungry for a well-deserved lunch. The Casco Viejo is home to some of the city's best restaurants, serving up both traditional Basque cuisine and innovative fusion dishes, so you will be spoilt for choice. Bilbao and Basque Country are famous for their gastronomy so go ahead and indulge.
Book a guided walking tour of Bilbao Old Quarter.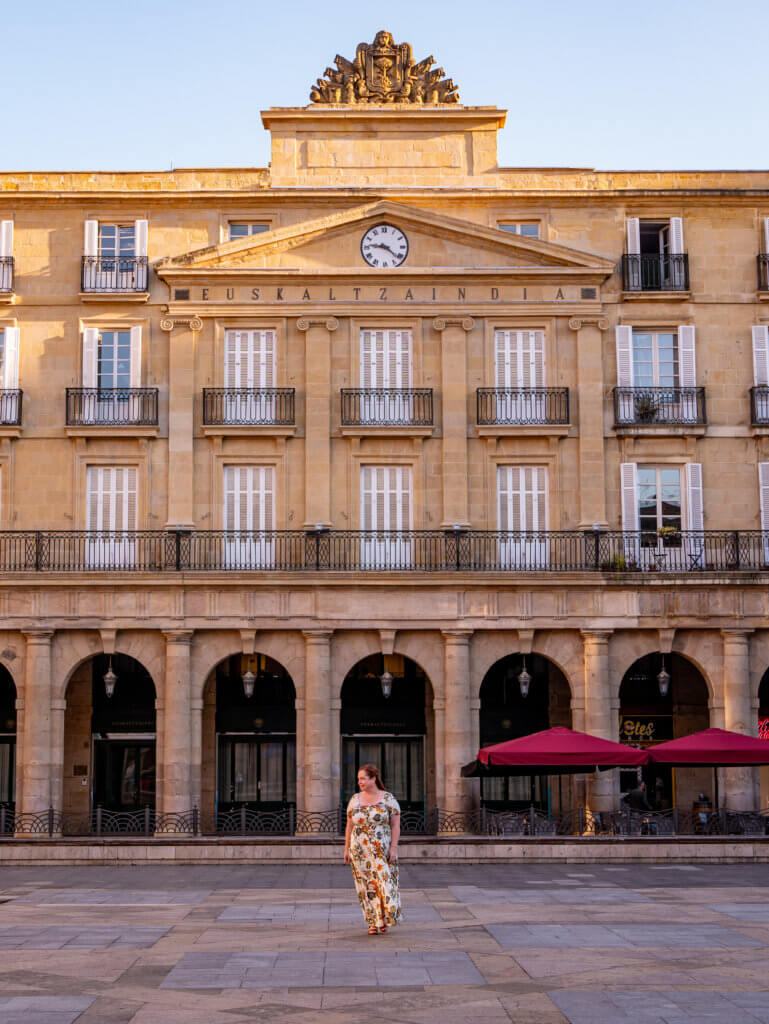 Savour the local cuisine at lunchtime
By midday, you'll be ready to savour the local cuisine in Bilbao. The perfect place to do so is in Casco Viejo, which boasts a vibrant food scene. Head to Plaza Nueva, a bustling square that's home to a weekly market and numerous pintxos bars. Here, you'll find a diverse range of local delicacies, such as the bacalao, a salted cod dish, and the gilda, a skewer with anchovy, olive, and chilli pepper, that might not sound appealing to some of you but trust us, it is delicious.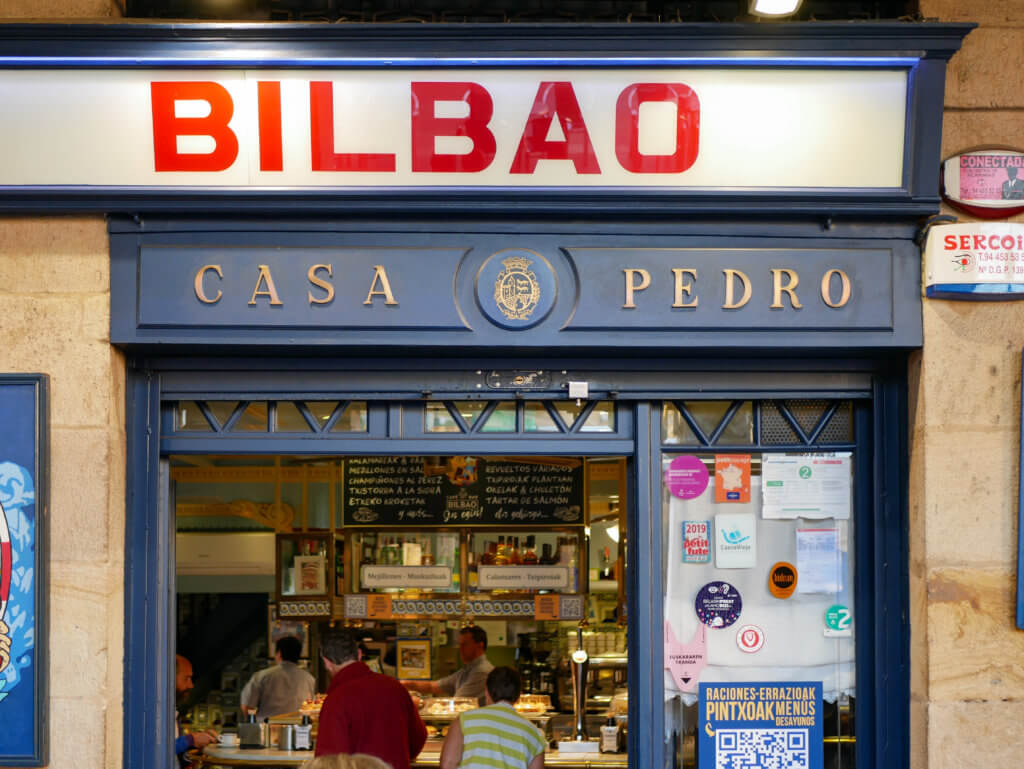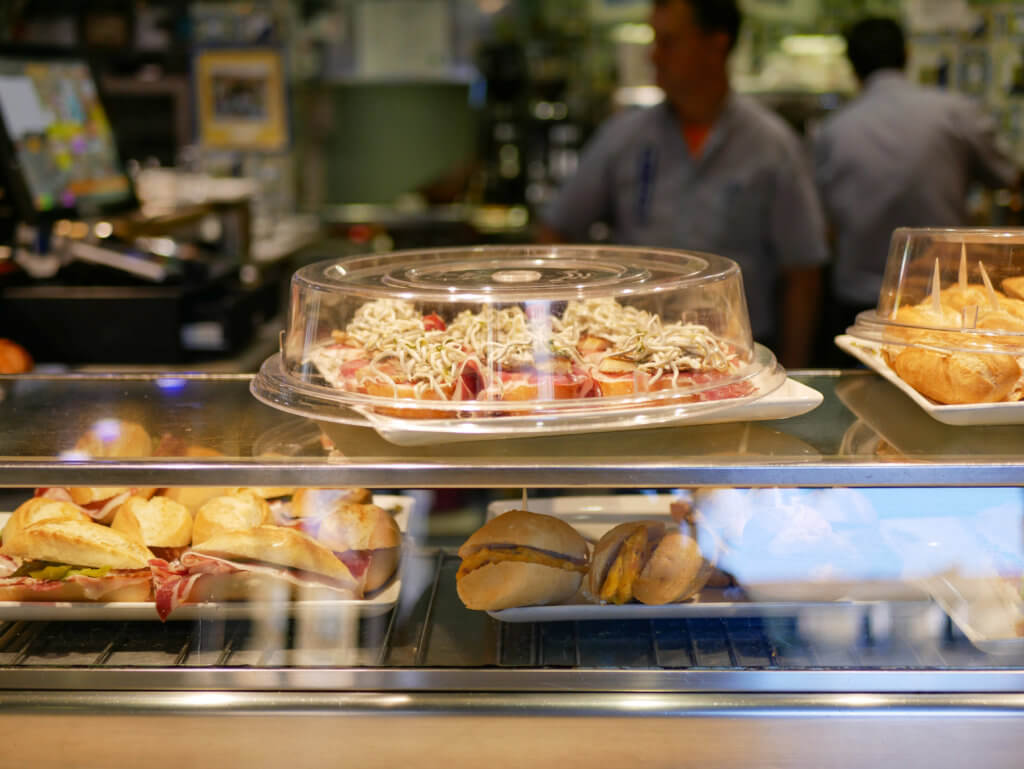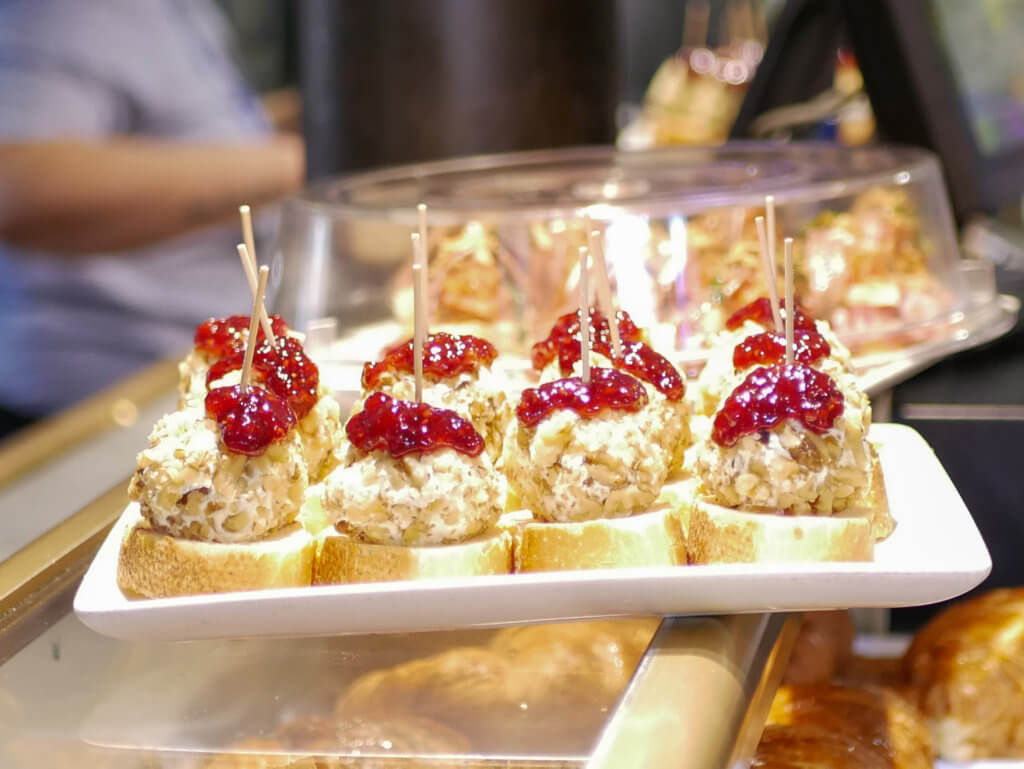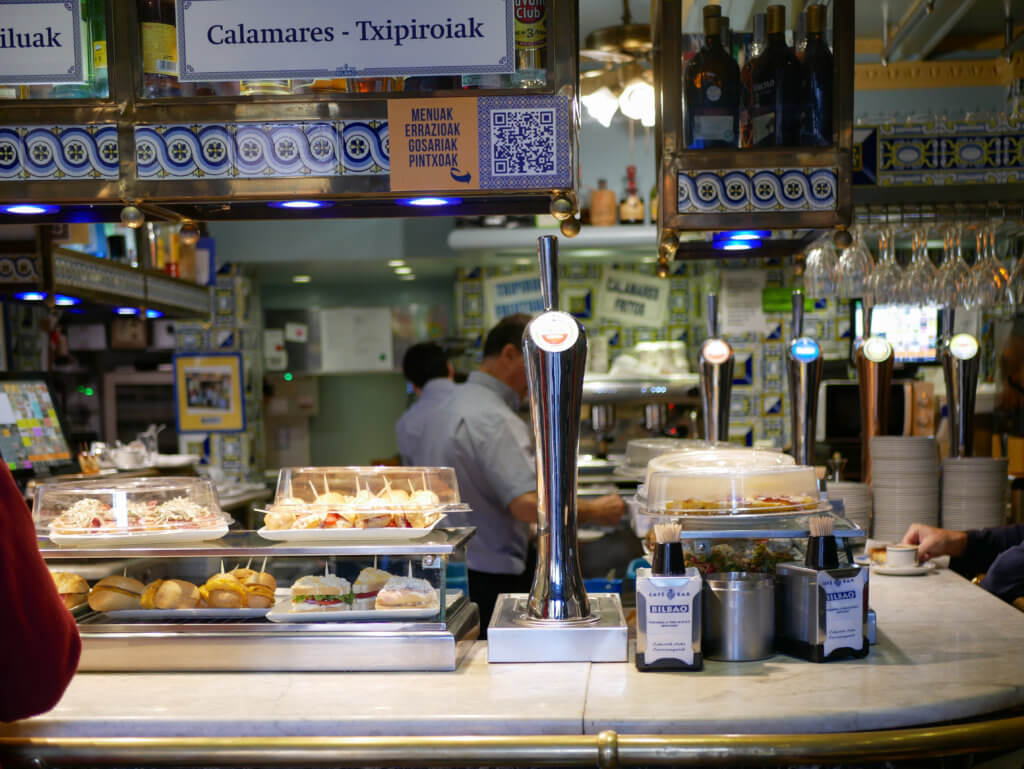 Now that you've savoured the local flavors and replenished your energy, it's time to explore the iconic La Ribera market, where you'll be whisked away by its eclectic stalls and vibrant atmosphere.
Visit the iconic La Ribera market
Now that you've had a taste of the local cuisine in Casco Viejo, it's time to venture to the iconic La Ribera market. This historic market has stood at the heart of Bilbao for over 90 years and is a hub for locals and tourists alike. The market offers a vast array of stalls selling fresh produce, seafood, meats, and cheese, as well as artisanal crafts and souvenirs.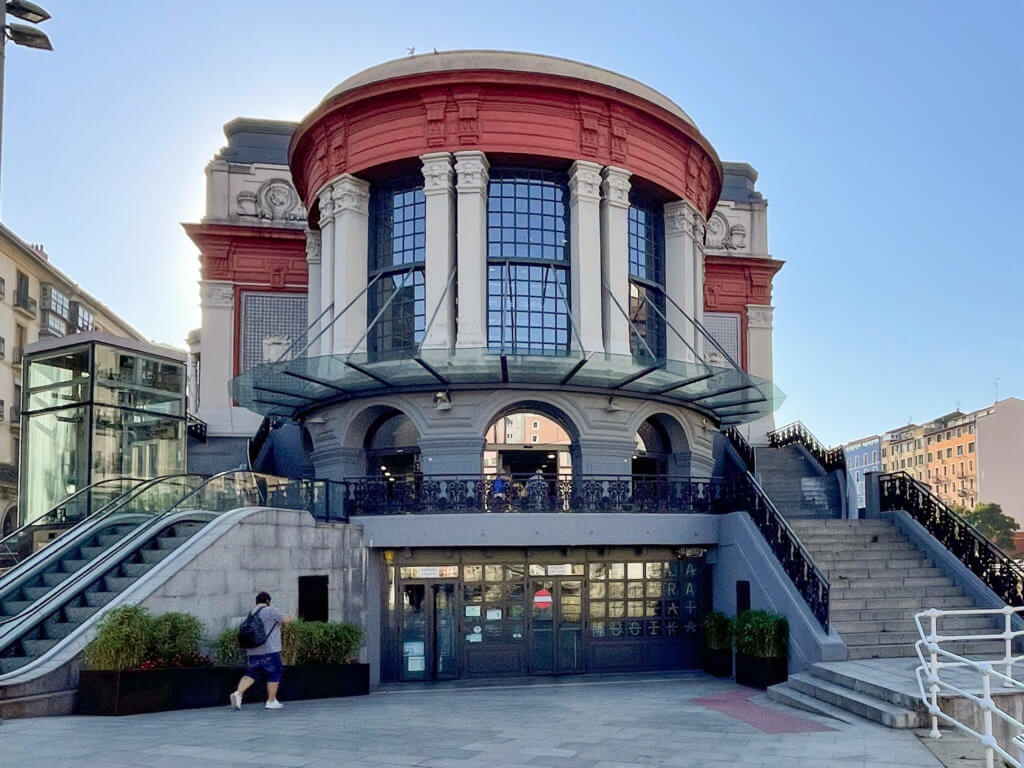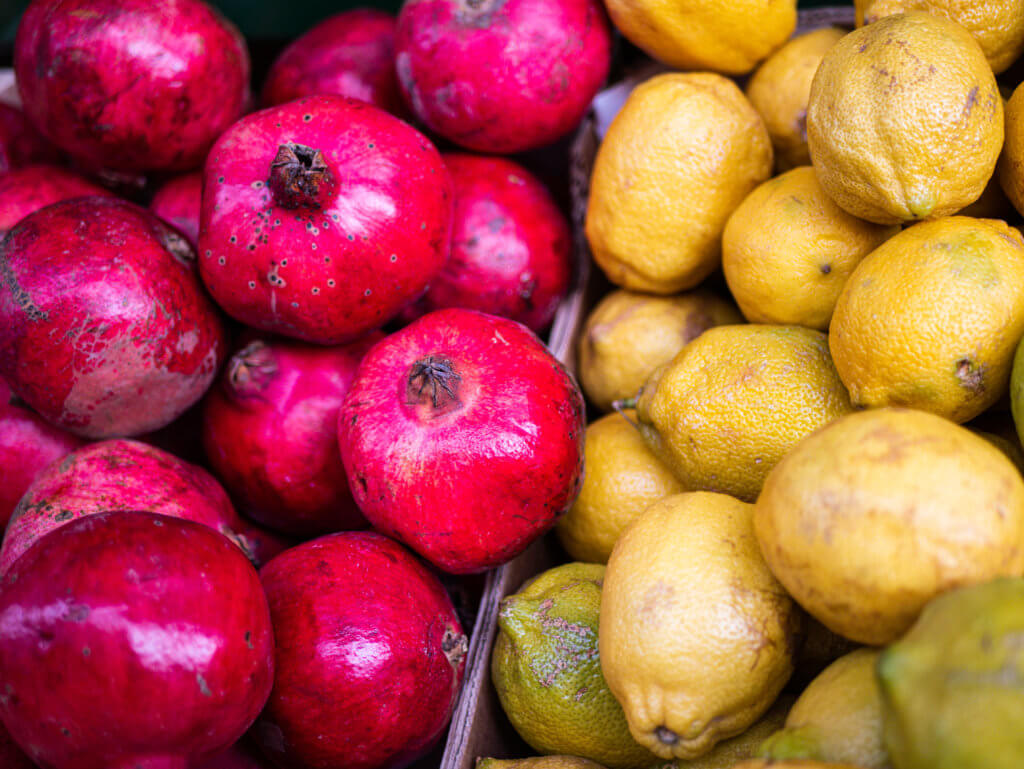 Prepare to be swept up in the vibrant atmosphere as you stroll through the market's bustling aisles. Take your time to peruse the stands, chat with local vendors, and perhaps even sample some of the delectable Basque specialties on offer. It's the perfect place to soak up the local culture and witness the daily buzz of Bilbao life.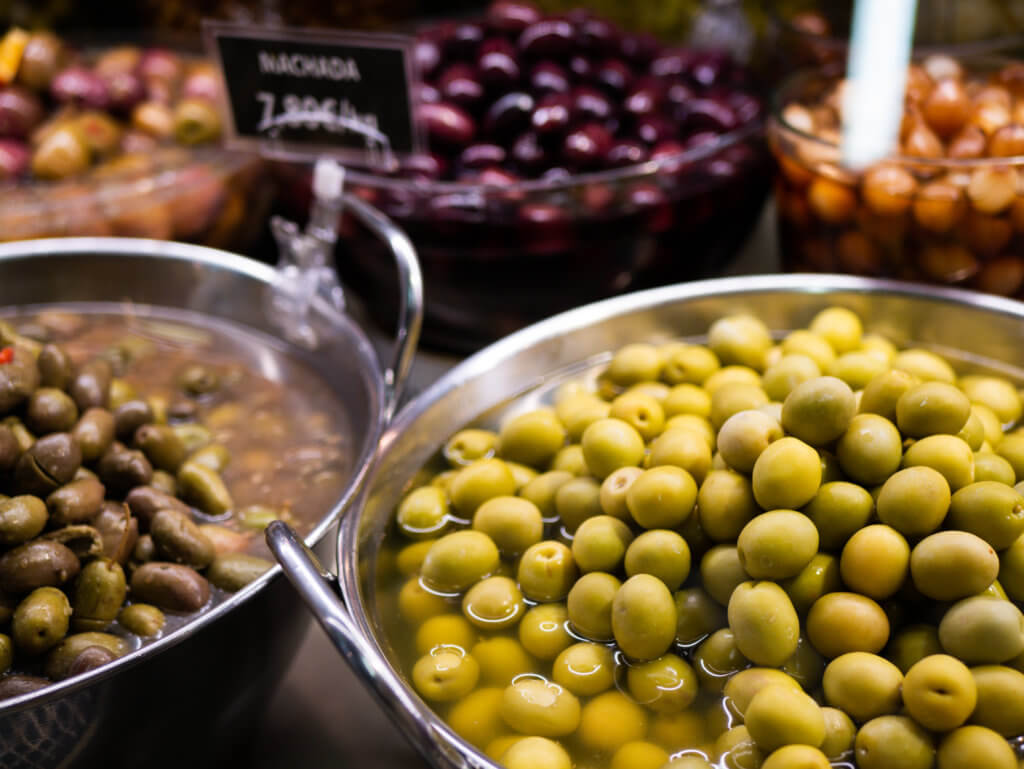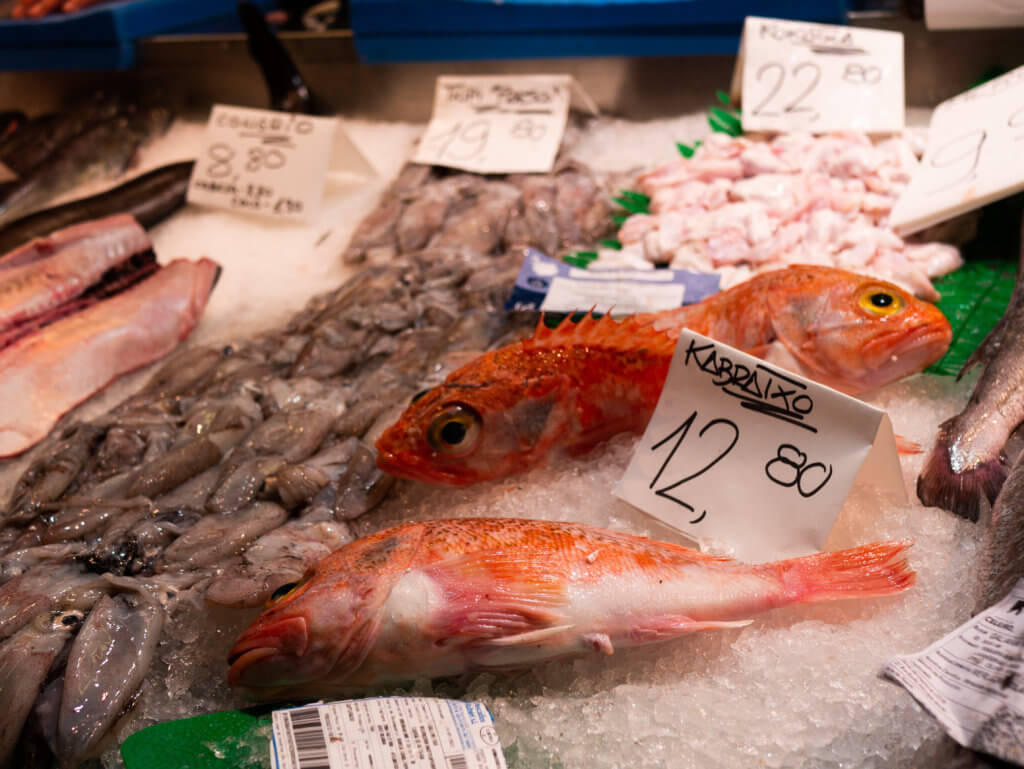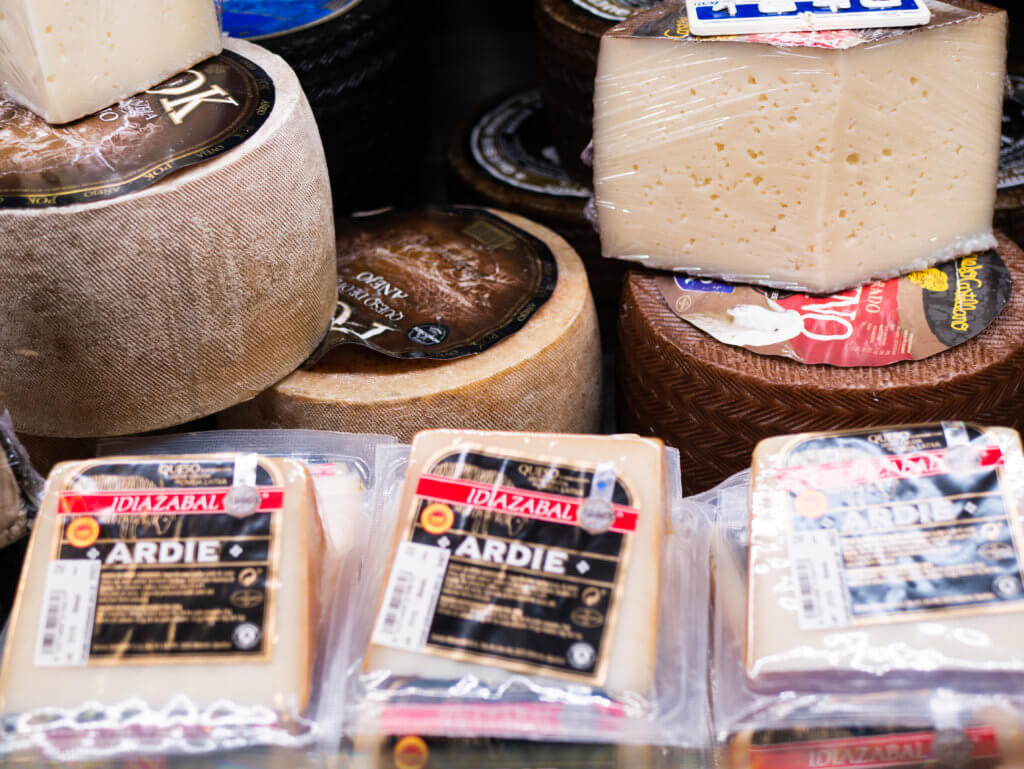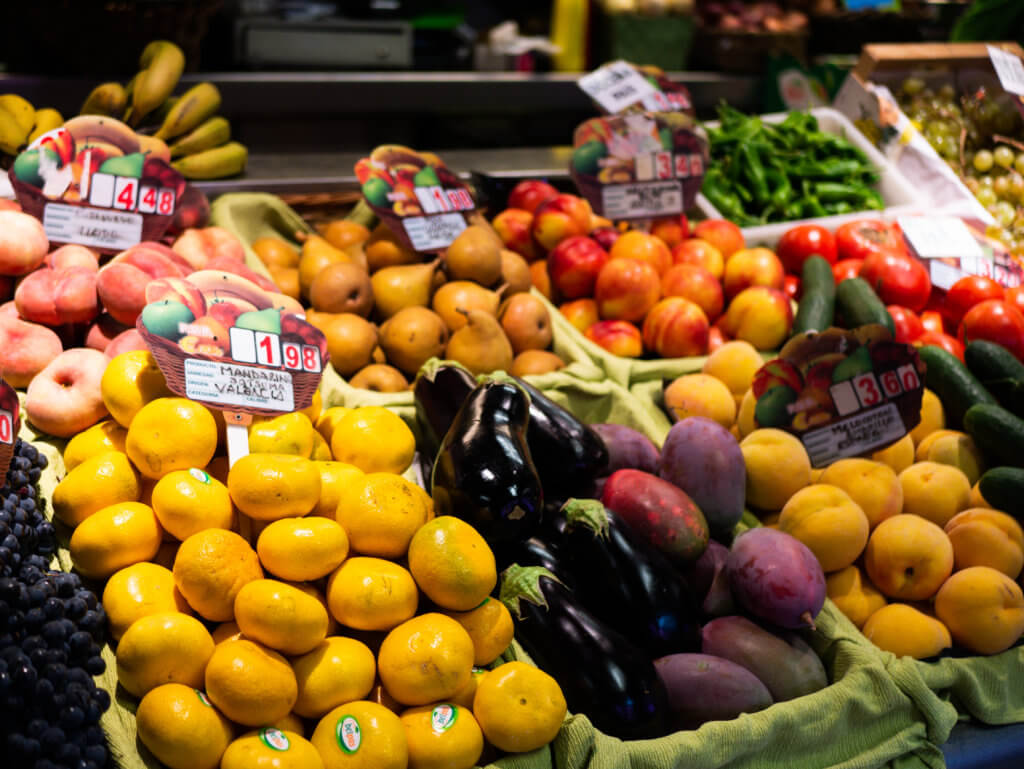 As the day winds down and the sun sets over the city, it's time to head out for a traditional pintxo crawl. But before you do, be sure to grab some souvenirs from La Ribera market to remember your day in Bilbao forever.
End your day with a pintxo crawl
As your day in Bilbao comes to a close, there's no better way to experience the local culture than by embarking on a pintxo crawl. The Basque Country is renowned for its pintxos, which are bite-sized snacks typically served on a slice of bread and skewered with a toothpick.
Start your evening at a traditional tavern known as a "taberna," where you can sample a variety of pintxos while sipping on a refreshing glass of txakoli, a local white wine. As you move from tavern to tavern, take note of the unique ambiance and decor of each establishment. Some may be cosy and intimate, while others may be lively and bustling.
Don't be afraid to try something new – many taverns offer a range of inventive and unexpected pintxos made with fresh, local ingredients. From grilled octopus to creamy mushroom croquettes, there's something for every palate.
If you are unsure about where to start why not enjoy a pinxtos and wine tasting tour of Bilbao with a local guide.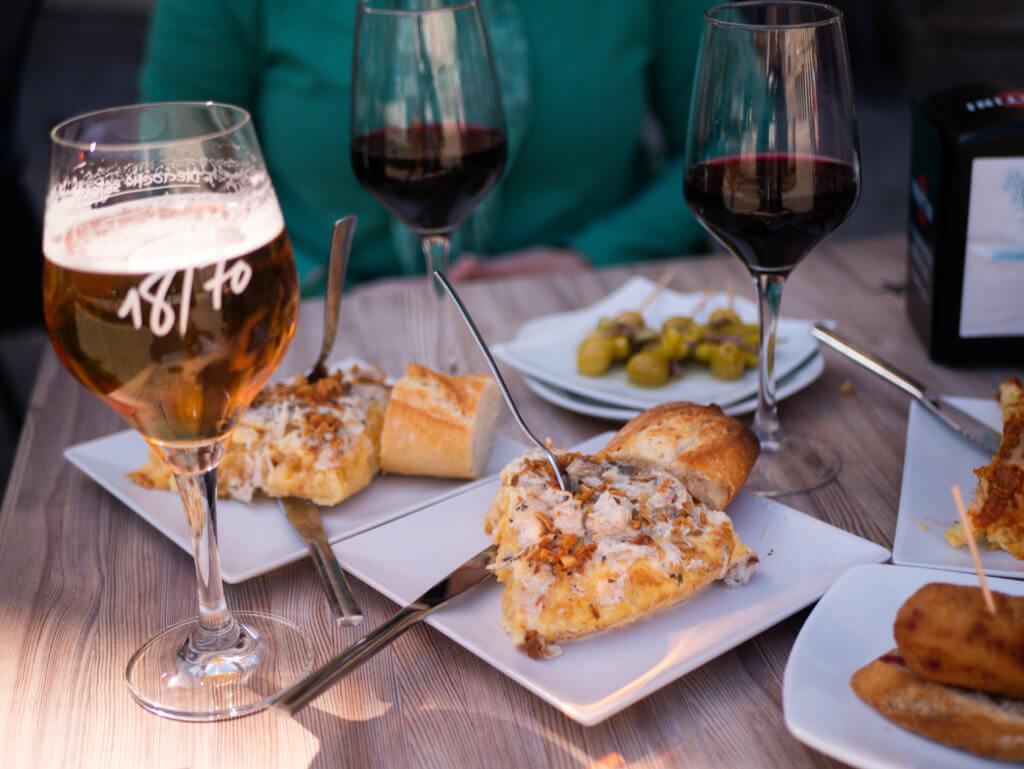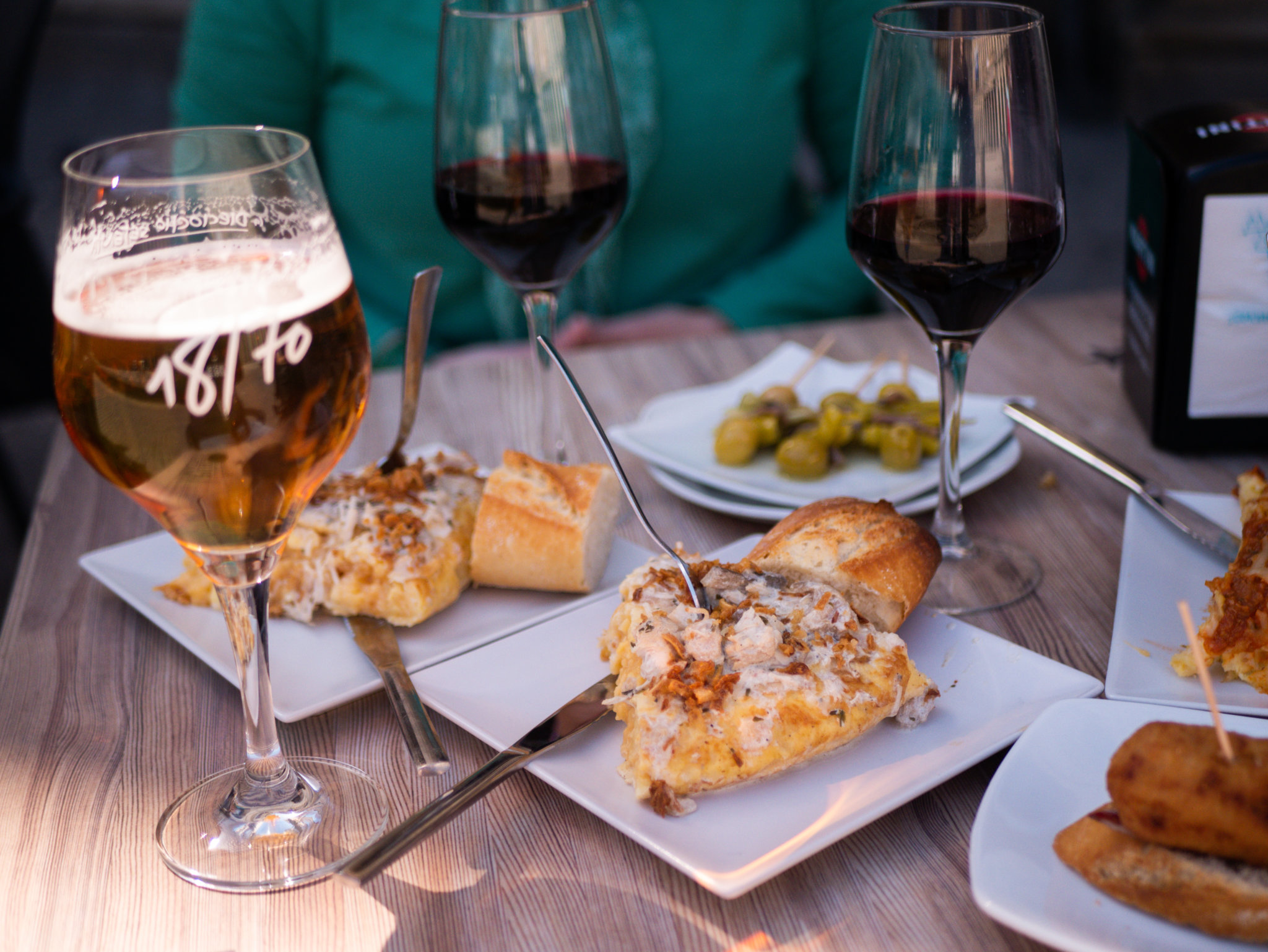 As the night wears on and you become sated with pintxos and wine, take in the lively atmosphere and revel in the company of the locals buzzing around you. It's the perfect way to cap off a day of discovery and adventure in Bilbao.
Bilbao is a city that offers a captivating mix of history, culture, art, and gastronomy. With this insider's guide, you can discover some of the best sights, sounds, and tastes of the city in just one day. Begin with a traditional breakfast, embrace the art scene at the Guggenheim Museum, mix with locals at Azkuna Zentroa, stroll through the buzzing Casco Viejo, savour the local cuisine at lunchtime, visit the iconic La Ribera market, and end your day with a pintxo crawl.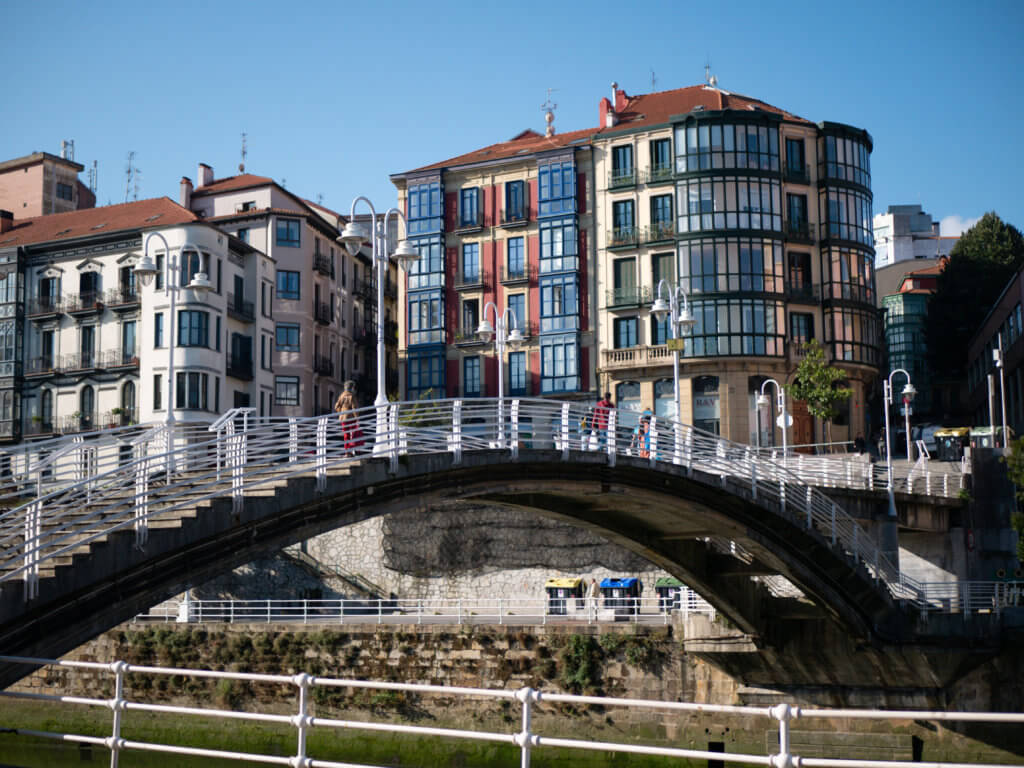 So put on your walking shoes and start exploring Bilbao. You won't regret it. As the saying goes, "Travel is the only thing you buy that makes you richer."
In just one day, you can discover some of the best sights, sounds, and tastes of Bilbao. So what are you waiting for? Put on your walking shoes and start exploring. You won't regret it.
Where to stay in Bilbao
Located opposite Bilbao's Guggenheim Museum and just minutes from the Ensanche shopping district, the Hotel Miró is a boutique hotel that was created by fashion designer Antonio Miró.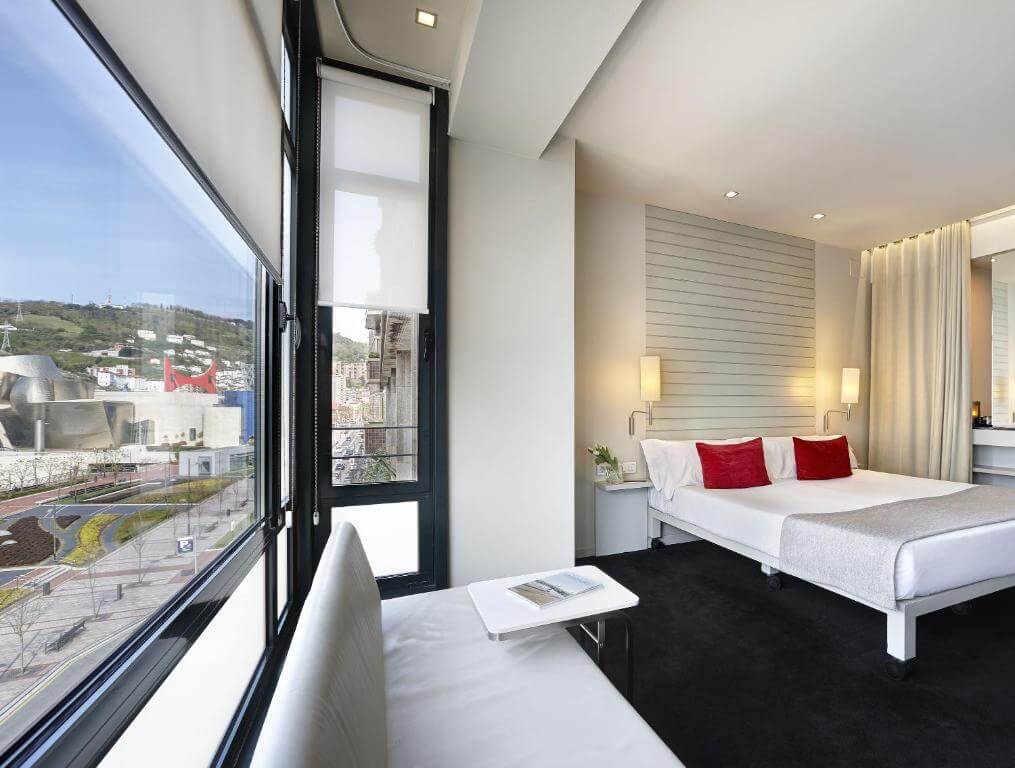 Elegant rooms are decorated in a contemporary and minimalist style. All are equipped with a smart TV and free Wi-fi, while the bathrooms include Molton Brown toiletries as well as bathrobes and slippers. A continental breakfast with selected local products is served every morning to hotel guests.
The Hotel Miró also has a gym equipped with modern equipment. Guests benefit from a personalized concierge service as well as a comfortable library area for reading or enjoying a drink.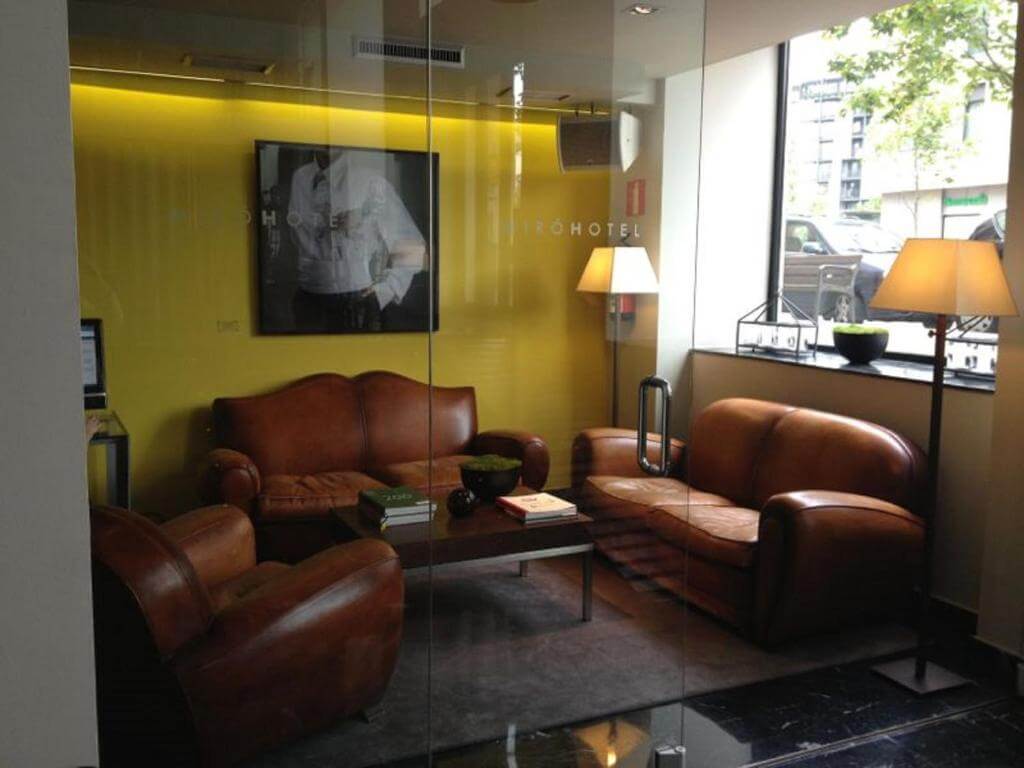 The streets around the hotel offer numerous traditional Basque restaurants as well as a selection of bars and eateries. The historic city centre is 5 minutes' walk away, while Bilbao airport is just 15 minutes by car.
We are Nicola and Ronan Lavin experts in finding unique accommodation all over the world. Nominated as top 6 travel bloggers in Ireland we are dedicated to helping you find authentic and immersive travel experiences to help you plan your perfect vacation.
**Disclaimer: Our trip to Basque Country was hosted by both Brittany Ferries and The Basque Country Tourist Board. We only ever work with brands that we are 100% happy to recommend to you guys and happily pay for ourselves. Staying complimentary allowed us to fully experience the Basque Country, give honest reviews and create content for you guys to enjoy. All opinions are our own. This post contains affiliate links meaning that if you book through one of our links we will receive a small commission at no extra cost to you. This helps us create the wonderful travel guides that we do**
Are you new here? Join thousands of other happy readers and subscribe to All About RosaLilla blog via email. The good news is that by signing up via email you will get exclusive travel deals straight to your inbox. The only other place that we publish these deals is on Instagram stories, so be sure to signup to get the heads up on amazing travel deals to save you money when booking.
We also share everything about ourselves on Instagram with nothing held back so be sure to follow along there.
If you liked this then you may also like:
The Best Places to Visit in Basque Country
Best Things to do in Vitoria-Gasteiz
The Ultimate 2 days in Dublin Itinerary
Things to do in Sighisoara, Romania
Until next time you crazy kids!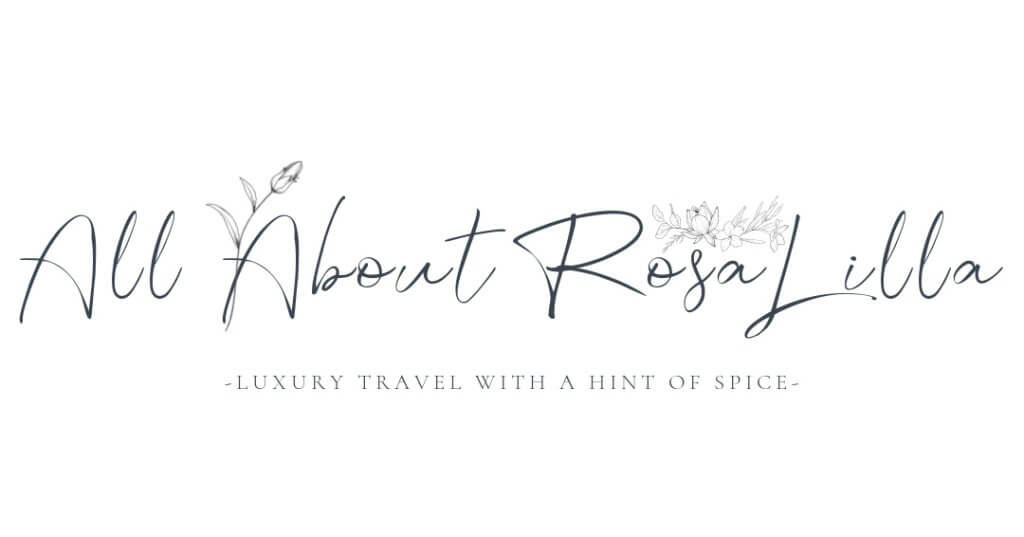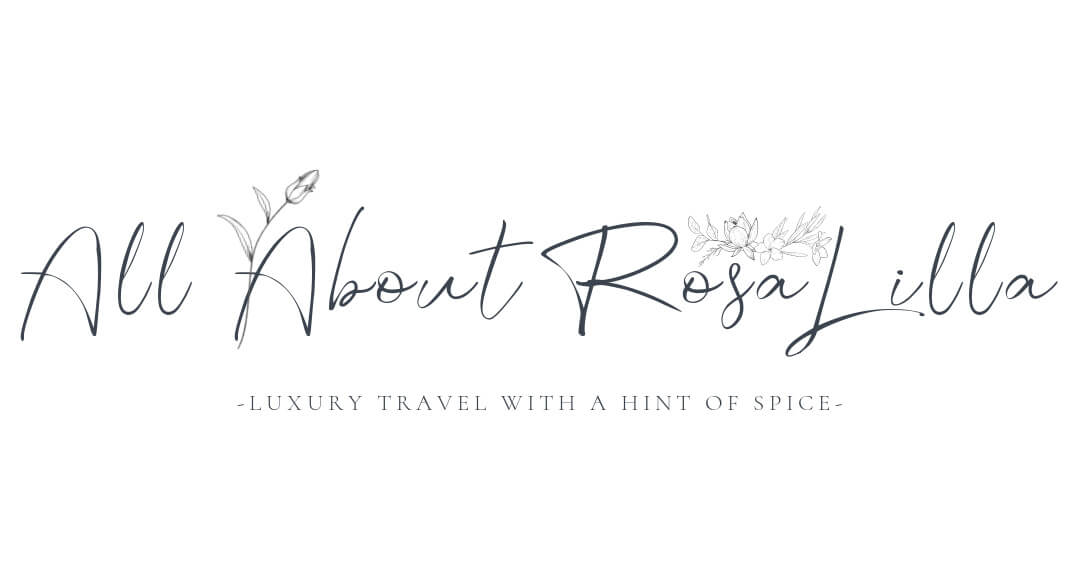 Sharing is sexy!