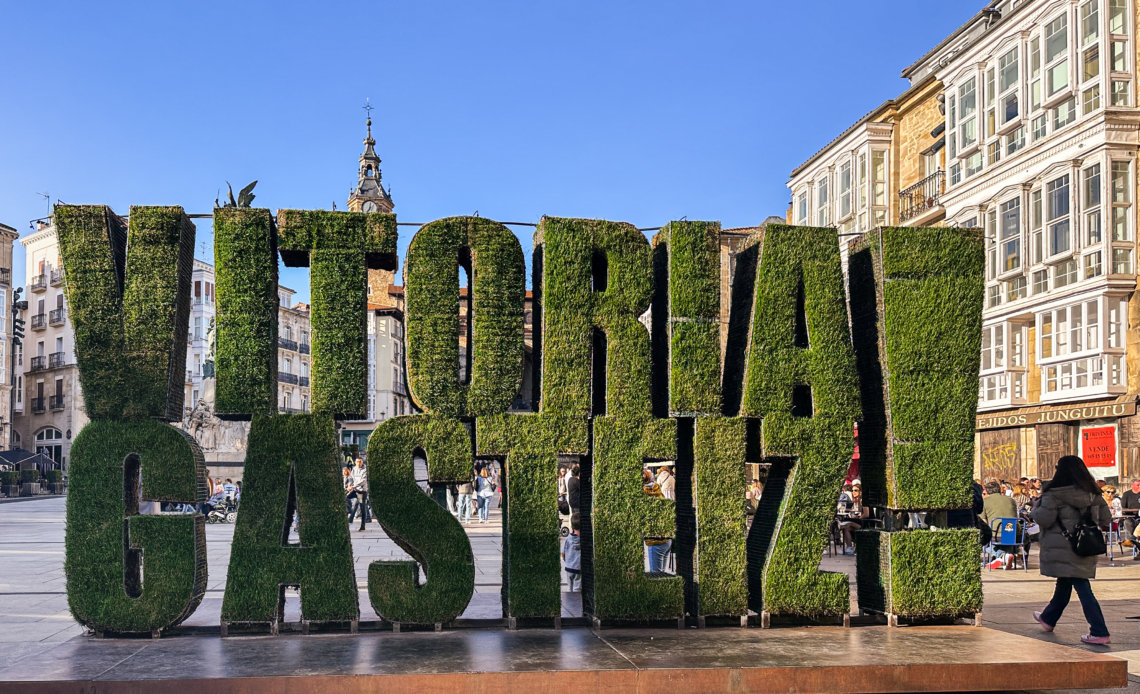 Vitoria-Gasteiz is a city that lives in the present but that looks after and embraces its past. Often overlooked for San Sebastián or Bilbao, Vitoria-Gasteiz deserves to have a place on your travel bucket list. There are so many fantastic things to do in Vitoria-Gasteiz. With its historic Medieval Quarter, incredible murals, parks and cuisine, the capital of the Basque Country offers a quality of life like nowhere else in the world!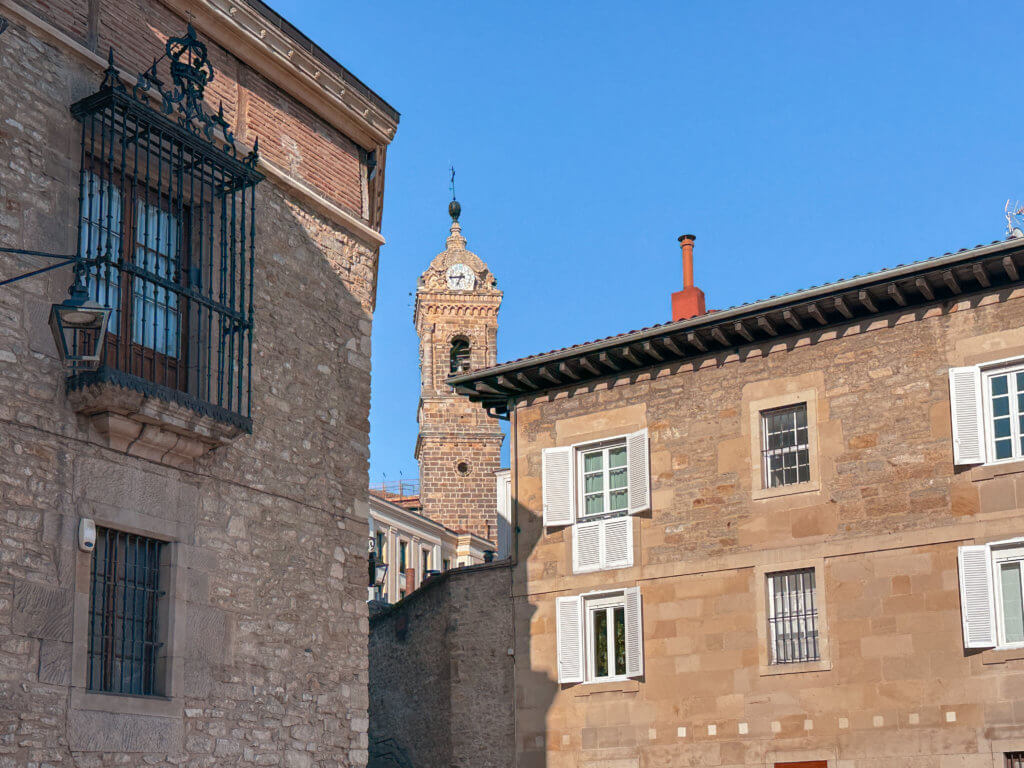 Why visit Vitoria-Gasteiz?
Álava's capital Vitoria-Gasteiz is nestled in a flat green plain surrounded by small mountains. This almost millennium-old city offers so much for the tourist wanting to explore Basque Country, blending history, street art, community life, inclusivity and the environment.
It is a pleasure to visit Vitoria-Gasteiz and stroll around its beautiful colourful streets. The city has preserved its magnificent medieval centre (Casco Viejo), which can be easily identified by its outline that resembles the shape of an almond. Santa Maria Cathedral is a spectacular 13th century Gothic building located in this neighborhood with an incredible, immersive, virtual reality experience that was one of our favourite things to do in Vitoria-Gasteiz.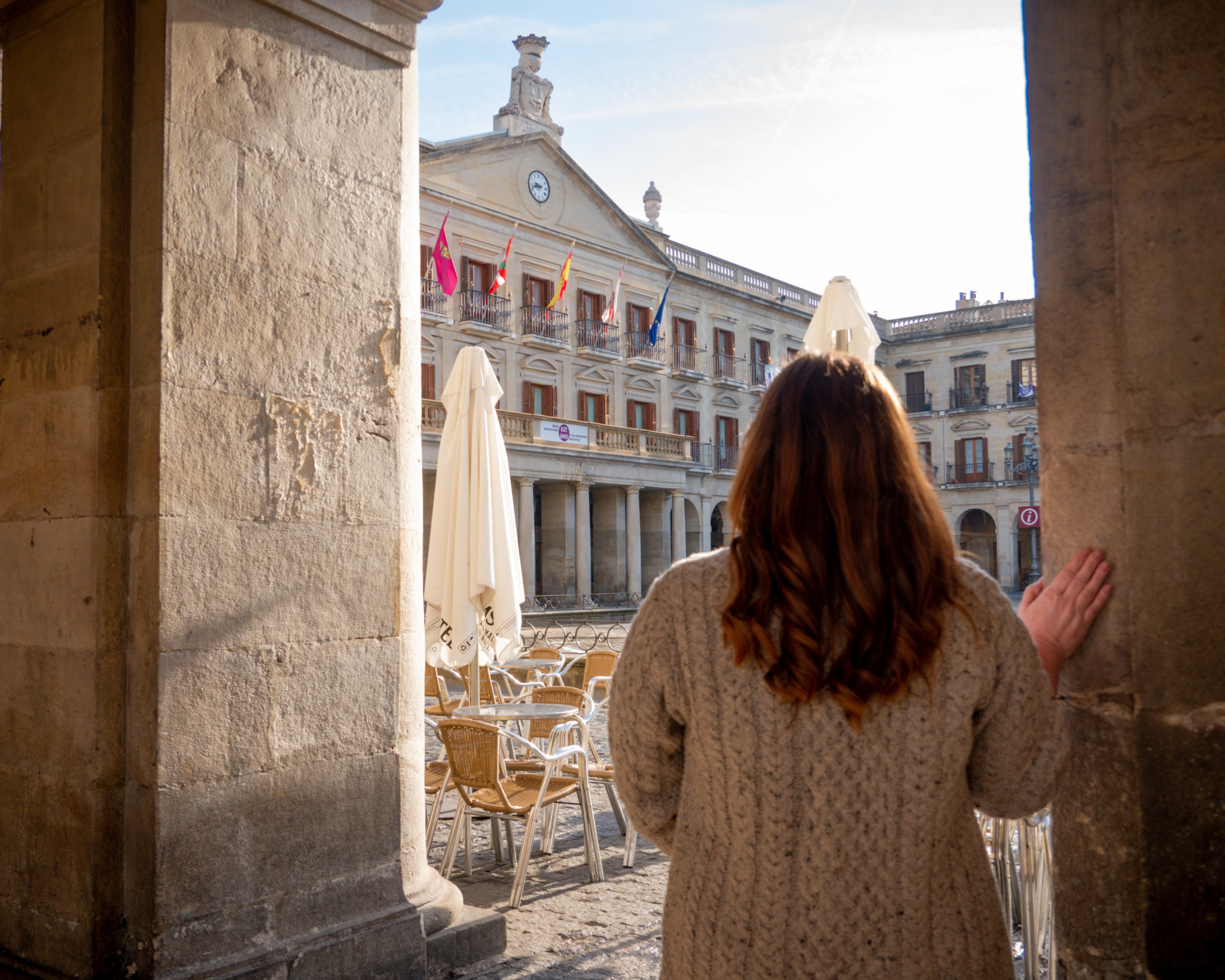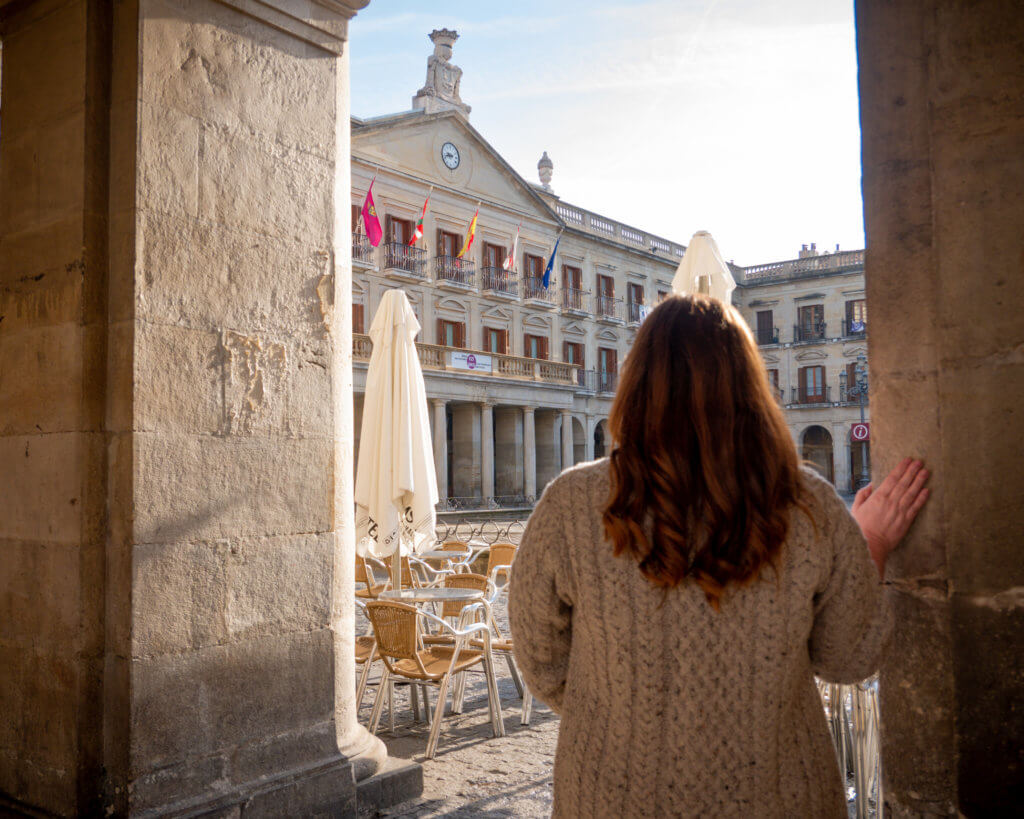 Visitors come to admire the elegant façades adorned with northern Spain's characteristic bow windows of Plaza de la Virgen Blanca. Art lovers will be in heaven because art is everywhere in Vitoria-Gasteiz, whether it is in the museums or on the streets!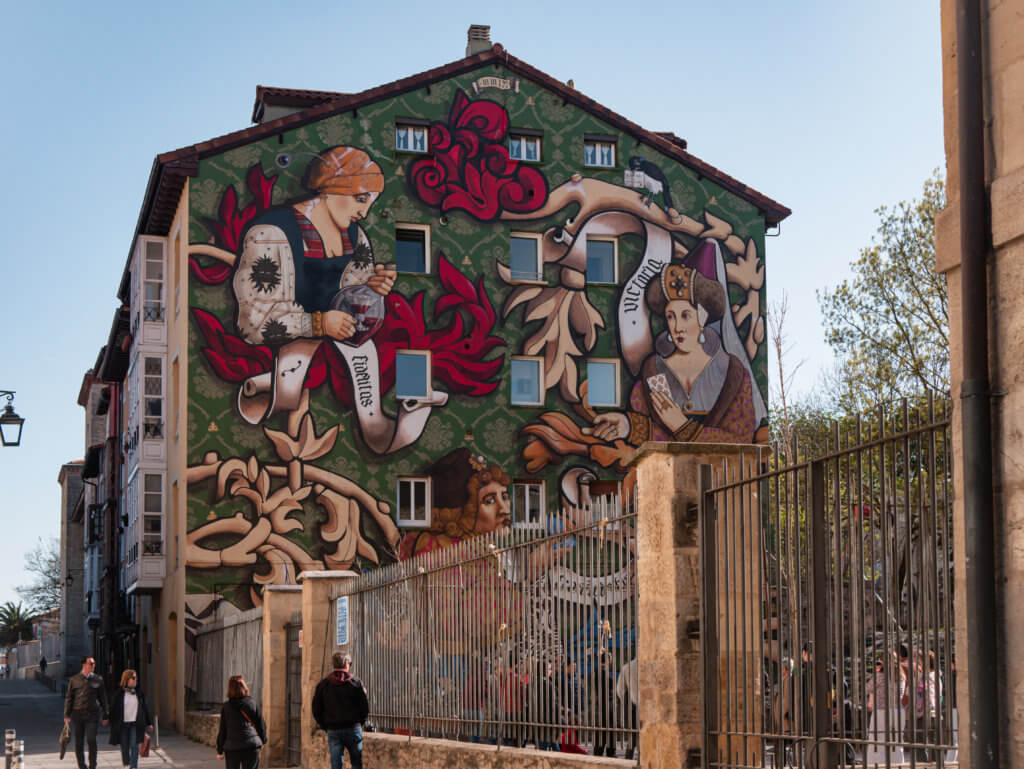 History of Vitoria-Gasteiz
Most people we have spoken to about visiting Vitoria-Gasteiz ask why two names? And it is true, most cities only have one name, even if they were previously known as something else. Present-day Vitoria was founded in 1181 on a small hill by Navarrese king Sancho VI under the name of Nueva Victoria. At that time it was a walled defensive outpost belonging to the kingdom of Navarre and the hamlet that stood on the hill was known as Gasteiz, the original name of the city.
In 1200 this fortified town went to the Castilian monarch Alfonso VIII. Soon, a flourishing vocation for crafts began to emerge. Because Vitoria is located on the shortest route between the Castilian tablelands and Northern Europe, it has historically benefited from a strategic location and quickly became a significant trading hub. According to historical accounts, there were three markets held each week in the 13th century. After 1399, there were two large-scale annual fairs. In the 15th century, Juan II of Castile granted Vitoria the title of city. Through the 18th and 19th centuries, the expansion of the city into the new suburbs took place.
During our guided walking tour of Vitoria we noted how many times our guide noted inclusivity and accessibility of all residents of Vitoria-Gasteiz and this frame of mind appears to go back through the ages. An important historical feature of the city is its individual privileges, which declared all its inhabitants to be equal, without distinction between nobles and the masses. And this attitude is still very much evident throughout the city.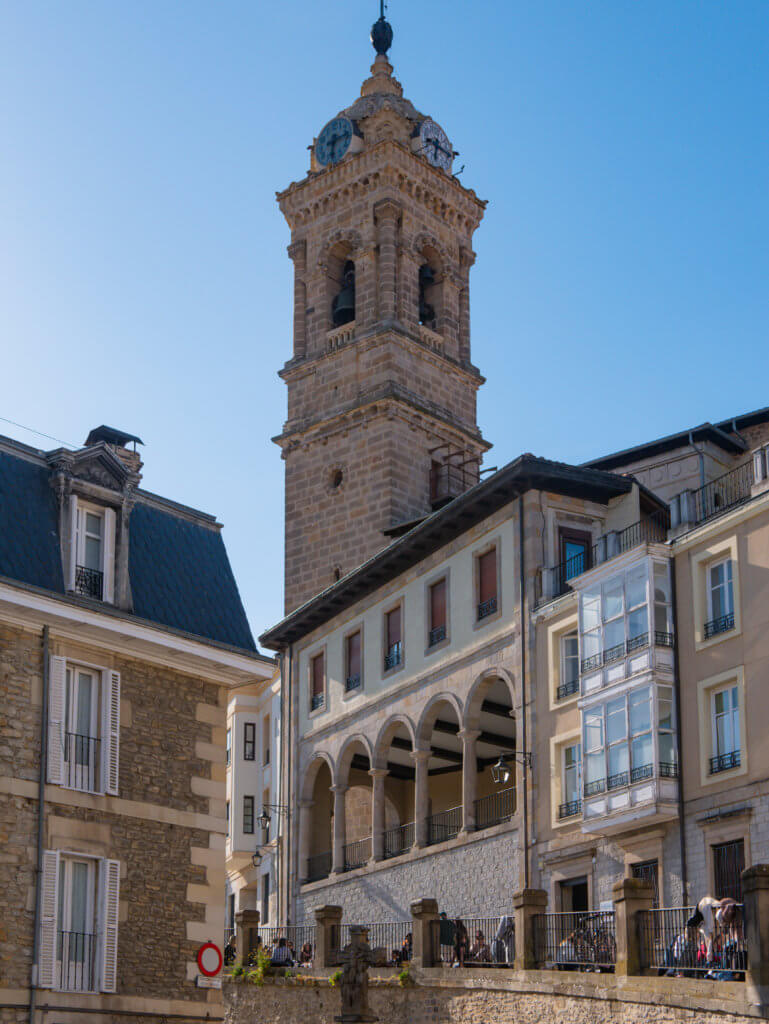 In 1980 Vitoria-Gasteiz was chosen to be capital of the Basque Country by the Basque Parliament.
Are you ready to visit Vitoria-Gasteiz?
If you don't want to hire a car and you are flying into Bilbao then we recommend using Welcome pickups or Book Road for airport transfer. They are a trustworthy and convenient 5-star airport transfer service that offer a great experience and safety to travellers. They use local english-speaking drivers, have a flat pre-paid fee, monitor for flight delays so that you are not left stranded, have free cancellation policy and 24/7 customer support. Bilbao is about 50 minutes away from Vitoria-Gasteiz.
Check out our guide on spending one day in Bilbao.
Vitoria Gasteiz Green Capital of Europe
In an effort to fight climate change Vitoria-Gasteiz recently developed a progressive Sustainable Mobility and Public Space Plan. The aim was to get as many people out of their cars and walking as possible. Even as the city's population soars, Vitoria-Gasteiz is greener and more beautiful and vibrant than ever. Where cars used to line the streets, garden beds now flourish.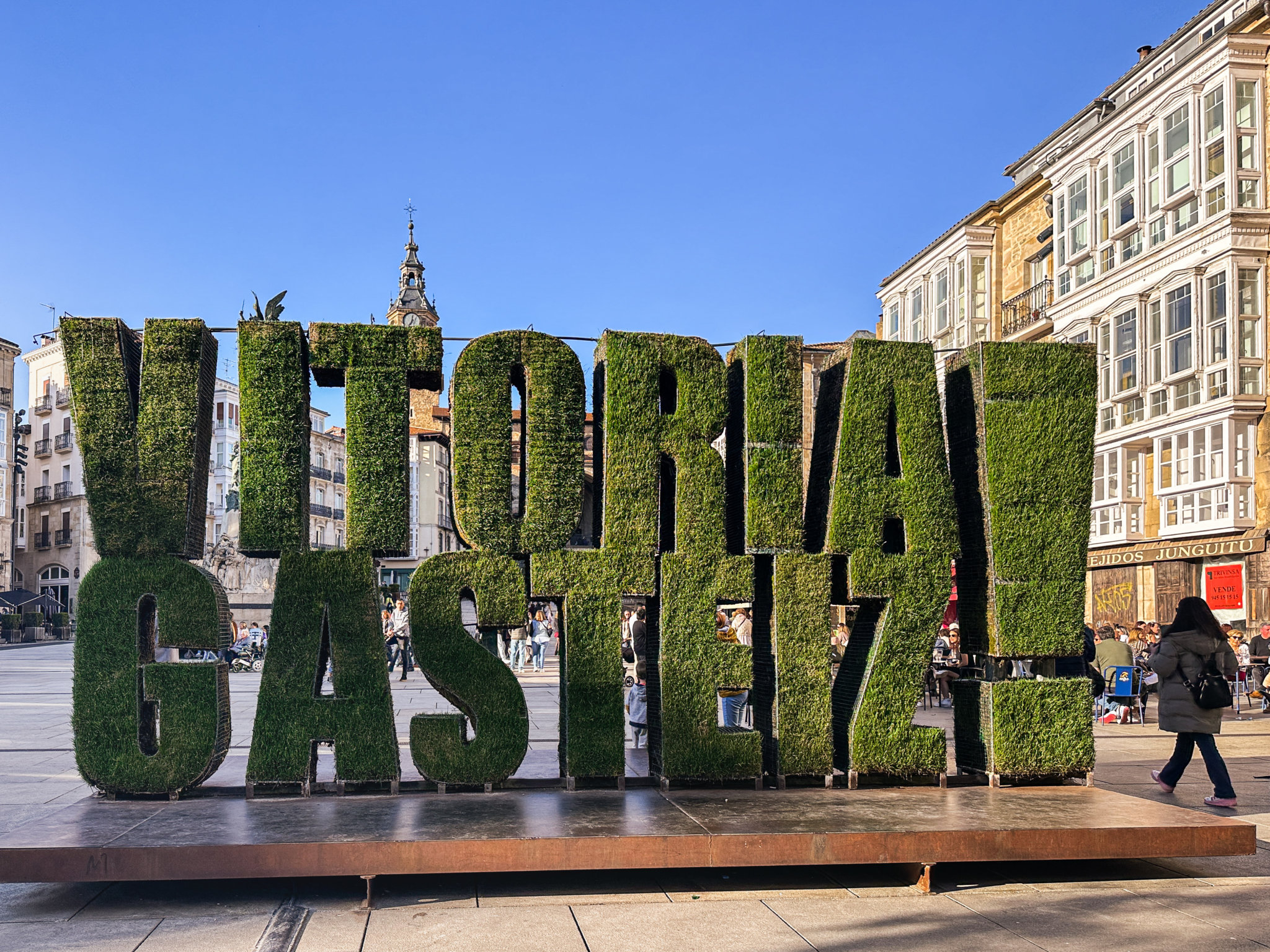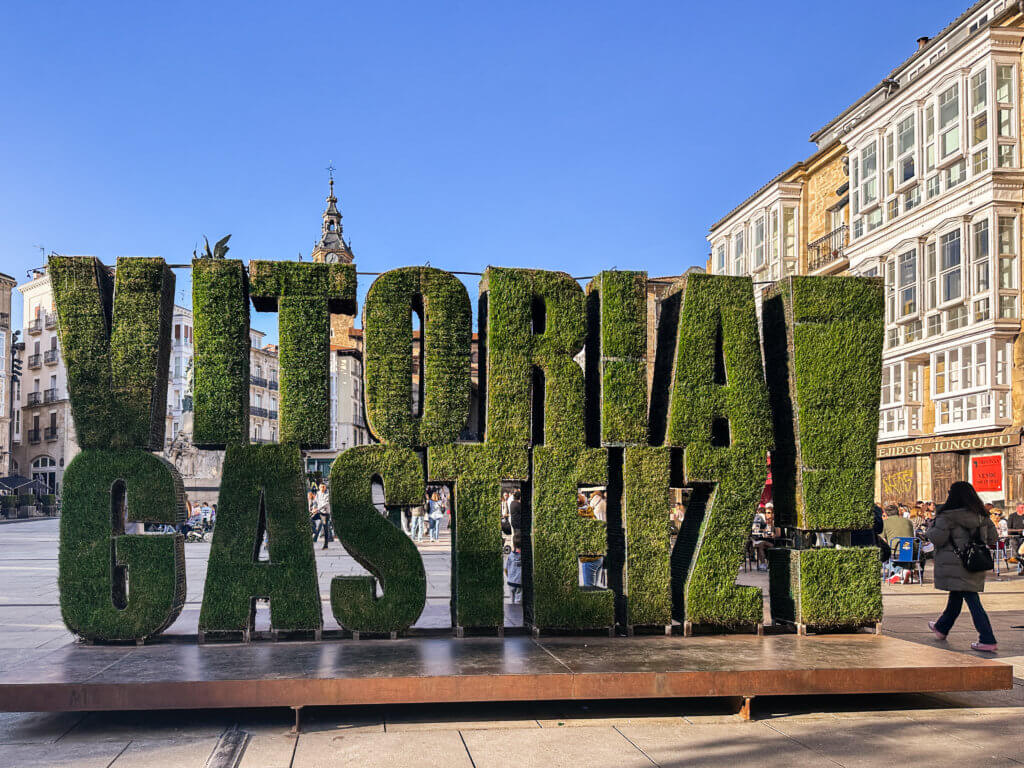 In 2012 Vitoria-Gasteiz became the Green Capital of Europe for their commitment to the environment. Only two cities, Hamburg and Stockholm, held this award before Vitoria-Gasteiz. It has transformed itself from a congested and car-dominated city into one of the most pedestrian and bicycle-friendly places in Europe. The city is mostly flat and compact to make it easy to travel short distances by foot. Public spaces have also been given back to the people with less space allocated to cars.
People are encouraged to leave their cars at home and do the majority of their travel on bike or by foot. Over 50% of the city's transport happens in this way and there are dedicated bike lanes throughout the city. Areas, such as the hill in the Medieval Quarter, have had travelators installed so that the area is accessible to everyone by foot, even those with limited physical abilities or who struggle with gradients. As someone travelling with chronic illness after Lyme Disease we wish that more cities adopted this approach.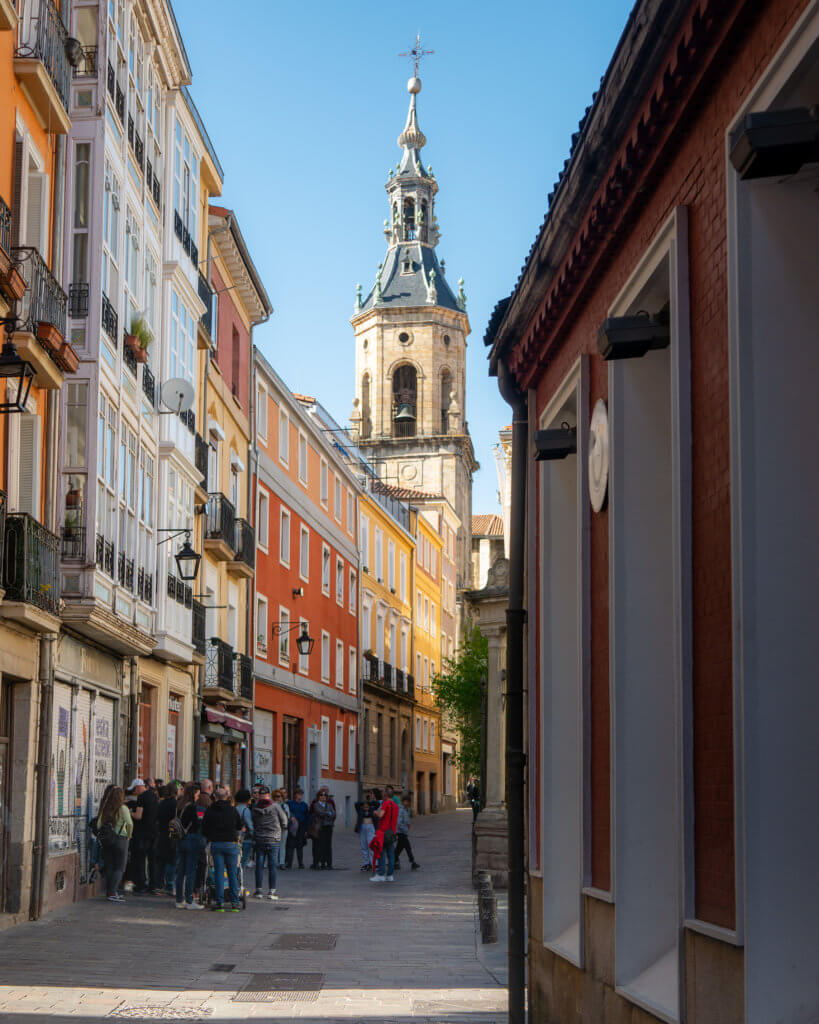 There was also a complete redesign of the city's public transport system. BEI stands for Bus Eléctrico Inteligente (or Electric Intelligent Bus), a public transport line with state-of-the-art futuristic electric vehicles making a loop in the city of Vitoria Gasteiz. Hundreds of trees and thousands of flowers have been planted along the route of the smart bus line to make this Green Ring literally come to life.
All of this is not only incredible news for residents but also for tourists to the city who can enjoy walking along green boulevards bustling with vibrant cafes. The city has a healthy, social vibe which simply doesn't exist in other urban cities and makes a visit to Vitoria-Gasteiz an incredibly unique experience.
Getting around Vitoria Gasteiz
By bike
One of the best ways to really get to know Vitoria Gasteiz is by bike. The city has almost a hundred kilometres of streets and pathways specifically for cyclists. As the area is mostly flat (except for the Medieval Quarter, which is on a hill), the city is the ideal place for getting around and following routes on your bike. Impressively, the Vasco Navarro Railway has been turned into a beautiful greenway that you can easily explore by bike or even by foot. There you can enjoy the varied landscapes of this region of Basque Country from incredible urban and industrialised landscapes to more rural and natural areas of great beauty.
There are places to rent bikes and electric buggies throughout the city.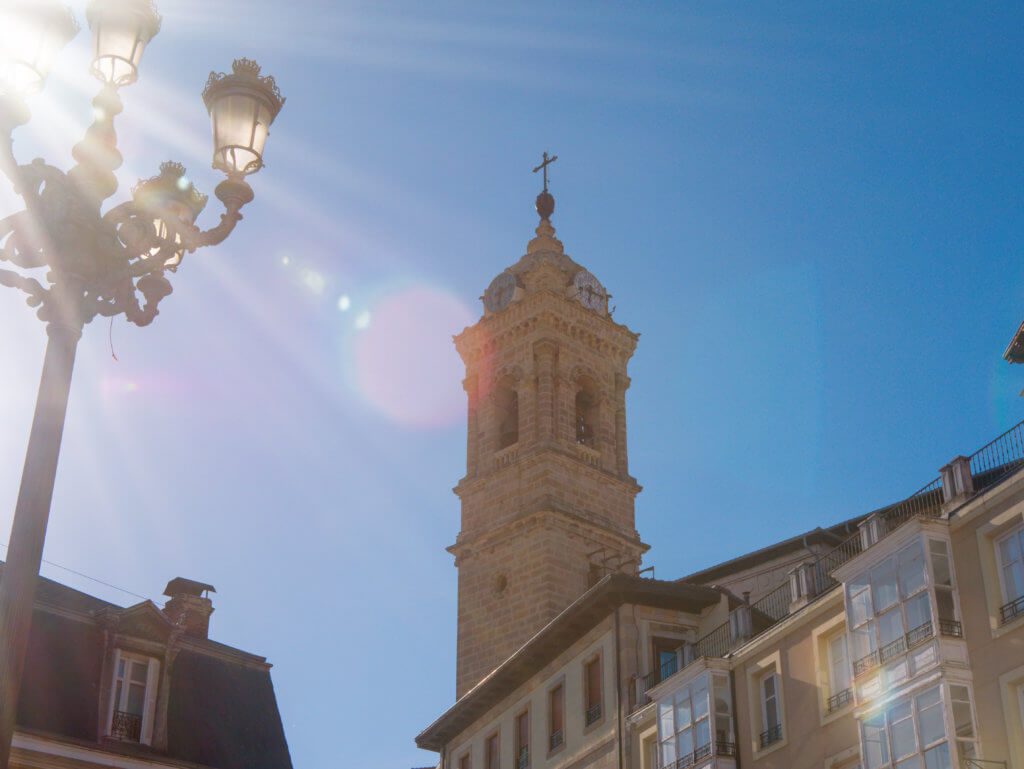 By tram
Vitoria Gasteiz has had a tram service since 2008 and it is a quick and easy way to get around the city. There are currently 2 lines, Ibaiondo-Unibertsitatea and Abetxuko-Florida, in operation with a new service to Salburua opening just days after our visit. Trams run approximately every 15 minutes throughout the day (except weekends and bank holidays) Before getting a tram you must purchase a ticket at one of the ticket machines. This ticket will expire after 50 minutes. They also run on electricity adding to the push for sustainability in the city.
By bus
Vitoria-Gasteiz has 10 bus lines that connect all areas of the city. In an effort to be sustainable these buses are electric and run approximately every 10 minutes from 6am to 10pm. There are also night buses, Gautxori (that run every 30 minutes) and buses serving special lines such as the one that connects the city centre with the Buesa Arena basketball pavilion, the Alava Technology Park or the airport.
Top Things to Do in Vitoria-Gasteiz
Whether you come to Vitoria-Gasteiz to discover over eight centuries of history, explore its many parks and nature or you simply want to enjoy its incredible gastronomy there are lots of things to do in Vitoria-Gasteiz. Here are some of our favourite things to do in the Basque capital.
Plaza de la Virgen Blanca
One of the oldest and most beautiful gathering places in Vitoria-Gasteiz is Plaza de la Virgen Blanca. In the centre of the square you will find an impressive monument honoring La Batalla de Vitoria, a battle that took place in the city in 1813 during the Napoleonic Wars. For many centuries this was, and continues to be, the heart of the city. It is also where you can find the famous Vitoria-Gastiez sign made of grass to symbolise its Green Capital status. It is so popular that tourists happily queue throughout the day to have their photographs taken in front of it.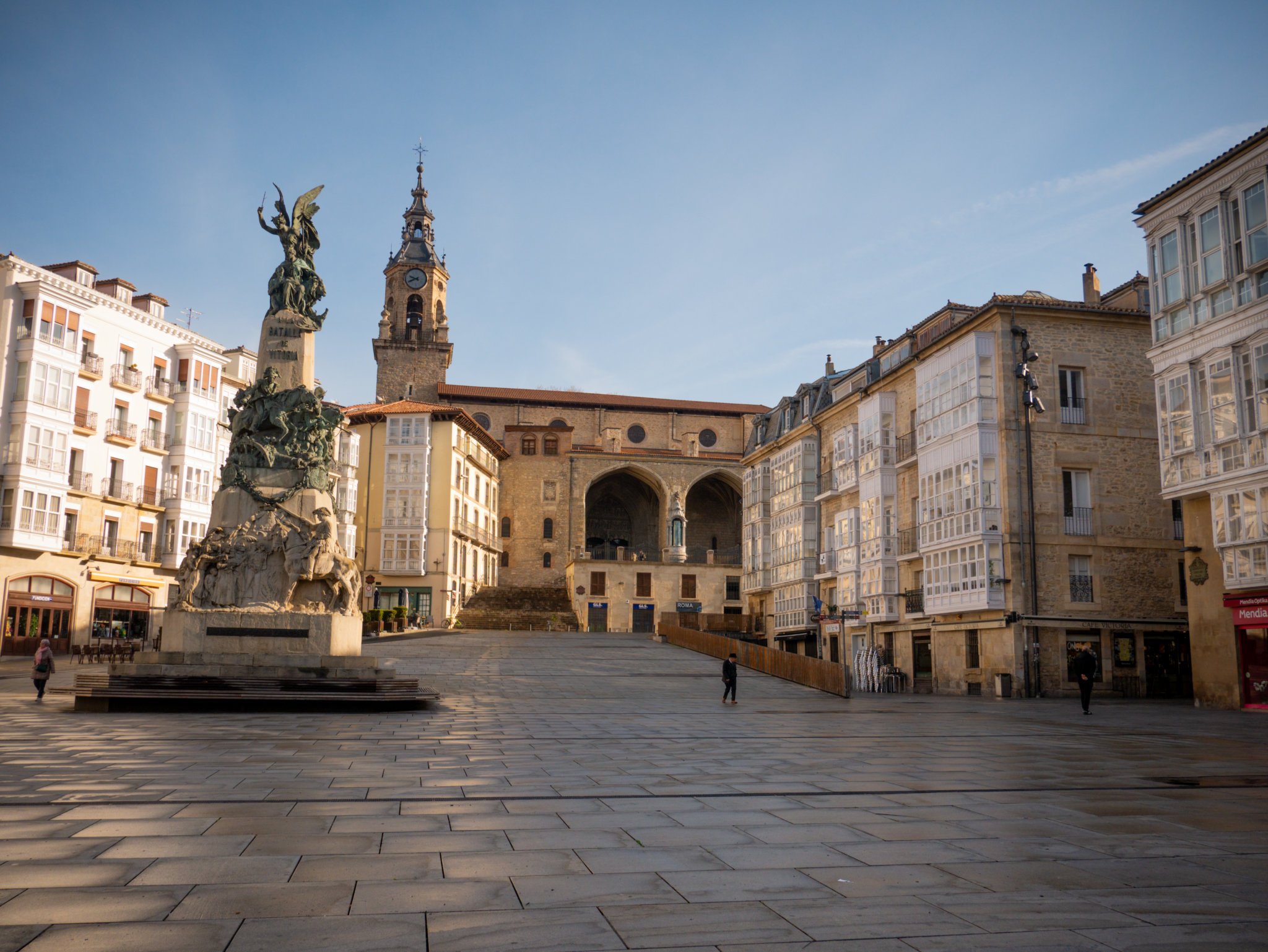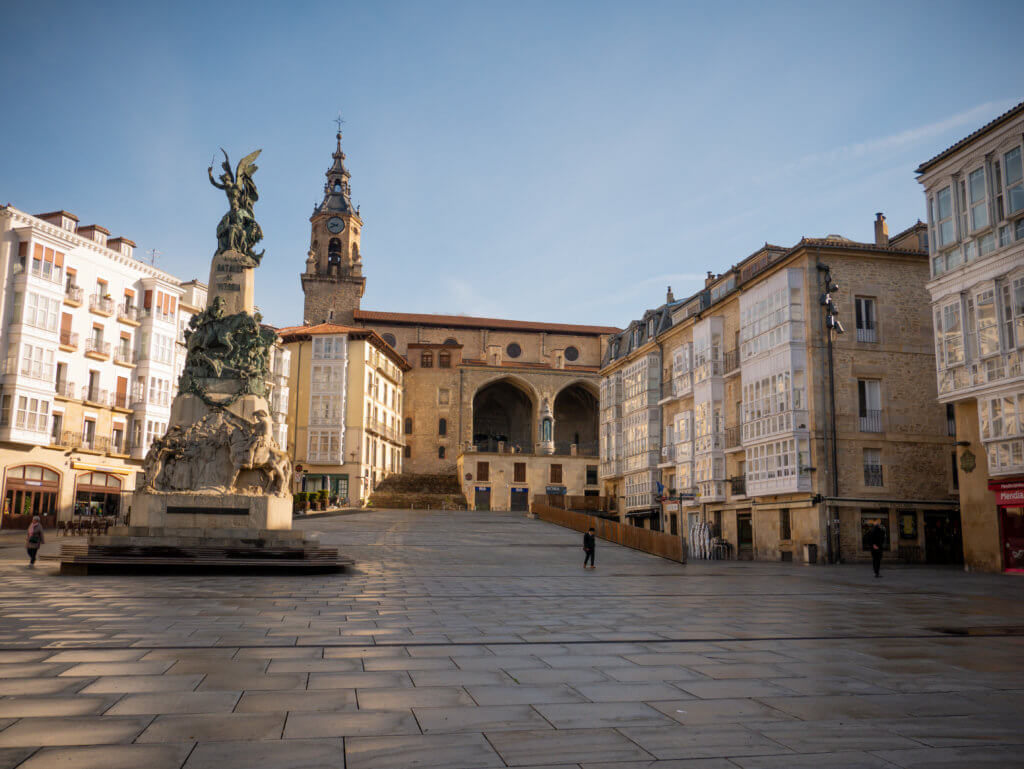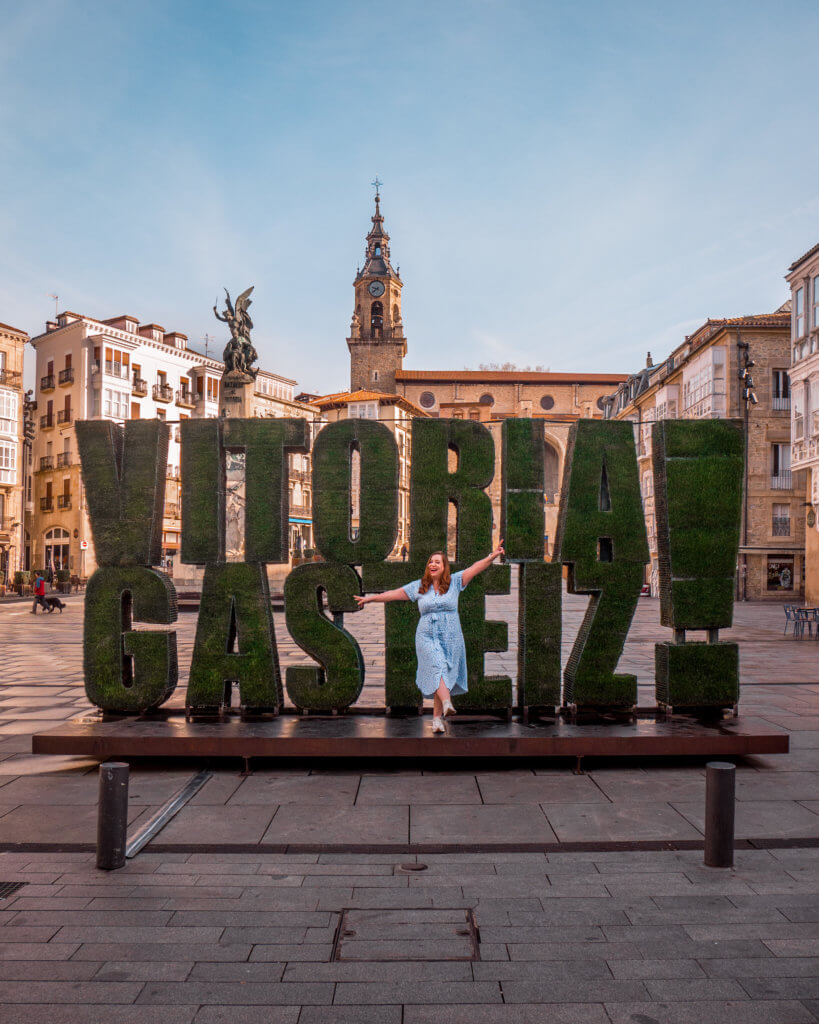 Here you can enjoy the traditional wooden bow windows from the houses overlooking the square. You can also enjoy the many bar terraces and nearby shops and it is also the place that you go to greet Celedón on August 4th the city's celebratory day in honour of the white virgin (hence the name of the square).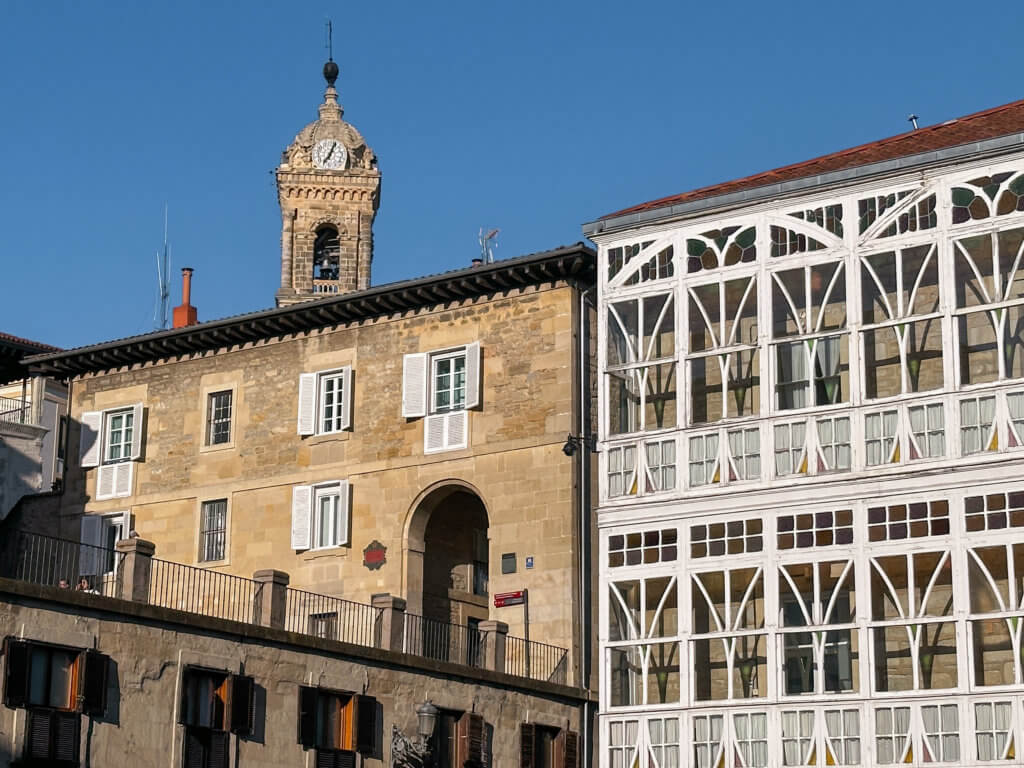 The character of Celedón is supposedly based on a real person named Juan Celedonio de Anzola from the village of Zalduondo in Álava. With his typical clothing and umbrella in hand, he is a reference to the villagers from the past who would travel to Vitoria-Gasteiz to join in with the celebrations.
Celedón comes down from the tower to start of the festivities of the city. This along with the chupinazo (fireworks) signal the start of the celebrations. After Celedón gives his speech, encouraging people to have fun, he makes his way through the crowd. All the while people try to touch his Txapela (hat) for good luck.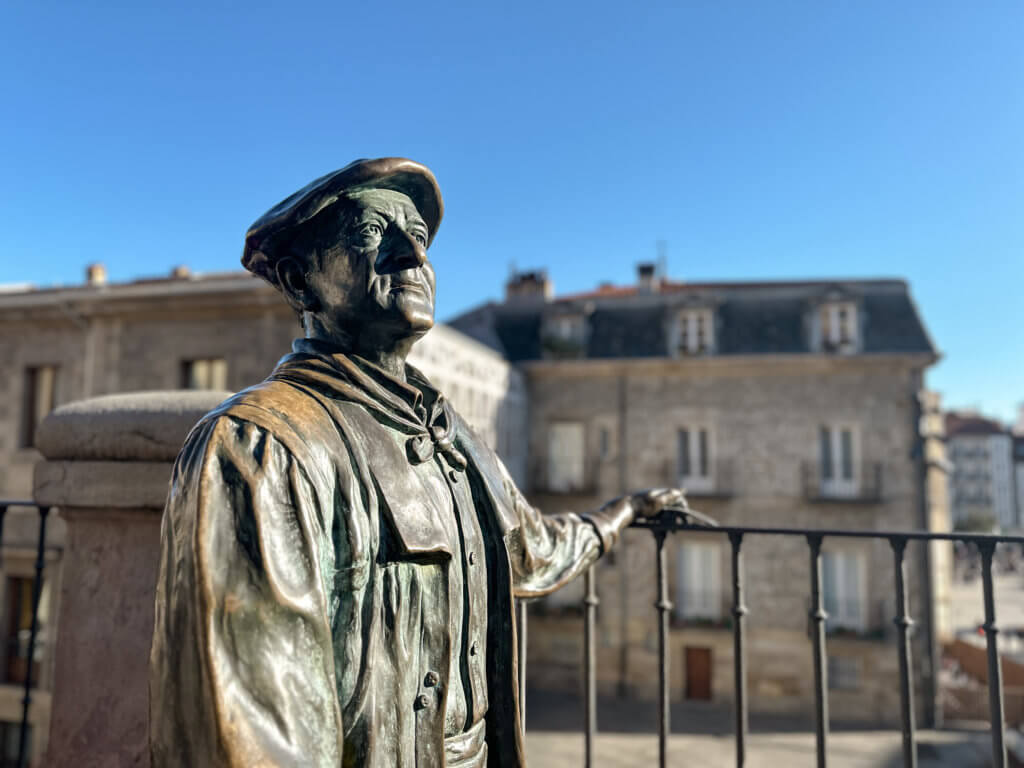 It is the perfect time to enjoy few days of great party atmosphere in the streets, with concerts, children's shows, theatre, procession of lanterns, walks of Blouses and Neskas, the very descent of Celedón from San Miguel church into the square and Neska Txiki (which means little girl in Basque). Basque rural sports and bullfights can also be experienced. It is a wonderful time to encounter Basque culture and clothing as many people dress in traditional costumes during the celebrations.
One of our favourite vantage points of the square is from the balcony of San Miguel church next to the bronze statue of Celedón.
Guided Tour of Santa María Cathedral
The Cathedral of Santa María originated as a church-fortress in the early 13th century. It is located at the top of the hill on which the original Gasteiz settlement was built and occupies the area bounded by its first walled enclosure. Construction was subsequently completed in the Gothic style in several stages throughout the 14th and 15th centuries. To enter Santa María Cathedral is a unique experience. Here you can visit a building more than 800 years old that reveals the history and origins of the village of Gasteiz.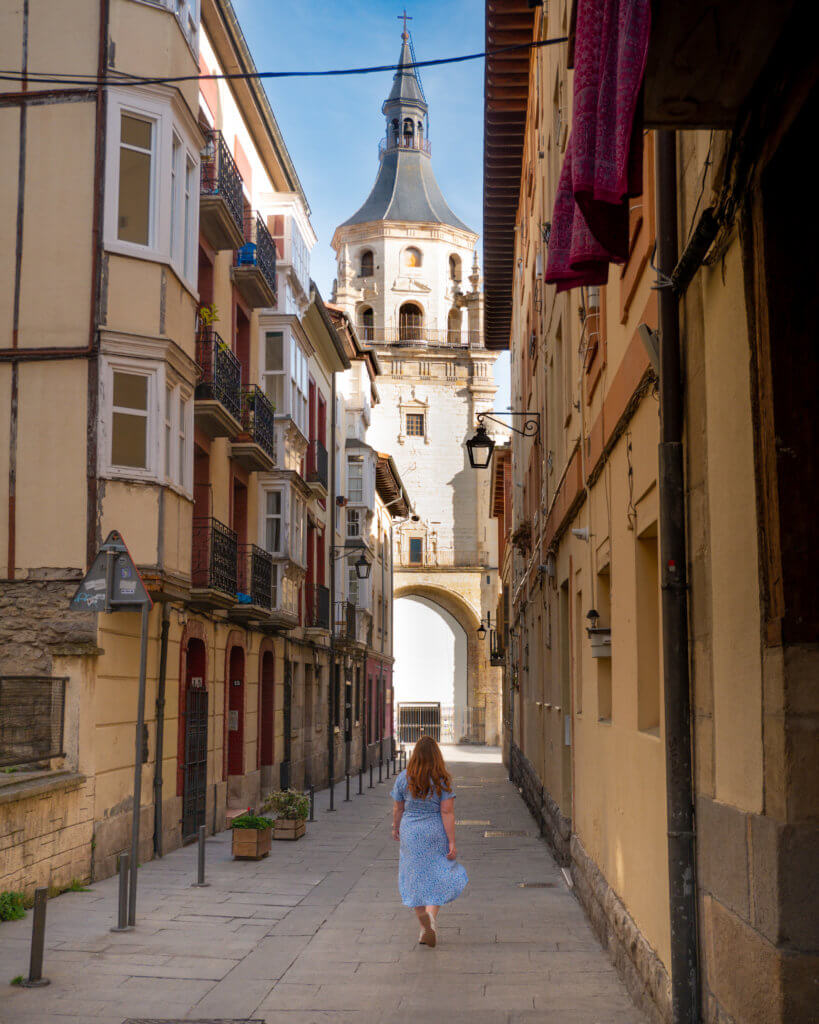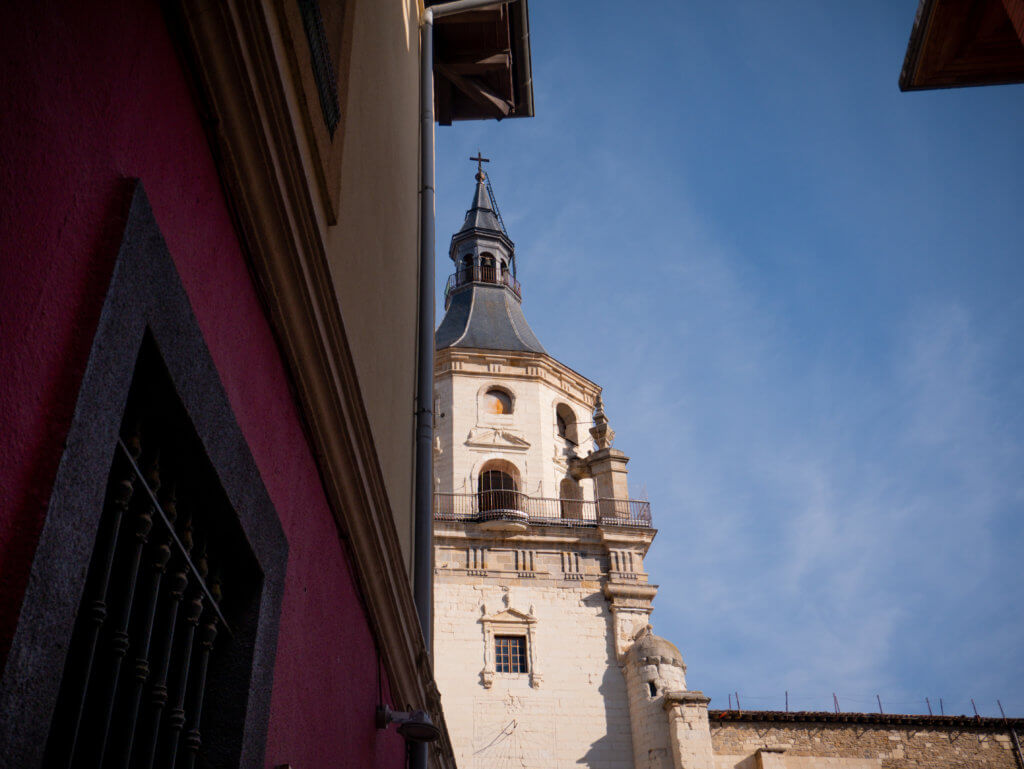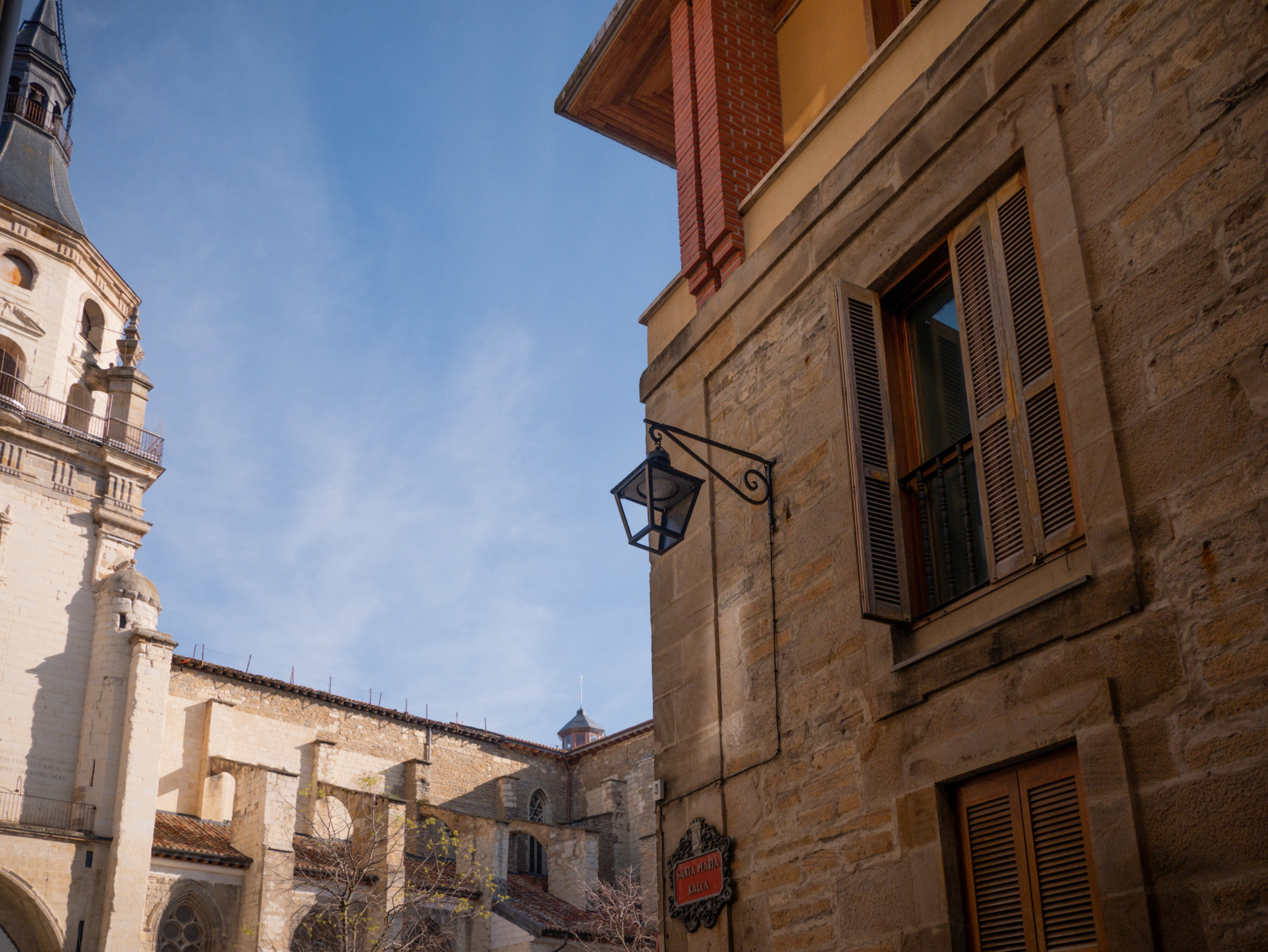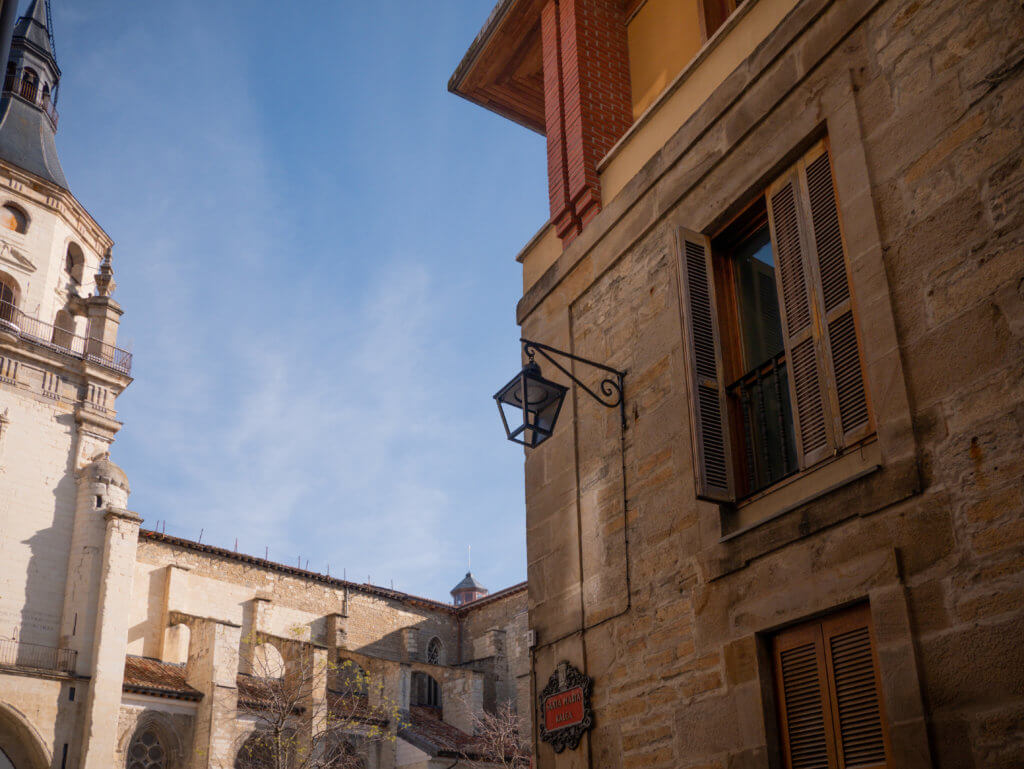 Currently, it is undergoing repair as part of a project run by the Santa Maria Cathedral Foundation, which also oversees the organization of tours. Visitors will appreciate watching live restoration and archaeological work being done on this complex 13th century building. Architects, archaeologists, stonemasons, scaffolding, and reinforcements that make up this creative cultural tourism project tell the story of the repair of this building in an immersive virtual reality tour. This means that visitors can see first hand how restoration works are being carried out.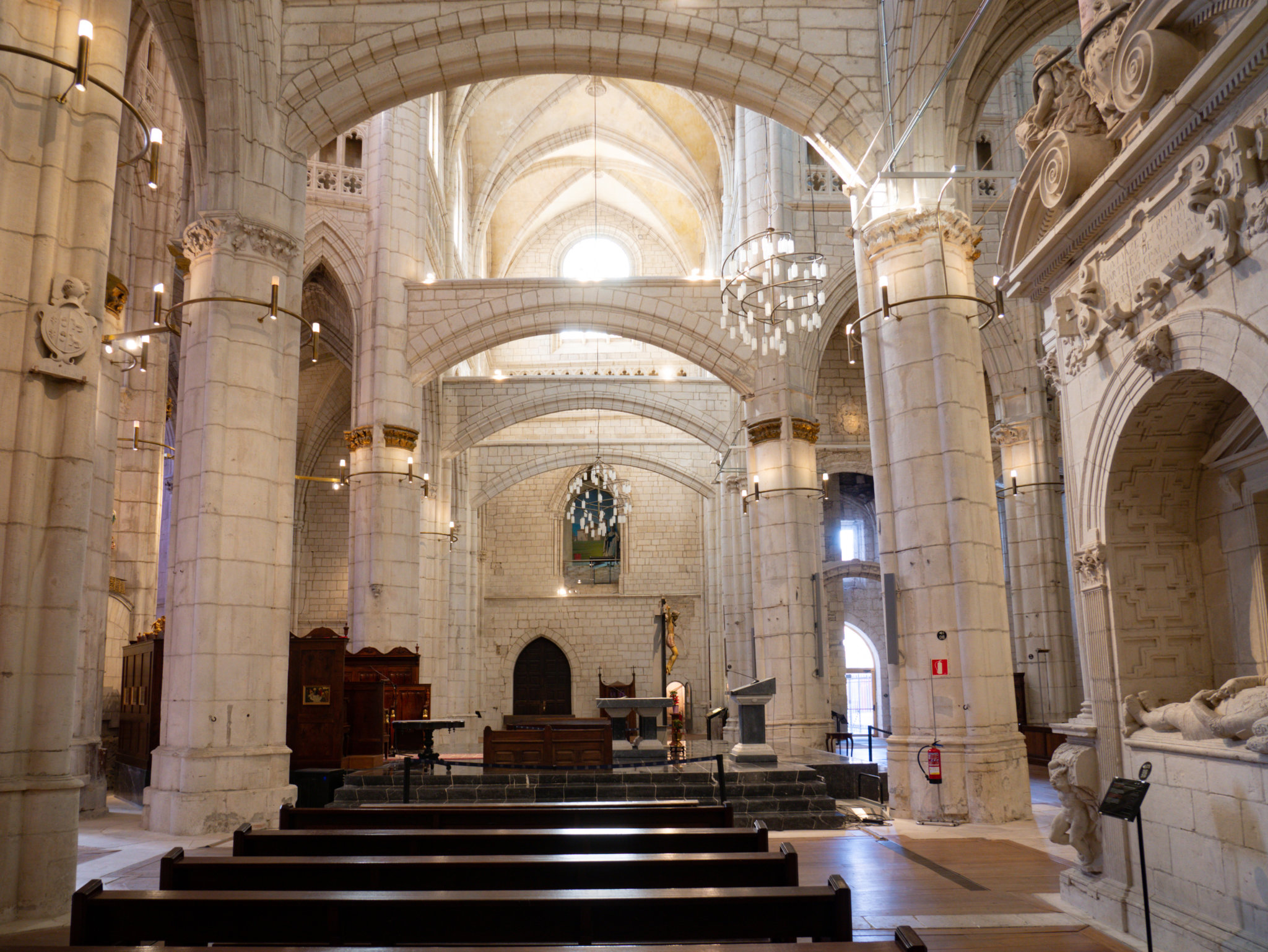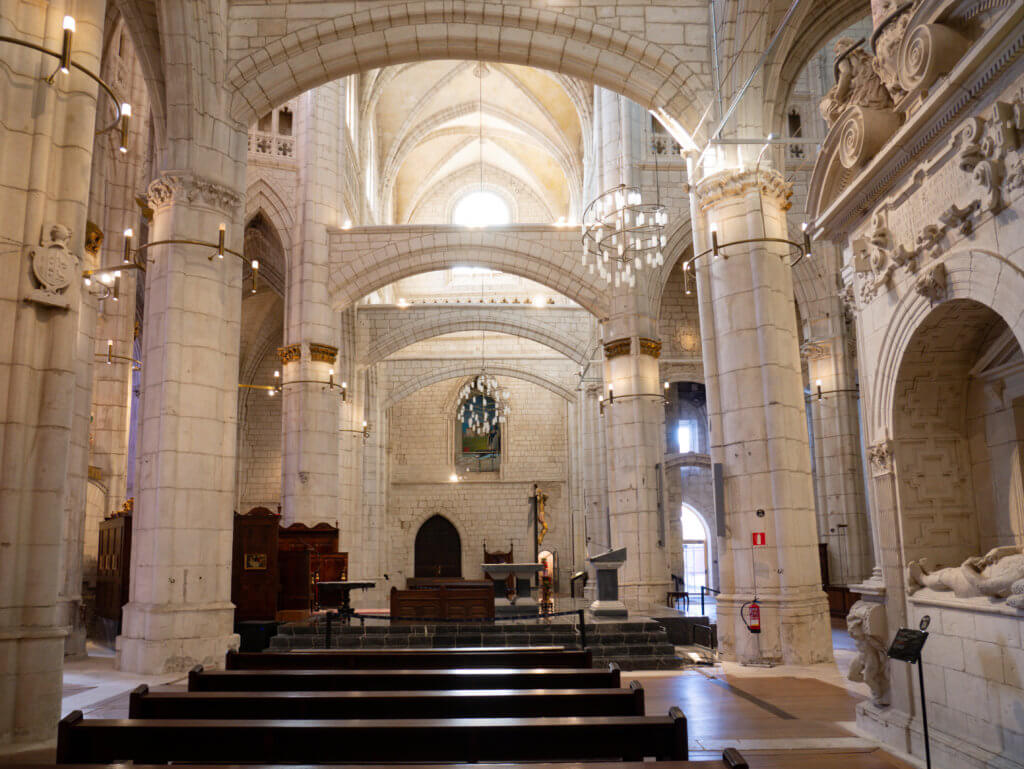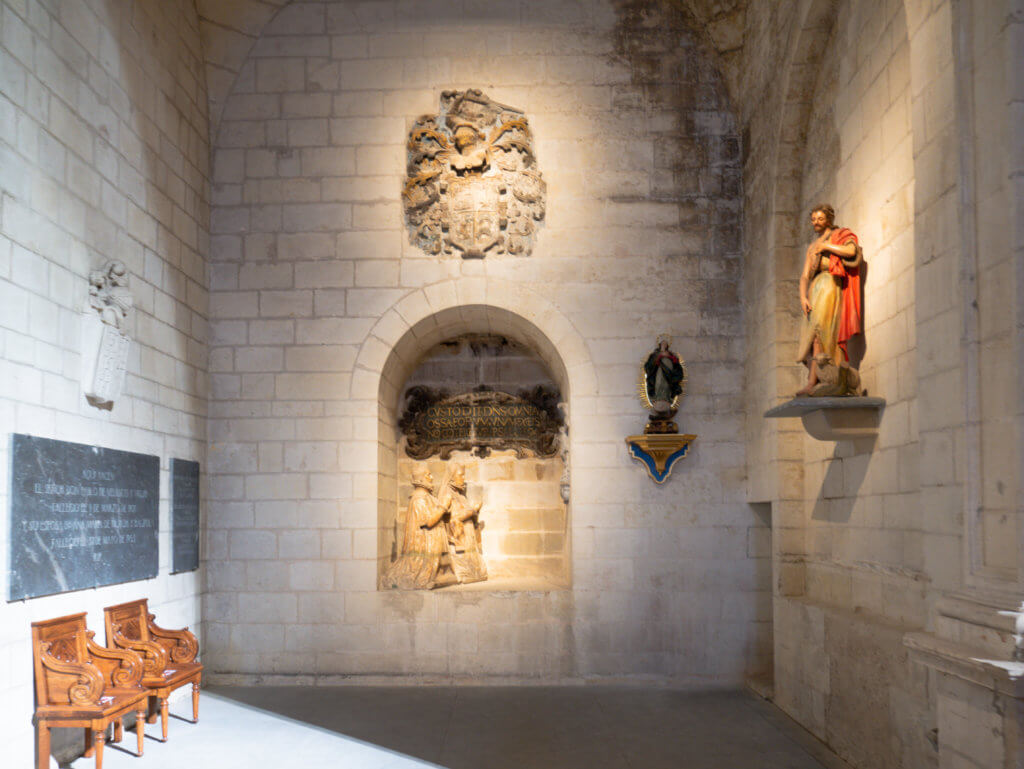 These works have enabled not only rehabilitation of the damaged parts, but also in-depth knowledge of the origins of the city from the archaeological excavations carried out as a complement to the works in the cathedral and its surroundings.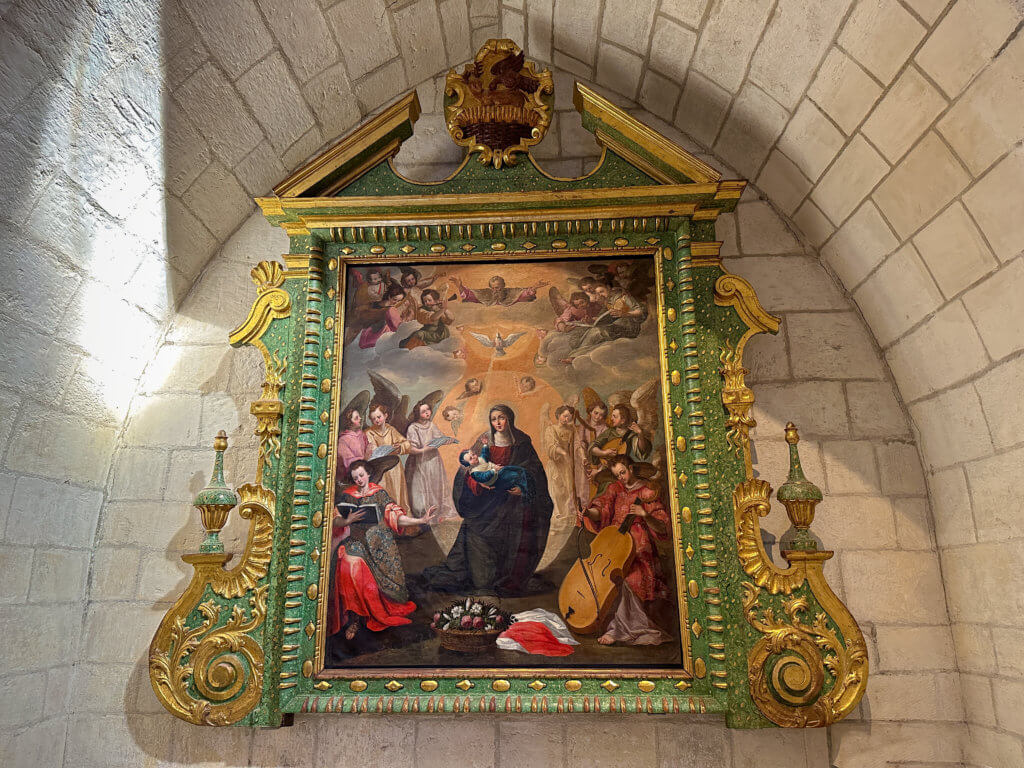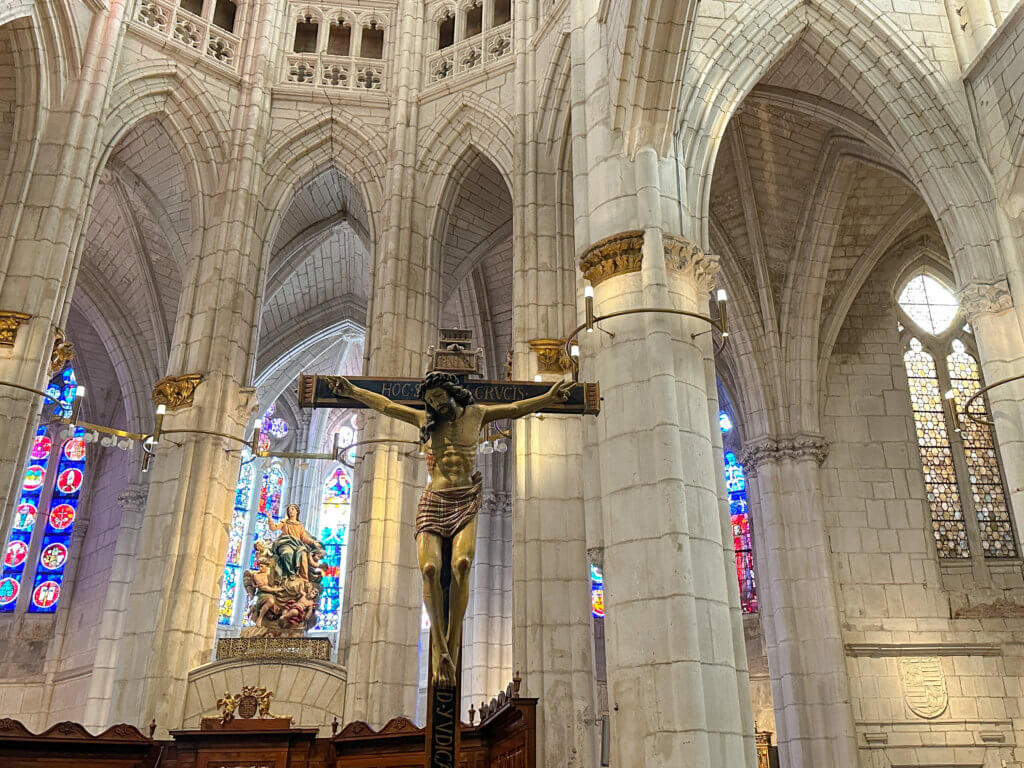 The cathedral crypt has been converted into a museum where you can find out about the history of both the building and the city itself from panels and multimedia content. The journey goes the whole way from the first settlements in the city to the present day.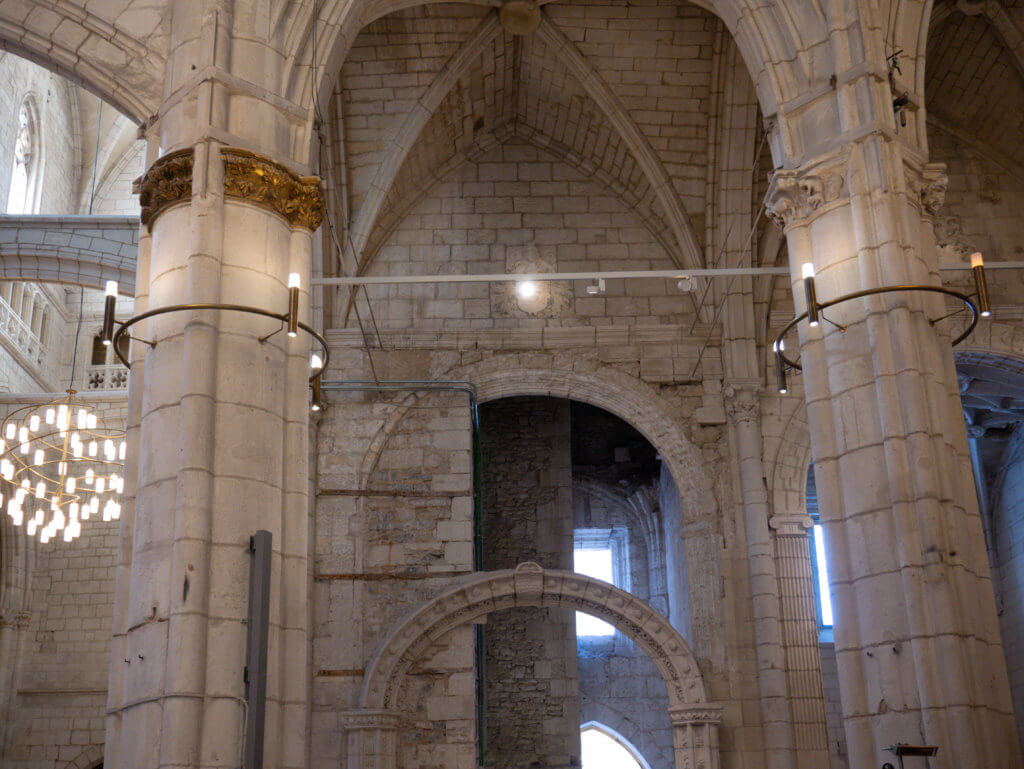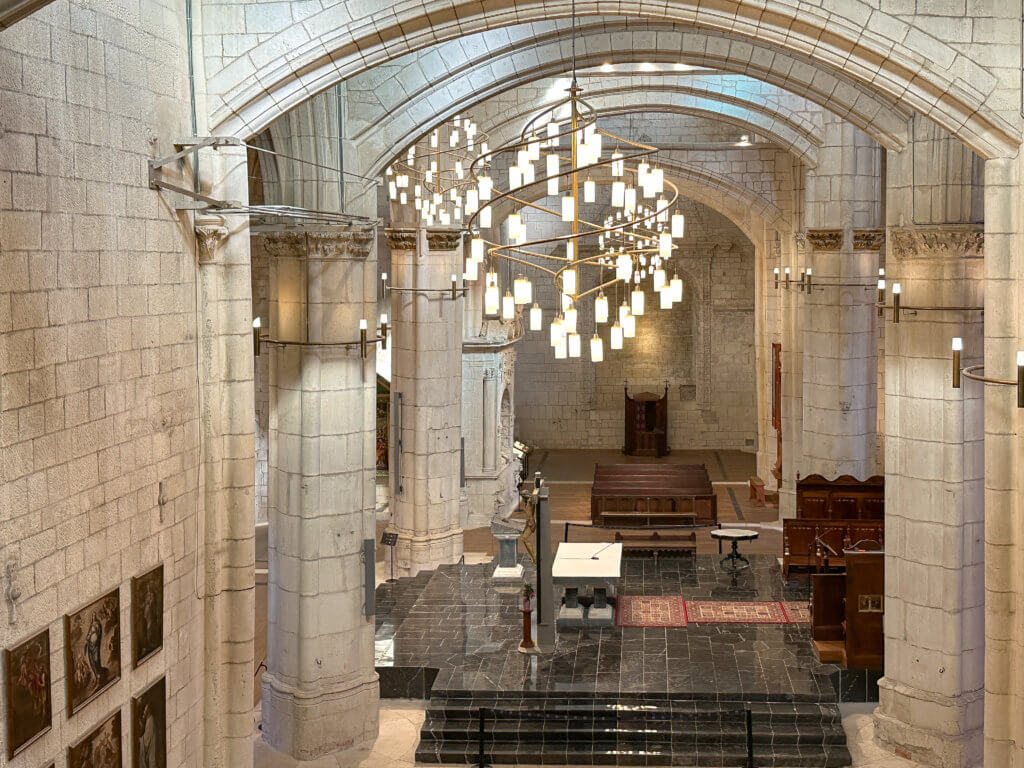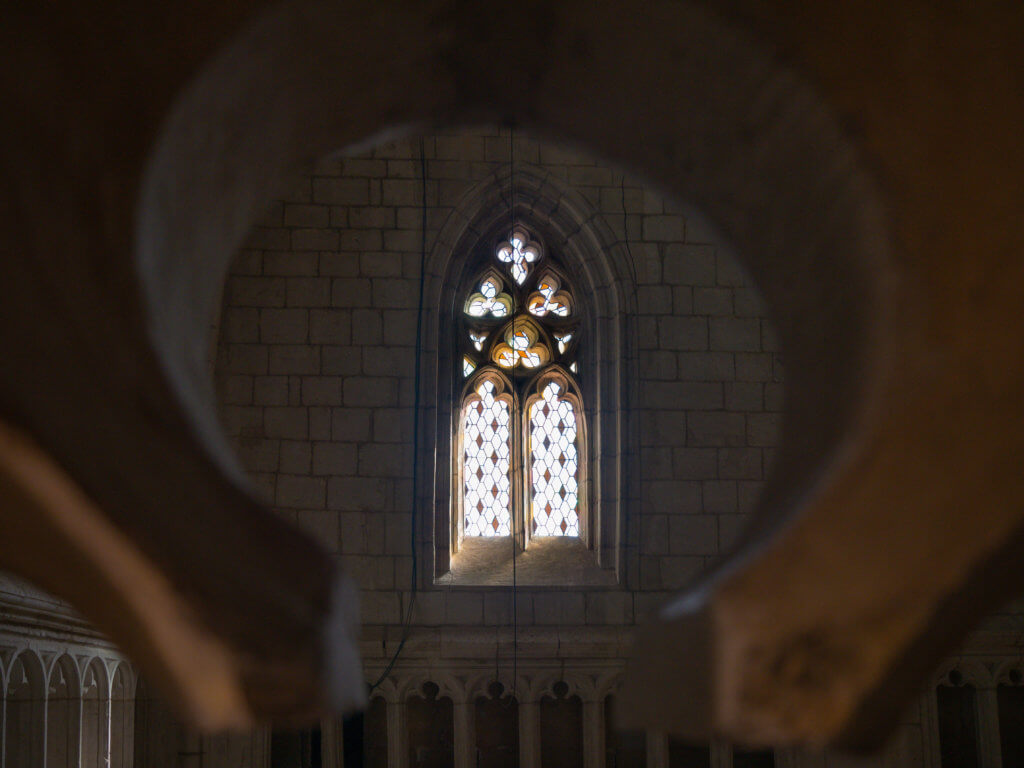 The octagonal tower, with its bell tower that dates from the 16th-17th centuries, enables visitors to enjoy a unique panorama of the city.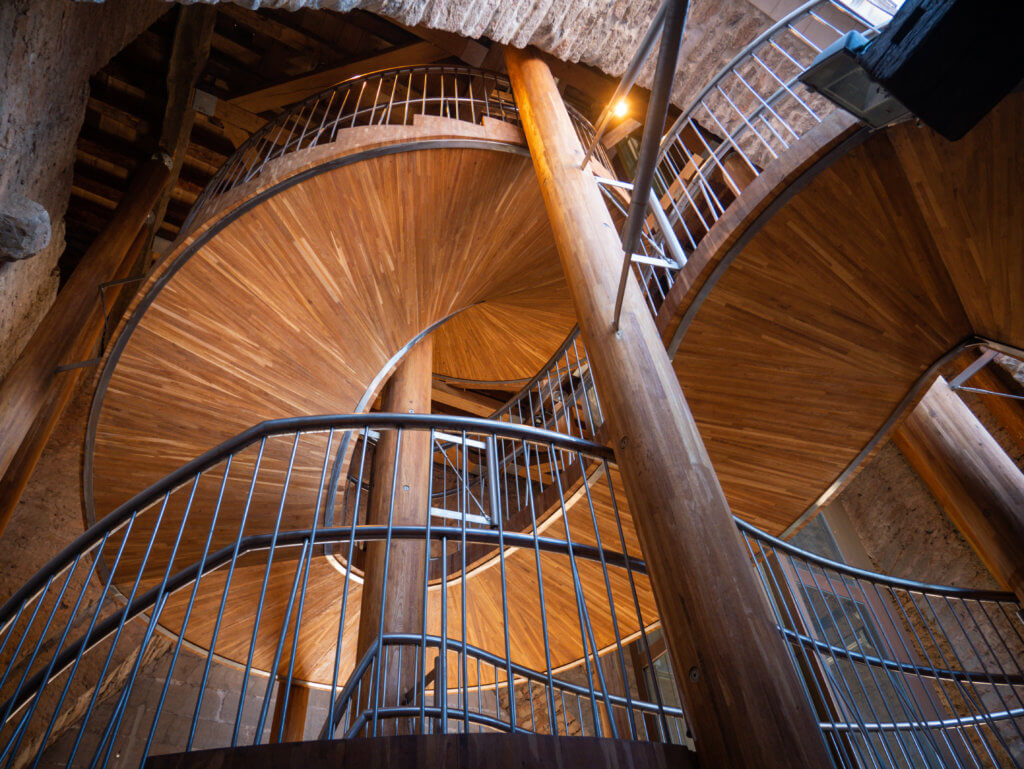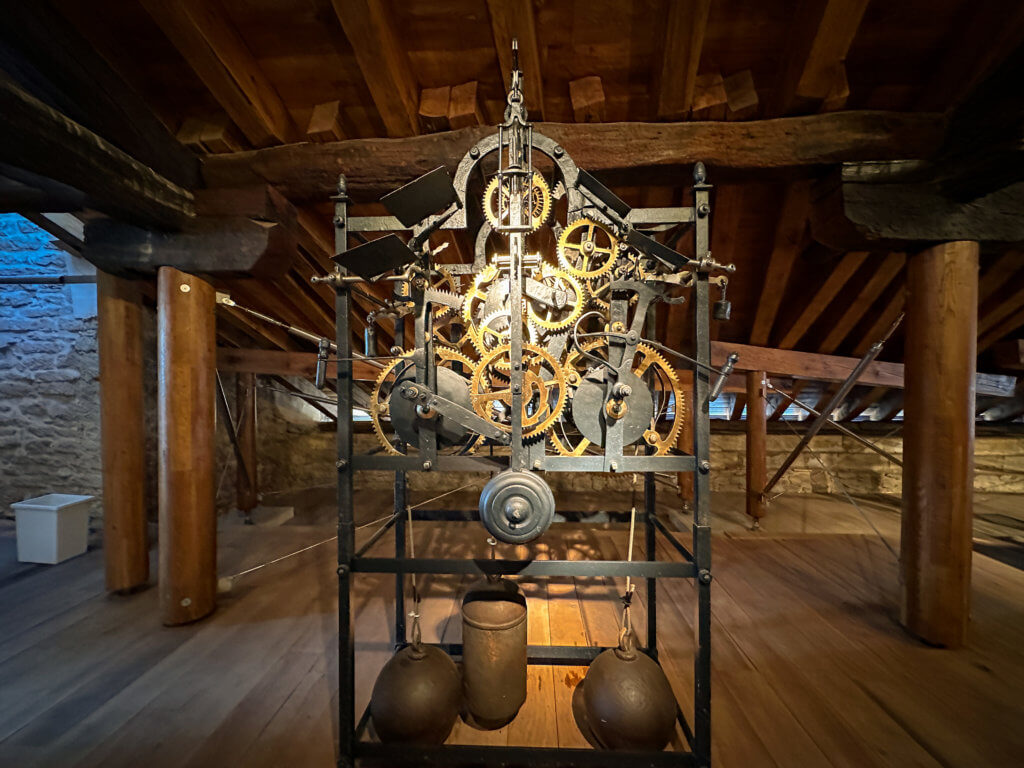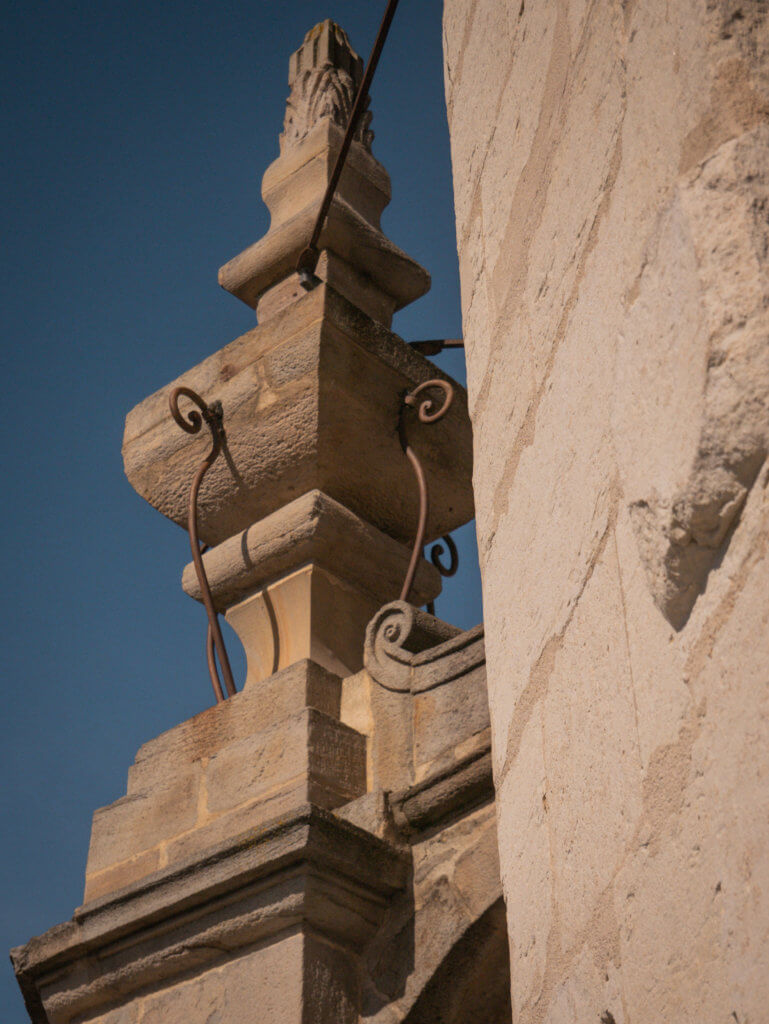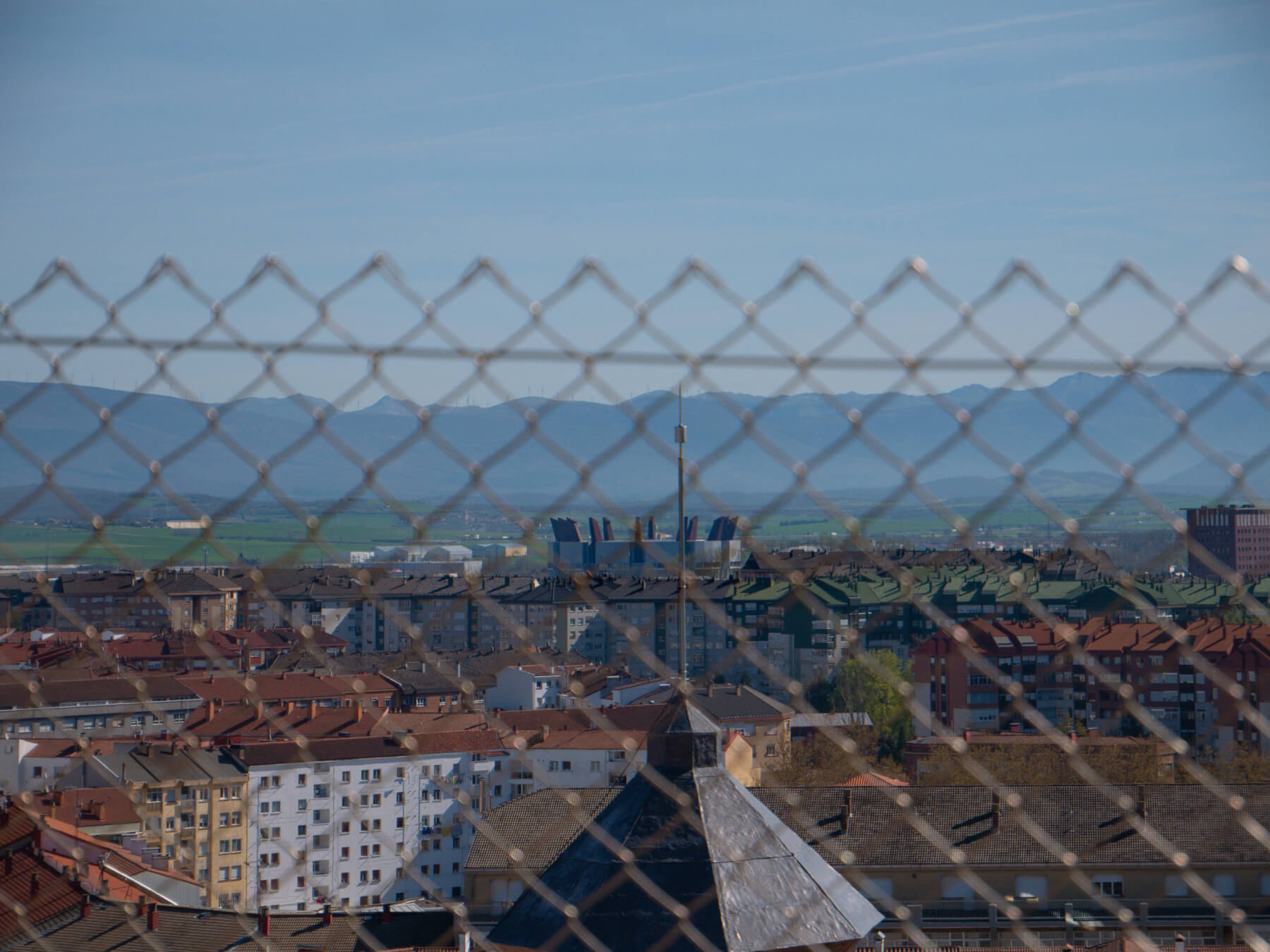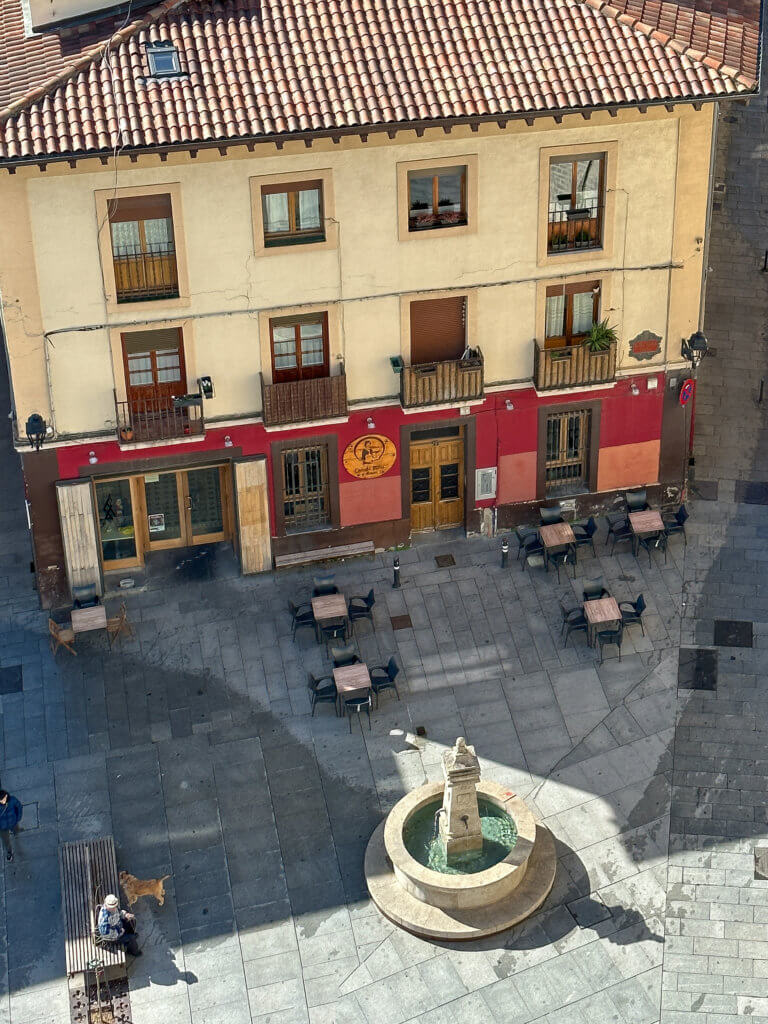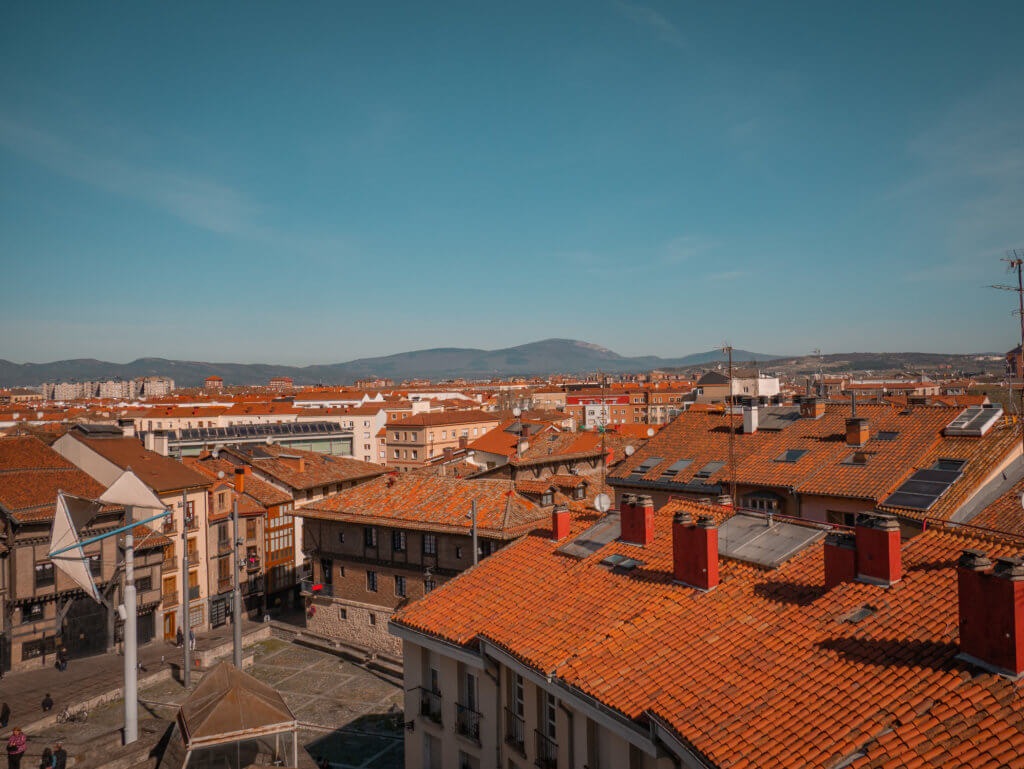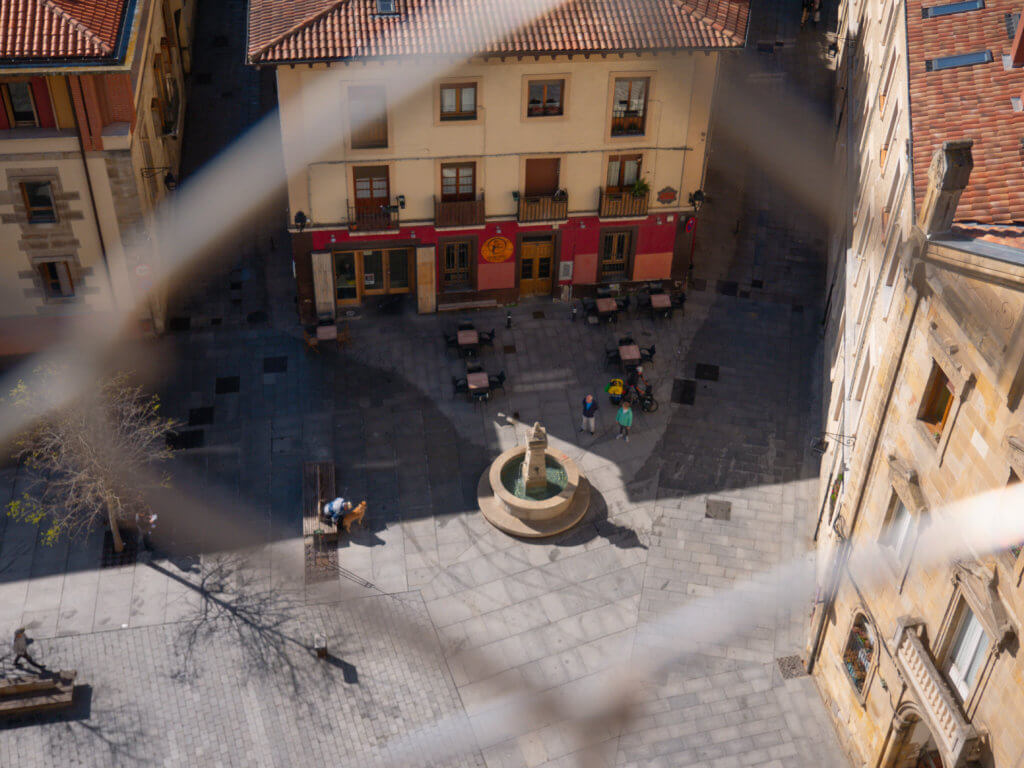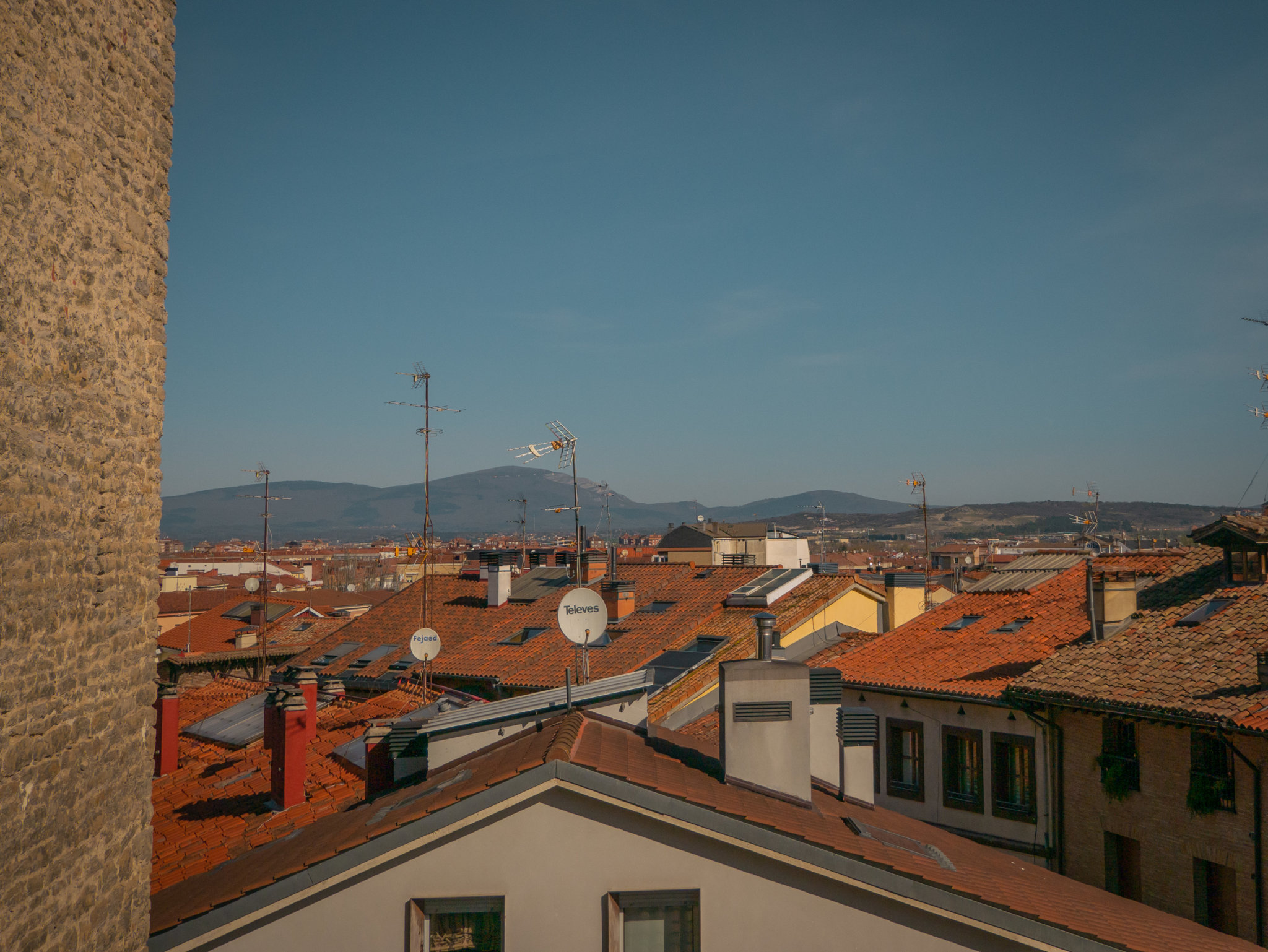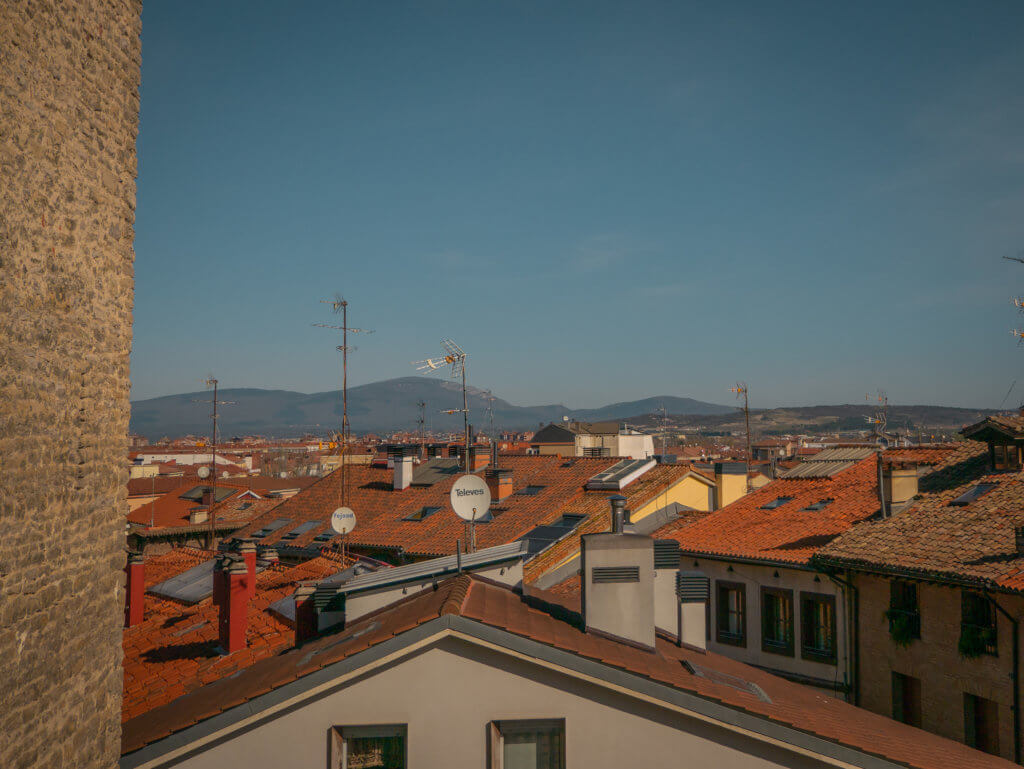 Explore Vitoria-Gasteiz historic Medieval Quarter
Vitoria-Gasteiz has one of the best preserved medieval quarters in Spain. It still has its almond-shaped streets dating back to the middle ages, and wandering through them lets you see the great Gothic temples, the medieval citywall, and special museums like the BIBAT Card and Archaeology Museum. The historical centre sits upon a hill where the initial city of "Nueva Victoria" was once located. You can also take the path around the city murals there.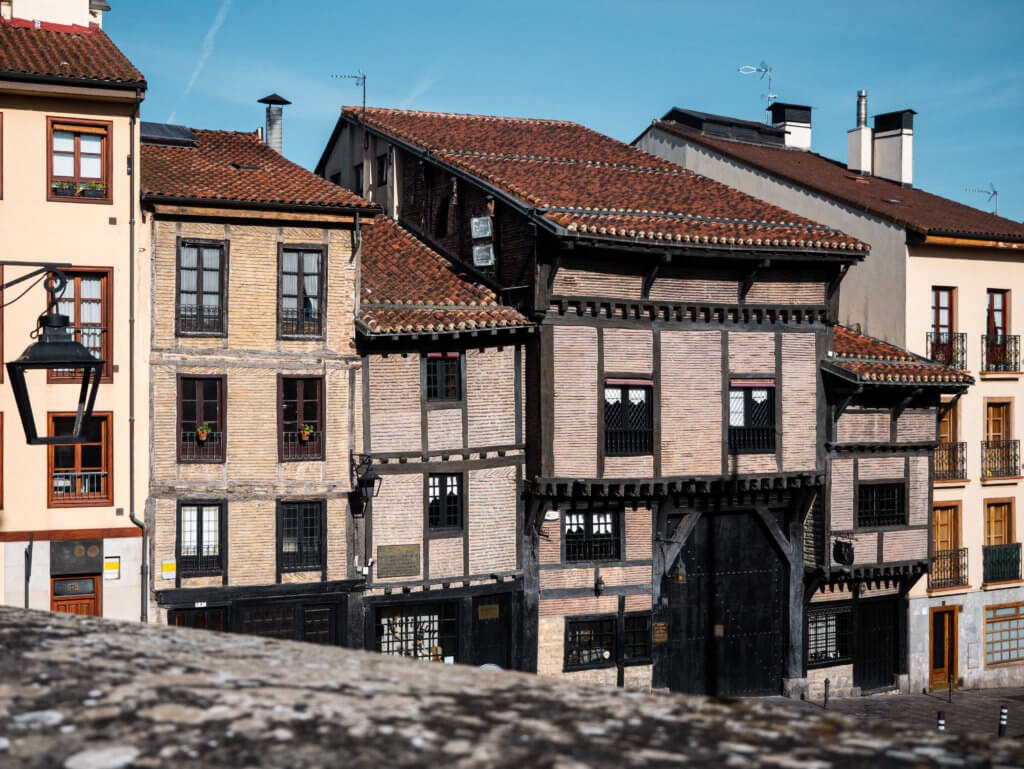 You will see the wall, Renaissance palaces, towers, churches, cathedral and much more on a historic walk around the medieval quarter.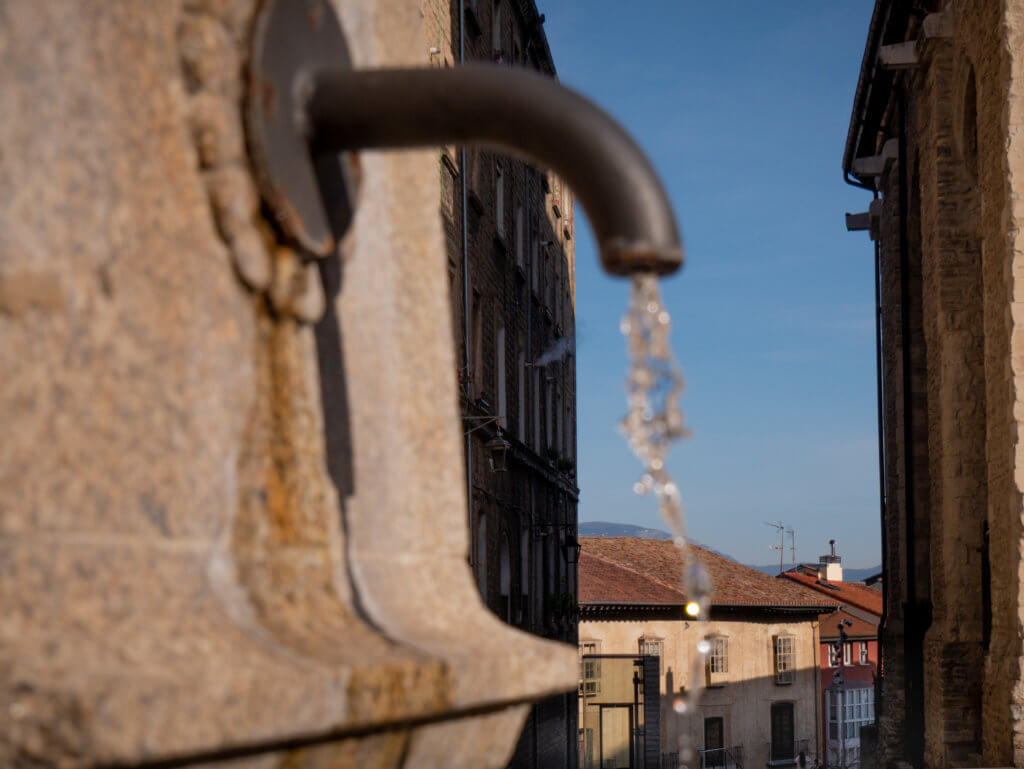 Eat Pintxo's on Aiztogile Kalea
One of the busiest streets in Vitoria-Gasteiz is Aiztogile Kalea (Basque) or Calle Cuchillería (Spanish). It is known locally as "Kuxti" and is lined with lively bars, taverns and restaurants. It is the place to be in town and the atmosphere is electric. Glasses clink and stomachs fill up with pintxos, delicious little tapas that you can gobble on the go.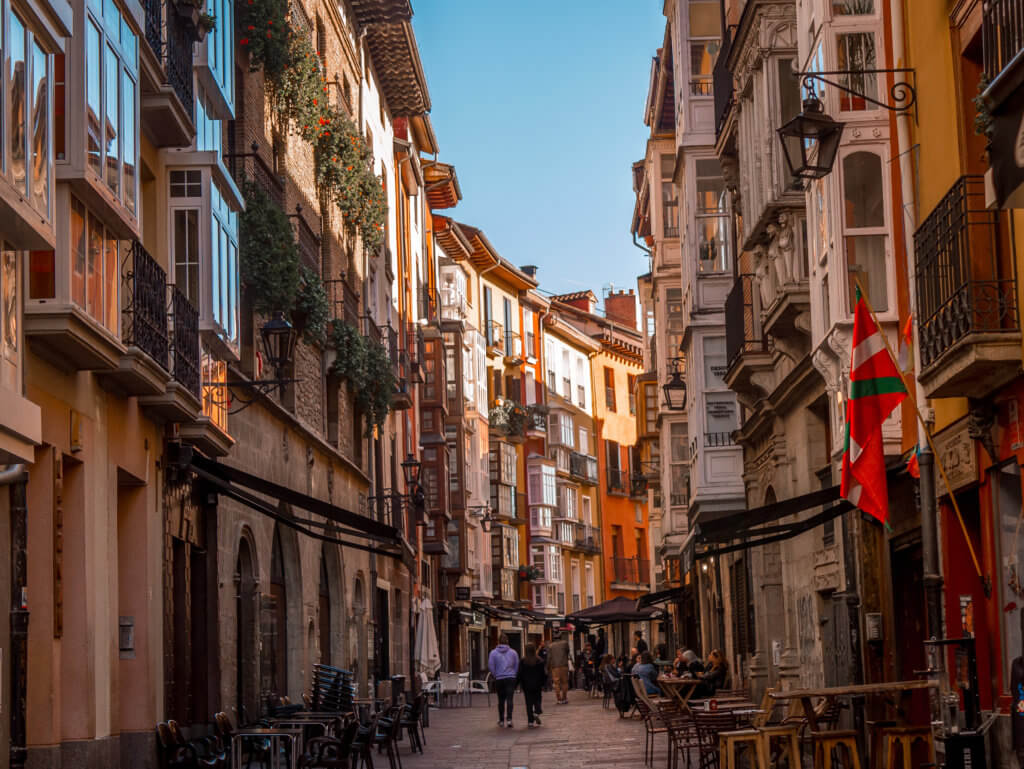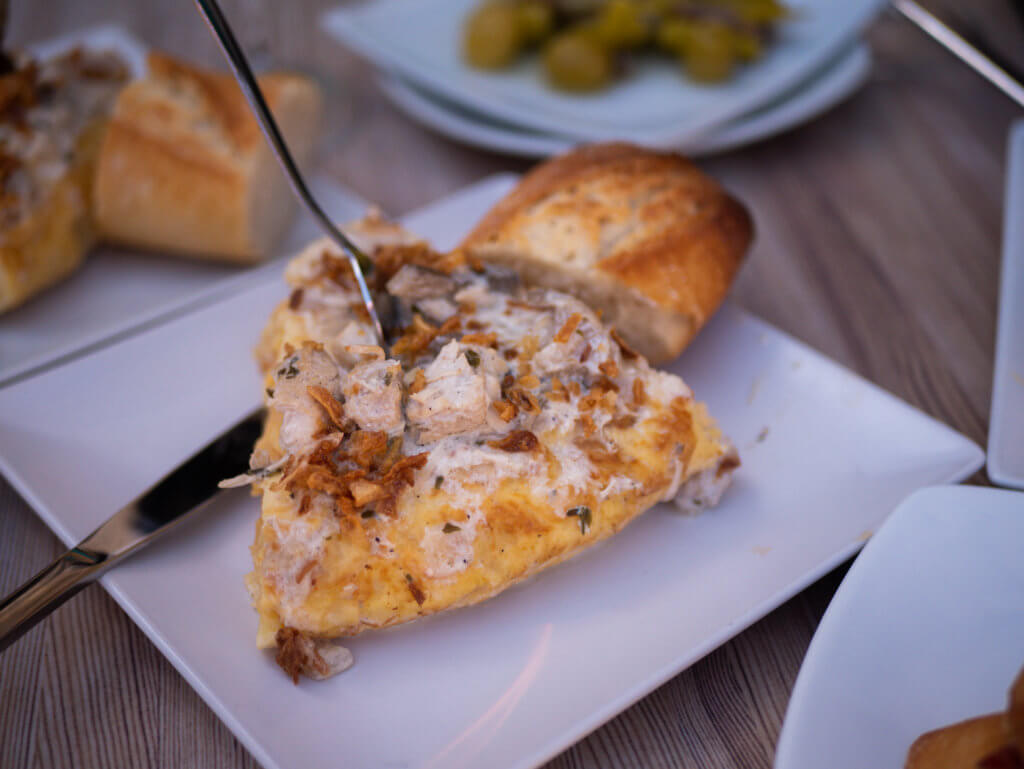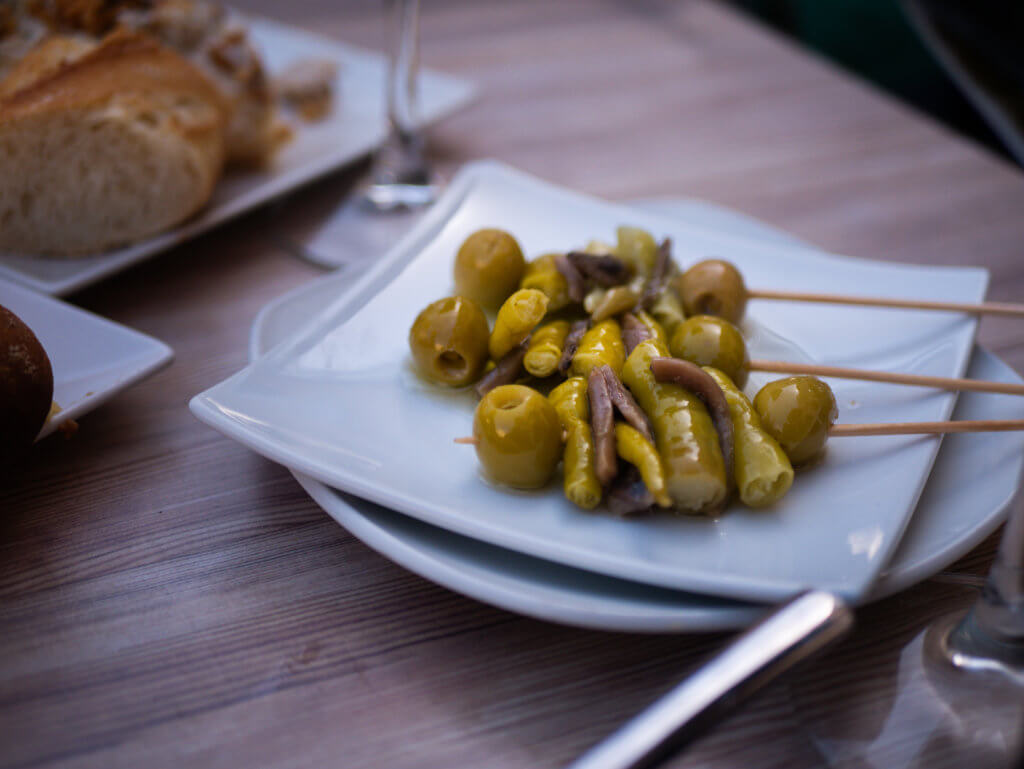 The "El Gautxo" bar is renowned for stuffed pepper pintxos, txistorra (the local chorizo), croquettes, baby eels and salad. "Txolarre" offers exotic pintxos such as chicken fajitas or toast with vegetables, although its signature dish is crisply fried squid.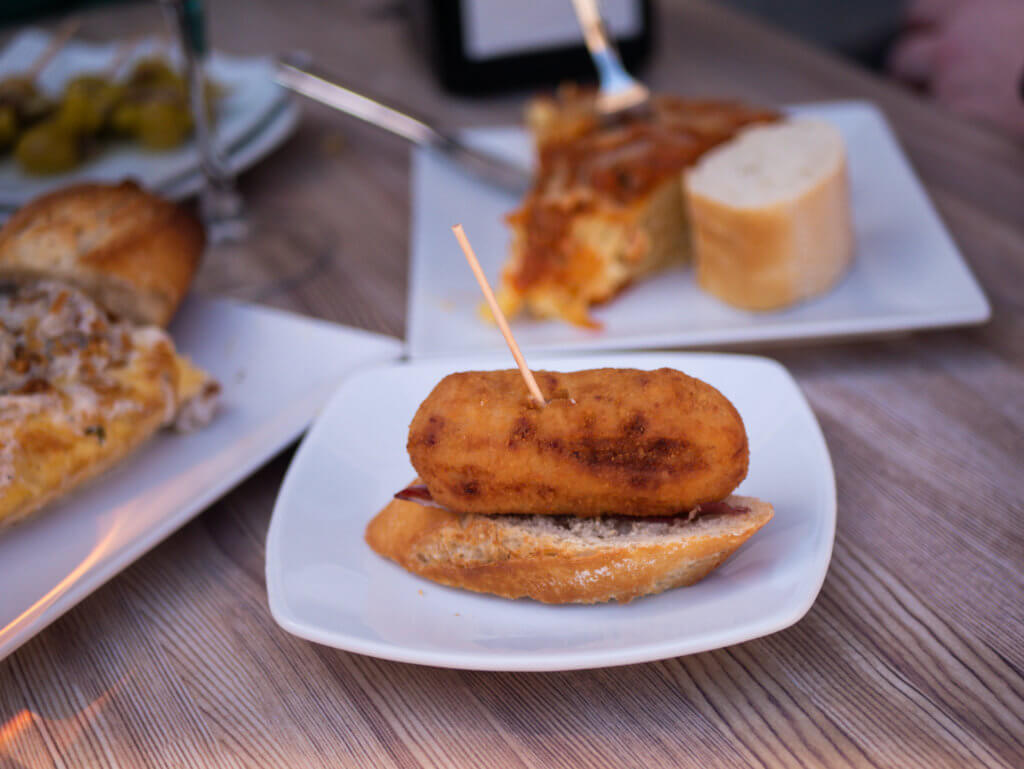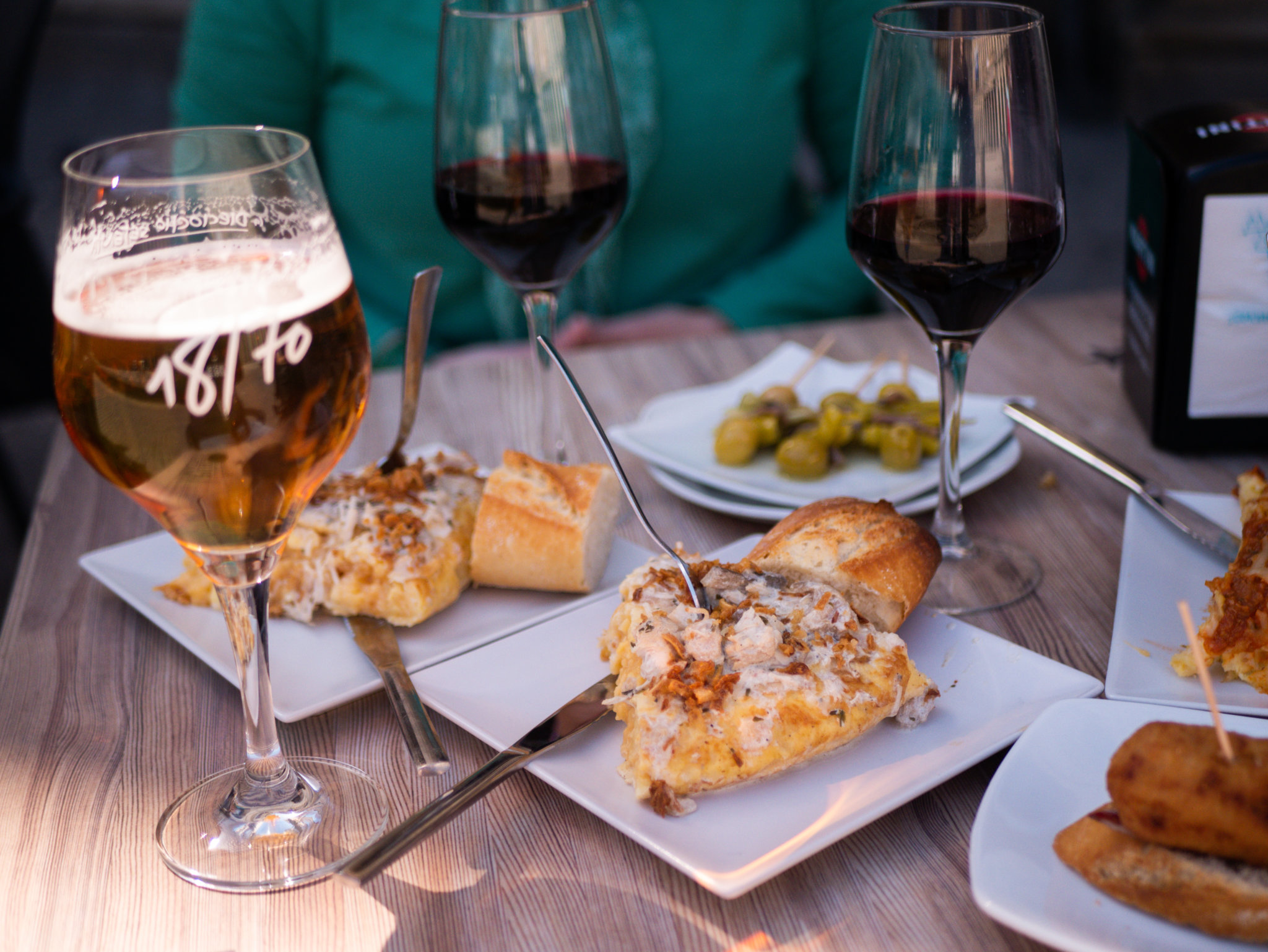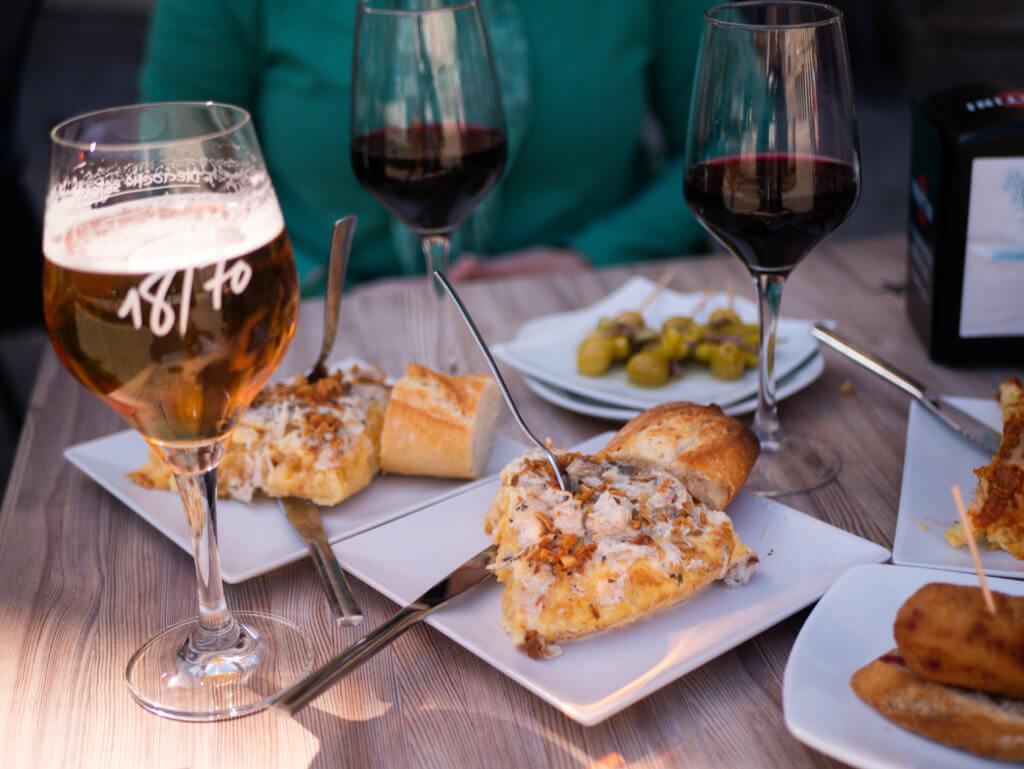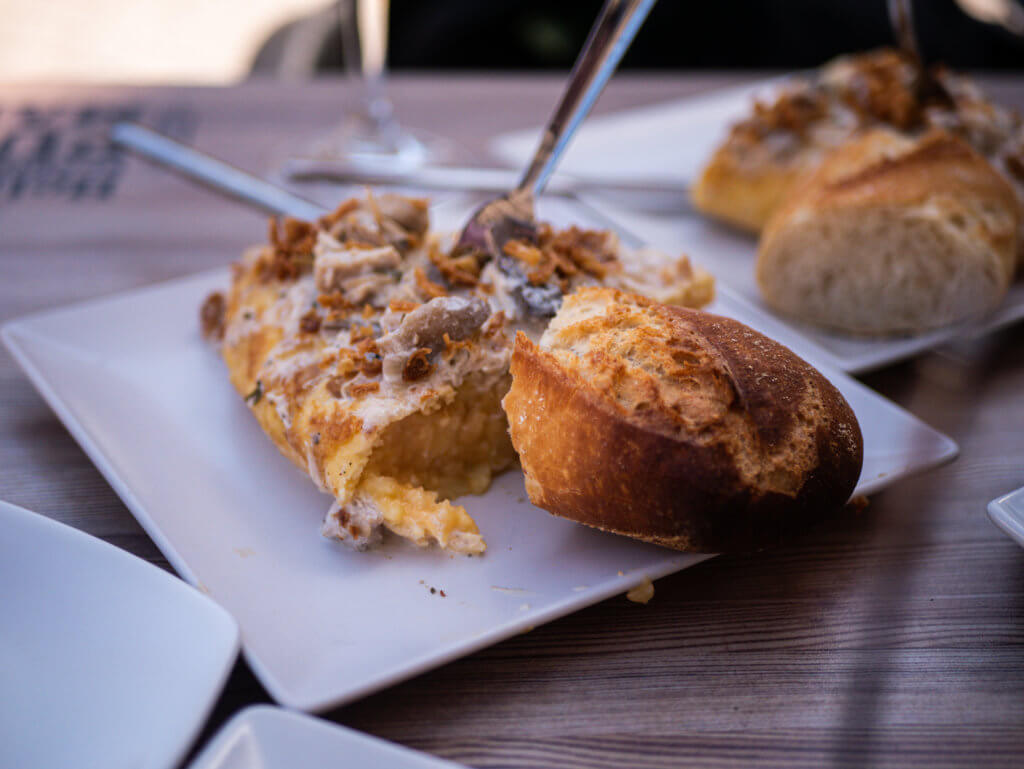 Visit BIBAT Card and Archaeology Museum
Set in a 16th-century building, Bendaña Palace, you will find the world's most important museum of playing cards.
Don Heraclio Fournier, who established a significant printing press in Vitoria in 1868, is credited with founding the Fournier card museum. Here, a variety of collections demonstrate to visitors how playing cards have changed throughout time in terms of manufacture as well as content and design. There are a variety of cards available, with a focus on the Spanish deck, including vintage, tarot, humourous cards and cards relating to bullfighting.
Fournier cards are world famous. If you play cards in any reputable casino in the world you will most likely be playing with Fournier cards. Every aspect of the card deck was created by master craftsmen and artists expert in printing techniques and it all started here in Vitoria-Gasteiz.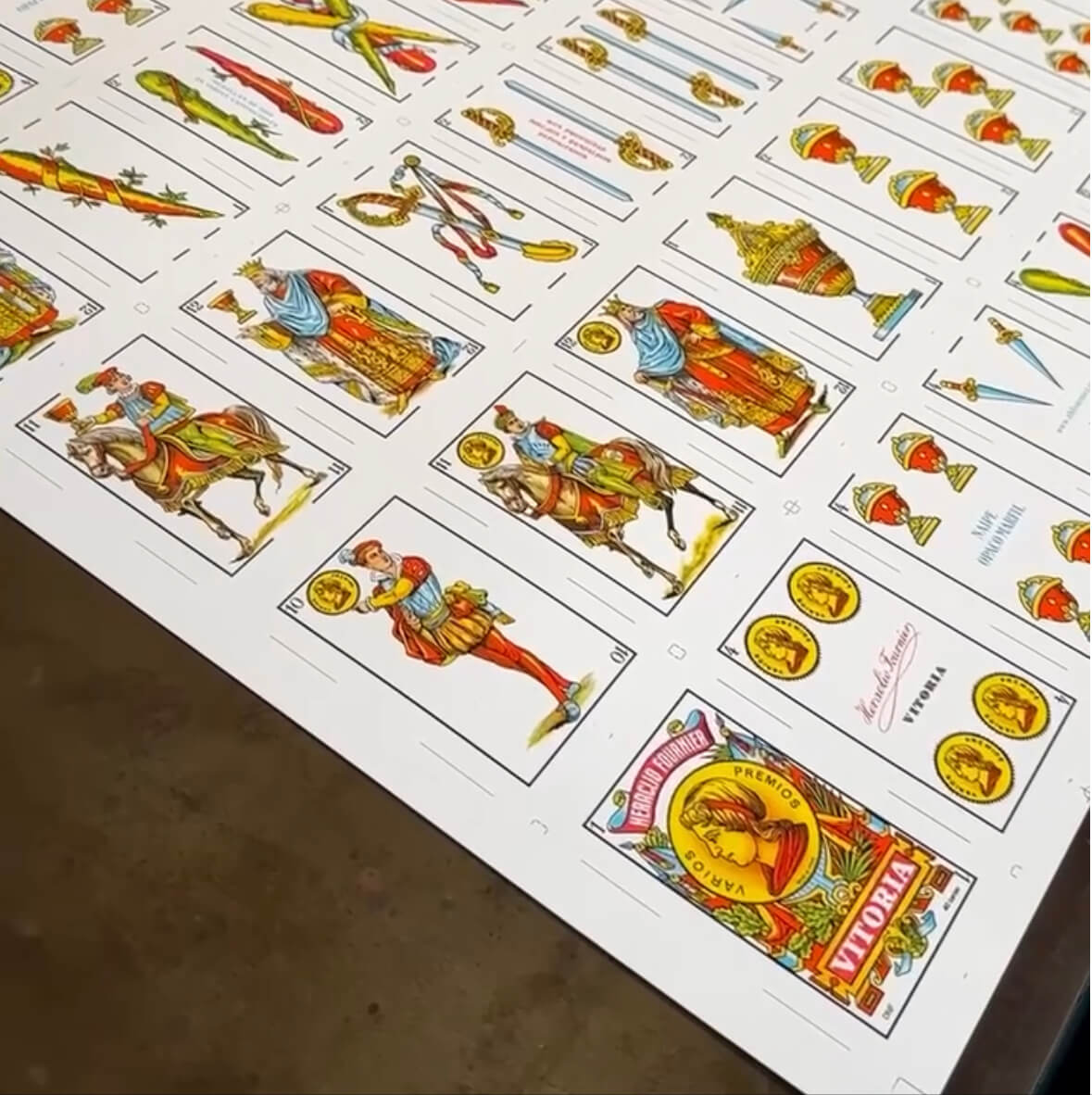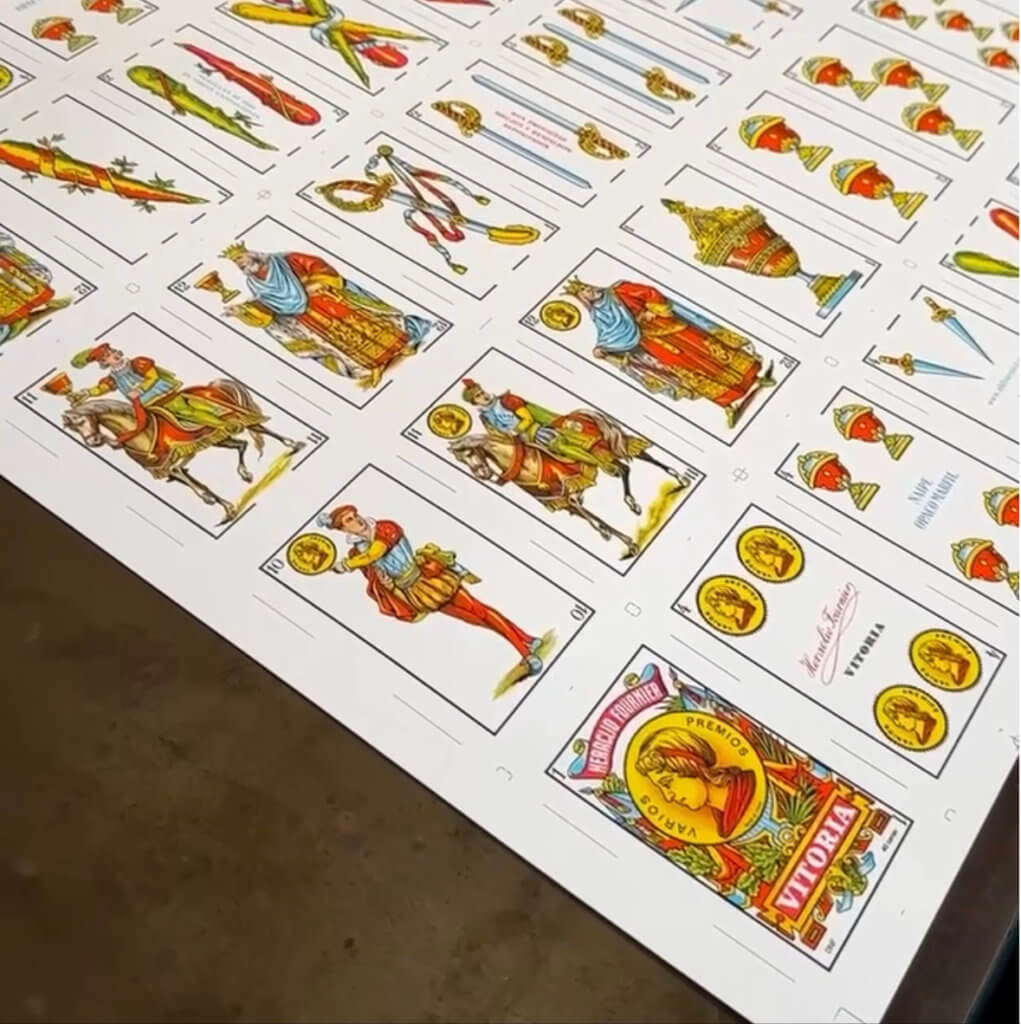 Next door you will find the city's archeological museum. The exhibition takes three floors and includes pieces from the Paleolithic, the Iron Age, the Roman world and an extensive journey through the Middle Ages of the town of Vitoria, founded during this long period of time.
Entry is free.
Walk St. James's Way in Álava
St. James's Way in Álava has historically been a communication path for pilgrims, travellers and traders, who found a safe route to avoid attacks from Barbarians on this path. Álava is a historical territory of Basque Country with Vitoria-Gasteiz as its capital. Relive history by following a St James's urban route or a stage of the pilgrimage through the city.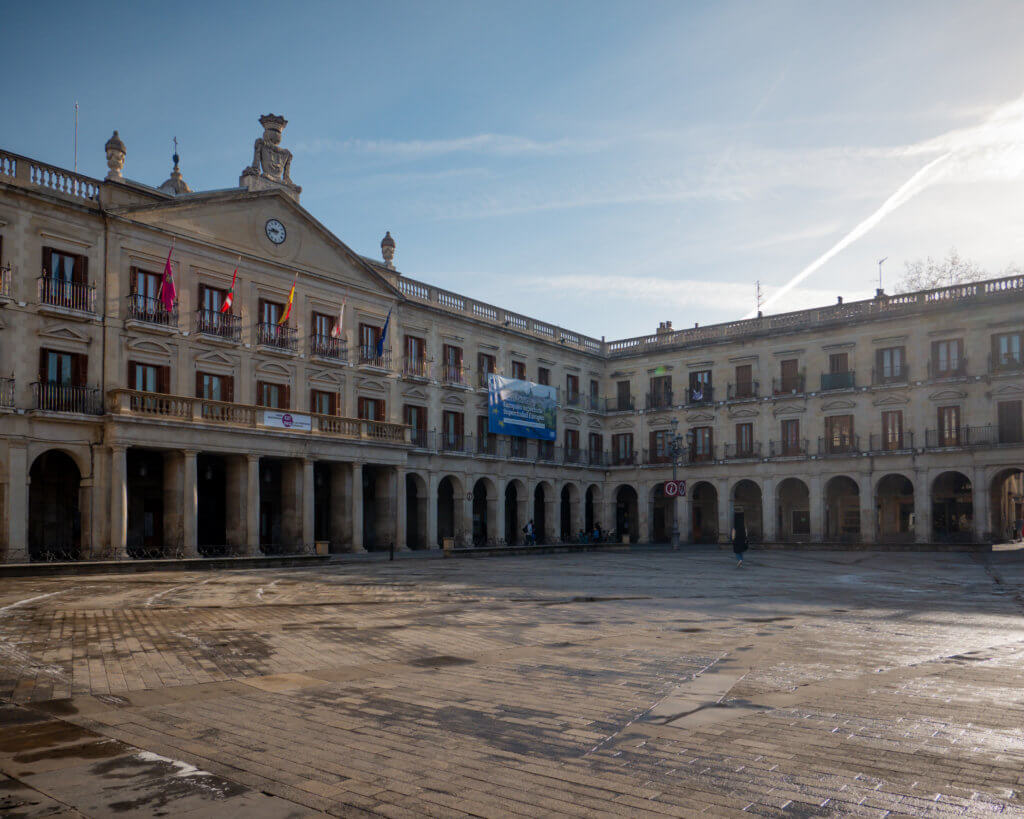 The pilgrimage to Santiago via Vitoria-Gasteiz became very popular in the Middle Ages as an alternative to the French way. This route is currently known as part of the Inland Basque Way, a route which connects Irún to Burgos or Santo Domingo de la Calzada. Stopping off in Vitoria is a must on this part of the route.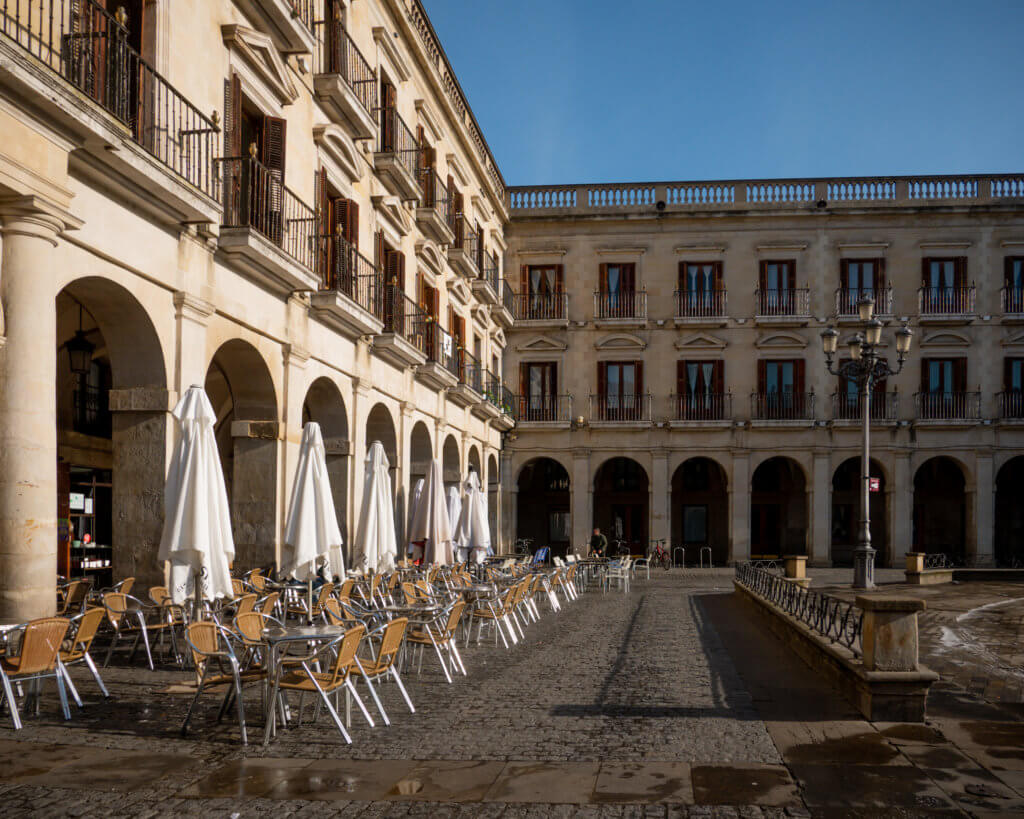 Discover the Murals of Vitoria-Gasteiz
The city comes to life with a gallery of works of art painted onto the façades of buildings in the Medieval Quarter and throughtout other neighbourhoods of the city. Each mural tells a story and they were created collectively by artists and residents of the city. The best way to experience these incredible murals is by guided tours that will show you the imposing building façades which have been converted into authentic works of art and will tell you the stories that lay beneath each murals.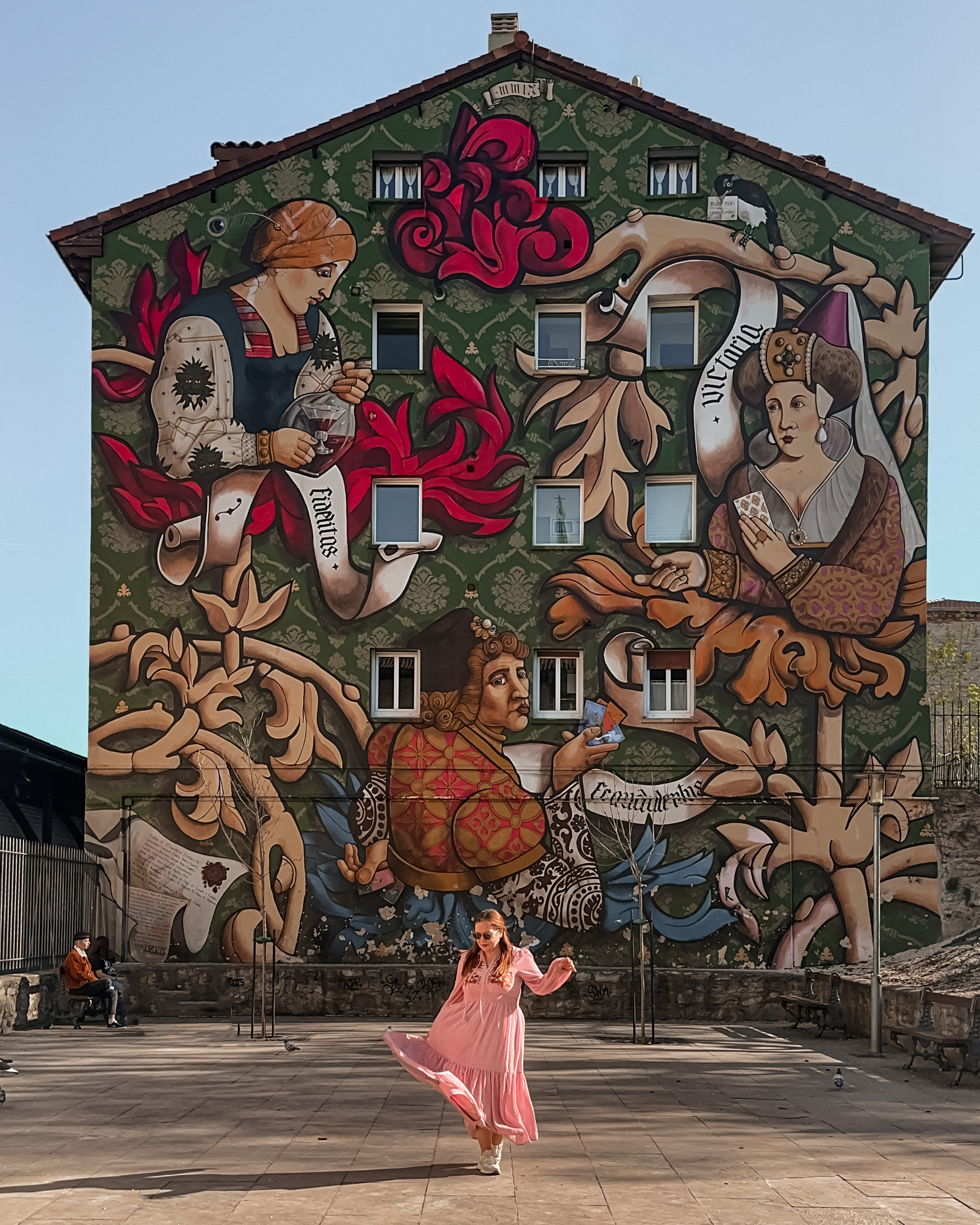 Immerse yourself in Nature
The city is surrounded by a Green Belt made up of many large parks, notably the Salburua wetlands and their Ataria interpretation centre. It incorporates several lagoons, where lookout points allow you to admire birds, deer and other endangered species making you forget that you are even in a city.
One of the most well known parks in the city is La Florida. These are the city's most representative gardens, situated right in the centre of Vitoria-Gasteiz. La Florida was designed as a large botanical garden of the Romantic era in the style of the French gardens of 19th-century. It contains 95 different species and some trees are over 100 years old.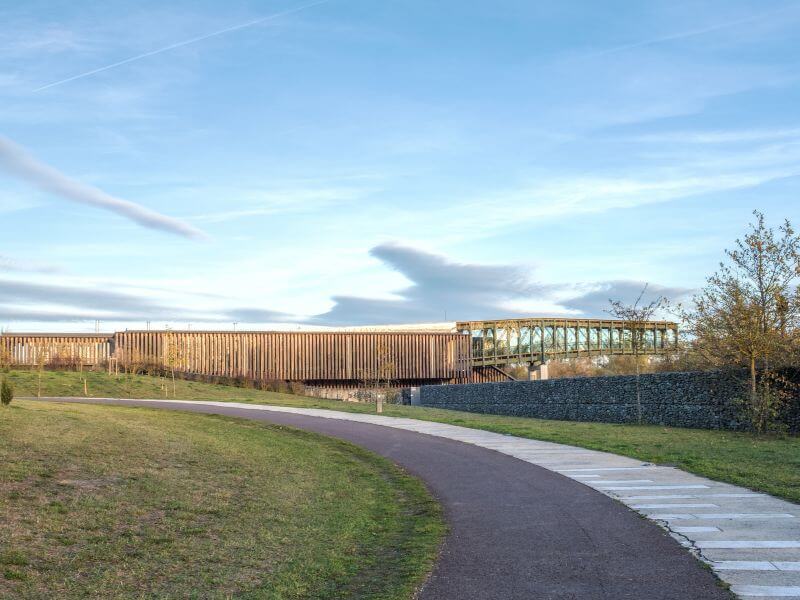 The Europa Congress Palace has become an icon of sustainable architecture. It features a large vegetal façade and a rooftop with views of the city's inner Green Belt.
Arriaga Park is built around a beautiful chapel. It is mainly populated with acacias, poplars, rose gardens and numerous herbs. It also features a lake frequented by several species of birds. Judimendi Park is located in the city's former Jewish cemetery. There you can observe the monolith in the park that commemorates its past and white poplars now serve as a trademark for this lovely region.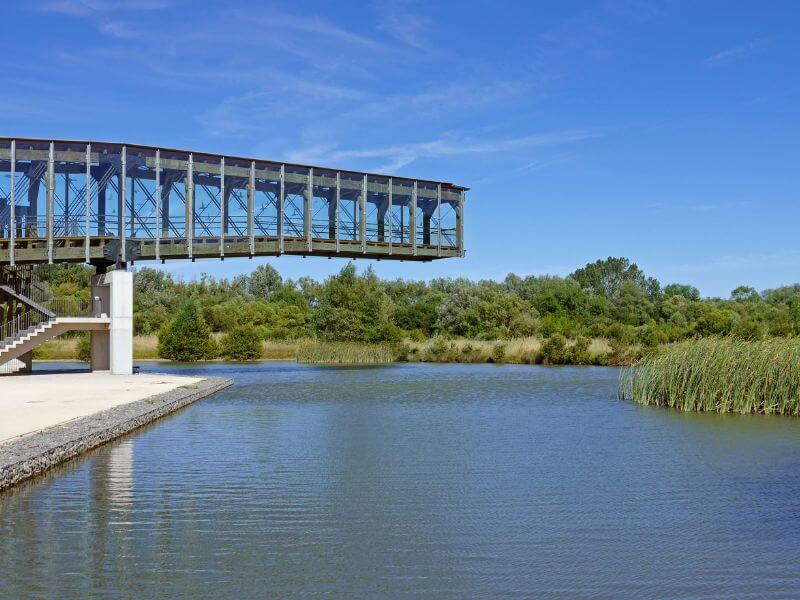 As well as these parks, it's well worth visiting the Obispo Ramón Fernández de Piérola Gardens: which have botanical species such as strawberry trees, magnolia trees and boxwood shrubs, not to mention the 'Crocodile' and 'Rhinoceros', sculptures by Koko Rico. The La Senda Path is also a highlight, a route among enormous century-old banana trees and which links with the Zulueta Palace Gardens.
Visit Atrium Museum-Centre of Contemporary Art
The Atrium is one of the symbols of Vitoria-Gasteiz and represents one of the most important assets of the art scene in Spain. The building is located on Francia Street. It stands on a trapezoidal, almost rectangular square and there is a main lobby, the Auditorium, the Plaza Room, the Cube Restaurant, ticket office and cloakroom, among others.
It boasts a collection of over 3,000 individual works mainly by artists from Basque and Spain. This impressive collection includes work by Picasso, Miró, Barceló, Elena Rivero, Chillida, Oteiza, Cristina Iglesias and Txomin Badiola
Los Arquillos and Plaza del Machete
Los Arquillos (The Arches) were designed by the architect Justo Antonio de Olaguibel in an effort to bridge the the 23 metre gap between the medieval city and the neoclassical expansion. On the arches, houses were built using stone. Two other porticoed galleries were built that also served as a connection between the medieval quarter and the main square. It is fascinating to observe the integration of Los Arquillos with the adjacent squares and buildings and you can easily see why ladies used to walk this promenade to showcase their best dresses.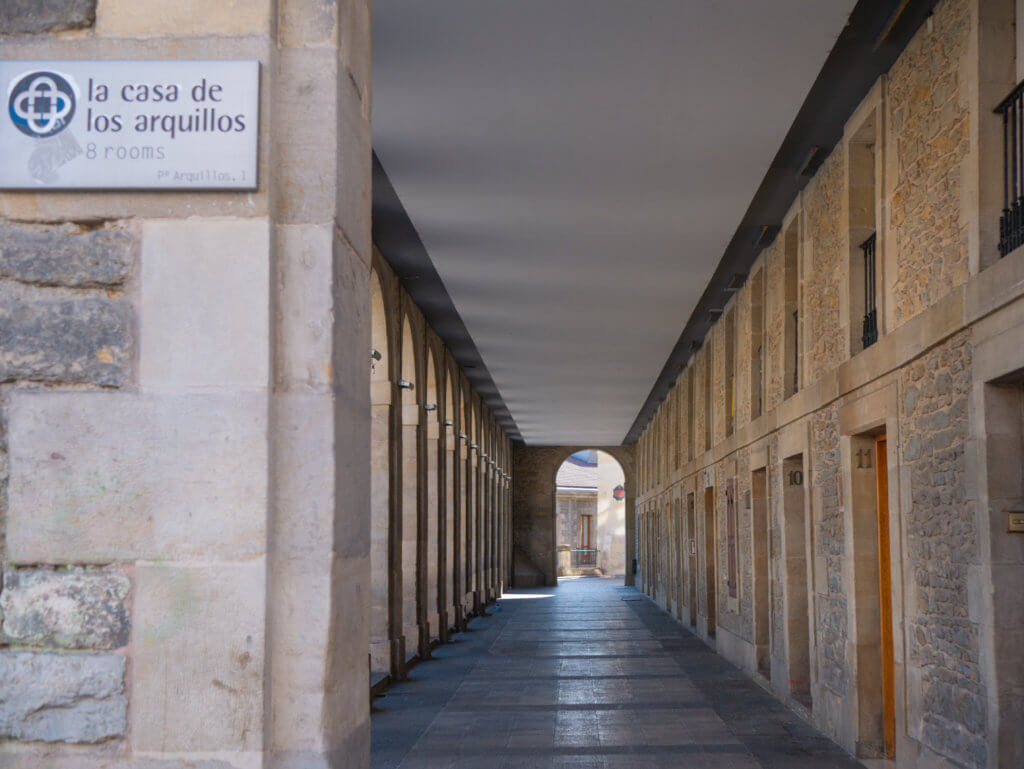 Stroll through the "Arquillos del Ala" to the "Arquillos del Juicio" from the lighthouse, a popular meeting place in the city.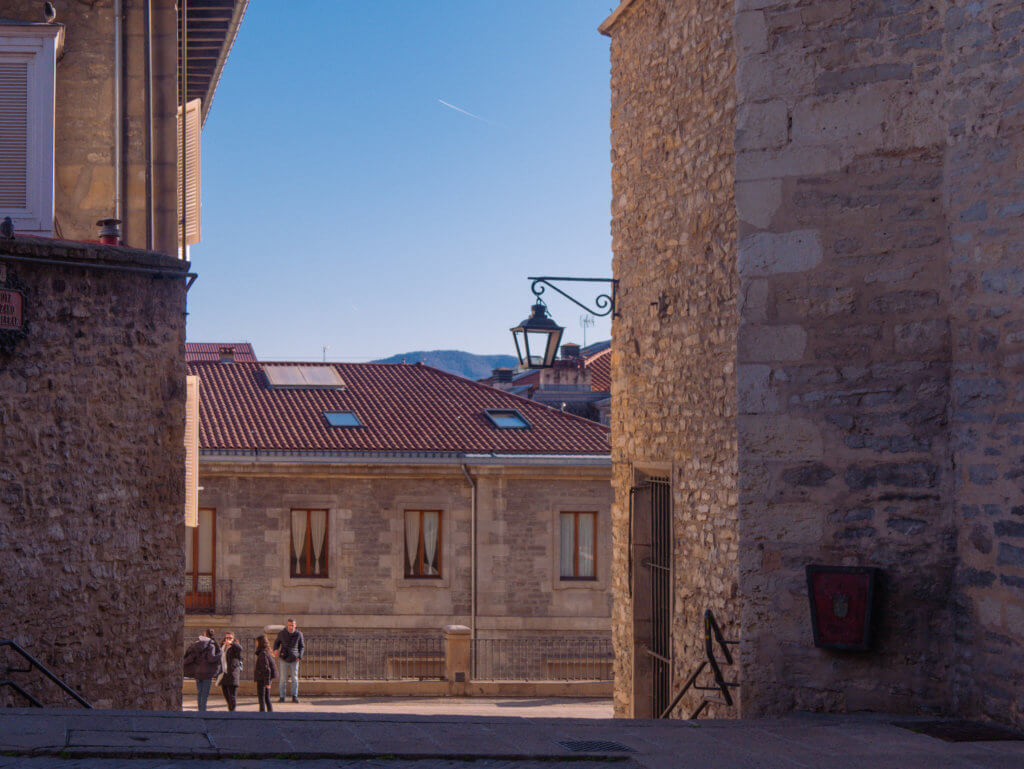 Just a few steps from Los Arquillos you will find Plaza del Machete (Machete Square). In the past, it served as the boundary of the medieval town. Today, it is surrounded by Los Arquillos, the church of San Miguel, the Villa Suso Palace, and the slope of San Vicente.
It got its name from the machete that the former city representatives swore on once elected to uphold their positions to the highest standard. You can find a replica of this machete in San Miguel's outer recess. The square is also known as "La Plazoleta del Juicio" since it was there that the death sentences by garrote were carried out.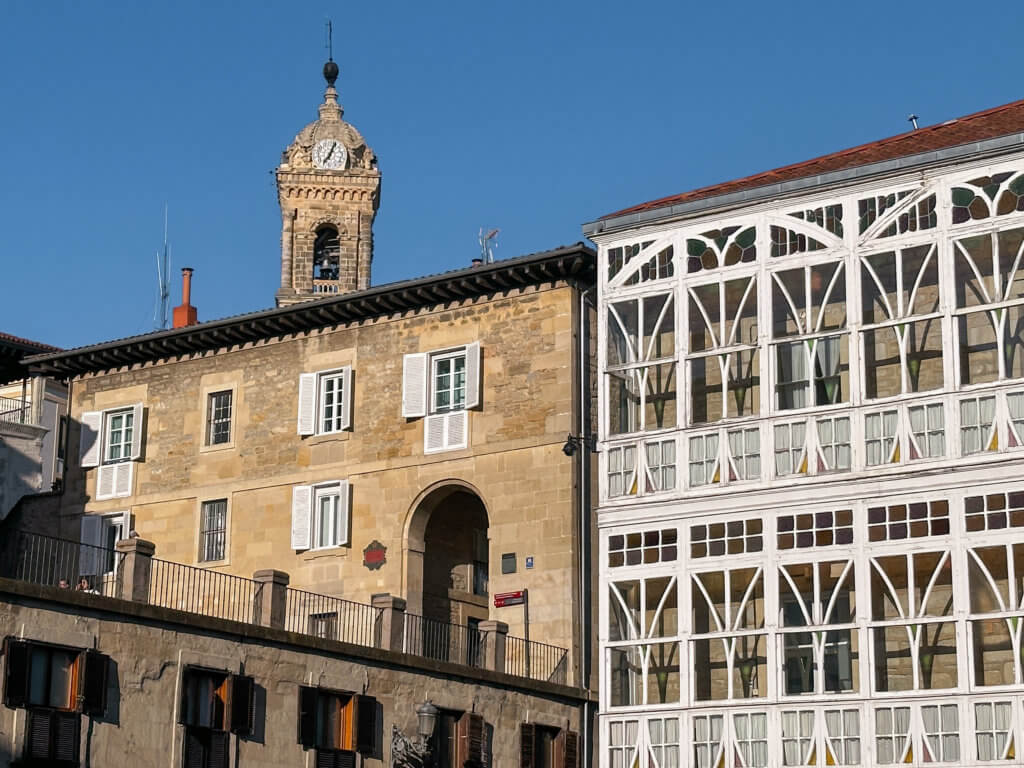 Nowadays there are lots of incredible restaurants in the square and it is the perfect place to have a lazy lunch with a glass of wine and just people watch.
Take a Guided Walking Tour of Vitoria-Gasteiz
One of the best ways to fully experience the city is by taking a guided tour. We booked our tour with Kalearte and the best part is that you can customise it to include things that you really want to see. Our tour guide, Olatz, was a local and her passion and pride for her city was incredible to see. She showed us around the Medieval Old Town including the many palaces in the city, the old city wall, beautiful churches and the incredible murals in the city. We can't recommend her enough.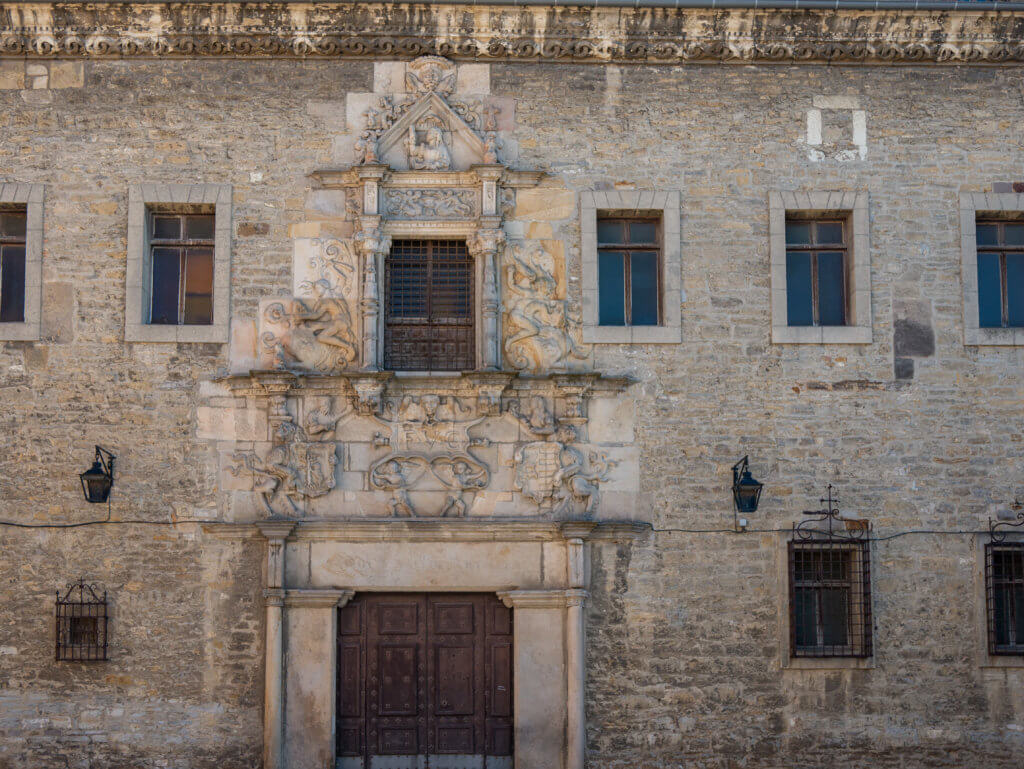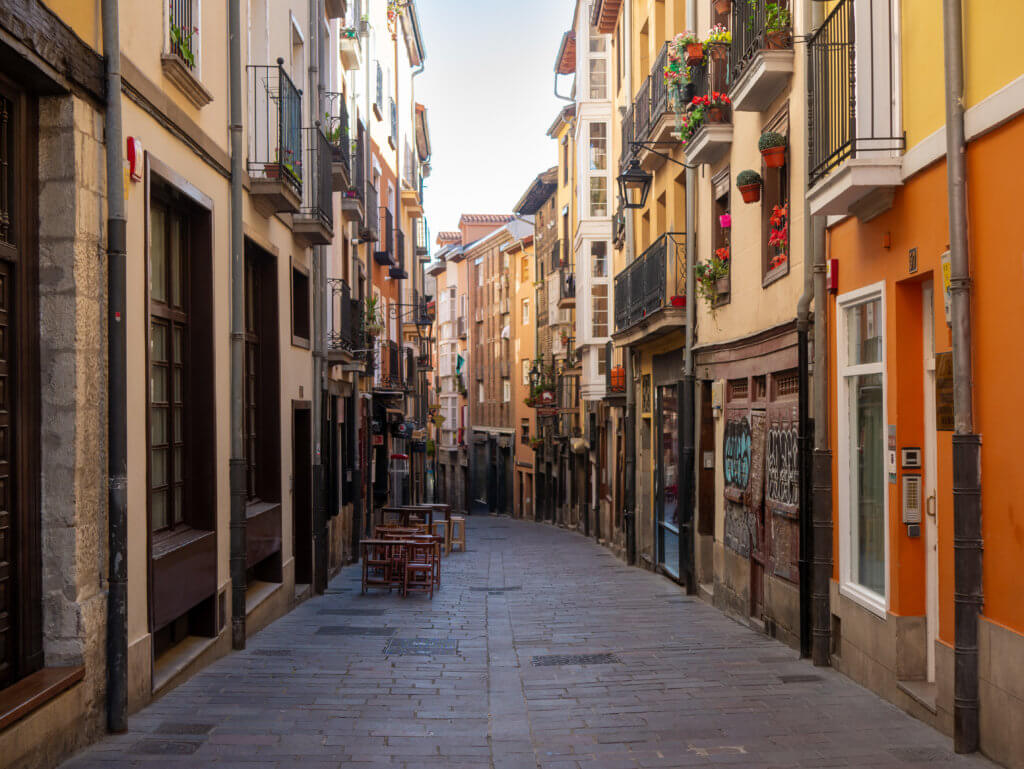 Gastronomy in Vitoria-Gasteiz
The gastronomy in Vitoria-Gasteiz is one of the fundamental reasons for visiting the city. You can enjoy traditional Basque dishes, Pintxo's, Rioja Alavesa wines and txakoli from Álava, a thin white acidic wine that can be naturally fizzy and is traditionally served like cider, poured from a height into the glass.
Thanks to its proximity to the Cantabrian ports, its climate halfway between the plateau and the sea, and the proximity to La Rioja, Álava and its capital are a little jewel box full of surprises when it comes to gastronomy. Seasonal products and local natural resources are in the DNA of the culinary culture in Basque Country. Perretxikos mushrooms, snails, Idiazabal cheese, Añana salt and incredible wines from the region are just some examples of the amazing produce available.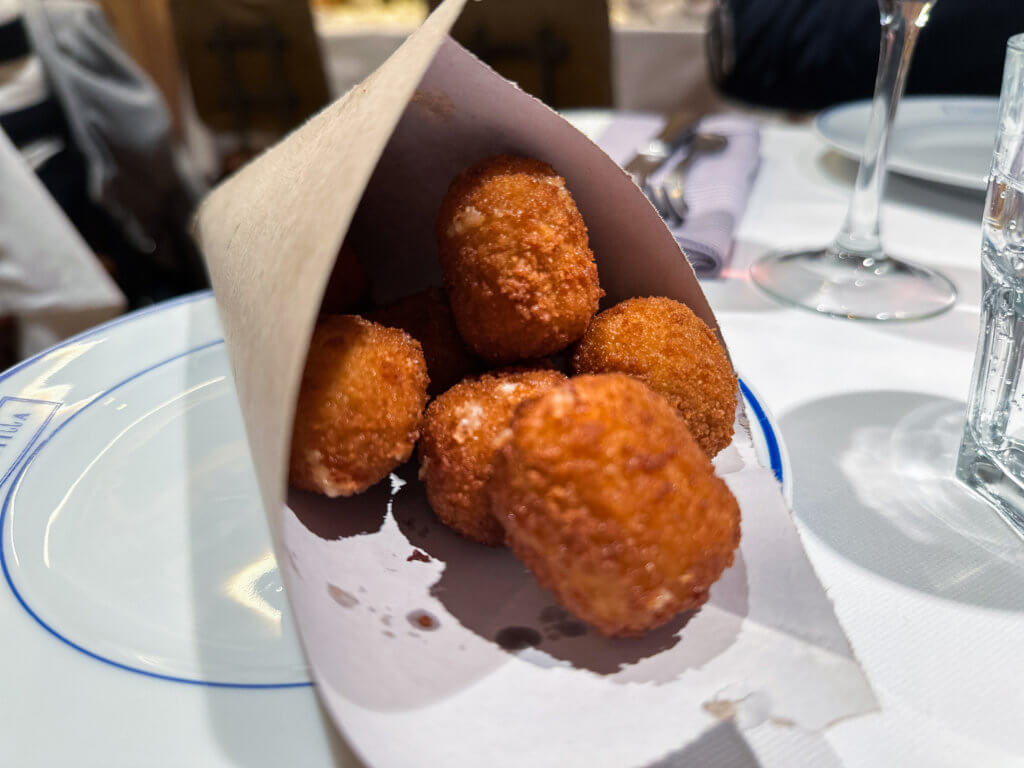 Visit Casa Vieja to learn more about Basque cuisine, which combines nautical and rustic, traditional and trendy food. Meaning Old House, this inn in the city's medieval area is a feast for both the sights and the palate. The restaurant La Escotilla, on the other hand, only offers fish and shellfish tapas, reminding us that the Basque Country still alternates between land and sea.
We had lunch in Kaskagorri restaurant which is located in the Plaza del Machete, very close to the Plaza de la Virgen Blanca. It's pretty new, with a young and carefree atmosphere and resembles a cave or old cellar. Although it is open both mornings and evenings, you can only reserve a table for the evening sitting. This restaurant combines traditional and homemade food with the latest in European cuisine. As well as standard and group menus, it offers diners an "experience" menu to make sure that your visit to this restuaurant will be unforgettable. We loved it!
If you are serious about food you should check out Zaldiaran. It features a seasonal tasting menu with wine cellar, a grill menu and a special menu for groups. It is also well-known for hosting gastronomic events.
Another incredible restaurant is Ikea, meaning small hill in Basque. The minute you step inside the restaurant you are immediately transported to a kind of animated forest. Over the tables, lively crabs illuminate and encourage conversations. When it comes to food it subtly combines traditional Basque cuisine with the most daring avant-garde dishes.
Where to stay in Vitoria-Gasteiz
Nirea Hotel is located in a centenary building in one of the main streets of the city centre. It is the perfect base for exploring Vitoria-Gasteiz on foot. The rooms are so relaxing and you can completely disconnect and rest after a busy day exploring the city.
We stayed in a deluxe room that had a queen-sized bed and the most beautiful balcony overlooking the street below. This hotel is adjacent to Florida Park and the Cathedral of Mara Inmaculada and offers roomy, contemporary lodging. Each room has a private bathroom with all the required necessities as well.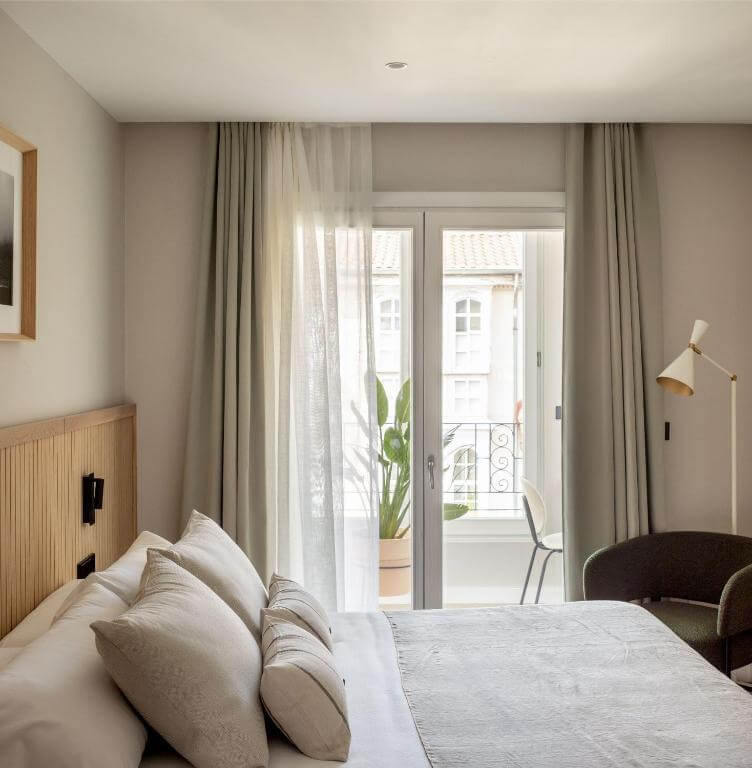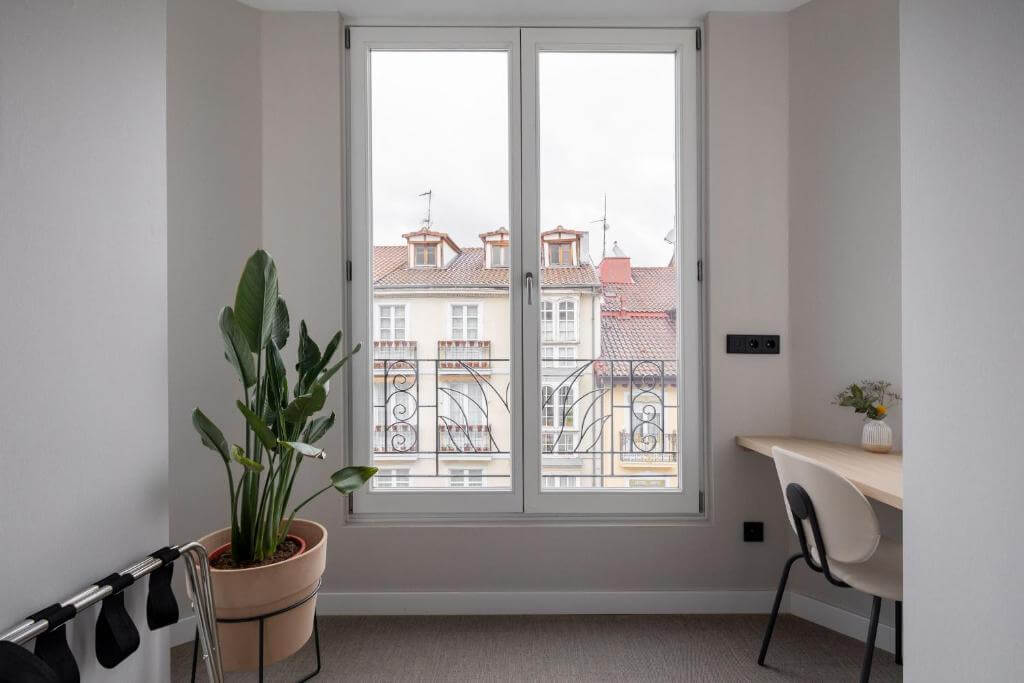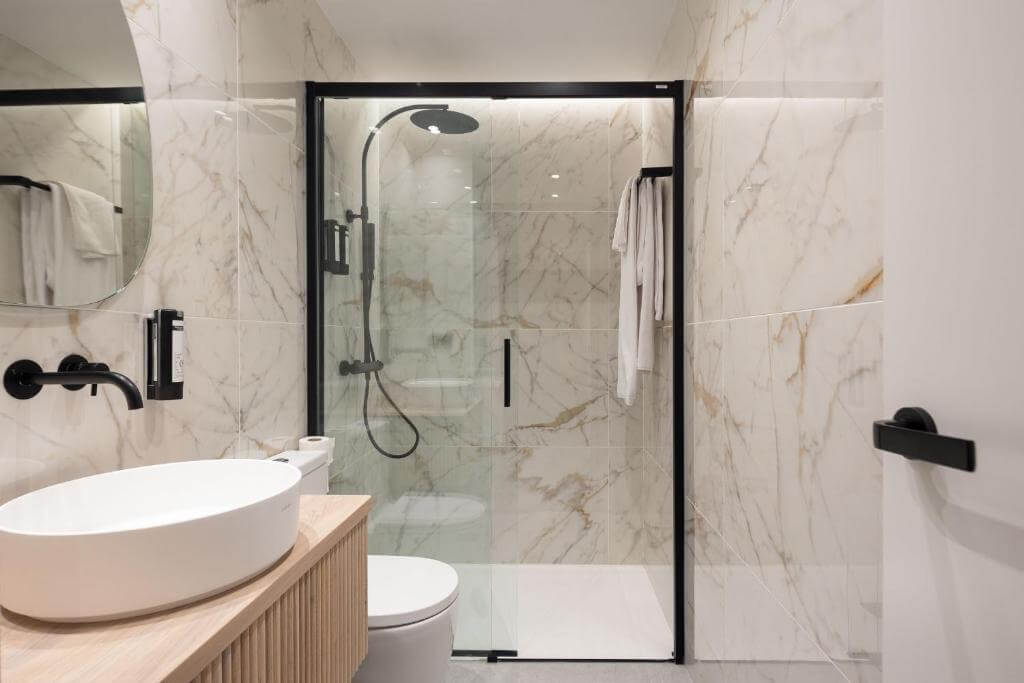 We thoroughly enjoyed our time exploring Vitoria-Gasteiz and feel like it is a must visit city during your time in Basque Country. If you found value in this blog post we would really appreciate your comments below.
We are Nicola and Ronan Lavin experts in finding unique accommodation all over the world. Nominated as top 6 travel bloggers in Ireland we are dedicated to helping you find authentic and immersive travel experiences to help you plan your perfect vacation.
**Disclaimer: Our trip to Basque Country was hosted by both Brittany Ferries and The Basque Country Tourist Board. We only ever work with brands that we are 100% happy to recommend to you guys and happily pay for ourselves. Staying complimentary allowed us to fully experience the Basque Country, give honest reviews and create content for you guys to enjoy. All opinions are our own. This post contains affiliate links meaning that if you book through one of our links we will receive a small commission at no extra cost to you. This helps us create the wonderful travel guides that we do**
Are you new here? Join thousands of other happy readers and subscribe to All About RosaLilla blog via email. The good news is that by signing up via email you will get exclusive travel deals straight to your inbox. The only other place that we publish these deals is on Instagram stories, so be sure to signup to get the heads up on amazing travel deals to save you money when booking.
I also share everything about myself on Instagram with nothing held back so be sure to follow along there.
If you liked this then you may also like:
The Best 2 Day Prague Itinerary
The Best Vienna 3 Day Itinerary
The Ultimate 2 Day Dublin Itinerary
The Ultimate Guide to visiting Tallinn in Winter
Until next time you crazy kids!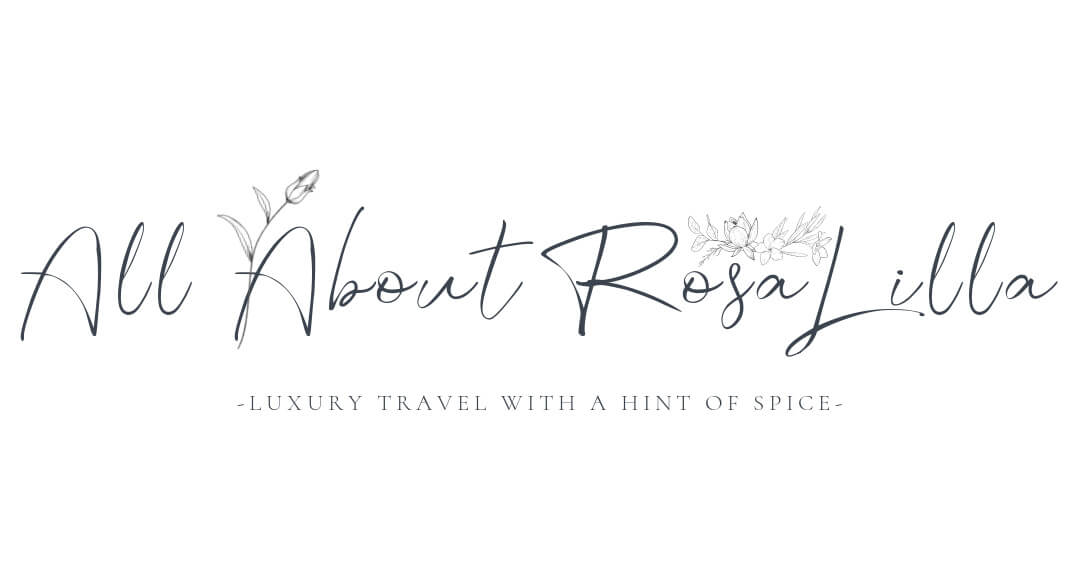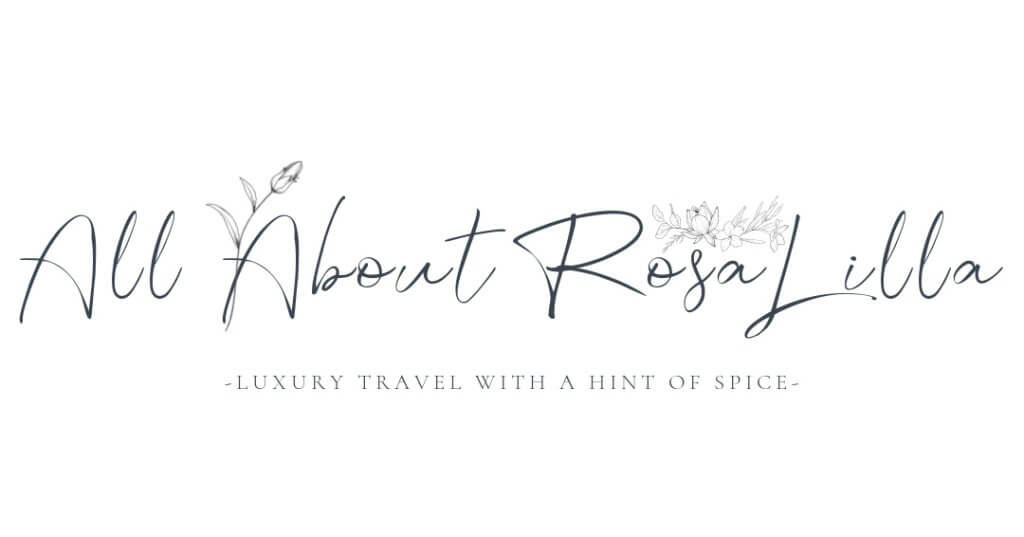 Sharing is sexy!