How to spend the best 2 days in Prague
Planning a trip to Prague and wondering how to make the most out of your 2 days exploring this magical fairytale city? We have come to the rescue with the best 2 day Prague itinerary to help you plan your 2 days in Prague. This Prague travel guide includes helpful tips, where to stay, a map of all of the places you will visit on your 2 day Prague itinerary and how to optimise your 2 days in Prague.
Is 2 days in Prague enough?
Let's be honest! You could spend an eternity in Prague and never get bored but if this is your first time in Prague, 2 – 3 days is enough to see all of the city's main sights. Prague is such a beautiful city full of incredible photograph opportunities as can be seen in our blog on the best Instagram spots in Prague. You can fit a lot in on your 2 day Prague itinerary as this travel guide will show you. Two days is the perfect amount of time to get acquainted with the city, just don't be surprised if you never want to leave!
What is Prague famous for?
When you think of Prague it conjures up romantic images of winding cobbled streets, ornate lanterns, Baroque architecture, gothic churches and a city full of unique character and quirks. Prague is also famous for its hearty food and cheap beer. It is a mixture of ingredients that blend so perfectly it will keep you wanting to come back for more. There are only a few fairytale cities in the world and Prague is the best and most magical of them all.
When is the best time to visit Prague?
We have visited Prague throughout the seasons. We have been during the snowy winters and the beautiful sunny spring weather and in our opinion the best time to visit Prague is the shoulder season of spring and autumn. The weather is balmy, the crowds are less and the prices are noticeably cheaper. Prague is best explored by walking which means that it can be hot and uncomfortable during the heat of the summer. Although winters can be cold, we think that Prague is magical in the build up to Christmas.
We adore visiting Europe at this time of year and have enjoyed the Christmas markets in Hamburg, the magic of the Christmas markets in Colmar and even a Cotswolds Christmas but Prague Christmas markets are something special and should be on everyone's travel bucket list. It really is an amazing experience to visit Prague when it is all lit up for the holidays. One thing is for sure, although temperatures may fluctuate, Prague's magic remains consistent all year round.
If you would love to see more of Prague and the Czech Republic on small group tours Europe be sure to join us on the trip we are hosting to the hidden gems of Europe, Bohemia and Moravia.
Travelling is good for the soul but there is no doubt that it can be an exhausting experience and that is why we do not include arrival day in our 2 day Prague itinerary. Instead make your way to your accommodation to get settled in and perhaps spend some time strolling the banks of the Vltava river.
2 days in Prague
Picking a central accommodation is paramount to optimising your 2 days in Prague so we will give you our recommendations of where to stay in Prague first. We will also give you a suggested activity for arrival day so that you can really get acquainted with the city.
We also have a full guide on where to stay in Prague so check that out.
Which part of Prague is the best place to stay?
If you only have a few days for exploring Prague then it is best to be centrally located. The Old Town is the best place to base yourself during your Prague trip. Old Town Prague is the most centrally located neighbourhood in the city and is where most first-time tourists book their accommodation. This area concentrates many historical sights and restaurants, making it the best area to stay in Prague for first-time visitors.
We have stayed in Mosaic House Design Hotel previously and highly recommend it. Our goal has always been to hunt down the most luxurious and unique accommodation that will enhance your whole adventure. We love finding luxury accommodation with a twist, or hint of spice as we say, and so we are very happy to introduce you to MOOo by the Castle.
MOOo by the Castle apartments – where to stay on your 2 day Prague itinerary
If you are looking for unique accommodation in Prague then look no further than MOOo by the castle, a beautiful Renaissance house rebuilt in the Baroque style throughout the 17th and 18th centuries. The property is located on Jánský vršek 8, Malá Strana and was originally built in 1546 on Jánský vršek (John's hill).
The most famous owner and resident of this house was the Englishman, Sir Edward Kelley, an alchemist and spiritualist. The tower in the house, with its unique staircase, was built after Kelley bought the building.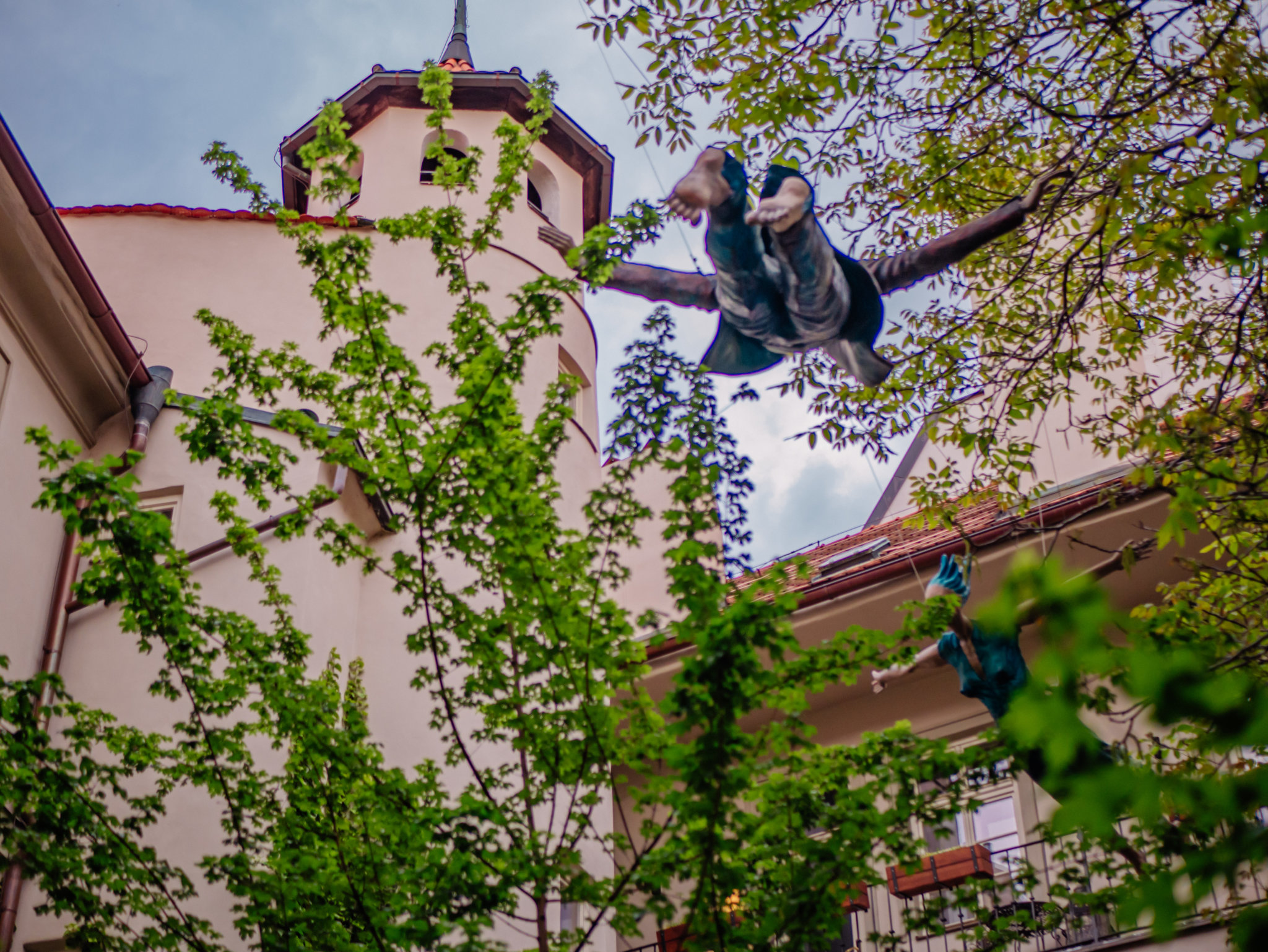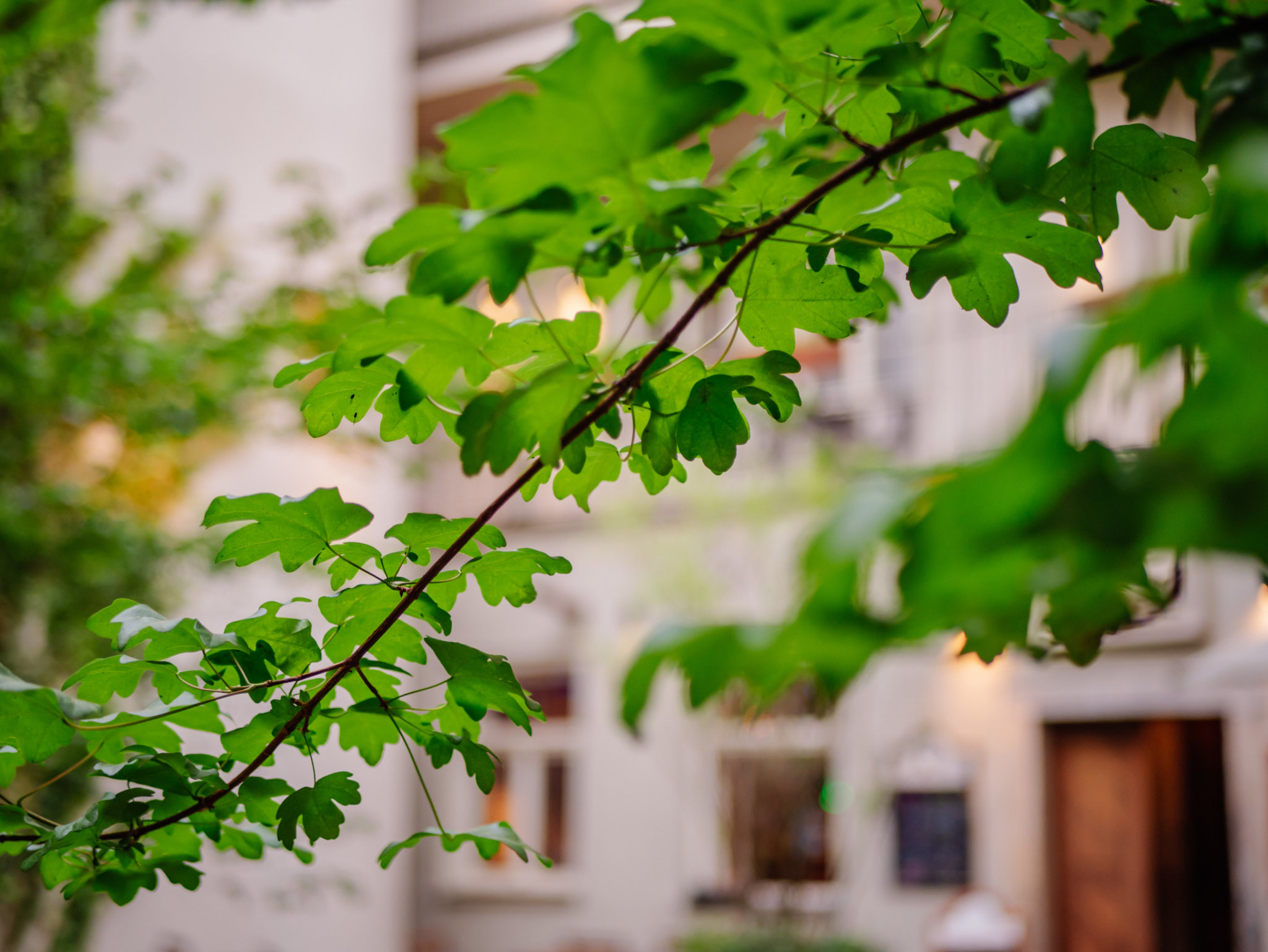 The house has recently been converted into 10 luxury boutique apartments and suites. Every apartment contains custom-made furniture and incredible artwork such as paintings and sculptures. The apartments are beautifully designed and here you will experience the real atmosphere of the Renaissance, with original walls and decorative roof beams of this period. It is a place where rich history meets modern luxury. You can choose between one, two or even three bedroom apartments.
In the main courtyard you will find a medieval cafe and cocktail bar, Kellyxir, with an outdoor stage for theatre and events throughout the year. Soak up the magical ambience of the courtyard by sipping on a magical cocktail from the bar. But be warned, it comes smoking!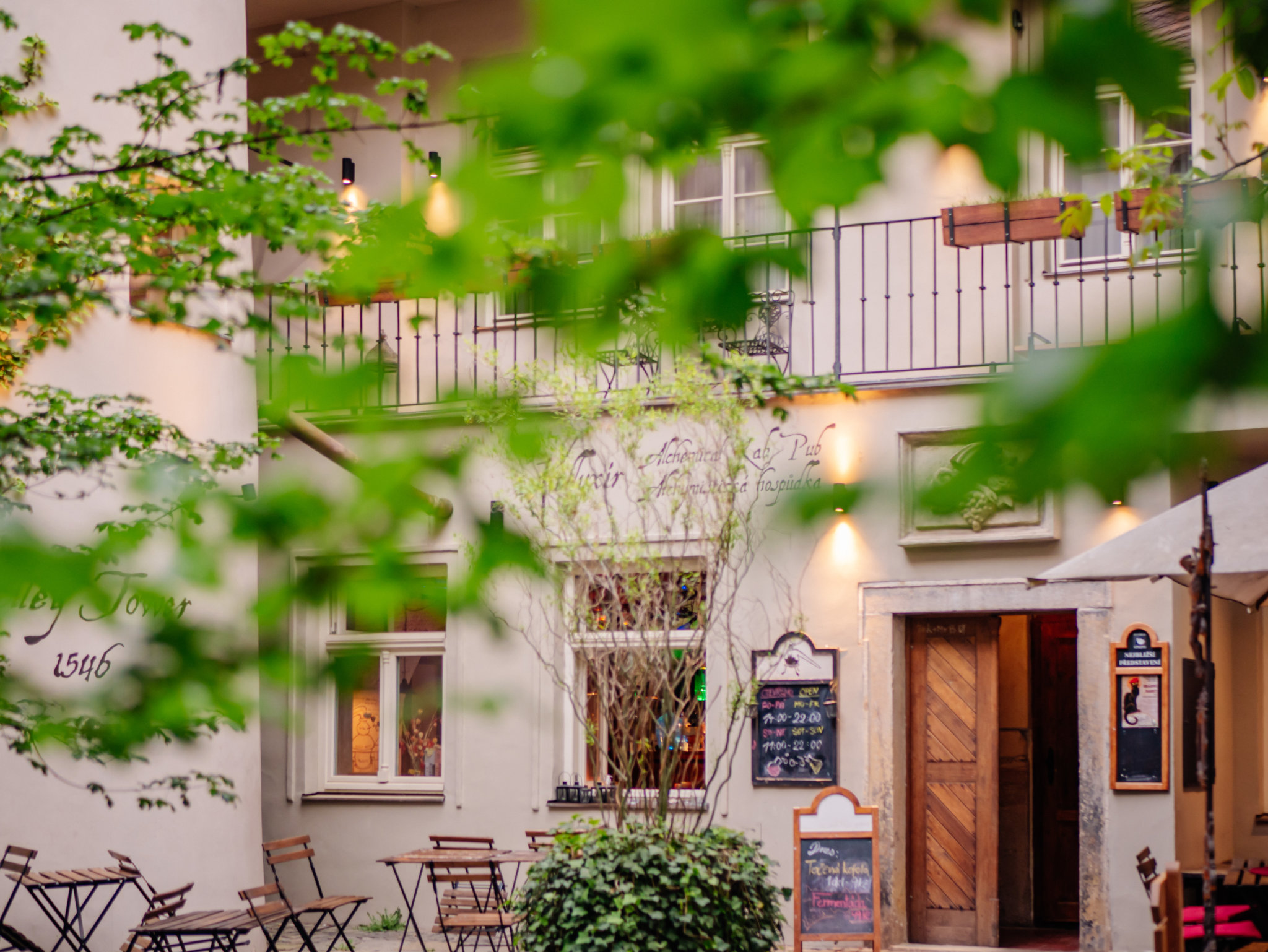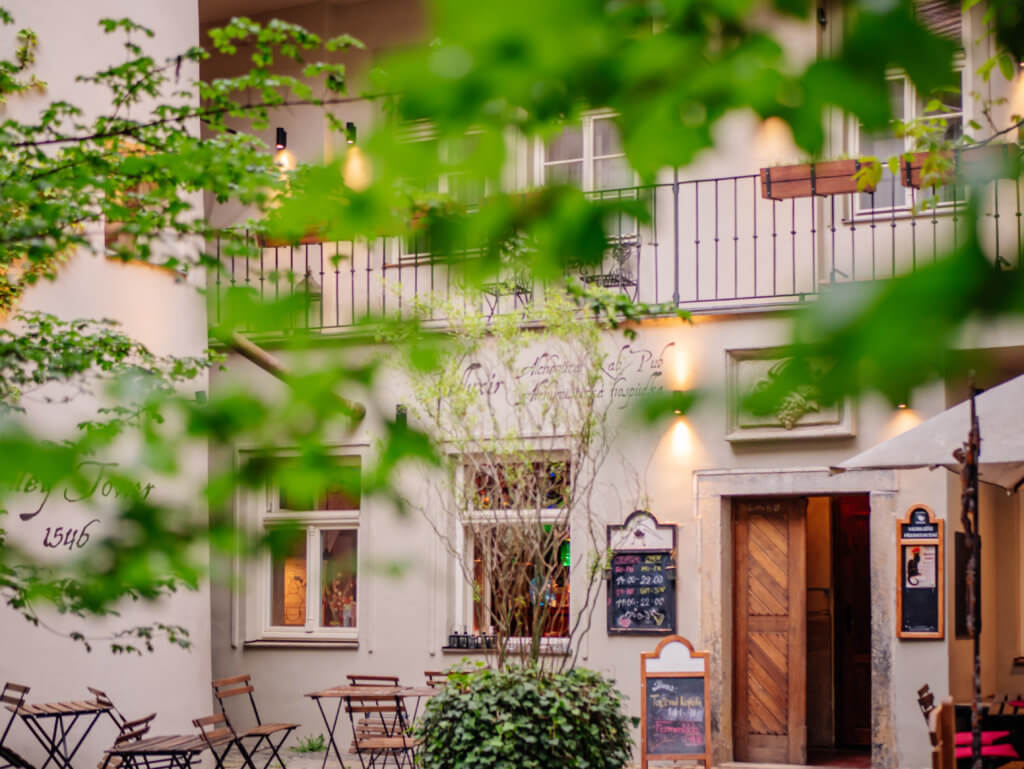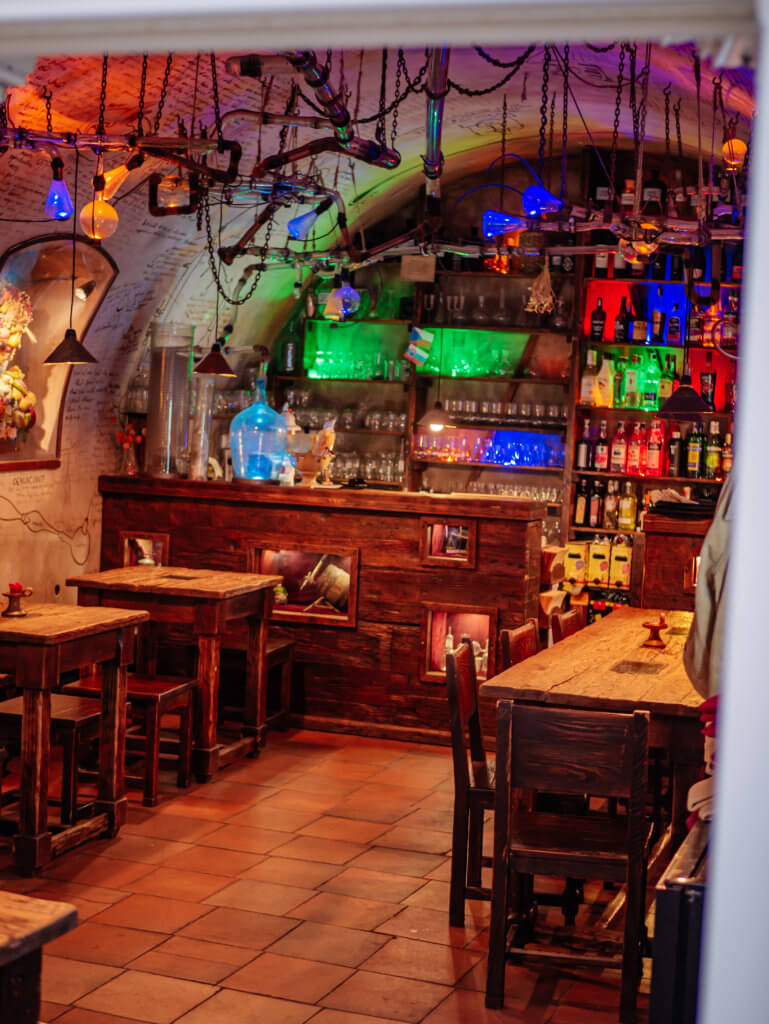 You will also find an Alchemist's museum in the main courtyard. It celebrates the alchemists and magicians of Old Prague. It captures the mystical atmosphere of the Renaissance era, with the original alchemical laboratories where elixirs were produced and showcases the complex character of Edward Kelley. Tunnells were also discovered under the building that connected the three most important buildings in the city – Prague Castle, Old Town Hall and the Barracks.
We also recommend MOOo Downtown Prague apartments and Mosaic House Design Hotel during your 2 day Prague itinerary. Check out our guide and full review of Mosaic House Design Hotel.
Suggested activity on arrival day – book a vintage car tour of Prague city
More than likely you will be tired after your travels to Prague so our suggested activity for arrival day is to book a vintage car tour of the city. The tour takes an hour and a half and you can sit back and relax as your driver shows you all of the best sites of the city. It is the perfect way to acclimatise yourself to the city without being too strenuous, especially if you are travelling with chronic illness like me.
We also recommend picking up a Prague City Card for your two days exploring Prague.
Day 1 : 2 day Prague itinerary
Charles Bridge
There are fifteen bridges that cross the river Vltava, the most famous of which is Charles Bridge, so this simply must be your first stop on your 2 day Prague itinerary. Charles Bridge is a beautiful medieval stone arch bridge that was built in 1357. It was the most important connection between Prague Castle and the Old Town and is ornately decorated by a continuous alley of statues, most of which are in the Baroque style.
It is protected by three bridge towers, two on the Lesser town side (including the Malá Strana Bridge Tower) and another one on the Old Town side. We recommend going here first on day one of your 2 day Prague itinerary to have some time to really enjoy the beauty of this bridge as it gets really busy throughout the day.
Old Town Square
Next make the short walk from Charles Bridge to the famous Old Town Square in Prague. Be sure to grab a coffee and a delicious trdelník from one of the many street vendors as you walk. A trdelník is a sweet, fire-cooked, delicious cylindrical cake that is a speciality in Prague.
Astronomical Clock
The Old Town Square in Prague is stunning with many beautiful buildings to enjoy. Perhaps the most iconic of these is Prague's astronomical clock. First installed in 1410, it is the third-oldest astronomical clock in the world and the oldest still in operation. It is beautifully ornate as well as being an intricate piece of engineering.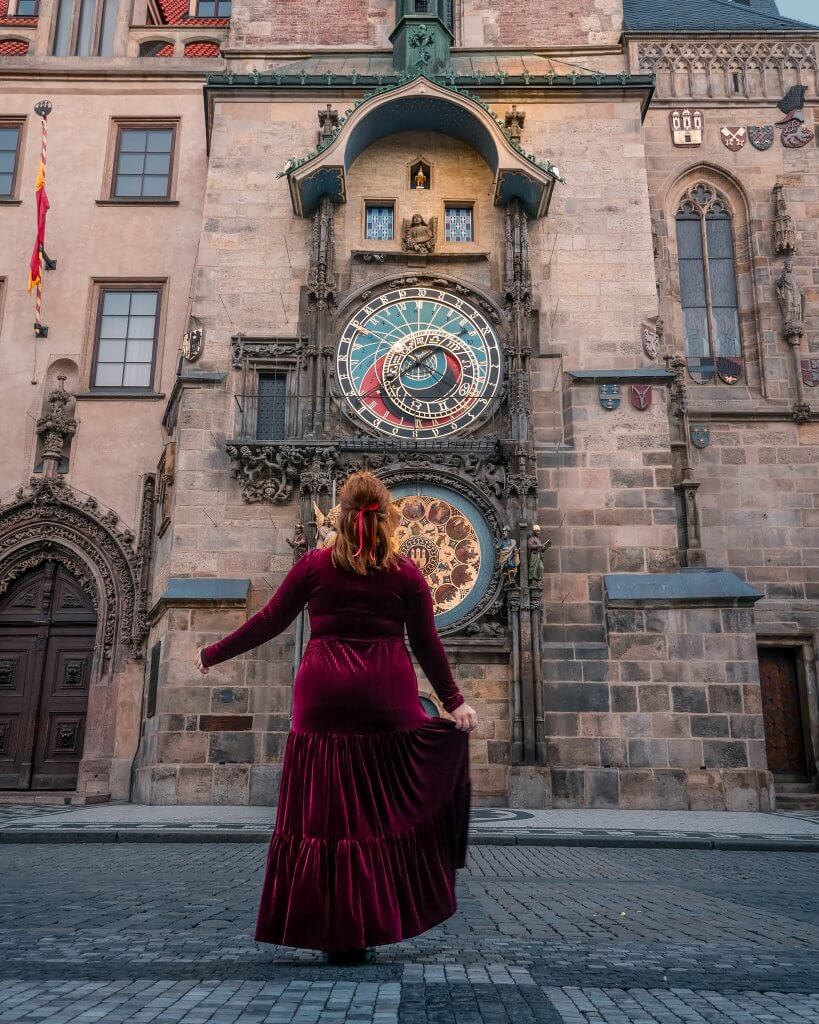 Aside from the vibrant coloured main disc on the clock face, it's also surrounded by wooden statues of saints, and a representation of Death – a skeleton who holds a small bell. Crowds gather every hour to see the skeleton ring his bell, and a procession of saints and apostles go past the window above, nodding at the crowd below. While some may say that it is a little underwhelming, if you do some research or take a walking tour of Prague, it will be a much more magical experience knowing the history and symbolism of the event.
In our opinion it is worth going inside to understand the workings of the clock and climb to the tower to find one of the best Instagram spots in Prague.
The Church of Our Lady Before Týn
An iconic part of the Prague skyline, the Church of Our Lady before Týn, is a beautiful Gothic church that has been a primary church in Prague since the 14th century. The interior of the church is stunning so be sure to have a walk around inside while also admiring how beautiful this church is from the outside. It is even more beautiful when it is lit up after sunset.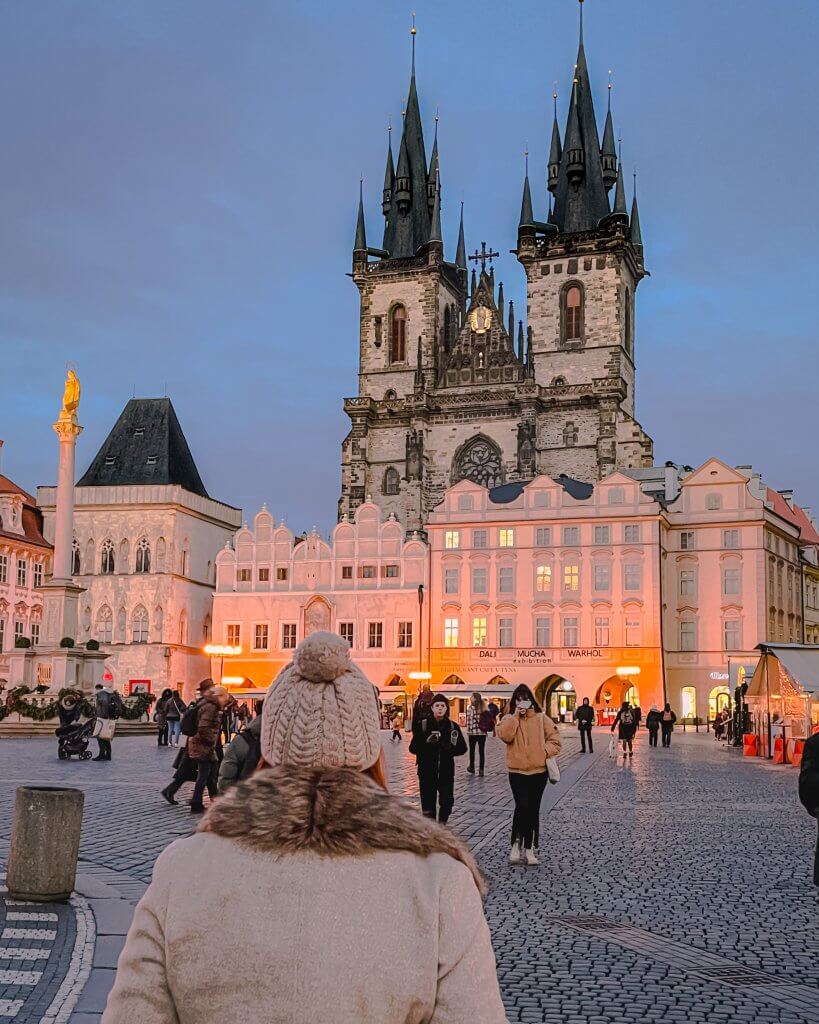 St. Nicholas Church Old Town Square Prague
St. Nicholas is a Baroque church, the interior of which was inspired by the chapel of St. Louis-des-invalides in Paris. There are two big churches in Prague named after St. Nicholas and both must be visited during your 2 days in Prague. This stunning church in the Old Town Square in Prague serves both as church and as a magnificent venue for early evening classical music concerts.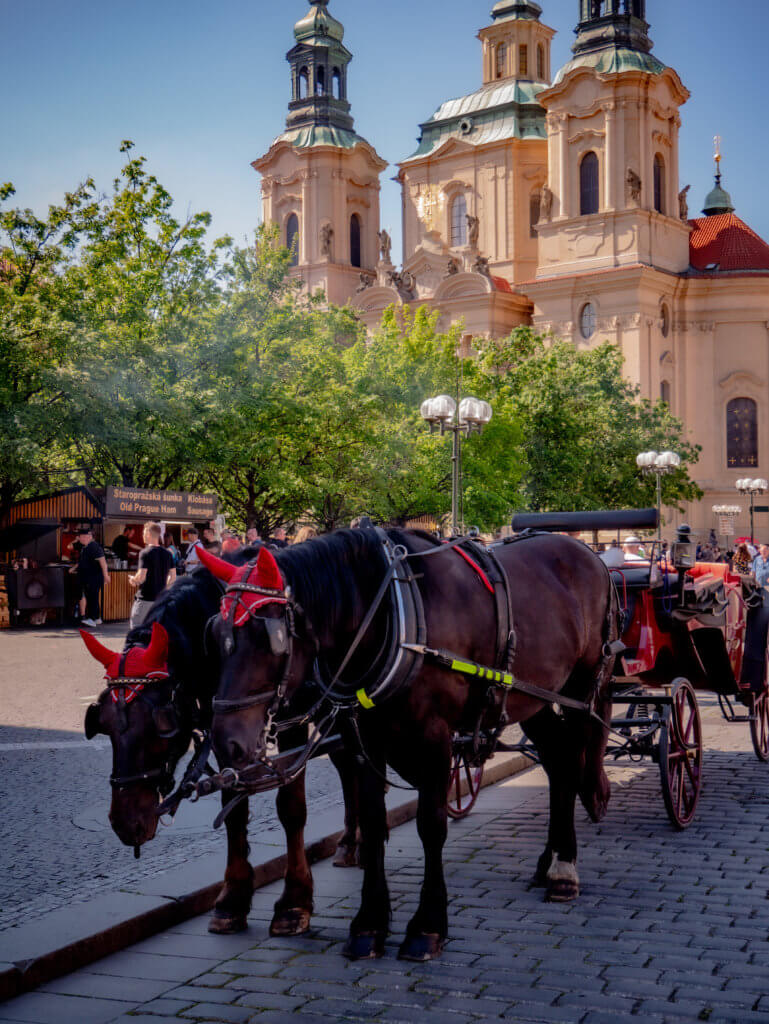 Terasa U Prince
All of that sightseeing will be thirsty work so stop for a drink with the best views of the Old Town at Terasa U Prince. Located within the luxurious Hotel U Prince, the rooftop restaurant has been ranked among the top 15 most impressive in the world. Stop by for a drink to enjoy unobstructed views of the Old Town Square.
Enjoy some traditional Czech food
After a busy morning walking and exploring this is a good opportunity to break for lunch in a traditional old styled restaurant, with local food and very reasonable prices, in the heart of magical Old Town Prague. We recommend Krčma a historic tavern that offers traditional Czech food, grilled meat specialities, salads and a selection of wines from the Moravian region.
Address: Kostečná 925/4, 110 00 Staré Město
Explore the Jewish Quarter in Prague
After lunch we recommend walking to the Jewish Quarter in Prague and spend the afternoon exploring this historic region of Prague. The Jewish Quarter (Josefov) in Prague is located between the Old Town Square and the Vltava River.
There are few European cities that can boast a better preserved Jewish Ghetto than Prague. Six synagogues, a Jewish Town Hall and a historic cemetery make Josefov in Prague a place which you should certainly not miss during your 2 day Prague itinerary. Get to know the unsettled history of the Prague Jews, their architecture, traditions, customs and stories, which are among some of the most tragic of the 20th century.

In a weird twist, it was actually Adolf Hitler who ensured that this region of Prague remained untouched during World War II. He decided to establish the "Museum of the Extinct Race" and valuables from other occupied countries were gathered in this area to create the largest collection of Jewish items in Europe.
You will find a silent memorial to the victims of the holocaust in the Pinkas Synagogue. Its walls hold the longest epitaph in the world, which lists the names of those who died in the Nazi concentration camps. You can also take a haunting walk through the old Jewish cemetery, with mysterious gravestones layered on top of one another. It is a beautiful place that tells thousands of moving stories.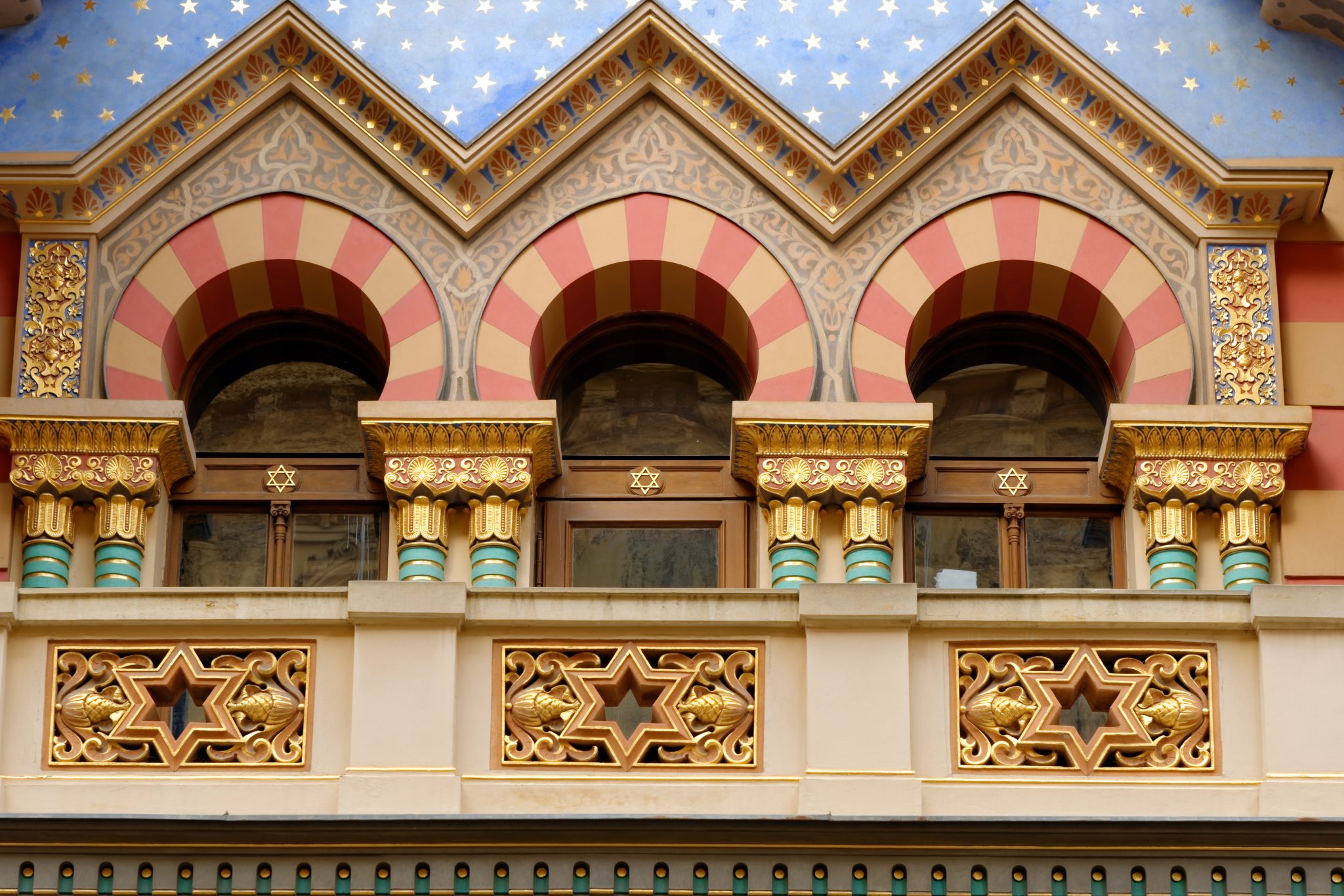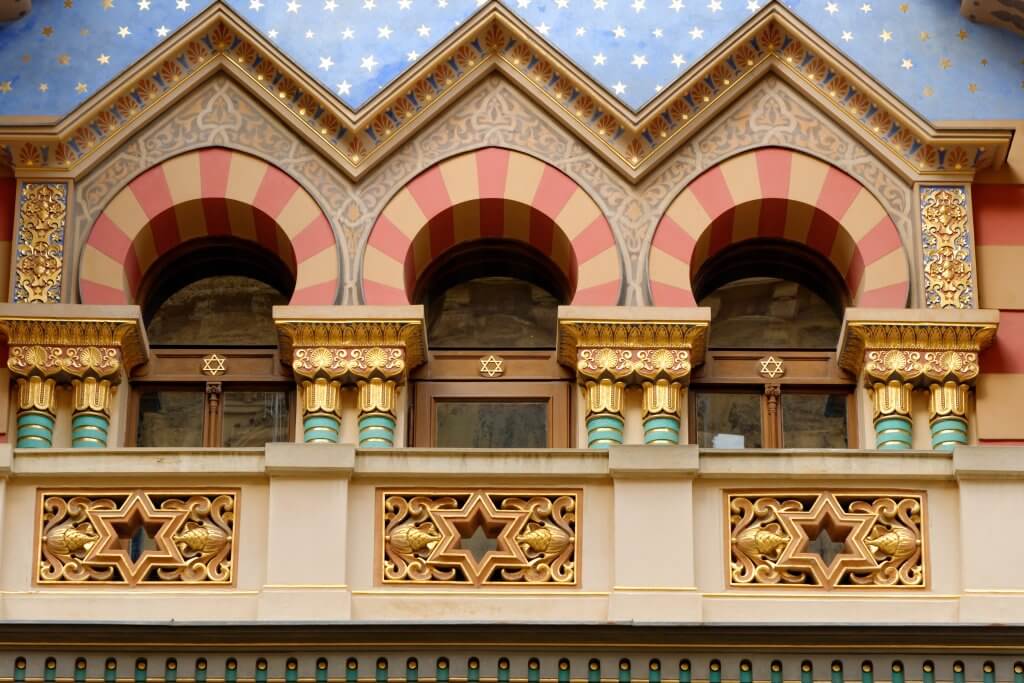 The Jerusalem/Jubilee Synagogue is a wonderful example of Art Nouveau architecture of the Moorish style. Richly decorated and housing a huge organ, it is the work of legendary architect Wilhelm Stiassny, who built a number of synagogues throughout the Austro-Hungarian Empire. It is breathtakingly beautiful and a must see on your 2 day Prague itinerary.
Dinner at U Fleků
Make dinner an experience at one of Prague's oldest breweries U Fleků. Dating back to 1499, the brewery U Fleků is one of few breweries in Central Europe that has been brewing continuously for over 500 years. There are eight halls and a beautiful beer garden to dine in and the atmosphere of this brewery is electric.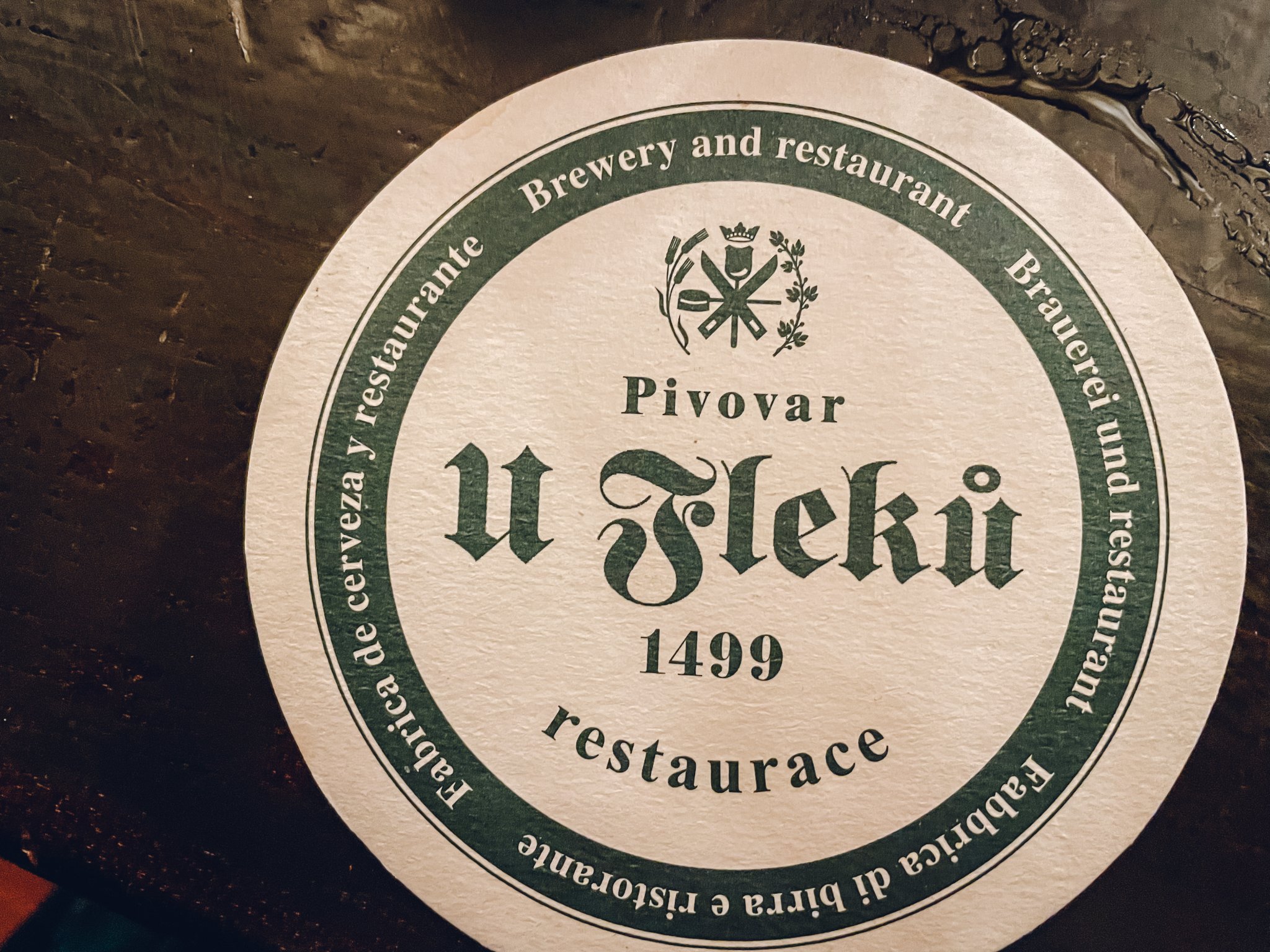 U Fleků is not only the most famous Czech restaurant, but also a pilgrimage site for all beer lovers, both locals and tourists alike. They sell over 2000 glasses of their dark beer a day, which is testimony to how popular it is. Be sure to book in advance during peak season to enjoy an incredible dining experience on day 1 of your 2 days in Prague.
What to eat in Prague – Prague specialities that you simply must try!
Beef goulash (hovězí guláš): This dish may have originated in Hungary but it is also a staple in Czech cuisine. It is a must when you visit Prague. Simply delicious.
Beer (pivo) and beer snacks (utopenci): Beer is the pride of the Czech Republic. Czechs drink an average of 160 litres of beer per person per year. Pilsner Urquell, Staropramen, Gambrinus… you name it. They are delicious and cheaper than water (literally). Try them with pickled sausage. Or for an experience you won't forget, take a beer bath.
Fruit dumplings (ovocné knedlíky): Although this may seem like a dessert or a snack, they are usually served as a main dish.
Roast duck (pečená kachna): Delicious with a pickled beetroot salad on the side!
Fried cheese (Smažený sýr): The king of street foods in the Czech Republic, this breaded and fried cheese snack is real comfort food.
Pork knuckle (vepřové koleno): This delicious piece of meat, usually cooked with dark beer, is a must try when in Prague.
Czech sausages: It doesn't matter which variety, jaternice, klobása, utopenci… try them all, you won't be sorry!
Svíčková: Beef sirloin in cream sauce. One of the most popular Czech meals prepared with vegetables and seasoned with spices and herbs and boiled with double cream. Usually served with bread dumplings. This is my go-to meal when I am visiting Prague.
Becherovka: This medicinal digestif is not really from Prague, since it is produced in the spa town Karlovy Vary, but it is very popular in Prague and is the perfect digestif after a hearty Czech meal.
Day 2: 2 day Prague itinerary
For day 2 of your 2 day Prague itinerary we recommend spending the day by crossing the Charles Bridge and exploring the other side of the river Vltava.
Morning walk in Malá Strana
Malá Strana, also known as Lesser Town, is a hillside area beneath Prague Castle with views across the Vltava river to the Old Town. Hotels, restaurants and traditional pubs line its narrow streets, and visitors scribble messages to the late Beatle on the John Lennon Wall. The riverside Kampa area offers fine dining, beer gardens, and a wonderful exhibition at the Franz Kafka Museum. Spend the early morning exploring this gorgeous area of Prague.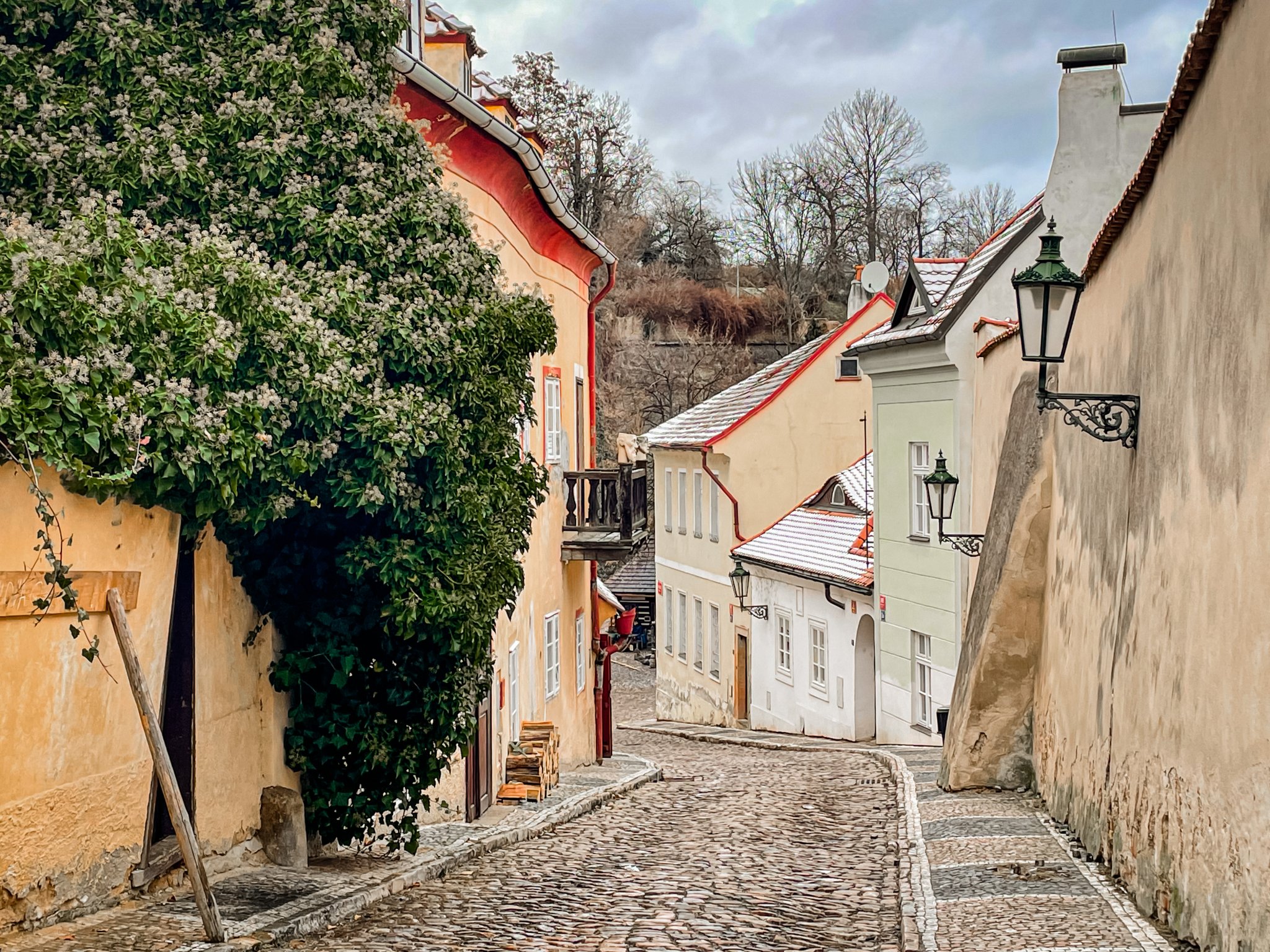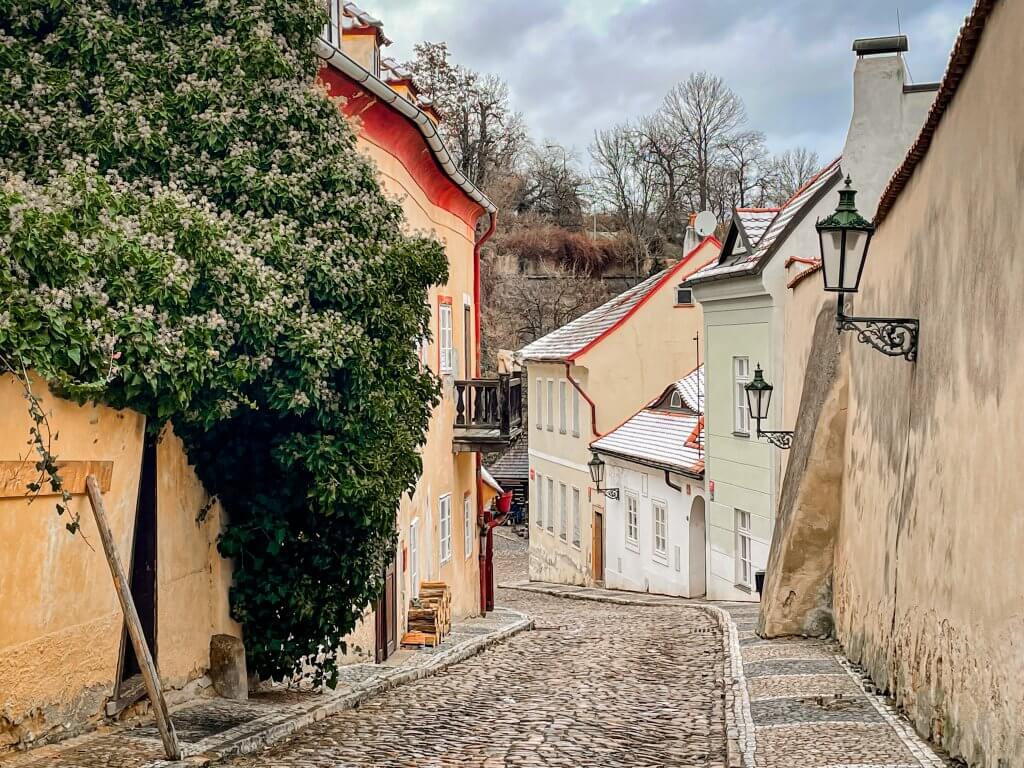 Go and see the Child of Prague in The Church of Our Lady of Victories
Anyone growing up in Ireland will be familiar with the traditions of the Child of Prague. Superstition dictates that if you put the Child of Prague in the garden before your wedding, you'll be blessed with glorious sunshine for your big day. It is no surprise that this little guy has become synonymous with Irish weddings, as the very first Child of Prague statue was actually given as a wedding present!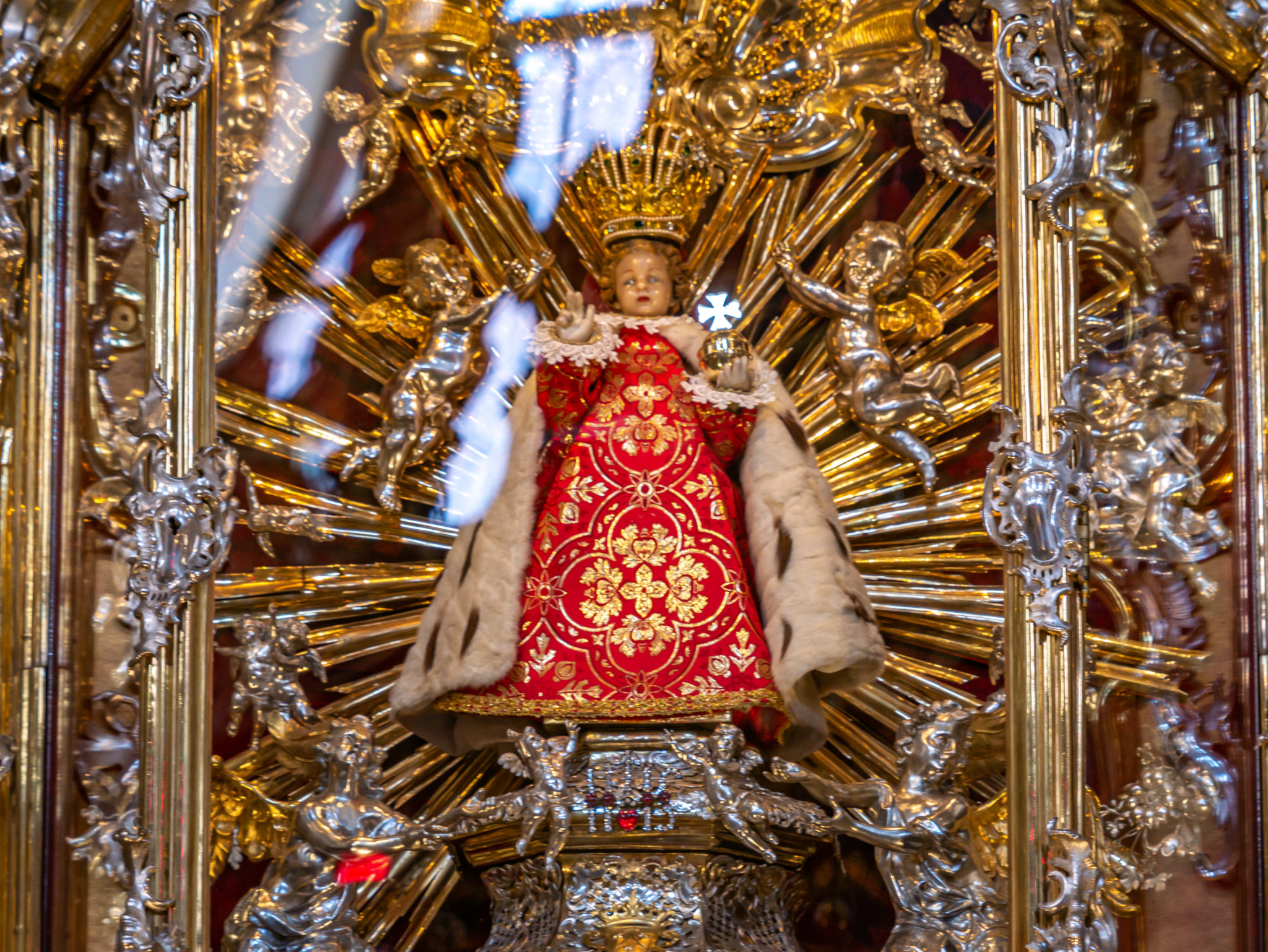 The story goes that a famous Spanish noblewoman named María Manrique de Lara received the statue of the infant Jesus from her mother when she married Czech nobleman Vratislav of Pernstyn in 1556. The statue is now on display in the beautiful Church of our Lady of Victories, where it's said to have performed miracles.
Every day hundreds of visitors come to see the Child of Prague and perhaps even ask for their own miracle. Some come believing they will find help, to be cured, to wish for peace, some expecting a child and others returning to give thanks.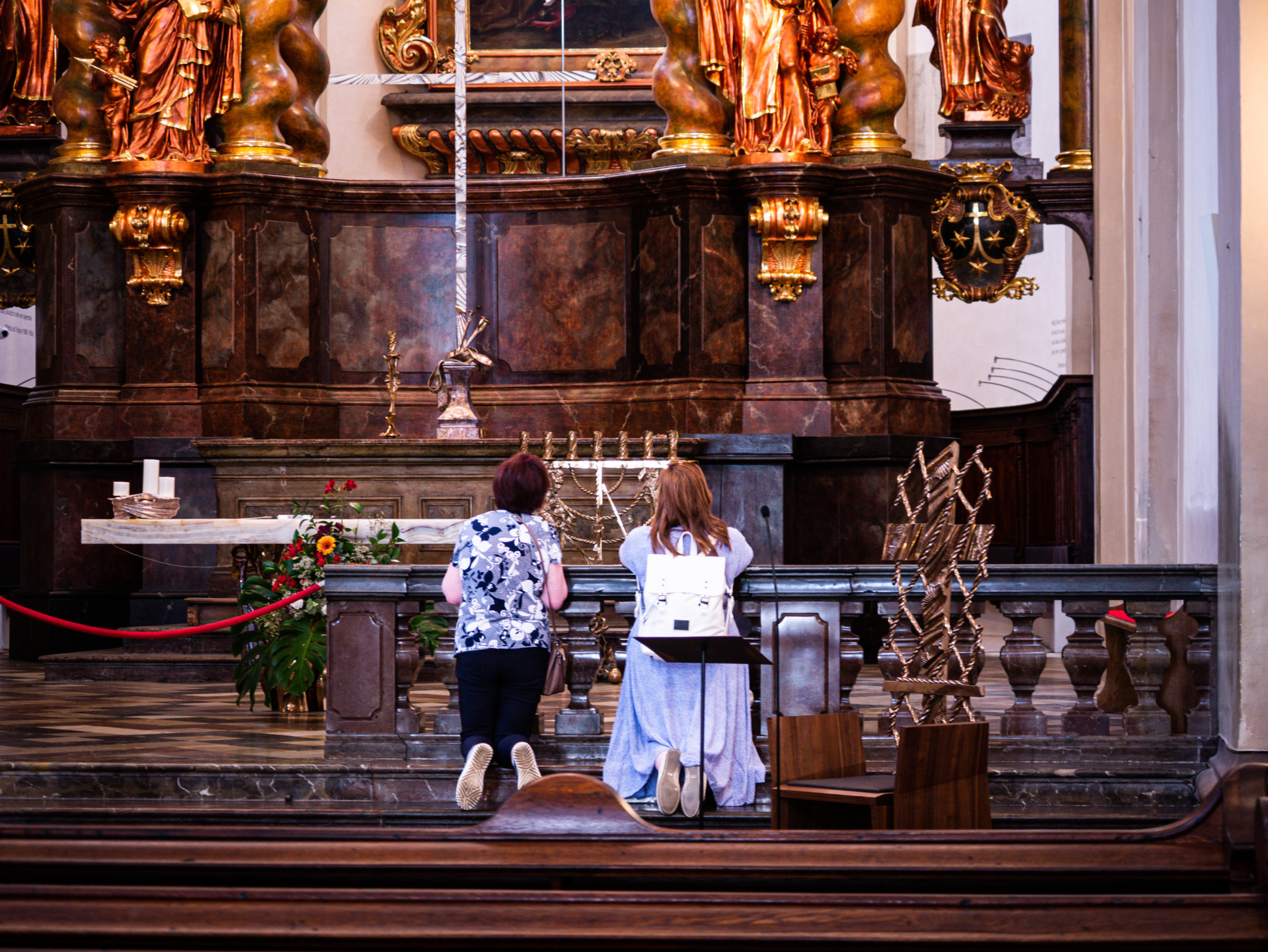 We travelled to Prague on a special trip with Ronan's mum. As a 70th birthday present we brought her to Prague to see the amazing Andrea Bocelli in concert. While exploring the church we were called into the sacristy by one of the Carmelite nuns. The priest there spoke to Ronan's mum and pledged to say a mass for her wishes. It was an absolute highlight of the trip for her. Even if you are not religious it was such a beautiful moment that left you with a feeling of inner peace and that everything would end up as it should.
From a personal point of view, although myself and Mister Lavin were raised Catholic, we are not extremely religious, but, even we found ourselves praying to the statue for my good health after a 20 year battle with Lyme disease and subsequent bone cancer diagnosis this year.
There is a small museum upstairs in the church where some of the ornate gowns that the infant child of Prague is dressed in. The most beautiful gowns are decorated with pearls, gold and diamonds and come from places as far away as China or Vietnam. You can even see a gown which was hand embroidered by Empress Maria Theresa and one of the three crowns, worn by the Infant Jesus, on display in the museum was donated by Pope Benedict XVI. Whether you are religious or not it is really worth stopping in to see the small statue that has had such a big impact on Prague.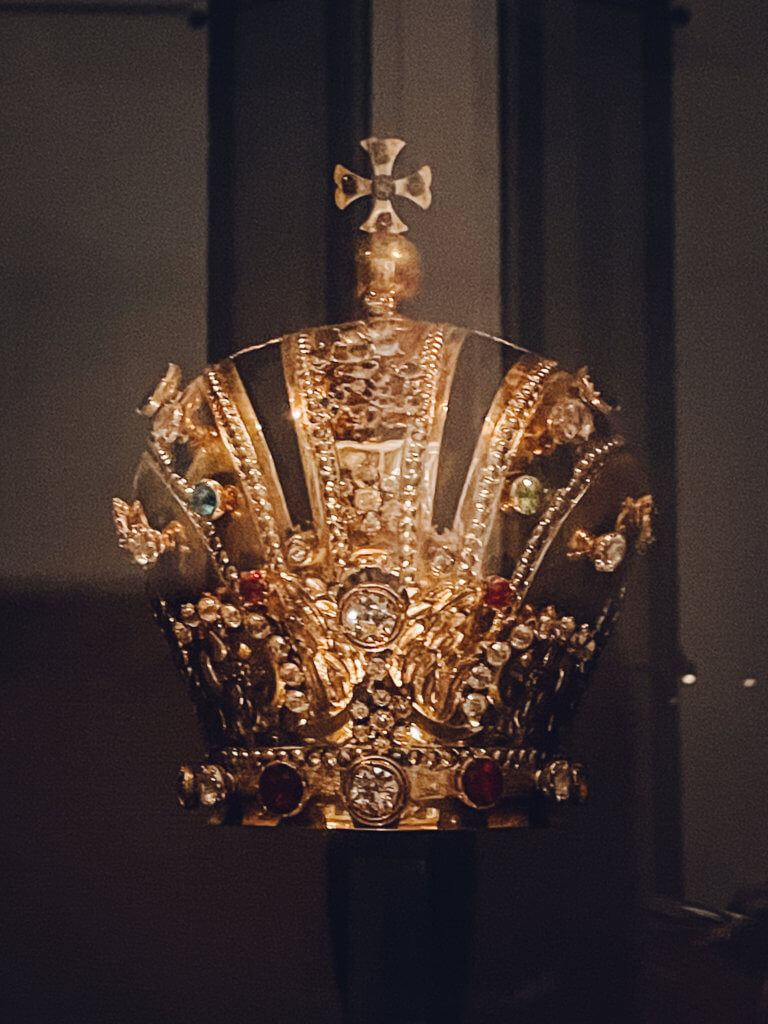 Entry to the church is free but you may make a small donation if you wish.
Take a stroll around Vrtbovská Garden
Located right next to the Church of Our Lady of Victories is the stunning Baroque Vrtbovská Gardens. It is a beautiful palace garden that lies on the Petřín slope and is considered one of the most important and beautiful Baroque gardens in Prague. The design of the garden is incredible with elevated platforms offering magical views of the city.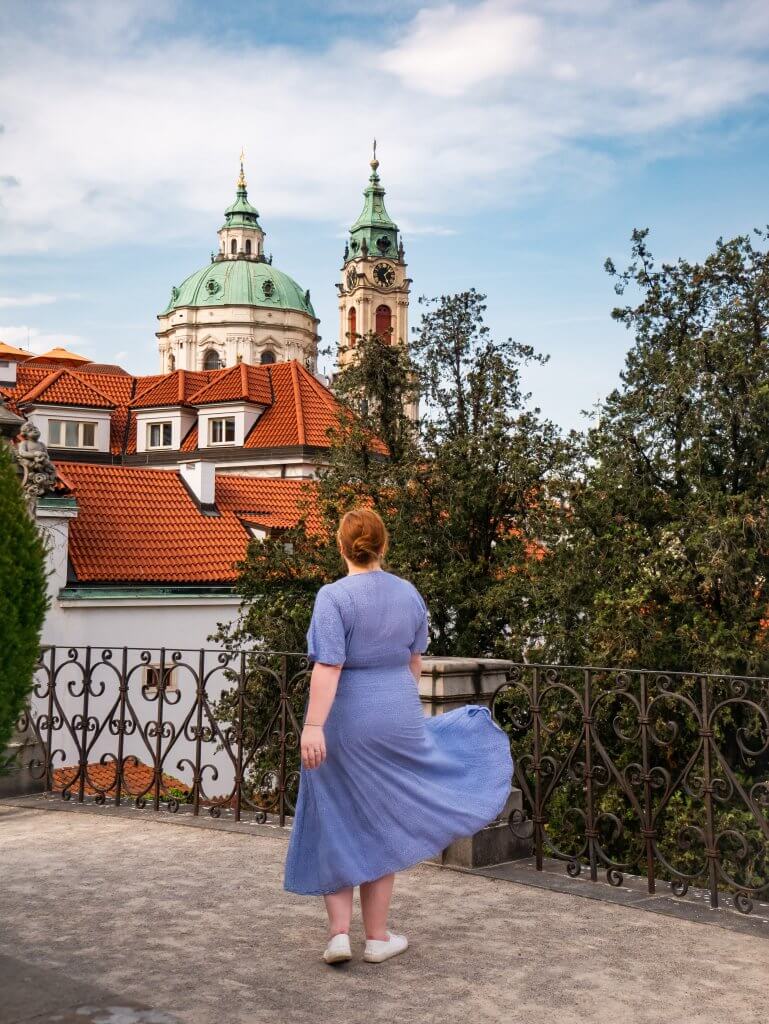 There is a building as you enter with a well-pereserved fresco on the vault which is the work of Václav Vavřinec Reiner and represents Venus and Adonis. Take a wander through the garden where there is impressive art to enjoy such as the statue of the Greek giant Atlanta. There is also an aviary with beautiful exotic birds.
Entrance fee: 120 CZK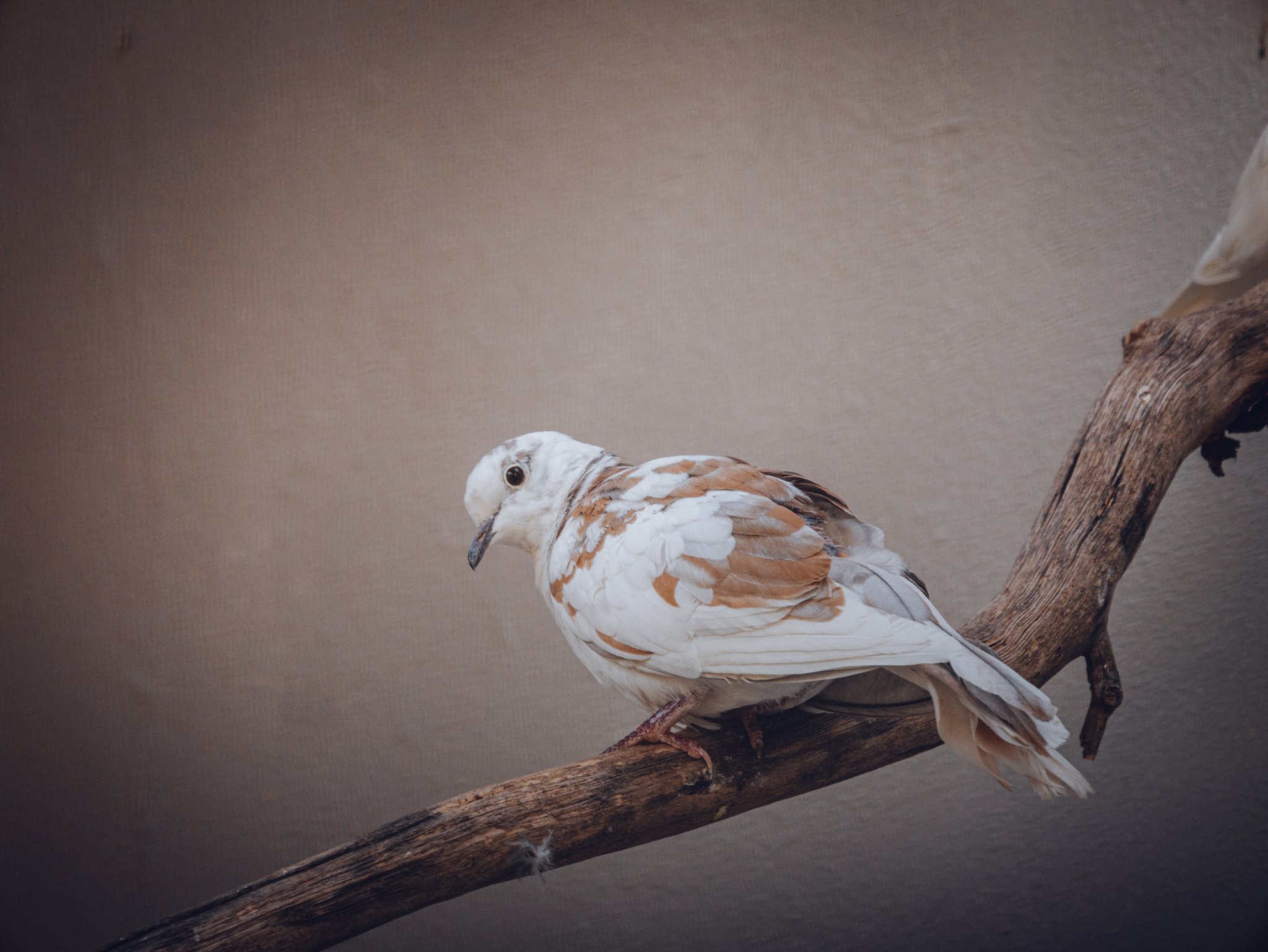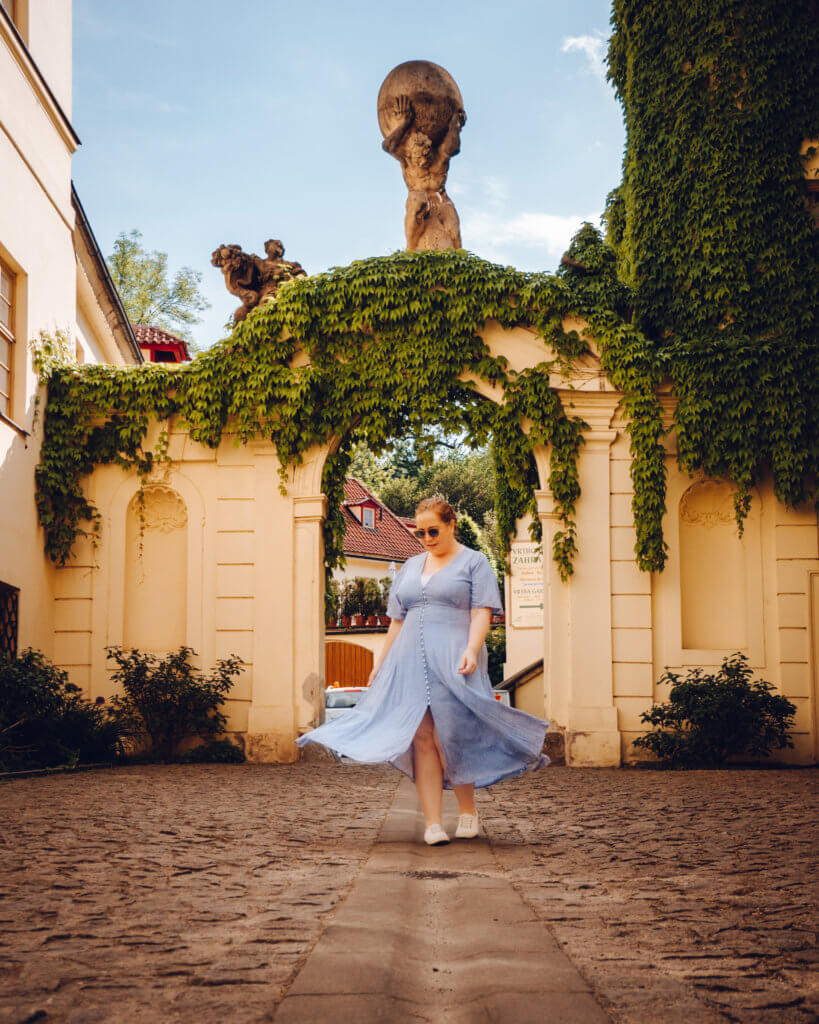 St. Nicholas Church at Malá Strana
Before making your way up to Prague Castle be sure to pop into see the exquisite decor of St. Nicholas Church on Malostranské Square. It is more than worth the €3 entry fee. It is the most famous Baroque church in Prague and is also an outstanding example of ornate Baroque decoration. Concerts are held in the church regularly on the historic organ dating to the 18th century.
Entrance fee: 100 CZK
Lunch at Malostranský Hostinec

Stop for lunch at Malostranský Hostinec a beautiful restaurant with an outdoor terrace just across from St Nicholas church on Malostranské Square. It is a wonderful traditional restaurant with Czech cuisine in the heart of historic Prague.
Visit Prague Castle
Prague castle overlooks the entire city of Prague and you can't go the whole way to Prague without spending some time of your 2 day Prague itinerary visiting the impressive castle. Prague castle is an ancient symbol of the Czech state, the most significant Czech monument and one of the most important cultural institutions in the Czech Republic.
Where is Prague Castle located?
Your adventure in Prague will not be the same unless you see it from the top, from the castle neighbourhood of Hradčany & Letna. Hillsides, stretched from the west to the north, provide spectacular views of greenish copper cupolas, narrow cobblestone streets, bridges connecting both river banks and green gardens from red-roof tops of centuries-old houses. Prague draws you into its magic and 1300 year old history.
Walking up the hill of colourful Nerudova street to reach the castle will leave you speechless (and out of breath!). Luckily, plenty of terrace cafés overlooking gardens and beautiful parks are available to provide rest and a place to catch your breath again.
The castle is comprised of a complex of churches, houses, towers, courtyards, gardens and fountains – an area of 750,000 square feet! It is the largest ancient castle in the world, dating back to 9th century and you can easily spend your afternoon wandering around.
Prague Castle is a historical building complex, founded in 880 as a seat of power for the Bohemian Kings. The crown jewels are kept at Prague Castle, as are the relics of Bohemian kings, precious Christian artifacts, art treasures, and historical documents. Today, it is the seat of the president of the Czech Republic and is considered to be the largest ancient castle in the world, covering an area of over a whopping 18 acres!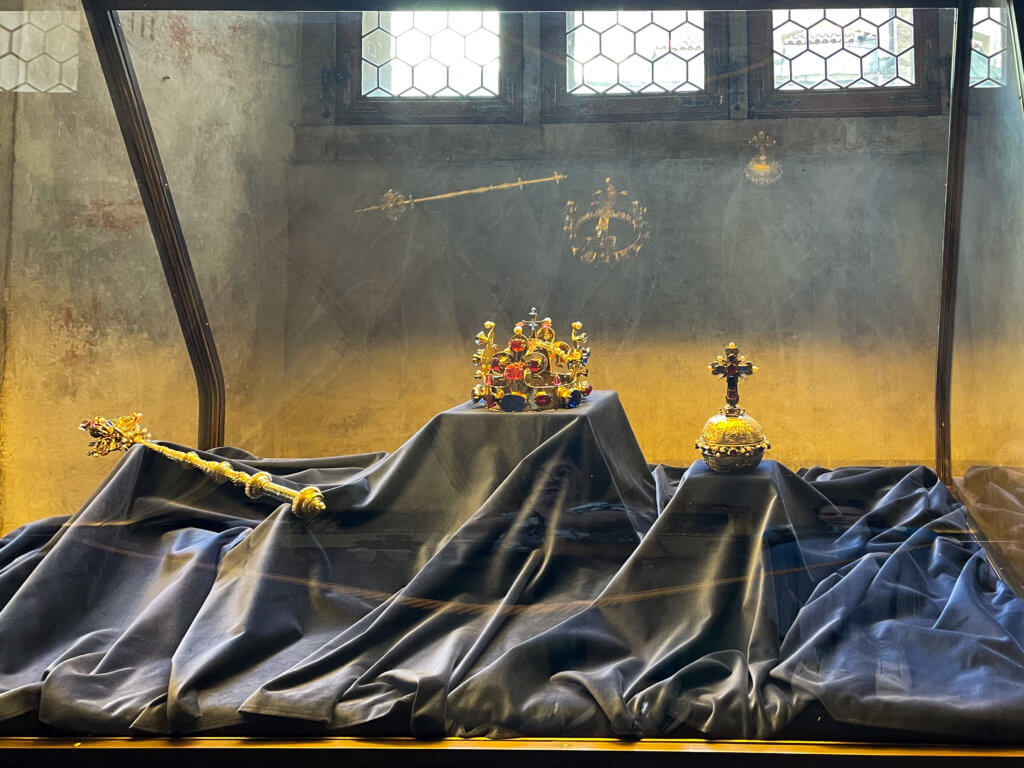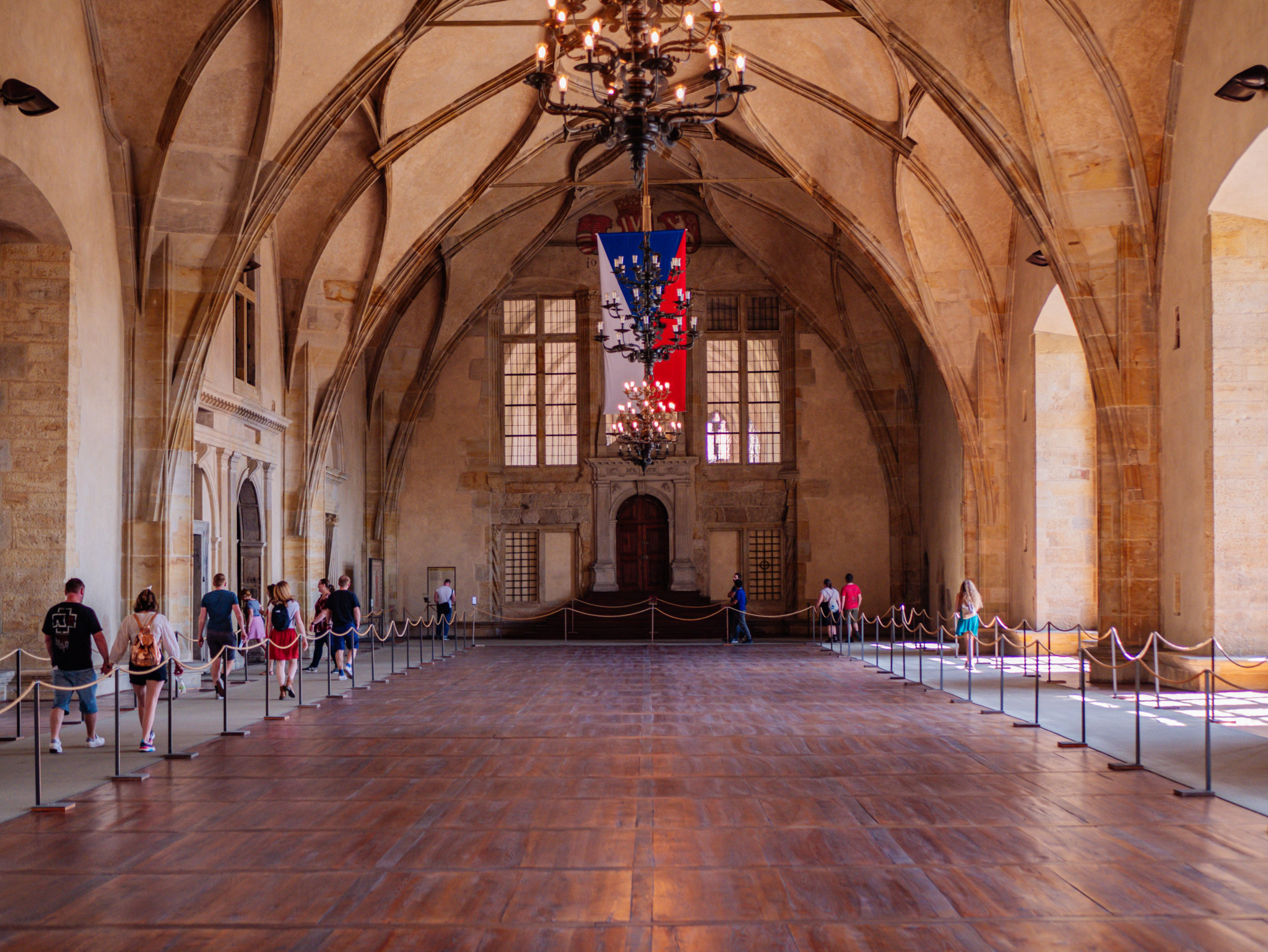 Prague Castle Highlights
Prague Castle has been home to kings throughout its history. Crown princes to kings and the Holy Roman Emperor too, have taken a seat here and called this place home. It feels incredible to walk in the footsteps of such history.
Did you know that Prague Castle is declared the largest ancient castle in the world by the Guinness Book of Records. Spread across an imposing 753,474 square feet, with 570 metres in length and around the average of 130 metres in width, it is an architectural masterpiece.
An iron safe with seven locks located within a chamber door holds the precious Bohemian Crown Jewels that include St. Wenceslas' crown, the royal sceptre, and the coronation cloak.
St Vitus Cathedral, a holy place located in Prague Castle holds an ancient relic for dancers – the arm of St. Vitus, a Sicilian martyr himself.
The castle complex has a tropical garden built-in the 16th century, upon request of Holy Roman Emperor, Rudolf II. It is wonderful to spend some time exploring there.
Prague castle is one of the biggest tourist attractions in Prague and deservedly so. That is why we recommend dedicating the entire afternoon of day 2 of your 2 day Pragure itinerary fully immersing yourself in this experience. It gets pretty busy there so we highly recommend skipping the queue and getting your Prague Castle tickets in advance.
We also strongly recommend taking a 2.5 hour guided tour of Prague Castle with Get your Guide to get the most out of this experience. Tickets cost just €35 and you can't fully experience Prague Castle without learning about the history as you go along.
Dinner at Deer Restaurant Prague
End day 2 of your 2 day Prague itinerary by having dinner at the gorgeous Deer Restaurant in Prague. The name of the restaurant and its location is no coincidence. The "House of the two deer and one head" in Michalská Street has been declared a UNESCO world heritage site as well as a national monument since 1958. You can soak up the atmosphere of the late Baroque building with its Gothic core, which also includes the magnificent hotel, the Iron Gate. The food here is delicious and we recommend trying to get a table on the beautiful garden terrace if you are in Prague during the summer months.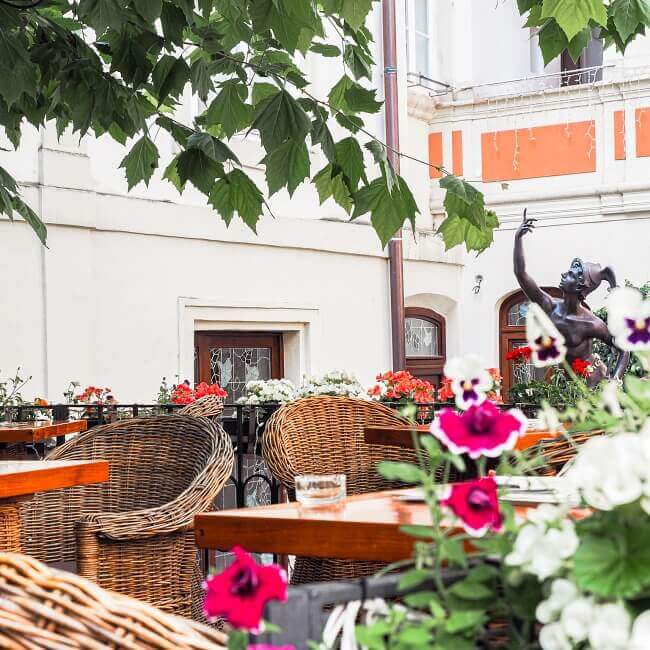 Coolest bars in Prague
If you still have energy after all that exploring then we want to recommend some of the coolest bars in Prague. It has become a forte of ours to find unusual and hip bars in nearly every city that we have visited even before they have become popular so we are happy to share our Prague finds with you.
AnonymouS Bar Prague
AnonymouS Bar Prague is one of the coolest bars in Prague and it is a cocktail revolution. AnonymouS Bar, which can be recognized by its Guy Fawkes mask logo, bases its ethos around three themes – Guy Fawkes' gunpowder plot, the V for Vendetta graphic novels and the underground anarchic community Anonymous. With a dark and stylish interior with sumptuous, plush armchairs, the bar has the ambience of a luxurious library and any fans of cocktails will not be disappointed with the creations of the talented team of mixologists and bartenders. Cocktail menus come with hidden recipes that can only be read under a special UV light given to you when you get your table.
Top Tip: When we first found this bar it was relatively unknown but it has become incredibly popular so be sure to book a table in advance so that you can enjoy a cocktail here. Order the Hot Fawkes. It comes with a surprise and be sure to check out the reels on our Instagram page to see just how cool it is here.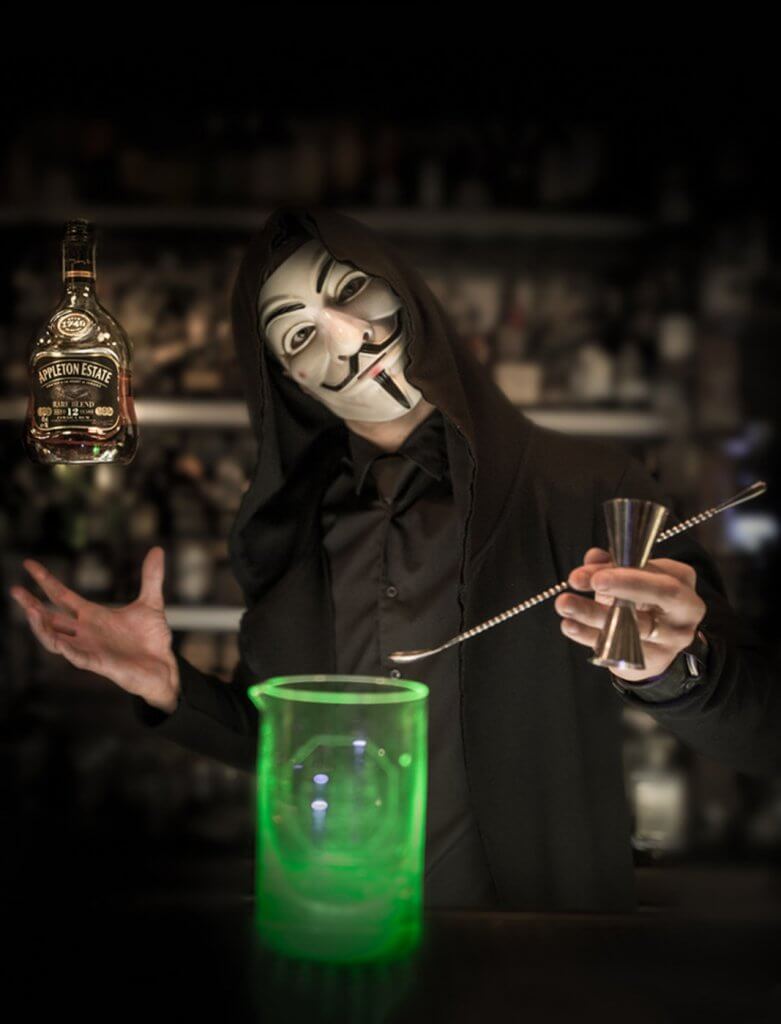 AnonymouS Shrink's Office
Shrink's Office is the original AnonymouS Bar in Prague and is still run by the same brother's who own AnonymouS Bar. It is a cool concept in that you order your cocktail based on what you are drawn to on blot cards, similar to those you would find in a shrink's office. In 1921 Swiss psychiatrist Hermann Rorschach introduced his revolutionary inkbolt psychoanalytical method. This Rorschac Test is used to this day in both psychology and mixology.
The Shrinks (bartenders) use this method to touch the inner depth of your mind and mix the right medicine for you. They somehow get your personality and your drinks just right! Another cool thing about this bar is that it is hidden away like a speakeasy so you have to do your research to find it. It is quite a small basement bar that makes you feel like you are sitting in a stylish wine cellar. They also sell cigars. Be sure to stop by for a cocktail during your 2 days in Prague.
Hemingway Bar
Perhaps a little more well known is Hemingway Bar, located not far from the Vltava River. A place inspired by Ernest Hemingway, one of the most well-known bar lovers, who brought fame to many mixed drinks and cocktail recipes. The bar, though it serves many different types of cocktails both classic and contemporary, specializes in designing cocktails around Hemingway's favorite tipples – rum, absinthe and champagne. In fact, this is the place to go if you do want to sample Prague's famous intoxicating spirit – absinthe. The interior of the bar is intimate and cosy, with a certain old world charm.
Make sure to try their infamous Becher Butter Sour, containing Becherovka Original infused with ghee, fresh lemon juice, egg white, and sugar syrup. It comes served with a dry orange slice and it is delicious!
Prague 2 day itinerary – best places to visit in Prague in 2 days
We really hope you enjoyed this round-up of the best things to do in Prague on a 2 day Prague itinerary. We really work hard to give you detailed travel guides and itineraries so that you can make the best out of your trip. We also research unique and boutique accommodation for you to enjoy because we think that sometimes the accommodation IS the experience. If you got value out of this guide may we ask that you support us by sharing this post and booking through our links.
*DISCLAIMER: This post contains affiliate links meaning that if you book through one of our links we will receive a small commission at absolutely no extra cost to you. This helps support us to provide value to you in these travel guides.
Shop the post

Are you new here? Join thousands of other happy readers and subscribe to All about RosaLilla blog via email. The good news is that by signing up via email you will get exclusive travel deals straight to your inbox. The only other place that we publish these deals is on Instagram stories, so be sure to signup to get the heads up on amazing travel deals to save you money when booking.
I also share everything about myself on Instagram with nothing held back so be sure to follow along there.
If you liked this you may also like:
Best instagram spots in Prague
Best Instagram spots in Venice
Until next time you crazy kids!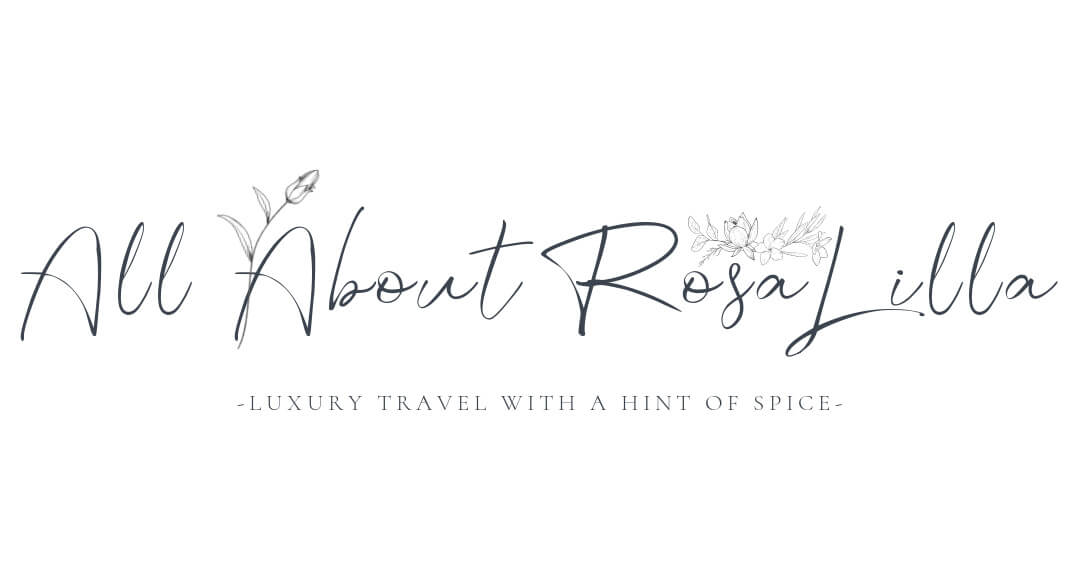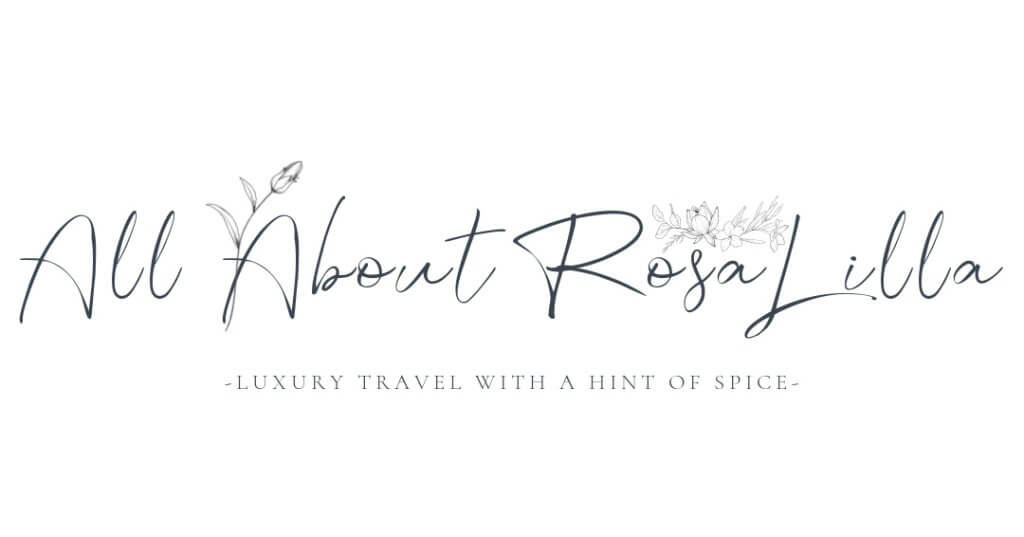 Sharing is sexy!