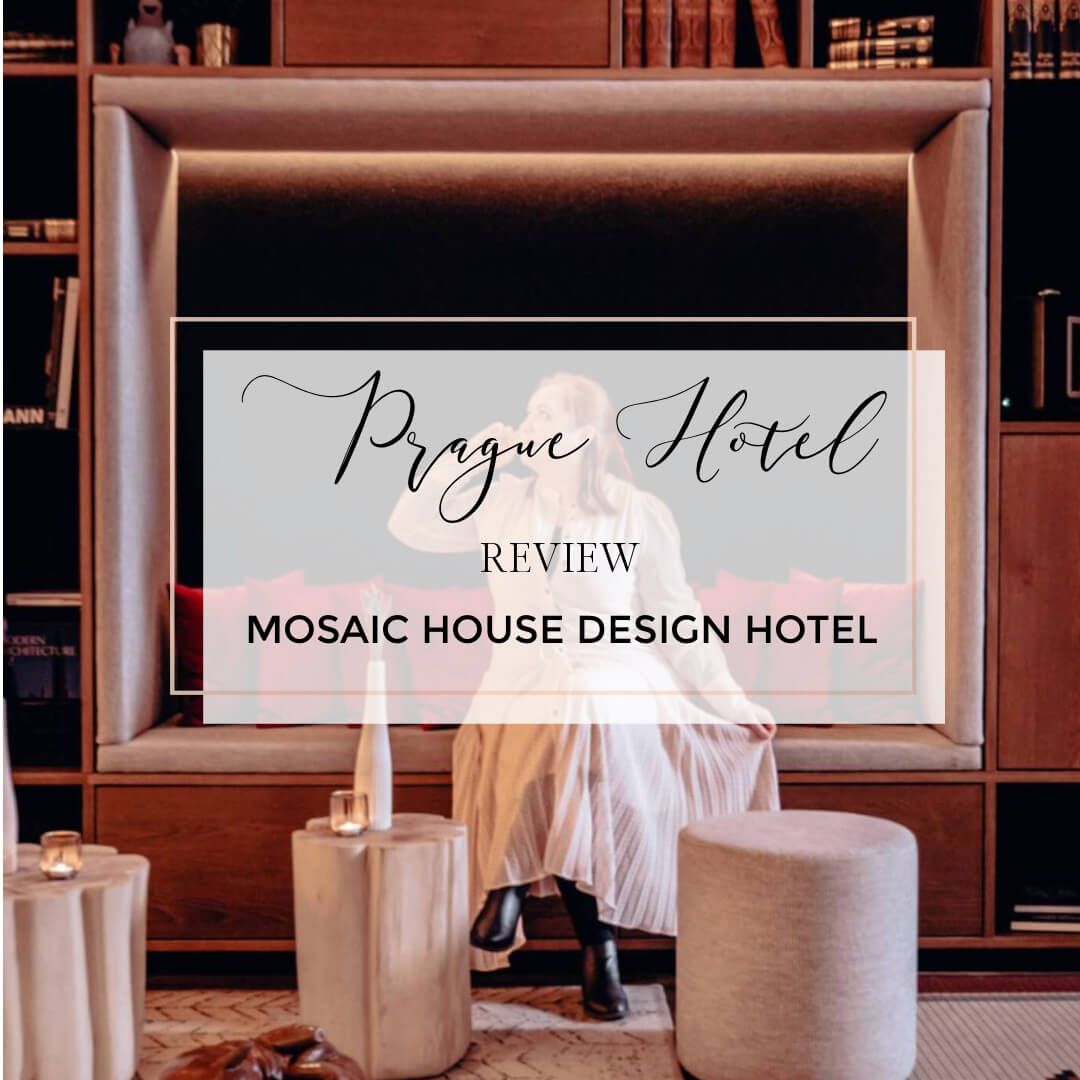 Let me introduce you to one of the most stylish and sustainable hotels that we have stayed in – Mosaic House Design Hotel Prague, one of the most unique hotels in Prague. Located just a stone's throw away from the Vltava river, the Mosaic House Design Hotel Prague is a green oasis in the heart of the Golden City.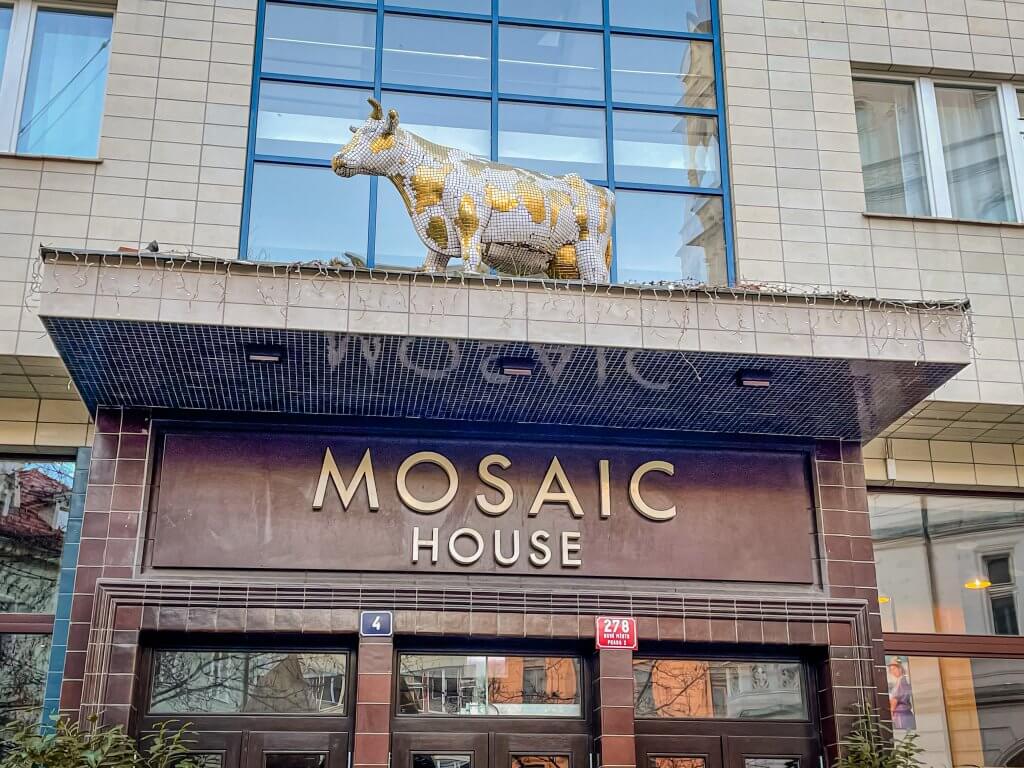 Prague is one of Europe's hotspots. With architecture that will rival Paris, culture and diverse, rich cuisine, Prague is one of those cities that you simply must visit. Often referred to as The Golden City, Prague is a vibrant city that has been shaped by its eventful past. The 1989 Velvet Revolution that freed the Czechs from communism left to Europe a gem of a city to stand beside symbols of Europe such as Rome, Paris and London. Not surprisingly, visitors from around the world have come in droves to visit Prague. But even the crowds can't take away from the marvel of a 14th-century stone bridge, a hilltop castle and a slow, lazy river – the Vltava – that inspired one of the most hauntingly beautiful pieces of 19th-century classical music, Smetana's Moldau symphony.
Unique hotels in Prague – Mosaic House Design Hotel
There is no shortage of beautiful and impressive hotels in Prague but I doubt that you will come across one quite as unique as Mosaic House Design Hotel. Complete with a brand new design, private spa and huge improvement on its facilities, Mosaic House Design Hotel might just be one of the most stylishly designed hotels in Prague. It is the perfect place to recharge your batteries and relax on your city break or couples getaway. In fact it feels so homely that most of the time you don't even feel like you are in a hotel!
Re-opened in May 2020, Mosaic House Design Hotel is now a popular 4-star hotel, leaving its origin as a hostel well in the past. From the moment you enter the hotel, you know that you are in for a pleasant stay. Even though the hotel is a 4-star, it feels more like 5-star. The brand new design oozes 5-star luxury. Upon entering the hotel you are greeted with Cafe Mosaic, an area that looks more like a sumptuous and relaxed living room with soft lighting and leather seating. I could immediately see myself losing hours of my time relaxing in this comfortable space.
Ideal location, close to all the major tourist spots
Mosaic House Design Hotel is in a great location. You will find the hotel in a trendy neighbourhood that is popular with locals. Far enough away from the centre of the Old Town to escape the crowds, but close enough so that you don't feel like you are missing out on the action! You can walk to both the Dancing House and the river in under 5 minutes. To get to the Old Town is a comfortable 10-15 minute walk. There is a tram stop just two minutes from the hotel but be warned. You must validate your ticket as soon as you get on the tram!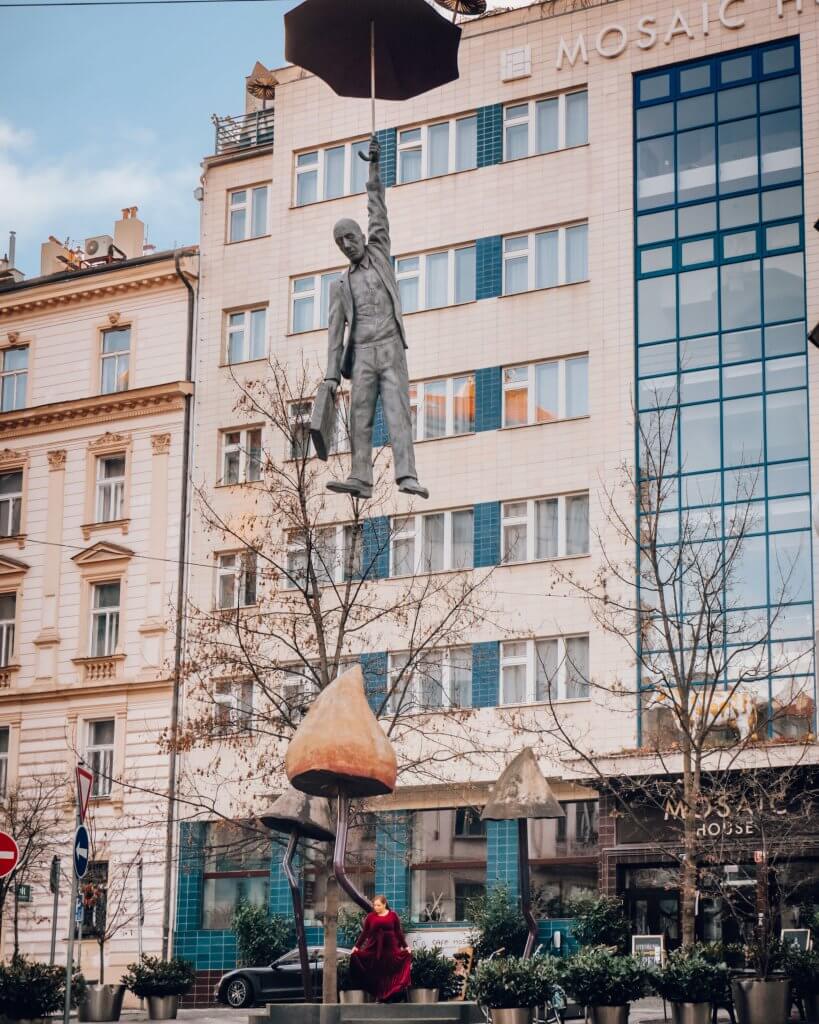 We had purchased our tickets in the Metro underground station nearby and then quickly hopped on the tram when it stopped. We had just sat down before we were being hauled off the tram by an aggresively angry ticket inspector who not only threatened to call the police, but fined us €80 for not validating our tickets the second we got on. He didn't want to hear that we were tourists, it was our first tram ride and we were just taking a second to collect ourselves. Tram rides in Prague only cost about €1.20 for a 30 minute ticket so it was an expensive lesson for us to learn. So be warned, you must validate your ticket by stamping it in the yellow machine AS SOON as you get on a bus, tram or Metro train.
Quirky Design
One of the most unique things about the hotel is its trendy and quirky design. Design is in their DNA. In both the indoor and outdoor area of the hotel, guests are treated to a whole array of unique art installations by renowned national and international designers and artists. It is a feast for the eyes and senses with something new to encounter in every corner of the hotel.
When you are outside the hotel, look up and you will find both a man and a woman hanging from umbrellas overhead. A giant fly and majestic mushrooms can be found on the rooftops of buildings owned by the hotel. These sculptures are the work of incredible artist Michal Trpak. Inside you will find a light display that slowly pulsates like jellyfish swimming through water. Quirky bug like caterpillars can be found climbing the walls in the hotel's corridors and main toilets.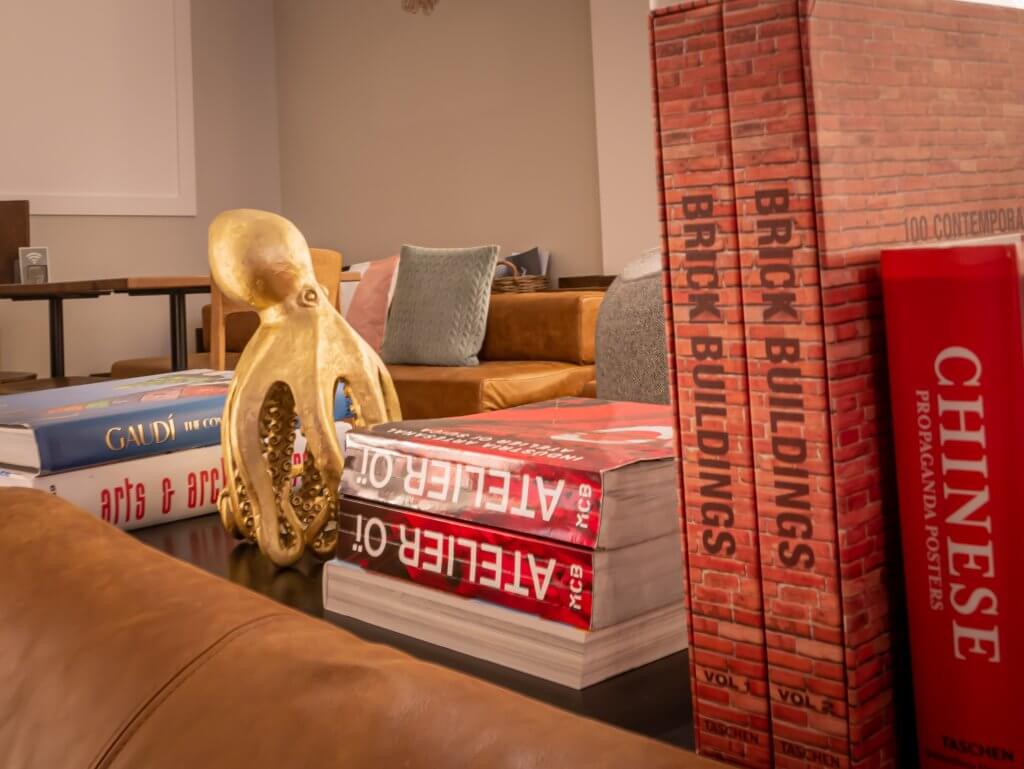 There are lots of hidden areas in the hotel to enjoy. Head up the spiral staircase from Cafe Mosaic and you will find a cosy library with little snug areas where you can wrap yourself up in a blanket and unwind with a game of chess. It is the ideal space to retreat to immerse yourself in a newspaper or book without being interrupted.
There is also a secret garden to enjoy. A beautiful green oasis in the middle of the city. It is the perfect place to just chill out and enjoy a drink.
QQ Asian Kitchen is the perfect place to enjoy a uniquely fun Asian culinary experience. The culinary influences range mainly from Bali and Taiwan, as well as cuisine from Thailand, China and the United States. The interior design is all original and created by both chefs. It reflects the philosophy of the cuisine in that the elements are taken from both of their upbringings. This is also where you will enoy your breakfast during your stay in Mosaic House Design Hotel Prague.
Private Spa
Located on the lowest floor of the hotel, the intimate but practical spa can be rented privately for your own use, so you won't have to share with strangers while you unwind and relax. I personally love this idea as I am generally shy and body conscious around people that I don't know. You can reserve it from 90 minutes for you and your partner as part of a romantic couples getaway or, hire it for you and a small group of friends as part of a celebration.
Enjoy a Finnish sauna, Jacuzzi, cold bucket shower, a calming lounge area and peaceful outdoor area. Massages can also be booked on request. Why not add a bottle of prosecco and fruit plate for a little added luxury and enjoy some downtime after walking around Prague's cobbled streets. This is where you can just let time stand still for a while.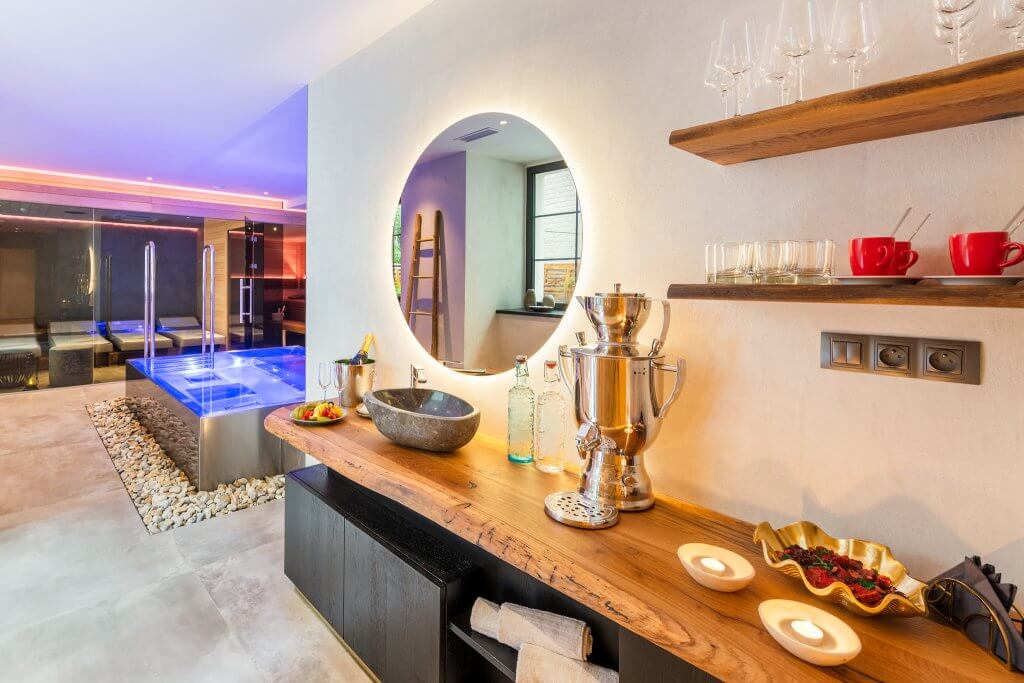 Bedrooms at Mosaic House Design Hotel
This 4-star superior design hotel has 94 rooms spread over 7 floors. All rooms are designed with modern furniture creating an intimate and urban atmosphere. Depending on your needs you can choose to stay in a standard room, a comfort room, a superior room with its own terrace or go all out and stay in one of the hotel's two penthouse suites.
We decided on the little bit of extra space and booked a comfort room for our 3 night stay in Prague. Our room came with Bose speakers, a minibar, a smart Samsung TV to watch Netflix on, high speed WiFi and a gorgeous rainfall shower. Entry-level rooms are a little on the small side but will have everything you need for a comfortable city break. Superior rooms have the added benefit of an outdoor green terrace that offer great views over the city. Some even include some of those cool quirky mushrooms.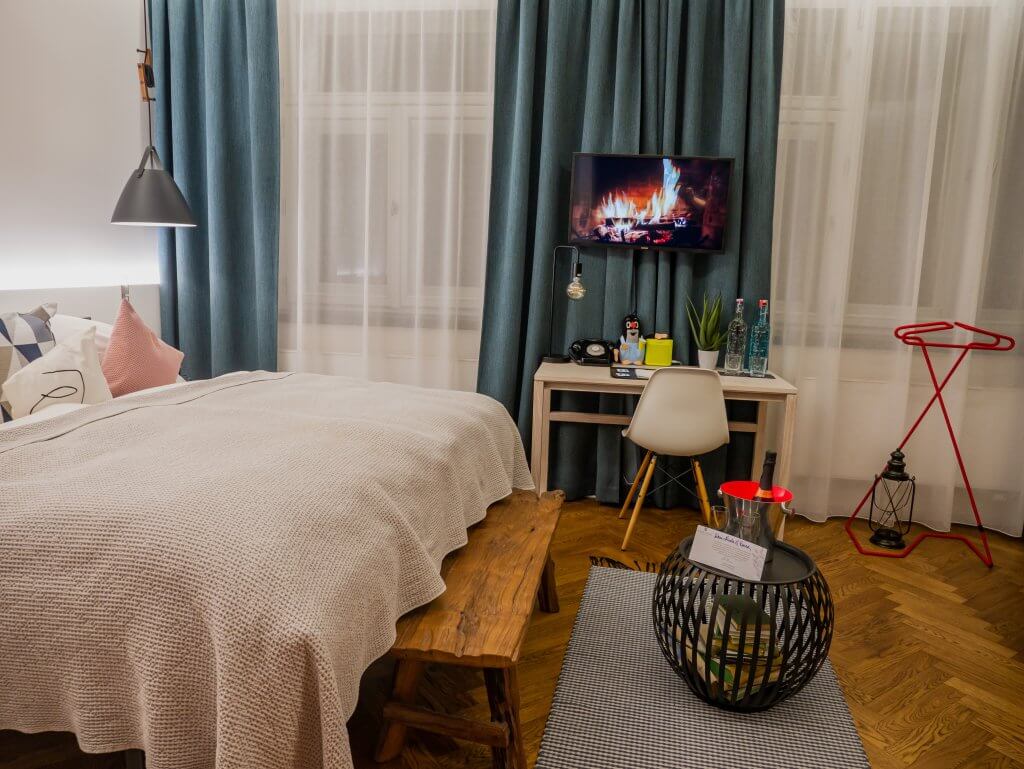 Bathrooms have special little touches like baskets of towels, dried lavender and pictures of fluffy bunnies. They also have impressive eco measures too such as sensor-operated lights (no fumbling around in the dark for a light switch) and vegan friendly organic toiletries in big bottles (no wasteful miniature toiletries in sight!) and little reminders everywhere to consider your impact on the environment from saving water to recycling your waste.
Penthouse Suites
The hotel boasts two penthouse suites on the east and west wing. These are without doubt the best rooms in the hotel. Access to the suites is granted through a secret doorway with stairs leading up to the East Wing and West Wing Penthouses. While the interior of the rooms isn't that different to the standard rooms the outdoor terraces offer privacy, panoramic rooftop views and a luxurious freestanding bath with views of Prague Castle which is its main selling point. We were lucky enough to have light snowfall during our stay which gave us magical rooftop views of Prague. While I can't imagine having an outdoor bath in the snow, I can imagine how amazing it would be to have this private terrace to enjoy during the Summer months.
Sustainability
Perhaps the most impressive thing about Mosaic House Design Hotel is that it is the first green hotel in Czechia to install an awe-inspiring water recycling system. Whenever myself and Mister Lavin travel we try to pick sustainable and eco-friendly accommodation. It is hugely important to us to reduce our carbon footprint as much as we can when we travel and that is why I think it is important to support hotels doing their bit for the environment. As well as providing lots of green spaces, the hotel uses 100% renewable energy. The Mosaic House Design Hotel has also proudly received the BREEAM In-Use "Excellent" certification and is the second hotel in the world to use a Grey water system including heat recuperation. These systems take water from the hotel's sinks and showers through a Herr Reed Bed to remove the harmful pollutants. This water is then further re-filtered and stored in tanks before pumping back to a separate header tank for re-use in toilets. It is also recuperated and used to preheat fresh shower and sink water to about 25°C.
Recycling greywater from bathroom sinks and showers is estimated to save around 25 gallons of water per person; some systems can save 50,000 gallons a year. Energy saving light bulbs are used throughout the hotel and specially made automatic blinds ensure the sun is kept out of the room during the summer to cool the room (no need for A/C) and warm the rooms in the winter.
*DISCLAIMER: One night of our stay at Mosaic House Design Hotel was complimentary and the other nights we paid for at media rate. However all opinions are our own and we are never obliged to write a blog post. We do it because we genuinely loved our time in one of the most unique hotels in Prague and we were more than happy to pay for this stay ourselves. Working with hotels has allowed us to create content you love and build a strong reputation in the travel industry. Trust is the most important thing to us and we want you to LOVE every hotel we recommend to you.
Mosaic House Design Hotel Information
Telephone: +420 277 016 880
Email: info@mosaichouse.com
Website: www.mosaichouse.com
Address: Odborů 4, 120 00 Prague 2, Czech Republic
Are you new here? Join thousands of other happy readers and subscribe to All About RosaLilla blog via email or Bloglovin'. The good news is that by signing up via email you will get my EXACT email template that I use to successfully pitch hotels for collaborations.
If you liked this you might also like:
What it is really like to stay in Ashford Castle, voted the world's best hotel
Bordeaux itinerary. 2 days in Bordeaux
Until next time you crazy kids!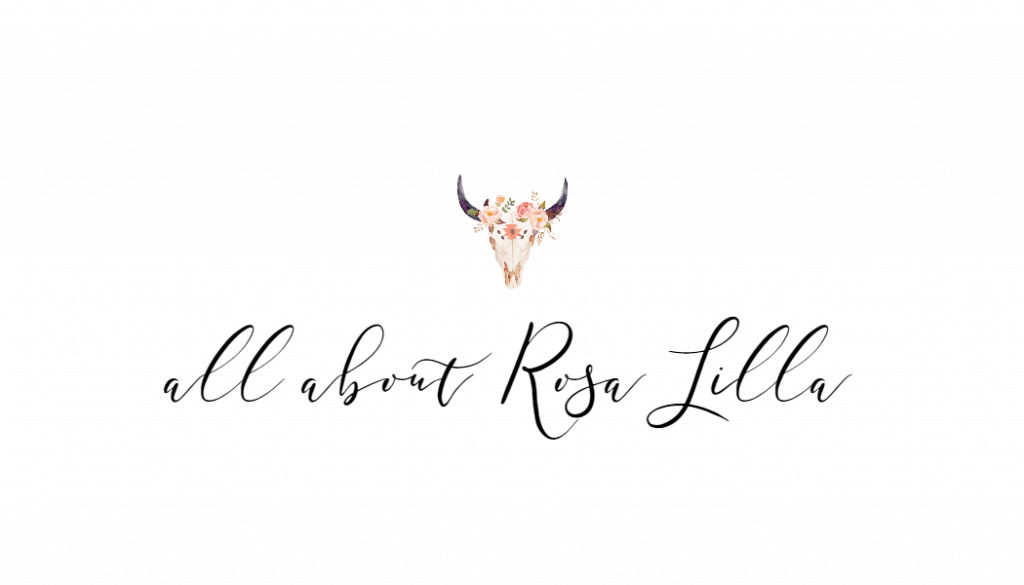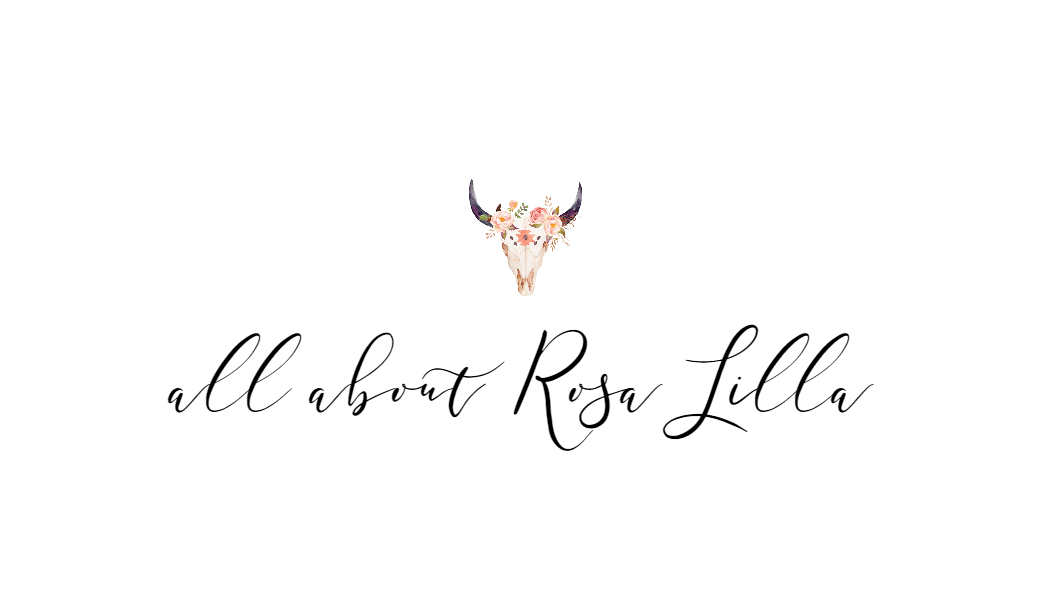 .
Sharing is sexy!