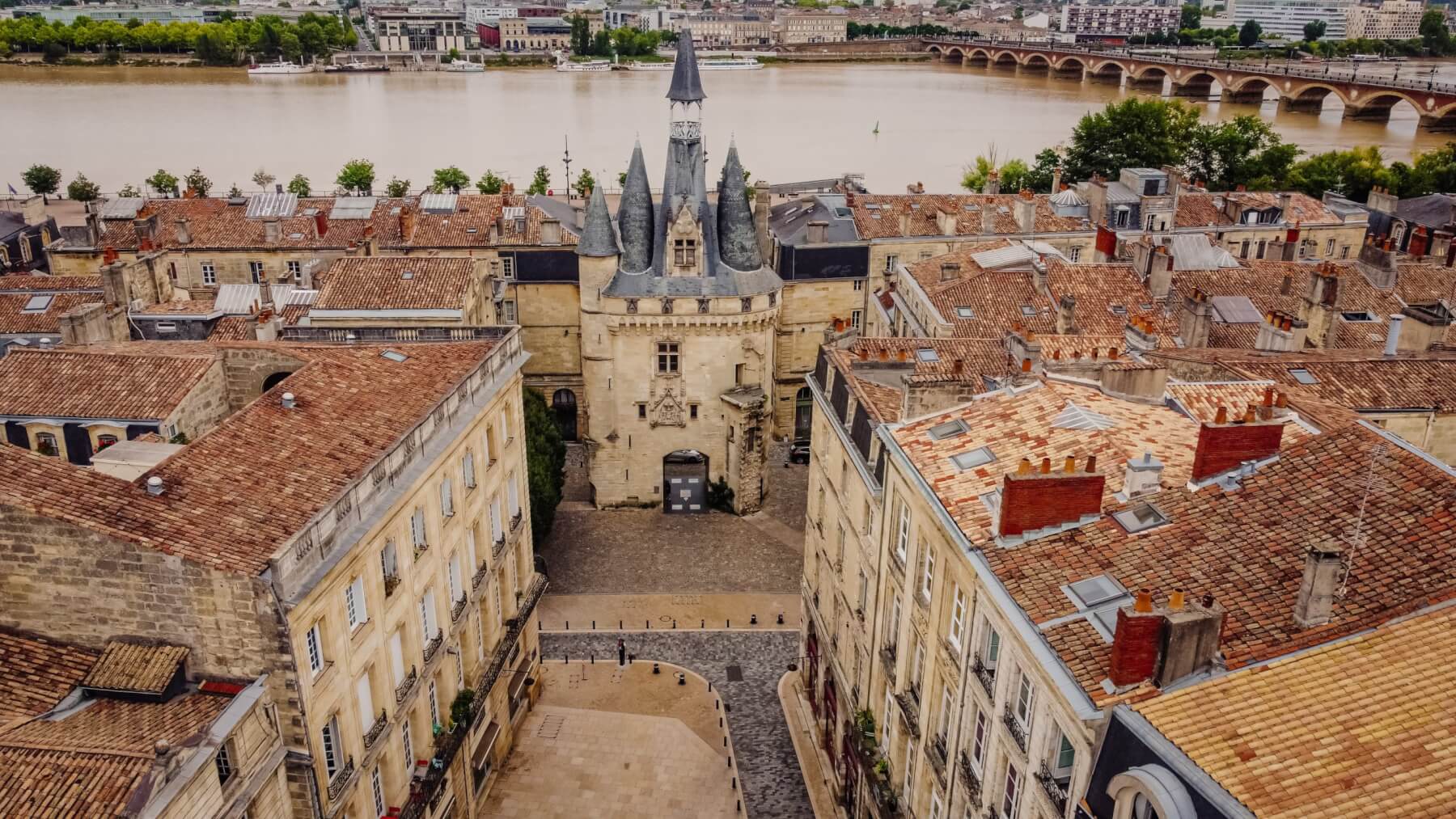 Myself and Mister Lavin have just fallen in love with hidden gems all over Europe. If you are looking for Parisian vibes but without the crazy busy tourist thronged streets of Paris then may we suggest this other French gem, Bordeaux. We have the perfect Bordeaux itinerary for you which will also take in all of the best Instagram spots in Bordeaux , along with a map to help you along the way. So get planning your ideal Bordeaux city break with this 2 day Bordeaux itinerary! You won't be sorry.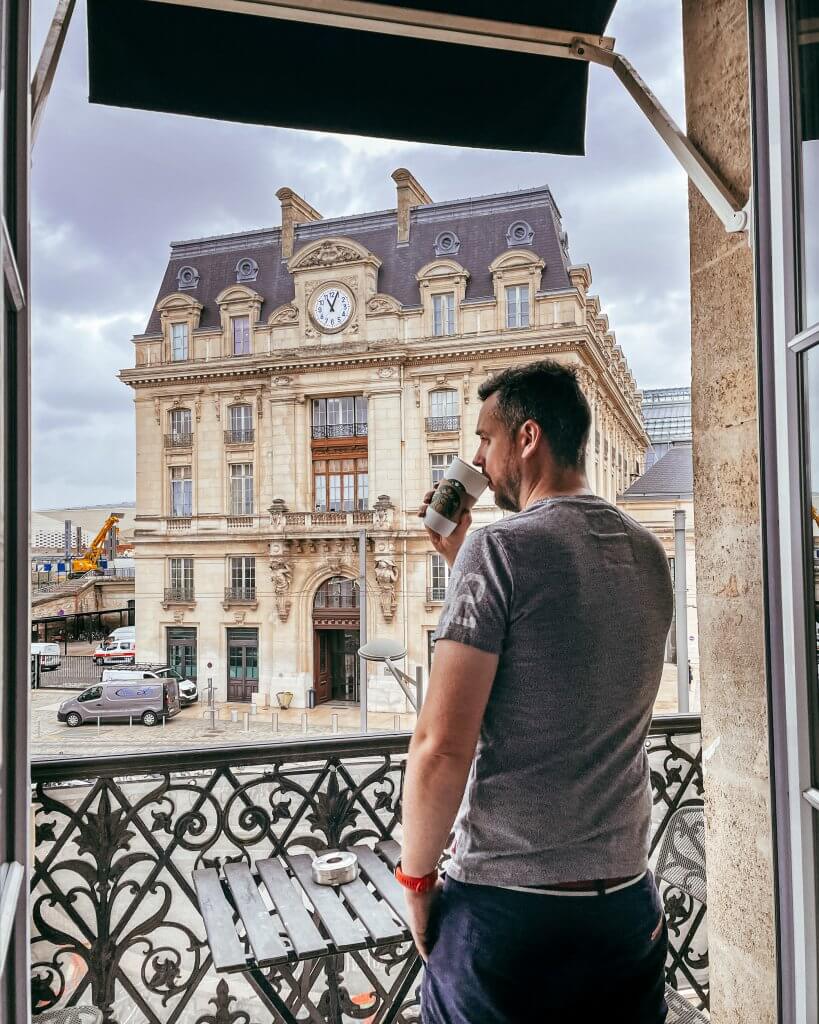 The Best Bordeaux itinerary for a two day break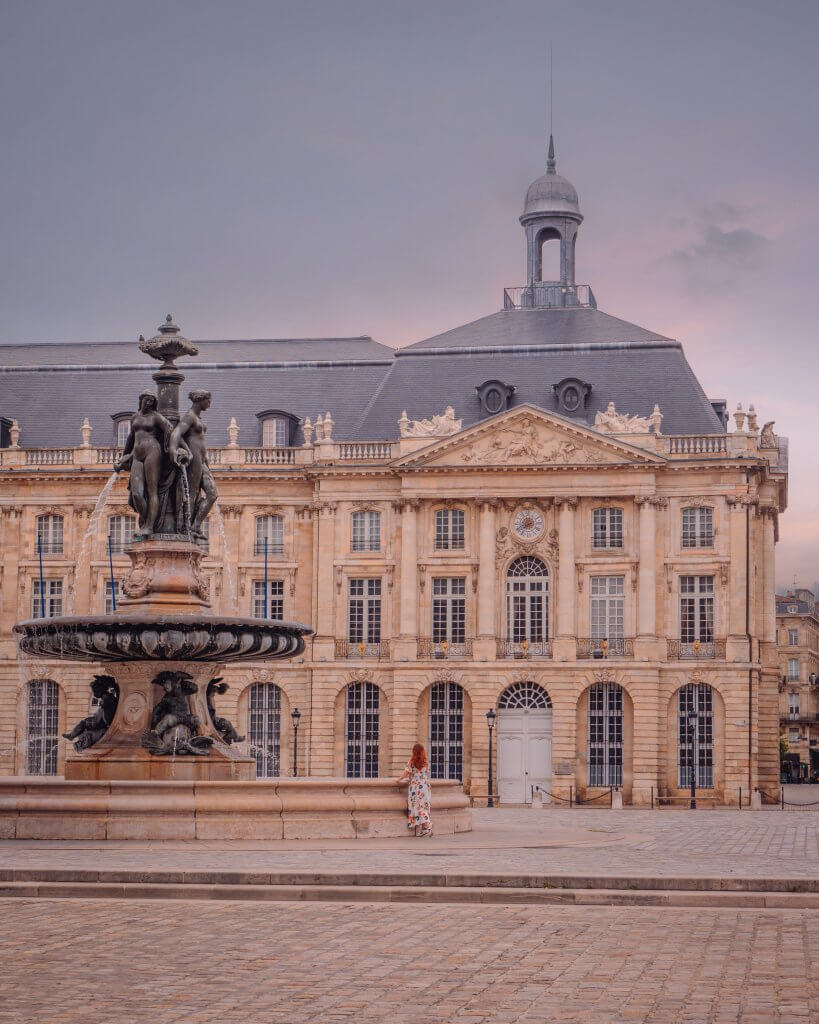 Where to buy a Bordeaux city pass
The first thing that you must do on your weekend in Bordeaux is pick up a city pass. You can pick up one easily at Bordeaux tourist office or order it conveniently here. Bordeaux isn't huge by any stretch of the imagination and can be easily explored on foot. But, it isn't small either, and some of the main attractions are just that little bit harder to reach. A Bordeaux city pass will help you make the most out of your time in the city. You will have unlimited access to trams, buses and river shuttles and also free entry into over twenty museums and monuments. You will also get one free guided tour of your choice. We decided on a river cruise and it was amazing!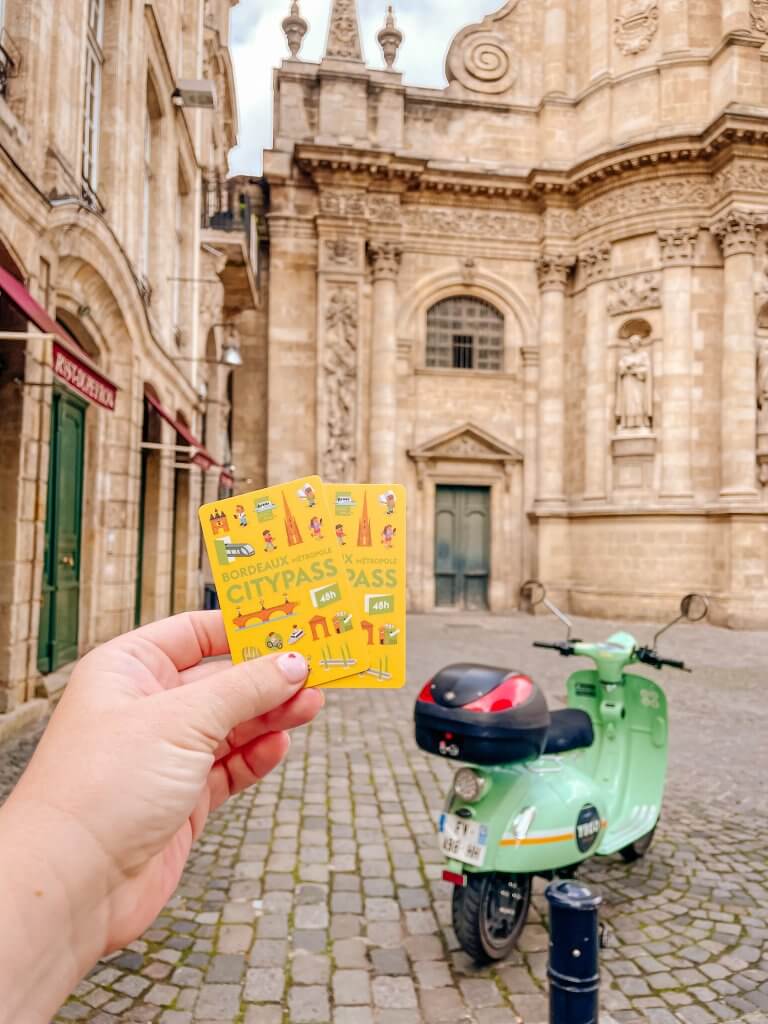 Where is Bordeaux?
When I told people that we would be spending 2 days in Bordeaux their first reaction was where is it? So let's get the geography lesson out of the way first. Bordeaux is located in the south west of France, about 30 minutes from the Atlantic coast. Bordeaux is best known as being the capital of wine, with its castles and vineyards that stand on the hillsides of the Gironde. It is also home to the world's main wine fair, Vinexpo.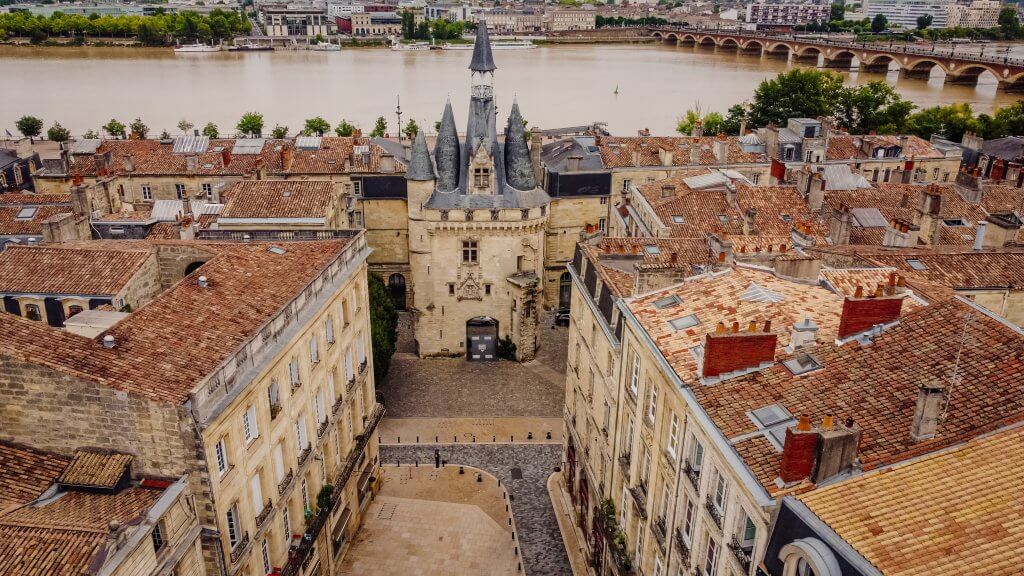 In this Bordeaux itinerary we won't be exploring the beautiful vineyards but instead concentrating on a city break. But don't worry, there will be wine involved because believe it or not Bordeaux has its own wine museum. If you do want to explore the vineyards outside of the city then we recommend renting a car and taking a roadtrip around this beautiful region of France.
Bordeaux is an international tourist destination for its architectural and cultural heritage with more than 350 historic monuments, making it, after Paris, the city with the most listed or registered monuments in France. So you will certainly not be short of things to do on this Bordeaux itinerary. If this is your first time visiting France you might want to check out this guide on France Travel Tips.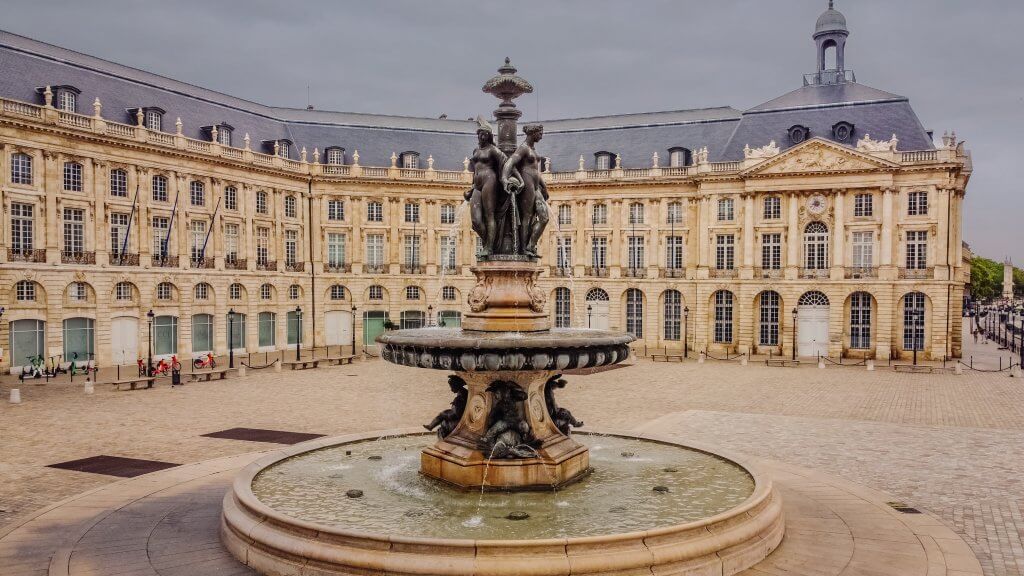 How to get from Bordeaux airport to the city centre
Bordeaux–Mérignac Airport is the international airport and Ryanair fly directly there. We got return flights for about €50 return per person after spending 2 days in Dublin and there are always bargains to be had. There is a bus directly outside the doors of the airport that will take you to Gare de Bordeaux St. Jean. It costs €1.70 and will take about 50 minutes to reach the city centre as it is the main bus route with numerous stops along the way.
Map of the best things to do in Bordeaux in 2 days
I have included a map for you of all of the spots that I mention in my Bordeaux itinerary. The good news is that all of these spots also double up as the best Instagram spots in Bordeaux so get your camera ready to bring some French chic to your gram. I haven't designed my Bordeaux itinerary according to a timetable. Everything is within short distance of each other and with the city pass is extremely accessible so instead I am going to highlight the must see places in Bordeaux over 2 days and let you choose how you would like to visit them and in what order.
Explore the fairytale architecture of Bordeaux
The entire city of Bordeaux feels like a fairytale with its rustic stone walls, and high rise majestic buildings. It is easy to see why it is a UNESCO World Heritage Site and you honestly feel like you have stepped inside the pages of a story book there. I have to admit every time I imagined what Bordeaux would look like I pictured vast countryside with rolling green hills, crumbling chateaux and row after row of grapevines. I hadn't envisioned such a bustling urban space, with high street chain shops and busy streets. Apart from all of the picturesque fairytale architecture, Bordeaux is a shopper's paradise.
Places you must visit on your 2 day Bordeaux itinerary
Suggested Bordeaux itinerary, Day 1
Porte Cailhau
By far one of the most instagrammable and fairytale buildings you will come across in Bordeaux is Port Cailhau. One of the original gates of the city it gives off Disney Castle vibes. Despite its age (just imagine – it dates from 1494!) this large, beautiful monument remains practically unchanged. It was built to commemorate Charles VIII's victory at Fornovo (Italy). You can simply admire it from the ground or pay a €5 entry fee (free with city pass) to climb the 23 metres to the top and enjoy panoramic views of the river.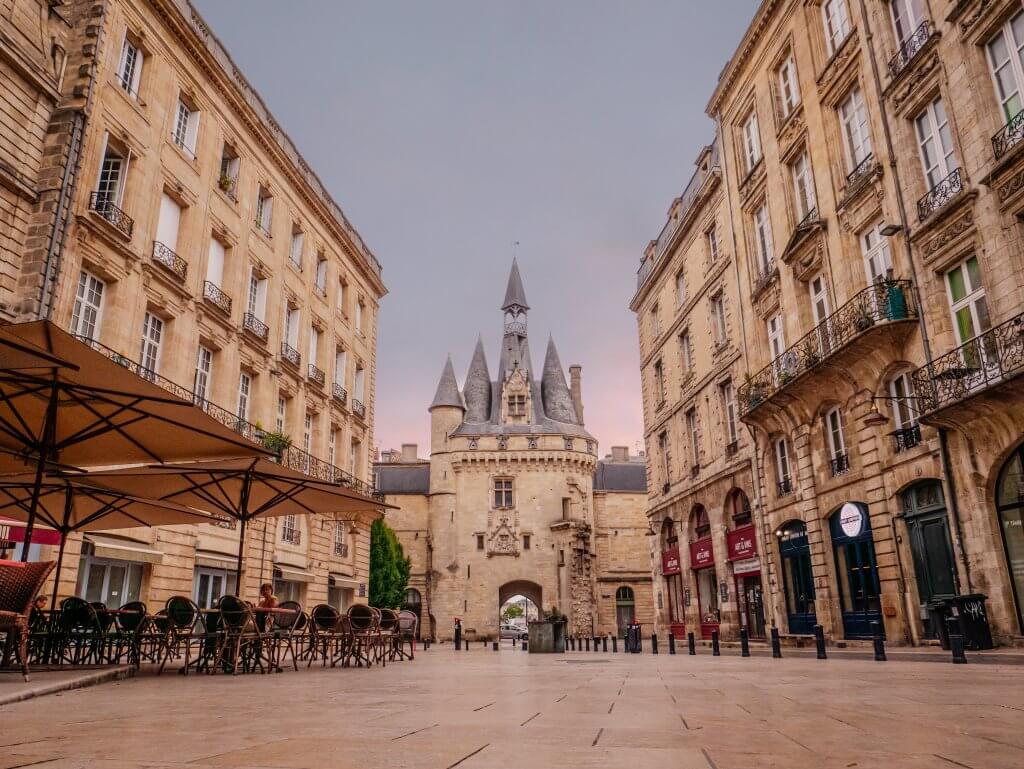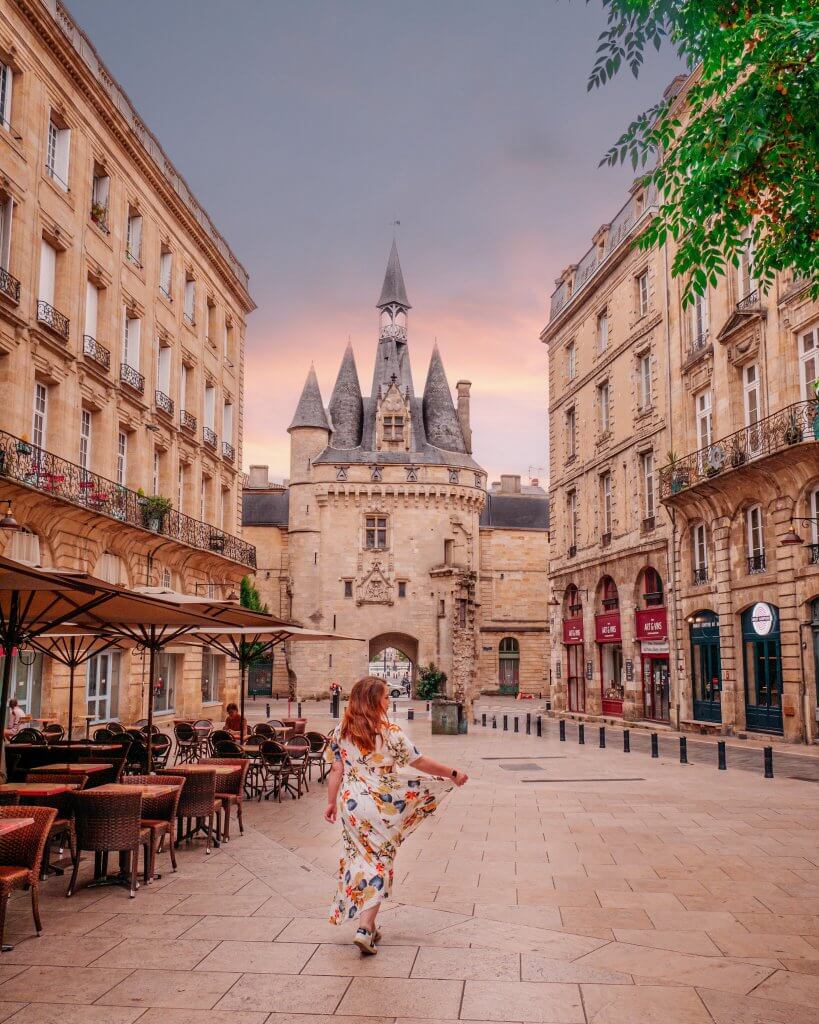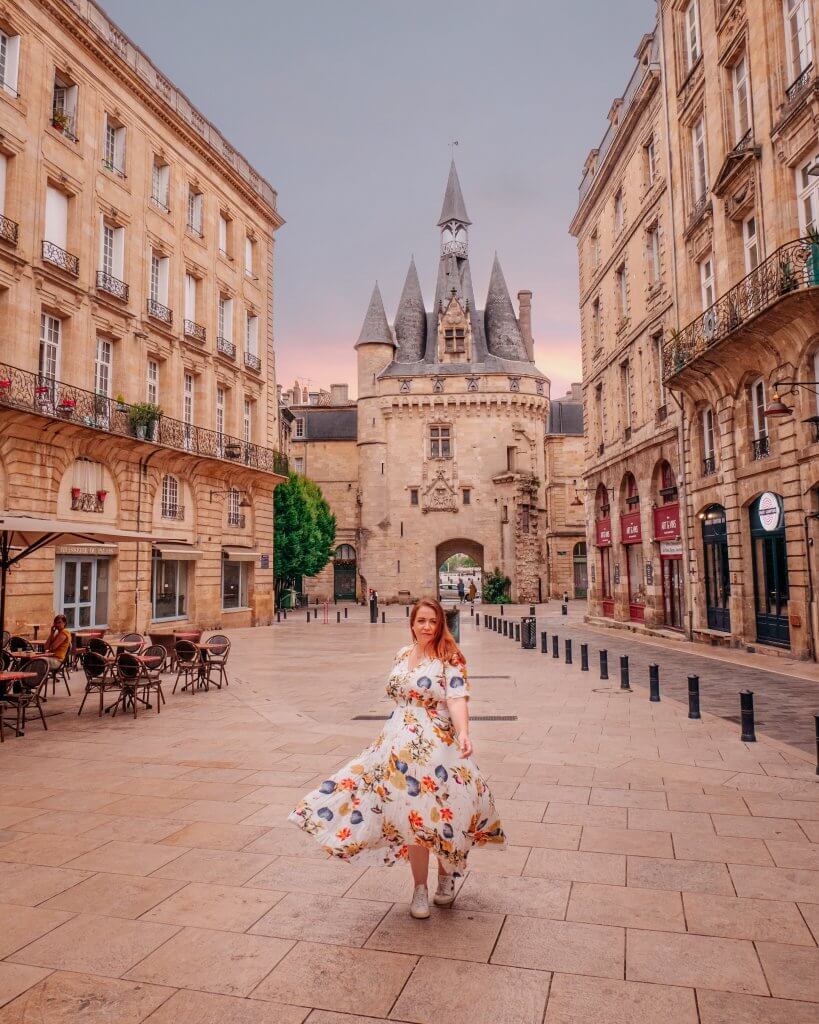 Pointe de Pierre
If you walk beneath Porte Cailhau towards the river, you'll soon see Pont de Pierre, a bridge leading to the other side of the river. It's the oldest bridge in Bordeaux, and was the only bridge to cross the river Garonne until 1965. Designed under Napoleon Bonaparte, Pont de Pierre has 17 arches—one for each letter in Napoleon's full name.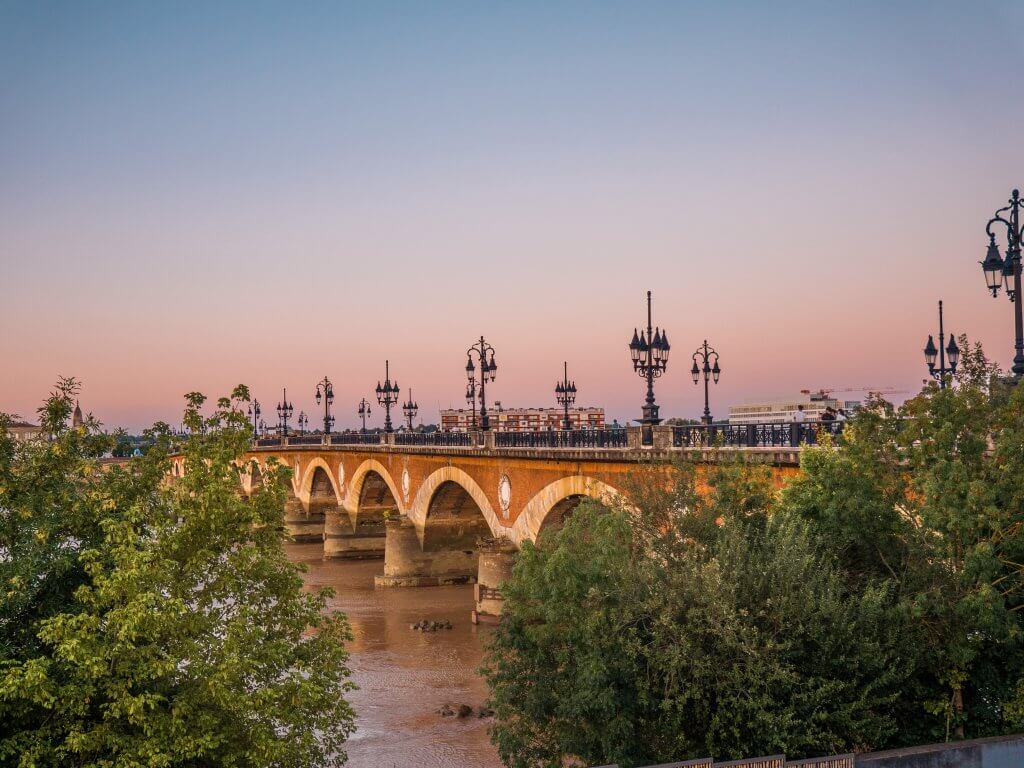 Pont de Pierre is especially beautiful at sunset, and you can get some stunning Instagram photos of the bridge's silhouette against the colorful evening sky. You'll pass by the bridge anyways during the day or if you happen to take a river cruise, but definitely make another stop here at sunset. You won't be sorry!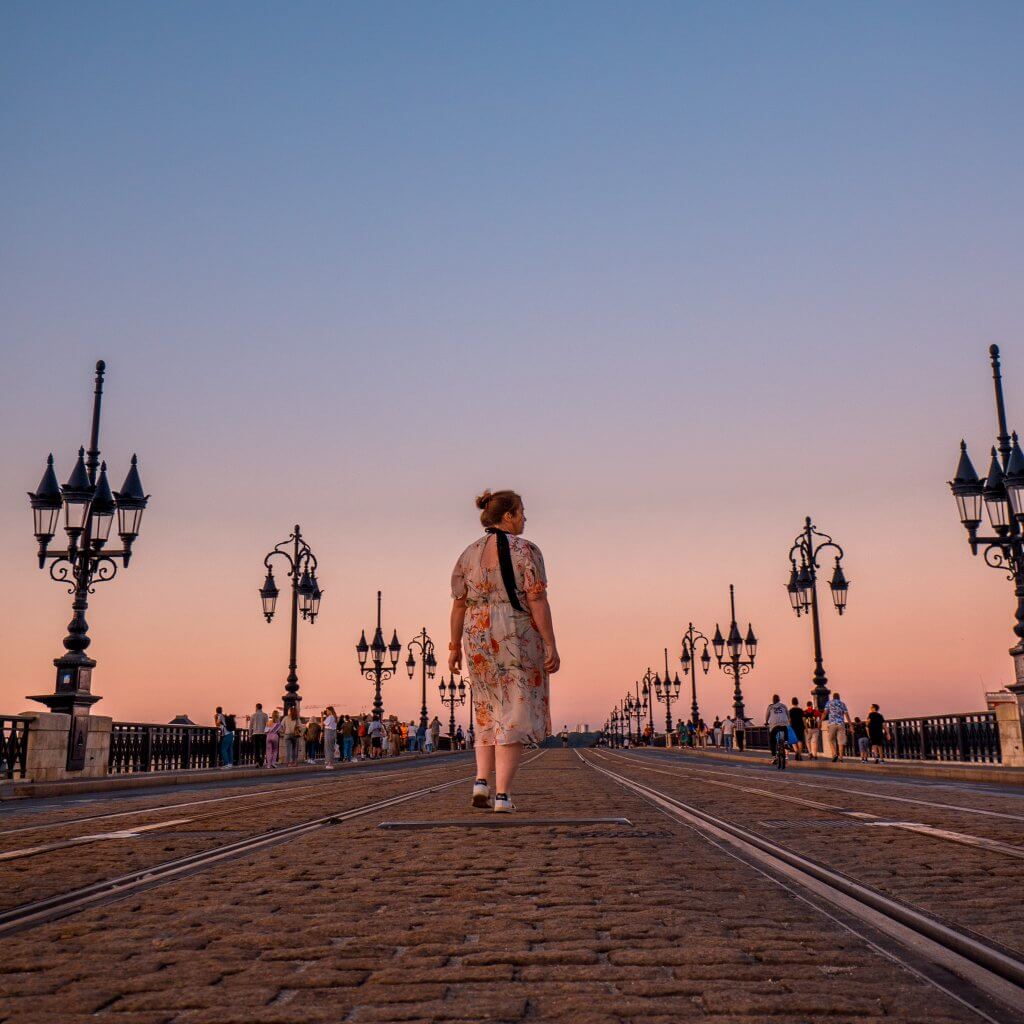 It is also magical to switch perspective and observe Ponte de Pierre from the water.
Miroir d'eau / Place de la Bourse
Miroir d'eau is the world's largest reflecting pool and it is totally ok to splash around in it! It sits just across the road from Place de la Bourse and when it is not thronged with kids splashing about in it you can get some pretty epic reflection shots. We didn't quite master the shot we wanted of the beautiful Place de la Bourse because the lighting was wrong but we did capture this gorgeous church steeple.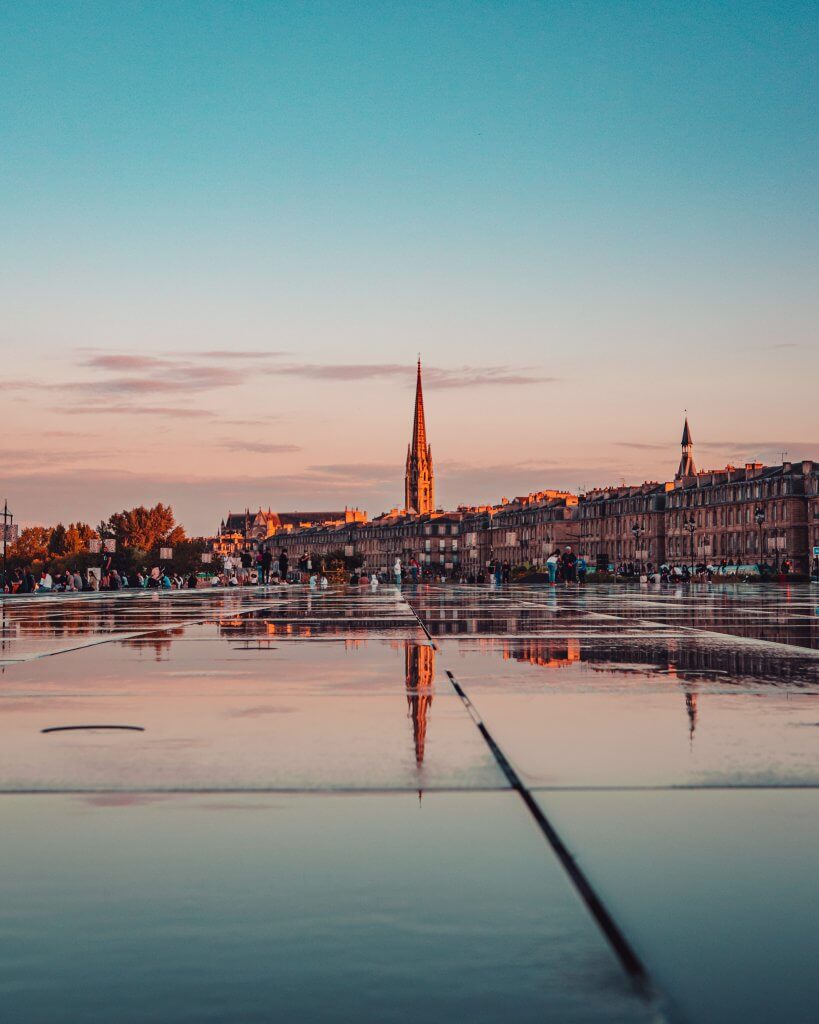 Place de la Bourse has symbolised the city of Bordeaux around the world for centuries and played a major role in the city's development, trade and reputation. It is hugely popular with both the Bordelais and visitors alike adoring this elegant square. Place de la Bourse was originally separated from the river by railings, but these disappeared during the French Revolution. The equestrian statue of the king was briefly replaced by one of Napoleon, followed by the Fountain of the Three Graces in 1869. The latter has been much appreciated ever since and is photographed by tourists from all over the world. So, don't hesitate to head here on day 1 of your Bordeaux itinerary to grab your Instagram worthy shot!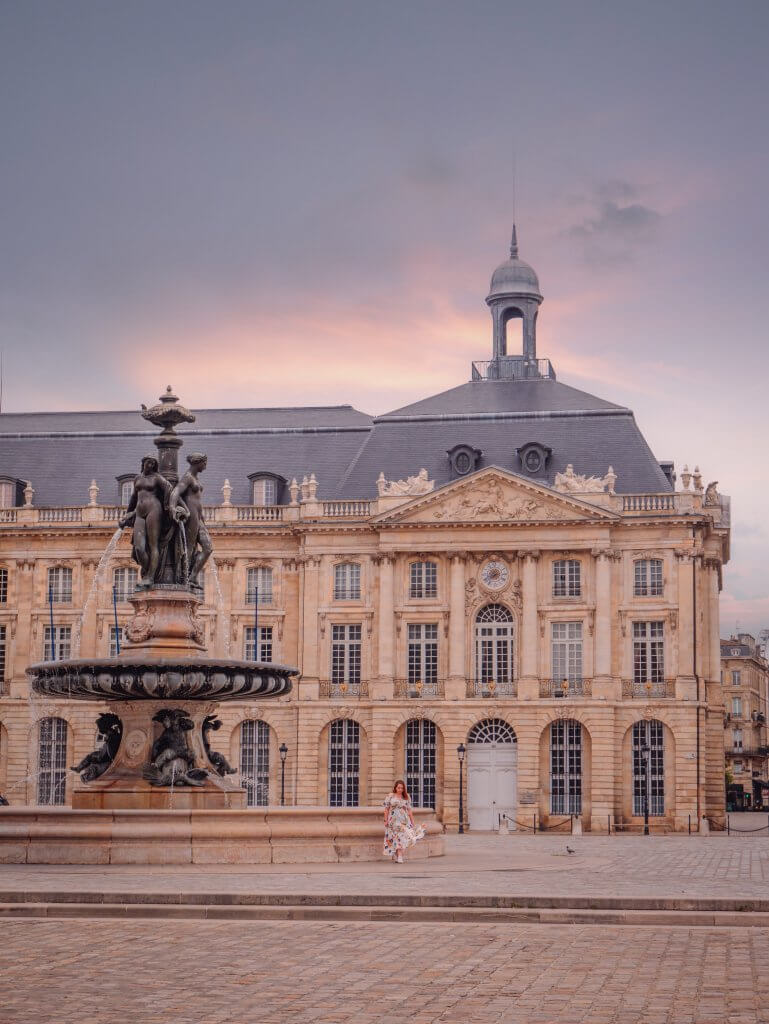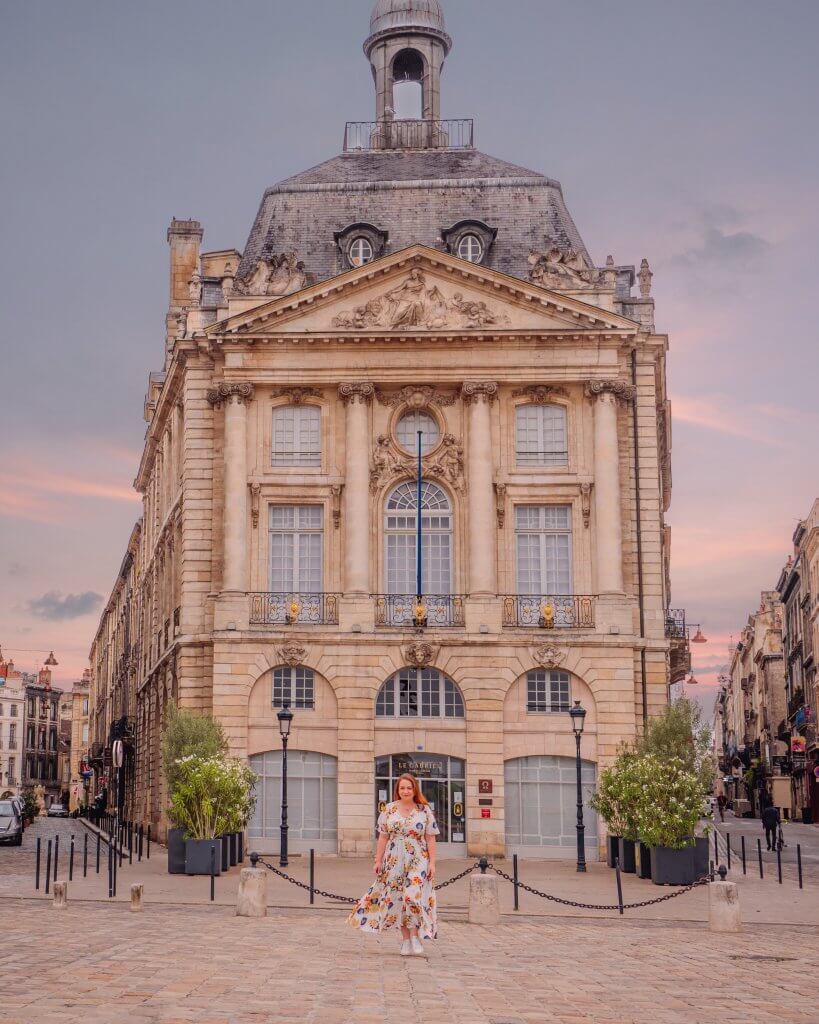 Jardin public
Jardin public is an idyllic spot in the city that isn't too far from the main tourist hub in Bordeaux. You can walk there in fifteen minutes from Place de la Bourse. Since its creation in 1746 it has been a veritable "green lung" in the city centre. The 11 hectares of grass, trees, flowers, and plants also include a children's playground and the famous Guignol Guérin puppet show.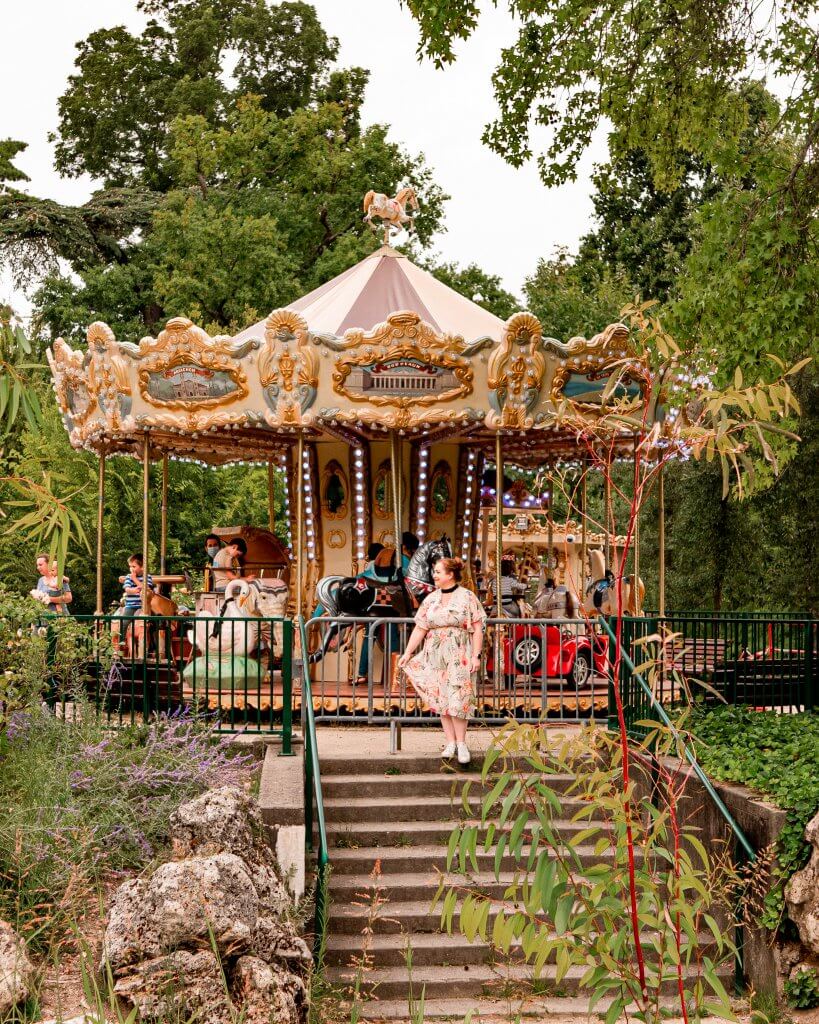 The Jardin Public combines the famous honey-coloured stone of stately 18th century buildings with a relaxed setting in which a pond is surrounded by centuries-old trees. Framed by lovely townhouses, and including a Natural History Museum, a small botanical garden, and a bar-restaurant (L'Orangerie), the Jardin Public has been classified a Jardin Remarquable de France. It is a gorgeous place for those wanting to relax and step away from the hustle and bustle of the city.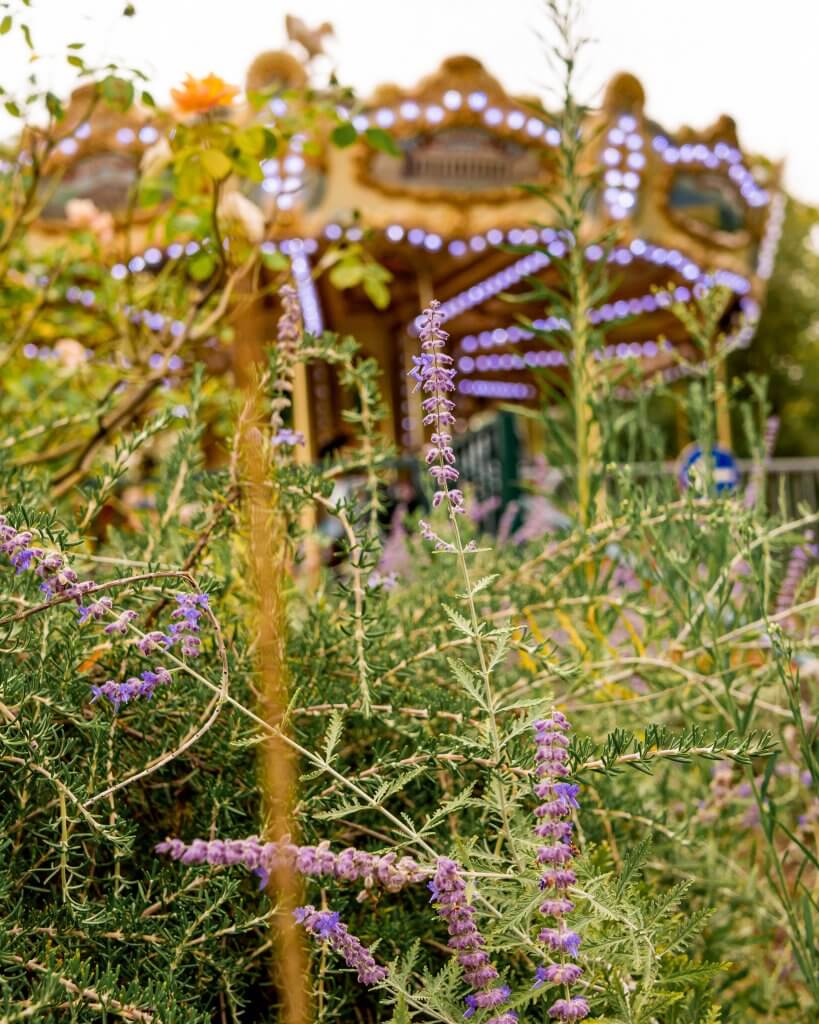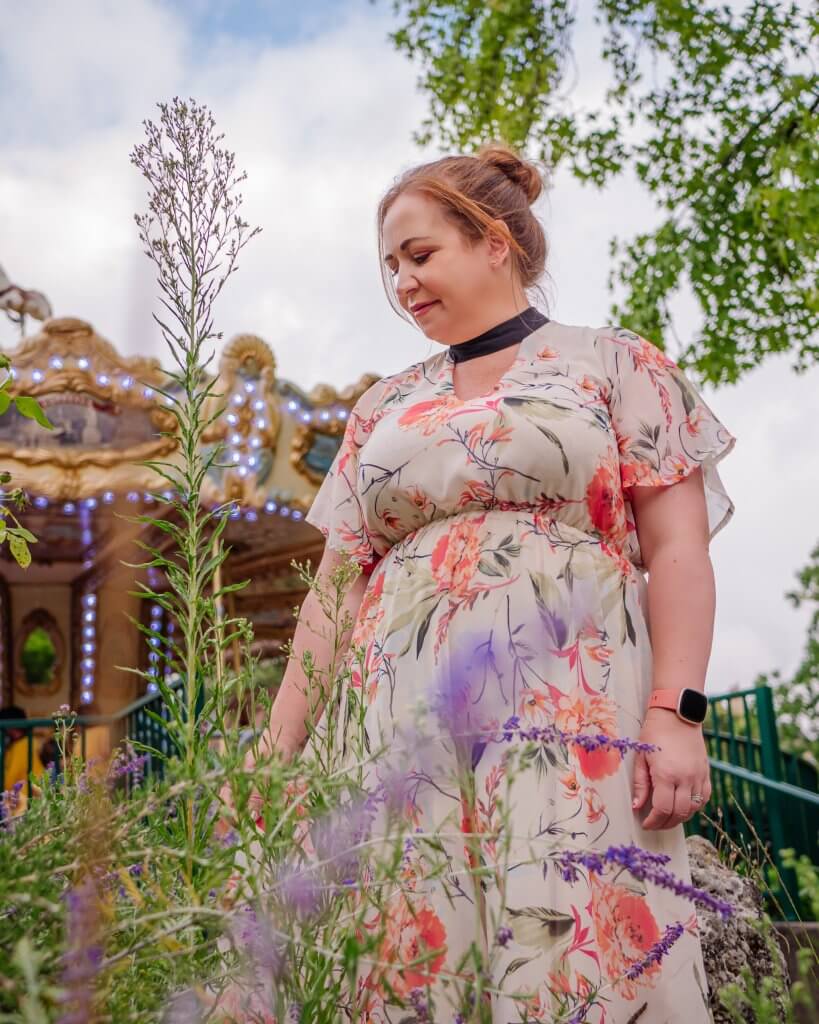 Cité du Vin
You will definitely need to use your city pass to visit the Cité du Vin, Bordeaux's very own wine museum. It is the furthest located of all of the best Instagram spots in our Bordeaux itinerary but it is most certainly worth a visit. See I promised you there would be wine!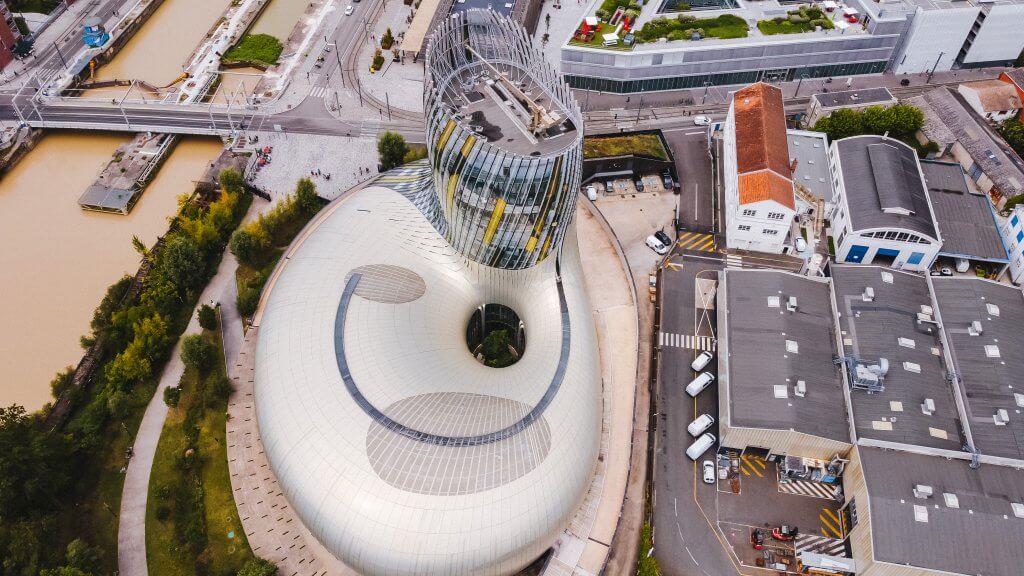 You can learn all about the history of wine and see how wine is made in the world's most renowned vineyards all around the world in an immersive exhibition at the Cité du Vin. You can take the tram line C or walk along the river (this will take about 1 hour) to reach the museum, and if you arrive before 12pm you will have free entry with your city pass, otherwise there is an additional charge. The best bit is getting to take the lift to Le Belvédère to choose a free glass of wine and enjoy 360° views of the city.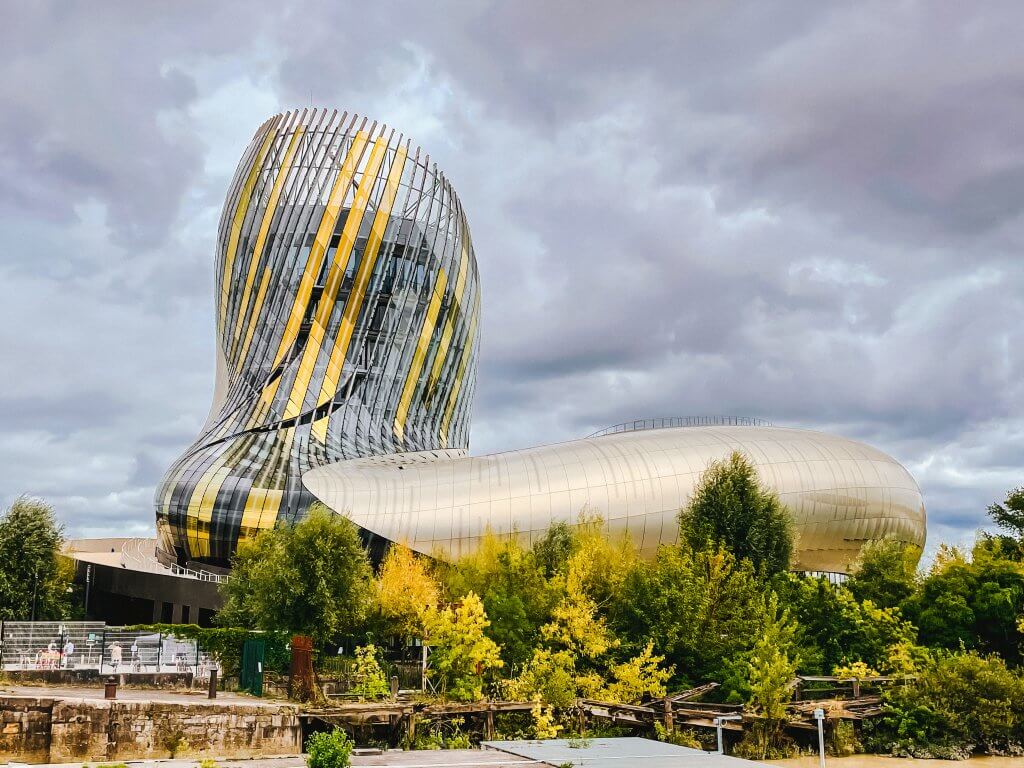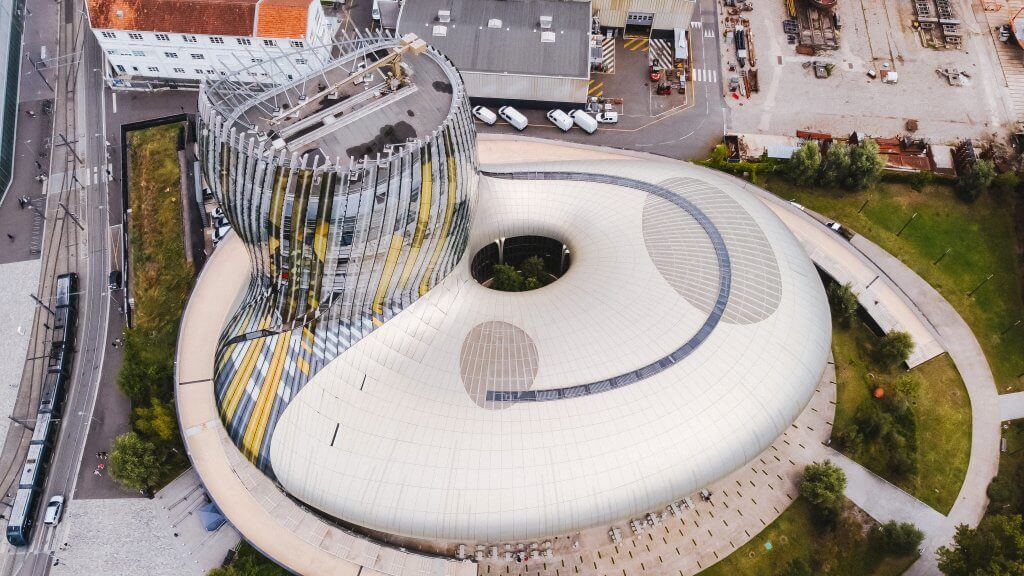 Suggested Bordeaux itinerary, Day 2
Grosse cloche (Big Bell)
The Grosse Cloche is one of the oldest belfries in France. The Latin inscription on the inside of the Grosse Cloche (literally "Big Bell") reads "I ring the hours and my voice is a call to arms, I sing for happy events and weep for the dead". The bell was cast in 1775 and weighs no less than 7,750 kilos! Christened "Armande-Louise", it rings 6 times a year for major celebrations such as Bastille Day, VE Day, and Remembrance Day and also the first Sunday of each month at noon.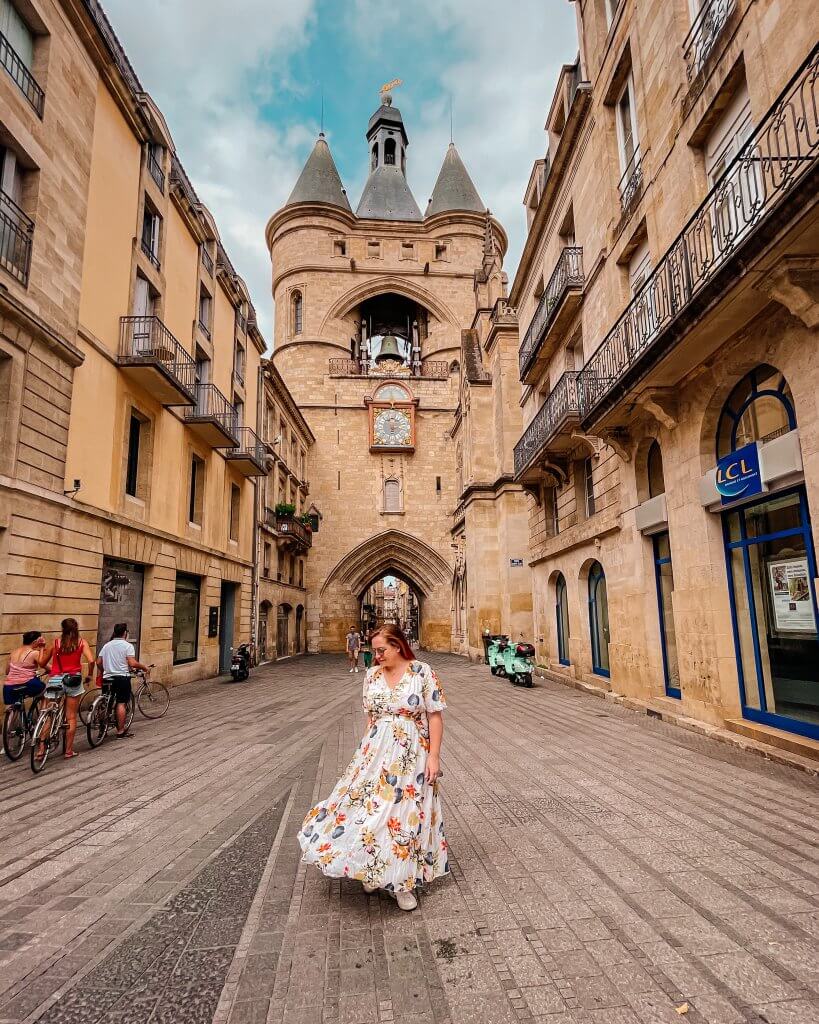 The gateway where the bell is hung also had a defensive purpose and served as a prison. Young people who misbehaved were confined there, shut in by a door 10 cm thick with enormous bolts. This gateway is open for visits. You have to book in advance but a guide can show you the strange dungeons still haunted by the memory of people who did not respect curfew or public order.
Cathédrale Saint-André (Bordeaux Cathedral)
Anyone that knows me knows that even though I am not religious I do love visiting churches in the cities that we visit. My mum died suddenly at my sister's wedding. She was only 55 and, like me, loved to travel so I always light a candle for her. It is my way of bringing her along on my travels with me. She was a huge support to me when I couldn't travel because of my Lyme disease and I would love to be exploring the world with her again.
Anyway I have gone off track but this cathedral is beautiful and is well worth a visit. If you are looking for the perfect Instagram spot in Bordeaux head to the Gambetta tram stop for a picture perfect view of the Cathedral.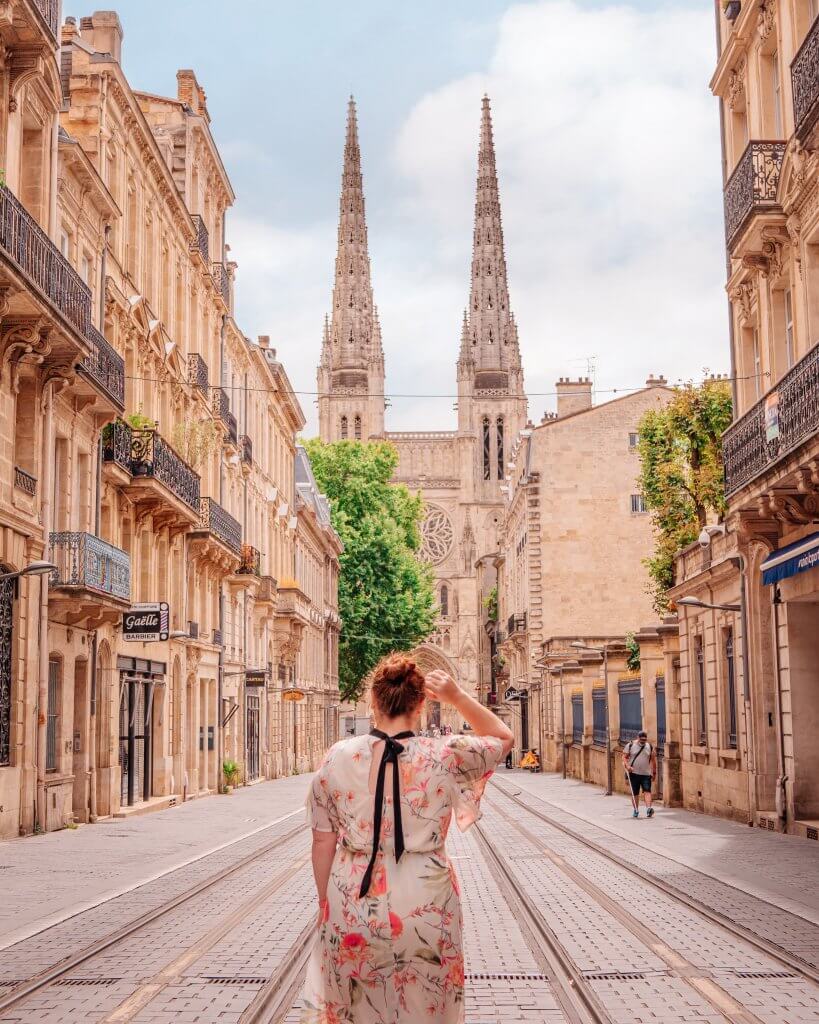 You can also climb the cathedral's Pey Berland Tower for a bird's eye view of the city or head to Rue du Loop to check out the thrift shops and capture another viewpoint of the tower.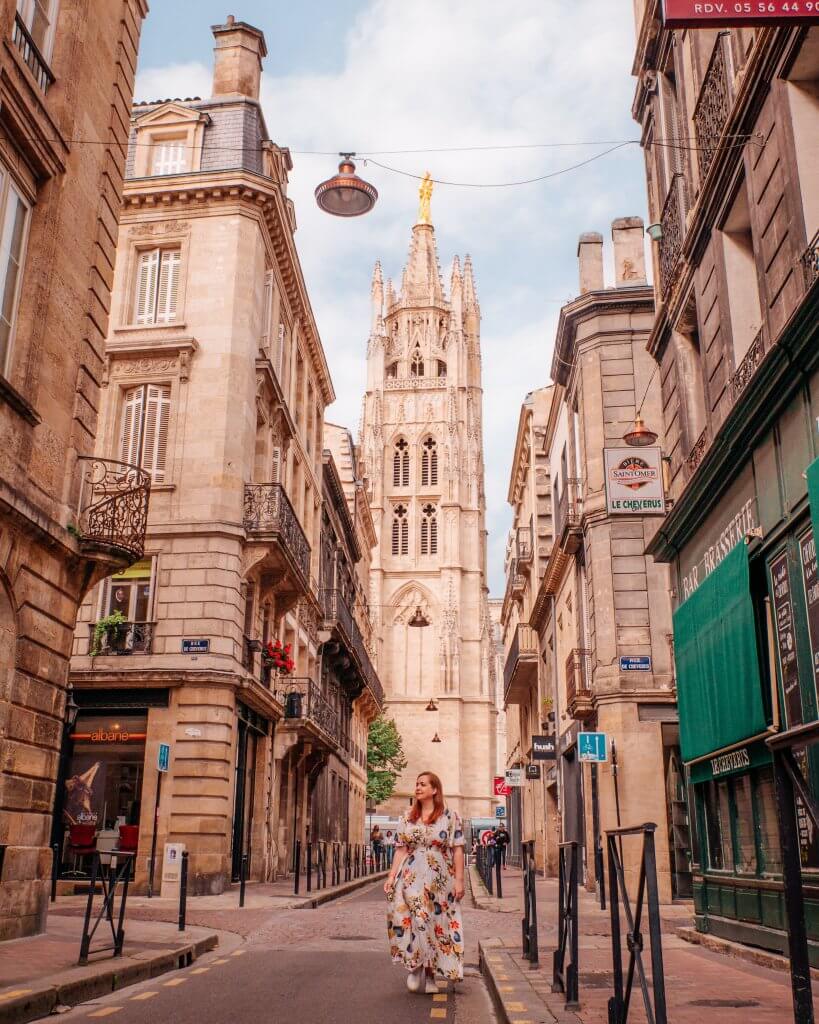 Promenade Sainte Catherine
Promenade Sainte Catherine is a two-tiered shopping plaza just off the main shopping street Rue Saint Catherine. It has cafes, a central courtyard and a vibrant atmosphere and is also home to one of the best Instagram spots in Bordeaux. I am a very visual person and I love hunting down the best Instagram spots in a city. You can find our best Instagram spots in Belfast, Warsaw, Venice and New York also on our site.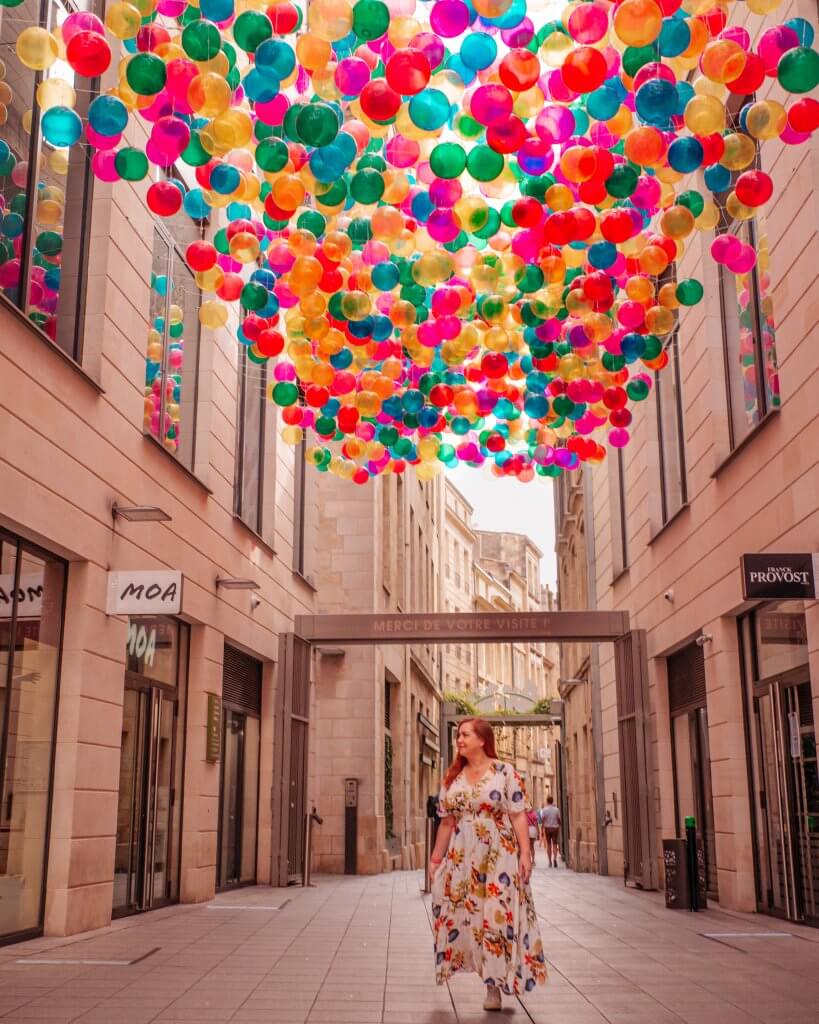 Galerie Bordelaise
Nearby you can dip into 19th century Bordeaux, in this old-world, covered shopping arcade that is considered to be one of the most beautiful shopping passages in France. The gallery is decorated with marble columns and elaborate gilt finishing and is closed at both ends by intricate wrought iron gates. It really feels like stepping back in time here.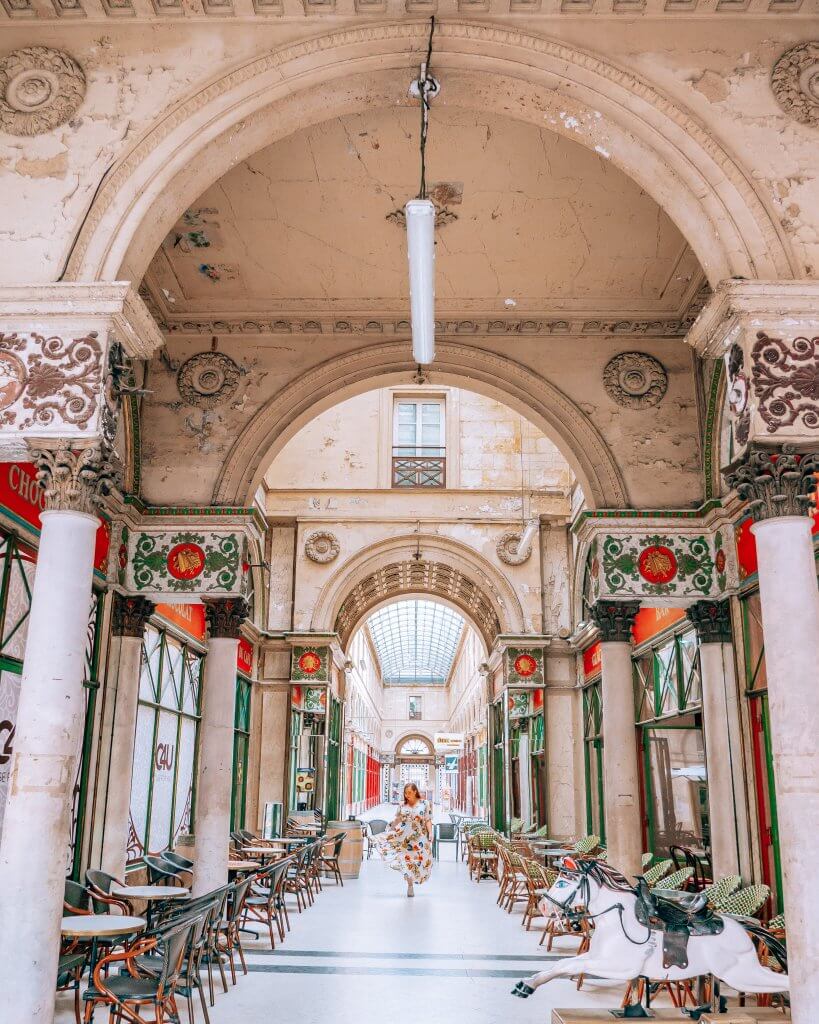 Rue des Palanques
You will find another hidden gem and perfect Instagram spot in Bordeaux at the end of the cobbled street Rue des Palanques just across the road from the cathedral. It's a quiet pedestrian road leading to a small Protestant church at the end of the street. The blue door of the church and the white stone buildings make for a charming backdrop and will look really good on your Instagram feed.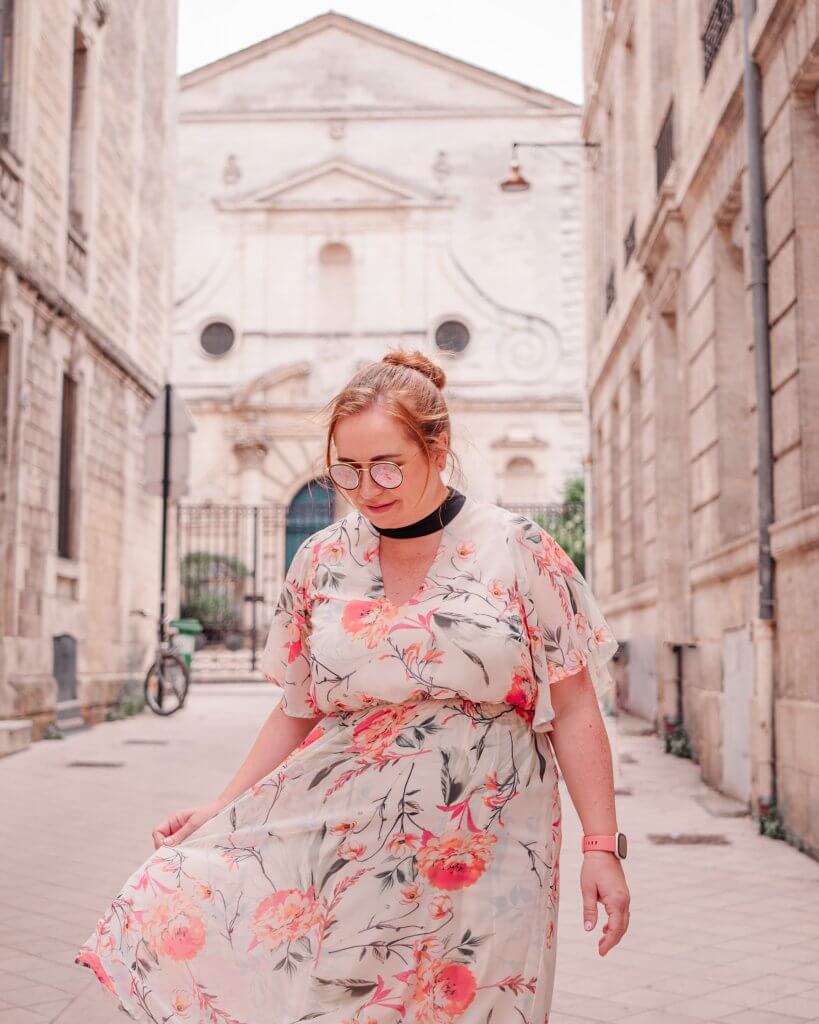 InterContinental Bordeaux le Grand Hôtel
At the end of Rue Saint-Catherine, you'll find Place de la Comédie, which is home to a couple of impressive buildings, including this 5-star hotel.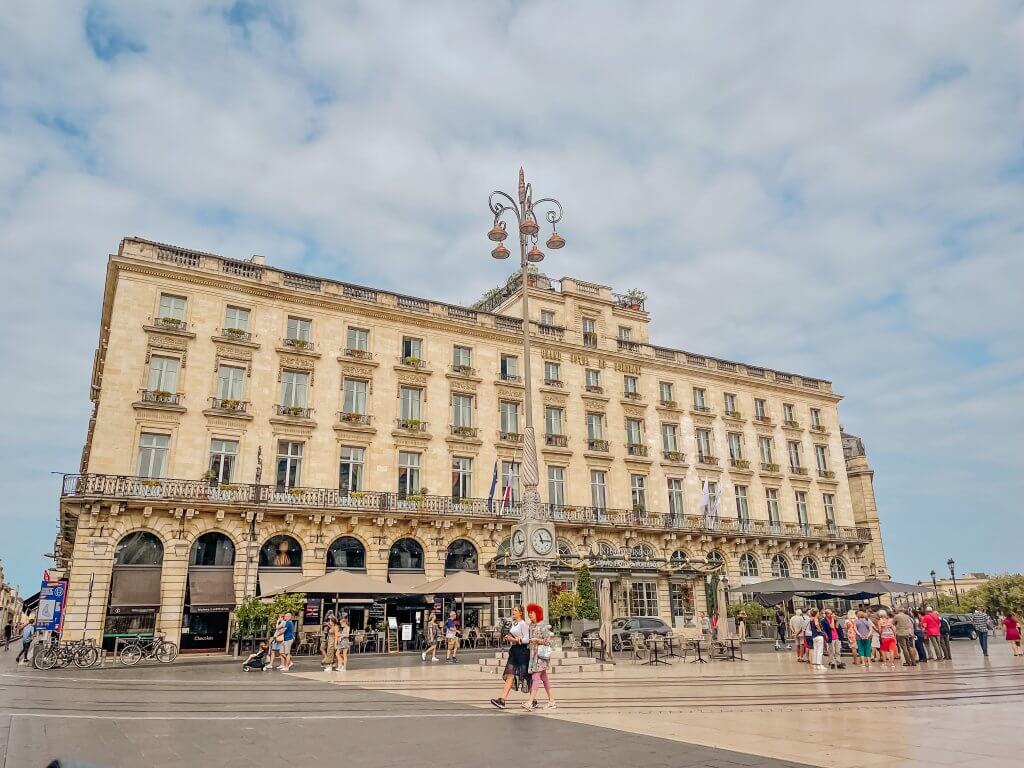 Église Notre-Dame de Bordeaux
Take the first right just after the InterContinental Bordeaux le Grand Hôtel and you will stumble upon the picturesque spot of Église Notre-Dame de Bordeaux. It is the perfect photo opportunity…I just can't guarantee the mint green Vespa!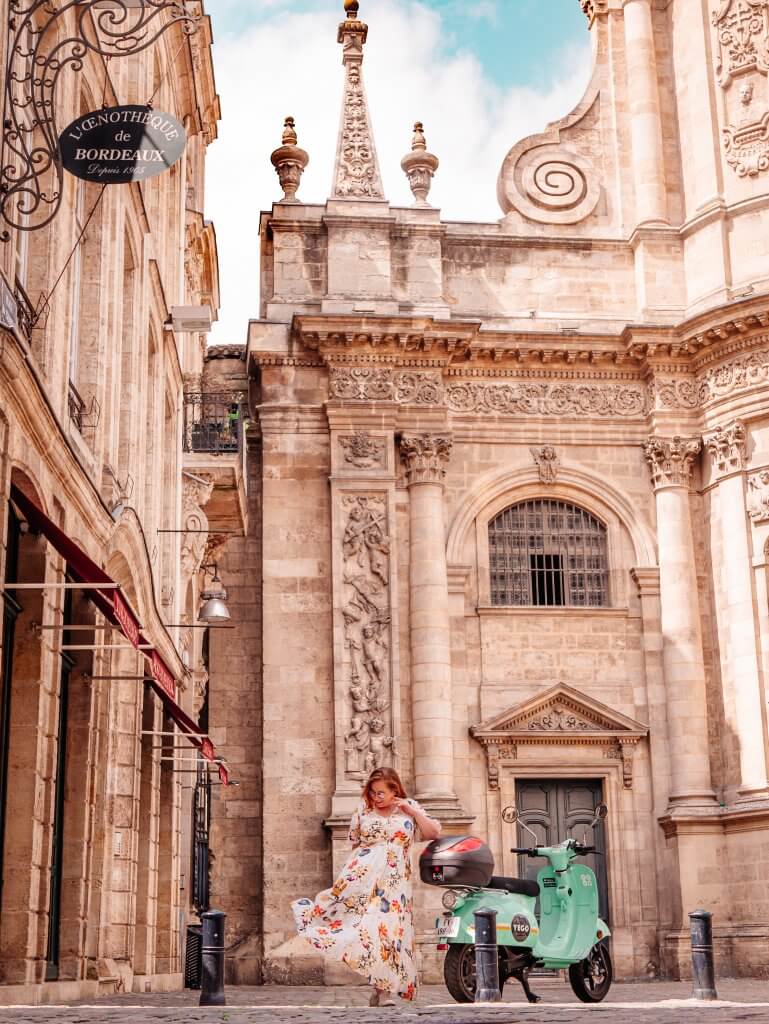 Notre Dame is the most baroque and Romanesque-style church in Bordeaux. The church and Cour Mably (Mably Courtyard) are the only vestiges of a Dominican monastery going back to the 13th century. The chapels feature numerous trompe-l'œil decors as well as a series of 10 religious paintings by Brother André (1662-1735). Dating from the 19th century, the beautiful stained glass windows are attributed to the master Bordeaux glassmakers Villiet and Hutrel. It is a must see on day 2 of your Bordeaux itinerary.
Cute Instagram Spots in Bordeaux
If you haven't already gathered Bordeaux is full of cute Instagram spots and these places are some of my favourites.
On 4 Rue du Pas-Saint-Georges you will find the charming crêperie La Fromentine.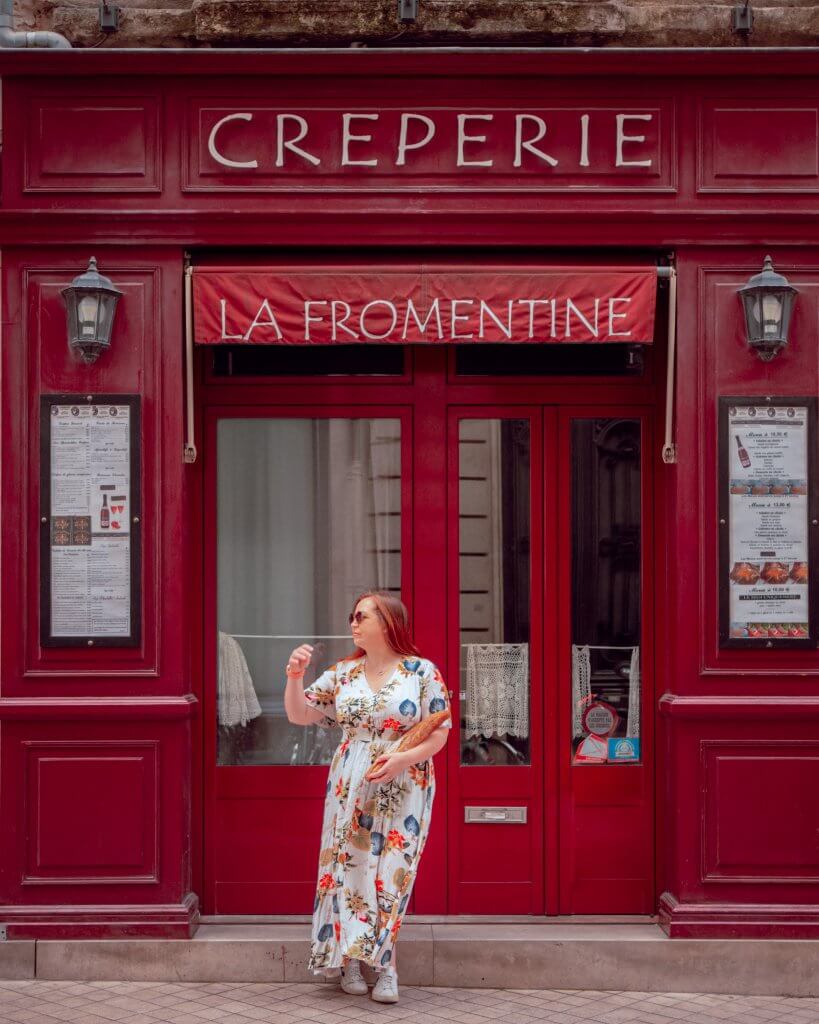 Another Insta-worthy spot is Mama Shelter, a trendy hotel and rooftop bar where you can enjoy a glass of that famous Bordeaux wine with the best views of the city. It is also a place that I recommend to stay in Bordeaux during your time there.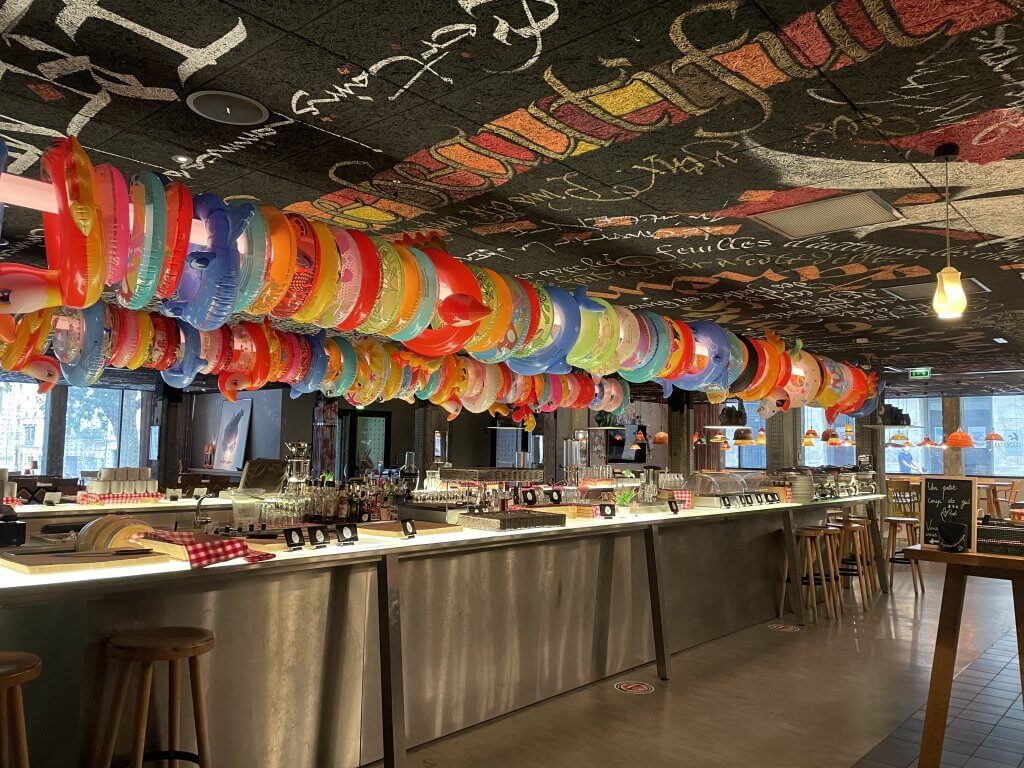 We also have a full guide on where to stay in Bordeaux city centre during your 2 days in Bordeaux so make sure that you check that out when planning your trip.
After exploring Porte Cailhau go to 20 Place du Palais where you will find a cute little Italian restaurant Chiocchio. The homey decor and ambiance makes visitors feel relaxed here and the food is equally as delicious.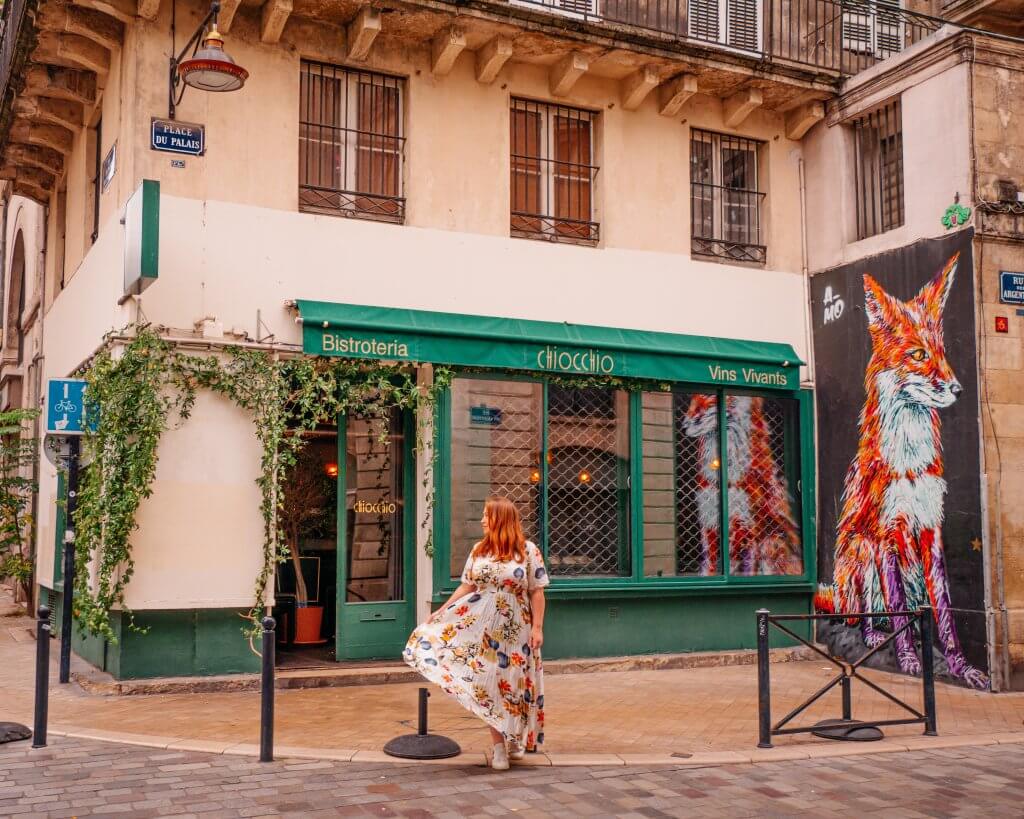 Another great spot to eat in Bordeaux that also doubles up for a cute Instagram photo is Le Michel's located on 15 Rue du Pas-Saint-Georges. I highly recommend this spot for lunch. On a warm summer day you can just sit out on the footpath dining area and people watch while enjoying great food and wine.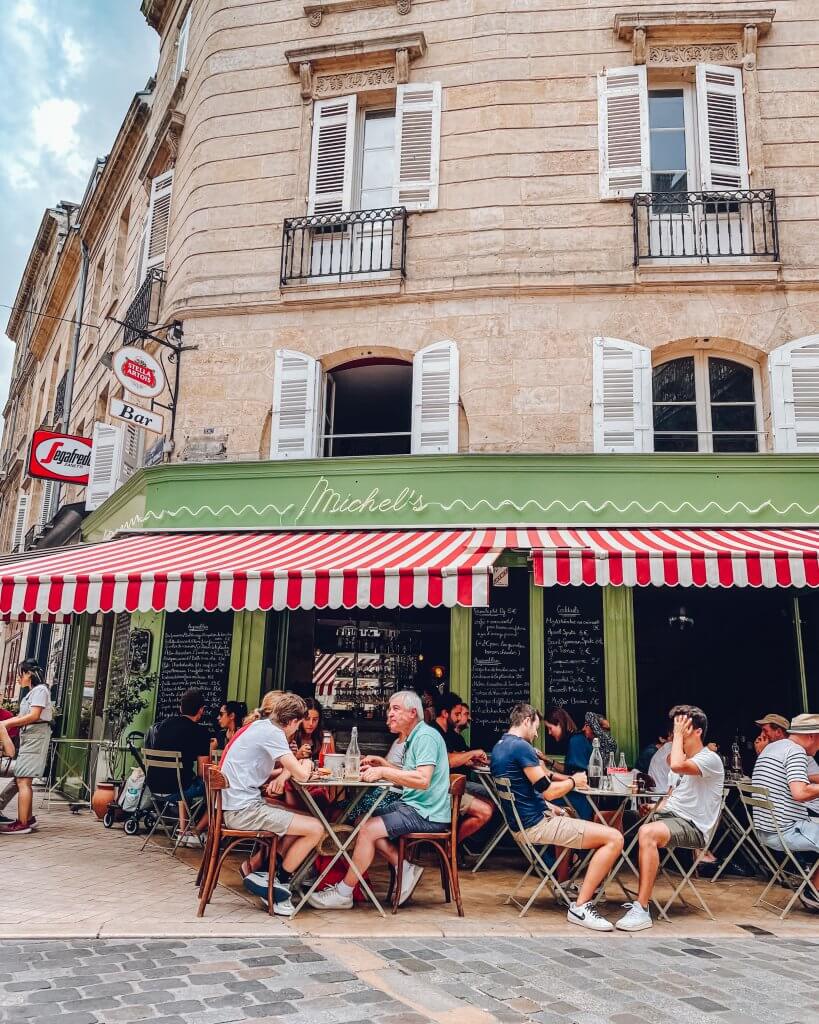 Can you really see Bordeaux in 2 days?
A two day Bordeaux itinerary isn't a lot of time but it is more than enough to see the best of what Bordeaux has to offer. With limited time to travel, a weekend in Bordeaux can be just the right amount of time to fall in love with The World Capital of Wine. Hopefully I have inspired you to add Bordeaux to your travel bucket list.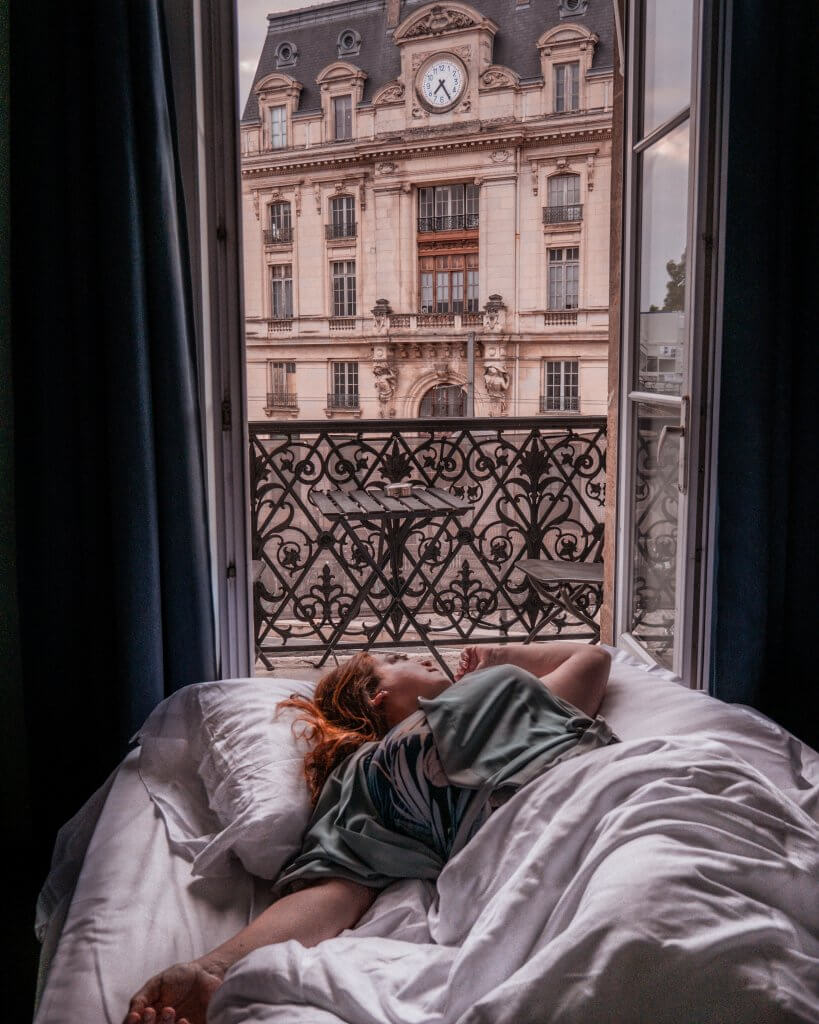 Are you new here? Join thousands of other happy readers and subscribe to All about RosaLilla blog via email. The good news is that by signing up via email you will get exclusive travel deals straight to your inbox. The only other place that we publish these deals is on Instagram stories, so be sure to signup to get the heads up on amazing travel deals to save you money when booking.
I also share everything about myself on Instagram with nothing held back so be sure to follow along there.
If you liked this you may also like:
10 reasons why Vilnius should be your next city break
Until next time you crazy kids!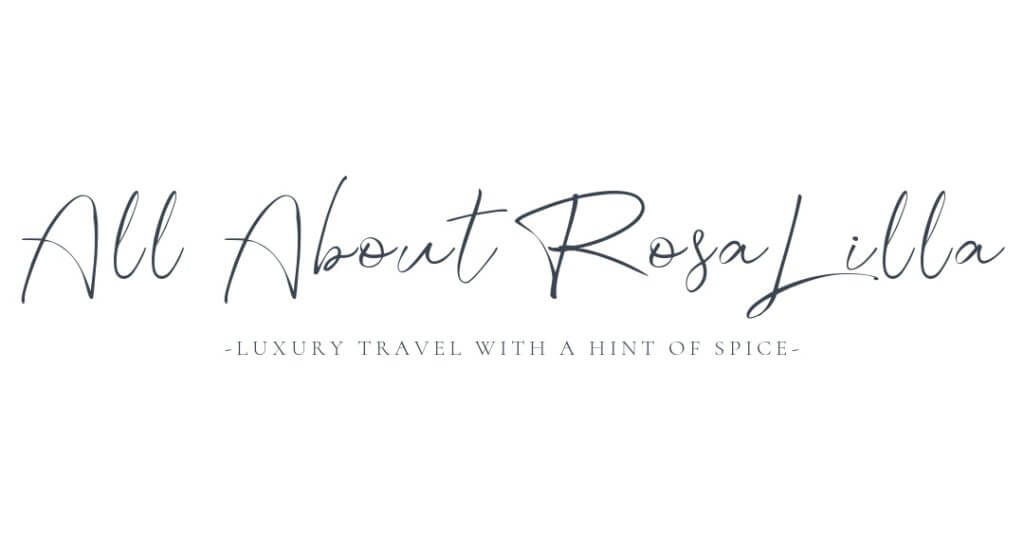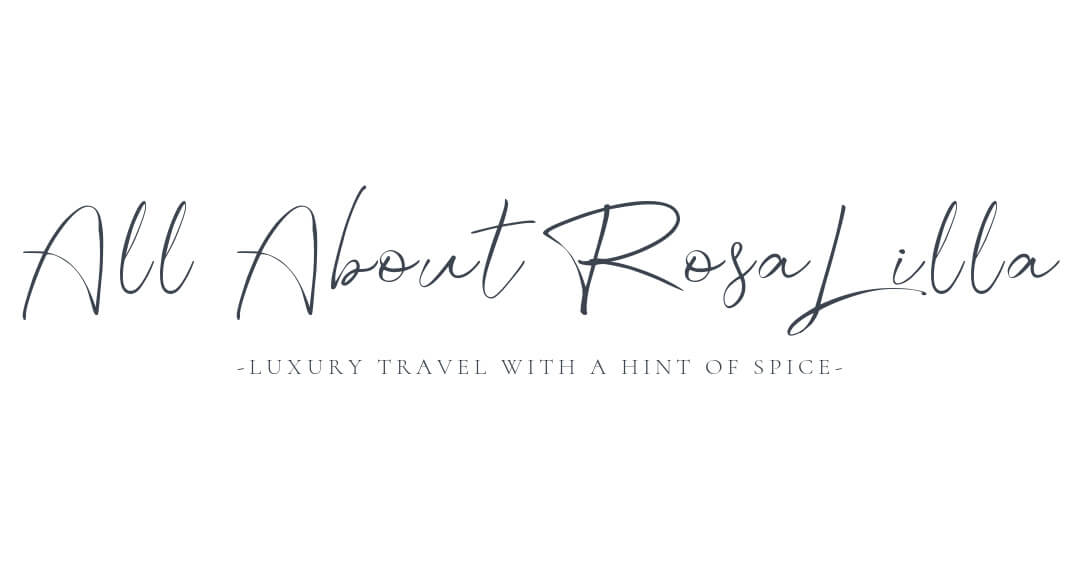 Sharing is sexy!