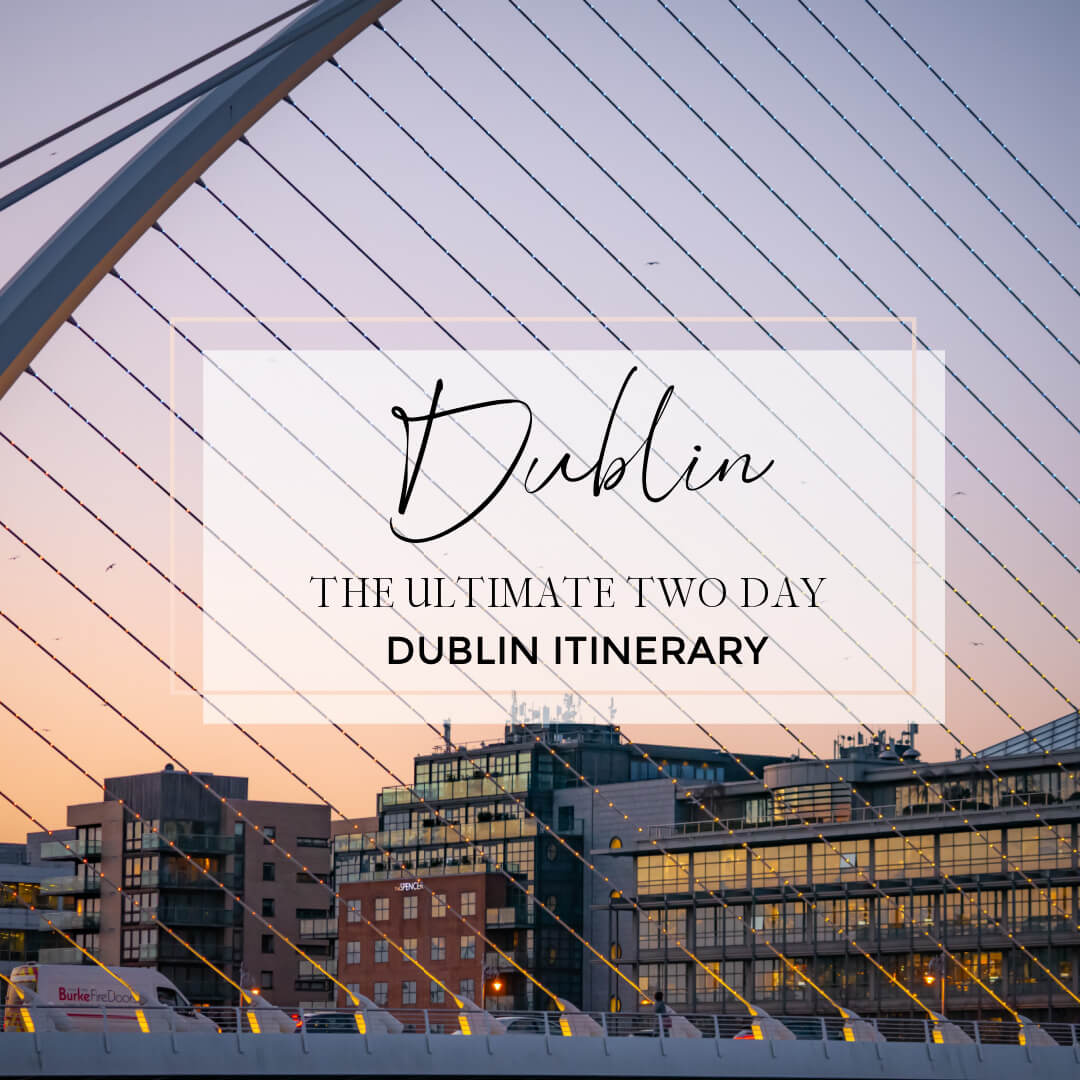 Dublin is generally the first stop for visitors coming to Ireland. The capital of the Emerald Isle is a buzzing, vibrant and atmospheric city with amazing pubs, friendly people, history and that all important Irish craic. With so many things to do it can be hard to narrow it down and decide what you must do in your 48 hours in Dublin. Being Irish, myself and Mister Lavin know all the best spots that you just can't miss on your 2 days in Dublin and we have come up with the ultimate 2 days in Dublin itinerary to help you plan your Dublin trip.
How to get to Dublin city centre from Dublin airport
This vibrant city, once run by the Vikings, is the bustling capital of Ireland and as such you will find the country's main airport located here. The easiest and most convenient way to get into Dublin city centre is to take the Aircoach which will drop you off on Dublin's famous O'Connell street and will cost €7 for a one way ticket.
The 41 bus is also a great option to get into the city centre from the airport, especially if you are on a budget. The route runs 24 hours and tickets can be purchased using a leap card which can then be topped up during your 2 days in Dublin.
Taxi's are also available to get you directly into the city centre but they are notoriously expensive in Dublin.
How to get around Dublin on your 2 day Dublin itinerary
My favourite way to explore any city is on foot and it is very easy to walk around Dublin to see all of the city's major sights. Choose accommodation right in the centre of Dublin to allow you to maximise your 2 day Dublin itinerary and allow you to explore on foot.
Another great way to get around Dublin with the added benefit of a guide is Dublin's Hop on/ Hop off bus. You will have your choice of two routes, with twenty-eight stops at a variety of landmarks and attractions around Dublin so it is a great way to get around the city.
Public transportation is quite good in Dublin. Along with a good public bus service, there is the DART and the Luas. The Luas (which is the Irish word meaning speed) is a tram/light rail system that connects suburban parts of Dublin on two tramlines, which run through the city centre. You can use a leap card mentioned above for Dublin Bus, DART and Luas services making them an easy way to get around the city.
Another fun way to explore Dublin city in 2 days is to rent a bike from Dublin bikes. The best bit is that it is free for the first 30 minutes and there are numerous pick-up and drop-off locations throughout the city. Simply download the app NOW dublinbikes (Android/IOS) and have fun making your way around Dublin city on a bicycle.
Taxi's are another way of getting around but they can be pricey. If you do decide to explore the city by taxi be sure to download the FREE now app (Android/IOS). It is also possible to do your bit for the environment and reduce your carbon footprint by selecting an eco/electric taxi at no extra cost to you.
Top Tip: you can hail a taxi from the street in Dublin once the light is on and the taxi is available for pick-up. You must wave your hand towards the road otherwise the taxi will just drive past. You can also stop buses (at bus stops) this way to let them know that you wish to embark.
Where to stay for two days in Dublin?
Picking the perfect base is key to optimizing your 2 days in Dublin and will make sure that you get the most out of your Dublin trip.
Here are my favourite hotels in Dublin to spend a weekend.
Aloft Dublin City Hotel
Set practically across the road from St Patrick's Cathedral, Aloft Dublin City is the perfect base for exploring Dublin and offers a rooftop bar, restaurant and panoramic views of the city. The property is located very close to both the Guinness Storehouse and St. Stephen's Green.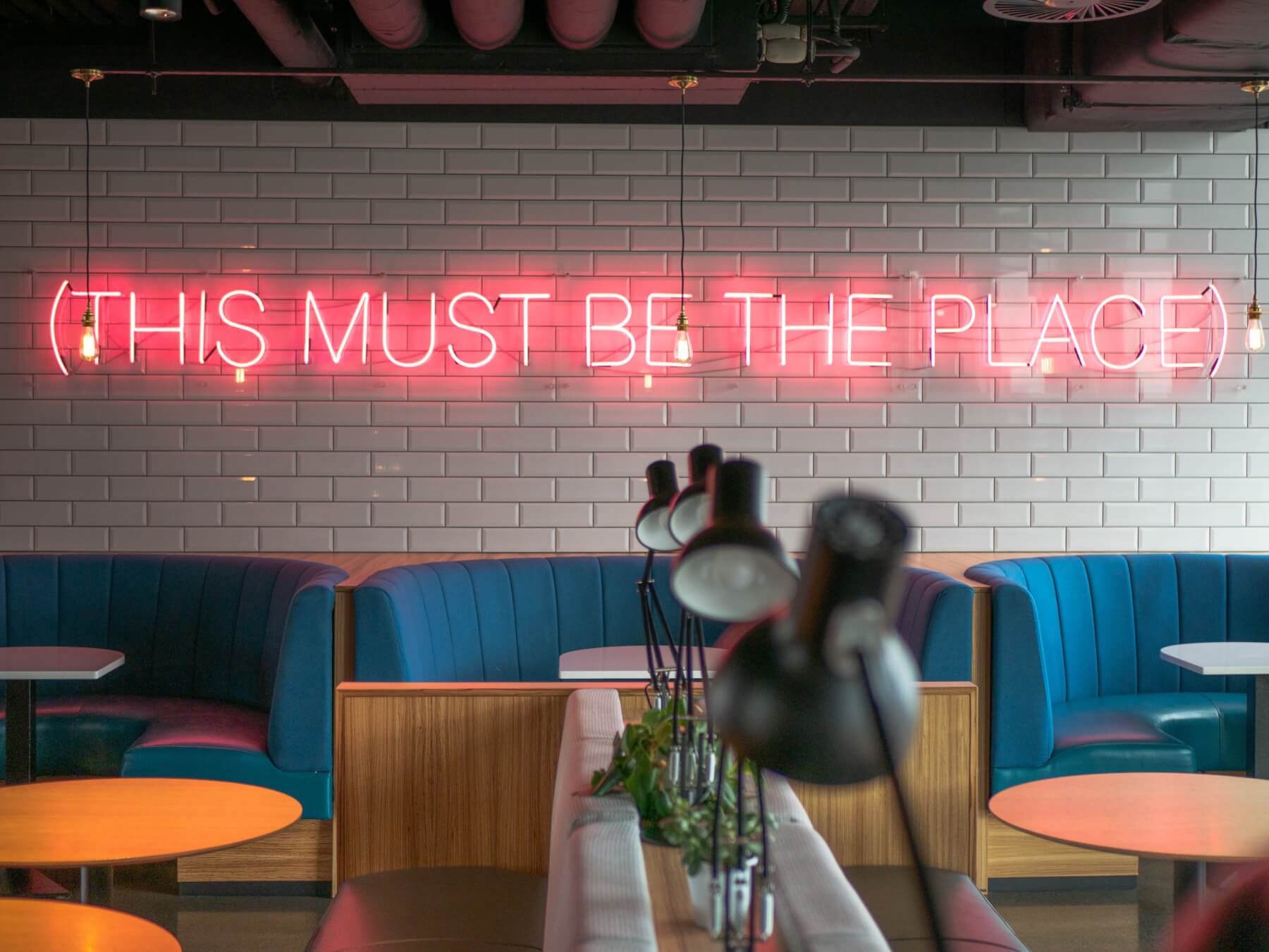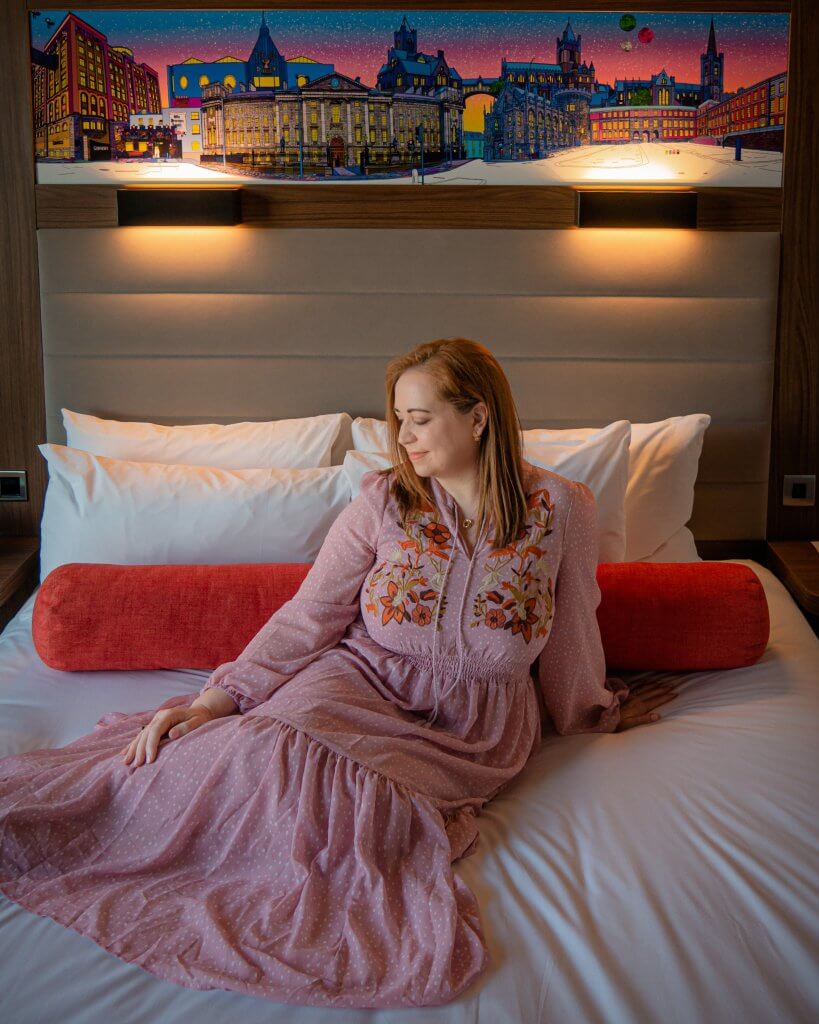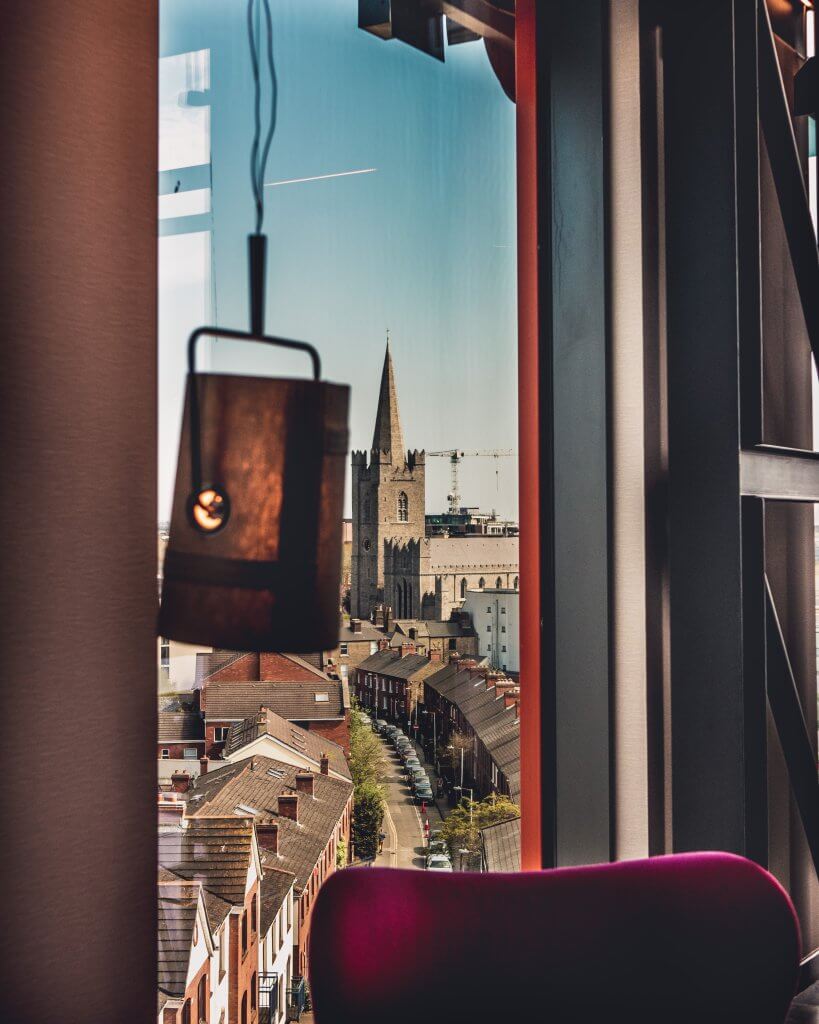 Trinity Townhouse Hotel
If you are looking for an ideal city centre location you can't get much more central than Trinity Townhouse Hotel, just a stone's throw from Grafton Street. Located in a beautiful Georgian townhouse this hotel is the perfect place to unwind after a day exploring the best of Dublin's tourist attractions.
Their spacious bedrooms have been designed in Georgian style, with a contemporary twist. Features have been carefully preserved with authentic architectural details and warm decor. Originally built as private residences in the 1730s, the carefully refurbished Townhouse captures the elegance and graciousness of past times, combined with contemporary style and modern-day comfort to ensure that you have the perfect stay in Dublin.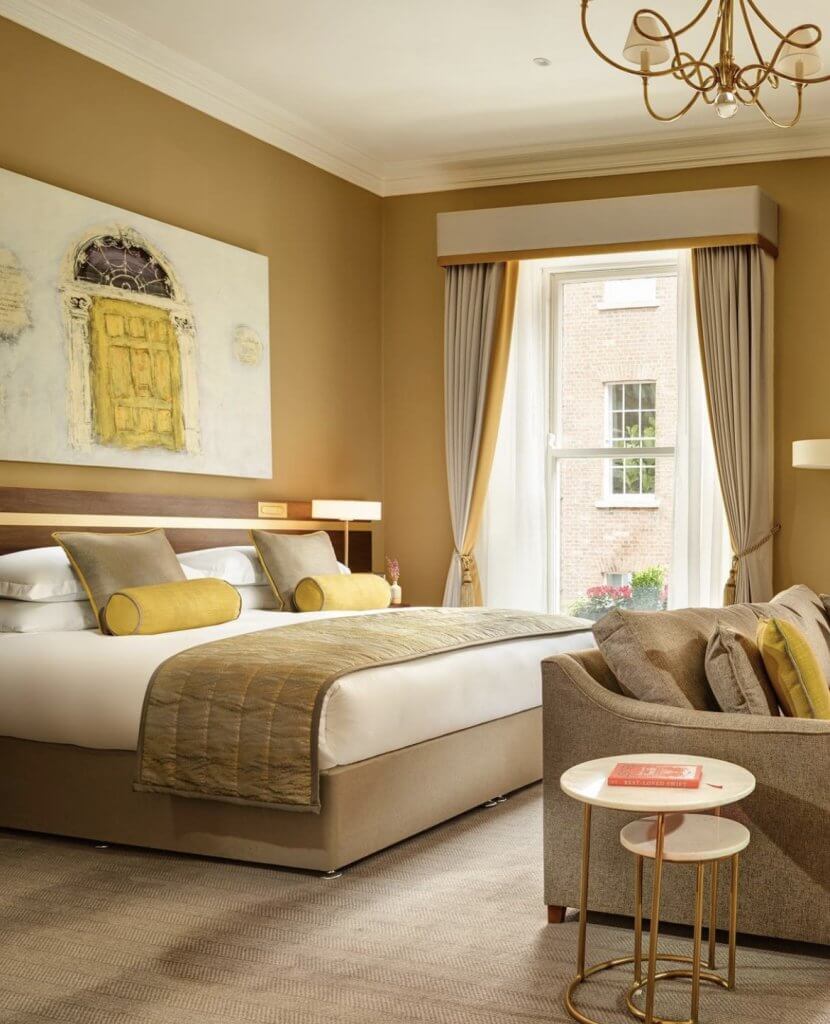 If you happen to be travelling to Ireland with a group of family or friends then you are going to want to check out our guide on 25 of the best Airbnbs for groups or family gatherings.
Can you see Dublin in 2 days?
Two days in Dublin is the perfect amount of time to get a taste of the city and get to see the main tourist attractions in Dublin. If you are visiting Ireland for a week, 10 days, two weeks or even longer then I don't recommend spending much more than 2 days in Dublin. Ireland is so beautiful and you will really want to explore places like Kerry, Clare and The Wild Atlantic Way, spend a weekend in Galway or even explore the hidden gems of the Antrim Coast.
Dublin city is compact and most of the main tourist attractions are within walking distance of each other so 2 days in Dublin is more than enough. But if you do have more time to spend in Dublin then I recommend checking out the seaside villages of Dalkey and Howth (you can get the DART out).
Day one: of your 2 days Dublin itinerary
Trinity College & the Book of Kells
Your first stop on Day 1 has to be Trinity College to see the world famous Book of Kells. It is a popular spot with tourists so it is best to book your ticket in advance and get there just as it opens.
Trinity College dates back to 1592 and it is worth taking some time to explore the campus and admire the beautiful architecture of the buildings there.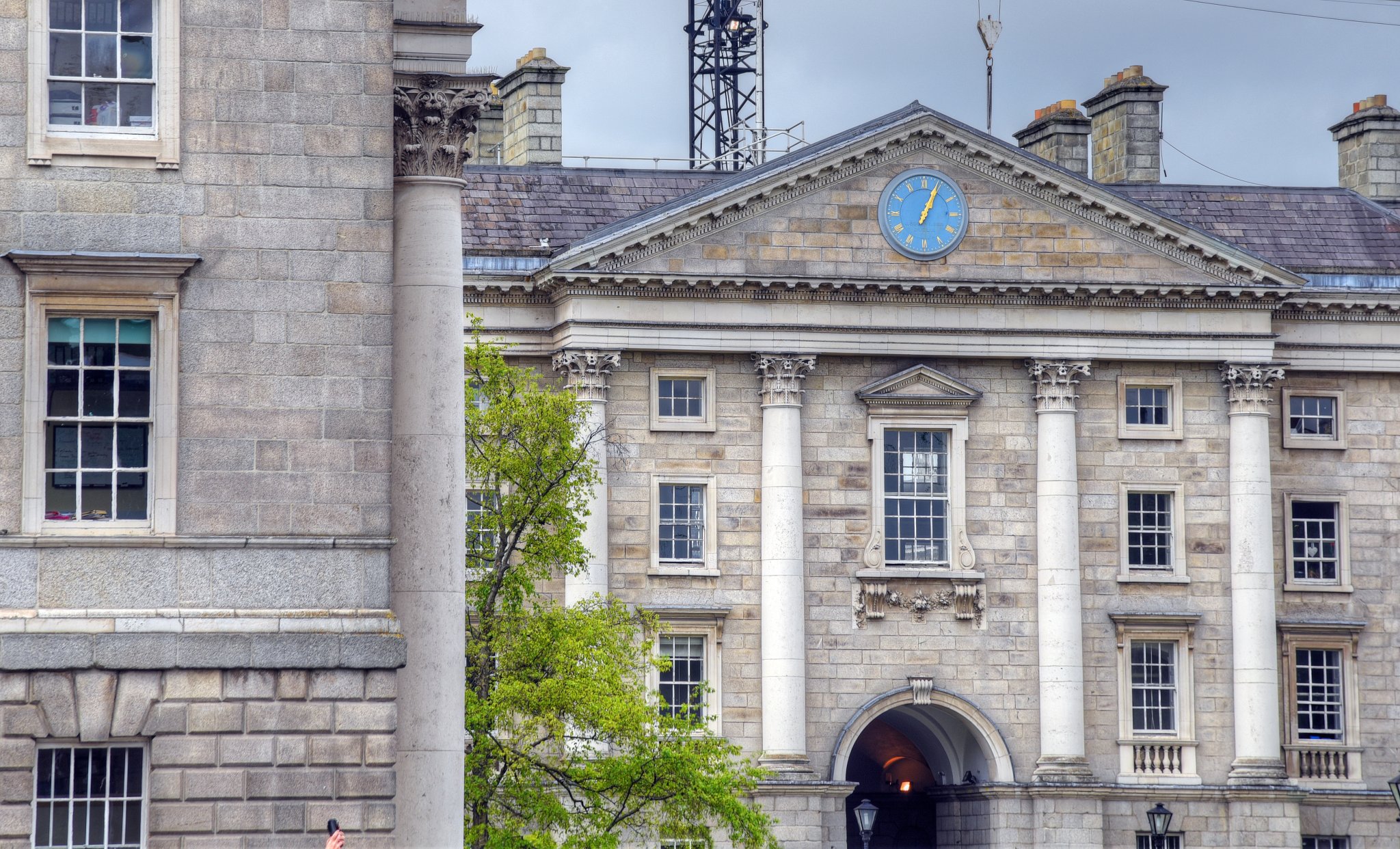 Then make your way to Trinity's library where you will be greeted with some serious Harry Potter vibes. Aptly named the Long Room, it is renowned for its cathedral-like high ceilings and a barrel-vaulted roof. The Long Room is a treasure trove of very important literary works including the famous Book of Kells, a religious manuscript that dates back to 800AD.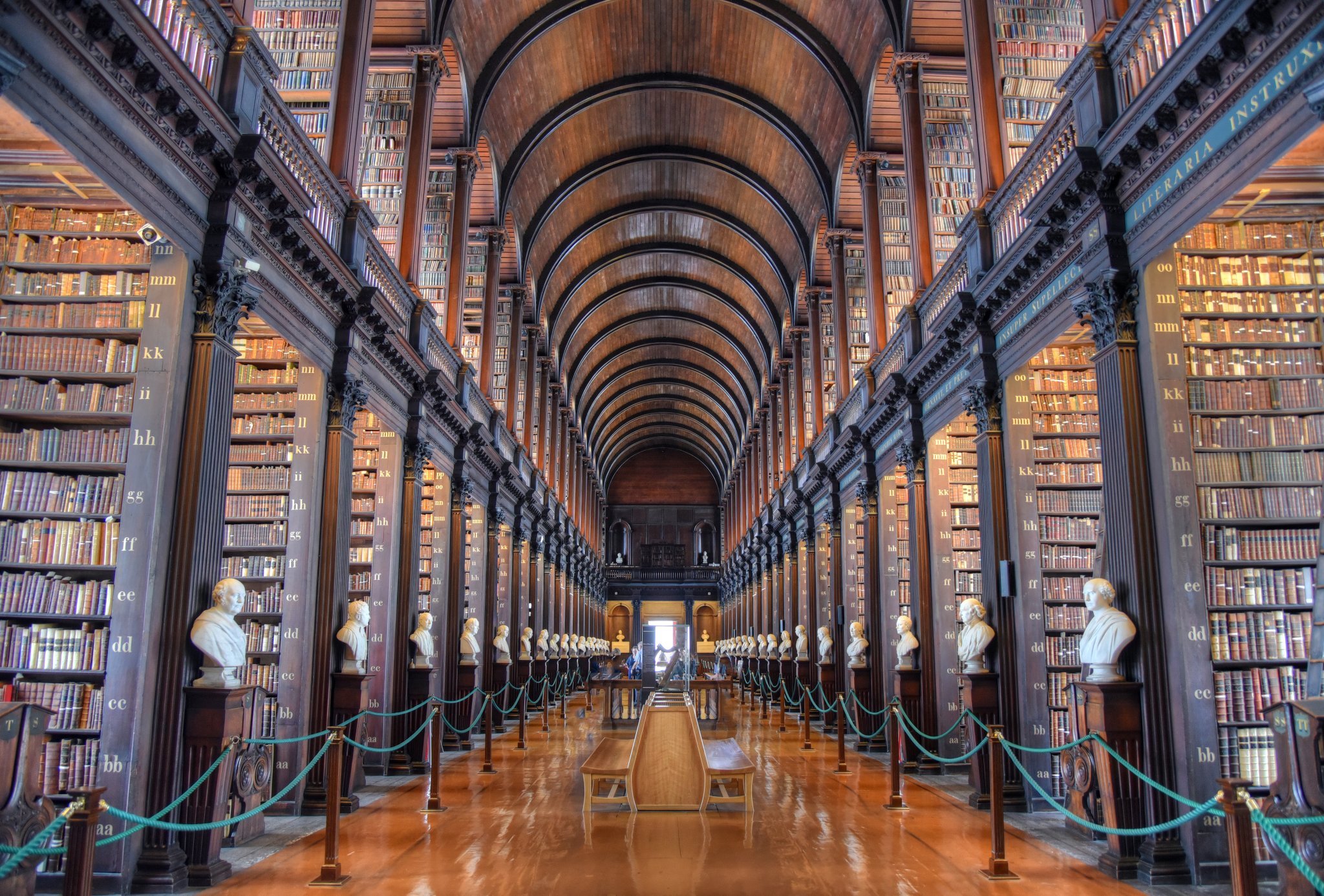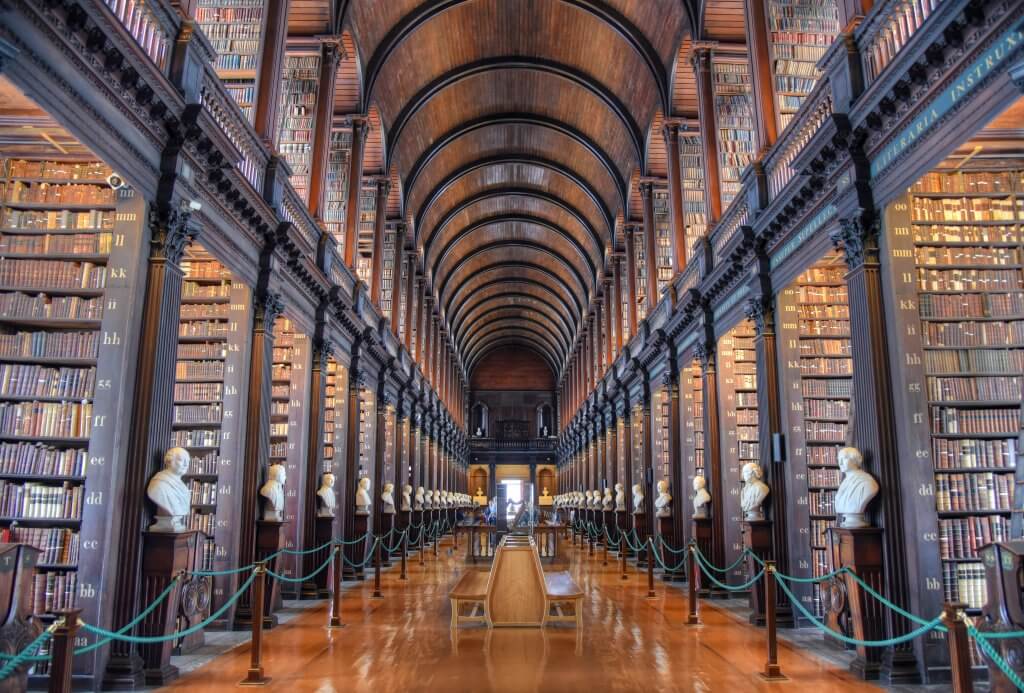 We feel like it is important to note that Dublin has a fantastic rich literary history with many iconic literary figures calling Dublin home. Oscar Wilde, James Joyce, Samuel Beckett, and Bram Stoker are some of the most famous authors who hailed from Dublin and book lovers can take literary tours around the city.
Top Tip: Most people who visit Trinity have no idea what Harry Potter vibes await in the Museum Building underneath Trinity's long room. The Museum Building, located in the Geology department, houses large pillars, balustrades and bannisters constructed from a range of Irish marbles and Cornish serpentine, while the domed roof is made of blue, red and yellow enameled bricks. It is free but is only open to the public during college hours so we can't guarantee that it will be open on the day you visit, especially if it is during the weekend. Also it is worth noting that the Book of Kells isn't always on display so be sure to ask before booking your ticket.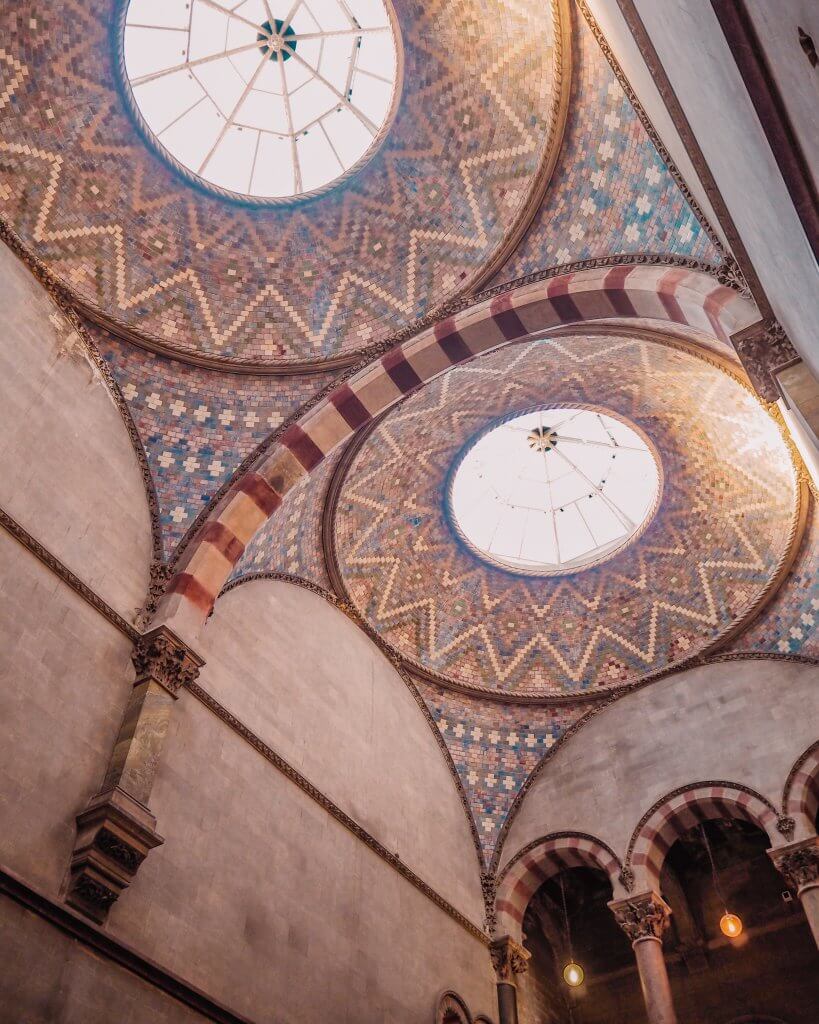 Duration: 1 hour and a half
Take a self-guided walking tour of Dublin's Grafton quarter
As we mentioned earlier Dublin is best explored on foot. After visiting Trinity library we recommend grabbing a coffee and taking a self-guided walking tour around Dublin's Grafton quarter. Stretching from the entrance of St. Stephen's Green at Grafton Street to Nassau Street and over to Dawson Street, it is one of Dublin's most popular shopping neighbourhoods.
When it comes to experiencing Dublin city centre, the Grafton Quarter is a wealth of character and atmosphere that should be explored. It comes to life during the day with buskers performing to passing crowds. Start by having a wander around the beautiful St. Stephen's Green Park and don't forget to have a browse around the beautiful St. Stephen's Green Shopping Centre.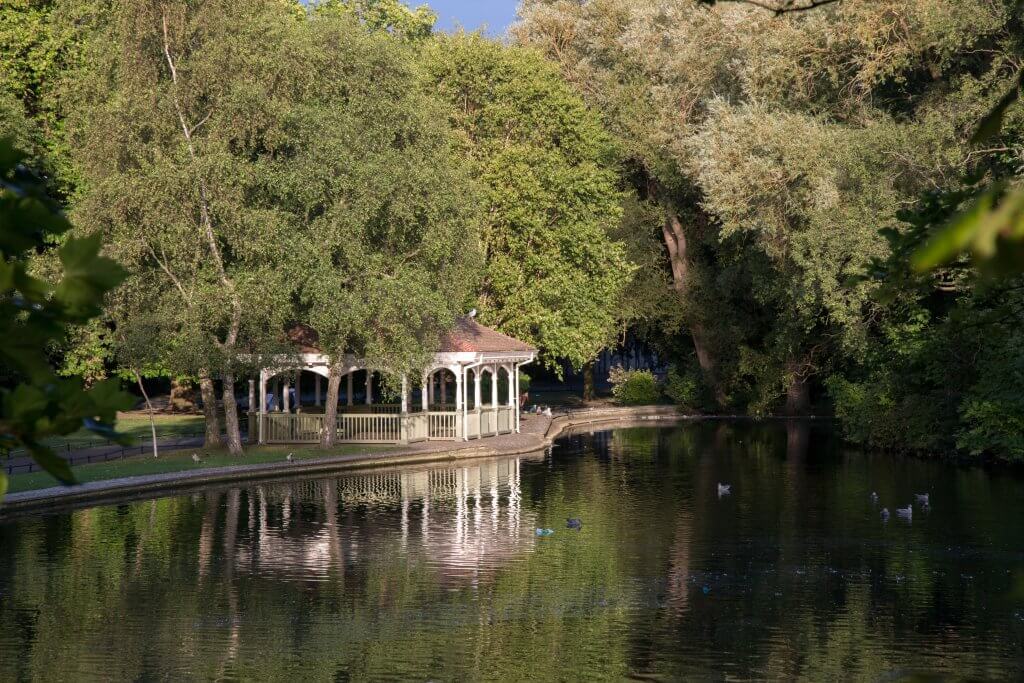 Next stroll down Dublin's most famous shopping street, Grafton Street. It is our favourite place in the whole world to go people watching and it is always a hive of activity. Just a short walk from Grafton Street you will find one of Dublin's most famous statues, Molly Malone.
---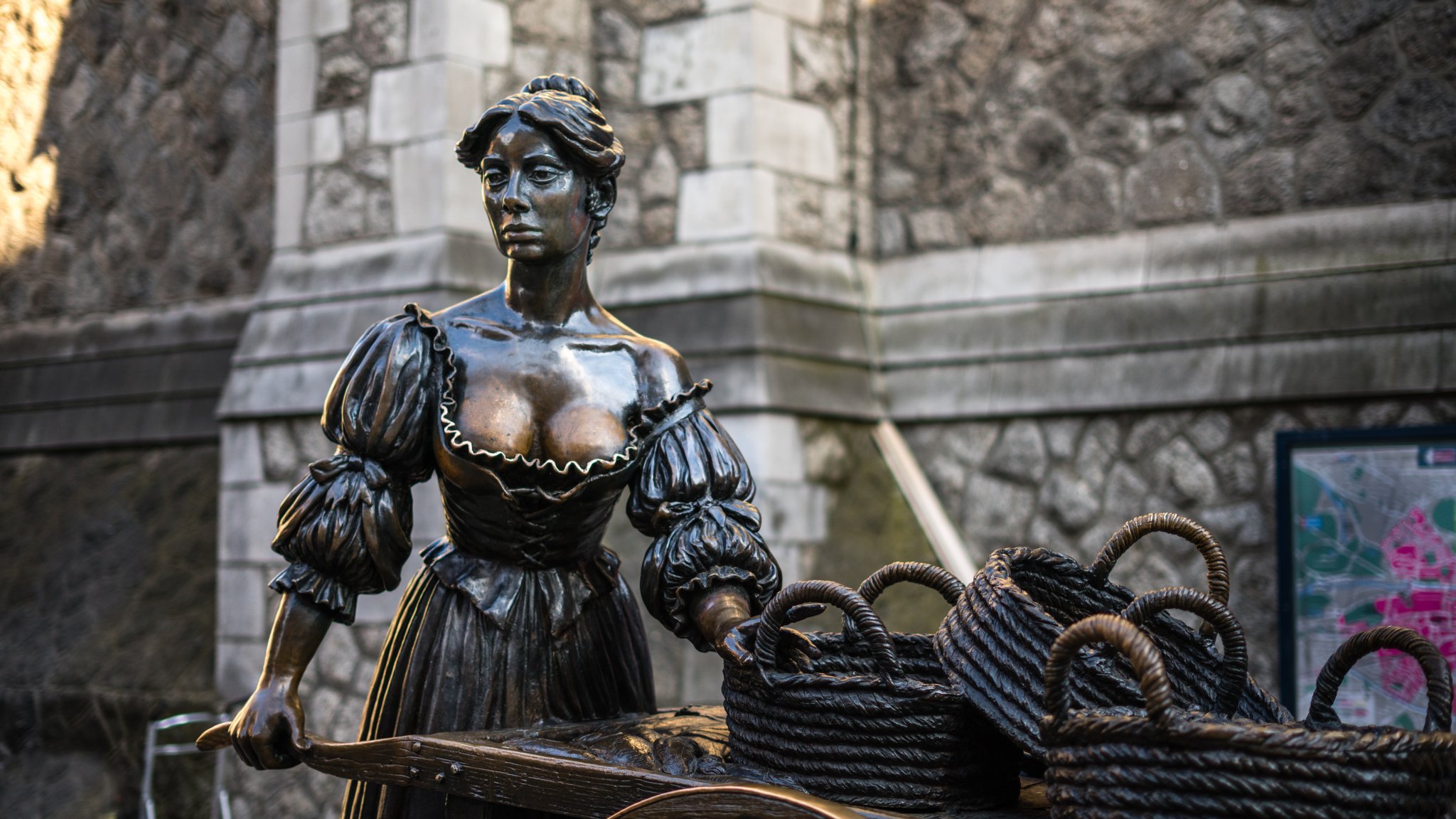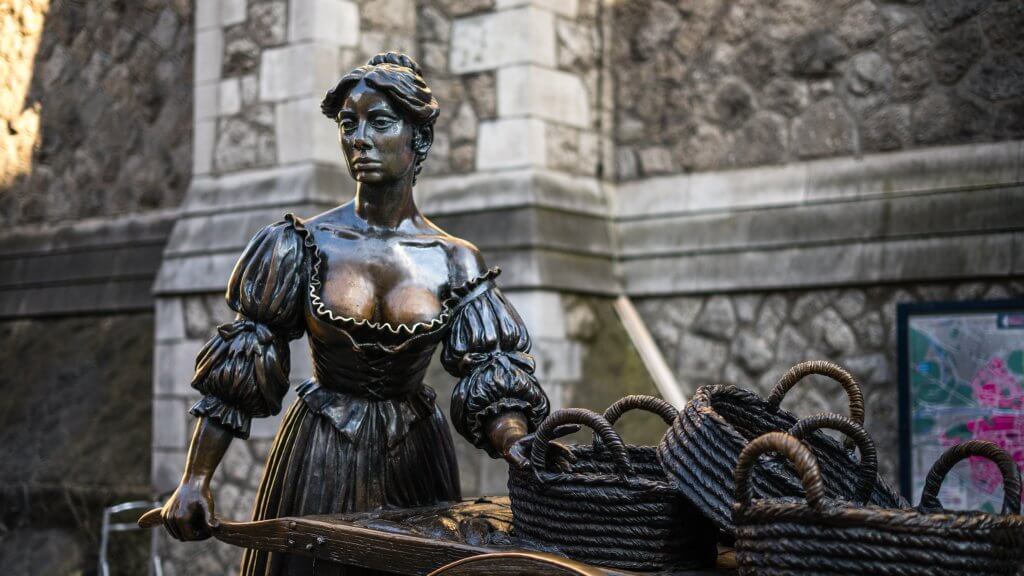 "In Dublin's fair city, where the girls are so pretty I first set my eyes on sweet Molly Malone as she wheeled her wheelbarrow through streets broad and narrow crying, "Cockles and mussels, alive, alive, oh!"

— Molly Malone, James Yorkston
---
As well as being known and sung internationally, the popular song 'Cockles and Mussels' has become a sort of unofficial anthem of Dublin City. The song's tragic heroine Molly Malone and her barrow have come to stand as one of the most familiar symbols of the capital. The song tells the fictional tale of a fishmonger who worked her trade on the streets of Dublin but who died young, of a fever, supposedly from one of the outbreaks of Cholera that regularly used to sweep the city of Dublin.
Duration: 2 hours (unless you get distracted by the shops!)
Break for lunch
St. Patrick's Cathedral and Christ Church
St. Patrick's Cathedral is the National Cathedral of the Church of Ireland. As the largest cathedral and one of the most important pilgrimage sites in Ireland, St. Patrick's has been at the heart of Dublin and Ireland's history and culture for over 800 years. Jonathan Swift, author of Gulliver's Travels, was dean of St. Patrick's Cathedral in the 1700s and he is one of many important people buried on site. Interestingly the phrase "to chance your arm" is reported to have originated from a feud that played out within the walls of St. Patrick's Cathedral. It is one of the few buildings left from medieval Dublin and is a must see on your 2 day Dublin itinerary.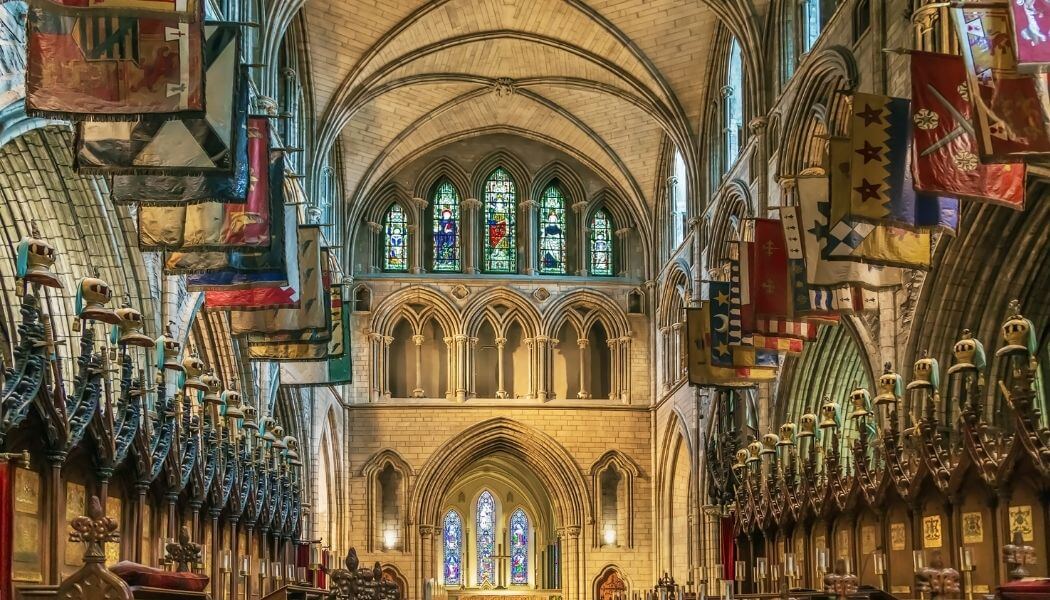 Christ Church Cathedral was founded in 1030 by Sitric, King of the Dublin Norsemen. It is located in the heart of medieval Dublin and is renowned for its beautiful architecture and magnificent floor tiles. The cathedral is home to the famous 12th-century crypt, one of the oldest and largest in Britain and Ireland. The 12th-century Norman-style church erected here by Strongbow represents the oldest stone building in Dublin and it is here that you can also find Strongbow's tomb. Definitely worth a visit if you want to find out more about the medieval history of Dublin.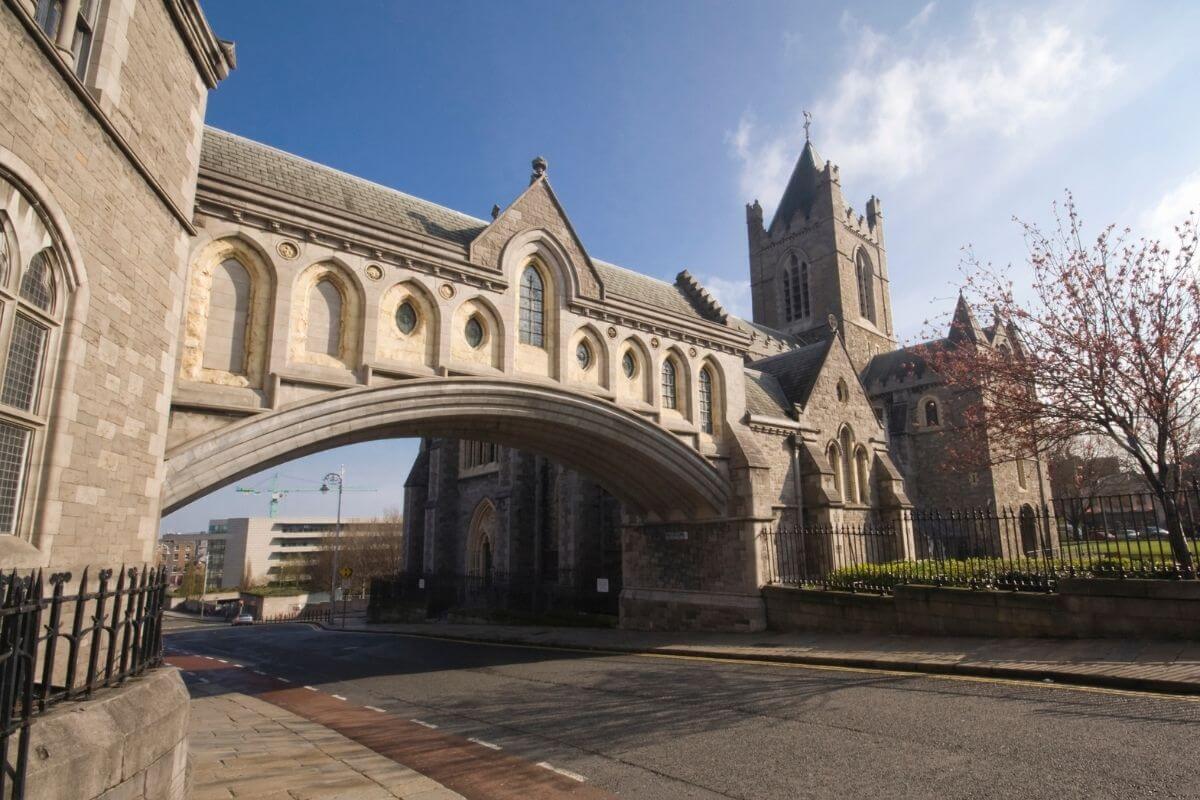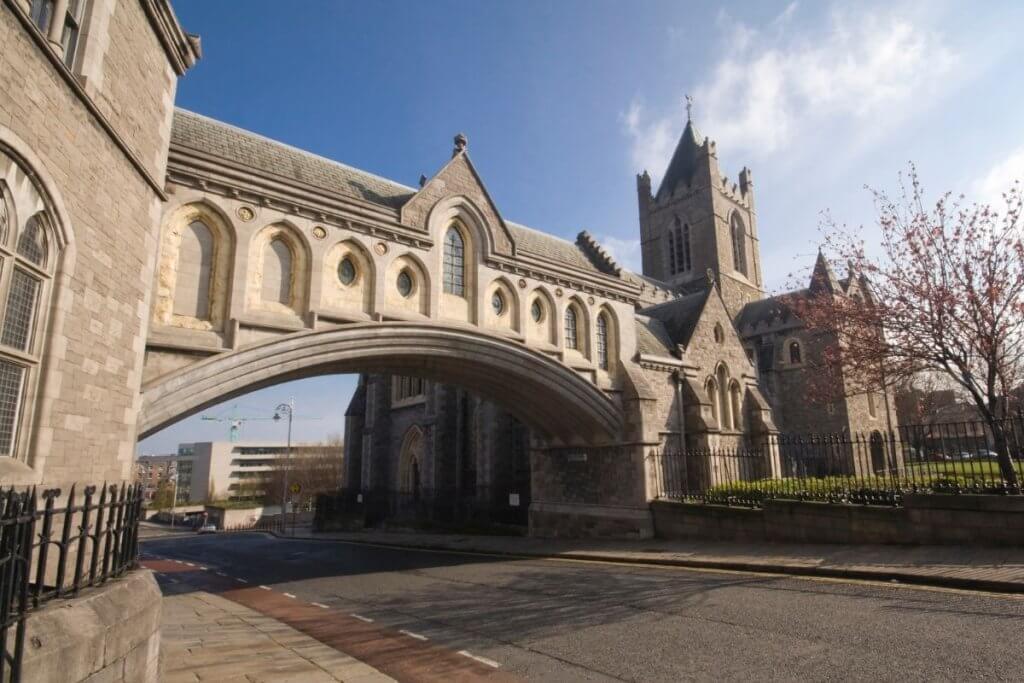 Duration: 1 hour and a half
The Guinness Storehouse
When you think of Dublin you think of Guinness, right? Visit the Guinness Storehouse during your 2 days in Dublin to experience the history, heart and soul of Ireland's most iconic beer. Here you can enjoy the story of Guinness across the seven floors of the iconic brewery at St. James' Gate before enjoying a pint of the black stuff and soaking in panoramic views of Dublin city from the Gravity Bar. Be sure to book your ticket in advance.
Duration: 1 hour and a half
Temple Bar and the Ha'penny bridge
You will be buzzing after your visit to the Guinness Storehouse so keep the vibe going by visiting one of the most colourful and vibrant areas of Dublin City, Temple Bar. First cross another Dublin icon the Ha'penny bridge, so-called because once upon a time you had to pay a halfpenny to cross it. This famous pedestrian bridge, once called the "Liffey Bridge" after the river it crosses was built way back in 1816. It is one of Dublin's most famous landmarks and you are going to want to get a picture here.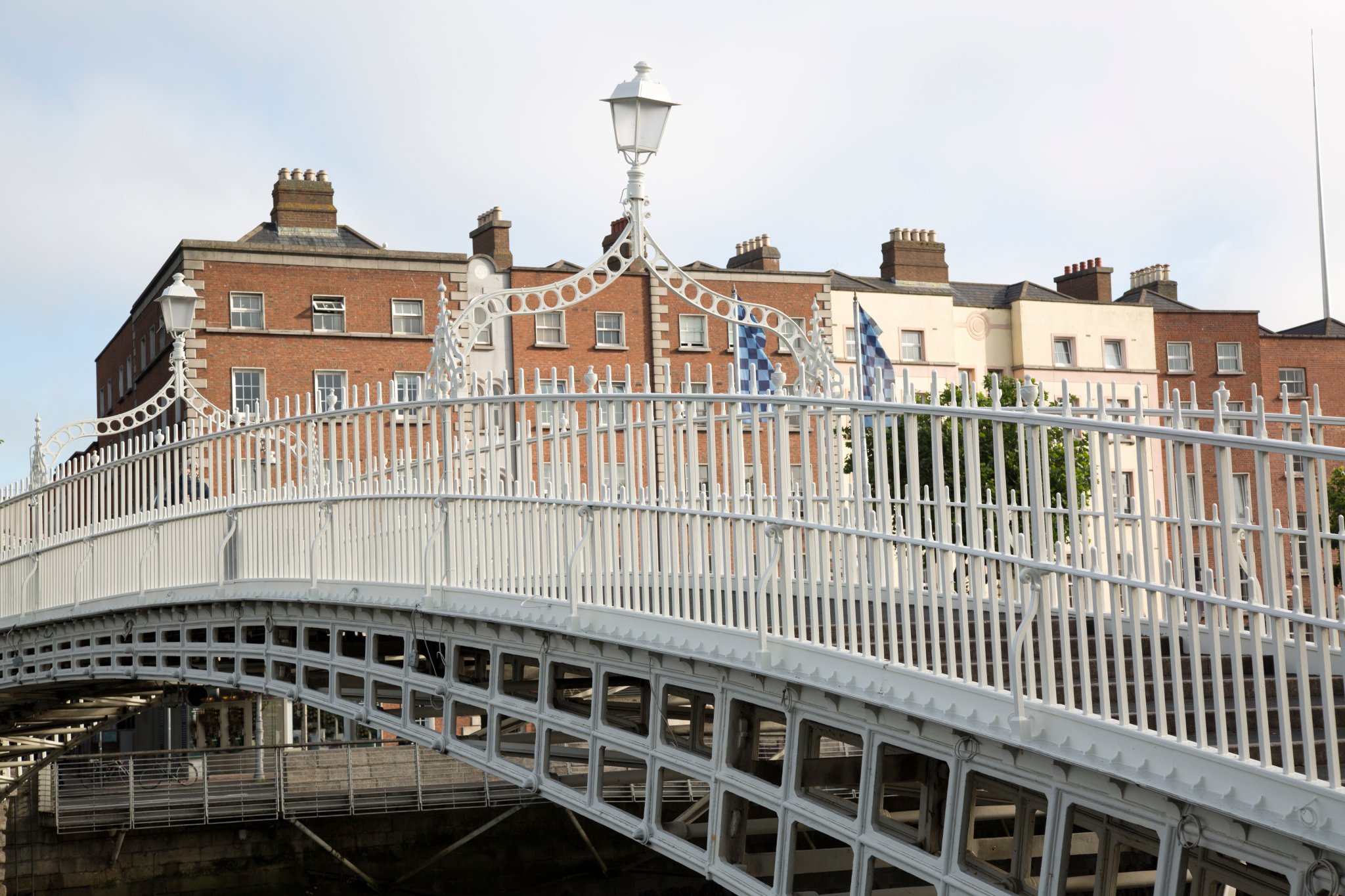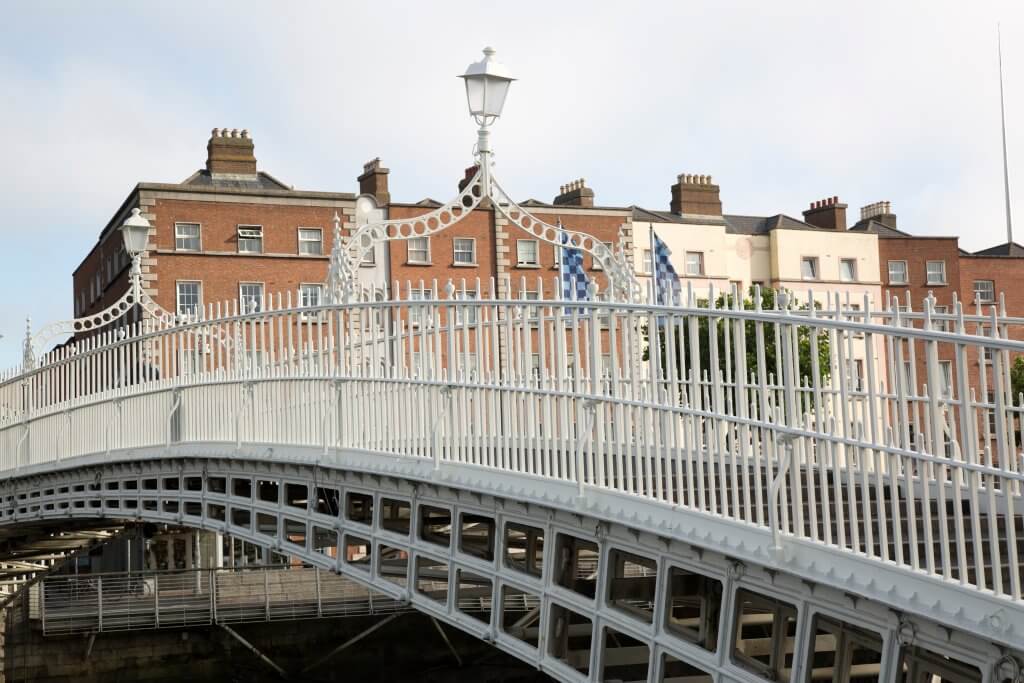 Craic (fun) is something that comes naturally to Irish people and you will find an abundance of it in Temple Bar. Temple Bar is a busy and vibrant neighbourhood in Dublin city centre located right along the quays of the Liffey river. It is a pedestrianised area of Dublin spread over beautiful cobbled streets. Here you will find quirky boutiques, tattoo parlours, crowded lively pubs hosting live music and some of the best places to eat in Dublin. Expect to pay tourist prices for your drinks though!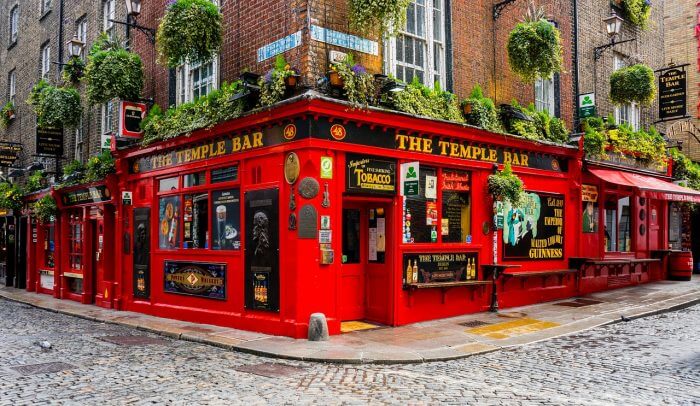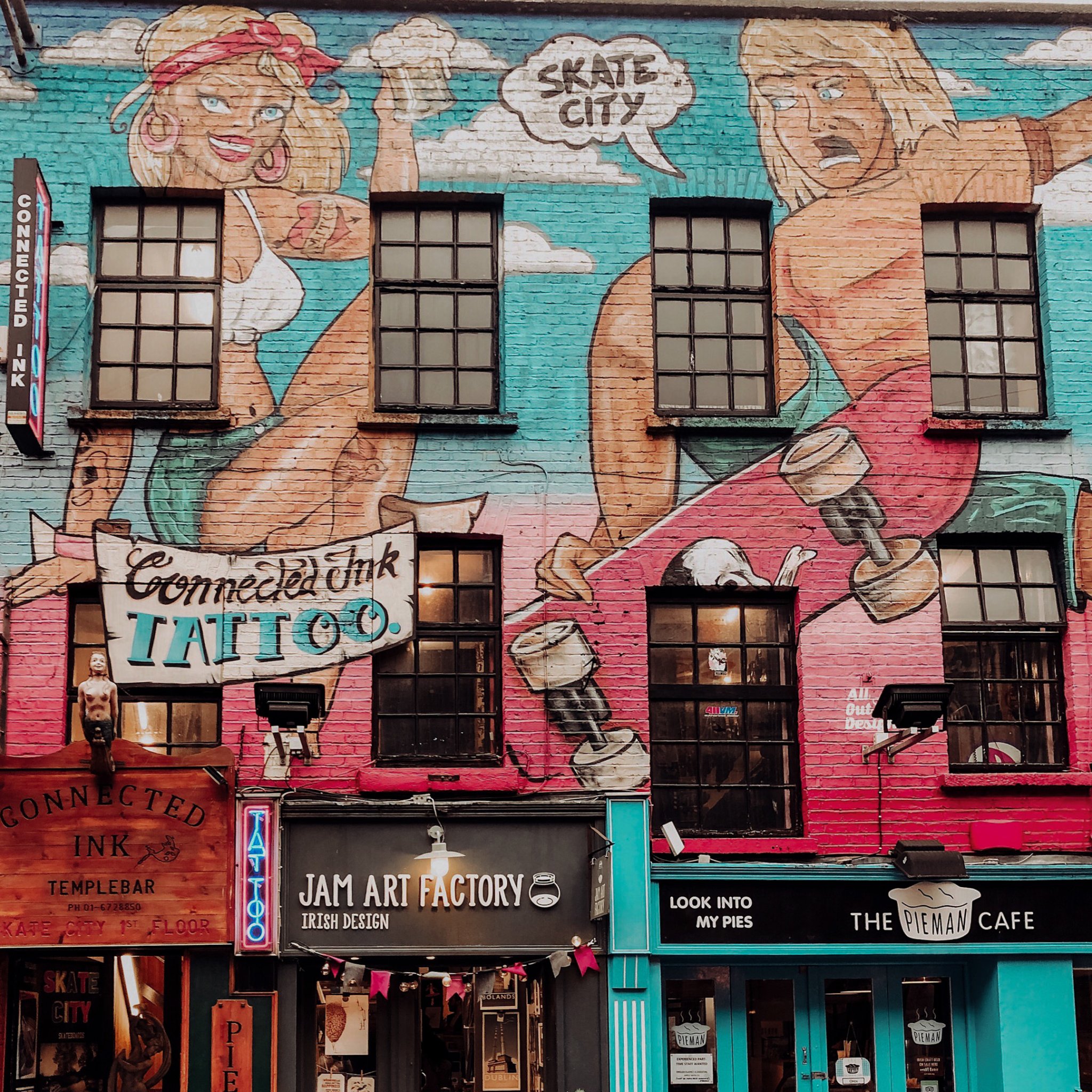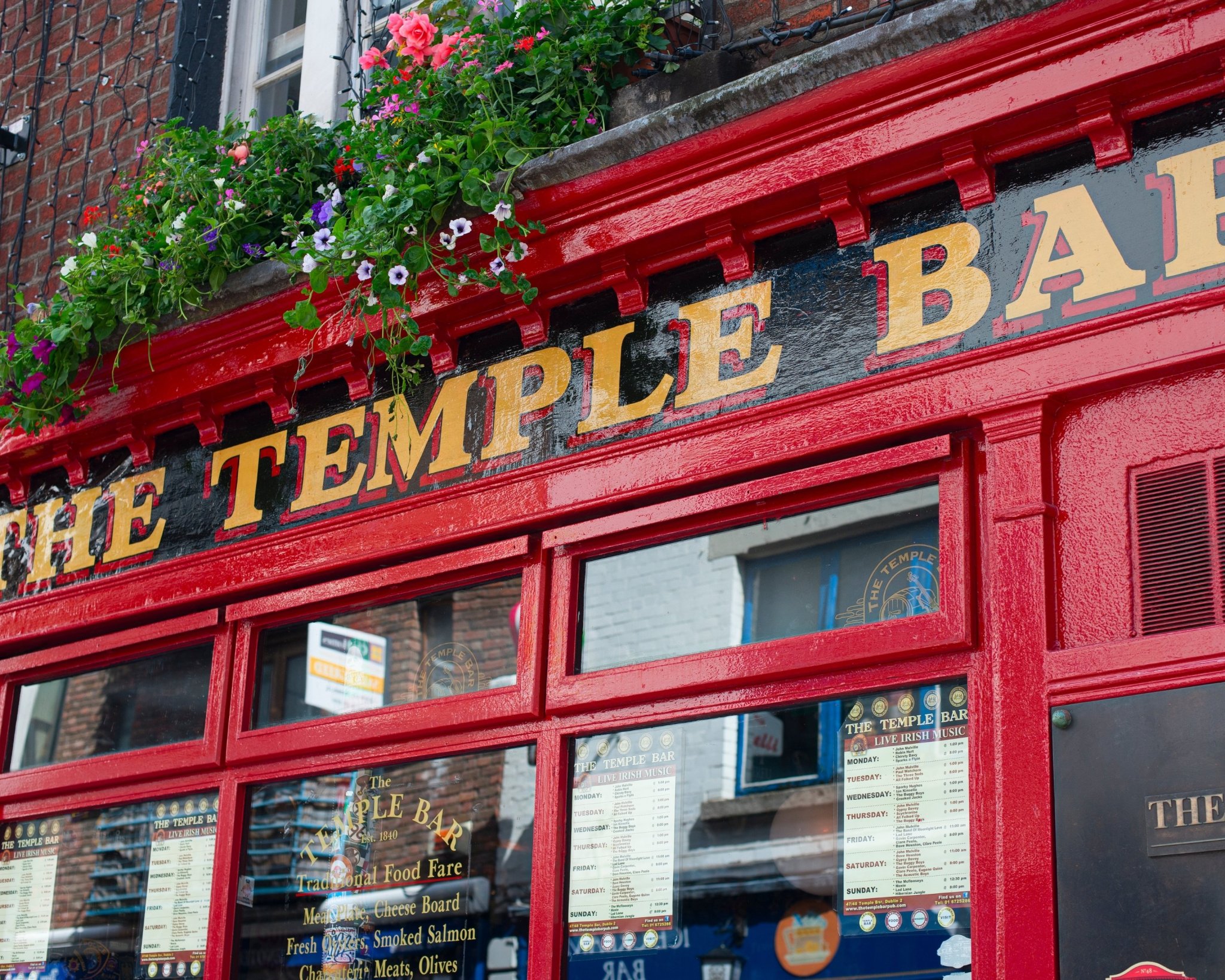 Top Tip: Tucked away behind a discreet doorway in Temple Bar you will find one of Dublin's hidden speakeasies, Vintage Cocktail Club. Look for a black building with a black door with VCC written on it, ring the bell and be prepared to step back into the 1920's with vintage trinkets, antique furniture, a roaring fire and the most luxurious decor.
Duration: depends on the cocktails!
Enjoy sunset at Samuel Beckett bridge
Just like the Ha'penny bridge dominated the Dublin cityscape of the 1800's the Samuel Beckett bridge has become an iconic feature of modern day Dublin. An Irish harp rotating through the air on the flip of a coin inspired Santiago Calatrava's signature bridge of Dublin. Once an area of urban abandonment this region of Dublin has been brought to life with sleek modern architecture and the perfect time to enjoy it is at sunset when the city lights up.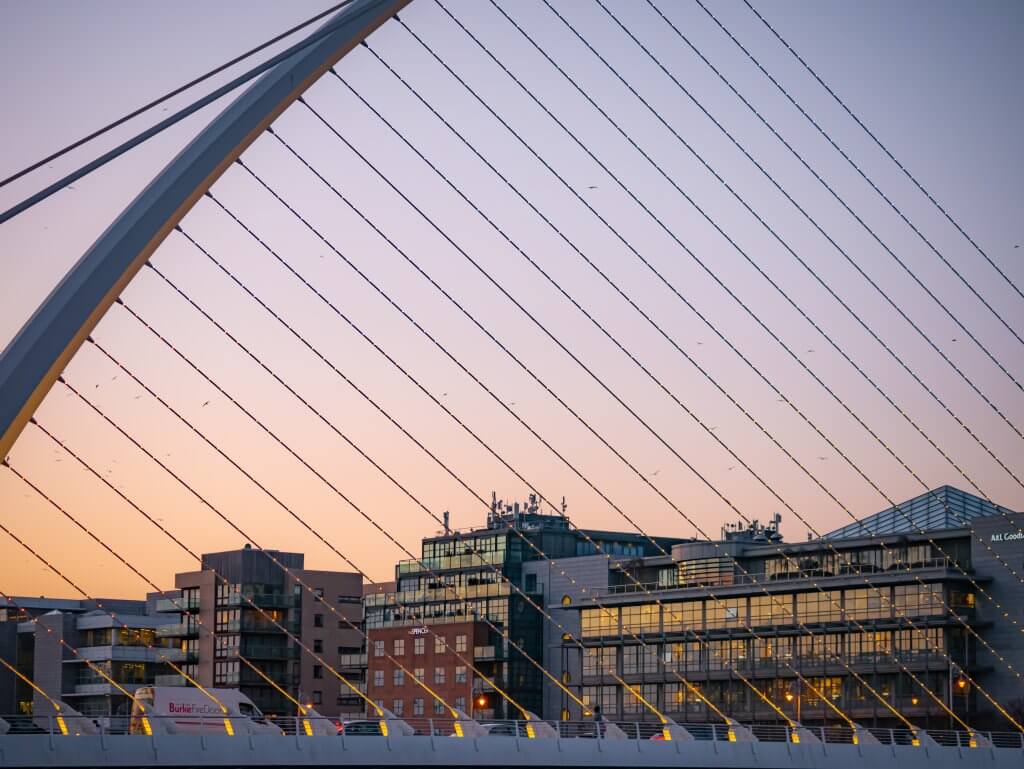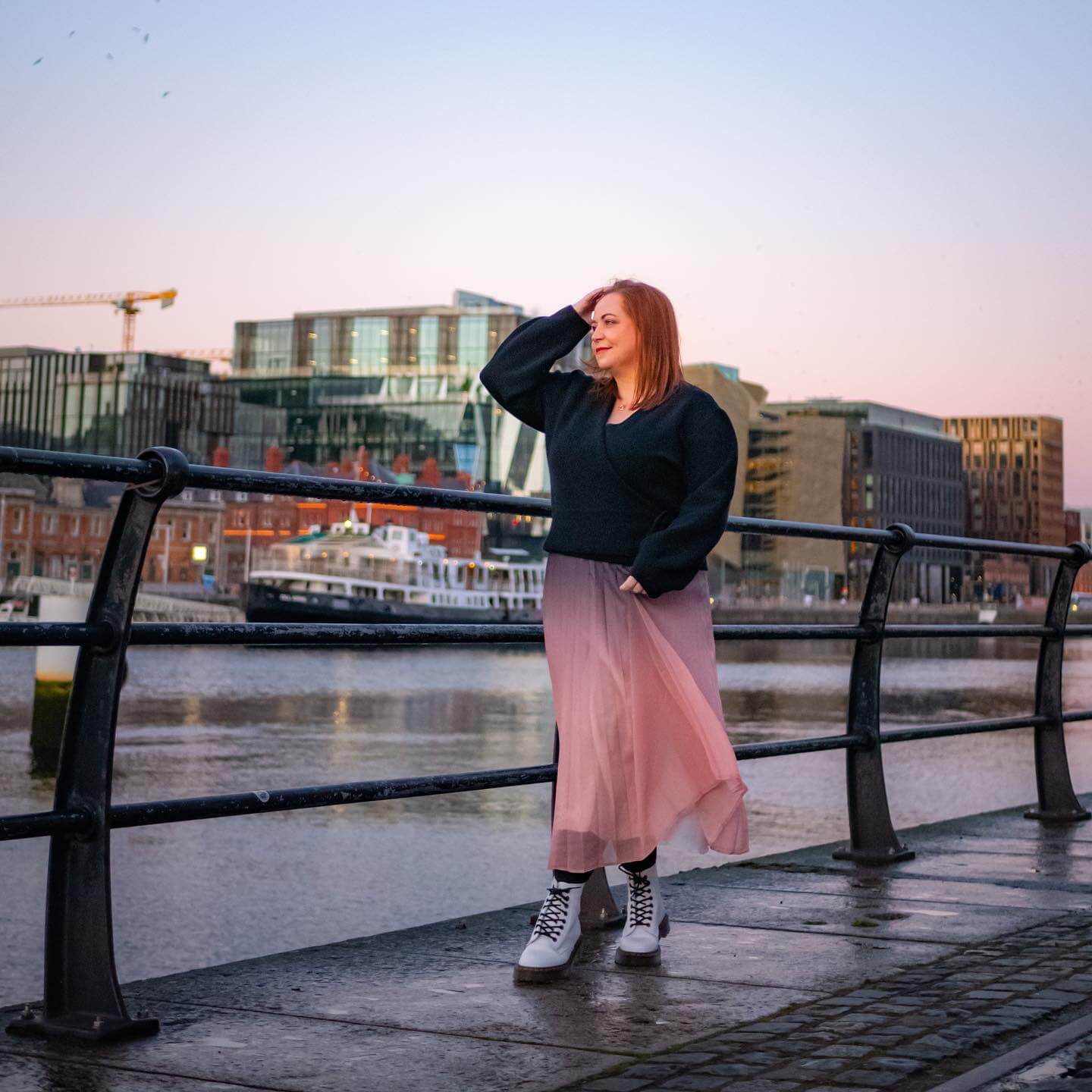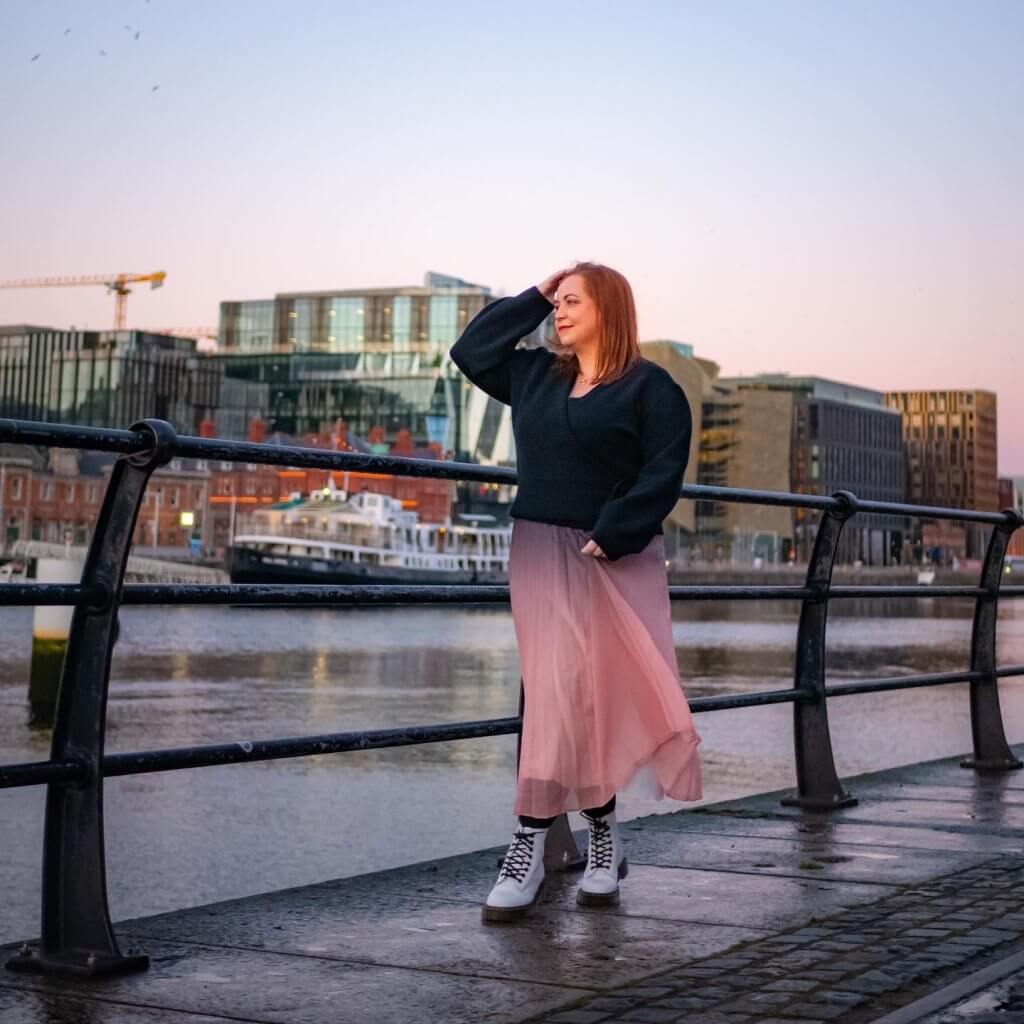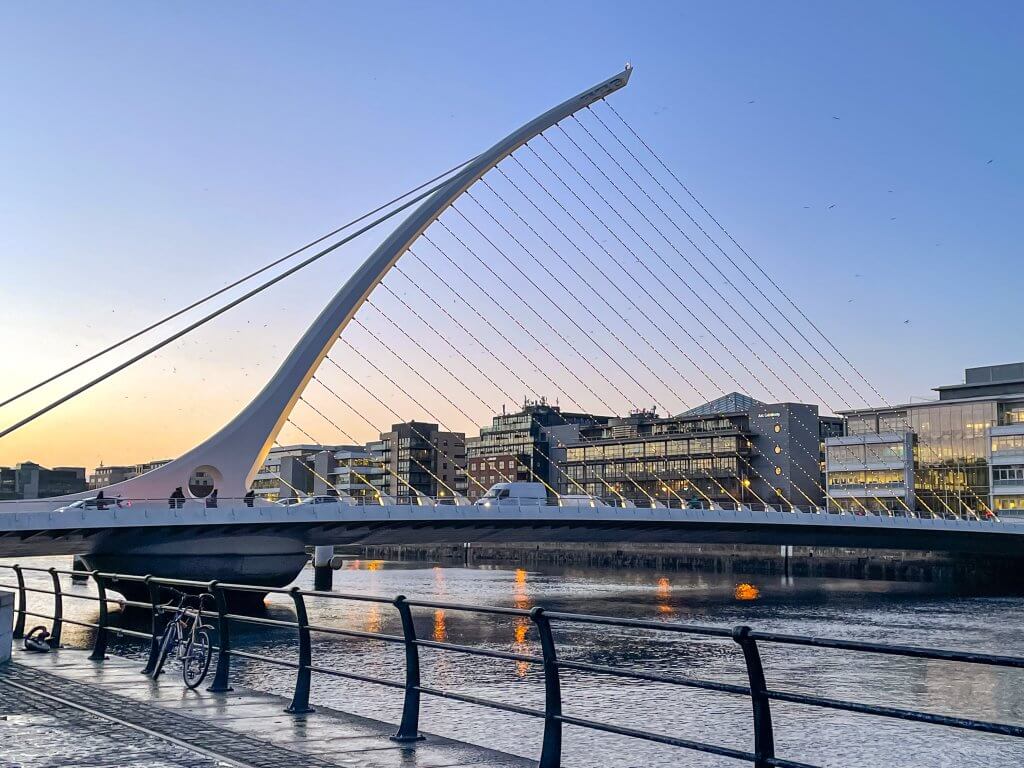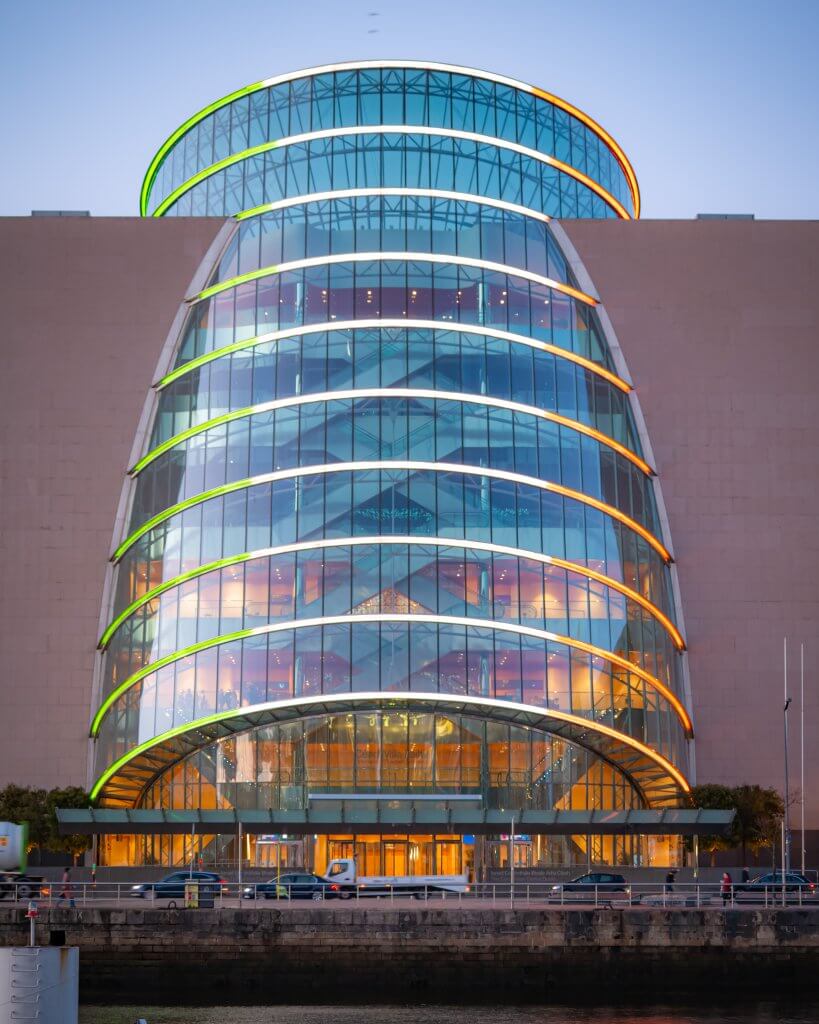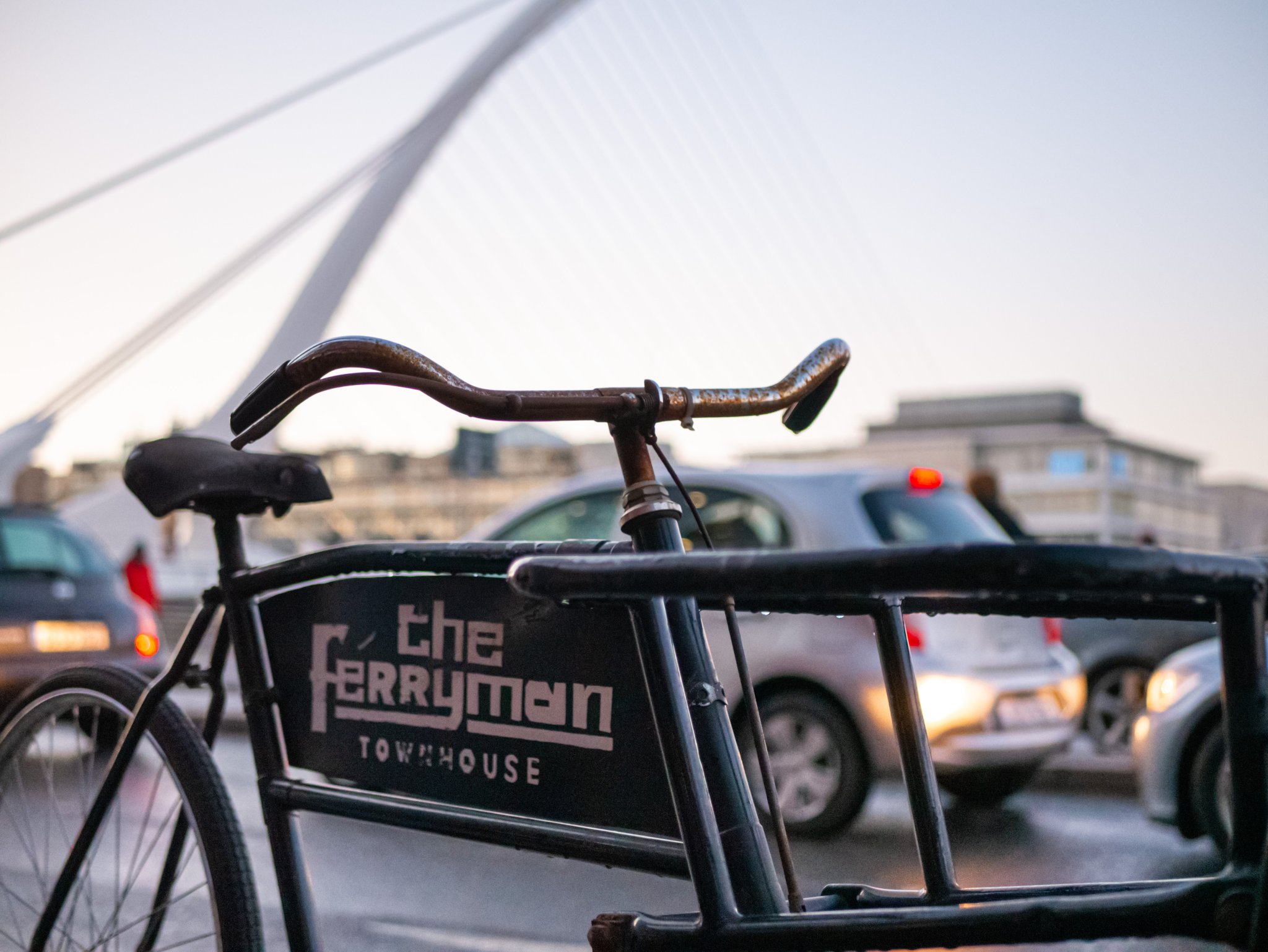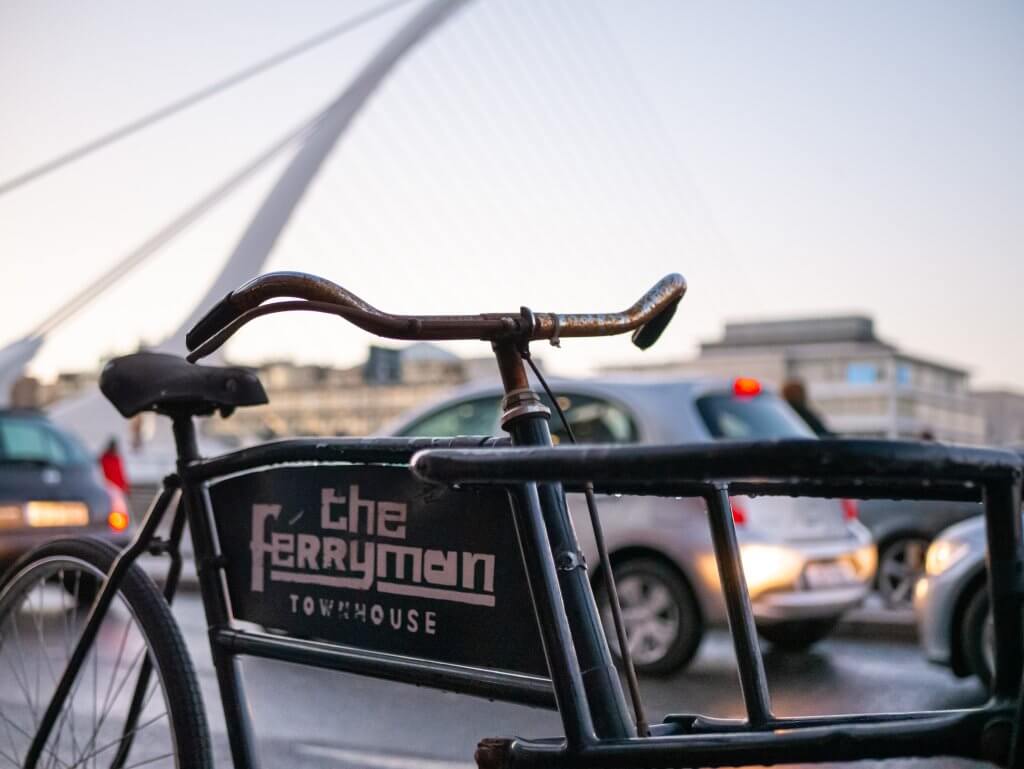 Top Tip: Finish day 1 of your 2 day Dublin itinerary with a pint in The Ferryman
Day 2: of your 2 days Dublin itinerary
Discover the history of Dublin Castle
Begin the second day of your 2 day Dublin itinerary by visiting Dublin Castle located on Dame Street. Established in the early 13th century on the site of a Viking settlement, Dublin Castle served for centuries as the headquarters of the English, and later British, administration in Ireland. In 1922, following Ireland's independence, Dublin Castle was handed over to the new Irish government. and is still a major government complex today as well as being a key tourist attraction. The gardens of Dublin Castle are also beautiful and worth a wander especially in spring or summer time.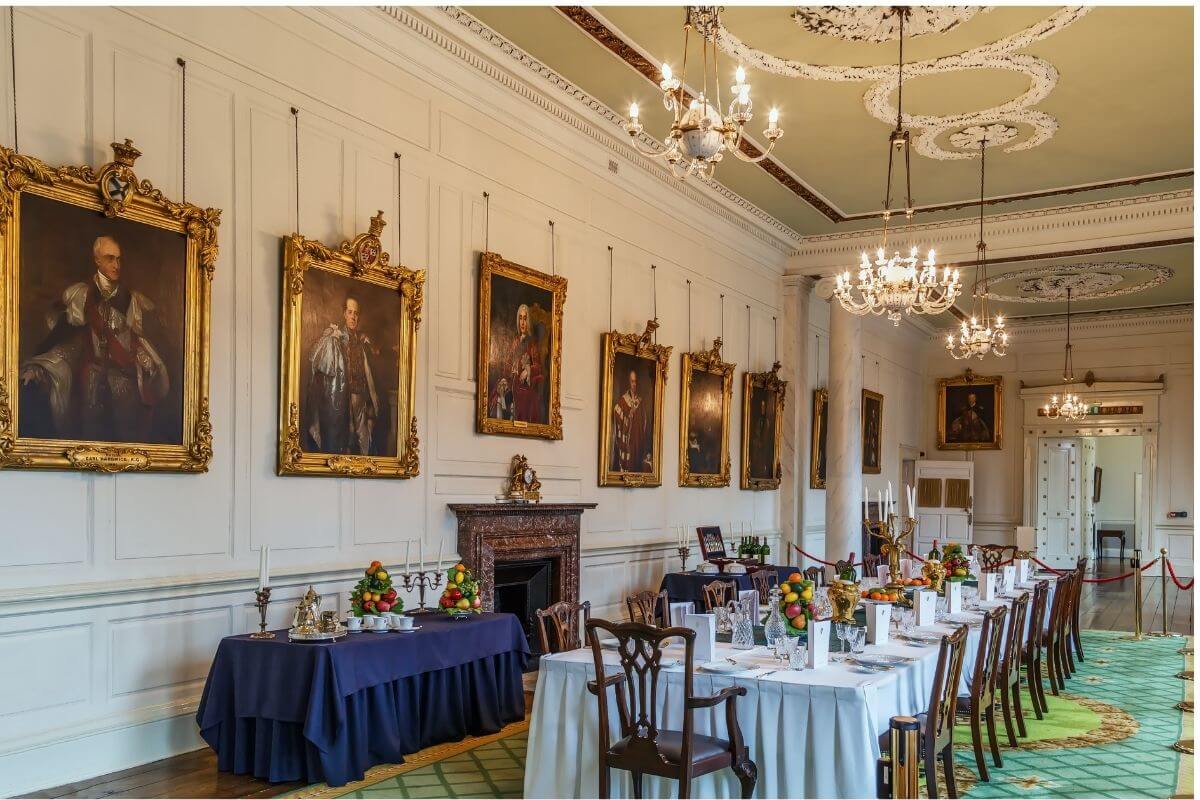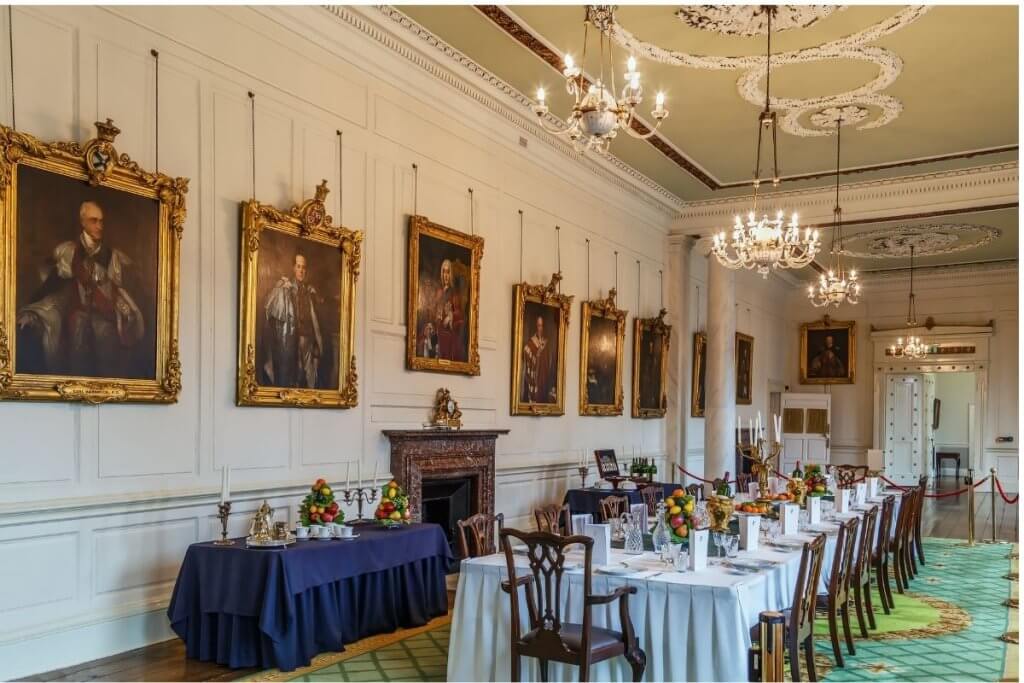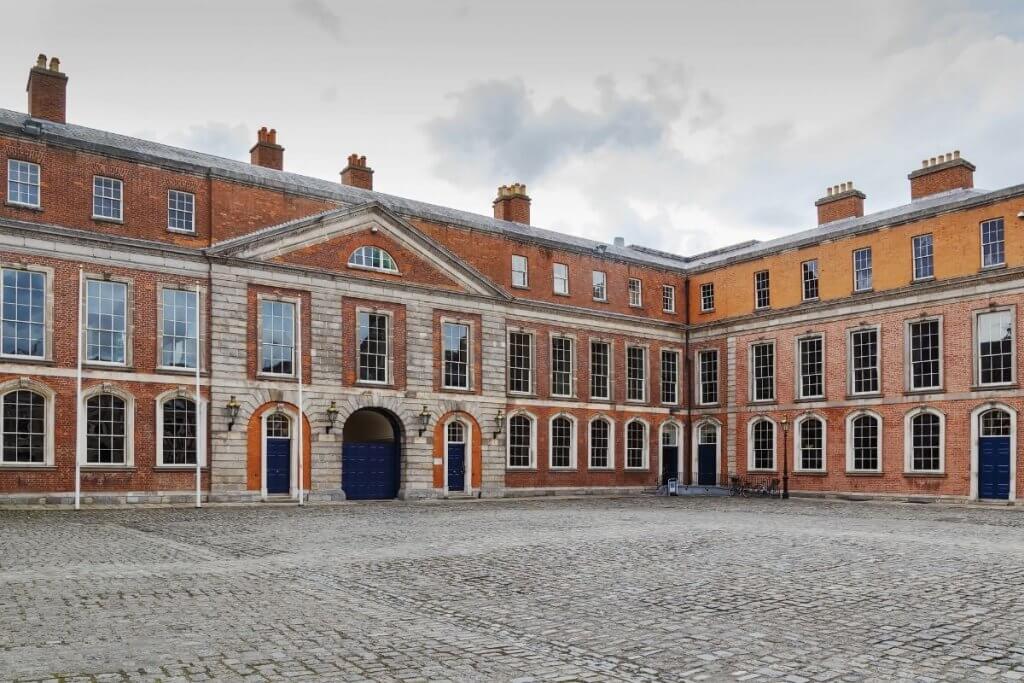 Duration: 1 hour if also exploring the gardens
Visit the Ireland's National Museums & the National Gallery
Let's face it! If you have been in Ireland longer than a day you will have noticed that it can be quite expensive here. With a bit of research you can find amazing free things to do in Dublin and Ireland's National museums and also the beautiful National Gallery fall into that category. You won't be able to do them all in such a short space of time so I suggest going with your instinct and pick a favourite to visit during this time slot in your 2 day Dublin itinerary.
Choose between Decorative Arts & History, Country Life, National History, Archaeology and of course the National Gallery. My personal choice is the Archaeology museum. Located on Kildare Street it specialises in Irish and other antiquities dating from the Stone Age to the Late Middle Ages. You can visit the stunning Tara brooch, the Ardagh chalice and even get up close and personal with the bog men. The bodies still have some amazing detail, considering how old they are. Hair and fingernails are still visible on some and the remains of decorative jewellery is evident on others.
Duration: 2-3 hours to really enjoy it all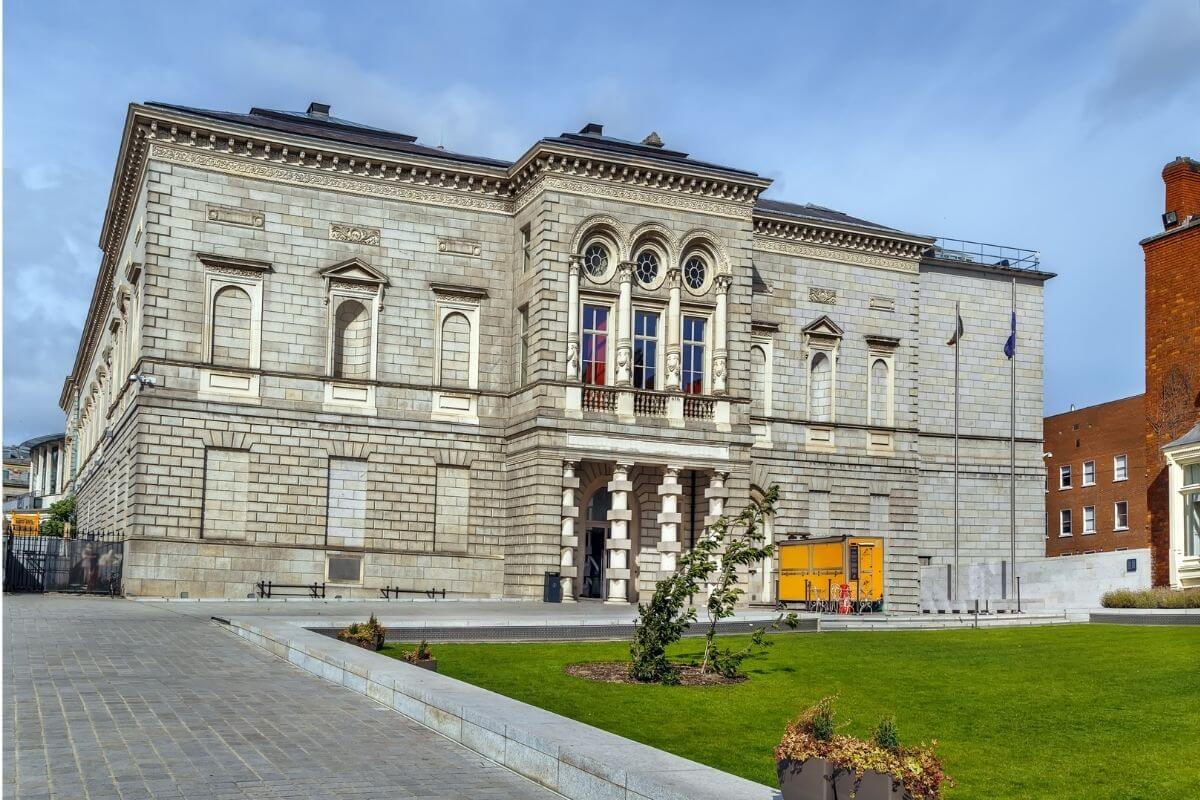 Break for lunch.
Marsh's Library
Step into the 18th century in Marsh's Library, a beautiful 18th century building with a hidden garden located close to St. Patrick's cathedral. Marsh's Library was the first public library in Ireland. It is one of the very few 18th century buildings in Ireland still being used for its original purpose. Lock yourself in with a collection of rare books surrounded by beautiful dark solid oak bookcases carved with lettered gables that almost feel like they are giving you a warm hug. It remains unchanged to how it was built over 300 years ago and it is the perfect place to lose yourself among the classics.
Duration: 45 minutes depending on which book you get lost in
Kilmainham Gaol
If you are on a budget and don't want to take a taxi to Kilmainham Gaol you can get there by taking either of the following buses.
Bus line 69 or 79 from Aston Quay, Dublin 2;
Bus line 13 or 40 from O'Connell St, Dublin 1, or College Green Dublin 2.
A visit to Kilmainham Gaol will take you on an emotional journey through Irish history. You will discover the stories of people held here as ordinary criminals for petty crimes alongside those who fought for Irish independence. Included amongst those held here were Robert Emmet, Anne Devlin, the Fenians, Charles Stewart Parnell, Countess Markievicz and the leaders of the 1916 Easter Rising, 14 of whom were executed by firing squad in the Stonebreaker's yard.
Access to Kilmainham Gaol is by guided tour only and tickets must be pre-booked.
Duration: 1 hour
Find the Phoenix Park Deer
The perfect way to end 2 days in Dublin is to have a stroll around Phoenix Park with the hopes of spotting the herds of fallow deer that call it home. After spending two days in the busy city centre it will be a welcome retreat to experience the beautiful and natural surroundings of Phoenix Park.
The deer have been living in Phoenix Park since the 17th Century when they were introduced to the park for hunting. Thankfully these days the deer can live without the fear of being hunted and happily graze peacefully in the park. Phoenix Park is the largest city centre park in Europe, so you'll need a bit of time to spot the deer. The best way to find the Phoenix Park deer is to either use the Dublin Bikes mentioned at the top of our post or rent a bike for the day from Phoenix Park Bikes, right at the entrance to the park.
While the deer are used to people being in their vicinity you have to remember that the deer are wild and unpredictable so no getting too up close and personal with them.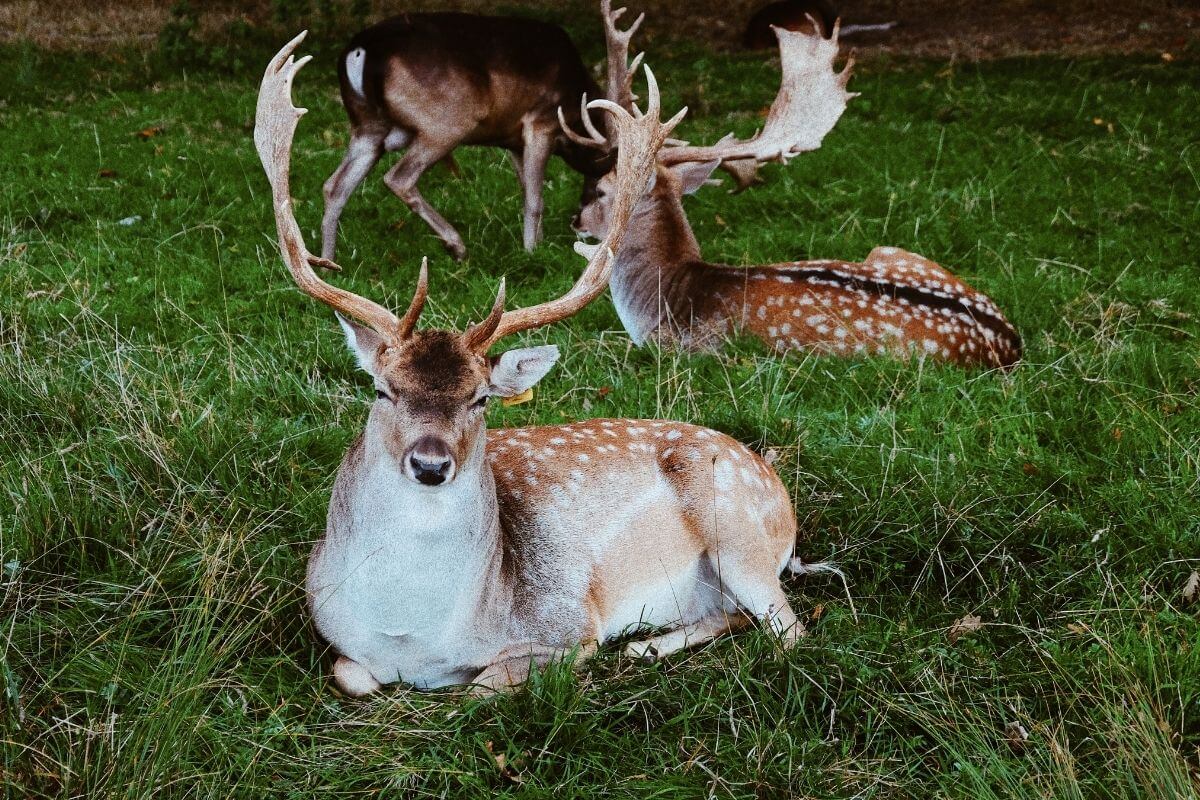 We hope we have given you a good idea of the best things to do in Dublin in 2 days. We purposely haven't posted times so that you can tailor it to your preferences, but know that we've only listed places that we personally like and recommend.
Disclaimer: some of the links on this blog post are affiliate links meaning that if you book through them we will receive a small commission at no additional cost to you.
Are you new here? Join thousands of other happy readers and subscribe to All about RosaLilla blog via email. The good news is that by signing up via email you will get exclusive travel deals straight to your inbox. The only other place that we publish these deals is on Instagram stories, so be sure to signup to get the heads up on amazing travel deals to save you money when booking.
I also share everything about myself on Instagram with nothing held back so be sure to follow along there.
If you liked this you may also like:
Discovering Donegal and the Inishowen peninsula
Visiting Downpatrick Head in Mayo
Game of Thrones filming locations in Ireland
Until next time you crazy kids!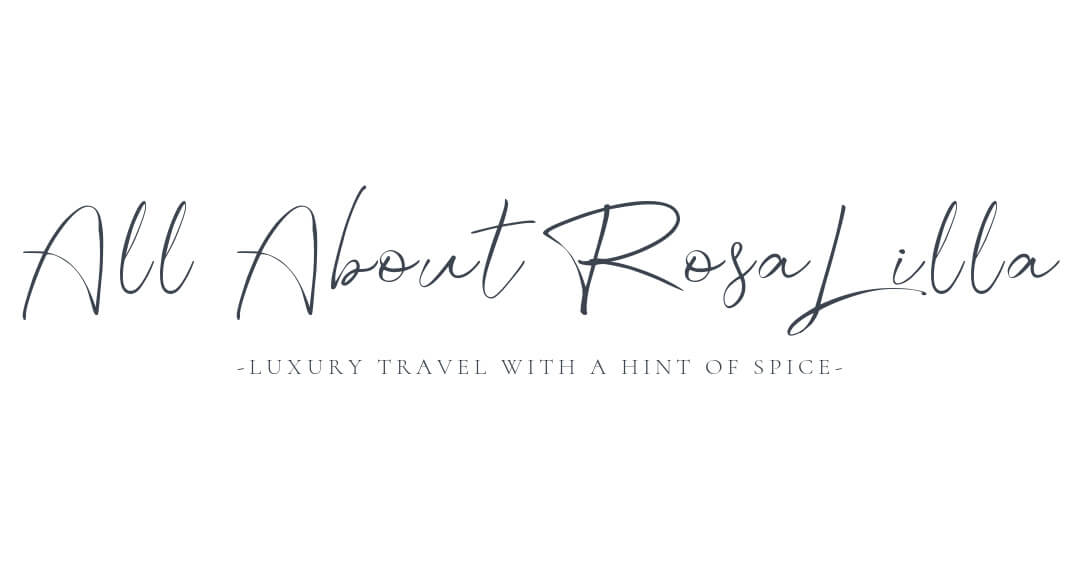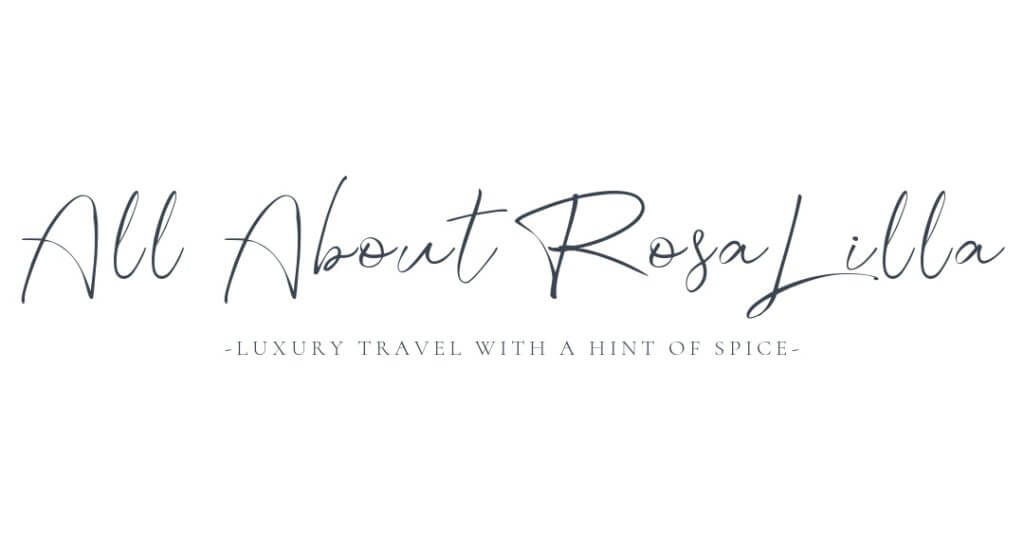 Sharing is sexy!