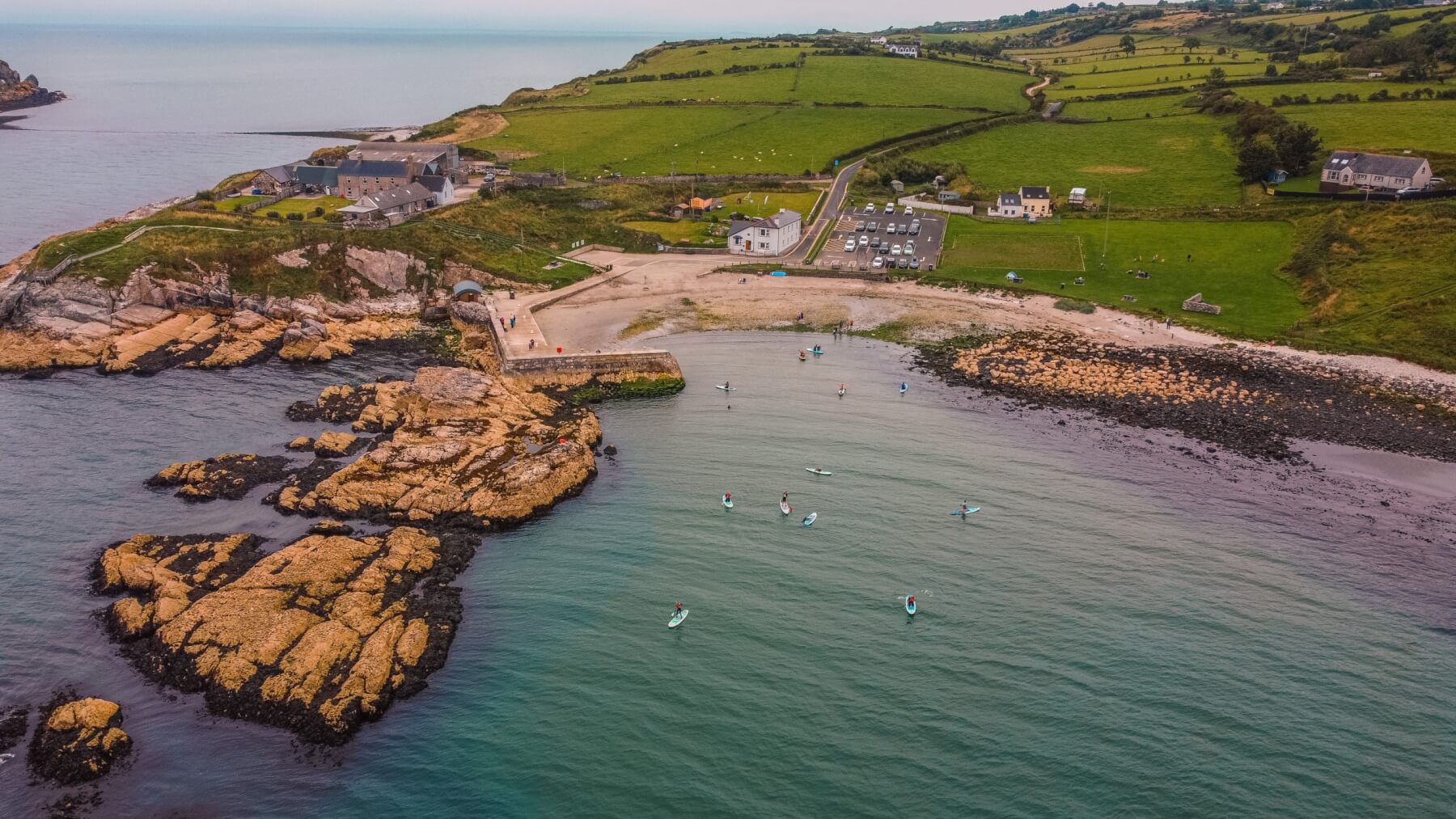 I first fell in love with County Antrim last Autumn when I visited to do a Game of Thrones filming locations tour along Antrim's coastal route. Before that I had been guilty of heading directly to the world famous tourist spot The Giant's Causeway and accidentally bypassing all of the other hidden gems in Antrim's coast drive. So this Summer myself and Mister Lavin knew that we had to go back to one of our favourite and most beautiful places in the world and take another epic roadtrip around the coast of Antrim, skipping the big tourist spots and finding secret places among the Antrim Glens.
Antrim Coastal Route
The Antrim coast is home to some of the most stunning scenery in all of Ireland. I couldn't get over just how breathtaking it was on my first trip last year. Packed with beautiful scenery, historical sites and colourful coastal villages be sure that you make time for driving the Antrim coast and exploring some of the best things to do in Northen Ireland. I want to take you away from The Giant's Causeway and the Carrick-A-Rede rope bridge and show you other hidden gems in Antrim.
This journey around Antrim's atmospheric towns and villages is not the usual well-trodden tourist trail between crowded attractions but you will not be dissappointed and may even be surprised by what else this county has to offer.
Where does the coastal route begin and end?
The Antrim Coast road starts in Belfast City and ends in Derry. It is a 313km journey that follows the coast road through the nine Glens of Antrim, peaking at the Giant's Causeway before pushing on through to its final destination, the incredible city of Derry. If you still haven't experienced Halloween in Derry then you are missing out!
As we were driving from Galway, we decided to break up our journey by spending a night in one of our favourite Northern Ireland cities, Belfast. Steeped in Victorian history and experiencing an ever-evolving cultural scene, Belfast is a treasure trove of historic sites, architecture and buildings from both the past and present. There are so many fun things to do in Belfast be it a walking food tour of Belfast or simply checking out all the best Instagram spots in the city.
Where to stay in Belfast
We always love to stay in the fabulous Grand Central Hotel any time we stay in Belfast. Set in the Linen Quarter, this luxury hotel is a spectacular hub for exploring all that Belfast has to offer. But it is more than just a hotel. It is an ode to the city. Standing tall in Bedford Street, this impressive jewel fuses glamour and grandeur with a uniquely Belfast spirit. It is perfectly placed in the heart of the city and not far from the lively Cathedral Quarter with its charming cobbled streets, pubs and eateries. City views from the hotel are not bad either! Just check out this sunset over the city that we captured on our last stay there.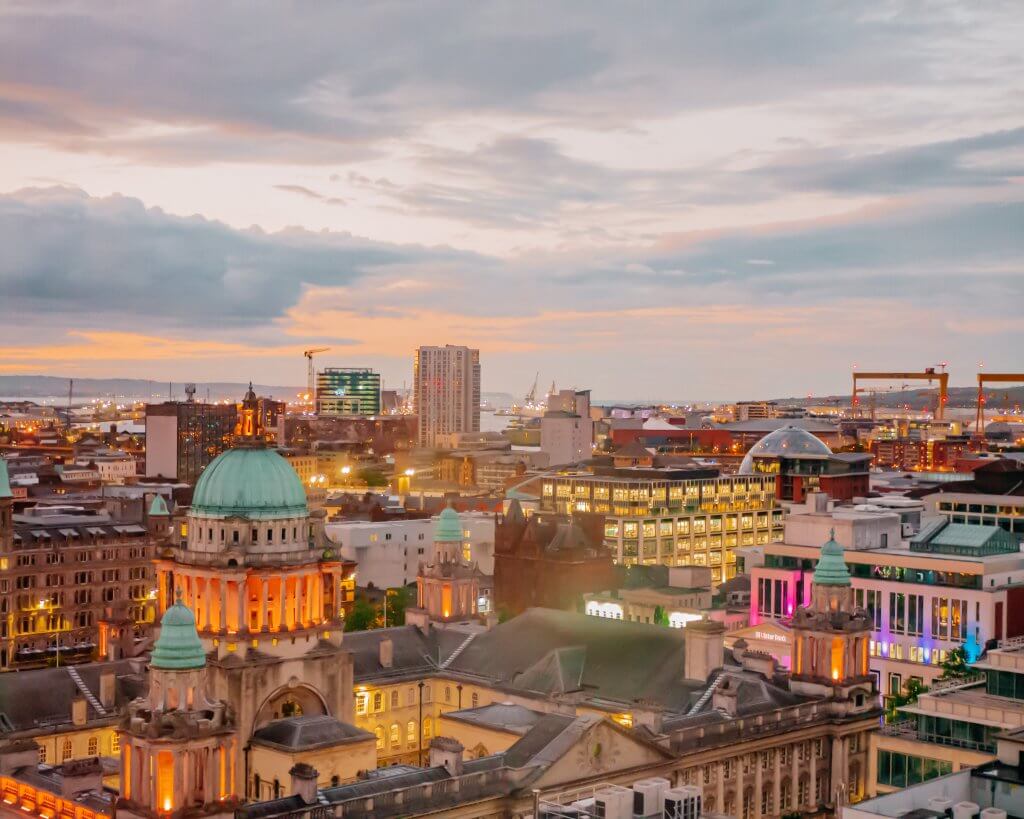 We chose to eat in The Dirty Onion, a traditional pub with a modern twist. The Dirty Onion is Belfast's oldest building. Dating back to 1780, the building was used as a bonded spirit warehouse from 1921. Inside, low ceilings supported by exposed wooden beams and original brick walls throughout nod to the past. You will find great food, Irish music and the all important craic here seven nights a week.
The perfect 3 day itinerary exploring hidden gems in Antrim
Make the most of your stay in Mid & East Antrim by following our itinerary of the best things to do in Antrim away from the usual tourist spots.
Day 1
9:00 am – Breakfast at The Grand Central, Belfast
Set yourself up for a day exploring hidden gems in Antrim by having breakfast in The Grand Central. Breakfast is served every morning from 7am in the beautiful Seahorse restaurant. You can choose anything from a full Irish Breakfast to their special Bushmills Whiskey Porridge or a classic Continental Breakfast comprising of Fruit, Danish Pastries, Cereals, Meats and Cheeses. For those on the go or looking for a more relaxed breakfast visit the Grand Café. With Breakfast Boards, Signature Specials and their very own Grand Café blend of coffee there is no better way to start the day.
11:00am – Explore Islandmagee
Hop in your car to begin your Antrim coast road trip. From Belfast it will be approximately a 40 minute drive along the Antrim coastal route to reach the peninsula of Islandmagee. You will pass Carrickfergus, known locally as Carrick, a large town on the Antrim Coast. As one of the oldest towns in Ireland, it is most famous for its landmark Carrickfergus Castle, which is one of the best perserved castles in the country. It is an imposing monument on the Northern Ireland landscape.
The castle is only open for pre-booked guided tours only but I still recommend stopping briefly to check out this historic town.
Halfway between Carrickfergus and Larne lies the Islandmagee peninsula. It is most recently famous for being home to The Gobbins cliff path, more on that later, but there is more to discover here. It's location away from the main tourist stream makes the peninsula a real insider's tip. Highlight's include visiting Portmuck Harbour, a stunning little harbour with amazing views of the Antrim Coast. Be sure to try stand up paddle boarding with Islandmagee SUP.
Another lovely spot is Brown's Bay, on the northern tip of Islandmagee. It lies in a protected horseshoe-shaped bay. Here you can enjoy a stroll and a coffee beside the sea.
Also you can't visit Islandmagee without trying one of the world famous ice creams at The Rinkha. It is a family-owned general shop, ice-cream parlour and toy store. Their traditional family recipe ice-cream is available all year round with exciting seasonal falvours added throughout the year. With visitors coming from miles around make sure you call in for a scoop (or two) of your favourite flavour.
12:30am – Check in to Ballygally Castle and enjoy a Game of Thrones Afternoon Tea
Perched on the tip of the famous Causeway Coastal Route, sits Ballygally Castle, a stunning 17th Century Castle which overlooks the golden sands of Ballygally Bay and has uninterrupted views across the Irish Sea. It is the perfect base for exploring this part of the Antrim Coast. For those of you that love a ghost story it is rumoured to be one of Ireland's haunted hotels but I can assure you that I have stayed here twice now and have only ever felt good vibes.
A fun novelty to try in Ballygally Castle is the Game of Thrones Afternoon Tea. Inspired by the Emmy Award-winning show filmed in Northern Ireland, the delicious Game of Thrones-themed tea allows guests to immerse themselves in the atmospheric mood of the show whilst relaxing in the luxurious surroundings of the Castle. The tasty treats which will delight fans of the show include Lannister Egg, Baratheon Bread, Little Fingers Chicken Caesar wrap and Jon Snow cakes to Dothraki Trifle with Mini Dragon's eggs. The highlight will be getting to take home a Game of Thrones inspired iconic Hastings duck!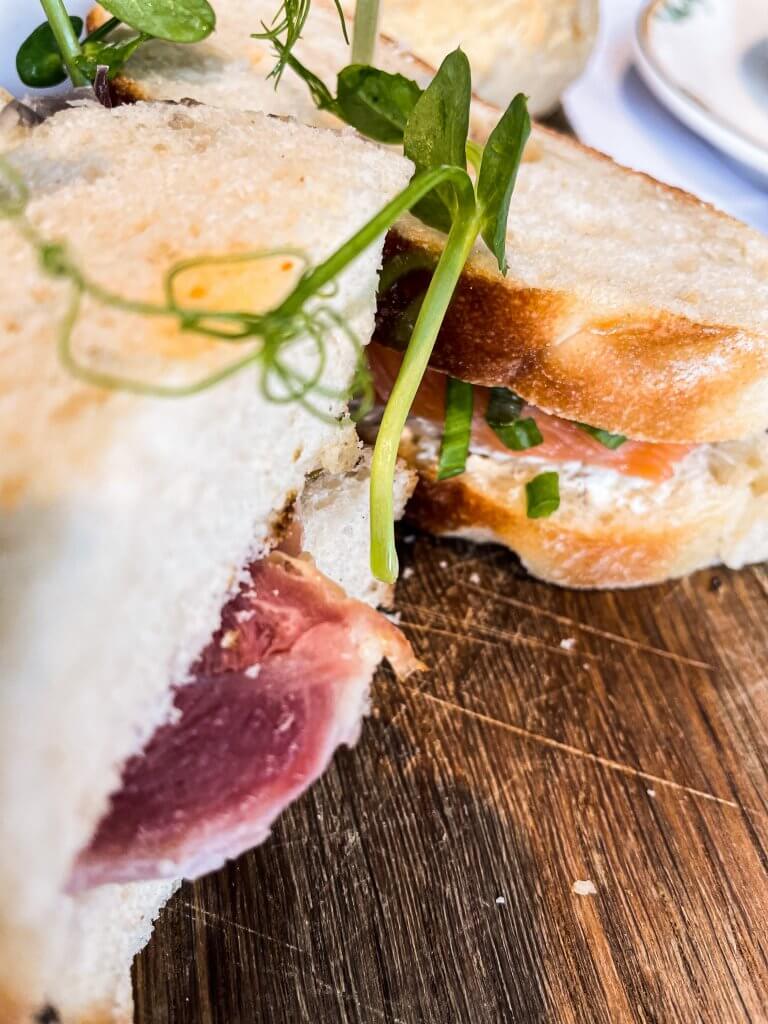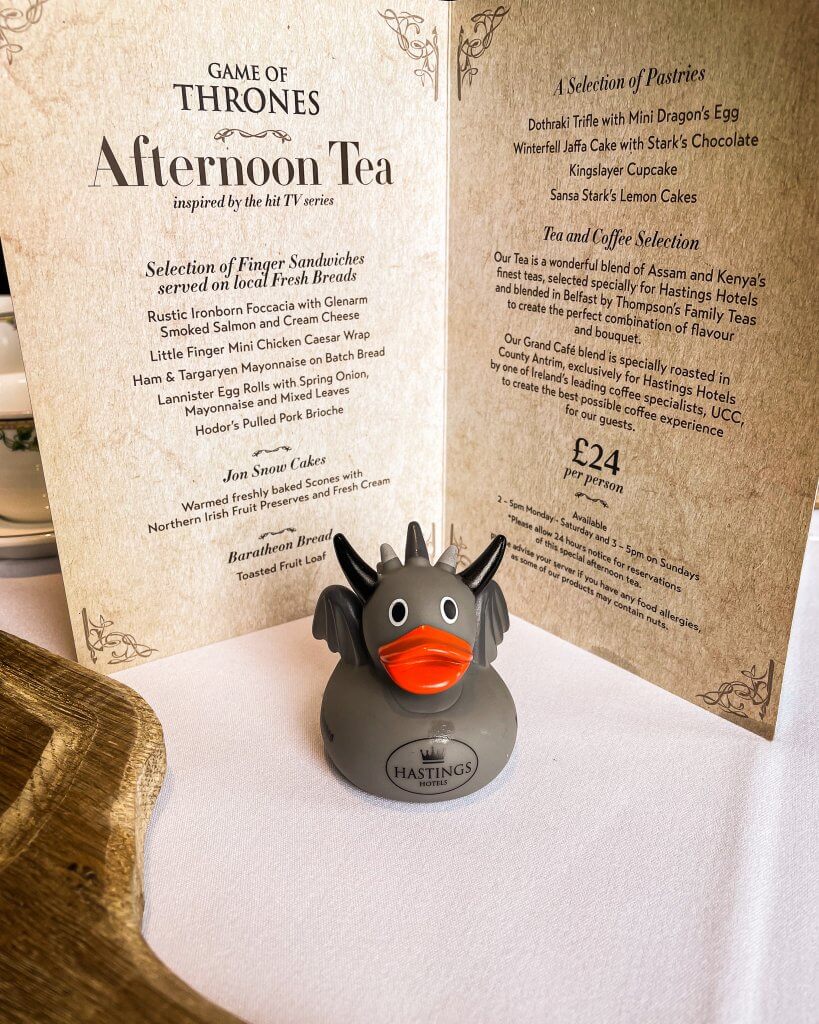 3:00pm – Explore the charming coastal town of Carnlough
To truly appreciate the splendour of Mid & East Antrim, you must walk its towns and villages. There is no better place to start than Carnlough Harbour. Here you will meet a welcoming, friendly people, whose unique culture was shaped by a very turbulent history.
The short journey from Ballygally Castle to Carnlough is magnificent on its own. Driving through the deep green pastures of the Glens of Antrim you'll experience the ever-changing landscapes of Northern Ireland. When you arrive in the charming village of Carnlough you will be greeted by the picturesque harbour on Carnlough Bay. Colourful fishing boats will be dotted along the harbour and it is a gorgeous place to walk and breathe in some fresh sea air.
Be sure to stop in to Ebb and Flow, a delightful gift and craft shop overlooking the harbour. It provides a fantastic platform for local artists and makers to show and sell their work with new lines arriving regularly. It has a great variety of quality products sourced from all over Ireland, including ceramics, jewellery, soft furnishings, textiles, accessories, hand made soap, candles, hand made notebooks and cards. You will also find the workshop of Antrim Rain Natural Soaps there. You can actually watch the soap being made using rain water collected at the top of the glens, using no animal products and only 100% botanicals.
Another hidden gem can be found at Twilight Bunkhouse & Coffee Shop. This independent coffee shop is the perfect place to refuel and we just love the rustic, industrial and very cool decor inside. This place is the social hub for Carnlough residents and visitors alike and all of their coffee is ethically sourced and beautifully roasted.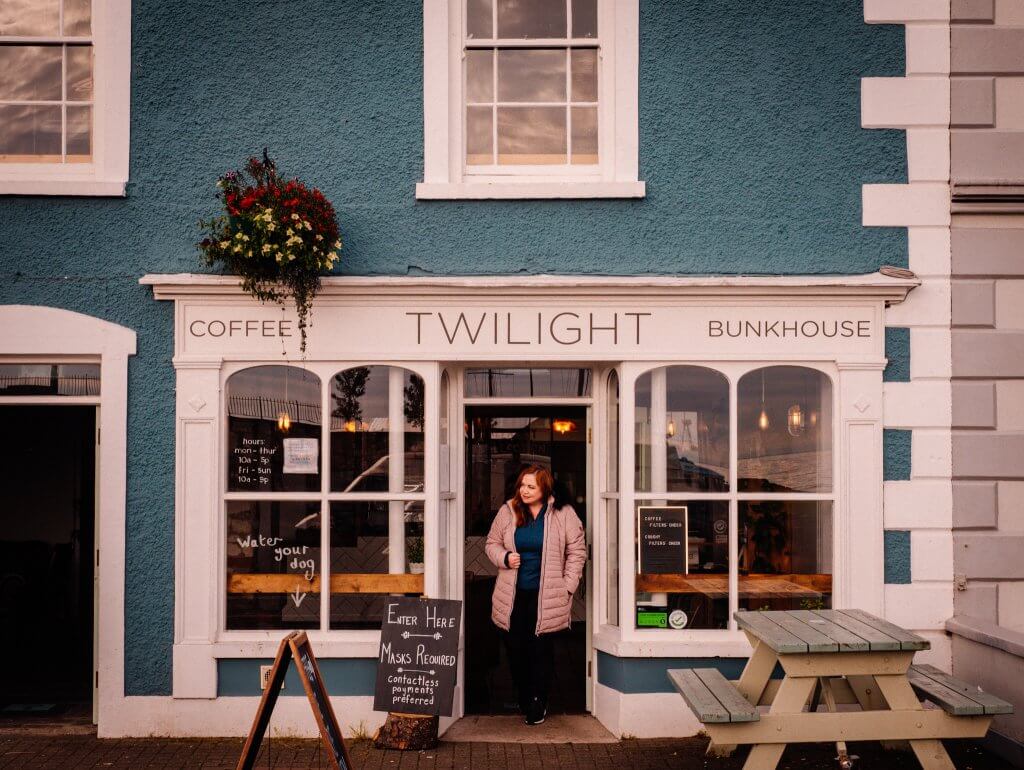 4:00pm – Take a tour of the harbour with Carnlough Boat Tours
Step aboard a boat named Curiousity where skipper, Davy Smyth, a third generation local fisherman will welcome you onto his boat at Carnlough Harbour. The boarding point steps are where Arya Stark features emerging from the water in Game of Thrones during an iconic scene in the show. This spot also features in our blog on the ultimate Game of Thrones filming locations in Northern Ireland. Be sure to check it out to learn more about the famous scene filmed here.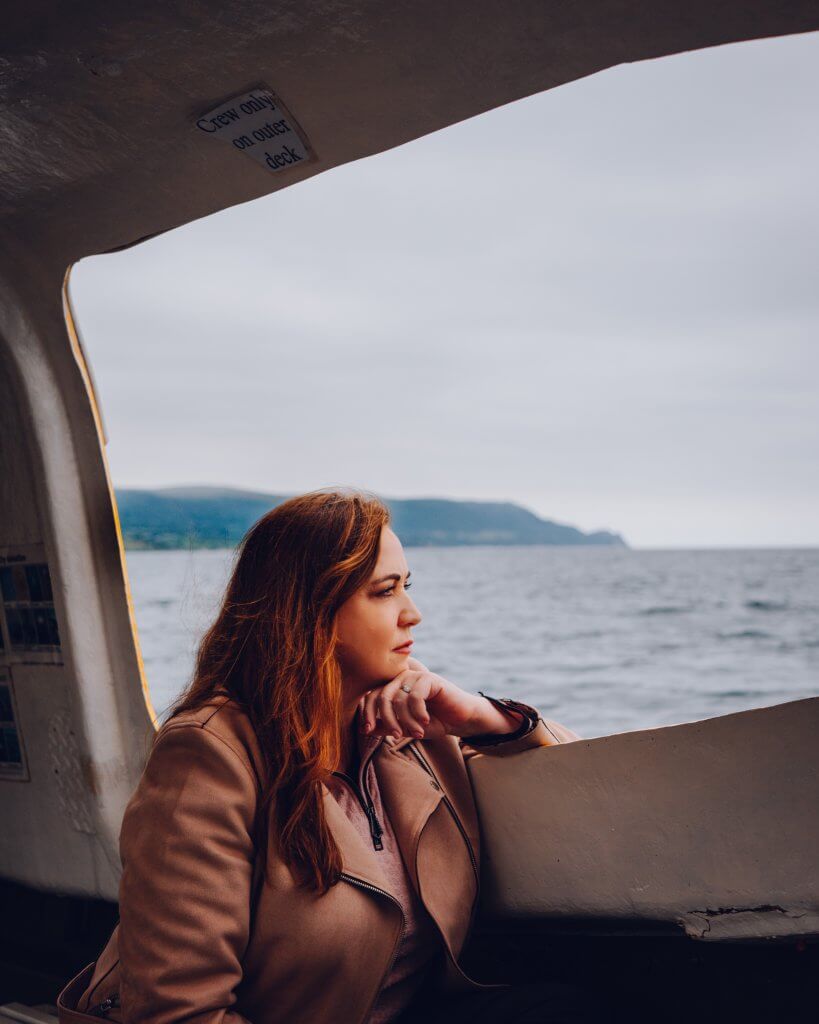 Davy is a character and he will regale you with stories from both the past and present. The tour takes about an hour and offers spectacular views of the Causeway Coastal route from the sea. You will have a chance to view a whole array of marine life including dolphins, seals, porpoises and various seabirds. We weren't so lucky on our trip but it was fascinating watching the salmon leap high out of the water at the salmon farm that we passed by.
5:00pm – Enjoy dinner at Londonderry Arms
After your boat trip take a leisurely stroll back to the town centre and soak up the rich history of Carnlough from the comfort of the Londonderry Arms Hotel. Once owned by Sir Winston Churchill in the 1930's, you can't help think about his famous quote "We shape our buildings; thereafter they shape us."
Walking through the Georgian doorway of this heritage hotel you will immediately feel yourself transported back in time. The owner Denise O'Neill is more than happy to talk about the hotel's unique history. The hotel started life as a Coaching Inn built in 1848 by Frances Ann Vane Tempest, Marchioness of Londonderry. She was a formidable woman with a visionary outlook on business. She undertook a number of projects to relieve the suffering of her tenantry during the Famine, including the supply of blankets and clothing, the sale of food and seeds at reduced prices, and schemes aimed at encouraging her tenants to improve their lot by their own efforts.
The estate passed down through generations and eventually was inherited by Sir Winston Churchill in 1921. The Deeds of his ownership are displayed in the hotel. In 1947 Frank and Moira O'Neill took over its ownership and over seven decades they, along with their son Frankie O'Neill, lovingly restored and enhanced the hotel, retaining the grandeur of the Georgian features.
Dinner was amazing and the staff at Londonderry Arms were so attentive. It felt wonderful to dine in such in such a historic and romantic setting.
Day 2
8:30am – Enjoy an early breakfast in Ballygally Castle
Start your day with breakfast at Ballygally Castle where you can taste the best of Northern Ireland produce. You are in for a treat!
10:00am – Walk The Gobbins Cliff Walk
Make an advance booking for a guided tour of Northern Ireland's newest and most exhilirating attraction The Gobbins. Make sure to arrive 15 minutes early for a safety briefing and to get hiking boots if you don't already have a pair.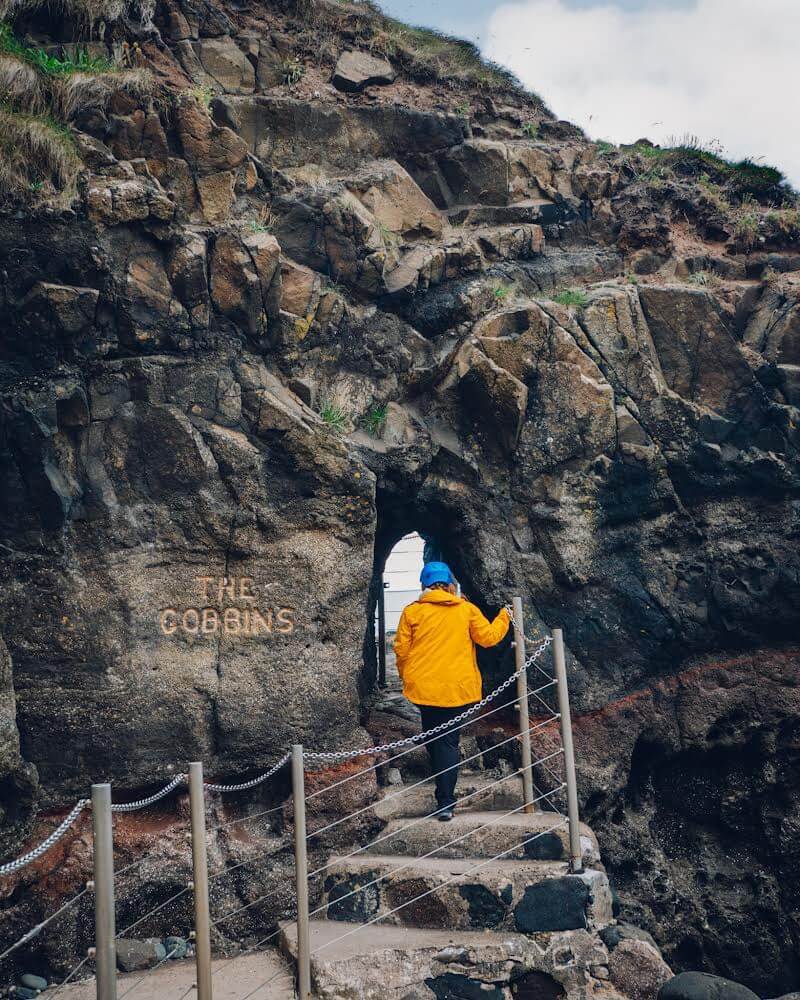 Experience the most dramatic coastal walk in Europe! The Gobbins may be a more recent experience to enjoy in Northern Ireland but it has actually been a tourist attraction that has inspired visitors now for over a century. It may have been nature that formed this unique place but it was a 19th century visionary who gave ordinary people the chance to experience it for themselves.
Volcanic eruptions around 65 million years ago laid down the basalts now exposed on the Gobbins cliff face. These cliffs are just the easternmost edge of a basalt structure that stretches from Cave Hill, near Belfast, to Binevenagh Mountain in County Derry. It is here on this cliff face that the Mid & East Antrim tourist board's catchphase "a land shaped by sea and stone" is most poignant.
Recent ice ages have seen ice sheets spread and retreat, each time leaving sand, gravel and boulders strewn across the landscape. Moreover, they have left the Antrim Coast relatively unstable. Landslips frequently occur along the Antrim Coast Road and posed severe challenges to the Gobbins Cliff Path's engineers. In fact during our visit a section of the path at the end of the walk was closed for safety reasons as it had been damaged by a recent rock fall.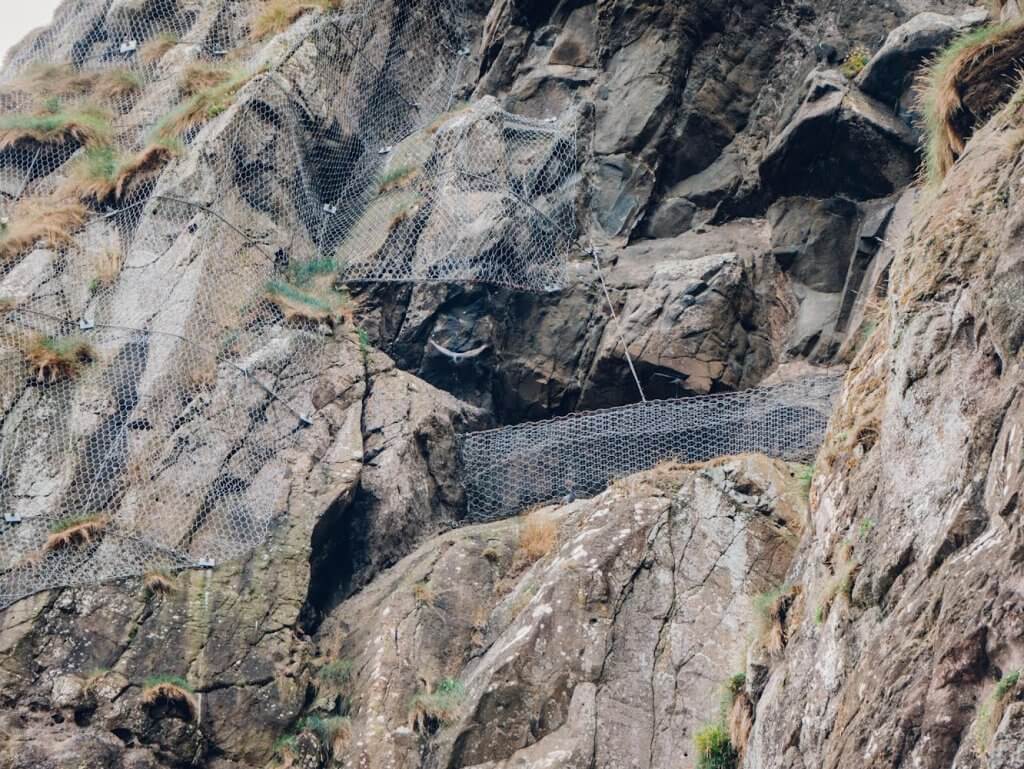 The ice helped carve out the extraordinary rock formations that provide numerous habitats for various birds and sea life. For example, the Gobbins is home to Northern Ireland's only mainland colony of puffins, which burrow into the cliff-side soils churned up by the glaciers. Both the puffins and the auks push their young off the top of the cliff to fly. It must be an incredible thing to experience but if I'm honest I am not sure my heart could take it to watch! Other birds that make the Gobbins their home are guillemots, razorbills, cormorants, and kittiwakes. Also be sure to look out to the sea for seals, porpoises and dolphins. We were lucky to catch a glimpse of a seal on our visit.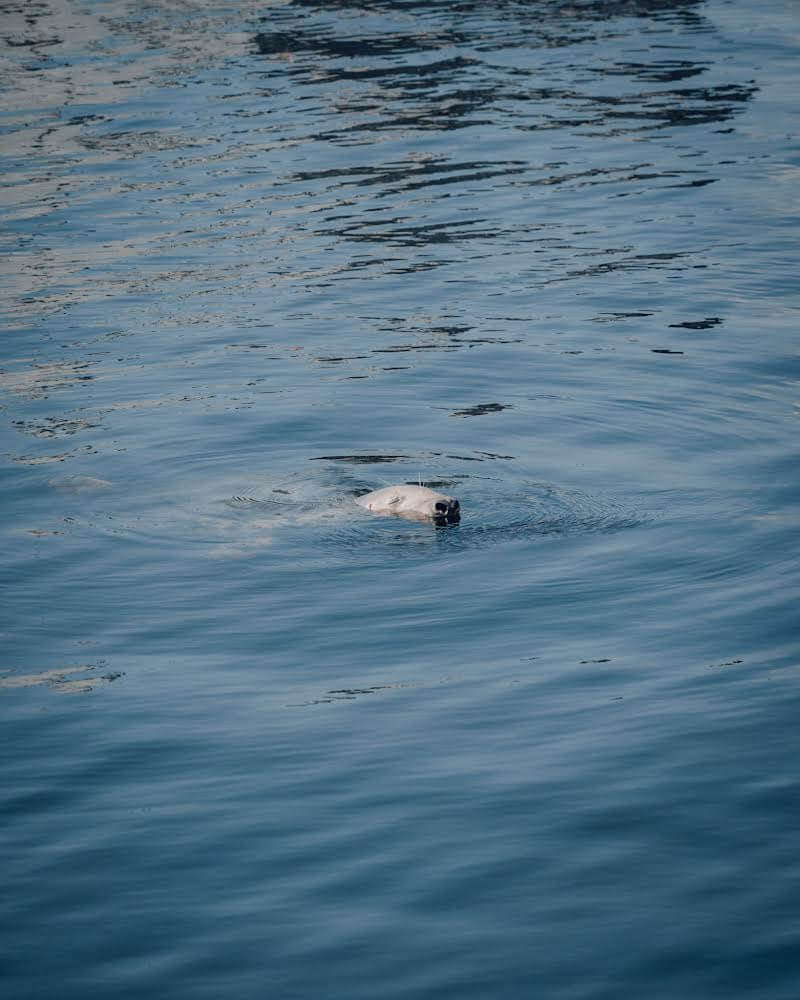 This natural beauty drew many admirers, especially in the nineteenth century when naturalists and day-trippers began to visit the Antrim coastline. You enter the path through Wise's Eye, named after the man who designed the original path. Berkeley Deane Wise was a Victorian railway engineer who had a vision to create this dramatic and immersive cliff walk. Local guides will walk you an impressive network of walkways, bridges and tunnels that hug the striking basalt cliff face. You will be engulfed by nature.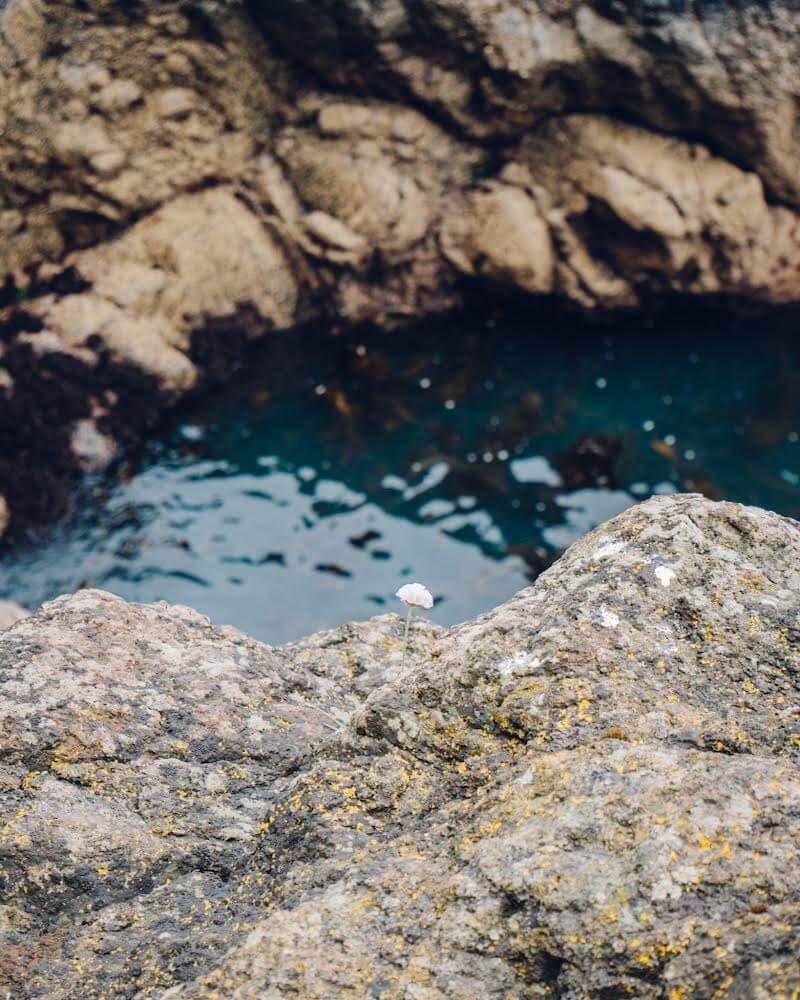 It was such a unique experience and I can see why the Gobbins is rapidly gaining popularity. I am not the fittest person in the world, especially after my Lyme disease but my strength is slowly returning and I am able to exercise almost daily. A reasonable level of fitness is required though. It wasn't the actual cliff walk that I found challenging but the steep hill that had to be climbed to reach the road after the walk. Comfortable outdoor clothing is advised and the visitor centre will provide both hard hats and hiking boots.
Be sure to check with the visitor centre before booking if the walk will be suitable for you. If you have any medical condition, have a fear of heights / birds or if you are claustrophobic, the walk may not be for you. For health and safety reasons you will be accompanied by a trained guide at all times. The walk should take about 2 1/2 hours so be sure to use bathroom facilities before you go.
1:00pm – Visit the colourful seaside town of Whitehead
The colourful seafront of Whitehead looks just like a postcard. Whitehead has many amenities, including a thriving local arts and crafts community, local shops, and pre-pandemic you would hear traditional Irish musicians playing in most pubs. You can also find Whitehead Railway Museum there which is a firm favourite with both children and adults alike.
2:30pm – Lunch at The Dairy and Glenoe waterfalls
For lunch pay a trip to The Dairy, a family owned cafe, butchers and farm shop located a short distance from Glenoe waterfall. The food here is amazing and we were so happy to see incredible vegan options on the menu. The staff were also very friendly.
After lunch make your way to the nearby village of Glenoe, a tiny hidden gem in the area and home to a very quiet forest with an accessible and breathtakingly beautiful waterfall. It is a site so picturesque that selfies are encouraged and so precious it falls under the protection of the National Trust.
4:30pm – Sallagh Braes
The wild, magical landscapes of Sallagh Braes and Cairncastle will be instantly recognisable as Winterfell to all Game of Thrones fans. Set off from Linford Car Park for an extraordinary walk or simply relax and take in the beautiful scenery.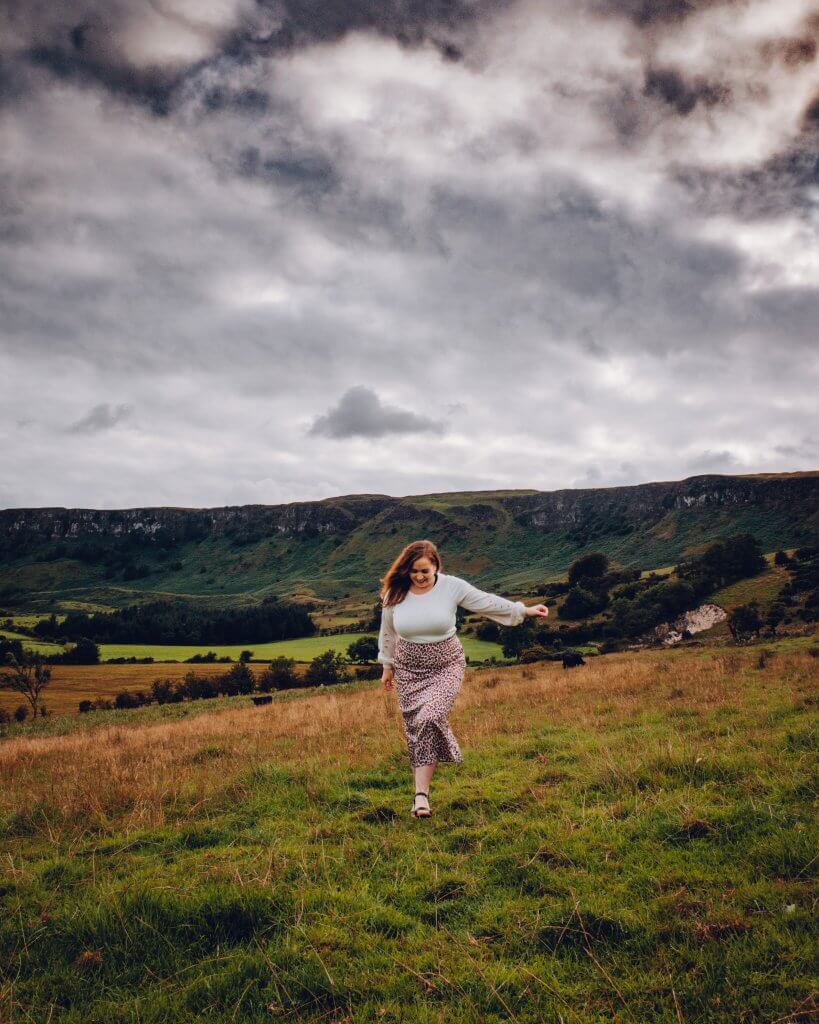 6:00pm – Dinner at Ballygally Castle
After a full day exploring enjoy a relaxed dinner in the Garden Restaurant in Ballygally Castle. The Garden Restaurant has the character and charm you would expect of a 17th Century Castle. Enjoy the Garden views whilst you receive the highest level of service from staff and enjoy the delicious, contemporary food which has been carefully selected, using the finest local produce and prepared by an experienced culinary team.
After dinner take a stroll on the beach to soak up the stunning views across the bay and beyond to Scotland.
Day 3
10:00pm – Breakfast at Ballygally Castle
Enjoy a bit of a sleep-in and have a late breakfast at Ballygally Castle.
11:30pm – Explore the craft village and walled gardens of Glenarm Castle
Glenarm Castle was built on its present site by Randal MacDonnell, 1st Earl of Antrim in 1636. However only six years later, in 1642, the house was burned by a Scots Covenanter army who were attacking the royalist MacDonnells and so it remained a roofless ruin for ninety years.
During this period the Antrim family lived first at Dunluce Castle and later at a house called Ballymagarry, but a wing was built onto the ruin at Glenarm where the family would stay when they were visiting the southern end of their estate. Over the years the ruin was redeveloped into the castle that stands today. Although guided tours are permisable Glenarm Castle remains first and foremost a family home.
A visit to the walled garden is a must. While there has been a garden in this location since the mid-18th Century, the garden you see today was created in the 1820s to provide the Castle household with all of its fresh produce (an earlier vegetable garden was situated between the Castle and the sea). At its peak during the Victorian era, the Walled Garden would have had between 15 and 20 staff, with additional seasonal staff brought in to help at peak periods.
Since 2001 Viscount and Viscountess Dunluce, together with a dedicated team, have gone about restoring the garden opening it to the public for the first time in 2005. Virtually everything you see today has been planted over the past two decades. Since the recent passing of the Earl of Antrim, his son who was previously known at the Viscount Dunluce has inherited both his father's estate and title. He lives in the castle with his wife Aurora and their two children.
It is so wonderful to explore the walled gardens and Glenarm Castle have added a new element to a garden visit with their Woodland Walk which is a scenic extension to the Walled Garden. A hot spot for red squirrels, robins, rabbits, and a whole host of other birds and wildlife. Here you can enjoy a bird's-eye view over the Walled Garden and Glenarm Castle's park where you might also see their award-winning herd of Shorthorn cows grazing. Specimen camellias and rhododendrons can be seen here in spring, as well as carpets of white wild garlic flowers, while in the autumn you can enjoy their growing collection of acre (maple) trees in all their rich autumn hues.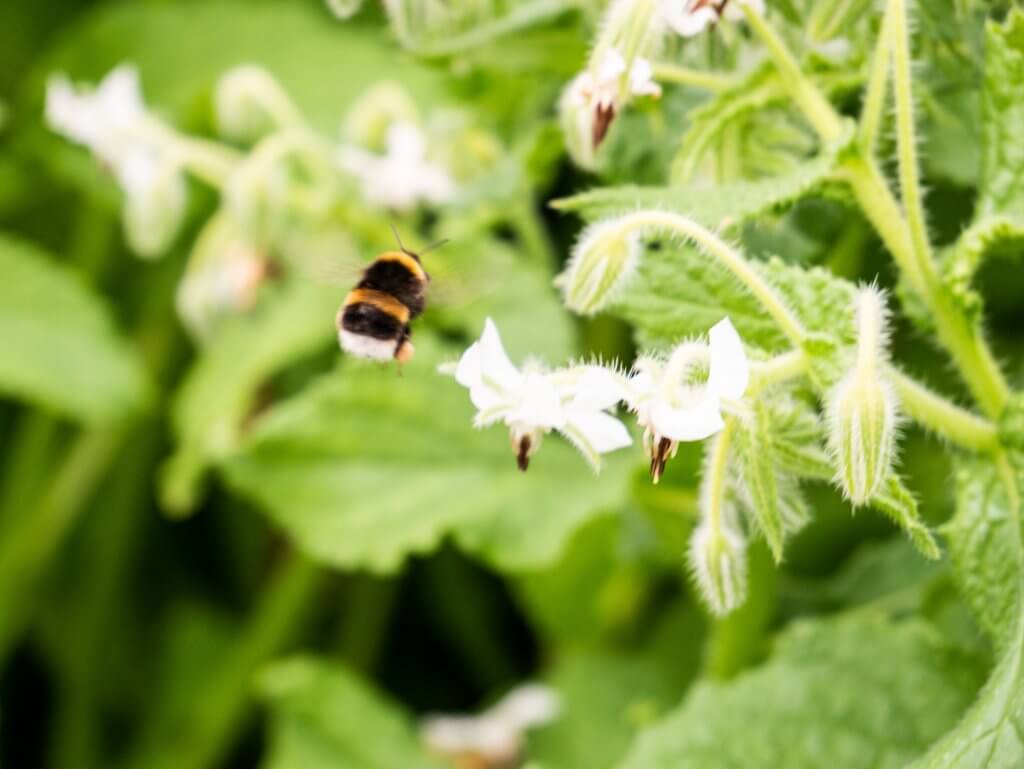 There is so much to see and do on the grounds of the castle including a mini Land Rover experience for the kids. The course is specifically designed for the mini land rovers and you can just imagine the excitement of the children waiting to try it out. Grab an ice cream afterwards at The Milk Parlour or grab a take away coffee and a homemade treat at The Potting Shed.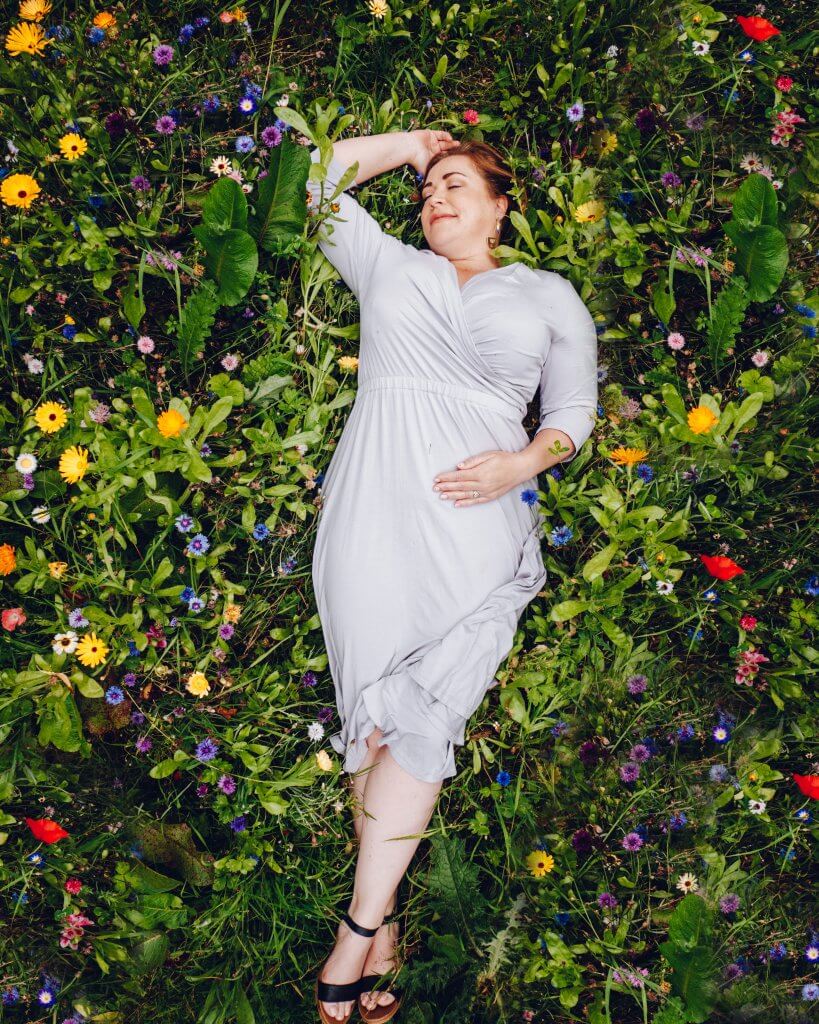 1:30pm – Visit Madman's Window
Walking along the Glenarm Coastal Path, a few miles south of the village of Glenarm, you'll come across two large limestone boulders. On the far side of these boulders is the "Madman's Window," a naturally created, window-shaped gap in the rock looking out towards the Irish Sea.
The geological oddity gets its nickname from a local tale about a man from the village who lost his sweetheart in the waters of Glenarm Bay. It is said that after this terrible accident, the heartbroken man, losing grip on his sanity, visited the rocky hole on a daily basis to stare blankly through the gap and out to sea, apparently waiting for his sweetheart to return to him.
When you park at the car park for the Glenarm Coastal Path and head to the farthest point on the path to the south, you will come across the first large boulder. At this point, continue walking on the roadside instead of walking over the large grass slope. Keep to the left of the road until you see the Madman's Window boulders to your left.
2:30pm – Steensons Jewellers & Économusée
The definition of Économusée is 'working museum'- more recognisable as Artisans at work. Steensons jewellers is an example of this. By visiting the Économusée artisan workshops, tourists and locals will gain an enhanced experience, learn about the history of the craft and the business, the enthusiasm of the artist along with the added opportunity of meeting the artisans face to face and discovering the beauty and authenticity of the products made and sold onsite.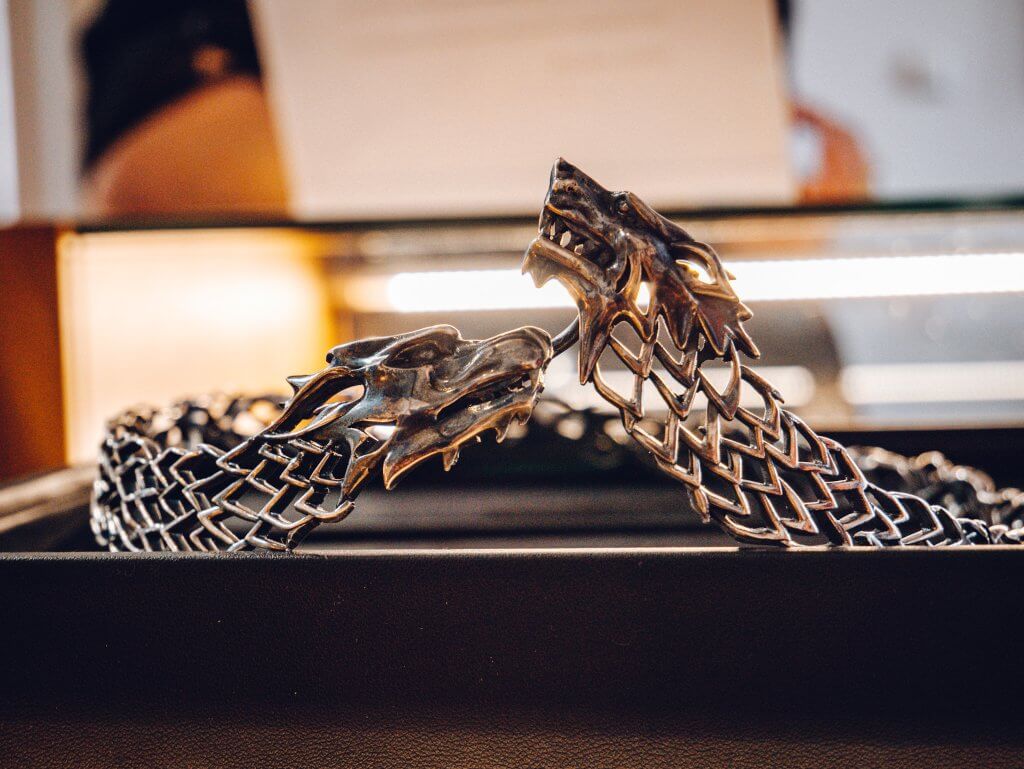 Steensons jewellers is a family run business located in the heart of Glenarm village. Be sure to stop in and watch highly skilled craftspeople at work. You can also browse over the various designs in the gallery of the shop and check out some of the iconic jewellery that featured in Game of Thrones!
*DISCLAIMER: We were invited to explore the hidden gems in Antrim by the Hastings Hotel group and Mid & East Antrim tourism meaning our accommodation and all meals were complimentary. However all opinions are our own and we are never obliged to write a blog post. We do it because we genuinely loved our time visiting these hidden gems in Antrim and we would be more than happy to pay for them ourselves.
Are you new here? Join thousands of other happy readers and subscribe to All about RosaLilla blog via email. The good news is that by signing up via email you will get exclusive travel deals straight to your inbox. The only other place that we publish these deals is on Instagram stories, so be sure to signup to get the heads up on amazing travel deals to save you money when booking.
I also share everything about myself on Instagram with nothing held back so be sure to follow along there.
If you liked this you may also like:
Visiting the Northen Ireland Castle of Hillsborough
International Art and Sculpture fair at Culloden Estate
What it is really like to stay in a luxury castle: Ashford Castle
Until next time you crazy kids!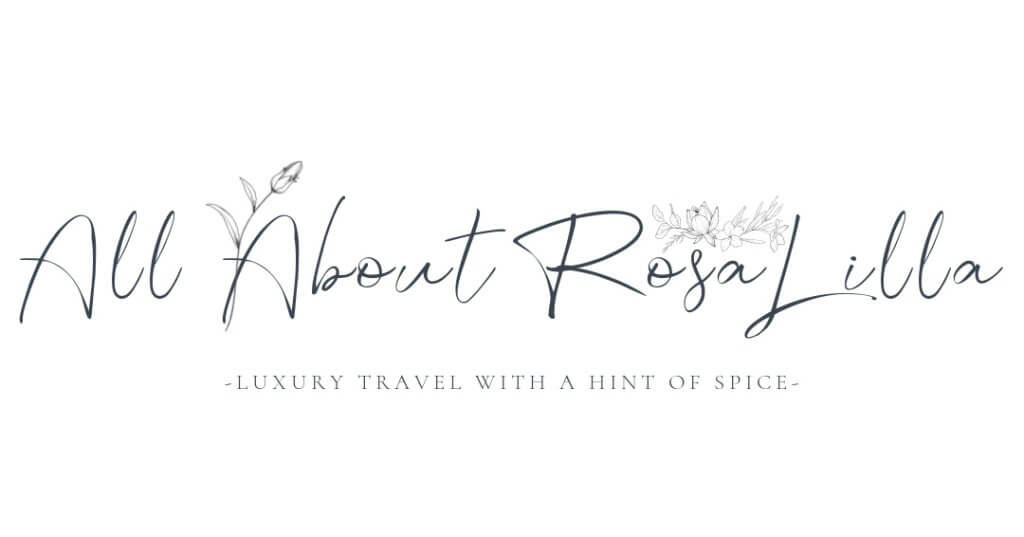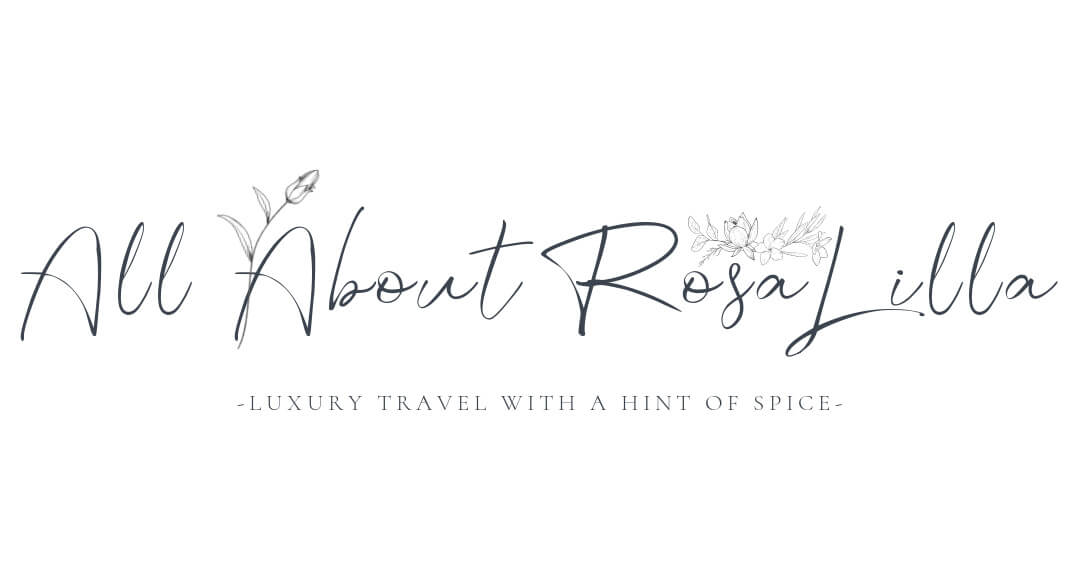 Sharing is sexy!