I firmly believe that the best way to get to know a city is through its food. So I was super excited to have been invited by Discover Northern Ireland to take part in the ultimate foodie walking tour of Belfast. Taste and Tour is a 4 hour walking tour that will help you get to know Belfast through its food and drink scene. Exclusively offering the multi-award winning Belfast Food Tour, Belfast Gin Jaunt, Belfast Whiskey Walk, Brewery Tour as well as bespoke private tours, Taste and Tour can't wait to take you 'off the eaten track' in Northern Ireland. Nothing takes you to the heart of a place like its food and experiencing it through the eyes of a local is even better.
Walking Tours Belfast
From Black Cab tours to visiting Game of Thrones filming locations there are plenty of tours to keep you entertained during your time in Belfast. But I am a great believer in getting to know a culture through their food so this walking tour of the best foodie hotspots was something that I was very keen to try in Belfast. 2016 saw Northern Ireland celebrate the year of food and drink, establishing itself as a strong contender on the world food scene. So, I was eager to try some of the best places to eat in Belfast.
From artisan producers and farmers, to top restaurateurs, Belfast has it all. Known traditionally for its wholesome food, Belfast has in recent years developed a more cultivated taste without losing sight of its origins. It is exciting to see the food scene in Belfast develop into one of the best in Ireland. The perfect way to explore it is on a guided tour with experienced and enthusiastic food guides that will give you a flavour for the city and the produce of Northern Ireland. So skip breakfast, and lunch for that matter and be sure to leave the car behind. You will be eating and drinking some of the best local food and drink along the way.
St. George's Market
The tour begins in the historic St. George's Market where you will get to meet local traders and food producers. These producers have an infectious love for the food and drink they create and they are more than happy to share it, talk about it and show you how to really taste it.
Situated in a stunningly beautiful Victorian building, it's one of Belfast's oldest and certainly most colourful attractions. It is located on May Street close to the River Langan and there has been a market on this site since 1604. Here you will get to enjoy all the best of local produce under one roof – from fresh seafood, meat and vegetables to baked goods and preserves. You will also meet some of Belfast's best characters on the stalls of the market.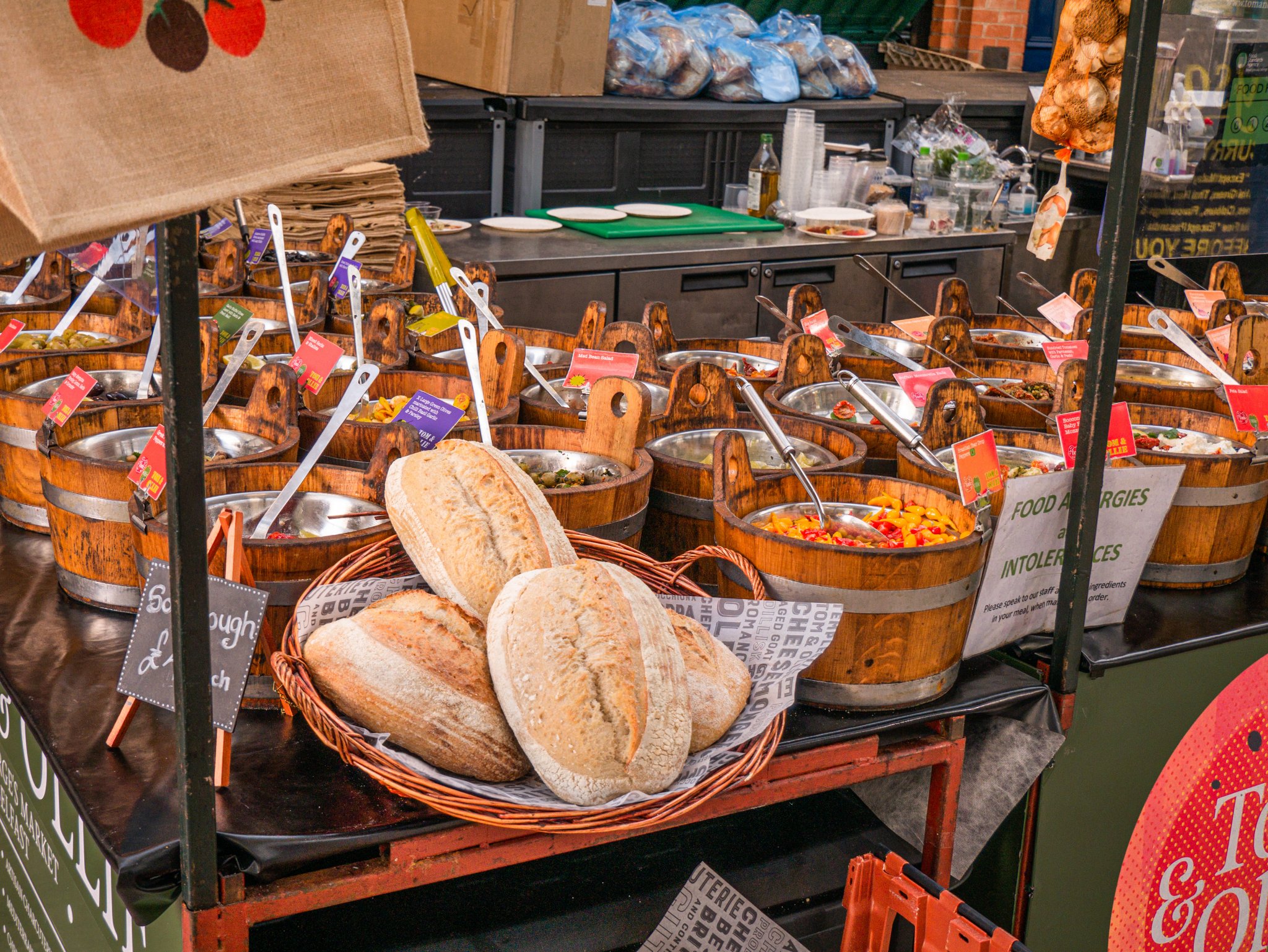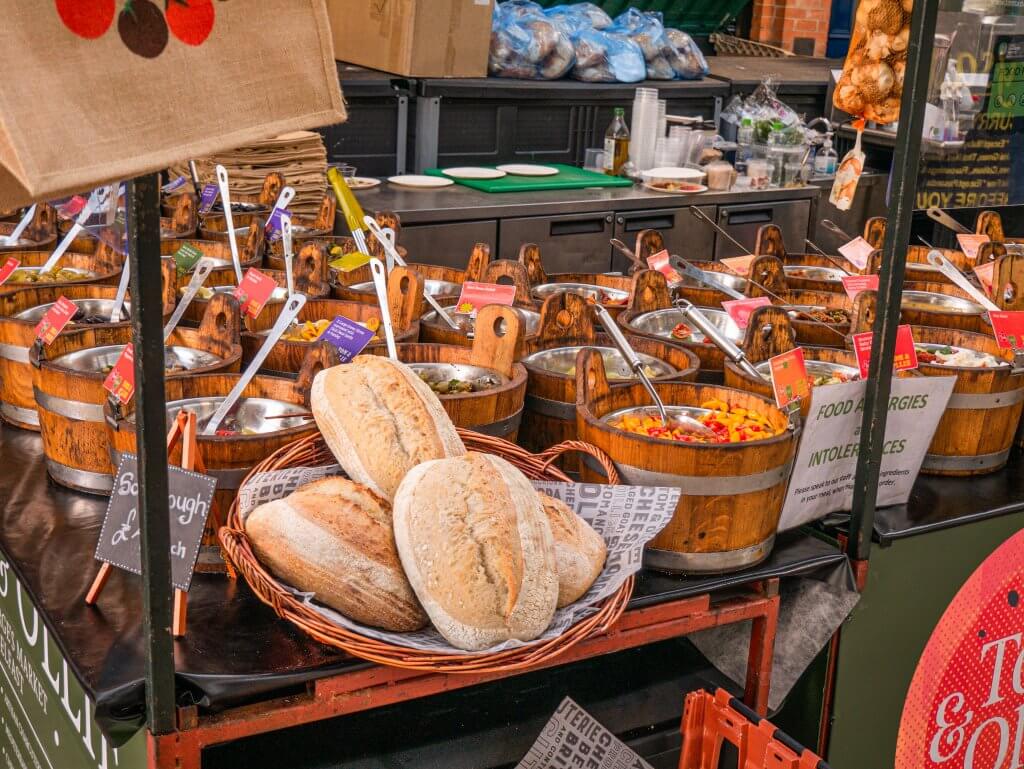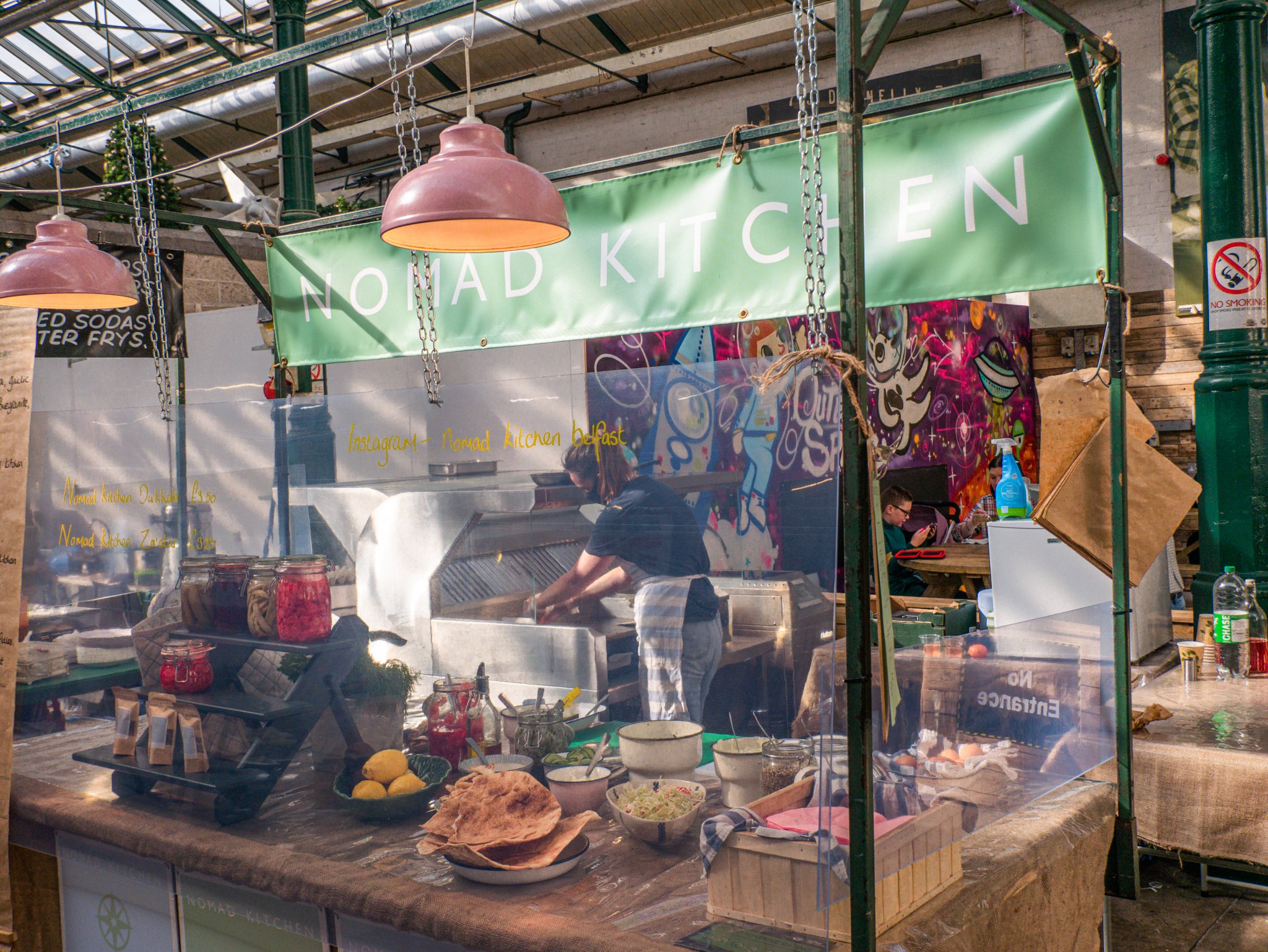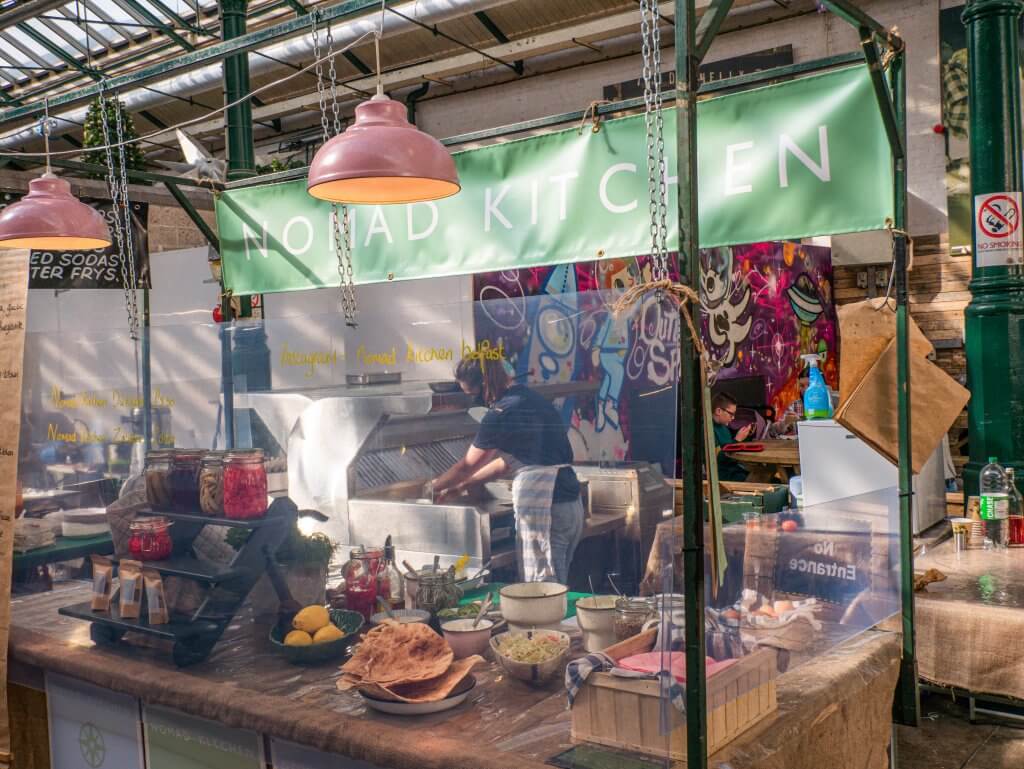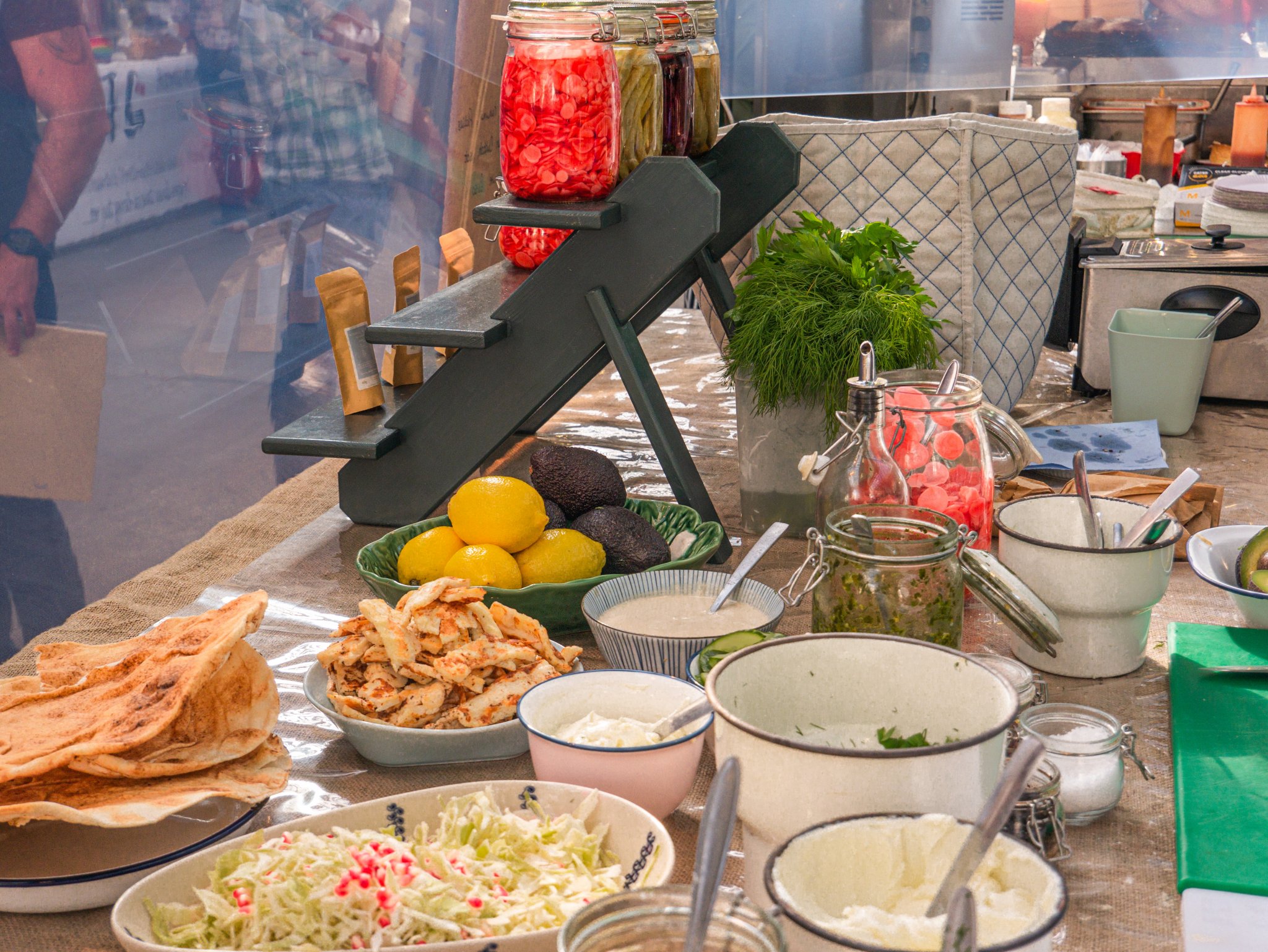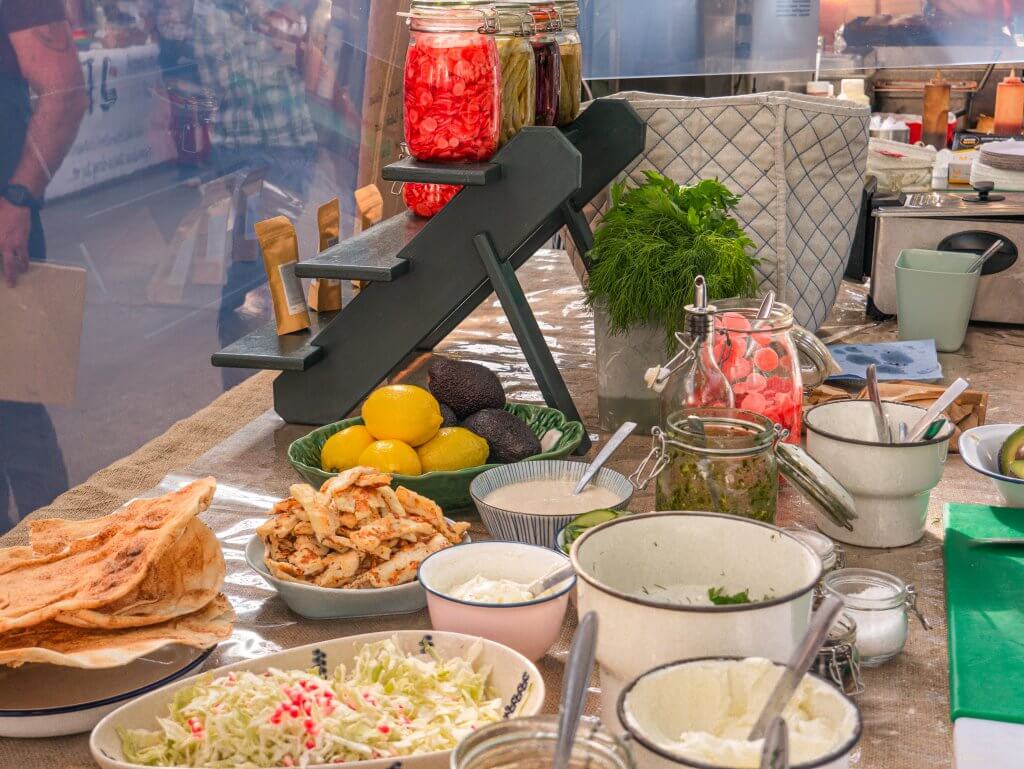 We followed our guide around the stalls sampling lots of tasty food along the way. This place is a haven for fresh produce. We even sampled some of the local seaweed! For more than a 1,000 years, a rare reddish-purple seaweed known as dulse has fed the coastal communities in Northern Ireland. Now it is making waves as a trendy superfood and we couldn't wait to try it. It is one of the most nutritious things you can eat. As people slowly began to awaken to the fact that it is a superfood it has begun appearing on menus and local chefs have started incorporating it into their dishes.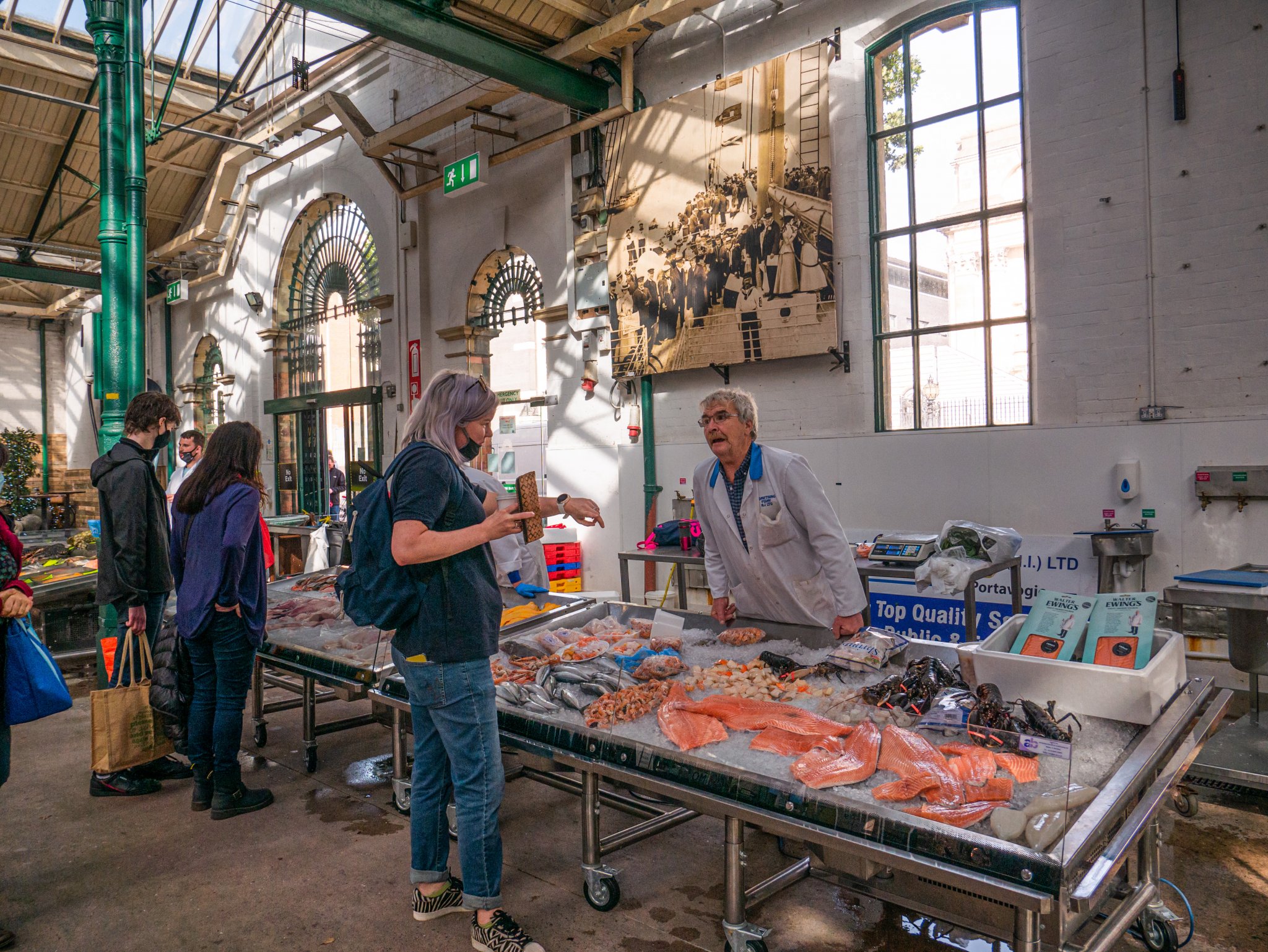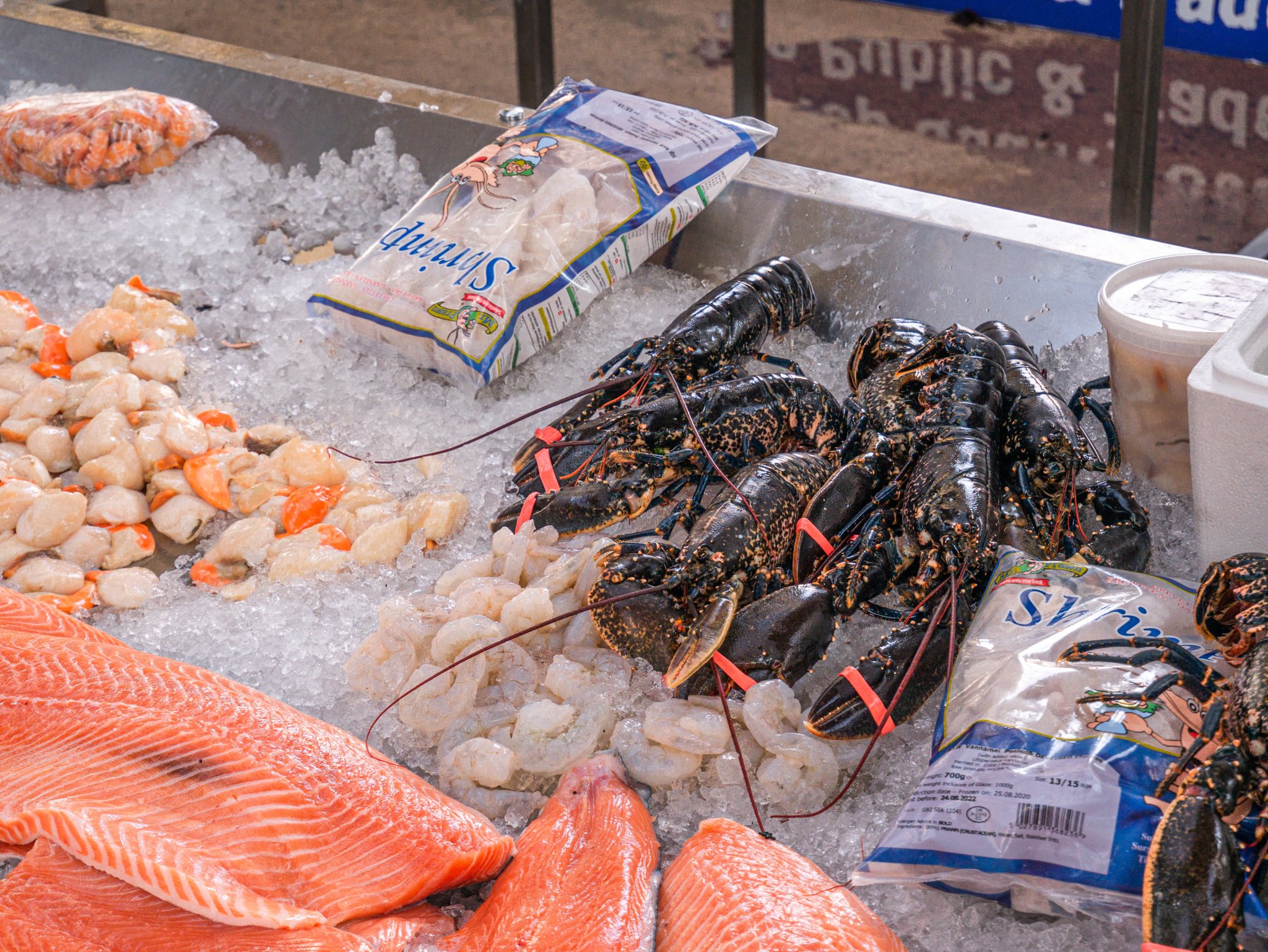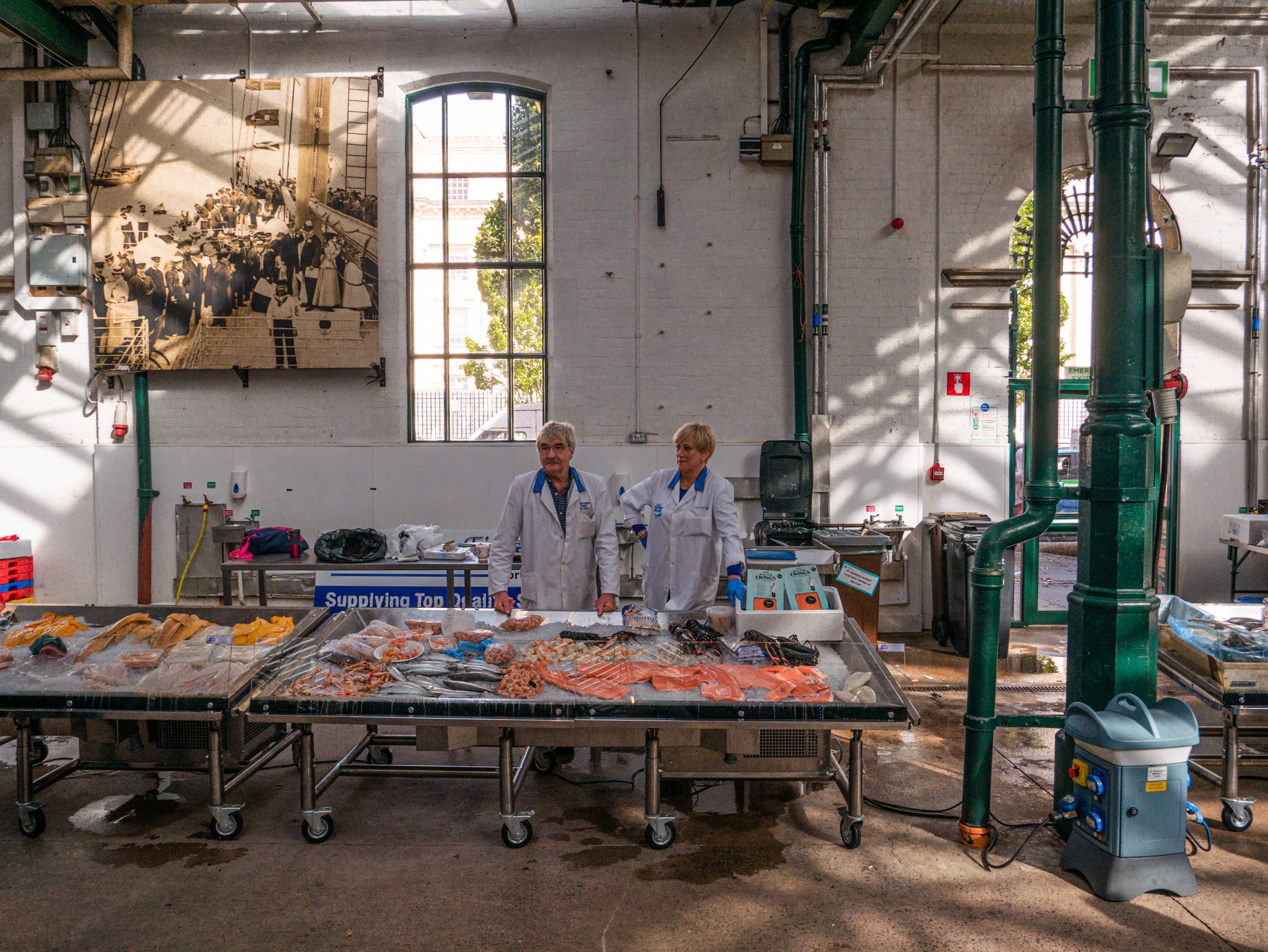 Fresh dulse is actually quite sweet but the longer you age it the saltier it tastes. However, when you pan-fry it it has a really interesting nutty , smoky flavour that almost tastes like bacon! The good news is that you can purchase bags of it here at St. George's Market to try for yourself at home.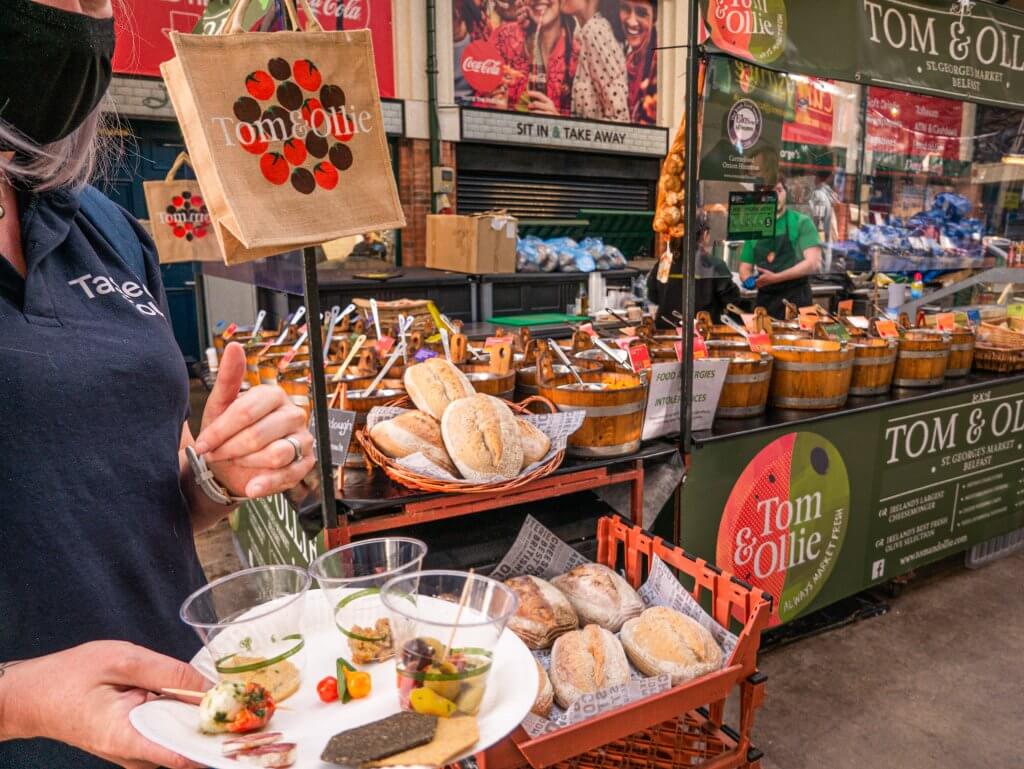 Chocolate Heaven at Co Couture
Our experienced food guide then walked us to a hidden gem in Belfast that I probably would have walked past 100 times without spotting for myself. Although, usually my senses go into high alert when there is chocolate around so I probably would have smelled it out at some point!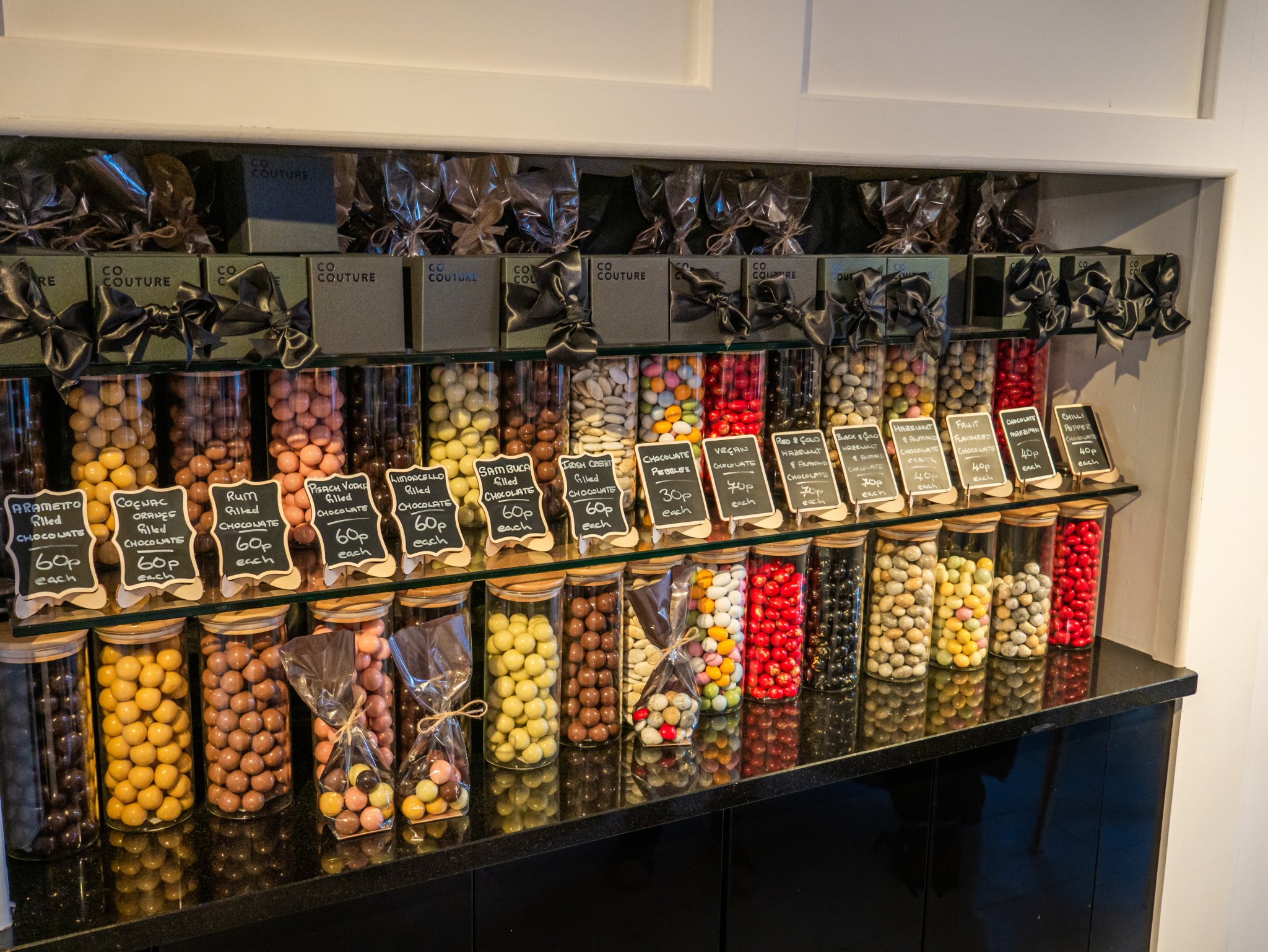 Follow your nose down the stairs to a basement shop on Chichester Street, open the door and inhale. You will be greeted by wall to wall chocolate made by the award winning chocolatier Deirdre McCanny. Deirdre knows that chocolate is a serious business and she is well known for her love of the coco bean. She has been around the world and knows that the best chocolate comes from Madagascar and this is what she primarily uses in her chocolate. And did I mention that her smile is infectious?
You don't even have to feel guilty about it because the organic Co Couture range is ethically sourced and low in both sugar and fat. In fact, because the cacao is technically a fruit you can just count it towards your five-a-day! One tip that I will definitely be taking from this food walking tour in Belfast is to check the label of a bar of chocolate before buying them. The shorter the ingredients list, the better it is for you and the more delicious it will taste.
You will be in chocolate heaven in Co Couture. For serious chocolate lovers like myself and Mister Lavin we were in paradise. The warm, inviting smell of cocao hugged us as we got to experience the best goddam hot chocolate that I have ever tasted. It was paired with one of my favourite Italian desserts cannoli made by the resident chef and Deirdre's partner Giuseppe. You just have to try the hot chocolate served with the most delicious honey marshmallows. It is a taste sensation!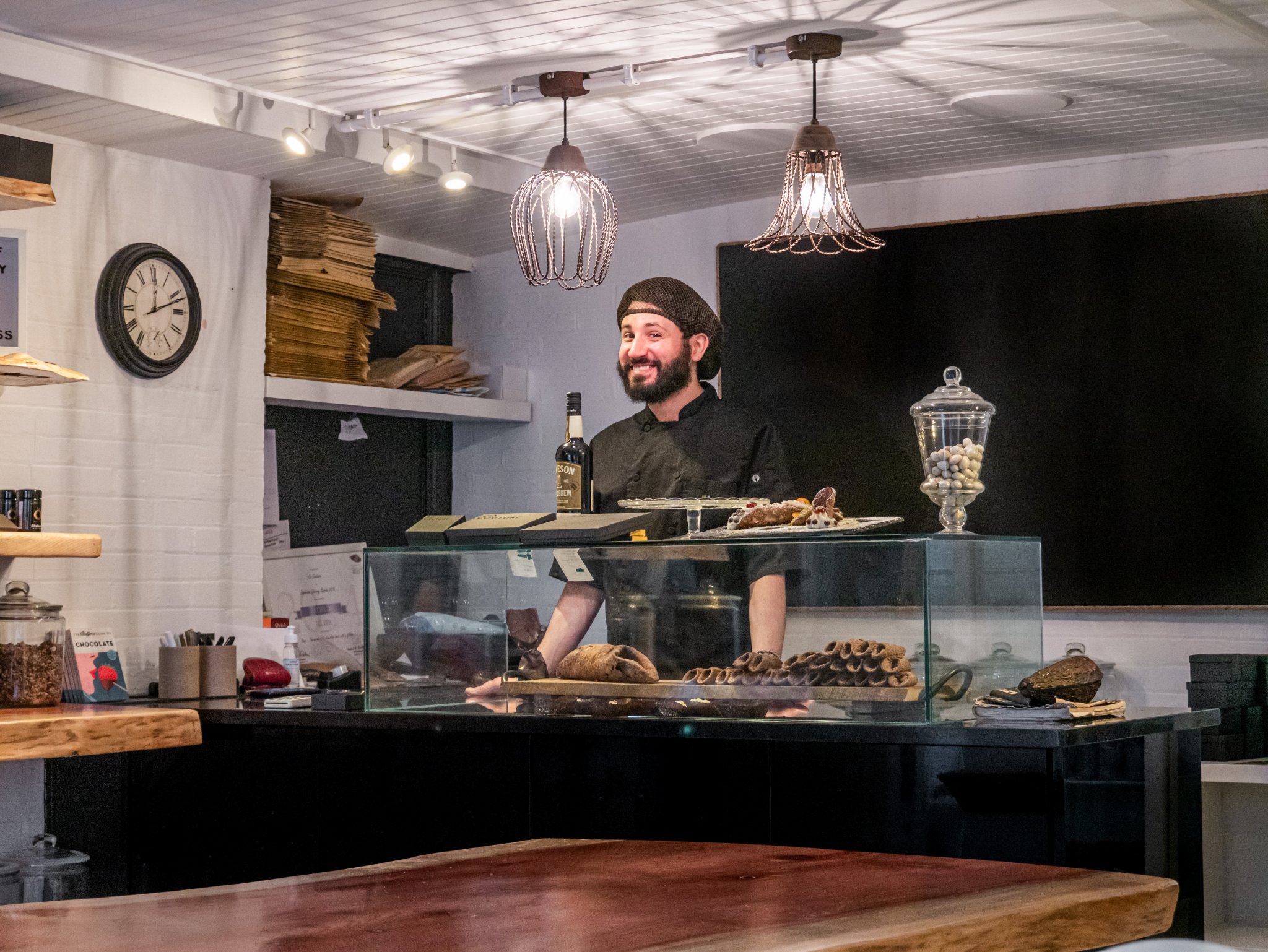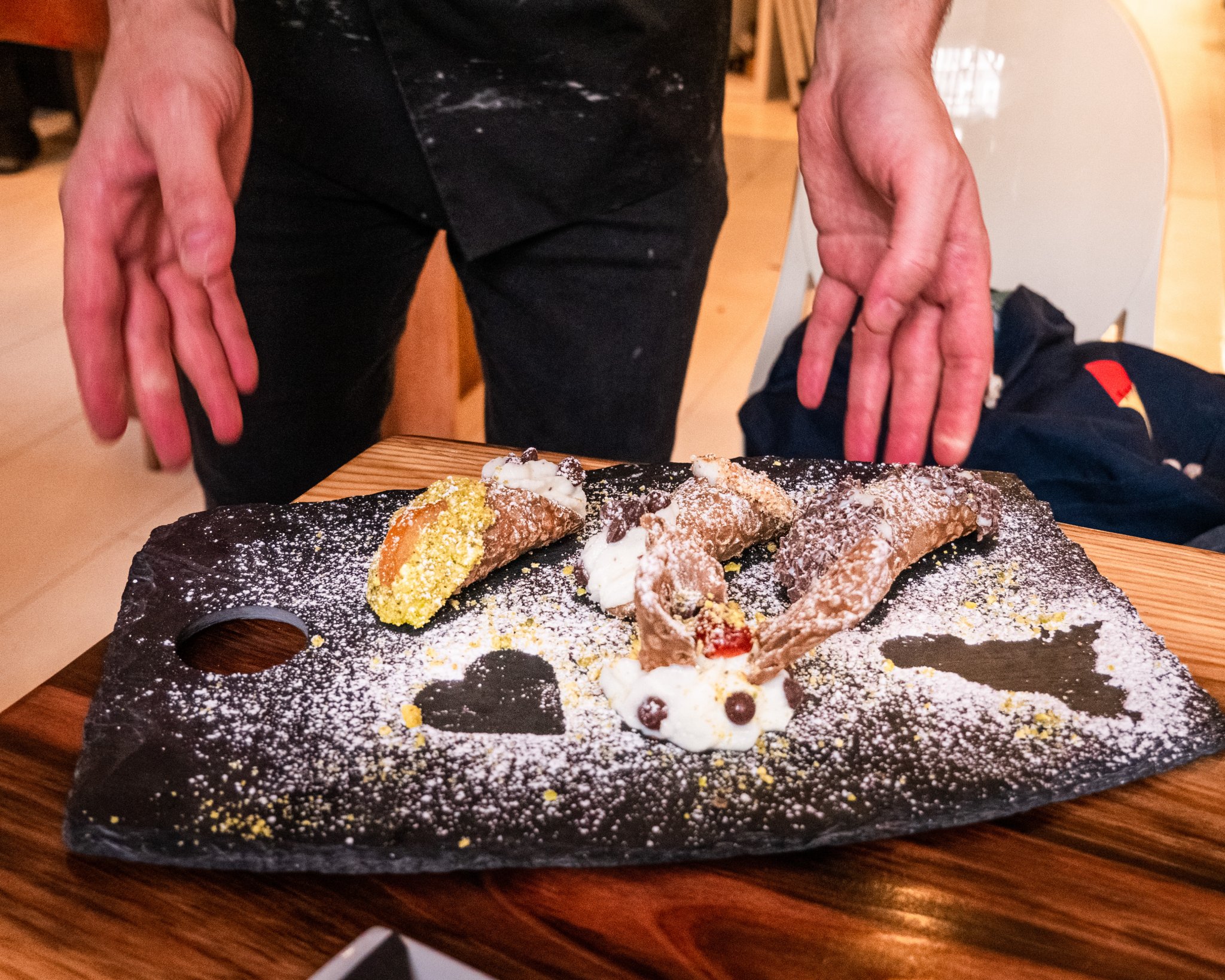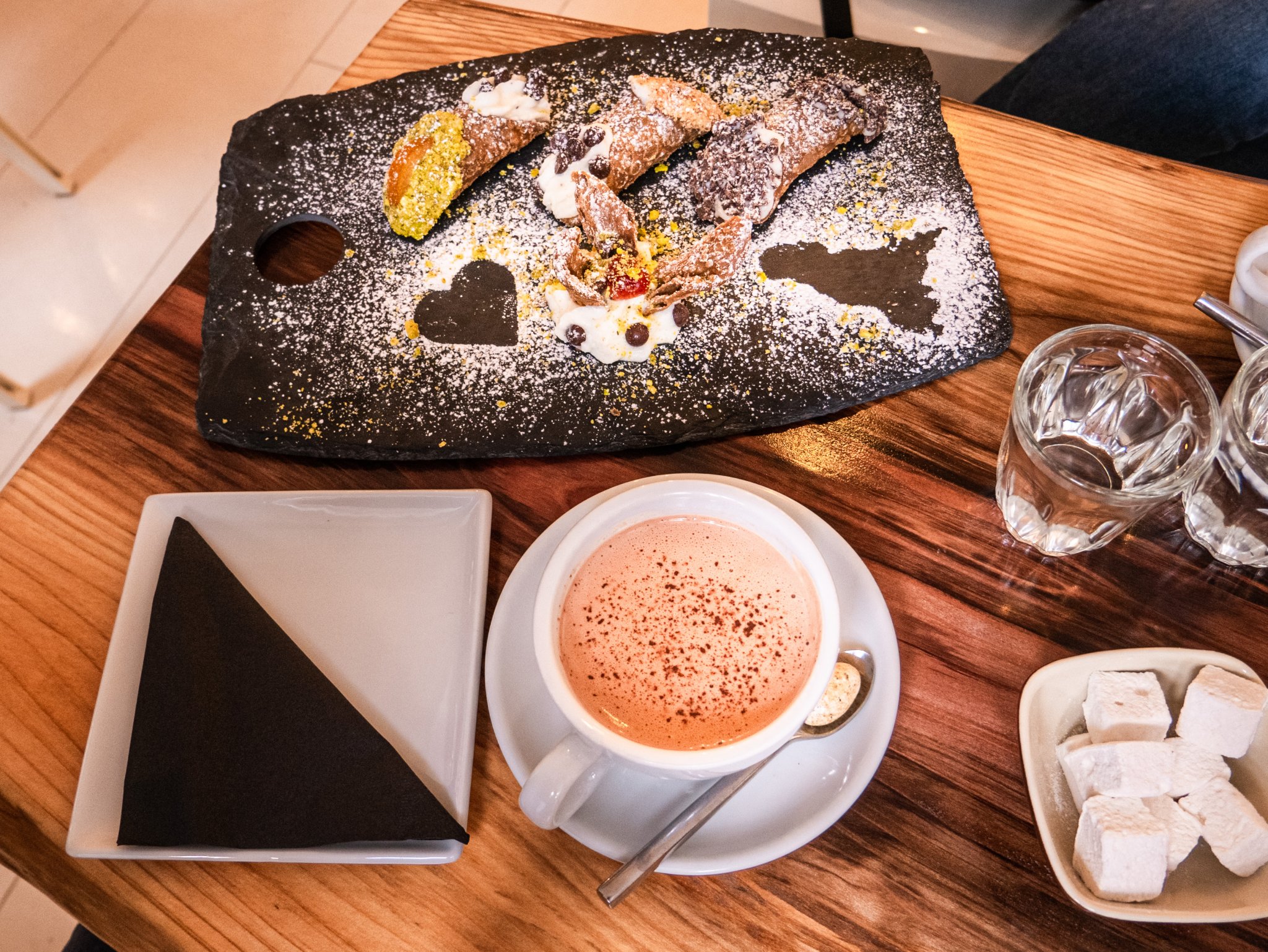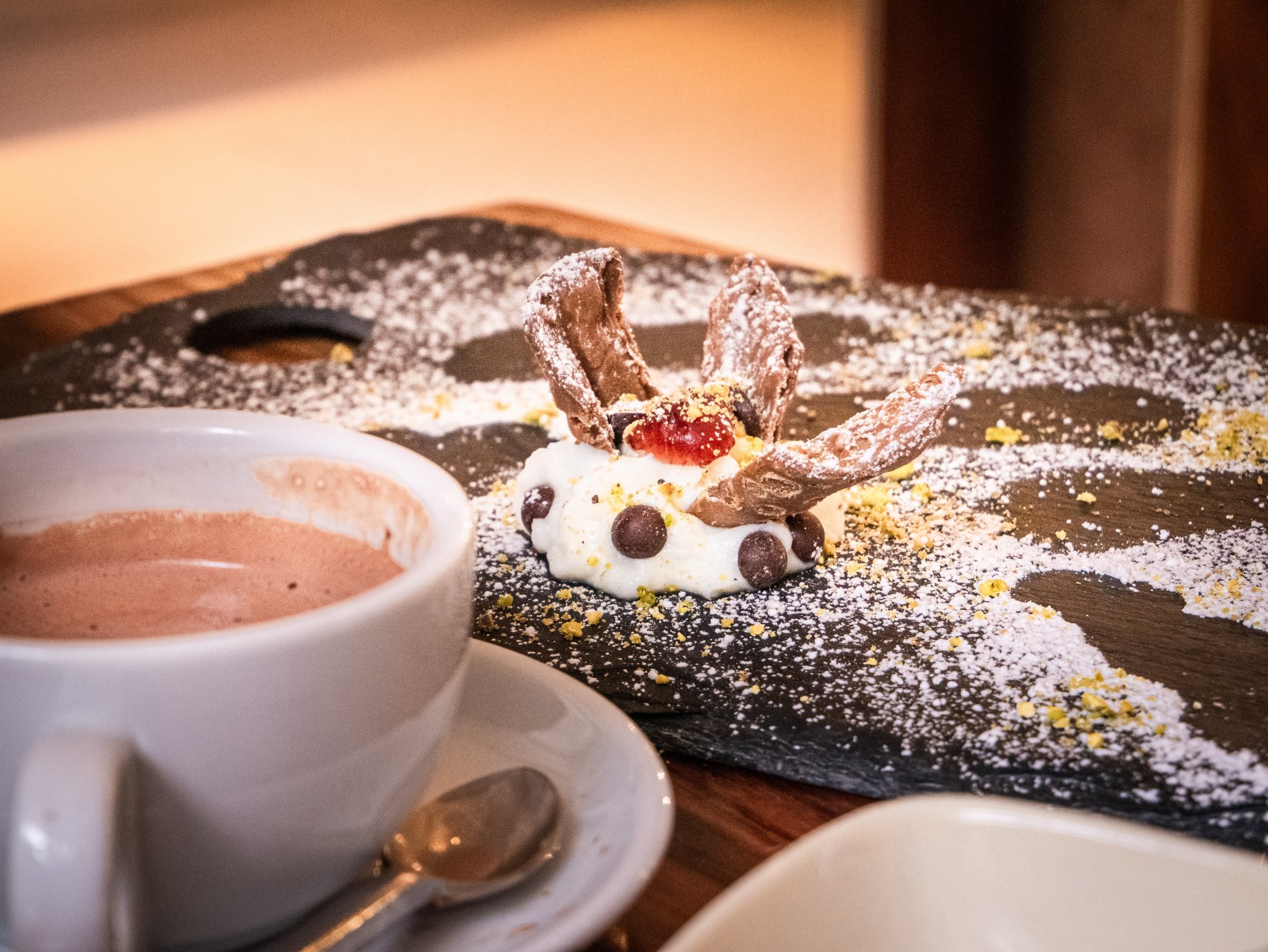 Deli Delight at Sawers Belfast
Next we headed to College Street to visit the iconic deli Sawers. If the chocolate at the last stop didn't summons you in, this place will lure you with the smells of cheese and cured meats. Established in 1897 it has cemented its place in the Belfast foodie scene. It is like the "Aladdin's Cave" of culinary delights and I couldn't take my eyes of all of the treasures it held inside.
This true food emporium boasts floor-to-ceiling offerings of every conceivable spice blend, curry paste and exotic game meat alongside local heroes such as Broighter Gold Rapeseed Oil, Young Buck raw blue cheese and the supreme Abernathy Smoked Butter. Be sure to try product's under the deli's own label also, especially the chutneys and jams. This place is a treasure trove of appetising treats and needless to say I left with a very full shopping bag of snacks for later!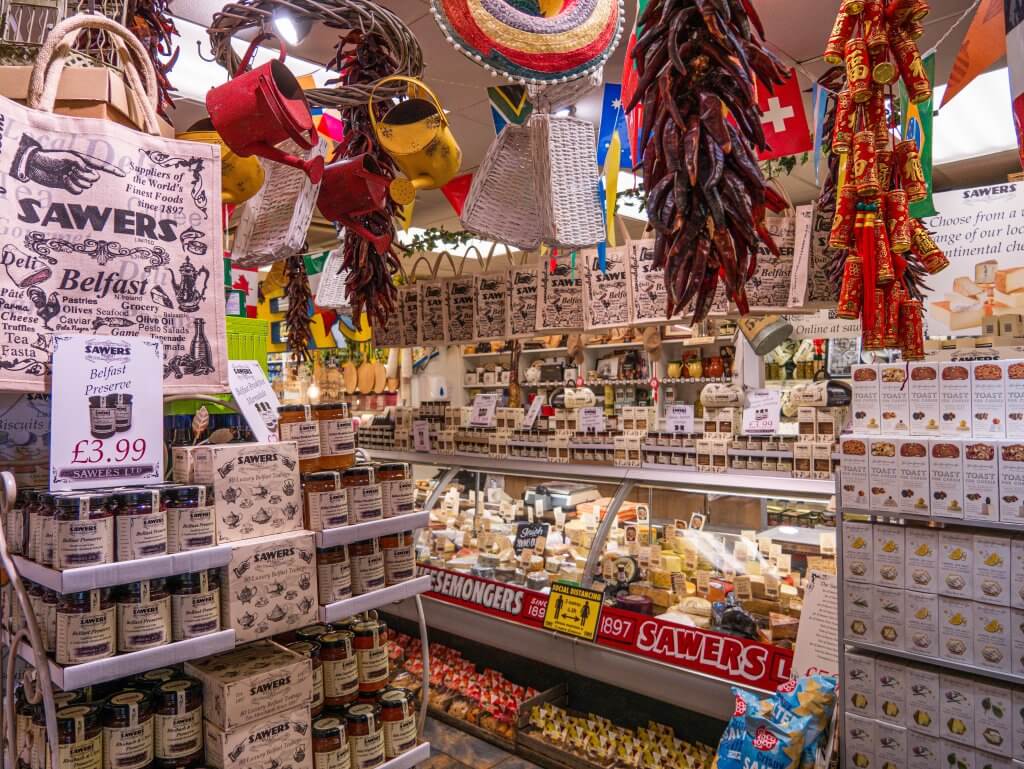 Walking Tours Belfast – Immerse yourself in the vibrant streets of Belfast
While this was a walking food tour I also found that I loved the chance to fully immerse myself in the vibrant street scene of this Northern Ireland city. I had been to the northern capital before to check out all of the best Instagram spots in Belfast and I just love the ever-evolving cultural scene here, especially around the lively Cathedral Quarter.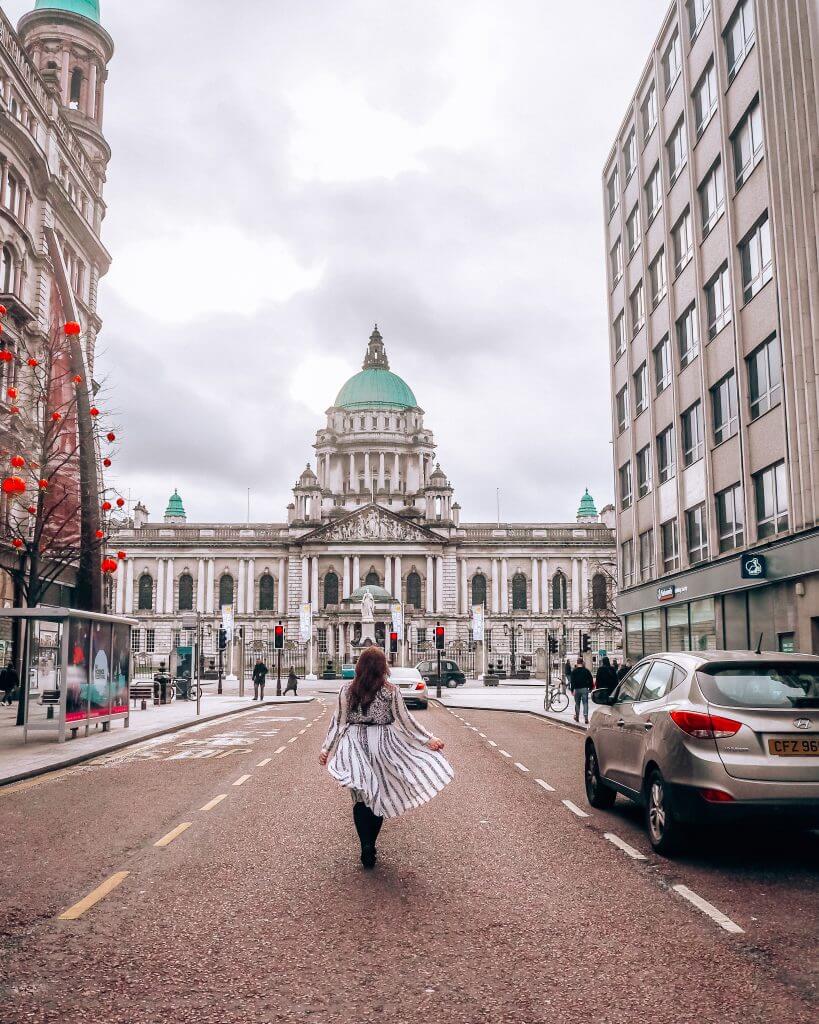 I also love how easy Belfast is to explore on foot and the mix of old and new architecture along the way. Throw in some of the finest local delicacies en route and it is easy to see why a walking food tour of Belfast is such a hit.
Bullitt Hotel Belfast
Last stop on our walking tours Belfast was the trendy Bullitt Hotel. It is a stylish and cleverly designed hotel with an urban atmosphere and it was the perfect place to end the tour with a pint of Belfast's best. Located right in the heart of Belfast, on Church Lane, you can grab a bite to eat in Taylor & Clay, quench your thirst in the Courtyard bar or elevate your evening in Babel, their very trendy rooftop bar.
The Courtyard is the place to be as a DJ spins some tunes and the sweet scent of things grilling from Taylor & Clay's custom built Asador fill the air. Bullitt really is a feast for your senses.
Where to stay in Belfast
You can't go wrong with The Hastings Hotel group and any time myself and Mister Lavin go exploring Belfast we always choose one of their hotels because we know we are guaranteed quality and value for money. This time we decided to treat ourselves to the five star luxury of The Culloden Estate & Spa and boy were we in for a treat.
Culloden Estate and Spa
The Culloden Estate and Spa was originally built in 1876 as an official palace for the Bishops of Down, who picked this divine spot on a wooded hillside overlooking Belfast Lough. Culloden has tastefully been extended since then to become one of the most distingushed hotels in Northern Ireland. In fact in 2020 it was named best hotel for romance in the prestigious Reader's Travel Awards.
The grounds of Culloden Estate and Spa
The Culloden stands in 12 acres of beautiful secluded gardens and woodland. Palatial surroundings, exquisite decor, fine antiques and exceptional service combine to give the Culloden Estate and Spa a unique air of elegance. You would be forgiven for thinking that you had in fact entered some beautiful Scottish hunting lodge.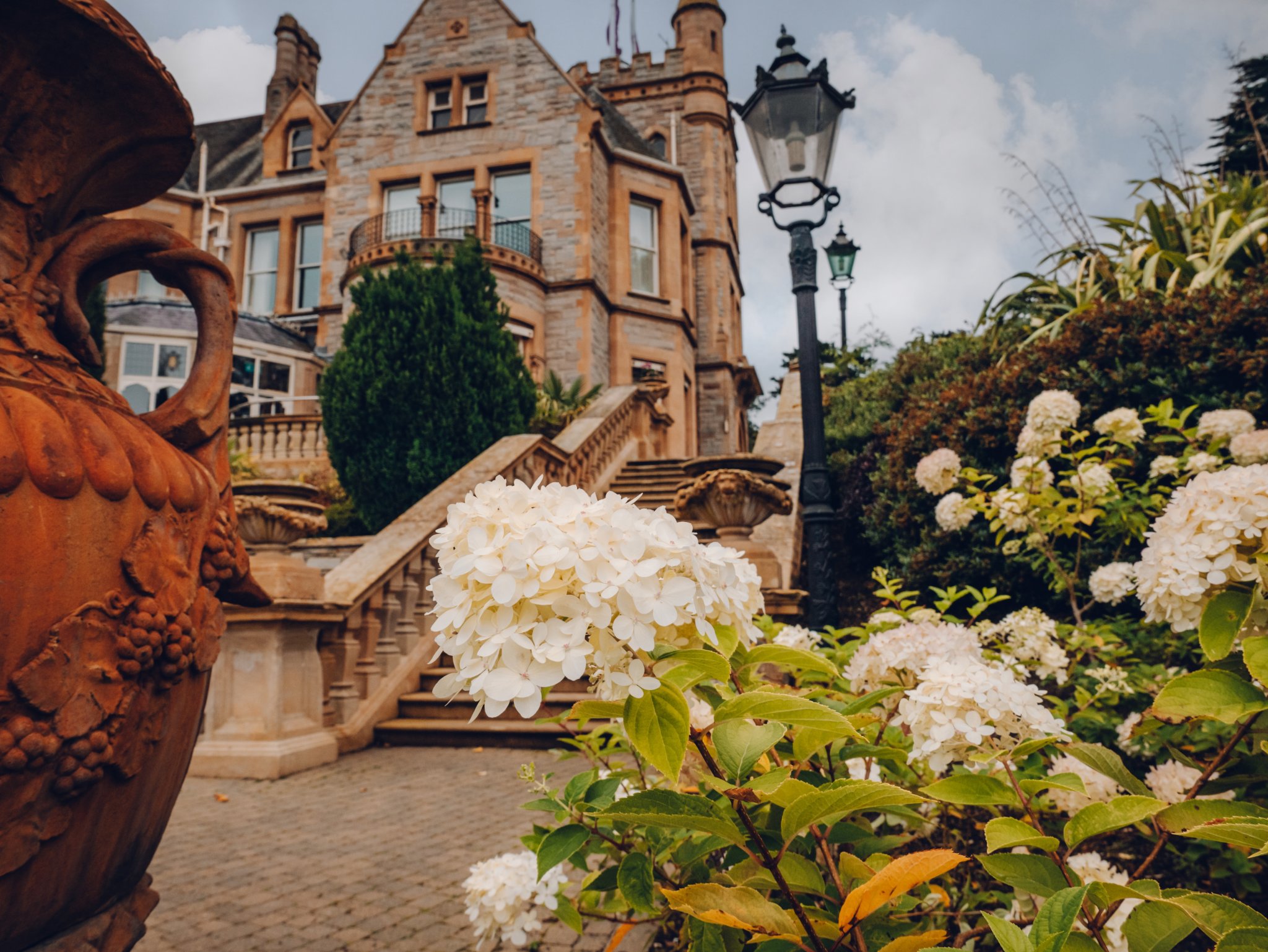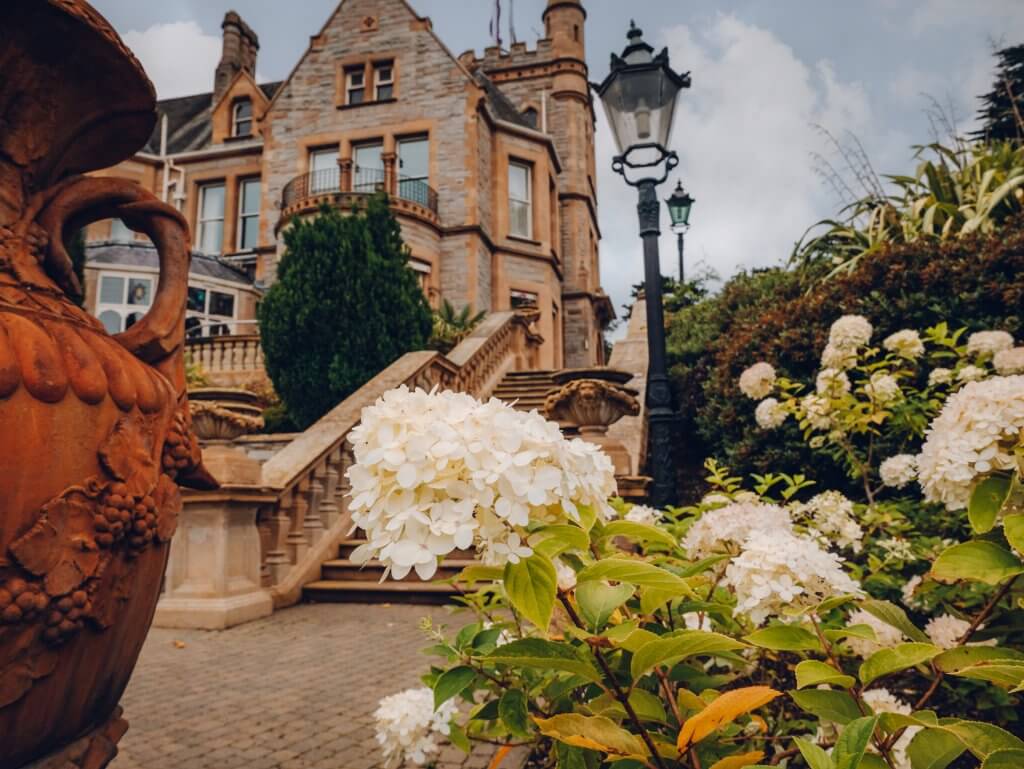 Style and character of Culloden
The décor features green, burgundy and ivory walls and mahogany panels offset by original marble fireplaces, stained glass windows and a stunning imposing staircase. An original stainglass window illunimates the flight of stairs to the suites in the Bishop's house. A drawing room with open fire has a lovely view of the lough through giant bay windows. It all manages to be both grand and intimate and not at all stuffy
The Spa at Culloden
You can indulge your senses in an oasis of tranquility in the spa at Culloden. It is a peaceful space with an entrance of pale tiles, stone walls and welcoming candles in giant copper lanterns. In 2020 the Spa recently completed renovation work and the Spa now features both a new linear vitality pool with garden views and a Tylarium, which is a combination of a sauna and steam bath, a larger steam room, including a feature shower, an amenity at the forefront of modern spa design.
Their new Sequoi Treatment Room is perfect for couples who wish to receive a treatment together and they also have two additional bespoke pedicure treatment rooms. Externally, there is a new timber façade which helps to create a 'Nordic' spa look. And did I mention that every Hastings Hotel uses ESPA products. Is it only me who judges a hotel on the toiliteries they provide?
They also have a very good gym.
Bedrooms at Culloden
Each of the 98 bedrooms and suites in The Culloden are comfortable and inviting. They are bright, spacious and individually decorated and come furnished with a King Koil "Cloud bed". If you haven't slept in one yet you need to! I have stayed in both a suite and a standard room when I attended their Art & Soul at the Culloden event this summer. Both were tastefully decorated and finished to a very high standard.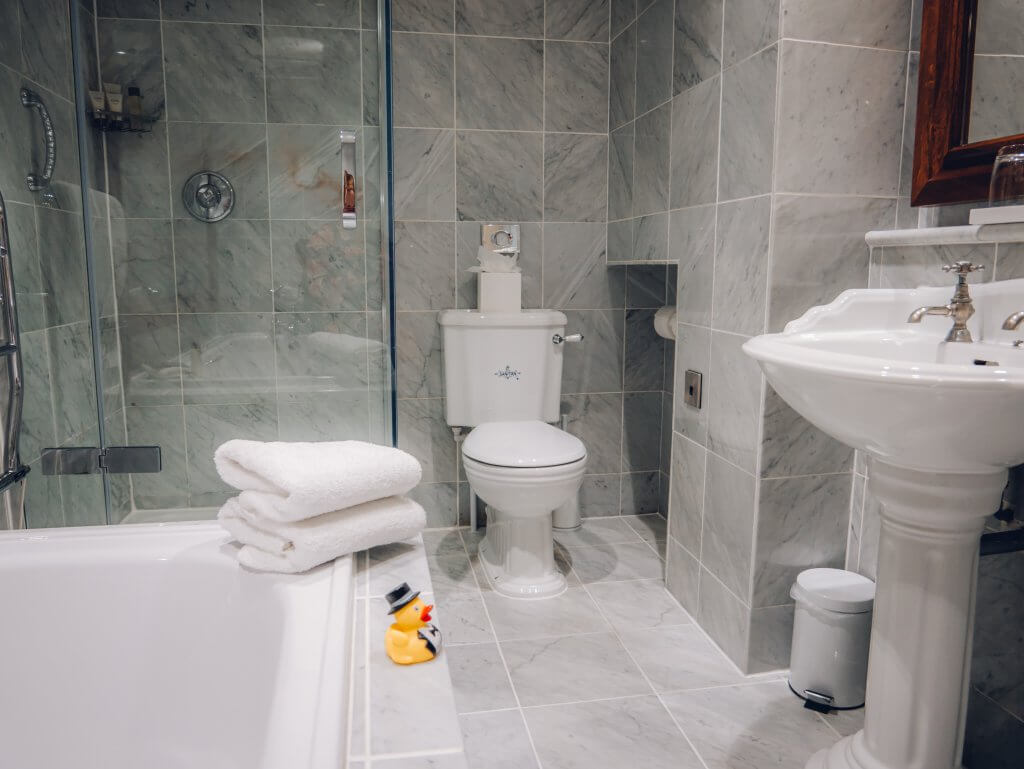 Food and Drink at Culloden
Enjoy fine dining with local produce at Vespers, the main restaurant in Culloden. Vespers is one of the best restaurants in Northern Ireland. I have eaten here twice and both times were exquisite. The decor is gothic grandeur, the food gourmet chic and the dining staff are attentive to your every need. In my case, my wine glass was never empty!! At breakfast, even the muesli and granola is locally produced, with a continental buffet and hot food to order. Since we were on a walking food tour of Belfast it was important to us to stay in a hotel with equally amazing food.
A meandering tree-lined path leads down to the half-timbered Cultra Inn, which has open fires, top notch pub grub and traditional Irish music on Sunday afternoons. During the summer months the Culloden also tends to have a pop-up bar on their beautiful lawns. The summer we were there it was a Jawbox Gin pop-up but they have also been known to have a Bollinger bus!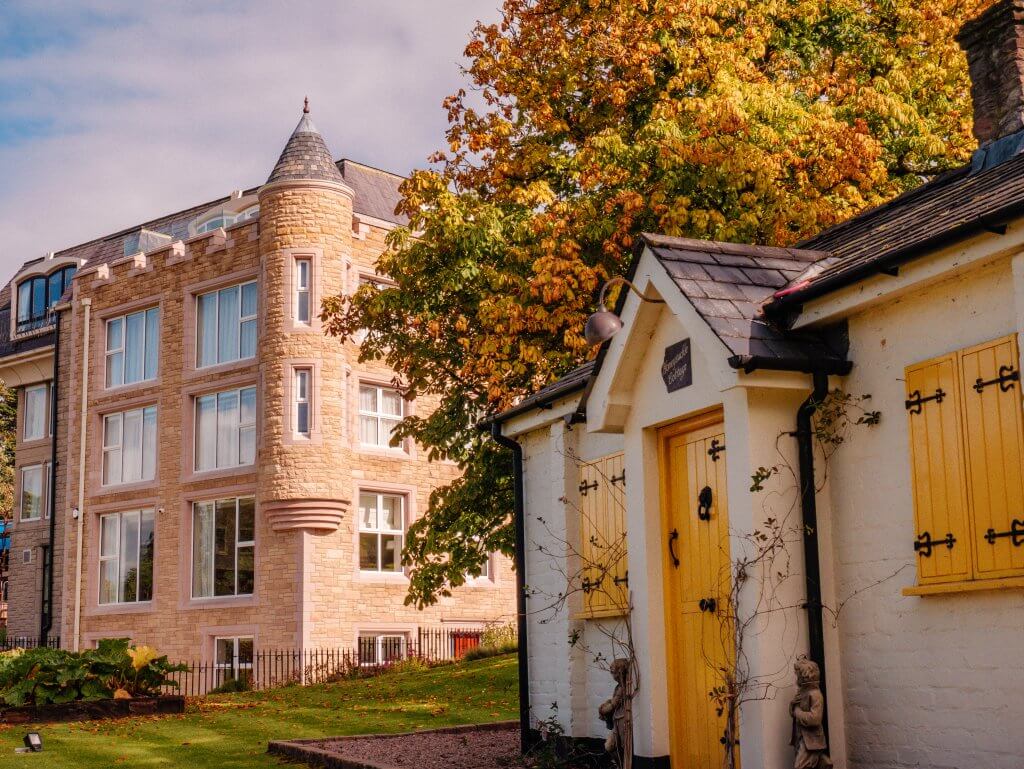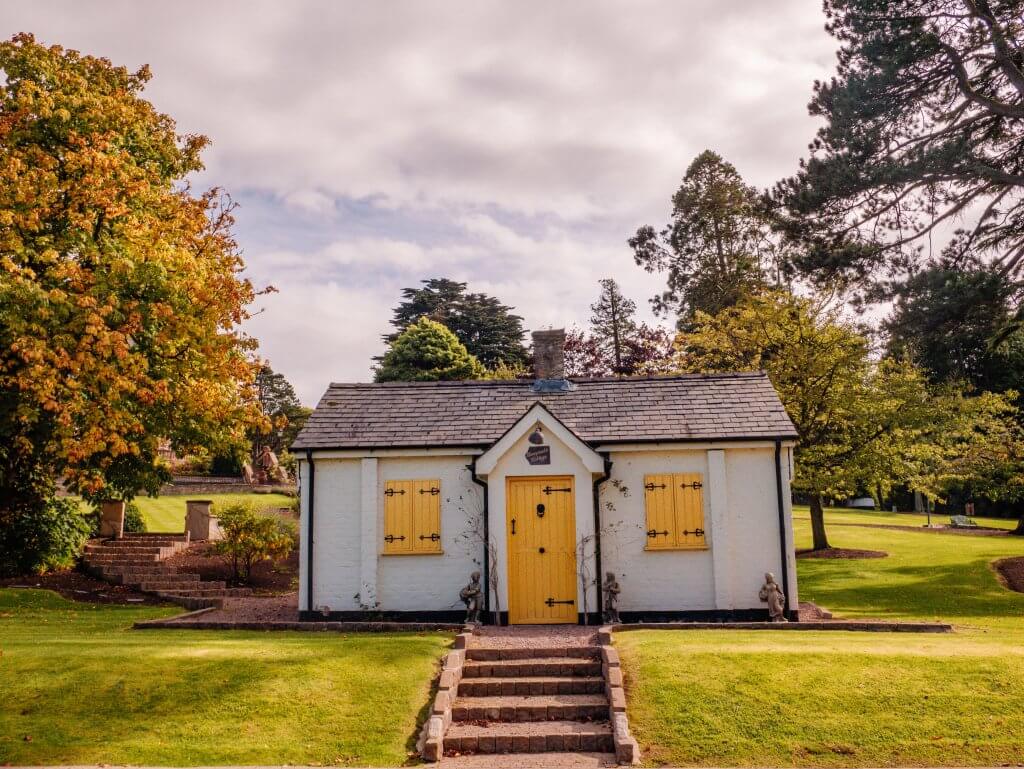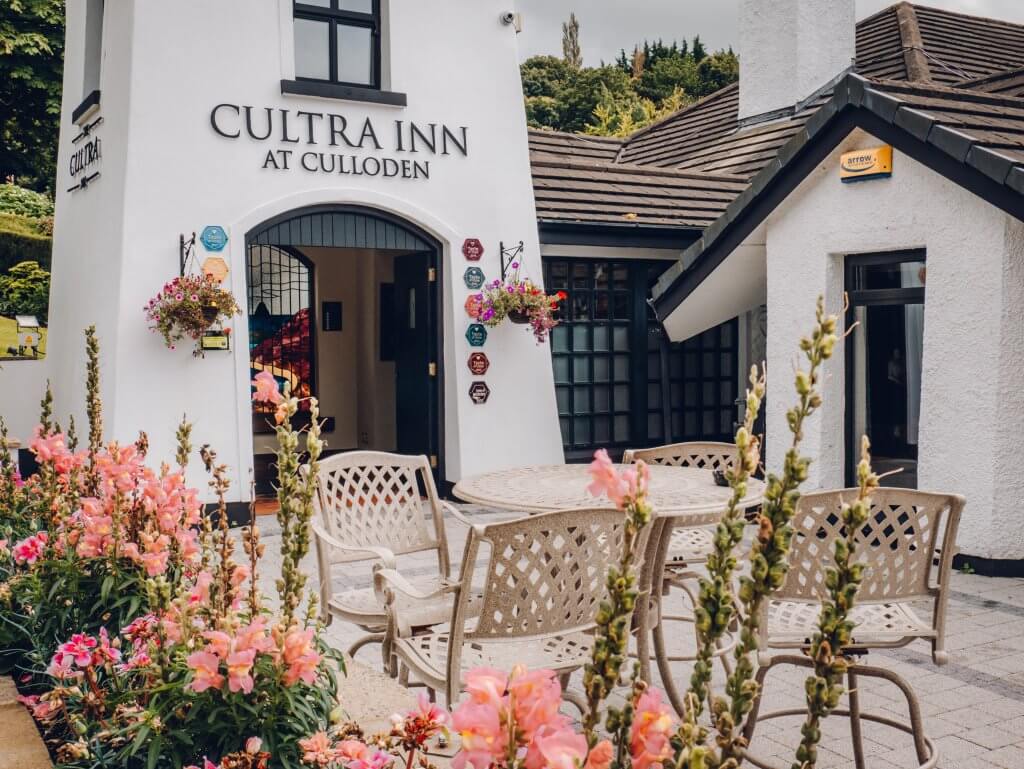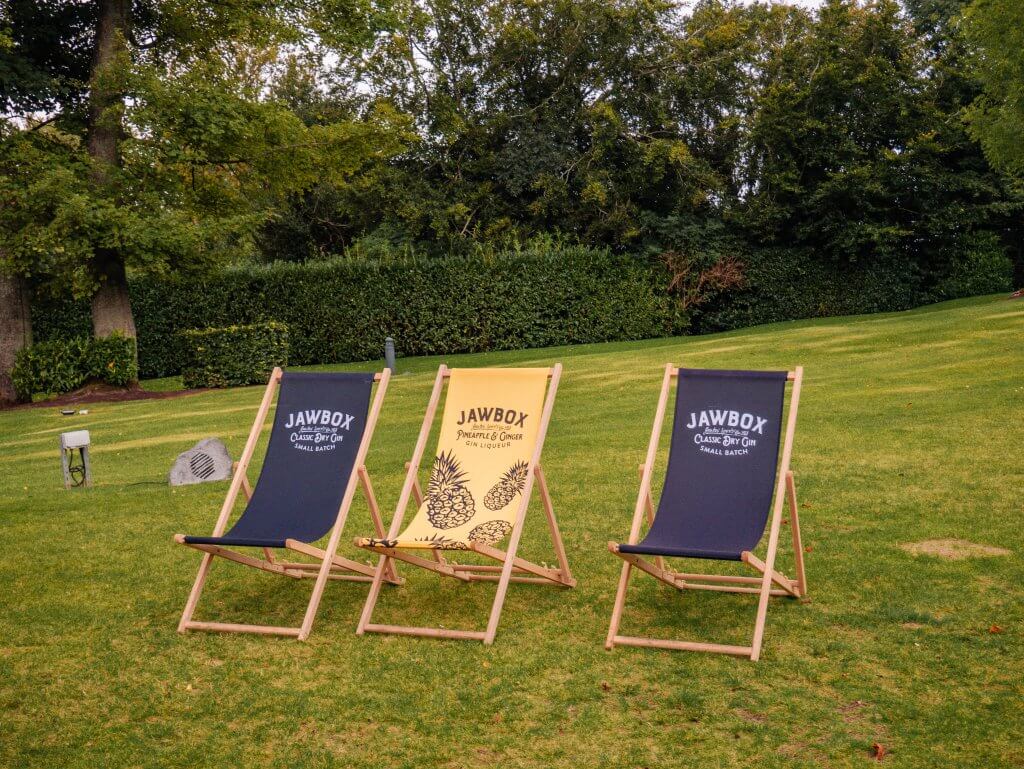 So it is safe to say that Belfast is a food lovers paradise. From award winning restaurants to the aromatic tastes and scents of St. George's market Belfast has it all!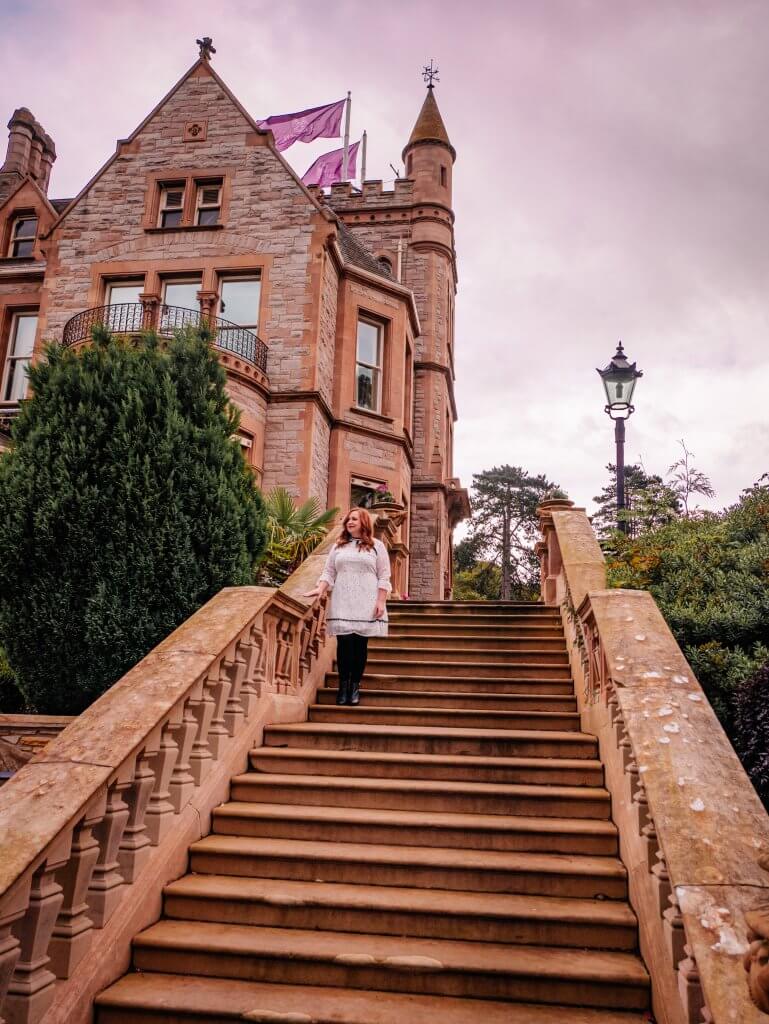 Disclaimer: We were invited by Discover Northern Ireland to take part in the walking tour of Belfast and to stay in Culloden Estate & Spa. As always all opinions are our own and we only ever recommend experiences and hotels to you guys that we love and would be more than happy to have paid for ourselves.
Are you new here? Join thousands of other happy readers and subscribe to All About RosaLilla blog via email or Bloglovin'. The good news is that by signing up via email you will get my EXACT email template that I use to successfully pitch hotels for collaborations.
If you liked this you may also like:
Castles of Northern Ireland. A daytrip to Hillsborough Castle and Gardens
Why you should visit these Northern Ireland cities
Best Instagram spots in Belfast
Staycation Ireland Ideas. 10 things to do in Northeast Donegal and the Inishowen peninsula
Until next time you crazy kids!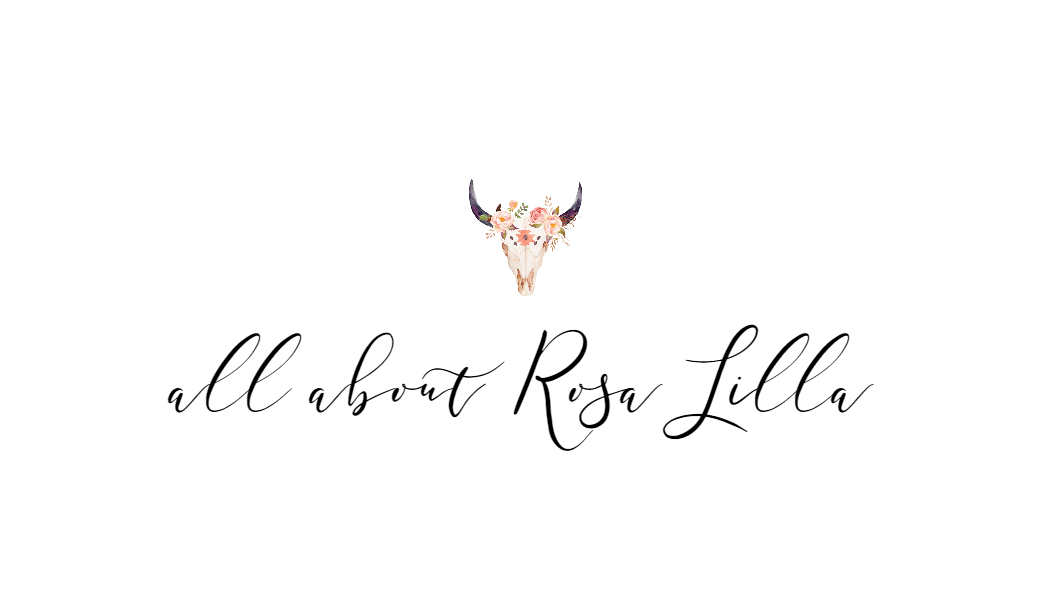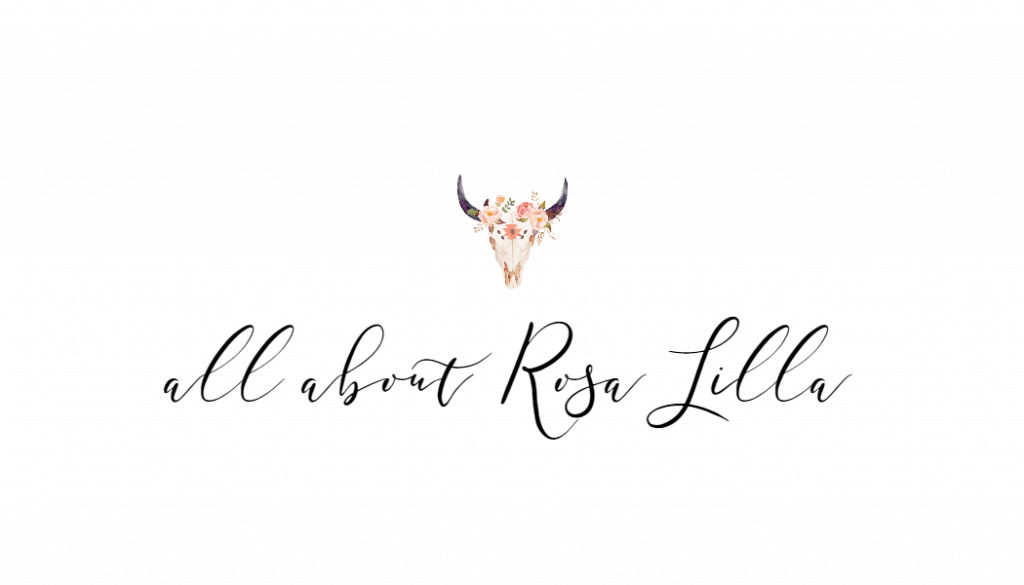 Sharing is sexy!