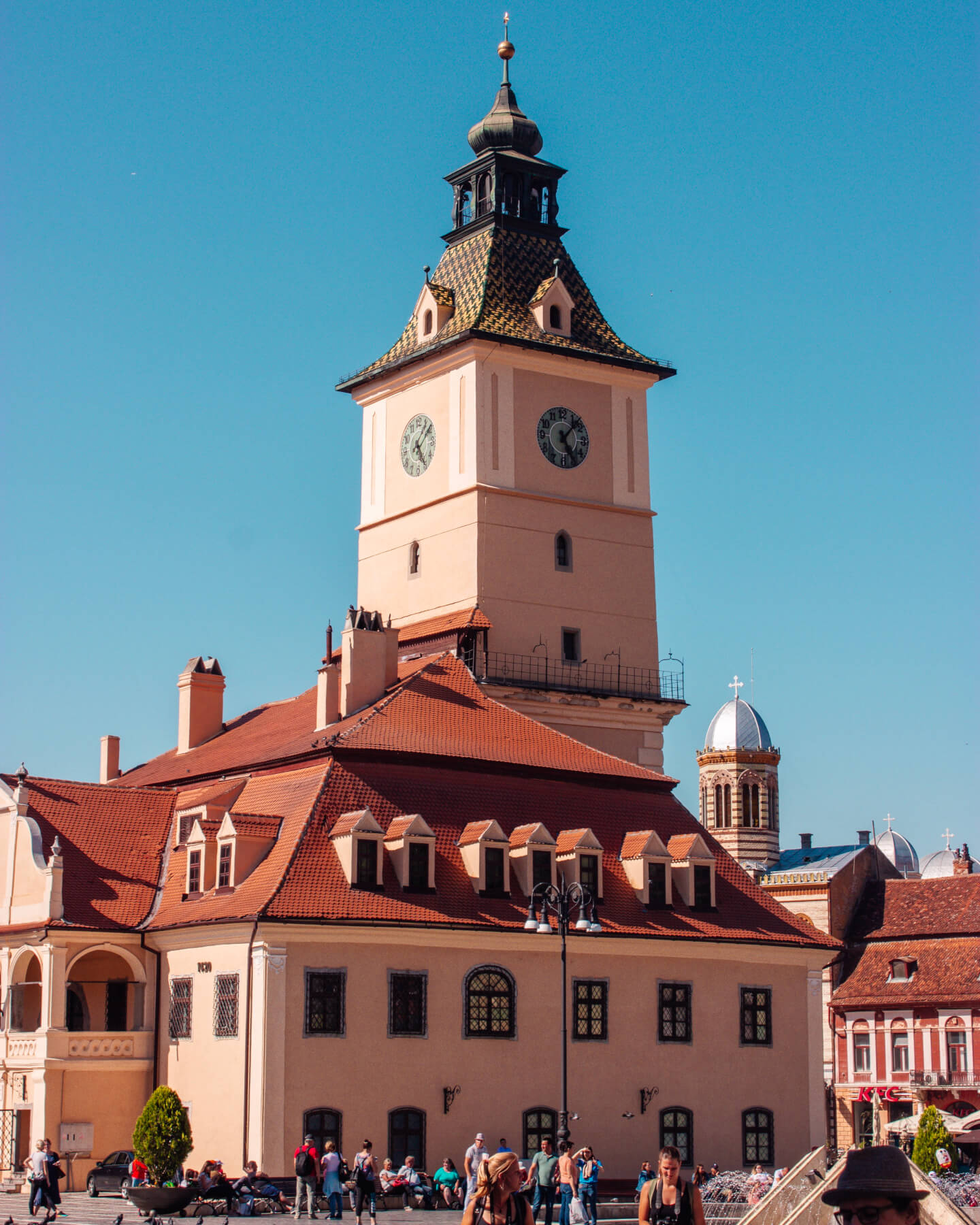 Exploring Romania. From Bucharest to Transylvania
We were recently lucky enough to explore Romania with Experience Romania, the largest project promoting Romanian Tourism on social media. Myself and Mister Lavin got to travel from Bucharest to Transylvania and even further afield and we wanted to give you a complete guide to exploring Romania and show you just how to get from Bucharest to Transylvania. This guide will include everything from spending a weekend in Bucharest, things to do in Romania, places to visit in Romania and even where to stay in Romania.
But let's start at the beginning. A weekend in Bucharest.
A weekend in Bucharest
In July, Mister Lavin and I were invited to spend a weekend in Bucharest with 50 other bloggers at an event called #ExperienceBucharest. This event is put together by a local business owner to showcase the beauty of the city to the world. We were lucky enough to have been invited and see all that this wonderful city has to offer. Before going to Romania we were warned by family and friends to be careful but we enjoyed breaking down those Romanian stereotypes for ourselves.
How to get to Bucharest
Bucharest is located in southern Romania in the province known historically as Wallachia. To optimize your weekend getaway it would be best to fly into Bucharest's Otopeni Airport which is not far from Bucharest city centre. All of the major airlines fly into Bucharest's main airport as well as low cost ones like Ryanair, WizzAir and Romania's own Blue Air. Taxi's are really cheap in the city and there is also public transport but we found that the most popular way to get around was to use Uber.
How to get from Henri Coanda (Otopeni) International Airport (OTP) to Bucharest city centre
Henri Coanda (Otopeni) International Airport (OTP) is located in the Northern part of the capital in the small town of Otopeni, hence the abbreviation. It is about 20km outside the city centre. There are two public bus lines that will get you into the city centre.
780 heading to North Train Station (Gara de Nord)
783 heading to the city centre (Piata Unirii)
Both leave from the ground floor of the terminal building (you will arrive into the first floor) and run approximately every 15 to 20 minutes depending on the time of day. Bus drivers don't sell bus tickets (which should cost you about €2/8.5 Lei) so be sure to grab your ticket at the white ticket booth on your right when you exit the terminal building. Ticket options can get confusing so just buy the blue card and ask for it to be topped up with 2 bus journeys. Don't forget to validate it by holding it up to the orange box before getting on the bus. Trust us! We got in awful trouble in Prague by forgetting to take this step.
There is a train connecting Optopeni Airport with Bucharest's main train station with no other stops on the way. The train runs every 40min eitherway. It will take 20 min and the ticket costs 4 Lei (less than €1). On the platform there is a ticket machine or you can buy your ticket online.
The most popular and convenient way to get into the city centre is just to take an Uber.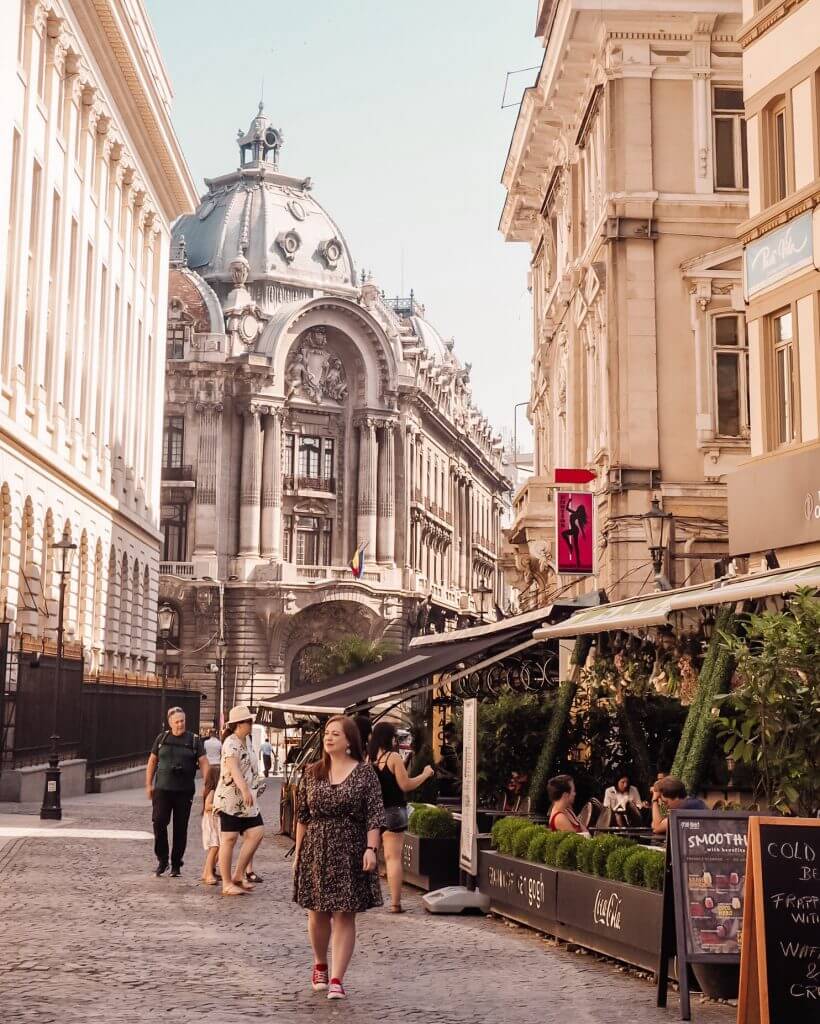 Do they speak English in Bucharest?
Fear not, English is widely spoken among young people living in Bucharest who speak fluently and are very friendly. In restaurants, cafes, bars and tourist areas such as the old town you won't have any problems being understood and will even find menus are in English. Other languages frequently spoken are French, German, Italian and Spanish, as the Romanian language is part of the Latin family. So if you need help or directions don't be afraid to ask.
Is a weekend long enough to visit Bucharest?
Is a weekend really enough time to explore Romania's capital? The short answer is yes but of course if you were to stay longer there would be plenty of things to do in Bucharest that would keep you entertained.
Enjoy the nightlife in Bucharest
The first thing that you notice when you get to Bucharest's city centre is just how vibrant and full of life the city is. It is pretty clear that the citizens of Bucharest know how to party and I just knew that it was going to be a fun place to spend a weekend. There is a vibe in Bucharest that I haven't experienced anywhere else in Europe. The capital of Romania is an exciting and beautiful destination, with a rich history, a vibrant nightlife and lots of places to see. Bucharest has come a long way since the dark days of communism and locals there are undeniably making up for lost time. Since joining the EU in 2007, a new Romania has emerged from the shadows, and one that knows how to party.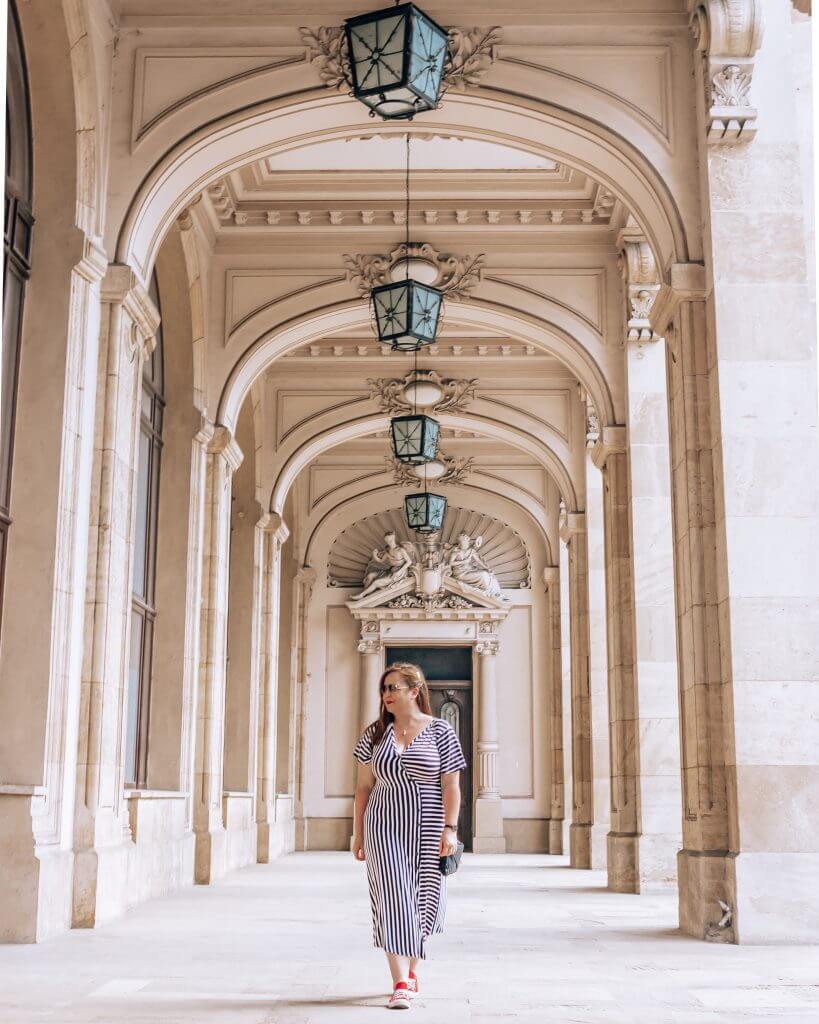 The Old Town (Centrul Vechi)
Bucharest's Old Town is a vibrant and lively area full of restaurants, bars and cafes and it is where most people come to hang out. It has been renovated in the last decade but still keeps that Old Town charm of beautifully detailed buildings and cobbled streets. In fact some of the streets still retain the original wooden tiles that were used in times gone by to soften the sound of horse hooves.
It is hard to avoid the party atmosphere here but the Old Town isn't all about partying. Here you will find some hidden treasures, like Vlad the Impaler's castle (currently undergoing reconstruction) and Hanul lui Manuc (Manuc's Inn). This is a beautifully refurbished building with a courtyard from the Ottoman period. Built in 1808 it was the biggest and most important commercial centre in Bucharest. Now it is a charming restaurant and it is well worth a visit.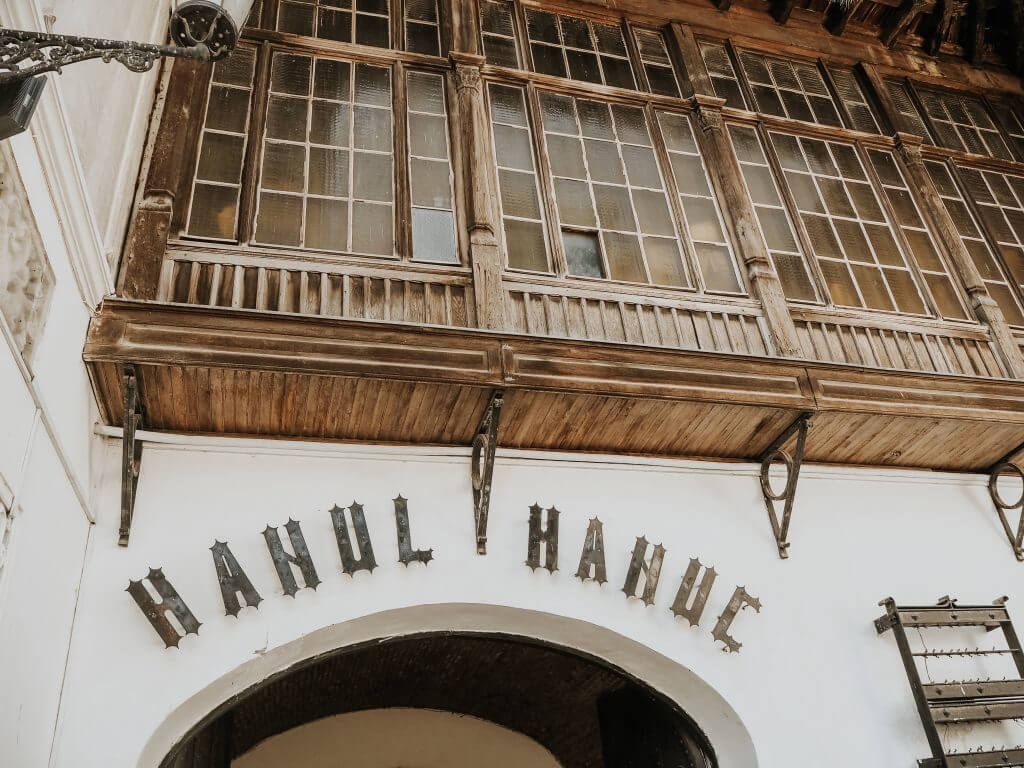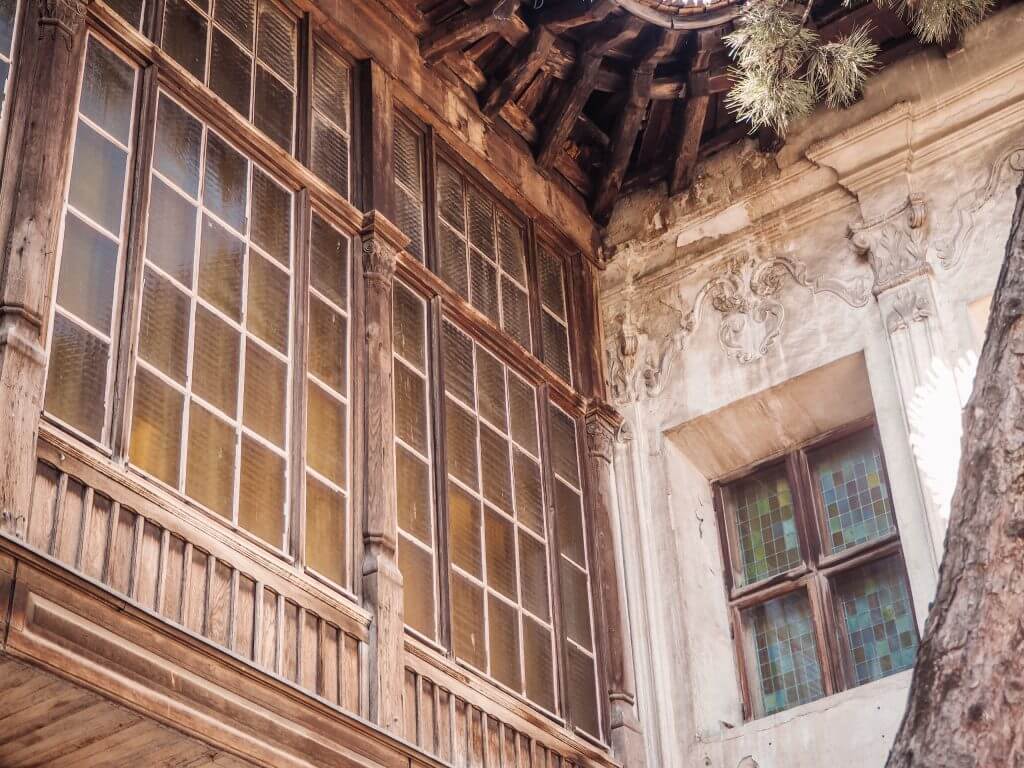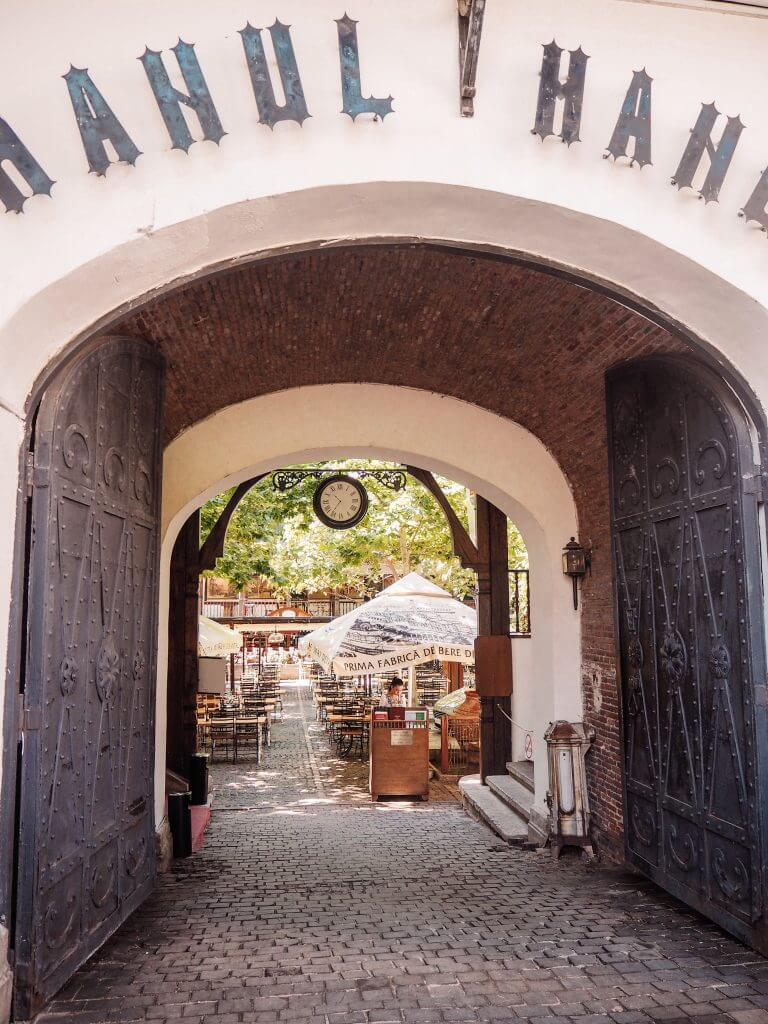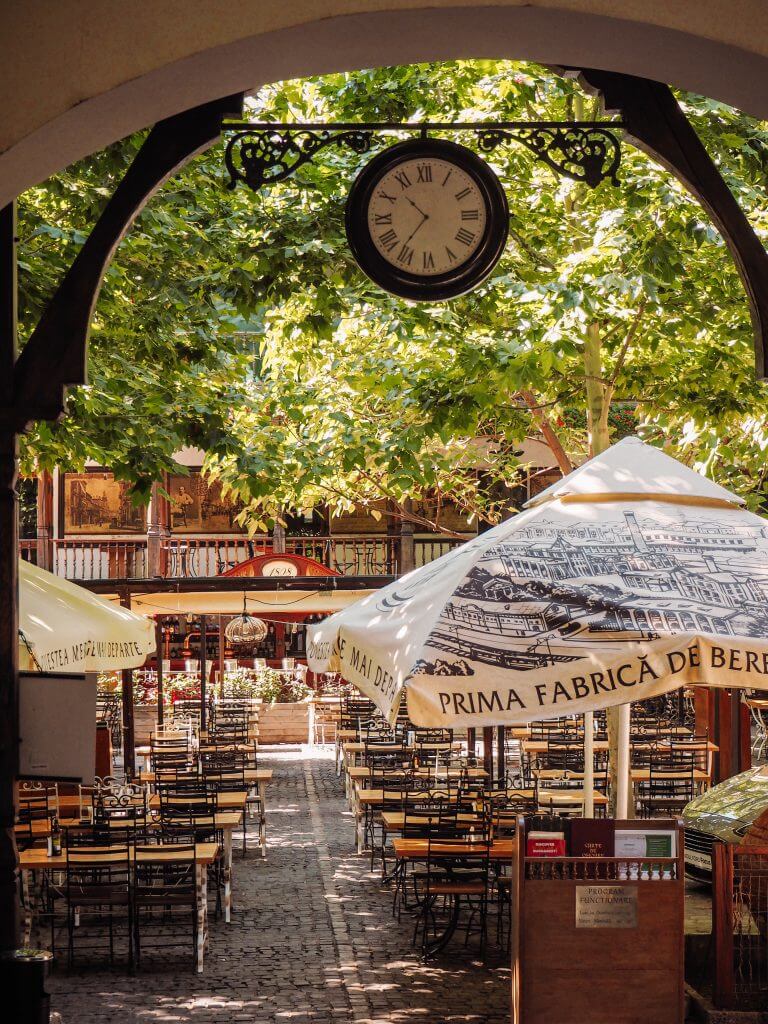 Another traditional restaurant in the Old Town that shouldn't be missed is Caru' cu bere. This place feels like the soul of Bucharest and you can enjoy seriously tasty food washed down with good beer. The building "Caru with beer" was built in neo-Gothic style, according to the plans of the architects Zigfrid Z. Kofczinski and Al. Pesch. The vaulted ground floor in the Gothic style is richly decorated with paintings, stained glass, mosaics and carved panels. You can also enjoy traditional Romanian singing and dancing here.
Another of my favourite Old Town restaurants is Nomad SkyBar. Here you can enjoy delicious cocktails surrounded by stylish decor (there is even a full size giraffe!) and the best rooftop views in Bucharest. Linea Closer to the Moon is another roof top bar that serves some really interesting cocktails.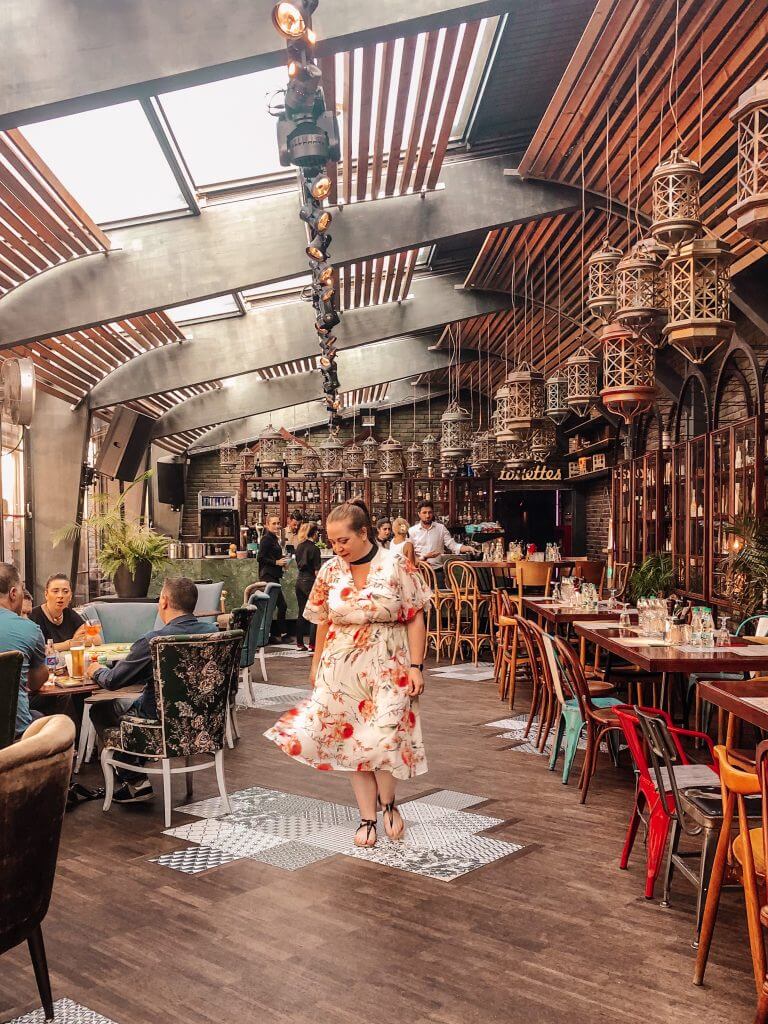 Another place not to be missed in the Old Town is the Stavropoleos Monastery, a fine example of Brâncovenesc architecture, with beautiful arabesque columns and frescoed outer and inner walls. The church was built in 1724 and the monastery is still active today. There is a beautiful courtyard to sit and relax in.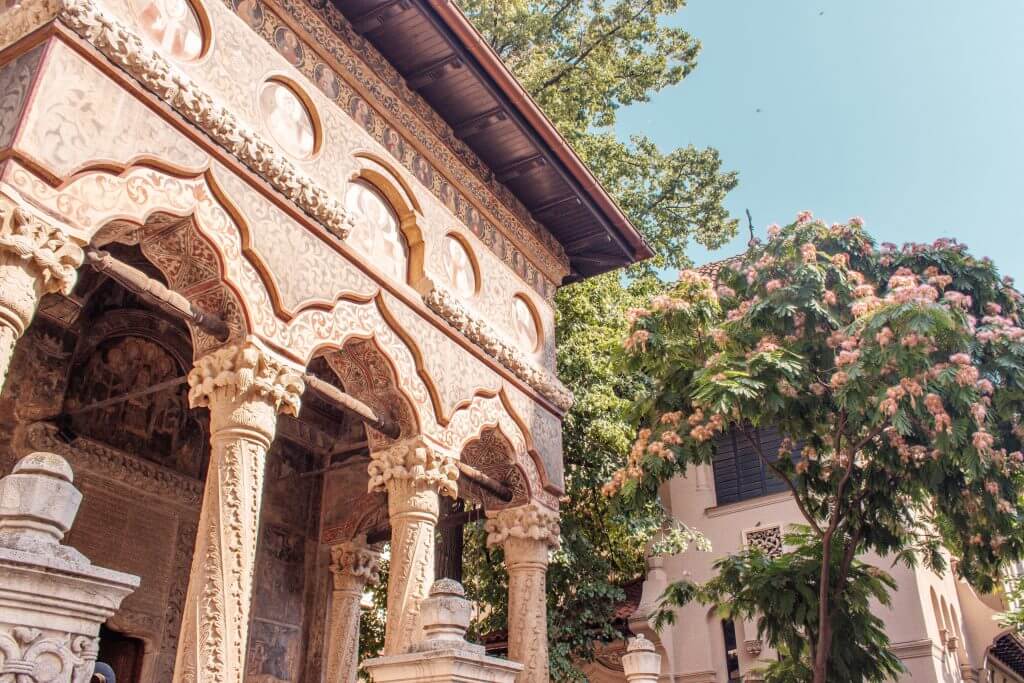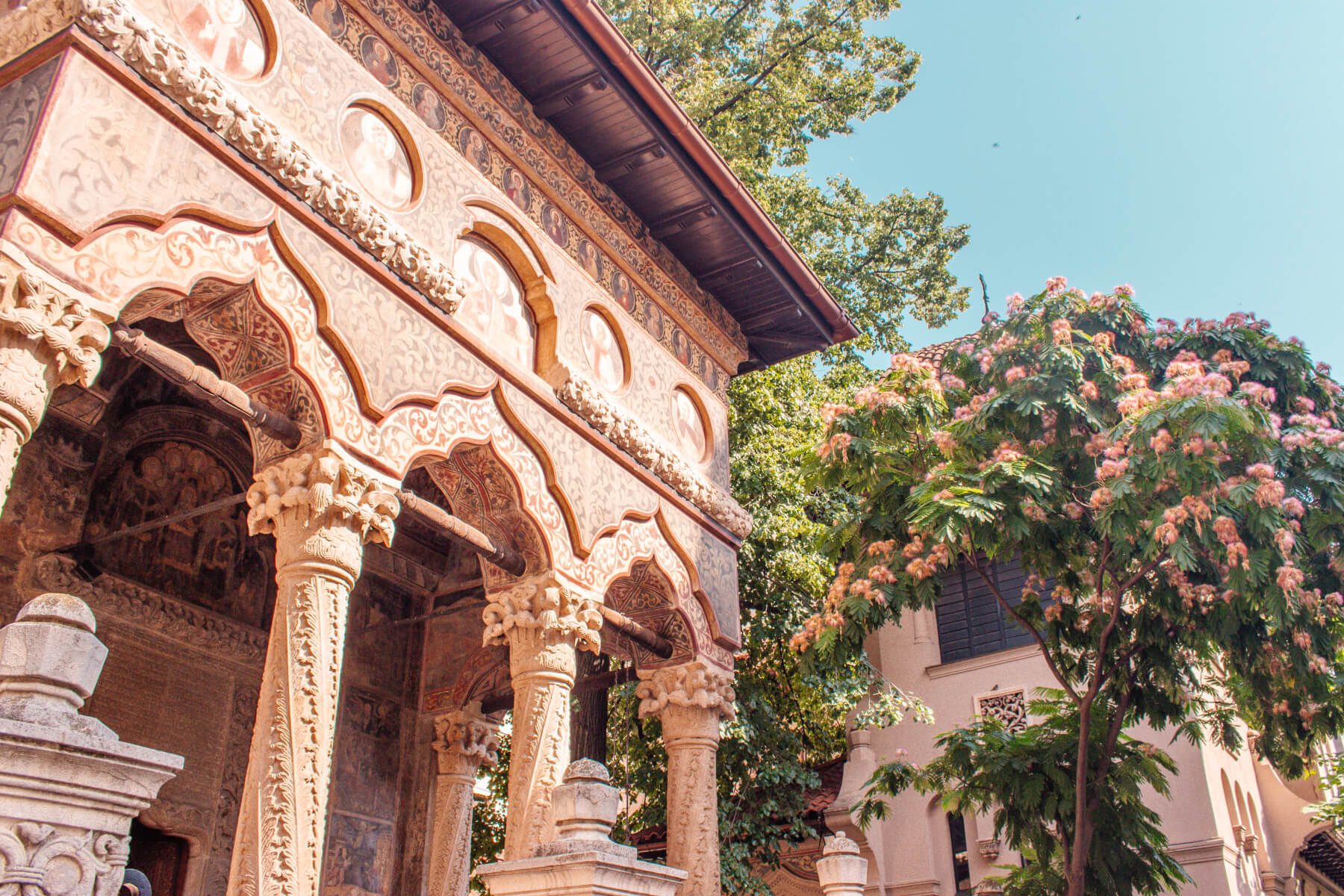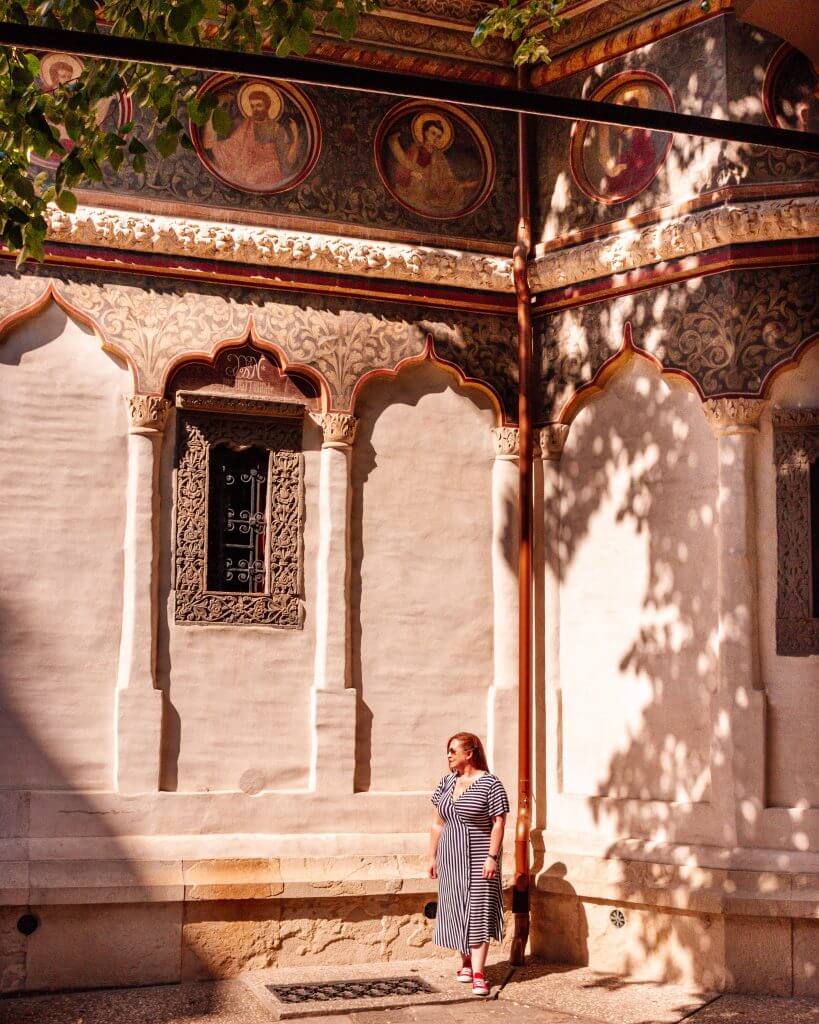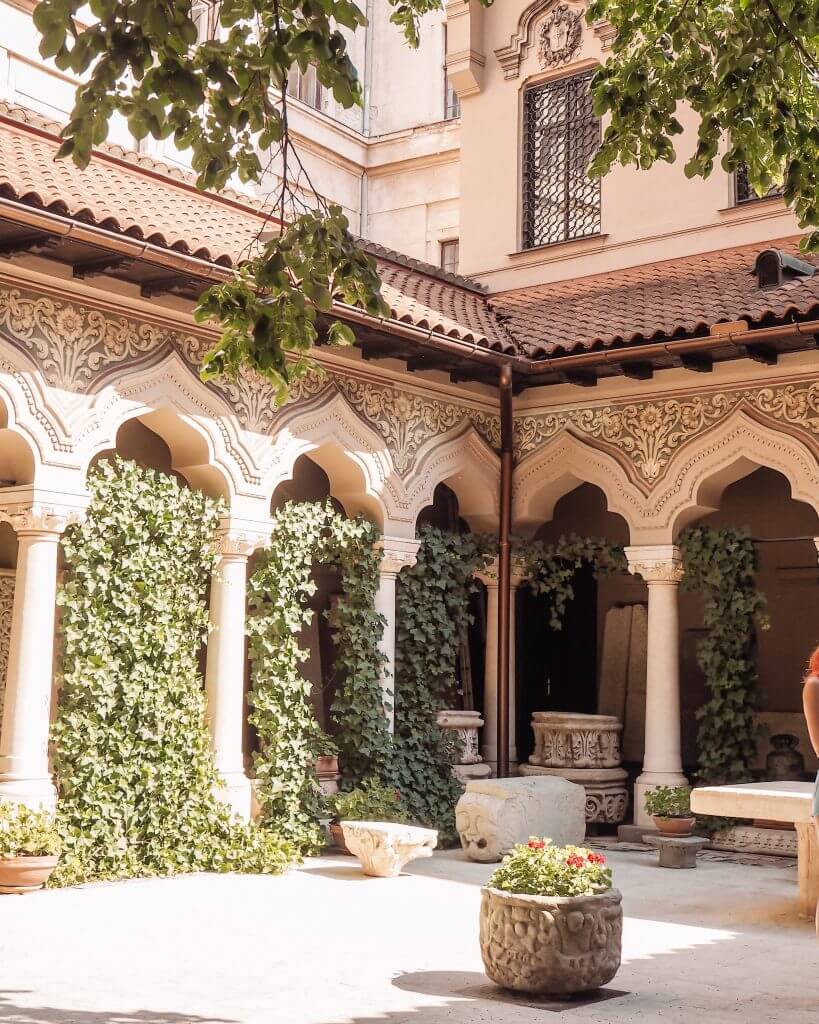 A great way to explore the Old Town of Bucharest is to avail of the free walking tour, Old Town – Legends and Stories, provided by BTrip Bucharest.
Why is Bucharest called Little Paris?
You will find some architectural jewels from the Belle Époque period in Bucharest's Old Town. Bucharest is also nicknamed Little Paris because many buildings mimic that grand Parisian style.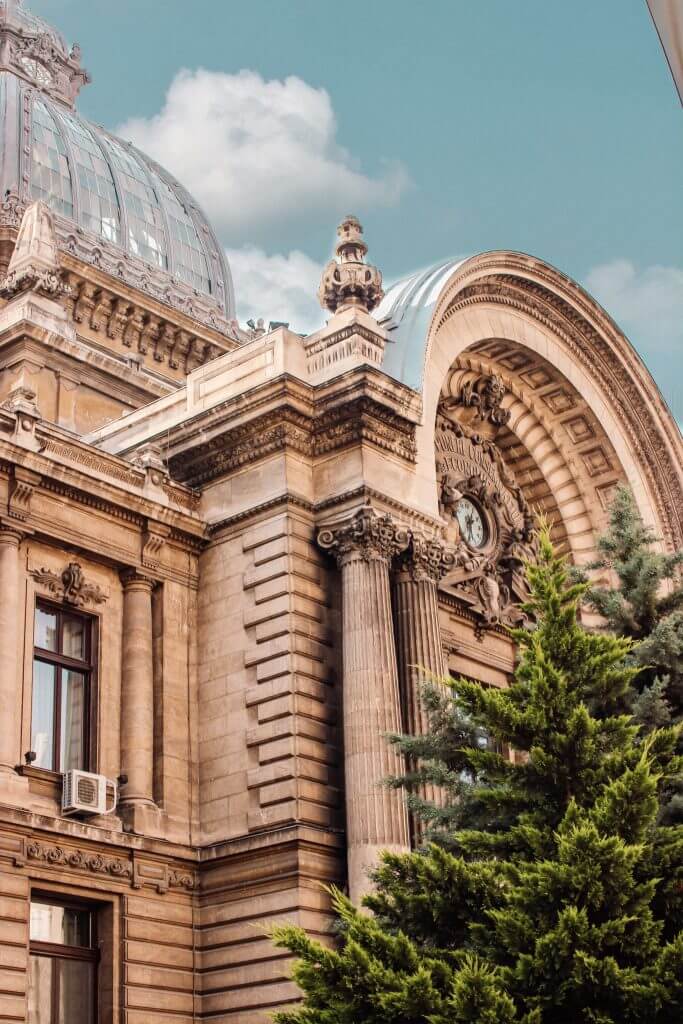 Learn about Bucharest's communist past
One thing that will be evident while walking around Bucharest will be the mish-mash of architecture. You will see beautiful Belle Époque buildings side by side with the stark syle of architecture that communism brought to the city. Bucharest's communist past is still very evident in the city and it is simply unavoidable.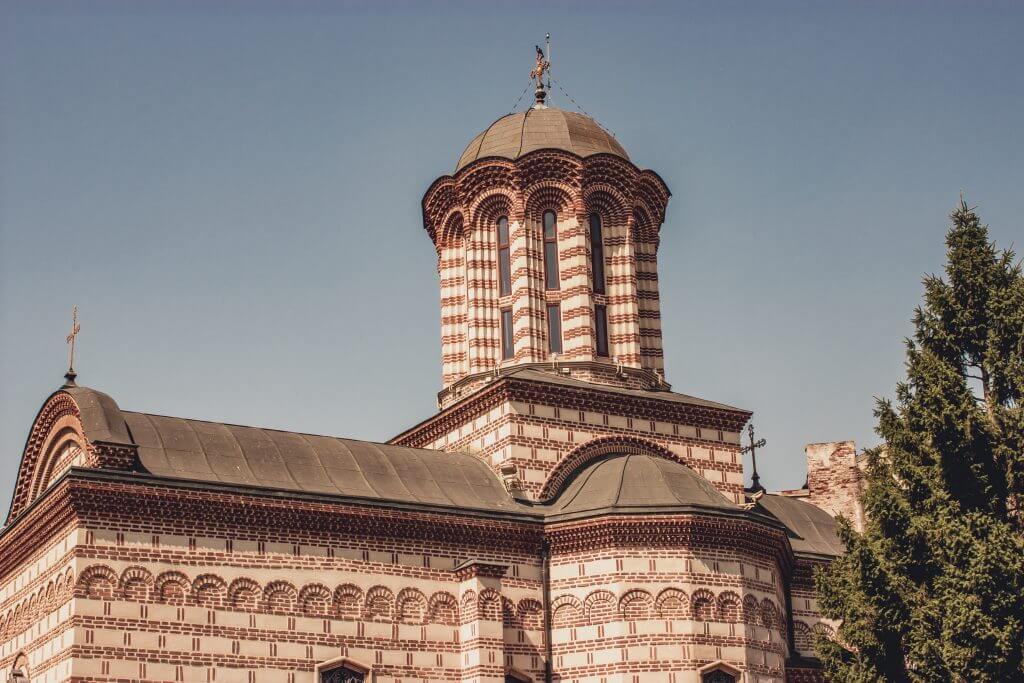 Obsessed with paying off the country's debt, Nicolae Ceaușescu (Romania's communist leader) sold much of the country's raw materials to foreign creditors, leading to extreme shortages of food, heating, and electricity. During Romania's winters, hundreds froze to death inside their dimly lit apartments, or died of asphyxiation as gas stoves – the only source of heat for many – were shut off, then turned back on without warning, filling sleeping apartments with gas.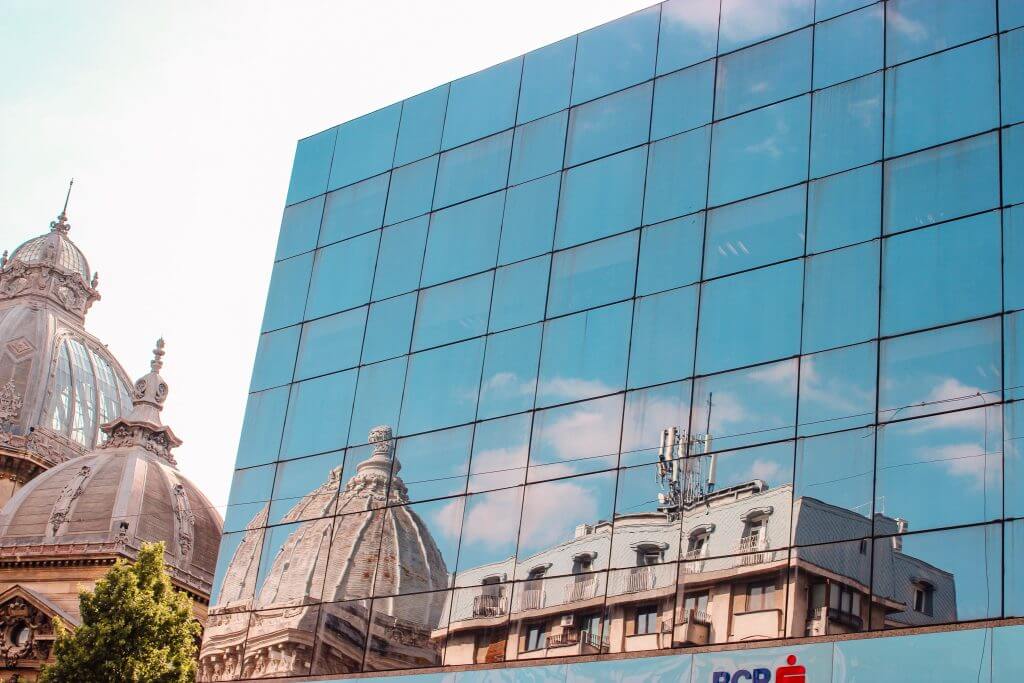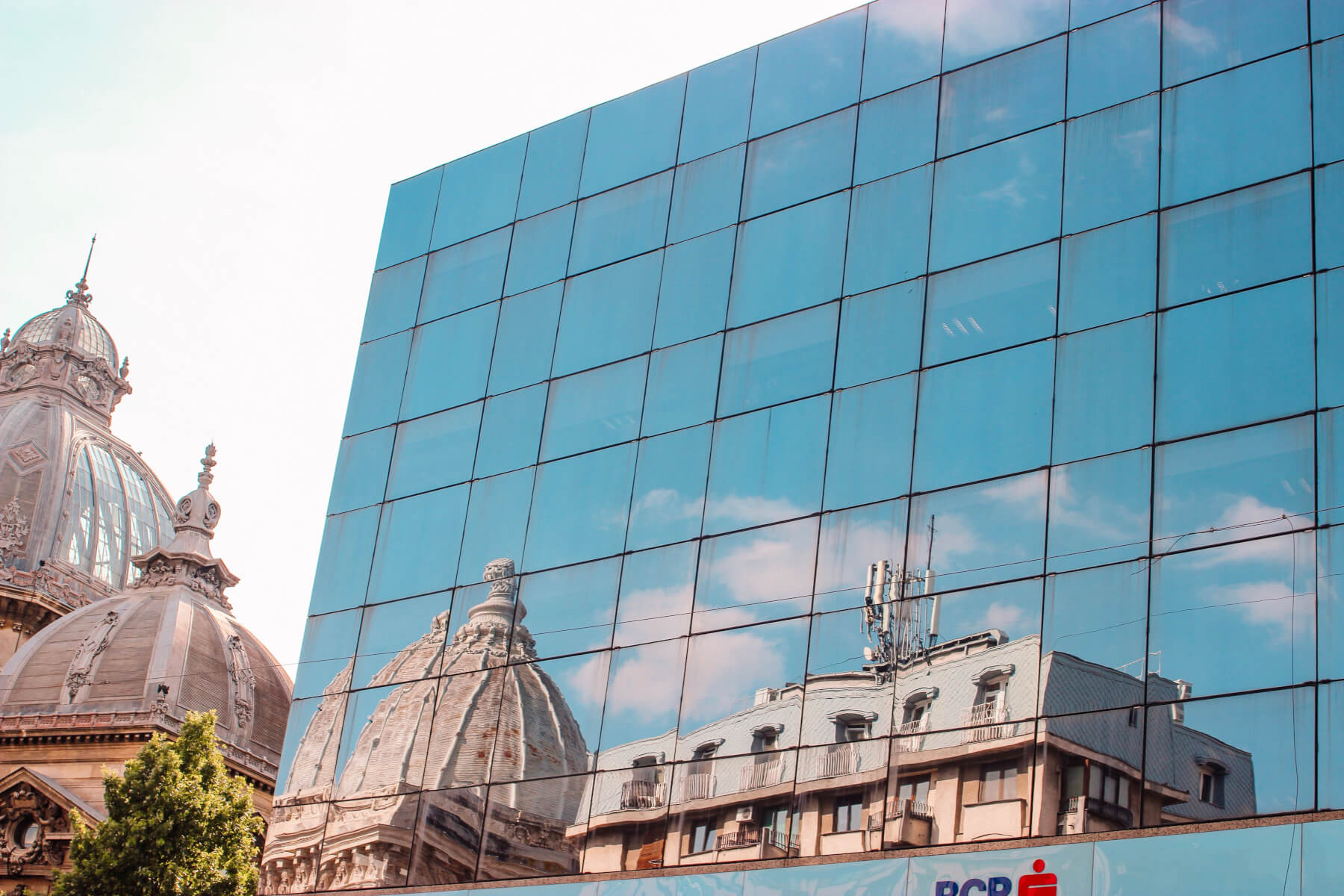 The Palace of Parliment
It was a very bleak time for those living in Romania. One very controversial building in Bucharest is the Palace of Parliment. It was the creation of Nicolae Ceaușescu and its grandeur serves as a constant reminder to the people of Bucharest of the sacrifices they made in order to build such an opulent building. The Palace of Parliment is the world's second-largest administrative building (after the Pentagon). Building commenced in 1984 and to this day it still remains unfinished. The 330,00 sq metre building has more than 3000 rooms and entry is by guided tour only so book ahead. Your passport is also required for entry.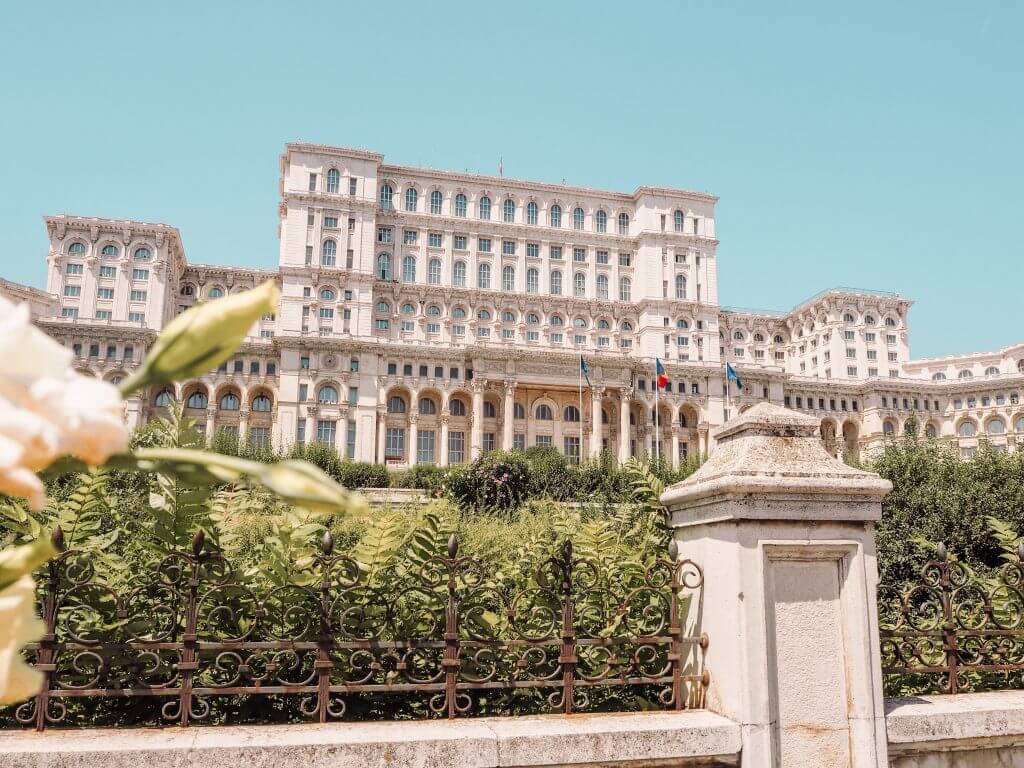 Another place to go to learn about communism in Bucharest is Revolution Square. This is where Nicolae Ceaușescu came to the balcony of the building of the Central Committee to give his final speech on December 21st 1989. This speech marked the beginning of the end of the communism era in Romania. Many lives were lost during the Romanian Revolution and it was the bloodiest of Europe's anticommunist uprisings.
Watch the fountains dance at Union Square (Piața Unirii)
Every weekend from about 8-9pm (weather permitting) the fountains offer a choreographed multimedia water and light show that is so impressive. Thousands of people flock to watch the fountains dance to a concert of popular music. You can get the full itinerary on the official Facebook page Simfonia Apei.
Carturesti Carusel
This gorgeous bookstore in the Old Town of Bucharest is a prime example of how social media can make a place famous. The name of this bookstore translates to "Carousel of Light" is just a simple bookstore but what makes it unique is the elegant interior. Beautiful white columns and white spiral staircases make this bookstore so popular on Instagram.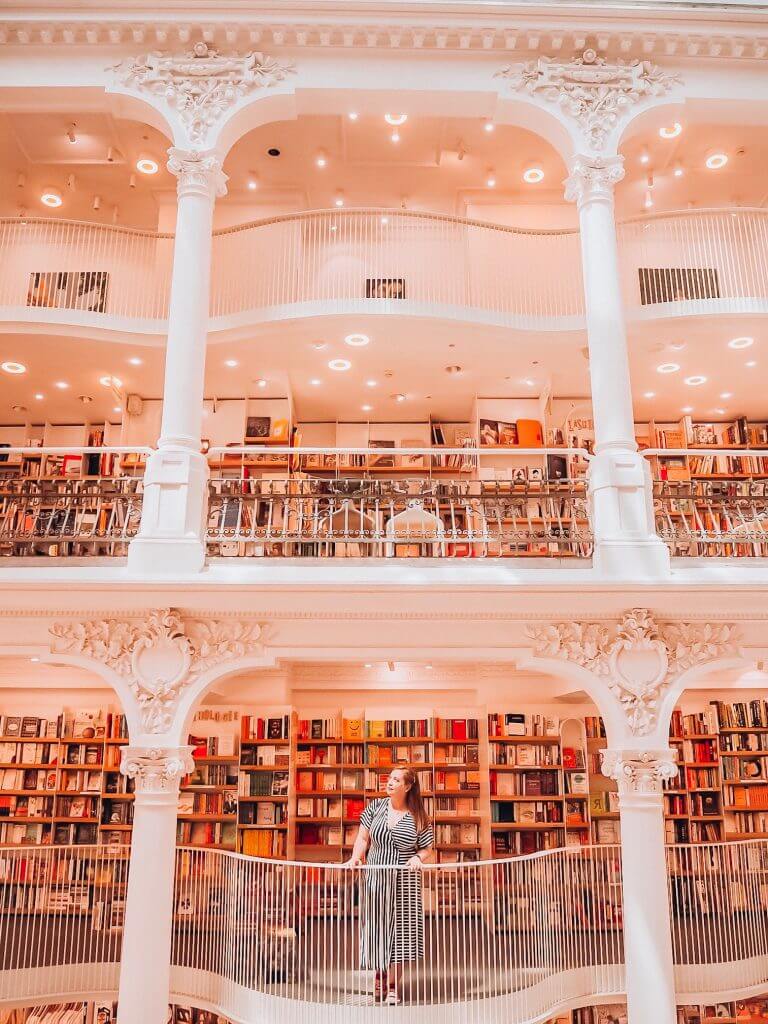 Explore Bucharest's Alternative side
One of my favourite things to do in Bucharest was to explore Bucharest's alternative side with a walking tour from Open Doors Travel.
This tour steps away from the typical tourist attractions and focuses more on Bucharest's true nature and identity from a local perspective. You will explore the city's street art and graffiti and discuss things such as politics and cultural and social experiments.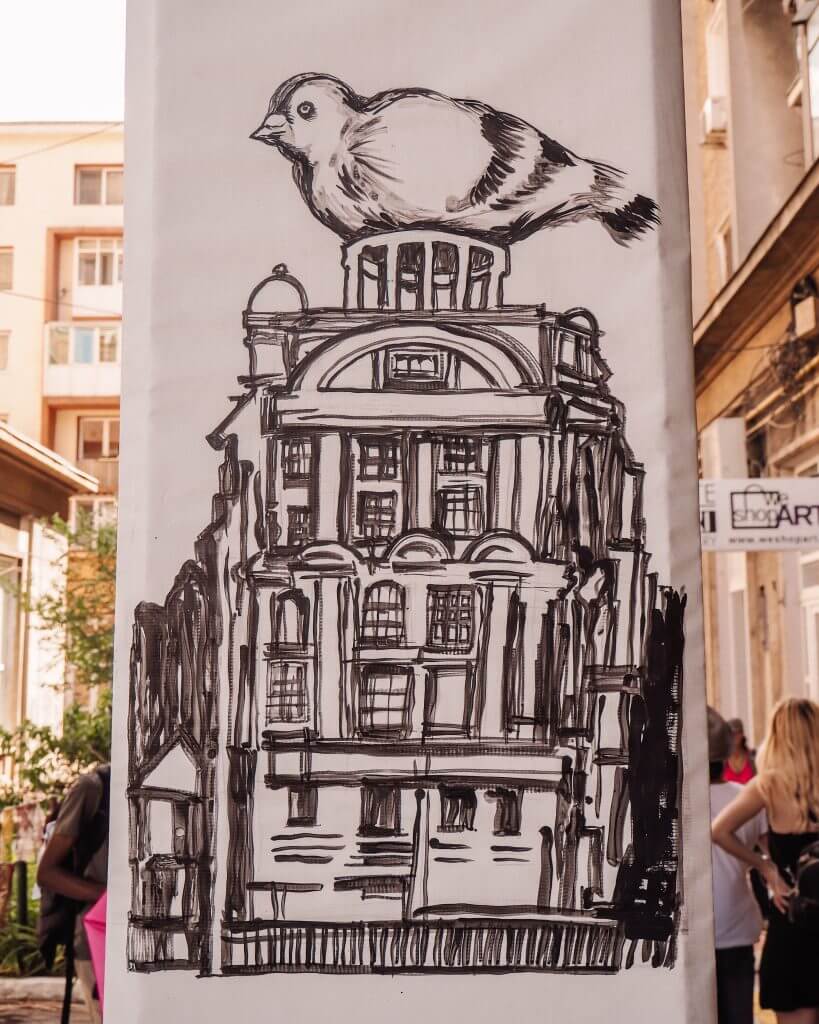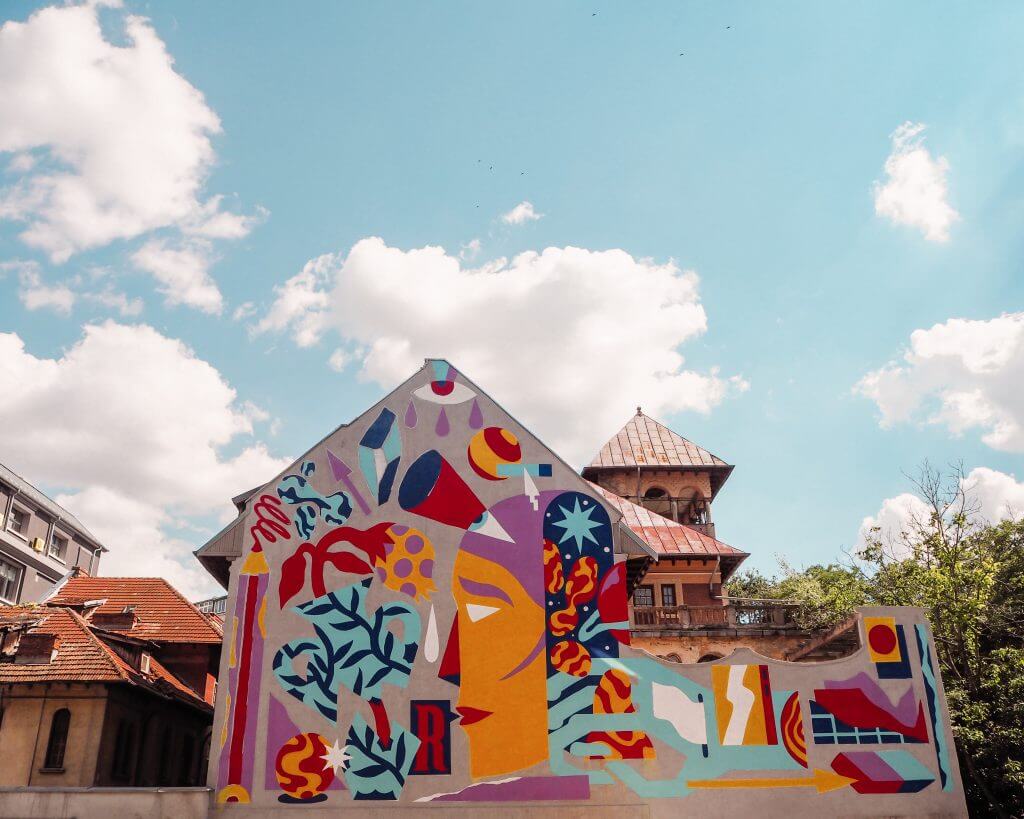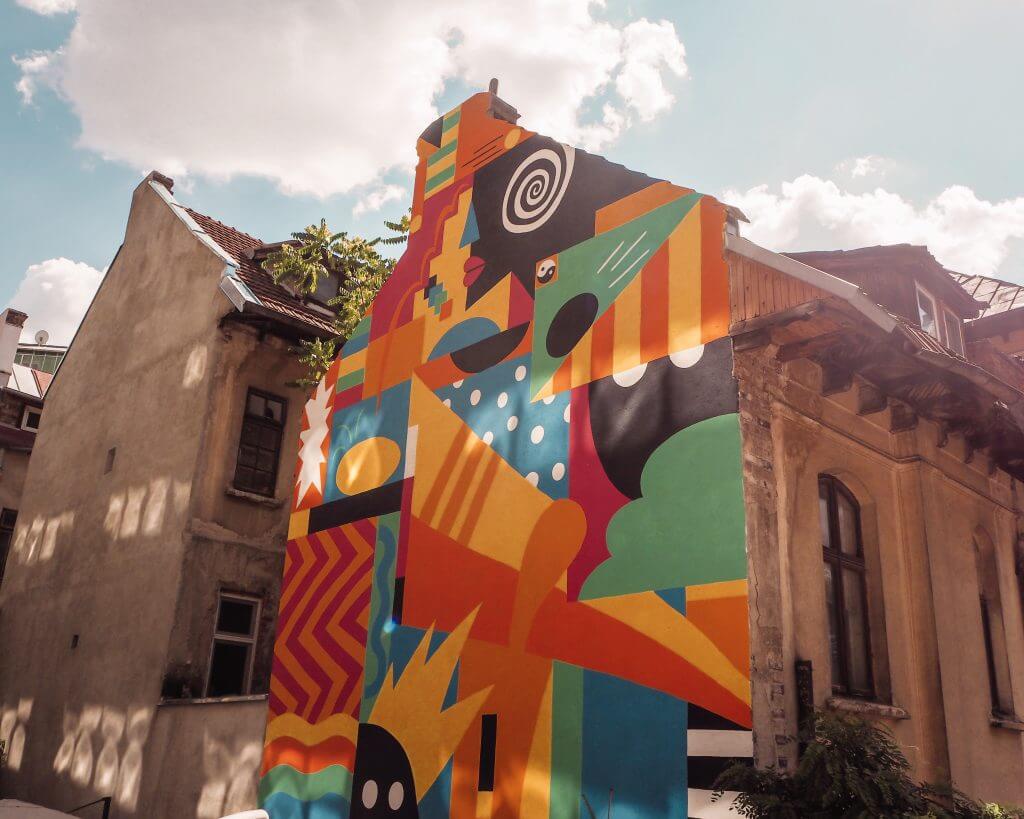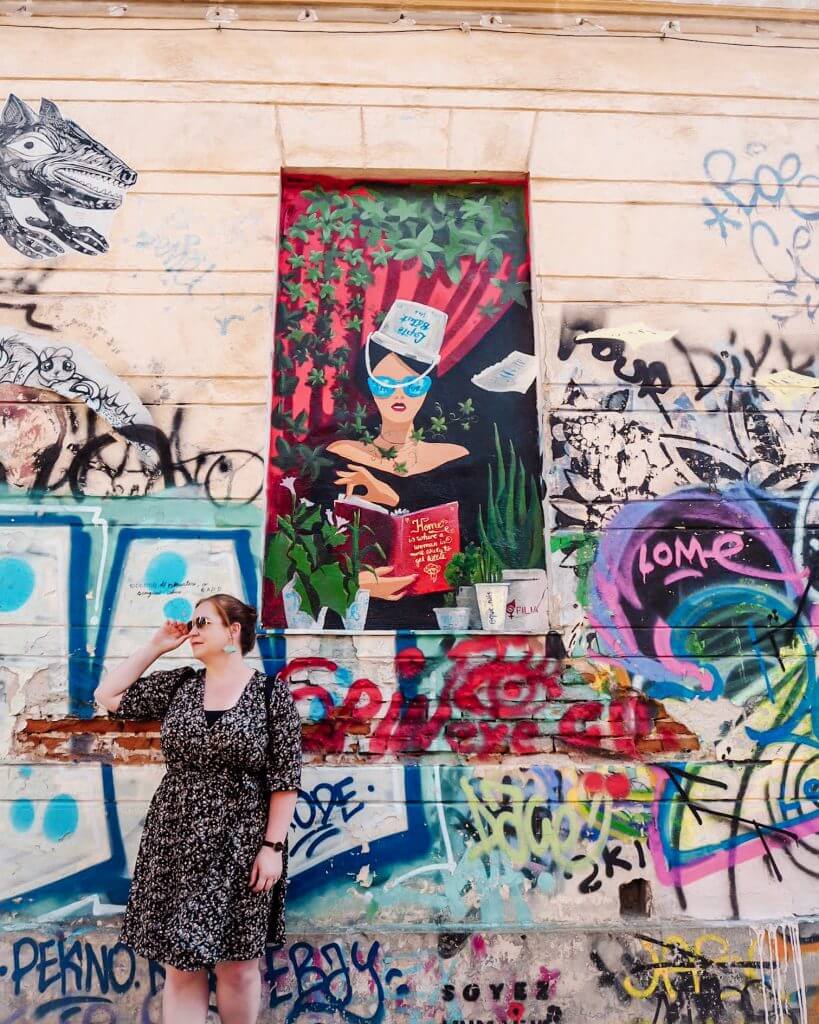 Where to stay in Bucharest
During our weekend in Bucharest we stayed at Mercure Bucharest Unirii with gorgeous views of the impressive Palace of Parliment building and I recommend this hotel as a base for exploring the city.
It is a mid-range hotel central to both the shopping and historical areas. All rooms are furnished with elegant modern furniture and offer the perfect environment for you to relax during your stay.
If you would like to escape the bustle of the city but still be close enough to Bucharest to explore you can read all about my stay at the luxurious By the Lake which has all of the luxury but at extremely affordable prices.
How to get from Bucharest to Transylvania
Is there a train from Bucharest to Transylvania?
After our weekend in Bucharest we set off to explore the beautiful Transylvania region of Romania. Those of you wanting to explore Transylvania will probably start your journey in Bucharest. We had a bus tour organized for us but the best way to get around Transylvania is by train.
Where is Transylvania?
Is Transylvania real? Some people assume that Transylvania is an invention of Bram Stoker but it is in fact a genuine place. Transylvania , who's latin name translates to "land beyond the forest", is a mountainous region of Romania, bound on three sides by the Carpathian mountains.
The region of Transylvania is known for the scenery of its Carpathian landscape and a rich history. The region has an intriguing history and has passed through periods of Roman, Bulgarian, Turkic, Hungarian, and autonomous rule. Saxon and Romanian villages dot the landscape.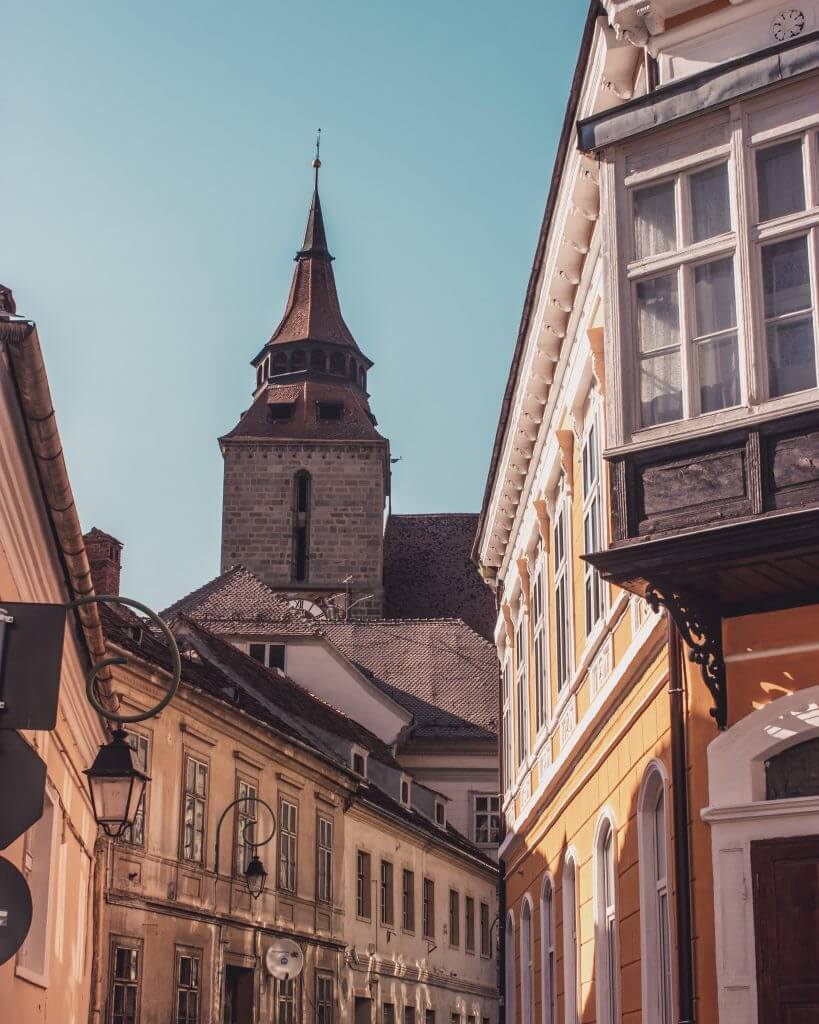 Travelling around Transylvania feels like stepping back in time. In this area , described as one of the last truly medieval landscapes in Europe, you will find hardwood forests, lush pastures and wildflower meadows. You can see why we were in heaven! It is idyllic. Horse drawn carts stumble along dirt roads, while shepards, complete with staffs and caps, tend their flocks among fields dotted with haystacks. It really is like something out of a storybook.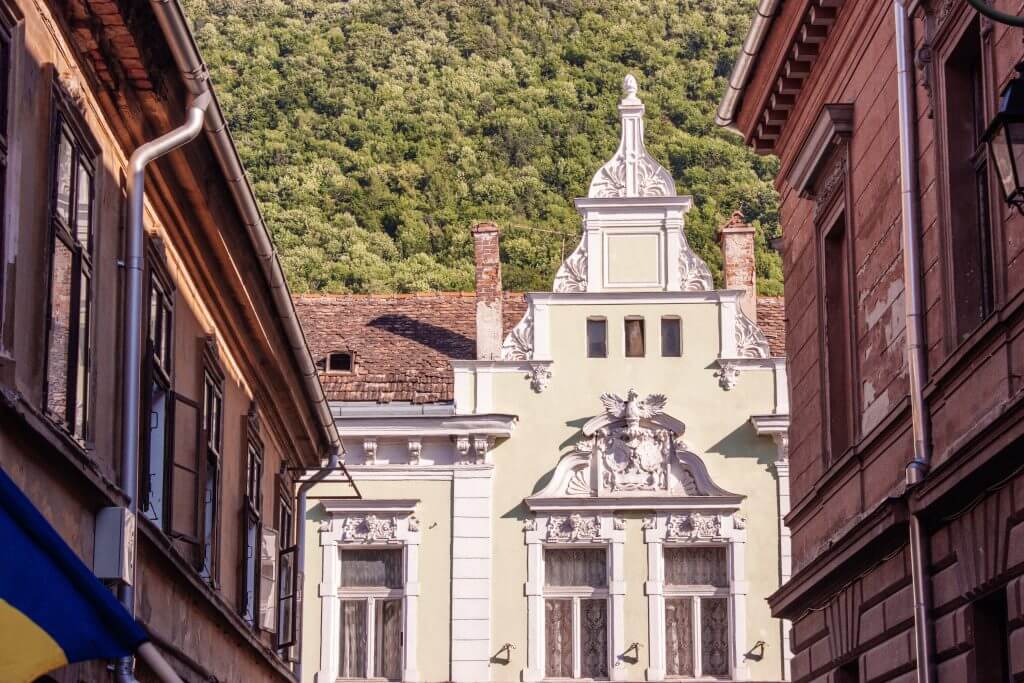 Is Bucharest near Transylvania?
Romantic notions aside, this also means poor infrastructure. Before getting to these places you will have to navigate your way through Romania's transportation system. Bucharest is about 4 hours away from Transylvania. Some websites that will be useful for helping you check bus and train timetables are infofer.ro and autogari.ro. If you really want to explore the countryside this is probably best done by renting a car.
The Carpathian mountains are home to wolves, lynx and Europe's largest population of brown bears. Around 5,000 bears are believed to roam the Transylvanian forests. Traditional wildlife-friendly agriculture makes Transylvania one of the best places for fauna in Europe.
Places to visit in Transylvania
Brasov
Trains leave from Bucharest to Brasov nearly every hour from Gara de Nord, Bucharest's primary train station. A train ticket from Bucharest to Brasov will cost about 48 RON or €10. Get your ticket from the counters on the far north-east side of the station and be sure to ask for an inter-regio train. Trains starting with the prefix IR are inter-regio trains so these are the ones that you need to look out for.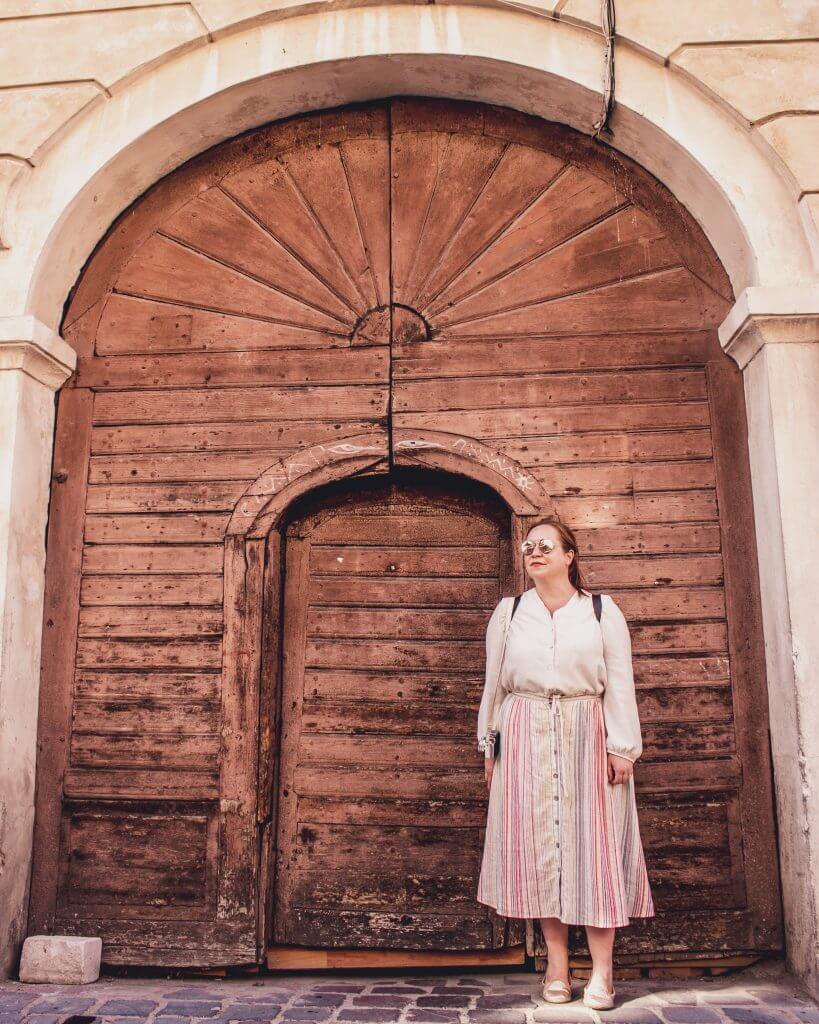 When you get to Brasov train station you will need to take a bus to travel the 4km to the city centre. The bus station is located directly outside and you will need to get Bus 4 to Livada Poștei or Bus 51 to Rat Brasov – Biserica Neagra. In either case, the ride should be around 20 minutes and cost 2 RON, or €0.42.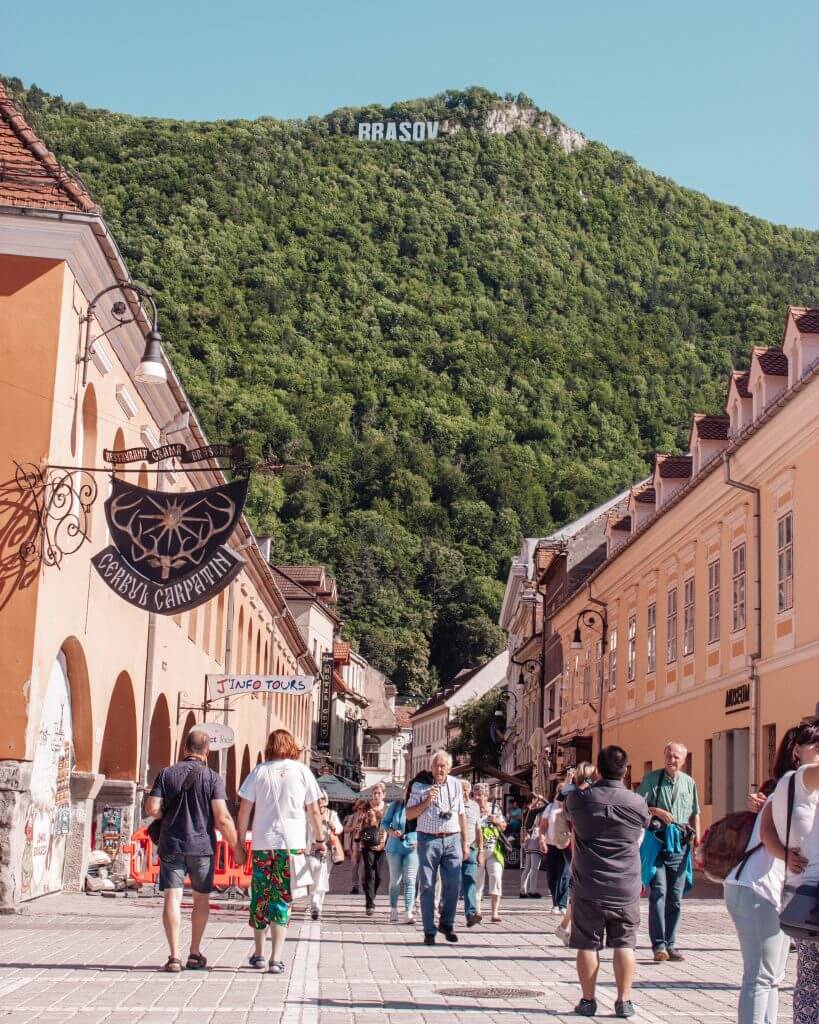 Brasov is one of Romania's most visited cities and for good reason. It is the perfect place to locate yourself for at least some of your Transylvanian itinerary.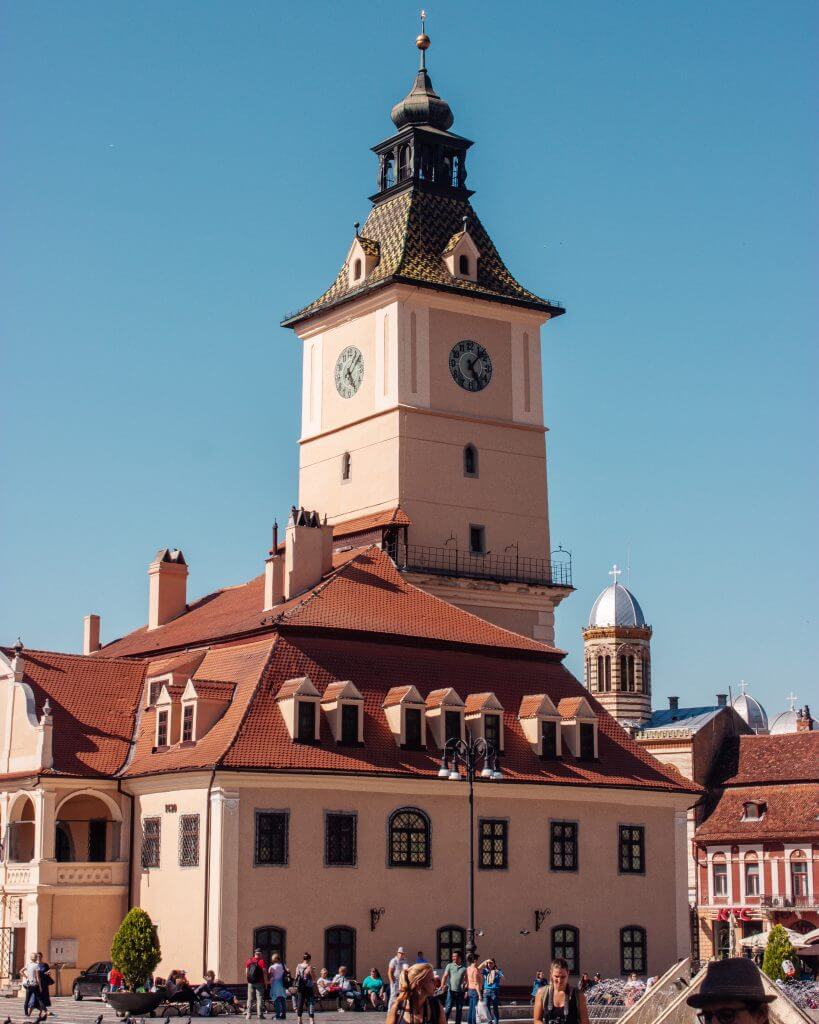 Brasov is a beautiful medieval city with a colourful and vibrant town square. This town square or Piata Sfatului is the perfect place to grab a bench seat and people-watch as the square buzzes with activity. During the Middle Ages the town square was where public trials and executions were held and in Communist times it was turned into a car park to stop people from congregating. Nowadays you will likely see children chasing pigeons and couples stolling along hand in hand enjoying the rainbow facades of the square's buildings.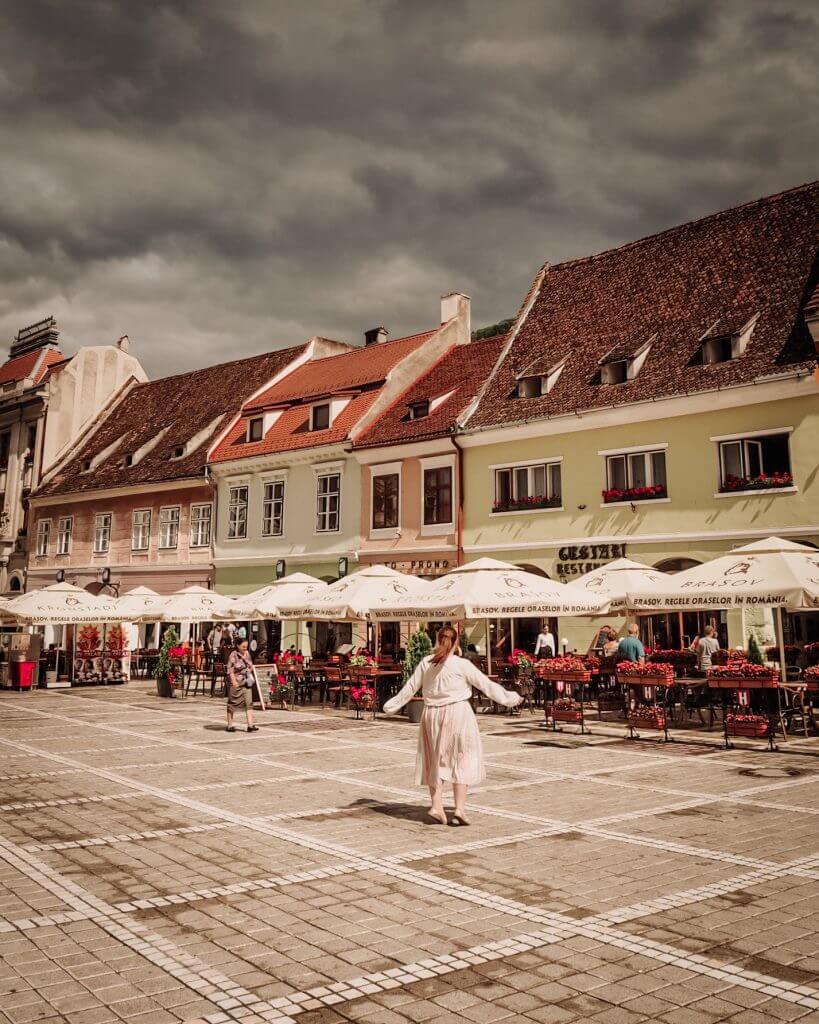 Brasov is also a great place to base yourself for skiing in Romania during the winter months. We stayed at the absolutely stunning Teleferic Grand Hotel which is set in the most picturesque location in the mountains of Transylvania.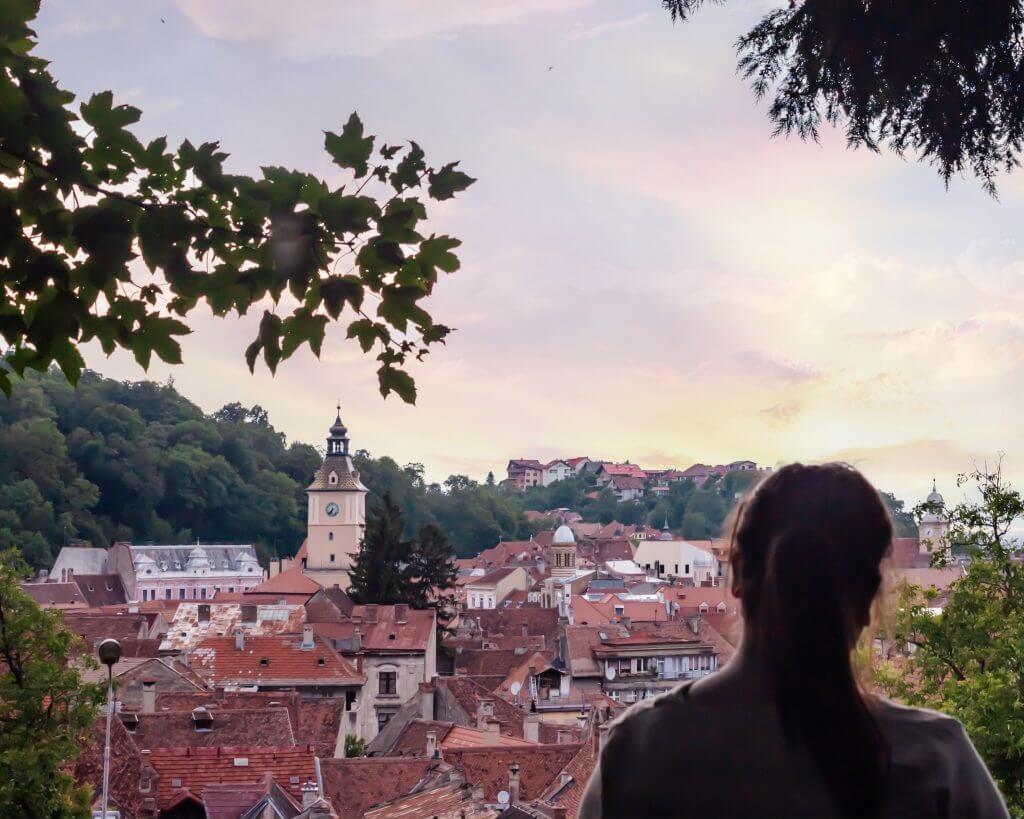 Sighisoara
From Bucharest to Transylvania. How to get to Sighisoara
To get to Sighisoara you can take the train but there are also mini buses operating from Brasov approximately every two hours. Tickets cost about 25 LEI (€5) and you can check the complete schedule at www.cdyservice.ro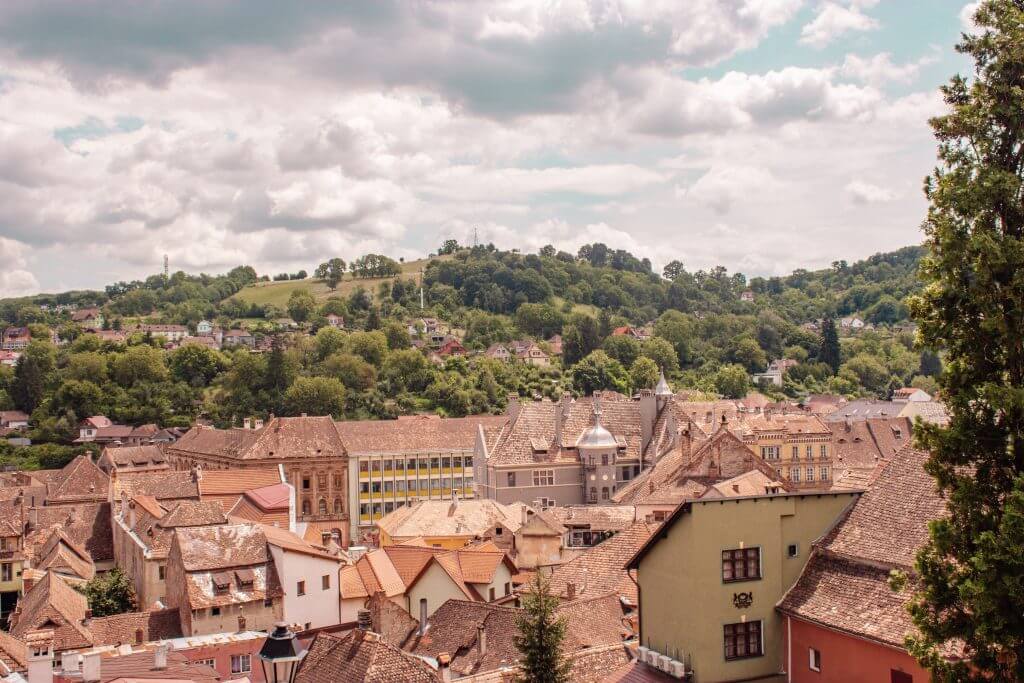 Sighisoara is like something straight out of a colourful fairytale. You would be forgiven for thinking that a crayon box had exploded all over it, it is that vibrant and colourful.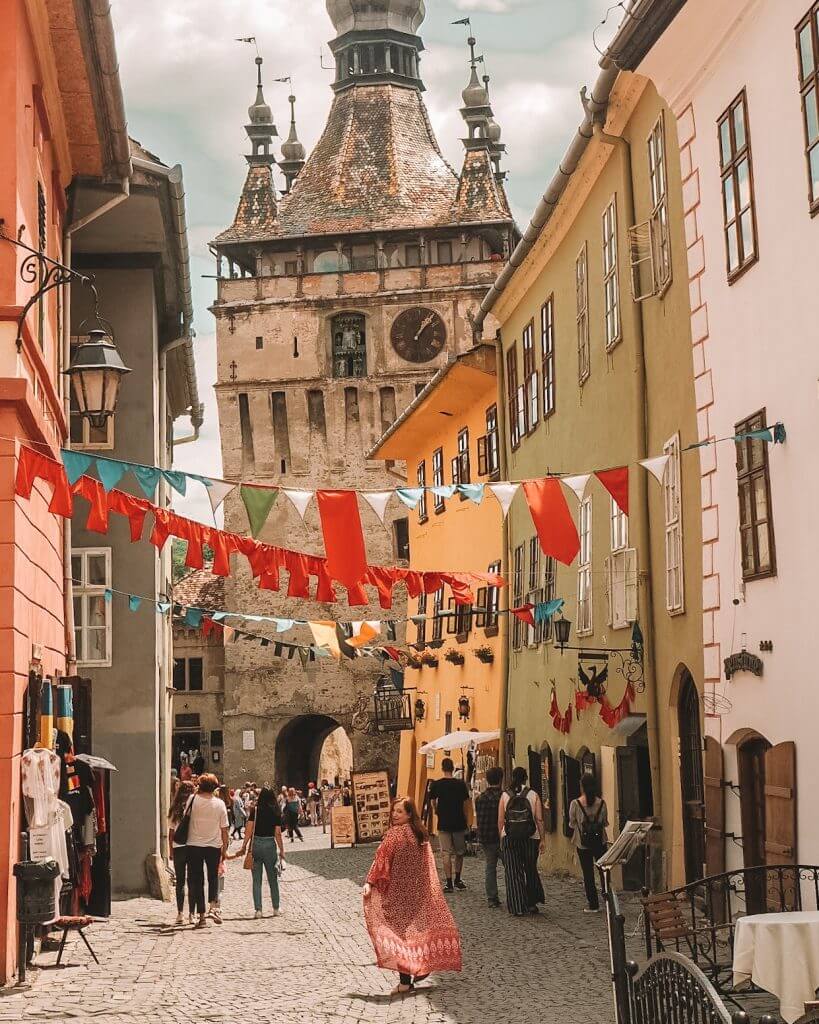 With cobbled streets, colourful buildings and a pedestrian-friendly medieval Old Town, it is difficult not to fall in love with Sighisoara. It is relatively small so it is easy to explore on foot in one afternoon without any difficulty. Although leave those heels at home girls or those cobbled streets will be hard to navigate.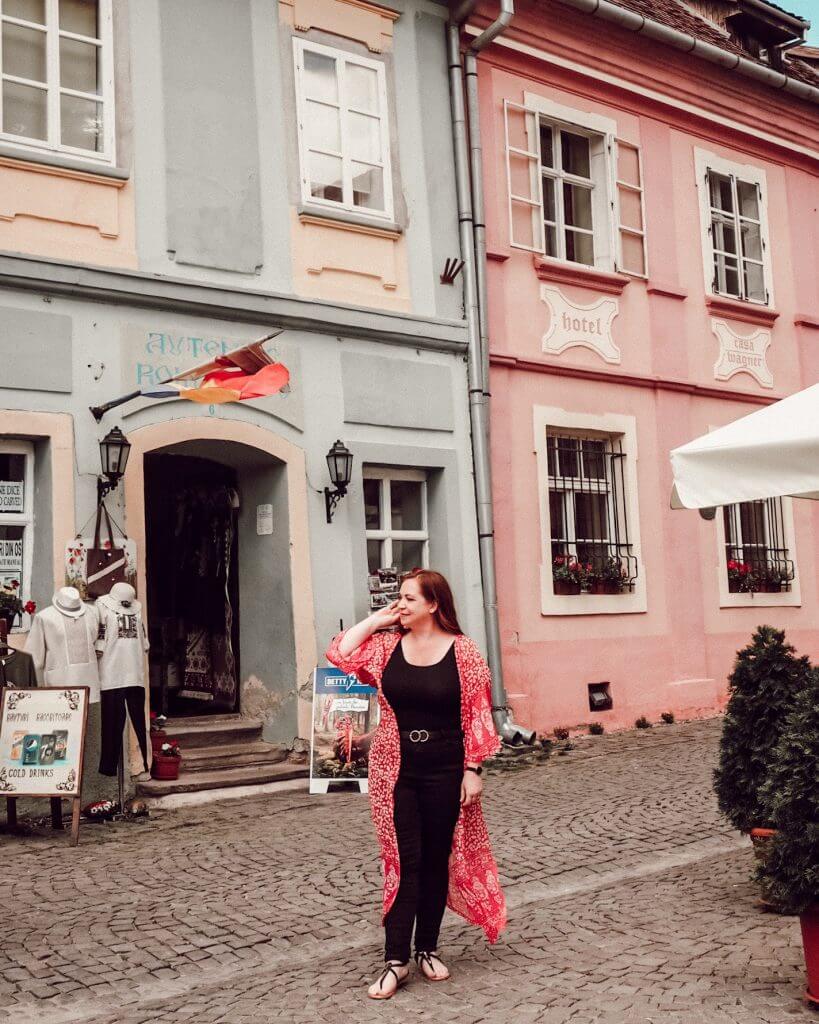 Sighisoara has a claim to fame in that it was the birthplace of Vlad III (also known as Vlad Tepes, Vlad the Impaler, and the inspiration behind the legend of Dracula). Vlad's father was ruler of nearby Wallachia, but was in exile in Transylvania when Vlad was born. As a result you will find many Dracula themed cafes and restaurants and tacky Dracula paraphenalia but we personally think it just adds to the charm of this colourful city.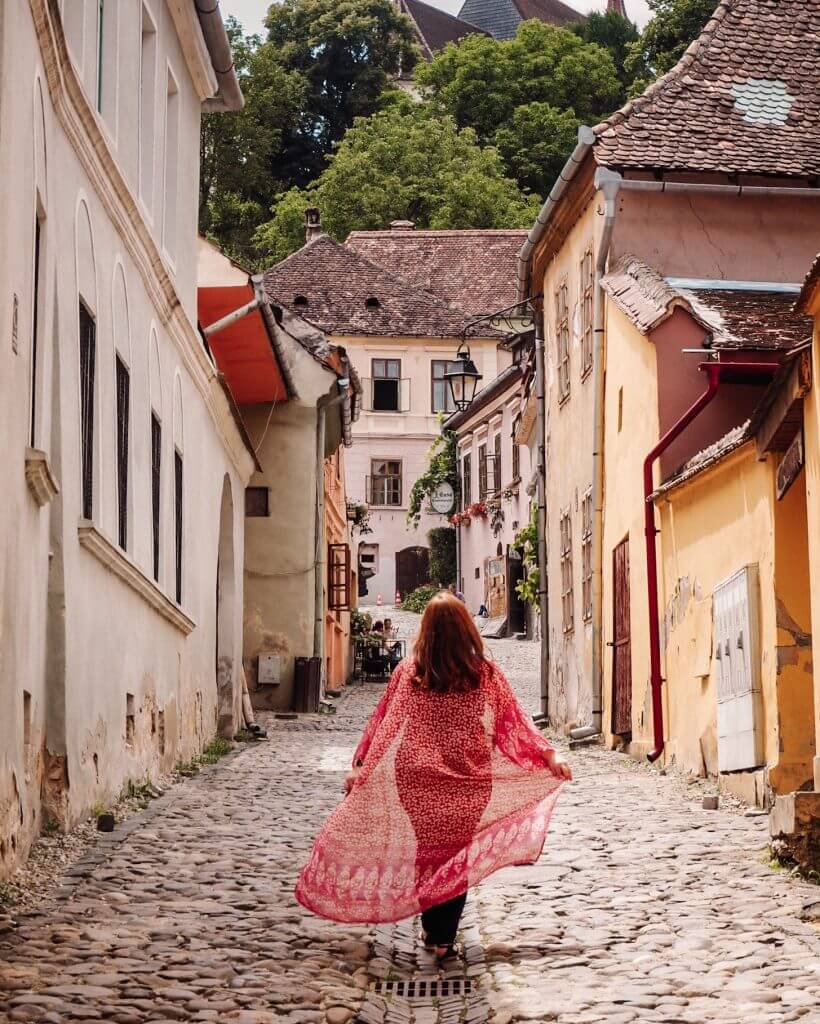 You really don't need a huge amount of time in Sighisoara but we do recommend staying at least one night to really soak in the atmosphere there. One of the most highly rated hotel in Sighisoara is Hotel Central Park.
Romania definitely surprised us. There is so much about this country that we both love and we know for a fact that we are not done exploring it. I know that there are many more beautiful places to be discovered there. So in the words of Arnie Schwarzenegger "we'll be back"!
Disclaimer: some of the links on this blog post are affiliate links meaning that if you book through them we will receive a small commission at no additional cost to you.
Are you new here? Join thousands of other happy readers and subscribe to All about RosaLilla blog via email. The good news is that by signing up via email you will get exclusive travel deals straight to your inbox. The only other place that we publish these deals is on Instagram stories, so be sure to signup to get the heads up on amazing travel deals to save you money when booking.
I also share everything about myself on Instagram with nothing held back so be sure to follow along there.
For an alternative place to stay in Bucharest check out my review of By the Lake.
If you liked this you might also like:
The best travel hashtags for killer reach
Debunking the myths on Romanian Stereotypes
My Lyme story and how I survived Lyme Disease
Until next time you crazy kids!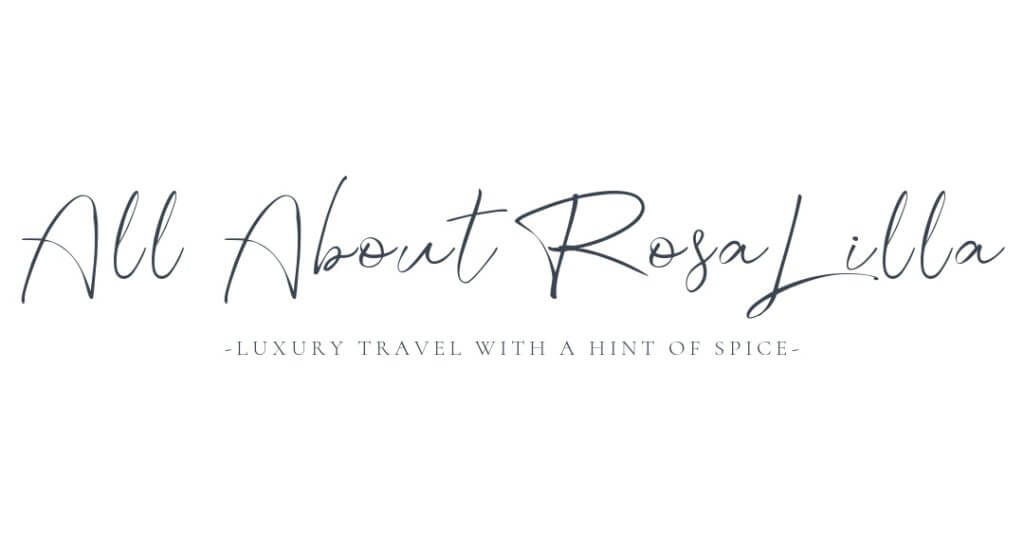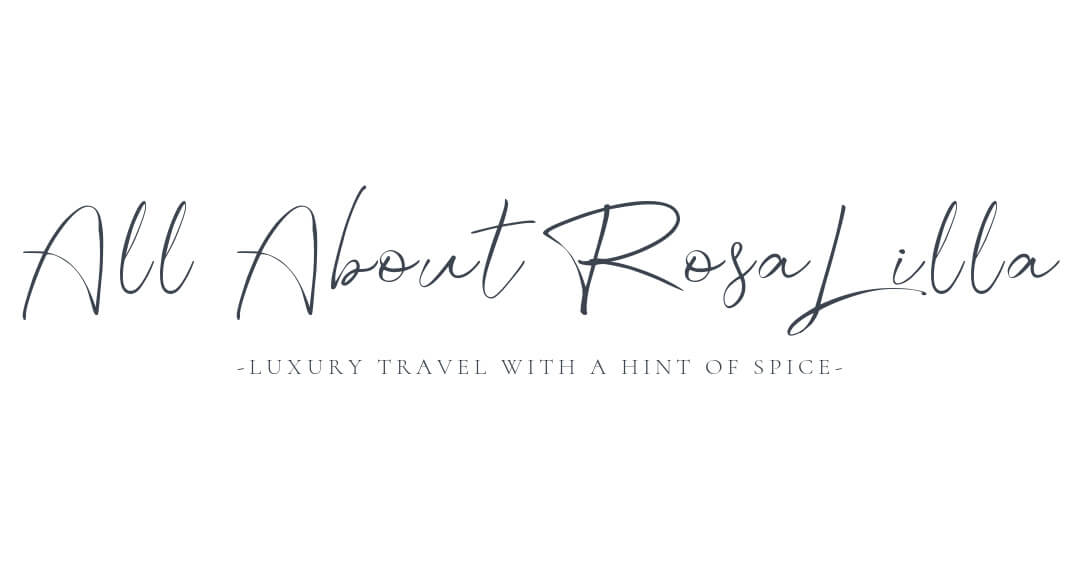 Sharing is sexy!