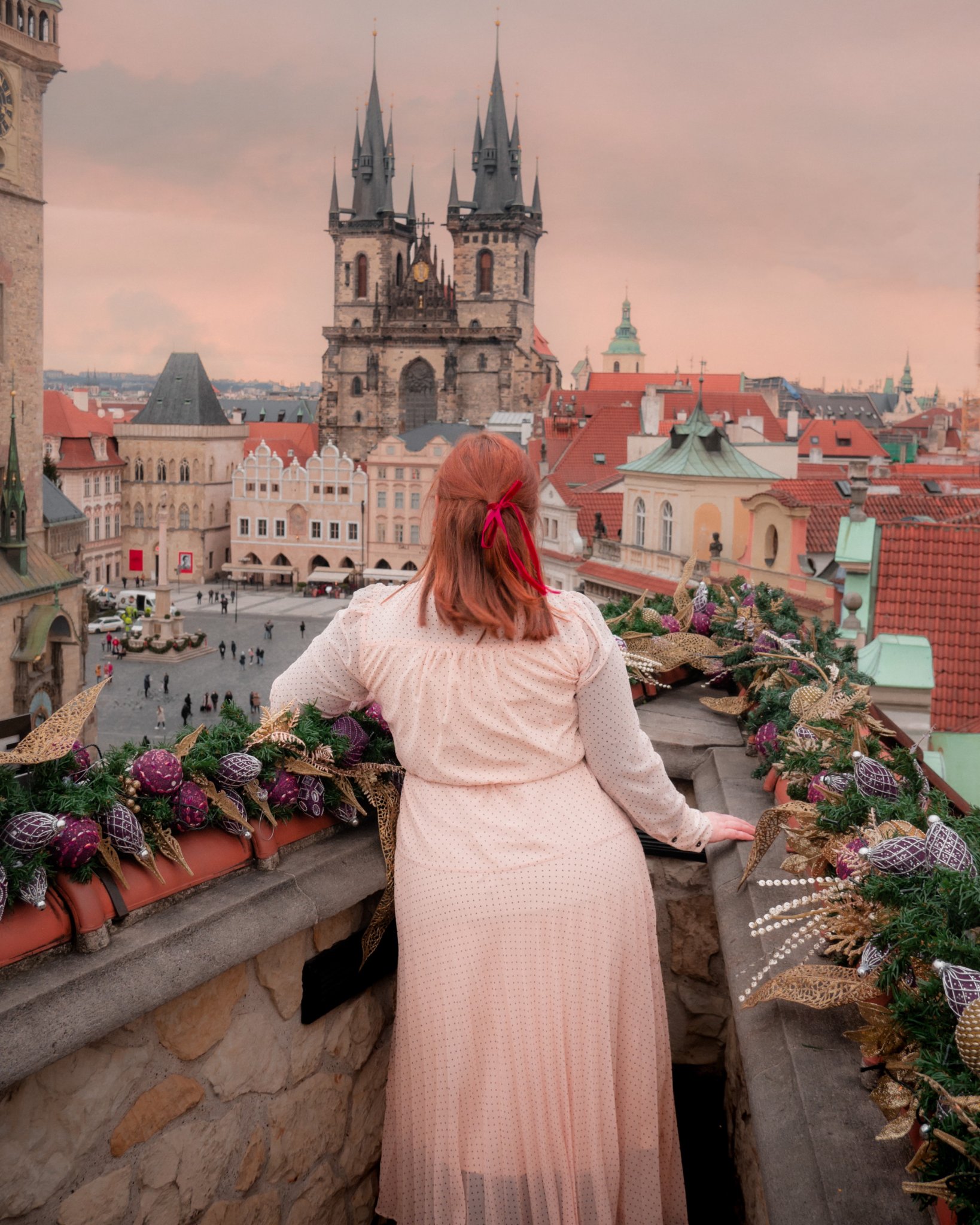 If you are looking for the best Prague Instagram spots then this post is for you. Prague is one of those fairytale cities that you do not want to miss and there are so many wonderful photography spots in Prague to keep your Instagram feed very happy. It is one of the most picturesque and beautiful cities in Europe so it comes as no surprise that there are many gorgeous Instagram spots to be found here. Like most people travelling I use Instagram as a source of inspiration to decide just what I want to see in each new place that I am visiting. I think I have researched the best Prague Instagram spots and I want to share it with you.
With its charming cobbled streets and jaw-dropping architecture, the Bohemian city is a dream come true for any photographer. This is my list of the most instagrammable places in Prague, which I think has a good mix of famous locations, hidden gems, and tips and tricks to get the same shot that I did. I am also linking all of the best Prague Instagram Spots on Google Maps below and giving you the exact location at each spot.
The best Prague Instagram Spots
From dancing houses and medieval architecture to stunning viewpoints of the city, here are my favourite photo spots in Prague. If you are anything like myself and Mister Lavin you won't want to put your camera down! Prague is packed with awesome photo locations and you are not going to want to miss any of these. While doing it "for the gram" these days is popular and a great way to document your travels always remember to also soak in the culture of the places you visit. You want to come away with memories as well as gorgeous photos. You really can get a gorgeous Instagram feed, while enjoying the best the city has to offer in a respectful way. And while enjoying some of that famous Czech beer, too.
So without further ado let's Czech out (get it) the best Instagram spots in Prague!
Charles Bridge at sunrise
Prague is one of those citites along with Venice that suffers from overtourism. With its foundation laid in 1357, the Charles Bridge is the oldest bridge in the city spanning the River Vltava. Lined with religious statues and beautiful lanterns, this gothic bridge resembles something straight out of a fairytale.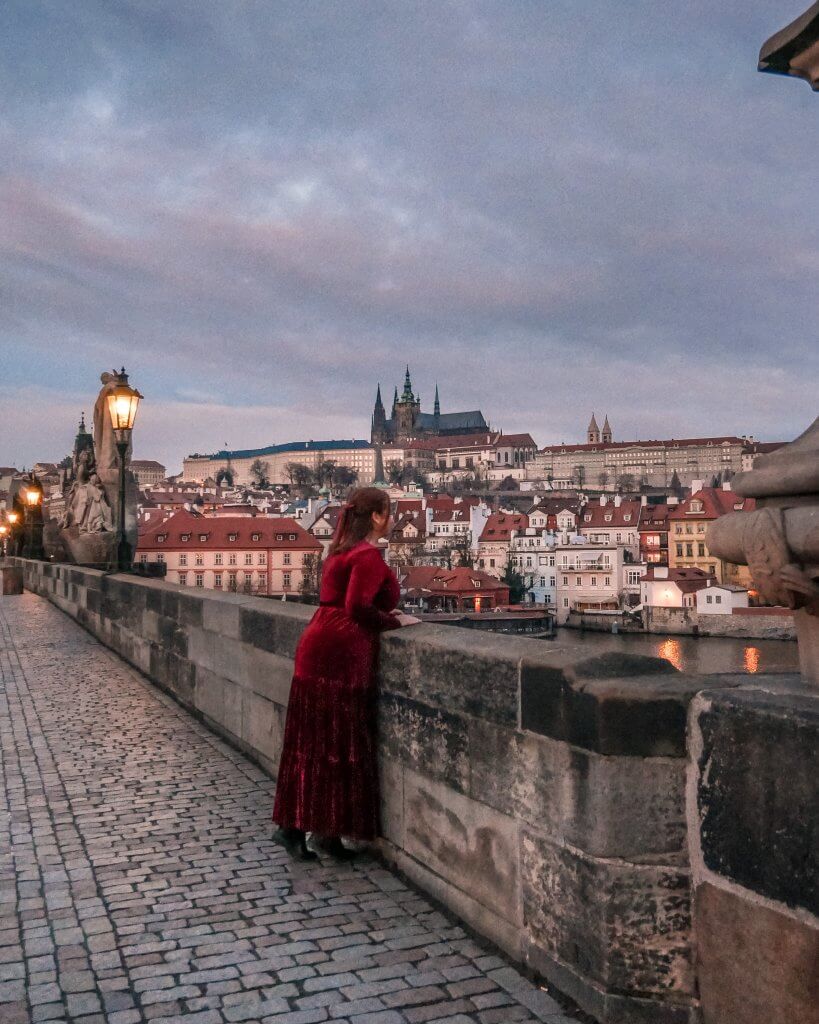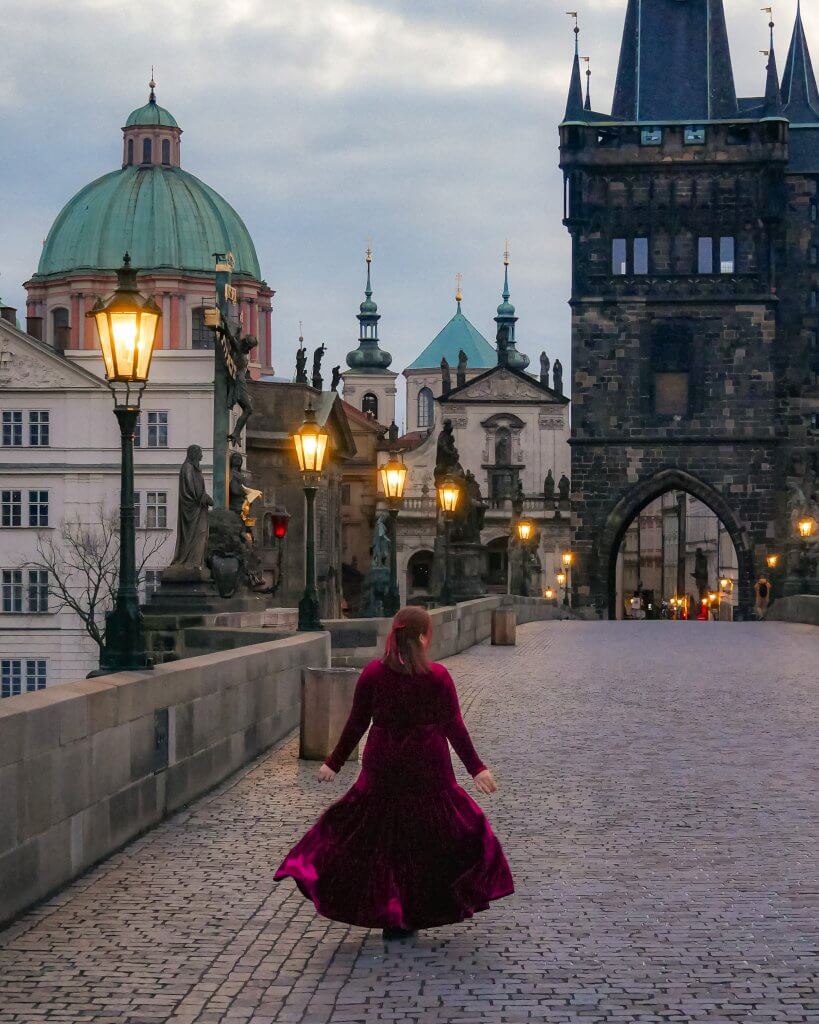 The Charles Bridge is one of the most iconic locations in Prague and is where everyone heads to first to get their Instagram picture. So I have put Charles Bridge at sunrise in the title because that is the only chance you will have of getting this iconic Prague Instagram spot to yourself.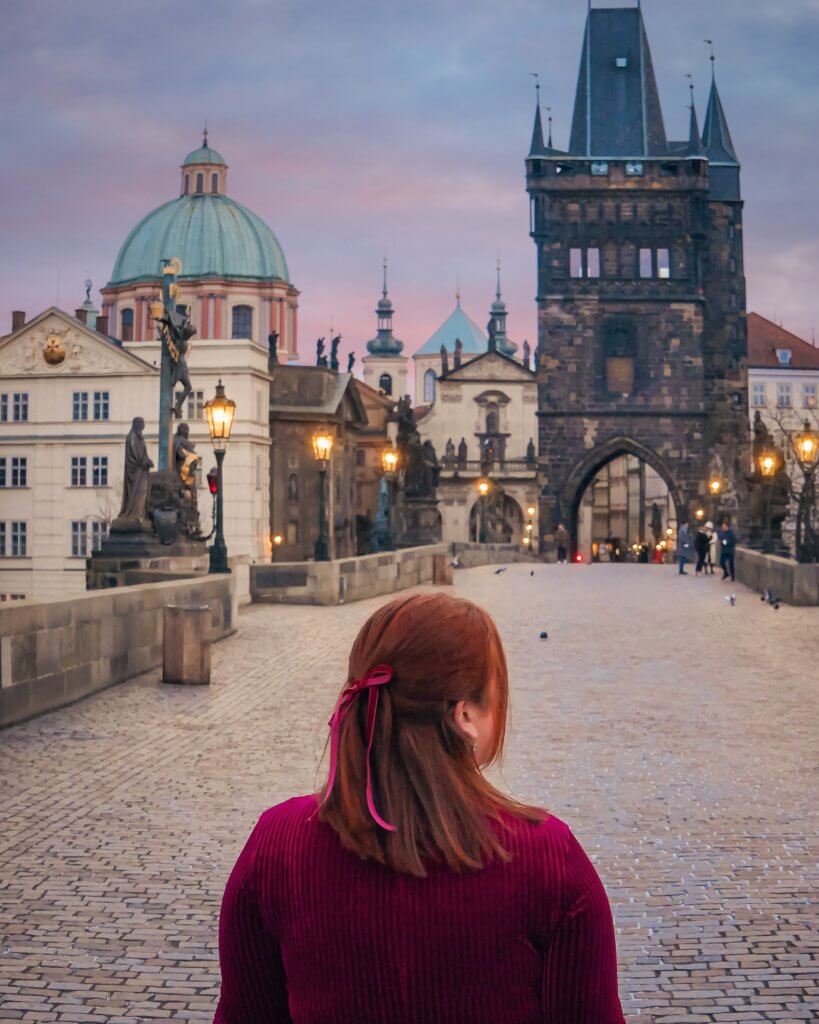 I made the mistake of taking my photographs closest to the old town but the best Instagram spot is the other end of the bridge at the beginning of the road leading up to Prague castle. I went back just as the sun was beginning to set but there were still a lot of people around. With a little patience I still managed to get this shot.
Google Maps Location: 50.08647, 14.41143
Old Town Square
The Old Town Square is the oldest and one of the most significant squares in Prague with a history dating back to the 10th century! Known by locals as Staroměstské náměstí it is easily the most recognisable part of Prague.
Many of the cities most significant historical buildings surround the square with quaint cobbled streets leading away from it. The square is dominated by many monuments such as the Old Town Hall with the Astronomical Clock and the Church of Our Lady before Týn. You are sure to find several angles and backdrops here that are Instagram worthy.
Like Charles Bridge this area gets really crowded with tourists. My advice is to head here straight after your sunrise Charles Bridge shoot to capture photographs of the Old Town Square and the Astronomical Clock. You can see in this video that by doing this we had the entire square all to ourselves!
Google Maps Location: 50.08756, 14.42118
Astronomical Clock
Built into the side of the Old Town Hall, the Astronomical Clock is a Prague Instagram spot that you don't want to miss. First installed in 1410, it is the third-oldest astronomical clock in the world and the oldest still in operation. It is astonishingly ornate as well as being an intricate piece of engineering. Aside from the vibrant coloured main disc on the clock face, it's also surrounded by wooden statues of saints, and a representation of Death – a skeleton who holds a small bell. Crowds gather every hour to see the skeleton ring his bell, and a procession of saints and apostles go past the window above, nodding at the crowd below.
Go early to get this Prague Instagram spot all to yourself and avoid the place as it approaches the hour as this is when it gets really busy.
Google Maps Location: 50.08702, 14.4207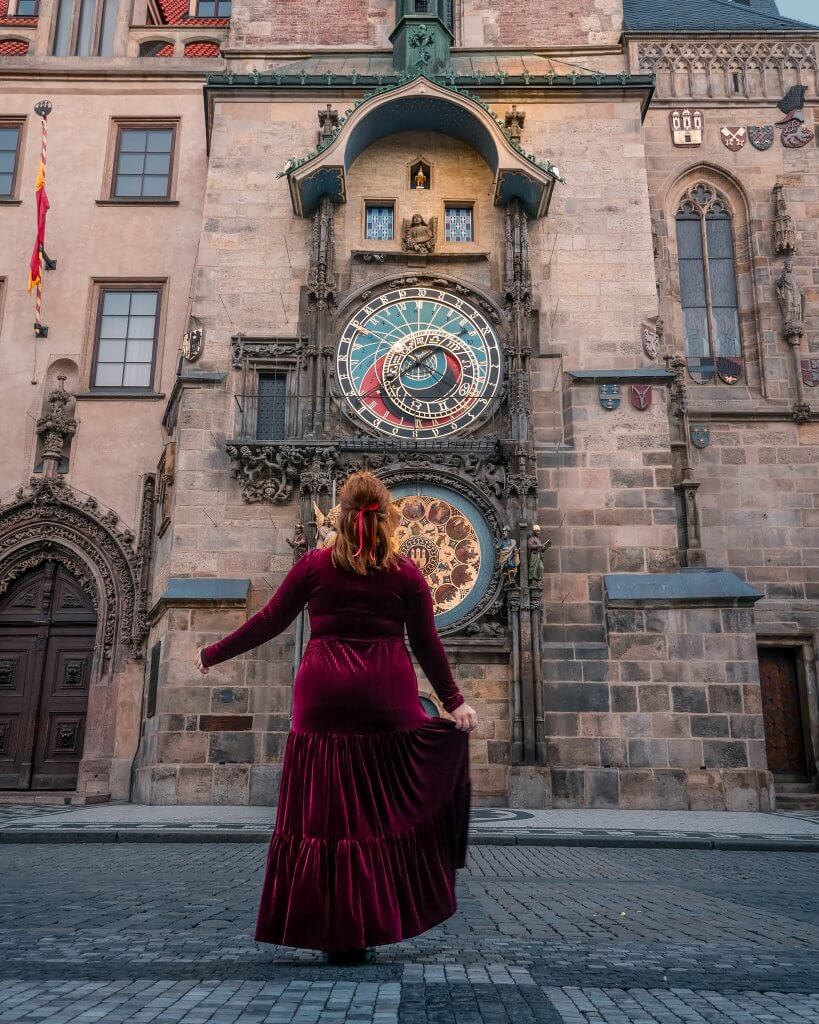 Terasa U Prince
For a unique and unobstructed view of Old Town Square you are going to want to check out Terasa U Prince restaurant. Located within the luxurious Hotel U Prince Hotel, the rooftop restaurant has been ranked among the top 15 most impressive in the world. You will have to book in advance if staying for food but it is not a problem to simply just enjoy a drink here. Rooftop views don't get much better than this.
Google Maps Location: 50.08644, 14.42011
Street Photography in Prague
There are endless opportunities for street photography in Prague. With its quaint cobbled streets, colourful buildings, and old-school charm, there are idyllic scenes at every turn. I told you that it would be hard to put your camera down!
Google Maps Location: 50.08608, 14.41703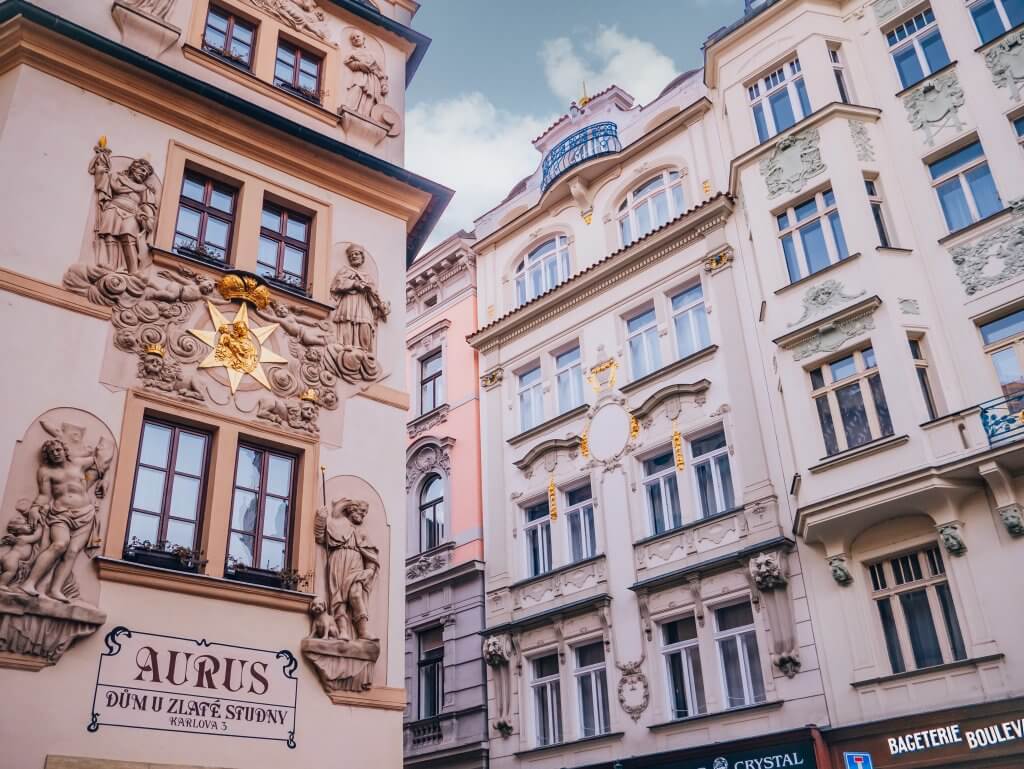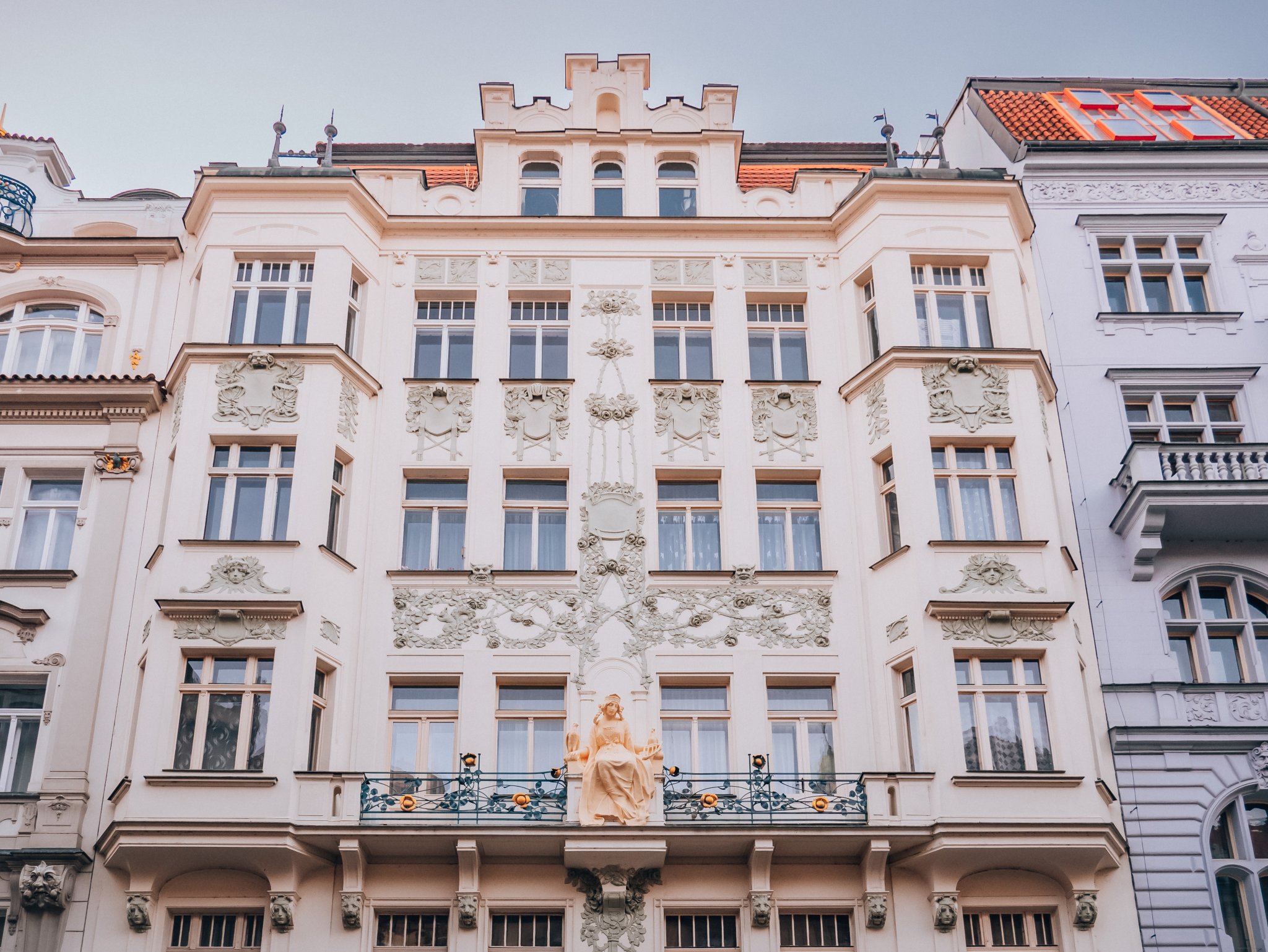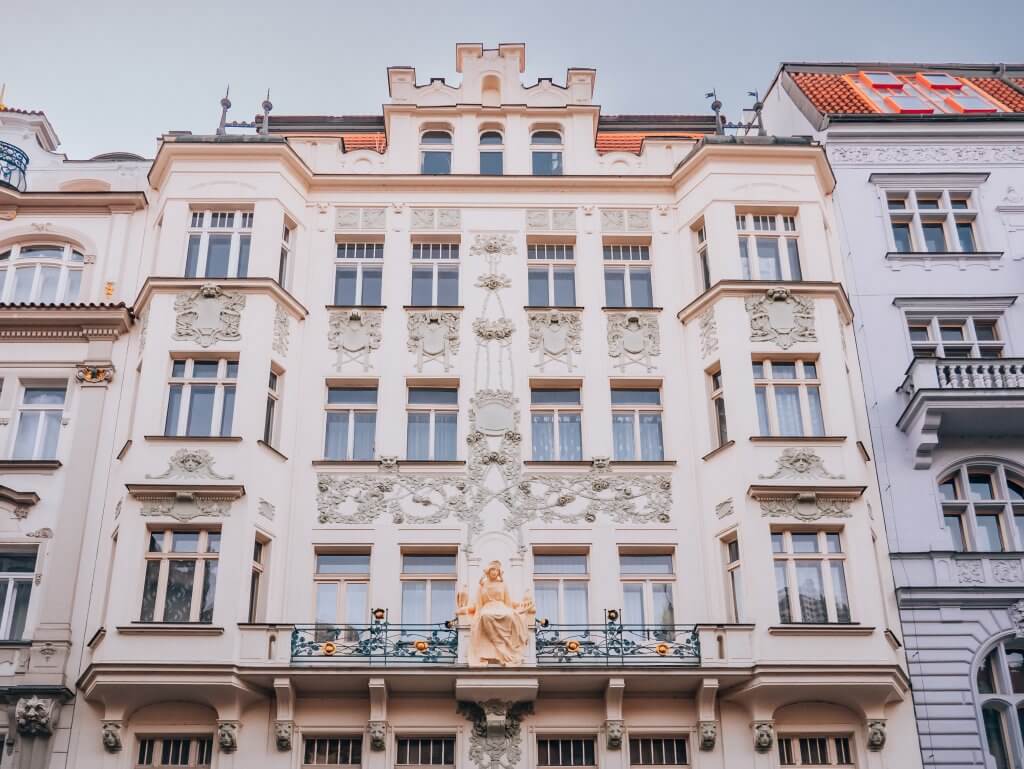 Dancing House
Tančící dům or the Dancing House is an fascinating non-traditional building on the Vltava riverfront. The architecture is unlike anything else you will see in Prague, world's apart from the gothic fairytale architecture of Charles Bridge and Prague Old Town. This building is exciting, new and modern.
The building is officially known as Nationale Nederlanden but it also became known as the house of Fred and Ginger (after the famous dancers Fred Astaire and Ginger Rogers) because it resembles two dancers in an embrace. The unusual structure is revolutionary to Prague, symbolising the arrival of democracy to Bohemia in the late 1980s. The good news is that it is very rarely crowded so you can take your photo here during any time of the day.
Top Tip: This building is a hotel so pop up to the rooftop bar for a well deserved drink.
Google Maps Location: 50.0754, 14.41417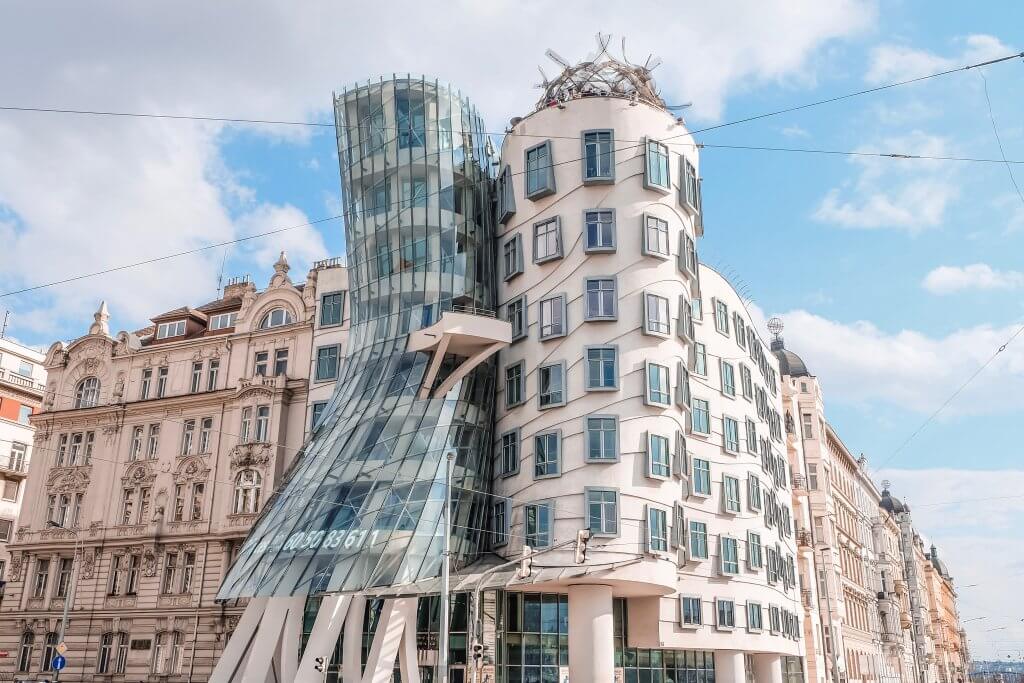 Jubilee Synagogue
The Jubilee Synagogue (also known as the Jerusalem Synagogue due to its location on Jerusalem Street) was built in 1906, making it the newest synagogue in Prague. During World War II, the synagogue functioned as a repository of seized Jewish property and the synagogue still actively hosts services today. It was built in a Moorish/Art Nouveau style and named after the Silver jubilee of Emperor Franz Joseph I. This colourful building will look fantastic on your Instagram feed.
Google Maps Location: 50.0847, 14.43202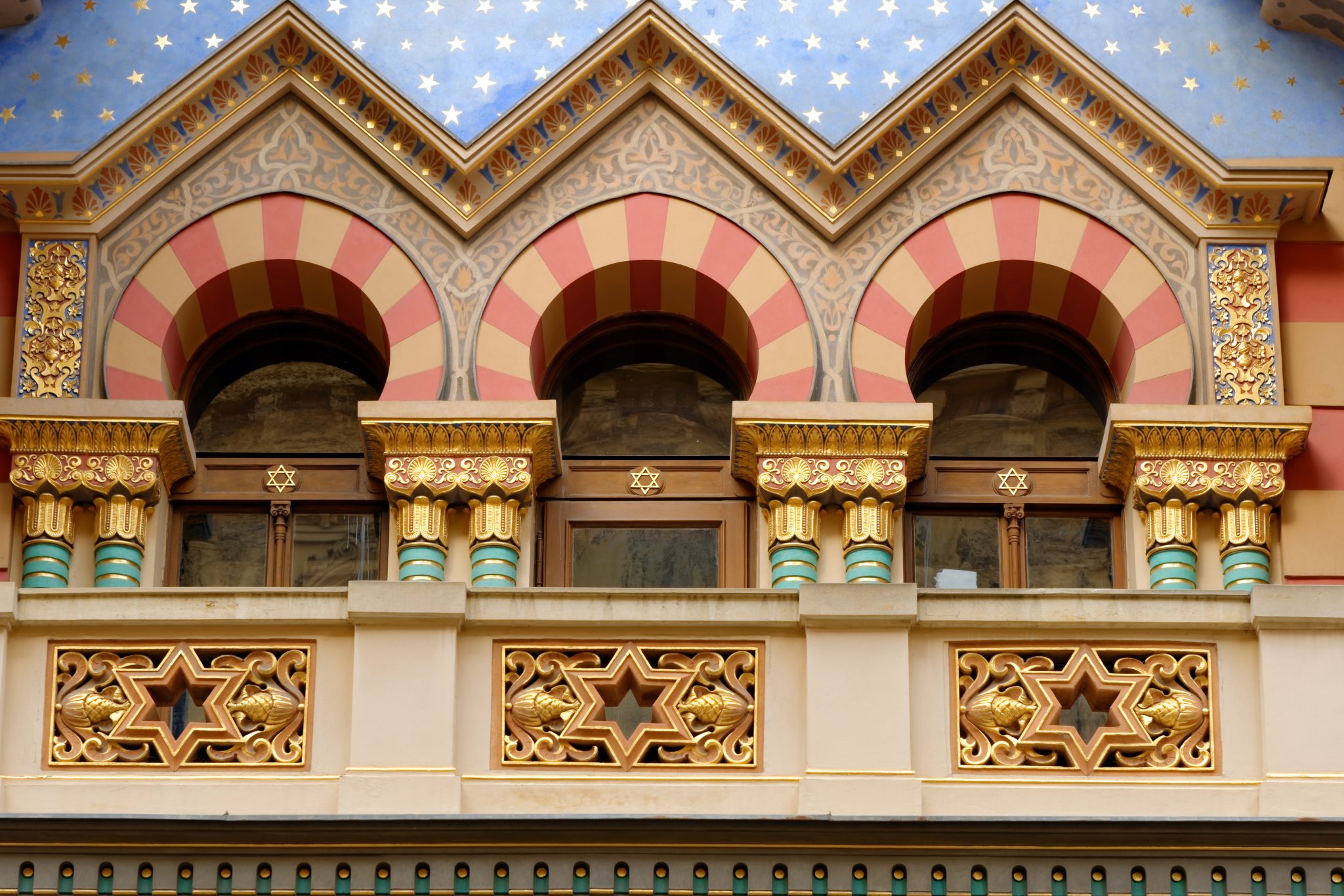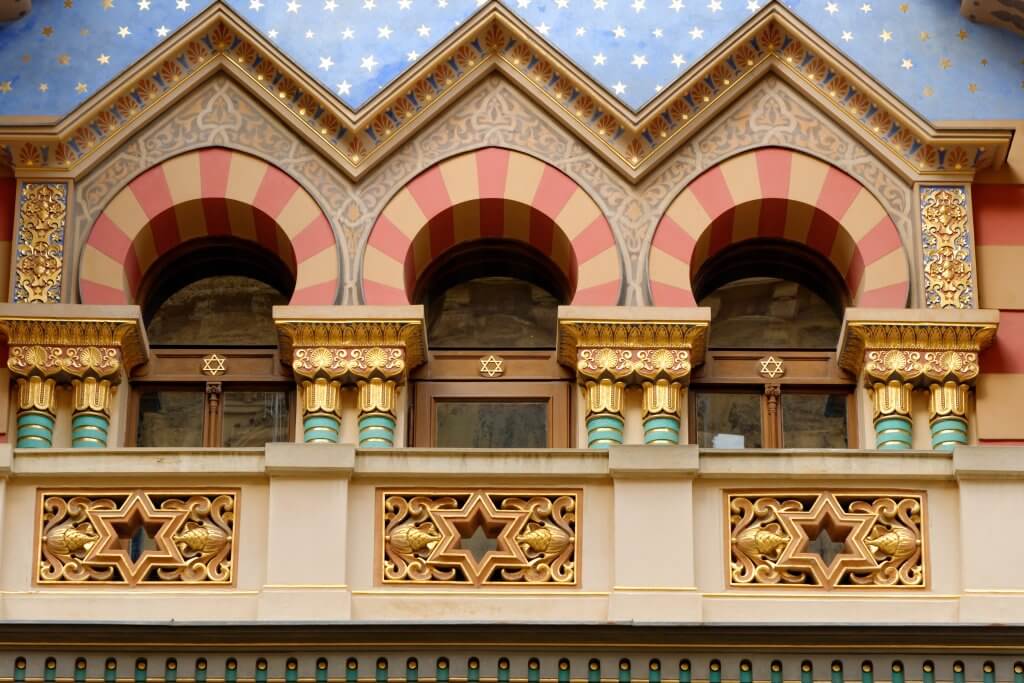 Swans by the River Vltava
The walk along the Vltava river is so picturesque and it is worth going to check out the wildlife here. The Prague swans are almost an attraction in themselves and they are photographed almost as often as some of the cities most famous statues, monuments and buildings. One of the best places to find them is at Labutě na Vltavě on the river's edge overlooking Charles Bridge.
Top Tip: While you are in the area be sure to visit the Frank Kafka museum nearby and you will also find the most narrow street in Prague (complete with traffic lights) in this area so be sure to check it out!
Google Maps Location: 50.08858, 14.41092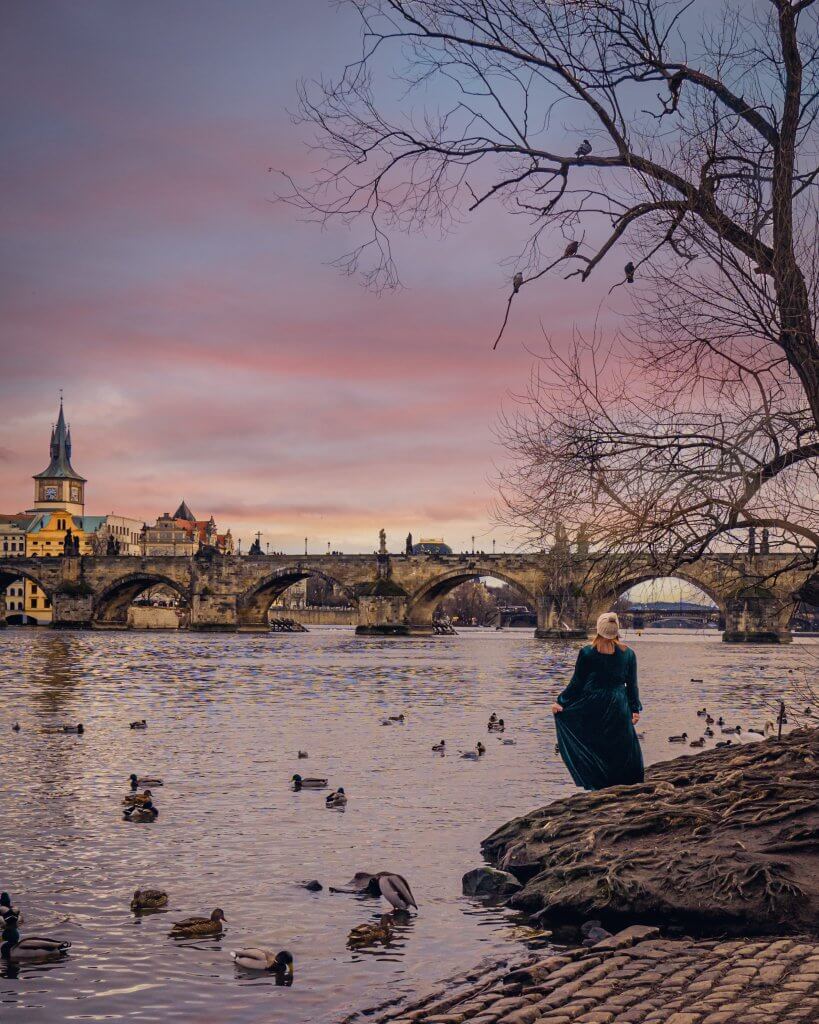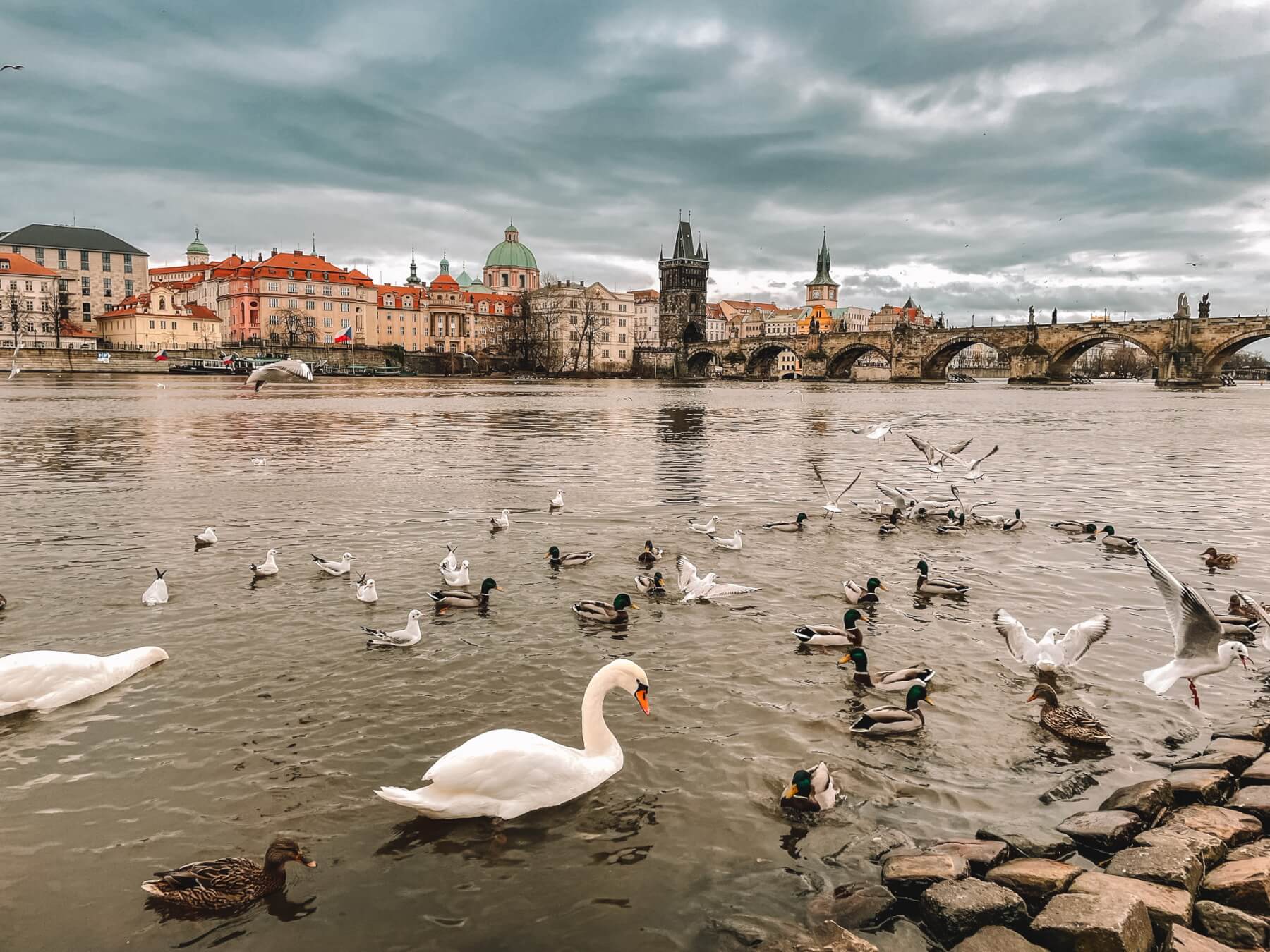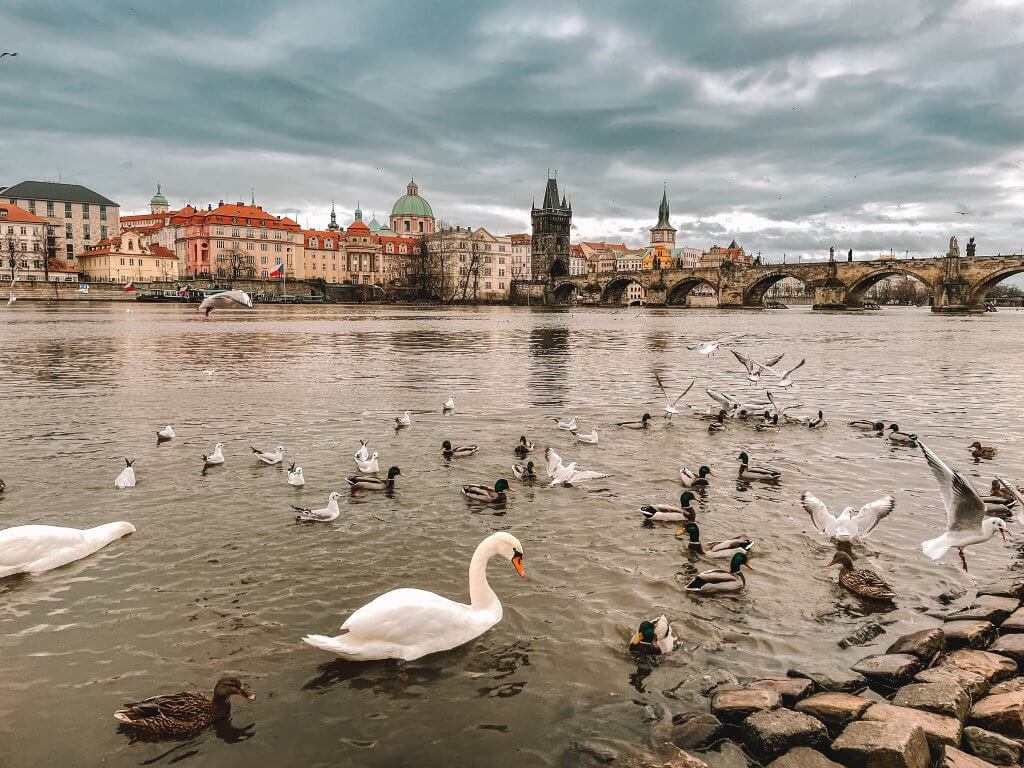 Municipal Library of Prague
Head to the Municipal Library of Prague to see a tower made out of books. The thing that I liked about this Instagram spot is that while it is still close to the old town square it is away from the main tourist attractions so you really feel like you are hanging out with the locals.
It's an installation piece by artist Matej Kren. There is a really cool optical illusion if you place your camera (or head) inside the book tower you get the impression that it goes on forever. A mirror placed on either end of the tower creates an awesome effect that will look great on your Instagram feed.
Top Tip: The Municipal Library of Prague is located beside the National Marionette Theatre so if you plan on catching a puppet show in Prague then this is the perfect opportunity.
Google Maps Location: 50.08739, 14.41736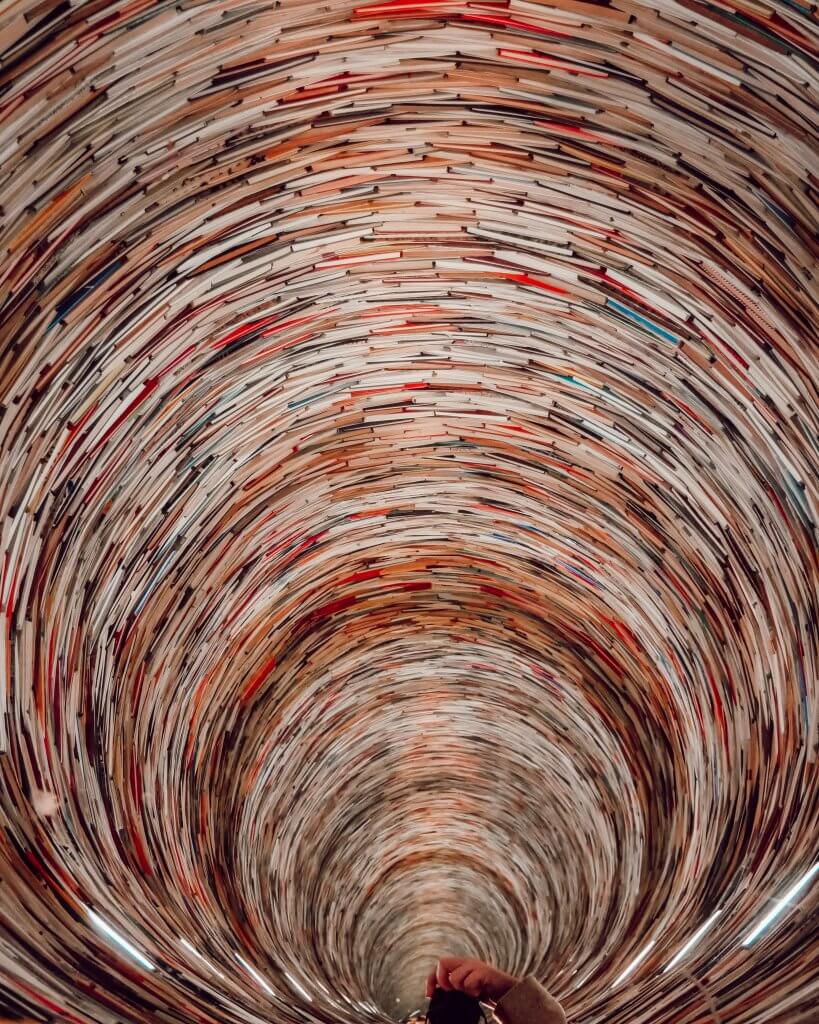 Nerudova Street
Nothing screams fairytale or Harry Potter vibes more than a narrow cobblestone street lined with colourful, whimisical buildings. In fact the only other place that I got the same feeling was in the colourful town of Sighisoara Romania, a town so vibrant it was almost like a crayon box had exploded all over it.
This is one of the primary streets leading up to Prague Castle, and a tourist attraction in itself so it can get very busy here during the day. With patience it will be possible to get your shot people free during the off season. During the busy summer months I recommend coming as early as you can and before 9am to get this Prague Instagram spot all to yourself. It is also worth noting that this is quite a steep hill for those of you travelling with chronic illness like me.
Top Tip: Have your photographer stand on the steps at Radnické schody just at the point where the street turns towards the castle and take an elevated shot of the street.
Google Maps Location: 50.0887, 14.39631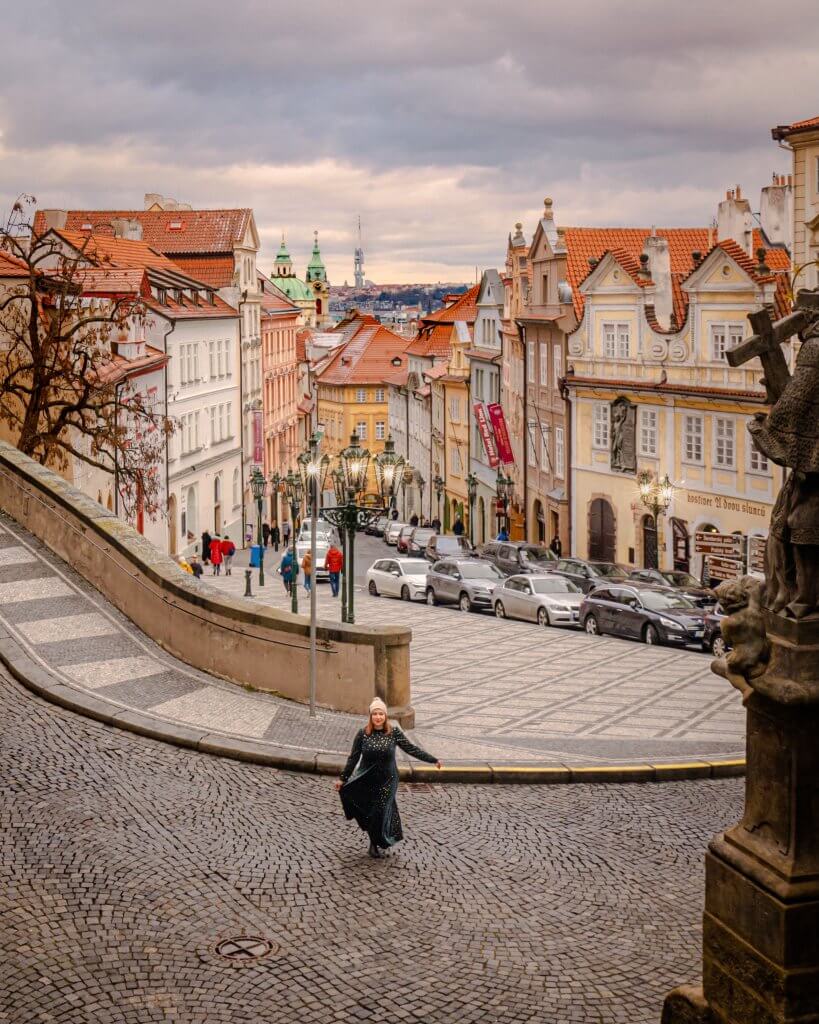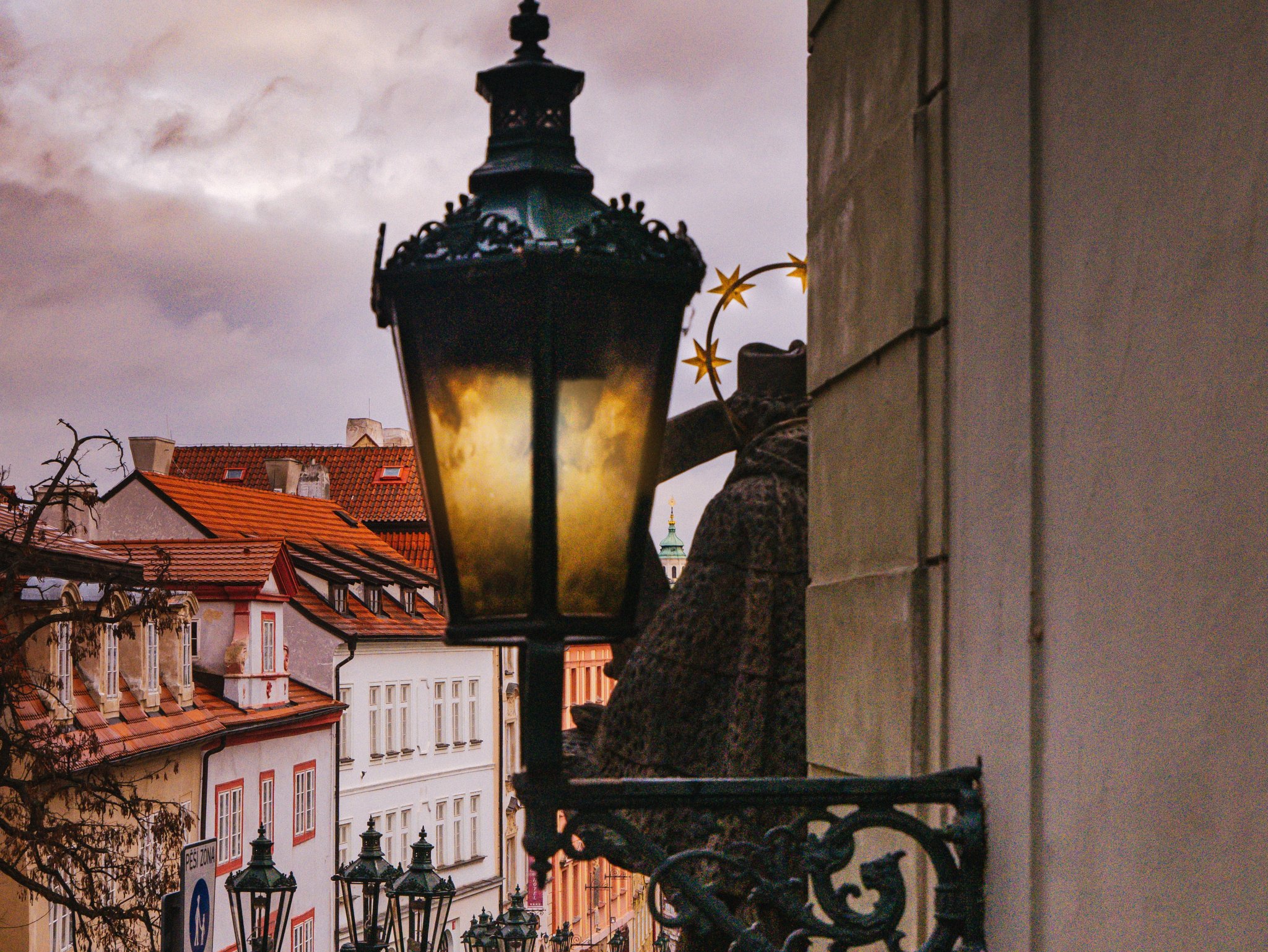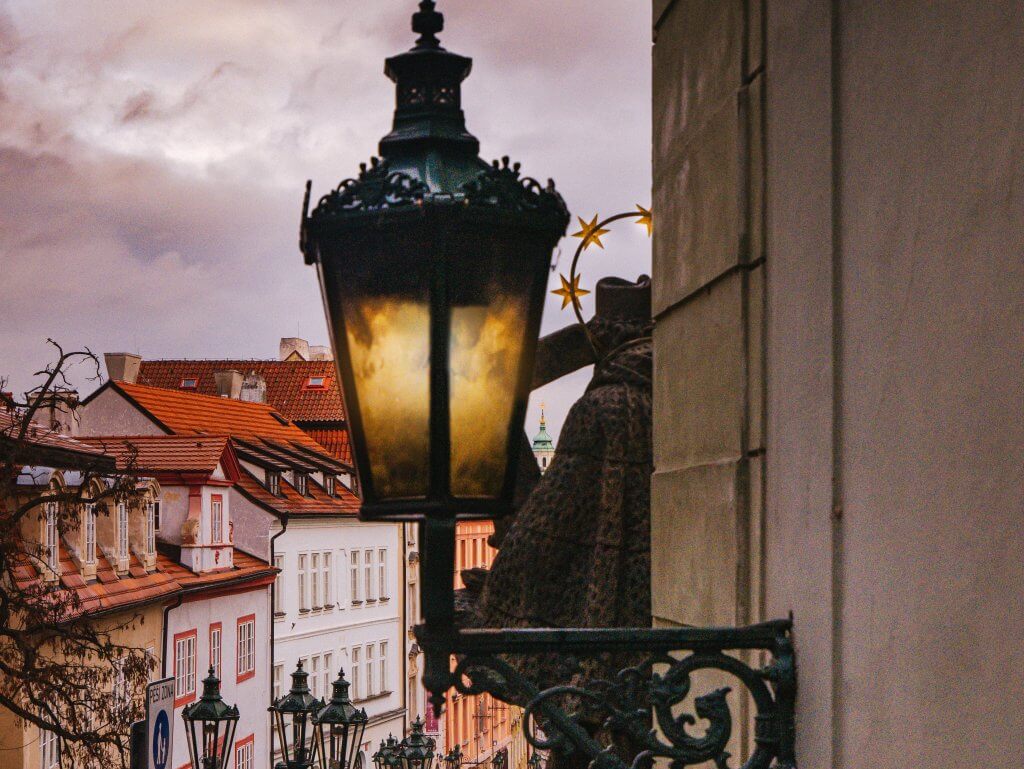 Nový královský palác
I was thrilled to find this beautiful Instagram spot just outside of Prague Castle. You certainly won't find this angle of Prague Castle with St Vitus Cathedral peaking out behind it all over Instagram already. So if you are looking for a unique Instagram spot in Prague then head to Nový královský palác. Even better if you can capture it while it is snowing.
Google Maps Location: 50.09003, 14.39881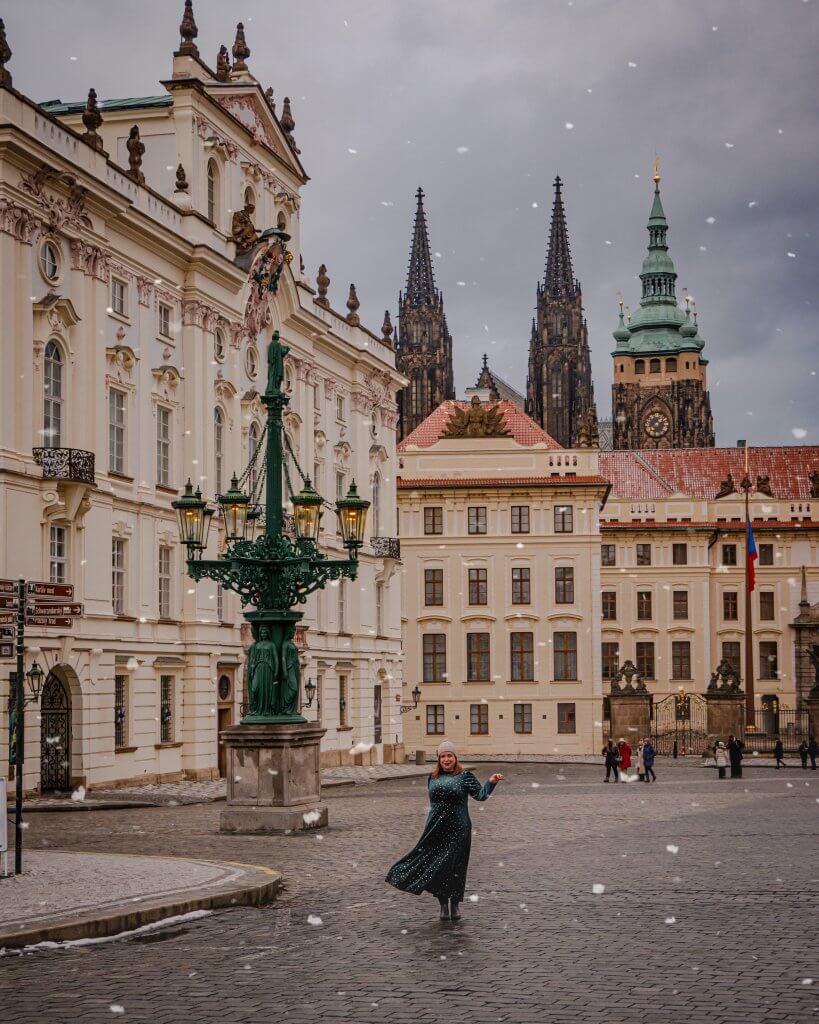 Starbucks with a view
I don't think that you will come across many Starbucks with rooftop views as pretty as this one. The Starbucks at Hradcanske Namesti 186/1A near Prague Castle is ranked by many blogs and TripAdvisor users as one of the best places for a rooftop view of Prague. If you are thinking how can they ruin this perfect skyline of Prague with a Starbucks. How tacky! Don't worry the Starbucks is hidden from view underground so that you can still enjoy those picture perfect views.
Although the location is really lovely, unless you visit during off season like we did, the queue can be pretty long. You can skip the coffee if you prefer and get your shot along the street leading up to the castle or at the balcony at Schwarzenbersky Palace. We didn't risk climbing on the ledge because we weren't sure if we would need permission. I also think it is nice to mix things up on Instagram with some gorgeous rooftop shots.
Top Tip: Use a long zoom lens, we use a 45mm-175mm micro 4/3 lens, to really get upclose rooftop shots. If you are using a full frame sensor camera the real length on this is 90 – 350mm as micro 4/3 has a crop factor of 2.0x relative to full frame.
Google Maps Location: 50.08908, 14.3985 Schwarzenbersky Palace 50.08923, 14.39678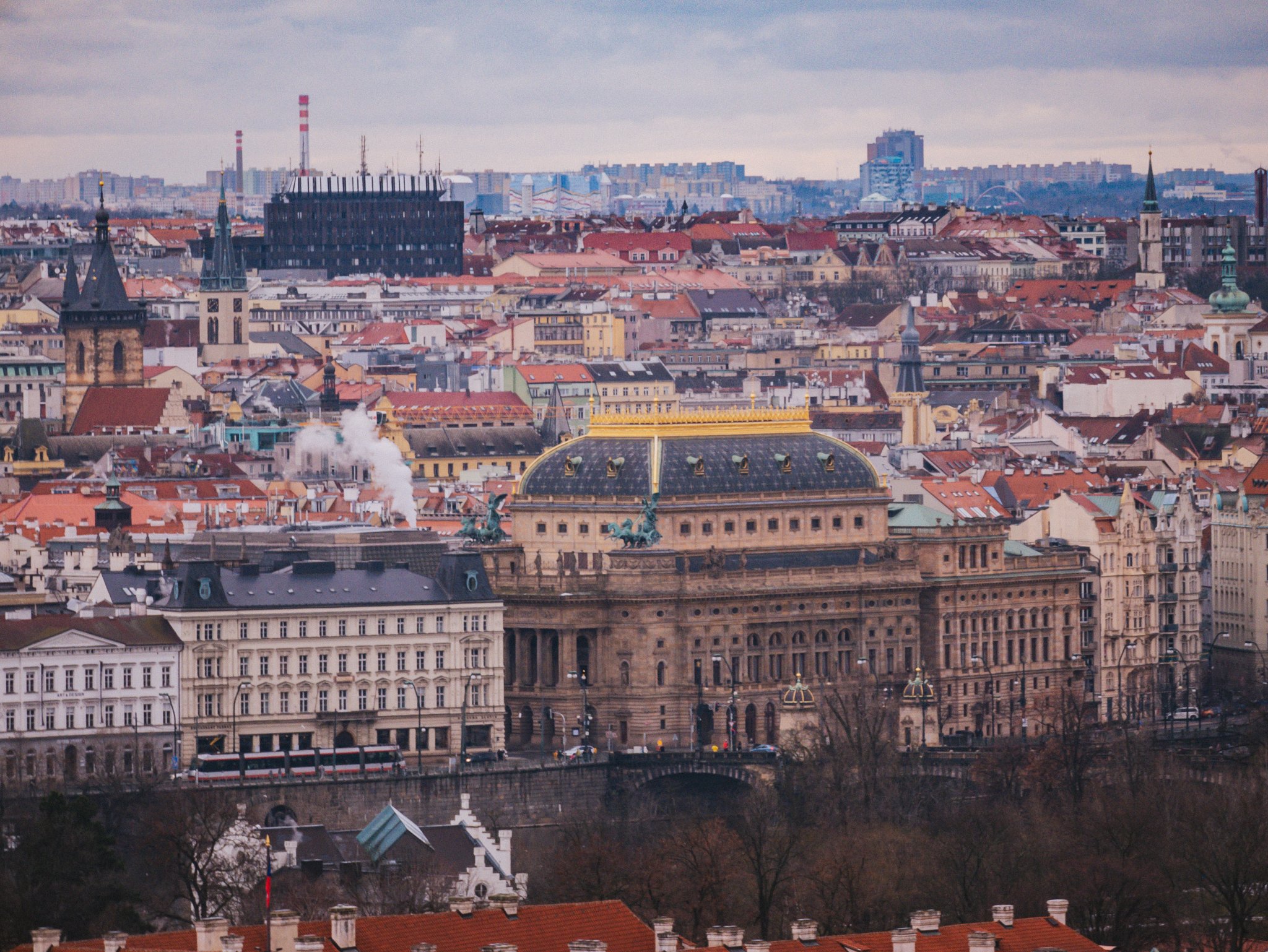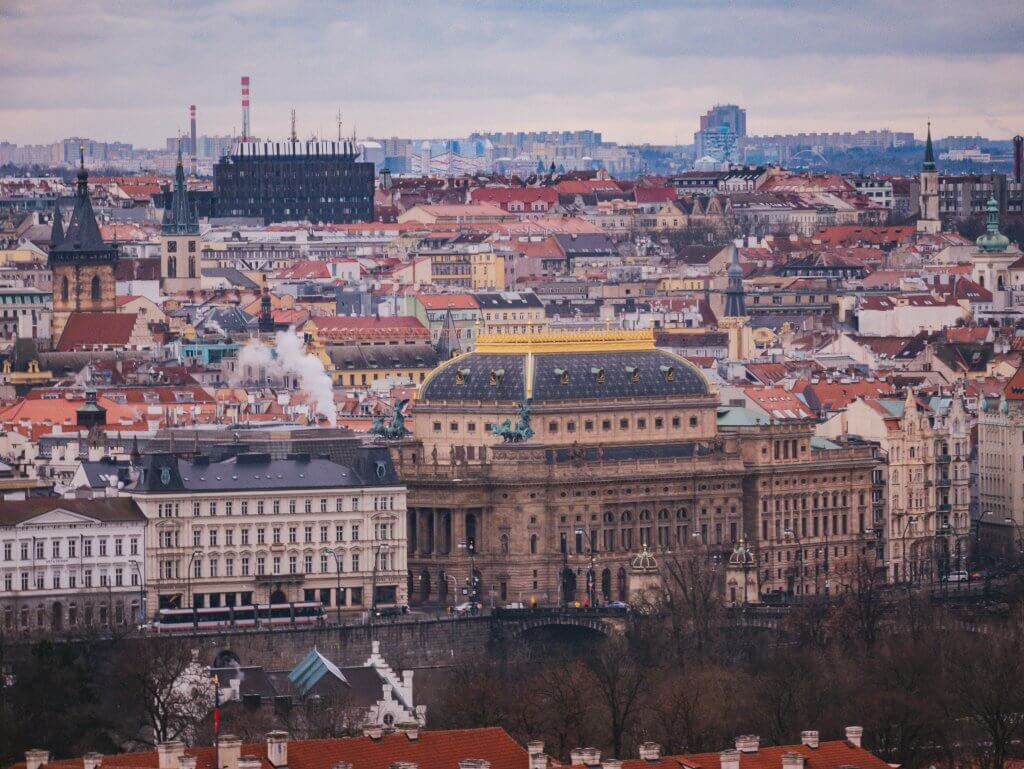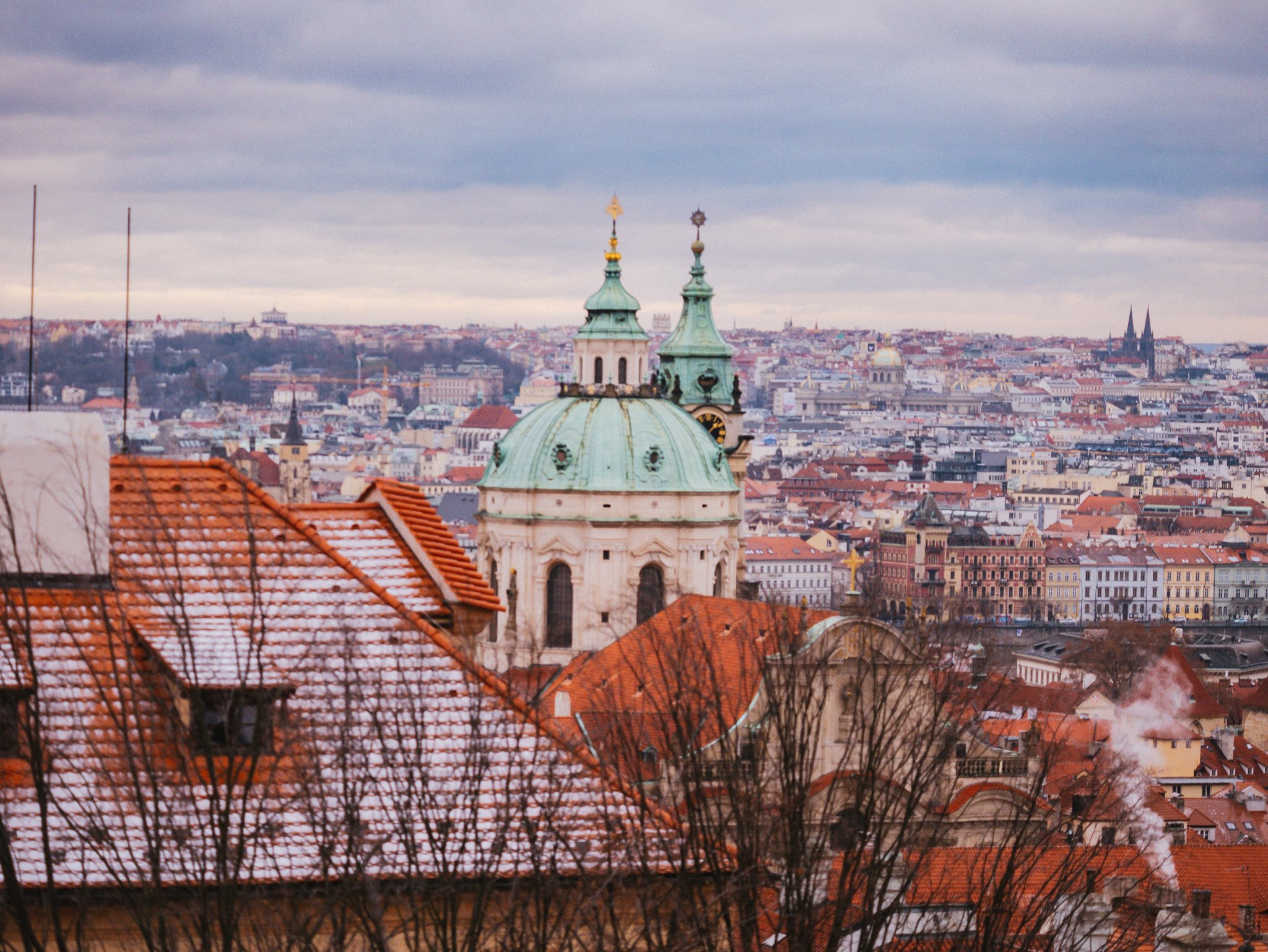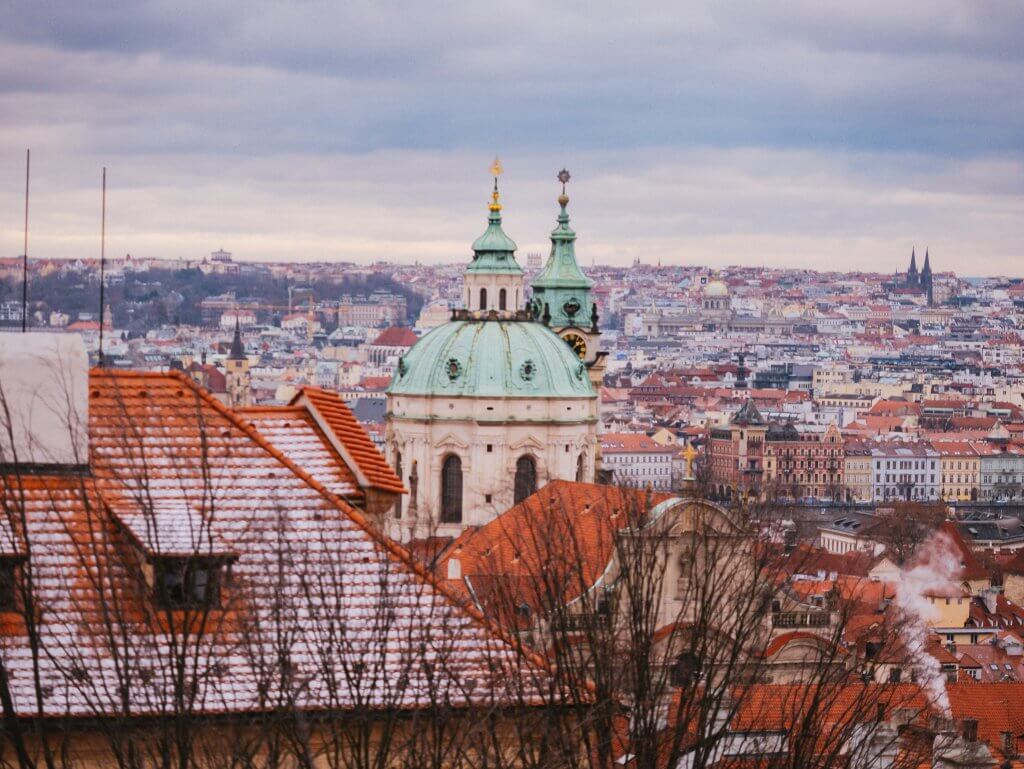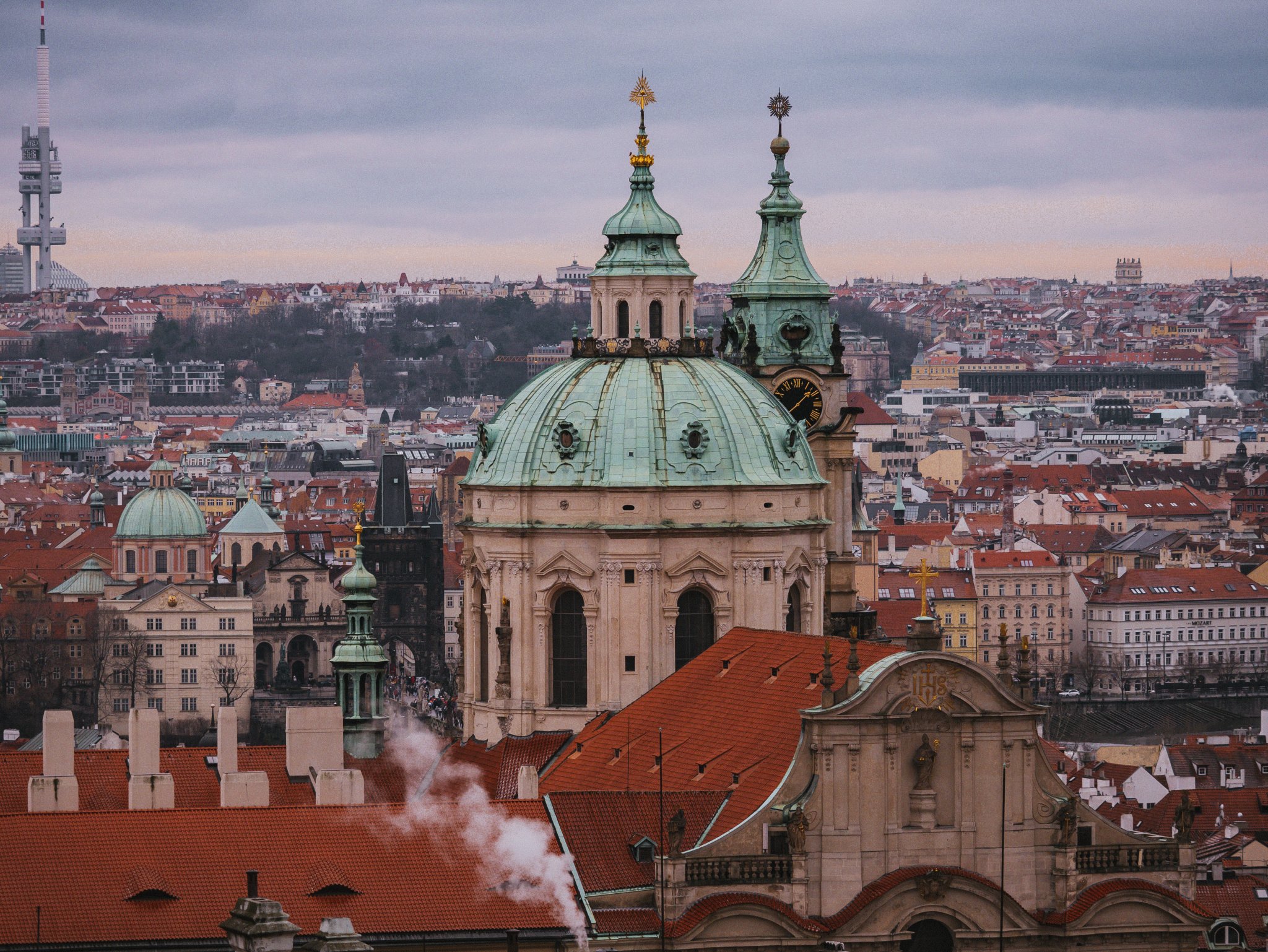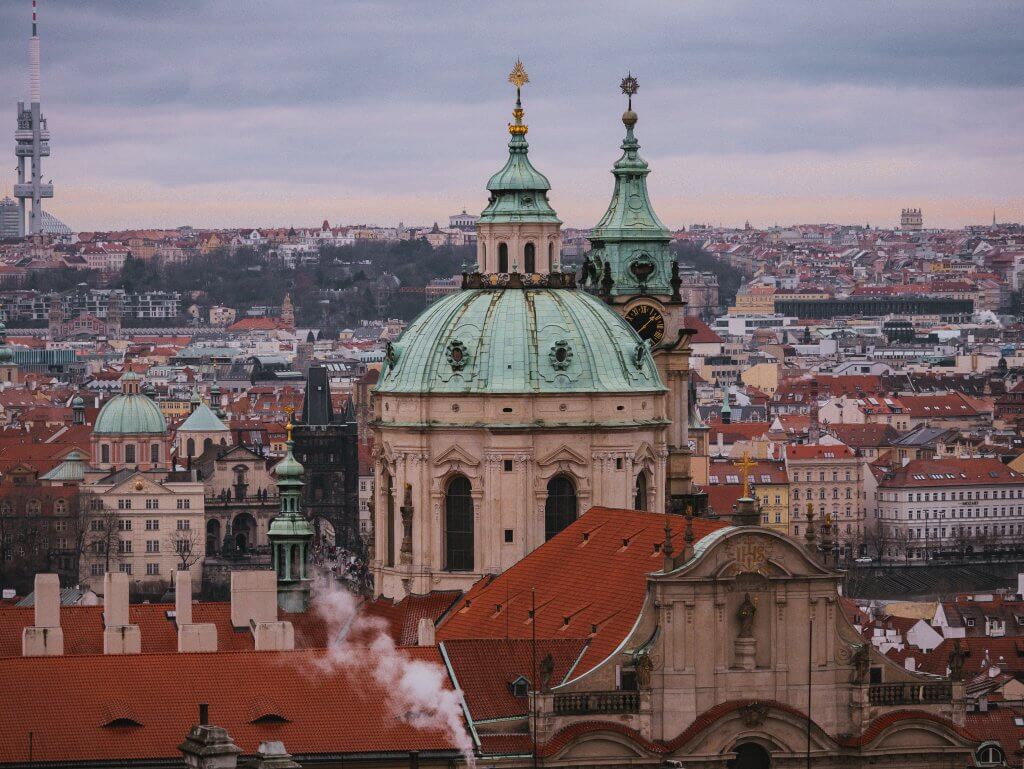 Secret Prague Instagram spot – Nový Svět
This beautiful part of Prague is hidden away from tourists in Hradčany district, close to Prague Castle. Even locals barely know about the existence of this tiny quarter with quaint streets and charming small houses. If you look up it is also still possible to see cannonballs from the time of Prussian occupation in the house walls. Because you will more than likely have the streets to yourself there it is a great chance to take absolutely amazing pictures for your Instagram feed. You will also find the only preserved log house in Prague (House at the Crayfish) here.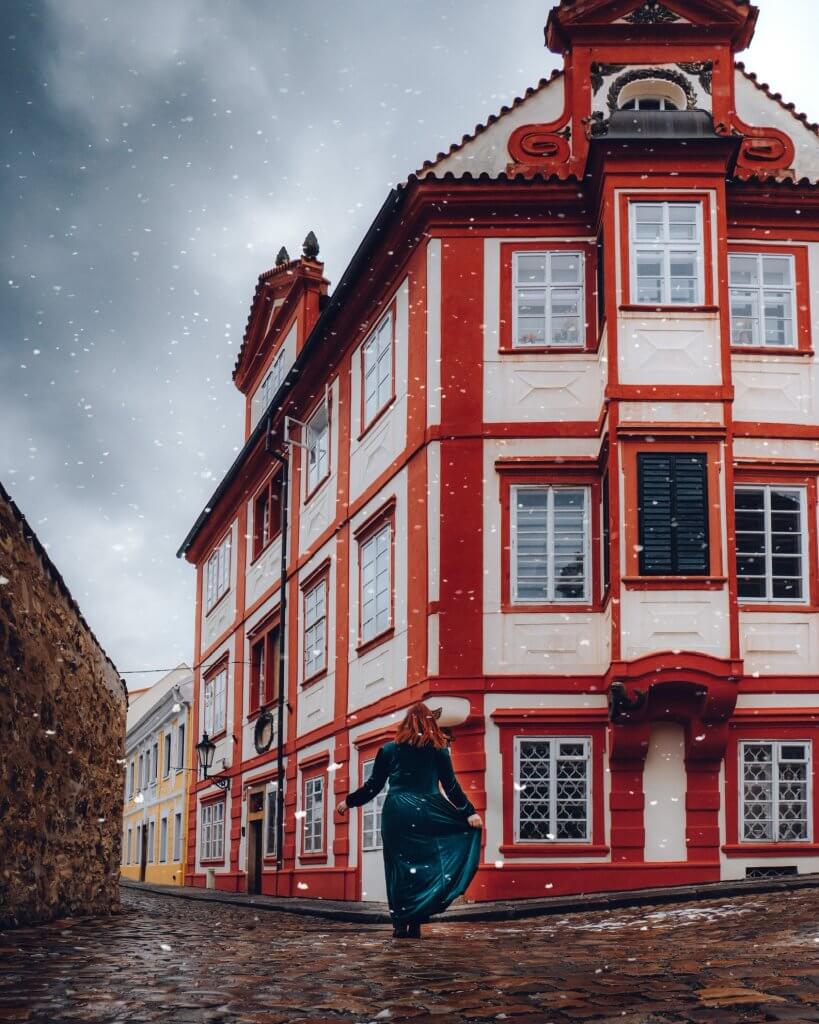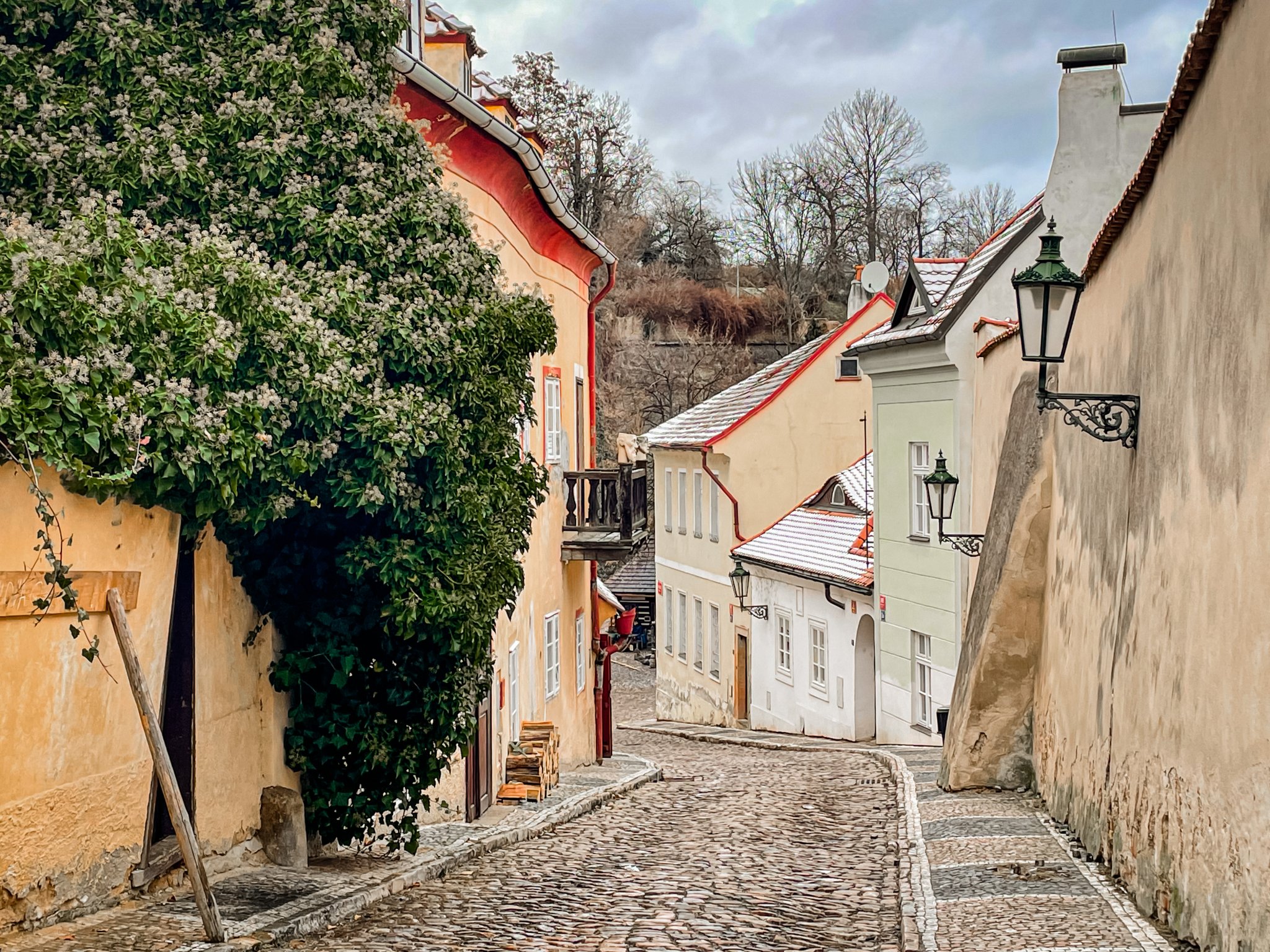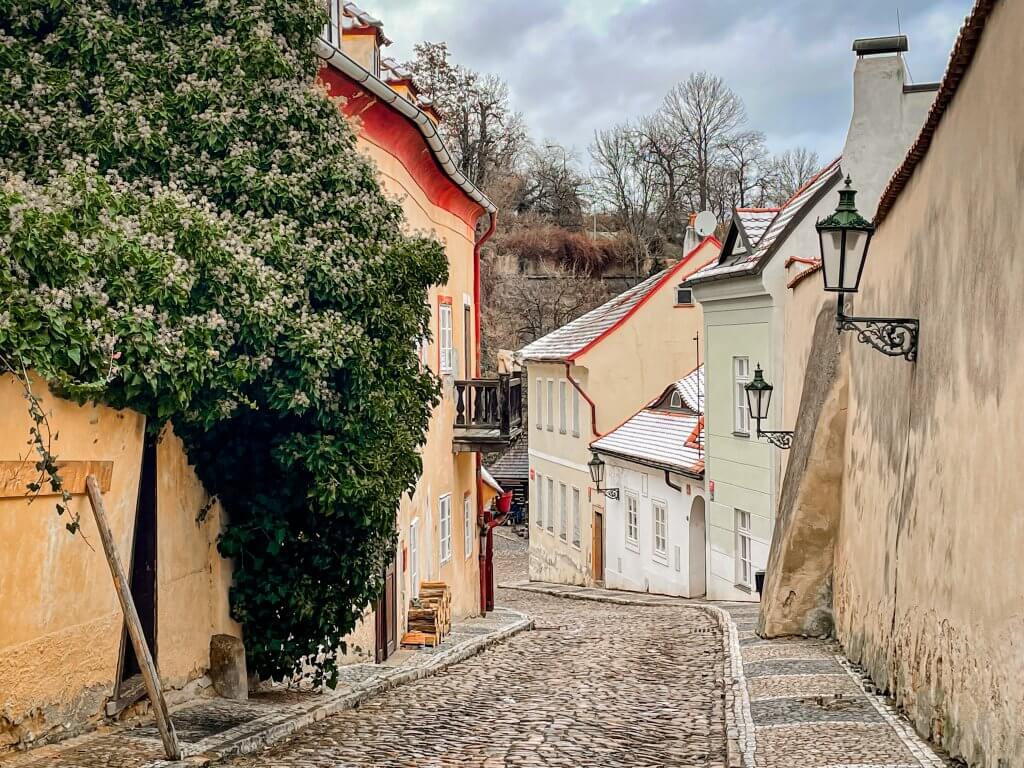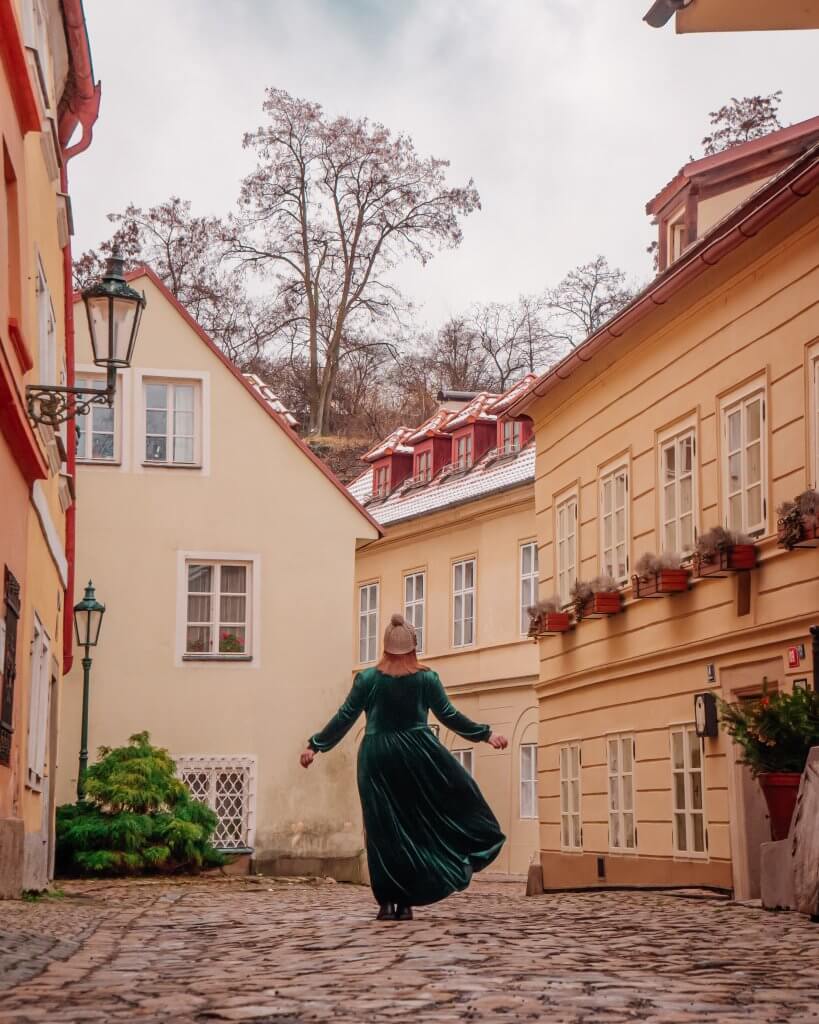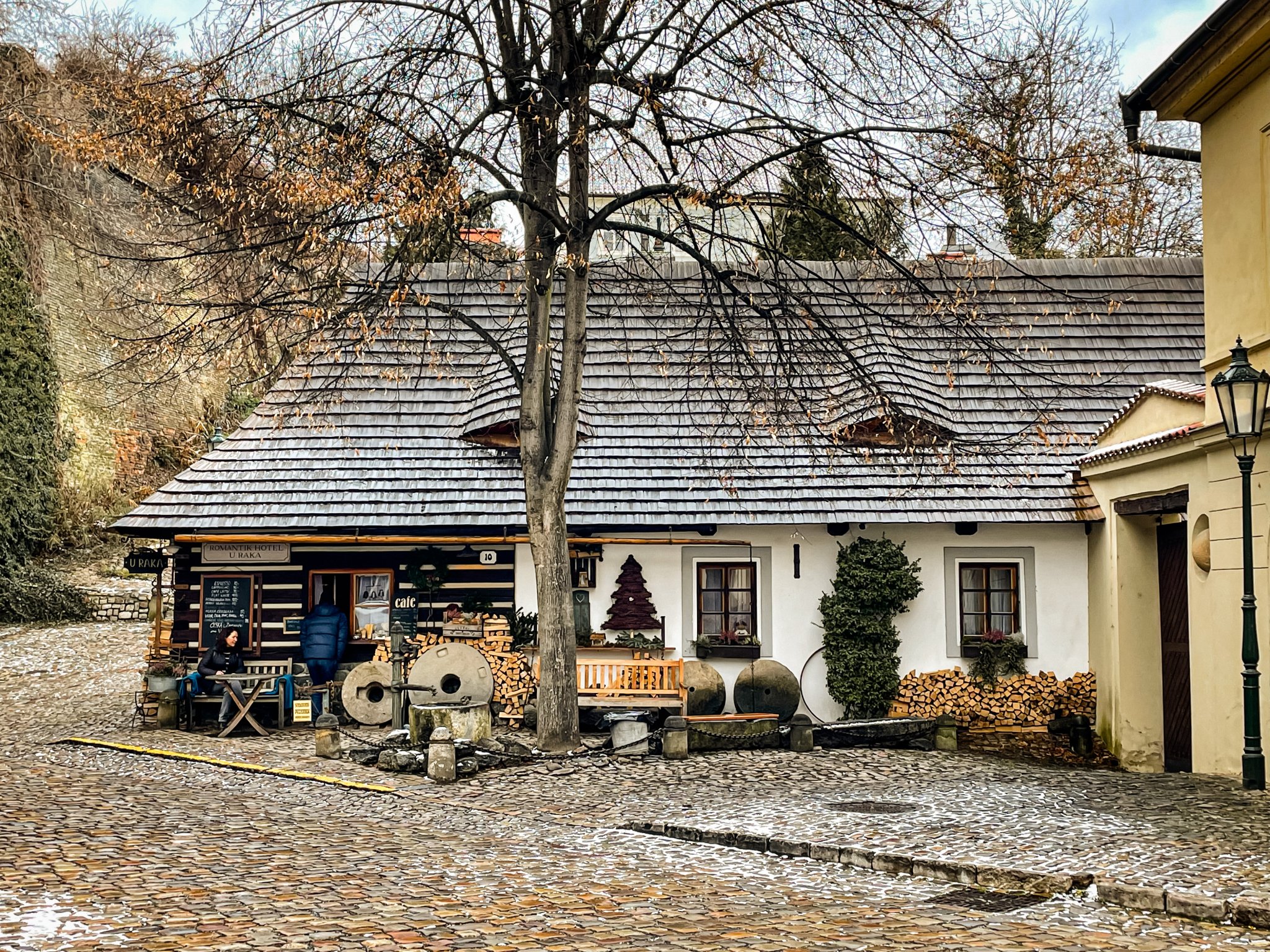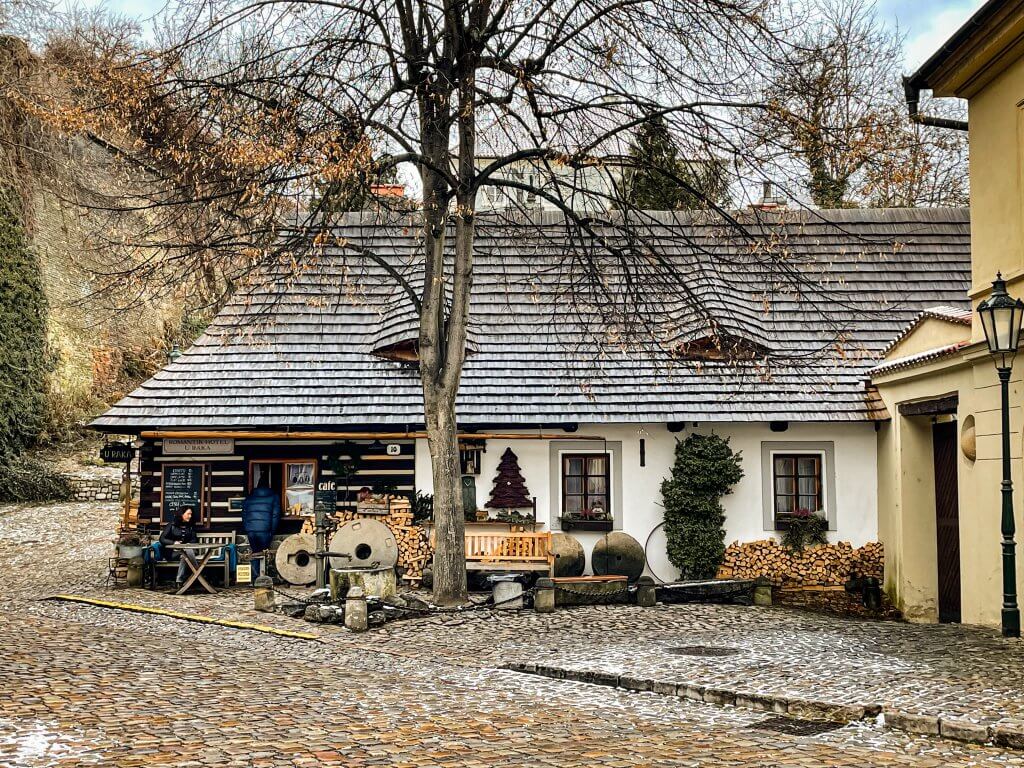 Top Tip: I also recommend heading up the path along Keplerova where you'll be able to capture this view below. Added bonus if you also capture some snowy rooftops.
Google Maps Location: 50.09088, 14.39174 Keplerova photo 50.0908, 14.38884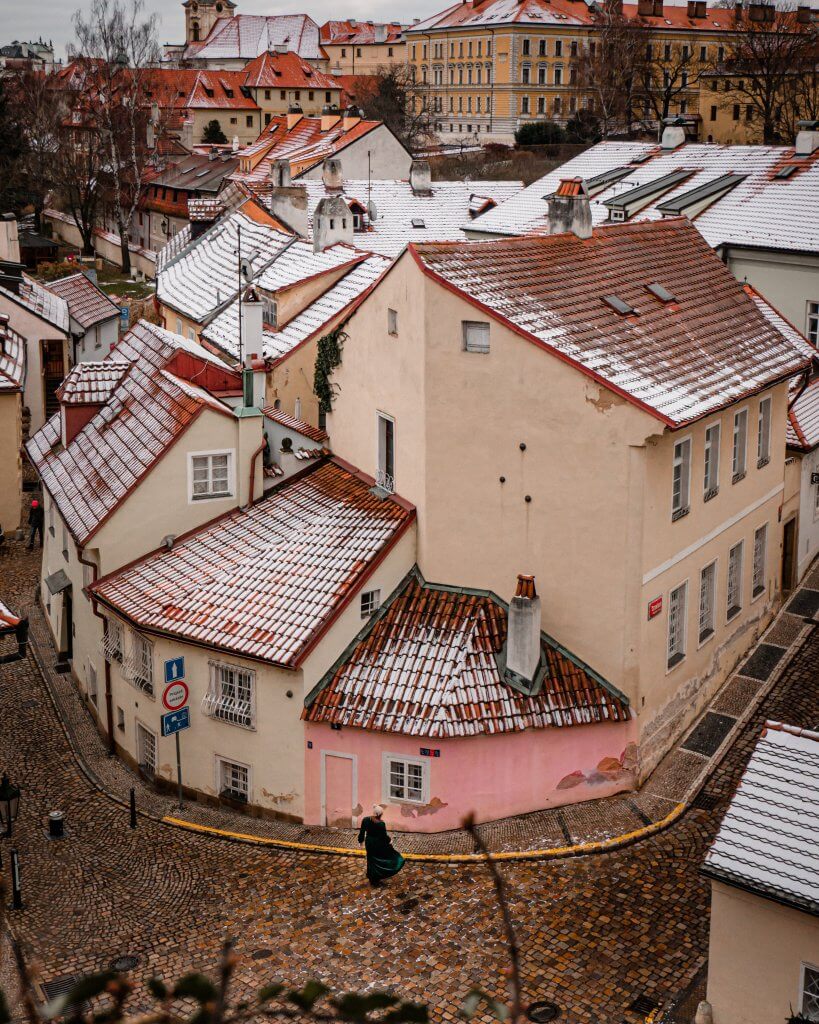 Ornate Door at New Town Hall
Pretty much any door in Prague makes for the perfect Instagram spot . I like the colour of this one at the New Town Hall in Prague. The door itself is located on the Karlovo náměstí square side of the building. Charles Square (Karlovo náměstí) is considered to be the largest square in Prague with the largest number of sculptures so be sure to have a wander around this area.
Google Maps Location: 50.07826, 14.42124
I hope you enjoy your time in this beautiful and photogenic city. If you are looking for a unique place to stay may I suggest Mosaic House Design Hotel. We have a full review of our time there on the blog and it also doubles up as one of the most Instagrammable hotels in Prague. I know you will love it as much as we did.
Google Maps Location: 50.0775, 14.41801
Map of Prague Instagram Spots
Shop the look

Are you new here? Join thousands of other happy readers and subscribe to All about RosaLilla blog via email. The good news is that by signing up via email you will get exclusive travel deals straight to your inbox. The only other place that we publish these deals is on Instagram stories, so be sure to signup to get the heads up on amazing travel deals to save you money when booking.
I also share everything on Instagram so be sure to follow along there.
If you liked this you might also like:
The best Instagram spots in Warsaw
Instagram spots in Belfast Ireland
Sharing is sexy!