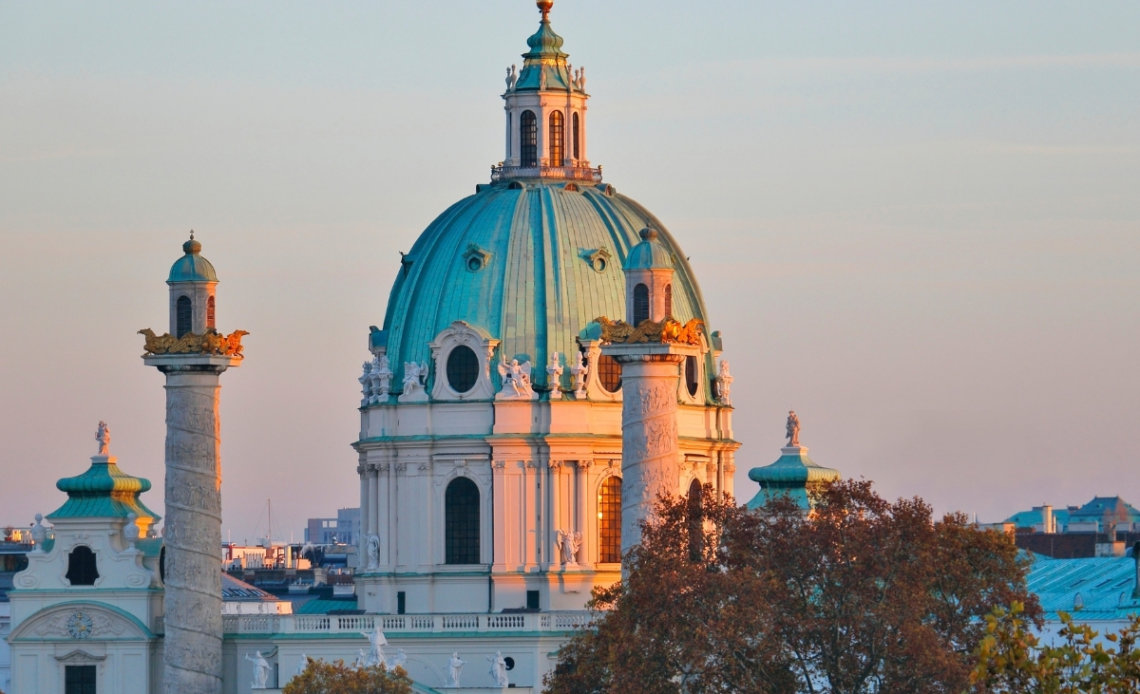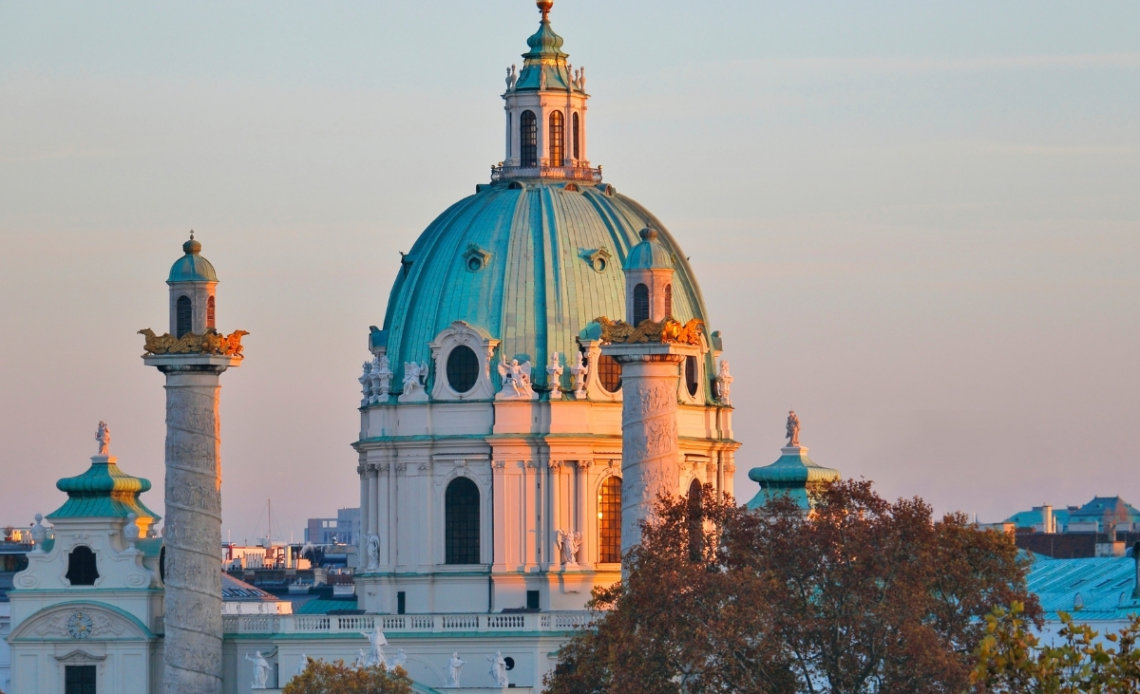 Our 3 day Vienna itinerary covers all of the best things to do in Vienna, including where to stay, where to eat and all of the best of Vienna's attractions. There are so many wonderful things to see in Vienna so let's get started. We have it all covered for you in our Vienna travel blog.
3 day Vienna itinerary
Before going to Vienna, Austria we knew that it was going to be pretty. We weren't however prepared for Vienna to leap frog every other European city that we have visited and jump straight into lead position of our favourite cities. Vienna is just so charming, with each street being prettier than the next. Without a doubt it is one of the most elegant cities that we have been to, with architecture dating back to the Austro-Hungarian Empire that will take your breath away. There is so much to see and do in this gorgeous city and quite frankly it is hard to fit it all in. We are narrowing it down for you with our list of the best things to do in Vienna and covering it all in our ultimate 3 day Vienna itinerary.
3 days in Vienna Travel Guide
No matter how much time you have in Vienna there is plenty to keep you entertained. Whether it is 3 days or 2 weeks we guarantee you will not be bored in this beautiful city. We had 3 days in Vienna and literally ran all over the city, packing as much in as possible to road-test the best things to do in Vienna, so that you can get the most out of your time there. It might not seem plausible but in one day we walked just under 60,000 steps! Ok it might have involved a slight detour to a golf shop for Mister Lavin but we literally wanted to see it all so that we could tell you guys the best things to do in Vienna in 3 days. We really want this to be a comprehensive guide to Vienna, so that you can best plan your time in this wonderful city.
What is Vienna famous for?
Apart from the most wonderful art and architecture, Vienna offers many unique experiences. From traditional coffeehouse culture, magical Christmas markets to vineyard hopping in the city itself! Where else can you find such a diverse range of things to do within a city?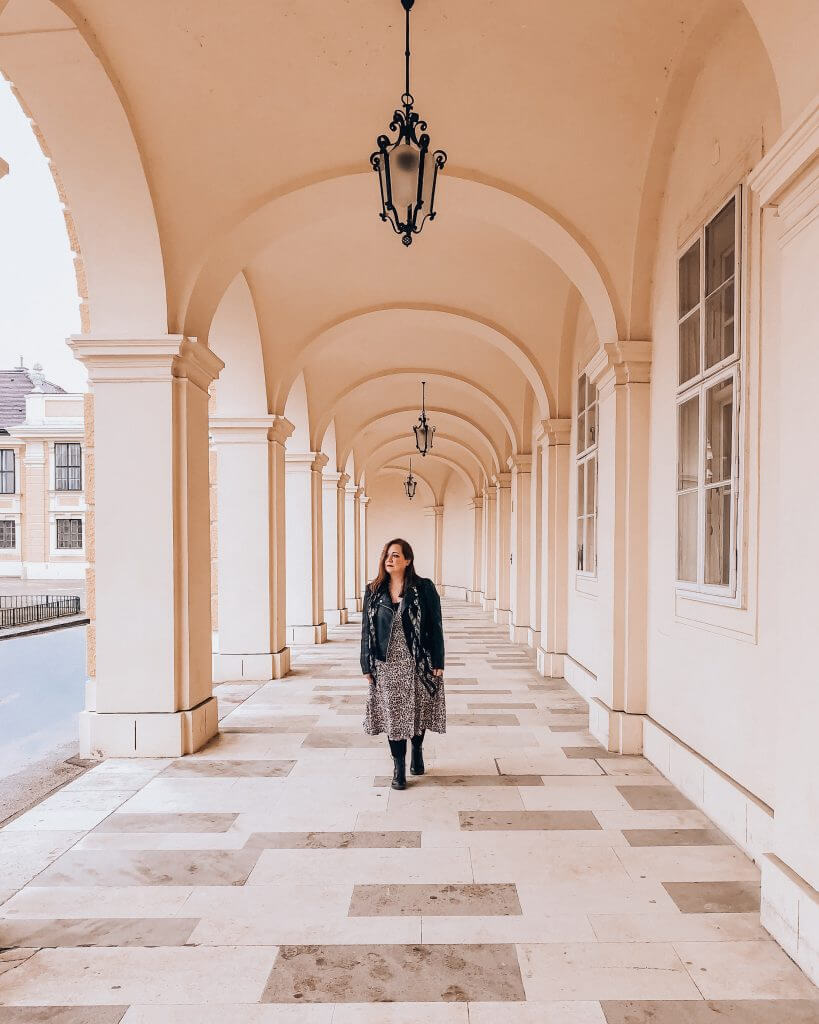 How do I get to Vienna?
Planes:
Vienna's central European location means that getting to Vienna couldn't be easier. Vienna airport is approximately 9 miles outside of the city and many airlines fly directly there. To keep costs low we flew through good old Ryanair with Laudamotion but airlines such as KLM, AerLingus, AirFrance and Lufthansa all have direct flights there. I recommend using Skyscanner or Hopper to find your cheapest flights and be sure to check out my blog on the must have apps for travellers so that you can find cheap airline tickets.
Getting to the city itself from the airport is easy. We took the City-Airport-Train (CAT) and found ourselves right in the city centre within 15 minutes.
Trains:
The train is a comfortable way to travel to Vienna from most European cities. The tickets issued by Sparschiene Österreich and Sparschiene Europa are a particularly affordable way to travel. As these tickets are released in blocks, they should be booked as early as possible (up to six months before departure).
Night train ÖBB Nightjet
Traveling overnight makes sure you don't waste valuable holiday time. You can choose a standard seat, couchette or sleeper carriage and arrive in Vienna rested and ready to explore. Individual seats or entire compartments can be booked (e.g. a private compartment in the couchette car for a special price, particularly suitable for families).
Discounted Sparschiene tickets can also be booked on all night trains
The Westbahn only offers connections for passenger trains between Vienna and Salzburg. People under 26 years of age can ride the train as often as they like with the Sommerhit ticket during the summer holidays.
Automobiles:
If you choose to drive to Vienna or take the bus you can be assured a safe journey on Vienna's network of motorways.
As tolls are compulsory on all motorways and expressways in Austria, you will also need a vignette to use Vienna's city motorways. You can find detailed information on the toll charges here. The route planner will help you find the best way to Vienna.
Where to stay in Vienna
I am about to recommend one of the most fun hotels I have ever stayed in! With a bright neon sign on the way in announcing "We're all mad here" and bicycles lined up outside encouraging you to "ride it like you stole it", I just knew this was my kind of place.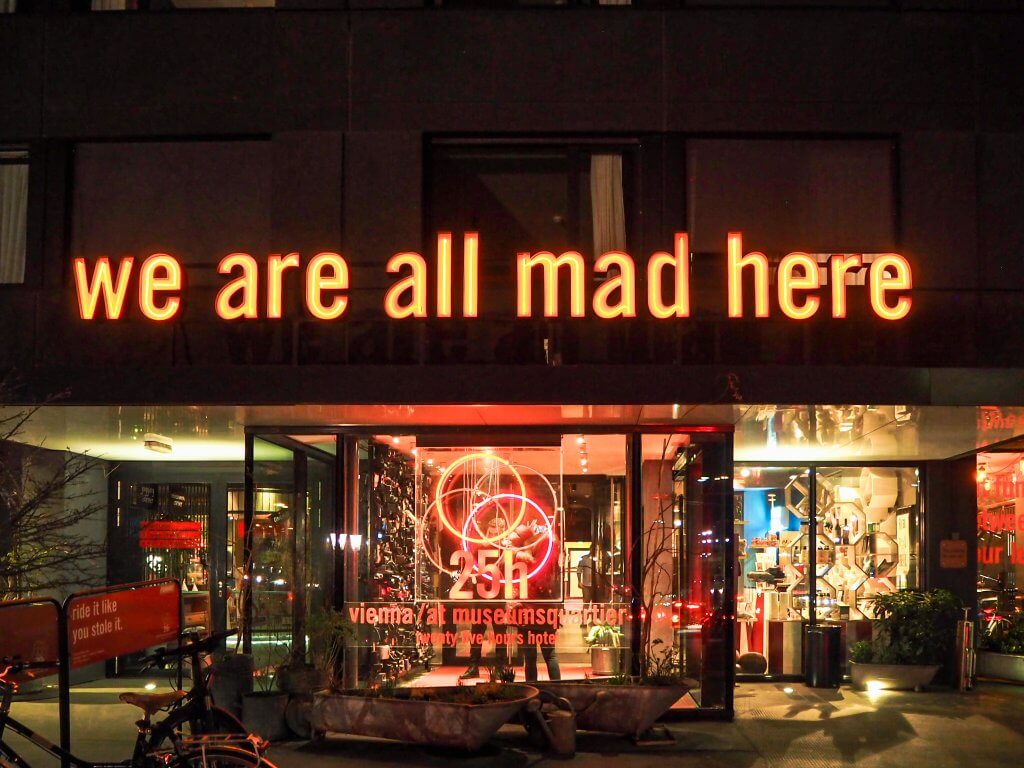 Every room at the 25 hours hotel in Vienna is designed in a quirky circus theme that will heighten all of your senses. Everyone is welcome here and the daft and the curious are most definitely celebrated. You can choose your room size from M to XL. I stayed in a M and it was more than enough size wise. Some rooms even come with a bath on your balcony!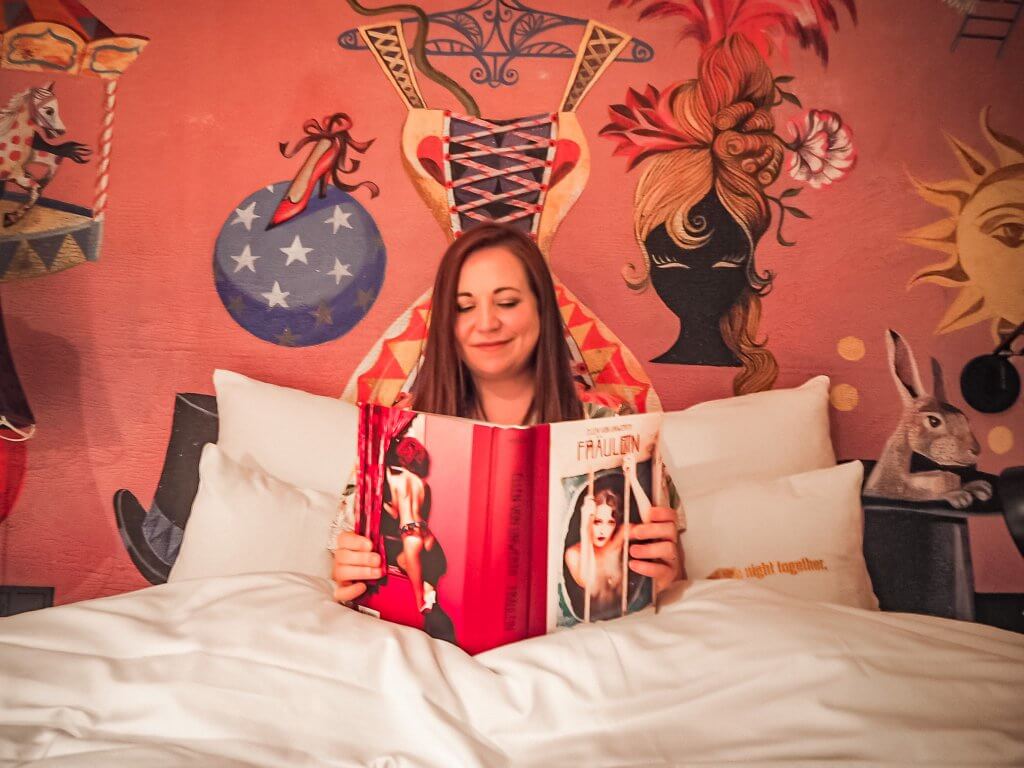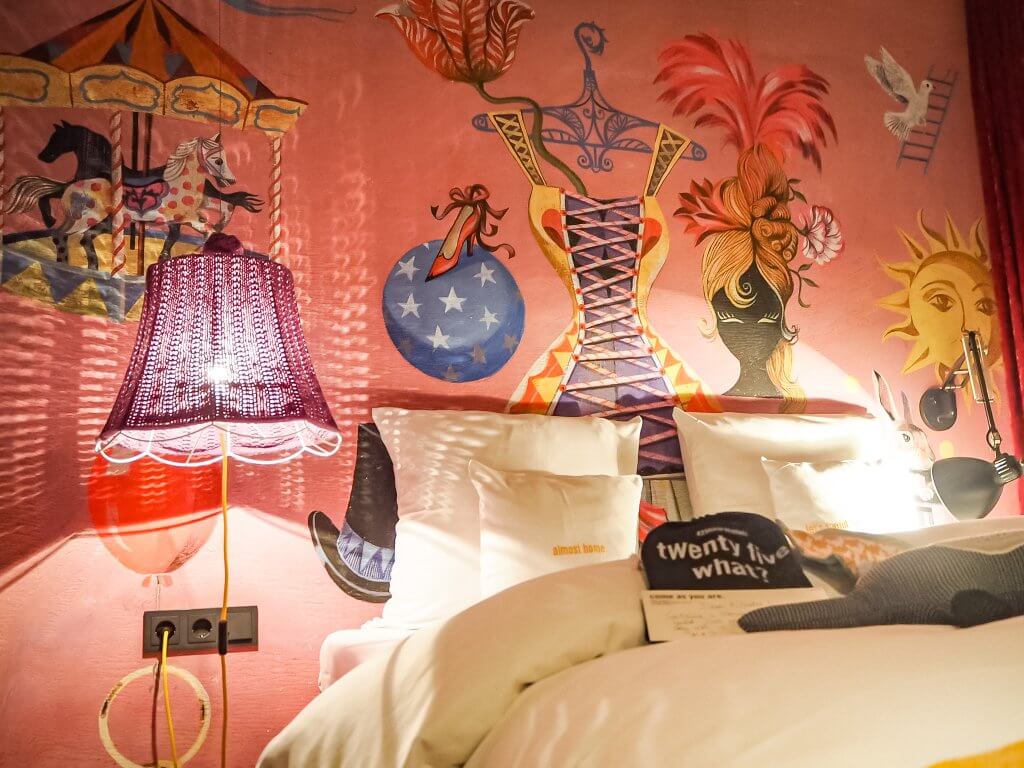 The 25hours Hotel at MuseumsQuartier lies directly between the Volkstheater and Town Hall on 1–3 Lerchenfelder Strasse and is only a four minute walk from the Volkstheater U-Bahn station. This means you can easily get to all of Vienna's main sights.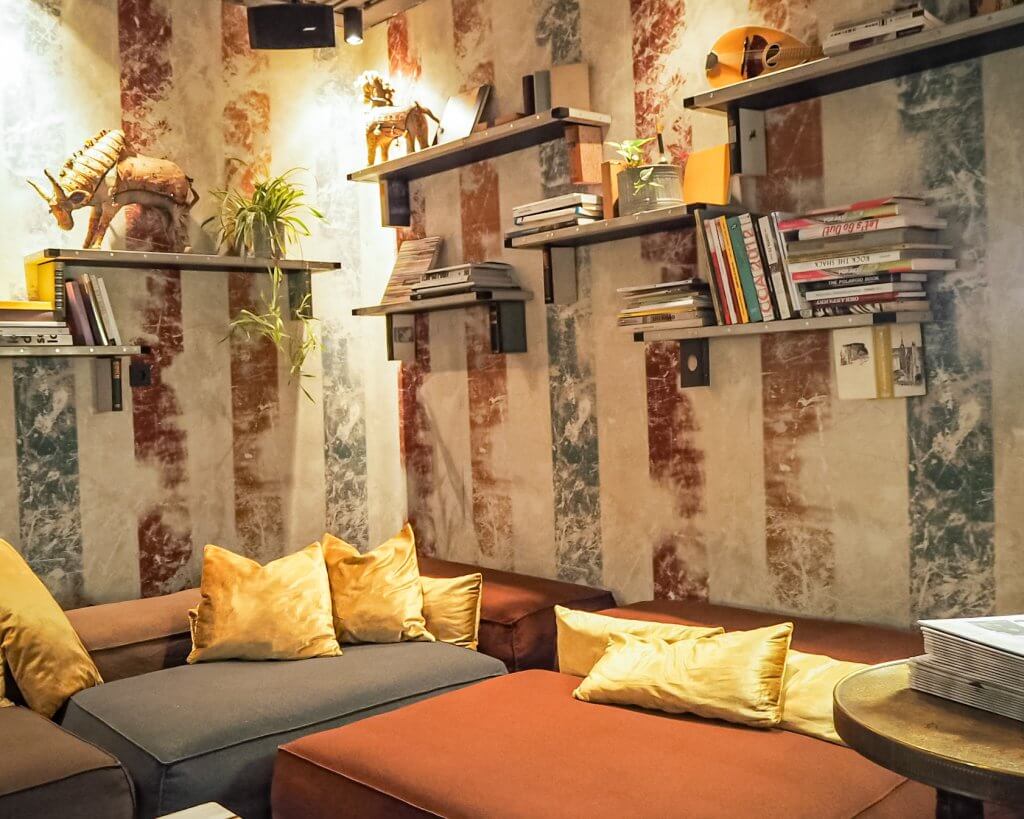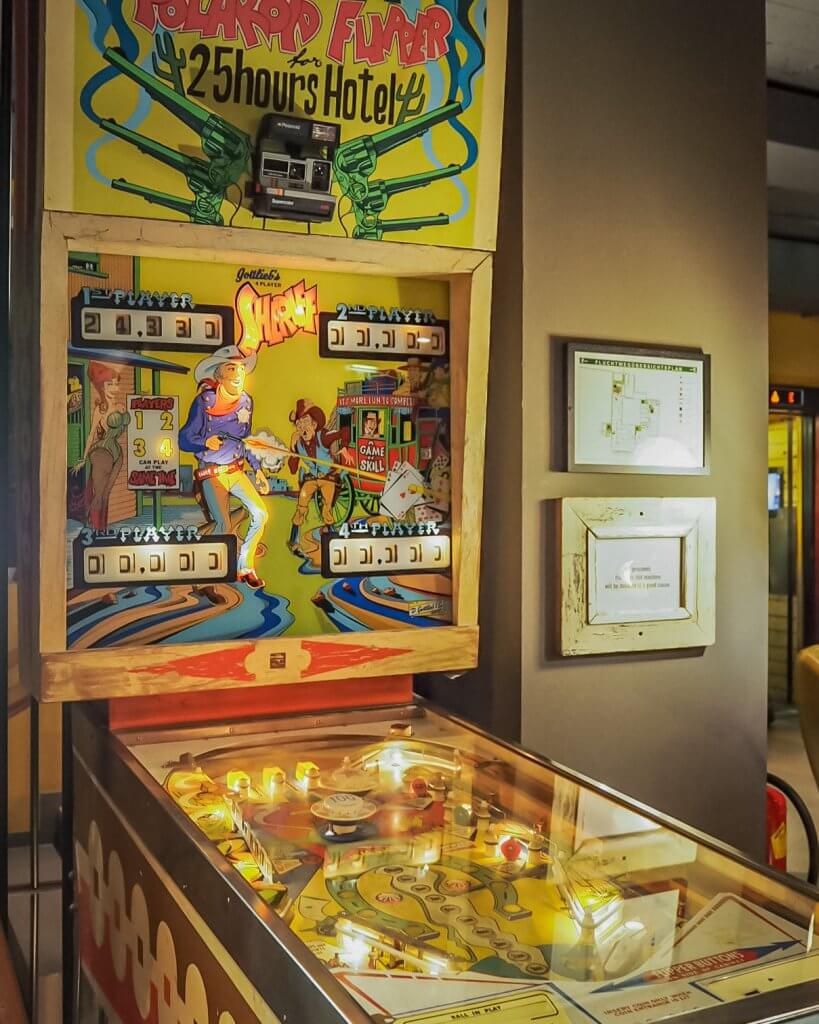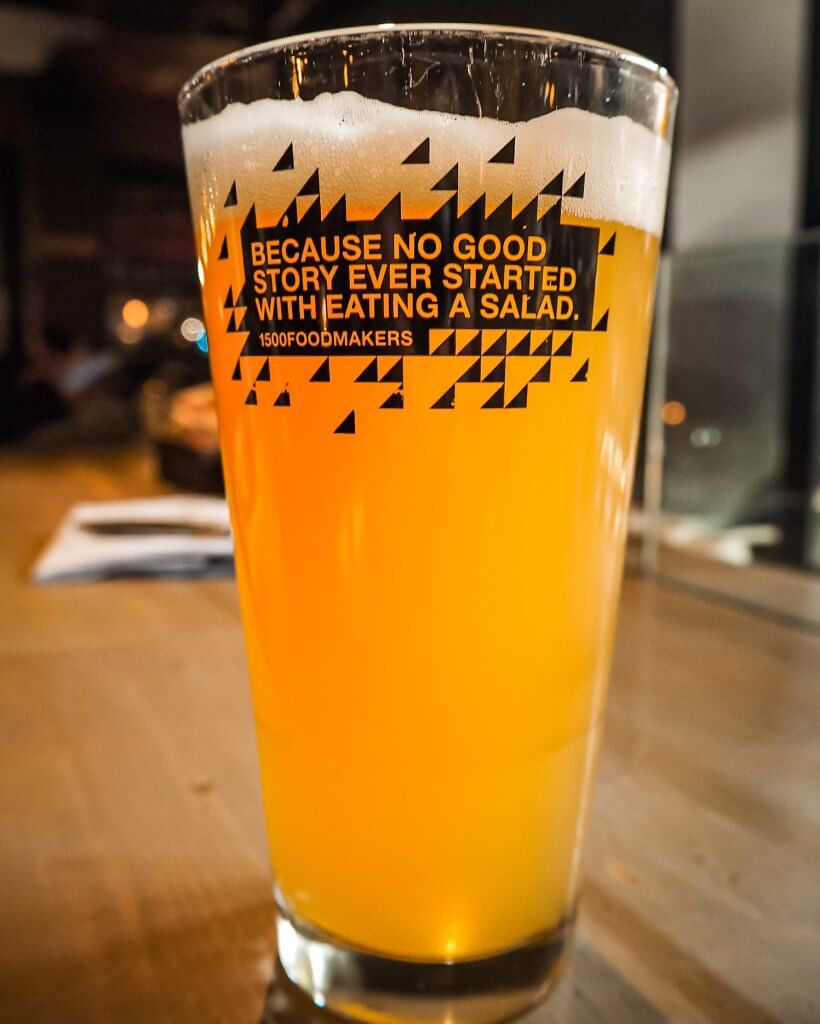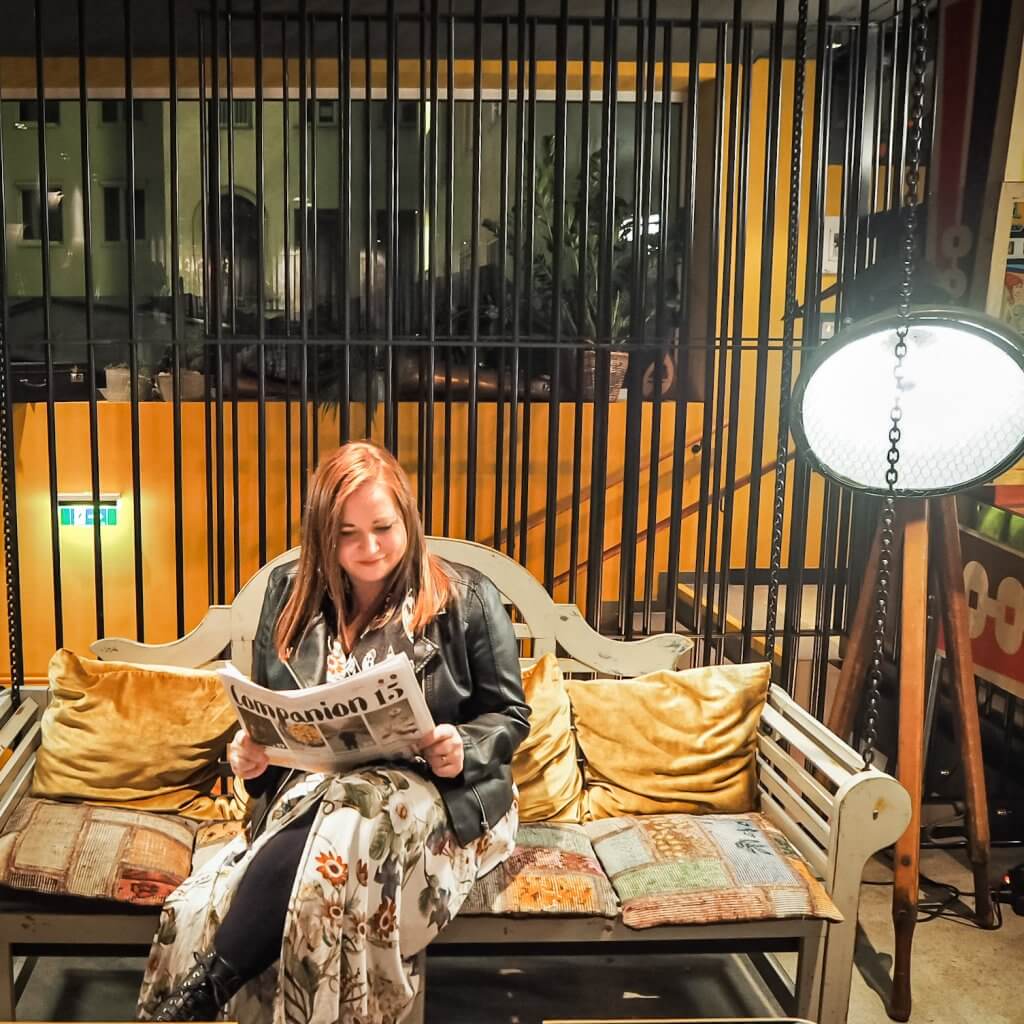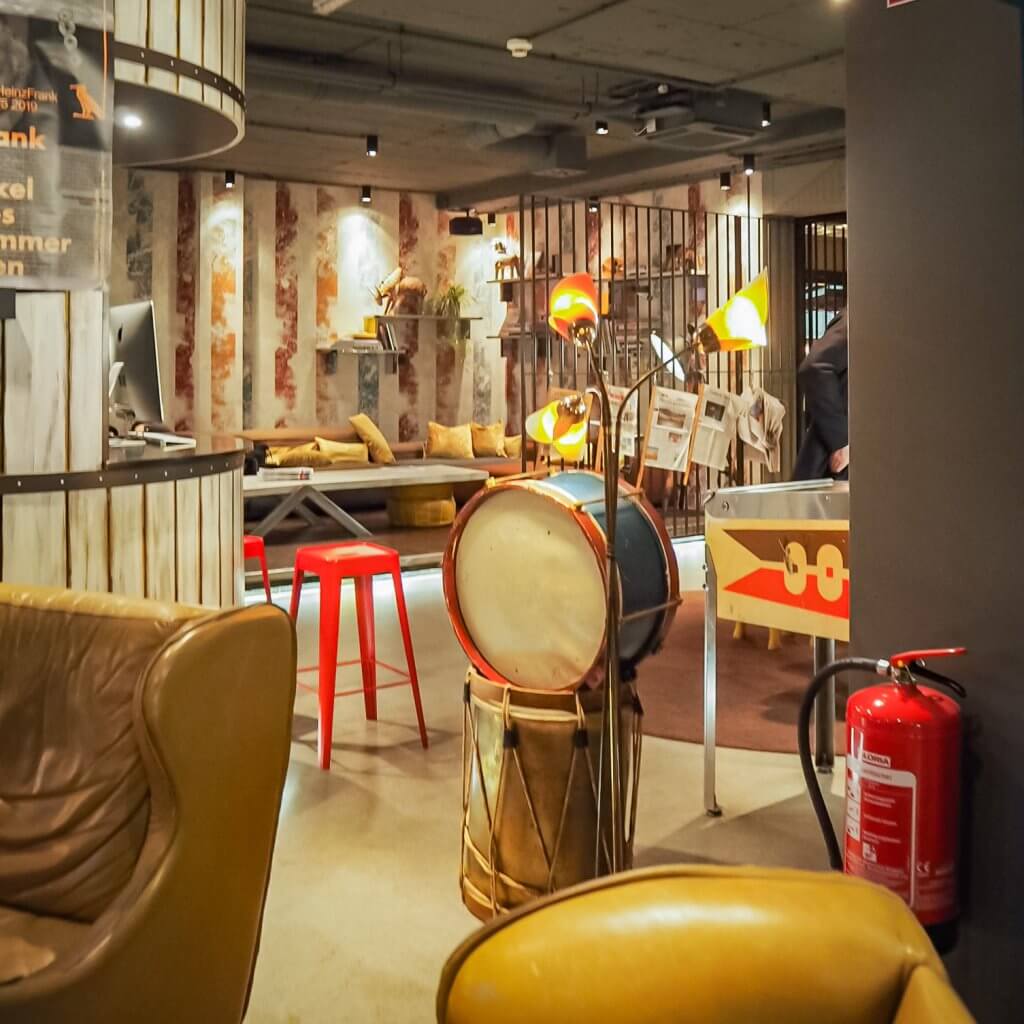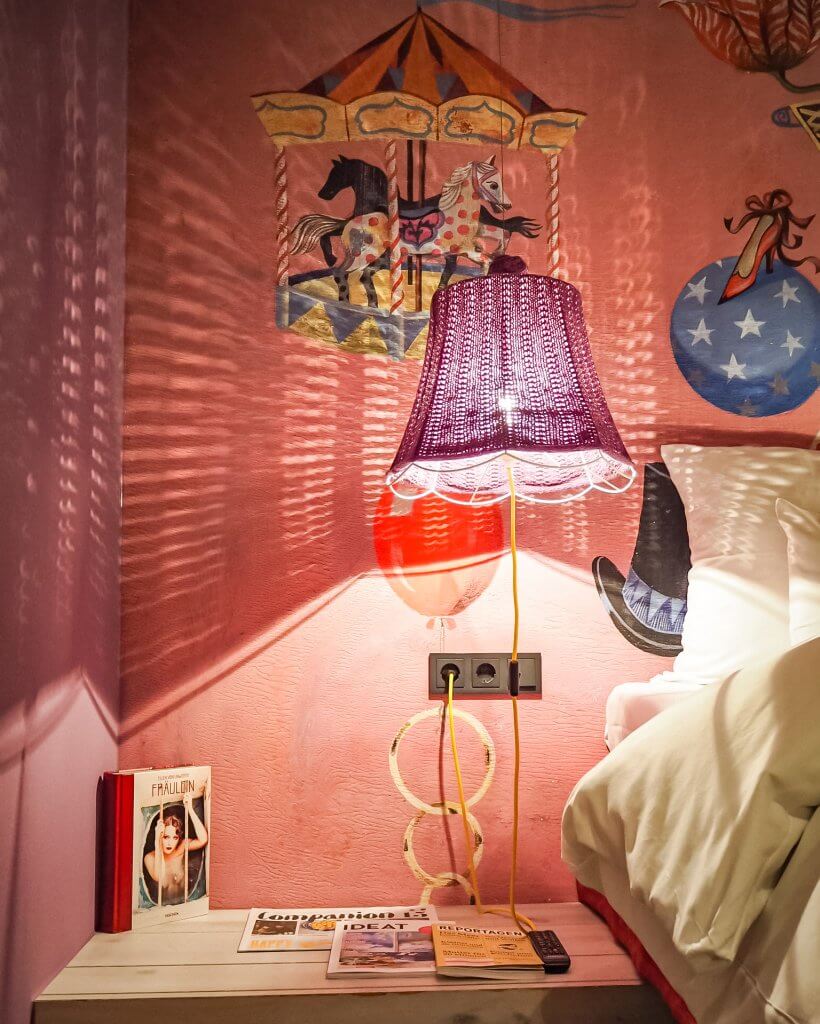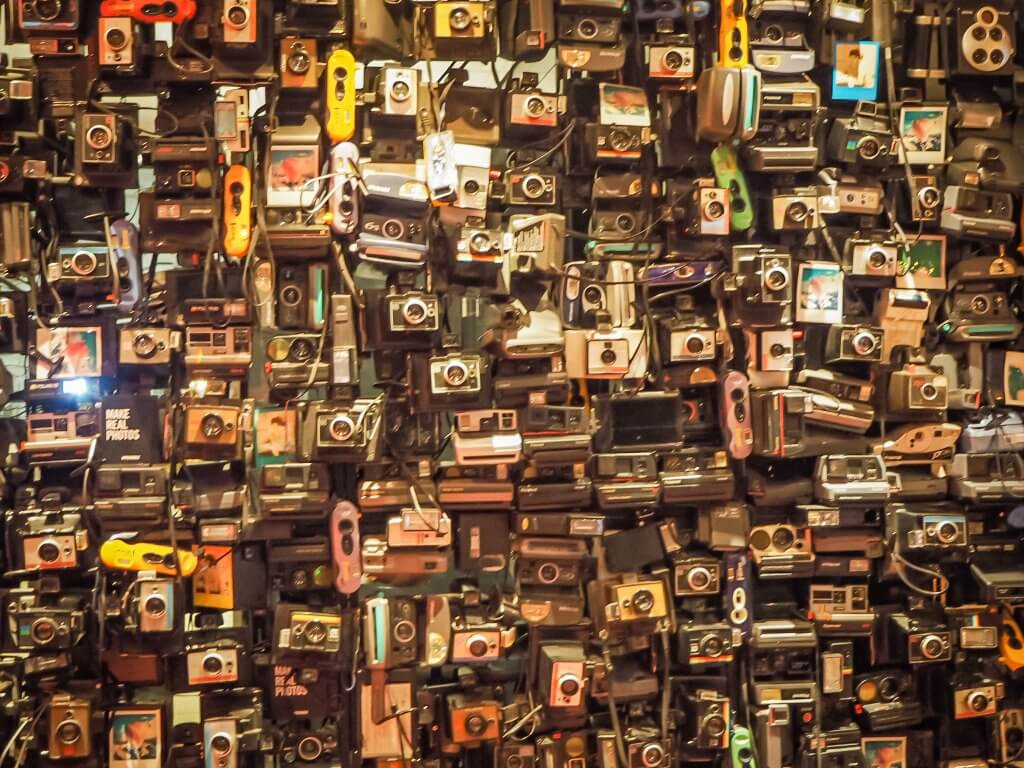 25 Hours (the extra hour is for party!) is a hotel that boasts both a Mermaid's cave and the best rooftop bar. This hotel is most definitely an experience and one that I highly recommend.
How to get around Vienna.
Vienna is more than just Schnitzel and Sachertorte, although let's admit it both of those things alone are reason enough to visit Vienna. Vienna's top attractions are easy to get to because the city is relatively small. We mostly used the city's public transport to get around and with the Vienna City Card you will also get discounts to some of Vienna's museums and attractions.
The four main forms of transport are U-Bahn (subway), Schnellbahn or S-Bahn (local train), Straßenbahn (tram) and Autobus (bus). Vienna works on an honesty system with no ticket barriers at stations and no formal, permanent ticket checks on the subway, local trains, trams and buses. You just hop on and off without inspection. You still need to buy a ticket however! We had a scary experience in Prague where we had bought our ticket for the tram but didn't realise that you had to validate it. Within seconds we were being dragged off the tram by two burly tram ticket inspectors with threats of being brought to a police station unless we payed a really hefty fine. It is a mistake we will never make again!
So a lack of ticket inspection in Vienna doesn't mean that there is zero ticket inspection, so avoid the embarrassment and the large fine by always purchasing (and validating if neccessary) your ticket. You can buy your tickets from ticket offices in the main stations, ticket machines in stations, the Wiener Linien online store and (for some basic tickets) from Trafik newsagents/tobacconists.
What to eat in Vienna
The best way to experience a city is through its food in our opinion. Here's a quick look at some of the must-eats during your 3 days in Vienna:
Sacher-tort – This famous chocolate cake is one of the most decadent desserts and is shipped all over the world.
Schnitzel – you can't go to Vienna without a wiener schnitzel. The most famous is Figlmüller Bäckerstraße but there are plenty of restaurants around that serve this dish.
Finger sandwiches – These little sandwiches are the perfect light lunch or snack. Be sure to stop by Trzesniewski, who made these sandwiches popular, to sample some.
Apple strudel – Sweet, cinnamon and apple filled pastry. Need I say any more?
Coffee – If you have been here for a while you will know that I like my coffee and enjoying a coffee in Vienna is a must. Café Central is a gorgeous place to soak up the grandeur of Vienna with some amazing coffee and sacher-tort .
3 days in Vienna itinerary
So without further ado here are the best things to do in Vienna. I was able to visit all of these attractions during my 3 days in Vienna itinerary so feel free to choose as many of these spots that you would like to visit in your 3 days in Vienna.
Day 1: 3 days in Vienna Travel Guide
Visit Saint Stephen's Cathedral
Our first stop was Saint Stephen's Cathedral. Partly because it was the first spot listed on our Google map and partly because I just had to see those colourful tiles.
This beautiful Gothic Cathedral was completed in 1160 but was destroyed by fire and was rebuilt in the 14th century. It is one of the most impressive Cathedral's in Europe. If it is good enough for Mozart to get married in and Haydn to sing as a choir boy in then it is good enough for us!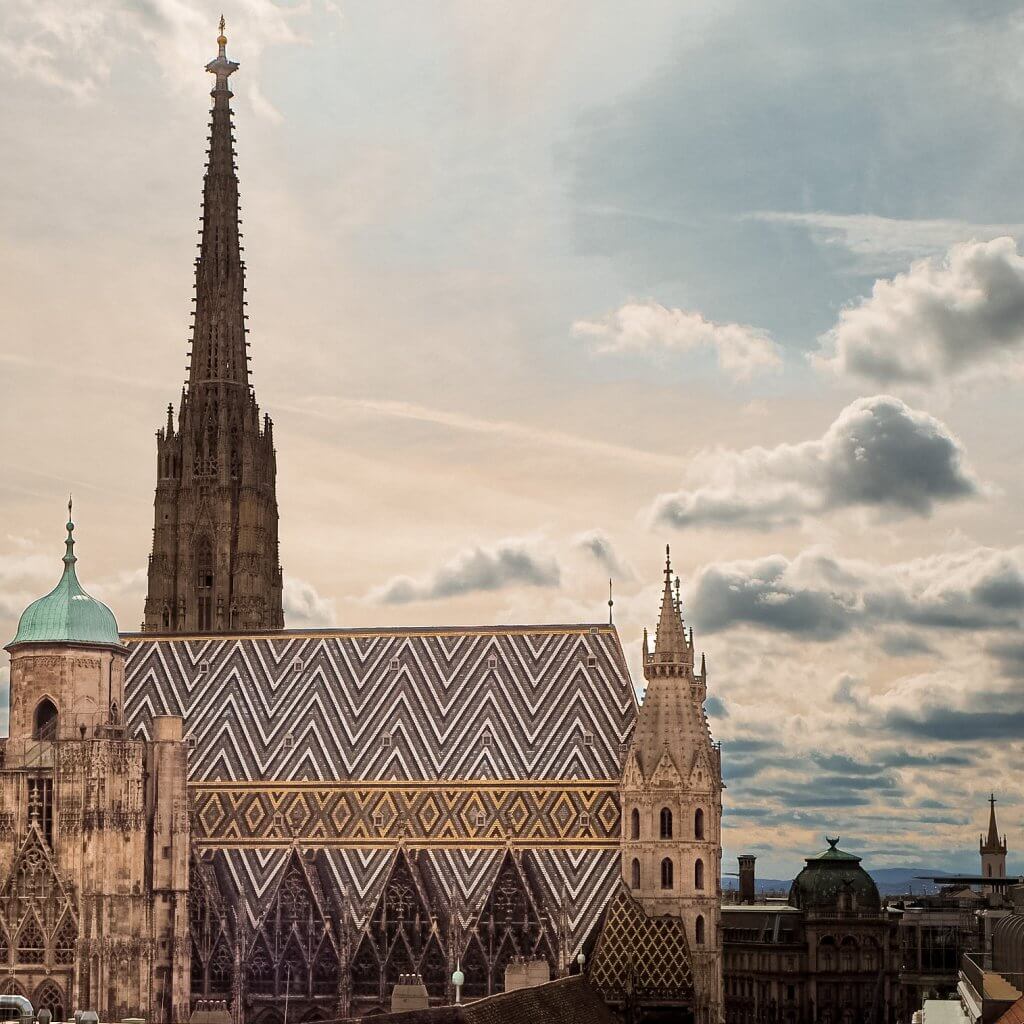 One of my favourite features is the beautiful mosaic tiled roof. To enjoy the view you can go to the top of either the North or South tower. The climb to the South Tower is 343 steps and remains the highest viewpoint in Vienna. The North Tower has a lift which is refreshing to see for traveller's with some disability or for those like me travelling with chronic illness. Often we have to miss out on the view because we cannot make the climb. And here it would really be a shame because this view does not disappoint.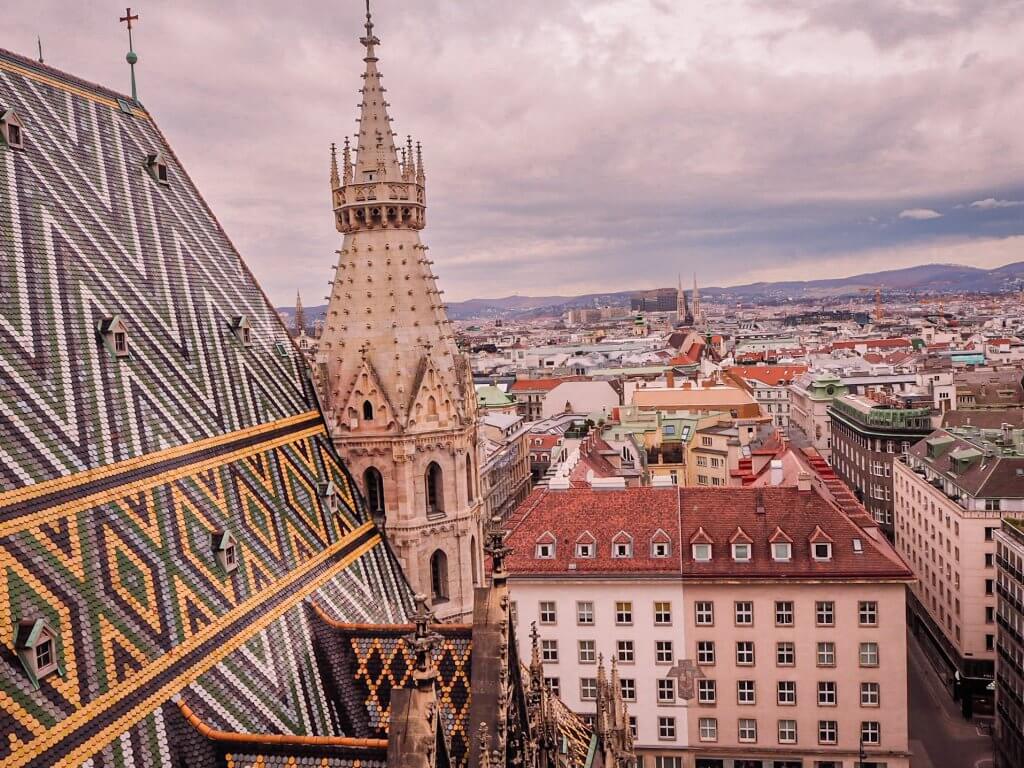 Don't miss out on the beauty inside the Church. While we were visiting there was a beautiful exhibition by Peter Baldinger who transformed the central nave of the church into a sky of stones. The choice of stones was deliberate, referring to St. Stephen, the patron saint of the Cathedral, being stoned to death for his faith.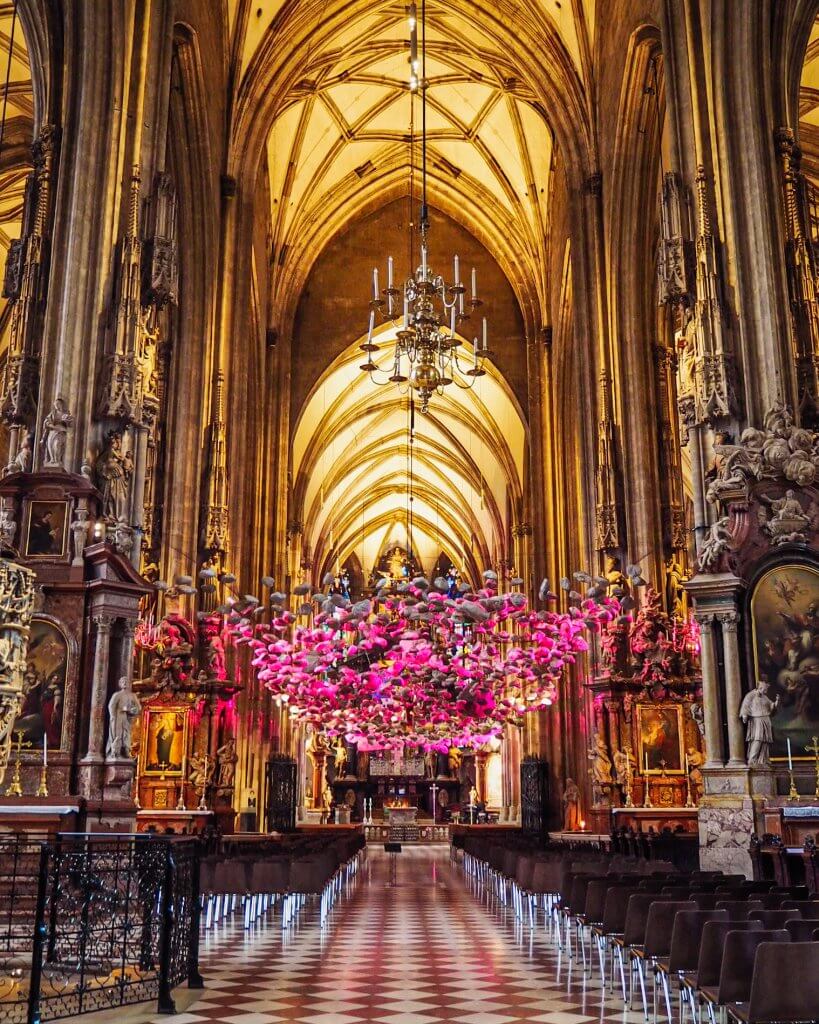 A fun thing to find in St. Stephen's Cathedral is the "Freedom handle". When facing the front of the cathedral from the street, on the left hand side there is a small metal handle known as the freedom handle. Police can't arrest anyone inside the Church because it is a sanctuary, so criminals would come for protection. Because of the criminals the priest decided to close the Church and rumour has it that the handle was inserted after it closed. If a criminal holds the handle , they are still considered to be in the Church so can't be arrested. I'm not sure how true this is but it makes for a fun story.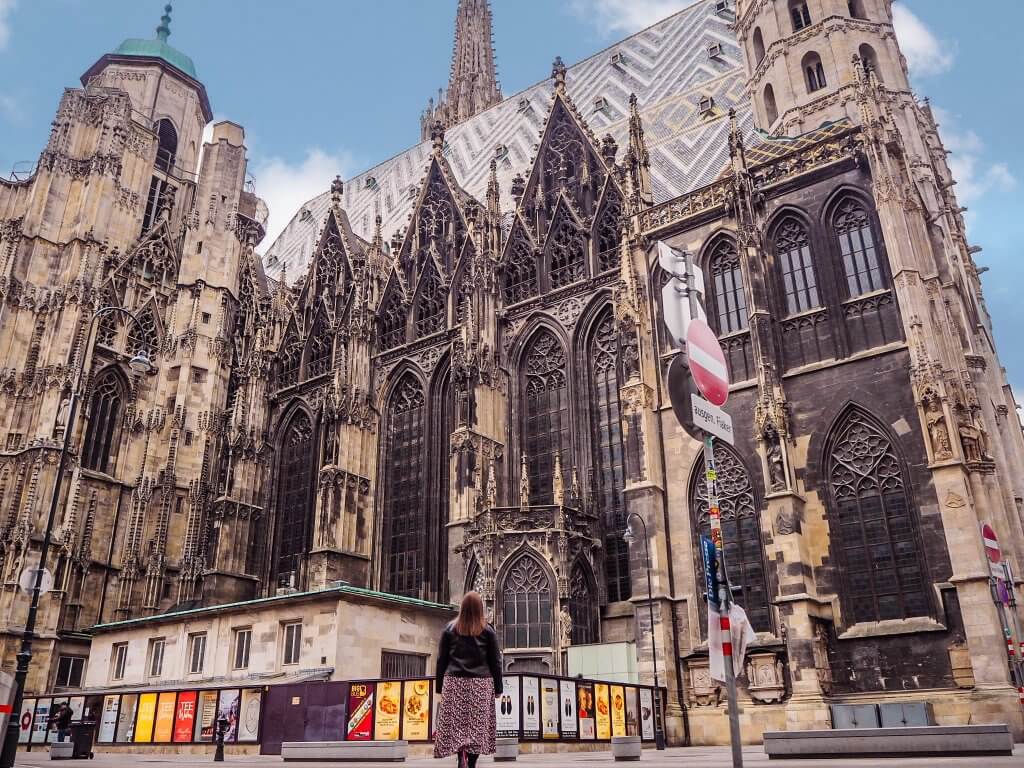 Austrian National Library
I am a big book nerd so the Austrian National Library, one of the largest Baroque libraries in Europe, was one of my favourite places that we visited during our trip. It is so beautiful inside but gets pretty crowded so it is worth trying to make it here just as it opens at 10am. We came here straight after St. Stephen's Cathedral as it is close by.
The former Court Library was created in the first half of the 18th century as a private wing of the Hofburg Imperial residence. Standing here under the beautiful fresco ceiling I was in my element. It costs €8 to enter the library which, in all essence is only this room. To me it was worth every penny to be here and imagine what it was like in times gone by.
Among the exhibits are two exquisite Venetian baroque globes: one for the earth and one for the sky, each with a diameter of more than one meter.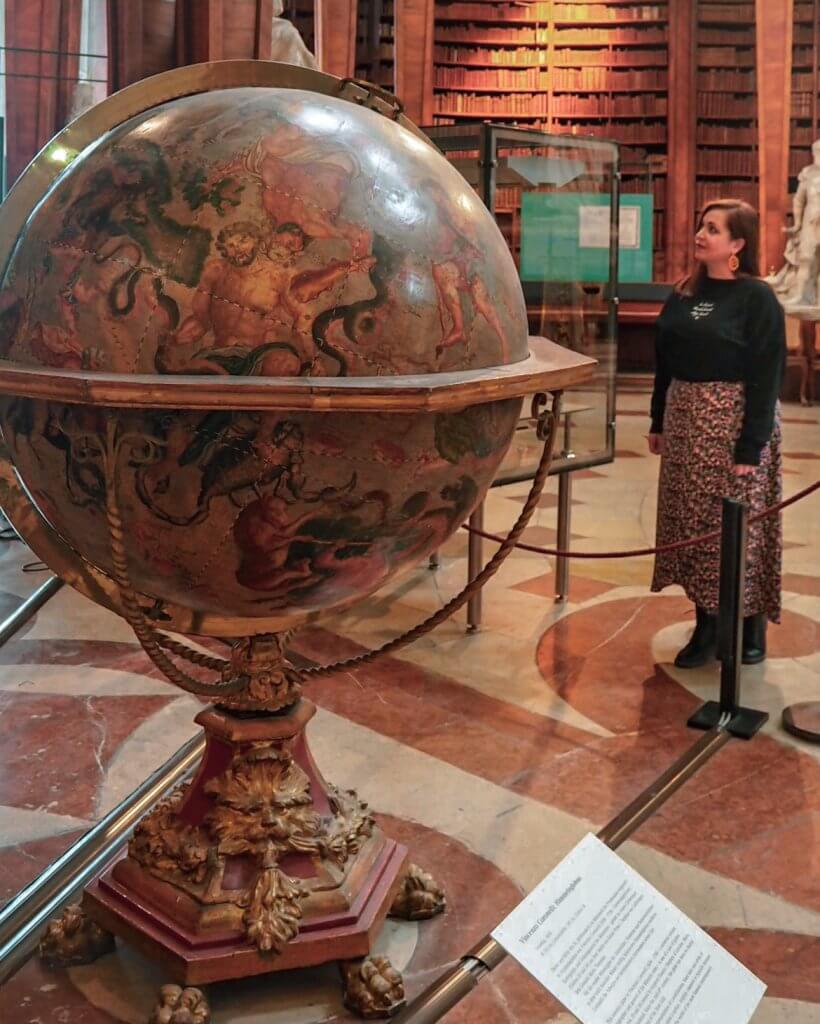 Walk in the footsteps of Mozart
You can't come the whole way to Vienna without learning at least a little bit about Mozart. Mozart was actually born in Salzburg, Austria but he has become the adopted son of the city of Vienna and his presence can be felt everywhere. If you are going to have a Mozart museum, then where better to put it than in the house he once lived in? You can almost smell the history in Vienna's Mozarthaus, which offers insights into the man, his music, and the city around him.
Mozarthaus is the only Mozart apartment in Vienna that survives today and you can find it located on Domgasse 5, 1010 Wien.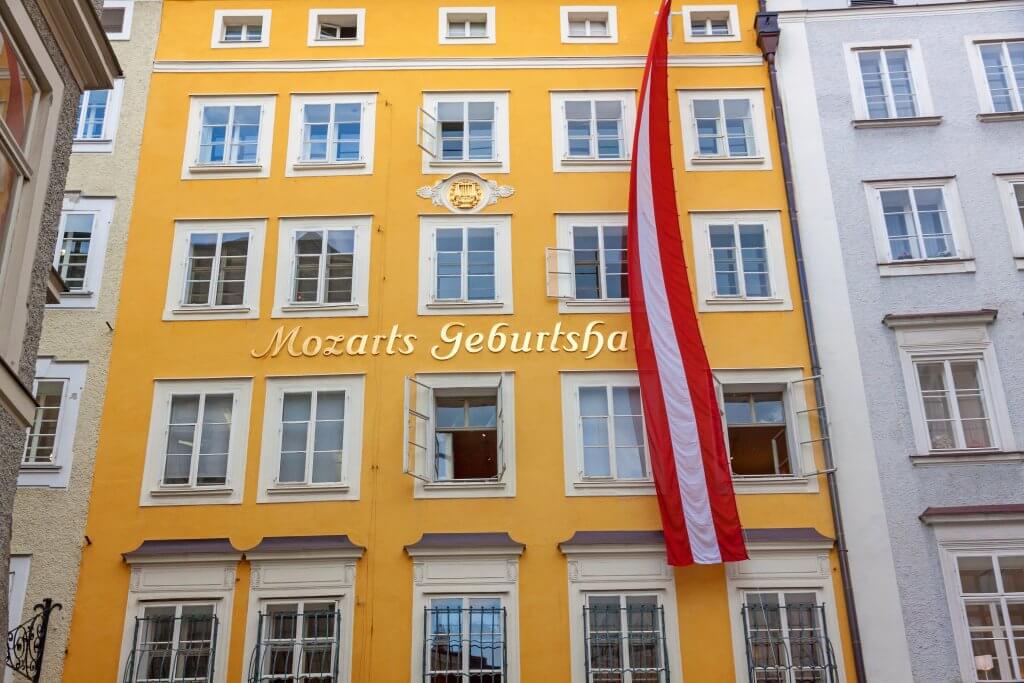 Hofburg Palace
Standing outside Hofburg Palace was when we really felt like we were in Vienna. This is the image of Vienna we all see when we think about this beautiful city. It is right next to the Austrian National Library and the Spanish Riding school so it makes sense to visit these all on the same day.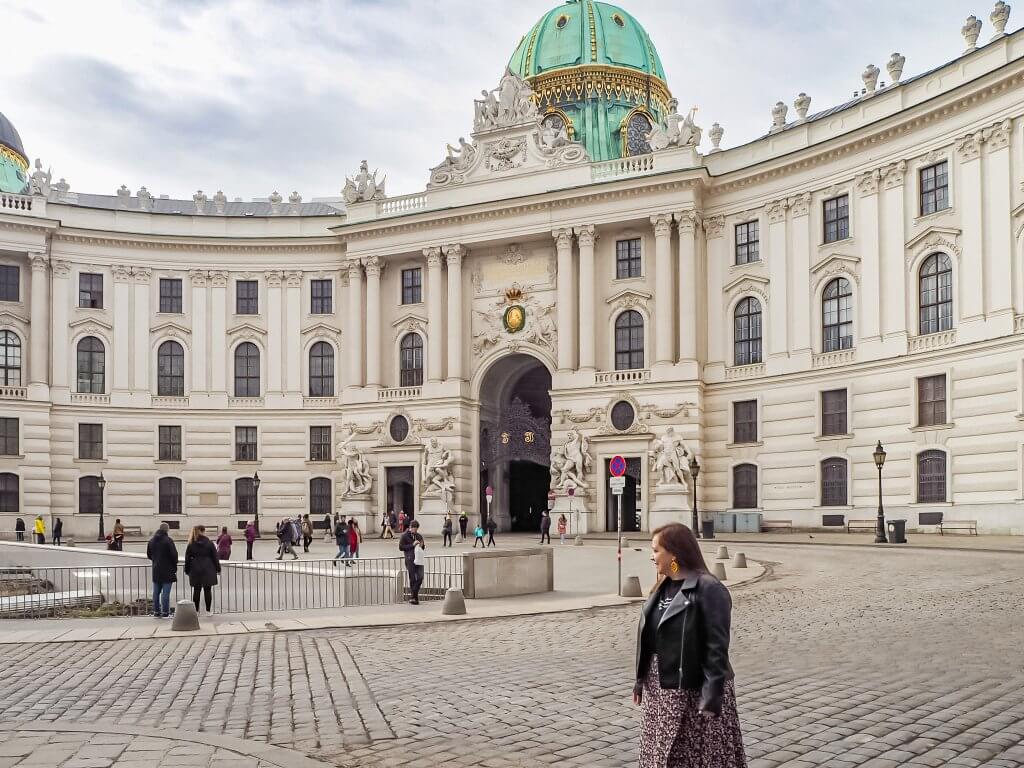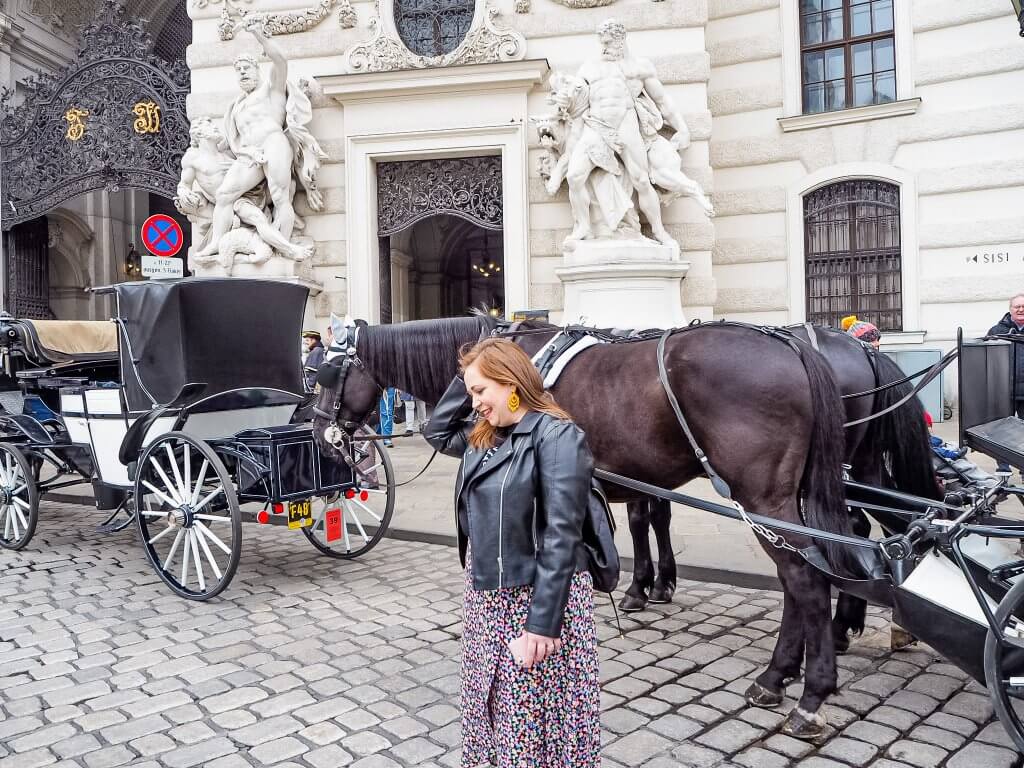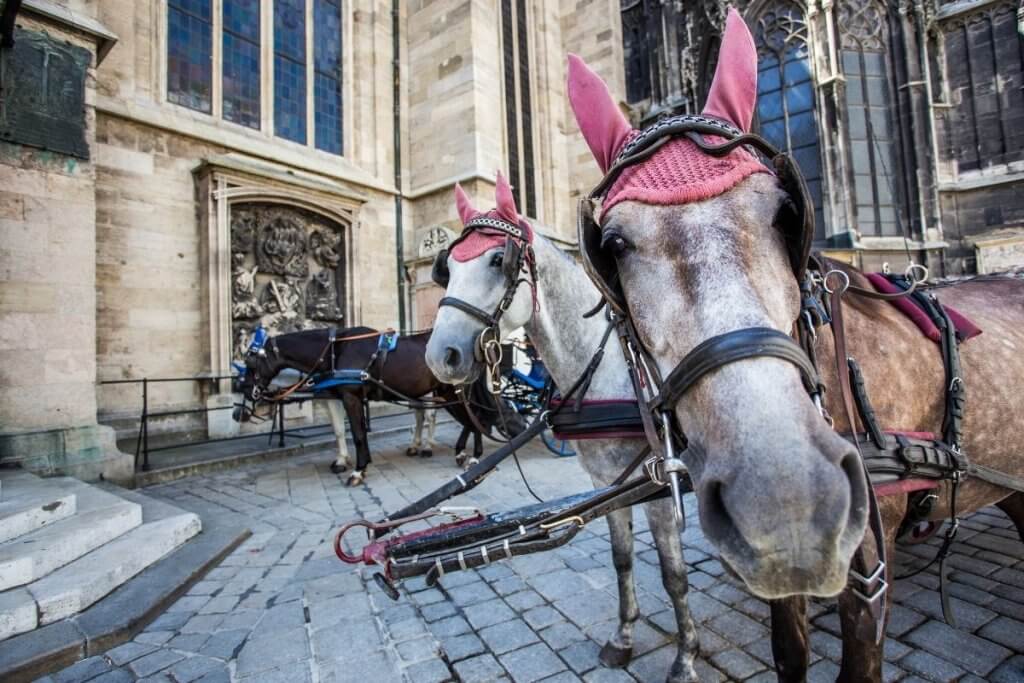 Visiting Hofburg Palace is one of the best things to do in Vienna during your 3 day Vienna itinerary. Another residence of the Habsburg Empire, you can really get a sense of what it must have been like to live here by visiting The Imperial Apartments. Other highlights include The Sisi Museum, The Spanish Riding School and The Hofburg Treasury.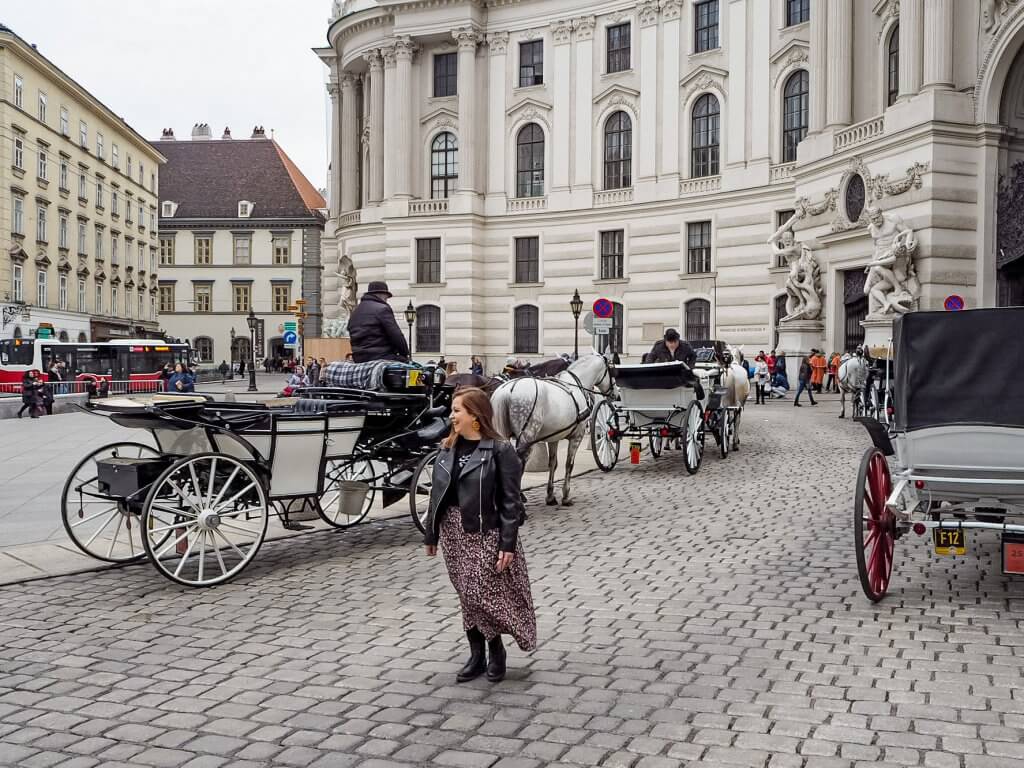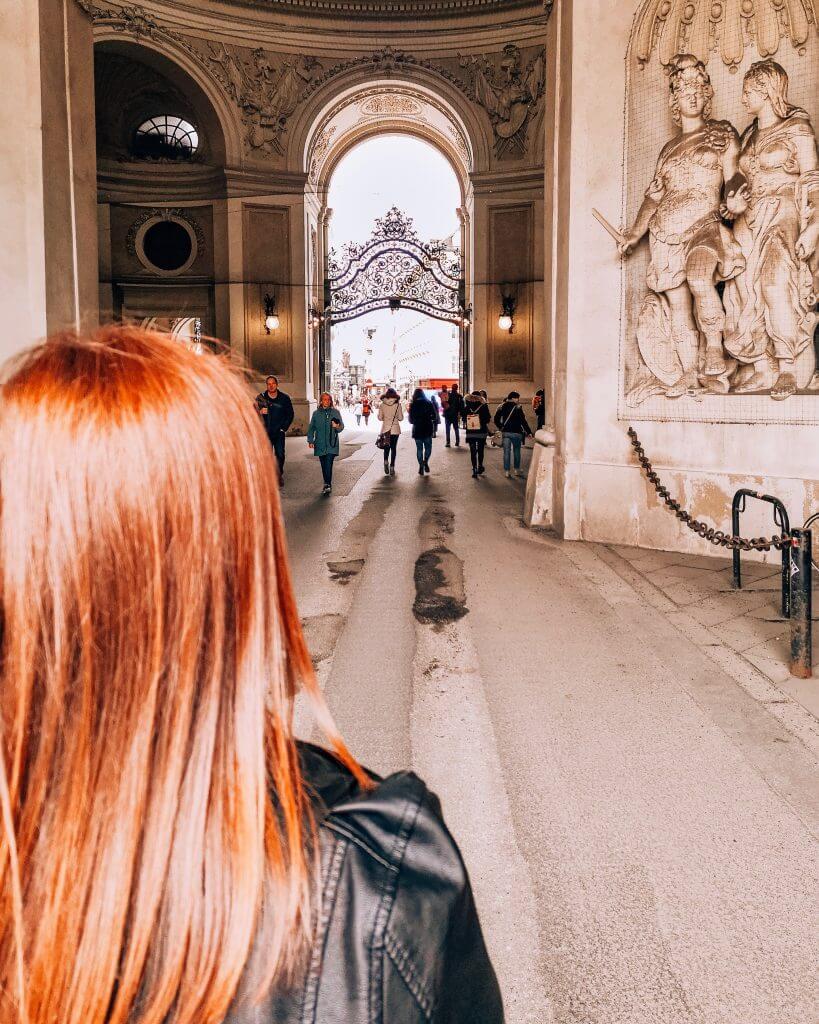 Catch a performance at the Spanish Riding School
We reccommend catching the world-famous performances of the Lipizzaner, the "Ballet of the White Stallions", on day 1 of your 3 days in Vienna. Performances take place in the magnificent baroque winter riding school in the Hofburg Palace, built under Charles VI from 1729-1735. The demonstrations are the result of many years of training and intensive work by the riders and their Lipizzaners. It is an incredible atmosphere and a wonderful experience to see the performance of these skilled riders accompanied by classical Viennese music!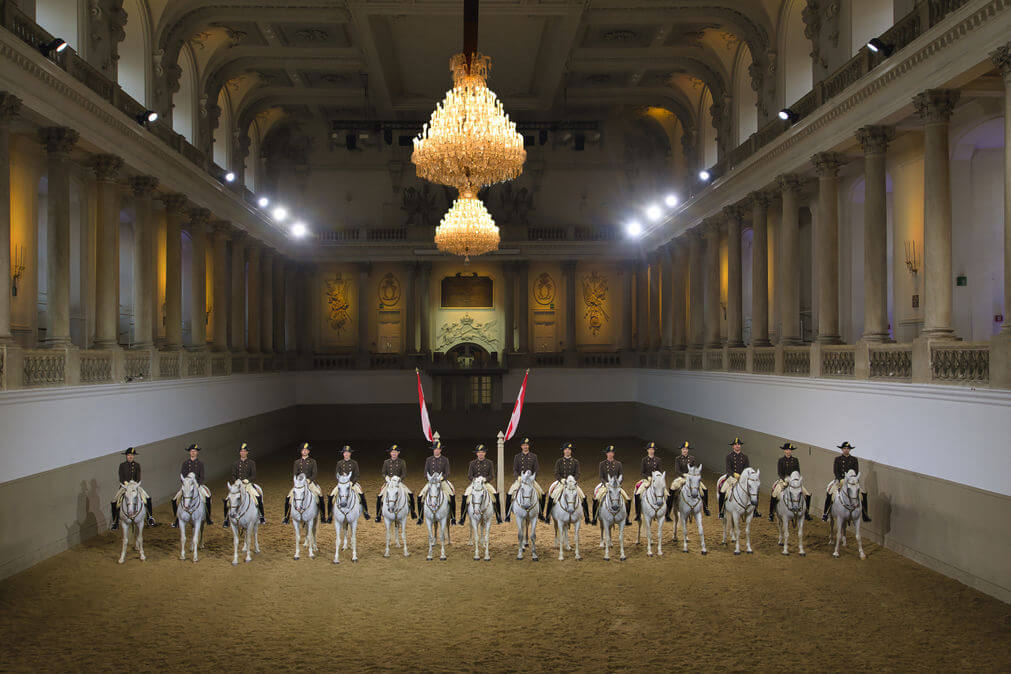 Soak in Rooftop views at Lamee Rooftop Bar
After all that sightseeing it is time for a well deserved break. We visited Lamee Rooftop bar for a drink and a spot of food. With the best views of the city, Lamee Rooftop Bar at Lichensteg 2, 1010 Wien, is the perfect place to take a minute to soak it all in.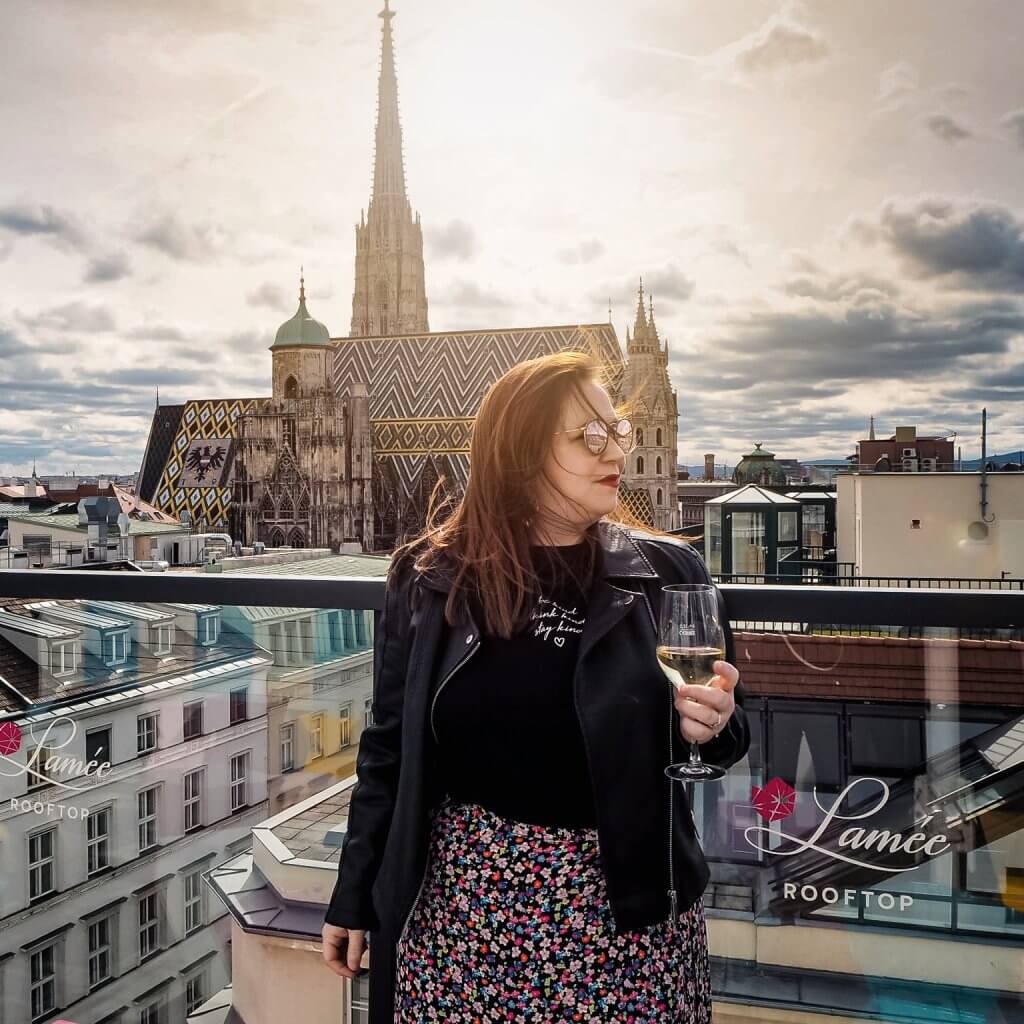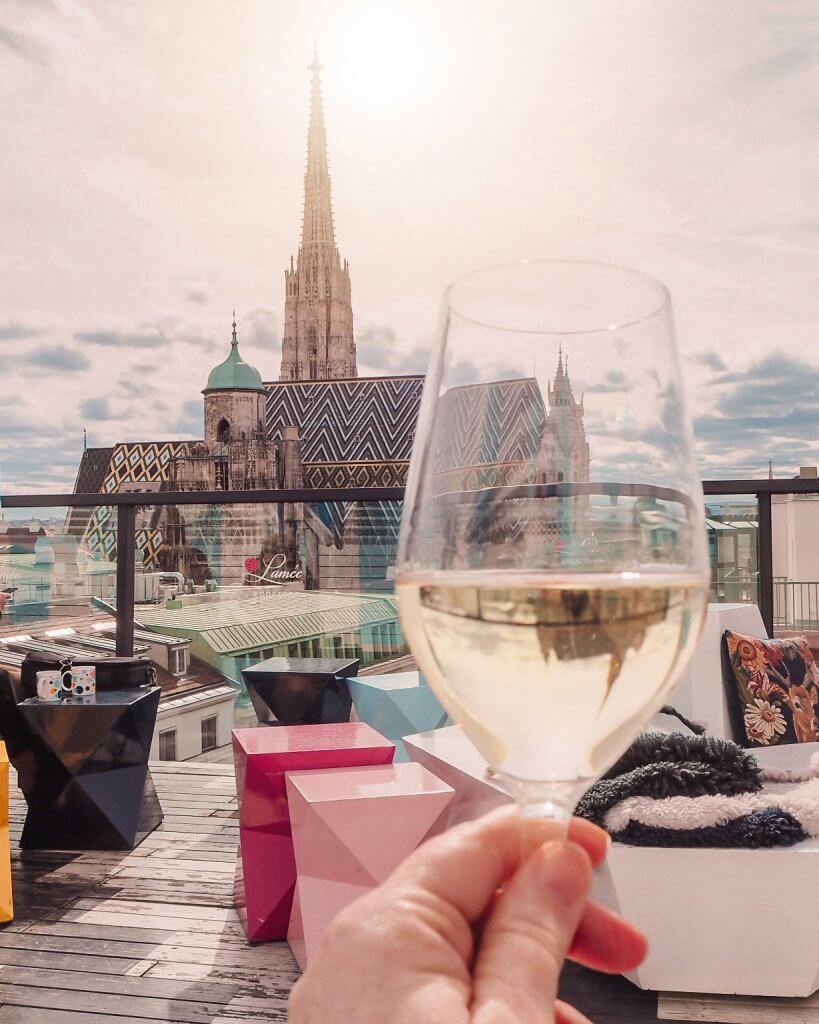 Explore MuseumsQuartier
In the afternoon head back towards your hotel (if you decide to stay in 25hours Hotel) to explore MuseumsQuartier. Spread over 90,000 square metres in central Vienna and including 60 cultural institutions, the MuseumsQuartier in Vienna is one of the largest districts for contemporary art and culture in the world. The sky is the limit at the MuseumsQuartier. Historic architecture meets contemporary design. High culture meets subcultures.
The spectrum ranges from fine art, architecture, music, fashion, theater, dance, literature, children's culture, game culture, and street art to design and photography so there is sure to be something for everyone. The good news is that you don't have very far to stumble back to your hotel after day 1 of your 3 days in Vienna itinerary to enjoy some good food and rooftop views of the city from the hotel bar.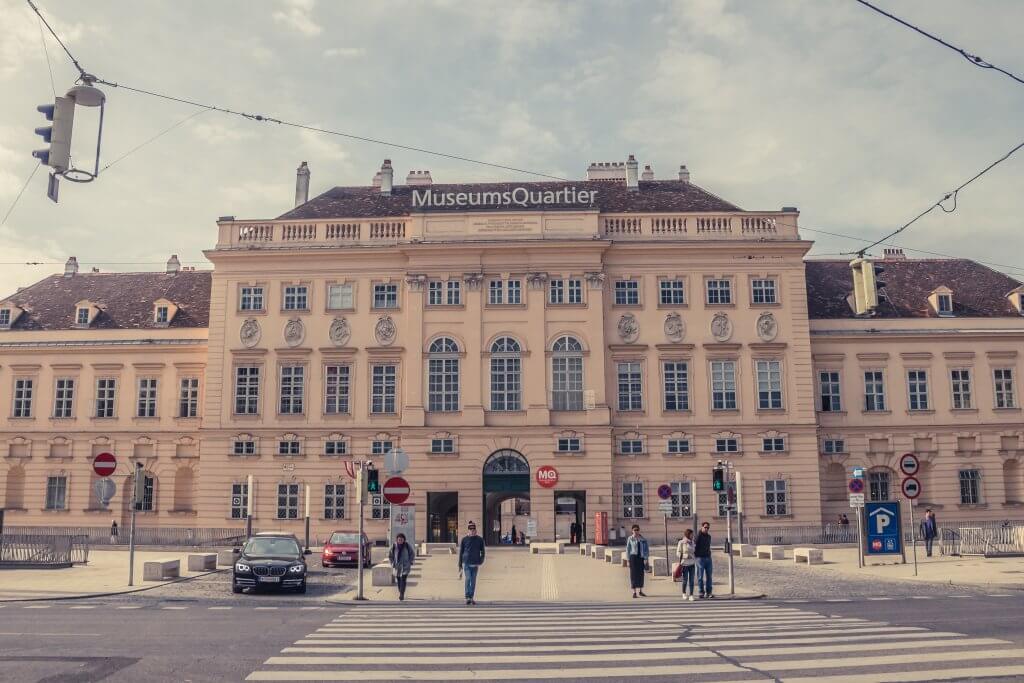 Day 2: 3 days in Vienna Travel Guide
Enjoy the quirky architecture of Hundertwasser House
The colourfully decorated exterior façade of Hundertwasser House in Vienna draws attention to itself almost magically. Designed by artist Friedensreich Hundertwasser, residents of this private apartment block are allowed to decorate the façade around the windows however they like. It is a beautiful backdrop for your Instagram photos but be sure to bring your wide angle lens as it is difficult to capture with a standard one.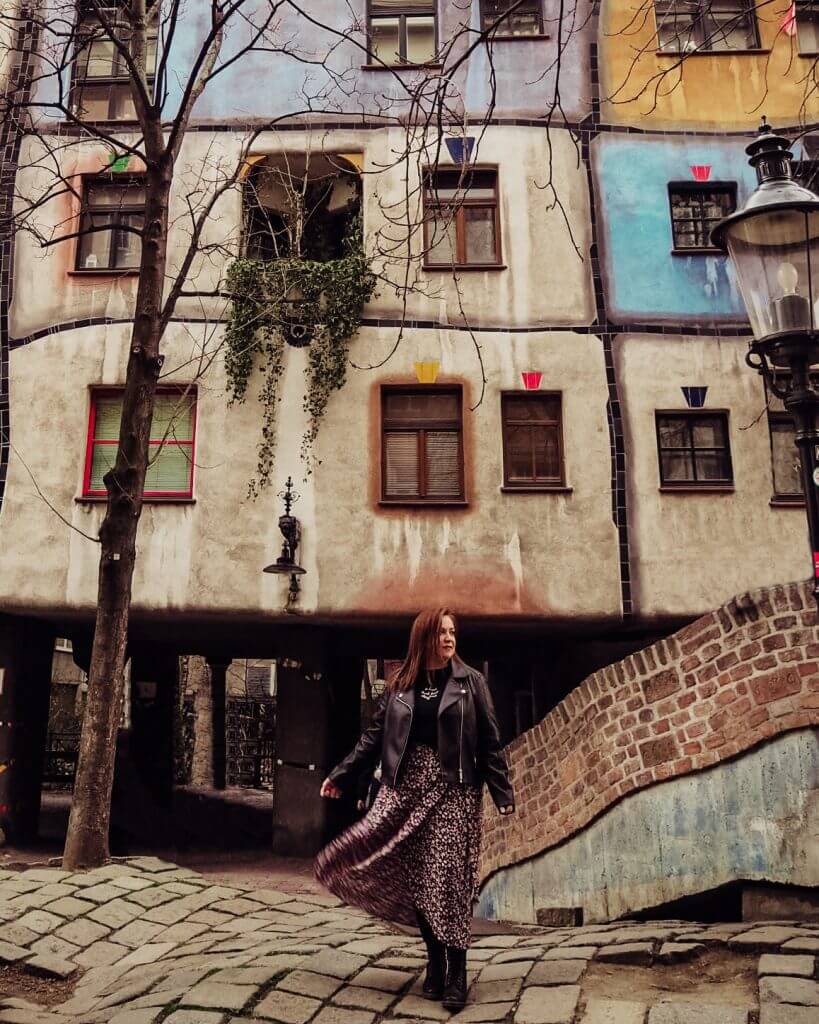 It is located on Kegelgasse 36-38, 1030 Wien and is, unfortunately, not located close to a metro station. To reach the nearest metro station Landstraße Wien Mitte you have to walk about 900m. If you prefer to avoid this walk, you can ride with the metro U1 or U4 to the station Schwedenplatz. Change there to the tram line 1 towards Prater Hauptallee. The tram line 1 stops approx. 100m in front of the Hundertwasser House at the station Hetzgasse. From there you just have to go approx. 100m into driving direction along the Löwengasse to the corner Kegelgasse and you will have found the alley where the apartment block is located. To be fair when you get close you can't miss it! The quirkness of the area of Vienna is very popular with tourists so we are suggesting to get there early on day 2 of your 3 days in Vienna to really get to enjoy the area and capture photos without people in them (damn do we wish we had a wide angle lens!)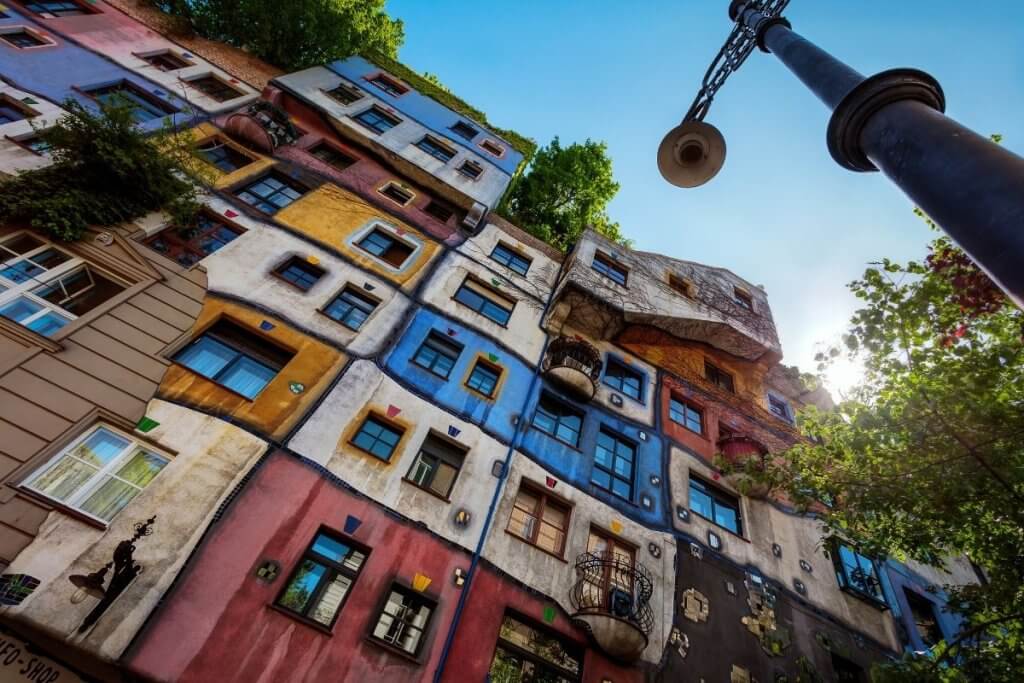 Across from Hundertwasser House is Hundertwasser Village. An eco-friendly "shopping center" converted out of an old tyre workshop. Here you will find a bar, cafe and some souvenier shops. If you need a bathroom break it is worth the 80 cent entrance fee to hear the running commentary in both German and English of what Hundertwasser himself thought of organic waste and what his design process involved.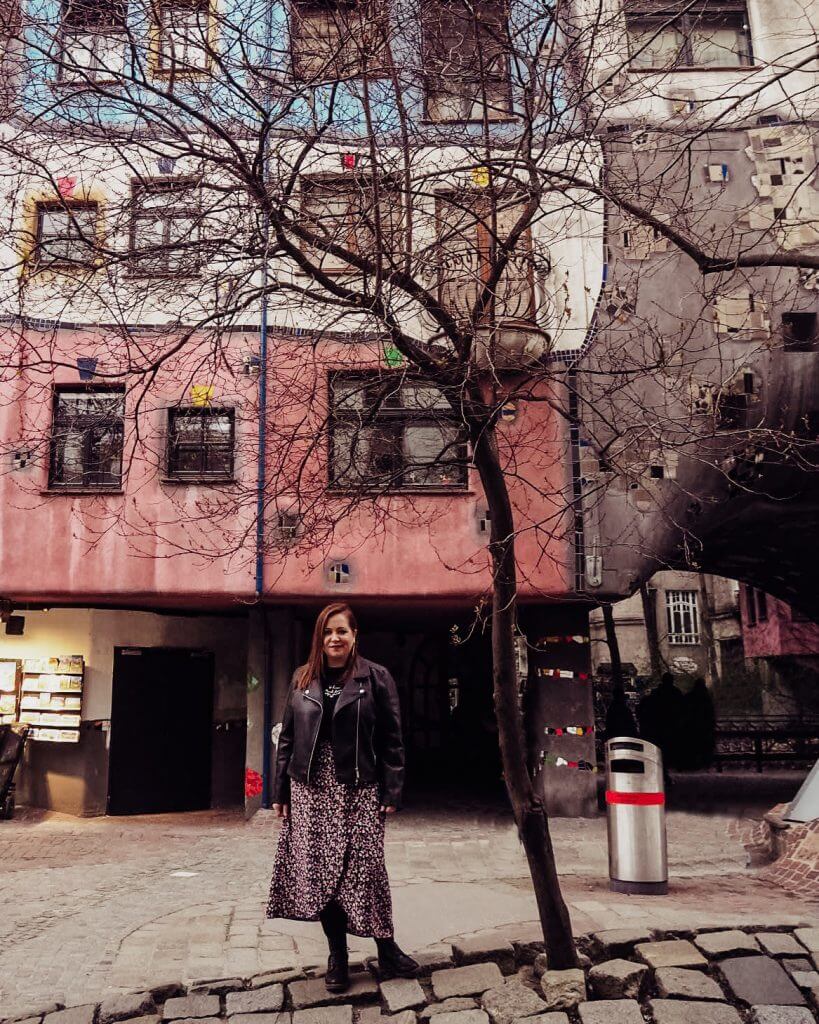 Visit the iconic Vienna Opera House and Albertinaplatz
Head first to Abertinaplatz where you will get the best view of the magnificent Vienna Opera House. This busy square is located directly below, and in front of, the Albertina Museum which sits in an elevated position above the surrounding buildings. It is accessed by quite a wide and long staircase but there is also an escalator for those of you with energy limitations. I still struggle with stairs after my Lyme disease.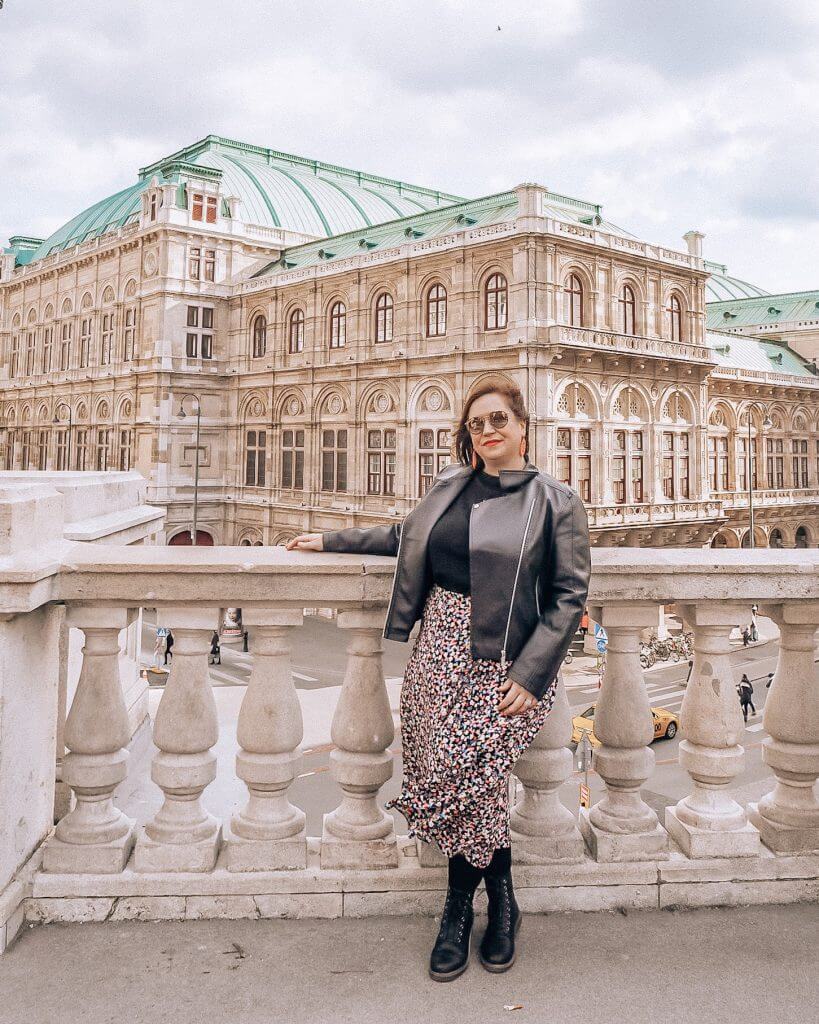 There are some really cute shops in this area such as Wilhelm Jungmann & Neffe that really deserve a visit. It is a hidden gem in Vienna and one of the few businesses that have survived the 20th century. The mere fact that these businesses made it through this period must be considered a remarkable achievement as in many cases the world, quite literally, collapsed around them.
Today, entering Jungmann & Neffe is a bit like stepping back in time as the interior design reminds one of the time when the Ringstraße (Ring Road) was built. It is only when you step inside and see the grandeur of the decor will it be evident that they were suppliers to the Royal house. They are still a family owned business and sell high quality fabrics.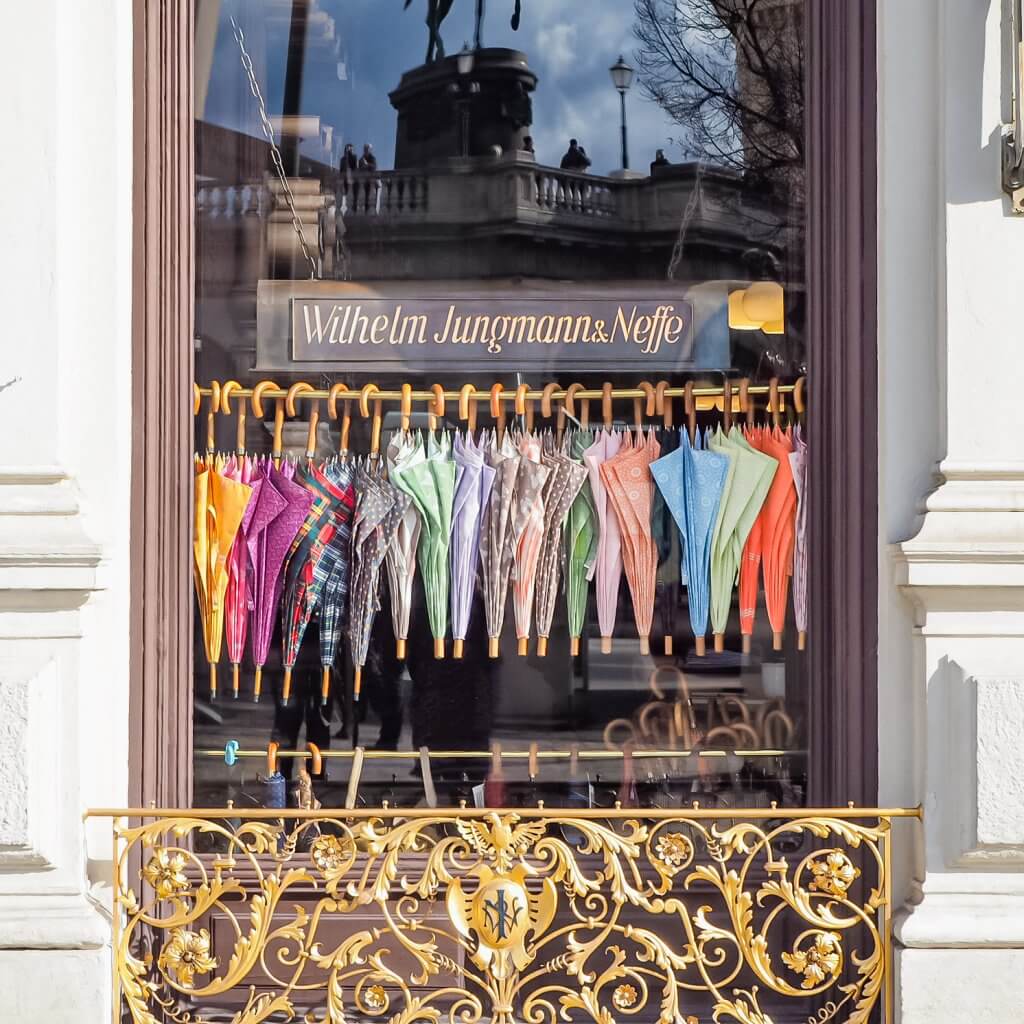 At the bottom of the steps of The Albertina Museum is a sausage stand that sells the most sought after sausage in town. The queue for Bitzinger Würstelstand can be up to one hour long but trust me, it is entirely worth it.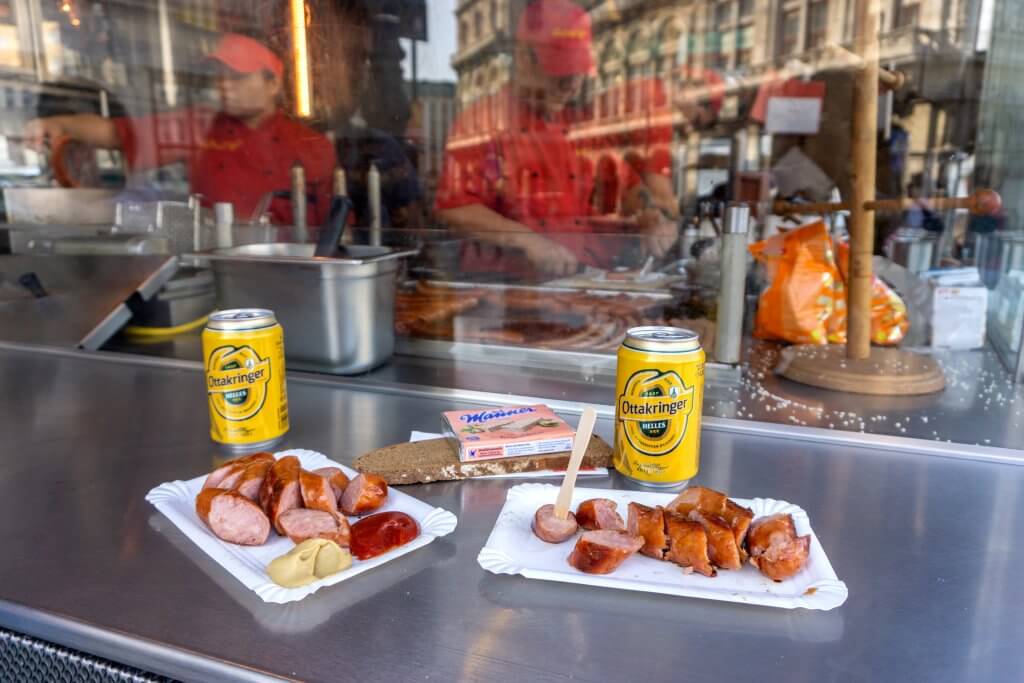 Visit Vienna Opera House on day 2 of your 3 days in Vienna
You simply must visit the iconic Vienna Opera House on day 2 of your 3 day Vienna itinerary. Although we know it as Vienna's Opera House it is actually called Wiener Staatsoper and it is one of the leading opera houses in the world. Its past is steeped in tradition. Its present is alive with richly varied performances and events.
Mister Lavin has taken me to an opera in Prague and a ballet in Warsaw but seeing a performance here is still on my bucket list. Each season, the schedule features 350 performances of more than 60 different operas and ballets. Every night, you can witness world-class artists alongside the permanent ensemble members on the stage accompanied by a unique orchestra. The members of this orchestra also make up the Vienna Philharmonic Orchestra. What an amazing thing to experience?
If you don't have time to catch a show you can still take a guided tour of this impressive building and we highly reccommend that you do. During a 40-minute tour, you will learn a lot of interesting facts about the history of the opera house, its architecture and in fact the opera business. From the foyer, you will walk up the grand staircase through the state rooms (Tea Salon, Marble Hall, Schwindfoyer, Gustav Mahler Hall) and then on to the magnificent auditorium (with a view of the stage). You will get behind the scenes information that regular opera goers aren't privy too so it was one of our favourite things to do during our 3 days in Vienna.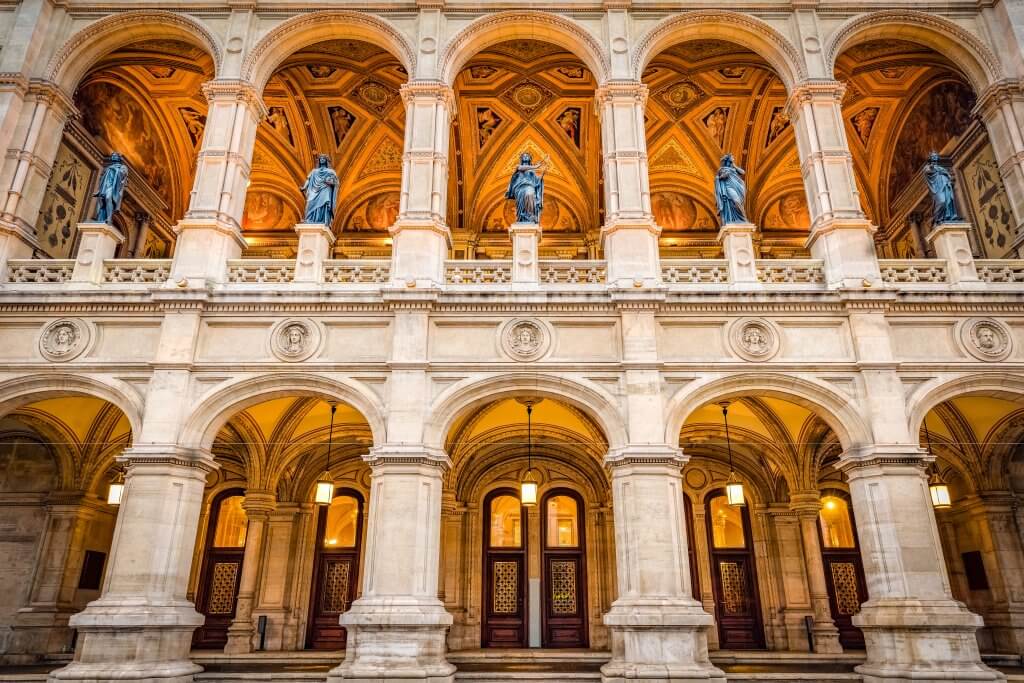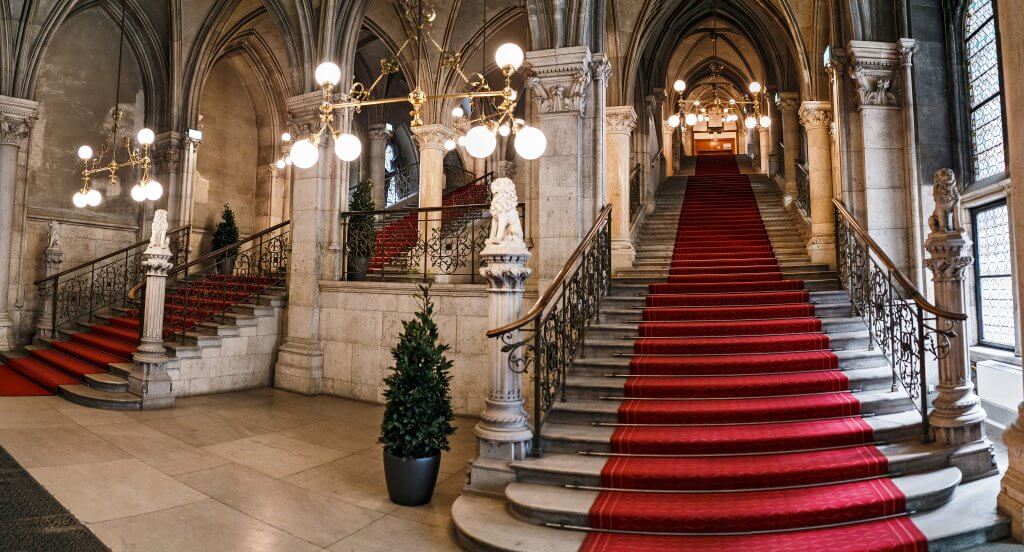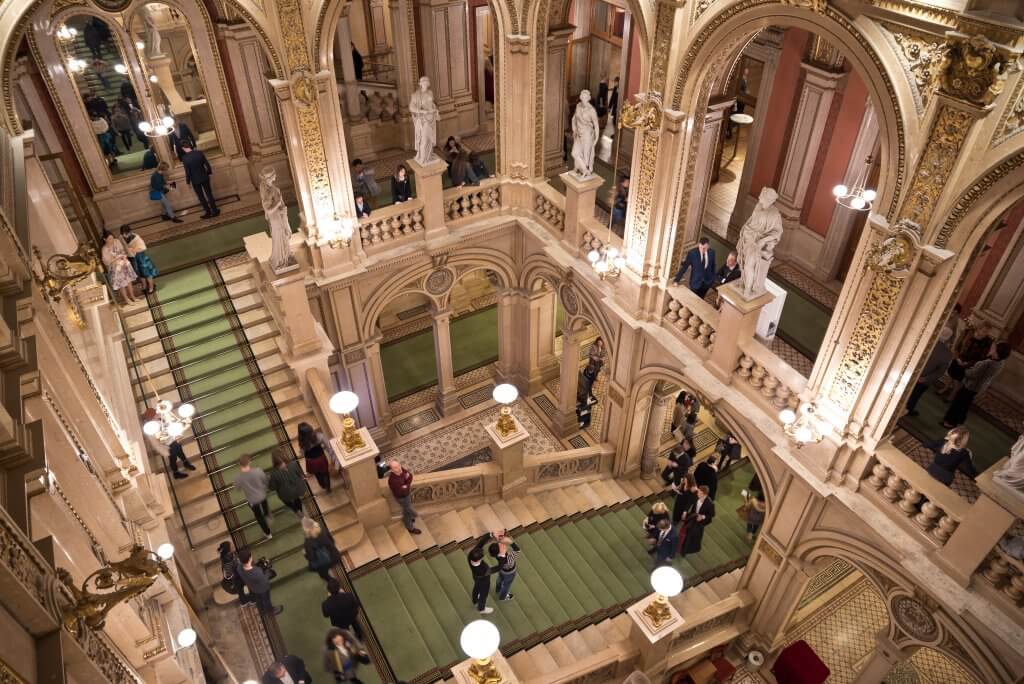 Have your own Jesse and Celine moment in Kleines Cafe
Okay so before going to Vienna I totally pictured myself and Mister Lavin having our very own Jesse and Celine moment in Kleines Cafe. A romantic notion, I know, because the reality of this moment turned out completely differently.
I had told Mister Lavin that I wanted to get here Before Sunset (whoops wrong movie!). He insisted that he have one more pint to watch the end of the six nations rugby game that was on. As a result we had to walk super fast to get here only to find it closed. I got so angry we almost ended up in a full blown argument when a man in a Santa suit walked by, saving the day as we both burst out laughing. Even though I didn't get to eat here I believe that the food is unbelievable.
So no Jesse and Celine moment for me but that doesn't stop you from having yours at this iconic little cafe.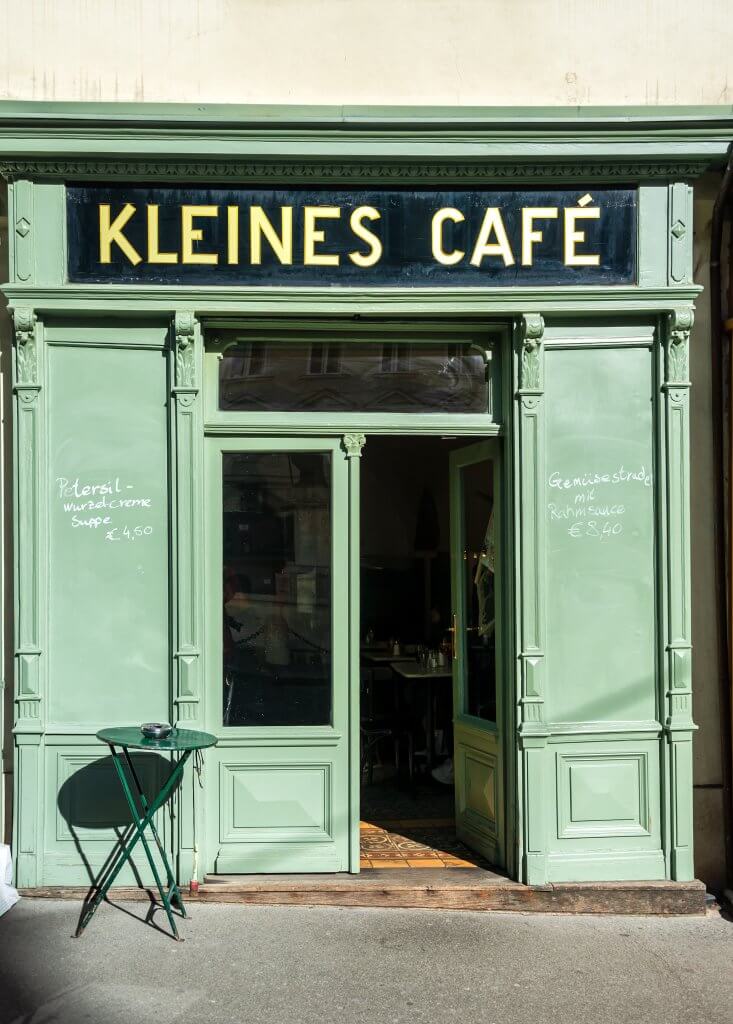 Enjoy the beauty of Belvedere Palace
Another beautiful Baroque style building by architect Johan Lucas Von Hildebrandt, the Belvedere was used as the summer residence of Prince Eugene of Savoy. Belvedere Palace is one of Europe's most stunning Baroque landmarks. This complex, which is comprised of the Upper and Lower Belvedere and an extensive garden, is listed as a UNESCO World Heritage Site. Today the Belvedere houses the greatest collection of Austrian art dating from the Middle Ages to the present day, complemented by the work of international artists such as Claude Monet, Vincent van Gogh, and Max Beckmann. Highlights from the holdings Vienna 1880–1914 are the world's largest collection of Gustav Klimt's paintings including the world renowned The Kiss.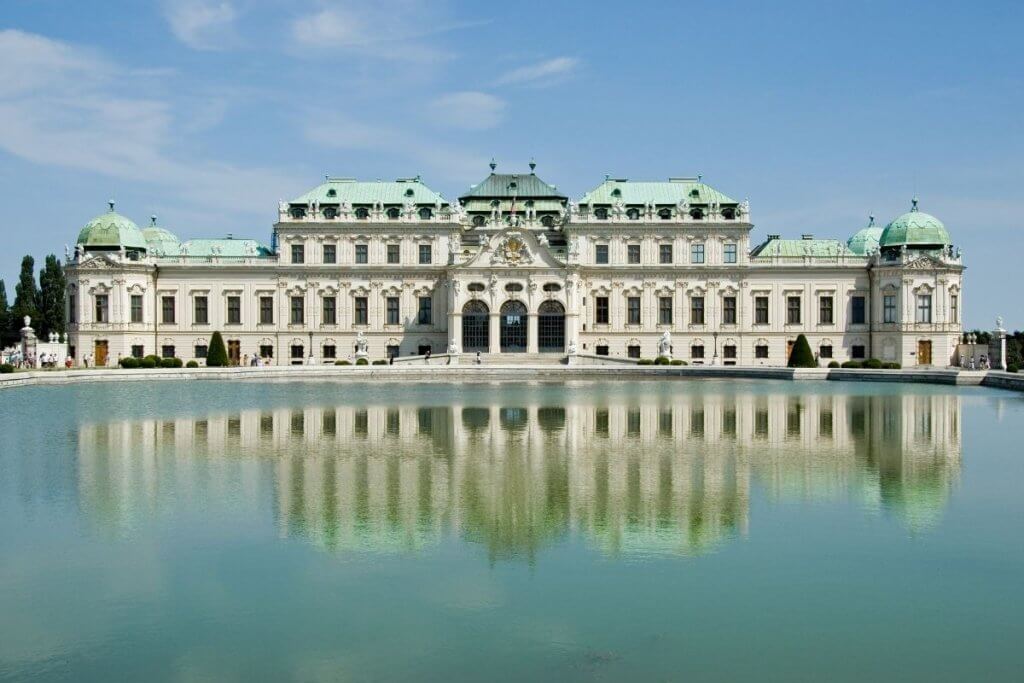 Relish Vienna's nightlife and find Vienna's Cute Traffic Lights.
A fun thing to do in the city is to find all of Vienna's cute traffic lights. You will find them all throughout Vienna. There are three individual symbols to find both in red and green. All couples representing a male couple, a female couple and a male/female couple and they are so frickin cute. They even have names "Let's go together ", "Feeling" and "The voice of love". They were designed at the time Vienna hosted the Eurovision to highlight the city's views of inclusivity.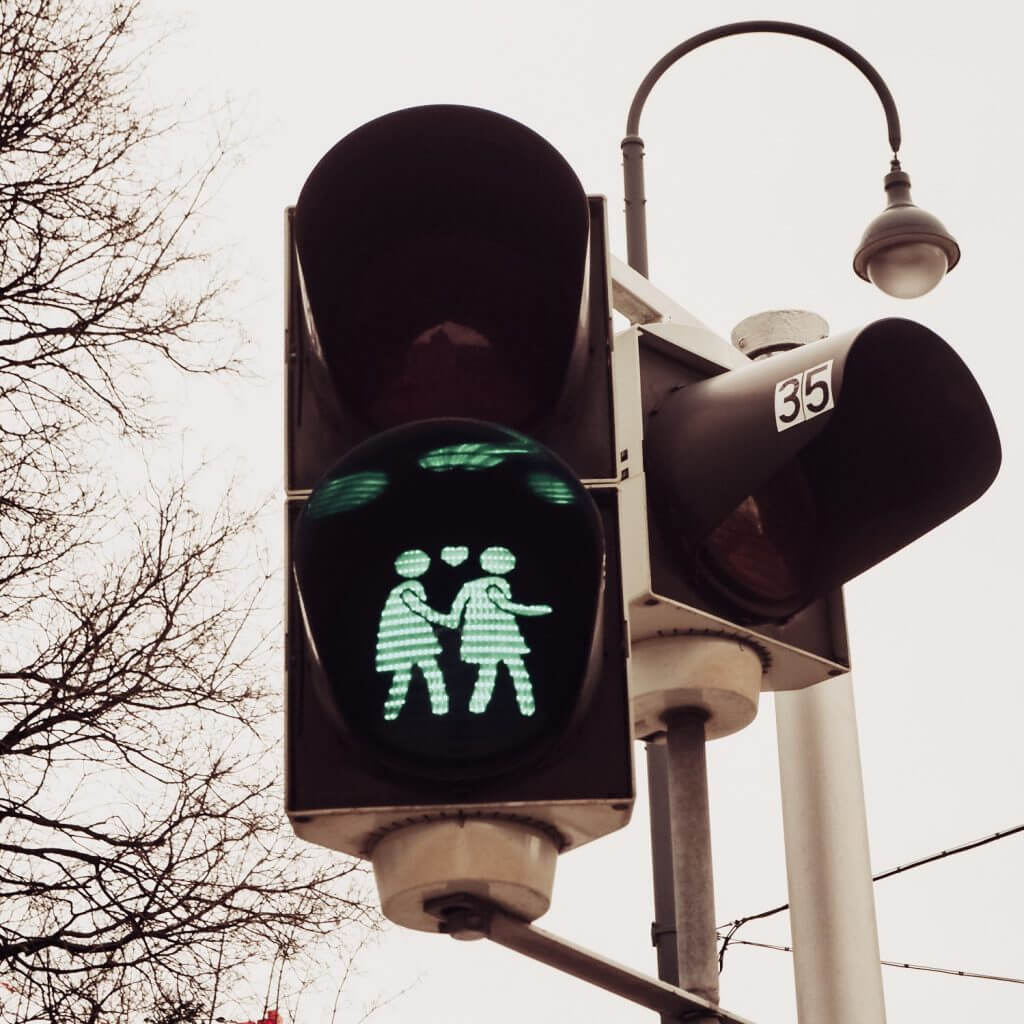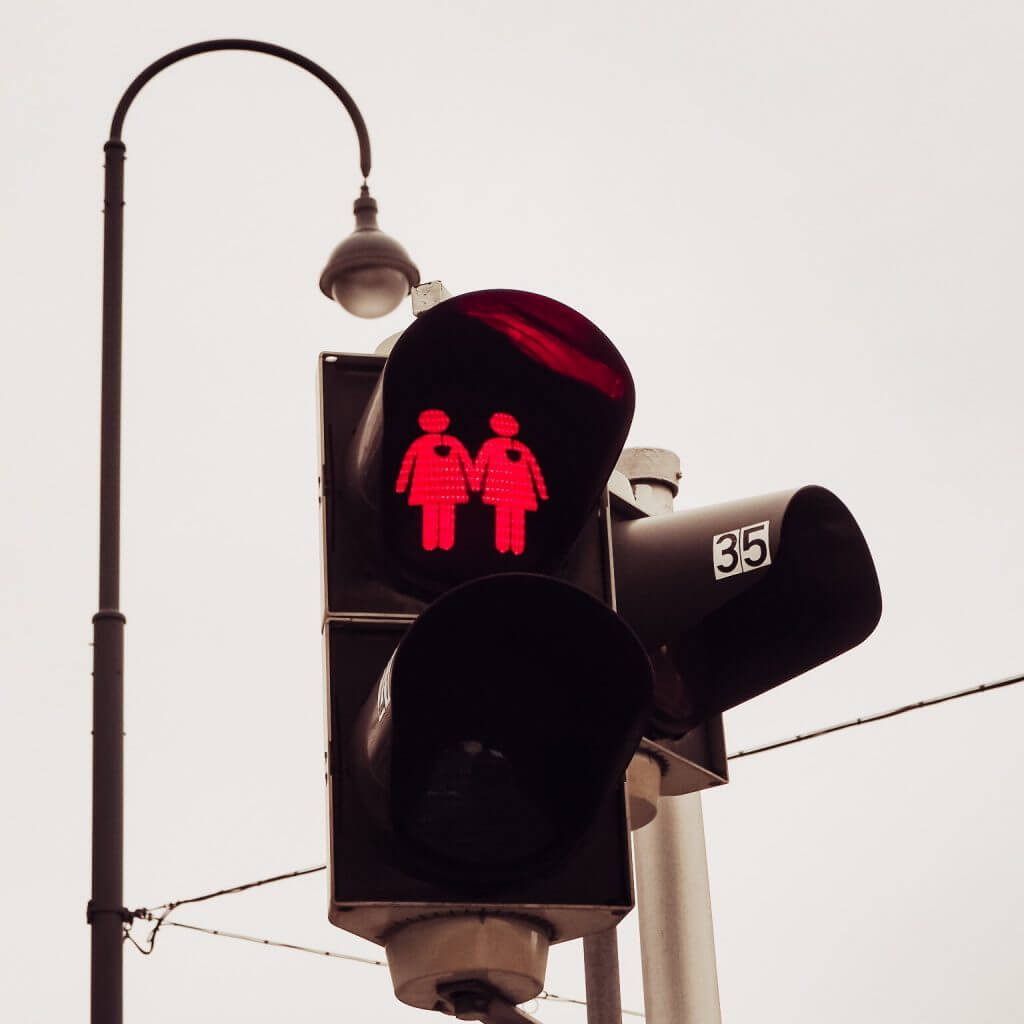 Finish day 2 of your 3 days in Vienna in style
Vienna is best known for its iconic cafe scene and trendsetting restaurants but nightlife? When you think of good nightlife in Europe you think of cities like Bucharest and not Vienna, right? But Vienna's nightlife is something that needs to be experienced. It offers offering everything from grimy rock bars to shimmering cocktail joints and rooftop bars with unparalleled views of this most beautiful city?
One of our favourite spots is Donau. The biggest river in Europe gives its name to a hidden techno bar. Tucked behind a metal door between Mariahilferstraße and the MuseumsQuartier, this inconspicuous club's neoclassical arches are lit with stunning daily-changing projections. It draws underground electro, house and techno DJs but we go more for the atmosphere than the music. Drinks are relatively cheap, and the club has its very own Würstelstand for after-hours snacks.
Check out Naschmarkt Deli when the sun goes down in Vienna. Enjoy the stimulating atmosphere of little Istanbul, a vibrant and colourful hangout. It is the place to go not only around midday, but also at night a huge crowd is attracted by the break beats and easy listening provided by Viennese DJs as well as occasional "guest stars".
It is the perfect place to stop in after a wander through Naschmarkt. If you are not in the party mood you can have just a snack, a leisurely meal (often inspired by Asiatic cuisine) or a quick espresso. Make sure you look out for the wallpaper with the giant beans on the ceiling.
Or enjoy a more sophisticated dining experience with live music at Calea Dinner Club. The exclusive dinner club surprises with an urban jungle and offers live music regularly. Walking down into the underground Calea Dinner Club you will be amazed. An urban jungle is waiting for you here. Artistically designed walls of moss bring nature indoors and is honestly breathtaking.
Or simply soak in the rooftop views from Attic the cosy rooftop bar at 25hours Hotel.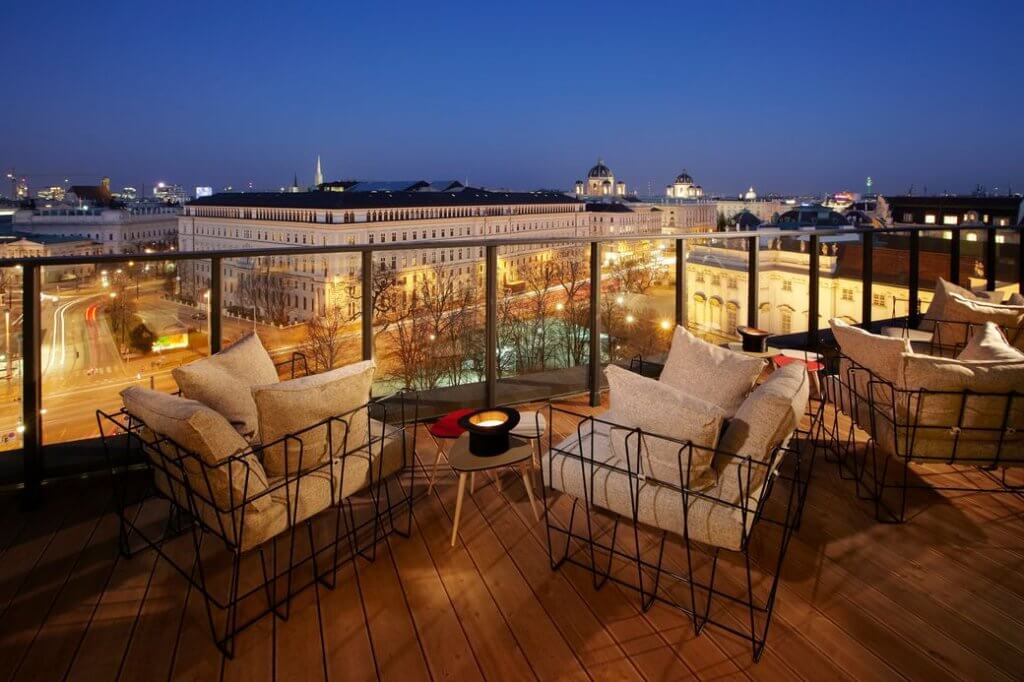 Day 3
Explore Schönbrunn Palace & Gardens
From the 18th century to 1918, Schönbrunn was the residence of the Habsburg emperors including the very beautiful Sisi. You really can't go very far in Vienna without hearing about Sisi and I urge you to learn more about her fascinating life while you are there.
How do I get to Schönbrunn Palace?
This magnificent palace is a little outside of the city center but it is easy to get a tram directly there. The palace is on tram lines 10 and 58, bus route 10A, and U-Bahn (Subway) route U4, all of which stop at Schönbrunn station.
It was designed by the architects Johann Bernhard Fischer von Erlach and Nicolaus Pacassi and is full of outstanding examples of decorative art. Together with its gardens, the site of the world's first zoo in 1752, it is a wonderful example of Baroque architecture. Inside you will find over 1,400 majestic rooms.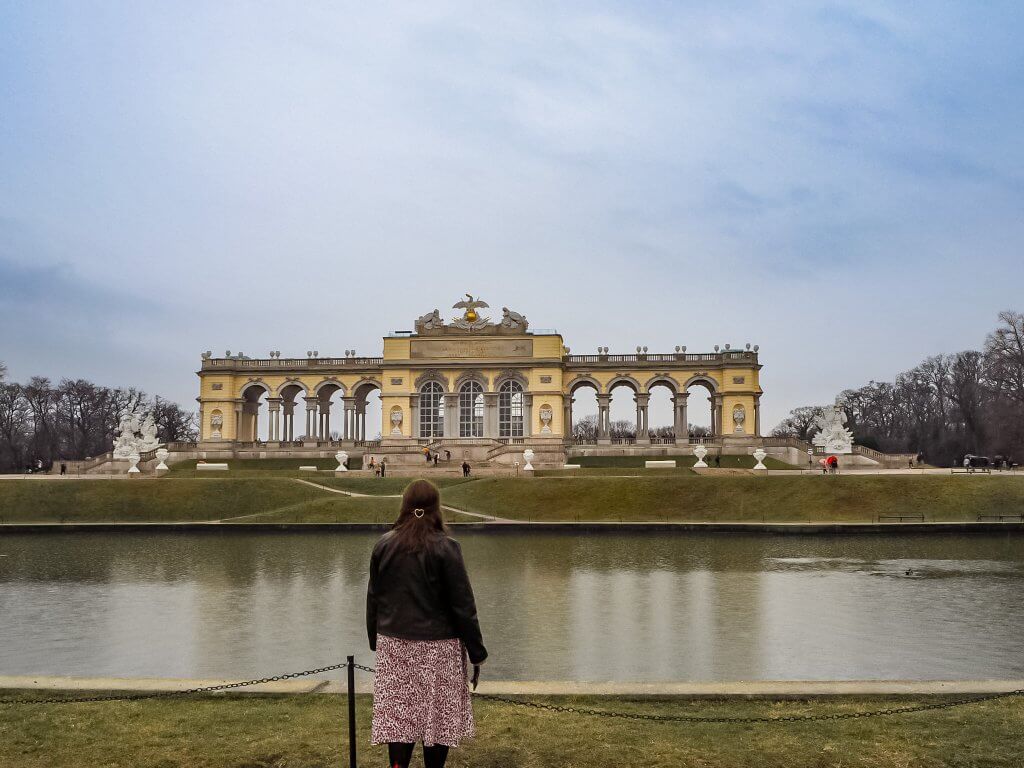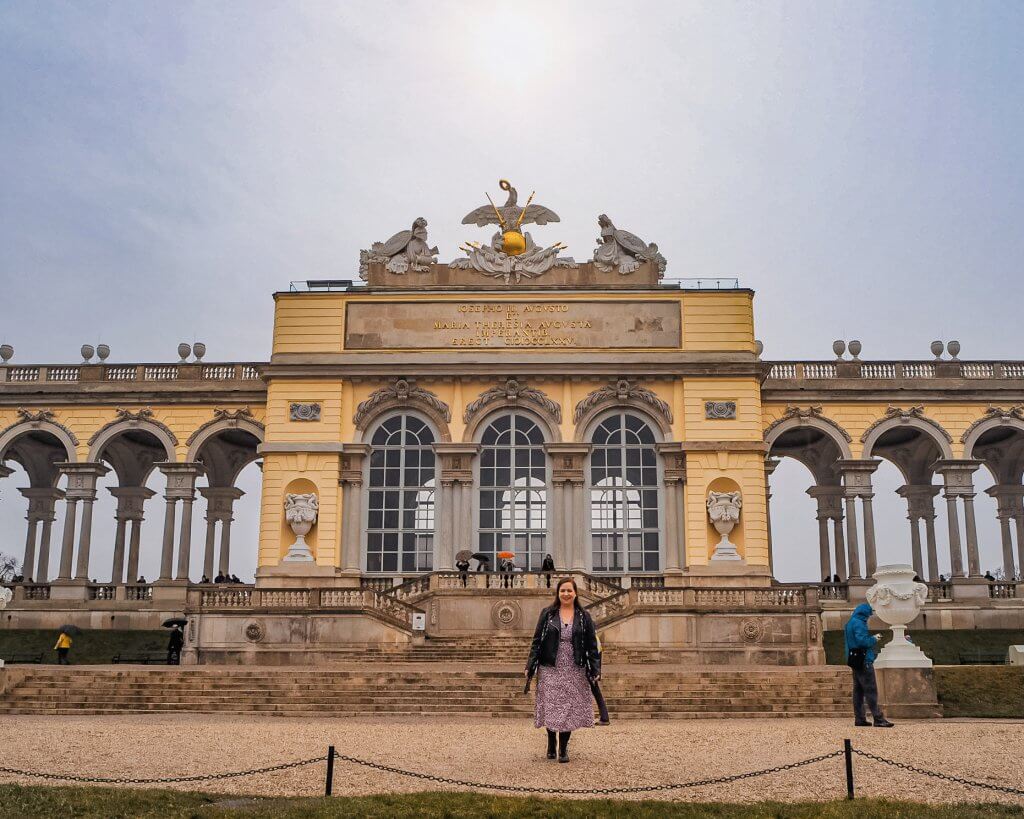 We only had a short time to explore and I knew that if I went in to see those beautiful rooms I would never leave. Interior design is my thing! Despite the incessant rain we decided to explore the gardens and Palmenhaus instead. Probably not the best idea considering how wet we got and that we were meeting friends for lunch. The rain did make it difficult to appreciate these gardens and I can only imagine how beautiful they are in full bloom in the Summertime.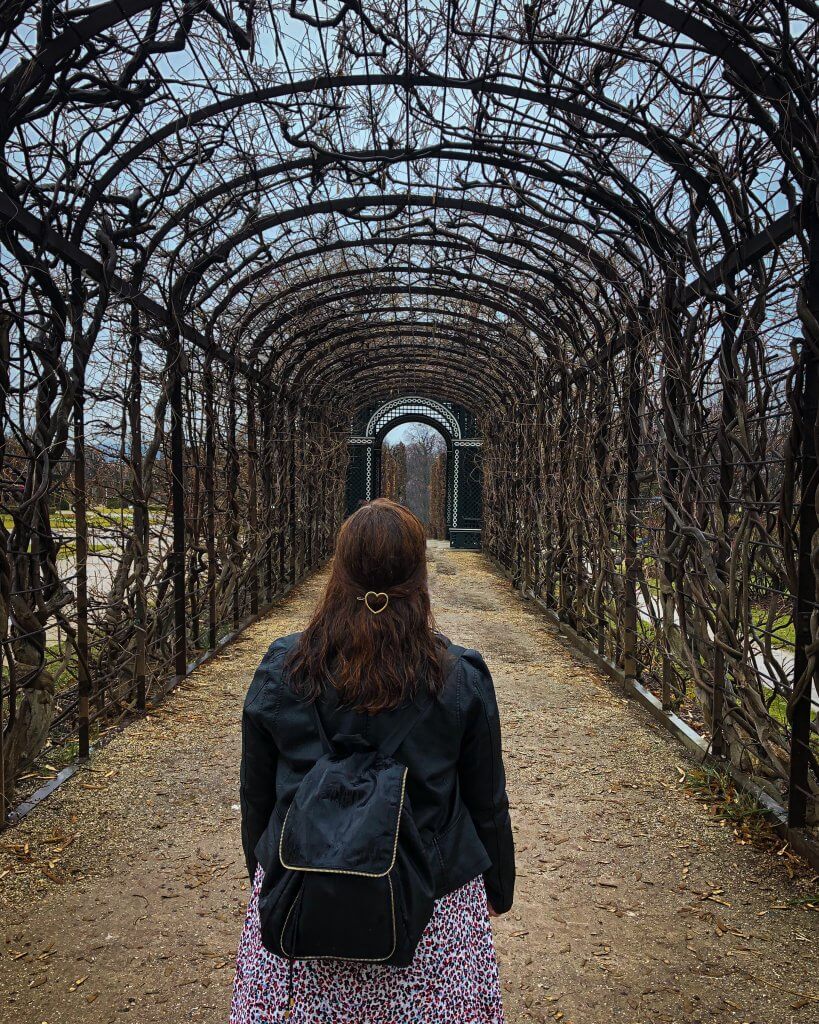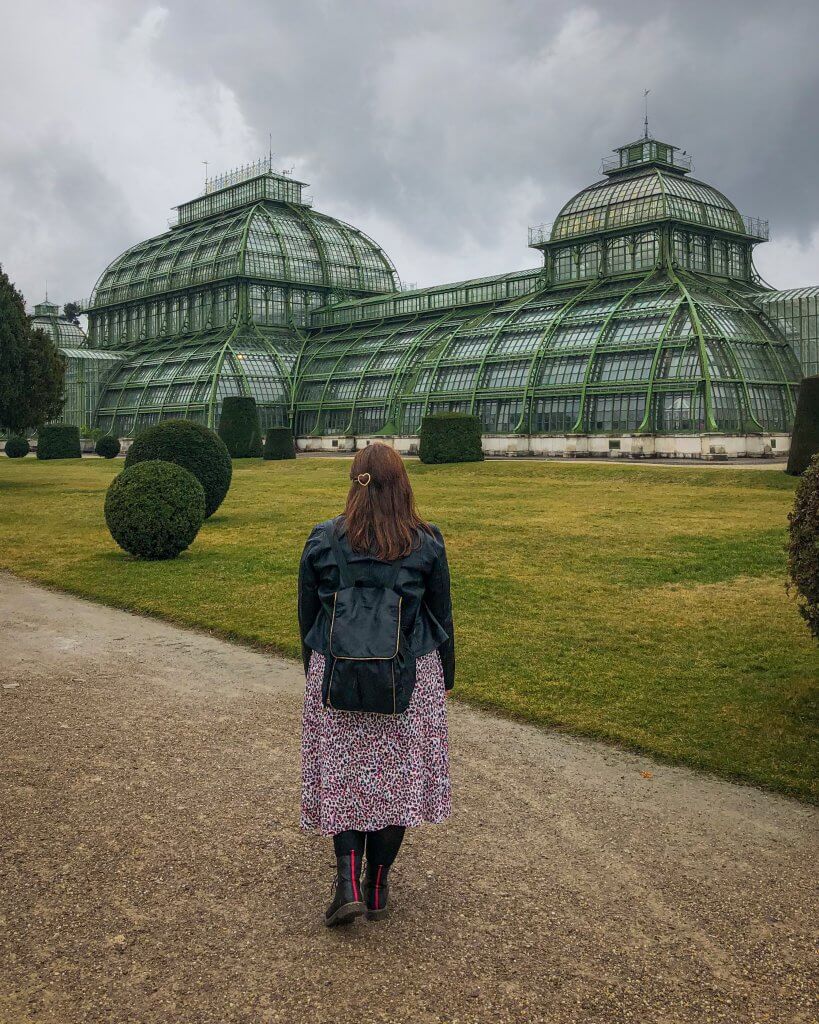 So we hope you liked our ultimate guide to spending 3 days in Vienna. This list is by no means exhaustive and you could come back to Vienna with another list of things to do but these were our favourites. Vienna really surprised us by how much we fell in love with this city and we know that we will most definitely be back. I can only imagine how beautiful the Christmas Markets in Vienna are.
Hopefully next time we will have more time so that we can take it at a slightly slower pace. We still get raised eyebrows when we mention our 60,000 steps in one day but two different step counters don't lie.
*Disclaimer: we worked with Vienna Tourist Board during our stay in Vienna and had complimentary accommodation in 25Hours Hotels. We are however not obliged to say that we loved it, we genuinely did, and all thoughts and opinions are our own
Are you new here? Join thousands of other happy readers and subscribe to All about RosaLilla blog via email. The good news is that by signing up via email you will get exclusive travel deals straight to your inbox. The only other place that we publish these deals is on Instagram stories, so be sure to signup to get the heads up on amazing travel deals to save you money when booking.
I also share everything about myself on Instagram with nothing held back so be sure to follow along there.
If you loved this you might also like:
The best Instagram spots in Warsaw
10 Reasons why Vilnius should be your next city break
10 Reasons to travel to Bath, UK
The ultimate 2 day Dublin itinerary
Until next time you crazy kids!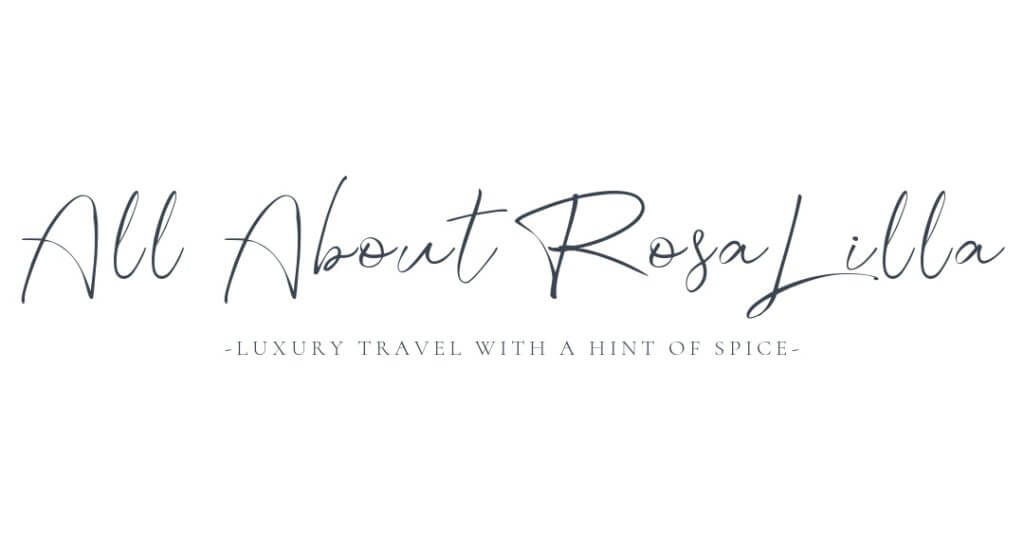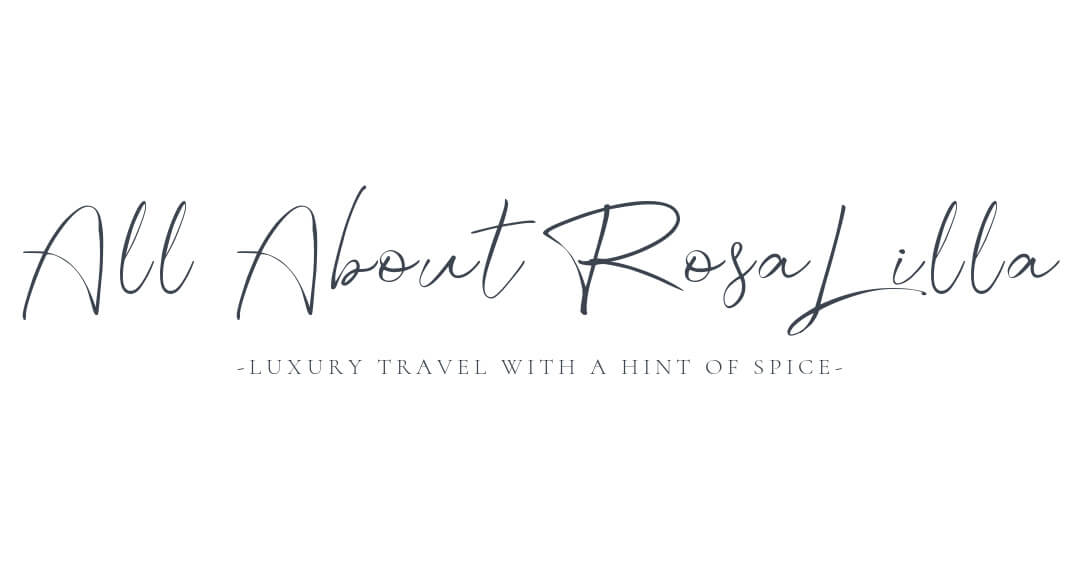 Want to visit all the places I did? You can follow my own customised Google Map.
Sharing is sexy!