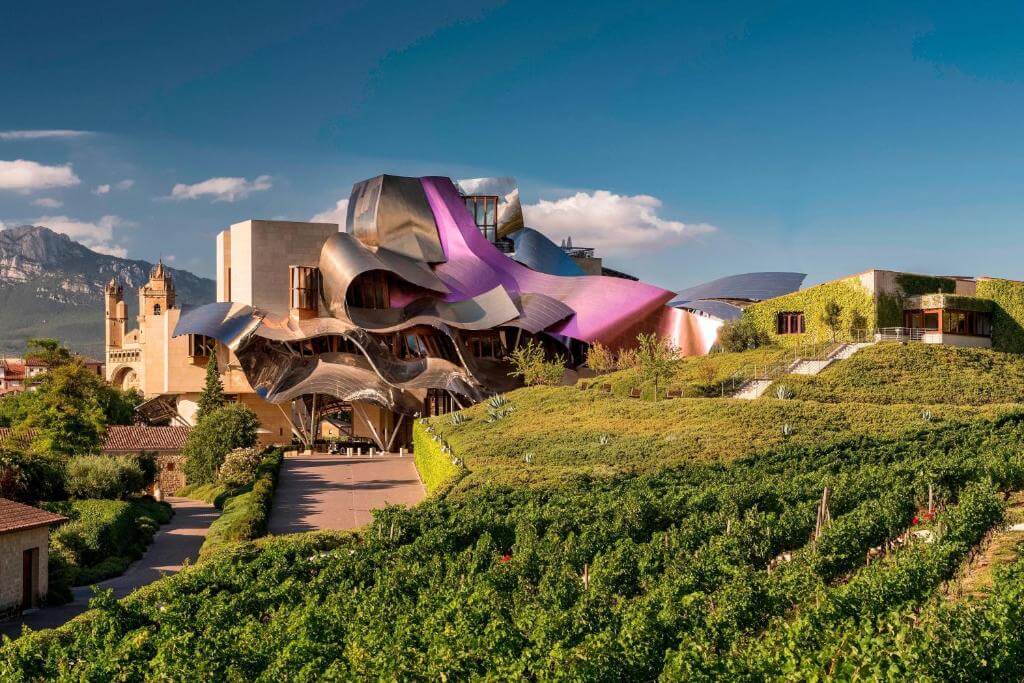 There are a lot of things to do in Basque Country such as exploring the Guggenheim Museum in Bilbao, savouring delicious pintxos in San Sebastián's old town or venturing out to discover some of its hidden gems such as the breathtaking San Juan de Gaztelugatxe. The cities are packed with tapas bars and locals speak Euskera, a language unlike any you've heard before. It is an incredible part of the world to explore and we are here to help you find the best places to visit in Basque Country in Spain.
From the grandeur of its mountains to its breathtaking coastline, which is well-known among surfers, the Basque Country is renowned for its breathtaking natural scenery. There are numerous places in this region of Spain where visitors will find themselves surrounded by beauty, from rivers and waterfalls to well-preserved forests. The Basque Country, which spans the border between Spain and France, is known for its rugged beauty, world-renowned cuisine, and centuries' worth of tradition, myths and legends.
You will find a rich and proud culture here. Visiting Basque Country is a fantastic opportunity to immerse yourself in their culture and way of life. If you are not sure where to start or you don't want to miss the best places in Basque Country be sure to follow our list of top Basque Country destinations.
Bilbao
You would be forgiven for thinking that Bilbao is the capital of Basque Country. It is the largest and the own most renowned city of Basque Country but it does not hold the title of capital. That accolade goes to Vitoria-Gasteiz, but more on that later.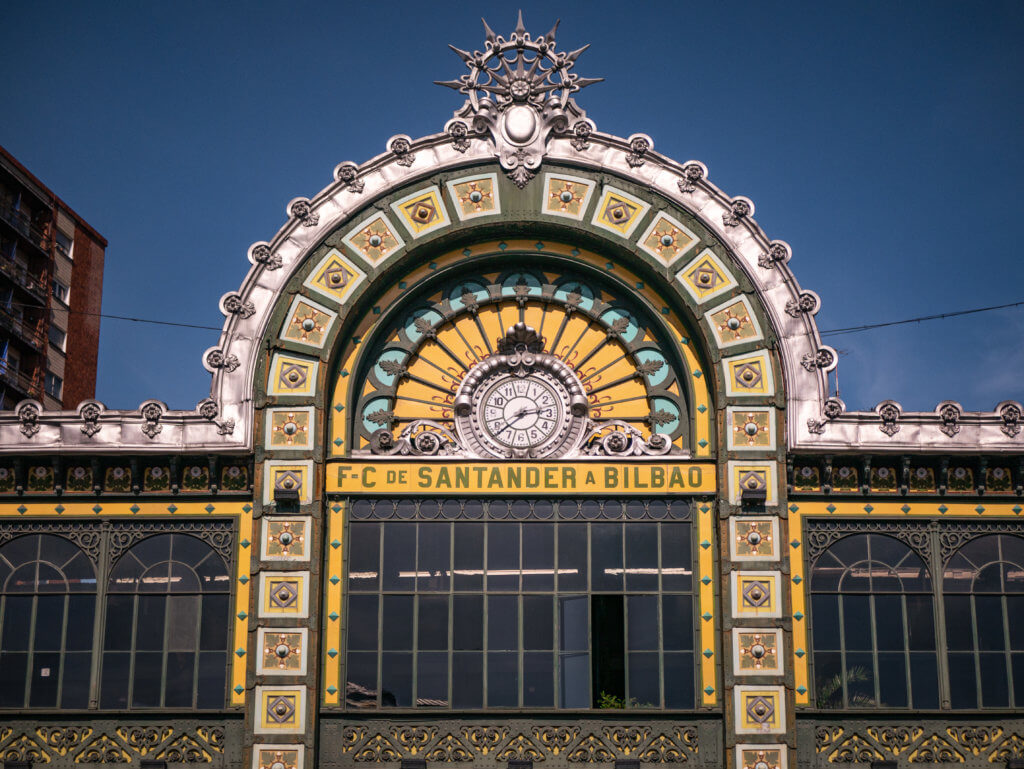 Bilbao is located on the coast and the city is surrounded by rolling green hills. It is the most cosmopolitan of the cities in the region and it is constantly evolving while still managing to retain its heritage. It was originally an industrial city due to its location on the coast and iron ore mining. It prospered on steel production, ship building and banking. The city had turned into a gray smokestack by the 1970s, and a severe economic downturn had already begun. Something needed to change and a new plan for the city's rebirth was devised. In order to improve infrastructure and the overall growth of the city, new projects were initiated and old industrial complexes along the Nervión River were demolished.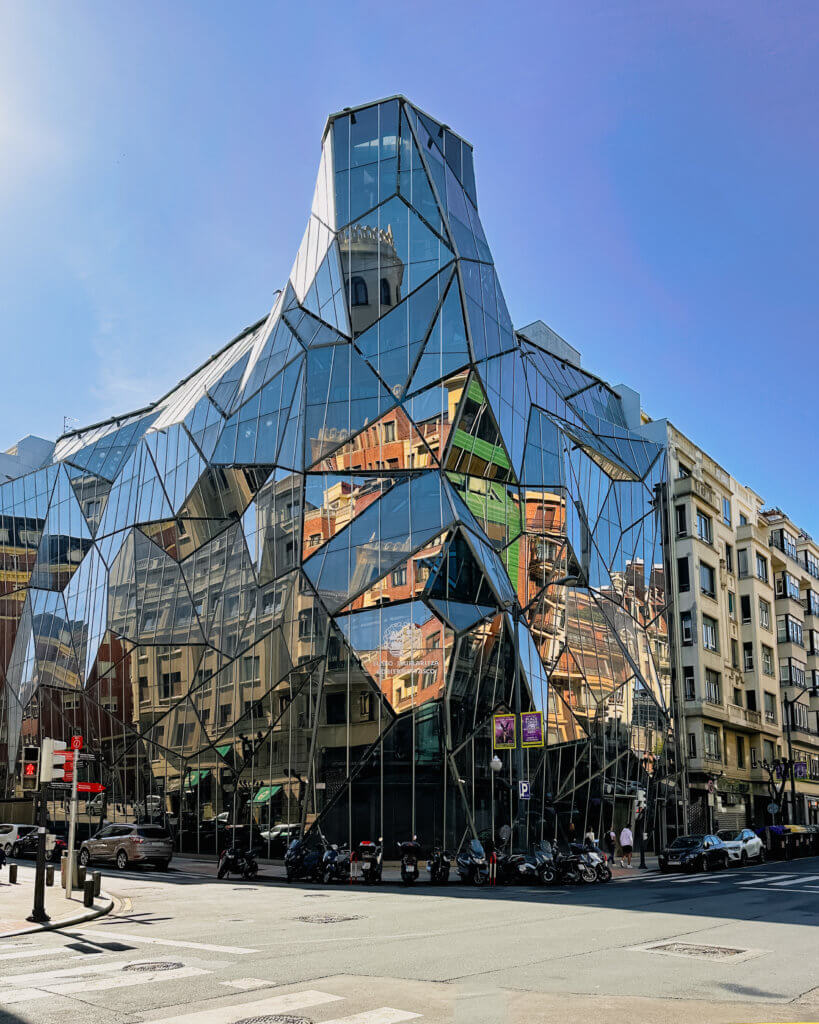 Today Bilbao is a sophisticated and vibrant city. One of the main attractions of the city is the incredible Guggenheim museum, easily recognisable by its Frank Gehry-designed futuristic exterior. It is worth taking the time to appreciate this properly from outside before you visit. The bridge next to it has great views, as does the other side of the river, and there are some impressive sculptures such as Jeff Koons Puppy and Maman by Louis Bourgeois to enjoy. However, the inside is absolutely worth a visit as well, hosting one of the best modern art collections in Spain as well as regular cultural events.
Make sure to book your skip the line Guggenheim tickets before you visit.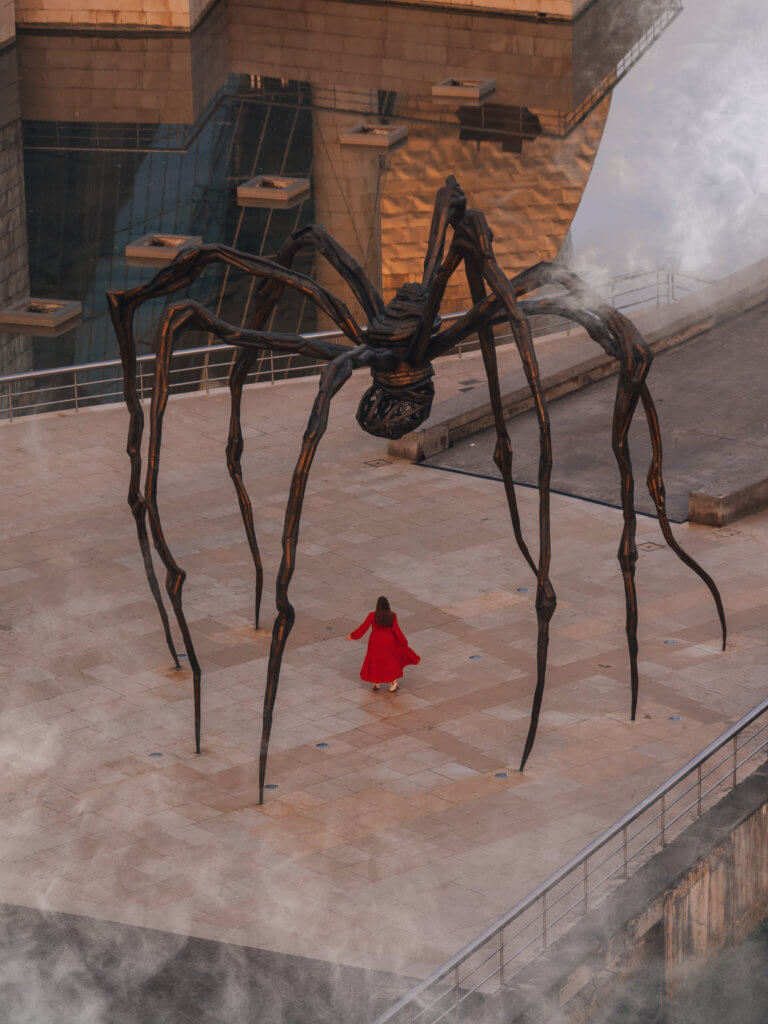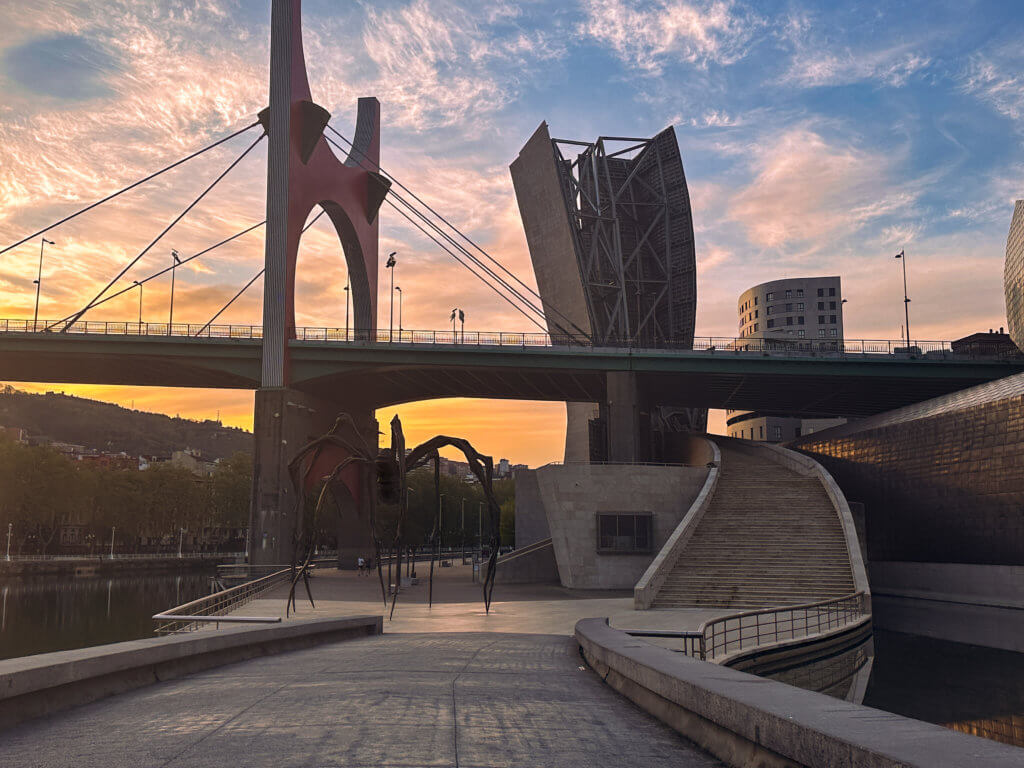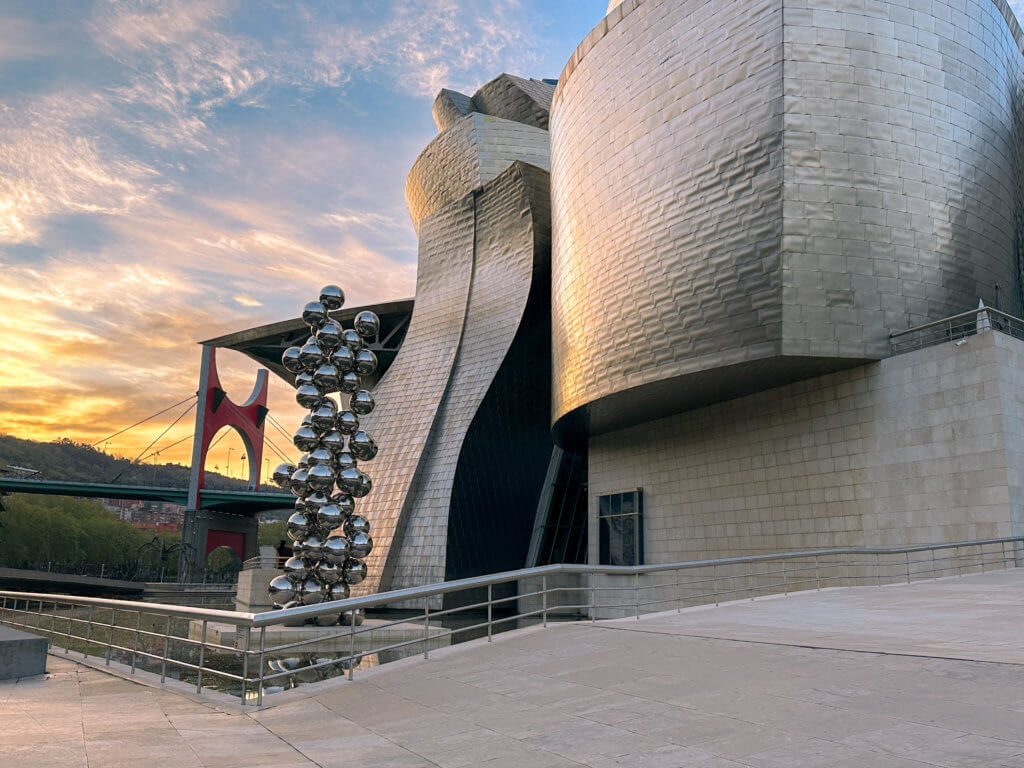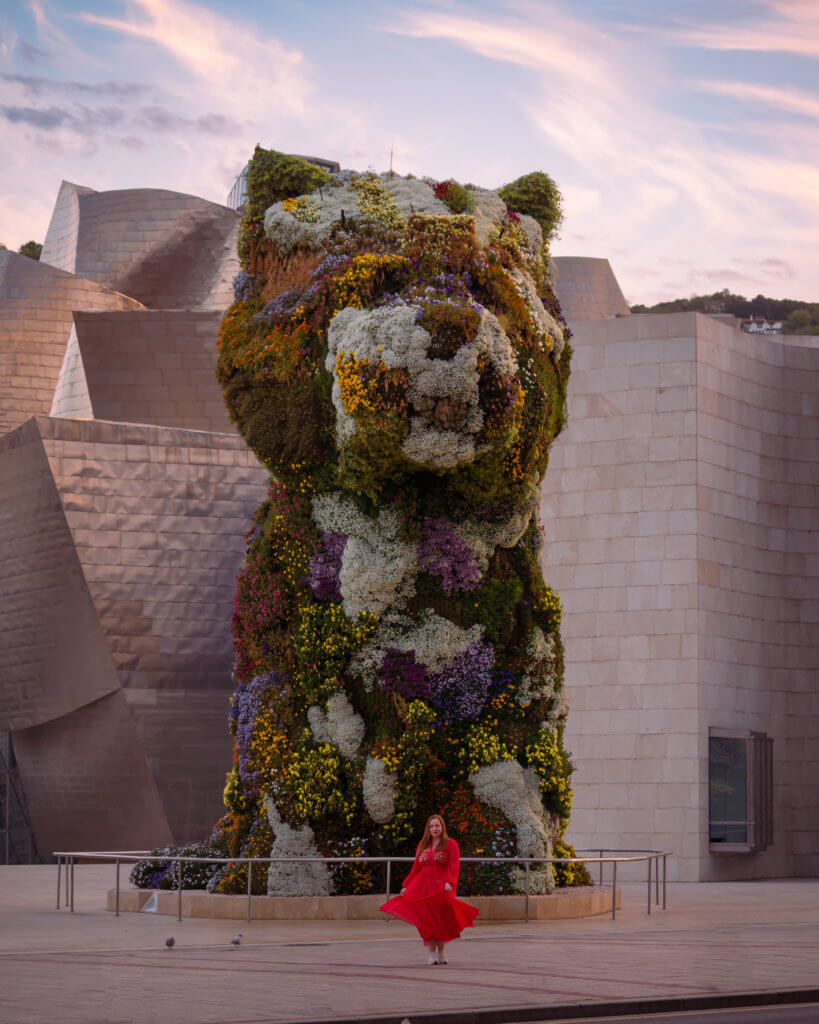 The old town of Bilbao is arguably one of the top places to visit in the Basque Country to get a true sense of the history and architectural mastery of this magnificent area of Spain. Be sure to roam the original seven streets of Bilbao, known as Las Siete Calles, which date back from the 1400s!
Bilbao is one of the best places in Basque Country to visit and has lots to offer tourists to the city. Whatever you are looking for, whether its the famous Basque gastronomy, shopping, nightlife or Basque culture you will find it here in Bilbao. Read our one day in Bilbao itinerary to help you plan your trip.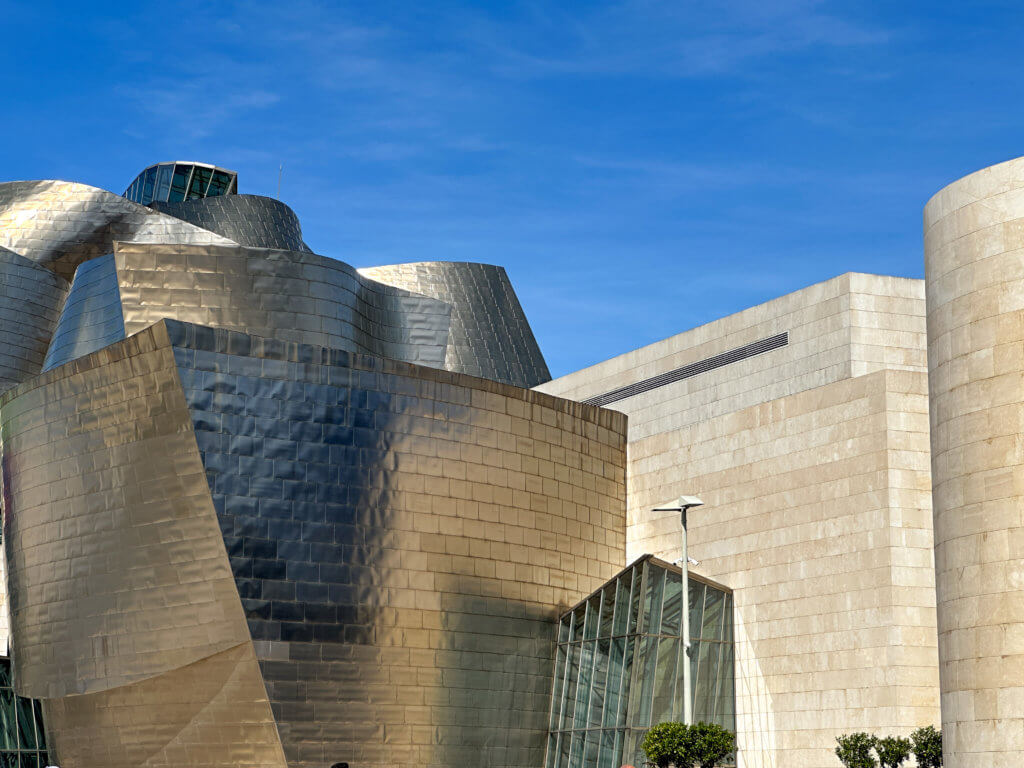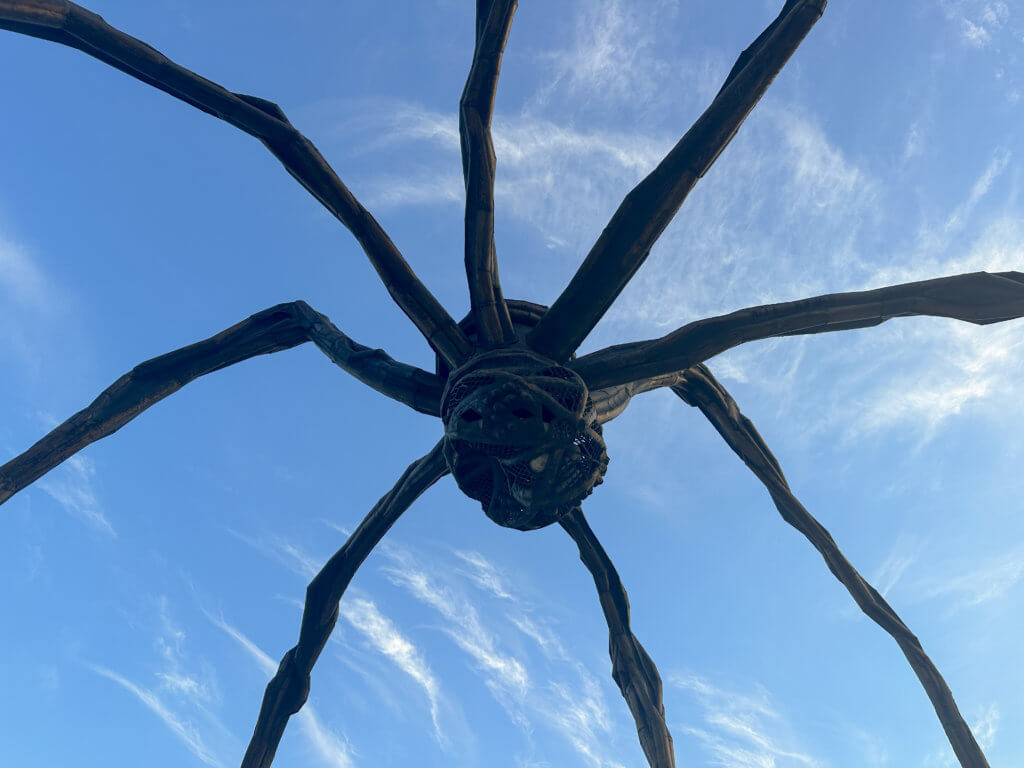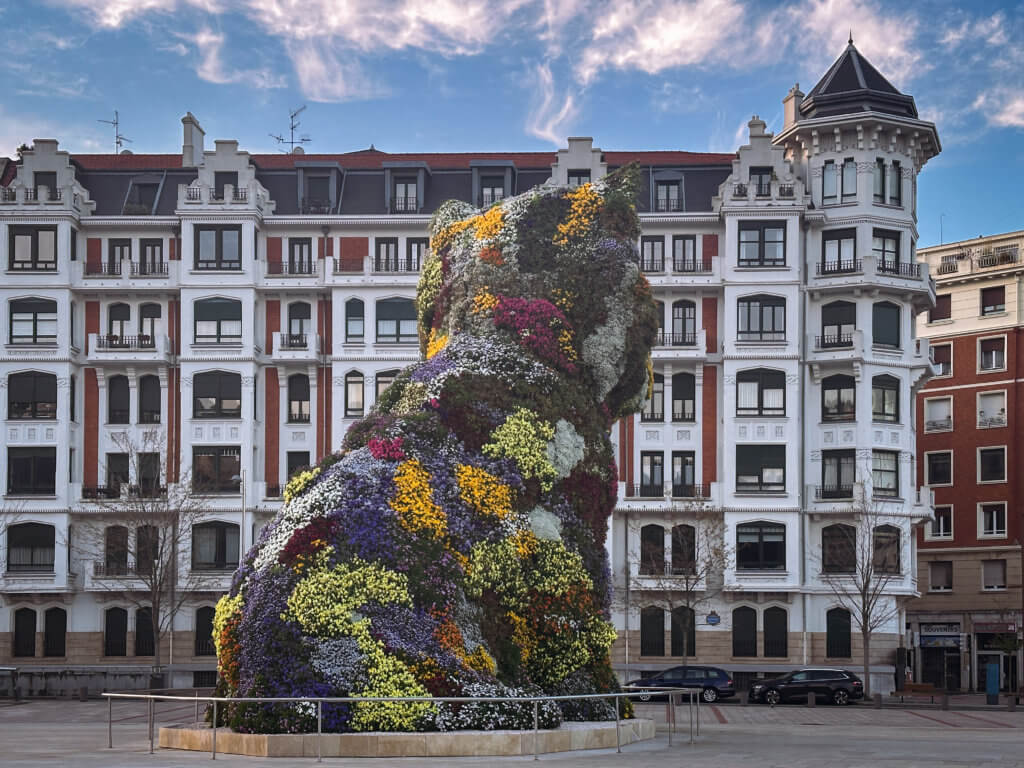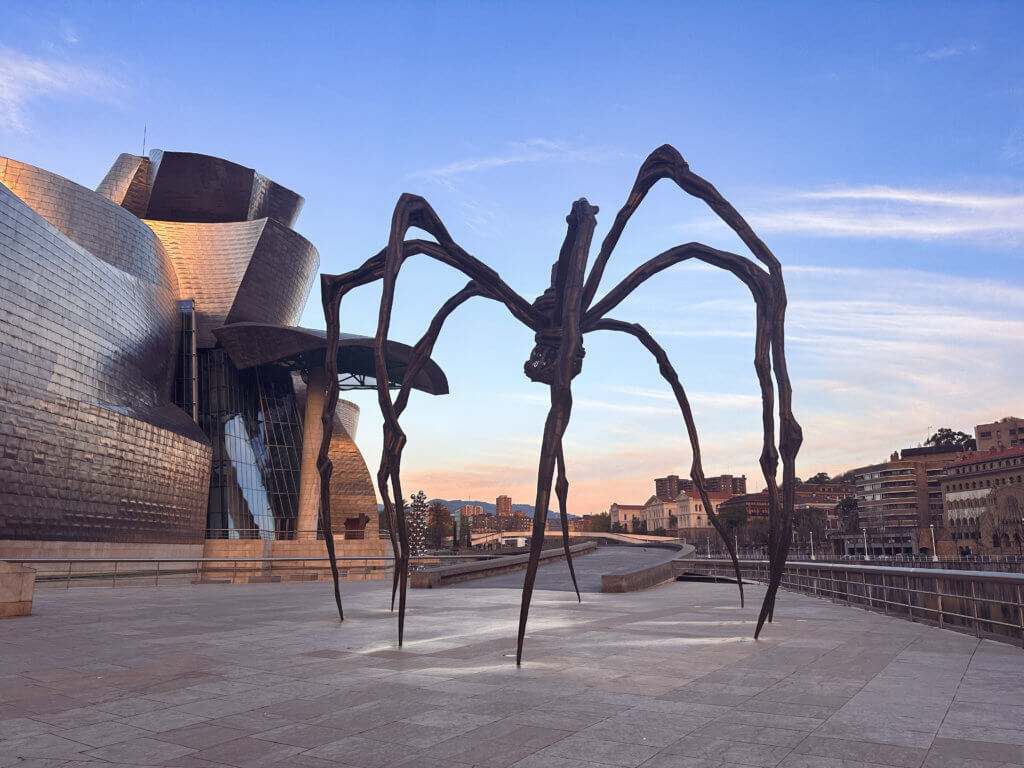 San Sebastián
San Sebastián, or Donostia as it is called in Basque, has a circular bay with pristine white sand beaches that have long attracted visitors in search of sun and sophistication. There is so much to love about this impressive city on the Cantabrian Sea from mouth-watering food, beautiful Belle Époque buildings and immaculate white sandy beaches.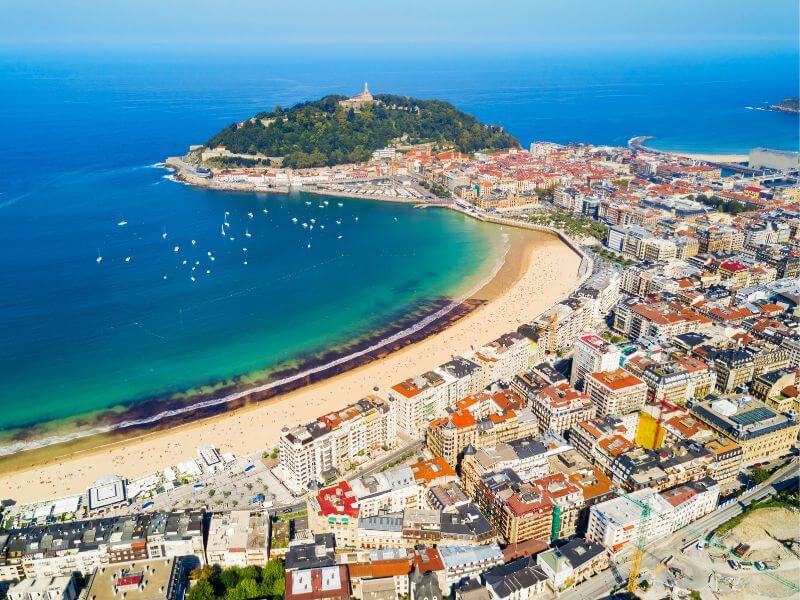 The most stunning urban beach in Europe, La Concha, is studded with opulent beachfront houses and the well-known spa, La Perla (The Pearl). Its boardwalk is lined by an ornate white railing that has become a symbol of the city. Ondarreta and Zurriola are two other, more laid-back, beaches in the city. Zurriola has become a favourite spot of surfers in the area.
We recommend doing a boat tour of the bay with a stop in Santa Clara island.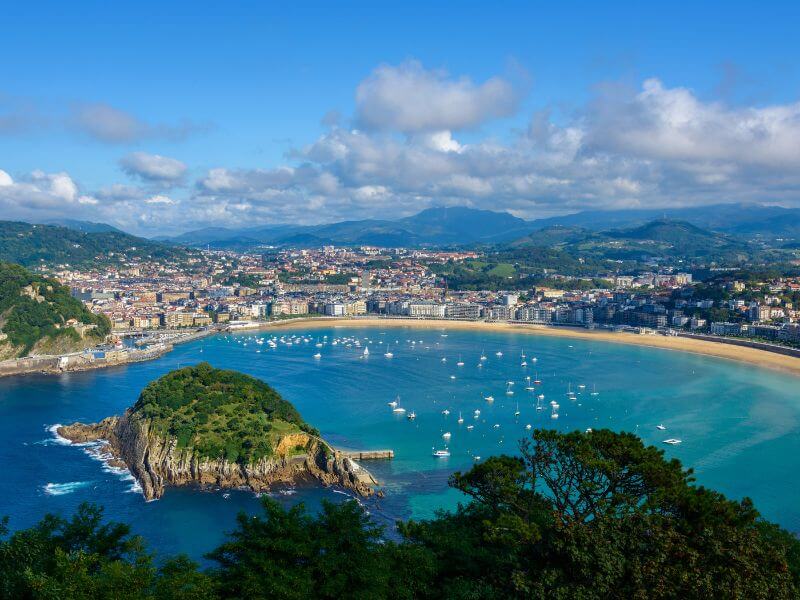 Perhaps what San Sebastián is best known for is its gastronomy. People visit from all over the world to try the cuisine there and the city has 14 Michelin stars spread across 6 restaurants. The city is also famous for its pintxos. The (informal) rule is one pintxo and one drink in each restaurant so you get to try as varied a menu as possible. A great way to enjoy the gastronomy of this fabulous city is by taking a guided food tour with pintxos and wine or if you really want to know what the locals eat take an authentic Basque cooking class.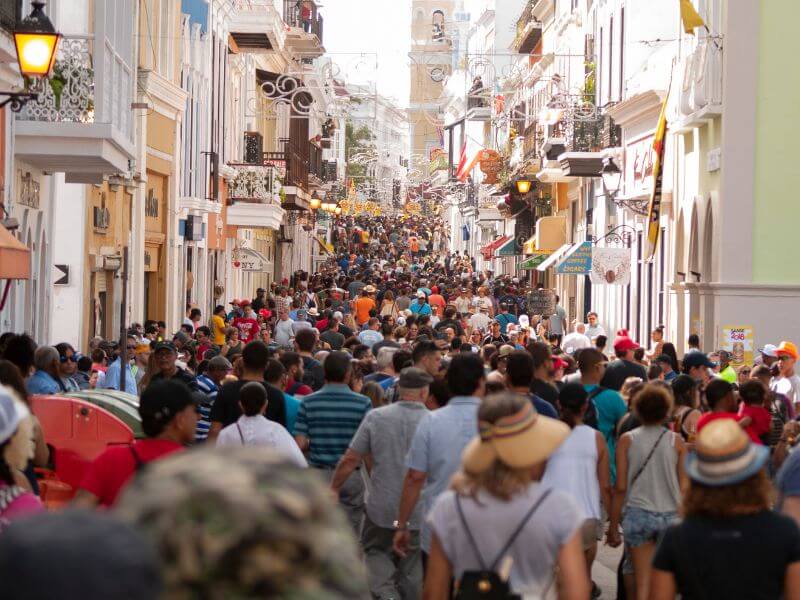 The best place to go to try some of them is La Parte Vieja (Old Part). This charming old city centre is famous for having the highest concentration of bars in the world and you are guaranteed to find incredible food there. From pintxos bars like La Cuchara de San Telmo to Michelin-starred wonders such as Arzak, it's easy to see why the city is considered Europe's best city for foodies.
Be sure to also check out San Telmo museum located in the Old Town at the foot of Mount Urgull. It was established in 1902, meaning it is the oldest museum in Basque Country. It is dedicated to Basque culture and history, providing visitors with a deeper insight into present day Basque society. It is one of the best places to visit in Basque Country.
Vitoria-Gasteiz
Vitoria-Gasteiz is the capital of the Basque Country and it is a must see city when visiting Spanish Basque Country. While it is not the biggest city in the autonomous region, there is a lot to learn about the Basque culture, language, and history in the city. Not only is it home to the Basque Parliament, but the city also offers one of the best preserved medieval old towns in Europe.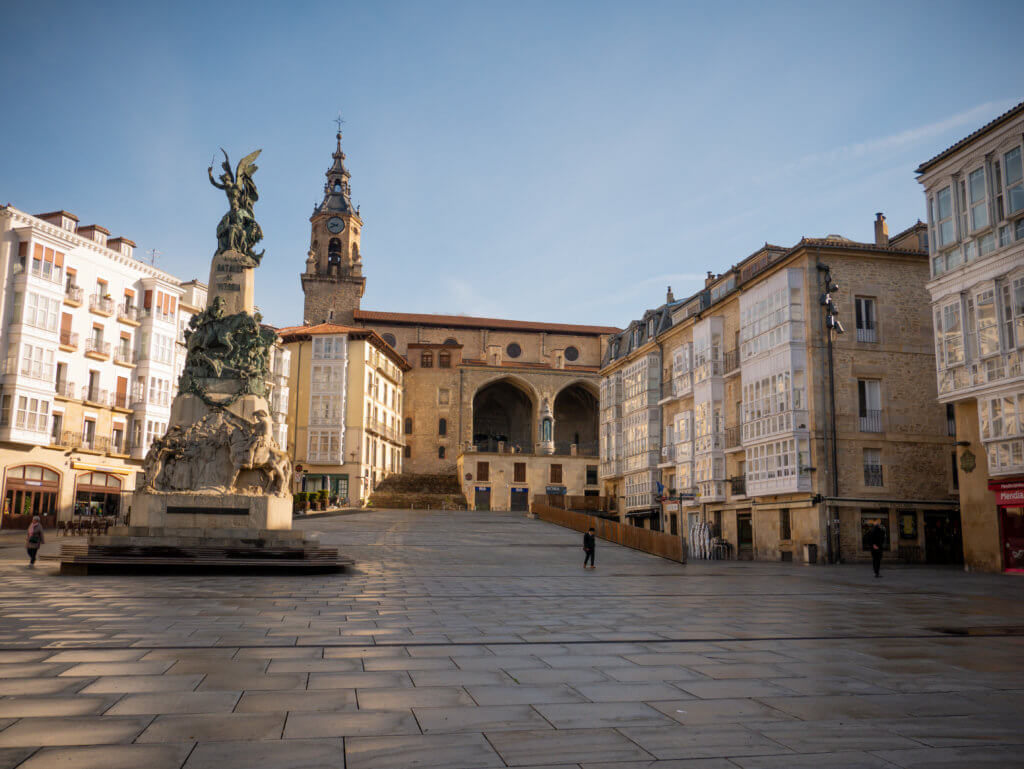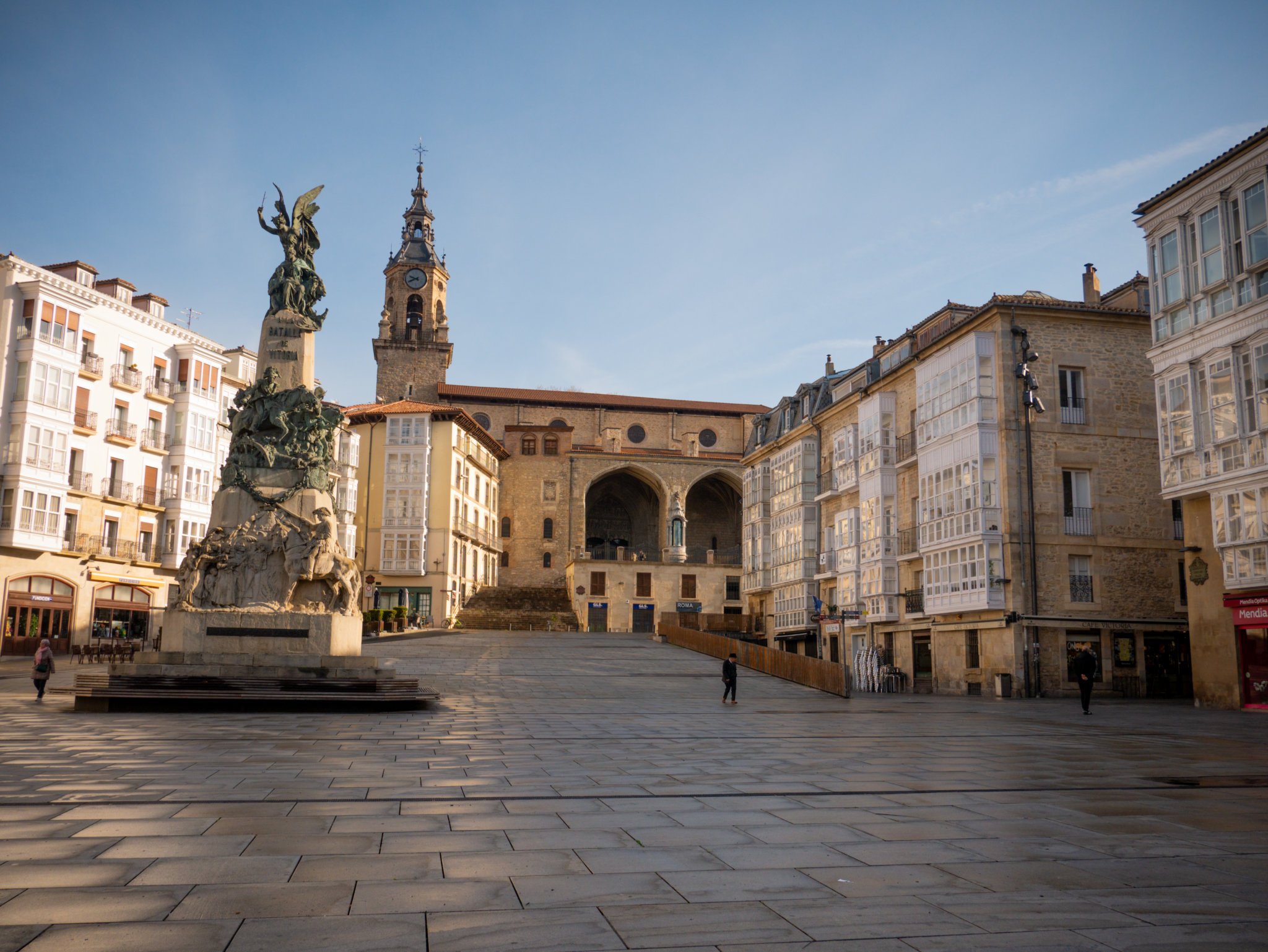 Vitoria-Gasteiz is perhaps the most modest of all the Basque cities. It doesn't have a beautiful beach like San Sebastián, or the Guggenheim Museum like Bilbao and therefore is often overlooked by visitors to Basque Country. But don't be so quick to skip it. There are many things that make Vitoria-Gasteiz unique and worth visiting.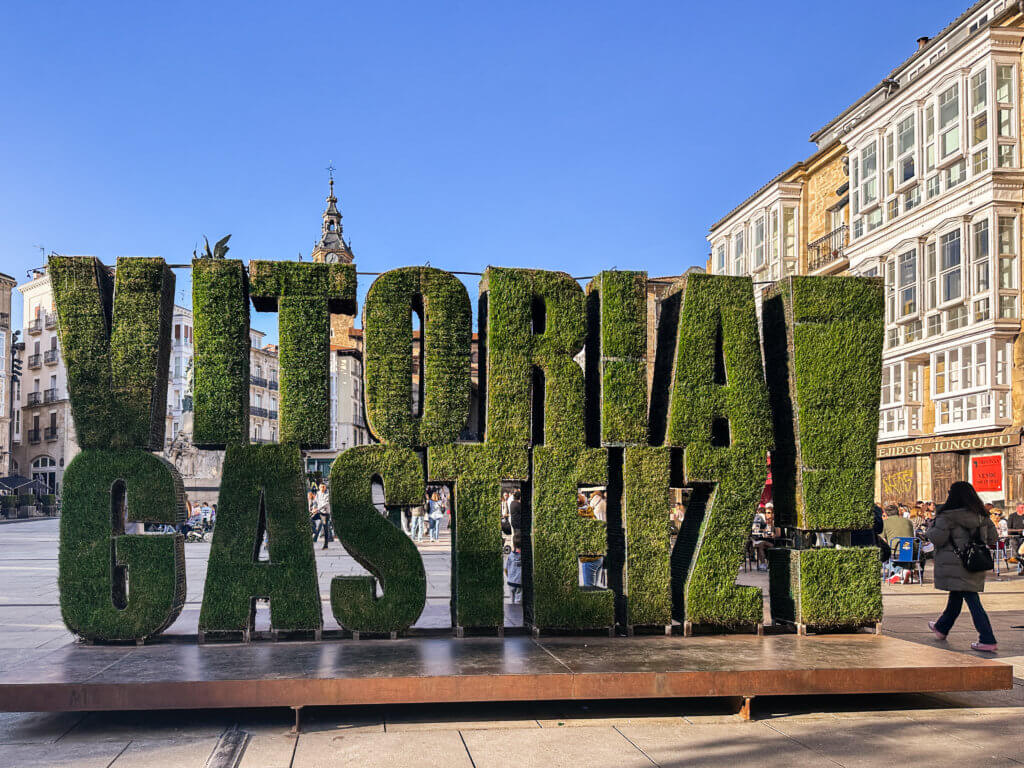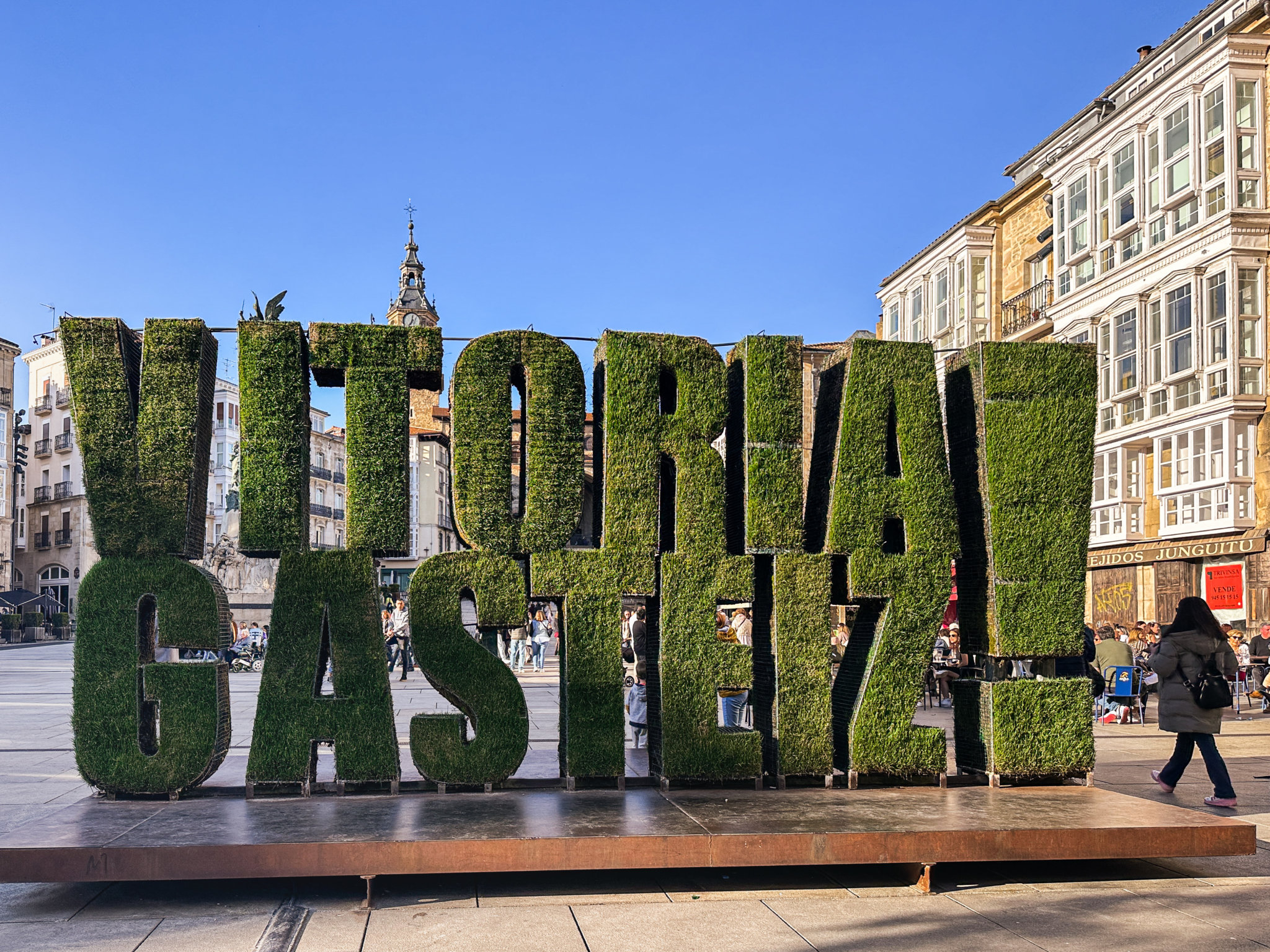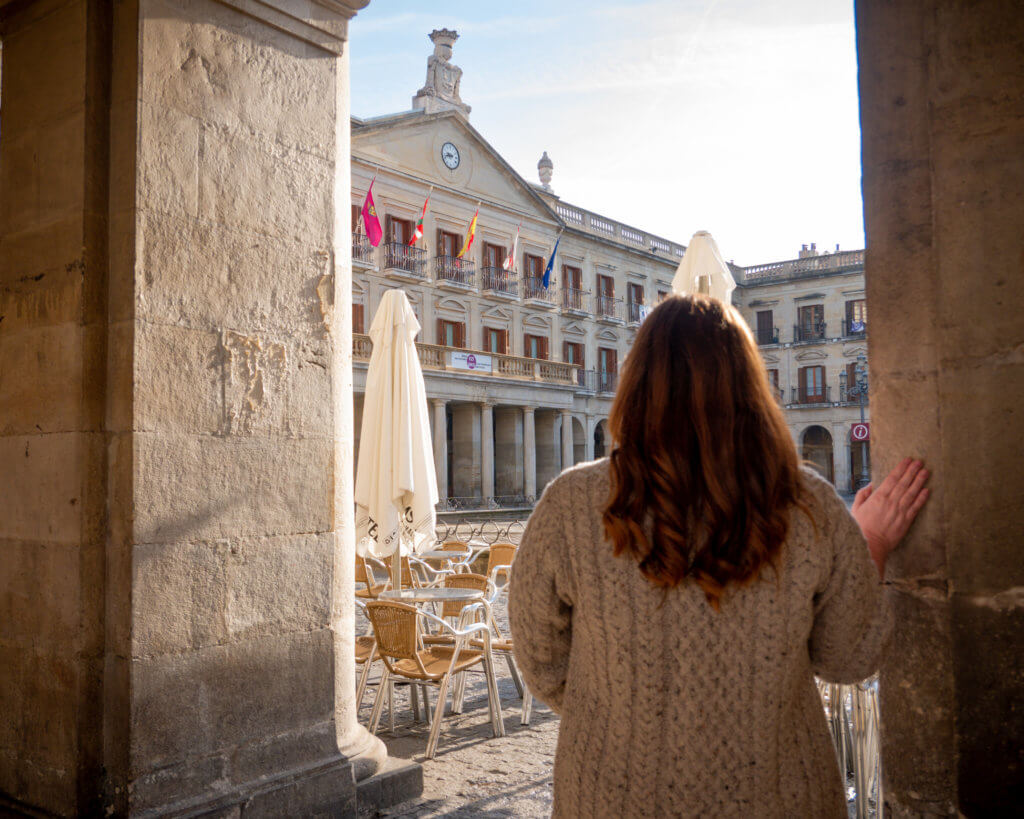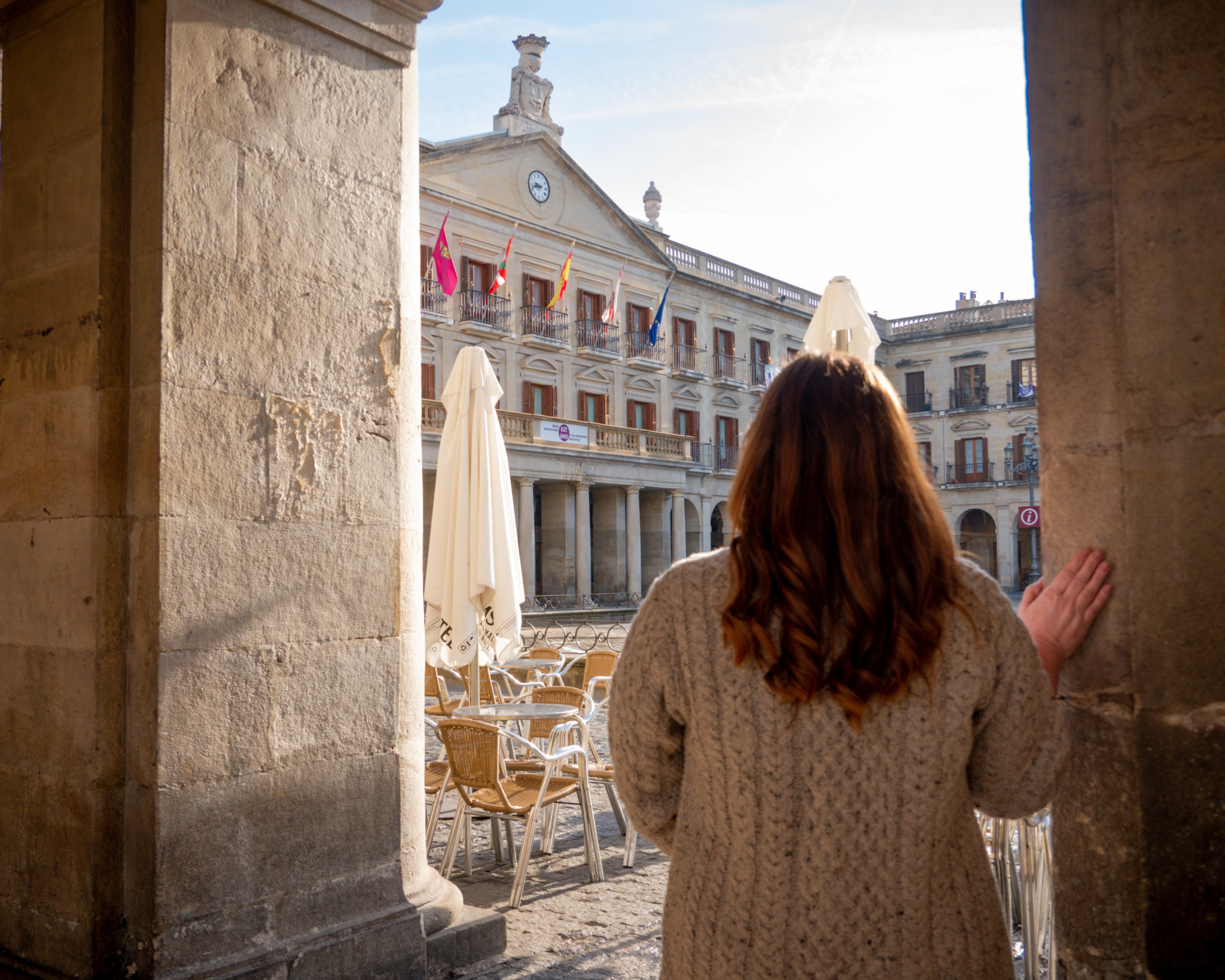 The city has preserved its magnificent medieval centre (Casco Viejo), which can be easily identified by its outline that resembles the shape of an almond. Santa Maria Cathedral is a spectacular 13th century Gothic building located in this neighborhood with an incredible, immersive, virtual reality experience that was one of our favourite things to do in Vitoria.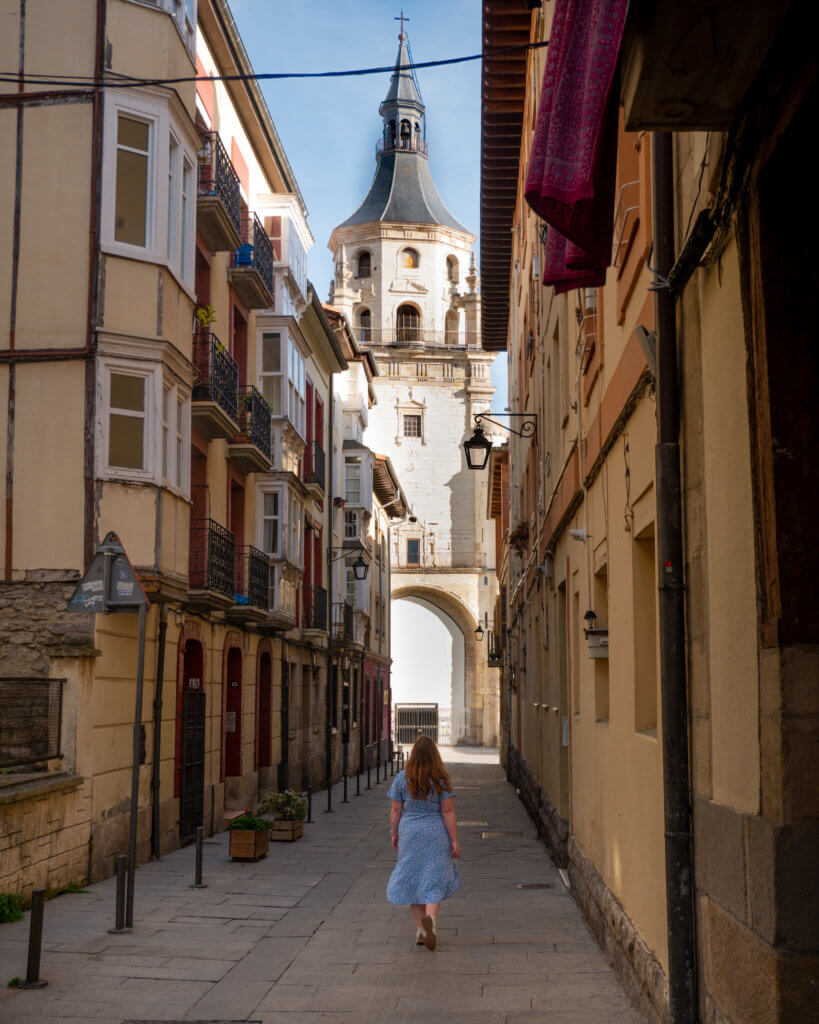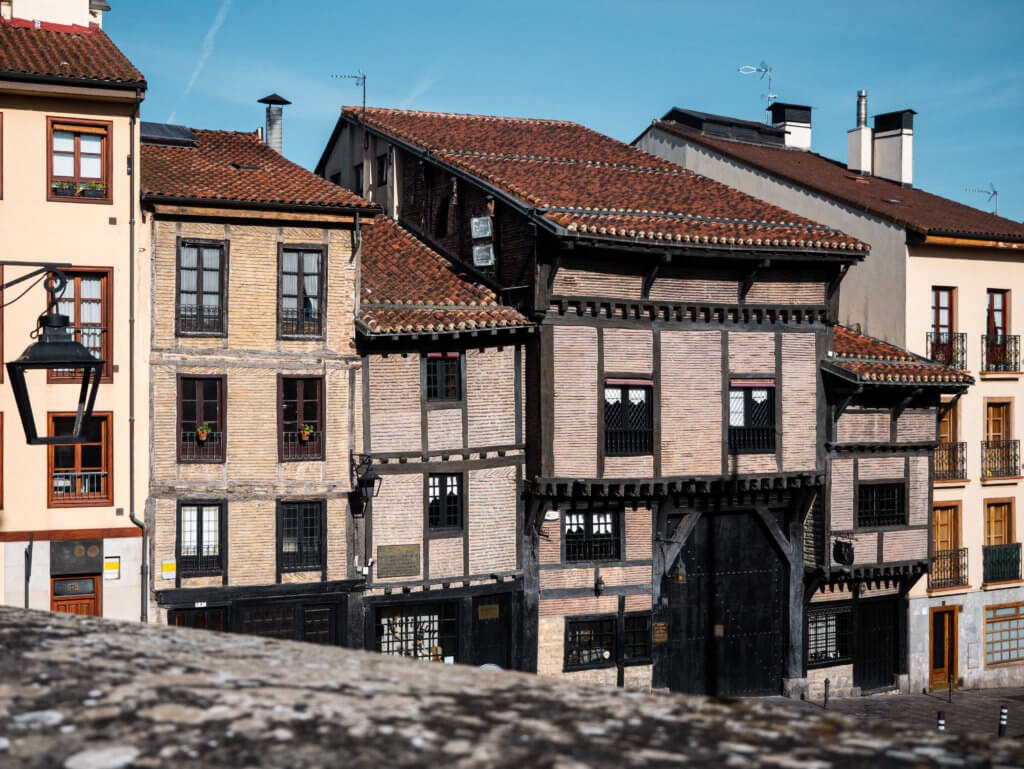 You could easily spend an entire day munching your way through the lively tiny bars on the bustling Calle Cuchillera or "Kuxti" as it is known locally. One of Spain's greenest cities, Vitoria-Gasteiz even had the title of European Green Capital in 2012. If you are looking for a great hotel to stay in then we highly recommend Nirea Hotel. It is located in a centenary building in one of the main streets of the city centre. It is the perfect base for exploring Vitoria-Gasteiz on foot. The rooms are so relaxing and you can completely disconnect and rest after a busy day exploring the city.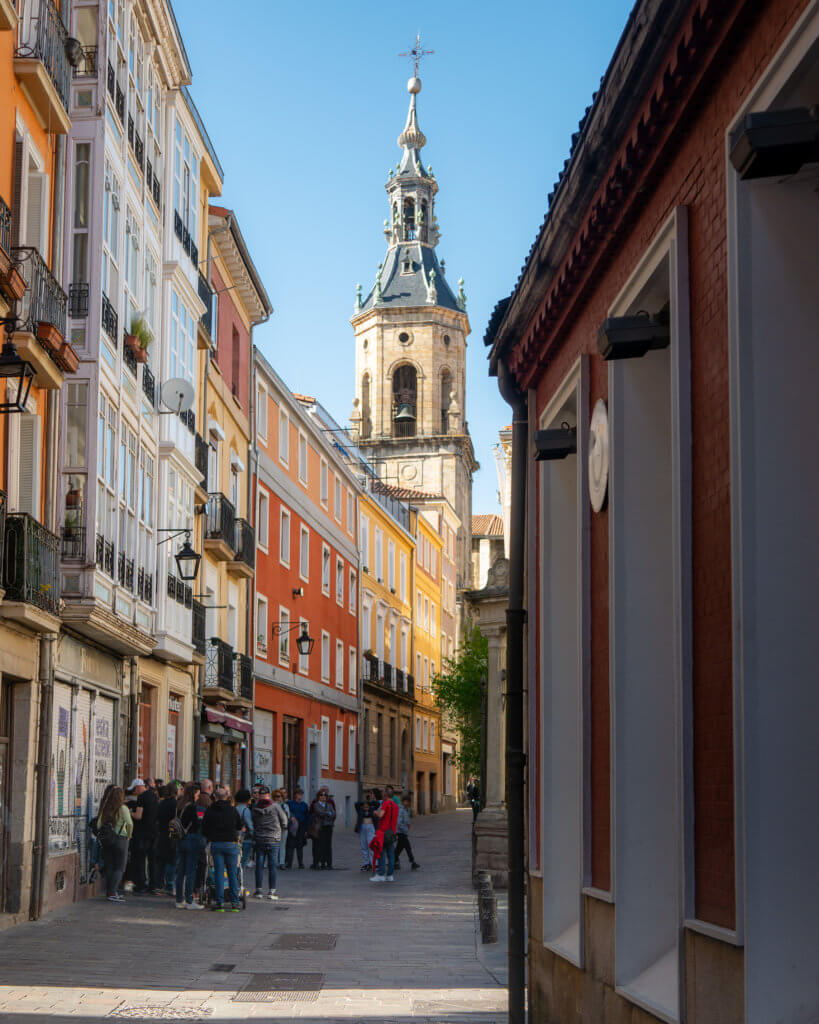 Check out our blog on the best things to do in Vitoria-Gasteiz to fully help you plan your time there.
San Juan de Gaztelugatxe
San Juan de Gaztelugatxe is a magical islet located along one of the most scenic roads only an hours drive from Bilbao. It recently came to the attention of tourists as it was used as a Game of Thrones filming location for Dragonstone in the show. As a result it has become a popular spot to visit by tourists and fans of the show. Aim to get there early to ensure some crowd-free shots and an easier trek down the path.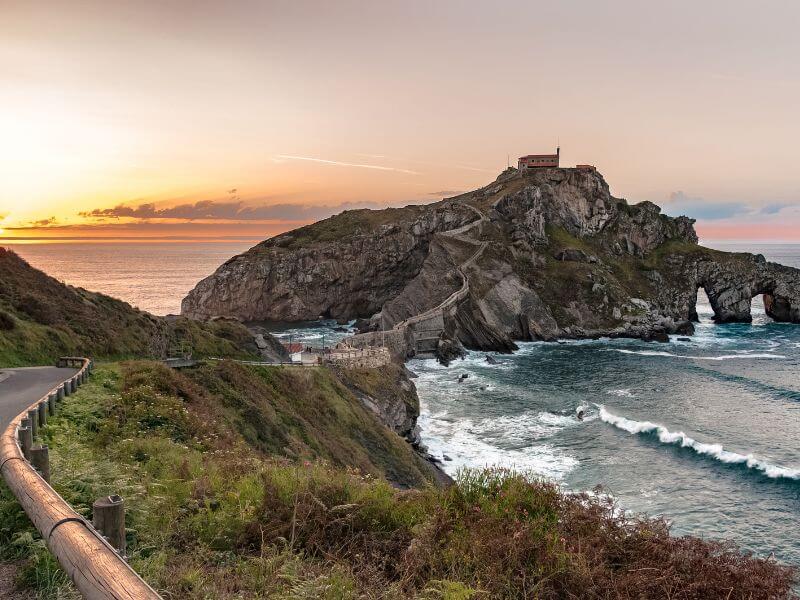 The hike begins in the seaside town of Bakio and from there you will follow the gently sloped track up to the top of the cliff, catching glimpses of Gaztelugatxe as you go. Once you reach the car park at the top it's just another half an hour down to the base of the cliff and the bridge across to the famous "Dragonstone". You could skip the hike from Bakio and drive straight to the car park, if you prefer, but you would be missing out! It's really not difficult and the views are out of this world.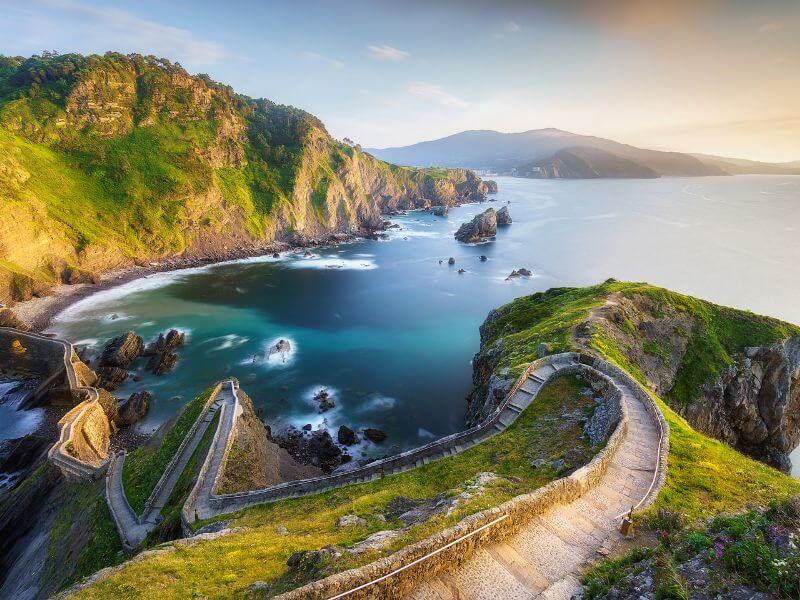 Take some time at the bottom to watch the waves crash against the black rocks. This is the best place for a picture of the winding path up to the top of Gaztelugatxe.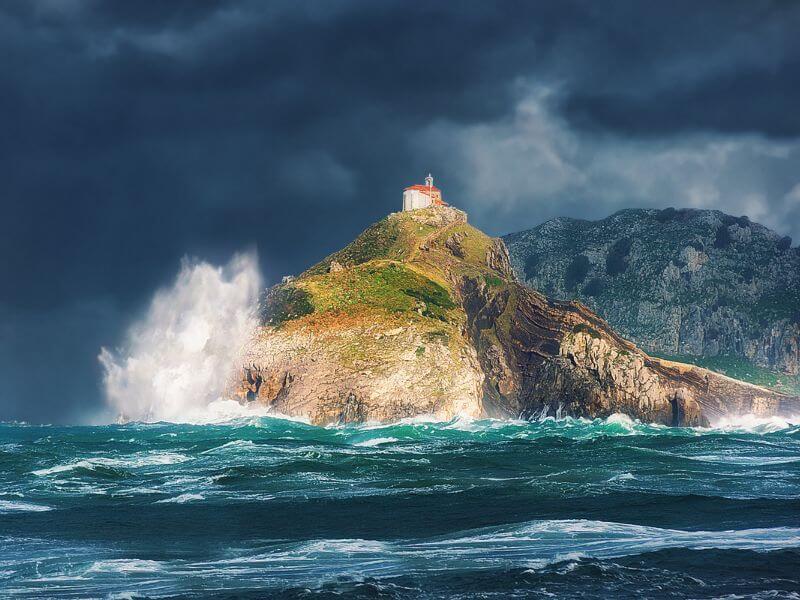 Finally, climb the 240 stone steps to the small chapel at the top and take in the amazing views across the Bay of Biscay. The chapel has been destroyed and rebuilt several times due to fires, looting and the unforgiving Basque weather which just makes it feel even more like a fairytale. The story goes that ringing the church bell three times will bring you luck. Whether that is true or not it is such a unique place to visit in Basque Country.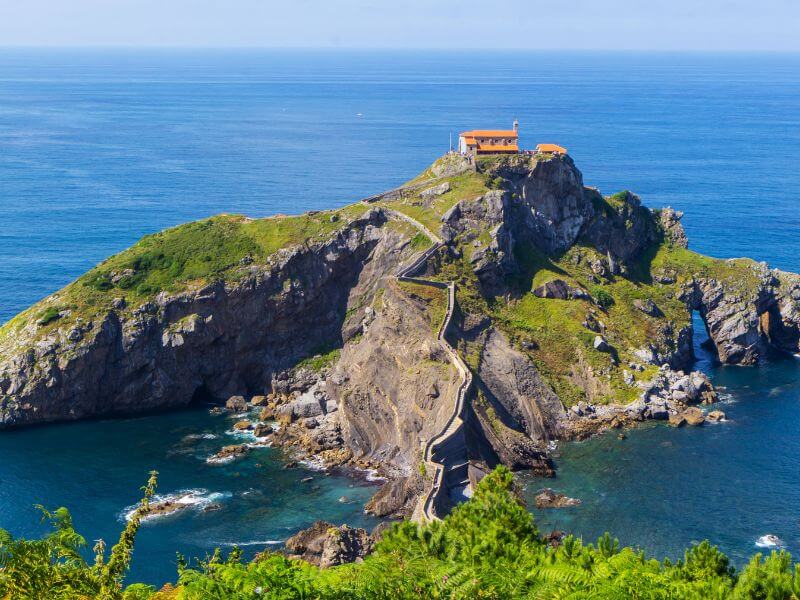 Laguardia
Laguardia is a beautiful walled town in Basque Country located on a hill in the middle of a valley. It is a picture perfect town surrounded on all sides by vineyards against the backdrop of the Cantabrian mountains. There you can enjoy a walk through medieval narrow streets and stop at one of the multiple bars to try some local wine and a pintxo.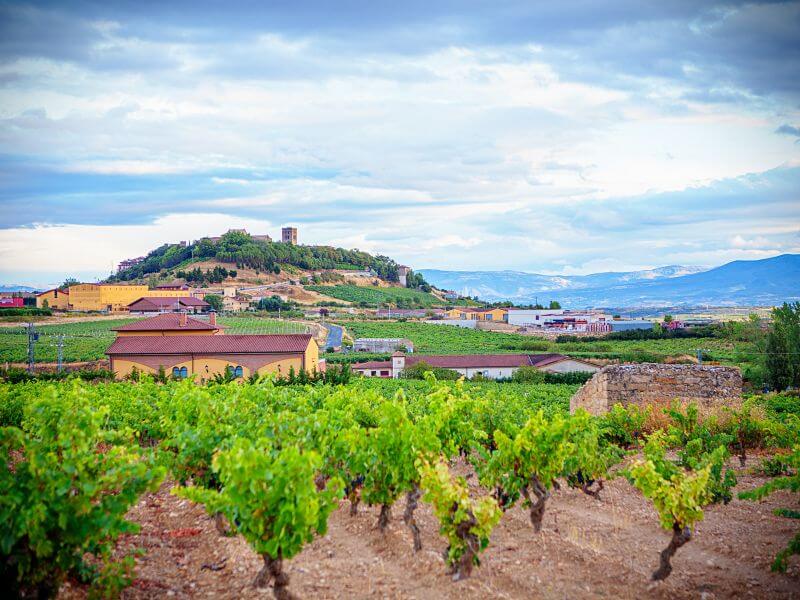 This town looks like it came right out of the pages of a fairytale and it is a must visit during your time in Basque Country. Visit one of the wine cellars under the town houses and take a tour to discover how wine has been made in this area for centuries.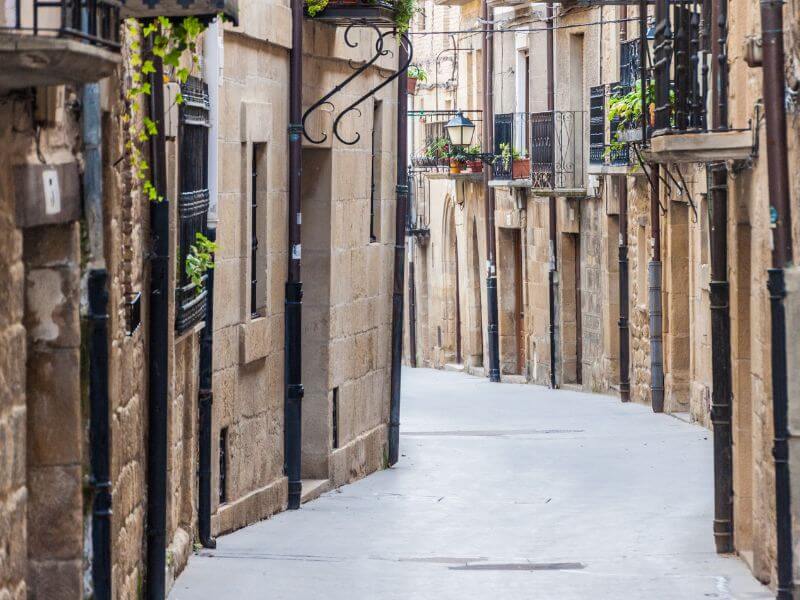 If you have the time, walk around the village, outside the wall. You will have a better view of the wall itself and find a nice quiet green area for relaxing with nice views of the surrounding vineyards. In the main square there is also an interesting pendulum clock that opens at certain times during the day and three figures come out to dance to a traditional song.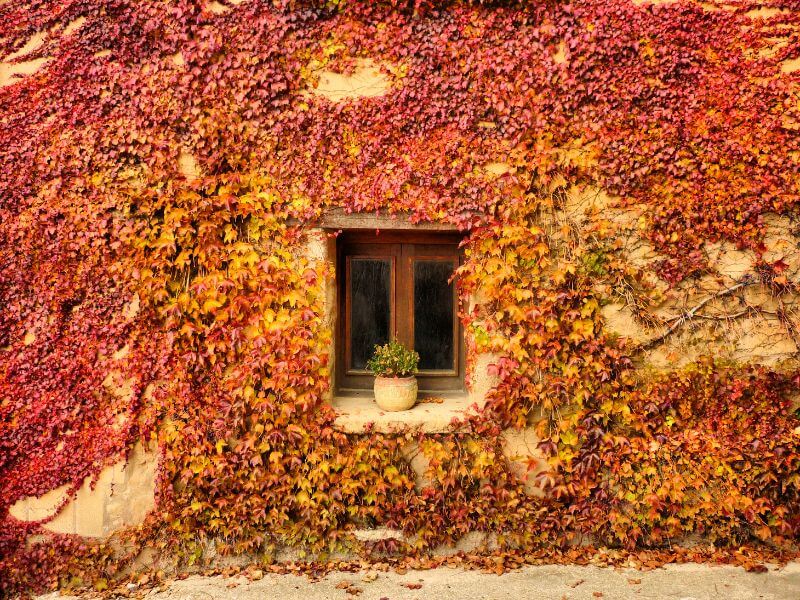 Rioja Alavesa
You can't come the whole way to Basque Country without exploring the vineyards of Rioja Alavesa. The most common cities to stay in to explore the Rioja Alavesa are Haro and Logrono, which both happen to be in La Rioja autonomous region – at the edge of the Basque Country. If you don't plan a trip this way, you can reach wineries on a day trip from either Bilbao or San Sebastián. If you plan on driving it takes about 90 minutes to reach some of the best wineries. We recommend visiting Bodegas Baigorri and Bodegas de la Marquesa.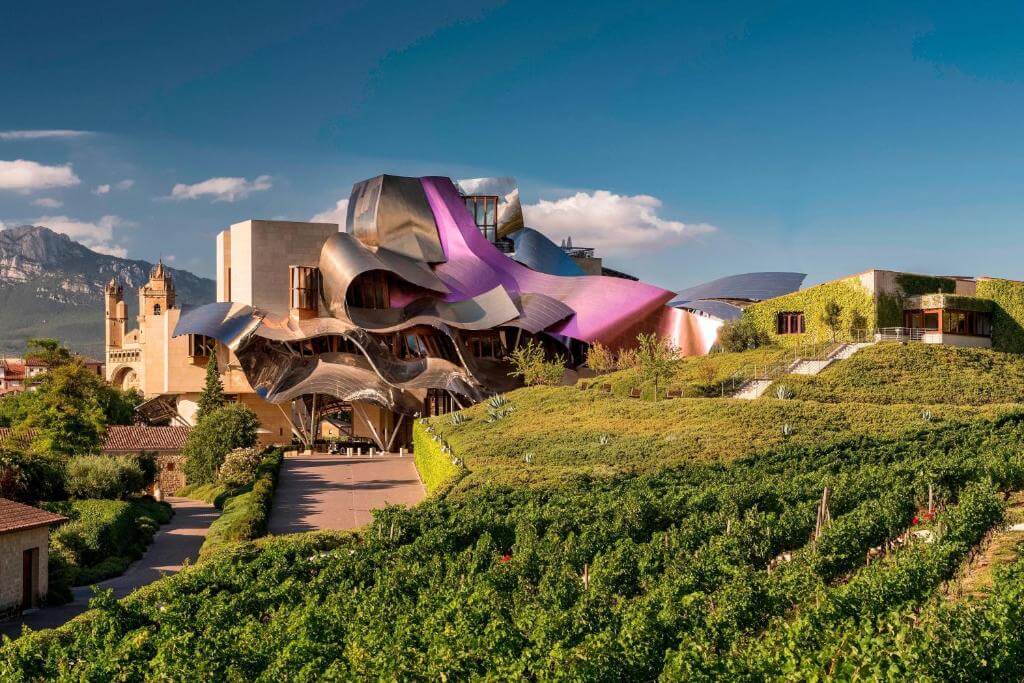 Some of the wineries can arrange unique activities as well, including horseback riding and segway tours of the vineyards. Make sure you stay at the mind-blowing Marqués de Riscal winery and hotel designed by the Canadian architect Frank Gehry. Like the Guggenheim Museum in Bilbao, the hotel is covered by titanium. However, the titanium contains some pink and gold tones in addition to its natural silver tone. The colour palette is based on the wine and the bottles from Marqués: pink for the wine, gold for the metal net that covers the bottle, and silver for the foil around the cork. Watching the sun set over the vineyards from the library terrace is a must.
This quaint little town, where the hotel is located, dates back to 1067 and is typical of the villages found in the Rioja wine region. In the centre there is a town hall and nearby are a few restaurants and bars where you can sample local wines.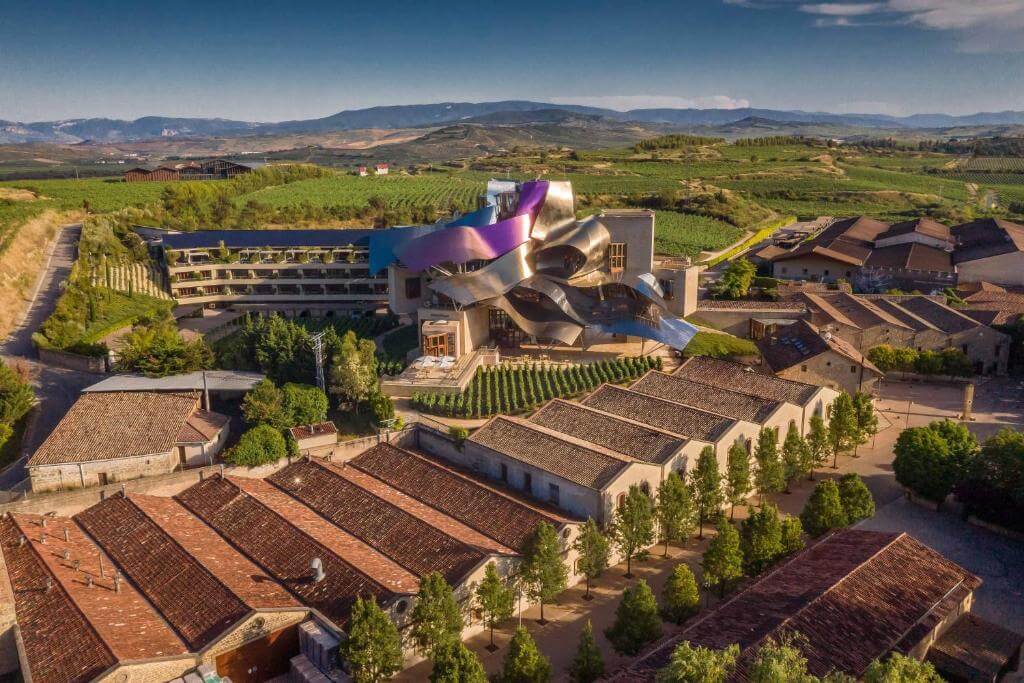 Ysios Winery
Located just north of Laguardia you will find the chic and truly avant-garde winery of Ysios. This pixilated-looking landmark was designed by architect Santiago Calatrava and opened its doors in 2001.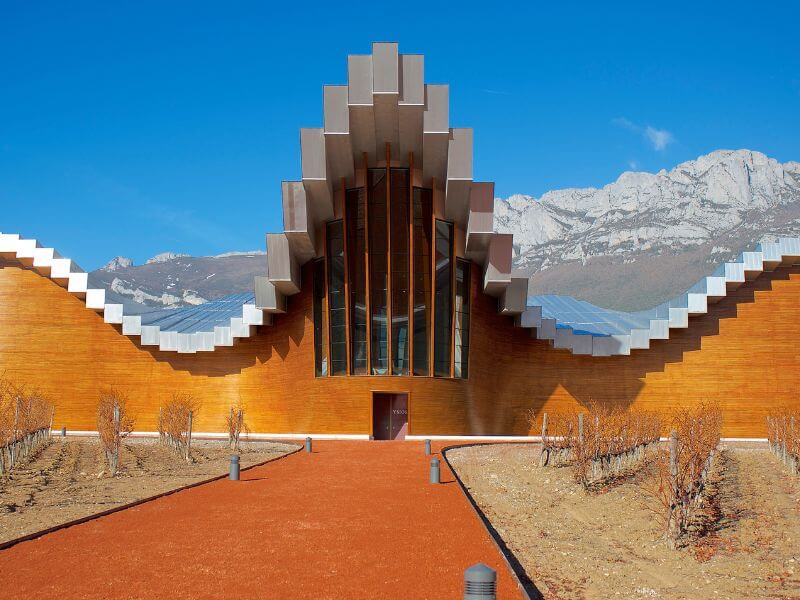 This extremely long building can be seen from afar. Gigantic bars of aluminum form the wavy roof, mirroring the mountains in the background and fitting seamlessly into its surrounding. The body of the building is made out of copper stained cedar, bearing resemblance to that of giant wine barrels.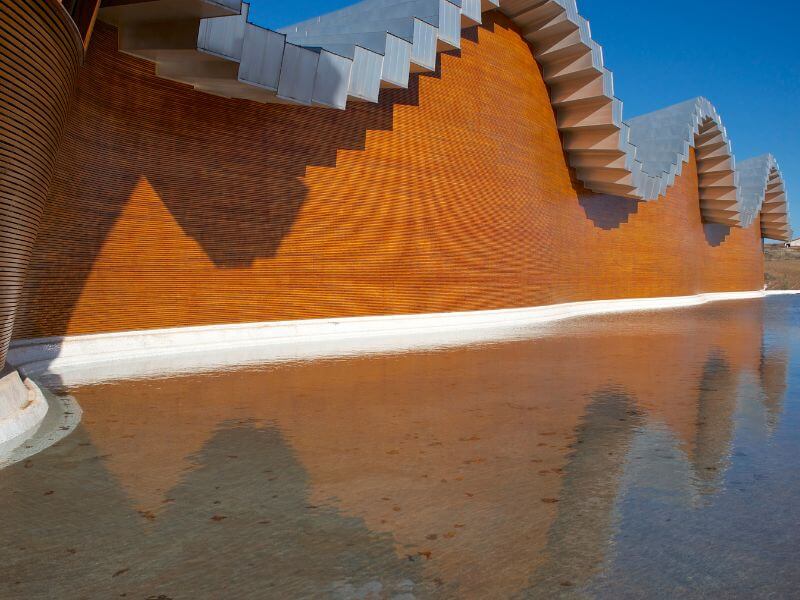 Even if you don't go in for a tour, you should still take a walk around the building. It is really like a sculpture and takes on a whole different look depending on your angle and distance from it. If you do want to take a tour of the winery make sure that you book in advance.
Mundaka
Mundaka is a picturesque fishing village and surfers paradise in the north of Basque Country. It is a small but enchanting town and is one of the best places to visit in Basque Country. Apart from watching the surfers, you can also enjoy the amazing views of the Izaro Island, the Ogoño mount and the estuary of the Urdaibai River, the most iconic area of the Urdaibai Biosphere Reserve.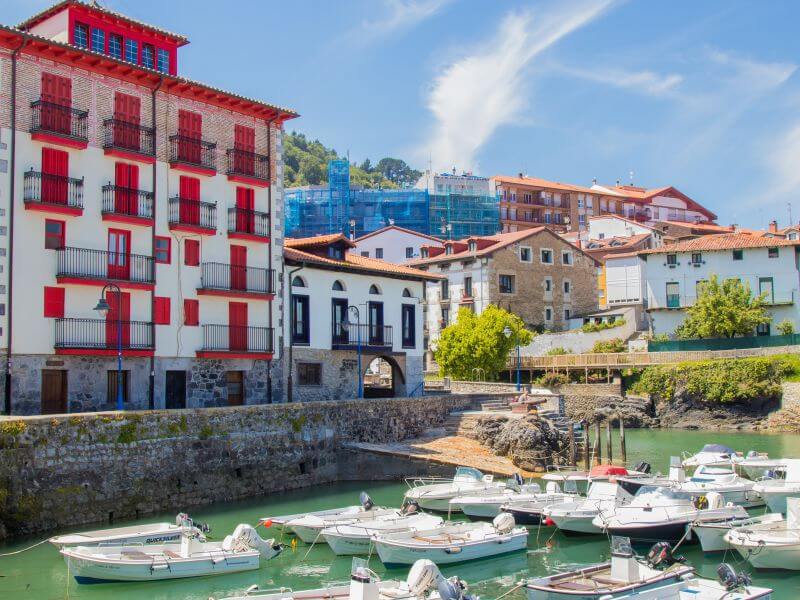 We hope this guide helps you find the best places to visit in Basque Country and makes it easier to plan your trip. If you found value in this blog post we would really appreciate your comments below.
We are Nicola and Ronan Lavin experts in finding unique accommodation all over the world. Nominated as top 6 travel bloggers in Ireland we are dedicated to helping you find authentic and immersive travel experiences to help you plan your perfect vacation.
**Disclaimer: Our trip to Basque Country was hosted by both Brittany Ferries and The Basque Country Tourist Board. We only ever work with brands that we are 100% happy to recommend to you guys and happily pay for ourselves. Staying complimentary allowed us to fully experience the Basque Country, give honest reviews and create content for you guys to enjoy. All opinions are our own. This post contains affiliate links meaning that if you book through one of our links we will receive a small commission at no extra cost to you. This helps us create the wonderful travel guides that we do**
Are you new here? Join thousands of other happy readers and subscribe to All About RosaLilla blog via email. The good news is that by signing up via email you will get exclusive travel deals straight to your inbox. The only other place that we publish these deals is on Instagram stories, so be sure to signup to get the heads up on amazing travel deals to save you money when booking.
I also share everything about myself on Instagram with nothing held back so be sure to follow along there.
If you liked this then you may also like:
Is Carcassonne worth visiting?
The best 2 day Prague itinerary
Until next time you crazy kids!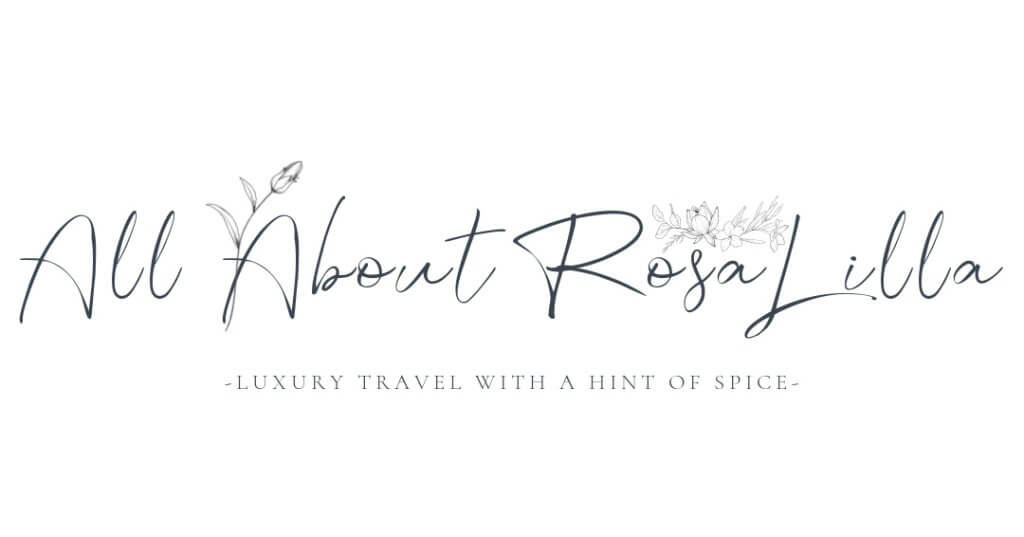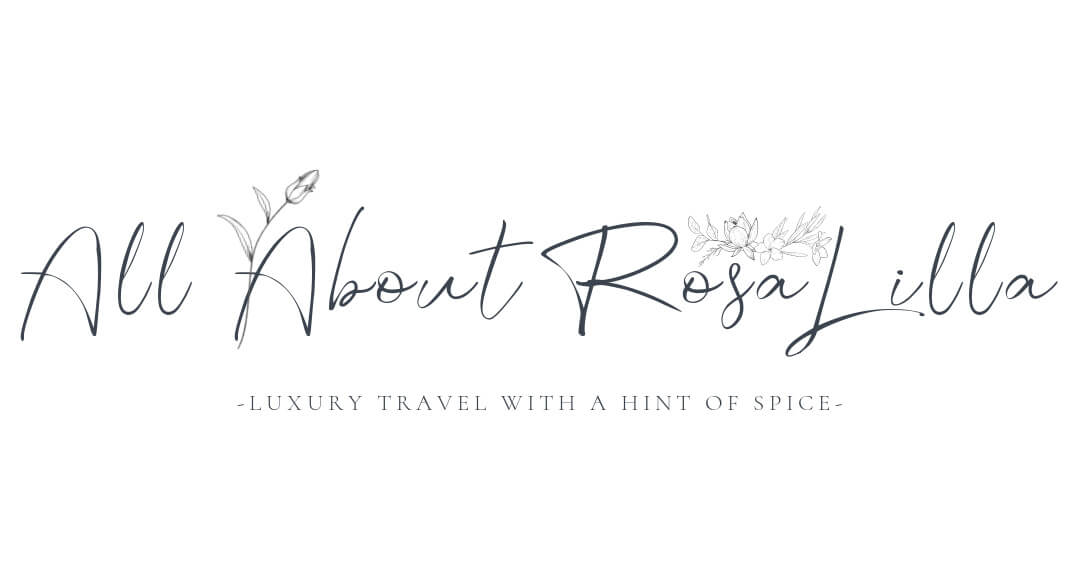 Sharing is sexy!