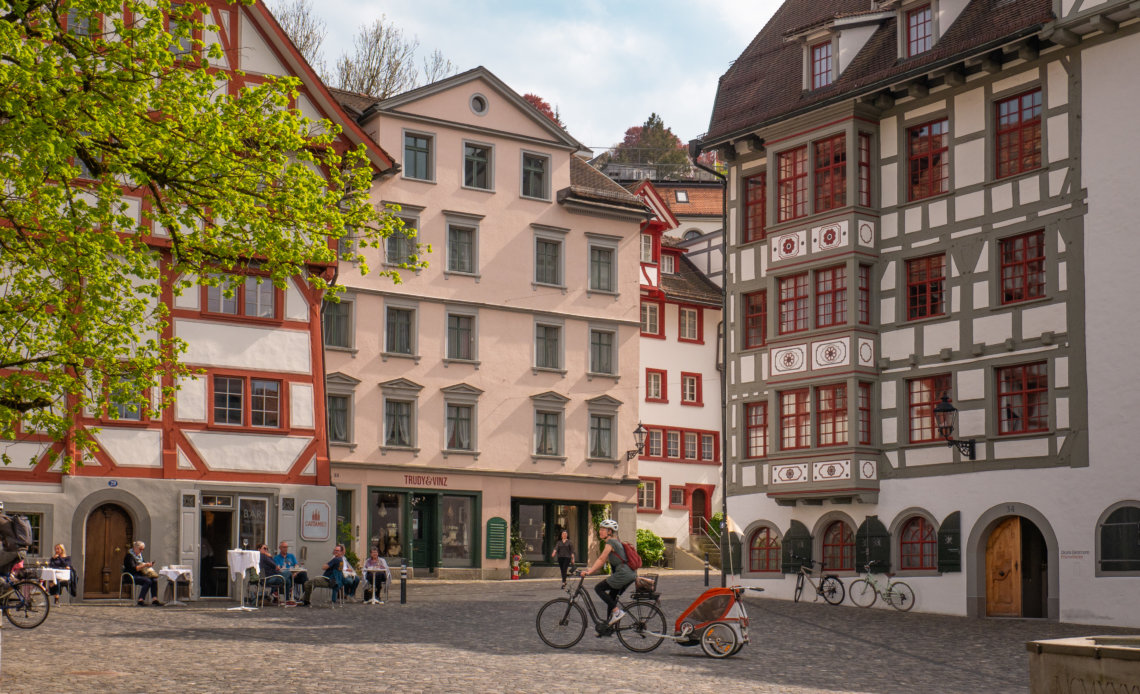 During our Grand Train Tour of Switzerland we stumbled across the Swiss fairytale town of St. Gallen and we are so excited to share all of the best things to do in St. Gallen old town with you. This charming hamlet tucked between Lake Constance and the Swiss Alps has a rich heritage of craft, design, food and culture. The Abbey District with its Baroque cathedral and the world-famous Abbey Library is a UNESCO World Cultural Heritage site and the city's landmark and visitors will be absolutely enchanted by how picturesque St. Gallen old town is.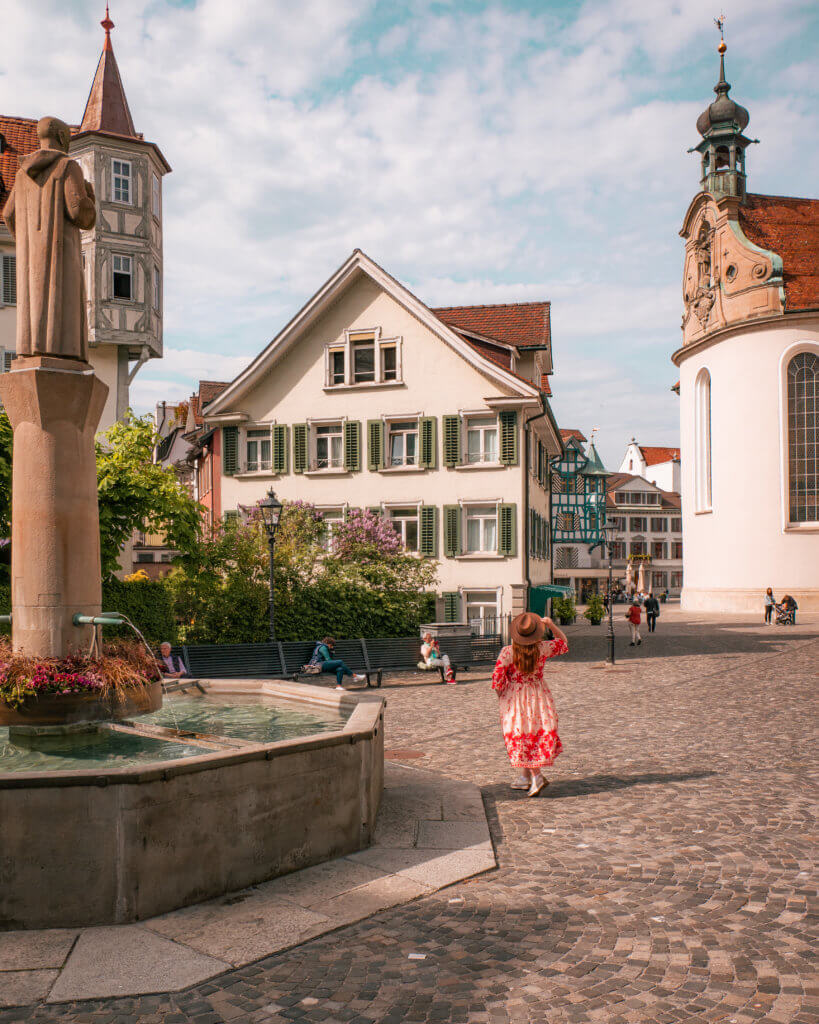 You will be greeted by cobbled streets, turret-capped buildings and townhouses decorated with delightful and colourful shutters that make you feel like you have just stepped inside a storybook. It is one of our favourite fairytale towns in Europe.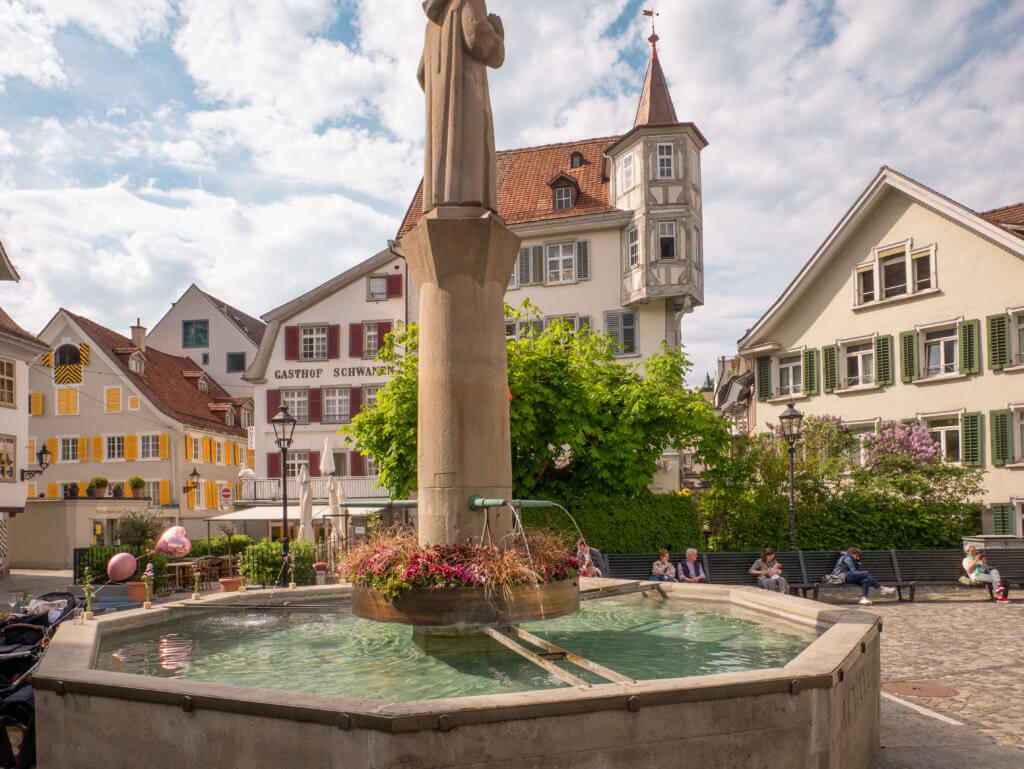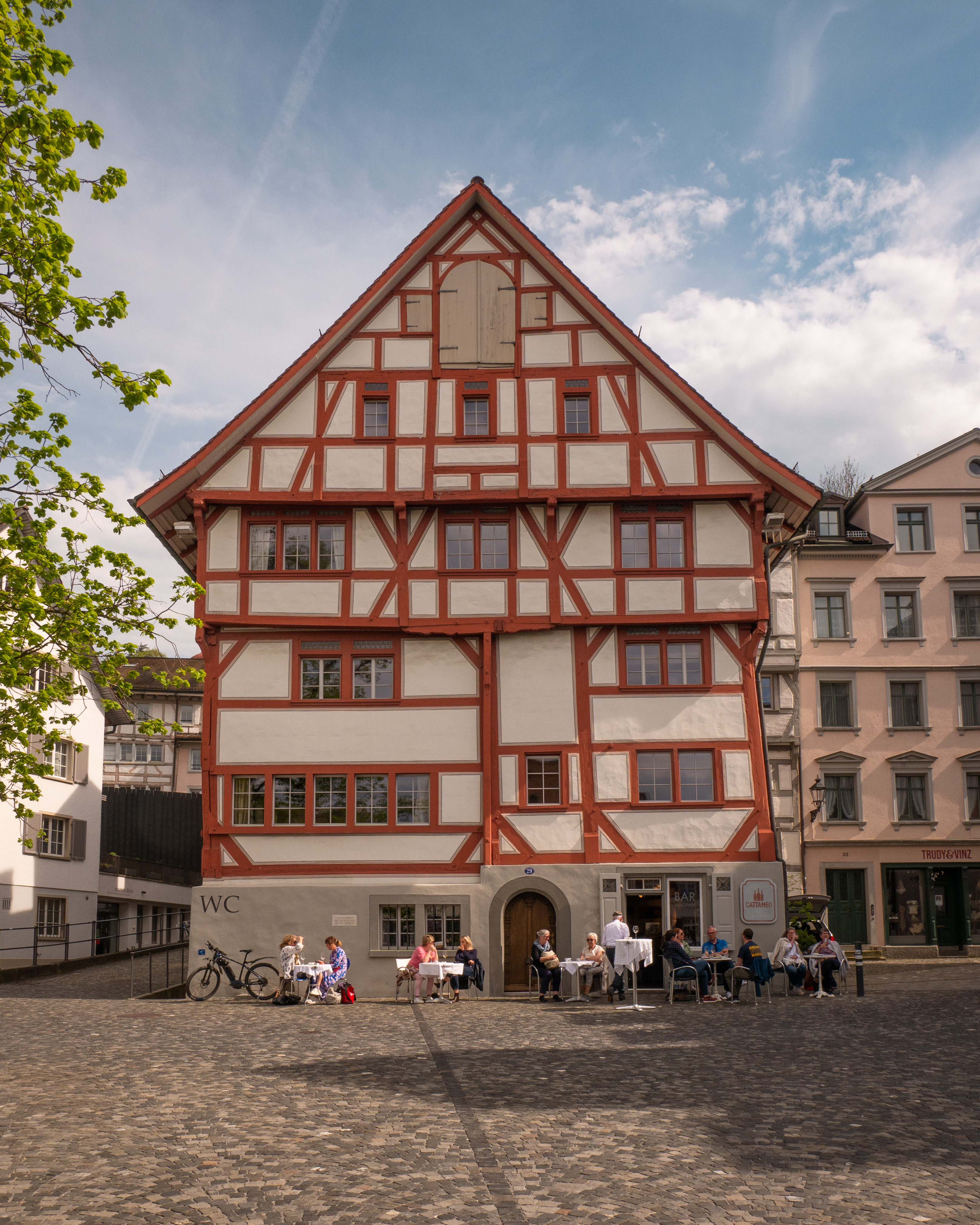 What is St. Gallen famous for?
St. Gallen was once regarded as the centre of the world's embroidery industry due to the discovery of the embroidery machine here in the early 1900s and the supply of lace to all of Europe by century-old textile companies like Forster Rohner, Bischoff, and Jakob Schlaepfer. Even today, traces of the region's rich textile history are still present. Haute couture, fabrics and lace from St. Gallen are featured on catwalks from Paris to Milan to New York.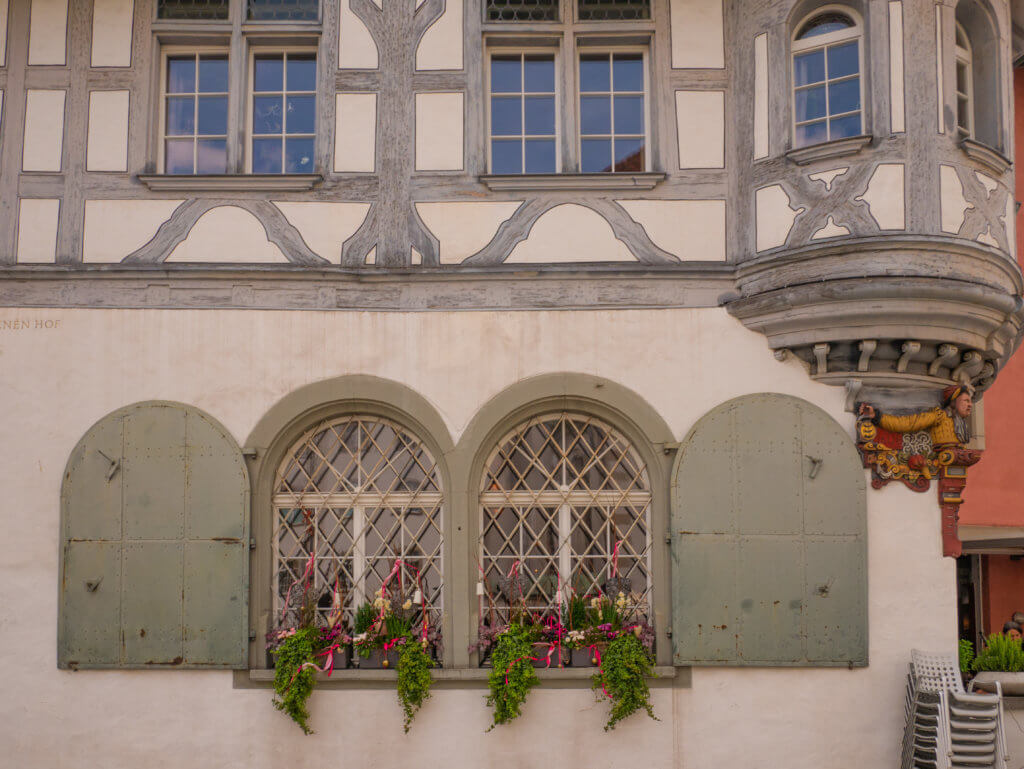 St. Gallen was also one of Europe's most significant spiritual centres. As you enter St. Gallen's Abbey District, you can still feel the influence of the Benedictine monks. St. Gallen was founded at the beginning of the 7th century by an Irish monk called Gallus who chose this spot for his hermitage. About one hundred years later, a Benedictine Abbey was founded, and with the addition of a library in the 9th century, St. Gallen became a centre of learning.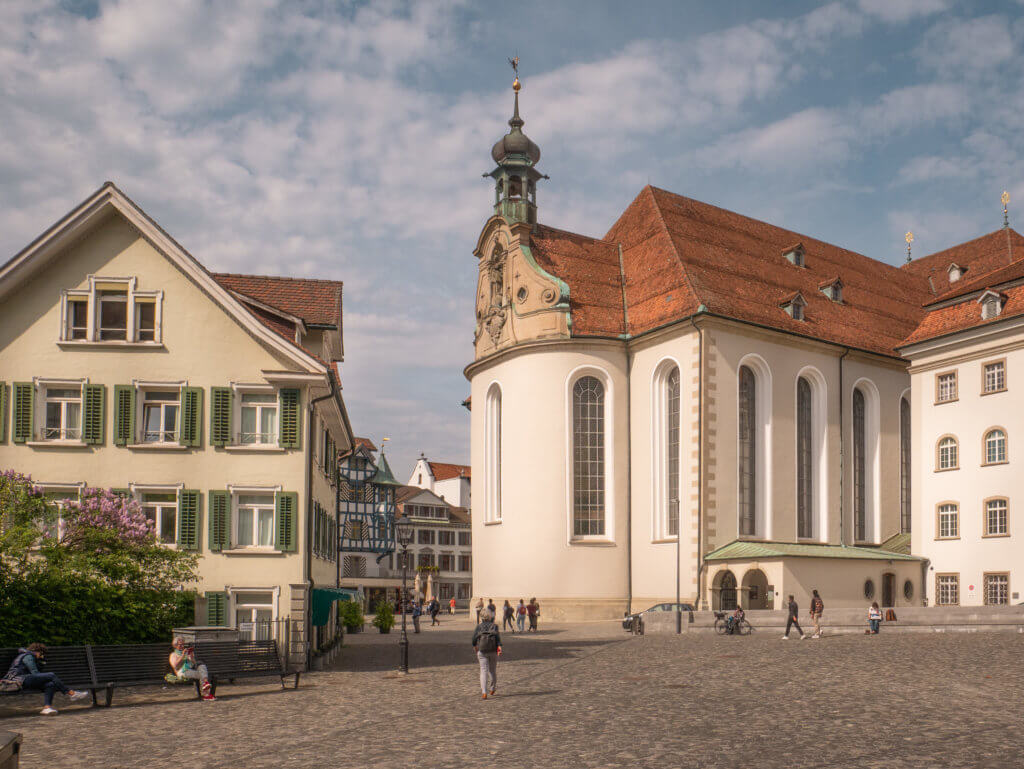 The Baroque cathedral, outstanding collection of ancient manuscripts in the Rococo-style Abbey library, and majestic architecture make the Abbey District a centre of cultural tradition. It was rightly designated a UNESCO World Cultural Heritage site in 1983.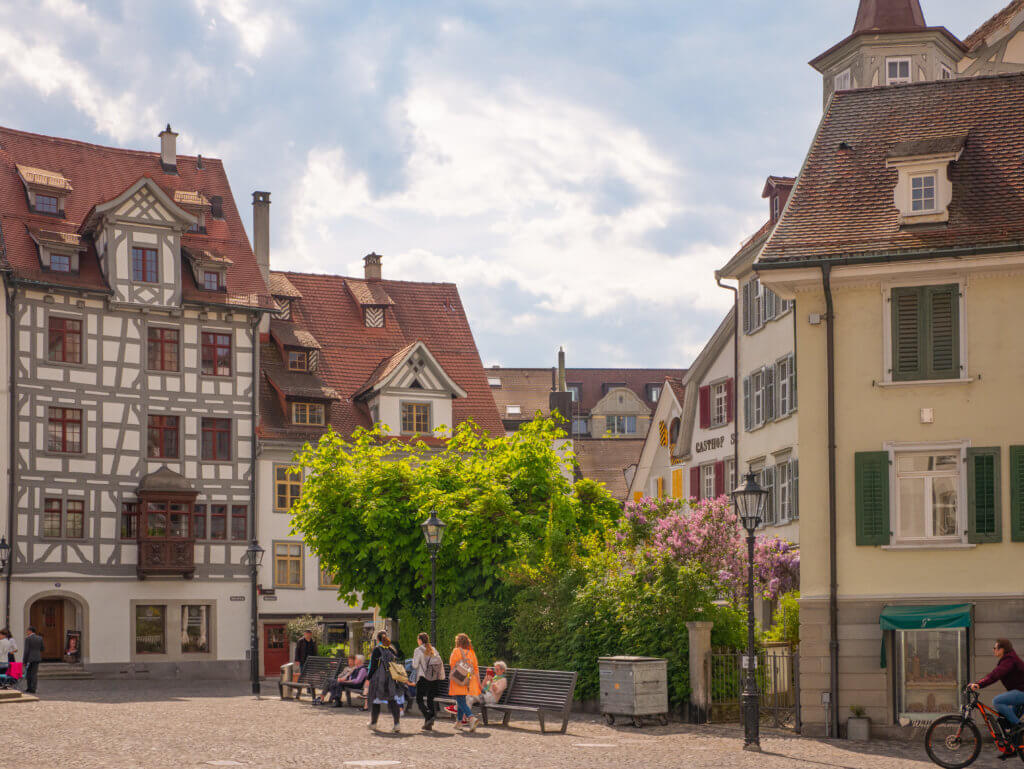 St. Gallen also has the rare distinction of being on the border of four countries adding a unique flare to this charming city. St. Gallen features one of the most picturesque Old Towns in Switzerland. Many of the 16th and 17th century houses and buildings have painted facades, often adorned with wrought-iron signs and carved and painted wooden bay windows. The best places to find them are on the bustling Marktgasse, Schmiedgasse, Spisergasse and Kugelgasse. The adorable alleys invite you to stroll and shop, and there are some interesting museums to also visit.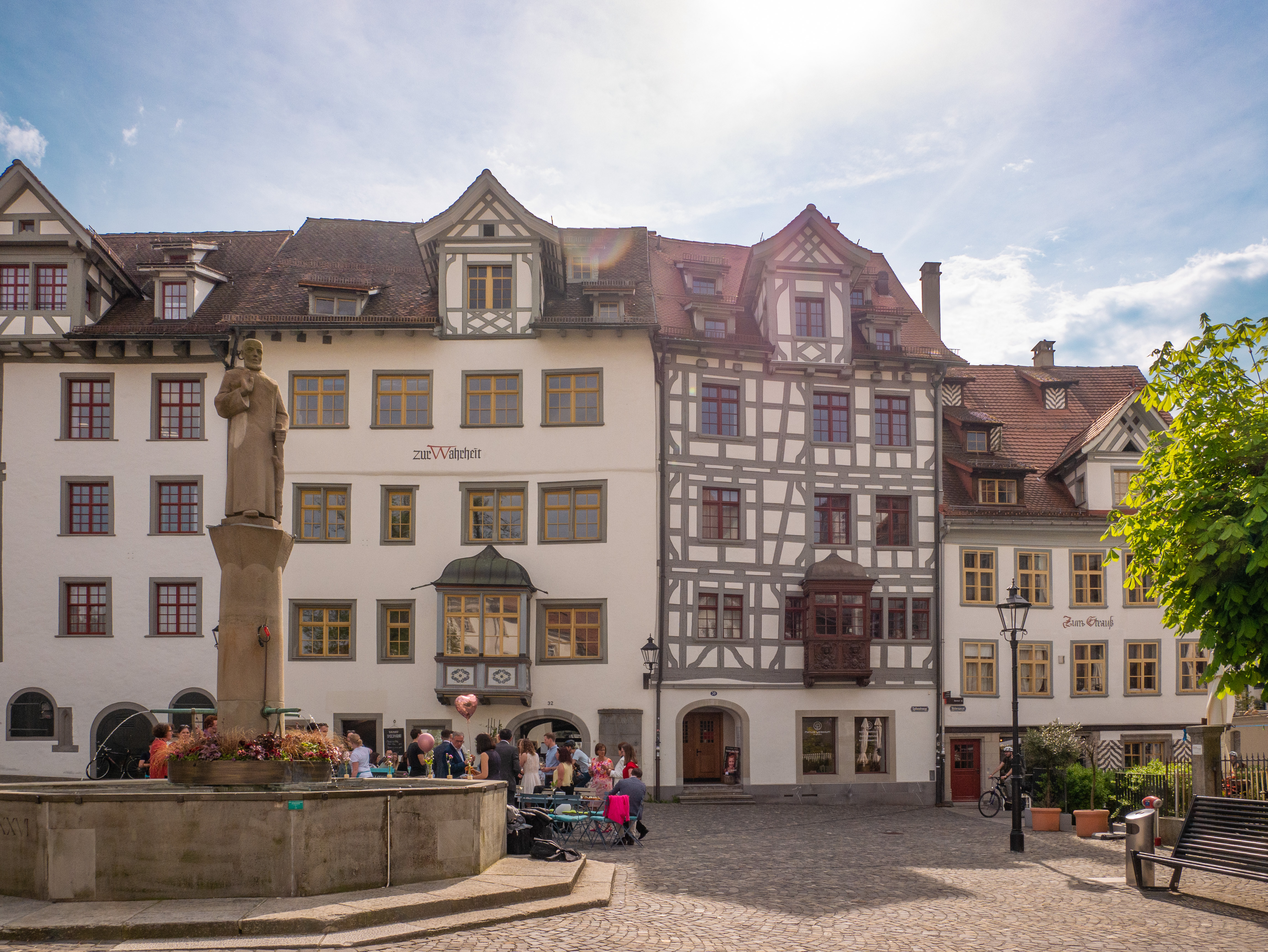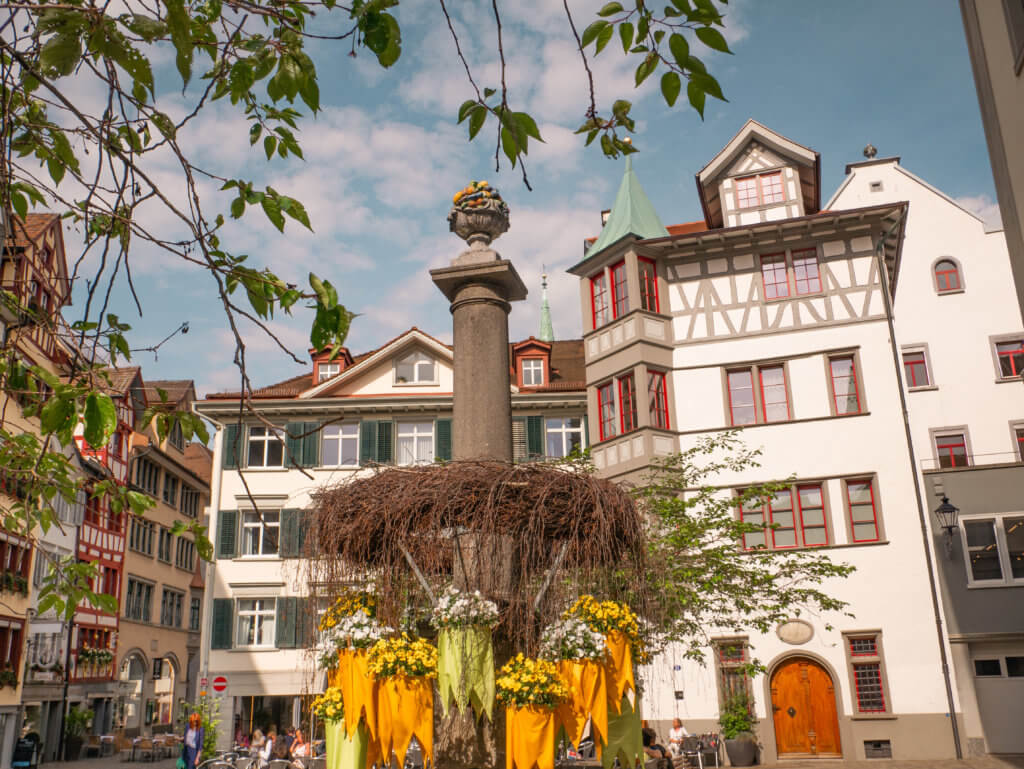 Nearby Lake Constance and the Appenzellerland offer numerous outdoor activities, during summer and winter months. Mt. Saentis, the highest peak of the region is reached by a modern cable car, and from its top the view over St. Gallen and the Bodensee Region is astonishing – on a clear day the panorama includes all of the neighbouring countries of Switzerland.
Getting to St. Gallen
By plane
Zurich-Kloten is the nearest international airport to St. Gallen; the journey on direct trains from/to the airport takes less than one hour. The EuroAirport in Basel-Mulhouse is within 2.5 hours by train, Geneva-Cointrin within 4 hours, as is Munich Airport. St. Gallen also has a small regional airport Altenrhein (20 km / 12.4 miles from St. Gallen's centre) with just a few international flights (mainly to/from Vienna, Austria).
By train
We visited St. Gallen during our Grand Train Tour of Switzerland. The Grand Train Tour of Switzerland merges the most beautiful panoramic lines, such as the Gotthard Panorama Express and the Glacier Express into one unique route. There is no prescribed direction or duration. You can hop on and off wherever you please and create your own itinerary like we did. You can experience the entire tour with only one single ticket – the Swiss Travel Pass. St. Gallen is well connected to the Swiss and the international railway network. There are direct non-stop trains to/from Zurich connecting to/from numerous national and international trains such as the ICE.
Read our full guide on exploring Switzerland with the Swiss Travel Pass and whether we think it is worth it!
Are you ready to visit St. Gallen?
Whether you fancy exploring its food scene or delving around its charming architecture, a trip to St Gallen should most certainly be on your radar – here's our insider pick of the city's highlights.
Best Things to do in St. Gallen Old Town
Abbey Cathedral of St. Gall
Dominating the skyline of St. Gallen is the Abbey of St Gall, an 8th-century monastery now home to one of the world's foremost medieval centres.
For a lot of its history it was either a separate principality or a city state, with a population of 70,000. The present cathedral building is from after the monastery's heyday and dates to the middle of the 18th century. It is stunning! Built in a beautiful Baroque style the facade is almost overwhelming and it is hard to believe than even more beauty lies inside its doors.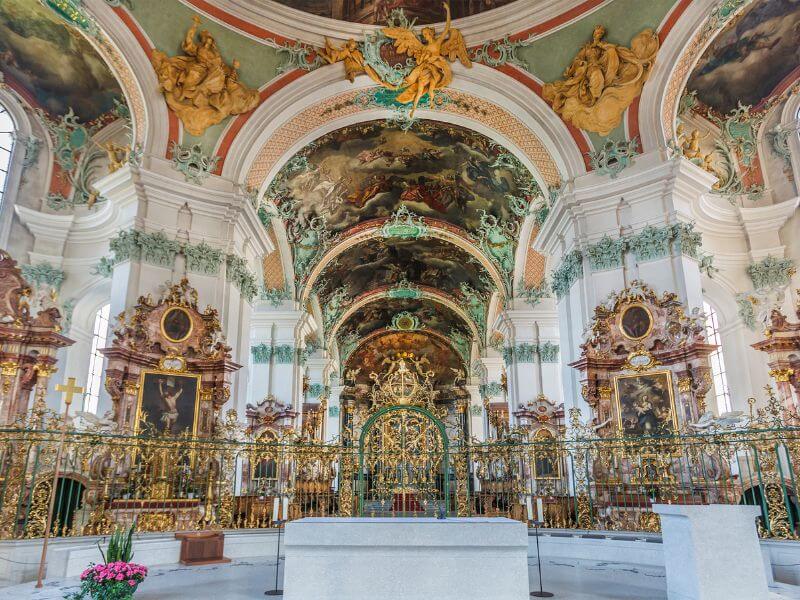 There are sculptures on almost every surface and the colour scheme of turquoise and beige resembles few churches in the world.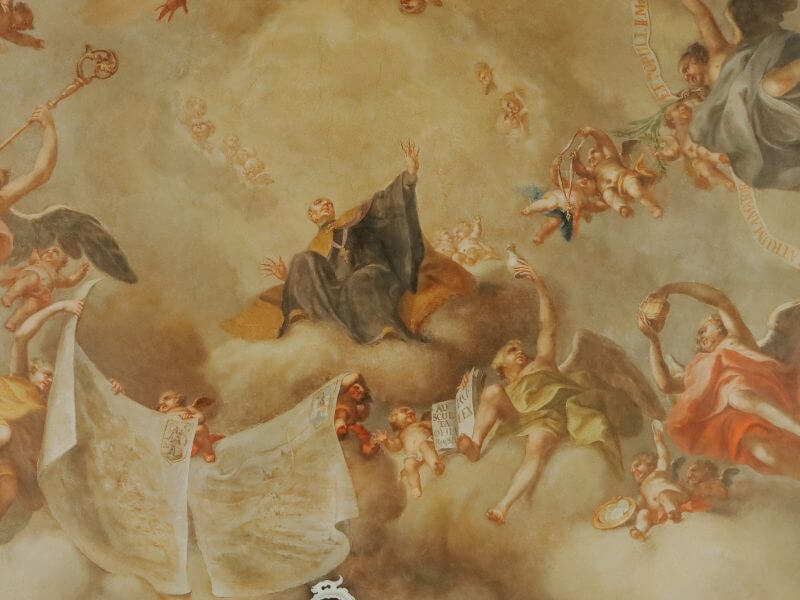 The cathedral is open to the public all year round and is free to visit.
To fully appreciate the real beauty of St. Gallen take a private architecture tour with a local.
Abbey Library of St. Gall (Stiftsbibliothek)
Constructed around the same time as the Abbey Cathedral, Abbey Library has one of the most stunning interiors that you will ever see. The library building houses the oldest literature collection in Switzerland, and one of the oldest and richest in the world.
It all dates from the 8th-century Carolingian monastery and includes thousands of manuscripts and early prints. It is considered one of the high points of the Rococo style in Switzerland and was decorated by Peter Thumb of the Vorarlberg School. The Abbey Library, with its magnificent, dreamlike hall lined with leather-bound tomes under a vaulted frescoed sky, is now a UNESCO World Heritage site. The inscription above its entrance reads ΨYXHΣ IATPEION, meaning 'healing place for the soul', and we are sure that anyone who's ever got lost in a good book can attest to this.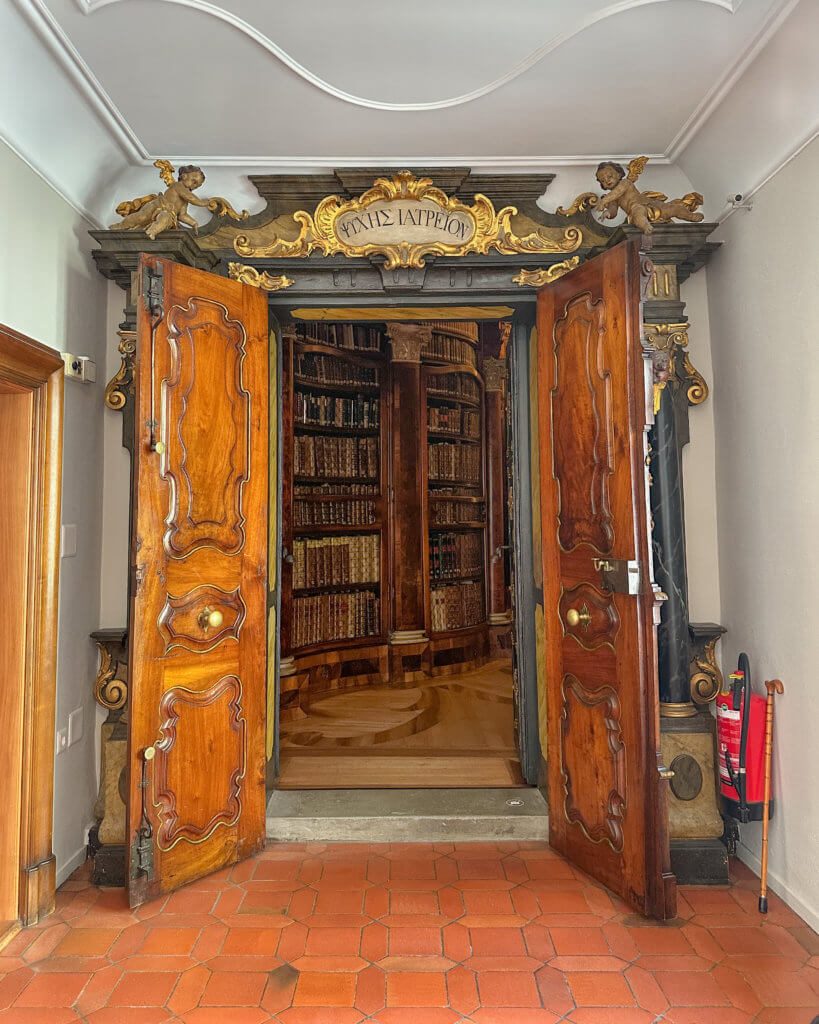 Even if you're not into ancient books, walking through this meticulously designed hall is awe-inspiring! Admission to the library is free with your Swiss Travel Pass. If not, it'll be 18 CHF well spent.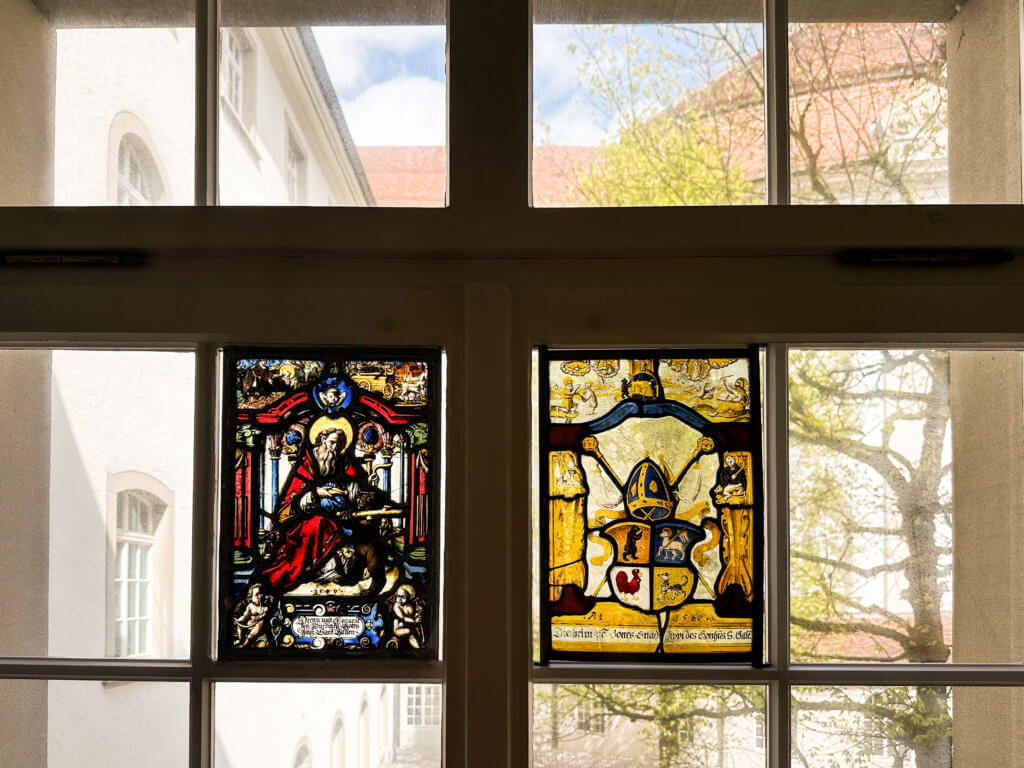 Get the best photos of Abbey Cathedral from the rooftop of St. Lawrence Church
If you fancy snapping some amazing photos of the cathedral and its surroundings from above, plan your day around visiting this 360 degree viewing platform. Climb the tower for mgnificent views over the town's terracotta rooftops and spires. It is a bit of a mission though because the tower is only open from March-November, Monday-Saturday at 10am and 3pm for one hour only.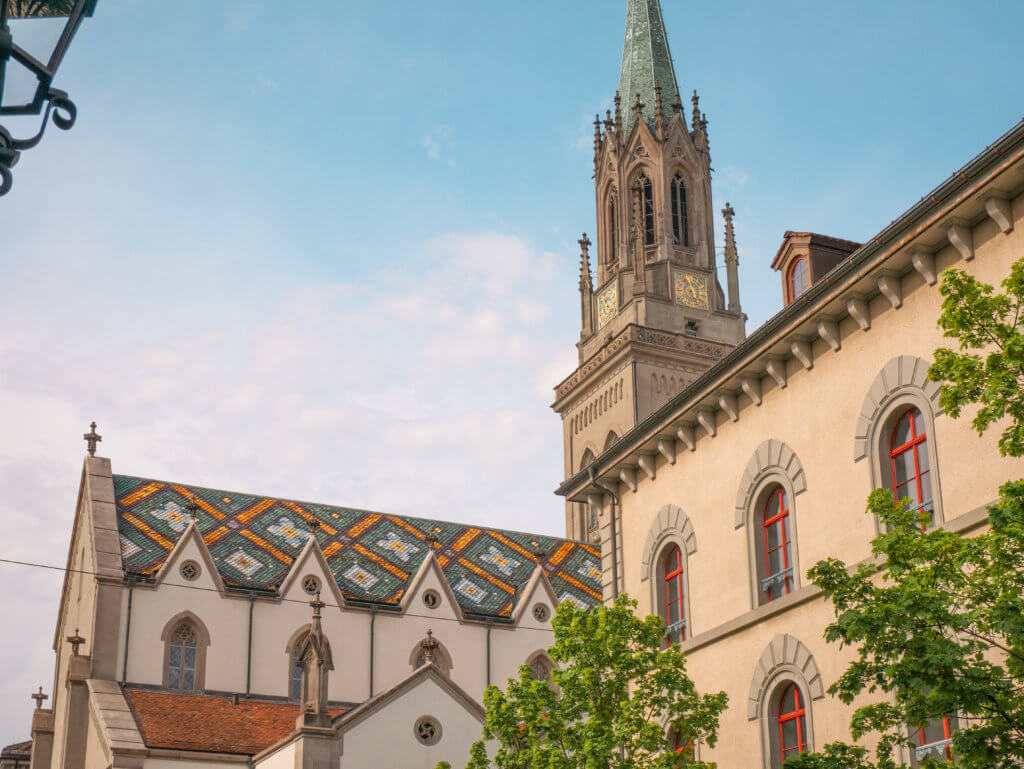 The present building dates back to the 15th century, but it was entirely reconstructed from 1850 to 1854 and now is a basilica in neo-Gothic style. After climbing the tower, you will have a wonderful view over the roofs of St. Gallen. This church is beautiful, with its mosaic-tiled roof, delicate floral frescos and star-studded ceiling resembling a night sky. It is a very pretty church, with an eclectic roof design and very intricate, well maintained interior.
Grab a pew and people watch at Gallus Square
Gallus Square has to be one of our favourite squares in St. Gallen to just grab a seat and people watch. Right next to the Abbey District, Gallus square invites you to take a break, chill out on a bench and watch the city life take its course. It is so picturesque there with brightly painted timber-framed homes, a beautiful fountain and a statue of St. Gall, the patron saint of the city. It is this type of architecture that makes you feel like you are somehow the main character in a whimsical fairytale!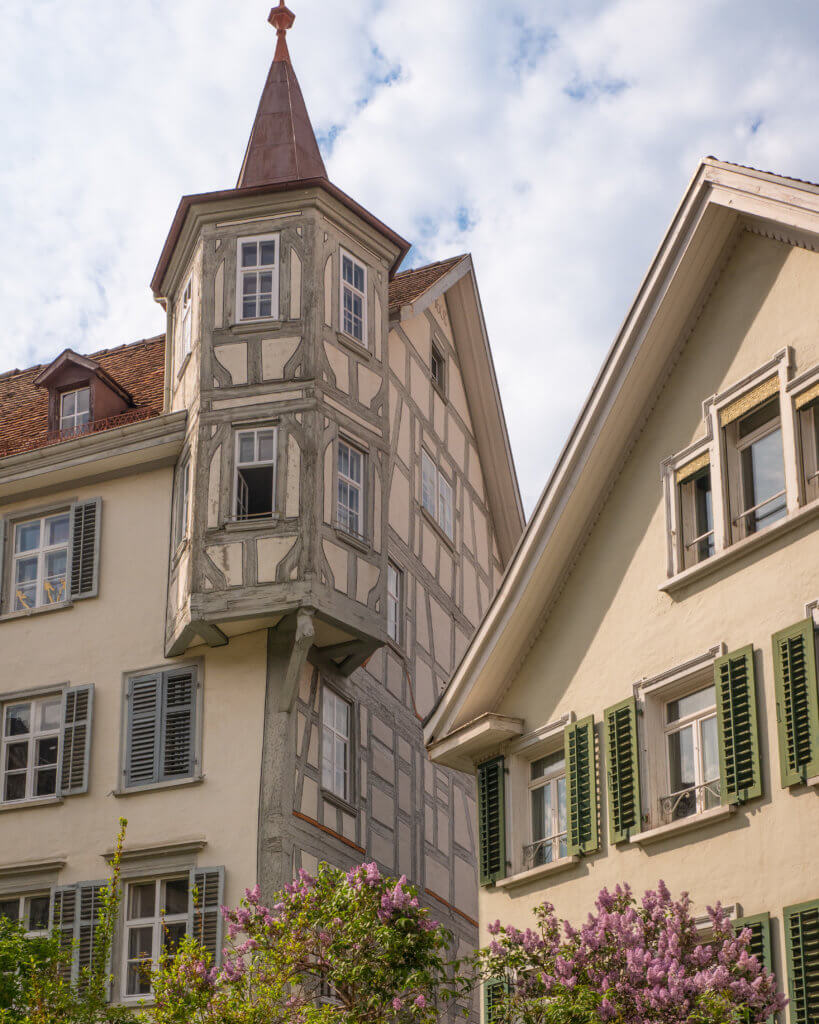 Right next to Chocolaterie Kölbener, it's the perfect spot to take in the peaceful surroundings of St. Gallen while enjoying a yummy chocolate dessert.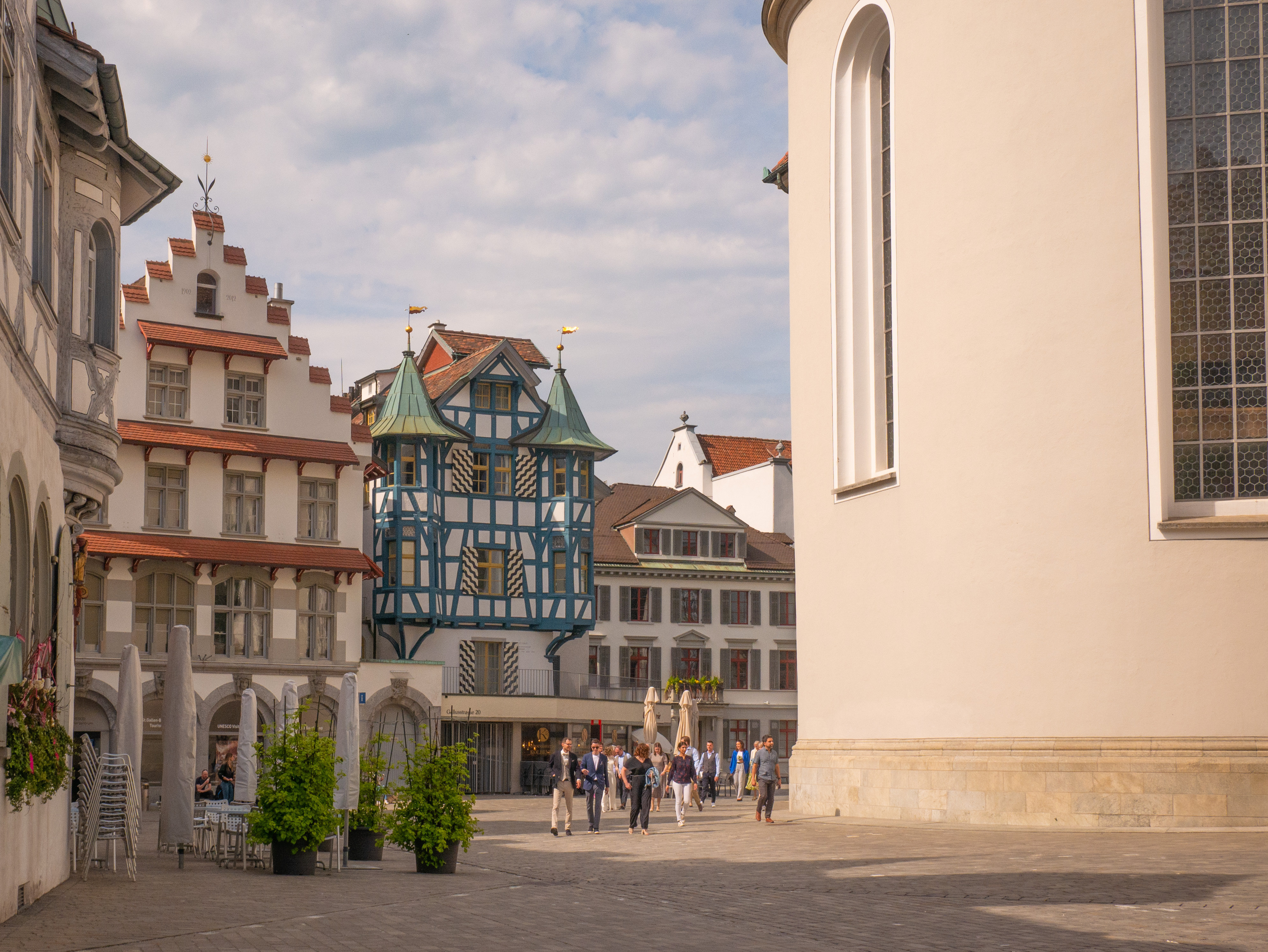 Search for the Oriel windows in St. Gallen Old Town
Before this trip we hadn't heard the phrase oriel windows before but we quickly learned what they were. An oriel window is a form of bay window which protrudes from the main wall of a building but does not reach to the ground. Supported by corbels, brackets, or similar cantilevers, an oriel window is most commonly found projecting from an upper floor but is also sometimes used on the ground floor. You know! The ones that you see in fairytales!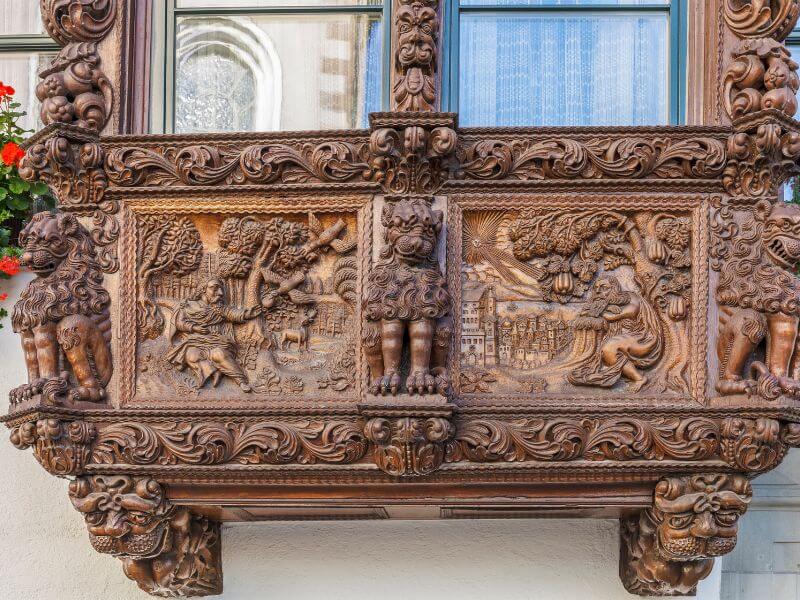 There are 111 oriel windows in St. Gallen's old town, each one a work of art. Intricately carved and lavishly decorated, these windows were a sign of worldliness and wealth, adorning burgher houses in the 17th and 18th centuries. The oriel windows in St. Gallen old town all tell their own story representing legends and mythical figures, historic events, and tales of riches and textile merchants.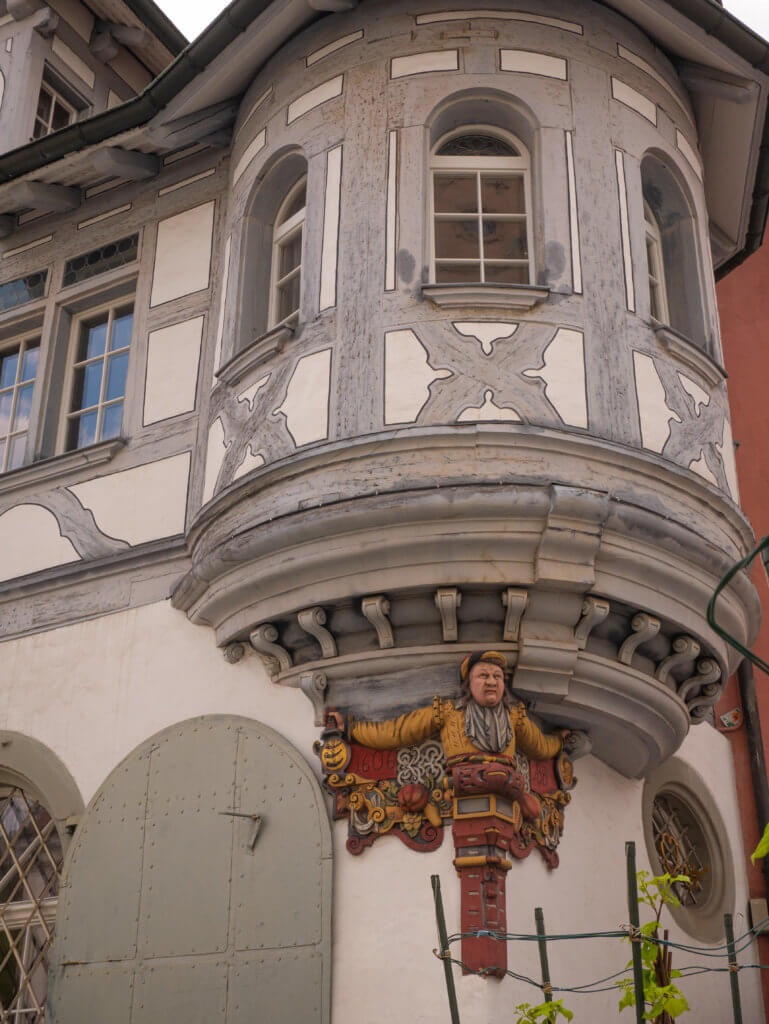 Some of St. Gallen's most magnificent oriel windows can be found on Spisergasse and Kugelgasse, so be sure to visit these alleys during your walking tour of St. Gallen's old town.
Kunstmuseum St. Gallen
The city's art museum has masterpieces from the Late Middle Ages to the 20th century. In the collection are paintings by Renaissance masters like Albrecht Dürer and Rembrandt and the museum's reserve is massive! The building, constructed in 1877 by Johann Christoph Kunkler in the neoclassical style, invites you to stroll through art from the past and present.
The second "venue" of the art museum, the Lokremise's art zone, functions as a cultural testing ground for contemporary art. Close proximity to the cinema and theatre allows for exciting content synergies, and the raw and unfinished interior ensures that the act of creating a work almost seems to take precedence over the finished product.
Take a ride on the Mühleggbahn
The Mühleggbahn is a 316m long inclined lift heading up and down Mühleggschlucht, a gorge right behind the Abbey District of St. Gallen. Back in 1893, when the Mühleggbahn was established, it was the first means of public transport in town. The ride between St. Gallen and St. Georgen takes only 90 seconds. From the top, Drei Weieren (a beautiful recreational area with ponds) is only a couple of minutes away. The Drei Weieren should still be on your itinerary even if you don't intend to go swimming. The panorama of the city, Lake Constance, and Germany is spectacular.
Take a break at Stadtlounge
The Stadtlounge or Red Square is the hangout of choice for uni students, and merits a visit in the evening when the artistic orbs above the square are illuminated. The entire area is carpeted in tiny red rubber granules and the square was furnished with sun loungers, tables and chairs, so now the space resembles a living room in the middle of the city. You will also find a red Ferrari that kids enjoy to play on. All these opportunities to relax make the city lounge a great spot to take a break from all the museum visits, sightseeing and stair-climbing.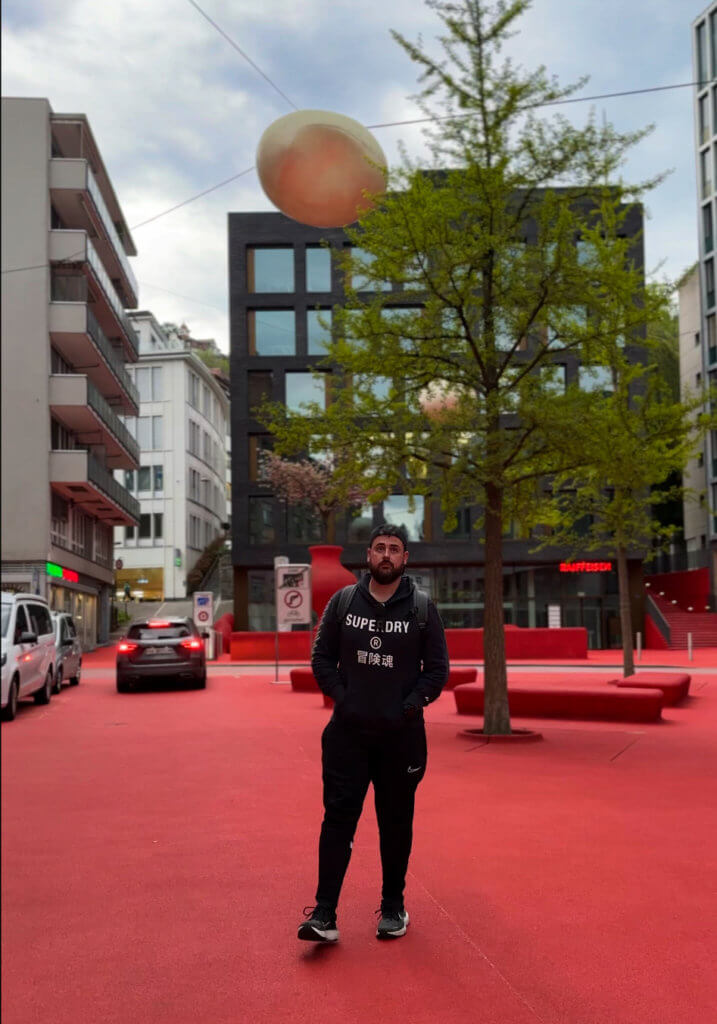 To find this piece of modern art, walk down Vadianstrasse towards the train station and keep looking left. It's unmissable!
Where to stay in St. Gallen Old Town
During our time in St. Gallen old town we stayed in the beautiful and perfectly located Einstein St. Gallen Hotel. If you plan on spending most of your time exploring St. Gallen old town then you can't pick a better hotel as it is situated just across the road from the entrance into the old town, the UNESCO World Heritage Centre of Abbey St. Gall and is also only a five minute walk to the main train station.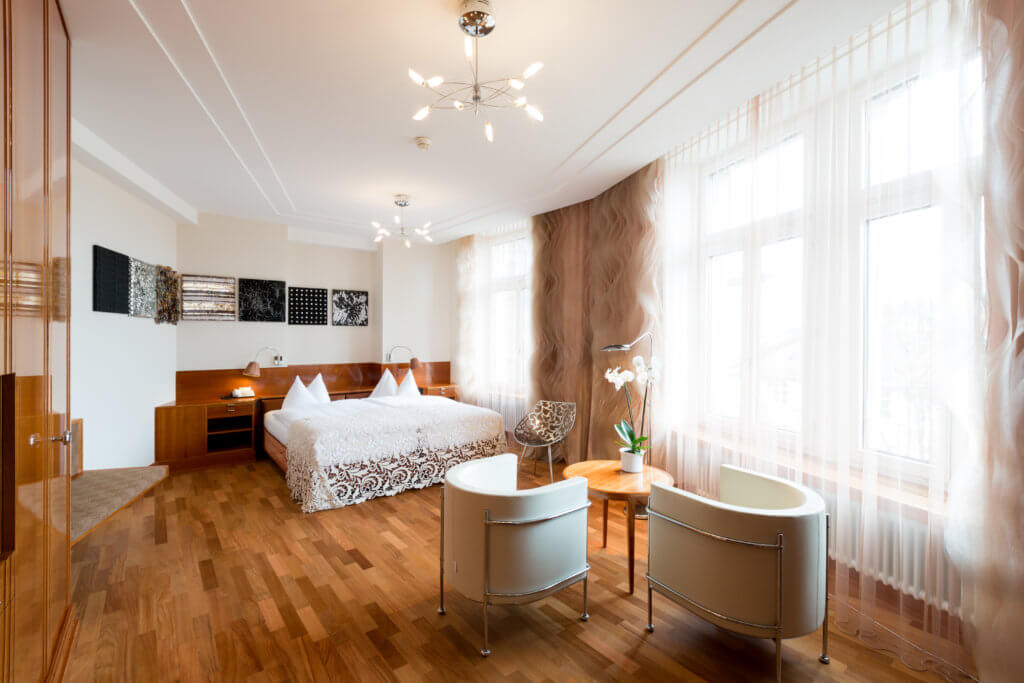 This 4* Superior Hotel has 113 refurbished and air conditioned rooms and suites. It was voted one of the top congress locations in Switzerland at the Swiss Location Award multiple times. The Einstein St. Gallen is a member of the Swiss Hospitality Collection.
The Einstein St. Gallen is closely linked to the textile industry. The neo-classical five-floor building was built in 1830 by textile supplier Jacob Allgaeuer's widow. A proactive businesswoman, she ran a finishing atelier in the building. Years later, the town soup kitchen had its home on the ground floor.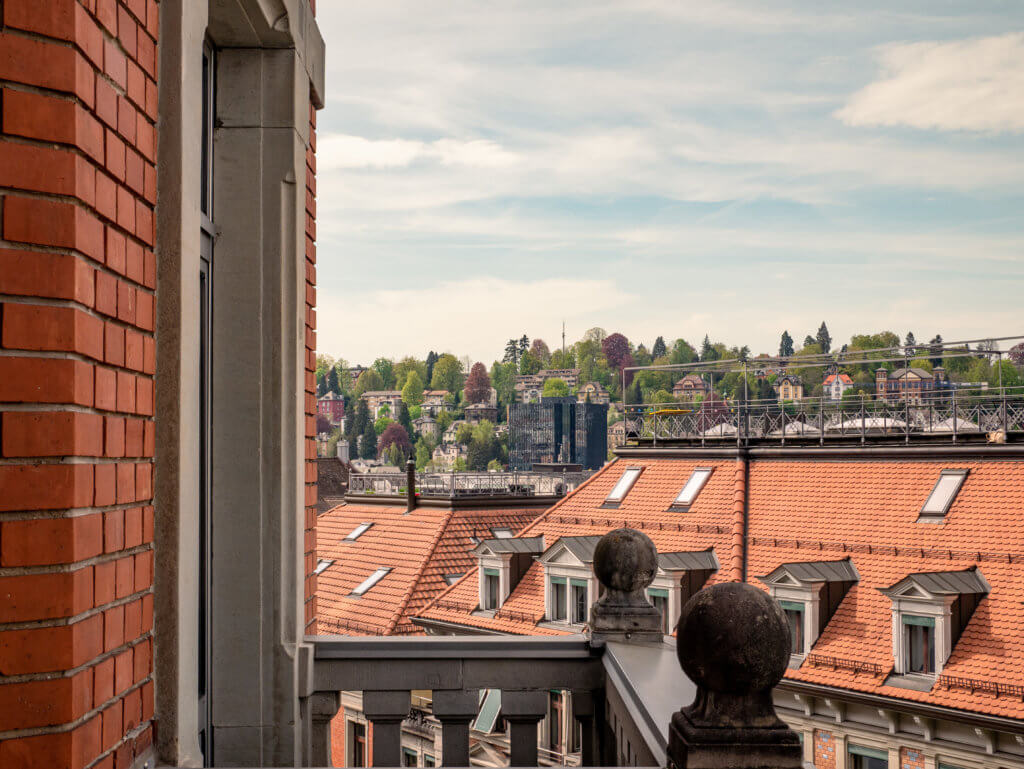 The American embroidery factory owner Isaac D. Einstein saw an advantage in the existing textile industry of St. Gallen and had the old building converted into an embroidery factory by the architect Karl August Hiller in 1884. At the turn of the 19th and 20th centuries, Einstein-Hirsch & Cie. was active here, and from 1936 the Adolf Hahn company. By this time, however, the golden age of the St. Gallen embroidery industry had long since passed.
In 1978, the St. Gallen textile manufacturer Max Kriemler bought the property, renovated it from top to bottom and turned it into the four-star hotel, Einstein St. Gallen, which was opened in 1983. 20 years later, the hotel's success story was continued when Max Kriemler decided to extend the Einstein into the adjacent building, adding a further 48 new and modern rooms. Today, the Einstein has 113 rooms, the Einstein Gourmet with view over the rooftops of the historic centre, the elegant Einstein Bar with its English style and one of the most modern fitness parks in Switzerland.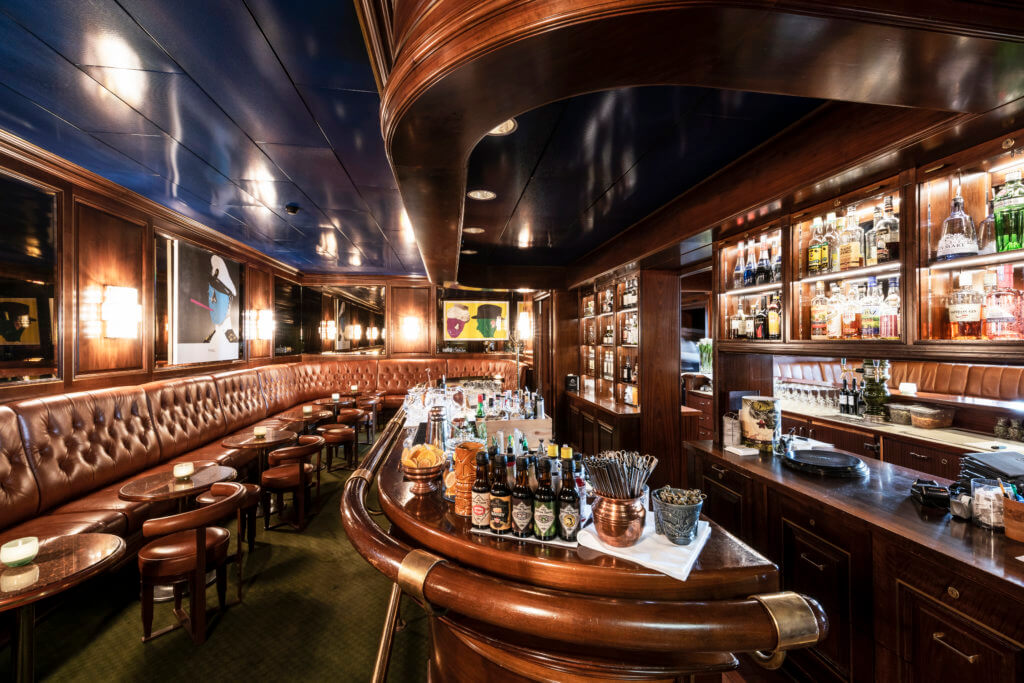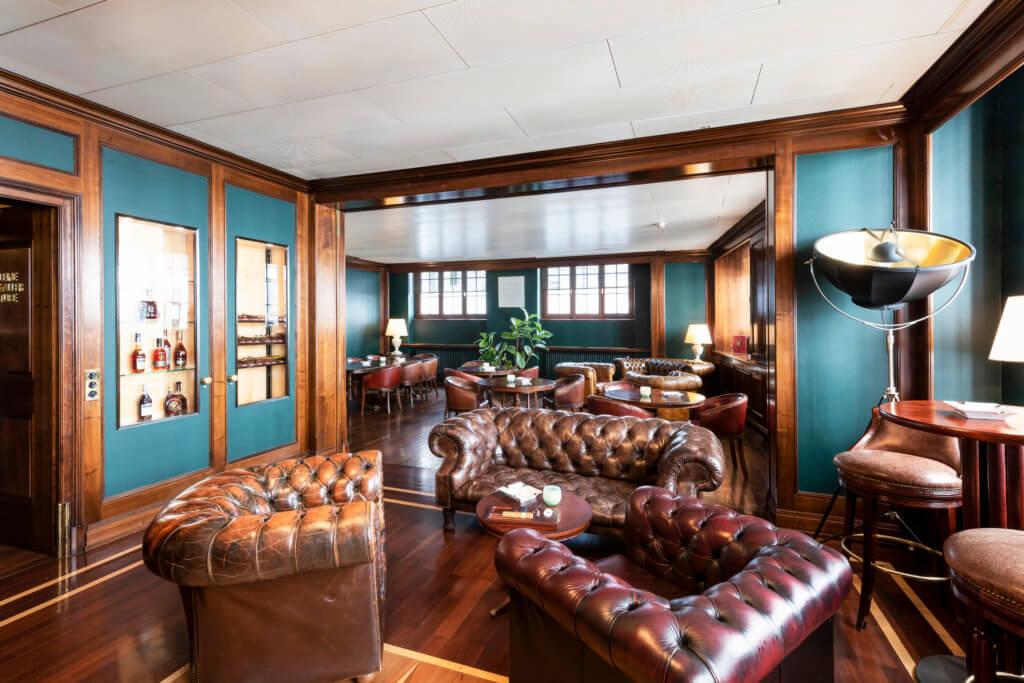 All rooms reflect the history of textiles from St. Gallen, which feature throughout the Einstein St. Gallen. The rooms are furnished with natural materials, cherry wood parquet and bed linen of the finest St. Gallen quality. All rooms are equipped with a safe, LED TV, mini bar, air conditioning and free WLAN. The bathrooms are crafted from marble and granite and have a hair dryer, towel heater, bathrobe and slippers.
We just fell in love with St. Gallen with its half-timbered buildings, burgher houses with their oriels, soaring towers of St. Gallen Cathedral, and other decorative touches that made this city one of the most picturesque that we have ever seen. If you are planning a Switzerland itinerary you need to add at least one day and night in St. Gallen.
If you plan on travelling around Switzerland check out our guide on spending one day in Lucerne.
We are Nicola and Ronan Lavin experts in finding unique accommodation all over the world. Nominated as top 6 travel bloggers in Ireland we are dedicated to helping you find authentic and immersive travel experiences to help you plan your perfect vacation.
**Disclaimer: Our stay in St. Gallen was hosted by St. Gallen-Bodensee Tourismus. We only ever work with brands that we are 100% happy to recommend to you guys and happily pay for ourselves. Complimentary hotel stays allowed us to fully experience Switzerland, give honest reviews and create content for you guys to enjoy. All opinions are our own. This post contains affiliate links meaning that if you book through one of our links we will receive a small commission at no extra cost to you. This helps us create the wonderful travel guides that we do**
Are you new here? Join thousands of other happy readers and subscribe to All About RosaLilla blog via email. The good news is that by signing up via email you will get exclusive travel deals straight to your inbox. The only other place that we publish these deals is on Instagram stories, so be sure to signup to get the heads up on amazing travel deals to save you money when booking.
I also share everything about myself on Instagram with nothing held back so be sure to follow along there.
If you liked this then you may also like:
9 things to enjoy on the Gotthard Panorama Express
Lucerne in Winter is a Hidden Gem
How to spend one day in Heidelberg Germany
The ultimate 3 day Vienna itinerary
Best things to do in Vitoria-Gasteiz
Until next time you crazy kids!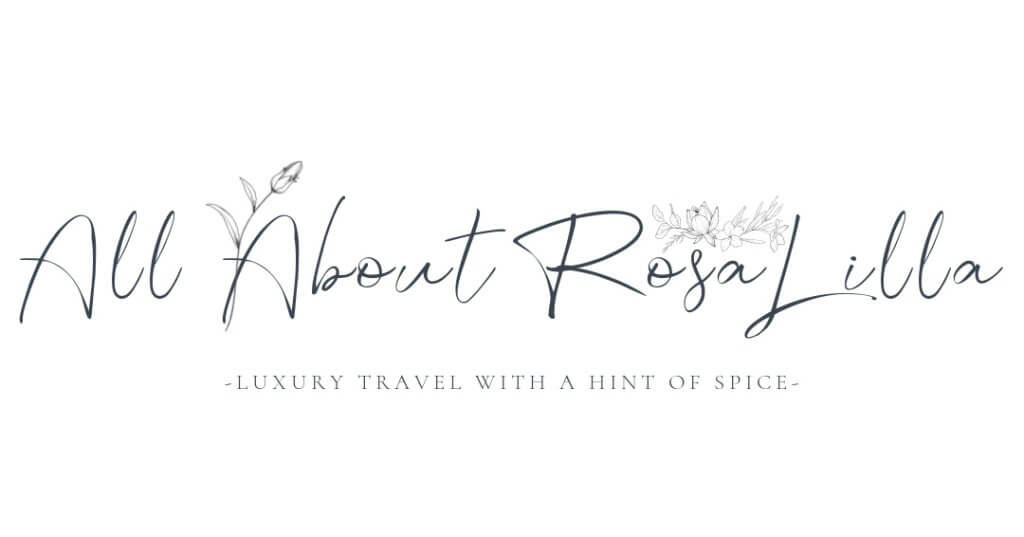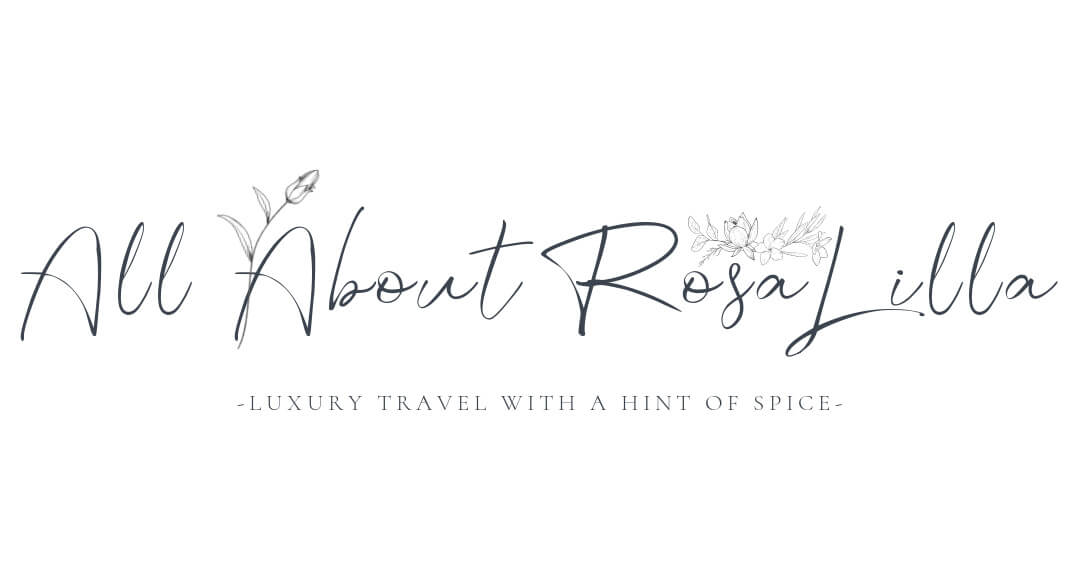 Sharing is sexy!