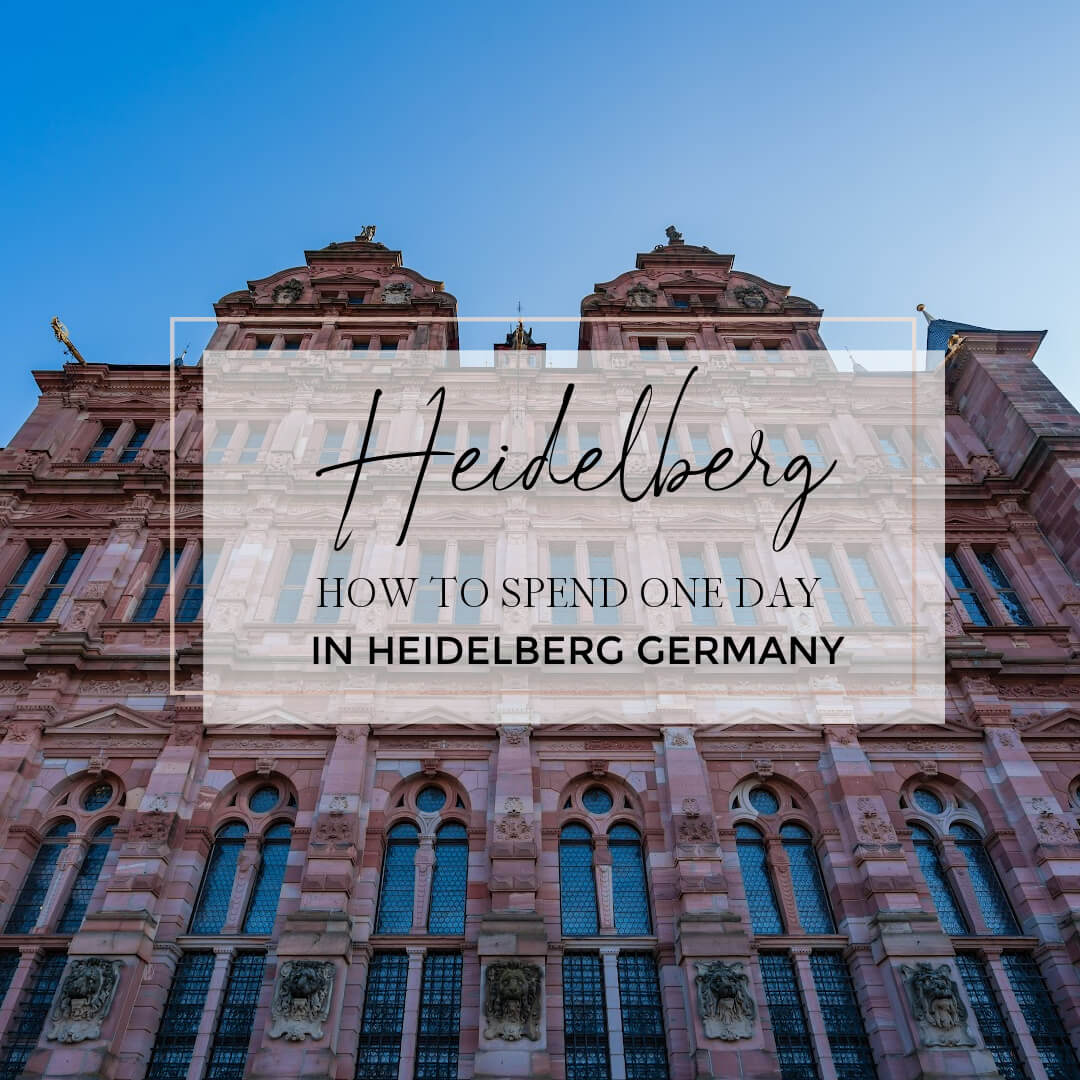 I've been obsessing over pictures of Heidelberg on my Instagram feed for over a year now. I had never thought to visit here before and then all these gorgeous pictures of fairytale castles and meandering streets started showing up on my feed and I knew that I just had to go somehow. On this blog post I want to introduce you to the fairytale city of Heidelberg and show you the best way to spend 1 day in Heidelberg Germany.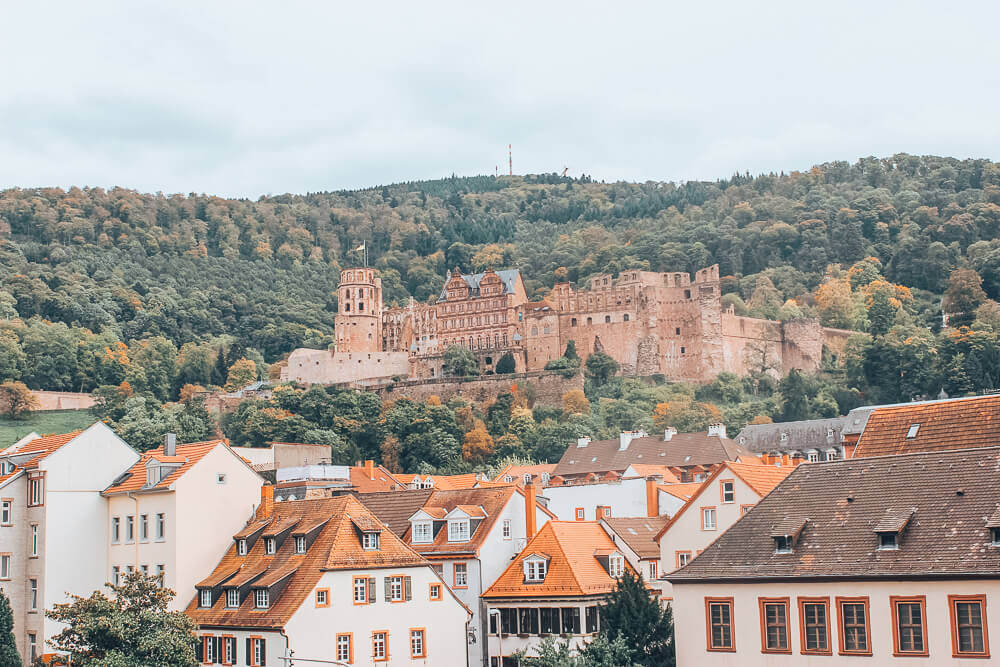 How to spend 1 day in Heidelberg Germany
Did you know that Mark Twain was once lucky enough to call this charming city home and Heidelberg city inspired his book "A tramp abroad". Now I love to write but I am no Mark Twain so I'm going to leave it to him to set the scene.
"The town lay stretched along the river, it's intricate cobweb of streets jeweled with twinkling lights. Behind the castle swells a dome shaped hill, forest-clad, and beyond that a nobler and loftier one. The castle looks down upon the compact brown-roofed town; and from the town two picturesque old bridges span the river. I have never enjoyed a view which had such a satisfying charm about it as this one gives"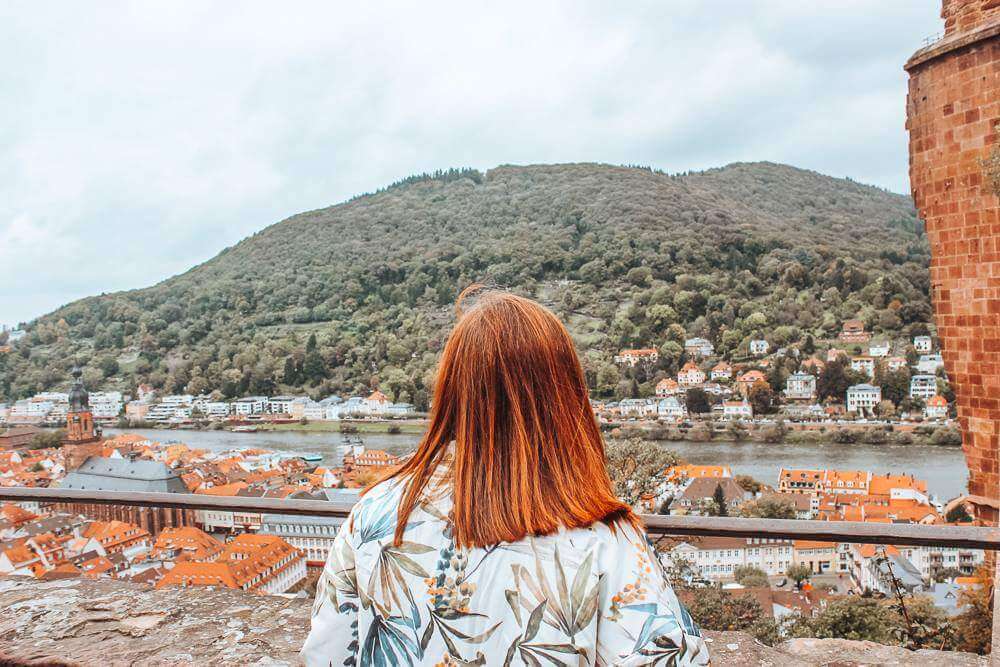 Is Heidelberg worth visiting?
Those of you that know me, know I love all things twinkling lights, cobblestone streets and glorious castles all ready for exploration, so you didn't have to convince me twice to put the fairytale city of Heidelberg pretty high up on my bucket list. It is totally worth visiting Heidelberg. If you haven't already you need to add this hidden gem to your bucket list immediately. Can you even be considered a serious traveller if you haven't been?
Is one day enough to visit Heidelberg?
There is no denying that Heidelberg will make you fall in love. Heidelberg is one of the prettiest, most fairytale cities that you have never been to. It is a hidden gem that you just have to add to your own travel list. Just one hour south of Frankfurt airport, Heidelberg is home to a 13th-century castle, the oldest university in Germany, and the longest pedestrian street in Europe. This city offers plenty to see and do. But Heidelberg doesn't seem to be on the top of most travelers wish list. I am here to convince you otherwise and encourage you to spend at least 1 day in Heidelberg.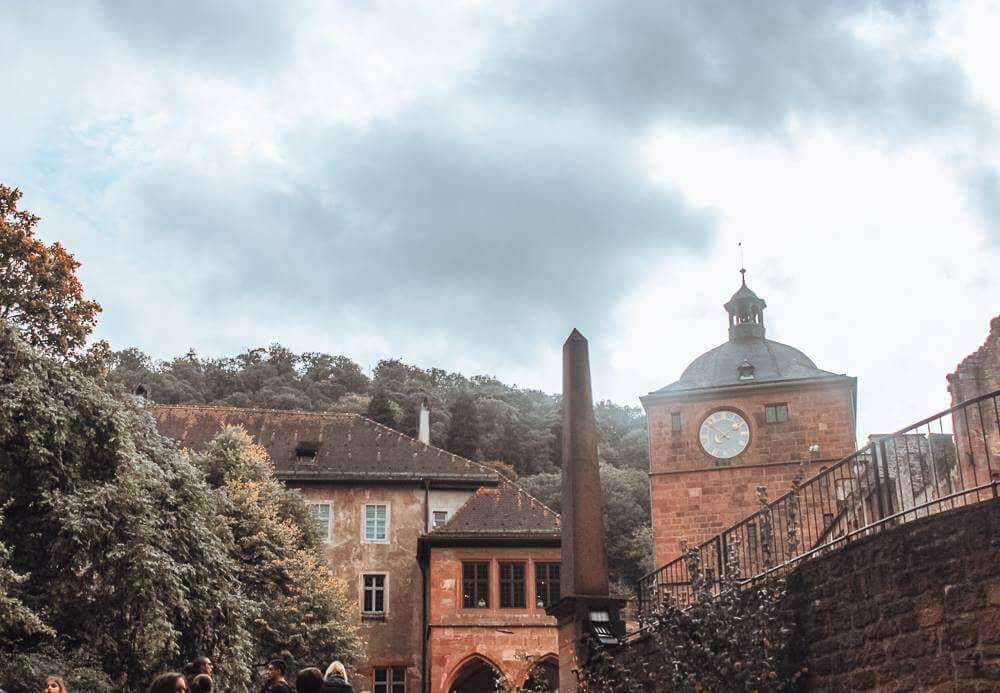 This city is romantic and historic and very easy to get around on foot so it is easy to explore Heidelberg in 24 hours. It was mostly left intact after World War II resulting in beautiful homes in a fascinating mix of different styles, some dating back to the 17th century. It is very easy to explore this fairytale German city in a day.
How to get to Heidelberg
From Frankfurt it is only a short train ride to Heidelberg Hauptbahnhof. From Mannheim Hauptbahnhof (Central Station) to Heidelberg Central Station it is a 14-16 minute ride on the s-line. The other nearby airport or train station in Stuttgart is only a short train ride away.
If you are following my story you will know that for the last few years I've been suffering the severely debhilitaing disease that is Lyme disease. I wasn't the person traveling the world that I am now. I was completely bedbound for a period of five years, which is why I would distract myself from the hellish pain and isolation by looking through Instagram for places to find for my travel bucket list for if and when I got better. Through research I had found a Lyme treatment with an 85% success rate in Frankfurt so while I was there I just knew I couldn't get so close and not tick Heidelberg off my list.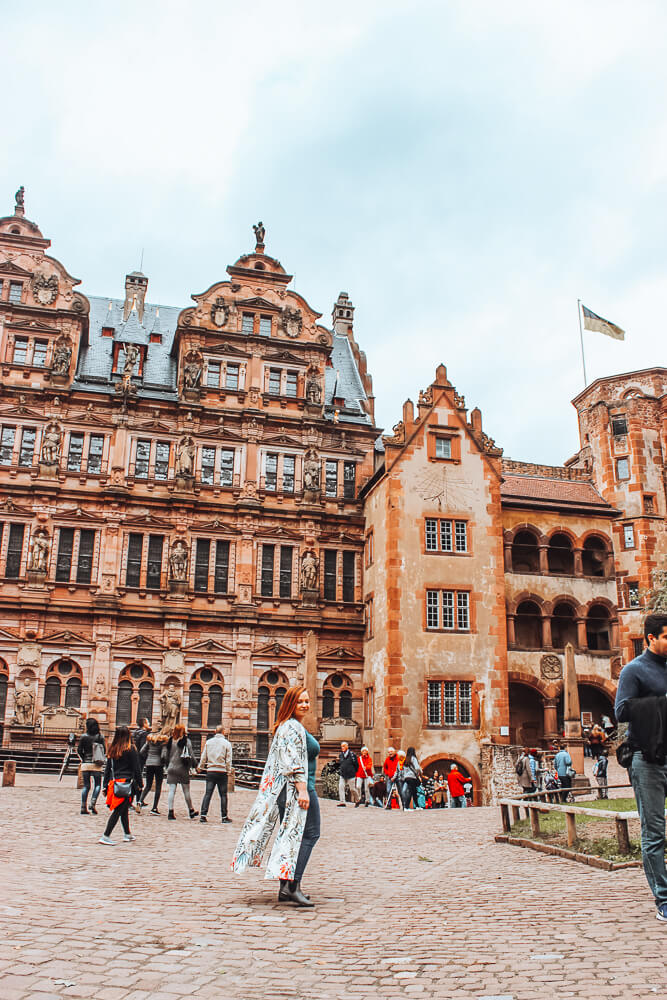 The first weekend was a no go as I was too weak but by some miracle on the Saturday after I finished up my treatment I felt the best I had in the 17 years of being sick and I knew that it was now or never. So we grabbed the S-Bahn to Frankfurt Hauptbahnhof and quickly bought our train tickets. A return trip 2nd class cost us €96 for two tickets and I'm sure had we researched we probably could have found a better deal but like I said we were grabbing the bull by the horns.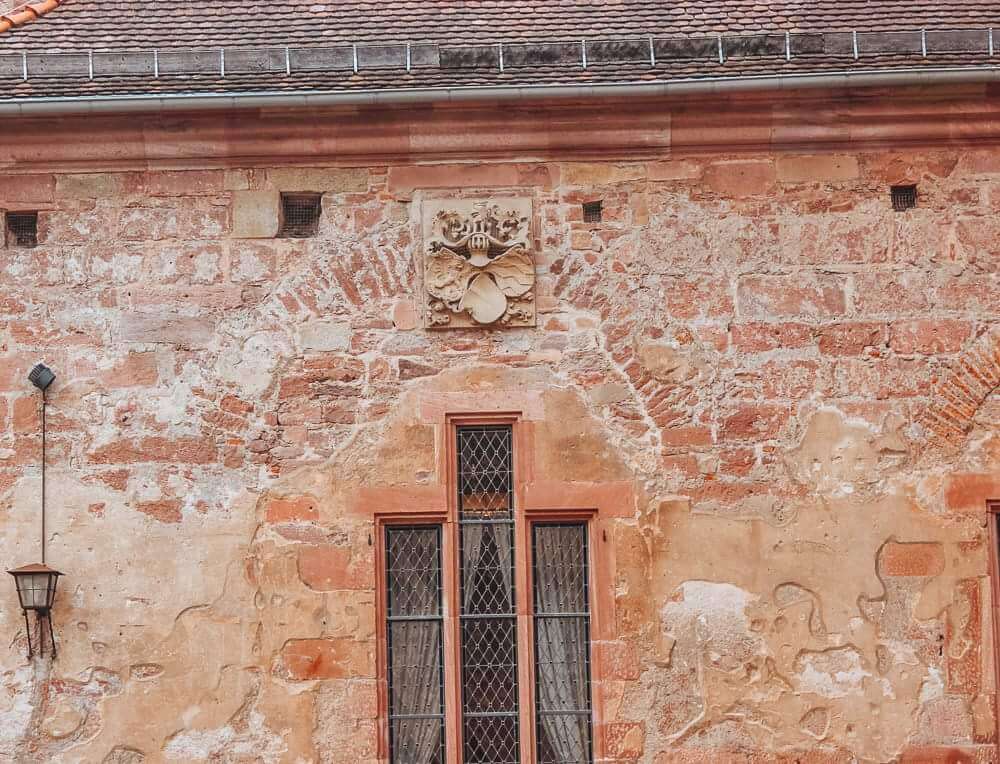 The train ride doesn't feel long and there are so many charming villages along the way to keep you entertained. One very charming, winding, twinkling light street almost had me hitting the emergency brake button and I still need to find out where this was so that I can return to visit (Yes I know! One place ticked off the bucket list and another added but that's how I roll).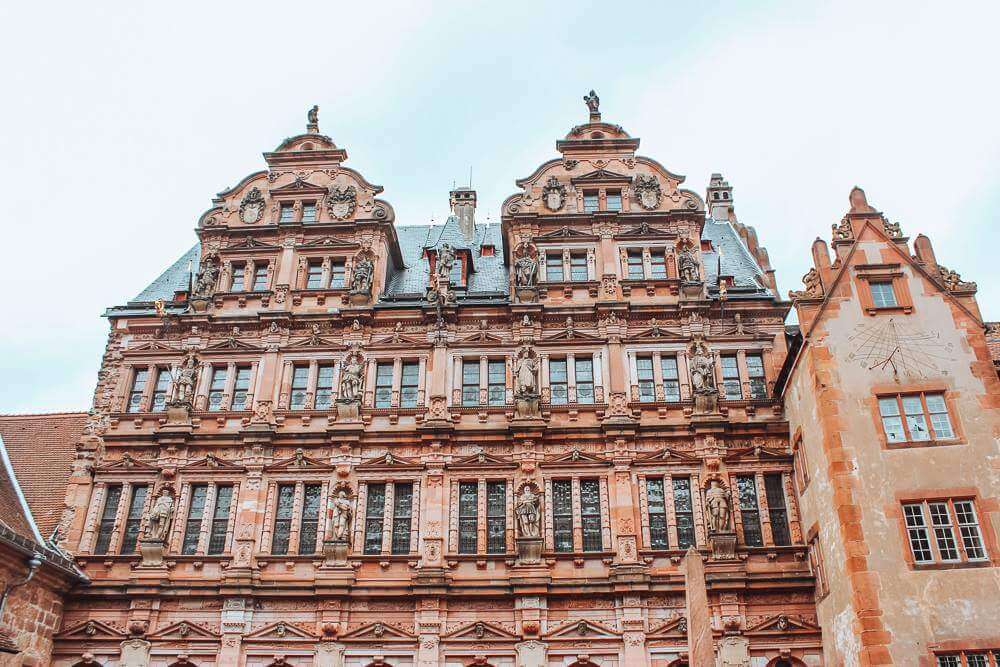 Heidelberg itinerary – things to do in Heidelberg in 1 day
Once we arrived at Heidelberg I immediately wanted to see the famous Heidelberg Castle and being careful not to overdo it we got a taxi straight to the top. But if, unlike me, you have the energy, the cobbled walk up to the castle looks so beautiful and it will really give you the opportunity to take in just how delicious this city is. There is also the option to walk to a certain point and get the funicular railway to the top.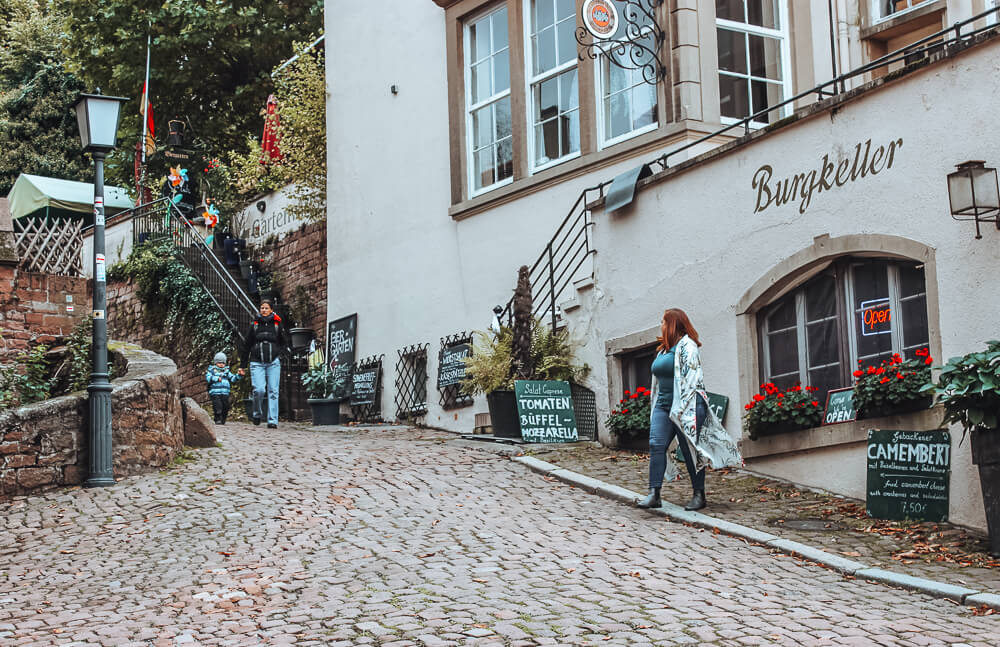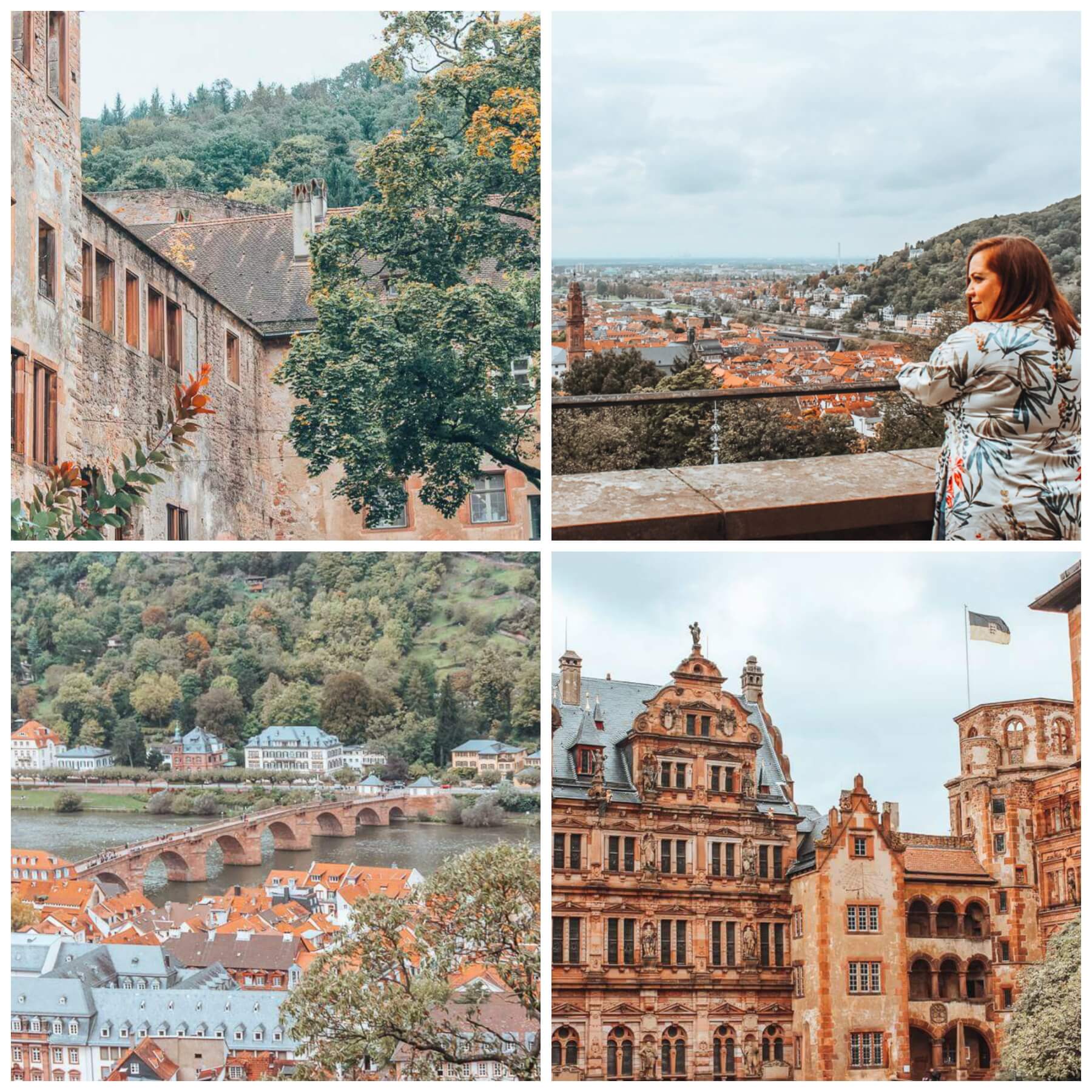 1 day in Heidelberg itinerary
Visit Heidelberg Castle
Heidelberg Castle did not dissappoint. As Mark Twain aptly described it, it has a sandstone facade and is beautifully set against the lush rolling green of the mountains. It was October when we arived so the autumnal hue of the trees really added to the fairytale feeling of Heidelberg castle.
After spending what seemed like hours soaking up the views of the city beneath we went inside. You are greeted by the most amazing courtyard that makes you feel like you are stepping back in time and I couldn't help but stand still for a minute and wonder about all of those that have stood here before me. It is literally breathtaking!
Inside the castle is the largest wine barrel I have ever seen and a very cool Apotheken Pharmacy museum with all sorts of weird concoctions. The ruins of Heidelberg Castle sit high up on a hill overlooking the entire city. The first Schloss Heidelberg structure was built in 1214 and expanded to two castles in 1294. Over time it was damaged by war, fires and lightning and rebuilt.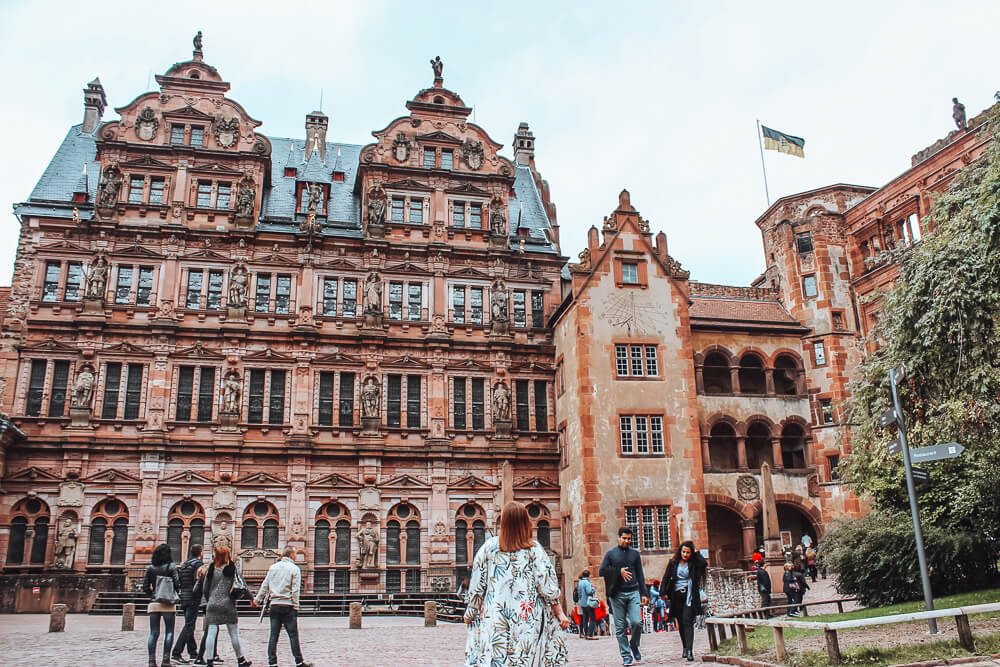 Explore Heidelberg old town
One of the best things to do in Heidelberg in 1 day is to explore Heidelberg old town. We walked back down to the old town along the cobbled path from the castle. Going down certainly looked easier than going up with some spectacular views along the way and again my mind was drawn to those that walked this path before me. The history is almost tangible if that makes sense.
It is quite a short walk actually considering how high up the castle is and I managed it without difficulty. We landed in Kornmarkt a gorgeous little square which is one of the best places to just sit and take in the views of the castle. In the corner of this square is where you will find the path up to the castle.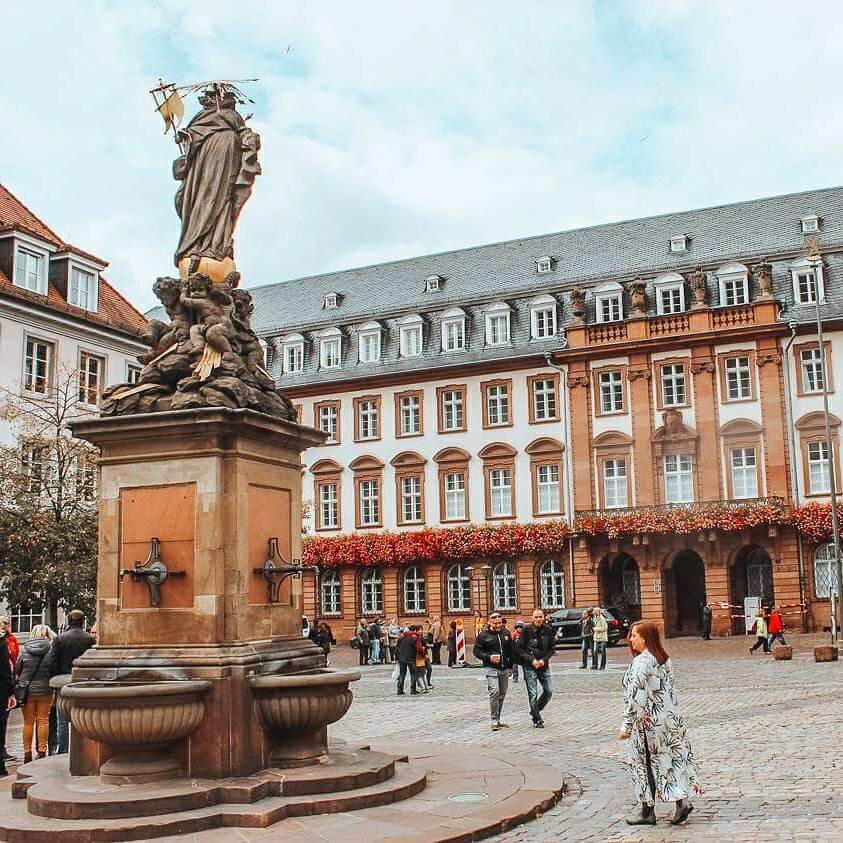 Following through from this square is the larger Marktplatz or market square. Sit here and drink a coffee and listen to the chiming bells of the stunning Heiliggeistkirche (Church of the Holy Spirit). If you are lucky you may even catch a wedding at the town hall or Rathaus. In fact we came across three weddings the day we were there, which, probably gives you an indication of how romantic this city is.
It was here that Mister Lavin spotted the Lindt shop with chocolate bonbons of any flavour. He truly got sucked in and manged to spend a whopping €18 on pic'n'mix but it was his birthday and he didn't get cake and I dropped his birthday dinner all over the floor (that's another story) so he was entitled!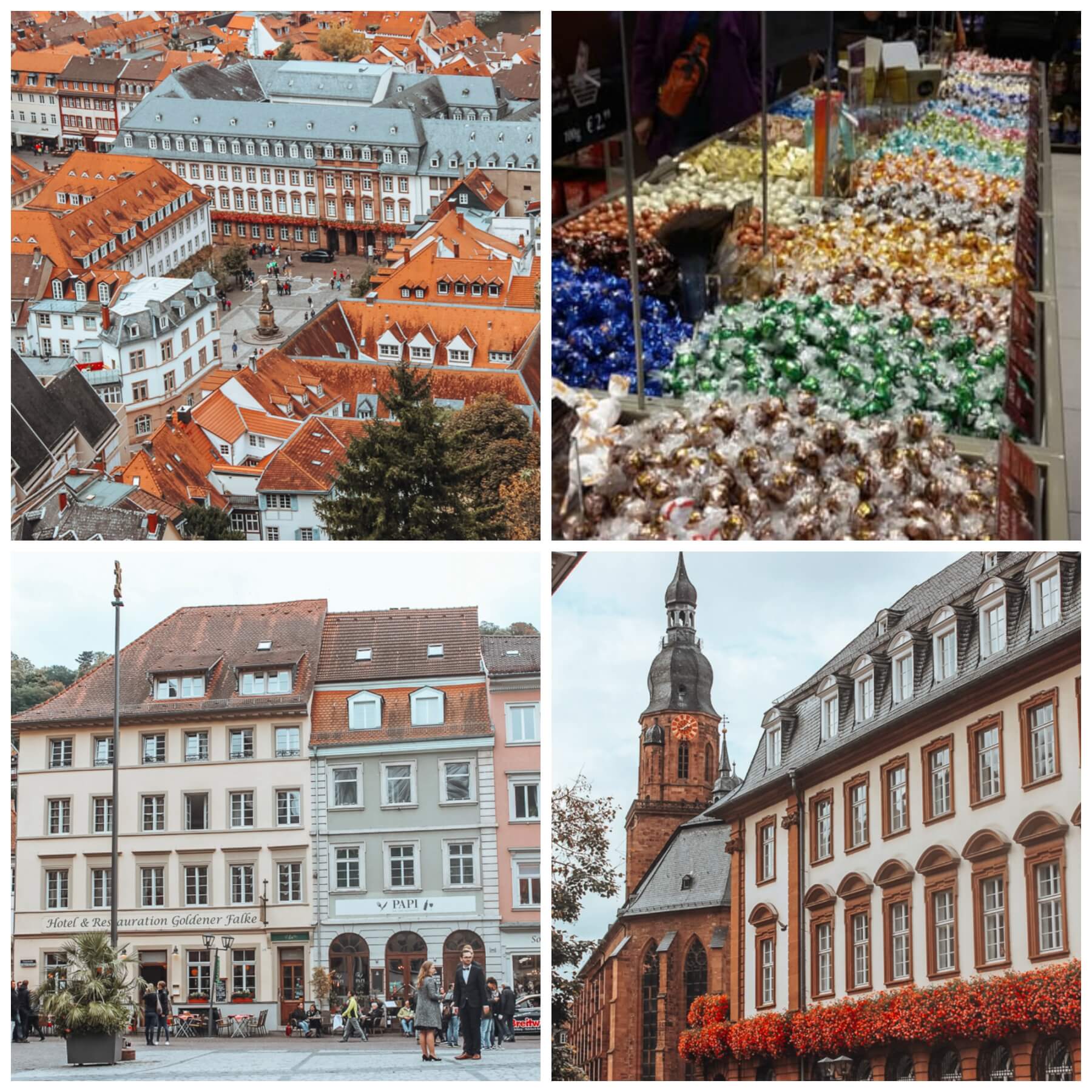 See Heidelberg from the Neckar River
Discover Heidelberg from a unique perspective with a cruise on the Neckar River. Relax as your sail along, with views of the Old Bridge, Heidelberg Castle, Neuemheimer Villas, and Town Hall. Admire Heidelberg Castle, nestled within a hill and looking over the old city. Afterward, the ship will steer alongside the Neuenheimer riverbank, with its majestic villas and the famous Philosophenweg. It is a beautiful and relaxing way to see the city and one of my favourite things to do in Heidelberg.
Go shopping in Heidelberg
The old town area of Heidelberg could almost be French and it reminds me a little of Montmartre in Paris. From the Altstadt or Old Town you will find the main street or Hauptstraße which is like the artery of the city. It is the longest pedestrian walkway in Europe and expands over a mile east to west alongside the Neckar River.
This is a shoppers dream with most of the high street shops that can be found in the UK such as Mango, H&M, Fossil and Lush (you could smell it from a mile away!). This is what I loved about this city. It combines the old and the modern to perfection. Such pretty facades with all the comforts of modern living.
Heidelberg is also declared a UNESCO city of literature. You will find bookshops and libraries around every corner. Because of the university, Heidelberg is alive with students, cool bars, and there's always something to see and do there.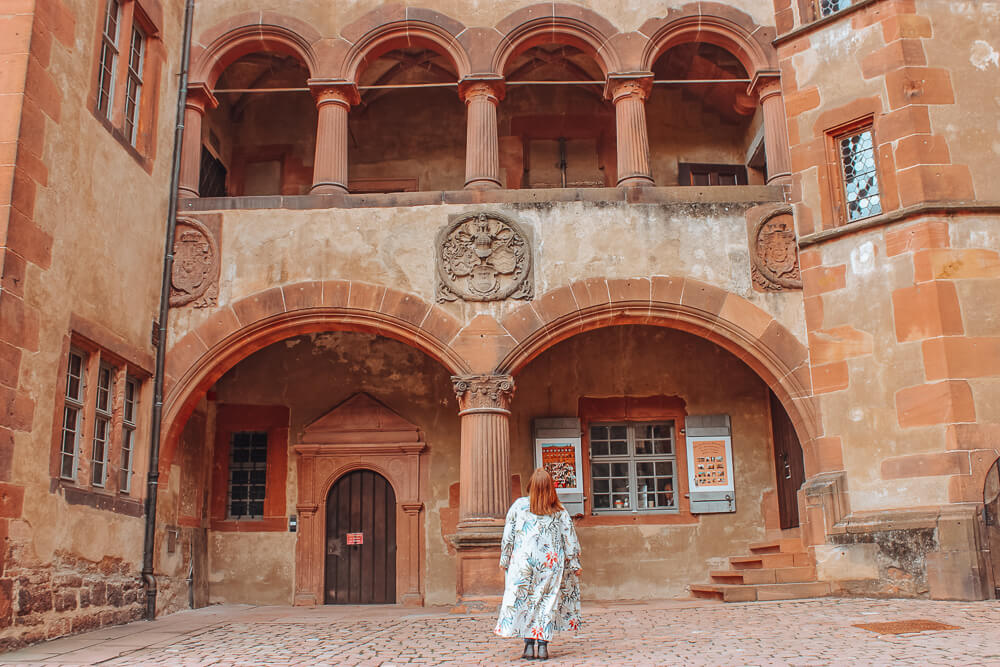 Käthe Wohlfahrt Heidelberg
If Mister Lavin could have his chocolate then I could have Christmas. We stumbled across Käthe Wohlfahrt which is a shop filled with Christmas perfection all year round! Now in July it might have seemed overkill but at a time filled with a chill in the air and spiced pumpkin lattes, visting a Christmas shop felt almost compulsory.
Entering the many levels of this shop felt like we were peeling the layers of the onion that is Christmas and man was it good. This shop is filled to the brim with Christmas tree ornaments, nutcrackers, schwibbogen, incense smokers and pyramids as well as gifts for all occasions. I left full of Christmas cheer much to the delight of my husband who at this stage couldn't take any more sugary sweetness.
In fact the Germans really know how to do Christmas. One of my favourite memories ever was exploring the Hamburg Christmas Markets with Mister Lavin.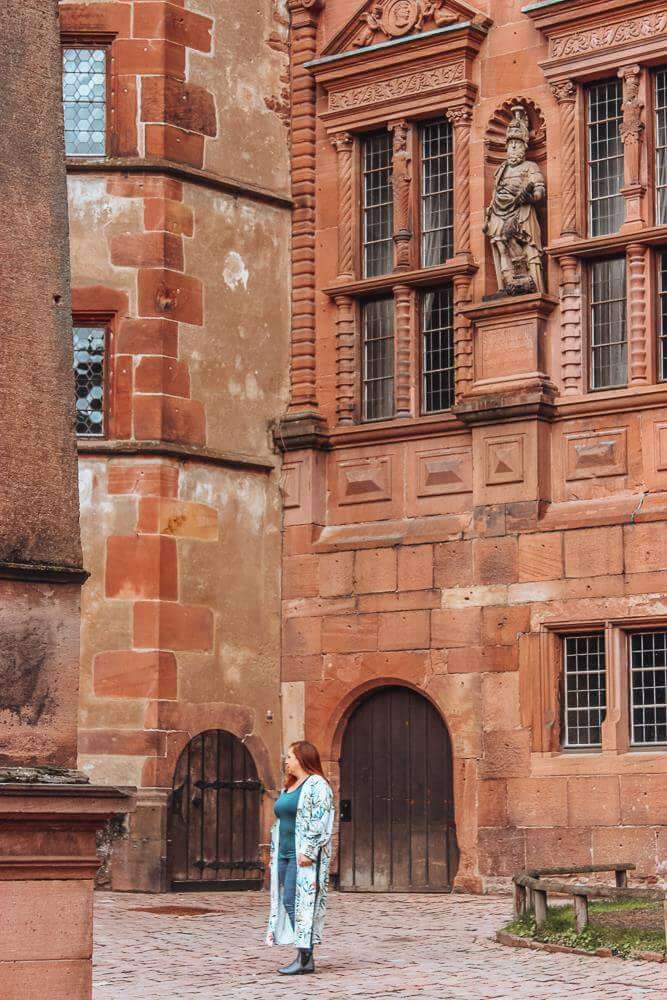 The side streets of the Haupstraße shouldn't be overlooked. Here you will find quaint cafes, restaurants and wonderful architecture. These side streets are less packed with tourists and are more authentic. What a great excuse to purposely get lost exploring.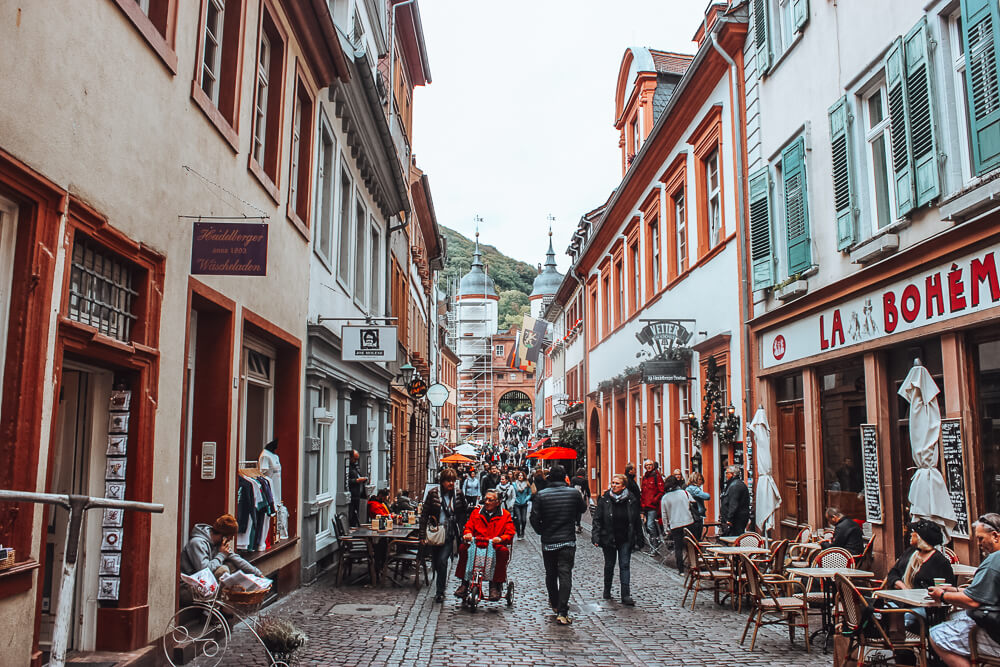 Visit the Alte Brücke
Down one of these side streets you will find the Alte Brücke which was under repair at the time of our visit. The old bridge isn't really that old. Technically it is only 70 years old. It was rebuilt as an exact replica of the old bridge after it was bombed by German troops at the end of WWII to stop Allied forces from entering Heidelberg city.
Built with Neckar Valley stone by Prince Karl Theodore, the bridge opened in 1788. Part of the old city wall now stands as the bridge gate. Before approaching the bridge gate you will come across the Heidelberg Bridge Monkey, a symbol dating back to the 15th century.
The current bronze version has been in place since 1979. The Heidelberg Bridge Monkey is said to symbolize that neither those living in the city or those living outside of it are better than the other. It does this by holding a mirror to remind people to look over their shoulder as they cross the bridge to remind themselves from where they've come. This serene spot gives a great view of the city, castle, and echoes old world charm as you walk the pathway.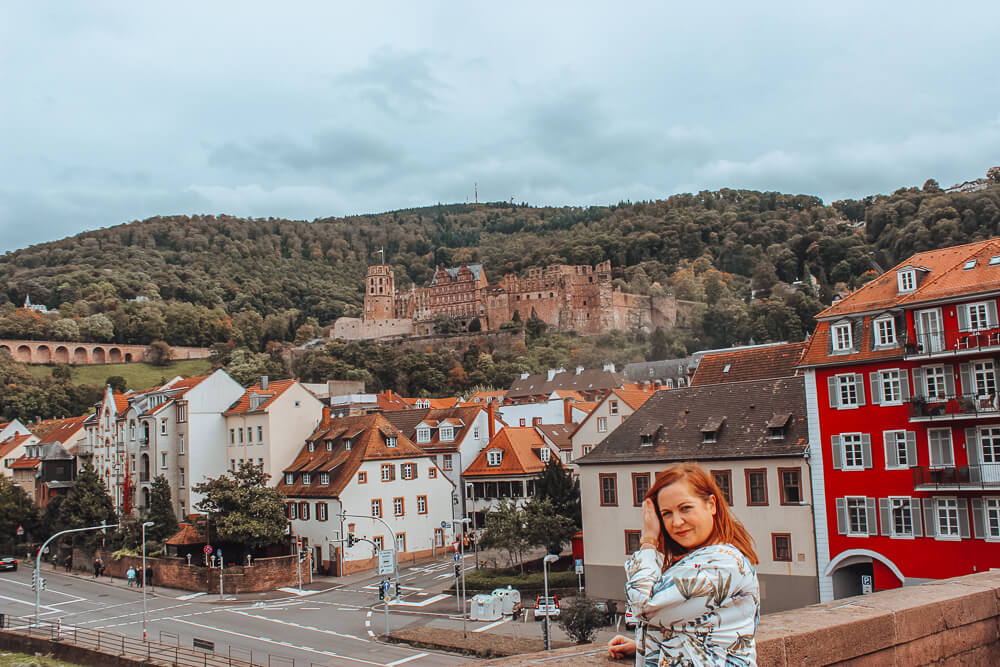 Take a walk along Philosophenweg
Heidelberg is all about gorgeous views and the Philosophenweg is no exception. The Philosophenweg, Philosophers' Walk, is located across the Neckar River in the hillside. This path has sweeping views of the Neckar River below and Heidelberg Castle on the hill across the river.
Depending on which side you come from, you will either have to take a set of stairs or a winding ramp up to the Philosophenweg so bear this in mind if, like me, you are travelling with chronic illness. Once you are at the top, there is a flat pathway to follow so the terrain is must easier to manage. While this walk may seem daunting, don't skip this on your Heidelberg itinerary.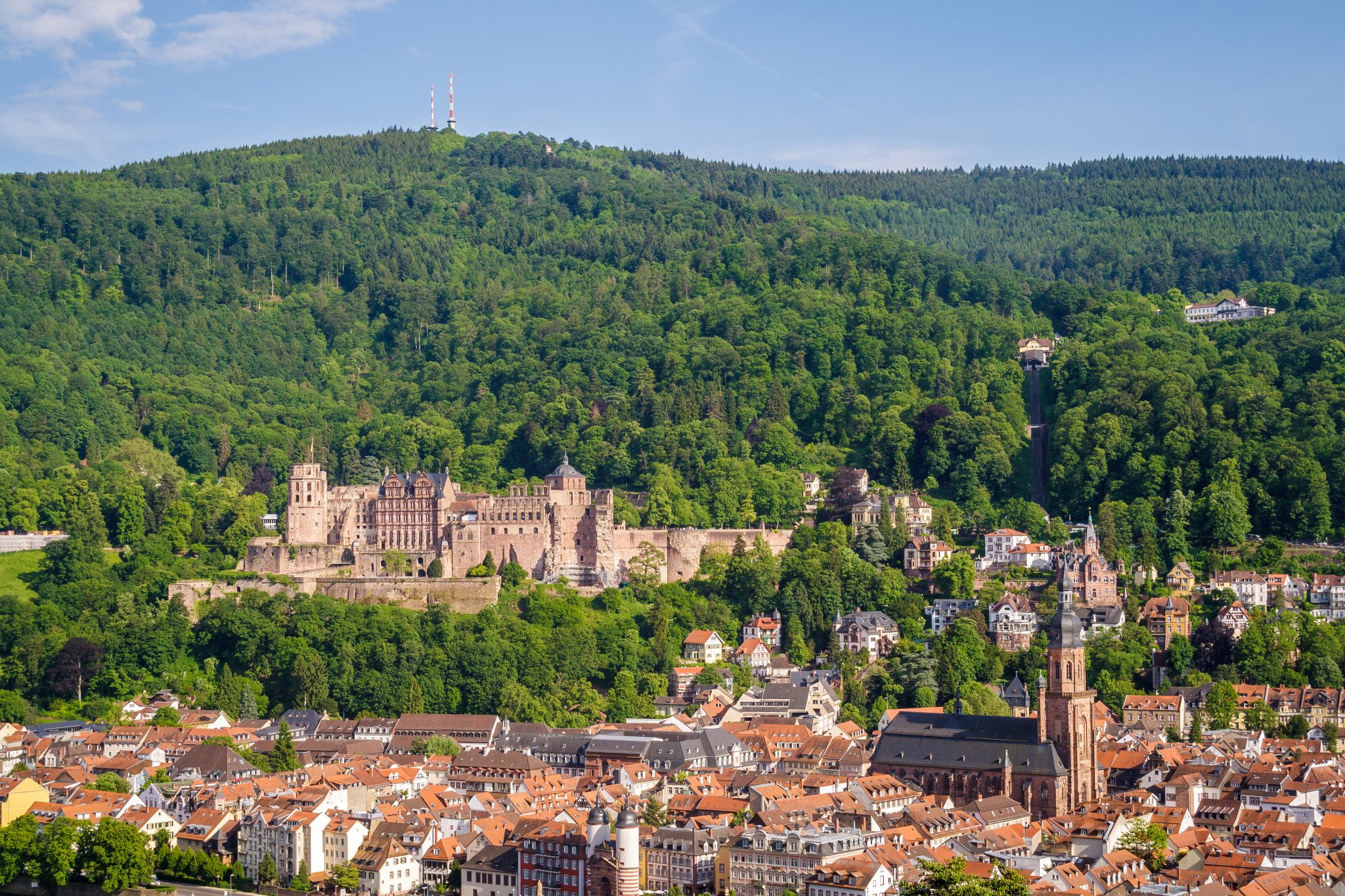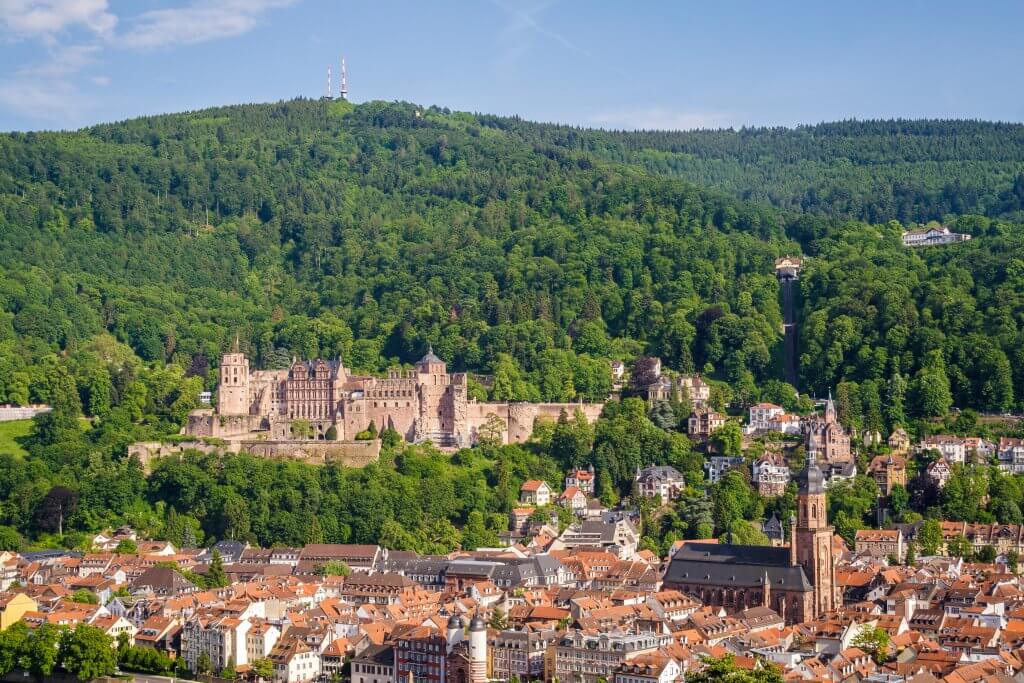 And so our day trip to Heidelberg came to an end as I needed to get back to Frankfurt and I had to be very careful not to overdo things. On a side note, trains between the two cities run pretty regularly so you don't need to factor in a strict timetable on your trip.
Heidelberg is steeped in rich history yet is still modern in its way of life, which is why I think I love it so much. Not many cities marry the old and the new quite like Heidelberg does. You can find historical sites alongside brand new eateries and cafes. There is still plenty to do in Heidelberg and we both fell in love with what this city had to offer so for sure we will be planning a return journey.
Check out my Frankfurt City Guide and don't miss the fairytale villages of Erbach and Michelstadt Odenwald.
Are you new here? Join thousands of other happy readers and subscribe to All about RosaLilla blog via email. The good news is that by signing up via email you will get exclusive travel deals straight to your inbox. The only other place that I publish these deals is on Instagram stories, so be sure to signup to get the heads up on amazing travel deals to save you money when booking.
I also share everything about myself on Instagram with nothing held back so be sure to follow along there.
Until next time you crazy kids!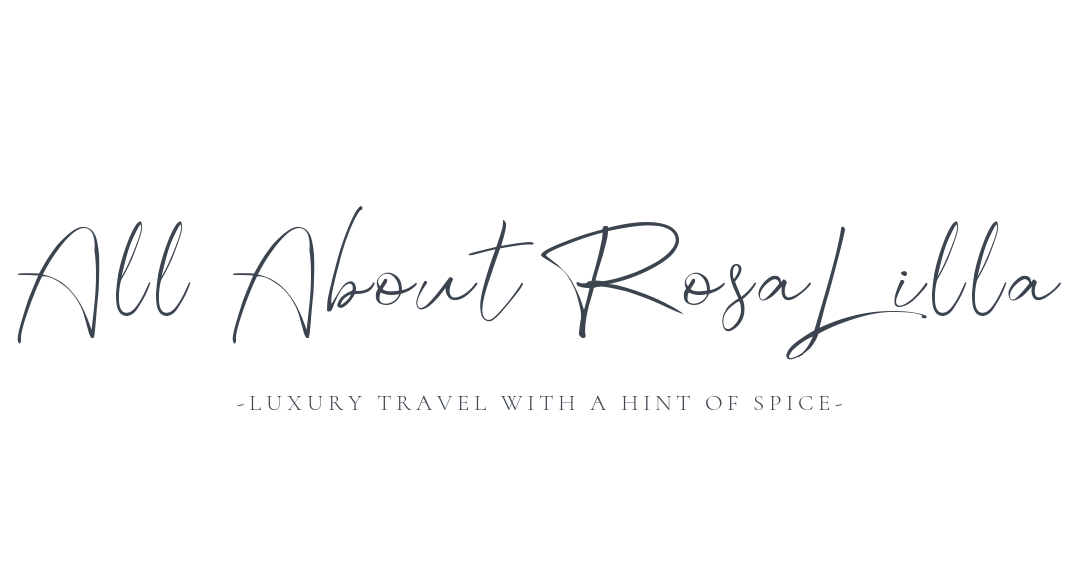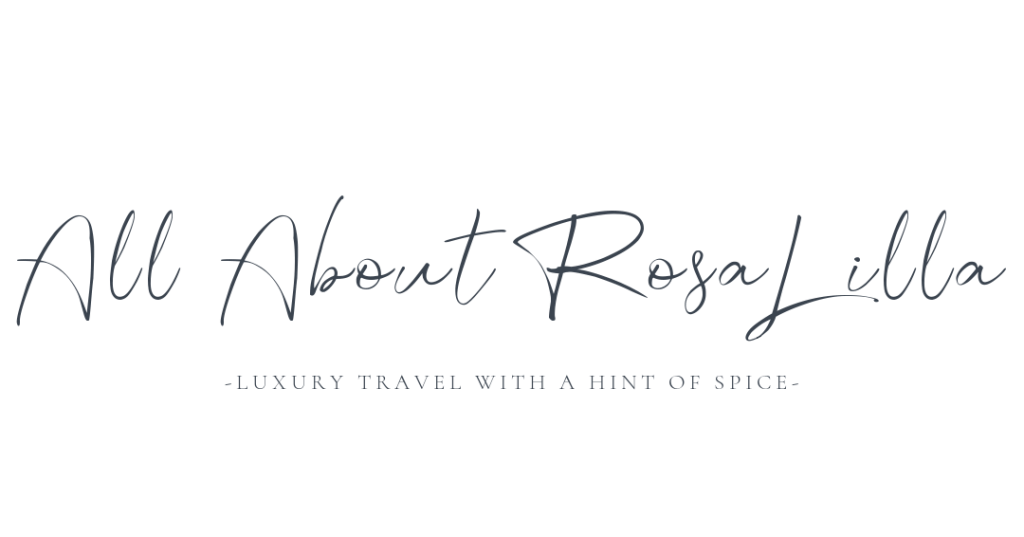 If you liked this you may also like:
The best things to do in Frankfurt
Things to do near Frankfurt. A day trip to Michelstadt and Erbach, two fairytale German villages
Sharing is sexy!