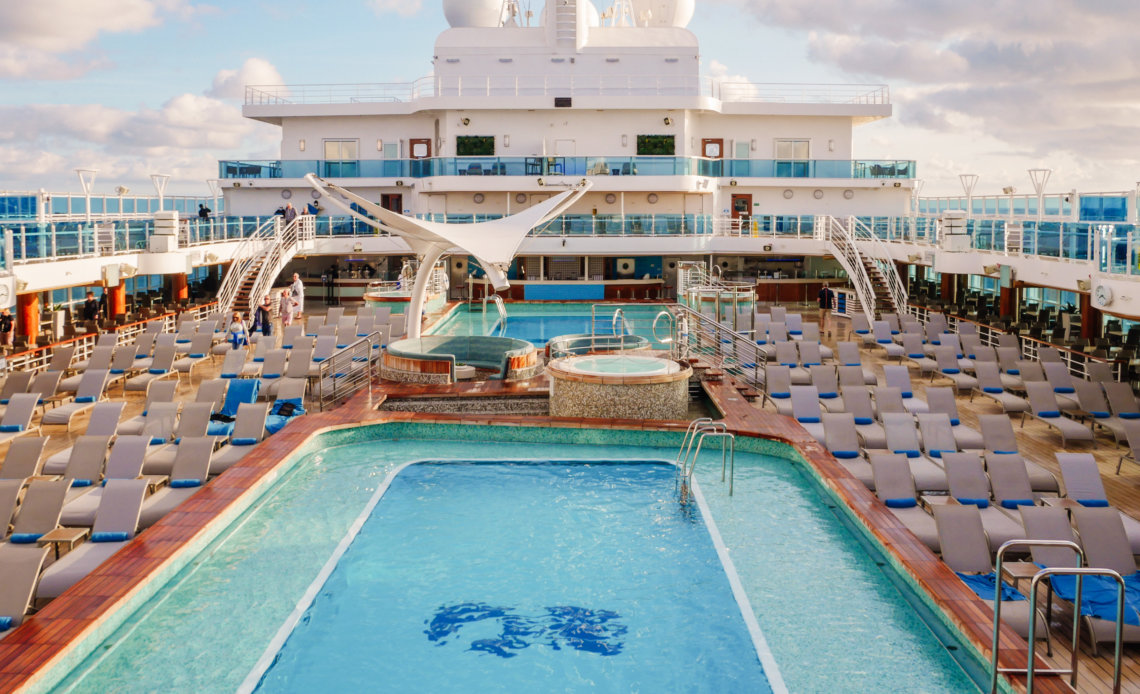 What to expect from your first cruise onboard Princess Cruises Sky Princess
Cruising was something we always wanted to try so when we were invited on a 7 night tour of the Channel islands, France and Spain we jumped at the chance to experience our first cruise in the hopes of helping you plan your first time cruising. As it was our first time travelling this way we realised that we had lots of questions, and if you are about to make an investment on your first Princess Cruise then we are sure that you do too. So we have decided to put together a complete guide on what to expect on your first cruise and detailed Princess Cruise tips so that you can make the most out of your first cruise experience.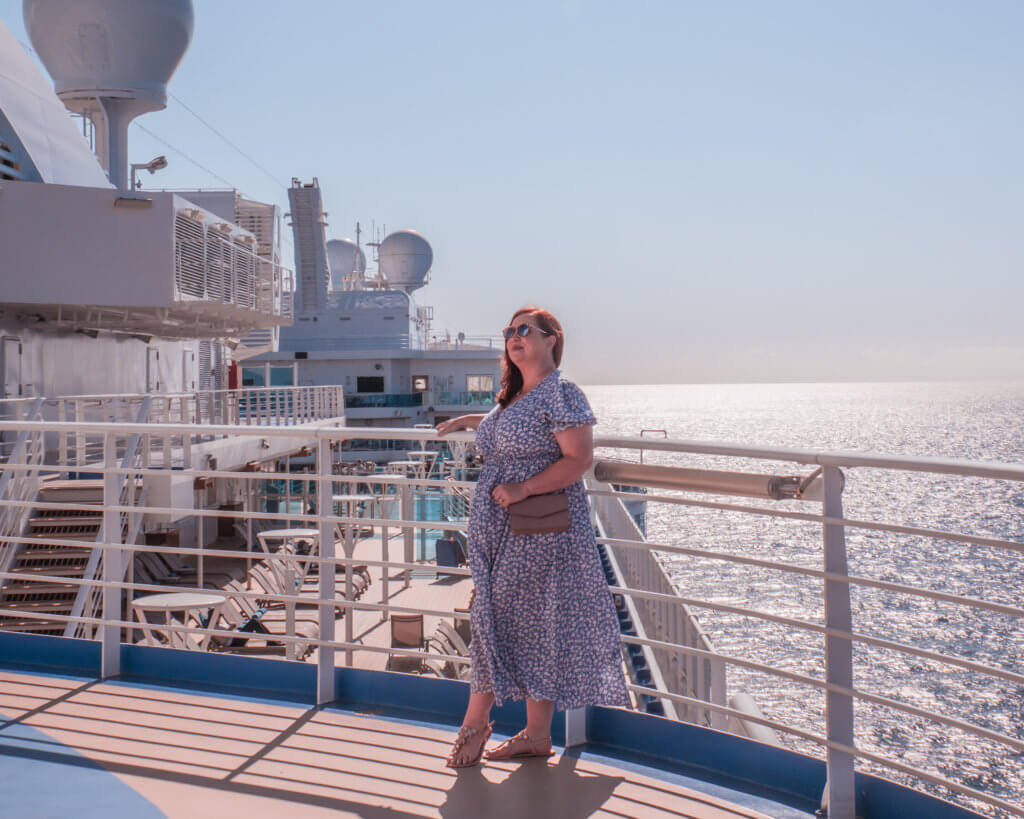 Not knowing what to expect once you get onboard can be a little daunting, no-one wants to show up for their first ever cruise completely unprepared. This guide on Princess Cruise tips for first time cruisers will be really useful so that you will know everything you need to know before embarking on your first ever cruise. We will have you properly prepared and ready to set sail to new horizons in no time.
Cruise Details
Our 7 night France & Spain cruise onboard Sky Princess starts from £649 pp for an interior stateroom based on twin-share. Stopping at St Peter Port in Guernsey, La Rochelle and Île de Ré in France and Bilbao and A Coruña in Spain. It's a great way to visit a lot of destinations in one trip and get a taste for them.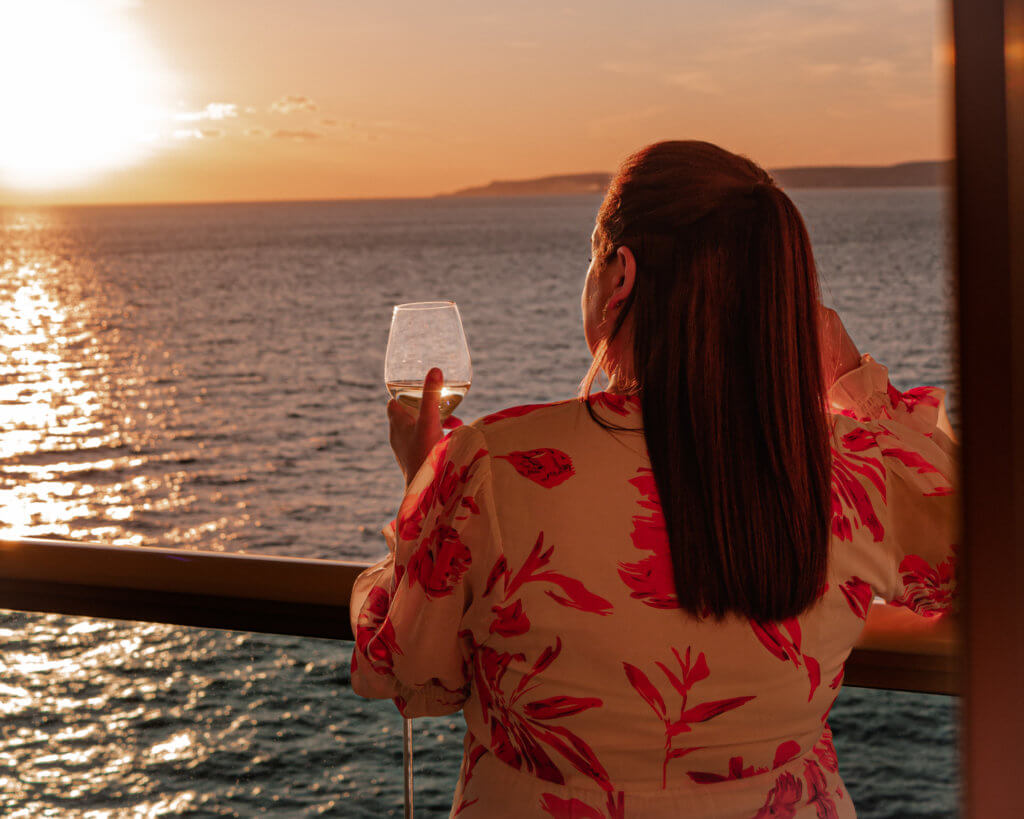 This will be my first cruise. How do I know if cruising is for me?
We can totally relate to this question. To be completely honest we had pre-conceived ideas about what cruising would be like and we didn't think that we would fit the mould. We thought that cruising might be something that we might try as we got older but after experiencing the most incredible 7 night cruise on the Sky Princess we have to admit that we are converted.
Most of our initial worries and misconceptions couldn't have been further from the truth and we thoroughly enjoyed the whole experience. So much so that we are actually looking to book our next cruise! There are so many benefits of cruising and it suits all ages, abilities and tastes. From little children to retired couples or even those travelling solo, there is something for everybody and you can tailor your cruise to your own interests and needs.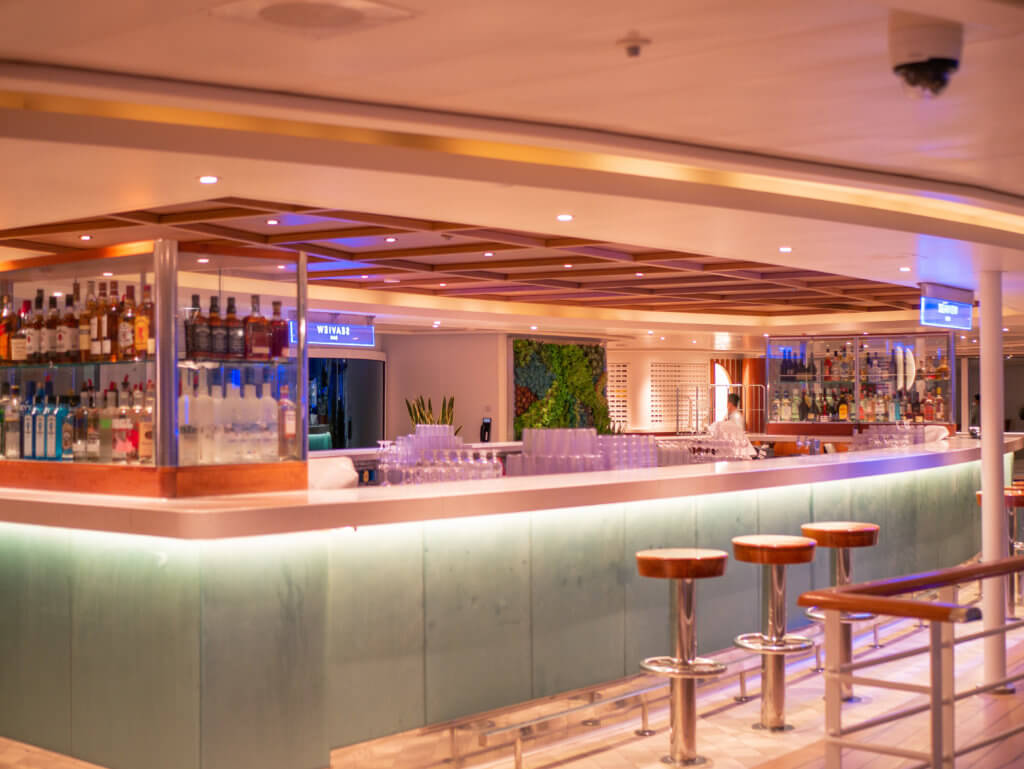 What travel documents do I need to set sail?
Princess Cruises takes your passport and any required immigration documentation details and stores them on your Medallion App before you board the ship. In the days before you set sail you must upload your documentation to get into the green lane for swift embarkation and that way you don't have to go through a long immigration process every time you disembark at a new port. Princess Cruises really do offer a seamless way to travel and we were really surprised by how quick and easy it was to go from one country to the next.
That being said it is your responsibility to ensure that you have all of the necessary visas and in-date passports and travel documents before setting sail. We found having the check list on the Medallion App really useful for this.
Don't forget to also organise travel insurance for your trip. We have written a full blog post on the need to make sure that you are covered by travel insurance should the worst happen and our story about a very scary near-miss that happened to us just in case you still need convincing. It is important to make sure that whatever policy you choose also has cruise cover.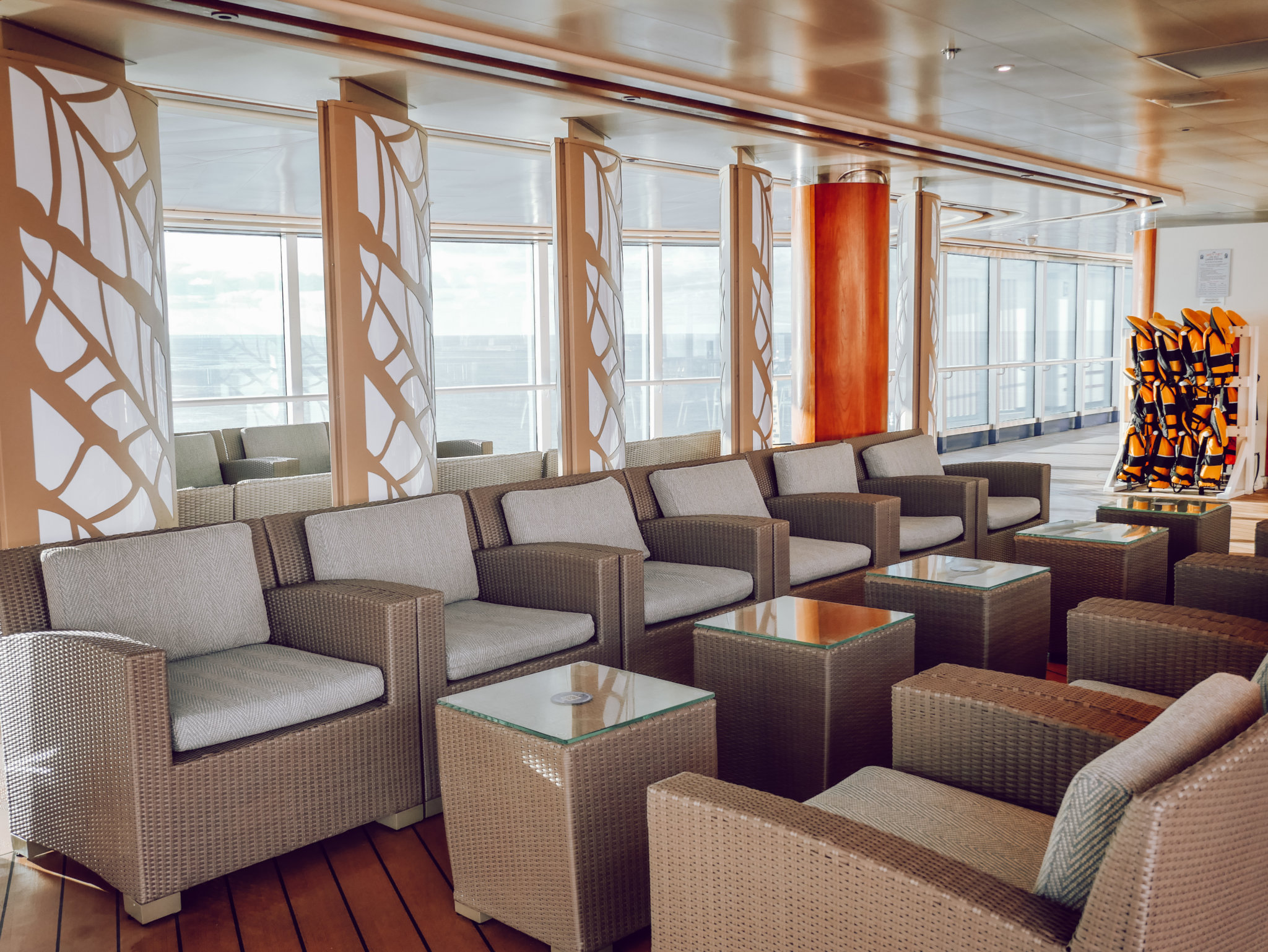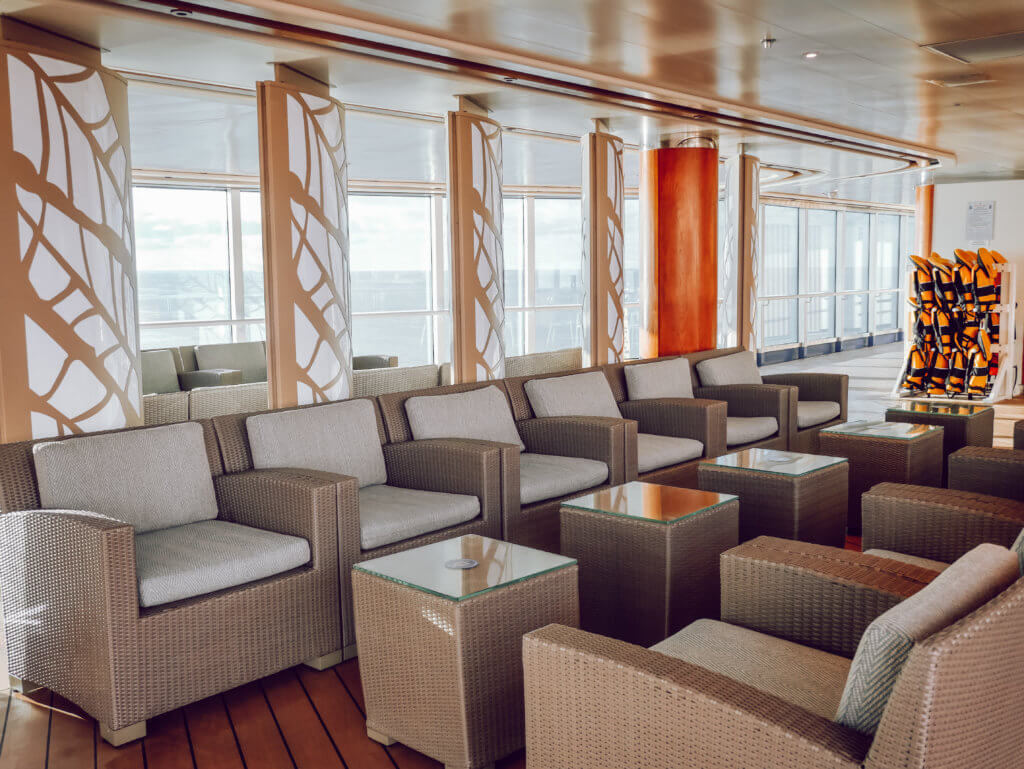 What happens on the first day embarkation?
When we arrived in Southampton port we were interested but not yet fully excited about the journey ahead. Having never been on a cruise before we had no expectations and had no idea of the treat we were in for! The excitement hit as soon as we saw the grandeur of the Sky Princess sitting in port and by the time we began the embarkation process we were completely giddy.
We were sure that we would have no idea where to go or what to do and while this was our first rodeo, the Princess Cruise team and port authority are so experienced that it was mind-blowing to us just how smooth and swift the whole process was. There will be plenty of signage and personnel on hand to help guide you through each step of the process.
The most important piece of advice is don't be late as you could quite literally "miss the boat" or in this case ship as you could be denied boarding due to port regulations.
The first stop was to drop our luggage so that it would be delivered to our stateroom. You will be assigned a room at the time of booking and your room number is displayed on the Medallion App once you check in, so you simply have to queue to get luggage tags with your room number and be told which area numbered 1-3 that you should go to drop off your bag.
You then enter a really large room to go through your travel documents and collect your personalised Medallion. The staff are so helpful and friendly and the process is fast and smooth. Once you collect your Medallion you have to quickly go through security and have any hand luggage that you are taking on board scanned for prohibited items.
The excitement really builds as you walk the gangway to get on board the ship. We entered the ship on Deck 5 and we were immediately hit by how luxurious it all was. If you have been following our blog for a while you will know that we never take any travel experience for granted after we had to put travel and life on hold when I became completely disabled and bedbound due to Lyme disease. I wasn't prepared for how emotional I would get at the beauty of the ship as live concert music played in the atrium, the central foyer of the ship.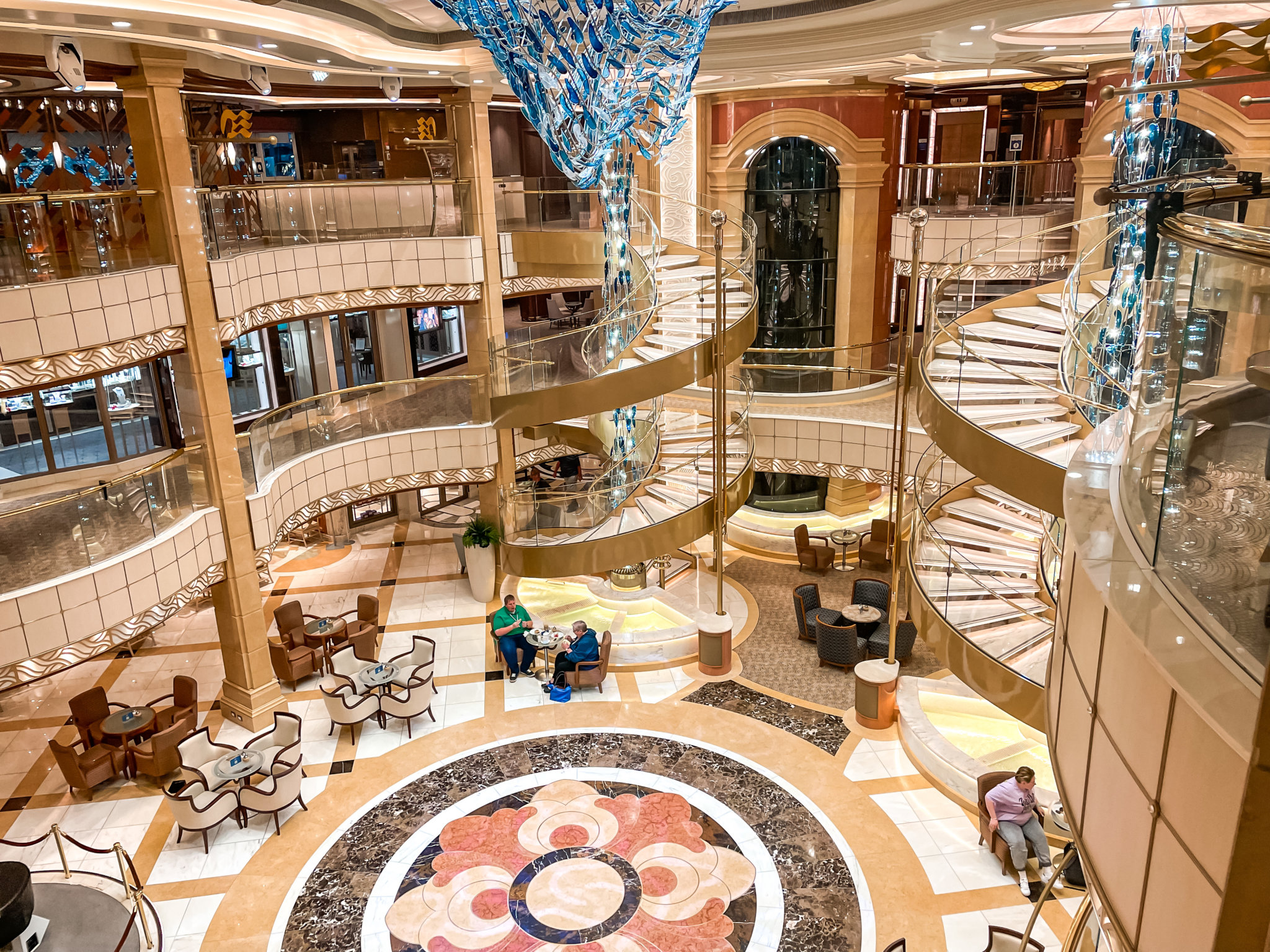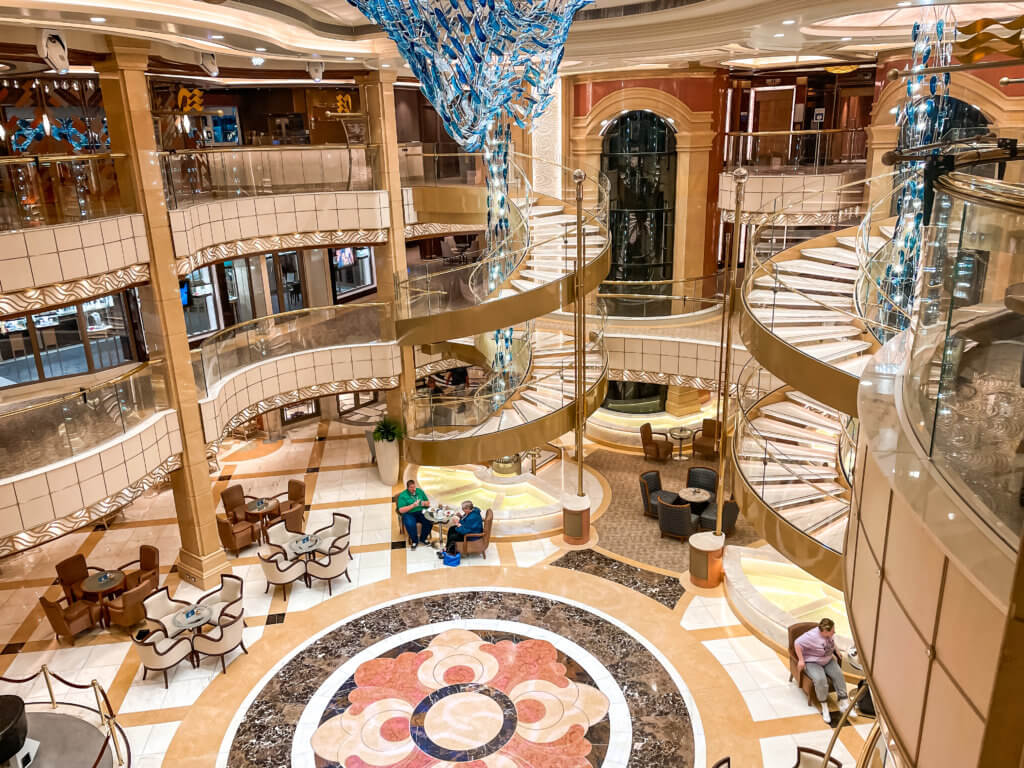 As we had arrived early, eager beavers that we are, our stateroom wasn't ready. Which isn't surprising as the last set of guests had only disembarked mere hours beforehand. We were free to explore the ship and grab some lunch in Alfredo's, the Sky Princess' infamous pizzeria. After just one meal and without even setting sail yet we knew that this was going to be an experience that we would LOVE!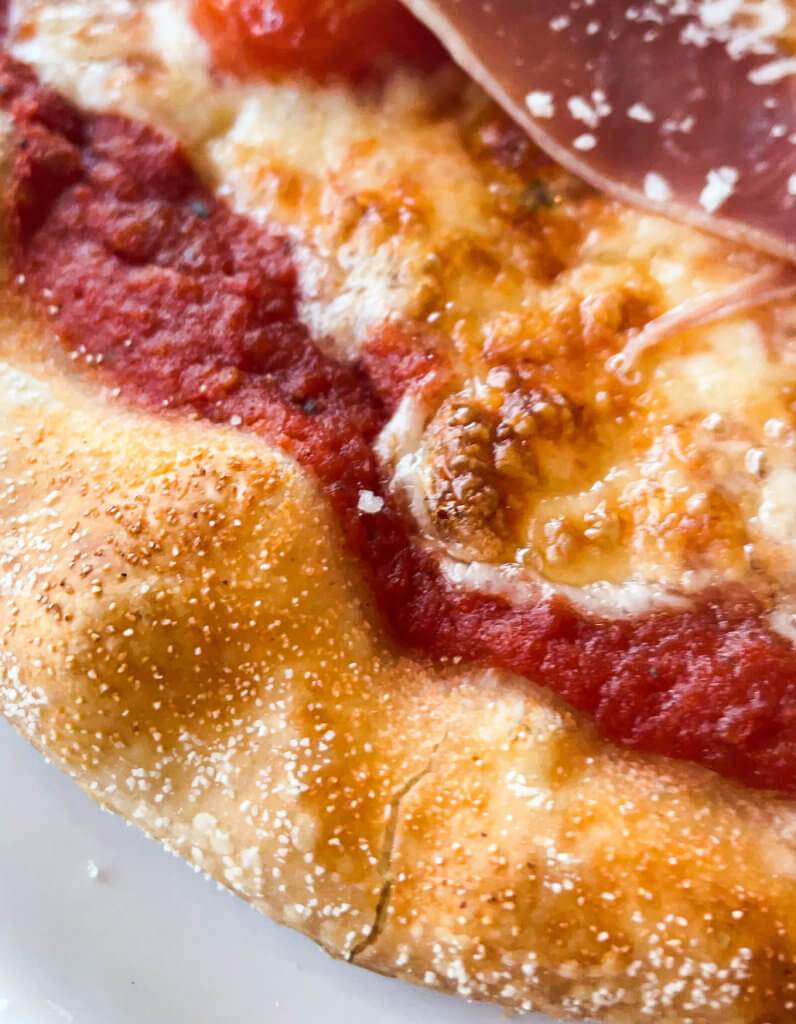 Safety is a priority onboard so before you get the party started you must first watch the ship's safety video and attend your muster station. This word was completely new to us being new to cruising so let us explain it briefly to you too so you are familiar with the terminology when you get onboard. A muster station is basically the dedicated area of the ship where you will be directed to assemble if there is an emergency. You will be directed to your particular muster station after you board and you will need to tap your Medallion to check in.
Princess Cruise Tips – Don't miss the sail away party.
This is one of my favourite moments on the ship as everyone congregates on the top deck to wave goodbye to the port. Everyone is in full on excitement mode with live music playing and cocktails flowing. In our opinion the best place to watch the sail away party is one deck above the pool. There you can enjoy all of the festivities while also watching the shoreline disappear into the distance.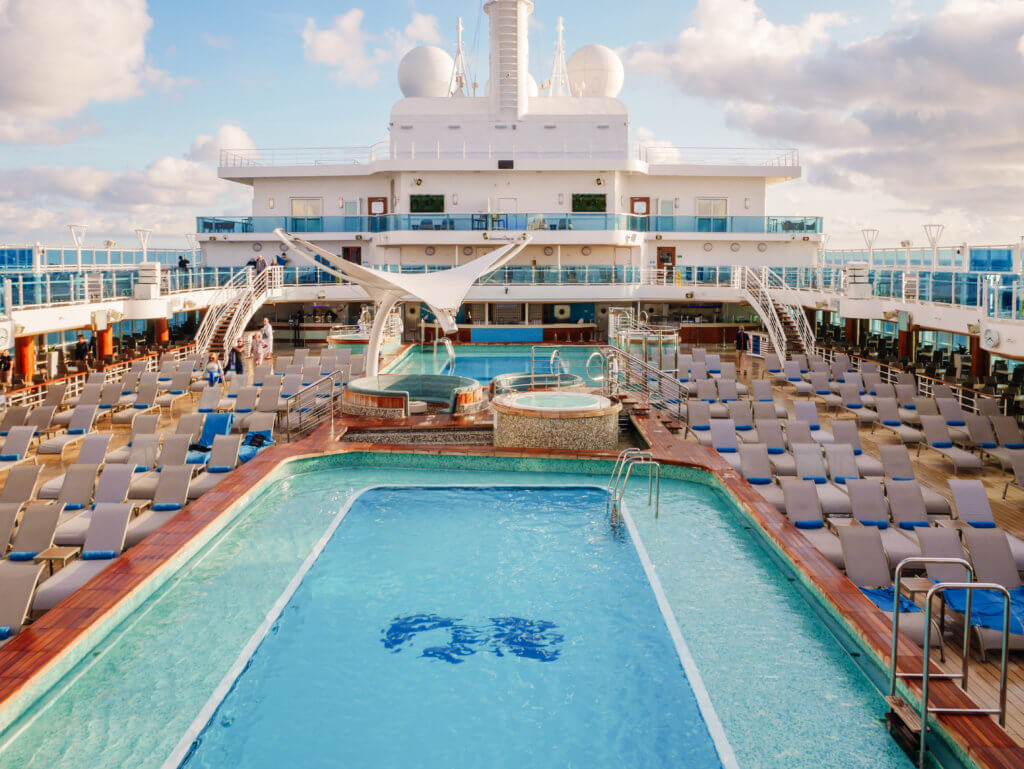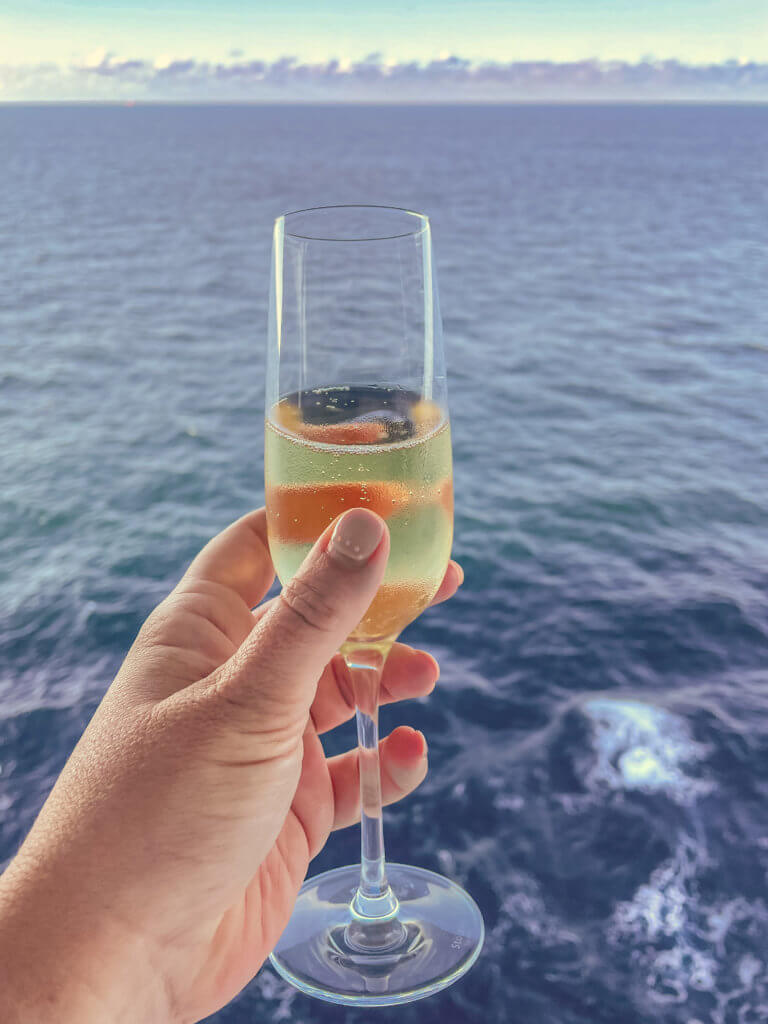 What is included in my cruise fare and what is extra?
So let's get into the different package options which can seem a little overwhelming. First of all we would like to point out that you do not need to buy any additional package to enjoy a full range of complimentary food and activities onboard. The first thing we observed shortly after boarding was how cruising really is incredible value for money and even if you do not choose to purchase additional packages you will still be treated to a very high standard of dining onboard the Sky Princess. Unlimited drinks such as tea, coffee and juices are also included in the basic price in the World Fresh Marketplace (buffet) but alcoholic drinks, soft drinks, speciality coffees, Wi-Fi and gratuities will have to be paid for as you go.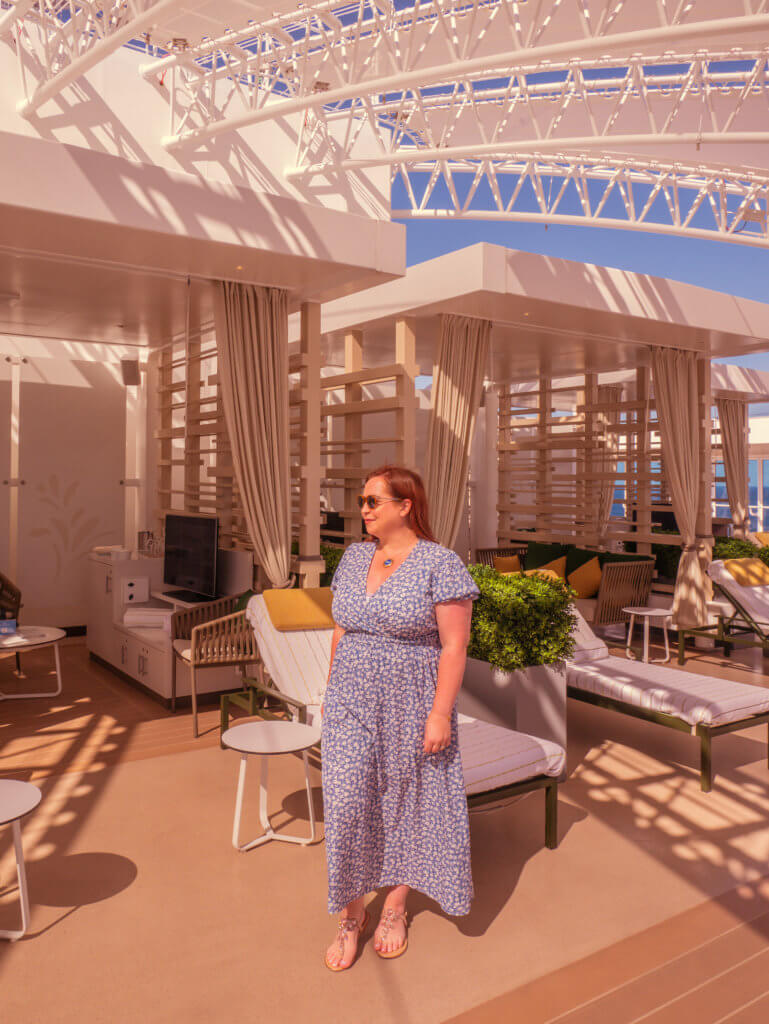 Princess Cruise Tips – Go for the Princess Plus Package
The best value for money in our opinion is the Princess Plus Package. It is a more all-inclusive way to travel as it includes a beverage package, unlimited Wi-Fi and prepaid gratuities which are divided among all staff onboard. Princess Cruises beverage package includes beer, spirits, wine by the glass and cocktails up to the value of $12 each. There is a limit of 15 alcoholic drinks per person per day. It also includes non-alcoholic drinks such as mocktails and speciality coffees.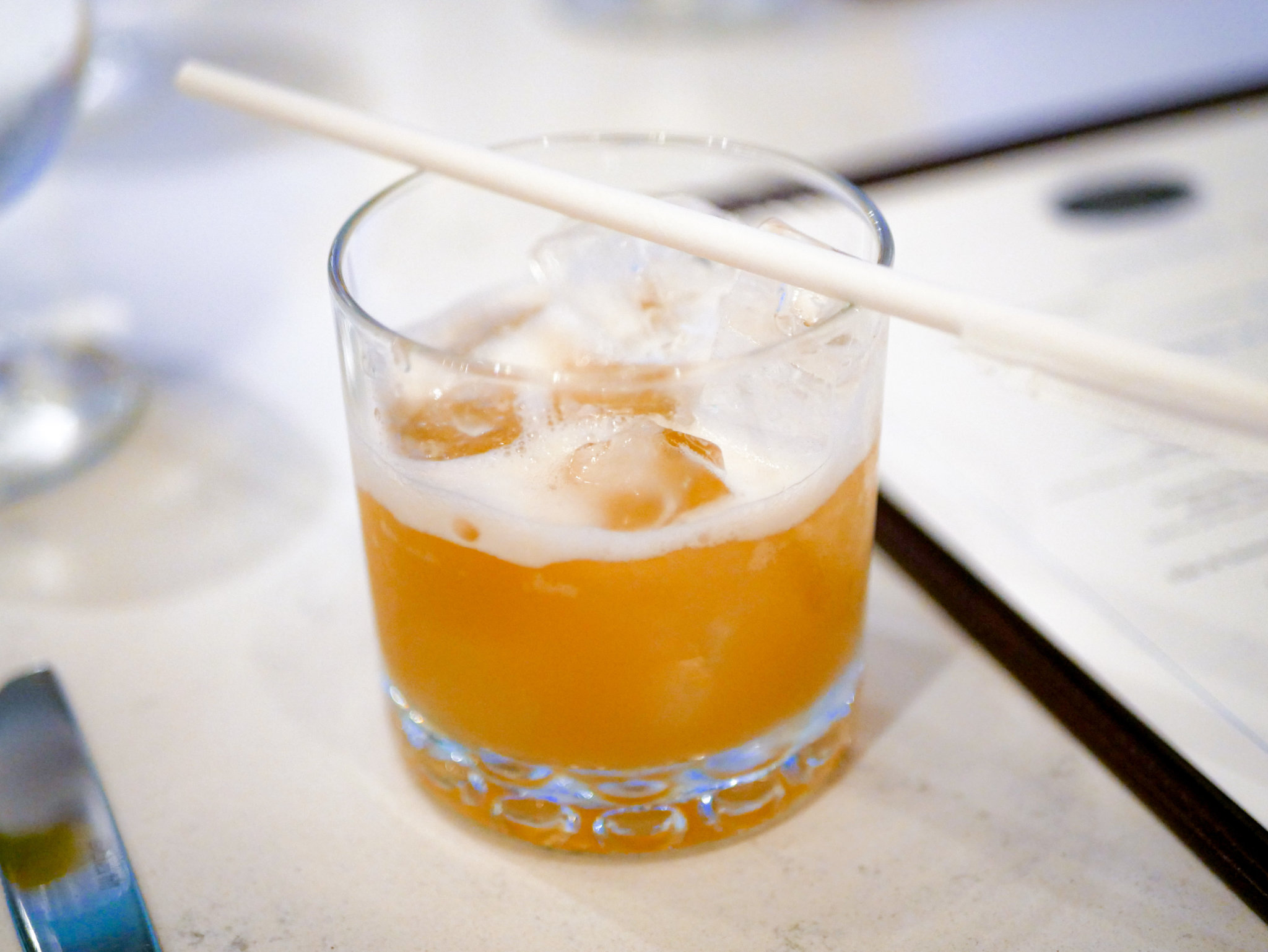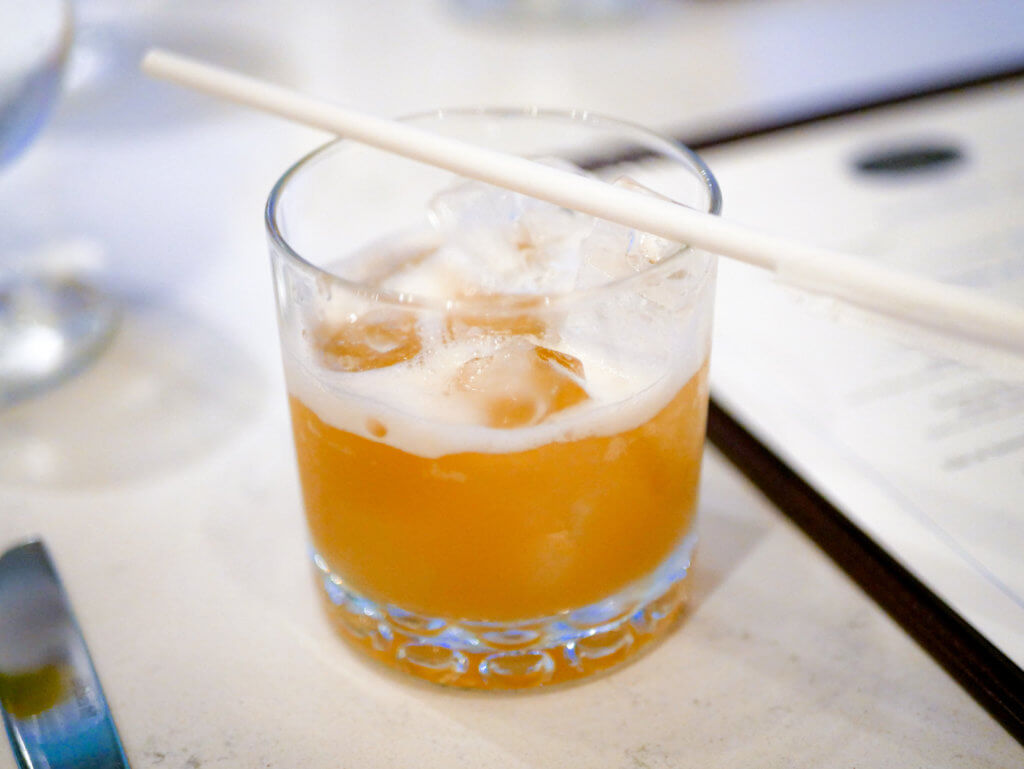 It does not include bottles of wine, canned fizzy drinks or 1L bottles of water but if you do wish to purchase any of these a 25% discount will apply.
The Princess Plus Package will also give you access to unlimited Wi-Fi. Princess Cruise ships are equipped with Ocean Medallion technology, which includes MedallionNet, a pretty fast and reliable Wi-Fi to help you stay connected during your cruise.
On this package there will also be no need to tip staff individually as a substantial portion of the daily cost of the package will be for pre-paid gratuities and will be divided out among ALL staff on the Sky Princess.
In our opinion the Princess Plus Package is worth the additional $40/€46 cost per day. You will have negated the cost after just 3 drinks and we loved the all-inclusive feel. Nevermind the additional perks of not having to individually tip and access to unlimited Wi-Fi while at sea. We know that we spend a lot more than $280 per person on alcoholic drinks on a 7 day trip.
Princess Cruises also has a Premier Beverage Package if you prefer top-shelf premium beverages up to the value of $18 each. You can also enjoy these on the Princess Plus Package but you will pay the cost difference after your $12 drink allowance.
If you want to enjoy the casino on the Sky Princess this will be an additional charge. Once you have a credit card pre-authorized on your Medallion App you can use your Medallion at the casino which will charge your card for any chips you purchase to gamble.
Not included in your cruise fare are on-shore excursions. When you dock at a port you can either stay on the ship and enjoy the amenities onboard or go and explore the new destination. You can either do this on your own or book onto one of the recommended tours by Princess Cruises. These can be pre-booked before your cruise or while you are onboard. Excursions offered through Princess are carefully selected and provided by reputable tour operators who meet the high standards expected by Princess Cruises.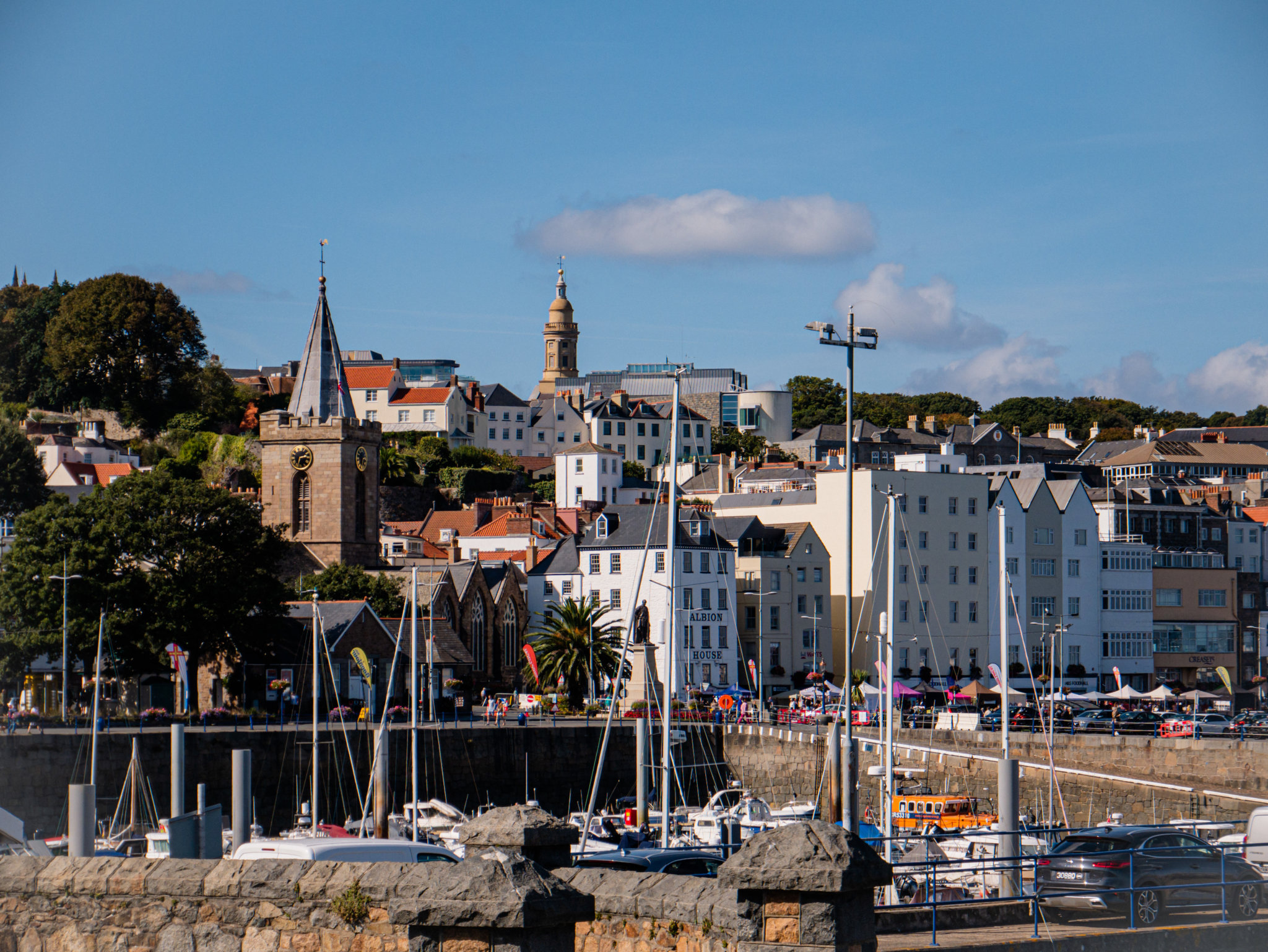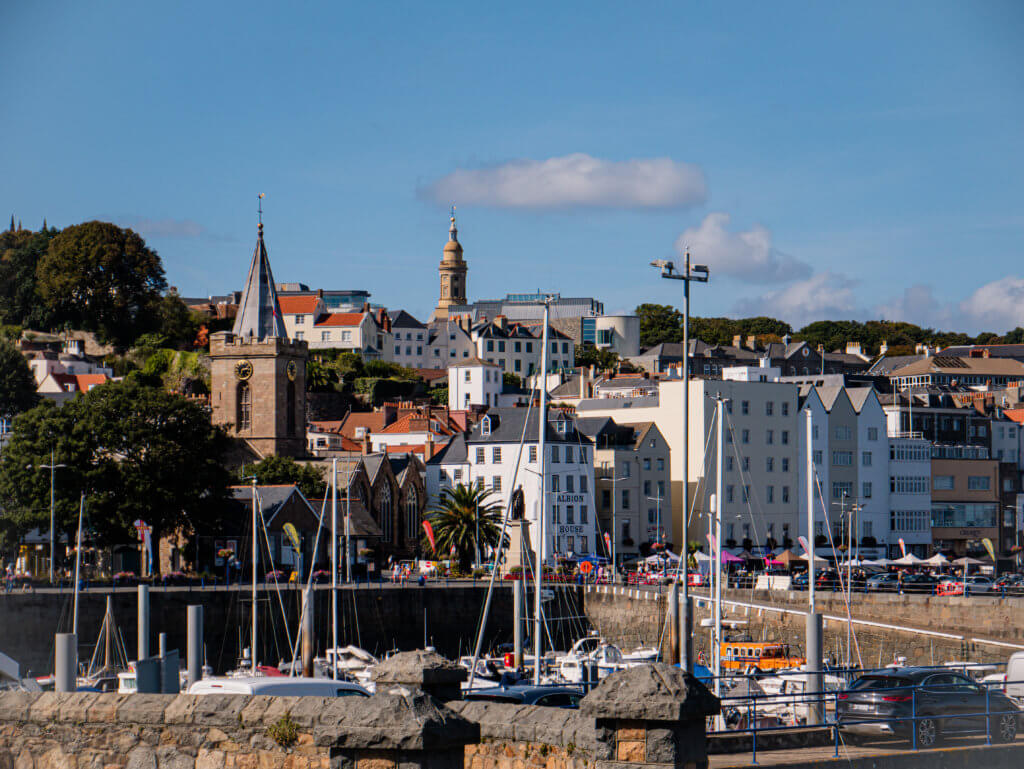 Princess Cruise Tips – Pre-book your on-shore excursions and speciality dining
If there is a tour that you really want to do at a particular destination or speciality restaurant that you just have to try (Crown Grill anyone!) be sure to pre-book it before you set sail. With over 3,000 people onboard you can easily find things that you want booked out!
Another point to remember is that the Sky Princess has three main dining rooms which are also complimentary with your basic fare so please don't make the first time cruiser mistake of limiting yourself to only the buffet.
Here is a list of restaurants on Sky Princess dining options included in your fare.
Main Dining Room (Traditional and anytime dining, including breakfast. There are 3 main dining rooms spread over 3 decks on Sky Princess)
International Cafe – This is literally open 24/7 and offers breakfast, lunch (even salads), snack and dessert options
The Salty Dog Grill – Outdoors near the pool there is a grill with burgers, hot dogs, french fries and more (Princess Cruise tips – make sure to try the loaded fries)
Slice Pizzeria (Poolside Pizza) – Princess has some of the best pizza at sea (possibly THE best)
World Fresh Marketplace – the buffet has quite a lot available from morning to night to suit every taste
Alfredo's Pizzeria – sit down Italian venue open for lunch and dinner and there's no extra charge.
Princess Cruise Tips – eat lunch in Alfredo's on the day of embarkation
Do as we did and go to Alfredo's for lunch while you are waiting on your stateroom to be ready. Most people will go to the buffet as they will not yet be aware that Alfredo's is complimentary!
Also Gelato (icecream bar) is an additional charge but it is the only place to get authentic gelato outside of Italy so you have to have at least one during you time onboard. It would be rude not to!
How does the Medallion App work?
Once onboard your personalised Medallion will unlock a world of possibility for you. Not only will it quite literally unlock your stateroom for only you as you approach there are so many benefits to a MedallionClass service. You can enjoy faster boarding, personalise your travel itinerary, have drinks/food brought to you anywhere on the ship, locate family members and friends and there are even fun games to enjoy on the app.
Every Princess ship is a destination in itself, and with MedallionClass your time onboard will be just as entertaining as your time on-shore.
What happens on port days?
Waking up to find yourself in a brand new destination is one of the most exciting things about cruising. Each night a newsletter will be delivered to your room with tips on what you can enjoy at each port and advice on how to disembark. This will be different for each port. Some docks like A Coruña you can simply get out and walk. Other docks like La Rochelle will be working docks a little bit away from the city and the ship will have organised bus transfers. Then there are ports like St Peter Port in Guernsey which are too shallow for the ship to dock. In this case the ship docks at sea and guests take water shuttles to the shore.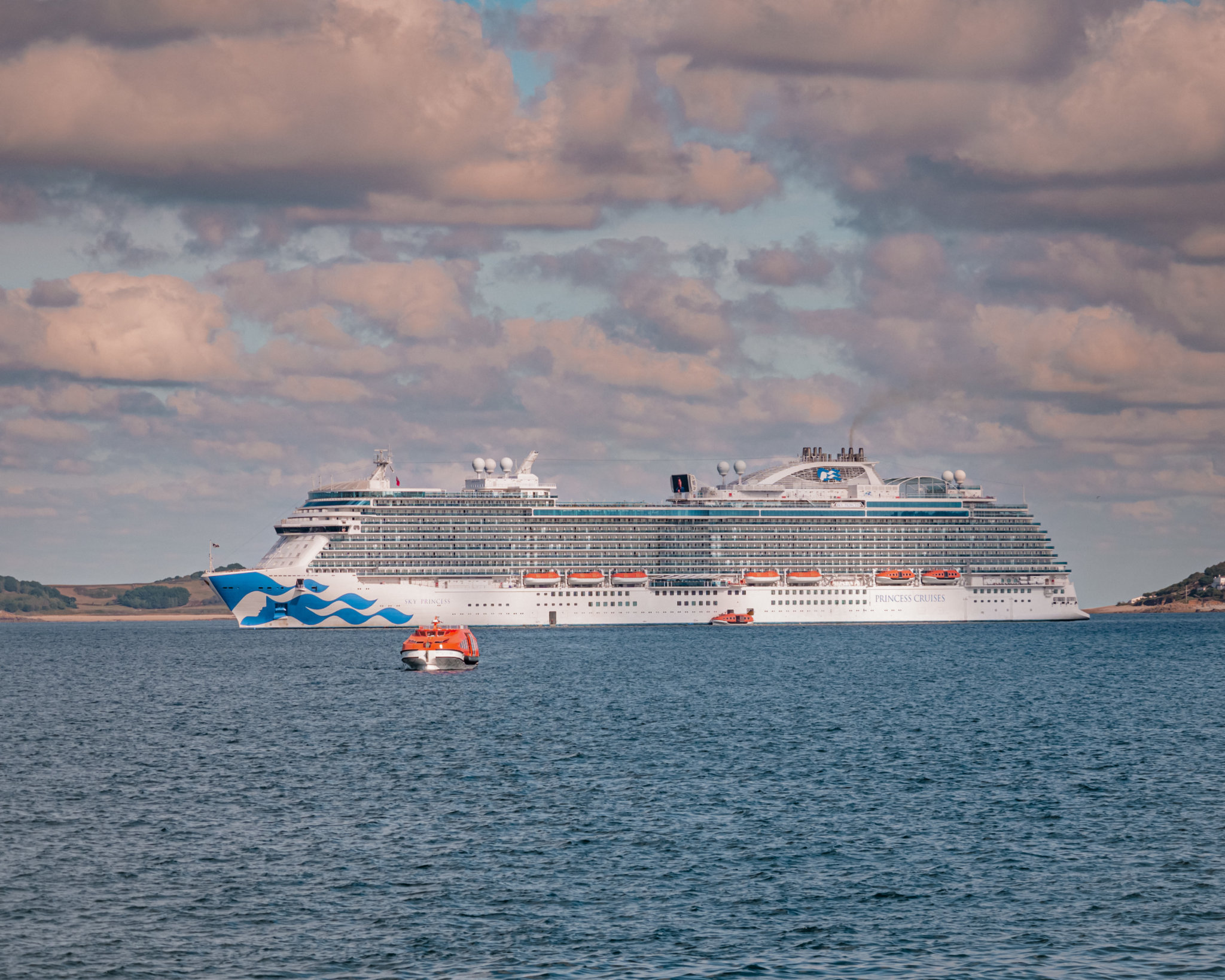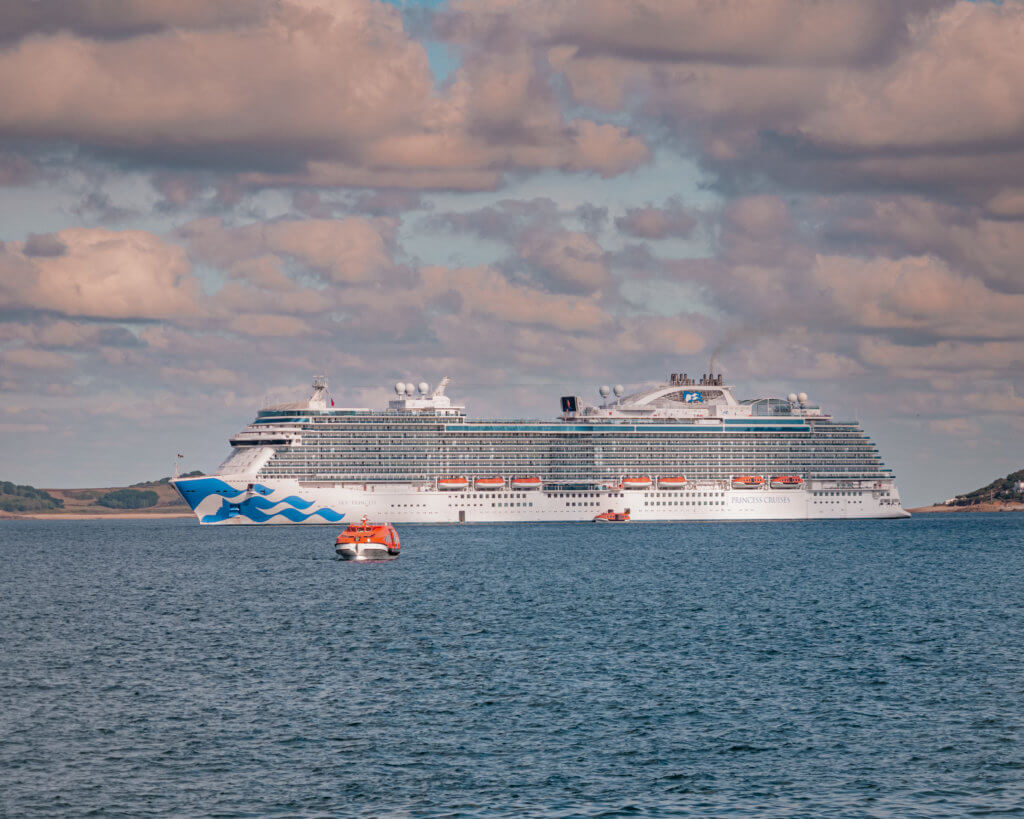 When you are ready to get your water shuttle you can collect a ticket (you will be told the location where to collect it on your newsletter) with the name of the next group to board. When your group is called you then go to the area to get on your water shuttle and scan your Medallion as you disembark so that the crew knows that you are no longer onboard.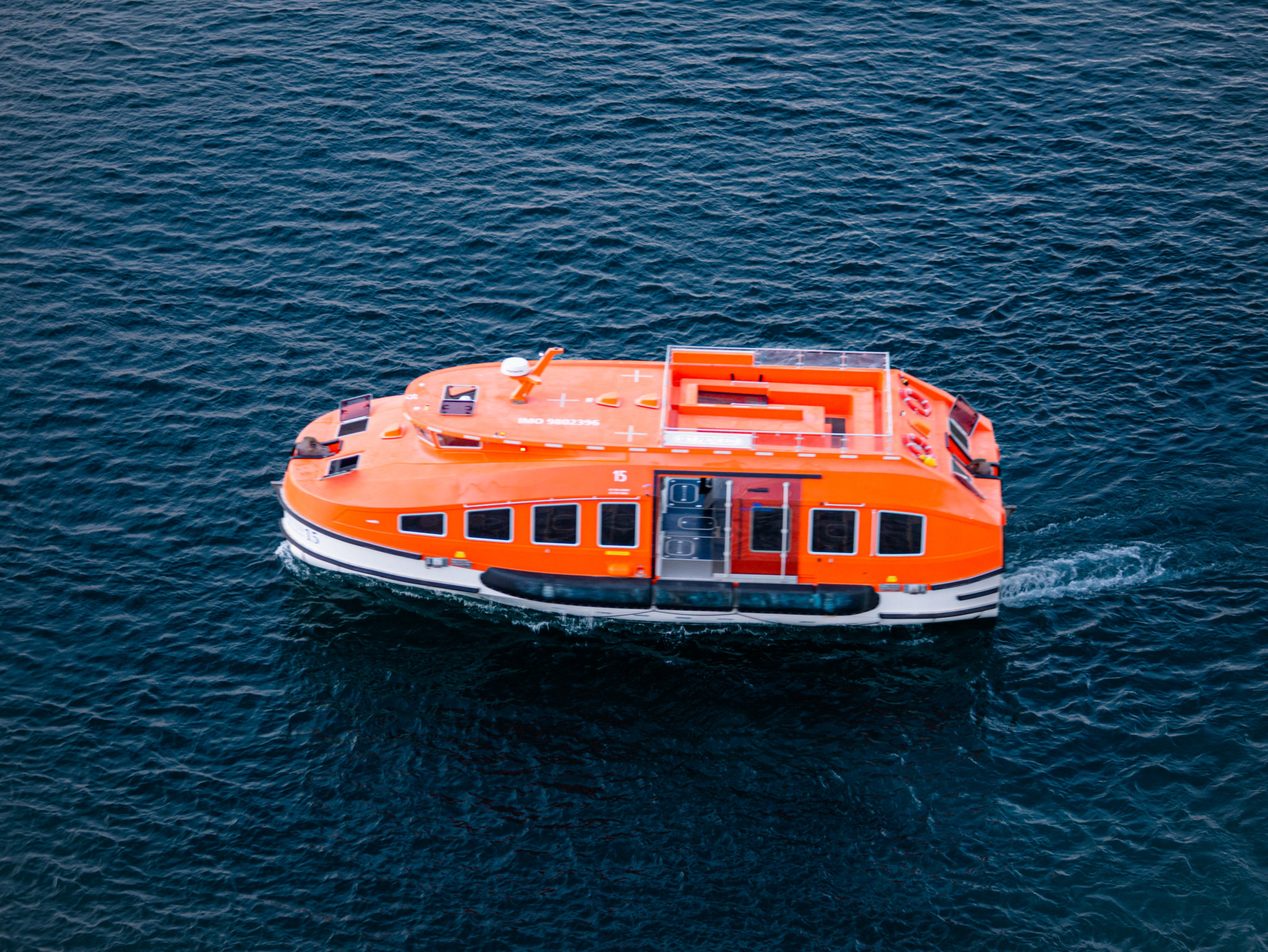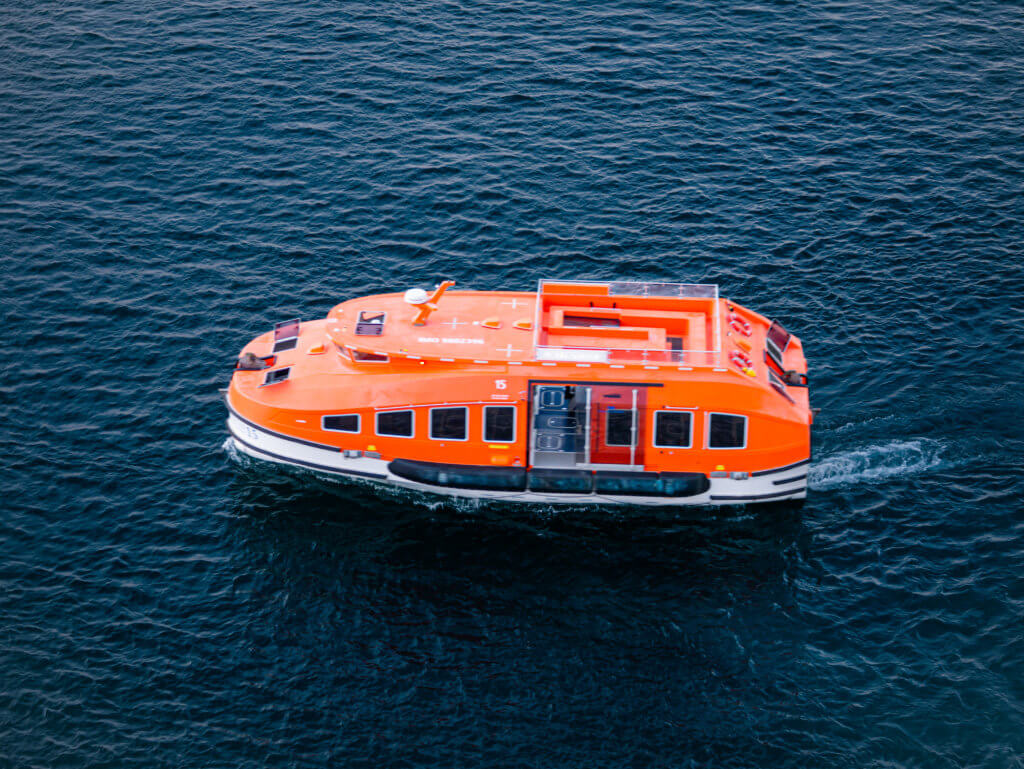 You can then explore the destintion at your leisure before returning to the ship before it sets sail. You will have been given the last time that you can get onboard on the previous night's newsletter but be warned, do not lose track of time as the ship cannot wait. You will also have to go through a quick security process getting back onboard and have your hand luggage put through the X-Ray machine. You will once again have to tap your Medallion as you embark so that the crew know that you have returned to the ship.
You can also choose to stay on the ship and enjoy the amenities onboard but bear in mind that the casino and shops will close when the ship is docked.
Princess Cruise Tips – Get up early to explore
Guests can generally disembark the ship from approx 7:30am. It can get understandably busy between the hours of 9-10:30am so we recommend getting up that little bit earlier to have your breakfast and disembark before the crowds. Not only will you have the whole day to explore your destination but you can also return to the ship a bit before the final time for embarkation and grab a sunlounger in the sun.
What do I need to pack for my cruise?
Depending on where you are going and what activities you will be doing your individual items of clothing will need to be customised. Let's face it, you are not going to pack the same suitcase for a Caribbean cruise and an Alaskan one! But there are some items that you will need with you wherever you go.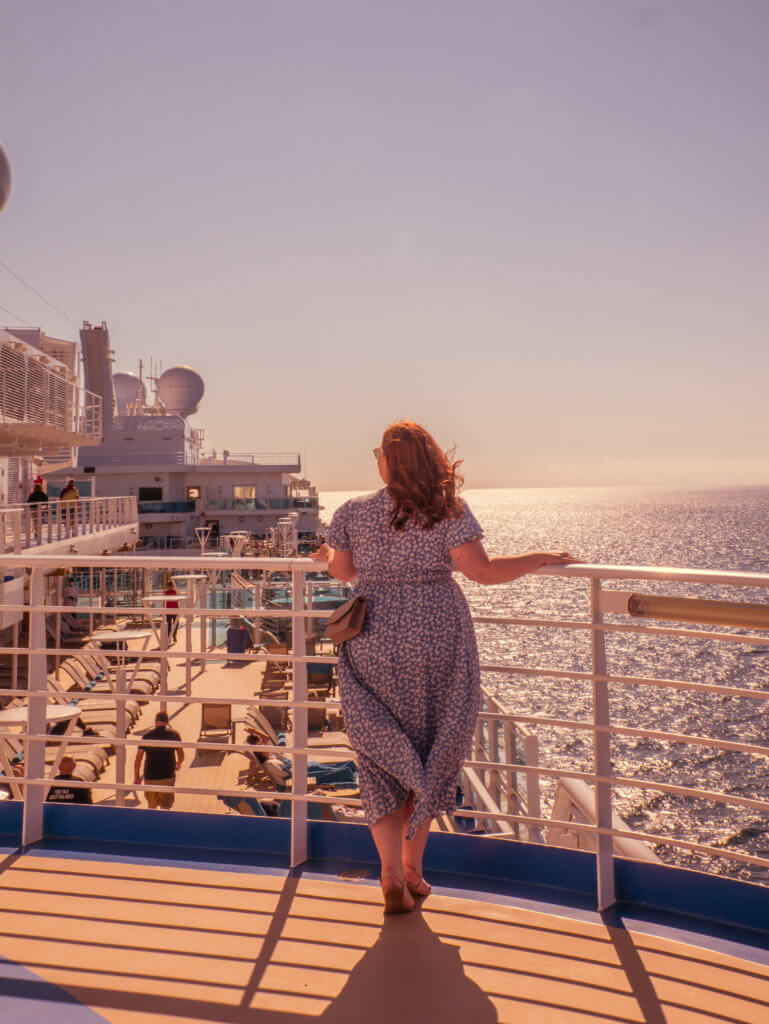 Leave the hairdryer and iron at home! The hairdryer in each room is really good and there is a room to go to if you need any ironing done. You should bring a swimsuit, even for an Alaskan cruise as you are going to want to check out the spa and hot tubs onboard. It is also a good idea to have a light rain jacket even for warmer destinations as you just never know. Layers are also a good idea because you may be going from sunny decks to air-conditioned restaurants and you want to stay comfortable.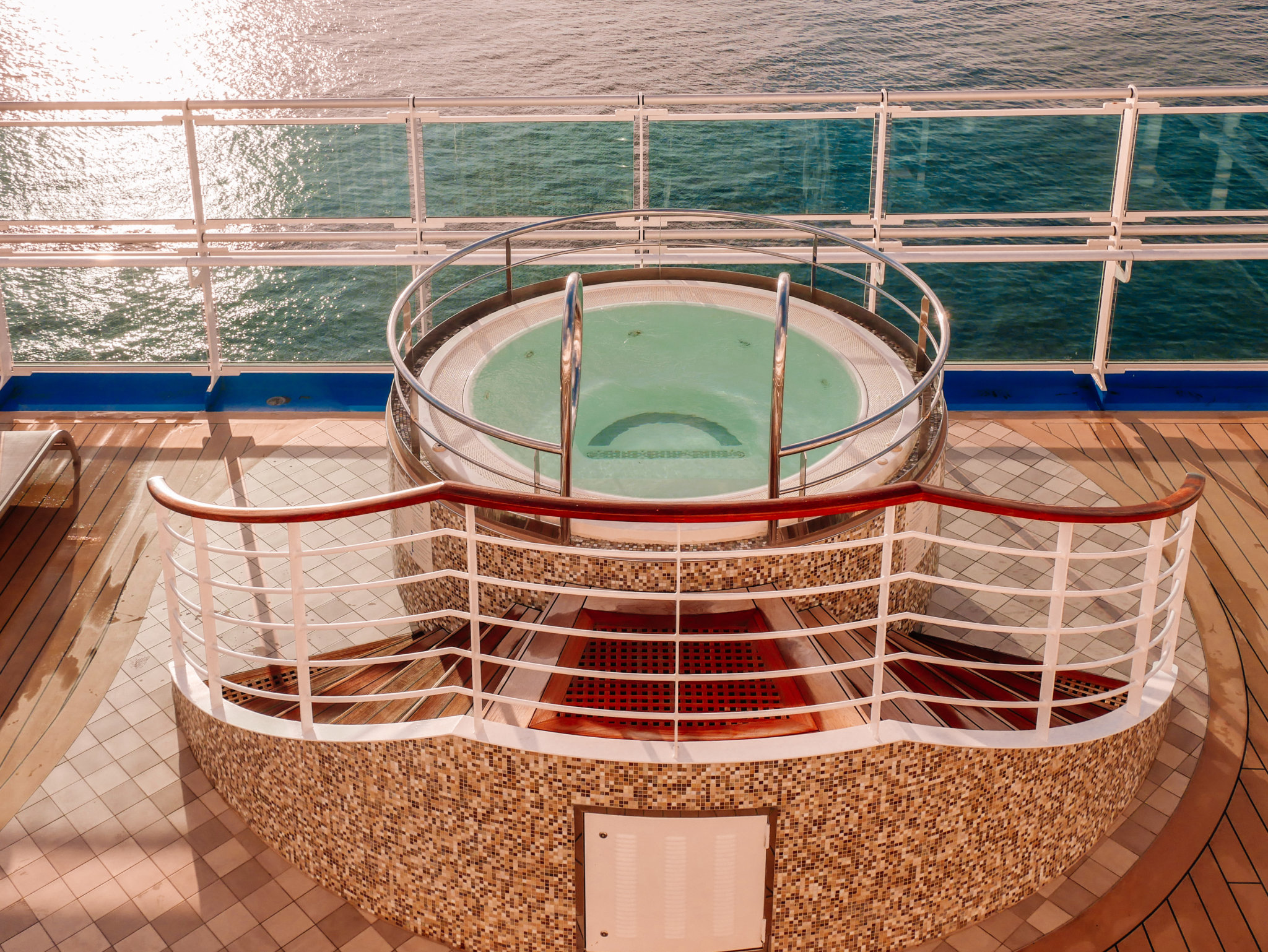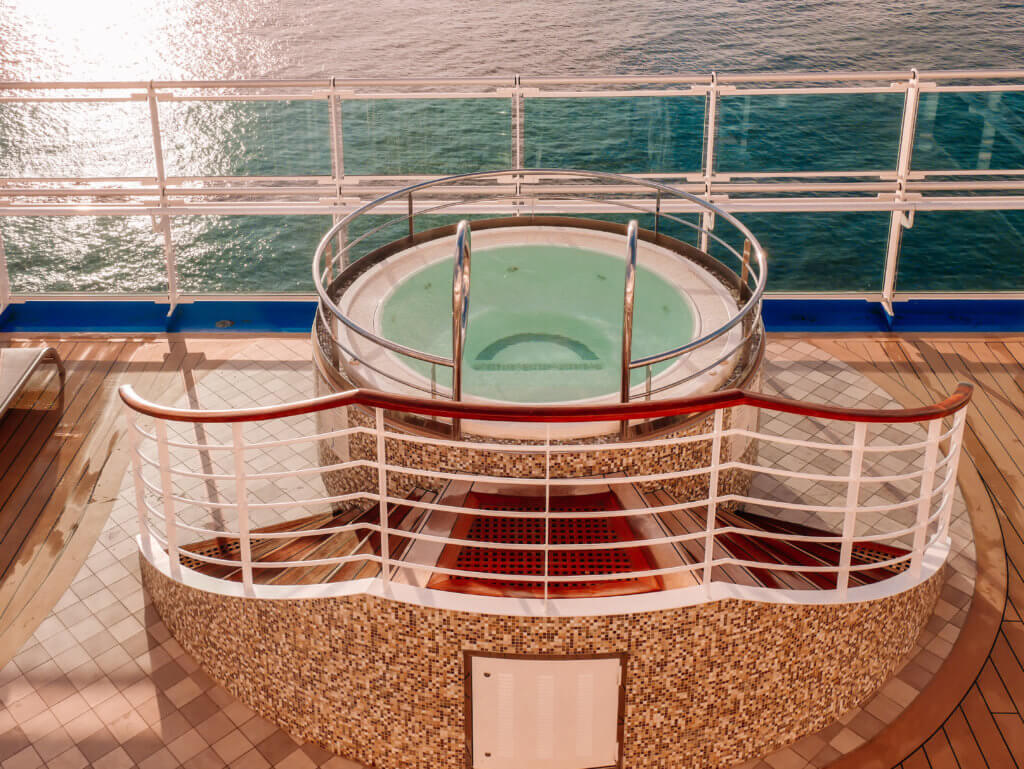 In your bathroom you will find a full size body wash, body lotion and a shampoo/conditioner combination. We recommend bringing a separate travel size shampoo and conditioner as the one provided can be a bit harsh on your hair and you are going to want to look good for formal night! Sunscreen is always a good idea whatever the weather as you will probably spend a good bit of time exposed to the sun on the ship's decks.
We brought European travel adaptors for our UK plugs. Plug sockets in the room are both USA and European compatible. There are also multiple USB ports to charge various devices.
We also found out the hard way that drones are prohibited onboard the Sky Princess. Now, we know that not everyone will be bringing a drone on the ship but content creators out there be aware and read the ship's restricted item list before your adventure.
Do I need to pack my tuxedo and ballgown?
So, one of the misconceptions that we had before going on our cruise was that dress code was really formal. There are generally two formal nights on each cruise and while you do not have to pack a tuxedo or ballgown it is really nice to see everyone make the effort and dress up.
The formal nights dress code can include everything from evening gowns to cocktail dresses or stylish trouser suits for women, and from tuxedos to dark suits or dinner jackets and trousers for men. If dressing up really isn't your thing you don't have to, but, you might feel a little left out.
I have run out of clean clothes! Can I do laundry on Sky Princess?
Don't worry about having too few clothes onboard, the Sky Princess is equipped with a laundry sevice. You can either choose to have individual items laundered for you (this can be expensive) or simply do it yourself in the ship's laundry room.
Are some rooms better than others?
We wanted to make sure that all rooms onboard the Sky Princess were of the same quality so while we were onboard we took a tour of every room type available on the ship. We are aware that as travel bloggers most hotels and travel companies that we work with want to showcase their best rooms to you, so it is always really important for us to see the full range of accommodation available before recommending it to our audience. Trust with our audience is the most important thing to us.
The most affordable room on the ship will be an interior stateroom, meaning that you will have no windows or balcony. You still have access to all of the amenities that guests with more expensive rooms have access to, so if you are willing to sacrifice that sea view then you can bag yourself an extremely affordable cruise.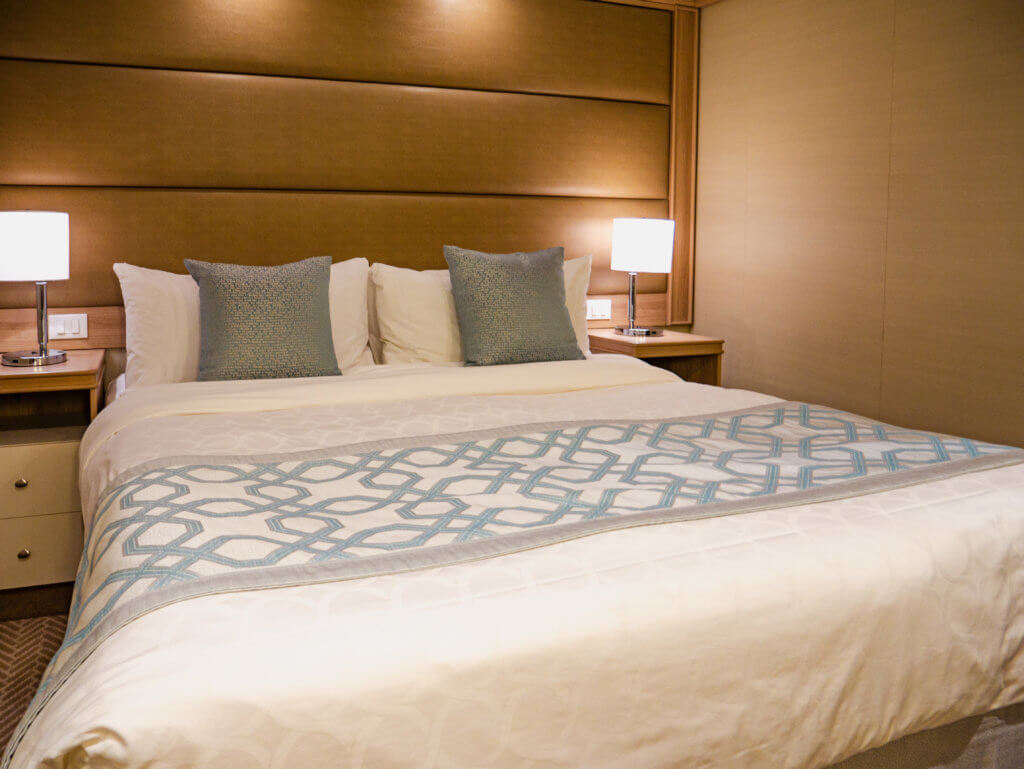 All staterooms include the comfiest bed you will have ever slept in, 100% cotton, high-thread count bedlinen, flat-screen TV, safe, a refridgerator and complimentary room service.
Your assigned stateroom attendant will come to meet you personally and check if you have any special requirements or preferences. Every evening you will get a turn down service no matter what room type you stay in.
We were really impressed by the quality and high standard of decor in the interior staterooms but personally we would recommend choosing a room with a balcony. Some of the best sunsets and sunrises can be experienced at sea and we loved the excitement every morning of pulling back the curtains to unveil a new destination. The additional cost of a balcony room is well justified in our opinion.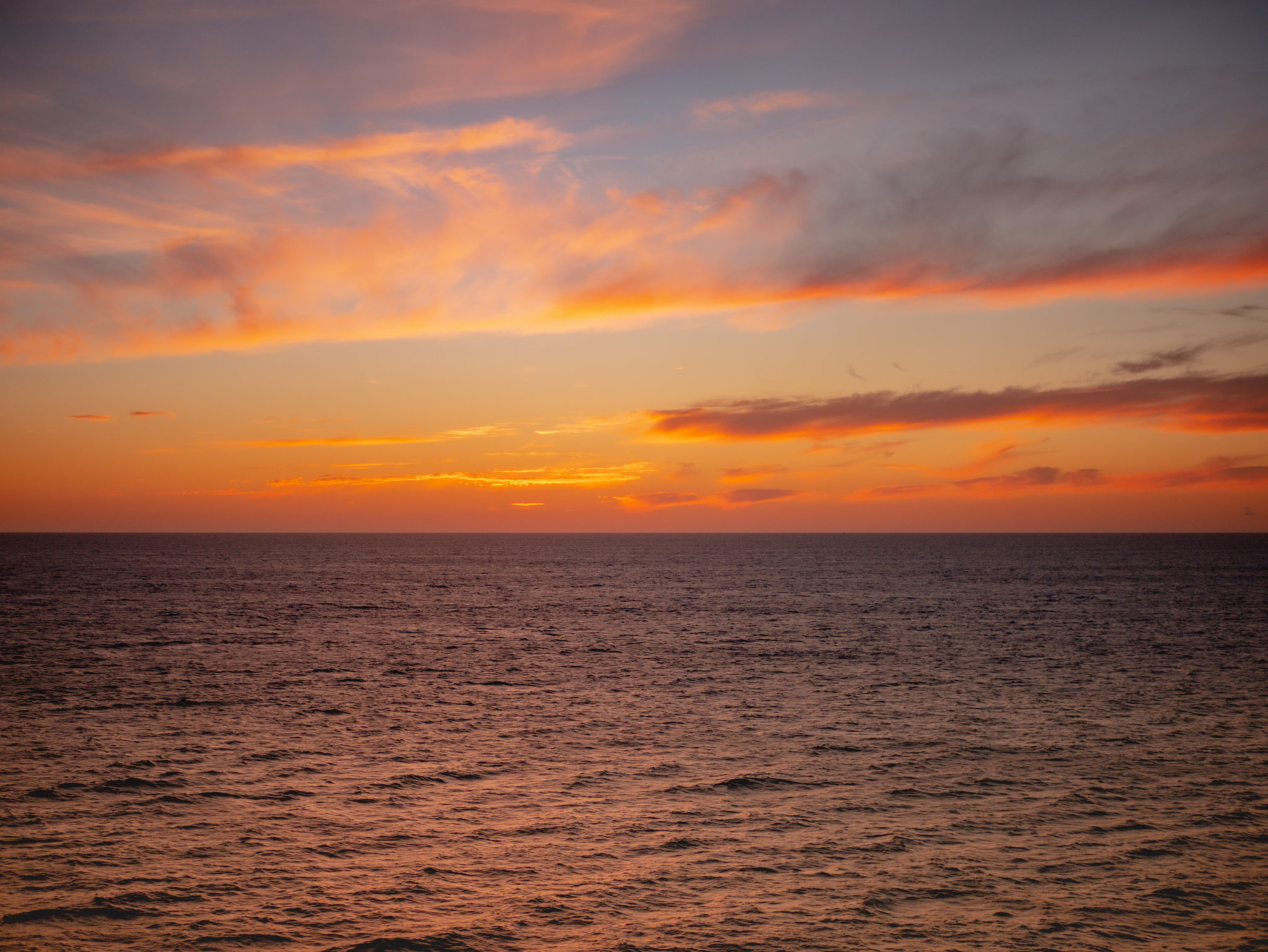 When we boarded we were thrilled to find out that we had been upgraded to a mini-suite. When you are booking your cruise look out for offers for free upgrades. On our cruise, anyone who had booked a deluxe balcony room were upgraded to a mini-suite.
The mini-suite is substantially larger than the balcony stateroom with a separate seating area and two flat-screen TV's. The wardrobe space was also huge with lots of hangers and the bathroom had a full size bath. There was also a complimentary glass of bubbles.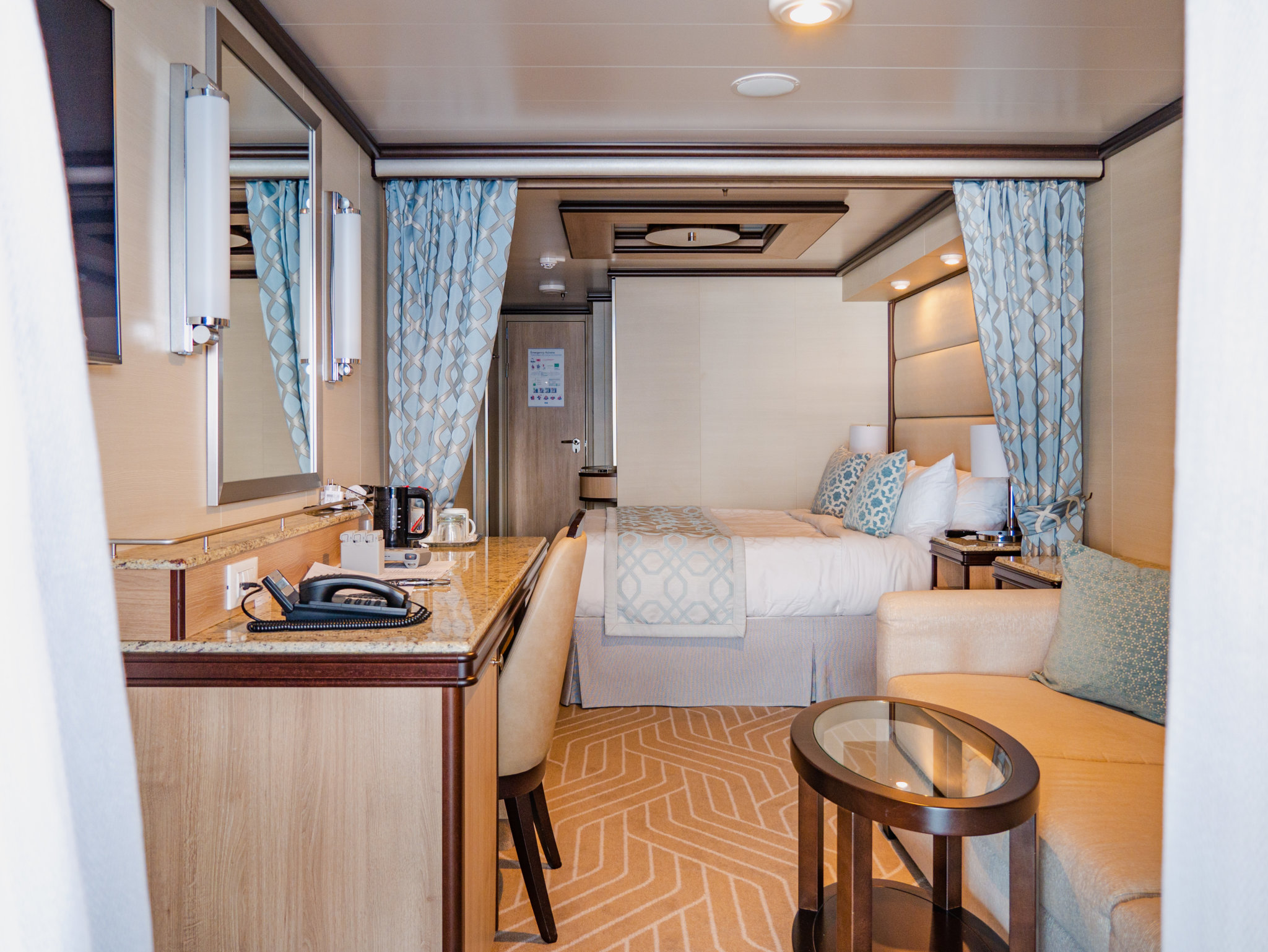 In all the travelling that we have done over the years, this level of luxury in a hotel comes with a significant price tag. We know that prices change but we were blown away with the affordability of cruising and the level of luxury you get without it having to cost the earth. Our cruise with a mini-suite and Princess Plus Package including all of our drinks and meals cost £1,179 pp. We spent way more than that on a very basic family holiday to Tenerife!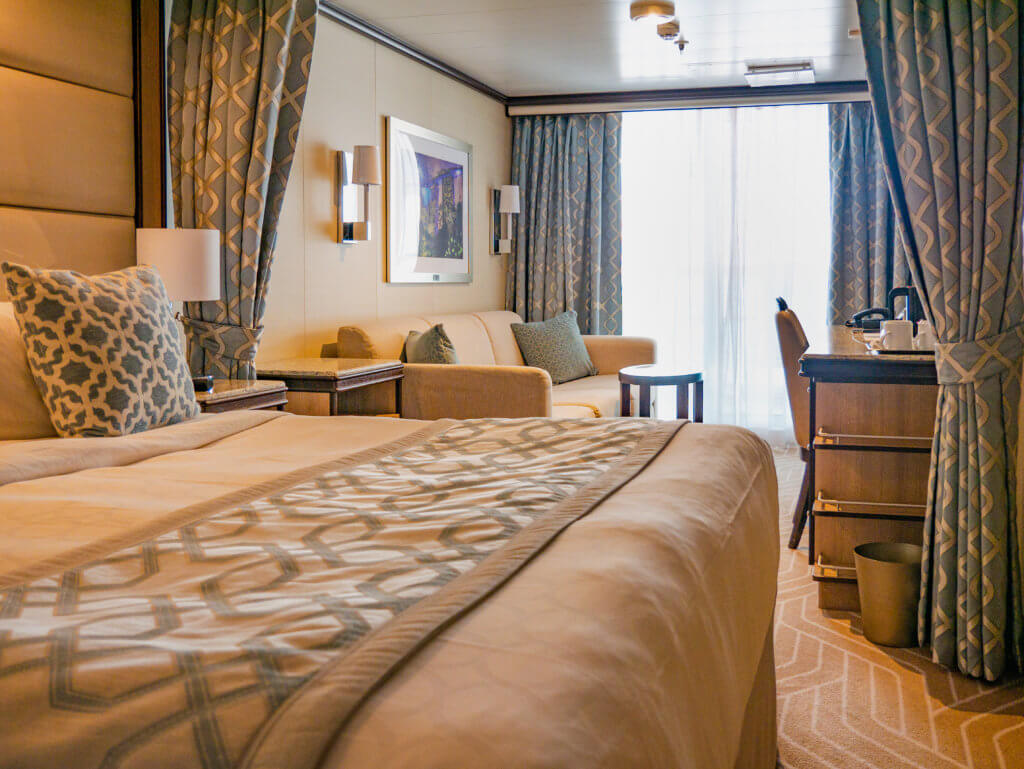 We also got to check out the Sky Suite for those looking for the ultimate luxury onboard the ship. Be warned this one does come with a hefty price tag. Crowning the heights of the ship there are two Sky Suites onboard the Sky Princess accommodating up to 5 guests each. Exclusive doesn't even begin to describe the experience and each suite is looked after by a dedicated Sky Suite manager willing to look after your every need.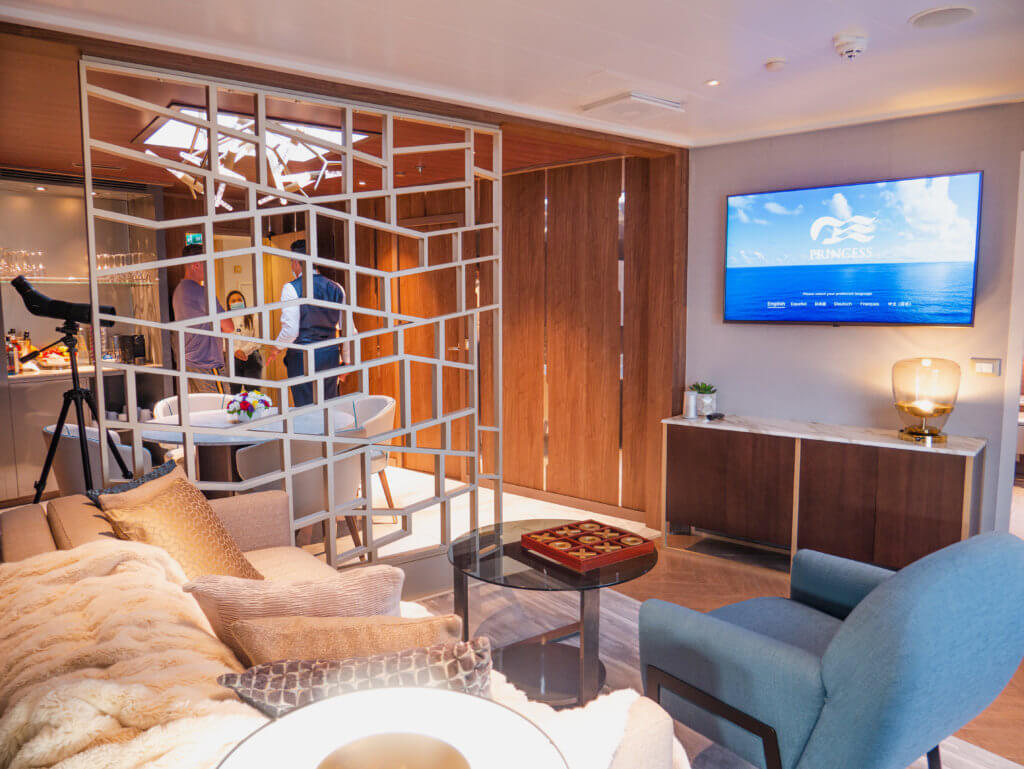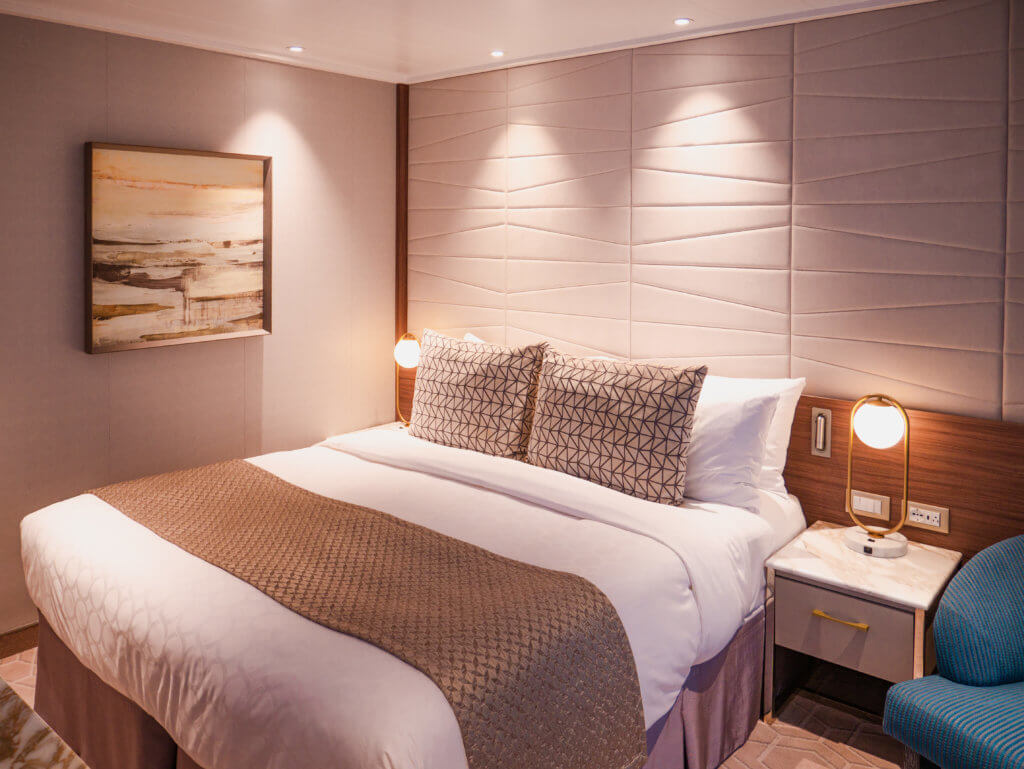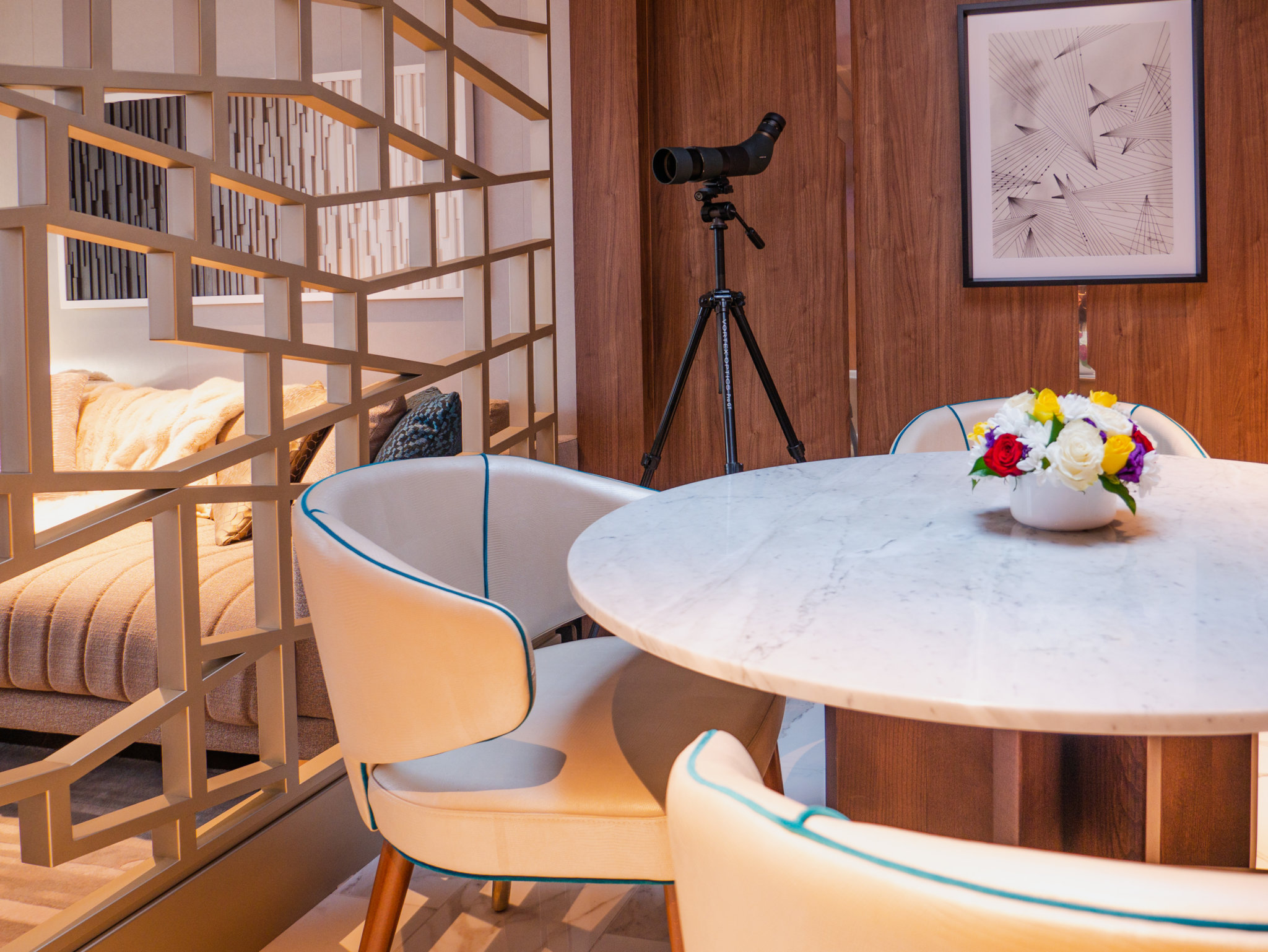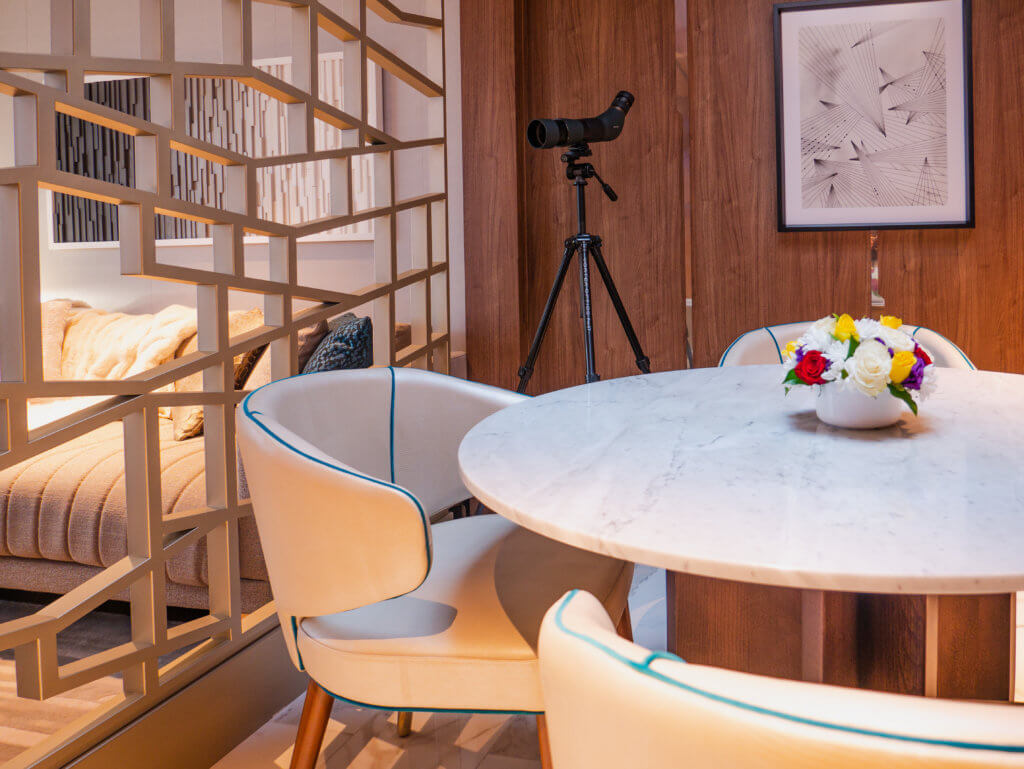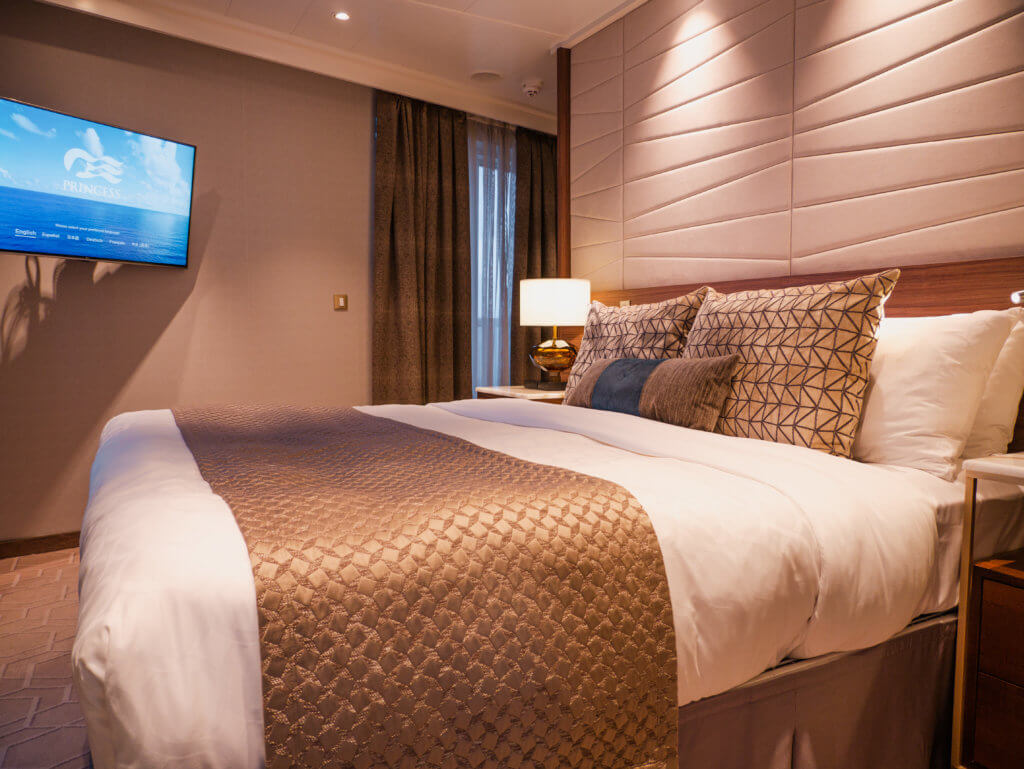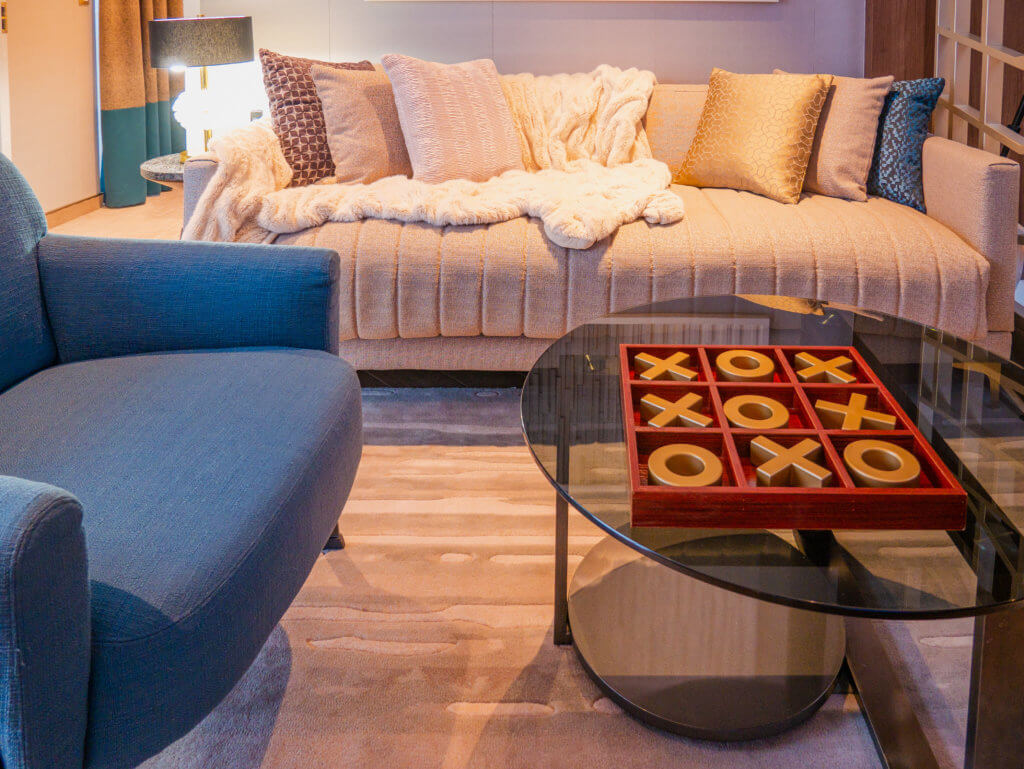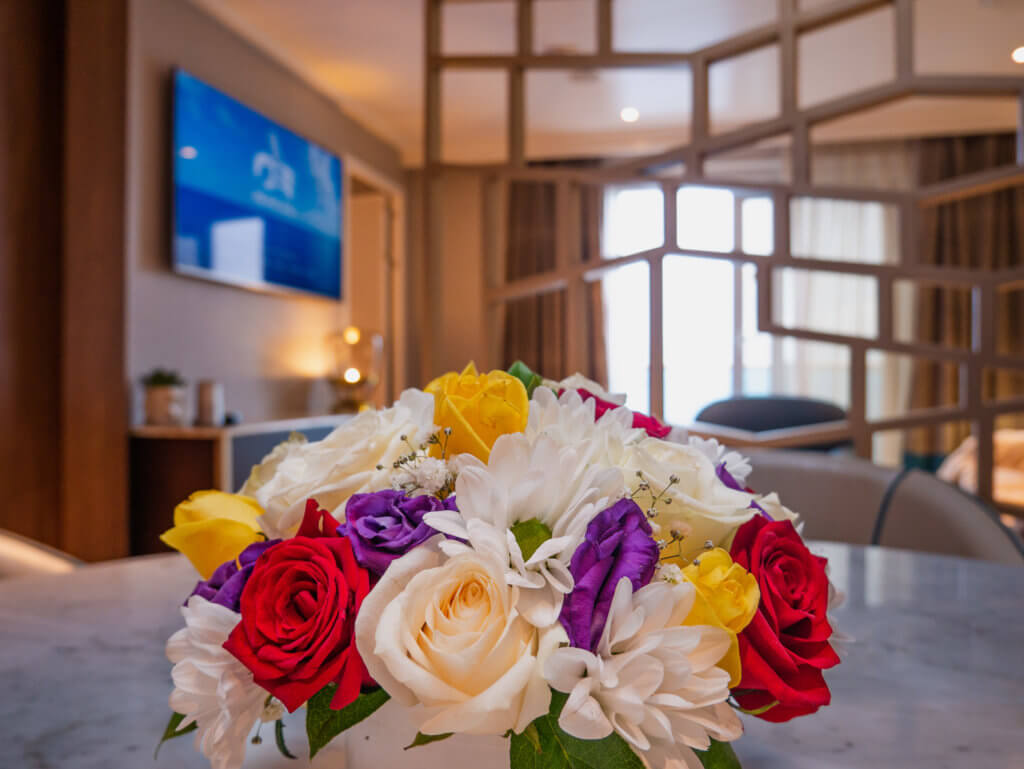 A massive private wrap around balcony completes the suite. It is luxuriously furnished so that you can either relax privately surrounded by luxury or host your own celebrations onboard.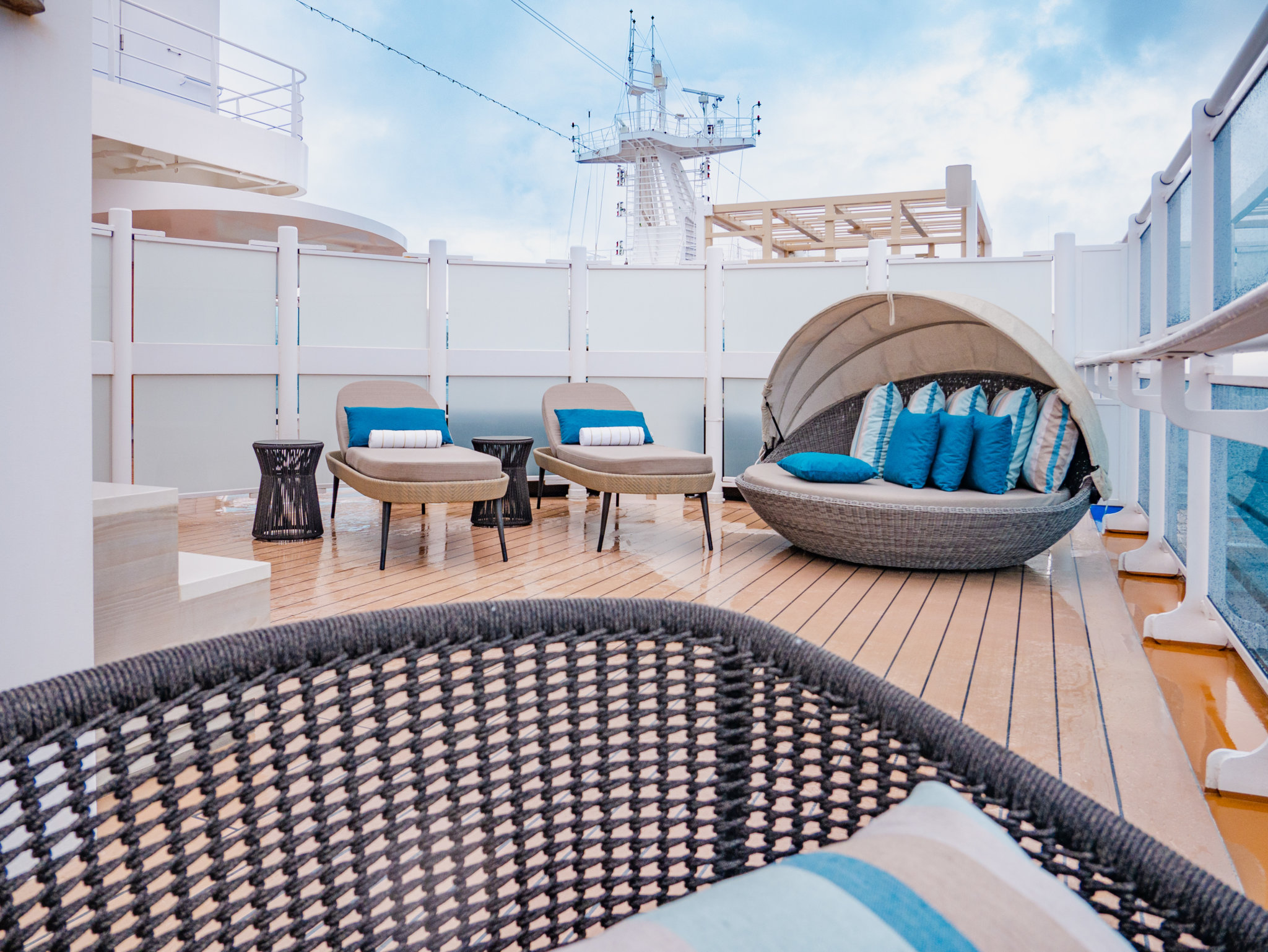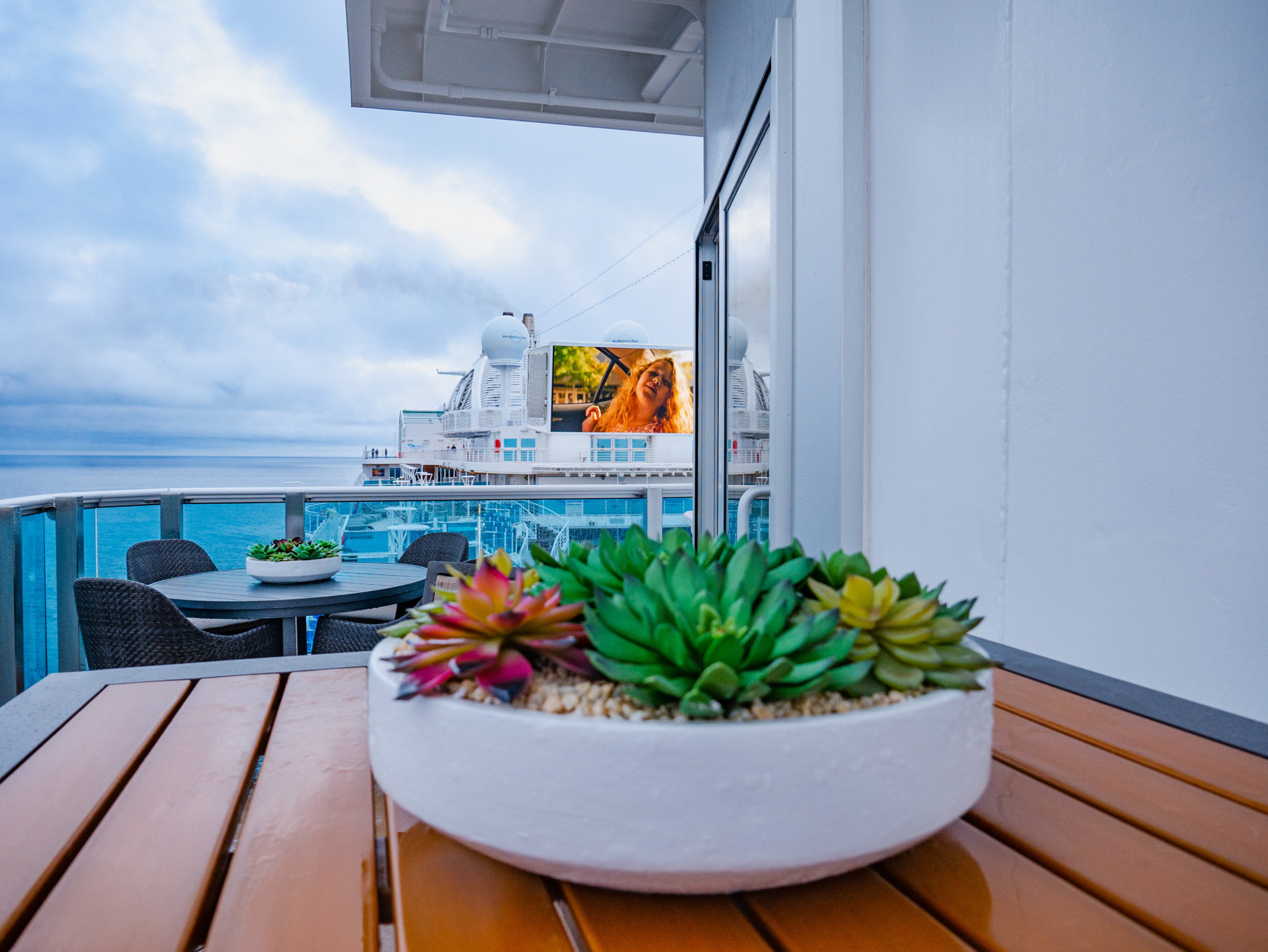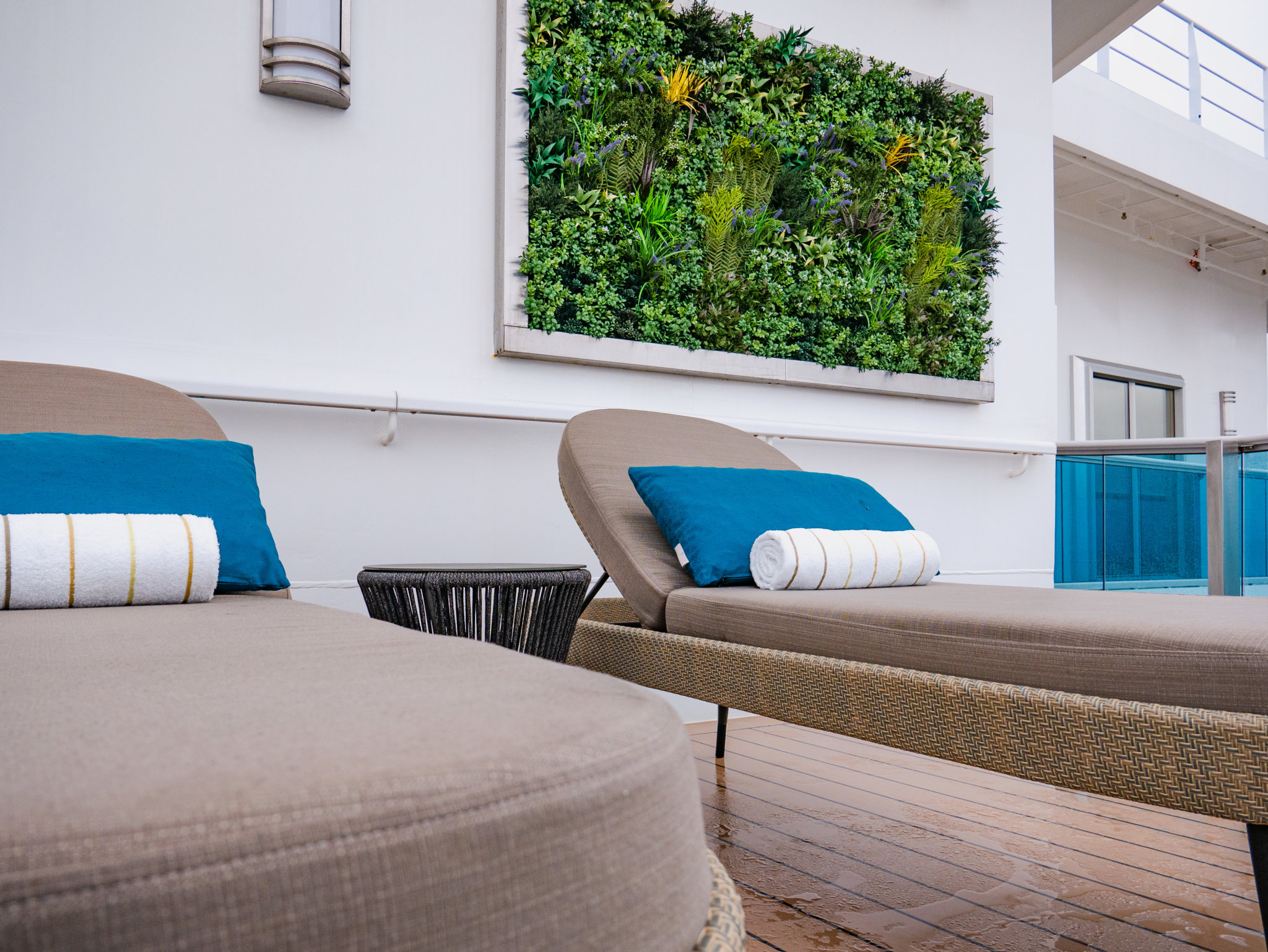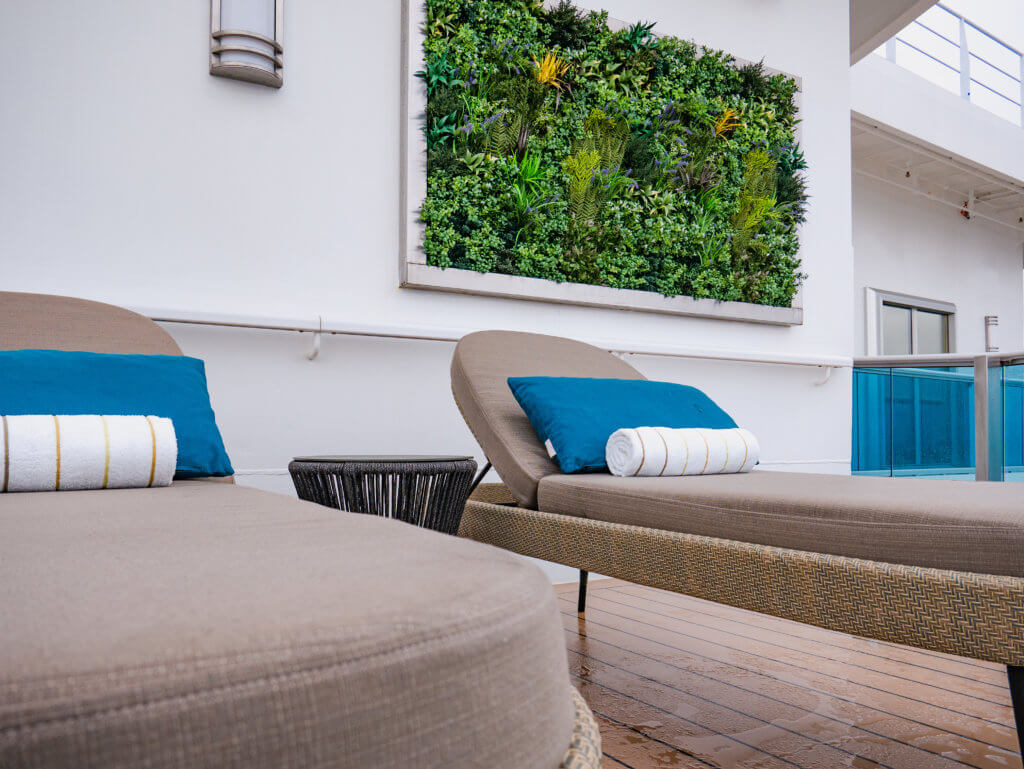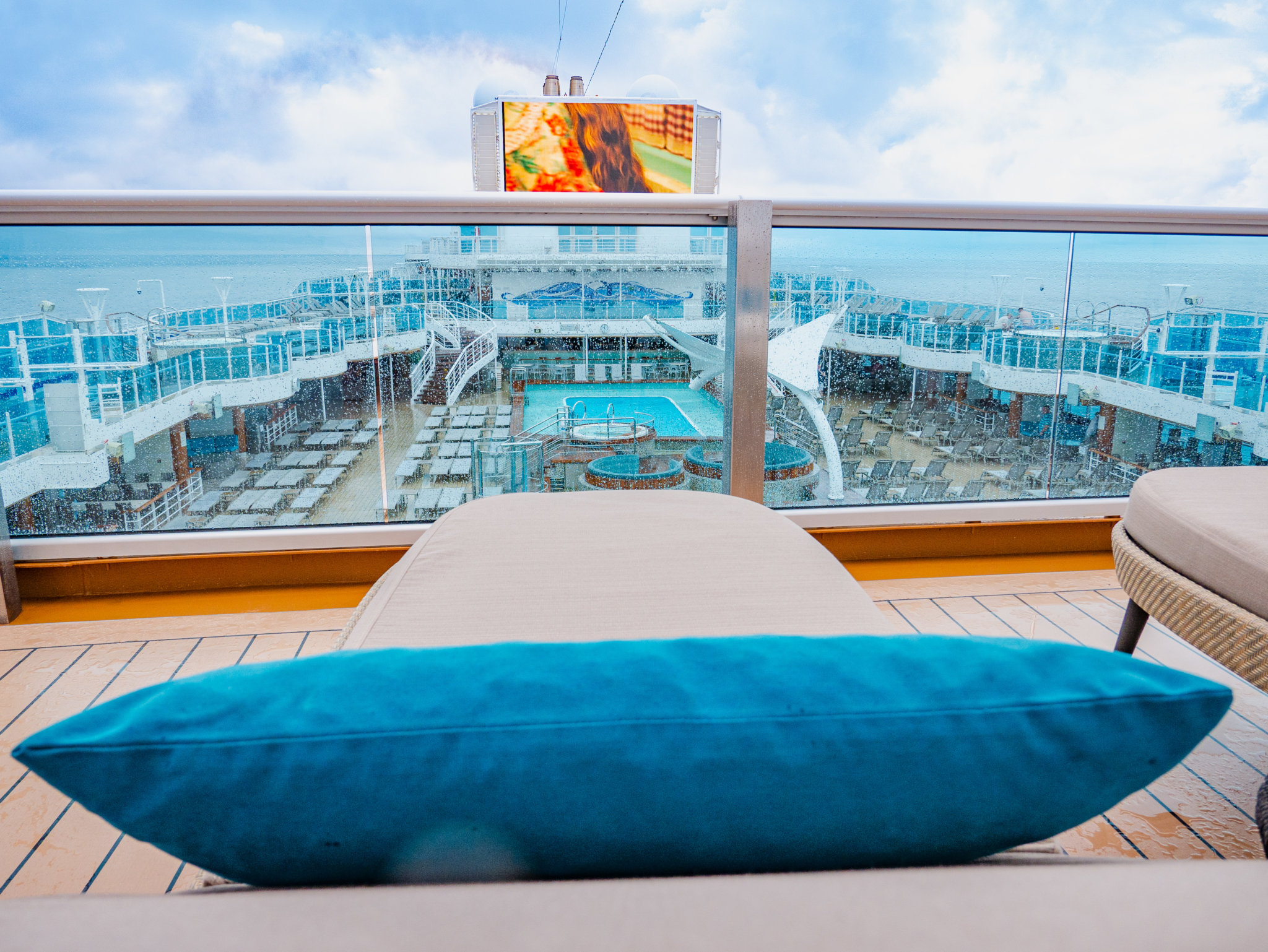 Princess Cruise Tips – Choose a room in the middle of the ship
While every room on the Sky Princess is finished to the same standard we recommend asking for a room in the middle of the ship. This part of the ship is more stable and you are less likely to experience any motion sickness. Every individual ship plan is available on Princess Cruises website and we recommend having a look at the plan and requesting your room at the time of booking.
Is there somewhere to exercise?
This was one of the first questions that we had getting on the ship. Mister Lavin loves his daily runs and I was looking for somewhere to burn off all those additional calories that I would be consuming onboard. There was no way we were skipping the heavenly Gelato!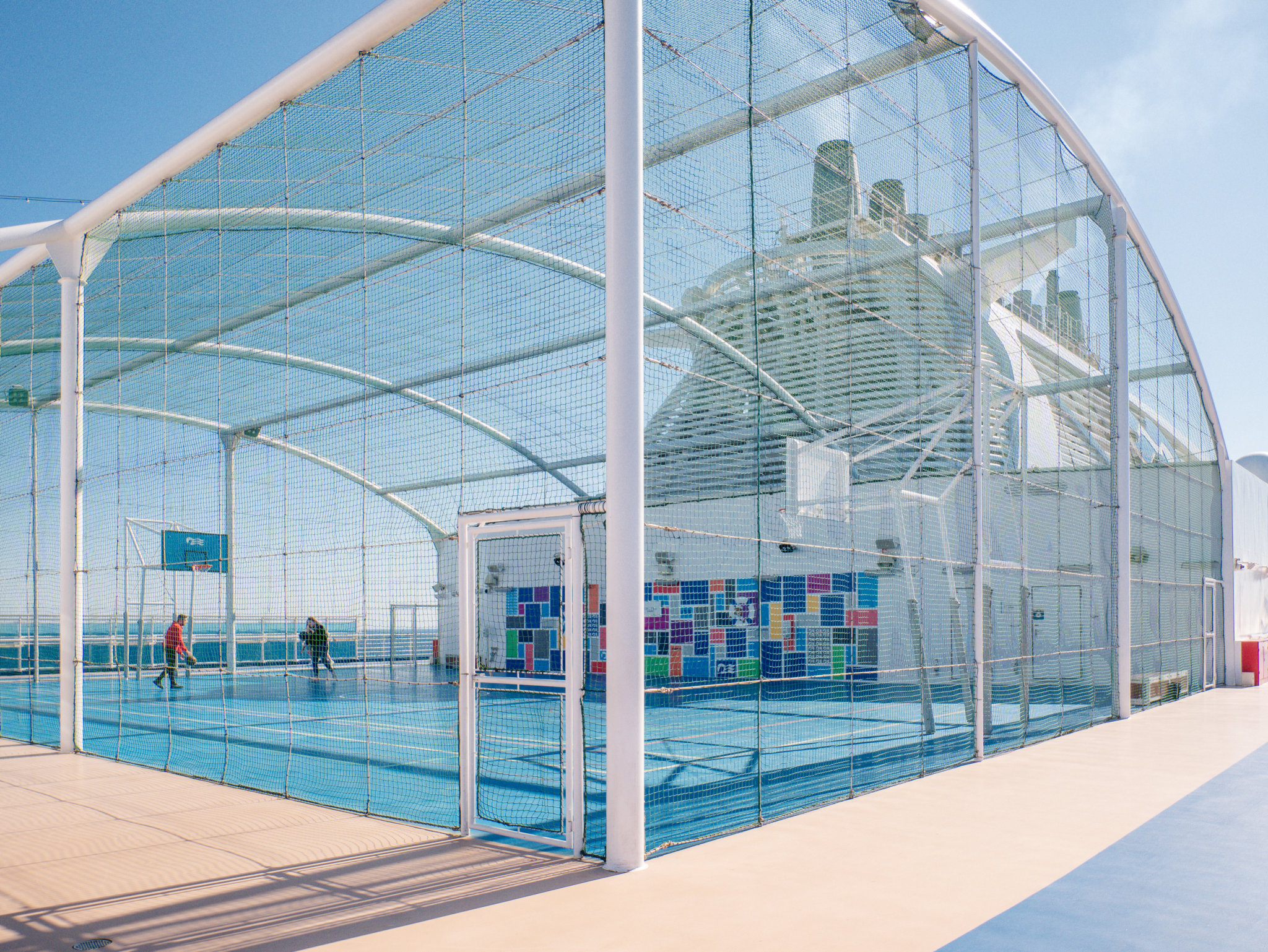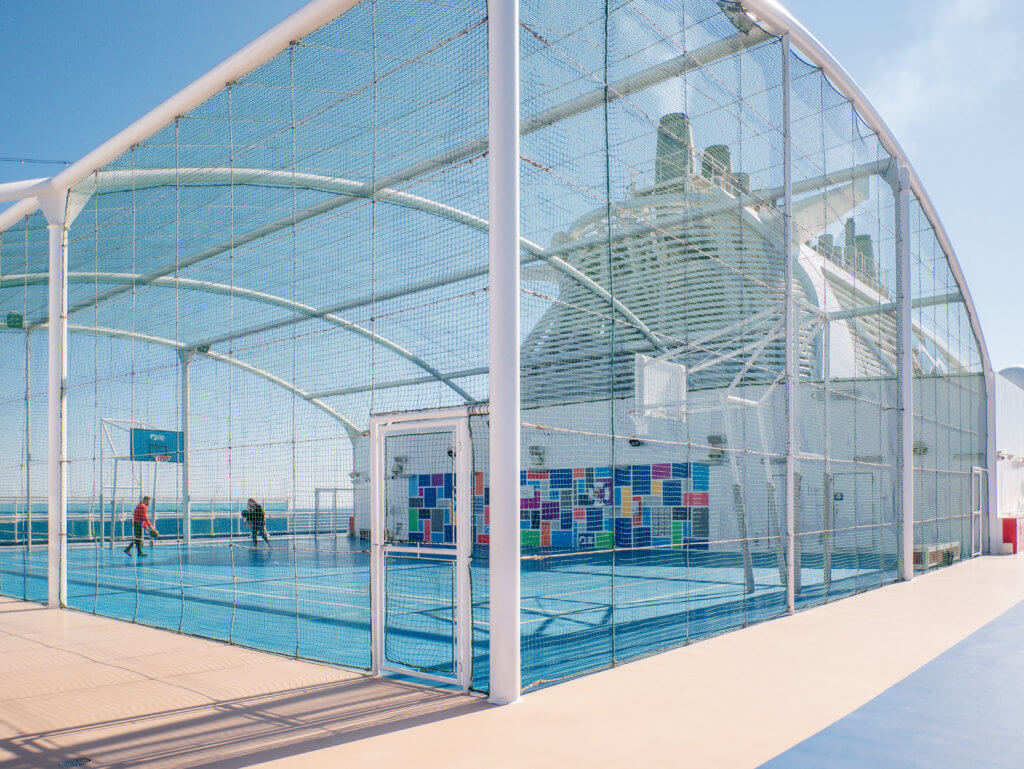 Rest assured there are loads of places to get some exercise in during your time on the Sky Princess. The Lotus Spa Fitness Centre offers a state of the art gym and offers fitness programmes as well as personalised training. There are also classes such as Pilates, Yoga, Body Sculpt Boot Camp, Results Based Training and TRX suspension training or you can simply tone up on your own working out to the most incredible sea views.
There is also a running/walking track outside on the deck of the ship with a guide on how many loops you would need to do to reach 1 mile. Or you can enjoy the sports court where, not only can you play basketball but volleyball too. You can even try your hand at pitch n putt although I'm not sure how much of a sweat you will work up! Whatever your fancy there are lots of things to make sure that you stay active onboard.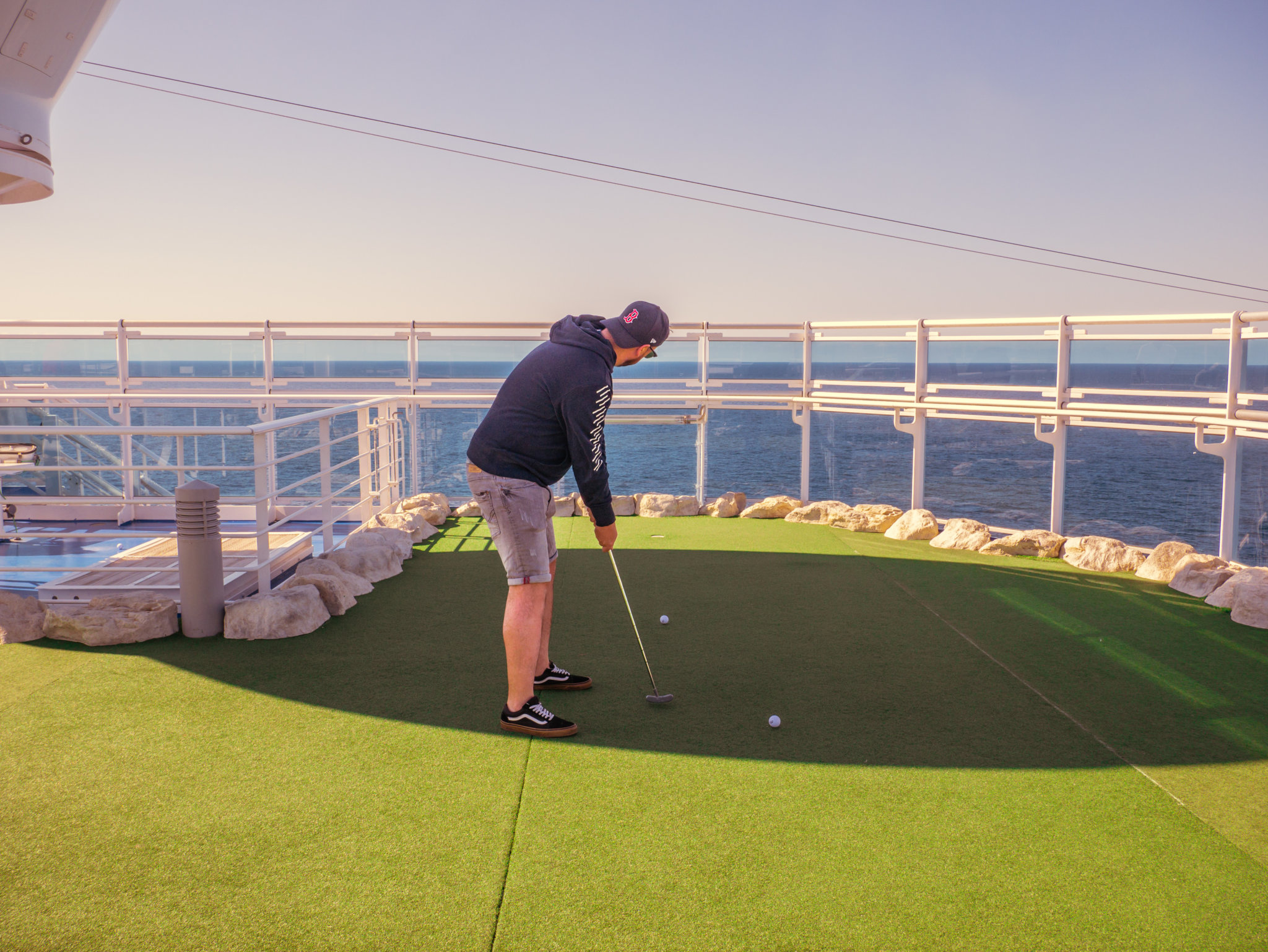 Is Sky Princess wheelchair accessible?
Having experienced a time when I was completely disabled we like to observe accessibility for all guests, including those with disability when we travel. Travelling with chronic illness or disability is not easy but it is also not something that you should be denied. With careful planning and consideration there is no reason that people with limited mobility shouldn't get to experience the joys of travel.
We were delighted to see just how accessible the Sky Princess was for wheelchair users or those with mobility aids. We had naively assumed that travelling in this way would have been incredibly restrictive for those with disability with so many ramps to embark/disembark etc. We were pleasantly surprised to see the sheer volume of people with disabilty onboard. It seems that cruising is actually the perfect way to travel with disability and cruise ships have adapted and planned their ships in a way that is fully accessible.
We witnessed a large volume of designated wheelchair assistants onboard and machinary such as hoists etc. to help guests embark/disembark safely. It all just seemed part of the everyday and something the crew of the ship were used to and not the inconvenience that people with disability are often made to feel on public transport.
The ship itself has wide corridors and elevators for wheelchair users to get around. Only the very top deck seemed inaccessible to us. The Sky Princess also has numerous wheelchair accessible rooms that provide full wheelchair turning space for guests with limited mobility. In addition, these staterooms include a roll-in shower equipped with grab bars and a fold-down bench seat, an easy access closet and accessible writing desk. Princess Cruises also have an Access Office (I know!!) which can be contacted via email at [email protected] with any concerns that you might have before your trip.
We can honestly say that we were so proud to work with a company such as Princess Cruises who takes every guests abilities into consideration in such a heartwarming way.
What happens if there is an emergency?
Safety is a top priority onboard the Sky Princess. The crew are prepared and well trained for all eventualities and they will be there to guide you in an emergency situation. All ships must follow certain rules and regulations to protect passengers onboard. The Coast Guard conducts quarterly inspections of all ships that operate from U.S. ports, making sure they comply with emergency-response requirements. Ships operate under international rules that regulate everything from fire safety to navigation and maritime security.
There are also medical facilities like a mini-hospital for any passengers having a medical emergency. This is staffed by full-time registered doctors and nurses. In addition to twice-daily office hours, they are available 24 hours a day in the event of an emergency.
Should I bring my kids?
Cruising is such a family-friendly way to travel and there is so much onboard the Sky Princess to keep little ones entertained. For groups and families, the ship offers the convenience of connecting staterooms and Family Suites, which sleep up to eight guests. Sky Princess also runs enriching youth and family programmes such as Discovery at SEA.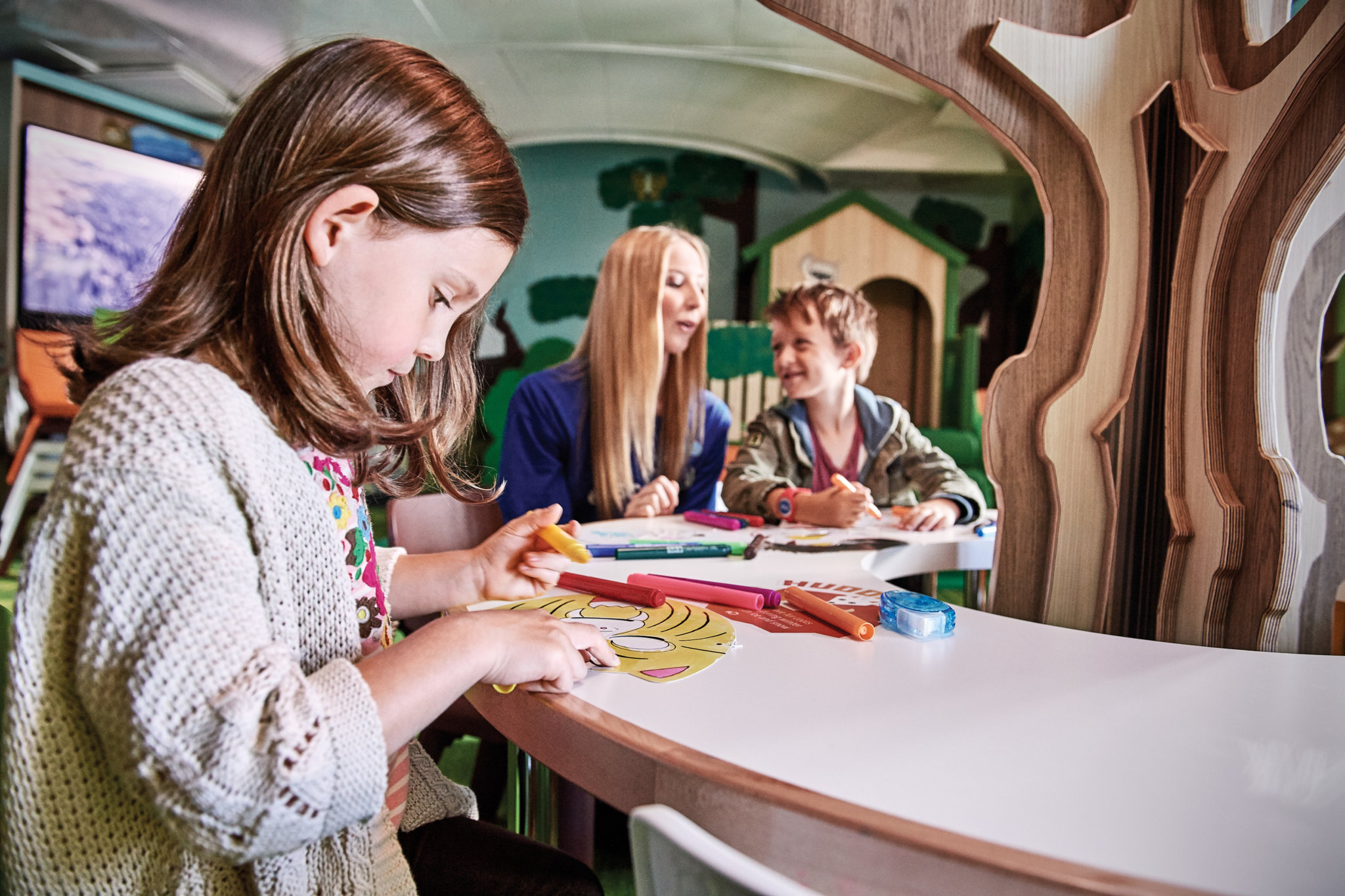 From swimming pools, movies under the stars and family-friendly evening entertainment there are so many things to enjoy together as a family onboard. There are also kids clubs if you want to let your little one have fun while you relax. These range from The Treehouse (kids aged 3-7), The Lodge (kids aged 7-12) and The Beach House (for teenagers aged 13-17).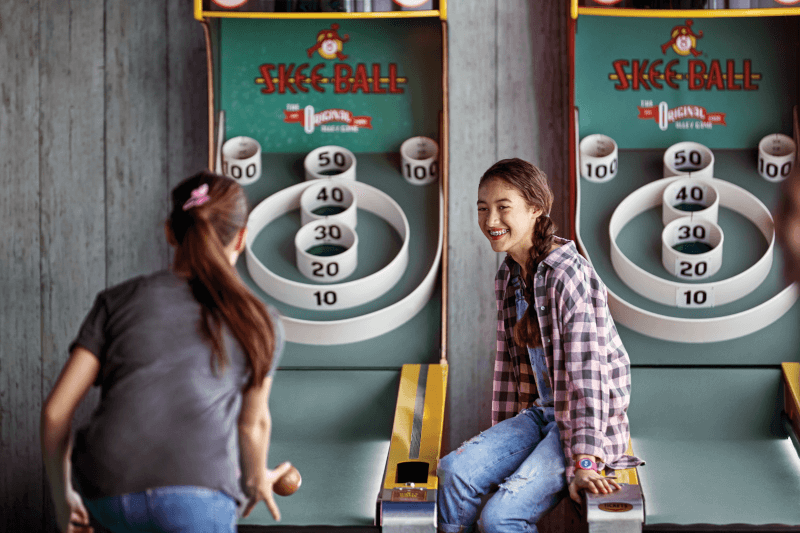 The Treehouse is a whimsical, forest-themed world that inspires playtime and invites exploration. Kids, ages 3 to 7, can dance, enjoy pyjama movie nights, create art projects like Animal Planet puppets and masks or compete in a Lego boat-building contest. For older kids there is The Lodge, inspired by the great outdoors. This cosy hub keeps kids busy with games, dancing and kid-sized Olympic competitions. It will keep their minds stay busy, too, with California Science Centre programs like rocket building, or they can explore outer space with Stargazing and learning how to build a model roller coaster. Exciting events like talent shows, theme nights, and treasure hunts encourage new friendships and family togetherness.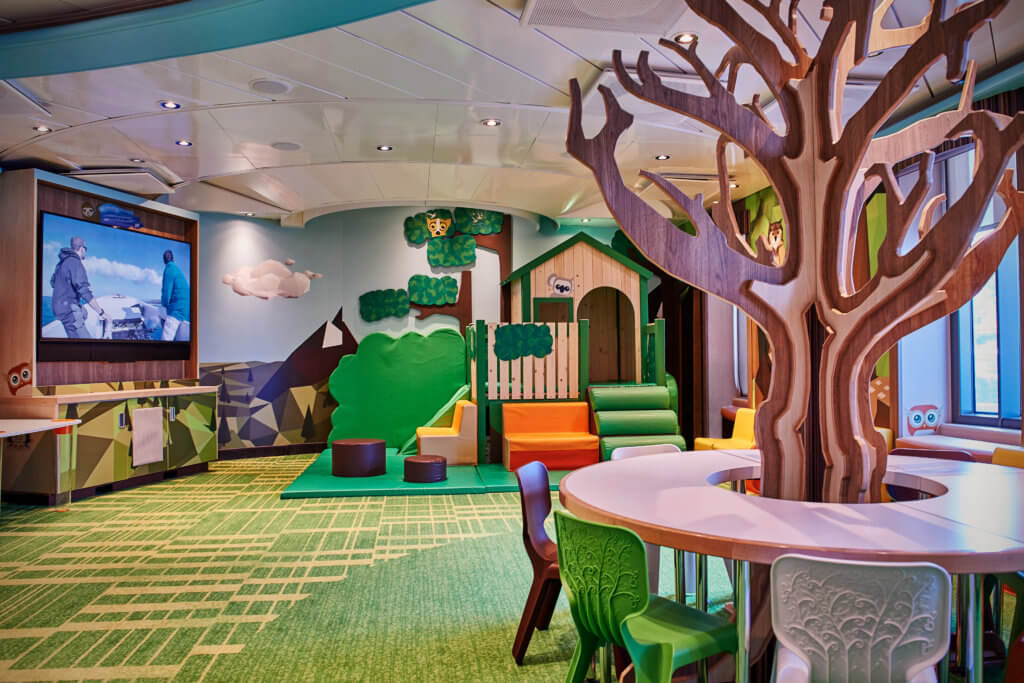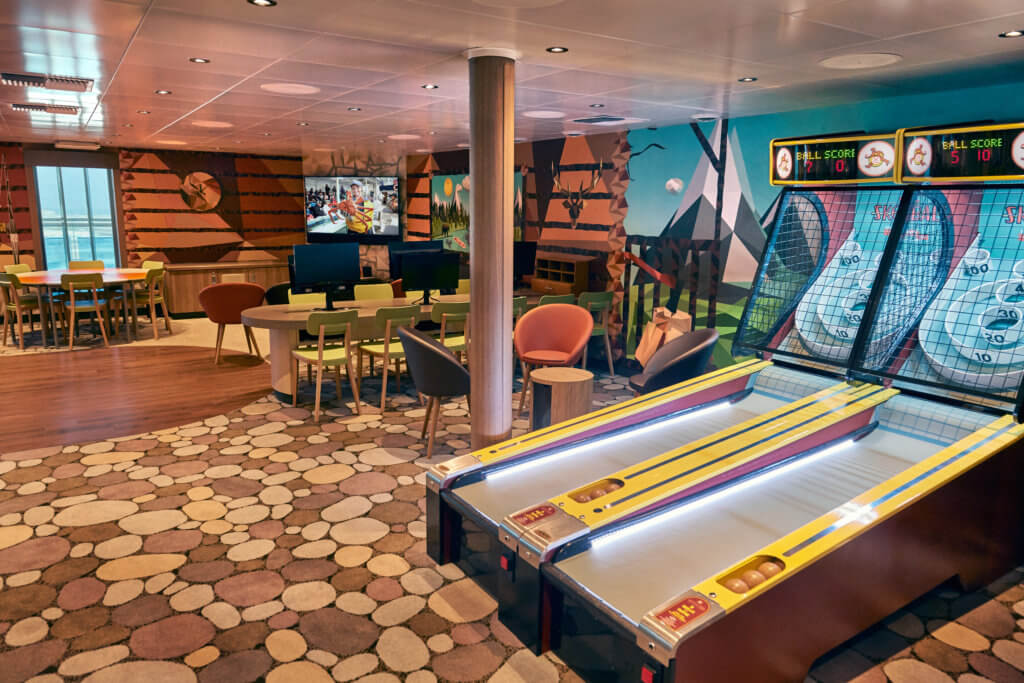 Teens aren't excluded onboard which can often happen with kids clubs. They have their own cool place to hang out in The Beach House, perfect for hanging out and socializing with late-night movies, hip hop dance classes, video game tournaments and sports competitions like dodgeball and basketball. But that's just the beginning. They'll dazzle on the red carpet with a Rock the Boat teens-only party, complete with awards and "mocktails." Being able to locate all members of your family onboard with the Medallion App, allows you to comfortably give teens a little more independence to spend time with friends that they will no doubt make onboard.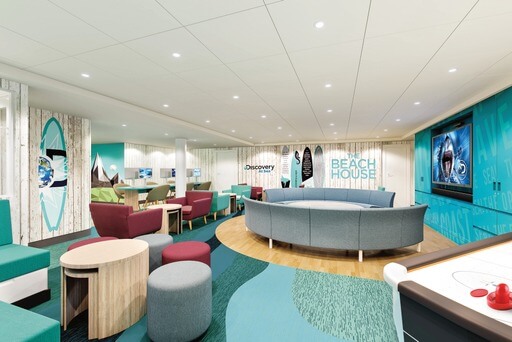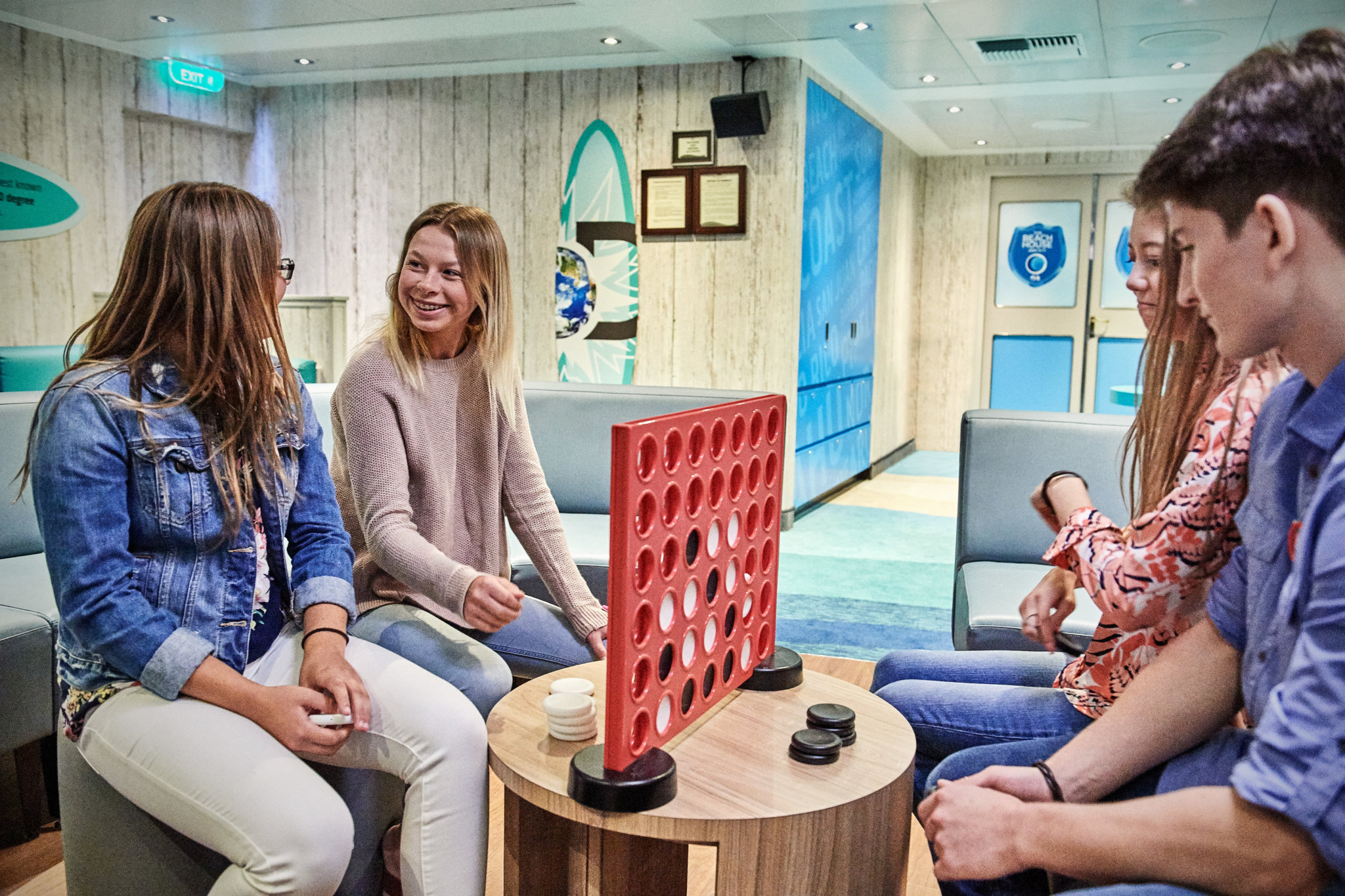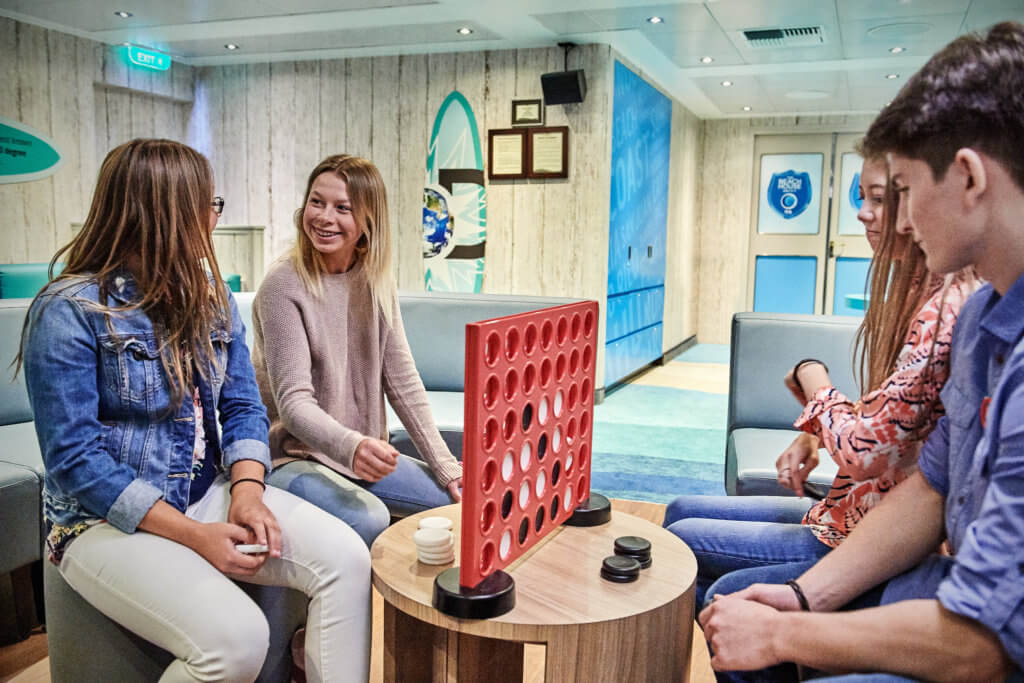 Travelling with family is also an extremely affordable way to travel as you will get substantial savings on third and fourth guests. Princess Cruises also regularly hold offers where kids can travel for as little as £199.
Will I get motion sickness?
Personally, I am very prone to motion sickness so this was one of my biggest fears before setting sail. Honestly, we barely noticed that the ship was moving and we had an extremely smooth sailing. Larger ships, such as the Sky Princess, are more stable with heavier weight and therefore are less prone to rolling motion. Most ships are so large and well-stabilized that it doesn't even feel like you're moving, especially in calmer waters such as Alaska's Inside Passage and the Caribbean. The middle of the ship tends have less motion, as it is the natural balance point so if motion sickness is a concern try to book a room in the middle of the ship.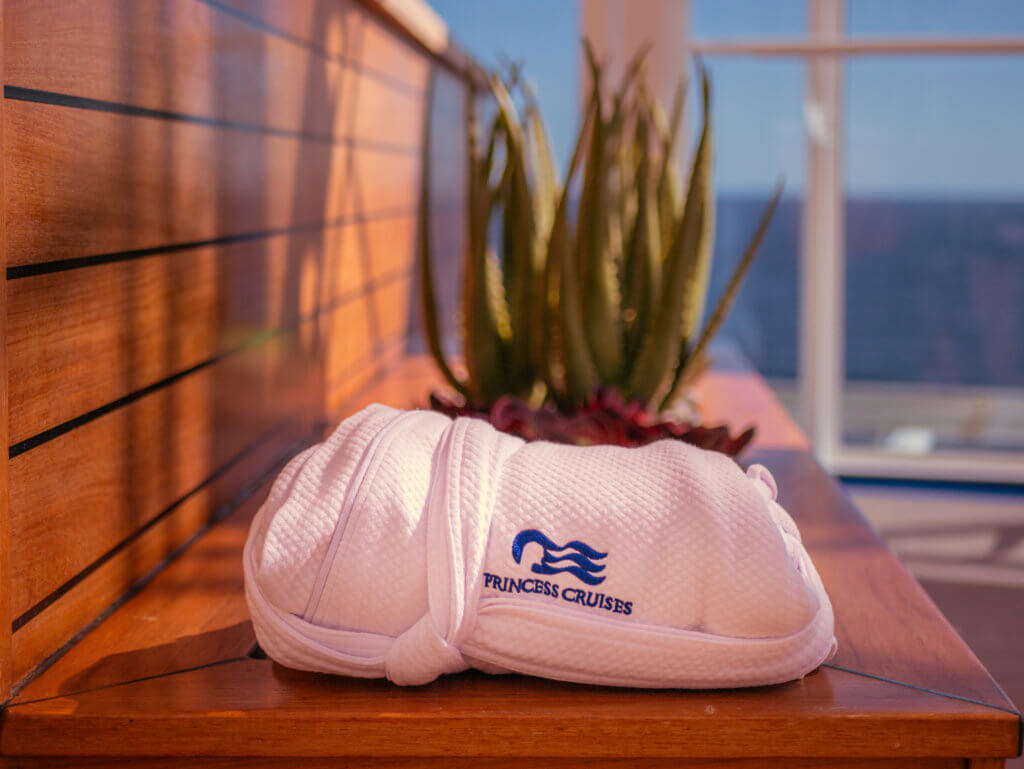 We also noticed that we felt the motion more in areas without windows, like the bathrooms, so an interior stateroom might not be suitable for those who regularly suffer with motion sickness. If you are prone to sea sickness, consider itineraries with fewer sea days, there were only 2 full sea days on this cruise itinerary. Port intensive cruises will give you the opportunity to spend more time on land. Consult your doctor for a drug or alternative remedy to bring with you onboard if you are susceptible to motion sickness.
Will I get bored?
Not a chance! You will actually be spoiled for choice. From Movies under the Stars with complimentary blankets and popcorn to street performer style entertainment in the Piazza. There is a casino, relaxing spa, basketball court, putting green and a whole range of onboard activities to enjoy. You can find everything from culinary demonstrations, bingo, wine tasting, and spa services. As well as presentations, where you learn about the culture and top tourist destinations of the ports you will be visiting, plus live entertainment in the evenings.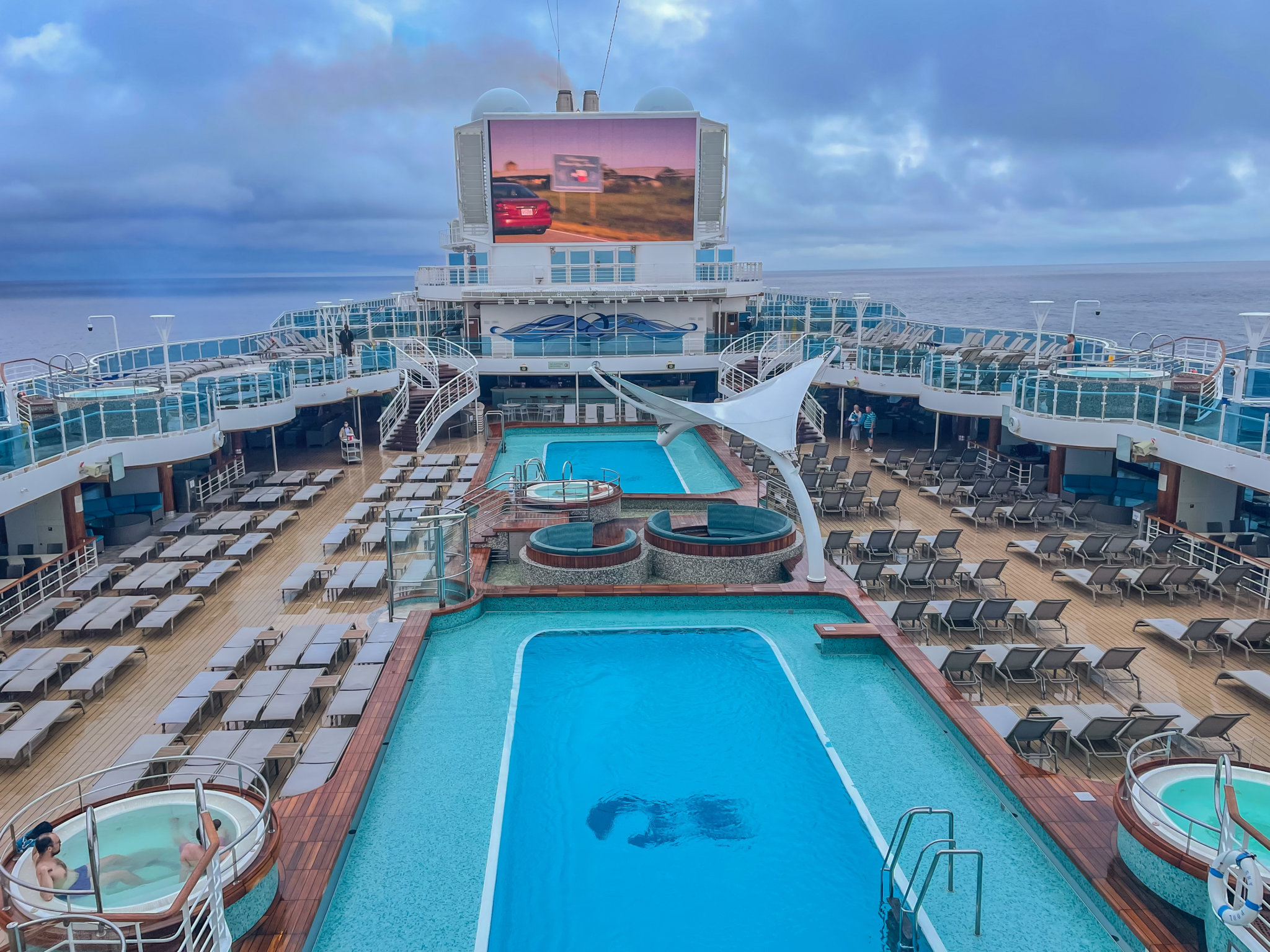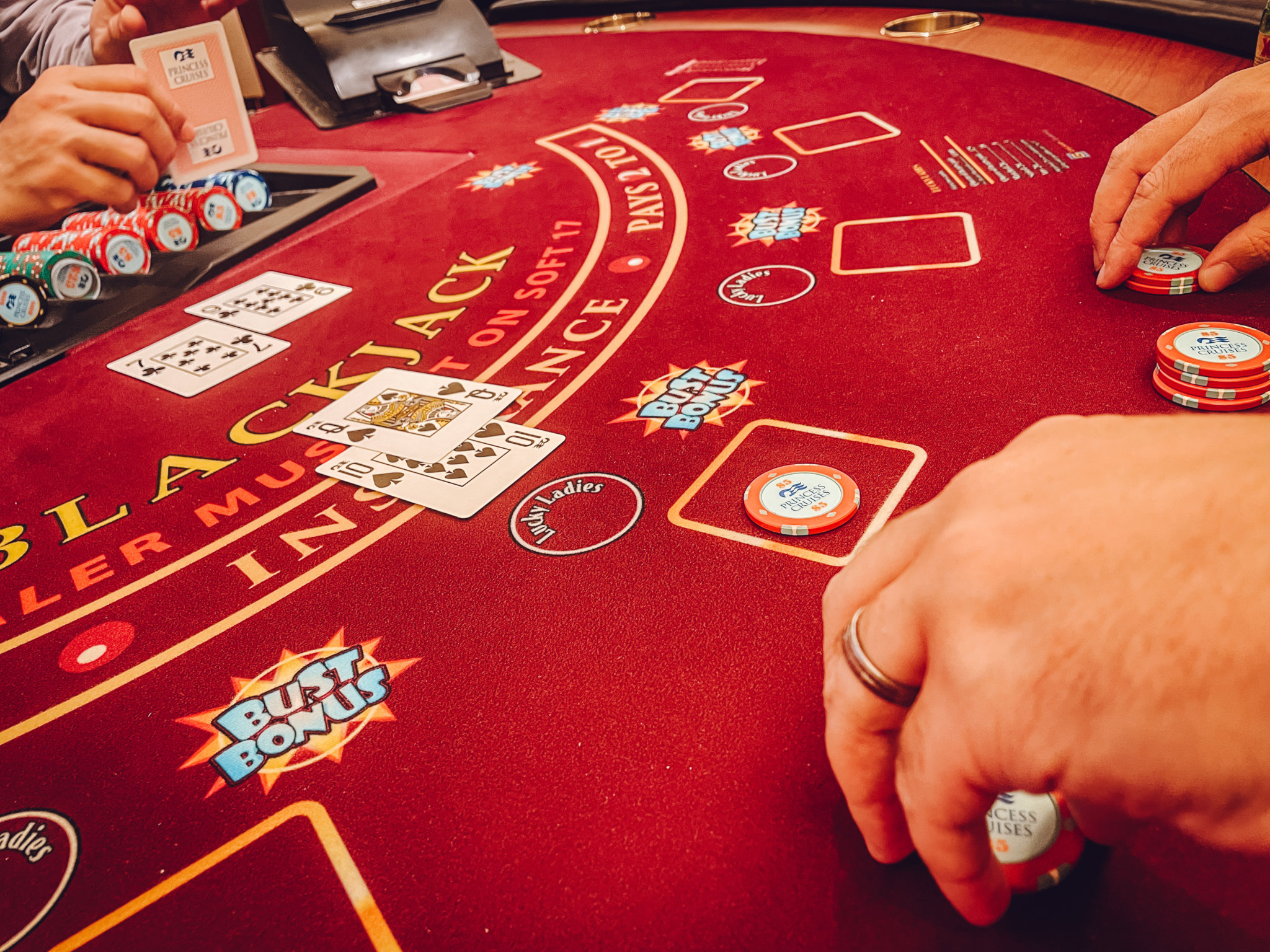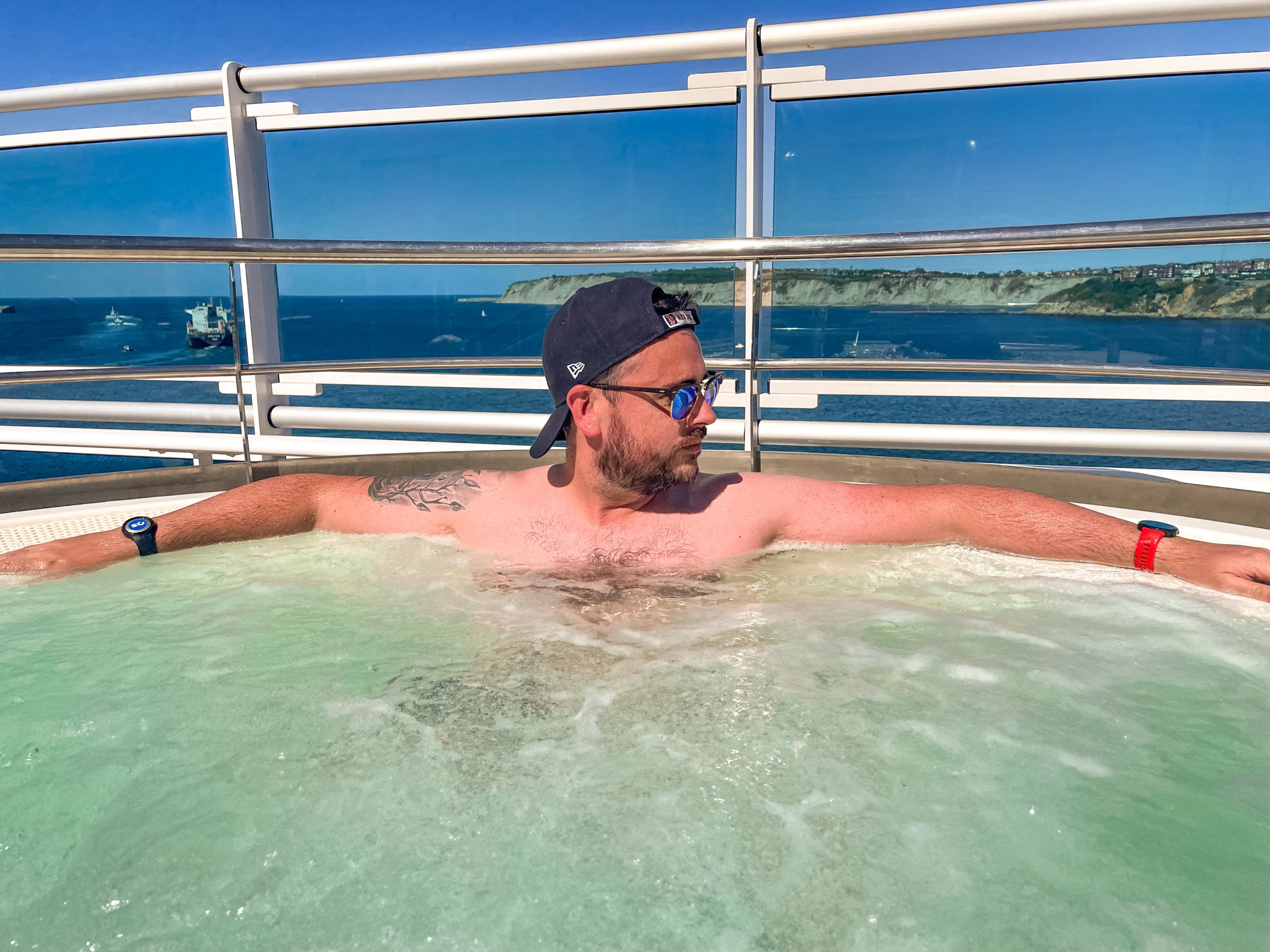 Princess Cruise Tips – Be sure to order room service
Room service is complimentary and is available 24/7 so make sure to treat yourself during the cruise. We also recommend ordering a balcony breakfast to enjoy at least once during your trip. It will cost $45 for two people and is well worth it.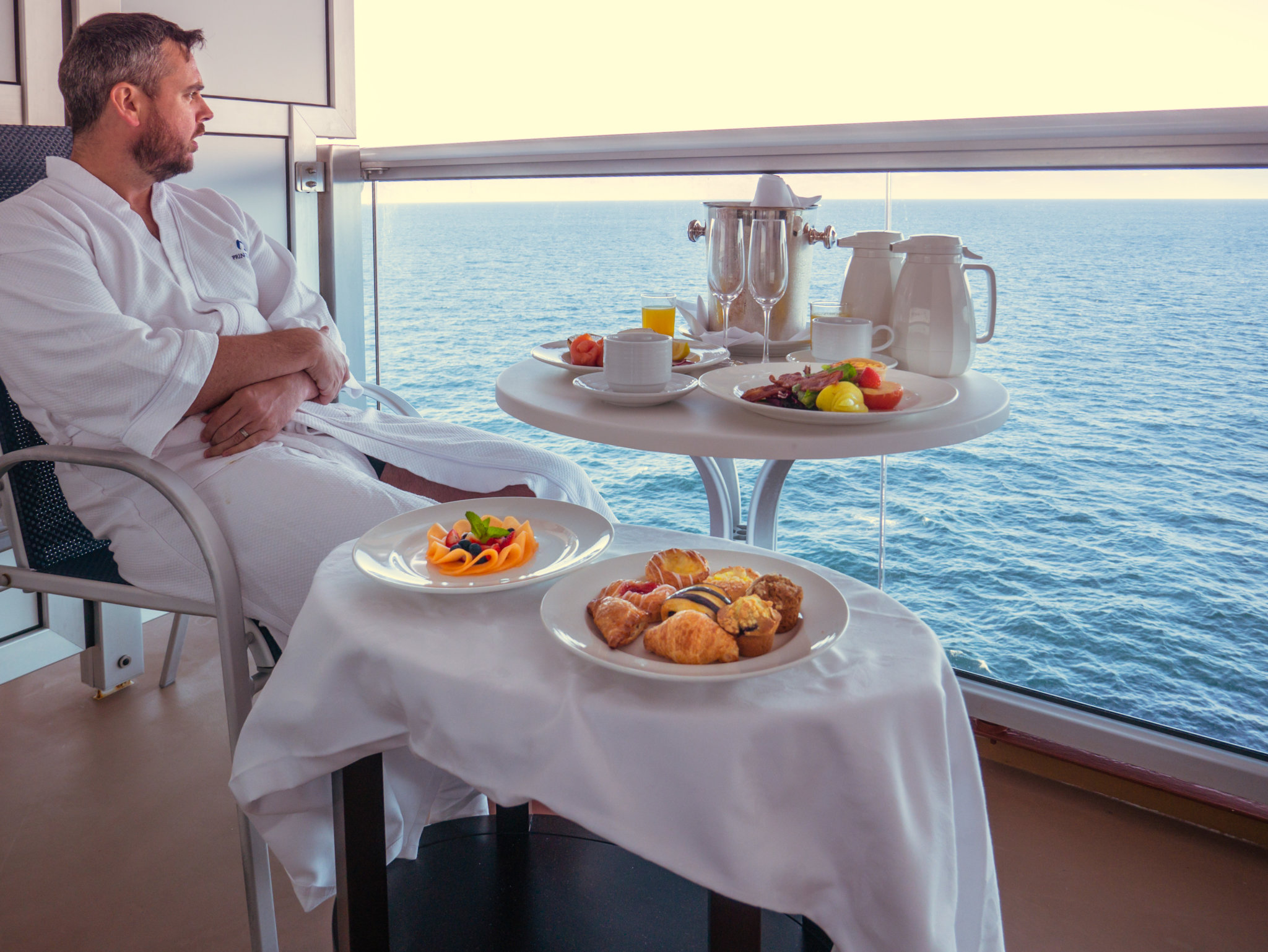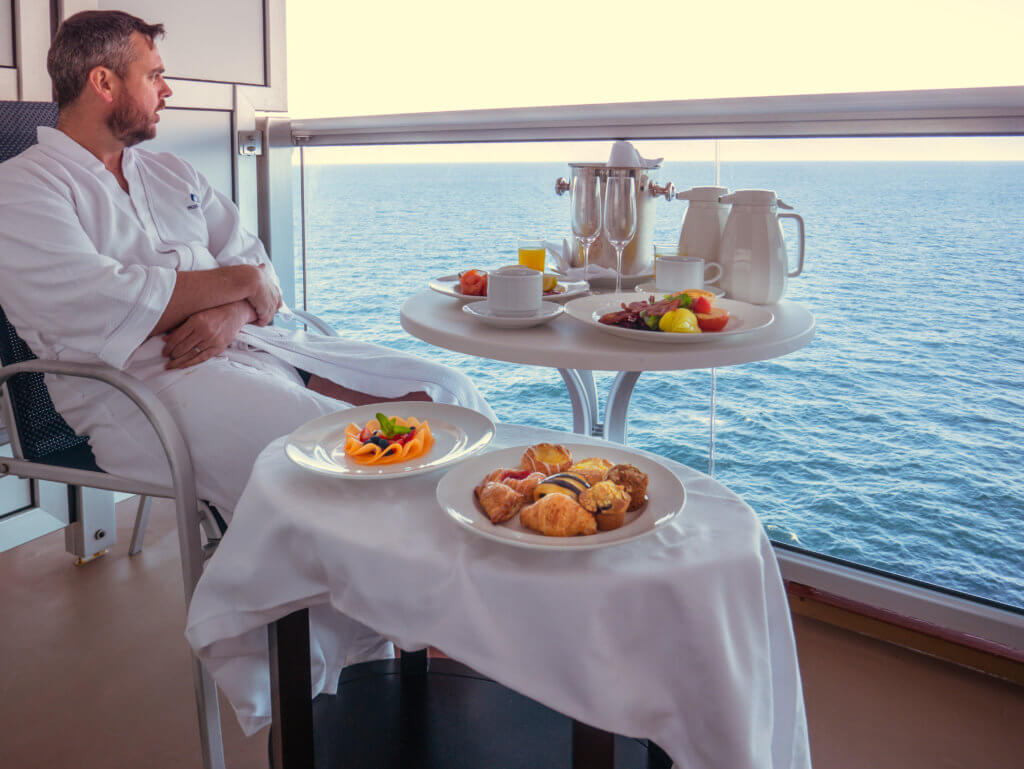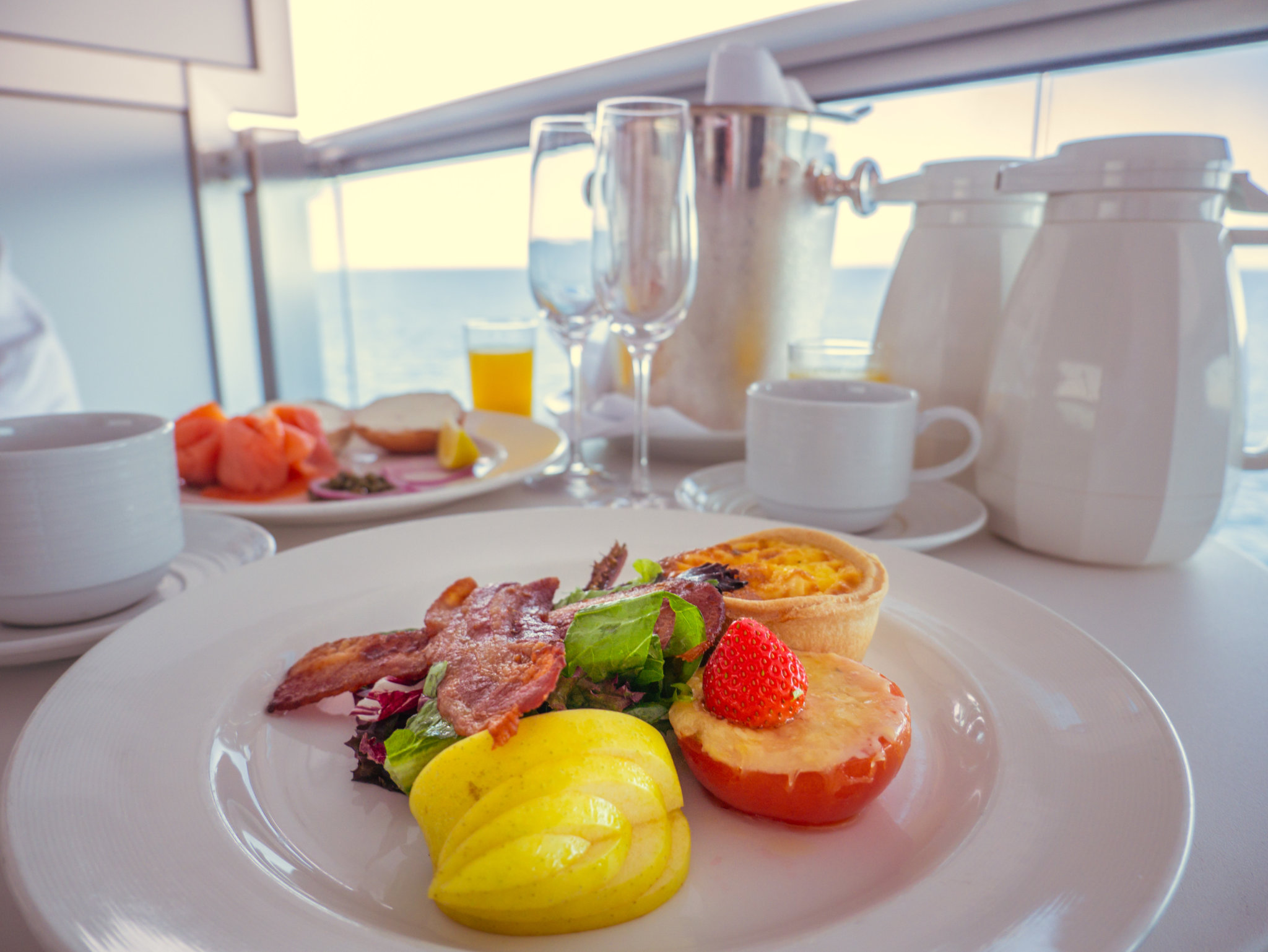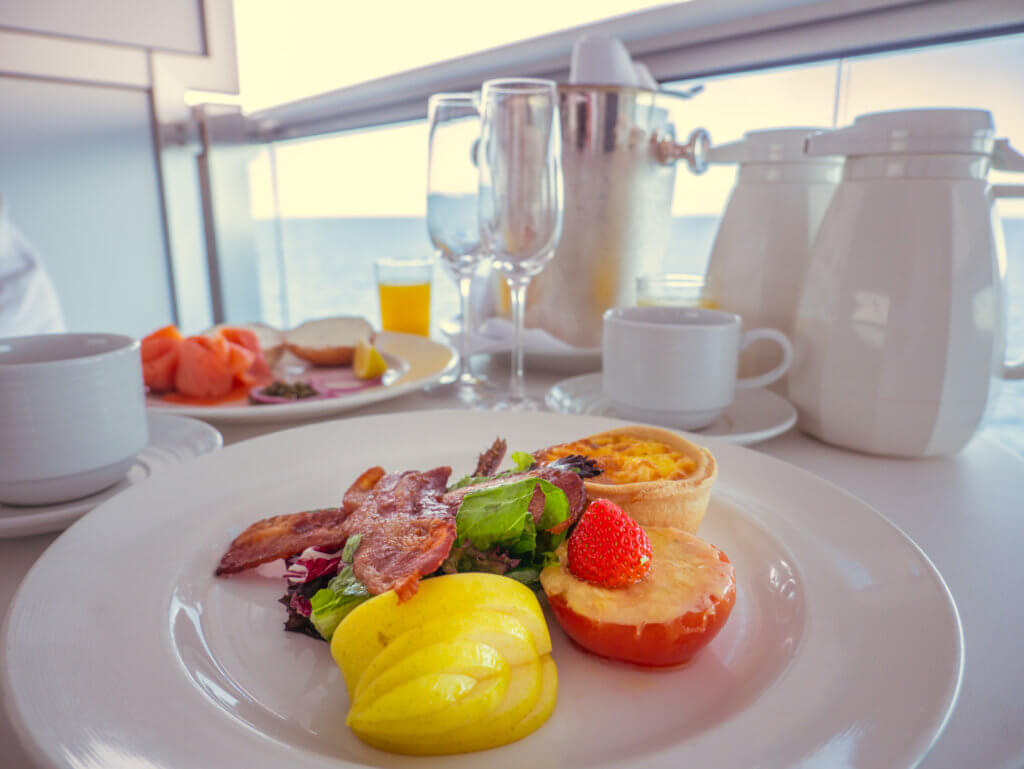 How do I know what daily activities are going on?
After booking your cruise we recommend that you download the MedallionClass App onto your mobile phone or tablet. This will give you the best opportunity to plan your daily itinerary with activities that you would like to do during your time on the ship and it will really enhance your time onboard.
Using one of the ship portals or the MedallionClass app on a smart device, you can see all of the onboard events that will take place during your voyage, and bookmark activities you're interested in to create a personalised itinerary. Or use JourneyView to book shore excursions and view your agenda.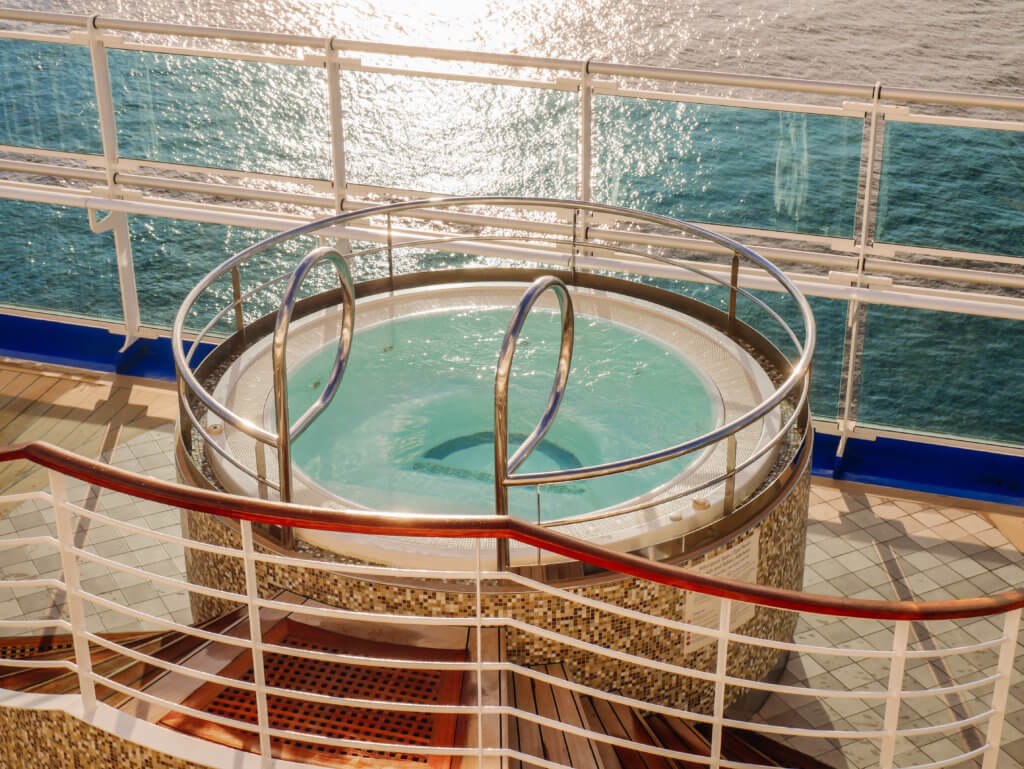 Princess Cruise Tips – Read your daily newsletter
There is a lot going on everyday on the ship. From yoga classes to wine tasting to Movies under the Stars, you are going to want to stay informed so that you can plan your day and not miss out on things you enjoy. One of the best ways to do this is by reading your daily newsletter delivered to your room the night before during the evening turn down service.
You can also find if there are any special offers for that day for things like the spa or onboard purchases.
We really hope that you like our guide on Princess Cruise Tips for first time cruisers and that it helps you plan your first cruise.
**Disclaimer: This blog post was sponsored by Princess Cruises, but we only ever work with brands that we are 100% happy to recommend to you guys and happily pay for ourselves. Staying complimentary allowed us to fully experience the Sky Princess, give honest reviews and create content for you guys to enjoy. All opinions are our own. This post also contains affiliate links meaning that if you book through one of our links we will receive a small commission at no extra cost to you. This helps us create the wonderful travel guides that we do**
Are you new here? Join thousands of other happy readers and subscribe to All About RosaLilla blog via email. The good news is that by signing up via email you will get exclusive travel deals straight to your inbox. The only other place that we publish these deals is on Instagram stories, so be sure to signup to get the heads up on amazing travel deals to save you money when booking.
I also share everything about myself on Instagram with nothing held back so be sure to follow along there.
If you liked this you may also like:
The ultimate 2 days in Dublin itinerary
The ultimate West Wales Road trip itinerary. Unmissable places along the celtic routes.
The Best 2 Day Prague itinerary
Until next time you crazy kids!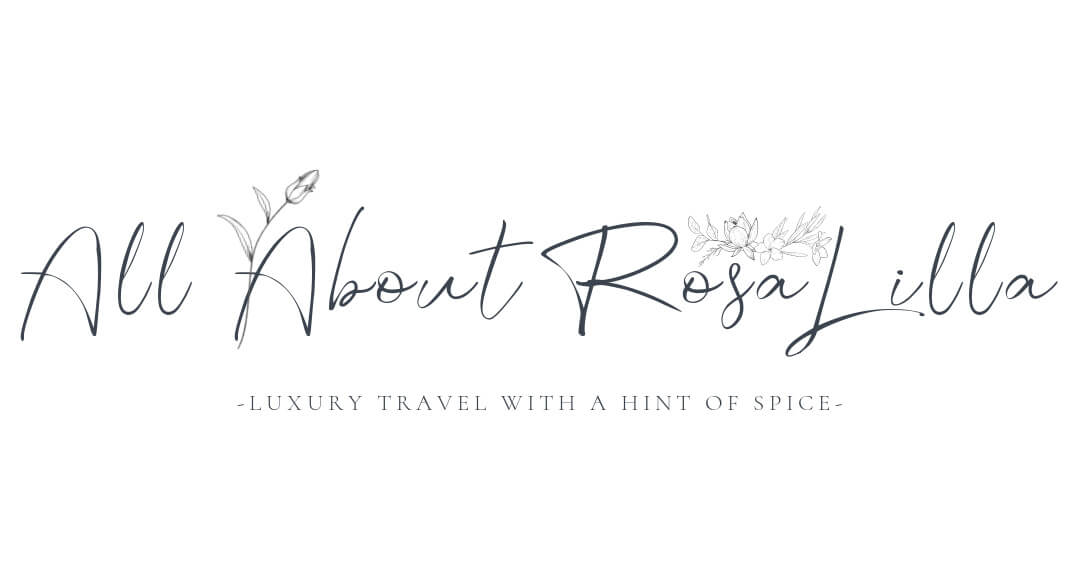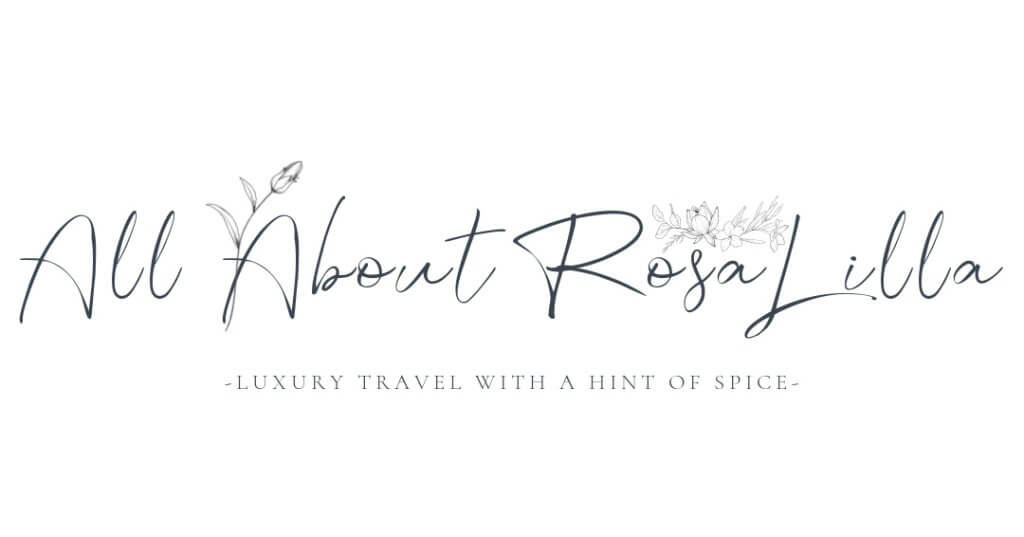 Sharing is sexy!