Is there anything more romantic than Autumn in Ireland? Autumn is possibily the best time of year to enjoy a romantic couple break in Ireland. Autumn time is one of the most incredible times of year to take in the breathtaking scenery that rural Ireland has to offer. You can enjoy the outdoors, watch the beautiful foliage of Ireland change colour and cosy up together in some of Ireland's most romantic places to stay, especially at Autumn.
We have travelled all throughout Ireland and stayed in some very romantic places and we have put together a list of some of our favourite and most romantic places for a couple break during Autumn in Ireland.
Best Places for a Romantic Autumn Break in Ireland
Autumn Magic at Sheen Falls Lodge
Cradled in the heart of Kenmare Bay, on the Wild Atlantic Way, Sheen Falls Lodge is the perfect place for a romantic Autumn getaway in Ireland. Few places offer as much with unspoilt coastlines, dramatic mountain views, picturesque towns, country estates and scenic mountain drives. Surrounded by purple heather-covered mountains, Kenmare is one of the most beautiful places to experience Autumn in Ireland.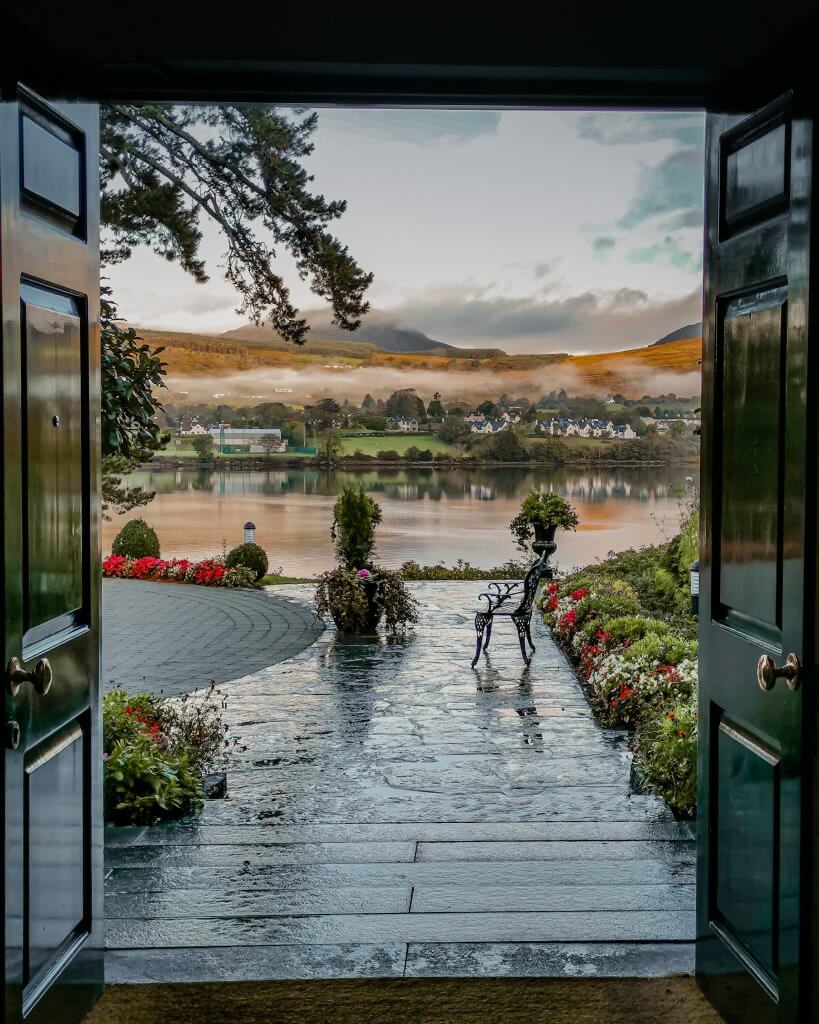 Travelling around the kingdom of Kerry during Autumn is a magical experience that can only be topped off by staying in a luxurious 5 star hotel like Sheen Falls Lodge. Sheen Falls Lodge is a Relais & Châteaux hotel that has 5 star luxury but so much more! They offer an unforgettable place to enjoy a romantic Autumn break in Ireland. You will be welcomed by roaring open fires and the perfect homely setting to cosy up together.
Sheen Falls Lodge have the perfect 3 night Autumn package for couples wanting to enjoy a romantic getaway. Stay 3 nights in a newly refurbished room overlooking the falls. We can't begin to tell you how lovely it is to fall asleep to the sound of rushing water. Enjoy a full Irish breakfast each morning and dinner for two on 2 nights during your stay. One evening meal in the fabulous Falls Restaurant and one cosied up in Stables Brasserie & Bar. There is free cancellation up to 7 days prior to arrival and the third night includes a 50% reduction on the nightly rate.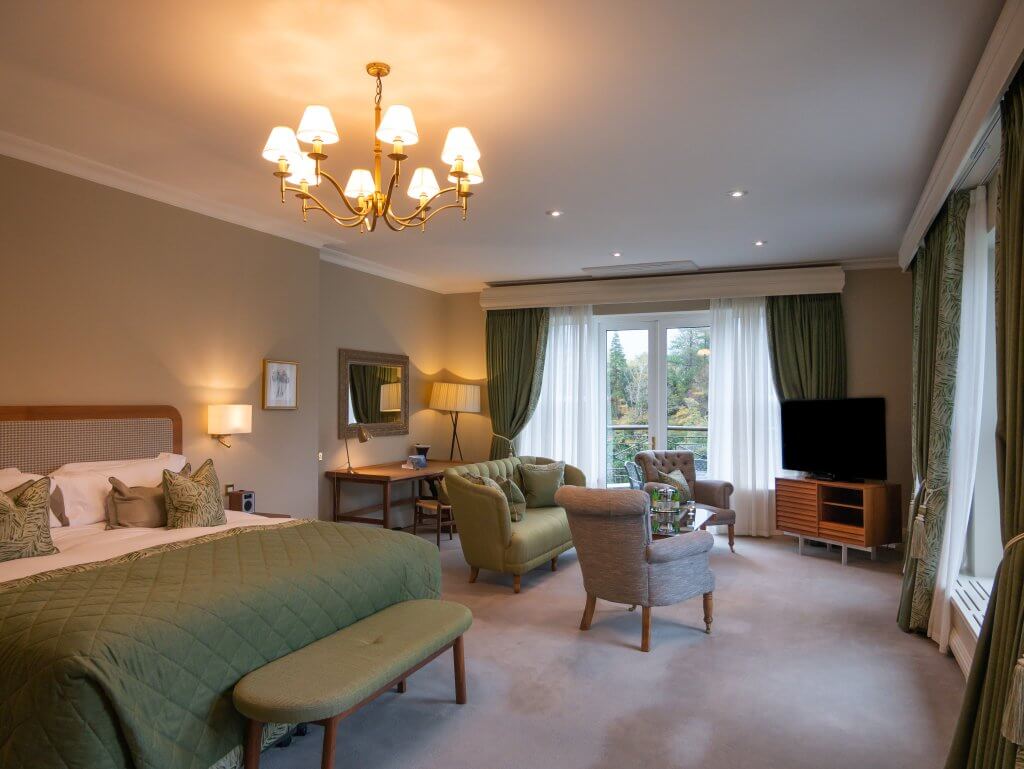 Read our full review on Sheen Falls Lodge, luxury 5 star hotel in Ireland.
Burrenmore Nest, Romantic Treehouse in Ireland
When it comes to romantic breaks you can't get much more romantic than staying among the trees in an actual treehouse. Can you imagine just lying in bed with panoramic treetop views watching the autumn leaves change colour and fall right before your very eyes. It brings on a whole new meaning to the term leaf peeping!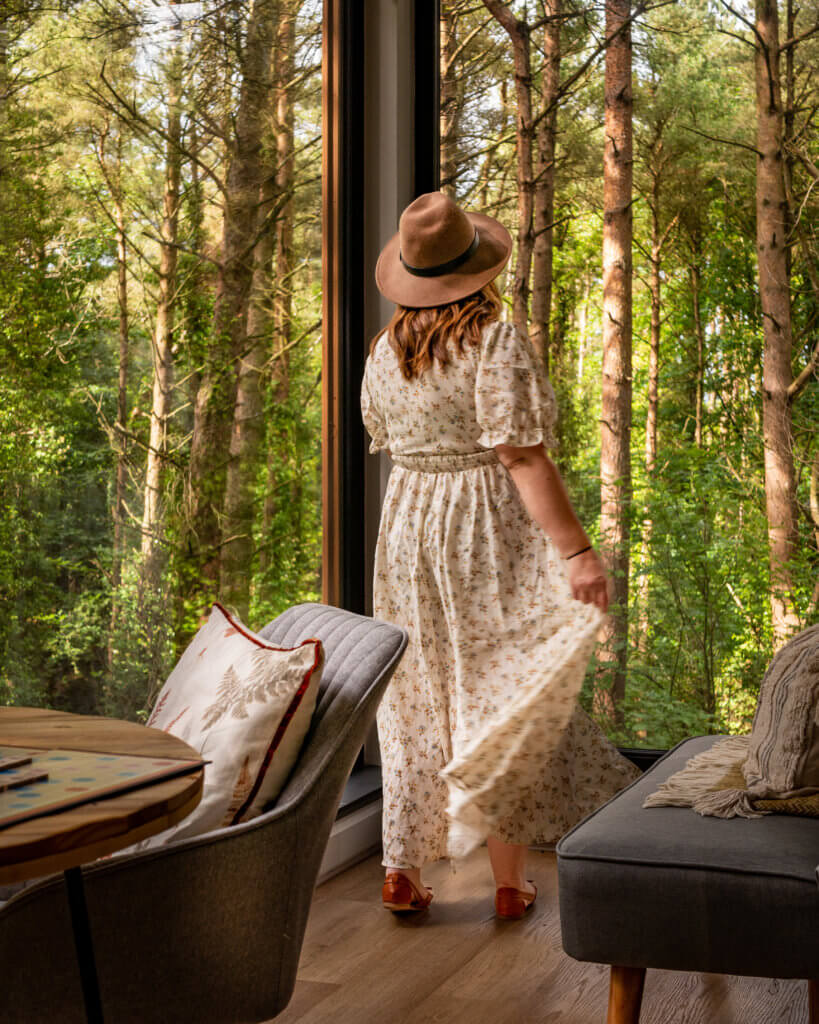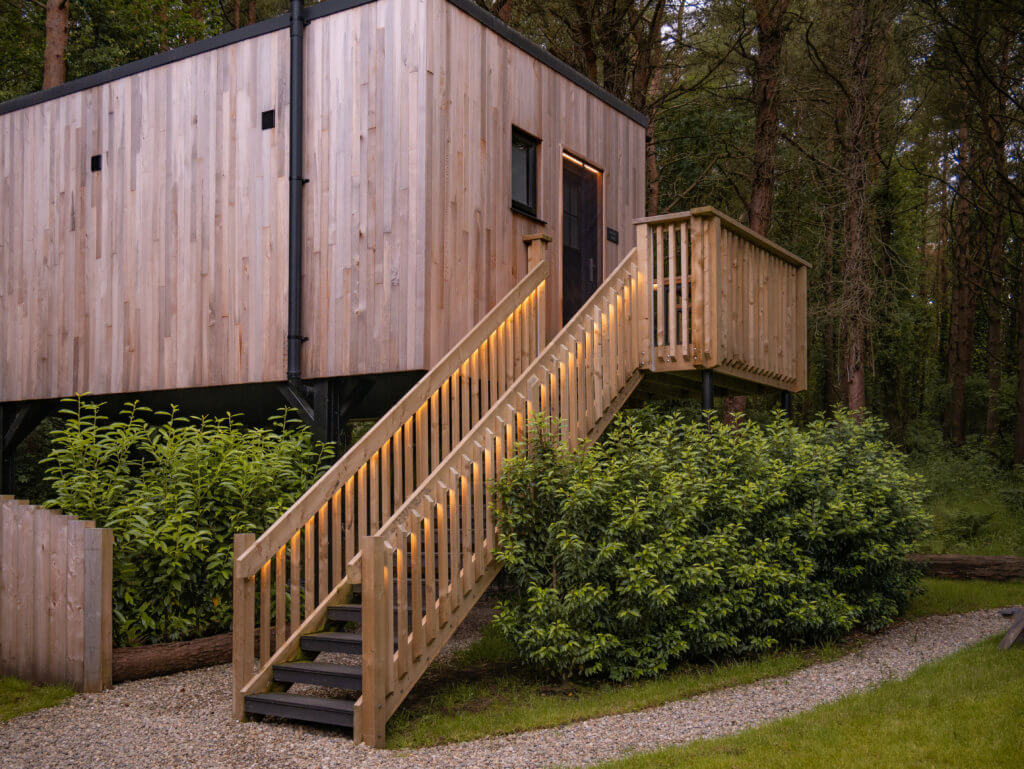 Floor-to-ceiling windows frame the forest canopy to perfection, with remote control blackout blinds to help you get a restful night's sleep in a luxury king-size bed. There's also fibre Wi-Fi and Alexa-enabled heating and lighting. Alexa will even set the mood if you ask her for romantic lighting.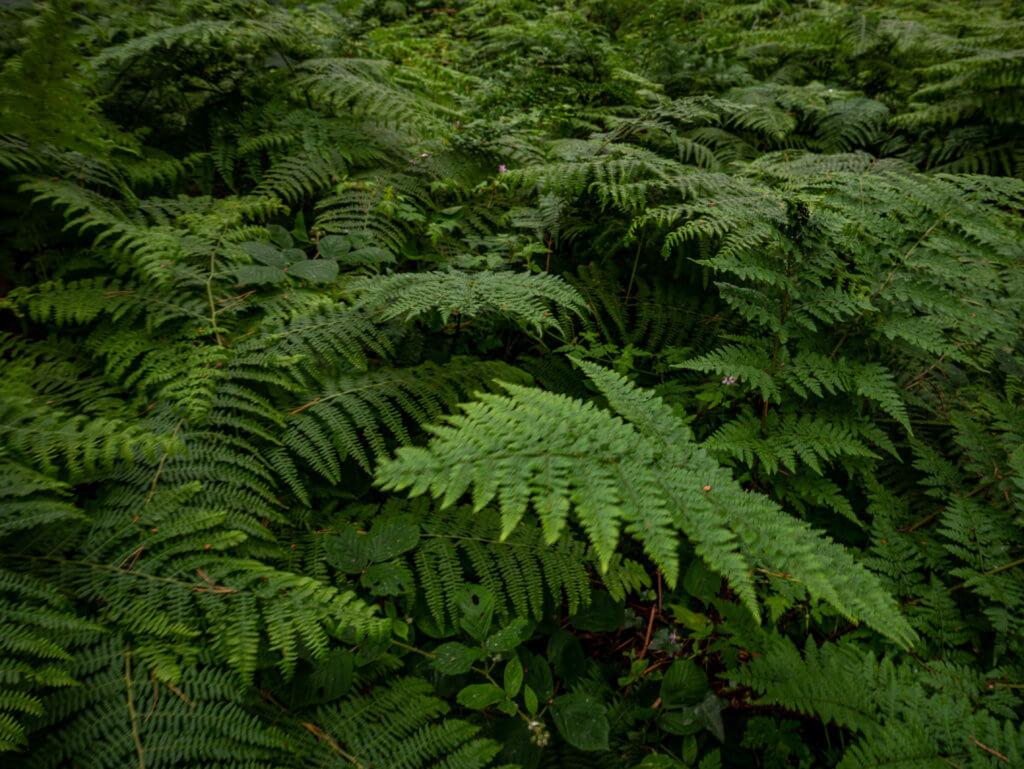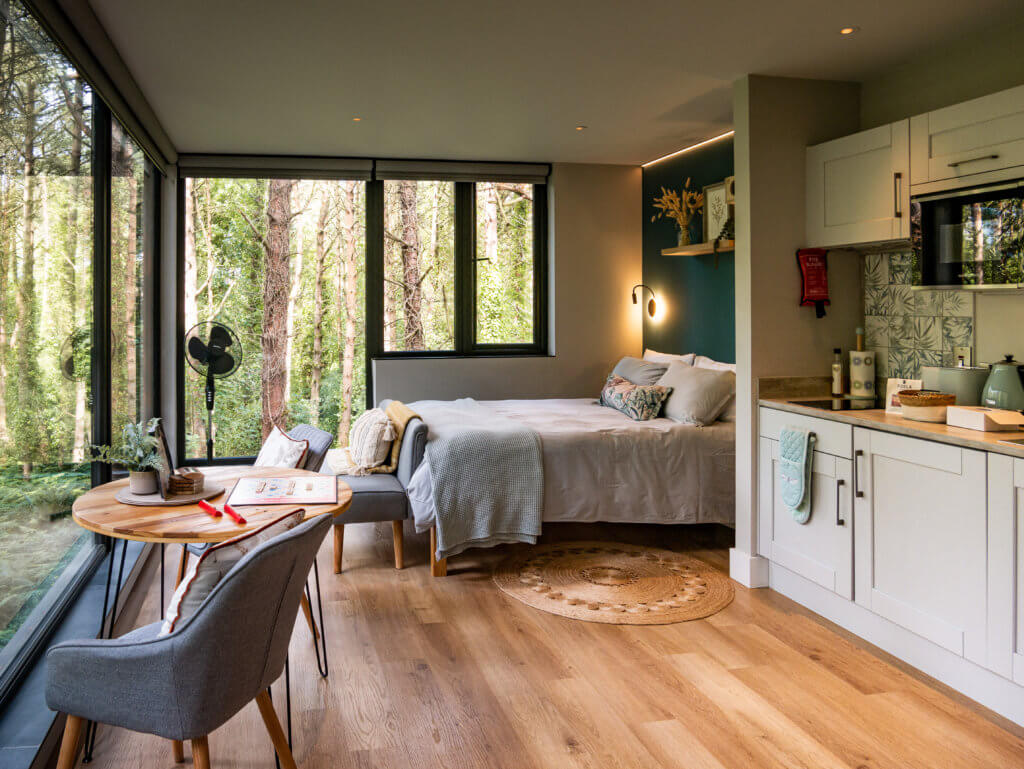 On arrival you will find four shimmering glass-fronted treetop lodges, each with their own al fresco whirlpool bath covered in moss so that you literally feel like you are bathing among the trees. It is the perfect place to enjoy Autumn in Ireland and reconnect with nature. The architecture of the lodges is modern, sleek and stylish however, they seem to blend perfectly into their natural surroundings. They are opuently at home nestled among a magical forest on Ireland's scenic north coast making them one of the most romantic places to stay for an Autumn break in Ireland.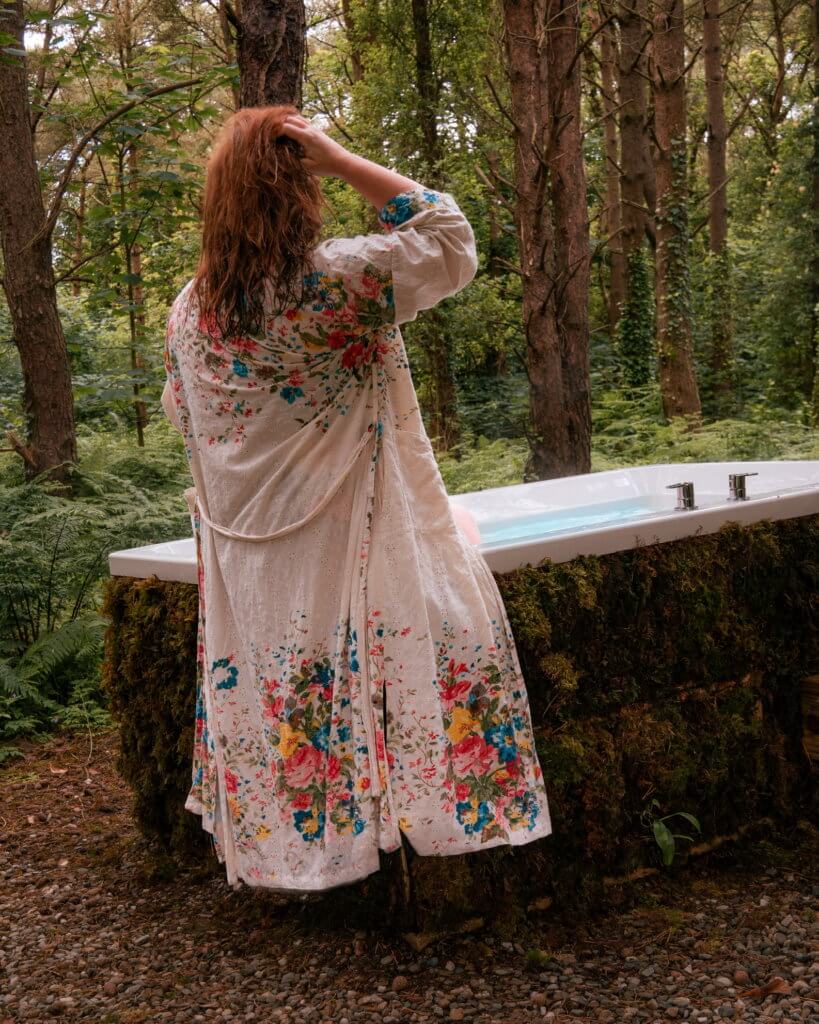 You can cook a romantic meal together, enjoy a private whirlpool bath under the trees and afterwards cosy up together to a movie on the built-in home-cinema projector that will connect to your phone so that you can Netflix and chill!
Be sure to check out our full review of Burrenmore Nest a romantic treehouse in Ireland.
A Spellbinding break at Ashford Castle
There is something magical about the changing of the seasons at Ashford Castle. Autumn colours come to life here like no other place we have seen. Ireland is well known for its prestigious castles and stately manors but Ashford Castle is in a league of its own, often being voted best hotel in the world!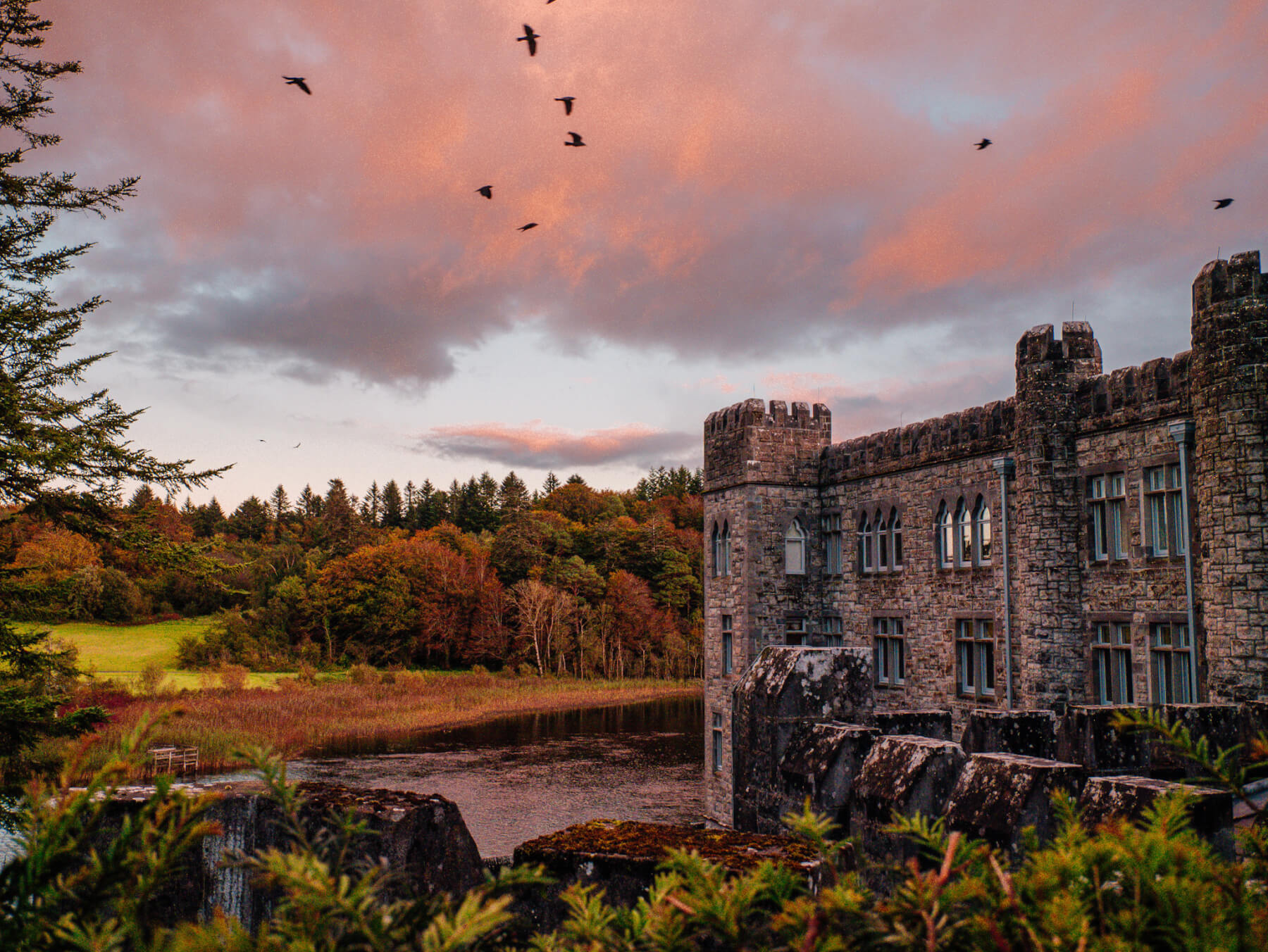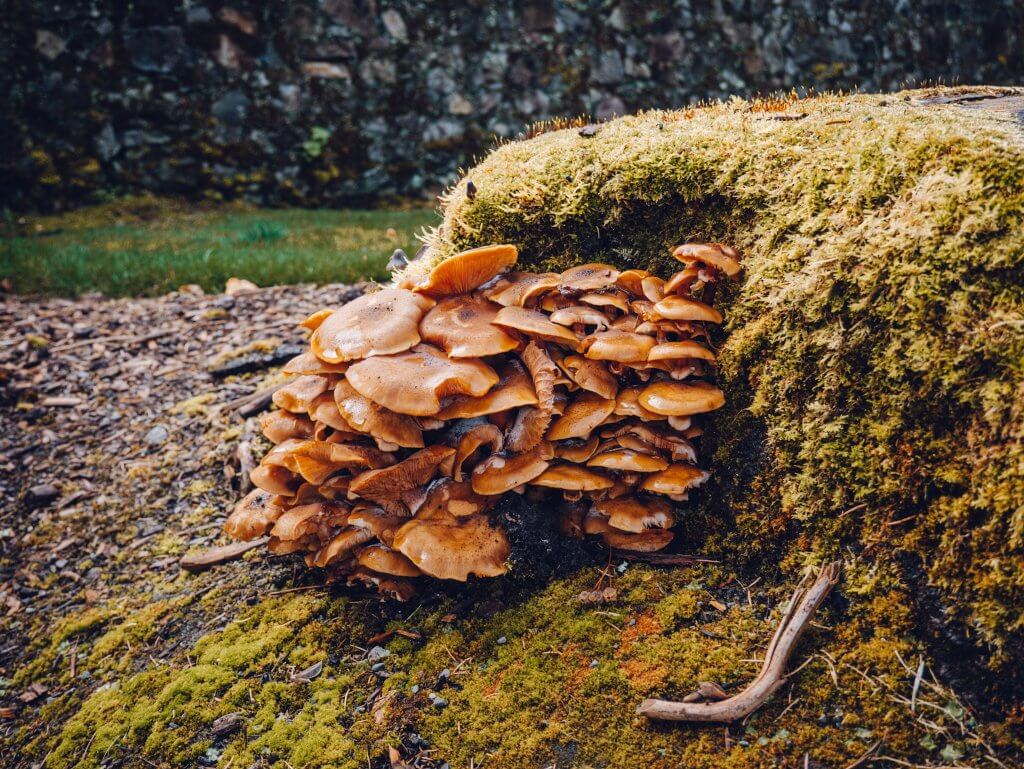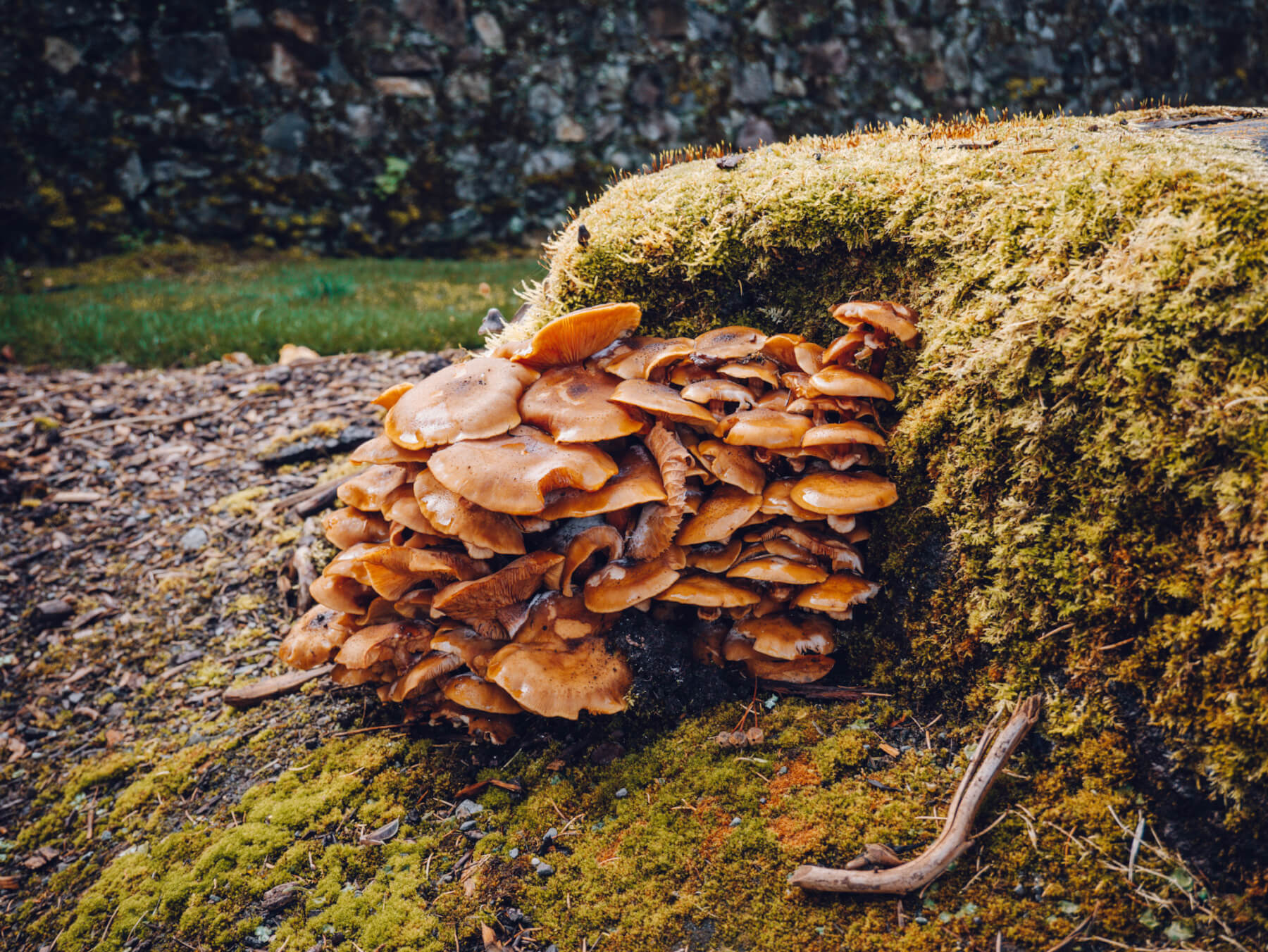 Ashford Castle is part of the Red Carnation Hotel Collection and a member of Leading Hotels of the World. Situated in a spectacular 350 acre estate, here you will discover sumptuous rooms and suites, splendid interiors brimming with antique furniture, fine fabrics and unique features at every turn. It really is the ultimate luxury romantic getaway for exploring the West of Ireland during Autumn.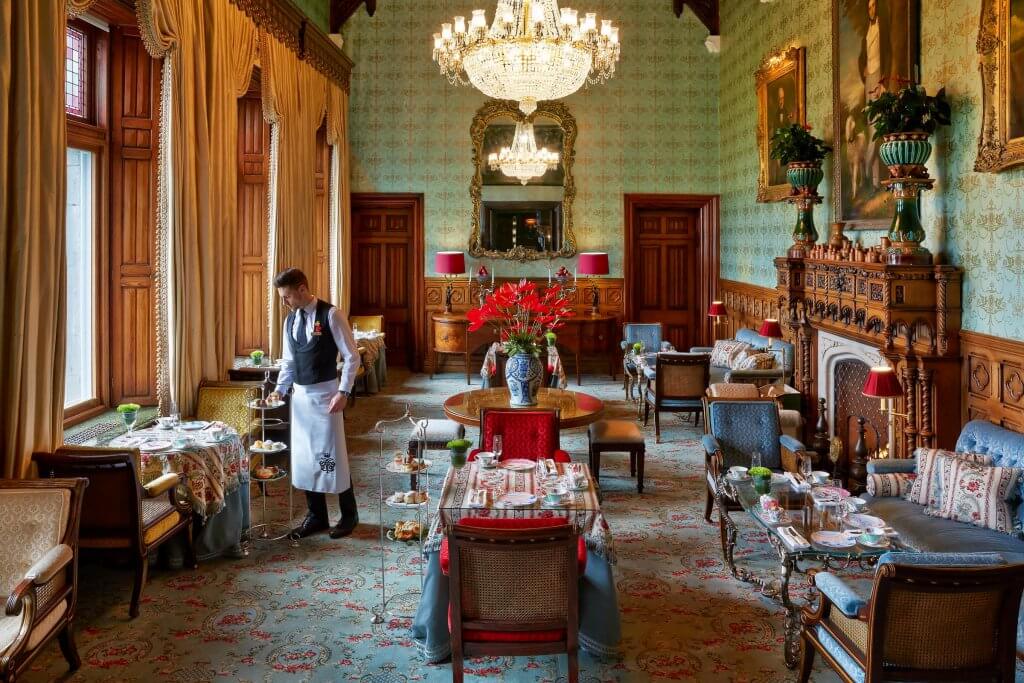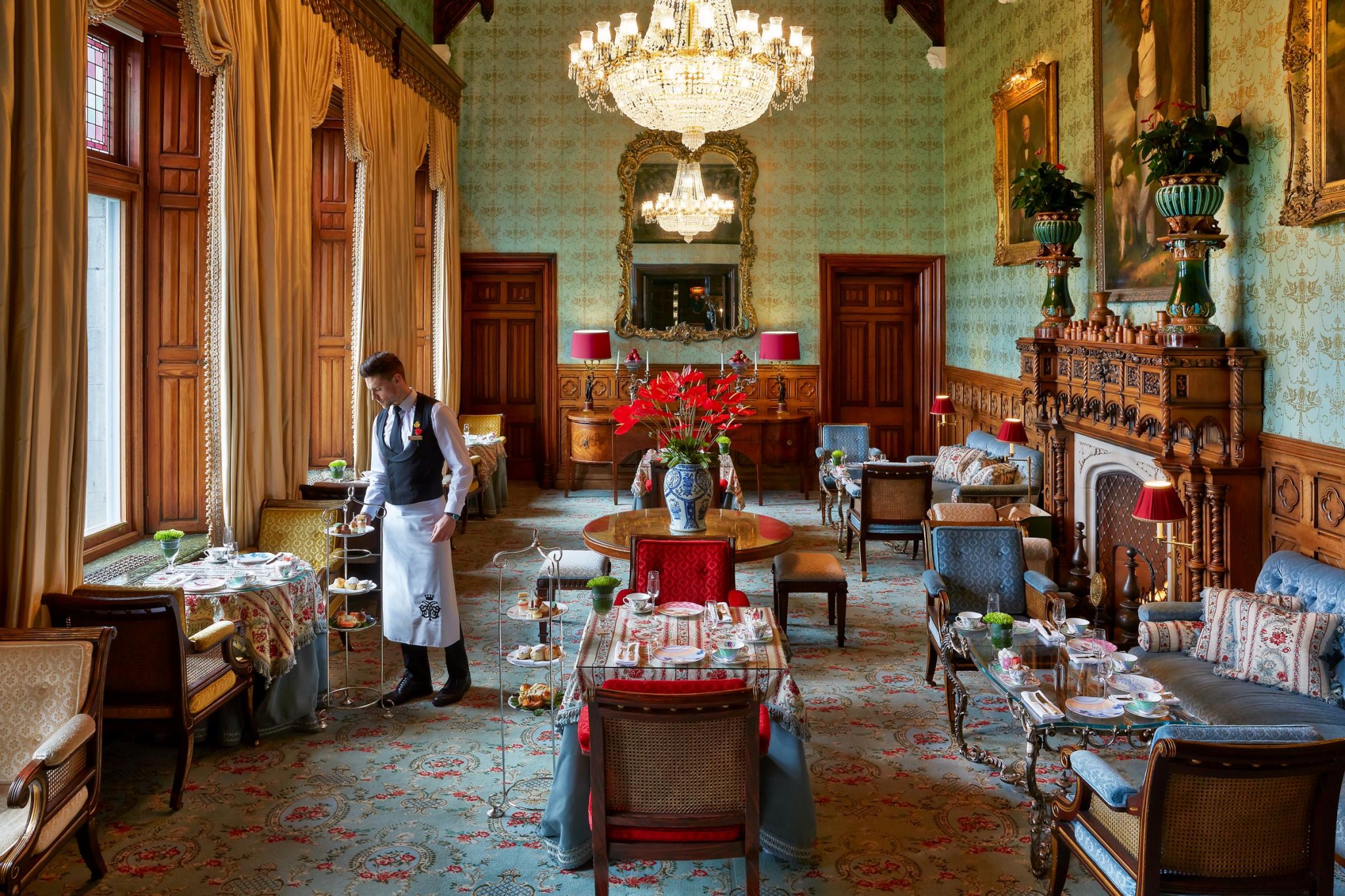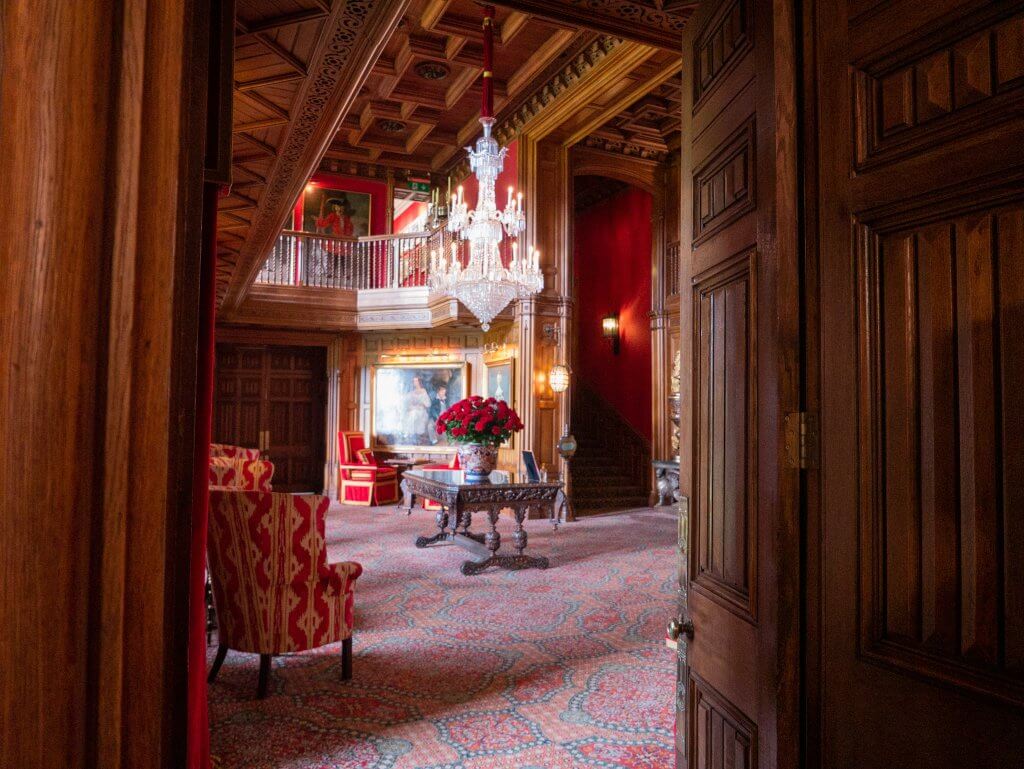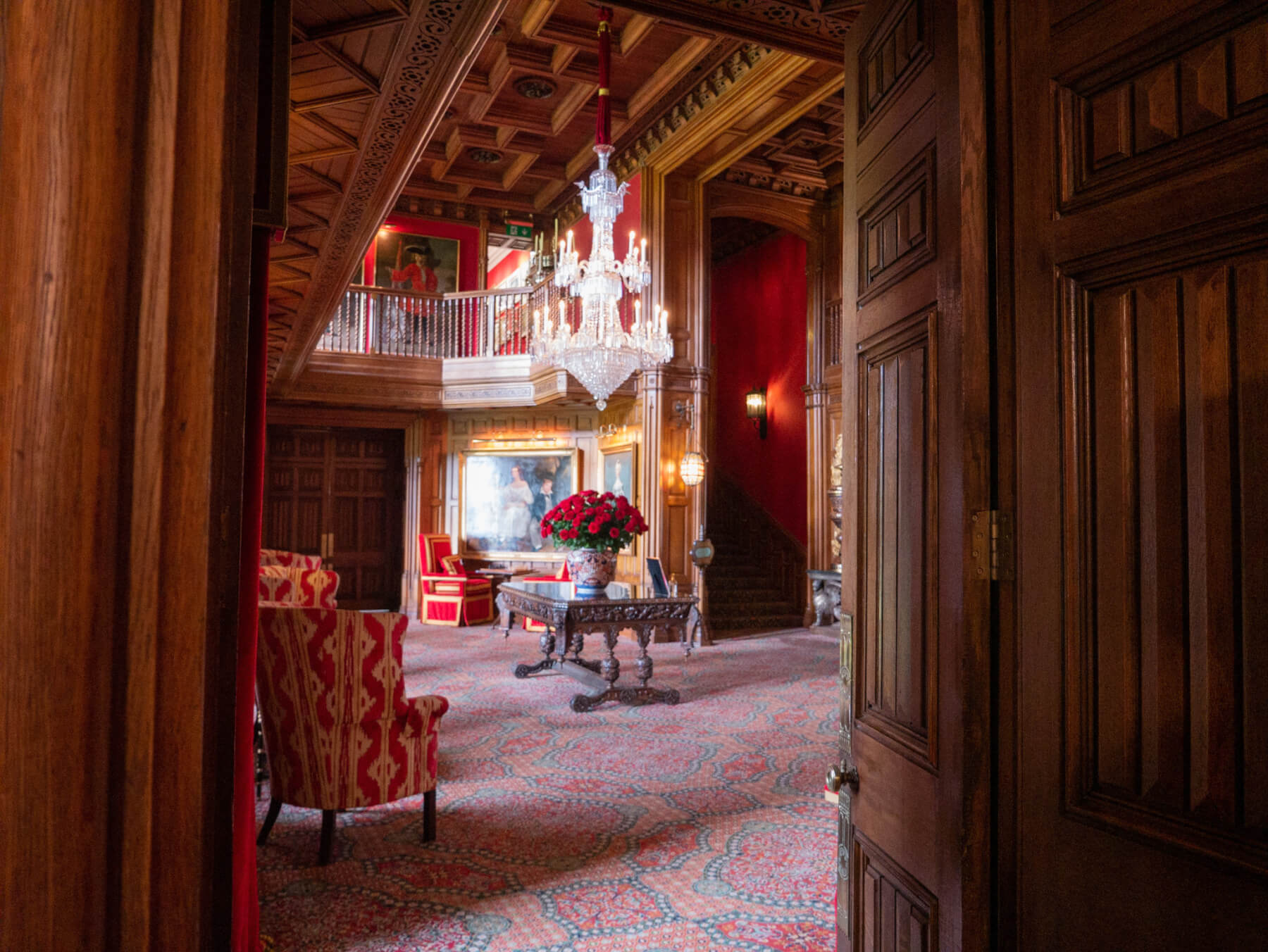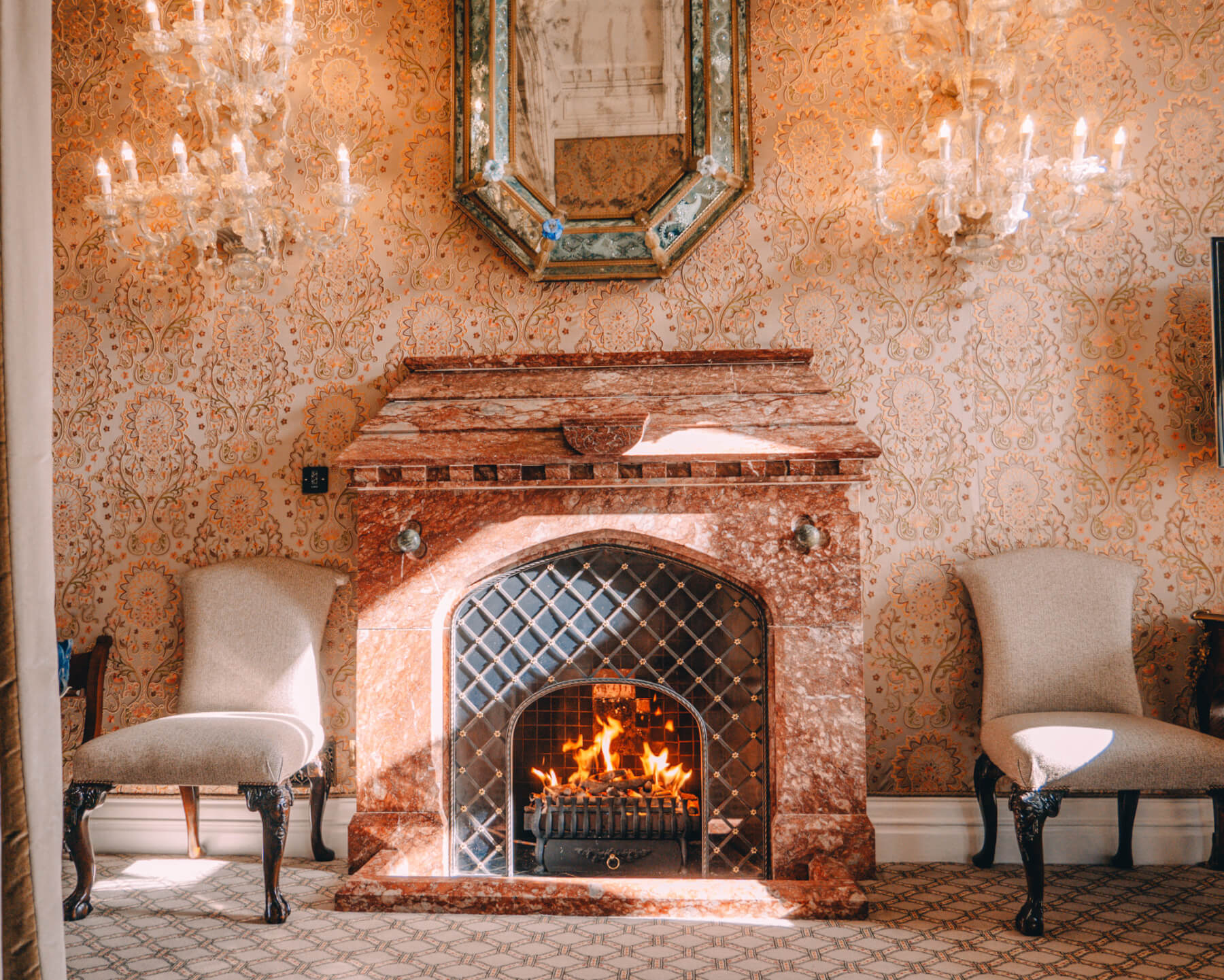 5 star luxury like this does come with a price however. We recommend a stay here as the ultimate treat to celebrate a very special occasion or even perhaps the perfect place to get engaged! A lovely offer that they have is a Night at the Movies where you can enjoy a luxury overnight stay (when we say luxury, Ashford Castle takes it to a whole other level), dinner in The Dungeon, a complimentary round of the 9-hole golf course and a full Irish breakfast. Star of the package is a movie in the castle's cinema where you can sit back in sumptuous red velvet chairs for a classic cinema experience with sweets and popcorn.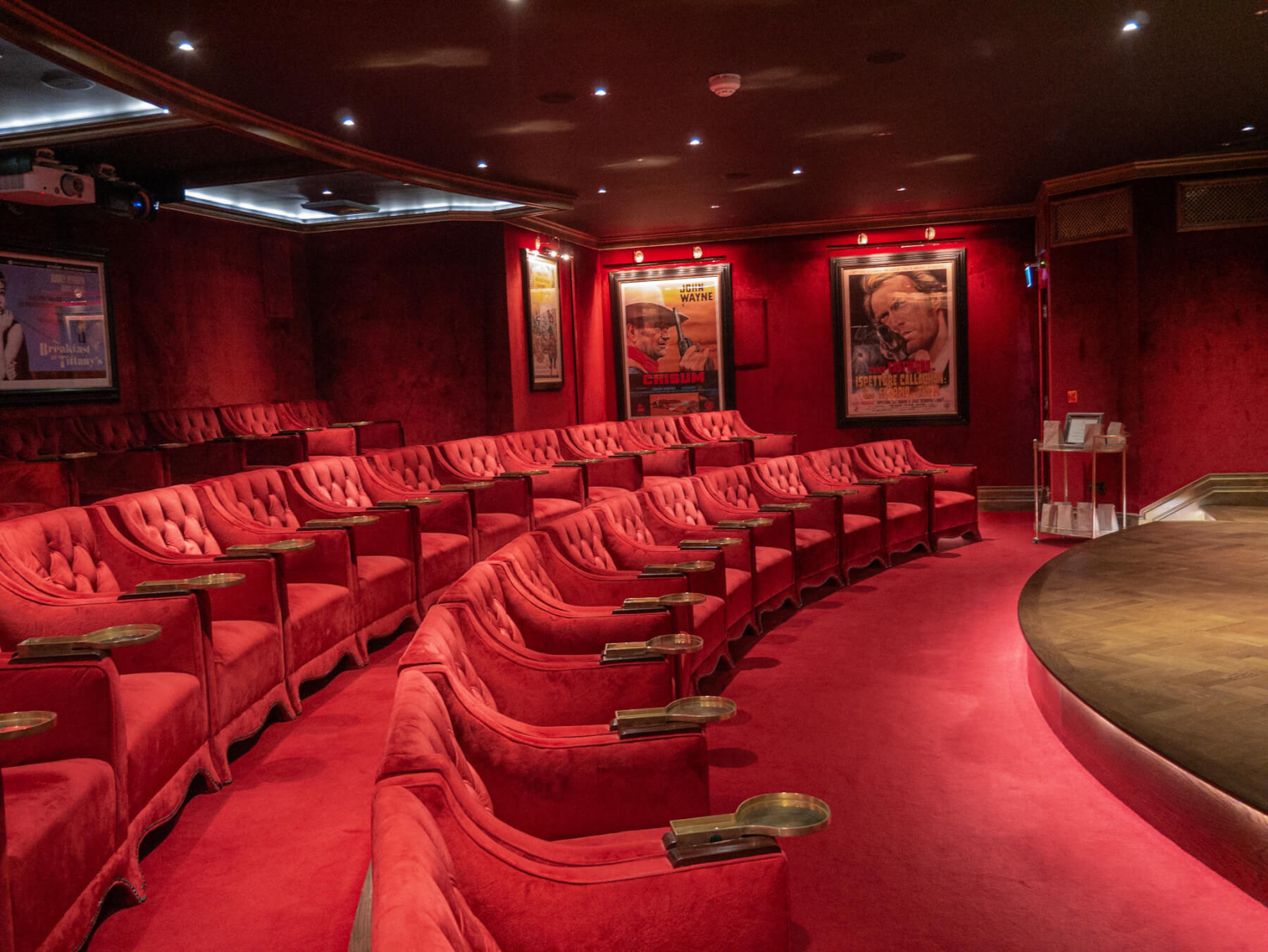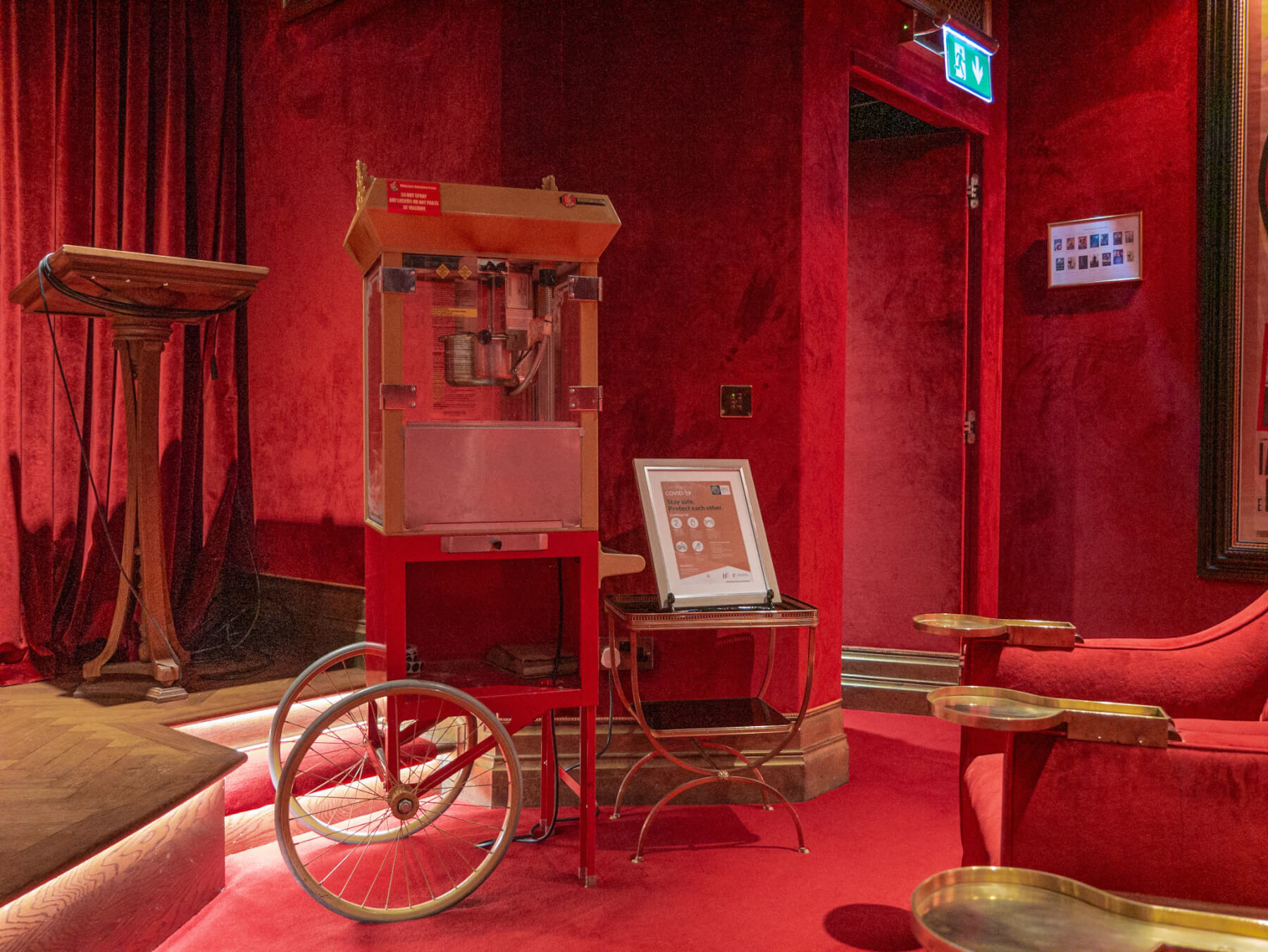 If you would still like the Ashford Castle experience with a limited budget we recommend staying at The Lodge at Ashford Castle where you will feel like you are staying in a beautiful country manor house with breathtaking views over Lough Corrib. While you won't have access inside the castle (Ashford Castle prides itself in providing a full exclusive experience for guests there), you will have access to the castle grounds and outdoor activities such as falconry, clay pidgeon shooting and horse riding.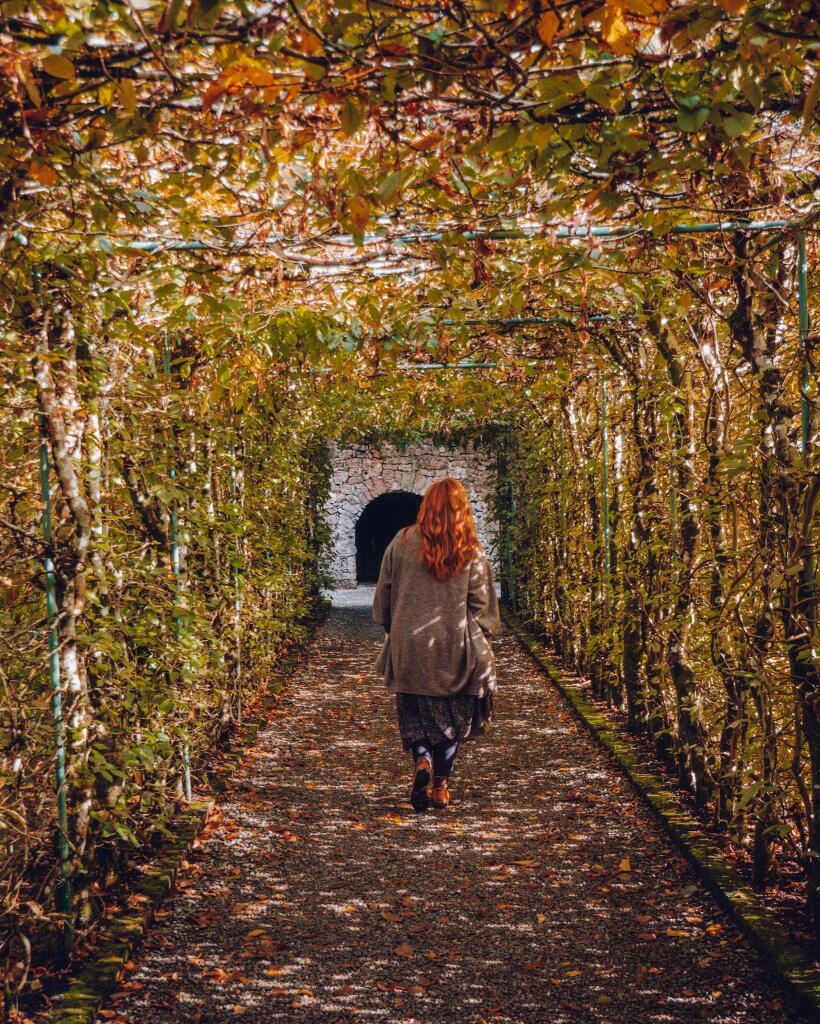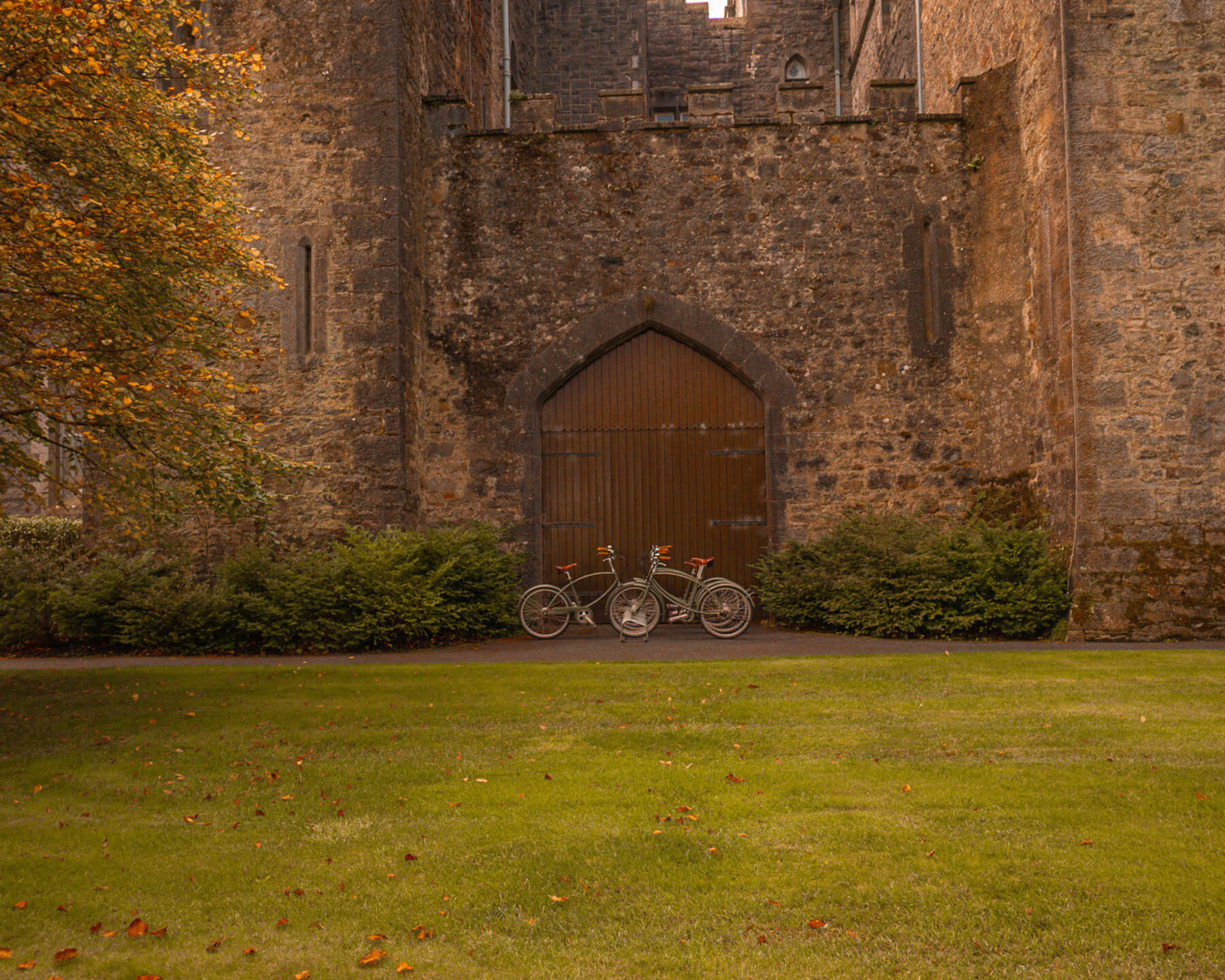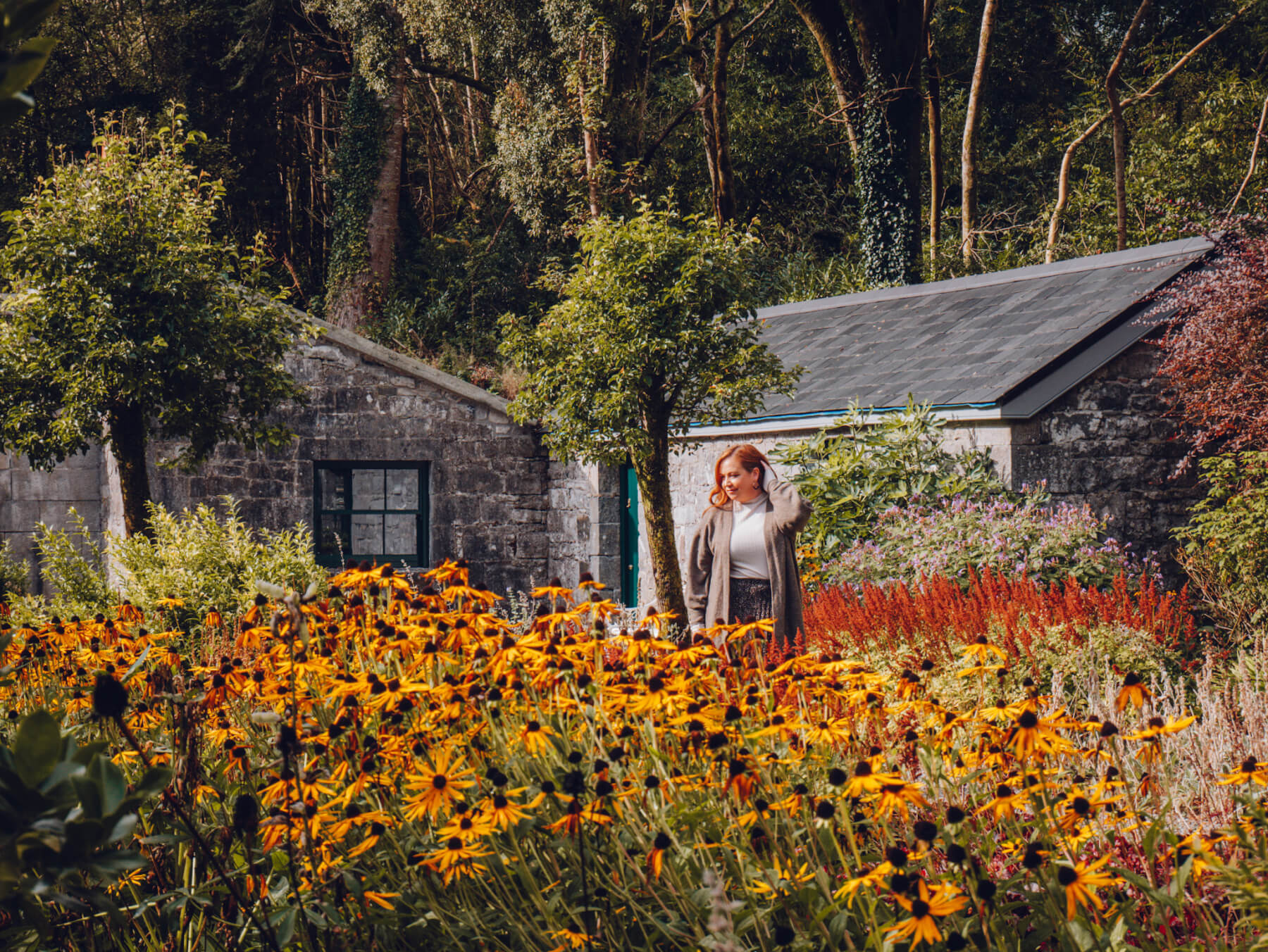 While this guide is specifically for couples looking for somewhere romantic to stay in Ireland during Autumn we do want to mention Ashford Castle's School of Wizardry, a package that is full of enchantment for little ones that will leave them completely spellbound. Children will adore creeping through the Castle grounds to visit the hiding place of Dingle the Owl, Ashford's resident eagle owl, and tapping into their inner artist at the Chamber of Art.
As part of the experience, your little wizards will also become the House Elves' little helpers at the cookery school, followed by an afternoon at the Chamber of Witchcraft and Wizardry with lots of magic and surprises in store. From €2940, a family of four will enjoy a two-night break in a beautifully decorated Deluxe Queen room, with breakfast each morning in preparation for a full programme of wizardry-themed fun over the two days. Adults will enjoy a fine dining meal on both evenings in the historic George V Dining Room.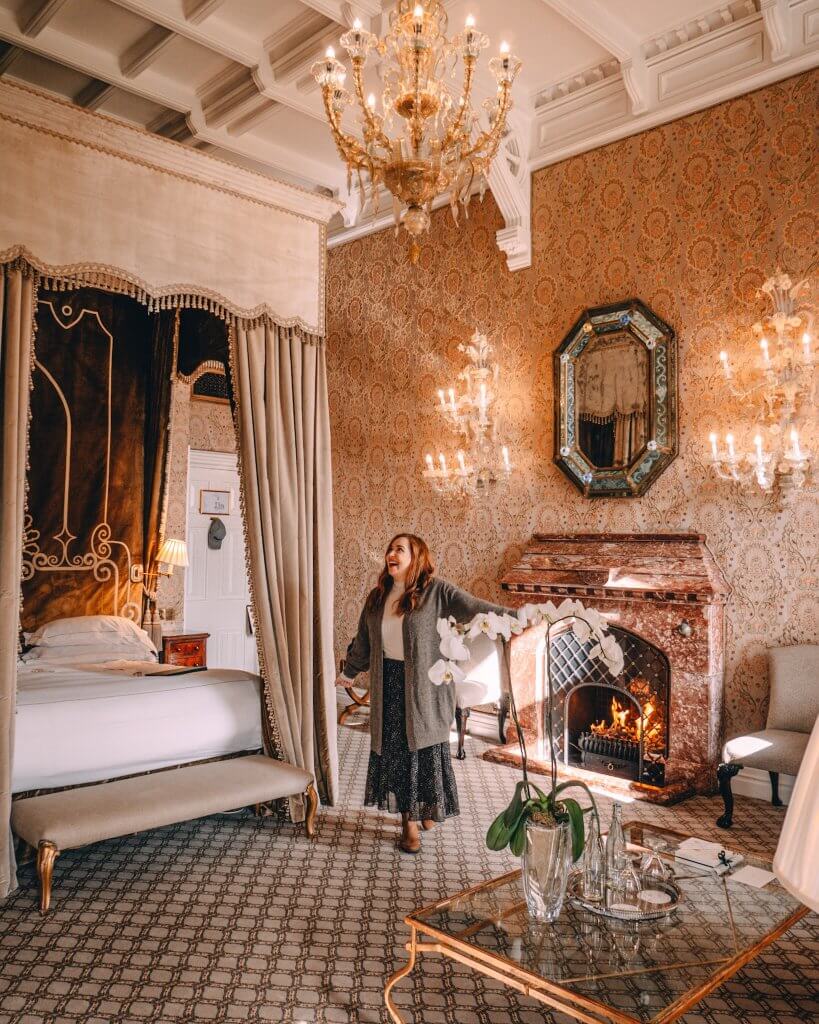 Read all about what it is really like to stay in Ashford Castle Ireland, the only hotel in the entire world that made me cry walking into the hotel room it was that beautiful!
Autumn Glamping at Beds of Silk
Enjoy luxury glamping on the Shannon Estuary Way at Beds of Silk, a couples only romantic retreat in County Clare. Beds of Silk is unique in that the rustic Shepherds Huts are master-crafted on-site using only natural materials by local tradespeople. The huts are located in the charming village of Labasheeda which translates from Irish to Leaba (bed) and Sioda (silk).
Each hut contains a pumped rain shower with constant hot water. A toilet and natural stone wash hand basin are contained within the snug bathroom. The main room of the hut has a King sized bed for two with fresh bedsheets, a kitchenette with microwave, kettle, toaster, plug-in induction hob, pots, pans, & cutlery and scented candles to set the mood.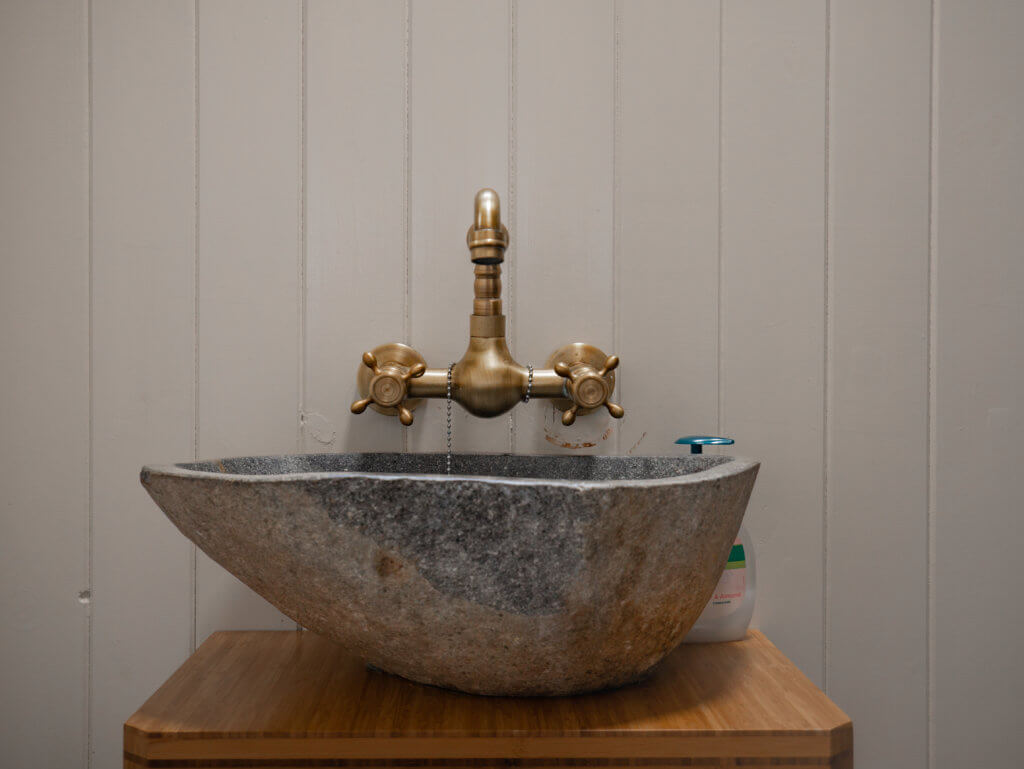 Each hut is named after a type of silk and come equipped with a gas barbeque for cooking on sunny days. The hut that we stayed in Eri also had their own incredible seaweed baths secluded at the back of the huts right beside a rumbling woodland stream.
The Labasheeda Peninsula has a rich archaeological history, stretching back almost 2,000 years, with several stately homes, ancient churches, holy wells, Napoleonic Era military constructions and more, all within easy reach. You can rent a bike on-site at Silky Saddles to go exploring.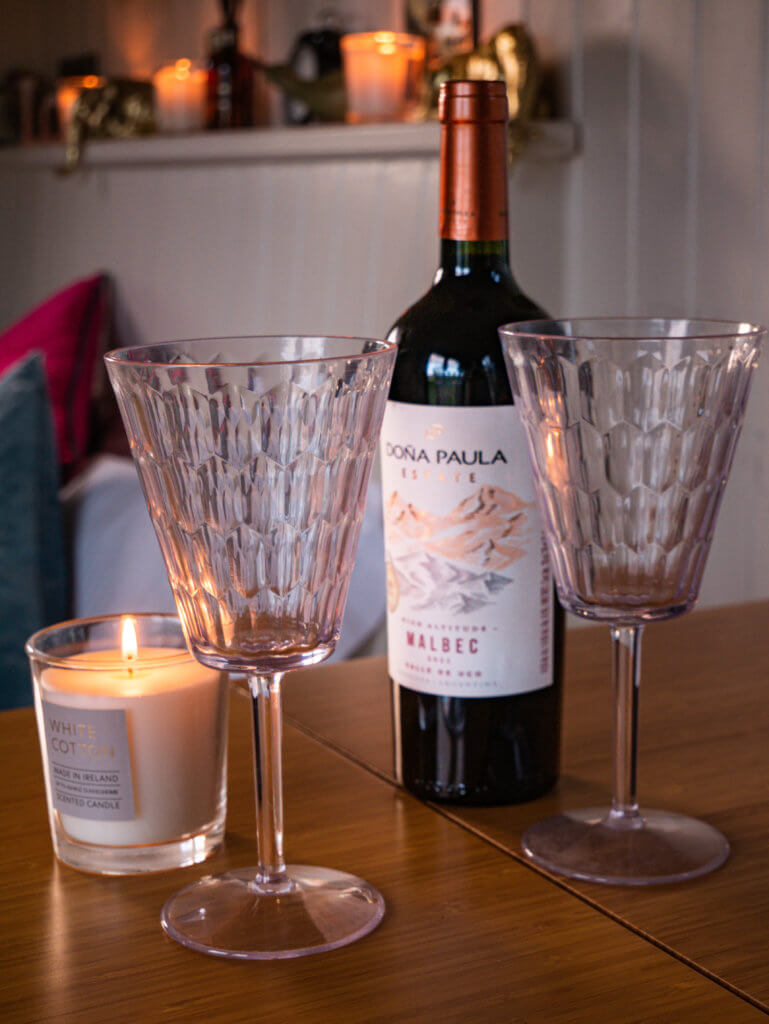 Check out our County Clare Travel Guide for more tips on things to do in the county.
Foraging at BrookLodge & Macreddin Village
BrookLodge and Macreddin village is tucked away in a secluded village in County Wicklow. It is a stunning country retreat and it is the perfect place to unwind. BrookLodge is more than just a hotel it is an entire village complete with a spa, a country pub, cafe, waterside lounge, two of the best restaurants that we have ever eaten in, golf course, bakery, smokehouse, pantry and even a church!
Autumn is the perfect time for foraging and the team at BrookLodge & Macreddin village and The Strawberry Tree restaurant often host foraging masterclasses throughout Autumn so be sure to check them out. It would be a wonderfully romantic Autumn break in Ireland.
They also have a Lovers Romantic Retreat package from €182 which includes an overnight stay in a classic room with a bottle of Valdo Organic Prosecco on ice upon arrival. Indulge in a selection of Green & Blacks organic mini milk chocolates and enjoy access to their Geo-thermal pool in BrookHall. The following morning you can enjoy a cooked to order breakfast with Macreddin's baked bread from their organic bakery.
Check out our guide on fun things to do in County Wicklow.
Whale Walks at the Cliff House Hotel
Cliff House Hotel in County Waterford is the perfect place for a romantic Autumn escape. It is the finest small luxury 5-star hotel in Ireland. The building itself seems to defy gravity, clinging to a cliff on the southside of Ardmore Bay. All of the luxury hotel rooms and suites are sea-facing and there are plenty of sun-drenched terraces and balconies to view Ardmore's golden beaches, lobster pots and dolphins playing out in the ocean.
November to February is actually the perfect time to book in for a romantic couple break and go whale watching. Cliff House Hotel can organise a whale walk with a guide. You can enjoy this incredible experience by wrapping up warm and heading out with binoculars, campstools and flasks of warm drinks supplied by the hotel.
The hotel has numerous Autumn escapes to choose from so be sure to check out the hotel for all of their special Autumn offers.
Cosy Treats at Ballynahinch Castle
Set in a 700 acre estate of woodland in Connemara, Ballynahinch Castle overlooks a beautiful salmon fishery with the dramatic backdrop of the 12 Bens mountain range. You can wake up to the sound of the river meandering past your window and cosy up beside one of the six open log fires.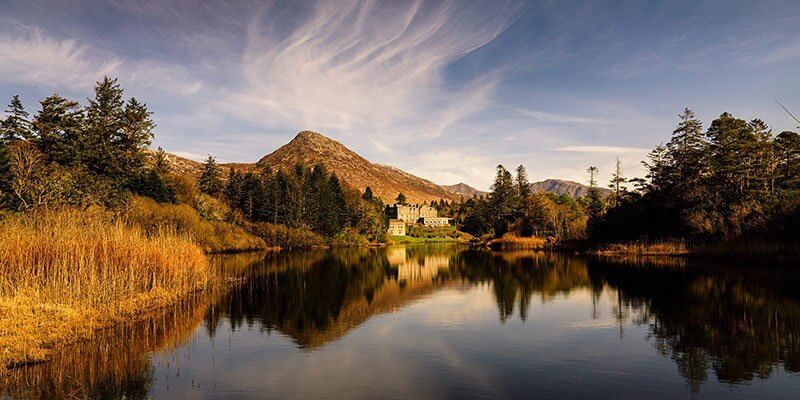 From watching the leaves change colour to getting cosy by the fire with a good book and a cocktail there is so much magic in the air during Autumn at Ballynahinch Castle.
While you are in Connemara be sure to do the Killary Fjord Loop Walk.
Just Us Two at Trump International Doonbeg
Doonbeg Lodge is an experience like no other. Set against a spectacular backdrop of rugged landscape and shimmering sea waves, Trump International Doonbeg offers a haven to couples wanting to have a romantic Autumn break away.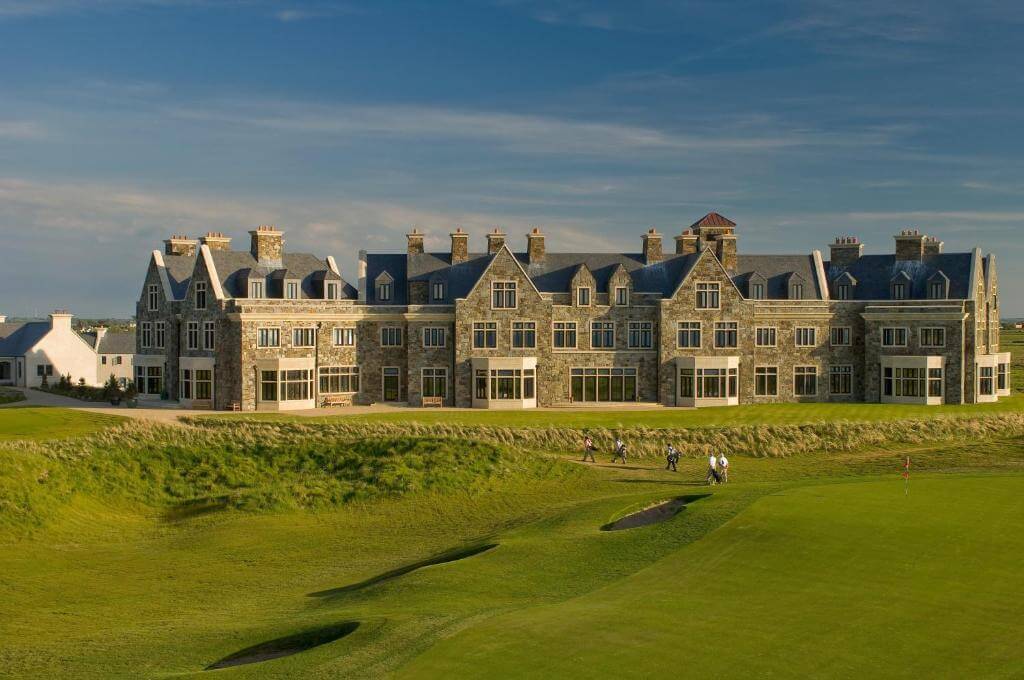 For a weekend filled with romance Doonbeg Lodge offers an exceptional retreat with the Just Us Two suggested itinerary. Couples can check in, unwind in the White Horses Spa upon arrival and feel the everyday stress start to melt away, and then relax in comfort in the hotel's suites with a lit fireplace. Having recharged, you can start the next day with a Linger for Longer breakfast in bed and adventure out to the renowned Cliffs of Moher, exploring the cliff coastal walks or sailing along the cliff coastline on the Cliffs of Moher Cruise. The evening concludes with a romantic five-star dining experience at the gorgeous Ocean View Restaurant.
Autumn in the Countryside at Lough Erne
This Autumn escape to the beauty of the Fermanagh Lakelands is an unforgettable couple getaway. Surrounded by 600 acres of natural landscapes, Lough Erne Resort is one of Ireland's top five star resorts for a romantic Autumn break in Ireland. Tee off on one of two championship golf courses (Mister Lavin's idea of heaven), dine from a selection of tempting restaurants, pamper in the authentic Thai Spa or get lost in the beauty of the Fermanagh Lakelands and the many attractions that surround Lough Erne Resort. Autumn Awaits in the countryside!
Read our complete review of Lough Erne Resort.
Explore the outdoors at The Mustard Seed
Sitting on acres of manicured lawns, an orchard and a working kitchen garden, this eclectic, heritage hideaway is the perfect place for your romantic Autumn break. This place is sumptuous!
Surrounded by country lanes for leisurely strolls or close to the Ballyhoura Mountain range for more organised treks. The house looks across at Knockfierna, the highest peak in the Mid West landscape, the perfect trek for couples who love to explore the outdoors.
Couple Spa Break at Galgorm Resort
Galgorm Resort offers couples laid back luxury and an award winning spa. It is the perfect place to unwind and let all your stresses melt away. Relax in a hot tub right on the river's edge. Boasting a thermal village and spa with hot tubs, steam rooms as well as indoor and outdoor pools. In fact the spa is so enormous here that it even requires a map to navigate it!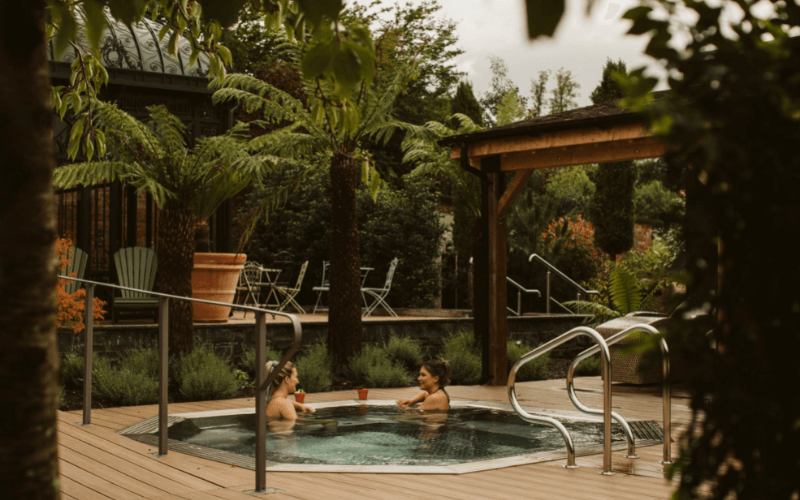 Our favourite was the outdoor gin bar beside an apple orchard and plunge pool. This place really is the ultimate couples retreat. It is perfectly acceptable to just lounge all day in your bathrobes here.
There are lots of accommodation styles here from deluxe bedrooms and suites to rustic Shepherds Huts so there is lots of choice. Read our full review on Galgorm Resort & Spa.
Cuddle up at Russells Cottage Doolin
Once you book a stay at Russells Cottage you will never want to leave! We still talk about this as one of the most romantic places we have ever stayed. It is a beautiful stone cottage located just 5 minutes outside of the charming village of Doolin. The kitchen window frames stunning views of the wild Atlantic. It is stays true to its original heritage by keeping original features such as stone flag floors and reclaimed stone around the fireplace.
This is the place to come if you just want to cosy up, go off-grid and enjoy stunning views of the rugged Irish coastline.
Autumn on the Estate of Glenlo Abbey
Glenlo Abbey in Galway have an incredible offer for those looking for a romantic Autumn break in Ireland. You can enjoy a 2 night stay in the luxurious Glenlo Abbey and indulge in a cocktail, Irish coffee, tea or coffee upon arrival. Enjoy some downtime with a 25-minute ELEMIS treatment of choice in the peaceful setting of the Glo Spa & Wellness.
Dinner at Glenlo Abbey is a unique experience as you board actual train carriages from the Orient Express when you dine at Pullman's Restaurant. Step back in time and surrender to 1920's elegence while enjoying award-winning food. This package also an incredible cinematic experience in the Abbey Movie Theatre.
Best places to see Autumn Leaves in Ireland
Coole Park, Galway
Connemara National Park, Galway
Phoenix Park, Dublin
Moore Hall, Mayo
Wild Nephin National Park, Mayo
Irish National Stud & Gardens, Kildare
Powerscourt Estate, Wicklow
Johnstown Castle Estate, Wicklow
Fota House & Gardens, Cork
Lough Key Forest Park, Roscommon
Strokestown Park, Roscommon
Killarney National Park, Kerry
Hazelwood Demesne, Sligo
Tollymore Forest Park, Down
Rostrevor, Down
Birr Castle Demesne, Offaly
Dún a Rí Forest Park, Cavan
Glendalough, Wicklow
Kilruddery Gardens, Wicklow
Glenveagh Castle Gardens, Donegal
Kylemore Abbey, Galway
Mount Stewart, Down
Carton Estate, Kildare
Best Pumpkin Patches in Ireland
Killarney Pumpkin Farm, Kerry
Fulton's Pumpkin Patch, Tyrone
Streamvale Farm, Antrim
Rathwood, Carlow
Clonfert Pet Farm, Kildare
Alright Pumpkin, Meath
Luggwoods, Dublin
Clissmann Horse Caravans, Wicklow
The Farm Grenagh, Cork
Ballycross Apple Farm, Wexford
Michael's Pumpkin Patch, Galway
Kingstown Pumpkin Patch, Tipperary
Mollies Family Farm, Offaly
Galway Pumpkin Patch, Galway
Red Mountain Open Farm, Meath
Kennedy's Pumpkin Patch, Meath
Tinahealy Farm, Wicklow
**Disclaimer: This post contains affiliate links meaning that if you book through one of our links we will receive a small commission at no extra cost to you. This helps us create the wonderful travel guides that we do**
Are you new here? Join thousands of other happy readers and subscribe to All About RosaLilla blog via email. The good news is that by signing up via email you will get exclusive travel deals straight to your inbox. The only other place that we publish these deals is on Instagram stories, so be sure to signup to get the heads up on amazing travel deals to save you money when booking.
I also share everything about myself on Instagram with nothing held back so be sure to follow along there.
If you liked this you may also like:
25 of the best Airbnbs in Ireland for large groups or families
The Ultimate Wales Roadtrip itinerary
Princess Cruise Tips for First Time Cruisers

Sharing is sexy!