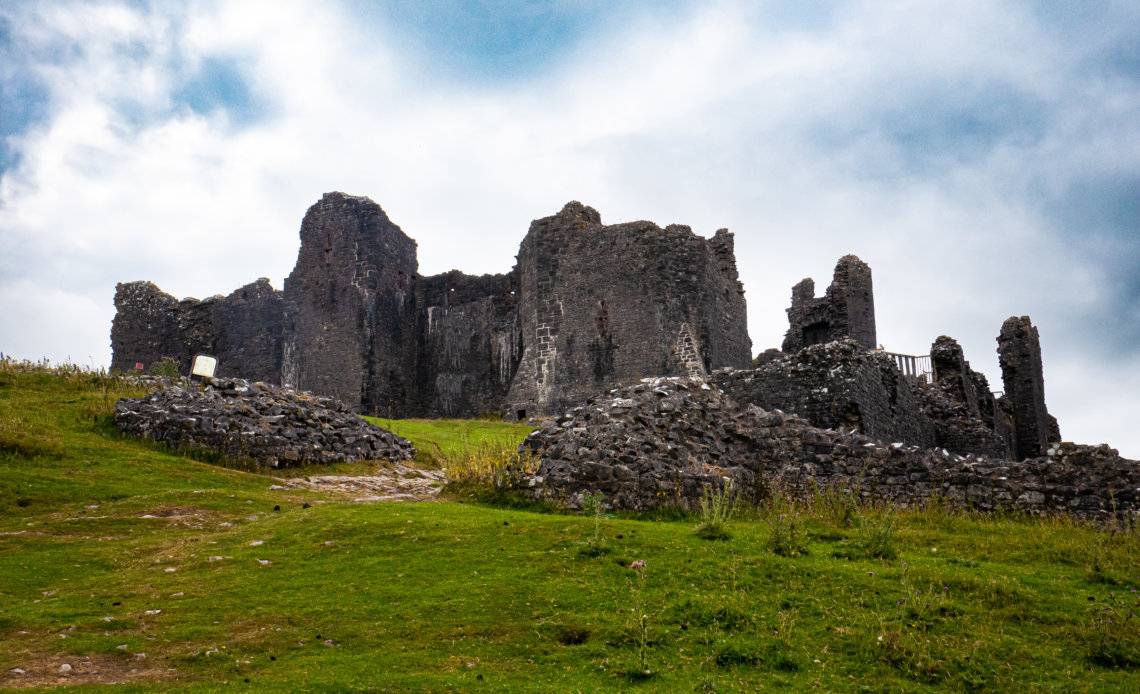 If you are planning a West Wales roadtrip then we are here to help with the ultimate 3 day Wales itinerary. This guide will not only help you plan your Wales roadtrip but will also show you some unmissable places to visit along the Celtic Routes. Wales is so easy to explore if you are coming from Ireland or mainland U.K. so we really don't know why we don't do it more often! There are few places in the U.K. more beautiful than scenic, rugged Wales. In this guide we want to show you the best places to stay, eat and visit on your road trip around West Wales.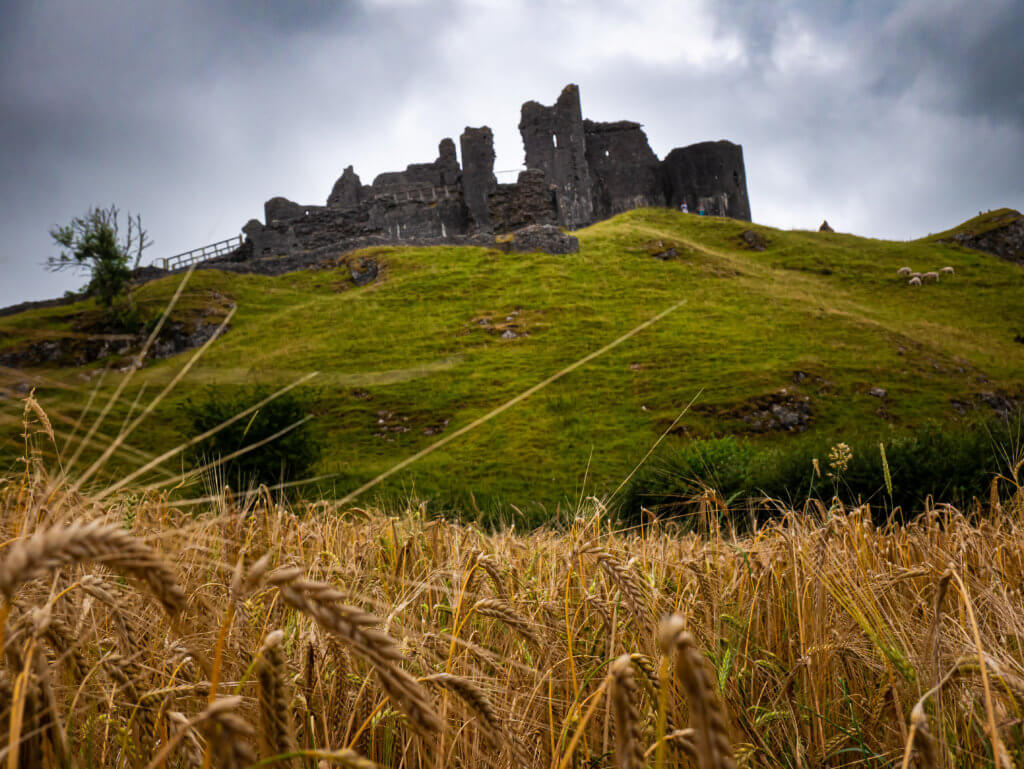 But first let us tell you a story! A story of two nations sharing the same unique heritage and history, divided by the sea.
The Celtic Routes of East Ireland and West Wales
The Celtic Routes have been generated out of a unique partnership between three counties on the East coast of Ireland and three counties on the West coast of Wales. The relationship between these two Celtic nations has been created on the basis of an unbreakable bond formed through their shared heritage. A hertitage of rugged, untamed landscapes, ancient chapels, crosses, ruins and sacred stones.
This shared heritage is evident from the markings on the Ogham stones that Irish migrants who settled on the West coast of Wales left behind. These Ogham stones still line the Welsh coastline today! And in return, Wales gave Ireland their patron saint, St. Patrick – or so the fable goes.
The Celtic Routes encourage visitors to 'go deeper, stay longer' and fully explore this shared heritage between the two countries. Along these six counties in both Ireland and Wales you will discover roads less travelled, immerse yourself in untamed nature and follow the pulse of the changing seasons and rhythms of the natural world. Stories of legendary saints, princes and giants will transport you to a whole new world. You will discover so much history and heritage on your Wales roadtrip.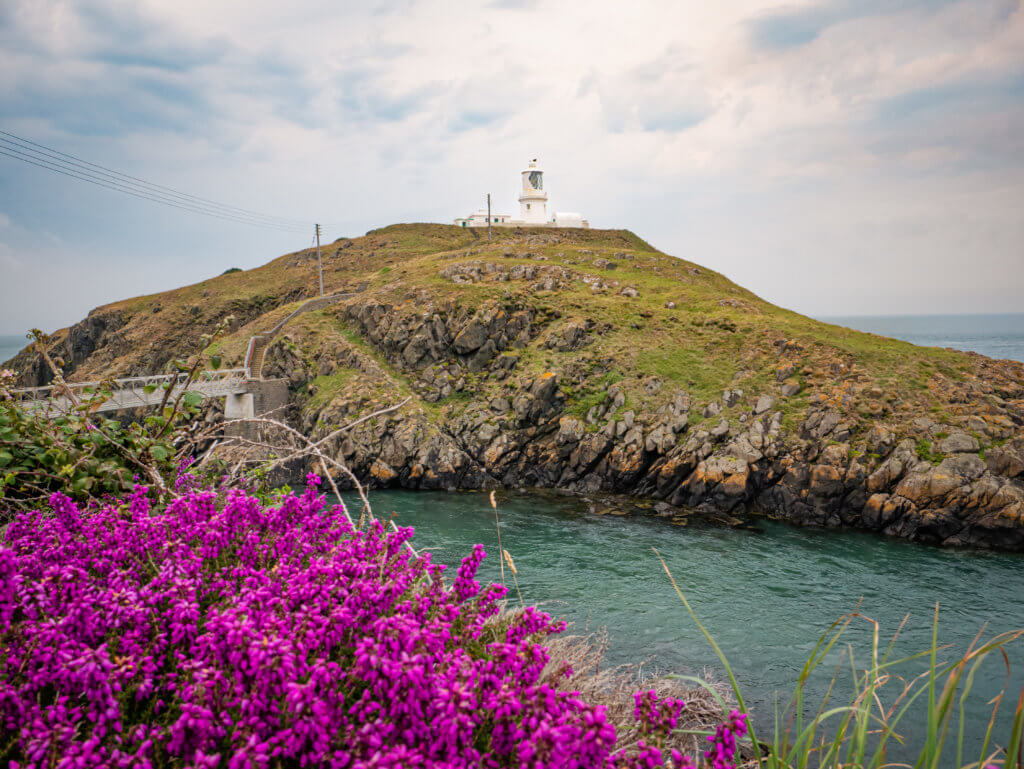 The Celtic Routes partnership is made up of the coastal counties Carmarthenshire, Ceredigion and Pembrokeshire in West Wales and Wicklow, Waterford and Wexford in East Ireland. These communities have joined forces to deliver a selection of curated travel experiences to help you discover the true Celtic Spirit and enjoy a number of immersive and authentic Celtic experiences along the celtic routes.
There are 78 visitor experiences that can be enjoyed along the six counties of the Celtic Routes. Each experience will give you the opportunity to really explore these breathtaking and spiritual corners of Wales and Ireland that act almost as mirror images of each other separated only by the Irish Sea. Both are characterised by long, unspoilt beaches, lush rolling countryside and dramatic mountain ranges rising up in the distance.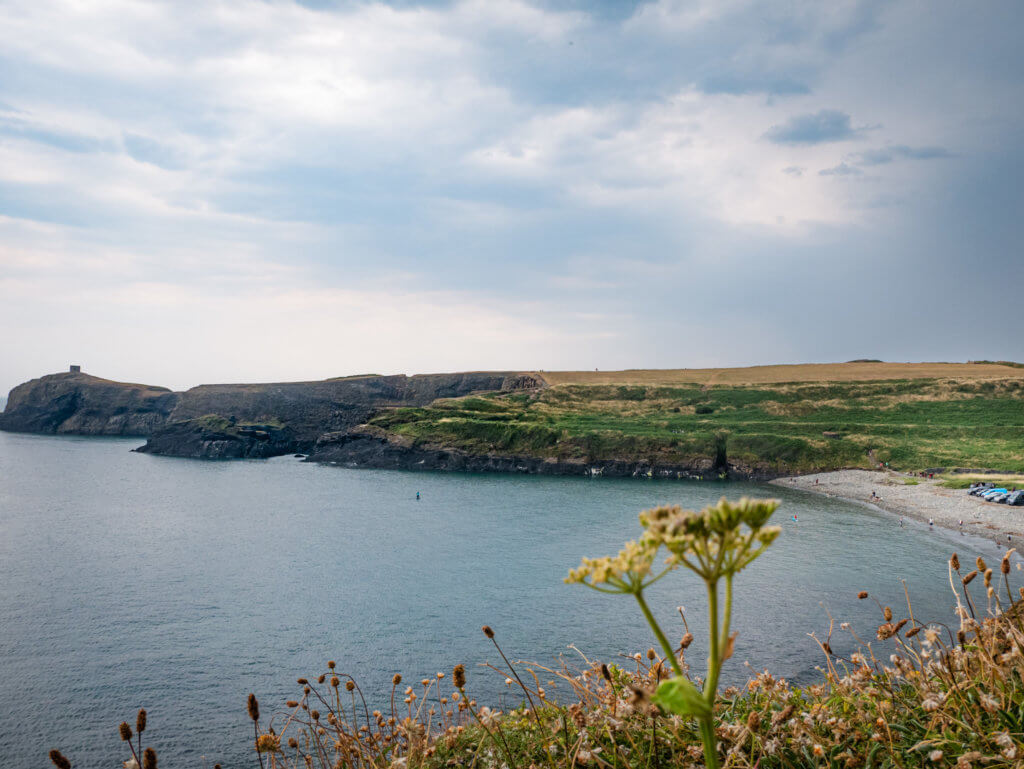 We really want to help you find your own celtic moment on your 3 day Wales roadtrip along the Celtic Routes of West Wales. Read more on 6 must see destinations along the Celtic Routes in Ireland and the Celtic Routes in Wales.

How do I get to West Wales from Ireland?
You can either bring your own car by ferry or hire a car in Wales to begin your 3 day Wales roadtrip. Outside of the major cities like Cardiff and Swansea, Wales isn't easily accessible by public transport. While there are trains and buses, to get to the top places to visit in West Wales you will need a car, so a road trip around Wales is the only way to go. The best way to explore the complete magic of Wales is by car so buckle up and enjoy the ultimate West Wales roadtrip.
Road – Spend some time enjoying the must see destinations along the celtic routes in Ireland by driving along the coast of Wicklow, Waterford and Wexford before crossing to Wales. Or vice versa, exploring Carmarthenshire, Pembrokeshire and Ceredigion on the West Wales Way before crossing to Ireland.
Sea – After exploring Irelands' Celtic Routes offering, you can catch a ferry from Rosslare in Ireland to Fishguard in Wales. In fact, on a recent trip to the Cotswolds best villages this was the way we travelled. We found it so useful to have our own car with us but really wished that we had more time to stay and explore West Wales by car. So we were determined to come back and do a 3 day Wales roadtrip.
Air – Fly direct from Dublin to Cardiff, Bristol or London airports, hire a car and then drive south to Carmarthenshire, Pembrokeshire and Ceredigion.
Is it easy to drive around Wales?
In this guide we are going to focus around driving in West Wales. Wales is a relatively small country and the South Coast is easy to travel along using the M4 and A roads. However, once you reach the west coast, the roads do become very small, windy and extremely hilly and more care and time is needed to drive along them so keep this in mind when planning how long it takes to drive around Wales.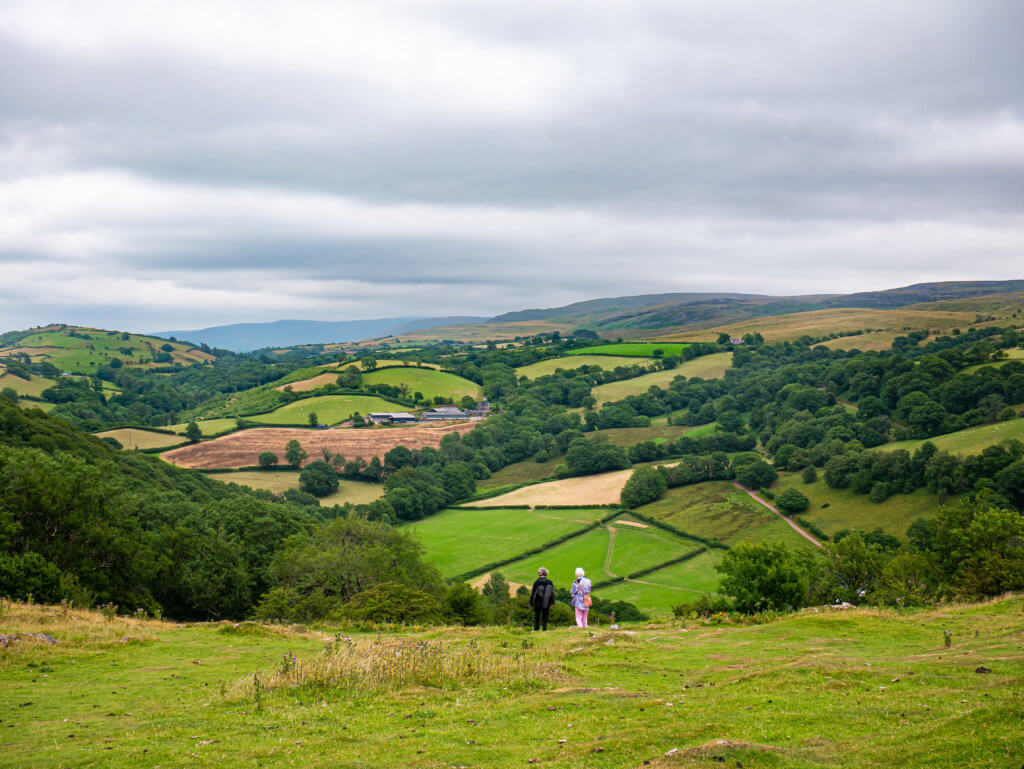 We enjoyed our 3 day Wales roadtrip in the height of Summer and while the roads were well maintained the hedgegrows were quite full meaning that coming out of junctions was a little more difficult as visibility was reduced. Driving in Wales, like Ireland and the U.K. is on the left-hand side of the road.
Best Time of Year to Road Trip Around West Wales
Much like Ireland, the weather in Wales is not dependable and can change significantly in a matter of hours. You really can get four seasons in one day. That is why packing the car up for all eventualities and road tripping around Wales is the best way to explore. Wales is beautiful in every season and there generally is never a bad time to visit Wales, as long as you are prepared for the weather. So pack the sunscreen and the rain gear and you are good to go!
Having said that late Spring and early Autumn are beautiful times to explore. We visited during a heatwave in the middle of Summer which meant it was a little uncomfortable, but we just turned up the AC and the tunes and thoroughly enjoyed our Summer road trip around the West Coast of Wales. School holidays are very busy times as families head to the West of Wales to enjoy the seaside so peak travel times are best avoided on your 3 day West Wales road trip.
Wales roadtrip 3 day itinerary
In this travel guide, we have focused on the best places to visit during a 3 day road trip in West Wales along the Celtic Routes. These include the best places to stay, eat and visit as you drive through West Wales, so that you can plan your own road trip itinerary based on how long you have and what your preferred interests are.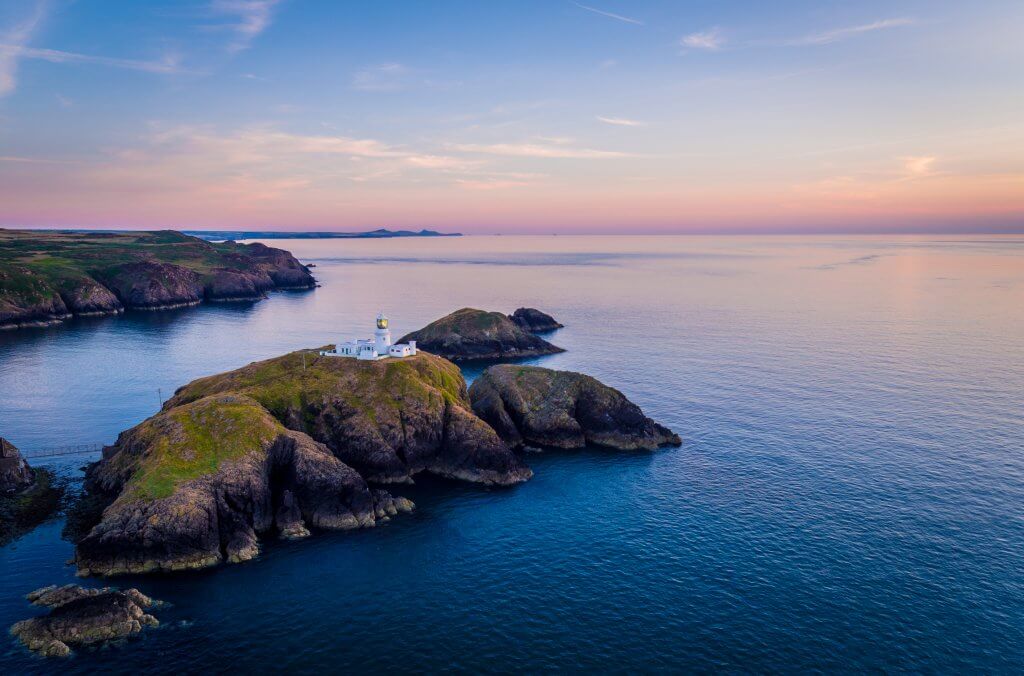 There are so many places to visit in Wales and West Wales has so much to offer from beautiful dramatic coastlines, forests, adrenaline activities, hikes, castles and colourful seaside villages. Wherever you go in West Wales you will be met by friendly people so proud of their heritage.
3 day Wales itinerary map
To help you plan your 3 day Wales roadtrip we have pinned all of the places we recommend visiting in West Wales in the map below. Hopefully this will help you get an idea of driving distances and where to visit in Wales in 3 days.
Day 1 on your Wales Road Trip – New Quay and Cardigan
Once your ferry arrives in Fishguard, drive north to New Quay. Not to be confused with the Cornish Newquay, New Quay or 'Cei Newydd' in Welsh, was once a shipbuilding centre and thriving port. It is now well known for dolphin spotting and Blue Flag and award-winning beaches and is a colourful seaside town nestled in the coves of Cardigan Bay.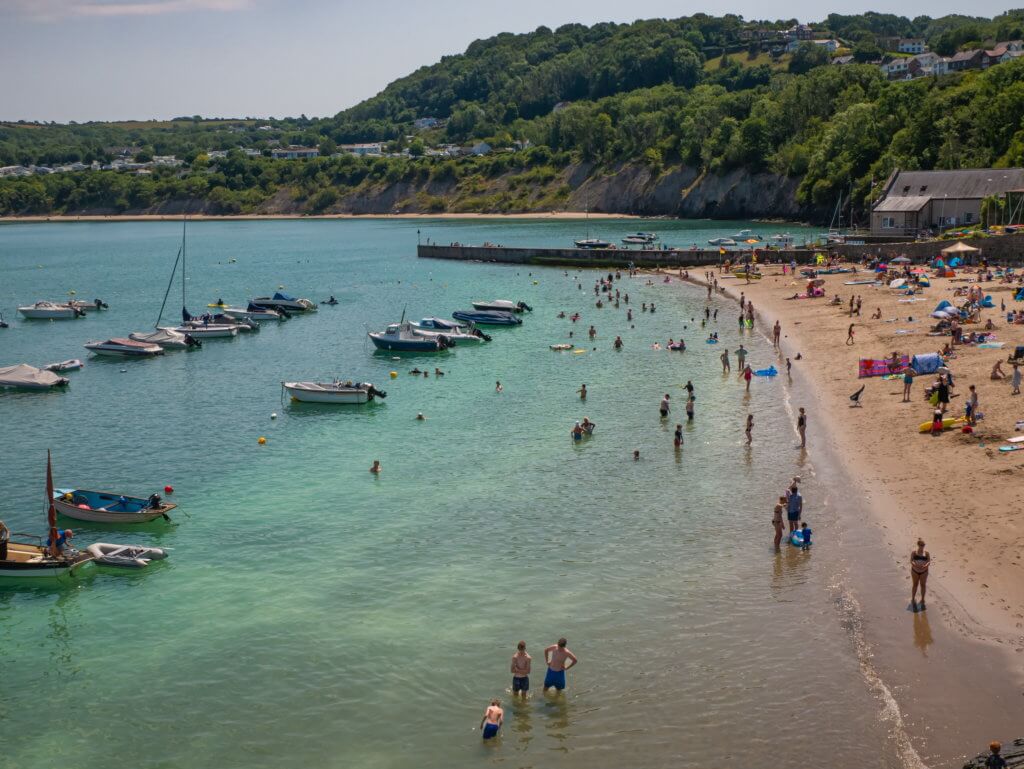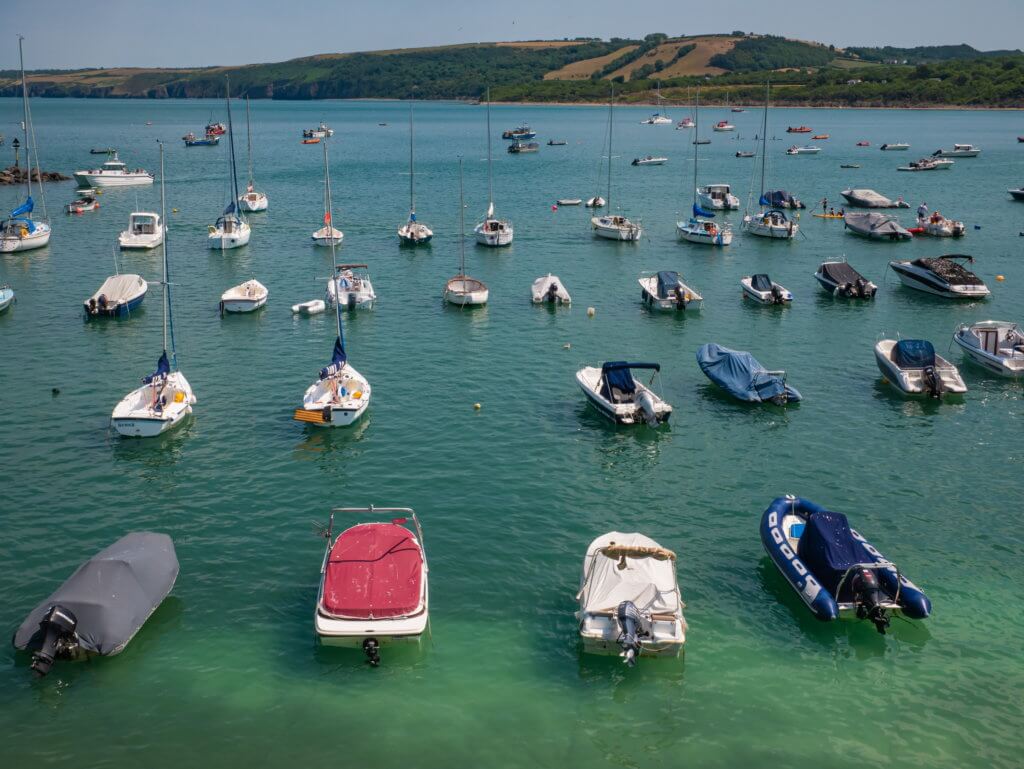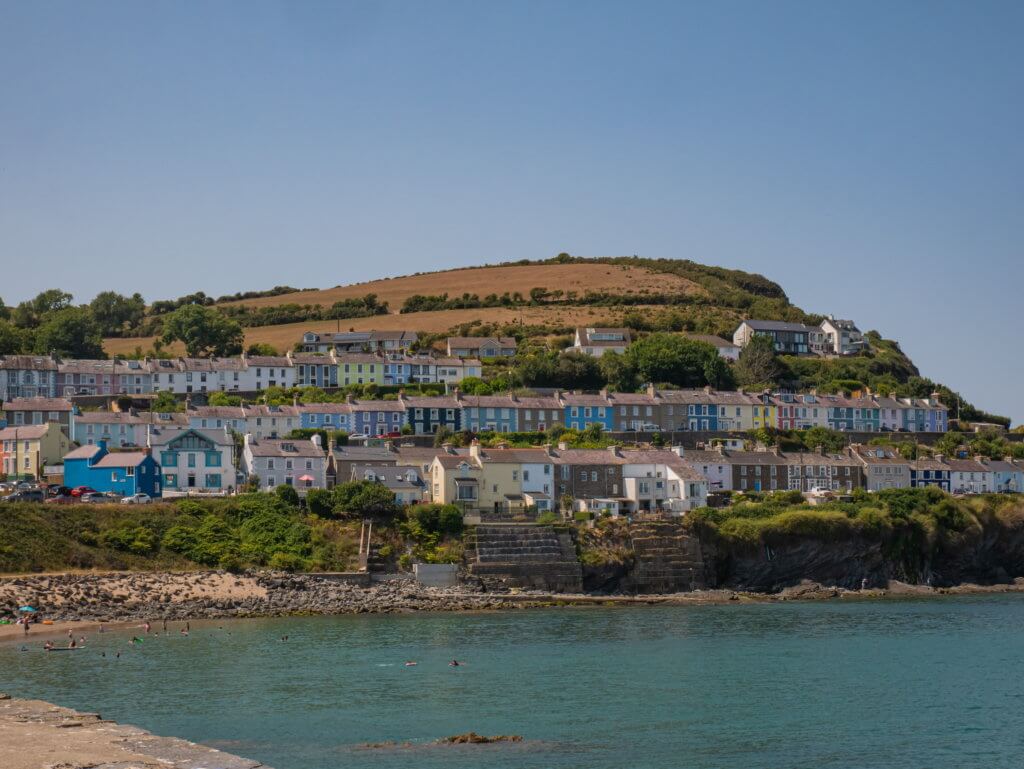 New Quay's beaches extend in a golden arc around the bay and are ideal for relaxing and strolling by the sea. Feel free to explore New Quay in your own time but we recommend stretching your legs and enjoying a walk along the Wales Coast Path.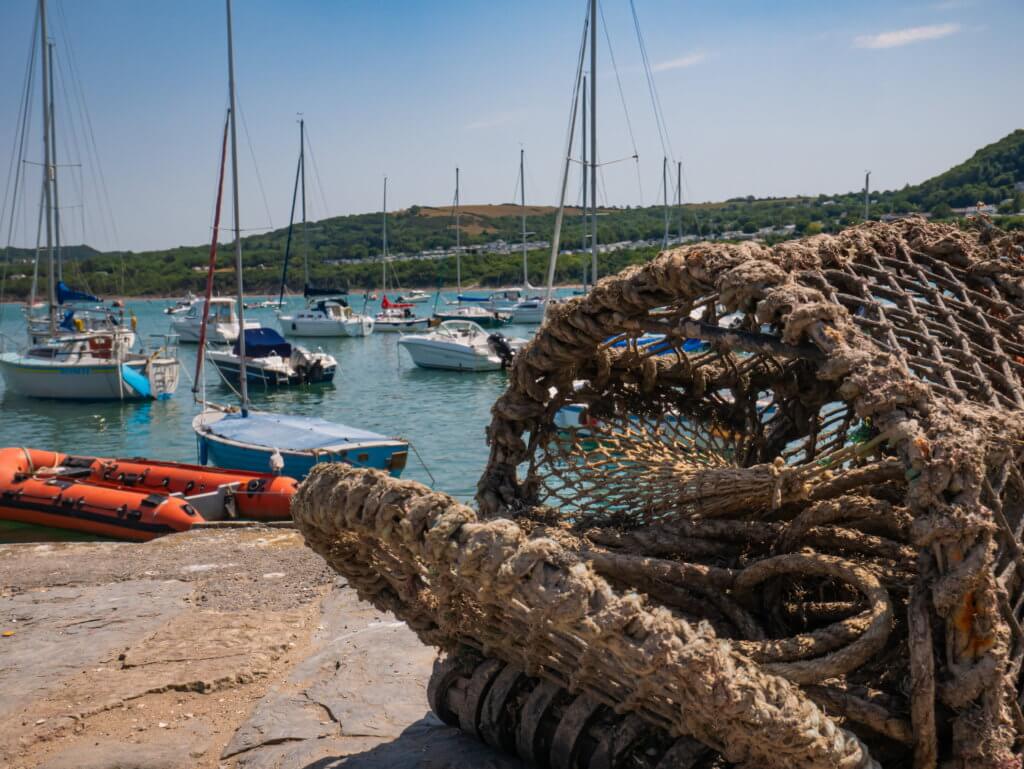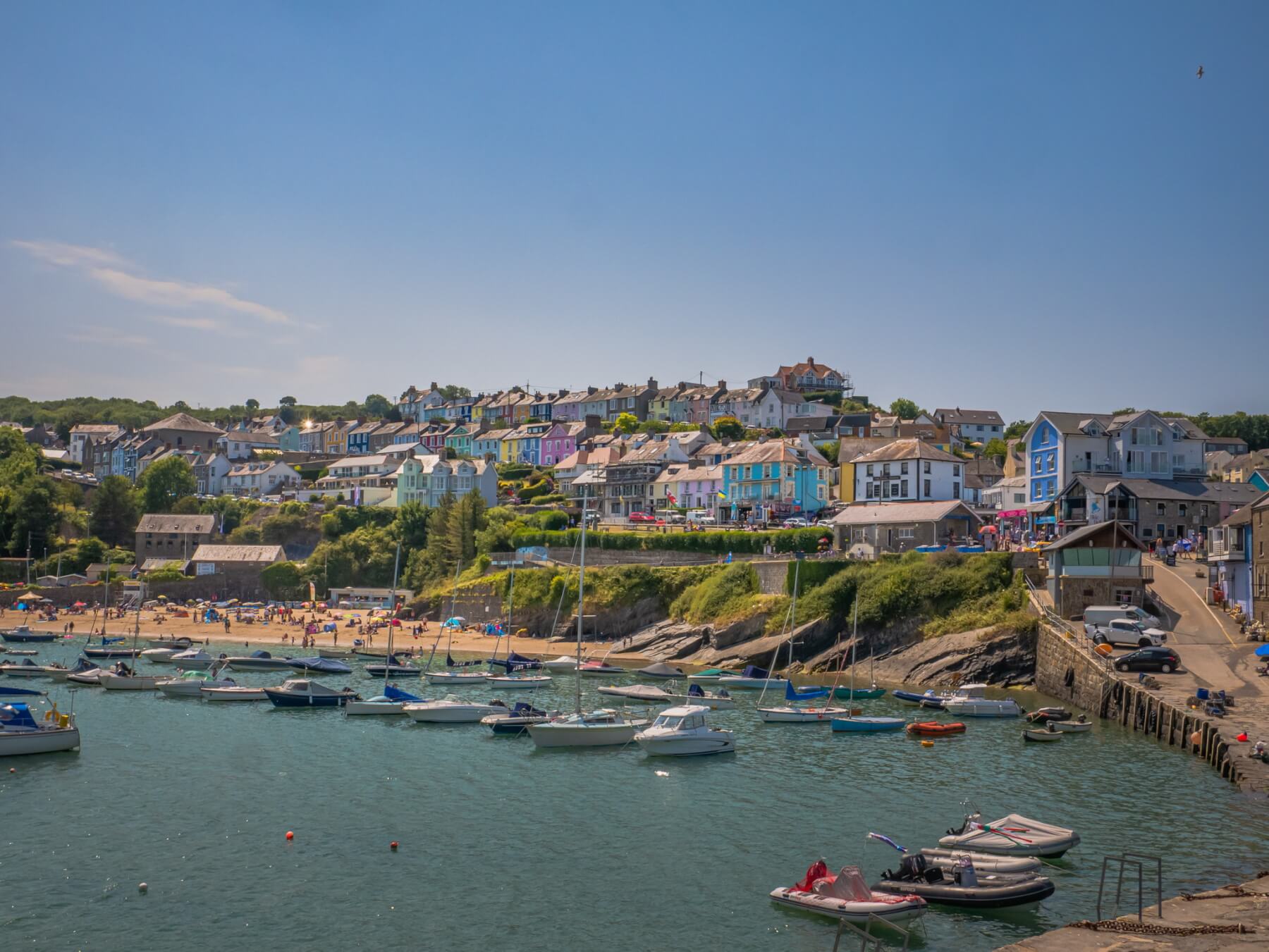 Start by walking east along the harbour wall enjoying views out to Cardigan Bay. Then head to the Wales Coast Path panel, which is situated in front of the main public toilets. As you walk along the seafront, visit the official half way point of the Wales Coast Path, marked by a maiden. Continue along the beach where hundreds of sloops, schooners and large barques were built until you reach Llanina Point with its wonderful views back to the cliff perched colourful houses.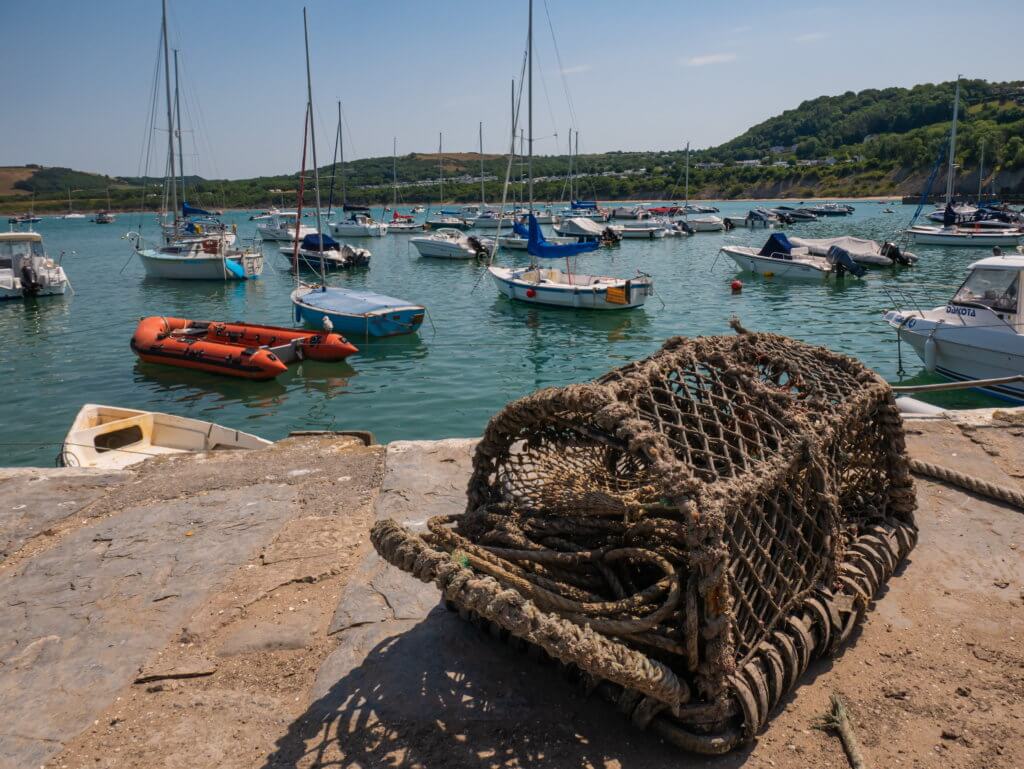 You can then either follow the same route back or turn inland along the river Llethi and return along the road. If you do chose the second option, look out for Majoda, now a bungalow but originally a little shack where Dylan Thomas lived and wrote "Quite Early One Morning", which developed into the famous play Under Milk Wood, a moving account of a spring day in a small Welsh coastal town (New Quay).
For lunch, head to the Lime Crab fish and chip shop (South John St, New Quay SA45 9NP) which is known for its fish and chips with a twist. We recommend the Seabass and chips but the menu is mouthwatering and extensive, including fantastic vegetarian options too.

Park here: New Quay Rock Street Car Park, Wellington Pl, New Quay SA45 9NR
Day 1 Wales itinerary – Spend the evening in Cardigan
Next, drive to the beautiful town of Cardigan, arguably the coolest town in West Wales. It sits on the estuary of the River Teifi on the base of Cardigan Bay. With the historic Norman fortress, Cardigan Castle, proudly restored, the town holds its heritage close to its heart, but with a modern twist of course. If you are looking for a town that bucks the trends then Cardigan is it!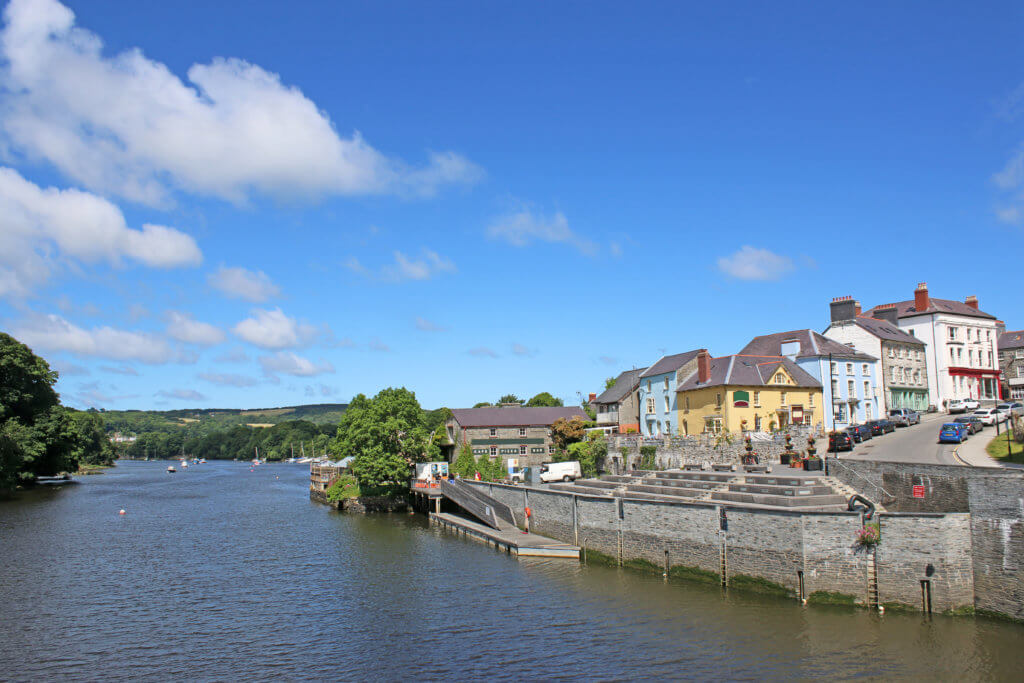 A thriving town of about 4,000, it is home to artists, creatives and mavericks. Which means that it is the perfect place for shopping in quirky and independent shops. There is also a market in Cardigan Guildhall where you will find more than 20 stalls under cover in a Grade II listed heritage building many offering local produce including food, household goods, crafts, hairdressing, souvenirs, computer games, greetings cards and plenty more.
Where to eat on Day 1 of your Wales Road Trip
Cardigan is charming, trendy and colourful with splashes of a Wes Anderson colour palette. You will find lots of things to do in Cardigan and unique places to eat and drink, like Pizzatipi. Started by four brothers and their band of merry friends you will find the fantastic Pizzatipi just across the bridge from the castle. It has the most idyllic setting along the River Teifi and you can chose to sit under a very cool Tipi or along the water's edge.
They serve handmade woodfired pizzas with the most incredible ingredients, breads, delicious apertisers, soft-serve ice creams, great coffee, welsh craft beers and wine in the most beautiful setting of a riverside courtyard. You can't make a reservation but wait times are never that long.
Where to stay in Ceredigion West Wales
Nantgwynfaen Organic Farm, Llandysul
For night 1 & 2 of your 3 day Wales roadtrip we want to suggest the most charming accommodation in West Wales. Pulling up to Nantgwynfaen Farm was like stepping inside a Beatrix Potter novel. We almost expected Flopsy, Mopsy and Cotton-Tail to come bouncing up to show us our lodgings.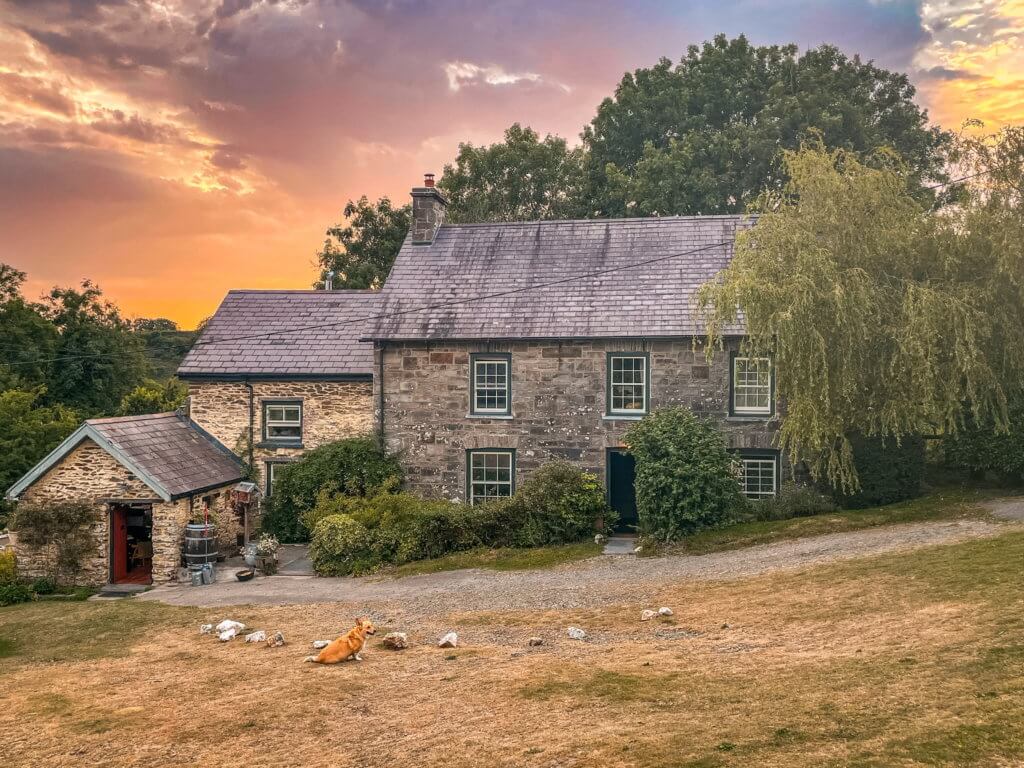 The fields surrounding the farm were peppered with the cutest little bunnies and Amanda the host was gathering a bouquet of wildflowers to add to our room. We stayed in one of the cottages on-site, a converted barn called Ty Nodyn.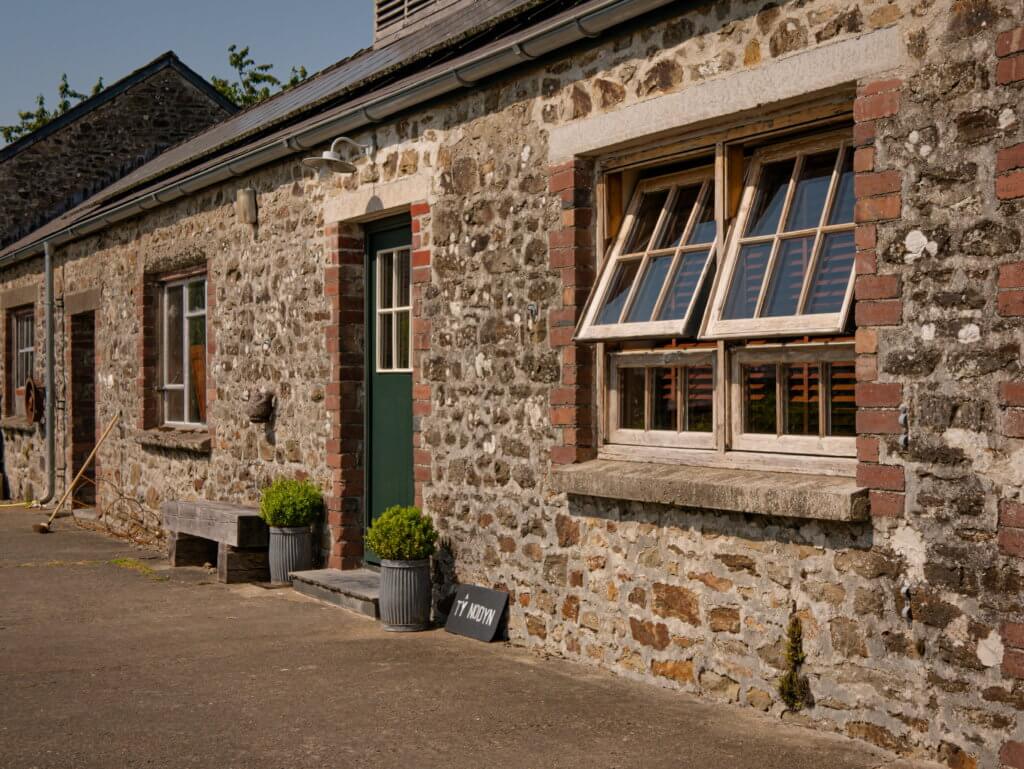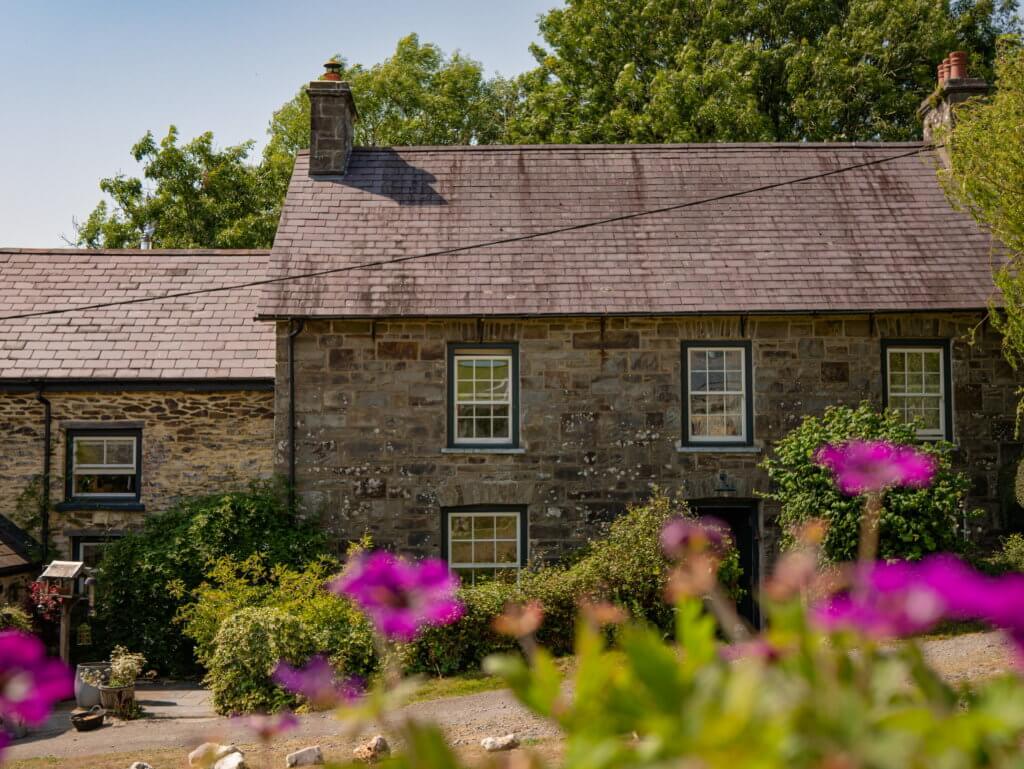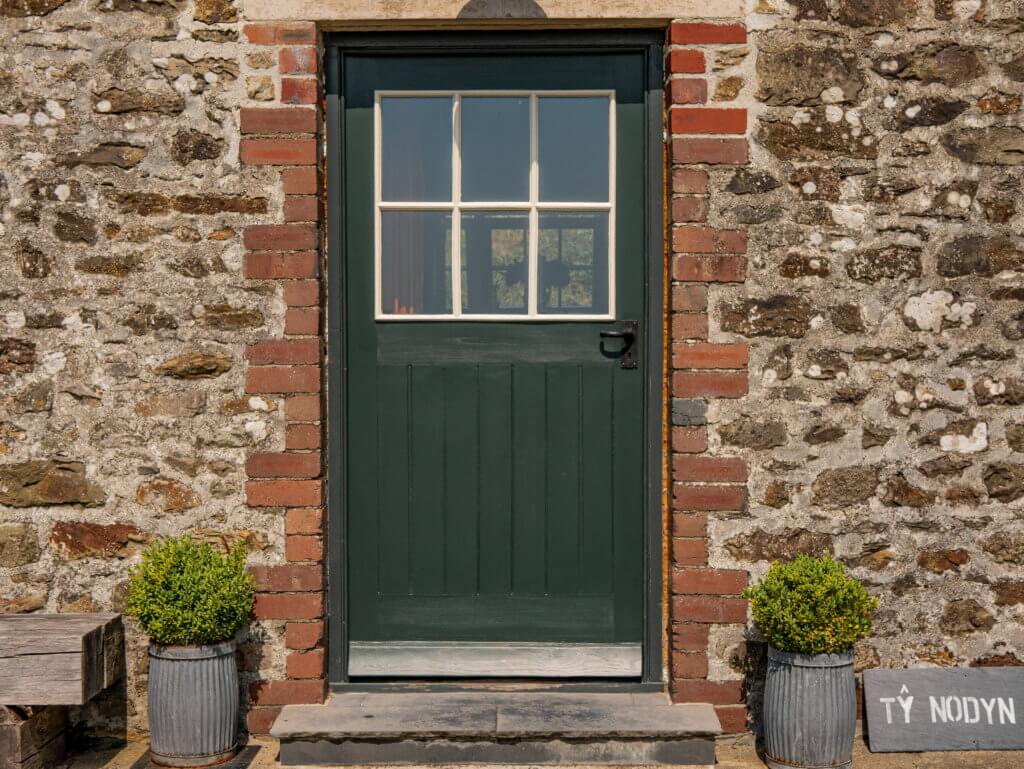 Ty Nodyn is at the heart of all of the comings and goings at Nantgwynfaen Farm. Inside you will find a full kitchen, the most amazing king-sized bed framed by two pianos and draped in an authentic Welsh blanket. A ship's ladder leads up to the mezzanine single bedstead and the walls are papered with sheet music and 40's posters offering cures to strange ailments. If you look carefully you will also find original artwork and family photos belonging to your host, Amanda.
There is also a keyboard and guitar in the cottage if you're feeling musical. The wood-burner, soft leather sofa and big TV in the lounge area are perfect for a lazy movie night.
Across from Ty Nodyn there is a rather large games room where you can test your skills at pool and table tennis or simply mingle with fellow guests and campers staying on the farm. Ty Nodyn also has its own private outdoor area to watch the sun set with a glass of wine or to watch the brilliant stars appear as the sun goes down. It also makes the perfect spot to enjoy breakfast al fresco.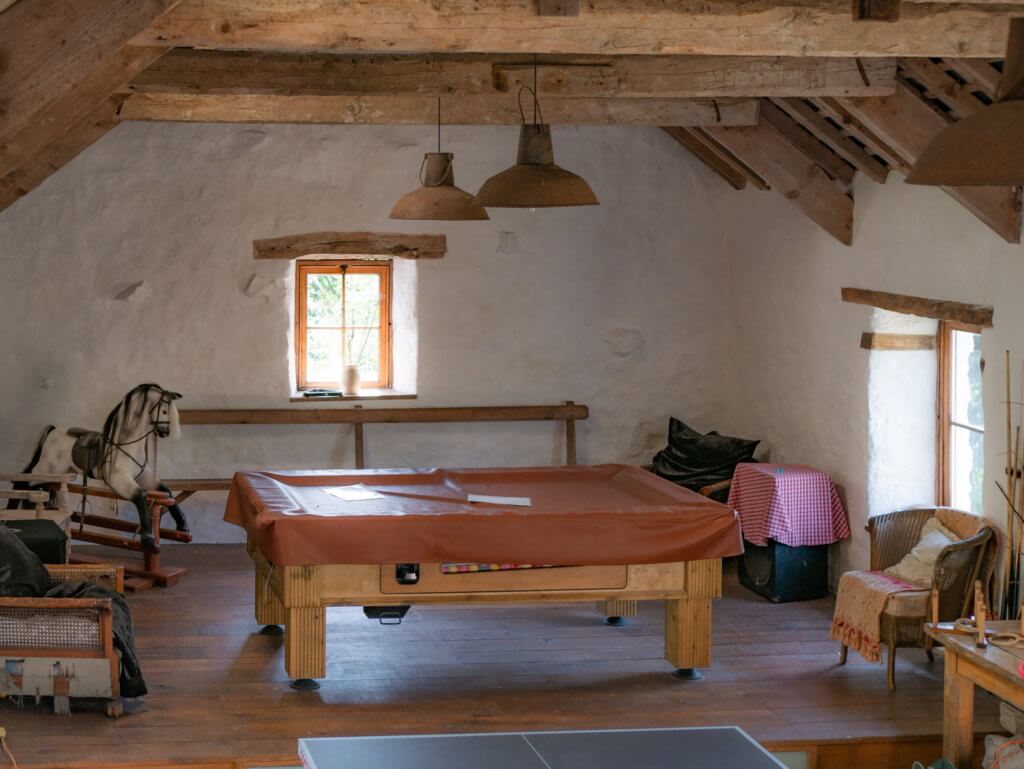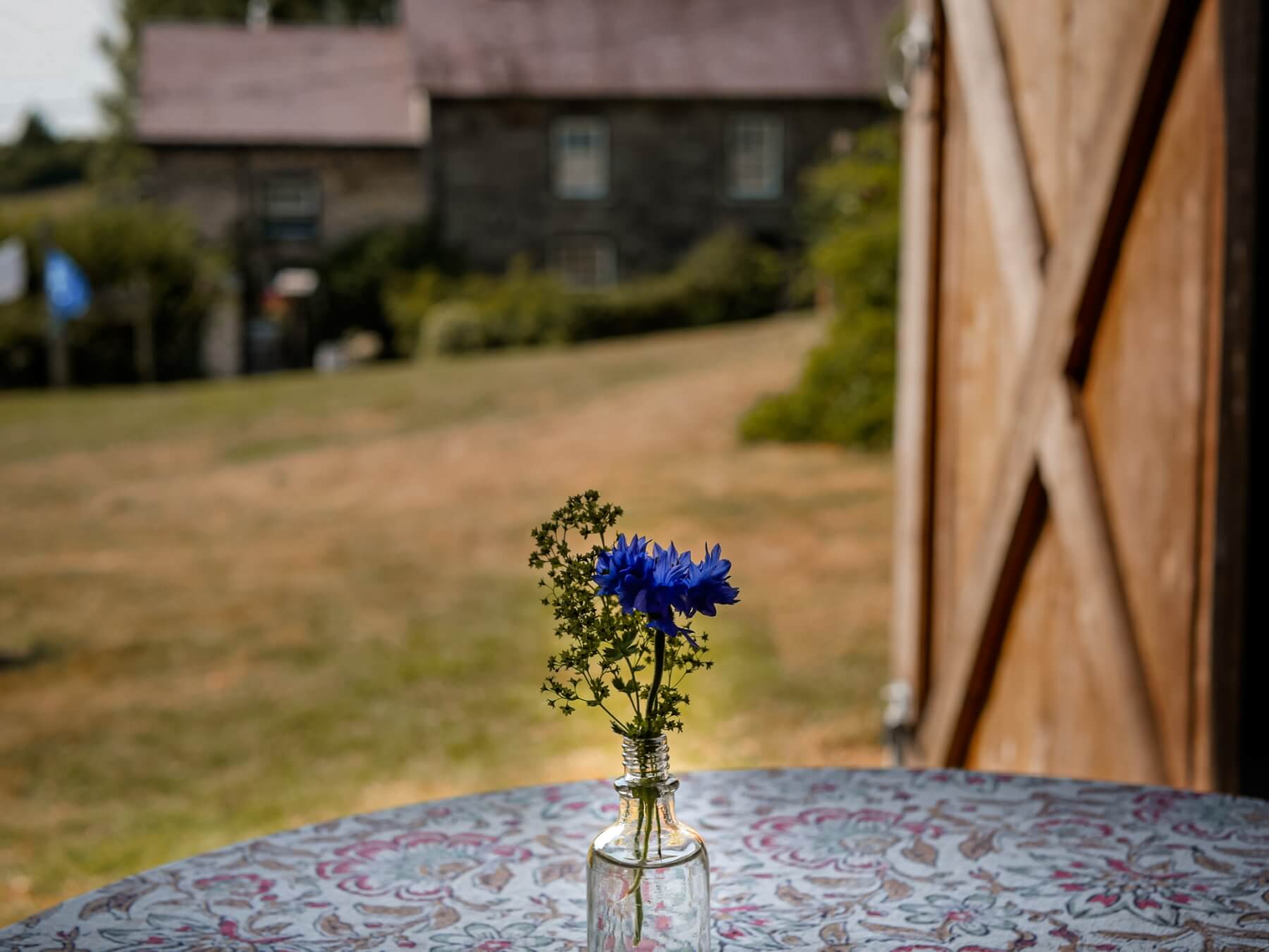 The farm has an organic farm shop that operates on a trust system where you write down all the items that you take and put the money in a tin in the shop before check-out. You will find the most incredible range of local produce there. The shop supports local farmers and producers who play a vital role in sustaining and maintaining the beautiful Welsh countryside. You can be sure that you are buying local and organic food there. You can even pre-book a welcome hamper for your holiday cottage.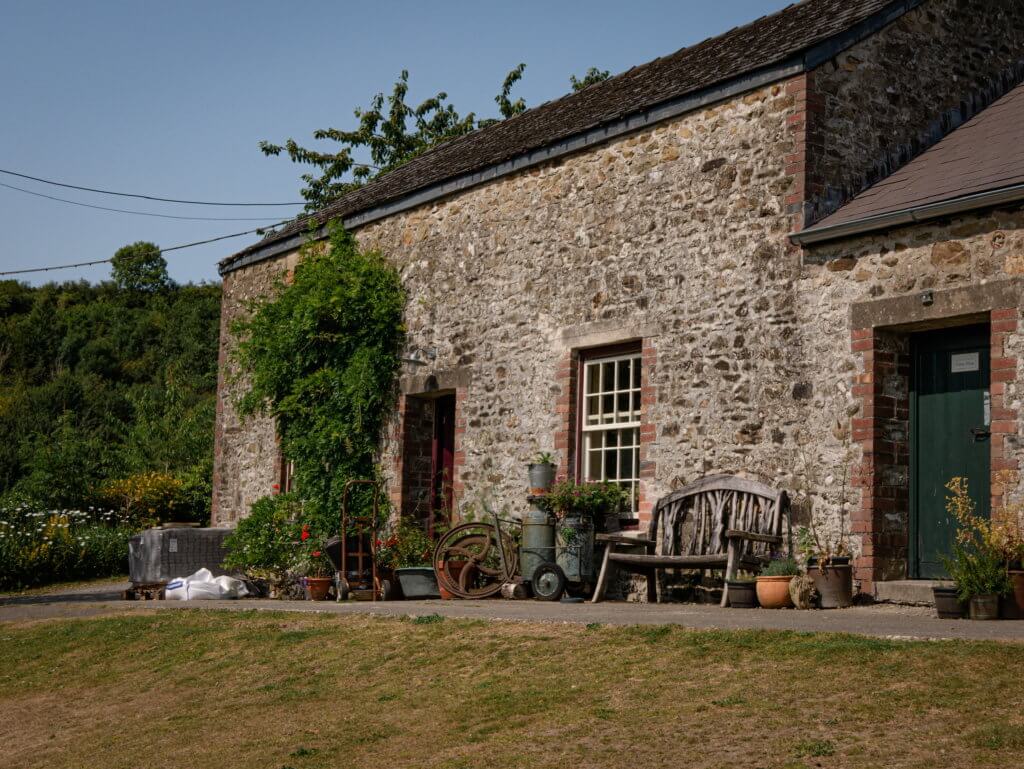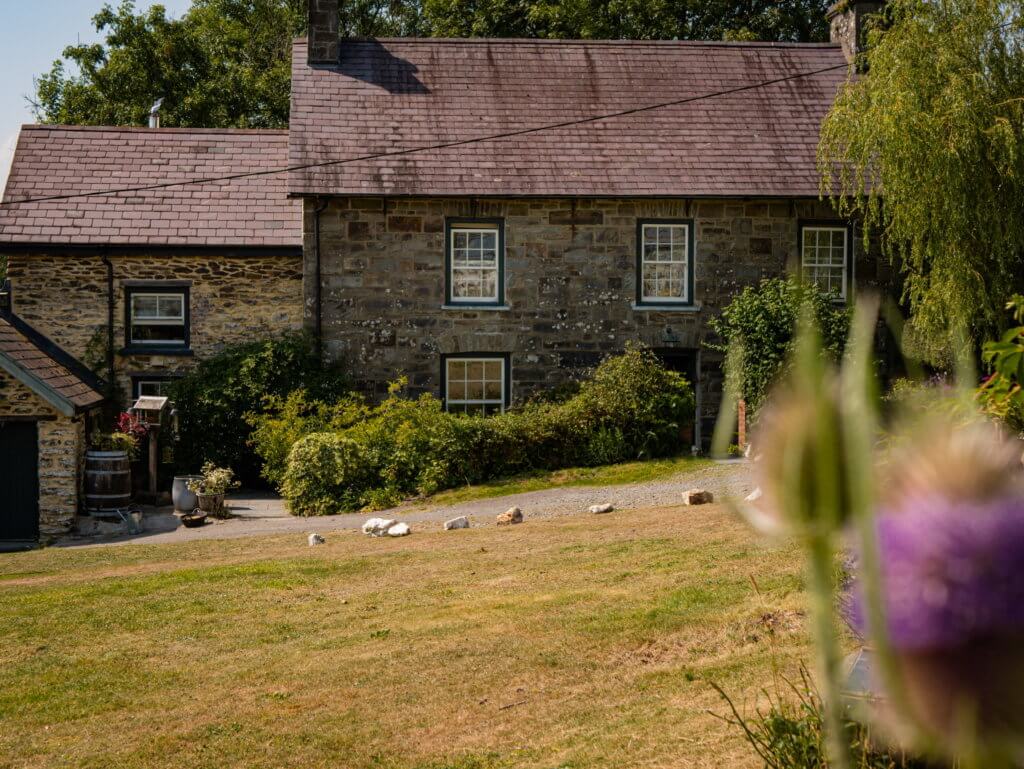 We have stayed in luxury castles and romantic treehouses in Ireland but we will always remember this unique organic farm in Wales!
Top Tip: There's the fabulous combination of a gin distillery and cheese producer, side by side at Teifi Cheese, a couple of miles down the road. The hosts at Ty Nodyn are more than happy to give you local recommendations to really make the most out of your time in West Wales.
Day 2 on your Wales Road Trip – Strumble Head & the Pembrokeshire Coast
Day 2 of your Wales roadtrip begins with a drive to Strumble Head. If you are coming from Ireland you may have already noticed the lighthouse on Strumble Head as your ferry approached Fishguard but it is worth driving back there to explore.
Strumble Head is on the North-West tip of Pembrokeshire, another of the Celtic Routes counties. The lighthouse is perched on a tiny island just off the coast connected to the mainland by a suspension bridge. Although, the lighthouse is fully automated now so not too many people get to cross the bridge.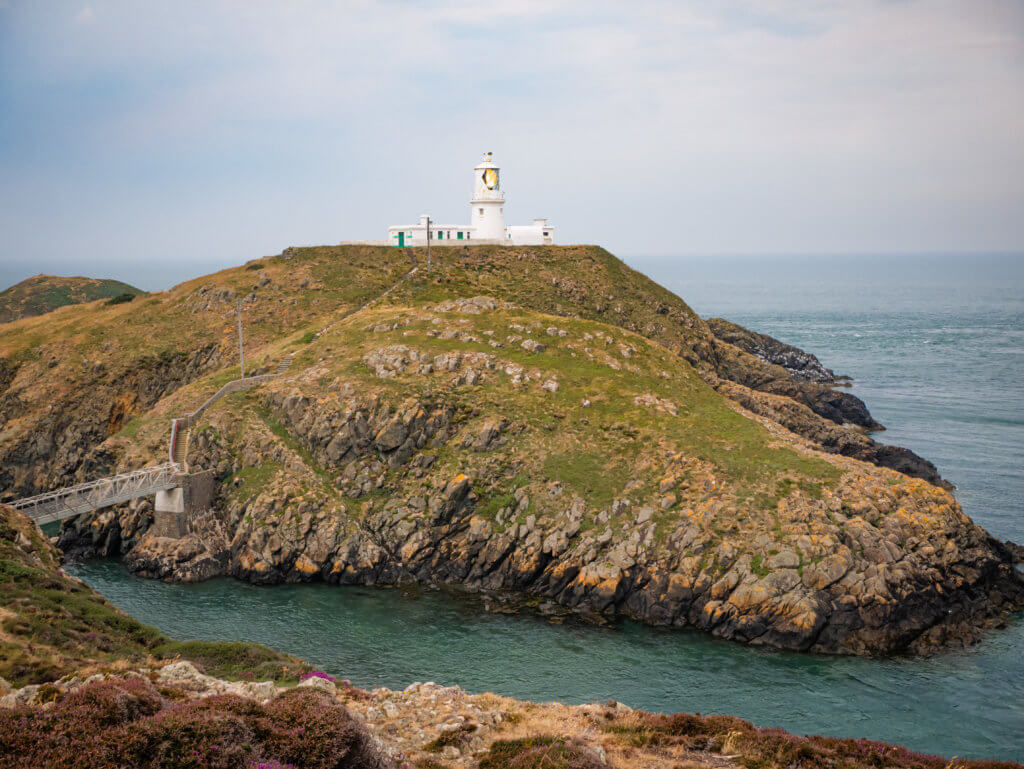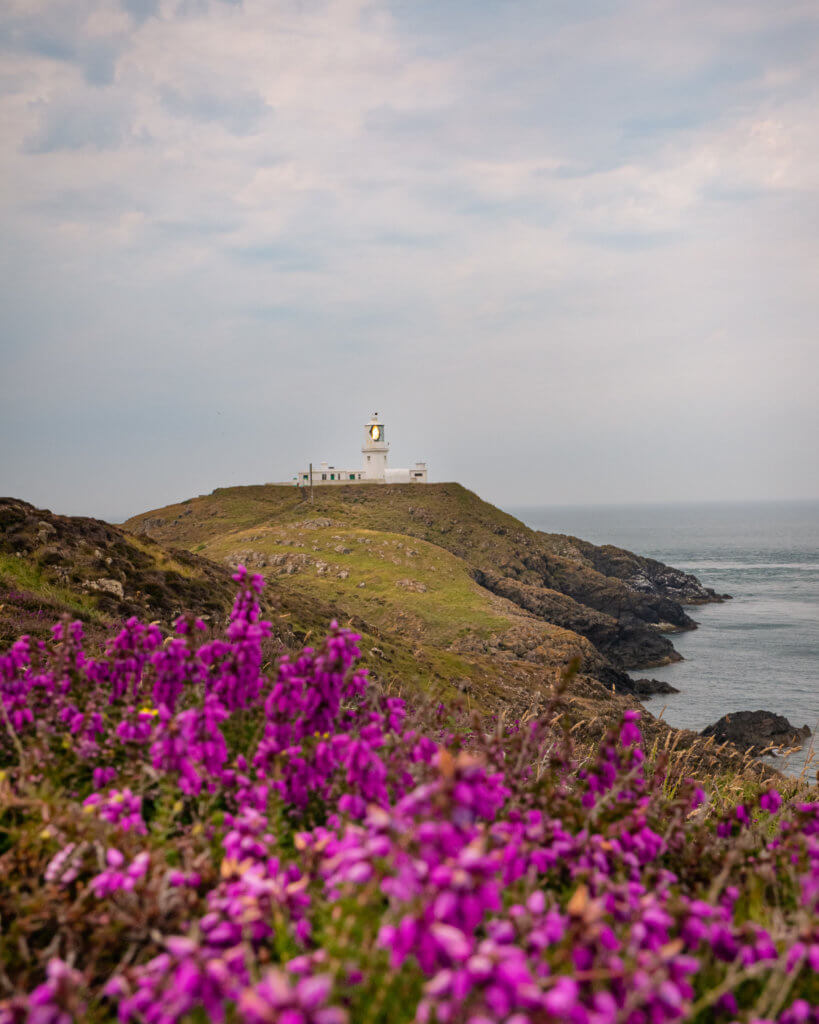 The lighthouse at Strumble Head is owned and operated by Trinity House. It was first built in 1908 to help improve the safety of sea traffic along this stretch of coast. It was manually maintained by a staff of lighthouse keepers until 1965 when it was electrified, and in 1980, it became fully automated.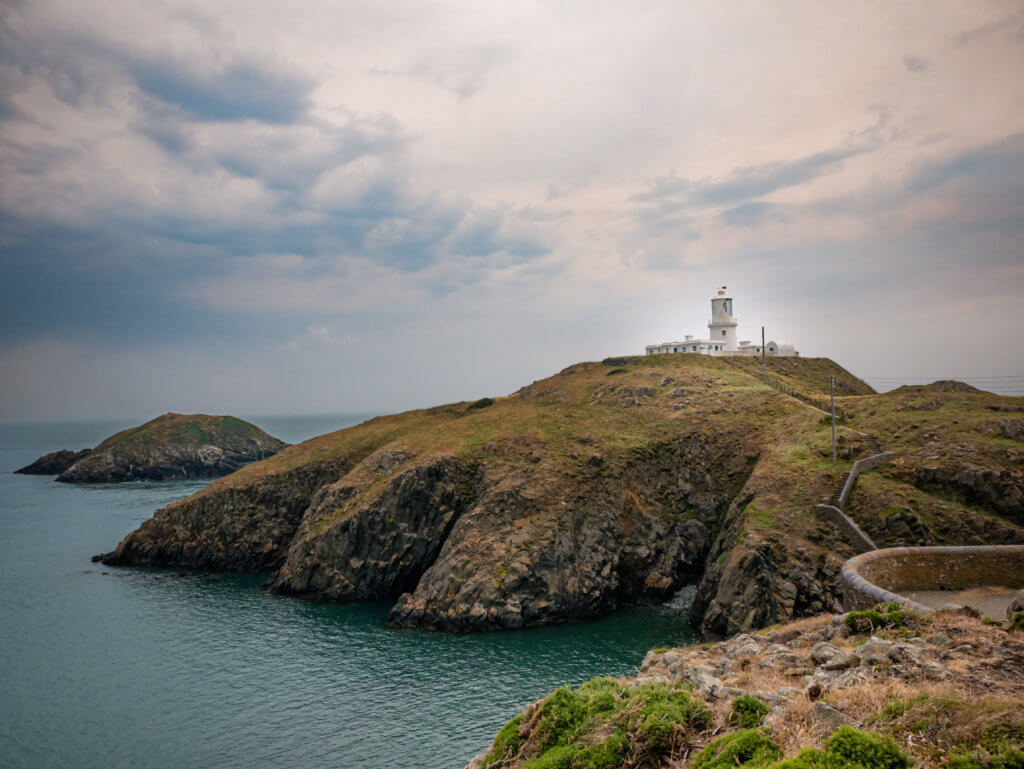 The headland is wild and strewn with purple heathers and dramatic cliffs up to 140m high in places. There is an abundance of wildlife here and the headland is home to a whole selection of migrating sea birds. Look out for schools of porpoise and bottle-nosed dolphin in the bay – even ocra, sunfish and basking shark have been seen occasionally. A former Second World War lookout provides shelter for those dedicated to spotting them.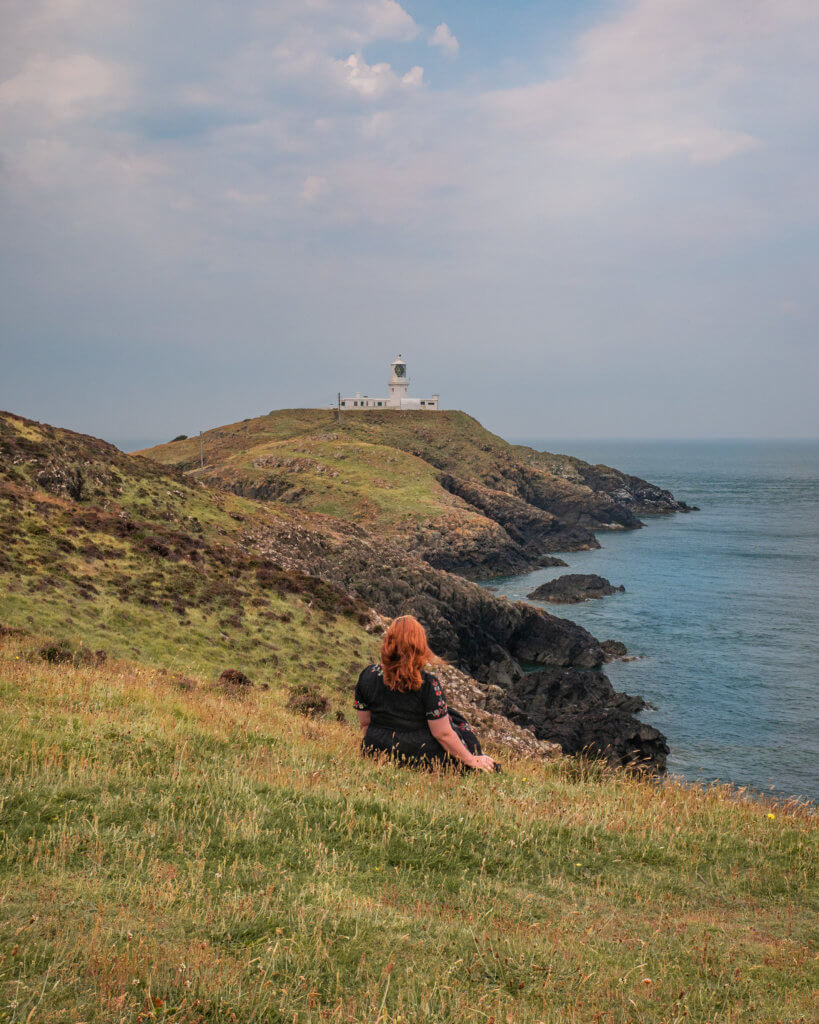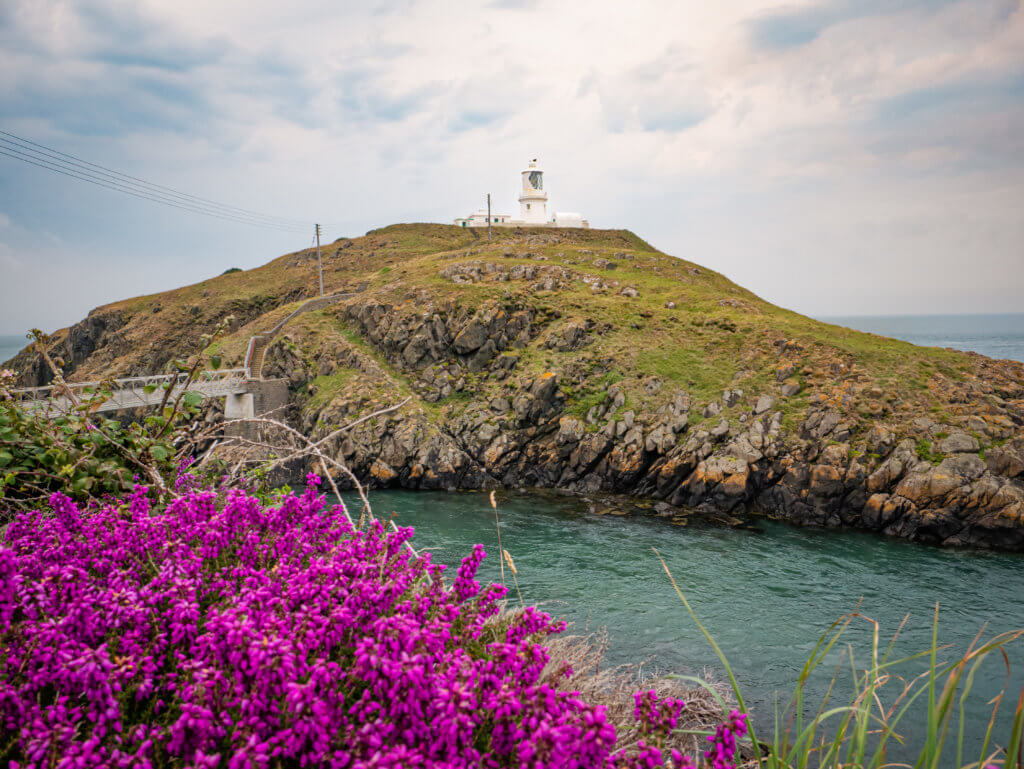 The shore with its rocky coves and caves is also a haven for grey seals. Pembrokeshire coast is home to hundreds of Atlantic grey seals, the females giving birth to their single pups on quiet beaches and in caves from August through to December.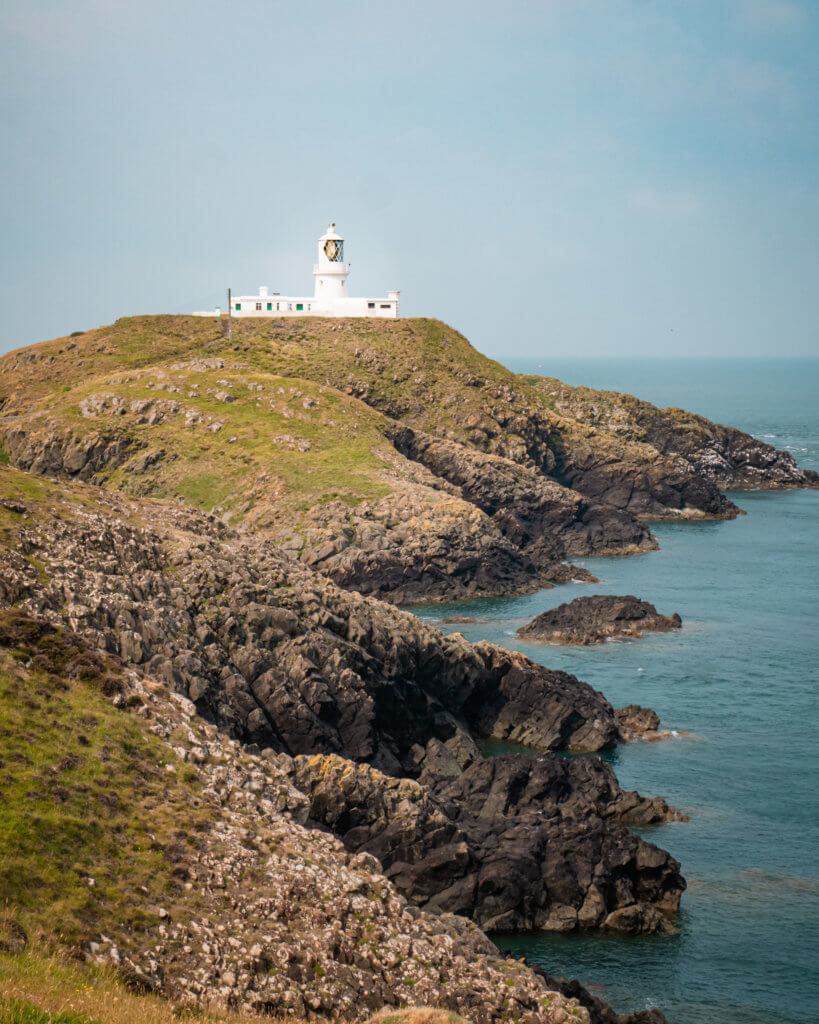 This dramatic stretch of coastline is well worth a visit, so, put on your walking boots, the terrain can be a little unsteady, and enjoy the morning breathing in all of that wonderful sea air.
Grab lunch in Haverfordwest
Haverfordwest is a charming and ancient county town in Pembrokeshire. There is so much history here from the Western Cleddau that runs through the middle of town to the impressive castle that towers above it. Built in about 1110, the castle has had an eventful history. In 1779-80, the County Gaol was built in the inner ward and the museum now occupies the old prison governor's house. And in 1648, Cromwell ordered its destruction. Thankfully, lack of gunpowder left much of it still standing.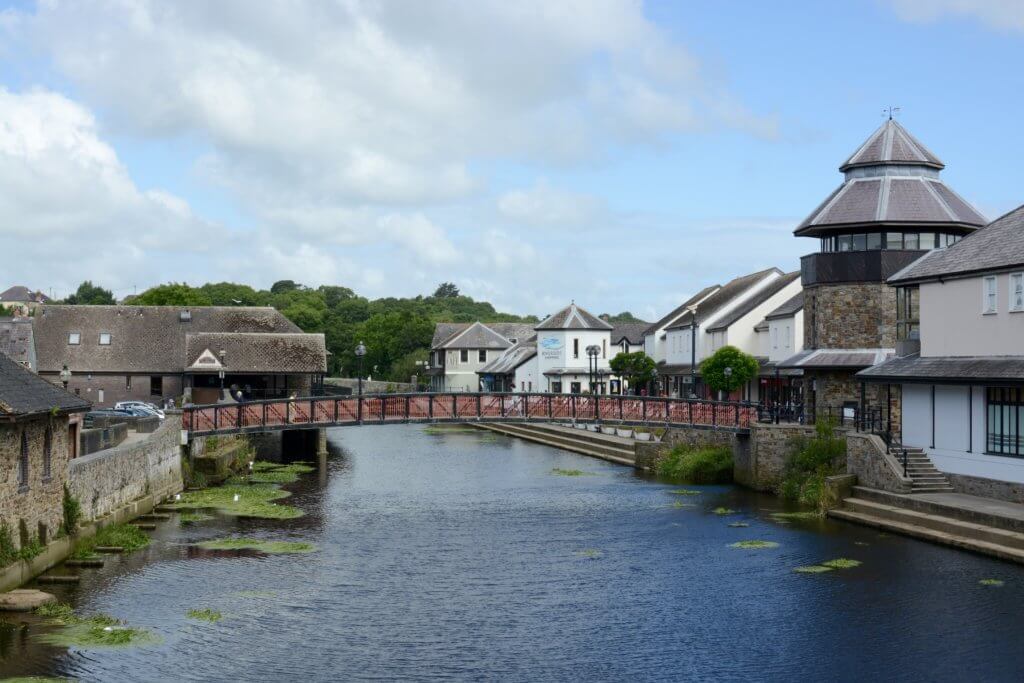 There are plenty of pubs, cafés and restaurants found in the town as well as delis with lots of vegan options so it is the perfect town to stop for lunch. There is also a farmer's market held at the riverside every Friday. Make sure you find time to also visit the castle and take in a little shopping if you like.
Day 2 Wales itinerary – go swimming in the Blue Lagoon
On the north coast of St. David's peninsula you will find the Blue Lagoon, a ruin of the St Brides Slate Quarry in Abereiddy. It is the perfect Instagram spot with vibrant aqua green water surrounded by rugged rocks and the remains of workmen's cottages that hint at its industrial past as a slate quarry. It is the slate that gives the stunning blue azure colour to the water. The contrast between the grey stony beach and vibrant waters is quite unique.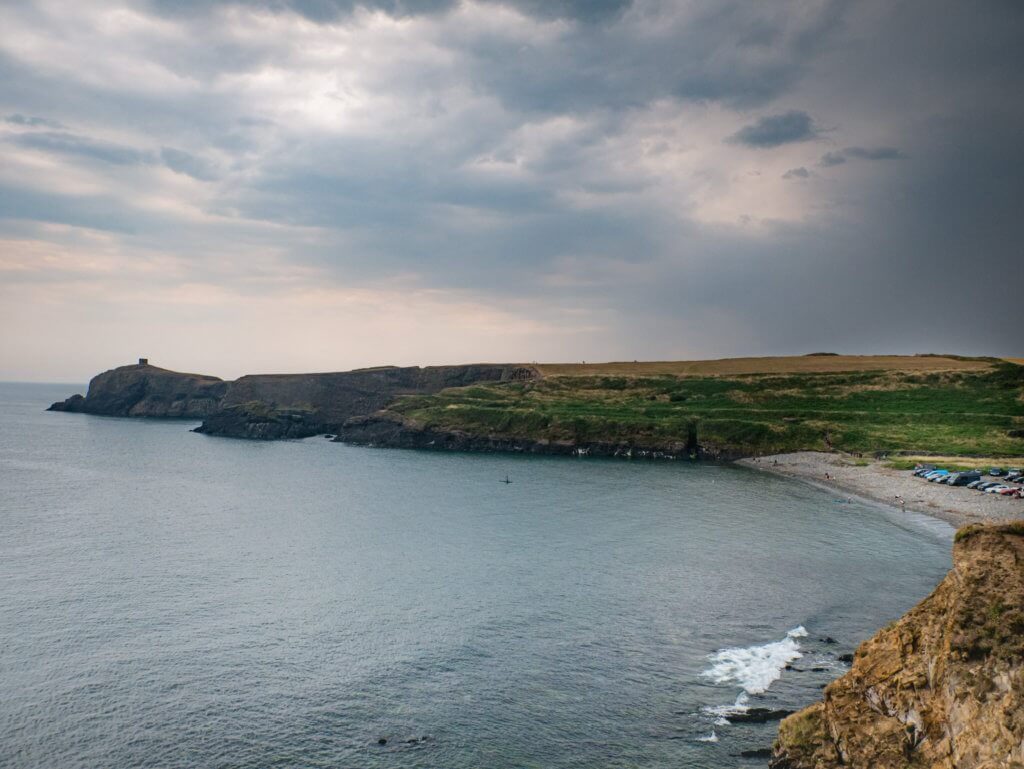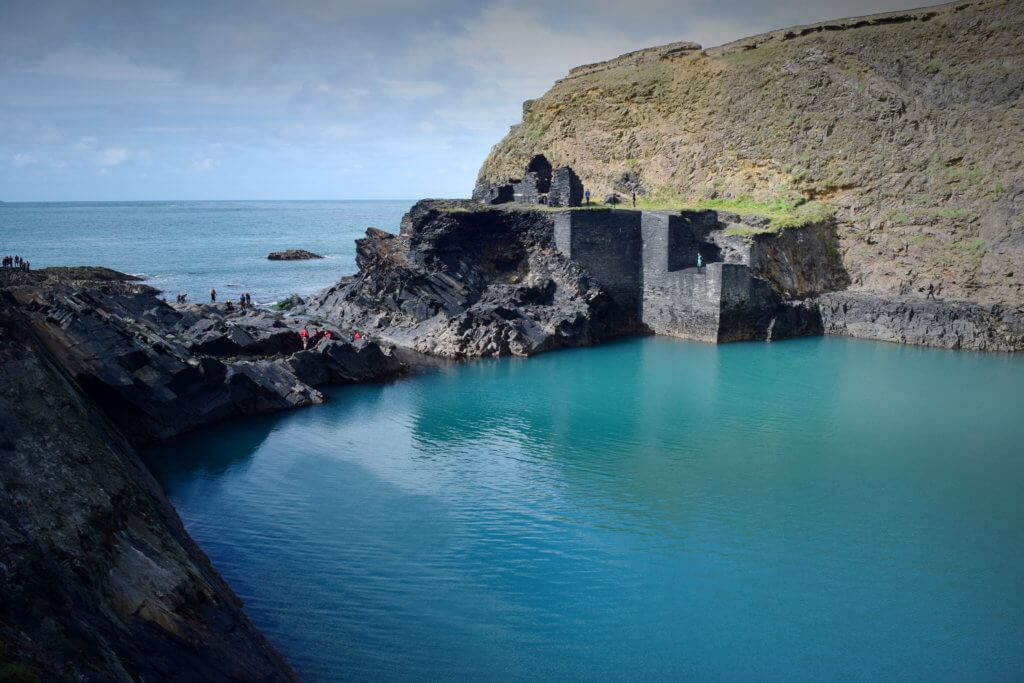 Now the Blue Lagoon is a popular spot among swimmers and surfers. People also enjoy coasteering, kayaking and climbing along the cliffs at sea level. It makes a great pit stop on day 2 of your Wales roadtrip to enjoy a swim in these stunning waters.
Where to eat on Day 2 of your Wales Road Trip
After all of that walking and swimming you will be bound to have built up an appetite, so, we want to recommend the perfect place to enjoy dinner on day 2 of your Wales roadtrip.
The Nag's Head in Abercych is a family owned riverside gastropub located in the magical Cych Valley near Cenarth Falls. You will be greeted with the warmest of Welsh welcomes from the moment you step inside with beautiful country style decor to cosy into. You can enjoy a delicious homemade quality meal with family and friends, or savour one of their rich local ales by a roaring log fire or a refreshing gin and tonic in the peaceful riverside beer garden. It is the perfect place to unwind after all that driving.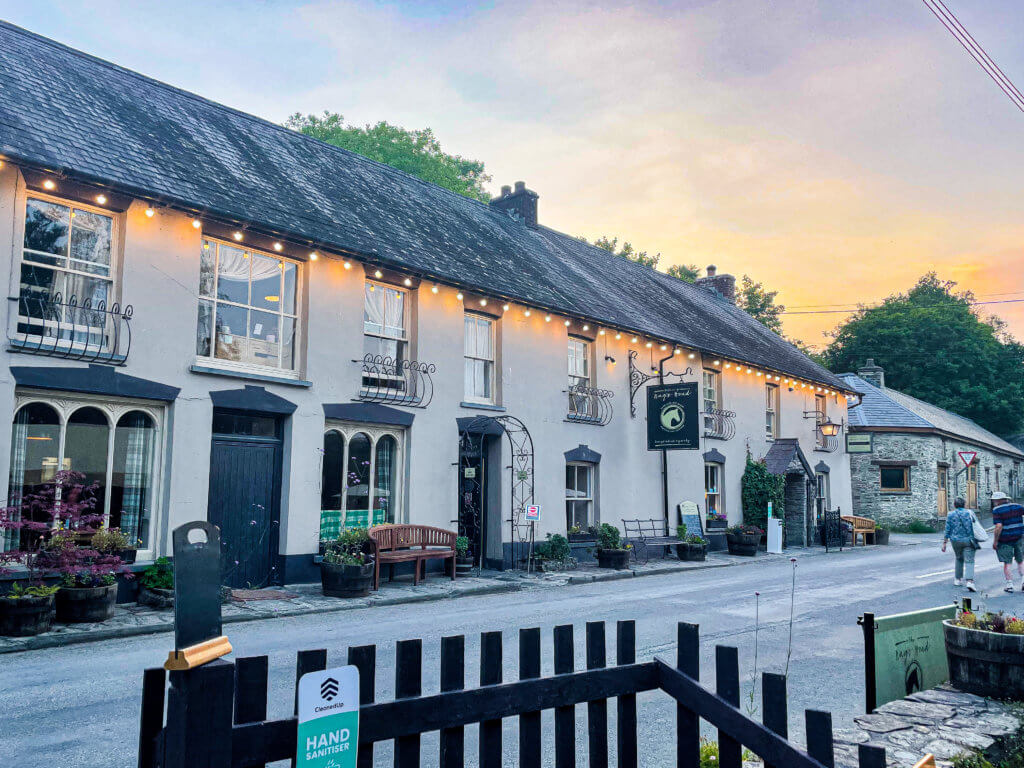 The pub also has ensuite rooms overlooking the River Cych available. They make a great travel base from which to explore the delights of West Wales.
Day 3 on your Wales Road Trip – National Botanic Garden of Wales, Carreg Cennan Castle & Llandeilo
For the final day of your 3 day Wales roadtrip head to the third county of the Welsh Celtic Routes, Carmarthenshire to visit the National Botanic Garden of Wales. The National Botanic Garden of Wales is a garden for all seasons but it is way more than just a garden. With areas with special themes, some of the rarest plants on the planet, sculpture, science, history, heritage, beautiful water features, the British Birds of Prey Centre, shopping and wonderful places to eat, it will take you more than a day to see it all. Which is probably why once you purchase a ticket you can use it as many times as you like over a 7 day period.
The centre piece of the Botanic Garden of Wales is the impressive glass dome that is Lord Foster's Great Glasshouse. It is actually the world's largest single-span glasshouse and is home to one of the finest collections of plants from around the world. Plants from certain geographical locations such as South Africa, Australia, Chile and The Canary Islands are planted together to really give you a feel of what it must be like to live there.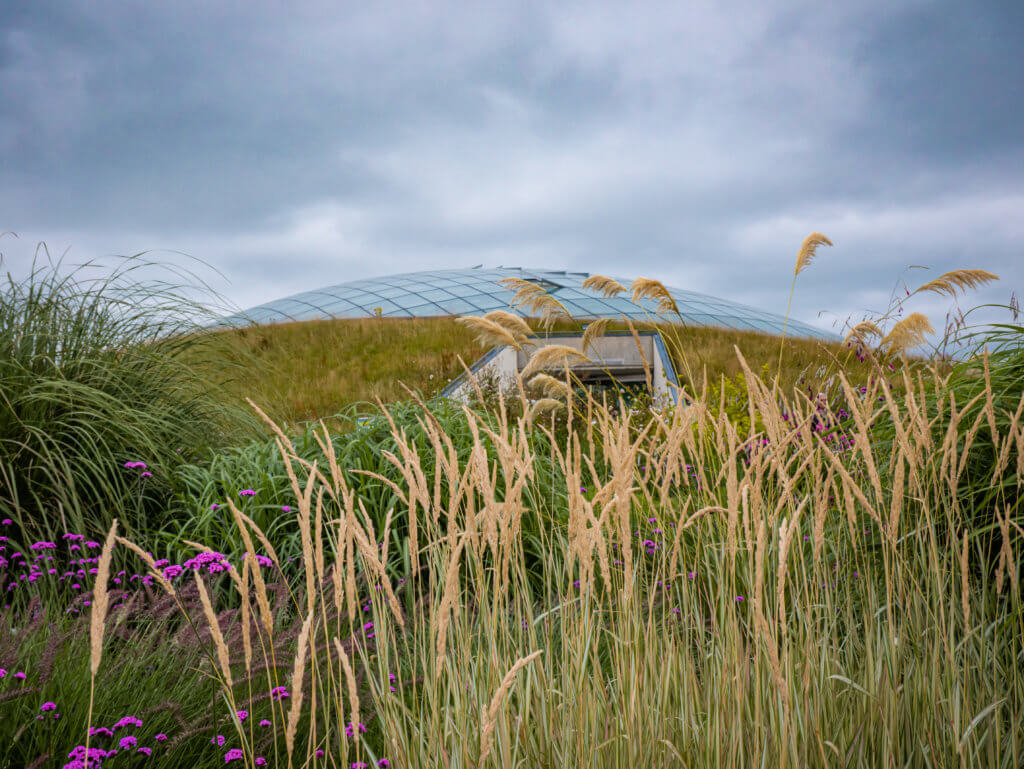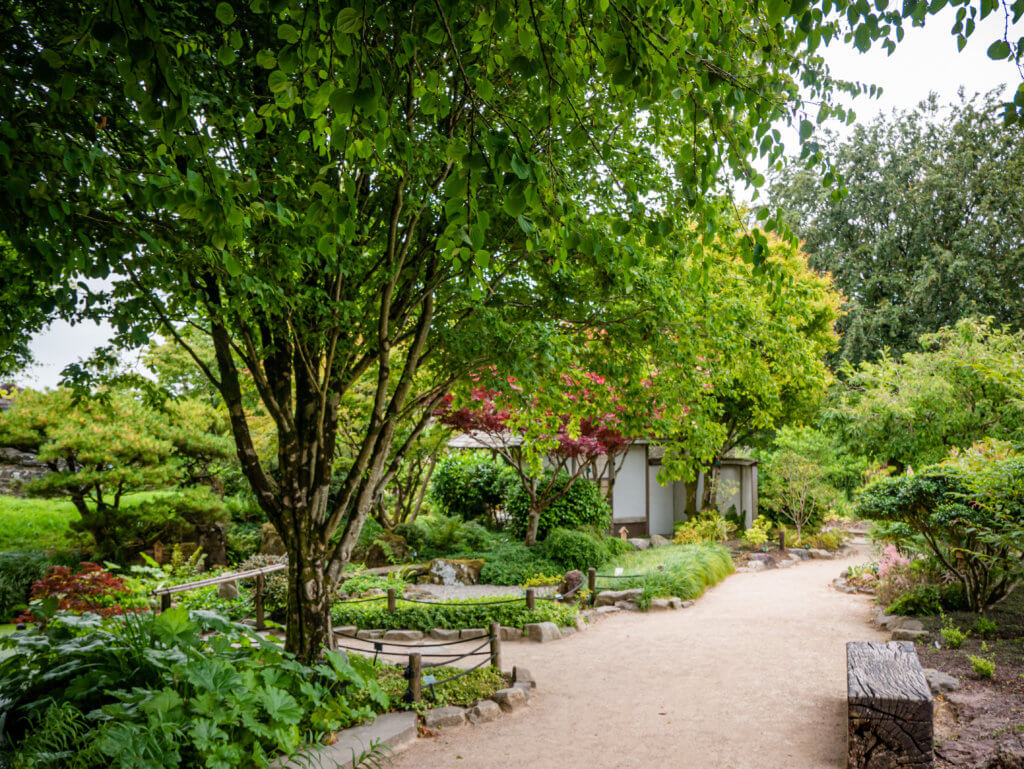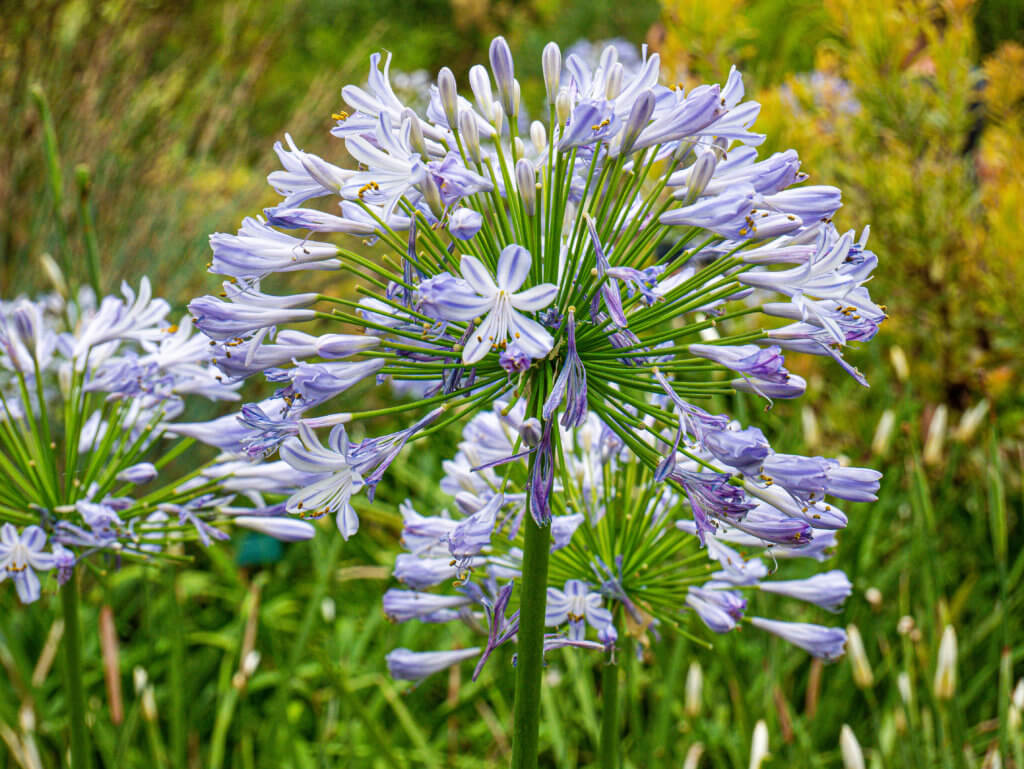 Bright red bottlebrushes, Protea, Boronia, Hibiscus and Giant Geraniums fill the space with colour and scents of exotic holidays. You will feel tiny walking among the giant plants towering above you.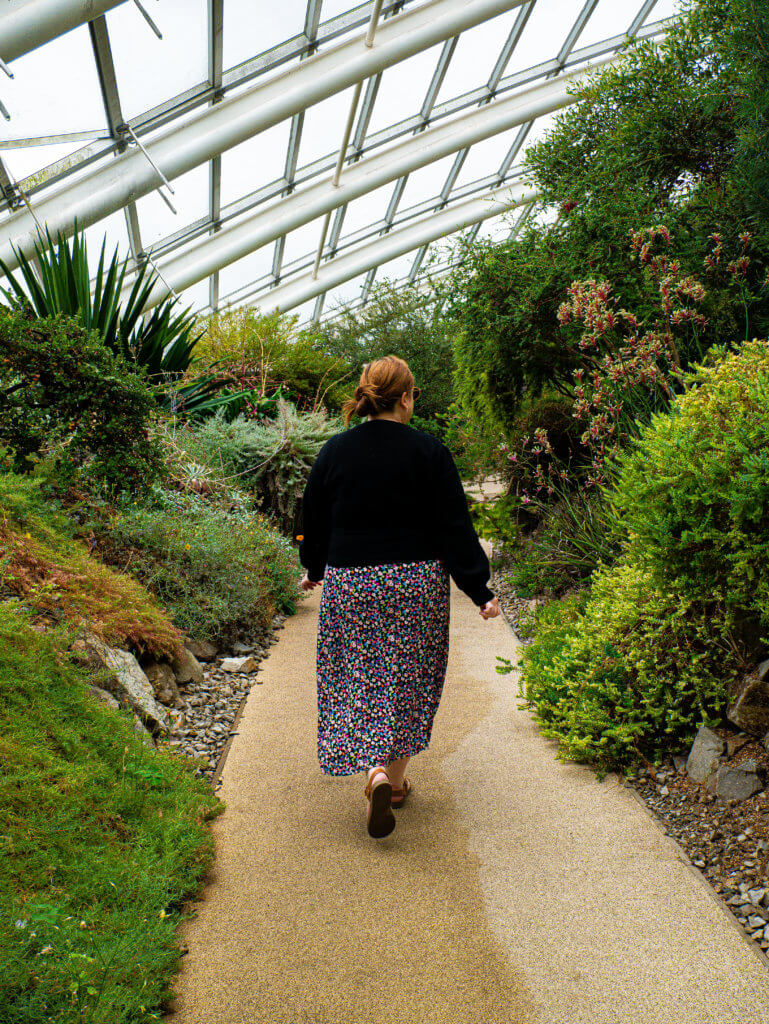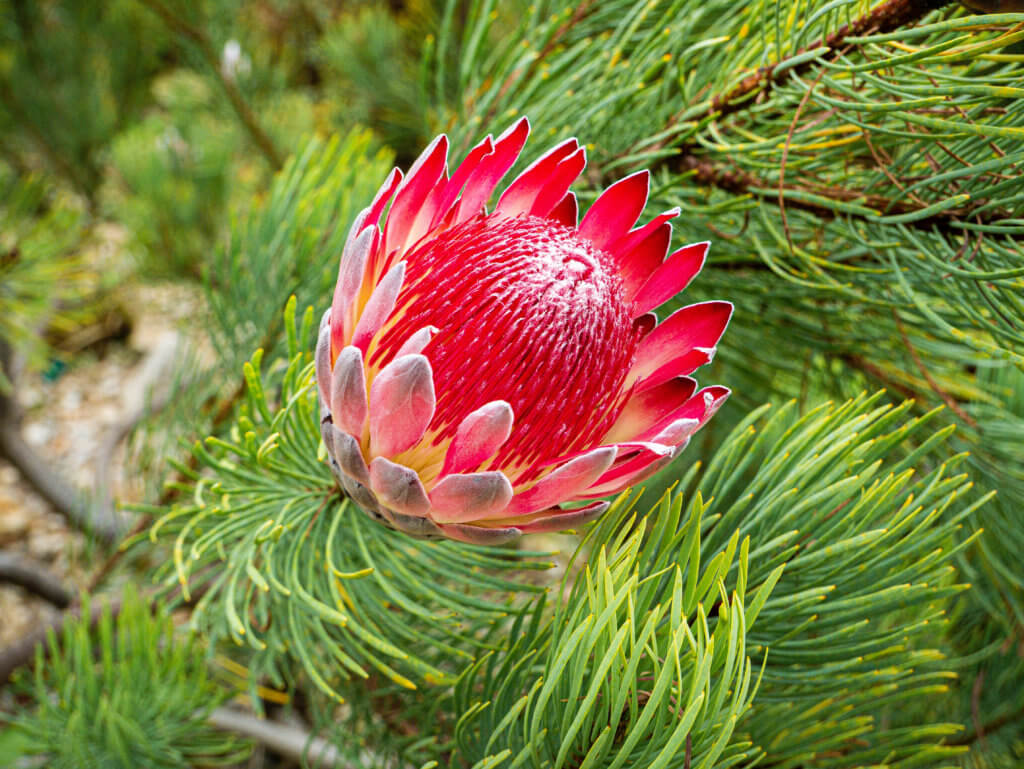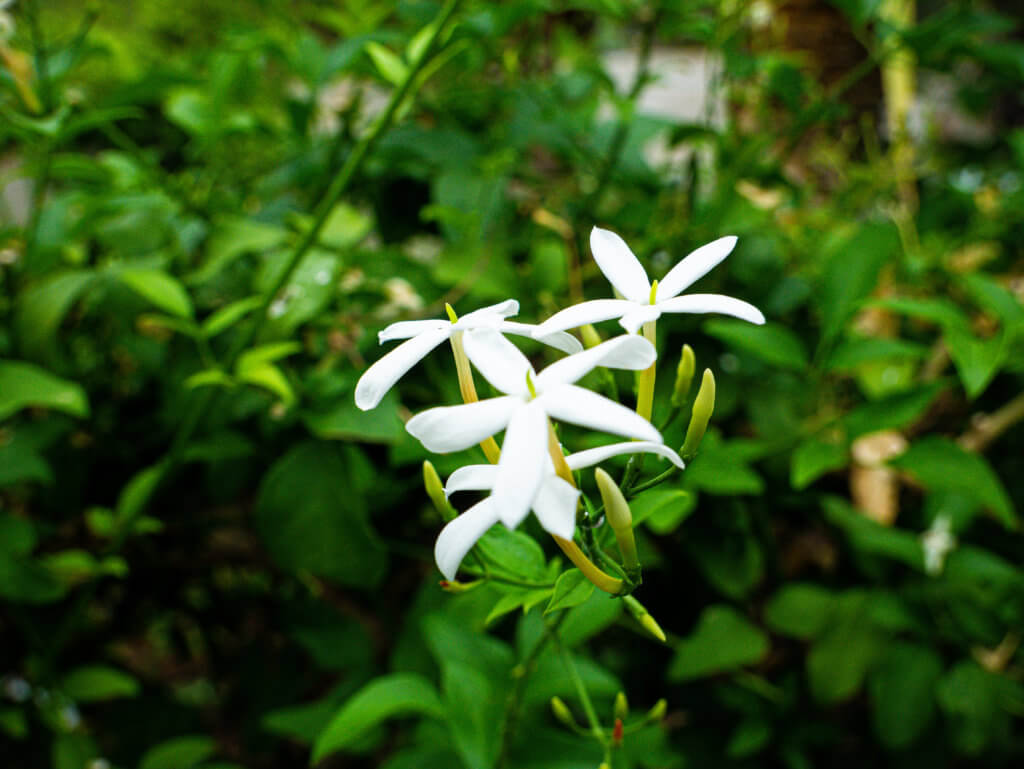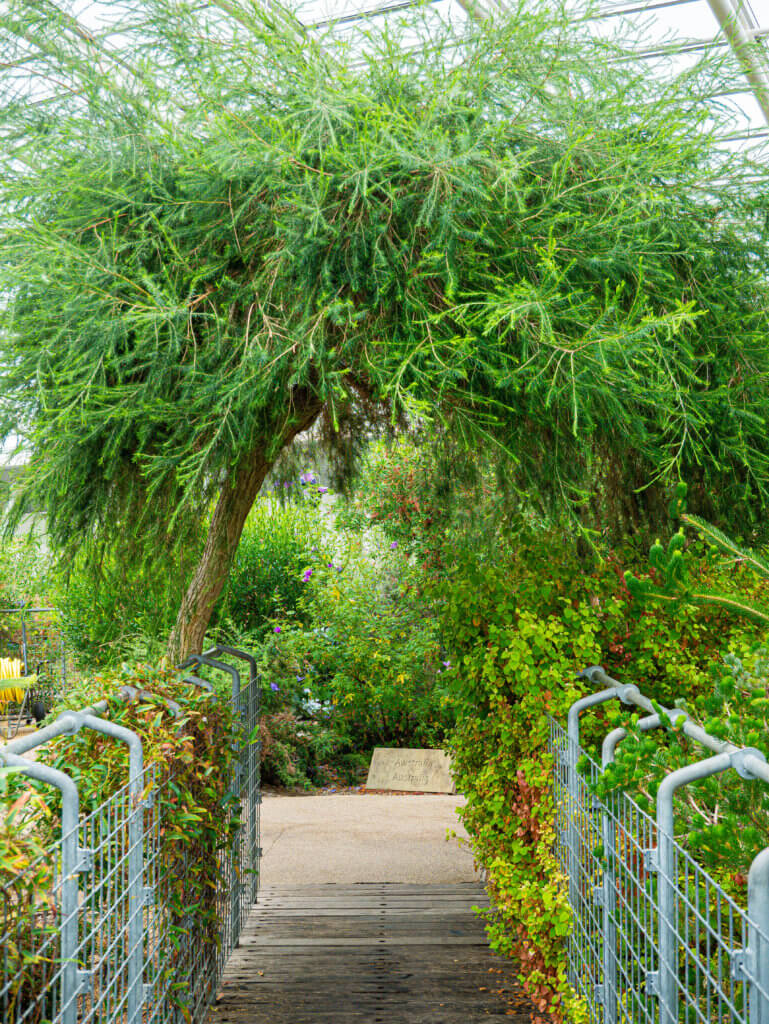 On hot Summer days the shaded woodlands and tranquil lakeside walk offer a respite from the heat. It was a heat wave in Wales when we embarked on our 3 day Wales Road Trip so we were grateful for the opportunity to cool down. Every corner you turn in the Botanic Garden of Wales is breathtaking with the flowers putting on showstopping displays.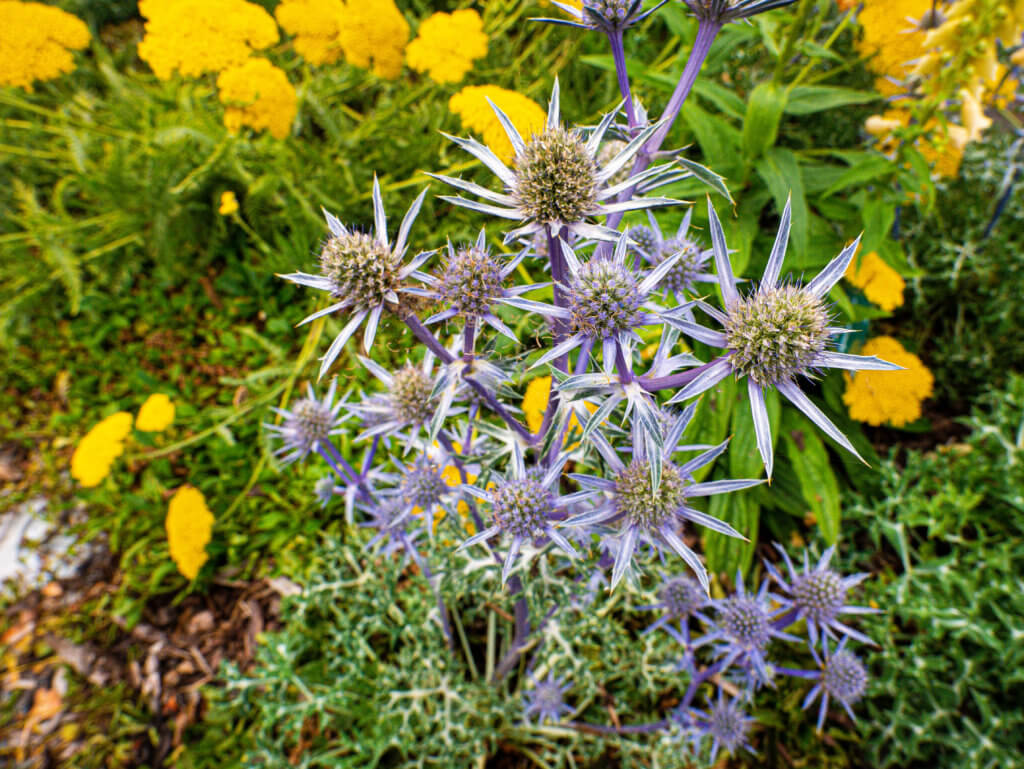 If you don't know by now Mister Lavin is obsessed with Birds of Prey. You may have followed our trip to Mount Falcon in Ireland where he got to go on a hawk walk and hold a Peregrine Falcon for the first time. So we were excited to find the British Birds of Prey Centre in the Botanic Gardens.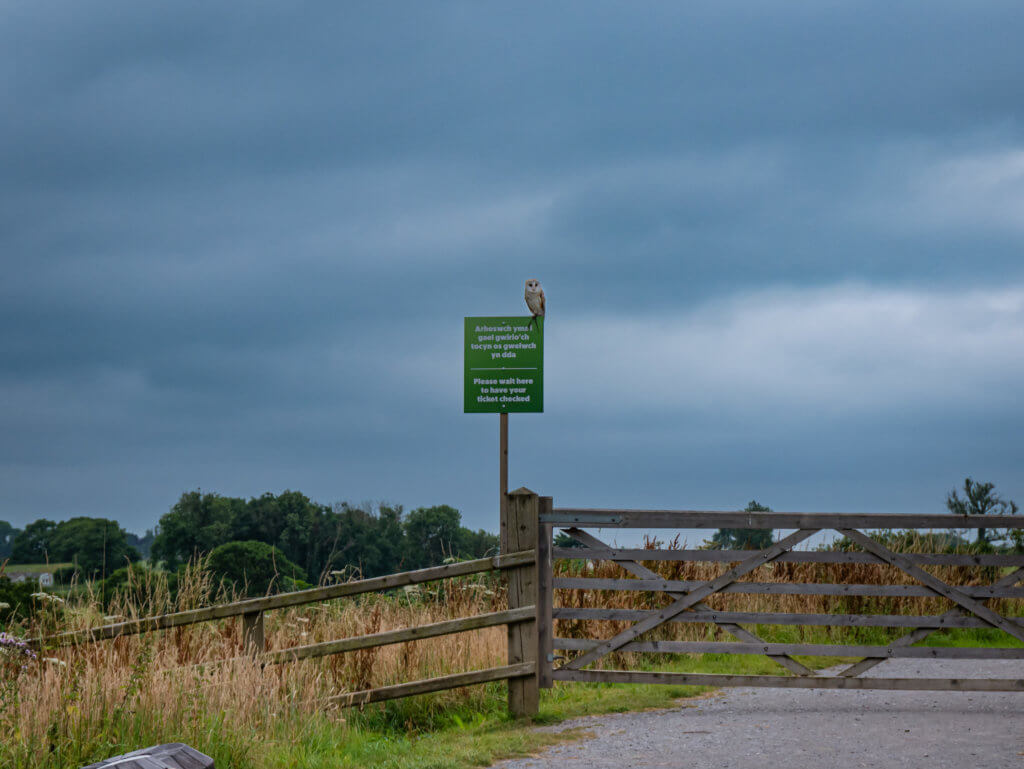 There you can visit birds of prey that can be found naturally in Britain. In all of our time driving around Ireland and the U.K. never have we seen an abundance of birds of prey in the wild like we have while driving through Wales. It was common to look up and see buzzards flying over head, red kites scouting fields and the most beautiful kestrel even flew out from the hedgegrow over the bonnet of our car. The natural wildlife in Wales is probably our favourite thing about it, we even had to stop our car for a Sow and her tiny piglets that had wandered out onto the road but that's another story!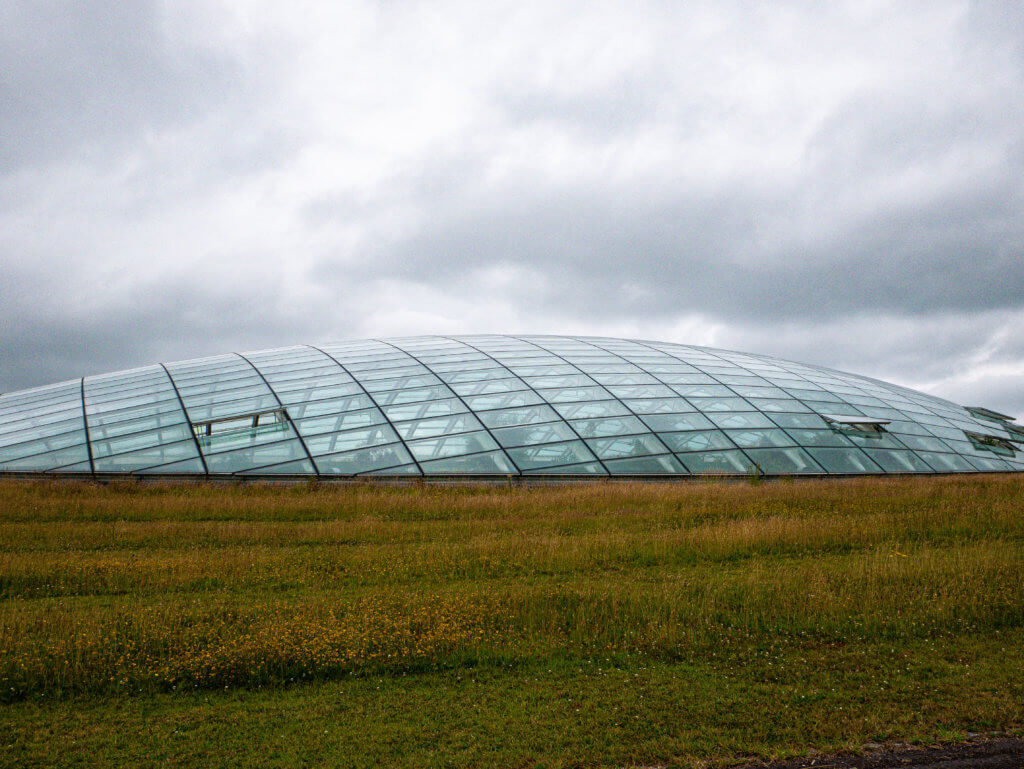 In the British Birds of Prey Centre you can witness fabulous flying displays where eagles, kites, owls, falcons and hawks provide memorable encounters. While we were there we got to meet a baby white tailed Eagle (that was probably bigger than me!) and some impressive and huge Golden Eagles and we were delighted to hear of the programme that Cardiff University have to reintroduce them back into the wild. The Eagle Reintroduction Wales project is looking at the feasibility of bringing these lost Eagle species back to soaring the skies of modern Wales.
The Eagle population had been seriously culled by farmers trying to protect their livestock but the ERW is trying to educate farmers about Eagles and the fact that they are more likely to lose livestock to infectious diseases or natural causes then the claws of an Eagle.
When we think of things iconic to Wales we think of leeks, daffodils and dragons (and of course rugby!) but the Golden (Eryr euraid) and White-tailed Eagles (Eryr y mor) have their place in the heritage, biodiversity and culture of Wales. Hopes are that breeding pairs will also migrate to Ireland and Scotland so that we can witness their beauty in the skies once more.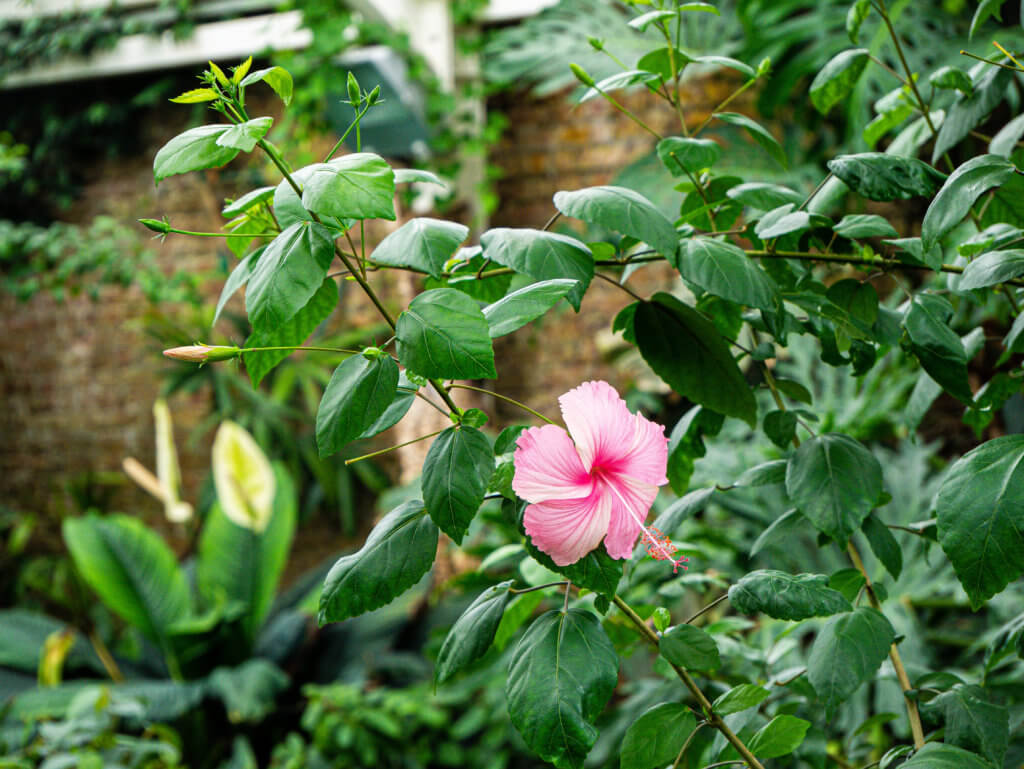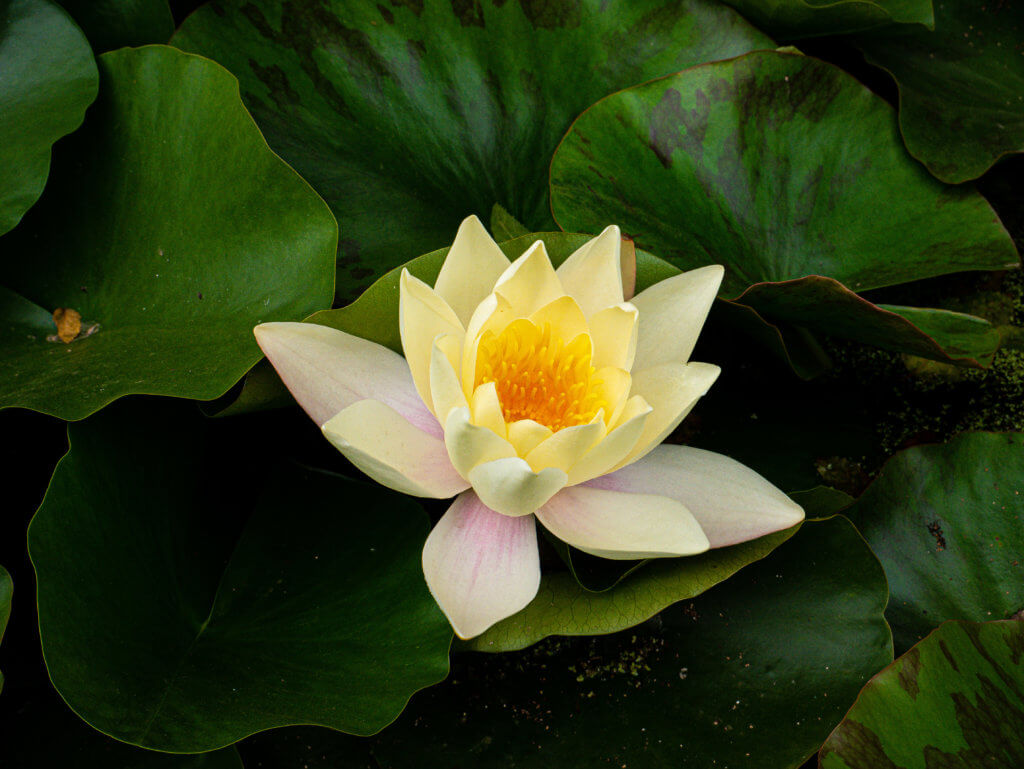 Carreg Cennan Castle
The next stop on your Wales roadtrip is Carreg Cennan Castle, a castle ruin perched high on a great limestone crag overlooking the beautiful Welsh countryside and River Cennan 90m below. It dominates the skyline for miles around and was even titled the most romantic ruin in all of Wales.
The story of Carreg Cennen Castle goes back at least to the 13th century. There is archaeological evidence, however, that the Romans and prehistoric people occupied the craggy hilltop centuries earlier (a cache of Roman coins and four prehistoric skeletons have been uncovered at the site). Although the Welsh Princes of Deheubarth built the first castle at Carreg Cennen, what remains today dates to King Edward I's significant period of castle-building in Wales.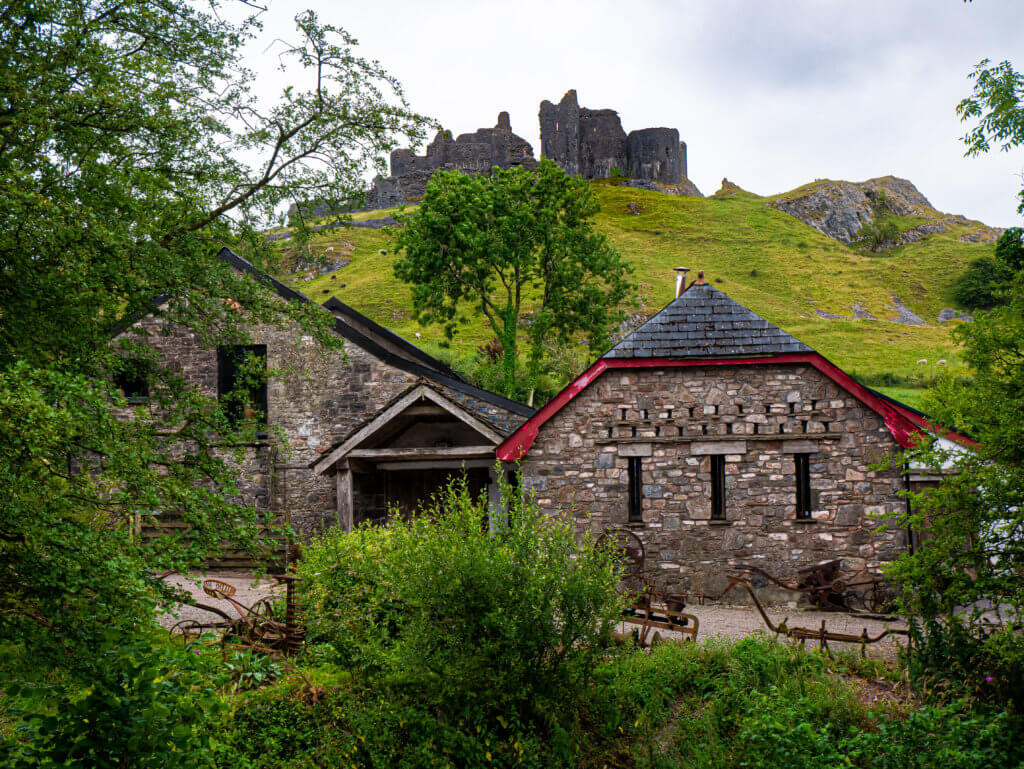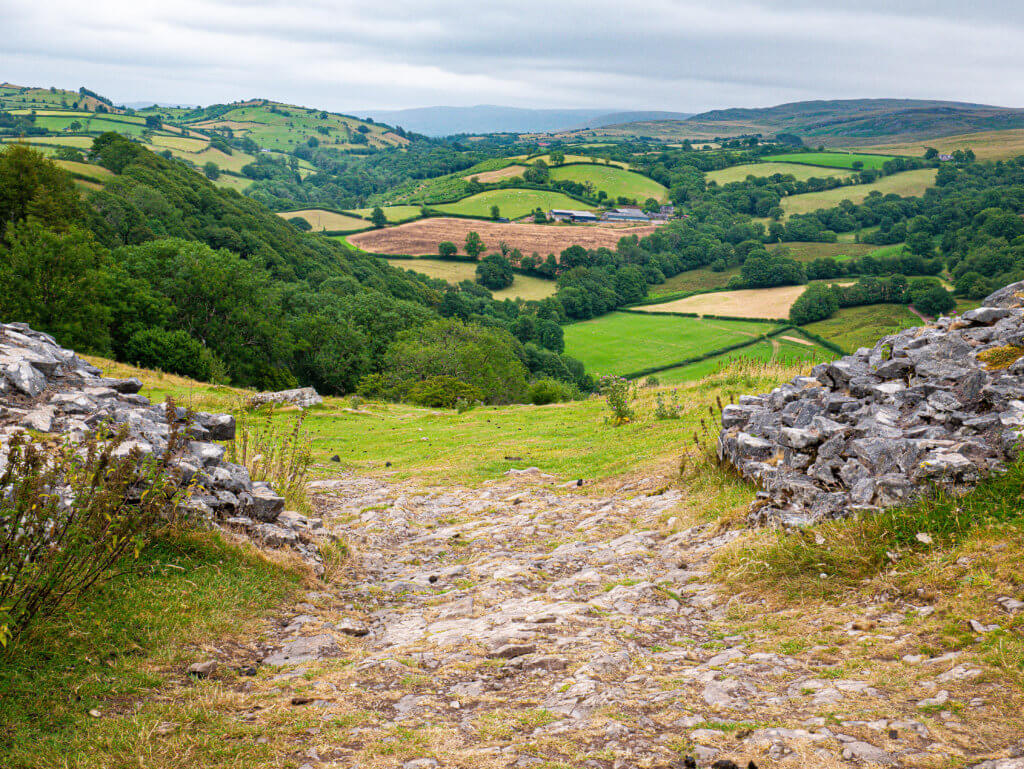 Much of the interior of Carreg Cennen has been left in ruins, the result of demolition in 1462 after the War of the Roses. Nevertheless, you can still get an accurate image of how the medieval fortress would have appeared back in the day.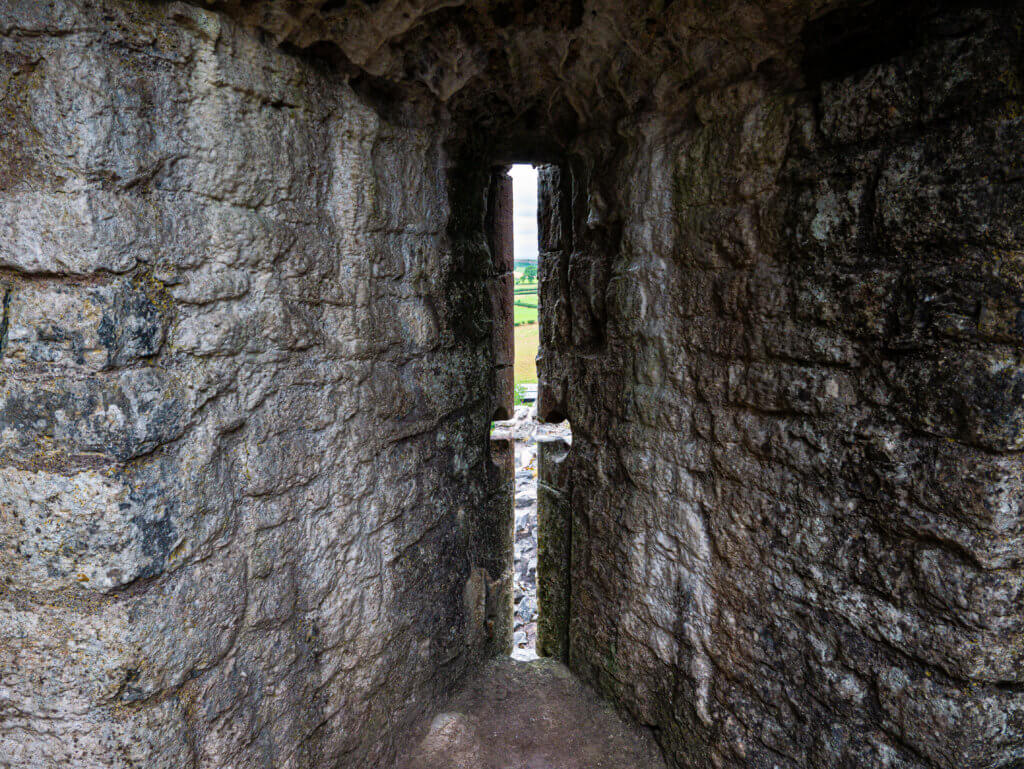 From the moment you first catch sight of the castle you feel an incredible sense of drama and remoteness. You can completely lose yourself in the wildnerness here. It is a short and moderately steep climb up to the castle ruin for an unforgetable experience as you enter the elaborate barbican overlooked by twin towers. There is a natural cave to explore but judging by the huffing and puffing from other visitors it is a bit of a climb. After a 20 year battle with Lyme disease I still struggle with steps so gave this a miss.
Top Tip: Stay for tea and a slice of cake served at the tea house on the estate's farm at the entrance to the castle.
Visit Llandeilo on your Wales roadtrip
The final stop on your 3 day Wales roadtrip is the colourful town of Llandeilo. Llandeilo screams shabby chic with a row of colourful houses overlooking the River Tywi surrounded by lush countryside. Unlike the charming pastel coloured houses of Notting Hill, Llandeilo is relatively unknown in the Intagram world and there are not queues of influencers queuing for photographs outside these beautiful coloured houses. Ssssh! Let's hope it stays that way, even if it does deserve all of the same Instagram fame as Notting Hill.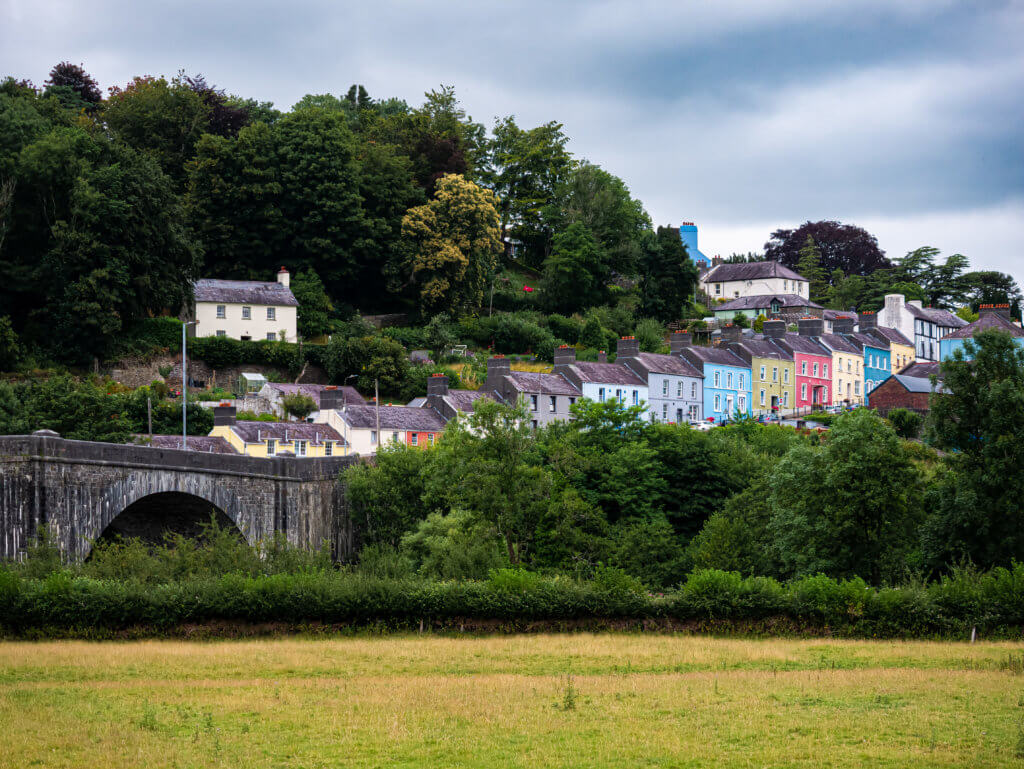 Picturesque streets aside there are many reasons to visit Llandeilo. Shopping in Llandeilo is an absolute pleasure. This colourful and picturesque town is scattered with an array of small independent shops filled to the brim with unique and quirky products. Once a busy market town it is now one of the best shopping destinations in Wales.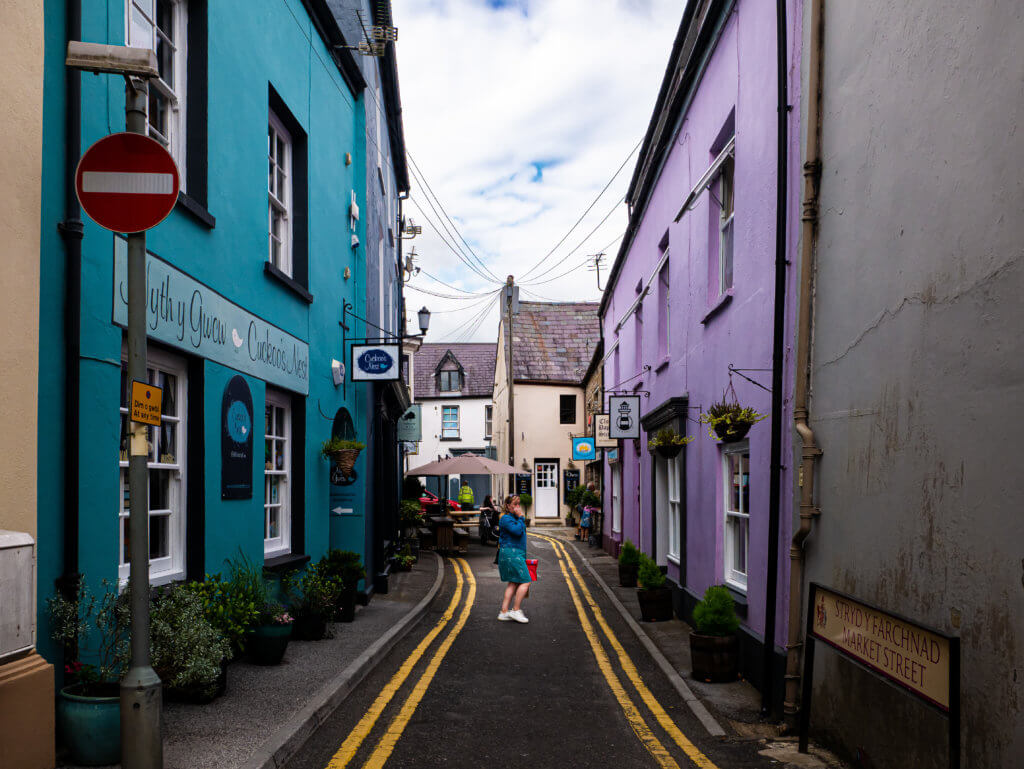 You will also be spolit for choice with quality eateries and pubs here such as Ginhaus Deli, The White Horse, Flows and of course The Cawdor.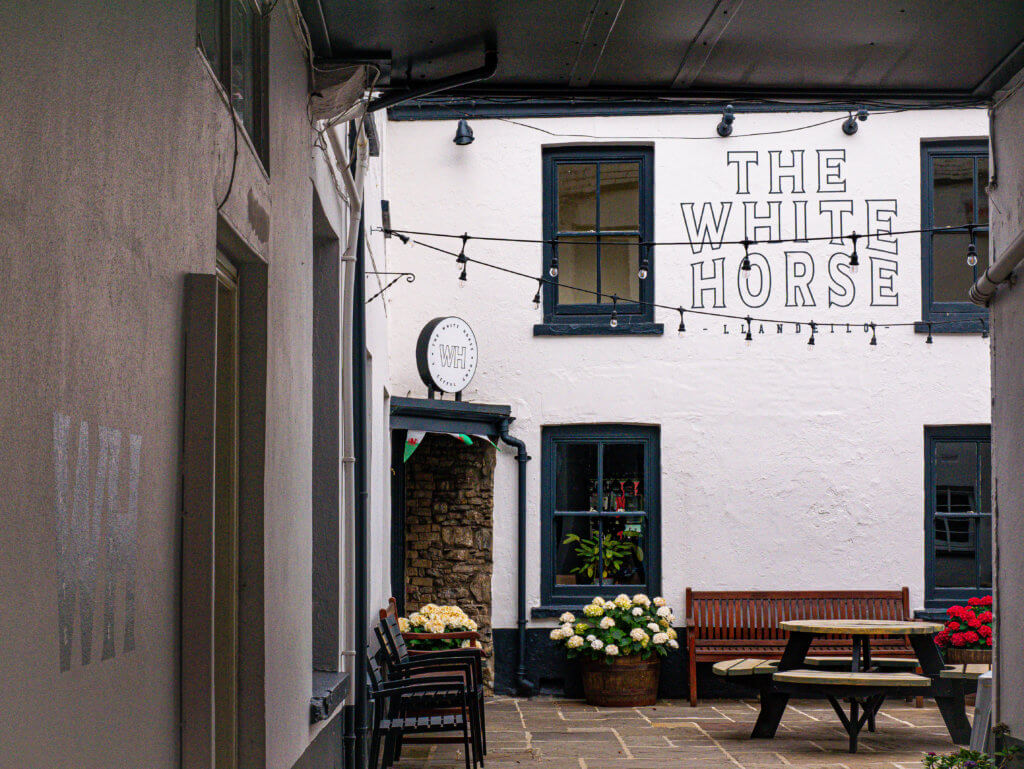 There are also plenty of scenic countryside walks for you to enjoy. Llandeilo has several marked footpaths in the area as well as woodland trails, wildlife walks and nature reserve strolls nearby. You can even walk to Carreg Cennan Castle from here as it is only 4 miles south east of Llandeilo. The impressive Dinefwr Park is also nearby.
Where to stay in Llandeilo
On your final night of your Wales roadtrip we recommend staying in The Cawdor. Set in the heart of the historic market town of Llandeilo it is the perfect place to base yourself on the final night of your trip. The Cawdor has recently been refurbished but still retains all of the heritage and charm of the original 1765 Georgian building. It is one of Carmarthenshire's landmark listed buildings and is now one of the leading boutique hotels in Wales.
Food at The Cawdor is incredible. The Georgian dining room has beautiful bay windows and wooden floors. The innovative menu uses locally sourced produce and is mostly Welsh when possible. The bar area has been refurbished using materials from the local Tywi Valley.
Where to eat on day 3 of your Wales roadtrip
As the saying goes "save the best to last" and Y Polyn is a culinary delight worth waiting for. Y Polyn is a small family-owned restaurant, tucked away in the leafy Twyi valley between the county town of Carmarthen and chic Llandeilo.
It is quite possibly the most delicious and least pretentious restaurant that we have been to. It is stylish without being stuffy. Saltmarsh lamb, Welsh beef and free range, rare breed pork are highlights of the locally sourced menu. Tables are mismatching bare wood, tablecloths are banished, you get to pour your own wine, staff wear jeans and may even rob a chip or two!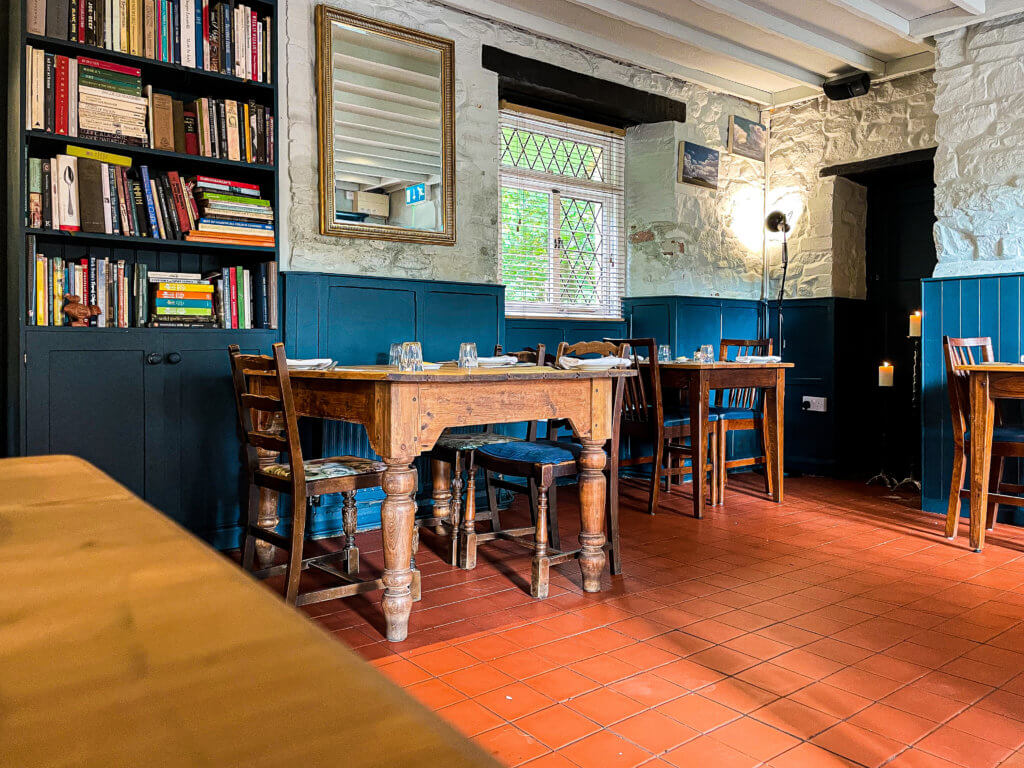 Almost everything on the menu is made in the restaurant. You just have to try the sourdough bread, it will leave you drooling in anticipation of the main meal to come. The atmosphere in the restaurant is friendly, relaxed and enjoyably informal. The staff are incredibly attentive and it is clear that the owner is passionate about food. A rustic and hearty meal at Y Polyn is the perfect way to end your 3 days touring around West Wales.
*DISCLAIMER – This post contains sponsored content and our road trip through Wales was complimentary, include ferry crossing, hotels and all food and beverages. However, as always, all thoughts and opinions are our own. This post also contains affiliate links meaning that if you book through one of our links we will receive a small commission at absolutely no extra cost to you. This helps support us to provide value to you in these travel guides.
Are you new here? Join thousands of other happy readers and subscribe to All about RosaLilla blog via email. The good news is that by signing up via email you will get exclusive travel deals straight to your inbox. The only other place that we publish these deals is on Instagram stories, so be sure to signup to get the heads up on amazing travel deals to save you money when booking.
I also share everything about myself on Instagram with nothing held back so be sure to follow along there.
If you liked this you may also like:
Why you should visit Malvern U.K.
25 of the best Airbnbs in Ireland for large groups and families
Stay in an Elizabethan Manor in the Cotswolds
Until next time you crazy kids!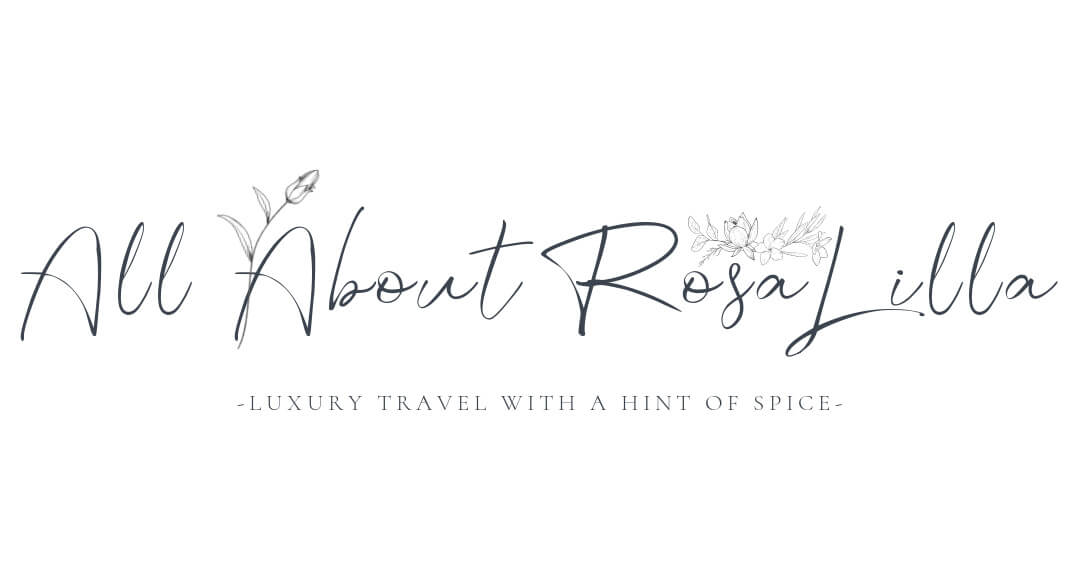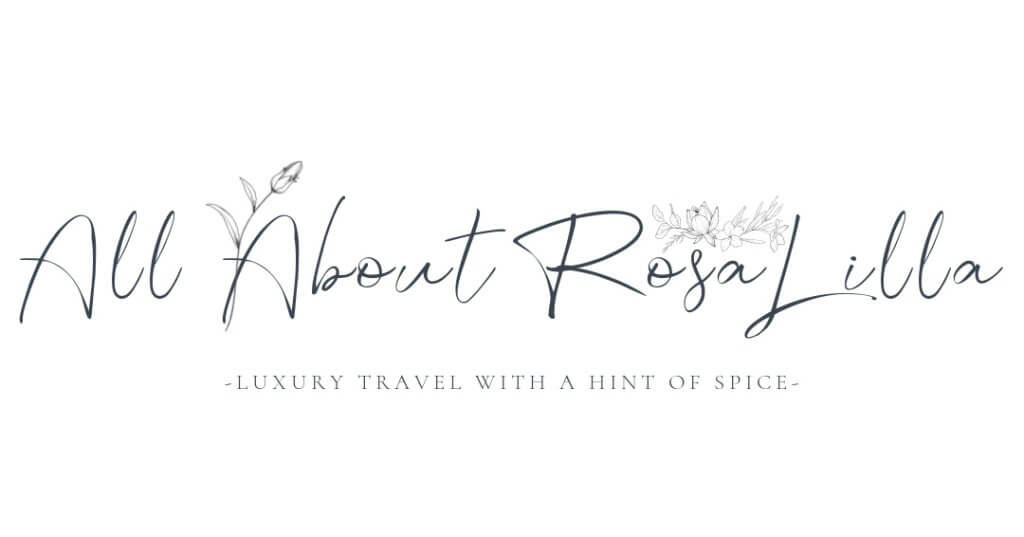 Sharing is sexy!