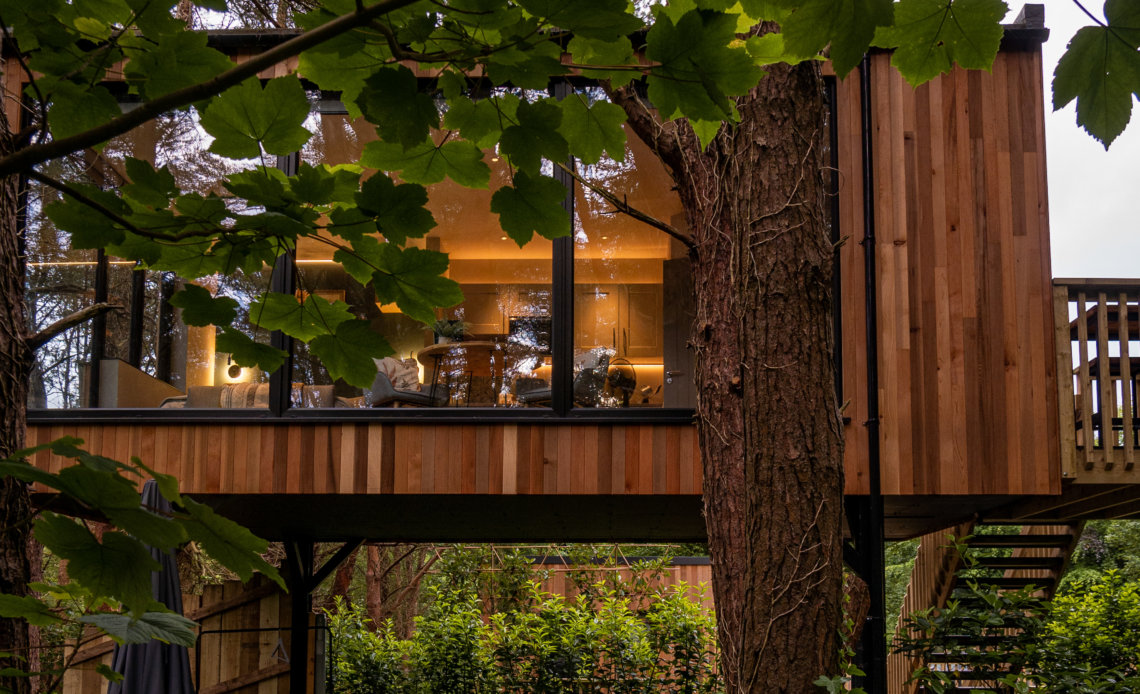 Burrenmore Nest – A romantic treehouse getaway in Ireland
Have you ever dreamt about a romantic forest escape? Let us introduce you to Burrenmore Nest, a romantic treehouse in Ireland that is just perfect for your next couple getaway. Romantic treehouse Ireland? Does such a thing exist? Absolutely! We just had the most romantic couple escape in an enchanting treetop lodge and we want to share this hidden gem in Northern Ireland with you.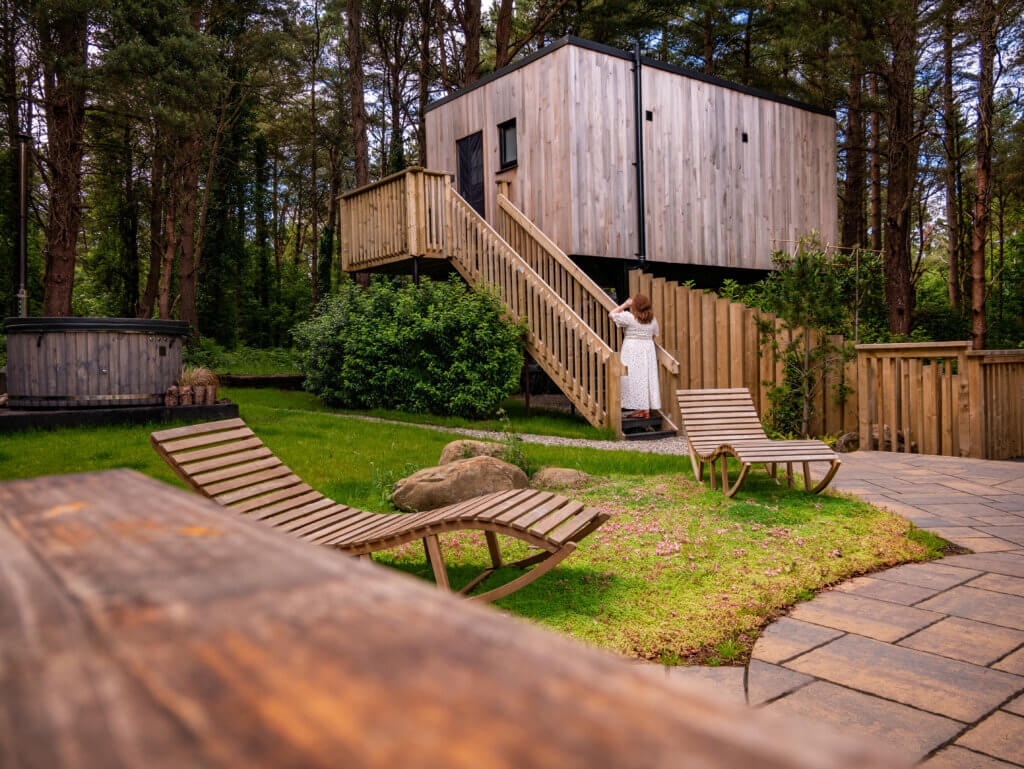 Romantic getaways Northern Ireland
If you are looking to reconnect with nature and escape the stresses of daily life then this romantic treehouse in Ireland is just what the doctor ordered. It is a luxury and unique treehouse accommodation in Ireland. On arrival you will find four shimmering glass-fronted treetop lodges, each with their own al fresco whirlpool bath covered in moss so that you literally feel like you are bathing among the trees. You can tell that so much thought went into the design of each treehouse, so that they seem to blend perfectly into their natural surroundings. They are opuently at home nestled among a magical forest on Ireland's scenic north coast.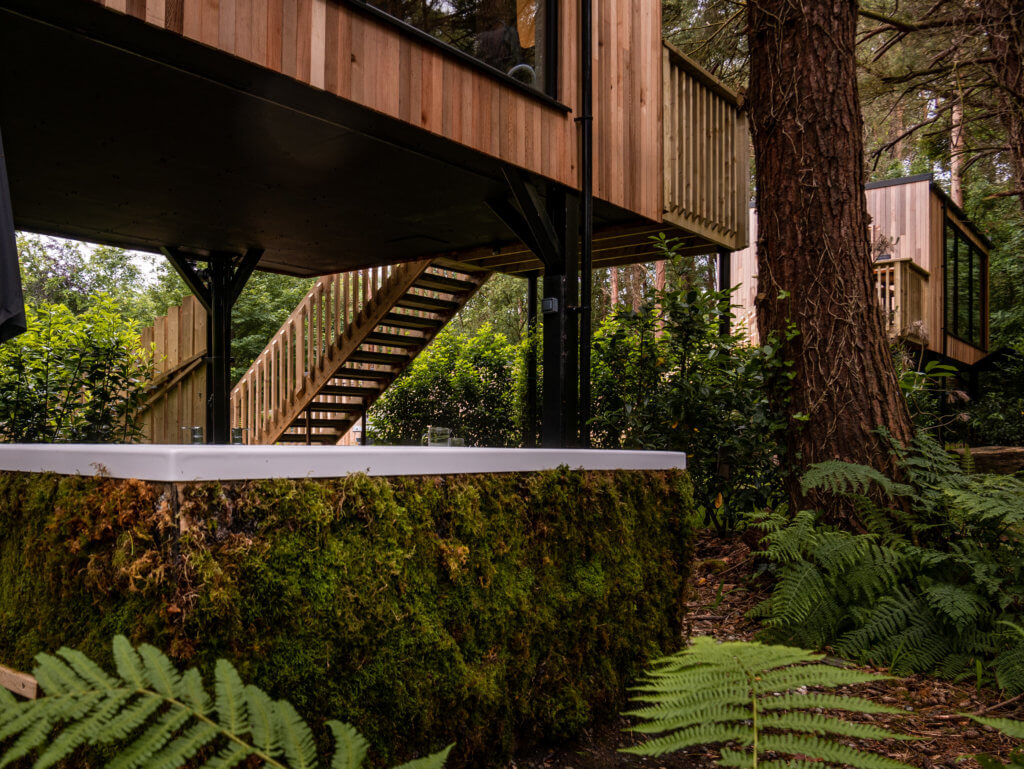 Where can I find Burrenmore Nest?
You will find Burrenmore Nest surrounded by 82 hectares of forest park within the Binevenagh Area of Outstanding Natural Beauty. Located in County Londonderry in Northern Ireland the nearest town is Castlerock on the Causeway Coastal Route.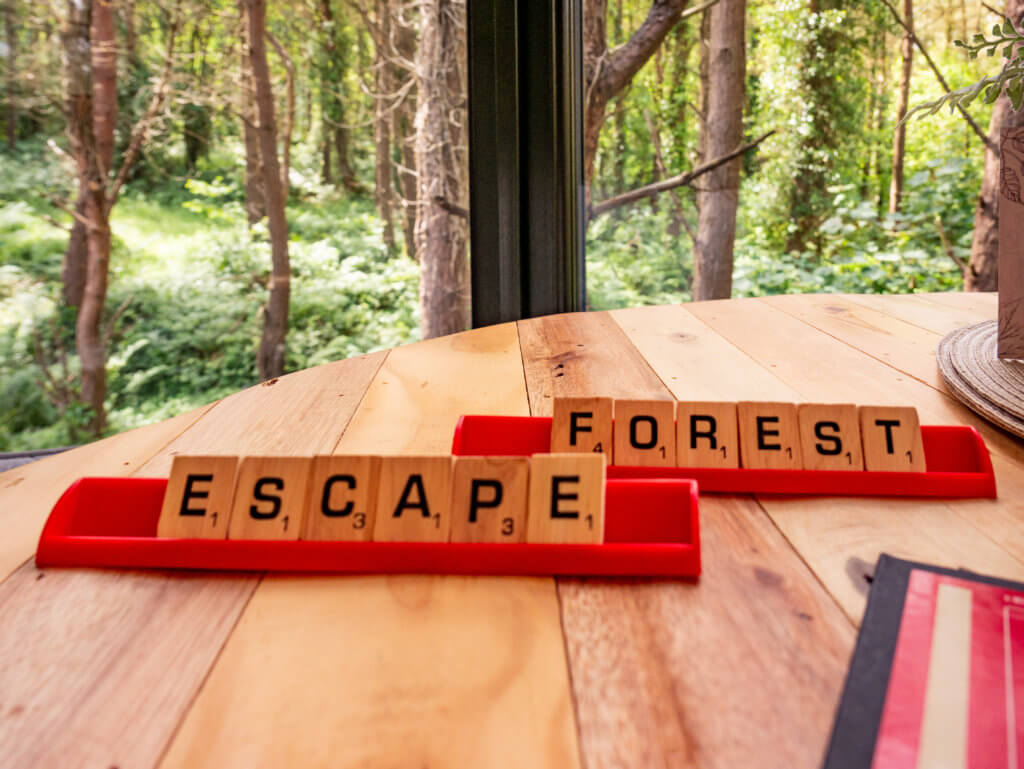 Be sure to check out our guide on these other Northern Ireland cities or enjoy exploring a little further afield and finding some hidden gems along the Antrim Coast. Nearby you will find the beautiful Benone Strand. Fans of Game of Thrones will recognise this pristine seven-mile stretch of sandy beach as one of the iconic Game of Thrones Ireland filming locations, characterised by its striking backdrop of dune, mountain and cliff scenery.
What can I expect on arrival at Burrenmore Nest?
Arrive to a fizzing glass of Prosecco, then take your time exploring your idyllic retreat and the facilities at your romantic treehouse in Ireland. You will be greeted by the friendly site manager who will show you to your lodge and will explain how to operate your Alexa controlled lighting, movie projector and how to adjust the temperature to your liking.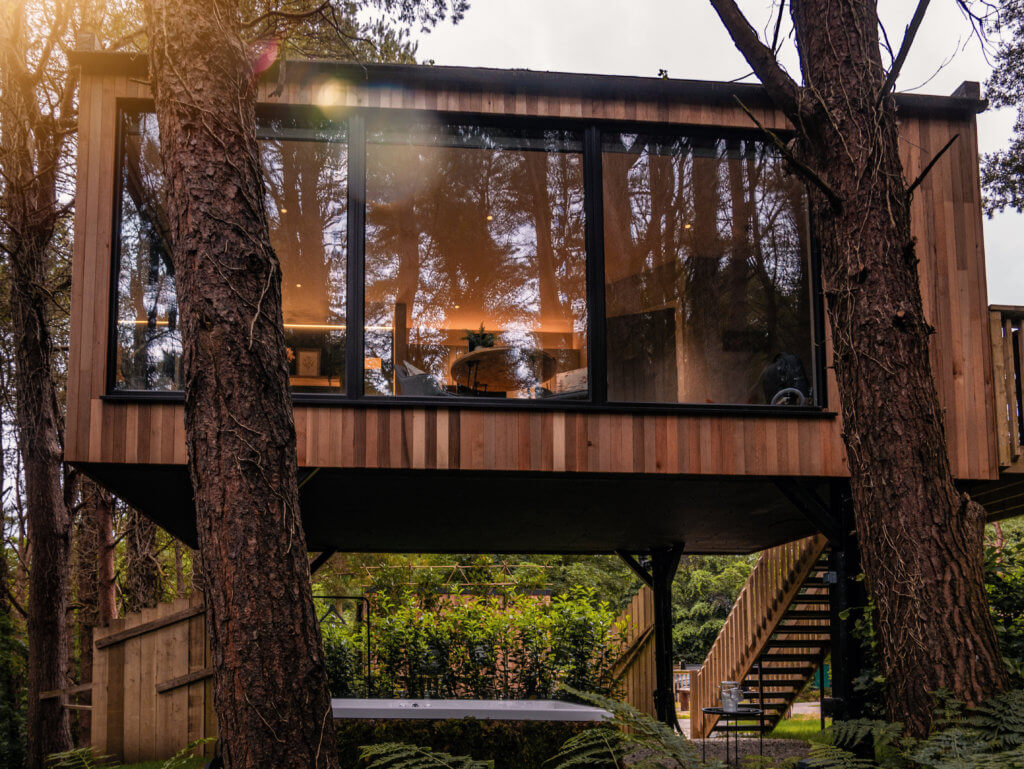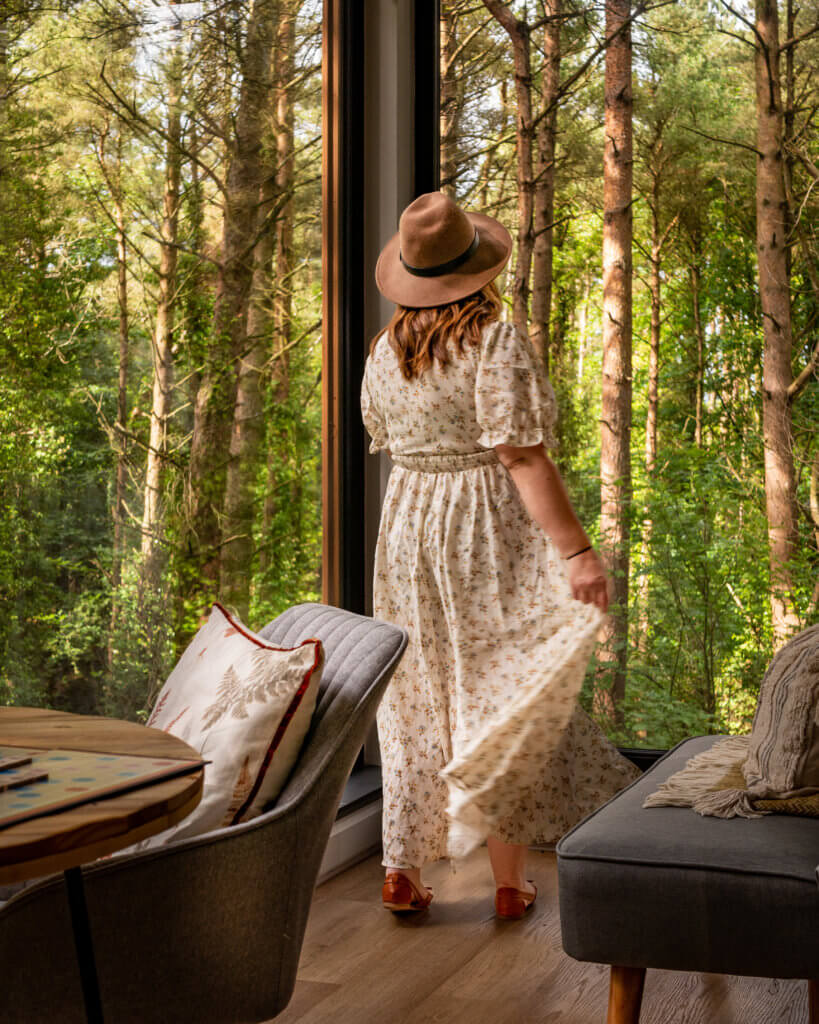 Marvel at the idea that even though you are deep in the tranquil heart of nature, you are surrounded by luxury that's worthy of a contemporary hotel suite. Enjoy added luxuries like fluffy bath-robes, flip-flops, books and board games for you to enjoy during your forest escape.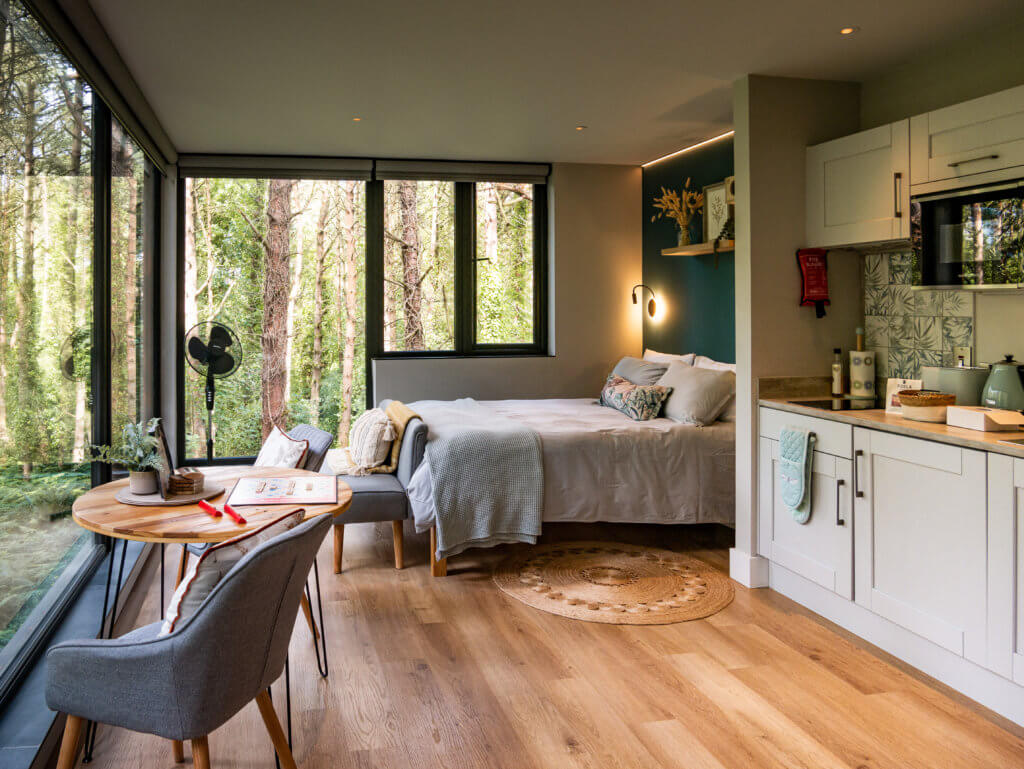 What facilities will I find at Burrenmore Nest?
One of the reasons that this romantic treehouse Ireland is perfect for a couple break is that once you are there, there really is no reason to leave. You can cook a romantic meal for two easily, with views to die for! Inside your treetop hideaway, you will find your own fully equipped kitchenette with an electric hob, microwave, fridge with freezer, kettle, coffee press, toaster, a full set of cooking utensils, pretty crockery, tea and coffee. What else could you need from one of Ireland's most unique treehouse accommodations?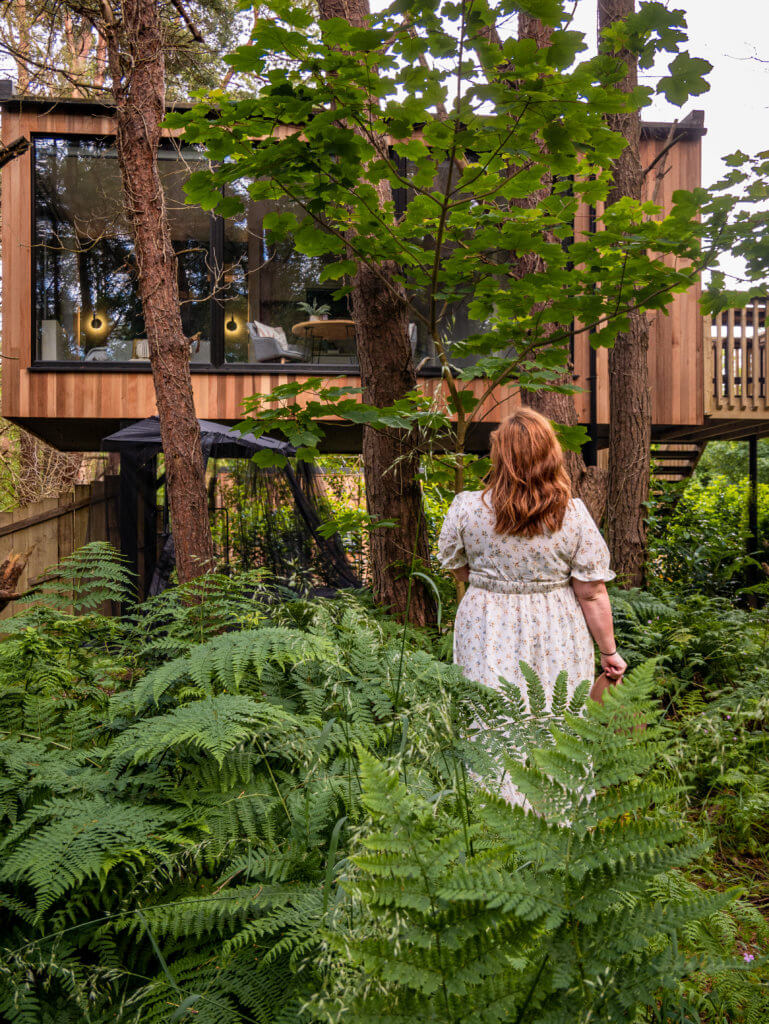 There is even a built-in home-cinema projector, providing an equivalent to a 120″ viewing screen. Simply connect to your device, put on your favourite rom-com, grab the popcorn and snuggle in! You don't even have to leave the bed to ask Alexa to dim the lights to a more romantic setting. Every little detail is thought about in advance, for your convenience, so that you can simply immerse yourself in your romantic treehouse Ireland experience.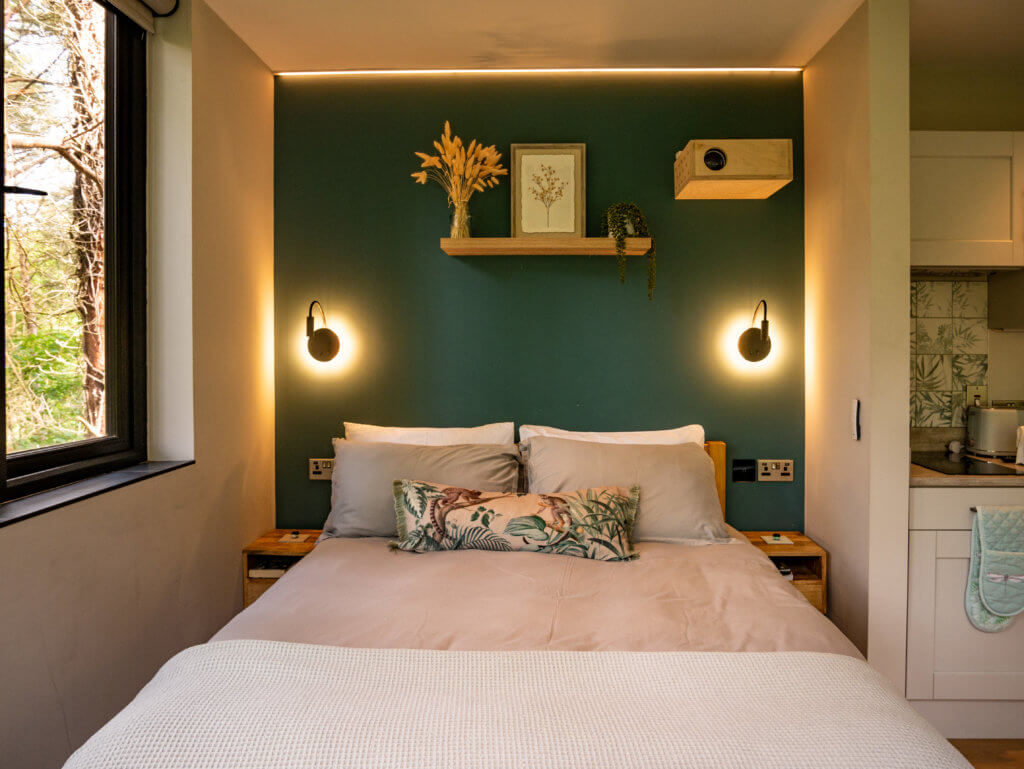 In your bathroom en-suite you will find a waterfall shower room with Voya toiletries, fluffy robes and two-tone touchscreen backlit mirror.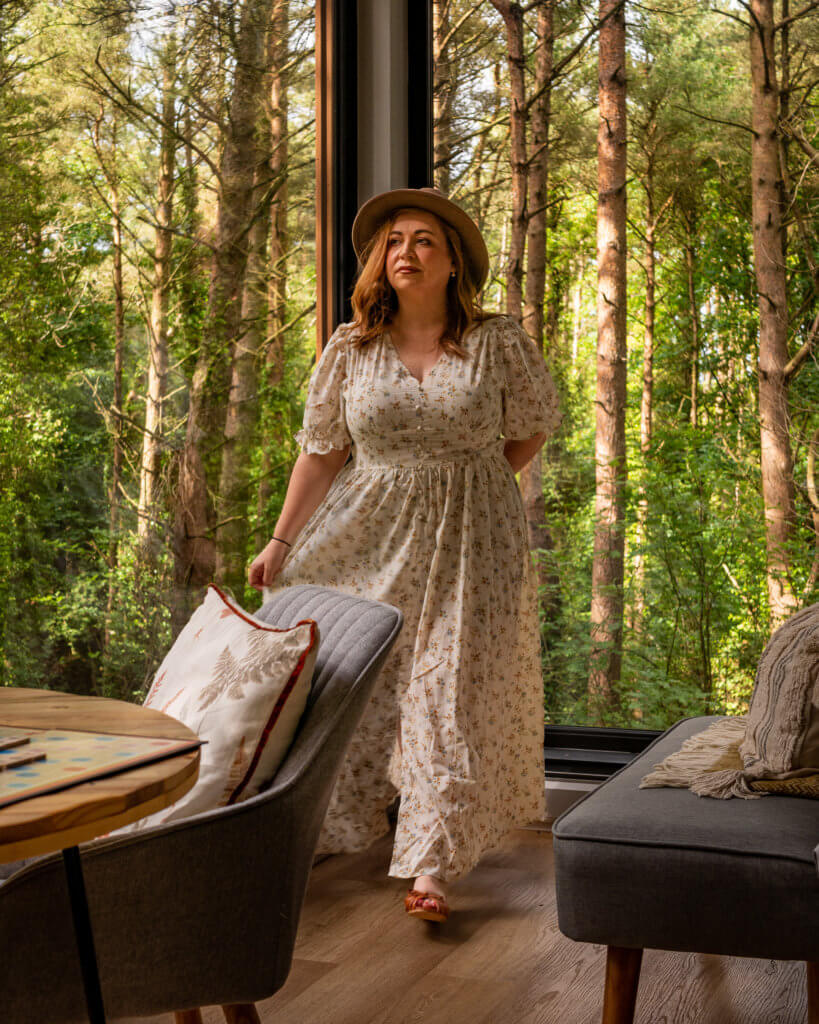 Remote control operated black out blinds mean that you can enjoy privacy and a deep sleep. After a comfortable and peaceful night's sleep, wake to birdsong and enjoy a lavish complimentary breakfast basket provided by the accomodating owners.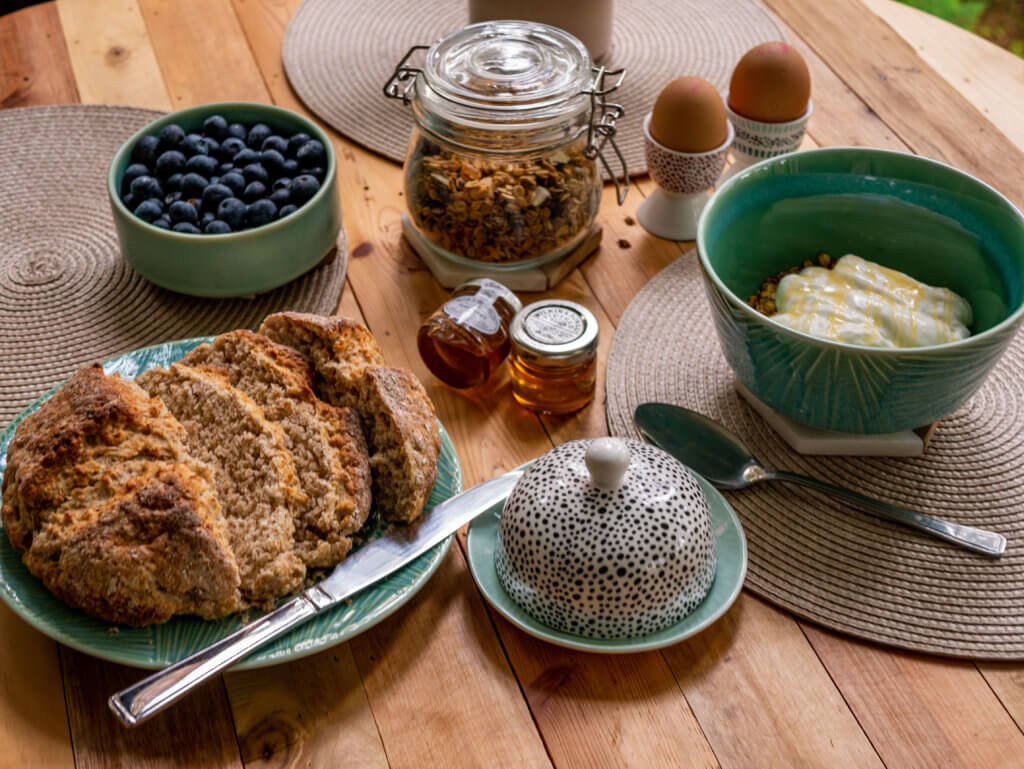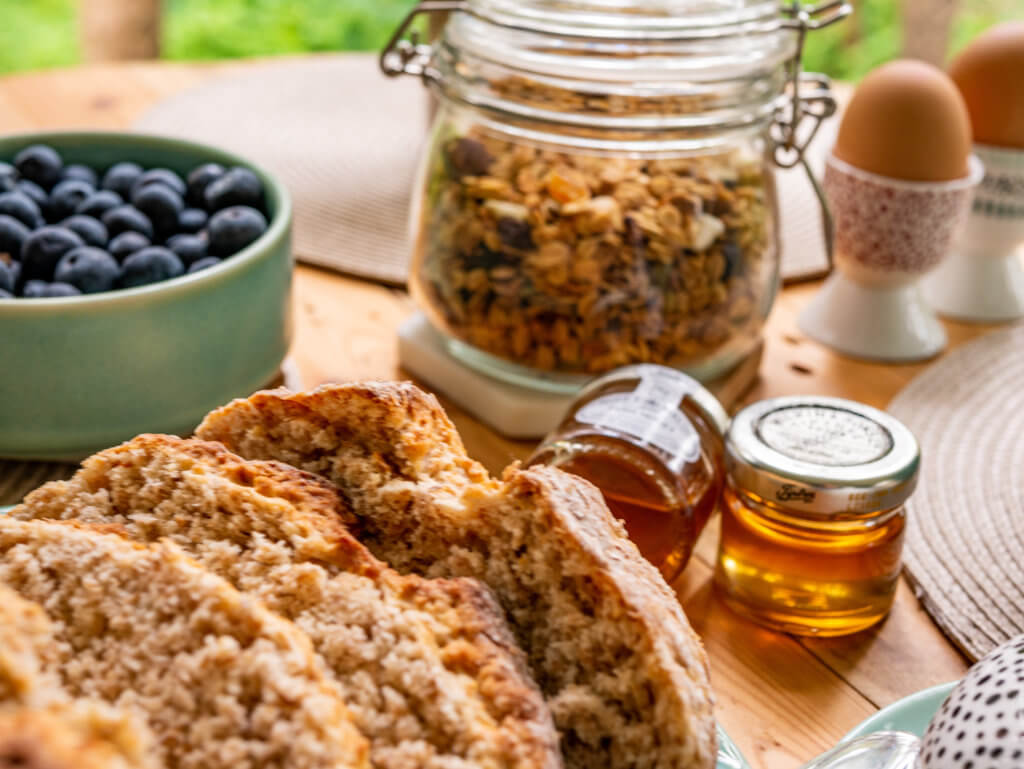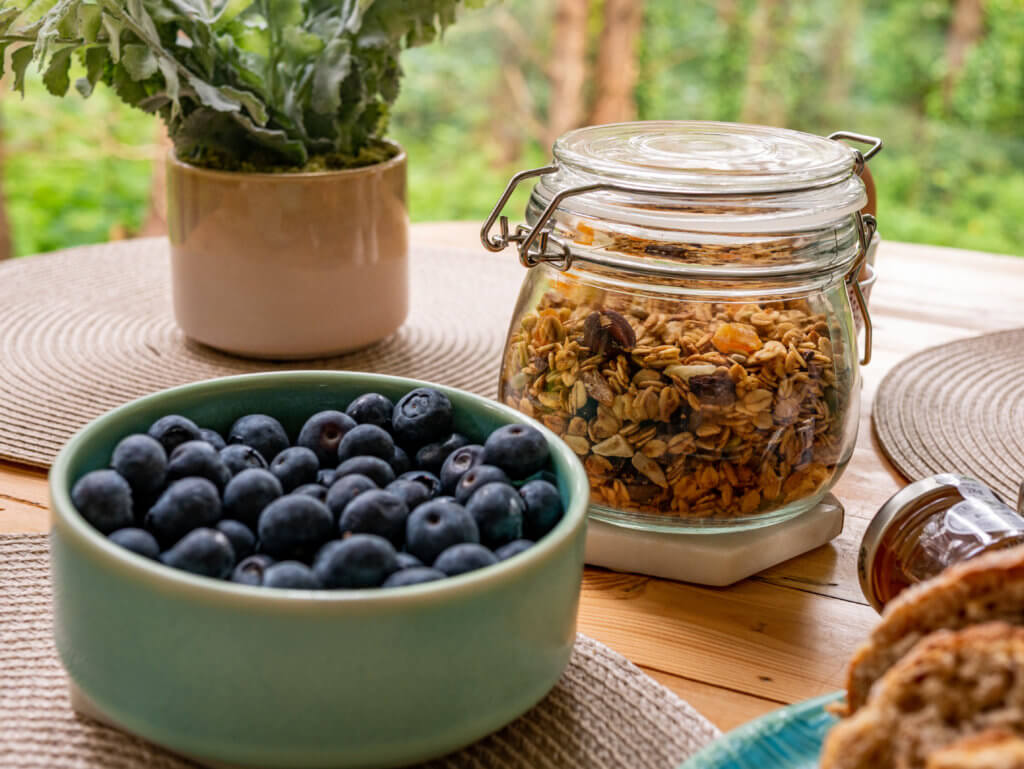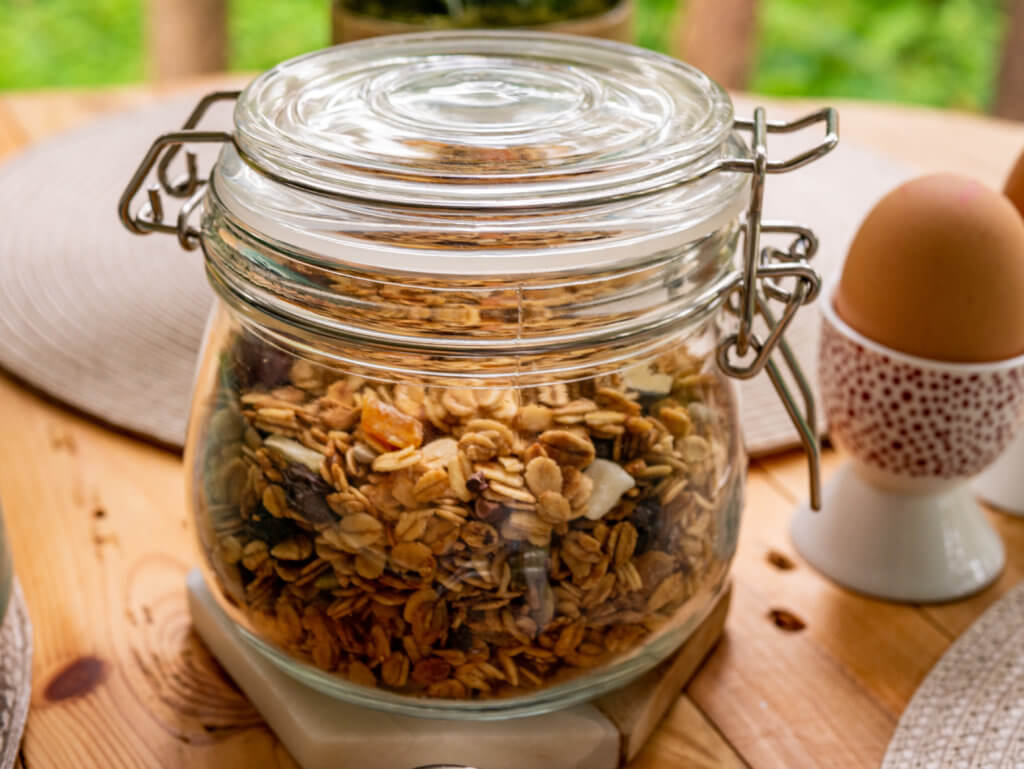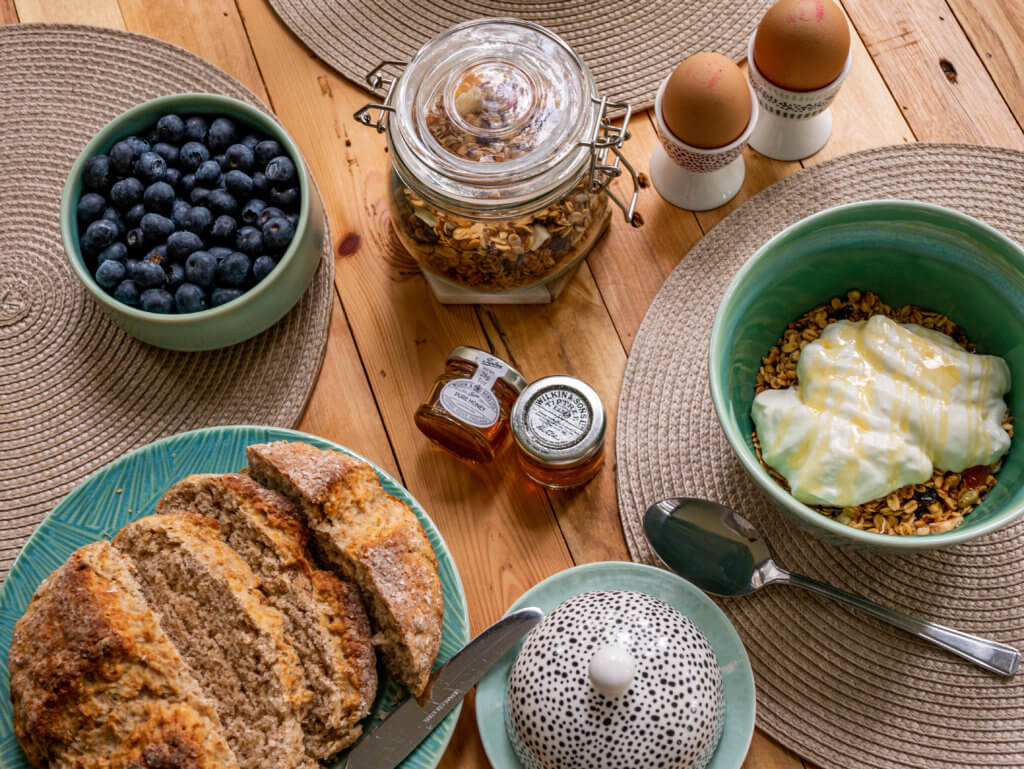 Communal facilities at Burrenmore Nest
If cooking outdoors is more your style you can enjoy cooking under the stars on a large Charles Bentley BBQ. The cosy fire pit is lit every evening by the site manager and is the perfect spot to huddle around or even toast some marshmallows. Or you can simply relax and take in the birdsong as you unwind on one of the resort's hand-made pine benches or catch a glimpse of a shooting star as night falls on a comfy outdoor bean bag.
Because there are only four treehouses or lodges on site you can be assured calm and relaxation. Burrenmore Nest is an adults only site and they operate a no-noise policy in the communal area after 11pm.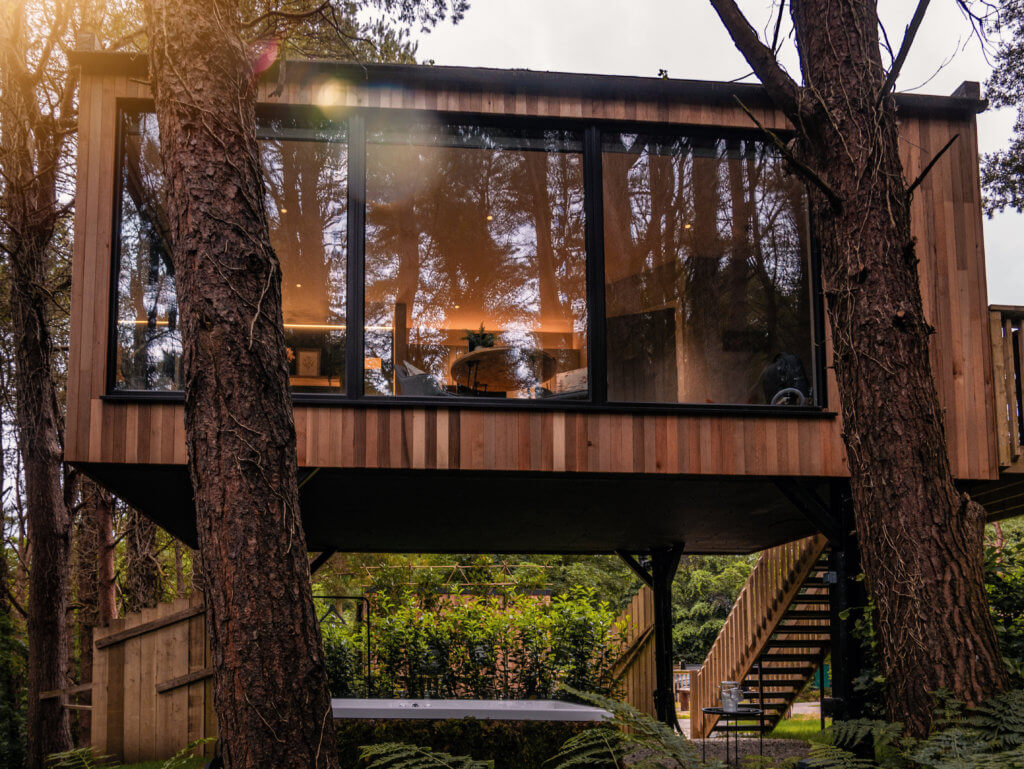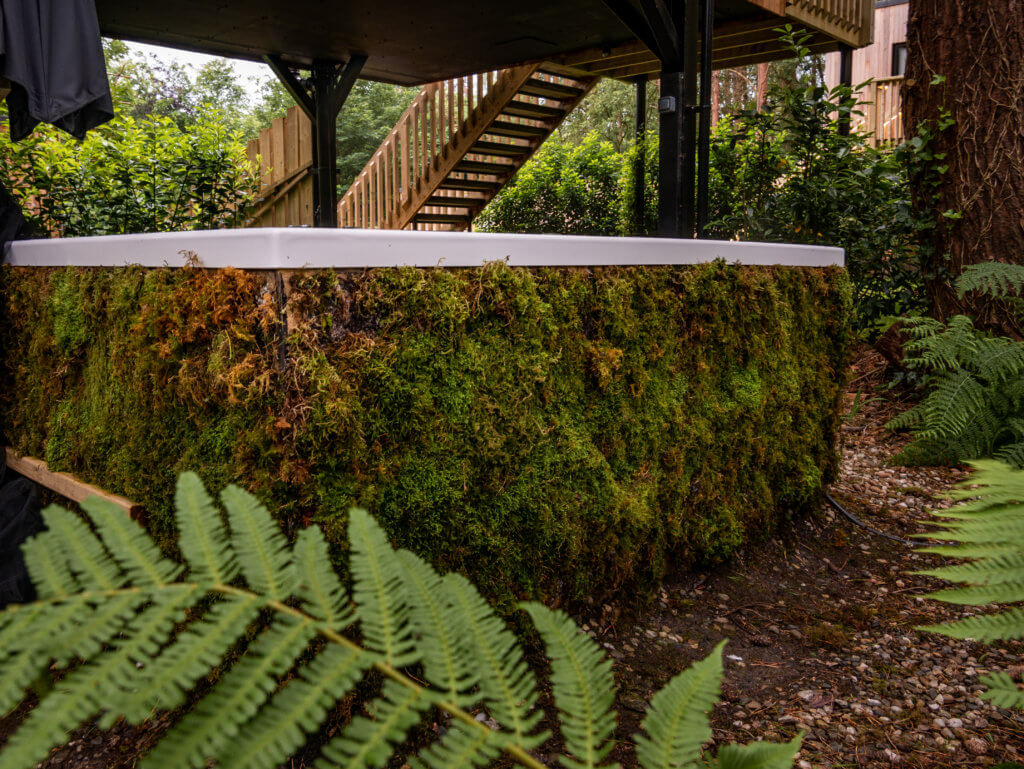 Two of the lodges are even pet-friendly so that you can enjoy your pet's company as you simply pour a drink, grab a good book and unwind with nothing but you and the forest surrounds.
Can I bring my pet to Burrenmore Nest?
There are two pet-friendly lodges in Burrenmore Nest where your pets will be welcomed.
Pet stays, available in both Robin's Perch and Pipit's Hide, include:
A dedicated pet bath, topped up with hot water on request (during working hours), to wash out the mud or beach sand from your furry friend
Pet-friendly shampoo available
Access to a hose for showering down
Pet blankets and towels
Waterproof bed-cover and special linen for pet-stays
Burrenmore Nest food and drink pet bowls.
The Pet Stay rate is an additional £30.00 per stay.
Types of treehouse accommodation at Burrenmore Nest
There are four individual treehouse/lodges in Burrenmore Nest for you to choose from each with their own individual name.
Peacock's Roost – treehouse Ireland
We stayed in the beautiful Peacock's Roost , probably named after the neighbouring peacocks that often stop by for a visit. Peacock's Roost stands tall on stilts, bringing you closer to the canopy and making you feel as if you are completely enveloped by nature. Large panoramic windows and your private balcony provide enchanting views in to the forest beyond. There is also a romantic private outdoor whirlpool bath experience included in your stay.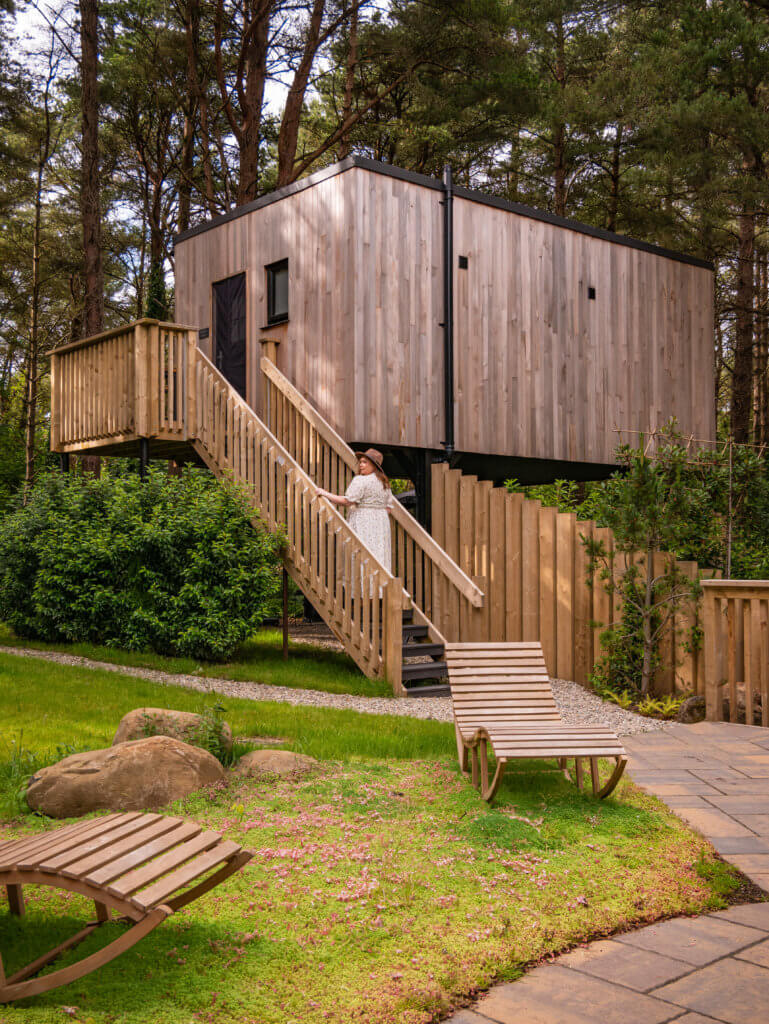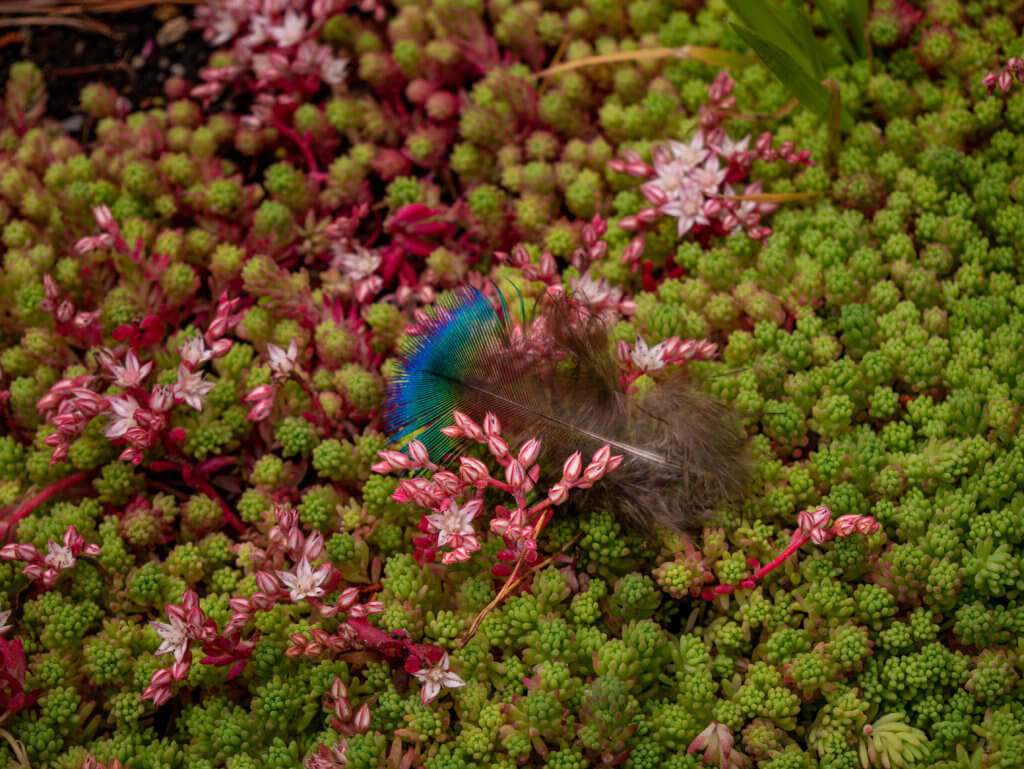 Robin's Perch – treehouse Ireland
Enjoy doorstep access to forest walks from your unique treehouse Robin's Perch. Walk across your mini-bridge to this beautiful treetop lodge, where panoramic windows and your own balcony provide enchanting views in to the forest. Private outdoor whirlpool bath experience for two also included. Robin's Perch is pet-friendly.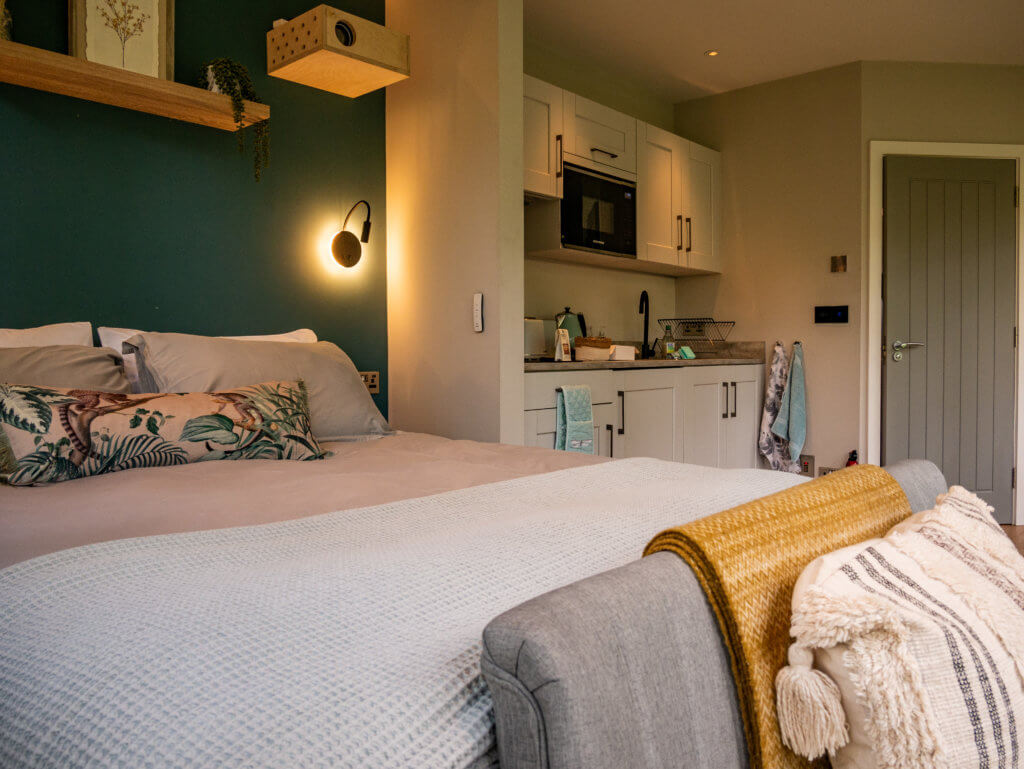 Swallow's Nook – treehouse Ireland
Swallow's Nook stands tall on stilts, bringing you closer to the forest canopy and making you feel at one with nature. Large panoramic windows and your private balcony provide magical views in to the forest beyond. Private outdoor whirlpool bath experience for two included, simply book your desired time with the on-site manager.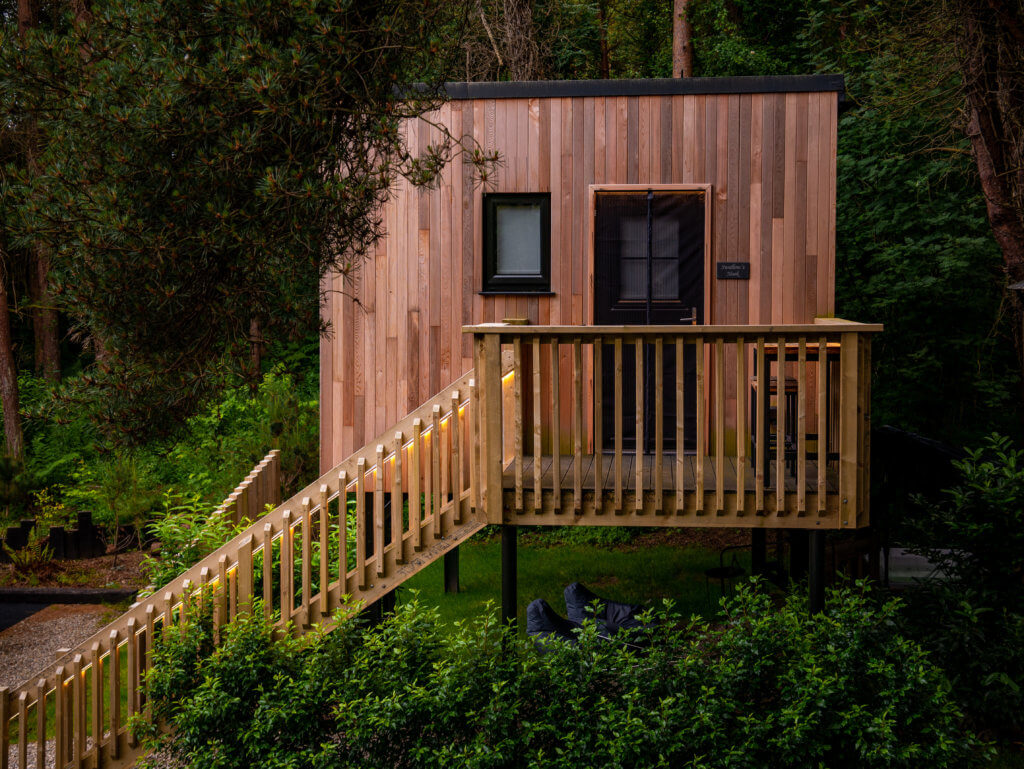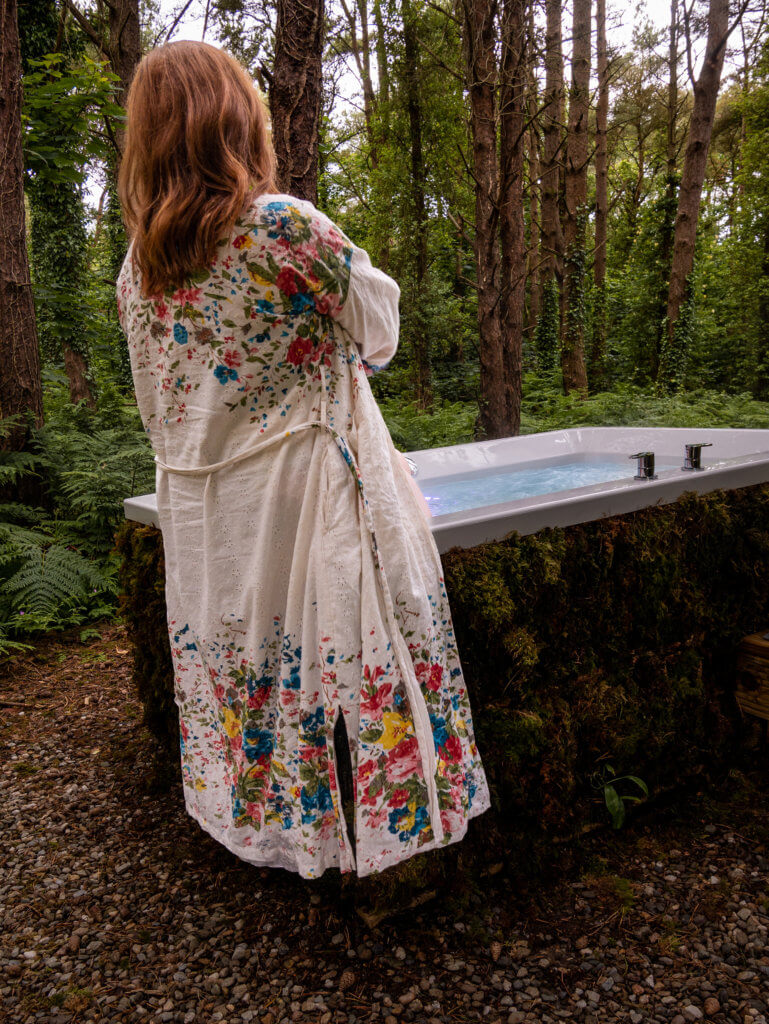 Pipit's Hide – luxury lodge Ireland
Pipit's Hide is a luxury ground-floor wheelchair accessible lodge with private hot tub whirlpool bath and private large decking area that can sleep up to 3 people. Pipit's Hide is also pet-friendly.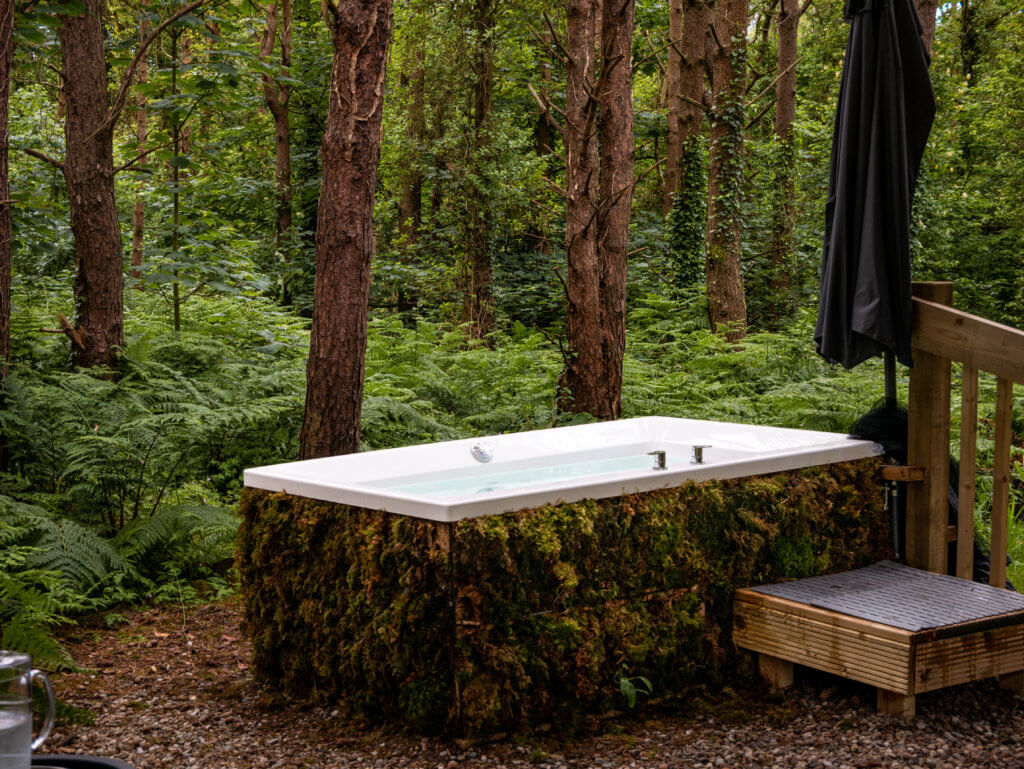 As any bird enthusiast will know, pipit's are ground nesting birds so Pipit's Hide is unique for a few reasons. Along with the facilities that you can enjoy in the other lodges, Pipit's Hide has additional features such as its ground-floor location meaning ease of access for anyone travelling with chronic illness like me. If you would like to read about my Lyme Disease journey you can on our website. Since you are going to be spending time in a forest setting it is an important read to help you to become more tick aware and the diseases that they carry.
Pipit's Hide has an enchanting view into the forest at ground level, perfect for watching birds foraging! It has a larger floor space and a larger bathroom and shower area, than the tree-top lodges. The interior is large enough to cater for three adults, sharing one king-size bed and one stylish sofa bed.
Take a whirpool bath under the trees at your luxury treehouse Ireland
Bring a whole new meaning to forest bathing by enjoying a private outdoor whirlpool bath for two under the trees. Each bath is supplied with with 20 hydrotherapy massage jets, chromotherapy LED mood lighting and in-line heater. They are romantically covered in moss so that you can enjoy the luxuries of modern day living while also feeling extremely connected to nature.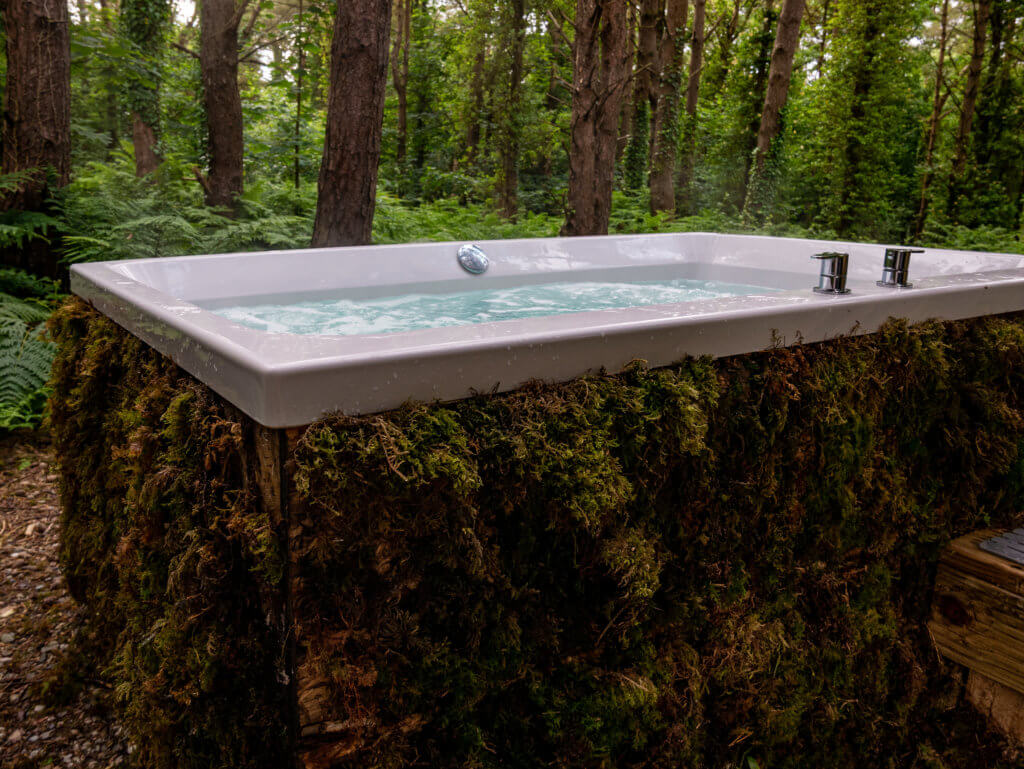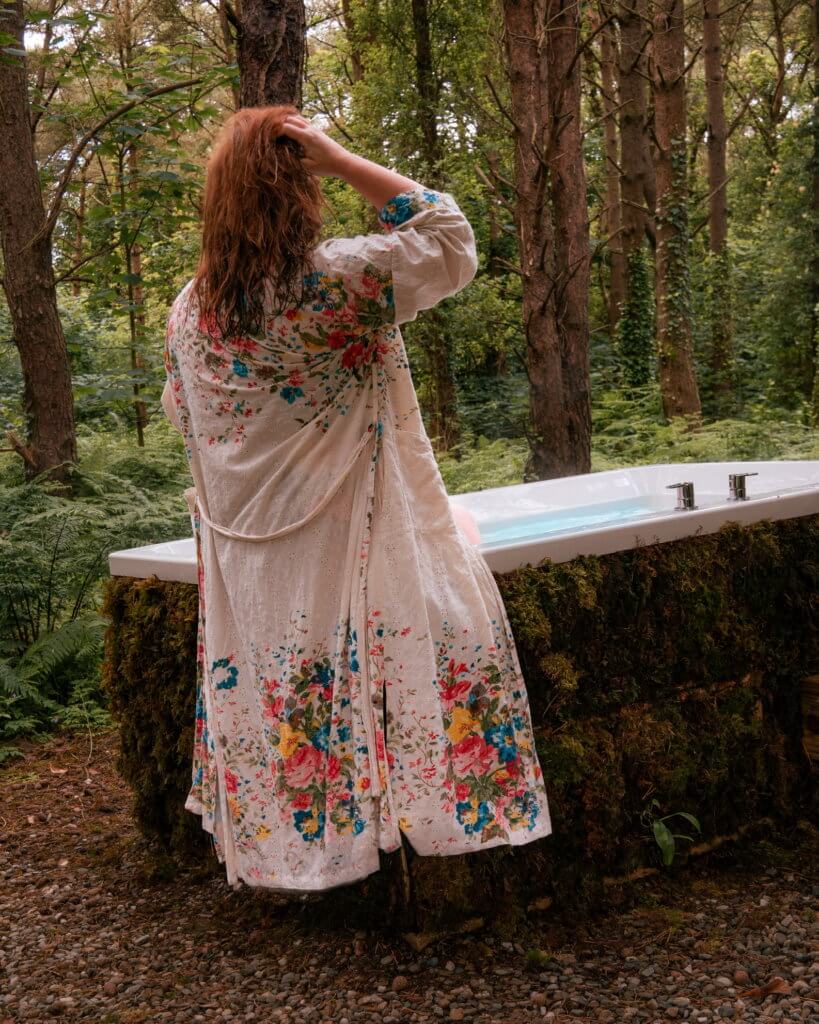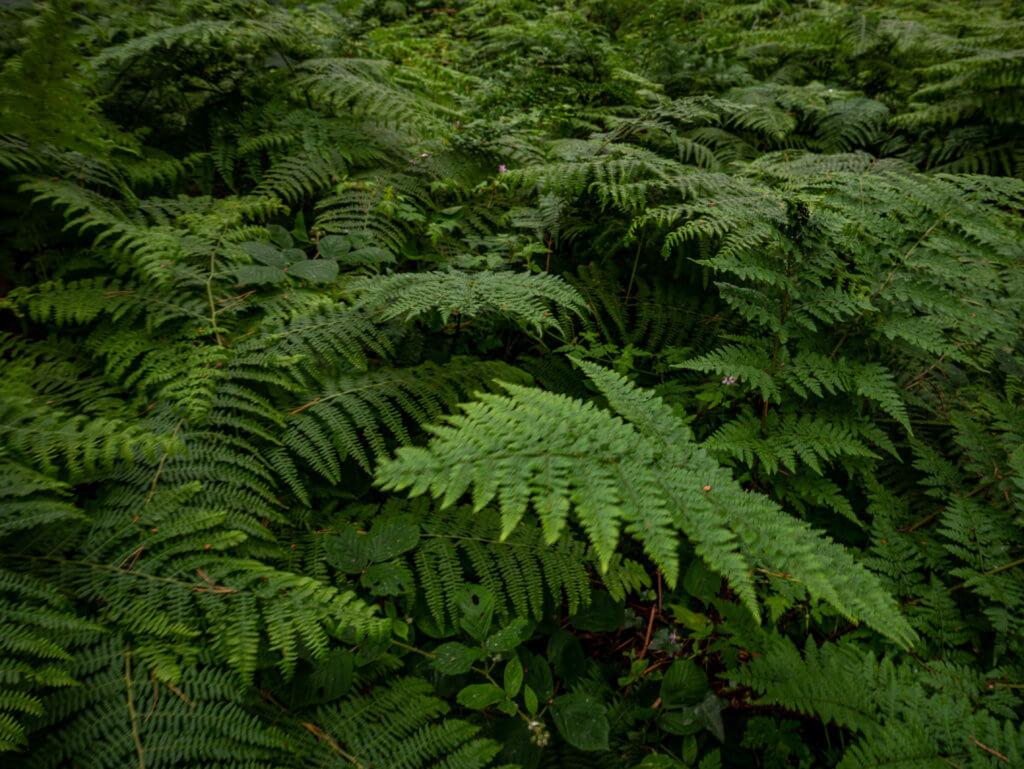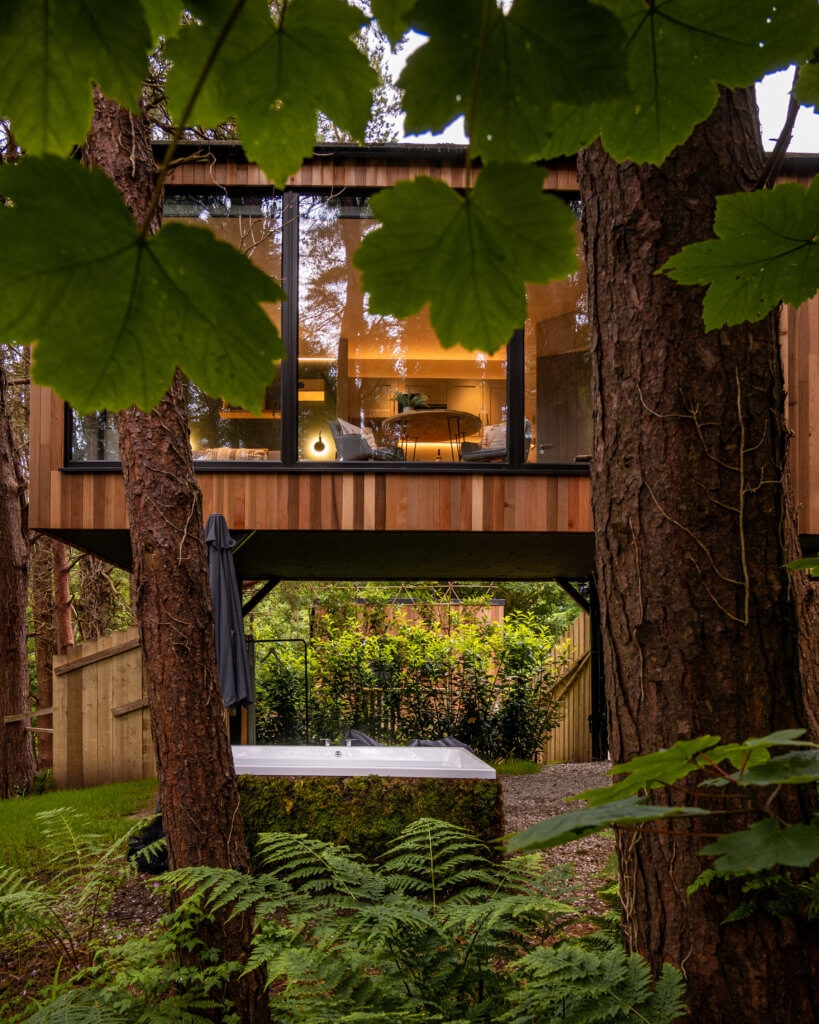 Before your treehouse Ireland stay you will be sent a questionaire by the team at Burrenmore Nest asking for your preffered bathing time. Your bath will be ready for you at the time you requested. It was the highlight of our stay to greet the sunset with a glass of bubbles and was most certainly a unique experience.
The finer details
Check in to Burrenmore Nest is at 4pm, check out at 11am. Burrenmore Nest is an adults-only site. Exclusive hire of the four lodges is available, including the communal firepit and barbecue area, plus a fully-equipped indoor event space and large, ten-person log-fired hot tub so be sure to contact Burrenmore Nest directly for details on how to book.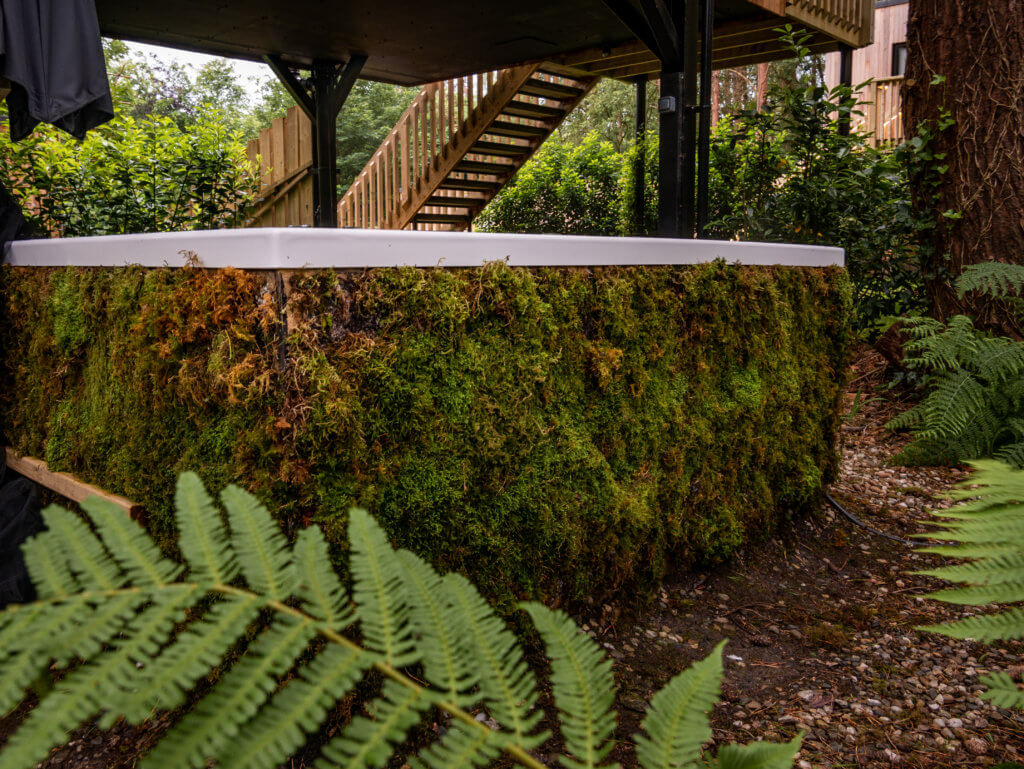 Things not to miss in the area
Altough it will be hard to drag yourself away from your luxury treehouse Ireland there are lots of wonderful things to enjoy just minutes from Burrenmore Nest. Simply take a 7 minute walk to visit the Lion's Gate entrance to Mussenden Temple and grab a hot drink at Al's Coffee Hut.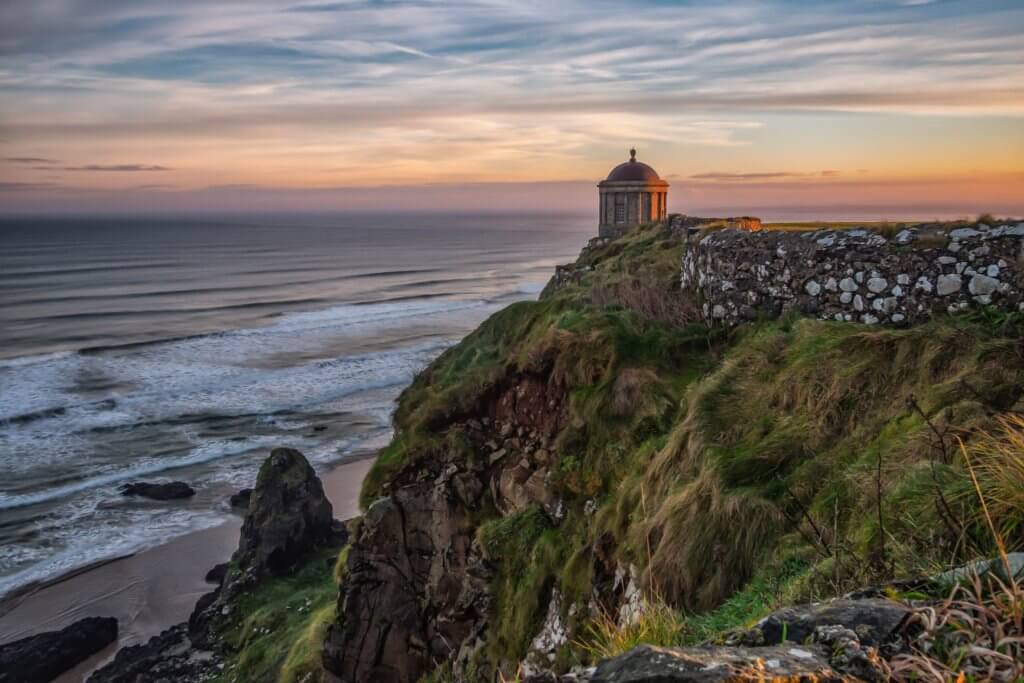 Explore the wider 100 acres of National Trust estate, free to public access – including the Downhill Demense, the Black Glen and gardens at Bishop's Gate. Walk or drive to Downhill and Benone strand to enjoy miles upon miles of sweeping sandy beach or pop over to Castlerock for food, drink or surf.
Or simply explore the nearby forest and walk along the two marked pathways at Downhill forest. Downhill Forest is a small mixed woodland of 83 hectares just inland from the North Coast of Northern Ireland, near Castlerock. The forest was originally part of the estate of Frederick Harvey, the 4th Earl of Bristol and Bishop of Derry, which included Downhill Castle, now maintained by The National Trust.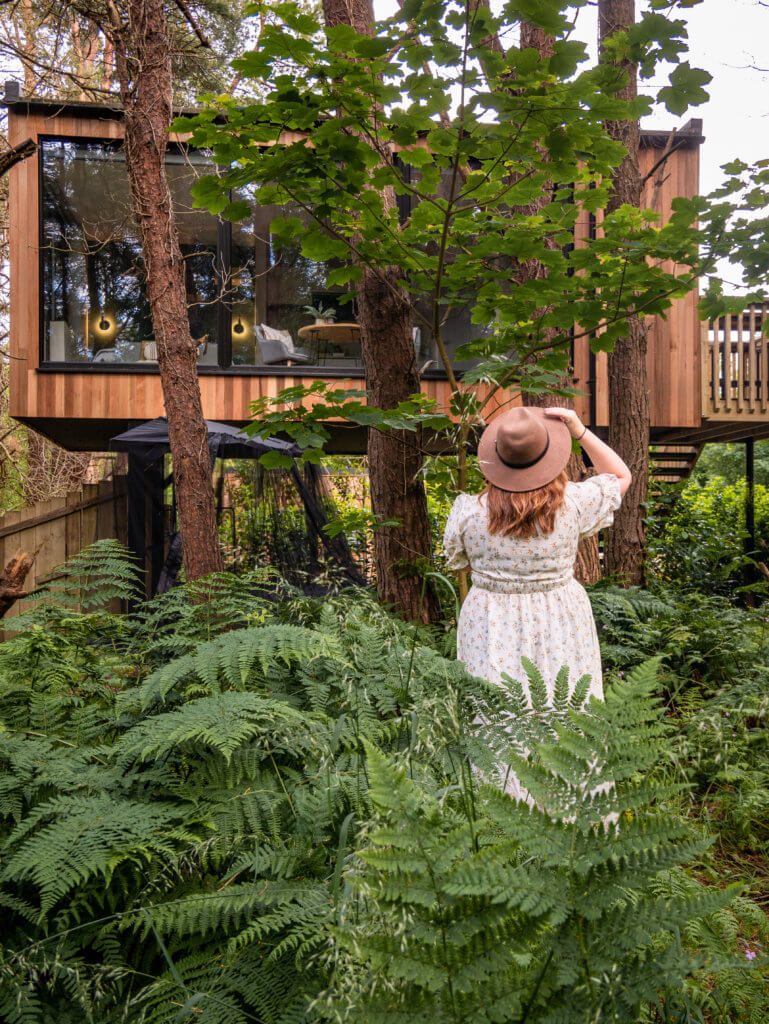 A walk through Downhill Forest will allow you to view one of Northern Irelands widest trees, a Sitka spruce that would take ten people touching hands to circle it! You will also find an Early Christian Promontory Fort and an old water powered sawmill with its leat running round the small lake in the middle of this glorious woodland.
If you fancy more of an adventure you can walk a section of the Ulster Way, North Sperrins Way or the Ulster section of the International Appalachian Trail – all of which go right by Burrenmore Nest. Cycle the sustrans cycle route 93 which runs alongside Burrenmore Nest and through the Binevenagh Area of Outstanding Natural Beauty.
Or if you are looking for something fun to do why not try a Derry Girls Tour complete with Derry Girls Afternoon Tea. Or even head east to explore Belfast and enjoy a walking food tour of Belfast.
Are you new here? Join thousands of other happy readers and subscribe to All about RosaLilla blog via email. The good news is that by signing up via email you will get exclusive travel deals straight to your inbox. The only other place that we publish these deals is on Instagram stories, so be sure to signup to get the heads up on amazing travel deals to save you money when booking.
I also share everything about myself on Instagram with nothing held back so be sure to follow along there.
Shop the post

If you liked this you might also like:
Unwind in the luxury of Galgorm Spa and Golf Resort
25 unique Airbnbs for large groups
Inside Ashford Castle Ireland's luxury five star hotel
Until next time you crazy kids!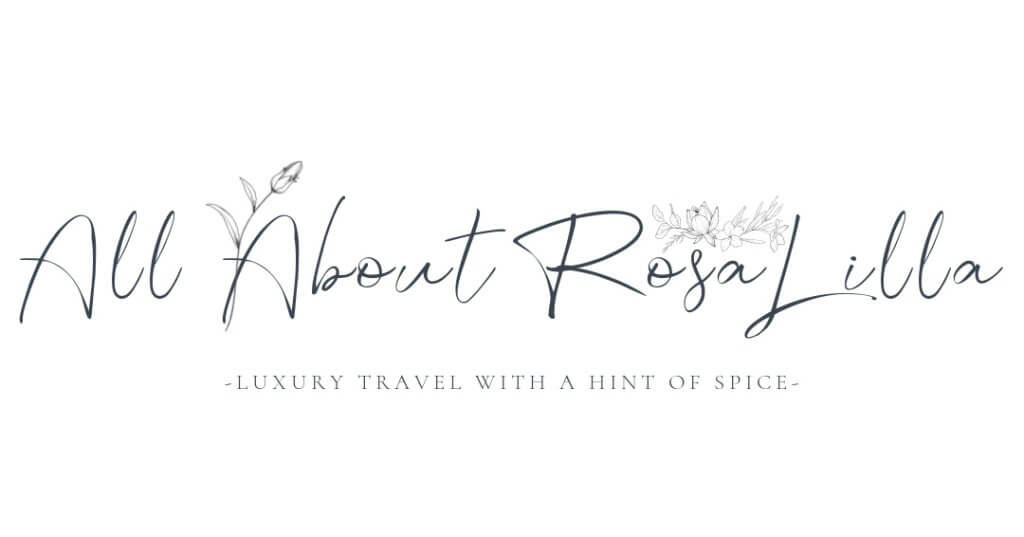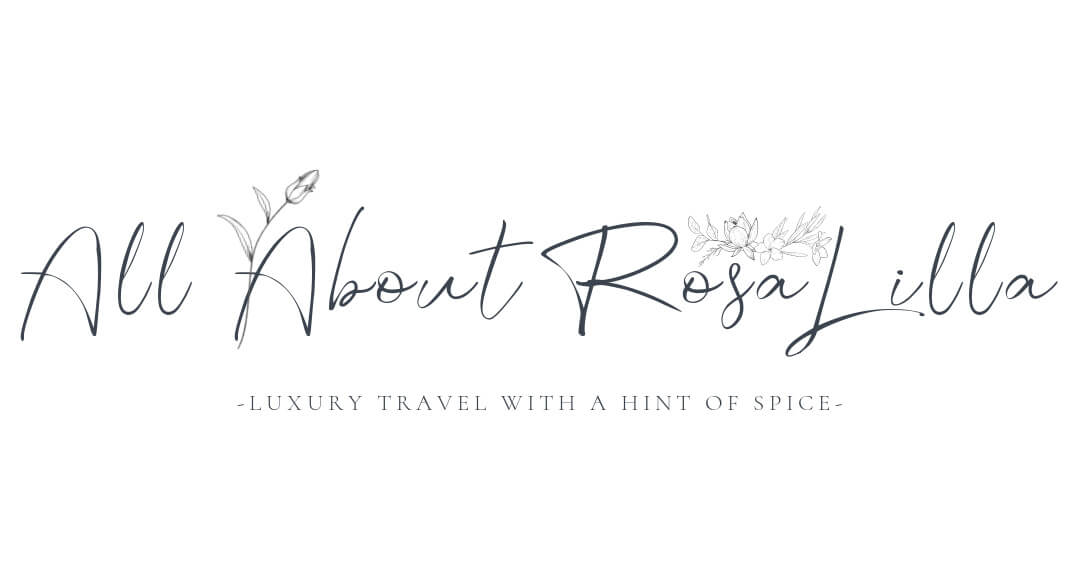 Sharing is sexy!