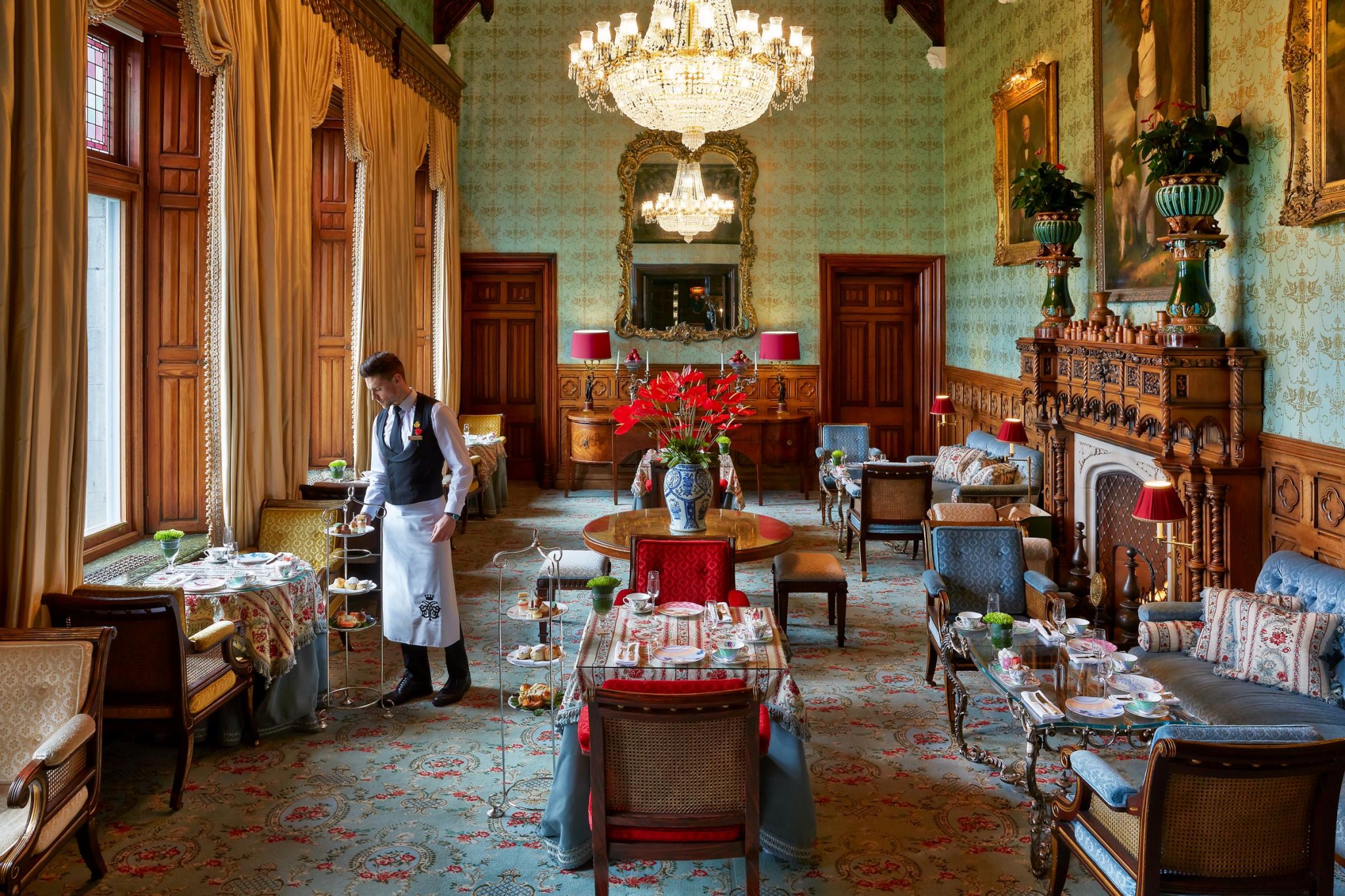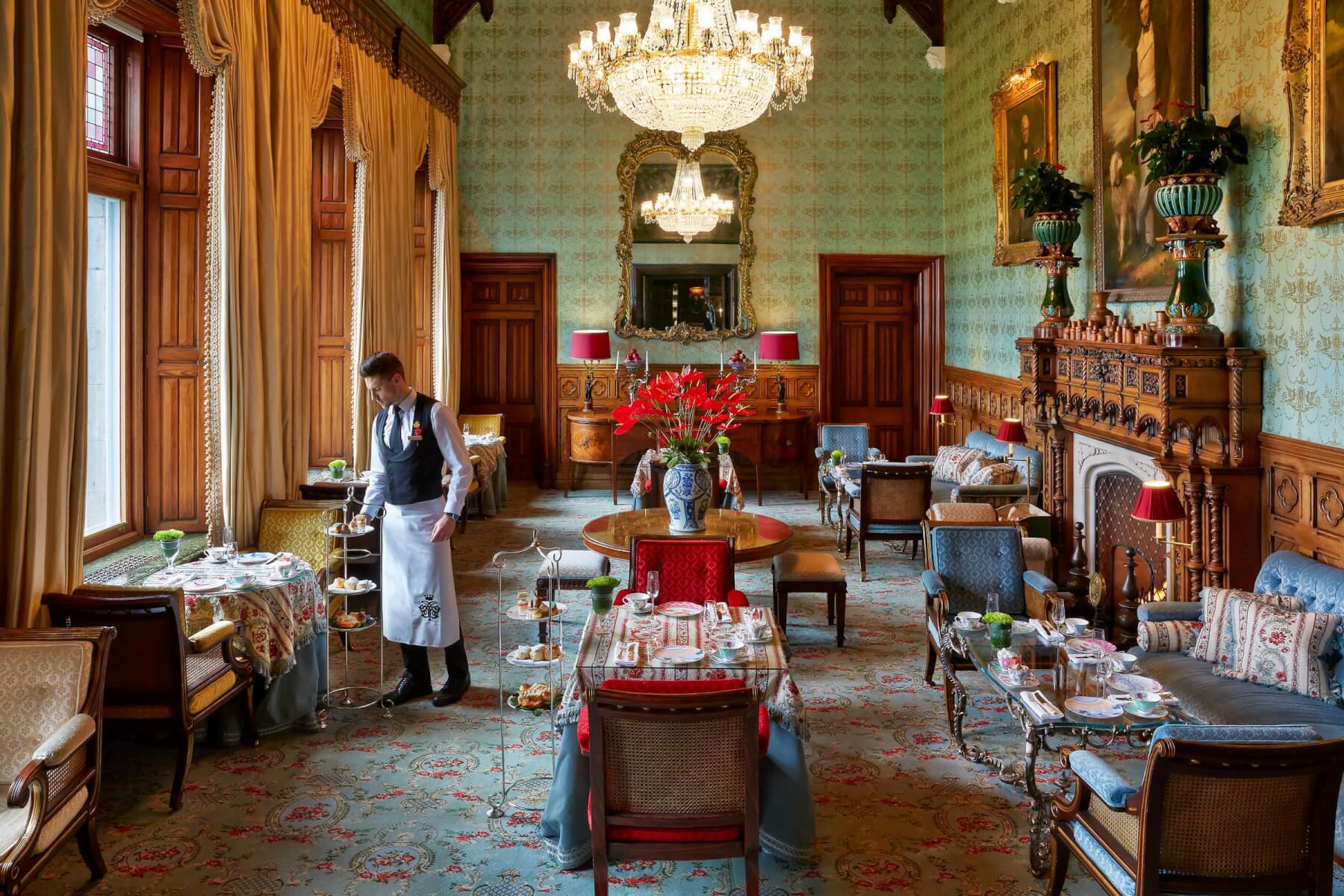 Ireland is well known for its prestigious castles, stately manors, hospitality and charm. Travelling to Ireland is a magical experience. It will leave you feeling like you have stepped into a fairytale. Ireland has many 5 star hotels for those wanting the luxury experience in Ireland. Many of these luxury hotels in Ireland earn their reputation because they take that renowned Irish hospitality to the next level. But there are few hotels with the exceptional reputation that Ashford Castle hotel has when it comes to luxury travel in Ireland. We are here to tell you everything about what it is really like to stay in 5 star luxury in Ashford Castle hotel and let you take a peek inside Ashford Castle.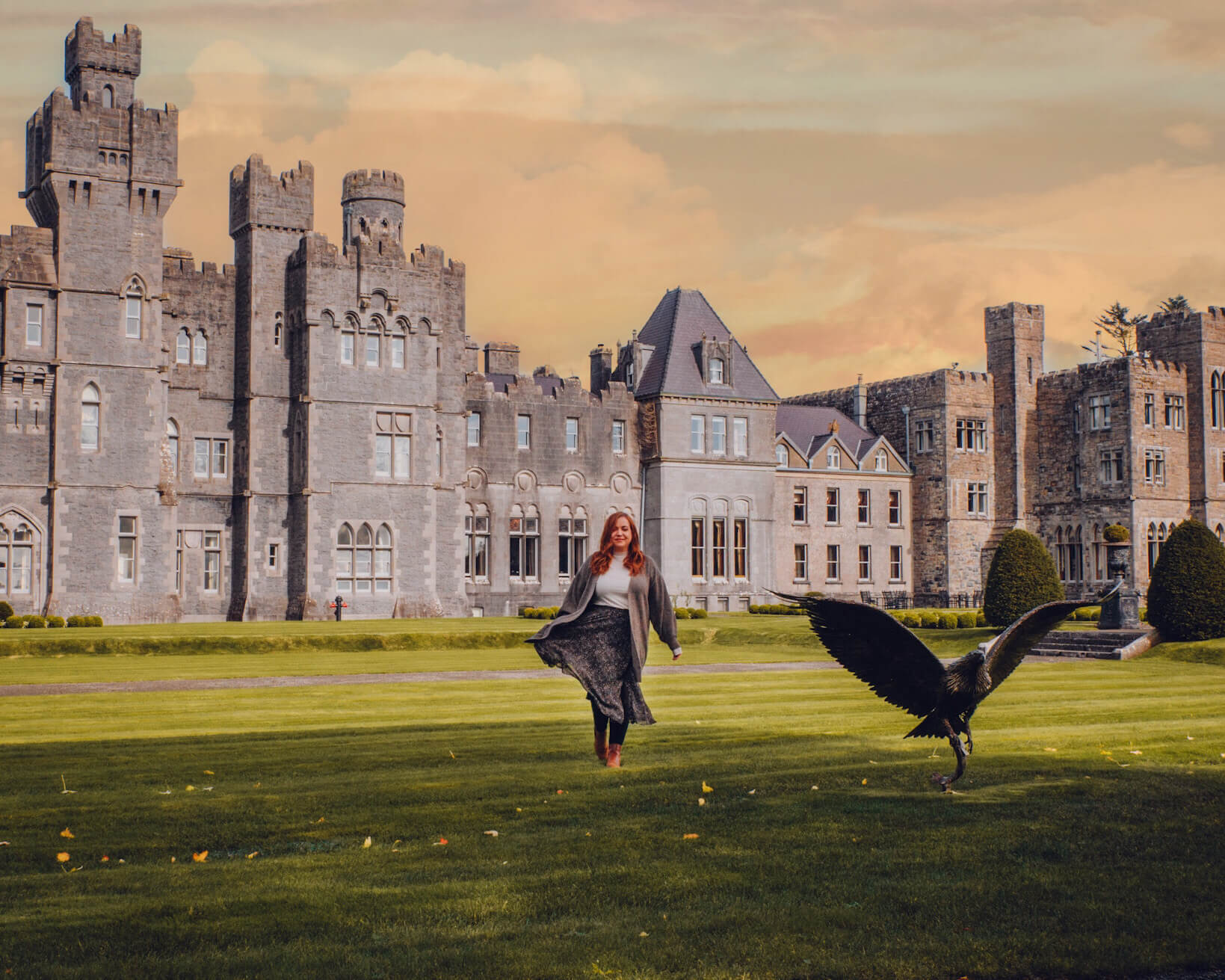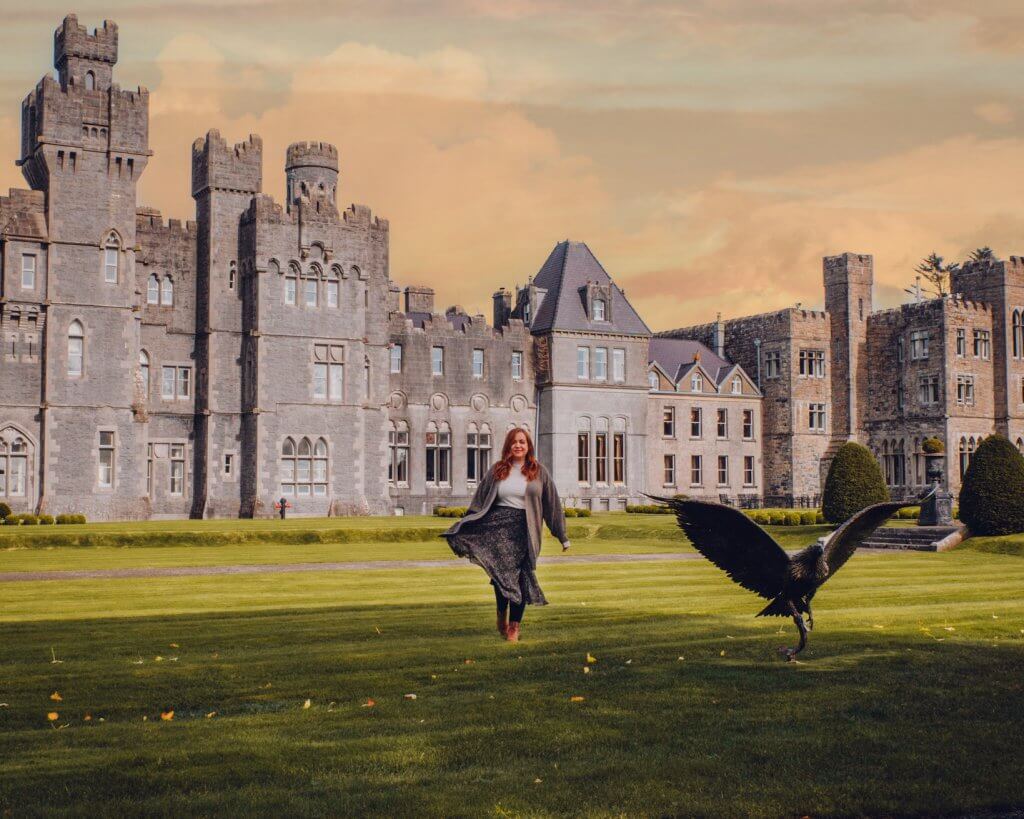 Luxury hotels Ireland
Unrivalled service, warm Irish hospitality and five star luxury await at Ashford Castle, part of the Red Carnation Hotel Collection and a member of Leading Hotels of the World. Situated in a spectacular 350 acre estate, here you will discover sumptuous rooms and suites, splendid interiors brimming with antique furniture, fine fabrics and unique features at every turn. It really is the ultimate luxury getaway for exploring the West of Ireland.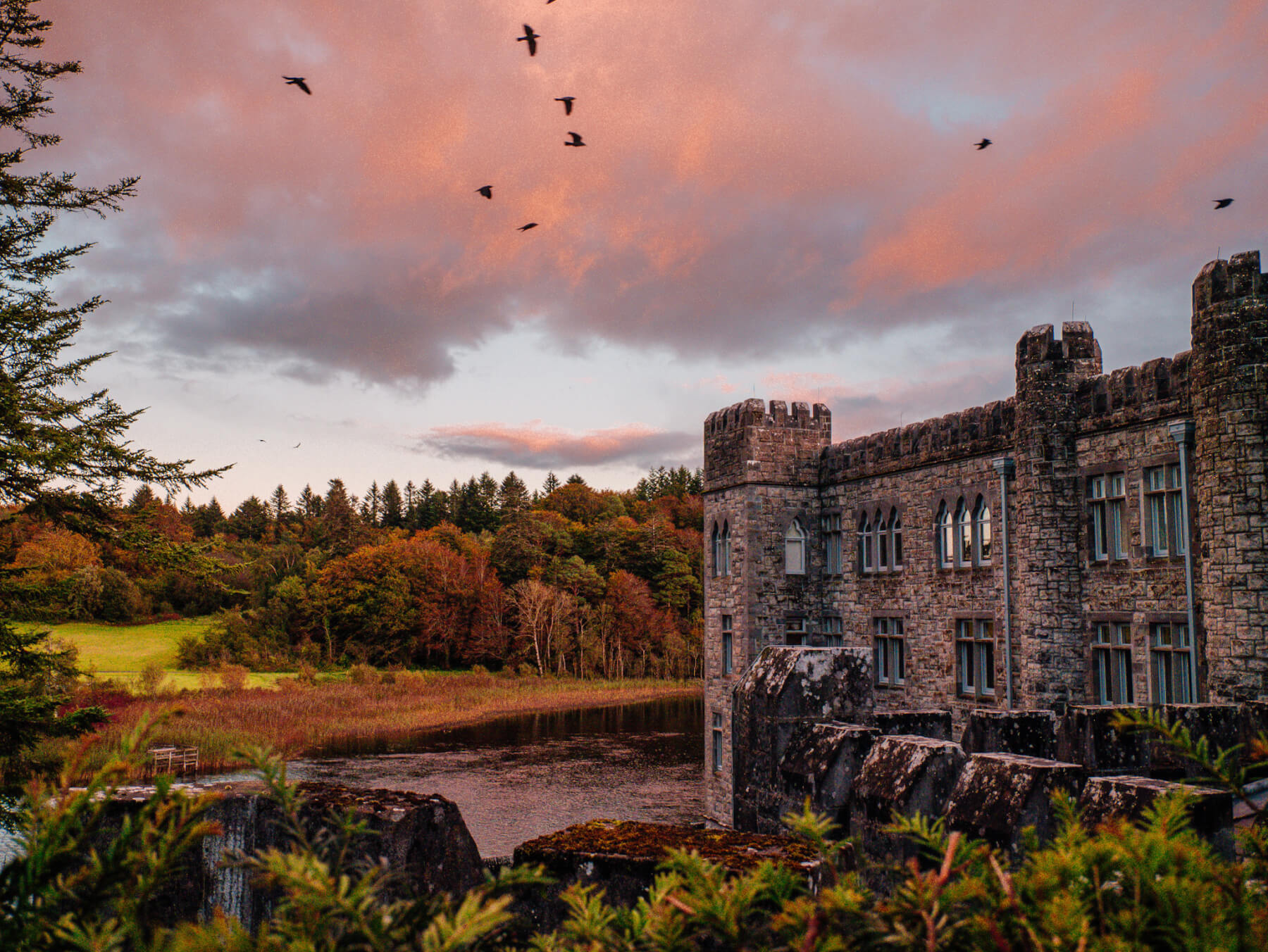 Is Ashford Castle a real castle?
In Ireland, it's not uncommon for hotels to label themselves as castles without being truly deserving of the word. Ashford Castle is not one of these hotels. The imposing property on Lough Corrib is as castle-like as it gets, from the sweeping manicured lawns, to the suits of armor, to the turreted towers, to the friendly resident Irish wolfhounds who hang out in the lobby in the morning. Your royal adventure will begin the moment you enter the grand stone gates of the 800 year-old castle.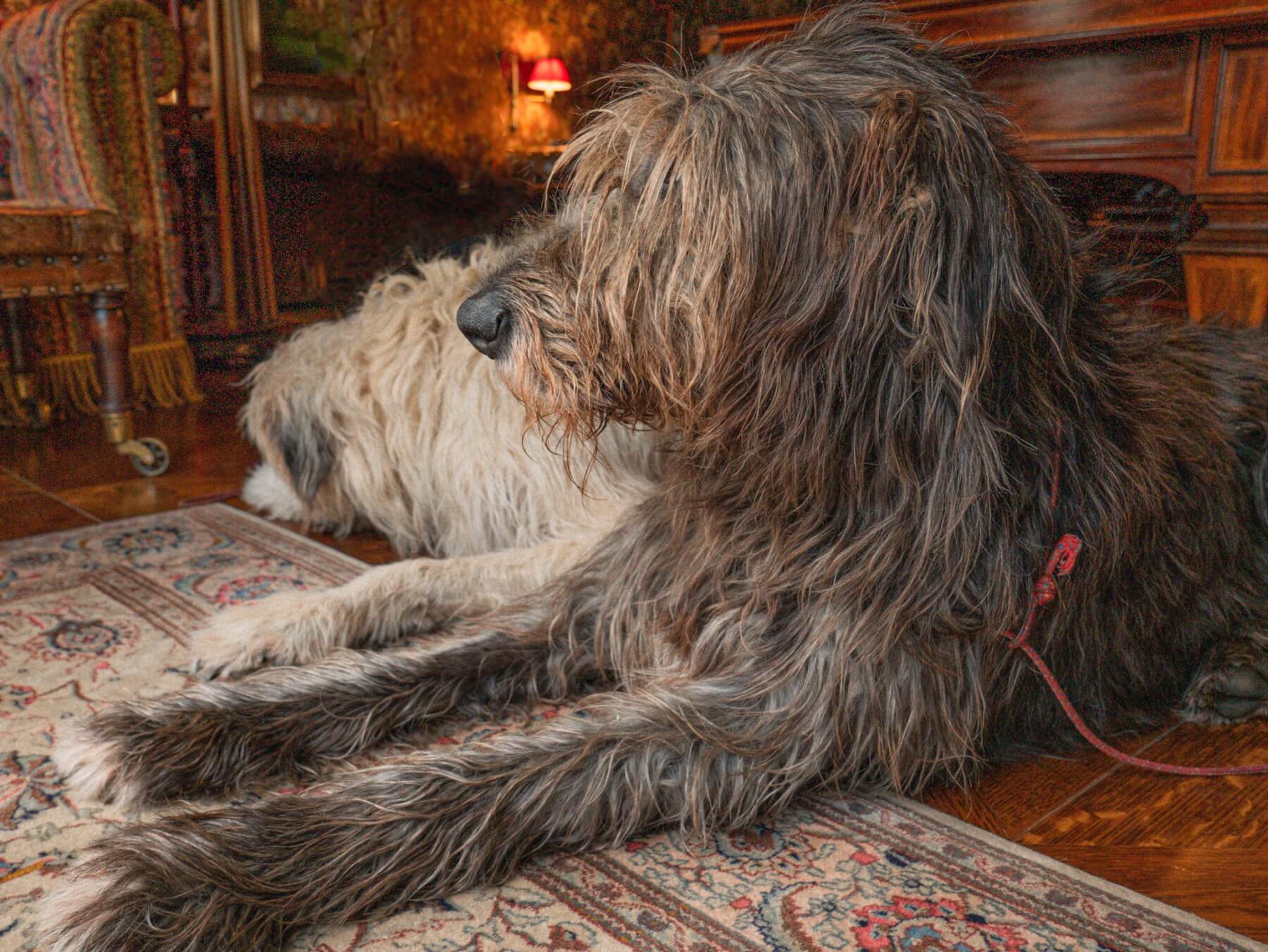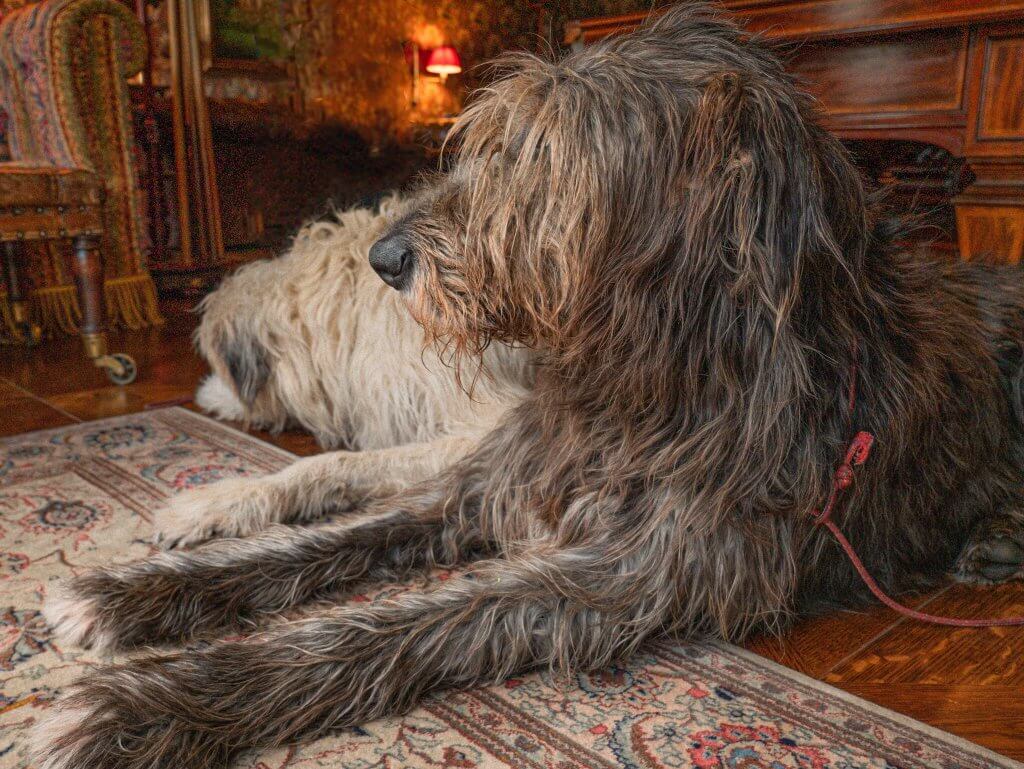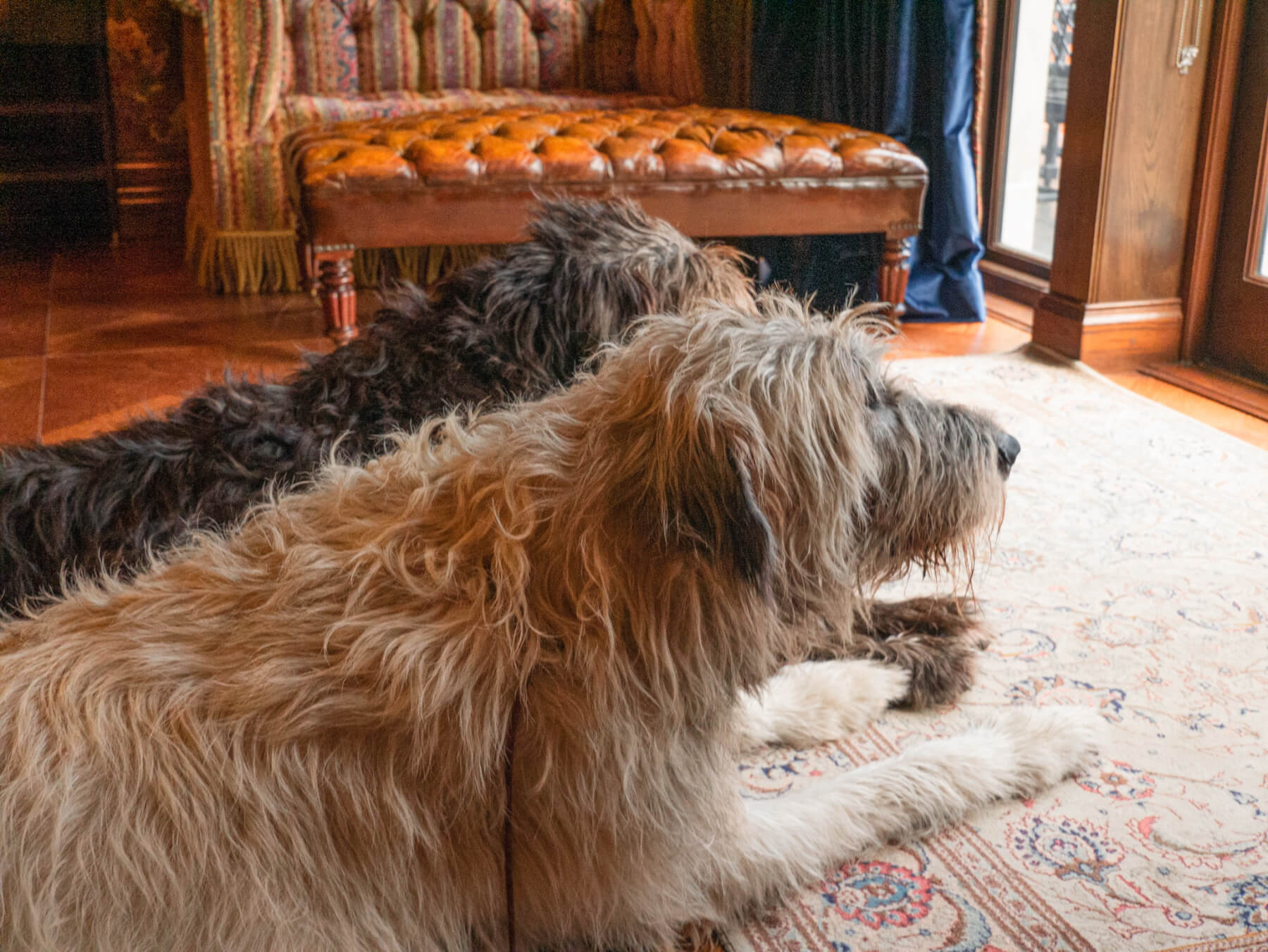 History of Ashford Castle Hotel
As any true castle should, Ashford Castle has a rich history. The Anglo-Norman de Burgo family first built a castle here in 1228, and then lost it after being defeated by the O'Connors in the 16th century. The castle changed hands many more times over the following centuries and the building went through a number of incarnations. In 1715 there was the addition of a French-style chateau and in 1852 two Victorian wings were added.
Did the Guinness family own Ashford Castle?
Ashford Castle was home to the Guinness family for over 60 years who developed the woodlands surrounding the castle. In 1852, Sir Benjamin Lee Guinness of the famous brewery bought the estate at Ashford. Under the Guinness family, the lands were extended and buildings renovated in the neo-gothic style. What is now The Lodge at Ashford Castle was added in 1865, doubling as a residence for the estate manager and a guesthouse for visitors. The castle was donated to the Irish government by the Guinness family in 1915 and The Lodge at Ashford Castle has been voted as the 9th best hotel in the world by Condé Nast Traveller. Both hotels in fact receive numerous awards with Ashford Castle recently retaining its Forbes 5-star classification for 2022, the only property in Ireland to secure a 5-star rating for three consecutive years.
It first became a hotel in 1939 when Ashford Castle was leased by Noel Huggard. He went on to establish the Castle as a first class hotel renowned for providing country pursuits. Captivating the Irish countryside with a range of outdoor activities is something that the Castle is still well known for.
Another big moment in the history of the hotel was in 1951 when the director John Ford came to the village of Cong to make the classic movie The Quiet Man. Many of the film's big stars stayed at Ashford Castle during filming.
The Best Hotel in the World
The hotel changed hands a few more times over the years and it was developed with the addition of a 9 hole golf course. It soon became known as one of the most luxurious hotels in Ireland, a place that you could only dream of visiting. It wasn't until 2013 however, that Ashford Castle started to make its greatest impression on the world.
Who is the owner of Ashford Castle?
Ashford Castle was acquired by The Red Carnation Hotel Collection in 2013. They began a major refurbishment to bring the castle back to its former glory. The refurbishment marked another extraordinary moment in the history of the castle. Red Carnation Hotel Collection put so much love into the hotel that in 2015 it was voted the Best Hotel in the World, by Virtuoso.
I am going to let you in on a little secret….it really is!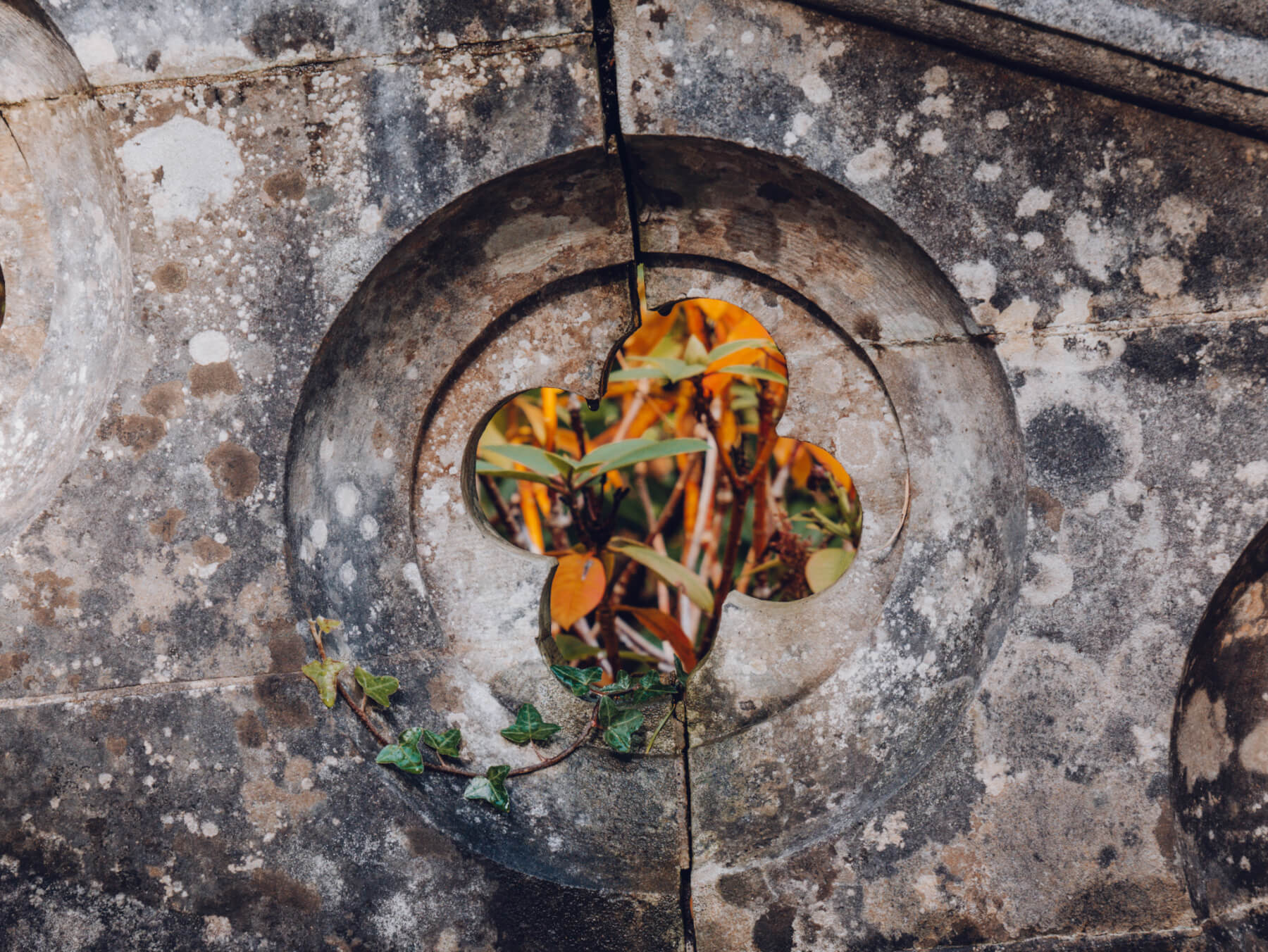 How to get to Ashford Castle in Ireland
Ashford Castle Hotel is located on the west of Ireland so can best be reached by either flying into Shannon or Knock airport. Travel time from Knock is about 1 hour while it will take you 2 hours to reach Ashford Castle from Shannon. Dublin airport is a little further away, being over a 3 hour drive. I always use Skyscanner to find the best value in flights.
The castle is located near the village of Cong, Co. Mayo. The nearest large city is Galway and despite thinking for years that the castle was located in County Mayo I was shocked to learn that the castle itself is in County Galway. The river just in front of the castle divides the boundary between counties Galway and Mayo with the hotel located on the Galway side. While you are in the area why not spend a weekend in Galway before your stay in Ashford Castle or take a trip out to the stunning Connemara to hike the Killary Fjord loop walk.
Why not travel in style?
Guests of the hotel are invited to enjoy chauffeur driven tours and airport transfers in a range of luxury SUV's. You can enjoy off road in style in the Keswick green Land Rover Defenders or sit back and relax in the estate's Land Rover Discovery.
What to expect when you arrive at Ashford Castle Hotel
Myself and Mister Lavin didn't have very far to travel to reach the luxurious Ashford Castle. We are so lucky that it is right on our doorstep and Ronan often plays golf here. The woods surrounding the castle is where we bring Fletcher for his Sunday walk. So it was a nice change not to have to drive very far to reach our destination.
What is it really like inside Ashford Castle?
That being said, no matter how many times we drive onto the grounds of the 350 acre estate of Ashford Castle I am always blown away. You are greeted at the castle gates with a warm welcome and asked about the reason for your visit. The castle itself overlooks the scenic Lough Corrib, one of Ireland's largest lakes. I think the beauty and privacy of the surroundings is one of the things that really sets Ashford Castle apart. It feels like its own little world away from everything else and it is the perfect place to relax.
Warm welcome at Ashford Castle
We knew, as soon as we arrived at the gates and drove through the winding driveway to the castle, that our stay was going to be something special. We were greeted again at the bridge over to the castle. Security is in place at the castle to ensure the ultimate in privacy for the guests. The castle and woods nearby are a huge draw for walkers in the area so unless you are actually staying in the castle you cannot cross the bridge to go onto the castle grounds. It makes the whole experience far more bespoke and exclusive and I have to admit when we were greeted by the doorman at our car as Mr and Mrs Lavin we felt so special.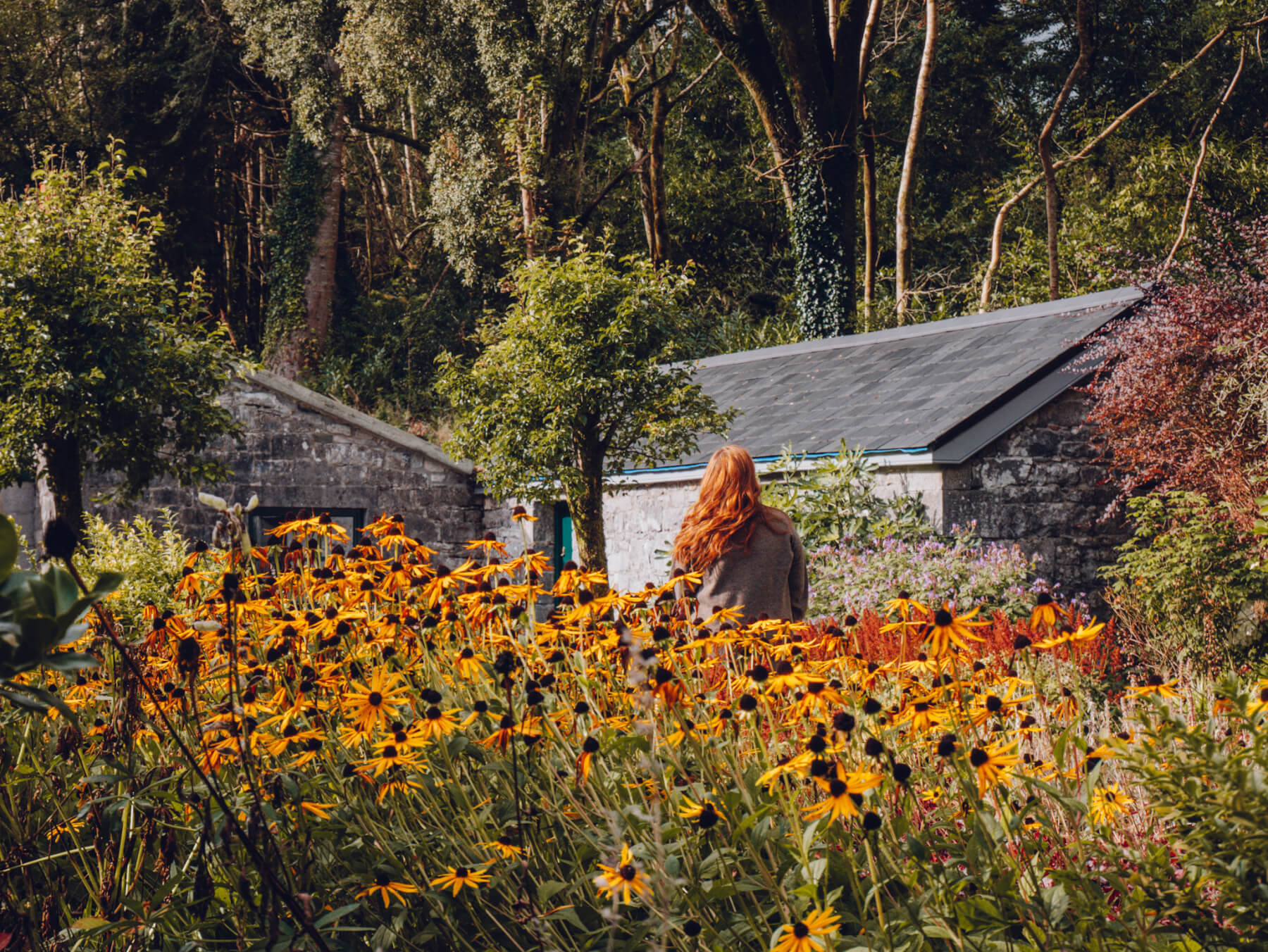 The warm welcome continued inside where we were once again greeted by name. We were first offered a welcome drink and could chose between a warm whiskey cocktail, soft drink or water. Needless to say we both opted for the warm whiskey cocktail to warm ourselves up on a rainy day. It was delicious.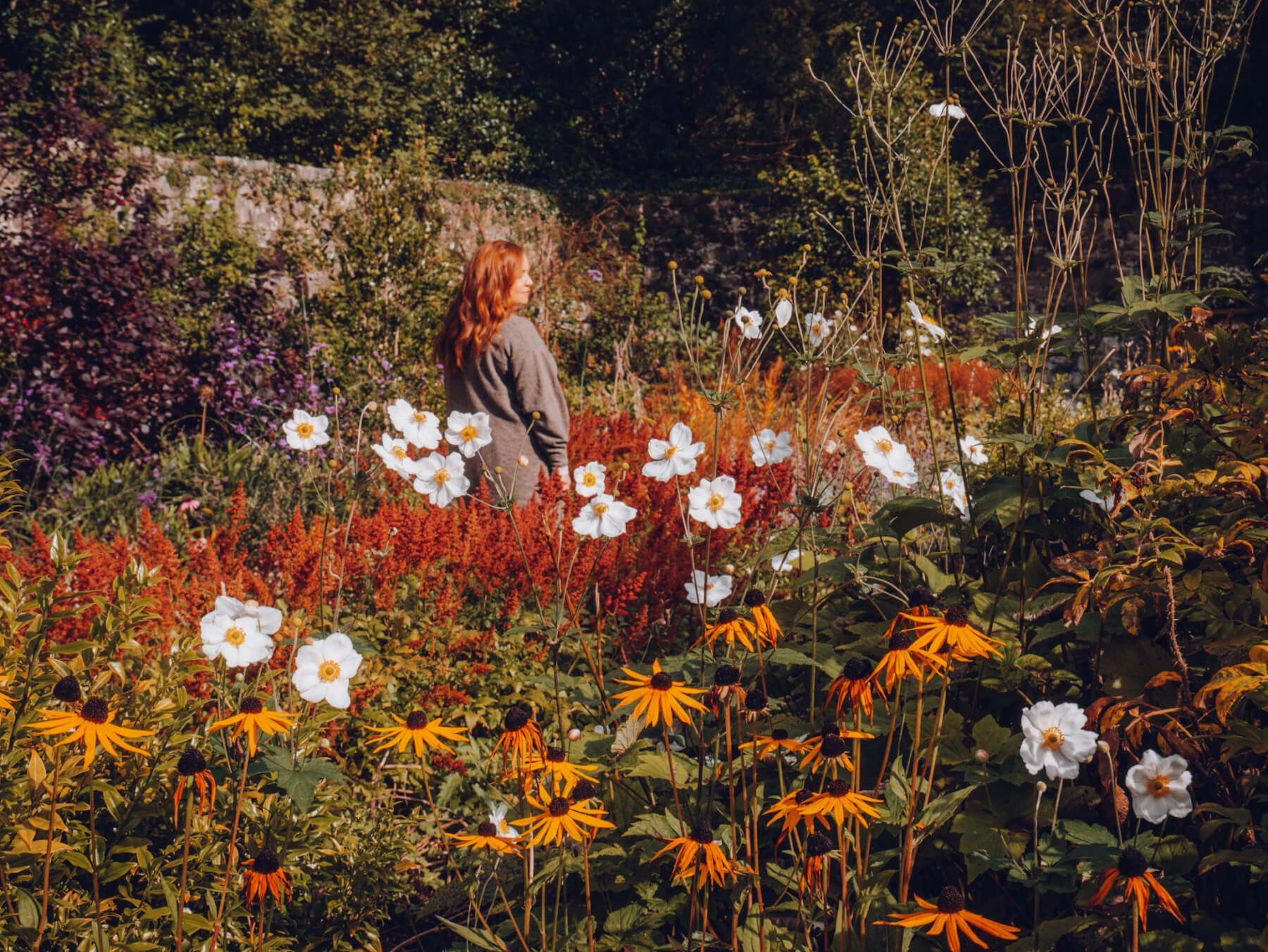 The check-in process was seamless. I think the quality of service at Ashford Castle was just impeccable! Each and every person we encountered during our stay was so lovely, friendly and helpful. We truly felt that they cared about making sure our experience there was exceptional. If you are looking for the true royal treatment when staying in a castle, you will find it here. Most staff members greeted us by name throughout our stay, which hugely impressed us. I can barely remember my own name most days let alone the name of every guest staying at the hotel. It was touches like that, that made our stay extra special.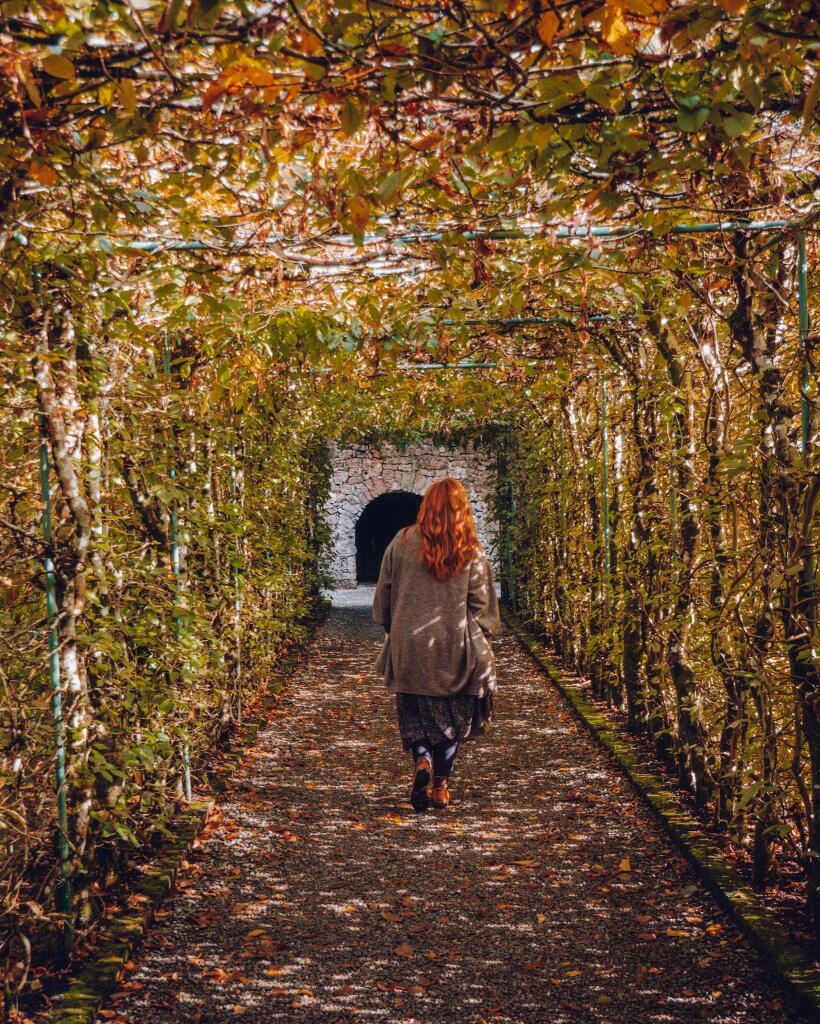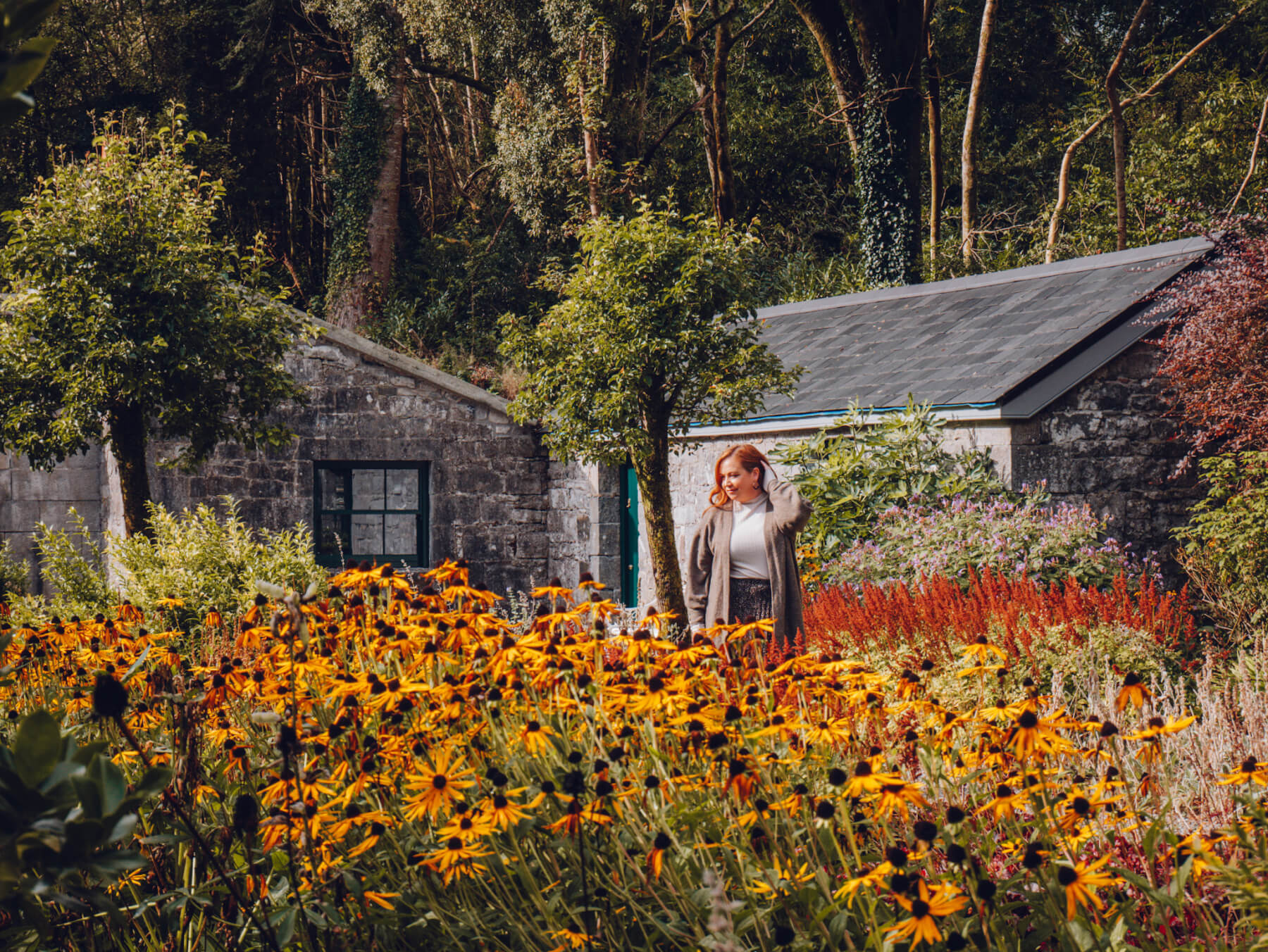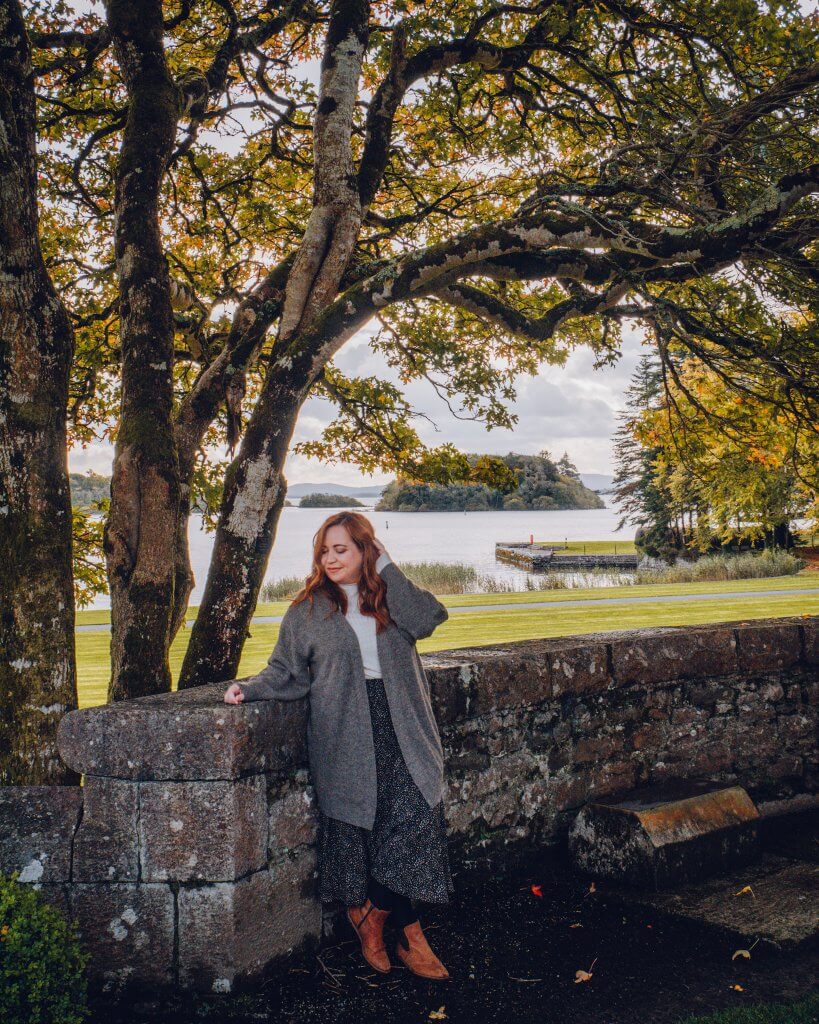 Inside Ashford Castle – bedrooms at Ashford
After check-in we were walked to our room. I was excited to learn that we were staying in the oldest part of the castle and we made our way through tastefully decorated narrow hallways filled with portrait paintings of people dating back to when the castle was founded in 1228.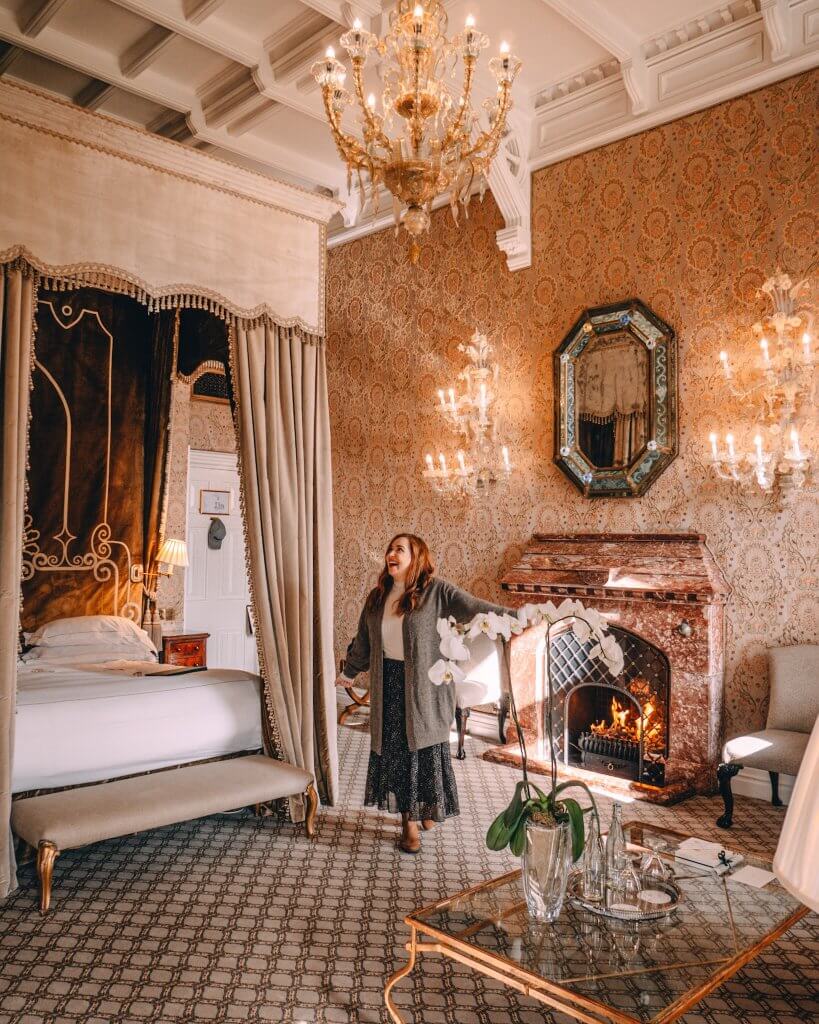 We reached our room on the second floor after a short walk from the hotel reception. The member of staff slowly opened the door to one of the hotel's incredible Staterooms. Have you ever cried when seeing a hotel room for the first time? Well I hadn't, until now. My inital response to the room was purely emotional. The beauty of it just took my breath away. An open fire was burning, soft music was playing, October trees were turning orange through window views. And I haven't even told you about the bed yet!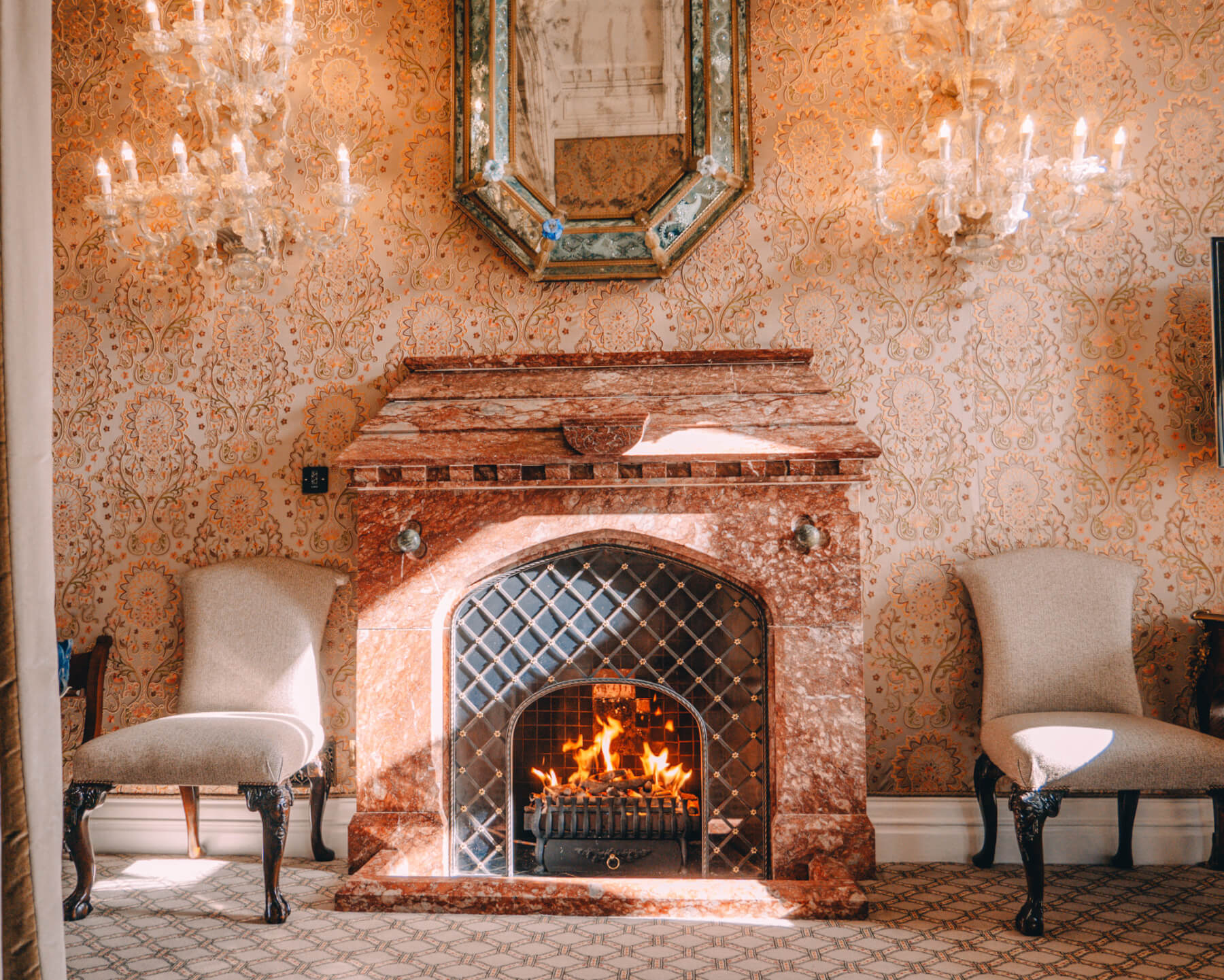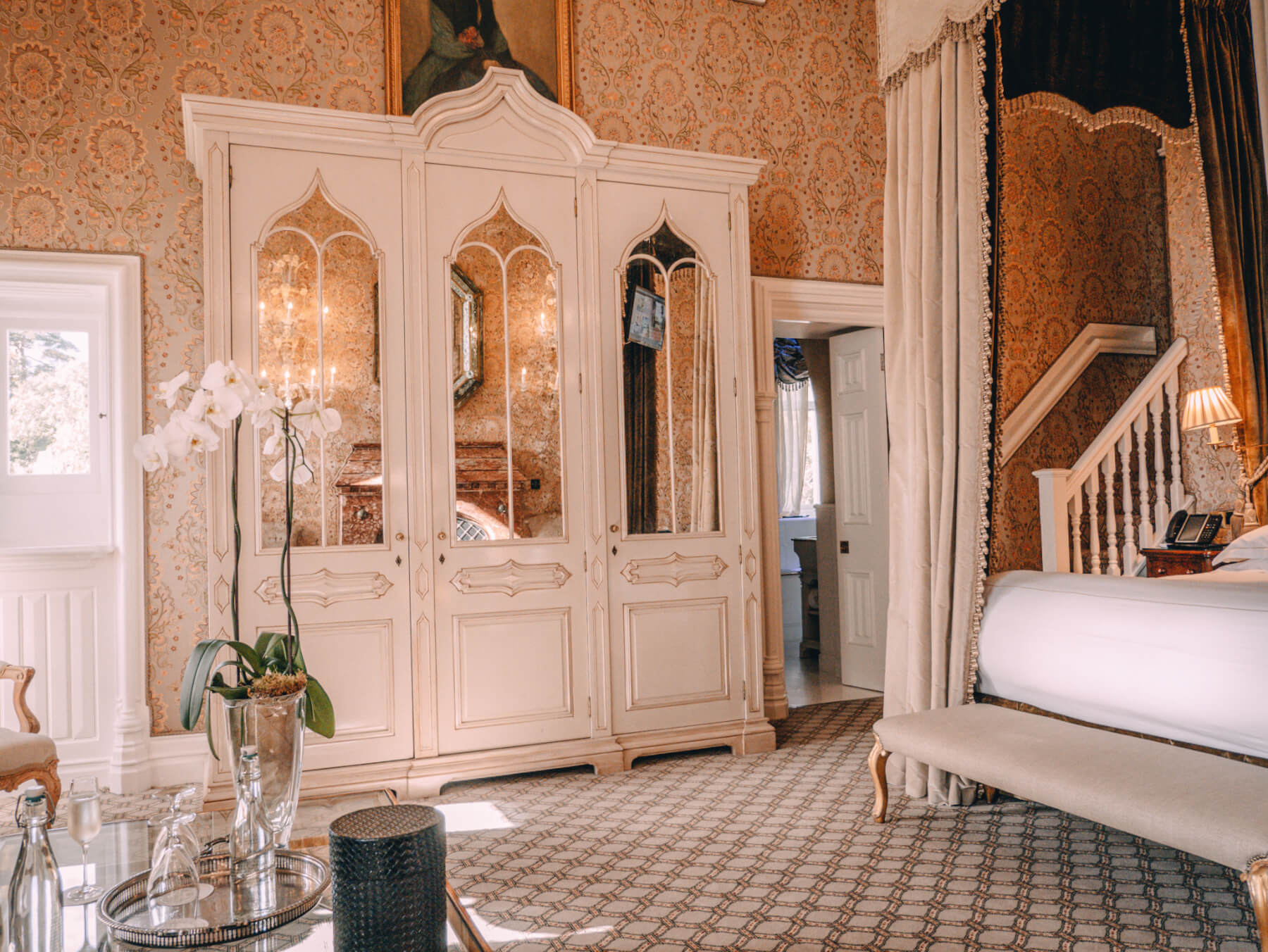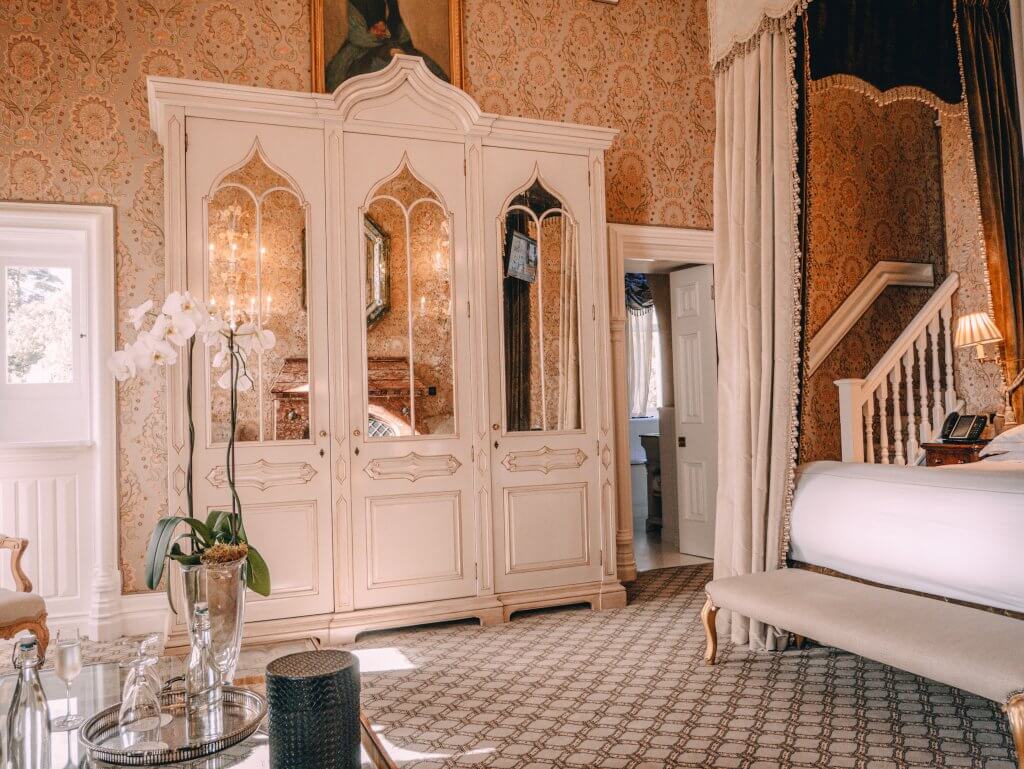 Staying in Ashford castle was a dream come true for me. Growing up in Galway you knew that you had well and truly made it if you got to stay in this luxurious hotel. I had stayed before with my family almost 13 years ago for my mother's 50th birthday and I never thought that I would get the opportunity again. For the five years that I was completely bedbound with Lyme Disease I never thought that I would be in a position like this again, never mind being invited to stay to review the hotel for ourselves on our blog.
Standing in the beauty of that hotel room was a real pinch me moment that if you work hard enough for something dreams do come true.
Despite its size Ashford Castle only has 83 individually designed guest rooms and suites. All rooms feature original art and antiques, luxurious fabrics, stunning chandeliers and hand-crafted furniture. Many guest rooms overlook Lough Corrib, some even have exposed Castle turret. All include high speed Wi-Fi and luxury bathroom amenities. The bathrobes and slippers provided to guests as Ashford Castle have to be some of the best that I have ever experienced.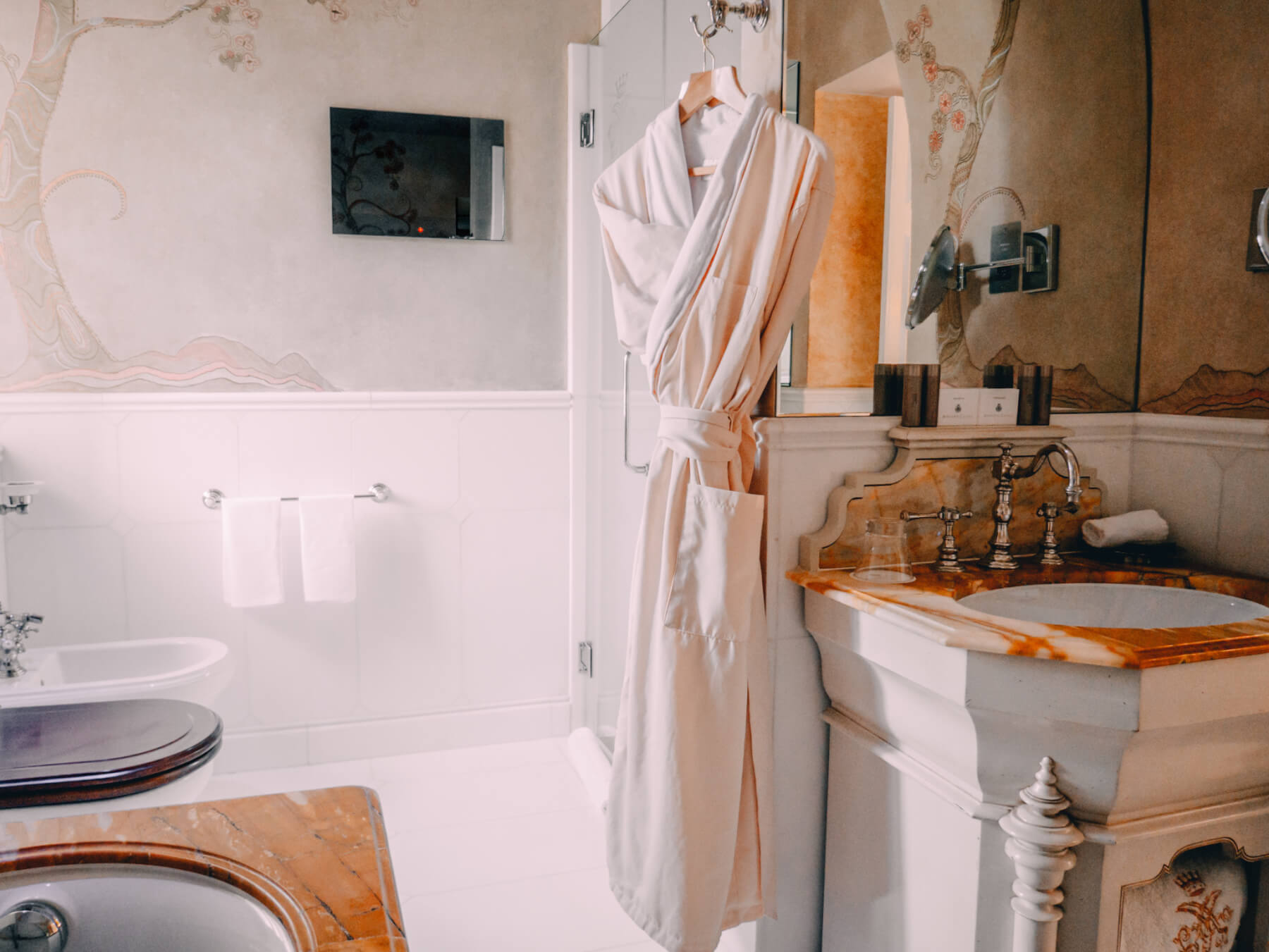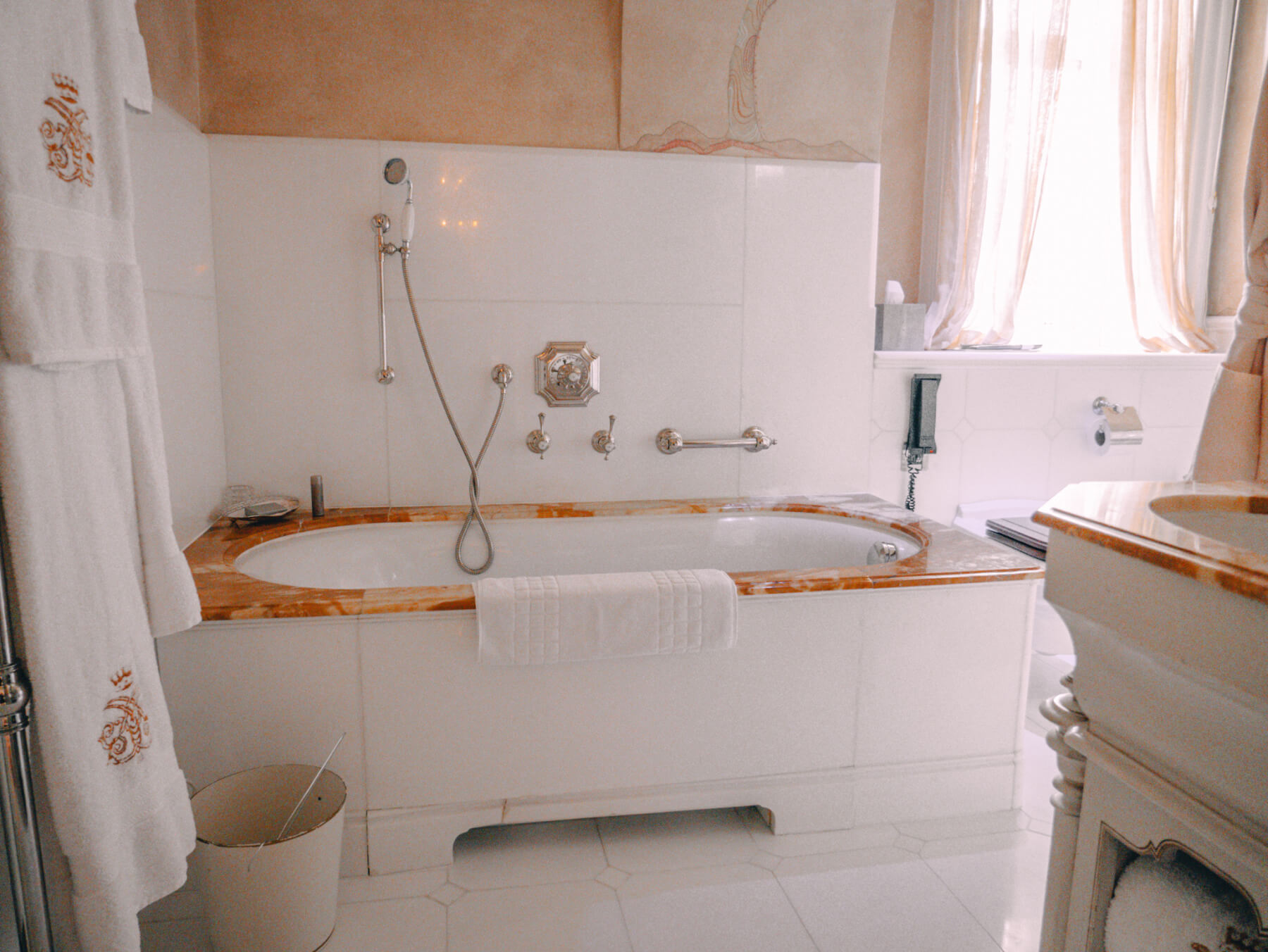 Each individually designed and generously proportioned Stateroom features high ceilings and spectacular views of Lough Corrib. It was Autumn when we visited and I think the changing colour of the leaves made the views even more spectacular. Most Staterooms feature four poster beds and ours was huge! I don't think I've slept in a more comfortable bed, even my own and I always think it is hard to beat the comfort of your own bed.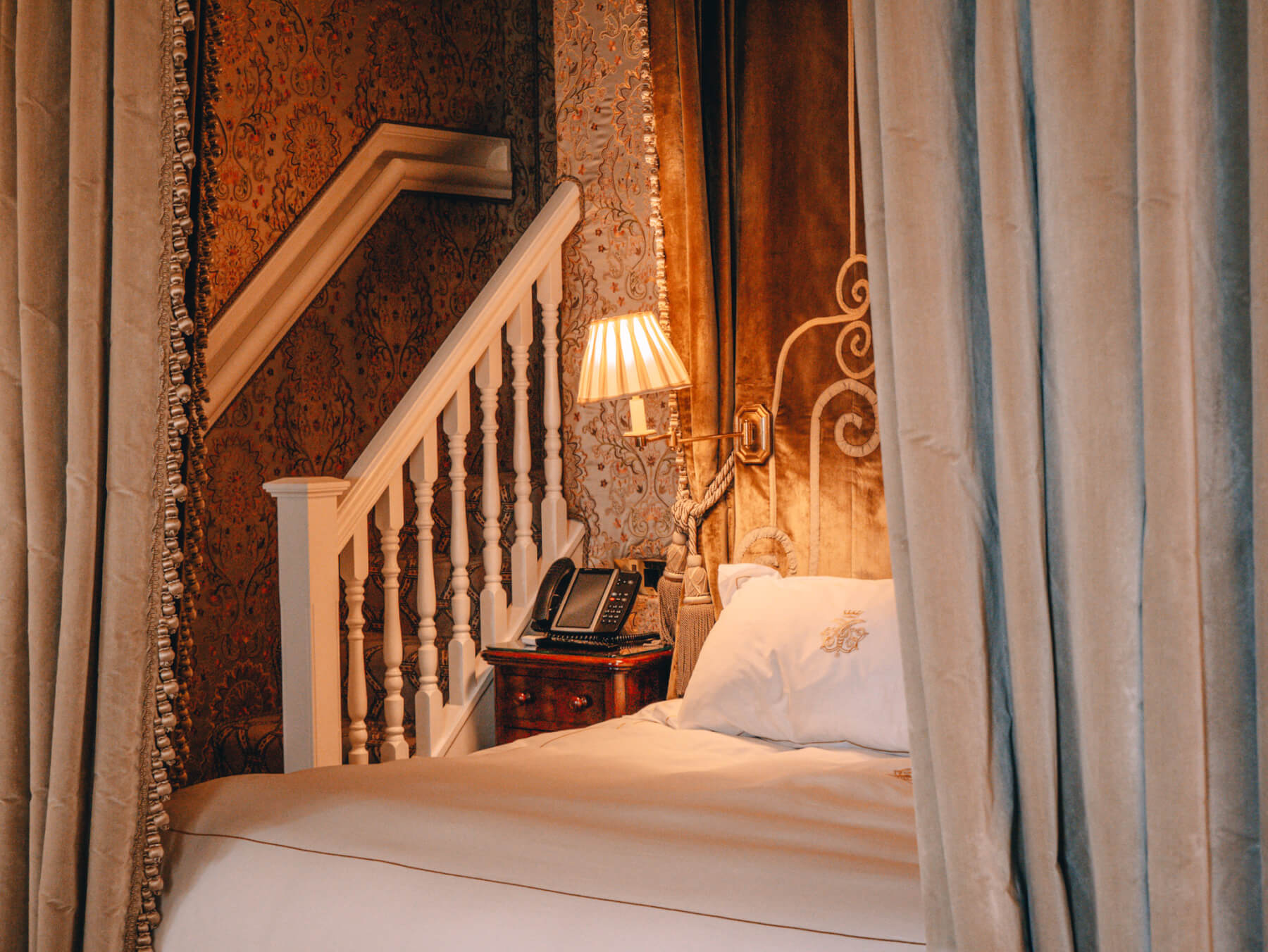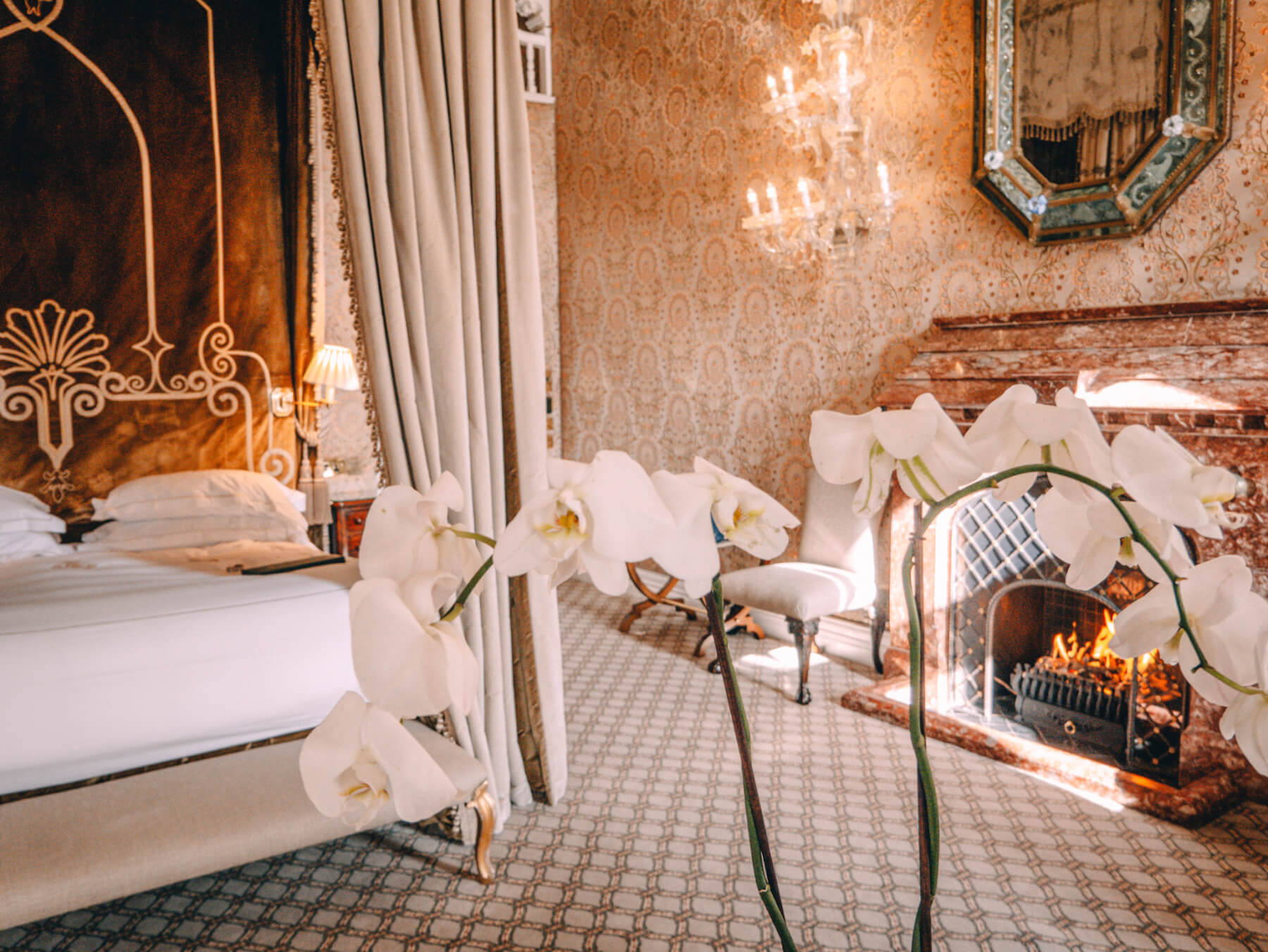 Staterooms also have original fireplaces, exquisite antique furniture and original artworks. All have large bathrooms with some featuring pedestal claw baths. Everything in our bathroom from the sinks (yes there were two), to the bath, to the shower tray were made from the most beautiful marble. There was even a TV which made Mister Lavin feel very fancy indeed!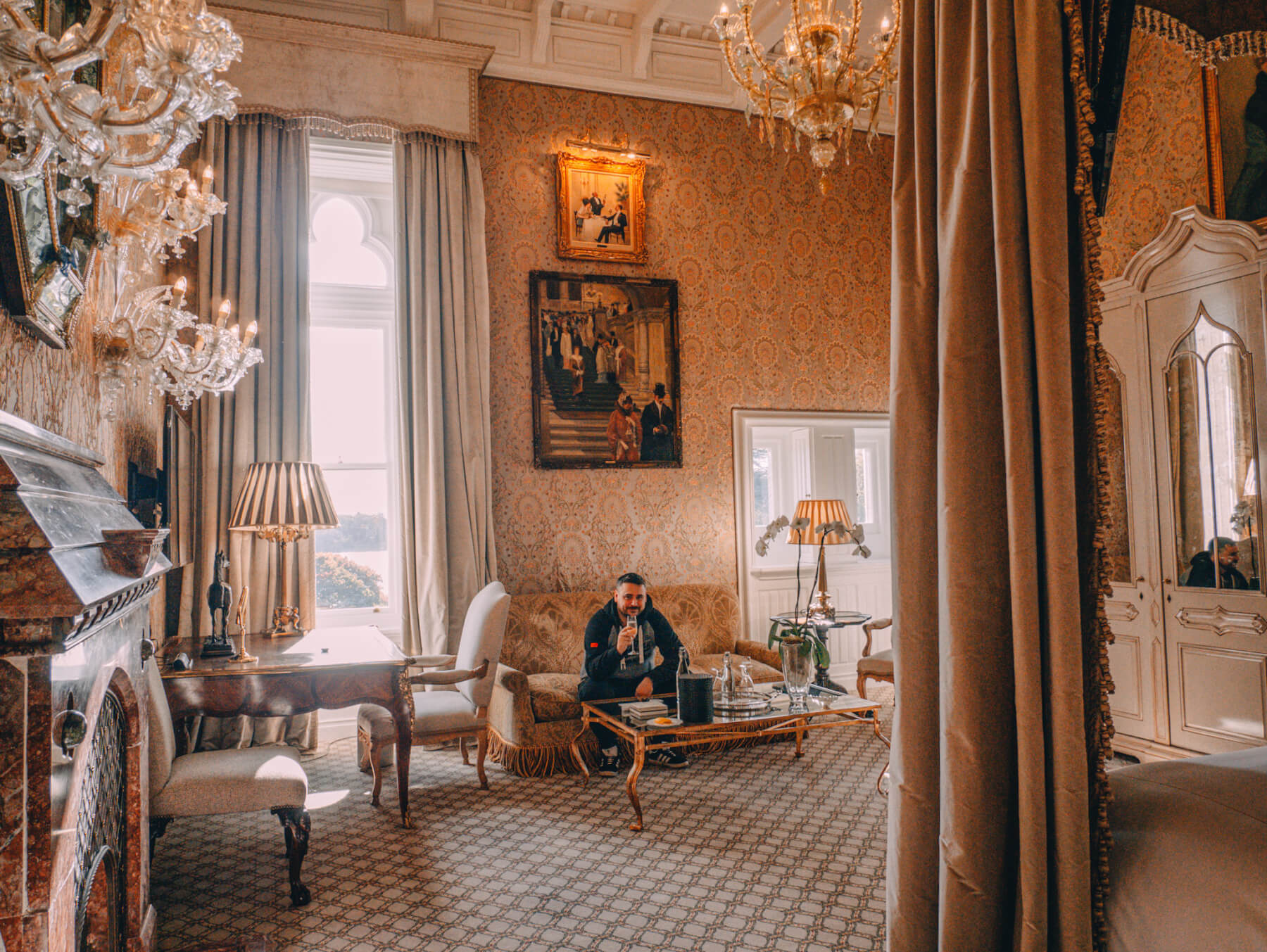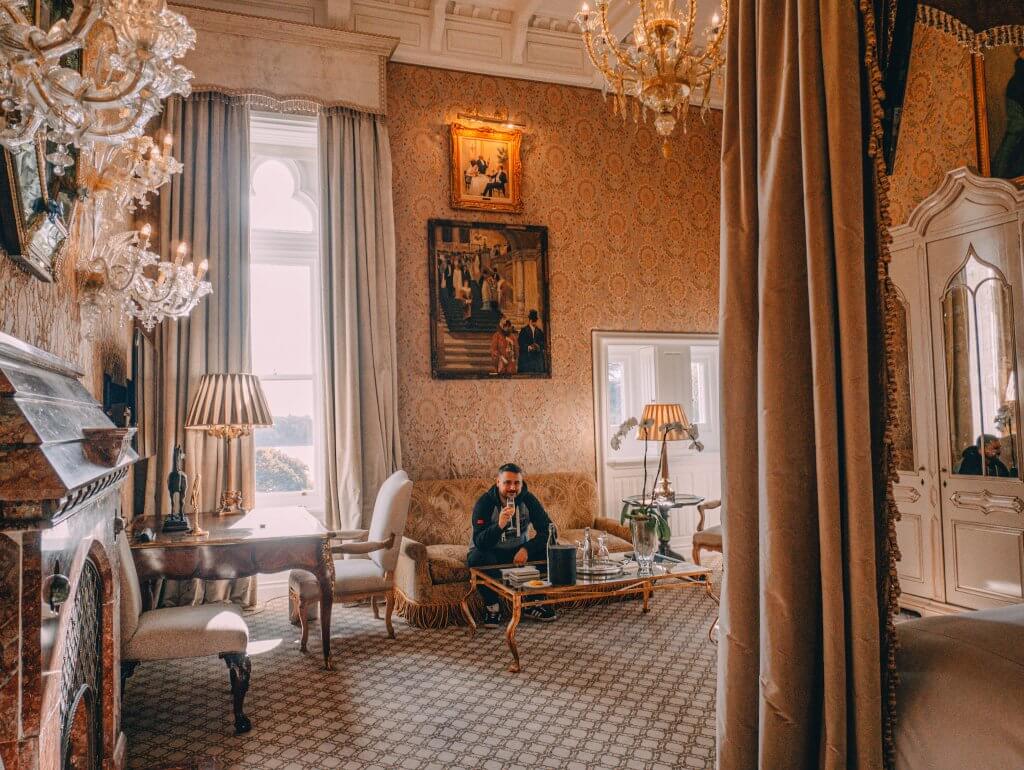 It's all about the details
Whether you are staying in a classic room or The Presidental Suite in Ashford Castle you will be treated the same. Personalised touches like welcome notes addressed with your name and a box of artisan chocolates handmade by the resort executive pastry chef made us feel so special. The attention to detail is just incredible here.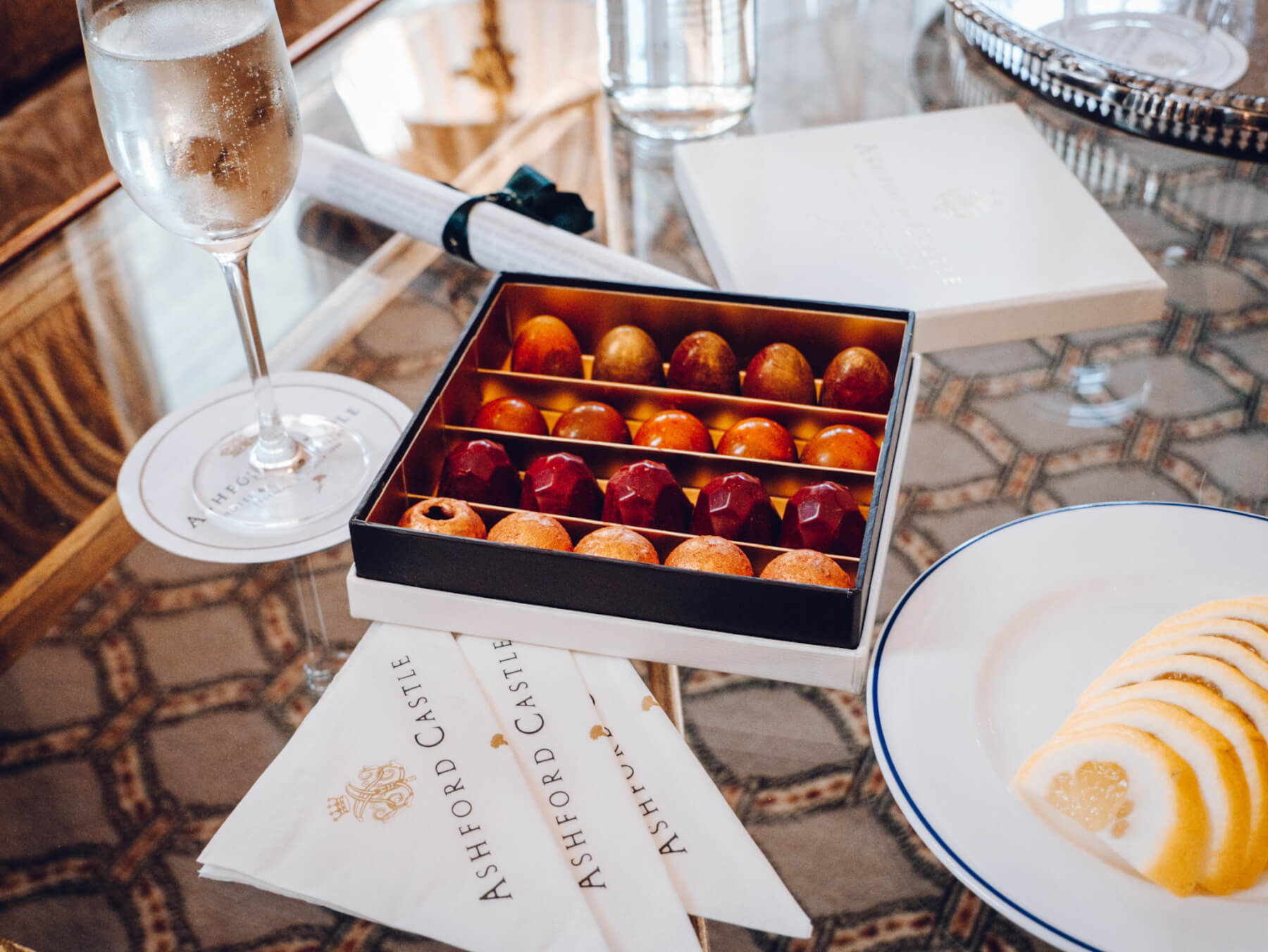 The chocolate has been created in keeping with Ashford Castle's ethos of sustainability set by Red Carnation's parent company The Travel Corporation (TTC), and its not-for-profit Treadright Foundation. The Treadright Foundation is committed to progressing sustainable tourism, benefitting the people, places and wildlife impacted by tourists.
Inside Ashford Castle – The Castle Interior
I think what impressed me most about the castle was the home-away-from-home feel there. The interiors of the castle were extremely impressive but it felt more like a very grand, cosy private home than a posh impersonal hotel.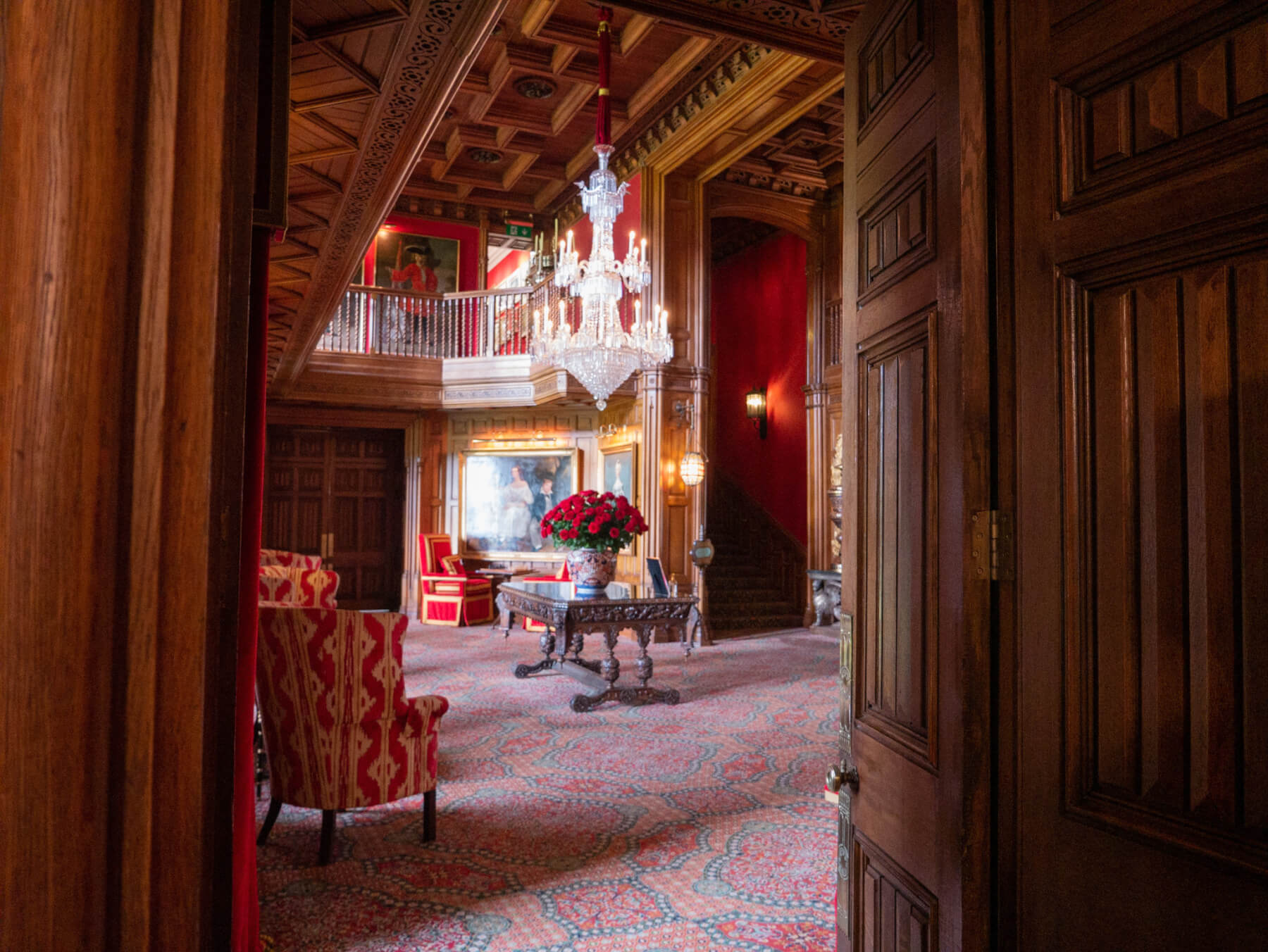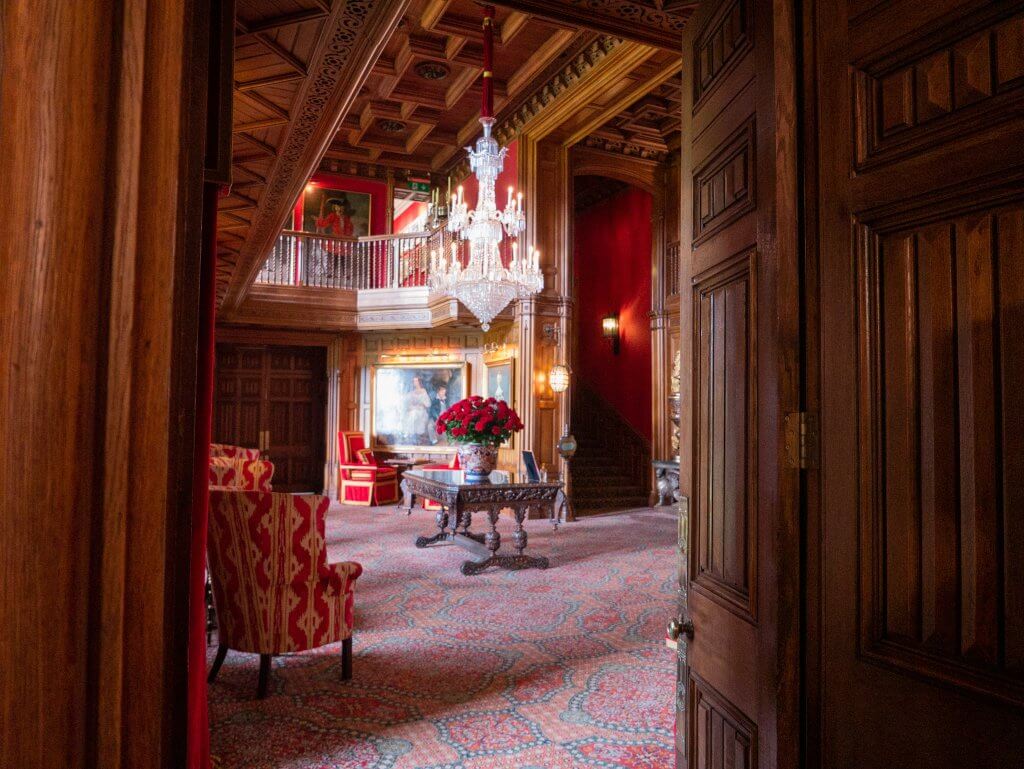 The first room you enter upon arriving at Ashford Castle is the Oak Hall. It has been lovingly restored with an oak wood ceiling and balustrade, original to the Guinness family, and painted a deep red. The Oak Hall also houses a library of over 800 antiquarian books including an extensive collection of reference works from the late Victorian period. Other features include a 19th century suit of armour, a fabulous gift shop and museum and a painting of Lady Ardilaun, which has always hung above the chess set and is one of the most popular pieces in the castle.
Upstairs we had fun browsing the gallery wall of all of the famous guests that have stayed at the castle. Of course a hotel as luxurious as Ashford Castle attracts some very famous faces. I wouldn't mind bumping into Brad Pitt while wandering the hotel's corridors!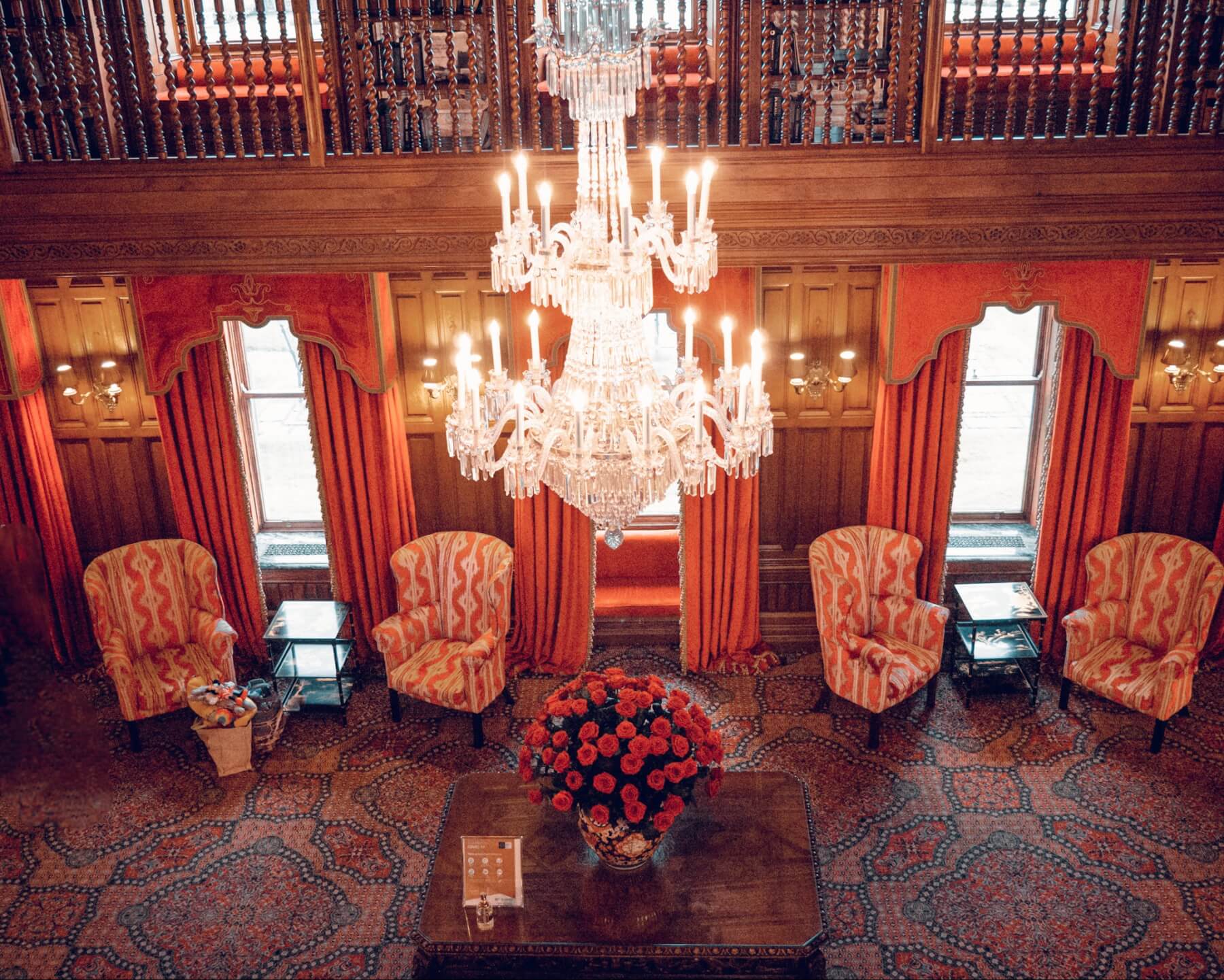 Which room amenities are available at Ashford Castle?
We were amazed to come across a room named cinema. I opened the door to find a 32 seat cinema adorned with classic movie posters. There is a showing of a classic movie every evening at 9.30pm. Les Miserables was on the programme for the night we stayed but if it was the following night it would have been Hocus Pocus. What an incredible setting to watch one of my favourite Halloween movies. In fact, Ireland is the perfect place to celebrate Halloween, seeing as the Irish basically invented it! If you are looking for the best Halloween experience in Ireland then Halloween in Derry is a must. I also have plenty of ideas on how to create Halloween content for Instagram.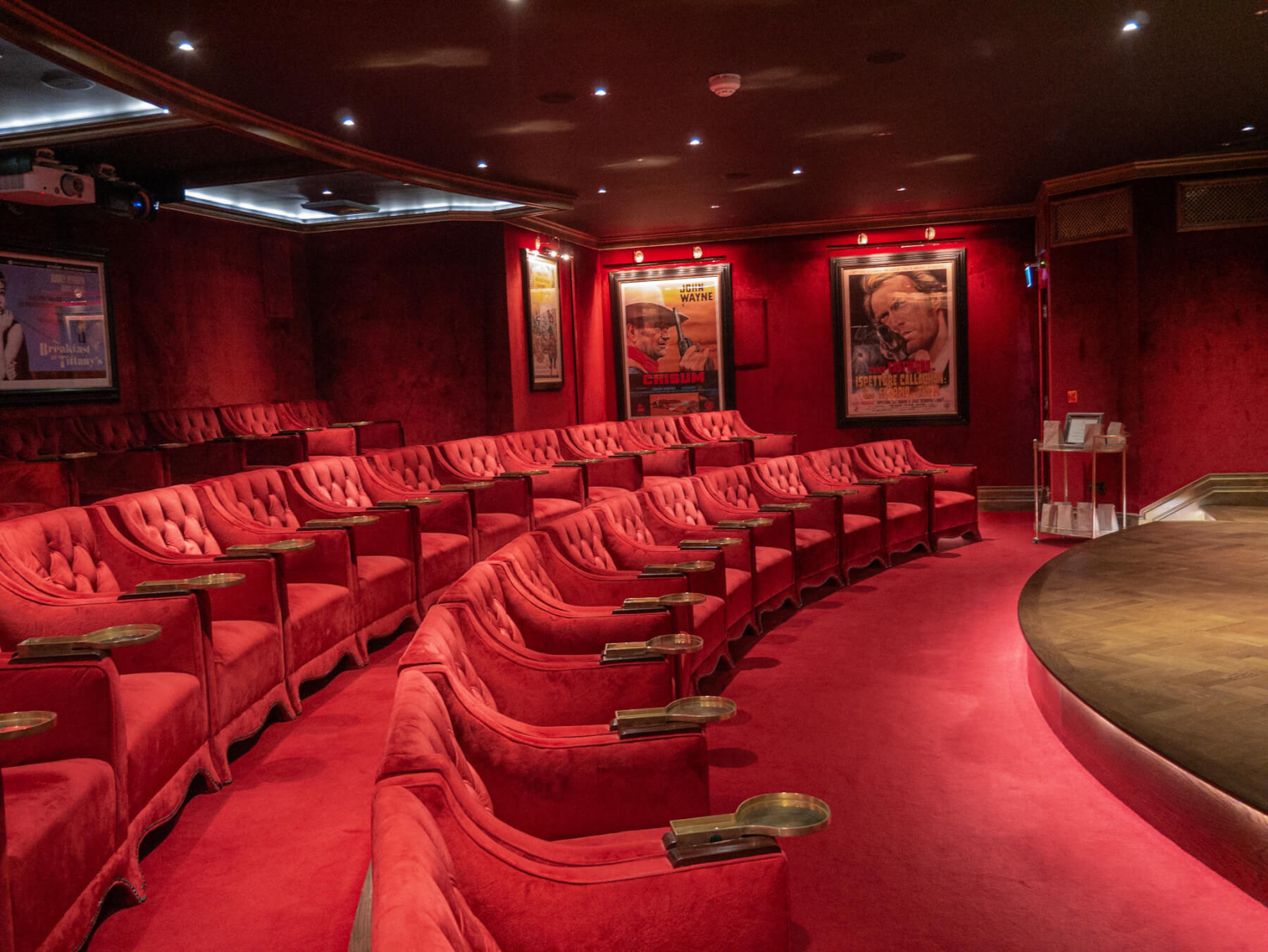 The movie room has popcorn and sweets available from a classic confectionery stand to enjoy during the screening. Guests are also welcomed to take drinks from the bar into the movie room during open viewings.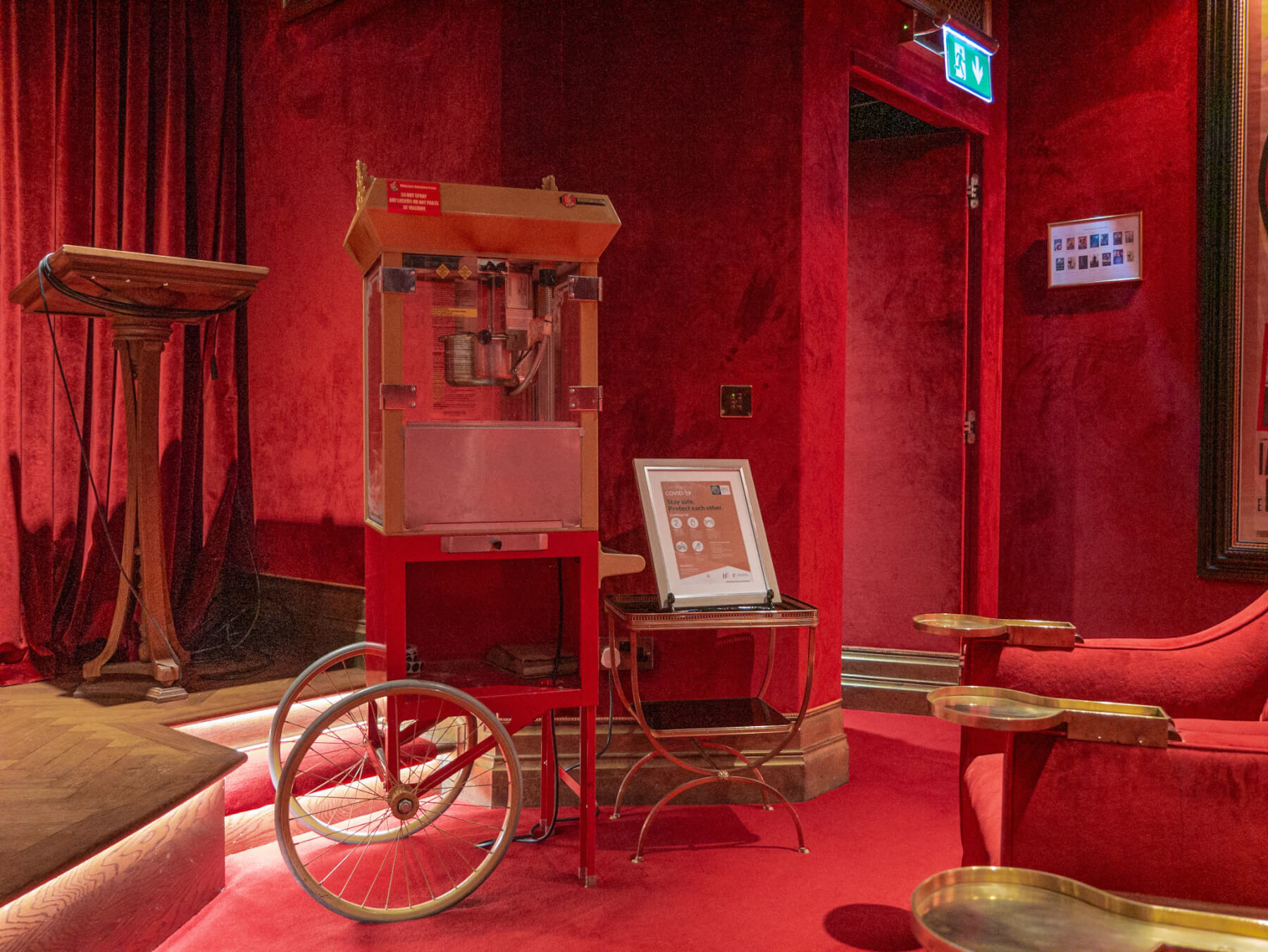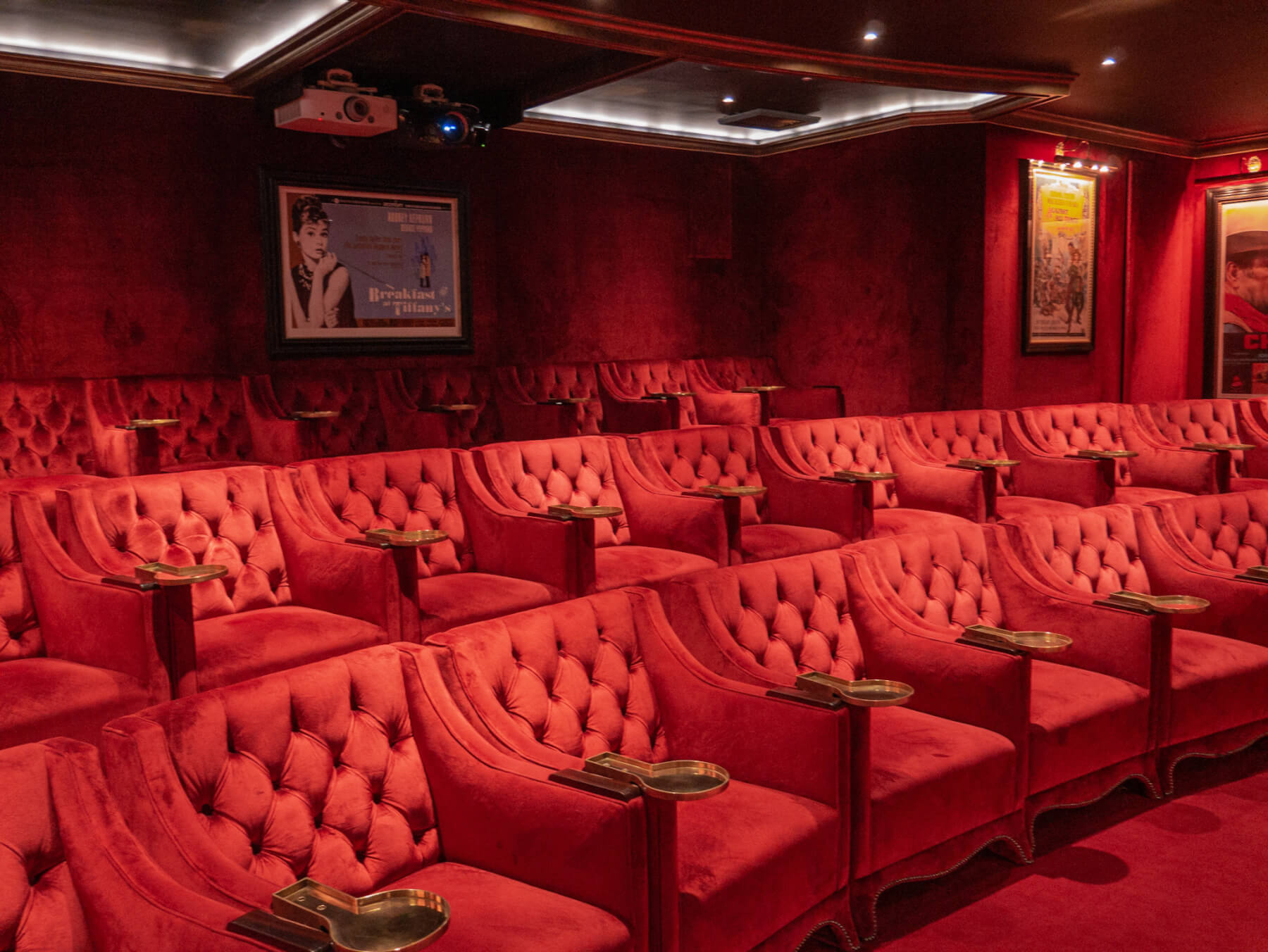 Mister Lavin was also delighted to find a Billiards room and cigar terrace. The billiards room is a gentleman club style lounge and boasts a regulation size snooker table. It is the perfect place to relax with leather couches, roaring fire, luxury furnishings and a bar stocked with 20 different whiskeys.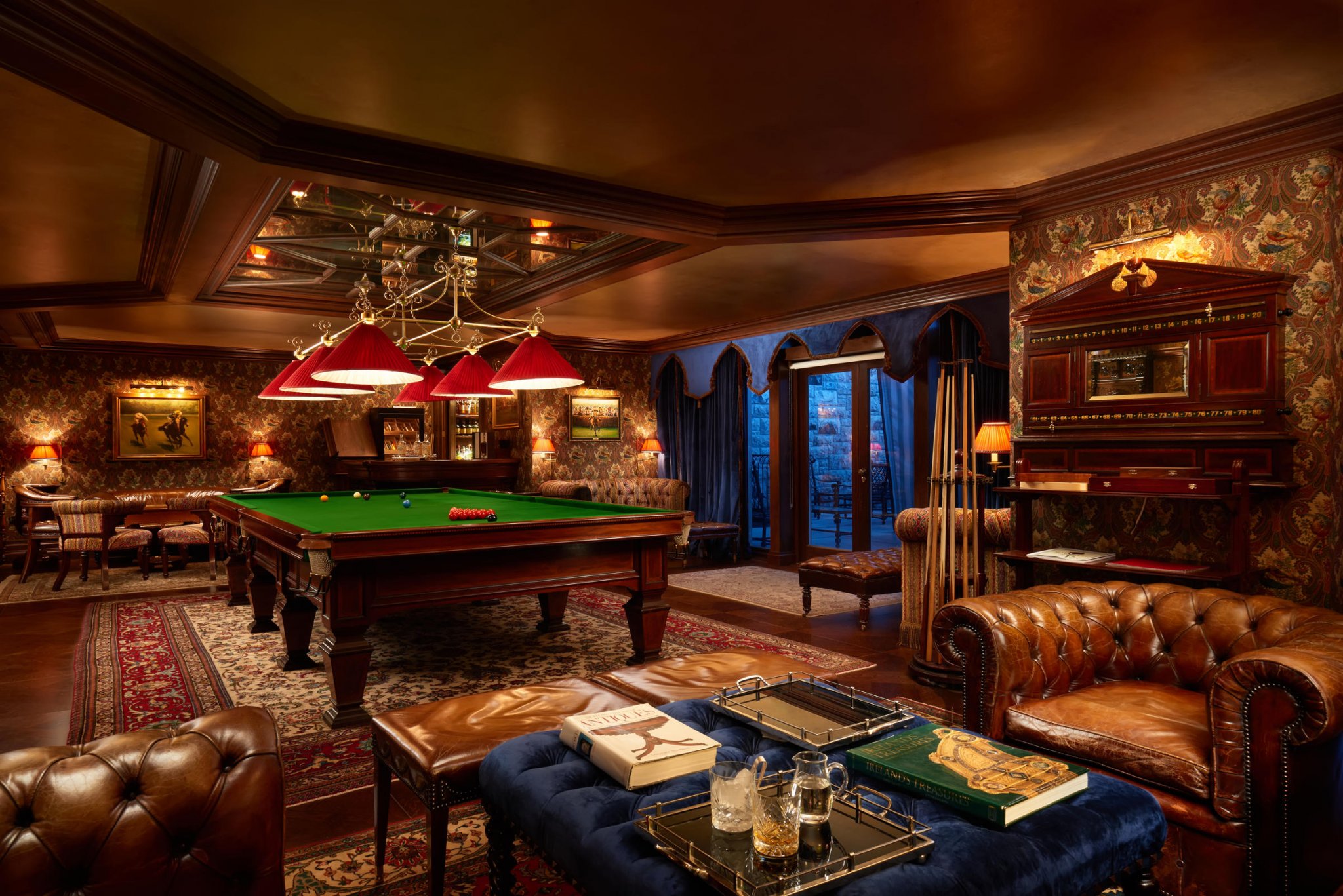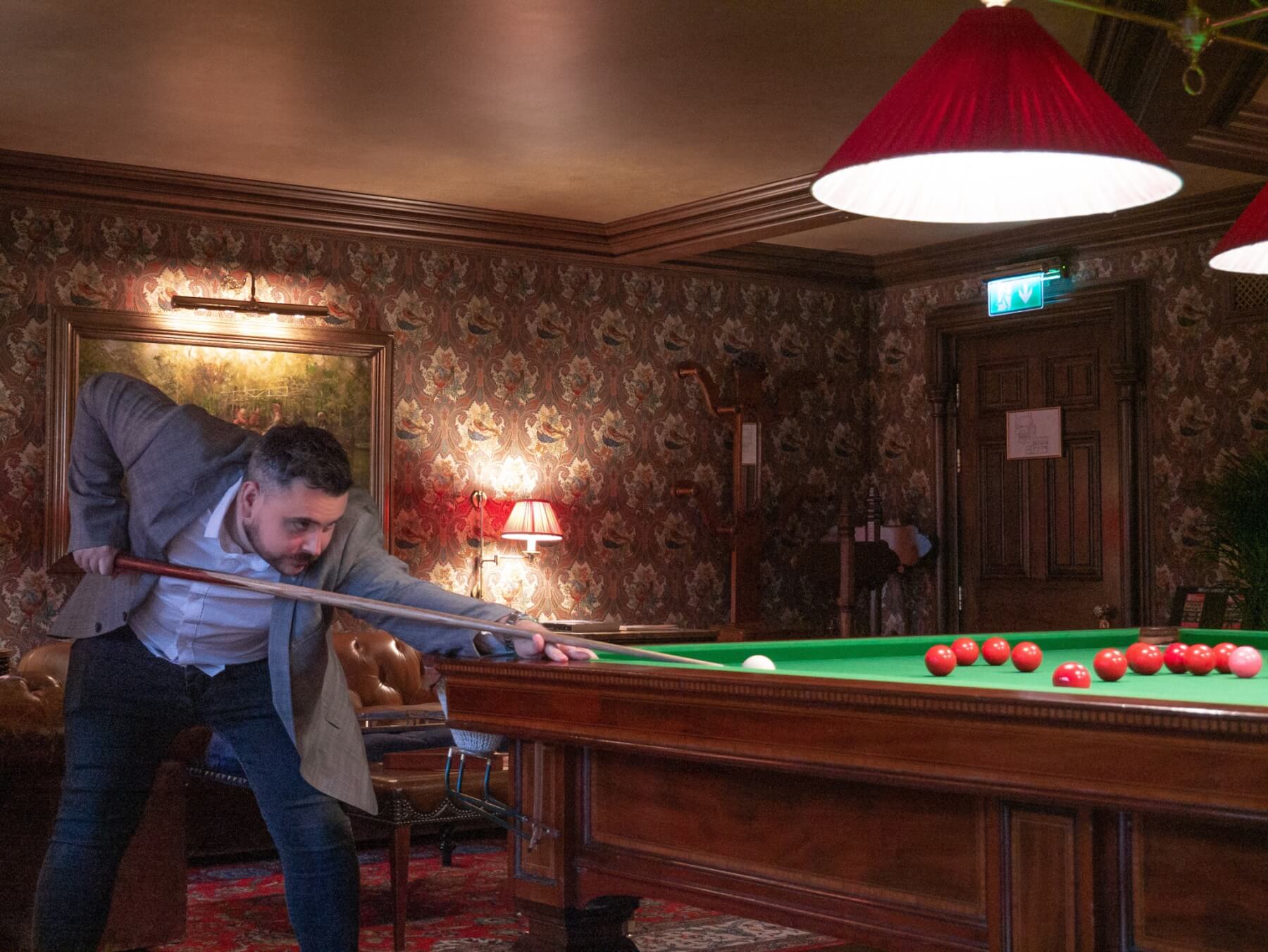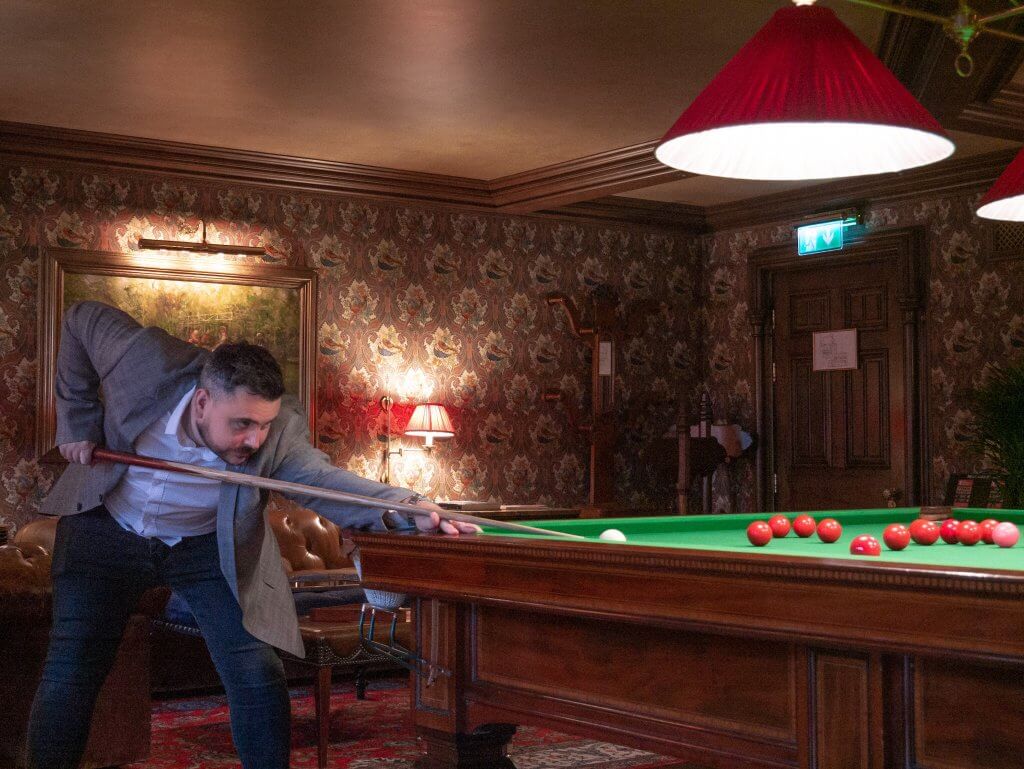 For cigar connoisseurs there is a humidor with a fine selection of 30 different cigars. It includes rare offerings from Mr. Tollman's collection, which can be enjoyed throughout the year on the Castle's very own cigar terrace. Since it was Mister Lavin's birthday we returned after dinner so that he could enjoy a whiskey and a cigar. He enjoyed every second of it.
Things to do at Ashford Castle
The Ashford Estate has a full range of exciting activities to try, including golf, horse riding, fishing, zip lining, tree climbing, falconry, lake cruising, canoeing, wood walks, clay pigeon shooting and many more. There is so much to do here that there is no need to even leave the castle grounds during your stay here.
Although we didn't get to visit, the Castle also has a beautiful Spa and pool. With its fairytale setting, the Spa provides a sanctuary of calm and serenity inspired by the peaceful location beside the lake and the history of this iconic building. There is also a state of the art gym with views overlooking Lough Corrib. Such a beautiful setting to work out and build up an appetite.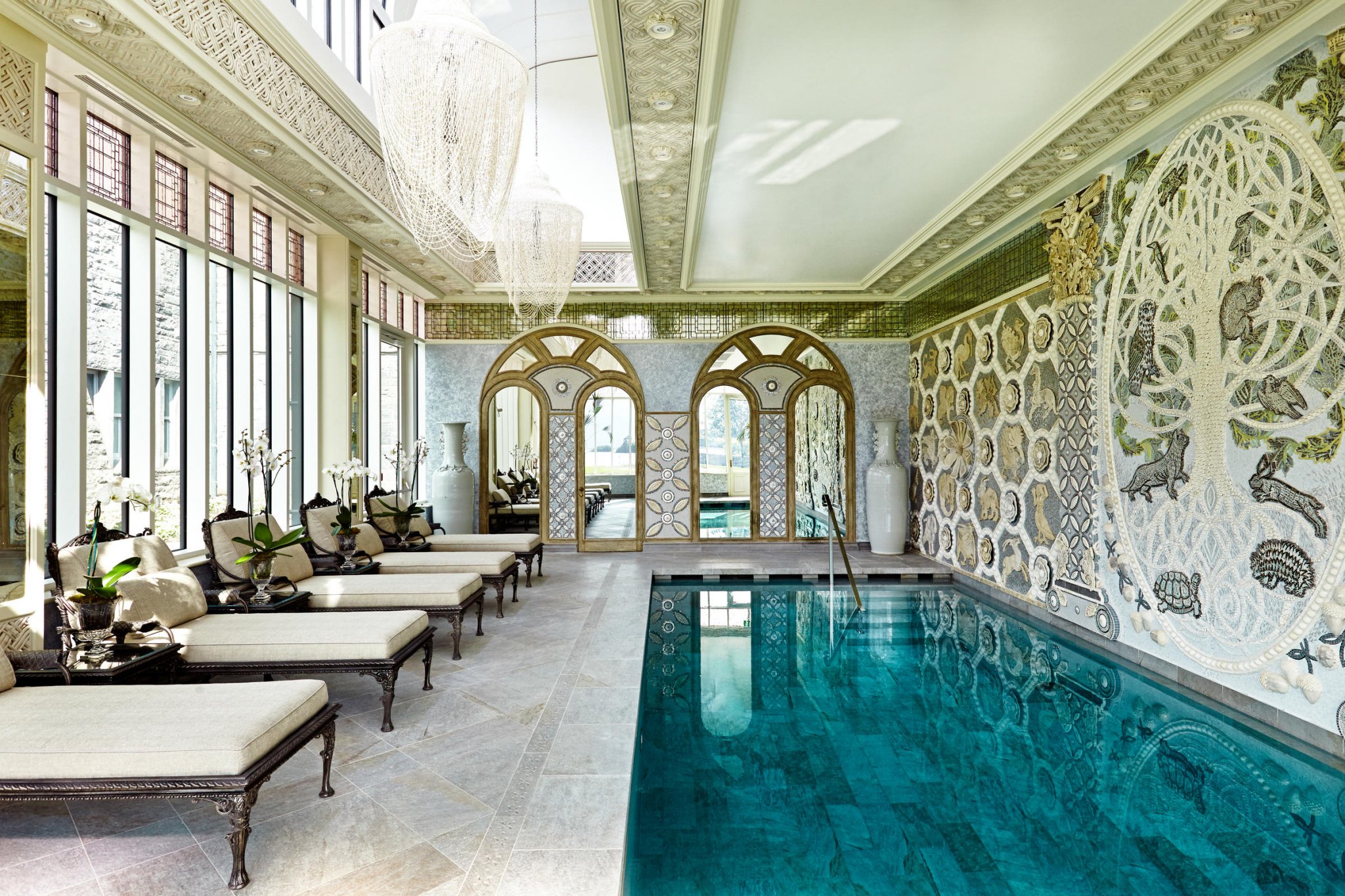 Families and pets at Ashford Castle
For families staying at the hotel there is a "Lego Butler" where younger guests can order Lego room service and babysitting services are available on request. One thing worth noting, many of the activities have an age minimum of 8 years, so if you are traveling with younger children, check the requirements ahead of time so no one is disappointed. If you are exploring further afield with your family after Ashford Castle then you may want to check out our guide on the best Airbnbs in Ireland for groups or family holidays.
Pets are also welcome freely in the Castle and grounds except for dining areas. Beds are provided for dogs of any size, along with towels, water and food bowls.
The Castle Grounds
Even if you don't book any of the wonderful activites available at Ashford Castle, I highly recommend getting an Estate map from reception and exploring the castle grounds which are extensive. Autumn is the perfect time to explore the beautiful gardens. There are so many places to explore with tunnels and secret gardens. There is even a tennis court. You could spend a whole afternoon just wandering in the fresh air and getting lost. The castle even provide retro style bikes if you prefer to explore the castle grounds that way.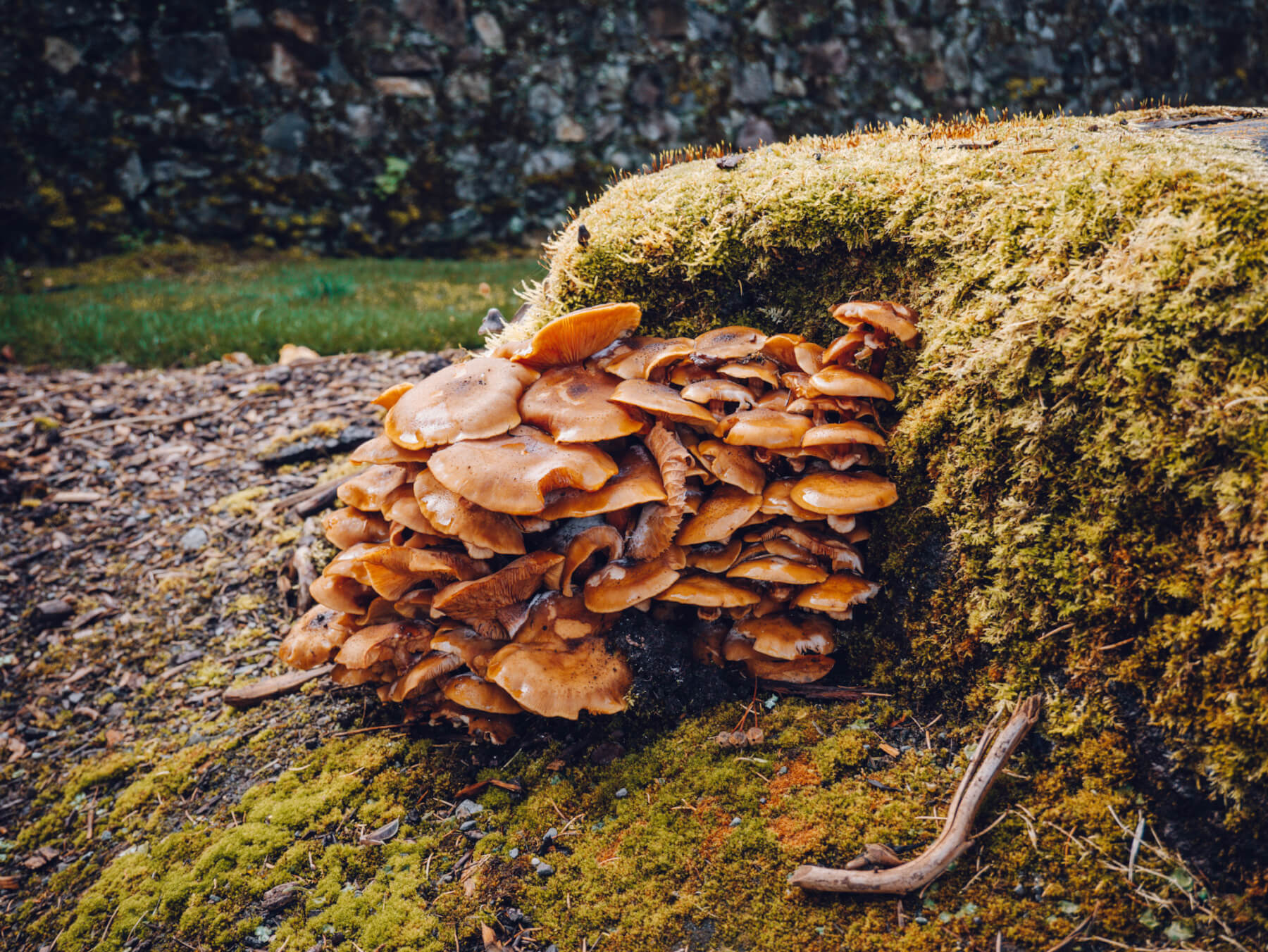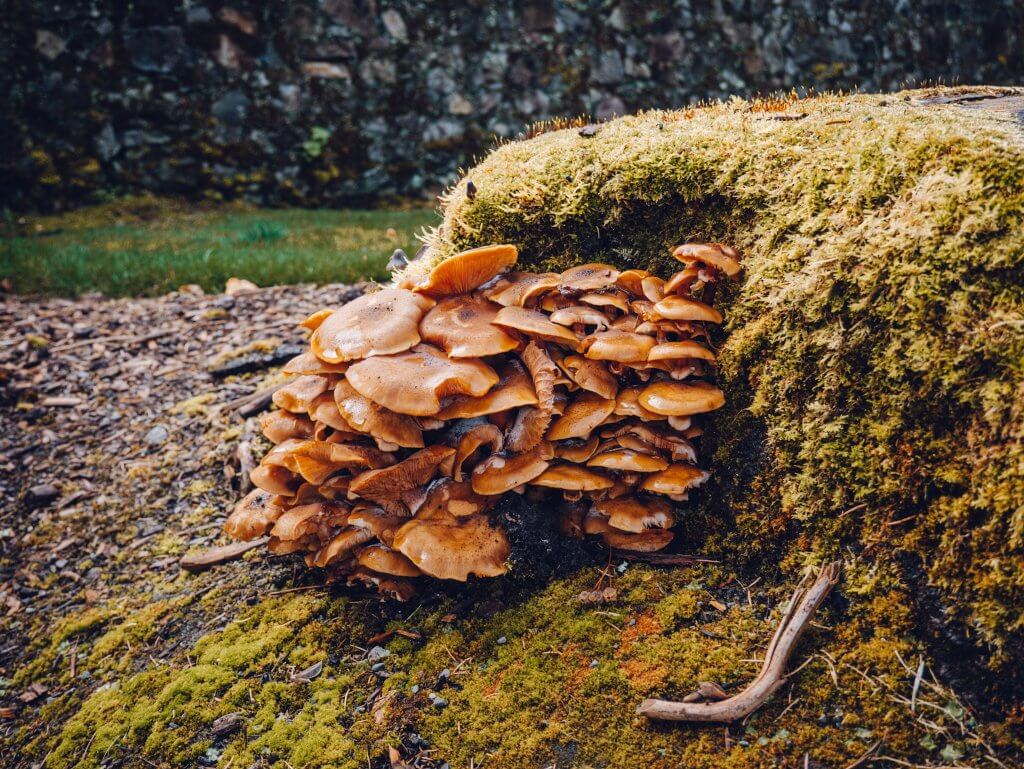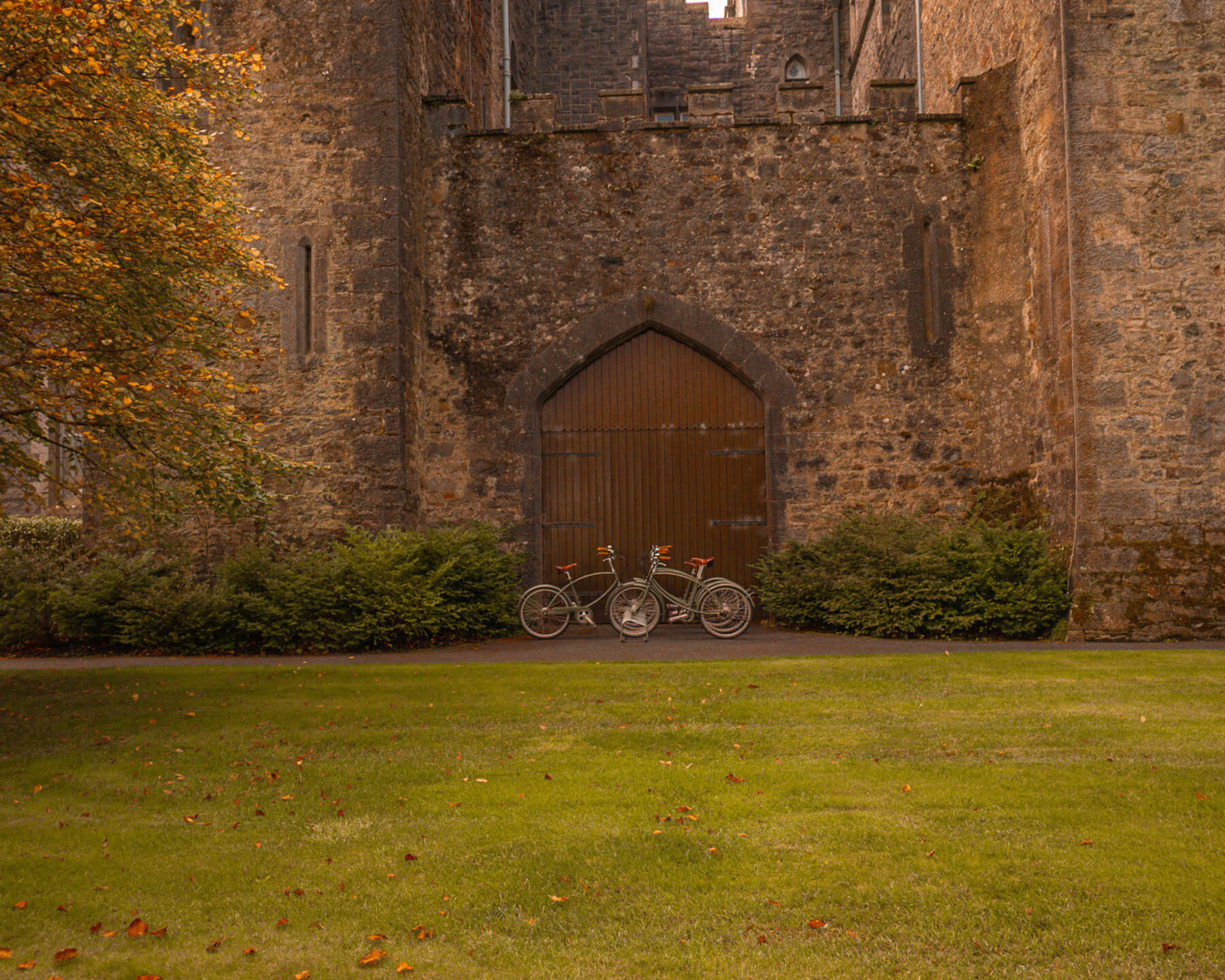 Dining at Ashford Castle
Ashford Castle is privileged to have access to some of the finest locally sourced ingredients in Ireland. The meats and fish come from the surrounding counties and wherever possible ingredients are sourced right there on the estate. The walled garden provides an array of vegetables and fruits in the summer. From February to November the team forage for wild berries to make homemade jams and chutneys. Guests are invited to join the team as they forage in the mornings. The only other place that we had experienced this was at Brooklodge and Macreddin village in Wicklow and it was an incredible experience.
When it comes to dining options at Ashford Castle you have many options.
George V Dining Room
The George V Dining Room was built in 1905 solely for the arrival of the Prince of Wales, who later went on to become George V. It really is a room fit for a king! There is a real sense of occasion in this dining room with rich, panelled walls and twinkling Waterford Crystal chandeliers. I dined here the last time I stayed with my family and we still talk about how exquisite the food was here.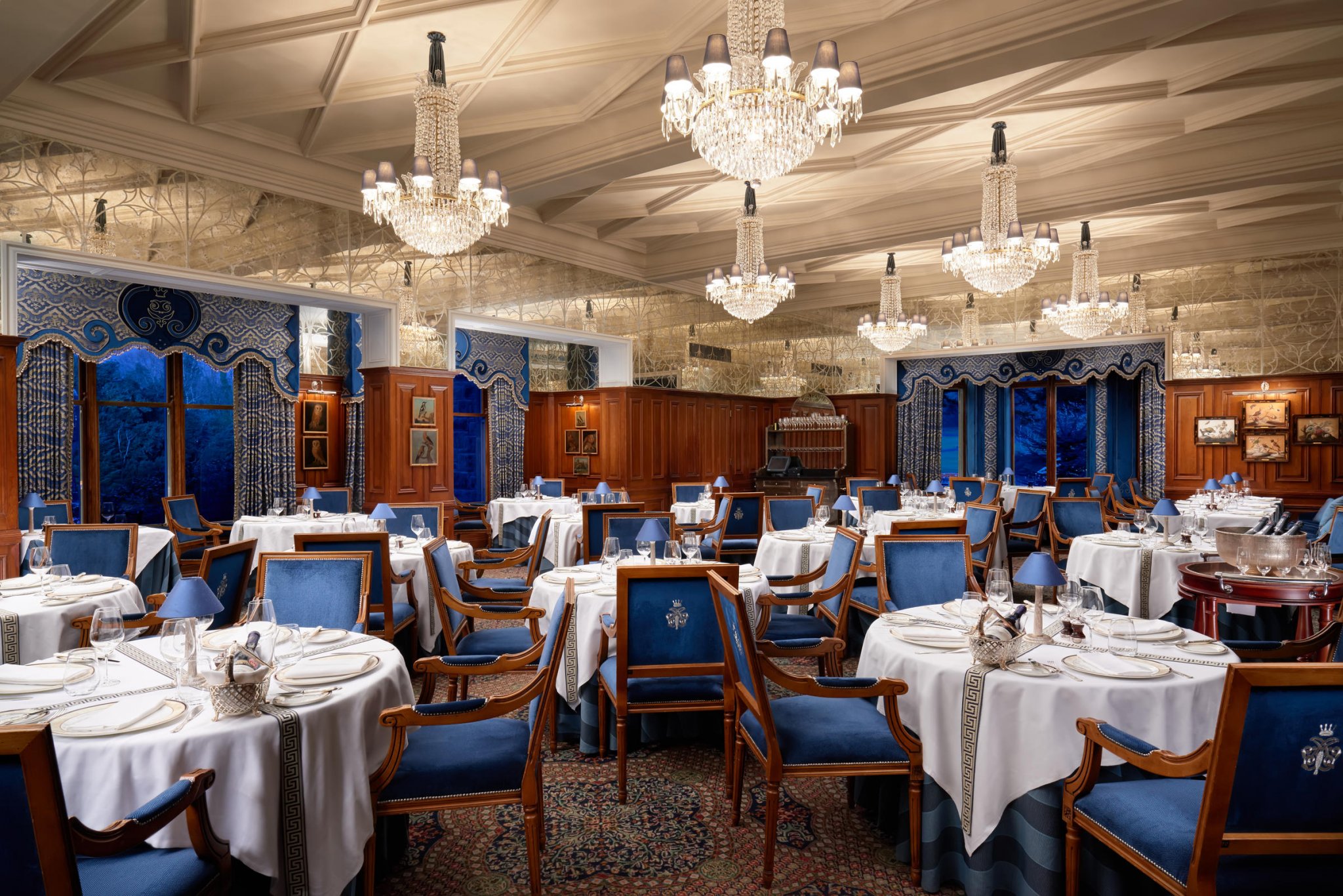 I don't know why but it always makes me think that this is what first class dining on The Titanic must have been like. It really is such a graceful setting. Bear in mind that it is a formal dining experience and men are required to wear a dinner jacket and tie.
The Drawing Room
We decided on the slightly less formal but equally exquistite Drawing Room for dinner. The menu is more bistro style and included burgers and steaks. We both decided on an 8oz Ribeye steak with fries and it was so delicious. Staff were really attentive and so friendly and we loved finding out that they wear waistcoats with honey bees on them because they consider themselves the happy worker bees to the Queen Bea (Beatrice Tollman, nickname Bea, who owns the Red Carnation Hotel Group).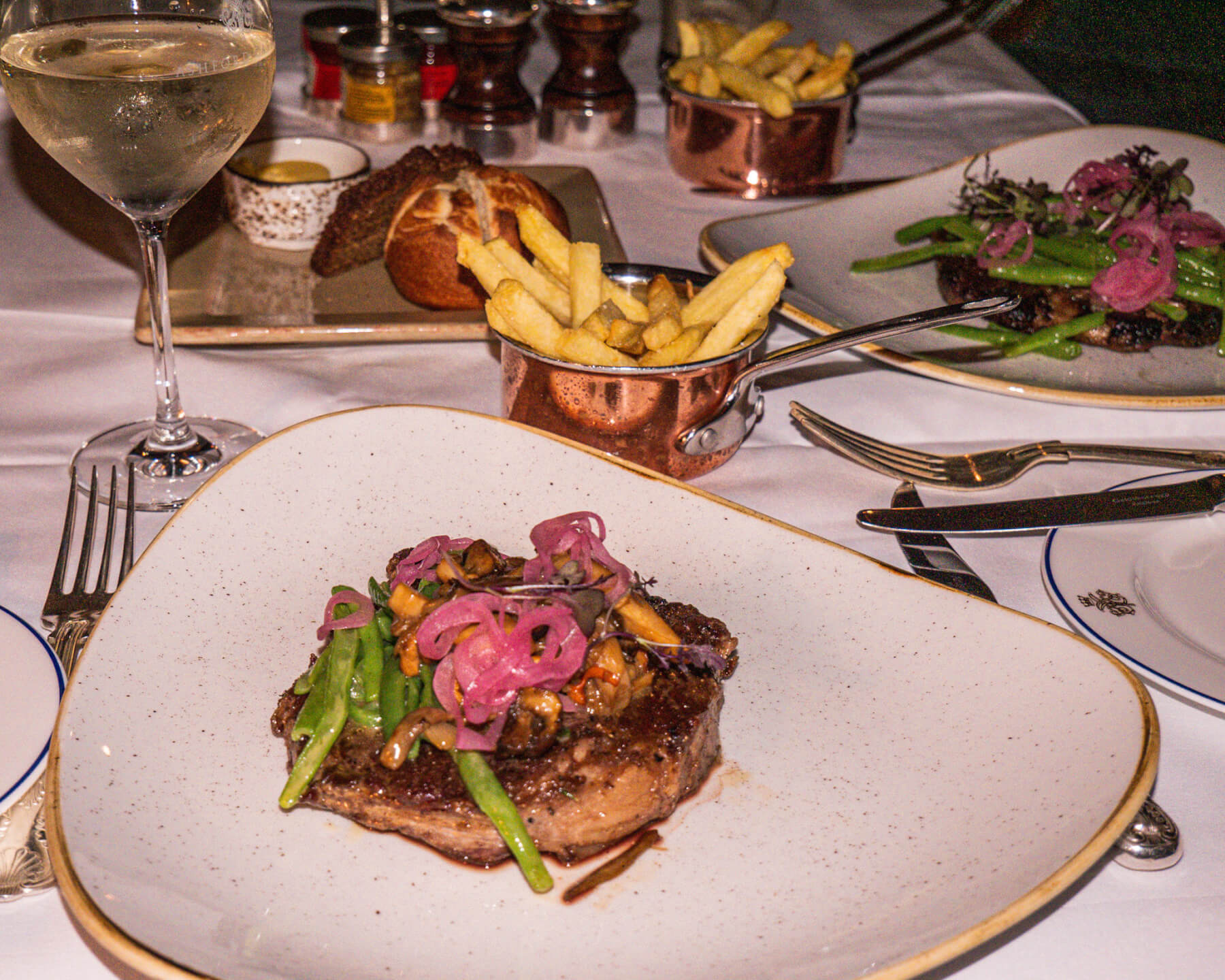 The Dungeon
As its name would suggest, the unique setting located on the lower ground floor of the castle invites diners to enjoy a range of dishes with a focus on traditional Irish cuisine beneath the historic curved stone ceiling. Unfortunately it wasn't open during our stay but the same menu is served in The Drawing Room.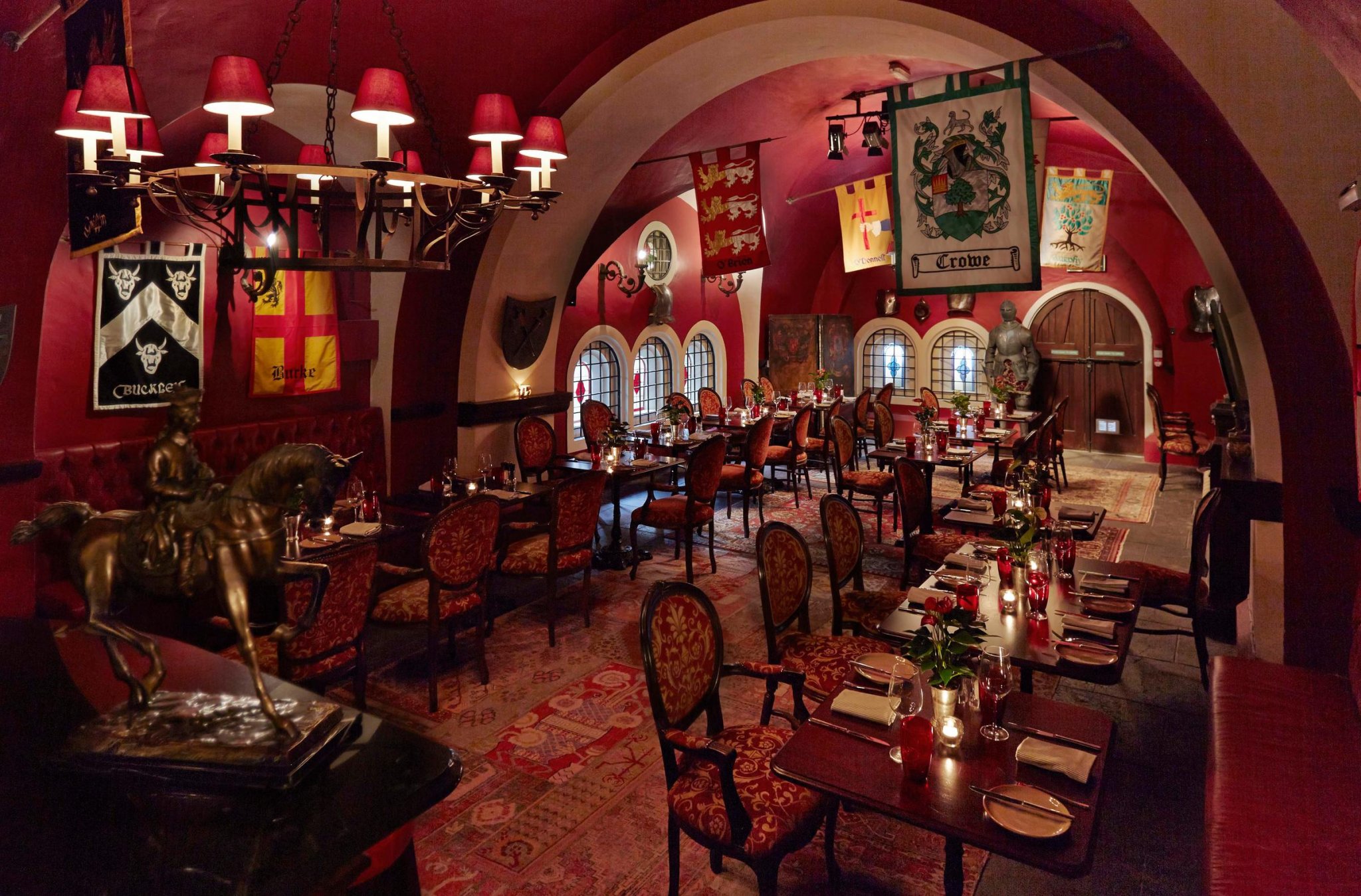 Prince of Wales Bar
Aptly named for the Prince of Wales visit in 1905, the bar was used as the Prince's private bar, allowing him to retire in peace before and after dinner. The two doors leading from the George V Dining Room are still there today, but are no longer in use. It is the perfect place to enjoy a pre or post dinner drink, serving a fine selection of cocktails, Irish and Scotch whiskeys and of course Mister Lavin's favourite Guinness.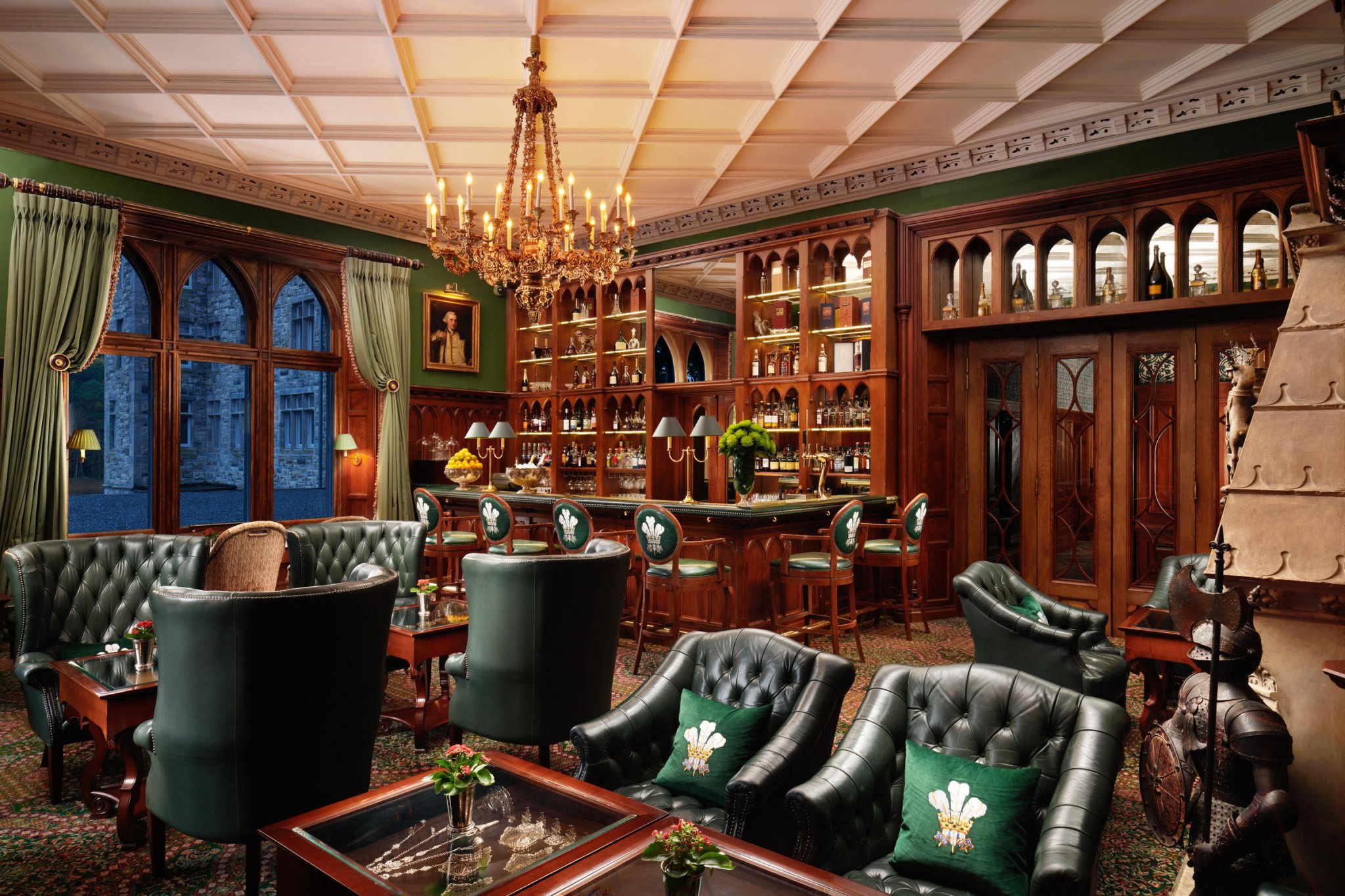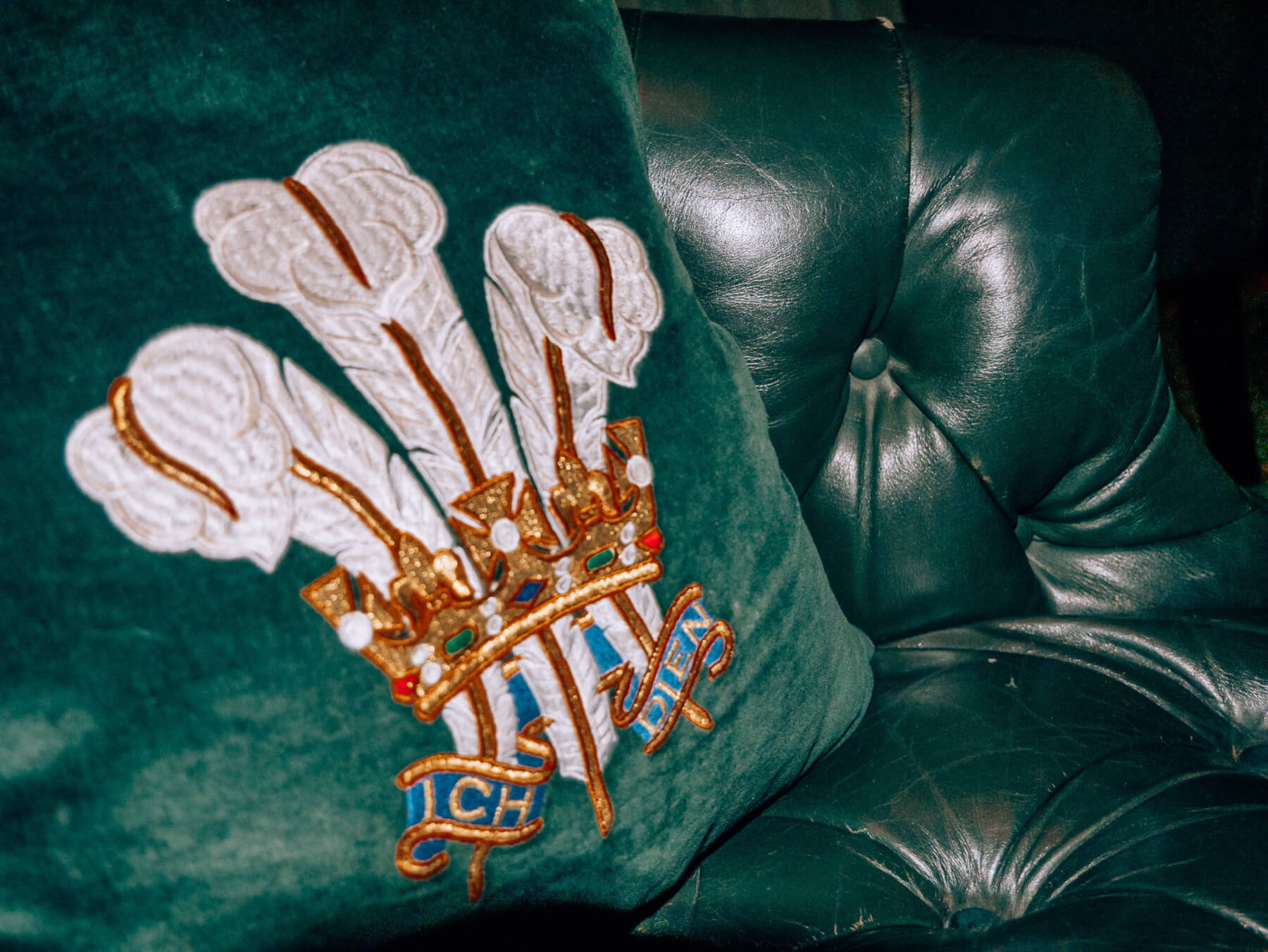 Afternoon Tea at Ashford Castle
The long established tradition of Afternoon Tea has been wonderfully preserved at Ashford Castle since 1868. In the Connacht Room you will find the original silver tea set that was presented to Lord and Lady Ardilaun to celebrate their 25th wedding anniversary in 1896. It is the perfect spot to enjoy a delicious Afternoon Tea overlooking stunning views of the Lough and gardens.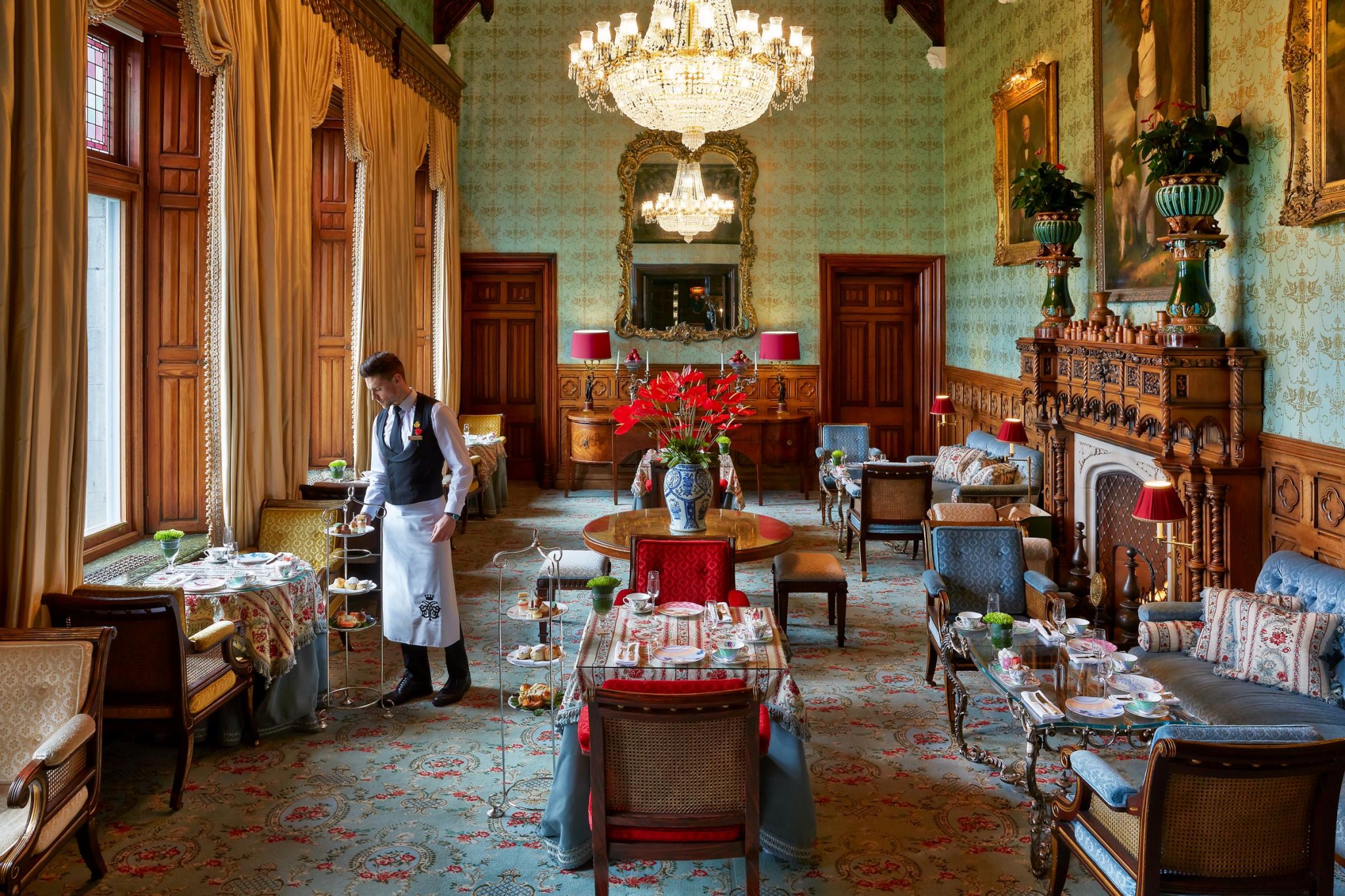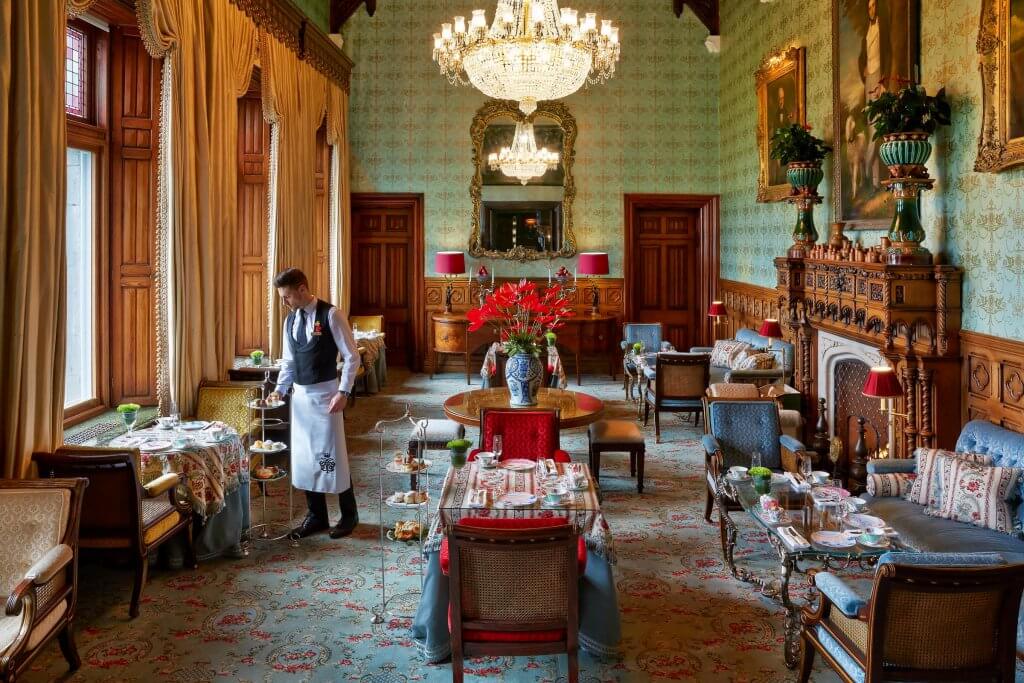 Cullen's at the Cottage
If you fancy dining outside of the Castle you can cross the bridge over to a charming little thatch cottage still on the Estate. Open mostly during the Summer months you can enjoy dinner in a beautiful rustic setting. The menu comprises both local and international dishes, including fresh lobster and oysters. You don't have to be a resident of the Castle to dine here and myself and Mister Lavin often come at least once in the Summer to enjoy fish'n'chips with castle views.
Breakfast at Ashford Castle Hotel
Breakfast at Ashford Castle Hotel is a real treat. Some of our favorites were the fresh fruits, pastries, and the little bottles of juices and smoothies that are made in-house. You have to try the apple and kale smoothie. We even had a slice of honey roast ham hand carved at the table for us. It was so tasty with a little sample of Dijon Mustard.
There is also a menu with hot dishes to choose from (included in the breakfast); don't miss the smoked salmon, avocado, poached egg on the most delicious brioche toast!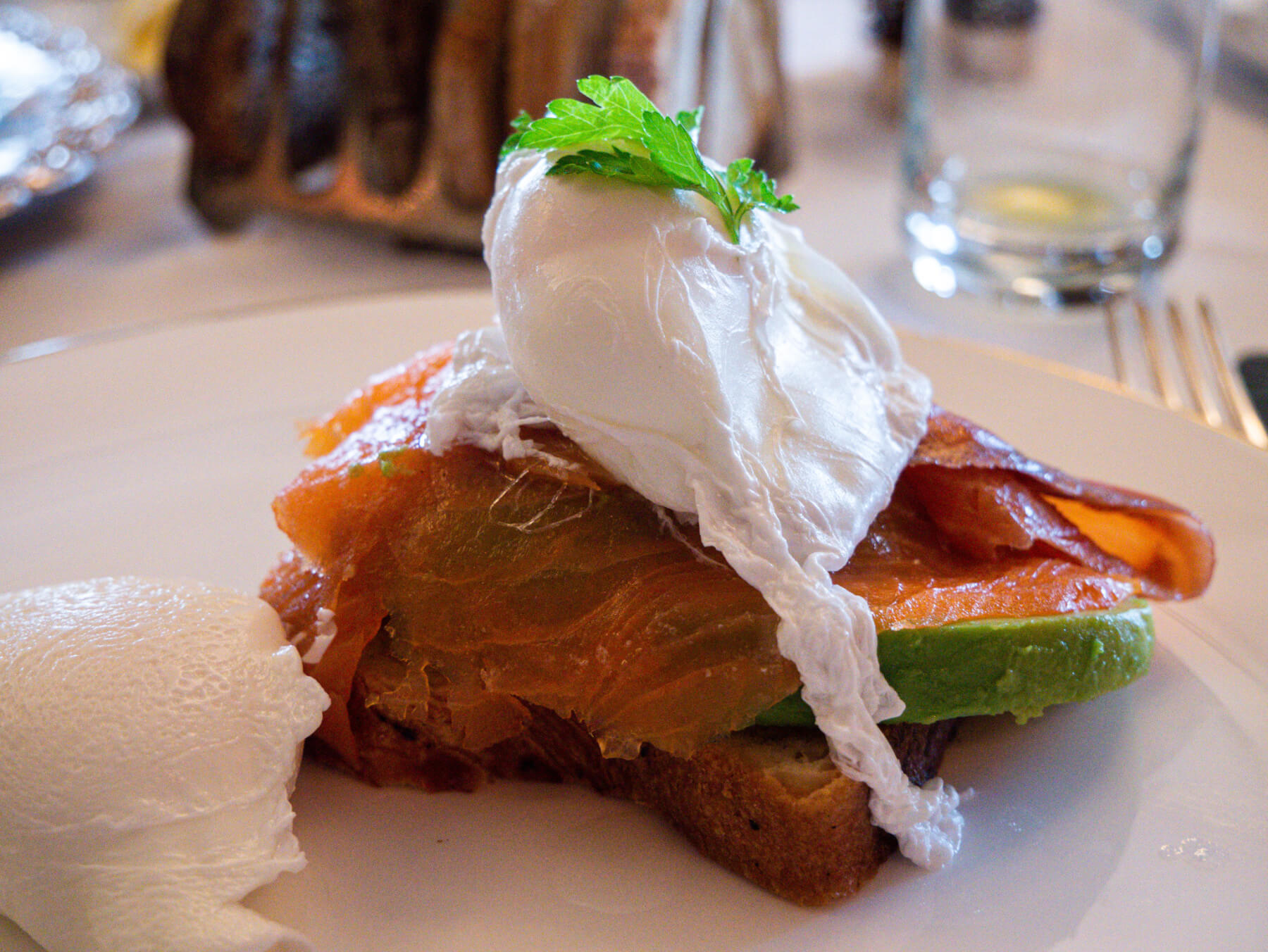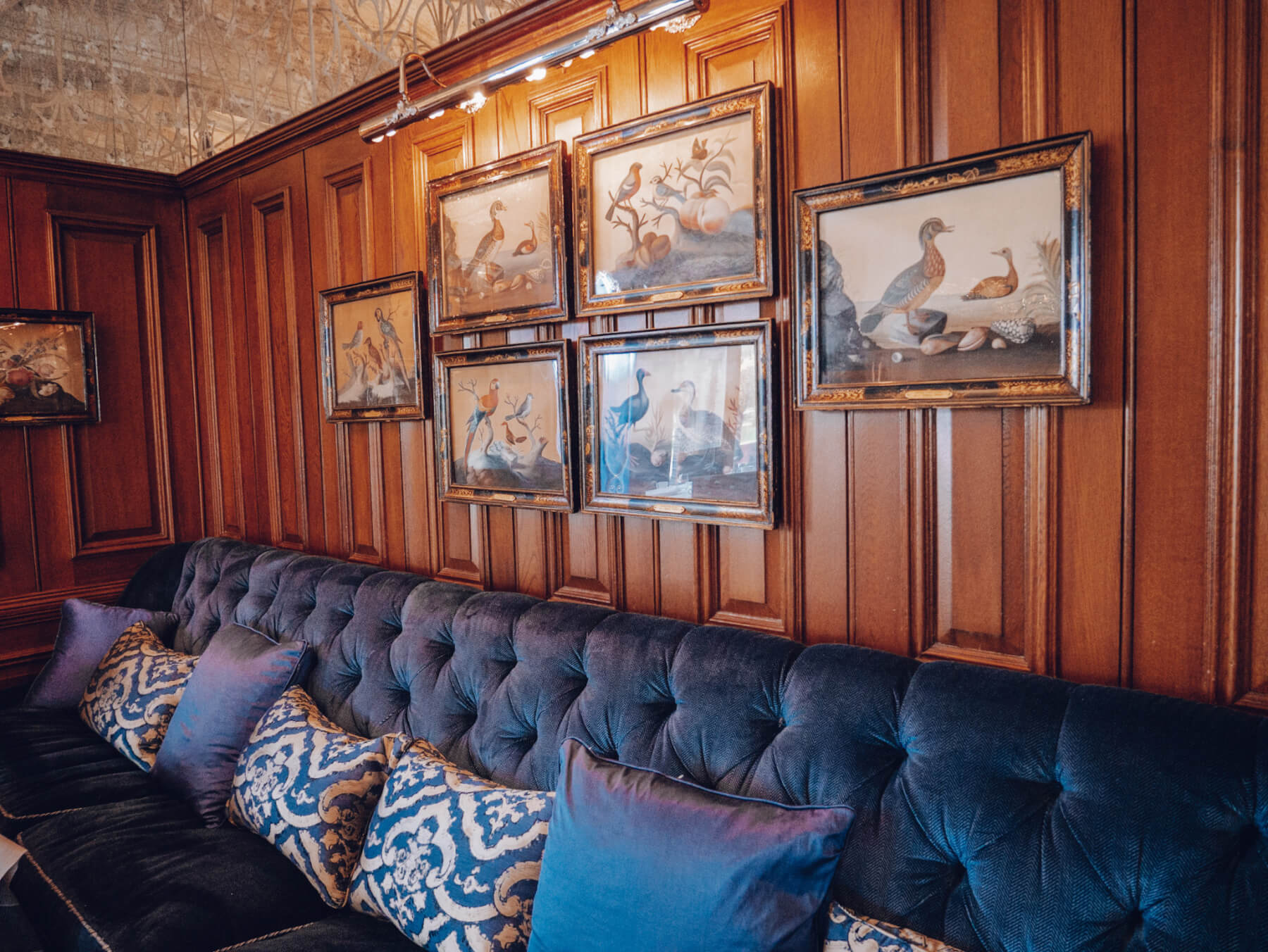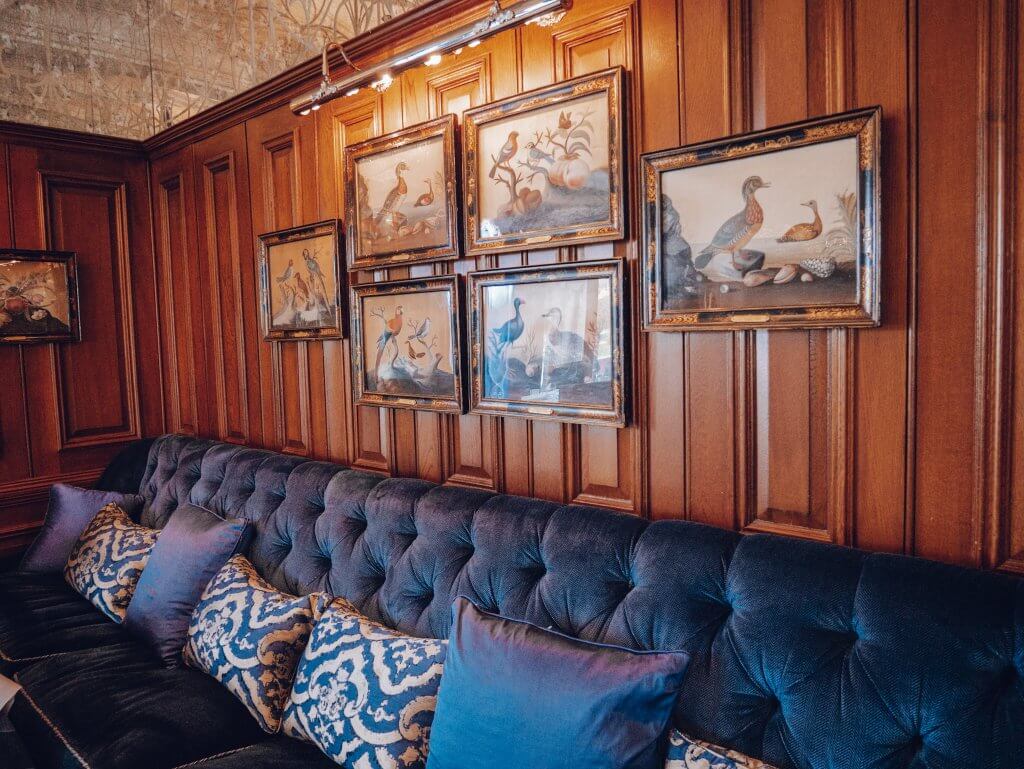 Is it really worth the price?
I had several people on Instagram reach out to me since our stay to ask whether I thought Ashford Castle was worth it. I thought I would answer that here. Usually myself and Mister Lavin travel to explore a location. A fancy hotel room is not high on our priority list because we are really just looking for a place to sleep. A nice hotel however does add to the overall experience but we prefer to save our money for experiences in the area, such as nice meals out and museums etc.
But sometimes the hotel IS the unique experience! Those moments that you don't get often in life. In Ashford Castle's case, we thought it offered something unique: the fact that it's a real historic castle, the beauty of the setting and surrounding estate, and the unique activities that are offered. We have never stayed in a hotel that offers the bespoke service and attention to guests that Ashford Castle does.
How much does it cost to stay at Ashford Castle?
Yes, this of course comes at a price. To stay as a guest at Ashford Castle is not cheap. Classic rooms start between €350-€425 for a night, our gorgeous state room can cost €2,890 a night and The Presidential Suite over €3,200. But don't freak out at those prices. If staying as a guest at Ashford Castle is a dream for you there are ways of making it happen.
When I stayed as a paying guest with my family all those years ago I had signed up to Ashford Castle's email list for offers and exclusive deals. The hotel often does great offers for stay and dine deals especially during off season. If you have a special occasion mention it to hotel before arrival. The staff go above and beyond to make your stay as memorable as possible and if there is availability they may even upgrade your room.
Ashford Castle is definitely a pricey hotel, but our verdict was that was 100% worth every penny. It is a real treat especially for a special occasion. I honestly could not find anything to fault in our entire stay. We were hoping for an indulgent and memorable stay, and all our expectations were exceeded. It was an absolute dream come true and I am still pinching myself! In my opinion Ashford Castle should be experienced by everyone at least once in their lifetime and it is the ultimate bucket list stay.
**Disclaimer: Our stay at Ashford Castle was complimentary, but I only ever work with accommodation that I am happy to recommend to you guys and Ashford Castle is the ultimate in luxury hotels Ireland. Staying complimentary allows us to fully experience a resort, give honest reviews and create content for you guys to enjoy. All opinions are our own. This post also contains affiliate links meaning that if you book through one of our links we will receive a small commission at no extra cost to you. This helps us create the wonderful travel guides that we do**
If you are looking for some more luxury hotels in Ireland check out my posts below.
Sheen Falls Lodge Kenmare – 5 star hotels in Ireland
Unique place to stay Ireland, Loughcrew Lodge
Spending a weekend at Lough Erne Resort
Unwind in the luxury of Galgorm Resort and Spa

Are you new here? Join thousands of other happy readers and subscribe to All About RosaLilla blog via email. The good news is that by signing up via email you will get exclusive travel deals straight to your inbox. The only other place that we publish these deals is on Instagram stories, so be sure to signup to get the heads up on amazing travel deals to save you money when booking.
I also share everything about myself on Instagram with nothing held back so be sure to follow along there.
Until next time you crazy kids!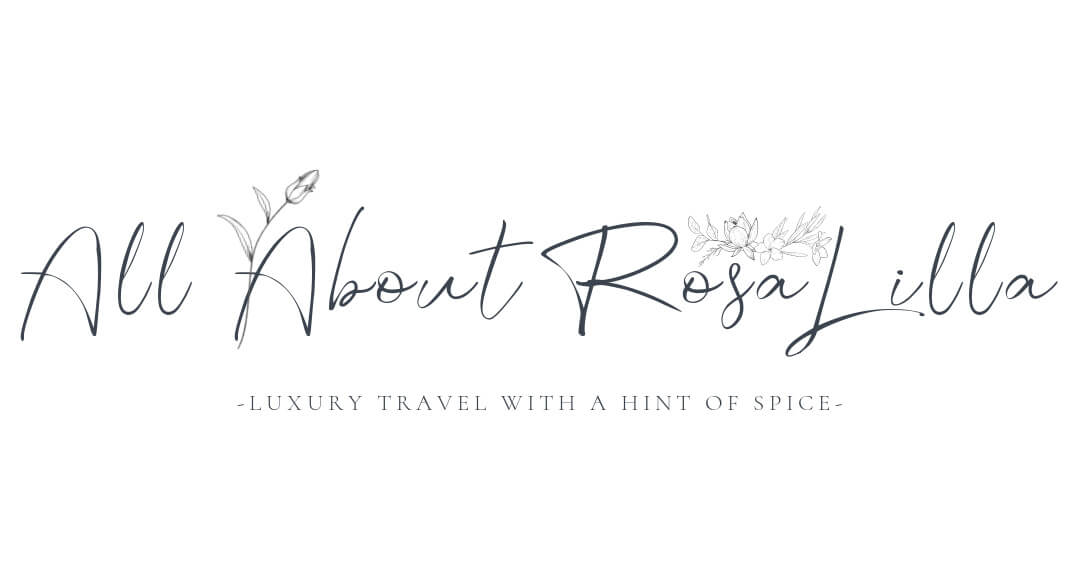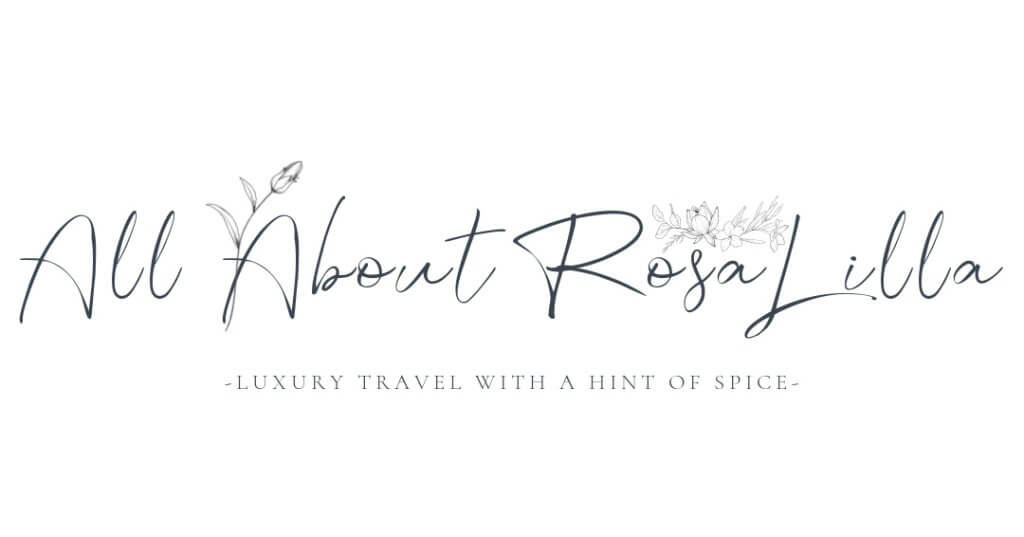 Sharing is sexy!