This year I really want to dedicate some more blog posts showing you some of the beautiful places to stay in my home country of Ireland. I feel so lucky to call Ireland home and I have found some hidden gems in both Ireland and Northern Ireland that I just can't wait to share with you. Like Galgorm Spa and Golf Resort! Myself and Mister Lavin were lucky enough to have been invited to recently spend a night at this beautiful resort and I can only describe it as heaven. If you know anything about me, you know that I seriously struggle to just switch off and relax, but this was the most luxurious place to just unwind.
Where is Galgorm Spa and Golf Resort?
The best way to get to Galgorm Spa and Golf Resort is by car. Galgorm is a small town not far from Ballymena in Co. Antrim. It is the perfect base for exploring Northern Ireland as it about 35 minutes from Belfast and the North Antrim coast. The hotel can easily organise transfers to Belfast airport.
We drove from Galway as far as Dublin, because the motorway is a better road, and then drove towards Belfast. Dublin to Belfast will take about 2 hours.
The resort itself is located in a beautiful secluded area of the Antrim countryside beside the cascading River Maine. You could not ask for a more idyllic location to completely unwind and reconnect with nature.
Supporting local communities
I have so much respect for a resort that gives back to local communities and whilst in Galgorm I became aware of their initiative to support their local area. Galgorm Spa & Golf Resort is committed to finding ways to contribute to society and the main ways that they do this are by working with local charities, societies and clubs to have a positive impact in the community.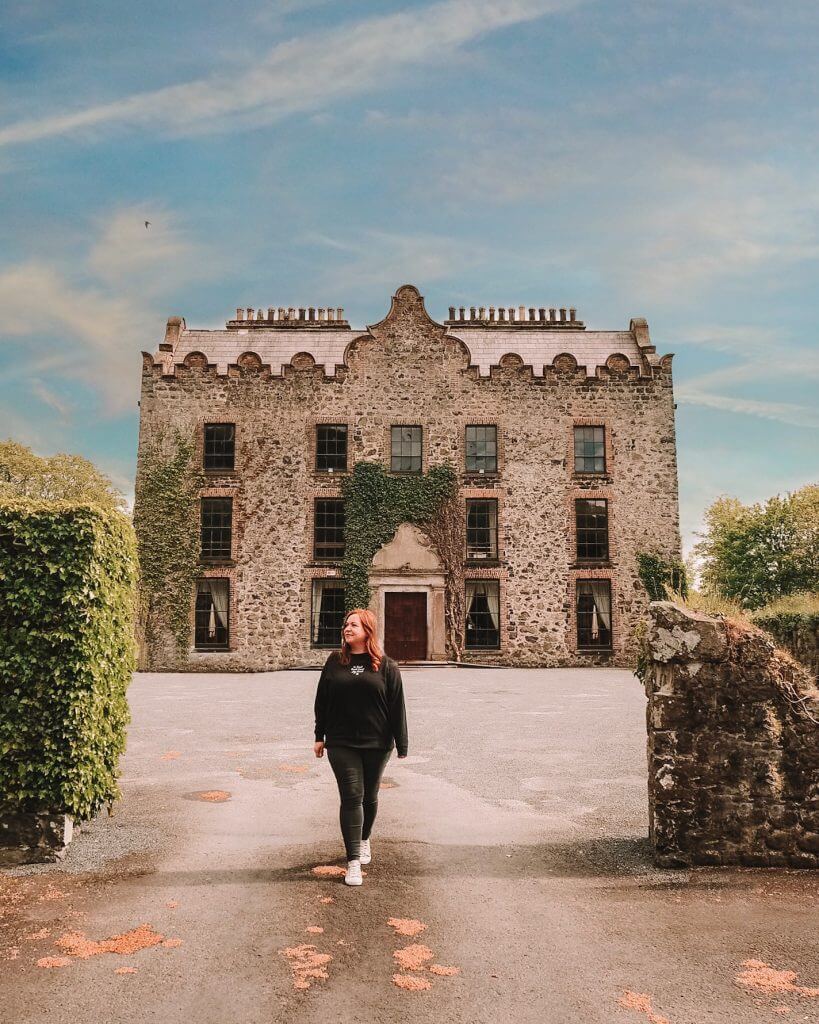 They are a proud partner of The Simon Community which is a voluntary organisation committed to the vision of ending homelessness in Northern Ireland. It is so inspirational to see resorts like Galgorm take this approach. "At Galgorm we aim to create a 'home from home' and, while we provide luxury accommodation, we are all too aware that there are people in our community who don't have a bed or shelter for the night."
It certainly encourages me to spend my money in a hotel that is aware of the housing crisis in Ireland and, despite being a luxury resort, have a deep insight into the fact that some people can only dream of staying there and in some way give back to those that have found themselves in this situation.
Checking in to Galgorm Spa and Golf Resort.
We drove up the beautiful long winding driveway, lined with the most colourful rhododendrons, leading up to The Great Hall and Main Reception area of Galgorm Spa Resort. The resort is set in 163 acres of lush parkland just asking to be explored. There is Valet Parking outside of the main entrance but we didn't want to be seen as "having notions" and prefered instead to park the car ourselves.
Once parked we were met at the door by a friendly doorman and welcomed inside to the cosiness of open roaring fires and tartan furnishings, that immediately gave me the feeling that we were retreating to the country.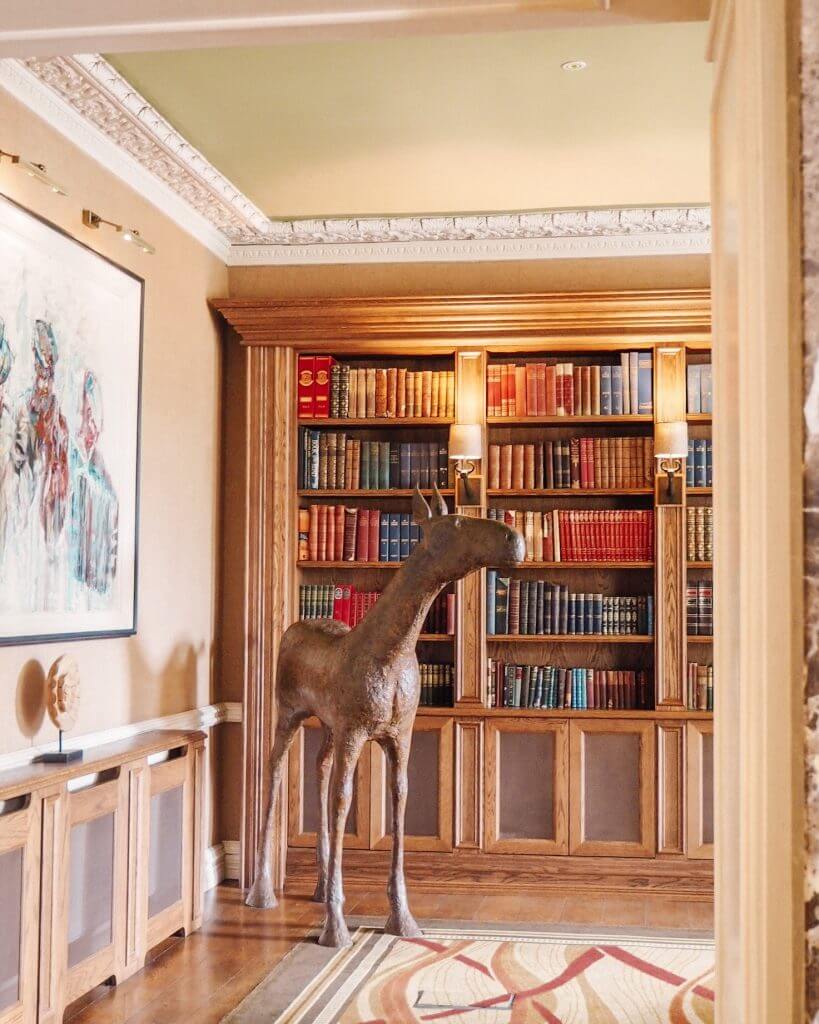 We were then directed to the Deluxe check-in area (yes! the deluxe rooms have their own check-in area) and sipped on lemon infused water and nibbled sample pastries while waiting our turn to check-in. The check-in process was very quick and the staff were super friendly, even giving tips on what to order in the restaurants and what activities were available outside of the resort.
Deluxe room at Galgorm Spa and Golf Resort.
Galgorm Spa and Golf Resort has 122 bedrooms including suites, deluxe, superior and standard rooms. They also have accommodation in the form of Riverside Cabins and Fishermen's Cottages that are located in the grounds and are ideal for groups or families. We stayed in one of the hotel's Deluxe rooms.
Our room was AMAZING! Beautiful, simple decor with rich and earthy tones and a bed that was huge! The bathroom was marble, with feature mirror lighting and had a separate bath and shower area which I love. The best thing about the room were the views over the River Maine. I seriously could have sat there all day it was that peaceful.
In the deluxe room there is a seperate seating area to watch T.V. (although you are missing out if you spend your time there watching T.V.!). There is also a complimentary mini bar…yes you read that right, I did say complimentary and a tablet like device that will give you all the information that you need on the hotel and the surrounding area. A Dyson air conditioner purifies the air so no noisy or stuffy hotel air conditioners here.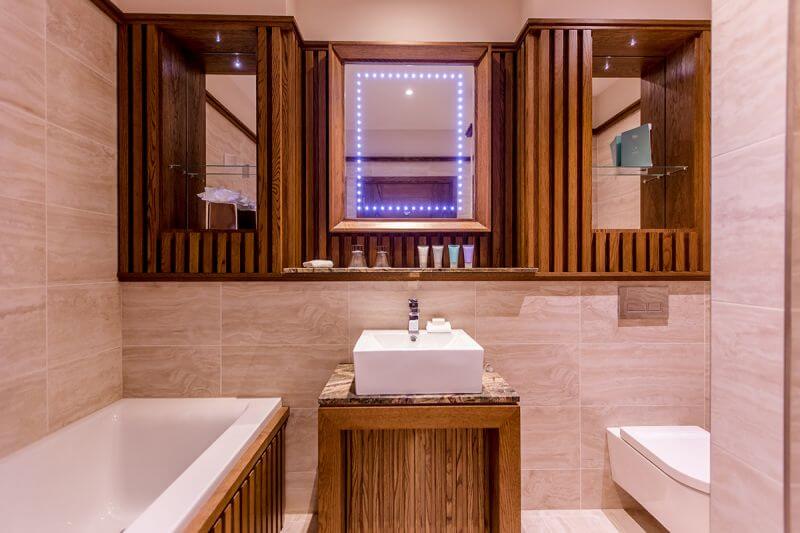 Thermal Village
Our room also overlooked the Thermal Village of the Spa at Galgorm. There is no denying that this is the hub of the hotel and what attracts so many visitors. I have been to many spas and have never seen anything like this. It is no wonder that they have won Global Luxury Spa Hotel of the Year 2018 at the 12th World Luxury Hotel Awards 2018.
Access to the Thermal Spa Village facilities are included for all residents of the hotel and are also part of the Day Spa Packages. Of course the first thing I wanted to do was whip off my clothes and get into my swimsuit and cosy robe and slippers to enjoy some pampering. I didn't waste any time in getting to the spa.
On check-in at the spa you are given a map (yes it really is that big!) but I found that you didn't really need it as the area flows really well and is very easy to navigate. There is an indoor heated pool area with sauna and a snow cave. Outside there are many hot tubs, relaxation areas with fire pits, outdoor heated jacuzzi pool, a cafe, steam rooms, riverside relaxation room with infrared heated relaxation beds.
My favourite was the Celtic Sauna with riverside views. I could have sat there all day (if I didn't risk turning myself into a shrivelled up prune) watching the river babbling away with fish jumping up out of the water to catch flies. It was the most peaceful experience and I don't know about you but I always feel a sense of rejuvenation when I get to reconnect with nature.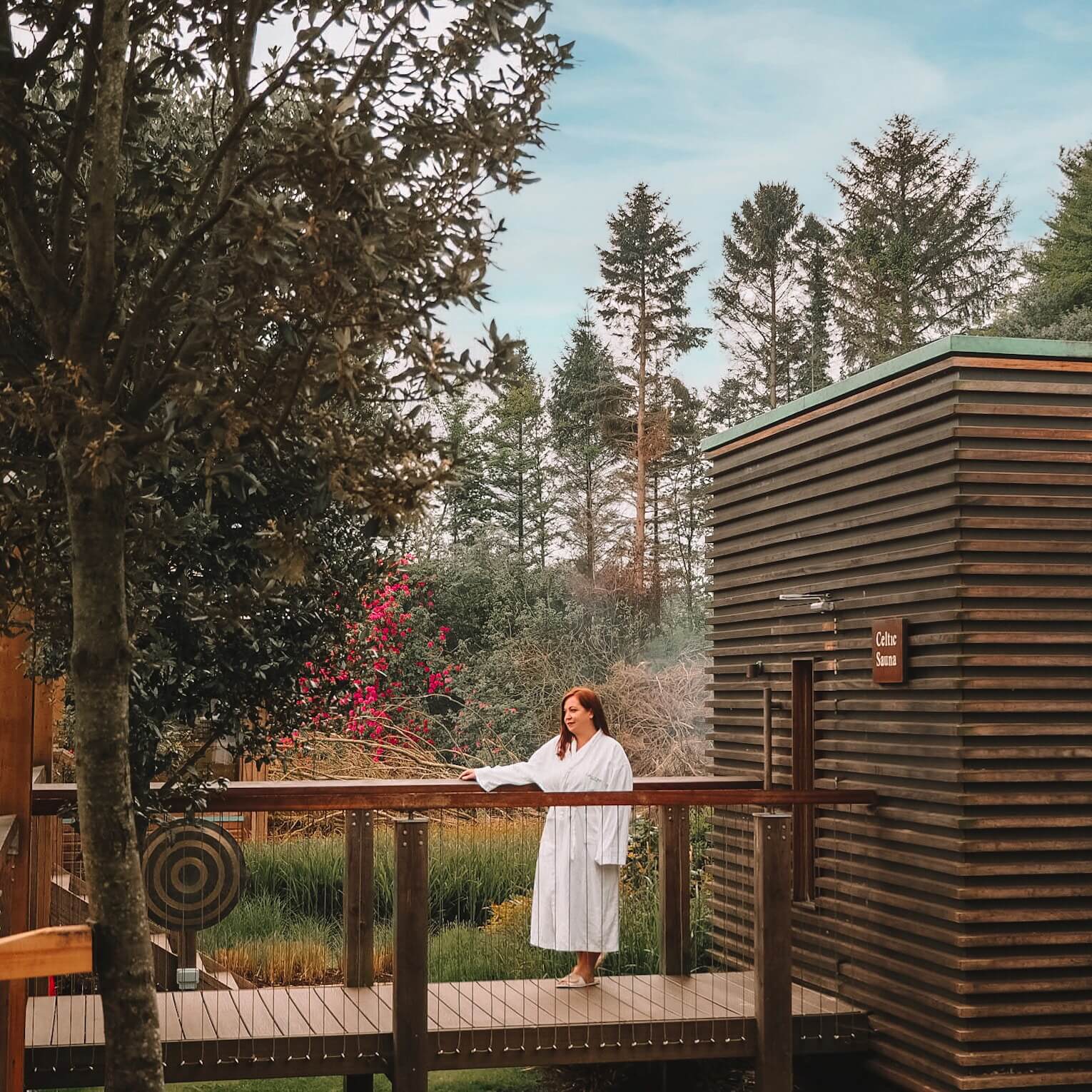 A highlight of the Thermal Village are the private riverside hot tubs. You can book your own experience complete with Prosecco and experience the full luxury that Galgorm Spa and Golf resort has to offer. The water is heated by a wood burner and everything just smells fantastic. So prepare to get your zen on and just unwind.
Food at Galgorm Spa and Golf Resort
After spending quite a few hours at the Thermal Village we were hungry. We had dinner booked for us at 8 o'clock in Fratelli's Italian restaurant, one of three restaurants onsite, so we went back to the room to get ready.
The resort has three restaurants, The River Room, Fratelli's and Gillies Bar and Grill. It even has its own Gin Library which got Mister Lavin fiercely excited. Walking to Fratelli's was like entering your own little piece of Italy. The Mulberry Garden is the perfect place to enjoy a pre dinner drink during the summer time.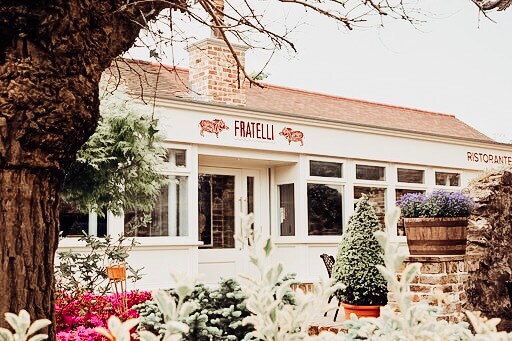 The food at Fratelli's was amazing as were the staff who went above and beyond to make sure that we had a wonderful experience there. The menu was traditionally Italian and I just loved the tapas style starters called Cicchetti that they had on offer. We enjoyed every second of it and literally had to roll overselves back to our room to sleep off our food induced coma. I don't know if it was the relaxtion of the spa, the contentment of a good meal or the massive king size bed but I can honestly say I have never slept as well. For those of you looking for something a little more lively there is a pub onsite called Gillies Bar with live music.
Breakfast at Galgorm
If you are a real foodie you are just going to love Galgorm Spa and Golf Resort. Breakfast in The River Room is a real treat with a full menu on offer as well as a buffet style breakfast. We were still full from the previous evening's meal but we couldn't resist. Mister Lavin had the full cooked breakfast and I had kippers which were delicious. Mister Lavin's potato cakes looked so damn good that I also had to order a portion for myself.
What to do in Northern Ireland
Silent Valley Reservoir
There is plenty to do in Northern Ireland. On our way to Galgorm we decided to visit the Silent Valley Reservoir in the Mourne Mountains which is the main water supply source for most of Co. Down and a large part of Belfast. The views are just spectacular and there is also a large parkland to explore.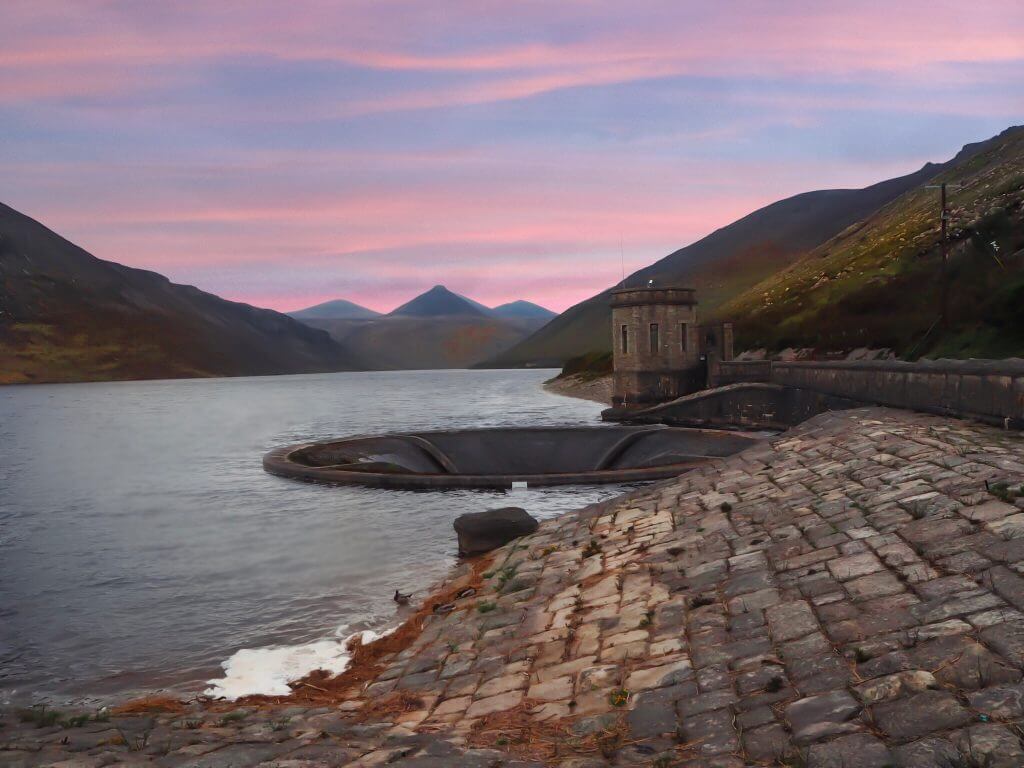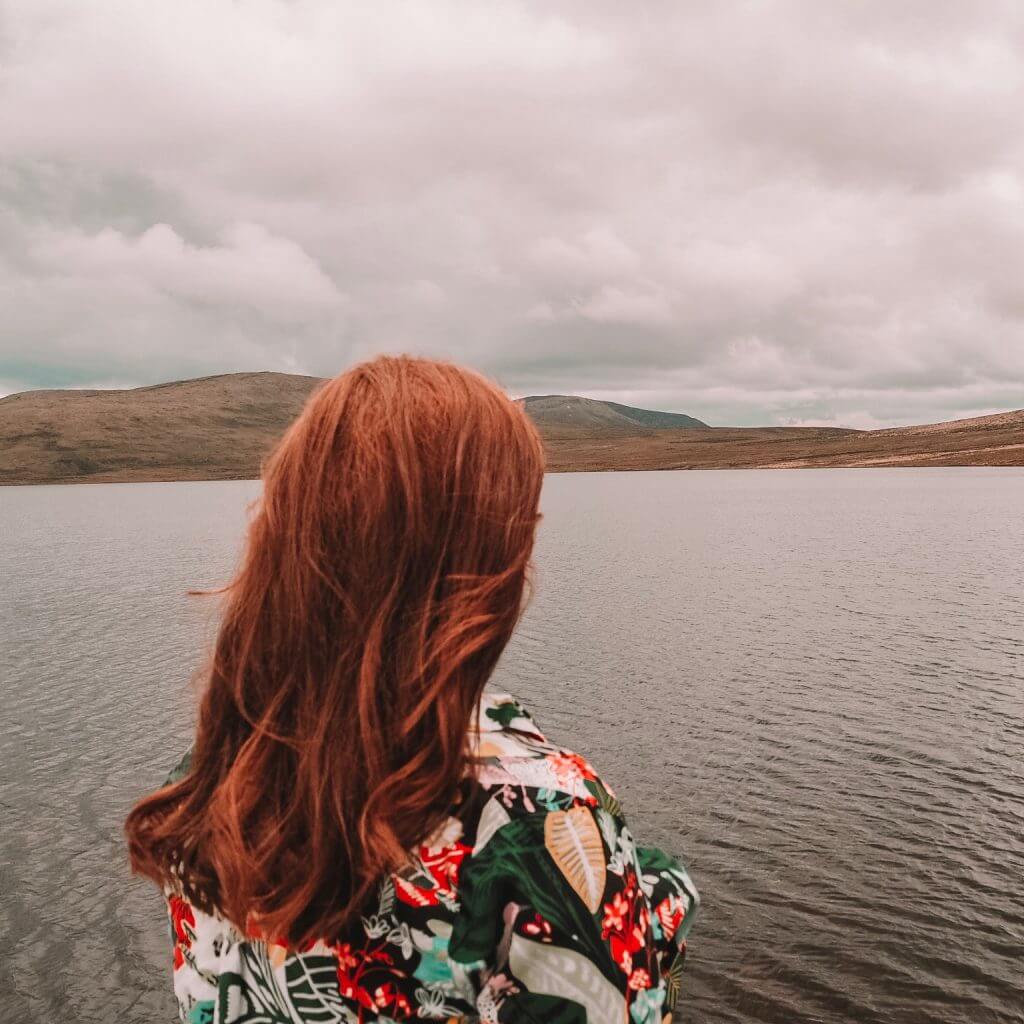 Play Golf at Galgorm Castle
When Mister Lavin heard that we had been invited up to Galgorm Spa and Golf Resort he immediately packed his golf clubs. How could you turn down the opportunity to play on the course that held the Northern Irish Open? It cost £40 for a round of golf and even though I am not the world's biggest fan I had such a wonderful day being his golf caddy and getting to drive a golf buggy around this beautiful course. This course is located off site a few minutes away from the resort but in the resort is also a 9 hole Par 3 golf course and pitch and putt.
Lunch and a post-golf glass of wine at the Castle Kitchen Bar & Grill was just delicious. If you need to know any further information about Golf at Galgorm Castle just message me and I will ask the expert Mister Lavin.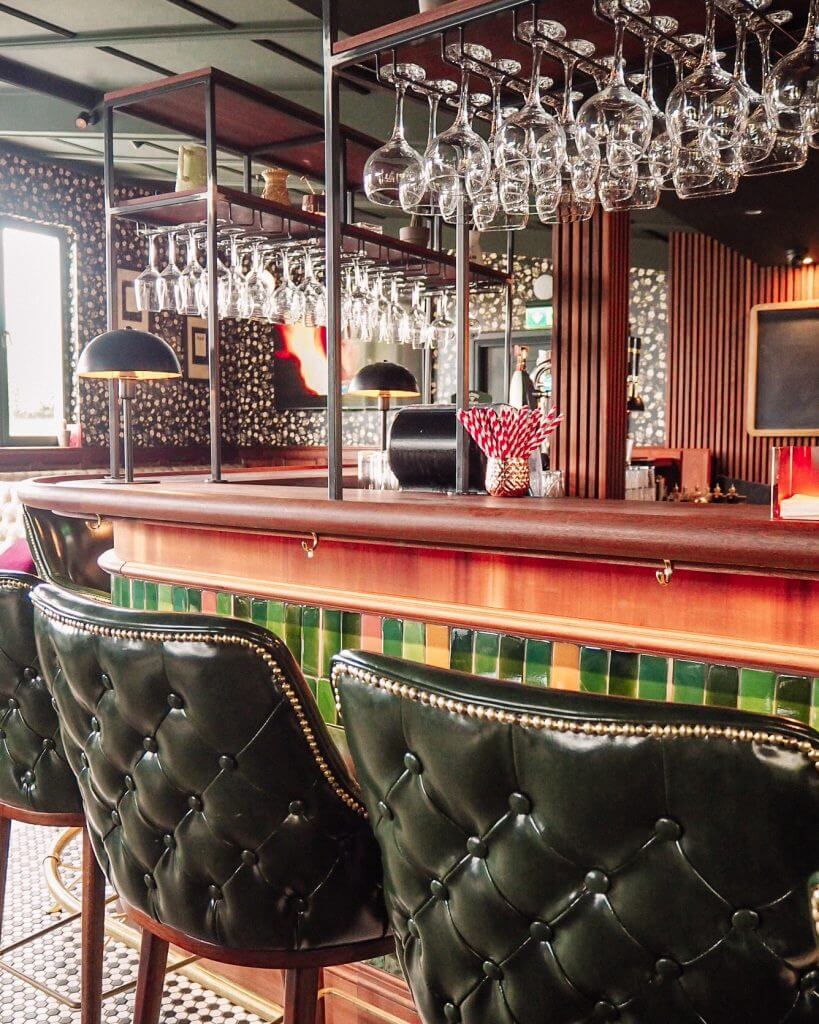 The Giant's Causeway & Dunluce Castle
Located just a short distance away from each other and about 30 minutes from Galgorm are Dunluce Castle and The Giant's Causeway.
Dunluce Castle looks so majestic perched dramatically on the cliff edges of the Antrim coastline. There is a small tourist information centre located there and you may explore the ruins of this medieval castle. Game of Thrones fans will also recognise this spot.
The Giant's Causeway is a must see when visiting Northern Ireland. It is a World Heritage site and is one of the most unique rock formations in the world with over 40,000 interlocking basalt columns. These columns are the result of volcanic activity millions of years ago.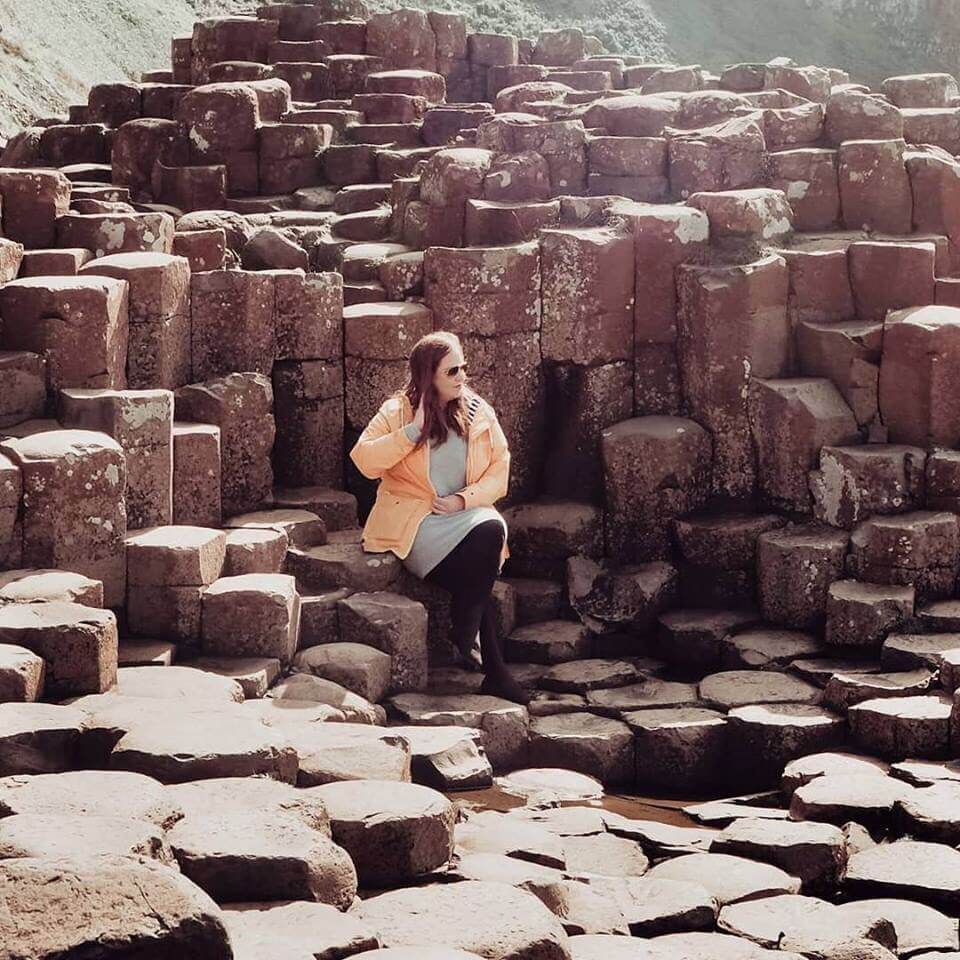 The Dark Hedges
Located in Ballymoney in Northern Ireland is an avenue of Beech trees, planted by the Stuart family back in the 18th century in order to impress guests who approached their mansion, Gracehill House. Fast forward two hundred years and these trees have continued to grow and twist their branches in the most beautiful and impressive way.
The result is the stuff of fairytales and there is almost an eerie like quality here. More recently this place has become popular after being featured on "Game of Thrones". As a result photographers and tourists come here in their masses to witness this phenomenal place for themselves.
Photographers particularly love taking pictures of this mysterious place in heavy fog, which is fitting because of a ghostly legend surrounding them. Legend has it that these beech trees are haunted by a "Grey Lady" who wanders the trees at dusk, silently gliding the length of the avenue before disappearing at the end of the trees.
Whatever the season this place is truly beautiful but it is worth remembering a few tips. The first is that this is still a public road so watch out for traffic especially at night. The second is that beyond rumours of ghostly figures you will not be alone. The popularity since being featured on Game of Thrones means that as soon as one bus load of tourists leave another instantly arrives so if you like to take photos without a crowd get there before 9:00am.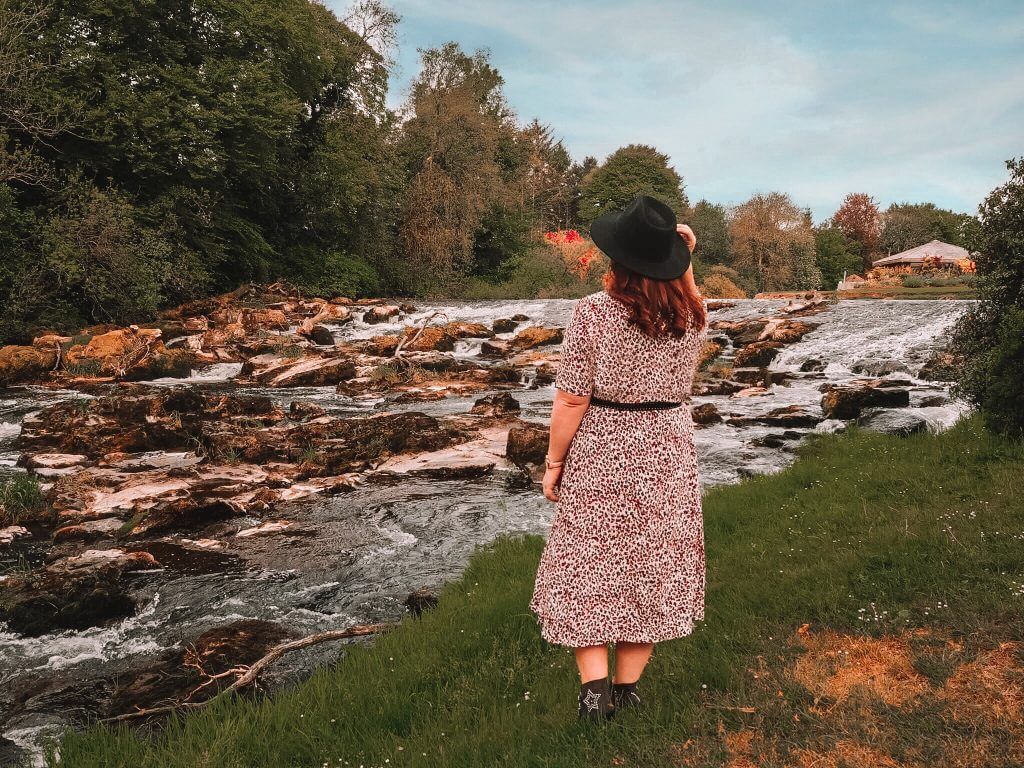 So you can see that I thoroughly enjoyed my time in Northern Ireland. I am so grateful to have been invited up by Galgorm Spa and Golf Resort to stay with them. While this trip was complimentary you guys know that I only ever give my honest opinion. We were treated so well by all of the staff at Galgorm and I can highly recommend staying here as a base to explore Northern Ireland.
**Disclosure: Our stay and dinner in Galgorm Spa & Golf Resort was complimentary**

If you liked this you may also like:
No 15 Great Pultney. Bath's most unique hotel
Escape your every day at the Country Living Hotel
My Lyme Story. How I survived Lyme Disease.
Don't forget to follow @all_about_rosalilla on Instagram
Until next time you crazy kids!