If you are stuck for some interior inspiration, fear not! In this blog post I want to showcase some of Ireland's most beautiful hotels, restaurants, bars and cafes to make your Instagram very happy. I have rounded up some of my favourite design-savvy venues throughout Ireland to get your creative juices flowing. Here are the best Instaworthy interiors in Ireland.
Glasson Lakehouse
Experience laid back luxury at its very best at an imaginative retreat set in the very heart of Ireland. Think upscale country chic full of on-trend surprises nestled on the shores of Lough Ree in Westmeath. Glasson Lakehouse is an excellent hotel base for anyone who wants to explore the best of the Lakelands and the lush, green hidden heartland of Ireland's midlands. There is an array of historical landmarks, cultural attractions and outdoor activities including boat tours, hot tubs, outdoor pool and more for you to experience. Be inspired to decamp your entire living room outdoors – furniture, lamps, rugs, even the fireplace!
There are even big plans to bring their very own indoor and outdoor cinema to Glasson Lakehouse. Snuggle up under a blanket, watching the sun go down over the lake and enjoy some of the best movies. Sounds like heaven.
The Dean
Based in Dublin, Cork and soon to be Galway, The Dean is design heaven! A Wilson architecture and O'Donnell/O'Neill design collab this stunning hotel chain blends raw glamour, understated elegance and strong industrial vibes. I get butterflies just thinking of the smell of cederwood, roll top copper baths, pocket doors and vertically stacked wall tiles edged in gold trim. Wood on wood and shaker wall panelling make the perfect Instagram worthy interiors and definitely deserves a spot on your feed.
Cinammon
Cinnamon is a Roisin Lafferty designed restaurant in Ballsbridge Dublin. Cotton candy hues contrasted with a deep rose ceiling make it very aesthically pleasing. There are some interesting wall features too with vertically stacked tiles, circular mirrors and beautifully patterned wall paper. The food is pretty yum too!
Marfield House
Marlfield House is renowned for its lavish and warm hospitality and has long been recognized as one of the most celebrated luxury hotels in Ireland. It is even featured on the prestigious Ireland's Blue Book. An Oasis of tranquillity and charm this luxury country house hotel has a refreshingly relaxed and welcoming atmosphere but it is at the gorgeous cabin-style pond suites where the design really comes to life.
Each ones features a magnificent wall mural bringing nature right in to the room. The Pond Suites are ideally located overlooking the pond, in a lush, wooded setting of mature oak trees and ferns. Bright colours and bold prints add a modern touch to this Regency hotel. The interior of the main house bears all the signs of a much loved house filled with fresh flowers, gleaming antiques and mirrors, blazing fires and period paintings. This is my style!
Pink Restaurant
For lovers of all things pink head to Pink restaurant, a truly unique dining experience in Dublin 2. Pink isn't just a colour, it is an experience that you will be telling your friends and family and of course Instagram followers all about.
Cliff at Lyons
The interior style at Cliff at Lyons is right up my street. Think luxury French chateau chic combined with relaxing country retreat vibes. Cliff at Lyons in Kildare is a restored 17th century historic Irish village. It is beyond romantic there with a mill, a former dovecote and the most beautiful original rose-clad carriage house. You can even take a botanical breather in their new garden room. Those of you that have been following my blog for a while will know that Cliff at Lyons is the place of my interior dreams!
Cabü by the Lakes
Cabü by the Lakes is a woodsy hideaway that lies deep in the woods of Killykeen Forest Park. It is the perfect place to simply surround yourself in nature and just relax and reboot. Its complex system of lakes and rivers offer incredible fishing and boating activities along with the opportunity to simply soak up the beauty of nature. But it is inside the rustic log cabins where cosy interior goals come to life!
Embrace your inner hyyge with rustic wood panelling, patterned rugs, woven furniture and sheepskin everywhere. Black Crittall-style windows, freestanding tubs and log fires will have you feeling like you have just wrapped yourself up in your favourite blanket. Cabü by the Lakes is good for the soul!
The Sitooterie is the perfect place for al fresco dining and socialising. Gather round the great fire or settle down at a unique griddle table designed to keep you and your food warm. It is the perfect place to spend quality time with family and friends.
The Mayson
The Mayson is located right in the heart of Dublin city, in the docklands and right beside the Bord Gais Energy Theatre. It is a former townhouse, pub and warehouse turned hotel all in one. It has some wildly contrasting styles which make it a fascinating and very instagrammable place to stay. It is a truly eclectic and inspiring mix of interior design.
I absolutely love the bespoke neon sign by Domino Whisker in the reception area and mirrored-ceiling corridors with geometric black and white carpet underfoot.
The Lennox Building
The Lennox Building has been designed with the wellbeing and productivity of its members at its core. Live planting throughout, temperature zone control, rooftop garden terrace, on-site bike parking, healthy snacks, a library of inspiring reading material, shower facilities and a wellness events programme contribute to a sustainable working environment.
If you are working from home and need a change of scenery that is Instagram worthy then you can book a day pass to give you access to this beautiful co-working environment.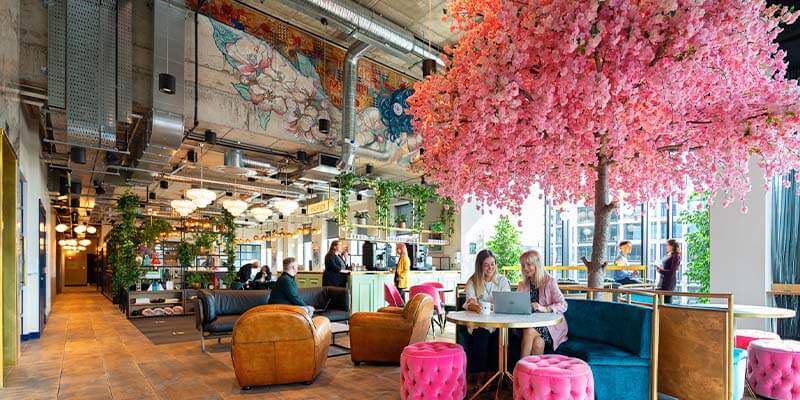 Doolally
The decor in Dublin's hottest Indian restaurant is beautiful. Dark wood panelled walls, dark stained ceiling beams combined with dark furniture, overhead paddle fans, leather upholstered banquettes with traditional Indian wall murals make this space warm and inviting. Doolally brings a fresh concept in Indian cuisine to Ireland. You can expect sumptuous food and welcoming service in beautiful surroundings. These are Irish interiors that will make your Instagram pop.
The Harrison Chambers of Distinction
The Harrison is a Bohemian bolthole in Belfast that has been hosting scoundrels and scholars since 1879. If you want to feel like a complete aristocrat be sure to book one of their quirky Victorian chambers or suites. Owner of The Harrison, Melanie Harrison, is a master at interior design. The Harrison is a curious mix of bold patterns, antiques, local craftmanship and quirky design elements. Huge bay windows, antique furniture, sumptuous velvet curtains and freestanding bathtubs in the bedrooms combine elegance with underlying mischief and tongue-in-cheek humour. Every room has its own personality.
If you are looking for a truly unique accommodation that feels like a home then you've found the right place. It also helps that the interior design will bring so much interest to your Instagram feed if you choose to stay there. Your camera will be very happy!
As you can see there is no shortage of impressive interior design in Ireland but I hope you enjoyed my round up of some of the best interiors Ireland has to offer.
If you liked this you might also like:
5 mistakes that you are making as an influencer when it comes to working with brands
How to make a successful hotel pitch that is mutually beneficial
Unique hotels – No.15 Great Pulteney
Are you new here? Join thousands of other happy readers and subscribe to All About RosaLilla blog via email or Bloglovin'. The good news is that by signing up via email you will get my EXACT email template that I use to successfully pitch hotels for collaborations that is mutually benefical to both parties. There is no such thing as a FREE hotel stay despite what some influencers will have you believe on Instagram.
I also share everything on Instagram following my 18 year battle with Lyme disease so be sure to follow along there. After 5 years bedbound it is my goal to explore every inch of this beautiful world and inspire you to travel.
Until next time you crazy kids!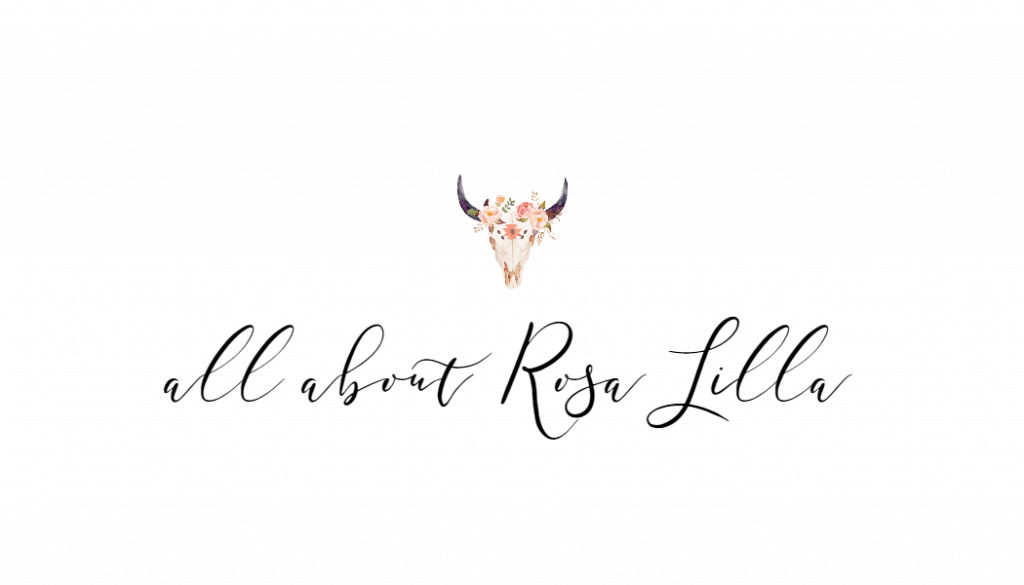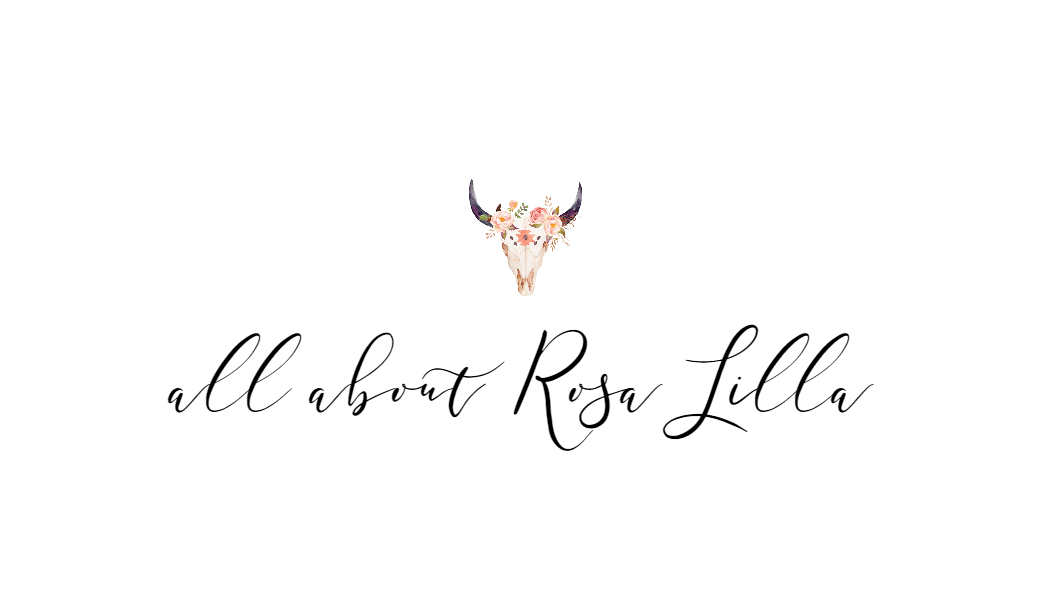 Sharing is sexy!