When it comes to Christmas markets in Europe your mind initally wanders to the likes of Germany and the ultimate fairytale city of Colmar France but Warsaw at Christmas is something to be marvelled. In my opinion Warsaw is completely underrated for a festive weekend getaway. The Polish celebrate Christmas just as much as their German and Czech neighbours and it is just as bright and dazzling. On top of that there are so many things to do in Warsaw that it makes for the perfect Christmas city break.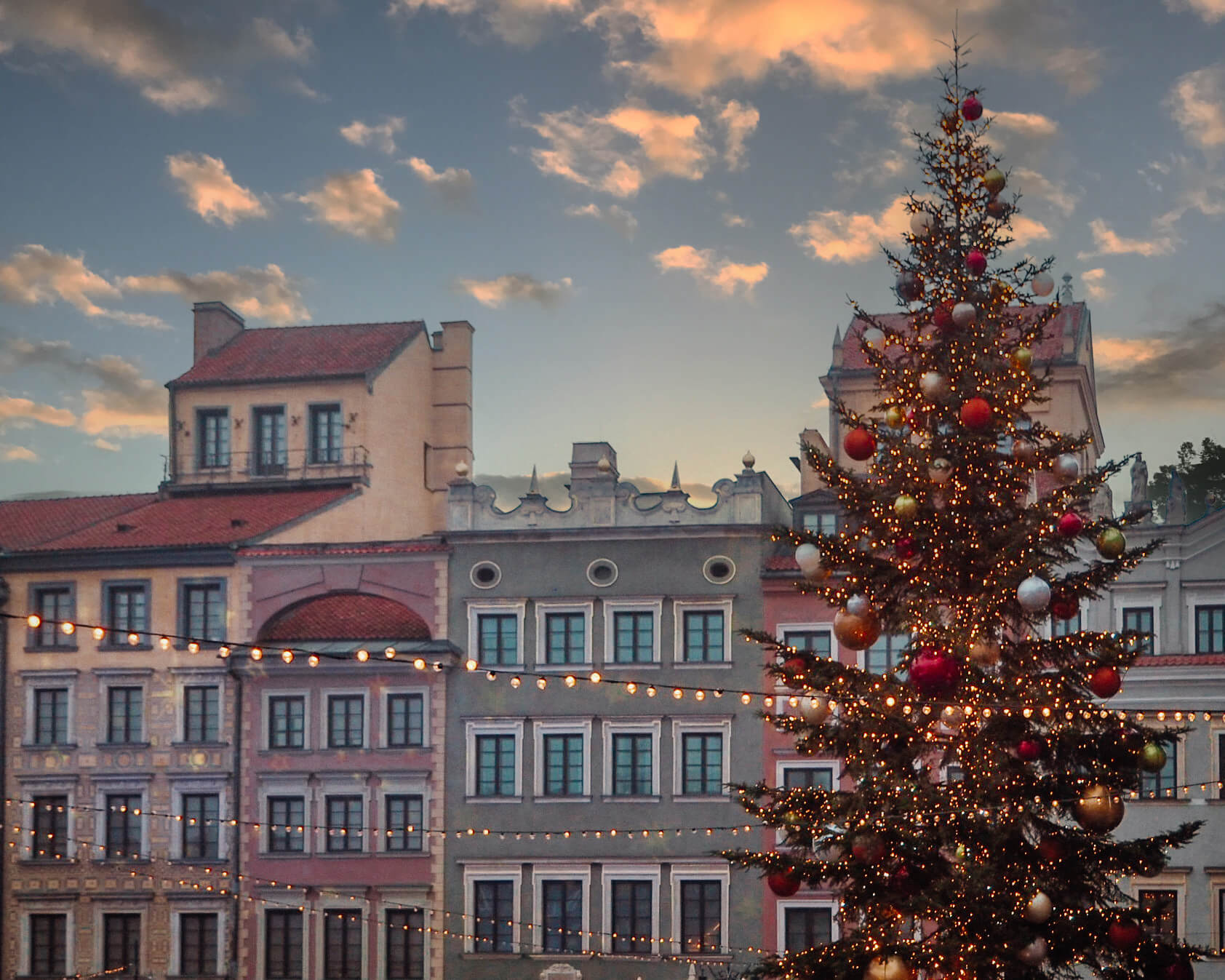 What is there to do in Warsaw at Christmas?
From taking a stroll around the Old Town, shopping in Warsaw Christmas Markets, ice skating and soaking in the wonder of the Christmas Light Festival there is so much to enjoy in Warsaw at Christmas. The Christmas market in Warsaw is relatively small but is located in a beautiful, historic square in the Old Town. It's a great place to try local food and buy unique Christmas gifts. This guide will take you through all the best things to do in Warsaw at Christmas. If you are looking for a cheap festive break this winter then we can't recommend Warsaw enough.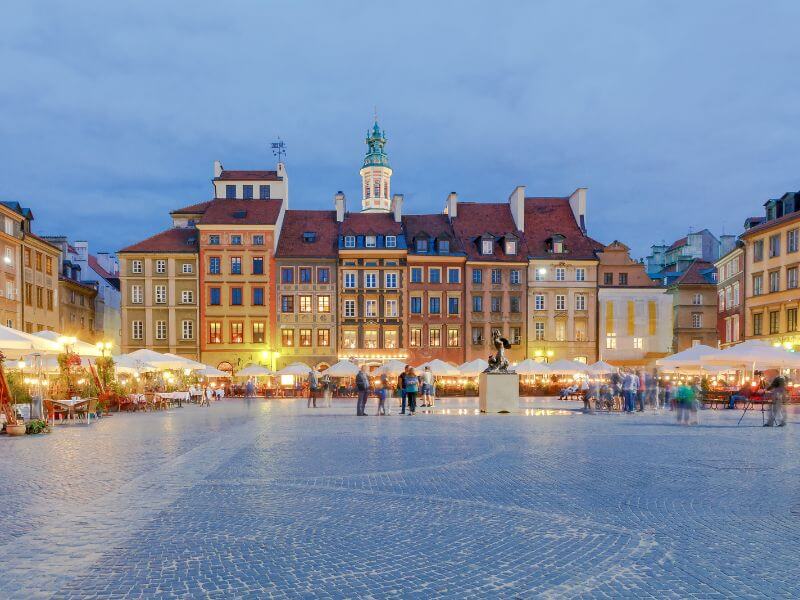 Warsaw Christmas Markets
If you are looking for a European Christmas Market, that is also steeped in history and tradition, then you must experience Warsaw at Christmas. Not only is Warsaw an extremely cheap place to visit but it is so pretty, traditional and quaint. Exploring Warsaw's Christmas markets should be top of the list. All throughout the city you will find pop-up markets of different sizes with food, drinks, activities and cute wooden chalet stalls to explore. There's a quaint and traditional vibe that feels a billion miles from the panic buying of Christmas shopping in other cities. The largest can be found at Warsaw's Castle Square.
If you want to experience a Christmas market with a bohemian feel, head to Praga district on the other side of Vistula river for another market. There is also a market close to Royal Castle.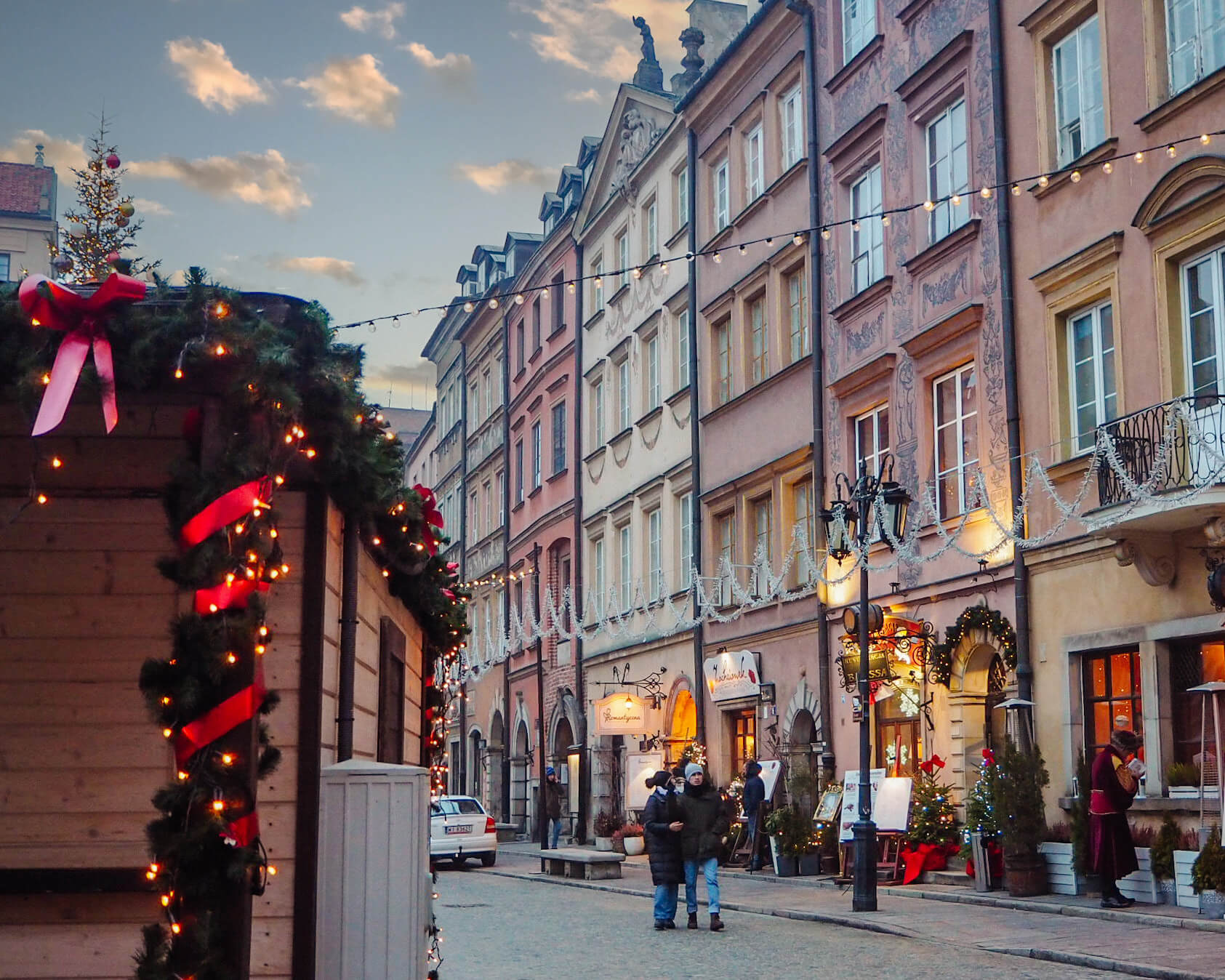 The Warsaw Christmas Market usually starts in the last week of November. Warsaw is one of those cities that inspires us by its sheer resilience. During World War II most of the Old Town was completely destroyed by Nazi bombings. But the city was determined to rebuild itself and reconstructed an exact replica of how the Old Town once stood. Because of this, the Old Town of Warsaw was put on the UNESCO list of heritage sites in 1980.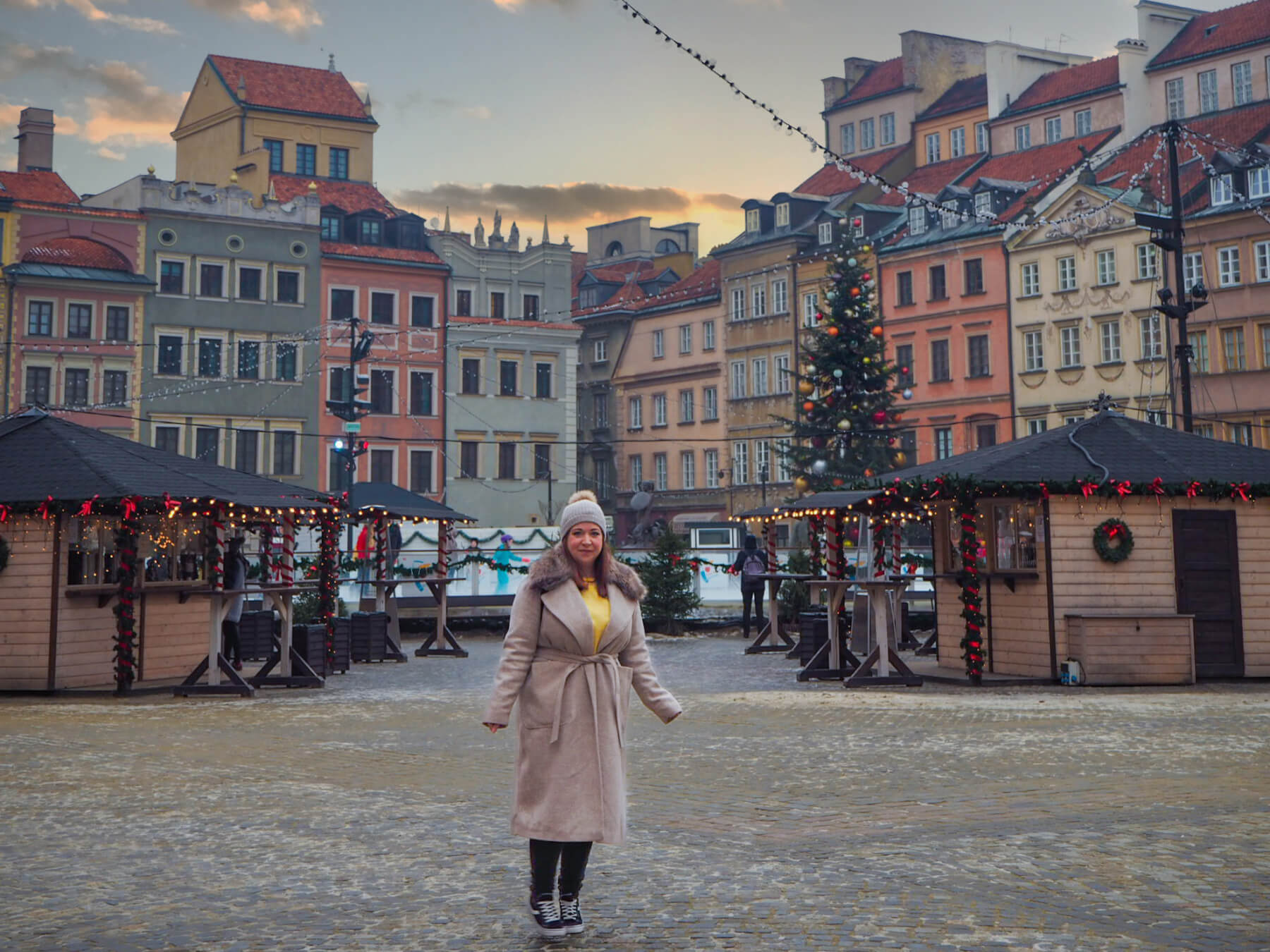 Ice skating in Warsaw
It is here among the colourful buildings of the Old Town Square that you will find an ice skating rink during the build up to Christmas. You can rent skates here for about €2.50 per hour. Ice skating backdrops don't get much more romantic than the pastel coloured Baroque buildings in the Old Town Square. In fact, here, you will find the most Instagrammable spots in Warsaw. So grab yourself a mulled wine and enjoy this beautiful city during the festive season.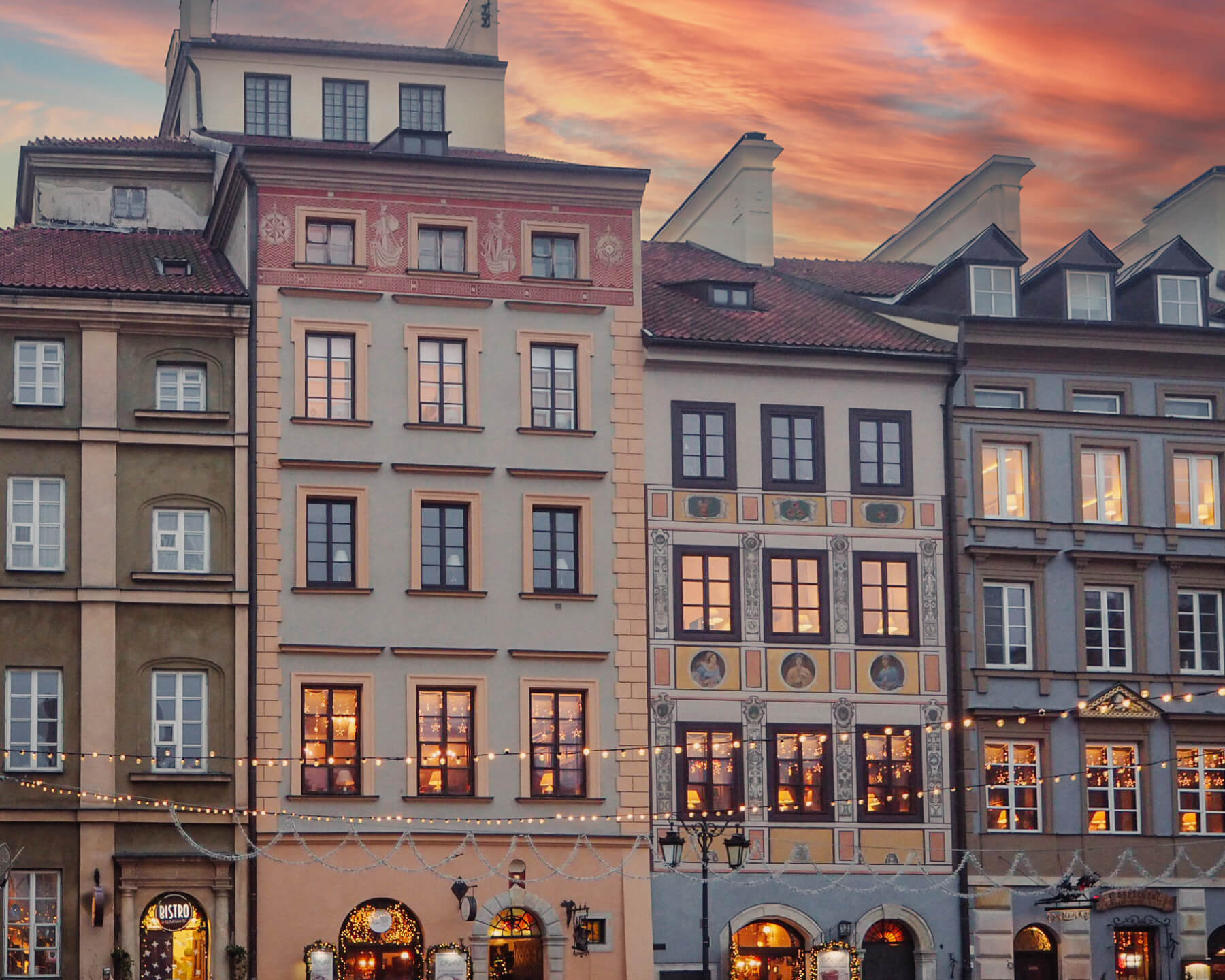 There is also a free ice skating rink outside the Palace of Culture and Science.
What is the weather like in Warsaw at Christmas?
With temperatures dropping over the winter months in Poland and the high likelihood of a White Christmas experience during the festive season it is advisable to dress warmly for your trip and expect some cold temperatures. Temperatures can get as low as -8/-9 Celsius so be sure to dress appropriately to enjoy the Warsaw Christmas markets.
The very low temperatures should be worth considering if you are bringing very young children here. In our opinion it is better suited to a romantic couples break or a trip with friends than for very young families who might not enjoy the colder weather. The best way to warm up is with a mug of Glühwein. Spicy, rich and robust, it's literally Christmas in a cup.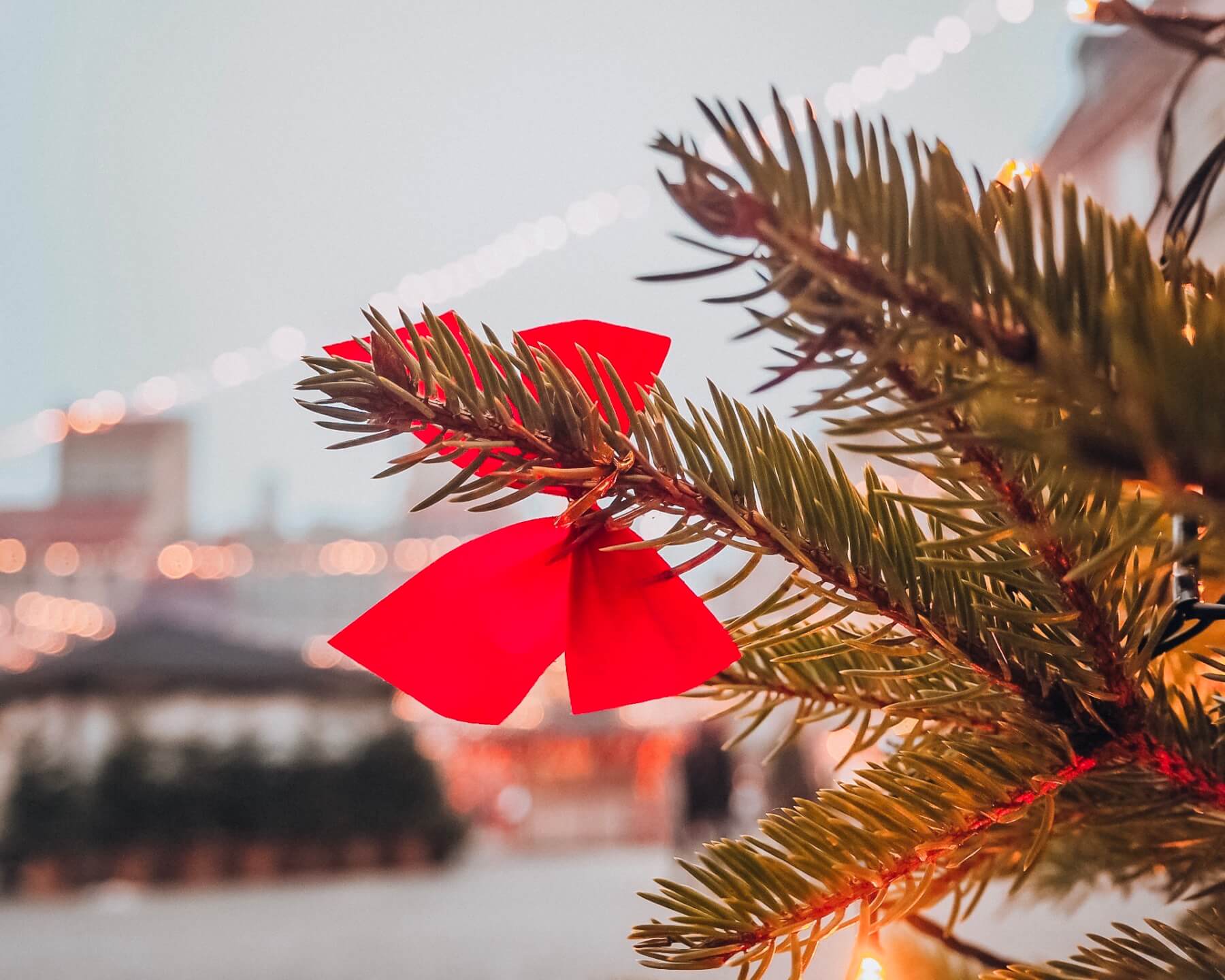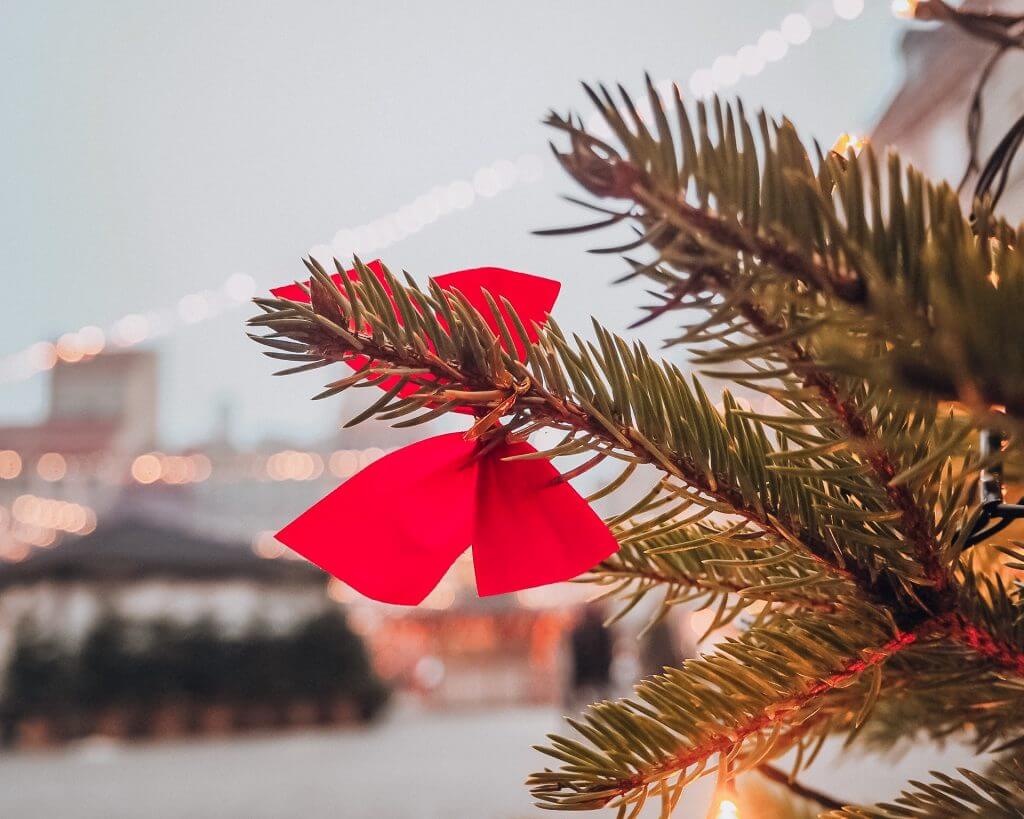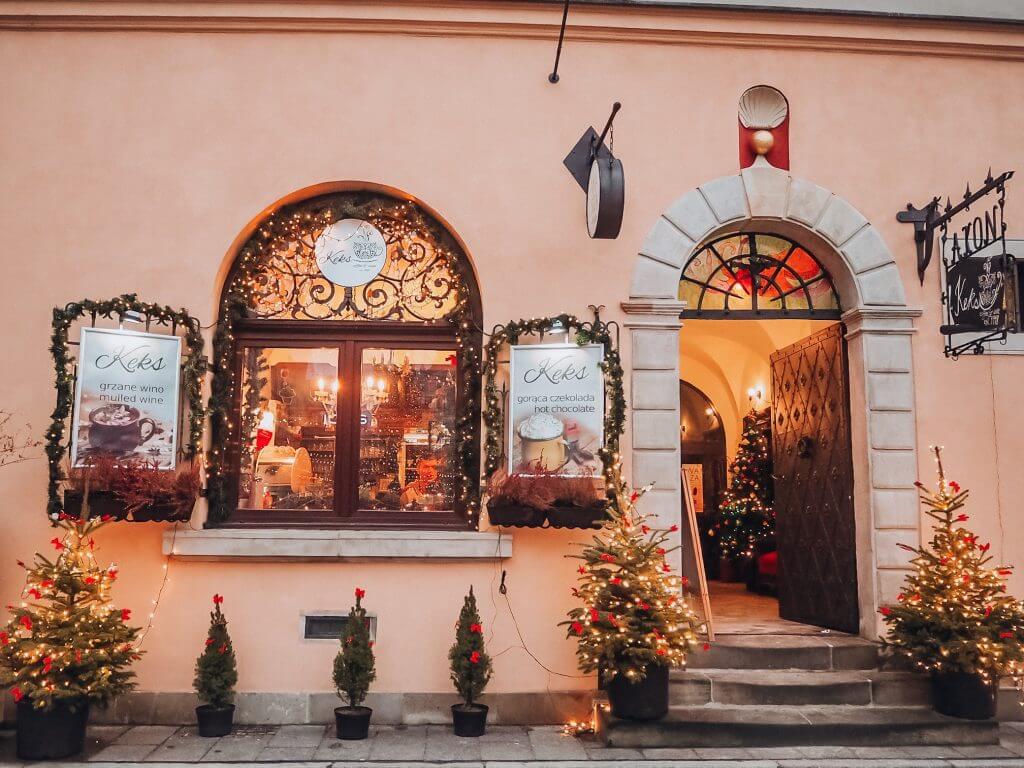 Best things to eat at Warsaw Christmas Markets
There are lots of foods that you simply must try during your time at Warsaw Christmas Markets. Enjoy traditional Polish food like pierogies, fried fish, sweets, hearty soups and grilled meat plus international food like langos, goulash and dried fruit and chocolate. Your nose will no doubt guide you to one of the many delicious food stalls at the Christmas markets. Our favourites were:
Barszcz – a beetroot soup served with tiny dumplings stuffed with a mix of dried mushrooms and fried onion
Pierogi – Polish traditional dumplings but try their festive version with sauerkraut and dried mushrooms
Oscypek – a salty Polish smoked cheese made from sheep's milk, grilled on an outdoor barbeque and served with a side of cranberry preserve (like literally drooling!)
Bigos – made with stewed sauerkraut, meat and sausage
Gołąbki – cabbage rolls stuffed with buckwheat and dried forest mushrooms
Makowiec – Polish Christmas poppy-seed cake
Piernik – old Polish gingerbread full of exotic spices, including ginger, cinnamon and nutmeg. Basically Christmas in your mouth!
You also have to try a shot of sweet fruit vodka that will be sure to warm you up! Go for the peach or raspberry. Or make sure to keep toasty while soaking up the festivities by sipping on a steaming cup of mulled wine or hot beer with honey and spices, another Polish favourite.
Warsaw Christmas Light Festival
No other city does Christmas Lights quite like Warsaw. Over December the city lights up with the annual Warsaw Christmas Light Festival. Trust us, these light installations are some of the best and most festive that we have ever seen and it is obvious just how much money goes into lighting up the city for Christmas. These are top quality!
A series of light installations start in the Old Town's main square and stretch for 20km along the Royal Route to Wilanów. They are simply dazzling. If you are in Warsaw at the beginning of December, you might just be lucky enough to catch the switching on ceremony, which marks the start of the festive celebrations in the city. 
Enjoy the rooftop views from St. Anne's Church
For us, you can't beat the view from St Anne's Church overlooking the square at the Royal Castle. It is a bit of a climb and there is an entrance fee but it is completely worth it to see Warsaw looking like a Christmas card with snow flecked rooftops and a giant glistening Christmas tree.
Catch a Christmas performance
Enjoy some of the wonderful culture in Warsaw by attending one of the many festive performances taking place throughout the city. We can't think of anywhere more magical to enjoy the Christmas classic ballet, The Nutcracker. There are often Christmas carol concerts in many of churches in Warsaw Old Town. We can't tell you how many we stumbled upon but if you prefer a sit down concert check out the Warsaw Philhormonic who host concerts every Christmas.
Extend your Christmas celebrations
Last January Mister Lavin brought me to Warsaw to attend a ballet. It was his Christmas gift to me and I was so excited to explore this beautiful city. What I didn't expect to see was that Warsaw was still full of festive cheer a month after Christmas! Not only is Warsaw the perfect place to enjoy the build up to Christmas but it also is amazing for those wanting to extend the celebrations. Christmas decorations don't come down until the beginning of February so it is the perfect place for those wanting to prolong Christmas.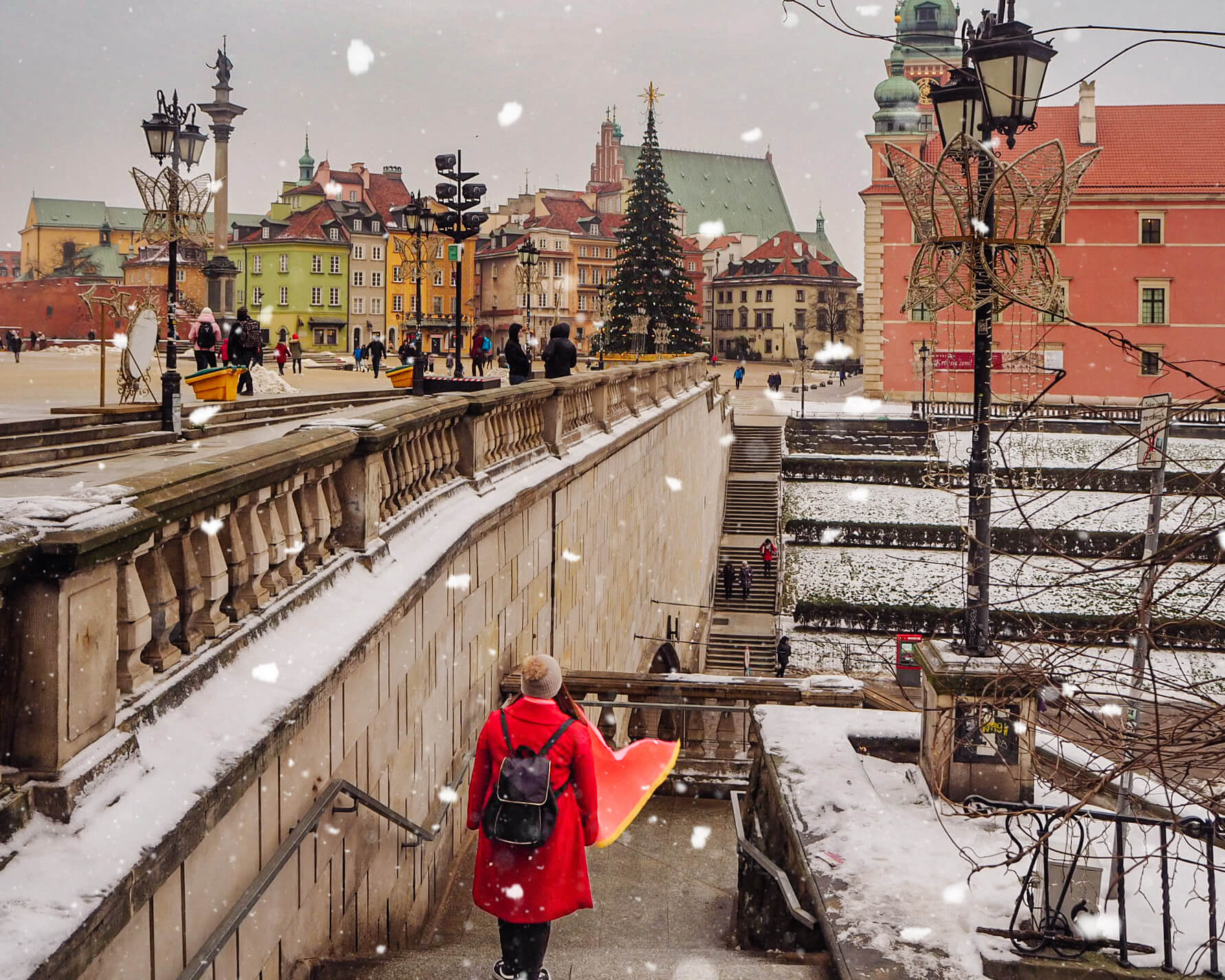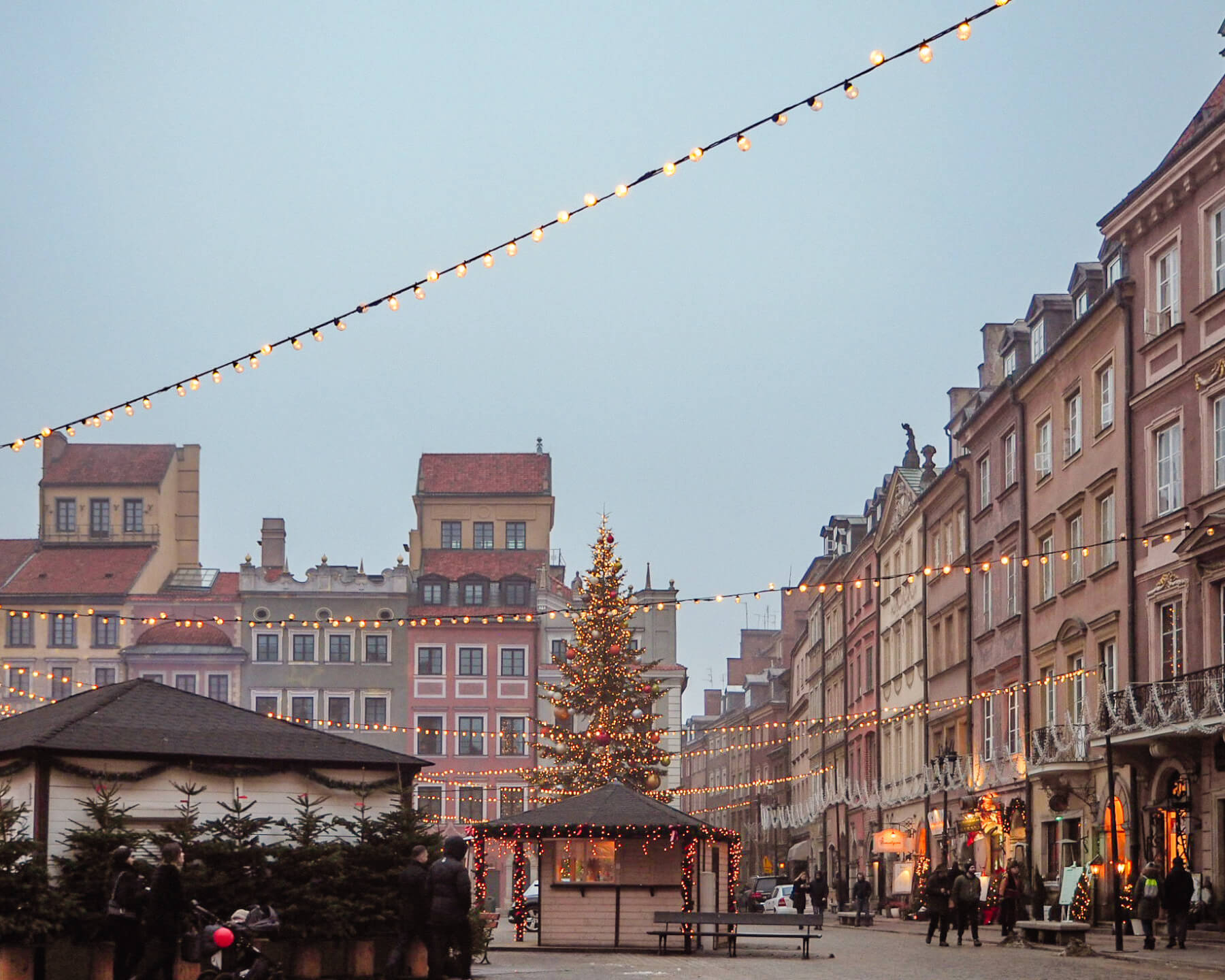 Are you new here? Join thousands of other happy readers and subscribe to All about RosaLilla blog via email. The good news is that by signing up via email you will get exclusive travel deals straight to your inbox. The only other place that we publish these deals is on Instagram stories, so be sure to signup to get the heads up on amazing travel deals to save you money when booking.
I also share everything about myself on Instagram with nothing held back so be sure to follow along there.
If you loved this you may also like:
Things to do near Frankfurt. A day trip to Michelstadt and Erbach, two fairytale German villages
The magic of Colmar at Christmas
10 reasons why Vilnius should be your next city break.
Until next time you crazy kids!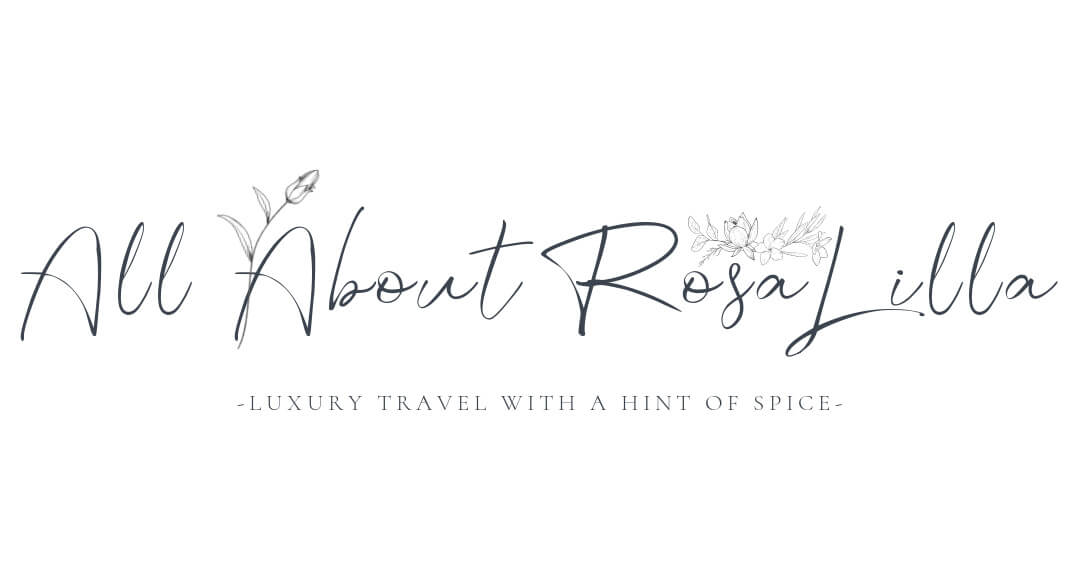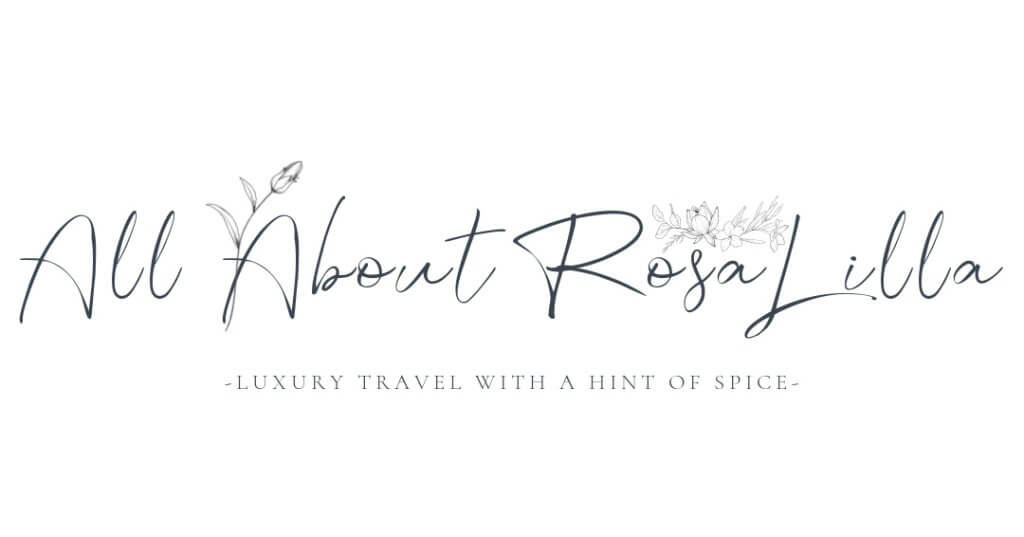 Sharing is sexy!