Kerala: A beginner's guide to India
I was lucky enough to recently be selected to take part in the Kerala Blog Express, a unique initiative where 30 bloggers are selected and put on a bus together for 15 days to explore the state of Kerala, India. In this blog I want to tell you about Kerala. A beginner's guide to India.
Going to India, I was a total beginner. Not only had I never been to India before, I had never even been to this side of the world. The moment I stepped off the plane my senses went into overload. The heat, the smell of spices, the buzz of people talking and the constant beeping of car horns. This place was alive!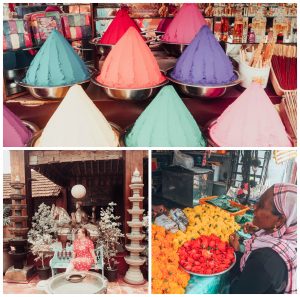 My first impression of Kerala was that it was exotic. Kerala translated means "Land of coconuts" and it was obvious at first glance where this name came from. Everywhere you looked there was tropical lush vegetation as far as the eye could see. There are so many wonderful experiences to be had in Kerala. From tropical unspoilt beaches, spice plantations, languid backwaters, nature and wildlife sanctuaries, tea plantations, cool hill stations with views you can only dream about, to unhurried towns, there is something to do here to satisfy any taste. And throw into the mix that it is a haven for yoga lovers and ayurveda and it is a traveller's dream. I certainly had some "Eat, Pray, Love" moments here.
The reason that I am calling this a beginner's guide to India is that , Kerala is a completely different state to most of the other Indian states and it is a soft transition into what can often be the culture shock of Indian culture. The literacy rate here is at 93%, the highest in the country and Keralites are renowned as being the best educated in India. You won't be exposed to much poverty or begging and the streets are spotlessly clean by Indian standards. You also won't see the grand opulently ornate palaces of Northern India. The palaces here are less grand but certainly also have a charm and a story to tell. My head has been filled with stories of Maharajas filling the air with music and dancing the night away.
Kerala is considered a small state in India, but it has a population of 32 million. To put that into perspective that is twice the size of the population of the entire continent of Australia! There are 820 people per square km in Kerala. That figure is hard to take in. For me however, it always has been the people who make a country and the people in Kerala won my heart from the moment that I landed. If the Irish are renowned for their charm, then the Keralites should be known as being the most warm, friendly and hospitable people you will ever meet. The culture in Kerala is fascinating and with a large mix of religions, mostly Hindu, Muslim and Christian you get an eclectic mix of traditions.
On almost a daily basis we would encounter a festival or temple procession. One of my favourite experiences in Kerala was driving through this local village on the way to our hotel for the evening and coming across a local parade to the temple. The sound of beating drums and the sight of the most vibrant colours and happy faces was a photographer's dream and had us begging the bus driver to stop so that we could get out to fully experience this moment. I cannot begin to tell you how alive I felt with the beat of each drum. Initially, we trepidly stood to the side to take photographs, not wanting to interfere with this culture, but simply observe it. But before we knew it, we had been included, no questions asked, and we were dancing with the locals to the beat of their own drums.
Another example of the warmth of the people was a day when we had spent over an hour in a museum and had seen what had to be seen. We could hear what had become at that stage, the familiar beat of the drums of another celebration. This was where we wanted to be, amongst the local people. So a small group of three of us sneaked off to explore. We had been travelling as a large group in a big bus emblazoned with Kerala Blog Express Season 5 and with the comfort of the most wonderful tour guide, so I wanted to see how we were treated as just normal tourists, without all the celebrity treatment we were getting. Would we feel safe? Would the people be as nice to us? Would we be accepted to celebrate local traditions with them? I have to admit I was a little nervous, but excited to find out. So off we went following the smell of food and the sound of drums.
The festival was quite a large one and we were the only tourists there. As a trio of a pale-skinned, red-headed Irish girl, a Romanian living in Sweden, and an Asian living in Switzerland, we stood out like a sore thumb but the looks we were getting were ones of curiosity and not uncomfortable stares. Before we knew it, an elderly man approached us with the warmest smile on his face and ushered us into his house to eat with the locals. No questions asked, no judgements. We were just accepted and treated like locals. We were served a plate of the most delicious-looking Kerala rice served with a spoon of a banana leaf. The dish was quite liquidy so this was not an easy task but with some encouragement we somehow managed it. I knew at that moment that the warmth and hospitality we had been seeing was not just a show for the cameras but was genuine and there will always be a special place in my heart for the people of Kerala.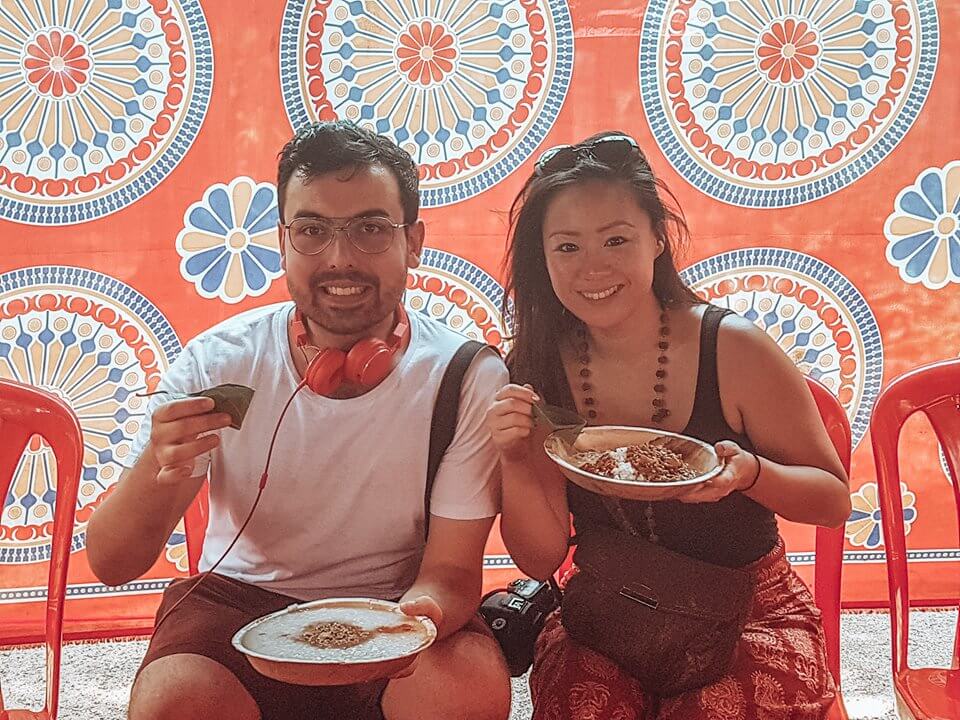 India is so diverse, you could really spend a lifetime travelling here and never see it all. From deserts to the mountains of the Himalayas, from busy cities to rural unhurried villages, from the British and Portuguese influences, to the unspoilt paradise of tropical beaches. And of course, one of the most amazing waterways on earth — the Kerala backwaters. In my humble opinion, Kerala is the perfect stepping stone before immersing yourself in the true India. It gives you a feel for what this amazing country has to offer and you can tell that is only the beginning. We drove the length of Kerala and explored most of what it has to offer and I can't wait to delve deeper into the attractions of Kerala. From Trivandrum to Calicut and all the places in between, I want you to stick around and explore Kerala with me. Sign up to my
newsletter
so you don't miss out.
Also check out SunStyleFiles and Abubusworld , my two other muskateers featured in this story.
Until next time you crazy kids!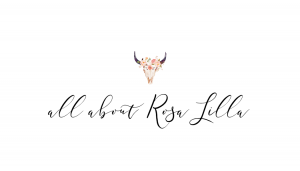 If you liked this you may also like:
Exploring Munnar with the Kerala Blog Express