Assos Kefalonia Travel Guide
We don't know about you but we get a lot of our travel inspiration from books we read or movies we watch. We're sure right now you are scratching your head saying Assos Kefalonia, where is that? We discovered this charming Greek village after falling in love with the Greek island of Kefalonia while reading Louis de Bernières "Captain Corelli's Mandolin" and again while watching the movie (which let's face it, isn't the best, but shot completely on the island where the story is based, and Kefalonian landscapes will have you immediately packing your bags).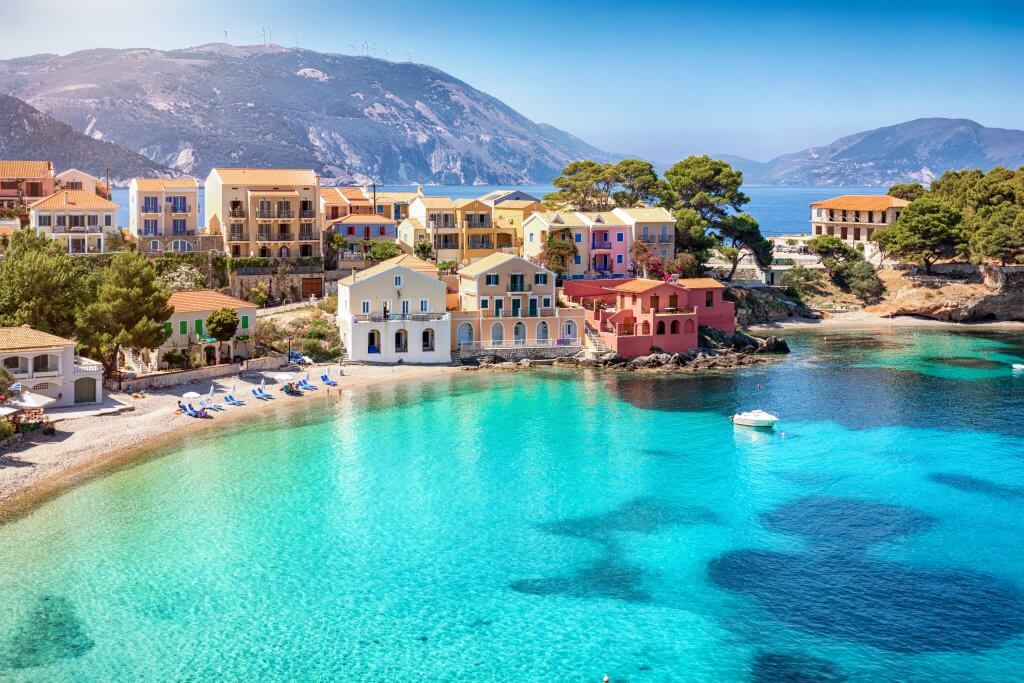 Where is Assos Kefalonia?
Kefalonia is part of the Ionian group of islands in Greece. It is the largest Ionian island, with a surface of about 780 square km. It is located right opposite the Gulf of Corinth and is only 30 km from the coast of the Peloponnese. Kefalonia is a complete hidden gem in Europe and quite frankly needs to be on everyone's travel bucket list.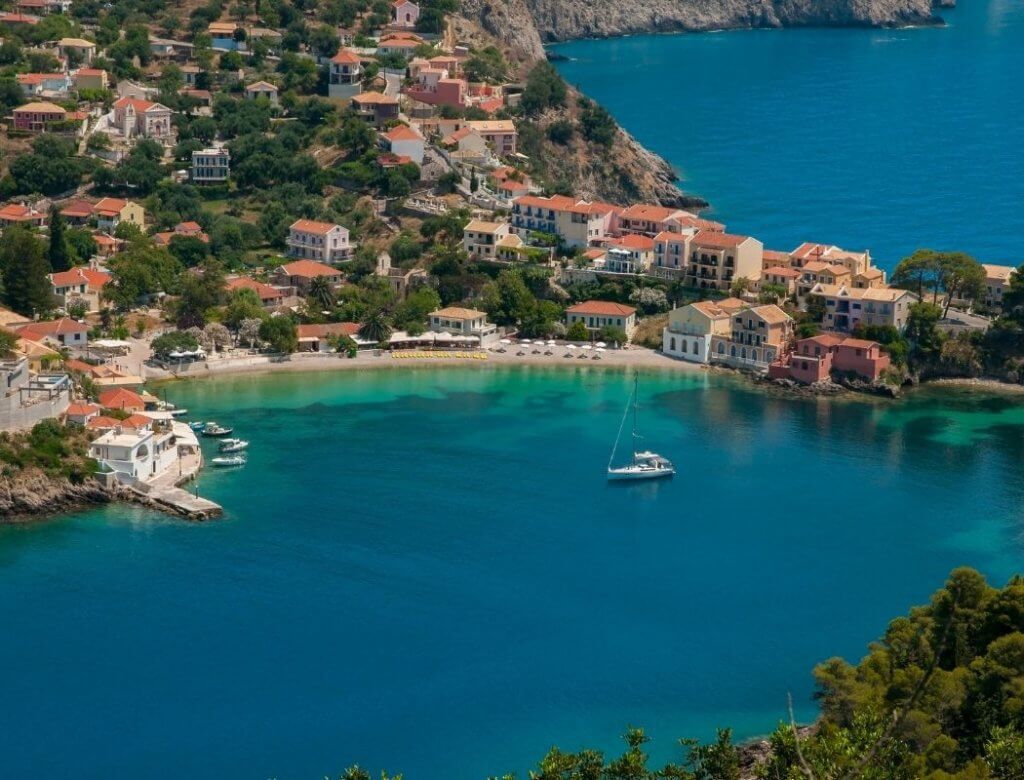 Assos itself is located on a horseshoe-shaped peninsula in Northwestern Kefalonia and is home to about one hundred inhabitants. It is a charming and colourful village perched on the turquoise waters edge of this beautiful Greek island. Kefalonia is full of picturesque towns and villages but Assos is one of the prettiest. It is a beautiful village full of narrow alleys lined with everlasting bougainvillea, old churches and you can even find the ruins of a Venetian castle there!
If you are familiar with the book Captain Corelli's Mandolin or indeed the history of the island, you will know that Kefalonia suffered a horrific earthquake in 1953 which destroyed most of the buildings and infrastructure there. Assos was no exception. On hearing of the tragedy, the people of Paris generously sent funds to help residents rebuild, as the village was beloved amongst French tourists. The result is one of the most postcard perfect villages you will ever stumble across.
What is Assos like in Kefalonia?
Assos attracts visitors with lush forests, turquoise waters, colourful homes, and vibrant flowering foliage. The natural beauty of Assos is immediately evident with traditional architecture, a peaceful landscape and the beautiful surrounding pebbled beaches. A little wander around the narrow alleys reveals colourful houses with blooming bougainvillea, lovely paths and old churches. The visit to the castle requires a long walk uphill amoung olive tree forests until you reach an archway. It is idyllic here and perfect if you just want to enjoy some slow travel to really enjoy some time in nature.
How to get to Assos Kefalonia
There is only one airport in Kefalonia – Kefalonia International Airport (EFL) – so all flights arrive in there. The airport is located about 8km away from the island's capital Argostoli. The best way to reach your destination from the airport is by taxi or by renting a car. You may also hear the airport of Kefalonia being referred to as Anna Pollatou airport
Although there are no direct ferries from the port of Piraeus in Athens to Kefalonia, you can easily reach this beautiful island from many locations on the western part of the Greek mainland, from some islands of the Ionian group and also from Brindisi port in Italy. All these locations are linked to Kefalonia with one of the following ports: Poros, Fiskárdo, Sami and Lixouri.
Routes to Poros port are carried out from Ithaca, Lefkada, Killini and Zakynthos.
Routes to Fiskárdo are carried out from Ithaca and Lefkada.
Routes to Sami are carried out from Patra, Ithaca, Paxi and Brindisi.
Routes to Lixouri are carried out from Killini
How far is Fiskárdo from Assos Kefalonia
The distance between Fiskárdo and Assos is 17km and approximately a 30 minute drive. Renting a car is the best way to explore Kefalonia and we highly recommend spending some time in the beautiful fishing village of Fiskárdo, even if it is just to have dinner there.
Assos is located at the bottom of a very steep and windy hill and there's only one main road leading down to it. It can be a little scary but it is well surfaced and there is enough room for two cars to pass. It is very windy though so you will have to stay alert. There is one large public parking lot located at the end of the road on the left-hand side when you are visiting the village. Parking is free.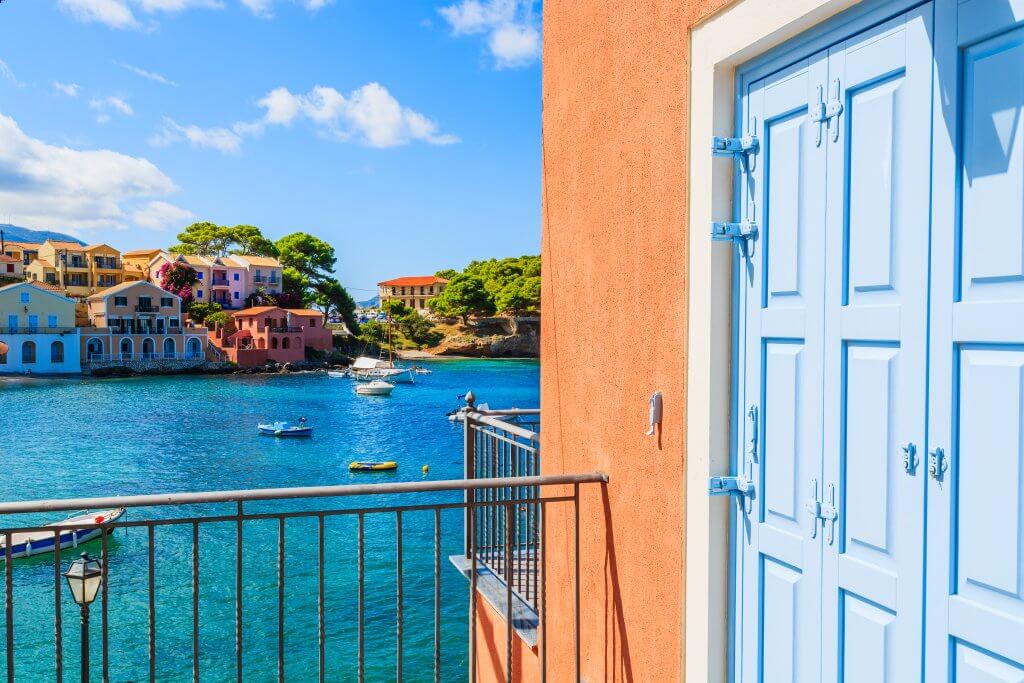 What is the weather like in Kefalonia?
Kefalonia attracts visitors from April to October with temperatures peaking in the low thirties during the height of summer, to a more comfortable low twenties during the spring and autumn. The sandy beaches provide some respite from the high temperatures with gentle sea breezes. Winter is much cooler with average temperates in the low teens. They have even gotten snow in Kefalonia during the winter months and most hotels close at this time of year so that is worth baring in mind if you think you will be getting some winter sun.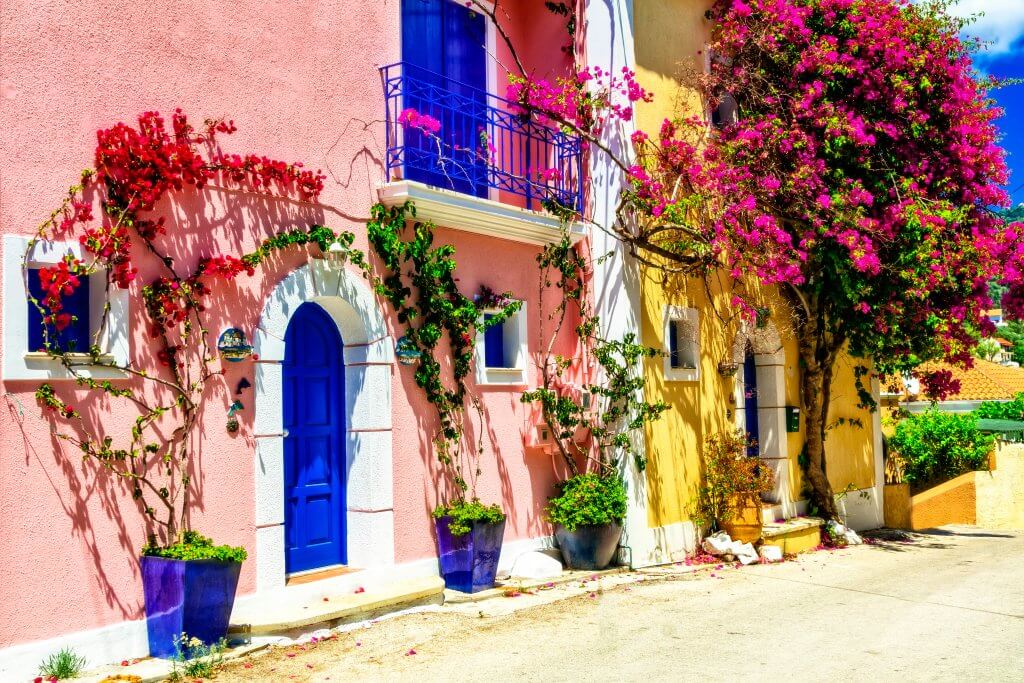 Where to stay in Assos Kefalonia
Don't arrive expecting flash resorts or fancy accommodation in Assos. However beautiful it is this village is tiny! Most rooms come conveniently equipped with a tiny kitchenette area that includes a cooking hob and an oven.
These are some of our favourite places to stay in Assos Kefalonia.
Assos View
Assos View is a charming accommodation in Kefalonia with an incredible location. Only a short walk from the beach and restaurants the property also has all of the kitchen equipment you will need during your stay.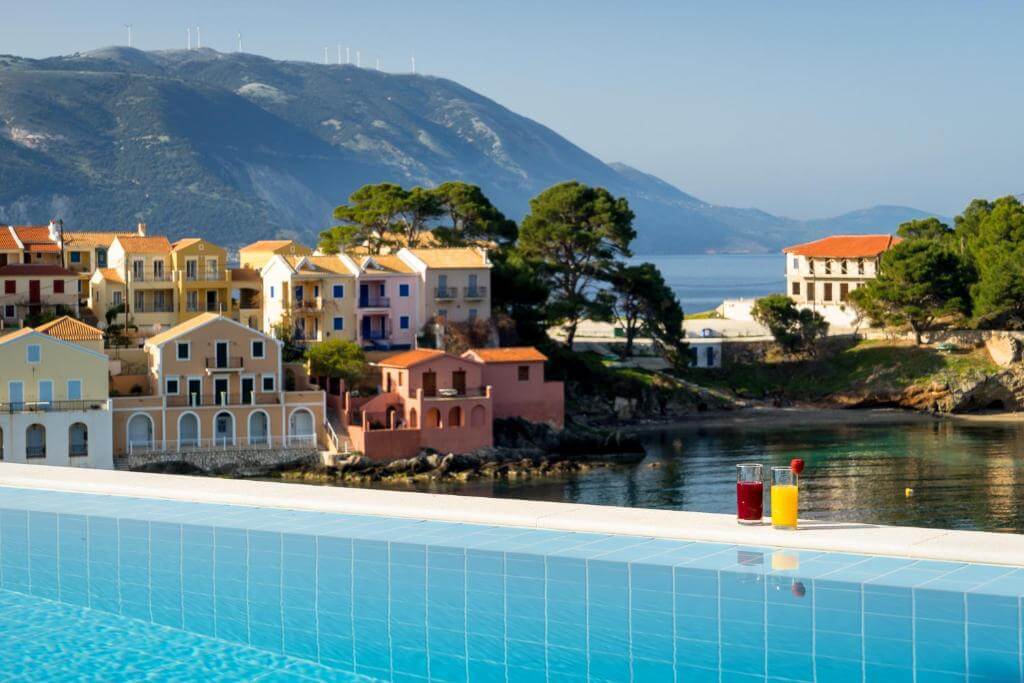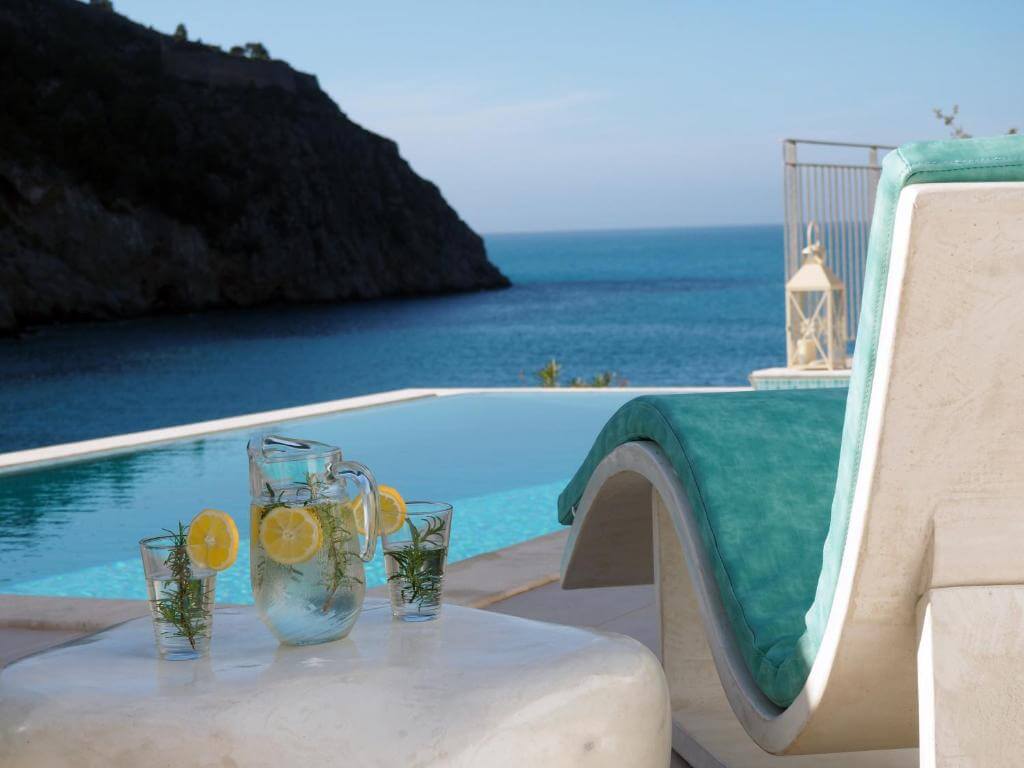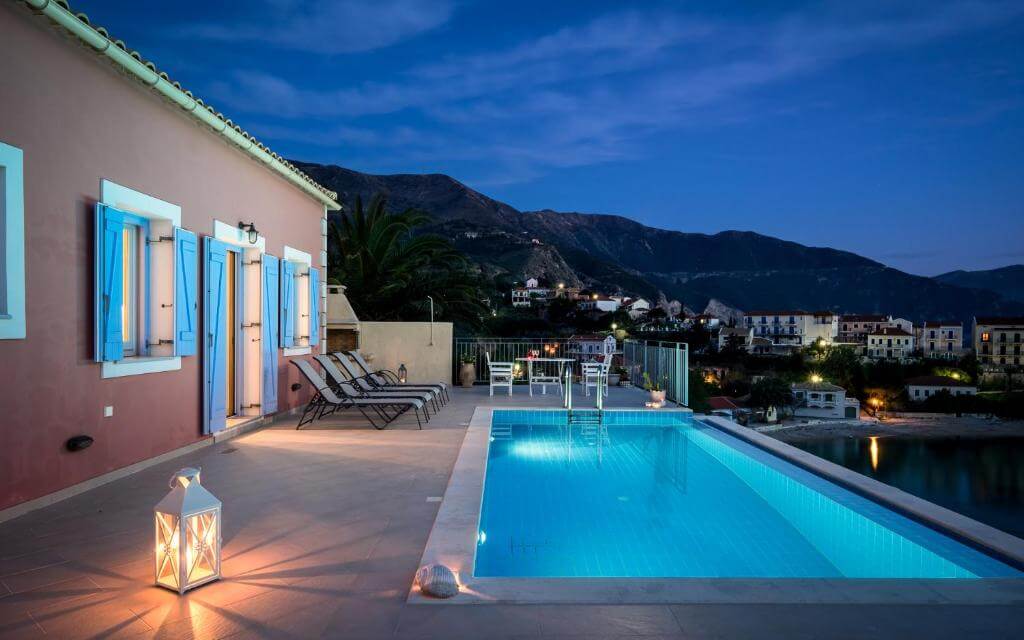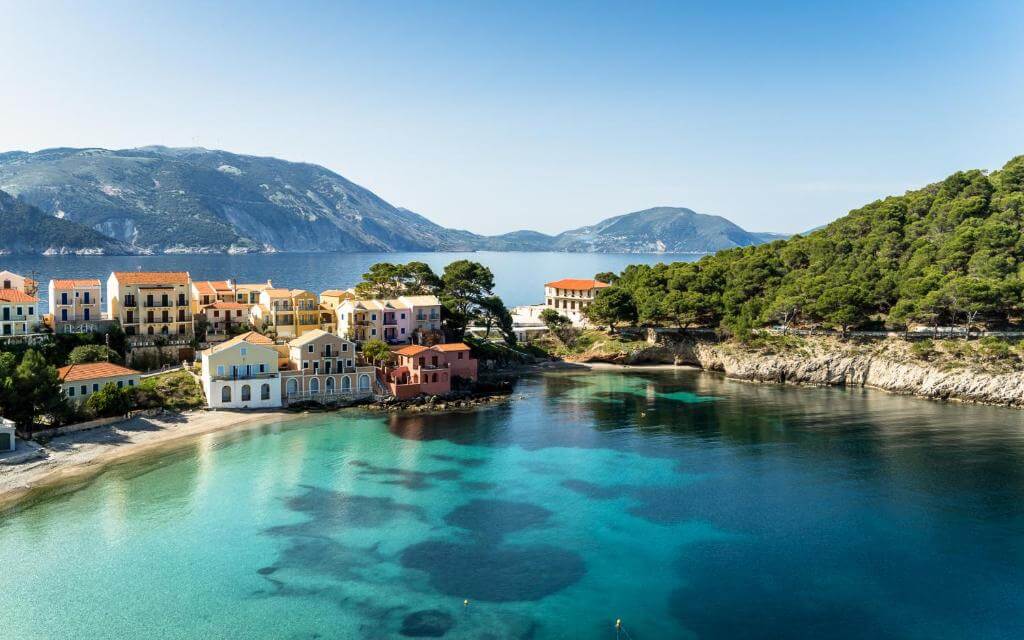 Panorama Apartments
Panorama Apartments are just one minute walk from the beach. Set in Assos Kefalonia with Assos Beach nearby, Panorama Apartments offers accommodation with free private parking. The air-conditioned units are furnished with parquet floors and feature a private bathroom, a flat-screen TV, free WiFi, desk, a living room, an equipped kitchen, patio or balcony with breathtaking views over the sea.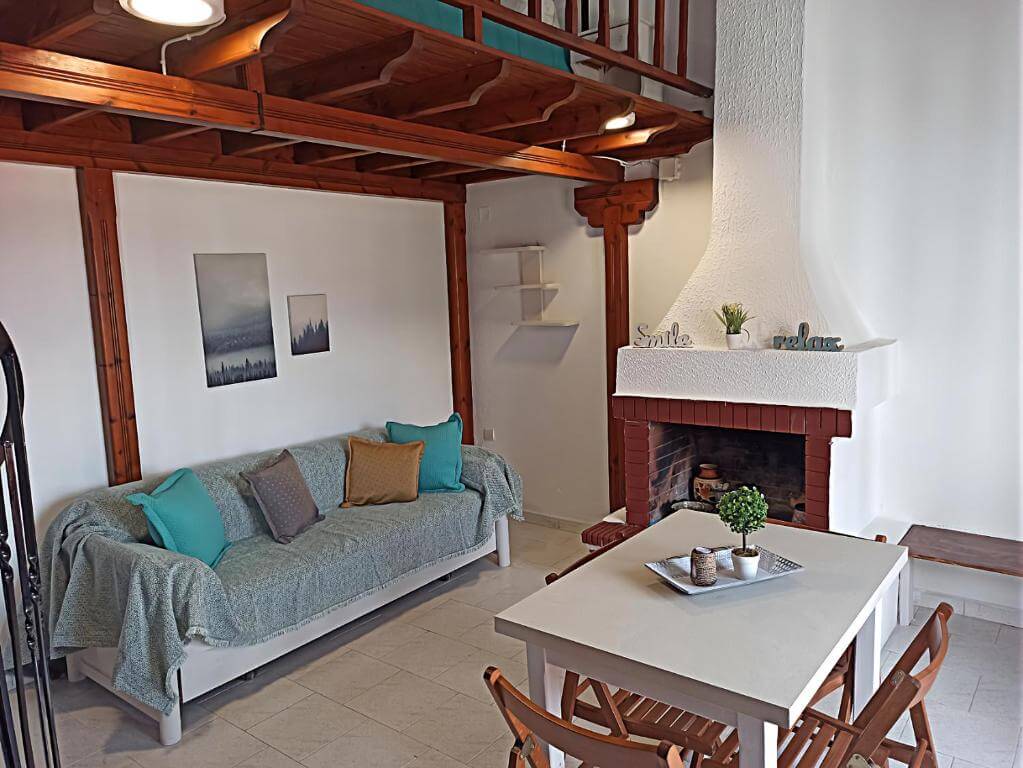 Linardos Apartments
With a fantastic location overlooking the town and harbour of Assos, Linardos Apartments are a perfect base for your time exploring North Kefalonia. Each apartment has a kitchenette with fridge and cooking hobs, TV and a private bathroom with shower. You will find taverns, shops and cafés all within a 3-minute walk.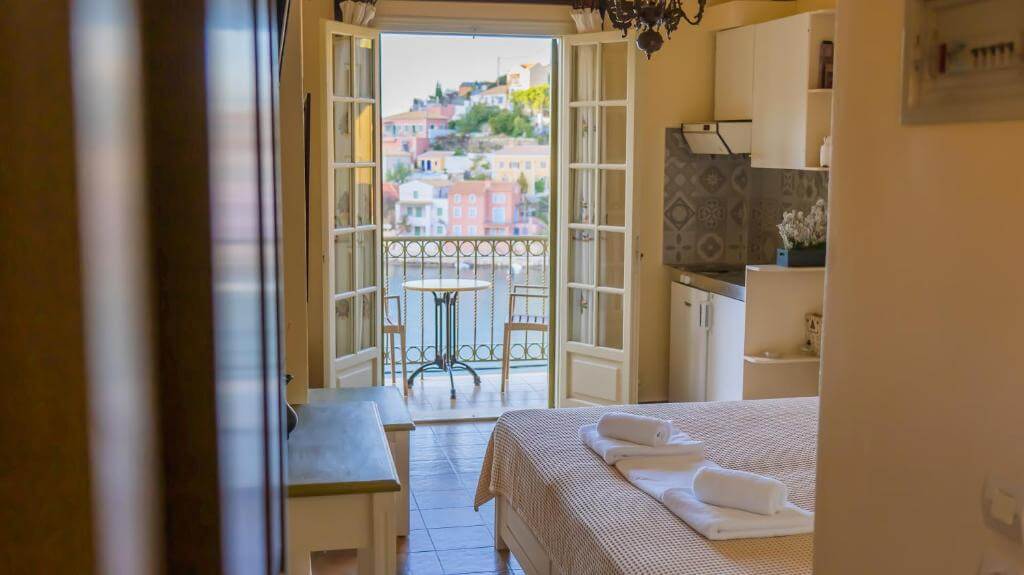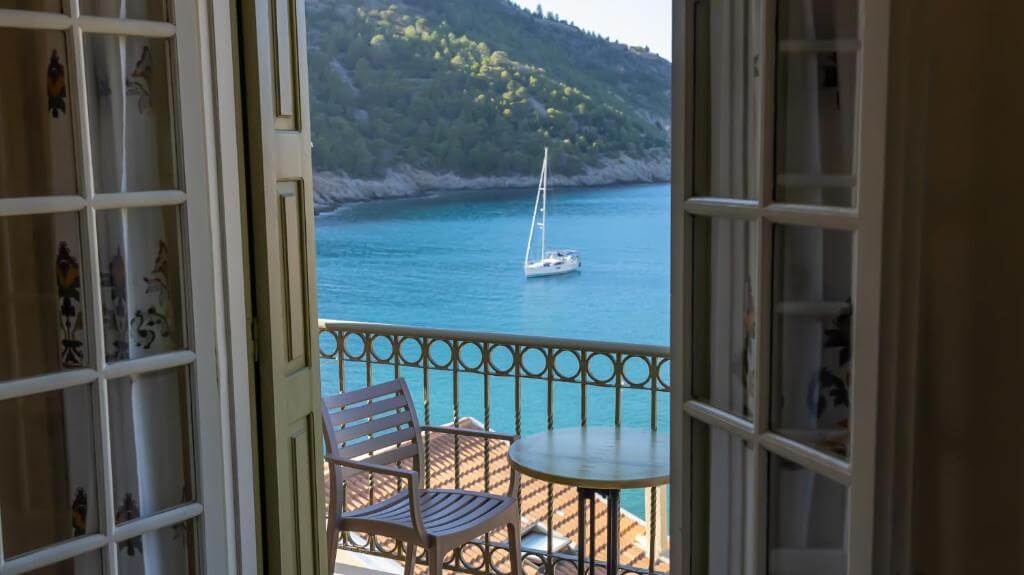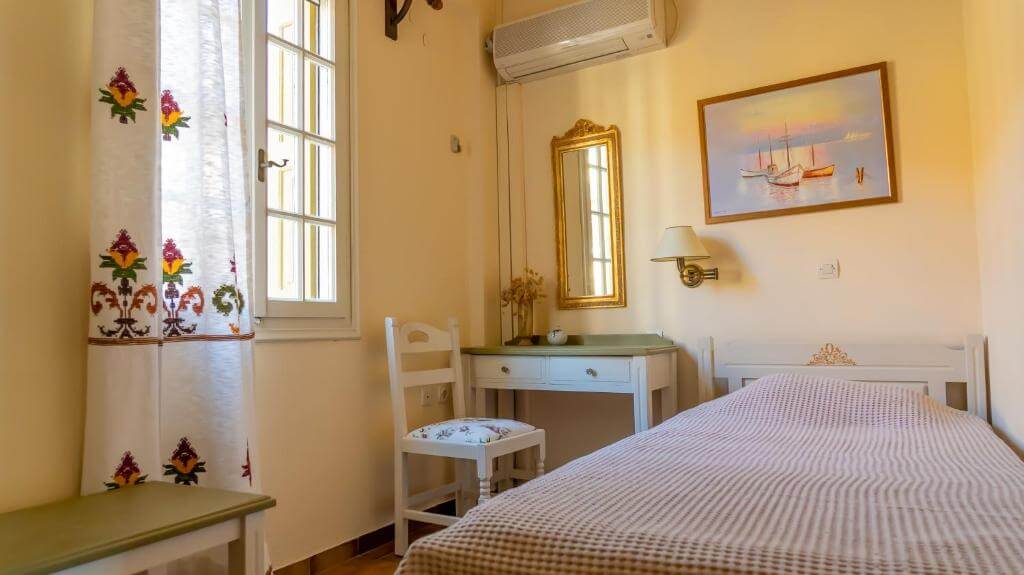 Things to do in Assos Kefalonia
Take to the water and rent a boat
There is only one boat rental in Assos. It is called Conteco and it sits right on the edge of the pier in Assos. Be your own captain and rent a boat to explore the surrounding private beaches that are only accessible by sea. Enjoy the magic of this part of Kefalonia by sea by exploring this idyllic green coastline by boat and enjoying the nature of this area. Take your family or friends to swim in the crystal clear waters alongside dolphins and stingrays at a secret beach of your choice. It is such an incredible experience!
Conteco have a fleet of highly maintained boats as well as bigger luxury options. They also have some great tour options if you do not feel confident to sail.
Have a beach day
Travel seems to have gotten more fast – paced in recent years with travellers wanting to fit it all in. Gone are the days where you would simply bring your book and lounge by the pool in your hotel all day or simply relax on the beach. Instead we are running around trying to take all of the Instagram photos that really prove we have lived and enjoyed our vacation, without ever taking the time to rest. I am travelling with chronic illness having contracted Lyme Disease on a trip to New York in 2000 so myself and Mister Lavin have learned first hand just how important resting is during a trip.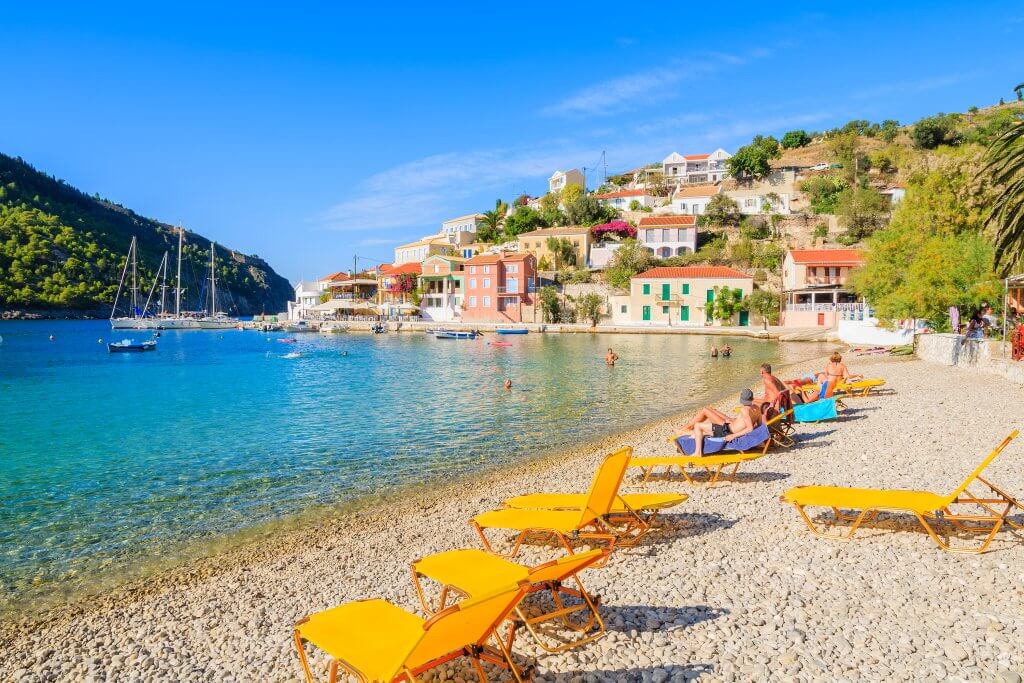 Traveling is good for the soul but so is a beach day! Head to Assos beach and rent an umbrella and beach chair. Like many of the beaches in Greece the sand isn't fine here but is course and full of pebbles. Don't let that put you off though because as far as views go this is heaven. The water is crystal-clear and is just perfect for swimming or snorkeling in.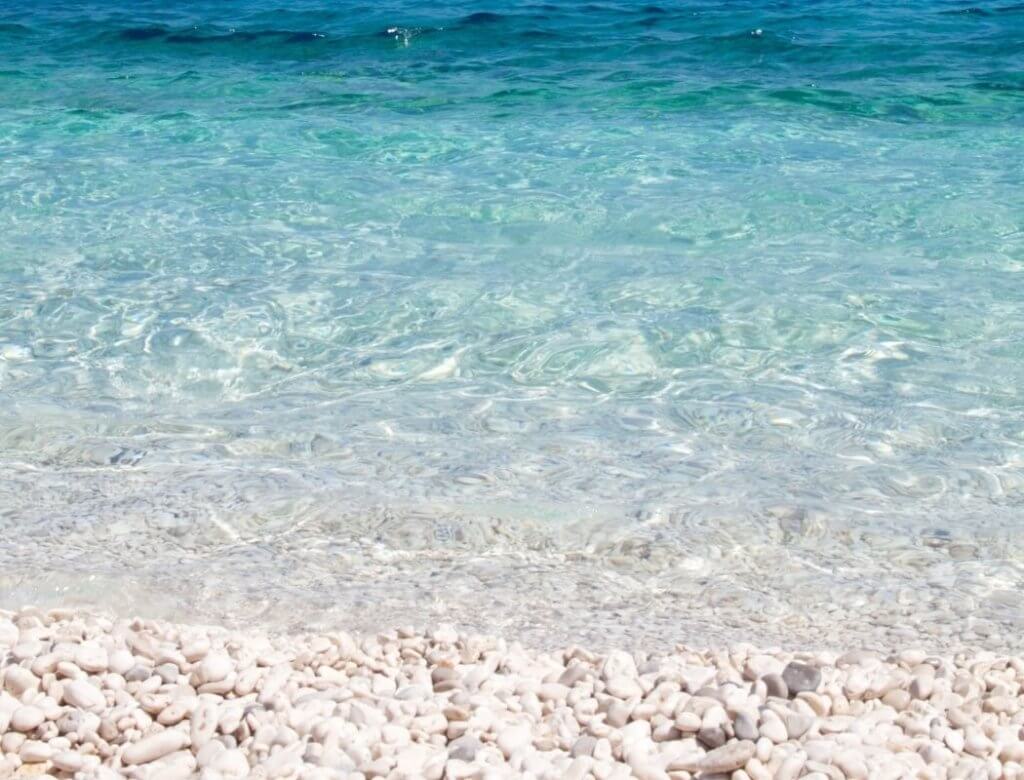 Take a hike up to Assos castle
After your day resting on the beach you might be looking for a more energetic activity and we strongly suggest taking a hike up to the old ruin of a Venetian castle in Assos. This castle is a stunning example of Venetian architecture. Visiting this castle requires quite a long walk/hike over elevated paths. The route will take you through stunning olive tree forests to the arched entrance of the castle. Fortunately the arch itself is one of the most preserved parts of the entire ruin.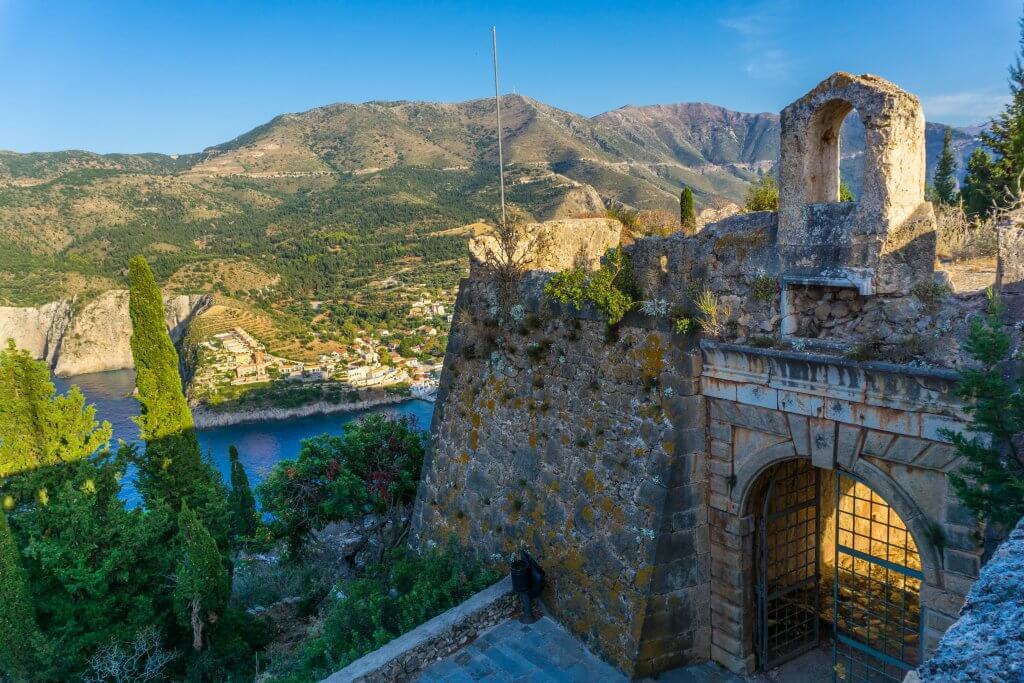 The castle was originally built during the 16th century to protect villagers against pirate raids and Turk invasions. The fortress was strategically built on top of this point of the Assos peninsula because of the sheer drop of the cliff face making it hard for invaders to penetrate. It was later used as a prison by German soldiers during World War II and functioned this way for a number of decades afterwards.
Now only the ruins remain and it has been designated a World Heritage Site. It is beautiful to explore there and the views overlooking Assos on the way up are just breathtaking.
The castle is open Monday to Friday from 9am to 5pm and on Saturdays from 9am to 4pm. It's closed on Sundays. Entrance to the castle is free. You can also book a guided tour if you don't want to explore on your own. We recommend not hiking while the sun is high and instead make the climb early in the morning when it is not so hot. It goes without saying but please wear sunscreen and remain hydrated. Make sure that you bring water for the walk which should only take about 1 hour each way.
Where to eat in Assos Kefalonia
To be honest there are only a few restaurants/tavernas in Assos. The food is lovely in each of them but if you are looking for somewhere really nice to enjoy dinner then we recommend making the 30 minute drive to nearby Fiskárdo. It is a popular fishing village with many celebrities owning holiday homes here. As a result there are many beautiful seafood restaurants and trendy eateries to choose from. Stay for sunset and you won't be sorry!
If you are planning on eating in Assos we personally loved Hellenic Bistro, a restaurant with incredible views of the sunset. Authentic greek cuisine and friendly service, this is definitely a must visit when you are in Kefalonia. As Vegans we also enjoyed Platanos which had loads of vegan and vegetarian options.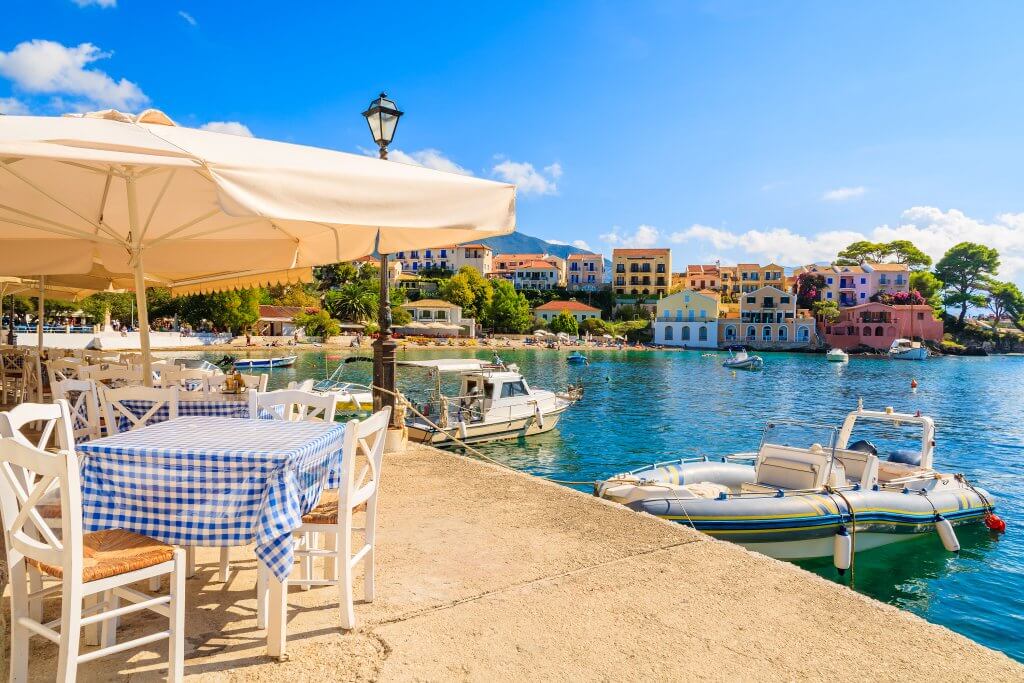 We hope you enjoyed our travel guide to Assos Kefalonia. This quaint town is full of pastel coloured houses and amazing things to do and should be on everyone's travel bucket list. Assos is a must see when visiting the beautiful Greek island of Kefalonia.
Are you new here? Join thousands of other happy readers and subscribe to All about RosaLilla blog via email. The good news is that by signing up via email you will get exclusive travel deals straight to your inbox. The only other place that we publish these deals is on Instagram stories, so be sure to signup to get the heads up on amazing travel deals to save you money when booking.
I also share everything about myself on Instagram with nothing held back so be sure to follow along there.
If you liked this you may also like:
From Bucharest to Transylvania
Things to do in Sighisoara Romania
Why Vilnius should be your next city break
7 of the best things to do in Venice Italy
Until next time you crazy kids!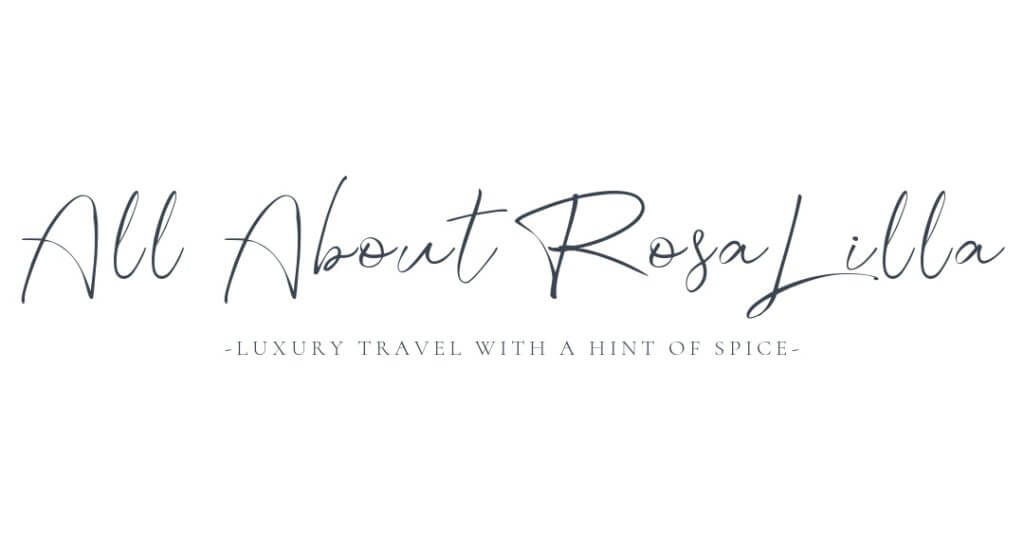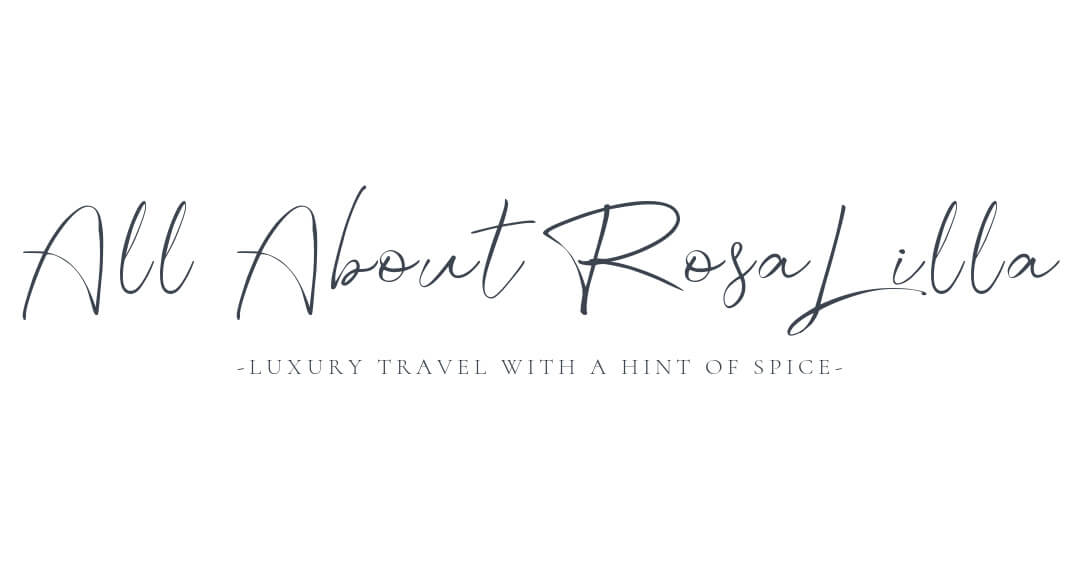 Sharing is sexy!