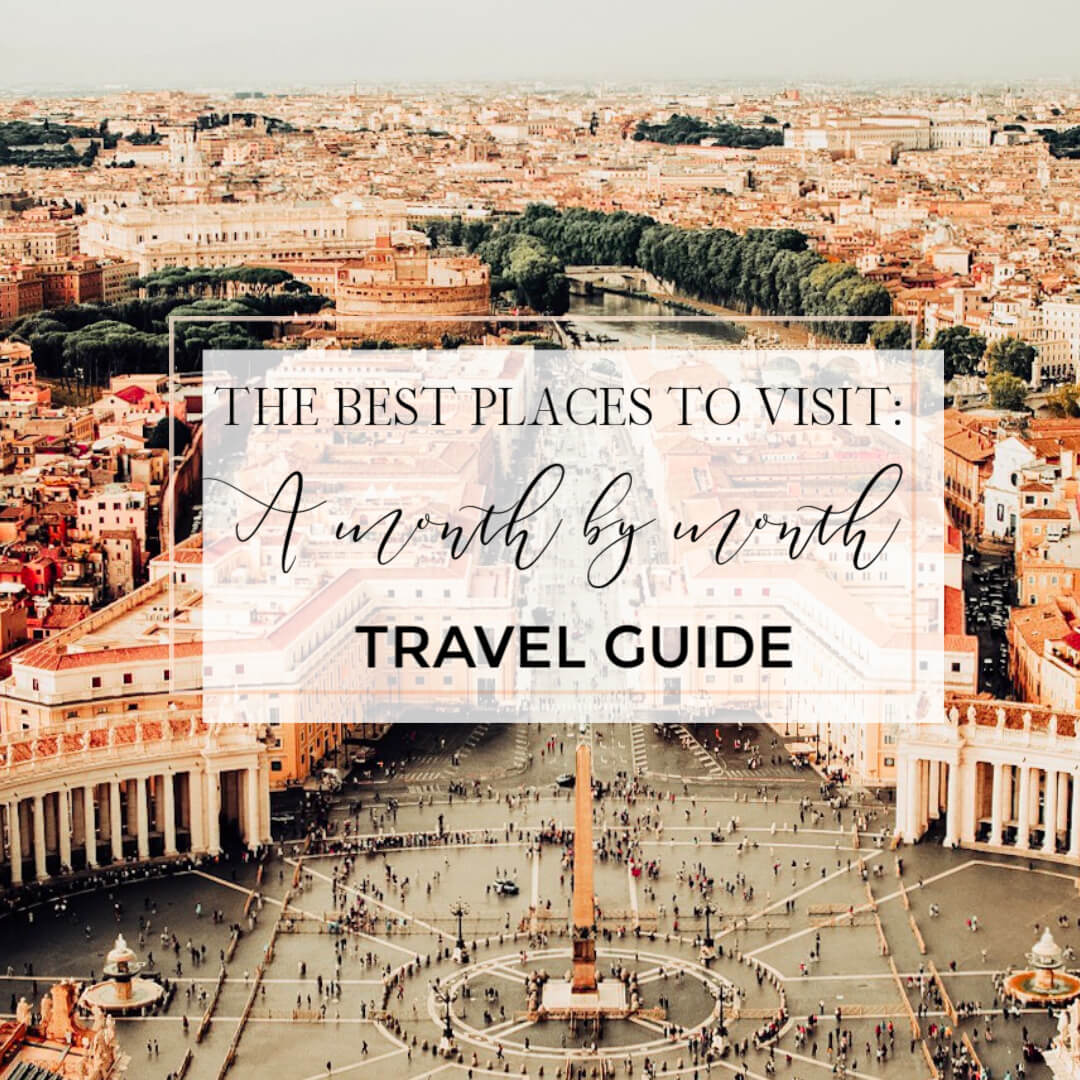 Travel and exotic destinations have never been more accessible. The world is your oyster, as the saying goes, but with so much choice, it can be difficult to narrow it down. Even if you do find the perfect place it can be completely different in the Summer than in the Winter. Do you really want to find yourself in India during the worst of the Monsoon season?
A month by month travel guide
Taking all of this onboard I have collaborated with some of the best Travel Bloggers to bring you a comprehensive month by month travel guide on the best places to visit based on calendar month. This month by month travel guide highlights the best places to go depending on the time of year.
January
Skiing – South Korea
The winters in South Korea can get quite cold, with temperatures dropping to -10°C, which is great for skiing. Especially as 70% of the country exists out of mountains. The country has around 20 ski resorts of all sizes and for skiers and boarders of all levels. Compared to ski resorts in Europe, Japan and America the Korean resorts are much smaller but they are conveniently located close to the capital which means they are great day trips. The closest resort to Seoul is only 30 minutes away and the furthest one is a 3 hour drive.
In 2018 South Korea hosted the Pyeongchang Winter Olympics and Paralympics, this really helped Korea improve their infrastructures and ski facilities. It also put Korea on the map as a winter tourist destination mainly for tourists from Hong Kong, Malaysia and Singapore. It is also incredibly cheap to go skiing in Korea, for 40$ you can get a ski lift pass, rental equipment (boots, ski's, trousers and jacket) and the shuttle bus.
The best resorts to go to in South Korea are High One, Phoenix Park, Yongpyong Resort and Vivaldi Park. These resorts are the biggest ones and have the most slopes, especially focused towards intermediate and advanced skiers.
Each year the ski season starts around the end of November and lasts till early March. Apart from being a ski resort, there are lots of other activities to do. Some resorts even have a water park, bowling, cart racing facilities, karaoke and sauna.
Read more about ski resorts in South Korea
Moscow
I know the idea of visiting Russia in January is probably sending chills down your spine, but I promise it's not as cold, as they say. In fact, the temperature in Moscow is around -5°C -10°C (14°F – 23°F) during winer months. To give you a point of reference, in my hometown of Ekaterinburg the temperature goes down to -30°C (-22 °F). As we like to say in Russia, there's no cold weather, you are just not dressed properly.
Why go to Moscow in January? To extend your Christmas holidays! You see, 25th of December is just another working day in my country because Russian Orthodox celebrate Christmas two weeks later, on the 7th of January. Lately, the city administration has been spending ridiculous amounts of money to make Moscow look pretty for winter holidays: main streets are decorated with myriads of lights, whole ice towns featuring slides and ice sculptures are built for kids, and Christmas markets can be found at the main squares.
Russians have official holidays from the 1st to the 9th of January so you are bound to dive into holiday spirit. If you plan your trip to start in late December you can also celebrate New Year like a Russian: listen to the president's speech five minutes before New Year, pop a bottle of Soviet champagne while Kuranti in Kremlin strike twelve, and watch pretty spectacular fireworks.
Read 50 tips on traveling in Russia.
South Africa
There's no bad time to visit South Africa, but summertime (December to February) is arguably the best time to go. Temperatures average 26 degrees Celsius, perfect for days spent on the beach or out in the countryside wine tasting at a traditional vineyard.

South Africa can be surprisingly cold in the winter, although not quite as bad as most places in Europe and North America. Cape Town, one of South Africa's most beautiful cities, is chilly and rainy in the winter, with incredibly high winds that can shut down the famous cable car ride to Table Mountain.

That said, summer is also the most popular time for locals to road trip around the country, so roads and tourist attractions can get very crowded, especially over the Christmas break in December. That's why January is the perfect time to visit, since it's peak summertime, but some of the local tourist crowd has died down. Take in Cape Town's beautiful Kirstenbosch botanical gardens, visit the penguins at Boulders Beach, spend a day tasting delicious wines in Franschhoek and Stellenbosch, and road trip down the coastal Garden Route, before heading out on safari at a game park.
Thaipusam festival in Singapore
The Thaipusam festival in Singapore is definitely not your ordinary event and not for the faint of heart. Celebrated on the full moon in the Tamil month of "Thai" (usually mid-January on the Gregorian calendar), Singapore sees thousands of devotees walk the 4km stretch from Sri Srinivasa Perumal Temple to the Sri Thendayuthapani Temple, over 2 days, in the Little India district.
What makes this an interesting and sometimes stomach-churning event is that devotees pierce their skin with all sorts of sharp objects as a display of devotion to the Hindu god of war Murugan (or Kartikeya). Sri Murugan is carried from his abode at Sri Thendayuthapani Temple to visit his brother Sri Vinayagar at Layan Sithi Vinayagar Temple on Keong Saik Road.
Devotees carry what is known as a kavadi ("burden") which can come in the simple form of a jug of milk carried above the head as a spiritual offering. More extravagant kavadis include vel skewers that are pierced through the tongue or cheek (sacrificing the gift of speech) and may contain a box adorned with peacock feathers (Murugan's vehicle was a peacock).
They wear kavadis either to rid themselves of impurities or in the hope that a sick loved one will be healed. It is usually a 48-day preparation where the devotees must purge themselves of all mental and physical impurities. On Thaipusam they enter into a trance where it is said that they feel no pain, no blood exits their bodies and no wounds are left behind. Quite a sight to see! If you join the procession, please stand back in the demarcated areas and do not block the devotees' path. Imagine bumping into an eager tourist with hundreds of skewers in your body.
Read more on beautiful temples in Singapore.
February
Tet Festival Vietnam
The best time to visit Vietnam is February when you will get a good glimpse of the festivities and decorations during Tet, the Lunar New Year. As part of the celebration, it is quite common for walking areas, like the street around Hoan Kiem Lake in Hanoi and Nguyen Hue in Ho Chi Minh City to be decked with extravagant flower arrangements that would make you feel like you are taking a walk through a Wonderland. The main streets are also decorated with lit arches and lanterns at night. In the streets of the historical town of Hoi An, the city is decked with silk lanterns and potted Chrysanthemum flowers. And, on the river, you will find decorated barges with huge paper mache statues and flower arrangements. With proper timing, you will also catch dragon dances and calligraphy demonstration at well-known hotels and business establishments.
If you time your visit right and you get there before the actual Lunar New Year, you will be awed by the Tet preparations. From the markets spilling with Tet decorations, fresh flowers, and fruits to the motorcycles carrying huge kumquat trees, potted chrysanthemum plants, and big bundles of cherry blossom branches. On the roadside, you will also spot some stalls selling dried fruits, candied ginger, and Bang Trung rice cakes wrapped in banana leaves, being integral components of the Tet celebration. Stop and buy some as Bang Trung is a delicious delicacy you can only find during this season.
Rajasthan
Rajasthan is India's magical land of colored desert cities and February is the perfect time to visit, when the weather is dry but cool.
In the Pink City, Jaipur, the historic center is painted pink (or orange). Highlights include the City Palace; Hawa Mahal (Palace of the Wind), where you can climb through a labyrinth of tiny rooms; and Jantar Mantar, a collection of oversized geometric astrological instruments, including the world's largest sundial. A little out of town, Amber Fort is one of India's most beautiful and interesting forts. Galta Ji, the Monkey temple has monkeys (of course), beautiful water tanks, and a tiny temple at the top of the hill that you can hike to. Visit the Sanganer neighborhood to take a class in traditional block printing and visit a paper-making factory.
The Blue City, Jodphur, is dominated by Mehrangarh, which is not only a dramatic fort, but also an interesting museum. Take a zipline from the fort over lakes and stepwells into the nearby hills for incredible views of the blue city. Then head down to the blue-painted houses and shop till you drop. A tour of neighboring Bishnoi Villages gives a fascinating insight into another culture.
The Golden City, Jaisalmer, rises like a fantasy city from the desert floor. Explore the Jaisalmer Fort, relax next to Gadisar Lake with a picturesque pavilion floating in the middle, and visit the painted havelis (merchants houses). Take in a traditional puppet show then relax in one of the many rooftop cafes. The Golden City glows at sunset! Then head deeper into the desert for an overnight camel safari and sleep on dunes under the stars.
Finally, the White City, Udaipur, is centered around a lake with four islands in the middle. Stay right on the lake and relax by the water. Take a boat cruise on Pichola Lake and visit Jad Mandir Palace on one of the islands, complete with enormous marble elephants. Explore the City Palace, Rajasthan's largest palace, wandering through beautiful room after beautiful room, decorated with tiles, mirrors and art. Don't miss the Durbar Hall, a glistening reception hall.
Rajasthan in February is truly one of the world's highlights!
Valentine's Day in Paris
February is a great month to visit Paris. It is true that days may be cold, with grey skies but visitors seem not to care about the weather, especially during Saint Valentine's Day. There's a special atmosphere during Saint Valentine's and the city proposes many interesting activities to spend a romantic getaway in Paris for two such as cabarets, a night in the opera or a boat trip with dinner along the Seine River.
In February Paris also celebrates the Chinese New Year (date depending on the lunar calendar) and the three Chinese communities in the city organize colorful parades and other events to greet the new year, where all the citizens and visitors are welcome to participate. Finally, foodies will be happy to know that on Candlemas day, on 2nd February, Paris and all France celebrate the crêpes day, and crêpes and galettes (the salty version of crêpes) are proposed in most of the Parisian restaurants but also in bakeries and food trucks.
Apart from Saint Valentine's weekend, February is low season in Paris which means fewer crowds, fewer lines for visiting the main sights of the city, cheaper flights and train tickets and more choice of accommodation available, just some more reasons to visit Paris in February!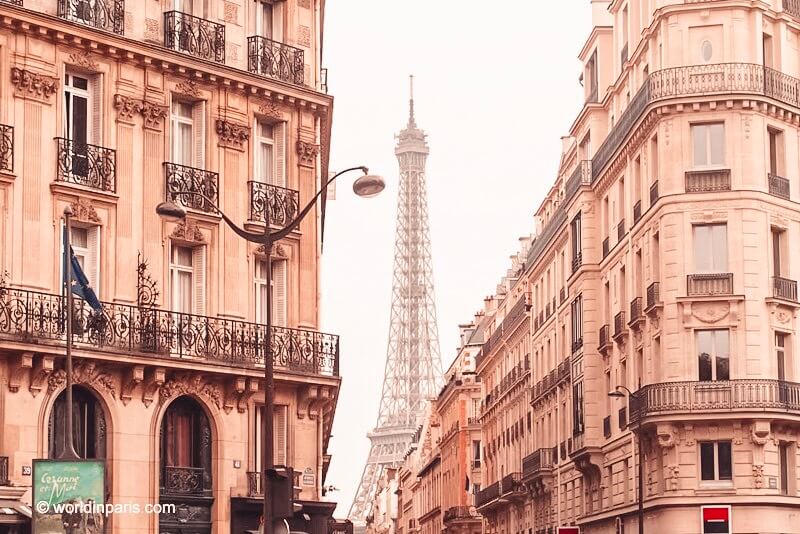 March
Float away on the Alleppey Backwaters in Kerala, India
If you are looking for some Spring sunshine then look no further than Kerala, India. Whilst it never really gets cold in Kerala, things begin warming up in March before reaching a peak in April and May.
In March, the temperature of the sea is exactly as high as the air temperature, averaging a bath-like 29°C. Monsoon season hits in June, with record flooding last year, so March is one of the best times to visit the Alleppey Backwaters of Kerala.
I was lucky enough to spend 15 days exploring Kerala in March of 2018 and without a doubt one of the highlights of the trip was staying overnight on a traditional houseboat on the Alleppey Backwaters. Imagine serenely floating away on winding waterways lined with palm trees. Observe everyday life on the shores of the waterways , beds of rice fields being harvested below sea level and floating markets where the freshest catch of the day is being sold and children happily playing and jumping into the water.
Watching the sun set from the comfort of our houseboat is an experience that I will never forget. There are many different companies offering cruises from basic to top end luxury. Most boats are equipped with 1-4 bedrooms, bathrooms, a fully equipped kitchen and a lounge area. All meals are included.
You could go back to the Alleppey backwaters year after year and never do the same journey twice. The backwaters are an intricate network of waterways that stretch over 900km. Whilst you aren't headed for a specific final destination per say, the main attraction is getting to switch off and become an observer of the beauty of life on the backwaters surrounded by palm trees.
Read more on Kerala: A beginner's guide to India
Cherry blossoms in Japan
Japan is a great destination to visit most of the year but I think that late March is the best time of the year to visit Japan thanks to the pleasant and moderate weather and the beautiful and celebrated cherry blossoms (sakura). Most of Japan can be cold in the winter but by March the temperature has started to warm up. But the main reason to visit Japan in March is to see and enjoy the beautiful cherry blossoms.
If you want to visit Japan during peak cherry blossom season, you need to know that the cherry blossoms start opening on different dates depending what part of Japan you visit – from January in the southern part of Japan and as late as May in Sapporo. The dates also vary from year to year depending on the weather and other factors but there are forecasts to help you plan your trip. Many people choose to see the cherry blossoms in Tokyo and Kyoto where the cherry trees usually start blooming late March.
Locals and tourists like to celebrate the beautiful flowers by indulging in some cherry blossom viewing (hanami) which involves anything from leisurely walks or picnics at gardens, parks and riverbanks to sake-fueled parties underneath the trees.

Exploring Norway
Norway is a hiker's paradise. It's no surprise that the country experiences it's largest number of visitors during the summer months. However, Norway is a great year-round destination. For those that don't mind donning a jacket to explore the sites, exploring Norway in March can unlock some of its most incredible treasures.
By March the sun is shining, even in northern Norway. Visitors don't have to worry about polar night making it tough for hikers to enjoy Norway's scenic views. It is also a great time to join a fjord cruise without the crowds. In the northern regions of Norway, there will still be snow on the ground enabling one to enjoy winter activities such as skiing or even dog-sledding.
March is also one of the best times for Northern Light's spotting in Norway. This can be experienced by a self-drive north of the Arctic Circle or by taking a coastal cruise on the Hurtigruten. Exploring Norway in March can be a bit unpredictable as the seasons transition from winter to spring so be sure to bring layers in order to dress appropriately for any temperature.
You can read more about the adventures of Wandering Wagars.
April
Road tripping on Carretera Austral, Chile
I bet most people have never heard of Carretera Austral. That's probably because it's in a remote part of Chilean Patagonia and it is not heavily promoted around the world. That means only one thing – visit before everyone else finds out about this gem, and I will tell you why you should.
It's an adventurer's paradise. Carretera Austral is a road 1,247km long and one of the most scenic rides in the world. You can expect to see snow peaked mountains, glaciers and lakes and rivers in every shade of blue imaginable on literally every corner.
Carretera Austral starts in Puerto Montt and ends in Villa O'Higgins. When you fly to Santiago, Chile's capital, you would then either fly to Puerto Montt or go by bus. Although the second option takes 12 hours, Chilean long-distance buses have fully reclining seats and offer a very comfortable journey.
Summer on Carretera Austral, December to February, is the busiest season when most of the locals and students visit. I've visited in April, met only a few people along the way and every campground had a free place to stay.
You can go white-water rafting, fishing, wildlife watching, glacier trekking or visit glaciers by boat, kayaking, mountaineering, hiking and more. The most interesting places I recommend are Hanging Glacier in Queulat National Park, Laguna Castillo in Cerro Castillo National Reserve, Marble Caves by boat and glacier trekking in Puerto Rio Tranquilo and Villa O'Higgins, the end of the road and a special place deep in Patagonia surrounded by countless glaciers.
The best news is that Carretera Austral is part of Patagonian Route of Parks, a newly formed scenic road consisting of 17 national parks. It's 2,800 km long connecting 3 scenic routes: Carretera Austral, Patagonian Channels and End of the World Route.
Easter at the Vatican City
As most of us know, Rome is filled possibly more than any other city in the world with history, artifacts, ruins, fountains and art. Considered by many to be the heart of Rome is the country that sits right inside this amazing part of Italy, Vatican City. A definite must visit on your first time to Rome. Catholics for century's have made pilgrimages just to be able to see and enter the Vatican, the Vatican Museums and the famous Sistine Chapel. However, the Vatican is not just for Catholics, people from all religions on earth visit this spectacular country.
One of the most popular times to visit the Vatican is Easter week. Mass and the Papal audience are usually performed outside in the large area known as St. Peters Piazza which is the area in front of the Basilica. The crowds are overwhelming with large numbers wanting to attend. The square holds 80,000 people, which makes it necessary for the Vatican to require tickets to attend. Tickets are free but they do go very quickly so grab yours as soon as you can.
You may obtain information on faxing the Vatican with your request for tickets online. However, it is advised to do it far in advance, at least 6-12 months. It is also important to know that just because you obtain a ticket does not mean you will gain entrance. Getting in line hours in advance for a seat is required.
When the day finally arrives to spend Easter morning in St. Peters Piazza there is an overwhelming feeling of a holy and spiritual presence. If the weather cooperates you will be sitting under a perfectly blue sky, sitting in an area that is centuries old. This may be one of the most amazing experiences you ever have, being part of over 80,000 people gathering for worship.
Tulips in Amsterdam
The Netherlands is known for its tulips and April is the best time of year to visit if that's what you want to see!
The world-renowned Keukenhof gardens open in March, but the weather can still be a bit unpredictable, so April is the best time if you want to see the gardens in all their glory as well as fields upon fields of colourful blooms in the surrounding area.
The area nearby to Keukenhof is a great place to see fields of tulips for free, either from the train between Amsterdam and the Hague/Rotterdam or by renting a bike and cycling the tulip route. Even if you don't leave Amsterdam you will see tulips everywhere in the city as the entire month of April is when the Amsterdam Tulip Festival takes place. Make sure you also stop by the famous floating flower market to buy some bulbs and/or blooms for yourself!
If you are looking to explore tulip fields without lots of tourists, then the province of Flevoland is a great choice. Flevoland actually produces the most tulips, has an annual tulip route organised and is relatively unknown among travellers in the Netherlands!
You can read more about visiting tulip fields off the beaten path in Flevoland.
May
Antigua
Antigua is one of the most interesting destinations to visit in the Caribbean region, and the best month to go there is May. Despite its small size, Antigua has a lot to offer to its visitors, with plenty of things to do and see that make it a fantastic destination for people who want to relax, but also have a bit of adventure and fun.
Between the end of April and the beginning of May, Antigua hosts a sailing week, during which people from all over the world come to sail in the clear waters of the Caribbean Sea and enjoy the rest of the island. Those who are not racing can still join in the fun, by jumping on board of Chase the Race – a catamaran that follows the regatta for a day. People on board get to spend a day at sea, swimming in the sea, enjoying the sun and the wind, eating great food and having a few drinks.
Antigua has many beautiful beaches. Some are perfect to relax in the sun and snorkel, others are for more active people, and good for water-sports such as windsurfing or kite surfing – the most popular one for kite surfing is Driftwood Beach.
Devil's Bridge is one of the most famous landmarks on the island, and Shirley Heights is a fantastic place to enjoy a drink as the sun goes down. It can also be reached via an easy hike that starts in British Harbor.
One of the nicest things to do in Antigua is going on a road trip around the island. This is a great chance to explore the windmills and forts that are scattered around the island. Don't skip Betty's Hope, one of the best kept mills. St. John's, the capital, is a fun city to explore to get a bit of local vibe and enjoy street food.
Nepal, Everest Base Camp
May in Nepal has a certain buzz to it. It's notably famous for being the prime time to summit a mountain in the Himalaya, and while most mountains would do, it's Everest that becomes the talk of the town. People from all over the world fly to Nepal in May to tempt their fate on the highest mountain in the world. While most of us don't have the drive to climb to 29,029 feet (8,848m) or the $50,000, it's still an incredible time to visit.
I trekked to Everest Base Camp in November, and while it was beautiful, it's May that really captures the spirit of this incredible mountain. I went back in May to do another trek nearby and you could see the intensity of mountain climbers trying to get a flight to the Everest Region. As a trekker, it was so interesting to hear the stories of what drove people to the top. Why spend months on a mountain and thousands of dollars for a second of glory and a high risk of death?
Trekking to Everest Base Camp is no easy feat either. While it's definitely nothing compared to the summit, it is still challenging for the average person. Making it to Base Camp is an accomplishment in itself. I can say first hand, it's worth every bit of effort to be surrounded by the world's highest mountains for two weeks of the most incredible views of your life. And, if you're lucky, you'll get the chance to meet people either on their way to the top of the world, or better yet, on their way back down. Nothing beats the fresh story of someone who has just climbed the ultimate bucket list mountain.
Peru
The best month to visit Perú is the month of May. It is autumn, just out of the rainy season which typically ends in April and just before the busy season begins in June. For reference, we visited the last week of May and went to Lima, Iquitos, Cusco, Machu Picchu, and Rainbow Mountain.
After exploring Lima, we went to Iquitos, the largest city in the world that can only be accessed by plane or boat. We wanted to explore the Amazon and see the pink river dolphins. We had a beautiful sunny day on the river and the levels were still high enough to have a chance to see the dolphins. They are elusive but we saw them and they are beautiful!
Next, we flew to Cusco to acclimate for a couple of days before heading to Machu Picchu and Rainbow Mountain. Machu Picchu is at a safe altitude and isn't an issue, but Cusco and Rainbow Mountain are both at high altitudes.
We visited Machu Picchu two different days one of which was sunny and the other cloudy with the occasional drizzle. Both were beautiful and on the sunny day we visited near the end of the day and hardly anyone was there!
Rainbow Mountain was one of those "a-ha moments" in life for me. I thankfully didn't have a problem with the 16,400-foot altitude and could just admire the majestic multi-colored mountain before me.
All-in-all if I were to go to Perú again, I would once again go in May. It was perfect for crowds and the weather in all different regions!
Read more on Peru day trip Rainbow Mountain.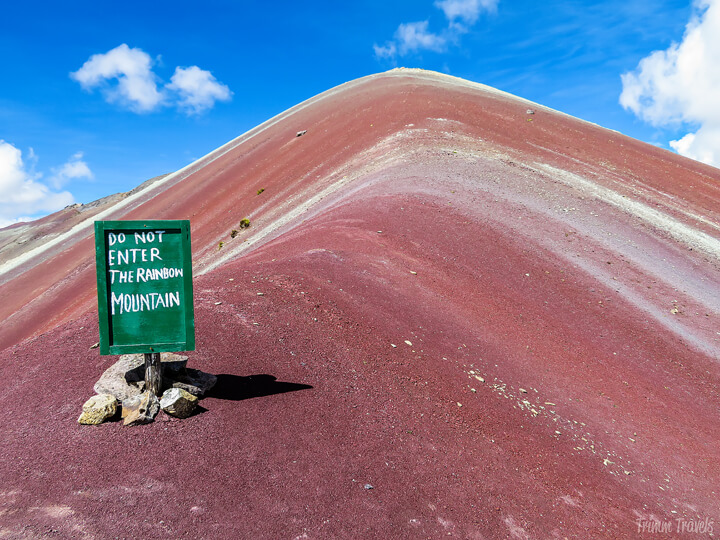 June
Horse Racing Festival in Shangri-La, China

In the land of lost horizon 'Shangri-La', it is heart-warmingly mesmerising to watch the Tibetan minorities participate in an annual horse racing festival in the grand grasslands of China's Yunnan province. The festival is more than just a sporting event; it serves as a celebration for other art forms like dancing and singing.

It is quite an enthralling watch to see traditional equestrian performances with mind-boggling feats of horsemanship taken place at the foot of the Five Phoenix Mountain. The best time to visit the festival is on the 5th month of the lunar calendar, ideally in June and the grand affair lasts for 3 days.

Interestingly, each family member from Shangri-la, Tibetan autonomous prefecture of Diqing in southwest China's Yunnan province, will set up tents on the mountain for a picnic during the festival and will be decked up in heavy adornments to participate in the festivities.

It can be quite busy and the best way is to get a tour agency to book the tickets for you in advance. After the festival, take a breather to visit the other sights around the Shangri-La such as Napa Lake, Old Town of Shangri-La and the White Horse Snow Mountain and Haba Snow Mountain.

Whale Migration in Sydney
When most people think of Sydney, they associate it with sunshine and beaches, a summer destination. It was only when moving to this beautiful city that we realised that winter was an even more wonderful time to be in the city.
Not only is winter a far more stable time to visit weather-wise, with bright sunny days and far less rain than summer, but if you visit in June, you'll have the chance to see the migration of Humpback Whales just off the coast. Humpbacks migrate from Antarctica to Queensland from late May until September, taking on a 10,000 km journey that passes right by the coastline of Sydney.
Unlike many other whale watching destinations, you won't have to go far to see them in Sydney. The whales migrate only a short distance from the coast, meaning that within 30 minutes on a boat trip you can often catch your first glimpse. If you are really lucky you might even see them in the harbour itself, which happens several times every year. You can take a boat trip (which will guarantee a sighting or give you another trip for free) or choose our favourite option, which is to see them from land. They are commonly spotted from the cliffs at Bondi, Manly and Botany Bay, as well as a number of other areas. We've enjoyed many Sunday afternoons looking out to sea and spotting whales while going for a walk or having a picnic.
If you want to splurge you can even take a scenic helicopter ride over the beaches and spot them from the air. It gives a great idea of scale and is one of the most memorable trips we've taken in Sydney.
The whale migration is not just an incredible wildlife watching experience, but a success story in conservation as the number of humpback whale numbers migrating along the east coast has rebounded from under 100 in the 1960s to 33,000 in the recent count in 2018. This has made the chance of seeing a whale incredibly high.
We've been whale watching many times and there is nothing like the magical experience of seeing several breaching in all directions especially if they have calves.
The other benefit of visiting Sydney in June is the chance to attend Vivid – a festival of light that is held across the city at this time of year. For three weeks you'll see the Opera House, Harbour Bridge, Botanic Gardens and many other places covered in light projections, as well as shows and music which bring the city to life.
You can read more about where to stay in Sydney.
St. Petersburg, Russia
June is the best time to visit St.Petersburg, Russia, the main reason is the famous White nights when the sun goes down only for a few hours a day but even during that time it never gets really dark. The city is alive 24 hours a day with many restaurants, bar and cafes in the historical center open all night, street musicians playing, thousands of people both locals and tourists alike wandering along the Neva river in order to see the bridge opening ceremony.
Every night during summer season the bridges across the Neva river get opened twice so that ships and boats can pass through the city. The most impressive is the opening of the Palace bridge with Peter and Paul fortress on the background. Watching the bridge opening from the boat is a very popular activity, the boats go under open bridges, it's a great opportunity to see the bridges and the city at night from the water.
Another great thing to do in June is to visit Peterhof park and palace, take a hydrofoil from the city center and in 30 minutes you'll find yourself in one of the most impressive European parks. Peterhof is famous for its impressive fountains and water cascades and stunning palace that used to be the summer residence of the Russian Emperor family. There are many other great places to visit in St.Petersburg ; parks, theaters, museums, cathedrals etc. and June is the best time to do it.
July
4th of July Celebrations in Hannibal, Missouri
Independence Day celebrations makes the month of July an excellent time to visit the USA. You can expect to eat barbeque, cool down with watermelon and watch firework displays virtually anywhere in the country. But, the small town of Hannibal, Missouri, on the banks of the Mississippi has all this to offer and then some with Tom Sawyer Day, a street parade and a mud volleyball tournament.
Hannibal was the boyhood town of Mark Twain, 19th century author of the Tom Sawyer and Huckleberry Finn adventures. For the past sixty odd years the town has capitalised on this heritage with a competition that brings the fictional characters of Tom and his sweetheart Becky to life. The winners who become ambassadors of the town are announced on 4th July. They get to travel to places like Japan, Bermuda, UK and even visit the White House.
Following on with Tom Sawyer Day celebrations is the fun fence painting competition. Boys play the duped friends of the cunning Tom and race to whitewash their fence in record time. Stand too close you'll likely get splashed.
And then there's the town's Mississippi Mud Volleyball Tournament. Around 64 teams play on courts that are six inches deep in the stuff pigs dream off. It's a messy game where team members get free full body mud-packs. It's competitive and a whole lot of fun to watch. A few words of warning; do not wear your favourite white shirt!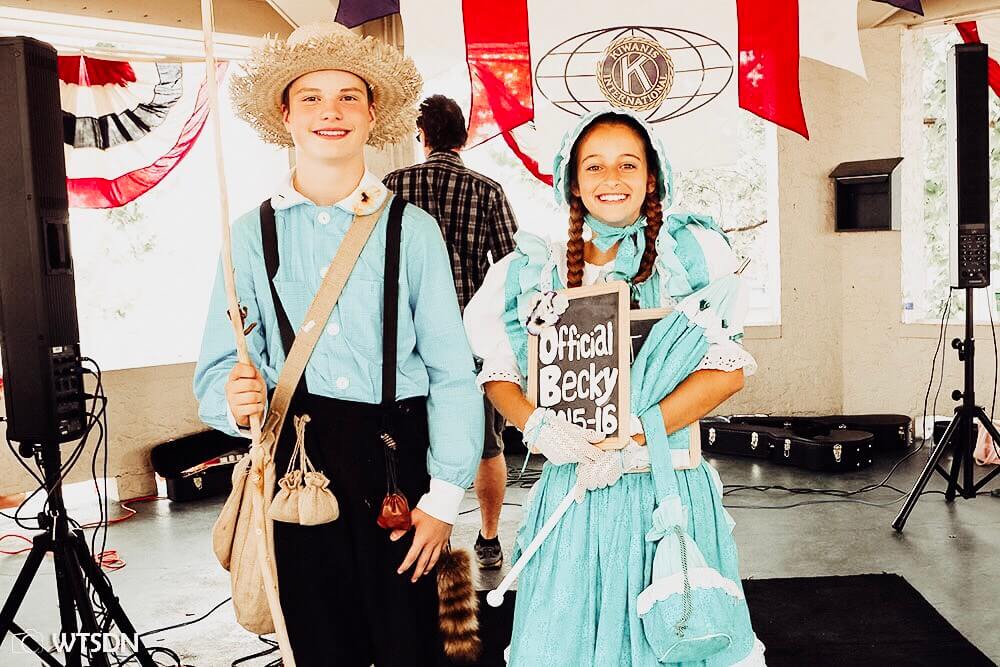 New York, New York
New York, New York so good they named twice! Now where have I heard that before? It might be a cliche but it is totally true.
Many years ago I was lucky enough to live for a whole Summer in New York. The city is alive at any time of the year but more so in the Summer. The city gains a boundless energy once the heat cranks up. As the temperature scale rises so do the amount of activites that you can do in the city.
There are a number of free activities that you can partake in during the month of July. From kayaking in the Hudson, grabbing an icecream from the Pint Shop and walking the High Line, having a beer tasting in the Brooklyn Brewery or simply enjoy the warm summer nights with a free movie under the stars.
My reason for picking New York for July, despite the Summer heat are the free concerts that take place in Central Park as part of the Summer Stage series. We were lucky enough to catch an intimate session with the one and only Florence and the Machine. How often can you say that! There is huge selection of artists so there will be something to please everyone.
Temperature wise there is no denying the heat of the city but there are plenty of ways to stay cool. Rent a bike and cycle the wonderful Central Park. Even better bring a picnic and enjoy it in Meadow Fields or rent a boat and enjoy a glass of wine by the iconic Boathouse. Walking the Brooklyn Bridge not only gives you views of the city skyline but a cool breeze so that you can really enjoy it.
There is no better feeling than watching the sun go down and the city light up, on a warm summer night, from one of the many rooftop bars. If I have to suggest one it would be the Hotel Moxy for the fun factor or Hotel 50 Bowery for the views.
If you really want to escape the heat of the city a quick train ride will have you in the beautiful seaside town of Montauk, Long Island where life is certainly more relaxed or even better use your Metro Card and head straight for the Wonder Wheel in Coney Island.
You can get more info on free things to do in New York and check out this post for the most instagrammable places in New York.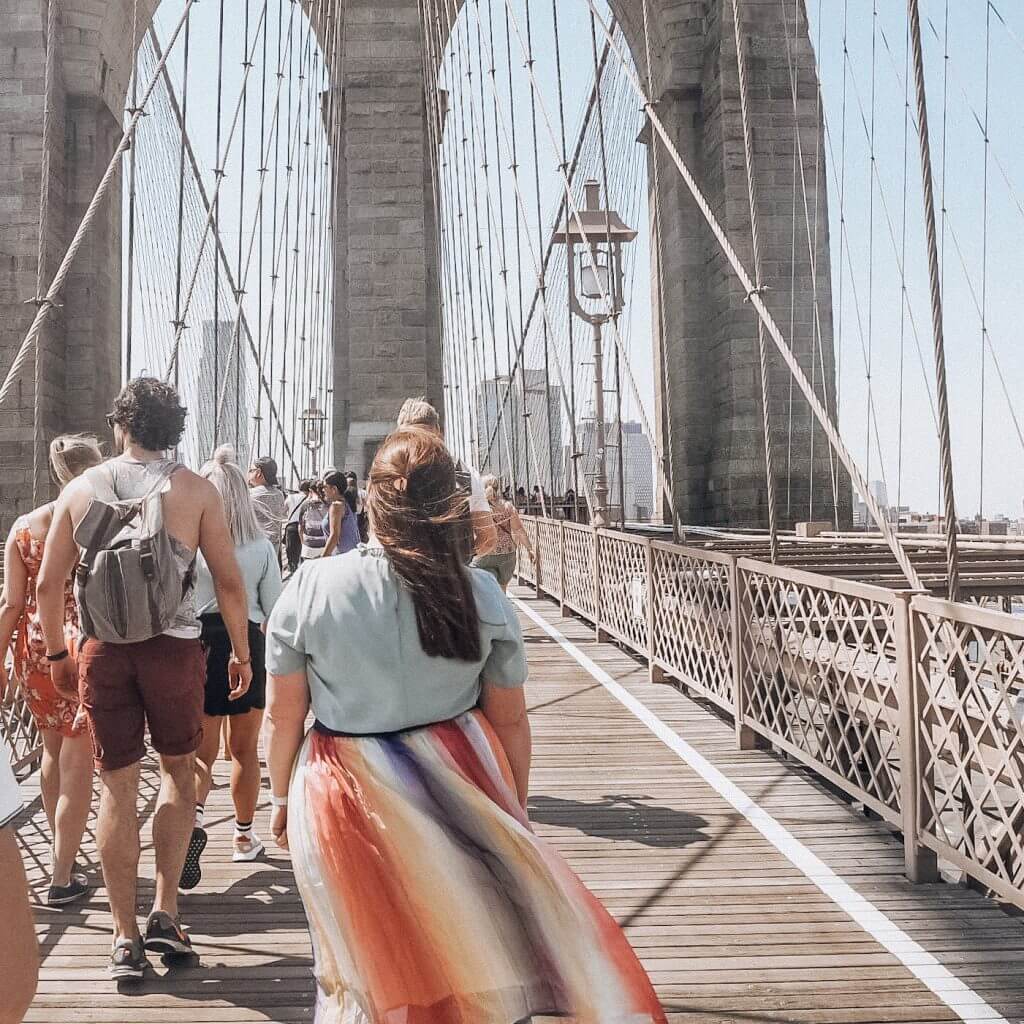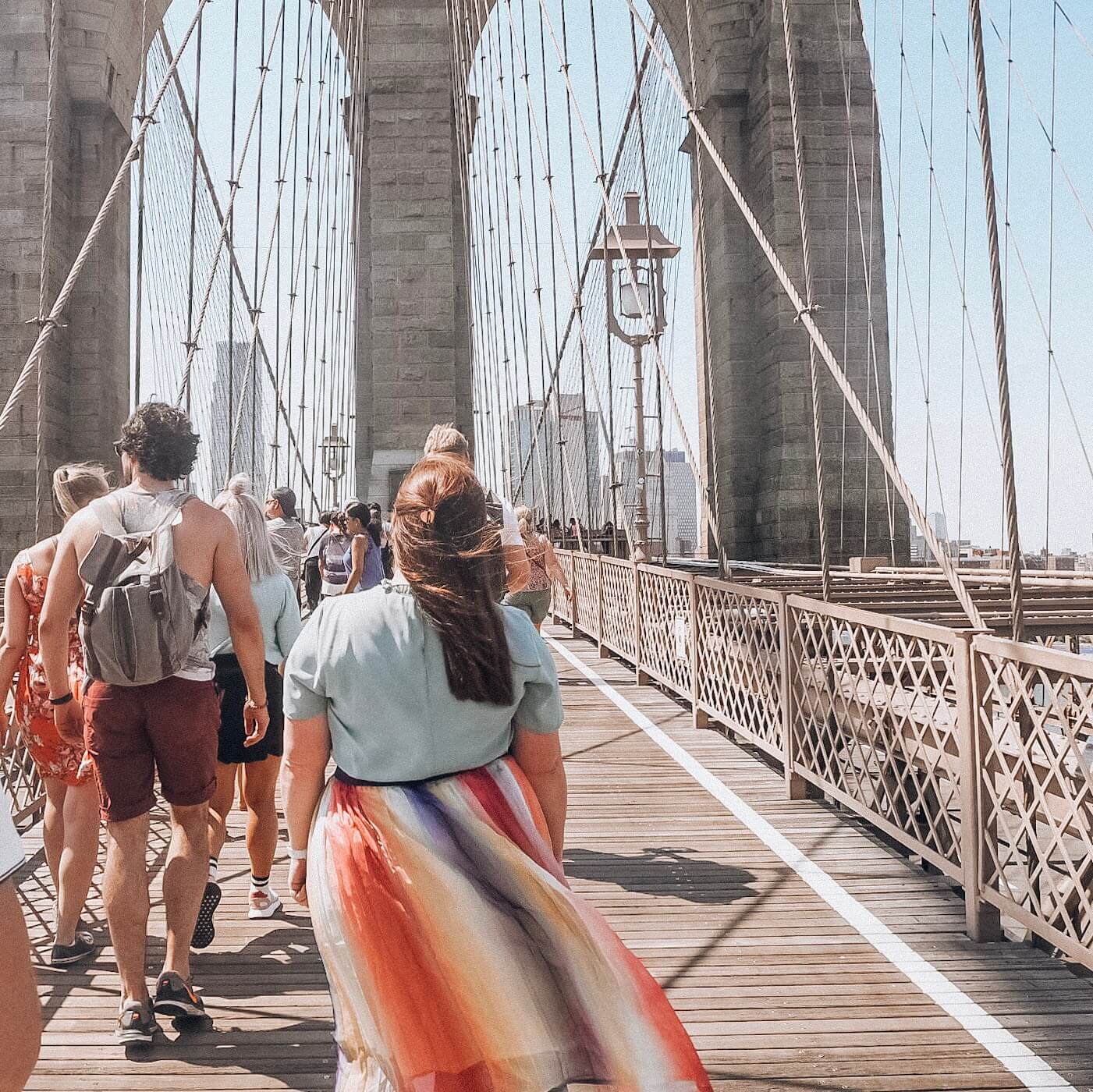 Lavender in Peterborough & The Kawarthas, Ontario, Canada
Mention lavender and the first place that comes to mind is likely Provence, France. But while Canada might not be the most obvious choice of destination for fans of this fragrant flower, the month of July sees vast fields of lavender in bloom through the province of Ontario. One of the most popular destinations is tucked within the rolling hills of the Northumberland County in the Peterborough & The Kawarthas region, an hour east of Toronto.
For people of all ages, one of the most popular things to do in the Kawarthas in July is to spend a day basking in the beauty, fragrance and spectacle of lavender fields in full bloom. At top spot is the aveanne Lavender Farm located near Campbellcroft between Port Hope and Peterborough. Here, the experience begins the moment you step out of your car.
The ancient Romans used this purple-hued flowering plant to scent their public baths — the word lavender is actually based on the Latin word lavandus which means "to wash" — and as soon as you arrive at the Laveanne Lavender Farm, the intoxicating scent of lavender in bloom drifts gently on the breeze making you feel instantly relaxed and at peace.
However, the Laveanne Lavender Farm is not only home to fragrant fields in bloom, but it is also features a large lavender labyrinth. Open to the public with no admission charge, it is offers walking paths, lined by lavender, ideal for meditation. It's also possible to participate in yoga classes amid the lavender fields, take a workshop on making lavender essential oils or shop for lavender products such as sachets, bath salts and pillows in the lavender-themed boutique. All of the body products are 100% natural and contain no parabens, sulfates, phthalates, artificial fragrances/colours or artificial additives.
While there are actually 47 known types of lavender and they bloom at slightly different times, July is known as "Blossom Month" as it is the month most species are flowering. Much like other lavender fields in Ontario, Laveanne Lavender Farm is a popular destination for family, engagement and selfie photos, so if you'd like to soak up the serenity of the lavender fields and its therapeutic benefits alone, you should visit in the mornings before the crowds arrive.

August
Visit Scotland for the Royal Edinburgh Military Tattoo
If you've got an ounce of Scottish blood in you (and many people do) or if you're just fascinated by Scotland like I am, then a visit to Edinburgh, Scotland in August for the Royal Edinburgh Military Tattoo is a must.

Don't worry there won't be any ink or needles involved in this tattoo. A military tattoo is actually a performance of music or display of armed forces. The term comes from 17th-century Dutch phrase doe den tap toe or "turn off the tap" in English, which was a sound made by drummers or trumpeters, and was a signal to innkeepers to stock serving beer to the soldiers so they would return back to camp.

The Royal Edinburgh Military Tattoo happens every year in August and is performed by British Armed Forces and international military bands. The show includes marching bands, bagpipers, drums, and incredible fireworks. While the tattoos themselves are just incredible to watch, it's the backdrop of the performances that really takes the cake! The Edinburgh Tattoo is set in the striking hill-top Edinburgh Castle overlooking the beautiful city.

Edinburgh is an impressive city with a rich, long history, culture, and a great food scene. You can visit the curved and colorful Victoria Street, take a free Harry Potter tour that will allow you to explore the city with the help of your wizard guide, hike Arthur's Seat, walk down the Royal Mile, climb Calton's Hill, shop in Grassmarket, and eat and drink at the many pubs.

If you're planning on attending the Royal Edinburgh Military Tattoo, be sure you first purchase your tickets, then book lodging as soon as possible as this event is extremely popular.

The first official Tattoo was held in 1950 with 6,000 people attending. Today more than 217,000 people view the Tattoo each year, so you can imagine how crowded it can get.

While this event will definitely be the highlight of your trip to Scotland in August, don't feel like you will be stuck in the crowds. There are many other amazing things to do and see including the famous Scottish Highlands where you can see the Highland Games (schedule here) and the beautiful Isle of Skye where you can see fairy pools and hike the Quairang.
Strbske Pleso in Slovakia
by Joanna Dąbrowska, Over Here
Strbske Pleso is a scenic mountain resort located close to beautiful glacial lake in High Tatra mountains. Strbske Pleso is the highest village in Slovakia – it is located on about 1340 metres.
It is a perfect destination to visit in August. Temperature is very pleasant – there is no heat because of the altitude and high mountains proximity. The days are long and sunny. The weather in August is generally more stable than in June and July – there are less thunderstorms and there is not any snowfall. To sum up – August is perfect month to visit Strbske Pleso.
Strbske Pleso is most famous for its picturesque post-glacial lake. It is the second-largest lake in Tatra mountains! Surrounded by High Tatra peaks, it is not to be missed by anyone looking for a peaceful getaway.
Actually, the area is a paradise for all outdoor enthusiasts. Nature photographers and Instagram influencers will have many possibilities to take amazing photos. Hikers will find here lots of trails to explore. More experienced hikers can try themselves on yellow trail leading to Bystra Lavka Pass, or red/blue trail leading to Rysy peak.
Tourists looking for easy trails can walk to Popradské Pleso – another beautiful mountain lake. There is also mountain hotel located just over Popradské Pleso. Families with children can also hike up to Chata pod Soliskom mountain hut (located on 1830 metres), or walk around Strbske Pleso, which takes about one hour.
If the weather is not very favorable, tourists can spend their time in restaurants and cafes.Strbske Pleso is also famous for its healthy climate – there are many hotels with SPA facilities.
Party at Sziget, Budapest
August is by far and away the best month to visit Budapest. The temperatures in the day sit near 24 degrees Celsius and fall to around a comfortable 18 at night. Everything is open, people are visiting on their holidays and the spirit is fantastic. The hotter and less rainy the weather, the better Hungary is.
With warm, dry days you can sit out on one of the many amazing roof terraces throughout the city, sipping the local wine or a few cold beers. You can take in the Budapest sights such as Chain Bridge, take an open top city tour bus, boat down the Danube or even relax in one of the cities many geothermal spas.
Add to this the unimitable Sziget festival on Hajógyári island and you will begin to see why you have to visit Budapest in August! Sziget steps the atmosphere in Budapest up a notch and is a world famous festival with good reason. Over 1,000 acts perform each year with a huge variety of music from the Foo Fighters to Martin Garrix to Ed Sheeran and many more. Reaching a peak of half a million visitors in 2016, this festival is almost guaranteed to sell out each year, so booking tickets early is highly recommended.

September
Georgia
Georgia makes the perfect destination for those looking for adventure. Located between Azerbaijan, Armenia and Russia, this little country has been unknown by the tourism industry due to its past invasions and civil wars. Today it's a beautiful nation that welcomes visitors to explore their wild nature and to learn about their interesting culture.
There are many beautiful regions to visit while traveling in Georgia, but the Caucasus region is the one you don't want to miss. These mountains, which are higher than the Alps, offer some of the best hiking trails in the world. I recommend that you take the Mestia to Ushguli Trek in Svaneti, the Omalo Loop in Tusheti and the Juta to Roshka Trek in Kazbegi. These beautiful trails will take you along amazing landscapes such as huge valleys, wild rivers and impressive glaciers.
In winter, some parts of these trails get covered in snow, shortening the hiking season from June to October. In June, July and August the weather is perfect for hiking. However, it's high season, some trails get too
crowded and it can be difficult to find accommodation (for instance, hiking from Mestia to Ushguli). September is probably the best month for hiking and traveling in Georgia as the weather is still sunny, it's not so hot during the day, and there are fewer tourists.
You can read more on backpacking in Georgia.
A Road Trip Through the Italian Lake District
Northern Italy's lake district is an incredible road trip destination, but it often gets overcrowded during the summer months. To experience the best of what this area has to offer, enjoy much more comfortable weather, and avoid tourists overload, I highly recommend visiting the Italian lakes in September.
To start with, head to Lake Garda, the largest lake in Italy and the perfect place to spend a few relaxed days. In September, the water temperature is approximately 23°C/73°F which can be a bit chilly for some people, but others will find it pleasant for a swim. You can also sunbathe or just sit in front of the lake as the temperatures during the day are 22°C-26°C/73°F-79°F. Exploring Lake Garda's beautiful towns is another must-have experience and during this time of the year, most of them will be much calmer.
Next stop – Lake Como. It's also home to charming small towns and villages, and it will also be a lot less crowded than during high season. Popular stops along this lakes include Varenna and Bellagio.
Finish off your road trip in Lake Maggiore. It is the smallest of the three, but definitely worth the visit. You can find the town of Stresa and the Borromean Islands amongst its highlights.
You can read more about taking a North Italy Road Trip.
Rocky Mountains, Canada
The portion of the Rocky Mountains that extend into Canada is unlike anywhere else along that mighty mountain range. In Canada, the peaks tower thousands of feet above the valley floor. Massive glaciers stretch their toes down the slopes. Animals associated with the wild reaches of the north – caribou, gray wolves, grizzly bears, elk – roam the thick pine forests. Lakes so turquoise that they look photoshopped litter the landscape. It's an incredible place that should be on everyone's travel list.
But because its beauty is so well known, Canada's Banff National Park receives millions of visitors every year. The shores of Lake Louise are jam-packed with tourists during the summer months; it's nearly impossible to find parking at picturesque Moraine Lake in July or August. So to beat the crowds and still have perfect weather, September is the ideal month to visit the Canadian Rockies.
In September, the days are still warm enough to be comfortable, with the mornings crisp and cool, which makes for perfect hiking weather. Around the middle of the month, Banff's famous larch trees turn golden. The year's first snowfall often happens at the end of the month, but it provides a perfect backdrop for those unusual color-changing pine trees. And despite the perfect weather, in September you can travel the world-famous Icefields Parkway between Banff and Jasper with very few fellow drivers on the road. Prices are also lower as September is the first month of the off-season.
The Canadian Rockies are beautiful year-round, but September truly is a perfect time to visit.
October
Halloween in Derry, Ireland
There is no better place in the world to celebrate Halloween than Derry. A festivity originating in Ireland, Derry has well and truly brought Halloween home and established itself as one of the best Halloween destinations in the world, according to US Today.  
The Halloween festival had humble beginnings over 32 years ago. A local pub held a fancy dress party every Halloween. One year during the Troubles there was a bomb scare and, instead of all going home like they were advised to do, the people of Derry took the party to the streets. The festival slowly grew over the years to what it is now, a week of events leading up to the big finale of Halloween night.
A week long programme of spooktacular events will keep you entertained, a highlight being the Awakening of the Walls. For the three nights leading up to Halloween, locals party with the supernatural to banish the dark, on an illuminated animation trail throughout the historic city walls. Here you will find plays, ghost stories, fires, illuminations, acrobats and storytellers around the mile-long circuit.
The grand finale is without a doubt the Halloween parade. Over a 100,000 people descend on Derry, most in extravagant costumes, to witness this special event. As the division between this world and the other world is at its thinnest and supernatural beings and the souls of the dead flood the city, it is the perfect time to let your imagination run wild. The parade finishes with the most spectacular fireworks display as the sky alights with colour over the River Foyle.
Diwali in India
One of the best places to visit this October is India. This is because of Diwali, one of the most important festivals for Hindus. Diwali, also known as the Festival of Lights is similar to Christmas in the West. It brings people together to celebrate, relax, pray, and eat.
Visiting India during Diwali is a great time to come to the country as it gives visitors a unique opportunity to experience Hindu culture and celebrate with locals. On top of that, the entire country gets lit up with beautiful lights as part of the celebration.
The dates of Diwali change every year as it depends on the moon cycle. In 2019 it will be October 25-29th. The entire holiday takes place over five days with the main celebration, Diwali, celebrated on the third day (October 27th). The day of Diwali marks the New Year in the Hindu calendar.
Diwali celebrations take place all over the countries, however, in the south of India they celebrate Diwali one day earlier. The extent of festivities will depend on where you are, but all over the country you will see families lighting their homes, setting off fireworks in the streets, and dressing up for the occasion.
The best way to celebrate Diwali is to either do a homestay with a family or stay at an accommodation that puts on Diwali celebrations for guests. Jaipur is one of the most popular cities to celebrate Diwali as the entire market gets lit up.
Visiting India during Diwali is a unique way to experience the country, it's so much fun to celebrate with the locals and learn more about the culture. If are planning to visit India this year, October is a great time to go.


Elephant Gathering in Sri Lanka
It's hard to choose the best time to visit Sri Lanka, since it's often rainy, and during the only dry months the island receives scores of visitors, leading to overcrowding in parks which is a real concern. I spent two weeks in Sri Lanka in October, and the highlight of my time in the country was definitely attending the Elephant Gathering in Kaudulla National Park in the centre of the country, not far from the famous Sigiriya rock fortress.
The region where the park is located experiences a dry spell between July and November, with August and September being the driest months. Throughout this time, water levels decrease across the region, and elephant herds living in different national parks gather close to reservoirs, where they know water can always be found. Over a hundred elephants routinely meet in these reservoirs, a migration that has taken place for thousands of years.
Minneriya National Park, home to a 1700 year old reservoir, is probably the best known place, but we headed instead to nearby Kaudulla because we wanted to escape the crowds. There were only three other jeeps when we visited Kaudulla, and we did see about two hundred elephants in the distance, but they were too far to photograph clearly. Plus, it was a very rainy day and visibility was terrible! This is the best picture I got – but I'll keep the memories of this moment in my heart forever!

November
Truffle Festival in Emilia Romagna
Truffles are one of the top Emilia Romagna and Bologna food specialities and should be on any must-eat list in Italy. Emilia Romagna is one of the best places in the world to eat, and to experience truffles. Truffles are found growing close to the roots of trees, generally in dark and moist areas. There are a few varieties of truffles that grow in Emilia Romagna, and each has its own season. The white truffle, tartufo bianco pregiato, or tuber magnum, is hunted in the fall. The "100 days of White Truffle" runs from October through December.
The start of autumn is the beginning of prime season for the esteemed white truffle in Emilia Romagna. One of the best ways to experience the white truffle season is by visiting Savigno, only a 30 minute drive from Bologna. The tiny town of Savigno is the Città del Tartufo or City of Truffles. And, it's possible to arrange a truffle hunting tour, to follow a truffle hunter and his dog for a few hours.
During weekends in November, Savigno hosts its annual truffle festival, where you can drink local wine and dine on truffle-laced specialties. Entrance is free, but food and wine must be purchased. Numerous stalls are set up to display and sell local products and the atmosphere is electric. If it's not possible to visit the festival in November, any visit to Savigno has to include a meal at the Michelin Star restaurant Amerigo, which offers some of the most decadent truffle dishes in the area.
Jacaranda trees in Buenos Aires
Argentina in Spring is a beautiful place to visit. The months of October and November bring warmer temperatures before the heat of summer makes the city completely insufferable. But the absolute best time is November in Buenos Aires. The jacaranda trees begin to bloom by the mid-November, creating lavender canopies over the avenues and parks throughout the city. You'll find jacaranda trees all throughout Buenos Aires, but there are a few places in particular to hunt out the best photos.
When visiting the Recoleta weekend market, cross the pedestrian bridge that brings you to the Floralis Generica statue. Pause on this bridge to appreciate the beauty of Avenida Figueroa Alcorta, lined with purple jacaranda trees as far as the eye can see. Also, a visit to Buenos Aires in spring isn't complete without an afternoon in the city's largest park, Bosques de Palermo. The rose garden is in full bloom in November and best of all, jacaranda trees dot the park with lavender flowers.
If you can't visit in November, the end of Jacaranda season is just as beautiful as the beginning. In December, the beginning of summer and the heat it brings takes its toll. As the jacaranda season ends with the heat, the flowers begin to fall to the sidewalk below, creating a purple carpet that covers nearly all of the city's sidewalks. The season ends as beautifully as it began.
You can read more to get the full Buenos Aires itinerary.
Saffron Harvest Festival, Iran
Iran does add a lot of mystery as a travel destination, and while we're seeing an early wave of travellers visiting to discover the land of Persia and it's unique architecture, there are some festivals that are worth a visit: the Saffron Harvest Festival in Fall, November.

Saffron is the world's most expensive spice that can vary from $500 to $5,000 so why not visit Iran in fall where you can have a unique experience in picking up these precious blossoms? 90 per cent of the world's production grows in South Khorasan province where it is widely known for its Saffron fields.

You can access South Khorasan by taking a bus from Masshad or Yazd and spend the day gently plucking the red stigmas and letting them dry. You'll find the entire process to be fairly labour-intensive but also revel in the hard work and beauty and see the end-to-end process from harvest to export.
Once you're done, you can even visit several places like the anthropology museum, an ancient public bath, paddy fields, a warm water spa and historical fortress. Fall in Iran is stunningly beautiful and there are countless reasons to visit Iran just like what I did in November, where I befriended locals, experience the Ta'arof culture and learned about their desire to break free from the shackles of society.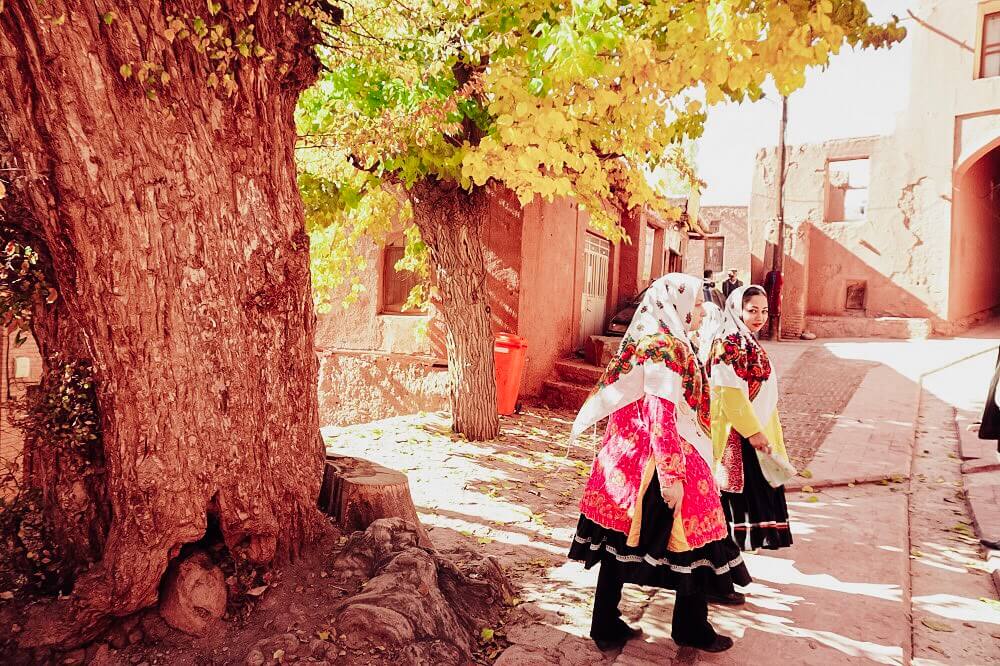 December
Jordan in December
I recently spent 7 days in Jordan in December and can highly recommend it. December is mid-season in Jordan, it's not considered the best time to visit as it can be quite cold and rainy, but I'd rather risk a chance of rain than have to deal with the heat of Jordan in summer or the tourist crowds in spring.
Jordan is a beautiful country that has much to offer both from a natural and historical point of view. Dotted around the country you will find a number of well preserved archaeological sites, the most famous is without a doubt Petra. With its iconic facade built into the orange canyon walls the Lost City of Petra attracts the vast majority of tourists that travel to Jordan. There are also other sites worth visiting in Jordan, such as the acropolis of Amman or the ancient city of Jerash.
From a nature point of view Jordan is characterised by a dry desert landscape, which is very different from anything I'd seen before. The most famous desert in Jordan is without a doubt the Wadi Rum desert, known for its red sand and filming location for famous movies such as The Martian and Lawrence of Arabia.
Even if you're visiting in December don't let the cold deter you, you will still be able to go for a swim in the Dead Sea. The Dead Sea is 430m below sea level and is considerably warmer than the surroundings. When I was there it was around 20°C, a comfortable temperature to go for a float in one of the worlds saltiest lakes. If you haven't been yet I highly suggest adding Jordan to your travel bucket list, and if you want to avoid the tourist masses and take advantage of discounted off-season prices I would consider visiting in December.
Oman
Oman in the Middle East is one of the most naturally diverse countries in the region. Many people don't know that apart from the desert, Oman is also home to a long stretch of 3000k coastline and Al Hajar mountain range, which is one of the largest mountain ranges in the Gulf region. Due to the diverse terrain, Oman sees all the four seasons throughout the year.
However, the peak summer months in the country experiences extremely harsh sunny weather but the winter in Oman is the ideal time to explore the country. The months from November to March are very pleasant as the day time weather remains nice and sunny and the evenings are moderately cold.
Among all the winter months, December is the best month to visit Oman. During December the weather is neither too hot to become unbearable nor too cold too to restrict the outdoor activities. This time of the year locals love to venture out of the cities in the mountains for camping and hiking. Also, camping by the unexplored lonely beaches around the city of Muscat is a very popular activity. To experience the real adventurous side of Oman, it is highly recommended to visit the country during December.
You can read more about winter in Oman.
Christmas Markets in Colmar
Let me tell you about the magic of Christmas in Colmar. If there was ever a place where you would find Sleeping Beauty, Cinderella, Belle and Snow White all hanging out together then Colmar would be the place. Colmar is so fairytale that you almost expect sweet singing blue birds to magically appear to put on your coat for you. The cobble-stone streets make you feel like you have just stepped into an actual storybook and you can see how places, like this magical village, would have inspired many of the fairytales that we grew up loving. Add to this the magic of Christmas and you will be in heaven.
If you have never experienced a European Christmas market then you are seriously missing out. The atmosphere so infectious, that even The Grinch would be full of festive cheer. Add to that stall after stall selling the most flavoursome food and Glühwein and you have the perfect recipe to enjoy the build up and anticipation of Christmas.
Christmas markets in Europe are a time-honoured tradition and both young and old come every year to enjoy them. There are of course the big ones that you surely have heard about but nearly every city in Europe has their own and in my opinion Colmar does it best of all. Traditional decorations and twinkly lights adorn every city and town. Rustic wooden stalls are set up selling everything from Christmas decorations, trinkets and crafts to the most delicious wine and food.  So grab yourself a glass of Glühwein or Vin Chaud to keep warm and explore the magic of Christmas in Colmar.
So there you have it! A pretty comprehensive guide on the best places to visit based on calendar month. I for one am marking my calendar as we speak and am looking forward to another year jampacked full of travel. The travel bloggers that worked on this collaboration with me are some of the best so be sure to also follow their wonderful blogs.
Until next time you crazy kids!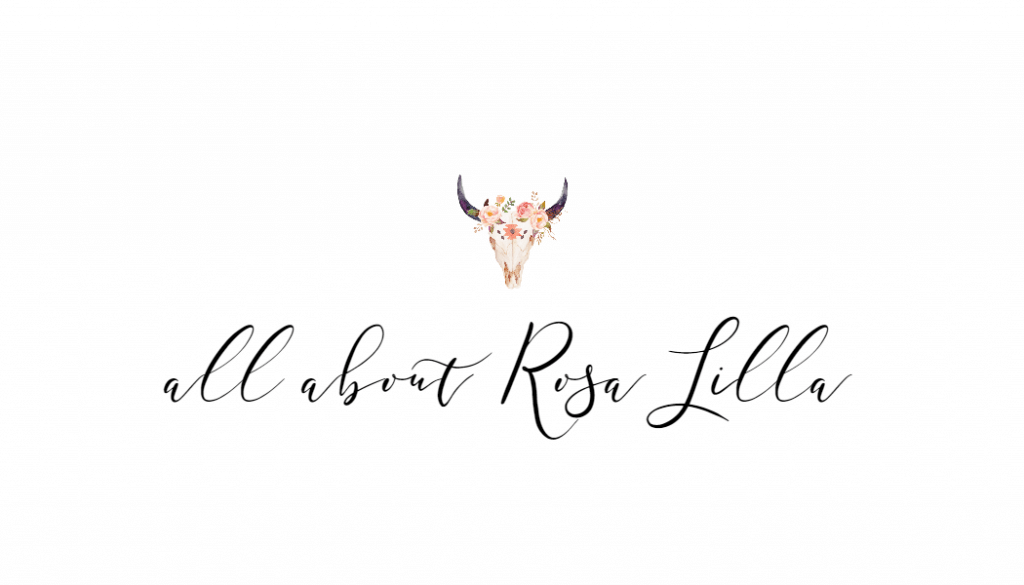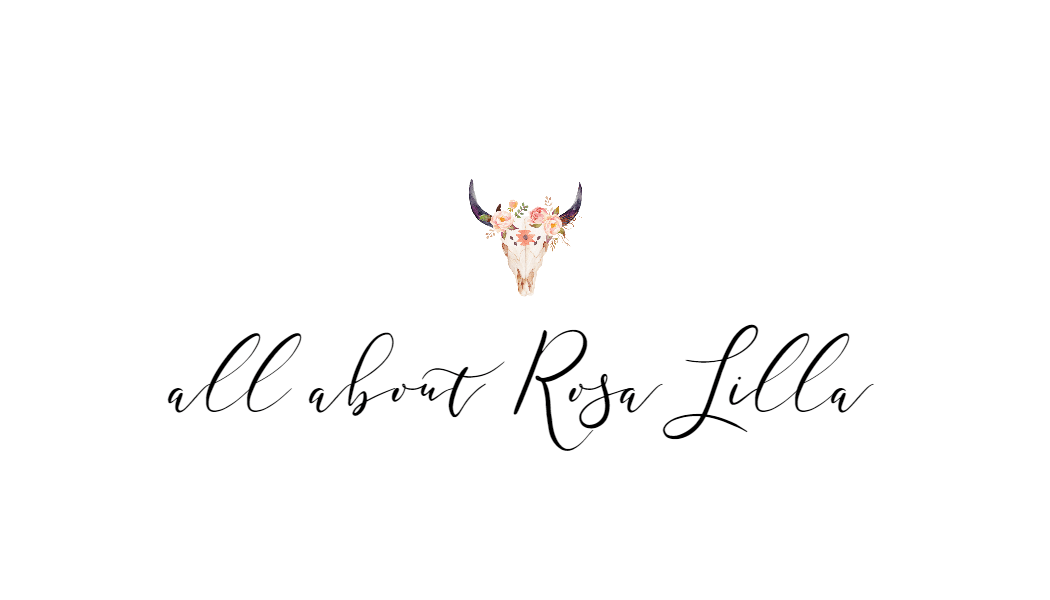 If you liked this you may also like:
The magic of Christmas in Colmar
10 Reasons to visit Bath, England