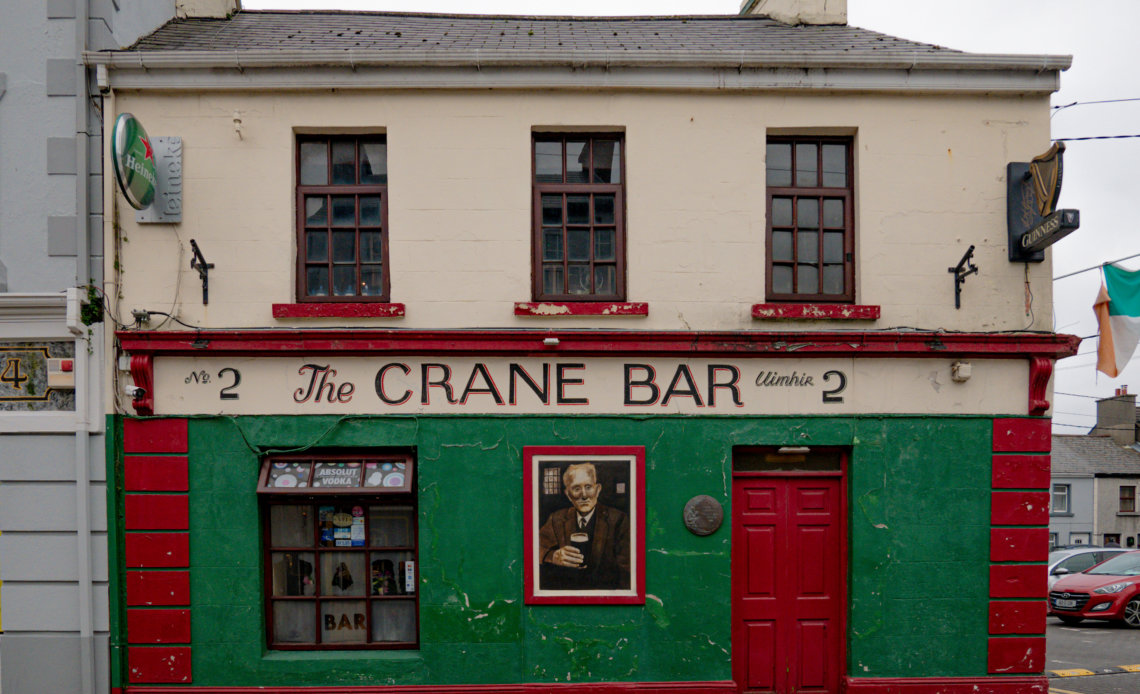 A list of the best pubs in Galway from a local
We are so lucky to have the perspective of being Galway locals so we thought that it was about time that we shared our knowledge of the best pubs in Galway city where you can enjoy a pint. Galway is a vibrant and colourful city on the west coast of Ireland. It is world renowned for its history with many songs being written about the beauty of Galway Bay and indeed Galway Girls! But perhaps what Galway is best known for is "the craic" and some of the best quality pubs in Ireland. Many people book a weekend in Galway just to experience the nightlife so we thought it would be helpful to you to put together this guide on the best Galway city pubs.
There is an atmosphere in Galway unlike anywhere else in Ireland and there is a reason that it was voted European city of culture in 2020. Nothing defines a city quite like its pubs and bars and in Galway there is no shortage of incredible bars to grab a drink in. So here is our list of our favourite bars in Galway to enjoy a drink.
Best Galway City Pubs
Even the smallest town in Ireland is defined by two things……a church and a pub. You can't go to any town or city in Ireland without experiencing that famous Irish hospitality. But, there will always be standouts that go the extra mile, offer a little bit more, or have something extraordinary about them. We've rounded up a list of the best pubs in Galway so you know exactly where to go to ensure you get an authentic Irish pub experience.
Tig Coili
This is the type of place where locals and tourists mingle easily together and you will likely leave with a few new friends. Located in Galway's bustling Latin Quarter its bright red façade beckons you in for a drink. While enjoying one of the nightly traditional Irish music sessions try one of the bar's own brewed "Galway's Nan Frank" IPA'S. The walls are decorated with famous faces who have visited one of Galway's best bars and musicians who have played there. You could easily forgive yourself for thinking that you are in a country pub in the middle of a city!
Location: The Latin Quarter, Mainguard Street, Galway
Local Tip: Be careful on the stairs on the way to the bathroom!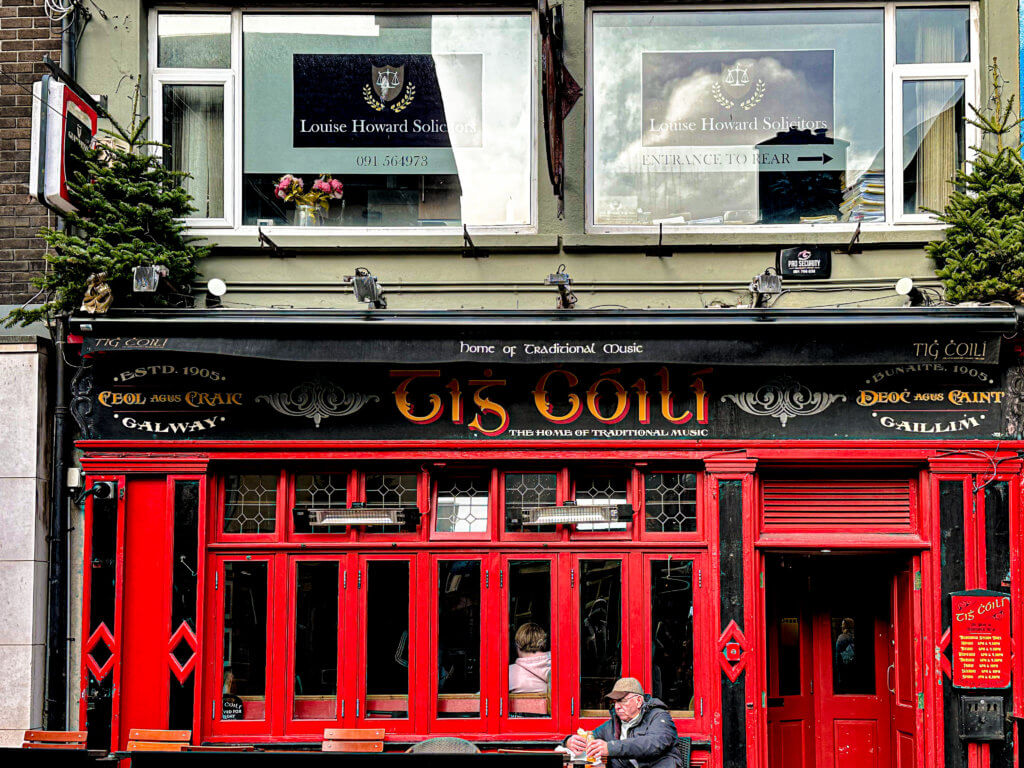 Tigh Nora
Tigh Nora is Galway's most popular gin bar so if you love a tasty G&T this is the place for you. Named after the wife and inspiration of James Joyce, Nora Barnacle (a Galway native) the bar serves over 200 different gins and tonic along with a full drinks menu. The bartender's are only dying to offer recommendations so be sure to ask.
Location: 8 Cross Street Lower, Galway
Local Tip: Join an interactive gin masterclass and pick up a Tigh Nora Gin Passport (enjoy 10 different G&T's to receive a complimentary one!) And sample a range of drinks with their 'Gin Flights' with three options to choose from; local, International, and Around the World!
Tigh Neachtain
By now you are probably starting to see a trend with the names of the best pubs in Galway city. Tigh means house in Irish, so, many of these Galway pubs have the warm feelings attached of being welcomed into somebody's home. Tigh Neachtain is the home of the creative soul, you can find writers, artists and poets amongst the crowd, drawing inspiration from the calm surrounds. It has been part of the heartbeat of Galway city centre since 1894 and it is hard to imagine a Galway without it. They are big advocates for art and music and they often showcase local talent. You will find a great selection of drinks here from little known craft beers to rare and vintage whiskey's and scotch. Also, we quite possibly had the best glass of Rioja ever in this bar. The clientele here is eclectic and it has perfect nooks to cosy up in and enjoy a pint. Without a doubt this is one of the best Galway city pubs.
Location: 17 Cross Street, Galway
Local Tip: Don't be surprised to find Cillian Murphy here during Galway Arts Festival week. Act cool! It's no big deal.
The Quays
The Quays Bar & Restaurant is an institution in Galway so we can't talk about the best Galway city pubs without including it. For almost 400 years it has catered for Galwegians and visitors to the city. The Quays is extremely popular with tourists and even more so now with the addition of a Galway Girl statue outside the pub. The decor gets more ornate the further you go inside the pub. Some of the features such as stained glass windows, church pews, gothic arches and intricate wood carvings were imported from a French church. If you are looking for a place to cosy in all day then The Quays is it! Enjoy a hearty meal and a pint and later head upstairs to the lounge dedicated to live music and dance the night away.
The Quays was even awarded Ireland's best entertainment venue in 2022.
Location: Quay Street, Galway
Local Tip: Try the famous oysters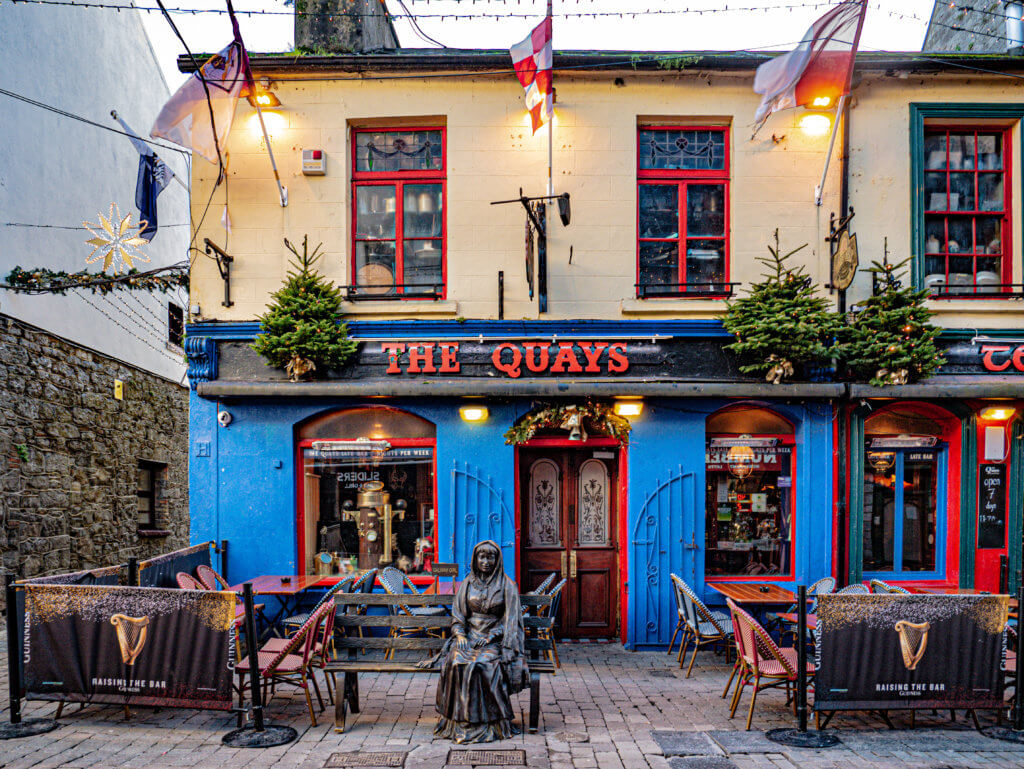 1520
Located in the heart of Galway's Latin Quarter, 1520 is perfect for a night out in the city. It is a medieval themed bar with a 21st century twist! The cosy interiors include plenty of welcoming corners to cosy up in with well-worn upholstery and an eclectic mix of portraits, posters and paraphernalia dotted around. There is live music here 7 nights a week.
Location: 14 Quay Street, Galway
Local tip: This bar contains one of the original medieval walls of Galway city! How cool is that?
O'Connell's Bar
We have probably found your new favourite Galway Bar. One of Galway's best-loved bars, O'Connell's has an easy-going, nostalgic laid-back vibe and you will find yourself surrounded by comfortable vintage interiors that will instantly have you reminiscing about childhood trips to the bar on a Sunday to drink a Fanta.
The best part about O'Connel's is the huge heated and covered beer garden. It gives off vibes like you have just been transported to Harry Potter's Diagon Alley. Made to look like a mock street (complete with fake shop fronts that are actually bathrooms!), Gin Lane is paved with cobblestones and set with picnic tables in nicer weather (or covered and set with heat lamps for the drizzly months). Bonus – you can also rent it out if you have an event.
Location: 8 Eyre Square, Galway
Local Tip: Come hungry because in the beer garden you will find two pop-up's from Galway favourites, Dough Bros wood-fire pizzas and Prátaí who specialise in cones of chips (fries) loaded with the most incredible sauces and toppings.
The Crane
The Crane is a corner pub with a beautiful Victorian façade from the 1800's. It is a traditional Irish bar located in Galway's trendy West End. The bar consists of two levels. Downstairs is a firm favourite with locals wanting to enjoy a pint but upstairs comes alive every night with incredible music sessions at 9:30pm. Even though it is tucked away in Galway's West End it is usually the first stop for travelling musicians and music lovers as The Crane has built up quite a reputation as a live music venue.
Location: 2 Sea Road, Galway
Local Tip: Upstairs doesn't open until the music starts and queues often form, so get there early if you want to be guaranteed a seat.
The King's Head
The King's Head is one of Galway's most famous pubs and is often the first stop for many visitors to Galway city. It is also massively popular among locals too, making it one of Galway's busiest pubs, especially if there is a match showing. The building is extremely old and contains a fireplace which dates back to the 1600's! Located in the front bar for over 400 years it has kept generations of Galwegians warm and an open fire continues to welcome visitors to the city of the tribes. The pub gets its name from the fact that the property once belonged to King Charles I's executioner. It is a true piece of living history.
Location: 15 High Street, Galway
Local Tip: The building has several links to the 14 Tribes of Galway. Look above the two fireplaces and you will find marriage stones from the Martin, Ffrench, Bodkin and Lynch families.
The Dáil Bar
If you are looking for cocktails and craic then you need to head to The Dáil Bar. Located right on the corner of Cross Street and Middle Street it is the perfect place to catch up with friends and enjoy a night out. Nestled above The Dáil Bar you will find Galway's award winning Liquor Lounge. They have a bespoke cocktail menu with a host of original and classic cocktails on offer. The Liquor Lounge is the perfect live music venue, previously hosting acts like Gavin James and Little Hours. There is a live band every week night and at weekends a resident DJ to spin the decks 'til late!
Location: 42 Middle Street, Galway
Local Tip: Find your perfect perch on a sunny afternoon at the mini urban garden.
Monroe's Tavern
Monroe's Tavern always has an incredible atmosphere. On the edge of the world famous Claddagh basin along the Wild Atlantic Way Monroe's is one of the best Galway city pubs. It has been a cornerstone of the West End of Galway since 1964. The venue remains family owned and operated and has always been a ground-breaking venue for live music. It played host to the top Irish showbands in the 60's and 70's and has grown to become a leading Irish venue for national and international Irish musicians.
Today you can enjoy after hours upstairs in Monroe's Live. Texas, Kodaline, The Darkness, Paddy Casey, The Academic, Sharon Shannon, Mary Coughlan, Aslan, De Dannan, Lughnasa, Matt Molloy are among the many artists who have taken to the stage. Also you can't leave without popping next door to Monroe's pizza and grabbing a takeaway pizza to bring back to enjoy with your pint. Pizza and pints in Monroe's have become a bit of a Galway tradition.
Location: 14 Dominick Street Upper, Galway
Local Tip: If you are skipping the pizza order the fish 'n' chips.
Murphy's Bar
One of Galway's oldest bars, Murphy's bar proudly displays the colours of the city of the tribes, maroon and white. This pub has a homely, down-to-earth feel with unpretentious decor. It is a firm favourite with locals and there is a regular clientele here. It is the place to go if you want a drink in a warm and friendly atmosphere.
Location: 9 High Street, Galway
Local Tip: If you are looking for excellent service and to make friends with the barman then this is the place.
Taaffes
Taaffes has arguably the best pint of Guinness in Galway and one of the best locations in the city centre. The pub's location in the middle of the main shopping thoroughfare ensures a busy daytime pub where ceol and craic take precedence. Taaffes is a staple Galway city pub and has been serving pints for over 150 years. You are sure to catch a traditional Irish music session taking place at any time of the day or night but if you want to guarantee a session 5pm and 9pm are best. Sharon Shannon and Sean Keane have performed here, as well as a number of travelling minstrels and local musicians.
Location: 19 Shop Street, Galway
Local Tip: It gets so busy here for the trad sessions so get there early if you want a seat.
Garavan's Bar
If you are a fan of fiddle-loving musicans and storytelling barmen then Garavan's bar is the place for you. Grab your spot in the snug at the musician's corner to enjoy your pint. It is a lovely family-owned pub located right in the heart of the city.
Location: 46 William Street, Galway
Bierhaus
With over 60 different brews on offer from all across the world Bierhaus can proudly lay claim to having the largest and finest beer selection in Galway. This intimate bar lures a hip young crowd with its selection of craft beers with 24 taps pouring both local and international beers. If you are not a beer drinker, fear not, the bar also has an incredible collection of cocktails. Loved by locals for its laid back atmosphere and lively weekend gigs. It is a place where anything goes and everyone is welcome and if you are planning on taking a trip to Galway then a visit to Bierhaus should be top of your list.
Location: 2 Henry Street, Galway
Local Tip: Try the Hot Bamh Mi', a Vietnamese pork sandwich, who some consider the "best sandwich in Galway"
Roisin Dubh
We are going to let you in on a little secret! Myself and Mister Lavin had our first date in Roisin Dubh. We are both massive music fans (see our list of favourite alternative love songs) and Roisin Dubh is undoubtedly one of the best live music venues in the country! We have seen established bands like Biffy Clyro, Violent Femmes, Two Door Cinema Club and The Lemonheads here along with unknown emerging artists. It is the perfect place to see your favourite bands in an intimate setting.
Roisin Dubh is also an incredible comedy venue and it has long been the home of comedy in Galway. With a great atmosphere, wonderful staff, and a real commitment and passion to music and comedy, Roisisn Dubh is one of the best places to see the incredible national and international acts around.
Location: 8 Dominick Street Upper, Galway
Local Tip: Check the news section of the Roisin Dubh website regularly and sign up for their newsletter for news on upcoming gigs.
Book your Galway City Accommodation
We hope you love this guide on the best Galway city pubs and that it helps you plan your next night out. While these are some of our favourite Galway city pubs the city really is full of great pubs for an amazing night out so feel free to wander and see what music and craic awaits you.
**Disclaimer: This post contains affiliate links meaning that if you book through one of our links we will receive a small commission at no extra cost to you. Your support helps us create the wonderful travel guides that we do**
Are you new here? Join thousands of other happy readers and subscribe to All About RosaLilla blog via email. The good news is that by signing up via email you will get exclusive travel deals straight to your inbox. The only other place that we publish these deals is on Instagram stories, so be sure to signup to get the heads up on amazing travel deals to save you money when booking.
We also share everything about ourselves on Instagram with nothing held back so be sure to follow along there.
If you liked this you might like:
Best places for a romantic Autumn break in Ireland
25 of the best Airbnb's in Ireland for large groups and families
Staycation Ireland ideas. 10 things to do in Donegal
Sharing is sexy!